A few months ago I published my recipe for Perfect British Scones. And I stand by that recipe. If you have a food processor you will be able to bang out a batch of really refined scones with it in no time. But not everyone has a food processor. And some people who have one don't want to go to the bother of cleaning it. Still others just prefer to do things by hand the way their grandmothers used to do them. So if you fall into any of those categories this method of How To Make Perfect British Scones (Without A Food Processor) is going to become your go-to.
Just in case you're concerned, Lyndon still declares that these scones taste "Exactly like my Nana's" and admits that the texture — while not as refined as you'll get using the food processor — is "Probably more like what my Nana would have made than your other version."
Put the kettle on.
cutlery cutlery icon
folder folder icon
instagram instagram icon
pinterest pinterest icon
facebook facebook icon
print print icon
squares squares icon
heart heart icon
heart solid heart solid icon
How To Make Perfect British Scones (Without A Food Processor)
Author: Matthew Smedal
Prep Time: 15 minutes
Cook Time: 15 minutes
Total Time: 30 minutes
Yield: 12 Perfect Scones
Category: Breads
Cuisine: British
Description
After 5 years and numerous failed attempts I have finally come up with a recipe for British Scones that Lyndon declared taste "Exactly like my Nana's." Below is my crash-course for Americans on How To Make Perfect British Scones (Without A Food Processor).
Ingredients
2 cups all-purpose flour ( 285 grams )
2 tablespoons cornstarch ( 14 grams )
1 tablespoon plus 1 tsp baking powder( 16 grams )
1/2 teaspoon salt( 3 grams )
3 tablespoons sugar ( 35 grams )
6 tablespoons unsalted high-fat butter, frozen solid ( 85 grams )
2/3 cup whole milk( 160 milliliters)
1 large egg
1/2 cup dried fruit such as currant, raisins, cranberries (see notes) ( 80g )
Note: American eggs are smaller than European eggs. It's the one thing I've found that goes against the saying: "Everything is bigger in America." A large US egg weighs about 2 ounces, or 55 grams, whereas a large European egg weighs almost 2-1/2 ounces, or 70 grams. That's a substantial increase considering the overall size of an egg. If you are making my scones and you live outside the US you might pick up a few medium size eggs. Alternatively, whisk your egg together and then measure out 55-60 grams of it before adding it to the recipe.
Instructions
Put a whole stick of butter into the freezer with the wrapper on and wait until it has frozen solid. About 2 hours. (If you live outside of the US where butter is sold in blocks just freeze the whole block).
Preheat your oven to 425°F (200°C + Fan)
Combine the flour, cornstarch, baking powder, salt and sugar in a bowl and stir until combined.
Whisk the milk and the egg together in a measuring cup and remove two tablespoons of the mixture to a small bowl (you'll use it later, so don't chuck it out!). You should have about 3/4 cup (180 milliliters) of liquid left in your measuring cup.
Unwrap the frozen butter half way and grate 6 tablespoons (85 grams) of it using the large holes of a box grater. Add all the gratedfrozenbutter to the flour mixture and rub together with your fingers until evenly distributed. You'll want to work quickly as it's important that the butter stay cold.
Add the milk + egg mixture from the measuring cup and fold it into the flour + butter until just combined and barely cohesive.
Add your fruit and fold a few more times until a rough dough forms. You can use your hands to knead the dough if you like, it might be easier at this point.
Using your hands, pat the dough into a small circle onto a floured surface. You want the dough to be almost one-inch thick. FYI: That's pretty thick, so you won't need to do too much patting. Use a 2″ round cutter and cut 9 scones out of the circle, pressing STRAIGHT DOWN through the dough. Don't twist, don't turn… straight down. Move these scones to a baking sheet that you have A) lined with parchment paper / silicon or B) greased. Gather your scraps and gently pat the dough out one more time. Stamp out 3 more scones. You should always get a total of 12 scones (let's be honest sometimes you'll do 8 + 4, sometimes you'll do 9 + 3… you're always going for a total of 12).
Brush the tops of the scones with the reserved egg + milk mixture.
Bake for 13-15 minutes, until the tops are golden-brown, the bottoms are medium-brown, and the sides have completely set. Remove to a cooling rack.
Serve immediately with tea, coffee, jam and clotted cream (or butter), or store in an airtight container. Scones are best the day they are made.
Notes
Dried fruits: Cranberries would be, of course, a heretical American addition. But they taste so good.
Round cutters: You may need to flour your cutter before you stamp out the scones. If you don't own a 2″ round cutter you can always use a small juice glass to stamp out your scones.
Clotted cream: This is particularly hard to find in America and when you do find it it's often so pasteurized that it's lost all of its unctuous, creamy, flavor. Unless you can source your clotted cream from a local dairy farmer who won't ultra-pasteurize it (or unless you make it yourself) it's safer to just stick with butter.
Keywords: British Food, scones
Isabel is back today with a delightful and traditional way to make pesto just like an Italian grandmother! Don't know about you but it has me dreaming up my herb garden. Want more tips like this? Be sure to subscribe to my YouTube channel. – Georgia
I love pesto. In the summertime, you'll find multiple basil plants growing on my porch and cuttings on the window sill. However, recently I ran into a problem; I had a ton of fresh basil but no food processor. In this day and age, it is hard to not be reliant on technology that seemingly makes life a lot easier. Let's throw that to the side and use a little elbow grease to crank out some authentic pesto! After almost resorting to using a coffee bean grinder for my gnocchi's sauce, I improvised by using some common household items that you can definitely find in your kitchen cabinet. Here is a trick that gets you one step closer to being a little more self-sufficient.
How to Make Pesto Without a Food Processor:
This hack is great because it can work with any pesto recipe you enjoy so there's no need to throw aside that secret family recipe of yours. The key is to avoid creating a complete paste out of all of the ingredients, an inevitable result of using a food processor. Chopping the basil finely will still achieve that sauce texture while allowing each component to retain its identity.
Traditional Pesto Making
Off the bat, this method may seem out of the ordinary. It turns out that traditionally, Italian grandmothers are going to opt for a chopping block and knife instead of an electric outlet and blender. This allows for a greater flavor profile of ingredients across your dish. Be patient! This technique took me half an hour to get through all of the basil, but there is truly nothing like the reward of fresh pesto. And if that isn't convincing enough, your whole kitchen will smell like summertime.
Real life homemaking on less
Let's talk cauliflower. More specifically how to make cauliflower rice without a food processor!
Cauliflower is one of those foods you either love or hate. It gets a bad rap and there are a lot of memes that go around regarding cauliflower. I always chuckle, but honestly, I really don't mind cauliflower. Especially cauliflower rice! It's the perfect way to incorporate more veggies into your diet (or cut back on grains).
Frozen cauliflower rice is tremendously popular, and during different periods of time stores have had difficulty keeping it stocked.
Let me tell you a secret. I don't buy the frozen packages. Homemade cauliflower rice is so fast and easy, anyone can do it! It will also save you money! Depending on size, one head will give you about 2 bags (so in my area, that means half price)! I'm all about finding easy ways to save.
So, how to make cauliflower rice without a food processor?
All you need a a head of cauliflower, a cutting board, grater, and a big skillet.
You can't get much simpler than that.
First, rinse and dry your cauliflower and then start grating! I grate all the way down the florets not worrying about avoiding the stem. After all, it's all in such fine pieces and will be cooked anyway. If the stem bothers you, you can remove your florets before you grate and then won't get any of the stem.
All that's left to do, is cook it. I always cook mine in a large skillet. I heat the skillet and add a little oil before dumping in the homemade cauliflower rice. Let cook over medium heat until it's at your preference of tenderness. Add a little salt at the end of cooking if desired.
If I'm using is for something like fried rice, I made sure to pull off of the heat a touch early because will cook a few minutes longer when added to the fried rice ingredients. (You can use this recipe and simply swap the rice for cauliflower.) To use as a rice replacement in dishes like stir fry, butter chicken, or to serve with roasted sausage and veggies cook to your desired softness. When used more as a side, I always use salt!
See, homemade cauliflower rice is a breeze! Enjoy!
Feb 9, 2018 Modified: Feb 4, 2022 by Rekha Kakkar This post may contain affiliate links ·
Facebook
Pinterest
Twitter
WhatsApp
Cauliflower rice is taking food world by storm, who am I not to succumb to the temptation. After resisting the idea I finally tried cauliflower rice a few weeks ago. It's not that I hate cauliflower! I simply love it, still, the trend eluded me for quite some time. Now that I finally tried it, all I can say is … Do try! It may not taste like rice but It tastes great! Best thing is it is healthy, fits almost all diets, paleo, vegan, vegetarian, keto, low carb and still tastes delicious.
As I said before, it does not taste like rice but it sure can replace rice in most of the rice dishes. If you are trying to eat a healthy diet or generally feel bloated and heavy after eating rice, you can easily substitute rice for cauliflower rice.
How to make Cauliflower Rice
I tried making it in two ways. The first method is Making cauliflower rice without a food processor. In this method, I used a box grater, Simple, efficient and quick method of making cauliflower rice. You can use a regular box grater to make. I often use it when I make small quantity or I am feeling lazy to take out the food processor. I use the bigger hole side of the grater which is generally used to grate cheddar cheese.
For making Cauliflower rice, first, you need to wash the cauliflower and dry out excess water.
Cut the cauliflower ear into big size florets and then grate using the box grater. You get decent sized cauliflower grains to make cauliflower rice. Some people drain out extra moisture using a kitchen napkin. I prefer to dry the moisture before grating the cauliflower.
How to make Cauliflower rice in Food Processor
In this method, I just follow the first two steps and cut cauliflower into florets and proceed using a food processor. This gives a beautifully textured cauliflower rice or cauli rice.
In the second method, I use a food processor. It makes good cauliflower rice using grater blade. You can also use the food processor pulse function of the food processor but, have to be very careful. If you are using chopping blade only use pulse function otherwise you might end up with too fine, mushy texture.
Whichever method of making cauliflower rice you choose, make sure to dry them first. Since it is a watery vegetable it releases a lot of moisture during cooking. This may make the final dish to look mushy. If you like a perfect rice like texture or bite, squeeze it gently using a kitchen napkin. This way you will get the perfect texture of the cauliflower rice.
We have tried a couple of cauliflower rice recipes and so far we all are loving it. I started posting cauliflower recipes on the blog as well. You can try this delicious and flavourful Low Carb Cauliflower rice Jambalaya Recipe, Cauliflower fried rice recipe. I am soon going to post few new cauliflower recipes very soon.
A food processor is more than a blender on steroids; it's a game-changing appliance that can cut your kitchen workload as quickly and easily as it cuts through. anything, really. Nicole McLaughlin, aka NicoleMcmom, is here to show you ways to use it that you might not have thought of.
1. Grinding Meat
Make your own ground meats for burgers, meatballs, sausage patties, etc.
Buy cuts of meat when they're on sale and grind them yourself in your food processor.
To make grinding easier, cut the meats — beef, pork, turkey, or chicken — into 1½-inch chunks and freeze for 30 minutes before grinding them with the "S" blade.
Use the Pulse button in quick bursts until the meat is minced close to the way you like. Add seasonings and finish pulsing.
In the video above, Nicole demonstrates grinding meat with a food processor using this recipe for Homemade Paleo-Style Breakfast Sausage
2. Churn Butter
You only need one ingredient to make the freshest butter you've ever tasted. Well, two if you add optional salt.
Pour heavy cream into your food processor fitted with the "S" blade (no, you can't use half-and-half). Add an optional pinch of salt, and let 'er rip! The food processor separates the butter fat from the liquid in about 10 minutes.
Strain out the liquid through a fine-mesh strainer lined with paper towels or cheesecloth.
Some home cooks like to save the liquid to add to baked goods instead of water.
3. Big Batch Mixing
If you have a recipe with a lot of ingredients that need do be chopped up and mixed together, your food processor can slash your total prep time. Nicole shows you how with this recipe for Sausage and Egg Casserole.
4. Salsa
For best results, chop ingredients into large chunks before adding them to your food processor. Give it a try with this 5-star recipe for D's Famous Salsa. Nicole says once you've made your own homemade salsa, you'll never go back to store-bought.
5. Emulsified Sauces
Whip up the smoothest, silkiest, creamiest Hollandaise sauce or mayonnaise in a flash. (Nicole goes one step further and turns homemade mayonnaise into ranch dressing.)
6. Pie Dough
Slash the time it takes to cut butter into flour to make homemade pie crusts. Give this recipe for Flaky Food Processor Pie Crust a spin.
7. Bread Dough
Wait, what? Yes, you can prep bread dough in your food processor. Give this recipe a try: Rich White Bread. No need to knead, because the food processor takes care of that step, too.
8. Nut Butter & Flour
Love fresh nut butters but don't love the price? Use your food processor to make your own peanut butter, almond butter, and more.
Make your own alternative flours for a whole lot less. Simply use your food processor to grind up oats or other grains, almonds, or other nuts, seeds, or legumes.
9. Cauliflower & Broccoli Rice
Pulse raw cauliflower or broccoli chunks in your food processor to make a nutritious, low-carb alternative to rice. Just be sure you don't over-process the vegetables or else you'll turn them into purée. Browse recipes for Cauliflower Rice.
10. Shaved Ice
Blitz a few ice cubes and top with flavored syrups for a quick and easy summertime treat.
11. Nice Cream
Dairy-free frozen desserts are yours in minutes with these recipes for "nice cream" made of vegan-friendly ingredients like nuts, fruits, and plant-based milks.
12. Shaved & Sliced Vegetables
Finally, Nicole likes to use the slicer/shredder disc to make mounds of sliced or shredded vegetables or cheese in a fraction of the time it would take to do by hand.
Prep shredded Brussels sprouts and coleslaw in seconds.
Make thinly sliced potato chips without a mandoline.
Shred cheese instead of blowing money on the bagged stuff.
More: Browse our entire collection of Food Processor recipes.
You can connect with Nicole as NicoleMcmom on Allrecipes and on Instagram @nicolemcmom.
More tips and tricks from Nicole:
Published on Aug 19, 2020 · Last updated on Aug 24, 2021 ·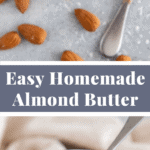 Learn how to make almond butter at home using only almonds and a food processor! Get all the health benefits of almond butter, without any of the added sugars and aromas of store-bought nut butter! Flavor variations + recipe ideas included.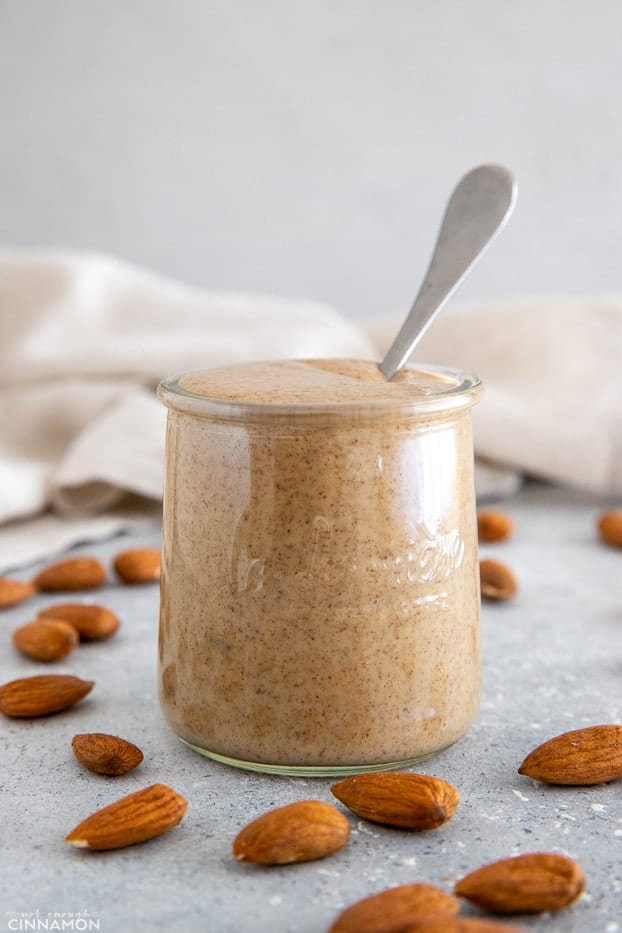 This Homemade Almond Butter is ultra-thick and so uber creamy, and it tastes like warm, freshly roasted almonds. Sounds like something you could enjoy? Come along – I am pretty sure you will enjoy the ride! But be warned, this stuff is so good, you might not be able to go back to store-bought ever again!
But that's ok because almond butter is pretty affordable, too. The cost savings obviously depend largely on the almond butter you usually get. I've seen them for as cheap as seven dollars, so not much saving there. But the good organic brands can cost as much as seventeen dollars per jar and our product will be just as high-quality for way less. That, I can guarantee.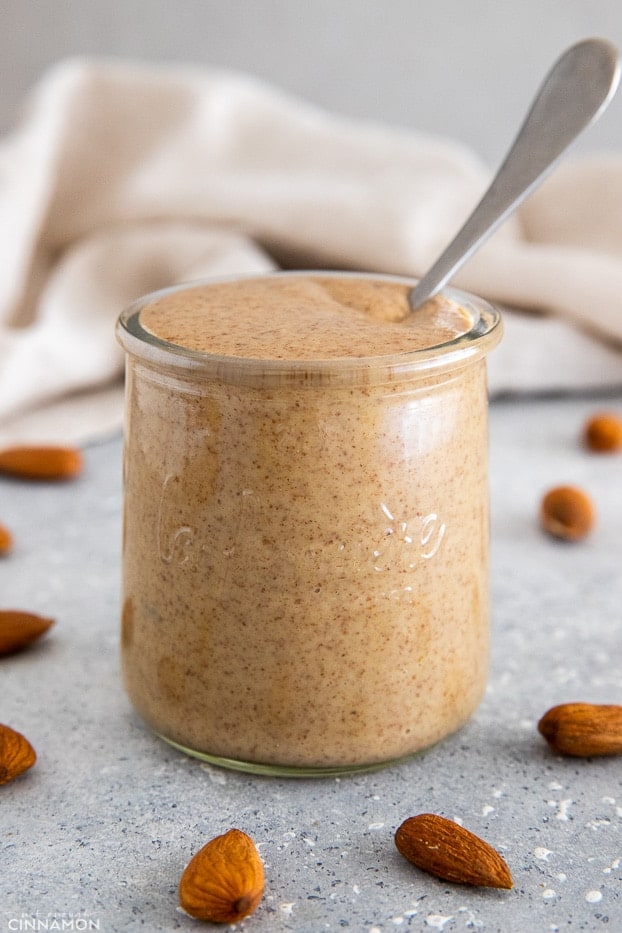 Knowing how to make almond butter at home is a life skill, you guys, and with my step-by-step photos, it's also a walk in the park. If only all life skills could be so easily acquired.
As for the ingredients, we have well, almonds – raw and organic, if possible. No added oil required but you can add some seasoning (check further down in the post)! The whole process is similar to making your own peanut butter but when it comes to almond butter you might need a little extra bit patience as they take longer to toast.
At first, you'll think you're failing, that it'll never get past the crumbly stage but be patient and the almond butter magic will eventually happen!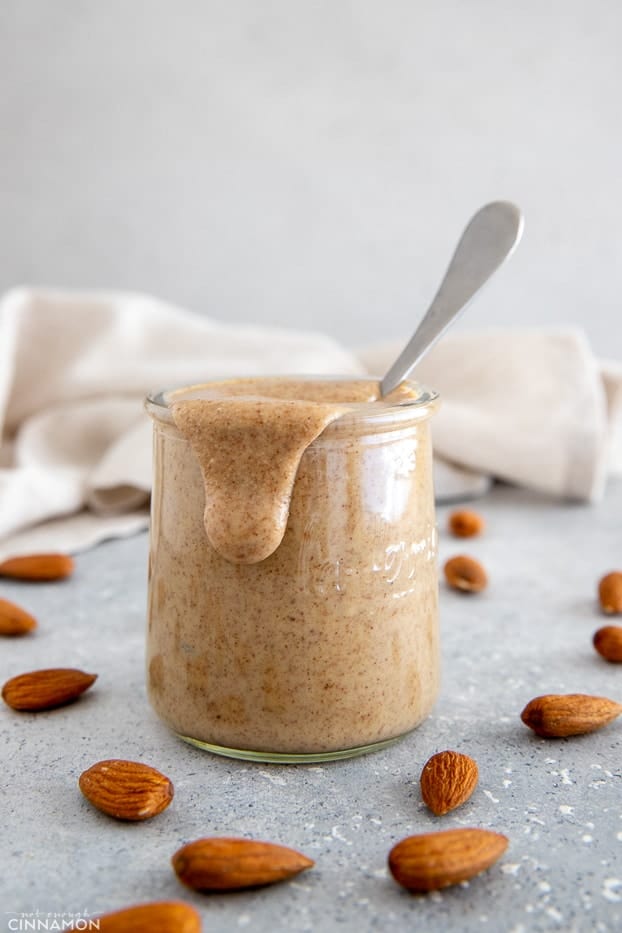 How to make Almond Butter: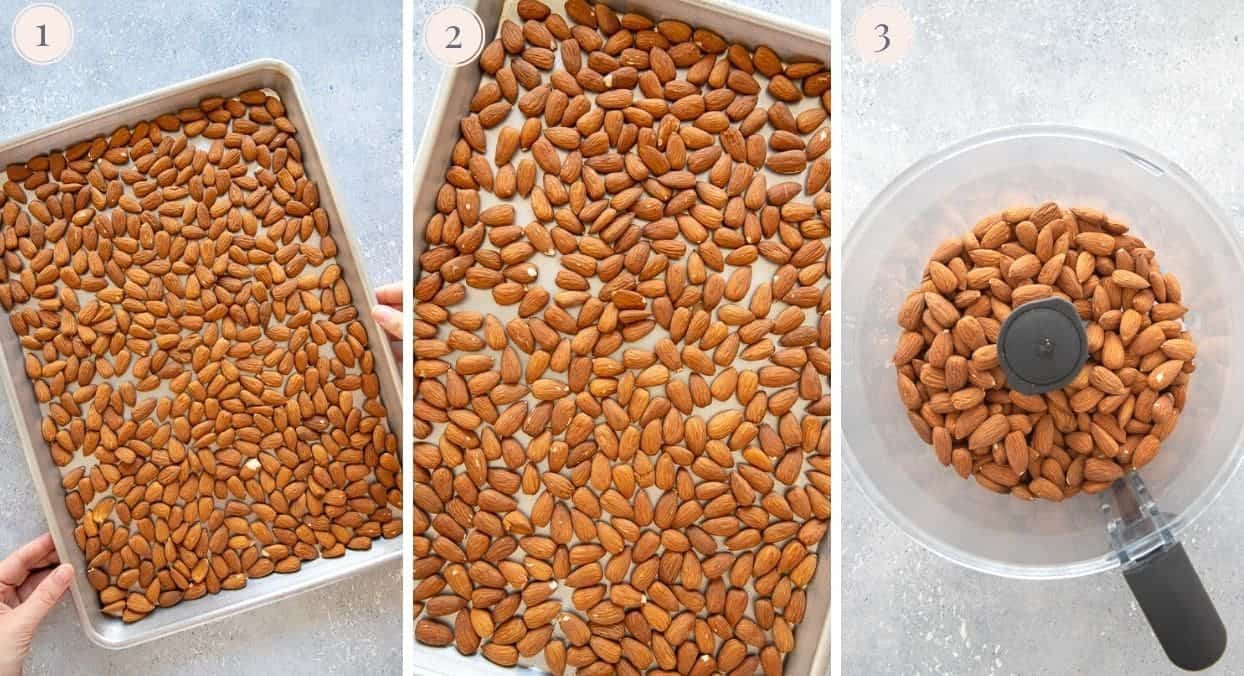 Step 1 & 2 – Start by roasting the almonds if you haven't bought roasted almonds. Preheat the oven to 325F / 160 C. Spread the almonds in a single layer on a large baking sheet. Roast for 10-15 minutes, stirring once or twice to avoid scorching. Remove from the oven and let them cool a bit.
Step 3 – Transfer the almonds to the bowl of your food processor fitted with the S-blade.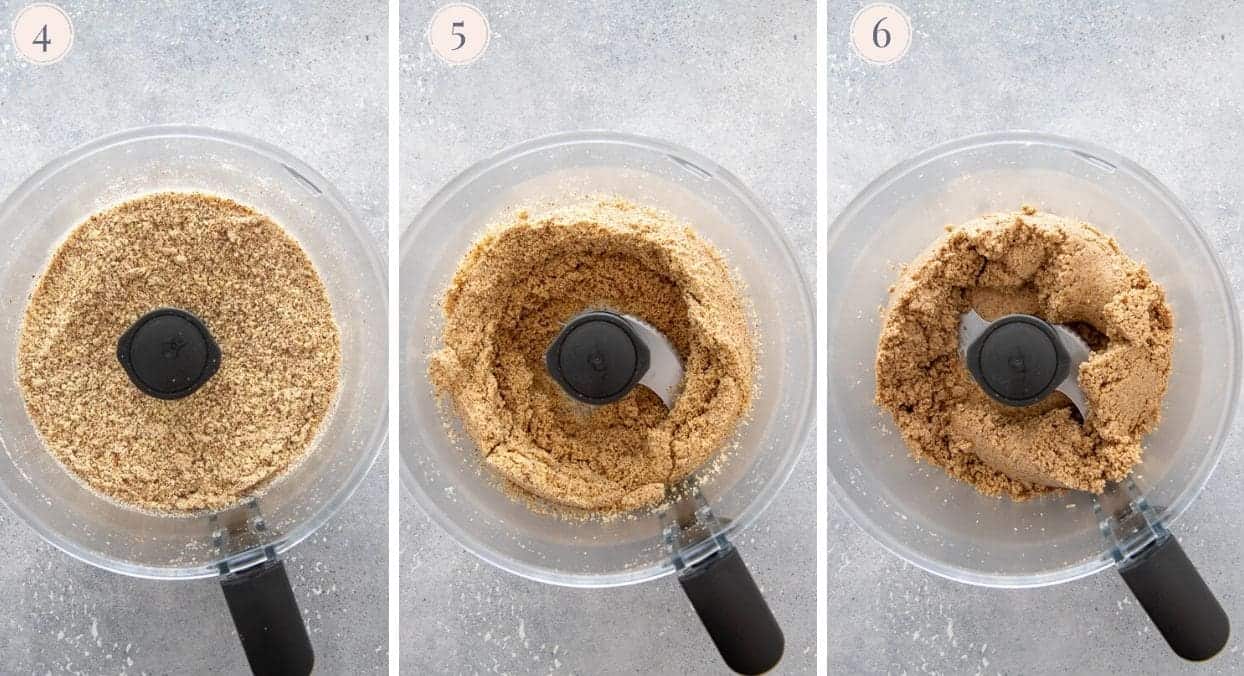 Step 4 -9 – Process the almonds until a creamy butter forms. Scrape the side of the bowl with a rubber spatula regularly.
The almonds will pass through different stages: crushed, powder, powdery paste, thicker paste, thick paste with a couple of dry bits, and finally creamy paste.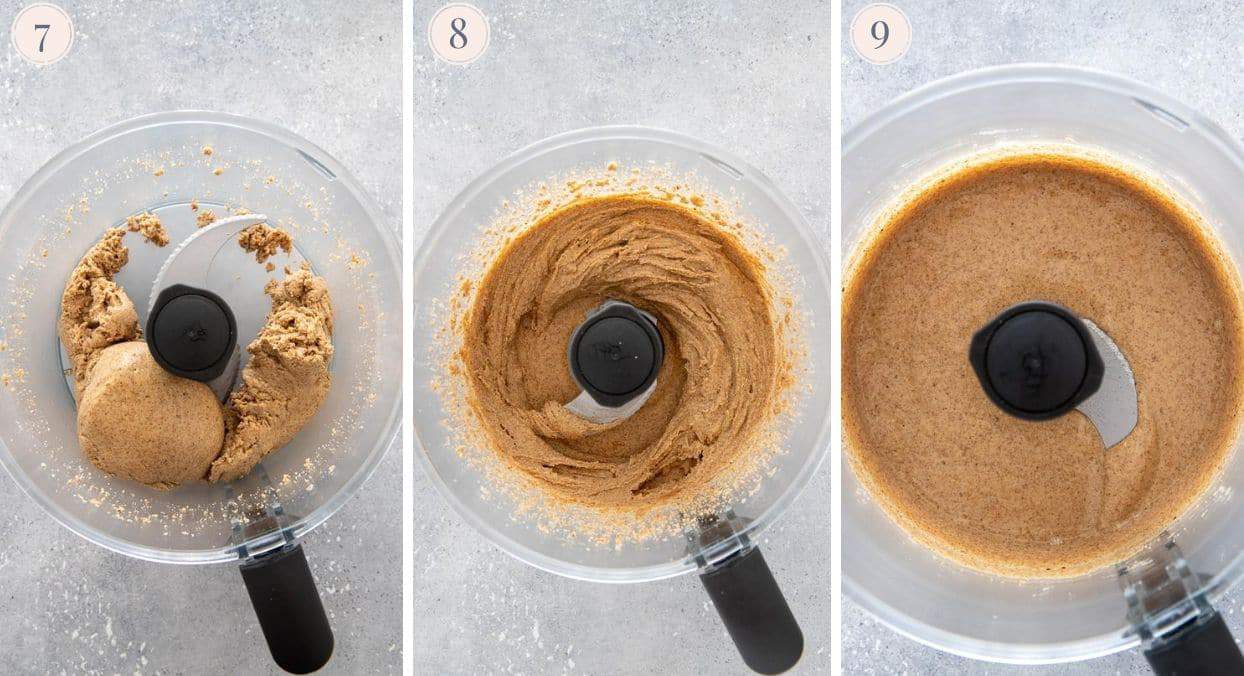 Patience! It can take up to 15 minutes. Just keep processing until you get a perfect consistency. If your food processor is becoming too hot, take a break and start again when it has cooled down.
I don't recommend sealing the almond butter until it's completely cool so that it doesn't create steam inside the jar. This might cause your nut butter to spoil quicker.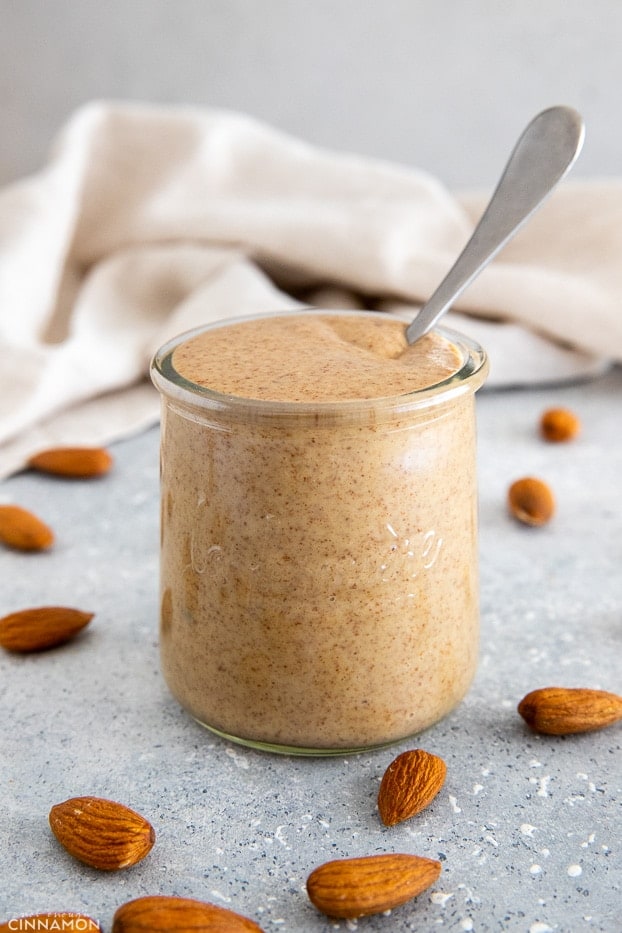 Homemade Almond Butter Tips
Patience is key. It might seem like your almonds will never turn into creamy nut butter, but they always do. Just don't give up!
Roasting is flavor! Roasting the almonds yourself only takes 10 minutes, and it's absolutely worth it, flavorwise. I recommend you buy raw almonds and roast them in the oven yourself. Warm almonds also blend more easily and offer the maximum fresh almond flavor.
I use a food processor to make my almond butter, but you can use a powerful blender like a Vitamix if you'd prefer (a regular blender wouldn't work here)
Flavor Variations:
For a maple cinnamon nut butter, I like to blend ½ tsp cinnamon, ½ tsp vanilla, and 1 tbsp maple syrup into about ½ cup of homemade almond butter to make it taste extra special.
For a chocolate version, blend 3-4 tsp cocoa powder, 1 tsp vanilla, and 3 tsp maple syrup into ½ cup of nut butter. Honey and sea salt are also great additions. Note that cocoa powder will thicken almond butter a bit. If you find yours has thickened more than you like, you can thin it out with additional syrup.
You could also go ahead and create a mixed nut butter by adding some raw cashews, walnuts, or pecans to replace some of the almonds. Just roast them all on the sheet pan together.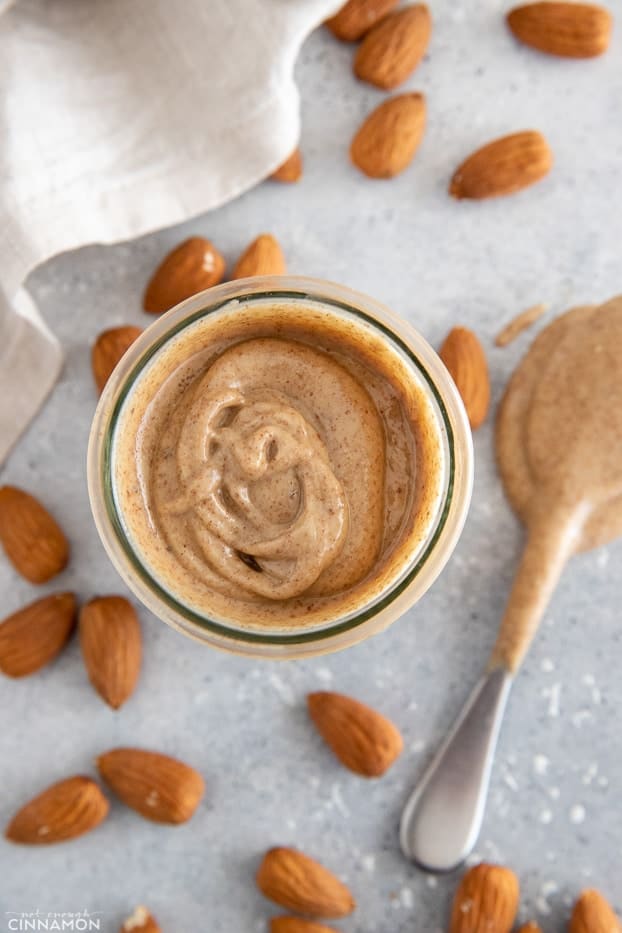 How to store homemade almond butter?
Homemade almond butter will keep in the refrigerator for about two weeks. So shorter than store-bought which may keep for months due to preservatives. If you want to store almond butter without a fridge or cooler, choose a cool, dry, dark place.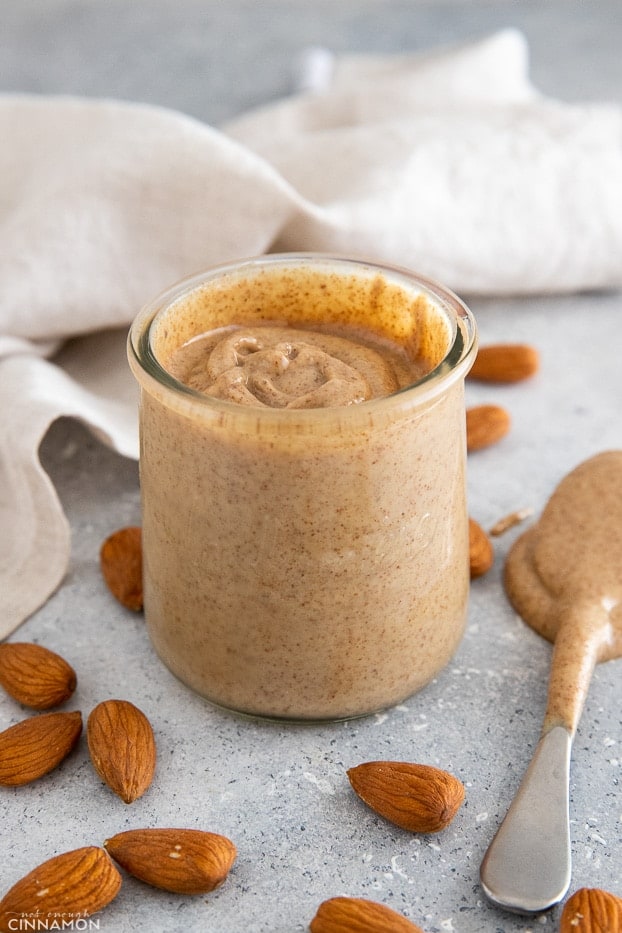 What to make with almond butter?
I love this homemade almond butter spread on rice crackers or on whole-grain toast with some sliced bananas and/or berries on top. Or topped with a teaspoon of chia blueberry jam. You can also spread some almond butter on quick breads, like my lemon blueberry bread or my paleo banana bread. Or, blend it into smoothies or swirl it into yogurt for extra protein.
Need a cool idea for summer? These frozen banana bites – just use almond instead of peanut butter.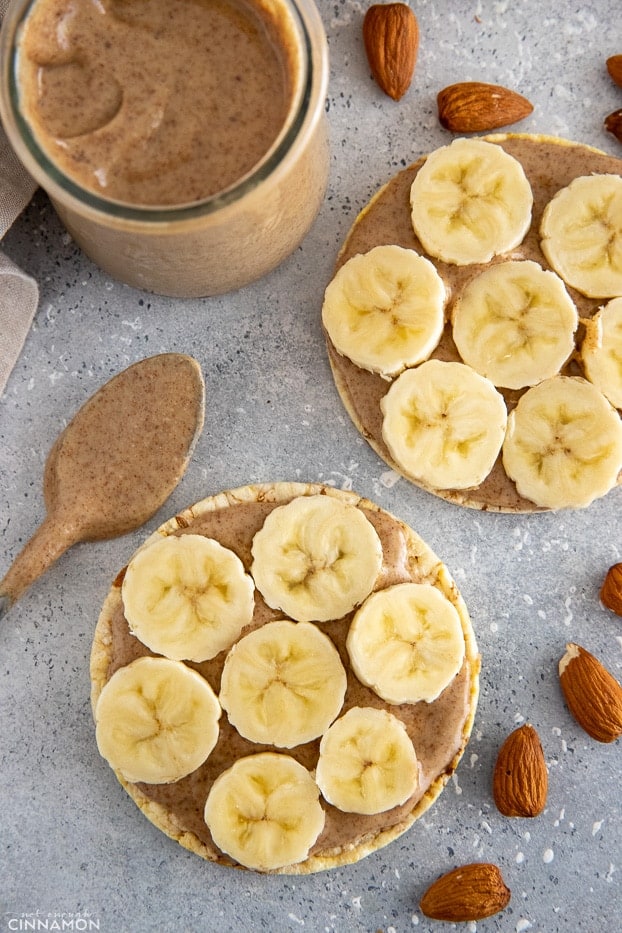 Then, there's the whole world of desserts!
My favorite baking recipes using homemade almond butter are:
Mayonnaise is not hard to make, particularly if you have a food processor or immersion blender, but emulsions can be a little tricky without the help of electrically-powered appliances. Because hand beating is a much slower process—especially if you have to take breaks to rest your wrist—patience is key in keeping your mayo from breaking, but using whole eggs and Dijon mustard can make things a bit less touchy.
Condiments That Will Make You Want to Eat Your Food
The success of a meal plan can only be judged by the percentage of it that's consumed. It may sound
Mayo is usually made with just the yolk portion of the egg but, seeing as the white can help stabilize an emulsion, I like to use a whole egg if I'm making it without the help of ultra-quick mechanical blades. That, coupled with the emulsifying mucilage you get from Dijon mustard , gives you a mayo that isn't as prone to breaking.
Does this mean you can dump all your oil in at once? No, you still need practice a modicum of patience, but you won't ruin your mayo if your stream of oil is a little thick. To make this tangy, luscious condiment without any sort of blender, you will need:
1 whole egg
1 tablespoon fresh lemon juice
1 teaspoon Dijon mustard
1/2 teaspoon fine sea salt
1/4 teaspoon sugar
1 1/2 cups vegetable oil
Add everything except the oil to a large mixing bowl and beat with a wire whisk until completely combined—the mixture will pale in color and get a little frothy. Add a tiny spoonful (a little less than 1/4 teaspoon) to the mixture and beat well to emulsify. Repeat until you have added about 1/8th of a cup of oil, then add two little spoons at a time, beating to fully emulsify after each addition.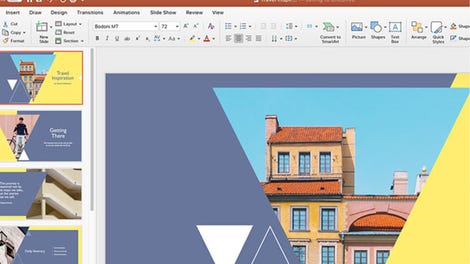 Microsoft Office Professional 2021 Lifetime License
Get smart
Enjoy Microsoft's suite of essentials with a one-time purchase and installation, as opposed to that fee you're paying every month.
Once you have added 1/4 of a cup of oil, the mixture should have lost almost all of its frothy appearance, and should now look like a thin sauce. Slowly drizzle in a quarter cup of oil, beating constantly to ensure the emulsion does not break, making sure to scrape the sides with the whisk occasionally. Repeat until you have added all the oil and have a thick, glossy mayo. Refrigerate and use within a week.
Posted on Last updated: April 18, 2022
Go to Home » Post Archive » 4 Easy Ways to Thinly Slice Potatoes (Without a Mandoline)
This post may contain affiliate links. If you click one of these links and make a purchase, I may earn a commission at no additional cost to you. In addition, as an Amazon Associate I earn from qualifying purchases.
Potatoes are something that most people keep in the kitchen at all times. People use potatoes a lot, and you likely make several different types of dishes with potatoes each month.
Sometimes you're going to need to thinly slice potatoes for certain recipes. This is easy to accomplish when you have a mandoline, but it might be tough without one.
If you find yourself in the kitchen without a mandoline, then you might still be able to thinly slice potatoes. You just need to know what your options are to get good results.
Keep reading to learn how to thinly slice potatoes without mandoline. It'll help you to get your dinner cooked right and you won't have to stress so much.
1 – Use a Vegetable Peeler
Using a vegetable peeler is probably going to be one of the best things that you can do. This is going to give you results that look very similar to what you would get done with a mandoline.
You should be able to cut very thin slices of potato with a vegetable peeler. Of course, many people commonly refer to these kitchen tools as potato peelers because of how often they're used for potatoes.
It's easy to do more than just peel a potato with this kitchen tool, though. It can also cut thin slices of potato for you to utilize in your cooking.
The only downside to using a peeler instead of a mandoline is that it'll be more tedious. This might take a bit more time to do, but it's going to give you good results.
2 – Use a Cheese Planer
Cheese planers actually work pretty well to cut potatoes thinly, and it's easy to use. You just need to run the cheese planer up and down the potato to get the thin slices that you're looking for.
Some people actually prefer using a cheese planer to using a mandoline. It works well when you're trying to get thin slices of long vegetables, and it can work just fine for potatoes, too.
You're just going to want to secure the potato so that you can safely run the cheese planer across it. You'll get nice thin slices of potato, and you'll be done with everything before you know it.
One potential issue that you might have is that cheese planers aren't necessarily the most common kitchen tool. If you don't have a mandoline at your disposal, then you might not have a cheese planer either.
3 – Using a Sharp and Thin Knife
Using a sharp and thin knife might be one of the best things to do when you don't have a mandoline. You're going to be able to use a thin knife to precisely cut potatoes.
It should be pretty simple to cut potatoes thin enough if you have a good knife that is up to the task. You just want to use a thin and sharp knife so that you'll get smooth cuts and you'll have an easy time getting the slices thin enough.
You will want to be careful not to cut yourself when using a standard knife to cut potatoes, though. A slip could cause you to cut your hand, and you don't want to get injured by a sharp knife.
This is why you should try not to force yourself to cut the potatoes too fast. Be careful and get your potatoes cut at a safe pace while you're paying close attention.
4 – Use a Food Processor
This next idea is a little bit strange in some ways, but it could work okay depending on how good your food processor is. If you have a food processor that comes with a slicing attachment, then you might be able to place potato chunks in there to have them sliced up.
The issue with this is that you won't have much direct control over how thin the slices are. It makes it a less than ideal method, but it could work out okay depending on your needs.
If you have a good food processor, then you might be able to cut the potatoes into slices that are fairly thin. This could work out well for the dish that you're making, and it might be worth a shot.
When you need to cut potatoes to a very specific level of thinness, it's going to be best to go with another method. You might wish to try a knife instead of a food processor if you're not sure how well things will turn out with your cutting attachment.
Using a Mandoline Is Still Likely the Best
Using a mandoline is still likely going to be the best thing that you can do when you wish to thinly slice potatoes. You can get pretty good results with the ideas mentioned above, but using a mandoline is going to allow you to consistently get your potatoes as thin as you need them to be.
It might be worthwhile to consider purchasing a mandoline if you know that you're going to be cooking with potatoes quite often. They aren't all that expensive, and they're handy tools to keep in the kitchen.
You can get a reliable mandoline for under $50, but some of the best ones might cost hundreds of dollars. It's up to you to decide which route you would like to take.
Mandoline substitutes will be fine for a while, but you don't have to keep on living without one if you don't want to. You should be able to get by with a vegetable peeler or a good thin knife if you aren't keen to spend cash, though.
Remember to Buy Cut-Resistant Gloves
Whether you're going to be using a mandoline or not, it might be wise to buy cut-resistant gloves for the kitchen. Mandolines are somewhat dangerous because you can cut your hands if you aren't very careful while using them.
This is where cut-resistant gloves come into play because they will give you a crucial layer of protection. If you make a careless mistake, then you should be able to avoid taking a huge chunk out of your hand.
Even if you're going to be foregoing the mandoline in favor of a sharp knife or a cheese planer, it'll be nice to have cut-resistant gloves. Whenever you're going to be thinly slicing any vegetables, it'll be safer to use these gloves.
Avoid potential injuries and get gloves that'll allow you to cut with confidence. Even people with lots of experience in the kitchen benefit from taking extra safety precautions.
Final Thoughts
Cutting your potatoes won't be nearly as hard now that you know what your options are. If you want to thinly slice potatoes, then you'll be able to do so without a mandoline.
Granted, a mandoline is likely the best tool for the job, but that doesn't mean that you can't use other kitchen tools effectively. A sharp knife, a cheese planer, or a vegetable peeler should do the trick nicely.
You might even be able to get solid results using a food processor with a cutting attachment. Just remember to be careful while cutting your potatoes no matter which kitchen tool you decide to go with.
If you want to be extra safe, then you can buy some cut-resistant gloves. Once you're done cutting your potatoes up, it'll be time to enjoy your delicious meal to the fullest.
January 16, 2020 Updated: May 12, 2021 by Lisa Wells / 22 Comments
Cauliflower rice is a great low carb recipe that fits nearly any meal plan (keto, paleo, Whole30, vegan)! It's easy to make a big batch—and stock your refrigerator or freezer with a ready-to-cook, 5-minute side dish that goes with just about anything. Here's how to make cauliflower rice for multiple meals.
It sounds too good to be true, right? Nope! Believe it! Cauliflower rice is amazing stuff! From one simple vegetable comes a base that mimics the taste and texture of white rice. This is a game-changing food discovery for many people. It's perfect for stir-fries, makes excellent fried rice, and can be enjoyed for any meal (even breakfast)!
The easiest way to rice cauliflower
When you're ready to make your rice, you don't need much: a medium-sized head of cauliflower and you're ready to go. The fastest and easiest way to make it is with a food processor.
Most recipes call for pulsing the cauliflower, working in batches. It couldn't be simpler, just pulse the raw cauliflower with the chopping blade until it's as small as rice (this method is demonstrated in the video).
This post may contain affiliate links to products I use and recommend (which means if you choose to make a purchase I may earn a small commission at no additional cost to you).
To get the best texture you'll need to use the grater blade or shredding disc in the food processor. It takes just a few seconds to grate the whole head of cauliflower and will give you more uniform size "rice" pieces.
How to make it without a food processor
To make cauliflower rice without a food processor, you can simply grate by hand with a box grater. Cut the head of cauliflower into large pieces and then grate it on the course shred (largest) side of the grater to rice it.
A word to the wise: If you grate your cauliflower by hand you may want to work over a rimmed baking sheet. Making cauliflower rice can get a bit messy, particularly when you're using a box grater. Fortunately, a baking sheet will make cleanup a breeze.
Once the cauliflower is riced, just cook what you need—or use it as directed in another cauli-rice recipe. A head of cauliflower makes many servings, so prepare only the amount of cooked cauliflower you'll need for your upcoming meal, and store the rest, uncooked, in the refrigerator or freezer.
How to freeze it
I like to keep a big bowl of riced cauliflower in the refrigerator. It lasts for a few days, and it's easy to just scoop out a couple of cups to cook with dinner. If you need to keep it longer, it freezes beautifully.
Here's how to freeze cauliflower rice:
Freeze it before cooking it in one or two cup portions in a reusable bag or freezer-safe glass storage dish. I always freeze it raw since it thaws and cooks so quickly.
To use it frozen, just pull as much as you need out of the freezer. You can add it to the pan frozen and you'll only have to cook it a few minutes longer than if you were using fresh or thawed cauliflower rice.
How to cook it
My favorite way to cook cauli-rice is a quick saute in my cast iron pan. The only essential ingredients are a little bit of cooking fat, salt, and pepper. You can cook as much, or as little as you need. And add whatever flavorings you like. I like it al dente, so I cook it for about 5 minutes in a large skillet over medium heat.
Lately, I've been adding a drizzle of truffle olive oil at the end and topping the cauli rice with fried eggs for a low-carb breakfast. (I told you—enjoy it for every meal!). Of course, you could also do scrambled eggs if you prefer for a quick take on fried rice. It's a great way to get more vegetables into your day.
Cauliflower rice topped with crockpot pulled pork is an easy weeknight dinner and a favorite at our house. With this rice swap, the sky's the limit! Any dishes you love with regular rice or couscous, work perfectly served with cauli rice. Indian, Mexican, or Asian meals all pair seamlessly with cauliflower rice as the base. There are plenty of meal ideas for using it—even sushi!
So, if you're ready for a great low-carb rice swap, give this simple recipe a try. It's a fast and easy weeknight side, especially if you rice the cauliflower ahead of time. Keep some on hand and you may start to wonder how you ever managed without it!
You don't need an ice cream maker to craft your own frozen treats this summer.
This story is part of Home Tips , CNET's collection of practical advice for getting the most out of your home, inside and out.
Don't underestimate the power of your food processor . Amid the summer heat, this kitchen appliance can help you stay cool by churning out delicious homemade ice cream — no actual ice cream maker required.
Let's be honest: An ice cream maker is a one-trick pony. And with limited space in our kitchens, machinery for the dessert genre isn't always a top priority. Some of the more ice cream-obsessed among us (ahem) think it should be the main kitchen appliance, but most people will love finding another use for equipment you already have cluttering your cupboards. A food processor is nothing if not versatile, but we can't think of a more noble use for your trusty processor than homemade ice cream.
Who knew it doubled as an ice cream maker?
Any food processor with at least an eight-cup capacity will do the job; CNET rated the Cuisinart FP-8SVP as the best value food processor of the ones we've tried, and it will certainly work for blending your ice cream base.
Real ice cream, not 'nice cream'
You can find tons of recipes for "ice cream" made in a food processor using a base of frozen bananas instead of the classic cream, eggs and sugar base (often called nice cream in reference to its healthy vegan status and maybe also its ease of preparation). It's actually really good, but sometimes we want the real thing. Fellow sweet-cold-creamy obsessive Jeni Britton Bauer, founder of Jeni's Splendid Ice Creams, shares a quick, simple way to make traditional ice cream at home without an ice cream maker.
You can use Bauer's basic vanilla ice cream recipe as a starting point: Leave out the vanilla bean and make the base through step two, then follow the steps she outlines here:
How to make ice cream in your food processor
1. Follow whatever basic recipe you want to make the custard. Don't include any mix-ins yet, just the cream, eggs and sugar — and any ingredients that are there for flavor alone (see the note below for more info).
2. Pour the custard into a Ziploc bag and press every last bit of the air out. Seal it tightly and place it flat in the freezer. Allow to freeze completely.
3. Crumble the frozen custard into your food processor and process until completely smooth. At this point, you can stir in any mix-ins or additional flavorings you want.
4. Scrape the ice cream into your storage container (which can be a reusable ice cream carton or just a regular loaf pan) and place back in the freezer. That's it!
The texture of this food processor ice cream is a bit finer, a little like gelato. But you can make it into any flavor you like, and stir in all sort of mix-ins, from chopped peanut butter cups to fresh berries.
Note: If you want more infused flavor, you can steep things like fresh mint, roughly ground espresso beans or whole cinnamon sticks in the cream for a few hours or overnight before straining it and starting the recipe outlined above. You can also mix in vanilla extract, cocoa powder and other flavor agents, but you don't want any mix-ins to go in until after the base has been frozen and blitzed — or else they'll be completely pulverized.
The importance of air
Why can't you just make the custard, freeze it, and eat it right away? Churning air into your ice cream as it freezes is essential if you want to avoid large ice crystals and not end up with a sad, solid block. You want something creamy and luscious that coats your tongue — not icy, crunchy ice "cream." But if churn your ice cream after the custard's frozen, that's the next best thing.
If you don't already have a food processor, you probably want one right about now, huh? It's definitely more versatile than an ice cream maker.
Don't just stop at vanilla
There are hundreds of ice cream recipes online you can try using this food processor method. Just remember to follow the steps above and avoid any solid mix-ins during the initial mix. Something tells us this is going to be the best summer ever.
And if you do have the counter real estate for an ice cream maker, we tested Ninja's Creami ice cream machine and gave it a big thumbs-up.
You don't need a food processor or any other fancy equipment to make cauliflower rice. Today, I'm going to show you how to use a cheese grater to achieve cauliflower rice perfection.
Once you have your "rice" granules you can cook and serve them any way you like. It couldn't be easier!
Cauliflower Rice Benefits
The most valued benefit of cauliflower rice is its ability to take on the texture of cooked rice for as little as 35 calories and 4 grams of net carbs per cup.
This riced vegetable can do a lot, too. You can toss it into a fried rice recipe, steam and serve with stir-fry, or use it as a base for power bowls. Essentially, cauliflower rice can recreate your favorite rice recipes into a low-carb version without sacrificing flavor or texture.
Making Riced Cauliflower with No Food Processor
If you use cauliflower rice frequently, making your own can be super helpful and more cost-effective than buying it pre-packaged.
While a food processor is the quickest route, you don't need one to make perfect cauliflower rice. You can achieve fine "grains" of cauliflower rice with a cheese grater.
How to Make Cauliflower Rice with a Cheese Grater
If you're wondering how to grate cauliflower without the pieces being too large, don't worry. The natural shape of cauliflower easily breaks apart as you run it over the cerated edges, giving the finished results a fine, couscous-like texture.
Here's how to make cauliflower rice with a cheese grater:
Rinse the cauliflower with water.
Cut the head of cauliflower in half and use a chef's knife to remove the steam and leaves.
Cut each half into larger wedges.
Run each wedge of cauliflower over the side of the grater with medium-sized holes.
Check out the video below for a visual on how to make cauliflower rice with a cheese grater:
How Much Cauliflower Rice Does it Make?
Typically, one medium-sized head of cauliflower will make up to 4 to 6 cups of cauliflower rice. Depending on how you plan to serve it, this is enough for 1 to 2 recipes.
Making cauliflower rice is the perfect example of something that can be prepped ahead and cooked later in the week to serve with dinner. Prepare it using one of the methods above, pack it into an airtight container, and refrigerate for up to 3 days.
Serving Cauliflower Rice
Now that you have a fresh batch of cauliflower rice, it's time to put it to use! You can start with one of the incredible recipes below or prepare it for a tasty, low-carb side:
How to Make Cauliflower Rice With a Cheese Grater
Learn how to make cauliflower rice without a food processor. Instead, I show you how to use a cheese grater to create the perfect riced cauliflower.
Brussels sprouts are in our crisper drawer for the long haul. But we're getting a little tired of eating them the same way every time. Enter shredded Brussels, a refreshing take on this veggie that turns them into fluffy strands with a coleslaw-like texture. It may sound fancier than just halving them and calling it a day, but it's really easy to pull off. Here's how to shred Brussels sprouts without any fancy tools.
How to Shred Brussels Sprouts
Shaved Brussels are a great base for a salad, stir-fry or any veggie side. And they're so versatile: You can eat them raw just like kale and lettuce or cook them in any way, from roasting to baking to sautéing. Because they're thinner than halved sprouts, they get soft and evenly flavored when cooked or dressed without their tough cores. The easiest way to shred Brussels (besides buying them pre-shaved, of course) is in a food processor with a slicing or shredding attachment. But that doesn't mean you're out of luck if you don't have one.
Want to be as hands-off as possible? Use a blender. A mandoline also shreds halved sprouts like a charm, as does a sturdy cheese grater in a pinch. But slicing them up by hand is also pretty low-lift if you know how to do it efficiently.
Here's how to shred Brussels sprouts without any fancy tools—all you need is a knife. Just be sure to wash the sprouts before cutting them and rub off any surface dirt that you see. You can also give the shredded sprouts another rinse once you're finished to make sure they're clean.
1. Cut off their stems
These are the relatively flat, tough ends of the sprouts. Discarding them helps the shredded layers come apart later on. Try to slice off as little as possible so the Brussels sprouts stay together in single pieces.
2. Remove any brown, bruised or tough outer leaves
They should peel right off once the stems are removed.
Published: May 5, 2021 · Modified: Jun 30, 2021 by Kemi · This post may contain affiliate links ·
Sharing is caring!
Want to know how to mince chicken at home in easy, quick steps? This homemade ground chicken is made without a meat grinder and it's simple to make. Let me show you how to mince chicken using a food processor, or blender.
What is Chicken Mince (Ground Chicken)
Chicken mince or minced chicken is also known as ground chicken. It is finely chopped cut of chicken that is a leaner alternative to beef mince. Skinless boneless chicken thighs or breasts or a mix of both are commonly used to make it.
It is usually commercially done in a meat grinder but can be made at home in a food processor, blender, meat grinder, or by hand. It can be either white meat or dark meat depending on the chicken parts used.
Why mince chicken at home
Knowing how to mince chicken at home will save you time and money as it's cheaper than buying in-store and you can quickly make it in the comfort of your home.
It is easy to grind chicken and you know what's in your mince.
It's convenient as you can bring some chicken breast or thighs out of the fridge or freezer and make minced chicken than having to travel to the store to get it.
You use whatever boneless chicken part you like to make it. You can mix chicken breasts and boneless chicken thighs which makes it more juicy and tasty than using chicken breasts only.
By making your chicken mince at home, you're sure of the quality and freshness.
Ingredients
You only need just chicken to make it. However, you can add seasoning to it when mincing. I personally prefer to mince it plain.
Chicken – chicken breasts or boneless chicken thighs
Salt (Optional)
Pepper (Optional)
How to Mince Chicken
Choose the cut you want to mince, rinse and pat dry.
Using a sharp knife or kitchen scissors, cut the chicken into 1-2 inch cubes.
Arrange the cut chicken on a plate or tray and put it in the freezer to chill for 20 minutes.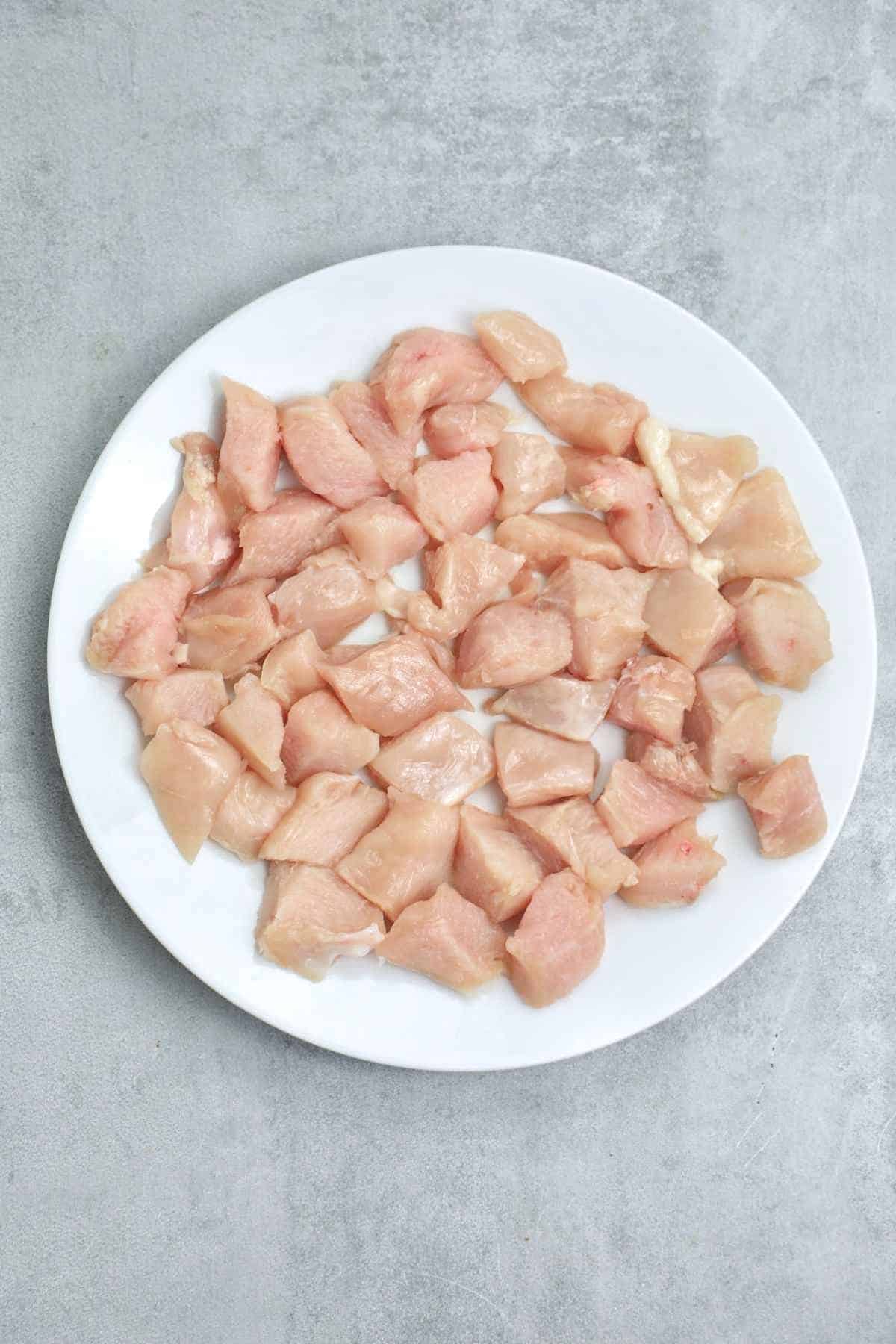 Bring out the chicken when it's firm but not frozen, then put some of it in the food processor.
Process for 1-2 minutes or till chicken is grounded or minced to your desired texture.
Transfer the mince into a clean bowl or grease proof paper.
Repeat above steps till all chicken used up.
Use it immediately or store it in the freezer till ready to use.
Mince it in a Blender
Can you mince meat in a blender? Yes, you can. Follow the steps detailed below:
Choose the chicken cut, rinse and pat dry.
Using a sharp knife or kitchen scissors, cut the chicken into 1-2 inch cubes.
Arrange the cubed chicken on a plate or tray and put it in the freezer to chill for 20-30 minutes.
Bring out the chicken when it's firm but not frozen, then put few of it in a blender.
Blend for 1-2 minutes or till chicken is grounded to how you want it.
Transfer it into a clean bowl or grease proof paper.
Repeat above steps till all chicken used up.
How to use
There are loads of recipes that call for minced chicken and I will be sharing them with you in due course. Some of the recipes you can use it for include:
How to Store
Put in an airtight container or ziploc bag (You can also wrap in a grease proof paper before putting in the ziploc) and store it in the fridge for up to 4 days.
To store in the freezer: If not using within 4 days, store it in the freezer where it will last for up to 6 months. When ready to use, bring out of the freezer and put in the fridge overnight to thaw or put on the countertop to defrost then cook as normal.
Wash kitchen scissors, knives, chopping boards, or any tools used immediately after use to avoid harmful bacteria spreading and causing food poisoning.
Don't cut too big so it's easy to mince in the food processor or blender.
When you put it in the freezer, remember it's to firm it up but not freeze.
If using a blender, make sure it's a powerful one so it doesn't damage your blender.
It can be used for stews, sauce, soups, burgers, meatballs and more.
More Easy Chicken Recipes
Thanks for visiting. If you find this post helpful, please rate it 5 stars and leave a comment. If you don't want to miss any of our posts Subscribe to the blog for free weekly recipes in your email. Also, follow us on Instagram and Pinterest.
Help me out please, Kindly pin this or share on your facebook page or group.
How to Grind Meat without a Grinder in just a few minutes. Sounds like a topic that will probably elicit a lot of questions from our readers. Like:
Q: Really? Minutes?
A: You betcha.
Q: Noooo…You must be kidding?
A: Not really!
Q: Wait, why would you want do that in the first place?
A: Let us count the reasons.
First of all, grinding meat without any type of meat grinding device is definitely doable, and I promise to show you exactly how. But more importantly, there are many reasons to hand-grind meat yourself. In fact, I've stopped buying many pre-ground meats from the store, opting instead to do it at home.
Here are a few reasons why.
Why Hand-Chopped Meat is Better Than Store-bought Ground Meat
Reason #1: TASTE
Hand-chopped ground meats taste so much better than machine-ground meats. While prepared, packaged ground meats are readily available and we have all already gotten used to their texture, some dishes––especially in Asian cooking––are just better using meat that has been finely hand-chopped the old-fashioned way. If you ask anyone from my parents' generation, they will tell you that they hand-chop ground meat when making fillings for dumplings, wontons or baozi. Ultimately, the texture will be meaty and flavorful instead of paste-like and indistinguishable.
Reason #2: HEALTH
Store-bought ground meats are often ground with scraps and then packaged neatly, so that we ultimately don't know what's gone into them. You also have little control over the cleanliness of the process or the fat content. Ground chicken, for instance, is often made from chicken breast, making it very lean. Likewise, ground pork found in the supermarket is also quite lean. At the supermarket, I can get different lean meat to fat ratios in ground beef, but not for pork, chicken, lamb, or turkey.
Reason #3: PRACTICALITY
If you cook a lot like we do, how often do you find yourself wishing that you had some ground meat for the dish you want to make at that very moment? My answer is…very often. Being able to take any piece of pork shoulder or a pack of chicken thighs to transform into ground meat is super convenient, and saves you a trip to the grocery store. Not only that, you get to control the coarseness and texture of the ground meat by chopping it more or less finely. This can give you greater control over the final results in your dishes.
Trust me, you will be as thrilled as we are with this newfound skill. In fact, Sarah is going to be sharing a great homemade breakfast sausage recipe in a couple days that uses this technique––and we're very excited about it! Will have to keep it a secret for a couple more days. 😉
OK, here's how to grind meat without a grinder––in just minutes. I used a piece of pork shoulder in this example, but this method can be used with boneless beef, chicken, lamb, turkey, etc.
How to Grind Meat without a Grinder
Step 1: With a sharp knife, slice your piece of meat on 45-degree angle, only cutting 75% of the way through––do not cut all the way to the bottom. Make your slices about ¼-inch thick.
Step 2: Flip the piece of meat over and repeat Step 1, slicing at a 45 degree angle in the opposite direction.
Step 3: Flip the meat back over, and slice at a 90 degree angle this time, again 75% of the way through, with a ¼-inch between each slice.
Step 4: Flip the meat over and repeat Step 3.
Step 5: Now gather the meat into a pile, and using the part of the knife or cleaver closest to the handle, rapidly chop the meat from left to right a couple times.
And that's it, you're done! If you want a finer texture, repeat Step 5 until it's done the way you like it. You may need 3 minutes instead of 2. But who's counting?
Scroll down for the video showing the entire process, as well as the recipe card with printable instructions.
And here are some recipes that you can use this method with!
Recipes You Can Use This Method With
Garlic Chive Stir Fry with Pork or Cang Ying Tou (苍蝇头) literally translates to "Flies' Heads" in Chinese. It's an excellent stir fry dish to have over rice!
Sichuan Dry Fried String Beans or Gan Bian Si Ji Dou are cooked in China using Sichuan peppercorns with a little heat from the addition of dried chili peppers and ground pork.
Pork Larb is a Southeast Asian meat salad from Laos that only takes minutes to make and is delicious!
San Xian Wontons are not your average wontons. The delicious trio of shrimp, pork and chicken filling is incredibly flavorful, and not difficult to make at home!
These spicy Asian meatballs are not your run-of-the-mill variety. They are delicious, unique and will redefine your meatball expectations!
Pickled Long Beans with Pork is a favorite stir-fried dish with perfect level of tongue burning chili flavor, crisped bits of ground pork, and vinegary pickled long beans whose flavor is transformed by the effect of the wok's searing heat.
This post on how to grind meat without a grinder will eliminate the hassle of taking out your meat grinder and washing it just for a simple recipe like the ones above!
WATCH: How to Grind Meat Without a Grinder
Looking for more authentic recipes? Subscribe to our email list and be sure to follow us on Pinterest, Facebook, Instagram, and Youtube!
October 6, 2020 by Chris Riley
You've probably heard all about the wonders of grinding your own meat at home. It tastes better, it's cheaper, and you'll know exactly what's in the mince. But unless you have a good meat grinder in your kitchen already, chances are you think you'll have to stick to store-bought ground meats from the grocery store or butcher shop.
Not so fast, there's a way around that. Today, we're here to teach you how to grind meat without a grinder in two different ways. And the best part? You probably already have all the tools you'll need.
Grinding Meat with a Food Processor
The first method is using a food processor to make ground meat. This nifty kitchen appliance is incredibly easy to use and lets you make dozens of tasks (from chopping and slicing to grating) with it. Let's take a look at how.
Step 1: Assemble Your Food Processor
Start by setting your processor on a stable kitchen counter. You will only need the standard S-shaped blade, so there's no need to assemble the cutting disks. Make sure the food processor blade is clean and well-sharpened.
Step 2: Get Chopping
Now, chop the meat into small cubed pieces. This will help the appliance grind meat more efficiently and quickly. If you don't chop the meat, there's a good chance the processor blade will break or the engine will break down.
Step 3: Freeze the Chopped Meat
Once you have your cubed meat, place it on a parchment-lined baking sheet. You'll put the tray in the freezer for thirty-or-so minutes. Freezing the pieces will harden them, which will prevent the end product from being too mushy. You'll get better-defined grounds that are loose from each other.
Step 4: Put the Meat in the Food Processor
After those thirty minutes, you can go ahead and place the chopped frozen meat in the meat processor bowl. If you're grinding a lot of meat at once, you'll probably need to do this in several batches. Never overfill the bowl, or else your appliance will have a hard time getting the job done.
Step 5: Pulse, Pulse, Pulse
Put on the lid and use the "pulse" function. This is the setting that best plays the role of a meat grinding machine. After about ten pulses, you should have perfectly freshly ground meat.
If you want finer grinds, you can go ahead and pulse the raw cubed meat for longer. If you'd rather have a coarser grind, you can stop after just five or six pulses. Keep an eye on the meat and adjust the method as needed.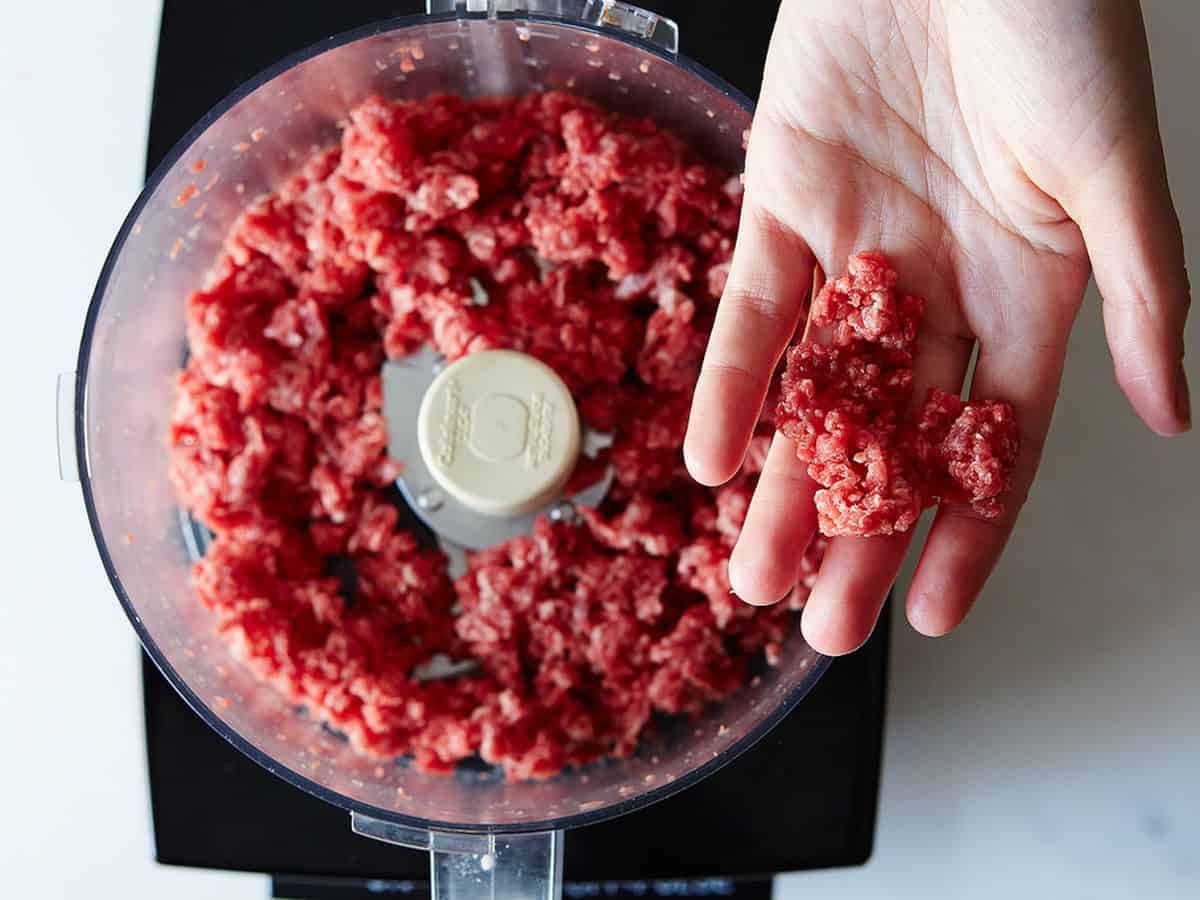 Grinding Meat by Hand with a Knife
If you don't have a food processor, that's okay. The knife method takes a little more effort and time, but you'll still end up with perfect ground chicken or ground beef for your shepherd's pie or classic Italian-style meatballs , for example.
For this method, you'll need to get a sharp knife—we recommend using either a butcher or chef knife (and don't forget the knife sharpener !). Additionally, you'll need a clean cutting board .
Step 1: Make the First Cuts
Start by making cuts on your chunk of meat at a 45-degree angle. Be careful, as you don't want to cut the meat all the way through. Aim for cutting it 75% of the way through.
Step 2: Flip and Repeat
Then, you'll want to take the piece of meat and flip it over. You'll repeat what you did in step one—cutting 75% of the way through at a 45-degree angle.
Step 3: Again, Flip and Repeat
Flip it over one more time and make cuts, but this time, they should be at a 90-degree angle.
Step 4: Once More, Flip and Repeat
Lastly, you will need to flip the piece of meat one more time and once again make cuts at a 90-degree angle.
By now, the meat should be freshly ground and the perfect consistency for whatever recipe you're making. If you want finer grounds, repeat the flipping and cutting once or twice more.
At the end, you shouldn't forget to thoroughly clean your cutting board . Raw meat can leave bacteria in the pores of your chopping board, which could lead to some health problems.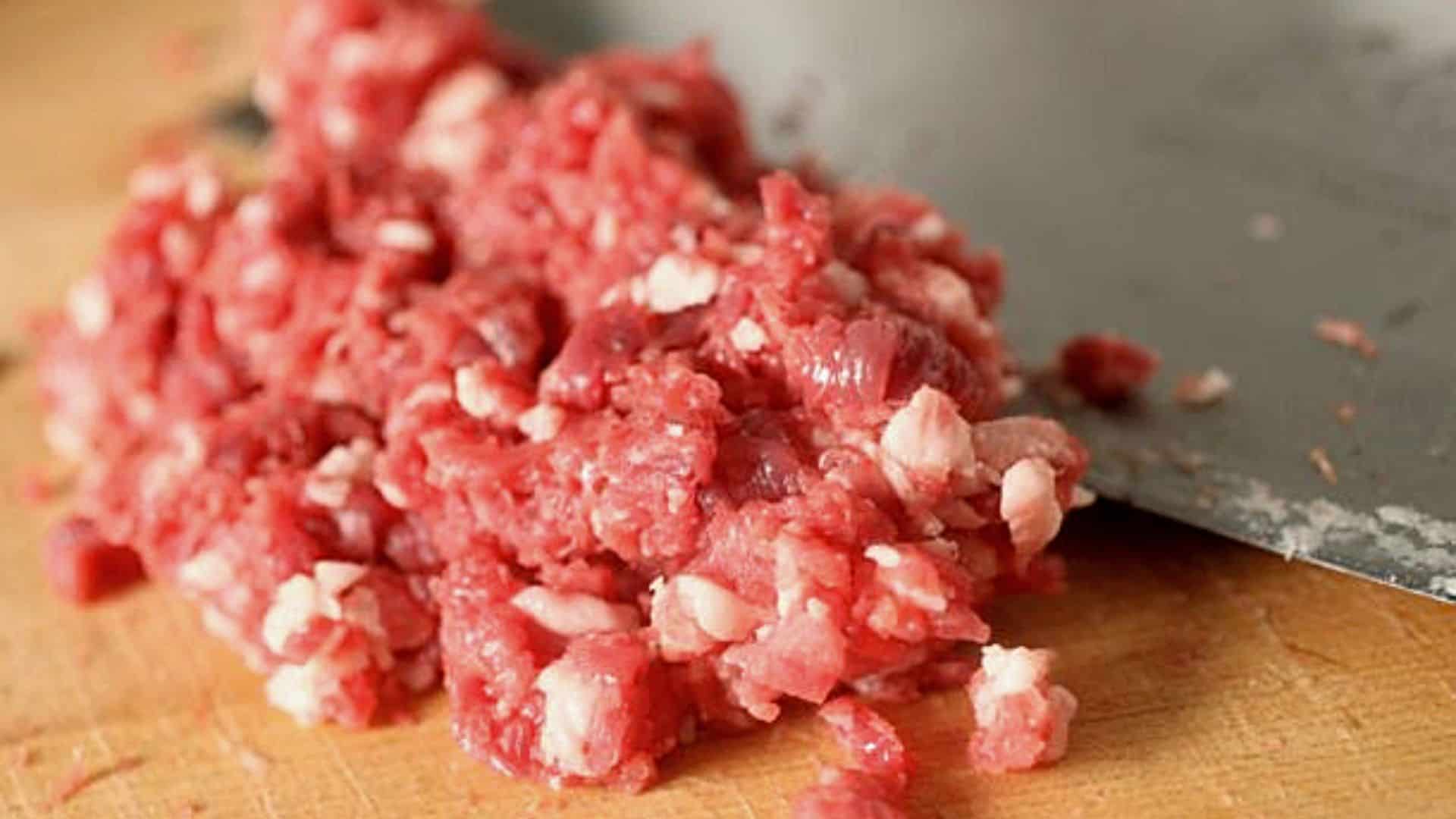 Chopping Meat With A Sharp Knife
Keep This in Mind When Grinding Meat
As you've seen, knowing how to grind meat without a grinder isn't too complicated. We're sure you'll get along with one of the two methods we showed you today. But before we let you go, there are a few things you should keep in mind before you start to grind your own meat at home.
Don't Neglect Food Safety
You should always handle raw meat carefully. That includes not leaving it out of the fridge or freezer for more than two hours before cooking it. Otherwise, it can start to grow bacteria. If you need to grind frozen meat (that isn't cubed yet), leave it overnight on a plate in the fridge.
You Can Choose How Coarse You Want the Grounds
The best thing about freshly ground beef, made at home, is that you get to choose how coarse you want the grounds to be. Thus, when you're using either of the methods, you should eyeball the progress and either omit or repeat a step.
Cuisinart and Ninja took our top spots
We independently research, test, review, and recommend the best products—learn more about our process. If you buy something through our links, we may earn a commission.
After testing, we picked the Cuisinart DFP-14WGY 14-Cup Food Processor as the best food processor because of its sleek, minimalist design, powerful motor, and extra-large feed chute. Our pick for best blender, the Ninja CT810 Chef High-Speed Premium In-Home Blender, has 10 Auto IQ programs for perfect results every time.
While it might seem like a food processor and a blender are interchangeable, they both have their strengths and weaknesses in the kitchen. If you only have the space for one of these appliances or want to prioritize which one to add to your kitchen arsenal first, it pays to think about what you'll be using it for most often.
Let's start with blenders. If the foods you prepare have more of a liquid consistency—soups, smoothies, milkshakes, frozen drinks, and so on—a blender will be your best bet. Food processors, on the other hand, are better at handling drier ingredients or chopping veggies before you put them into your soup. The wide flat blade and larger, shallower container make the food processor ideal for mixing pie dough, kneading bread dough, and shredding veggies or cheese.
There are a few areas of overlap, however. Food processors and most blenders (though high-powered ones really shine in this arena) can grind nuts into nut butter, make mayonnaise, whip cream, and some can even grind grains into flour.
Here are the best food processors and blenders.
Best Food Processor: Cuisinart DFP-14BCNY 14-Cup Food Processor
Courtesy of Amazon
This food processor looks much like the original version that made food processors so popular in home kitchens, but now it's updated with a new chopping blade and a brushed stainless steel finish.
The operation is simple, with a single lever to turn the machine on, and a second lever for off/pulse functions. The bowl holds 14-cups, so it's large enough for family meals and it has dual feed tubes, so you can feed whole large vegetables in the large tube or stand thin foods like carrots and celery in the inner small tube, so they won't fall over during slicing.
This includes a slicing disc and a shredding disc, so this can do everything you need, without including a lot of extra accessories that you'll have to find room to store.
" data-caption="" data-expand="300″ data-tracking-container="true" />
The Spruce Eats / Tierney McAfee
"I chose to make an apple crumb pie based on a recipe in the Cuisinart's instruction manual, and it was a crowd pleaser with a near-perfect tender and flaky crust." — Tierney McAfee, Product Tester
Best High-End Food Processor: Breville BFP800XL Sous Chef Food Processor
Courtesy of Williams Sonoma
This food processor has all the functions you'll need, and the power to work with the ingredients you use most. It includes five multi-function discs and three blades that make short work of everything from dough to cheese to salsa. The large 16-cup bowl will handle large batches for the whole family, while the 2 1/2 cup mini bowl is ideal for making hummus for one or blending just a little chimichurri for a garnish.
The super-wide feed tube lets you process most vegetables without needing to cut them into small bits, and the LCD screen displays a count-up and count-down auto timer, so you can monitor the processing time. The small feed tube makes it easy to handle small ingredients, while the small pusher doubles as a measuring cup. A silicone seal reduces leakage while the processor is running.
The variable slicing blade can be adjusted to 24 different slicing thicknesses, from paper thin to 8mm. The other discs are for julienne cuts, French fries, and whisking, as well as a reversible shredding disc. Blades include a universal chopping blade, a dough blade, and a blade that fits the mini bowl.
This includes an accessory storage box to hold the discs and blades to keep them safely tucked away when not in use.
" data-caption="" data-expand="300″ data-tracking-container="true" />
The Spruce Eats / Tierney McAfee
"I made hummus with tahini and a white bean spread—both of which turned out smoother and creamier than dips we've made in the past." — Tierney McAfee, Product Tester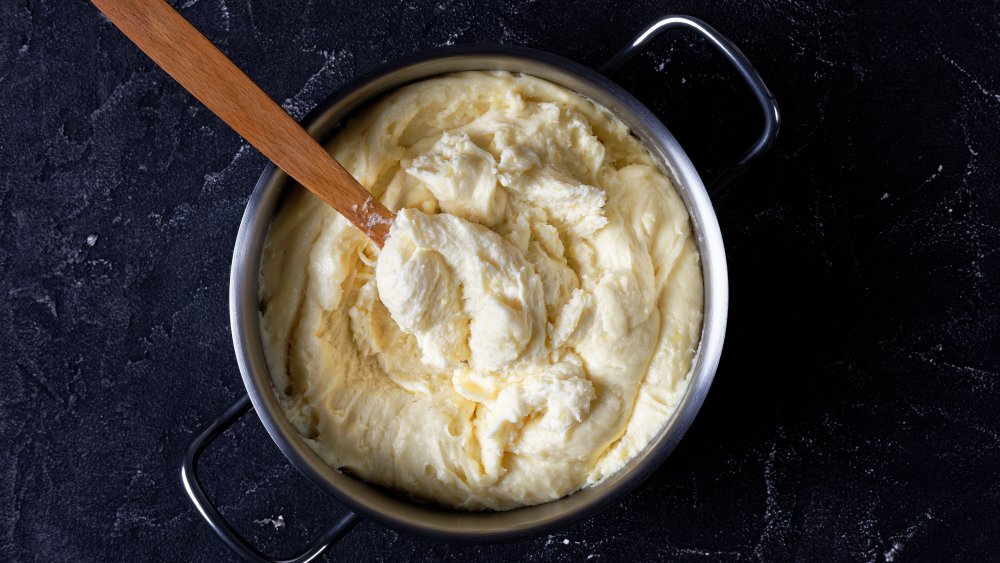 If there's one classic side dish that's way too easy to mess up, it's mashed potatoes. That's because, not unlike certain batters, overworking your potatoes can result in an unpleasant, gummy texture (via Food52). This comes from damaging the potato cells, which causes them to release more starch. In fact, according to Serious Eats, the amount of starch your potatoes release is what really determines the final texture of your mashed potatoes, and after picking the proper potatoes and rinsing them with cold water before cooking, the best way to control the amount of starch in your dish is by choosing the proper mashing method.
According to Food52, the easiest way to avoid the over-mashing calamity is to stay away from the food processor at all costs. While it might seem like the easiest and most convenient choice to achieve perfectly smooth spuds, it's almost guaranteed to leave you with a sticky, gummy mess that comes from releasing too much starch. Unfortunately, this presents another challenge: getting the potatoes smooth and creamy without making them gooey and gummy. Luckily, there's a tool you might already have in your kitchen that does just that.
The three unlikely tools that make the best mashed potatoes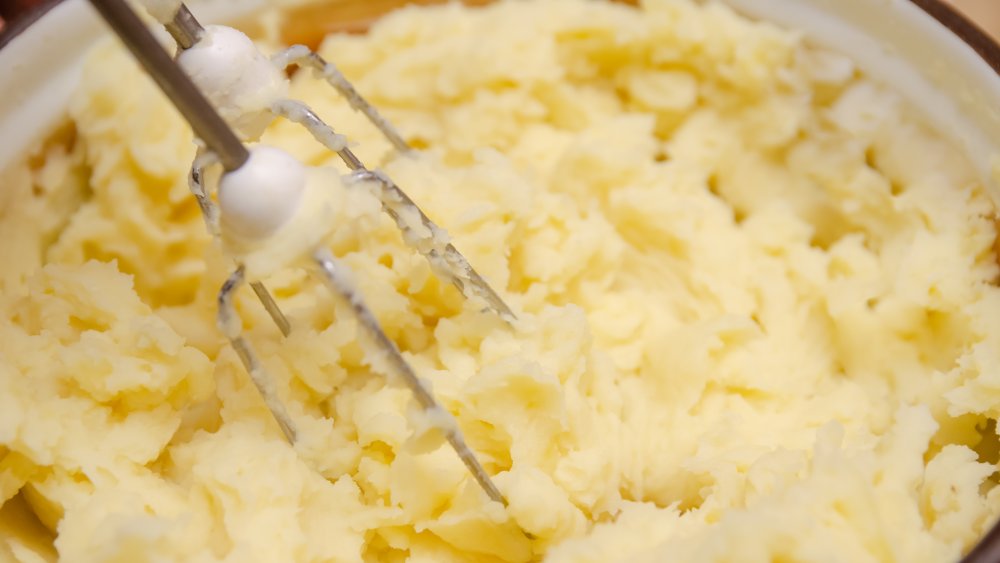 Don't bother looking through your drawers for that potato masher, you won't need it unless you're looking to make slightly lumpy, more rustic-style mashed potatoes. For a perfectly smooth version, you have two choices: a food mill or ricer. These tools are ideal for light, fluffy mashed potatoes that are perfectly smooth. This strategy is also the gentlest, meaning it never overworks the potatoes and thus releases the least amount of starch.
If, however, you prefer more dense and creamy mashed potatoes, there's a simple solution for that as well — and it still doesn't require a food processor. Instead, try using either a stand mixer or an electric hand mixer to create your creamy mash. This strategy releases more starch than a ricer, but not as much as a food processor would (via Quartz). Just be sure to taste your potatoes frequently to avoid overworking them and unknowingly stepping past creamy and into the realm of gluey.
Sarah Aguirre is a housekeeping expert with over 20 years of experience cleaning residentially and commercially. Over that time, she has been writing about tips and tricks for housekeeping and organizing a home for national publications.
The Spruce / Ulyana Verbytska
Working Time: 10 – 25 mins
Total Time: 20 – 25 mins
Skill Level: Beginner
Estimated Cost: $10-20
Cleaning your food processor may be a tedious task when it's constantly being used to chop, slice, and shred many recipe ingredients leaving food residue behind. However, it's important to properly clean each piece and the processor, itself, to have the tool last for awhile in your kitchen. Here are some tips and tricks to keep your food processor clean and in tip-top shape in 15 minutes.
What You'll Need
Equipment / Tools
Nylon brush
Dish cloths or sponge
Materials
Mild dish soap
Baking soda
Instructions
" data-caption="" data-expand="300″ data-tracking-container="true" />
The Spruce / Ulyana Verbytska
Instructions
Take the Food Processor Apart
Food processors have several pieces and you'll need to take off the top, remove the pusher unit, take out the blade, and take the bowl off the motor. Bits of food can hide in any of these areas and you'll need everything separated in order to clean your food processor. Set the blade aside for special care.
" data-caption="" data-expand="300″ data-tracking-container="true" />
The Spruce / Ulyana Verbytska
Wash the Blade
You should wash the blade first, immediately after use. This will help keep it sharp as any moisture from ingredients or soaking can dull the blade. This also prevents food from drying inside the crevices or tube attached to the blade. These will be easier to rinse out immediately after use. Taking care not to cut yourself, gently scrub it with a mild soap and a pad. Dry the blade with a dry dish towel so there is no moisture that can lead to rust.
" data-caption="" data-expand="300″ data-tracking-container="true" />
The Spruce / Ulyana Verbytska
Wash the Removable Parts
All the removable pieces of the food processor can be washed in warm water with a mild dish soap. You can let them soak for awhile if you don't want to do wash them immediately. Do not scrub the parts of the processor with abrasive cleaners or pads. Or, the removable parts other than metal blades can be washed in the dishwasher on the top rack.
" data-caption="" data-expand="300″ data-tracking-container="true" />
The Spruce / Ulyana Verbytska
Wipe Down the Base/Motor
Using a damp cloth, wipe down the base/motor area. Do not submerge this unit in water or pour water over the base/motor unit. A simple wipe down is usually all that is needed. For stubborn stains (like tomato), mild dish soap or a baking soda paste may be able to lift out the stain.
" data-caption="" data-expand="300″ data-tracking-container="true" />
The Spruce / Ulyana Verbytska
Fully Dry and Assemble the Processor
Dry the pieces of the processor completely. Put it back together and store it away. If you use your food processor on a regular basis, store it on a countertop or in another accessible location.
" data-caption="" data-expand="300″ data-tracking-container="true" />
Kneading dough has been one of the toughest tasks ever that require all your effort and time. But this problem now has been solved. Your dough kneading job requires less time, no energy, and no effort at all. Making Dough in a Food Processor is good news for you.
There were no kitchen appliances in the form of food processors to make life so easy. But now, food processors have taken this responsibility on their shoulders. You can find both high-end processors or budget-friendly machines in the market.
Problem Solved!
I was once worried as I was given a task to roll 50 buns for a tea party, and I was hell tired and fed up after a while. This issue took me to find out how I can make such jobs easier. Then I came to know about the best dough making food processors.
Hurray! Now, these gadgets have made our work easier and simpler. Only you need to do is to push the pulse, and here you go with any type of dough for your meal. So, find your favorite one in this article about the best food processors.
Table of Contents
Making Dough in A Food Processor is A Good Idea
Relax Ladies. This kneading is a problem for every woman. We can make delicious foods but making dough for that meal is a gigantic problem around the globe. Now it can be any dough, either buns, cakes, bread, or pizza dough, that you can knead in your processor.
Your kids can also have their all-time favorite doughnuts all the time. Yes, now you can easily make 50 buns. The cinnamon roll lovers can also be thankful to the food processors as they can be made without any hectic. Check if you like any kitchen machines in this guide.
Most of the ladies avoid baking and making bread or dinner rolls only because of the kneading of the dough, but now you do not need to fear this job. A variety of options for buying a good food processor is here to save your time.
Helpful for the Bakers
Dear bakers, no more tears! This is also a huge relief for the bakers who run their bakeries and have a lot to do with flour. They can also have the opportunity to be creative and innovative without taking any tension of kneading. They can now work on their other skills and assign the kneading job to multi-purpose food processors.
Besides, now the kitty parties and tea parties can be hassle-free as you can make anything that needs the dough. Enjoy your soups with buns, or have a satisfying slice of homemade cake. So stop worrying about kneading and start finding your kitchen helping hand here.
It is a trend to go out for dinners to avoid cooking especially making bread for dinners. Usually, mothers especially working moms, have no time to make the dough. So now you can have healthy homemade bread, pizza, and cakes with the help of this kitchen device.
What Doughs Can You Make In A Food Processor
You can use your food processor to make dough for the following yummy foods.
Pizza Cinnamon rolls Doughnuts Bread and buns Croissants and mini burger buns Best for making dough for pasta and noodles too
How to Make Dough in A Food Processor
It is not a lengthy or tricky job. All you have to do is follow these steps.
Install your food processor according to the instructions in the manual guide Put in flour Add other ingredients required according to your recipe. Most work bowls have measurements marked. Use them to have a better idea of how much you can fill in. Don't overload the bowl. Turn the machine on. It is better to use pulse mode to keep a check on the consistency Do not put all the wet ingredients together Keep adding them as required because your dough may need more or less moisture depending upon the speed and efficiency of your motor Once you get a well gathered or well-formed dough, pulse it for one more time Be careful. Do not overdo your dough, or it will be hard to tackle
If you love eating vegan food these articles hold amazing surprises for you. Hey, meat lovers do not get disappointed. We have these meat processing machines and pureeing machines for you too.
Few things to keep in mind while using food processors for making dough
The mass of both the insoluble solid and solvent (chilled water) must be in an efficient amount. The blades of the processors must be greased with oil. Don't let the water go inside the crucial parts of the processor. Add liquid ingredients when your processor is running.
Frequently Asked Questions ( FAQs )
1 – Can I process hot ingredients?
No, you cannot go for hot ingredients. You can add room temperature ingredients to your food processing unit.
2 – If I can mix the dough with my knife blade, why do I need a dough tool?
As you know that everything has its own function, and so the food processor has. If the blade is used for everything, then it won't be that much sharper anymore.
3 – Can you make the dough in a food processor?
Yes, you can use this machine for kneading dough in less than 5 minutes. Another benefit is that your dough will rise faster because processing will make it warm.
4 – Can I use a blender instead of a food processor for dough?
Using a blender instead of the food processor for making dough is not a good idea because blenders can hardly process dry ingredients.
This post may contain affiliate links (disclosure).
You can use shredded meat in many recipes. For example, I use shredded chicken in the chicken salad, shredded BBQ chicken sandwich, and as an addition to pasta dishes and stir fries. You can also use shredded meat as a filling for quesadillas, enchiladas and burritos, as well as sandwich wraps. There are certainly many ways to use shredded meat, but what is the quickest way to make shredded meat? Certainly, the food processor!
Shredded the chicken, beef or pork only takes seconds when you use a food processor. But if you don't use the proper blade and technique, you can end up with the crumbles or gooye glop instead of the shreds 🙂 If you tried shredding meat in the food processor, and it looked nothing like the shredded chicken on the picture above, read on!
Here's how to make shredded meat correctly in the food processor. First of all, don't use the "shredder" blade. It seems counter-intuitive, since the "shredder" is supposed to be for shredding 🙂 Well, that shredding blade works great for shredding carrots, but not for meat! For the meat, you need a "slicer" disk blade – the round top blade with a single slit.
slicing blade for the food processor
Fit your food processor with the top "slicer" disk blade, and add the meat on top. Now, here's a very important technique you need to follow: don't push the top with your hand. Pulse the food processor, and let the gravity do the work. If you press on the top pusher thingy, the food processor will make slices. If you don't push, it will make shreds. The slicer blade with the combination of "no pushing" technique will produce the perfect meat shreds.
Discover how to make fresh, dried or panko breadcrumbs and use them to provide texture in recipes such as a breaded chicken katsu burger and treacle tart.
'Breadcrumbs' is a term used to describe several very similar but slightly different ingredients. Breadcrumbs can be fresh or dried, fine, coarse, or 'panko'. Recipes usually specify which type to use. They can also be made with different kinds of bread, but for a crunchy finish, use bread that isn't absolutely fresh because it will still have too much moisture in it and the crumbs will clag together.
Fresh breadcrumbs have not been dried and are soft in texture. They are absorbent and swell when soaked in liquid, so they are used to add bulk to recipes such as treacle tart, to act as a binder in meatballs, or fried with other ingredients to absorb their flavours in lightly crispy toppings such as pangrattato and gremolata. They are also the main ingredient in bread sauce.
Dried breadcrumbs are often fine and used to crumb-coat ingredients such as fish, Scotch eggs and croquettes before deep-frying, or sprinkled on top of gratins to both soak up oil and provide a crunchy topping.
Panko breadcrumbs are much flakier and more delicate than ordinary breadcrumbs. They are made with fine white bread that is dried and they turn very crisp when fried. Asian in origin, they're used for dishes like katsu but are now widely used in Western cooking, too.
How to make breadcrumbs with a food processor
You will need: 2 slices day-old white bread, crusts removed, if you prefer.
1. To make fresh breadcrumbs, tear the bread into pieces and drop it into a food processor fitted with a blade. Whiz the bread in bursts until you have breadcrumbs of the size you want. If you want to make very even crumbs, push them through a coarse sieve.
2. To make dried breadcrumbs, tear the bread up and dry it out in a low oven first, then process it.
Other ways to make breadcrumbs
You can also make dried breadcrumbs by bashing up pieces of dried bread and rolling over the pieces with a rolling pin. You can put them in a plastic bag to do this and they won't fly everywhere.
Fresh breadcrumbs can be made by cutting the crusts off a loaf then grating the bread on a coarse grater.
Recipes using breadcrumbs
Ham croquetas
This classic Spanish dish uses dried breadcrumbs to make a crunchy case around a soft interior.
Chicken katsu curry burger
Use panko breadcrumbs to make this burger version of katsu.
Garlicky linguine with cabbage & anchovy
This simple pasta dish is given added texture with a pangrattato topping.
Apple, cream & spiced rye crumble pots
Rye crumbs fried with sugar make deliciously crunchy layers in this apple pudding.
IPA treacle tart
A treacle tart is ideal for using up leftover bread. With this recipe, there's also the option of adding honeycomb shards.
Find more brilliant breadcrumb recipes.
Do you make your own breadcrumbs or buy them? Leave a comment below.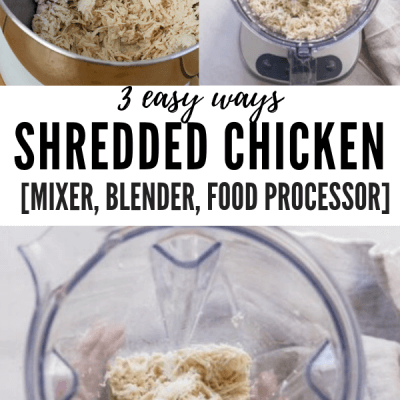 How to shred chicken breast and thighs? Here are 3 easy ways to make shredded chicken without using fork and knife. Best ways to shred chicken fast using a mixer, blender, food processor!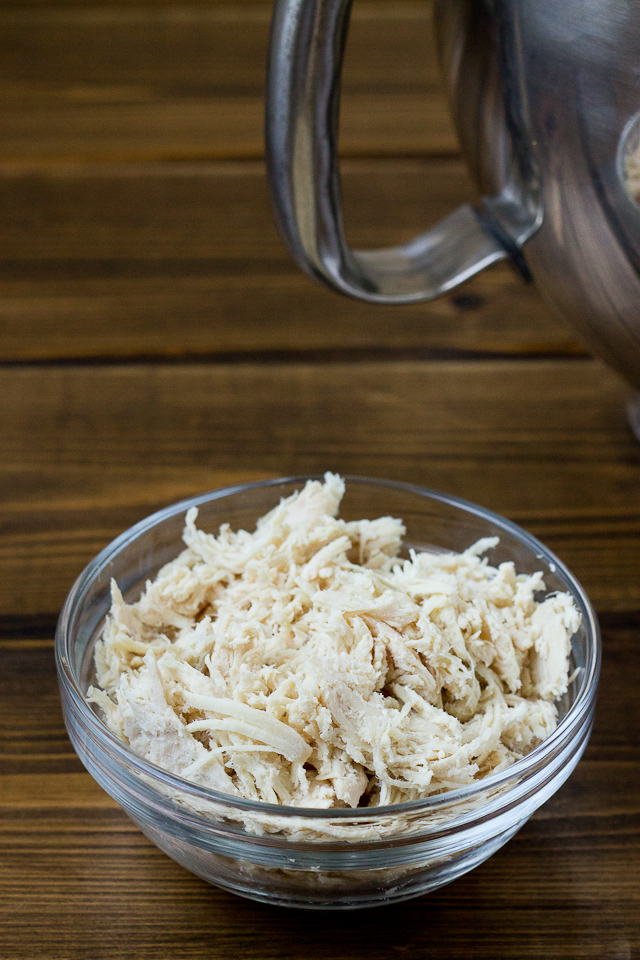 If you're wondering how to shred chicken breast, I'm bringing you the 3 easiest ways to make shredded chicken!
Shredded chicken has changed my life. Okay, that may be a little dramatic but it sure has made our weeknights easier! And I'm all about that. If I'm begin honest, we eat out a little too much. It's definitely something that we are always striving to work on as a family.
We are budgeters and manage our finances through Quicken. We really don't "think" we eat out much or "feel" like we eat out much, but you can't hide from the numbers. If you manage your finances and look at the data weekly or monthly, it's like an in-your-face-you-can't-hide-from-it-truth.
Enter how to shred chicken without using a fork and a knife.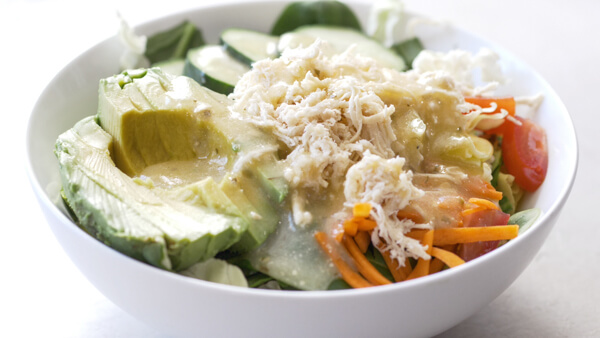 I don't know about you but after cooking my chicken breast and thighs, I don't want to spend any extra time in the kitchen…
So I'm all about mission: how to shred chicken fast.
Once you cook your chicken (click here if you need a quick instant pot shredded chicken recipe), it's time to shred it. Of course you can use a fork and a knife but the hand mixer, KitchenAid, blender, and food processor are much more efficient.
If you've ever wondered how your favorite chicken salad restaurants get that deliciously shredded chicken, they are likely using one of these 3 methods of shredding to get evenly shredded pieces of chicken, rather than uneven chunks.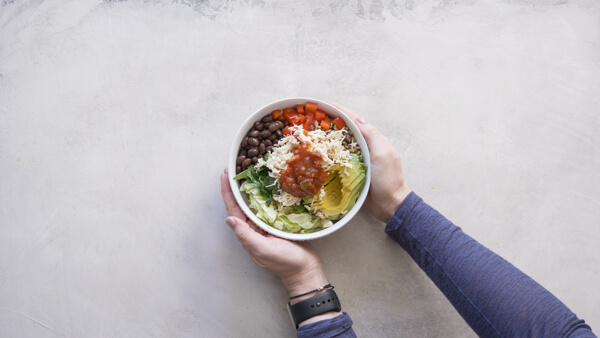 Now let's get into it.
I think it's best to allow the chicken to rest at least 5 minutes before shredding so that you don't release too much moisture and dry out your chicken breast with shredding and this also helps you to prevent over beating the chicken into a mushy mess.
How to shred chicken in mixer?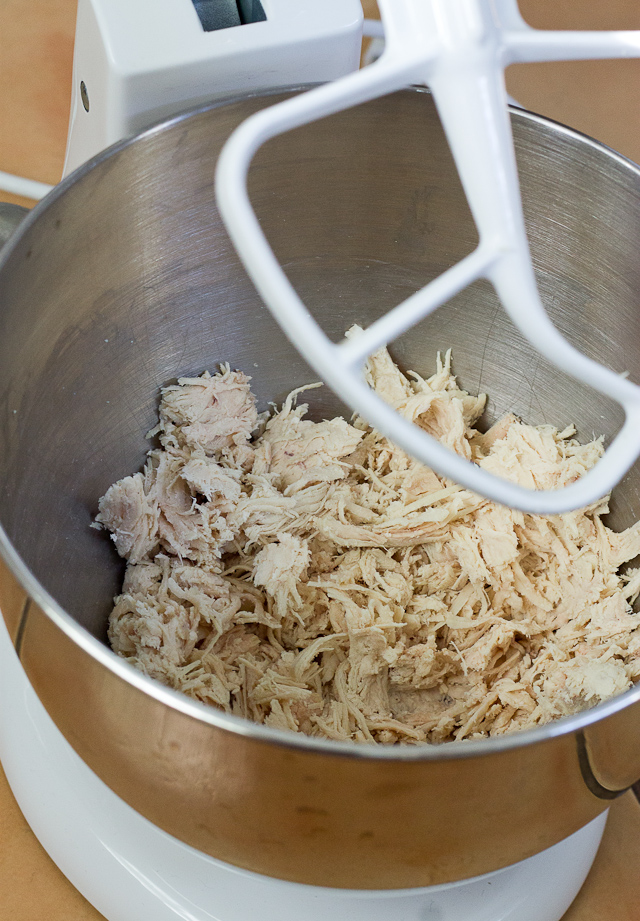 My absolutely favorite way to shred chicken is using the hand mixer! Major perks to shredding chicken right in the instant pot or slow cooker– and not dirtying another dish!
Place hand mixer into your instant pot, slow cooker or mixing bowl, and slowly increase speed while using a mixing motion to shred the chicken breast. This method only takes less than a minute, depending on how much chicken you're using.
In my opinion, using the hand mixer is the best way to shred chicken!
And then there's always the stand mixer. I don't keep this on my countertop so it's not as efficient for me to use anymore. But it's fastest way to shred chicken and basically no effort on your part, just let the mixer do the shredding! Place cooked chicken breast (and thighs if using) into the mixing bowl, using paddle attachment beat chicken until it's shredded.
Can you shred chicken in a blender?

Yes, I have used a blender to shred chicken. My Vitamix works great to shred chicken to the perfect consistency but it definitely works best if you have the tamper.
Plus, my Vitamix is a kitchen appliance staple that I use on the daily so PTL for it's multipurpose use! It truly is the best blender that I've ever owned.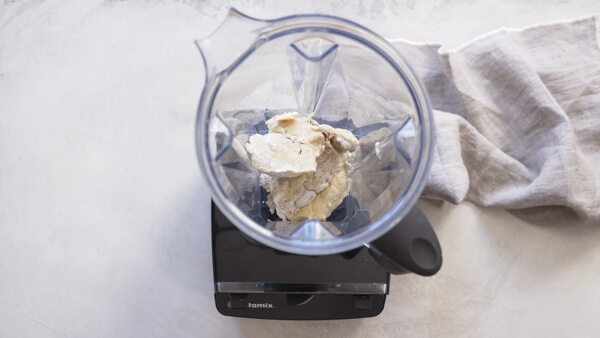 How to shred chicken breast in the food processor?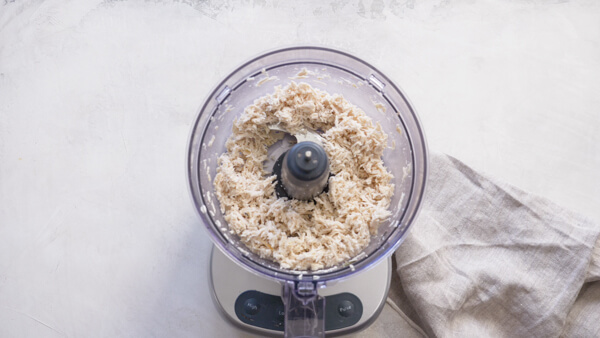 Shredding chicken breast in the food processor is a little bit of a science. While it can definitely be done, be careful not to over process the chicken.
If there are any chunks that are too large, the best way to get those smaller without ruining the whole batch of shredded chicken is to pull them out and quickly shred in your hands. Or you can dump out the shredded chicken into a bowl and place the chicken breast that needs more shredding back into the food processor for a quick chop.
Definitely doable but requires a few more steps and care! This method is how I like to shred chicken for baby– and it also works great for chicken salad.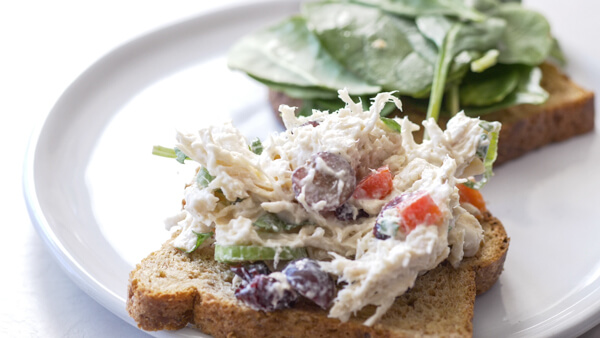 Want to know the best kept secret about shredded chicken breast?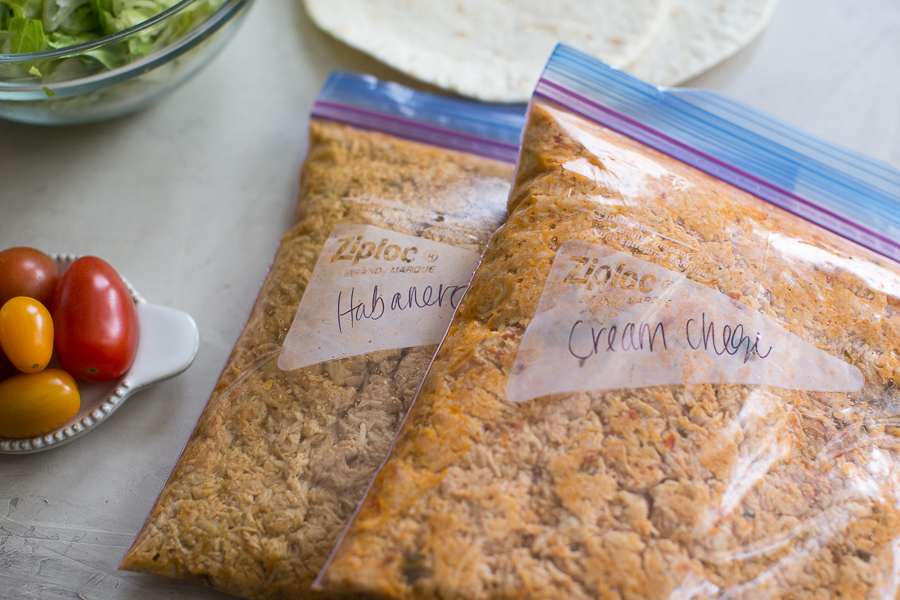 Shredded chicken can be frozen! Freeze prepped chicken breast in proportioned bags to make it easy for defrosting as you need it!
Easy as pie guys. It will change your life.
Now that you know how to shred chicken breast, be sure to check out our post on best shredded chicken recipes!
And if you need to know how to cook shredded chicken in the instant pot, check out our recipe for Instant Pot Shredded Chicken!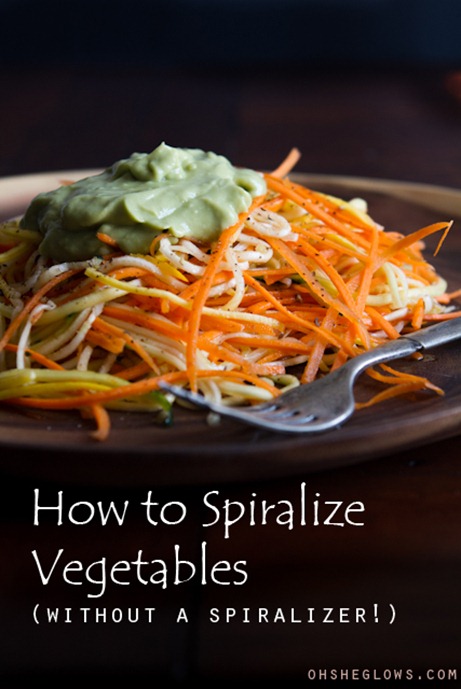 I'm sure many of you are familiar with spiralizer machines – famous for turning vegetables like zucchini into spiraled, curly, pasta-like strands. I first had zucchini "pasta" a few years ago at a raw food restaurant and I couldn't get over how similar it was to regular pasta noodles. A spiralizer machine has always been in the back of my mind since then!
I found myself at Kitchen Stuff Plus last week and asked a sales person if they sold spiralizer machines.
"No, I'm sorry we don't, but we do sell julienne peelers."
Julienne peeler?? My ears perked up.
How did I not know about this amazing invention? I immediately bought both brands of julienne peelers they carried – you know, just in case one was a dud. And one of them WAS a dud, but the other – Zyliss brand – worked fantastically. I was literally yelling, "Yay it worked. " to Sketchie who was trying his best to ignore me in his Sketchie Shell (formerly known as the "cat tent").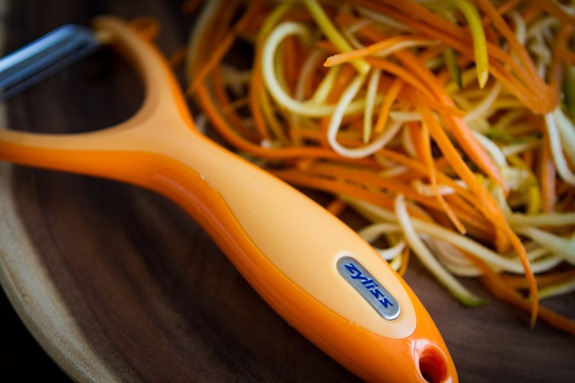 As soon as I got home I made a huge bowl of pasta-like veggies using a green zucchini, yellow zucchini, and a large carrot.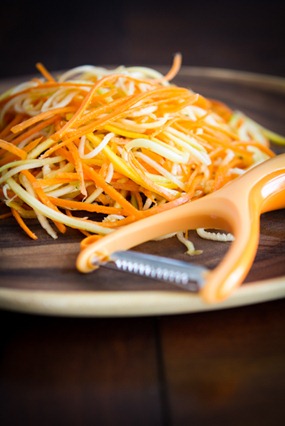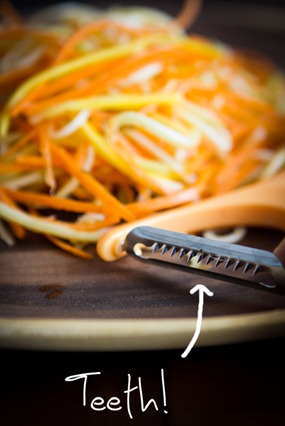 To make it, grab zucchini or carrots and peel away like you would a normal peeler. There is no need to cook the vegetables beforehand, but feel free to heat the veggie "noodles" up in a skillet very briefly just before serving. Sometimes I eat it cold and other times warm, it just depends on my mood.
I was quite impressed with how thin it cut the strands! It gets trickier to peel as you get close to the bottom, so I usually chop up the remaining piece and either throw it in or save it for a stir fry later on.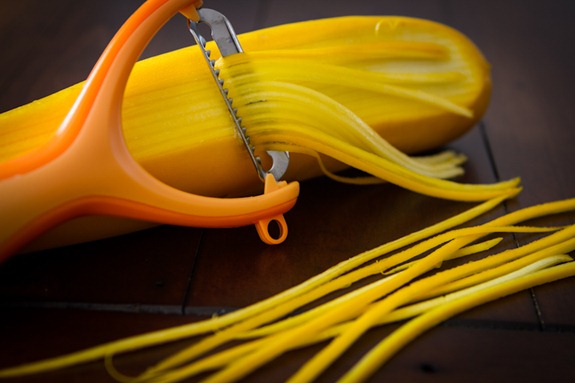 I'm sure using julienne peelers for this purpose is old news to many of you, but it's new, exciting news to me. Don't you love when you find out a cool trick?
Naturally, I've been julienning/spiralizing my little heart out. So far I've tried zucchini and carrots, but I'm wondering if it works on other veggies or fruit. I'm sure beets would work, although it would be messy. I'm pretty sure it will work on potatoes too. Butternut squash? Let me know below if you have any ideas and I will be sure to try it out.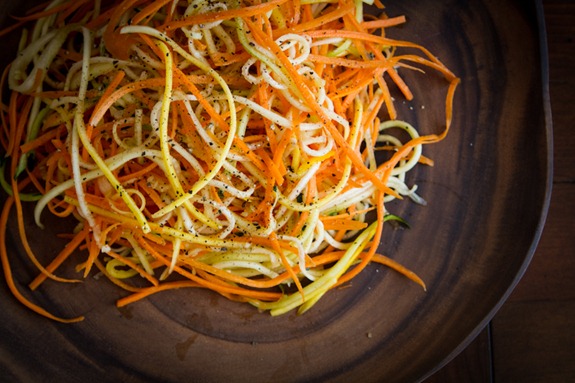 The first thing I made was a mix of green & yellow zucchini, and carrot "pasta" topped with my 15-Minute Creamy Avocado Pasta sauce. It was lovely!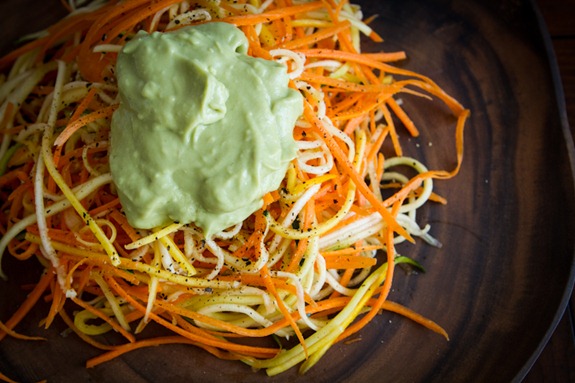 Avocado pasta sauce tip – if you are looking to cut down the oil, sometimes I sub half the oil (1 tbsp) for 1 tbsp water and it's never missed.
For some protein, I added tofu on the side. Easy, fun to eat, refreshing, and perfect for a hot summer day.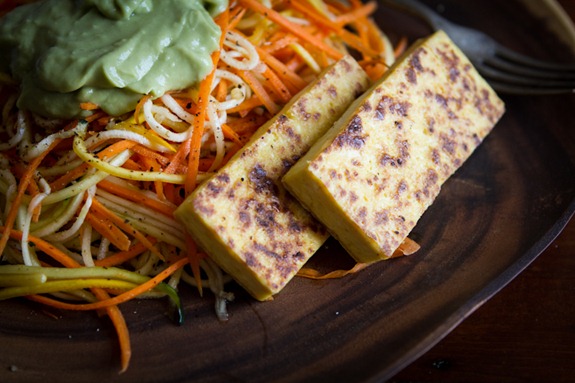 Another fun meal I made is this yellow zucchini pasta dish with White Linen Collection Marinara Sauce, hummus, a crumbled veggie burger, basil, and Herbamare.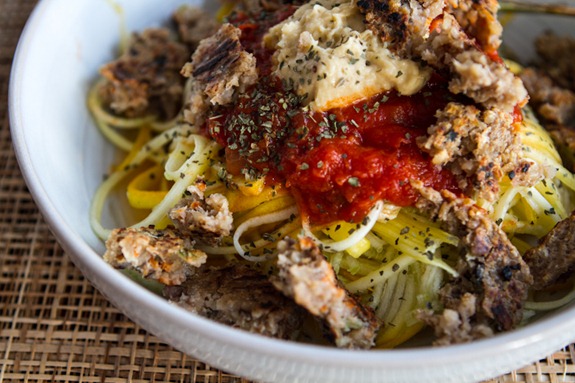 If you are interested in a cheap way to "julienne/spiralize" zucchini, carrots, etc – I highly recommend trying out a julienne peeler. It only takes a few minutes, the clean up is minimal, and if you're like me, you'll find yourself upping your veggie intake substantially.
Douglas Cullen , This blog generates income via ads and affiliate links which earn us a small commission.
A Prehispanic Food Processor
A molcajete is a large mortar and pestle made from volcanic stone used to prepare Mexican food, particularly salsas. Think of the molcajete as a Prehispanic blender or food processor.
There are two parts to a molcajete the mortar or base which is called the molcajete and the pestle or grinder which is called the "mano" or hand in Spanish.
A molcajete is an integral part of a well-equipped Mexican Kitchen. You certainly can make great salsa without one, but it is a nice addition to your kitchen utensil collection if you cook Mexican often. If you can't find one locally, they are available online.
Rustic Tomato Salsa Prepared in a Molcajete
Why Use a Molcajete Instead of a Blender?
The grinding action of the molcajete releases the essential oils of the ingredients you are processing which adds depth of flavor to your food. Preparing food in a blender chops the food instead of grinding it which releases less flavor and gives it a different texture.
If you need to be convinced that there is a difference in flavor, do a taste test by making two batches of the same salsa, one in the blender and one in the molcajete. I guarantee that you will be able to see and taste the difference. Full disclosure – I don't always make everything in the molcajete. The need for speed or an easier cleanup wins many times. But, I really should. 🙂
Are they Hard to Use?
Molcajetes are simple to use but do require more physical effort than blenders or food processors. You may think, "I don't want to make any extra effort when I cook. Cooking is enough effort." But, I promise you the extra effort is worth it.
How to Use a Molcajete
Chop any ingredients that you plan on preparing in the molcajete. It makes processing easier and gives your food a more uniform texture. The finer you chop the ingredients before adding them the smoother your food will be.
Start adding the ingredients in small batches. Don't dump all of the ingredients in at once. Using the "mano" press and then twist the food to break it down. Add more until all ingredients are fully incorporated and blended to the desired texture.
If it feels awkward at first, you will get the hang of it after a few uses. Don't worry.
How to Choose
Molcajetes come in many sizes or shapes. The smaller sizes are used to make portions for one or two people and the larger ones to make family-sized portions.
Molcajetes have personalities. If you can, try a few out. Hold the "mano" in your hand and practice grinding with it. Do the same in another and then another until you find one that feels most comfortable. There is no right or wrong when choosing. Choose the one that feels most comfortable to you and the size is appropriate for the amount of food you want to make with it.
Readying Your Molcajete for Its First Use
Most new molcajetes need to be "cured" before you use them. Curing doesn't mean oiling it and heating it the oven like you would with a cast-iron skillet. Curing means smoothing out the interior and removing and grit.
To cure a new molcajete, add a few tablespoons of rock salt or dry white rice. Use your pestle or "mano" to grind it thoroughly. As you grind, the salt or rice will turn gray and you will notice some grit. Discard the ground mixture and then add a few more tablespoons of salt or rice and grind again. When the salt or rice no longer turns gray when you grind it the molcajete is now "cured." Rinse the molcajete and "mano" under running water and it is ready to use.
How to Clean
Molcajetes are easy to clean. Just scrape out any remaining food and then rinse it under hot running water. Use a kitchen brush to remove any food that is stuck. Add a couple of drops of dish soap and then scrub some more with your kitchen brush. Rinse again thoroughly with hot water to ensure no soap residue remains. Pat dry with a kitchen towel and allow it to dry completely before putting it away.
A molcajete will last nearly forever. If you clean it regularly and don't drop it on a hard surface you will be able to pass it on to the next generation. And, they should be able to pass it on to the next.
Buy a Molcajete
You can get a great molcajete from our friends at HERNÁN. They are hand-carved in Mexico from 100% volcanic stone. Your molcajete can also be used to serve pre-prepared salsas and dips. Sure to be a conversation starter around any party table.
How to Make a Milkshake: 3 Simple Steps and 10 Minutes for the perfect thick and creamy milkshake! Try vanilla, chocolate, strawberry, mint Oreo, and more!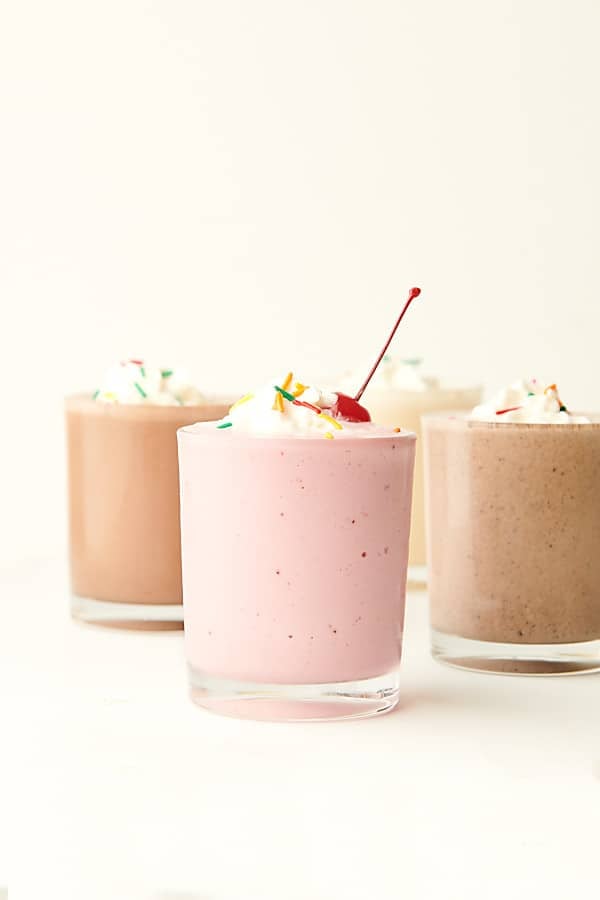 General
Ingredients
How to make
Get the recipe
Frequently Asked Questions
Variations
How to thicken
Making without a blender
Tips
Other flavor ideas
How to store
Nutrition information
Ice cream has been and will forever be one of my favorite desserts. Whatever the season, it's highly likely you'll find me sitting with a bowl of ice cream.
Trevor is also an ice cream lover, but while I go for a blizzard or sundae, Trevor is allll about those milkshakes. But not just any milkshake, they need to be ultra thick and creamy! So, today, we're talkin' how to make the PERFECT, the BEST homemade milkshakes!
Ingredients
One of the best parts about homemade milkshakes is you get to customize it just for you! Mix and match flavors, stir in any of your favorite candies, load it up with whipped cream…anything goes!
Ice Cream – use your favorite brand and flavor! Go for full-fat for the creamiest texture. Today, we're using use vanilla, strawberry, chocolate, and mint Oreo.
Milk – whatever you have on hand, but the higher the fat content, the creamier the shake will be. I use 2% "plain", strawberry, and chocolate milk today.
Syrup or Sauce – this is our flavor booster! Try caramel, strawberry jam, hot fudge, peanut butter, and more!
Optional: Mix-Ins – any mix-ins will work! Try your favorite candies, cookies, nuts, you name it!
Toppings – anything goes! Use whipped cream, crushed nuts, sprinkles, cherries, etc!
How to make
Just 10 minutes to the perfect milkshake! Heck yes!
Place ice cream, milk, and syrup of choice into a high-powered blender and blend until smooth.
If using mix-ins, pulse in until just combined.
Pour into glasses then top with garnishes. Serve and enjoy!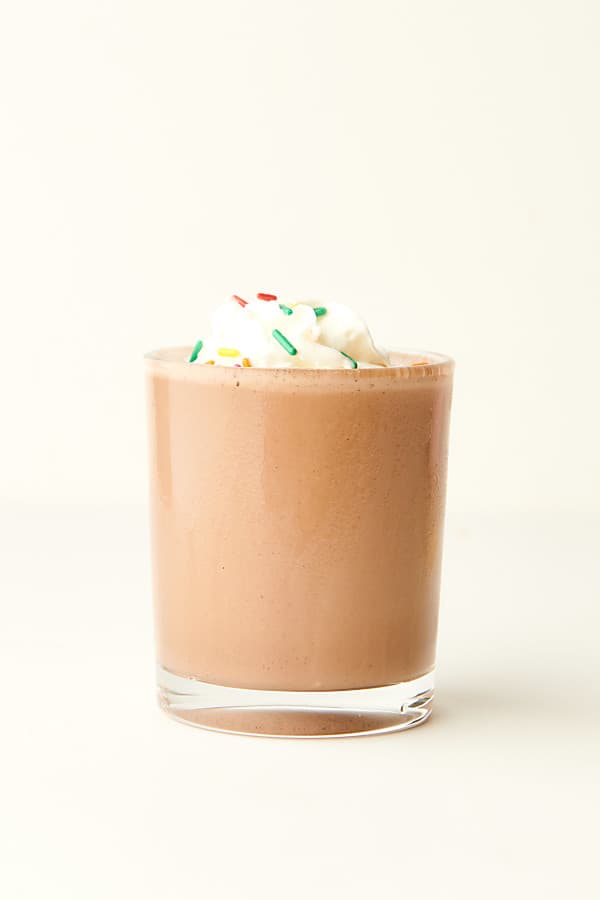 Variations
Here are the four variations I made today…and they're SO GOOD! If these aren't your jam, feel free to play around with other flavors. You really can't go wrong!
Vanilla – vanilla ice cream, milk, and caramel topping.
Strawberry – strawberry ice cream, strawberry milk, and strawberry jam.
Chocolate – chocolate ice cream, chocolate milk, and hot fudge sauce.
Mint Oreo – mint oreo ice cream, milk, hot fudge sauce, and Oreos.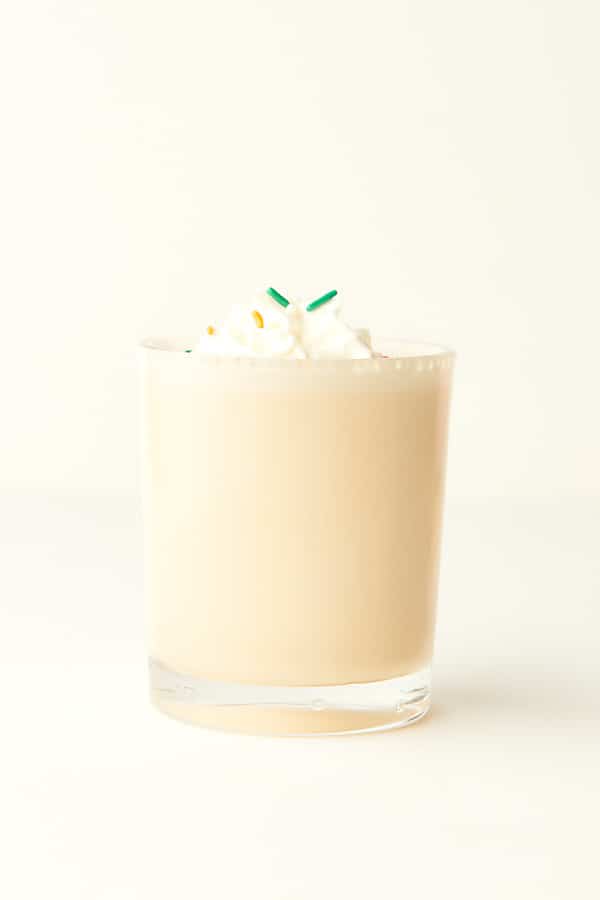 How to thicken
Just add more ice cream! The more ice cream there is in relation to the milk content, the thicker the milkshake will be. If you need to add more ice cream to thicken, feel free to add in more sauce, syrups, or mix-ins to flavor, if necessary.
Can you make a milkshake without a blender?
A high powered blender is going to be your best bet for making a milkshake – you just can't beat the consistency the blender achieves.
However, if you don't have a blender available to you, you can try making it in a food processor or a stand mixer:
Food processor: place ice cream, milk, and syrup of choice into food processor and process until smooth. Pulse in mix-ins, if using.
Stand mixer: beat ice cream on medium speed until ice cream is creamy. Add milk, sauces, and optional mix-ins and beat on low speed until thoroughly combined.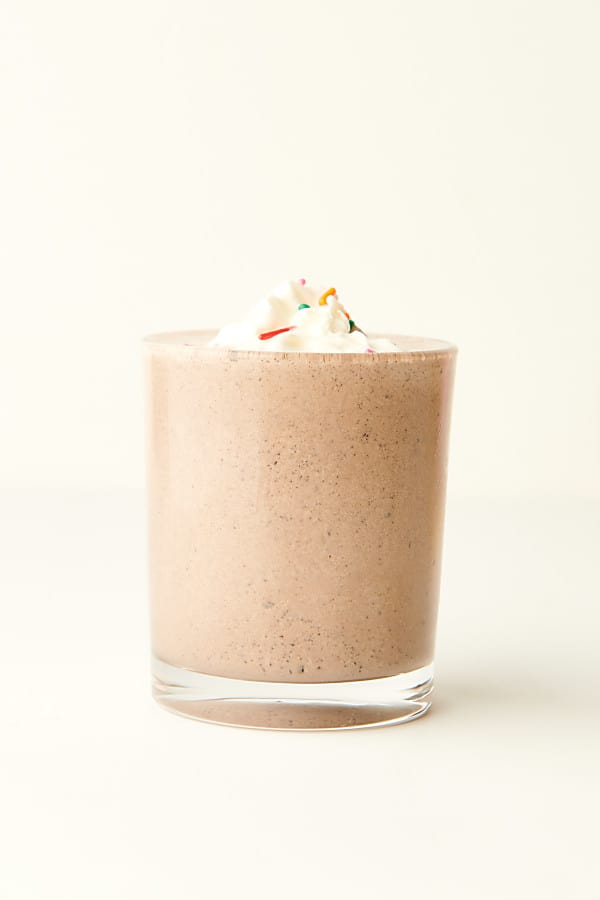 Use good ice cream. This might go without saying, but ice cream is the base for the milkshake so make sure you're using the good stuff!
Use full-fat ice cream. Light ice creams will also work but full-fat ice cream will make your milkshake extra creamy.
Use fall-fat milk. Or half-and-half or heavy cream! The higher the fat content, the creamier the shake.
Use slightly softened ice cream. This allows you to use less milk, which creates a thicker milkshake.
Less is more. Start with very little milk and add more as needed. Too much milk and your shake will be runny.
Use flavored milk. Example: using strawberry milk in the strawberry milkshake keeps the strawberry flavor strong, instead of diluting the flavor with "plain" milk.
Pulse in your mix-ins. You want the milkshake to be creamy with larger chunks of mix-ins. If you blend in the mix-ins instead of pulse them in, they may become too small and make the milkshake gritty instead of creamy.
Chill your glasses. Stick your cups in the freezer for a few minutes before serving up your milkshakes. This prevents the milkshake from starting to melt as soon as it hits the cup.
Serve right away. It's thicker and creamier that way!
Other flavor ideas
Although I LOVE all of the variations in this recipe, there are SO MANY ways to make a milkshake. Here are some other flavor combination ideas!
Mocha. Coffee ice cream, coffee (instead of milk), hot fudge sauce, and chocolate covered espresso beans.
S'mores. Vanilla or chocolate ice cream, chocolate sauce, graham cracker crumbs, and mini marshmallows.
Chocolate Chip Cookie Dough. Vanilla ice cream, vanilla extract, and cookie dough.
Peanut Butter Cup. Vanilla or chocolate ice cream, peanut butter, and mini peanut butter cups.
Like I said, pretty much anything goes! You can't go wrong with an ice cream-based recipe, right? 😉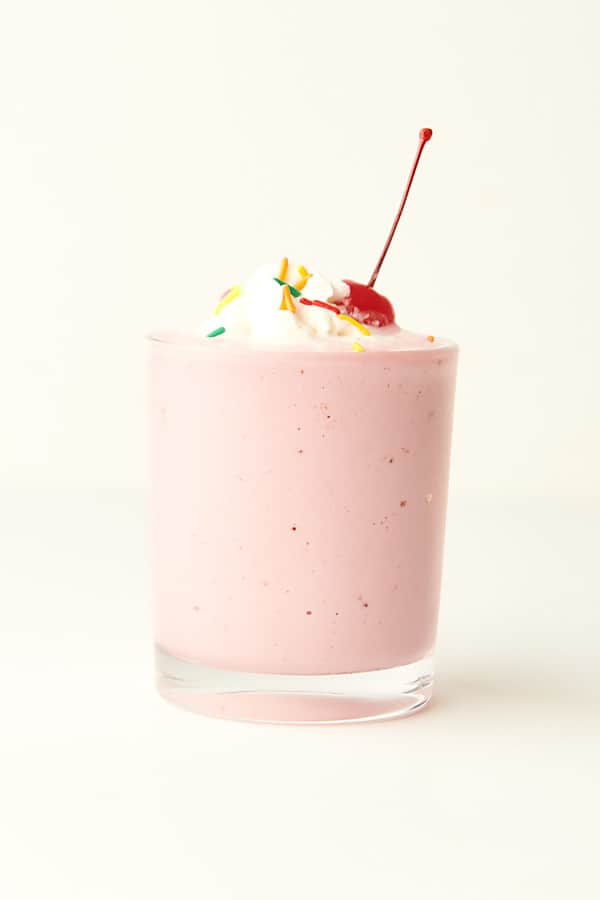 How to store
I highly recommend serving your milkshake right away for that perfectly creamy and delicious texture.
Can you imagine anybody who doesn't like coleslaw? In restaurants, it's one of the most popular sides to any meal. It's also the most popular salad topping. And it's not hard to make at all, especially with a food processor. You can prepare delicious slaw right at home, for the whole family. Check out this video recipe for creamy cole slaw from Chef Hubert Keller.
1/3 cup loosely packed parsley leaves
2 1-ounce pieces peeled onion
2/3 cup mayonnaise
1 tablespoon red wine vinegar
1/2 teaspoon salt
1/2 teaspoon freshly ground pepper
1 large carrot, peeled
1 medium head green cabbage, about 2 pounds
Process parsley with metal blade until minced. Add onion and process until minced.
Add all remaining ingredients except carrot and cabbage and process 5 seconds to combine. Remove metal blade.
Cut carrot in half crosswise. Core cabbage and cut it into wedges. Insert shredding disc and shred carrot, using firm pressure.
Insert slicing disc and slice cabbage, using firm pressure. Add contents of work bowl to mixing bowl and toss to combine. Adjust seasoning.
Serve immediately or refrigerate for up to 24 hours. Before serving, drain excess liquid and adjust seasoning. Serve chilled.
View the entire recipe at Cuisinart.
Want to master Microsoft Excel and take your work-from-home job prospects to the next level? Jump-start your career with our Premium A-to-Z Microsoft Excel Training Bundle from the new Gadget Hacks Shop and get lifetime access to more than 40 hours of Basic to Advanced instruction on functions, formula, tools, and more.
Jessica Gavin
Published on September 13, 2017
Let's learn how to make cauliflower rice with four easy preparation techniques. This simple recipe guide creates a low-carb and paleo side dish. The rice can be eaten raw, sautéed, steamed, simmered or frozen for later use.
Cauliflower rice has magically worked its cruciferous ways into kitchens as a low-carb, paleo, and vegetable alternative to grains. When broken down by chopping or grating into tiny rice-sized pieces, the appearance may fool you for a moment for the real thing.
Besides being a healthy way to add more vegetables to your diet, there are other culinary reasons for the popularity of its use in dishes. It's extremely versatile in recipes, the flavor is very neutral, it becomes tender yet holds its shape when cooked, and the bonus is the cooking time is less compared to boiling and simmering grain rice.
Once I learned the simple techniques for how to make cauliflower rice, it's become a frequent substitution in my recipes. There are four easy ways to make cauliflower rice with tools you already have in your kitchen. If you have a chef's knife, grater, food processor or blender, cauliflower rice can be made within minutes!
Different Ways to Make Cauliflower Rice
Chop
Grate
Food Processor
Blender
Adding some cauliflower to your meals provides additional nutrients, especially fiber, vitamin C and K. With the extra nutritional benefits, here's how to effortlessly prepare the vegetable for recipes.
1) Chop
Using a large chef's knife, remove the florets from the stem. Mince into tiny pieces, resembling the size and shape of rice grains. This process is a little longer than the other methods but is the simplest to do with minimal tools.
2) Grate
Use a box grater or a microplane grater with medium-sized holes to push across the florets and make smaller pieces. Keeping the florets larger makes it easier for grating.
3) Food Processor
Cut the cauliflower into smaller 1 to 2-inch florets. Add about 4 cups of florets or 3/4 of the way full in a food processor. The amount will vary depending on the size of the food processor, work in batches if needed. Pulse the cauliflower until small pieces are formed. You may need to stop periodically and scrape the sides of the bowl. If larger florets go unprocessed, take them out, transfer the cauliflower rice to a bowl, and then add back the larger pieces and process again.
4) Blender
Cut the cauliflower into smaller 1 to 2-inch florets. Add about 4 cups of florets in a high-speed blender. Blend the cauliflower until small pieces are formed, using the tamper handle on top to push down the florets, about 15 to 60 seconds. You may need to scrape the sides of the blender cup similar to the food processor above.
Different Ways to Cook Cauliflower Rice
One head of cauliflower will yield about 4 cups of rice depending on the size. Once the cauliflower rice is broken down into smaller pieces, there are multiple ways to cook it. The cooking methods below are for 4 cups of rice.
Sauté: Heat a large pan over medium-high heat, sauté the rice in 1 tablespoon warmed oil or butter until tender, about 5 to 10 minutes.
Stir-fry: Heat a wok and 1 tablespoon vegetable oil over high heat. Add rice in a single layer, allow to cook until lightly browned for about 2 minutes. Stir, cover and cook for 5 to 7 minutes, until cauliflower is tender.
Steam: Add cauliflower rice to a steamer insert, cover and cook until tender, about 3 to 5 minutes.
Grits: Add cauliflower to a medium-size sauté pan and cook over medium-high heat for about 5 minutes, constantly stirring to release some moisture from the vegetable. Add one tablespoon of butter, 1/4 cup of milk, ¼ cup of stock and ¼ teaspoon salt. Stir and cook until moisture gets absorbed, and cauliflower cooks through about 5 minutes. Use a handheld immersion blender or place half of the mixture in a blender to create a rough pureé.
Couscous: Heat a large pot fitted with a lid over medium heat, add 1 tablespoon olive oil. Add cauliflower rice and 1/4 teaspoon salt. Stir and cover, cook 5 to 8 minutes until tender.
Risotto: Heat a large pan over medium heat and add 1 tablespoon of olive oil. Add the cauliflower and stir, cook 1 to 2 minutes. Deglaze the pan with the white wine, stirring until evaporated, 2 minutes. Turn heat to medium-high, add 1/2 cup broth and 1/2 cup milk, frequently stirring, 6 to 8 minutes, until the cauliflower is tender and just a small amount of the liquid is left on the bottom of the pan.
Cauliflower Rice Recipes to Try
Teriyaki Tofu Cauliflower Rice Bowls
Shrimp Cauliflower Fried Rice
Spicy Shrimp and Cauliflower Grits
Cauliflower Risotto
You can make a large batch of raw cauliflower rice for meal prepping, and freeze individual portions in a resealable plastic bag anytime you need it. Just allow the frozen rice to thaw at room temperature for at least 10 minutes before cooking.
If you're in a hurry, I've seen pre-made cauliflower rice fresh and frozen at grocery stores. Although, I would save your money and make it at home for way cheaper!
Pin this recipe to save for later
Pin This