I have three kids who are 5, 4, and 9 months old. My middle child has seemed very stressed this past school year, frequently complaining about stomachaches and headaches and having trouble sleeping. She also has angry outburst when she feels panic coming on. Not only do I want to help her through her stress, but I have concerns that it is impacting my baby since he is often around her. How can I help relieve the anxiety in my family and create a calmer household?
I guarantee you are not alone in needing a calmer household, especially after this last year of parenting in what felt like a dystopian movie. The kids are still reeling. We are still reeling. And it's not over. The communal stress of the last 18 months has taken a toll on every single parent and child I know, as families have faced the most significant challenges of modern family life.
With three kids under age six, you did not need a pandemic for a stressful household! I appreciate you reaching out because as unattainable as calm can feel amid the chaos, it's so important for every one's well-being. Let's break it down into two parts: how you can help your middle child, and what you can do generally to achieve a less stressed family and household.
Signs of Stress in Kids
Your middle child is indeed showing hallmark signs of being overwhelmed by stress. We often separate physical and emotional symptoms as two different processes (biological and psychological) but the reality is they are highly interconnected. Children are prone to developing headaches and stomachaches when stressed, especially when they are still building skills to understand emotions, and how to better express them.
Trouble sleeping and angry outbursts can also be signs that the demands of a child's circumstances exceed their abilities to cope. At age 4, your daughter is at the developmental starting point of emotion regulation coming from within rather than relying solely on adults. Because she is so young, she needs the adults around her to do what we call co-regulation: help from you and other calmer grown-ups to soothe herself. Find calming strategies that work for her, and do them with her when possible. She will become more independent with time and practice.
RELATED:How to Create the Perfect Calm-Down Corner at Home
Stress and the Family
You have good insight that sister's stress likely affects the baby, but possibly in a different way than you think. Even if the baby seems the most vulnerable, he might actually be the most protected. Babies are most affected by their primary caregivers' stress and how that might get in the way of caregivers' responsiveness. You staying as calm and responsive as possible with him is a significant buffer for the impact of his sister's strong emotions. With that said, your daughter's strong emotions likely affect your own stress levels since you know, you are human.
Steps to a Calmer Household
This is where the goal of a calmer household becomes so important. You and any other adult in the home set the tone of the household, so your level of calm has to take priority. The first step is to consider what you need to more effectively manage your own stress levels as a parent of three young children. I'm guessing at least one answer is breaks from being this parent. Look to your support system for the sake of your family unit: where can you get some relief? Even if it's finding opportunities to be with one or two children instead of all three (especially after this last year of so much togetherness), it changes up the dynamic and can relieve your load.
Beyond prioritizing your stress relief, you can see this challenging time as an opportunity to implement strategies and systems for the whole family that teach how to value and experience calm. Some options:
Do yoga together: There are some fun and engaging yoga videos geared toward children for free on YouTube. Practicing body movement with breathing can be a fun way for children to reap benefits of this practice while wrapped in fun.
Family breathing moments: Even for one to three minutes, practice different ways of deep breathing all together (kids like creative ways to think about deep breaths, like blowing out candles, or cooling down hot cocoa breaths). Maybe make it part of a routine, like before digging into lunch (or once everyone is digesting).
Schedule a family quiet hour (or half hour if your kids have trouble with a whole hour). You could schedule it during the baby's nap and make it a calming hour for the senses. Turn down lights, arrange some candles, light some incense, and have quiet activity choices like reading or coloring. You could even have corners of the house, or their rooms, set up with a favorite blanket and comfort items as their own little safe and cozy spaces. Remember, this is for you too, so pick your own calming activity and enjoy the quiet!
To include teaching with these approaches, explain to your children how calming our bodies can help us deal better with big feelings. When we take steps to relax our bodies, we can cope more calmly with problems that come up, including with each other, and everyone ends up feeling better. Doing these calming activities regularly can also help us sleep better and feel less worried overall.
RELATED:Meditation for Kids: A Beginner's Guide
Observation After the Calm
Once you feel like you are better able to prioritize your stress and be the champion of calm in your household, monitor how your middle child seems to be responding. Do you a notice a decrease in her headaches, stomachaches, problems sleeping, and angry outbursts? If not, you may need to branch out to a professional with expertise in young children. Often for this age group, which is highly sensitive to their caregivers, helping the parent helps the child. But if problems persist, you and she may need more expertise to more adequately support her specific needs.
The Bottom Line
I know it can be hard to believe when in the trenches of parenting young children that it gets easier, but it does. This is a season of parenting that can feel like it's lasting a lifetime, until it's over, and then it feels like a lifetime ago. In the meantime, to help you thrive instead of barely survive, aiming for a calmer, less stressed household is a valuable goal that can have a payoff for both parents and children that truly does last a lifetime.
Submit your parenting questions here, and they may be answered in future 'Ask Your Mom' columns.
Children are feeling more stressed than ever, something which often comes down to increased pressures from parents and schools for them to achieve more, and do more. As parents we are aiming to raise resilient children who will be capable of dealing with stress and challenges thrown their way, and maintain emotional control.
Children and young people need to feel safe, secure and loved and this starts with how they feel at home. Creating a calm home starts with parents setting the example they want their children to follow. Parents should look at themselves as role models, so children learn how to deal with conflict in a considerate manner and behave appropriately and considerately. This behaviour will then be projected on to other people throughout their life.
In 2017, 20% of those aged 15-19 were extremely or very worried about family conflict according to the Australia Research Alliance for Children and Youth.
When children become aware of arguments within their home, they not only worry about the prospect of separation and having to choose sides, but they can feel they are responsible for the conflict. While all parents disagree at times and it is healthy for your child to understand this, they must see you deal with any issues in a considerate way.
Heightened levels of stress at home make children feel unsafe, uncomfortable and unable to cope with the pressures of school and external demands, triggering unease, tantrums and moodiness. If you want your child and household environment alike to be calm, it will start with you and your interactions with your child.
Dr Anna Cohen, Sydney's leading Clinical Child Psychologist offers parents, methods they can undertake when dealing with their children that will make for a calmer household.
• Don't get drawn into sibling conflict. When parents are frequently drawn into their children's arguments, everyone in the family is affected. Parents become frustrated from the pressure to act as a referee and resolve every argument, and children become resentful towards each other and their parents. Teach your children the skills they need to deal with each other in a calm and considerate way and support them in sorting the conflict out between them.
Children need to learn that a disagreement does not have to be an argument. You can disagree and have a different opinion without becoming aggressive and sometimes others will not agree with you and that is okay.
• Remain the in-charge parent and avoid arguments. It is not possible to be an 'in-charge' parent when arguing with your child. When feeling hurt or angry, stop yourself from engaging in an immature and destructive situation. Shouting is an approach parent's use when frustrated, and while in the beginning it may work, as time goes on children tend to stop responding. A child will respond better if they view their parent as rational, considerate, calm, respectful and loving. As a parent you may not be agreeing with your child, but your behavior towards them is saying "I may not agree but I will listen to what you have to say in a calm, considerate and respectful way."
• Avoid nagging. Parents who find they are endlessly handing out commands and demands without response are likely using requests to their children in a question format such as 'Can someone help with the dishes?' This puts it on the child's terms and acts as a choice that can either be accepted or denied. Instead, look at giving effective and clear instructions, which children are more likely to comply with such as 'It's time to come and help with the dishes, thank you.'
• Get your children outside. Children spend more time inside the house than ever before. Encourage your child to go outside and play to enhance their curiosity and creativity, develop self-confidence and enrich their general health and wellbeing. Partaking in outdoor physical activity will also enhance their cognitive functioning, improve their ability to sleep and boosts overall happiness, reducing their stress levels.
• Maintain a consistent routine. Routine helps children feel in control and safe, both of which are key to a coherent household. Children cope better when they are prepared for what is happening over the week, so prepare for the next day the night before, to avoid the stress of a morning rush. Having the whole family understand what they need to be organised and prepared, will ease your children's anxieties and take the pressure off parents. Regular bedtimes and routines will also be important to ensure your child gets the necessary amount of sleep for their age.
As parents we need to ease up a bit on our children and ourselves. If we can work to respond to our children's inconsiderate behaviour in a calm and constructive way, it will help them to develop self-regulation and make for a calm and happy household. Remember you are your child's greatest teacher!
For more information or professional advice contact Sydney's leading Child Clinical Psychologist, Dr Anna Cohen at Kids & Co. – www.kidsandco.com.au
Share your comments below
We may get commissions for purchases made using links in this post. Learn more.
Turn your living room into a sanctuary by experimenting with light, texture and colour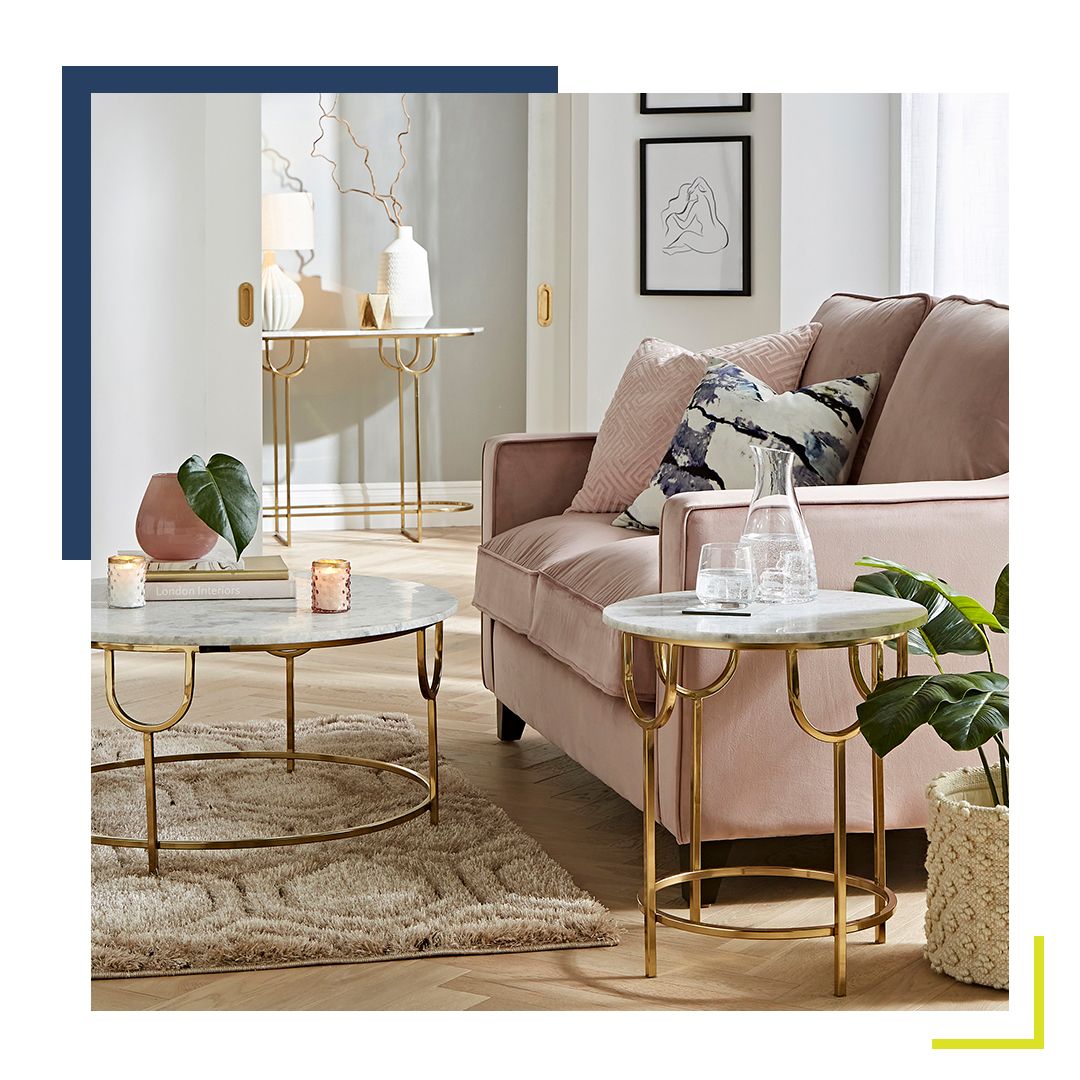 As we continue to reconfigure our living spaces as offices, schools, gyms and even cinemas, the living room has remained the hub of all activity in the home. But now more than ever, it's essential to make this multifunctional room a haven for rest and relaxation.
Here, interiors experts share their top tips and styling advice on how to create a stress-free and calming living room where we can comfortably unwind.
Keep it neutral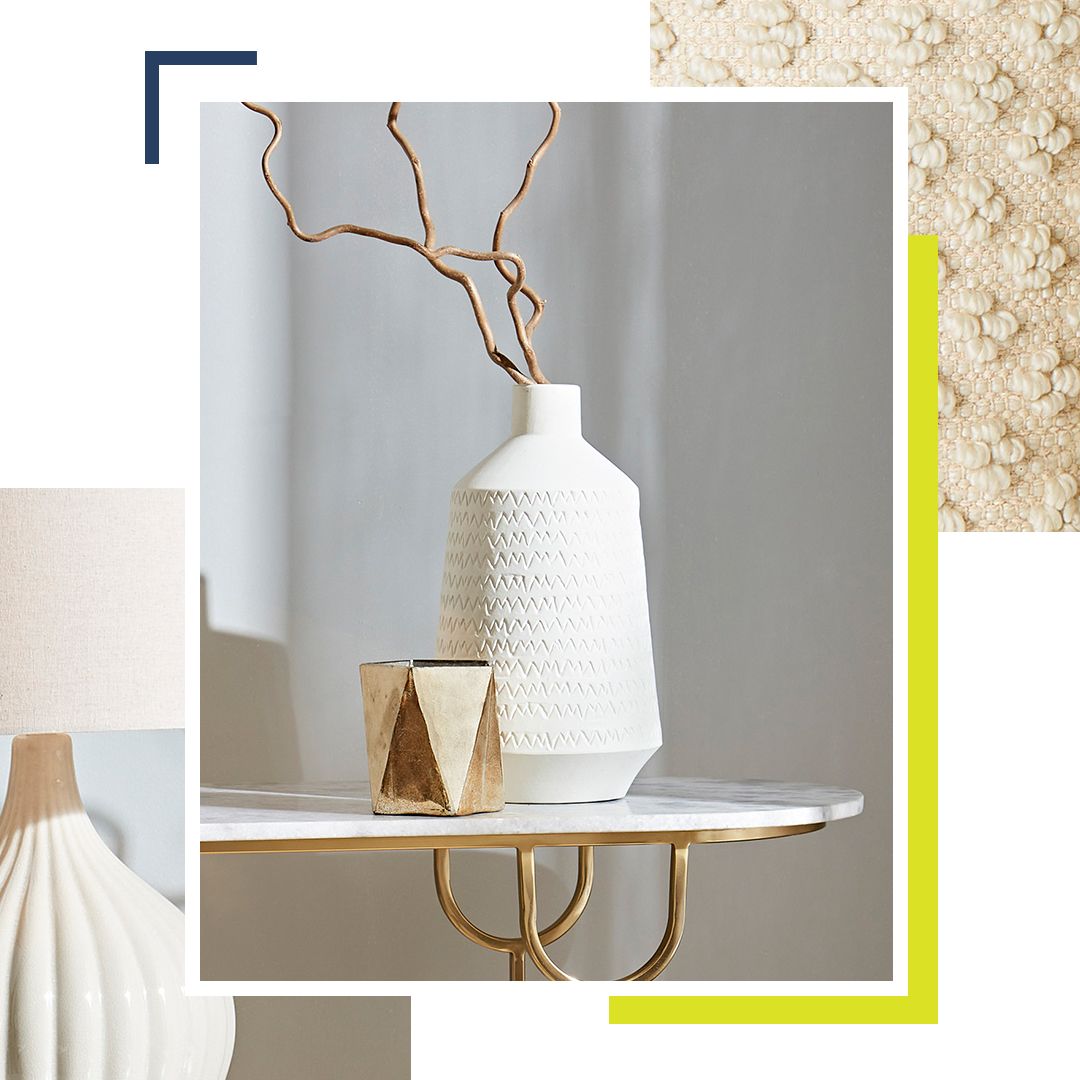 'Neutral tones are my go-to colours when creating a relaxing space at home,' says Carolyn Bailey, House Beautiful's Homes and Gardens Director. 'I love to layer several different shades of cream throughout a room. For instance, I might choose one shade for the walls, another for my sofa and chairs, another for a throw and cushions. I particularly love warm, yellowy creams, but smart greys also work well in this way.'
Embrace textures and layering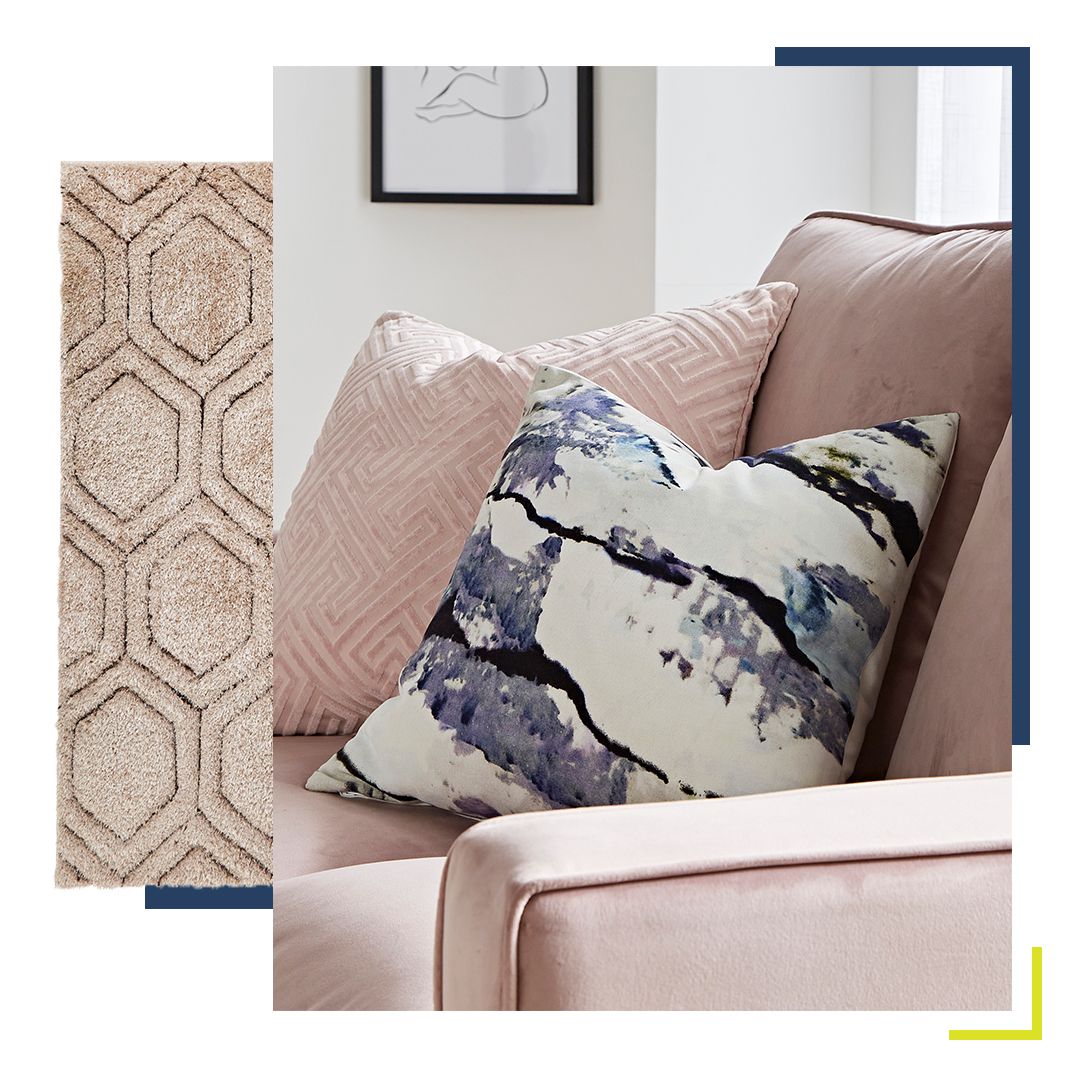 Comfort is the key to a soothing living room, and tempting textures are a fail-safe way to inspire calm.
Achieving this look is pretty simple, as Amy Neason, House Beautiful's Deputy Style and Interiors Editor, explains: 'Work from the ground up by opting for a rug with a deep pile that feels cosy underfoot. Layer cushions in an array of tactile finishes, from quilted velvet to silky cotton and slubby linen. Not only does this make your sofa even more appealing to sink into after a long day, it also adds visual interest and depth to your scheme.'
Home Essentials offers a wide range of cushions, throws and rugs in a variety of on-trend colourways. To cosy up your living space, try the super-soft Kenzo Geo Shaggy Rug, which provides texture and pattern thanks to its stylish geometric design. For your sofa, mix contrasting textures and colours, like the Super Soft Basket Weave Cushion with this snuggly Soft Fleece Cushion.
Bring the outside in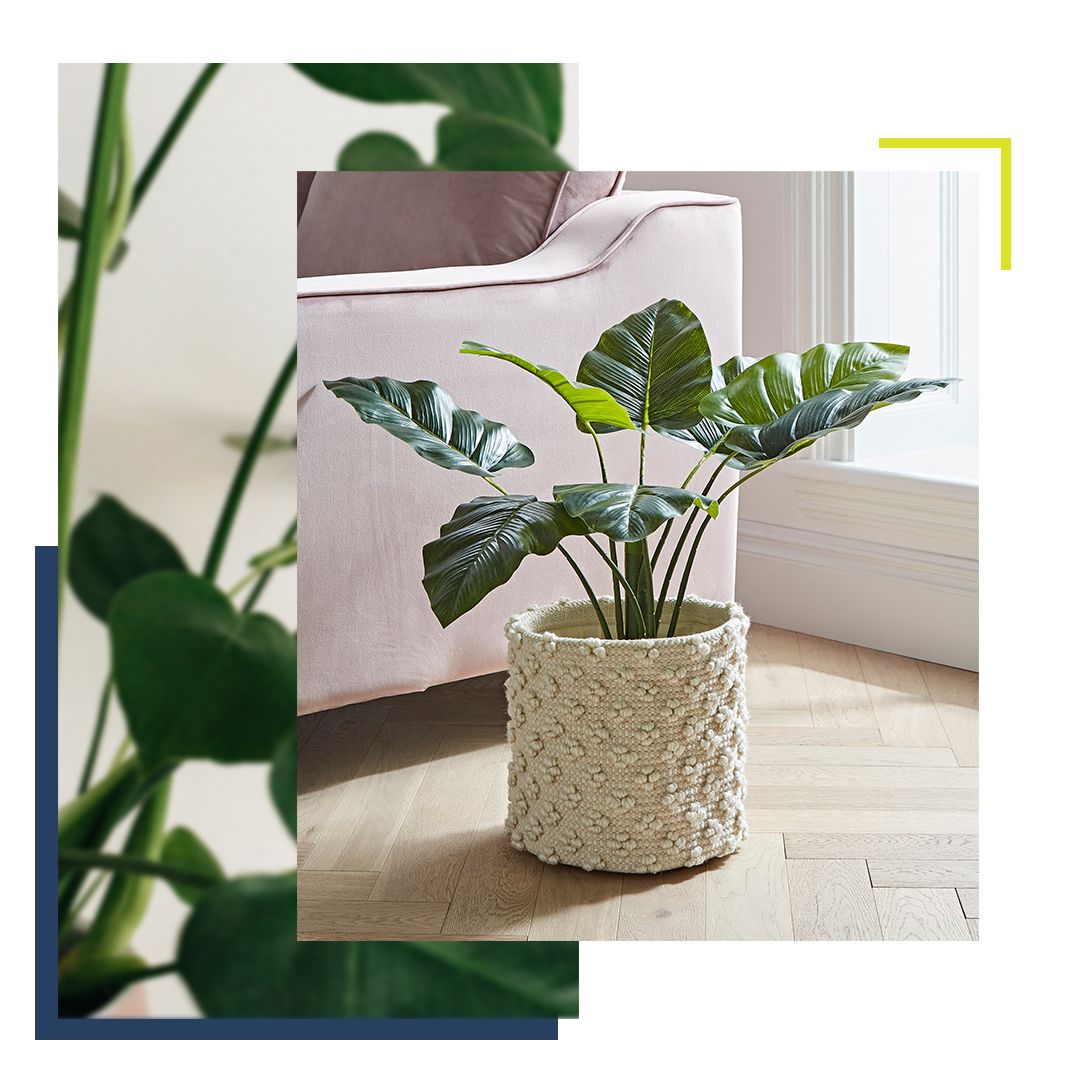 With plenty of health benefits, houseplants have the ability to instil a deep-rooted sense of calm. 'Creating a connection to nature in your living room instantly inspires tranquillity, and plants are a great way to do this,' says Amy.
If you're looking for a tall houseplant with instant impact, we'd recommend a Swiss cheese, Kentia Palm or snake plant – all perfect for transforming a forgotten living-room corner. Not so green-fingered? Invest in a fuss-free, no maintenance artificial houseplant that looks just as good as the real thing but requires zero effort.
Banish clutter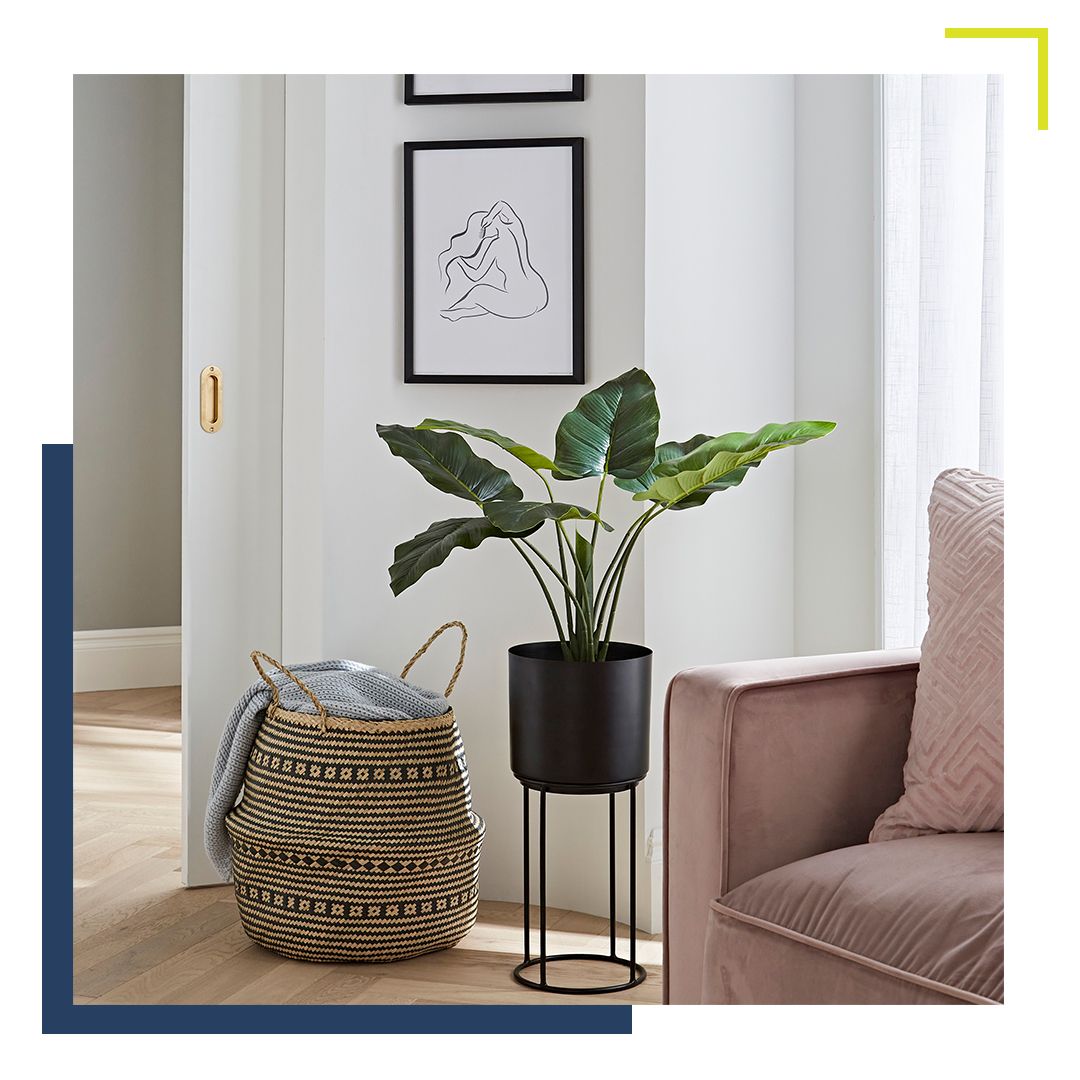 Too much bric-a-brac can have a negative effect on your mental and physical health, making you feel more stressed than relaxed, so declutter your living room to ensure it remains a space that you can associate with serenity. In the words of Marie Kondo, only keep items that 'spark joy'. Utilise shelves, sideboards and display cabinets for storage, and for smaller items, you can't go wrong with on-trend Seagrass Belly Baskets – perfect for storing throws, magazines and other bits and bobs.
Layer lighting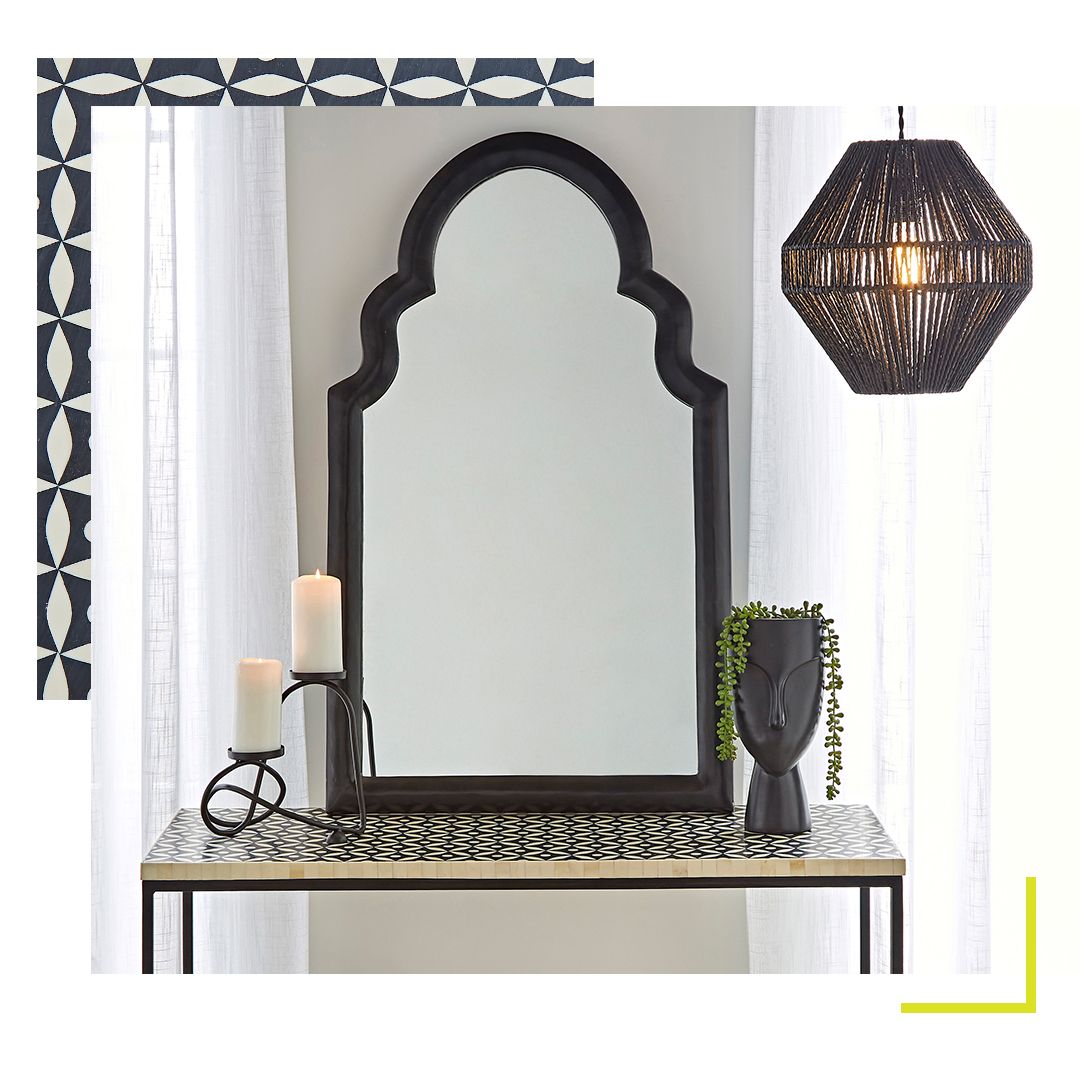 Exposure to daylight can improve your wellbeing, increase your connection to nature and help to calm your surroundings. When it turns to evening, a mixture of table lamps, floor lamps and wall lights will create a softer light, making the environment feel more relaxing.
Interior designer Benji Lewis from Zoom that Room calls this 'layered ambient lighting'. 'Banish anything overhead unless it can be dimmed low,' he says. 'A table lamp with a traditional gathered shade will offer a soft glow. Add a small uplighter into the mix to cast a wash of light upwards, and then a reading light to direct light downwards where needed.'
Unwind with scents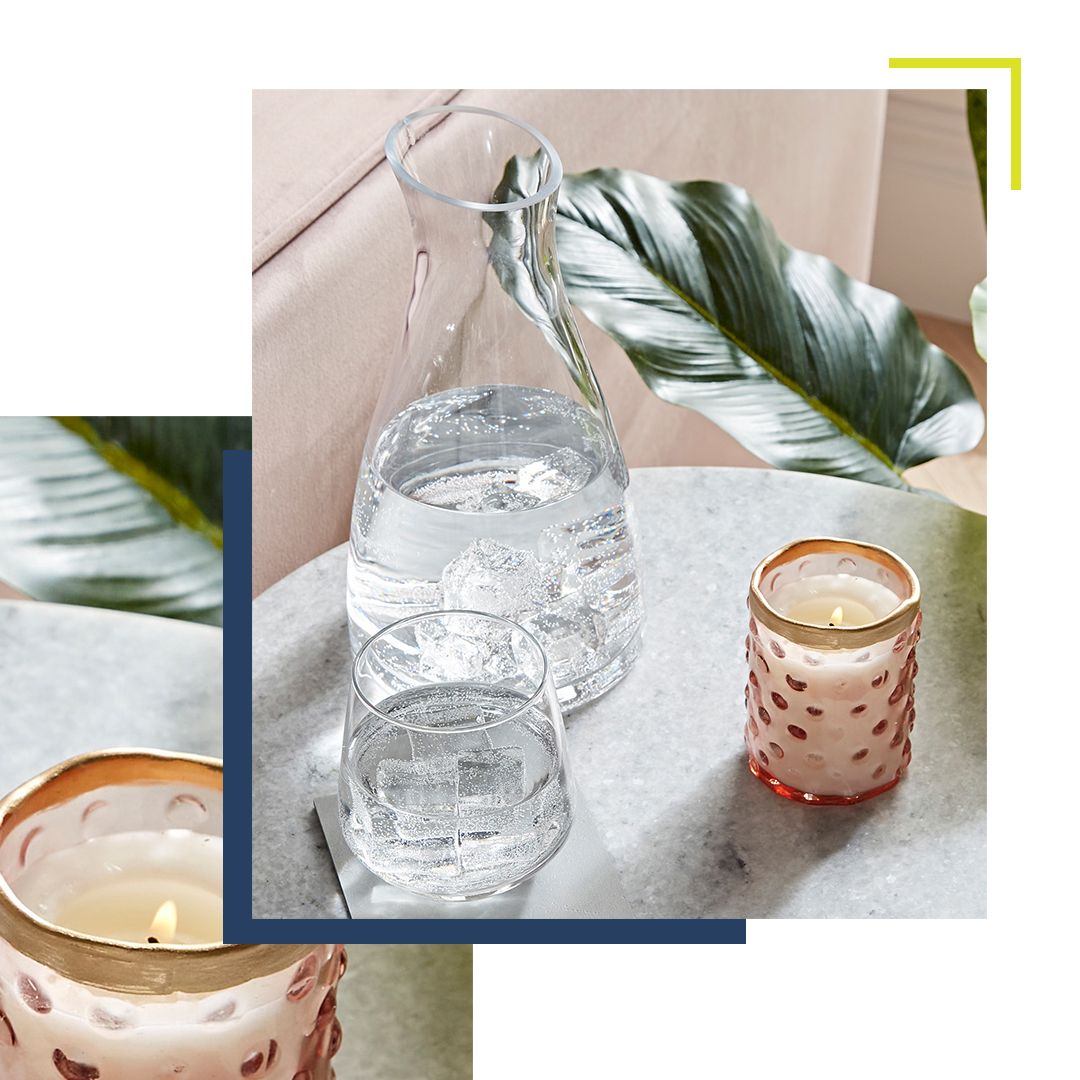 To unwind at the end of the day, fill your living room with scents (candles or diffusers) blended with a range of essential oils to help you restore inner peace.
'Introducing scent adds another dimension to an interior and is often forgotten about,' says Scarlett Blakey, Creative Partner of Ophelia Blake Interior Design. 'Lavender and eucalyptus scents are calming, while sandalwood or fireside scents represent natural wood smells, associated with getting cosy in front of the fire.'
We all need a space to call our own, and that includes autistic children. Every child is different, but learning their sensory needs will help you create a perfect space. Their sensory needs can immensely benefit from a calming space to relax and cool down, no matter their sensory need.
We have one for each child in our house (well, the teen has her room. But that makes her happy). One of our spaces is an open closet transformed into a calming room, with calm lights, sensory tools, a bean bag for her to crash into, and has a light-blocking curtain hanging on it.
We built him a smaller bedroom for our son to help him have his own small space to feel comfortable with calm lighting. For our third one, we got a wooden loft bed and transformed the space underneath for her to use her room space the most efficiently.
Creating a calming space for your child with autism, ADHD, sensory processing, or other disabilities is essential for allowing them to self-regulate.
In this resource guide, I have compiled all of the items we use throughout our three autistic children's individual calming spaces. No matter what your budget may be, there are many different resources to make this space their own!
Create a Calming Space for Your Autistic Child
These are all the items we use in our children's calming spaces. Not every room has each item. Each child's room is based on their personal sensory needs and personalities. Tailor your child's calming space based on their own sensory needs. This list serves as a starting point to know what you might want to look for.
That About Wrap's It Up
As you can see, we use a ton of different sensory tools and creative resources to create each of our children's individual calming spaces. It's not hard at all to create a calming space for your autistic child, even on a small budget. Many of these items you can find at Dollar Tree, Amazon, and other major retailers.
The Mom Kind
Alicia Trautwein is an Autism advocate, writer, motivational speaker, and dedicated mom of four. Alicia's desire to advocate for Autism comes from her own autism diagnosis and that of her three children, niece, and brother. Her life's mission is to educate on autism acceptance and change the world for future generations of autistic individuals.
A calm-down corner can not only diffuse tantrums in the making, but a soothing spot designed just for your toddler or preschooler can also help them learn valuable skills for regulating his or her emotions.
We're all well aware that little ones can have really big emotions. But how come they equate to an epic tantrum on so many occasions? One of the biggest reasons kids have meltdowns is because they don't understand what to do with all those big feelings—and unfortunately taking a deep breath isn't yet in their toolkit! That's where the idea of a calm-down corner comes into play, a method of helping kids process emotions that's proven to be much more effective than the time outs you may have sat in as a kid.
Even if we weren't coming out of months of social distancing, setting up a soothing spot at home where your toddler or preschooler can chill out is a great way to manage those days where everything is upsetting. To get you started on the right relaxing foot, here's everything you need to know about creating your very own calm-down corner, including why it works and the best ways to make it as comfy as can be.
So What Exactly Is a Calm-Down Corner?
First things first: it's important to understand that a calm-down corner is not the same thing as putting your child in time out. Instead, it's a place he can go to calm down when he notices his emotions are starting to spiral out of control.
"A calm-down corner is an area where a child who is experiencing heightened emotions may go to engage their minds, calm their bodies and release strong emotions in a safe and controlled manner," says Donna Housman, Ed.D, clinical child psychologist and founder of the Boston-based Housman Institute.
A calm-down corner might be as simple as a space with a soft mat and a bucket of books, or as elaborate as a fancy fort with colorful art on the walls and baskets full of sensory activities. And of course, it doesn't have to be a corner. The key is to find what helps your child feel calm and balanced again, in a space that's removed from the chaos and noise of the rest of the house.
Dr. Donna Housman, Ed.D
When used effectively, a calm-down corner can fulfill your kiddo's need to have some time away while providing and promoting a sense of independence, responsibility, and achievement.
When Should You Use It?
Maybe you've been using time outs with your children and you'd like to transition to a calming corner. Or perhaps you'd like to incorporate both techniques into your parenting toolkit. How do you know when to use a calm-down corner vs. time out? According to our experts, the following instances are best times to enlist the help of a calm-down corner:
Before things escalate.
A calming corner should be a soothing and inviting space that is left open for the child to enter whenever they are feeling dysregulated, says Dr. Housman. She feels it's important for parents to help children identify the signs their body gives them to let them know they're becoming out of control. Things like a clenched jaw, tight fists, shouting, furrowed brows, and throwing things are all signs your child can come to recognize.
For overstimulation rather than willful disobedience.
If you've used timeouts in the past for things like blatant disrespect or breaking house rules, it may be confusing for kids if you switch to a calm-down corner. To combat this, begin by using it for instances of overstimulation or heightened emotions. You know, before your kiddo is in trouble. And remember—too much excitement can be as out of control as too much anger, says Dr. Housman. Both can lead to those caveman impulses in little ones, so encourage them to hit the calm-down corner to cool off for a bit.
When your child decides it's time.
One of the biggest benefits of using a calm-down corner is that it teaches little ones improved self confidence, independence, and self-insight, says Allie Finkel, a Licensed Clinical Social Worker and co-owner of Kind Minds Therapy in New York City. As part of this, your little one will quickly begin to recognize when they need to spend time in the calm-down corner. When this happens, embrace it, and know that she's beginning the life-long process of regulating her emotions.
Setting Up Your Own Calm-Down Corner
If you choose to set up a calm-down corner in your home, there are a few things you'll want to keep in mind before you get started. Finkel shares the following tips for success if you're wondering how to set up a calm-down corner:
Have your child help with the planning. Listen to his calm-down corner ideas. This is a great way to ensure the space works for your child's individual needs.
Teach your child how to use everything you've included. Don't set expectations based on assumptions; instead, set your child up for success in her new space.
Be consistent. It'll take some getting used to for both of you, but with consistency and firm but gentle guidance on when it's time to use the calm-down corner, your little one will eventually catch on and begin to use it properly.
Work together to create a set of rules for the space. Allowing your child to take part in setting the rules will provide him with a much-needed sense of control.
What to Include in a Calm-Down Corner
Your calm-down corner should consist of a comfortable place to sit or lay down, and several calming activities for your child to engage in. These can be sensory in nature, but that's not a requirement. Finkel recommends the following items if you're looking for calm-down corner ideas.
Glitter jar
Bubble wrap
Stress ball
Fidget spinners
Pinwheel or visual image for breathing
A list of "mindful minute" activities
A journal (for older children)
Slinky
Art materials
Bean bag chair
Blankets and pillows
Once the calm-down corner has worked its magic, it's important to check in with your child about the feelings that led them to the cozy corner, how they are feeling now and how their behavior made you feel, says Dr. Housman. This helps your little one to understand what happened, sort through the emotions they experienced, and most importantly, learn how to handle similar situations in the future.
Do you find yourself chanting this mantra several times a day:
"Serenity now, Serenity now!"
If you are feeling the chaos of life, we need to talk. As important as it is to make visual statements in your home, the ta da! moments we all seem to strive for, it is also very important to create places of calm to counteract the chaos of life. The more you have going on in your life, the more this will resonate with you. Having a home that reflects serenity can truly give you a sense of peace. In today's world, that is more important than ever.
Here are five ways to create a calm home

1. CLEAR THE CLUTTER
The best way to create serenity is to clear the clutter and visual chaos. When your home is filled with stuff, be it clutter, piles of papers, dirty dishes, projects, or even too many accessories or an abundance of furnishings, your eye has no peaceful place to land. You want to allow breathing room for your own sanity!
Most of us could do with about half as much stuff in our house and things would feel a lot calmer. If you are overwhelmed and don't know where to start, grab some grocery bags and run around the house filling them with clutter. You can attack each bag later, and enjoy a calmer home right now.
2. ESTABLISH ROUTINES
If you struggle with a lack of routine, disorder, or just general chaos in your life, I highly recommend the Fly Lady as a great online resource. I first stumbled upon her site about 7 years ago and she was a lifesaver for me! I was not good with routines and easily felt overwhelmed with a new baby and two other children to care for while working from my teeny tiny home. I could not figure out how to do it all, but Fly Lady came to the rescue. Her methods will really help you to focus each day on your routines to combat chaos.
3. CONSIDER A SOOTHING COLOR SCHEME
In your decor, you can do a number of things to create a more visually serene environment. Including getting rid of excess stuff, some people just feel better in their home with more soft and soothing color palettes. It is amazing what a difference a color scheme can make in how a room feels, so be sure to consider this if you are a highly stressed person. If you just want to feel at peace, with nothing jarring your eyes, soft colors and faded or muted fabrics will make your home the oasis you are looking for.
4. CREATE A SPA BATHROOM
While most of us can't justify a regular trip to a spa, we can "get the feeling" of one in our home. Creating a spa-like environment to shower, bathe, or pamper yourself as you get ready each day or evening can make a real difference in your attitude! I love having a luxurious faucet, a big bowl of fragrant soaps, jars filled with bath salts, and fluffy towels ready for after a bubble bath.
5. PRACTICE DAILY SOLITUDE
Give yourself permission to enjoy peace & quiet every day! Create a small corner where you can think. Find a comfy chair, soft lighting, a candle, and have your favorite books or magazines at the ready for some quiet time. Spend a little time every morning in solitude and you'll be much more equipped to face the day. In fact, just seeing your quiet corner can lower your stress level during the day!
The outside world can be a stressful place, but with a little effort in our homes, we really can find that calm we all need!
In times of stress, people often turn to meditation as a way to calm the mind. What doesn't calm the mind is trying to center yourself and zen out when you're sitting on the floor of your cluttered bedroom that's making you feel the opposite of peace. Enter the meditation room: A place in your house or apartment (it doesn't even have to be an entire room—just a dedicated space, really) where you can practice any kind of meditation or just check in with your body and your breathing for a little while.
That's why we turned to Candace Moore, a yoga instructor and author of the book Namaslay, and a few interior designers for advice on how to create a "quiet, inspirational, self contemplative area" in your home, as interior designer Rozalynn Woods puts it.
1. Bring the outdoors in
If you can't actually practice outside because you don't have the space or the weather does not allow for it, Woods says to try and bring some nature inside. "I recommend putting something outside the window, like a hummingbird feeder or a hanging plant. Bring in a plant or tree that can survive inside," she says. "If you're building the space, make it indoor/outdoor with sliding doors that help you connect to nature."
2. Consider scents
To really immerse yourself in your yoga practice, Moore says candles and essential oils can create an ambience. "Choose something calming like lavender for a slower, de-stressing style of practice, and perhaps something uplifting like grapefruit, or something energizing like peppermint for a more flowy-style practice," she suggests.
3. Make it personal
If neutrals aren't your thing (we see you, maximalists!), you can still go for pattern and color, just avoid layering a ton of small, buzzy prints and high-contrast colors. "Too much information, visually or emotionally, blocks the message or the ability to be able to get quiet with yourself," says Woods. "You'll notice meditation spaces are very simple and comfortable, and visually pleasing. Anyone who wants to do their own space can interpret the 'visually pleasing' part differently. Bring in your favorite plant or favorite color, as long as it's not jarring—something that brings you happiness. The trick is not to bring too many things."
Interior designer Suzanne Childress agrees, adding, "Just create a space that feels good and peaceful and has a nice energy. Take out clutter. Pare down the space and add in items that are meaningful."
In the bohemian yoga/meditation space above, Childress used Moroccan accents, printed wallpaper and vintage fabric for the window treatments. She even installed a heated cork floor for hot yoga.
4. Match the room's temperature to your practice
If you don't have a fancy heated cork floor, Moore advises heating your room depending on the type of yoga you are practicing. "A vinyasa flow is more athletic with much more movement than, say, restorative, so you may want to keep the temperature cool," she explains. "For a slower-style yoga like restorative, you hold poses for a long time in a very relaxed position, so a warmer room would be ideal."
5. Make use of outdoor space
Woods says nature is an important element to bring into a meditation practice: "When you can connect to the earth visually or physically, it brings a different element into the experience, which is grounding." Similarly, some of Childress's clients use space on their deck or balcony to do yoga or meditation if they don't have a designated spot.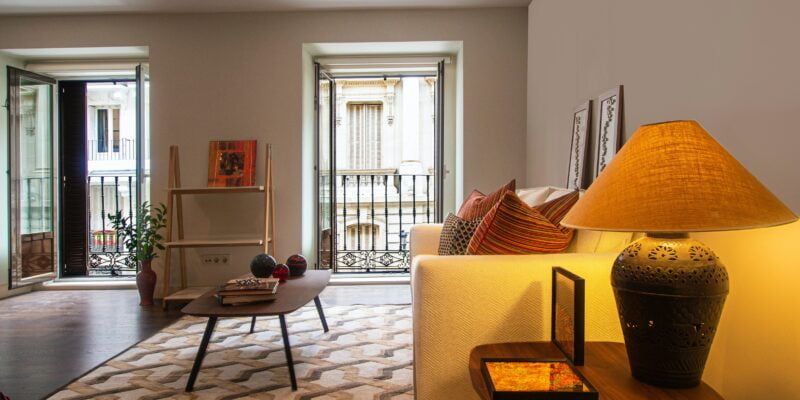 Your home should not only be your place of shelter where you have the basic necessities every house has. More than that, it should be the place where you can be yourself and feel the most comfortable. It should be warm and welcoming and make you feel a sense of belonging. Your house can only feel like home when you enjoy every minute there. No matter where you go, you will always look forward to coming home.
We may have ideas about decorating our homes and individual thoughts on what makes us feel at home in our living space. Our personal touch makes a difference, making our homes uniquely ours. If you have the budget to hire a professional designer, you will still need to discuss how you want your interior to look. However, you can still do without the experts by using your imagination to create the homey atmosphere you dream of.
Below are some helpful suggestions to make your house feel like home.
Decorate your walls with your treasured artwork
One of the best ways to make your living space homey is to display your favourite art pieces. A bare wall seems impersonal and dull, and paintings can add vibrance and bring life to your interior. If you are not into artwork, you can create a mini gallery of framed photographs that elicit warm and happy memories. They may be pictures of loved ones or places you have been that have a special significance in your life. Each time you come home and see them, you are happy, which is how your home should make you feel.
Keep it comfortable
Think of things that make you comfortable, and don't hesitate to spend money on them. If you imagine a comfy couch and throw pillows in beautiful patterns and colours, then you should indulge yourself. Your home can feel more relaxing too if you invest in a quality air conditioning system that provides the suitable temperature to keep you comfortable. If you reside in Southampton, you can always seek help from experts on air conditioning in Southampton for advice on quality air conditioning units and have them take care of the installation. Invest in durable mattresses and beddings for your bedrooms to get the quality rest you need. You may also want to replace old appliances with modern ones that make your daily chores more manageable. When it comes to your comfort, all your expenses are worth it.
Choose a calming colour scheme
Your choice of colours does not only impact your home's appearance but your state of mind too. If you want to create a homey atmosphere, choosing a calming colour scheme for your home's interior would be best. Pastels and neutral shades are ideal for this purpose. They soothe your nerves and help you relax. They can also complement different types of decorative items and furnishings. Think of the colours of nature, such as blues and greens and create a peaceful home environment.
Your home is your haven, so it would be beneficial to make some improvements and transform it into a comfortable and homey place.
This is what peaceful looks like.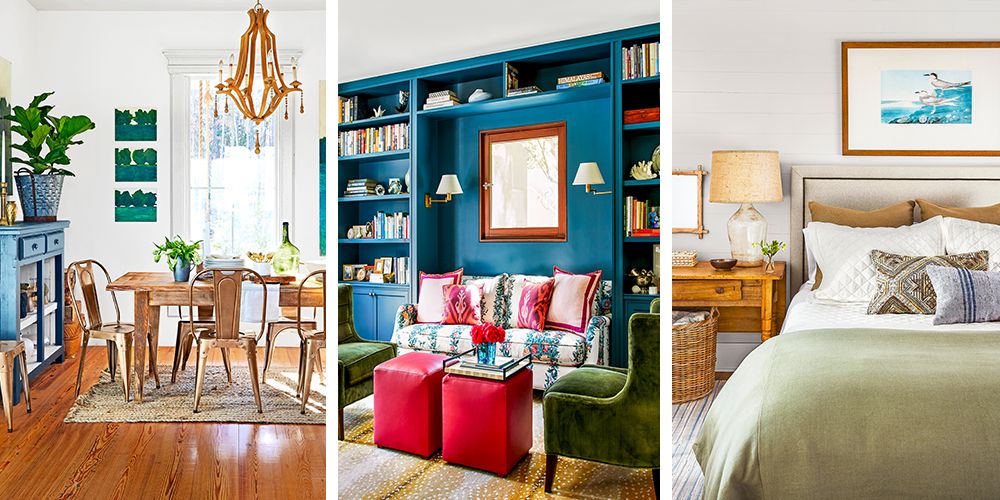 For anyone who craves a little more serenity in the day-to-day (so, all of us?), these simple decorating tweaks will make your space more relaxing — without causing you a lick of home renovation-type stress. This is what peaceful looks like.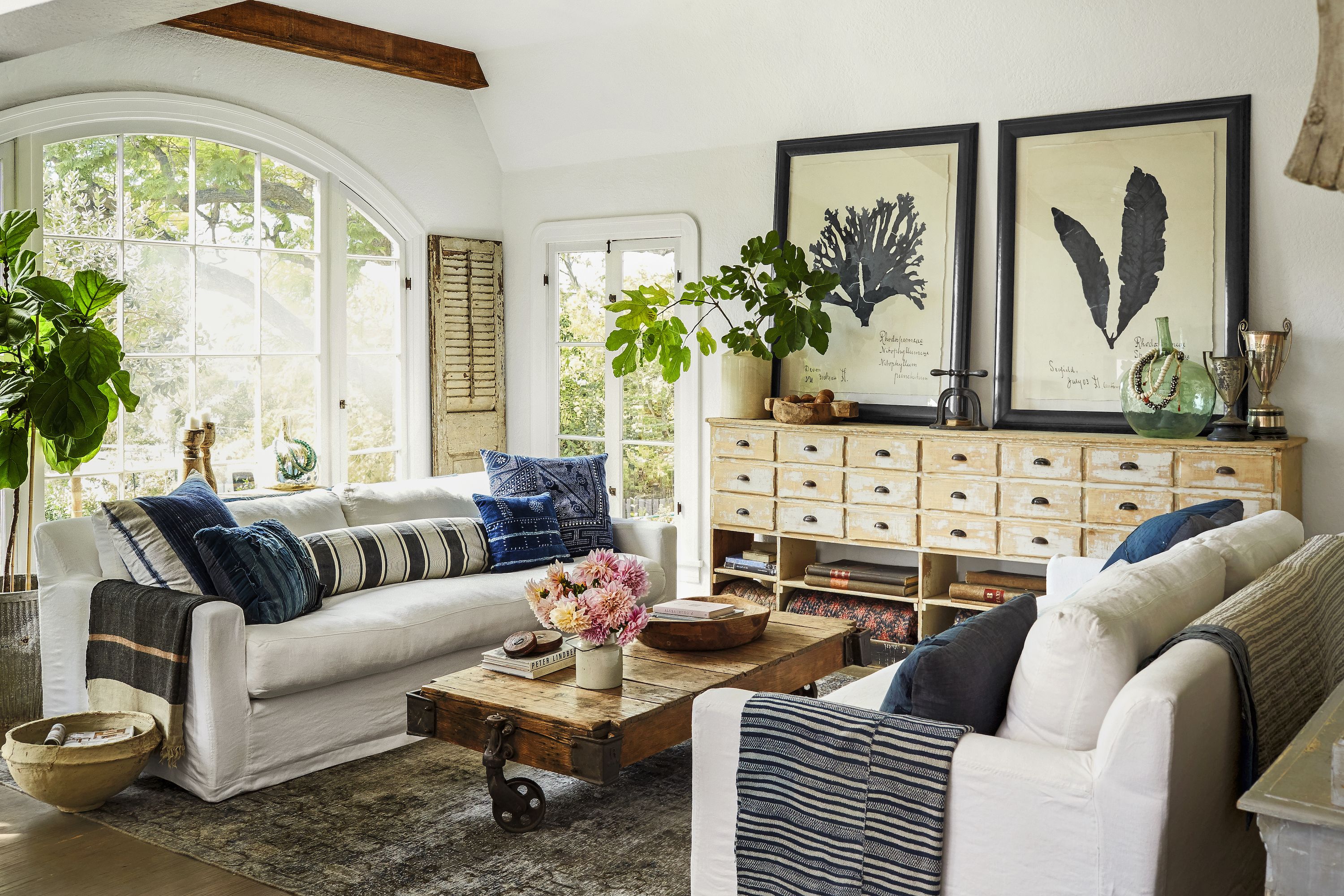 1. FIND THE RIGHT SPOT FOR YOUR STUFF
Organizing should be about convenience, not where you think things "should" go. Keep what you need where you really need it, says pro organizer Marissa Hagmeyer of Neat Method. If you're in the habit of sorting mail while watching TV, for instance, keep couple of baskets for "in" and "out" nearby.
2. EMBRACE SOOTHING SHADES
A fresh coat of paint can be the biggest mood-changer in a room. For a timeless neutral that's more comforting than stark white, try creamy ivory or greige (a warm, gray-tinted beige), says Dee Schlotter, color expert for PPG Paints.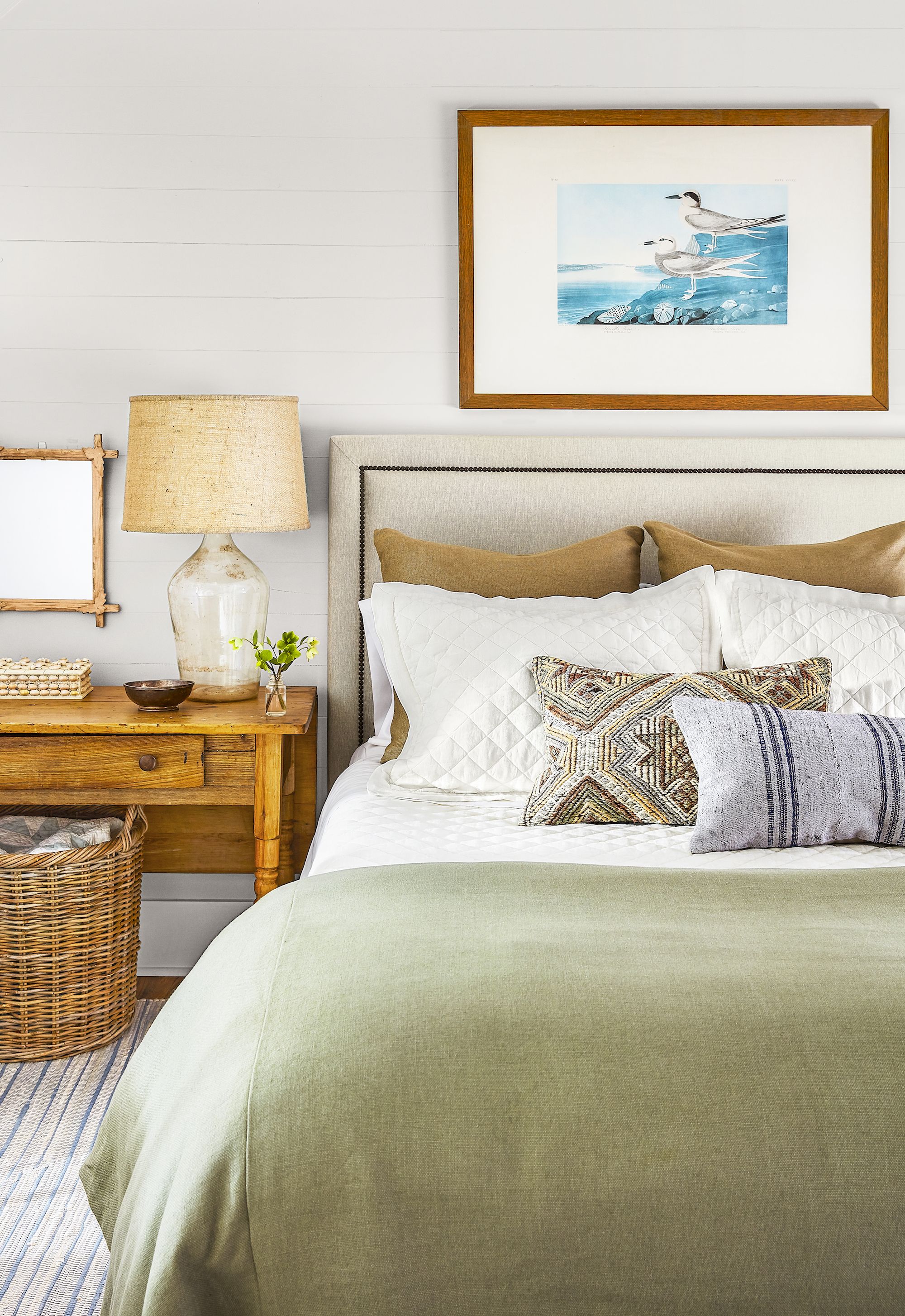 3. TAP INTO SCENT
In case you needed an excuse to buy even more candles: An aroma that evokes a happy memory is a shortcut to feeling happy right now. Pine can transport you to the cozy holidays, while coconut can bring you back to that calm feeling of your last (kid-free) vacation. Place a scented candle or diffuser next to your bed or by the front door. Ahhh, isn't it great to be home?
4. GET YOUR BEST REST
A great night's sleep doesn't happen all on its own—you've got to create the ideal setting. Where do you start? The thermostat. Keep the room at a cool yet comfy temperature (60 to 67 degrees) and don't underestimate the power of a good sheet set! When it comes to thread count, a bigger number isn't always better, says Anna Brakefield, bedding designer and owner of Red Land Cotton. Lower thread counts can let more air through, which may keep you from getting hot and stuffy in the middle of the night.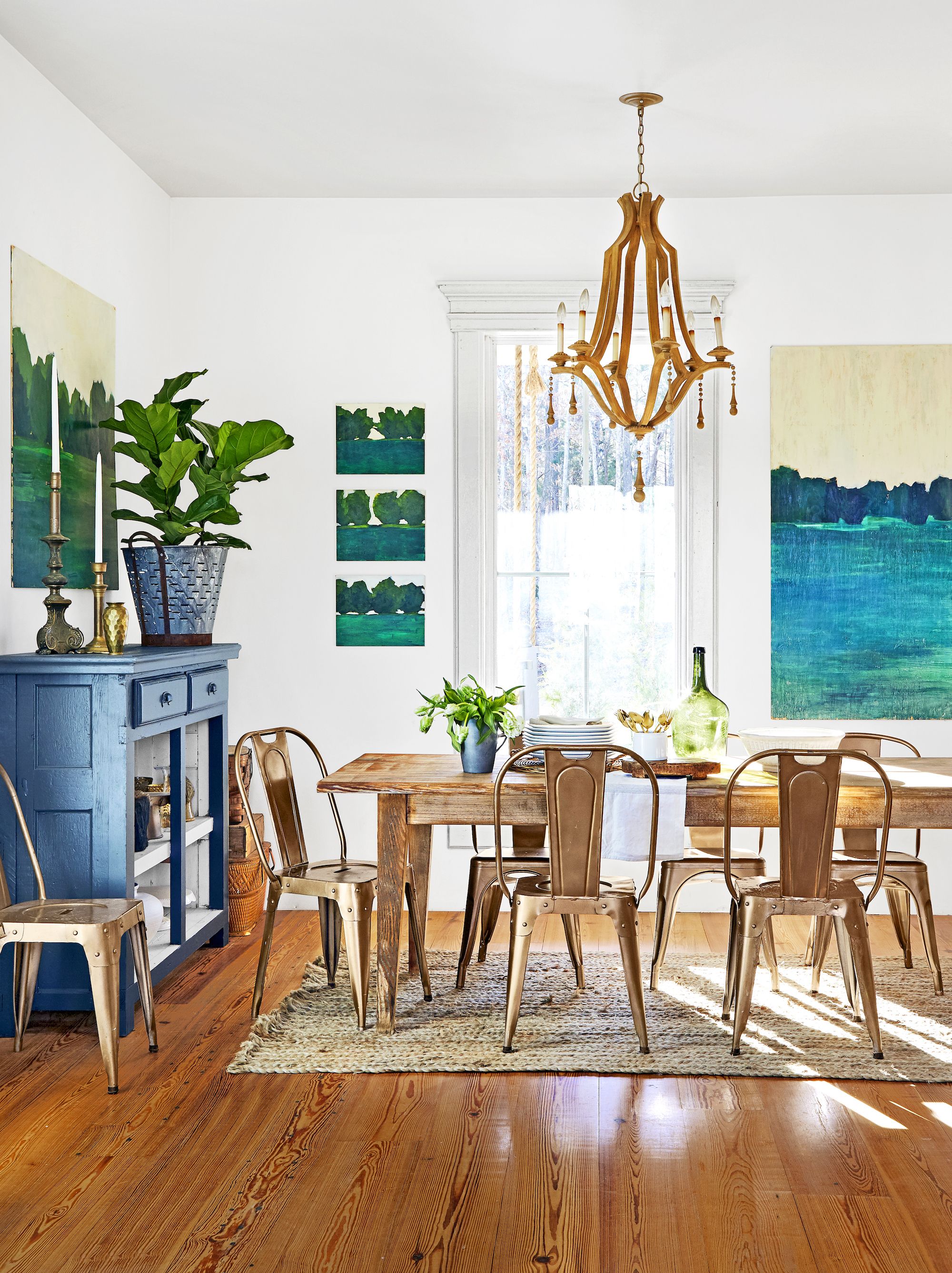 5. POP A PLANT IN EVERY ROOM
Believe this: Caring for plants is an act of compassion, and the more
compassion we have in our lives, the better off we are. Think beyond the windowsill and sneak in greenery wherever you can, from the dining room to the bathroom. Plant pro Tyler Davis points to snake plants, Chinese evergreen, and aloe vera as easy-to-care-for varieties that any wannabe green thumb can keep alive.
6. LET THE LIGHT IN
Sun-filled rooms make us feel invigorated even when we're stuck doing chores. To maximize the natural light in a room, skip curtains and drapes altogether if privacy isn't an issue. Then steal designer Justina Blakeney's trick: Hang a mirror opposite a window to reflect the rays around the room. So smart!
7. SURROUND YOURSELF WITH THINGS YOU LOVE
Sure, purging household clutter is necessary (if you don't want to turn into that one neighbor), but at the end of the day, if tchotchkes and keepsakes make you smile, then by all means decorate with your favorites. Try tucking them into an open cabinet or arranging on a shelf so they stay organized while on display. This trick saves other surfaces from an overload of objects, and corralling similar items together makes dusting a heck of a lot easier too.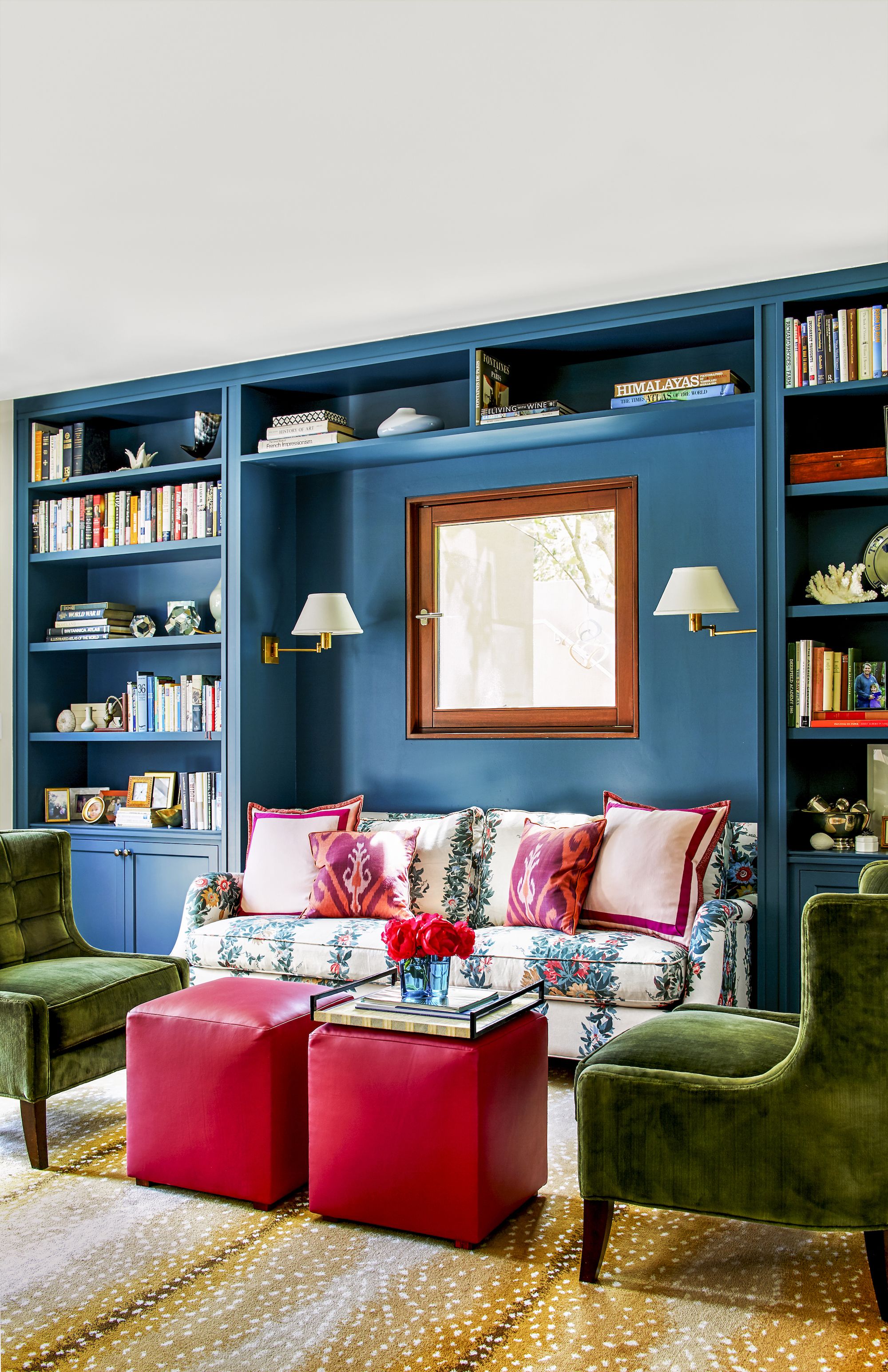 8. PICK UPBEAT COLORS
Just as some shades bring a sense of Zen to a room, certain hues can boost our morale. Schlotter says red helps energize, yellow inspires optimism, and blue sparks creativity. So next time you're choosing paint samples, keep these colors in mind and let your walls do the uplifting around the house.
9. LAYER LIGHTING
They call it mood lighting for a reason, folks! Most rooms have an overhead fixture, but sconces and lamps — and even dimmers — let you set the scene for different occasions
10. CREATE GOOD FLOW
The furniture you have and how you arrange it can influence how well your family and guests connect. Place sofas and chairs across from each other to encourage chatting, then add a few ottomans, which double as movable extra seating and places to put down a drink. Furniture arranging for a happier home life: Who knew?
This year, we spent more time in our homes than ever before, overhauling room after room to cater to our comfort. One such space we paid particular attention? The home office. Whether you already had a designated work area or created a makeshift one, you likely did all you could to ensure the space was inspiring, but calming, too. If you still feel like you haven't struck that balance, it might be time to consider an alternate route. "It's so easy to get distracted while working from home, and a lot of people are having trouble switching off after work because there's no physical separation between their work and home lives," Eva Eckerblad, the founder of Siblings, says. "This is where aromatherapy can help. We know that scent has a direct connection to our emotions, so during the workday, it can help to use refreshing scents, like citrus and eucalyptus, to create an energized and focused work environment." Ultimately, even the slightest scent-driven changes in your routine—like adding cinnamon to a morning coffee—can awaken your senses as you work, adds Lynette Lovelace, an aromachology expert and the CEO and creator of Lifetherapy.
Not only can aromatherapy improve your focus on a day-to-day basis, says Amy Jane Stewart, LMT, a reiki level one master and clinical aromatherapist, herbal apprentice, and the owner of Organica Jane, it's also a great way to reduce stress, pain, and inflammation in your body. So, the next time you simply aren't feeling productive at home, consider the following advice from our experts, who shared several ways to use aromatherapy to boost your focus.
Light a soothing candle.
"Scented candles with high quality natural and essential oils are a great way to modulate productivity and your mood throughout the day," Eckerblad says. "Look for citrus-based scents for that boost of motivation and focus during the workday or a calming lavender for easing the mind during irritatingly long Zoom calls." There is a scent for any mood, she adds, so be sure to test out which iteration works best for you.
Try aromatherapy inhalers.
Eckerblad notes that aromatherapy inhalers, which are plastic tubes filled with cotton-like swabs coated in essential oils, are perfect for an early morning pick-me-up. "Couple these inhalers with different scents and mindful breathing exercises and you'll start your day with focus and end it ready for restful sleep," she says.
Display your favorite plants.
"Plants might be the original aromatherapy and keeping live plants around the home is a fantastic way of bringing natural scents indoors, cleaning the air, and brightening the mood," Eckerblad says. Some of her favorites? Orchids, roses, and olive trees—but she notes that you should choose the plant of your liking to bring color, a sense of joy, and character to your workplace. Lovelace adds that anything from flowers to freshly cut oranges or mint could be ideal additions to an office space.
Apply natural lotions.
During the workday, mix lemongrass and lavender essential oils with natural lotion and apply the concoction on your neck, wrists, or other stiff spots, Stewart suggests; this will release tension and boost your productivity. Laura Coburn, a certified Ayurveda health counselor and the director of serenity at the Inns of Aurora, says you can also try wintergreen and eucalyptus, since they "are great muscle soothers and a nice treat for your low back."
Use scented paper fans or roller balls.
A roller ball vessel filled with your favorite scent is just as effective as other aromatherapy techniques, says Lovelace. "Keep it next to your screen," she suggests. "You'll find yourself reaching for it often, and it's even acceptable on a Zoom call." You can even make a scented paper fan—or add popsicle sticks to postcards as blank canvases for essential oils. "Take a break by fanning yourself or holding the card to your nose," Coburn advises. "The cards can be arranged in a cup or vase to make an added decoration for your desk. Using cards from loved ones gives you the double boost of the scent and the acknowledgment that you are loved."
Wrap yourself in perfume-laced fabrics.
Using any of your go-to accessories—like a scarf or shawl—simply dot drops of your favorite scent and wear the piece as you work. "If you don't want to put oil directly on a scarf, add an oil droplet to a cotton makeup applicator disk or cotton ball and tuck it into the scarf," adds Coburn.
Create a customized air freshener.
"Make a spray with distilled water, essential oils, and just a touch of witch hazel or fractionated coconut oil," Coburn says. "Spray the room, letting a little fall onto your hair, so it stays with you." She suggests putting more drops of oil in this solution if you have a bigger spray bottle.
Test a diffuser in your space.
A diffuser in a workspace has plenty of health benefits. According to Stewart, adding citrus essential oils to a cold-air diffuser supports immune function, since they contain d-limonene, which boost white blood cell creation. Plus, inhaling other essential oils—like peppermint or rosemary—may help memory and focus (they improve blood flow to the brain). Coburn suggests adding four to eight drops of essential oils into your diffuser after adding water into the device.
Adult ADHD and Motherhood can be stressful. Below are 6 tips from Dr. Scott Shapiro, Psychiatrist and Therapist, that will help bring more calm, organization, and enjoyment to your daily life.
I first became acquainted with Psychiatrist Scott Shapiro when we were colleagues years ago working for Dr. Edward Hallowell at the Hallowell Center in New York City. Dr. Shapiro is a highly regarded Psychiatrist and Therapist whom I have continued to consult with on behalf of my clients.
Very often, parenting becomes complex when adults have their own challenges with ADHD. Adult ADHD and Motherhood can bring lots of added stress. I asked Dr. Shapiro to share some insights on how to support mothers with Adult ADHD.
Adult ADHD and Motherhood: 6 Expert Tips for a Calmer Home by Scott Shapiro, MD
Do you have Adult ADHD and feel overwhelmed with trying to balance working and being a mom? When you get home from work, do you feel immediately ambushed by your children? Are your mornings chaotic and stressful?
Many of my patients with Adult ADHD are also moms. Being a mom requires focus, organization, planning, multitasking, and frustration tolerance—all of these present challenges for parents with ADHD.
Take Sandra* for instance. She is a 40-year-old married woman and a mom. She has three children and works in the Real Estate field. For many years, she worked very hard just to keep up. However, having ADHD and being a mom just tipped the scales. She was diagnosed with ADHD and anxiety in her early 20's.
Although Sandra takes Ritalin and Zoloft to manage these conditions, she feels like her life is out of control these days. She feels frazzled in the morning trying to get herself ready for work and her children ready for school and rushes to prepare dinner at the last minute most nights. Even though her husband is very involved with household duties and parenting, Sandra feels as though she is drowning.
Recently, Sandra visited her primary care doctor for an annual exam. Upon hearing about Sandra's challenges with juggling responsibilities, her doctor referred her to me for ADHD therapy using Cognitive Behavioral Therapy.
CBT is a psycho-social intervention that has been demonstrated to be effective for a range of problems, including depression, anxiety disorders, challenging and changing cognitive distortions and behaviors, improving emotional regulation, and developing personal coping strategies. In addition to treatment, I recommend several day-to-day techniques to practice at home if you are a parent who identifies with Sandra's situation.
Here are 6 strategies for Adult ADHD and Motherhood, that many of my patients have found helpful:
1. Create a Family Calendar
Create or purchase a monthly calendar and place it in the kitchen where everyone can see it. Place all the activities and events for the family on the calendar, as well as in your calendar.
Weekly chores help the children feel part of the family and create a structure to help them keep the house in order. Depending on the children's ages, some of the chores may include cleaning the table, washing the dishes, taking out the trash, and walking the dog. In addition to lifting some of the burdens on your shoulders, this can free up time to employ necessary coping strategies and minimize stress. [Note from Cindy: If you are having trouble gaining buy-in or compliance from your children, please reach out to us for parenting support. You might also find this article helpful: Why can't he "Just Do It"? The Art of Initiation
3. Establish Household Rules
When creating household rules, it can be effective to have the entire family participate. Each person feels a sense of ownership. The rules will vary from family to family and the ages of the children. Limitations may include expectations for treating each other, bedtime, homework, screen time, and housekeeping responsibilities. Review rules as often as needed.
4. Organize Children's Keepsakes
As you know, having Adult ADHD and being a mom can lead to having piles and piles of papers around the house. School-aged children tend to make a significant contribution to the clutter. Create an organization system for each child. I recommend that you designate a file box for each child, divided by school year with separate folders for artwork, awards, and grades. Also, have a plastic storage box for each child's keepsakes. Make sure to label the year and any other significant information. Finally, create a shelf or display for each child's room for trophies and other vital memorabilia. These steps help to maintain an organized home.

5. Plan Meals
Instead of racing to throw meals together after a grueling day at work, draw out a game plan for the week. What needs to be chopped, thawed, peeled, or picked up from the supermarket? Delegate meal preparation tasks to family members who may arrive home first or use weekends to pre-prepare dinner ingredients. Rate dishes on their complexity; on longer days, you can fall back on your "easy" meals of spaghetti or store-roasted chicken.
6. Make Time to Recharge for Mom
Every parent needs to recharge. Schedule with your partner times that each of you can take a break from the family and do something for yourself, whether it is exercise, spending time with friends, or some other pleasurable activity. Ensure that you don't neglect your relationship; set aside time to spend together without the children. Parenting is a full-time job without weekends, so even just a few minutes to quietly read a book or an hour at the gym can be beneficial.
Sandra and I worked together for three months. During our initial meeting, we developed therapy goals for her vision for work and home life. At each session, we discussed one of the challenges she faced and developed a strategy to help her move forward.
She began using a family calendar for every family member's activities and events. We discussed the elements of a chore chart that she discussed with her family. The children were initially were hesitant, but after a few weeks, they began to enjoy being more engaged with the family and took pride in achieving their rewards.
The strategy Sandra enjoyed the most was making time for herself. She and her husband agreed to keep one night free to spend time with her friends and Sunday morning for exercise.
Ultimately, Sandra was less overwhelmed and more confident in her ability to deal with the daily bustle of a working mom. There was less chaos in the house and many more opportunities for pleasant family time. As you begin to employ these strategies to create a calmer home, remember to forgive yourself on days when nothing seems to work.
Success doesn't look like perfection; it seems like persistence. So, parents persist.
Scott Shapiro, MD is a nationally renowned expert in Adult ADHD.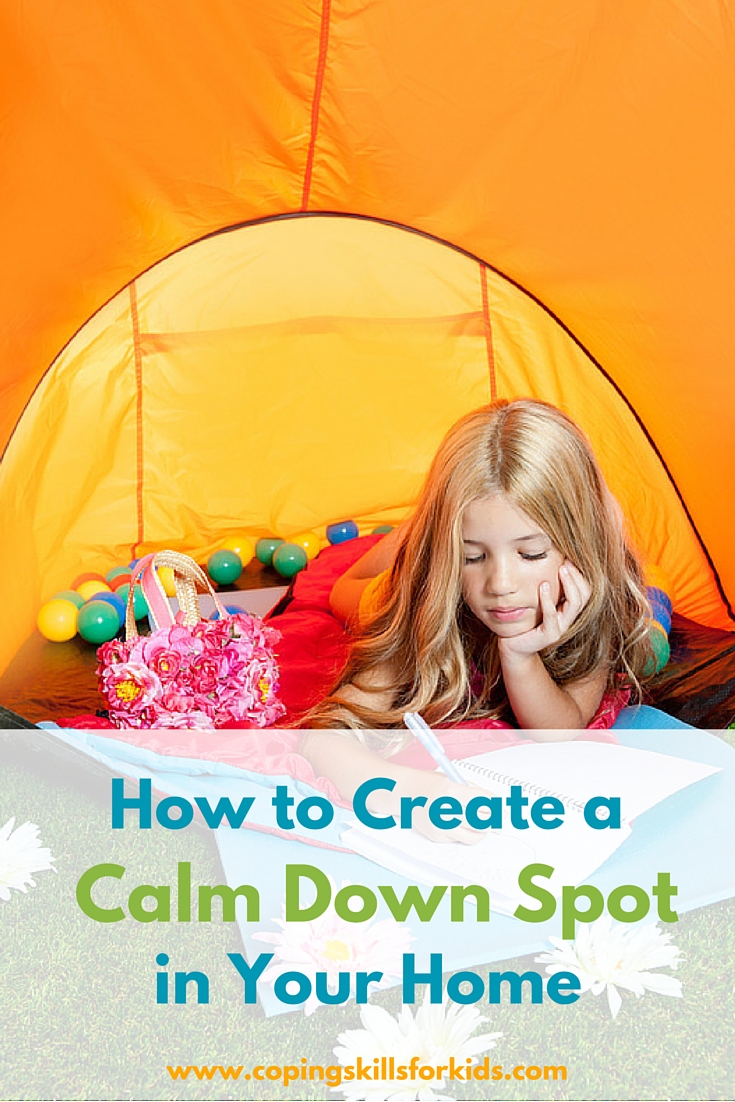 "ARGH!" Eddie, your 6 year old, yells in frustration for the third time in 30 minutes.
Maybe he didn't get enough sleep last night. Maybe his allergies are acting up and he's more on edge. Maybe it's the middle of school vacation week and he's irritated with his sister. Or maybe it's all three. Whatever the reason, he needs to calm down. What can you do to help your son? You can create a calm down spot in your own home.
Find a spot
Find a spot that is quiet and not too busy. It could be a corner in a room, or it could be an area in their own bedroom. Figure out what's going to work best for you and your family. We use a corner in our downstairs dining room as a calm down spot. We don't use our dining room frequently, but it's still close by to everything on that floor.
Delineate the spot and make it cozy
Start with creating a way to delineate the space. Here are a few ideas:
rod with a curtain
Hang a hook from the ceiling and attach a canopy.
lay out a blanket or mat.
Next, focus on making the space cozy. Add some pillows or extra blankets, and a few stuffed animals in there.
Add some calming tools
Create a calm down toolbox for your child to use in times of stress and frustration. Get a box or a basket, and put in items that will calm them. Some common items that help are stress balls, play dough, a book they like, or a toy that they enjoy playing with quietly.
Make coping skills cue cards so that your child can have a visual reminder of what calms and relaxes them. Include that in the box too.
Explain and practice
Your child will need an explanation of what a calm down spot is and how to use it. Show them where the spot is and explain to them that this is a place they can go when they need a break or need to calm down when they get upset or frustrated.
Let them add in their own specific items like a special blanket or a special stuffy. You want them to feel as cozy and comfortable as possible in this space.
When they are in a calm frame of mind, have them go into the spot and see how it looks and feels. It's always best to practice using these strategies before a crisis arises.
Calm reminder to use it
The next time your child is looking like they are getting frustrated or angry, give them a gentle reminder to use the calm down spot. Remind them that it's okay to take a break and come back when they feel ready.
Will it work perfectly every time? Absolutely not! But it will be another coping skill to add to your child's growing list of things to try to help deal with stress and big feelings.
"Eddie, you seem frustrated. Why don't you take a break and go to your calm down spot?"
He lets out an exasperated sigh, but walks to the calm down spot. A few minutes later, you take a quick peek and see him playing with his silly putty. Woohoo!
These paint colours and easy decorating ideas will instantly make any room a more relaxing space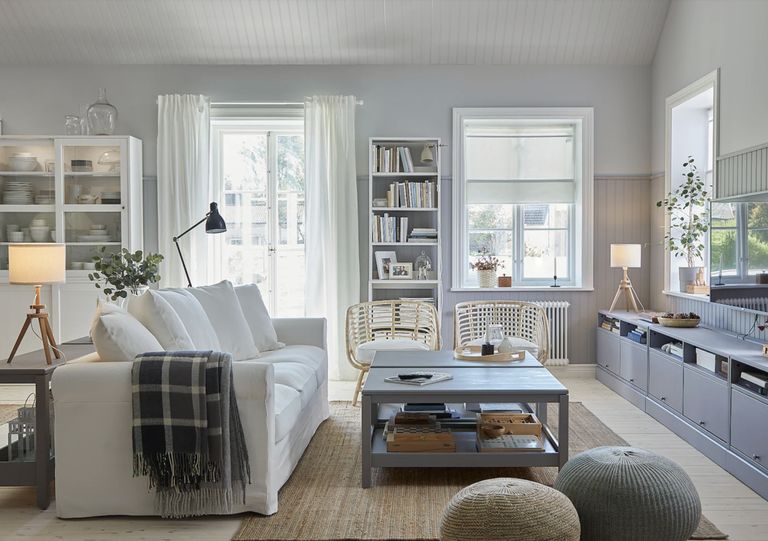 Get the best home decor ideas, DIY advice and project inspiration straight to your inbox!
Thank you for signing up to Realhomes. You will receive a verification email shortly.
There was a problem. Please refresh the page and try again.
Looking for the best paint colours to creat a relaxing environment? Well you are in the right place. Creating a calming home is a lot to do with the colour schemes you choose and layering textures. Full on bright colours and busy patterns are not conducive to a quiet mind! We've found some relaxing looks for the bathroom, bedroom, kitchen, dining room and living room to inspire you and guide you to creating your own peaceful home to relax in.
If you are after more living room ideas head our to our feature next.
1. Go for a neutral living room with plenty of texture
Squishy sofas, oodles of natural light, bags of texture and a cosy lighting scheme are all key elements for a serene living room. Add in sumptuous cushions and throws, a textured rug and a scented candle or two and you'll be curled up on the sofa in no time.
For more white living room ideas have a scroll through our gallery.
Video Playback Not Supported
Home is where everyone finds peace and tranquility, and reviving your home décor can change the overall look and feel of your place. Here are 5 tips to create a calming sanctuary:
1. Light it Up
Every room should let in ample natural light. Exposure to sunlight boosts your Vitamin D intake, which reduces the risks of weight gain, heart disease and various cancers. It also can prevent bone loss and seasonal depression and improve your sleep.
So, position your sofa and chairs — wherever you normally sit down and spend most of your time — next to a window and enjoy that Vitamin D!
While natural light makes everything feel more open and cheerful during the day, you'll also need to improve your lighting scheme for the evenings.
To add ambiance, avoid harsh overhead lights. Instead, use lighting that focuses on specific areas. For instance, mixing under-cabinet lighting, over-cabinet lighting, floor lamps and table lamps is one way to create a calming sanctuary.
Wood plank flooring adds instant warmth to any room.
2. Pick Soothing Designs and Materials
Think carefully about the designs of your bedding and upholstery. If you really want to create a calming sanctuary, avoid busy, complicated patterns with vibrant colors. They can not only hurt the room's design; they also can cause stress.
Instead, consider solid colors, pastels or soft floral prints. Choose colors that match or complement the walls and floors and tie the room's look together.
Wooden flooring is another soothing feature, compared to artificial flooring, due its warmth and natural origin.
Consider using acacia wood for flooring — it's beautiful, durable and mold and mildew resistant. Bamboo and cork floors also are sustainable, making these three options environmentally friendly and calming!
This domain is for sale: $1,995
Buy now for $1,995 or pay $166.25 per month for 12 months
Make 12 monthly payments Pay 0% interest Start using the domain today. See details
Make 12 monthly payments Pay 0% interest
Start using the domain today. See details
This domain is for sale: $1,995



Since 2005, we've helped thousands of people get the perfect domain name
Great and quick service!
– Tony Spedaliere, January 19, 2022
I must admit that I was a bit reluctant at first with the idea of purchasing a domain via the internet from a company I had never dealt with in the past. However, my experience doing business with Huge Domains was nothing less than outstanding from the very beginning. Their expertise and method of doing business, coupled with the back-up support by Escrow.com, actually made the entire process both simple and seamless. Based upon my excellent experience with Huge Domains, I would hold no reservations in recommending them to my business associates, friends, or anyone else looking to acquire that "special" domain.
– Matteo Caprani, January 19, 2022
Fast! Everything was ok.
– Richard Druppers, January 18, 2022
Again, another smooth transaction with HD. Very happy with their pricing and their buying experience.
– Michael Santiago, January 5, 2022
Very easy to buy the domain name I wanted. Great simple service to transfer the name after purchase. – waseem
– Waseem Fakhry, January 3, 2022
30-day money back guarantee
HugeDomains provides a 100% satisfaction guarantee on every domain name that we sell through our website. If you buy a domain and are unhappy with it, we will accept the return within 30 days and issue a full refund – no questions asked.
Quick delivery of the domain
In most cases access to the domain will be available within one to two hours of purchase, however access to domains purchased after business hours will be available within the next business day.
Safe and secure shopping
Your online safety and security is our top priority. We understand the importance of protecting your personal information.
We protect your information through SSL encryption technology, providing the safest, most secure shopping experience possible. Additionally, you may checkout with PayPal or Escrow.com.
Yes, you can transfer your domain to any registrar or hosting company once you have purchased it. Since domain transfers are a manual process, it can take up to 5 days to transfer the domain.
Domains purchased with payment plans are not eligible to transfer until all payments have been made. Please remember that our 30-day money back guarantee is void once a domain has been transferred.
For transfer instructions to GoDaddy, please click here.
Once you purchase the domain we will push it into an account for you at our registrar, NameBright.com, we will then send you an email with your NameBright username and password. In most cases access to the domain will be available within one to two hours of purchase, however access to domains purchased after business hours will be available within the next business day.
Nothing else is included with the purchase of the domain name. Our registrar NameBright.com does offer email packages for a yearly fee, however you will need to find hosting and web design services on your own.
Yes we offer payment plans for up to 12 months. See details.
If you wish the domain ownership information to be private, add WhoIs Privacy Protection to your domain. This hides your personal information from the general public.
To add privacy protection to your domain, do so within your registrar account. NameBright offers WhoIs Privacy Protection for free for the first year, and then for a small fee for subsequent years.
Whois information is not updated immediately. It typically takes several hours for Whois data to update, and different registrars are faster than others. Usually your Whois information will be fully updated within two days.
It's easy to think a domain name and a website are the same. While they are related, they are very different things.
• A domain name is like the address of your home. It just tells people where to go to find you.
• Websites are the code and content that you provide.
• A web host is a service that provides technology, allowing your website to be seen on the Internet.
Your Web address means everything – watch our video see why
Your Web address means everything
watch our video see why
With so many people working from home, one challenge may be in how to create an adequate and productive work environment, especially if there is more than one working adult in the household. So where do you begin? And how do you create a work environment that is bright, fresh and productive?
Here are some of our top Design Recipes tips.
1. Create your home office in a room with a window, if possible. Natural light in a number of ways plays a role in creating the ideal work environment.
2. Try to create a separate work room if possible. Depending on your home environment, additional privacy may be needed.
3. Ventilate your space periodically throughout the day. Fresh air goes a long way in creating a healthy environment.
4. Try to make your home work environment soothing and calm. From textures and textiles to colors that make you feel calm, transform your space into an oasis.
5. Choose a comfortable work chair. While workspaces and desks are important as far as comfort, a comfortable work chair should top your list.
6. Try to store documents away from your work surface when possible. Keeping your work area neat and tidy will also help keep the creative juices flowing.
7. Integrate colors you love into your space. Does the color orange make you happy? Does the color blue make you calm and relaxed? Color can often play a role in creating the right mood and tone.
8. Looking for space-saving solutions? Consider creating your workspace in a currently occupied area of your home such as a bedroom or use a slim or convertible piece of furniture such as a table that transforms into a desk.
9. Ditch the guest bedroom. So often guest bedrooms go unused except for a few times a year. Why not turn every room of your home into a productive space?
10. Bring in living elements such as plants and trees. Greenery will help bring life to your space as well as circulate oxygen.
Medical problem? Call 1800 022 222. If you need urgent medical help, call triple zero immediately
healthdirect Australia is a free service where you can talk to a nurse or doctor who can help you know what to do.
A soothing, calming atmosphere is helpful for everybody. For a person with dementia, it can help minimise their confusion and help them to concentrate and rest.
To create a soothing, calm environment, look at the household routine, the noise levels, the lighting, the effects of mirrors, the state of the bedroom, and even the colours and patterns used through the house.
Many people with dementia find noise annoying, so you might need to turn the television and radio off more often. You can try to eliminate shadows, glare and reflections that a person with dementia may find frightening.
Pets are a very important source of comfort and companionship for many people with dementia.
Source s :
Last reviewed: October 2018
Related pages
Aboriginal and Torres Strait Islander people and dementia
Avoiding dementia discrimination: how to treat someone with dementia
Delirium and dementia
Dementia and buildings
Dementia tips
Furnishing and dementia
How technology is helping people with dementia
Memory aids in the home and dementia
Vascular dementia
Search our site for
Memory Disorders
Delirium
Creutzfeldt Jakob Disease
Mini Mental State Examination
Alzheimer's Disease
Huntington's Disease
Lewy Body Disease
Need more information?
These trusted information partners have more on this topic.
Help sheets | Dementia Australia
Our dementia help sheets provide advice, common sense approaches and practical strategies on a wide range of subjects. These help sheets are available in more than 30 languages.
Read more on Dementia Australia website
Adapting your home
The physical environment can have a major impact on a person living with dementia.
Read more on Dementia Australia website
Progressive Supranuclear Palsy – Brain Foundation
Progressive Supranuclear Palsy Description Progressive supranuclear palsy (PSP) is a disorder characterized by symptoms similar to Parkinsons disease (including unsteady gait, stiff movements, and mild dementia)
Read more on Brain Foundation website
Show more
Family Carers – Synthesis
Detailed summary & identified research gaps on support strategies for carers, family members & friends of older persons receiving palliative care in aged care.
Read more on palliAGED website
Dignity and Quality of Life – Synthesis
Detailed summary & identified gaps from research on supporting the quality of life & dignity of older persons receiving palliative care in aged care.
Read more on palliAGED website
Social Support – Synthesis
Social Support – Synthesis
Read more on palliAGED website
Falls Prevention | Ausmed
According to the World Health Organisation, falls, and the injuries they cause, are major public health problems. Not only because falls lead to around 20-30% of mild to severe injuries, but also because more than 50% of hospitalisations from falls are among people aged 65 years and older (2007).
Read more on Ausmed Education website
Show more
Disclaimer
Healthdirect Australia is not responsible for the content and advertising on the external website you are now entering.
Related pages
Aboriginal and Torres Strait Islander people and dementia
Avoiding dementia discrimination: how to treat someone with dementia
Delirium and dementia
Dementia and buildings
Dementia tips
Furnishing and dementia
How technology is helping people with dementia
Memory aids in the home and dementia
Vascular dementia
Search our site for
Memory Disorders
Delirium
Creutzfeldt Jakob Disease
Mini Mental State Examination
Alzheimer's Disease
Huntington's Disease
Lewy Body Disease
Symptom checker
Worried about your health?
Select a symptom, answer some questions, get advice.
24 hour health advice you can count on
We are a government-funded service, providing quality, approved health information and advice
About
How we can help
Our mobile app
Linking to us
Information partners
Terms of use
Privacy
Contact us
About us
Discover
Blog
BMI calculator
Health apps
Medicines
Service finder
Symptom checker
Question builder
Risk Checker
Resources in your language
Arabic عربى
বাংলা Bengali
简体中文 Chinese Simplified
繁體中文 Chinese Traditional
Tiếng Việt Vietnamese


healthdirect's information and advice are developed and managed within a rigorous clinical governance framework. This website is certified by the Health On The Net (HON) foundation, the standard for trustworthy health information.
This site is protected by reCAPTCHA and the Google Privacy Policy and Terms of Service apply.
Support for this browser is being discontinued
Support for this browser is being discontinued for this site
Internet Explorer 11 and lower
We currently support Microsoft Edge, Chrome, Firefox and Safari. For more information, please visit the links below:
You are welcome to continue browsing this site with this browser. Some features, tools or interaction may not work correctly.
Searching for more serenity? Thankfully, there's one area in your life where you can create and control it—and it's the home
By Vogue UK | November 3, 2021 | Trends
If the past couple of years have left any kind of lasting impression, it's the value of carving out a quiet and calming space in your own home. Certainly, spending so much time indoors in the past two years has taught us that interiors matter, and they can have a huge impact on how we think and feel. While the rise in popularity of Wabi-Sabi or Japandi interiors speaks to this, there are other ways to introduce more tranquillity at home—and they don't require a renovation or complete design overhaul to achieve.
From simple things, such as adding stress-reducing houseplants to your living area, or working with the dictates of colour therapy to create a more soothing space, there are many small measures that will incorporate more zen into your interiors. So, in the interest of creating a more calming home space, we chat to New York-based interior designer Cara Woodhouse about how to quieten your home—and reap the mental and physical benefits.
1. Read the room
"When creating a calming space, it's important to first assess your home and its surroundings. What makes you feel comfortable and cosy? Lighting, materials, colours, etc.? On the other hand, you want to determine the details that make you feel the opposite so that you can start swapping those out immediately," says Woodhouse. Remember this is entirely personal too—there are no hard and fast rules about what makes a calming room. Find the elements that make you feel good.
design
A timeless guide to summer styling
"When it comes to feeling calm at home, there are certain sensory triggers that you should pay attention to. These fall under touch, smell and sight. Focus on these senses to start," suggests Woodhouse. This means paying close attention to the textures, materials and fragrances that make you feel relaxed, and finding new ways to add them to your space.
It's all about improving our sense of nature, whether directly or indirectly, to benefit from psychological and physical wellbeing effects.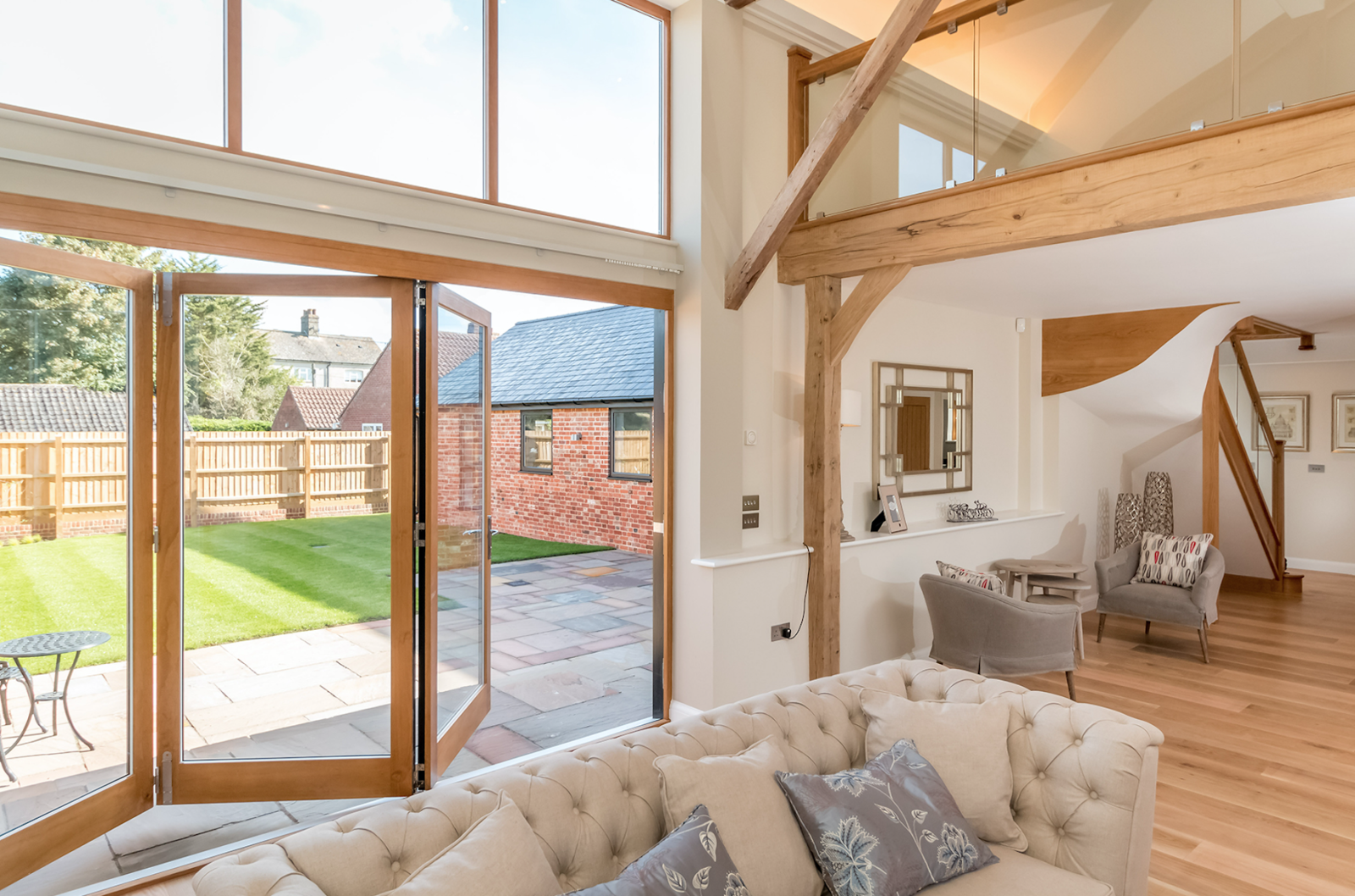 Our home is our sanctuary; a personalised living space where we eat, sleep, make memories, spend most of our time and disconnect with the outside world.
Whether you're living in a one-bedroom flat or a four-bedroom house, our home is a backdrop to our lives, and we should ensure that it not only enhances our wellbeing but is also a pleasure to live in.
The reality, however, is that many homes suffer from a lack of natural light, have disproportionate amounts of synthetic materials and little or no connection to the outdoors, which doesn't necessarily make our homes the places of comfort we want them to be.
Keeping wellbeing in mind, when it comes to styling our home, we should embrace Biophilic Design. This is the idea of using natural materials to give us wellbeing benefits and improve our human connection to nature.
It's all backed by science, with several studies proving that homes based on Biophilic Design principles have wide-ranging psychological and physical benefits, from improving sleep to reducing stress levels.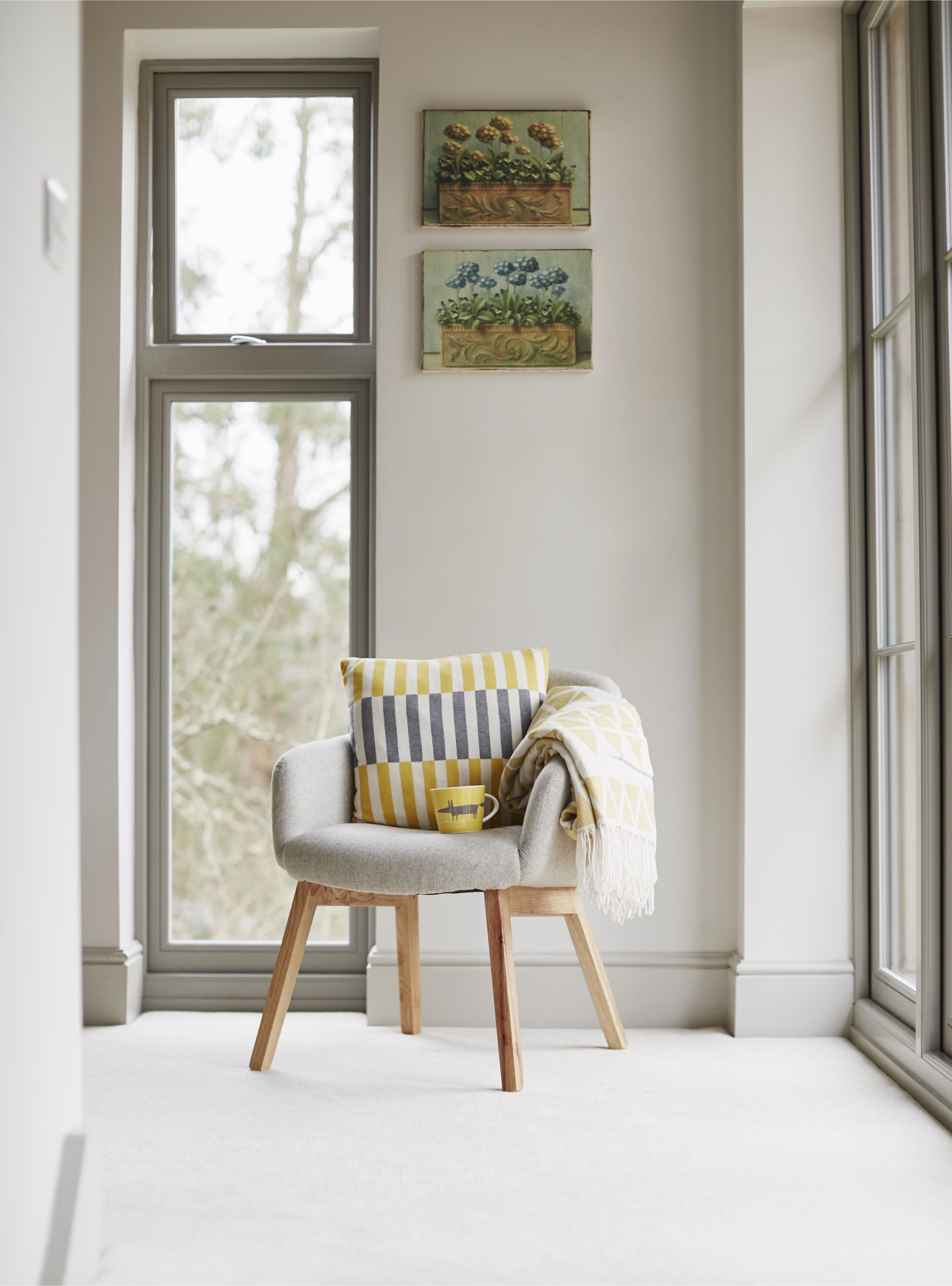 But the question remains: how can we incorporate the principles of Biophilic Design into our home? Well here, we draw on the expertise of Tony Pell, chairman of the Wood Window Alliance, who reveals exactly how to use natural materials to create a calm and energising environment.
1. Use natural materials
Over the last 20 years, our homes have become significantly less healthy due to a build-up of chemicals in materials, fixtures and fittings. However, from living 'raw' lifestyles, to the growth of urban gardens and use of chemical-free products, we are beginning to recognise the effect the materials we choose have on our feelings of wellbeing and happiness.
In fact, almost half of homeowners (49 per cent) believe having natural materials in their homes makes them feel discernibly happier than when surrounded by artificial materials, according to research from the Wood Window Alliance.
Using natural materials, like silk or wool, or even water-based finishes, can do a lot to reduce toxins in the home. A simple but impactful way to bring nature into your home is to replace PVC windows with those made from solid wood, such as timber. This is not only more environmentally friendly, but the intrinsic beauty of timber is more aesthetically pleasing and will bestow a great deal more character upon your home.
2. Embrace the love of Lagom
When it comes to home decor, embrace the love of Lagom – a Swedish way of living that revolves around only taking what you need in order to lead a more sustainable life and find balance.
Declutter your home and embrace the mantra of 'reduce, reuse and recycle' to minimise the amount of materials you are using. An organised, tidy home will create a clear mind, and at the same time help to reduce your environmental impact on the world.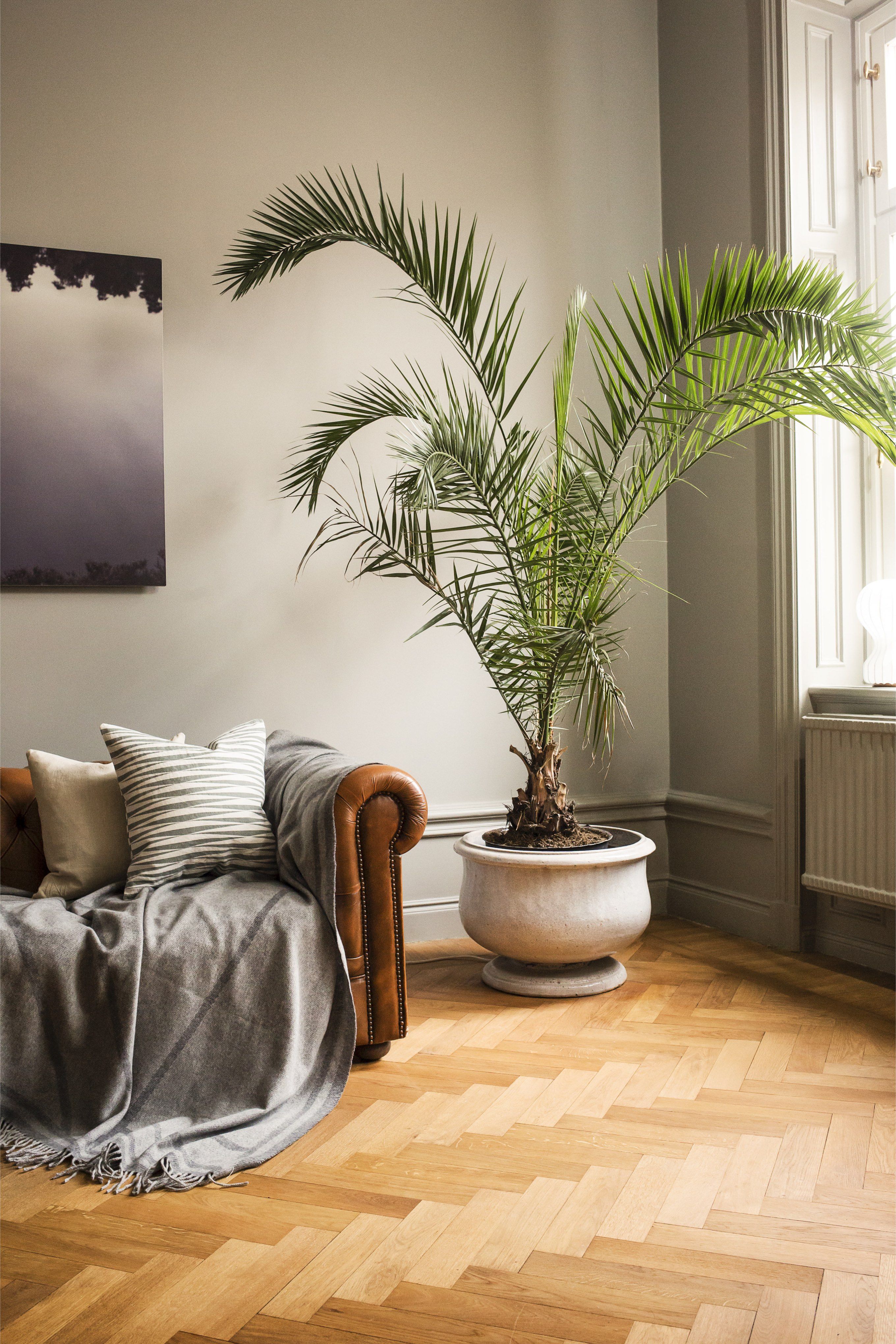 3. Bring the outdoors in
The expansion of urban environments, lack of outdoor space and technological advances have led to us spending more and more time indoors. As a result, we are becoming increasingly disconnected from nature. However, according to the latest research from the Wood Window Alliance, 82 per cent of people feel happier when surrounded by greenery.
When it comes to home design, you should actively seek to redress this balance and restore your connection with nature by bringing the outdoors in. An easy way to do this is to increase the number of plants and flowers you have in your home. Opt for low maintenance houseplants, such as potted lavender, asparagus ferns and cacti, to bring greenery effortlessly into your home.
Alternatively, why not open your home up to the garden with floor-to-ceiling glass doors? There are a range of glass patio doors available to suit any home – from Georgian paned traditional French doors to modern sliding or bifold doors. While bi-folding doors can be folded right back to open almost the entire wall, sliding (or lift and slide) doors offer an uninterrupted view when closed and can still provide a generous open area. However, the simplest solution is the oldest one, French doors, just make sure you allow enough space to open them.
When we improve our sense of nature, directly or indirectly, we will benefit from the psychological and physical wellbeing effects that a more calming, restful, restorative and energising space creates.
Make your visitors feel right at home with these tips and tricks
A comfortable and cosy bedroom is key to making guests feel welcome. With households in England now allowed up to six overnight guests as part of lockdown easing, many of us are prepping for long-awaited sleepovers once again.
Guest bedrooms might be used only occasionally, but you can quickly create a sense of calmness by layering colours, textures, cushions, quilts, throws and lamps. Need some guest bedroom decorating ideas? Take a look at what you can do below.
1. Opt for calming colours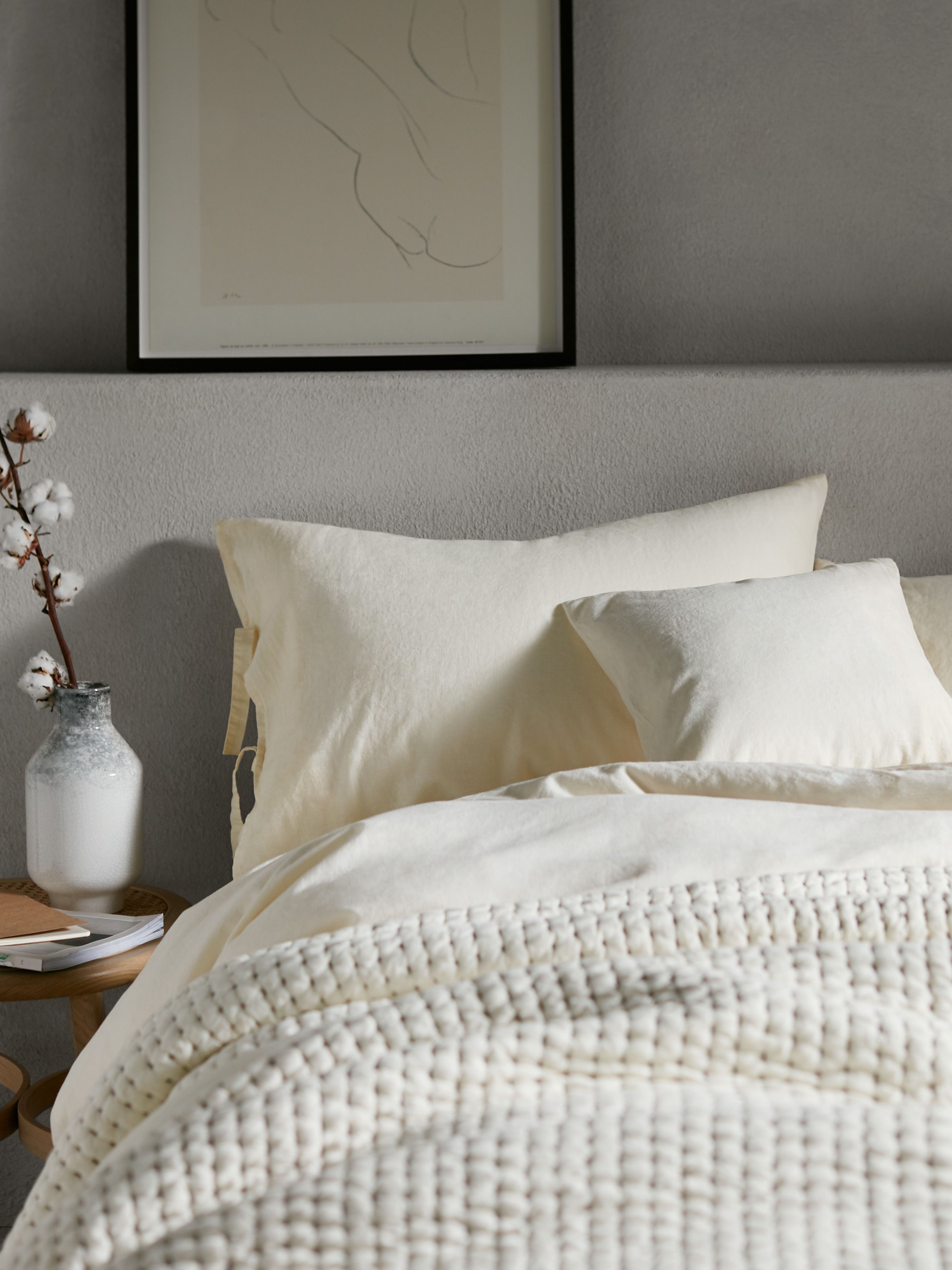 To create a more restful atmosphere, fill your guest room with soft and soothing colours. "Nothing says relaxation more than cool colours, subtle patterns and tranquil tones," Lucy Ackroyd, Head of Design at Christy, says.
You'll want to give visitors that five-star feel, so don't forget to layer up with cosy cushions, textured throws, fresh clean towels, and a calming candle or two. To accessorise the bed like a pro, Lucy advises to opt for two pillows on each side of the bed, making sure to "fluff them up" before sitting them on top of the duvet.
"For a guest bedroom I'd choose a neutral base and add touches of your personality and style through artwork, soft furnishings and accessories," Emma Valerio, Partner & Home Design Stylist at John Lewis tells CL. "This way you can mix up your scheme as and when you want to."
Cosy accessories to buy now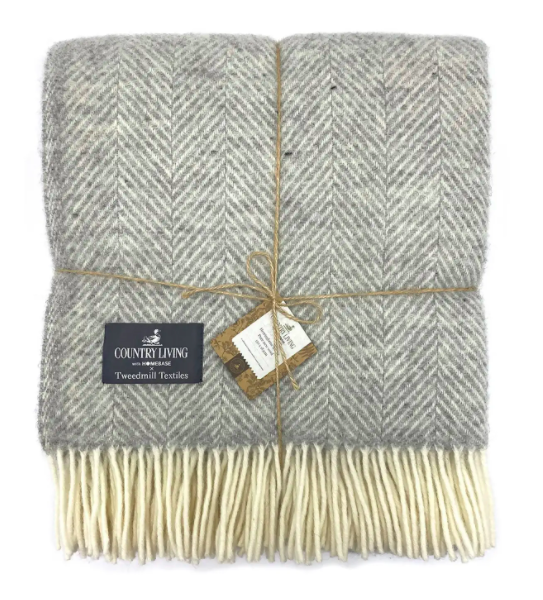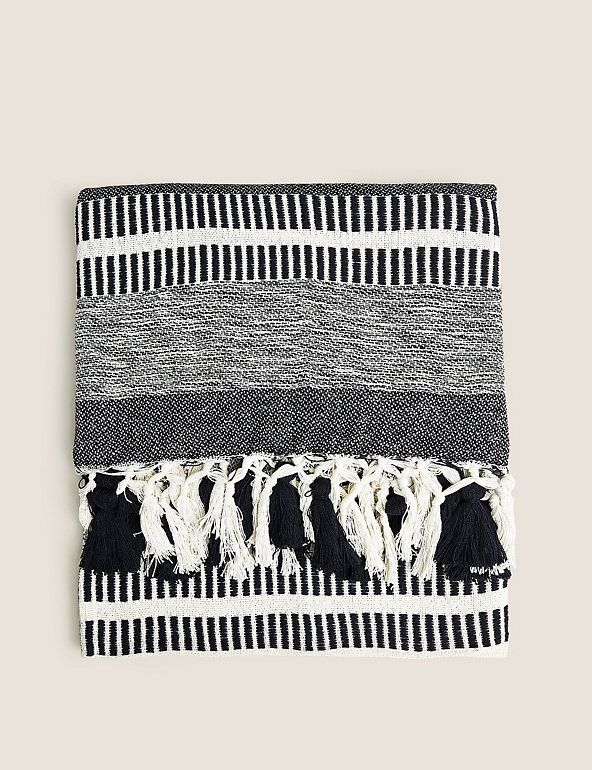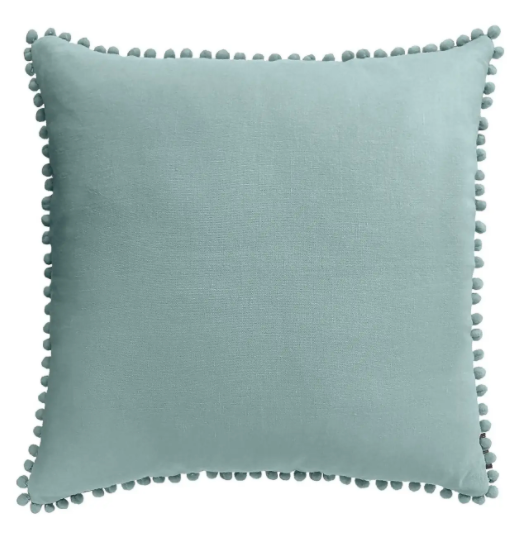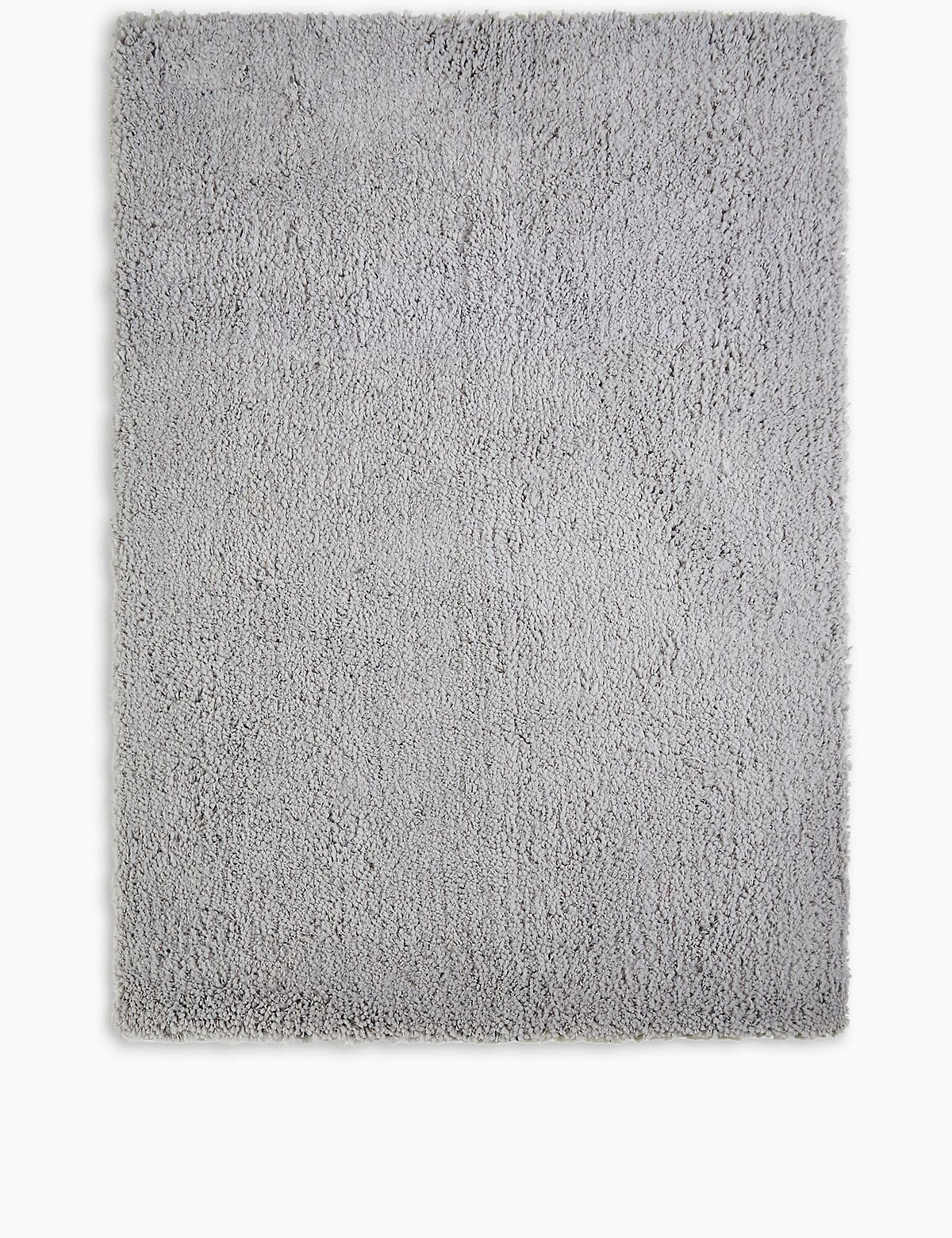 2. Choose the right bed and mattress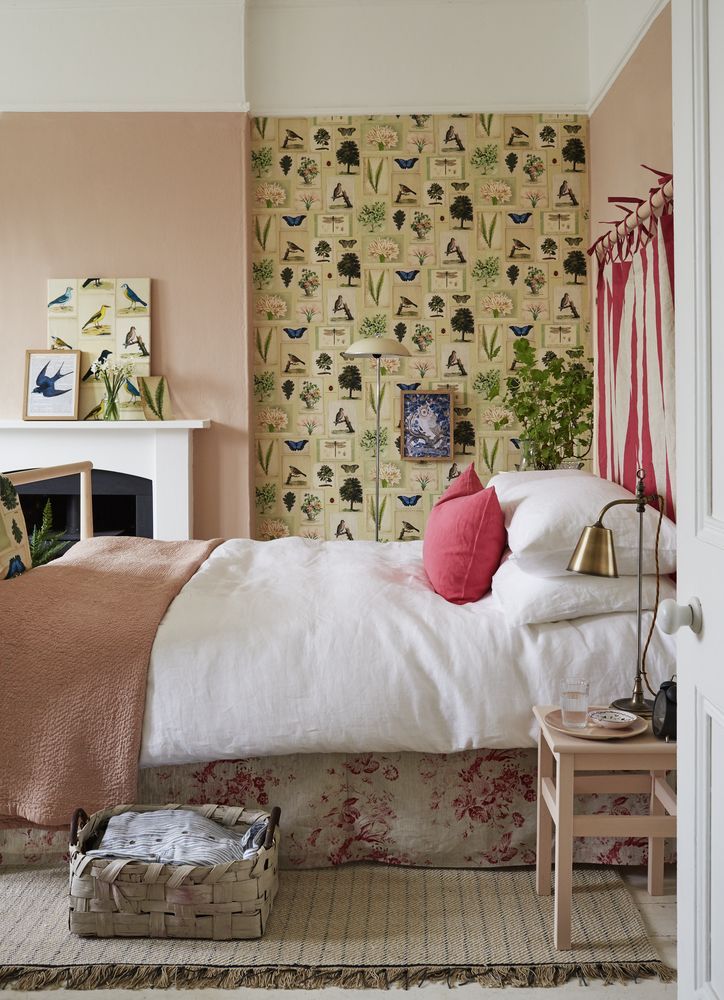 A comfortable mattress plays a fundamental role when it comes to planning a guest bedroom. From pull-out sofa beds to larger king-size styles, choose a bed that will enable guests to sleep soundly in most positions.
"A good quality mattress should support the whole body and allow you to drift off to sleep feeling relaxed and comfortable," Jonathan Warren, director at bed specialist Time4Sleep, advises. "When choosing a mattress for your guest bedroom, opt for a medium firmness such as a pocket sprung mattress which holds a number of individual springs inside that move independently and therefore provides better support based on an individual's sleeping position."
3. Create a luxurious grown-up space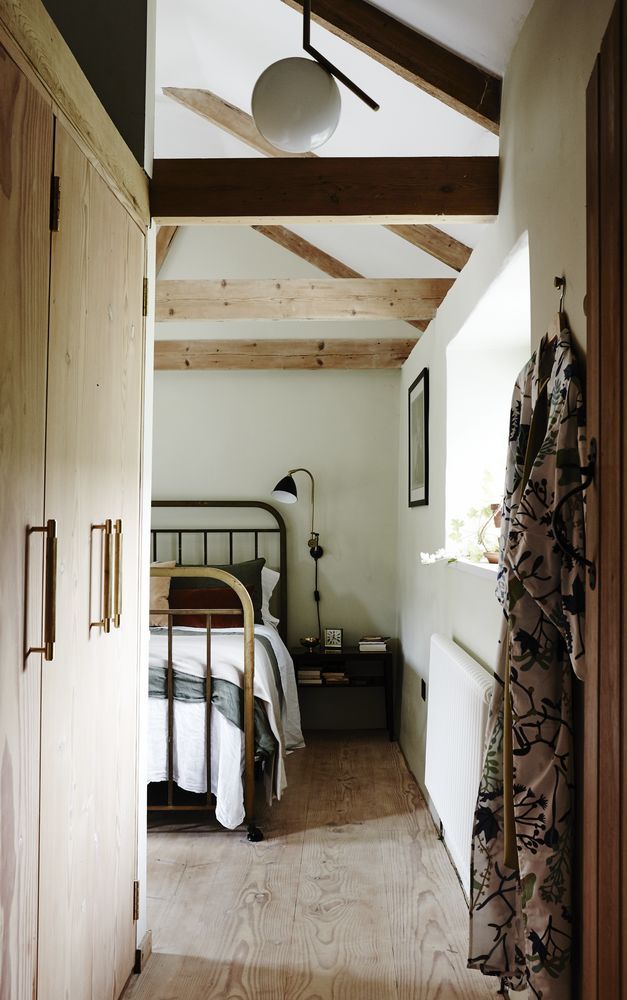 Guest bedrooms often get overlooked, with many used as dumping grounds for piles of washing and old toys. If you're looking to truly spoil your guests, don't be afraid to create a grown-up space that oozes charm and style. Play around with vibrant colours (think navy blue, forest green and daring red), hotel-style furnishings and touchable textures.
"Most of us desire our guest room to be a comforting, hotel-style oasis for visitors, to give us the reassurance of knowing friends and family feel welcome and rested in our home," Helen Shaw, UK Director at Benjamin Moore, adds. "Pared back sage greens or sky blues are great for conjuring a connection to the outdoors, which will encourage a feeling of calm for your guest."
4. Clear the clutter
Get your clean on and give the space a good declutter. From the bedroom to the bathroom, it's the little details that will make guests feel at home. According to a study conducted by Sanctuary Bathrooms, 45% of Brits would think less of someone if they had an untidy bathroom, while 1 in 3 people admitted to snooping around people's homes when visiting.
"At a basic level, ensure you give your bathroom a thorough clean before guests arrive and store away anything you don't want people to see," Richard Roberts, Director of Sanctuary Bathrooms, says.
"A neat trick to reassure guests about hygiene, and avoid risk of germs, is to provide separate miniature or refillable soaps and hand gels, as well as different coloured or patterned fresh towels, so that the guest ones are different to the main household users."
Setting aside a quiet room for elementary students who need time and strategies to regulate their emotions helps them return to class feeling ready to learn.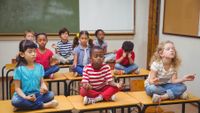 At Indian Hill Elementary School, we believe that when students are comfortable with their feelings, they engage and move easily through their school day. Emotional safety brings strong relationships, confidence to take academic risks, resiliency, and overall well-being. Our job as staff members is to support students in every step of this growth.
Prioritizing Students' Emotional Health
Through our own education and understanding of student needs, coupled with the daily support of students in the classroom, we recognized the increased need for student ownership of emotional regulation. With the help of a Greater Cincinnati Foundation Learning Links grant and a partnership with MindPeace, we developed our idea for the Brave Room: a place for students to utilize for calming, reducing stress, recharging, and practicing strategies needed to regulate their emotions. We wanted to honor our students by developing the most mindful space for prioritizing brain and emotional health.
Following a brainstorming session, we began to search for similar spaces at other schools. We discovered that a neighboring high school had developed a calming space. After the principal and school counselor visited their calming room, the team was determined to adapt the idea to our elementary school building. A team wrote up a design plan, and then wrote and submitted a room proposal for the grant to fund furnishings and calming tools. The room next door to the counselor's office was named the Brave Room. Full of excitement upon receiving the grant, the team ordered room supplies and assembled them for the first day of school.
Each August, staff member orientation reminds faculty of the mission, purpose, and protocol of the Brave Room. The Brave Room is for student proactive, self-regulating strategies and not for exclusion or punishment. Detailed procedures are provided for teachers to post, practice, and reiterate to students for clear expectations.
Establishing Procedures
The school counselor leads all students through Brave Room orientations within the first weeks of school. During small-group guided tours, application of coping strategies and the appropriate use of the room's sensory tools are explained. These procedures include the following: use of the Brave pass, how to sign in and out, time expectations (5–10 minutes), and how to use stations in the room effectively.
Examples of stations include a reflection opportunity, gratitude practice, a balance board, sensory tools, a Zen garden, a weighted stuffed animal, calming sounds, headphones, and a bubble wall. The school counselor reminds students of her location next door, her availability, and her support.
Our partners created a digital system that allows students to identify their feelings and rate the intensity of those feelings when entering and exiting the room. Captured data of Brave Room attendance informs staff members if additional support is needed for students and guides action steps for our building. As needed, the school counselor checks on individual students and develops additional care plans. While we have been fortunate to have our own digital system, schools could also use Google Forms to create an in-house system for students to check in and out.
Students can access the Brave Room throughout their school day based on individual needs. Our data shows that the Brave Room typically has the largest amount of visits at the beginning of the day and following recess. Transitioning to school day responsibilities and peer interactions at recess can both feel challenging. Time spent in the Brave Room encourages the students to reset emotions before engaging with classroom peers.
We have found that using the room proactively with planned, scheduled breaks for individual students has been very effective. Student response to the Brave Room has been most respectful and positive. Student ownership of the shared community room is crucial. Proper use of the Brave Room is modeled by the school counselor during student orientations and practiced by students. We continue to see students honor and value the Brave Room and its purpose.
Reducing Anxiety and Stress
Supporting students, earning their trust, and making students feel safe is a priority at any school age. The atmosphere of the Brave Room is welcoming and caring. Teachers see the Brave Room as a calming environment for student success. They recognize the positive reaction of students as they regulate their emotions before returning to class and express the effectiveness and value of the room. Many teachers and visiting families immediately comment on the calming effect the room has upon entering it.
Students routinely note that their level of anxiety has decreased after their time in the Brave Room and they are more productive and engaged when they return to the general classroom. In fact, families have shared that they have created their own Brave Room space at home, especially during school quarantines. This consistency from school to home strengthens the awareness and effectiveness of calming practices. Helping students breathe and reset is a lifelong valued skill. This is the goal of the Brave Room.
The Brave Room offers proactive support for students as they learn, change, grow, and embrace self-care.
We can't control many things in our lives, but we have some control over how we set up our home, therapist Mark Loewen told Insider.
We spoke with four experts about how to prime your home for relaxation, and they gave us seven simple tips for doing just that.
Here's what a therapist, a cleaning expert, and two designers think about making your home a more calming place, from decluttering to opening the blinds.
1. Set a timer and declutter your most stress-inducing space.
Having a clean, clear space sets the stage for you to be calm, Melissa Maker, cleaning expert and founder of Clean My Space, a Toronto-based house cleaning service, told Insider.
"When I'm in my messy state of mind, I'm never calm — I'm agitated, frustrated, but when I take the time to do the work, I can be so much more relaxed in my space," she said.
Mark Loewen, therapist and founder of Launchpad Counseling, told Insider that clutter gives our minds more visual information to process.
"By freeing up space, you are giving your mind a break, too," he said.
Once you've identified the most stress-inducing part of your home, Maker said to be sure to notice the clutter in the space that you may see past on a daily basis.
Then set a time limit for how long you'll spend cleaning it and turn off your phone's notifications to stay focused.
As you clear the space, you can work from top to bottom and left to right to stay on task.
The Spruce / Behr
If you love the look of modernism but wish it felt just a bit more livable, then there's good news: Organic Modernism has entered the chat.
As Anne R. Kokoskie, owner and interior designer of Styled by A.R.K., explained, "Organic modernism is not just married to mid-century modern. It is a collection within a home that grounds itself in a natural way with sustainable components such as fibers, glass, and wood."
This style is best executed with a crisp, streamlined base that's elevated and warmed with the addition of natural materials and toasty neutrals. We spoke with a few experts to find out what it is that makes this growing style so alluring, and how best to execute it at home.
The Key Elements of Organic Modernism
Molly Machmer-Wessels, co-founder and designer at Woodland Design Company, explained that there are a few key elements of organic modernism: a limited color palette, organic materials, and sculptural fixtures in the space.
"It's a marriage of minimalistic design elements and rich textural layers that add interest," said Molly. "The dimension is created in unique silhouettes. We also do a deep dive into functional living, incorporating thoughtfulness about how each space is used."
Because of Organic Modernism's reliance on natural, organic elements, it's a fairly universal style that works well in most homes. But if you're wondering if your space fits the bill, there are a few things to consider.
"It is especially conducive to homes that have architectural features that allow for an abundance of natural light," said Molly. But she also warns that it's important "that one specific moment is not competing with the overall balance." Because, as in nature, Organic Modernism is all about balance.
Here are five expert tips to create an organic modernism style at home:
Feeling overwhelmed by life? You're not alone. The mental health charity Mind has seen a 50% increase in log-ins to its community platform, Side by Side, since the start of the pandemic, when the global health crisis took a major toll on our daily lives and mindsets.
Stress is a very common problem for those seeking support with Mind, and the fallout from coronavirus has shown how we all feel this type of pressure differently.
As a charity partner of Virgin Red, members of Virgin's new rewards club can use their points to donate to Mind and support the charity's vital work. This includes raising awareness of stress, and the effect it can have on our wellbeing.
So, with stress levels still high as the dust slowly starts to settle from Covid, how can we better cope with the outside and internal pressures everyday life brings? Here are some ideas from Mind, based on therapeutic advice and the lived experience of those that they support.
Build a good support network
If you're feeling stressed by life, it can be instinctive to retreat – either because you don't feel like being around others, or you're putting pressure on yourself to be "perfect" and soldier on, come what may.
But it's important to remember that – from your GP to a therapist, loved ones or a work colleague – the people around you are ready to help. And it can often feel like a relief just to share how you're feeling.
Since stress is caused by a range of situational and emotional factors, who you choose to be in your support network may vary. If you're dealing with stress at work, for instance, Mind recommends speaking to your manager about setting realistic targets, or reducing your workload.
For issues that lie closer to home – e.g. financial worries, or bereavement – speaking to friends and family can help. Your loved ones may be able to help you work out how stressed you are, and the things that are triggering you, for example.
Those closest to you are likely to be the first to recognise if you're struggling, too. Mind has the following tips on how family and friends can offer their support if someone they care for confides in them:
– Learn a little bit about mental health
– Take a deep breath and think about what not to say
– Prepare to ask how things are – and to listen genuinely to the response
– Signpost your loved one to Mind
– Do what you can to help
Give yourself a break
Simple things can make a big difference when you're feeling stressed. Sometimes, just being kind to yourself and giving yourself more leeway to deal with life's challenges can be surprisingly effective.
For example, if work stress is getting to you, Mind suggests taking short breaks throughout the day, and also taking time off for a holiday – to help you re-focus on your life outside work. You might also want to try balancing your schedule better, so you're focusing on one task at a time rather than attempting to tackle everything at once.
When it comes to life pressures more generally, there may be lots of things that stand outside your control. But it is worth thinking about practical ways you could take or resolve or improve some of the issues that are causing you stress.
For example, if you're a carer, you may spend a lot of your time focusing on someone else; which can easily end up with you feeling drained and like you have no time at all for yourself.
In this situation, as with other life pressures, it's useful to talk about how you feel, ask for help if you need it, look after your physical health, and make time for yourself. Even something as simple as a daily 20-minute walk outdoors could make a positive difference.
Another thing to consider, says Mind, is that situations often thought of as "happy events" – e.g. getting married, moving house or having a baby – can also cause stress. This can be particularly difficult to deal with, because you might feel there's additional pressure on you to be positive.
Being aware of these pressures and how they're affecting you is a good first step to creating more space to deal with them as they arise. For example, if other people giving you baby advice is creating worry for you in your pregnancy, can you put up boundaries around how – and from whom – you receive this kind of information?
Make some lifestyle changes
It's also a good idea to look at your life more generally – and assess where changes can be made to help you feel less pressure. Practising being assertive, and saying "no" to unrealistic or unreasonable demands, is one way that Mind recommends to do this.
For example, you may decide to create regular "rest days" where you are accountable to fewer people (even friends or family) and can simply focus on relaxing and being in the moment. Or you could make a list of all the commitments you have in your life, from date nights to school runs or work demands, to assess what tasks you really enjoy and what is important – versus what can be shared, or even taken off completely.
Getting more active can also be a very useful way of reducing daily stress; whether that's a lunchtime jog, an after-work yoga class or a stroll in the park with friends. From practising breathing more deeply, or getting more sleep, there are lots of little ways that can help you decompress and relax more.
For more information on stress, check out Mind's pages on what stress is all about, its causes, some common signs of stress and good coping mechanisms – including developing emotional resilience. You can also have a look at their round-up of organisations that'll offer support for dealing with stress.
Remember, as a member of Virgin Red, you can earn points on your everyday spending, then use them to spend on rewards, including donations to over a dozen local and national charities. Donate points to Mind right here, or take a look at Virgin Red's range of great causes. Here's to a calmer 2022.
Meditation is personal time one takes to relax and just be. It is possible to meditate practically anywhere, but some people enjoy designating a special space in their home as a meditation corner. Many feel that having a meditation corner sets the mood, and helps them get into the right frame of mind. Keeping phones and electronic devices out of this space may create the sense that this is not the place for interruptions, almost like it is separate from the outside world. Meditation corners can also be pleasing to look at and add a sense of style to the décor of a room.
One way to designate a certain area as a meditation corner is to use an area rug. The rug will serve to set the space apart from the rest of the room. After much practice, just stepping onto the rug will signal that it's time to meditate. If the person's feet are bare, feeling the rug can add to the sensory message.
With its geometric tribal pattern, this hand-loomed cotton dhurrie rug by artisan Mahmood from India would work beautifully in a meditation space. There are many area rugs with different patterns and sizes to choose from on the NOVICA site.
Often people will include a table in their meditation space, or some kind of flat surface on which to place pleasing or calming items. In a larger space, one might choose a coffee table, such as the unique coffee table pictured below. This hand-painted coffee table is from Peru.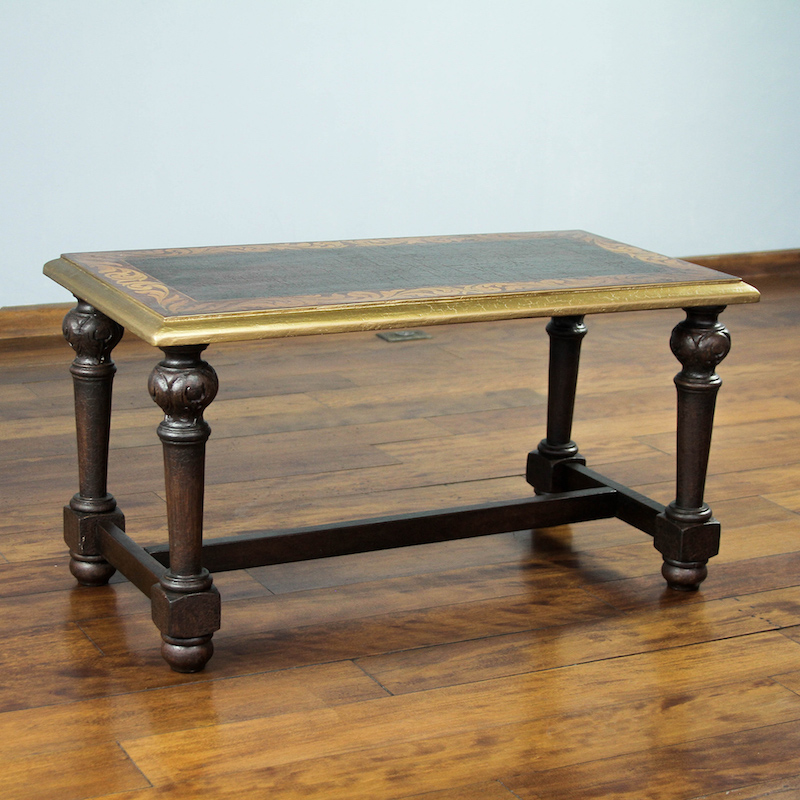 One might choose to utilize an accent table, small storage cabinet, or flat storage trunk instead of a coffee table for a smaller space. An example of an accent table that would work nicely in a smaller meditation area is the fair trade wood folding table from West Africa called 'Transformation.'
The handcrafted large colonial Parota wood cabinet featured below is roughly two feet high by two feet wide and would also be a nice addition to a meditation corner. Not only could you place meditative décor on top, but you could store helpful tools, such as incense, essential oils, etc., inside the cabinet.
The handcrafted colonial leather wood accent trunk and storage unit featured below could also be used to display meditative décor and store materials.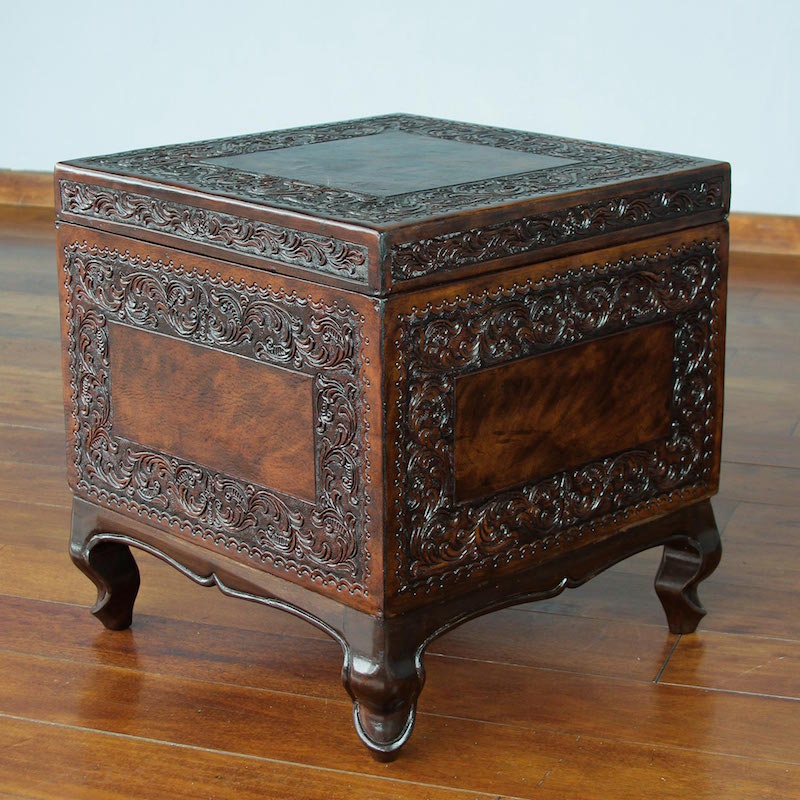 Statuettes are a lovely addition to any meditation corner. Three wonderful sculpture are; an original handcrafted yoga sculpture from Bali and Java; the artisan-crafted ceramic statuette of a turquoise elephant bowing in greeting and respect from Thailand; and the blue sodalite and amethyst gemstone tree from Brazil. NOVICA has a diverse collection of sculpture to choose from to inspire calm and serenity in a meditation corner.
To make the meditation corner more comfortable, one might consider adding a few pillows and throws to sit on for cushioning. The walls are another part of the space one should consider decorating for a meditation corner.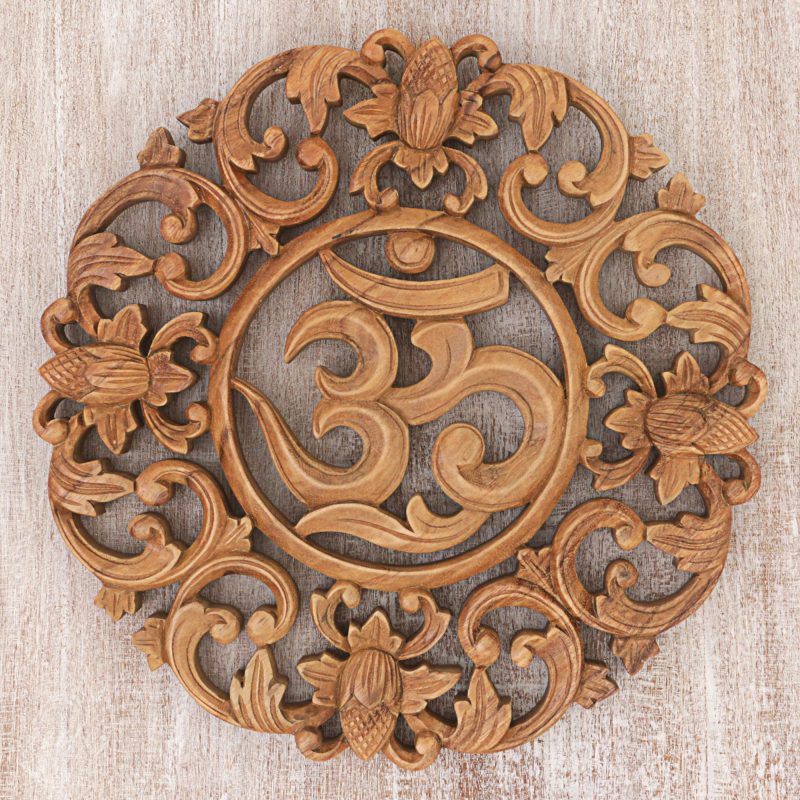 The walls can be decorated with a special and unique mask, wall hanging, or painting. There are many items on the NOVICA site that a person can utilize to tailor the design of a meditation corner to their own taste.
Whether you work outside the house or stay at home full-time, the toughest part of the day is the same: those frantic early evening hours when there are mouths to feed, homework to do, and cranky kids to handle. The trick is to streamline your to-do's so you can feel calmer and focus on what counts – spending time with your family. Here's how.
1) Ease into the Evening
Instead of walking in the door after work or errands and immediately launching into another chore, allow time and space to downshift into evening mode. It's basically about transitioning. In other words, giving yourself and your family that unwind time.
Creating a calming ambiance, by turning off the TV and playing soothing classical, jazz, or instrumental music, can instantly reset the emotional tone of the house. Another idea is to dim the lights and light a few candles – it makes for a warm, cozy atmosphere that will relax the family.
Another transition idea is to create a ritual. Set vegetables and dip or cheese and bread on the counter and serve juice or water in fancy wine goblets. This will not only take the ravenous edge off so you avoid meltdowns before dinner, but it will feel special and establish the transition time.
2) Create a Dinner System
Rushing to get dinner on the table is a major source of evening mayhem, but a little bit of preplanning can help you power through with a minimum of stress. Use weekends to chart out your nightly dinners, grocery shop, and even preassemble parts of a meal when possible. Consider writing a weekly plan and checking the calendar to see which nights are going to be particularly busy – so you know when frozen pizzas or easy-prep meals are a must.
3) Keep the Kids Busy
All the shortcuts in the world won't help if you're constantly being interrupted, so a little creativity may be needed to get the kids out from underfoot.
Make the time you cook be about you and let your older kids, who should be doing homework, know that you are there only to be asked a very important question. Other than that, you are off limits. For younger children, it might be necessary to involve them in the meal preparation or to put on an appropriate DVD. When my son was younger I used to put him in his highchair and talk in an animated way – sort of my own version of a cooking show. Now that he's older, he helps put ingredients in bowls and pots and stirs just about everything!
4) Plan Homework Time
To avoid last-minute cries of "Mom, I haven't done my homework yet," having a homework routine is a must.
After the kids have had a healthy snack and 30 minutes down-time after school, they should begin their homework so that it is completed before dinner.
5) Share the Work… and a Break
Dividing tasks between you and your partner can make family time more serene for both of you. It might be that when your husband walks in the door, it's his turn to take the baby for 30 minutes so you can get dinner started. Then, after 30 mins, you take the baby back and your partner has 30 minutes to change and unwind. This way you'll both be refreshed enough to start your evening together.
Be flexible with this. If your partner is stressed when walking in the house, offer a later-in-the-evening task, such as washing dishes or packing lunches for the next day.
All in all, evenings can be calm if routines and decisions are made ahead of time. Decide what you and your partner truly value and then set up some systems to make it work.
Your home should be your sanctuary, but sometimes it's hard to brush off the stress of the day and sink into the serenity. That's especially true if your home is more chaos than calm. Use these tips to create a space that's soothing, so, no matter what the day holds, you always have an inviting place to come home to.
Add some greenery
Studies have shown that plants can make your home feel calmer and ease anxiety. Plants like jasmine and English ivy can improve sleep, lavender and rosemary can lower stress, and several other plants have been shown to improve air quality so you breathe easier.
Hide the electronics
"Nobody wants to stare at a tangle of cords," said Houzz. "Thankfully, we have more options than ever for keeping our tech devices hidden away. When possible, choose smaller, wireless devices that look less obtrusive even when left out in the open. Tie up cords in a media center so they are not visible, and dedicate a single drawer to storing all of your chargers, power cords and small tech devices when they're not in use."
Get a dog
Or a cat, a bird, or a turtle, for that matter. Yes, having a pet can mean more noise and more mess. But, there are all kinds of studies that show that having a pet lowers stress. "Researchers found that pet-owning patients with high blood pressure could keep their blood pressure lower during times of mental stress than patients without pets," said AnimalSmart.org. "Another study shows that pet owners may also have increased odds of surviving for at least a year after having a heart attack."
Clear the clutter
Going all Marie Kondo on your home can have surprising effects on your mental state. "Clutter can play a significant role in how we feel about our homes, our workplaces, and ourselves," said psychologist Sherrie Bourg Carter in Psychology Today. "Messy homes and work spaces leave us feeling anxious, helpless, and overwhelmed."
Tone down the harsh colors
There's something to be said for going bold, but soft colors can bring on a calming feeling. If you want a deeper color, consider shades of blues and greens—two colors that are known to be more serene than, say bright yellow, orange, or red.
Clean up your entryway
It's the first place guests see, and while you probably don't pass by or through your front entry all that often if you park in the garage, it may not feel as welcoming as you'd like when you do.
Soften the lighting
Harsh overhead lighting can make you feel like you're being interrogated, and can also be hard on your eyes. If you need to keep it because the space will be too dark otherwise, a dimmer can at least give you some control over just how bright it is, and allow you to create a mood with lower lighting as needed.
Limit the patterns
"Opt for solids and subtle patterns," said Houzz. "Busy patterns have their place, but if you're aiming for calm, then solid fabrics are your friends. Don't be afraid to include subtle patterns, though: herringbone, tone-on-tone stripes, and tiny dots can add textural interest without competing for attention."
Buy some fresh flowers
According to a study by Rutgers, "The presence of flowers trigger happy emotions, heightens feelings of life satisfaction and affects social behavior in a positive way far beyond what was originally believed."
Related Articles
How to Design a Massage Room
How to Turn a Bedroom Into a Man Cave
How to Make Your Room Look Tropical
How to Design a Brainstorming Room
How to Decorate a Corner of the Bedroom With a Big Chair
After a hectic day, you need a welcoming place to relax and unwind, not another source of stimulation or stress. A daily trip to the spa is out of most people's budgets, but by implementing a few simple relaxation room ideas, you can create a similar tranquil atmosphere in a space in your own home.
Start With Color
Soft colors found in nature are the most relaxing. This isn't the room for brights, harsh colors or shiny textures. Think of the serenity of the calm ocean or sky, the peaceful look of a meadow, or the hush of a foggy morning. Choose your palette from soft tones of green or blue; muted, warm grays or browns; or medium shades of warmed pink or yellow.
Appeal to the Senses
Scent evokes strong emotional reactions and contributes to the mood of a room. Your relaxing space shouldn't be near pet areas, the bathroom or the kitchen. Give the space a pleasant fragrance with bowls of potpourri, scented oil diffusers, incense or solid air fresheners. Lavender, rose and vanilla are especially relaxing scents.
Tidy Up Your Room
It's hard to relax in a cluttered, dirty or messy space. Get rid of anything that doesn't belong in your tranquility room. Clean up, and invest in a few storage boxes or cabinets to hide away craft supplies, clothes, games or whatever needs to be in the room but doesn't need to be on display. Minimize furniture and accessories to only those things that are comfortable and that you love.
Get Rid of Electronics
Electronic entertainment and information surrounds you every day, but is often more stimulating or disturbing than relaxing. Make your tranquility room an electronics-free zone. That means no television (hide it behind shutters or in an entertainment armoire), no smartphone, no video games and no laptop. Take time to relax with your own thoughts, not the predigested information, sounds or sights of the media.
Play a Little Music
While visually stimulating electronics take away from relaxation, music promotes it. During your restorative time, listen to your favorite soothing music. Everyone's tastes are different, but this isn't the time for fast-tempo dance music, aggressive rock or angry lyrics. Whether you prefer classical, jazz, ambient electronica or mild rock from the 1970s, use your stereo system or MP3 player to enjoy tunes that put you in a calm, positive frame of mind, suggests The Oakland Press.
Add Living Things
Plants bring nature and life into your room and help purify the air. Choose two or three potted plants for your tranquility room. You don't need a green thumb for easy houseplants such as Chinese evergreen, snake plant or pothos. Watching fish in their watery world is also very conducive to relaxation. A simple bowl with a goldfish or two, or a colorful betta fish, is enough. If you have the space and really want to indulge in this serene hobby, set up a 10- or 20-gallon tank with a selection of easy-care freshwater fish.
Try Some Candles
Light a few candles to cast a serene glow over your tranquility room. Pick scented candles to add to the overall sensory experience, advises Reader's Digest. Look for lavender, rose, vanilla, linen or other soft scents from nature. If you are concerned about allergies, use soy or beeswax candles instead of paraffin wax. These produce less soot and chemicals while burning, keeping the air cleaner.
Incorporate Soft Textures
Surround yourself with soft textures in your tranquility room. Toss a cozy wool blanket on the couch and place a soft rug on the floor. This isn't the room for angular or hard furniture. A deep, cushioned sofa or comfortable futon are perfect for reclining while you unwind. An overstuffed chair is another good spot to relax. Have a few pillows available to position your body and relieve stress or pressure.
Consider a Few Personal Accents
Fill your relaxing room with things that are meaningful to you. Display a few photos of family, pets or a wonderful vacation. Set out the doll you inherited from your grandmother, or your collection of treasured animal figurines. But keep the personal accents to just a few especially loved pieces. You don't want clutter or a stimulating environment. Aim for just enough to bring up good memories or happy thoughts.
Use Good Lighting
Bright light is too intense for relaxation. You probably need good lighting in this space for other purposes, but during tranquility time, keep the lights soft. A dimmer switch on the ceiling fixture is the easiest way to adjust lighting to your needs. If you don't have overhead lighting, keep an extra small lamp in the room that produces just enough light to be cheery, but not enough to be bright. Turn on your small lamp when it's time to relax.