If you're parent to a child with special needs, anxiety is the order of the day. Most of your waking hours, you'll likely be anxious about how you'll mete out the appropriate care for your disabled child.
Taking care of a healthy child is difficult enough; having to deal with a disabled one takes twice the amount of energy – physically, mentally, and emotionally.
However, do not become despondent. Many parents caring for disabled children have been successful and you can too. Here are a few sage suggestions to consider when dealing with a disabled child.
Coping With Children With Disabilities
Adapting to a new circumstance is not easy. You may even blame yourself for your child's condition, but take heart in knowing that it's normal to grieve and feel hurt. Instead of focusing on your child's disability, focus on what he or she can do. Learn more about your child's condition and embolden yourself. After all, your child will need you every step of the way.
Understanding your child's situation is comparable to learning a new language. It'll get rough, at first, but once that's out of the way, you'll later feel like an expert. If your child is suffering from Down Syndrome, for example, with your help and support, they can live normal lives.
Do not become isolated and withdrawn
"My friends will never truly understand my situation", you might lament at times. True, that may be the case – they do have healthy and highly active kids.
It's normal to feel that way, but never allow yourself to become isolated and withdrawn to the extent where you become immobile or crippled. Confide in someone, you don't have to go at it alone. They might not fully comprehend the gravity of your situation, but if they've offered help and support of their own volition, take advantage of it.
Keep your personal health in check
Caring for a disabled child is debilitating. While you're up and about tending to that child, you might neglect your entire health. A vehicle must refuel to move from one location to the next. Your health is no exception. Get sufficient rest, exercise when possible, eat appropriately, and smile when you can. Your strength will be needed to properly care for your disabled child.
Would you like to transform into your child's favorite teacher? Do you want access to all the right tools, including worksheets, games, movies, lessons, activities, and curriculums to enhance your child's reading ability? Reading Head Start is the one-stop location for parents who want to see their children excel. Click here to learn more.
Take care not to neglect your other children or spouse
As underscored earlier, rearing children with special needs is nothing casual. It devitalizes the mind and body. You can actually feed your special needs child with so much attention that you forget about everything else, including your responsibility to your other healthy children.
Your other children might feel neglected, in some cases, jealous. Especially if you're married, your marriage might suffer a terrible blow. If you find that you're actually neglecting your children or spouse, there's still time to catch on. Why not spend time planning and engaging in activities that other members of the family find refreshing?
To strengthen the bonds of your marriage, why not liaison with your mate so that you're both involved? In most cases, mothers tend to take the lead in caring for their special needs children. If you're a father, communicate with your family to ensure everyone's on board. Mothers are extraordinary caregivers, but the husband should take the lead in ensuring the needs of his family are met.
When Your Child Has A Learning Disability
A child with a learning disability does not necessarily have their intelligence affected. It simply means that the challenge faced with learning, retaining, and recollecting may be greater, in comparison to a child with a healthy learning ability. This simply means that your child might have challenges
rhyming words
pronouncing as they should
distinguishing homophones
sounding letters in words
Mimicking directions
To assist your child in coping with their learning disability, here's what you can do
Have them involved with special education or programs.
Communicate with the child's teacher. You could have the teacher allow the child to sit up front and give them additional time to complete class work. Instead of participating in written exams, have the child take them orally. If the said child is homeschooled, the principle stands.
Keep learning equipment at home. Children with learning disabilities are mostly disorganized and forgetful. Have them keep another set of textbooks at home for reference and study.
Have 15 minutes of reading sessions daily. A highlighter could be used to highlight challenging words, and as the child reads aloud, have him follow with a ruler.
Be practical. Especially when teaching maths, use objects to teach for measuring quantities. For spelling, use magnetic letters.
Always make eye contact when communicating with kids with ADHD.
Homework should always be tackled in tranquil areas, where distractions are at a minimal. Regular breaks should be allotted.
To contend with hyperactivity, allow them to perform chores that involve being energetic. This could include taking the dog for a walk, under your supervision, of course.
Try These Tactics to Improve Communication
When interacting with your child with special needs, here are a few strategies to consider:
Direct eye contact.
Keep your language simple; short sentences.
Use gestures, facial expressions, and signs to accompany your speech.
If they hesitate to answer or respond, allow them time.
Be an avid listener.
With a disabled child, you're not promised a quiet and easy life – far from it. However, when dealing with children with disabilities, you can come out victorious with the right guidance and support.
Would you like to transform into your child's favorite teacher? Do you want access to all the right tools, including worksheets, games, movies, lessons, activities, and curriculums to enhance your child's reading ability? Reading Head Start is the one-stop location for parents who want to see their children excel. Click here to learn more.
Caring for a disabled child can make your daily parenting duties, such as feeding, toilet training and getting them to sleep, more challenging.
Feeding and eating
A disabled child may have problems with feeding and eating for many different reasons, such as:
physical problems that cause difficulty swallowing, chewing, sucking or digesting certain foods
limited mobility, which might make it difficult to sit up to eat or drink
a learning disability
It might take longer for your child to be able to feed themselves, but developing the skills to do so can also help them in other ways, such as with speech and language development and co-ordination.
Your health visitor can advise you on many aspects of feeding and weaning your baby.
As your child grows, you might be able to get a referral from your GP or health visitor for specialist help.
This could include:
a speech and language therapist – to help with physical issues like chewing and swallowing
an occupational therapist – to advise you about aids that might help your child, such as special plates, bowls, cups, adapted cutlery or non-slip mats
a physiotherapist or occupational therapist – to advise you on getting your child into the right physical position to eat
a dietitian – to help you if you're concerned that your child isn't eating enough
If your child needs to be fed through a tube that goes directly into their stomach, you can get advice from the support group PINNT (Patients on Intravenous and Naso-gastric and Nutrition Therapy).
These issues can take a toll on your own wellbeing. If you're feeling isolated, you may find it helpful to search for Carers emotional support services in your area.
Sleeping
Disabled children can have sleep problems for a range of physical reasons, such as muscle spasms or breathing difficulties, depending on their particular health problem.
Children with some learning disabilities may find it hard to understand why and when they need to sleep.
Your health visitor or community nurse should be able to suggest ways to encourage good sleep.
Your GP may also be able to help or refer you to a sleep specialist or psychologist if necessary.
Contact a Family also has useful tips and support on helping your child to sleep.
If your sleep is constantly interrupted, you can ask for a carer's assessment from social services. They may be able to provide short breaks from caring so you can get some undisturbed sleep.
Your child might also qualify for Disability Living Allowance (DLA), or a higher rate of DLA if they already get it, if they need constant care and attention at night because of sleep problems.
Disability support groups and national organisations, such as Scope or the National Autistic Society, can often provide advice on sleep.
You can also find support in your area in the directory of local carers' services.
Potty training
All children are different, but most show signs of being ready to learn to use the toilet at around 2 or 3 years old.
Some disabled children may not be ready until they're older, or they may take longer to learn.
This could be because of learning disabilities or physical challenges, such as impaired mobility, movement skills or muscle tone.
Some children may never learn to use the toilet on their own. Some health conditions may mean that a permanent colostomy or ileostomy is needed.
If your child's health condition affects their ability to control their bladder or bowel, their doctor may be able to refer you to a continence specialist.
An occupational therapist can advise you about special potties or toilet seats if your child needs help with sitting, or about any bathroom adaptations that might be useful.
A physiotherapist can advise about issues such as moving and handling your child, or finding the best position for your child to be able to use the toilet.
Your local health authority's incontinence service may be able to supply items such as larger nappies, pads and bedding protection once your child is over a certain age (this may vary from area to area). If they're unable to do this, they can tell you where you can buy them privately.
If you have a water meter and your child's health condition means that you have to do a lot of laundry, you can apply to your water supply company to cap the cost of your water under the WaterSure scheme. Ofwat has contact details for water companies.
The Family Fund can also give grants to low-income families for a washing machine or tumble drier.
Moving around
If you're concerned about your child's ability to move around normally, your GP may refer you to a physiotherapist to assess their mobility needs.
As part of the assessment, the physiotherapist will discuss mobility aids that could help your child, such as:
walking aids – which you can loan from the local hospital or community health service
wheelchairs, buggies and adapted seating – from your local NHS wheelchair service
You can get contact details for your local wheelchair service from your GP or physiotherapist.
The charity Whizz-Kidz can provide children under 18 with mobility equipment that's not available from the NHS. They also offer wheelchair skills training. Go Kids Go! also provides free wheelchair skills courses.
If your child gets the high rate mobility component of Disability Living Allowance, you can apply to the Motability scheme to buy a powered wheelchair or buggy.
If you drive, you could apply for road tax exemption and a Blue Badge for disabled parking.
The Blue Badge may be awarded if your child is 2 years old or over and has a permanent disability that makes walking difficult.
If your child is under the age of 2, you may get a Blue Badge if they need to have bulky medical equipment with them or need to be near the vehicle in case they require urgent medical treatment.
Challenging behaviour
Challenging behaviour can be common in children with learning or sensory disabilities.
This is because communication problems can make it difficult for them to express their needs, likes and dislikes.
Challenging behaviour can take many forms, from aggression to withdrawal.
Communicating with your child
Some physical conditions and learning disabilities can mean that your child has little or no clear speech, or their speech may be slow to develop.
You may worry about how well they'll communicate with you and other people as they grow up.
A wide range of equipment and techniques can support or replace speech, including signing (perhaps using a system like Makaton), symbols, word boards and electronic voice output communication aids (VOCAs).
A speech and language therapist can assess your child and help you decide the most appropriate aids.
Get in touch with Carers Direct and Carers UK
For advice and support with caring issues over the phone, call the Carers Direct helpline on 0300 123 1053.
If you're deaf, deafblind, hard of hearing or have impaired speech, contact the Carers Direct helpline using textphone or minicom number 0300 123 1004.
You can also ask questions on the Carers Direct webchat, or get help by email.
Carers UK offer advice and support over their phone helpline on 0800 808 7777.
More information
Video: having a sibling with a disability
In this video, 2 sisters describe what it's like growing up with their sister Sophie, who has cerebral palsy.
Caring for children and young people
Page last reviewed: 10 March 2021
Next review due: 10 March 2024
Introduction
If you have a child with a disability, you need to know about the various services in place to support you. If you have recently learned that your child has a disability, the website informingfamilies.ie provides initial information to answer some of the questions you may have.
Children with disabilities are entitled to the same services and family benefits as all other children. The emphasis in the following information is on those services and payments that are related to disability. They apply whether the child was born with a disability or acquired it later.
Health services
GPs (family doctors) provide free developmental examinations in the weeks following birth. Public health nurses monitor the development of babies in their first months and can provide information and support.
Children with a disability who were born after 1 June 2002 are entitled to an assessment of need of health supports and services and to get an assessment report and a statement of the services they will receive.
Health services for children with disabilities are organised and delivered differently in different areas. Your Local Health Office can tell you about the services that are available in your area. The Health Service Executive (HSE) website also provides information about children's disability services.
Your child may be eligible for a medical card or GP visit card depending on your circumstances. If you are getting Domiciliary Care Allowance for your child, they are eligible for a medical card without a means test. The GP visit card is available to all children under the age of 6.
People who have certain conditions that are covered by the Long Term Illness Scheme can get free medicines and appliances for those conditions.
There are charges for public hospitals but some people are exempt, including medical card holders, children up to six weeks of age, children who have certain diseases and disabilities, and children referred from child health clinics or school health checks.
The Health Information and Quality Authority (HIQA) is responsible for the regulation of residential services for children and adults with disabilities.
Education
Children with a disability who were born after 1 June 2002 are entitled to an assessment of need of education supports and services.
The Early Childhood Care and Education Scheme (ECCE) provides free early childhood care and education for children of pre-school age. The Access and Inclusion Model (AIM) provides supports to help children with a disability access the ECCE.
Income support
Domiciliary Care Allowance is a monthly payment made to the carer of a child with a severe disability who lives at home.
There is a range of social welfare payments for people who have a disability. These include Disability Allowance which your child may be entitled to when they reach the age of 16. If your child takes up employment, it may affect their Disability Allowance. For more information about this, see our document on disability payments and work.
If your child is blind or visually impaired, they should apply for the Blind Pension 4 months before their 18th birthday.
A tax credit, called the Incapacitated Child Tax Credit, is available to the parents or guardians of children who are permanently incapacitated.
Work and training
People with disabilities may access rehabilitative training for core life skills or vocational training for work-related skills. Read more about rehabilitation and training services for people with disabilities.
Employment supports aim to help people with a disability gain and retain employment.
Transport costs
Under the Disabled Drivers and Disabled Passengers Scheme, tax relief is available for drivers and passengers with disabilities to help with the costs of buying and using a vehicle.
Adapting a home
If you need to adapt your house for your child's needs you may qualify for the Housing Adaptation Grant.
Other housing grants and schemes include grants to improve the energy efficiency and warmth of your home.
Managing money
If your child is getting Disability Allowance, but is not capable of managing money, the Department of Social Protection may appoint you as an agent to deal with the money. The money belongs to your child and you must use it for their benefit. If your child has substantial money or assets, they may be made a Ward of Court., they may be made a Ward of Court.
Planning for the future
You may use a deed of covenant as a tax-efficient way to give money to a child aged over 18, but this could affect the child's entitlement to Disability Allowance.
Although a child with a disability may be maintained by their parents after the age of 18, this does not provide them with any special entitlement to provision in a parent's will. If you want to make specific provision for your child, you should get legal advice. One option is a trust from which your child may benefit after your death. Many parents use discretionary trusts to provide for a child with a disability without affecting entitlement to benefits.
You may appoint a guardian in your will. This, however, only applies if your child is under 18 when it comes into effect. It is not possible to appoint a guardian for an adult child.
Most public sector occupational pension schemes, and some private sector schemes, have provisions that allow for the pension arrangements for dependent children to continue for the lifetime of a permanently incapacitated child.
Special needs parent, carer, blogger and believer of the impossible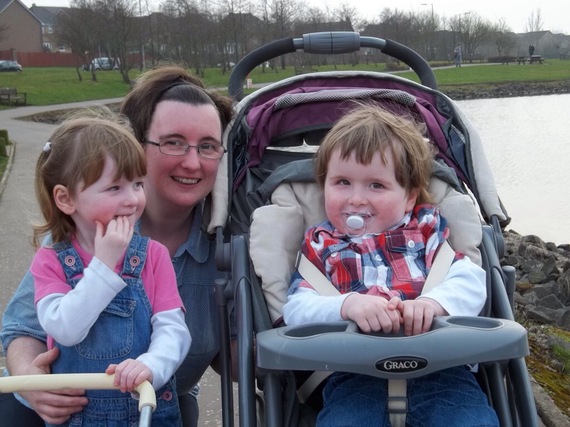 Firstly, I want to stress that I am blessed. But secondly I also want to say that I still struggle.
I struggle with everyday things like taking my children out, buying food when we need it, cooking a meal, juggling hospital appointments with picking up children from school and nursery, dealing with the piles of paperwork and phone calls that have to be made whist functioning on just a few hours sleep, and trying to give both my children the time and attention they need.
My children are both disabled and therefore my entire family is disabled. That may seem a strange thing to say so let me explain what I mean.
This week my children have had some time off again for a holiday weekend. Like parents around the world I want to spend time with my children and enjoy them while they are young. The weather was not in our favor one afternoon, so I thought I would do some basic baking with them. They are both five. One is at school and the other nursery. How hard can it possibly be to make some chocolate crispy cakes?
Nothing is easy when you have a disabled child. My daughter was super excited about baking. My son could see it was something to do with food when the cereal packet came out the cupboard, but that was all he understood. I explained the process to them using photographs (Google is my friend) and we filled a mixing bowl with some cereal. And then everything went rather crazy after that! My daughter had poured cereal into a mixing bowl and not a cereal bowl, she wasn't sitting at the table to eat breakfast like her brother expected from seeing the cereal out; and there was no milk. So he lashed out. He screamed; bit himself; banged his head on the floor; and threw everything about he could get his hands on.
What should have been an enjoyable family activity was now becoming yet another casualty of my sons disability. Once again his disability was spilling into the entire family. My daughter could not continue baking, I could no longer give her attention or help and my son was seriously struggling. In the end I made the quickest crispy cakes ever and my son sat and ate a bowl of cereal with some chocolate drops in. I made the mistake of trying to drop some melted chocolate in for him. Never again!
One disabled child not coping and the entire family struggles.
Then there was a 9 am appointment for one of the children. That is quite common for us. Appointments in general are so common it is rare to have a day without one. But certain times make negotiating the logistics of family life a real challenge. How do you get one to an appointment and back to school 13 miles away and the other to nursery a mile in the opposite direction at the same time? Any family having to juggle hospital, clinic and therapy appointments with other siblings, work commitments and family life knows this dilemma.
The disability of one child has a huge effect on the others children and the parents. So often parents of disabled children are unable to continue working because the level of commitment needed to attend these things impacts working life so much.
A disabled child becomes a disabled family.
Then there's the places you just can't go to because your child is disabled. Yes, more and more places are wheelchair accessible, but that doesn't make them autism accessible, or suitable to take an ill child or a child prone to seizures or public outbursts, or even make them safe for a child with developmental delays or the ability to escape within seconds. As my children grow, the list of places I can take them both to gets smaller. Holidays make that worse as everywhere is busy, noisy and unpredictable. Taking them to the local grocery store just to pick up basics takes military planning, praying the one disabled trolley (yes, you read that right, just one) is available, the music isn't too loud, the layout has not been changed and the checkouts are not too long. I can't just tell my children to follow me, or hold their hands or ask them to help. Picking up a pint of milk is as hard as an army assault course when nine months pregnant! It is exhausting.
One disabled child is all it takes for an entire family to be affected.
Emotionally disability affects everyone too. Parents worrying about test results, operations, high temperatures, infections, the next therapy sessions, the fight for the right services, the concerns about the future. Brothers and sisters torn between wanting time with their parents to support them whilst realizing that far more attention has to be on their sibling. Children often becoming young carers long before they should have any real responsibility. Young ears hearing things that no child should have to hear simply because there was no child care to go to and so once again they had to "tag along". Children seeing adults cry and not knowing how to cope with this weight. Brothers and sisters coping with their toys and valued possessions being destroyed by a sibling who never seems to get told off, or who doesn't seem to care. Children afraid to tell their parents they are being bullied because they don't want to add to the already heavy burden that their parents are coping with, or worried about asking for money for a school trip because they know money is tight, or even struggling with feelings of resentment towards all the attention the disabled sibling seems to get.
The balance is often impossible for parents of disabled children to get right. Whilst one child might be registered disabled, emotionally everyone in the family is disabled too.
One child wakes up screaming and often the whole family gets little sleep. One child is sick at the dinner table or throws the meal across the room and no-one gets to enjoy a meal. One child refuses to go to school or wear the uniform, every child is late as a result. It is a ripple effect.
We need to support disabled children. We need to continue to spread awareness of disability in all it's forms and continue to invest in services, therapies and medical equipment.
But we also need to remember the parents and brothers and sisters who live with disability on a daily basis. They might look fine, but remember a disabled child is in fact a disabled family. And they ALL need our prayers and support. Thank you!
"Your child has an intellectual disability."
In the seconds that it takes to say those words, the whole world has changed for your family. Often, the time immediately after the diagnosis is a tumultuous one. There are many typical feelings, including fear, confusion, and anger—mixed with hope, pride, and love.
Some parents take a while coming to terms with the diagnosis. Many children with intellectual disabilities physically appear no different than anyone else, so it can sometimes be hard at first to believe the diagnosis. Others parents feel relieved that they finally have an answer.
As you get to know your child, you will understand their individual needs. Sometimes you'll make a mistake, but for the most part, you're going to do fine. In fact, your life will be enriched by your child in ways you never imagined.
Intellectual Disability Advice From Experts and Families
Special Olympics Chief Health Officer Dr. Alicia Bazzano , along with a team of experts, have created Realizing the Bright Future of Your Child: A Guide for New Parents. This guide was written to help you face the new experiences ahead of you more confidently. Although it may not seem like it right now, the future for your child is a bright one—brighter now than ever before for children with intellectual disabilities.
You'll also find words of encouragement from other parents, and the reassurance that your family is not alone in this journey.
"Our dreams for our children may alter, but I can assure you they can and will achieve more than we may have hoped possible! It begins with love, growing into experiences and accountability. Know that you give them wings in each experience and opportunity! I encourage you to savor the moments as your child's life unfolds before you! I wish you success throughout this parenting journey as it holds more gifts than you can possibly imagine!"
This guide for new parents covers a range of topics, including:
how your child got the intellectual disability diagnosis
how to cope with the feelings you might be experiencing
finding the right therapies and supports for your child
intellectual disability resources
a letter from a Special Olympics athlete
What Is Intellectual Disability?
Intellectual disability begins in childhood and includes deficits in:
intellectual functions, such as reasoning, problem solving, planning, abstract thinking, judgment, academic learning, and learning from experience.
adaptive functioning in activities of daily life, such as communication, social participation, and independent living.
Many children have other conditions that can occur together with intellectual disability, like autism , spectrum disorders, epilepsy, or cerebral palsy . There is much confusion about the difference between autism (autism spectrum disorders) and intellectual disability. Many children have both. But, in autism, there are deficits in social communication (such as having conversation and making friends). There are also repetitive or restricted behaviors and interests (such as repetitive hand flapping). In intellectual disability, the deficits are in intellectual functioning (learning/ problem solving).
As the guide points out, "What you should know is that having an intellectual disability is not a disease. It is not static or unchanging. It is a condition and its expression can change with therapies and supports."
Help Your Child Stay Healthy and Active Through Special Olympics
Special Olympics provides many opportunities for people with intellectual disabilities to build confidence and learn new skills. Along the way, they become welcomed and valued members of their communities.
Early Childhood, Ages 2 to 7: Special Olympics Young Athletes™ is a sport and play program for children with and without intellectual disabilities, ages 2 to 7 years old. The program introduces basic sport skills, like running, kicking, and throwing. Young Athletes provides children of all abilities the same opportunities to advance in core developmental milestones. Children learn how to play with others and develop important skills for learning. Children also learn to share, take turns and follow directions: skills that help them in family, community, and school activities.
Childhood, Adolescence and Into Adulthood, Ages 8 and Older: Special Olympics provides over 30 individual and team sports for people with intellectual disabilities, starting at age 8. Some teams join athletes with and without intellectual disabilities to promote understanding, respect, and compassion. Special Olympics sports provide a chance to stay active and healthy, and also allow participants to discover new strengths and abilities.
Affiliation
1 The Centre of International Child Health, Institute of Child Health, London University, London, UK. [email protected]
PMID: 15715696
DOI: 10.1111/j.1365-2214.2004.00464.x
Search in PubMed
Search in NLM Catalog
Add to Search
Authors
Affiliation
1 The Centre of International Child Health, Institute of Child Health, London University, London, UK. [email protected]
PMID: 15715696
DOI: 10.1111/j.1365-2214.2004.00464.x
Abstract
Background: Community-based rehabilitation (CBR) was recommended by the World Health Organization in 1989 as the strategy for improving the quality of life of disabled people and their families, which should be built on local knowledge and practices. In Uganda, there is no documentation on how services relate to local knowledge. There is a need for increased knowledge and understanding of how family members cope with their disabled children to provide the basis for future service development.
Methods: A qualitative phenomenological design was used to develop an in-depth understanding of how Ugandan families cope with their disabled children in their own communities. Data were collected from 52 families with children with disabilities from five impairment groups, through interviews and observations in three districts of Uganda, one urban, two rural.
Results: There are many children with disabilities who are included, loved and cared for by their families. A lot of time and money is spent on seeking a cure. The extended family systems are breaking down and the main burden of caring for a disabled family member generally falls on one, sometimes two, female carers. Male members act as gatekeepers, controlling the key decisions concerning the child and the associated resources.
Conclusions: CBR should move the focus of their services away from the disabled individual towards the whole family. It is important to provide accurate information about causes and prevention of impairments, the realities of a cure, support and respite for the female carers, and opportunities for the involvement of fathers. This methodology is a practical mechanism for collecting data that have the potential to positively influence and guide the development of CBR practice in the locality. At a conceptual level the data support the philosophy of inclusion, social integration, the importance of trust and respect, and utilizing a holistic approach. These are eminently transferable to other settings.
Ann Logsdon is a school psychologist specializing in helping parents and teachers support students with a range of educational and developmental disabilities.
Cara Lustik is a fact-checker and copywriter. She has more than 15 years of experience crafting stories in the branding, licensing, and entertainment industries.
Are you parenting a learning disabled child and experiencing emotional challenges and stress? If so, you are not alone. Many parents experience predictable periods of stress as they adjust to the demands of parenting a learning disabled child.  
The stress parents of children with learning disabilities feel is often similar to the feelings people commonly experience after a significant loss such as a divorce, loss of a job, or death of a loved one.
Learn more about common stages of challenge and acceptance parents of learning disabled children experience.
Denial of the Child's Learning Disability
Some parents deny their child's learning disability. A parent in denial will avoid talking about the disability and will make up excuses and alternate explanations of the problem.   The parent may behave as if everything is okay and ignore the child or his learning problems.
Alternately, the parent may blame the child for his poor school performance and believe the problem is the child's laziness or lack of effort.
A child whose parents are in denial is at-risk for being punished for their poor school performance, which is inappropriate and may cause psychological damage to the child.
This stage is especially difficult to deal with when spouses disagree on the child's disability and how the academic problems should be handled.  
Anger About the Child's Disorder
Anger is another common reaction in parents of children with learning disabilities. Parents struggling with anger may become argumentative, demanding, and verbally aggressive when dealing with a child's underachievement. They may project their anger toward a teacher, their spouse, or their child.   Some may also be angry with themselves over the child's disability and their inability to "fix" the problem.
Blaming Others for the Learning Disability
Some parents of children with learning disabilities attempt to cope by blaming others for the learning disorder.   The parent in the blaming stage may believe or say that:
the child is not learning because the teacher is not doing her job;
a spouse is making excuses for the child, whom the parent believes is not making the effort he should in school; or
incompetent teachers and school staff as a whole have caused the problem.
This stage is especially difficult and stressful when spouses disagree about the child's disability. Further, the blamer may be unable to get past blaming to focus on resolving the child's learning problems.
Grief and Parents of Learning Disabled Kids
Some parents of learning disabled children go through a grieving process that begins when they learn about the disability. Parents who grieve over their children's disabilities are usually concerned that their children may struggle for the rest of their lives. They may worry that the child will not be successful in life because of the disability.
Parents may feel new grief over the years if their children have difficulty at various milestones when other children succeed. Passing a driver's test, college entrance exams, and similar events may trigger this grief.
Parents of Learning Disabled Children and Worry
Worry and grief often go hand-in-hand in parents of learning disabled children. Parents may worry about:
Their child's self-esteem
Achievement and ability to make it through school
Whether the child will learn to read, do math, or perform other important life skills
Whether the child will be able to attend college or a vocational program
The child having a successful career
The child developing life skills needed to have a family and a normal adult life
Share on Facebook
Share on Twitter
Share on LinkedIn
Share on Reddit
Print
Share by Email
According to a 2011 report of the US Census Bureau, 2.8 million children have a disability, defined as an impairment in visual, auditory, cognitive, and ambulatory domains, as well as self-care or independent living. 1,2 A significant proportion of these children have at least 1 sibling. But despite these overwhelming numbers, the needs of siblings are frequently neglected.
"Parents are offered services to assist with their special needs child, be it physical or mental health or developmental needs. These services are not routinely offered to siblings. But all the clinical research suggests that siblings have the same issues as parents, plus issues that are uniquely theirs," said Don Meyer, director of the Sibling Support Project and founder of the SEFAM (Supporting Extended Family Members) program at the University of Washington, Seattle.
"Siblings are too important to ignore because no one logs more hours and minutes with special needs children than their brothers and sisters, with the exception of the parents, usually the mother," he emphasized.
Moreover, siblings will be in the lives of the disabled family member longer than anyone, including service providers and parents, a relationship often in excess of 65 or 70 years, he told Psychiatry Advisor.
In the Dark
Siblings are often "kept in the dark about what is going on with their disabled brother or sister," said Avidan Milevsky, PhD, associate professor of psychology, Ariel University, Israel.
"Our research shows that parents do not want to burden their well child with the struggles that affect the disabled sibling," he told Psychiatry Advisor. "Additionally, cultural, parenting, or family patterns of secrecy prevent siblings from being included." Although the siblings know that there is something wrong, they are "left in the waiting room, wondering what is going on with their brother or sister."
"Because children have wild imaginations, in the absence of accurate information, they imagine that the situation is worse than it actually is," said Dr Milevsky, who is also associate professor, Department of Psychology, Kutztown University of Pennsylvania. So "it is important for parents to clue children in and keep them updated," he advised.
Children at Risk
Siblings of disabled children experience an array of stressors and feelings that can increase their risk for significant emotional and behavioral problems and functional impairments. 3,4 For example, they may feel anger or jealousy 5 and may resent if the brother or sister is held to a different set of standards and receives what appears to be preferential treatment. 6 Siblings are often asked to help out with the disabled child or take on extra household chores, potentially increasing resentment. 7 And because children with chronic conditions often require costly services, parents may not have enough money to meet the needs or wants of the well child. 7 Moreover, parents often spend the lion's share of their time with the disabled child, at the expense of the sibling. 3
"Siblings may feel neglected because much of the parents' emotional energy is directed toward the child with the disability, leaving little emotional energy for the other children in the family," Dr Milevsky said.
Meyer encourages parents to spend 1-on-1 time with their well children, which communicates to the sibling that "their parents truly care about them as individuals." This extra personal time also creates a framework for communication.
Parents should also be encouraged to attend milestone events in the sibling's life, such as graduations or weddings, and not allow the needs of the child with the disability to overshadow the special occasions of the well sibling, he added.
Mixed Emotions
Siblings of children with disabilities may experience a "wide range of emotions." 5 Some feel guilty because they wonder if they caused the disability. They may feel guilt about being resentful or frightened about the sibling's health. Some may experience a "love/hate relationship" with the disabled brother or sister. 6 Some are embarrassed about the behaviors and appearances of their disabled sibling, to the extent that they may claim to be an only child or avoid inviting friends over. 5
Guilt can motivate siblings to hide their own feelings so as not to further burden their parents. Or they may feel the need to "be perfect" to compensate for their sibling's perceived imperfections or the stress the sibling's disability is putting on the parents. "They suffer silently," Dr Milevsky said.
Parents should be encouraged to create a safe forum for children to express their feelings, reassuring them that they are allowed to be themselves and do not have to conform to an image of perfection, experts agree.
Lifespan Issues
The impact of a disabled child on the sibling changes over time. "Young children will have one set of concerns, midlife siblings will have other concerns, and senior citizens will have still other concerns," Meyer noted.
His organization offers trainings for professionals interested in running community-based workshops for young children. "These 'Sibshops,' as we call them, provide siblings with recreation, enjoyable activities, and information, as well as support and validation from other children who understand," he said.
As children get older, they may worry about the future; for example, will there be enough money for college, or will they need to live at home to help out? 7 And as they start families and careers, they may worry about how to integrate the needs of their disabled sibling into their lives.
Meyers points to another developmental stage that is difficult for sibling caregivers. "One of the most challenged groups is the 'sandwich generation' — I call them 'club sandwiches' — because they are often caring for their own children, their aging parents, and their special needs sibling," he said.
Mr Meyers created Sib Teen, Sib20, and SibNet, which are online groups for young and adult siblings of people with disabilities, garnering daily participation from >3000 siblings worldwide. "This is the first time that many people have found a forum for expression, a sense of community, being validated, and feeling supported," he said.
Affiliation
1 Social Policy Research Unit, University of York, Heslington, U.K.
PMID: 8163627
DOI: 10.1111/j.1469-7610.1994.tb01136.x
Search in PubMed
Search in NLM Catalog
Add to Search
Author
Affiliation
1 Social Policy Research Unit, University of York, Heslington, U.K.
PMID: 8163627
DOI: 10.1111/j.1469-7610.1994.tb01136.x
Abstract
This review has considered the ways parents cope with the chronic strain and daily stressors associated with caring for and bringing up a disabled child. The review has been structured around key concepts from the process model of stress and coping. Coping resources–both personal and socio-ecological–have been described, and the notion of vulnerability when resources are not available has been considered. It is only recently that research has turned to look at the coping strategies parents use. The review drew on research using a variety of methodologies to demonstrate the range of strategies used by parents. The relationship between coping strategies and adjustment was explored, although certain methodological difficulties impede firm conclusions being drawn. Finally, the review examined whether the process model of stress and coping could be usefully operationalised to inform intervention practices with families caring for a disabled child.
Last month, A & E's reality show "Born This Way" took home an Emmy Award for outstanding unstructured reality program. "Born This Way" has received critical acclaim from its inception last year—it is the first show of its kind to showcase the everyday experiences of young adults who have Down Syndrome—a population that is otherwise nearly invisible from TV. "Born This Way" shows its stars sharing the typical ups and downs that all young adults go through—including finding work, challenges with dating and in finding independence from their parents. The struggles of living with a developmental disability are not hidden in the series but are shown as simply one aspect of the young peoples' lives.
The show also features the parents of these young people as they help their children to live as independently as possible and also share reflections about their parenting experiences. In one recent episode, they spoke together about how painful it was when their children were born and friends and loved ones didn't know what to say them. One parent even said that when people came to visit them after their baby was born, they acted more like someone had died.
In the Beginning
I'm a mom raising a son who has autism and intellectual disabilities and when I watched the parents on "Born This Way" share their pain about the lack of support they felt during the beginning of their children's lives, I felt a profound connection to their experience. There are many times when people (including friends, extended family members, colleagues, acquaintances) aren't sure how to talk about my son's disability. His diagnosis came when he was three and that first year was an exhausting rollercoaster of wrapping my mind around his needs, both present and future.
What would it have been like to integrate a child's diagnosis into the first days or weeks of my child's life? I wondered, watching the show. What would it have been helpful for people to say to me? I spoke with a number of parents who received their child's diagnosis at birth or shortly after—and they shared both words that hurt and words that helped them from that vulnerable time in their lives.
Even in cases of the smoothest childbirths, the first few days of a child's life can mean exhaustion and a mix of emotions for new parents and, swings and surges of hormones for new moms.. Imagine being in that physical and emotional space and receiving unexpected news—news with implications about your child's health and well-being for the rest of his/her life.
"My world was totally rocked," said one mom I spoke with, who wished to remain anonymous, whose daughter suffered a stroke in utero and was diagnosed with
Cerebral Palsy. "I couldn't stop crying. The feelings had nothing to do with not loving my daughter. I was just in shock and was trying to process what the doctors were telling me."
What You Can Say To Support A New Parent
One in five people has a disability—and many disabilities, including Down Syndrome and other chromosomal abnormalities, Cerebral Palsy, Spina Bifida, blindness, dwarfism and many others can be present at birth or diagnosed shortly after. So it's likely that each of us will have a friend, family member or colleague who will be in this situation and it's helpful to think ahead to what words of support you can share.
If your friend or family member has had a baby who is medically fragile, and may be facing surgery and/or other treatment in the NICU, the parent is likely operating in crisis mode. The most important thing to say is I'm here for you. Call/text me anytime. Offer to bring food to the hospital and ask what else they need which might include helping with other children at home, taking care of their pets temporarily, etc.
If your friend or family member has had a baby who is healthy but has been diagnosed with a physical or developmental disability, you can also say I'm here for you. Let your friend know: I'm going to learn about (the disability) with you.
It's also okay to be honest if you're not sure what to say that can help. Brooke Slater Goodspeed, whose son has Down Syndrome and autism and who with her husband founded Great Expectations Together, remembers the most helpful thing that a friend said to her shortly after her son's birth: "I don't know what to say right now, but I love you and I love your son." Be a listening ear and be sure not to project your fears or anxieties onto your friend.
Check Your Insensitivity At The Door
What is also clear from parents whom I spoke with are that platitudes don't help. So many parents reported cringing when someone said "God gives special kids to special people." Simplifying a complex situation into a neat, little platitude can make parents feel like their new reality—with its blessings and challenges—isn't really being seen.
For some reason, some people also seem to fixate on not believing the diagnosis is true. One dad I spoke with shared how infuriating it was when his aunt kept insisting that his son "didn't look like a baby with Down Syndrome." Her comments were not helpful to him in anyway—it seemed like she couldn't accept his son's diagnosis, which he was doing his best to embrace.
Celebrate With The Family
The reality is, parenting a child who is different from the child you imagined takes time to process. What your friend needs most is for you to listen, to keep inviting and including them in social events, to regularly ask how you can best help/support them.
Bring the new baby a gift—clothes, a stuffed animal, blankets…whatever you might bring to any new child.
When a baby comes into the world, we celebrate dreams, hope and possibility. The truth is that no parent knows what the future will hold for their baby and that reality is downright frightening. We cuddle and coo over babies who will grow up to face both mundane and serious challenges—but we put that reality out of our minds and focus on the baby's sweet innocence.
When a baby is born with a disability, the challenges that they will face are immediately apparent—and that is scary for everyone to face. But as we, as a society, come to better understand the complex and meaningful lives of people with disabilities—through amazing TV shows like "Born This Way" and other books, movies and art that bring us into their experiences and through our own commitment to creating inclusive communities, we will hopefully reach a day when every child who enters the world can be seen for more than his/her disability.
January 23, 2017, 7:00 PM
Share This:
share on facebook
share on twitter
share via email
print
A learning disability is a problem that affects how a person processes, understands and uses information. Everyone has learning strengths and weaknesses, but people with learning disabilities have complex learning issues that persist throughout their lives. However, learning disabled students are as smart as — and can be even smarter than — the average student.
One can have a superior IQ yet still have cognitive challenges. Being learning disabled does not directly correlate with a lack of intelligence or motivation. LD students manage information differently because they have a neurological processing challenge that interferes with their ability to master specific concepts when taught in a traditional manner.
Learning differences can take on multiple forms. Some students have difficulties getting content into the brain. These children struggle with information integration, such as the ability to organize, sequence, retrieve or infer meaning. Other students have difficulty getting information out of the brain. These children struggle with fine motor skills, such as handwriting, organizing thoughts on paper or finding the right words to express ideas.
Signs Your Child May Have a Learning Disability
Knowledge acquisition is unique for each child, and difficulties can surface at any age. There are, however, some specific signs that may indicate your child learns differently. During the preschool years, look for language complications, such as acquisition difficulties or word pronunciation problems. Some young students may have struggles with coordination and finger use, finding simple tasks unusually frustrating. If any area of development feels delayed, check with a teacher to determine if an early intervention is needed.
As children enter the elementary years, subject area concerns often become more prominent. LD students may be able to master many skills but have difficulty grasping certain concepts. Frequent reading errors, constant misspellings or atypical troubles with basic math computations can be markers of a learning issue. In addition, some may experience social struggles and communication problems, which also affect knowledge acquisition.
Many learning disabled students, however, actually thrive in grade school. These kids often develop compensating strategies for their cognitive challenges. Elementary school teachers are also particularly talented at supporting individuals of all abilities no matter how they learn. By using multimodal teaching techniques, these professionals make academics more appealing to all students, no matter their learning style. But as these children mature, school tends to become frustrating.
For a small group, learning difficulties don't surface until the middle or high school years. Classes become more challenging because students are asked to engage in higher-order thinking tasks, such as comparing concepts, linking previously taught ideas to new material and understanding complex relationships. Many struggle because they are unable to hold information in short-term memory and execute multistep tasks.
With teens, however, it can also be difficult to sort out typical distractions from true learning issues. Some students struggle with classroom attention, avoid homework and fail tests because they have no desire to do long division or read Jane Austen. Others put forth appropriate or even excessive effort, but still experience low grades. Review homework and look for unusual sequencing, overly sloppy work or excessively long completion times. Also, check on your child's emotional state. School anxiety or a confidence crisis often can be the result of an unknown learning issue.
What Parents Can Do to Ensure Kids Get Needed Help
Trust your parental instincts and pursue assistance if you think there is a problem. Start by talking to your child's teachers. Next, consult with your child's doctor and rule out any medical concerns. Finally, and perhaps most importantly, work with a qualified educational specialist who understands learning issues. This expert will review academic records, interview the family and consult with the school. These professionals will also administer a comprehensive set of cognitive tests and academic assessments to develop a detailed learning profile and determine if a problem exists.
It can be upsetting for parents to consider the possibility that their child may learn differently. It is, however, important for families to own the problem, understand how their child thinks and learns, and seek the services they need. Don't adopt a wait-and-see approach. Be proactive in addressing the problem. With intervention, advocacy and support, LD students succeed in school, college and life.
If a test administered during the first trimester of pregnancy reveals that an unborn baby has Down syndrome (or any other birth defect or disability), there are essentially two responses that the parent(s) will be confronted with. The first is to view the baby as intrinsically valuable and an individual to be cherished, nurtured, and protected. The second is to do something of a cost-benefits analysis to determine if the "quality of life" that the child can reasonably be expected to enjoy will outweigh the hardships that the child and the parents will face. If the perceived hardships outweigh the benefits, the parent(s) sometimes make the decision to end the pregnancy through abortion. The first approach is endorsed by Scripture, because every unborn child (as well as every person regardless of age, race, gender, and mental or physical abilities) is valuable because he or she is made in the image of God (Genesis 1:28).
Down syndrome is so named after Dr. John Langdon Down, the doctor who first published a paper describing the condition in 1862. Dr. Down described it as "Mongolian idiocy," for the typical physical appearance reminded Dr. Down of people from Mongolia. Later, the World Health Organization designated the condition as Down's syndrome, and now it is referred to as Down syndrome (DS). The term idiocy did not carry the derogatory connotation it does today. At the time it was an accepted medical term that was eventually replaced by mental retardation, which today is also considered derogatory. The current accepted medical term is intellectual disability. At a time when evolutionary thinking was becoming popular, Dr. Down theorized that the condition was a regression to an earlier stage of evolutionary development.
We now know that Down syndrome is caused by an extra chromosome (chromosome 21). Normally, each parent contributes half of the genetic material found in each of the 23 chromosomes found in every cell of the body. In the case of Down syndrome, one parent contributes more than the normal one-half. The extra genetic material changes the way the baby's brain and body form. Those who have Down syndrome are normally recognizable by their appearance. According the Centers for Disease Control and Prevention website, 1 in 700 babies, or about 6,000 babies per year, are born with Down syndrome in the United States.
Unlike Dr. Down, who viewed those with Down syndrome as having regressed on an evolutionary scale, Christians with a biblical worldview will recognize those with Down syndrome as valuable human beings, created in the image of God. Although, in many instances, those with DS will have diminished physical and mental abilities, their intrinsic worth is not based on their abilities—just as the value of any human being is not based on abilities.
Christian parents who have a child with Down syndrome need to realize that their child is a gift from God, and there are no accidents with Him. Although all diseases, genetic defects, and "syndromes" are the result of sin generally, there is no warrant for thinking that a child with Down syndrome is punishment for the parent's sin in any specific instance. The disciples speculated about whose sin was to blame for a man born blind, but Jesus corrects their thinking: "Neither this man nor his parents sinned, . . . but this happened so that the works of God might be displayed in him" (John 9:3). If God has entrusted Christian parents with a child who has any kind of disability, those parents can be assured that God has a purpose for them to bring glory to Him by their loving response—and God will provide the grace necessary to provide the proper response!
When Moses objected that he was not fit to lead Israel because of his inabilities, God responded, "Who gave human beings their mouths? Who makes them deaf or mute? Who gives them sight or makes them blind? Is it not I, the LORD?" (Exodus 4:11). It would fit the spirit of the passage to include any person with a disability, including Down syndrome—the Lord is the Creator of those with DS. The Lord has a plan and purpose for disability. There are no accidents with God.
Children with Down syndrome can grow up to be highly functioning adults. One mother whose second son was born with Down syndrome stresses that she was burdened by preconceived notions and prejudices and was unaware of what her son could actually achieve (see Carlene K. Mattson, "My Very Special Son" in Focus on the Family Magazine, April 1993). People with Down syndrome can learn to read, hold jobs, and even get married, although they may need additional support. Like all other children, children with DS will need love and discipline and training in the Lord. Parents who find out that they will have a baby with Down syndrome will most likely need extra help and support, as well. Help is available through a variety of government programs and support groups in the United States, and hopefully relatives and the church family are also available to assist. A mother or couple who feel that they simply cannot provide what is necessary to raise a child with special needs should never consider aborting the baby. There are many Christian couples who are happy to adopt children with special needs and give them loving, stable homes.
There are a few extra things to think about when it comes to childcare for a child with disabilities however, a lot of the considerations are the same as for any other child.
Things to consider
No matter what your child's age, ability or circumstances, all parents would probably think about:
what sort of childcare would work best for your family – a childminder, nursery or after-school care?
is the carer registered with a Health and Social Care Trust (if your child is under eight years old)?
will activities be suitable for your child's ability?
is the carer/setting safe, friendly and do you think your child will be happy in the environment?
You may also need to think about questions like:
does the carer have experience in looking after a child with a similar disability, and if not, would they be happy for you to show them what's needed?
how much specialist care does your child need and is suitable for training available locally?
does your child have therapy or appointments that they need to go to in the time they will be cared for and can your playgroup, nursery or school take your child to these appointments?
Health and Social Care Trusts
Children with medical needs
You will need to clarify if the carer you choose requires specialist training or equipment as carers often have to have specific training to give medication. As a parent, you will have been shown how to give medication to your child by your doctor, nurse or health visitor.
You can ask the same person to give this training to your child's new carer.
Your social worker or area special educational needs co-ordinator (SENCO) should be able to tell you more.
Early Years special educational needs co-ordinators (SENCOs)
Nurseries and schools may have a SENCO who will create opportunities for children with disabilities to enjoy all the activities the nursery or school has to offer.
Early Years area SENCOs (sometimes called inclusion officers) give additional support to nurseries and schools by giving training, offering specialist advice and liaising with schools when the child is ready to go to full time education.
SENCOs and area SENCOs can give a lot of advice and support for parents who have children with special needs.
Childminders
Childminders look after children in the childminder's own home. They may be parents themselves and might have cared for a child with disabilities before. Visit the childminder to see the environment and if the other children are happy playing.
Talk to the childminder about the sort of activities they do and the care your child needs. You can use a childminder for all day, before-school or after-school care.
Day nurseries
Nurseries are usually for children up to five years old and places are usually given to children who need them the most. Talk to your social worker to see if there is a place in your nursery.
You may be offered a part-time place for free where you can pay the extra to make it up to a full-time place if you want to. You may also be able to find a place for your child at a private day nursery.
Pre-schools or playgroups
Pre-schools provide care and early education for children aged between three and five years old often in sessions lasting from two and a half hours to four hours. However, some are now beginning to offer full-time places. Most are open during term time only but check locally to see what is available near you.
As with day nurseries, free part-time early education places are normally available and additional support may be provided for children with disabilities through the area SENCO.
Out-of-school clubs
There are many out-of-school clubs with some schools also becoming 'extended schools' which offer breakfast clubs (from 8.00 am) and after-school clubs (typically until 6.00 pm).
Find out from your child's school if these clubs are available.
Whichever service you decide on
Remember, you are the expert on your child.
To get the best from childcare:
give the carer clear and detailed information about your child's needs, medication, appointments, likes and dislikes
take your time and visit the childminder, pre-school/playgroup or nursery (more than once if you want to)
agree a 'settling-in' period where you stay with your child to see how the carer and child get on together, then build up to leaving for short periods of time until you are comfortable to leave your child for the session
Discrimination
The Disability Discrimination Act 1995 sets out two main duties for childcare providers:
not to treat a child with disabilities 'less favourably'
to make 'reasonable adjustments' for children with disabilities
An honest and open discussion about your child's needs with the childcare provider, involving, for example, an occupational therapist or psychologist where necessary, can often lead to a better understanding of your child's needs and how these can be managed.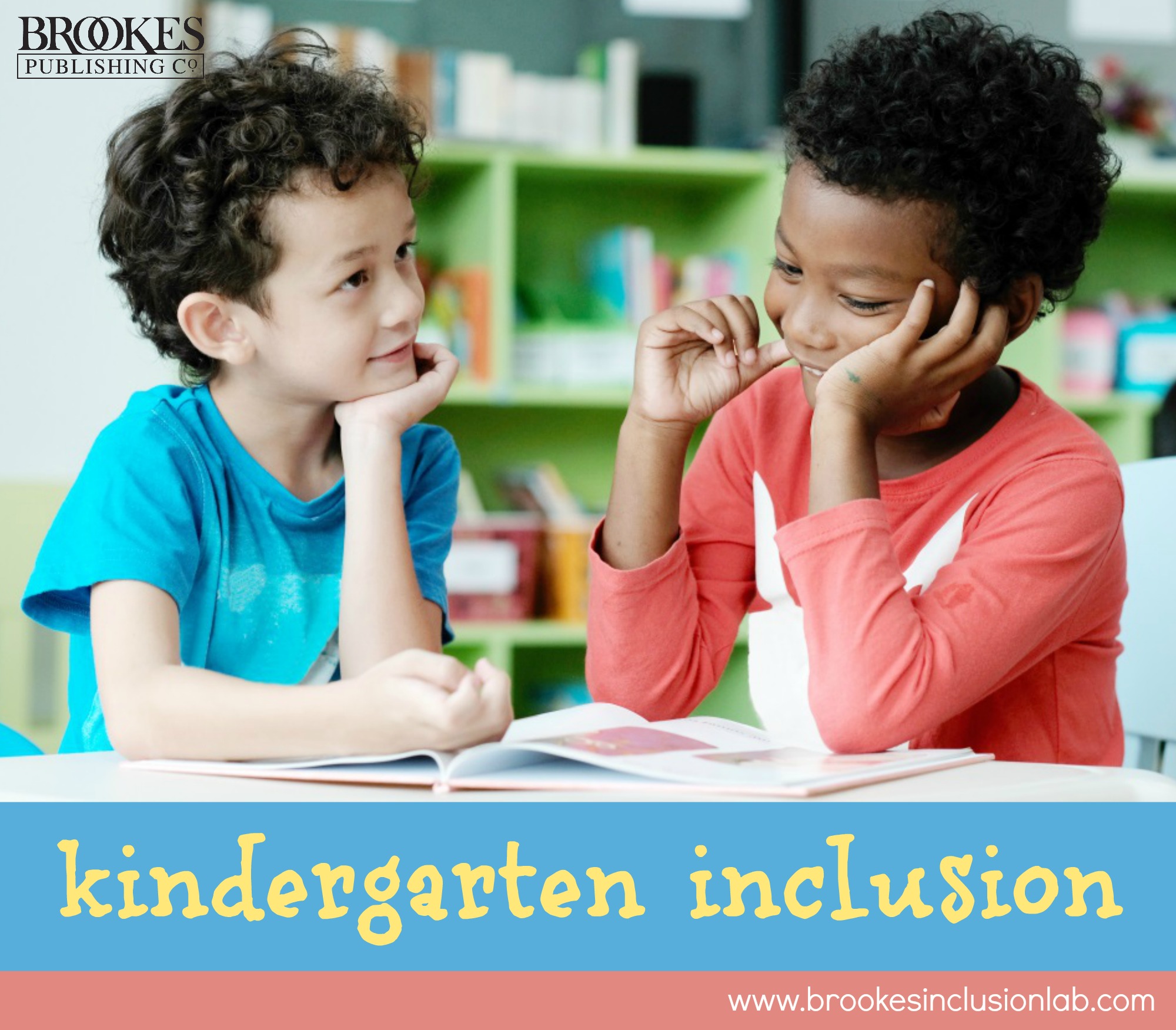 The transition from preschool to kindergarten can be a challenging one for any young child. There's a new classroom to get used to, a new teacher with new rules, and many more academic and social expectations to navigate. When a child has a disability or special support needs, it adds another layer of complexity to the kindergarten transition–but with some careful planning, teachers and parents can ensure that the child is fully welcomed and supported in their new classroom.
Today's blog post–our last one before our summer hiatus–gives you nearly two dozen ideas for supporting children with disabilities in an inclusive kindergarten classroom. Excerpted and adapted from Making Preschool Inclusion Work by Anne Marie Richardson-Gibbs & M. Diane Klein, these tips and strategies are a good starting point for welcoming and including every young learner (though you'll definitely want to tailor your approach to fit the needs of each individual child). Try the ones you think will work, and add your own ideas in the comments below!
Before the transition, try these strategies to help a child prepare for a great year of kindergarten:
Before a child with a disability transitions to your kindergarten classroom, see if you can observe the child in their existing preschool program. Seeing the child in a comfortable setting will help you get a better picture of their strengths and needs and what you can do to support their success in your classroom.
Invite the new kindergartener to visit your class the week before school starts so they can get acquainted with you and their new surroundings.
Create a "transition story" about leaving preschool and going to kindergarten, with accompanying photos or drawings. Encourage parents to read the transition story with their child.
If an itinerant inclusion specialist is part of your school team, work with that person to determine the most effective types of adult support for specific children.
Once school starts, here are some supports you might consider using for children with varying needs:
Provide cube chairs with low seats during carpet or large group periods when peers are sitting on the floor, to meet the needs of a child who has difficulty sitting with the group during circle time.
Offer calming weights for children to hug or place on their heads, shoulders, or laps.
Keep favorite small toys, manipulatives, or stuffed animals in a box and offer them to a sensory-seeking child to hold in their hand during your group period.
Use air cushions or a carpet square with the child's name on it to help define their sitting space.
Create visual schedules that show what comes next to help calm children who thrive on routine and need to know what's coming next
Offer chances to take a break if your large group period is too long for some children. As the child becomes more used to the classroom schedule, you might slowly begin to increase the number of minutes in the large group by acknowledging the child's request and signaling "one more minute" before allowing a break.
Ask the paraprofessional or aide to use an individual set of worksheets with the child to help the child focus as the teacher explains worksheets to the whole class. They can point to areas of the worksheet that the teacher is discussing and help the child do the same.
During small group periods, seat the child next to an adult monitoring that group for extra support.
Check that the child's seat and table are a good fit. Can the child sit comfortably, with good posture in the chair, and engage in fine motor work like cutting with scissors? If necessary, provide a taller chair, stool, or footrest and use a cushion for the child's back if the seat or chair is too deep.
Use visual timers to show the number of minutes left in an activity.
Allow the child to work in different areas of the classroom if sitting at a table for an entire activity is too difficult. Some children may work better lying on the floor or working alone for part of small group time.
Offer pencil grips, adapted scissors, or slant boards for paperwork if children have fine motor challenges.
Be sensitive to children with sensory issues–such as an aversion to touching glue or paint–and provide tools to help the child so they don't need to use fingers.
Cover up sections of worksheets with blank paper or fold worksheets. This can reduce visual overload and help the child focus on one task at a time.
Notice and use children's natural motivators. Sometimes children are motivated by simple things such as a stamp or happy face at the bottom of a work page; sometimes the opportunity for free play at the end of a task is an effective motivator.
If modifications are made to a child's required schoolwork, provide folders with the modified assignments ready for them.
Consider modified homework after the first trimester if the child is not progressing in academic areas. For example, send home name-printing practice rather than sentence or word practice, or send two pages of work rather than four.
Check in with parents about whether it's a struggle for the child and family to complete all homework. Make adjustments as needed.
As your next school year gets underway, be sure to talk to other adults in the classroom–paraprofessionals, aides, parent volunteers–so that everyone understands and consistently uses agreed-on accommodations for children who need them. And reinforce the home-school connection by keeping lines of communication open all year. Ask parents how their child is doing, give them updates on their child's progress, ask them to share strategies that work at home, and tell them what's been especially effective for their child in the classroom. Working as a team with parents, paraprofessionals, inclusion specialists, and other members of the school team, you'll help give every child an A+ kindergarten year.
CHECK OUT THE BOOK
Making Preschool Inclusion Work gives you a thorough introduction to inclusion supports: evidence-based practices and strategies that help children with disabilities fully participate in early childhood classrooms.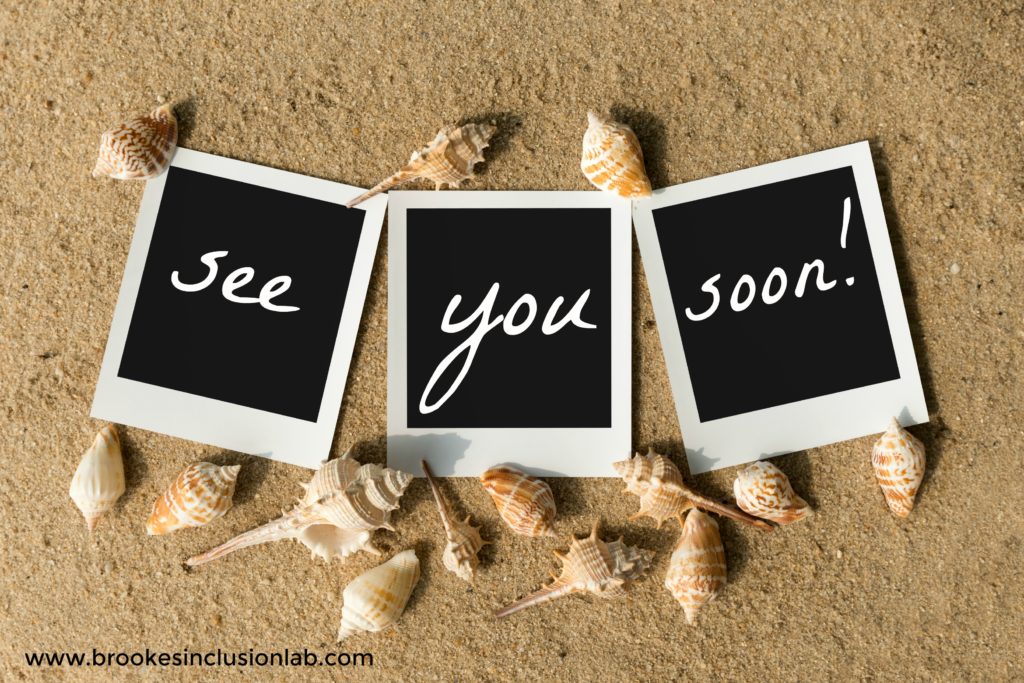 The Brookes Inclusion Lab will be on a brief summer hiatus for the month of June and part of July. We'll be using that time to create some great new content that'll help you gear up for the new school year. In the meantime, if there's anything you'd love to see us cover in the fall, please drop us a line and let us know! (You can contact Jen, the Inclusion Lab editor, at jlillis AT brookespublishing DOT com.)
Congrats on a successful school year, and enjoy your summer. We'll see you soon!
Add to Mendeley
Abstract
This article debates whether the quality of life of the families is depleted or improved due to the presence of a member with a disability. A theoretical review is carried out of the impact on the family caused by the birth of a child with a disability, the detrimental effects of the disability and the positive effects of the empowerment offered by the family intervention programs.
When the family includes a member with a disability, time and effort must be dedicated to them as they normally have greater requirements for care. The repercussion of this is putting the needs of the parents and siblings to one side, creating a specific profile for these families. They show issues such as imbalance in the family system, unawareness of aspects of health and education, negative feelings, need for adaptation, etc., for which they require support programs.
With the family intervention, they are able to improve their awareness of problems, acquire efficient education strategies, initiate new friendships, improve conflict resolution, etc. In consequence, rather than focusing on the disadvantages, these families can achieve a series of highly developed skills such as communication, self-esteem, sense of humour, resilience. It is the own potential of these families that must be strengthened, not only to improve the quality of family life, but also for the benefits to extend to the community.
Previous article in issue
Next article in issue
Childhood presents many challenges for special needs children, especially on the playground. In today's society, children need to adapt to circumstances that may pose potential problems for them. Children learn about feelings of belonging, acceptance, and rejection at an early age. Therefore, it has become imperative for educational and recreational institutions to incorporate an inclusive child care program. Educators and instructors who accommodate special-needs children with handicaps gain peace of mind in knowing that no child is left alone with a feeling of inadequacy. Inclusive play enables special-needs children to build the necessary social skills to handle any circumstance. This increases positive attitudes and interaction between all children regardless of abilities.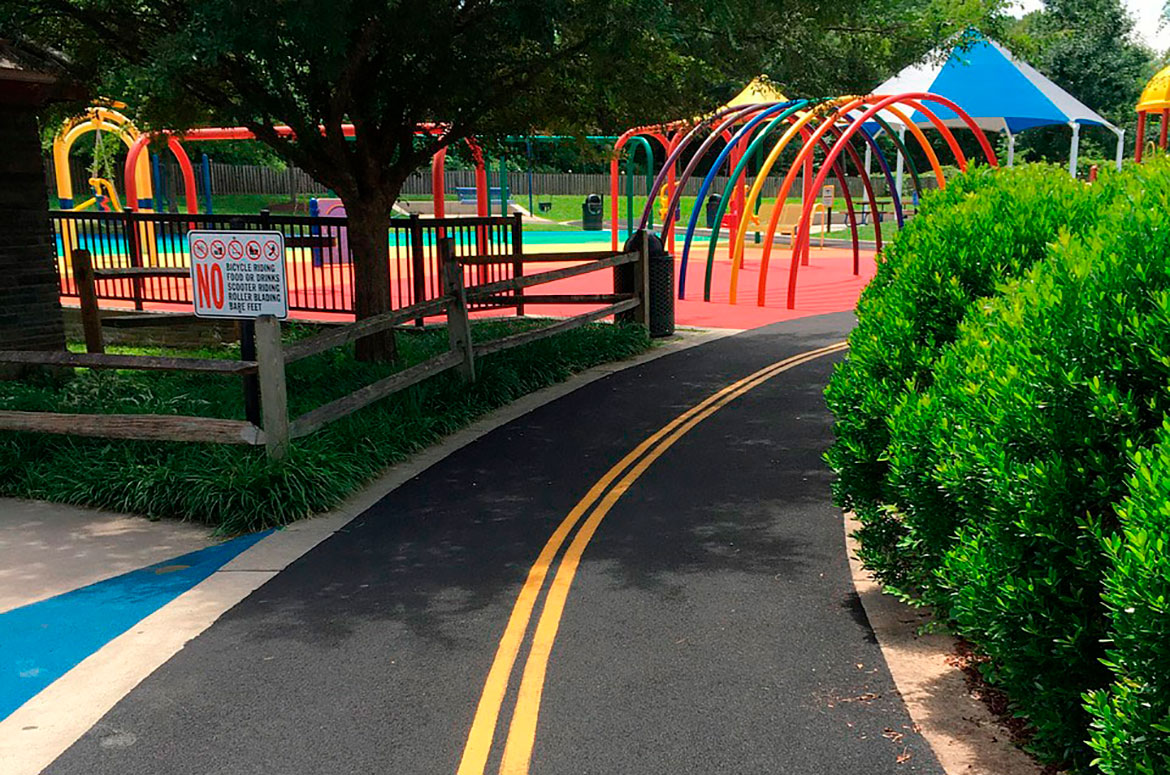 The Americans with Disabilities Act (ADA) assures full civil rights to disabled individuals, including accessibility and accommodations in preschools, child care centers, and playground settings. The Individuals with Disabilities Education Act (IDEA) further strengthens mandated criteria for the inclusion of children in preschool, child care, and playground settings. As a result, educational and recreational institutions cannot discriminate against parents or special-needs children. In addition, educational and recreational institutions must make reasonable accommodations to meet the needs of disabled children. This presents exciting opportunities to include special-needs children in activities at an early age. Everyone benefits from inclusive play. An inclusive playground environment shares several qualities not found in traditional play settings. The designers of an inclusive playground environment target children at the youngest age possible to reinforce the acceptance of differences. This grants disabled children exposure to the same curriculum and activities as their peers.
Educational and recreational institutions can make accommodations for special-needs children without breaking the bank. The first step requires developing a plan of action, which may include evaluating, assessing, and changing routines and equipment to meet accessibility and inclusive standards. Recruit staff that can interpret and use sign language is another important step. When evaluating existing programs for accessibility and inclusive play, look over current employment policies and procedures to ensure they do not discriminate against disabled children. Next, assess the physical accessibility of the playground to ensure all equipment can be used by special-needs children. Accessibility conversion may only require rearranging playground equipment, installing a ramp or handrail, and adding Braille labels. Look for ways to accommodate everyone, including children, staff, and parents.
Educational and recreational institutions may find it difficult to accommodate each special-needs child. Every special-needs child has his or her own disability, which means the staff must have an understanding of the child's condition. When considering adaptions, remember that a special-needs child requires additional attention to assist in their development. For instance, children with visual disabilities may need consideration revolving around space on the playground, navigating around obstacles, or finding their way to the bathroom. Deaf or hard of hearing children may need a sign language interpreter. Children with physical disabilities may need assistance with moving from one place to the next. All of these circumstances arise at some point when working with special-needs children. It takes dedicated and well-trained personnel to meet the needs of each child. The key is to never leave a child alone with a feeling of inadequacy. Let them feel as if they belong with the group, despite their differences.
Follow these links to learn more about accommodating special-needs children on the playground:
The Upside to Admitting You Were Wrong Online
A new study suggests that people who are willing to admit they're wrong during Facebook arguments are liked and respected more.
Episode 119: How to Say "Sorry" Like You Mean It
Apologies are key to successful relationships. But are you doing them right?
Five Ways to Help Someone With Depression
Knowing how depression works can help you better support loved ones who are struggling.
How Talking About Race Can Bring Black Families Together
A new program is helping Black children and their caregivers talk about race—and they're learning important lessons about racial socialization.
Why Staying Out of a Political Discussion May Backfire
A new study finds that when people try to stay out of moral arguments, they are seen as less trustworthy than those who actively disagree.
Celebrating Juneteenth with Tools for Support, Understanding, and Solidarity
This Juneteenth, we're sharing resources that might move us all toward more fully claiming our humanity.
Happiness Break: How To Be Your Best Self
Visualize your best possible self and tap into your inherent enough-ness with this guided meditation by Justin Michael Williams.
How Paternity Leave Helps Dads and Babies Bond
Accessible paid paternity leave policies are an important way to take care of new dads so they can help their babies and families flourish.
Your Happiness Calendar for June 2022
This month, talk about the hard stuff.
Your Anxiety Might Be Coming From Your Body
Diet, sleep, and inflammation can all contribute to anxiety—but taking care of your body could help alleviate some of it.
What to Do When You Never Feel Good Enough
Are you stuck in constant self-judgment? In a new book, a clinical psychologist suggests a better way to feel good about yourself.
How Your Siblings Can Make You Happier
Sibling relationships affect us more than we probably realize—and we can work on improving them at any age.
20 Questions to Ask Your Mother
Print this list for Mother's Day—or for your next family dinner or gathering.
How to Stay Open and Curious in Hard Conversations
Here are eight tips for having better conversations across our differences.
Why Sensitivity Is a Strength in Boys
It's time to shift the paradigm about sensitivity in boys and recognize how it improves their relationships and supports their well-being.
Life Lessons We Should Have Learned in Our 20s
Jeffrey Froh shares his advice on how to thrive in your 20s and beyond through a mix of science, stories, Scripture, and Greek mythology.
Meet the Greater Good Toolkit
For your bookshelf: 30 science-based practices for well-being.
Related Articles
The Upside to Admitting You Were Wrong Online
A new study suggests that people who are willing to admit they're wrong during Facebook arguments are liked and respected more.
What Is at the Root of Suffering in Health Care Providers?
What is moral injury, and is it always the reason for burnout in health care?
How Our Brains Help Misinformation Go Viral
A new study finds that we are easily persuaded by popular beliefs, even if they're wrong.
A Teacher Reflects on Teaching Gratitude
Educator Stephen Leeper shares what he learned from gratitude journaling with his students.
Episode 119: How to Say "Sorry" Like You Mean It
Apologies are key to successful relationships. But are you doing them right?
The Greater Good Science Center studies the psychology, sociology, and neuroscience of well-being, and teaches skills that foster a thriving, resilient, and compassionate society.
© 2022 The Greater Good Science Center at the University of California, Berkeley
Parents with special needs children must take extra care with their estate planning. To ensure that the children receive appropriate care and support after their parents are gone, most experts recommend creating a special needs trust.
by Sandra Beckwith
updated May 02, 2022 · 3 min read
Parents of children with special needs must take extra care with their estate planning to ensure their child receives appropriate care and support after their parents are gone.
Experts such as elder law attorneys and financial advisors typically recommend establishing a supplemental special needs trust that names the special needs child as beneficiary. This provides a financial shelter for assets the family can use to supplement government benefits—usually Supplemental Security Income (SSI), Medicaid, and state- or community-based services—that take income into account.
Key considerations when establishing a supplemental special needs trust include:
What you want for your special needs child
How to "fund" or capitalize the trust
Who should manage the trust's assets
Learning a few basics will help you understand what's involved before meeting with professionals to create a supplemental special needs trust.
What Do You Want for Your Child?
Hal Wright, a retired financial planner who wrote The Complete Guide to Creating a Special Needs Plan and has an adult daughter with Down syndrome, encourages families to write a letter of intent as a companion to the trust.
His template for the document, which helps describe the quality of life you want for your child, includes:
Your hopes and dreams for your child
A detailed description of a week in the child's life
The child's care needs
Financial support information
A contact list with the role each individual plays in the child's life, along with all contact information
Emergency contact information if something happens to you
"Most trust officers welcome a letter of intent because it helps them make decisions," Wright says.
How Will You Fund the Special Needs Trust?
Start by estimating the cost of lifetime support for the child before developing a funding plan.
"Funding the trust can be the hardest thing for parents," says elder law attorney and financial advisor Patrick Simasko. "If you don't fund the trust, it's like a car with no gas."
Common funding options include life insurance, financial asset transfers or a quitclaim deed on a home. Those funds become available when the trust owners—for example, the parents—die and can no longer provide for the child's care.
"I'm a big fan of incrementally funding a trust during the family's working years, too, because, when parents retire, their income will drop," Wright says. "Remember that you'll retire as a family of three, not two—yourselves and your special needs child."
Who Will Make Decisions About the Trust?
Parents are typically the trustees while they're alive. After both are gone, a successor clause identifies the person will who administer the trust. Because this entity will make decisions about how funds are used, it's important to be thoughtful and objective about the person you select.
While a sibling might be the obvious choice, Wright says that's not always the best solution—especially if you haven't talked about it first.
"It's not wise to ask someone to bear a responsibility they're not willing to commit to," he says.
When naming a corporate entity such as an attorney, bank, trust company or brokerage firm wealth management division, appoint a trust protector, too. This individual—often a family member or attorney—makes sure the trustee is fulfilling their obligation to manage the trust for the special needs child's benefit.
Don't Wait to Take Action
"The major driver for most families is fear about what will happen to the child when they're gone, and it's a legitimate concern because, absent a medical condition, more than half of offspring with disabilities will outlive their parents," Wright says.
Talk about your wishes with family members, then take action with an elder law attorney and financial advisor.
"Use the legal documents available to protect your children and the benefits they're going to need," Simasko says.
It seems that today more and more parents in the western world are saying, "My child has a learning disability!" In western society more and more children are being identified as having ADD, ADHD, or being diagnosed as afflicted with autism or some sort of mental condition that makes them unable to relate to others or develop "normally." This is a scary reality, and believers are not exempt from these things. How should believers respond when faced with these issues?
The only lasting formula for responding to the issues of living in our fallen world is to choose to walk by faith. That sounds very trite and over-simplified for parents who are desperately searching for answers, but for the believer, it is the only answer. In fact, for the believer the hope of God's grace through faith is the one true foundation we can stand on when our child is in crisis and we cannot fix things with a kiss and a band aid.
If a child breaks a leg or an arm, a trip to the hospital corrects the break. It is not left to heal on its own and be a lifelong issue that the child must deal with. It is our calling as parents to nurture our children in the Lord in every aspect of their lives, not for our convenience, but for their spiritual good. So if a child has a learning disability or has trouble maintaining attention or behaving appropriately due to being autistic or to having some mental disability, we do not leave that child to flounder. Rather, we do as much as we can with as much love as we can for as long as we can without regard to the cost. There are resources available through organizations dedicated to research and support for each disability. A great deal more is known about how children learn than ever before, and much more help is available now than ever before. For some there is only the help and comfort of church and family to come alongside with resources and practical help. That means we reach out and do not isolate ourselves from God's people. The "one another" commands are a great resource in time of need (1 Corinthians 12:25; Galatians 6:2; 1 Thessalonians 5:11; 1 Peter 3:8).
Conditions such as autism are not a reflection on us as parents or the result of something we did or did not do, nor are they something we somehow deserve. Just as no one "deserves" cancer, no child or parent deserves autism or mental retardation. The child with a disability is just as precious to the Lord as any other child (Matthew 19:14). In this world, there is no rhyme or reason why one child is afflicted and another is not. We live in a fallen world and the infirmity of the flesh can manifest itself in devastating ways. It is God's amazing grace alone that overcomes the sad realities of a world tainted by sin. Indeed, one wonders how those who are not believers cope with these issues without the grace of God in their lives.
So the believer responds to their child's learning disability with faith and puts that faith into action, bathing that child with love and acceptance at every opportunity. We enlist family, the church family, and every other resource available to help. We ask others to pray for us and help us through this time, all the while understanding that none of this is out of God's control.
We can ask, "Why my child, Lord?" and "Why would a loving God allow this?" That is normal and natural and the answer is that God uses the details of this earthly life to demonstrate His provisions and grace and, ultimately, to glorify Himself. As believers, we are given a higher calling and a greater resource (1 Corinthians 1:26-30). The Apostle Paul declares that God displays His might and power through men and there is no unrighteousness in His purpose (Romans 9:14-23). We may not understand, but He will use the details of our lives to build in us His good and His glory. Therefore, when undeserved suffering comes to our children, the correct response of believing parents is to use God's resources to stand by faith and leave the rest in His hands.
Learn about financial support to help families with the costs of caring for a child with severe disabilities and find out how to apply.
On this page Skip this page navigation
About the program
If you are a parent or guardian who is caring for a child with a severe disability you may be able to get financial support through the Assistance for Children with Severe Disabilities (ACSD) Program. This program provides financial support for low-income and moderate-income families to cover some of the extra costs of caring for a child who has a severe disability.
Eligible parents and guardians can receive between $25 and $500 a month to help with disability-related costs.
In response to the COVID-19 outbreak, we are temporarily changing how we process disability-related expenses under the Assistance for Children with Severe Disabilities (ACSD) program to support people and their families while community-based activities and settings are closed.
Eligibility
If you are a parent or a guardian of a child who is under 18 years of age (17 and under), lives at home and who has a severe disability, you may be eligible to receive funding from the ACSD program.
Your eligibility and the amount of assistance you receive is based on a combination of factors:
your household income
size of your family
severity of your child's disability
extraordinary costs related to your child's disability
Financial support for disability-related costs
Depending on your household income, the size of your family and your child's disability-related costs, the ACSD program may provide between $25 and $500 a month to help with costs such as:
travel to doctors' appointments, hospitals and other appointments related to the child's disability
special shoes and clothes
parental relief such as respite
an assessment for an assistive device and/or the consumer contribution for a device provided under the Assistive Devices Program
batteries and repairs for mobility devices
prescription drugs throughOHIP+
dental care through Healthy Smiles Ontario program
hearing aids and vision care, including eyeglasses
How to apply
Apply online
You can apply online for the Assistance for Children with Severe Disabilities (ACSD ) program.
You will have the option to save, edit and submit your application later.
You can only submit one application for your child. Submitting duplicate applications will result in delays in processing your application.
If you would like to apply for more than one child, you will need to submit a separate application for each child.
You have 90 days to complete and submit your online application. After 90 days, you will no longer be able to access your application and you will be required to complete a new application.
Download a paper application
Assistance with completing the application
If you need help completing your application, you may contact a:
community agency
health care professional
social worker
family or friend
other individual who may be involved in the child's regular care and treatment
If you have any questions or need assistance, contact your local ministry regional office.
Please notify your local regional office of any changes to your information so that we can keep your file updated.
Once we receive your application, a special agreements officer will review your application and may contact you if they need more information.
You will receive a letter stating the decision on whether you qualify for ACSD .
Disagreeing with a decision
If you disagree with the decision, you have the right to ask for an internal review within 30 days of receiving the decision. Your decision letter will have information about how to request an internal review.
You should receive a letter telling you the result of the internal review within 30 days of your request received.
If you disagree with the result of the internal review, then you may appeal to the Social Benefits Tribunal. The letter informing you of the result of the internal review will also have information about how to request an appeal to the Social Benefits Tribunal.
Many parents of disabled children feel under pressure or stressed. Managing stress might help you to feel more in control.
People feel stress in different ways
"I'm eating too much."
"I can't focus or remember things."
"I can't talk to my partner."
"I'm drinking too much."
"I feel like no one understands what I'm going through."
"I feel like I can't cope."
Making things easier at home
Being a parent is hard. Looking after a child with additional needs means that you have even less time and energy at home. This can cause some parents to reach a crisis point.
Accepting that your life has changed will help. Some parents cope with these extra pressures by:
talking about how life has changed
not pretending that things are 'fine'
not cooking or cleaning as often (for example, eating more ready meals or doing less cleaning)
choosing your battles and maybe letting more things go
sleeping whenever you can, even if it's 10 minutes
prioritising what's important to you at the time
What support do you have?
Has anyone offered to make things easier? This could be looking after your child while you have a bath or go shopping. Ask for help if you need it.
Support could be a parents group, nursery, a friend you can talk to or respite care.
Warning Find other parents with disabled children
Other parents in the same situation may understand and be able to help you.
Take time for yourself
Getting some rest, looking after your mental health and asking for support can help you and your family manage.
If you can, try taking a little time off. Try relaxing by:
having a bath
going for a walk
watching TV
reading a book or magazine
catching up with friends
Mindfulness and meditation
Taking 10 minutes to meditate each day can help you to relax and sleep. You can do this on your own, in a group or use an app.
Talk to your GP if you need help
Talk to your doctor about getting treatment and support.
Discuss what's affecting you. Tell your GP if you're stressed, depressed or if you feel like you're not coping. You could prepare for your appointment by writing down what you want to say. You could talk about:
how you're feeling
if you're not able to eat or sleep normally.
HALLIE HAMMACK
VOCAB
Teaching spelling to a child with learning disabilities can be a challenging task, as they child may have to overcome difficulties related to focus, retention or a number of other issues. Since each child is different, it's important to try a number of strategies to determine what method, or combination of methods, works best for an individual child. These teaching techniques may include a number of different activities, such as using flash cards, repetition exercises and writing challenges.
Encourage reading. Read to the child and let him or her follow along the page as you tell the story. This will help him or her become more familiar with a range of words, as well as the context in which they're used. It's equally important to take time for the child to read to you. Studies have shown that good readers are also good spellers and good speakers.
Follow the rules. Spelling rules are a great resource for children with learning disabilities. Focus on rules that apply to the largest number of words, such as "i before e, except after c" or how the child should drop a silent 'e' from the end of a word before adding an 'ing' ending. For example, 'make' would become 'making' and 'hide' would becoming 'hiding'.
Make spelling hands-on. Many children with learning disabilities have difficulty spelling orally, so the more interactive the spelling exercises, the more information a child is likely to retain. Use word tiles, magnetic letters, flash cards and other visual aids that allow the child to see the word he or she is spelling.
Write stories. Like reading, writing is also an important tool for helping a child with learning disabilities see how words flow together to create sentences. Encourage the child to incorporate as many different words into the story as possible. Hands-on activities like this will help him or her to take his spelling from practice exercises into real-world applications.
Create word families. Take a word that your child is confident spelling, such as cat, and ask him or her to think of words that rhyme with cat, such as bat, mat, hat or sat. List these words underneath the original word and the child will notice that all the words have identical endings. Work with your child to create several sets of visual word groups like this to help him expand his or her vocabulary.
Typically those who buy a home can only take advantage of the best interest rates and mortgage terms if it is an "owner-occupied" property, meaning they plan to live in it.
But that's a real barrier to anyone wanting to buy a home for someone else who can't afford one like when a parent buys a home for an adult disabled child.
Fortunately, there are programs and strategies to bring home ownership into reach for people with disabilities.
Fannie Mae's Definition of "Owner Occupied"
Most people don't realize that Fannie Mae offers a loophole to its "owner-occupied" definition. Sometimes this program is known as the Family Opportunity Mortgage. With this program, Fannie Mae considers the following situation the same as if the buyer were planning to live in the home:
"Parents wanting to provide housing for their physically handicapped or developmentally disabled adult child" is permissible "if the child is unable to work or does not have sufficient income to qualify for a mortgage on his or her own, the parent is considered the owner/occupant."
This applies even if the family member doesn't plan to live with their disabled son or daughter. This is available even if the borrower is already a homeowner with an owner-occupied loan on their primary residence. The program enables a parent or caregiver to provide financial assistance to children who couldn't purchase a home on their own.
Guidelines With Individual Lenders
Individual lenders may set more strict eligibility guidelines than what Fannie Mae allows; still, many will accept Fannie's alternative definition of an owner-occupied residence.
That means the lowest interest rates available and a fairly easy qualification process for qualifying borrowers.
In many ways, buying a home for a disabled child can be more affordable housing than a nursing home or even renting an apartment for the child.
In essence, it means that the big expense and generosity of the parents are rewarded with somewhat lower costs. This improves the accessibility of mortgages for parents looking to buy a home for the disabled child or not, particularly for low-income families.
For instance, a parent may only have a 5% down payment available. When buying an investment property, a 20-30% down payment is typically required. But with an owner-occupied conventional loan, the home buyer can often put down 5% by obtaining a mortgage insurance policy.
Ready to apply? Here's how
The purchase loan will require typical Fannie Mae rules, such as providing income and asset verification documents. Also, the parents will have to qualify for the new house payment by adding their own housing costs and other monthly costs to their debt-to-income ratio.
What documents will I need?
Besides standard qualification items, here are some additional items parents will need when applying for this type of loan:
Proof of their child's permanent disability
Paystubs from the child's workplace, if any, and documentation from social security payments (SSI), social security disability insurance (SSDI) or other disability benefits, proving the child can't qualify for the home themselves.
Why Fannie Mae Makes Exceptions
So why does Fannie Mae allow this loophole? It all comes down to risk. Non-owner-occupied homes, also known as rental homes and investment properties, are considered higher risk. Owners of those types of properties will default on the loan before defaulting on their own primary home loan.
Fannie Mae assumes that parents are not very likely to default on repayment for a disabled child's residence. The federal government allows for some flexibility to meet the financial needs of parents with special needs children.
This is good news for any parent considering buying a home for a handicapped or disabled adult child. With the extra work and dedication required to be a parent of a disabled child, it's good to know that there are assistance programs to help people make independent living a reality.
Practitioners must take time to find out disabled children's perception of events, understand their wishes and feelings, and support them to participate
It is cause for concern that there is so little research in both the UK and further afield about safeguarding disabled children. Nonetheless, consistent findings emerge throughout the available evidence.
Key messages from recent research
Stalker et al (2010), in a scoping study, found disabled children were significantly more likely to experience abuse than their peers and were subject to lower levels of reporting and registration. The study highlighted the risk of practitioners applying higher thresholds to disabled children because they saw abuse as attributable to the stress and difficulties of caring for a disabled child.
Guide for social workers
Chris Oborne has also written a social work guide on safeguarding disabled children and young people
Many practitioners said it was a challenge to communicate with disabled children, leading to difficulties in ascertaining the child's perception of events and understanding their wishes and feelings. Disabled children were seldom involved in case conferences and assumptions were made about their inability to give credible evidence or withstand the rigours of court processes.
In a study of lessons learned from serious case reviews, Brandon et al (2011) found practitioners paid insufficient attention to the abuse of disabled children. They allowed parents' voices to dominate; they didn't communicate with the child; they saw the disability, not the child; they accepted a different or lower standard of parenting than would be tolerated for a non-disabled child.
Explanations for bruising were accepted by practitioners without sufficient scrutiny, and bruising was somehow (but implausibly) connected with a child's disability. The researchers noted some professionals had difficulty believing disabled children could be deliberately harmed or neglected. In reviews concerning disabled children, researchers found the onus seemed to be on the child's capacity to communicate well enough, rather than the professional's responsibility to find ways of communicating.
An Ofsted thematic inspection on protecting disabled children (2012) found evidence that low-level risks were managed effectively through timely multi-agency early support. But it found children in receipt of children-in-need services too often had child protection needs that went unidentified. In some cases, decisions and assessments were not consistently well informed by previous concerns and cases were closed too early before risks were fully assessed.
Inspectors found many child protection plans were not sufficiently focused on outcomes, and it was therefore difficult to hold agencies and parents to account and to measure progress. The extent to which the views, wishes and feelings of disabled children were captured and recorded varied. Children were not always spoken to directly about the concerns for their welfare, even when they could communicate well.
The impact on practice
Social workers must recognise that disabled children are not only vulnerable to the same types of abuse as their able-bodied peers, they are also more vulnerable to abuse.
The impairment with which a child presents should not detract from early assessments of need, which consider possible underlying causes for concern. To protect disabled children, assessments must cover the ability and capacity of parents/carers to cope with the demands being placed on them.
All disabled children receiving children-in-need services, or subject to child protection plans, should have clear, outcome-focused plans, which are robustly reviewed and not allowed to drift.
Special attention should be paid to every child's communication support needs. The necessary time should be taken to ascertain the child's perception of events, understand their wishes and feelings and support them to participate. Practitioners should be aware of non-verbal communication systems, when they might be useful, and how to access them.
Questions for social workers to reflect on
Why are disabled children more vulnerable to abuse and neglect and what role can social workers play in reducing this added vulnerability?
What responsibilities do social workers have in ensuring that all disabled children know how to raise concerns?
What additional time and resources are required for disabled children if their account of abuse or neglect is to be made possible and their wishes and feelings heard?
Suggestions for further reading
Brandon, M., Sidebotham, P., Ellis, C., Bailey, S., and Belderson, P. (2011), Child and family practitioners understanding of child development: Lessons learnt from a small sample of serious case reviews, Department for Education, Research Report DFE-RR110
Department for Children, Schools and Families (2009), Safeguarding disabled children: a resource for local safeguarding childrens boards
Ofsted (2012), Protecting disabled children: thematic inspection
Stalker, K., Green Lister, P., Lerpiniere, J., and McArthur, K. (2010), Child protection and the needs and rights of disabled children and young people: A scoping study, University of Strathclyde
Does your kid seem to have "anger issues"?
Cleveland Clinic is a non-profit academic medical center. Advertising on our site helps support our mission. We do not endorse non-Cleveland Clinic products or services. Policy
If you're a parent, you've probably dealt with your fair share of tantrums, meltdowns, and freak-outs. Regulating our emotions is a skill we all have to learn, and some kids take longer to master self-control than others. But how do you know when your child's aggressive or violent behavior isn't just part of their learning curve vs. getting out of hand? And what can you do to help?
Why is my toddler so aggressive?
It's all about knowing what's developmentally appropriate. "We generally expect toddlers to experience some aggressive behaviors," says pediatric psychologist Emily Mudd, PhD.
"At this stage, kids tend to resort to physical expressions of their frustration, simply because they don't yet have the language skills to express themselves. For example, pushing a peer on the playground could be considered typical. We wouldn't necessarily call that aggression unless it was part of a pattern."
When to worry
By the time your child is old enough to have the verbal skills to communicate their feelings — around age 7 — physical expressions of aggression should taper off, Dr. Mudd says.
If that's not happening, it's time to be concerned, especially if your child is putting themselves or others in danger or is regularly damaging property.
Watch for warning signs that your child's behavior is having a negative impact, like they're:
Struggling academically.
Having difficulty relating to peers.
Frequently causing disruptions at home.
"These warning signs are cause for concern and should not be ignored," notes Dr. Mudd.
Your child's behavior may have an underlying cause that needs attention. ADHD, anxiety, undiagnosed learning disabilities and autism can all create issues with aggressive behavior.
"Whatever the cause, if aggressive behavior impacts your child's day-to-day functioning, it's time to seek help," Dr. Mudd says.
Start by talking with your pediatrician. If necessary, they can refer you to a mental health professional to diagnose and treat problems that may cause aggression.
Ideas to help with an aggressive toddler
Dr. Mudd recommends these strategies for helping your child tame their aggression.
Stay calm
"When a child is expressing a lot of emotion, and the parents meet that with more emotion, it can increase the child's aggression," she says. Instead, try to model emotional regulation for your child.
Don't give in to tantrums or aggressive behavior
For example, if your child is having a tantrum at the grocery store because they want a particular cereal, don't give in and buy it. This is rewarding and reinforces the inappropriate behavior.
Catch your child being good
Reward good behavior, even when your child isn't doing anything out of the ordinary. If dinner time is problem-free, say, "I really like how you acted at dinner." Treats and prizes aren't necessary. Recognition and praise are powerful all on their own.
Help your child learn to express themself by naming emotions
For example, you might say, "I can tell you're really angry right now." This validates what your child is feeling and encourages verbal, instead of physical, expression. Opening up the floor for conversation can help them find ways of getting their feelings off their chest in a healthy way.
Know your child's patterns and identify triggers
Do tantrums happen every morning before school? Work on structuring your morning routine. Break down tasks into simple steps, and give time warnings like, "We're leaving in 10 minutes." Set goals, like making it to school on time four days out of five. Then reward your child when they meet those goals.
Find appropriate rewards
Don't focus on financial or material goals. Instead, try rewards like half an hour of special time with mom or dad, choosing what the family eats for dinner or selecting what the family watches for movie night.
You're not alone with toddler aggression
If your child is struggling with self-control, incorporating these strategies into your parenting should help you rein in those behaviors.
If the situation seems unmanageable, though, remember that you're not the only one struggling with your child's behavior. Pediatric psychologists are skilled at helping children and families solve emotional and behavioral problems. Ask your pediatrician for the names of mental health professionals in your area.
Cleveland Clinic is a non-profit academic medical center. Advertising on our site helps support our mission. We do not endorse non-Cleveland Clinic products or services. Policy