Ready to jump on the DIY wedding band wagon but not sure where to start? How about decorating your wedding cake yourselves! Whether you bake the tiers at home or order some simple fondant covered cakes from Marks and Spencer, it's a piece of cake to add your own finishing touches – and we're going to show you how!
kriskarlweddings.com
STANDING OVATION
If you want your cake to garner compliments from your guests, it needs a sparkling foundation to stand upon. That's right – decorating your wedding cake doesn't actually start with the cake at all, it starts with choosing a cake stand, because before you can add the finishing touches, you need somewhere to actually put the cake! And there are more options than you might think…
We recommend styling your cake stand to suit your wedding theme or décor, so if you're holding a rustic wedding in a barn, go for a charming log slice or slate board. For city, contemporary or boho weddings, why not try a mirrored or geometric cake stand? And if you still can't choose, a timeless gold plate will always add a glamorous touch…
nelliephotography.co.uk
HAPPY TIERS
Tried, tested and turned to time and time again, tying ribbon around each layer is an easy and effective way to spruce up your wedding cake. You could colour match the ribbon to your bridesmaid dresses or flowers, or opt for different types (think lace, satin, organza…) to suit your theme.
While your wedding cake will take pride of place on display for much of the day, you do want it to be eaten after you've cut the first slice. For this reason the best cakes are also the ones that invite you to tuck in. Make it simple by decorating your cake table with pretty signs that encourage exactly that. You can try these heart-shaped blackboard labels for starters (they'll also look brilliant on your sweet jars!).
Whether you choose a naked, semi-naked, ganache, buttercream or fondant-covered cake, cascading flowers are the favoured decoration for many. They can be daintily made from sugar or provided fresh from your florist, but you can also add cascading artificial flowers. Using these will often save you money and means you needn't worry about keeping them their fresh best on the day. Naked and buttercream cakes can be given a more rustic look, ideal for barn and country weddings, while fondant offers a more traditional style for country house weddings.
And to top off your cake in sweet style? Add a cake topper of course! You could attach some of this Mr & Mrs bunting to cocktail sticks to put on top of cake or add miniature sparklers to each tier or cupcake in your tower – venue permitting – for a show-stopping sparkling effect just before you cut the cake.
francescasecolonovophotography.com
TABLE STYLE
Since you've gone to the effort of decorating your wedding cake so beautifully, it only makes sense to decorate the table it stands on too! Keep a few vases ready to display the bridesmaid posies, then scatter crystals across the table top for a glimmering effect. You can also make your cake table a decorative focal point – simply hang bunting above it and tie on colourful tassels (we love these blush and gold ones!) to fall from the tabletop to the floor to very simply create a cake table that becomes a talking point! Jars brimming with sweets and plates of cookies will also turn heads…
FACEBOOK
PINTEREST
EMAILSHARE
Courtesy of Heather Kincaid
It doesn't get more classic than a tiered white wedding cake. The traditional confection is wholly symbolic of weddings and will never go out of style. The only hard part about choosing a white wedding cake is deciding how you should embellish it to make it unique to you and your partner. Luckily, we found some pretty cool ways to decorate a white wedding cake to suit your wedding style and aesthetic.
If you want to make a white wedding cake more suited to your bohemian wedding, draping simple greenery along the tiers will add a relaxed and organic vibe to the dessert. Want to make a white wedding cake a little more modern? Try including geometric elements, like square tiers or a 3D-printed cake topper. If your wedding aesthetic is soft and romantic, then try adding fresh, full blooms in blush and pink hues to your wedding-day dessert. All these options are almost too pretty to eat!
Browse all 10 ways to decorate a white wedding cake, below. Plus, get some top tips from expert bakers on how to get the look.
Draw Inspiration from Your Wedding Dress
" data-caption="" data-expand="300″ data-tracking-container="true" />
Photo by Kaitlin Marie Photography
For a treat that's equal parts elegant and understated, Bree Meldrum of The Cake That Ate Paris took inspiration from her own wedding dress, with its hand-sewn pearls and crystal beads. "This was covered in edible sugar pearls and crystals for a wow factor that wasn't over the top."
Mix Modern and Romantic Details
" data-caption="" data-expand="300″ data-tracking-container="true" />
Photo by Brandon Scott
"I used gold geometric elements for a modern feel," says Toronto-based creator Bernadette Caleon-Escutin of Matamiese Cakes. "If you want to soften it up, add cream and blush-toned fresh flowers as accents that deliver a little romance."
Add Some Color
" data-caption="" data-expand="300″ data-tracking-container="true" />
Photo by Corbin Gurkin
Adding some vibrancy to a white cake isn't hard at all and can even be done last minute. Have your florist (or a friend!) buy some edible flowers in bright colors for a garden-fresh pop. Just make sure that the flowers are small in size so they don't overwhelm your cake.
Get Tropical
" data-caption="" data-expand="300″ data-tracking-container="true" />
Photo by Cari Courtright
For this take on a tropical theme, Negar Nadimi of Ma Petite Maison Cake Design let the event's florist take the lead: "Structural greenery makes a statement on its own; less is more when going for a minimal look," explains Kaylia Fisher of Tumbleweed Floral Truck.
Have Several One-Tiered Cakes
" data-caption="" data-expand="300″ data-tracking-container="true" />
Photo by Christa Donald
Conflicted as to how to make your white wedding cake stand out? Why not have multiple one-tiered cakes (in different flavors!), all displayed on a dessert table? This is a good way to create a visual impact without having to have a huge, over-the-top cake.
Go Classic
" data-caption="" data-expand="300″ data-tracking-container="true" />
Photo by O'Malley Photographers
A white buttercream cake feels garden-wedding-ready when adorned with traditionally bridal blooms like white roses. Add some greenery like eucalyptus for a slightly more organic feel.
Keep It Monochromatic
" data-caption="" data-expand="300″ data-tracking-container="true" />
If you want a subtle upgrade to the classic white wedding cake, add some white 3D elements (like sugar flowers or fondant trim) to the tiers to keep things interesting but still quiet.
Add Pressed (Edible!) Flowers
" data-caption="" data-expand="300″ data-tracking-container="true" />
Courtesy of Heather Kincaid
To achieve this bohemian rhapsody, Loria Stern of Lori Food and Cakes used edible pressed flowers—an easy way to add a unique spin to buttercream tiers. You can do it to your cake, too, with handpicked pressed blooms from the caterer's organic garden in Montecito, California ($40 for 20).
Hand-Painted Details
" data-caption="" data-expand="300″ data-tracking-container="true" />
Get inspired by a favorite swatch of fabric or wallpaper, and have your baker print or hand paint the fondant with the print for a fresh take on the classic white wedding cake.
Try Non-Round Tiers
" data-caption="" data-expand="300″ data-tracking-container="true" />
Photo by Kyle John
If you want something unconventional without over-the-top embellishments, consider uniquely shaped tiers like this square-shaped cake.
For a bride on a budget, paying a large sum of money for a wedding cake may seem completely outrageous. But what are the alternatives, particularly when you don't have any baking experts in your family? Turns out, making a wedding cake is not as difficult as one might think. There is some significant planning and effort that will need to happen, so make sure you carefully weigh the expense of a cake versus your time (and expectations) as you make your final decisions. And if the cake isn't your thing, you can always serve pie, ice cream, or even an ice cream sundae bar at your wedding.
Planning Ahead
If you choose to make your own cake, allow yourself some extra time and manage expectations: you (or your bridesmaids) are likely not going to be able to craft a fondant-covered confection worthy of a magazine spread. Simple, rustic decorations are more achievable. You'll also want to plan your calendar accordingly. Take time to make a test cake and keep careful notes.
You should use a recipe specifically designed to be a wedding cake as it will ensure that it is sturdy enough and that it makes the right amount of batter and icing. For a three-tier cake, you need to make three cakes of 12″, 9″ and 6″, as well as a massive amount of icing. Most three-tier cake recipes have a step-by-step schedule for when you will need to bake and assemble each part.
Tools You'll Likely Need
When ready, first assemble all of the tools you will need. Make sure you double-check the recipe and read it all the way through to see if there are tools besides these:
All ingredients for baking and icing the wedding cake
12″, 9″, and 6″ cake pans, each 3″ tall. (available at craft stores and baking supply stores).
Parchment paper to line the pans
Large serrated knife
Cardboard cake boards (available at baking and craft stores) in 12″, 9″ and 6″
10 non-flexible straws
Offset spatula
A platter to serve the wedding cake on
To add decoration: a pastry bag with a round tip between size 3 and 7 for piping, and a toothpick for tracing
Decorations like fresh flowers, cake toppers, etc.
Lazy susan to use when decorating the cake
Decorating and Storing
Think ahead of how you want to decorate your cake and practice piping or icing ahead of time. You can easily make extra icing and practice shapes on test cakes (or even on silicone mats). Secure a wedding topping, flowers, or other decorative items well before the wedding. If you are using fresh flowers, be sure to order exactly what you want from a florist. Lastly, you will need to clear a large space in the refrigerator, perhaps taking out a shelf for the cake. You'll also need to arrange transport for the cake to the wedding venue. Speak to the caterer or venue manager about cake transport and refrigeration details at the event.
The wedding cake is one of the central features of a wedding reception, and one which everyone looks forward to seeing on a couple's big day, which is all the more reason to truly go all out with how it's designed. And with so many ways to build and decorate your cake, from a single-tiered confection with fondant to a multi-tiered one covered in buttercream or ganache icing, you may feel like you're spoiled for choice.
We've already explained how important wedding flowers are for a bridal bouquet, but have you ever thought of incorporating floral arrangements into how you decorate your wedding cake? Fresh flowers, for instance, can add colour and shape to your cake for a pretty low cost compared to other traditional decorations like sugar-paste flowers. Plus, they are naturally beautiful, and smell incredible even if they don't last very long. However, not all flowers are a good idea, and while many different kinds are edible, others are definitely not aren't safe to eat. Read on to learn all you need to know about decorating a wedding cake with flowers.
Are fresh flowers safe on cakes?
Fresh flowers are safe to use as cake decorations, as long as they come from a reputable organic source that hasn't used any harmful chemicals to grow them. To ensure you don't use potentially dangerous flowers, it's safest to stick to edible flowers grown specifically for human consumption, with no toxic pesticides involved. Using inedible flowers, could cause a range of symptoms if touched or ingested. However, despite being labelled as edible, it's normally only the petals which are safe to eat.
Flowers bought from a supermarket, garden centre or florist are to be avoided, as these have likely been sprayed with insecticides, herbicides and fungicides that aren't safe to eat. Chemicals like these could make a flower poisonous, but flowers from these sources can still be placed on your cake if done strategically. If the baker thoroughly washes and dries them, they can be used for decoration only, and should be marked as such to your guests. The stems should also be wrapped in order to prevent any bitter tasting fluids from leaking into the cake — these aren't poisonous, just not tasty to eat.
Most cake makers will use specifically designed holders to put flowers on your cake anyway. This minimises any risk and allows them to arrange blooms without impacting the cake. Same applies to well-trained florists – they will always make sure that flowers are not in direct contact with the cake.
Discover three creative ways to design your own stunning two-tier wedding cake for the special day using our easiest ever guide to creating a showstopper.
This simple yet impressive wedding cake can be decorated in three different ways using Miriam Nice's delicious step-by-step easiest ever wedding cake recipe. The whole cake takes only 1 hour to bake, can be colour-matched to your wedding and costs under £35!
Option 1: floral design
(keeps for 2-3 days)
Dye 200g of your buttercream the colour of your choice using a few drops of food colouring.
Fill and cover the cake with the remaining buttercream.
Add a few daubs of the coloured buttercream on one side and blend it with the base colour using a cake scraper.
Go round the cake a few times with the cake scraper to create a rustic but smooth finish.
Decorate with edible flowers such as organic roses, and fresh herbs like rosemary, bay and thyme.
Option 2: ruffle design
(keeps for 3-4 days)
Roll 700g of white fondant icing out on a surface dusted with icing sugar. Drape over the largest cake after the buttercream has chilled, but before stacking. Smooth it over, then trim off the excess.
Do the same with 400g white fondant icing for the top layer, then stack the cakes.
Take a block of 600g white fondant icing and pinch off pieces each about the size of a large strawberry. Roll into thin, wide strips (it's preferable to end up with a mixture of lengths), then use a sharp knife to cut them lengthways to create two pieces.
Make a thin paste using icing sugar and water, then spread a little along the flat edges of the strips.
Stick them to the sides of the cake, starting at the bottom and working up. Bend the fondant to create pleats and waves.
Overlap from the bottom up until all the sides are covered.
Decorate with a cake topper if you like.
Option 3: polka dot design
(keeps for 3-4 days)
Roll 700g pink sugar paste out on a surface dusted with icing sugar. Drape over the largest cake after the buttercream has chilled, but before stacking. Smooth it over, then trim off the excess.
Do the same with 450g of white fondant icing for the top layer.
Make a thick paste using icing sugar and water, and use it to stick on white chocolate buttons and white chocolate jazzies onto the larger cake to create a polka dot effect.
Push 2-3 tbsp edible silver balls into the smaller layer's icing, then stack the cakes.
Add a cake topper and a ribbon, if you like.
Baking tips:
Ovens do vary, so you may find the larger cake takes longer. If so, cover with foil after 1 hr and check again every 10 mins.
Make sure the wedding catering staff are aware that there are straws inside the cake before they serve it.
Only ever use edible flowers and plants to decorate.
Looking for more wedding inspiration? Check out our beautiful wedding cake collection and DIY wedding guide, plus some tasty ideas for a stylish wedding buffet. If you want to get more creative with wedding cake decoration, here are some more helpful design tips and videos:
Master cake decorators can craft flowers from gum paste and sugar that look like real flowers, but fresh flower decorations look just as beautiful and are much easier for beginner cake decorators to arrange. While suitable for any occasion, real flowers are often used to make wedding cakes stand out as the wedding reception centerpiece. Arrangement options vary from small accents to bold arrangements on each tier.
Decorating With Flowers
Edible flowers that can be served and eaten with the cake include day lilies, roses, lavender and hibiscus, but you can use inedible flowers and remove them just before serving. Poisonous flowers should never be used, and you must be cautious to avoid pesticides that might have been sprayed on the flowers. Make a longer stem with florist's wire so you don't have to insert the flower stem in the cake if the flower must be anchored. Place a piece of wax paper between the flowers and cake so the flowers don't actually touch the cake. Small plastic covers on the stem ends prevent water in the stems from leaking onto the cake. Flowers lose freshness quickly, so wait as long as possible to arrange the flowers before displaying or serving the cake. Cakes for weddings or other occasions that use fresh flowers for decorations should display the same flowers as used throughout the event. Ask the florist to set aside the freshest flowers for cake decor.
Accent Flowers
A few accent flowers placed on a cake add subtle color and texture while keeping the design simple. Group three to five flowers together in a cluster at each accent point. A single accent works best on top of a single-tier cake, but you might use two or three accents on multiple-tier cakes. For a four-tier cake, for example, start with a cake topper on the top tier and add a total of three accent flower groups on alternating sides of each tier. Put some of the flowers on the tops of the tiers with some pushed into the side of the cake for a cascading effect. Similarly, you can arrange flowers in a spiral around the cake, making it appear like a ribbon of continuous flowers.
Flowers on Tiers
Make a bold statement with a cake centerpiece by arranging flowers around all sides of each tier. This type of decoration looks best when the flowers are placed on their sides so the openings face out, away from the cake. Decorate with a single flower type on the entire cake; use a different type of flower for each tier; or arrange three to five flower types together on each tier. Place the largest flowers around the cake tier first, spacing them evenly for visual balance. If the ledges created by the cake tiers are too short for the flowers to rest in place, push the stems into the sides of the cake with floral wire. Fill in the spaces between the larger flowers with progressively smaller flower varieties, finishing with fillers such as baby's breath or fern.
Flowers Between Pillars
Multiple-tier cakes with pillars have openings between the tiers where you can arrange the fresh flowers. This is the best option if you want to make certain the flowers don't actually touch the cake. A small board is placed on top of the cake tier to support the pillars, providing a frosting-free location for displaying flowers. Cut out a dome-shaped piece of foam block roughly half the diameter of the pillar board. Push the flower stems into the foam with floral wire to make a small arrangement. When assembling the cake tiers for display, place the board on top of a cake tier and set the pillars in place around the outside of the board. Center the foam block flower arrangement on the board before setting the next cake tier on the pillars.
While rolled-on fondant has been the go-to style when it comes to decorating traditional wedding cakes, some people would try for something more unconventional, offbeat, and whimsical when it comes to cake decorating; hence, the rising popularity of the naked cake.
But what is a naked cake, exactly? Let's start with what a naked cake isn't. For one, it doesn't have fondant or frost to cover the cake. Simply put, it's a cake with bare sides. An unfrosted cake, with its layers and fillings exposed for all the world to see, the top garnished with mounds of mixed berries, or perhaps glazed with chocolate or caramel syrup, and liberally dusted with icing sugar all over. Inspired by celebrity pastry chef Christina Tosi of the Momofuku Milk Bar fame, the naked cake has become a deal-changer of sorts during the wedding season, especially if the theme of the wedding is rustic or shabby chic.
Here are some of the things you have to take note of when preparing a naked cake on your own:
Keep it fresh! Unlike traditional fondant cakes which you have to prepare ahead of time in order to have enough time for the actual decoration, naked cakes are prepared a day before or even on the day of the event. Unfortunately, a naked cake dries out much quicker so assemble it as late as possible, in order to keep its freshness.
Keep it nice and even! Since there is no fondant or frost to hide the flaws in your cakes, you need to make sure that they come out of your pans nicely firm and even, with no crusty edges. Prep up your pans by greasing them thoroughly, and distribute the cake batter evenly. Remember that the sides of the cake will be the star of the show; hence, it's important to make sure these come out beautifully once you pop them out of the pans.
Make it precise! Before you cut your cake into layers, measure them. Not only do equally-sized layers add to the aesthetics of the cake, they also add to the overall stability.
Choose the perfect layer cake filling! As a cake decorator, you also need to consider where the cake is going to be displayed. Is it going to be outside, where it's hot and humid? Don't allow the weather to ruin something you've worked so hard for – choose a filling that will not easily melt in the heat and will cope easily with any kind of weather.
Keep it simple! You may be tempted to generously fill your cake but note that it might compromise stability. Overfilling your cake, especially during warm weather, could be a recipe for disaster. The weight of the next layer or the next tier will automatically make your filling spread out, so always make sure to leave a small gap at the edges of each filling.
Make it stable! Chill each cake in order to firm up the buttercream, cream cheese, or whatever filling you choose to layer your cake in, as this make the cakes stable enough to withstand transport. However, you need to be careful not to overdo the chilling, because this method will dry out the cake, which is something we need to avoid. After chilling the cakes, center dowel each tier to provide additional support and stability.
Keep it moisturized! One the major concerns when making naked cakes is that they don't have the fondant or frost to keep the cakes from drying out. You can remedy this by brushing up the sides with a small amount of sugar syrup to lock in moisture, without changing the cake's flavor. But not too much as it can make the outside of the cake look soggy.
Keep it real! Now that you're done with the baking, filling, and stacking, it's time to put the finishing touches. You don't have to decorate the sides of the cake, but you do have to decorate the top with embellishments. Naked cakes don't typically go well with gum paste flowers, so in keeping with the 'natural' theme, natural elements should always be incorporated. The sky is the limit with this one, so get creative and put in things such as seasonal fresh fruits, freshly cut flowers, foliage, succulents, nuts, or figs.
There are no hard and fast rules when decorating a naked cake. Consider the sides, the fillings, and the toppings as the most important factors in the aesthetics. And whether you want clean and precise lines or muddled and uneven layers, and whether you want a towering cake or a petit gâteau, always remember that there is no wrong way to go about creating the perfect naked cake, and that's the beauty of it.
Thanks for the help to Niki S Kunos, owner of Oh My Cake!
S ometimes you want to do something slightly non-traditional for your wedding. Maybe it's to save money or maybe it's to make things simpler. You tell your mom/sister/best friend/mother-in-law your fabulous idea, and a grim look passes over their face, and then they shut it down. "No way," they say, "It'll never work. It will look terrible." Well, this post is for those of you who want to buy grocery store cakes for your wedding cake. (Because there has to be a happy medium between buying a fancy cake and making one from scratch, right? Right?!) Bookmark this, and instead of explaining your idea to your mama, show it to her.
Last week we showed you how to turn a dubiously decorated grocery store sheet cake into a hip wedding cake, because let's be for real: not every town has fancy gourmet grocery stores (we then endured enjoyed the great cake controversy of 2013). But should you find yourself in the land of the fancy grocery stores, know that they are the untapped magic land of affordable cake. We got our cakes at Whole Foods (who will decorate cakes for you with just forty-eight hours notice and have quite the menu). For this tutorial, we assumed that you had to work with what was in the cake display. I picked (in photographic order) a Tiramisu cake, a Chantilly cake, and a Strawberry cake, because the sides of each one had an interesting texture or pattern that helped take a little pressure off when it came to decorating. In retrospect I would have picked all Chantilly cakes because PUT IT IN MY MOUTH SO GOOD DEAR GOD. Whole Foods claims that each of these cakes serves ten to twelve people, but I want to clarify that would be ten to twelve people with enormous stomach aches, because these three layer cakes are huge. No one on set managed to eat more than a very thin slice, and we all love to eat. I'd say these three cakes would pretty easily feed sixty, and that Whole Foods is out of their minds.
The keys to this tutorial are this:
If you want a cake to look fancy, put it on a cake stand.
If you want three different cakes to look fancy, put them on matching (or coordinating) cake stands.
If you put flowers on a cake it looks all wedding-y.
Mmmmm cake.
If you want to replicate the cakes below exactly, you'll need the following spring flowers:
Purple Stock
Two Pink Garden Roses
Hanging Amaranthus
Sweet Pea
Pink Peony
Yellow Garden Freesia
Once you remove the extra frosting, fruit, and decorations from the top of each cake, eat it, and smooth as necessary—you can affix your flowers. We played around until we found the right balance, but as a general tip, putting a few smaller flowers underneath one of the big flowers is basically what takes it from looking like, "Oh hey, that's a flower on a cake" to "Oh heyyyy look at that pretty cake with the flowers on it!"
Then serve and eat. Your mama won't know what hit her.

All the tips and inside tricks you need to know to make a wedding cake! DIY at it's finest for those of you trying to figure out how to make a wedding cake… even if you're not a professional! I'll give you some great ideas on how to make a fabulous tiered cake look perfect!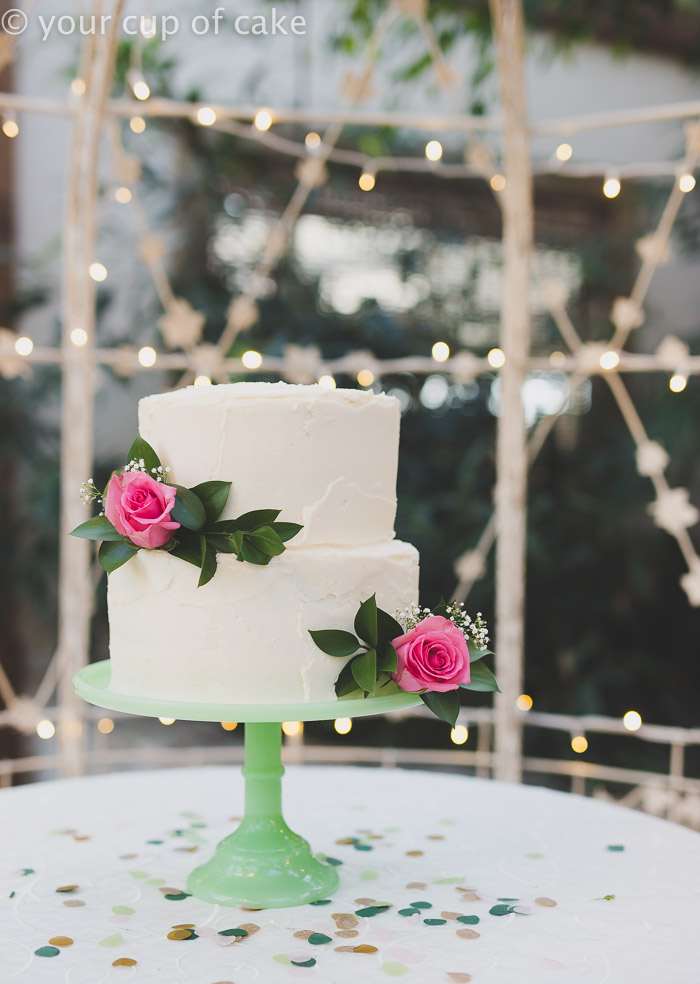 A friend of mine got married a few weeks ago, and he asked me to make his wedding cake. Uhhh… I've never made a wedding cake before. Sure, I've made some gorgeous cakes, but a tiered cake is a whole other ball game. Plus, what if I mess it up? It's not like I can say, "Hey, I'll try again tomorrow." I was stressed! But I decided to take the challenge.
I've catered plenty of weddings making cupcakes, and I even have a post on how to cater a wedding, but I wanted to turn my wedding cake experience into a how to as well!
First: Bake the cakes!
-Everyone has their own recipe preference so use whatever recipe you like best.
-But when it comes to choosing the pan sizes… the magic number to remember is you want a 2-inch different between your pan sizes. (3 inch will work fine too.) My bottom tier was made of 10-inch cakes and my top tier was 8-inch cakes. There's a 2 inch difference between the pans, that that's usually the look traditional wedding cakes have!
-Line the bottom of you pans with parchment paper for easy release.
–Freeze yo cake layers! I'm serious. This will keep your layers from breaking as you move them around. You can get away with smaller cake layers, but when it comes to the 10-inch cakes… it's dangerous. So freeze them! Just 30 minutes will do! I just go early to the reception venue and they will usually have a huge freezer there that I'll use.
Frosting:
–Make plenty of it. The last thing you want is to be running out of frosting. the trick to a professional looking cake is a sharp edge between the side and top of your cake.
Travel:
-Pack all of your cake layers and frosting up well. Assemble at the reception location.
-Drive like you have 10 babies in the car who are sleeping, but if you wake them they will scream bloody murder. 🙂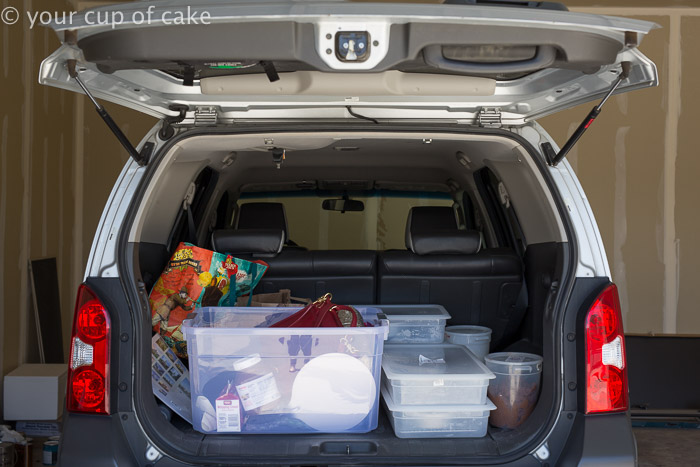 I find all my big food tupperware at restaurant supply stores! Most cities have them, so find out where one is close to you and go browse! I find the funnest things at those places… they're like my Disney Land 🙂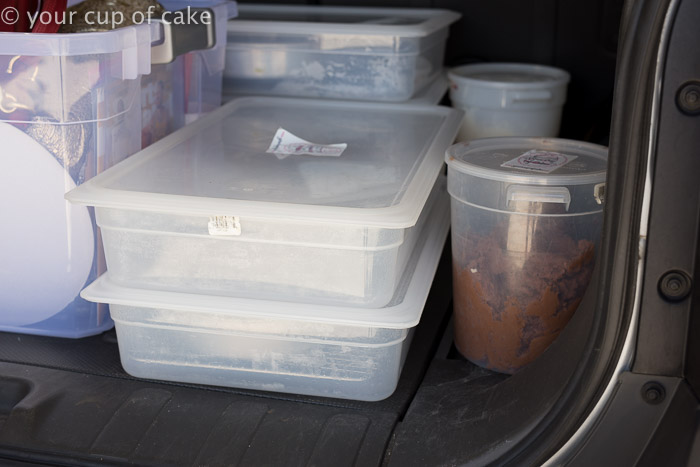 Bring:
-Besides the cake, frosting, and cake stand, you'll need some extra things… Mixing bowl, spatulas, offset spatula, piping bag and tip, powdered sugar, milk or cream, scissors, hair tie, straws, cake boards (bought or made from cardboard).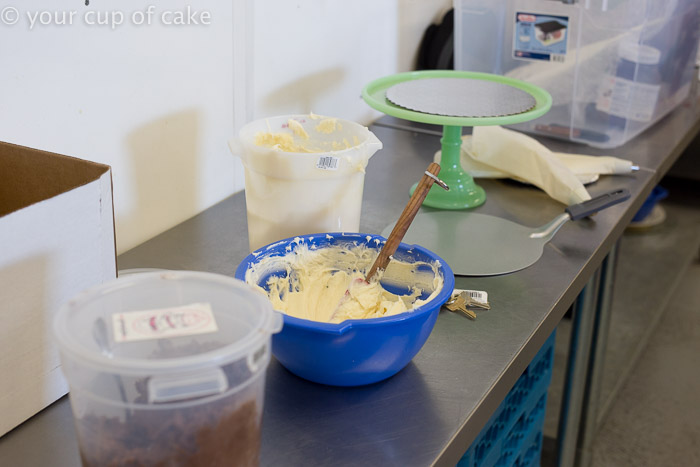 The hard part about decorating on site is that you never know what the temperature of the kitchen will be! It could be freezing cold or chilly! If you get to the venue and it's so cold your frosting is rock solid, you'll need to add milk or cream to your frosting to loosen it up. But if the kitchen is hot, you'll need some powdered sugar to make it more stiff. Always be prepared.
Decorating:
-I like to pipe my frosting on first and then smooth it out with an offset spatula. I feel like it's faster and less messy.
-You're probably saying "Where's the rotating cake stand for decorating. " Well I have one, but I don't like using it! Plus, I'm trying to prove to you that you don't need one! Just use your offset spatula and smooth out all the frosting and do your best to make the sides straight up and down.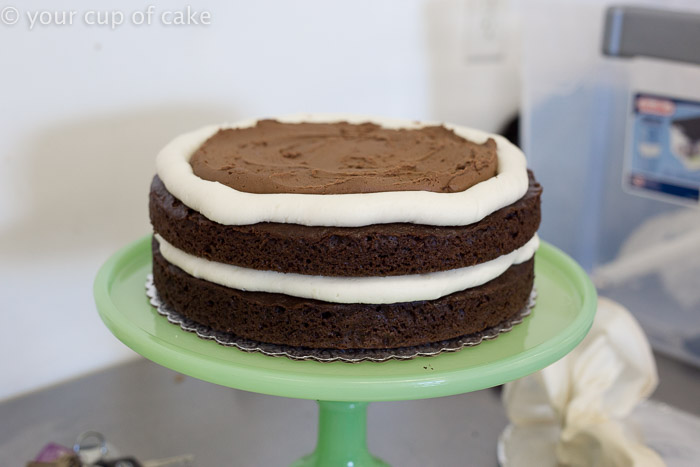 This cake had a Nutella buttercream filling and a hazelnut buttercream on the outside, since I didn't want the chocolate filling bleeding to the outside, I piped a dam around the filling on each layer.
Support System:
–Tiered wedding cakes need support inside. This happens with a combination of two things… the cake boards under your tier and using wooden dowels (or straws which is what I used because it's easier). The cake boards (which you can make by cutting out a cardboard circle and covering it with aluminum foil or you can buy them) distribute weight. But the straws help to keep the weight on the cake stand and not on the cake layers underneath. Have you ever seen a cake that "sags" and one of the tiers seems to be sinking into the bottoms layer? They didn't use supports! Simply insert your straws into the first tier and then cut them off (you'll want all the straws the same height) and then keep building your cake on top of them. (So you would put a cake board on top of the straws and then the cake layers with frosting.)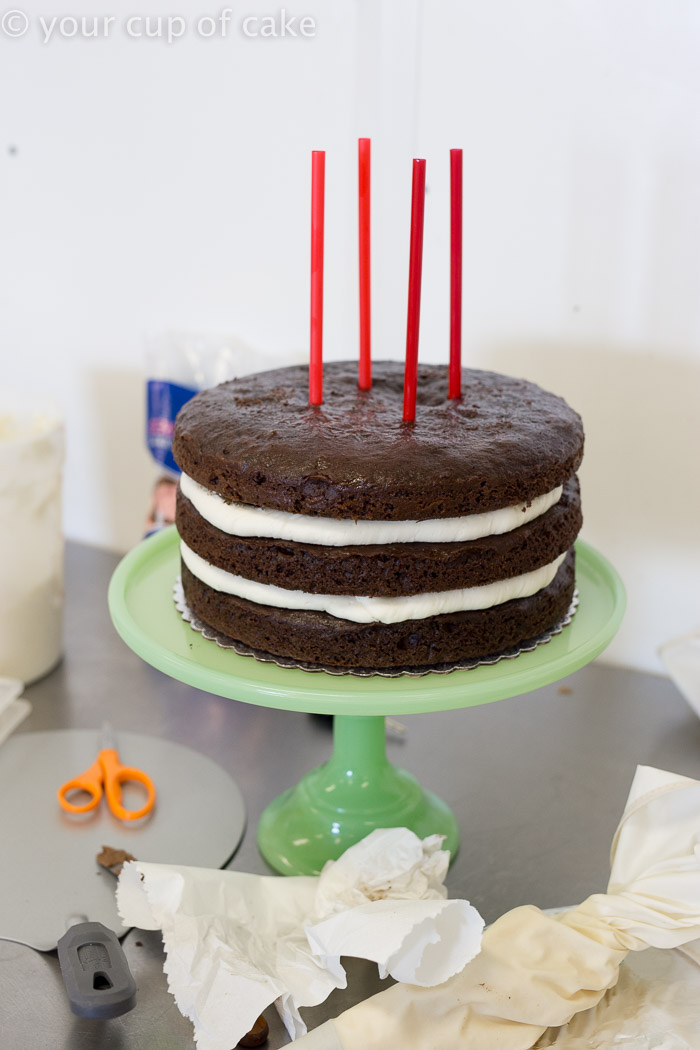 So above is when I stuck all my straws in, and then below I cut them off so that they were level with the cake!

I loved this photo because it looks like some middle school project, but it's going to be gorgeous.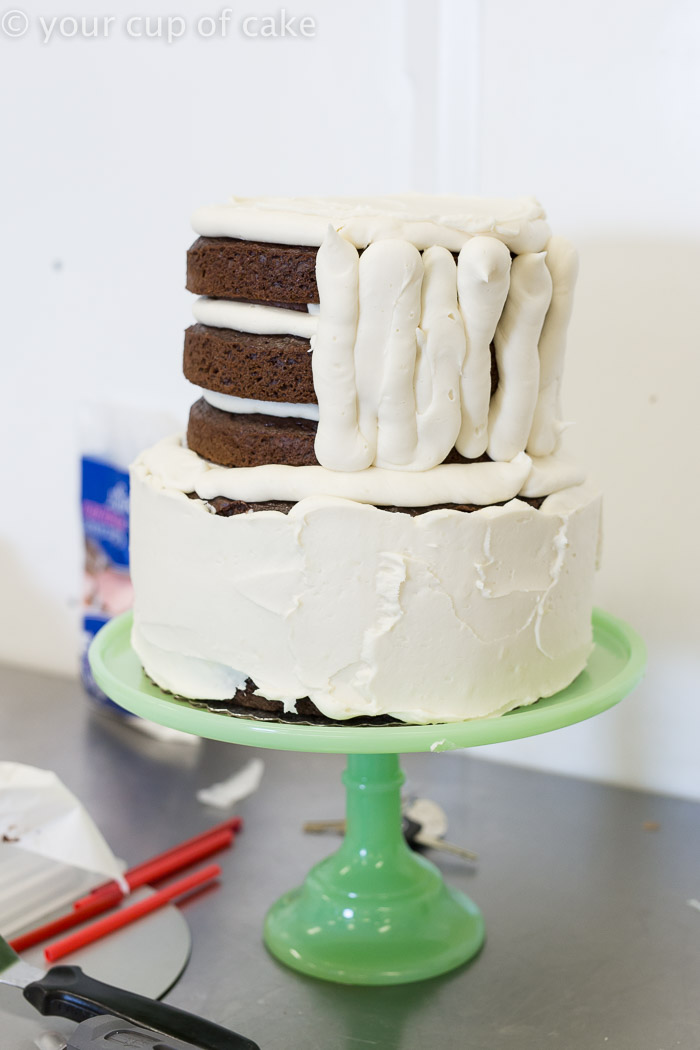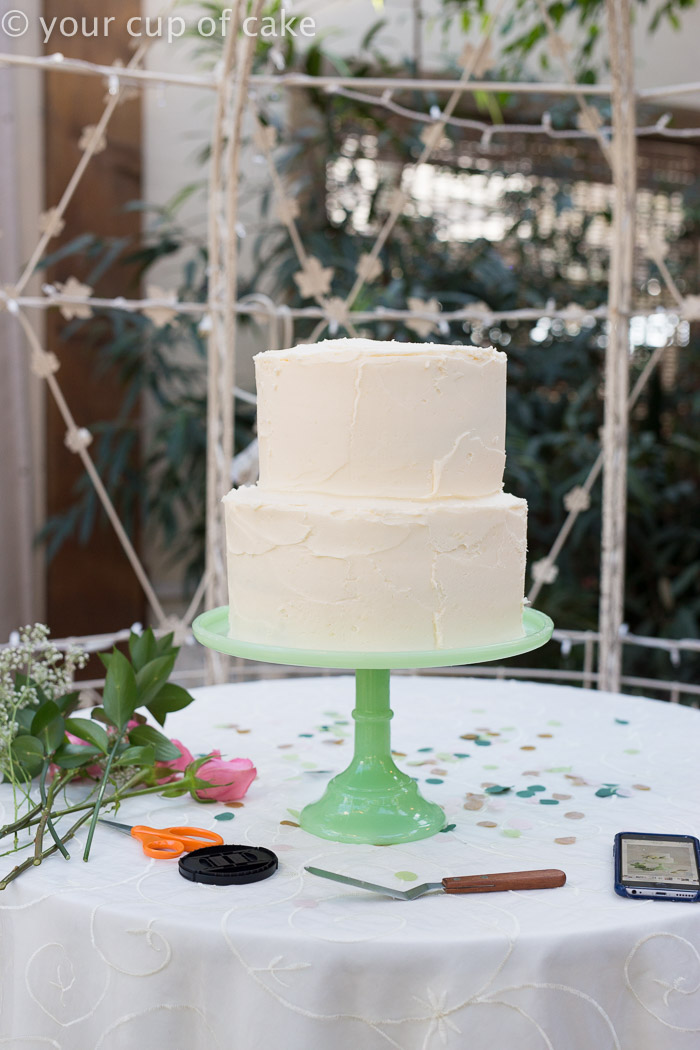 Fresh Flowers:
-These will add all the magic to your masterpiece. I just googled something like "fresh flowers on wedding cake" and looked at the photos while I tried to place them. I just stuck in the greenery into the cake and then used the roses to pin the leaves so that sort of curved around the cake.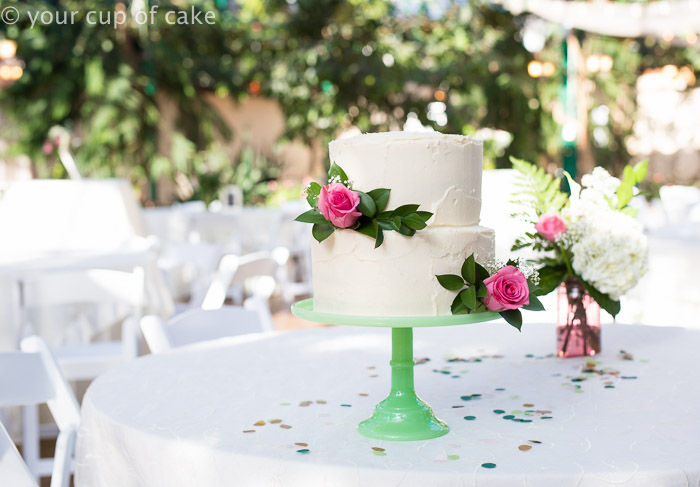 I just poked the stems right into the cake! If you decide you want to take it out, don't fret! Just use a little frosting to cover up the hole.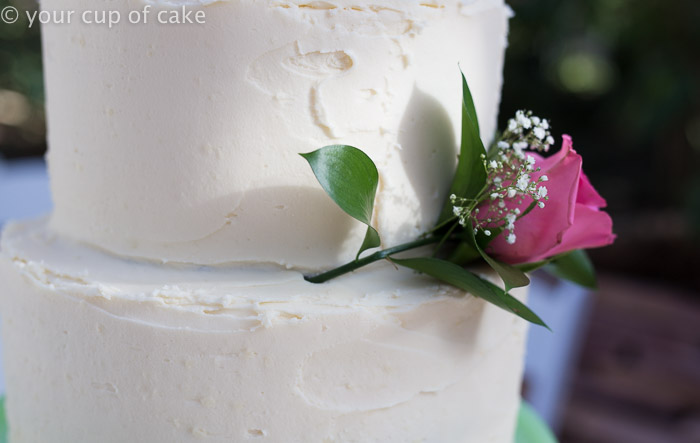 Tah-dah! It's really not too hard! Give yourself about an hour to decorate it on site and you'll be fine.
Transcript
Hi. My name is Michelle Doll, and I'm a cake designer. I'm actually a career changer. I spent ten years in the graphic design industry, working in corporate identity development, and while that was great, it's not what I wanted to be when I grew up. So I went to the French Culinary Institute down in SoHo and studied their professional pastry program. After that, I went to work for Ron BenIsrael. He's one of the best, if not the best, cake designer in the world. I was with him for over a year as a sugar artist. After that, I went to work for a patisserie in Brooklyn called Colson. It's a Belgian place. I was there for a little over a year, doing both sweet and savory. So it was really nice not to eat wedding cake every single day and getting to stretch my wings a little bit and do soups, salads, sandwiches. We'd be up in the middle of the night rolling our own croissants. We did everything there.
After that, I was approached by Food Network to do a throwdown with Bobby Flay. It was the wedding cake episode, and I won, so everything became about wedding cakes again. So for the last seven, eight years, I've had my own wedding cake company called Michelle Doll Cakes. Our website's michelledollcakes.com. I get to take in all of my graphic design experiences as well as my baking experience and create something perfect for brides that way.
And I'm branching out a little bit more. For the last two years, I've been teaching at different culinary schools around the city, both sweet and savory. I teach two to three savory classes a week, and I absolutely love it.
The Cake Boss is famous for making tasty, elaborate cakes. These delicious wedding cake recipes from Cake Boss are sure to be a hit at any event. They are moist and flavorful, perfect for any special occasion.
These cakes require some baking experience to make but are great recipes to use if you are new to baking cakes. Not only are they great for small weddings, but they are also great for birthday parties, graduations, and anniversaries. You will definitely want to keep these recipes on hand for any special event.
Table of Contents
What You Will Need To Make Wedding Cake Recipes From the Cake Boss
Ingredients
For the White Velvet Wedding Cake recipe, you will need:
1 box white or vanilla cake mix 16.25 oz
1 cup granulated white sugar
1 ⅛ cup cake flour
⅛ tsp salt
1 ⅓ cup of water
3 eggs
½ cup butter
1 cup sour cream
1 tsp vanilla extract or almond extract
For the Vanilla Cake recipe, you will need:
2 cups sugar
4 eggs
2 1/2 cups all-purpose flour
1 cup milk
3/4 cup vegetable oil
2 1/4 teaspoons baking powder
1 teaspoon vanilla extract
Equipment
For the White Velvet Wedding Cake, you will need:
Stand or hand mixer
Large mixing bowl
Two 8 or 9-inch round cake pans
Wire rack
Cooking spray
For the Vanilla Cake recipe, you will need:
Large mixing bowl
Stand or hand mixer
Two 9-inch cake pans
Wire rack
Rubber spatula
Step by step instructions: White velvet wedding cake
Step one: Prepare oven and pans
Preheat your oven to 325 degrees Fahrenheit and grease your two round cake pans with cooking spray.
Step two: Combine the wet ingredients
In a large mixing bowl, add the water, extract, eggs, melted butter, and sour cream. Mix the ingredients together until well combined with a paddle attachment.
Step three: Add the dry ingredients
Add the cake mix, sugar, cake flour, and salt to the wet ingredients. Mix the ingredients for about two minutes at medium speed until it is smooth and free of lumps.
Step four: Bake the cakes
Pour the cake batter into the prepared cake pans and bake for 40 minutes or until a toothpick inserted in the middle comes out clean. Let the cakes cool for 10 minutes in the pan before turning them out onto the wire rack.
Step five: Decorate the cakes
Step by step instructions: Vanilla cake
Step one: Preheat the oven and prepare the round baking pans
Preheat the oven to 350 degrees Fahrenheit and grease the two round cake pans with cooking spray and sprinkle with flour.
Step two: Add the flour, sugar, vegetable oil, baking powder, vanilla, and salt
Add the flour, sugar, vegetable oil, baking powder, vanilla, and salt to a mixing bowl. With a paddle attachment, mix the ingredients together on low speed for a few seconds before increasing the speed to low-medium. Continue mixing the ingredients for one minute until smooth.
Step three: Add the eggs
With the mixer still running at medium speed, at the eggs one at a time. Wait to add the next egg until the previous egg has been fully incorporated. Scrape down the sides of the bowl as needed to ensure the ingredients are thoroughly combined and continue mixing for one minute after all the eggs are added.
Step four: Add the milk
With the mixer on low speed, add the milk one-half cup at a time, scraping down the sides of the bowl as needed. Continue mixing cake batter for another minute until smooth.
Step five: Bake the cake
Pour the cake batter into the two cake pans and bake for 25 to 30 minutes, until a toothpick inserted in the middle comes out clean. Allow the vanilla cakes to fully cool on a wire rack.
Step six: Decorate the cake
Once the cakes are completely cool, decorate them with buttercream or your favorite frosting and add your favorite filling if desired.
Tips And Tricks
For the best results, make sure that you use room-temperature ingredients when baking your cake. This will give your cake a light and fluffy texture and will help ensure that it comes out tasting delicious.
Store your cake at room temperature in an airtight container for up to two to three days. You can also store your cake in the fridge for five days or in the freezer for three to six months.
Servings And Preparation Time
White Velvet Wedding Cake
Amazing Wedding Cake Recipes From Cake Boss
Whether for a wedding or a special event, these amazing recipes are sure to be a hit. They require beginner to intermediate baking experience, making them a great choice to make if you are relatively new to baking. They both have great flavors and texture while also making a great base for adding your favorite frosting and filling combination.
Did you enjoy these tutorials for making these wedding cake recipes from Cake Boss? If so, please share your thoughts on these wedding cakes in the comments below and share this post with your friends and family.
FAQs
What Type of Cake is Best for a Wedding Cake?
A traditional wedding cake is a white, almond-flavored cake. However, other popular wedding cake flavors include white, vanilla, yellow, red velvet, chocolate, marble and lemon.
Does Cake Boss Use Cake Mix?
Some Cake Boss recipes use cake mix with a combination of additional ingredients. However, they also have many recipes that are made from scratch.
How Do You Make a Cake Taste Like a Bakery Cake?
To make your cake taste like a bakery cake, use milk instead of water and add an extra egg. You can also replace the vegetable oil with melted butter.
Is There a Difference Between a Wedding Cake and a Regular Cake?
Traditional wedding cake uses almond extract and vanilla extract, whereas most regular cakes just use vanilla extract. They also tend to contain sour cream as well to enhance the flavor and texture.
There's no doubt that almost everyone looks forward to eating a slice of delicious cake during a wedding reception. Plus, sampling wedding cakes while planning your big event is an absolute must. One recent trend involves ditching the wedding cake frosting and displaying a decorated naked cake instead. If you are interested in exploring naked wedding cake ideas, you may soon find that you absolutely love this unique, modern twist to a classic wedding confection.
When it comes to naked wedding cakes, you'll find that they have a few advantages. First of all, because they tend to dry out faster than fully frosted wedding cakes, bakeries often bake these creations within 24 hours of your event. In turn, this results in a fresh, yummy wedding cake for you and your guests. Also, you may save some money if you go this route since some naked wedding cakes cost less than their more intricately frosted alternatives. This is mostly because naked wedding cakes are less labor intensive to assemble than frosting-topped cakes.
If you are ignoring the possibility of a naked wedding cake because you envision just a boring bare cake, wedding cake decorations make it anything but. Instead of traditional frosting, memorable decor may include gorgeous floral accents, personalized cake toppers, chocolate shavings, fresh fruit, powdered sugar, candy, metallic accents, and chocolate or berry drizzle. And remember, just because your cake is bare on the outside, it doesn't mean it can't be loaded on the inside with layers upon layers of frosting. Honestly, we're not even sure these phenomenal cakes can really be considered "bare."
How to Put Artificial Flowers on Cakes
What Is the Proper Presentation of a Wedding Cake?
How to Decorate a Gazebo With Wedding Tulle
How to Keep a Wedding Cake with Buttercream Icing from Melting in the Sun
How to Garnish a Cake
Adding lights to a cake gives it an ethereal feeling and a sense of magic at the wedding. Although the process is fairly simple, preparation is key, so make sure you leave yourself plenty of time to work on your project. Some wedding couples prefer that their wedding be as unique as possible, and adding lights to the cake is definitely an option. However, you can use this technique on practically any cake, even single layer cakes.
Bake the cake in the flavor of your choice and ice it with the icing that you prefer.
Put assorted flowers on the cake in a pleasing arrangement. Larger flowers should be on the bottom layer, with smaller flowers up higher on the cake. Ensure that you are using pesticide free flowers and greenery, or opt for plastic materials.
Freeze the cake and flowers for at least six hours in a large freezer. This will ensure that the lights do not damage the finish of the cake.
Clean your battery operated plastic coated rope lights with a damp rag and a small amount of soap. Wipe the rope lights clean with a separate damp cloth to remove any soap that is left and allow the rope lights to dry completely.
Set the cake in the area where it will be served. Arrange more flowers around the bottom of the cake to make it look more natural.
Position the battery pack of the rope lights at the back side of the cake. Press the rope lights into the bottom of the cake and work your way in a spiral fashion around the cake, bringing the lights up to the top. Allow the rope light to rest gently on the icing. Place flowers in strategic positions to enhance the lights.
Insert the free end of the rope lights gently into the icing on the top layer of the cake. Arrange flowers around the end of the rope lights to disguise them.
Ensure that the battery box at the base of the cake is completely covered with flowers. Remember to be very careful when cutting the cake, so that you don't cut into the rope lights.
So you've decided to tackle a three-tiered, stacked wedding cake. Now what? You are committed to the cause, purchased the support dowels and have been practicing your stacking skills leading up to the big day, but still are unsure how to turn a DIY wedding cake into an awe-worthy centerpiece. It's time to have some fun and get creative with edible decorations!
Each of these designs looks professional and feels wedding-ready but are also super simple to put together. The same plain-Jane cake gets an elegant transformation with the help of fresh berries, buttercream, shredded coconut and just a drizzle of chocolate. From rustic coconut coatings to whimsical florals, pick a design to match the aesthetic of the event and you are good to go. Concerned about your piping skills or skeptical of your frosting abilities? Don't worry, there is no real right or wrong way to decorate here, as each cake was designed to be a bit imperfect, organic and "user-friendly."
— various piping bags and tips, filled with buttercream
— chocolate glaze (recipe to follow)
Design #1: Fresh Fruit and Mixed Berries
Using a variety of sizes and colors (or keep it monochromatic!), scatter fresh fruit and berries around the base of each tier. Try slicing larger berries in half or quarters for added interest. Gently press the fruit into the buttercream to secure. For the top, pile on the fruit to add a bit of extra height. Not only does this design hide any flaws where the tiers meet, it is super simple and can be adapted to every season!
You will need 6-8 cups of fruit to decorate a three-tier cake (six-inch + eight-inch + 10-inch rounds). During summer months, assemble on location to keep the fruit nice and fresh for the main event.
Want a dramatic look without any of the fuss? Coat the entire cake with shredded coconut! Not only does the coconut add texture and elegance, it is the best way to disguise any frosting blunders or mistakes. Want to create a beautiful cake yet lack the experience or are intimidated by smooth buttercream? Then this is the design for you.
To cover a cake in coconut (or any other edible material), work with one tier at a time. Working over a rimmed baking sheet, scoop up and gently press small handfuls of coconut onto freshly frosted cakes. Some buttercreams can dry and crust over, so be sure to cover the cakes while the frosting is still fresh and the coconut sticks. Re-use any bits of coconut that fall back onto the baking sheet.
Design #2: Snowy Shredded Coconut
Not into coconut? This same technique works with sprinkles, chocolate curls and sanding sugars too!
Design#3: Cascading Buttercream Rosettes
Instead of painstakingly trying to perfect buttercream flowers or shelling out a small fortune for those made out of sugar, pipe on a cascade of simple buttercream rosettes! Tint any leftover buttercream the color(s) of your choice and fill a variety of piping bags with different star tips. Inspired by this contemporary blue version courtesy of Food52, this design involves piping buttercream rosettes around the top edge of each tier and allowing them to cascade down the cake at random. Alternate colors and sizes for an easy, organic feel!
To pipe a rosette, gently squeeze to get the frosting flowing, then move the piping tip in a tight circle. Keep even pressure all the way around then release just as you complete the spiral. Be sure to stop the flow completely before pulling the piping tip away from the cake.
Design #4: Drippy Chocolate Glaze with fresh berries
This classic chocolate design is dramatic and timeless. The technique is quite simple, but it is all about the temperature/consistency of the chocolate itself. After making the glaze (recipe to follow), allow for it to cool for 10-15 minutes, or until cool to the touch but still fluid. Carefully spoon the glaze into a disposable piping bag (tip intact) or zip-tip plastic bag, snip off just the tip and pipe the chocolate around the edges of the cake. Use various amounts of pressure as you go to keep the drips random and unique. Once the drips are complete, go back and add glaze to the tops of the tiers. Gently smooth out with an offset spatula or the back of a small spoon as needed.
Unsure if your chocolate glaze is the correct temperature? Try a few "practice drips" on the back of the cake. If they are too runny, the chocolate is probably still too hot. Finish off this classic design with giant, fresh strawberries!
Chocolate Glaze Recipe

Wedding Cakes for your wedding ceremony. Find here latest wedding cake styles & the wedding cakes recipes.
Monday, 13 February 2012
How to decorate Unique Wedding Cakes
It was not at all a simple walk for me when I thought of ordering a simple wedding cake and decorate it on my own. Hence, I thought of sharing my experience with you all to help all of you who have taken up similar initiative.
I began my journey for decoration of the wedding cakes by collecting the information about the different wedding cakes that are available. There were pictures of unique wedding cakes which were available. Besides these, I surfed various websites and recipe books to get information about the different wedding cake designs and tips for the decorating the cake.
It would also inform you about the latest trends and accessories which would be used for the purpose of decorating the cake. One should go through the different trinkets that are available to accessorize your cake.
I selected the best one which would be required for the cake. You can try out preparing the trinkets on your own. This will help you to save the money spend on the purchasing these accessories.
Flowers are an excellent option to decorate your cake. While selecting the accessories, you can go in for only those that would complement well with the theme for the ceremony. There are plenty of options which are required for decorating the wedding cake.
After collecting the necessary details, the next step that I undertook was to prepare an outline of the cake and the decoration on it using my ideas. I did this with the help of the online tools available for the purpose. This gave me a brief idea about the appearance of the cake after its completion.
Besides these, I also tried out to write up some message in the form of artistic calligraphy on the cake. All these would be really helpful for decorating the wedding cake. Once the designs and the plan for decoration have been finalized, I consulted a cake designer for the same. He advised me some changes in the plan and the final outcome was as desired.
The decoration done on my cake was the point of discussion at the party and got plenty of compliments for the same. The ideas discussed here will help you to decorate your unique wedding cakes.
Why pay big money for an expensive, bakery-made wedding cake when you can easily build your own romantic creation at home? Though the prospect of creating a tiered cake may seem daunting, it is based on some pretty simple elements of architectural support. Like all sound construction, a tiered cake begins with a good foundation.
For bottom cake tier, fill and frost the two largest cake layers in the center of a covered cake board that is about 4 inches larger than the cake, being sure to smooth frosting on top and sides. Use a sturdy cake board, such as 1/2-inch-thick plywood.
Trim two circles of corrugated cardboard sized to fit under the cake layers for each additional tier (total of 4 cardboard circles). Tape the two pieces for each tier together for a double thickness of cardboard.
Cover the double-thick cardboard circles with foil that has been cut into a circle 1 to 2 inches larger than the cardboard. Center the cardboard on the foil. Cut slashes into the foil, spaced approximately an inch apart, around the entire circle. Fold each 1-inch tab of foil over the cardboard and tape into place.

Wrap the foil around the edges
of our cardboard circle.
To mark the correct position for the next tier, gently hold the foil-covered cardboard just above the center of the frosted bottom tier. Using a ruler as a guide, center the cardboard and gently lower it onto the frosted surface. Use a toothpick to lightly mark around the cardboard. Remove cardboard.

Gently lower your foil-wrapped
circle onto the bottom layer.

Push the dowel pieces into the
bottom tier, evenly spacing pieces
within the area marked for the next tier.
Fill and frost cake layers for this tier positioned on the appropriately sized foil-covered cardboard circle; smooth frosting on top and sides of cake. Carefully place tier in position on bottom tier. Repeat for all tiers, supporting each layer with dowels.
To stabilize tiers, sharpen one end of a 1/4-inch-thick dowel with a knife. Push sharp end of dowel into center of top tier and carefully push down through all tiers and cardboard circles. Trim dowel level with cake top. Carefully smooth frosting on cake top to cover dowel. Remove dowel pieces before cutting cake.

Push the sharp end of the dowel
into center of top tier and carefully
push down through all tiers and
cardboard circles.
Add your own creative touches with the decorations of your choice. Use a decorating bag to pipe on frosting borders and flowers, or apply premade decorations purchased from a cake decorating supply store or craft store. One of the simplest and most elegant ways to decorate a wedding cake is to use real fresh flowers. Be careful that the flowers don't have pesticides on them. Clean, fresh flowers should be placed on the cake right before it is displayed.
Another option is the basket weaving technique.
"Basket" Cake Trick
By frosting the side of a layer cake with a basketweave pattern and adding fresh berries on the top, you can turn a common cake into an elegant "fruit basket."
Spread top of layer cake with a thin layer of apricot preserves or caramel topping.
Spoon buttercream frosting into a decorating bag fitted with a ridged basketweave decorator tip. Pipe vertical strips at 2-inch intervals around side of cake.

Work from the bottom of
the cake up toward top.

Use left hand to rotate cake plate as you pipe on horizontal strips.

Space second set of vertical strips as evenly as possible.

Try to lift tip precisely at the
edge of the next vertical strip.
Not what you're looking for? Try these:
Cake Recipes: Find basic cake recipes as well as ideas for types of cakes you may have never even heard of, all on our Cake Recipes page.
How to Bake a Cake: Find basic instructions and definitions that will help you bake a cake in this article. You'll learn about selecting the proper baking pan, cooling and frosting a finished cake, and more.
Cake Decorating: Whether you just want to add "Happy Birthday" in piped icing or are ready to attempt a field of frosting flowers, this article will provide the tips you need.
Cooking: Learn the ins and outs of some basic cooking techniques in this helpful article.
How to Plan a Wedding: A wedding cake is one small aspect of an entire wedding. Find tips on planning your Big Day at HowStuffWorks.
Do you see pictures of rustic wedding cakes and wonder, "Could I do that?" Those textured patterns in the frosting are easier than you may think. You can do it without experience, bags, or icing tips. And the decorations are simple, too.
This tutorial consists of seven videos. The main video at the end of this post shows the process of assembling all the decorations on the cake.
The six additional videos demonstrate, in detail, how to make the rustic cake decorations and create the icing effects.
Here are those six decorating steps …
This country wedding cake DIY shows you the steps in decorating a rustic cake. Three simple buttercream icing techniques, a love knot rope, and burlap leaves for flowers.
Rustic Cake Icing
This is the basic method of thickly applying buttercream icing. It is the first step in creating the buttercream icing techniques I used on all three tiers.
Buttercream Technique 1: Deep Tree Bark Icing
The bottom-tier technique creates the illusion of deeply-cragged tree bark. Something like an elm tree.
Cake Icing Texture 2: Simple Ruffles
This center-tier icing technique looks similar to ruffles without all the work. Here, I create the effect by using a knife tip to dig into the icing.
Rustic Icing Technique 3: Shallow Tree Bark Icing
This is a way to get a shallower tree trunk style. I did a random free-form design, but if you wanted to you could try for some sort of pattern.
How to Tie a Love Knot Rope
These are Celtic knots crafted into the shape of a heart instead of the traditional round shape. I used sisal rope for a country look.
Making Burlap Flower Leaves
I'm actually making an entire burlap fabric flower in this video. To make the leaves for the cake, follow the directions for only the bottom, largest layer. That is the part that goes under the roses on the cake.
In the actual tutorials, I'm wearing salmon with polka dots. You can always skip past this part at the beginning of any video by going straight to 1:05.
Since I have no wedding cake decorating experience and little natural craftiness, my videos are geared toward helping those with limited talent figure out how to DIY. Consequently, I show you easier methods than you may find in videos from experts.
Additionally, I share tips for avoiding some of the pitfalls you may run into. Enjoy!
Want to create a coffee shop classic in the comfort of your own home? Follow our simple guide to beautifying your bakes.
Using buttercream
Use buttercream to pipe icing swirls on cupcakes, retro rosettes on cakes and to give cakes a 'frosting'.
To make buttercream, sieve the icing sugar into slightly softened butter (for quantities, see our Vanilla cake recipe) and beat or whisk to combine. The mixture should be fairly firm to hold its shape well but not rock hard or you won't be able to achieve a smooth finish. So chill or leave a little longer at room temperature as necessary.
Piping
Drop the nozzle into a piping bag. For cupcakes and rosettes a large star works well, for writing a fine round one is best.
Fill no more than two thirds full with icing, twist and hold the end with one hand (usually your writing hand) and rest the tip of the bag in your other hand. Squeeze the icing at the top (not the middle!) of the bag to eliminate air bubbles. Do a little test squirt before starting on your cupcake or cake.
For cupcakes, hold the bag vertically and pipe a ring of icing around the edge of the cupcake. Pipe a small spiral overlapping the ring, stop pressure when the bag is in the centre of the swirl, then push the bag down and draw up sharply to finish.
For rosettes, hold the bag in the same way, pipe a little dollop in one place, push the bag down and draw up sharply to finish.
If the peak is too high or wispy, you can dab your finger in water and press it down a little.
For writing icing, sieve icing sugar into a bowl and gradually beat or whisk in a few drops of water until you have a thick, smooth paste.
To write or draw lines, hold the bag at a 45 degree angle, a little away from the surface, squeeze the icing out with a constant pressure, and let the line of icing fall naturally into place as you guide it. Try not to pull the piping bag before the icing has met the surface, as you'll get an uneven thickness.
To make dots, hold the bag vertically with the nozzle close to the surface, squeeze a little icing out to make a dot the desired size, then to finish, stop squeezing, push down and then draw up sharply.
Watch our video on how to decorate a cake for more piping techniques:
Covering a cake
Spoon a large dollop of softened (but not runny or melty) buttercream onto the centre of the cake. Use a spatula/ palette knife to paddle the icing to the edges of the cake.
For the sides, use the spatula/ palette knife to smear smaller amounts of icing in sections, turn the cake and repeat.
For a smooth finish you can use a long palette knife or ruler. Hold the ruler flat at the edge of the cake furthest from you and drag it towards you. Repeat if necessary.
For the edge take your palette knife/ or a plastic side scraper (available from cake decorating websites) in one hand at 90 degrees to the cake. Use the other hand to spin the cake. This is easiest on a turntable as you can do it in one movement. If not, you may need to do this in sections and smooth any joins with the palette knife.
To get a feathered 'frosty' effect, simply press the flat side of a palette knife or spatula onto the cake and lift. Repeat over the entire cake.
Flowers, crystallised and fresh
Choose your favourite edible flowers or leaves (eg. lavender, mint leaves, pansies, primroses, rose petals, violas, violets). Use them to decorate as they are or crystallise them. To crystallise, lightly whisk an egg white. Use a paintbrush to gently apply the egg white to the flower, leaf or petal. Sprinkle over caster sugar and shake off the excess. Put on a tray lined with baking parchment. Leave overnight in a warm, dry place. Store in a sealed container with layers of parchment.
Simple modelling
Especially popular with kids, sugarpaste or marzipan figures make a great addition to a themed cake. You can get lots of ideas from books or photo-sharing websites, start simple and work your way up! Check out our Rocky robin cake. Lots of you sent us pictures of yours last year and they looked great!
Sweet and chocolates
You can use all sorts of sweets and chocolates to give different effects be it childlike, funky, glamorous or girlie. We've used lollipops, liquorice, chocolate buttons, mini marshmallows and sugared almonds to name just a few.
Fruit and nuts
Don't underestimate the power of a plump fresh raspberry or golden brown walnut perched on top of your bakes.
Readymade decorations
There are plenty of pre-made decorations available from supermarkets and specialist cake decorating shops. Sprinkles are great for kids' cakes, coloured sugar can add a pretty finish and sugar flowers are ideal for springtime bakes.
Let us know your cake decorating ideas and tips.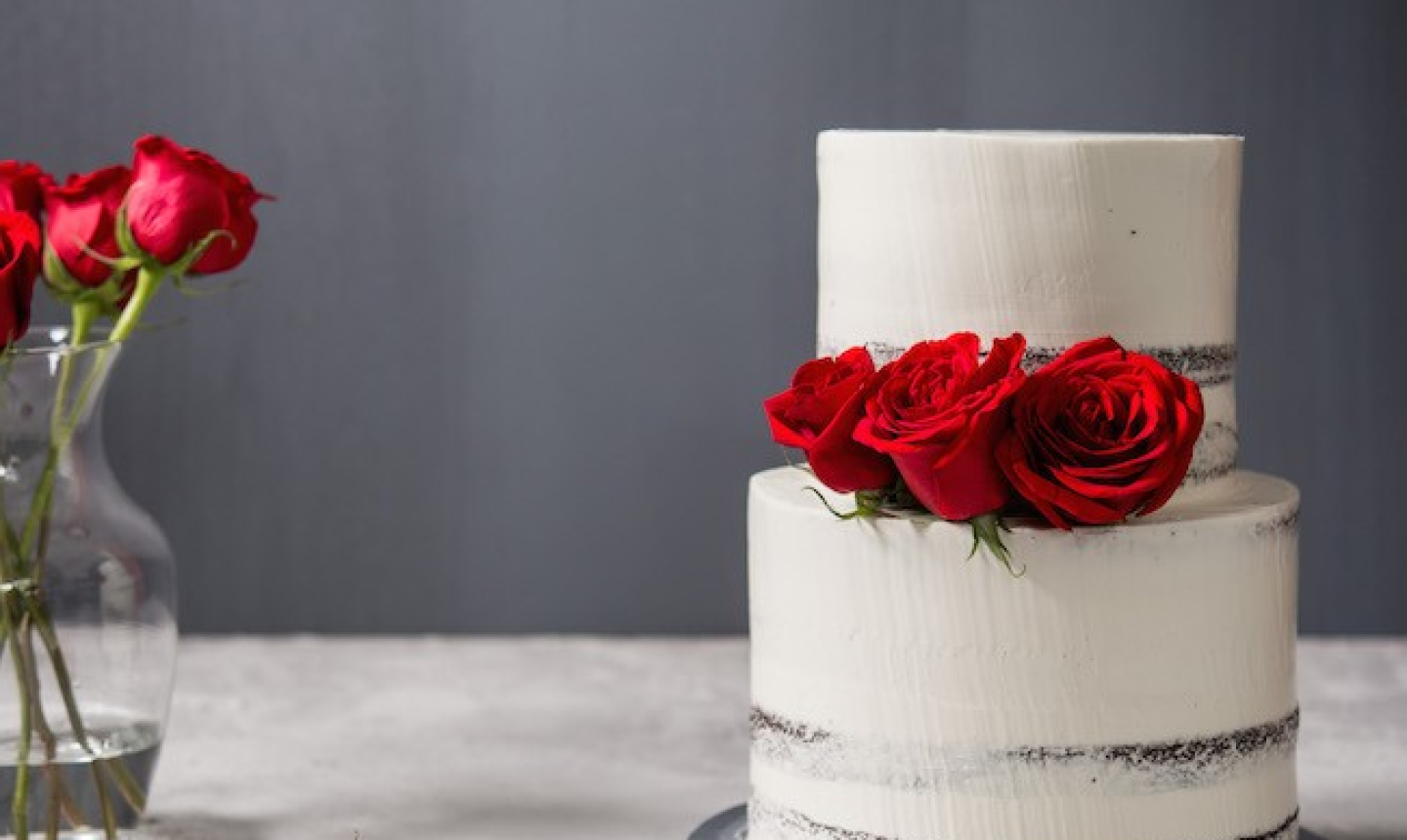 Here's some great news: using real flowers as cake decor doesn't require professional-level skill. In fact, fresh blooms can be way easier than fiddling with the sugar-based variety. Before you start trimming stems or snacking on petal scraps though, there are a few considerations to keep in mind.
1. Do a Safety Check
This part's no joke: some flowers are naturally toxic if consumed, and others are harmful because they've been sprayed with pesticides. Either way, they really shouldn't be cozied up in your frosting.
Edible blooms include roses, gardenia, pansies, violets and dandelions, among others. But if you love the look of a flower that isn't edible, you may still be able to use it on your cake if you whisk it away before serving. To be sure, talk to a good florist — preferably one who regularly deals with cake decor — about your options, and follow some basic safety guidelines to get started.
2. Keep 'Em Fresh
You want to do everything you can to extend the life of your blooms, especially if you're purchasing them a few days before they're going on your cake. To process your flowers, strip the stem of all flowers or greenery you don't want to show. Then dunk the entire flower (stem and all) into a vinegar and water solution — this kills all bacteria on the plant so it'll live longer. Trim the stem and dip the end into Quick Dip to hydrate the flower. Then store 'em in a vase with water until they're ready to use!
3. Account for the Conditions
Think about when and where this cake will be served, and choose your flowers to match. No matter how gorgeous those lilacs are, for example, they're not going to hold up long on a hot summer day. Hearty mums, however, are easy to keep looking fresh.
4. Deal With the Stems
You could just stick the flower stems directly into the cake, but that won't keep your blooms or cake the freshest they can be. Instead, insert them into individual flower holders (those little tubes available at florist shops), or use a product like Ingenious Edibles Safety Seal to coat stems in a food-safe wax.
5. Play With Design
Here are some easy-yet-dramatic ideas for using fresh flowers on a cake.
Wreathy Does It
Photo by Erin Gardner
Whether you do a simple circle around the edge of the cake or a broader ring, a crown-like topping of flowers looks simple but luxurious.
Petal Pusher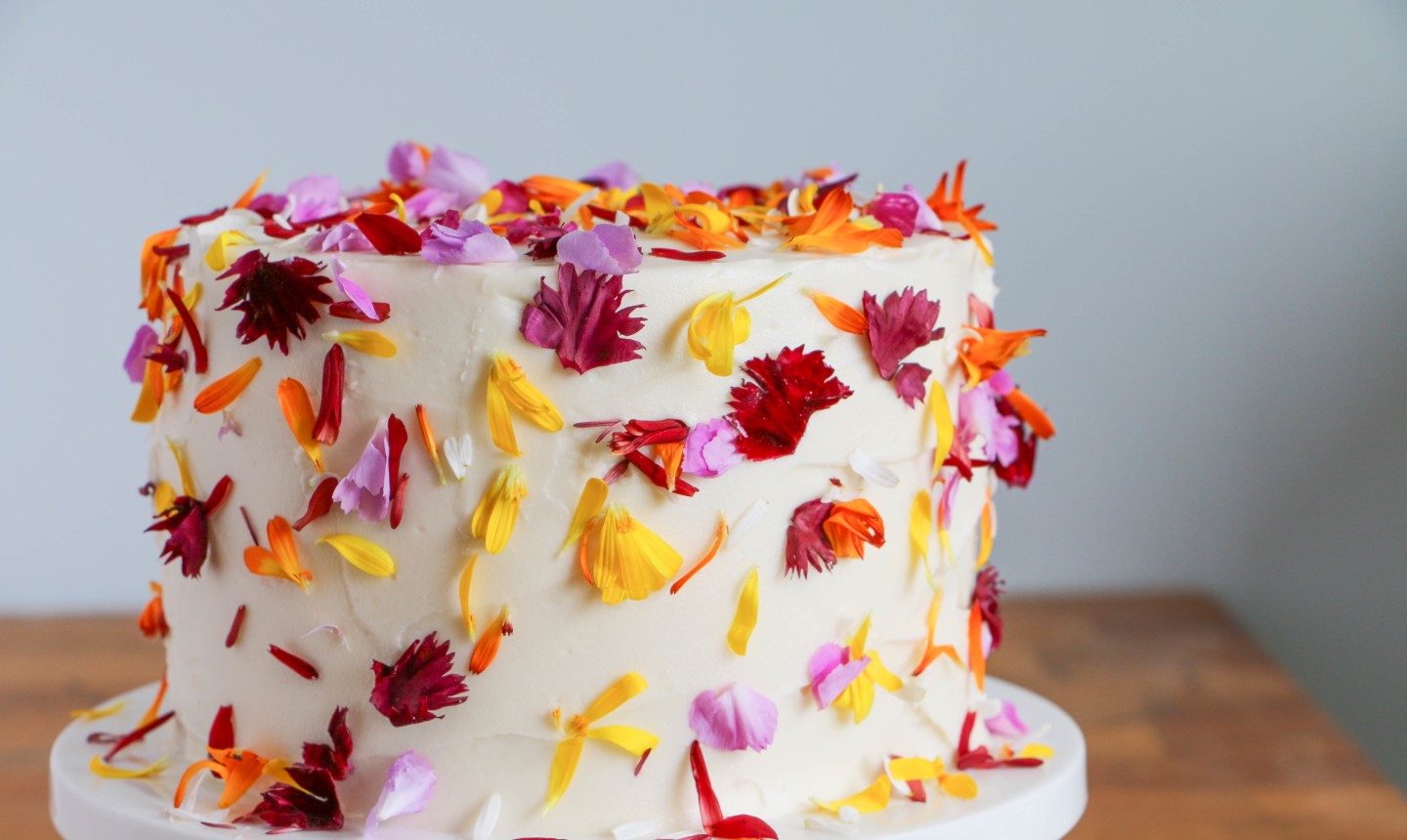 Photo by Erin Gardner
When deconstructed and scattered, a few colorful blossoms go a long way in creating a modern, romantic look. Plus, it's totally foolproof: simply toss gently pressed petals all over your cake and you're done.
Candy Crush
Photo by Erin Gardner
Assuming you're using edible flowers, consider turning them into candied edible flowers. It's so easy: simply brush the petals with beaten egg whites or moistened meringue powder, then sprinkle with confectioner's or decorating sugar. (You can also purchase these pre-made at a cake decorating supply store.)
Cake Corsage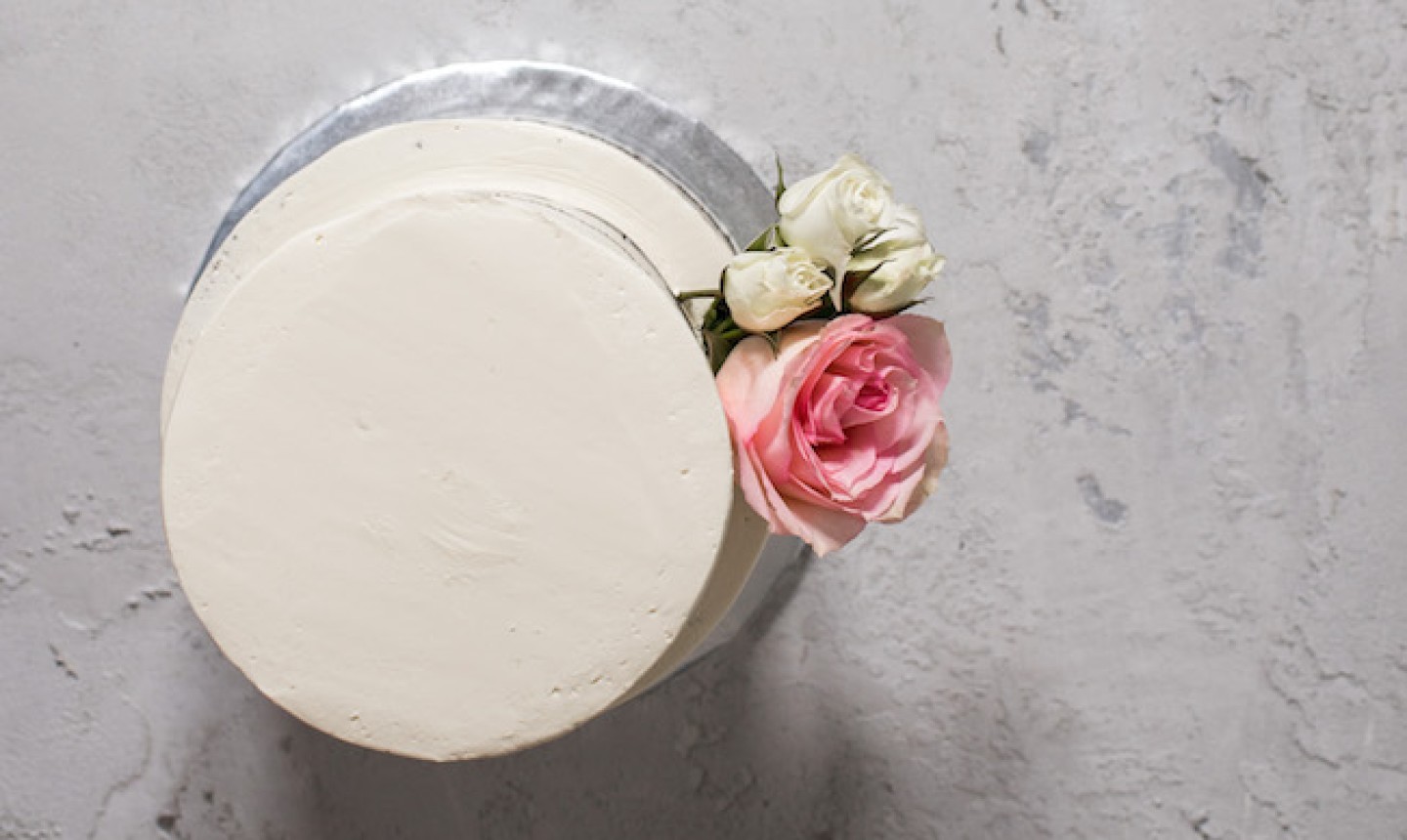 In the same way tucking a flower behind your ear makes you look instantly glam, affixing one (or maybe even a well-balanced trio) of flowers to the edge of a cake gives it some real star power. When it's time to serve, you can quickly remove them — or leave in place and see which lucky guest gets the special slice.
2 Responses to "Everything You Need to Know About Using Fresh Flowers on Cake"
This is a very misleading and actually quite dangerous post. Florists have ZERO, that is correct NO TRAINING at all, nevermind certification in food safety. CAKE IS FOOD. No reputable wedding cake provider should EVER allow an untrained, uncertified florist near their cake. Ever. Not from a food safety point of view nor in regard to potentially damaging the structural integrity of the cake.
Fresh flowers really don't belong on cakes at all, to be honest. Imagine going to the lengths to buy a gluten free vegan cake to accommodate all your guests' allergies and having to call 911 for an anaphylactic reaction someone has to pollen that ended up on their slice. Come on. You have to at least advise people that their local food laws need to be thoroughly investigated and that the food safety certified cake provider needs to be the only one placing ANYTHING in, on, or around the cake. Really. Safety Seal comes off you know. It slides off all the time. I use it but would never ever use it by itself. People should be advised that taped and sealed wired stems should be inside straws or picks in the cake to avoid serving your client a big chunk of safety seal in their cake. Sheesh.
You must do better than this. Ill-informed people will assume this gives them license to practice really unacceptable food preparation. I can't believe you gave them "permission" to put a poisonous substance on their cake and told them everything would be fine as long as they took it off before they served it! That is one of the most ridiculous and irresponsible things I have ever heard.
That's a little bit overboard. For one thing, Wilton manufacturers little tiny "vases" that natural flowers can be put in before they are put into a cake. 35 years ago, when I was a bride, I chose fresh flowers for my wedding cake and nothing happened (350 guests including children). Expert cake decorators know something about the structural integrity of wedding cakes and can be trusted to decorate them with fresh flowers. I am also a long time gardener and I know which flowers are edible and which are not. It's okay to use edible flowers in moderation. Finally, many modern brides don't like the TASTE, EXPENSE or the HEAVINESS of paste or icing flowers. When faced with a choice between edible natural flowers and paste ones, many are opting for Mother Nature. I say, to each his own and trust the experts.
I love wedding cakes that are plain because I love the look of fresh flowers on wedding cakes. I know that shows like Ace of Cakes have made really fancy, fully edible cakes popular but I still love the look of a simple cake that serves as a canvas for more color from fresh flowers.
However, you should remember (and definitely ask your florist about) there are some guidelines as to what flowers you should and should not use on something that will be consumed. There's no bigger killjoy than having an ambulance show up at your wedding — even if the single ladies think the paramedics are cute.
In terms of decorating a cake, flowers that have bright, colorful blooms and small stems are very popular. That would include roses and orchids — both of which have a variety of very bright blooms in a huge range of colors. Also, there's a variety of ways flowers can be used to decorate a cake — in between tiers, inserted into the cake, surrounding the cake. You don't have to worry too much about flowers in between tiers and around the edge of a cake. However, inserting flowers into a cake is a little bit different.
There are certain popular wedding flowers that should not be used anywhere near food. These are:
Anthurium
Calla lily
Delphinium or larkspur
Hydrangea
Sweet pea
These I extracted from a list of non-edible poisonous flowers. I know that a lot of these flowers are quite popular with weddings, so its just an FYI to keep these away from your cake. Sorry if I am ruining your fantasy of a cally lily cake!
There are also some guidelines that should be followed when it comes to using flowers inserted into cakes. I've seen roses affixed with piks before they begin inserting them into the cake. I've also seen flower stems wrapped in foil, which I honestly think is more sanitary (since I've seen how piks are stored). And this goes without saying, but should still be spelled out again — before serving the cake, please remove the flowers.
That said, also be careful about decorating your cake yourself. It is not easy — once you insert a stem into a cake, that's it — there's no erasing a hole in frosting. So its probably best to let the florist do it. Don't even let the cake delivery person do it.
If you want to know more about decorating your cakes, check out this article.
Adding flowers to a wedding cake is a popular, beautiful way to take a big-day dessert to the next level. Generally, these details are either fresh flowers provided by your florist or lifelike creations handmade by your baker. If your baker is designing the adornments, they will usually go with sugar flowers, which are generally made from sugar paste—an edible (and delicious) compound—which can be molded into a variety of shapes. If you have decided to go with the natural option, your florist will provide a selection of food-safe florals that match the rest of your wedding décor.
So, how do you decide which type of flower you prefer to use when it comes to your wedding cake? Kara Buntin, the owner of A Cake to Remember, explains what you need to know before choosing between the two.
The Benefits of Using Fresh Flowers
There is nothing quite like the beauty of fresh flowers. The delicate petals, the subtle nuances in color changes and the varied textures can all add a major wow factor to your cake. Plus, there are so many options to choose from. You are only limited by your imagination (and seasonal availability) when it comes to non-toxic blooms. With the variety of flower sizes and shapes available, you can select your florals based on the look you are going for and the size of your cake.
The Downsides of Using Fresh Flowers
Of course, with fresh flowers you can run into several health issues, Buntin explains. "Some bakers won't even use fresh flowers because of the possibility of pesticides and other contaminants. There are also many flowers that are toxic and shouldn't be used with food at all, including some that are commonly used in wedding bouquets." Above all else you want to prioritize the health and safety of you and your guests over the ascetics of your cake.
The Benefits of Using Sugar Flowers
Made to order, sugar flowers are always going to be the exact size you and your baker want for your cake. And for brides who have their hearts set on a specific type of bloom, sugar flowers have no season, so you'll always be able to have a replica made no matter the time of year. Buntin says this may be more cost effective, too. Plus, unlike their au natural counterpart, sugar flower won't wilt except in cases of extreme humidity.
The Downsides of Using Sugar Flowers
Sugar flowers are fragile, which means they run the risk of breaking or crumbling if the cake is not handled with care. If you're working with a baker who does not regularly create sugar flowers, the cost may be higher for their time or for them to have to place an order for a pre-made version of the design you're looking for.
Other Alternatives
Buntin explains that there's a third option: wafer paper flowers. They are close to sugar flowers in appearance but with a slightly lighter look. Due to their construction, they are less likely to break in transit. "Whether you choose sugar flowers or real ones, make sure that you communicate with your baker and florist to make sure that everyone is on the same page," she says. "The most important thing is that all of your wedding professionals know what your vision for the cake is so that we can work together to make it happen."
Thursday, 15 April 2010
Decorating Wedding Cakes
Whether purchased from the grocery store or made to your own recipe, fondant icing is an excellent icing choice for wedding cakes and for other "special occasion" cakes. Drying to a smooth alabaster finish, it can be applied to cakes of all shapes and makes the perfect base for the most inticate or simplest of decoration.
Fondant icing is a soft sugar-based icing that is generally rolled out to a thickness of about 1/4 inch, layed over the cake and smoothed and pressed into place before being trimmed for a perfect fit.
Despite the fact that fondant cake decorations are ideal for wedding cakes, fondant icing is not always easy to work with so here are a few tips to help you get that perfect result.
Tip 1. A thin layer of icing, referred to as a "crumb coat" should be applied to the cake before the fondant icing is added. This produces a sticky surface for the fondant to stick to.
Tip 2. To prevent it from drying out, fondant icing should be put in a plastic bag (or covered with a non-permeable plastic wrap such as Sara wrap) and then placed in a tightly sealed container. The container should be kept at cool room temperature and should never be refrigerated. If the icing dries out and harden it can usually be revived by putting it into the microwave for a few seconds and then kneading the life back into it.
We've found all the tools you need to decorate a cake like a professional – so now you can achieve showstopping birthday, wedding and celebration cakes every time!
Want to know how to ice a cake like a professional? Fancy decorating your own creation for your next celebration? We've found the best cake decorating tools for beginners, including handy cake turntables, piping nozzles and smoothing spatulas.
If you're looking for the best birthday cake decorating tips, buy the tools below then check out our showstopping ideas for every occasion – from boozy gin cake and pretty flower-topped sponges, to children's birthday party ideas.
All products have been chosen and reviewed independently by our editorial team. This page contains affiliate links and we may receive a small commission for purchases made, but this comes at no extra cost to you and helps us to continue providing top quality content for our loyal readers.
Here are your essential cake decorating tools
PREPARING YOUR SPONGE FOR DECORATING
KitchenCraft cake cutting wire, £4.50, Amazon
Get perfect layers with this simple tool – it slices sponges cleanly to create smooth, even surfaces which you can then decorate like a professional. Try our layer cake ideas here.
Mary Berry cake lifter, £13.99, Amazon
Avoid cake-dropping disasters with this great-value lifter to easily move your cake from one surface to another.
KitchenAid Artisan stand mixer for cake mixing, £499.00, KitchenAid
A stand mixer is essential for fuss-free baking – whether you're after fast batters, smoother buttercreams or meringue that stands to attention. And, they don't come much more stylish or reliable than a KitchenAid (available in a variety of colours).
Loose based cake tins, £11.49, Lakeland
For perfect sponges try these easy-to-lift, loose-bottom tins in a variety of sizes that give an even rise all over. Here's our perfect Victoria sponge recipe to try.
ICING AND PIPING TOOLS FOR BEGINNERS (FOR A PROFESSIONAL FINISH)
Wilton Ultra cake turntable, £21.99, Lakeland
To ensure you get that smooth, professional look, try a cake turntable which will help you achieve an even icing coverage on your birthday or celebration cake.
Stainless steel cake scraper, £5.05, Amazon
For a truly professional finish on an iced cake, you'll need a cake scraper. It's good for slicking buttercream and smoothing royal icing (and for scraping dried scraps off the worktops). Check out our expert buttercream recipes here .
Professional piping set, £13.99, Lakeland
You've got your piping bag, now take it up a notch with some multitasking nozzles. This set comes with seven for all different types of frosting finishes – think star shapes, basketweaves, smooth swirls and more. With these in your decorating armoury you'll have a showstopping bake in no time. Try using your nozzles on this swirly-topped carrot cake.
Offset spatula/cranked palette knife, £5.49, Amazon
Every baker needs a palette knife in their life – whether you're smoothing the delicate edges on the frosting of a big bake, or creating crafty swirls on a cupcake.
DECORATING YOUR CAKE LIKE A PROFESSIONAL
PME paste colours for icing, £12, Amazon
The secret to bold, vibrant colours in any kind of icing (sugarpaste, buttercream, fondant, royal icing, you name it), without any nasty aftertaste, is colour pastes. More concentrated in colour (so you use less) and less liquid than traditional food colouring (so the consistency of your icing won't be affected), these pastes come in eight shades and can also be easily blended to make your own bespoke shades.
White colour for icing, £5.34, Amazon
Butter can give icing a slightly yellow tinge, so add a few drops of this whitener to your mix for a pristine white finish on wedding and celebration cakes. Try it to make super-white icing for our white chocolate cake here.
SERVING YOUR CAKE LIKE A PROFESSIONAL
House Doctor rustic cake stand, £55.50, Trouva
You've made the cake, now's the time to show it off! And how better than with this modern, porcelain cake stand.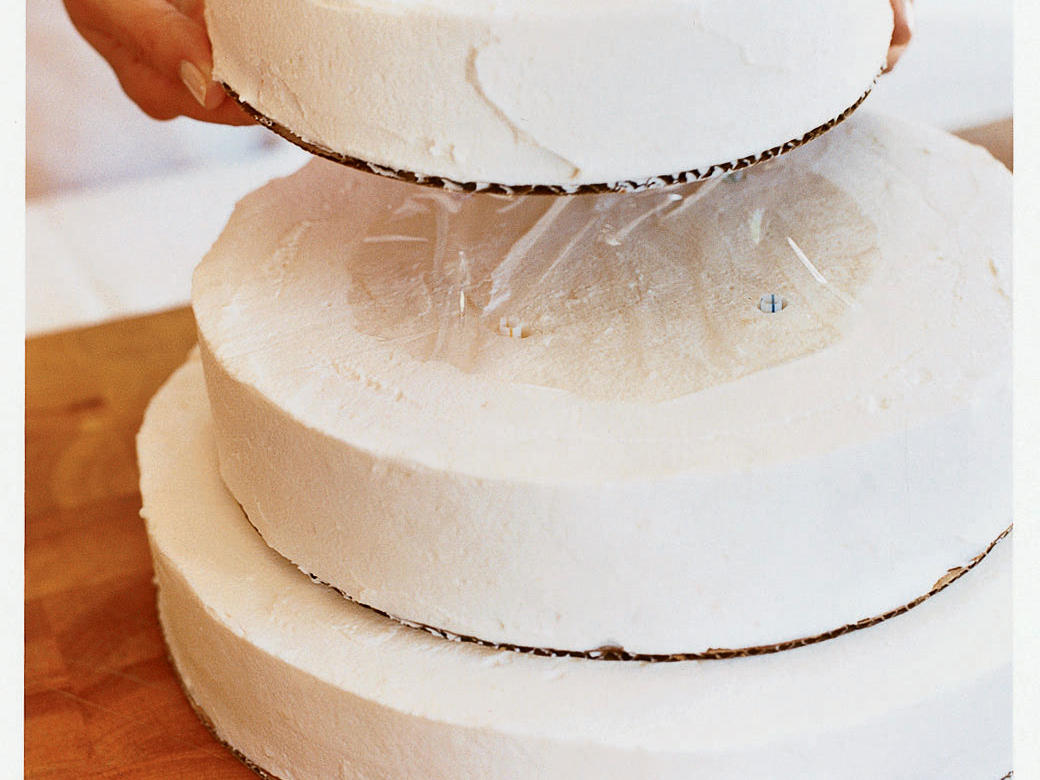 Here's how to assemble a 4-tiered cake that serves 60 to 70:
To assemble the cake, you'll need one baked, cooled orange sponge cake layer in each size, as well as three batches of Grand Marnier whipped cream and one batch of Grand Marnier–marmalade filling.
1. Split each layer of orange sponge cake (on cardboard round) in half horizontally: With a long serrated knife, cut around cake layer (1 in. deep) to make a guide, then cut all the way through cake, steadying top lightly with your hand. Lift top off cake and set cut side up on a work surface. Leave bottom half on cardboard round.
2. Spread both cut sides of each cake layer with Grand Marnier-marmalade filling (1⁄4 c. per side for 6-in. layer, 1⁄3 c. per side for 8-in. layer, 1⁄2 c. per side for 10-in. layer, and 2⁄3 c. per side for 12-in. layer). Spread Grand Marnier whipped cream over marmalade on each bottom layer (1⁄2 c. cream for 6-in. layer, 3⁄4 c. for 8-in. layer, 1 c. for 10-in. layer, 1½ c. for 12-in. layer, using 1 qt. total). Sandwich each with matching top layer, marmalade side down.
3. Frost each cake layer with a thin first layer of Grand Marnier whipped cream, using 2 quarts total. Chill until cream is firm, about 1 hour; cover separately and chill up to 1 day.
4. Remove layers from refrigerator and frost with a second layer of cream, using 2 quarts total. Chill until ready to assemble and serve.
Step 5: Set 12-inch layer (on cardboard round) on a large flat plate or board. Hold the next smallest cake pan centered above surface of cake layer; touch it down very gently to make a faint guide in the cream. At even intervals about 2 inches in from the circular guide, push four plastic drinking straws (or 1⁄4-in. wooden dowels) down through cake layer to bottom. Mark straws with a pencil about 1⁄8 inch above surface of cream, then pull out from cake slightly. Cut off at pencil mark, parallel to cake surface, using scissors (or pruning shears, for dowels); reinsert in cake. Lay a piece of plastic wrap slightly smaller than the next layer on top of supports. Repeat to insert supports into 10- and 8-inch layers.
5. Set 12-inch layer (on cardboard round) on a large flat plate or board. Hold the next smallest cake pan centered above surface of cake layer; touch it down very gently to make a faint guide in the cream.
At even intervals about 2 inches in from the circular guide, push four plastic drinking straws (or 1⁄4-in. wooden dowels) down through cake layer to bottom. Mark straws with a pencil about 1⁄8 inch above surface of cream, then pull out from cake slightly. Cut off at pencil mark, parallel to cake surface, using scissors (or pruning shears, for dowels); reinsert in cake.
Lay a piece of plastic wrap slightly smaller than the next layer on top of supports. Repeat to insert supports into 10- and 8-inch layers.
Step 6: Gently stack layers (on cardboard rounds) on top of each other. Spoon more Grand Marnier whipped cream into a pastry bag fitted with a 1⁄4-inch plain tip.
6. Gently stack layers (on cardboard rounds) on top of each other. Spoon more Grand Marnier whipped cream into a pastry bag fitted with a 1⁄4-inch plain tip.
Step 7: Pipe adjoining dots around base of each layer to hide cardboard. Decorate with orange blossoms, other fresh flowers, or piped cream as desired.
7. Pipe adjoining dots around base of each layer to hide cardboard. Decorate with orange blossoms, other fresh flowers, or piped cream as desired.
A moist, delicate orange-scented cake is an irresistible conclusion to a wedding reception.
8. To serve, lift off each layer; remove plastic wrap and supports. Cut top layer into wedges. For larger layers, cut a circle 2 inches in from side of layer. Slice outside ring into 2-inch wedges. Cut another circle, 2 inches in from edge; slice cake into 2-inch wedges. Cut remaining small central round into wedges.
Per 2-in. wedge: 362 cal., 55% (198 cal.) from fat; 4.5 g protein; 22 g fat (13 g sat.); 37 g carbo (0.2 g fiber); 120 mg sodium; 155 mg chol.
How to calculate the right number of servings
Having enough cake to go around. The last thing you want to worry about at the wedding is whether there will be enough cake for everyone. Here's how to calculate the right number of servings:
Plan on standard-sized cake servings. (2-in. wedges). Most guests are full by the time cake is served. If your guests are notoriously sweettoothed, you may want to plan for extra servings.
Add a few extra servings for leeway in cutting. Our 6-inch layer yields about 6 servings, the 8-inch 14, the 10-inch 22, and the 12-inch 28. Our 4-tier cake serves 70, making it perfect for a wedding with 60 guests. For a more intimate wedding of 30 to 35 people, make a 3-tier cake with 6-, 8-, and 10-inch layers.
Serve larger parties with more cakes, not more tiers. For a big wedding, frost and decorate additional 12-inch layers; refrigerate rather than displaying with the tiered cake, then cut out of sight of guests and serve with the tiered cake. The servings will look identical to those from the tiered cake.
Skip saving the top tier. This delicate cake does not hold up well in the freezer for a year. Instead, serve the entire cake at your wedding, then bake a new cake to celebrate your anniversary.
Empowering Amateur and Professional Cake Artists Online Since 2011
1462 Courses and more added Weekly




Join our community
Cake Masters WINNERS 2014, 2016, 2017, 2018, & 2019
View via our Apps on all the main streaming services
1462 Online Cake Courses
NEW Feature length video course added weekly, for over 10 years!
Over 200k members worldwide
Regular live shows
Award winning support 365 days
Paul Bradford + 105 world class tutors
15k + Cake answers on our Q&A
Private learning and sharing community
Making and selling cakes since 2001
GOLD Merchant
No contract, cancel anytime
Caking all over the World & CakeFlix TV hosts
Join Free For 7 Days
Simple & flexible pricing built for you
7 Day FREE Trial. No contract. Cancel at anytime.
7 Day FREE Trial
Support 365 days a year
Over 1,400 full Baking & Cake Decorating courses
Publish your cake on our Members Gallery
CakeFlix TV – via our App
Members discounts at key cake retailers
New weekly tutorials from the top cake artists
Access our hugely supportive Cake Family
7 Day FREE Trial
Support 365 days a year
Over 1,400 full Baking & Cake Decorating courses
Publish your cake on our Members Gallery
CakeFlix TV – via our App
Members discounts at key cake retailers
New weekly tutorials from the top cake artists
Access our hugely supportive Cake Family
Everything included in the Premium plan plus…
Over 120 Cake Business Courses
8 Business professionals to help you achieve your goals
CakeFlix Business Boot Camp
Essential Cake Business downloads
Monthly Live Q&A with Paul and David
Big prize competitions
Everything included in the Premium plan plus…
Over 120 Cake Business Courses
8 Business professionals to help you achieve your goals
CakeFlix Business Boot Camp
Essential Cake Business downloads
Monthly Live Q&A with Paul and David
Big prize competitions
If you want a break or to cancel your CakeFlix subscription – that's no problem.
There's no contract so you can cancel online anytime.
Just visit your profile icon at the top right of the page and you can cancel in there.
We're sad to see you go, but hope to entice you back with our regular exciting content.
Thanks for being a member, it's been a pleasure!
Below are some instructions to decorate this basic four layer wedding cake, with a cream or custard filling.
There are many ladies that would like to learn how to decorate a wedding cake. If you have not gone through the Basic Cake Decorating Tutorial, here is Step 1: Decorating Tools You Need
Make this Simple Wedding Cake
Ingredients:
2 10-inch round white cakes (each using batter for a 2-layer cake and baked in a 10-inch springform pan)
4 cups Buttercream Frosting
Blue food color
Custard Filling or filling of your choice
1 recipe Rolled Fondant Icing
Equipment:
Waxed paper for divider
1 9-inch foil covered cake board
1 14-inch round cake plate or foil-covered cake board
Wooden pick
Star, leaf and round decorating tubes, bags and coupler
Purchased wedding cake ornament
Blue satin ribbon
Small skewer or sandwich pick
To prepare the divider: For a side pattern, divide waxed paper strip into six equal sections. Place marks about 1 inch down from top of cake. These marks indicate the top and bottom points of the drapes.
To prepare the frosting: Tint 1/2 cup blue. Leave 3 1/2 cups white. Cover frostings and set aside.
To prepare the cake: Level cake tops. Cut each cake horizontally to make two layers. Bevel top edge of one layer with a sharp knife for top cake (this "rounds" the edge for a smoother finish) Place one cake layer on smaller cake board; spread with one-third of the filling. Repeat twice and top with beveled layer. Smoothly crumb frost all surfaces with white frosting.(coat the entire cake with a smooth layer of very thin frosting to anchor any additional crumbs to the surface. Let stand until dry and set)
To ice the cake: Place cake on an elevated surface such as a shortening can. Carefully transfer fondant to cake by draping over your fists (remove all jewelry). Shape smoothly over cake, easing excess in around sides. Trim even with bottom of cake. Transfer cake to large cake plate or board.
To Decorate the Layered Cake
Place divider on cake and transfer markers with a wooden pick. Using the star tube and white frosting, and using the marks as a guide, pipe six zigzag drapes around the cake as follows:
1. Hold the decorating bag at a 45 degree angle to the cake. Starting at one top mark, touch tube to surface and pipe a zigzag border to form six drapes all around the cake.

2. Above the points where drapes meet, pipe six fleur-de-lis.

3. Pipe a large reverse shell border around base of cake.

4. Using the round tube and white frosting, pipe two rows of drop strings over zigzag drapes.

5. Using the round tube and blue frosting, pipe a dot at the base of each reverse shell in the border.

6. Using the star tube and blue frosting, pipe a star at the base of each fleur-de-lis

7. Using the leaf tube and blue frosting, pipe elongated ruffled leaves (pic) that drop from the high points of the zigzag drapes to the base border.

8. Top cake with ornament. Make a ribbon bow and fasten to top of cake with a small skewer or sandwich pick.
Note: If custard filling is used, the finished cake must be stored in the refrigerator. Also fondant coating will be moist and pliable if stored in the refrigerator.
Welcome to my cake decorating videos and guides. Browse the guides and pick your favorite to start.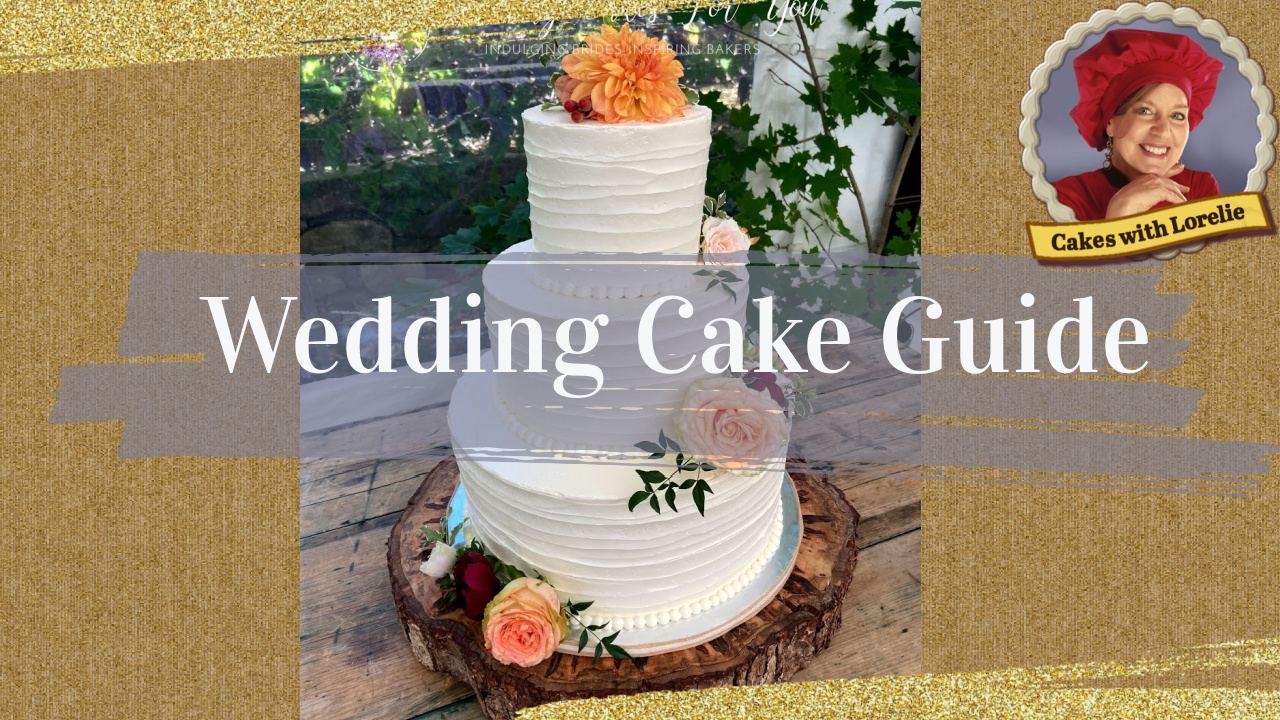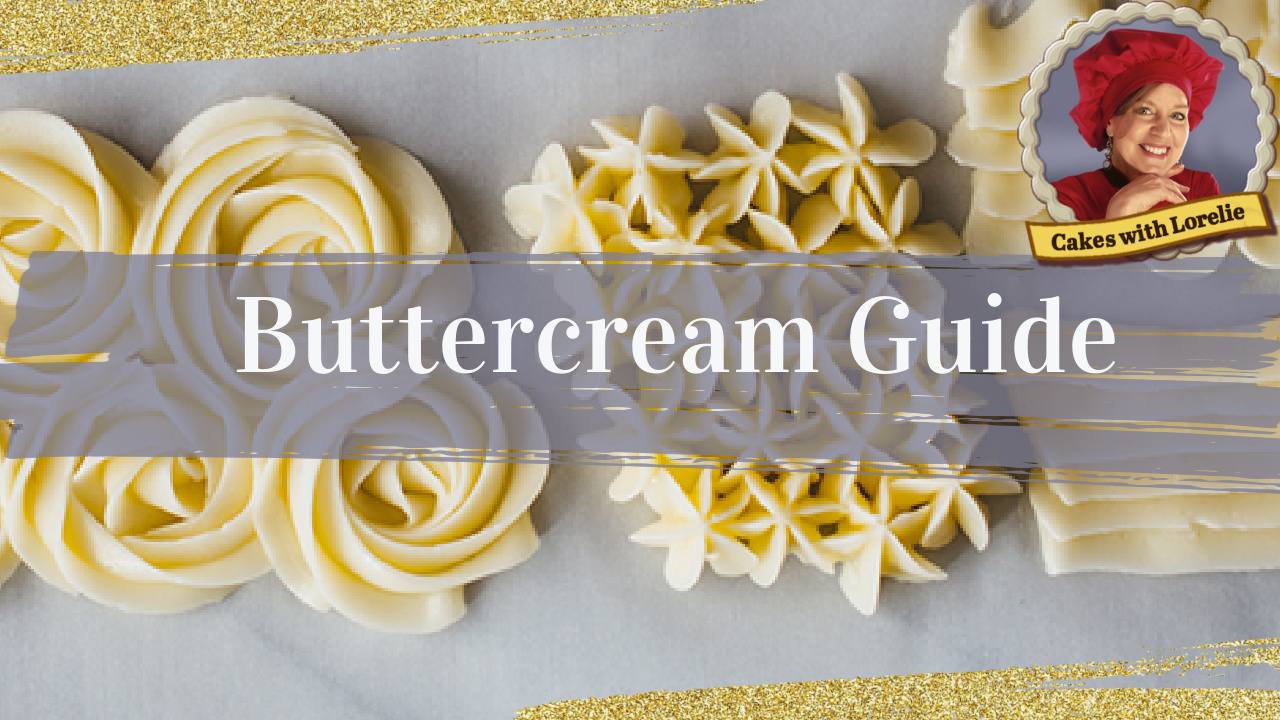 Learn how to make the most beautiful and delicious cakes. See new and exciting cake decorating techniques to WOW your friends and family.
Become a Master of Buttercream and Make Your First Wedding Cake
Testimonials From Past Students

"I wanted to let you know how much I appreciate your cake decorating videos and tutorials. I take some classes here at home, but what you are offering is so convenient and CLEAR in your instructions. "
Piping Skills Guide will be Coming Soon
For my YouTube live stream followers today. Feel free to download this helpful pamphlet
Included in The Piping Skills Class:
make a pastry bag from parchment paper
fit a pastry bag with a coupler
use cake decorating tips
practice pressure piping
practice holding the bag properly
create straight and curved lines
make star flowers properly with variations and see how to use them as borders
pipe shell borders neatly
pipe large shells
ballooning
create an illusion with a zig zag border and variations
make small and large rosettes and use them for borders
make reverse shells
pipe fleur de lis and use them as a border
make garlands and use them as borders
make rope borders two ways
make realistic leaves
"Wow THANK YOU. for such a detailed tutorial. I'm feeling SO inspired! You are an amazing teacher. I really appreciate your little details to be successful !!"
"I have to tell you that you're truly an INSPIRATION. thanks for sharing and keep those videos coming.. You have a FAN. "
You might like these
Wedding Cake Guide
This guide is an end-to-end walkthrough of how to design, build, price, and deliver wedding cakes.
Buttercream Guide
Follow the guide and learn everything you need to know about buttercream
This article was printed from Wedding-Cakes-For-You.com
Would you prefer to share this page with others by linking to it?
Click on the HTML link code below.
Copy and paste it, adding a note of your own, into your blog, a Web page, forums, a blog comment, your Facebook account, or anywhere that someone would find this page valuable.
Step-by-Step Book
Video Guides
Order a Cake
"Lorelie is simply the CAKE FAIRY. and her heart is as big as her cakes are delicious and gorgeous. People are still talking about our cake almost three years later".
Free Ebook
When you sign up for Cakes with Lorelie Newsletter
Three Cup Cake decorating designs ideas.
The skills you'll learn from this excellent instructional video on cupcake decorations, will help take you from wedding cupcakes to more ornate cake decorating design ideas.
Wedding cupcakes are a modern alternative to traditional wedding cakes and serve as an interesting wedding table centerpiece. With cupcake wedding cakes, you'll save time and effort with the cutting and distribution of the cake – not to mention the extra expense of the traditional tiered wedding cake.
Cake Decorating Design Ideas
The following video tutorial will show you how to make simple cake decorations with step by step instructions. This cupcake designer makes cupcake decorating easy and fun.
You'll be shown how to transform these simple cakes into wedding cupcakes with just a few flourishes or theme-specific decorations using the cake decorating piping bag. You'll create classic swirls, spiky designs and buttercream flower designs. Who can resist these gorgeous wedding cupcakes, especially when they are piled high with rich buttercream frosting.
Video tutorial on Cup Cake Decorating
with easy to follow cake decorating instructions.
(Helen Shroyer – Cupcake Designer and owner of
Toronto-based Marmalade Cake Company, shows you how. www.chatelaine.com)
Cake Decorating Tools
Here are a few tools you will need to get you started:
1. Piping bag – you will need at least two piping bags. These flexible bags can be used over and over. They are coated to prevent grease from seeping through.
2. Tips – come in many different designs and sizes, get an assortment of them and play around with them and have some fun and see what kind of designs you can come up with.
3. Coupler – the coupler is a really important tool, it's a two part system, it screws together and allows you to attach the tip directly on to the piping bag. You can quickly change piping-tips without having to empty your piping bag.
4. Spatula – this will help pick up the icing, and you'll be able to easily scoop the icing into the piping bag and not make too much of a mess.
With just a few cake decorating tools and a little bit of practice cup cake decorating design ideas and possibilities are endless.
The Feel-Good Guide to Sports, Travel, Shopping & Entertainment
MAIN
Entertaining
Wedding
Wedding Cakes
Easy Ways To Make A Homemade Wedding Cake
Making a wedding cake is not impossible. If you have some baking experience and time to experiment, you may find that you can produce the same quality cake as a very expensive wedding cake designer.
The most important thing to remember when you decide to bake the cake for your own wedding or to gift a friend with a wedding cake, is that you'll have to make at least one trial run before the wedding day.
Wedding cake design
Before you begin baking, you'll need to know what end result you want. Will you be going for a traditional multi-tiered white frosting wedding cake or will you want a tower of cupcakes or individual table cakes with a smaller "cutting' layer?
Go through the designs online and in bridal magazines until you find one that is just right.
Click on the link and use the charts to find out how much cake you'll need to serve at the wedding.
Gather your tools and ingredients
Around the Web: wedding cakes for absolute beginners
Baking and decorating a wedding cake may require tools that you don't have handy. Since a wedding cake is actually just a big layer cake, you'll need at least three tiers to pull it off . This usually requires a 12-inch, 9-inch, and 6-inch cake pan.
Piping tips and fondant smoothers are generally needed for the frosting. Wooden dowels and cardboard bases for the tiers are another unusual item you might not find in your kitchen drawer
If you plan on a special filling, coloring or flavor for the cake or frosting decorations, make sure you have all the ingredients together before you get started.

Testing 1. 2. 3.
Practice makes perfect and this is especially true when it comes to something as important as a wedding cake.
If you plan on adding a basket weave design for the frosting, for example, make a few cakes for other occasions – like your family dinner – where you use the technique. After you practice on cakes where mistakes don't matter, you'll be an expert when it comes to decorating the wedding cake.
After you feel ready to tackle the actual cake, it's time for a complete "dress rehearsal" practice run. Go through the whole process from baking each piece and assembling the cake to adding the decorations. It may seem a bit expensive and a waste of good ingredients, but if there's gong to be a problem. it's better to find out and figure out a solution on a practice cake!
The bride and the cake
If you plan on baking your own cake for your wedding, have a reliable friend work with you. The last thing you need on your wedding day is to worry about getting the cake to the reception and setting it up.
If you've planned ahead, someone else can take care of these details while you are getting dressed for the big event!
Wedding cake recipes and advice
You'll soon discover that making a professional looking designer wedding cake really is not impossible, it just takes a bit of practice.
When the guests at the wedding find out who made the cake, they'll be amazed at your new talent. Be prepared for requests for cakes from other friends and family!
The sites below are good resources for cake ideas that come complete with recipes and instructions. Once you decide on which cake you'll make, get busy baking and have a great time.
More about how to make a wedding cake around the Web:

Building Tiered Cakes – Wilton is a name that the best bakers know and trust. If you're new to constructing tiered cakes, check out these step-by-step instructions.
Pastry Wiz Wedding Cakes and more.. – From simple to complex, you'll find it all here. Choosing a cake, recipes with baking tips and advice on how to assemble the cake when you're done. Fondants and Pastillage, pipe a basket weave wedding cake, drop strings and more with step by step instructions and plenty of pictures. They have a recipe for gum based rolled fondant if you plan on making some for your cake frosting.
Decorating a Wedding Cake – All Recipes.com not only has wedding cake recipes, they also have some excellent articles on decorating and putting the cake together.
also see our recipe file -> Wedding Cupcake Recipe
More do it yourself wedding resources
Bespoke wedding cakes, treats & favours in Walsall, Birmingham & the West Midlands, UK
Watch a video showing how I created this 3 tiered blue peony buttercream wedding cake for American Cake Decorating Magazine. Learn how to pipe peonies using my free pictorial below, and assemble them in a bas-relief design using only buttercream. Combined with my perfect buttercream finish , perfect rose and tiered cake dowelling & stacking tutorials you have all the information you need to create your own version of this show-stopping beauty*.
On a side note, during filming I realised just how hard it is to decorate a cake at arm's length so your head doesn't obscure the camera. Not the easiest thing I've ever done, but I hope you appreciate the results!
You can relax and watch the video here, and all the other details you'll need are in the blog post below. Enjoy!
*Please note, this is not a tutorial aimed at beginners. If you've never baked before or don't have much practice making cakes, you might want to practice with several smaller projects before you attempt something like this – especially if you want to bake for a real wedding!
Piping tips: for each buttercream flower
Wilton 123 for peonies
Wilton 102 for white roses & rosebuds
Wilton 104 for leaves
Wilton 1 or Piping cones for vines & and buds – DIY piping cones video tutorial
Buttercream Peony Piping Tutorial (Scroll down to the very end to see full recipes & instructions for the cake)
Angle your piping tip at 45 degrees from the flower nail, with the base (the widest end) of the tip facing downwards and the top pointing towards the centre of the flower nail.
Apply even pressure as you rotate the flower nail in order to pipe a small dome of buttercream. This will form the centre of your bud.
Starting with the base of the piping tip touching the flower nail, pipe a slightly ruffled arc of buttercream towards the centre of the bud, then down to touch the flower nail on the opposing side. This forms one petal of your peony.
Repeat the previous step to pipe further petals, starting each with the nozzle base at the centre of the last petal, to achieve an overlapping effect. This forms your peony bud.
Pipe as many buds as required, if desired using varying colours. To pipe an open peony flower, continue piping further layers of petals around your bud as follows.
With each subsequent layer of petals, angle the top of the piping tip outwards a little more to give the effect of an opening flower. Continue overlapping petals as you work around.
Pipe the final row of petals with the tip of the nozzle angled furthest away from the flower centre. When finished, carefully transfer the flower to a work board using the parchment square. Freeze solid before using on your cake.
Buttercream recipe:
If you're a home baker or hobbyist, you can use my super easy & delicious Simple Buttercream recipe below. Serious foodies or pro's should use my original SEBC buttercream recipe, beneath the simple version.
Colourings:
Watch my natural DIY food colours video for more details. You can also use any gel food colouring you wish.
Green: Spirulina & matcha powder
Blue: gel colours
Silver: Edible silver lustre or paint
Take a look at my all new "recommended tools & products" list if you'd like to see exactly which colours & lustres I used.
Full Cake Instructions:
Bake the following cakes using a recipe of your choice: 1x 4″ round, 2×6″ round and 1×8″ round cakes, all 3″ high. If you need a recipe, follow the link below (you will need around 4 batches)
.
Prepare 3 batches of my buttercream, links above, and colour using natural or gel colours. For pale colours you can use the powders dry, just make sure they are crushed/ sifted free of any lumps first. Otherwise, you can mix powders with a tiny bit of warm water until you get a thick paste before use.
Divide the buttercream into piping bags fitted with the appropriate tips.
Pipe roses and peonies onto parchment paper and freeze solid. My rose piping tutorial is here:

.
Stack the cakes on a 12″ board. The tutorial for this process can be found here:

That should be all you need to know to make your own 3 tiered buttercream peony wedding cake 🙂 Thank you for watching, subscribe & stay tuned for more tutorials to come!

*please note I get a little ad revenue if you click on any of the pictures of amazon products above, so if you're going to buy anything I'd really appreciate you supporting my channel at the same time by using these links. It doesn't cost you any extra, and I only link to products I've used or close equivalents, and would recommend. Thank you.