Who doesn't want a perfect balcony?
Even if you have a small apartment or the balcony is small, you can't design an open luxury balcony, but the balcony is very malleable. Even if it is an ordinary balcony, you can achieve unexpected results with a little decoration.
Here are 11 suggestions for decorating the four corners of the wall, floor, display, and decoration to help you understand the balcony design of a small apartment.
Is your balcony very cold and without decorations? It will make the entire balcony look inactive.
The transformation starts from your wall, and you can do a lot of things on the wall.
If you like the idyllic wind, you can put wood on the wall and make a wood wall. The fresh wood aroma will be more beautiful under the sun, which will make your balcony full of pastoral atmosphere.
Pick a picture you like and decorate your wall. With a small nail, go online or the shopping mall to choose a painting you like and place the painting on the wall. Although this is very simple, the things you like can decorate your balcony and make you feel happy.
Plants are the best natural decoration. Many people will raise plants on the balcony; they look beautiful, can receive the sun, add fresh air, and make your balcony full of energy. However, if the balcony space is small, placing plants will affect the placement of other items. You can choose to buy a hanging plant, which will save space and decorate the wall.
Floor
Is the floor on your balcony still bare? Maybe you can make it less boring by laying a small carpet. A good-looking carpet not only makes your feet more comfortable but it also helps your eyes. A beautiful carpet is the first thing you see when you walk into the balcony. And when the balcony is hung with wet clothes, people may slip on the water drops, and the carpet is a good anti-slip item.
Place a tatami mat or a small cushion on the ground. You can sit on the balcony and enjoy the sun in the leisurely afternoon. The sun shines in with a good smell. You can sit or lie on the balcony and have a good rest. This is really wonderful.
Place
Put a small cupboard on the balcony. It will create a good storage function, so put some of your scattered things in the cabinet, or if it is a shoe cabinet, you can store the shoes that can't be put on the balcony. You can also take a shower on a sunny day.
If you like a breeze at night, you can read and work at the balcony at dusk. However, there is little light at dusk, and the lights of the ceiling lamps tend to make you feel uncomfortable when reading and working. You need a dimmable light. The eye-protecting table lamp is placed on a small table near the balcony. It can be dimmed at any time as the light changes, which can reduce eye fatigue.
Put a small washing machine on the balcony. Washing machines are often large, but your space is limited. You can choose a small washing machine and put it in the corner of the balcony so that you can easily wash clothes and dry clothes in the same place. A small refrigerator can also save space and is very convenient.
1. Buy a beautiful curtain and install it easily. Don't underestimate the beauty of your curtains. It's not just about blocking out the glare of the sun, but the beautiful patterns will make you feel beautiful when you see the balcony. This is especially true when you are in the light. It is best to buy a double layer, as it is more practical. You can use two layers of curtains when you need a subdued environment or when you need to protect your privacy.
2. If your balcony is an open space with no glass, you could build a natural wall of plants. It can not only look beautiful, but it will also protect your privacy. Dress up your balcony with taller plants you like.
A thousand people can dress up a thousand different balconies. Each person's design style is different. The balcony they like is different, but it is important that your design makes you comfortable. This article has provided you with 11 decorative design tips for reference, and I hope to bring you some inspiration.
June 29, 2022 2 min read
The Best Of Apartment Very Small Balcony Ideas. There are many decorative ideas that will help you to decorate narrow balconies. You don't have to have a million colors to make a small balcony feel bright.
The balcony may be the only outdoor place where we can enjoy some fresh and natural air. In city apartments, the balcony may be the only outdoor place where we can enjoy some fresh and natural air. 50+ best small apartment balcony decorating ideas.
There are many materials you can use on the floor. This one uses green, cream.
Choose three colors tops, and make one of them really vibrant. 50+ best small apartment balcony decorating ideas.
51 small balcony decor ideas. Hanging planters, string lights, and wall sculptures make this small balcony designed by dee murphy the ideal place to curl up for a cat nap.
Browse the wide range of outdoor balcony. Prev 1 of 62 next.
Hanging planters, string lights, and wall sculptures make this small balcony designed by dee murphy the ideal place to curl up for a cat nap. A small sofa, a coffee table and a bamboo wall would make a balcony a perfect place for an afternoon tea.
A balcony has the ability to beautify an otherwise boring facade and up a home's curb appeal while simultaneously housing a garden, workout area, storage unit or reading nook. For example, chairs, sofas, coffee tables, and bookshelves are some furniture.
It saves space and can even afford to place a small table with two suitable chairs. Adorn it with hanging planters and plant lush green plants in it to add to the greenery of the space.
It saves space and can even afford to place a small table with two suitable chairs. I love the idea of fitting a cushion to a little bitty balcony.
This one uses green, cream. It saves space and can even afford to place a small table with two suitable chairs.
In Many Apartment Houses The Balcony Is Partly Recessed To Provide For Both Sunshine And Shelter.
Hanging planters, string lights, and wall sculptures make this small balcony designed by dee murphy the ideal place to curl up for a cat nap. Outdoor furniture, durable, bright accessories, and container plants brighten up this outdoor space overlooking new york city. You don't have to have a million colors to make a small balcony feel bright.
Do You Need The Inspiration To Renovate It?
Thanks to this place you can enjoy the outdoor air and it allows you to relax under the sun without even leaving your apartment. When autocomplete results are available use up and down arrows to review and enter to select. 2) floor ideas for the balcony.
A Small Sofa, A Coffee Table And A Bamboo Wall Would Make A Balcony A Perfect Place For An Afternoon Tea.
Awesome small balcony ideas to make your apartment look great 50 50 awesome small balcony ideas to make your apartment look great by shannon w. When you need more room, simply store everything back in the cabinet and lift up the door for more balcony space. Just add some cute throw pillows and you'd get yourself a gorgeous place to relax.
Choose Three Colors Tops, And Make One Of Them Really Vibrant.
I love the idea of fitting a cushion to a little bitty balcony. There are many decorative ideas that will help you to decorate narrow balconies. See the awesome decorating ideas presented here.
3 Hang Planters And Wall Sculptures.
18+ best small apartment balcony decorating ideas balcony lighting ideas. Sometimes the only decoration needed on the balcony is a set of planters. For example, chairs, sofas, coffee tables, and bookshelves are some furniture.
FACEBOOK
PINTEREST
EMAILSHARE
If you're one of the few lucky enough to have a balcony in your apartment, condo, or house, congratulations! You've managed to nail down one of the most sought-after spaces a home can offer. Unfortunately, as you might find to be true, this space can go unused—often, it just isn't big enough to fit all the furniture you wish it could. But size shouldn't deter you from creating a beautiful balcony that can be enjoyed 365 days a year.
Ahead, we've rounded up a few of our favorite ways to maximize your precious balcony space. No matter if you're working with 20 square feet or 100 square feet, the options are truly endless. All it takes is a little creativity and a lot of Instagram stalking to make your balcony feel like home.
Go Minimal
" data-caption="" data-expand="300″ data-tracking-container="true" />
We totally get it: minimalism isn't for everyone. But sometimes the saying "less is more" just reigns true. In a tight space, too much décor can come off as clutter. Instead, try adding one focal point, like a bench, and one or two finishing touches in coordinating colors.
Hang a Swing
" data-caption="" data-expand="300″ data-tracking-container="true" />
There's something inherently iconic about porch swings. However, you don't have to miss out on having your own simply because of your tight space. There are plenty of balcony swings that are single-seat and can be hung outside–perfect for nestling into smaller spaces. If you aren't allowed to hang a swing due to renting, you can also try a free-standing egg chair instead.
Create a Reading Nook
" data-caption="" data-expand="300″ data-tracking-container="true" />
Let's be honest: There are probably very few activities you're doing on your little balcony. You might spend a few minutes outside drinking coffee or enjoying the sunset, but reading a book is the classic balcony activity. So, why not convert your haven into a reading nook? The key here is finding an accent chair that's big enough to curl up in but small enough not to overwhelm the space.
Take Advantage of Wall Space
" data-caption="" data-expand="300″ data-tracking-container="true" />
When it comes to any small space, the biggest mistake we see people make is forgetting to utilize their wall space—even outside. Add shelves for plants and lights, hang wall slats for added organization, and use your windowsills as their own makeshift shelves. This way, you can enjoy your space without feeling claustrophobic.
Let Plants Take Over
" data-caption="" data-expand="300″ data-tracking-container="true" />
If you have a green thumb and a balcony, you're probably already growing a small collection of basil or cilantro outside. But why stop there? Line the window sills with pots of different sizes, drape ivy over tall shelves, and hang spider plants from decorative baskets. Before you know it, your tiny space will feel like a luxurious greenhouse.
Ditch the Furniture
" data-caption="" data-expand="300″ data-tracking-container="true" />
When we were little, there was nothing quite as dreamy and magical as our very own fort made of pillows and blankets. A couple of decades later, and the same sentiment applies to balconies. To make your adult fort, throw down some faux turf, add a soft, weather-proof blanket, and finish with all the pillows you can find.
Let the View Do All the Talking
" data-caption="" data-expand="300″ data-tracking-container="true" />
In cases when square footage is extremely limited, it might not be feasible to create a conversational setup with furniture. Instead, try arranging everything facing out towards the view—this way, you can still converse over a glass of merlot while taking in all the natural beauty of evening sunsets.
Trade in a Couch for a Daybed or Lounger
" data-caption="" data-expand="300″ data-tracking-container="true" />
In a perfect life, we'd all waste our days away poolside in a private cabana. But since we have to wait for our next vacay to make that happen, you might as well make the most of the outdoor living space you do have. To get that same luxurious cabana-like ambiance, opt for a giant daybed or an elongated lounger (yes, even if it takes up all the retail space your balcony has to offer).
Transform Your Railing Into a Breakfast Bar
" data-caption="" data-expand="300″ data-tracking-container="true" />
No room for a table? No worries. Build your own breakfast bar with a little plywood or buy a pre-made table that fits snug on your ledge. Just add a few bistro stools, and you'll have a small space to enjoy your coffee while scrolling through your social feed.
Play With Patterns
" data-caption="" data-expand="300″ data-tracking-container="true" />
Patterns have a wonderful way of making anything feel louder, bigger, and so much more important. If you only have room to add a few pieces of furniture, try elevating the rest of your space with various patterns like ikat chair cushions, floral rugs, and striped pillows. It might feel a little busy at first, but once you find the right ratio of pattern play, it'll all fit into place.
Include Custom Built Furniture
" data-caption="" data-expand="300″ data-tracking-container="true" />
Small spaces can be hard to accommodate, especially when it comes to finding the right furniture. If you're someone who enjoys DIY projects, then try taking matters into your own hands by building custom furniture that fits your space. Folding furniture is an ideal solution, given you can tuck it away and create more space whenever you need it. (Not wanting to build something from scratch? Don't worry; there are plenty of options you can choose from and easily install yourself).
Light It Up
" data-caption="" data-expand="300″ data-tracking-container="true" />
If you're the kind of person who tends to use your balcony after hours, lighting is essential. Instead of relying on a harsh overhead light or built-in sconces, create soft-focus lighting with lanterns, candles (fake or real), and string lights. If you ask us, it makes for the perfect date-night ambiance.
Shade Yourself
" data-caption="" data-expand="300″ data-tracking-container="true" />
As much as you might want to hang out on your balcony to soak up the sun, it's important to make sure you're protecting your skin on, especially sunny days. If you have a railing, use the space to hang curtains, add a tent, or prop up a giant umbrella. In the heat of the summer, you'll thank yourself.
Get Creative With Color
" data-caption="" data-expand="300″ data-tracking-container="true" />
It might be easy to rely on a neutral color palette for your outside space, but don't be afraid to dive headfirst into color. Try going for small pops of bright coordinating colors. The result is a balcony that begs to be used, even in the dead of winter.
DIY With Wood Pallets
" data-caption="" data-expand="300″ data-tracking-container="true" />
Wood pallets are the best-kept secret in the DIY world. They can be used to make everything from platform beds to tables and even swings. And they're also ideal for balcony spaces. Stack them to create an easy DIY daybed that looks custom-made.
Look at these 8 apartment balcony garden decorating ideas to find out how you can make your balcony the most comfortable space.
Do you own a balcony? Want to make a limited space garden there or you already have one? Let's make it better. Follow these 8 balcony decorating ideas and tips to turn your balcony into a place of relaxation.
Check out our article on apartment decoration ideas with plants here
Apartment Balcony Garden Decorating Ideas
Tip 1
Instead, of tiles, a simple floor and rug on it, use artificial green carpet or turf rug imitating the lawn. You can also use wooden tiles for a better look, this will give a beautiful look to your balcony.
Tip 2
Along the railings install a shelf or hanging flower boxes outside to generate more space.
Tip 3
On the balcony floor, use decorative pots. On a balcony garden, hanging baskets are compulsory too. You can grow flowers, herbs and even tomatoes in hanging baskets.
Tip 4
Place a small table with two chairs, so that in warm and favorable days, you can enjoy fresh air with your morning coffee or tea.
Tip 5
Create a small structure for support or buy a trellis for climbing plants. You can do it with wooden slats, or bent steel rods.
Tip 6
If possible arrange an old shelf or something so that you can keep your pots on it, this will also create a lot of space.
Tip 7
Set design details such as a statue, lanterns or candlesticks or wall hanging colorful pictures. You can also add other garden accessories that will suit your small space.
Tip 8
Ensure adequate lighting for the night. In whatever color you like. Grow some night scented flowering plants like nicotiana, stock, four o' clock or night blooming jasmine too for fragrance.
Do you have a small balcony that you really want to do something with this spring? In addition to spring cleaning, you may also be seeking a revamp of your current balcony situation as the warmer temperatures arrive. We're here to help you out with some small balcony ideas you might just love.
Here are ten ideas that can help you make the most of a small balcony this spring. If you've got it, why not maximize it? Read on and find out more!
10 Ideas to Make the Most of Your Small Balcony This Spring
The cultivated reading spot. This leads us to the second idea, a carefully, meticulously crafted reading spot. For this, you will want the most comfortable chair you can find. From then on, fine tune. Add a parasol or umbrella for some shade and cover from the sun and even a lamp for later at night. Add a small side table on which you can rest a book for a moment, or a cup of tea. It's easy to do, you just need the furniture and accessories of your choice.
Create the spring and summer lounge of your dreams. All you need is a lounge chair, and the rest is up to you. Once you have your spot in the sun, you'll be ready for some Vitamin D to hit your system and make you feel happier and healthier than ever. It can be helpful to add a theme; a French summer by the Riviera is a good one, and you can add French blues in the form of your chair, a table, a towel thrown over, some flowering plants by your side.
Add a ladder for your pots. You can plant herbs or you can plant flowers or even small vegetables! It's a fun project and definitely helps you maximize a small balcony. It's already there, so why not plant some chives, oregano, pansies, or radishes? They're not only edible, they look great decoratively. A decorative ladder plant is a great idea for small balconies.
Decorate the balcony. Hang a banner, weave ribbons or garlands through the bars, or add some twinkling holiday lights that light up at night! There are so many things to do that the only limit is your imagination and whatever is available while shopping. Sparkling lights are a particularly nice decoration that can help set a mood in the evening or at night.Or search online to find your own small balcony decoration ideas!
Transform it into a wine sampling balcony. There's nothing better! It's a divine way to use the space and you'll feel like you have your own special escape, right at home.
Add a small bench and sitting stools. These are comfortable and a great way to mold the space towards a social one, one of conversation, relaxation, and simple pleasures.
Put a hammock or a hanging chair on your balcony. This is a great idea! That being said, an outdoor hammock or a hanging chair is wonderful if you love relaxing, being comfortable, listening to music or a podcast, relaxing, etc.
Use peel and stick floor tiles. Of all the small balcony decoration ideas, this one is genius. Peel and stick floor tiles allow you to completely transform the floor of your balcony, making it glamorous and sophisticated in an instant. If you're really looking for apartment balcony ideas that will take the space to the next level, these tiles are extremely transformative and really easy to apply.
A small round table and two chairs. Make a space intimate enough to share a meal or share a beverage with your loved one. It can be reminiscent of your favorite place to dine together or even a restaurant you visited in Italy. Simple, romantic, and small balcony friendly!
Images: Claudia Herper
Conclusion
These are our small balcony ideas. Having a balcony is always amazing, and with small balconies, you can do so much if you are creative and have a vision. Only you know what type of small balcony decoration ideas you're interested in. Perhaps you want to focus on socialization, on escape, on rest and relaxation, on decor and decoration, on greenery. When it comes to apartment balcony ideas, there are no limits!
We hope these ideas inspire you and help you to make the most of your balcony this spring. Good luck bringing your vision to life!
Do you want to create an inviting and gorgeous outdoor space in your tiny balcony? Some urban gardening in a small outdoor space is also great. In fact, it is possible to do something like this. Here are all the things you should know before starting to decorate your tiny apartment balcony.
The first thing to do is to start with the succulents and the color of green. So, this is your concept on how to make the small area into a great place of succulents and green things. It is not something too much when you also use the apartment balcony to grow small herbs or fruits. The fact is that you can use the plants to hide the floor on your balcony.
The challenging part to add some plants to the tiny balcony apartment is how to make a channel along the edge of the patio or balcony inside the railing when you want to plant your succulents. To solve this problem, you can use a miter box.
The next thing to consider is about going with a tall aluminum planter to complete a small balcony apartment. If you want to make the corner more special, you can add a pop of bright green color. Here, you can add it with an outdoor lantern and then spray painted it.
If you are ready to plant, you can grow strawberries, mint, basil, and rosemary. Also, it looks good if you can add a round dish just like a terra cotta planter to add a finishing touch. What you should do is paint it in bright green with silver paint for the border to complete a tall aluminum planter. It is also the perfect match for the lantern in the left corner of the garden. You can use the planter as a fruit bowl. Even though you have a small apartment balcony, but tall accessories such as hanging planters can create a larger feel to space.
Do you want to create an inviting and gorgeous outdoor space in your tiny balcony? Some urban gardening in a small outdoor space is also great. In fact, it is possible to do something like this. Here are all the things you should know before starting to decorate your tiny apartment balcony.
The first thing to do is to start with the succulents and the color of green. So, this is your concept on how to make the small area into a great place of succulents and green things. It is not something too much when you also use the apartment balcony to grow small herbs or fruits. The fact is that you can use the plants to hide the floor on your balcony.
The challenging part to add some plants to the tiny balcony apartment is how to make a channel along the edge of the patio or balcony inside the railing when you want to plant your succulents. To solve this problem, you can use a miter box.
The next thing to consider is about going with a tall aluminum planter to complete a small balcony apartment. If you want to make the corner more special, you can add a pop of bright green color. Here, you can add it with an outdoor lantern and then spray painted it.
If you are ready to plant, you can grow strawberries, mint, basil, and rosemary. Also, it looks good if you can add a round dish just like a terra cotta planter to add a finishing touch. What you should do is paint it in bright green with silver paint for the border to complete a tall aluminum planter. It is also the perfect match for the lantern in the left corner of the garden. You can use the planter as a fruit bowl. Even though you have a small apartment balcony, but tall accessories such as hanging planters can create a larger feel to space.
In a small cozy condominium, the outdoor balcony is one of the most cherished places for many residents. The condo balcony is a secluded, intimate area where you can enjoy a change of scenery from the indoors. Whether you want to bask in the warm sunlight or simply take a deep breath of fresh air, your balcony is an enticing space for hours of relaxation.
As you spend time in the condo balcony, you may wish to personalize this area with more comfort and style. There are many ways to decorate the balcony lounge area for a small condo or apartment. From the condo balcony flooring to the various furniture choices, every detail enhances the atmosphere of your surrounding environment.
While the design aesthetics are important, the best balcony lounge ideas will also take your practical needs into consideration. Do you intend to use your balcony lounge for reading, dining, or entertaining? Each activity comes with its own unique set of design elements. You may require new furniture pieces or different flooring options based on how the balcony is used.
Let's explore these seven balcony lounge ideas for small apartments and condos in greater detail:
Idea #1: Enhance your condo balcony flooring

In a small condo balcony, the flooring is an important design element that will largely define the outdoor area. The colour, texture, and materials used in the balcony flooring will have a notable impact on the visual space. Among the many flooring designs and styles available, condo deck tiles are one of the most popular options. These tiles are designed with a smooth linear pattern, which can create a sense of optical spaciousness and utilitarian definition to your balcony enclosure,
Idea #2: Pick compact & comfortable balcony furniture

Some of your furniture choices might be limited due to the size of your condo balcony. Nevertheless, a small balcony lounge area can be glamorized by monitoring the scale of your furniture. An oversized chair can make the balcony space feel minuscule with not much room to navigate. In contrast, an apartment-size sofa, which is close to the ground, will have the opposite effect.
Instead of using multiple chairs, add a corner couch to maximize the seating space and define the area. Use outdoor throw pillows to add texture and amplify the décor. If there's still enough space, you can also include a cozy reading chair, a matching table, and several pillar candles for ambiance.
Ottomans would be another great furniture addition. The ottomans are often recommended for balcony lounges in small condos due to their functionality. They can be used as coffee tables, as footrests, or as extra seating when needed.
Idea #3: Mix and match different furniture styles

Although a matching furniture collection looks elegant, it can feel a bit restricting to stick with just one style. The uniformity is especially noticeable in a small balcony space. Instead, add personality and texture to your condo balcony with mismatched décor from different eras. Textured pieces, such as a vintage chair paired with a small contemporary sofa, can make a balcony look as seamless as it would with a complete set.
Idea #4: Decorate the balcony with flowers & plants

Nothing makes a condo balcony prettier than decorating it with flowers. Plants are great balcony lounge ideas for small apartments because they don't take up a lot of space. Plus, their placements are very versatile. They can be placed on tables, hanged on walls, or positioned by a corner somewhere, depending on how much allotted space you have.
Leafy beauties like ferns and spider plants give the balcony an interesting texture, while blooming perennials like tulips or daffodils add a lovely colour to your balcony. You can even buy planters that match the theme of your outdoor balcony lounge. If you don't like gardening, go for low-maintenance plants, especially those from the succulent family. Even a single flower in a vase will introduce a pleasant ambiance to your balcony space.
Idea #5: Set up a hammock on your balcony

Want to kick back your feet and relax in your balcony lounge after a long day's work? You might be interested in installing a hammock to fill up your balcony lounge area. This hammock will be the focal point of your small condo balcony, so pick a bold colour or an interesting pattern to spruce up the appearance.
Idea #6: Add an outdoor dining room

Many condo residents love the concept of turning their balcony lounge into an outdoor dining room. There's a whimsical charm to enjoying a morning coffee, an afternoon snack, or a late-night glass of wine in the backdrop of the gorgeous balcony scenery. For this design idea, you can create a compact dining space with a small table and some chairs. You may also want to keep napkins, cups, and utensils in a storage space nearby.
On days with good weather, you may wish to cook your meals outside. If this sounds appealing to you, a small electric grill would be a great addition to your balcony lounge. The grill enables you to cook some tasty burgers and seared kebabs for lunch or dinner. You can even entertain a few guests and prepare a barbecue feast out there on your balcony.
Idea #7: Turn your balcony lounge into a home office

With the recent popularity of working from home, it can be an interesting idea to turn your condo balcony into a home office. This is a great arrangement when you need privacy and distance from the other residents of the condo, which the balcony enclosure provides. Some people enjoy also working in an outdoor location, which can feel more relaxing and comfortable than a confined room.
To maximize productivity, it would be best if you set up the balcony with proper office furniture. Even in smaller condo balconies, there should be enough room to fit a compact office desk and a comfortable chair. Once everything is assembled, you can take your laptop outside and work in a unique home office environment unlike any other.
Whether you have a large or small balcony lounge, Designer Deck offers many stylish flooring options for condominiums of any size. Contact us to learn more about our collections of condo balcony flooring and deck tiles.
A balcony can one of the most stunning part of an apartment. Although in winter, you cannot spend as much time there, it is certainly the best place to disconnect and relax, especially now during the Coronavirus quarantine in Barcelona . In small flats and city, balconies are sometimes the only place where you can enjoy the fresh air.
Having a trendy breath-taking balcony is within everyone's reach, you only require a little imagination and organizational skills and this even when it comes to decorating a small balcony .
Photo via Pixabay
In this ShBarcelona article, we share with you a few ideas on how to decorate your balcony that will help you turn the smallest of balcony into a beautiful, fun and cosy space.
How to decorate a small balcony?
Many rental apartments in Barcelona have a small balcony . In general, in large cities it is difficult to find large balconies or terraces. That's why it's important to find some privacy in the decor of your balcony.
You can place hanging plants to make a curtain effect on the outside of the balcony, bamboo rods around the perimeter or look for other materials in the market in case it is open everywhere, such as military mesh or wicker fences .
Are you ready? Here are some ideas on how to transform your small balcony into a plant paradise .
Photo via Pexels
Tips for decorating a balcony
1. Get foldable or stackable furniture: Don't you have room? No problem. Using folding and stackable furniture will make it easier to organize your balcony. You can find tables, chairs and stools that can be neatly stored together if you search well!
2. Change it up with a vertical: It is the perfect solution to add a tropical touch without having to sacrifice too much space.
3. Take advantage of every corner: You didn't realise corners were such great space! Try using corner furniture that allows to transform some normally wasted space into something stylish.
4. Go for hanging gadgets: Hooks are very useful to hang things on the wall and thus keeping your space tidy and organized. For example, if you have small foldable chairs, why not place them on side or below a table.
5. Furniture storage is a must: To make the most of a space, the best thing is furniture storage. In this way, it not only optimizes your balcony, but it keeps your things clean and organized.
Photo via Pexels
In addition to these tips, we also invite you to consider the lighting of your balcony . Adding lights can really elevate your experience and the aesthetics of the terrace of balcony, especially in the evening.
There are different ways you can illuminate your balcony, although a great and simple way is to use small beacons that usually charge with sunlight.
The final touch can be adding accessories and decorative elements that really personalize your balcony and makes it a unique and stylish place to be in. In Pinterest you may find some style inspiration to bring your balcony to the next level.
Photo via Pexels
Home decoration stores in Barcelona
Now that we have given you great ideas on how to decorate your balcony, we share with you where you can buy everything that you'll need to make your project come to life. In Barcelona, there are many home décor stores where you will find everything from outdoor furniture to materials as well as instruments and all kinds of decorations.
There are many stores such as: IKEA, Leroy Merlin , Casa Viva or Maisons du Monde (you can buy online).
Haven't started decorating your balcony yet ? These tips will definitely come in handy when you take the leap and start as it is not the same as redecorating your house.
Now it's time to be creative and impress your family with your stunning balcony!
Can you think of more ideas for decorating a small balcony?
Updated: May 26, 2018
This article may contain links from our partners. We may receive a small commission if you make a purchase through a link. Please read our disclosure and how we make money.
SMALL SPACE DECORATING IDEAS: A DREAMY SWEDISH APARTMENT IN STOCKHOLM
We have been living in our tiny home for over 10 years, therefore we know a thing or two about how to decorate a small apartment!
It's so easy to clutter your space with unnecessary items, but when you have only 40 square meters (430 square feet) like in this flat in Stockholm to live in, you really need to be careful about what you buy.
But what if I told you it was possible to live in a wonderful small space without compromising on life quality?
This dreamy Swedish apartment has the perfect balance between design and functionality.
And in this post, I will show you exactly what tricks they have used to do just that.
How To Decorate Small Spaces
Avoiding curtains or using light shades really helps to maximize lighting, making the room feel bigger.
Choosing larger rugs really helps to make a room feel bigger. Unlike smaller rugs, this large size rug doesn't visually break up the floor. Large rugs also help to make the space feel warmer and cozy.
Choosing stackable stools that you can just leave in the corner of the room, give you plenty of seating options for when you have friends around.
Go vertical: use your walls for storage as much as you can. Go for high wall cabinets for your kitchen and utilize extra tall units as much as you can.
Choose lighting that can be attached to the walls (like with this beautiful wall-mounted lamp) or hung from the ceiling to save room on floor space.
Turn window sills into usable space. Here they have been used throughout the apartment to hold table lamps, without the need for extra furniture on the floor.
Mirrors create the illusion of more room and they are great in small hallway to give you the sensation of more light.
A little trick to make your room feel as big as possible is to hang your curtains as high as you can. This will make the room feel taller, giving you the sensation of a bigger room.
Smart furniture always helps with decorating small spaces. Make sure you have plenty of under bed storage. Don't leave all the space below your bed unutilized!
All the photos in this article are courtesy of Fantastic Frank
Having a consistent color palette will really help a small apartment feel bigger. Try to keep things light, and if you like bold colors, use them in furniture.
This is a perfect small living space, don't you think?
Interior design is one of my biggest passion. I really think living in a place you love, helps your happiness. But for me, having a beautifully designed home doesn't mean spending a lot of money on it. I will never suggest you to over-spend on a furniture item. You can still achieve beautiful design on a small budget.
It's always a plus if your house or apartment has a balcony, seeing as there are a few directions you could go with this. Namely, you could decorate your balcony in about a thousand different ways. However, if you're stuck and you need a little inspiration on small balcony ideas, you have come to the right place! In this article, I will provide you with a few ideas so hopefully some of them might be a good fit for you and your outdoor space!
1. Add some plants
For starters, a little greenery is never a bad idea. Not only will plants make your balcony very cozy and will they be a true delight to look at, but you will also have a lot of fun in the process of making your own small balcony garden. Furthermore, with greenery, the possibilities are truly endless. This can range from planting your own vegetables and fruits to decorating the balcony with all of your favorite flowers and plants. It all depends on your own style and preferences, thus a lot of variation is possible.
2. Add a cozy sitting area
Nothing beats lounging around on your balcony when it's a particularly sunny day. That's why it would be really handful to design your own cozy little sitting area on your balcony. Thus, you could add a small table and a few chairs to create a cozy sitting corner for example. The best part about this is that you could design this area fully to your liking. And you could get really creative with this.
However, if you're more the type to think about the box, you could also add floor pillows or a hammock, to just name a few examples. This way, you could add a bohemian touch to your balcony if you are into that. Most importantly though, this kind of sitting area doesn't have to take up a lot of space, so if you only have a very small balcony, this could still be a great option for you.
3. Use the walls of your balcony
If you don't have access to a lot of space on the floor of your balcony, it might be a good idea to decorate the walls of your balcony as much as possible. Again, there are a few directions in which you can go with this. For example, you could try adding some trendy greenery to the wall or you could design a stunning balcony railing. An added plus with this decorating idea is that your balcony will appear to be slightly bigger if you leave some of the space on the floor untouched.
4. Get creative with your balcony lighting
Moreover, lighting is a great way to add some color and coziness to your small balcony. You could try using theme lights to brighten up the balcony for example. Furthermore, you could add some fashionable lighting to the wall. Or you could hang different lampions to the ceiling of your balcony. If you're looking for more concrete ideas, you could always try adding some string lights to the railing of your balcony. String lights are available in all kinds of shapes and colors, so you could really use this decoration tip to make your balcony truly your own.
It doesn't matter whether you're more the minimalistic type or more the type to go all-out. You could really use balcony lighting as a way to make your personal style very apparent in the way that you decorate your balcony.
All in all, nothing screams comfort and conviviality more than a balcony that uses lighting. But not just any one, only in the most creative and innovative ways possible.
5. Use wood for the floor of your balcony
Lastly, a lot of balconies are equipped with concrete floors. Therefore, if you really want to stand out with the design of your small balcony, try using wording flooring instead. This will immediately make your balcony appear cozier and less boring than would be the case with concrete flooring. More importantly, though, it will give your balcony some character. As a result, this decorating idea is very original if you're looking to switch things up a bit.
To conclude, these are all stylish and nice decorating ideas that can improve the overall appearance of your small balcony. However, you should keep in mind that the most important thing still is to just add your own style to your balcony. So, don't be afraid to get those creative juices flowing!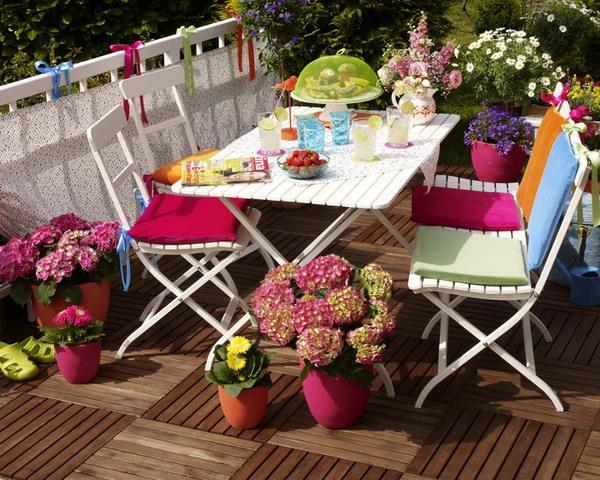 Beautiful decorating with flowers and colorful fabrics, outdoor dining area
Small balcony designs can provide charming outdoor seating areas and beautify apartments by extending rooms and increasing flat sizes. Balconies connect home interiors with nature and encourage people to spend more time outdoors. Here are an extensive collection of gorgeous terraces and inspiring ideas for decorating the small outdoor seating areas. The inspirations will help add chic and charm to your home and turn the outdoor living spaces into peaceful and beautiful retreats.
A small balcony with a decorative screen, hanging planters, original garden decorations, and small furniture looks cozy and inviting. An outdoor seating area is a place where you want to enjoy breakfast with a cup of coffee or an afternoon tea. A balcony decorated with lanterns and soft cushions provides a beautiful place to relax at night. An outdoor rug, a chair, beautiful flowers and plants in attractive containers, and inviting pillows are all you need to create a peaceful paradise on your small balcony.
Inspiring small balcony designs
A small table with a matching chair or a space-saving set of folding furniture adds a comfortable dining area for experiencing outdoors. Decorative pillows bring color, and built-in screens or outdoor curtains provide comfort and privacy. Original garden decorations, especially water features, make fabulous accents emphasizing the tranquility and elegant simplicity of small spaces. An outdoor fountain creates a peaceful and calming atmosphere, ideal for complete relaxation.
Green plants and flowers have a strong ability to transform outdoor living spaces into pleasant oases. Beautiful flowers add charm to small balconies, patios, and terraces. Climbing plants or hanging from the ceiling flowering plants look gorgeous, creating elegant, unique, and cozy outdoor living spaces.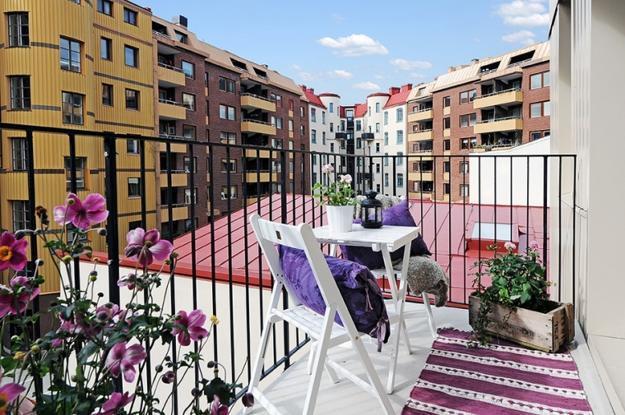 Small balcony decorating with flowers and space-saving furniture
Balcony decorating with flowers and plants can be inexpensive but bright and cheerful. Comfortable furniture and fun items, combined with beautiful flowers and plants, create relaxing and intimate open-air lounges where people can dream, read, meditate and rejuvenate. Fresh air is good for your body, and being surrounded by flowers and plants improves your health, connects you to nature, and lifts your mood.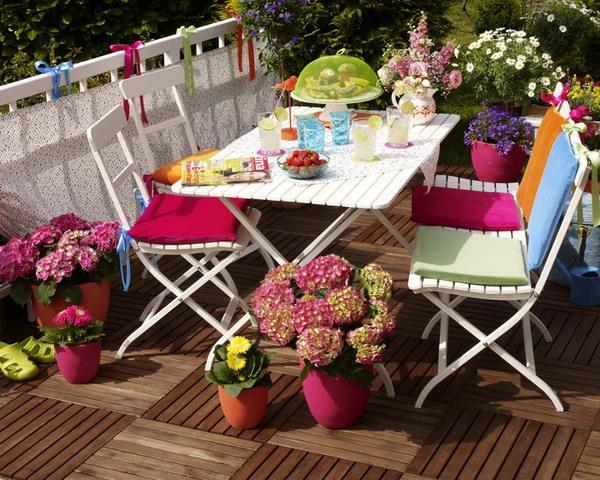 Beautiful decorating with flowers and colorful fabrics, outdoor dining area
Green ideas mixed with colorful flowers look attractive and increase home appeal. Beautiful balconies impress and fascinate people, but it is easy to realize that balcony, terrace, or patio designs can turn into bright, impressive, and comfortable outdoor rooms. A few simple steps can transform a small balcony or patio into a gorgeous and welcoming oasis.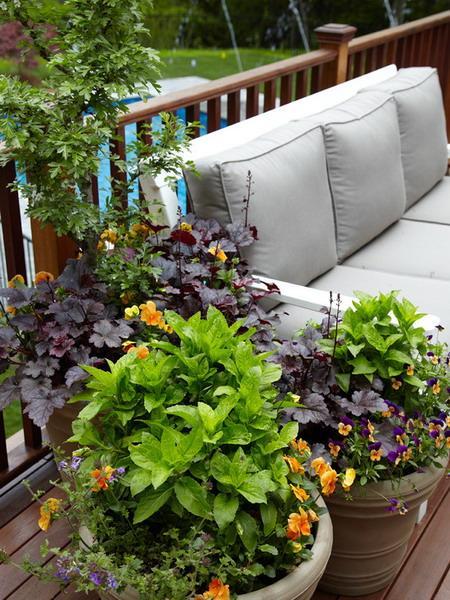 Small balcony decorating with flowers and outdoor furniture
Attractive colors, original accents, comfortable and space-saving design are three essential elements of unique and beautiful outdoor rooms. A bistro set with small chairs or a comfortable bench with decorative pillows, a few flowerpots with blooming plants, and outdoor lanterns offer easy-to-apply solutions for designing spectacular and comfortable seating areas on small balconies.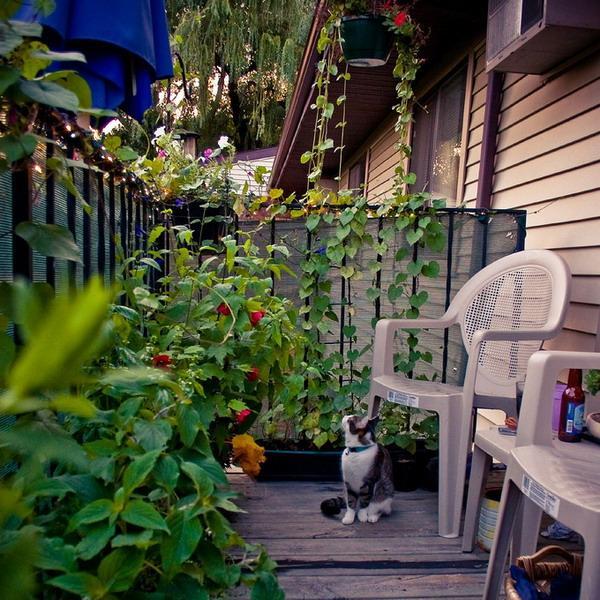 Small balcony with chairs and plants
A strategically placed outdoor floor rug and furniture help define your outdoor seating area stylishly. Buying an outdoor floor rug or just painting a rug-like pattern on the floor are two alternatives to lacking-interest decor. Creative details, vibrant hues, or contrasting colors enhance small balcony designs and create cozy, beautiful, and inviting outdoor seating areas.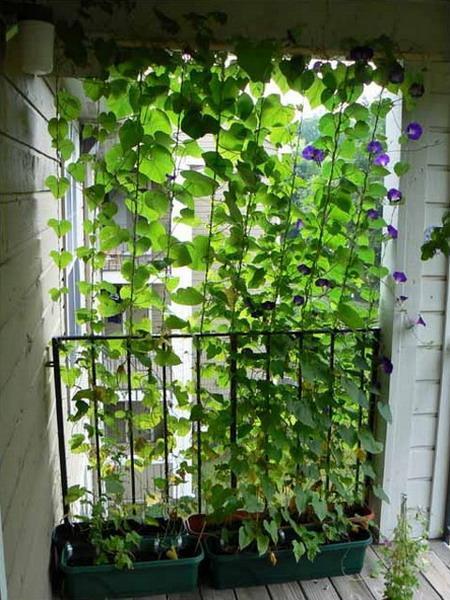 Small balcony decorating with a green screen
Balcony decorating with flowers and plants is not only charming but functional also. A few large plants make beautiful screens for more privacy. Hanging from the ceiling plants and screens for climbing plants add shade to the balconies and help keep home interiors comfortable in summer. Simple outdoor lighting improves the functionality of outdoor living spaces also. Modern lighting fixtures add a contemporary flair and a welcoming look to outdoor rooms. In contrast, vintage-style lighting ideas and lamps in retro styles blend originality with classy designs and create safe and beautiful outdoor seating areas.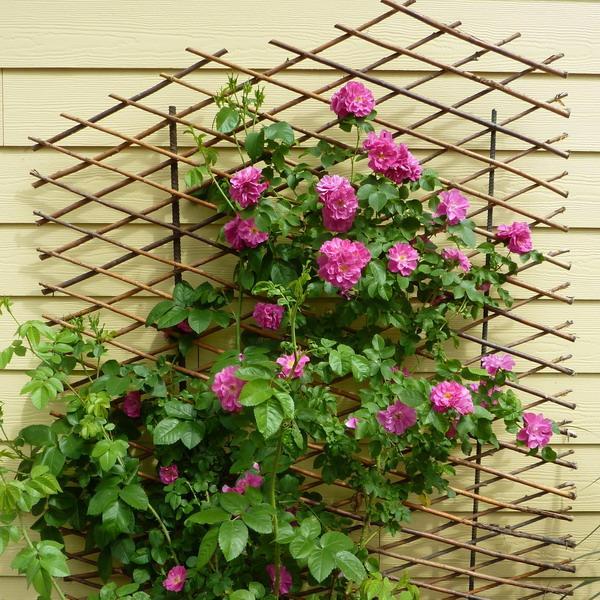 Wall decorating with climbing plants and flowers
Wind chimes and small water fountains are perfect additions to patio and balcony designs that bring a natural feel into your home while creating tranquil outdoor living spaces. Outdoor water fountains look fantastic with plants and flowers. Your favorite sounds, flowers, and plants transform small outdoor rooms into charming and intimate retreats.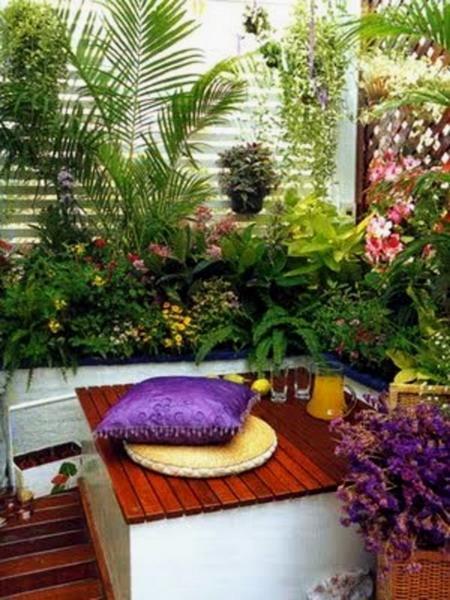 Creating peaceful and beautiful outdoor rooms with benches, decorative pillows, flowers
Small garden decorations beautifully accentuate small outdoor living spaces. Hanging artworks and crafts personalize porches, patios, and balcony designs and work well with colorful flowers and green plants. An artistic touch of handmade designs sets an exquisite, comfortable, and pleasant atmosphere and enhances outdoor rooms in many ways.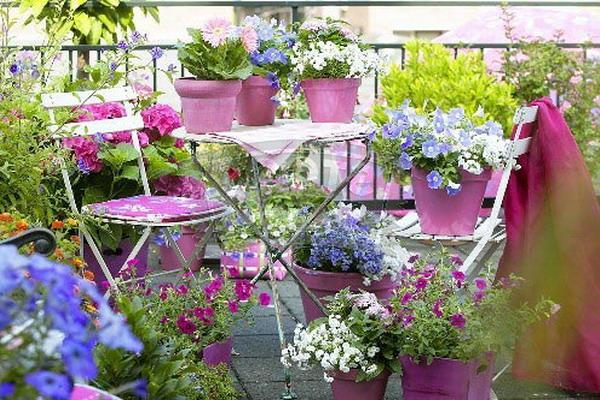 Colorful flowerpots for small balcony decorating with flowers
A grill. A comfy hammock. A string of lights. All of the above! When you moved in, you had big plans for your little apartment balcony, but in the hustle and bustle of life, those plans got shoved to the bottom of your to-do list. But hey—there's no better time than the present! Use this step-by-step guide to turn your apartment balcony ideas into a cozy hangout for reading, writing, socializing, and maybe even a candlelit dinner.
1. Add seating.
If you're going to create an inviting outdoor space, the first thing you need is somewhere to sit down and kick your feet up. To start, find patio furniture that suits the size of your balcony, as well as your lifestyle needs. No space for a full dining table and big chairs? Opt for a small bistro set instead (or better yet, a set that folds up for storage when it's not in use). Looking to create a private hideaway for one? Choose an oversized comfy chair rather than group-friendly seating. Need more budget-friendly seating ideas? Check out the patio furniture for rent from CORT.
2. Treat your feet with an outdoor rug.
When you're searching the web for apartment balcony ideas, keep in mind that your goal is to add extra living space to your apartment. This means you can (and should!) bring some comforts from your home's interior to your outdoor space. You can cozy up your balcony with an outdoor rug, which also adds visual interest and color. If a large outdoor rug is out-of-budget, layer multiple small rugs or get creative with a few floor mats for a customizable, eclectic feel.
3. Get cushy with it.
If your apartment patio is too small even for the tiniest of furniture, don't worry! Try floor cushions instead. Purchase a few oversized pillows and layer them on top of your rug. Ta-dah! You've got yourself a plush outdoor nook where you and your friends can plop down and enjoy a drink.
4. Light up the night.
Whether you're using your apartment patio for entertaining or just as a space to unwind after a long day of work, you'll want lighting options that allow you to enjoy it after sunset. Holiday light strands are a great option on a budget, but if you can splurge a little, choose string lights with replaceable bulbs. These strands tend to last longer (and look a bit more upscale). If you have space for small tables, add outdoor lamps on top of them to create even more ambiance. Also, consider solar-powered paper lanterns for the ultimate shabby chic aesthetic.
5. Keep your furry family members safe.
Your apartment balcony feels like a safe haven to you, but it's a bit of a safety hazard for your pets. Playful kittens and squirrel-chasing pups can slip and fall through the railings if left unattended.
Make sure to supervise your furry friends if and when you let them out on the balcony. You can be extra safe by lining the railings with a balcony fence, plexiglass, or even chicken wire. Don't forget to keep patio chairs and tables away from the railings to keep your pet from climbing over.
6. Keep other critters outside.
The only animals you want inside your apartment are your pets—not mosquitos! A magnetic screen door is an inexpensive way to let the air in while keeping the creepy-crawlies out. If you're spending time on the balcony and the skeeters won't bug off, lighting a citronella candle or turning on a fan may help.
7. Add a little something green (or a lot of something green!).
Nothing makes a space feel homey like plants—and that includes both indoor and outdoor spaces. Perch planters on your patio furniture for a lively centerpiece. Then, revel in your classy little dining spot, you plant-parenting adult!
Even if you think you have a black thumb, you'll have a thriving garden in no time if you choose plants that work well for apartment balconies. Limited on floor space? Make use of planters that are designed to hang on your apartment balcony railing, or use damage-free hanging hardware to hang planters from a wall or ceiling.
8. Try a balcony privacy screen.
Nosy neighbors? No thanks. Shield all your apartment patio shenanigans from wandering eyes with a balcony privacy screen. Purchase an inexpensive fabric screen online, or bring in a few tall plants (like bamboo or a small potted tree) to create a privacy barrier that's both beautiful and functional.
Are you inspired yet?
If you've got an apartment balcony already, what are you waiting for? Use these apartment patio ideas to create the space of your dreams! Don't have a balcony, but wish you did? Check out the selection of apartments with balconies on ApartmentSearch, and find the perfect place to bring all your outdoor décor ideas to life.
Hunt the best SMALL APARTMENT? If you are look over that thing, then you have to know about Small Apartment Balcony Decorating Ideas. Just like the name, there are many pictures of hd photos such as Small Apartment Balcony Decorating Ideas, SMALL APARTMENT, and many more. By http://myazhar.blogspot.com/ picture, you can improve your imagination so that you can get the Wallpapers just like what you want.Not To Mention, you can make the practice has a different point of view. For instance, you can make Small Apartment Balcony Decorating Ideas has a actions of your desktop display.
Small Balcony Decorating Ideas via 3.bp.blogspot.com
Small Balcony Ideas via www.urbanbalcony.com.au

Balcony Railing Designs via 3.bp.blogspot.com

Bathroom Is Very Practical And Thanks To White Colors Its Not Dark At via 4.bp.blogspot.com

Small Apartment Balcony Decorating Ideas via cdn.homedit.com

Balcony Garden Ideas via www.ispacedesign.com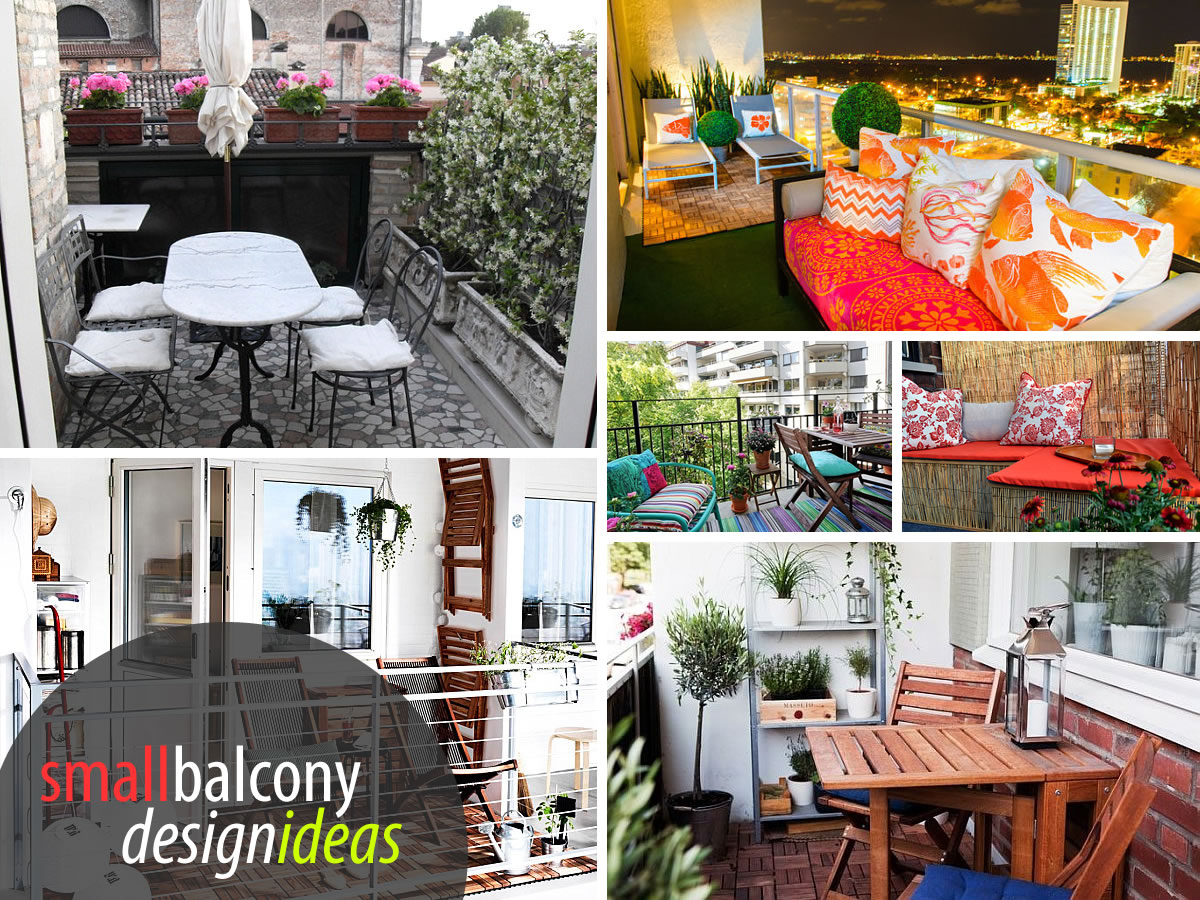 Small Balcony Decorating Ideas via cdn.decoist.com

Use Of Balconies 24 Decor Reorganization Ideas For Small Balconies via 1.bp.blogspot.com

Small Balcony Design via www.laurieflower.com

Balcony Garden Design via wanderingmist.com

Christmas Window Decorations via 3.bp.blogspot.com

Small Garden Ideas Indian Dodecals Small Garden Ideas Indian via img.dodecals.com

Small Patio Design Ideas via www.the-landscape-design-site.com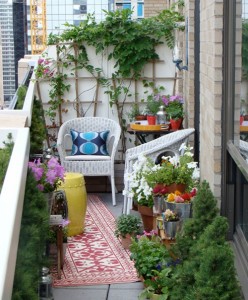 Small Balcony Garden Ideas via mydesiredhome.com

Studio Apartment Design via www.city-data.com

Small Balcony Garden Ideas via 3.bp.blogspot.com

Colorful Apartments Designing Ideas via 1.bp.blogspot.com

Small Patio Ideas via www.indebleu.net

Feminine And Cozy Small Loft Interior Design 2 via www.decoradvisor.net

Great Attention To Detail For A Unit Love The Pendant Over The via 4.bp.blogspot.com
Small Apartment Balcony Decorating Ideas Desktop backgrounds can be used as a background of your computer screen with different sizes. Download hd quality Images of SMALL APARTMENT famous Pictures for you desktop background. We have lot of collection SMALL APARTMENT Photos for Pictures lovers. Now you can make more beautiful your desktop and mobile, iphone, ipad and other devices via using these Small Apartment Balcony Decorating Ideas Pictures .
This article was co-authored by Karen Parziale and by wikiHow staff writer, Janice Tieperman. Karen Parziale is a Home Stager, Home Organizer, and the Founder of The Real Estate Staging Studio based in Hoboken, New Jersey. Karen has over 15 years of home staging and decorating experience and has staged over 5,000 homes. She specializes in project management, space planning, material selections and builder/architect/client relationships
There are 11 references cited in this article, which can be found at the bottom of the page.
This article has been viewed 15,036 times.
A balcony is your own little corner of the world—a place where you can relax and unwind while enjoying some fresh air. Good lighting can make a difference in transforming your outdoor space from a simple balcony to a cozy paradise. There are plenty of different lighting possibilities to choose from, whether you're decorating an apartment balcony or something larger. Experiment with different kinds of lighting and see what kind of special haven you can create for yourself!
Karen Parziale
Home Stager & Interior Designer Expert Interview. 21 April 2020 Look for a ceiling or support system above your balcony that can hold up your string lights. Attach the strings to the ceiling or rafters and let them drape in a slight curve over your balcony. Then, reattach the other side of the string lights to another section of the balcony ceiling, or another support on your balcony. [2] X Research source
For instance, you can drape the string lights across opposite edges of the ceiling. [3] X Research source
If you don't have a lot of space in your balcony, you can drape the lights from the ceiling to another support, like a balcony railing.
You can hang up string lights over 1 wall, multiple walls, or around the perimeter of your balcony! It all depends on how much space you have.
If you want to keep the decoration smooth, it is possible to choose to bring a chandelier. Of course, you want to keep the decorations pretty easy. In addition, there are cheap wedding decorations on the market. With additional lighting on the door and different parts of the balcony, you can make it look shiny. Instead of a fertile backyard, all you get is a small balcony. Even if you only have a small balcony, it's a good idea to put something green out there because it offers a focus over your wall.
A balcony is one place at home to look for inspiration or just chatting casually with family and friends. No matter how big the balcony is, as long as you can add the right decorations to the balcony, you don't have to go all the way to the cafe to get quality casual time. There are many ways to make your home or apartment balcony look more beautiful in winter. In addition, we certainly agree that beautiful decorations will make us more comfortable.
Creating a Small Balcony Apartment Ideas That is Very Comfortable
This apartment is identical to a room without a balcony or has a small balcony. Unlike the house, where the balcony area can be adjusted to the area of ​​the house and the wishes of the owner. And now we will discuss minimalist balconies. In general, the minimalist design is dominated by black, gray and white, making the balcony look more spacious and elegant. The combination of iron chairs and iron tables is perfect to be placed on a minimalist balcony. You can put mini plants to brighten up the atmosphere.
A balcony is one part of the house that is owned if your house is two stories high. But sometimes the balcony is often forgotten. In fact, this place can be transformed into a comfortable place. Besides being able to relax, you can also do various activities here, such as reading books, dinner, and receiving guests.
Cozy Balcony Ideas and Decor Inspiration
A balcony is one area for finding inspiration or just chatting casually with family or friends. No matter how big the balcony is, as long as you can add the right decorations to the balcony, you don't have to go all the way to the cafe to get quality casual time. Creating a new and comfortable atmosphere on the balcony of your home or apartment is not too easy and not too difficult, you can apply some designs and nuances from some of the following decorating ideas.
Private outdoor space is the dream of most people who live in city apartments – even if it's just a small balcony. If you are lucky enough to have a balcony, then you owe it to yourself and all your friends to make the most of it. This means doing more than removing the garden chair and calling it a day. However small, your balcony has a lot of design potential. Looking for a balcony idea?
Best Picture Balcony Decoration Ideas For Small Apartment
Not sure what to do with your balcony? Here are the decorating ideas for large or small balconies. Create a space that you will like!
Published by Carey Davalos
Lovely sharing any award-winning design from many ideas such as transformed spaces grand and small, from right here in Annapolis, north to Boston and New York, south from Virginia to Florida, out west from Montana to California and in the Caribbean and more. View all posts by Carey Davalos
I was not paid to write this post, however, it may contain affiliate links. If you make a purchase through one of my links, I may make a small profit at no expense to you. For further information, please view my policies.
Make your limited real estate work harder for you with these 10 brilliant small balcony ideas!
Has your small balcony slowly become an unloved storage area? Or worse, just the place where you put the trash bag before taking it down to the bin? 😓
Well, if that's the case, don't feel bad. I've been there too! I can recount a couple of episodes that involved a family of raccoons and my garbage strewn all over my patio. 🦝🍁 #canadianproblems
The reality is that a lot of people completely overlook their tiny balconies!
Usually, people aren't sure if it's worth investing money or energy into such a small space. And even when they're willing, often the question is: how do I best utilize a tiny space? How do I get the most bang for my buck?
I have good news! There are lots of affordable updates you can make to a small patio to make it an awesome place to hang out!
Even as a renter, there are so many things you can do to make your small condo patio a beautiful haven that you will look forward to escaping to whenever you get a free moment.
So grab a hot bevvie and read on to find out what all the absolute best small balcony ideas are!
1. Update the flooring
First on the list of small balcony ideas? Update the flooring. This is one change that makes a shocking difference to a neglected-looking balcony.
The silver lining to having a small balcony is that you have less square footage to worry about.
Fewer square feet = you spending less money. 👌
It makes something daunting like a flooring change suddenly seem like not that big of a deal since you don't have a large surface to cover.
Use interlocking deck tiles
One absolutely brilliant way to instantly refresh the flooring of your small outdoor space is by laying down a set of interlocking deck tiles.
You lay the tiles directly above your existing floor, so this solution is also 100% renter-friendly.
The tiles are so easy to install since they just snap together. You can easily tile an entire small balcony in under 1 hour.
I have used and personally recommend the wood Runnen tiles from IKEA. They currently cost $17.49/9 sqft.
This solution works great for covering level cement and wood decks.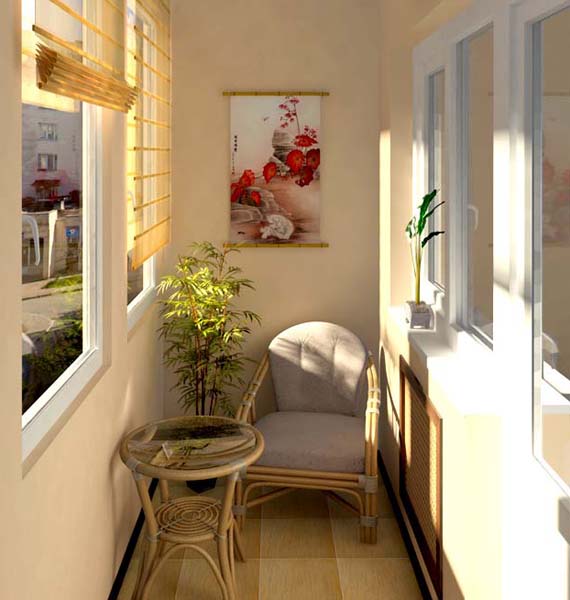 Glass balcony design with upholstered chair, soffee table and wall art
Glass balcony designs and comfortable outdoor room decorating ideas add beautiful small sun rooms to apartments and small homes, increasing the living space and offering pleasant spots for work, entertaining, playing with kids, painting, enjoying crafts or just rest.
Porches and balcony designs transformed into small sun rooms with glass walls can become home offices and craft rooms, kids playrooms and dining areas, game rooms and art studios, peaceful retreats and personal spaces where you can work and keep tools. Bright outdoor rooms add more comfort and functionality to small homes and apartment ideas.
Good planning and space saving ideas create attractive porch or balcony designs with glass walls. Charming outdoor room decorating ideas, efficient lighting and creative storage make these small sun rooms look pleasant, inviting and stylish. Here are 22 glass balcony designs and decorating ideas that can inspire you to add some inches to your small home or apartment ideas.
Glass balcony enclosures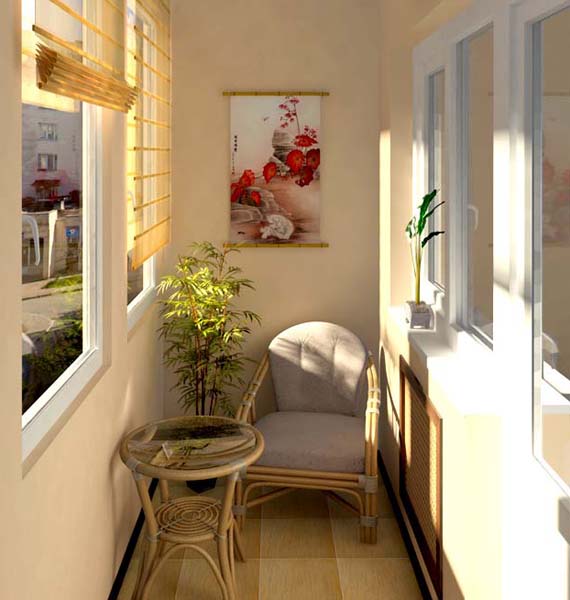 Compact, space-saving outdoor furniture are the best choice for comfortable balcony designs. Folding tables and chairs, small sofas with storage, wall shelves and shelving units take little space, but make small balcony designs functional.
Folding outdoor furniture can be stored in a corner, creating more space on the balcony for other activities. Folding tables that can be fixed on a balcony wall and folding stools are especially effective for small outdoor room decorating. Modern floor decor brings new eco friendly materials and traditional wood flooring ideas into porch or balcony designs. Beach pebbles and floor carpets are great floor decorations for sun rooms also.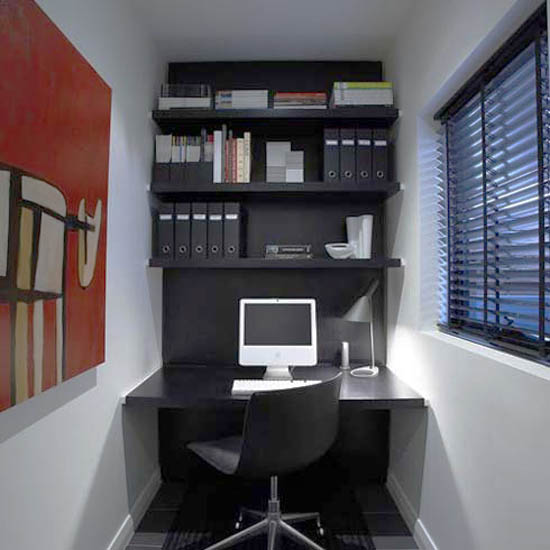 The ceiling and walls painted in light blue color shades and floor decor in sand, gray and brown colors create beautiful balcony designs in eco style. Ceramic tiles or soft floor carpets for kids to play are excellent sun room decorating ideas. Cork flooring and wood floor are warm and pleasant room decorating ideas that give a natural look to balcony designs.
Blinds or window curtains that can protect a glass balcony enclosure from heat make small sun rooms more comfortable, adding modern fabric designs and a splash of color to small room decorating ideas. Outdoor furniture and decor accessories, like vases, lamps, lanterns, candle holders, wall decorations and attractive planters with plants and flowers add charm and style to balcony designs.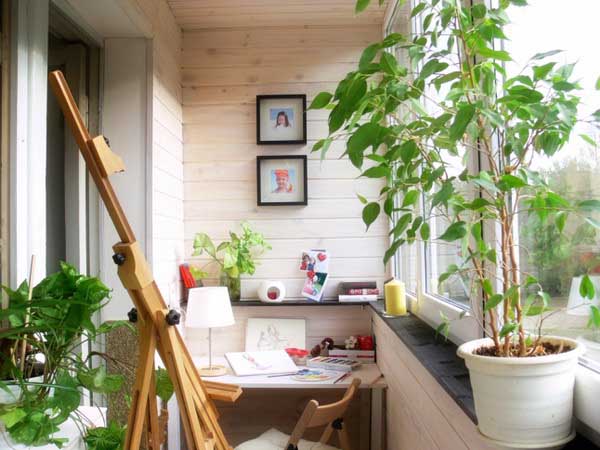 A sense of style, resourcefulness, creativity and space saving ideas help create pleasant outdoor rooms even in a limited space of a small balcony. You can add heating to your balcony design, book shelves or storage furniture for shoes and clothes.
Heated balcony designs are perfect for fresh and caned food storage in winter. Glass balcony designs provide wonderful retreats, reading or knitting in summer evenings.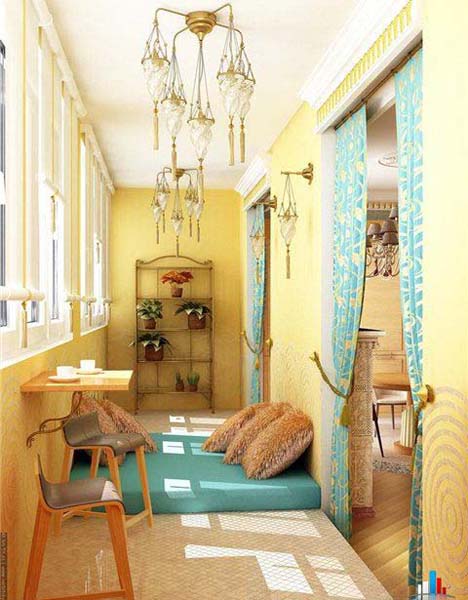 Cozy and beautiful small room decorating ideas, like soft pillows and comfortable furniture make balcony designs gorgeous additions to modern homes and apartments.
The home-improvement network.
By: Mady Dahlstrom, Content Editor for Porch.com
For the apartment occupiers and city dwellers, these five decorating solutions for your tiny home's outdoor space will get your balcony or rooftop deck in tip-top shape for the rest of summer. Whether you're looking for an extra cozy space to unwind in after work, or a spot to entertain friends and family, take a look at these easy ways you can dress up your small apartment balcony, brought to you by the Blogger Community at Porch.com.
1. Bring on the comfort
Comfort is key when it comes to your apartment's outdoor space. Since you have limited room to create a comfy and snug space, choose your furniture wisely. Whether you want to purchase a small loveseat or DIY your own daybed for the corner of your balcony, adding comfortable seating will turn your outdoor space into the perfect place to lounge.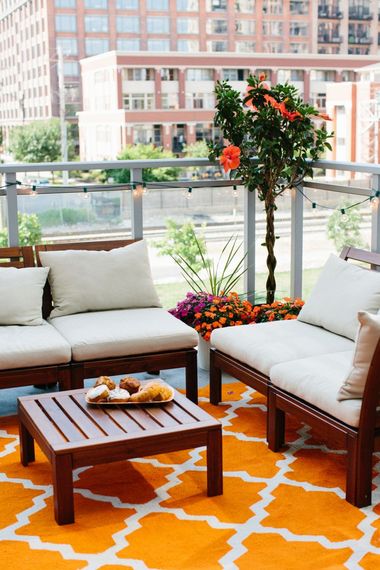 Image Credit: Jen Serafini via The Everygirl
2. Add pops of color
Nothing brings a balcony more to life than fun accent colors! Be bold with your outdoor accessories by incorporating bright, cheerful colors that will put a smile on your face every time you step outside. If you prefer a more neutral setting, try picking one color to highlight through decorative pillows or lights.
Posted in: Home Improvement,Residential
On a magnificent summer relaxing evening or a cozy winter morning, when you just want to sit down in your cozy warm balcony or just complete reading your unfinished book while sipping on your coffee staring out enjoying the sight, but you are one of them who just uses their balcony as a graveyard for their dead plants or a place for their broken furniture. We completely forget that this little space actually is our getaway to the outside world and we should use it in that way. But if properly used and carefully designed, this space can add warmth to your life, even with a little use of space-saving decorating ideas, you'll be able to turn your balcony in one of those areas that offer coziness and could become a room to have a quiet dinner.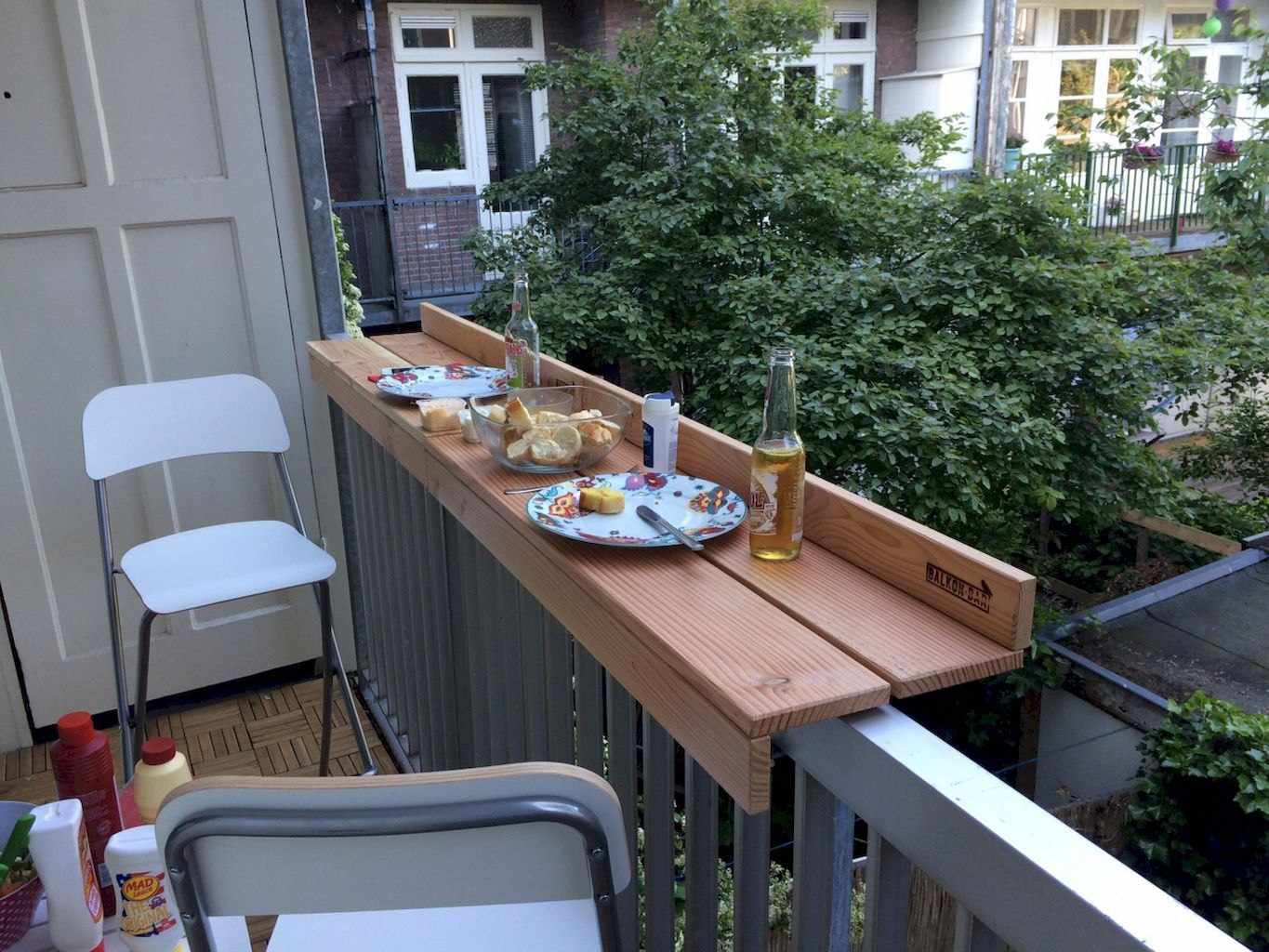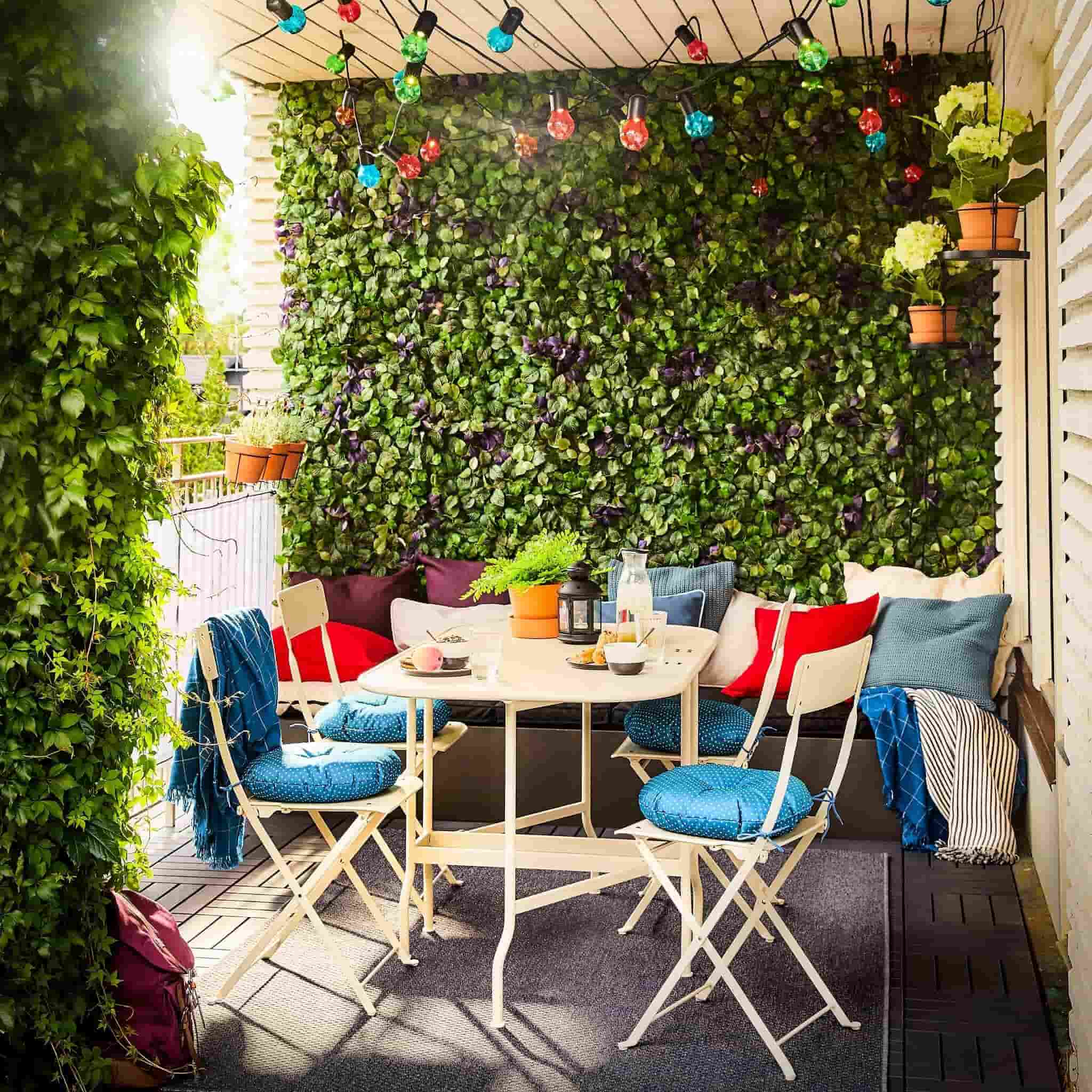 Even though your balcony is not much spacious, you can still utilize your balcony which can be quite functional and useful to many things. Listen Up, here are some decorative ideas for cheering up your so-so balcony and giving it a cozy balcony design and also some great ideas for transforming an abandoned outside space into a tempting hangout for soothing and amusing.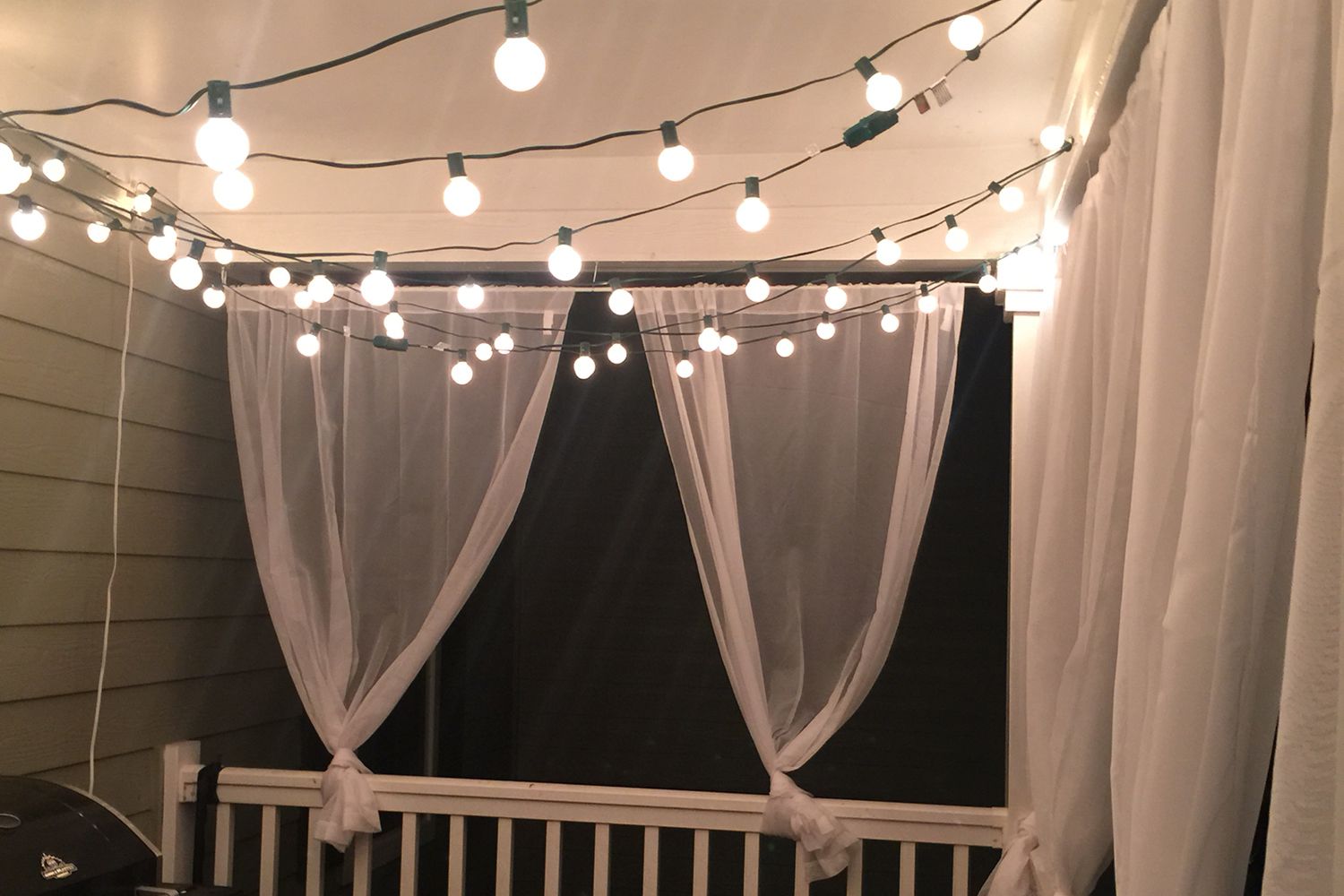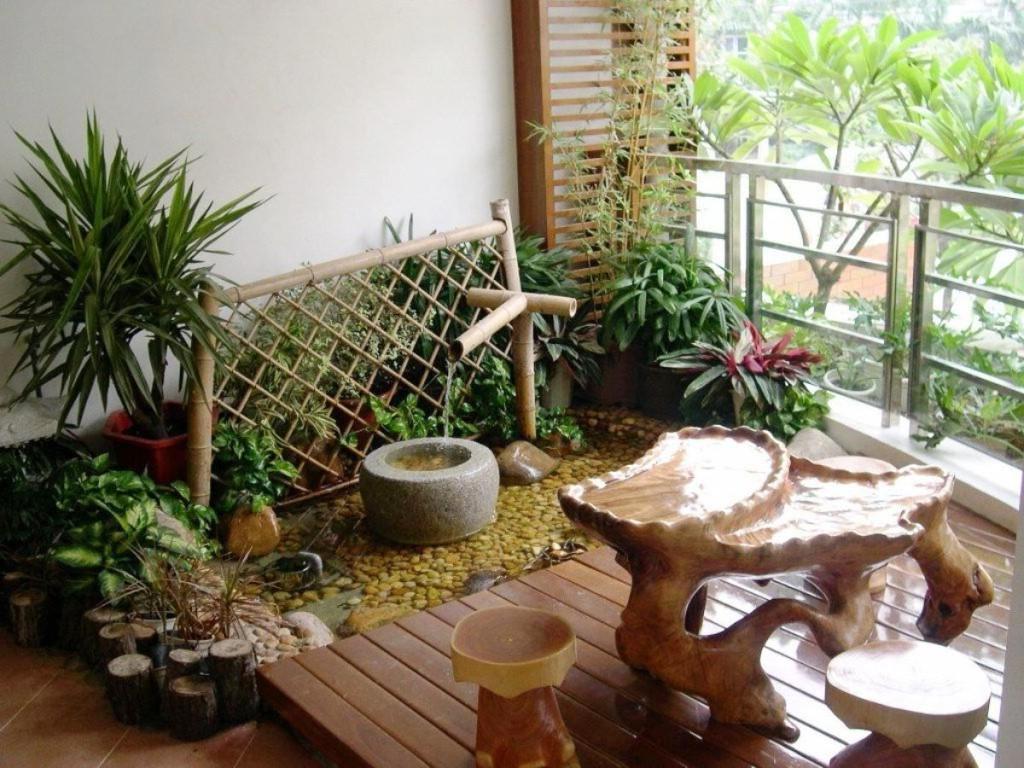 Generally, balconies have that boring concrete flooring, white plastered wall and common railings to cover up. You can start by just changing the floors into some marble flooring or interlocking decked tiles. You can even use the decorative wallpapers to cover up your balcony's floor to give your neglected room a highlight and funky look. You can also just lay down a rug to make it look elegant.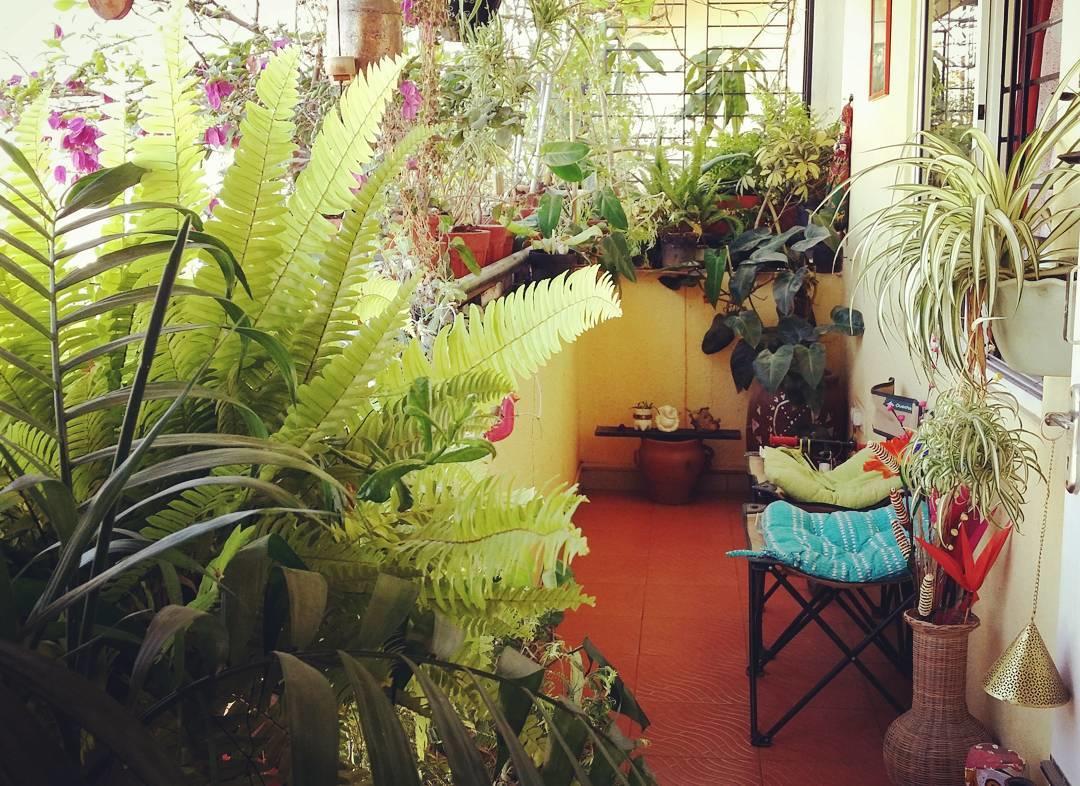 Got a pet? These tips can turn your untapped balcony into a slice of doggy or kitty paradise. A white picket fence, an adorable doghouse or a cute kitty home, some synthetic grass or small plant creates the perfect pint-sized dog park or kitty park for your little one.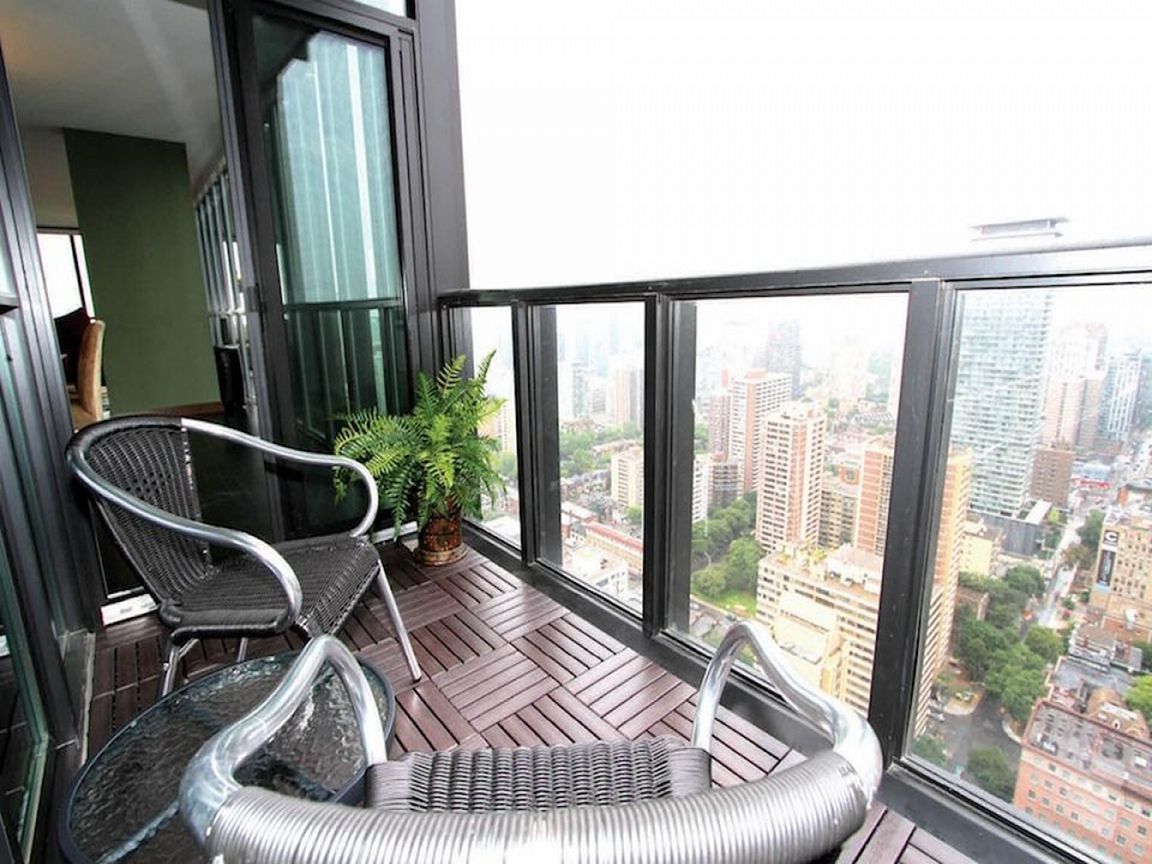 Don't want to spend much? Decorate your small balcony designs in an inexpensive way. Just add a tint of the urban jungle, decorate it with, a pile of plants. Add an adequate amount of plants, flowers just the way you want which will deck up your balcony's railing with black flower boxes. A modest bench on the right offers slight storage space. The beautiful wooden table when tossed over can be used as storage space. Add a swing or maybe add small couches to have a relaxing evening.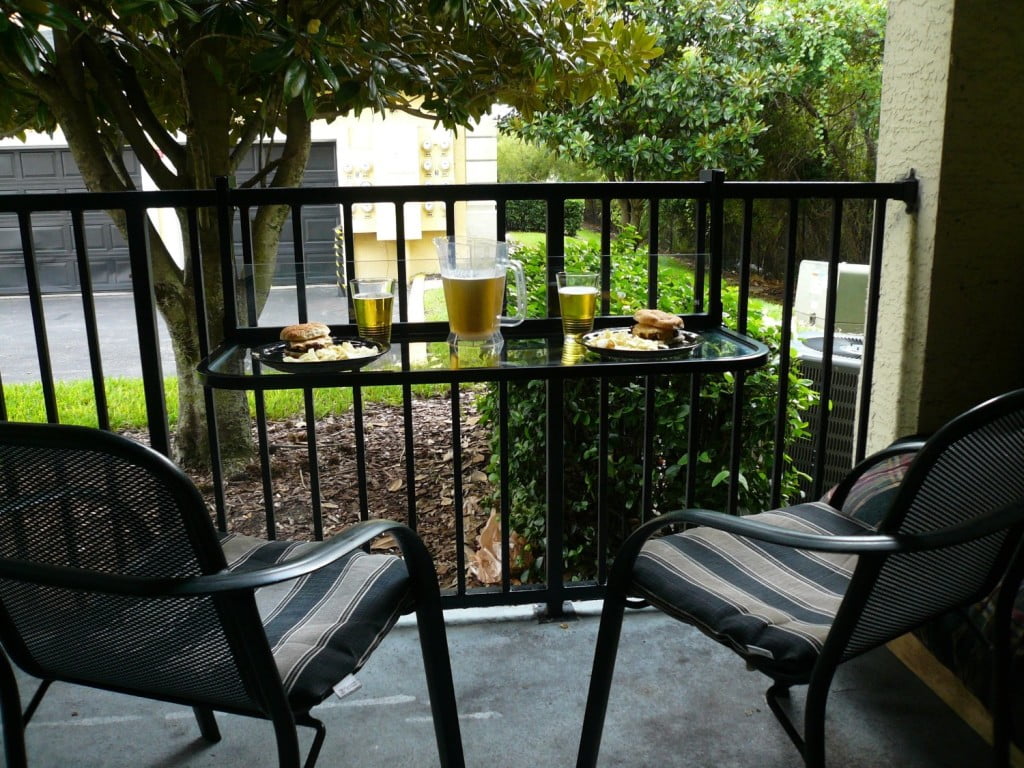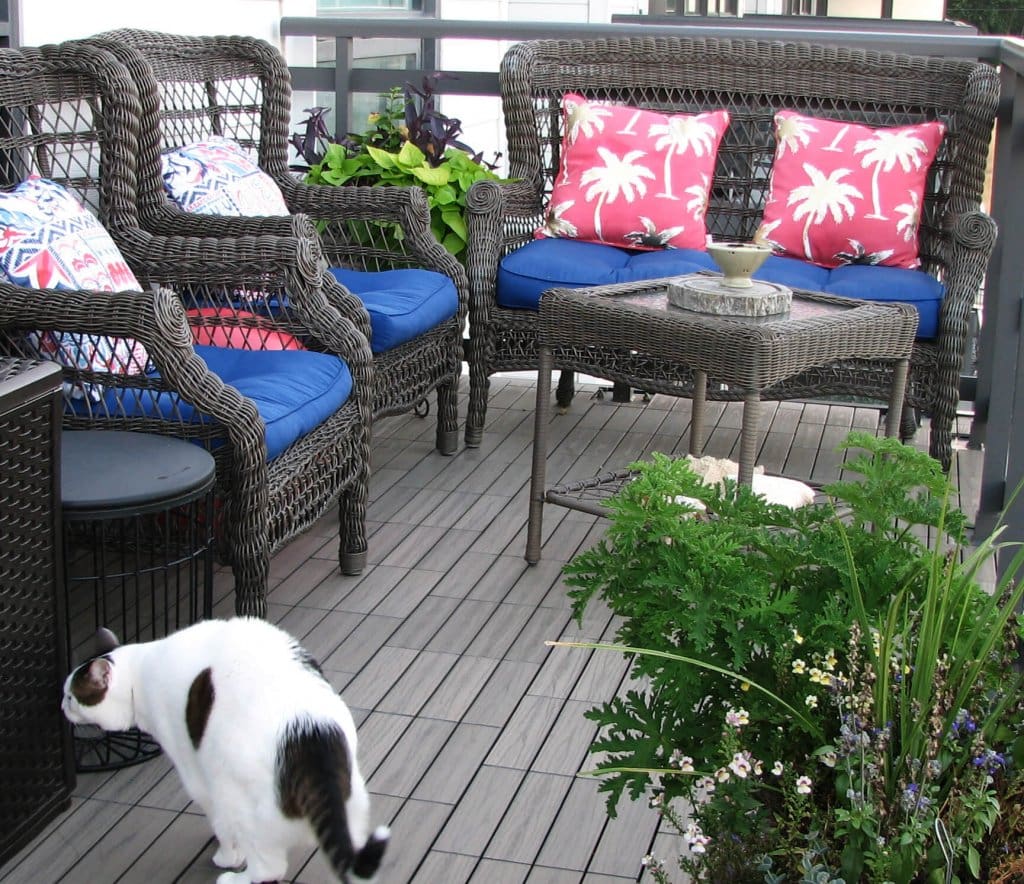 When the balcony is small and there is no extra space for the table and you want to chill in the balcony, add a tiny additional railing table attached to the gallery which will be a very convenient feature of your balcony. It will be a beautiful feature and will come handy when you are dining outside in the balcony for keeping your drinks or extra stuff. It also creates an amazing theme of royal candlelight dinner.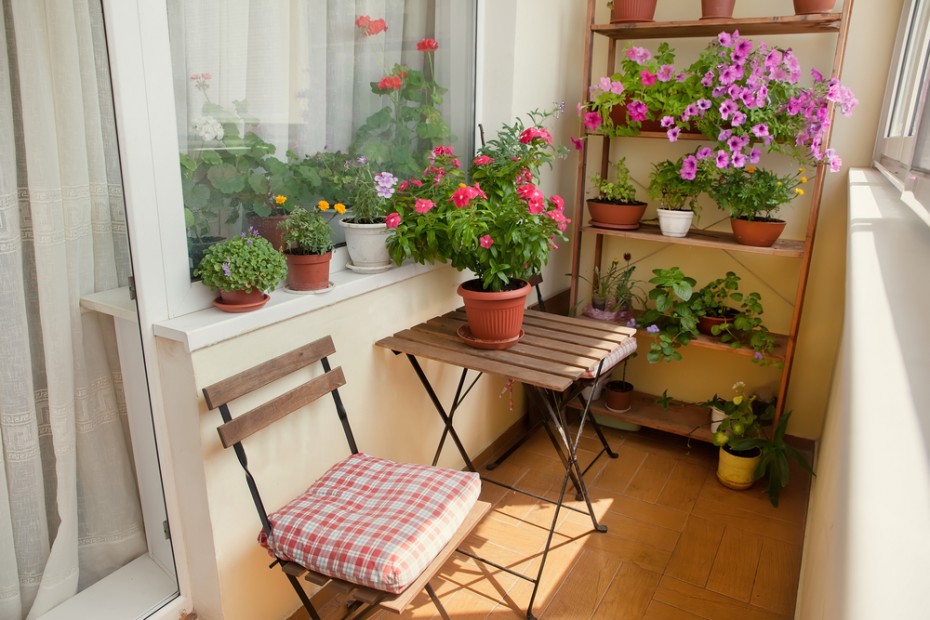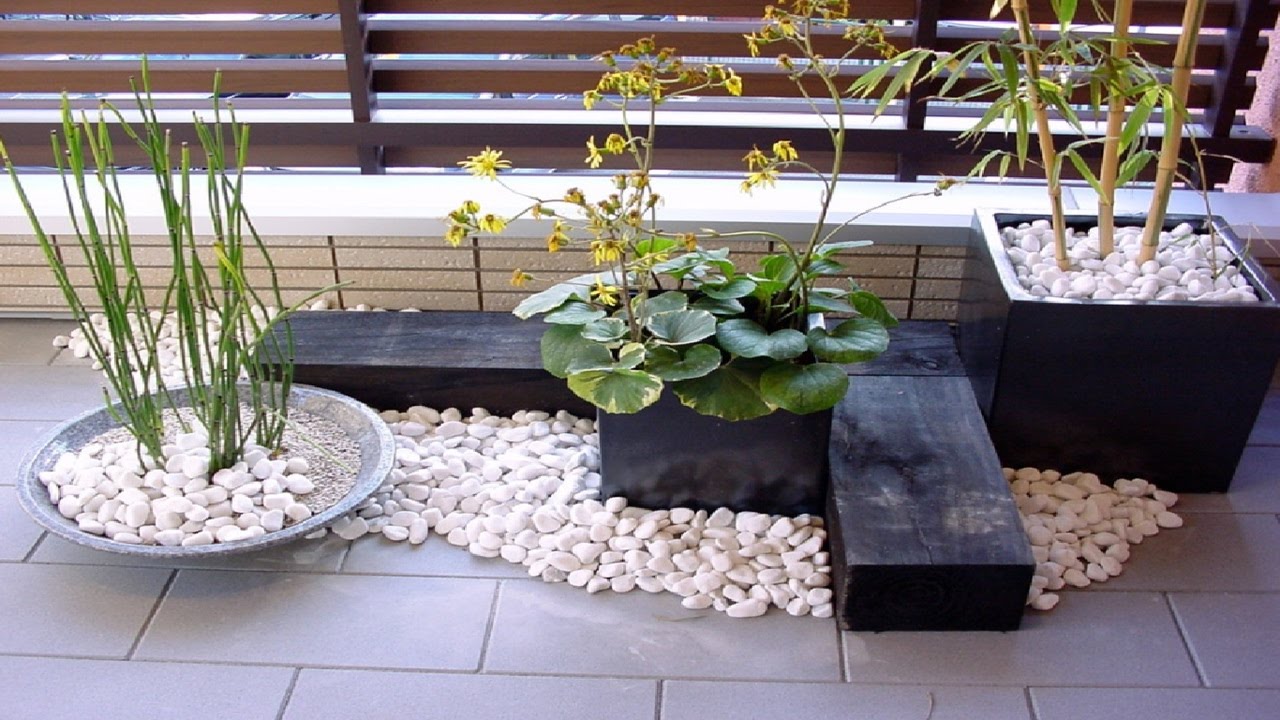 Decorating your wall with greenery is quite a good option. Add plants and leaves on your wall to add a green touch to make it look like a small cozy jungle. It will be your very own private lawn. Add chairs and sofas to have a relaxing and entertaining get together.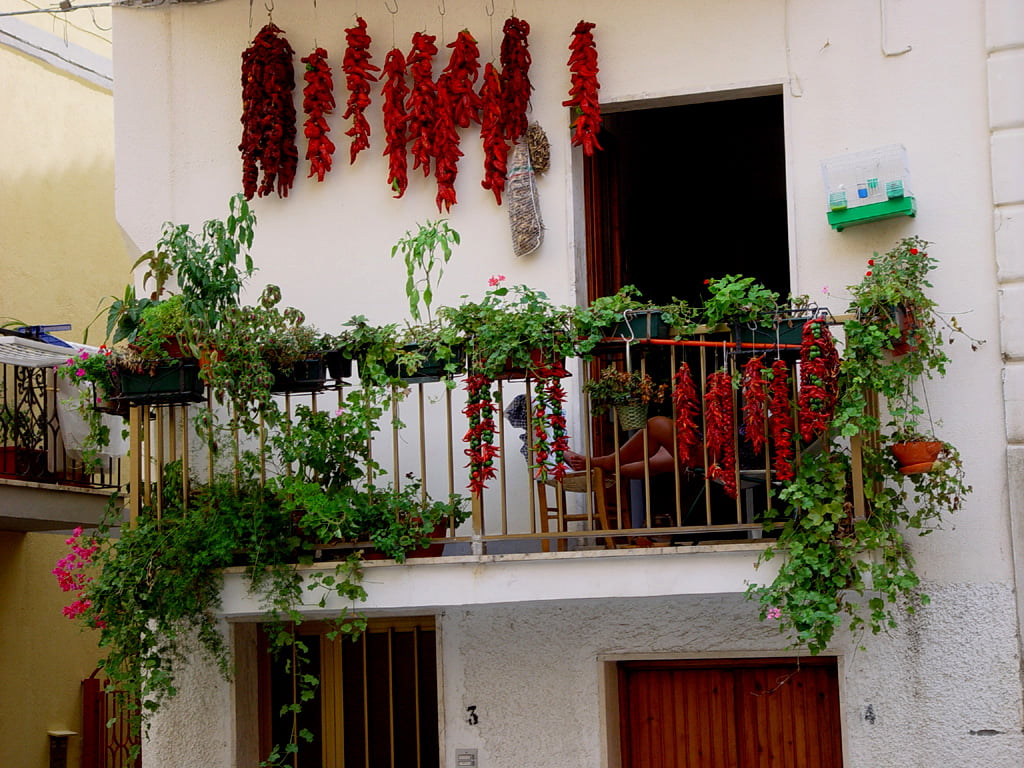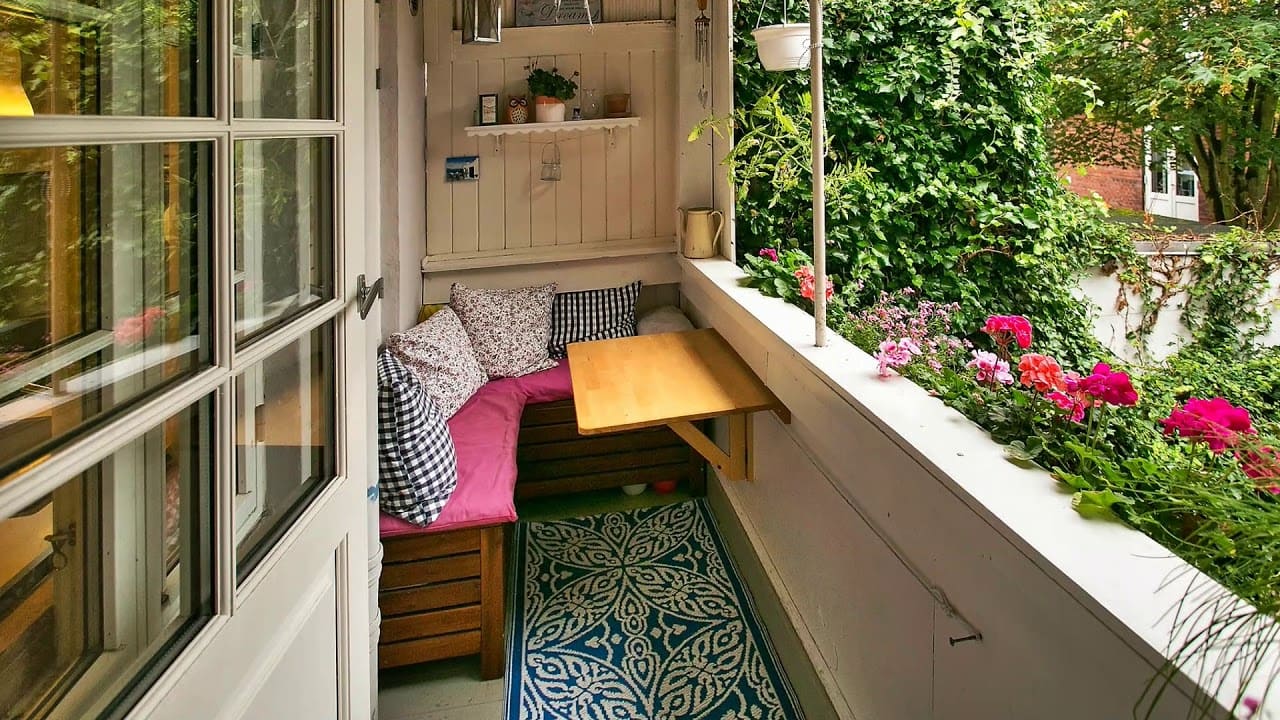 We love modest do-it-yourself plans that add purpose and elegance to spaces. Add affordable bulbs and classy white curtains to give an elegant look to your small balcony. This small balcony decor ideas will be a great idea for your housewarming party or a date.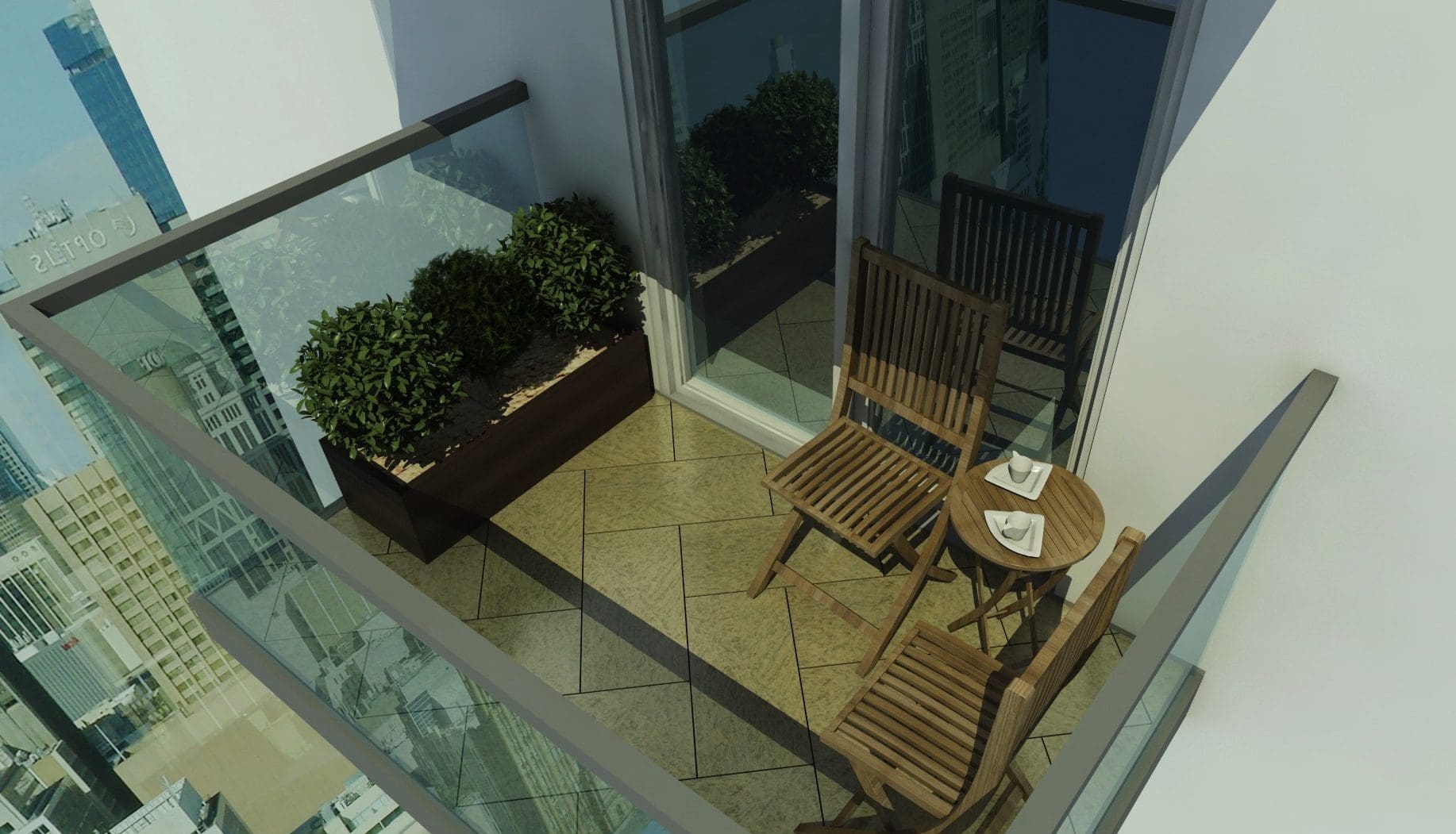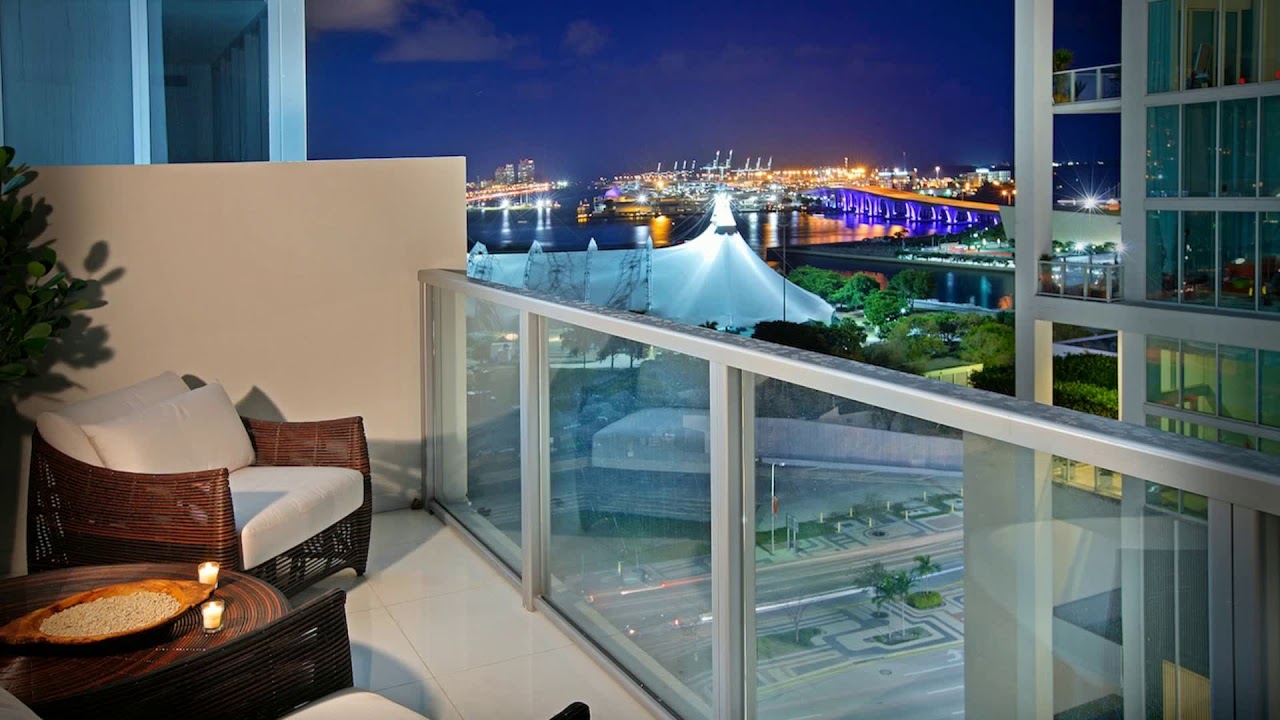 Give your balcony a rural area theme by adding a handmade small bamboo waterfall with a marble small table and add plants in the background. Also, don't forget to add chairs to have a nice conversation.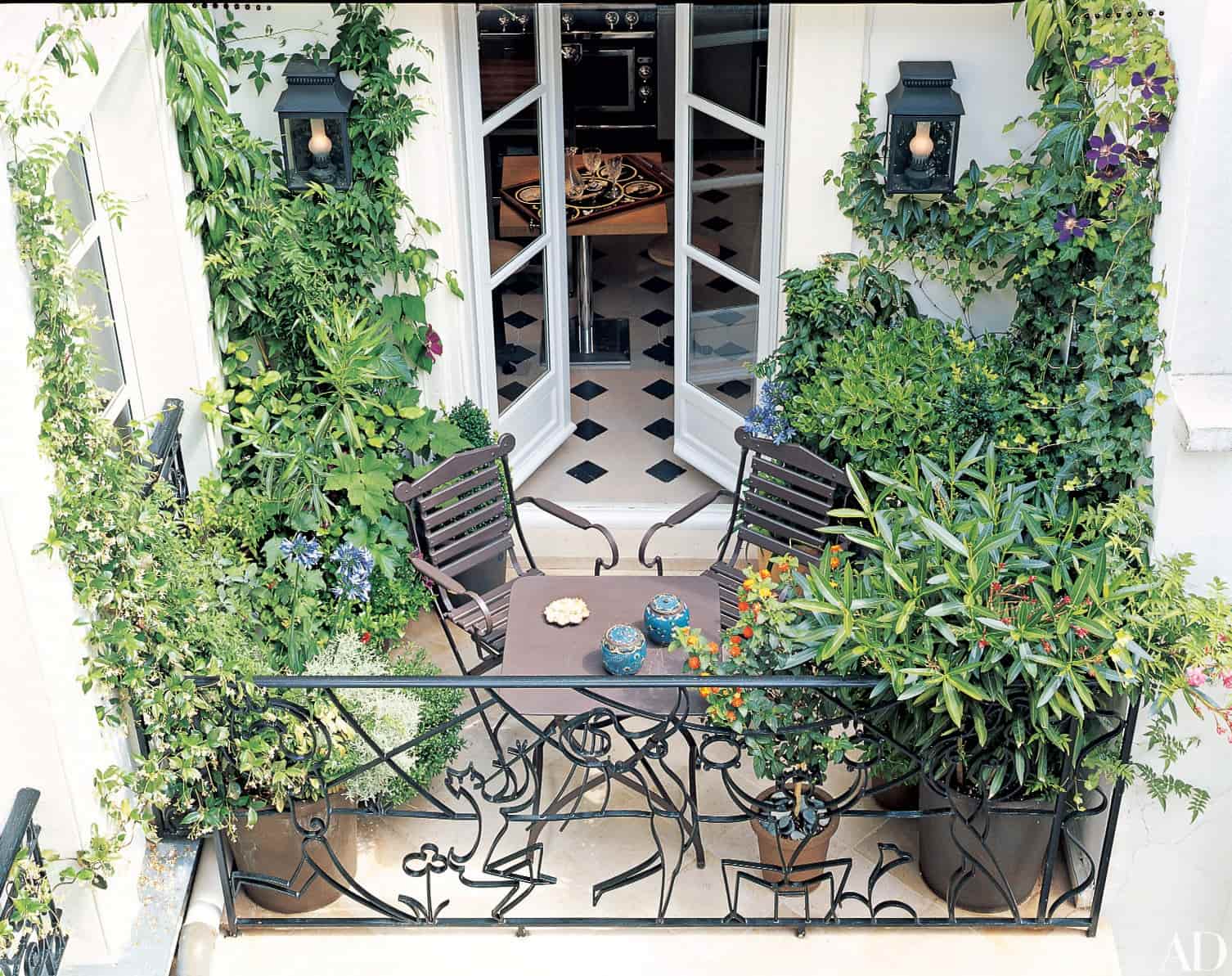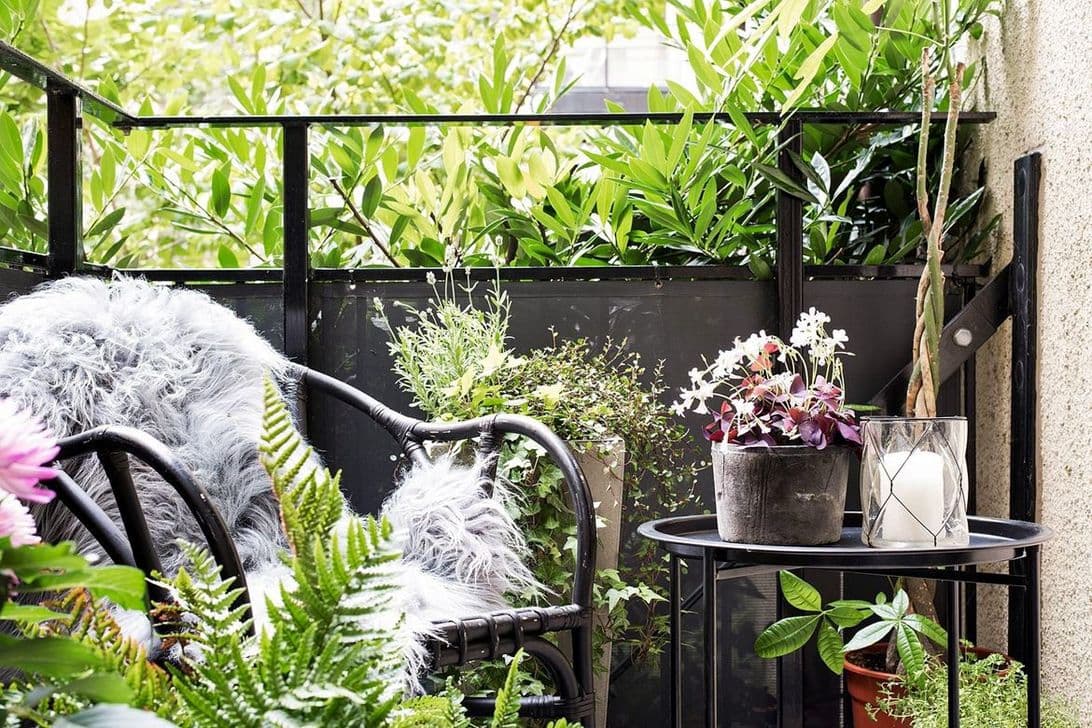 Keep it simple by just adding chairs and a small glass table with a flowerpot giving your balcony a simple yet classy look. Rustic floor poufs finished of straw add spare seating.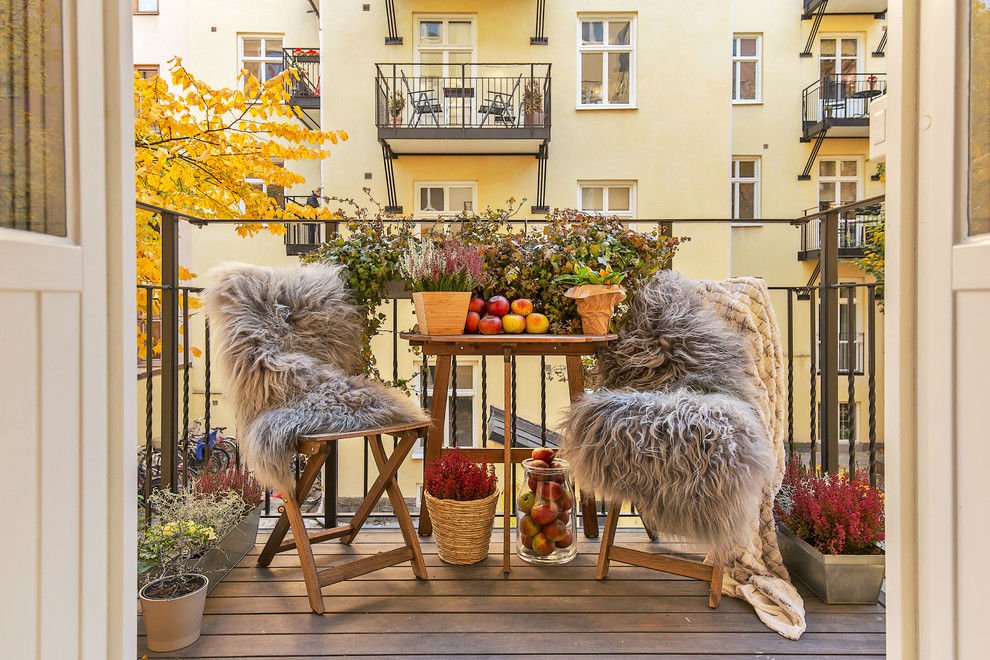 If you are living alone in your house and have a small house, are you using your balcony to store extra stuff and there is no space left for storing your pieces of stuff during the cooler months? Then you do not need to worry as it is quite common as some pieces of stuff can be stored in your balcony.
Apartment living has its pros and cons. Private outdoor space can be considered both an advantage and disadvantage. The advantage is no yard work. The disadvantage is no yard. Wherever you live, there is a desire to personalize the space, indoor and outdoor. Living in an apartment is no exception. Although apartment living does have its restrictions, you can put your claim on your own outdoor space by decorating the balcony.
A stylish balcony accented with roses (homedit)
A very stylish apartment balcony (boguslavskysisters)
A cozy apartment balcony (realhousedesign)
Although most apartment balconies have limited space, there is usually enough room for a small table and chairs. Choose a small patio or bistro table that allows enough space for a pair of chairs. Enjoying a meal on the balcony allows you to experience the outdoors in your own little space.
Colorful furniture and accessories make this balcony fun (Pinterest)
A simple folding tray table and comfy seating on this balcony (hotnick)
Stacking stools and a small table are perfect balcony additions (homedecoratingideasphotos)
A simple chair and table for relaxing on the balcony (allputtogether)
If your balcony gets enough light during the day, you can start a container garden for fresh vegetables. Tomato, pepper, cucumber and even squash grow quite well in containers. You could also grow household plants, flowers or small shrubs on the balcony.
Hanging plants from the balcony roof provide a source of privacy as well as a fresh appeal. Install window boxes or pot holders along the balcony railing and place colorful planters out for display.
Balcony accented with plants (shelterness)
Bright colors enhance this balcony (livingimpressive)
To make your apartment balcony more private, hang blinds or shades on the front and install a panel on the side if needed. Lattice panels add great garden appeal, whereas solid panels offer more privacy. Add softness and a touch of luxury with sheer curtain panels.
Looking for ways to make the most out of your apartment balcony? These are the best apartment balcony ideas to transform your space into a place you don't want to leave.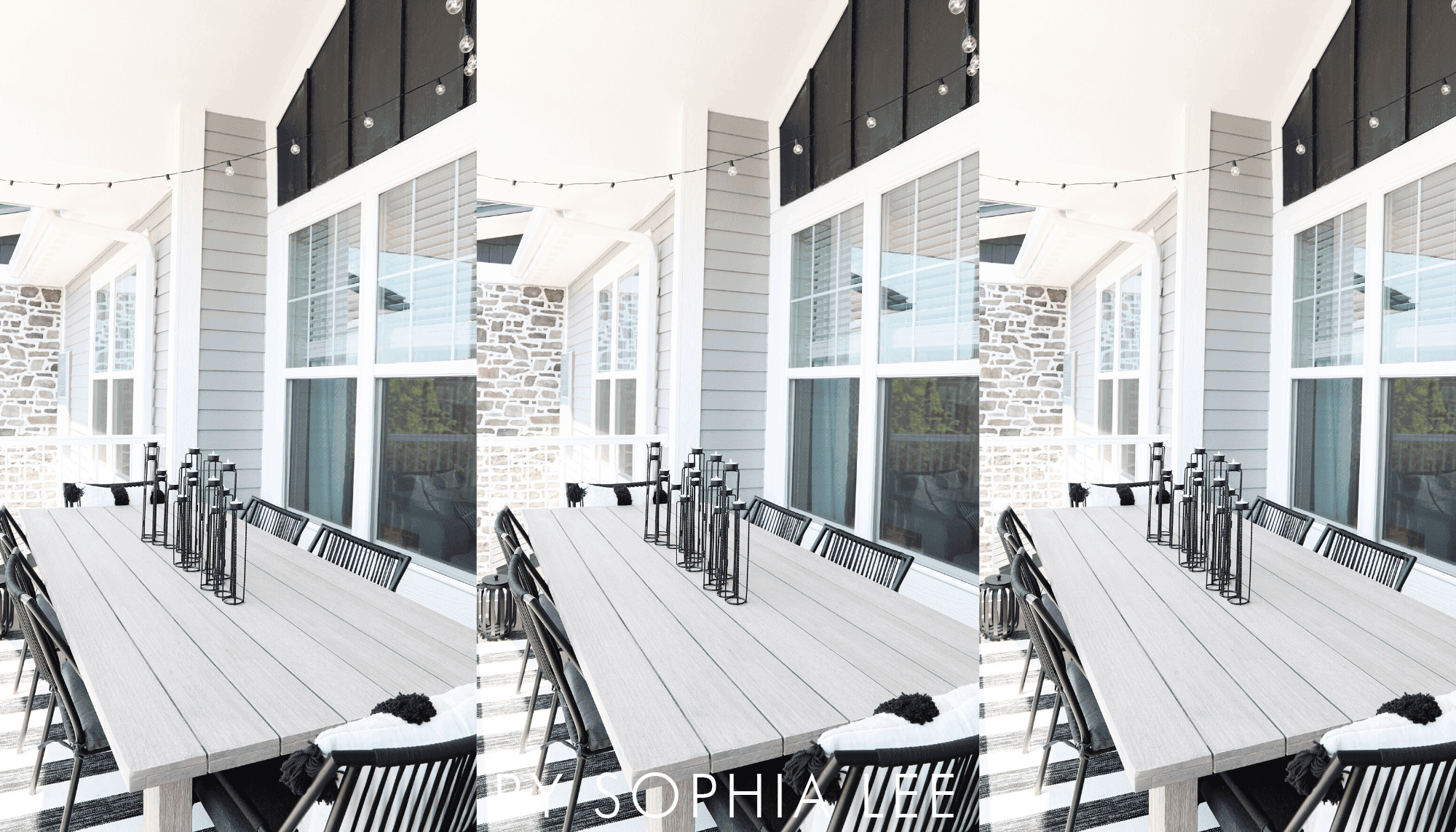 What's the point of having an outdoor space at your apartment if you don't use it to its full potential? There are so many different ways to decorate your apartment balcony. and it can be easy!
If you're looking for apartment balcony ideas, these are the best of the best. You'll create a space you love so much that it will become an extension of your apartment.
This post is all about the best apartment balcony ideas for creating a space you will never want to leave.
Transform Your Apartment Balcony With These Ideas.
1. Get an Outdoor Rug
Recreate this patio: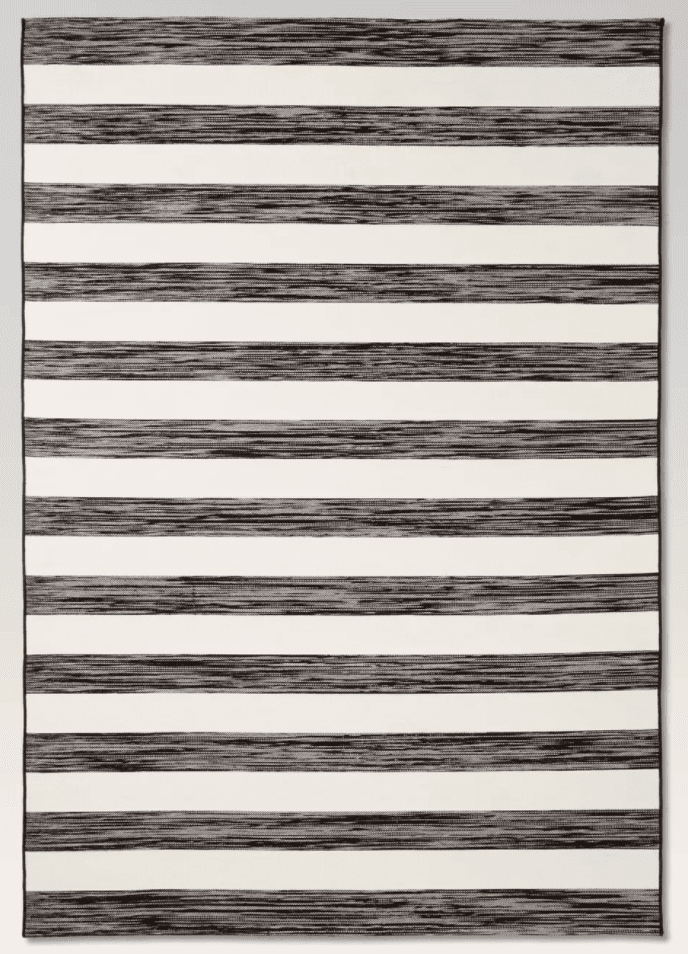 Adding an outdoor rug to your balcony can instantly make your apartment balcony feel cozier. Sticking with a neutral rug like the one above, creates a perfect base for a space that you can then go decorate with more pops of color (or if you're like Sophia, you'll stick to the neutrals :).
Outdoor rugs can get pricey so shop around. We recommend checking out Target and Ikea as they have outdoor rugs that look really cute without breaking your budget. In Sophia's balcony, she was able to find to her exact rug for $100 which is an amazing deal for a rug this size!
2. Choose Either Chairs or A Table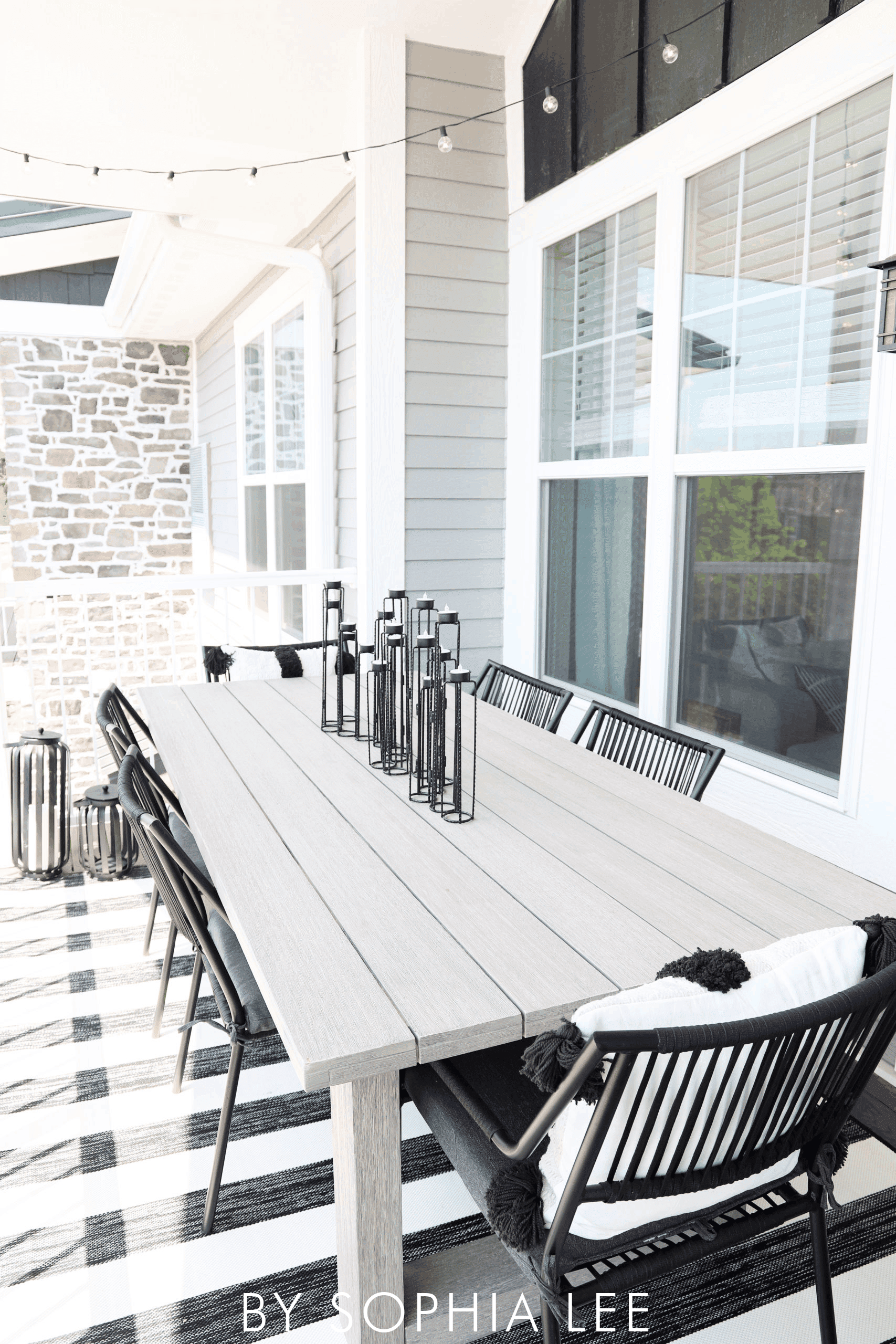 Depending on the size of your apartment balcony, you can either choose to have a full size table or you can stick with larger chairs and a small table in between them.
In my personal apartment balcony (pictured above), I was just on the verge of having enough space for an outdoor table. Since my apartment kitchen isn't big enough for a table, I decided to go for it even though it would be tight (and now that we have used the table for a few weeks. we LOVE IT!).
If you have a small apartment balcony, sticking with two chairs and a really cute side table put in between the chairs would be the perfect way to decorate the space without making it feel too crowded.
3. Patio Chairs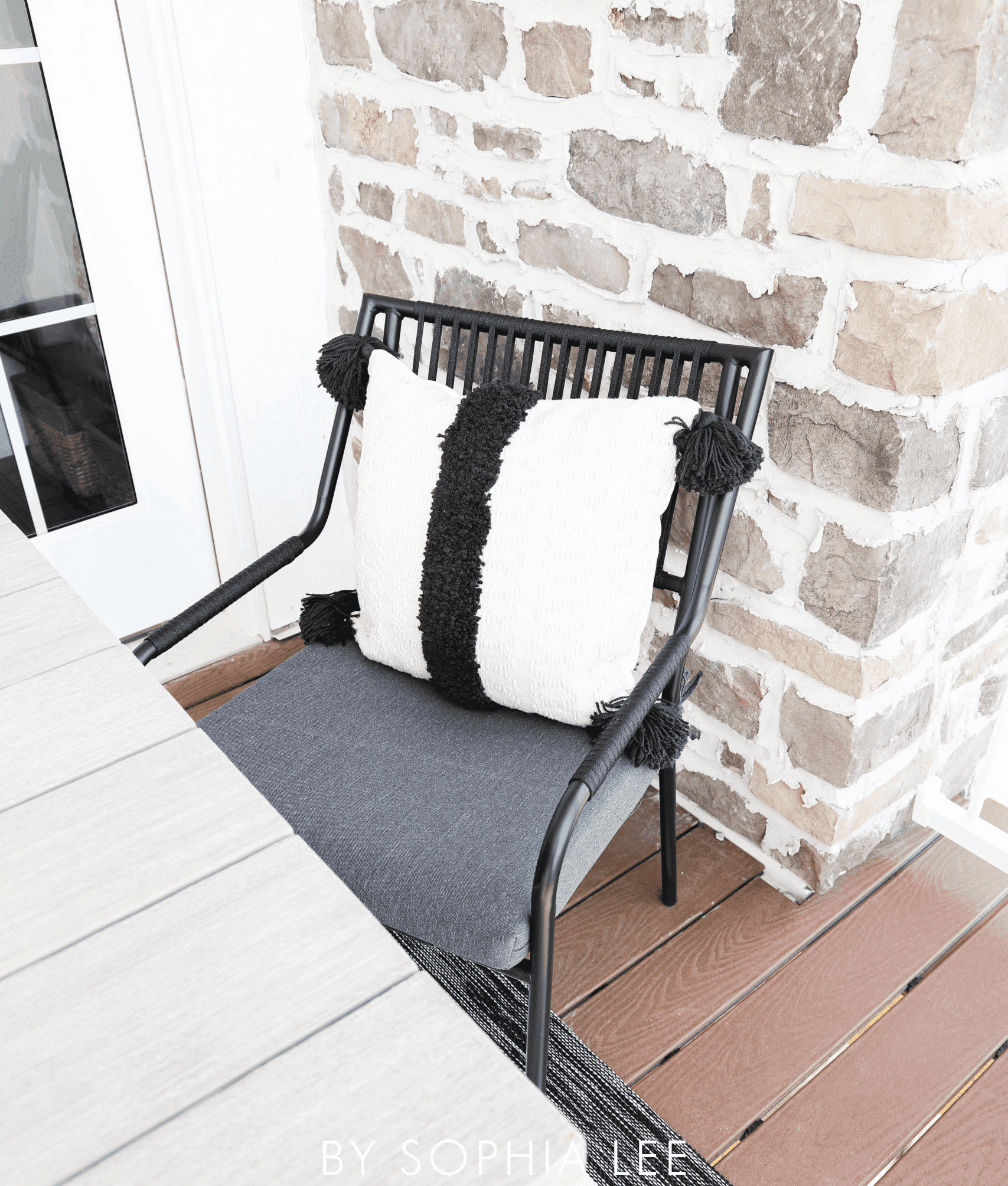 Recreate this patio: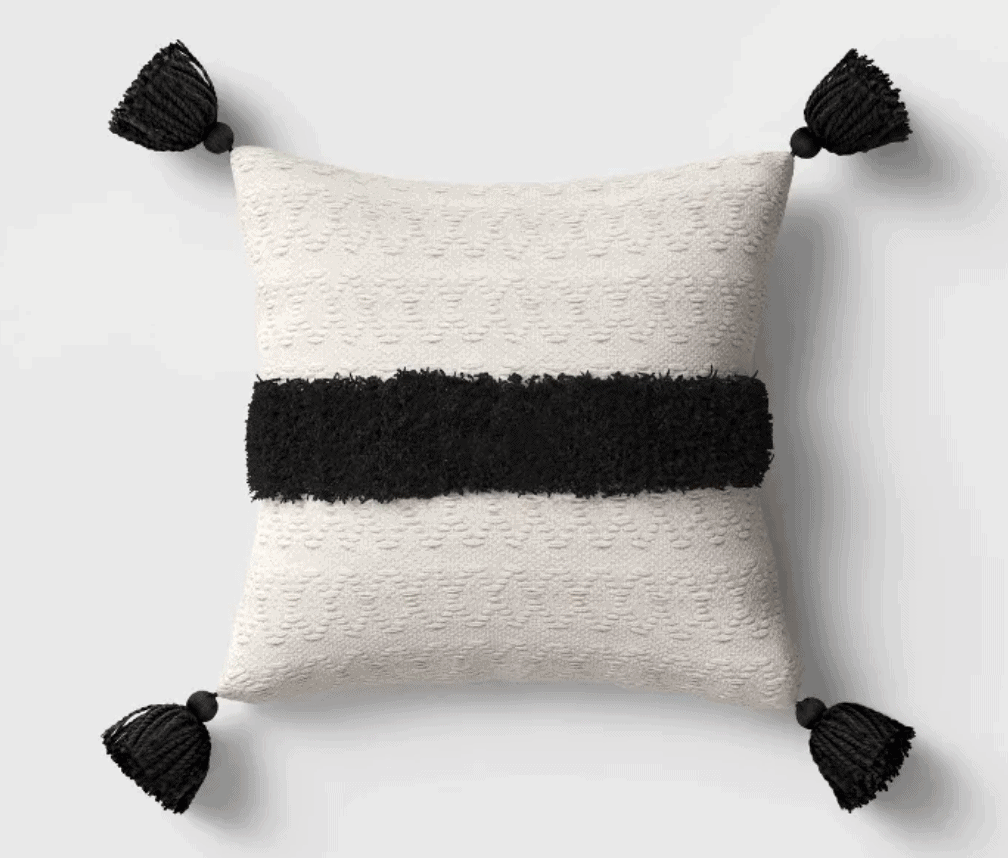 One of the most common ways to decorate an apartment patio is by getting outdoor chairs. Would it really be a balcony without chairs to drink your morning coffee in or have a glass of wine at night?!
Outdoor chairs are expensive. Way more expensive than I ever thought they would be. I searched for a long time for outdoor chairs for my table that didn't cost over $600 but also didn't look like they'd fall apart tomorrow.
Due to how expensive outdoor chairs are, this would be one of the biggest reasons to stick with two nicer chairs and a small table between it because these chairs ADD up. I ended up getting 6 of these from Target and spent a little over $400. I know, I nearly died when I saw they were that much too.
Other places that I saw had cute but "cheaper" outdoor chairs were Overstock, Walmart, and Home Depot.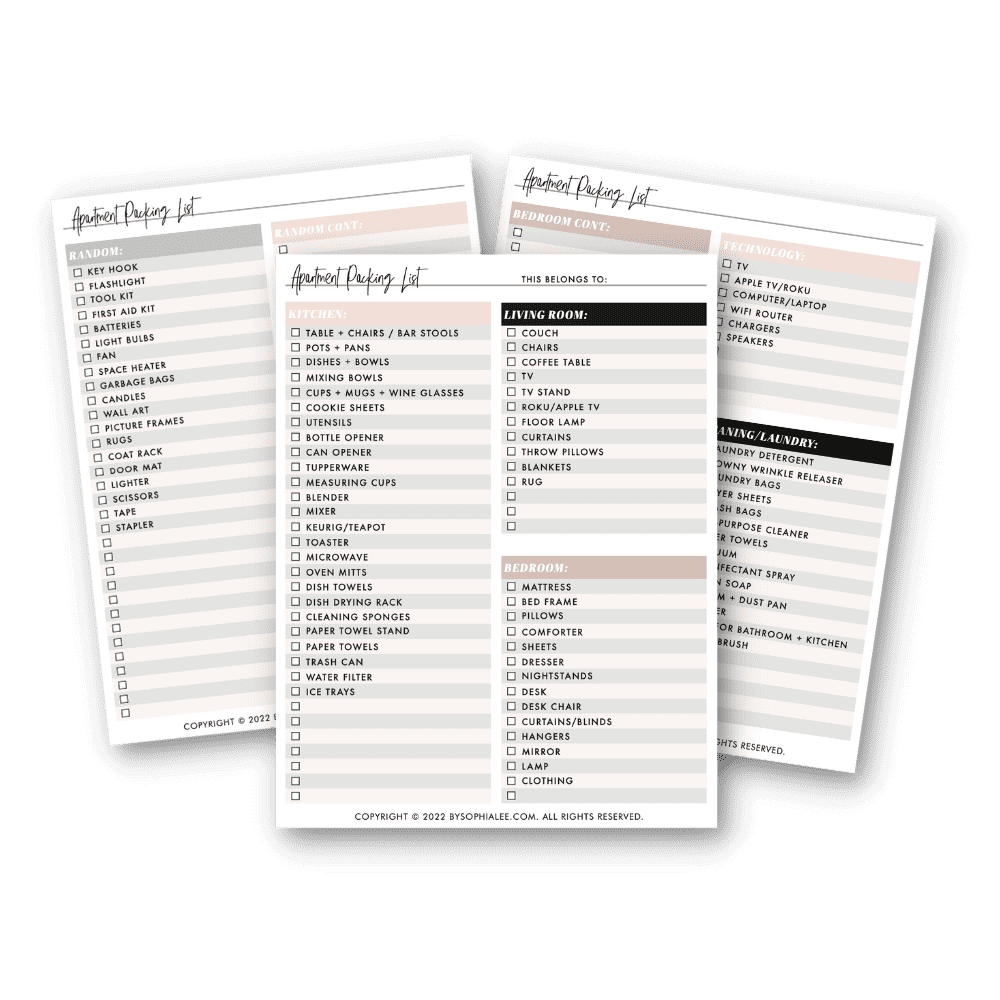 4. Add Lights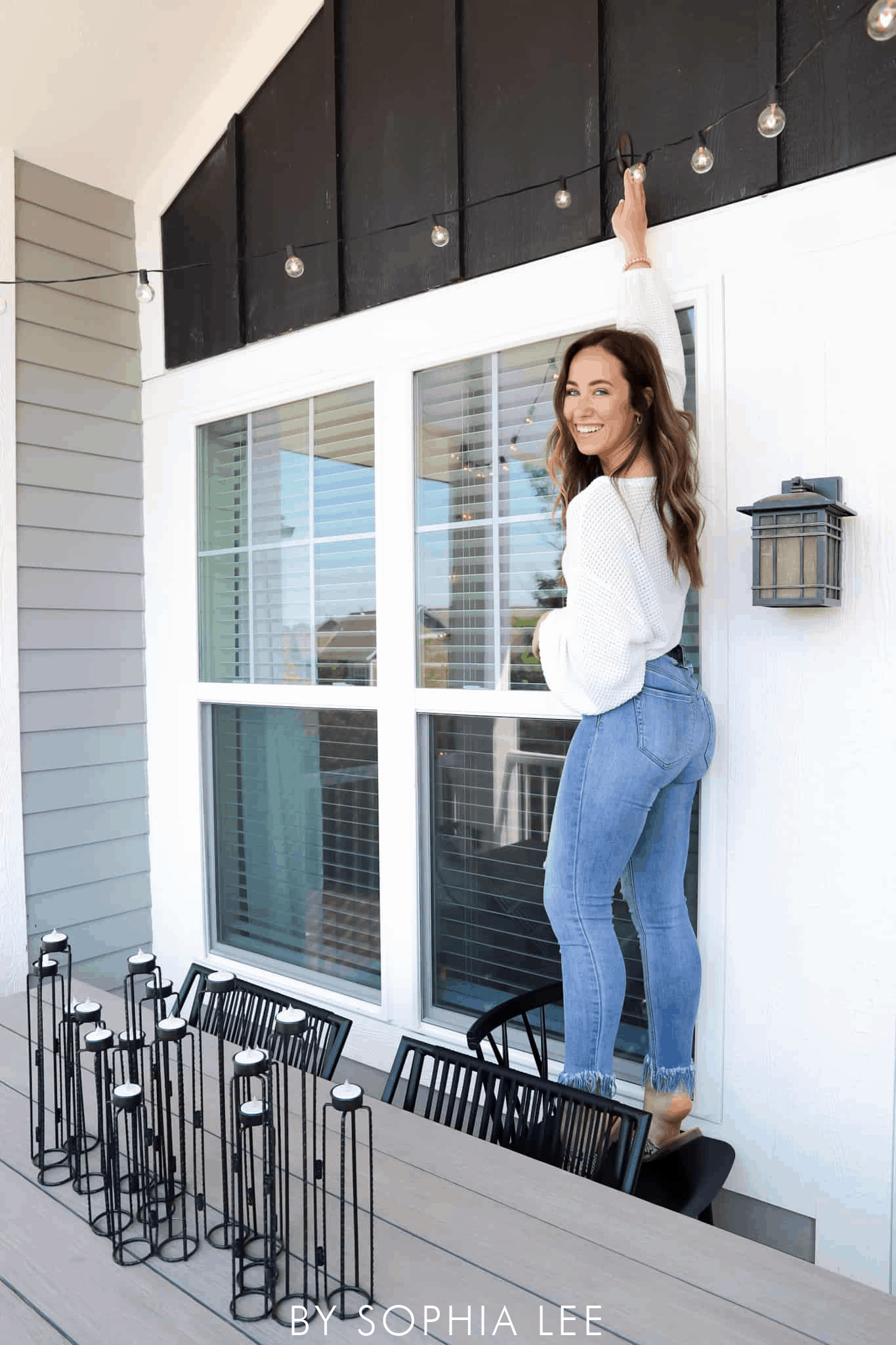 We knew we wanted lights on our own balcony but we had no idea how much we would love having them. It has made the space so much cozier than it was before.
We hung lights overhead but there are so many ways to incorporate lights on an apartment balcony – string them along the porch, candles, lanterns, etc. to name a few!
In the Youtube video of Sophia decorating her apartment balcony, how she was able to hang the lights without nailing any holes into the wall.
5. Candles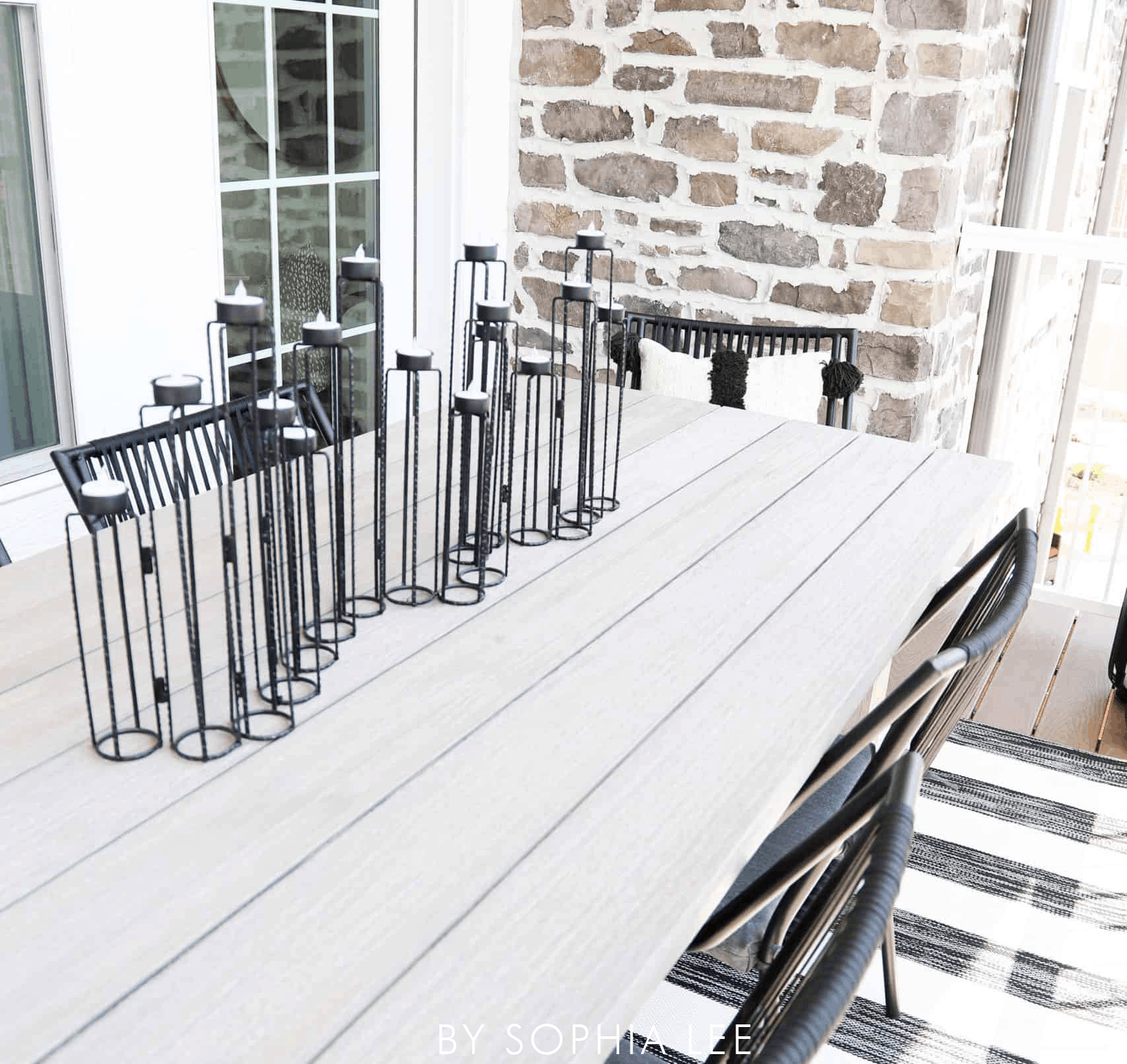 Candles not only add decor, but they are the perfect way to add ambiance into your apartment balcony decorating.
If you have a large table to decorate, you can layer candles on top or get a decorative candle piece like the one above. I wasn't able to find the exact decorative candle piece from HomeGoods but here is a similar option I love (getting two of these and layering them would be so cute!).
I love how they turned out and they look perfect for the rest of the balcony furniture! I filled mine with realistic tea lights that turn on and off so I don't need to worry about my apartment burning down (hah!). Plus, it's easy and quick.
Candles are a great way to add some lighting to your apartment balcony and create such a perfect ambiance on a summer night.
6. Add Lanterns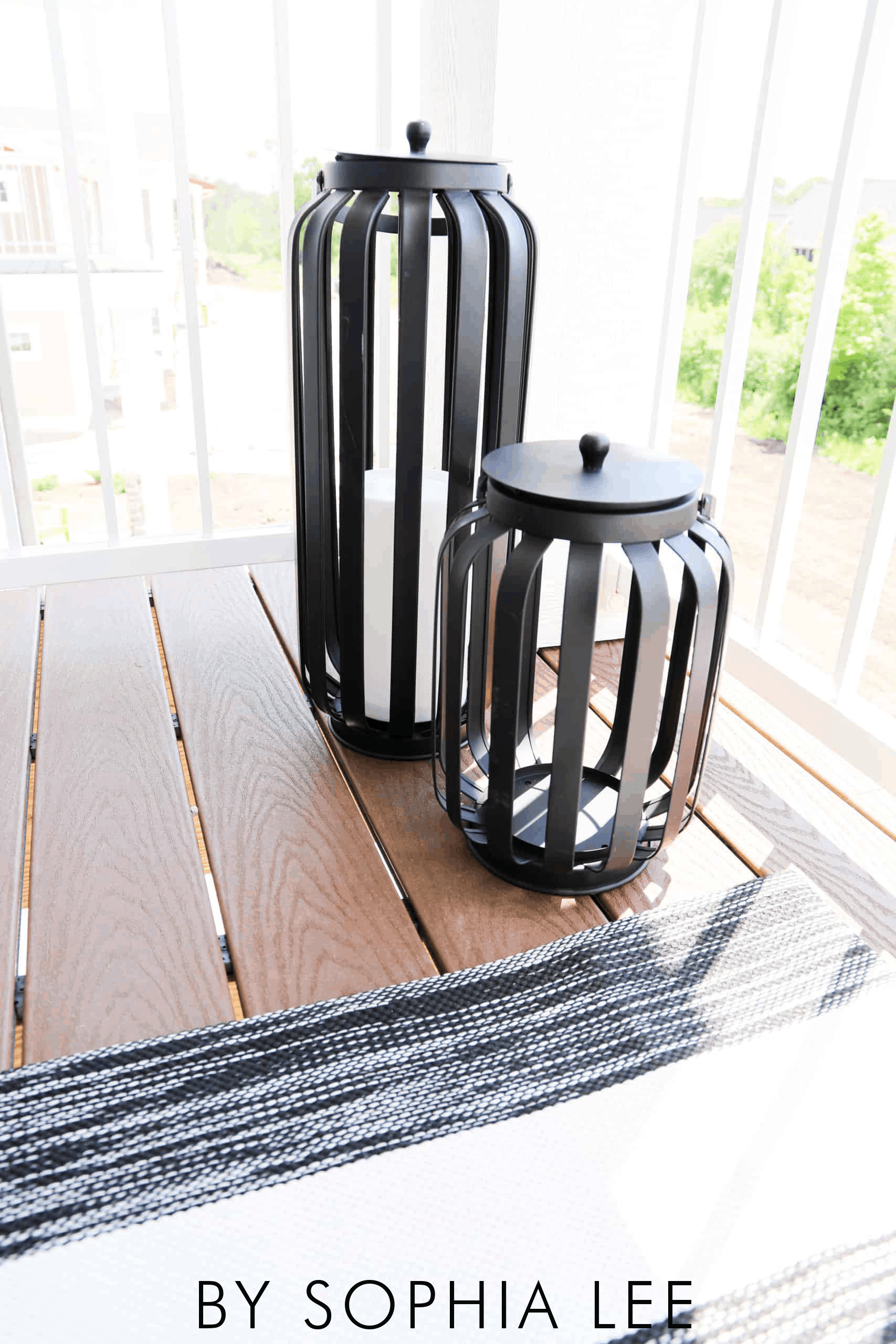 Recreate this patio: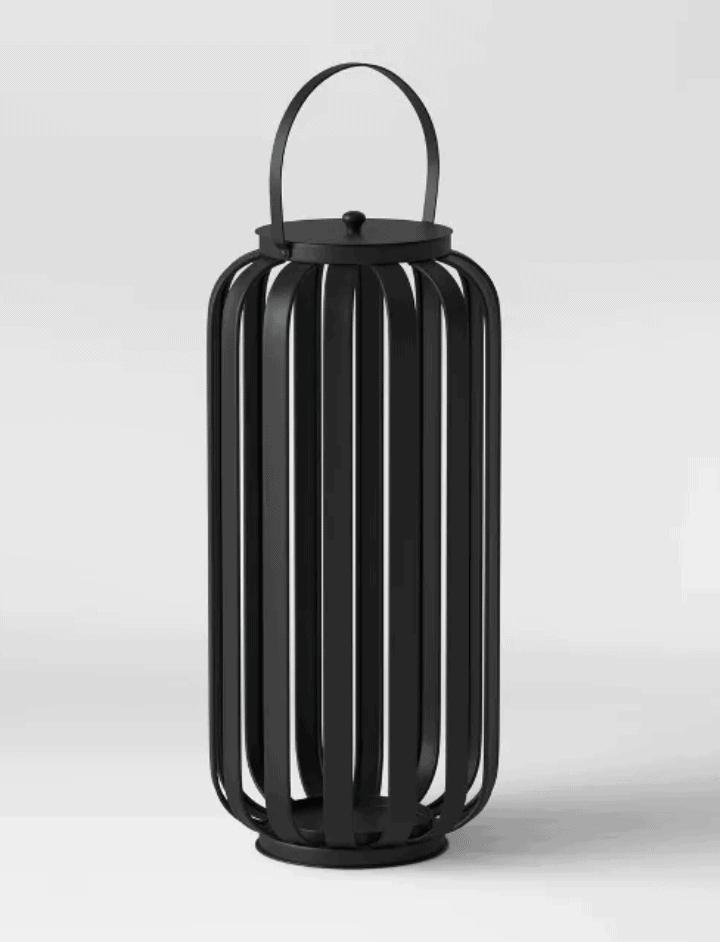 If you look at the most popular small apartment balcony decor on Pinterest, almost every single one has lanterns. These can add so much to a space while also adding ambiance, as mentioned in the last tip.
I got these lanterns from Target for my own apartment balcony and they are perfect! So many places sell lanterns at varying prices that you can add onto your own apartment balcony.
Time Several Hours
WORDS BY Gillian Grefe
Fill 1 Created with Sketch.
Published on June 5, 2018
Home » Featured » Three Ways to Transform Your Tiny Rental Balcony
Balconies are super tricky: they can be bare and cold, and feel less than welcoming. But, if you're short on outdoor space, they can quickly become the perfect place to soak in some rays, even in the big city. While throwing a random lawn chair out there will do the trick in a pinch, here are three ways to create a true sanctuary out of your super-small balcony space.
Create a Container Garden
Your bare metal balcony needs some life, even in the concrete jungle! Here's a secret: there are tons of planter options for small spaces, including some that literally hook over a balcony railing. The possibilities are endless! You can plant container gardens of all shapes and sizes. Take advantage of plant stands with plenty of pots and a small footprint, like this one designed to fit perfectly in a corner. Herbs, annuals, even taller grasses can help provide screening for your sanctuary.
Build a Bench
It can be hard to fit enough seating into a small balcony, but we're loving the idea of using your entire space by creating a bench seating area. You could wrap it around a corner to incorporate a small table, or just create a luxurious lounge space with plenty of pillows and cushions. You could purchase some funky benches made of rattan or teak, or even just build your own using some wood and cinder blocks (we love a good DIY as much as the next person). Add a side table to set your drink on and plenty of lighting and you've suddenly created a totally fabulous retreat in a tiny space.
Punch up the Parisian Vibes
If you're a traditionalist, there's no better balcony inspiration than the city that's synonymous with the bistro table. Bistro table sets come in all shapes and sizes, so pick one to your liking and use it as the centerpiece of your balcony design. We love a round table for it's versatility, and the folding chairs let you make room for activities if you need it. Pair a classic metal bistro set with string lights, plenty of plants, and a glass of wine for the ultimate in simple luxury.
Feeling inspired? Start your own Havenly design project today by taking our free style quiz.
You are lucky if you have a private balcony as it is a great outdoor space to entertain friends and family. Turn your balcony into a comfortable spot, one where you can unwind, relax or make beautiful memories.
The decoration and seating arrangements are crucial to enjoy the breeze and view of the outdoors. So when you plan to design the perfect balcony for yourself make sure to take into consideration the size of the space so that it does not look or feel cluttered. In this guide, we will take an in-depth tour of how a balcony must be designed so you can make the most of one of the best spaces in your home.
Essential Elements Of Balcony Seating
Balcony Seating
A balcony lets you enjoy the cool, crisp air of early mornings, a morning cup of tea, and a comfortable space to sit down and read. But a balcony is nothing without a proper seating arrangement. What you need is the right kind of furniture that is enough to seat a few and fit into the layout of the space. Here are a few options for seating in your balcony.
A Swing: If your balcony has an overhang you can install a swing to enjoy the view from a higher height. A sleek swing with a coffee table fits in perfectly into a small balcony and provides ample seating when you want to enjoy reading or sipping a coffee cup.
Add Wicker Furniture: A balcony isn't complete without a few pieces of furniture. You will need a place to sit and relax. So why not add a set of wicker furniture and give your balcony a modern twist? Make your balcony fully functional with comfortable wicker sofas, a table and create a tranquil and relaxing space in your own balcony.
A Picnic Spot : Bring the outdoor fun inside and transform your balcony like a garden. Install artificial grass for the flooring and throw in some comfy cushions and sheets, and you can have a mini-picnic.
Built-In Seating : If you have a small balcony make use of every inch. Maximise the space by installing built-in benches. This way you will save space and have an ideal place to sit and relax.
Make It More Ethnic : Take a classic and traditional approach for your balcony to give it a desi twist. Bring in upholstered sofas with ethnic motifs, chairs, poufs, candlelight holders and an ottoman. Add an uruli with floating candles and flowers to accentuate the overall look of this space.
Select Small Furniture : If you have a small balcony then do not clutter it with unnecessary items. Select small pieces of furniture that will fit smartly into space without compromising on comfort. Add a little bit of greenery to make it more enjoyable. You can opt for folding chairs and tables so you can put it back neatly when not in use.
Let Us Explore How A Balcony Can Act as Storage
Apartment dwellers know the value of storage because every inch matters. If the rooms in your home do not have enough space you can use your balcony for storage. Bring in those extra chests of drawers or side cabinets and place them in your balcony to store all your belongings.
Seating Furniture With Storage
If the balcony is small then opt for a bench with storage space. The size of the bench depends on the available area in your balcony. Choose a bench where you can store items under its seat. You can add a matching ottoman with storage inside so you'll get much storage even in a tiny space.
Use Your Walls As Storage
Your balcony can be used cleverly to store things if it lacks space. Since your wall offers so much vertical space you can use them to build extra storage space for books or indoor plants. Shelving can keep smaller items tidy like tools, gadgets, and accessories safe.
Multifunctional Furniture
A piece of single multifunctional furniture is a smart and cost-effective way to maximise both seating and storage in your balcony. Most multifunctional furniture sets start with a conversational style seating – a sectional sofa or coffee table and spare chairs.
How To Decorate A Balcony?
Decorating a balcony is fun when you have all the elements figured out. A well-planned balcony can turn it into a beautiful oasis full of greenery. It can also be a place to read or a nook for your friends to hang out.
Do you know what the four critical factors are to keep in mind when you decorate your balcony?
Well, we've listed them out for your benefit so read on.
Lighting: This is a crucial element of decor for any space be it the living room or balcony. Good lighting will make your space feel cosy and warm. So make sure to adorn your balcony with string lights or lanterns to give it a cosy atmosphere.
Layering : Give your balcony various layers of textiles so it looks comforting and inviting. Throw in some rugs and fluffy cushions to have a wonderful time.
Layout: If your balcony is small you must be careful about proportions. The objects must be placed in a way so that there is no restriction of movement. Make sure the types of furniture you buy and install are appropriate for your balcony. Slimmer furniture works best if you do not have ample square footage.
Greenery : A balcony is incomplete without the introduction of greens. Pack the balcony with indoor plants to create a feel of the backyard you always wanted. You can also create a mini garden packed with various herbs.
How To Do Proper Space Planning In Your Balcony?
Before you make any hasty decisions you need to understand what you have to work with – the size of the balcony. Measure the available space before bringing in furniture and decor. Additionally, keep the following in mind:
Function : What is the intent of the balcony? Is it a place where you can sit and relax? Or is it a reading nook? Do you want to make it a children's activity area where they can sit and draw? It is also essential that your balcony acts as storage space. Think hard about the different uses of your balcony and do not shy away from experimenting and adjusting as you go along.
Outdoor Furniture: Your balcony will be exposed to nature's elements. Choose good quality outdoor furniture that can withstand harsh Indian weather. If you have a small balcony opt for more compact and dual-purpose furniture sets that can be stacked up when not in use.
Choose A Colour Or A Theme : Just as you choose a particular colour scheme for your home interiors your balcony deserves one just as well. This will help you plan your furniture and decor around it.
Use Of Vertical Space : If your balcony is small then make use of vertical space. You can use your wall to hang potted plants or make it a vertical garden. Also, add shelves which can be used to display knick-knacks or plants.
There you go! All you need to know about balcony interior design is right here at your fingertips. It needs mindful planning, the right elements and some help from a professional. Book a consultation with Design Cafe and begin your home interior design journey here.
When my mom and I first moved into our apartment, our 16-foot long balcony was nice but underwhelming.
Earlier this year, I overhauled the space for about $198 using sale pieces, items I already owned, and thrifted finds.
Painting patio furniture brought much-needed color to my space
First, I transformed a $50 three-piece gray patio set that was glass, metal, and woven plastic.
I used $10 worth of leftover emulsion (a durable water-based paint) from another project to cover the set in pink, blue, and sage.
To spice up the table, I created a daisy design and used some acrylic paint to give the flower depth.
Once the patio furniture was dry, I used an $8 quick-dry varnish to waterproof the pieces and give them a nice sheen.
Creating designs on the concrete floor added a unique twist
We originally bought waterproof rugs for the balcony, but they didn't look as we'd hoped, so I painted the floors.
I thought I'd need to buy expensive masonry paint, but leftover matte emulsion topped with varnish worked just fine.
I painted stems and leaves by hand then cut an old sponge into a petal shape and used it as a stamper to create flowers.
Homemade flag buntings are easy to make
My mom and I used old pillowcases to make homemade flag buntings.
We cut the pillowcases in half lengthwise and then again along the fold at the top. Then, we attached strings and painted them with a Union Jack design.
If you don't have matte emulsion, acrylic paint works just as well, if not better.
Thrifting bike wheels added unique decor to our balcony
I got old bicycle tires from my uncle and originally planned to turn them into seasonal wreaths. Since they were already painted and varnished, I changed my plan.
Instead, I added affordable battery-powered LED lights and faux greenery stems to make them into simple accent pieces.
Use old light fittings to add flair
We bought battery-powered festoon lights and solar-powered fairy lights to add a warm glow to the balcony when the sun goes down.
To add a quirky touch, we placed an old lampshade we found in a charity shop over one of the festoon bulbs.
This creates a really unique atmosphere and brings the indoors, outdoors. We've also placed various lanterns around the balcony to add color.
Adding plants and planters to your space is a simple way to add color
Flowers and greenery complete an outdoor space, but planters can get pretty expensive.
I bought my planters and window boxes from eBay for around $9 each. The window boxes are attached to the balcony pole and propped up with old books and magazines, which add height and a bit of character.
The tall trough at the end of our balcony was found in our apartment building's trash room a few years ago and painted with a white gloss.
Our little trough has fairy lights twisted around it and it looks beautiful night or day.
Each season I probably spend around $20 – $25 on plants, seeds, earth, and feed. This year, we opted for petunias, sweet williams, geraniums, lavender, and a miniature rose.
For plants, we kept to a color palette of green, pink, and purple.
Sticky-back plastic and self-adhesive mirrors are great finishing touches
For around $30, we used sticky-back plastic to upgrade other parts of the space.
We put patterned sticky-back plastic sheets on the balcony divider at the end because it looks more appealing than misted glass and would help seclude us from neighbors.
We put patterned plastic on the white panels beneath the bedroom windows. So far, it's lasted for a year and a half.
To add the illusion of extra space, we stuck $5 self-adhesive mirrors on the divider.
Last summer I shared this post filled with inspiration for decorating a small outdoor balcony, and I'm FINALLY here with my apartment balcony reveal! If I'm telling the complete truth I did pretty much finish decorating my balcony at the end of last summer, but by that time it wasn't really relevant anymore to share it so I figured I'd save the reveal for this year.
Let me start off my saying I'm SO SO SO incredibly grateful to have a little bit of my own outdoor space available to me this year. When I moved into my first apartment 7 years ago having a balcony wasn't too high on my "must-have" list, but I ended up moving into one with a balcony and having one landed itself on my "must-have" list when I was looking to buy an apartment by myself 2 years ago. Since I moved into my apartment in November 2018, I didn't really get a chance to start decorating the space until the following Summer, but since it took me almost all of last year to decide what I actually wanted to do with it, this is really the first time I'm getting to enjoy it (and considering 90% of my time is spent at home now, I'm REALLY enjoying it).
I knew I wanted to make it functional with some sort of storage unit, but also cozy and comfortable and pretty (obviously). Right away I knew I didn't want a traditional table and chairs, I wanted it to be more of an outdoor living room. Once I found the palm print carpet it set the tone for the entire space and everything else came together pretty quickly. I was eyeing the chairs for a while, but wanted to see them in person before buying them and I was NOT disappointed! For the price they are SUCH high quality, they even come in a loveseat if you're interested in that in addition to or instead of chairs. Then I slowly filled with the space with tables, lights and planters.
The last challenge was finding a storage unit that was functional, large and wasn't an eyesore! I searched for MONTHS, thankfully I ended up finding this one that checked off all the boxes and couldn't be happier. It fits perfectly in the corner and it doesn't scream "plastic storage container" which I'm so grateful for!
As I say with all the other spaces in my home, this one isn't necessarily "complete". I'd love to get a few more plants (Quarantine 2020 definitely turned me into a plant lady and I don't hate it) and I also would love to cover the remainder of the exposed floor with 2 smaller natural jute rugs. I'd also love to get some sort of bench or maybe even a small scale chair to sit closer to the window. I still have a good amount of space over there and since I'm sure I'll be spending a majority of my summer hanging on my balcony with friends I'd love to have 1 more seat!
Shop my Apartment Balcony Decor:

Pin my Apartment Balcony Inspiration for later:
Shop my Apartment Balcony Decor:

Because of I purchased a lot of my apartment balcony decor last year and some items are out of stock I figured I'd also include similar items you can shop!
FACEBOOK
PINTEREST
EMAILSHARE
DESIREE BURNS INTERIORS
New Yorkers know this better than anyone: In a small apartment, the best solution is to make your space feel bigger and brighter. So how do you decorate for small spaces? While many petite apartments feel cluttered and dark, the best thing you can do with limited space is to give it the appearance of airiness. Think of all-white modern apartment décor with textured fabrics and little clutter.
This can be achieved with a minimal color palette, clever window treatments, and multipurpose furniture. There are also a few things to avoid—dark and bulky furniture, too many decorative accessories, and inadequate lighting. To achieve the simplistic look, you'll have to let go of unused items and hand-me-downs that don't perfectly fit your layout.
Your space is about to feel 10 times bigger: Read on to learn 20 modern décor tips for small apartments.
Paint It White
" data-caption="" data-expand="300″ data-tracking-container="true" />
White walls aren't just a trend for clean, bright spaces—they're also a designer trick to make a room feel more open. By pairing sleek white paint with natural colors in the furniture, Becca Interiors makes this apartment feel larger without sacrificing the warmth of earthy tones. When it comes to choosing colors, stick to neutral palettes like tan leather, wood, and woven textures while keeping more colorful accents contained in artwork and décor.
Embrace Natural Light
" data-caption="" data-expand="300″ data-tracking-container="true" />
In this space by House Sprucing, the use of simple, sheer white window shades lets more light in and makes the room appear brighter. Say goodbye to blackout curtains and those outdated blinds that came with your apartment: Sheer curtains or woven shades still provide plenty of privacy, but without darkening your rooms. This is especially important for those south- and west-facing windows that receive the most natural light.
Create Visual Height
" data-caption="" data-expand="300″ data-tracking-container="true" />
If your ceilings are low, choose a white shade pendant light that won't visually clutter the room. Even without creating more living space, adding visual height draws the eye up to make an area feel larger. Because this light fixture blends into the ceiling, the room feels airy from top to bottom.
Reflect With Mirrors
" data-caption="" data-expand="300″ data-tracking-container="true" />
JESSICA NELSON DESIGN
Another long-lasting interior designer trick is the use of mirrors in small spaces. By bouncing natural light across the room, large mirrors cleverly make your space appear larger when you're working with low-light areas. In this living room, Jessica Nelson Design matches the fireplace mirror's finish to the coffee table for an elegant, uniform vibe.
In small, dark hallways or those corners of rooms that don't see much natural light, use a full-length floor mirror that spans the wall's height to add visual space.