What you need:
Colour pencils Art Grip Aquarelle, India Ink Pitt Artist Pen S, Graphite pencil Grip 2001 2B, Brush
The world of elves, goblins and nature spirits offers plenty of scope for exciting stories and beautiful drawings. The figure in our picture is a cheeky little fairy who is on her way through an enchanted forest. She has her back turned towards us, which means her delicate, semi-transparent wings are particularly prominent. She is looking at us over her shoulder, as if she were inviting us to come with her.
Step 1
To draw your figure, first make a preliminary sketch on the A4 drawing paper. It is best to start with a simple stick figure and then add the joints to it. You can bring out the playful, cheeky and nimble spirit of your wood fairy by means of the correct bodily posture. That's why her left shoulder is raised slightly and her back is shaped with a slight hollow.
The drawing should not completely fill the A4 paper, because otherwise there will not be enough room for the background later on.
Step 2
Give your fairy a little more plasticity by means of basic geometrical shapes such as cylinders. When doing this, make sure you draw the proportions and the overlaps so that there are not too many lines meeting at one point. In this step, incidentally, you must also decide how much volume the body of your fantasy figure requires so that it will have the typically tender and delicate shape of a fairy, whilst at the same time not looking too thin and fragile.
Step 3
Now give your figure hair, a dress, stockings, gloves and wings. These wings extend for just less than two thirds of the fairy's body size. Turn the body a little more towards the observer and give the head typically elfish ears. If the new elements give rise to undesirable overlaps, you can improve the position of the limbs a little more at this point. Now you can also consider how spare the costume should be, and how elaborate the other details can be at most, in order to avoid distracting from either the body shape or the wings. This is why her hair has also been kept rather short.
Step 4
In the next step, build up your fairy completely as shown in the picture. Now you have completed your preliminary sketch. This will help you to judge better which areas should later be coloured more delicately or more strongly with the coloured pencils in order to achieve a result that is as plastic as possible. Also, you will be able to bring out the difference between those parts of the picture which are opaque and those which are semi-transparent. You will also find it easier to decide what eye size is most appropriate and how the folds of the costume should run.
Step 5
You can make your final alterations to the preliminary sketch. The forms of the fairy's body are now a bit fuller, the left leg more acutely angled and the wings have been made smaller. Following this, use graphite paper to transfer the subject to a sheet of A4 watercolour paper. Work over the lines again with a fineliner pen and erase the pencil lines that are still visible.
Step 6
We recommend placing your watercolour paper on an unused sheet of paper. This will prevent the structure of the underlying surface (e.g. table panel) from pressing through. On the fineliner drawing, ground out the in dividual surfaces using the Art GRIP watercolour pencils. When doing this, hold the pencil as flat as possible and stroke it carefully over the paper in order to fill in the individual areas. You should resharpen the pencil from time to time if required. To give a greater impression of depth and three-dimensionality, you can reduce or increase the intensity of colour application at particular points in the picture. For example, the wings and clothes especially must be coloured more delicately so that they will appear more transparent later on. You can see the difference in the application of colour on the hair, parts of the costume and the rear wing which is achieved by painting over with a wet brush. This method enables you to create various surface structures.
Step 7
The next step is to colour in all the elements of the figure as shown in the illustration. Don't forget to vary the intensity of colour application. You can refer to your preliminary pencil sketch from step 04 to see where the darker areas should be. The ability to paint over Art GRIP watercolour pencils with water means you can achieve beautiful colour transitions and shadings really easily with a moist brush. The finished elf is wearing cheerful, shining colours which underline the expression of her playful character. Add more structure to the wings and the fringes of her costume after they have dried, using the fineliner.
Step 8
Now draw in the background image, once again by making a preliminary sketch on a new sheet of DIN A4 drawing paper. Our fairy is standing in the middle of a living greenwood. Outline old trees with thick bark and thick roots, standing amidst long grass. The grid will help you to divide the sheet of paper sensibly. The landscape has been kept rather simple, and the individual surfaces are clearly separated from one another so that the fairy clearly stands in the foreground in spite of her delicate colouring in some areas.
Step 9
When you are satisfied with your preliminary sketch, draw it out cleanly a second time on a new sheet of A4 watercolour paper. Then ground out the background according to the illustration using the Art GRIP watercolour pencils. At points where you want to create more depth, you must follow up the shading of the area by applying somewhat more colour. In the spaces between the trees, you can create warm sunlight falling through the leaves by using a little yellow. Following this, paint over the various coloured areas with a moistened brush, in order to create the soft transitions between the colour applications of different intensity within the individual areas of colour. Finer details such as the individual stalks of grass will be added in the next step.
Step 10
As soon as the background has dried, add individual stalks of grass and give more structure to the treetops and the bark by a dry application of colour.
Last step
As the last step, use a pair of scissors or digital tools (scanner and image processing program) to position your figure in front of the background. Your own fancy wood fairy is now finished!
Wideo: Jak narysować Anime Fairie lub Angel: 8 kroków (ze zdjęciami)
Wideo: How to Draw Fairy Bloom from Winx Club Cute step by step

Zawartość:
Kroki
Pytania i odpowiedzi społeczności
Porady
Inne sekcje
Wróżki i anioły anime można sklasyfikować według trzech prostych kryteriów: skrzydeł, oczu i ubrania. Skrzydła mogą być duże lub małe. Jedyne, o co musisz się martwić, to rysowanie ich! Oczy muszą być duże i mieć nierealistyczne kolory, aby mogły zostać zaklasyfikowane jako "anime". A ubrania? Powinny być stylowe i piękne. Oto jak narysować wróżkę / anioła.
Kroki
Wybierz wygląd i pozę. Może to być szczęśliwy wygląd, wspaniały wygląd lub bogaty wygląd.
Spójrz na swoje zdjęcie. Czy wyraża uczucia, których chciałeś? Czy ubranie określa, kim jest i czym jest? Czy wygląd twojego anioła lub wróżki odzwierciedla jego osobowość? Czy jest coś, co chciałbyś zmienić? Jeśli tak, wprowadź zmiany.
Przyciemnij linie, które chcesz zachować. Zachowaj szczegółowe tekstury, które mogłeś dodać do odzieży lub włosów (nie dodawaj tekstury, jeśli masz zamiar pokolorować).
Dodaj kolor (opcjonalnie). Kolor dodaje osobowości każdemu i wszystkim. W zależności od tego, jakiego rodzaju wróżkę / anioła tworzysz, możesz specjalnie skoordynować kolory. Dla wróżki wodnej dobrze pasowałyby odcienie niebieskiego, zielonego i innych chłodnych kolorów. Wróżka ognia miałaby kolor czerwony, pomarańczowy, żółty i tak dalej. Możesz także skoordynować kolory otoczenia.
Podziwiaj swoje piękne zdjęcie i podziel się nim z innymi! Jeśli chcesz, możesz oprawić go w ramy i wyeksponować na ścianie.
Pytania i odpowiedzi społeczności
Czy możesz określić, jak narysować skrzydła?
Jeśli rysujesz anioła, zacznij od dużego koła przy ramieniu. Następnie narysuj trójkąt przy łydce, sięgający do stopy, a następnie zacznij od szczegółów. Jeśli rysujesz wróżkę, zacznij od dwóch owali. Powinny to być dwa punkty trójkąta równobocznego. Następnie dodaj punkty do owali i zacznij tworzyć szczegóły. Bądź kreatywny!
Jak uzyskać prawidłowy kształt podbródka?
Ćwicz i pracuj nad tym. Jeśli nie dostaniesz tego za pierwszym razem, w porządku. Narysuj podbródek tak, jak chcesz, a po godzinach nauczysz się doskonalić kształt brody.
Czy potrafisz określić, jak narysować rysy twarzy wróżki?
Rysy twarzy wróżki to: duże oczy, blada skóra, jasnoróżowe usta i zakrzywione uszy. Możesz też dodać im blasku do swoich upodobań.
Porady
Jeśli to możliwe, użyj wysokiej jakości ołówka grafitowego, a także papieru teksturowanego lub innego rodzaju szkicu, jeśli go masz.
Jeśli twoja gumka jest brudna (cała jest szara), wytrzyj trochę pustą zapasową kartkę papieru, aby ją wyczyścić.
Spójrz na zdjęcia wróżki / anioła. To może dać ci pomysły na pozycję i kolory.
Jeśli nie wygląda dobrze, nie martw się. Jeśli będziesz dalej ćwiczyć, prawdopodobnie będziesz zdumiony, że to narysowałeś.
Każdego dnia w wikiHow ciężko pracujemy, aby zapewnić Ci dostęp do instrukcji i informacji, które pomogą Ci żyć lepiej, niezależnie od tego, czy zapewni Ci bezpieczeństwo, zdrowie czy poprawi Twoje samopoczucie. W obliczu obecnych kryzysów zdrowotnych i ekonomicznych, kiedy świat drastycznie się zmienia, a my wszyscy uczymy się i dostosowujemy do zmian w życiu codziennym, ludzie potrzebują wikiHow bardziej niż kiedykolwiek. Twoje wsparcie pomaga wikiHow w tworzeniu bardziej szczegółowych, ilustrowanych artykułów i filmów oraz udostępnianiu naszej zaufanej marki treści instruktażowych milionom ludzi na całym świecie. Prosimy o rozważenie już dziś wkładu do wikiHow.
Video.: Cara Melukis Anime Fairie atau Malaikat: 8 Langkah (dengan Gambar)
Video.: How To Draw Natsu Dragneel Step by Step – Fairy Tail

Kandungan:
Langkah-langkah
Soalan dan Jawapan Komuniti
Petua
Bahagian lain
Peri dan malaikat anime dapat digolongkan dengan tiga kriteria sederhana: sayap, mata dan pakaian. Sayapnya mungkin besar atau kecil. Satu-satunya perkara yang perlu anda bimbangkan adalah menarik mereka! Mata mesti besar dan dengan warna yang tidak realistik agar dapat diklasifikasikan sebagai 'anime'. Dan pakaian? Mereka mesti bergaya dan cantik. Inilah cara melukis peri / malaikat.
Langkah-langkah
Pilih rupa dan pose. Ini mungkin kelihatan gembira, cantik, atau tampan.
Lihat gambar anda. Adakah itu menyatakan perasaan yang anda mahukan? Adakah pakaian menunjukkan siapa itu dan apa itu? Adakah rupa malaikat atau peri anda menggambarkan keperibadiannya? Adakah ada yang ingin anda ubah? Sekiranya ada, buat perubahan.
Gelapkan garis yang ingin anda pertahankan. Simpan tekstur terperinci yang mungkin anda tambahkan pada pakaian atau rambut (jangan menambahkan tekstur jika anda akan mewarnai)
Tambah warna (pilihan). Warna menambahkan keperibadian kepada sesiapa sahaja dan apa sahaja. Bergantung pada jenis peri / malaikat yang anda buat, anda mungkin mahu menyelaraskan warna secara khusus. Untuk peri air, warna biru, hijau, dan warna sejuk lain sangat sesuai. Peri api akan berwarna merah, oren, kuning, dan sebagainya. Anda juga boleh menyelaraskan warna persekitarannya.
Kagumi gambar cantik anda dan kongsi dengan orang lain! Sekiranya anda mahu, anda boleh membingkai dan memaparkannya di dinding.
Soalan dan Jawapan Komuniti
Bolehkah anda nyatakan cara melukis sayap?
Sekiranya anda melukis malaikat, mulailah dengan bulatan besar di bahu. Kemudian, lukiskan segitiga di tepi anak lembu, sampai ke kaki, dan kemudian mulakan dengan perincian. Sekiranya anda melukis peri, mulakan dahulu dengan dua oval. Ia harus menjadi dua titik segitiga sama sisi. Kemudian, tambahkan titik ke oval dan mula membuat perincian. Jadilah kreatif!
Bagaimana saya boleh mendapatkan bentuk dagu dengan betul?
Terus berlatih dan mengusahakannya. Sekiranya anda tidak mendapatkannya pada kali pertama, tidak mengapa. Lukiskan dagu dengan cara yang anda mahu dan lembur anda akan belajar bagaimana menyempurnakan bentuk dagu.
Bolehkah anda menentukan cara menggambar wajah peri?
Ciri-ciri wajah peri adalah: Mata besar, kulit pucat, bibir merah jambu muda dan telinga melengkung. Anda juga boleh menambahkan sedikit kilauan pada pipi mereka mengikut keinginan anda.
Petua
Gunakan pensil grafit berkualiti jika boleh, bersama dengan kertas bertekstur atau semacam kertas lakaran jika anda memilikinya.
Sekiranya pemadam anda kotor (semuanya kelabu), hapus sedikit pada kertas kosong untuk membersihkannya.
Lihat gambar peri / malaikat. Ini mungkin memberi anda idea untuk kedudukan dan warna.
Sekiranya tidak kelihatan baik, jangan risau. Sekiranya anda terus berlatih, anda mungkin akan kagum kerana anda berjaya.
Setiap hari di wikiHow, kami bekerja keras untuk memberi anda akses kepada arahan dan maklumat yang akan membantu anda menjalani kehidupan yang lebih baik, sama ada ini menjadikan anda lebih selamat, lebih sihat, atau meningkatkan kesejahteraan anda. Di tengah-tengah krisis kesihatan awam dan ekonomi semasa, ketika dunia berubah secara dramatik dan kita semua belajar dan menyesuaikan diri dengan perubahan dalam kehidupan seharian, orang memerlukan wikiHow lebih dari sebelumnya. Sokongan anda membantu wikiHow untuk membuat artikel dan video bergambar yang lebih mendalam dan untuk berkongsi jenama pengajaran kami yang dipercayai dengan berjuta-juta orang di seluruh dunia. Sila pertimbangkan untuk membuat sumbangan kepada wikiHow hari ini.
Video: Come disegnare una fata o un angelo anime: 8 passaggi (con immagini)
Video: Beautiful Girl Drawing For Beginners| How To Draw A Fairy For Beginners |How To Draw A Girl | Angel

Contenuto:
Passi
Domande e risposte della comunità
Suggerimenti
Altre sezioni
Le fate e gli angeli anime possono essere classificati con tre semplici criteri: ali, occhi e vestiti. Le ali possono essere grandi o piccole. L'unica cosa di cui devi preoccuparti è disegnarli! Gli occhi devono essere grandi e con colori non realistici per essere classificati come "anime". E i vestiti? Dovrebbero essere eleganti e belli. Ecco come disegnare una fata / angelo.
Passi
Scegli uno sguardo e una posa. Potrebbe essere un aspetto felice, un aspetto magnifico o un aspetto ricco.
Guarda la tua foto. Esprime i sentimenti che volevi che trasmettessero? I vestiti delineano chi è e cosa è? Lo sguardo del tuo angelo o della tua fata riflette la sua personalità? C'è qualcosa che vorresti cambiare? In tal caso, apporta le modifiche.
Scurisci le linee che vuoi mantenere. Mantieni le trame dettagliate che potresti aver aggiunto a vestiti o capelli (non aggiungere consistenza se intendi colorare).
Aggiungi colore (opzionale). Il colore aggiunge personalità a chiunque ea qualsiasi cosa. A seconda del tipo di fata / angelo che stai creando, potresti voler coordinare i colori in modo speciale. Per una fata dell'acqua, le sfumature di blu, verde e altri colori freddi sarebbero adatte. Una fata del fuoco sarebbe colorata di rosso, arancione, giallo e così via. Puoi anche coordinare i colori dei suoi dintorni.
Ammira la tua bellissima immagine e condividila con gli altri! Se lo desideri, puoi incorniciarlo e visualizzarlo su una parete.
Domande e risposte della comunità
Puoi specificare come disegnare le ali?
Se stai disegnando un angelo, inizia con un grande cerchio sulla spalla. Quindi, disegna un triangolo vicino al polpaccio, raggiungendo il piede, quindi inizia con i dettagli. Se stai disegnando una fata, inizia prima con due ovali. Dovrebbero essere i due punti di un triangolo equilatero. Quindi, aggiungi punti agli ovali e inizia a creare dettagli. Essere creativo!
Come ottengo la forma del mento giusta?
Continua a esercitarti ea lavorarci sopra. Se non lo ottieni la prima volta, va bene. Disegna il mento nel modo che preferisci e nel tempo imparerai a perfezionare la forma del mento.
Puoi specificare come disegnare i tratti del viso della fata?
I tratti del viso di una fata sono: grandi occhi spalancati, pelle pallida, labbra rosa chiaro e orecchie ricurve. Inoltre, puoi aggiungere un po 'di lucentezza alle loro guance a tuo piacimento.
Suggerimenti
Usa una matita di grafite di qualità se possibile, insieme a carta ruvida o un qualche tipo di carta da disegno, se ce l'hai.
Se la gomma è sporca (è tutta grigia), cancella un po 'su un pezzo di carta di ricambio bianco per pulirla.
Guarda le immagini di una fata / angelo. Questo potrebbe darti idee per la posizione e i colori.
Se non ha un bell'aspetto, non preoccuparti. Se continui a esercitarti, probabilmente rimarrai stupito di averlo disegnato.
Ogni giorno in wikiHow, lavoriamo duramente per darti accesso a istruzioni e informazioni che ti aiuteranno a vivere una vita migliore, sia che ti mantenga più sicuro, più sano o che migliori il tuo benessere. Nell'attuale crisi della salute pubblica e dell'economia, quando il mondo cambia drasticamente e stiamo tutti imparando e adattandoci ai cambiamenti nella vita quotidiana, le persone hanno bisogno di wikiHow più che mai. Il tuo supporto aiuta wikiHow a creare articoli e video illustrati più approfonditi e a condividere il nostro marchio di fiducia di contenuti didattici con milioni di persone in tutto il mondo. Per favore, considera di dare un contributo a wikiHow oggi.
Video: Jak nakreslit anime vílu nebo anděla: 8 kroků (s obrázky)
Video: How To Draw Angel and Devil | Huta Chan Studio

Obsah:
Kroky
Otázky a odpovědi komunity
Tipy
Ostatní sekce
Anime víly a andělé lze klasifikovat podle tří jednoduchých kritérií: křídla, oči a oblečení. Křídla mohou být velká nebo malá. Jediné, čeho se musíte bát, je ve skutečnosti je kreslit! Oči musí být velké a nereálné barvy, aby bylo možné je klasifikovat jako "anime". A oblečení? Měly by být stylové a krásné. Zde je návod, jak nakreslit vílu / anděla.
Kroky
Vyberte pohled a pózu. Mohl by to být šťastný pohled, nádherný vzhled nebo bohatý vzhled.
Podívejte se na svůj obrázek. Vyjadřuje to pocity, které jste chtěli? Naznačuje oblečení, kdo to je a co to je? Odráží vzhled vašeho anděla nebo víly jeho osobnost? Je něco, co byste chtěli změnit? Pokud ano, proveďte změny.
Ztmavte čáry, které chcete zachovat. Ponechte si podrobné textury, které jste možná přidali k oblečení nebo vlasům (nepřidávejte texturu, pokud se chystáte barvit).
Přidat barvu (volitelně). Barva dodává osobnost komukoli a cokoli. V závislosti na tom, jaký druh víly / anděla vytváříte, možná budete chtít barvy zvlášť koordinovat. Pro vodní vílu by se dobře hodily odstíny modré, zelené a jiné studené barvy. Ohnivá víla by byla zbarvena červeně, oranžově, žlutě atd. Můžete také koordinovat barvy jeho okolí.
Obdivujte svůj krásný obrázek a sdílejte ho s ostatními! Pokud chcete, můžete jej zarámovat a vystavit na zeď.
Otázky a odpovědi komunity
Můžete upřesnit, jak nakreslit křídla?
Pokud kreslíte anděla, začněte velkým kruhem u ramene. Potom nakreslete trojúhelník u lýtka, dosáhnete na nohu a poté začněte s detaily. Pokud kreslíte vílu, začněte nejprve dvěma ovály. Měly by to být dva body rovnostranného trojúhelníku. Poté přidejte body na ovály a začněte vytvářet podrobnosti. Být kreativní!
Jak zjistím správný tvar brady?
Stále to procvičujte a pracujte. Pokud to nezískáte poprvé, je to v pořádku. Nakreslete bradu tak, jak chcete, a přesčas se naučíte, jak vylepšit tvar brady.
Můžete určit, jak nakreslit rysy obličeje víly?
Obličejové rysy víly jsou: velké oči, bledá kůže, světle růžové rty a zakřivené uši. Můžete také přidat trochu lesku na jejich tváře podle vašich představ.
Pokud je to možné, použijte kvalitní grafitovou tužku spolu s texturovaným papírem nebo nějakým papírem na skici, pokud jej máte.
Pokud je vaše guma špinavá (je celá šedá), vyčistěte ji trochu prázdným náhradním papírem.
Podívejte se na obrázky víly / anděla. To vám může poskytnout nápady na pozici a barvy.
Pokud to nevypadá dobře, nebojte se. Pokud budete cvičit dál, pravděpodobně vás ohromí, že jste to nakreslili.
Každý den na wikiHow tvrdě pracujeme, abychom vám poskytli přístup k instrukcím a informacím, které vám pomohou žít lepší život, ať už vás to udrží v bezpečí, zdravější, nebo vám pomůže zlepšit vaši pohodu. Uprostřed současné zdravotní a ekonomické krize, kdy se svět dramaticky mění a my se všichni učíme a přizpůsobujeme se změnám v každodenním životě, lidé potřebují wikiHow více než kdy jindy. Vaše podpora pomáhá wikiHow vytvářet podrobnější ilustrované články a videa a sdílet naši důvěryhodnou značku instruktážního obsahu s miliony lidí po celém světě. Zvažte, prosím, přispět na wikiHow ještě dnes.
Ako nakresliť anime vílu alebo anjela – Ako
Obsah:
Kroky
Otázky a odpovede pre komunitu
Tipy
Ostatné oddiely
Anime víly a anjeli možno klasifikovať podľa troch jednoduchých kritérií: krídla, oči a oblečenie. Krídla môžu byť veľké alebo malé. Jediná vec, ktorej sa musíte obávať, je v skutočnosti ich kreslenie! Oči musia byť veľké a nereálne sfarbené, aby sa dali klasifikovať ako "anime". A oblečenie? Mali by byť štýlové a krásne. Týmto spôsobom je možné nakresliť vílu / anjela.
Kroky
Vyberte vzhľad a pózu. Môže to byť šťastný vzhľad, nádherný vzhľad alebo bohatý vzhľad.
Prezri si svoj obrázok. Vyjadruje to pocity, ktoré ste chceli? Naznačuje oblečenie, o koho ide a čo to je? Odráža vzhľad vášho anjela alebo víly jeho osobnosť? Je niečo, čo by ste chceli zmeniť? Ak je to tak, vykonajte zmeny.
Stmavte čiary, ktoré chcete zachovať. Ponechajte si podrobné textúry, ktoré ste mohli pridať k oblečeniu alebo vlasom (nepridávajte textúru, ak sa chystáte farbiť).
Pridajte farbu (voliteľné). Farba dodáva osobnosť každému a čomukoľvek. V závislosti od toho, aký druh víly / anjela vytvárate, môžete farby špeciálne koordinovať. Pre vodnú vílu by sa dobre hodili odtiene modrej, zelenej a iné studené farby. Požiarna víla by bola sfarbená do červenej, oranžovej, žltej atď. Môžete tiež zladiť farby jeho okolia.
Obdivujte svoj krásny obrázok a zdieľajte ho s ostatnými! Ak chcete, môžete ho zarámovať a vystaviť na stenu.
Otázky a odpovede pre komunitu
Môžete mi prosím určiť, ako nakresliť krídla?
Ak kreslíte anjela, začnite veľkým kruhom pri pleci. Potom nakreslite trojuholník pri lýtku, dotýkajúc sa chodidla, a potom začnite s podrobnosťami. Ak kreslíte vílu, najskôr začnite dvoma oválami. Mali by to byť dva body rovnostranného trojuholníka. Potom pridajte body do oválov a začnite vytvárať detaily. Buď kreatívny!
Ako dosiahnem správny tvar brady?
Stále to trénujte a pracujte. Ak to nedostanete prvýkrát, je to v poriadku. Nakreslite bradu tak, ako chcete, a nadčas sa naučíte, ako vylepšiť tvar brady.
Môžete určiť, ako nakresliť črty tváre víly?
Charaktery víly sú: veľké oči, bledá pokožka, svetloružové pery a zakrivené uši. Môžete tiež pridať trochu lesku na ich lícach podľa vašich predstáv.
Ak je to možné, použite kvalitnú grafitovú ceruzku spolu s textúrovaným papierom alebo nejakým skicárskym papierom, ak ho máte.
Ak je vaša guma špinavá (je celá šedá), vyčistite ju trochou prázdnym papierom.
Prezrite si obrázky víly / anjela. To vám môže poskytnúť nápady na umiestnenie a farby.
Ak to nevyzerá dobre, nebojte sa. Ak budete cvičiť ďalej, pravdepodobne vás ohromí, že ste to nakreslili.
Každý deň na wikiHow tvrdo pracujeme, aby sme vám poskytli prístup k pokynom a informáciám, ktoré vám pomôžu žiť lepší život, či už vás to bude bezpečnejšie, zdravšie alebo zlepšovanie vašej pohody. Uprostred súčasnej krízy v oblasti verejného zdravia a hospodárskej krízy, keď sa svet dramaticky mení a my sa všetci učíme a prispôsobujeme sa zmenám v každodennom živote, ľudia potrebujú wikiHow viac ako kedykoľvek predtým. Vaša podpora pomáha wikiHow vytvárať podrobnejšie ilustrované články a videá a zdieľať našu dôveryhodnú značku inštruktážneho obsahu s miliónmi ľudí po celom svete. Zvážte, prosím, prispieť na wikiHow ešte dnes.
Video: Hoe teken je een anime-fee of engel: 8 stappen (met afbeeldingen)
Video: Reageren op video's van 11 JAAR geleden!!

Inhoud:
Stappen
Vragen en antwoorden van de gemeenschap
Tips
Andere secties
Anime-feeën en engelen kunnen worden geclassificeerd met drie eenvoudige criteria: vleugels, ogen en kleding. De vleugels kunnen groot of klein zijn. Het enige waar u zich zorgen over hoeft te maken, is ze daadwerkelijk tekenen! De ogen moeten groot zijn en met onrealistische kleuren om als 'anime' te worden geclassificeerd. En kleren? Ze moeten stijlvol en mooi zijn. Hier is hoe je een fee / engel tekent.
Stappen
Kies een look en een pose. Het kan een vrolijke look, een prachtige look of een rijk uitziende look zijn.
Kijk over je foto. Drukt het de gevoelens uit die u wilde dat het was? Schetsen de kledingstukken wie het is en wat het is? Weerspiegelt het uiterlijk van je engel of fee zijn persoonlijkheid? Is er iets dat u zou willen veranderen? Zo ja, breng dan de wijzigingen aan.
Maak de lijnen die u wilt behouden donkerder. Bewaar de gedetailleerde texturen die je misschien aan kleding of haar hebt toegevoegd (voeg geen textuur toe als je gaat kleuren).
Kleur toevoegen (optioneel). Kleur voegt persoonlijkheid toe aan alles en iedereen. Afhankelijk van wat voor soort fee / engel je maakt, wil je misschien de kleuren speciaal coördineren. Voor een waterfee zouden tinten blauw, groen en andere koele kleuren goed geschikt zijn. Een vuurfee zou worden gekleurd in rood, oranje, geel, enzovoort. U kunt ook de kleuren van de omgeving coördineren.
Bewonder je mooie foto en deel hem met anderen! Als je wilt, kun je hem inlijsten en aan de muur hangen.
Vragen en antwoorden van de gemeenschap
Kunt u aangeven hoe u de vleugels tekent?
Als je een engel tekent, begin dan met een grote cirkel bij de schouder. Teken vervolgens een driehoek bij de kuit, bereik de voet en begin met details. Als je een fee tekent, begin dan eerst met twee ovalen. Het moeten de twee punten van een gelijkzijdige driehoek zijn. Voeg vervolgens punten toe aan de ovalen en begin met het maken van details. Wees creatief!
Hoe krijg ik de vorm van de kin goed?
Blijf eraan oefenen en eraan werken. Als je het de eerste keer niet begrijpt, is dat oké. Teken de kin zoals u dat wilt en na verloop van tijd leert u hoe u de kinvorm kunt perfectioneren.
Kun je specificeren hoe je gezichtskenmerken van een fee tekent?
De gelaatstrekken van een fee zijn: grote bochtige ogen, bleke huid, lichtroze lippen en gebogen oren. Je kunt ook een beetje glans aan hun wangen toevoegen als je wilt.
Gebruik indien mogelijk een grafietpotlood van goede kwaliteit, samen met gestructureerd papier of een soort schetspapier als je dat hebt.
Als je gum vuil is (hij is helemaal grijs), wis dan een beetje op een blanco vel papier om het schoon te maken.
Kijk naar plaatjes van een fee / engel. Dit kan u ideeën geven voor de positie en kleuren.
Maakt u zich geen zorgen als het er niet goed uitziet. Als je blijft oefenen, zul je waarschijnlijk versteld staan ​​dat je het hebt getekend.
Bij wikiHow werken we er elke dag hard aan om je toegang te geven tot instructies en informatie die je zullen helpen een beter leven te leiden, of het nu gaat om je veiliger, gezonder of om je welzijn te verbeteren. Temidden van de huidige volksgezondheid en economische crises, wanneer de wereld dramatisch verandert en we allemaal leren en ons aanpassen aan veranderingen in het dagelijks leven, hebben mensen wikiHow meer dan ooit nodig. Uw steun helpt wikiHow om meer diepgaande geïllustreerde artikelen en video's te maken en om ons vertrouwde merk van educatieve inhoud te delen met miljoenen mensen over de hele wereld. Overweeg om vandaag nog een bijdrage te leveren aan wikiHow.
Video.: Paano Gumuhit ng isang Anime Fairie o Angel: 8 Hakbang (na may Mga Larawan)
Video.: Paano Gumuhit ng Isang Fairy Couple – watercolor by Huta Chan

Nilalaman:
Mga hakbang
Mga Tanong at Sagot sa Komunidad
Mga Tip
Iba Pang Mga Seksyon
Ang mga engkanto ng anime at mga anghel ay maaaring maiuri sa tatlong simpleng pamantayan: mga pakpak, mata at damit. Ang mga pakpak ay maaaring malaki o maliit. Ang tanging bagay na kailangan mong magalala ay ang pagguhit sa kanila! Ang mga mata ay dapat malaki at may mga hindi makatotohanang kulay upang maiuri bilang 'anime'. At damit? Dapat silang naka-istilo at maganda. Narito kung paano gumuhit ng isang engkanto / anghel.
Mga hakbang
Pumili ng isang hitsura at isang pose. Maaari itong maging isang masayang hitsura, napakarilag na hitsura, o mayaman na hitsura.
Tingnan ang iyong larawan. Ipinapahayag ba nito ang mga damdaming nais mo? Binabalangkas ba ng mga damit kung sino ito at ano ito? Ang hitsura ba ng iyong anghel o diwata ay sumasalamin sa pagkatao nito? Mayroon bang nais mong baguhin? Kung gayon, gawin ang mga pagbabago.
Pagdidilim ang mga linya na nais mong panatilihin. Panatilihin ang detalyadong mga texture na maaaring naidagdag mo sa damit o buhok (huwag magdagdag ng pagkakayari kung magkukulay ka).
Magdagdag ng kulay (opsyonal). Ang kulay ay nagdaragdag ng pagkatao sa sinuman at anupaman. Nakasalalay sa kung anong uri ng engkantada / anghel ang iyong nilikha, baka gusto mong i-coordinate ang mga kulay lalo na. Para sa isang engkanto sa tubig, ang mga kakulay ng asul, berde, at iba pang mga cool na kulay ay angkop sa lahat. Ang isang engkantada ng sunog ay kulay sa pula, kahel, dilaw, at iba pa. Maaari mo ring i-coordinate ang mga kulay ng paligid nito.
Humanga sa iyong magandang larawan at ibahagi ito sa iba! Kung nais mo, maaari mo itong i-frame at ipakita ito sa isang pader.
Mga Tanong at Sagot sa Komunidad
Maaari mo bang tukuyin kung paano iguhit ang mga pakpak?
Kung gumuhit ka ng isang anghel, magsimula sa isang malaking bilog sa balikat. Pagkatapos, gumuhit ng isang tatsulok sa pamamagitan ng guya, maabot ang paa, at pagkatapos ay magsimula sa mga detalye. Kung gumuhit ka ng isang engkantada, magsimula ka muna sa dalawang ovals. Dapat itong ang dalawang puntos ng isang equilateral triangle. Pagkatapos, magdagdag ng mga puntos sa mga ovals at simulang lumikha ng mga detalye. Maging malikhain!
Paano ko makakakuha ng tamang anyo ng baba?
Patuloy na sanayin at gawin ito. Kung hindi mo makuha ito sa unang pagkakataon, okay lang iyon. Iguhit ang baba sa gusto mong paraan at mag-obertaym malalaman mo kung paano gawing perpekto ang hugis ng baba.
Maaari mo bang tukuyin kung paano gumuhit ng mga tampok sa mukha ng engkantada?
Ang mga tampok na pangmukha ng isang engkanto ay: Malaking makintab na mga mata, maputlang balat, mapusyaw na rosas na labi at mga hubog na tainga. Gayundin, maaari kang magdagdag ng kaunting ningning sa kanilang mga pisngi ayon sa gusto mo.
Mga Tip
Gumamit ng isang de-kalidad na lapis na grapayt kung maaari, kasama ang naka-texture na papel o ilang uri ng sketch paper kung mayroon ka nito.
Kung ang iyong pambura ay marumi (lahat ng ito ay kulay-abo), burahin nang kaunti sa isang blangkong ekstrang piraso ng papel upang linisin ito.
Tumingin sa mga larawan ng isang engkanto / anghel. Maaari kang magbigay sa iyo ng mga ideya para sa posisyon at mga kulay.
Kung hindi ito maganda, huwag magalala. Kung patuloy kang magsanay marahil ay manghang-mangha ka na iginuhit mo ito.
Araw-araw sa wikiHow, nagsusumikap kami upang mabigyan ka ng access sa mga tagubilin at impormasyon na makakatulong sa iyo na mabuhay ng mas mahusay na buhay, mapanatili ka nitong mas ligtas, mas malusog, o mapabuti ang iyong kagalingan. Sa gitna ng kasalukuyang mga krisis sa kalusugan sa publiko at pang-ekonomiya, kung ang mundo ay nagbabago nang malaki at lahat tayo ay natututo at umaangkop sa mga pagbabago sa pang-araw-araw na buhay, ang mga tao ay nangangailangan ng wikiHindi pa kailanman. Ang iyong suporta ay tumutulong sa wikiHow makalikha ng mas malalim na nakalarawan na mga artikulo at video at upang maibahagi ang aming pinagkakatiwalaang tatak ng nilalaman ng pagtuturo sa milyun-milyong tao sa buong mundo Mangyaring isaalang-alang ang pagbibigay ng isang kontribusyon sa wikiHow ngayon.
Vidéo: Comment dessiner une fée ou un ange d'anime: 8 étapes (avec images)
Vidéo: J'ai deux amis, un ange et un démon

Contenu:
Pas
Questions et réponses de la communauté
Conseils
Autres sections
Les fées et les anges animés peuvent être classés selon trois critères simples: les ailes, les yeux et les vêtements. Les ailes peuvent être grandes ou petites. La seule chose dont vous devez vous soucier est de les dessiner! Les yeux doivent être grands et avec des couleurs irréalistes pour être classés comme «anime». Et les vêtements? Ils doivent être élégants et beaux. Voici comment dessiner une fée / un ange.
Choisissez un look et une pose. Cela peut être un look joyeux, un look magnifique ou un look riche.
Regardez votre photo. Exprime-t-il les sentiments que vous vouliez? Les vêtements décrivent-ils qui c'est et ce que c'est? Le look de votre ange ou de votre fée reflète-t-il sa personnalité? Y a-t-il quelque chose que vous aimeriez changer? Si tel est le cas, apportez les modifications.
Assombrissez les lignes que vous souhaitez conserver. Conservez les textures détaillées que vous avez peut-être ajoutées aux vêtements ou aux cheveux (n'ajoutez pas de texture si vous voulez colorier).
Ajoutez de la couleur (facultatif). La couleur ajoute de la personnalité à n'importe qui et à n'importe quoi. Selon le type de fée / ange que vous créez, vous voudrez peut-être coordonner les couleurs spécialement. Pour une fée de l'eau, des nuances de bleu, de vert et d'autres couleurs froides conviendraient bien. Une fée du feu serait colorée en rouge, orange, jaune, etc. Vous pouvez également coordonner les couleurs de son environnement.
Admirez votre belle photo et partagez-la avec les autres! Si vous le souhaitez, vous pouvez l'encadrer et l'afficher sur un mur.
Questions et réponses de la communauté
Pouvez-vous s'il vous plaît préciser comment dessiner les ailes?
Si vous dessinez un ange, commencez par un grand cercle près de l'épaule. Ensuite, dessinez un triangle près du mollet, atteignant le pied, puis commencez par les détails. Si vous dessinez une fée, commencez par deux ovales. Ce devrait être les deux points d'un triangle équilatéral. Ensuite, ajoutez des points aux ovales et commencez à créer des détails. Sois créatif!
Comment obtenir la bonne forme du menton?
Continuez à vous entraîner et à travailler dessus. Si vous ne l'obtenez pas la première fois, ce n'est pas un problème. Dessinez le menton comme vous le souhaitez et au fil du temps, vous apprendrez à perfectionner la forme du menton.
Pouvez-vous spécifier comment dessiner les traits du visage de la fée?
Les traits du visage d'une fée sont: de grands yeux bight, une peau pâle, des lèvres rose clair et des oreilles courbes. En outre, vous pouvez ajouter un peu de brillance à leurs joues à votre guise.
Conseils
Utilisez un crayon graphite de qualité si possible, avec du papier texturé ou une sorte de papier à dessin si vous en avez.
Si votre gomme est sale (elle est toute grise), effacez-la un peu sur une feuille de papier vierge pour la nettoyer.
Regardez les photos d'une fée / ange. Cela peut vous donner des idées pour la position et les couleurs.
Si cela ne semble pas bon, ne vous inquiétez pas. Si vous continuez à pratiquer, vous serez probablement étonné de l'avoir dessiné.
Chaque jour chez wikiHow, nous travaillons dur pour vous donner accès à des instructions et des informations qui vous aideront à vivre une vie meilleure, que ce soit pour vous garder en sécurité, en meilleure santé ou pour améliorer votre bien-être. Au milieu de la santé publique et des crises économiques actuelles, alors que le monde change radicalement et que nous apprenons tous et nous nous adaptons aux changements de la vie quotidienne, les gens ont plus que jamais besoin de wikiHow. Votre soutien aide wikiHow à créer des articles et des vidéos illustrés plus détaillés et à partager notre marque de confiance de contenu pédagogique avec des millions de personnes dans le monde entier. Veuillez envisager de contribuer à wikiHow dès aujourd'hui.

Priscilla Hernandez
Fairies World
Fairy, Fairies and Fantasy Art
The world guide to fairy art seen through the vision of those that believe and understand.
A directory of fairy information, fantasy art, and folklore
Welcome to Fairies World. Share a moment of truth that may change your life.
Famous flower fairy artist Myrea Pettit, is renowned for her delicate and detailed drawings and paintings with fairies, flowers and butterflies and the 'Last Dodo's Ball', she is passionate about the environment and endangered species often highlighted in her fantasy art and illustrations.
Sugar Plum Fairy -Needlepoint by Arlene Lewis
Click here to see more of Myrea's recent images ».
If this is your first visit to Fairies World we welcome you with the many visitors that return regularly time and again. Our website is easy to navigate, if you are looking for something specific just enter your word in our search box and click 'go' to find references, alternatively look at the site map or click on one of the listed side links to take you to a page where more information will be available.
You will find:
Interviews with 21st century artists, authors and musicians along with their fairy music, poetry, and books of Celtic folklore and pictures.
Famous fairies like Tinker Bell, Fairy Names and explanations.
Fairy shopping; browse and buy pictures, music, DVD's, games, jewellery, toys, books, fashions and wedding clothes, wings and more.
Make friends or date with people with similar interests in creative arts.
Information on Fairies, Mermaids, Gnomes, Goblins, Pixies, Elves, Dragons, Gargoyles, Angels, Ogres.
Send e-cards of your favourite pictures from within our Fairy and Fantasy Art Gallery.
Details on Fairy and Fantasy Festivals from around the world.
Fairy gift ideas for birthdays, celebrations, and Christmas.
Poems and poetry, fairy tales and stories we encourage contributions.
Our fairy weblog reports and news pages give Fairyworld bulletins
Arts and Crafts, how to draw and paint fairies, or model them in clay, needlework and embroidery
Fairy weddings and enchanted accommodation for special occasions.
Thousands of fantasy games to challenge and play
Regular competitions to win exciting prizes
Personalised fairy letters, cards, stationery and calendars
Enchanted faery magazines and podcasts and TV interviews
Our own Fairy Shop exclusive figurines and jewellery
Environmental, endangered, pollution , deforestation, over-fishing issues
This site is the foremost information resource for interest in fairies and fantasy, promoting the work of predominant 21st century Faery artists worldwide whose art and books, educate, create awareness and give pleasure with their beautiful and creative inspirations. Fairy artists share a strong belief in the beauty of mother earth and the protection of flora and fauna and of endangered species.
Peter Pan & Tinkerbell © 2011 Myrea Pettit
Fairiesworld offers a glimpse of famed UK artist and author Myrea Pettit's studio and her work with fairies, flowers, butterflies and other fantasy creatures. Her diminutive fairies, delicate and detailed, treasured folklore of these islands are still to be seen by those that believe and understand the true meaning of fairy and the little people. Her connection with nature shows many wonderful designs of flowers and butterflies often frequented by Fairies, beautifully depicted on ceramics, pictures, figurines, and jewellery.
Myrea encourages children and adults to learn to draw and paint her images, teaching skills to develop creative imagination and to educate and inspire others with the arts and craft of needlework, doll making, fairy photography and other hobbies.
Video.: Sådan tegner du en anime-fe eller engel: 8 trin (med billeder)
Video.: Женщины моделисты. Моделизм – мужское хобби?

Indhold:
Trin
Fællesskabs spørgsmål og svar
Tips
Andre sektioner
Anime feer og engle kan klassificeres efter tre enkle kriterier: vinger, øjne og tøj. Vingerne kan være store eller små. Det eneste du skal bekymre dig om er faktisk at tegne dem! Øjnene skal være store og med urealistiske farver for at blive klassificeret som 'anime'. Og tøj? De skal være stilfulde og smukke. Sådan tegner du en fe / engel.
Vælg et kig og en pose. Det kunne være et lykkeligt udseende, et smukt udseende eller et rigt udseende.
Se over dit billede. Udtrykker det de følelser, du ville have det til? Skitserer tøjet, hvem det er, og hvad det er? Genspejler din engles eller feens udseende dets personlighed? Er der noget, du gerne vil ændre? I så fald foretag ændringerne.
Mørk de linjer, du vil beholde. Opbevar de detaljerede teksturer, du måske har tilføjet til tøj eller hår (tilføj ikke tekstur, hvis du skal farve).
Tilføj farve (valgfrit). Farve tilføjer personlighed til enhver og noget. Afhængigt af hvilken slags fe / engel du opretter, vil du måske koordinere farverne specielt. For en vandfe ville nuancer af blå, grøn og andre seje farver være velegnede. En ildfe ville være farvet i rød, orange, gul osv. Du kan også koordinere farverne i omgivelserne.
Beundre dit smukke billede og del det med andre! Hvis du vil, kan du indramme det og vise det på en væg.
Fællesskabs spørgsmål og svar
Kan du venligst angive, hvordan man tegner vingerne?
Hvis du tegner en engel, skal du starte med en stor cirkel ved skulderen. Tegn derefter en trekant ved kalven, når foden, og start derefter med detaljer. Hvis du tegner en fe, skal du først starte med to ovaler. Det skal være de to punkter i en ligesidet trekant. Tilføj derefter punkter til ovalerne, og begynd at oprette detaljer. Vær kreativ!
Hvordan får jeg form af hagen korrekt?
Bliv ved med at øve og arbejde på det. Hvis du ikke får det første gang, er det okay. Tegn hagen, som du vil, og overarbejde, du lærer at perfektionere hagen.
Kan du specificere, hvordan man tegner fe i ansigtet?
Ansigtsegenskaber for en fe er: Store lyse øjne, bleg hud, lyserøde læber og buede ører. Du kan også tilføje lidt glans til deres kinder efter din smag.
Brug en kvalitetsgrafitblyant, hvis det er muligt, sammen med struktureret papir eller en slags skitsepapir, hvis du har det.
Hvis din viskelæder er snavset (det hele er gråt), skal du slette det lidt på et tomt ekstra stykke papir for at rense det.
Se på billeder af en fe / engel. Dette kan give dig ideer til position og farver.
Hvis det ikke ser godt ud, skal du ikke bekymre dig. Hvis du bliver ved med at øve, vil du sandsynligvis blive forbløffet over, at du tegner det.
Hver dag på wikiHow arbejder vi hårdt på at give dig adgang til instruktioner og information, der hjælper dig med at leve et bedre liv, uanset om det holder dig mere sikker, sundere eller forbedrer dit velbefindende. Midt i de nuværende folkesundhedsmæssige og økonomiske kriser, når verden skifter dramatisk, og vi alle lærer og tilpasser os ændringer i dagligdagen, har folk brug for wikiHow mere end nogensinde. Din support hjælper wikiHow med at skabe mere dybtgående illustrerede artikler og videoer og til at dele vores pålidelige mærke af instruktionsindhold med millioner af mennesker over hele verden. Overvej venligst at yde et bidrag til wikiHow i dag.
Băng Hình: Cách vẽ một nàng tiên hoặc thiên thần trong anime: 8 bước (có hình ảnh)
Băng Hình: Cập Nhật Chiến Dịch Nga Tấn Công Ukraine sáng 12/4 Giao tranh ác Liệt ở thủ đô Kiev

NộI Dung:
Các bước
Câu hỏi và câu trả lời của cộng đồng
Lời khuyên
Các phần khác
Các nàng tiên và thiên thần trong anime có thể được phân loại với ba tiêu chí đơn giản: cánh, mắt và quần áo. Các cánh có thể lớn hoặc nhỏ. Điều duy nhất bạn cần lo lắng là thực sự vẽ chúng! Đôi mắt phải to và có màu sắc không thực để được xếp vào loại 'anime'. Và quần áo? Họ phải được phong cách và đẹp. Đây là cách vẽ một nàng tiên / thiên thần.
Các bước
Chọn một cái nhìn và một tư thế. Đó có thể là vẻ ngoài hạnh phúc, vẻ ngoài lộng lẫy, hoặc vẻ ngoài giàu có.
Nhìn qua hình ảnh của bạn. Nó có thể hiện cảm xúc bạn muốn không? Quần áo có phác thảo đó là ai và nó là gì không? Vẻ ngoài của thiên thần hay cổ tích của bạn có phản ánh tính cách của nó không? Có điều gì bạn muốn thay đổi không? Nếu vậy, hãy thực hiện các thay đổi.
Làm tối các dòng bạn muốn giữ lại. Giữ nguyên các họa tiết chi tiết mà bạn có thể đã thêm vào quần áo hoặc tóc (không thêm họa tiết nếu bạn định tô màu).
Thêm màu (tùy chọn). Màu sắc thêm cá tính cho bất cứ ai và bất cứ điều gì. Tùy thuộc vào loại cổ tích / thiên thần bạn đang tạo ra, bạn có thể muốn phối hợp màu sắc một cách đặc biệt. Đối với một nàng tiên nước, các màu xanh lam, xanh lá cây và các màu lạnh khác sẽ rất phù hợp. Một nàng tiên lửa sẽ có màu đỏ, cam, vàng, v.v. Bạn cũng có thể phối hợp màu sắc của môi trường xung quanh nó.
Hãy chiêm ngưỡng bức ảnh đẹp của bạn và chia sẻ nó với những người khác! Nếu muốn, bạn có thể đóng khung và trưng bày trên tường.
Câu hỏi và câu trả lời của cộng đồng
Bạn có thể vui lòng chỉ rõ làm thế nào để vẽ cánh?
Nếu bạn đang vẽ một thiên thần, hãy bắt đầu với một vòng tròn lớn bằng vai. Sau đó, vẽ một hình tam giác bằng bắp chân, dài đến chân, rồi bắt đầu với các chi tiết. Nếu bạn đang vẽ một nàng tiên, trước tiên hãy bắt đầu với hai hình bầu dục. Nó phải là hai điểm của một tam giác đều. Sau đó, thêm điểm vào các hình bầu dục và bắt đầu tạo chi tiết. Sáng tạo!
Làm thế nào để tôi có được hình dáng của chiếc cằm như ý?
Tiếp tục thực hành và làm việc trên nó. Nếu bạn không hiểu lần đầu tiên, điều đó không sao. Vẽ cằm theo cách bạn muốn và ngoài giờ bạn sẽ học cách hoàn thiện hình dạng cằm.
Bạn có thể chỉ rõ làm thế nào để vẽ các đặc điểm khuôn mặt của tiên?
Các đặc điểm trên khuôn mặt của tiên nữ là: Đôi mắt to tròn, làn da trắng ngần, đôi môi hồng nhạt và đôi tai cong. Ngoài ra, bạn có thể thêm một chút bóng vào má của họ theo ý thích của bạn.
Lời khuyên
Sử dụng bút chì than chì chất lượng nếu có thể, cùng với giấy có họa tiết hoặc một số loại giấy phác thảo nếu bạn có.
Nếu cục tẩy của bạn bị bẩn (toàn bộ là màu xám), hãy tẩy một chút trên mảnh giấy dự phòng trống để làm sạch nó.
Nhìn vào hình ảnh của một nàng tiên / thiên thần. Điều này có thể cung cấp cho bạn ý tưởng về vị trí và màu sắc.
Nếu nó không đẹp, đừng lo lắng. Nếu bạn tiếp tục luyện tập, bạn có thể sẽ ngạc nhiên vì bạn đã vẽ nó.
Mỗi ngày tại wikiHow, chúng tôi đều nỗ lực để cung cấp cho bạn quyền truy cập vào các hướng dẫn và thông tin giúp bạn có một cuộc sống tốt hơn, cho dù điều đó giúp bạn an toàn hơn, khỏe mạnh hơn hay cải thiện sức khỏe của bạn. Trong bối cảnh sức khỏe cộng đồng và khủng hoảng kinh tế hiện nay, khi thế giới đang chuyển mình mạnh mẽ và tất cả chúng ta đang học hỏi và thích nghi với những thay đổi trong cuộc sống hàng ngày, mọi người cần wikiHow hơn bao giờ hết. Sự ủng hộ của bạn giúp wikiHow tạo ra nhiều bài báo và video minh họa chuyên sâu hơn và chia sẻ thương hiệu đáng tin cậy của chúng tôi về nội dung hướng dẫn với hàng triệu người trên khắp thế giới. Hãy cân nhắc đóng góp cho wikiHow hôm nay.
When taking photographs, positioning the camera above or below eye level creates a variety of compositions and expressions. This also applies to illustrations.
However, many people have experienced wanting to draw a character gazing up at the viewer or a composition shown from below, yetnot knowing how to draw a face from a different perspective.
Thus, I would like to introduce how to draw an [overhead perspective] as if the character was being looked down at from above.
There are many ways to draw a face from an overhead perspective, but I would like to introduce just one of those ways here, so if you are troubled over how to draw this perspective, please refer to this introduction.
1. What to focus on when drawing a face from an overhead perspective
An overhead perspective refers to an angle from above.
Other than directly overhead, even being a little higher than the subject is also considered an overhead perspective angle.
When drawing a face from an overhead perspective, you should focus on knowing how its shape changes from looking at it from the front when looking at it from above.
First, let us take a look at the most basic shape, the cuboid, from above.
When looking at the rectangular part in front, you can see that it takes the shape of a trapezoid that gradually narrows towards the bottom.
This narrowing towards the bottom will be important when drawing a face from an overhead perspective, so please remember it.
2.How to draw a face from an overhead perspective
When drawing an overhead perspective angle, position the '+' marking the dimensions of the face a little lower than normal.
When drawing each part of the face such as the eyes and the nose, there are some areas you should pay attention to.
If you cannot imagine what the face looks like when seen from above, please try using a photograph as a reference.
Instead of leaving them as they is, switching temporarily to simple shapes such as "cylinders" and "triangles" will make it easier for you to imagine how they will change when the perspective is changed.
Now then,let us take a detailed look at what you should focus on for each part.
It is easier if you change the nose to a triangle. When looking at a triangle from above, as shown in the illustration, it will look like a triangle facing down. Thus, you should keep a downward-facing triangle in mind when drawing the nose.
*As it looks different depending on how high up you are looking from, please find the angle that you wnt to draw. It might also be good for you to make an actual trangle with paper, etc.
The eyes especially affect the impression that a face gives, so let us add an angle to them as well. Just like the illustration, make the bottom part become narrower in width than when looked at from the front to make them look as if you are looking at them from above.
When looking from a little higher up, it becomes easier to see the eyelids and eyelashes than the eyes. Thus, draw the eyelashes properly over the eyes to make your illustration seem more realistic.
It might be easier if you imagine the neck as a cylinder. When looking at a cylinder from the front, it looks like a rectangle, but when looked at from a little higher up, the round line of the side comes into view. If there is something wrapped around the neck, draw this round line to make it look like an overhead perspective.
Replacing them with cuboids might make it easier for you. When looking the cuboid from earlier on, in addition to the width becoming narrower towards the bottom, more of the top surfaces can be seen. Thus, for the ears as well, make the bottom part a little narrower and draw the top part a little thicker than normal.
In the case of an overhead perspective angle, when looking from even higher up, there will be a greater area of the top of the head that is visible. Thus, be aware of the position of the hair whorl to make it easier for you to draw the hair.
An illustration drawn with the above in mind will turn out as follows as compared to an illustration facing the front.
Each part looks different depending on how high up the perspective is.
Look at many photographs and illustrations as references to start with to see how each part looks from the angle from which you want to draw.
Drawing many illustrations from various angles will gradually enable you to grasp that "from this angle, it will look like this," so please refer to illustrations and photographs by various people and draw many illustrations.
\ We are accepting requests for articles on how to use /
वीडियो: कैसे एक मोबाइल फोनों फेयर या एन्जिल आकर्षित करने के लिए: 8 कदम (चित्रों के साथ)
वीडियो: English Vocabulary For Competitive Exams || English Vocabulary Words with Meaning
कदम
सामुदायिक प्रश्न और उत्तर
टिप्स
अन्य खंड
एनीमे परियों और स्वर्गदूतों को तीन सरल मानदंडों के साथ वर्गीकृत किया जा सकता है: पंख, आँखें और कपड़े। पंख बड़े या छोटे हो सकते हैं। केवल एक चीज जिसके बारे में आपको चिंता करने की ज़रूरत है वह वास्तव में उन्हें आकर्षित कर रही है! आंखों को बड़ा होना चाहिए और अवास्तविक रंगों के साथ 'एनीमे' के रूप में वर्गीकृत किया जाना चाहिए। और कपड़े? उन्हें स्टाइलिश और सुंदर होना चाहिए। यहाँ एक परी / परी कैसे आकर्षित करने के लिए है।
एक नज़र और एक मुद्रा चुनें। यह एक खुश नज़र, भव्य रूप, या अमीर-दिखने वाला हो सकता है।
अपनी तस्वीर को देखो। क्या यह उन भावनाओं को व्यक्त करता है जो आप इसे चाहते थे? कपड़ों की रूपरेखा तैयार करें कि यह कौन है और यह क्या है? क्या आपकी परी या परी का रूप उसके व्यक्तित्व को दर्शाता है? क्या आप बदलना चाहते हैं? यदि हां, तो बदलाव करें।
उन रेखाओं को गहरा करें जिन्हें आप रखना चाहते हैं। कपड़ों या बालों में आपके द्वारा जोड़े गए विस्तृत बनावट रखें (यदि आप रंग में नहीं जा रहे हैं तो बनावट को न जोड़ें)।
रंग जोड़ें (वैकल्पिक) रंग किसी को और किसी भी चीज़ में व्यक्तित्व जोड़ता है। आप किस तरह की परी / फरिश्ता बना रहे हैं, इसके आधार पर, आप रंगों को विशेष रूप से समन्वित करना चाह सकते हैं। एक पानी परी के लिए, नीले, हरे और अन्य शांत रंगों के शेड अच्छी तरह से अनुकूल होंगे। एक आग परी लाल, नारंगी, पीले, और इसी तरह से रंगी होगी। आप इसके आसपास के रंगों का समन्वय भी कर सकते हैं।
अपनी खूबसूरत तस्वीर को निहारें और इसे दूसरों के साथ साझा करें! यदि आप चाहें, तो आप इसे फ्रेम कर सकते हैं और इसे एक दीवार पर प्रदर्शित कर सकते हैं।
सामुदायिक प्रश्न और उत्तर
क्या आप कृपया बता सकते हैं कि पंखों को कैसे खींचना है?
यदि आप एक फरिश्ता बना रहे हैं, तो कंधे से एक बड़े वृत्त से शुरू करें। फिर, बछड़े द्वारा एक त्रिकोण खींचना, पैर तक पहुंचना, और फिर विवरण के साथ शुरू करना। यदि आप एक परी ड्राइंग कर रहे हैं, तो पहले दो अंडाकार के साथ शुरू करें। यह एक समबाहु त्रिभुज के दो बिंदु होने चाहिए। फिर, अंडाकार को अंक जोड़ें और विवरण बनाना शुरू करें। रचनात्मक बनो!
मुझे ठोड़ी का आकार कैसे मिलेगा?
अभ्यास करते रहें और उस पर काम करते रहें। यदि आप इसे पहली बार प्राप्त नहीं करते हैं, तो ठीक है। जिस तरह से आप चाहते हैं और समय के साथ-साथ आप सीखेंगे कि ठोड़ी के आकार को कैसे पूरा करें।
क्या आप बता सकते हैं कि परी के चेहरे की विशेषताओं को कैसे आकर्षित किया जाए?
एक परी की चेहरे की विशेषताएं हैं: बड़ी तंग आँखें, पीला त्वचा, हल्के गुलाबी होंठ और घुमावदार कान। इसके अलावा, आप अपनी पसंद के अनुसार उनके गालों पर थोड़ा सा चमक जोड़ सकते हैं।
यदि संभव हो तो गुणवत्ता वाले ग्रेफाइट पेंसिल का उपयोग करें, यदि आपके पास है तो बनावट वाले पेपर या किसी प्रकार के स्केच पेपर के साथ।
यदि आपका इरेज़र गंदा है (यह सब ग्रे है), इसे साफ करने के लिए कागज के एक खाली स्पेयर टुकड़े पर थोड़ा मिटा दें।
एक परी / परी की तस्वीरों को देखें। यह आपको स्थिति और रंगों के लिए विचार दे सकता है।
यदि यह अच्छा नहीं लगता है, तो चिंता न करें। यदि आप अभ्यास करते रहते हैं तो आप शायद आश्चर्यचकित होंगे कि आपने इसे आकर्षित किया है।
WikiHow में हर दिन, हम आपको निर्देशों और सूचनाओं तक पहुँच प्रदान करने के लिए कड़ी मेहनत करते हैं जो आपको एक बेहतर जीवन जीने में मदद करेंगे, चाहे वह आपको सुरक्षित, स्वस्थ रखे या आपकी भलाई में सुधार करे। वर्तमान सार्वजनिक स्वास्थ्य और आर्थिक संकटों के बीच, जब दुनिया नाटकीय रूप से बदल रही है और हम सभी दैनिक जीवन में बदलावों को सीख रहे हैं और अपना रहे हैं, लोगों को पहले से कहीं ज्यादा विकी की जरूरत है। आपका समर्थन wikiHow को अधिक गहराई से सचित्र लेख और वीडियो बनाने और हमारे विश्वसनीय ब्रांड को दुनिया भर के लाखों लोगों के साथ साझा करने में मदद करता है। कृपया आज विकि को योगदान देने पर विचार करें।
Last updated by Padre on July 16, 2021

They hide from people that give off negative energy. Negative people cannot feel or see the angels and fairies. People that are inclined towards love and have positive energy feel the fairies' presence. People that give respect to animals and nature are most likely to have a great belief in angels fairies.
J.M Barrie wrote the famous play Peter Pan (1905) in which he wrote that "When the first baby laughed for the first time, the laugh broke into a million pieces, and they all went skipping about. That was the beginning of fairies." Fairies are the angelic creatures of Light.
Fairies are a mystic being that is as real as humans and angels. People who are pure-hearted, open-minded, and believe in angel's fairies can only sense their presence. Unlike Archangels and guardian angels, fairies are very cautious, judgmental, and sensitive creatures.
Difference between Fairies and Angels
Angels and Fairies are two different mystic bodies. Just like angels, there are various types of fairies. Fairies and angels, both are spiritual beings. Angels are mentioned in the Bible and Quran as secret messengers of God.
It is believed that Angels grew into immortal residents of the divine realm. We do not know much about their appearance as they are pure energy. Angels' sole purpose is to serve Humanity.
On the other hand, Fairies are associated with atheist myths or religion. In most cultures, fairies are found in their folktales and legends. They are usually considered supernatural creatures that live with human beings, but inside a considerably different dimension to humans.
Fairies are immortal, or either live extremely long lives. Fairies come in a variety of sizes and shapes.
Contact your Guardian Angel and receive your FREE ANGEL READING, just by filling out this form:
Differences
The difference between fairies and angels is that, unlike angels, fairies have egos, fairies' purpose is to nurture and serve the nature of Earth. Angels and fairies are both are the purest form of energy.
What do Fairies look like?
Whenever we imagine what are fairies and what do fairies look like we always picture Tinkerbelle- a tiny girl with wings. Angels fairies are rarely seen. Many people see them faintly from the corner of the eye. It is believed that if you look directly at them, they disappear.
Most people see little angel's fairies as small balls of light also known as "willow o wisps" around them. The balls of lights can be dim, white, or in bold colors. They come in the form of pure light and energy.
Angels Fairies are believed to be invisible because they are too small to be seen. It was assumed they could be extremely helpful to people. Likewise, if they were offended, they could be tough and dangerous.
They had magical powers but were considered to be naughty and mischievous just like children.
Different types of angels fairies
Overall angels fairies are spirit-like tiny being or have a human-like appearance. The popular concept about angel fairies is that they are really small and diminutive like a pygmy.
They are often shown as winged and look like humans. On the other hand, they are also portrayed as tiny, wrinkled troll-like gnomes with green or red eyes or as tall, good-looking creatures. The size of the angel fairies varies.
There are different types of fairies with different appearances; flower fairies, goblins, elves, gnomes, leprechauns, and pixies. One can never really tell what fairies look like.
The purpose of a Real Fairy
Some people consider fairies as 'fallen angels' due to their mischievous nature. This is not true. Angel fairies are creatures of Love and Pure Light. Fairies are the guardian angels of Mother Nature.
Their purpose is to protect and heal animals and the environment. Fairies do have egos, but that does not make them fallen angels. They are kinder and fairer than human beings. They contact and help those in need.
However, they do not automatically love unconditionally like the heavenly angels
Contact with Real Fairies
There are various statements of contact with real fairies:
In 1907 an Irish old blind married couple was interviewed who said that they kept a real fairy captive for 14 days. A friend of the old couple confirmed their claim as he had seen little people riding a donkey
A woman in Ireland cut a fairy thorn bush and as a result, was "infested with real fairies."
In 1917, a girl Elsie Wright and a boy Frances Griffiths, 10 from Yorkshire village England, claimed that they played with real fairies. When nobody believed them, they took photos of their fairies. The famous author Sir Arthur Conan Doyle got inspired by the photographs and wrote the book "The Coming of the Fairies" (1922)
How to gain the trust of Angels Fairies
A real fairy's trust and respect can be gained by spreading kindness towards nature. Using Eco-friendly supplies, recycling, and volunteering in environmental causes are a few of the actions that fairies like seeing in their possible human friends.
Once you gain the fairies' trust, they can do anything to please you. Fairies are not diabolical creatures. It is a myth that they harm people without any reason.
Fairies love to play tricks on those people who are cruel towards the environment or animals; this is how they have gained a reputation for trouble.
Sometimes they play pranks that are not harmful to people they adore just to be playful such as hiding things.
Where can Angel Fairies be found?
You can find fairies anywhere; they are not bound to a specific place. However, the best place to find fairies is Forests because along with nature they are immensely affectionate towards the wilderness.
Fairies reside wherever there are animals or plants. They live near pets and houseplants. If you are looking to meet a fairy clean your plants and avoid tightly trimmed gardens.
In Peter Pan, Tinkerbelle (the fairy) thought that she would get better if children believed in fairies.
This is the actual case with the real fairies too. You can only feel them if you believe in them!
Learn more about the world of Guardian Angels:
THE HIERARCHY OF THE ANGELS
ANGELIC HELP – 5 WAYS TO ASK ANGELS FOR HELP
Related notes

27 Signs of Angels, Which Means Your Angels, Are With You!
Signs of Angels- Angels are one of the most powerful and divine creations that walk this earth. They are made of light, and that light is…

A Look at Gabriel Angel of God
Let's explore some common misconceptions that often crop up during discussions about Gabriel Angel of God! When it comes to separating fact from fiction, the…
Search This Blog
Friday, December 11, 2009
Getting Started
The wonderful thing about drawing fairies is that there is no wrong way to draw them. Fairies are mythical creatures in a fantasy world. Did you know that in old English folklore, fairies rarely had wings, and were sometimes considered evil? Their reputation has improved over the centuries..Is my Fairy sitting in a flower, climbing in a tree or possibly sitting on a teacup?
The possibilities are endless. There are many different styles of drawing fairies. You can choose from dark and gothic, child-like, flower fairy, anime, photoshopped, or elemental.

Everything in the world could have fascination for a fairy, so they might be there.
The first thing about Drawing Fairies is that we should try to illustrate their size.
Most fairies are very tiny and live among the flowers, or any small item.
Sometimes I will show them sitting on a mushroom.
or walking among long tall stalks of grass, etc.
Any item that shows their size will help create the illusion of a tiny world. Fairies are tiny little people, and learning to draw figures can help with your fairy drawing.
Their tiny size is what creates the magic.
After all, perhaps it is a world we overlook?
Maybe if we look closer we will see them!
One of the first things we think about when we imagine fairies are wings.
Remember that you are Drawing Fairies and that any shape you can imagine would work –
Petal Wings.
Butterfly Wings
Bat Wings.
How about Angel Wings?
And these are just a beginning.
We can play with combinations of these shapes and you can create many new ones when Drawing Fairies.
Once we have mastered drawing wing shapes, let's tackle some figures that are in a little more flexible positions than the ones in my Drawing Figures section.
In order to really master Drawing Fairies you should go and practice a human figure.
Once we have drawn a figure and added wings, we can put it all together with some lovely hair.
You can experiment all you want, because fairies are a bit like elves, and they will wear anything on their heads to make a hat!
Sometimes when I'm not sure of something in a drawing I wait and let the picture show me what it should look like.
I know that sounds strange, but we have a very smart subconscious mind that is always working once you have decided on something.
It will start to give you the answer.
The most important thing is to have fun, and.
let your imagination go wild.
Do you want to learn how to draw cubes that look 3 dimensional? Then you have come to the right place.
Deconstructing objects into their basic forms such as cubes and circles as a fundamental skill for artists.
If you know how to draw cubes in perspective, it will be much easier to learn how to draw everything else.
So in this tutorial, you'll learn 3 different ways to draw 3D cubes.
Materials
Since we are just sketching either printer paper or a sketchbook will do fine. If you are using a graphite pencils, you preferable want to use one that is on the softer side such as B, 2B or 3B. This will make shading easier. However, any pencil, pen, or even charcoal will work.
Also, taking a look at our articles on how to draw straight lines freehand and how to warm up before drawing might be useful.
How to draw a 3D cube
Method 1
In this first method you will draw two squares and then connect the edges. This is the easiest method of them all but won't teach you anything about perspective.
Step 1: draw a square
Start by drawing a square of the desired size.
Step 2: draw a second square
Then draw a second square of the same size slightly offset horizontally and vertically.
If you draw the second square too far away you will end up with a rectangle instead of a cube.
Step 3: connect the corners
Connect the top left corner of the first square with the lop left corner of the second square.
Repeat this for the other 3 corners and you have drawn your first 3D square.
Method 2
In this second method you will start with a 2D square and then turn it into a 3D cube.
Step 1: draw a square
Start by drawing a cube of your desired size.
Step 2: extend from the corners
Now turn your 2D cube into a 3D object by extending it into space.
You do this by drawing lines from each corner. Makes sure that each line is under the same angle.
Note that I didn't draw a line from the bottom left corner. This is because I wanted to draw a solid cube, in which case you won't see this edge.
However, you can make a dotted line if you want.
Step 3: connect the ends
Connect all lines to complete your 3 dimensional cube.
Method 3
If you actually want to learn how to draw in perspective, this third method is the best. It will give you a more fundamental understanding of how to draw things in 3D.
Step 1: draw a vertical line
Start by drawing a vertical line. Since we'll draw a cube from roughly a 45° angle, this will be the edge the closest to you.
Step 2: draw 4 guidelines
Draw the guidelines that indicate where the sides will go.
You want to upper lines and the lower lines to be parallel to each other.
Moreover, you want the left guidelines and the right guidelines to be under a 90° angle with each other.
Step 3: draw the left and right edge
Draw the right and left edge.
If you want to draw a cube, you should try to draw both equally far away from the center line.
If you want to draw a rectangle you can place one side farther away from the center than the other.
Step 4: connect the lines
Finish drawing your cube by connecting the two sides.
Note that these two lines should be perpendicular to the guideline that they come from.
How to draw a cube from different angles
Now that you know how to draw 3D cubes, why don't you try drawing cubes from different angles?
If you have mastered the third method this should be easy. Simply change the angle of the guide lines in step 2 to draw a cube from any angle.
Below you can see how I used this method to draw cubes from 3 different angles.
Taking it to the next level!
You will often use cubes to simplify more complex shapes. However, cubes can also be the center of your artwork!
For example, you can combine today's tutorial with or previous article on how to draw cute eyes to a little family of cubes.
Or you can take your passion for cubes a little further and make a complete painting about cubes like I did below. I painted this after being inspired by the amazing art by @XMIOart.
Drawing a cartoon angel: some fun facts before starting sketching!
About half of Americans are convinced that angels really do exist.
Angels are present in many religions around the world.
Some think that demons are simply fallen angles.
Step 1
Learning how to draw an angel is really not a big challenge if you already know how to draw human figures. They have an aureole on top of the head (1), wings on their back (4), long hair (2) and a light robe (5).
They also play music with a harp (3). An angel might fly above the ground, so the feet are usually hidden. Let's take a closer look at the shape of this cute angel.
Step 2
In this example, for a better overall view, I did not draw the hair of the character. The body is made of a big triangle (with round edges). The head is made of a circle while the arms are drawn with rectangles.
The wings are represented by two small triangles. In this case, the harp is sketch with two small lines. The aureole is made with a simple circle.
Step 3
It's time to try to draw a simple angel. First, sketch the head with a circle and then draw the body using a triangle. Work the outline of the body a little bit and then sketch the arms and the hands of your angel.
Next, draw the wings of your character (you can use triangles to guide you) and add details like the mouth, the eyes and the aureole. Finish your work by sketching the ears and the hair. For a more professional look, you can also add colors.
Step 4
You can draw your angels any way you want to. It can be a funny one (3), a very cute one (4) or a simple one (2). Just remember to draw a long robe, an aureole, a couple of wings and a harp to help your creation look like a real angel. Have fun!
Do you want to learn how to draw boobs; because I want to teach you how in this step-by-step tutorial. I'm not going to lie; drawing women's breasts is one of my favorite things to draw. And that's because I love drawing women a lot. If you are familiar with my work, I illustrate mermaids quite frequently. So I have tons of drawing experience with boobs. I will keep this tutorial simple and easy to follow. I don't want to bog you with too much about the anatomy. However, knowing basic anatomy does help. On that note, are you ready to learn how to draw boobs?
Photos of Women's Boobs
Before we start drawing anything, we need to get familiar with boobs. The best way to learn the anatomy of boobs is by gather reference images. A great place to gather references is Pinterest. I like Pinterest because you can place all your pictures on one inspiration board. Due to the nature of the subject, be cautious on which site you grab your images. A safe place to search for photos of bare breasts is Shutterstock or any other stock image site. To save you the trouble, I created an inspiration board at the link below. At the end of this tutorial, I'll link some helpful books.
Warm-Up Sketches
Once you are familiar with your reference images, I recommend at least a 10-minute warm-up sketch session. This exercise helps build confidence in yourself and relaxes your mind. Trust me, nothing is scarier than a blank canvas. The key here is to have fun. Don't worry about the quality of the sketches. Also, feel free to draw other things too.
Tools
For this tutorial, you can either follow my instructions using traditional media such as pencil and paper or digitally with a drawing app. The choice is up to you. To keep things simple for me, I like creating these tutorials using Procreate because it saves me time and the hassle of scanning images to my computer. If you are a Procreate user, check out my FREE brushes at the link below; this is my go-to set when creating artwork in this app.
If you are a digital user, use blue for sketching. For pencil and paper users, keep your marks light. The directions are as followed.
Step 1: Basic Torso
Step one is to sketch out a simple sketch of a women's torso. This torso will consist of the rib cage and pelvic. With that in mind, loosely sketch out an oval shape with a concave curve at the bottom. Then draw the pelvic as a trapezoid with bowed segments. Also, give a little space to separate the rib cage and pelvic. After you sketch out the ribs and hips, add a centerline and lines for the love handles.
When it comes to drawing a women's torso, remember that the hips are "wider" than the upper body, this will keep your sketch looking feminine. If you are confused, please watch my video so you can see how I draw this.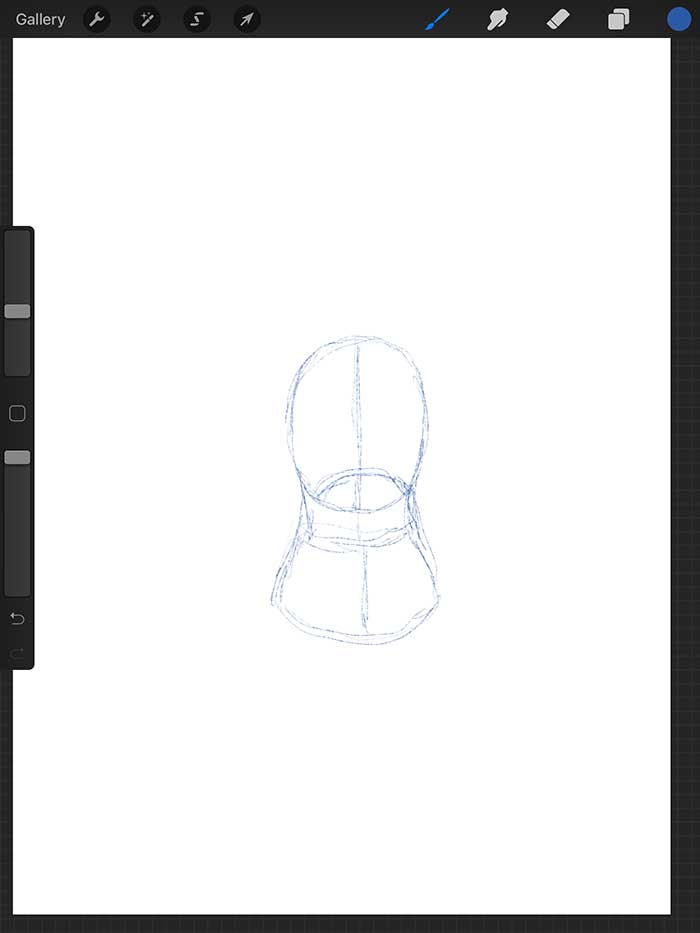 Step 2: Clavicle and Shoulder blades
Next, draw in the clavicle and shoulder blades. For the clavicle, simple lines that are angled about 20В° are fine. And for the shoulder blades, let's keep these simple by drawing upside-down triangles.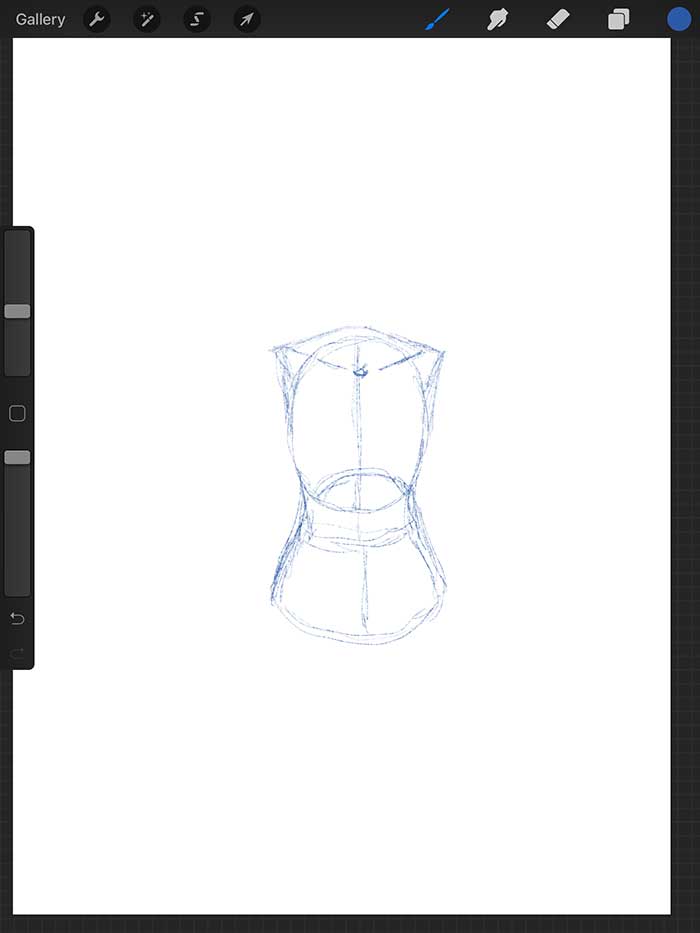 Step 3: Sketch In the Boobs
Once you have your basic women's torso sketched out, you can now add in the boobs. To do this, draw two egg shapes on the rib cage. Also, angle your egg shapes to the center of the clavicle. The bottom of the breast ends a bit above the bottom of the rib cage. Add center lines to your boobs. Make sure to follow the angle of your shapes. You can also add the belly button; this is around the top or slightly above the pelvic.
Step 4: Drop Layer Opacity
After you complete your boob sketch, drop the layer opacity of your layout to about 30%. For pencil and paper users, make sure your sketch marks are light.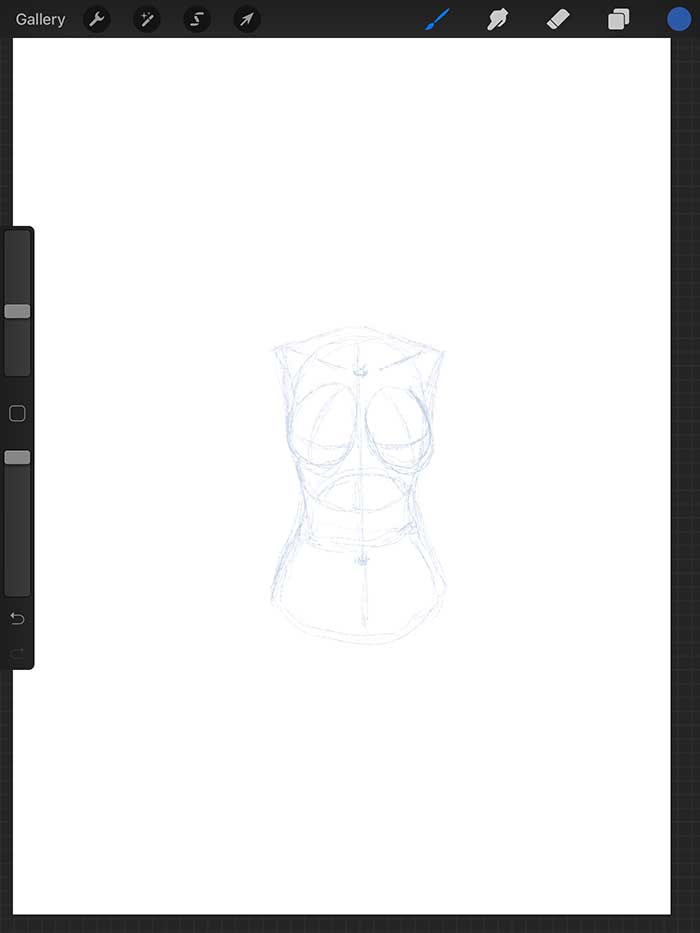 Step 5: Refine Sketch
If you are a drawing app user, create a second layer on top of your sketch drawing. Switch your brush color from blue to black. On this layer, refine the details of your sketch drawing. Here I want you to focus on the boobs, clavicle, and overall shape of the torso. Notice which areas I focus on in my diagram. Do not refine all your lines in your sketch. We need to be selective and omit the lines that are just guides.
Traditional users, refine your details by pressing firmer on your pencil.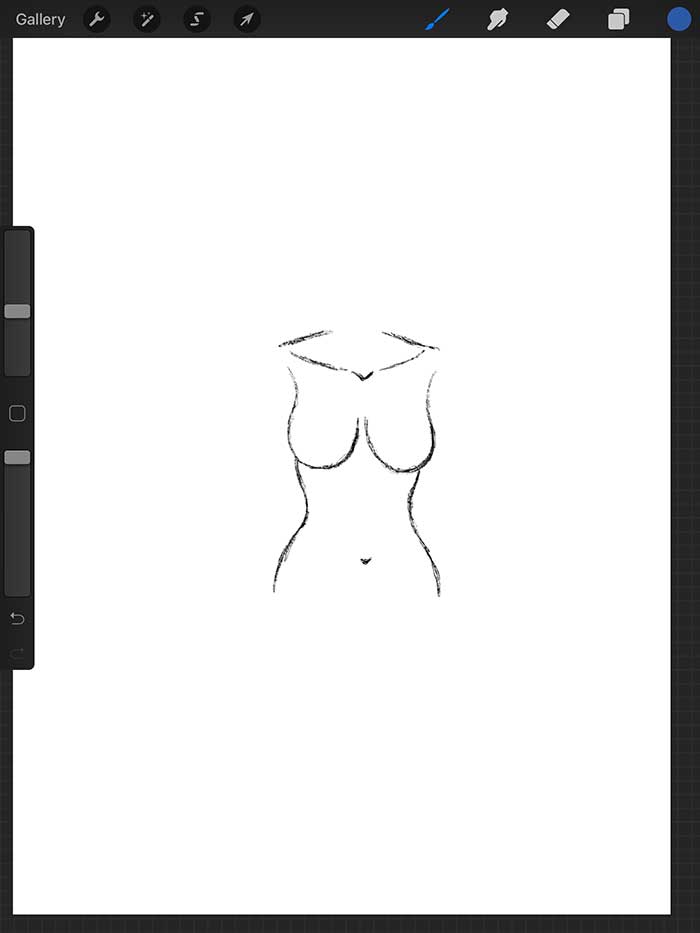 Step 6: Add Shadows
For digital users, create a third layer and place it on the top of all your other layers. Use this layer to add shadows and extra details to your drawing. As for the traditional user, keep working on your illustration. Use your eraser to remove any unwanted guides.
Now that you have your line drawing complete, you can now add shadows to your women's torso and boobs! Don't be afraid to add a good cast shadow below the boobs. By adding this detail, you will make your boobs pop from the rib cage and add depth. Another shading tip for boobs is shading below the clavicle around the upper edge of the torso. This shading is lighter than the cast shadow. Be cautious when you add this shadow.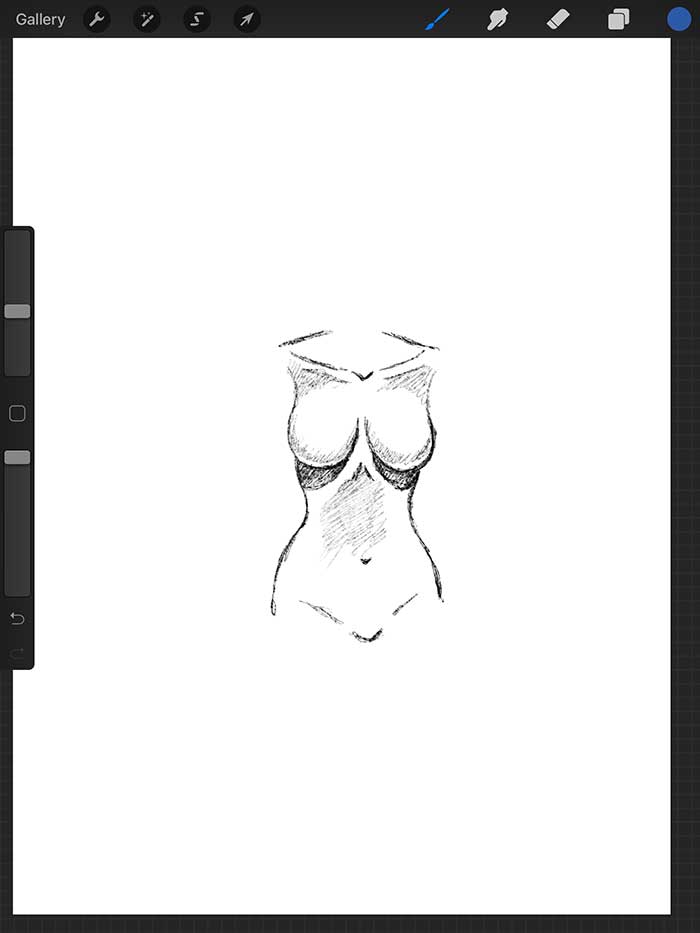 That was the last step, and if you're a digital user. Your layer panel should look something like this diagram.
Boob Drawing Complete
If you made it this far, you have completed drawing your torso with boobs. And that's how you draw boobs! Give yourself a high five! If your drawing didn't come out looking like mine, don't worry. It takes time and lots of practice to draw a good torso. Keep practicing, and remember my tips! You will get better, but you need to be patient.
As stated earlier, I would link some helpful books that might help you.
All these books I own and are great for learning human anatomy. I give them my stamp of approval! In the future, I will eventually have my anatomy tutorials! Make sure you subscribe to my emailing list for the latest tutorials and news!
Conclusion
I hope this tutorial was helpful to you. I know from experience how hard it can be to draw at times, and I feel like in this day in age, there is so much information out there. My goal with "How To Draw Dojo" is to help aspiring artists better themselves with their art. With that in mind, you can share this tutorial with your friends and family. Also, don't forget to follow me on Instagram @howtodrawdojo and @dreampigment. With your support, it helps motivate me to create more free content like this. And I want to thank you in advance!
If you have any questions in regards to this tutorial, feel free to leave a comment below. Also, you can contact me directly via email. And remember to have fun when you draw!
Want to make a collage of some other beautiful piece of artwork? How to draw angel wings will be an indispensable skill that will save you a lot of time.
It is a fantastic thing that today with all the available information, technology, and tools we can create virtually any kind of professionally-looking artwork at home, or make a hand-made book, etc.
I know for sure that once you have learned how to draw angel wings, you'll be able to draw any type of angel wings or create your own original.
The variations are infinite and you are limited only by your fantasy.
If you have chance, look at the old masters paintings of angels, you'll quickly find that the angel wings are often painted or drawn in different shapes and sizes.
Guardian angels, Archangels, or other Divine Authorities have large long feathered wings while other angels are illustrated as curly-haired children with small cute wings.
Angel of Love – Cupid is a very good example of that.
I am going to show you a basic procedure of how to draw angel wings. The following illustration is maybe one of the most common among angel wings drawing.
The point is to learn the drawing process, step-by-step so that you can make your own variations as you like. It is very simple and won't take you more than a couple of minutes to complete it, once you learn this basic sequence.
This picture is a completed drawing of angel wings. Click on the picture to see it in its full size and observe how simple that really is. If necessary print it out.
This magazine is brought to you by Anime Art Academy. Get professional tips on how to draw manga and anime here!
In this series, we're looking at some tricky angles that are much more challenging to draw than simple front-facing or profile faces. Today we'll be studying a low angle – more specifically, a high, diagonal angle. We'll be showing you some great tips for drawing the face at this difficult angle!
Two of the key reasons artists make mistakes when drawing a face is that they don't have a strong enough grasp of the 3D shape of the face, or they haven't drawn their guidelines correctly. So let's look at some techniques to iron out those problems, and help expand your repertoire of poses and angles!
First of all, we draw a circle with crossed lines in it as our first guidelines. Have the vertical lines slope gently to the side, and add in in some oval/balloon shaped guidelines inside the circle. This will help us think about the depth and dimension of the head when drawing.
The pink arrow shows the depth of the head – as seen on the side view too!
Now we can start with our linework. The first line we draw is this one, from the forehead down to the mid line of the eyes.
Then we continue the line down to the chin, remembering to add a dent to show the eye socket, and a swell to show the cheek.
We can extend the centre line of the eyes, and position the ears underneath that line. Then add a line to connect the bottom of the ear up with the chin.
Here's how we can place the eyes, eyebrows and mouth. Remember to place the mouth and nose on the centre line of the face.
Let's simplify it a little. So when drawing from an angle like this, we have these two parallel lines connecting the left and right ears. The blue line passes through both of the pupils of the eyes, and the green line marks the top of the eyes. The pink line is the centre line of the face.
Then we draw in the hair to complete our character!
We hope this has helped you better understand how to accurately draw a face from this high angle. Make sure to practice these guidelines lots of times, so you can get the 3D shape clear in your mind. After enough practice, it will get much easier to draw faces from all different angles!
What You Should Know About Japanese Animation
Frank Carter/Lonely Planet Images/Getty Images
The word anime — pronounced "ah-knee-may" — is an abbreviation of the word animation. In Japan, the word is used to refer to all animation. However, outside of Japan, it has become the catch-all term for animation from Japan.
For decades, anime was produced by and for Japan — a local product, with a distinct look-and-feel to not just the artwork but the storytelling, the themes, and the concepts. Over the last forty years, it has become an international phenomenon, attracting millions of fans and being translated into many languages. A whole generation of viewers in the West has grown up with it and are now passing it on to their own children.
Because all things anime tend to be lumped together, it's tempting to think of anime as a genre. It isn't, at least no more than animation itself is a genre, but rather a description of how the material is produced. Anime shows, like books or movies, fall into any number of existing genres: comedy, drama, sci-fi, action-adventure, horror and so on.
What Makes Anime So Special?
Most anime fans can sum this up in two words: "It's different." Anime is as unlike most American cartoons like "Batman" and "Spider-Man" are different from the comics that run in daily papers. These differences show up in many ways including the artwork storytelling, breadth of material and even cultural nuances exhibited by the characters.
Anime art styles range from the flamboyant and outlandish in shows like "Samurai Champloo" and " FLCL" to the simple and direct in shows like "Azumanga Daioh!." That said, even shows with more "basic" artwork can still be visually striking. Anime has this way of making everything look fresh and new.
It doesn't shy away from epic storylines, either, which often run for dozens (sometimes hundreds) of episodes. The best anime, though, no matter what their length, all demand great emotional involvement from the viewer.
The sheer range of anime shows out there means a fan of most any other kind of TV or movie can find an anime series that mirrors its style. For fans of hard science fiction, the show "Planetes" would be perfect for you; romantic comedy fans will love "Fruits Basket" while crimefighting lovers will enjoy "Ghost in the Shell." There are even adaptations of classical literature like "The Count of Monte Cristo."
Not only that, fans of anime also get an intimate look into Japan's history, language and worldview, woven into a great deal of anime on many levels. Some shows are takeoffs on Japanese history like "Sengoku Basara" or raid Japanese mythology for story ideas like "Hakkenden" or "Hell Girl." Even shows that are outwardly non-Japanese in their presentation like "Claymore" and "Monster" have tinges of a Japanese sensibility to them.
What's most striking is how anime's impact is coming full circle. Some recent American cartoon productions, like "Avatar: The Last Airbender," are openly inspired by anime itself, and live-action English-language versions of anime titles are starting to come into production more frequently.
Is Anime Okay for Young Kids?
Because anime's so broad-reaching in its subject matter, it's possible to find anime aimed at just about every age group. Some titles are specifically for younger viewers or are suitable for all ages like the animated series "Pokémon" or Studio Ghibli film "My Neighbor Totoro" while others are aimed at teenage audiences and older like "InuYasha." There are even some animes aimed at older teens like "Death Note" and some for mature audiences only like "Monster" and "Queens Blade."
Japanese cultural attitudes about sexuality and violence require some titles to be placed a category higher than they might normally be. Nudity, for instance, is handled much more casually in Japan; sometimes a show that isn't meant specifically for adults will have material which may seem racy to Western viewers.
Anime distributors are generally quite conscious of these issues and will include either an actual MPAA rating (G, PG, PG-13, R, NC-17) or a TV Parental Guidelines rating as an indicator of what the intended audience is for the show. Check the show's packaging or program listing to see which rating applies.
Confused about where to start? We recommend checking out the sci-fi, cyberpunk "Cowboy Bebop" or a swords-and-sorcery tale called "Berserk." If you already know a friend who's an anime fan, clue them in on what you like to watch — they should be able to guide you towards what's best and what's new in that category.
Finding anime characters to draw can be tough, particularly if you are new on how to draw characters.
Having anime drawing references, even pictures of anime characters can be a good place to start.
You have your laptop for drawing , now it is time to find anime drawing ideas.
Cool Anime Characters to Draw
Having anime ideas can come from plenty of different places. But your inspiration is what will get you moving down the path to creativity. Even if it is just a hobby you never know if that hobby could turn into business.
Let's get started.
1. Naruto Uzumaki
What better place than to start with one of the most famous characters out there. There are tons of Naruto pictures to draw.
Whether mimicking Naruto drawings or learning how to draw Naruto Uzumaki, this is a great place to start.
2. Rintarou Okabe
Check out Okabe Rintarou of Steins Gate as well. Okabe Rintarou is one of the more famous names when it comes to learning how to draw an anime face.
If you want to learn to draw anime , Rintarou is a perfect choice. His style is simpler as well.
3. Itachi Uchiha
An Itachi drawing, whether it be an Itachi face or some other hand drawing, can be another great place to start.
Itachi is known throughout the anime world for his style. Mimicking his works can make for a great foundation.
4. Shoyo Hinata
Shoyo Hinata is another famous anime character and his style can help create a good basis for future creations.
Hinata drawings have a specific intensity to them that can be tough to match. Depending on the drawing of course.
5. Monkey D. Luffy
Monkey D. Luffy is a little on the simple side for his art style, making it an easy basis to start with.
The video above goes into drawing him, but he's also a good character to go with if you're just looking for ideas.
6. Levi Ackerman
Levi Ackerman is one of the few non-Asian characters on the list. Levi Ackerman has become famous thanks to Attack on Titan's story telling and how the anime grabs you.
There's a lot of different styles and approaches you can go with as there are many examples.
7. Katsuki Bakugo
If you are looking for another source of inspiration, check out Katsuki Bakugou. He's the hard headed MHA character.
Given his popularity, you'll have no trouble finding examples to use.
8. Killua and Gon
Gon and Killua, also known by the hunter x hunter Gon and Killua, features more childlike aspects in the anime characters drawing of the style. If you want to create younger-looking characters, try the strongest hunter x hunter characters.
9. Sakata Gintoki
Heard of Gintoki, the white haired samurai? You have no doubt seen Gintoki fanart when looking for cool anime drawings and anime drawing ideas.
Why not mimic one of the most popular in terms of fanart creations out there? He's a unique character to use as far as ideas in general as well.
10. Dabi
There is also Dabi from My Hero Academia .
Dabi anime is not quite as popular as some of the others but it is great for when you want to turn a picture into an anime drawing.
There are aspects to Dabi's character that make his art style cool though.
11. Kurisu Makise
Makise, who's a main character from Steins Gate, is great if you want to draw an anime girl.
Her read hair, facial expressions, and style of dressing makes her an appealing character stylistically.
12. Senku Ishigami
If you have heard of Dr. Stone manga or Dr. Stone characters, then you have seen Senku anime drawings.
If you are looking to learn how to draw anime hair, this is the style for you.
13. Nezuko Kamado
If you know the Demon Slayer main character or have seen a Demon Slayer drawing, then you know Nezuko.
There's quite a lot of styles to do with Nezuko given the fanart and styles already out there.
14. Edward Elric
Edward Elric fanart has become more and more popular among those looking to draw anime eyes or just drawing characters in general.
Ed Elric has a ton of different styles that he can pull off but remains popular for a style all on his own.
15. Hinata Hyuga
Hinata Hyuga's eyes are one of her most interesting traits as far as art and style. Along with her style of outfit.
She's not just a good character, but a great one to practice with and hone your skills.
Conclusion
As you can see, there are plenty of directions that you can go in. You can start by mimicking the style of one of the more famous anime types and adapt your style as you go.
The simple fact is that creating anime takes time.
This tutorial shows how to draw a highly stylized female "Chibi" anime character with a big head and a small body. It provides suggestions for the proportions for the body as well as the placement of the facial features.
Chibi anime girl drawing step by step
Chibi anime characters have highly stylized heads and tiny bodies. These types of characters can be great for making quick storyboards and simple manga or animations as they can be drawn much quicker then a more realistic and detailed character.
Because of their big heads they are also great for showing various emotions.
For drawing chibi anime facial expressions see:
Please note that if you are going to be following along using pencil and paper you should make light lines for the initial stages of the drawing as you will need to do some erasing during different steps of the tutorial.
Step 1 – Establish the Body Proportions
Please note that the body proportions in the above example are just a suggestion as there is no one set way to draw chibi bodies. Some can have absolutely huge heads as big as the body and some can be closer to more standard anime characters.
To follow this example draw the character's body as tall as one and a half of their heads. Draw the torso the same legs to be the same height.
The hands and feet of chibi characters can often be drawn without showing the individual toes or fingers.
For this particular style draw the thumb without the details of the fingers (as though the character is wearing mittens).
Step 2 – Draw the Face
Please note that these proportions (just like those for the body) are only suggestions.
To place the facial features using the proportions in this tutorial draw as follow:
Draw a horizontal line through the middle of the head and draw the eyes and ears below that line (draw them as tall as 1/4 of the face or two of the division in the above example)
Draw a horizontal line between the bottom of the eyes and the chin and draw the mouth below that line.
Draw a horizontal line 1/8 of the face in height (one division in above example) up from the top of the eyes and draw the eyebrows below that.
As is often the case for chibi characters you can avoid drawing the nose all together.
Please also note that though the ears are provided as a reference they will be covered by the hair in later stages of the tutorial.
For drawing other types of anime heads see:
Step 3 – Draw the Hair
As chibi heads are usually so huge huge chibi hair can still be drawn with quite a bit of detail.
For hair like in the above example draw the top part of the hair following the shape of the head and then branching out into individual clumps that narrow towards the ends.
Erase the parts of the head that are covered by the hair after you are done. You can leave the eyebrows and other facial features (if you want to draw a different hairstyle) overlapping with the hair as this is fairly common for these types of characters.
For more on drawing anime hair see:
Step 4 – Draw the Clothes
Just like chibi bodies chibi clothes tend to be simplified (drawn with less detail and fewer to no folds).
In this case the character will be wearing a basic school uniform. Draw the top part of the outfit as well as the shoes and socks pretty much hugging the shape of the body with the sleeves and skirt fanning out towards the bottom.
For more on drawing anime clothes see:
Step 5 – Finished Line Drawing
Finalize the line drawing by adding the smaller details.
On the face add the pupils, reflections in the eyes and eyelashes as well as the some blush on the cheeks. You can also draw a pair of very light lines to indicate the top area of the eye (which will be shaded darker). This area tends to be darker because of the shadows cast by the eyelashes as well as the reflection of the darker colored eyelashes in the eyes.
On the clothes just add the buttons.
Step 6 – Applying Color & Shading
Start by filling in each area with the appropriate color. If you are coloring on paper be sure to leave the reflections in the eyes, hair, and buttons white. If coloring digitally add them in at the end.
You will then want to shade in the following way:
Darken the neck
Add some drop shadows on the face (from the hair)
Add a shadow on the legs (form the skirt)
Add some tiny shadows on the hands from the sleeves
Darken the top of the irises of the eyes
Add some very small shadows to the top of the white areas of the eyes (from the eyelashes)
For the neck you can just darken the entire area for the rest of the shadows make draw them roughly tracing the shape what is casting them (hair/skirt/sleeves/eyelashes). For the darker top of the eyes you can use the line from the previous step to separate the dark and light parts.
For more on coloring an anime or manga character see:
Conclusion
There is a lot of variety when it comes to the shape and size of chibi characters. This tutorial provides one example of how to draw such a character but you can always try and tweak or even completely change the proportions to see what you get.
If you like drawing cute chibi style characters you might also be interested in:
This step by step tutorial shows how to draw a cute anime girl with an explanation of proportions that make a female character look "cute" as well as illustrated examples.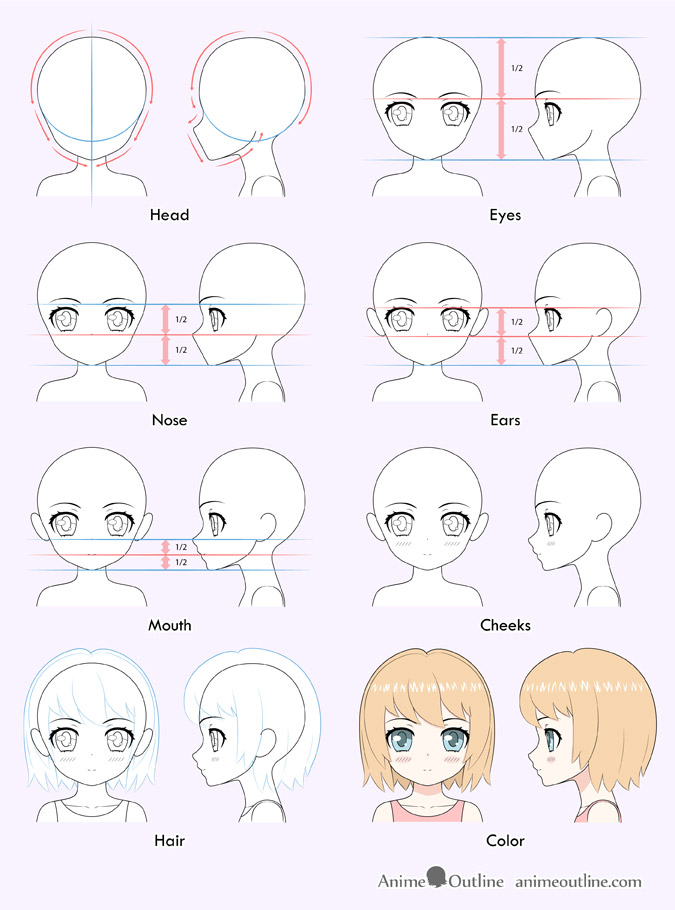 Cute anime girl drawing step by step
Anime characters are usually drawn "cute" by default (though some styles are more serious) but you can tweak the proportions and positioning of the facial features in certain ways (explained in the steps below) to make a character look more cute even by anime standards.
It should also be noted that by making a character look cuter you will also usually automatically make them look younger. Though sometimes even adult characters are still drawn this way.
Step 1 – Drawing a Cute Anime Girl's Head
Cute looking anime characters usually have bigger heads and foreheads with smaller chins.
For the front view start by drawing an oval for the top of the head and to that add the bottom half of the face. The bottom part of the face should narrows significantly as it goes down.
For the side view once again start with the oval of the top of the head an onto that draw the nose/jaw area. Leave out the details such as the lips for later steps.
At this stage simply estimate the placement of the nose for the side view (covered in Step 3).
For more on drawing different styles of anime heads see:
Step 2 – Place and Draw the Eyes & Eyebrows
For a cuter look place the eyes even lower down than normal. Also make sure that you draw the eyes big and tall.
In this case we will actually place the eyes by first placing the eyebrows. To do this draw a horizontal line exactly through the middle of the head and draw the bottom of the eyebrows touching this line. Keep in mind that the eyes can move depending on the characters facial expression. This placement is for eyebrows in their natural position.
You can draw a hint of the eyelids directly on this line and the eyebrows slightly below that.
For more on drawing anime eyes see:
Step 3 – Placing & Drawing the Nose
Draw the nose between the line through the middle of the face and the bottom of the chin.
For more on drawing anime noses see:
Step 4 – Drawing & Placing the Ears
The ears will be covered by hair in later steps but we will go over placing them in case you want to draw a different hairstyle.
Place the ears between the top of the halfway point between the top of the eyes and the chin.
For more on drawing anime ears see:
Step 5 – Placing & Drawing the Mouth
To place the mouth draw it exactly between the nose and the chin.
For a cute look make sure to draw a small mouth. You can also draw a little break inside the mouth line.
For more on drawing anime mouths see:
Step 6 – Drawing Cheeks & Blush
To give the character an even cuter (but also more childish) appearance add some blush on the cheeks. For the line drawing version you can do this by drawing some angled lines.
Step 7 – Drawing the Hair
For a cute looking character you can make the hair fairly "puffy" drawing it a good distance away from the head.
For more on drawing anime hair you can see:
You may notice that there are also some collar bones and clothes added in this step. For more on drawing these you can see:
How to Draw Anime Neck & Shoulders
How to Draw Anime & Manga Clothes
Step 8 – Coloring the Character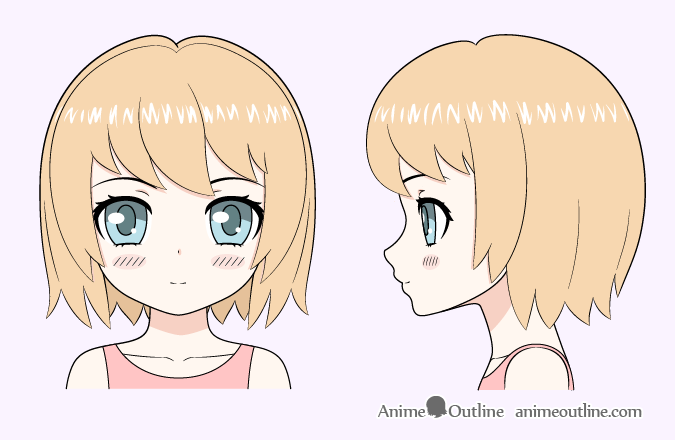 You can pretty much color a cute character character same as you would any other one.
Simply fill in each area with the appropriate color and add some basic shading afterwards.
Add some shading on the head as there will usually be a shadow there cast by the head and some shadows on the face cast by the hair.
You can also add some very light red/pink to the blush on the cheeks.
For more on coloring an anime character see:
Conclusion
As this tutorial was for a "cute" looking anime character the proportions were slightly different than the ones recommended in some other tutorials here on AnimeOutline. Please keep in mind that while these proportion are based on the general trends for cute looking anime characters there is no one clear set of guide lines that will fit all of them. You can always experiment with different proportions and see what you get.