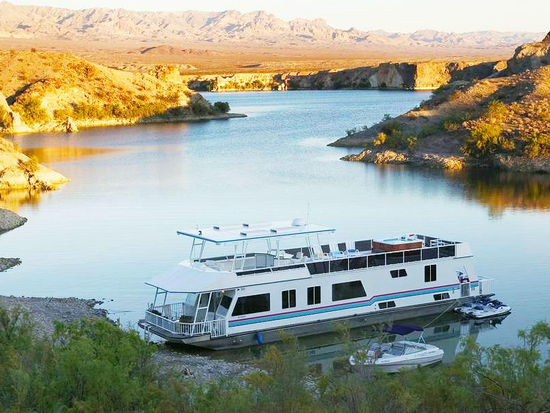 New to planning a houseboat vacation? Don't know what to expect? You've come to the right place. This article will answer basic questions for the houseboating novice and act as a "cheat sheet" for getting started.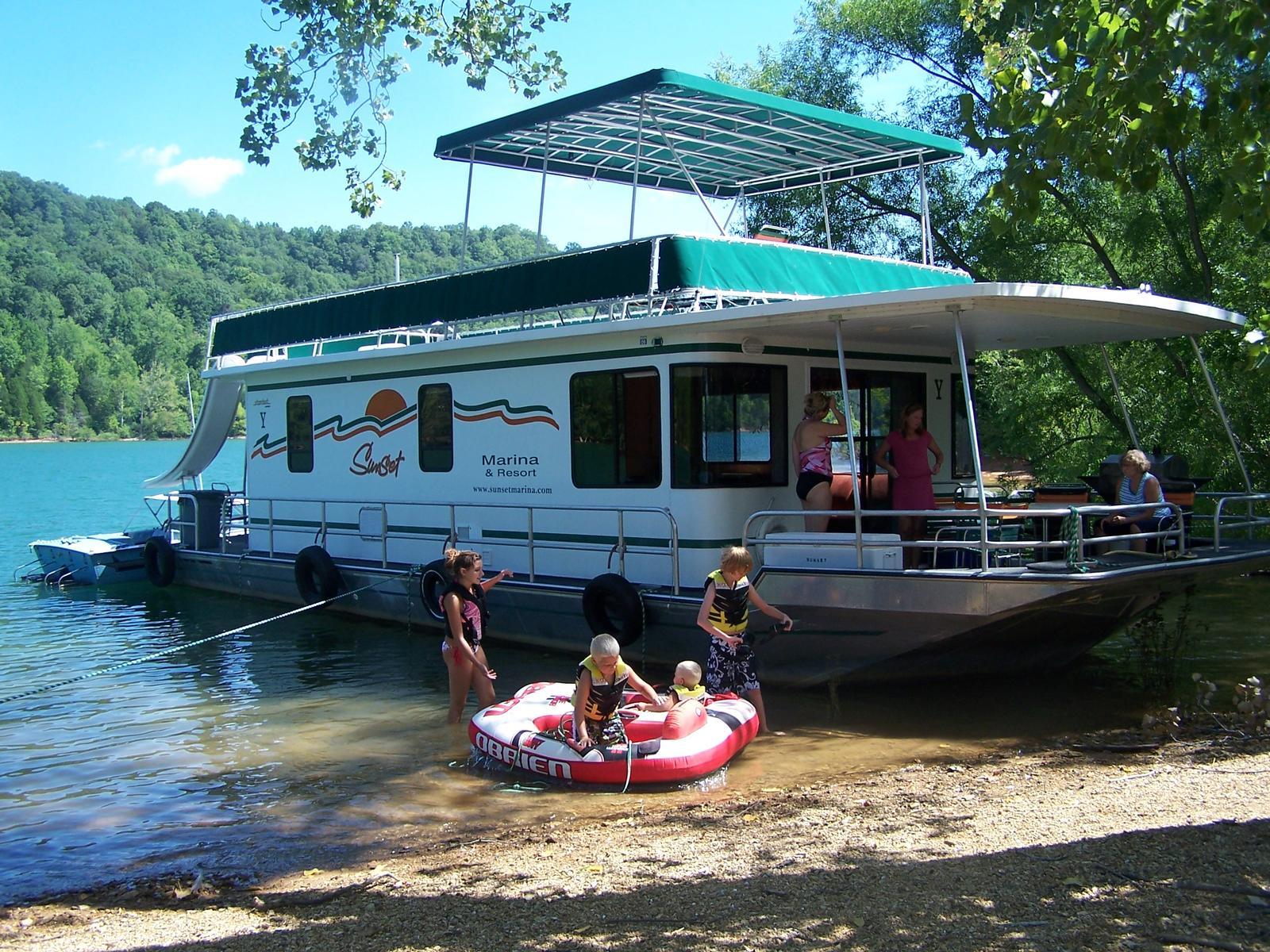 What is a houseboat vacation?
Think of camping, but with the comforts of home: a full kitchen, running water, bathroom, beds, etc. Like an RV on water, it's the same general principal. Although, there are many types of houseboat; from the basic "just a place to crash" to the "decked out" lavish retreat. There's a houseboat that fits every group and every budget.
How much does it cost?
When you compare cost and planning for large groups and families, considering travel arrangements, meal planning and entertainment activities, a houseboat vacation comes out much lower than that of a typical vacation.
Who drives the houseboat?
You do! There's generally no prior experience or special licensing required to rent or operate the houseboats, just a valid driver's license. Driving a houseboat is not much different than driving a car. The marina staff goes over all instructions in an orientation upon your arrival, and they'll typically help you pilot the houseboat in and out of the marina itself; you just take over on open water!
*The houseboats at Lake Travis and Florida Keys may not be driven by renters; houseboats at Lake Ouachita may be driven with an additional deposit.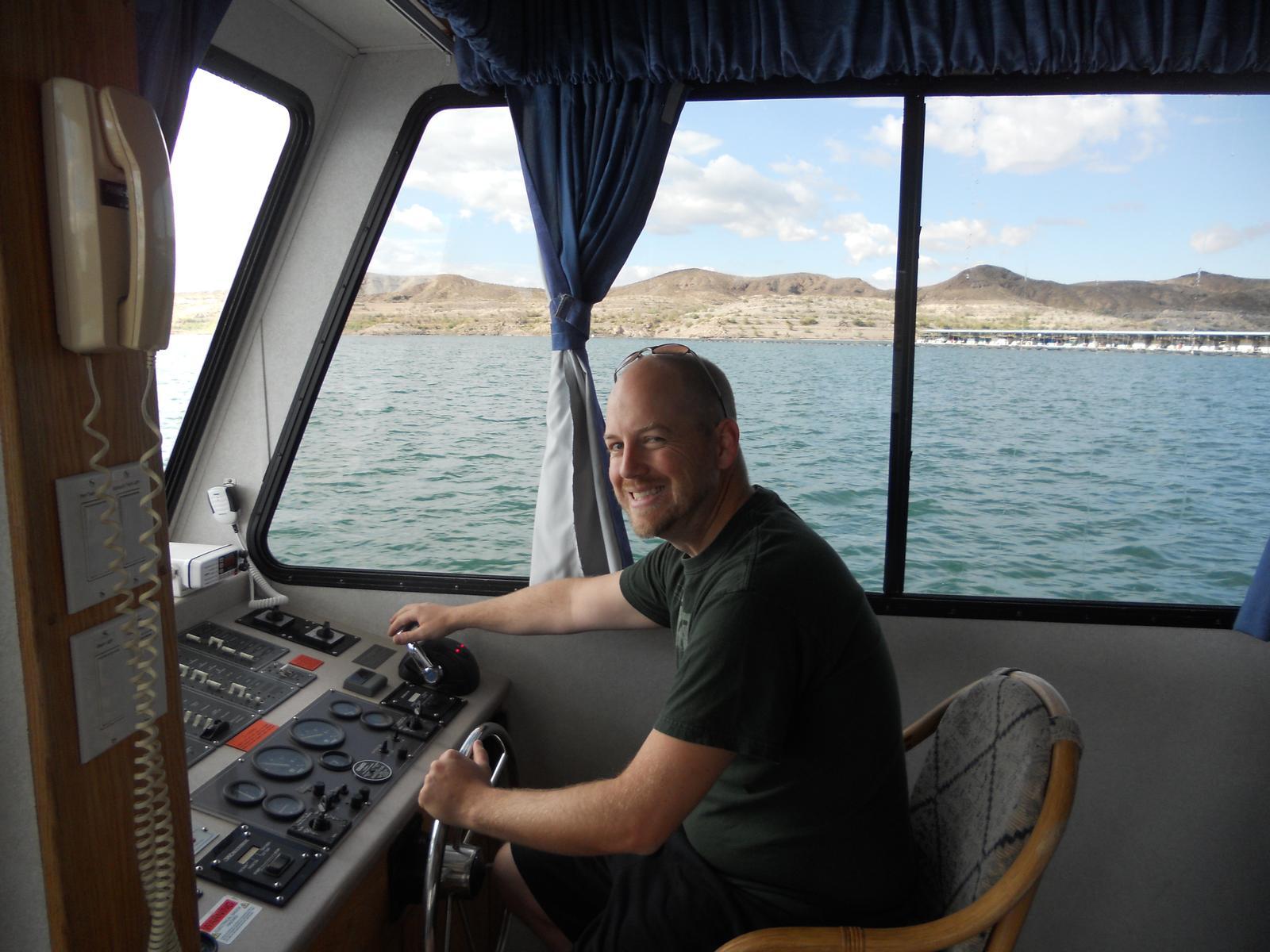 Do we anchor in the middle of the lake?
Not necessarily. For the most part (at most lake locations) you will moor the houseboat to the shoreline. Instructions on how to do this will be given by the marina staff during your orientation. Generally, mooring involves pulling up perpendicular to the shoreline and securing it to a beach by stakes or land anchors that are attached to lines on the houseboat.
What to bring:
Houseboats are stocked with cookware, serveware, glassware and utensils, so all you have to bring is food and beverages for your stay (including spices and condiments). Bed linens and bath towels are sometimes included as well, but it varies by houseboat and location so make sure to ask your agent.
What to do while you're out on the water:
Swimming, sliding off the back of the houseboat, fishing, hiking, or sightseeing natural wonders. Any watersports you enjoy, like waterskiing, wakeboarding or ski tubing from the back of a powerboat, cruising on a jet ski, or exploring the lake by kayak or stand up paddleboarding. There is something for everyone of all ages.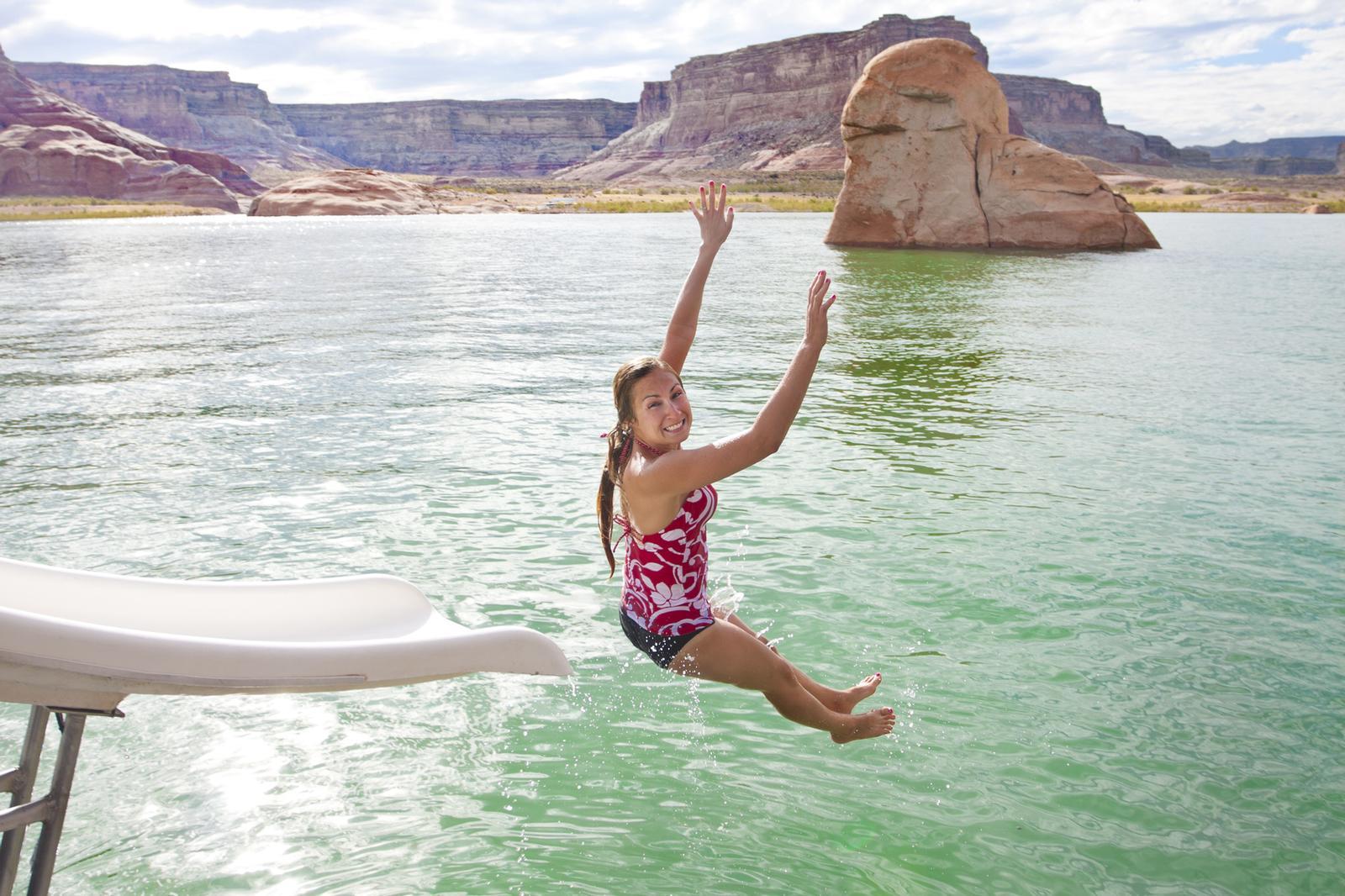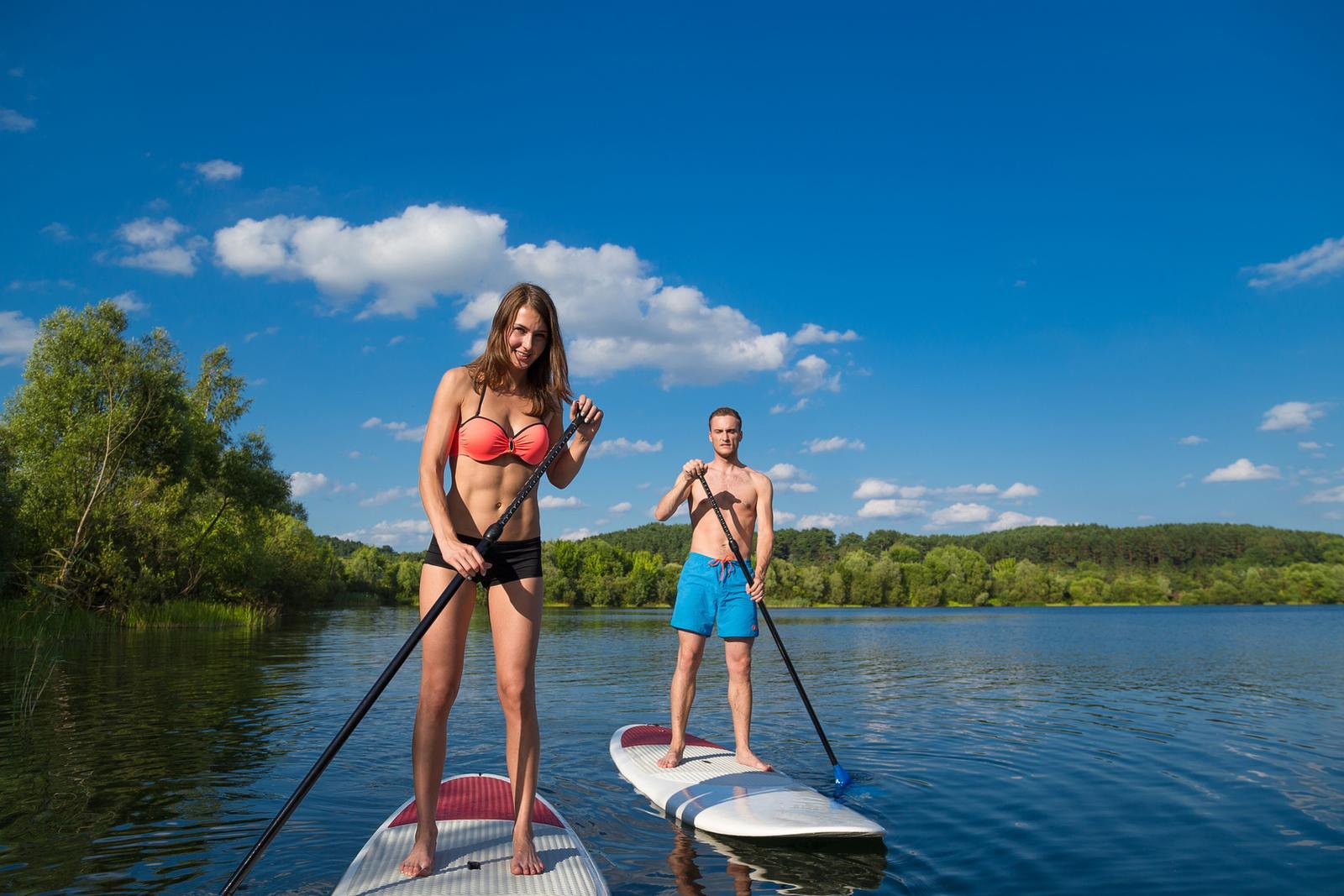 So there you have it, the basics of a houseboat vacation. For more information on planning and availability, give us a call, our houseboating agents will be happy to help you get started and answer all of your questions. Request Information online or give the experts a call at 888-454-8825. Talk to you soon!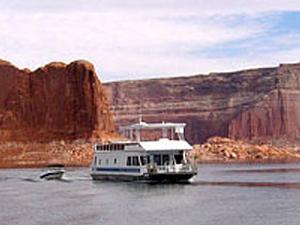 Popular Lake Powell Attractions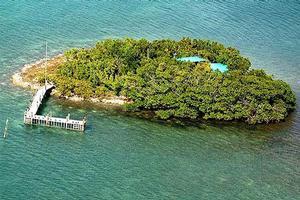 Florida Keys – A Water Wonderland Island Vacation
Join Our Newsletter
Want to get more great houseboating information? Join over 60,000+ other houseboaters and sign up for our newsletter. Be the first to receive our latest specials, helpful articles, and other great information directly to your email inbox for FREE! Don't worry, we won't share your information.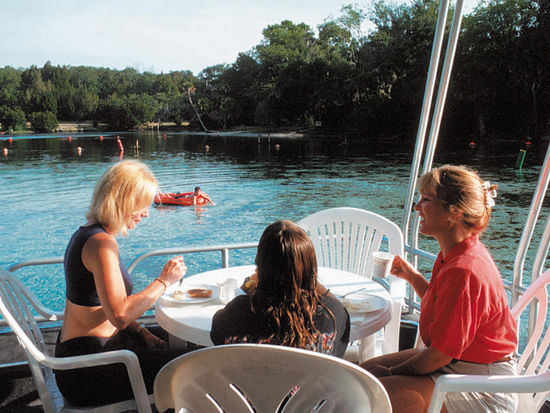 This blog post is chock-full of insider tips and tricks to have you houseboating like a pro in no time. That's right, we are finally revealing our secrets! (Okay, so they're not really that secret; we tend to give our tidbits of wisdom and learning experiences freely.) We've already covered the basics in our recent blog post "How to Plan your Houseboat Vacation in 10 Easy Steps", but we've compiled a few more out of the box ideas that will make your vacation run as smoothly as possible.
Most of the following ideas use recycled items that are better for the planet, (and not to mention easy on the wallet.) There is a whole world of possibilities!
Here are a few ideas that can save your sanity:
Fill an empty detergent spouted jug with water and place it on the back of the houseboat for rinsing sandy feet before re-entering the houseboat.
Carry your dry cooking spices in repurposed tic tac boxes or a pill reminder tube so you dont have to bring bottles upon bottles of spices.
Do it yourself campfire starters: roll dryer lint inside empty toilet paper/paper towel rolls for an easy-peasy fire starter for your campfires on the shore.
Cut a water noodle, tie a rope through it, and place it around a plastic bin full of ice for a floating cooler while having fun in the water.
Dont forget the aluminum foil! There are many uses for this, but one of the unexpected ways is to put it on the ropes of your houseboat and fan it out (you can also use pie tins for this.) It prevents any land critters from boarding your boat by the ropes that connect the houseboat with the shoreline while you're moored.
Fill an empty water bottle with eggs. They'll take up little to no room in your cooler/fridge and you wont have to worry about the eggs breaking. Just shake up the bottle of eggs and pour into the pan for quick scrambled eggs. Other easy recipe ideas can be found here: Mealtime Tips
There are many ways to get creative and have fun while planning the details of your houseboat vacation. Give us a call at 888-454-8825 and ask your agent for ideas, or check out our Pinterest board "Tricks of the Trade" for more ideas and how-to's.
Share pro tips of your own in the comments below!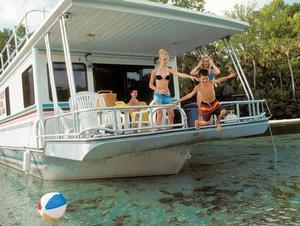 That's What Life's All About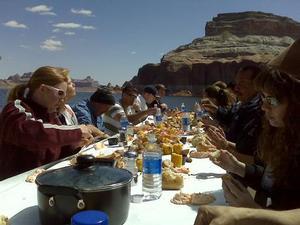 Tips and Tricks to Make Mealtime Easier
Join Our Newsletter
Want to get more great houseboating information? Join over 60,000+ other houseboaters and sign up for our newsletter. Be the first to receive our latest specials, helpful articles, and other great information directly to your email inbox for FREE! Don't worry, we won't share your information.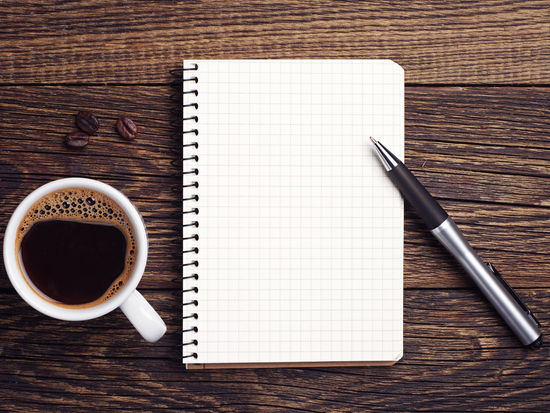 Planning your houseboat vacation involves lots of preparation, but it doesn't have to be so daunting. We're here to help make it as easy and go as smoothly as possible. In this post, we've given you a general timeline to help keep you organized from your initial research to getting you out on the water. Of course, we're here to help you throughout.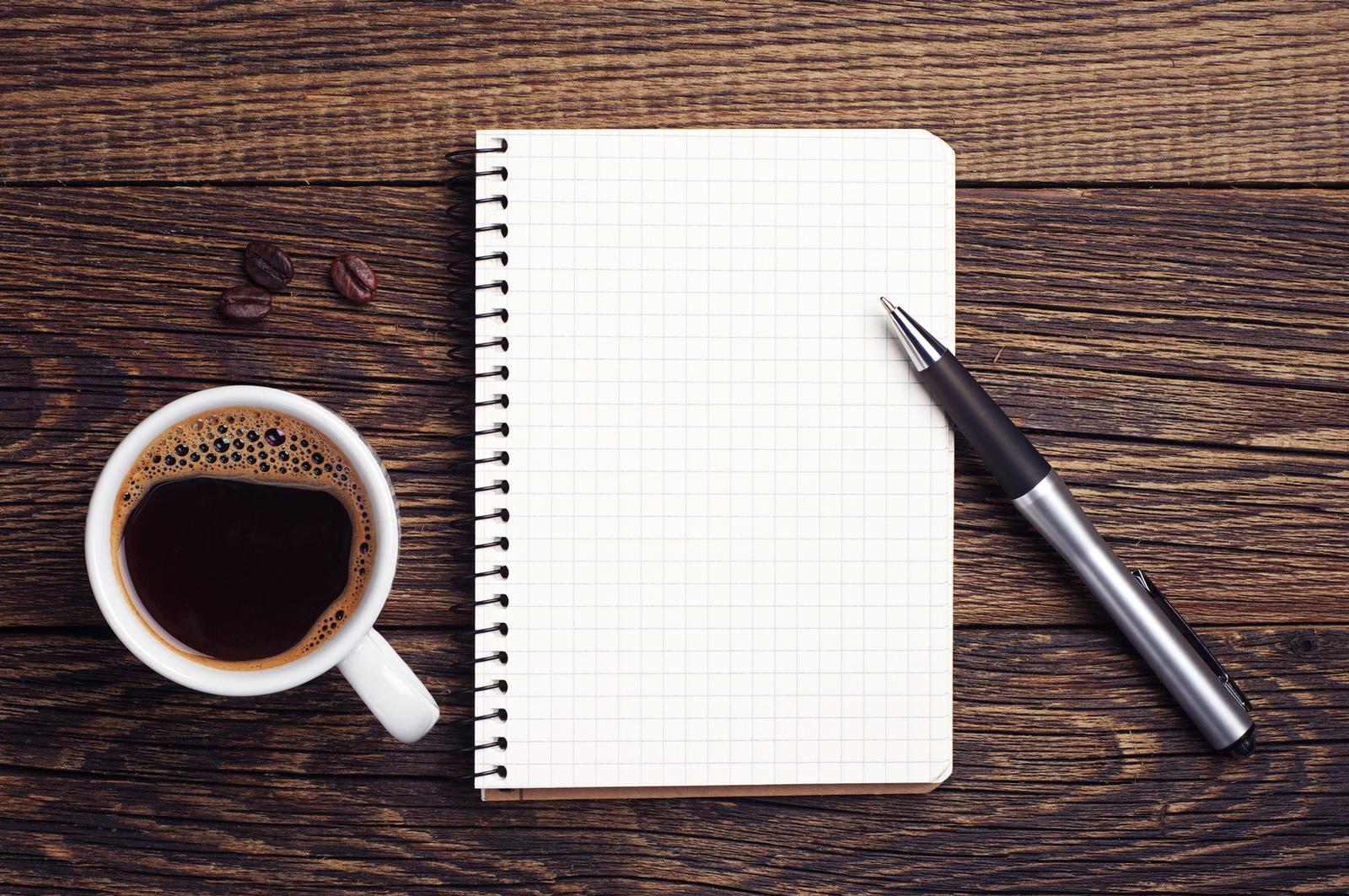 1. Initial Research
Recommended time frame: 9-12 months in advance
Get a general idea what location you'd like to visit by checking out our Destinations Map.
2. Who's Coming?
Recommended time frame: 9-12 months in advance
Get an idea who may be interested in coming along. This will help you choose a range of houseboat sizes in which you may be interested.
3. Choose Dates and Call for Availability
Recommended time frame: 9-12 months in advance
Have a few dates in mind that work for you and your group. Call us at 888-454-8825 or fill out an Online Request for availability.
4. Make your Reservation
Recommended time frame: 6-9 months in advance
Get committments from people who are going with you and call to put down a deposit. The earlier you make your reservation, the better, especially over holidays or during peak season. Keep in mind, the longer you wait, the more flexible you may have to be with departure dates.
5. Add Watercraft and Water Toy Rentals
Recommended time frame: 2-3 months in advance
If you haven't already made arrangements for your extra watercraft or water toy rentals, now is the time to check into availability and pricing.
6. Make Final Payments
Review your confirmation email for actual due date and payment arrangements.
7. Make Flight and Lodging Arrangements
Recommended time frame: 2-3 months in advance
Make necessary travel arrangements (flight, hotel, etc.) as soon as you have your travel plans set. Ask about Early Boarding availability and cost if it's an applicable option for your destination and/or houseboat model.
8. Review Houseboat Inventory and "What to Bring" List
Recommended time frame: 1 month in advance
Start making a list of things you need to pack. Check our online list of what's included on your houseboat model and cross-check it with the suggested Items to Bring List in your confirmation or online.
9. Plan your Meals
Recommended time frame: 1-2 weeks in advance
Start planning your meals and make a shopping list to save you time and grief when you are stocking up before going out on the water. You may even consider divvying the shopping and/or cooking responsibilities between you and your group. More helpful tips: Meal Planning For Your Houseboat Vacation.
10. Enjoy your Vacation, you've earned it!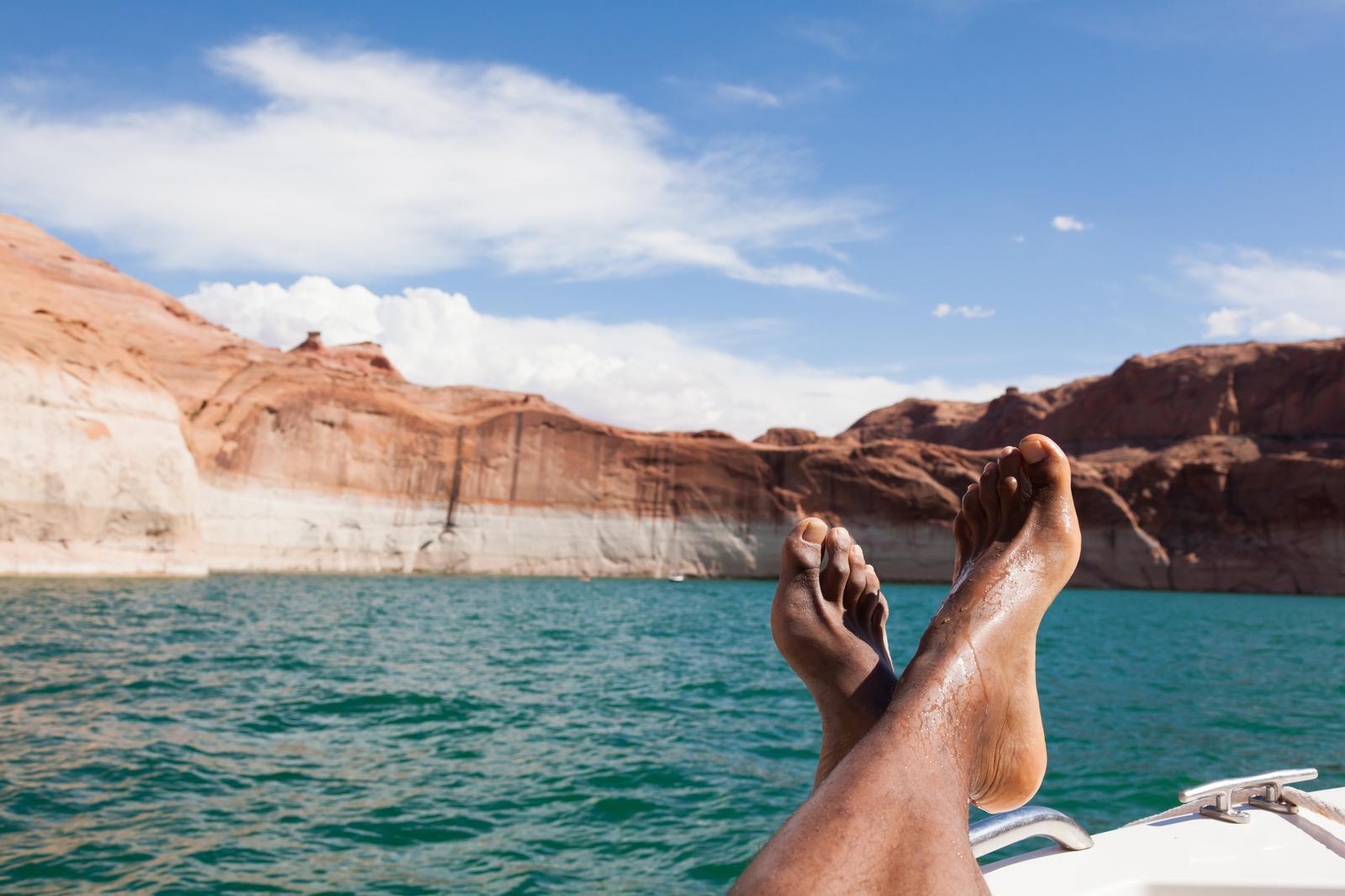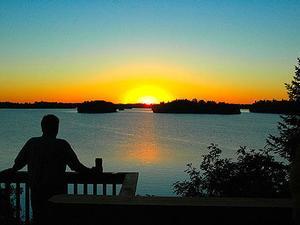 Houseboating Blog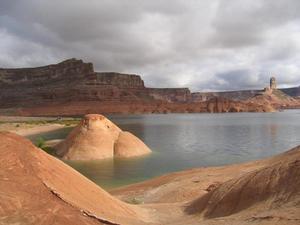 What You Need to Know About Houseboating in Lower Water
Join Our Newsletter
Want to get more great houseboating information? Join over 60,000+ other houseboaters and sign up for our newsletter. Be the first to receive our latest specials, helpful articles, and other great information directly to your email inbox for FREE! Don't worry, we won't share your information.
Table of Contents
*This post may contain affiliate links. As an Amazon Associate we earn from qualifying purchases.
If you've ever dreamed of living on a houseboat, you've probably wondered what to bring with you. It might be a bit confusing knowing what to pack and what to leave at home, but with these few tips, you'll be well on your way to a wonderful vacation. Here's what to bring:
Items to bring on a houseboat
Some essential items to pack for a houseboat vacation include beach towels, hiking shoes, and a camelbak. If you're going to be spending a lot of time outside, you'll want to pack a hoodie or long-sleeved shirt. Fishing gear and a tackle box are also a must. Binoculars are handy for viewing wildlife while you're out on the water.
Music is another essential item to pack. A day on the water would not be complete without the sounds of Jimmy Buffet or John Cougar Mellencamp. Unfortunately, the Tennessee Valley Region is surrounded by mountains and doesn't get a strong signal. Local radio stations can be spotty at best. Fortunately, downloading music and other essentials before a trip will allow you to enjoy your music while you're on the water.
Toiletries are another must-have for a houseboat trip. Depending on the type of houseboat you choose, you may not have shower facilities. You'll also need to bring personal hygiene products, such as deodorant and sunscreen. In addition to toiletries, you'll want to bring other essentials for your trip, such as your toothbrush, deodorant, and sunscreen. You may also need to bring a camera or a video camera.
Sunglasses and a hat are essential for a houseboat trip. Sunscreen and bug repellent are a must-have as well. A hooded jacket will also keep your toes dry. Also, do not forget toiletries, salt and pepper, and cooking oil and condiments. If you're going to be spending a lot of time outdoors, you might want to consider renting a kayak or paddle board to get some exercise or explore the lake.
Items to leave at home
First-timers to a houseboat vacation may be unsure of what to bring, but there are many items that you must have. For example, you should bring clothes that will accommodate the weather in Shasta Lake, as well as supplies and food for the kitchen. For all-round comfort, you should also bring a book or two, a pair of headphones, and a hairdryer. While there is no need to pack the same clothes you would on land, the list is a good starting point.
Another important item to pack on a houseboat trip is a bathing suit. Lake Tahoe can reach 120 degrees, so a swimsuit and beach towels are essential. The good news is that you can easily wash and dry these items on the houseboat without requiring a visit to the laundromat. While most boats have towels and robes, it's still good to have a few extra.
Another thing to pack for a houseboat trip is a sleeping bag or blow-up mattress. Many houseboat trips end up with people who struggled to sleep in the cramped quarters. The swaying of the houseboat and its rocking motions make sleeping a challenge. Bringing your own pillow can ensure a comfortable night's sleep for your guests. If you are traveling with friends or family, coordinate your supplies to make sure everyone is comfortable.
Bedding
You can have a custom mattress made for your houseboat if you know exactly what you want. Luckily, there are plenty of custom mattress manufacturers that make them. You can even have one designed with your houseboat's dimensions and style in mind. For an even more customized experience, you can order a custom bed from a company that makes them by hand. Then, you can have it shipped to your houseboat.
If you prefer a fabric mattress, you can order it in a variety of different colors and patterns. One type has a thick poly-cotton blended fabric and a matching hull side fabric. This way, the fabric does not form a depression in your body. For ultimate comfort, consider purchasing a high quality marine mattress made of high-quality fabric. It will last a long time. In addition to its aesthetic appeal, high-quality marine mattress materials will enhance your houseboat's comfort.
When buying bedding for your houseboat, choose materials that will be durable and resistant to weather. You don't want to have to sacrifice comfort or quality. When you're choosing a quality boat bedding set, make sure it's made to fit. Most companies can provide you with tailored bedding, which is a must for a boat. Whether you're looking for a custom-made mattress or a custom-sized pillowcase, a quality company will be able to make it just right.
Cooking utensils
Whether you are planning a fishing trip or just want to cook a meal for your family, you will need cooking utensils for houseboats. Moreover, you will also need the proper equipment for cleaning. Cleaning equipment for houseboats includes brooms, mops, buckets, and flyswatters. One-pot recipes are also a great option for small kitchens. All you need to do is cook your meal in one pot and you are all set!
Music players
If you are a houseboat resident, you may be wondering which music players you should bring on your trip. There are a number of different options available, but these products can make your trip more enjoyable. While houseboats are generally equipped with electrical outlets, some may require adaptors. Depending on the size of your houseboat, you may want to invest in several different music players. Listed below are some options to consider.
A Marine Single 4-OHM Water Resistant Subwoofer is a great way to add some music enjoyment to your houseboat. This subwoofer features a Mica-Injection Polypropylene Cone Wofer, a Liquid Drainage System, a rubber mounting gasket, and gold-plated speaker terminals. The subwoofer also features magnetic shielding built into the basket for protection from magnetic interference.
Board games
When you're heading on vacation on a houseboat, you may not have much time for activities. Perhaps you'll be sunbathing and fishing. But what if you're looking for something to do while you're on the water? If so, board games will be a great choice. While they don't require much preparation, board games can be hours of fun. Some of the more popular options are Yatzee, Connect Four, and UNO. Board games like these can help you take on challenges, strategize, and laugh until you're exhausted.
Bringing board games is another great way to keep the whole family entertained during a houseboat vacation. These games require little equipment and are unbreakable, making them ideal for a fun family outing. Ladder ball, for instance, requires you to toss two balls, connected by a short string, onto a plastic ladder. You can buy a ladder ball for a small price on Amazon. Or, if you'd like to bring your own game, you can even make one yourself.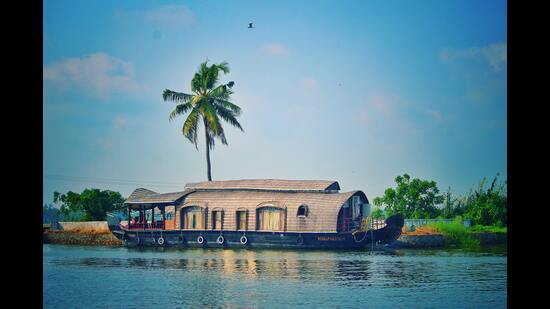 Mirror lakes, lush greenery, cool breeze gushing through your hair as you binge on lip-smacking local culinary delights — this, and much more, is what encapsulates the experience of cruising in a houseboat along serene backwaters. The monsoon season is just about settling in at various places in India, infusing life into flora and fauna.
If you fancy slow travel, enjoying every little detail of Nature's bounty, then this is the experience to indulge in. With tropical lands in abundance, extending the lengths and breadths of India, houseboating is accessible to everyone. From Kashmir to Kerala, you can choose any destination based on your personal sensibility and preference. While the latter is considered a paradise for backwater cruising on a houseboat, there are other locations too that are slowly and steadily gaining prominence in this space. Read on.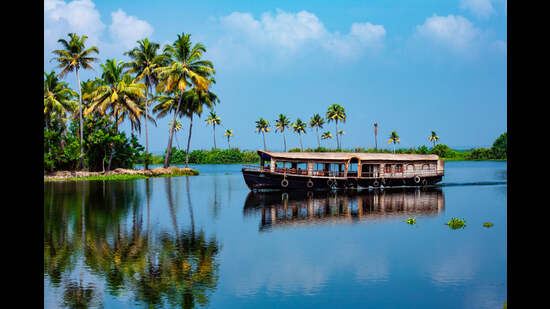 Kerala
Think houseboats and one can't help but remember Kerala. From small cosy houseboats to lavish double-deck ones, options are aplenty, depending on whether you prefer a short day trip or an overnight stay. The popular locations are Alappuzha, Kumarakom and Kollam.
Things to do: One can relish fresh seafood delicacies, get a glimpse of paddy fields and the lives of local communities.
Price: ₹ 6,500 onwards for two people (overnight stay)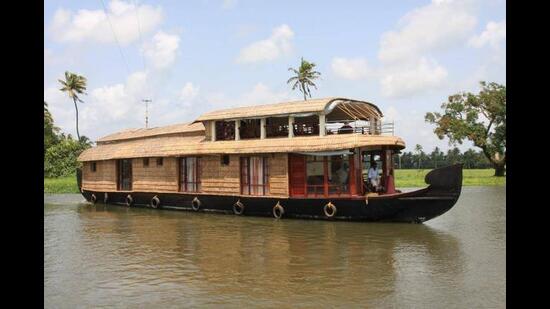 Karnataka
Houseboats that cruise along Swarna River near Udupi closely resemble those of Kerala. The route usually covers cultural villages, coconut farms and fields, among other scenic locations. Most of the houseboats in Karnataka are also loaded with amenities and luxury facilities. However, the facilities offered vary based on the budget.
Things to do: One can catch a splendid sight of the setting sun while relishing coastal flavours.
Price: ₹ 2,500 onwards per room (double occupancy) for an overnight stay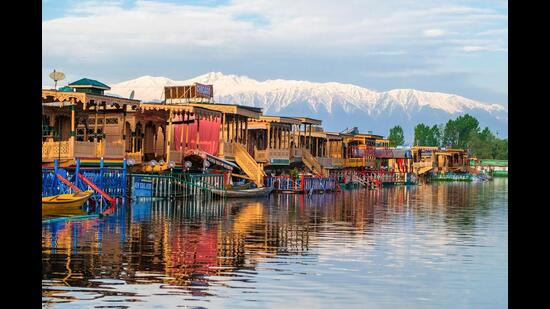 Kashmir
The summer capital of the country, Srinagar, offers picturesque views of snow-clad mountains, as one cruises along Dal Lake on a houseboat or shikara, made with unique wood and delicate carvings, offering Kashmiri-style rooms and suites. Though they look traditional, they are equipped with modern amenities for both short and long stays.
Things to do: Explore local floating markets while aboard a traditional shikara
Price: ₹ 2,300 onwards per night for two people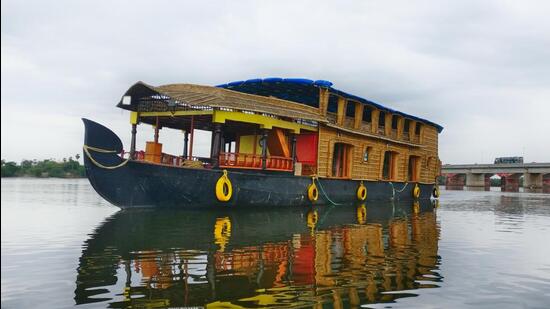 Puducherry
Houseboat rides in Puducherry, hailed as Paris of the East, will take you on a tour of the city life, its cobbled streets and give a glimpse of French culture. It is perfect for couples to spend some quality time in each other's company. Most of the houseboats here boast of French-influenced design and décor.
Things to do: Enjoy a spread that brings together French and local Tamil flavours. One can also opt for water sports and adventures.
Price: ₹ 7,000 onwards per couple for an overnight stay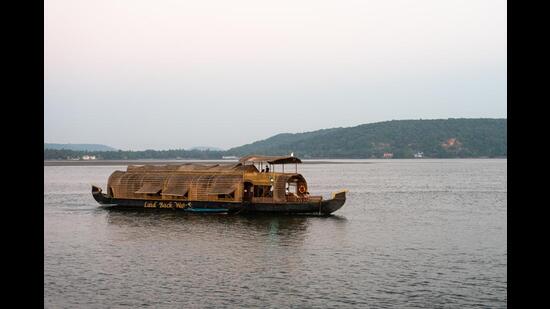 Goa
Apart from its buzzing beaches and water sports, Goa is also known for houseboat adventures along River Chapora. Generally, houseboat itineraries are coupled with water activities. The route covers fishermen villages, coconut farms, forts, etc.
Things to do: Try your luck with fishing, and you might be able to enjoy a Goan meal with the catch of the day! One can also enjoy a barbecue dinner at sunset.
Price: ₹ 2,800 onwards per person for three hours
internet, home business, daily happenings, personal development, motivation, self help, promotions, articles, discussions,information etc
Home
Perlaburan Emas
INSURANCE
GENERAL
About Me
Feedjit
Harian Metro: BeritaUtama
MalaysianDigest.com – Malaysian News and Current Affairs
One of the most relaxing things people do today is taking a great houseboat getaway in the Murray River. Now, you've rented your very own houseboat to have a different kind of vacation and you want it to turn out just fantastic and gratifying. Since you'll be out in the water most of the times, it is quite important to carry all the things needed to ensure that you won't have to go ashore and buy those items at the marina. A week-long vacation normally calls for more planning compared to a weekend trip. It is also crucial to cooperate with other families that will go along with you while planning for the trip.
One of the questions that are usually asked when heading out on a houseboat Murray River vacation is "What are we supposed to do as soon as we're out on the river?" Most people enjoy having a houseboat trip because here, you may be as lazy and as blithe as you want to be as long as you don't compromise your safety and of other's. Try enjoying something new, or try to do something you weren't able to do for a short while. It's your vacation after all!
Some folks say that the best way to enjoy a cruise is to read your favourite book on the deck. For the more adventurous types of people, wake-boarding, jet skiing and water skiing are just some of the things that found on their to-do list, while others choose to explore the wonders of the Murray River with water kayaking, paddle boat or on a canoe.
In case you're in the mood to show off your fishing skills, bring your fishing gear along with you for fishing in a houseboat is absolutely great! Baits are normally sold at the marina. The Murray River is home to a wide variety of fishes such as the Murray Cod, Catfish, Callop, Perch and Redfin. There are also various other unknown fishes like Hairback Herring, Black fish, Perch, Pigmy, Gudgeon and Tupong. Remember that when you catch a Carp, never return it to the water. If you are caught doing otherwise, you will be fined because Carps destroys fish habitat and river quality.
In case of bad weather conditions, bring with you some board games such as chess and jigsaw puzzles. You can also bring along a few DVD's, VCD's and other gadgets that may entertain you while you're on vacation. Also bring with you a local radio that may function as a good source of information while you're on your trip as your mobile phone or laptop computer won't work while you're out on the water.
Don't forget to pack along your swimsuits, beach towels, sun hats, sun glasses, sunscreen, flotation devices and water toys in case you choose to make the most of your vacation and go for a swim. It is essential to bring along all you need for water recreation in order for you and your family to have fun in the sun!
Book your Renmark experience with us.
Hotel Renmark
River Villas Trading Trust
The Frames
Pike River Villas
Coongalena View Holiday Rental
Border Cliffs River Retreat
Budget Renmark Motor Inn
Citrus Valley Motel
Customs House Houseboats
Houseboat Escape
Houseboat Heaven
Magnum Houseboats
Mundic Waterfront Cottages
PS Julie Fay
Paringa Caravan Park
Paringa Hotel Motel
Paringa House B&B Stone Cottages
Paringa Resort
Renmark Country Club
Renmark Holiday Apartments
River Murray Houseboats
Riverbend Caravan Park
Riverfun Houseboats
Templeton on Murray
Terragong Cottage
Wildlife Houseboats
Wilkadene Houseboats
Wilkadene Cottage
Wompinni Station
Boats and Bedzzz – "The Murray Dream" moor.
Calperum Station
Chowilla Shearer's Quarters & Woolshed
Murtho Forest Landing Campsite
Padaley Lodge & Camps
Plush's Bend RV Park
Renmark Houseboats
Renmark Lodge
Renmark Paringa Backpackers
Renmark River Villas
RV Dump Point & Potable Water Access
SS Ellen RV Park
TM Price Rotary RV Park
Renmark Koala Backpackers
Boats and Bedzzz – "Moving Waters" moored .
Boats and Bedzzz – "Moving Waters"
Orlando Houseboat
Big4 Renmark Riverfront Holiday Park
Planning Your Houseboat Trip
Houseboat holidays are relaxing and a lot of fun for groups and people of all ages! Houseboats can sleep anywhere between 2-12 people, so the number of people you're planning travel with combined with the facilities you'd like onboard will help you decide which boat will suit you best.
Renmark has the largest commercial houseboat fleet in South Australia with 13 companies to choose from. Some leave from downstream of the Paringa Bridge, some closer to the Renmark town centre are and others upstream from Murtho and the Customs House area.
Here are our top three tips (and a few others) to help you make the most of your time on the mighty Murray River –
1 –Work out who you are travelling with and what you need to make your trip all you want it to be ……
Are you a couple of families looking to kick back and relax or a group of couples looking for adventu
res on land and river? Knowing this will help you work the the best floorplan – how many bedrooms, if people are happy to share bathrooms or prefer their own en-suites, if you would like to relax with a spa or if multiple living space(s) or solar power will make the trip more comfortable. Once you have this detail, jump online and look at the facilities and plans of all the different vessels until you find one that works for your scenario. Remember, the largest boats have a maximum occupancy of 12, so if your group is larger than this, you will need to look at two boats!
2-How much time do you have?
To truly relax and experience the best the Murray and Renmark has to offer, you will need five or so days. This will give you the chance to moor in town, discover the beautiful riverfront area and enjoy a meal at one of the riverside pubs, clubs or cafes (either at the start or the end of your trip) while still allowing you time to make your way upstream, exploring along the way. The Woolshed Brewery is a popular stopping point where you can easily spend an afternoon relaxing with a brew on the deck. Explore the riverside national park areas, the intricate network of creeks and backwaters, the historic internment camp site or stay riverside!
All hires are based on returning the boat to your pick up point, so you need to allow enough time for the return journey. Most people will travel 4-5 hours per day with an average speed of approx. 7km per hour. This will give you a guide as to how far you may travel during your hire!
3-When is the best time to go?
Houseboating is an experience that you can enjoy at any time of year.
Trips in the cooler months are relaxing, snuggled up inside with a book or a day long board game marathon. You will never forget waking up to the fog glistening on the water, the birds calling in the new day and the chance to go and explore the national park areas on foot, discover the creeks and backwaters in a kayak or canoe or throw a fishing line in (no licence required in SA) and cross your fingers! A campfire on the rivers edge is the ultimate . toasting marshmallows, baking damper in the coals or indulging with a campfire cook up for dinner!
The river is 'calling' during the warmer months so ski, board, tube, surf, swim, paddle or laze your way through the day in preparation to indulge in some of our local craft beverages, freshly grown produce or platter partners as the day comes to a close. If you're looking something a little slower paced, set your deck chair in the shallows, pop up some shade, dip your feet in the water and watch the day go by from the most perfect position on the river!
No mater what, always be aware of what's below the river surface – snags, logs and strong currents. The river is mostly unclear, so don't dive into anywhere that you not 100% confident of its depth or what's below.
Other hints and tips –
You don't need any experience, just an unrestricted car licence to drive a houseboat. Your hire company will provide you with detailed instructions on how to operate the vessel, take you for a short instructional cruise to make sure you are comfortable and also show you how to tie up your vessel. Navigational charts are supplied onboard and your hire company is normally contactable in case you have any queries as you go (mobile coverage has improved dramatically or some vessels have radios). Driving is prohibited after sunset, creating a good excuse to kick back and relax for the evening, though not too much as the same drink driving rules apply as driving a vehicle on the road.
All hires will require a cash bond (amount varies from company to company) with details available in the terms and conditions that accompany your hire. Fuel is supplied at the time of departure, with the cost of the amount used deducted from your bond once the vessel is returned. Insurance is normally included, though check again for the specific details of the policy and your obligations.
Everything is generally supplied for your trip, you just need to bring your personal items, beach towels, food, beverages, plenty of ice (most boats have a large cool/ice box on the rear deck for drinks and surplus food items) and any activities that you want to take along ie SUP's, games, media etc. Dinghy/speed boat hire (requires a boat licence) and kayaks/canoes can normally be arranged with your hire company at an additional cost. Once unloaded, your vehicle can be stored in secure lockups provided at your departure point.
If you are travelling with children (or people who are not confident swimmers), make sure you have life jackets and ensure they wear them at all times when outside on the deck area. Most boats have excellent child safety areas and safety latches on doors for younger family members. Pets are welcome on some vessels, ensuring that all the family can be a part of the adventure!
Presented below are frequently asked questions about houseboat rentals and houseboating on Lake Powell. If you need additional assistance, please contact us toll-free at 888-454-8825 or click here to submit a request for more guidance. Our friendly and knowledgeable Houseboat Rental Agents are always happy to help.
See All Current Specials
Houseboating Basics – Lake Powell
It's always a good time to go houseboating! Summer (between Memorial Day and Labor Day) is the most popular and is the busiest season. However, fall offers Indian Summer days with cooler nights. View a month-by-month list of temperatures here: Average Temperatures.
The maximum capacity on any houseboat is up to 12 people while the houseboat is in motion. This is a regulation set by the Coast Guard.
Groups can comply with this rule by bringing or renting a powerboat for additional members of their party. There are no restrictions once the houseboat is moored to shore.
To rent from Wahweap or Bullfrog marinas, the renter must be at least 18 years of age with a valid driver's license.
To rent from Antelope Point marina, the renter must be at least 21 years of age with a valid drivers' license.
Pets are allowed on most houseboats for a non-refundable fee.
For houseboats from Wahweap or Bullfrog marinas:
$25/day fee per pet for most boats
*Pets are not allowed on the 65' Axiom.
There is no special licensing or prior experience required to operate these houseboat rentals; just a valid drivers' license. The marina staff will go over operations and regulations in an orientation upon your arrival.
Making A Reservation – Lake Powell
The cost of a houseboat vacation is based on a few variables: what time of year you plan to visit, what size of houseboat, how long of a trip, etc. See our Pricing Page for more details
Generally, people reserve about 6-9 months in advance. But it's always a good idea to make a reservation as soon as you're ready, especially if you have specific dates in mind or if you're planning a trip over a holiday weekend or on a special promotion.
Give us a call at 888-454-8825. Our reservation agents are happy to check availability or confirm your vacation.
Alternatively, you may Contact Us Online with your availability request, and one of our agents will get back to you with the information you need.
For houseboats from Wahweap or Bullfrog marinas:
The full rental amount is due at the time of booking by credit card
A refundable security deposit of $600-2000 (depending on houseboat model) is due 45 days prior to departure. This amount is above your rental cost and is refundable at the end of your trip given there's no damage to the rental.
Up to 90 days prior to arrival – forfeit 10% of houseboat base price
89 – 60 days prior to arrival – forfeit 20% of houseboat base price
59 – 45 days prior to arrival – forfeit 50% of houseboat base price
44 days or less prior to arrival – forfeit 100% of houseboat base price
There can be few more unique perspectives on travelling within a country other than seeing life from on-board a houseboat and if you prefer to sit and stare then this is an excellent means of letting life come to you without having to move a muscle.
No matter where you find yourself afloat there are plenty of wonderful ways to enjoy your time and if you're a fan of reading, photography or painting then this is the perfect means of indulging your hobby as you cruise from one port or pier to the next.
Kids waving from river banks, early morning bird calls and late night adventures as the sun sets, whatever, quite literally, floats your boat, there's no better way to travel and embrace the tranquillity and culture of life on the river.
Below are just a few more ways to enjoy your time on a houseboat and as the quote by the author of Wind in the Willows infers, once you've discovered this delightful mode of transport there will be no looking back so why not clamber aboard.
"There's nothing, absolutely nothing, half so much worth doing as messing about in boats." Kenneth Grahame
Learn the ropes
First things first and getting yourself acquainted with the terminology, the equipment and the rest of the team will stand you in good stead for the rest of the journey. Finding out about how a craft works and what you have to do at key moments, such as berthing and encountering another boat, are all part of the fun and will definitely add to enjoyment levels as you set sail.
Rest and relax
Once you feel confident and comfortable that all is secure and that you're travelling in the right direction then finding a special spot all to yourself is a great way to instantly calm your pulse and enjoy the simplicity of the moment. Although everyone relaxes at their own pace, finding time to stop and stare whilst on-board a houseboat is a truly meditative experience and certainly one to savour.
Keep a journal
Time can go by surprisingly quickly when you're on-board a houseboat and if you can record your travels in a book or on film you'll be able to enjoy them again and again for many more years to come. Keeping a journal doesn't have to be all consuming but just writing down your thoughts and your experiences every so often is a really relaxing way to capture a truly special series of adventures.
Hop on and hop off
From the river banks of Kerala in southern India to the wetlands of Norfolk in East Anglia, jumping off your houseboat to stretch your legs and explore is a great way to learn more about an area. Authentic regional cuisine, hidden temples far from the beaten track and no end of peaceful spots for picnics, provide a banquet of riverside treats and definitely help you to appreciate the freedom of life afloat much more than some other more industrial forms of transport.
Keep your wits about you
Although being on-board a houseboat can be a remarkably peaceful and relaxing experience it's always best to keep your wits about you at all times. Remembering not to get too drunk or be disrespectful to the local environment are both key factors in enjoying your houseboat cruise and if you're hoping to remain dry and happy then just be careful when walking around as just one tiny bump might help you get much closer to the water than you'd first intended.

Alleppey
Whenever someone asks me which is my favorite travel destination till now, the first answer that pops up in my mind is Alleppey. Why? Because this place is quite laid-back and made me instantly feel at home.
I have always been a firm believer of cities, towns, etc. having a vibe just like people. So, you tend to connect with some places on a deeper level while the others make you feel lonely and unwanted. But Alleppey is one of the few places where you can actually lose track of time and feel like you are staying in paradise.
The amazing maze of water canals, orange sky, and palm trees lining the roads. Alleppey is indeed a dreamy place but what sets it apart from all the other equally amazing places in India is the overnight stay on the backwaters.
Yes, you heard me right! You can actually enjoy a boat ride on the Alleppey backwaters AND stay while relaxing and enjoying a peaceful environment. And no, you don't need a huge group of people or family to actually stay here, you can easily manage it on a solo trip as well.
Want to stay a night in a houseboat in Alleppey? Then, read on and find out to how you can do that too!
How to Reach Alleppey
Alleppey is a major city in Kerala and since Kerala has a good transportation network, it is quite easy to reach here.
Cochin International Airport (COK)
The nearest airport to Alleppey is the Cochin International Airport which is situated at a distance of approximately 85 km from the city. So, you can take a flight to Kochi and then take a cab/bus/train to Alleppey. It will take around 2 -3 hours to reach Alleppey from Kochi.
Alappuzha Railway Station
Alleppey is quite well-connected to major cities in South like Mumbai, Chennai, Kochi, Bangalore, etc. So, you can easily take a train to reach Alleppey and get down at this beautiful city.
You will also find several public and private buses going to Alleppey if you don't have your own vehicle. But if you know how to drive and have your own vehicle then planning a road trip to Alleppey could also turn out to be a lot of fun.
Best Time to Visit Alleppey
Although the best time to visit Alleppey is the winter season, i.e. from November to February. But it is also quite a popular time so you will find a lot of tourists around here which can make houseboats quite expensive and difficult to get.
If you want to avoid the tourists and crowds then the best time to visit is the Summer season. During the months of March to May, it will be hot in Alleppey but the houseboat prices will be less and you will also be able to enjoy clear skies while lazing around on the houseboat.
Avoid planning a trip to Alleppey during the monsoon season as the houseboat rides are usually shut down during this period. So, you won't be able to enjoy a stay on the houseboat and will have to make do with just exploring Alleppey.
How to Find a Houseboat in Alleppey
Now, let's discuss one of the most important things about planning a trip to Alleppey. You will need to find a houseboat for your stay which suits your budget and is perfect for number of people who are traveling with you.
If you are traveling solo like me then don't even bother going to the jetty area or contacting the houseboat owners in person. They will quote an exorbitant amount and will only offer you the option of hiring the entire houseboat. In such case, it would be better to book a room in the houseboat via an online website like booking.com. I was able to find another solo traveler with whom I shared a room and paid just 1,300 INR for the entire houseboat stay.
However, if you are traveling with a group of people then you can go to the shore where the houseboats are anchored and take your pick. Most houseboats will cost about 5,000 – 10,000 for a night and will include all your meals and ammenities.
Houseboat Experience in Alleppey
Ideally, your houseboat experience will last for 24 hours (if you have chosen to stay just for one night) and will include your meals as well.
Depending on the starting point of your houseboat, you will need to reach before the check-in time which is around 10 a.m. – 12 p.m. Once everyone is on-board, the driver starts the houseboat and your relaxed experience on the Alleppey backwater begins. The houseboat keeps on moving around the backwaters till 5 p.m. and you are served lunch and snacks during this time.
The lunch usually consists of authentic kerala meal including fish, rice, veggies, etc. As for the snacks, you could be served pakoras, french fries, tea, and so on.
Staying in a Houseboat in Alleppey. Picture Credits: Rachita Saxena
Stacey Leasca is an award-winning journalist with nearly two decades of newsroom experience. Her photos, videos, and words have appeared in print or online for Travel + Leisure, Time, Los Angeles Times, Glamour, Men's Health, GlobalPost, LA Confidential, and many more. Stacey also served as an adjunct professor of journalism at the University of Southern California teaching feature writing and visual journalism. She is now pursuing her Ph.D., specializing in building resiliency to disinformation in early-career journalists. * 17+ years of journalism experience * 5+ years covering travel * LA Press Club award-winning feature writer * LA Press Club finalist in the travel, sports, and, soft feature categories
You'd think planning and going on a vacation would be a dream. But, for a surprising number of people, taking time off of work, family, and daily responsibilities can be a stressful nightmare. So much so that more than half of Americans forgo taking a trip every year.
In 2015, Healthline surveyed more than 2,000 working adults and found that 62 percent of respondents had "very or somewhat" elevated levels of stress during their winter vacations. But stress is the last thing that should be holding us back from taking time off. Here are five ways to keep stress at bay when planning, taking, and returning from a vacation — so you can enjoy your hard-earned getaway.
Don't be so hard on yourself to begin with.
"If you're someone that works, you're checking your emails, you're getting text messages, maybe you're going onto social media, you're digesting a lot of information, so it's no wonder that we're going to have a hard time settling down from that and quieting our mind on vacation," Dr. Megan Jones Bell, clinical psychologist and chief science officer at meditation and mindfulness app Headspace, told Travel + Leisure. "It's a lot to expect that you just go flip a switch."
To help combat the stress of planning travel, try to unpack what is actually making you stressed in the first place. Is it the idea of unplugging that has you worried? Then maybe book a vacation where you know there will be reliable Wi-Fi. Are you stressed about feeling like you have to check in with work but don't really want to? Try one of these internet-free vacations instead. Worried you can't plan the ultimate trip? Hire these A-list travel agents to do it for you. No matter the source of your stress there is always a way to help ease it.
Start the relaxation process before you leave.
According to Bell, you should begin the relaxation process before you even leave for the airport. This, Bell explained, can be done by building in rituals and routines you can perform before, during, and after a trip "that help anchor you and act as a buffer to the stress that's going to try to creep back in."
For Bell, this entails settling in for a Headspace meditation routine, which means she begins a new 10-minute daily practice several days before leaving for an excursion. If you're new to meditation, you can always sign up for the app for free and work your way up minute by minute each day until you find a comfortable length.
For others, those rituals could also mean journaling what you hope to gain from your vacation or creating a personalized itinerary so you can ensure you get to see everything you want to while away. Just make sure you make your routine your own.
Make sure all your vacation goals are achievable.
Making plans for your vacation is a great idea, but stuffing your days with too many to-dos can be a real buzzkill. In fact, multiple studies have proven that meticulously planning your leisure time can seriously ruin your fun. And it's not the activity, but rather the act of assigning a time to an activity that will do you in.
To combat this itinerary-induced stress, Bell suggested starting each morning of your trip by setting an intention. Taking just a few minutes to quiet your mind and think about what you'd like to accomplish that day will help mitigate any stress you may feel later on.
And before your departure, try creating a looser itinerary for your journey. Create a list off all the "must-see" places and another of "would like to see." This way you can prioritize your time without feeling constrained by the clock.
Use vacation time to kickstart healthy new routines.
Instead of thinking of vacation as a few days away from your real life, think of it as a few days away to help improve your every day.
"Vacation is a really great time to initiate healthy habits that you just don't have the time or energy to start during your day to day life," Bell said, noting that you're much more likely to pull healthy routines back into your life if you can start them in a happy, conducive environment.
To do this, look into a vacation that is tailor-made for your goals such as a yoga retreat in Montana, or a culinary journey to improve your kitchen skills, or even an all-around wellness getaway to renew your mind, body, and soul. Or, as Bell suggested, use it as a great time to — you guessed it — start a meditation practice, which has some seriously impressive, scientifically backed health benefits.
Keep up your new habits for at least 10 days after you return.
According to Bell, it takes just 10 days to form a new habit, meaning if you start a new one on your vacation you should bring it home with you to reap all the rewards.
"Our research at Headspace has shown that the use of our app for just 10 days can reduce stress," Bell said. "So that's where I'd say before your vacation, if you start meditating and you can do just 10 minutes a day during it, it's gonna help reduce your vulnerability to stress."
But really, no matter what new habits you form or how relaxed you were on vacation, re-entering your normal life can get you down. To combat the post-vacation blues make sure to build in an adjustment day to settle in, decorate your home with your new souvenirs, and stay in the vacation mindset as long as you can. Follow these steps and you'll be a master at beating vacation stress in no time. Now, there's only one thing left to do: Plan your next stress-free adventure.
Cap your day on the water off with a fire on the beach.
Floating on a houseboat makes for one unique vacation, but before you get on board, there are a few things you need to know.
Book Early!
Yes, it's floating accommodation, but it's not a cruise ship. Those fantastic last minute deals you can snap up for cruising don't apply here. Houseboating is very popular, so to ensure your vacation goes smoothly, book in advance. Don't expect to secure a houseboat by merely showing up and asking if one is available for rent.
Realistic Expectations
Like a cruise ship, the sleeping quarters are not spacious. If you are concerned about privacy and how many bedrooms the vessel has, ask to see a detailed floor plan or get a boat tour before you commit. Space is prioritised for living/eating/entertaining. Sleeping space is at a premium but can be quite comfortable if you don't mind sharing space. It's like camping – but on the water.
Also keep in mind that while the beds include mattresses, and the kitchen will be stocked with dishes, glasses and cookware, you have to bring EVERYTHING else, including towels, bedding, deck chairs and of course, all your food. This packing list for vacation rentals gives you a good idea of what you'll need to bring with one notable exception – soap and shampoo – as most rental companies will provide biodegradable soaps and detergents safe for use on the lake.
Ban the Booze
Drinking and Driving is illegal for a reason; drinking while driving a houseboat is no exception. You need to keep a sharp eye out for other boats, swimmers, and obstacles in the water. You need to stay sober and alert for the safety of yourself, your family, and other vacationers on the lake.
You can't go on the deck of the houseboat without a life jacket is a good rule for little ones.
Safety First!
You can have a fun houseboat vacation with children! Many rental companies provide monitoring devices that will sound an alarm when they get wet. Other precautions include putting life jackets on little ones whenever they exit the cabin (to go on any of the decks), and making sure doors are locked and blocked at all times.
Make sure you tie down your boat correctly to avoid coming loose. Your orientation will include everything you need to know.
No Experience Needed
No experience? No problem! You'll be given an orientation that will cover all aspect of safe houseboating. Pay attention – the instruction is for your best experience on the lake and will include valuable safety information. Don't worry, though. Houseboats don't move overly fast, and they are very easy to operate.
In most cases, you'll be asked to beach your craft for the night on the lake's shore. You'll need to know how to exit the boat and securely anchor it to the beach. One person (that can operate the boat) should remain on board while the other secures it, in case the rope gets dragged back to the water. The last thing you want is for your family to be marooned while your boat drifts off on a three-hour tour without you!
Love Thy Neighbour
When you dock for the night, you are going to have neighbours. Be courteous. Loud parties, docking too close to other boats, wild drinking nights, blaring music – avoid the things that would upset your neighbours. If you are in the mood for a loud party night, check with your boat rental company about which beaches are for the party-goers, and which ones are more family-friendly.
Cap your day on the water off with a fire on the beach.
Downtime on the Shore
You don't have to dock only at night. You can secure the boat at different places around the lake, hop off, and enjoy hiking, cycling, shopping and sightseeing. Most popular houseboat locations also have mid-lake shops/restaurants that you can enjoy. Be sure to secure your valuables (and the boat) properly before you disembark.
Many lakes where houseboating is popular have a store in the middle where you can pick up souvenirs, soda, milk or snacks.
Insure your fun
Accidents are unfortunate, but they do happen. A fire on board, a collision with another boat, an unsecured boat drifting or beaching during the night – these things can and do happen. Make sure you have personal travel insurance before your trip and take advantage of any houseboat insurance your rental host provides.
Watch out for Pirates
Houseboating is good clean fun, but you still need to be aware of whom you let on your boat. If you are hailed by another boat full of strangers that want to join your party, think twice and access the situation. A small houseboat can be a perilous place when you board guests that are aggressive or won't leave.
What kid, big or small, doesn't love their own personal waterslide? You get one on almost every houseboat
Have fun!
With a few simple precautions, you can have the time of your life on a houseboat. Consider renting one for your next family vacation, honeymoon, time away from it all, or if you love camping but want to try it with a twist.
One of the best parts of houseboating? Peacefully sleeping kids at the end of a day on the water and the beach.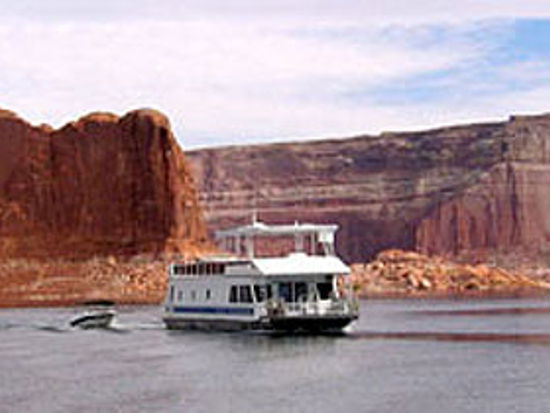 It is always the little things that create big memories! When I think back to my most memorable vacations as a child, I don't remember what I wore, what I ate, or the big fight that crazy Uncle Joe got into with crazy Uncle Tom. I remember the time we spent together. The things we laughed about. The songs we sang. The silly carefree behavior that my parents displayed when in paradise instead of work mode. Here are some activities to consider to make your special and unique trips magical ones! You certainly don't have to go overboard with ideas, as these little activites packed a pretty big punch in my memory bank.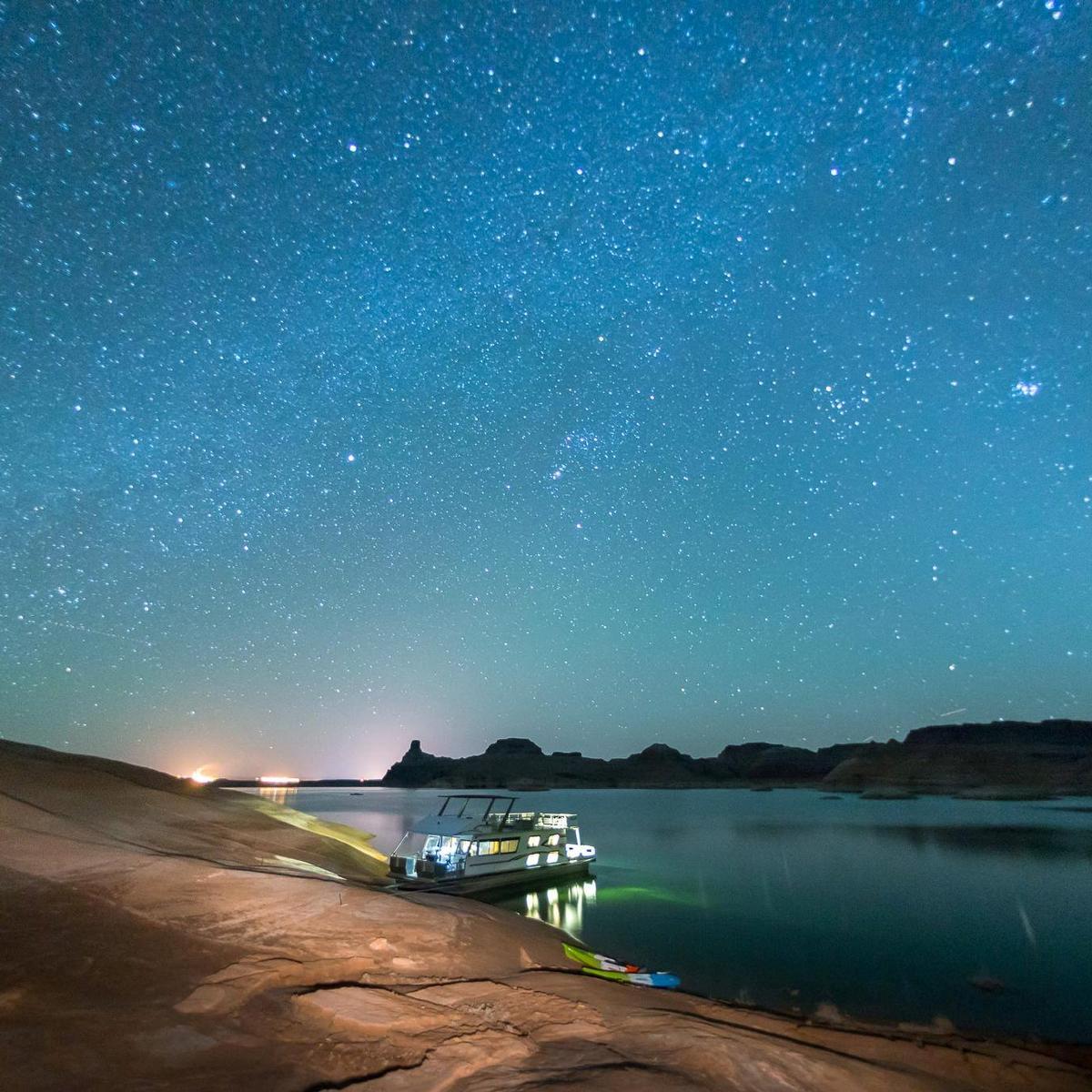 Star Party
When you are so far a way from light pollution from the city, the night sky is something to worship. You will see more stars than you have ever dreamed of! These days you can purchase a telescope on Amazon for as little as $26 dollars which will do the trick for your houseboat star party. Print off or purchase a map of the night sky with constellations or planets to view while stargazing on the beach or on the top deck of your houseboat. Bring some glow sticks, glow necklaces and bracelets for a little extra ambiance. Wrap yourself up in a blanket and grab your hot cocoa to keep warm!
Movie on the Rocks
Change it up a bit and set up a movie night under the stars. Find a surface that you can display your movie. Whether you have the perfect rock wall setting to view your flick or whether you have to prop up a white sheet in the sand held up by brooms, either way works! Pop some popcorn, lay out blankets in the sand or set up your chairs and loungers, grab a blanket and enjoy the show! Hand sized movie projectors are available for purchase that simply plug in to your device that will display your downloaded movies.
Laser Show
This may sound like I am suggesting a rave, but I promise you I am not. A friend of mine brought a laser pen on our houseboat which of course I made fun of immediately. This was one of the coolest things I have seen for entertaining on a houseboat. This particular laser pen, when you twisted it will change the shapes, colors and patterns that appeared when projected onto a surface. We projected it on our massive rock wall surrounding our beach and tied it in with some music. It was amazing! We watched the laser show for an hour and then everyone applauded our showman for giving us a cool and unique experience.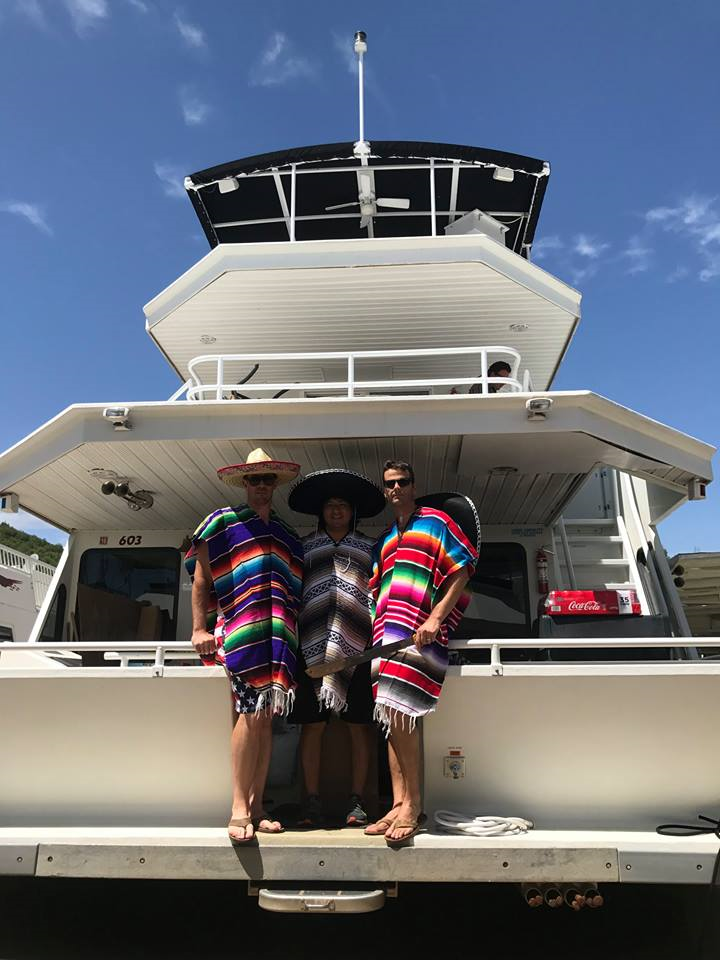 Theme Night
Choosing a night to dress up can be especially fun for both kids and adults. Putting on a costume can help create a character, and when we are in character we may tend to bring down our walls and act silly; a great ice breaker for group members who may not know everyone on the trip. Here are some ideas: Pirate night, Murder Mystery night, Back to Prom night, 80' Dance Party night, Disco night, Superhero night, Mardi Gras night, Disco night, Hawaiian Luau night, Casino night, Movie theme night, Hollywood night, Black tie night, Masquerade Ball night or Toga party night.
Family Shirts or Hoodies
Preparing trip favors or souvenirs is a great way to make your crew feel special. Group tees or hoodies that will have the year of your trip, or maybe the last name of the person printed on the fabric will be something tangible you can use and enjoy for years to come. They make great photos too.
Water Slide
Make your own Slip N' Slide! You will want to purchase a roll of heavy duty sheet plastic. Determine where on your beach you will be hosting your Olympic game. and then roll it out! These can span the entire length of the beach or you can get creative based off of your beach and location. Bring a bucket to pour your water on the plastic and some biodegradable dish soap to keep it slick! Be careful….and have fun!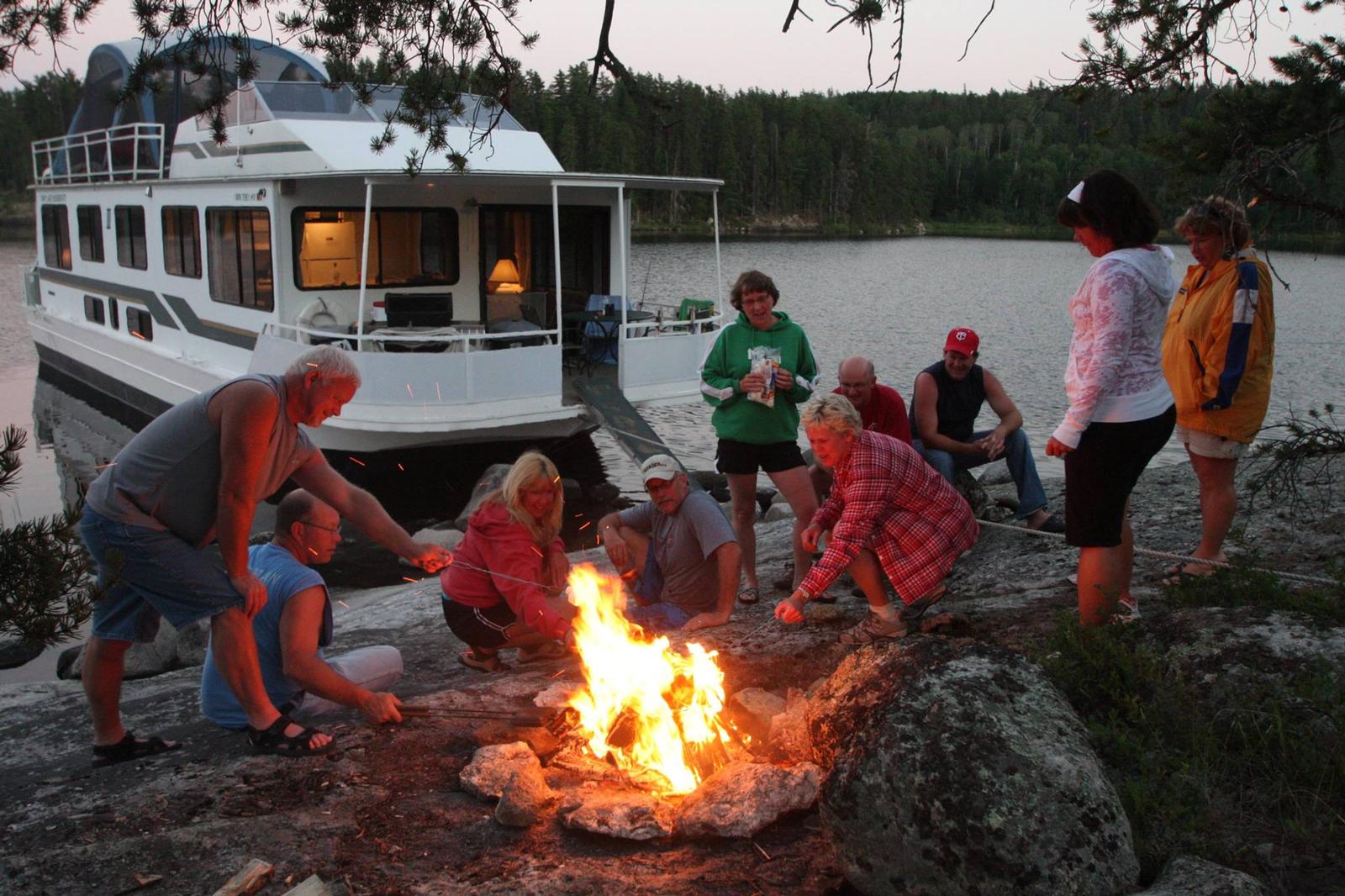 Beach Games
Frisby, paddle ball, bocce ball and cornhole are classics for just you and a few friends. If you would like to include the entire group, consider flag football, capture the flag, volleyball, kick the can, limbo or tug of war. Pick your teams by drawing names to make it interesting!
Campfire Karaoke
There is always that one person in the group who will bring their guitar and is begging for someone to jam with. May as well make it a group activity around the campfire. Prizes can be awarded for best improv song, rap, battle of the divas or karaoke!
Welcome to the fun and adventure of houseboating! If you're new to boating and everything that goes into planning a houseboat trip, then you've come to the right place. Houseboating 101 provides a solid introduction to the safe operation of a houseboat, some good tips on planning your first houseboat trip, and tricks to make the job of navigating both the marina and lake easy and fun.
What is a houseboat exactly? Well it's actually what you might think it is: A luxury boat that provides all of the amenities from home while you enjoy your getaway on the lake. Modern houseboats are designed to be fuel efficient, have minimal impact on the environment, and offer comforts only dreamed about a few years ago. Most Forever Houseboats are designed and built in our company-owned factory – each one tailored to the waterways on which they serve.
Houseboating is a unique vacation choice and many devotees enjoy the experience as "comfortable camping on the beach." Houseboat rentals provide the unique opportunity to travel with a large group with less hassle and a lower total cost than a typical vacation. When you compare the cost and planning time required to make travel arrangements, meal planning as well as entertainment activities for a group of 10, 12 or more – houseboating is not only more relaxed and unique, it can cost substantially less than most vacations.
Ready to start charting your course? Explore our Houseboating 101 section which details all you need to know about planning your trip, safety guidelines as well as information on our different houseboat models.
Article share options
Share this on
Send this by
Thanks to tiny houses and micro apartments, the trend towards downsizing homes is gaining momentum in Australia, but would you live on a houseboat?
Not only do houseboats offer a compact, flexible lifestyle, but they are free of many of the costs and regulations associated with owning a traditional bricks and mortar home, including council rates and strata agreements.
And some are even smaller than tiny designer homes, which allow their owners to free up debt, spend more time with community outside of their own four walls, and travel.
But when your backyard is a swimming pool and you do not need to pack up to move on, are there any downsides to living on a houseboat rather than in a traditional home?
That was the question Cathy Ann Kruger wanted answered when she took to social media to find out whether she and her partner should take the plunge, given they spent all their free time at the river.
Advice was offered that she should consider the availability of permanent moorings, maintenance, greywater and sewage disposal, and even the wash from wakeboard boats in summer.
But perhaps the great tale of caution was from 2015 when a Riverland woman made headlines after being left homeless, broke and facing heavy penalties when her houseboat sank along the River Murray.
Others said it was the best decision they had ever made.
River dwellers living the dream
What will sink housing?
A lack of liquidity could drown investors when Australia's booming east coast real estate markets turn, writes Michael Janda.
Rodney West has been living on his houseboat for 25 years.
His vessel definitely wears the micro-living badge, with just 57 square metres of living under the roof.
Mr West built it himself, drawing on his experience in the boating industry.
Together with two other houseboat dwellers he bought a parcel of riverfront land at Lyrup, downstream of Renmark in SA.
This allows him to permanently moor his vessel along a stunning stretch of the River Murray, while keeping a vehicle, shed, chooks and vegetable patch on his adjacent land.
"It's cheaper than a shack and I can build it myself, and if you don't like where you are you can just move on," Mr West said.
"I've travelled the length of the river a couple of times. It keeps me off the streets."
His boat is humble compared to some of the modern commercial houseboats, with their rooftop spas, expansive glass windows and many bedrooms.
"This is the first one I built. I've built half a dozen since then," Mr West explained.
Like many who call a houseboat home, he enjoys being self-sufficient and living off the grid.
A cosy pot belly fire keeps him warm during the cold winter months on the river, when temperatures at night can drop several degrees below freezing.
But in summer his boat can become an oven, with the lack of air-conditioning making it hard to cool down.
"I open a window and luckily I've got a swimming pool out the back door," Mr West said.
Active in local community
Despite his alternative lifestyle, Mr West does not feel isolated.
He volunteers with his local Country Fire Service brigade, stays in touch with friends and family on social media, and is connected with fellow river users.
"I know all the boats that come past," he said.
The experienced river-hand has no plans of moving into a bricks and mortar house.
"Who would want to live like that, cheek by jowl with everybody else?" he said.
"How am I going to improve myself by selling up here and moving? This is it, they will take me out boots first."
Retirees never wanted bricks and mortar
Further downstream at a marina near the Berri Bridge are Steve Kitto and Joanne Seaton.
The retired couple has lived on a custom-built houseboat for the past six years.
After previously living on a catamaran Mr Kitto had built himself, the pair moved to the Riverland region to be closer to family.
They love the freedom that living on the river offers.
"We just chuff across to the hotel over there in the dingy. Whenever we can avoid driving we just take the boat somewhere," Ms Seaton said.
They agree that houseboat living requires a more minimalistic approach to possessions.
"You can't have four wardrobes full of clothes, but you've still got plenty of room for clothes and we've got two bathrooms, two toilets," Mr Kitto said.
The couple said during high water events, they simply moored further up the bank.
"It's great when we get a flood or high water as we did a couple years ago. It's basically a long reservoir at the moment," Mr Kitto said.
"We just moved further up the bank, but we had a contingency plan to tie to higher trees and just bring the dinghy down.
"If we get to the top of the trees we are in trouble!"
Investment more like a car than a house
Unit boom heading for a bust?
The apartment blocks soaring above capital cities look like heading into oversupply, and that means prices will fall.
Buying a houseboat is not like a bricks and mortar investment.
They are more like a car in that they are expected to depreciate in value over time.
This was one of the considerations for Lin and Ron Davison when they moved onto a custom-built houseboat at the start of the year.
At 110 square metres of living area their boat, Linny's Tinny, is less than half the size of an average new build in Australia, according to a CommSec study.
Yet they believe it offers them the perfect lifestyle for their retirement.
"How else can you get a location like this?" Mr Davison said, gesturing at the river just outside his kitchen window.
Mr Davison said living on a houseboat required an active lifestyle, with owners needing to be capable of pumping out greywater and effluent, and doing regular maintenance.
They store rainwater for drinking, filter river water for laundry and bathroom needs, and generate and store power from solar panels on the boat.
The couple paddles their kayaks every morning and enjoy the freedom of being able to travel the river.
"You can't beat waking up to this view, and in the evenings some of the sunsets are stunning, particularly when you move up the river," Ms Davison said.
And if they want to go on a holiday, they do not need to worry about packing.
"Freedom, you can just untie and go, take everything with you," Ms Davison said.
Which is why, after all the advice, Ms Kruger has decided that when the opportunity arises and she can secure the right boat, she is going to give the dream of living on a houseboat a go.
Enjoy the houseboat trip with your family
A trip in an Alleppey Houseboat is the best way to explore the beauty of backwaters with your loved family. If it is a family get-together or a birthday function or any other family function, you can hire this beautiful houseboat and make this trip most memorable. In this busy world, People are forgetting the value of family relationships and the new generation even don't know close relatives. At least we must find a day in a year to spend with our family. So enjoy this day in Kerala Houseboat in Alleppey and have the Kerala traditional cuisine with the taste of the Karimeen.
For Honeymooners & Couples
Check in:12 Noon, Check out: at 9 Am. Special arrangements like Flower bed, Cake, Candlelight dinner. Deluxe to Luxury packages are available.
For a group of Family & Friends
Day Cruise – Check-in at 11 AM, Check out at 5 Pm. The package includes a welcome drink, Lunch, Evening tea & snacks. Non-A/C and A/C packages are available.
For Overnigh trip
Check-in at 12 pm, Check out at 9 Am, Package inclusive of welcome drink, lunch, evening tea and snacks, dinner. A/C available.
Beautiful Alleppey Houseboat has been a houseboat service provider in Alleppey (Alappuzha) since 2007. Our priority is to give a best in the class houseboat travel experience for all guests traveling in our group of houseboats.
From this website, you will get the details of Kerala boat house booking online, Alleppey houseboat packages, houseboat rates, online houseboat booking service and more.
Preparation is Paramount
Houseboating 102 is a series devoted to teaching you the finer points of houseboating at Lake Powell and today our experts are weighing in on Houseboat Meal Planning.
The Experts' Take
Gail »
There are different ways to plan meals for you and your group. Some people assign a "head chef" who buys all the food and coordinates all the meals. If that works for you, fine. But over the years (and I've been doing this for longer than I care to admit!), my friends and I have figured out a fun and efficient way of doing meals that I'd like to share with you.
Divide up your group into. teams. So each team gets a certain meal on a certain day
It works like this. Divide up your group into "couples" or "two's" or "teams." They can be spouses, pairs of friends, adult siblings, whatever you like. Then divide up the total number of meals for your outing, and assign them evenly to the different teams. So each team gets a certain meal on a certain day; given the number of days you'll be spending at the lake, the schedule may rotate more than once. My husband and I always volunteer to create the first big meal on board. It's a lot of fun—plus, this way, we can spend the rest of the outing relaxing and enjoying everyone else's cuisine!
Make your meal a good meal. A complete meal. Include everything it will require: all the courses, all the fixings, and so on. If it's something like a casserole, it's easy to make it in advance and bring it aboard in a cooler chest.
For our groups, breakfast and dinner count as "meals"; lunch is always a combination of leftovers and snacks. (Your mileage may vary! So feel free to tweak this strategy to your group's needs—and stomachs.
Jim »
You might laugh, but I've seen people bring deep fryers for cooking a turkey. Don't do it.
First-time houseboaters always wonder about planning meals. And rightly so: Dining can make or break your houseboat experience. I've been here at Lake Powell for a long, long time (I first arrived here in 1989), so I can tell you, from experience, the easy ways to make each meal a success.
Divide the duties
The best method, I've found, is to carve up your party into sections, with each section responsible for a dinner and a breakfast. (You can do a lunch as a meal, or as a snack, as my colleague Gail Buckley noted in her article on this topic.) Once meals are assigned in advance, there's less chance of anyone forgetting anything. Be sure to pack your special spices and things you won't be able to get at the store. Speaking of which…
Shop at the last minute
That sounds suspiciously easy, doesn't it? Well, let me qualify that advice. I'm based here at Wahweap Marina in Southlake, and we're only about ten minutes from the town of Page (read: "Walmart"!), so you can get all your perishables just before you board so they're nice and fresh, and will keep the longest. If you're houseboating out of Northlake, at Bullfrog Marina, you'll need to do all your shopping in advance. It's nice and secluded up there—the way lots of people prefer it.
But if you do start down here at Wahweap, I suggest you shop really early in the morning or really late in the day. That's because all the supermarkets in Page get jammed with people in the middle of the day—you guessed it—stocking up for their houseboats. So avoid the crowds.
What not to bring
You might laugh, but I've seen people bring deep fryers for cooking a turkey. Don't do it. Those same people were the ones who caused fire damage to the soffit of the overhanging deck. Honestly. Each boat includes a kitchen and a grill, so take advantage.
How to get your stuff here
About 90 percent of our visitors arrive by car. They'll tow big box trailers, loaded to the gills. Or they'll tow a powerboat to bring along, and load it up with gear and coolers. Either way works. And if you don't have a powerboat, be sure to rent one! (Check out this great article we've posted about powerboats and other water toys.)
Can you overload your houseboat? While anything is possible, the typical family will not overload our typical houseboat. They may tend to load it incorrectly or unbalance the boat. But we can help with that. That's why we're here.
Travel Tips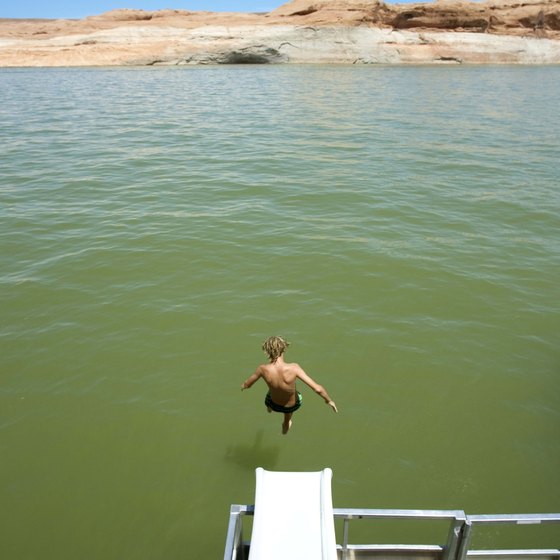 Most rental houseboats come with a slide. (Photo: Jupiterimages/Comstock/Getty Images )
Related Articles
Houseboat Vacations On Lake Powell
How to Rent a Houseboat
Boat Rentals at Lake Cumberland, Kentucky
Lake Mead Houseboat Vacations
Lake Mead extends 110 miles behind Hoover Dam near Las Vegas. Deep canyons, sheer cliffs and colorful rock formations surround the lake. Two marinas offer houseboat rentals that range in size from modest boats to luxurious accommodations rivaling those at a high-end hotel. Vacationers typically enjoy their houseboat getaway in one of two ways. They either spend their time cruising or drop anchor and explore the lake with personal watercraft or small boats.
Smaller Rentals
Rental houseboats moor at Callville Bay (callvillebay.com) and Temple Bar (templebarlakemead.com) marinas on Lake Mead. Smaller rentals include two 50-foot houseboats. Both sleep a maximum of eight in two queen-size beds and two sofa beds, and can be rented for three, four, five or seven days. The boats have roof decks, water slides and small patios. A 56-foot houseboat sleeps nine on four queen-size beds and a sleeper sofa. The boat offers a covered sundeck, barbecue and kitchen with full-size appliances.
Luxury Rentals
The 75-foot Silver XTreme Luxury Houseboat, specially designed for use on Lake Mead and Lake Powell, offers six staterooms, two and a half baths and a seven-person hot tub on the upper deck. A full-size kitchen features two refrigerators and a dishwasher. The boat has a barbecue grill and the flying bridge features a wet bar. Each of the staterooms and the living room has satellite television. ADA-compliant boats at the Callville Bay Marina have wheelchair-accessible elevators, low-threshold showers and wide hallways. The four-bedroom, 70-foot Millennium has many of the same features.
Houseboat Vacation Planning
Determining a realistic budget is crucial. The cost of the rental increases when deposits, early boarding fees, liability coverage and trip cancellation insurance are included. Renting a boat that's large enough for your party is important. Experts recommend against renting a boat that sleeps 10 for a group of 10, for instance. Eight is a more realistic number because of the lack of storage space and physical room. Don't pack duplicate items. If you and your child both use CD players, take one instead of both. Allow one carry-on per guest. Consider planning and preparing meals ahead of time rather than buying food at marinas. Buy detailed, waterproof maps of Lake Mead because getting lost is possible, even on a lake.
Considerations
A houseboat isn't the most economical way to explore Lake Mead, so if sightseeing rather than relaxation is your goal, consider a different option. Factor the cost of fuel into your budget decisions. Houseboats typically get 1 mile per gallon, and generators use one gallon of fuel for each hour they run. Inclement weather may put more of a dent in your trip than you expect, because you and your fellow travelers will be cooped up inside and may get on each other's nerves. Cell phone service is spotty on Lake Mead, so park rangers recommend having a GPS and marine radio as backup. Consider investing in a Mi-Fi device if staying connected to the Internet is important to you.
Houseboats are a superb way to spend quality time with your family or a group of friends. Water fun by day and star-studded views by night make for a scenic, fun, and adventurous getaway all rolled up into one fabulous outing. Just make sure you have all the right supplies on hand to help you make the most of your houseboat experience.
Whenever there's a vacation, food is a central part of it. Houseboats have fully-stocked kitchens, which means that you can cook whatever you want. There's usually a grill onboard—enlist your hubby and several other grilling experts to grill the meat and vegetables for your meals.
Plan your food menu according to the type of weather you expect to have on the lake. Will it be cool and rainy? Or will it be hot and sunny? (At Shasta Lake, you can expect summers to be in the 90s or even in the 100s!) For cool days, you could have soups and chili for dinners. For hot days, you may just want some cool sandwiches and salads with watermelon on the side. If you're planning to do some fishing, you could enjoy some fresh-caught fish!
Bring all your favorite drinks for refreshment throughout the day. If nothing else, make sure you've got lots and lots of drinking water and ice. You'll need it, especially for hot days.
Clothing
You don't need 15 changes of clothing for a houseboat. You can get away with a few t-shirts and shorts and a pair of flip flops. Definitely bring a pair of water shoes that you can wear both in the water and on a trail. Bring a wide-rimmed hat, two pairs of sunglasses (in case you break one), and lots and lots of sunscreen and insect repellent. You'll need a light jacket or hoodie for cool evenings too. Bring your own toiletries. A houseboat isn't exactly like a hotel that is stocked with shampoo and bath soap.
Other Miscellaneous Items
Houseboat rental companies usually supply a list of supplies that you need to bring. Generally, you'll need to bring your own bedding, pillows, towels, and dish towels. Following are a few other things recommended by other houseboaters:
A ski boat, jet ski, or kayaks if you want to enjoy some watersports or take in more areas of the lake.
Your favorite water toys, such as floats and goggles.
An iPod, so you can enjoy your favorite music.
Flashlights, for those moments when you need to see in dark corners or need to make your way to the bathroom without waking everyone else.
Candles, for gorgeous candlelit dinners on the deck.
Throw rugs—most houseboats have hard floors.
An all-purpose cleaner and cleaning gloves.
Toilet bowl deodorizer—that toilet could start stinking after a day or two.
Games, knitting supplies, scrapbooking kits, movies, fishing tackle, or any other supplies for your favorite pastime activities.
Houseboats on Shasta Lake are well-stocked, particularly at Shasta Marina, but you'll need to bring a few items of your own to make it a truly one-of-a-kind vacation. Taking a floating vacation on a houseboat is one of the best ways to bond with family and friends.
Suwannee River is an impressive 246-mile river running through the imposing wilderness of State Park. And this is why it has become an impeccable spot for anyone who wishes to immerse themselves in nature.
Upon coming here, not only can you take delight in witnessing wildlife in its truest form, but also get to explore a wide range of natural springs. The sound of birds chirping in the trees, the fresh air that you can never find in bustling cities, the sight of nature – all combine to form a trip like no other.
To serve the need of visitors, the Suwannee River houseboat rentals have been gaining popularity recently.
Traveling on waterways is undoubtedly the best way to enjoy a river and everything surrounding it to the fullest. So, if you wish to relish that experience, scroll down this article and we will tell you how to find the finest houseboat for your journey.
Where to Find a Houseboat Rentals?
Now, when it comes to renting houseboats, you must put the prestige of the service first.
In other words, don't just go and contact the first place you see without checking out its info. We are talking about something that will carry not only you but also your friends and family for the rest of your vacation. Clearly, you wouldn't want any unfortunate accident to occur while you are in the middle of the river, would you?
Well, lucky for you, you do not have to weigh too many options when it comes to finding Suwannee River houseboat rentals. Here is the reason: Even though the river is long, up to this day, only one service with a long-standing reputation exists. And that is Miller's Marina (a.k.a Gateway Marina).
So, if you ever need a houseboat for your trip, just hit this place up, they will be more than happy to assist you.
What Are the Signature Traits of Miller's Marina?
Several services out there offer houseboats of all shapes and sizes. Still, unless you have already made up your mind about which to pick, this will only give you a hard time when deciding as there are too many.
Meanwhile, at Miller's Marina, finding some quality Suwannee River houseboat rentalswill be super easy. All the houseboats for rent at this place are of uniform design (44 feet long and 14 feet wide). They are built with a maximum capacity of eight to ten adults. So, you can bring your entire family on board and the houseboat will still run smoothly on the water.
What's more, all the Suwannee River houseboat rentals of this service is equipped with a decent kitchen, sink, comfy beds, and even flush toilet! This means you can fully enjoy the imposing nature while still being able to take advantage of the modern world. Sweet!
The best part? PuttingSuwannee River houseboat rentals is really simple. And the staff of Miller's Marina will give you some quick lessons on how to control the houseboat before completely handing it to you. Furthermore, when beginning your journey, you will also be provided with a detailed map of the river.
Still, keep it in mind that you should check the houseboat with a fine-tooth comb before renting it. This is a trustworthy service and all, but it is better safe than sorry.
Pricing
Depending on the time you want to take a tour of Suwannee River, the price for renting a houseboat at Miller's Marina will be different. Here, let me give you a glimpse:
From December to February, you will have to pay $499 for a 2-day trip.
From March to November, on weekdays, you will have to pay $599 for a 2-day trip
From March to November, on weekends, you will have to pay $750 for a 2-day trip
Keep it in mind that if you want to prolong your trip on these Suwannee River houseboat rentals, each added day will cost you $100.
You can visit their website for more information on their rules and policy.
The Bottom Line
I have already informed you everything I know about Suwannee River houseboat rentals. I really hope that it would come in handy in your next trip.
If you have never headed off to Suwannee River, you really should consider doing so sometimes. The place is simply magnificent! It can offer everything you need for an impeccable vacation, a chance to keep stress at bay, leave it all behind and just simply have fun.
And in order to do so, a houseboat is a must-have. It will be a real shame if you do not get to contemplate the wildlife when going down the river.
That's it. Thank you for reading. And do not forget to share this article to your friends if you find it helpful!
Travel Tips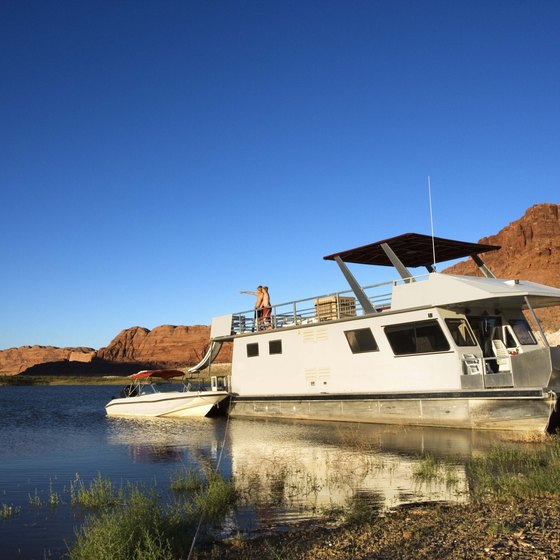 Many houseboats come equipped with motorboats for exploring the lake. (Photo: Jupiterimages/Comstock/Getty Images )
Related Articles
Houseboats on Lake Mead
Best Ways to Rent a Lake Powell Houseboat
Marina Houseboats in Oklahoma
Houseboat Vacations on Cumberland Lake in Kentucky
Overview
Lake Powell is the second-largest man-made lake in the United States, with 1,960 miles of shoreline — longer than the entire continental West Coast. One of the best ways to enjoy the lake is from a houseboat. Whether you rent or purchase a time share, you'll be able to watch sunrises in the morning or stargaze at night from the deck of your own personal floating motel.
Forever Houseboat Rentals
Choose from houseboats ranging in size from 59 feet to 75 feet from Forever Houseboat Rentals, anchored at the Antelope Point Marina. Antelope Point is just a few minutes from Glen Canyon Dam and is the closest land-based marina to the world-famous Rainbow Bridge National Monument. Each Forever Houseboat is equipped with a flat-screen TV, DVD and CD player, satellite TV, full kitchen, and private and/or semi-private rooms complete with linens, baths and deck chairs. The more luxurious 70-foot and 75-foot models have hot tubs and, in one case, a water slide. The 75-foot Silver XTreme Luxury Houseboat is handicapped-accessible with additional amenities for the disabled, including a wheelchair elevator.
Forever Houseboat Rentals P.O. Box 4870 Page, AZ 86040 800-255-5561 lakepowellhouseboating.com
Lake Powell Resort Rentals
Lake Powell Resort Rentals, operated by Aramark, is anchored at both the Wahweap and Bullfrog Marinas on Lake Powell. Models range from 46 feet to 75 feet in three designs — economy, luxury and deluxe — all priced from three to seven days per rental. The economy Voyager has the basics, with two state rooms, one bath, an RV-size gas stove, small refrigerator/freezer and outdoor gas grill. The top-of-the-line Odyssey costs about six times as much, but in addition to additional bedrooms and baths, you'll have satellite TV with TV/DVD combo in each state room, full kitchen, washer and dryer, propane gas fireplace, hot tub, wet bar and mini fridge on the upper deck, shade canopy with lights, and a GPS. You also have the option of captaining the boat yourself or hiring a Coast Guard-certified captain from Marina Services.
Lake Powell Resort Rentals 100 Lakeshore Drive Page, AZ 86040 888-896-3829 lakepowell.com
Laketime Houseboats
Purchasing a time share on a houseboat is useful if you plan on returning several times a year or from one year to the next. Laketime's houseboats have anywhere from eight to 21 part-owners, and Laketime will manage and maintain your houseboat throughout the year, with each boat receiving a full mechanic's checkup after each trip. All models have multiple bedrooms and baths as well as full kitchens. Laketime provides linen service, environmentally friendly soaps, toilet paper, dishes, pots, pans, and games.
Laketime Houseboats 612 Haul Road Page, AZ 86040 800-572-5701 laketime.com
Forever Houseboat Rentals
Lake Powell Resorts
Laketime Houseboats
Bonnie Singleton has been writing professionally since 1996. She has written for various newspapers and magazines including "The Washington Times" and "Woman's World." She also wrote for the BBC-TV news magazine "From Washington" and worked for Discovery Channel online for more than a decade. Singleton holds a master's degree in musicology from Florida State University and is a member of the American Independent Writers.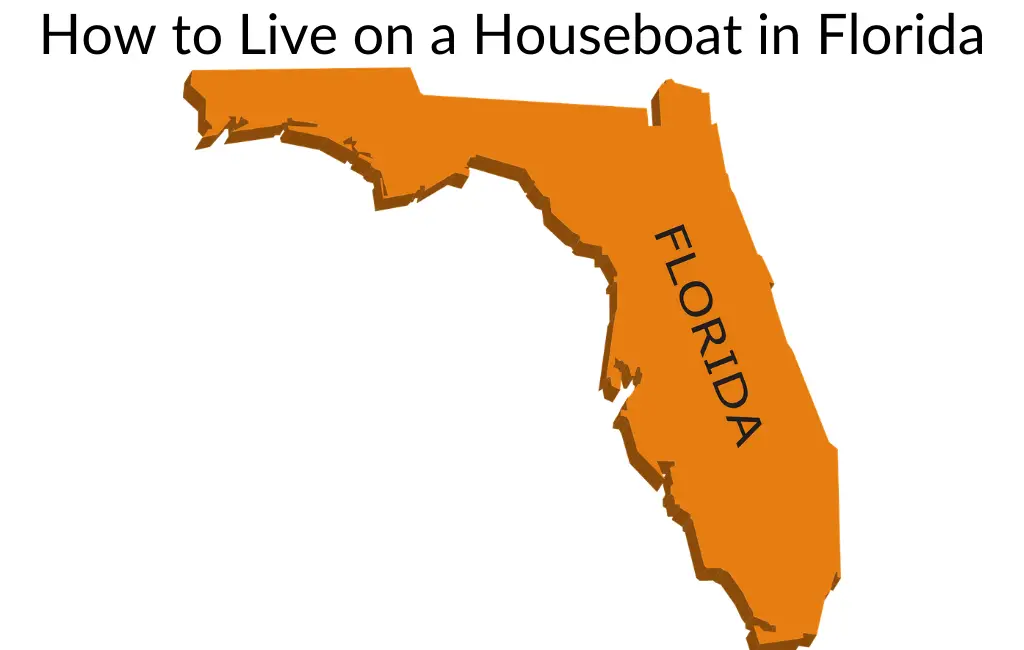 Table of Contents
*This post may contain affiliate links. As an Amazon Associate we earn from qualifying purchases.
Living on a boat – whether for vacation or for a leisurely getaway, provides you with a thrill like no other. Not to forget the freedom of travel as well as privacy, which act as an icing on the cake. You get to have adventures along with unending recreations when onboard too!
One of the best places to consider living in a houseboat in, would be Florida – for obvious reasons too.
For starters, Florida is known to provide you with dozens and dozens of great places to visit, thanks to its formidable climatic conditions. Also it's cost of insurance as well as the lax laws which are governed there is often considered helpful to onboard living (in some areas).
There are many places in Florida that are great for houseboat living such as Tampa Bay – which is not only quite far from the hustle and bustle of the city, but also provides for one of the best on-board lifestyles in all of the USA!
To see some of the best selling accessories that you need to have on board your boat just click here.
Read on to know more!
What factors should you consider before deciding to live on a houseboat in Florida?
When you're planning to take up residence on a houseboat in Florida, there are certain factors you should definitely take into consideration before taking the plunge.
A few of these factors to consider are:
The houseboat living conditions
This is of prime importance, especially if you intend on spending many days at a time on your houseboat or if you plan on taking up residence on your houseboat. Logistics, change of address and certain other factors, which will be discussed in detail below, are to be considered before making this all important move.
The type of water involved
Different water types provide for different living experiences. Thus, based on your preferences, whether you enjoy fishing or if you prefer deep sea diving as well as cruising through the ocean and the like. This will definitely be one of the primary factors you will have to consider before taking up the houseboat life in Florida.
Your ability to be adaptable to weather and climatic changes
Weather changes will impact you much more when on a houseboat than if you were residing on land. There maybe rain, hurricanes, flooding, as well as many other forms of extreme weather conditions that you will face in Florida. All of these you should keep in mind before deciding on a houseboat there.
Although the weather may be great in Florida many days of the year, a backup plan is always advisable – come what may.
It is also normally quite hot in Florida during the summer so if your houseboat doesn't have any sort of AC you will quickly find yourself wishing you had purchased a home rather than living on the water dying of heat!
Cost of the houseboat as well houseboat types
People usually opt for houseboats because of the cost of living which is quite low, in comparison to living on land. However, depending on where you plan to reside in Florida will determine how much your expenses will end up being.
It is important to consider not just the actual purchase price of the houseboat but also the cost of docking the boat, maintaining it, and more.
The type of boat you choose to live on will also have a big effect on how much you love your houseboat life. Having a boat with a wide deck space can be considered ideal for living in Florida as you can suntan virtually year around if you can stand the heat!
How much would it cost to live on a houseboat in Florida?
Prices to live on a houseboat in Florida varies from place to place. The price usually depends on your proximity to the larger cities in and around Florida. If you're lucky, you might end up finding a decent slip for a 40-foot houseboat at only $500 a month (provided you're willing to shell out that much, or if you don't have a dock of your own). However, this same amount might go up quite a bit more if you were planning on moving closer towards the developing or developed water fronts.
Nonetheless, you should know that there are quite a few affordable marinas as well, but if you wish to live anywhere near downtown areas for whatever reason it may be, then you will have to pay more – there are no two ways about that.
Often you can find a dock on private property that can be rented for much cheaper than renting a slip in a marina but with that comes other difficulties such as not having water, electricity or sewage services. You have to decide whether the monthly cost at a marina is worth it or if it's better for you to live more "off grid".
Why opt for a houseboat in Florida?
Florida is known for its beautiful waterfronts at Tampa Bay as well as St. Petersburg which is pretty close by. These places are known for their various arrays of fine dining as well as regular dining options, recreational opportunities as well as plenty of shopping too.
Infact, if you opt for either of these two places then you will not have to spend every waking moment of yours with desires to trek miles overland only with a simple agenda to eat or go for shopping – because everything is that close and in plenty.
Sounds pretty good, doesn't it?
What are the rules and regulations for houseboat living in Florida?
Florida has made various changes in its rules and regulations with regards to houseboats. You should take the time to learn all of them before embarking on the journey to take up residence on a houseboat.
For starters, there are the anchoring laws which in most places aren't considered an issue anymore. These laws are regarding how long you can stay put in the same area, anywhere around Florida.
No town or city should now have the right to ask you to leave after a stipulated amount of time.
You have the liberty to drop anchor in any of Florida's waters – as long as the place legally allows for anchoring. However, in case the area has been marked for mooring, then you will not be allowed to anchor. Other than that, you're good to go.
Another thing to keep in mind is, if your houseboat is in a state of navigation – that is to say that if it has engines and can steer, then it is considered that you aren't 'living' aboard.
It is believed that the reason behind this understanding is to allow for boarding without having a search warrant. Nonetheless, don't worry about invasion of privacy because that is protected under the sixth amendment to the bill of rights.
If you have all this figured out and sorted, then there seems to be no other reason which might end up stopping you from taking residence in your houseboat in the waters of Florida. You'll still continue to be as much a citizen of America as anyone else, so there is nothing else left to worry about.
Conclusion
Living on a houseboat in Florida or virtually any other location sounds like fun and certainly might be for some people but that doesn't mean you should sell your house and everything you own and buy a houseboat.
Moving down to a much smaller place can have a bad effect on some people so if you are considering living on a houseboat full time it would be a good idea to take a trial run of a few weeks or months before you make a permanent decision.
Travel Tips
Floating Houseboats in Tennessee (Photo: )
Related Articles
Tennessee Vacations With Water
Fishing Cabins on Douglas Lake, Tennessee
Cabins on Lakes in Tennessee
Kayaking in Northeast Tennessee
If your family enjoys spending time on the water, a houseboat vacation is an option for you on the lakes of Tennessee. The boats offer a wide range of amenities depending on your needs and budget. Groups or large families can rent a boat together, allowing you to split expenses. A houseboat vacation gives you the option of cruising along the water or stopping in a secluded cove for swimming, fishing or relaxing on the deck. Bring along a couple of swimsuits and suntan lotion for your vacation on the lakes of Tennessee.
Lakes
Three of Tennessee's lakes offer visitors the opportunity to enjoy a houseboat vacation. Dale Hollow Lake (dalehollow.com) is in Pickett County, a small rural community on the border between Kentucky and Tennessee. The lake has 620 miles of shoreline, surrounding crystal clear water and private coves. Norris Lake (norrislakeinfo.com) is the largest of the reservoir lakes on the Tennessee River. Five counties in east Tennessee surround Norris Lake, with 750 miles of shoreline, clear water and secluded coves suitable for fishing, boating and water sports. Center Hill Lake (centerhilllakeinfo.com) is nestled among rolling hills in the Cumberland Mountains of middle Tennessee. The lake, with its clear water, rock bluffs and waterfalls, has a mostly undeveloped shoreline, providing natural beauty to the setting. Fishing, camping, hiking and other outdoor recreation are available at Center Hill Lake.
Houseboat Amenities
Houseboats on the Tennessee lakes offer a range of amenities. All have living and dining areas and complete kitchens, with cooking utensils and dishes provided. Some include a gas grill and a bar on the top deck. Most furnish bed and bath linens, although some require that you bring your own. Most boats include a water slide that drops you into the lake water and a few also have tubular slides and spray cannons for the kids to enjoy. Hot tubs are included in the rental of some houseboats, while others offer the option of a hot tub for an additional charge. All of the boats have central heat and air and satellite TV.
Capacity
Depending on your needs, you can choose a houseboat that sleeps from eight to 16 guests. The boats have up to seven private bedrooms with either double or queen beds. Some offer bunk rooms and most include a sleeper sofa for extra accommodations. Your houseboat might have a rooftop deck where you can gather for relaxing and socializing. Boats range from 50 to 80 feet in length.
Day cruises on Center Hill Lake are offered by Cruise Center Hill (cruisecenterhill.com) at Hurricane Resort Marina. The cruises accommodate up to 50 people for a day of fun on the lake. These houseboats includes two changing rooms, a living room, dining room, full kitchen and a swim platform and water slide.
Additional Details
Houseboats are rented from the marinas on the lakes. Most of the marinas provide steering lessons for those who haven't steered a boat or houseboat before. The marina stores offer basic supplies, fishing needs and gas. Houseboat rental rates vary depending on the size of boat you choose and the added amenities. Rentals are offered for the weekend, a full week or Monday through Friday.
Waterway Adventures: Locations
Sunset Marina and Resort: Luxury Houseboats
Norris Lake Info: Norris Lake Information
Center Hill Lake: Center Hill Lake Info
Dale Hollow Lake: Info and Resources
Michele Norfleet is a freelance writer who writes on travel, home and garden and education topics. She has coauthored a handbook for teachers on school-wide discipline and has contributed tips for special-needs students in the basal curriculum for RCL Benziger. Norfleet holds a master's degree from Southern Illinois University and has experience as a special-needs teacher and speech pathologist.
Have you ever gone cruising in a houseboat on the backwaters of Kerala? If you haven't, make sure you do. This is easily one amongst the most remarkable and unique experiences that our state has to offer.
Present day houseboats are huge, slow moving exotic barges used for leisure trips, and are in fact a reworked version of the Kettuvallams of olden times. The original Kettuvallams were used to carry tons of rice and spices. A standard Kettuvallam can hold up to 30 tons of goods from Kuttanad to the Kochi port.
In Malayalam language Kettu refers to 'dwelling structures' 'Vallam' means boat. These are boats with a thatched roof cover over wooden hulls. The boat is made of planks of jack-wood joined together with coir. This is then coated with a caustic black resin made from boiled cashew kernels. With careful maintenance, a Kettuvallam can last for generations.
A portion of the Kettuvallam was covered with bamboo and coir to serve as a restroom and kitchen for the crew. Meals were cooked onboard and supplemented with freshly cooked fish from the backwaters.
When modern trucks replaced this system of transport, people came up with a new way that would keep these boats, almost all of which were more than 100 years old, in the market. By constructing special rooms to accommodate travellers, these boats cruised forward from near-extinction to enjoy their present popularity.
Today these are a familiar sight on the backwaters and in Alappuzha alone, there are as many as 500 houseboats.
While converting kettuvallams into houseboats, care is taken to use only natural products. Bamboo mats, sticks and wood of the areca nut tree are used for roofing, coir mats and wooden planks for the flooring and wood of coconut trees and coir for beds. Nowadays, Solar panels are preferred for lighting.
Today, the houseboats boast of the same comforts of a good hotel including furnished bedrooms, modern toilets, cozy living rooms, a kitchen and even a balcony for angling. Parts of the curved roof of wood or plaited palm leaves open out to provide shade and allow uninterrupted views. While most boats are poled by local oarsmen, some are powered by a 40 HP engine. Boat-trains – formed by joining two or more houseboats together are also used by large groups of sightseers.
What is truly magical about a houseboat ride is the breathtaking view of the untouched and otherwise inaccessible rural Kerala that it offers, while you float in a relaxed way right through it.
House boats are available at Thiruvananthapuram, Kollam, Kottayam, Allappuzha, Ernakulam, Thrissur and Kasaragod. Please contact DTPCs for more info.
DTPC House boat Pre-paid Counter
For booking houseboats, travelers can make use of the House Boat Pre-paid Counter 'Trusted Service, Trusted Rates' managed by the District Tourism Promotion Council (DTPC).
Contact details
Alappuzha – House boat pre-paid counter
Mobile: +91 9400051796, +91 9447483308
Tel: +91 477 2251796, +91 477 2253308.
Tourist can make advance booking by transferring INR 2500/- to the account of the DTPC and send email to [email protected]
The account number of DTPC is A/c 10150100253203, Federal Bank, Mullackal Branch, Alappuzha. Bank code is FDRL 0001015.
Gallery Backwaters of Kerala
Video gallery of backwaters of Kerala. Houseboat Cruise or boat trips across the tranquil backwaters…
Picture gallery from Kerala Tourism on the Backwater stretches of Kerala.
Picture gallery from Kerala Tourism on the Picnic Spots of Kerala.
The Zion
Stardust Cruisers Houseboat
Catamaran Cruiser
by Chris Riley Updated on May 17, 2021 . In Boats
Approximately 71 percent of the Earth is covered by water. So, it was only a matter of time before someone came up with the idea of building a houseboat. At this point, you might be wondering what the difference between that and a liveaboard boat is.
A liveaboard boat is essentially any kind of watercraft that you can live in full time. A houseboat, on the other hand, is a very specific type of liveaboard boat that's used as an individual's primary residence. Its construction and overall look mirror that of a conventional land-based house. The only difference being – it is designed to float on water.
Houseboats are not what they were a few decades ago. They are now luxurious contemporary structures whose elaborate designs rival some of the best land-based homes in the world today.
If this is the lifestyle you envision for yourself and your family, we've rounded up the 10 best houseboats in the market today. We've also put together some useful tips you can use to help you pick the best one.
1. The Zion
The Zion is the ultimate all-American houseboat. This 14' x 14' floating home comes with two bedrooms and a loft area, all of which can comfortably accommodate up to eight guests at any given time. It has high ceilings and lots of windows that bathe the space in natural light.
You'll particularly enjoy the view from the private rear deck in the master bedroom, where you can sit and enjoy your morning cup of coffee as you watch the sunrise. Alternatively, you could delight in a glass of bubbly as you watch the sun go down in the evening. It is a sight to behold.
Other standard features of the Zion include a massive front deck that fits a hot tub, a full bar, and a barbecue grill. It also has a fully-equipped state-of-the-art chef's kitchen that comes outfitted with stainless steel appliances to help you whip up delicious meals in a jiffy. As far as functionality goes, the Zion delivers on all fronts.
● Comes with lots of built-in amenities
● It has lots of natural light
● Comes with spacious interior and exterior spaces
● The overall look of the boat could be better
(So you don't end up with everything but the kitchen sink)
Don't forget anything with these downloadable Houseboat Trip Checklists, Shopping Lists, and Meal Planners.

So, you've gone and booked your vacation, and now you're thinking, what do I need to pack for my houseboat trip?
Before you go and pack everything but the kitchen sink, you have to sit back and think—you'll be packing it all in your car and then hauling it onto the houseboat. Don't overpack!
Cabins That Float – Houseboat Vacation in Ontario's Sunset Country
Every three years my family, who are located all across Canada, gets together and takes a family vacation on a houseboat. This year we did it again in August. I may, or may not have overpacked on my houseboat trip with Floating Lodges of Sioux Narrows this year. 🙂 This was only a small part of out stuff!
The first thing I suggest you do is: get a list from your houseboat operator of the things that are supplied on the boat. You don't want to be hauling extra stuff you don't need. And while they have carts to take your stuff to the houseboat, it still is a lot of work.
Once you've got that, get together with your group and discuss a meal plan. This can be done by email, a Facebook group or get together and have a meeting and discuss over a few drinks.
The key to a meal plan is keeping it simple. You don't want to be spending all your time cooking or cleaning on the trip, it is a vacation after all.
Tips for keeping the meal plan simple:
Cook ahead of time. For example, spaghetti is a quick and easy meal on the boat. Make the spaghetti sauce at home and freeze it.
Use the BBQ! Hamburgers, hot dogs, steaks, you name it! It'll keep the kitchen cool, and who doesn't like a good BBQ?
Get one person to shop for all food items.
Get things that are really perishable such as ice or berries the day you send off. Usually, the captain and his first mates will meet the houseboat operators and they will discuss how to drive the boat, mooring spots etc. The others can use this time to get ice, any last minutes items and bait.
Freeze anything you can. It will keep longer and act like an ice pack.
Once you've decided on a meal plan, make a shopping list with the printable Shopping List. I believe it is easiest if one person is in charge of shopping. Take the list with you shopping, and once you have a total you can divide the cost amongst everyone.
Once you've figured out what food you need to bring, you also need to decide what else you should bring on the houseboat.
Download this printable Houseboat Trip Packing List and check off the items you need to pack. I scratched out the things I didn't need to bring and then checked the items off as I packed them. Again, make sure you know what is supplied on your houseboat, many of these things may already be supplied on your houseboat.
Tips for saving space and packing:
If you have multiple families joining you on the trip, try to consolidate personal essentials such as toothpaste, bug spray or shampoo.
Freeze big bottles of water. They can be used to keep the coolers cold and when they thaw, you have water to drink. Many houseboats have filtration systems, so you can drink the water and save space on water bottles.
Totes or cardboard boxes? There are pros and cons to both. Totes are great in case it rains but they take up space. Cardboard is light and can be burned in a fire.
Make sure you arrive in time to get an orientation with your houseboat operator and to load the houseboat. This takes time. You can't expect to arrive at 5 pm and get out on the lake in time.
If you plan ahead, you will have a great trip. If you happen to forget something the houseboat operators in Sunset Country will make a mid-week run to your houseboat to bring anything you need like ice or something that you may have forgotten.
In Ontario's Sunset Country, there are houseboat rentals on Lake of the Woods from Morson, Nestor Falls, Sioux Narrows and Kenora, and on Lac Seul from either Hudson or Ear Falls.
Enjoy your houseboat trip. It truly is an amazing experience to moor in the middle of the wilderness, watch a beautiful sunset, listen to the loons call out, and see all the beautiful stars at night.
For a unique escape, put houseboat vacation rentals at the top of your plans. Vacations on the water are the ideal choice for everyone from couples to families to groups of friends — the type of vacation where life drifts along at a tranquil pace. But what's a houseboat vacation really like? And where should you go? Read on for a quick guide to houseboat vacation rentals and the best places to find them.
What to expect from houseboat vacation rentals
If you're a first-time boater, you might be wondering what the fuss is about. Don't worry, though, you won't be on the water long before you get the picture. A quick lesson in boating is all you'll need to earn those all-important captain's credentials — along with your driver's license, of course. In the meantime, you can explore why choosing a houseboat vacation rental for your next getaway will earn you serious brownie points from your whole gang.
What are houseboat vacations like?
That depends on where you go. A houseboat vacation rental on a lake offers a different experience to one spent cruising along a meandering river. Sometimes, the term houseboat is also used to include floating homes and barges. In all cases, though, a stay on the water is exactly what you make it. Want to relax? Sure thing. Head to the boat's deck for sunbathing, fishing, and gazing at starry skies. Craving adventure? In many of the most popular houseboat rental destinations in the USA, you can tag a jet ski onto your rental agreement.
Typical features of houseboat vacation rentals
Whether you opt for a cozy boat for two or rent a multi-tiered party boat with room for 20 friends, you can be sure that your houseboat will offer comfy sleeping and living spaces, as well as an outdoor deck area and cooking facilities. Larger houseboats have more of the same, along with extras like covered captain's flying bridges, gas grills, and water slides. And if you're up for a bit of pampering, luxury houseboat vacation rentals often come with a personal hot tub or, at least, the option to add one to your booking.
How and when to rent a houseboat
You can check out the houseboat vacation rentals available in your chosen destination by searching online. Keep in mind that some rentals require a minimum stay, which, in some cases, can be a month or longer, though there are plenty of short-term rental choices as well. When you enjoy your vacation will depend on your destination. Spots like Kentucky Lake are best for summer rentals, while those lakes in steamy Arizona, and in much of California too, remain open for business all year round.
Top destinations for houseboat vacations in the USA
If you thought you were spoiled for choice when it comes to houseboat styles, you'll be dazzled by the range of destinations where you can set sail for some on-the-water living in the USA. This is a country that's packed with magical places where scenic views and relaxed living await. Here are just three of the hottest destinations for houseboat vacations in the USA.
Houseboat vacation destinations in California
From stunning, shell-strewn beaches to sprawling redwood forests and prized wine valleys, there's no shortage of places to explore in California, though few are as appealing as the Golden State's shimmering lakes and broad bays. Head north to find houseboat rentals at Lake Shasta, the state's largest reservoir boasting close to 400 miles of unspoiled shoreline to explore and countless secluded coves to call your own. California's West Coast offers the chance to stay in Sausalito, home to some of the state's oldest houseboat enclaves, while a jaunt south might mean soaking up the SoCal vibe from a houseboat rental in San Diego Bay.
Houseboat vacation destinations in Kentucky
Tucked away in the southwest corner of the Bluegrass State, Kentucky Lake and the neighboring Lake Barkley make for a double-whammy of destinations where you can enjoy vacations on the water. Spend sun-filled days fishing from the deck of your houseboat or head to shore to discover the natural appeal of the Land Between the Lakes National Recreation Area. In the state's Southern Shorelines Region, meanwhile, the shimmering Lake Cumberland hits the spot with its easy access to both the winding Cumberland River and the rugged landscapes of Daniel Boone National Forest.
Houseboat vacation destinations in Tennessee
If you were looking for a reason to enjoy a houseboat vacation in the Volunteer State, the Tennessee River serves up 600 of them — 600 miles of riverbank that is. Shed the winter blues by opting for a summer rental to cruise past idyllic inlets and quaint riverside towns. Then comes Tennessee's lakes. Not to be outdone by the state's winding river, Norris Lake boasts around 800 miles of shoreline, as well as a reputation as being one of the cleanest lakes in North America. Short on time? Beautiful Center Hill Lake sits a little over an hour's drive from Nashville, making it the perfect choice for weekend rentals full of fun.