If you're looking for things you can do with your dad, don't look any further. As a daughter, your relationship with your dad is special. It's different from the relationship you have with your mom, even though you love them both equally. Dads tend to be very protective of their young daughters and they feel proud to see you grow up to be a young and strong woman, often wishing you were still a little girl. Even when you're coupled up or married, it can be so much fun to spend quality time with the man who raised you to be who you are today. Here are 7 fun things you can do with your dad.
1 Go Fishing Together
Many men love to go fishing. If your dad is one of them, then why not join him on his next fishing trip? Fishing is a very relaxing sport, yet a concentrated eye is necessary to succeed. If you're not familiar with fishing, ask your dad to teach you how to fish or you could simply accompany him while he does most of the hard work. Bring some beverages and some picnic foods and you'll both have a great time. Going fishing is one of the best things you can do with your dad, because it will show him you're interested in his hobby.
2 Go Shopping
This sounds weird, I know, but I don't mean you should take your dad on your next hunt for a new handbag. But there comes a time when you need to buy something that your dad knows more about than you, like electronics or a car. Ask him for his advice and if he cares to join you at the store or dealer. Chances are that your dad asks the questions that you didn't even think about, and maybe he can even do some bargaining to get you a good deal. You get what you need, he gets to feel knowledgeable and you get to spend time together. It's a win-win situation!
9 Fabulous Commandments of Skin Care to Religiously Follow .
Fab Tips to Making Your Man Feel Included if Youre an Independent Woman .
3 Play Sports
All dads love to play sports, no matter how busy their schedules are. Planning an afternoon to play sports with your dad is a fun way to spend quality time together. You could play a sport that you're both familiar with, but you could also try something new. If you choose the latter, find a coach who can teach the two of you the basics. If you both enjoy it, you might have found a sport that you can play together every week or every 2 weeks. Playing sports with your dad is a great way to have a fun, casual time together while still being competitive (in a healthy way, I hope). And the exercise makes it even better.
4 Cook Together
Some dads really enjoy cooking, but often find they don't get enough opportunities to do it. If it's common for you and your family to get together every now and then, then plan a family dinner and serve a meal that's cooked by you and your dad. Prior to the day, discuss what the two of you will be cooking and you could even do groceries together if time allows it. Cooking with your dad can be a lot of fun, especially because you can learn from each other. An alternative is to take cooking classes together.
5 DIY Projects
If you dad likes to take up DIY projects in and around the house, offer him your help. Believe it or not, painting a shed or a room can be very relaxing sometimes. When you help your dad with his DIY project, make sure to simply follow his instructions and take things the way he wants them to go. Remember, it's his project and being as handy as he is, he probably knows best when it comes to this. Let him take charge in the process and just do the best you can. Helping your dad with a DIY project allows the two of you to entirely focus on one thing, with limited opportunities to talk about other things in life. It's calming, fun and it's teamwork.
6 Go for a Walk
Whenever you visit your parents and you have a little spare time, ask your dad if he feels like going for a walk. You could drive to the woods, a park, the coast or walk through the center of a bustling city, if that's where you happen to be. Going for a walk gives you time to talk, to find out how your dad is doing and to talk about things that have been on your minds. At the same time, it's a great way to encourage your dad to stay active, if he's getting a little older. The nature and the fresh air will do you both good and it can also be a great way for your dad to show off his daughter to anyone passing by.
7 Take Him out for Man Food
You and your mom are probably on an everlasting diet and in a constant fight with the scale. But let's be honest, every woman loves the occasional hamburger, hot dog or meat fest. At least, if you're not a vegetarian… So why not treat your dad to some real man food? Take him to a new hamburger place or join him on his trip to his favorite place and ask him for recommendations. And if you're up for something fancier, you can surprise your dad with a dinner at the best steakhouse in town. Dads who have daughters put up with a lot of girl talk about diets and weight maintenance as well as rejections when he offers you a second sausage while barbecuing. He deserves to enjoy a real man meal every now and then, without the girl talk.
A father and daughter relationship is unique. I hope the list gave you some ideas on what fun things you can do with your dad and I hope he will like it, if you decide to put any of my suggestions into practice. If you think your dad isn't really up for any of these things, I'm very curious to know what will work for him. What do you think would be a fun thing to do with your dad?
Becky and I have 18 years with each of these kids before they leave for college. 18 years. That isn't very long. We have a few jobs while they are here with us and today I am partnering with Chiquita as part of the Mom it Forward Network to share them with you.
Our jobs, as their parents are to:
1- Raise them to be responsible.
2- Raise them to be kind.
3- Raise them to be the best that they can be.
4- Raise them to be HAPPY.
As a Dad, it can be hard to find that balance – the balance between being strict Dad & fun Dad, but we have the responsibility to teach our kids, to protect our kids and to love our kids. To have a bond with our kids, I know that I have to find that balance.
In all of these things, it is my job to assist them… to lead them. Being a fun Dad is one way that I can do that. Yes, I can be strict Dad when I need to be. Yes, I can be responsible Dad when I have to. Yes, I can even be mean Dad when the situation calls for it. Then there are those times when I get to be FUN Dad. Those are my favorite times.
Becky's friend has a great article about being a fun mom, so today I want to share 10 ways to be a fun Dad.
1. Make them laugh by stepping outside of your comfort zone. Do I normally walk around with a Chiquita banana hat? No. Do you know what happens when I do? Our kids act silly, too! The kids even wanted to do silly things so they could be entered this picture into the Chiquita Banana Smile Contest!
2. Listen to your kids.
Take the time to listen. Stop what you are doing and truly listen to what they are saying. You are not just listening, but you are instilling in them a confidence that comes from feeling important.
3. Play outside with them.
Tag, tickle monster, football… whatever it is, play with them. Becky took this picture a week or so ago…
4. Teach them.
Do you know the old saying "Give a man a fish and you feed him for a day. Teach a man to fish and you feed him for a lifetime." How true it is… talk to your kids about what you are doing. If you are building something, let them watch you or help you. Teach them.

5. Take them places.
Our kids love to go to new places. Last year, we took them to Disney. It was such a great trip and the kids were in awe at how big it was and how much there was to do. (Fun fact: Did you know that the Walt Disney World® Resort is so big that it takes nearly 70,000 cast members to keep it running, 13 million bottles of water a year to keep it hydrated, and 285,000 pounds of laundry every day to keep it clean. Wow! Read more Disney Fun Facts.)
6. Learn together.
Pick up a book about something that you are both interested in and learn about it. Ethan loves to learn about animals, so before we went on the Kilimanjaro Safaris ® Expedition last year, we learned about the animals. (Fun fact: While the biggest animal in height might be the giraffe, the biggest all-round creature you'll see, by far, is the elephant. African elephants are the largest land animals on the Earth, in fact! They can weigh between 5,000 and 14,000 pounds.)
7. Play games.
The kids & I like to play funny games like "What's in the bag?" Or "Can you get it?" (Ps- let them win sometimes!)

Your turn! How can you be a fun dad or mom? Take a picture & share it! Better yet- Share your Chiquita smile and you could win a Walt Disney World® vacation from Chiquita!
Are you targeted by your family and friends on April Fool's Day? It's time to take revenge by playing pranks on them! Plentifun loads you with 15 easy and harmless pranks to play on your parents.
Are you targeted by your family and friends on April Fool's Day? It's time to take revenge by playing pranks on them! Plentifun loads you with 15 easy and harmless pranks to play on your parents.
You'd better watch out!
If you're planning on playing pranks with your parents, keep a check on their mood. Things might work wrongly for you if they are not in a sporting mood.
We kids love to prank with friends and teachers at school. But how about joking around with mum and dad?! It helps in keeping the home atmosphere light and joyful. A well-planned and successfully executed prank can boost up everything, and there's no harm in having a little fun. But we need to be very careful, as not to hurt our parents, physically or mentally, or cross our lines in the context of playing pranks.
Gone are the days when moms used to scare the hell out of everything if you jump in front of her and scream 'boo'. Yeah, may be it still works for some. But get crazier this time, with a logistic touch to your idea.
Read these funny pranks, and plan some shocking surprises for your parents.
Party Fun!
In a family gathering or party, convince your cousins and jolly aunts to make calls on one of your parents' cell numbers, and tell them to ask for "Bubba". Make them block their numbers with *67. After the party, call your parents yourself and say "Hey, it's Bubba here, are there any messages for me?
Tring Tring!
If you have those non-wireless phones, wrap the button you press to hang up the phone on the receiver with tape so that when they pick up the phone, it keeps ringing.
Thrilling Breakfast!
Do your parents love having cereal for breakfast? We have an idea for you. Add drops of food coloring into the bottom of a cereal bowl, probably the same color as the bowl itself. When they would pour milk into a bowl, he/she would get shocked seeing the milk turn into a strange color.
Apple Twin
Who doesn't like caramelized apples? But who knows if it's apple or something else, after it has been caramelized? Make them yummy caramelized onions!
Snow-white Hair
This one's for your mum. Fill the front section of the blow dryer with baby powder. The moment she turns it on, there will be a splash of snow on her hair!
Faux Coke!
Have those empty coke bottles at home? Take one and fill it with Sprite. To make it look Cola-like, add soy sauce till it appears like Coke. Don't forget to refrigerate it to give a natural feel.
Foiled Pillow
If it's sleep time, you can play around with pillows. Unwrap a pillow off its pillowcase, and wrap it with a sheet of aluminum foil. Put the pillow back into its cover. Wait for your parents to lie down. Watch them make strong metallic sounds, as if cracking their heads to the pillow.
Saucy Murder
For this one, promise me you'll enact nicely? This should be done in presence of your parent. Grab a bottle of ketchup and go for taking a shower. Sprinkle sauce everywhere; you can use water too. Shout "Murder Murder", and let the door open. See them tremble. Don't forget to put your clothes on!
Cheesy Plastic Wrap
If it's Sunday, pamper your parents. Make them a cheese wrap or a sandwich, but don't remove the plastic wrap on the cheese! See them take the first bite. Note: Do keep real cheese wraps for them to calm them.
Swap it Up!
This one's a classic, but still works. Late in the evening, swap the salt container with that of sugar. Next morning, watch your parents start the day with salty coffee (or tea).
Creamy Face
Most people tend to wipe their face after waking up. Late in the night, spray some shaving cream on your victim's hand. If you are excited to see the reaction live, then wake them up by tickling their nose, may be with a feather.
Lingo Jumble
Grab one of your parents' phone. Jump to language settings, and shift to a foreign language. Chinese seems cool, ain't it? Watch them struggle with a new language!
Fiery Prank
Chillies remain to be the-forever-kinda ingredient of pranks. Make some cookies by yourself, stuffing in some finely chopped hot chilies. Serve the cookies, but don't forget to add a note that says "Do Not Eat – Very Hot!"
Minty Cookies
Grab any cream-filled cookies and scrape out the vanilla (or any other) filling. Replace it with white toothpaste, and allow the cookies to dry. A funny surprise for someone who is sweet-toothed!
Brewing Trouble
Coffee lovers at your home? Get some decaf and replace their coffee with the new coffee in the same container, for about a week. Then, switch back to espresso. Watch the fun!
Like it? Share it!
Share
Tweet
Pin
LinkedIn
Email
Uncategorized
This Father's Day why not snatch away some time from your busy schedule and turn them into cherished moments? Plan a short trip with your dad and enjoy every bit of the precious time spent with him.
WelcomHeritage Elysium, Shimla: This place offers a whole new perspective on the legendary hill station of Shimla. Whereas the hill station is known for colonial architecture and influences, Elysium re-invents the quintessential Shimla experience through the lens of modern luxury and contemporary comforts. Offering a 360o panoramic view of the entirety of Shimla, the lush green valley, and the sublime temples. Elysium has menu that perfectly blends local Himachali food with the Colonial culinary heritage of Shimla. From local specialities like Cha Gosht and Chana Madra to Continental favorites, it is an ideal place to explore delicious food.
Visalam, Kanadukathan, Karaikudi: A 100-year-old heritage property, Visalam is an ideal place to enjoy the serenity of nature along with Chettinad food. Distinctly delicious and complex in flavours, the cuisine delicately combines a variety of native spices with hints of the south-east Asian zests. The property also happily takes guests to the village Murukku lady for a taste of the famous savoury snack from the region.
Mantra Koodam, Tanjavur: Styled as a real village, Mantra Koodam is inspired by the Tamzih culture and offers an immersive opportunity to revel in Tanjore's rich legacy of arts, crafts, architecture, music, philosophy, astronomy, religious and predictive sciences, that flourish even today. There are UNESCO world heritage Chola temples and monuments, precious bronze sculptures and castings, as well as the fascinating naadi shastra that can be explored as well. The rare Chola cuisine is a highlight here with locals whipping up ancient recipes.
Jehan Numa Retreat, Bhopal: Located at the edge of the VanVihar Park, the 12.5 acre luxury retreat with its earthy cottage and lush foliage offers some of the choicest gems of Bhopali Cuisine. In'Under the Jamun Tree' one can indulge in signature royal dishes and 'The Green House Bistro' is a farm to fork concept restaurant where one can pick vegetables and ask the chef to cook it for you! The retreat also gives access to 'The General's Table' a pre-reserved private dining experience at the Jehan Numa Palace that curates a 7 course meal from General Obaidullah's celebratory menu.
Fairmont Jaipur: If you think why go to Jaipur in summers, we tell you-to spend memorable time within the premises of Fairmont. Just laze around in the terrace/balcony looking at the hills nearby or wake up to the call of peacocks, sip tea while watching the sunset or enjoy a luxurious bath in the hammam in your room. The hotel can book a small village visit for you on the special day, where you can enjoy the traditional Rajasthani breakfast with some interesting activities like tractor or camel ride. You can also enjoy the traditional Rajasthani food here and celebrate the day like a true royal.
Moksha Himalaya Spa Resort, Parvanoo: Located at the topmost point in Parvanoo, a hill station near Shimla, it can be reached both through a car and a cable car which is operated by the management of the resort from the past three decades. The 8-minute ride in itself is an experience. The resort is huge with beautiful rooms overlooking the hills and a well-cultivated garden and extremely attentive and courteous staff. The food at Moksha is something that you would remember for the rest of your life. It is pure, mostly made from organically sourced ingredients and full of earthly flavours. Executive Chef Gautam Kumar can always been seen around interacting with guests and in an attempt to make the dining experience special for each one of them. If he tells you to try out the Spa, trust him and book it for your dad as Moksha has one of the best Spa set ups in North India.
Welcomhotel Sheraton New Delhi: Make it a memorable and delectable Father's Day at Welcomhotel New Delhi and create stories you will retell for a lifetime. At Pavilion, enjoy a gourmet brunch experience and relish the taste of familiarity and comfort with the best of Indian and global cuisine – caringly selected and mindfully prepared by experienced chefs. Crafted with the utmost care, safety and hygiene, they are also presenting to you much loved culinary experiences from around the world – now in the comfort of home too. Topped with powdered cocoa and iced to perfection, treat dad to Nutmeg Roasted Almond & Chocolate Celebration Cake, a cake as special as him. They are also extending 10 percent discount on Father's Day package and additional 20 percent savings on food and soft beverages, spa, salon and laundry services are included in this exclusive staycation package.
The Roseate Ganges, Rishikesh: Tucked away in the hills of Rishikesh is the quaint Roseate Ganges-with individual cottages that give a feeling of peace and tranquilly amidst the constant murmur of the Ganga that flows nearby. The location is away from the hustle and bustle of the city and this is probably the USP of the place. The food is mostly organic with a menu which has a lot of healthy ingredients. One can enjoy the Father's Day lunch overlooking the dense forests and the hills and the holy river flowing by.
Looking for the perfect gift? There are a ton of creative and fun things to do together.
As Father's Day nears, we have no doubt that you have already taken the time to curate the perfect gift for dear old dad and have crafted just the right caption to accompany the photo of you two that you'll share on Instagram. But, if you are running out of ideas for how to spend the special day with your number one guy, we have just the Father's Day activities to help you create new experiences together.
This year, you can add some extra pizazz to your Father's Day plans by surprising dad with a unique activity that includes the entire family. Chilling at home and working on DIY crafts could be just the thing to make his day. Or, you could treat him to a day of relaxation by planning a spa day or allowing him to become one with nature on a fishing trip.
Whatever it is Dad will like, we've got you covered. Our list is filled with creative ideas ranging from kid-friendly to adults-only! If the dad or father figure in your life has a knack for cars, loves a good steak or prides himself on his athlete heydays, we have just the game, outing or hobby to bring you all even closer. And yep, we've got a ton of great last-minute and free ideas, too! Once you're done having fun all day, be sure to plan a special Father's Day dinner or dessert, and finish the night off by watching a movie Dad will love.

How to Make Your Parents Happy: 10 Easy Things to Do for .
As the saying goes, blood is thicker than water. You can't really describe relations like blood relations. In today's hectic life, it's only getting harder to stay close to your parents. The Internet doesn't necessarily help either, to some it gives a sense of false distance that isn't the same as actually being both physically and emotionally close. How to make your parents happy? Understand what would content your parents, often times it's the little things that bring light to their life and keep your relation with them strong.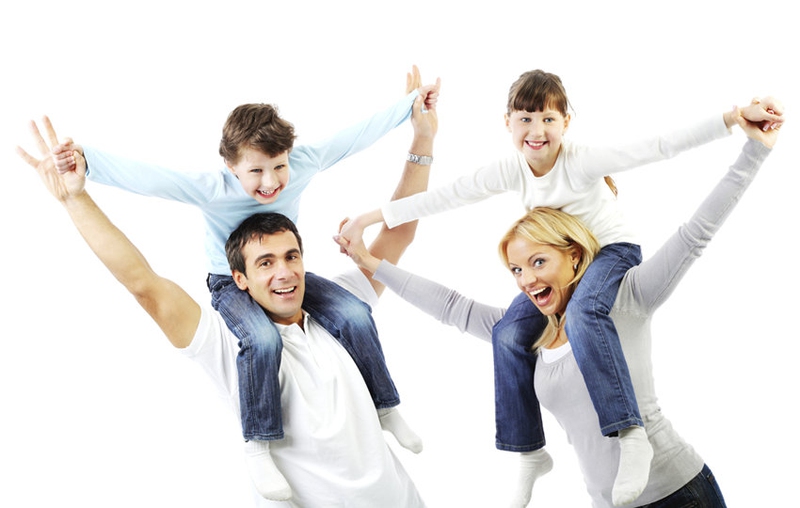 How to Make Your Parents Happy: 10 Easy Things to Do for All Ages
Understand them
Parental love is timeless. Since you are young, they love you despite keeping them awake all night when you cried, your personal needs replace their weekend social parties, extra chores done to keep up with the mess you make and tolerate all your noisy rambling. They love you unconditionally. The only reason they often impose restrictions on how you led your life is to make sure your future of safety and happiness is secured. As you get more mature, you would better understand your parent's point of view. Only then would you be thankful for their effort and unwavering love.
Spend some time
There is nothing that brings more joy to parents than spending meaningful time with their parents. As you grow up, you tend to end up avoiding them for your own clique of friends or school activities. As you start to leave, loneliness would start to hit them. In a way that fear of you leaving might often mean them being stricter to you, all in order to have you around longer. When you did leave one day, never forget to spend time with your parents. Visit them on a weekend or take them out for dinner. They will be happy as long as you are there for them.
Show gratitude
No doubt parents had done plenty for you, uncountable sweat and blood into raising. They are the reason you get to live carefree with a proper education and a well-deserved job after. For all the things they did for you, nothing was ever expected in return. Why not show your gratitude to them every now and then? Send them flowers, physically visit them, give them more memories worth cherishing in return.
Share their problems
If you notice that your parents look overly stressed, ask them about what's wrong and if there's anything you can help them with. Most likely they won't share the problems with you since they would rather not spread the stress over to their children. But if they do decide to share it with you, listen carefully. If you are their main concern, listen to what they had to say and learn how you could improve yourself. While you could get irritated by the lectures, remember that this is all done for your own good. They aren't reprimanding you in this case, but often more of complaining. Hey, parents have a need to complain about their life too. Whether they chose to share it with you or not, the fact that you are showing concern should cheer them up a bunch.
Do little things for them
Take note of the special events through the year. Birthdays, Mother's or Father's day, wedding anniversary, or even the day you are moving out of the old house. Make or get them a gift, which doesn't have to be anything remarkable. It's the thoughts that count. If you have no idea for the right gifts, then take them out for a nice lunch.
If you are visiting them over for dinner, praise the cooking, help them wash the dishes after. Handmade gifts are excellent; such as scrapbooks or simply a thank you card. Little affectionate things like these convey your love and respect for your parents.
Never argue
You are bound to argue with your parents on the day. There is no denying it. Once you hit teenhood, you will actively retort your parents, since you think you know things better than them. But keep in mind that they are still much older than you, which means more life experience that you still have plenty of catching up to do. If you do need to argue, just keep in mind that you are not likely to win the big authority in the house and further pursuing the matter will only worsen your position and hurt their feelings. Remember, at the end of the day, whatever they are doing is for your own good.
Do well in school
The best way on how to make your parents happy is to do well in school. That's your main job as a student anyway, to dedicate yourself to studying. Parents want to show off their children's assignment too, so give them something they can be proud of for their effort. You don't have to be on the honor roll, being active in school activities and caring about scoring relatively well is often sufficient.
Skipping school is a big no. This creates a rift of mistrust between you and your parents. Why should they give you more freedom in return if they can't even be sure you will be in school when expected?
If you are struggling with a subject, be honest and get some assistance from your parents. This reflects well on your level of maturity and desire to perform at school.
Lastly, be good not only at home but also in the class. Well-graded students do not warrant a lack of behavioral issues. Having teachers only have excellent things to say about you is certain to get your parents happy and proud of you.
Apologies when you step out of line
Do not let your ego get to you. Be mature about your mistakes and faults. Blood relations are built on tolerations and love. You are never equal to your parents, and they are still someone you are expected to look up to and respect. Your parents do not expect perfection from you, but being honest with yourself will make he them happy.
Being stubborn about your reason for stepping out of line would get you nowhere. You could either be right or wrong, be defensive however would stop you from learning from your past mistakes.
When you are truly sorry, be sincere apologizing it.This goes a long way in building back the relationship towards a closer, strongly bonded one.
Send them letters
Compared to emails, letters have a more personal feel to it, being handwritten and such. Especially if you do not live that close to your parents. Take your time to write a letter that reflects your emotions. It will be a nice surprise to them that they would certainly love. Attached a picture with the letters. So they could have something with your face on it to keep around. Maybe have a picture taken with your children and partner as well. Your parents will be delighted to see how well your family is doing.
Give them your first month's salary
This one is an interesting idea that parents would certainly love. But of course, they would refuse it profusely. The point is not the money itself, but to show them that you have finally reached that point of independence. All of it thanks to your parents.
Staying connected as kids approach the teen years and become more independent may become a challenge for parents, but it's as important as ever — if not more so now.
While activities at school, new interests, and a growing social life become more important to growing kids, parents are still the anchors, providing love, guidance, and support.
And that connection provides a sense of security and helps build the resilience kids needs to roll with life's ups and downs.
What to Expect
Your preteen may act as if your guidance isn't welcome or needed, and even seem embarrassed by you at times. This is when kids start to confide more in peers and request their space and privacy — expect the bedroom door to be shut more often.
As hard as it might be to swallow these changes, try not to take them personally. They're all signs of growing independence. The best way to weather them is through balance: allow growing room by expanding boundaries, but continue to enforce important house rules and family values. For example, a child who asks for more privacy might be allowed to earn the privilege getting a bedroom door lock by doing some household chores for a set amount of time.
But you don't have to let go entirely. You're still a powerful influence — it's just that your preteen might be more responsive to the example you set rather than the instructions you give. So practice what you'd like to preach; just preach it a little less for now.
Modeling the qualities that you want your preteen to learn and practice — respectful communication, kindness, healthy eating, and fulfilling everyday responsibilities without complaining — makes it more likely that your son or daughter will comply.
page 2
What You Can Do
Small, simple things can reinforce connection. Make room in your schedule for special times, take advantage of the routines you already share, and show that you care.
Here are some tips:
Family meals: It may seem like a chore to prepare a meal, particularly after a long day. But a shared family meal provides valuable together time. So schedule it and organize it just as you would any other activity. Even if you have to pick up something pre-made, sit down together to eat it. Turn off the TV and try to tune out the ringing phone. If it's impossible to do every night, schedule a regular weekly family dinner night that accommodates kids' schedules. Make it something fun, and get everyone involved in the preparation and the cleanup. Sharing an activity helps build closeness and connection, and everyone pitching in reinforces a sense of responsibility and teamwork.
Bedtime and goodnight: Your child may not need to be tucked in anymore, but maintaining a consistent bedtime routine helps preteens get the sleep needed to grow healthy and strong. So work in some winding-down time together before the lights go out. Read together. Go over the highlights of the day and talk about tomorrow. And even if your preteen has outgrown the tuck-in routine, there's still a place for a goodnight kiss or hug. If it's shrugged off, try a gentle hand on the shoulder or back as you wish your child a good night's sleep.
Share ordinary time: Find little things that let you just hang out together. Invite your preteen to come with you to walk the dog. Invite yourself along on his or her run. Washing the car, baking cookies, renting movies, watching a favorite TV show — all are opportunities to enjoy each other's company. And they're chances for kids to talk about what's on their mind. Even riding in the car is an opportunity to connect. When you're driving, your preteen may be more inclined to mention a troubling issue. Since you're focused on the road, he or she doesn't have to make eye contact, which can ease any discomfort about opening up.
Create special time: Make a tradition out of celebrating family milestones beyond birthdays and holidays. Marking smaller occasions like a good report card or a winning soccer game helps reinforce family bonds.
Show affection: Don't underestimate the value of saying and showing how much you love your preteen. Doing so ensures that kids feel secure and loved. And you're demonstrating healthy ways to show affection. Still, preteens may start to feel self-conscious about big displays of affection from parents, especially in public. They may pull away from your hug and kiss, but it's not about you. Just reserve this type of affection for times when friends aren't around. And in public, find other ways to show that you care. A smile or a wave can convey a warm send-off while respecting boundaries. Recognize out loud your child's wonderful qualities and developing skills when you see them. You might say, "That's a beautiful drawing — you're really very artistic" or "You were great at baseball practice today — I loved watching you out there."
Stay involved: Stay involved in your preteen's expanding pursuits. Getting involved gives you more time together and shared experiences. You don't have to be the Scout leader, homeroom mom, or soccer coach to be involved. And your child may want to do more activities where you're not in charge. That's OK. Go to games and practices when you can; when you can't, ask how things went and listen attentively. Help kids talk through the disappointments, and be sympathetic about the missed fly ball that won the game for the other team. Your attitude about setbacks will teach your preteen to accept and feel OK about them, and to summon the courage to try again.
Stay interested: Stay interested and curious about your preteen's ideas, feelings, and experiences. If you listen to what he or she is saying, you'll get a better sense of the guidance, perspective, and support needed. And responding in a nonjudgmental way means your child will be more likely to come to you anytime tough issues arise.
Manage electronic devices: As kids get older, they're more likely to have (and increasingly use) their own tablets, laptops, or phones. While some electronics use is a helpful way for preteens to stay connected with their friends, excessive or unrestricted use can lead to challenges and reduce the quality and frequency of family time. Set limits consistent with your values while allowing freedom within those limits. For example, don't spy on social media and text conversations unless it's necessary for your child's safety and well-being. Apps, programs, and modems (like Circle with Disney) can help you enforce boundaries. Finally, make sure that you model healthy electronics use.
Shift your communication style: Your preteen's newfound independence will probably lead to some important changes in communication. While a young child might appreciate you solving a problem with his friend by calling their mother, a preteen will find this solution hard to swallow. For many preteens, the point of discussing a life challenge with a parent is no longer about parent problem-solving; it's about listening and support. You might feel the urge to solve every problem your preteen mentions (or call their teachers or friends to deal with it directly), but for small problems, remember that they might be looking for a place to vent and the support to figure it out on their own. When you hear about a problem that doesn't need an adult solution, try saying something like, "That sounds really tough, I can see why it would make you angry. I'm here for you if you need anything or want to talk about it a little more." If they want help, they'll ask you for it. But your support, listening, and empathy will help them feel empowered to find solutions on their own.
How to Tell My Overprotective Parents That I Have a Boyfriend
How to Tell Your Parents About a Long-Distance Relationship
How to Deal With Strict Parents
Funny Things to Do at a Fiftieth Wedding Anniversary for Your Parents
How to Be More Comfortable With Affection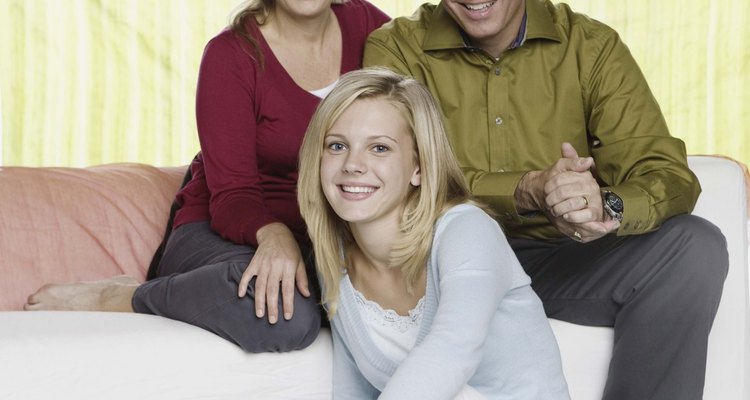 The relationship between parents and their sons and daughters can deteriorate due to a lack of proper communication. When children become adults, they often find they have stopped having meaningful conversations with their parents. Conflict often arises from parents thinking they know what is best for their offspring who often want something different in life. It is important to work on achieving healthy communication with your parents to maintain a strong relationship with them.
Step 1
Make time to have meaningful conversations with your parents. One of the biggest threats to parent-child communication is generational differences in communication. The newer generations often reach out to others through technology, such as text messages, online chats or email. There is much less face-to-face contact. Although the older generation is catching on, most still prefer a personal conversation or phone call. Consider that your parents' generation has a stronger need for person-to-person conversation. Take the time to sit down and have a few minutes of conversation with them everyday. If you live some distance away, make it a goal to call them at least three times a week or video chat frequently. Keep in mind that text messages can often be misinterpreted by the receiver because there is no tone or facial expression to provide context.
Step 2
Be open and honest with your parents. Families often stop communicating because it is easier to ignore an issue than to have a conversation about it. If an issue is important to you, bring it up to your parents. Bottling up emotions or annoyances can deteriorate the relationship that you have with them. Always communicate your feelings in a calm and neutral tone. Avoid getting trapped in the blame game. Use "I" statements that talk about how you feel, and avoid "you" statements that point fingers at other people. Allow time for them to respond and share how they feel.
Step 3
Use the PEN method to facilitate difficult conversations with your parents. The PEN (pause, empathy, needs) method was developed to prevent conflict and violence when communicating. If a certain conversation with your parents is taking a turn for the worse, start by taking pause. Practice deep breathing, excuse yourself for a couple of minutes or drink a cold glass of water if you are becoming agitated. When you are ready to continue with the conversation, listen to your parents' needs or wants and empathize with them. Inform them that although you understand their point of view, you also have your own needs and wants. The next step is to express your perspective and ask them to try and empathize with you as well.
Step 4
Don't just talk about the difficult stuff. Talk to your parents about your everyday life, funny experiences and other trivial things. Encourage them to share how their day went or what they are working on. Most of your conversations with your parents should be light-hearted, humorous and spontaneous. You don't want to talk to them only when you are faced with an issue. Regular communication about the less important things will make the difficult conversations much easier.
How to be a Great Dad – 12 Awesome Tips
Post written by Leo Babauta.
I'm often asked about raising six kids, and being productive and achieving goals and changing habits in the midst of raising so many kids. But here's the thing: I do all the other stuff, the productivity stuff, because of my kids.
They, and my wife, are my reason for being.
It is my lifelong goal to be the best dad possible, and while there are many ways I can still improve, I think I'm a pretty great dad already, when I sit back and think about it. I know there are some readers who are just starting out in their careers as dads, and this post is for you.
How can you be a great dad? As always, my list of tips:
Put their interests first, always. Do you enjoy drinking or smoking? Guess what — it's not good for them, and you're setting an example with everything you do. I quit smoking about 18 months ago not for my sake, but for my kids. Now, it is still important to take care of yourself (otherwise you can't take care of them), but you should still have them in mind.
Protect them. As a dad, one of your main roles is protector. There are many ways you need to do this. Safety is one: child-proof your home, teach them good safety habits, set a good example by using your seatbelt, make sure they use a car seat if below a certain age & weight, etc. But financial protection is also important: have life insurance, car insurance, an emergency fund, a will.
Spend your spare time with them. When we get home from work, often we're tired and just want to relax. But this is the only time we have with them during the weekdays, often, and you shouldn't waste it. Take this time to find out about their day, lay on the couch with them. On weekends, devote as much time as possible to them. While work may be your passion, it won't be long before they're grown and no longer want to spend time with you. Take advantage of these years. The thing kids want most from their dads is their time.
Give them hugs. Dads shouldn't be afraid to show affection. Kids need physical contact, and not just from their moms. Snuggle with them, hug them, love them.
Play with them. Go outside and play sports. Do a treasure hunt. Have a pillow fight. Play Transformers or Pokemon with them. Don't just watch TV. Show them how to have fun. See 100 Ways to Have Fun with Your Kids for Free or Cheap.
Do the "mom" stuff. Things that are traditionally considered "mom" duties are not just for moms anymore — changing diapers, feeding, bathing, rocking them to sleep in the middle of the night. Dads should help out as much as they can, sharing these types of duties equally if possible. And in fact, if you're a dad of a baby, this is the perfect time to bond with your child. You should leap at the chance to do these things, because that's how you start a life-long close relationship with your child.
Read to them. This is one of the most important things you can do for your child. First of all, it's so much fun. Kids books are really cool, and it's great when you can share something this wonderful with your child. Second, you are teaching them one of the most fundamentally important skills (reading) that will pay off dividends for life. And third, you are spending time with them, you're sitting or lying close together, and you are enjoying each other's company. See the Best All-Time Children's Books.
Stand by mom. Don't contradict their mother in front of them, don't fight with her in front of them, and most definitely don't ever abuse her. How you treat their mother affects their self-esteem, and the way they will treat themselves and women when they grow up. Be kind and respectful and loving of their mother. And always work as a team — never contradicting statements of the other.
Teach them self-esteem. Maybe this should be No. 1. Well, these aren't in any order, but this is one of the most important points. There is nothing you can do that is better than giving them high self-esteem. How do you do this? A million ways, but mainly by showing them (not telling them) that you value them, by spending time with them, by talking and listening to them, by praising things they do, by teaching them (not telling them) how to be competent. Praise and encourage, don't reprimand and discourage.
Teach them about finances. This is a point often missed in articles about dadhood. You might not need to teach your 1-year-old about index funds or portfolio diversity, but from an early age, you can teach them the value of money, how to save money to reach a goal, and later, how earn money and how to manage money properly. You don't want your child to go into the world knowing as little as you did, do you?
Be good to yourself. You shouldn't give up your entire life when you become a dad. You need to take care of yourself, give yourself some alone time, and some time with your buddies, in order to be a great dad when you're with your kids. Also take care of your health — eat healthy, exercise — because 1) you can't take care of your kids if you're sickly, 2) you are teaching your kids how to be healthy for life, and 3) you want to enjoy those grandkids someday.
Be good to the mom. This isn't the same as No. 8 — you should be good to their mom even when they're not looking. Take her to dinner, give her a massage, do chores around the house for her, give her some time alone and babysit while she goes out, show affection to her, give her little surprises. Because when mom's happy, the kids are happy. And dad will be happy too!
As a parent, you want the best for your children so they have happy, healthy lives. But good health isn't just about preventing sickness. It's also about maintaining healthy relationships. The relationships that parents forge with their kids are just as important as proper nutrition for long-term, overall health. This is especially true of the unique bond between fathers and daughters. Often, as the first man present in a young girl's life, fathers have a special responsibility to model respect, openness and appreciation toward their daughters. By letting your little girl know she's valued and loved, you can establish a positive precedent for her subsequent male relationships, and one of the best ways to do that is by spending time with her. This is especially true as she enters adolescence, which can be a challenging time. Having special father-daughter activities can bridge communication gaps and build more meaningful bonds.
Read the next page to learn how to teach your daughter about nature in the modern age.
10: Explore Nature
Yeah, we know — the only free time your daughter seems to be able to spend with you is during the 15- to 30-second increments she has between texts. So turn off the TV, leave your tablet computers at home, put the smartphones away and explore a different environment. Take your daughter outdoors and teach her how to appreciate the beauty of nature. In doing so, you may find that spending time away from the hubbub of the rest of the family and all your gadgets can help you broach and talk about difficult subjects.
Go for a hike in the woods, spend time at a nature preserve or walk along your favorite beach. Teach your daughter how to identify trees or look for animals. If you need more structure, try the sport of orienteering, which can help teach your daughter map-reading and navigation skills, and is a sport you can do together as she grows older.
Orienteering is like a scavenger hunt in the woods. Using a map and compass, you race to navigate through a course of checkpoints. Look for events in your area at Orienteering USA's Web site.
Share
Pin it
Tweet
Share
Email
"My father is a man like no other. He gave me life, nurtured me, taught me, hugged me, dressed me, kissed me, shouted at me, but most importantly he loved me unconditionally." – Anonymous
Over the years I've come to realize just how much my dad has done for me and I'm extremely grateful for him. My dad is my hero.
I truly believe that my father is an awesome man. Dad's possess certain qualities that just make them outstanding. A good father makes all the difference in a child's life!
Do you think your dad is a truly awesome man? If so, here are some signs that you should be incredibly grateful to still have your father around!
1. He is a handy man.
He's the person you go to when your bike tire needs to be patched or if your shower head has broken off. Your dad most likely has his own tool bag and can fix almost anything that you break!
2. He is open minded.
A good dad understands that the world is continuing to change and so are the people. He doesn't try to keep the 1970's in style, but instead he conforms to the new way of living and allows his children to be citizens in their day and age – use social media, use current lingo, etc.
3. He has a good sense of humor.
My dad is usually the one cracking the jokes and smiling all the time. You know when your dad is enjoying himself at a dinner party because you can hear his hearty laugh from across the kitchen!
Awesome dads tend to have a great sense of humor and they don't always take everything in life so seriously.
4. He believes in you.
Has your dad ever invested himself into something you wanted to do? Has he ever told you he's confident in your ability to attain that certain goal?
This is just a clear sign that your father believes in what you stand for, what you want to accomplish in life and ultimately, in you.
5. He is one of your best friends.
He's one of the first people to know about something new happening in your life and you regularly chat and hang out with him. You can talk to him about whatever is on your mind and he always shares some of his stories and fatherly wisdom with you.
6. He treats your mom like a queen.
A great father respects, values and thinks highly of his children's mother. You even know what true love looks like because your dad expresses it everyday to his wife.
He's always singing sweet songs to her, he goes out of his way to please her and he always treats her with tenderness and care.
7. He is a good disciplinarian.
Awesome dads love their children but they won't let them get away with first degree murder.
He uses tough love through the power of his words and actions to prove his point, but he'd never try to scar you internally or externally to teach you a lesson.
8. He accepts your flaws and mistakes.
I remember the only time I've ever been arrested, I expected my dad to beat the hell out of me. To my surprise I didn't get a whooping, but instead he felt sympathetic to my position and accepted the circumstances of the situation.
9. He is dependable.
He's one of the only people that can be counted on to be there for you and your family through thick and thin.
10. You and your dad spend quality time together.
He was always there on the bench watching and supporting you at your sporting events. Other times you'd need help with your homework and he'd always make the time to help you, every night if necessary.
11. He is a role model.
He has great character. He doesn't just tell you how you should go about living your life, he shows you. He's kind to your mom, patient with you, works hard at his job…
He presents himself appropriately at all times and never does things he wouldn't want you to do. He lives by the values he'd like his children to embody for themselves.
12. He has an unselfish spirit.
He's always doing things in the best interest and needs of his spouse and children. If your dad is always giving to others this is just a clear sign that he is an unselfish person.
Awesome dads tend to put the best interests of those close to him first, over their own.
13. He gives great advice.
If you have some sort of issue, you can go to your dad for his advice.
He takes the time to listen to your problems with opens ears and an open heart, and then he always comes up with a possible solution for you to take away.
14. He is loved by everyone.
Everyone wants your dad to attend that special occasion and if he's not there yet, they're always wondering where he could be.
Even your friends don't mind having your dad hang around with them playing Call of Duty! He's an enjoyable person to be around.
15. He protects his family at all costs.
Your dad is the man of the house. He's a steady provider and works to see that his family has all the necessities of life. He will do whatever it takes to make sure his family is living comfortably.
This means he might get two jobs just to pay off all of the bills, but he gets them because he wants you to sleep in an air conditioned room.
Your dad has built a strong foundation from which to help raise you into the best person you can become.
16. You can't imagine how you would've turned out without your dad.
I definitely know I can't.
My dad has been such a powerful and impactful force within my life that I have no clue how I would've turned out without him.
I just wanted to say thank you dad for all that you've done, you are truly awesome.
Go tell your dad today how much you appreciate him!
Most of these ideas can be pulled together last minute and done at home.
As June 19 rolls around, it's that time of the year to show the dad in your life some extra love. While a thoughtful card, personalized gift, or a simple phone call can show how grateful you are for all that your dad does for you, there is something extra special about planning specific Father's Day activities. Whether you are celebrating your grandpa, step-dad, father-in-law, uncle, or son who's a dad himself, figuring out what to do for Father's Day will be a breeze with these ideas — even if you are planning something at the last minute.
These at home Father's Day activities are fun for the whole family, no matter what kind of guy Dad is. You can surprise him with a hike at a nearby trail, or watch a Father's Day movie so he can sit back and relax with his favorite people. After all, quality time with his family is about the best gift you can give him on Father's Day. But if you want to get him a little something else, there are more than a few unique Father's Day gifts, easy Father's Day crafts, and even printable Father's Day cards you can download at home to save time (and money). Pair with any of the following fun Father's Day activities, and you're sure to make Dad's day this year.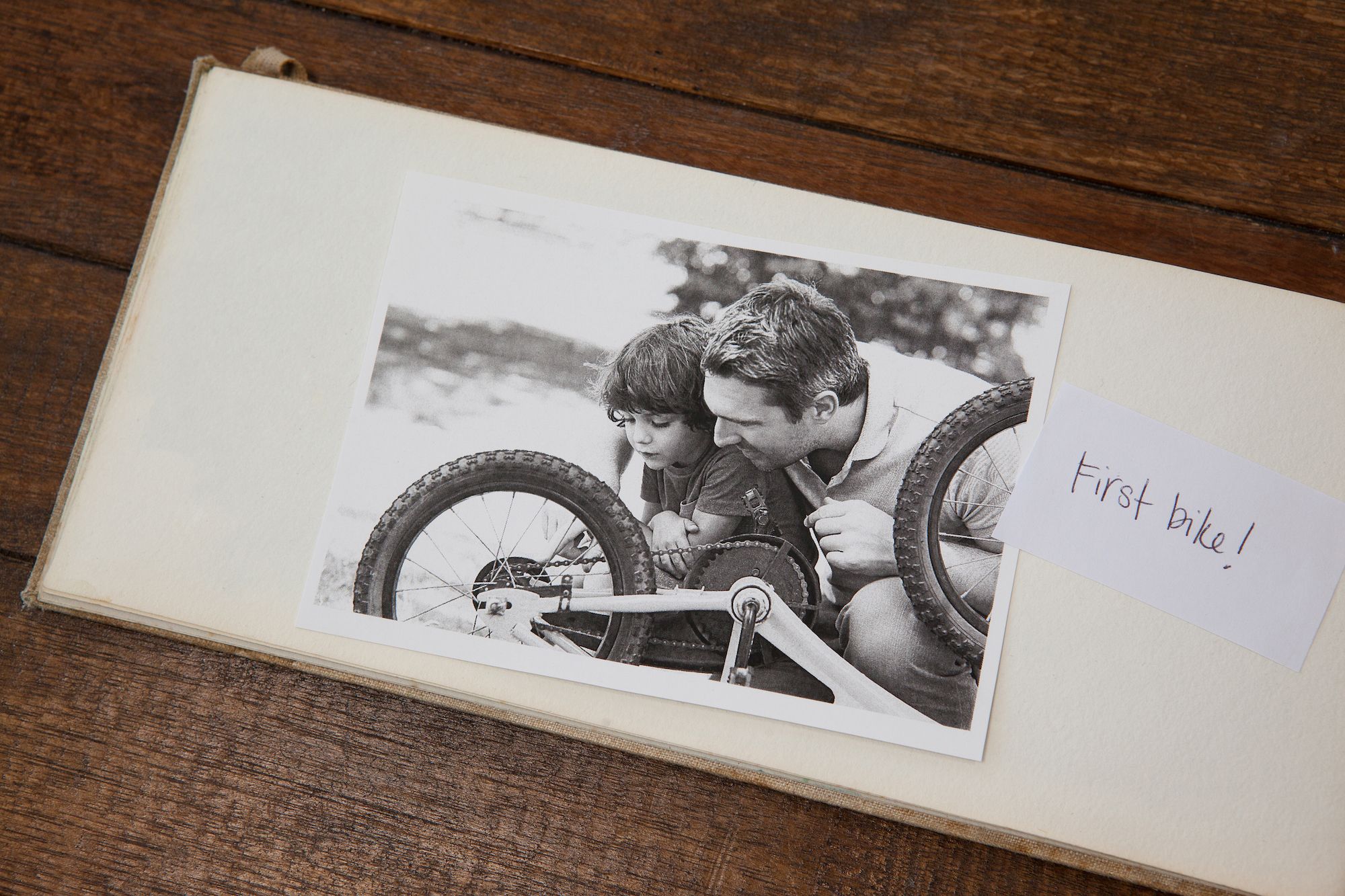 Sure, Dad could probably scroll through Facebook or Instagram and marvel at his favorite family photos. And yes, digital picture frames are certainly a thing. But sometimes, there's nothing better than putting together a one-of-a-kind scrapbook that highlights your family in all their hilarious, goofy, loving glory. Dad will no doubt love picking out his favorite pictures and writing descriptions of some of his favorite family memories.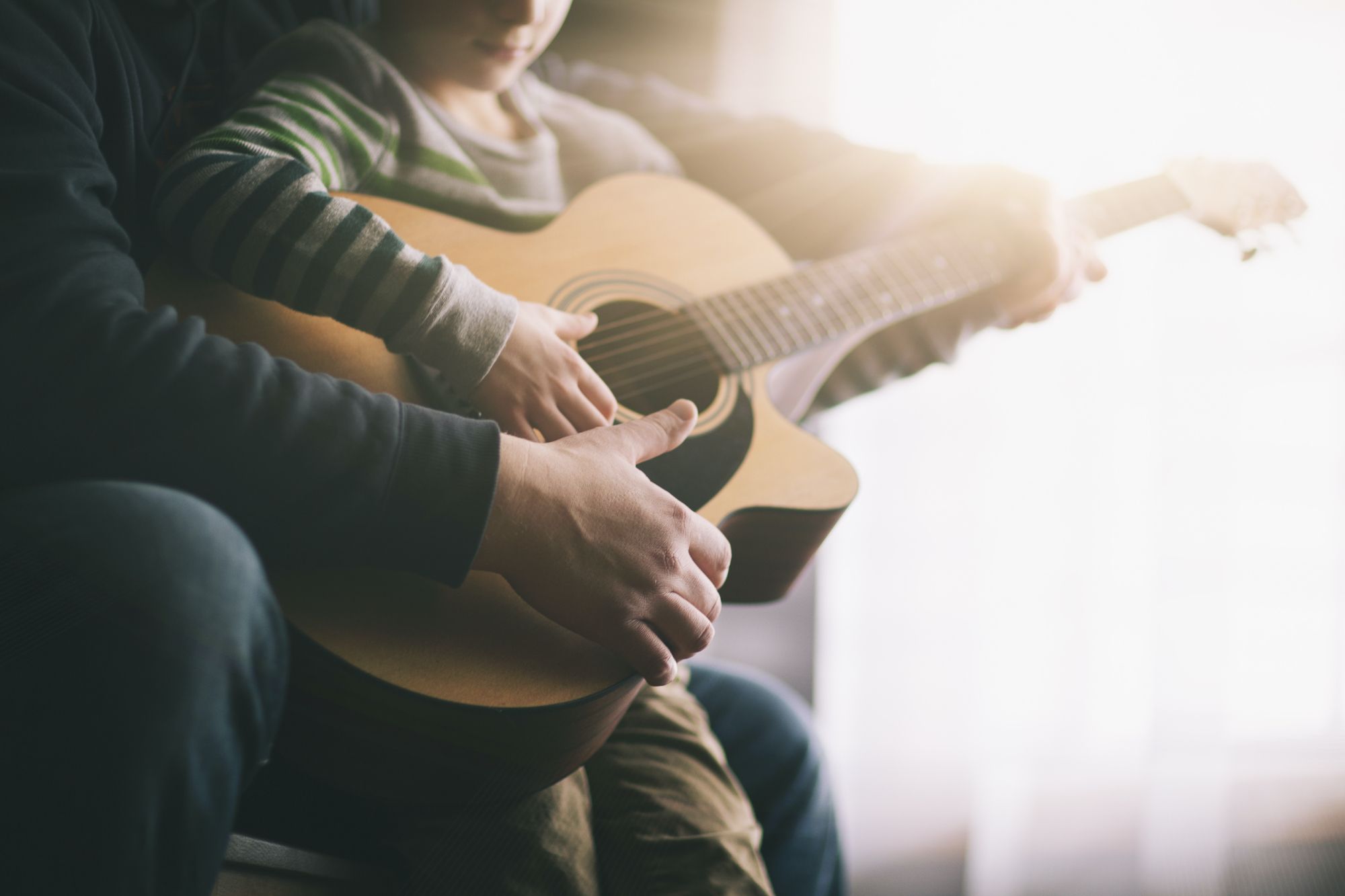 Maybe your dad isn't ready to leave his garage band playing days in the past. Or maybe he has always wanted to learn to play the piano or the guitar. Either way, if your dad is the musical type, he would no doubt love the opportunity to learn how to play a new instrument or perfect his musical skills.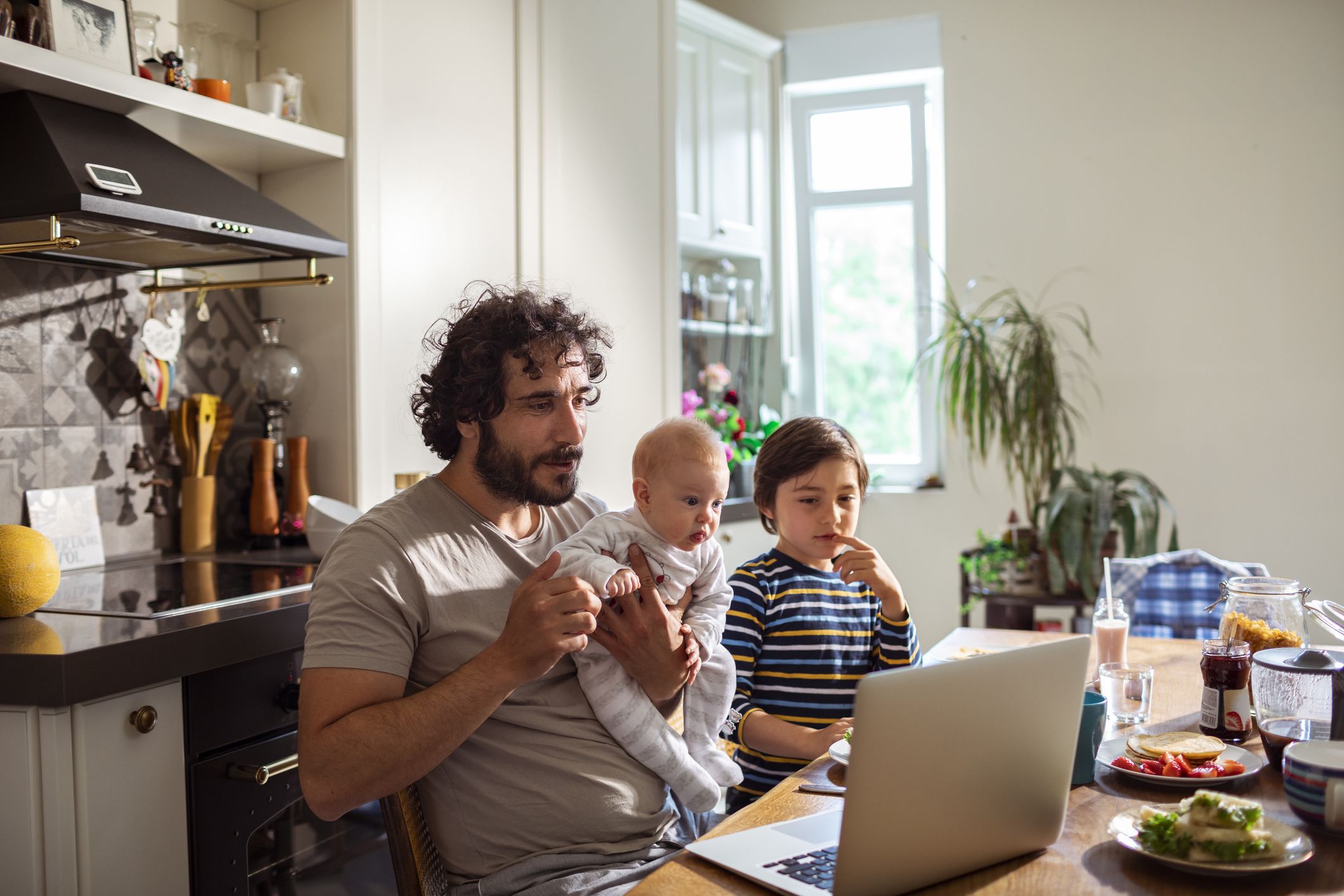 If Dad is a foodie, he'll love this. Airbnb offers Online Experiences that you can enjoy from your own home, so he and the kids can learn to make Mexican street tacos with a professional chef or pasta with an Italian grandma.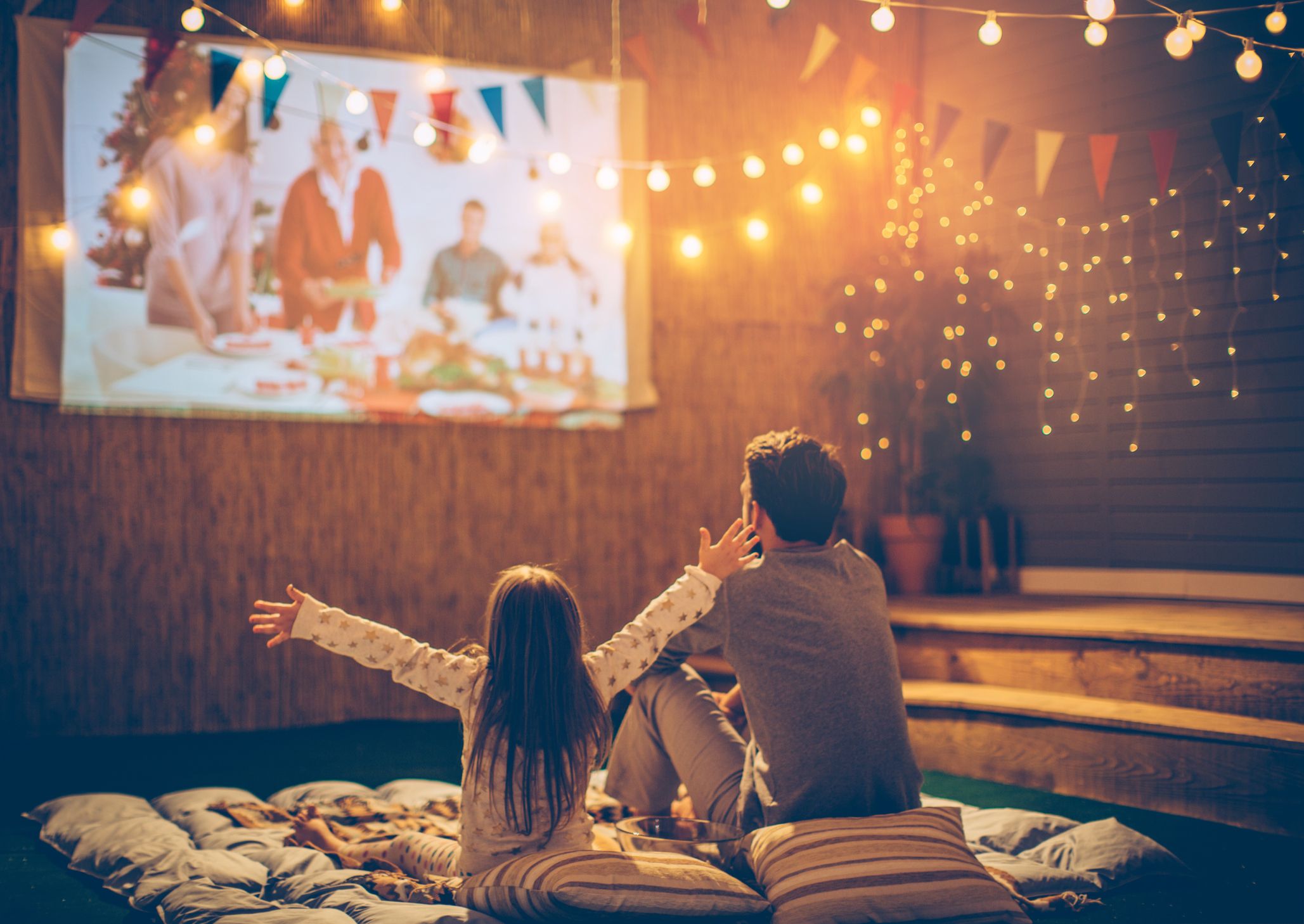 Make it a special occasion by setting up a projector and big screen to give Dad the cinema experience in the comfort of his own backyard. We promise, the kids will love this idea, too.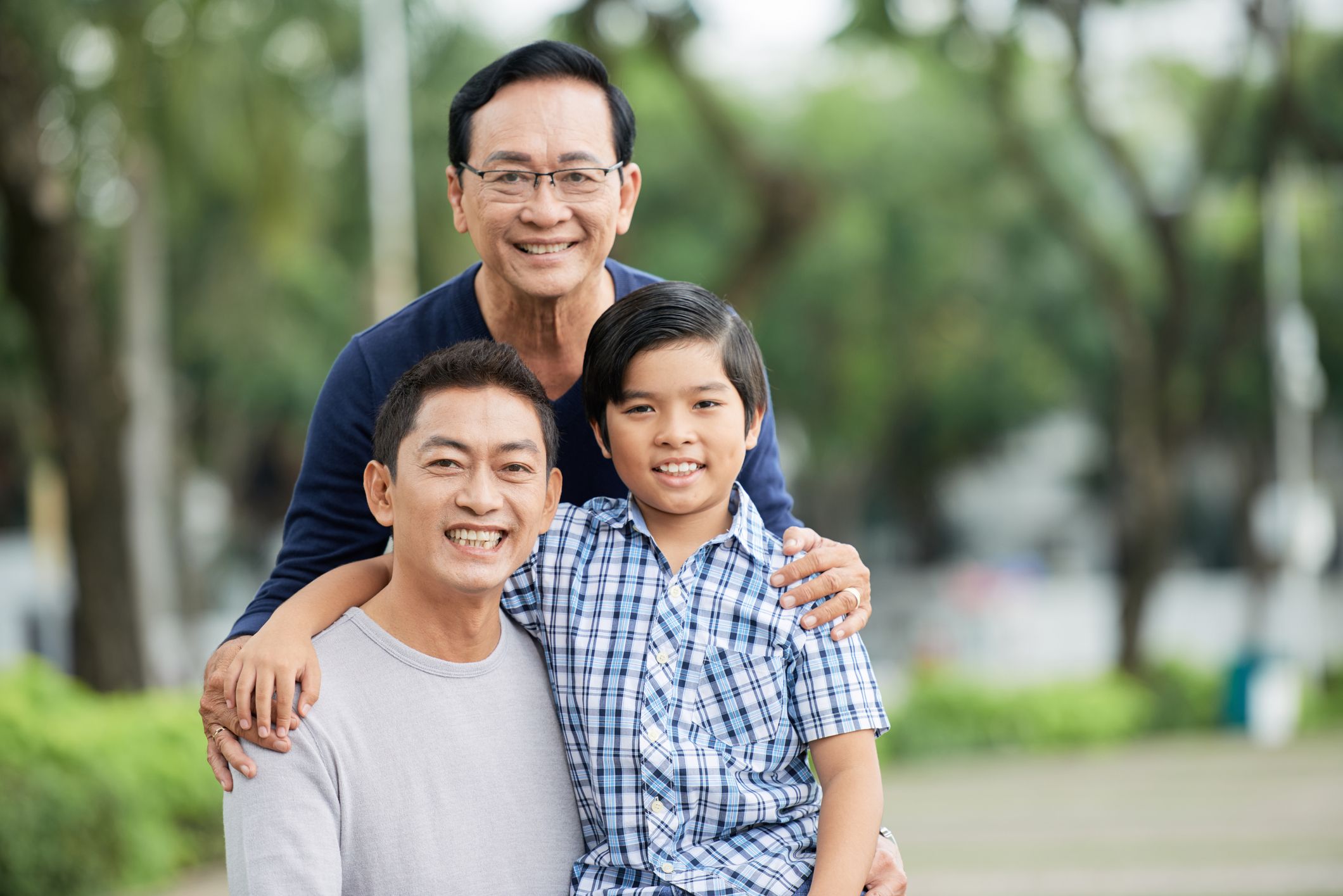 Get all the dads, grandpas, uncles, and other father figures in your life together and have an outdoor photoshoot. The whole family will love having these photos and looking back on them year after year. You can take some sentimental ones, and then bring in the photo booth props for some goofy fun.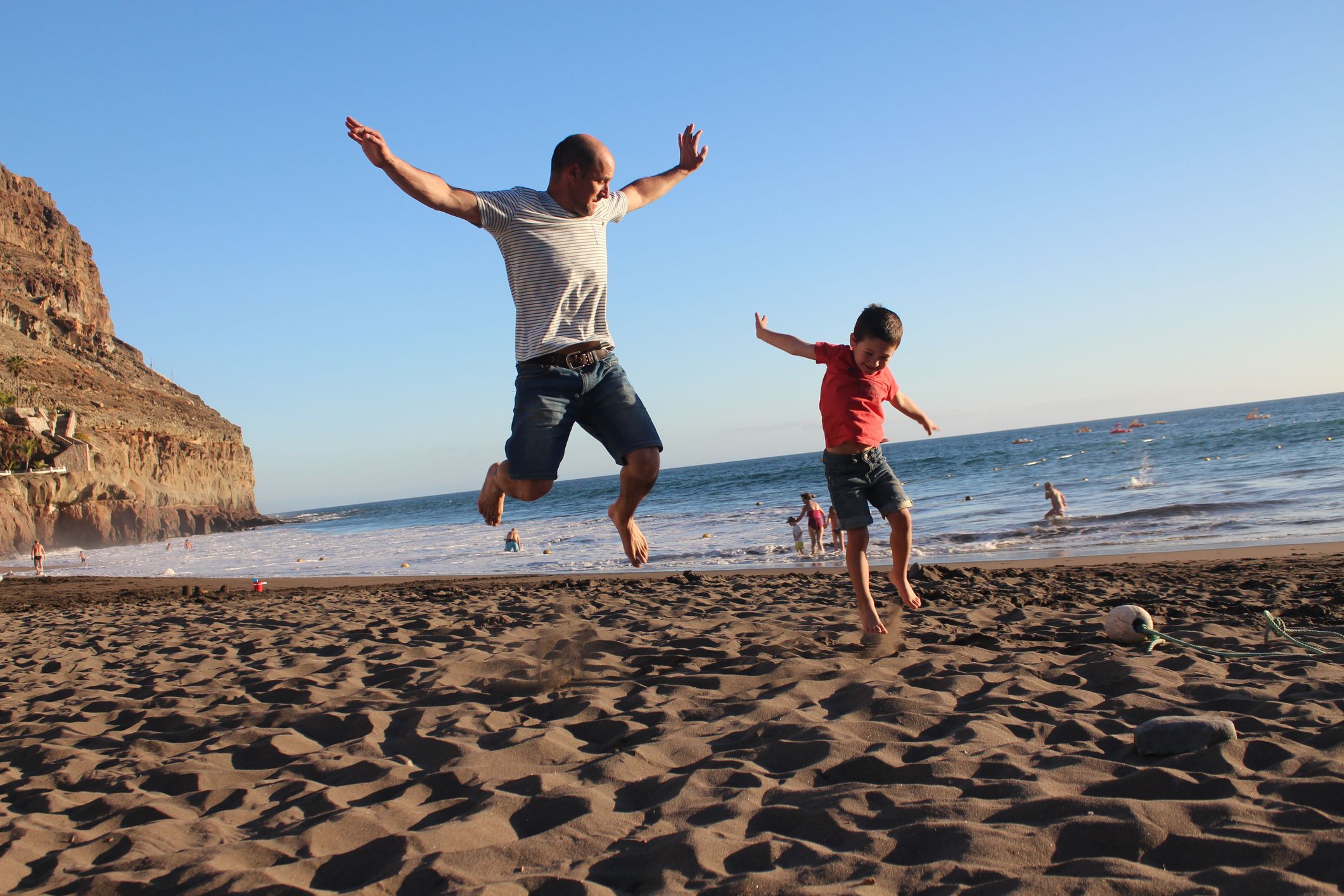 If your dad is into a bit of friendly competition, set up some athletic events or an obstacle course in your backyard or at the beach, and see who wins.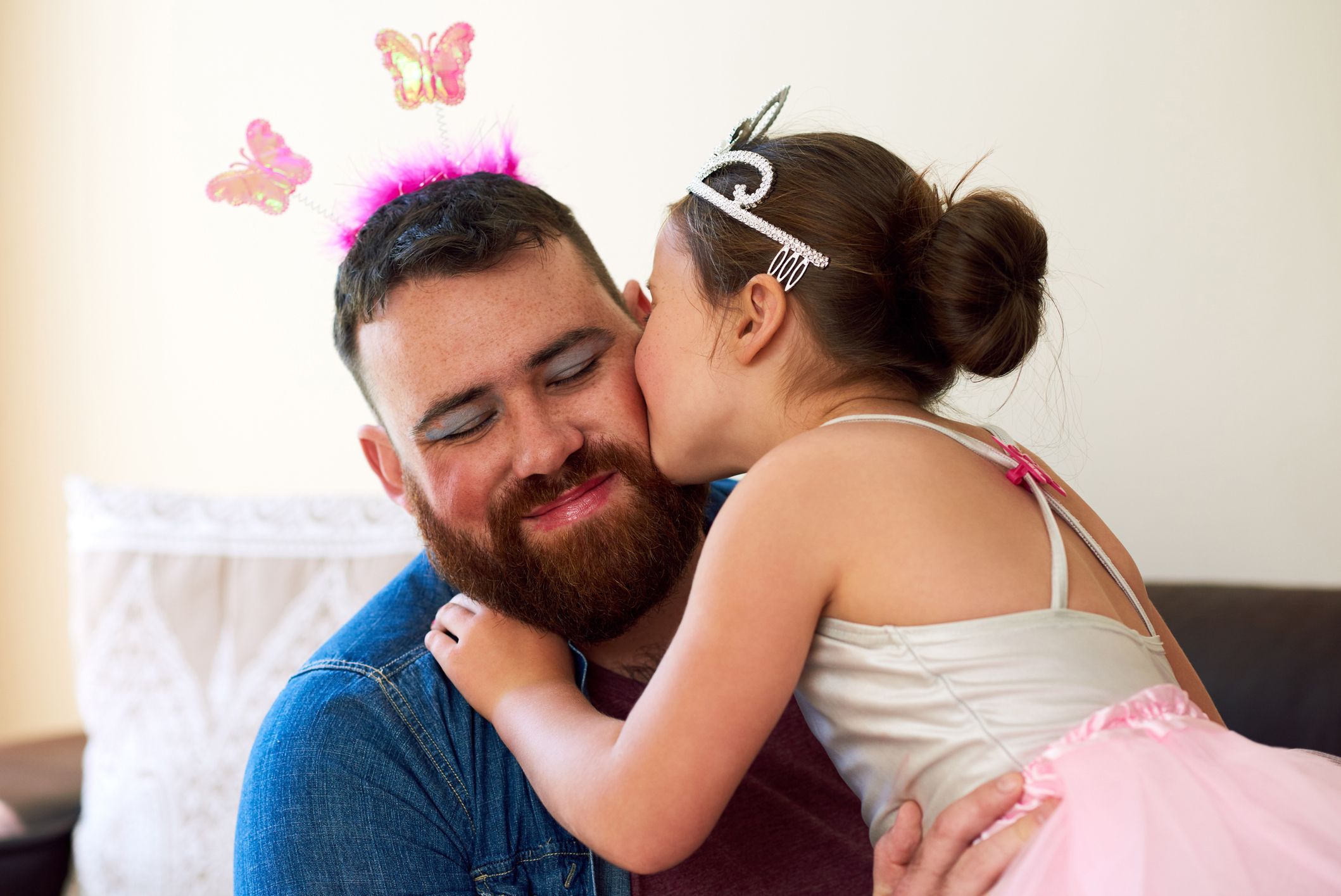 It's always a good time to break out the costumes, and whether you want to get all fancy for an afternoon tea party or you want to help Dad re-enact his favorite movie characters — James Bond, anyone? — he'll have fun bringing out his inner kid again.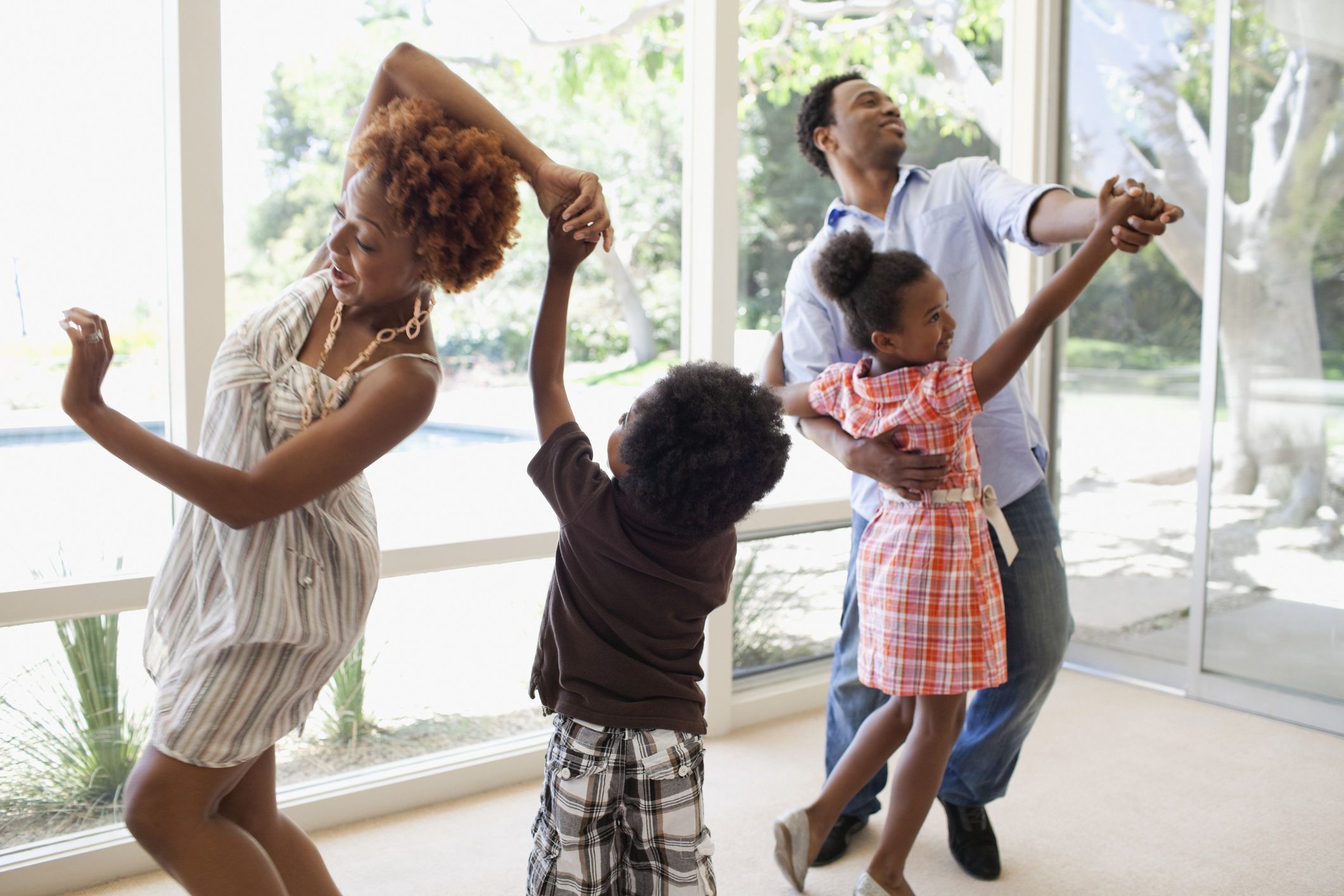 There are few more fun ways to celebrate than with a good dance party, and Dad will love to spend some time on Father's Day rocking out to his favorite tunes.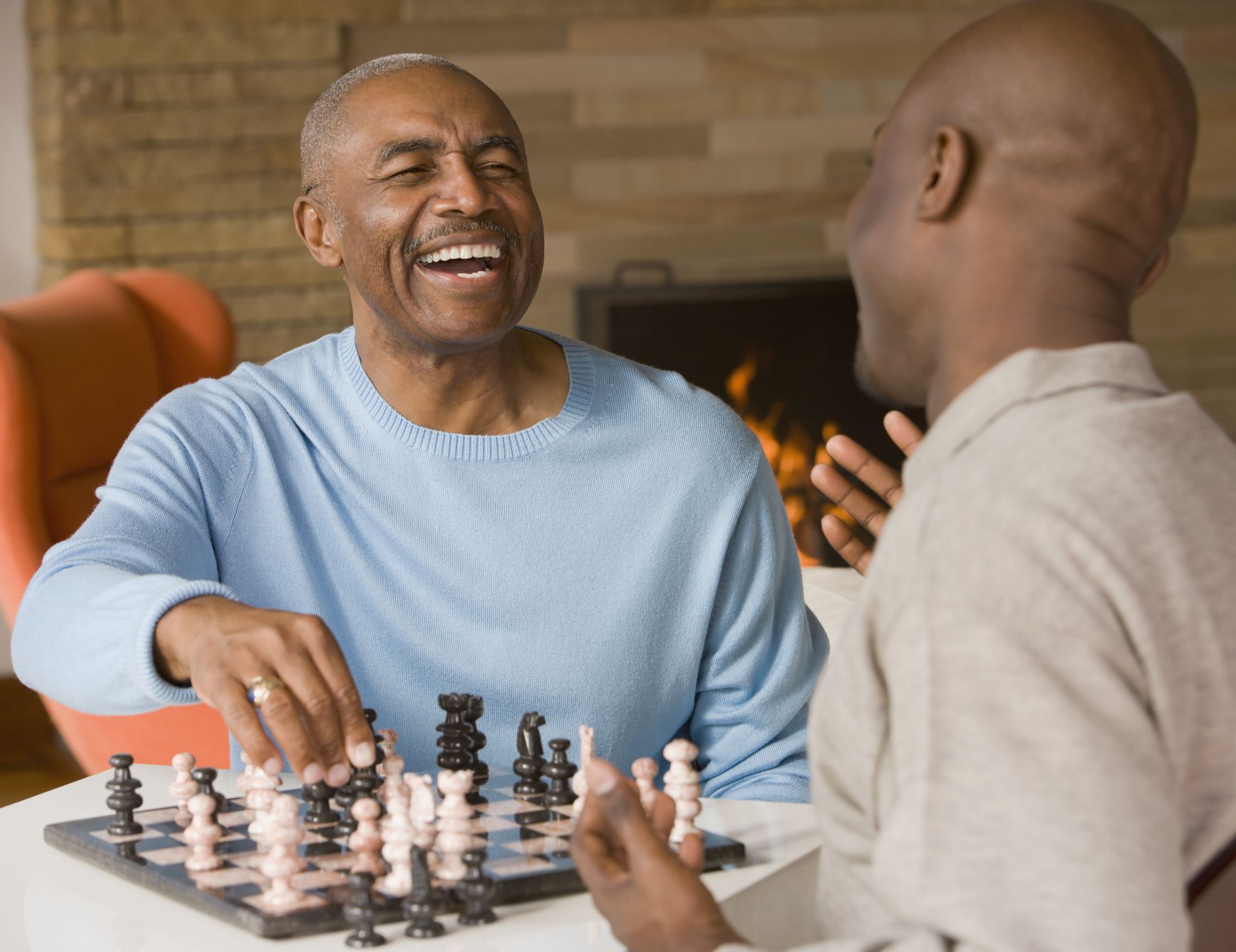 Dust off some of your family's favorite games for a fun game party on Father's Day. Play something ridiculous and silly like Hedbanz or Apples to Apples, brainy like Boggle or chess, or something involving a bit more strategy such as poker or Risk.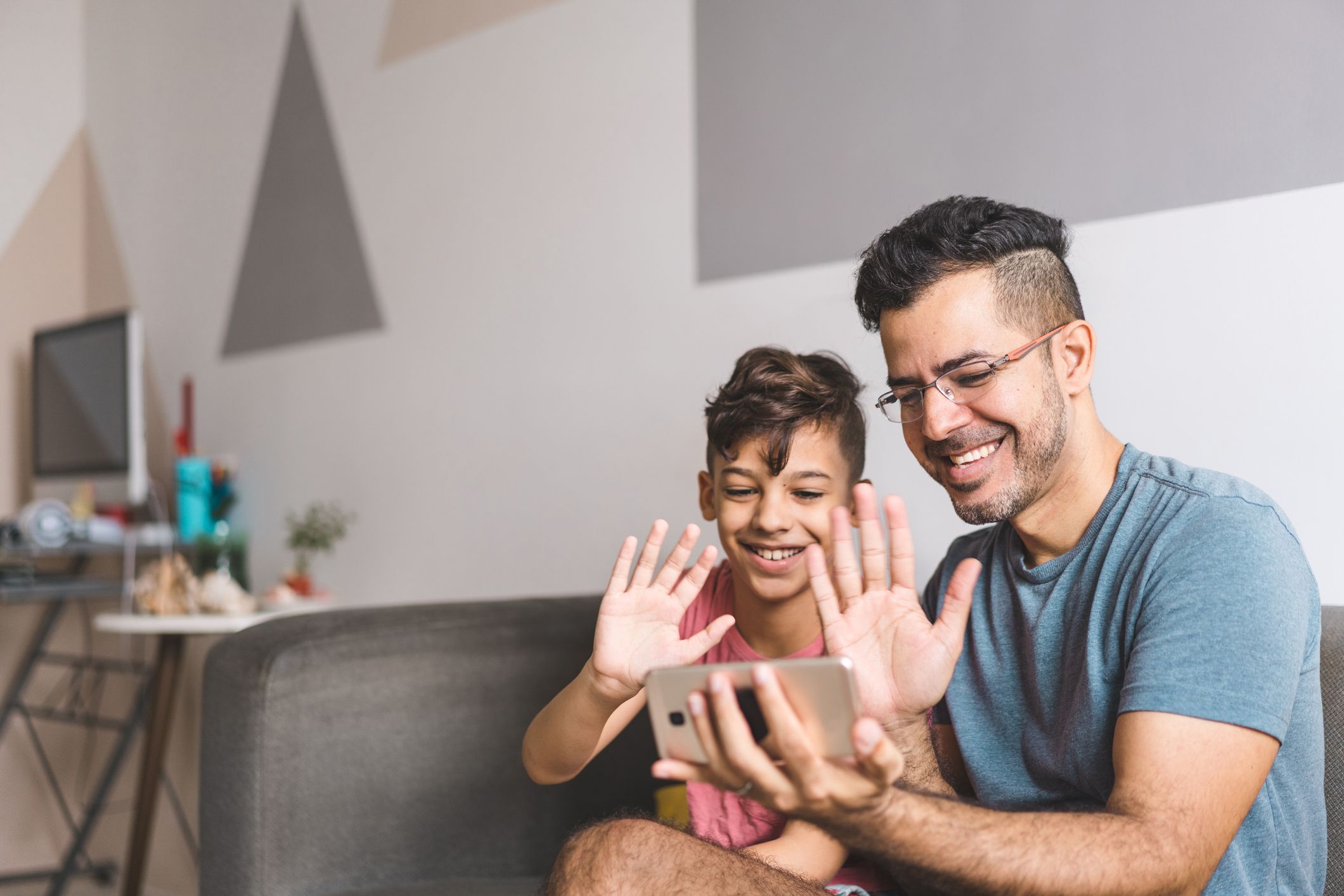 Take Father's Day to the next level by calling the other special fathers in your life. Hop on the phone with your dad and call your grandfathers, uncles, father friends, and all father-adjacent figures who share their love in your life.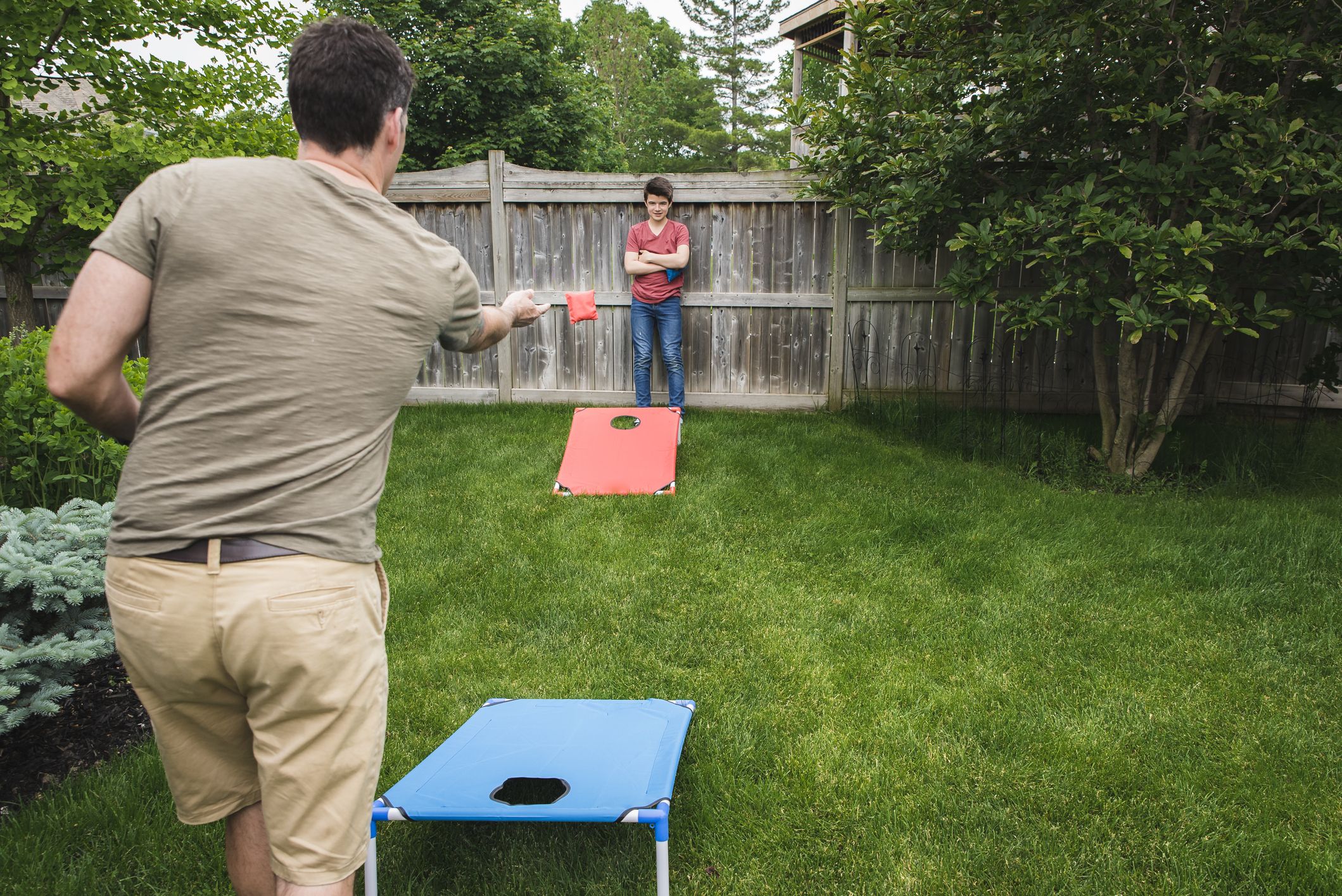 Get ready to get competitive. Cornhole is an easy game to learn, but a hard one to master. Have your dad feeling like his old college self again with this fun tailgating game. If you don't have a cornhole set yet, it might be a good time to buy one — it'll get tons of use in the summer months.
My dad is screwing my sister. I am 14 and my sister is 15. Lately I have noticed my dad all over her, holding her, rubbing her back, kissing her forehead. The other day I walk into the living room and see my dad laying on top of my sister. My sister had this strange look on her face when she saw me put neither of them moved. I began thinking about what I had seen lately and left the room and went outside. I just needed to know what was going on so I looked into the window behind the house and saw what I didn't want to see. I saw my had his penis inside my sister. I don't know if I should tell somebody or what. I am just in shock right now. I am so scared.
View related questions: kissing
Fancy yourself as an agony aunt? Add your answer to this question!
A reader, anonymous, writes (16 June 2009):
A reader, anonymous, writes (15 June 2009):
A male reader, trini +, writes (15 June 2009):
A female reader, ilovebowsandcherries +, writes (15 June 2009):
this isn't right and not normal.
hun don't be scared we are all here for you and so will everyone else be!
what you seen is very wrong and you're right to be in shock you just need to tell someone you can really trust and get the police involved.
what your dad is doing isn't right and someone needs to stop him.
keep us updated!!
i hope it gets sorted hun.
A reader, anonymous, writes (15 June 2009):
A reader, anonymous, writes (15 June 2009):
A reader, anonymous, writes (15 June 2009):
A female reader, anonymous, writes (15 June 2009):
I don't know what kind of family you have, but you can tell your mother or a teacher that you trust. In fact, I think many people on here will agree with me that you should call the police as soon as possible and report this issue.
what's going on in your house is child abuse and it is a crime. By telling others, you will protect your sister and yourself. And don't worry, you wont get into any trouble. Not at all. The authorities will make sure that you are protected. But whatever you do, do not confront your father directly; this can lead him to denial and other things.
Be strong and tell other adults you trust or call 911. This is a very serious matter.
Keeps us updated.
A male reader, dark rose +, writes (15 June 2009):
Toxic patterns vary from person to person, but there are a few textbook characteristics to look out for, therapist Irina Firstein tells us. "Toxic behavior is behavior toward other people that makes them feel bad about their life and themselves," she says. "It is characterized by criticism, control, manipulation and guilt." For example, if your dad constantly criticizes your life choices (like badmouthing your spouse or rolling his eyes at your career path), and if this has been an ongoing pattern for as long as you can remember, you might be dealing with a toxic father. Here, nine signs you're dealing with one, from constantly playing the victim to comparing you to your siblings.
9 Signs You Have Toxic Father
1. He compares you to your siblings
You and your older sister are two completely different people. But because she's a doctor with three kids and you're a single teacher, your dad loves to try to pit the two of you against each other. Your sister takes the high road, but your dad's constant teasing still makes you feel insecure and attacked.
2. He doesn't respect boundaries
You love your dad, but he's always had a hard time knowing his place. He's made a habit of showing up at your house, unannounced, expecting to be able to stay for dinner. Because you love him, you give in, but even after asking him to stop popping in without calling, he continues to do it.
3. He insists on being right
Your dad has hated every person you've ever dated, and it's starting to feel like no one is going to be good enough. He has similar opinions about your career goals, friends and pretty much everything else. If you've articulated that you're happy with your life and the people in it and he still won't stay out of your business, then your relationship with your dad could be verging on (if not already) toxic.
4. You feel exhausted after spending time or speaking with him
Do you feel totally spent every time you interact with your dad? We're not talking about feeling like you need to be by yourself for a little while—something that can happen even with people we love being around. Interacting with a toxic person can leave you feeling defeated since their dramatic, needy and high-maintenance tendencies can suck the energy right out of you.
5. He consistently plays the victim
Sometimes, parents can't help but guilt trip their kids. ("What do you mean, you aren't coming home for Thanksgiving?") But there's a difference between expressing disappointment and creating a toxic environment by blaming everyone else for their feelings. If your dad refuses to talk to you for a week because you've decided to spend next Thanksgiving with friends, you could be in toxic territory.
6. He tries to compete with you
Every time you call your dad to talk about a promotion at work or a potty-training breakthrough with your kid, he inevitably steers the conversation to be about his illustrious career or his methods of raising you. Any healthy relationship should be a two-way street, and if your dad is incapable of celebrating your wins—big or small—it's a sign that there's an issue.
7. Everything is about him
You just got off a 45-minute phone call with your dad only to realize that he didn't ask you a single question about your life or how you're doing. If he was dealing with an important issue or had some exciting news, that's one thing. But if this happens pretty much every time you talk, then this relationship could be toxic.
8. There are always strings attached
Sure, dad will pick up the grandkids from school, but you'll never hear the end of how lucky you are to have his help…followed by an immediate request to reorganize his basement. We're not suggesting our parents should do every little thing for us, but you should be able to ask for a favor without having him hold it over your head or immediately ask for something unreasonable in return.
9. He's impossible to please
You're constantly bending over backward to please everyone in your life—your dad included. Most people are thankful for your flexibility and help, but your dad seems to always want more. If you consistently feel like you're coming up short in his eyes, it's not an issue with how you're doing things, it's on him.
4 Ways to Improve Your Relationship with Your Dad
1. Set realistic expectations
In a perfect world, we would all have strong relationships with everyone in our lives, including with our parents. But the thing is, the world isn't perfect. Some parent-child duos will be the best of friends, while others will merely tolerate each other. If you're looking to improve your relationship, be realistic about it. Maybe you're not meant to be best friends—that's OK. What can be a bummer is getting your hopes up for something that's never going to happen and being disappointed when it inevitably doesn't.
2. Pick your battles
Sometimes it's worth agreeing to disagree. Fathers and daughters (and sons), though often similar in many ways, have to remember that they were raised in different eras and have lived different experiences. You and your dad might have totally different ideas about careers, relationships and parenting, and that's fine. It's important to identify the areas where neither of you is likely to change your mind and agree to respect the other's opinion without judgement or hostility.
3. Learn to forgive
Hanging on to feelings of resentment is bad for you—literally. Studies have shown holding grudges increases blood pressure, heart rate and nervous system activity. Alternatively, embracing forgiveness can improve overall health by reducing stress levels. Beyond physical health, letting go can improve one's mental health, relationships and career trajectory. Healthline reports built-up anger directed at one party can bleed over into other relationships. Resenting your dad or judging your relationship with your dad could manifest in you yelling at your own kids at the drop of a hat. From changing your perspective to downloading a meditation app, here are eight unique exercises to help you let go of resentment.
Sometimes a trip with small children means the same chores in a different place. Here's advice on how to make it a vacation.
Send any friend a story
As a subscriber, you have 10 gift articles to give each month. Anyone can read what you share.
Give this article
Feeling released after a terrible year, this summer many families are hitting the road or taking to the skies with three or more generations, together.
How can family vacations live up to the name, providing time to feel close but also time off the clock? Parents who had children at home for remote school for much of the last year may ache for a chance to catch their breath. Grandparents yearn to be with their families at last, without feeling as if they're operating a day care center.
Here's how experts in family dynamics, and some grandparents and parents, suggest to best pull that off.
Talk through expectations in advance.
Elise Tarbi, 35, a nurse practitioner in Boston, took planning seriously. Before she, her husband and their 3-year-old shared a cabin in Maine with her parents for a week, she asked each adult to name a vacation goal.
"All I really wanted was some quiet time with coffee and a book, because that's gone when you have a child," she said. She achieved her goal, and so did her husband (who wanted a hike), her father (kayaking) and her mother (a nature preserve visit). Sometimes that meant doing things separately.
Find ways to share chores, particularly child care.
Every other summer, Emily Morgan, 61, the host of the podcast The Grand Life (on which this reporter has been a guest), and her husband, Mike, leave their Indiana home to spend five nights with their four grown children, spouses and grandchildren. They've visited Savannah, Ga.; Gatlinburg, Tenn., and coastal Maine.
"We told them, 'One evening, we will watch the kids and you go out,'" Ms. Morgan said. "Which is a positive way of saying, 'We're not watching the kids every night.'"
At first, the older Morgans handled meals, but as their family expanded — to 20 people on their latest vacation — they began to wilt. Now, each adult couple takes full responsibility for one dinner during their stay, including menu, shopping, cooking and cleanup.
Discuss who pays for what.
On family trips, "there is very little money flowing uphill" to the older generation, Madonna Harrington Meyer, a Syracuse University sociologist and author of "Grandmothers at Work," has found in her research.
Grandparents often default to picking up the tab, especially when children are visiting, but grandparents may be near or in retirement. Hosting costs can increase with each in-law and grandchild.
The senior Morgans used to shoulder vacation rentals, until their growing family meant bigger houses at higher prices. Now, they ask each family to pay one-fifth.
However, for the past few years, Donna and David Bolls, who live in Charlotte, N.C., have accepted a daughter's invitation to join her family in a cottage on Seabrook Island, S.C. She declined their offer to pay part of the week's rent.
"We try to grab the check if we go out to eat," Ms. Bolls, 65, said. "Sometimes we split the groceries. We don't want them footing the whole bill, even if they can afford it." Caring for their grandchildren, 5-year-old twins, helps balance the ledger.
Beware of old patterns.
"People tend to fall back into their usual roles without thinking," said Sally Tannen, an early childhood educator who for years has led the parenting and grandparenting workshops at the 92nd Street Y in Manhattan.
Adult children can regress, expecting their parents to take care of them and their children. "But you're an adult now," Ms. Tannen noted. Similarly, grandparents may anticipate being in charge, a recipe for conflict in close quarters. "We've always been the caregivers, and it's hard to let go of," she said. "We like to hold on to control."
Like other experts, she cautioned that the middle generation sets the rules for their children, and that grandparents should defer and avoid criticizing those decisions.
When her toddler grandson wanted some of her maple ice cream — having recently moved to Vermont, Ms. Tannen and her husband are hosting children and grandchildren all summer — she asked his mother. "I was told to only give him two teaspoons," she said. "I respected that."
At the same time, grandparents may have lost some stamina or mobility.
Mary Scott-Boria, 70, and her husband live in Chicago, but own a small camper they park in a rural recreation facility 90 minutes away.
Lately, when they invite their children for a few days, "my daughters tend to take charge," Ms. Scott-Boria said. "They manage the cooking and the cleaning and the activities. I don't have to be the responsible one." It's meant change for the once undisputed matriarch, but "I've learned to be OK with it."
Tired of holding on to resentment?
The relationship between a child and a parent is one of the most instinctively protective, loving, and nurturing things humans experience. But for some, the connection with parents is marred by feelings of deep hurt and resentment. Such psychological wounds often follow people beyond childhood and adolescence into adulthood.
There is no comprehensive list of the possible ways in which a child can be left emotionally scarred. The causes of lifelong anger that some hold against a parent could be due to any of the following:
Physical or emotional neglect from parents. They may not be intentionally abusive but were affected by their own vulnerabilities or limited emotional capacity.
Physical, mental, or sexual abuse
Failure of a parent to protect/defend a child from bullying or abuse
The lack of attention, affirmation, and reassurance to make a child feel worthy or even wanted
Parents expected too much from a child or were excessively controlling.
The family scapegoated a child—the emotionally sensitive child—as the "problematic one."
Parents were continually critical of a child.
Lack of support from parents for the pursuit of a romantic relationship or for a lifestyle or career choice
For those who experience such pain and carry it into their adult life, the consequences can be devastating. Consciously or unconsciously, they may:
Be unable to move on from the past and fail to build a happy present for themselves
Be emotionally unavailable as adults and therefore unable to sustain intimate relationships
Harbor insecurities into adulthood about whether they deserve to be loved or nurtured, and sabotage opportunities they get
Find themselves at times responding similarly as parents to their own children, and therefore perpetuating the cycle of emotional pain
Feel suicidal regardless of how much they have achieved in adult life
How can you break free from the shackles of a troubling emotional past, especially when the triggers (the parents) are still part of your present life?
The following strategies are aimed at helping you let go of resentment and reclaim your lives. However, there is no one-size-fits-all, prescribed way. Each relationship is different and involves myriad complex factors. Please take away what might be useful and discard the rest.
1. Acknowledge your anger.
"I need to move on; it's been too long."
"Remembering the past doesn't make me feel any better."
"Nothing can be gained confronting them."
Does any of this sound familiar? Perhaps at some point in life, denial and minimizing were the only ways for you. Perhaps without hiding your pain—both to the outside world and to yourself—you couldn't have moved forward with your daily life.
Ultimately, we need to reconcile with the deep disappointment of not having our desired relationship with a parent. However, the first step to liberate oneself from the past is to acknowledge the tragic nature of events and understand that there is a place for legitimate anger. Just because we recognize we have been failed and have a natural emotional reaction does not mean we unproductively point the finger or blame anyone.
In most cases, what happened was a result of trans-generational trauma. Perhaps our parents faced similar conditions themselves as kids, and for them, the behavior was the only thing they know.
You are releasing the past for your own good, not for anyone's sake. You own your story. You have the right to tell it. The more you are able to share your story—including your anger and resentment—with trusted family members and friends, or therapists and spiritual teachers, the more you will be able to let go, release, and move on.
2. Talk about the hurt
Jeannine Mai, co-host of the popular talk show The Real Daytime, recently posted a YouTube video about sexual abuse at a young age by a trusted member of her extended family. As a result of the recurring abuse, Jeannine did not speak to her mother for eight years. She was wounded by her mother's failure to defend her child or even acknowledge what had happened. In the YouTube video, when Jeannine's mother reveals that she had in fact confronted the assailant, Jeannine had an emotional breakdown, as she realized (for the first time) that her mother had believed her about the abuse.
Talking to your parents about aspects of your childhood that have caused lingering emotional hurt can prove to be one of the most powerful and healing conversations to have. Perhaps as adults, you can begin to see the children inside your parents and see that they were once young and helpless.
This strategy is not always possible. Some parents are more defensive and might never acknowledge what they have done. On some level, they know they had failed you and that the feeling of guilt probably makes them more defensive.
There is no point in trying to find explanations for their behavior, nor in convincing them that they have done wrong. Sometimes, justice can never be sought, and you need to find other ways to reconcile your past. You may have to grieve the childhood you never have, and stop comparing what you had with other people's childhoods.
3. Set boundaries with your parents.
You can exercise assertiveness and set firm boundaries with your parents. As a child, you could not escape the family home or build a wall to defend yourself. But as an independent adult, you have the ability to say no, walk away, and minimize contact.
At first, doing so feels uncomfortable. Your parents are likely to resist the change by criticizing or guilt-tripping you. But you can find a way to tell them you need to be treated with respect, and they can no longer influence important decisions in your life.
More importantly, you need to believe in your ability to stand on your own two feet. Once you have set boundaries, you must keep all parties accountable. When others cross the line, you say no. If they cannot respect your need for space and autonomy, you can limit interaction with them.
While this seems harsh at first, it is for the greater good. It also does not have to be forever; sometimes, just by limiting contact for a period of time, you give yourself the time and space to regain clarity and confidence.
4. Love yourself and believe in your worthiness.
At the end of the day, you want to be able to cross over the bridge of resentment and move to a place of peace. But however cliche this sounds, you need first to love yourself, embracing both the good and the bad, your ability to love and your rage towards others. You must forgive yourself for your inability to forgive. You are a survivor for being here today. You deserve to live without emotional baggage.
When you open your heart to the possibilities of tomorrow, you will gradually find that you are no longer weighed down by experiences of the past. With a conscious approach to handling the anger you feel towards your parents, you can finally start to repair your relationship with them and hopefully build the foundation for mutual respect and understanding.
If what you do grows into a deep sense of love for your parents, then the journey would have been worth it. If not, you know that you tried, and you will have no regrets.
There are many different types of parents in the world, some are strict, some are average, and the rest are letting-loose. A few are even exceptional. If you want to find out about the inside scoop of your parents, you'd better thank God that you bumped into this quiz!
First, and I will have to mention this. if this quiz offends you in any way, feel free to report or comment to tell me. I'm not entirely saying that you WILL get offended, but I'm just making sure in case it does happen. Enjoy the quiz and keep in mind that this quiz is not one-hundred percent accurate!
Remember to rate this quiz on the next page!
Rating helps us to know which quizzes are good and which are bad.
Related Quizzes:
What Type of Parent are You? by Emily
Percy Jackson Godly Parents by kowalskiho
Teenage Love Story part 6 by Zule
Teenage Love Story by Zule
Which one of my teachers are you? by simon1996
What is GotoQuiz? A better kind of quiz site: no pop-ups, no registration requirements, just high-quality quizzes that you can create and share on your social network. Have a look around and see what we're about.
Quiz topic: Do I have strict parents?
Trending Quizzes
Amp world member quiz
What does Katsuki Bakugou feel towards you??
How Well do you Remeber Season 1 of Wentworth
Which Gravity Falls character are you? (Based on MBTI)
Special Feature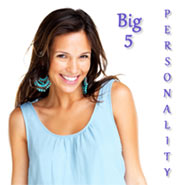 A GoToQuiz Exclusive: Big Five Personality Test, allows you to adjust sliders to fine-tune your responses to a series of questions. Then receive your personality analysis.
Give Feedback
If you notice any glitches or visual bugs while browsing GoToQuiz, please report them! Your feedback is helpful!
Perhaps the hardest thing is to summarize a person that means a lot to you in just a few pages of writing. What to choose and how to begin? It requires a great skill to convey a whole range of feelings and paint a vivid, truthful picture just by the means of words. Here are a few pieces of advice you could follow as an example of a descriptive essay about your father.
Appearance
Unless you take a paragraph to describe what your dad looks like, the readers will imagine their own dad, or someone who has the same name as you father. In a descriptive essay, all expressive devices are fair, so try to make your description as colorful as possible. Use imaginative ways.
Compare these two examples:
My father has light blue eyes. He is tall. He has a beard and likes smoking the pipe;
To a stranger, my father may resemble a wizard from a long-forgotten tale: his beard is thick and probably holds magical powers, with his habit of smoking the pipe adding to the picture. His light blue eyes always shine with delight whenever he tells a story we find particularly enchanting. When he enters a room, my dad sometimes bumps his forehead against the frame of the door: that is how tall he is.
Personality Traits
Of course, the description of a person is hollow without personality. Just like in the case of appearance, do not concentrate on enlisting facts, but focus on showing with examples what kind of person your dad is. Take a sheet of paper and divide it into two columns: positive and negative.
The first column may include honesty, responsibility, adaptability, patience, loyalty, intelligence, sense of humor, self-confidence, creativity. In the second, you could write down the following: laziness, arrogance, impulsiveness, carelessness. What is true about your dad? Some of the personality traits can be neither negative nor positive, like extroversion and introversion.
Compare these examples:
My father has always been an honest person;
Ever since his childhood, my father learned that telling the truth was the right thing to do. In fact, once he ate all the cookies from a jar, and his mother suspected the cat, but my father rushed to confess his misdeeds, even though the cat could not have snitched on him.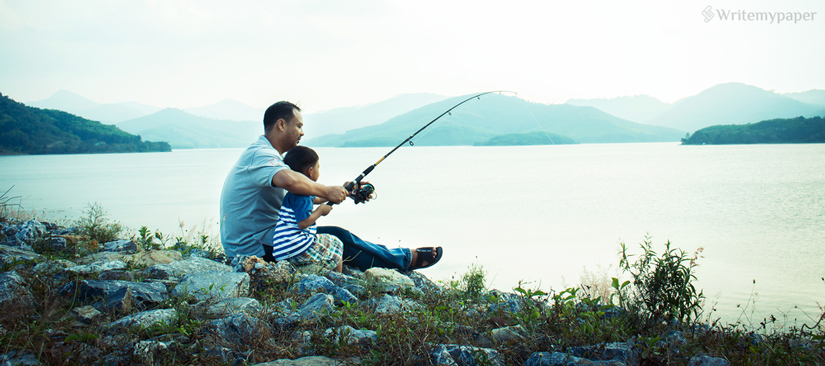 What They Mean To You
When you are finished with describing your dad's appearance and personality, focus on your relationship with him. Bring out your arsenal of memories. You can even look for the photos of you together, or ask other relatives to see if they remember some funny stories. Think about your own life.
What it would have been like if you had another type of dad, or no father at all? Contrary to a general opinion, your descriptive essay can be filled not only with positivity. The important thing is to write from the heart.
Writing A Descriptive Essay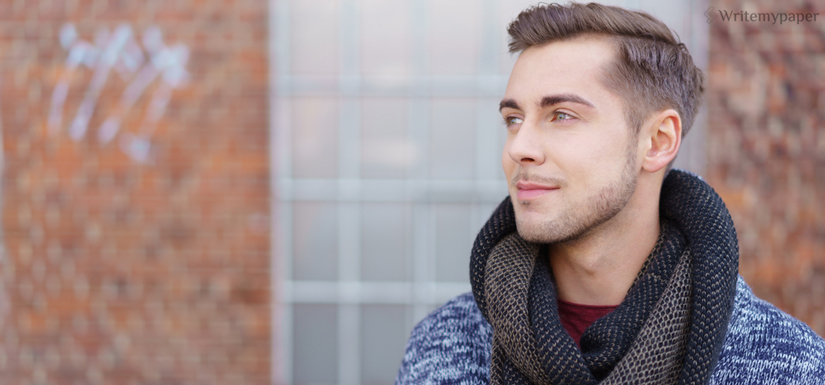 In case writing about your own father is a piece of cake for but the toughest thing is to make it look like a really essay and not a monologue, let us guide you in this sphere and assist you in your writing process as well.
The objective of a descriptive essay is to be defined as a collaboration of imagination, vivid experience and creative writing skills of an author. Everything you perceive in the object of your investigation should be called a description, it usually involves both outer and inner sides.
Therefore, your observing skills matter here the most. In case of an essay about your dad, it is very easy to observe his everyday lifestyle, to add it later.
The best thing about a descriptive essay is that you are not restricted by the language formats at all, so a flow of spoken word can be written here as well in order to make your paper more sentimental and alive in all meanings of this word.
You are free to use all your senses to tell about your father like:
Sights – tell the readers about his appearance and do not be afraid to fantasize a bit;
Touch – you may describe the roughness of his hands and warmth of his hugs;
Taste – tell the world what a great chef in cooking your father is and how he baked the best birthday cake in your life;
Sounds – what does his voice sound like for you? Do you have any associations with it? Describe them here;
Smells – His favorite cologne water may have some associations as well for you, if you have any strong memories about that just state them to have your essay truly descriptive.
Anything else to add? A framework of course! In order to have all your thoughts and idea at the right place, write a short draft on the primary components like:
Introduction. Here you determine the topic of your paper and are more precise about what is to be mentioned here as well.
Body part. The part with your list of senses, memories. Important observations. This part is the biggest and thus must be enlightened at its best.
Conclusion. Ending part of the final thoughts, an effect of Déjà vu with a bit more flattering of your father however, here you are summing everything up so be more laconic and condense the main points to review.
Read it out loud so figure out what should be omitted and which detail should be obligately inserted. After this revise the text a few times after some period of time or give it us for a revision as we will be glad be in an assistance for you. Make it readable, pay attention to the appearance of an essay, write a good title and bold it, set a good font, size it up to make it more alluring, separate paragraphs when needed, attach a photo of your dad or refrain from this option in order to keep a secret.
Do not be afraid to tell the class what you feel towards your dad. No feeling can be judged, neither have doubts showing his flows – nobody is perfect. Just describe him as you see him and it will be definitely appreciated.
In fact, he got me through every awkward stage of puberty.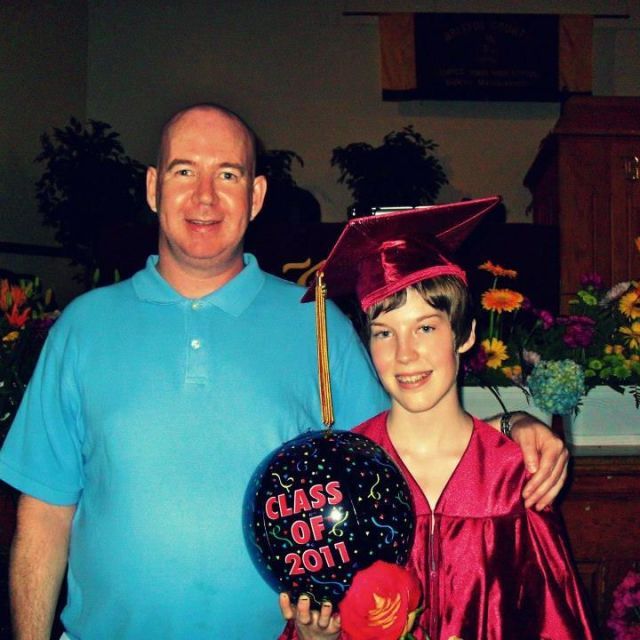 I lost my mom when I was 11. In the first few years after her passing, I was on the verge of tears every time an issue associated with moms or women came up. In the beginning, I felt the lack of my mom deeply, in every experience we should have had together. I was lucky to have gotten my first period before she passed, but I'd never used a tampon or medication for cramps, so these were things I later had to bring up to my dad.
One very hot summer day my dad and I were walking downtown together. I was wearing shorts and a tank top, and I had just recently started to notice that I was growing fine, light blonde hair on my legs and darker hair under my armpits.
"Can you teach me how to shave?" I asked shyly.
More From Seventeen
My dad paused for a few moments before responding, as he often did. "You're too young to start shaving," he said. "You should wait until you're older."
This conversation, like many others, were now delegated to my dad.
I insisted I wanted to learn how to shave. So, my dad sat me down for the most uncomfortable discussion of my life.
My dad, actually, had never been shy about discussing all the things a girl would normally discuss with her mom. My dad said, "You're welcome to shave if you really want to, pumpkin, and I'll teach you how to do it correctly." He used my childhood nickname as if I weren't going through the worst experience of becoming a woman.
He walked me through the fact that many women and young girls feel pressured to share areas of their body (like their legs and underarms) starting at around 10 or 12. He told me that I didn't have to shave just because other girls were doing it, or because the media told me I should. Instead, he said, it was my choice.
Then we awkwardly moved on to whether or not I should shave "down there." Then he went on to explain that my mom had shaved her private parts out of personal choice, but she would get extremely itchy, so he warned me to think carefully about it for that reason.
Soon, we set aside a time for me to practice shaving my legs. My dad and I squeezed into our cramped, apartment-style bathroom with all the supplies. I wore a short pair of shorts to save myself some embarrassment.
Although my dad shaved his face and his head–rather than his legs and armpits–he was skilled at using a razor, and he explained in detail how I could use it successfully. We went over how to reapply shaving cream, how to rinse my razor so it stayed sharp, how to avoid razor burn, and how to avoid accidentally cutting myself.
It never even occurred to me that other girls my age were being taught this skill by their moms, women who had probably done the exact same kind of shaving for many years. Even though he isn't a woman, my dad walked me through the societal pressure that is placed on women to shave their armpits and legs, and reassured me again that it was my choice to make.
Even though he isn't a woman, my dad walked me through the societal pressure that is placed on women to shave their armpits and legs.
Shaving was only the first of many similar conversations to come. At age 14, I had my first HPV prevention vaccination. The same year, he and I had an in-depth sex talk, which walked me through not only pregnancy prevention, but also STIs, sexuality and same-sex attraction, gender identity, relationships, romance, pressure, and consent. Then when I started dating in high school, we had a follow-up to this conversation and talked about getting STI tested, cheating in relationships, and being attracted to more than one person.
My father has never used the word "feminist" to describe himself, although I would categorize him as one. This is because of the way he raised me after my mom passed, and also because he was always open-minded about any issue I brought to him. When my friends started having sex in middle school and I wanted to know if that was wrong, he told me there was no right answer, and taught me that it wasn't okay to shame my friends or call them slurs just because they were experimenting sexually earlier than I was.
He may not have had the correct terminology in place, but my father was teaching me equal rights and feminist ideology before I even knew what that meant. Instead of jumping in with antiquated, sexist advice about how I should dress or who I should date, I know he also always consulted with several people before talking to me, including doing research online.
When I came out as gay, my dad took the time to talk to several gay and bisexual women about the nuances of the issue, like whether or not I should be allowed to have girlfriends over, and how we could discuss safe sex and consent in terms of same-sex relationships.
My dad is different from my mom was, but they shared a lot of the same parenting values, with the most important being that I should feel comfortable making my own decisions and being my own person. Learning not only the mechanics of how to shave, but also that I didn't need to shave and that it was a personal choice, was one of the first experiences I had of my dad reinforcing the idea that I should be whoever I want to be.
My dad is different from my mom was, but they shared a lot of the same parenting values, with the most important being that I should feel comfortable making my own decisions and being my own person.
When my dad took over where my mom left off, I didn't lose my ability to be a woman or a feminist, like people might assume.
Instead, here I am, proud to say that my dad taught me about shaving, along with the most important adolescent lesson: to love myself and accept others.