September 7, 2020 by Guest
Remote work is a new up and coming trend in business. You may have used it in the past to a small extent with online video call meetings. Remote working simply means that your employees all work from the comfort of wherever they may be right now But how exactly do you make remote working effective?
The Best Ways To Make Remote Working Effective
You should take note that remote working isn't for every business. Some businesses will struggle with it because of the nature of their industry. But if your business can take advantage of it, you can greatly increase productivity and lower your overhead costs like rent.
So to help you figure out how to make remote work more effective, we've made a great compilation of things that you can do to make your business remote work friendly.
Utilize Tools To Monitor Remote Working Productivity
The most common complaint about remote working is that employers can't monitor their staff. However, this is far from the truth. You actually have a large number of tools that let you keep an eye on your staff and how well they're doing at their job. They can come with a suite of tools like:
Time trackers
Time trackers are present even out of remote working situations. They ensure that your employees come in on time and clock out on time. Not earlier or later. Time trackers are even more important for remote workers as you don't physically see them in an office. With a proper time tracker, you can monitor when they clock in and out in real time.
Screenshot tools
A big concern when employees are working remotely is that they can end up being distracted. Social media is a common distraction that employers have to deal with. A great solution is making sure that your employees' screens are monitored at all times. Screenshot tools can keep an eye on whatever is on your employees screens. Some will even document the active browsers and processes on their computer.
Automated Warning Tools
Automated warning tools are some of the best ways you can improve the productivity of your remote employees. They give you a heads up whenever an employee does something that isn't allowed during their work hours. The best part is that automated warning tools usually come bundled with time trackers or screenshot tools so you don't have to invest in a separate application for it.
Do Not Neglect Communication
Communication is key whenever you're in the office. Whether it be for work itself, or for small talk and social interaction, communicating is an important part of any work environment. However, it is much harder when you and your employees are not physically together. Remote work can make your employees feel isolated. However, there are two distinct ways you can improve your communication problems.
Message Boards Like Slack and Even A Social Media Group
One of the most simple ways you can let your employees interact is to open a message board. They can more openly share their thoughts with each other through these message boards. You can compare it to your usual break room small talk in the office. These are great for employee morale and are a decent substitute for your usual meetings.
Video conferences, Meetings and Social Events Through Voice Or Video Chat
Exclusively messaging each other can become tedious and isn't for everybody. Luckily there are other great ways to communicate and that's through video or voice calls. Video conferences, meetings and social events all become possible in a work environment because of voice and video chat. The best part about having a video chat option is that they are all recorded and can be accessed by you and employees later on in case a meeting needs to be revisited.
Change or Create New Company Policies To Fit With Remote Working
One of the things you're going to notice immediately when your business partially or fully transitions to remote work is that some of your company policies may not match up. These can be policies about interaction with other workers, when your employees take their breaks, and even the dress code. You may even need to implement new policies like data protection and security policies that prevent the leaking of company sensitive data.
Changing older policies and creating new policies to match remote work can be a great way to ensure that you and your employees are more effective.
Make Sure Your Employees Are Ready For The Transition
Remote working can be a major shock to some of your employees. Being unprepared could mean that your employees will spend more time figuring things out rather than doing their jobs. So it is important that you prepare them for the transition. Ensure that you train and instruct them on how to use the new tools you will be using, give them a heads up of the new rules and policies, and ensure that they can handle the culture shift.
If they're prepared effectively, they will be able to start working earlier and more effectively rather than spending the first few weeks or even months figuring things out and losing out on productivity.
Be Prepared For Under-performing Employees and Resignations
Not everyone is going to be able to easily handle the shift from working in an office to working in the comfort of their homes. Some of these employees may end up under performing or even resigning because of it.
An under-performing employee can always be trained to be better. It is made easier with how many training tools are available for employees and employers. However if an employee resigns, you have no choice but to replace them. A great way to find a replacement is by using internet job boards for candidates. But if you need a more specific employee with tenure, you can try utilizing a staffing company like Advocates Denver to find one for you.
Final Thoughts
Remote work can be a challenge for most businesses. However, instead of being a detriment, it can become an advantage that you can utilize. You just need to make sure that you're constantly taking the time to improve your remote work effectiveness.
For decades, auditors have faced the competing pressures of enhancing audit effectiveness while performing audits more efficiently. By investing more time—and the right procedures—in the planning phase of an audit, both can be achieved, according to Patricia Bottomly, CPA, national assurance partner at BDO USA LLP in Los Angeles.
Bottomly presented a session on improving audit planning effectiveness and efficiency at the AICPA ENGAGE Conference on Monday in Las Vegas. During an interview before the conference, she said that the key is using the required risk assessment procedures and internal control considerations to develop audit procedures that provide the biggest bang for the buck.
Begin with the end in mind
As Stephen R. Covey writes in The 7 Habits of Highly Effective People, beginning with the end in mind means "to start with a clear understanding of your destination."
For audits, the destination is AU-C Section 200.06: "GAAS require the auditor to obtain reasonable assurance about whether the financial statements as a whole are free from material misstatement, whether due to fraud or error." Reasonable assurance is achieved when the auditor has obtained sufficient evidence to reduce the risk of an inappropriate opinion to an acceptably low level.
Bottomly said she has seen too many auditors rush through the planning stage and dive straight into the execution phase in an effort to increase efficiency. These auditors may be assuming they already know where the risks are.
However, she finds that by keeping the end firmly in mind, the planning stage provides an opportunity to maximize both efficiency and effectiveness for the entire audit.
Understanding the entity
Auditors are required to obtain an understanding of the entity, but the auditor doesn't need to understand everything about the entity. Rather, Bottomly explained, the auditor should focus on obtaining the information that will help in designing audit procedures and in identifying areas of risk.
Extra time and effort applied upfront translates to efficiency and effectiveness for the audit as a whole. For example, when planning the audit of a manufacturer, it's essential to develop an understanding of the company's manufacturing process, the flow of transactions, and any related controls before determining the sampling or testing procedures. Without that understanding, the planned sampling and testing methodology may be impractical or may not provide the desired results.
Auditors also need to be aware of the potential for hidden or undetected risks. An example of a hidden risk is a complex derivative attached to a loan agreement that the auditor is unaware of until the loan agreement is read for the first time during fieldwork. Knowing about the derivative during the planning stage allows for appropriate staffing on the engagement team and including the appropriate procedures in the audit plan.
Assessment of control activities
"We really want to make sure that during the planning phase we identify and focus on those control activities that are relevant to our audit," Bottomly said. Identifying the relevant controls requires a deep understanding of the company and its operations.
When determining which control activities are relevant, the auditor also needs to remain focused on the end goal of the audit—namely, obtaining reasonable assurance that the financial statements are free from material misstatement.
Returning to the example of a manufacturer, Bottomly explained that auditing the inventory requires understanding the company's process for allocating and tracking labor and overhead. "Even if that area were not a significant risk or there were no fraud risks, and we don't plan on relying on controls, we may still determine that those controls are relevant to our audit because we need to fully understand the process and the controls over that process in order to design our audit procedures."
Avoid easy traps
Bottomly also cautioned against the checklist approach—that is, performing procedures just because they are on a checklist. Every step in the entire audit—including the planning phase—needs to have the end in mind. "I would definitely not recommend people spend more time in planning just to spend more time, but to make sure they spend the right amount of time performing the right procedures," she said.
Likewise, repeating the procedures used in the previous year can also be a trap. Before repeating those procedures, the auditor should consider whether there were any changes at the company that could affect their effectiveness. Another important consideration is whether the procedure provided useful information in an efficient and effective manner in the previous year.
"I think sometimes work is just carried over from year to year until at some point someone says, 'Why are we doing this procedure?' If you don't have a good answer for that, you probably either don't need to do that procedure, or you're doing the wrong procedure," Bottomly said.
The importance of planning
"No one thinks that planning is unimportant, but they may think they already know where the risks are or which procedures they need to perform," Bottomly said.
By focusing on risk assessment procedures and the internal control considerations during the planning phase, auditors can tailor their audit approach and save time on the overall audit without impacting audit quality.
It's not a surprise how swift the growth of the E-Commerce industry is. Most brick-and-mortar stores have claimed their space in the digital scene, leveling the playing field between small and big businesses.
The work involved in setting up and running your E-Commerce business isn't a joke. It takes a big chunk of time conceptualizing, checking inventory, marketing, and selling your products on top of other administrative tasks that are needed to keep your business operational.
Don't worry though, you won't have to do it all on your own. E-Commerce Virtual Assistants help make your day-to-day easier.
Customer Service Support
One of the most essential things buyers look for is customer service support. Offering this feature helps with retaining customer loyalty and improves your process of resolving issues and tracking other concerns.
This also provides assistance to customers in a way that they have someone readily available to speak with either through call or live chat to answer all the queries they have in mind.
Customer Support agents are highly trained and well-versed in your business process and products to guarantee customer satisfaction and accuracy.
Inventory and Stock Management
An important aspect of every online business is stock and inventory management. These are things that keep your business moving and having someone with the know-how to accurately track your stocks will help you manage your business better.
With an E-Commerce VA, they can track your inventory, update your website for product availability, and get in touch with your suppliers when you need to replenish. The miles between you and your virtual assistant won't also get in the way of them handling multiple locations of your warehouses.
Order and Shipment Processing
From orders, fulfillment, and shipping, you can expect your E-Commerce VA to handle it all for you. Virtual Assistants know that time is of the essence when it comes to E-Commerce. Their training with the right tools and platforms ensures customer satisfaction when it comes to the timeline of receiving their orders.
Carefully monitoring your order fulfillment and shipment process may also help lessen backlogs and delays.
Managing Returns and Exchanges

It may be taxing to manage customers' returns and exchanges, especially for an online store. You can take this burden off your shoulders and let your VAs take care of it.
Effectively managing returns and exchanges are also indicators of your customer satisfaction. Your team of committed virtual assistant closely oversee this process guaranteeing a boost in productivity.
Marketing and social media management
A brand's digital footprint plays a big part in establishing the success of your E-Commerce business. Social media is a big factor in customer engagement and in telling your personal brand story. Customers say they're also more likely to retain loyalty when they see how a brand interacts with them.
Most businesses think of managing their social media on their own, but this is a time-consuming task. An E-Commerce VA can build content calendars, create posts and copy, and finding the right tools.
E-Commerce VAs from Remote Control BPO
Remote Control BPO has highly-trained E-Commerce VAs that provide exceptional support for any service you need. Get in touch with us today and let our experts figure out how we can help your business.
New research reveals simple strategies that boost performance.
Topics
Workplace, Teams, & Culture
Collaboration
Remote Work
Frontiers
As collaborative technologies proliferate, it is tempting to assume that more sophisticated tools will engender more effective virtual communication. However, our study of globally dispersed teams in a major multinational organization revealed that performance depends on how people use these technologies, not on the technologies themselves.
We asked team members to rate one another on virtual communication behaviors culled from a growing body of research on virtual teams. Peer assessments focused on five best practices: matching the technology to the task, making intentions clear, staying in sync, being responsive and supportive, and being open and inclusive. (Participants had worked together for some time and had been tasked with improving key business processes.) Individual scores were averaged to determine team scores.
When controlling for past experience on virtual teams and level of technology support available, we found that teams with higher scores on the five behaviors also received higher ratings from their leaders on producing quality deliverables, completing tasks on time, working productively together, and meeting or exceeding goals. Results indicated a linear relationship across the board: For every 10% that a team outscored other teams on virtual communication effectiveness, they also outscored those teams by 13% on overall performance. Although the research focused on dispersed teams, we believe the same strategies can help colocated teams, which increasingly depend on virtual collaboration tools.
Let's look at each of the five behaviors in detail. They may seem basic at first glance, but we've observed that they are often overlooked. When teams are informed of these simple strategies and take steps to implement them, they outperform teams that don't.
1. Match the technology to the task.
Teams have many communication technologies at their disposal, ranging from email and chat platforms to web conferencing and videoconferencing. People often default to using the tool that is most convenient or familiar to them, but some technologies are better suited to certain tasks than others, and choosing the wrong one can lead to trouble.
Communication tools differ along a number of dimensions, including information richness (or the capacity to transfer nonverbal and other cues that help people interpret meaning) and the level of real-time interaction that is possible. A team's communication tasks likewise vary in complexity, depending on the need to reconcile different viewpoints, give and receive feedback, or avoid the potential for misunderstanding.
Working from home — some people love it; other people hate it. Regardless of which camp you fall into, you're likely spending an increased amount of time in the confines of your own home these days.
Even before the coronavirus pandemic was impacting our physical work environment, the number of telecommuters had been steadily ticking up. According to Global Workplace Analytics, telecommuting has grown 173% since 2005, with 4.7 million people now working at least part-time from home.
Working from home during a global pandemic adds an increased amount of pressure and strain beyond typical remote work environments, and leaders should take this into consideration and adjust their expectations of employees and of themselves accordingly.
10 Work from Home Tips to Improve Productivity
While we know these recommendations might not be feasible for all, below are 10 work from home tips for establishing an efficient, productive, and sustainable home office setup.
Set a schedule.
Get dressed.
Stay connected.
Take a walk.
Designate an official home workspace.
Limit distractions.
Adjust the sound.
Create house rules.
Set team norms.
Be patient.
Whether you're in this situation temporarily or for the long haul, we hope this working from home advice will help you adjust and stay productive.
1. Set a schedule.
When you go into an office every day, you typically adhere to a routine with fairly consistent start and end times. Those lines are blurred when you work from home. No one is paying attention to your arrival or departure times, so there's less accountability. For some, this may make it hard to stay on track.
The challenge is compounded when you add in new responsibilities the coronavirus pandemic has introduced, such as homeschooling or grocery shopping for high-risk family members. For others who already maintain long hours to accommodate heavy workloads, the lack of a schedule can make it even harder to maintain work-life "balance."
Before you establish a start time, think about your morning routine. Allow plenty of time for the things you do to get your day off to a good start, such as eating breakfast, walking the dog, or taking a shower, if possible. Consider your evening routine as well. Make sure you make time for wellness throughout your day. After discussing your proposed schedule with your family or roommates, share it with your colleagues so they'll know when they can expect you to be responsive to questions and available for meetings.
2. Get dressed.
Even if you won't see anyone else besides your cat for the entire day, it's hard to feel productive psychologically in your pajamas. In the early days of telecommuting, staying in sweats might feel like a perk. But for many remote workers, this habit can cause a sense of sluggishness by the end of the workday. Even if you've accomplished a lot, it can feel like your workday never really started if you skip getting dressed.
Putting fresh clothes on can also help draw a line in your head between work and the rest of your life. You don't have to pull out your 9-to-5 finest, but putting on something you haven't slept in will make your day feel more successful in the end.
3. Stay connected.
Depending on your line of work, you may still feel connected through conference calls and virtual team meetings. But even if you're independent and don't join as many of those, try to find excuses to have regular, virtual check-ins with key colleagues. Consider starting your calls chatting with them about what's going on in their lives or big projects they're working on. This helps to make up for some of the water cooler conversations everyone misses out on when working from home, and staying connected helps maintain some semblance of a remote work culture.
Keep in mind that during the stressful times we're all experiencing due to the pandemic, you may need to be more flexible with yourself and with colleagues. Acknowledge that meetings may need to be canceled or rescheduled on short notice, and work with your team to keep lines of communication open. Also, consider taking an honest look at your virtual persona and how effective your virtual communications are.
If you're a leader in your organization, you likely spend a lot of time trying to come up with or implement ways to improve team performance or team effectiveness.
Team improvement ideas abound, but we think we have some valuable suggestions based on proven tools such as The Five Behaviors of a Cohesive Team™ and Everything DiSC® that can help you and your team maximize your potential to achieve the results you need.
Defining Your Goals: Set the Action Plan for Improving Team Effectiveness
As a leader, establishing and clearly defining what success will look like for a given project is of paramount importance. Second to that is successfully communicating the idea of success you've developed to your team in a way that clarifies both goals and expectations.
When the members of an effective team know what is expected of them, they are much more likely to perform to their full potential. When that understanding spreads across the team, you have set yourself on the path to success.
Setting the Stage for Effectiveness: Clarifying Goals, Roles, and Responsibilities
Your next step is to determine who's responsible for what tasks and responsibilities. Some of those duties will be decided by the team leader, and some will need to be decided as a group.
When fleshing out tasks and roles, everyone is going to need an established foundation of trust and understanding that will allow your team to engage in healthy conflict and help you assign work to be done.
Spirited discussion, or at least the opportunity for everyone to feel they have been given the opportunity to weigh in, is necessary to ensure everyone buys into the project. In order to buy in, those who have to produce the work need to know that everyone is on the same page and is behaving in the organization's best interests.
This foundation, which is based on The Five Behaviors of a Cohesive Team, will foster a positive environment that is more immune to many of common workplace distractions:
Jealousy
Claims of unfairness
Gossip
Skepticism
Interpersonal conflicts over territory
Fear of personal attack
The increase in engagement you'll get from teammates who trust each other and have honestly bought in will set the wheels in motion for greater productivity and creativity, which leads to increases in both quantity and quality of work produced — a win for everyone.
Recognize When It's Good Enough to Start: Productivity Requires Action
Once everyone knows what the project is trying to accomplish, what success looks like, and what everyone's roles are, strike while the iron is hot.
Going back again and again to further clarify or give ever greater detail can, in some cases, drastically reduce people's ability to utilize their training, creativity, and other natural attributes (which are likely the reasons you hired them in the first place).
Hesitation and doubt can cripple an individual or team, and too much planning or too great a delay between decision and implementation can lead to insecurity and paralysis.
It's time to have faith in your team and the process.
Conduct Meetings With a Clear Objective in Mind
It's important to remember that meetings cost resources: time, money, and energy. Meetings can propel a team forward, or they can distract from the primary objective of getting the work done. Unfortunately, too many organizations fall into the second category.
Be specific about what needs to be accomplished during this valuable time. Whatever type of work your organization does, it's likely that time in meetings is time away from getting the actual work done.
Remember to allow for a healthy exchange of ideas and necessary conflict, but keep it directly related to the goal of the meeting.
Place time limits to keep everyone focused on accomplishing the meeting objective. Side conversations and offshoots can be taken care of in email exchanges, quick one-on-one conversations, or at the coffee station.
Exchanging Feedback Fosters Accountability
Communication allows everyone to know where everyone else is at in terms of fulfilling their responsibilities, and that provides a serious layer of accountability. Valuable employees don't want to be the person holding the team back.
Sufficient feedback from the boss and from other team members also allows for course correction if any one task or role has gotten out of sync with the others, saving valuable time and resources before things go awry.
Guide Without Micromanaging: Don't Get in the Way of Your Team's Effectiveness
As the leader, it can be tough to not interject yourself too much and begin micromanaging teams and individuals as they produce the work their duties and roles require.
A little advice or course correction could go a long way, but too many starts and stops that focus on tiny details can break momentum and cause people to become hesitant and overly cautious.
In simpler terms, an excessive amount of direct involvement by the leader can gum up the gears of production and stifle the creativity and inspiration your amazing team members bring to the table. (Again, that's why you have them on the team.) Be judicious with your direct involvement, so that it has the necessary impact needed to enhance your team's performance, but doesn't become counterproductive.
There are dozens of tricks, tips, and hacks out there, but focus on the big things that matter most and make an overall difference. In other words, focus on the overall mission, and let your teams work out the smaller details.
Practicing the judicious use of your involvement will require some patience and a willingness to lean on the foundation of The Five Behaviors of a Cohesive Team that you've established:
Vulnerability-based trust
Your team's buy in or investment in the direction of the project
Team members' ability to hold each other accountable.
You've crafted and invested in this foundation of effective team behaviors. Now it's time to let the process work for you and pay dividends.
Monitor Your Team's Communication
One way you can utilize your role as the boss to impact productivity is to monitor the communication between teams and amongst the individuals on a team.
If you want to measure your team's effectiveness, you should be:
Measuring interactions
Observing conflict
Demonstrating understanding
Providing coaching or support in areas of communication that need improvement will result in increased employee engagement, meaning that:
Work gets done with fewer unnecessary interpersonal interruptions
Team efficiency improves
Quality goes up
Absenteeism and turnover goes down
Learn More About Ways to Improve Team Performance Through Superior Engagement
Leaders are always coming up with ideas and strategies to improve team performance.
At Integris, we're confident these suggestions can help you get the most from your team's potential. Your team is filled with talented individuals who can produce amazing work when allowed to engage fully and given proper guidance.
In the classic movie "The Wizard of Oz," protagonist Dorothy Gale leaves Kansas and enters a new world, the land of Oz. While Oz is unfamiliar and unlike anything Dorothy has encountered before, she is able to navigate fairly well because she has a roadmap – the Yellow Brick Road. CISOs are not as fortunate as Dorothy. For CISOs, the expectations may be clear (from operational oversight to organizational politics to managing talent), but a roadmap to being effective in meeting those expectations is notably absent.
Given the timeliness of the topic of CISO effectiveness, the Security Leaders' Summit at the 2019 Infosecurity ISACA North America Expo and Conference delved into recommendations that may help CISOs navigate challenges they may experience along their career paths. In his presentation, "CISO Leadership: Navigating Cybersecurity Leadership Challenges," Todd Fitzgerald with CISO Spotlight, LLC shared tactical as well as strategic approaches that may help CISOs create a roadmap to effectiveness. Tactically, Fitzgerald recommends that CISOs:
Focus on where data is and how to protect it
Help the enterprise gain competitive advantage by using technology such as AI, machine learning and cybersecurity analytics.
Strategically, Fitzgerald shared that if an enterprise has the philosophy that cybersecurity is everyone's responsibility, all departments should map their roles to cybersecurity. In return, CISOs can ask what they can do to help departments ensure cyber health for the enterprise. As CISOs partner across their enterprises to gain competitive advantage through technology, Prasant Vadlamudi, director, technology GRC, Adobe, advised CISOs to remain cognizant of stakeholders' expectations regarding use of emerging technology, particularly when taxpayer funds are involved.
Continuing with the strategic approaches that CISOs may use to navigate a roadmap to effectiveness, in his presentation, "CISOs in the Boardroom," Vivek Shivananda, president, CyberSecurity Solutions, Galvanize, offered the recommendation that CISOs remain mindful of the board's concerns: business interruption, reputational damage and breach of customer information. He continued to share that two different dashboards can be useful for CISOs: an internal dashboard that is more technically focused and a second dashboard that is more focused on business impact. In looking at metrics, Shivananda recommended that CISOs acknowledge and address the challenges of identifying what metrics to focus on, deciding how to address the data needs of many stakeholders, and reconciling when data exists from multiple sources.
In looking at the challenges CISOs face as enterprises gauge the CISO's effectiveness, data was a recurring topic covered during the summit. Recommendations for CISOs on how to address these data-related challenges included knowing where data is located in order to best protect the data, and leveraging the data as the basis of dashboards that meet internal needs as well as board expectations. Beyond data, strategic recommendations covered at the summit included positioning cybersecurity as everyone's responsibility and remaining mindful of the board's concerns. These recommendations are not the visible Yellow Brick Road that Dorothy Gale had to guide her journey in the Land of Oz, but they do provide a roadmap that CISOs can use to navigate a path to effectiveness.
by: Jennnifer McKenzie
Published on: October 29, 2018
Are you starting out with your first remote workers? This is a great opportunity for your business to grow – but keep in mind the challenges you'll have to overcome!
Technology is contributing to changes in ways we work, and it facilitates the effectiveness of having remote workers. Businesses benefit significantly through a decrease in overhead and other expenses of having a traditional office. Remote workers are also more satisfied with their positions because they can maintain a better work-life balance, eliminate a stressful commute and work in a more comfortable environment.
The Challenges Of A Geographically Dispersed Team
There are challenges associated with having a dispersed team. Hiring and managing a remote team are processes that require a different approach. Employees also face their own challenges throughout their daily work experiences. A closer look at these issues is the first step toward overcoming the challenges.
#1 Choosing The Right Team Players
During the hiring process, employers typically need to take the extra step to ensure that applicants have the right traits for the job. Because of the nature of remote working, they need to be responsible as well as communicative. Remote workers need to be well-organized and self-starters. They should work well without constant supervision. Effective communication skills are essential. Completing the interview in segments may enable you to see the candidate's abilities to communicate by phone, by video chat, and by email.
#2 Performance Tracking
Once you hire the right individuals for the job, the challenges associated with daily operations and management must be addressed. Managers must remain vigilant to ensure that workers are doing their jobs fully and accurately. Performance tracking software is a good call, but ensure that your employees are on board with it.
The prospect of micromanaging remote workers seems to be impossible, but frequent communication simply to check up on employees can be very disruptive to efficiency.
In fact, it can decrease their productivity and make them feel as though they are under a microscope. This creates unnecessary stress and can lead to high turnover. A better idea is to allow remote workers to complete projects on their own as long as they know the appropriate processes and can meet deadlines.
#3 Cybersecurity
Remote work is heavily reliant on technology, which opens up potential security risks. With many remote workers using personal devices to do their job, it's your job to ensure they are doing it securely. There is a trend among the remote and regular workforce to BYOD – bring your own device – to work. This includes personal computers and mobile devices.
If these devices are not sufficiently secured as they would be in a traditional office environment, a risk of a data breach is high. Another potential risk is the use of public Wi-Fi from various coffee shops or public venues like the airport. Malevolent users connected to the same public Wi-Fi can easily hack into their devices and see what your workers may be doing.
Educating your team about the dangers of online security threats is critical. You should also set standards and guidelines related to cybersecurity so that your remote workers know the steps that they are expected to take. For example, you may only permit files to be shared using the company's preferred collaboration or cloud-based solutions.
#4 Using The Right Tools For The Job
When you manage a remote workforce, you will need to implement technological solutions that have enabled this type of work experience. For example, finding an efferent way to emulate office communication. Time zone differences and distance often makes this part tricky. However, there are numerous communication tools and chat programs that can be used – Skype and Slack being on the forefront when it comes to video conferences and dedicated chat rooms.
Working on the same data and files is also another hurdle to overcome. Cloud-based solutions and suites help by enabling remote teams to collaborate and work together as if they were right next to each other. For instance, Office 365, offers everything – from collaboration, calendars, even chat rooms and file sharing via OneDrive, that allows team members to be efficient.
#5 Staying A Team While Being Dispersed
Creating a team environment that really feels like that is difficult when having a workforce that is distributed in different towns, countries, or even continents. You need to find an effective way to incorporate team values and instill them into your workforce when they are not bound by the same geographic location.
Group interaction and non-work social events held online can help your team to build camaraderie. You may even create a virtual water cooler, which can replace the typical casual chit-chat that employees in a traditional office environment may benefit from.
You can schedule team building events online, or opt to finance an annual meetup. Bring your workers together, such as for an in-person team building weekend. You can also invite remote workers to visit your office location periodically so that they can get a better feel for the company's values, expectations and more. It can be expensive to fly your team members to your location but consider taking this step once or twice per year. Bring the entire remote team together at one time.
These are just some of the challenges that must be addressed head-on when you hire and manage members for your remote workforce. Management should have a clear understanding of the most common challenges and how to tackle those issues before they become problematic. Using modern technology and the right managerial approach, you can successfully benefit from a remote workforce.
Related Articles
How to Replace a Jamb Switch on an Oven
How to Replace Wall Switch to a Garage Door Opener
How to Replace the Coil on a Sears Kenmore 80 Series Electric Dryer
Removing the T-Handle From a Garage Door Lock
How to Adjust Garage Door Tension
The remote control unit for a garage door opener works by transmitting a radio signal to the unit inside the garage. Anyone who is familiar with automatic openers may realize the remote doesn't activate the door until you get within a certain range. If the battery is weak, the remote may not work unless you're extremely close to the opener. Improve the performance of an opener and increase the range by adding an antenna extension that you can buy online or at electronics outlets.
Place a stepladder at the area of the garage door opener. Depress the tabs on the underside of the cover at the back of the unit and remove the cover to expose the antenna connection.
Loosen the screw that attaches the small wire antenna at the unit and pull off the wire. Attach the wire at one end of the antenna extension to the screw and tighten the screw.
Reposition the ladder, as necessary, to run the antenna wire along the ceiling of the garage or the underside of an exposed ceiling joist toward the front of the garage. Fasten the antenna wire every 12 inches with insulated wire staples and a hammer.
Attach the long stem of the provided antenna bracket at the ceiling or underside of a joist with the provided screws. Screw the end of the antenna wire into one side of the provided connection coupler at the bracket. Screw the base of the provided antenna into the opposite end of the coupler.
Remove the back of the remote control unit. Depending on the style, slide off the back or remove a keeper screw. Install a new battery of the same type, such as AA or AAA, in the remote and reattach the back.
When it comes to working remotely, there's typically one concern that plagues employers and employees alike: will you still get as much done? How do you measure productivity?
Here's the short answer: yes. In fact, plenty of studies show that remote workers actually get far more done than their in-office counterparts.
But for companies who employ remote team members or an entirely remote workforce, there's another productivity-related question that carries importance: how can they effectively measure the productivity of their workers?
Well, there's nobody better to ask than some leading remote company employers—and that's exactly what we did.
Here's how eight different employers measure productivity among their remote workers:
1. Maintain a results-oriented culture.
"At Toggl, we have a result-oriented culture and everyone's productivity is measured by their results. We have small teams working together: back end team, front end team, mobile team, marketing team, etc. Every team sets their own goals and works towards achieving them. We also track time with Toggl but the productivity is measured based on the results and not on how many hours you have been working. It works perfectly as we put a lot of trust into our coworkers."—Alari Aho, CEO of Toggl
2. Set clear goals and deadlines.
"We set goals and deadlines, the same way we would if our team was working in an office together. The team here at [PipelineDeals] works really hard to meet the company goals and we use some different apps like PivotalTracker and Basecamp to track our progress."—Christelle Lachapelle, brand manager at PipelineDeals (formerly Batchbook)
3. Form plans to increase accountability.
"All of us have yearly 'people plans' that tie us to our goals and what's required. Every one of us tracks all of our time so that we can measure ourselves and keep on track. Again, this is about Leadership 101 in some ways. Meaning, every worker needs to have clear expectations and clear feedback—no matter where they work."—Wes Ward, VP of strategic growth at Five Q
4. Analyze important tasks.
"I measure productivity by the number of important tasks we have managed to resolve per week. This is how I look at my team's efficiency; important tasks in our case are either things that directly helped clients resolve issues they had or will make clients' (and theme authors') lives easier, so issues will be prevented in the near future."—Amit Kvint, compatibility team leader at OnTheGoSystems
5. Track progress on priorities.
"We focus more on priorities than on numeric goals. We set them frequently to adjust those priorities. Productivity is measured by how much progress we make on those priorities in a given time frame."—Fred Perrotta, CEO of Tortuga
6. Have employees track hours and activities.
"We monitor both hours worked and hours billed to clients. Virtual assistants describe the work they do each day, which allows us to assess productivity."—Eric Wall, CEO of Equivity
7. Use your annual review process.
"Through our annual review process. We simply ask: 1) What were your key accomplishments? 2) What lessons did you learn? 3) What are your top goals for next year? 4) What skills do you want to improve? and 5) How can your manager help you?"—Chuck Vadun, communications director at Fire Engine RED
8. Trust your employees.
"We don't actively measure anything like work output. Everyone is quite honest about their flow and usually it's quite clear from the amount of product that is being built whether we're working fast or slow."—Tom Moor, co-founder of Speak
Obviously, there are plenty of ways that remote employers keep an eye on the productivity of their employees. But one common thread between most of them? An emphasis on results. In short, they care more about what gets done than the working hours during which it gets accomplished. That's a surefire way to not only have a more productive team, but also higher morale and a significantly more supportive culture.
Photo Credit: bigstockphoto.com
Save Save Save Save Save Save Save Save Save Save Save Save Save Save Save Save Save Save
You wouldn't hand a new high school graduate the keys to a Tesla and let them go, but this is an exaggerated equivalent of some company new hire training programs. Learning how to train new employees effectively is the cornerstone of success for any company. This post is your guide to better and more effective new hire training. Keep reading to learn more.
Why is a new hire training program necessary?
It's a common mistake that even the most successful businesses make: not formally training new employees.
Some companies believe that new employees will learn as they go, on the job, foregoing a new hire training program. While there is plenty of space for on-the-job training, knowing how to train new employees effectively means happier employees and better retention rates.
Consider that 20% of workers in the U.S leave their job within 45 days of hire (with that number skyrocketing to 50% in the retail sector).
According to some estimates, the cost of replacing employees who make $30,000 a year or less is 16% of their annual salary. But for higher-level employees, those making over $75,000, that number can be 20% of their annual salary or higher. So, once you find the best employees for your team, you want to keep them there. And, following some best practices for employee onboarding is one of the most effective ways to do so.
91% of employees stick around for at least a year when organizations have efficient onboarding processes
69% of them stick around for at least three years when companies have well-structured onboarding programs
Now imagine that 91% of your employees stay for at least a year and 69% are still going strong after three years. What does that mean for your bottom line? Your company culture?
How to train new employees effectively
Developing a solid new hire training program is an important management skill. More than just showing new employees where the coffee maker is and how to get their parking permit, training new employees procedures helps employees settle into the rhythm of the company to focus on the most important thing: their job.
While your exact onboarding tasks may differ, these best practices for employee onboarding help you get your employees up-to-speed, whether they're hourly, C-suite, or anywhere in between. And, they're just as useful for in-office and remote employees. This is how to put together your new hire training program:
Establish your new employee procedures, beforehand
Ensure that all managers use a new hire training checklist
Start onboarding before day one
Include onboarding best practices into your procedures
Train for culture, not just topics
Build in regular reviews and adjustments to your training program
Let's look at each of these in more detail.
1. Establish your new employee procedures
Before you begin developing a new hire training program, you need to know where you are going. If your company has never identified exactly what each new employee should know, now's the time to do it.
Putting together new employee procedures helps you to articulate the what, why, when, and how to train new employees effectively. There are five easy steps to this process.
Identify tasks or procedures employees need to know and break these into steps: Make these tasks and steps as concrete as possible, and have another person who isn't in the role check for clarity.
Identify the best person to complete the training: Not everyone can train every employee for every skill. Choose the best person for the job.
Allocate resources: supplies and time: Training new hires is essential. Providing adequate tools and time to learn new procedures and practices (or not!) can make or break your new hire training program. You simply can't expect existing employees to fit training into an already-packed schedule.
Train: This one word encompasses a range of activities, from online training to microlearning to hands-on practice. Identify the best way to deliver the information for the best chance of success.
Check for understanding: It's not enough to just offer the information and hope it sticks. Check employee understanding after training by tailoring employee assignments to the training they received. This helps you to know if employees feel confident in what they have learned or if they need more information.
2. Ensure that all managers use a new hire training checklist
It's easy to forget where each employee is in the onboarding process. Creating a new employee checklist can help.
This new hire checklist can include:
Sending a welcome email with first-day practical things like parking and dress code (as we'll discuss next)
Making sure office space is cleared, stocked, and ready
Pairing the new employee with a mentor
Developing an individualized training plan
Identifying priority topics employee needs training on
Planning check-in meetings to help new employees feel supported
Checklists make life easier to manage, and a new employee training checklist is no different. The best employee onboarding checklists start before an employee walks in on their first day and can continue for up to six month or a year after they start. Your team may already have a checklist in place, or you can find inspiration in some online employee onboarding checklist templates from:
Your team may already have a checklist in place, or you can find inspiration in some online employee onboarding checklist templates from SmartSheet or Process Street.
In recent years, remote patient monitoring (RPM) programs and pilots have become more pervasive and implemented at scale, as their efficacy in improving outcomes, adherence, and cost reductions is demonstrated. Remote care provides a program alternative to patients with chronic conditions who may have been unsuccessful in rigorous or constraining in-person treatment plans or have struggled with adherence in the past. This form of care offers new opportunities to providers and healthcare organizations looking for ways to take advantage of existing technologies while improving outcomes and cutting costs.
Many patients experience difficulty in managing and taking control of his or her health, especially when their actions and vitals readings outside of the doctor's office can largely go unknown or unseen by the doctor. Notably, 78% of healthcare consumers wear or are willing to wear technology to track their lifestyle and/or vital signs — demonstrating that while many are interested in engaging in their health, they lack the option to do so. RPM programs offer an opportunity for these patients to become more educated and engaged in their healthcare, which can encourage lifestyle changes and result in better outcomes.
Validic™ Pilot Demonstration
In an effort to understand the complexities and opportunities associated with integrating patient-generated health data (PGHD) into clinical workflows, Accenture Federal Services and the Office of the National Coordinator for Health IT (ONC) selected Validic and a West Coast health system for a pilot demonstration focused on providing remote care and interventions. Using in-home and wearable health devices, the groups worked to demonstrate the effective use of PGHD to better manage and engage a population of individuals suffering from Type I and Type II diabetes.
Preliminary results determined that patients found the use devices and applications in their care program as an enhancement to their quality of life — enabling them to better self-manage their diabetes. Patients also found the remote monitoring program strengthened their relationship with their care team (inclusive of the physician, nurse, and nutritionist) and eased the burden on them to manually record readings and attend weekly in-person visits. In fact, patients asked to donate more data as part of the study. Additionally, patients were able to lower their a1c levels – some for the first time in years.
One such patient, Steve, struggled with managing his diabetes when he was diagnosed at age 40. After failing to see results from other treatment plans, and with a desire to take control of his health, he became a part of this remote monitoring pilot.
Steve's story
When Steve was diagnosed with Type II diabetes at age 40, like his father, uncle, and grandfather before him, he was struggling to manage his weight and overall health.
After his diagnosis, Steve continued to struggle. He struggled to maintain a healthy weight despite working out and leading an active lifestyle; he struggled with his a1c levels despite a managed diet and nutrition program; he struggled to feel in control of his condition and overall health.
Because of this, Steve required frequent office visits with his endocrinologist. He was dedicated to getting better; so much so, that he would fax a copy of his glucose readings – which he kept in an excel file – to his doctor ahead of each visit. But, with no clinical protocol or system in place to manage Steve's data, the endocrinologist would promptly disregard Steve's readings.
This led Steve to join this particular program of care. Because this program, unlike any Steve had been a part of before, leveraged his everyday data to manage his everyday condition.
The program required Steve to take blood glucose readings at least three times a day, usually around meals. As part of the program, Steve's data were collected via his program-issued application. This included his weight scale, a legacy blood glucose meter, an activity tracker, and a blood pressure monitor (to help monitor the effect of the program on his kidney function).
Continuous monitoring revealed an overlooked daily snacking habit that affected condition management. While watching television with his kids each night, Steve would snack; the couple handfuls of chips or popcorn each night was causing a consistent spike in Steve's blood sugar before bed.
Steve's care manager noticed the trend and informed him on how to amend his diet and actions. As a result of using real-time PGHD, a previously unidentified problem was easily spotted and the patient was able to adjust his lifestyle to achieve his target HbA1c.
Today, Steve is down 50 pounds and has lowered his a1c by 1.5 points. Additionally, after several weeks and showing success in managing his weight and condition, Steve's physician amended the in-office visits to once every three months. She, along with the care team, continued to manage his care and condition providing personal support and accountability remotely throughout the duration of this pilot.
Remote care in treatment plans
As more stories each day — like that of Steve — are showing the impact of remote monitoring on patient outcomes, engagement, and satisfaction, it is becoming evident that remote monitoring is a viable solution for chronic condition management that not only improves outcomes but can also offer additional benefits, such as reduced hospital readmissions and cost savings.
By integrating care action into the home, whether that be via telemonitoring, wearables, home-health clinical devices, or a number of other technologies available today, organizations can take steps to activate patients in their own health and reduce healthcare costs for patients and organizations. As the shift toward home health continues to grow, providers have an opportunity to integrate digital health tools into treatment plans and remote monitoring to help manage patients with chronic conditions, provide proactive care, and lower costs.
Keyless entry remotes are great, but they don't always work how you want them to. One of the most common complaints is that they just don't reach far enough, and there's nothing more annoying when you can't remember where you parked. After all, what's the point of having "remote" entry if you have to be right next to the car for it to work?
Surprisingly, the key to fixing this is actually in your head. If you touch the remote to your head while pressing the button, you can unlock your car from a further distance. For even better results, hold it under your chin and open your mouth.
According to radio engineer Tim Pozar, you're essentially turning your skull into an antenna. The fluids in your head make it a good enough conductor to actually increase the range of your key fob.
Still skeptical? Watch the video below to see the trick in action.
So, if you want to make your car remote more effective, just use your head. You may get some funny looks, but it just might save you a trip outside the next time your car alarm goes off.
Want to master Microsoft Excel and take your work-from-home job prospects to the next level? Jump-start your career with our Premium A-to-Z Microsoft Excel Training Bundle from the new Gadget Hacks Shop and get lifetime access to more than 40 hours of Basic to Advanced instruction on functions, formula, tools, and more.
Home
Recruit & Retain
Leadership
Workplace Wellness
Technology
News
4 Tips to Improve Payroll Effectiveness
HRVoice.org | September 9, 2014 | 0 Comments
By Amber Blaha
Effective payroll processing isn't just an essential business function. It also plays a key role in maintaining a high level of employee satisfaction. Employees depend on getting paid promptly and consistently with the correct amount. A payroll process that's slow, prone to errors or overly complicated can result in a strained relationship between an employer and workers and unnecessarily tax the time of the HR team.
Payroll activities are said to account for as much as 35 per cent of an average HR department's time. To make the most of this time and to prevent or minimize errors, here are four payroll processing best practices to institute in your business:
1. Conduct regular, ongoing audits.
Frequent employee complaints about payroll are signals you should be conducting regular audits of the entire process. The best way to isolate and identify an issue is through a comprehensive workflow analysis, itemizing each step of the process from beginning to end.
Obviously, a company that still makes use of a manual timecard system should expect employees will enter incorrect information on occasion. But automated systems aren't immune to mistakes, either. These include incorrectly classifying a new employee's tax status or forgetting to adjust pay rates after an employee is given a raise.
Effective audit action steps include:
Check and double-check all paperwork and processes to determine that each part is running smoothly.
Test plugins or add-ons to ensure that payroll software is properly integrated with your time and attendance system.
If employee time-theft is identified as a problem, install a check-in system and/or biometric sign-in hardware to automatically note the times an employee signs in or swipes a card.
2. Institute a transparent payroll policy.
Problems often come about as a result of employee misunderstanding of the payroll system, most often in organizations where pay policies are either not accessible or inadequately presented to employees. Many payroll issues, such as underpaid taxes or employee mis-classifications, can be corrected by instituting a wholly transparent payroll policy.
This policy should include information on:
How the payroll process works
How employees are classified
How salaries are determined
Employee reporting responsibilities
Company procedures for handling payroll mistakes
Levels of vacationable earnings (as set by BC Employee Standards Act section 58)
The manner in which wages and promotions are calculated
Put the policy in writing, display it prominently throughout the workplace and make sure each employee has a copy.
3. Seek employee input to improve payroll process effectiveness.
Even with a policy of transparency, never assume that people fully understand the ins and outs of payroll processing. Communicating with employees can help identify areas of confusion and misunderstanding, such as improper timesheet submission or other issues related to the use of time cards.
Hold an all-staff meeting dedicated to payroll issues. It's likely you'll get enthusiastic participation, since every employee is directly affected by the process. At this meeting, ask employees what payroll processes work for them and what areas need improvement. You may be surprised by the creative suggestions you receive.
If senior management has issues with the payroll process, confer with the CFO and/or senior accounting manager. Consider sponsoring a company-wide survey of all managers and supervisors to determine their level of satisfaction with current procedures. Again, inviting suggestions on improvement will encourage support from these individuals after changes are implemented.
4. Know payroll tax policies inside and out.
The Canada Revenue Agency (CRA) strictly enforces payroll tax policies for small businesses in Canada. It's important that you and your HR staff thoroughly understand the employer's obligations in this area — and that you keep pace with changes in federal government policies.
According to The Payroll Edge, areas of emphasis should include:
Remittance. Companies that fail to remit payroll taxes on time are subject to fines. If, for example, a remittance due date coincides with a public holiday or weekend, remember that remittance is due the following business day.
Payroll deductions. The federal government generates payroll deduction tables on a regular basis, so it's necessary to keep pace with any updates or changes.
Canadian Pension Plan (CPP) contributions. CPP contributions must be deducted for employees between 18-70 years of age.
Employment Insurance (EI) premiums. The CRA offers tables outlining employer requirements for withholding Employment Insurance premiums.
Bonuses and retroactive pay increases. Deductions must accompany any bonus or retroactive pay increase: CPP contributions, EI premiums and income taxes. Check with the CRA on how to calculate the appropriate amount of taxes.
Successful businesses make effective payroll processing a top operational priority. HR expertise in this area is therefore a critical element of that success.
Amber Blaha, Vice President of Marketing at Velocity Technology Solutions, the global provider of cloud application hosting and business process outsourcing for human capital management (HCM) solutions.
Did you know that you can connect remotely to Mac from your Windows computer? If not, then here is an article to allow the remote computer to access your Apple. This guide is an additional way for Apple users to learn how to connect remotely to Mac. The first guide we've shared was accessing remotely your Mac computer from your iPhone.
Allowing remote login would entail the usage of Secure Shell (SSH) to log in to your Mac from another PC. If you are using Windows, this can be very helpful. Telnet cannot be used to log in to your Mac.
Connect Remotely to Mac via Setting Up Remote Login
To setup remote login in order to connect remotely to Mac, what you need to do is to Open Sharing preferences by going to the Apple menu (System Preferences > Sharing).
Next, what you should do is to select the Remote Login. By doing this, it enables the secure FTP service (sftp). Now, the next step is to identify which users can log in. There are two options:
All Users – any of the users of the PC and anyone on the network will be able to log in.
Only These Users – specify only the users permitted to log in remotely. Do this by clicking Add then choosing the users. Users & Groups include all the users of your Mac; Network Users and Network Groups include people on your network.
Connect Remotely to Mac from Windows
From another PC, log in by opening the Terminal (or the SSH applicaton) and type:
Thus, if your username is anthony with an IP address 10.1.3.2… what you need to do is open the SSH app or Terminal from the other PC and type:
If you do not know the Mac IP address and the username. You can find it easily, open the Remote Login panel from the Sharing preferences. The user name and IP add shall be displayed below the "Remote Login:On" Indicator.
Note:
Enabling remote login from Windows entails security issues.
There are other ways to enable connecting remotely to Mac from Windows such as the following:
Screensharing. A built-in feature of your Mac is ScreenSharing – which has VNC server with additional features. This implies that VNC clients can control your Mac and this will be the key to remote access.
Enable it by clicking the Apple > System Preferences > Sharing and then, check the Screen Sharing box. A control panel will be displayed on how to connect. You can connect using the VNC client via the IP address displayed. Take note that the IP address shown can be similar to the internal IP address where your Mac is placed under the local network. This implies that without forwarding ports, you will not be able to access the Internet.
Set a password at the Computer Settings button. If you do not set up one, you will encounter confirmation dialog box every time you log in via remote access.
Chrome Remote Desktop. Similar to Windows, install this as a plugin to your Chrome on Mac. Click the Share button to get a temporary access code. Use this to connect to your Mac from the extension. Such can be downloaded in iPhone, Android and other gadgets.
Well folks, there you have it. This article is another Apple tips we can share like the article we've previously posted such as the recommended best antivirus for Mac.
Virtual teams can be a great resource for business because teams can be comprised of members who have the expertise and talent that may not be available within the organization's walls, the same city or same time zone. However, effectively managing remote teams can be a challenge for those managing them.
Some facts about remote employees
According to Cisco, approximately 69% of the employees surveyed cites higher productivity when working remote their work productivity improved.
A report from ConnectSolutions conclude that remote workers can lead to higher efficiency.
By the year 2021, experts predict one half of the global adult workforce will be remote.
Remote team management can come with a few challenges, as well. Here are 11 best practices which explains you how to manage remote teams effectively in your business.
1) Find the right workflow management system for your team
To maximize the team output you need to find out the right workflow management systems for your team. Choosing the best ways can help you have more productivity. Benefits of having a right workflow,
You can easily avoid the trap of micro management.
Allow your team to control the work on each level.
Team can easily establish specific goals.
Bonus tip: Instead of focusing on how the work is being done, focus on the work itself and set clear objectives for your each remote employee.
2) Create a workplace culture for your remote teams
While managing remote team, it is important to have a clear vision of team culture. Culture is about human beings, and people want to feel part of something positive and bigger than themselves.
Remote team managers who are able to create this sense of culture will increase the quality, productivity and commitment of their remote team members and their work. True workplace culture drive successful remote teams.
Bonus tip: Recognize their hard work and give them reward for their efforts.
3) Try different communication medium
To manage your virtual teams you need to apply different communication method. Here are some medium which works for communication purpose,
Email
Video Chat
Phone
Web Chat
Bonus tip: Make sure every remote team communication is delivered on the right platform.
4) Have a culture of accountability and trust
It is important to have a culture of accountability. In order to bring strong working relationship with your team members is to create social bonding. Setting clear expectation for remote workers is also a key.
Bonus tip: Establish trust in between your remote workers. It will improve the confident level and trust.
5) Effective collaboration on documents
In remote team management, there are number of documents shared by employees with each other. In this scenario, Google drive has made a life of the virtual assistants easier than ever.
If you have a document which needs editing with the help of various people at a time, you can get it edited all at once when you share the document in the Google Drive or Drop box.
Bonus tip: Use Google Drive for seamless work on files without having to download and re-upload them.
6) Allow a degree of flexible working hours
These days, working from home have been given to prioritizing in the life of the people to get the flexibility with their working hours. It is an important aspect to include flexibility in working hours to manage remote teams, one requires to get collaborated is not necessary.
Staying available through virtual tools can also help the team to stay connected and at the same time, they can chat and resolve any sorts of upcoming issues.
Bonus tip: Make their working hour flexible so it will create an opportunity to create a structure of overbooking and micromanaging.
7) Track their performance
It is very important to implement a structure of tracking the performance of remote employees whether your team is virtual or not. Provide them flexibility but don't completely leave them on their own. If they are getting paid based on working hours then track their attendance by using tracking software.
Bonus tip: You can use SalesHandy tool to streamline your communication with your remote team members. It will create transparency in the work environment and you will know quickly whether team member is productive or not.
8) Take regular feedback
Collecting regular feedback is one of the most important part of remote management strategy. It allows you to encourage hard work, put transparency in your work and also create good opportunity to explore new ways to keep in touch with your remote team.
Bonus tip: Create 360-degree feedback so that remote employee can motivate him/herself for doing better.
9) Keep communication simple and natural
It is important to maintain a communication through email service, product wiki, task board, instant messaging apps. By using virtual assistance tools you can keep the communication simple and natural. It is the best way to minimize setup overhead.
Bonus tip: Use the right tool for your communication and create a simplified workflow.
10) Take out time for small conversation
To work in a highly moderated management, the remote employees need to get indulged in the small conversations. If there is a deadline to maintain or have a quick meeting to attain, all things require a small talk that can help in clearing the doubts and help in fast indulge for the execution of the tasks.
Bonus tip: Small conversation with your team members demonstrate that you care and this will also make them like working for you more.
11) Get together face to face at least once a year
At least once in a year, you can bring all your teams together for a virtual conference. This type of gatherings helps in increasing the possibilities of discussing business at a substantial stage.
With warm get together and team building activities directly impact productivity, team morale, and overall team performance. No matter whether your team is big or small, it is important to focus on team building activities and create a sense of connectedness across the company.
Bonus tip: Small gathering with your team members will give an opportunity to have a big discussion around culture, vision, and team future.
12) Respect cultural differences
No matter whether we are managing small or big remote teams, managing cultural diversity in the team can be challenging sometimes. Dealing with cultural differences, language barriers in remote team members are some of the issues that today's managers and leaders face. So, it is important to successfully navigate the cultural diversity in the workplace.
Bonus tip: Educate your team members about the cultural ethics, language, and religious holidays. This will help to solve the problems and keep cultural misunderstanding at the minimum level.
Final thoughts
The explosion of technological advancements has redefined every aspect of our lives, especially the way we work. Having and managing remote employees is now a mundane aspect of today's workplace. So, if you are a leader then you need to follow above-mentioned best practices of managing the remote teams to create a truly united team.
Start a 14-day free trial, no credit card required!
Applies to: Configuration Manager (current branch)
This procedure describes configuring the default client settings for remote control. These settings apply to all computers in your hierarchy. If you want these settings to apply to only some computers, assign a custom device client setting to a collection that contains those computers. For more information a see How to configure client settings.
To use Remote Assistance or Remote Desktop, it must be installed and configured on the computer that runs the Configuration Manager console. For more information about how to install and configure Remote Assistance or Remote Desktop, see your Windows documentation.
To enable remote control and configure client settings
In the Configuration Manager console, choose Administration > Client Settings > Default Client Settings.
On the Home tab, in the Properties group, choose Properties.
In the Default dialog box, choose Remote Tools.
Configure the remote control, Remote Assistance and Remote Desktop client settings. For a list of remote tools client settings that you can configure, see Remote Tools.
You can change the company name that appears in the ConfigMgr Remote Control dialog box by configuring a value for Organization name displayed in Software Center in the Computer Agent client settings.
Client computers are configured with these settings the next time they download client policy. To initiate policy retrieval for a single client, see How to manage clients.
Enable keyboard translation
By default, Configuration Manager transmits the key position from the viewer's location to the sharer's location. This can present a problem for keyboard configurations that differ from viewer to sharer. For example, a viewer with an English keyboard would type an "A", but the sharer's French keyboard would provide a "Q". You now have the option of configuring remote control so that the character itself is transmitted from the viewer's keyboard to the sharer, and what the viewer intends to type arrives at the sharer.
To turn on keyboard translation, in Configuration Manager Remote Control, choose Action,and choose Enable keyboard translation to transmit key position.
Applies to: Configuration Manager (current branch)
Configuration Manager allows you to connect to client computers using Configuration Manager Remote Control. Before you begin to use remote control, ensure that you review the information in the following articles:
Here are three ways to start the remote control viewer:
In the Configuration Manager console.
In a Windows command prompt.
From the Windows Start menu, on a computer that runs the Configuration Manager console, in the Microsoft Endpoint Manager program group.
The above Start menu path is for versions from November 2019 (version 1910) or later. In earlier versions, the folder name is Microsoft System Center.
To remotely administer a client computer from the Configuration Manager console
In the Configuration Manager console, choose Assets and Compliance > Devices or Device Collections.
Select the computer that you want to remotely administer and then, in the Home tab, in the Device group, choose Start > Remote Control.
If the client setting Prompt user for Remote Control permission is set to True, the connection does not initiate until the user at the remote computer agrees to the remote control prompt. For more information, see Configuring remote control.
After the Configuration Manager Remote Control window opens, you can remotely administer the client computer. Use the following options to configure the connection.
If the computer that you connect to has multiple monitors, the display from all the monitors is shown in the remote control window.
File
Connect – Connect to another computer. This option is unavailable when a remote control session is active.
Disconnect – Disconnects the active remote control session but doesn't close the Configuration Manager Remote Control window.
Exit – Disconnects the active remote control session and closes the Configuration Manager Remote Control window.
When you disconnect a remote control session, the contents of the Windows Clipboard on the computer that you are viewing is deleted.
View
Color depth – Choose either 16 bits or 32 bits per pixel.
Full Screen – Maximizes the Configuration Manager Remote Control window. To exit full screen mode, press Ctrl+Alt+Break.
Optimize for low bandwidth connection – Choose this option if the connection is low bandwidth.
Display:

All Screens – If the computer that you connect to has multiple monitors, the display from all the monitors is shown in the remote control window.
First Screen – The first screen is at the top and far left as shown in Windows display settings. You can't select a specific screen. When you switch the configuration of the viewer, reconnect the remote session. The viewer saves your preference for future connections.
Scale to Fit – Scales the display of the remote computer to fit the size of the Configuration Manager Remote Control window.
Status Bar – Toggles the display of the Configuration Manager Remote Control window status bar.
The viewer saves your preference for future connections.
Action
Send Ctrl+Alt+Del Key – Sends a Ctrl+Alt+Del key combination to the remote computer.
Enable Clipboard Sharing – Lets you copy and paste items to and from the remote computer. If you change this value, you must restart the remote control session for the change to take effect.

If you don't want clipboard sharing to be enabled in the Configuration Manager console, on the computer running the console, set the value of the registry key HKEY_CURRENT_USER\Software\Microsoft\ConfigMgr10\Remote Control\Clipboard Sharing to 0.

Enable Keyboard Translation – Translates the keyboard layout of the computer running the console to the connected device's layout.
Lock Remote Keyboard and Mouse – Locks the remote keyboard and mouse to prevent the user from operating the remote computer.
Help
About Remote Control – Displays the current version of the viewer.
Users at the remote computer can view more information about the remote control session when they click the Configuration Manager Remote Control icon. The icon is in the Windows notification area or the icon on the remote control session bar.
To start the remote control viewer from the Windows command line
At the Windows command prompt, type \AdminConsole\Bin\i386\CmRcViewer.exe
CmRcViewer.exe supports the following command-line options:
Address – Specifies the NetBIOS name, the fully qualified domain name (FQDN), or the IP address of the client computer that you want to connect to.
Site Server Name – Specifies the name of the Configuration Manager site server to which you want to send status messages that are related to the remote control session.
/? – Displays the command-line options for the remote control viewer.
Example: CmRcViewer.exe
The remote control viewer is supported on all operating systems that are supported for the Configuration Manager console. For more information, see Supported configurations for Configuration Manager consoles and Prerequisites for remote control.
Today, companies all around the world are embracing remote working environments. Distributed teams are having to consider how to build good working relationships with remote colleagues and how to collaborate effectively, including via online meetings.
Fortunately, distributed working doesn't need to lead to disorganized meetings. With some preparation and a game plan, your team can have online meetings that are just as productive and collaborative as getting everyone in the same room.
Here are a few tips for preparing, participating and following up on online meetings, so that communication is crystal clear and important details and tasks won't fall through the cracks.
Preparing for Online Meetings
As the saying goes, "to be prepared is half the victory." If you go into an online meeting with a gameplan, you'll see better results during and after you meet.
1. Create an agenda
One key part of meeting preparation is creating an agenda, which will help everyone come to the meeting on the same page and keep participants focused on priorities. A good agenda is less about your ability to lead an online meeting and more about fostering understanding for participants, especially people who aren't in the same room, says Daniel Mittleman , associate professor at the DePaul University School of Computer Science, Telecommunications and Information Systems.
"They have no access to your nonverbal cues," Mittleman writes. If there's no agenda, they're more likely to "lose place, lose focus and lose attention to the meeting."
When putting together an agenda, make sure to:
ask for input from those attending the meeting
note any time a decision needs to be made
if necessary, identify who will lead the discussion for each agenda item or topic
leave room in the agenda for last-minute additions or questions.
Your browser is not able to display frames. Please visit Weekly Strategy Meeting on MindMeister.
2. Use mind maps
Mind maps can be a great way to record who's attending and offer space for comments or ideas beforehand with branches that can link to relevant documents, action items or notes so everyone comes prepared. This can be a useful structure for online meetings that are a little more formal and require an exact record, which you can refer to later on.
Shared mind maps can also be useful if you want your team or participants to brainstorm ideas in preparation for an online meeting, or in real-time during the meeting itself.
3. Prepare your space
In March, you probably read about Robert Kelly , the South Korea expert whose kids crashed his BBC interview while he was live on air. Anyone who's worked remotely before likely felt for him. Whether it's a cat walking in front of your camera or a garbage truck coming down your street, distractions happen. You can't prevent every mishap, but preparing your space beforehand can go a long way.
Before the meeting, find a quiet environment where you can limit distractions. Use headphones to minimize background noise and prevent audio feedback. If you're working with new conferencing software, do a test run before the online meeting begins.
Participating Like a Pro
You're all prepared and it's meeting time. Here are a few tips to make sure your online meeting goes smoothly.
4. Slow and steady
Keep the pace of your online meeting a bit slower than in-person meetings, suggests Susan Colaric , assistant vice president for Instructional Technology at Saint Leo University in Saint Leo, Florida.
"Video-conference meetings should actually move at a slightly slower pace than a typical meeting due to a two to three-second delay for most systems to communicate," Colaric told Inc. "If you're leading the meeting, make sure there are sufficient pauses after asking a question. If you are a participant, bring attention to yourself before addressing the group by signaling with your hand or saying "question" or "comment" and then waiting a couple seconds before continuing."
5. Use your words.
If you're not sharing your screen and need to describe something remote participants can't see, try to be extra descriptive. This will help you communicate clearly and effectively.
"We describe all of our visual designs using words," according to 18F, the digital service agency for the U.S. government. "This might seem intuitive, but when your coworkers can't see your computer screen, it's particularly important to make sure you're describing what you see. (For example, we encourage folks to use titles of page components and other descriptors to help collaborators more easily locate what a person is talking about (the blue "Get Started" button with the white text, below and to the right of the hero image, etc.))"
Efficient meetings with mind maps
6. Take great notes.
Good note-taking is something all meetings can benefit from, and there are lots of ways to take useful notes. If you want to take shared notes during an in-person meeting, you may well turn to a whiteboard.
For online meetings, you can get a similar effect with online mind maps, which allow everyone to see and add to the notes as new ideas come up, in real-time. It's a great way to keep everyone engaged, create more clarity and get input from all team members involved.
After the Meeting
You did it! Meeting adjourned…almost. Here are a few things you can do at the end of an online meeting (and beyond) to maintain clear communication from everyone involved.
7. Recap before you're done.
When the meeting's about to end, have everyone recap the action items that they're responsible for. This is a way to make sure everyone understands who's tackling what and ensure accountability. That extra clarity is especially helpful when you can't see facial expressions or body language.
8. Save your debrief for later.
Especially if you just finished a high-stakes meeting, often our first reaction is to immediately debrief with colleagues. Hold off until you're out of the room, though. You'd never want remote attendees to overhear something you didn't mean to share because they hadn't left the video conference yet. As a general rule, wait until you're out of the room to discuss anything that occurred.
9. Share notes.
Remember those great notes you took? Make sure everyone involved has access to them. This can be another great way to create a shared understanding of what was decided, who's responsible for what action items and what to follow up on in the future.
If you're using a mind map to take meeting notes, with MindMeister you can invite attendees to collaborate via a shared link or email invitation, so you can edit, comment and feedback, all in real-time.
The goals for online meetings are no different than in-person meetings: communicate clearly so you can make decisions that move your organization forward.
When your meeting is remote, you just need to make a few adjustments to achieve that goal. By preparing properly, participating fully and following up, your online meetings can be just as successful as sitting in a room together.
If you have any comments, questions or meeting tips, it would be great to hear them in the comment section below!
Affiliations
1 Institute of Biological, Environmental and Rural Sciences (IBERS), Aberystwyth University, Carwyn James Building, Penglais Campus, Aberystwyth, SY23 3FD, UK. [email protected]
2 Institute of Biological, Environmental and Rural Sciences (IBERS), Aberystwyth University, Carwyn James Building, Penglais Campus, Aberystwyth, SY23 3FD, UK.
PMID: 27245061
PMCID: PMC5215248
DOI: 10.1007/s40279-016-0559-0
Free PMC article
Search in PubMed
Search in NLM Catalog
Add to Search
Authors
Affiliations
1 Institute of Biological, Environmental and Rural Sciences (IBERS), Aberystwyth University, Carwyn James Building, Penglais Campus, Aberystwyth, SY23 3FD, UK. [email protected]
2 Institute of Biological, Environmental and Rural Sciences (IBERS), Aberystwyth University, Carwyn James Building, Penglais Campus, Aberystwyth, SY23 3FD, UK.
PMID: 27245061
PMCID: PMC5215248
DOI: 10.1007/s40279-016-0559-0
Erratum in
Abstract
Background: Previous reviews have shown balance in older adults to be improved with exercise. However, it is currently unclear whether postural control, indicated by centre of pressure (COP) measurement, can be improved in older adults and thus whether postural control could be a mechanism to improve balance.
Objectives: The purpose of this systematic review was to assess the effectiveness of force platform COP variables to identify changes in postural control following exercise interventions in older adults. In addition, a secondary purpose was to determine whether the exercise types (balance, resistance or multi-component exercise interventions) are equally effective to improve postural control.
Methods: Randomised controlled trials were identified using searches of databases and reference lists (PROSPERO registration number CRD42014010617). Trials performing exercise interventions, reporting force platform COP measurements, in participants with a mean age of ≥60 years were included. Risk of bias assessments were performed following the Cochrane guidelines. Data were pooled in meta-analyses, and standardised mean differences (SMDs) with 95 % confidence intervals (CIs) were calculated.
Results: Twenty-three trials met the inclusion criteria for the systematic review. Twenty-two trials could be defined as either utilising a balance, resistance or multi-component exercise intervention. These 22 trials were used in the meta-analyses. All trials reported measurements of double leg stance; eight trials reported additional stance conditions. The meta-analyses of double leg stance showed that balance exercise interventions significantly decreased total sway path length/velocity [SMD -1.13, 95 % CI -1.75 to -0.51 (eyes open); SMD -0.79, 95 % CI -1.33 to -0.26 (eyes closed)] and anterior-posterior sway path length/velocity [SMD -1.02, 95 % CI -2.01 to -0.02 (eyes open); SMD -0.82, 95 % CI -1.46 to -0.17 (eyes closed)] in both eyes open and eyes closed conditions. Balance exercise interventions also decreased sway area in eyes closed conditions (SMD -0.57, 95 % CI -1.01 to -0.13) and medio-lateral sway path length/velocity in eyes open conditions (SMD -0.8, 95 % CI -1.48 to -0.12). In contrast, neither resistance nor multi-component exercise interventions affected any of the included COP measurements.
Conclusions: Postural control is improved by balance exercise interventions. In contrast, strength or multi-component exercise interventions did not influence postural control measurements in older adults. In addition, a lack of standardisation in collection protocol and COP variables calculated across trials was identified.
Conflict of interest statement
Compliance with Ethical Standards Funding No sources of funding were used to assist in the preparation of this article. Conflict of interest Daniel Low, Gregory Walsh and Marco Arkesteijn declare that they have no conflict of interest relevant to the content of this review.
Media
News
Find an expert
Media contacts
Student links
Sign in to University systems
Study dates
Student handbooks
Timetables
Library
About us
Our world rankings
Faculties and schools
Centres and institutes
Campus locations
Maps and locations
Connect
Contact us
Find a staff member
Careers at Sydney
Events
Emergencies and personal safety
Export search results
The export option will allow you to export the current search results of the entered query to a file. Different formats are available for download. To export the items, click on the button corresponding with the preferred download format.
Administrators can export up to 15000 items. Regular users can export no more than 500 items.
To select a subset of the search results, click "Selective Export" button and make a selection of the items you want to export. The amount of items that can be exported at once is similarly restricted as the full export.
After making a selection, click one of the export format buttons. The amount of items that will be exported is indicated in the bubble next to export format.
In almost every aspect of life, both professional and personal, the key to success and happiness is effective communication. Relationships cannot grow without open and honest communication, and the same is true for businesses of any size. Your HR Manager can be the key person to help improve staff communication.
The quality of your organization's internal communication speaks volumes about the business itself. If poor communication is not addressed, your business will stugle to grow. You can't build a strong team without improving communication in your organization.
Fortunately, there are a plethora of ways in which you can improve staff communication.
Table of Contents
1. Lead by Example
If you want your employees to communicate more effectively, make sure the leaders are doing it well. Managers must lead by example. Managers should comment, share, ask questions, answer questions, and offer feedback. Every encounter with an employee is an opportunity to listen and model communication.
2. Transparency is a Must
It is common practice for employers to implement new policies or procedures without explaining the rationale behind them. Without explaining the why behind your decisions you create distrust. This can lead to resentment among employees.
Competitive and legal reasons may prevent you from sharing all of the details with all employees. But, when possible, they should be told the reasons behind planned changes. Not only does this help everyone feel like they are part of the same team, but it can also lead to suggestions that improve the staff communication plan.
3. Hold Informational Gathering Sessions
Gather input from your employees. Think of some fun ways to improve communication in the workplace. From installing a suggestions box at the workplace to meeting with employees in small groups, this provides them with an opportunity to make suggestions, ask questions, and post concerns.
The results of these efforts can then be used to target your efforts and gauge the success of your efforts to improve staff communication.
4. Employ Online Tools Rather Than Meetings
Many employees view company meetings as a significant waste of time when that time could be devoted to more productive tasks. You can reduce the amount of time spent in meetings by using online reporting and team update tools.
One study found that organizations that made the switch to using social technologies saw interaction among their workers and productivity rise by 23% – on average.
5. Create Your Own Internal Language
At first thought, this might seem like a juvenile thing to do, but creating your own internal language for your business will not only improve workplace communication but also employee engagement. The Gallup organization is one of the leading companies to study employee engagement.
An internal language can range from a plethora of made-up words derived from inside jokes to a specific set of monikers or acronyms that are employed to describe certain aspects of your business. This also helps create a unique culture in your company.
It offers an interesting and humorous method of communicating throughout the week, and contributing to the development of the language fosters company culture.
6. When You Use Email, Leverage the Subject Line
In the modern workforce, the majority of communication is done through email. Especially as more offices are working as remote teams. Because employees often receive dozens, if not hundreds, of emails each day, an inbox can quickly become cluttered.
To get immediate attention (if it is truly warranted), use action words, like HELP, URGENT, or ACT, in the subject line so employees can prioritize which emails necessitate immediate attention and which ones can be dealt with at a later date. Teach employees how to be effective users of email. Everyone can benefit from using the same email protocols.
7. Give Your Employees the Opportunity to Recharge
Frequently working long hours is numbing and exhausting, particularly to a person's mindset. It is difficult to effectively communicate with one another when you are exhausted. Actively encourage your employees to step away from their desks when they need a break. Use these strategies to improve communication in your company.
This might mean taking an occasional personal day or simply an extra hour at lunch. Your employees will be more productive (and you'll see better results from them) if they know they have the opportunity to recharge when needed. Some companies are experimenting with unlimited Paid Time Off (PTO) plans.
8. Plan External Events
Although this might sound old school, it is beneficial to create opportunities for employees to meet one another outside of the office. Nothing hinders effective communication more than when there are employees who haven't met one another.
Plan an after-work happy hour or a holiday party. It gives your employees something to look forward to, in addition to improving communication and building stronger engagement. Everyone enjoys free food and drinks and it allows people to learn about each other outside of work.
9. Pay Attention to Your Middle Managers
It is simple to categorize employees into groups and then conduct meetings across different levels of people. However, you shouldn't neglect your middle management. They can be your best friend or your worst enemy. Make sure to teach them how to communicate with employees in annual reviews.
Pay them due respect and the influence they exercise over employees by providing them with one on one meetings or separate channels to discuss concerns and issues. You still have to work to develop the skills of your managers to make them more effective leaders.
10. Take Stock and Improve Your Communication Skills
Last but not least, every HR manager wants their employees' communication to be as streamlined as possible, but what are your own communication skills like?
After all, you do lead by example. Taking stock of how you approach communication can be enormously beneficial. The only way to serve as a model leader is if you work on improving staff communications by improving yourself.
You've just been handed a new project. You have a vision for what the finished product will be and a great team to help you get there. Things are off to a good start.
All too often, however, things go off track while managing projects. Rates vary among industries, but the Project Management Institute reports that somewhere around 15% of projects are considered total failures. Of those that succeed, nearly half fail to meet commitments of time, 43% run over budget, and 32% fall short of some aspect of product delivery.
What can you do to prevent your project from failing? If time, money, and product are the three most common stumbling blocks, what can you do to create successful outcomes in those areas? Track the progress of your project.
It may sound too simple to be the key to success, but monitoring project progress can make all the difference between success and project failure. It doesn't need to be complicated, and with a bit of dedication, you can lead your team to successful project completion.
Challenges in tracking project progress
While staying updated on project progress is critical, it is often difficult. Here are just a few challenges that make tracking project progress difficult:
Often many projects are not planned and documented in detail
Project task allocation is sometimes arbitrary, making tracking difficult.
Many projects lack proper communication and so everyone is not on the same page.
Frequent update meetings are not implemented in some projects.
Many projects don't utilize google project management tools that make integration with google apps for efficient tracking.
Getting past the challenges in tracking projects can be done by reversing one or more aspects mentioned above.
How to track project progress effectively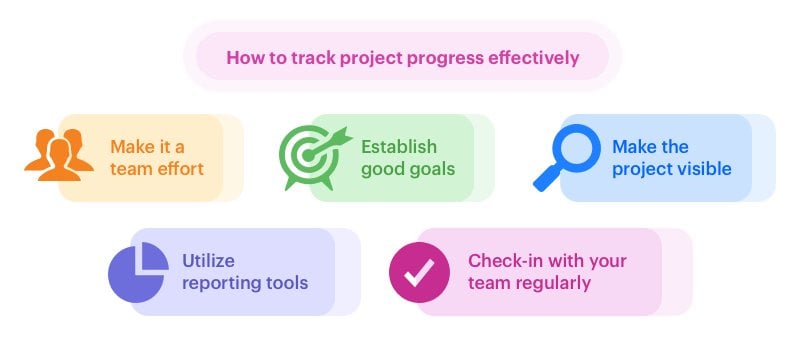 Here are the five tips you can effectively measure project progress in project management:
1. Make it a team effort
Everyone on your team wants the same thing: a successful project. With that in mind, get everyone involved by holding a kickoff meeting, sharing your vision and the client's motivations, and soliciting input from your team.
It's especially important that your project team members contribute to establishing your goals since it is largely up to those individuals to meet the project goals.
Our software helped thousands of teams work more productively.
Try Kissflow Project for Free
More power to your work, starting today.
2. Utilize reporting tools to monitor project progress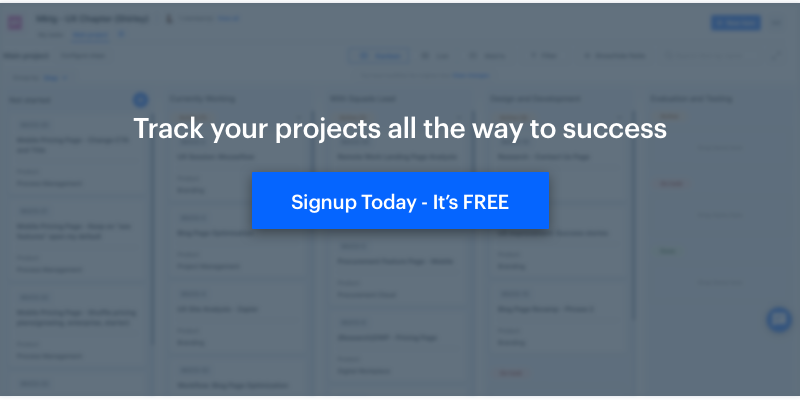 It is extremely helpful to utilize a project management software to generate automatic reports on your progress. Rather than you assessing progress toward deadlines individually or attempting to calculate percentages of completion, a project reporting feature in the project management system can give you accurate information in just a few clicks.
Keep track of progress on the go with Kissflow Project.
Try Kissflow Project for Free
More power to your work, starting today.
3. Establish good goals
You can't track what you haven't established. Good goals are realistic, clear, and measurable. Write down a rough sketch of your project objectives, and then examine them to see if they meet the following requirements:
Realistic– Having lofty goals is good, and stretch goals can be a great way to challenge your team, but always keep things realistic. You don't want to make promises to your clients that you can't keep. Ask yourself: Can we accomplish this goal with the allotted time and resources available to us?
Clear– Many project managers cite a lack of clear goals as the most common cause of project failures. Ask yourself: Do we know exactly what is being asked of us? Does everyone on the team understand?
Measurable– It's not enough to say "finish phase one in a timely manner" or "increase capacity" for example. You need numbers. Decide what date phase one should be completed and establish your baseline, acceptable, and ideal numbers for capacity. Ask yourself: Are there quantifiable indicators with which we can judge each goal?
Join 10,000+ Project Managers Who Manage Their Work Using Kissflow Project!
Try Kissflow Project for Free
More power to your work, starting today.
4. Make the project visible
One of the best ways to promote success is to make the project visible to everyone on your team. It's extremely motivating when your team can see the goals they've helped establish as well as the progress being made (or not made) toward those goals.
The Kanban method is a simple and effective visual system for organizing workflows. It helps prevent bottlenecks, encourages incremental improvements, and balances demands against available capacity. Kanban boards can be physical in the form of sticky notes placed on an empty wall, or you can go digital with online workplaces shared around the globe.
First, identify the steps or project phases of your workflow and create a column for each one. Second, create a card for each task or project element that needs to be completed. Third, put your cards into the columns that represent where each task or project stands in the workflow. As tasks move from one phase to the next, move the card to the next column until it has passed through all the phases of your workflow.
Everyone on the team can see at a glance how tasks are moving through the phases. This lets each team member know who's waiting, who needs help, what tasks are late, and what needs to be done next.
5. Check-in with your team regularly
Be consistent. Don't be tempted to "set it and forget it." Create a project schedule for yourself to check in on the goals you've created with your team. Deadlines are obvious points, but if you wait until the deadline, it will be too late to course-correct. Instead of taking this reactive approach, be proactive.
Set appointments for yourself to measure progress at regular intervals throughout the project. Then you can address issues early on and keep your project on track.
Bonus – Use a project management tool
A quality project tracking software can make all the difference to your project. Many of the top tools on the market come with efficient tracking capabilities. These capabilities take the effort of tracking away from the project manager.
Most tools make it possible to receive emails when a project phase or task is nearing completion or when a deadline looms. Additionally, quality tools provide a variety of ways in which to visualize projects better to get to the required information faster.


Recent Posts
12 ways my dear husband's dementia has taught me to be a better consultant
9 Trends That Will Shape Work in 2021 and Beyond
Grieving and Post-Traumatic Growth
Predictable Surprises
The Elements of Good Judgement: How to Improve your Decision Making
Categories
Grieving
Growing your business
Implementing Change
Lewy body dementia
Meeting facilitation
Pandemic
Parkinson's disease
Strategic planning
Techniques to Boost Creativity and Teamwork
Techniques to Brainstorm Ideas
Techniques to Evaluate Meeting Effectiveness
Techniques to Gather Information
Techniques to Implement Decisions
Techniques to Improve Meeting Productivity
Techniques to Make Decisions
Transformation Tools
Transformational Change
Uncategorized
Stay Connected
20 Techniques to Improve Meeting Productivity: #5 Parking Lot
In my last 4 blogs, I gave you specific techniques for defining and controlling meeting behavior. They included:
1. Introductions
2. Clearing
3. Ground Rules
4. Pulse Check
Next I'll provide the techniques to keeping your meeting on track. These will include:
5. Parking Lot
6. Verbal Warnings
7. The Bell
8. Three P Statements
9. Shredded Questions
10. Self-Management
11. Go/No Go
Today's blog focuses on 5. Parking Lot
"Our meetings are continually spinning off onto tangents unrelated to our original agenda. We never accomplish what we originally set out to do and everyone is frustrated, including me. What can I do?"
#5: PARKING LOT
What is PARKING LOT?
PARKING LOT is a productivity technique for effectively dealing with distracting but important non-agenda items that arise during the course of your meeting.
Non-agenda items always seem to find their way into meetings. It is important to honor and recognize the existence of these important non-agenda items, but without interrupting the focus and goals of your meeting agenda. PARKING LOT involves recording these tangential issues on paper, insuring that they will be remembered and addressed, but without interrupting the ongoing conversation.
PARKING LOT is another basic productivity technique that can be used to support your group's GROUNDRULES, Technique #3, for "Keeping on Track."
When Do I Use PARKING LOT?
• When the meeting gets off track with issues worthy of discussion or action but unrelated, or tangential, to the current agenda item.
How Do I Use PARKING LOT?
1. At or before the beginning of each meeting, place a chart labeled PARKING LOT on the wall.
PARKING LOT
What Who By When
The first time you use PARKING LOT explain its purpose with the participants at the beginning of your meeting. Gain their approval to use this technique as needed throughout your meeting.
For example: "As you know, our meetings often get off the subject and we end up spending our time on issues outside our agenda. I suggest that from now on, when this starts to happen, we chart the tangential issue on a PARKING LOT chart for later discussion. That way, we will remember to come back to the issue later, but still be able to accomplish our meeting's goals. What do you think? … I encourage you all to help me note when our conversations are getting off track."
2. When the conversation sways off track with an issue worthy of consideration but off the topic under discussion, briefly stop the meeting. Write a quick synopsis of the issue, with permission from the group, on the PARKING LOT chart.
NOTE: With issues that are trivial, politely remind the group that the meeting is getting off track. If you are not sure if an issue is worthy of the PARKING LOT list, ask the group what they think.
3. As one of the last agenda items to your meeting, go back to your PARKING LOT list. Decide, as a group, how to address each item. Some issues may be appropriate for discussion at your next meeting. Others may be more appropriately handled by a subset of the group or even by an individual. Some issues will no longer seem important and will be dropped.
NOTE: During this discussion, document "who" will do "what" by "when." This ensures that issues will be addressed. For example: "Sam and Rebecca – make recommendations for new building site – at next meeting." "Carl – sends information on product exposure through E-mail – by Friday, 9/8."
Write the information directly on your PARKING LOT chart and include it in the minutes of your meeting.
NOTE: Be sure to save enough time at the end of your meeting to do this step. If you fail to go back to your PARKING LOT before the end of the meeting, you lose credibility. People will be reluctant to have their issues permanently left and forgotten on the PARKING LOT chart.
PARKING LOT is a technique for dealing with the tangential issues that threaten to take your meeting off track.
1. Post a chart labeled PARKING LOT on the wall.
2. When the conversation sways off track, briefly stop the meeting. Write a quick synopsis of the issue on the PARKING LOT chart.
3. As one of the last agenda items to your meeting, go back to your PARKING LOT list. Decide, as a group, how to address each item.