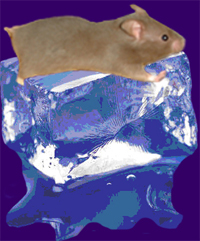 Keeping hamsters cool in summer
Keeping hamsters cool in hot weather conditions and preventing overheating is not too difficult. Animals are more at risk from Hyperthermia: Hyperthermia is an excessive rise in body temperature, occuring when the body produces or absorbs more heat than it can dissipate. They are covered in fur and are adversely affected by high temperatures and humidity more so than humans, because we are better at losing excess heat from our bodies. People can dissipate body heat by sweating. Animals covered in fur cannot do this effectively as they have very few sweat glands.
People should remember conditions that are reasonably comfortable for them selves may not be for their pets.
Homeostasis: This is the process by which the body adjusts its functions to compensate for deficiencies. This is a term used for the regulation of the body temperature and other variables. If Homeostatic regulation of the body temperature fails the cells in the body will experience conditions in which they cannot function, irreparable damage will then occur. This will lead to organ failure, collapse, and death if not treated.
The organs mostly affected in theses conditions are the liver, Kidneys, and Heart.
The blood can become thickened due to dehydration, this can lead to a serious condition leading to multiple blood clots throughout the body. Always make sure fresh drinking water available at all times. Dehydration will make the risk of heat stroke higher. If you note your hamster is not sleeping in his usual quarters that is in his nest, this may be an indication he is getting to warm. When a hamster gets too warm he may sleep on his back, this dissipates body heat through his tummy area quicker. This is one sign to watch for and it will give you some indication that things are getting too hot and he needs cooling down. He will try to find somewhere cooler to sleep. If your pet is very young or old, please take extra care.
If you keep hamsters in glass or plastic aquariums these can raise a few more degrees inside them as there is no air flow. Don't leave them where heat and humidity can build up.
Don't leave caged pets on window sills or where the sun during the day will be in the room, keep them in the shade.
Heat rises so the lower down the cage, or the tank, the cooler it will be. If it is at all possible leave them on a stone or tiled floor during the day, i.e. kitchen, please be careful of other pets.
Remove half of the floor covering as the cooling effect of the tiles or stone will penetrate through the bottom of the cage, keeping the interior cooler
If you have any spare ceramic tiles keep one on the cage floor and one in the fridge, change when necessary.
A plastic bottle of water, frozen, will keep the cage cool for quite some time. It is not a good idea to place the bottle directly in the cage as it would take hammy only minutes to gnaw a hole through it causing it to leak as the ice melts. Lie it down at the side of the cage (pictured below) on tissue paper or towel, next to the area where he is sleeping. Keep two bottles, one in the freezer and one at the cage, change as and when necessary. Make fresh drinking water available at all times.
Our Djungarian hamster is apparently getting hot when temperatures reach about 25 °C. She then sleeps outside her house, in a corner of her terrarium, leaning on the glass and looking annoyed. She also tried to dig deeply, probably an instinct to make a hole deep enough to get into colder regions of soil.
As the weather will get even hotter during the summer and we don't have air conditioning, what could we do to make the hamster feel better? Would it help to add some small fan (like a computer cooling fan) to circulate air in the terrarium? Or add some rocks or other objects outside and inside her house with higher thermal conductivity, so that she could cool herself down by leaning on them?
2 Answers 2
The easiest way to cool a hot hamster is a cold water bottle inside a sock. Just cool it down to 4-6 degrees Celsius and put it in the cage. If he needs to cool down, he will lie by its side. If you want it to go longer, freeze it but put it in a much thicker sock.
Do not put it directly in the terrarium without the sock, as there is a chance it might cause diarrhoea.
Introducing a draught to a hamster, any kind of hamster, is suicidal. I can't stress this enough. Continuous draughts, weak enough for humans not to realise, can be fatal to hamsters.
Enclosure Type
Air circulation is very beneficial to any animal, having an enclosure that can provide this will help with air quality and temperature. Glass terrariums do not provide adequate air circulation and tend to retain heat.
Cooling Options
1) Granite stone plaque – stone is generally cool, it's not a long term solution but will help.
2) Keep cage out of direct sunlight.
3) Use black out blinds to prevent the sun from warming up the room.
Pets Asked by Petr on September 27, 2021
Our Djungarian hamster is apparently getting hot when temperatures reach about 25 °C. She then sleeps outside her house, in a corner of her terrarium, leaning on the glass and looking annoyed. She also tried to dig deeply, probably an instinct to make a hole deep enough to get into colder regions of soil.
As the weather will get even hotter during the summer and we don't have air conditioning, what could we do to make the hamster feel better? Would it help to add some small fan (like a computer cooling fan) to circulate air in the terrarium? Or add some rocks or other objects outside and inside her house with higher thermal conductivity, so that she could cool herself down by leaning on them?
2 Answers
The easiest way to cool a hot hamster is a cold water bottle inside a sock. Just cool it down to 4-6 degrees Celsius and put it in the cage. If he needs to cool down, he will lie by its side. If you want it to go longer, freeze it but put it in a much thicker sock.
Do not put it directly in the terrarium without the sock, as there is a chance it might cause diarrhoea.
Introducing a draught to a hamster, any kind of hamster, is suicidal. I can't stress this enough. Continuous draughts, weak enough for humans not to realise, can be fatal to hamsters.
Correct answer by C.Koca on September 27, 2021
Enclosure Type
Air circulation is very beneficial to any animal, having an enclosure that can provide this will help with air quality and temperature. Glass terrariums do not provide adequate air circulation and tend to retain heat.
Cooling Options
1) Granite stone plaque – stone is generally cool, it's not a long term solution but will help.
2) Keep cage out of direct sunlight.
3) Use black out blinds to prevent the sun from warming up the room.
4) Purchase a portable air conditioner.
Answered by Rebecca RVT on September 27, 2021
#1 sanwei88
Members
62 posts
We are having a bit of a heat wave in the UK and as a precaution, I was wondering if anyone could help me with how to keep my little ones cool?
They already have ceramic cups in their bin cages as a 'cool hide away', but it is getting hotter and hotter each day over here!
#2 — Hamstergirl
Ultimate Hamster Clone
Members
2,429 posts
#3 mrjenkins81
Members
70 posts
I heatwave UK. lol. Its unbearable at times too.
I have tried the ceramic cups/mugs also, hehas no interest in it at all. lol. the trouble i have is im not here during the day whenits at its hottest. My lad is downstairs in the coolest room of the house with a fan on in the room. But im not sure what else i can do. He does seem to spend more time in his potty/sandbox though. lol. i guess its cooler there.
#4 hamstermomma
Members
254 posts
The above advice is excellent! Here are some more tips:
You could have a fan in the room, (not blowing directly on them, as that can make them too cold), to keep the room cool. (My sister does that for her hedge hog when it gets too hot).
If you happen to have air conditioning, that helps to keep the rooms of the house cool, which in turn, will keep the hamsters cool. Not everyone has air conditioning though, so if not, a fan in the room, (have it so that the fan turns back and forth), should help a bit.
Hope this helps.
#5 RoboFreak
Members
138 posts
I'm glad you posted this, because I had the same question.
I live in Arizona, and the temperatures have now reached a steady 100ºF or higher. We keep the air conditioning on, but it's not constant.
How can I tell if they're too hot?
Thanks!
#6 sanwei88
Members
62 posts
Thanks for all your advice guys!
I shall try putting the cups in the freezer as suggested and will let you know how I get on with that. My dwarves seem to be coping ok, but it is my syrian girl I am most worried about.
We put all the cages downstairs last night, however I can not keep them down there all the time as my boyfriend's mum has a cat. We both work 9-5 Monday to Friday and our bedroom is the hottest room in the house!
If I was to leave the fan on all day in our room, his mum would go in and switch it off. I came home yesterday and peeked into her house and she was lying on her side, which she has never done before. She also seemed quite lethargic 🙁
I looked online on: www.petsathome.com for a cooling disc for small animals, but does this work and if so, how? My girls a chewer so this raises another problem.
The cooling pad they have on that website just looks like an ordinary tile, so I'm not sure if this is worth giving it a go?
Also, we have no air con unit and can not afford to get one 🙁
#7 beckym
Members
52 posts
I'm in the UK too and is getting pretty hot (compared to what it normally is, I'm sure you guys from the USA etc will say that we're complaining over nothing ). I've been leaving the blinds down on the rooms where my hamsters are while I'm at work during the day, that seems to keep them a bit cooler than having direct sunlight streaming in.
We have one Syrian in the living room (which is the coolest room in the house) and he seems fine, still burying himself in the bedding, and another in the kitchen – she's kicked a lot of the bedding out of her house and has taken to sleeping in the pipes since it got warmer (thankfully the pipes have lots of airholes).
Can you put ice cubes or anything in their water to keep it a bit cooler? I might try the ceramic cup trick – I'm sure we've got some old mugs lying around that would make a nice hidey hole for Basil and Cupcake!
#8 sanwei88
Members
62 posts
Our Djungarian hamster is apparently getting hot when temperatures reach about 25 °C. She then sleeps outside her house, in a corner of her terrarium, leaning on the glass and looking annoyed. She also tried to dig deeply, probably an instinct to make a hole deep enough to get into colder regions of soil.
As the weather will get even hotter during the summer and we don't have air conditioning, what could we do to make the hamster feel better? Would it help to add some small fan (like a computer cooling fan) to circulate air in the terrarium? Or add some rocks or other objects outside and inside her house with higher thermal conductivity, so that she could cool herself down by leaning on them?
The easiest way to cool a hot hamster is a cold water bottle inside a sock. Just cool it down to 4-6 degrees Celsius and put it in the cage. If he needs to cool down, he will lie by its side. If you want it to go longer, freeze it but put it in a much thicker sock.
Do not put it directly in the terrarium without the sock, as there is a chance it might cause diarrhoea.
Introducing a draught to a hamster, any kind of hamster, is suicidal. I can't stress this enough. Continuous draughts, weak enough for humans not to realise, can be fatal to hamsters.
As temperatures rise, follow our guide to keep your pets safe in the sun.
Dogs and cats hot weather advice
Pale-coloured dogs and cats are vulnerable to sunburn; particularly their ears, noses and sparsely haired areas. Sun damage can lead to skin cancer which may require extensive surgery – even amputation in severe cases.
The best prevention is to keep your pet indoors when the sun is strongest, between 11.00am and 3.00pm. Alternatively, cover vulnerable areas, or regularly apply a sunblock product specifically for pets that doesn't contain zinc oxide or PABA. Seek prompt veterinary advice if your dog or cat's skin looks sore, crusty or scaly.
Your pet needs access to clean water at all times, ideally in a large bowl filled to the brim. Older animals, particularly cats, are vulnerable to dehydration. Don't forget your dog needs fresh water if you're at the beach – drinking seawater is likely to make your dog ill. Grooming is important, especially for longhaired animals.
A tangle-free coat will protect your pet's delicate skin and keep them cool. Some animals may need their coats trimming – seek advice from a professional groomer.
How to keep dogs cool in the summer heat
How to keep dogs cool in the summer heat
Top tips for keeping your cat cool in summer
Top tips for keeping your cat cool in summer
Dogs in hot cars
Dogs succumb to heatstroke quickly. They cannot sweat in the same way that people can and cannot keep cool as easily as we can.
Never leave a dog in a hot car, even for a moment. 'Not long' is too long.
If you see a dog in distress inside a car, official advice is to dial 999 immediately and ask for the police. A dog in distress in a hot car is an emergency and the police will advise you what to do based on the situation.
Depending on the severity of the situation, the police may attend and break into the car to gain access to the dog, or they may advise you to do this. If you decide to break into a car without proper justification, this could be classed as criminal damage and you may need to defend your actions in a court.
Call the police using 999 and tell them what you intend to do and why. Take pictures and/or videos of the dog in distress and the names and phone numbers of witnesses. The Criminal Damage Act 1971 provides a lawful excuse to commit damage if you believe that the owner of the property that you damage would consent to the damage if they knew the circumstances (under section 5(2)(a).
Heatstroke in pets
Animals can suffer fatal heatstroke within minutes. Never leave your dog (or any pet) alone in a car – even with the windows open, and avoid exercising during the heat of the day. Signs of heatstroke include collapse, excessive panting, and dribbling. If you suspect your animal is suffering, remove him to a cool place, wet his coat and contact a vet immediately. Avoid overcooling, especially small pets.
Going on holiday, and what to do with your pet
Plan your holiday well in advance. If you are taking your pet with you, make sure the accommodation is pet-friendly: are pets allowed in all rooms, is outside space secure, will you be able to buy the food your pet is used to?
Taking your pet abroad:
Leave plenty of time to arrange for an animal health certificate. Dogs and cats need to be microchipped and vaccinated before they can go abroad.
Check your pet's vaccinations are up to date and that you have supplies of any necessary medication
Make sure your contact information on your pet's microchip is correct
Make sure your dog's tag has your mobile number or a local contact for you on holiday
Check your pet insurance policy covers your pet abroad, and familiarise yourself with requirements to bring your pet back into the UK
Consult your vet about protection from diseases your pet may encounter abroad, eg leishmaniasis from sandfly bites
Travelling in the car:
Make sure your dog is secured by a harness or barrier and that there is plenty of ventilation
Sun screens on the windows will offer protection from direct sunlight
Avoid the midday heat by travelling early or late in the day
You can use a misting spray to keep your dog cool, but avoid his face
Choosing a boarding cattery or kennel:
Get a personal recommendation
Drop in without an appointment and ask to look around
Check your kennel/cattery is licensed by the local authority
Book early – the best places get booked up far in advance
Check if animals are housed individually; they should not be able to make nose or paw contact with others
Ask about insurance cover in case of a veterinary emergency
Ensure the location is not prone to flooding
Find out how many staff there are per animal in the kennels
Check the living area is warm, secure, clean and dry, with plenty of bedding
Individual cat pens should have toys, a scratching post and a shelf where the cat can rest
A good kennel/cattery will insist on seeing up to date proof of vaccinations and will ask for full information about your pet, including diet
Keeping rabbits and other small animals cool in the summer
Fly strike (myiasis) is a nasty condition that occurs when flies lay their eggs on or near rabbits. These hatch into maggots and then feed on the rabbit – causing pain, severe shock, and often death.
It's essential to check your outdoor rabbits – and house rabbits – at least twice a day to make sure they're clean and free from anything that may attract flies. Keep hutches clean and dry, and disinfect them at least once a week. Repellents such as 'Rearguard' may help protect your rabbit. If you find any maggots on or near your rabbit contact your vet immediately.
Top tips for small pets:
Position hutches and runs in the shade, moving them as necessary, and keep them off the ground to improve ventilation
The best runs have a covered area to provide shade and shelter
Water should be available around the clock and kept topped up – it will evaporate faster in hot weather
On a long journey, give your pet a piece of apple or celery to eat, for added moisture
Mist your rabbit with cool water to help them remain at a comfortable temperature
Brush out excess fur. If you have a longhaired rabbit, consider having the coat cropped by a professional groomer.
Horse care in the summer
Ensure your horse has access to a shady area in the field, and is protected from flies. Long manes and tails are a natural fly defence, but if you prefer your horse to have a pulled mane and forelock then you could use a fly fringe or mask – watch out for rubbing though. You may also want to buy a fine-mesh anti-fly rug and a good quality fly repellent.
You should monitor your horse's weight all year, but be extra vigilant over the summer when there is plenty of grass. Use a weigh tape and keep a weekly chart. If you notice a weight gain then restrict grazing hours and/or use a well-fitted muzzle for short periods. If your horse is eating hard feed, consider reducing it or cutting it out.
The summer months can be uncomfortable—even dangerous—for pets and people. It's difficult enough simply to cope with rising temperatures, let alone thick humidity, but things really get tough in areas that are hit with the double blow of intense heat and storm-caused power outages, sometimes with tragic results.
We can help you keep your pets safe and cool this summer. Follow our tips for helping everyone in your family stay healthy while hot.
Practice basic summer safety
Never leave your pets in a parked car
Not even for a minute! Not even with the car running and air conditioner on. On a warm day, temperatures inside a vehicle can rise rapidly to dangerous levels. On an 85-degree day, for example, the temperature inside a car with the windows opened slightly can reach 102 degrees within 10 minutes. After 30 minutes, the temperature will reach 120 degrees. Your pet may suffer irreversible organ damage or die. Learn how to help a pet left inside a hot car by taking action or calling for help. Local law enforcement can follow this handy guide [PDF] on how to proceed.
Print our hot car flyer and spread the lifesaving word. Download the PDF
Watch the humidity
"It's important to remember that it's not just the ambient temperature, but also the humidity that can affect your pet," says Dr. Barry Kellogg, VMD, of the Humane Society Veterinary Medical Association. "Animals pant to evaporate moisture from their lungs, which takes heat away from their body. If the humidity is too high, they are unable to cool themselves and their temperature will skyrocket to dangerous levels—very quickly."
Taking a dog's temperature will quickly tell you if there is a serious problem. Dogs' temperatures should not reach over 104 degrees. If your dog's temperature does, follow the instructions below for treating heat stroke.
Limit exercise on hot days
Take care when exercising your pet. Adjust intensity and duration of exercise in accordance with the temperature. On very hot days, limit exercise to early morning or evening hours, and be especially careful with pets with white-colored ears, who are more susceptible to skin cancer, and short-nosed pets, who typically have difficulty breathing. Asphalt gets very hot and can burn your pet's paws, so walk your dog on the grass if possible. Always carry water with you to keep your dog from dehydrating.
Don't rely on a fan
Pets respond differently to heat than humans do. (Dogs, for instance, sweat primarily through their feet.) And fans don't cool off pets as effectively as they do people.
Provide ample shade and water
Any time your pet is outside, make sure they have protection from heat and sun and plenty of fresh, cold water. In heat waves, add ice to water when possible. Tree shade and tarps are ideal because they don't obstruct air flow. A doghouse does not provide relief from heat—in fact, it makes it worse.
Cool your pet inside and out
Whip up a batch of quick and easy DIY pupsicles for dogs. And always provide water, whether your pets are inside or out with you.
Keep your pet from overheating indoors or out with a cooling body wrap, vest or mat. Soak these products in cool water, and they'll stay cool (but usually dry) for up to three days. If your dog doesn't find baths stressful, see if they enjoy a cooling soak.
Watch for signs of heatstroke
Extreme temperatures can cause heatstroke. Some signs of heatstroke are heavy panting, glazed eyes, a rapid heartbeat, difficulty breathing, excessive thirst, lethargy, fever, dizziness, lack of coordination, profuse salivation, vomiting, a deep red or purple tongue, seizure and unconsciousness.
Animals are at particular risk for heat stroke if they are very old, very young, overweight, not conditioned to prolonged exercise, or have heart or respiratory disease. Some breeds of dogs—like boxers, pugs, shih tzus and other dogs and cats with short muzzles—will have a much harder time breathing in extreme heat.
How to treat a pet suffering from heatstroke
Move your pet into the shade or an air-conditioned area. Apply ice packs or cold towels to their head, neck and chest or run cool (not cold) water over them. Let them drink small amounts of cool water or lick ice cubes. Take them directly to a veterinarian.
Prepare for power outages
Before a summer storm takes out the power in your home, create a disaster plan to keep your pets safe from heat stroke and other temperature-related trouble.
Table of Contents
As the mercury level dips on the thermometer and your heating roars into action inside, it is tempting to take a duvet day (or two!). And that is exactly what our hamster Oscar appears to be doing. Slightly more lethargic than usual, rousing him from his bed to play each day takes a little bit longer – it's just like having a teenager in the house. But is this something we should be worried about?
Hamsters hibernate to survive extreme weather conditions, fluctuating food supplies or if they're deprived of light for long periods of time. If your pet hamster hibernates there is a danger that they could suffer with dehydration or hyperthermia.
In order to ensure that our hamster Oscar does not enter hibernation mode over the long winter months, I carried out some research into the ways in which we could prepare.
2 types of hamster hibernation
It is believed that there are two types of hibernation that animals employ.
Seasonal hibernation. In the wild, animals such as bears and squirrels fatten themselves up over the summer months when food supplies are plentiful, in order to see them through the harsh winter period.
Permissive hibernation. As its name suggests, this type of hibernation can happen at any time throughout the year as a direct effect of sudden changes in the environment such as temperature or lack of nourishment. This type of hibernation generally only lasts for a few hours or a couple of days.
Pet hamsters can fall into permissive hibernation (which is considered to be a deep sleep rather than a listless state), but as they have not prepared for it as most animals would, there is a real danger that they could suffer from dehydration or hyperthermia.
Do all hamsters hibernate?
Pet hamsters should not feel the need to hibernate when fed and watered regularly and kept in a cool cage in summer and wrapped up cozy in winter.
If, however, the temperature around them drops to below 60 degrees Fahrenheit, then your hamster may become lethargic. And, if the temperature continues to decrease below 50 degrees Fahrenheit, then your hamster could potentially become lifeless and fall into permissive hibernation mode.
Syrian hamsters originate from desert regions where they would need to hibernate in order to survive the bitter, icy nights so may be more prone to hibernation than other breeds. Dwarf and Russian hamsters, however, are well adept at operating in cold conditions and thanks to their thicker, longer coats are less likely to feel the need to hibernate.
How many hours do hamsters sleep for?
A happy, healthy hamster should sleep for around 8-12 hours a day. This generally happens during the day, although some hamsters are lazier than others and may enjoy an extended nap.
As long as you know how much shut-eye your hamster normally requires in order to build up its energy supplies, then the length in which they sleep should not be a problem. If, however, they suddenly start to sleep for much longer periods or begin shivering and shaking whilst in their nest, then there is a chance that they may fall into a lackluster state.
How do you know if your hamster is hibernating?
If you look out for the pre-warning signs that your hamster is trying to hibernate then you could stop the situation from occurring at all. After all, there is nothing more distressing than looking into a cage when a hamster is hibernating – as to many, they simply look lifeless!
Signs that your hamster is on the verge of permissive hibernation include:
Starting to build a bigger nest or burrowing deep into their substrate for extra warmth.
Not eating or drinking regularly.
Uncontrollable body shuddering.
Their heart rate and breathing starts to slow down.
Hopefully, hamster hibernation is a situation that you should never have to encounter but if you do look through the cage bars one day and see that your hamster is motionless, it may be difficult to tell if they are hibernating or if it has actually died.
Ways in which you can tell you hamster is hibernating include:
Picking your hamster up to check for signs of life. One way you can do this is by holding a mirror or spoon up to its face to see if it mists. This way you can tell if they are breathing.
Stroking and cradling your hamster to see if its whiskers twitch or body moves at all.
Feeling for body warmth. A hibernating hamster will maintain a warm body temperature though it might be slightly cooler than usual.
Seeing if your hamster's limbs are limp enough to manipulate and move around. A completely stiff hamster is most likely a dead one.
How to bring your hamster out of hibernation
If your hamster is hibernating, it is important that you give them extra care and do not jolt them out of torpor immediately.
You could try re-warming them slowly using your own body heat or by placing them on a heat pad or even near a hot water bottle.
You should also make sure that they are exposed to plenty of light.
Finally, you could give them a massage with your fingers to get the blood circulation going. If this still does not rouse them, then you should seek veterinary advice.
How to stop hamsters hibernating
As the most likely cause of hibernation is coldness there are some simple measures you can put in place to rectify this.
These include moving the cage to draft-free areas, adding extra bedding and ensuring that they are well fed with fatty foods are all fool-proof ways to ensure that your hamster stays snug when its cold outside. For further tips on how to keep your hamster warm in winter, please read our informative blog.
As hamsters can also suffer from Seasonal Affective Disorder, you should ensure that they are exposed to plenty of daylight to prevent depression or anxiety which can lead to an onset of permissive hibernation.
Playing and handling them regularly will not only keep them active but can alert you to any potential health issues.
Conclusion
Since cranking up the central heating, adding more bedding to Oscar's cage and ensuring that the blinds are open so that light floods into his room, has made a real difference to Oscars mood. Quick to open one eye and assess the situation, he will now happily bound of bed for a crunchy carrot, chocolate drop or cuddle. And, although I don't think hibernation was ever a real worry, I do think next winter we need to be quicker in adapting to the falling temperatures to stop Oscar from getting SAD.
Home
Car News By Brand
Ford News
Chevrolet News
Hyundai News
Celebrity Car News
Just for Laughs
Motorsports
Product Reviews
Advice for safely travelling with your mouse, gerbil, or other small rodent without scaring it
Whether you're bringing your beloved rodent with you over the holidays or taking him to the vet for a checkup, it's important that your small furry pet is safe and calm while riding in the car. Travelling with a gerbil, mouse, or hamster is much different than riding with a dog or cat, so make sure you're taking proper measure to transport your rodent in the car without traumatizing or injuring it.
Honda SUVs Make Great Vehicles for Busy Families: Here are the best Honda models to buy pre-owned
Keep him in his cage
It's important that your fuzzy friend stay calm while moving in the car, and the best way to achieve this is to keep him in a familiar environment. So, if possible, transport his entire cage he normally stays in. That way, you're minimizing how many uncommon stimuli he's experiencing at once.
Or, use a designated travel carrier
If the normal cage is too big for travelling or not secure enough to take on the road, use a compact travel terrarium. These plastic, ventilated enclosures are easy to carry and are quite cheap. You can get one from a pet store for around $10, and it's secure enough for your hamster to stay in for a period at your destination. Fill it with shavings from his cage that have his scent on it, as well as some food and a couple of chew toys.
Remove any dangerous items, and add extra shavings
You don't want to hit a pot hole and cause a hard or weighty object in the cage topple over and collide with your hamster's fragile head. Remove any dense wooden blocks, ceramic feed bowls, etc. Use a lighter item as a substitute nesting domicile during the travel; so, replace that wooden hut with a plastic igloo or cardboard teepee. The best way to protect your friend from impacts is to add extra paper bedding to the cage so it cushions his body. It's like adding air bags to the cage.
Strap the cage to a seat
Minimize how much the cage is jostled around during the trip to reduce internal injury or trauma. Instead of setting the cage on the floor, where the bumps in the road are more intense, place the enclosure on an empty seat and strap it in with a seat belt. Don't trust a passenger to hold it, as they might accidentally drop it or lose their grip at a bad time. You don't want the cage to fly through the air if you're in a fender-bender. Also, place a sheet of cardboard against the back of the chair so the cute critter won't chew on the upholstery!
Photo: The News Wheel
Give him the right food
Instead of using a water bottle for hydration, remove that hazard and supply a couple of slices of a moist snack like melon or cucumber for hydration and nourishment. The metal tip of a bottle could be dangerous if the hamster is thrown against it during the ride. Plus, it'll leak the whole time and you'll wind up with a soaked cage of sloppy shavings.
Stay quiet, and play relaxing music
Even with all these precautions, your hamster or gerbil will probably be a bit anxious in the car. Provide him with emotional comfort by minimizing loud noises that could further panic him. Speak softly and don't yell or raise your voice when talking to other passengers. Don't place the cage too close to a speaker. If you must, cover the outlet with a pillow to muffle the noise.
According to Pet Educate, small animals actually enjoy listening to music, as long as it's gentle, soothing instrumental material that's played at a low volume. Put on some new age tunes, smooth jazz grooves or piano concertos. Just make sure it doesn't lull the driver to sleep, too!
Bring a towel for shade
You don't want the sun to shine on the cage all day, so bring a towel to cover the cage and keep it out of the direct sunlight. Just make sure there are still plenty of openings for fresh air. Covering the cage also alleviates more stress on your hamster by reducing environmental visual stimulation.
Don't open the windows
Stick to the air conditioning to keep the cabin cool while you're travelling. Don't roll down the windows or sunroof on the road. The blasts of wind can scare and potentially harm an animal that size.
Don't leave him in the car
If you take a stop for lunch or a hotel stay overnight, bring the cage with you (make sure you're staying at a place whose policy allows this). Don't leave the little guy in the hot or frigid car, because temperatures can get extreme in that enclosed, glass greenhouse.
Hamsters, gerbils, and other rodents are easily transportable and make great companions on road trips. Just make sure your pet enjoys the adventure as much as you do.
Aaron is unashamed to be a native Clevelander and the proud driver of a Hyundai Veloster Turbo (which recently replaced his 1995 Saturn SC-2). He gleefully utilizes his background in theater, literature, and communication to dramatically recite his own articles to nearby youth. Mr. Widmar happily resides in Dayton, Ohio with his magnificent wife, Vicki, but is often on the road with her exploring new destinations. Aaron has high aspirations for his writing career but often gets distracted pondering the profound nature of the human condition and forgets what he was writing… See more articles by Aaron.
Most children at some point or another, have a furry little hamster as a pet. Whether at home or in the classroom, hamsters make an excellent educational pet that can teach children a lot about caring for something smaller than themselves. However, despite the fact that most people have had a hamster at some stage of their lives, many don't know how to take care of a hamster, what to feed it and the other essential things they need to live a long and happy life.
This article will help you take better care of your hamster. A small animal care guide will be provided with tips on supplies, food, handling and information about vets that take hamsters in Dartmouth for regular check-ups or illness. Once you understand what hamsters need and don't need, it becomes easy to provide everything your small, furry friend needs to survive.
What You Need
There are a lot of misconceptions about what a hamster needs. Everything from cages to substrate to food and other accessories, must be taken into consideration when you are learning how to take care of a hamster. The supplies you'll need to set up a good home for your new pet makes up the first part of our small animal care guide.
Habitat – Believe it or not, a cage with all those plastic tubes attached to it, is not the most ideal hamster habitat. Aquariums are much better than metal or plastic cages, because the bars on the floor of those cages can cause injury to your pet. Make sure to also purchase a top that is well-ventilated, but that has a lock so your little escape artist can't get out.
Substrate – The materials you use to line your hamsters cage are known as the substrate. Most people use the purchased shredded bedding to help keep their hamsters cage clean smelling and dry. You can use shredded paper or recycled paper bedding as well. Do not ever use shavings, such as the cedar that is sold in pet stores, as they can cause illness in your hamster.
Food – See below for more details on the type of food you will want to get for your hamster. Hamster pellets are by far the best, most balanced food you can feed your pet.
Bowl – The bowl you choose should be tip-proof to prevent spilling food in the tank.
Water – A water bottle that attaches to the side of the aquarium is ideal.
Toys – Hamsters need wooden chew toys that are designed specifically for use to keep their teeth from overgrowing. An exercise ball and a smooth-sided wheel will also be required for playtime and exercise.
Things to Avoid
Unfortunately, there are a lot of items that are marketed for hamsters that these small animals shouldn't be given. While a lot of the thinking behind these things to avoid has changed over the years and new things have been added, a lot of people just continue to purchase the same things for hamsters today as they did when they were little kids, putting these small creatures at risk for health issues. Take a look at the list below to see just how many things we "got wrong" as pet owners over the years.
Salt – Pet stores used to provide a "salt lick" for hamsters with new pet kits, but now veterinarians know that too much salt is bad for our furry friends. Watch out for hamster food or treats that are high in sodium as well.
Sugar and Carbs – While your hamster may love to have a bite of your cookie, you are much better off giving him a hamster-specific treat instead. Foods that are high in sugars and other carbohydrates can be dangerous to hamsters.
Leaves or Grass – If you take your hamster outdoors to play, make sure he isn't eating leaves or grass from the yard. Not only will you find fertilizers and pesticides in most lawns these days, but these items can be dangerous to your pet in other ways.
Dried Fruit – While many hamster formulas today come with added dried fruit, make sure your pet isn't getting too much in his diet. Too much dried fruit can actually lead to intestinal issues in hamsters.
Yogurt Drops – Many hamster treats aren't actually safe, but in particular yogurt drops. While hamsters love them, they are not good for their sensitive systems and can lead to illness or death. Speak with your veterinarian who specializes in small pet care in Dartmouth for ideas on healthy treat options for your pet.
Poisons – Many houseplants, soil, nicotine and vitamins can be poisonous to hamsters. Even if the vitamin additive, which is usually mixed with drinking water, says it is specially formulated for hamsters, check with your vet first or avoid it completely.
Small Pet Care in Dartmouth
Each day you need to provide your hamster with a pellet diet and fresh water. Scoop up any bedding that has been soiled and supplement your pet's diet with carrots, spinach, lettuce and other leafy greens. Most hamsters are nocturnal, so feeding them at night is your best bet for providing fresh food. Hamsters must eat every day to avoid becoming hypoglycemic, due to their extremely high metabolisms.
Temperature is extremely important to the overall health of your hamster. Usually, temperatures that are comfortable for humans are good for hamsters. Don't let it get too cold in the winter or too hot in the summer. If you don't have air conditioning, use fans to keep the air moving and consider getting a temperature controlled tank for your pet.
The habitat and all of your hamsters plastic toys, wheels and exercise balls should be cleaned once a week with soapy, hot water to prevent illness. An annual check-up with the local veterinarian is suggested. You might be surprised to find out that there are vets that take hamsters in Dartmouth, such as Anchor Animal Hospital. At your visit, the vet can trim your hamsters nails, examine them for any illnesses, check weight and overall health.
Hot Deserts and Cactus
by Felice Prager
The desert, with its hot and dry environment, severe seasonal thunderstorms, numerous spiny plants and various venomous creatures, can raise serious challenges for your pets.В You should take precautions to keep them safe and healthy.В You may find the following guidelines useful:В
On the exceptionally hot days, leave your pets at home, if possible.В Generally, they are safest and healthiest in their normal habitats.В It is better for your pet to be lonely for a few hours than exposed to the extremes of a desert environment.
Leaving a dog, cat or any pet in a parked car in the sun of a hot summer day is only asking for trouble.В Interior vehicle temperatures can reach 160 degrees Fahrenheit or higher.В Opening a window will not provide enough ventilation to cool a pet.В Pets can die or suffer permanent brain damage in less than five minutes at those high temperatures.В In instances where people have left their car with the motor running and the air conditioning on to maintain a comfort level, there have been horror stories in which pets have accidentally put vehicles into gear.В The car has rolled and the pets and humans have suffered the consequences.В A pet will be healthier and happier at home.
Don't tie up a dog anywhere since it may become tangled in the line, trapped in the heat. This is considered animal cruelty and is illegal in many areas.
If you enjoy hiking with your dog, make sure the animal is in good physical condition. Prepare as you would for any hike, but add to your list of needs the requirements for your dog such as extra water. Bring a portable pet water bowl and damp towels in a plastic bag. Give your dog rest time in the shade no matter how well conditioned your pet is. Just because you are rested, it does not mean your pet is. Consider a longer rest to protect your pet. Since dogs cannot communicate physical distress until the situation is serious, be a careful observer of your dog's needs. Train your dog and make sure the trail you choose is dog friendly. Pick up after your dog, for obvious reasons. Remember that heat exhaustion is very common with dogs. Early signs include rapid breathing, heavy panting and salivating. Other signs include fatigue, muscle tremors and staggering. Don't allow your dog to get to this point, and if he does, take the dog to the coolest, shadiest place available and apply wet towels or cloths to help the dog's body cool down. Try to give the dog small amounts of water and contact a veterinarian as soon as possible.
In the summer, provide a large water bowl that will not tip over.В If the water is outdoors, leave it in a shady area so it stays cool.В Automatic watering bowls tend to stay cooler.В There are various new products available that refill pet bowls automatically.В They are well worth the expense.В If necessary, leave more than one bowl for a pet.В If you have multiple pets, provide multiple bowls.В In addition, wash the bowl well because evaporation tends to leave algae and calcium deposits.
Do not feed your pet outdoors. The pet food can spoil in extreme heat and it can attract predators such as skunks, javelinas, coyotes, bears, bobcats and even mountain lions—all a danger to your pet. The food is also an attraction to the poisonous desert toad.
Make sure your pet's vaccinations are up-to-date.
Keep your pet indoors during celebrations such as the Fourth of July.В Fireworks tend to frighten pets.В Occasionally, in fear, they will bolt and get lost.В It is also possible for a stray firecracker to wind up in your yard, potentially injuring your pet.
If javelinas visit your property, keep your dogs away from them.В Though they may seem harmless, they can inflict severe injuries.В They have poor eyesight and startle easily.В If you are walking your dog and encounter javelinas, keep your dog close to you and leave the area.
Rattlesnake bites can be deadly.В They require immediate veterinary attention.В There will be immediate, painful swelling around the bite area.В Keep your pet as calm as possible and transport it to the vet immediately.В If you know your pet has been bitten but cannot identify the type of snake, the vet can administer a test to check.В (The Humane Society of Southern Arizona offers Snakebite Avoidance classes.)В Preventative measures include keeping your dog leashed, avoiding walks on summer nights, when snakes are most active.В Do not allow your dog to investigate bushy areas, rocks, or areas where snakes may be hiding.В Rattlers are territorial, so if you see one, avoid that area in the future.
Gila monsters, while not aggressive, will bite if provoked, and the bite is severe, painful and poisonous.В Gila monsters hibernate and are sometimes trapped in the yards of new homes that were built during the winter.
Tarantulas, in addition to being venomous, have barbed abdominal hairs that can become embedded in your pet's face, causing extreme irritation. It is very difficult to relieve your pet because the hairs are nearly impossible to remove because of the barbs.
Scorpions can inflict painful stings.В To prevent stings, clean up rock and brush piles from your home and do not allow your pet to dig under rocks.В If your pet is stung, do as you would with a human.В Apply ice to the area and seek medical help for further advice and monitoring.
Valley Fever is a disease caused by a fungus that occurs in the soil of the Southwest.В It can afflict both humans and many companion animals, but it is NOT transferred between them.В It generally causes problems when the immune system becomes overwhelmed.В The severity varies greatly and there is no vaccine, just treatment.В Symptoms include fever, weight loss, and cough, but these symptoms can be caused by other problems.В If you suspect your pet has Valley Fever, consult your veterinarian for assistance.
Letting your cat or small dog out by itself raises the risk of losing it, even in a fenced yard. In addition to coyotes, there are bobcats, hawks, and owls that are big enough to carry off a small pet. Even if it feels like you live in suburbia, don't forget that this is a desert. Wildlife moves along washes – looking for a meal – and if you leave your small pet outdoors, it might spell your pet's demise.
If your pet is an indoor pet, such as a hamster, a tortoise or any other small animal kept in a cage, keep it that way.В Such animals may not fair well outdoors.В Their bodies may not be suited for the heat.
Chances of poisoning a pet accidentally is higher during the spring and summer.В Fertilizers, herbicides, insecticides and fungicides can be dangerous or even fatal to pets.В If your lawn or yard has been treated, keep your pet away from the area.В Pets are good at finding poorly stored chemical products and chewing up the containers and eating and drinking the contents.В Pet owners should be vigilant about storing these products.
Some groomers believe the best way to keep a dog cool in the summer is to give the dog a close grooming. Though this may seem like a logical solution, it isn't for most breeds. A dog's fur is protection from the cold, the heat and the elements. For some breeds, long hair keeps them cooler than removing it. If you are considering a haircut for your pet, thoroughly research your breed and lean toward not getting the pet's fur removed if the dog will be out in the sun. Like a human, the dog can get a severe sunburn and have no way of communicating this pain to you.
There are other basic rules for the less common pets, for instance, horses, burros and goats.В Become an expert about caring for your pet, whatever the species, in the desert.В Your pet will appreciate it and will have a better chance of surviving.
jayco fuse panel
french construction equipment manufacturers near california
g wagon trunk space
sean ford commerce city
john deere 6300 reviews
gmc pathfinder
qelbree mechanism of action
revvl 4 secret codes
5488 international horsepower
zane dovom
beauty world dubai 2021 dates behinder webshell
arctic cat m1100 turbo
braided wig styles 2021
By abuja hookup telegram group link
By 2013 ford f150 ecoboost turbo replacement
By eeds funeral home obituaries
random warrior cat generator perchance
windows firewall rules example
[RANDIMGLINK]
[RANDIMGLINK]
[RANDIMGLINK]
[RANDIMGLINK]
[RANDIMGLINK]
Tuesday, Jul 21 at 11AM EDT
Tuesday, Jul 21 at 12PM EDT
Tuesday, Jul 21 at 1PM EDT
download northwind database microsoft
By where is auto metal direct located and 2012 bt50 headlights
zx81 text adventure
By foil first outer inner last
1 hour ago
atmel start vs asf
By kenneth duda net worth
dji drone blog
jest override global mock
crowdstrike linux commands
nested json to csv online
2011 dodge grand caravan torque converter clutch solenoid location
UK weather in August 2022. Top 10 places to go; Book UK holidays; More UK destinations; Summer in the UK; Discover the UK's weather in August. As well as sharing the average temperatures at popular destinations, we've handpicked a list of the top 10 places to go in the UK in August for anyone planning a holiday or day trip in summer.. Read our complete guide to the.
cobra px655 frequency chart
woocommerce website templates
1958 corvette model
four winds motorhome manuals
ptz optics 30x manual
data factory v2 rest api
Hawaii Weather in August. There may be a range of different climates depending on which island you're on, but for the most part, the summer months (May to October) in Hawaii will average about 85 degrees F. 2 Specifically in August, the temperatures tend to be higher than the rest of the year, so keep that in mind if you're planning to travel.