Don't let a disorganized binder keep you from a successful school year.
Rafael Carrera, Staff Reporter | February 13, 2019
Students, why is it so hard to organize? Of course, it's enforced, basically every day. But for some reason, it's just so hard for some of us. Take it from me; I know how it feels. Sometimes we need a guide, and now, you got one. Here is a simple, three-step, how-to on how to stay organized with your agenda and binder.
Only Write School-Related Things In The Agenda: It seems small, but there actually is an upside to doing this, weirdly. If you only write school-related information in your agenda, it can differentiate your school life from your personal life, blocking out any distractions that may come your way. Little tip: When doing your homework, cross out your finished assignments. It just feels good. The student handbook says writing in blue or black pen, which is a little weird at first glance, but is helpful in case you try and erase anything in there. But that doesn't mean ripping out stuff instead! Just make sure to settle the school and personal differences to really get focused. Save the goofing around for lunch!
No Papers Inside the Pockets: It's super tempting to stuff random papers in the pockets of your binder because it's right there… but don't give in! Putting stuff in the pockets of your binder would not be beneficial in the slightest because it could cause too much clutter. Not to mention what would happen if you ever dropped it. If your binder is that much of a state of where it is incapable of running anymore, get a new one. Target and Staples are two good places to go. Even buy an extra in August when your first shopping for your supplies. If it is salvageable, however, clean it out regularly, like once a month or at least once a semester. Never hurts to clean! For those of you who just can't help yourself, another tip is to cut out the pocket when you first get your binder to prevent the whole mess from happening.
Keep That Agenda In Your Binder!: It's a simple one, but it is very helpful. Keeping that agenda in your binder is crucial to having an organized experience at school and an organized life in general. Think about it; if you have the agenda in one place at all times it's not going to be that much of a hassle to look and find it there. Also, keeping items in the front of the binder is helpful. Again, it helps differentiate the school side and the personal side of your life. One last tip; if it doesn't fit in your backpack, clean up ! Even clean the backpack itself, for crying out loud!
All and all, it is crucial and essential to keep your binder and agenda neat, neat, neat! And the most surprising part? it's very simple to do. I'll say it again; do not alter the agenda, no papers inside those pockets, and keep that agenda in your binder! Well, I hope this how-to helped you be neat, and be you.
Boys basketball bring home the championship
The MacArthur boys basketball team won the intermediate school tournament at Segerstrom High school, becoming district champions. Sixth, seventh, an.
Drama club delights students and staff with annual play
Fairy tales and children's stories traditionally start with, "Once Upon a Time". Once upon a time, there lived a widow and his son named Jack. Onc.
Eighth graders challenged to maintain their end-of-the-year activities
As school continues to take on a traditional form, eighth graders can now look forward to the best part of the year, the eighth-grade activities! Last.
For March, let's remember R.B.G.
Ruth Bader Ginsberg, Associate Justice of the supreme court, is a giant in the field of women and gender equality rights. Born and raised in Br.
Hockey team shows improvement
Cling, Clang, Clash. These are some of the sounds that were heard at the girls and boys hockey tournament, as well as the scratching of the pavement a.
Posted on Last updated: August 31, 2021
There are a number of ways to organize important documents. You can use a traditional file system, you can store them in a safe somewhere in your home, you can store them in a safety deposit box at a bank, or you can do a medley. When it comes to organizing important items, I am most attracted to the simplest secure option. After hours of research I landed on a transportable, organized important documents binder.
Benefits of an Important Documents Binder
Easy to Transport
One huge benefit of a "grab and go" binder is transportability. This benefit is obvious when we think of emergency scenarios (fire, flood, or otherwise). It's also a great benefit if you are a person or family that moves frequently. A binder is easy to store securely in a carry-on that you can keep on your person at all times when in transit.
Easy to Store
A 1" or 1.5" binder can be easily stored in a small safe in your home, in a hotel safe, or elsewhere. It's also helpful that the documents within an important documents binder are organized in plastic protective sleeves. This will help keep the documents in your binder (mostly) protected in case of accidental spills or accidental contact with liquid.
Provides Peace of Mind
Knowing that you have every document organized in one place can bring tremendous peace of mind. I like that in the case of an emergency, I know that my husband or I can quickly and easily grab our binder and get our family to safety. Because we store our binder in a fire and water-proof safe, I can rest assured that our important documents won't be harmed in the case of a natural disaster when we aren't at home.
Important Documents Binder Contents and Categories
Important Documents to Keep Safe
Below are the important documents most households will want to keep safe, secure, and accessible:
Birth Certificates
Social Security Cards
Passports
Marriage Certificate / Divorce Records
Vehicle Titles and Registration
Property Deeds and Titles
Living Will, Last Will and Testament
Insurance Policies
Appraisals of high value items you own
Additional documents that could be helpful in an emergency situation:
Emergency phone numbers – these would be helpful in a situation where your phone dies and the power is out. Do yourself a favor and save these in your phone as well:

Close friends and family
Doctors and hospitals
Poison control
Utilities
Insurance providers
Financial accounts and providers

Thumb drive – record and save images and/or video of the contents within your home on a small thumb drive to use for insurance purposes
Financial account information – account numbers, phone numbers, and passwords
Other personal account information – email, social media, and other passwords so other family members can access these accounts should you ever become unable to for any reason
Family ID Forms – these could be used in the horrible instance that a family member or child were abducted or goes missing and you don't have access to your phone. It can be one way to prove that a found family member belongs to you as well as a way to quickly provide police important identifying information to aid in a search.

Recent individual photos
Recent family photo
List of physical characteristics such as eye color, hair color, distinct markings, etc.
DNA (e.g. a few pieces of hair)
Fingerprints
Every household is going to be unique. For instance, you may have a family member with important medical records you need to keep, or maybe you rent your home so homeownership documents are irrelevant. Use these lists as your starting point and customize as necessary.
Important Document Categories
Once you have collected all of your most important paperwork, you're going to need a categorization system. I use sticky tabs in my binder to specify each category.
Identification

Birth Certificates
Social Security Cards
Passports
Marriage Certificate
Family ID Forms

Home

Property Deed and Homeownership Documents
Insurance
Thumb drive with images and/or video of the contents within your home to use for insurance purposes
Appraisals of high value items that you own

Auto

Vehicle Titles
Registration
Insurance

Insurance

Life Insurance Policies
Health Insurance Information

Will

Living Will, Last Will and Testament

Emergency
Collect Your Binder Supplies
Now that you're ready to file, it's time to equip yourself with the necessary supplies.
Binder
The size of your binder will depend on the amount of paper you have to file. I have a 1.5" binder that works well for my young family of four.
May 30, 2019 Becky // Some links are affiliates and I only use sites I trust. View the disclaimer in the footer for more information.
Share this article!
Facebook
Twitter
Pinterest 8.8K
LinkedIn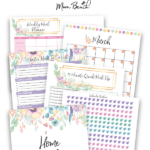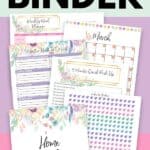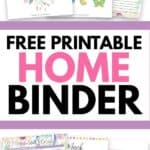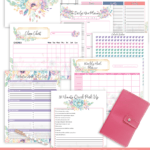 As a working mom, I find it so difficult to keep my home from turning into total chaos. With my 3 year old T-Rex destroying the house on a daily basis, keeping a clean house can be helpless. I decided to create this free Home Binder as a way to keep everything in order.
Free Home Binder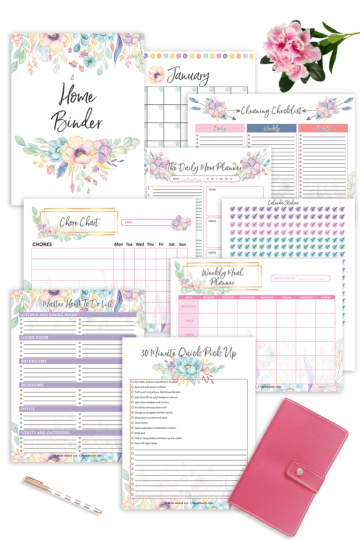 Note: This Free Home Binder has been redesigned. The previous design is no longer available.
It has been helping a great deal to keep me better organized and my home clean. I wasn't sure what to do in order to even start getting things less cluttered.
You can print out all of the sheets on 8.5 x 11 paper and place them in any color of binder.
Pick Up Worksheets: Free Home Binder
Then, I thought that I could create pick up worksheets to give me a head start on what I needed to do. There are 15 minute pick up steps when I don't have much time and 30 minute pick up steps when I do.
What I do is practice time blocking where I will set an egg timer in blocks of 15 minutes or 30 minutes. I use this method for blogging, taking care of my Shopify stores, for cleaning and for organizing. It has helped me tremendously.
Another great tip I can give you is to go about time blocking each and every day by marking your progress down on a calendar.
Free Calendar and Stickers
See how long of a streak you can do with your time blocking. To help you out, I created a blank calendar that is included with the free home binder.
There are also stickers that you can print on sticker paper
See how many days you can time block in order to get things done and keep your home clean.
Cleaning Checklists and Schedule: Free Home Binder
To further aid you in keeping your home clean, I have included a home maintenance planner and cleaning checklists in the free home binder.
Now that your home is clean, I bet you are feeling hungry.
Weekly Meal Planner
You can use this weekly meal planner to plan out all of your family's meals. It makes coming up with dinner super easy and takes out all the guess work.
This meal planner has helped me out so much when planning our meals.
Deluxe Home Binder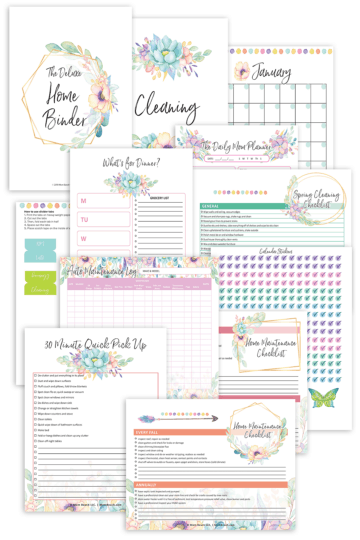 For even more pages, check out our Deluxe Home Binder that is available today for only $7 with this special link. This 47 page binder is usually $37 in my printables shop.
This beautiful rainbow watercolor floral binder includes:
3 covers to choose from
dividers and tabs
stickers
15 Minute Quick Pick Up Routine
30 Minute Quick Pick Up Routine
Auto Maintenance Log
Chore Chart
Daily, Weekly, Monthly Cleaning Checklist
Favorite Recipes Log
Grocery List with categories
Home Maintenance Checklist (3 pages)
Home Project Planner
Kitchen Inventory – All
Kitchen Inventory – Freezer
Kitchen Inventory – Fridge
Kitchen Inventory – Pantry and Cabinets
Master Home to do list
Moms Daily Planner
Shopping List
Spring Cleaning Checklist – bedrooms
Spring Cleaning Checklist – General
Spring Cleaning Checklist – Other
To Do List
Weekly Cleaning Schedule Checklist
Weekly Meal Planner
Meal Planner and Grocery List
I hope you liked this presentation of my home binders. What are some ways that you keep your home clean and organized? Let us know in the comments.
Related Posts:
Pin to Pinterest:
Help others get their hands on this awesome free home binder by pinning to Pinterest right now!
Share this article!
Facebook
Twitter
Pinterest 8.8K
LinkedIn
About Becky
I was staying up all night tossing and turning. We were up to $120,000 in debt and living paycheck to paycheck. The interest rates were crippling and we could only make minimum monthly payments. There was a baby boy on the way. What did I do to become debt free? Find out here.
Leave a Reply Cancel reply
This site uses Akismet to reduce spam. Learn how your comment data is processed.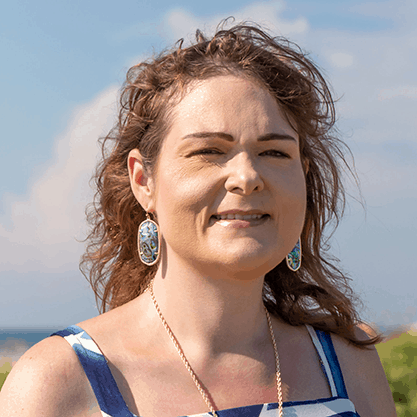 Welcome, I'm Becky!
It is my passion to help moms make money online so they can stay home with their kids.
I have been in your shoes. I was staying up all night tossing and turning. We were up to $120,000 in debt and living paycheck to paycheck. The interest rates were crippling and we could only make minimum monthly payments. There was a baby boy on the way. What did I do to become debt free? Find out here.
This post may contain affiliate links. Please see my disclosure and privacy policy for more information. As an Amazon associate I earn from qualifying purchases.
One of the things I've been doing for a few years now is keeping a home management binder. A home management binder helps you to keep all of your important home things in one place. If you're wondering how do I make a home management binder, then this post is for you! I'm going to show you how I've set up my home management binder this year!
How Do I Make a Home Management Binder?
First, you're going to need home management binder supplies! Here's what I used to make my home management binder:
2 inch three ring binder – I like pink, so I chose a pink binder!
Home management binder PDF printables – I am using my Clean & Organized Home Management System printables
Printer – We own a laser jet, but an ECOtank is another great option if you like to print A LOT!
Next, decide which sections you want in your binder. Here, I'll show you my own home organization binder ideas.
My first section is my HOME section. Here's what's in that section:
Home Management Printables
Cover Page
4 Dividers
Pre-filled Cleaning Checklist
Blank Cleaning Calendar
30 Minute Tidy Checklist
Blank Deep Cleaning Checklist
Organization Projects Planning Page
Organization Calendar
Home Repair Log
Important Contacts
Insurance Info
Insurance Inventory
Vehicle Maintenance
I also keep a laundry schedule, chore chart, and my monthly cleaning calendars in that section.
Next is my meal planning section. I love this section because I can plan all my meals! I also have a master grocery list in this section to refer to when I'm making my grocery list! Here are all the printables in this section:
Meal Planning Printables
Cover Page
Vertical Weekly Meal Plan
Horizontal Weekly Meal Plan
Favorite Recipes
Grocery List
Recipes to Try
I don't keep a ton of meal planning pages in this section at one time, but I do keep a couple and then print as needed.
Next, I have my budget section. I like this section because I keep LOTS of financial information here. My husband and I have a budget meeting every month and this is where I keep all of my notes for that. I also keep a savings log and donation tracker here among a few other budget printables.
Monthly Budget Printables
Cover Page
Monthly Budget
Debt Repayment Plan
Payment Checklist
Donation Tracker
Savings Log
Debt Payment Tracker
Next is the family section. If you've ever asked yourself how do I make a family binder, this is the printable section you need. I keep a list of all of the members of our immediate family plus a running list of important dates. I also have a page for a baby sitter, pet sitter, and house sitter in this section. Finally, I have some printable clothing cards to keep track of my kids' sizes.
Family Management Printables
Cover Page
Babysitter Info Page
Petsitter Info Page
House Sitter Info Page
Family Personal Info Page
Important Dates Pages (6)
Clothing Cards
I do have a fitness section, as well. This is a great place to track fitness goals and progress if you're in weight loss mode.
Fitness Printables
Cover Page
Weekly Workout
Exercise Log
Calorie Tracker
Calorie Reference
Progress Chart
Next is my garden planning section. This is a great place to plan gardening projects and keep track of garden inventory.
Garden Planning Printables
Cover page
Outdoor projects
Garden inventory (4 pages)
I also have a school planning section. This is where I keep track of our cover school information and extracurricular activities.
School Planning Printables
Cover Page
Important School Info
Weekly School Activities
Reading Log
Classmate Contacts
Current Class Schedule
The last section in my home management binder is my vacation planning section. This is where I keep track of where we want to go on vacation and plan out my vacation budget.
Most of the printables I use in my home management binder is from the Clean & Organized Home Management Binder System! I just love the colors and how happy it makes me when I'm planning. I love being able to keep all of this information in one place and I really like having sheets in my family section to give to our pet sitter when I go out of town.
More Home Management Printables
Monthly Cleaning Calendars
Do you use a home management binder system to organize your home?
"Uh, Ms. P, I never received that paper."
"That's funny, Isaac, because I specifically remember giving it to you last class. And the class before. Let's check your backpack."
"Good luck," he replied. Isaac opened his bag and I goggled at the contents. It was a sea of crumpled papers without a notebook or folder in sight. "Sooo, come after school and I will help you organize it," I responded.
Over the years, I experienced this multiple times. Students with a nightmare of a backpack – papers mixed up in the wrong notebooks (if they had notebooks) with old lunches, gym clothes, and gum wrappers mixed in. How did they get anything done?
Isaac's untidy bag was a giant, flashing, neon sign that his organizational systems were a) never put in place or b) fell apart. For Isaac (and most kids), it was the former. The papers were all over the place because Isaac never put notebooks together. As the mess grew, he just started throwing everything in the bag.
Consequently, he often didn't have the papers he needed to complete his work and his grades suffered. He rarely turned in homework and his test grades were low. Isaac wanted to be a better student, but he didn't know where to start.
Can you relate to Isacc's story? Is your backpack a giant blackhole? Unfortunately, your junky backpack is definitely holding you back in school.
How can you turn in homework papers if you don't know where they are? Study for a test when the notes are buried in the wrong notebook? Plan for next week's assignments when your Gatorade spilled all over your planner and ruined it? Simple – you can't.
However, you can change your backpack and set yourself up for success!
5 Steps to an Organized Backpack
Step 1:
Empty your bag by dumping it out on the floor. Give it a good shake and make sure it is completely empty. If the bag is washable, throw it in the washing machine.
Step 2:
Create 3 piles – Keep, Give Away, and Throw Out. Go through everything now on the floor and place it in one of the piles. Be ruthless! Field trip form from last semester? Toss it. Five sets of earbuds? Keep 1 for the bag and find new homes for the others. An almost empty English notebook. KEEP IT!
Step 3:
Focus on the Keep pile. Put similar items together. For example, put your pens and pencils in one pile. Organize all the papers by class.
Step 4:
If you have notebooks set up, place the papers in the correct notebooks. If you don't have notebooks, check out my post on notebook organization and put them together. Though I provide 2 options, I cannot recommend the "BIG Binder" option enough.
Step 5:
Repack your back, but keep it lean. Less is more here. Do you really need 3 lipsticks and 3 lip balms? No. One of each will suffice. The less you carry in your bag, the easier is it to find the essentials and the more likely your bag will stay organized.
For Isaac, we spent some serious time emptying his bag and organizing. He filled a small trash can with all the junk in it! Once we created a system for him (including a BIG binder), he was able to keep it going and his grades improved. Yours can, too!
The Essentials
These are the items you need to create and keep an organized backpack:
The backpack! It needs to have at LEAST 2 different areas, a big pocket for notebooks and another smaller pocket. Many bags today will also have a laptop sleeve. If you're taking a laptop with you every day, consider it. But if you're not taking a laptop, skip the bulk. When I went shopping, I purposely bought the smallest backpack I could find. A smaller bag is easier to keep organized!
Notebook(s): I'm on Team BIG binder all the way. Either way, you need to have your notebook situation squared away. All those papers you get in school need to go somewhere other than the bottom of the bag.
Student Planner: This is also a must. You can't do your homework if you don't know the assignment. If you use the BIG binder, the planner will be in your notebook itself.
Lunch bag: I recommend a reusable bag that closes! If your salad dressing explodes, only the lunch bag gets saucy; not your entire backpack.
Pencil Pouch: You need something (other than your backpack) to corral all those pens and pencils. If you use the BIG binder, your pencil pouch will be inside the binder.
Cosmetic Bag: To keep female products discreetly hidden or *actual* cosmetics.
Earbud Case: Most students carry earbuds; keep yours clean and untangled.
Water bottle: Stay hydrated and be eco-friendly at the same time by using a refillable water bottle. (My last school had filling stations at every water fountain. I thought I'd died and gone to heaven!) Stick to water, so if the bottle leaks, nothing gets stained.
Packing the Bag
In the main pocket, keep your notebook(s), lunch bag, planner, and water bottle. Depending on the size of the smaller pocket and your other items, keep your supplies, earbuds, and cosmetic case in the front.
Parents' Corner:
It takes time to keep a notebook organized, especially if your kid's notebook had gotten to the a-bomb-went-off-inside-it stage. Help your teen clean out his bag, but let him make the decisions about how to set up the new one. Check the bag every few days to make sure it's not being treated like a trash bag. If it does become junky again, ask your kid why and LISTEN to the answer. Together, brainstorm possible solutions to the problem.
26 December, 2018 |
If you're new here, you may want to follow me on Pinterest, too. Thanks for visiting!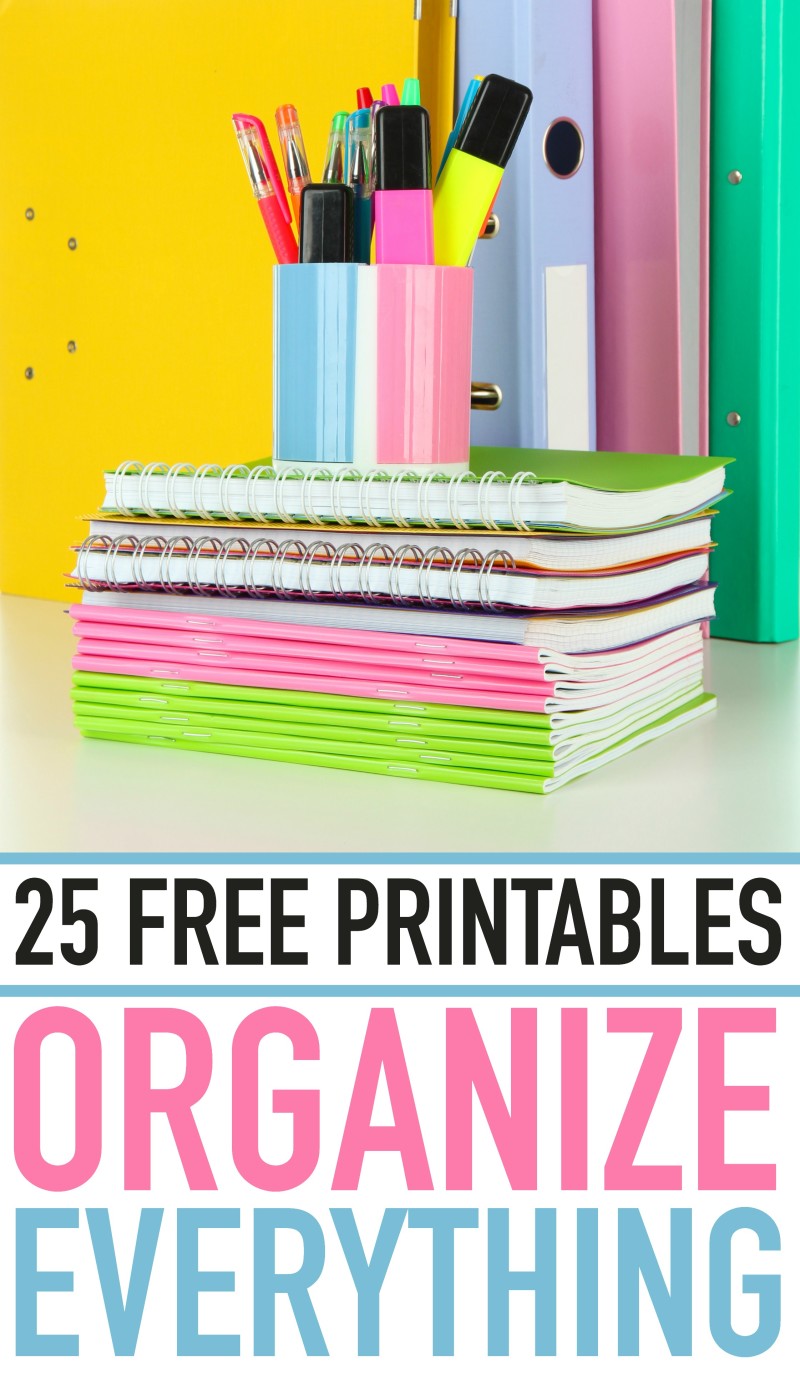 Free Printables Get Organized : Need help getting organized this year? Here are 25 awesome free printables organizing your life the whole year through.
I love all tools for organizing everything. From fun storage containers to sticky notes, I love daily planners, calendars, and making lists to get things done. That's why printable organizational tools are fabulous. There are labels to help us clear the clutter and daily checklists to keep us sane.
This year, let's get organized. Over the next few weeks, let's roll up our sleeves and get busy around the house doing whatever it takes to make our home a happy place we all want to gather. I think these printables to organize your life are great tools to get us started. They'll help kickstart us in the right direction to form habits of keeping things tidy and organized in our homes.
So I've rounded up 25 of the best free printables organizing everything and, even things you may have forgotten. There are lots of them, so I have divided them by household needs. Simply scroll down to find the ones that best suit your needs right now.
Here are free printable to organize everything. It's a list of downloadable printables to organize your money, house cleaning, cooking, and everything else.
Labels for Everything
Who doesn't love labels? They're great for clutter control. By adding labels to your storage bins, it's easy to keep your shelves and closets nicely organized. Labels are helpful reminders that every item in our home should have its own designated space.
While file folders and baskets can help alleviate clutter by collecting the paper pile all in one place, they don't really offer any assistance when it comes to presenting information in an appealing and attractive way to clients. Neither do these office tools help you locate a particular document quickly. It can sometimes feel like trying to find a needle in a haystack! Fortunately, this is where binders come into play.
Using a three ring binder is easiest of all to sustain and requires minimal setup time.
In this article, we will help you learn how to better organize your custom binder so that, by design, everything is easy to find and your stress is relieved. Keep reading for some simple steps on how to ensure fast access to important information, while preventing clutter and removing messy stacks of paper by having one organized location for all important content.
Start with a custom ring binder. We recommend using a standard 3-ring binder; however, there are multi ring options available as well. Consider what ring size (capacity) you will need and check out this guide for recommended ring sizes based on sheet count. If you choose a custom three ring binder, you can use any standard 3-hole punch. An inside pocket and business card holder also comes in handy if your budget allows.
Separate your content into sections. Gather your mock-up text (content) and separate by grouping relevant content and categories together. Once separated into sections, decide what the flow of the story should be. For instance, do you want an "introduction" or "about our company" section first? Should products or services information come next? Do you want to end with a price list or forms section? Use sticky notes that hang off the edge of the paper with the title of each section so you can easily keep track of what each stack of paper contains.
Index tabs to Organize. Index Tabs should be inserted to provide numbers or titles to mark the beginning of each section. Index Tabs make finding the various categories and information extremely easy for you and your client. Since Tabs usually come already hole-punched, you will not need to do so; HOWEVER, we recommend punching a few blank sheets of paper and matching them up to the Index Tabs to be sure the holes are aligned for easy turning and the binder content looks tidy. If they do not line up, simply make the adjustments on the hole puncher to match the Index Tab hole spacing.
Start Punching. After your content is placed in the correct order and you've lined up the holes, start hole punching your materials. Be sure to keep everything in proper order. Adding Index Tabs as you move through the material can help.
Insert Your Material into the Binder. Once the materials are punched and the Index Tabs have been inserted, place the content into your custom binder. If you opted for the inside pocket, you may decide to insert a cover letter or introduction letter explaining the content you are providing or include any instructions for use you think are important. If you opted for a business card holder, now is the time to place your card in the designated pocket. Your customer will find it very handy to reference by simply opening up the binder.
Now your binder is in working order and ready for duty.
Need Assistance? If you need help designing and creating your custom vinyl binder, poly binder, or index tabs please contact us at 800-962-1807 or send us an email at .
How to organize your paperwork with binders. A great way to have everything easily accessible. Set up your own binder organization system today.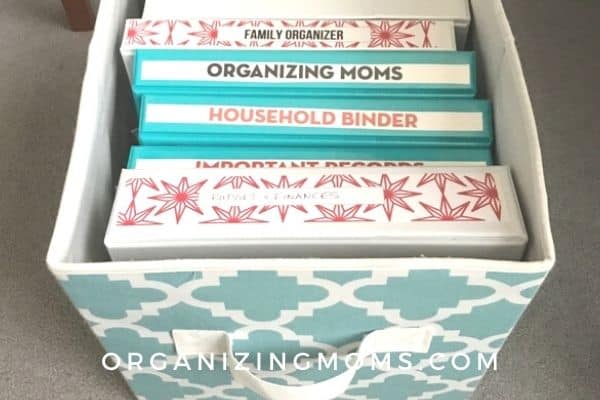 Organizing with binders is a perfect way to tackle paper clutter and make important documents easy to access in case of an emergency.
Do you struggle with losing important paperwork? Is paper clutter getting in the way of your figuring out how to organize your home?
Do you have a stack of important papers on your kitchen counter that you don't know what to do about?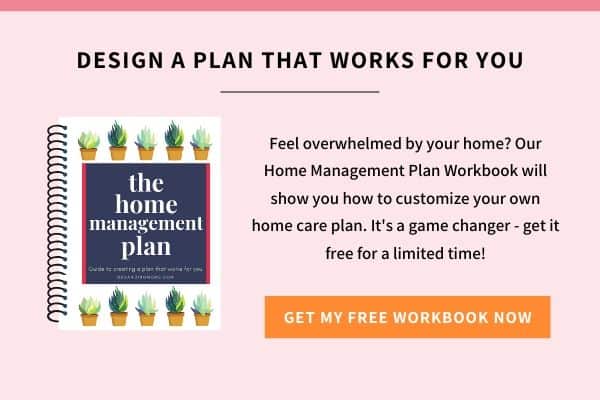 One solution that works for a lot of people is organizing with binders.
You may also like:
How to Make a Practical Home Management Binder
How I Set Up Our Paper Organization System
How to Set Up a "Command Central" in Your Home
Why Organize with Binders?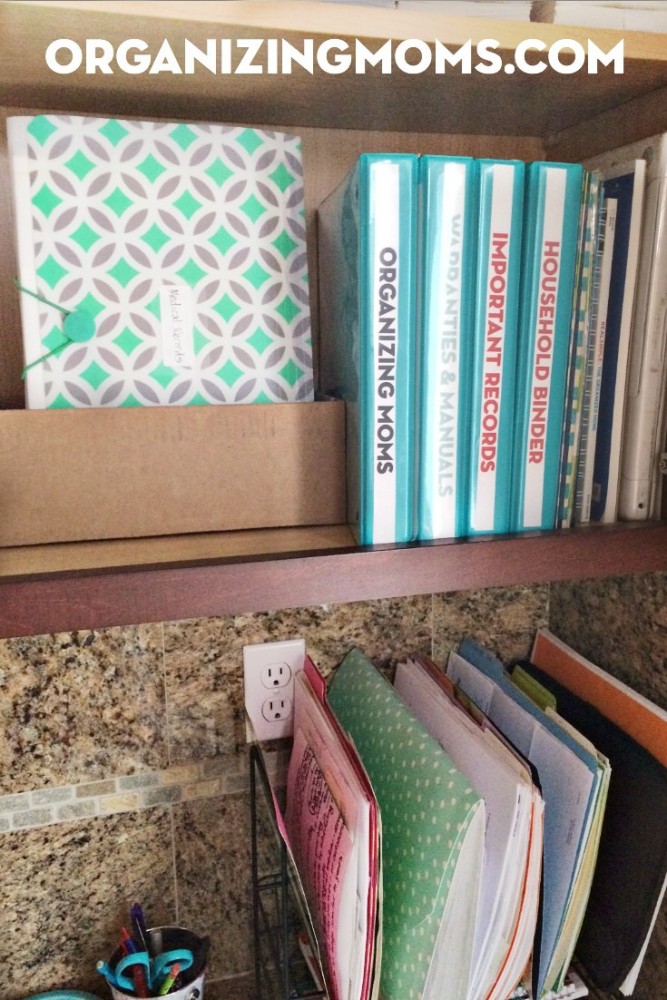 For the most part, organizing paperwork in files and filing cabinets hasn't worked for me.
With the exception of a few frequently-accessed files and files I hope to not have to access again (tax files, etc.), I don't store paperwork in file folders.
I use binders and accordion files instead.
If you'd like to start using binders for organization, begin by thinking of the paperwork that you need to access a lot, or that you'd like to be able to find quickly.
Those are the items that you'll want to store in binders.
Related articles
Organizing With Binders
If you have a lot of paperwork that you'd like to be able to access frequently, it might be helpful to make more than one type of binder. Here are some ideas: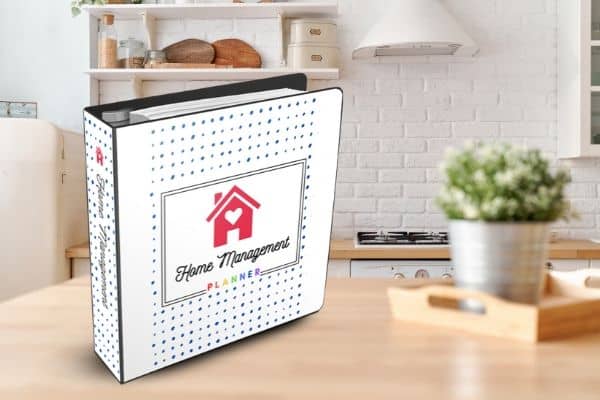 Home Management Binder – This includes everything you need to be able to access to run your home effectively. Go here to get the printables to make your own home management binder.
If you just want to organize your important papers, you can try a simple household binder.
Important Records Binder. Fill this with birth certificates, a copy of your will, marriage certificates, licenses, certifications. It's not a bad idea to keep this binder locked away in a fire-safe box.
Warranties and Manuals. A lot of organizing experts say to pitch these, but I just can't do it. I put them in sheet protectors and store them in this binder along with any proof of purchase we still have.
Work Binder. This could be for anything – hobbies, work, a business. I have one for the work I do on this website. It's nice to have an organized blog binder that I can take to the library with me if I want to get a lot of blogging work done at once.
Binders with Important Information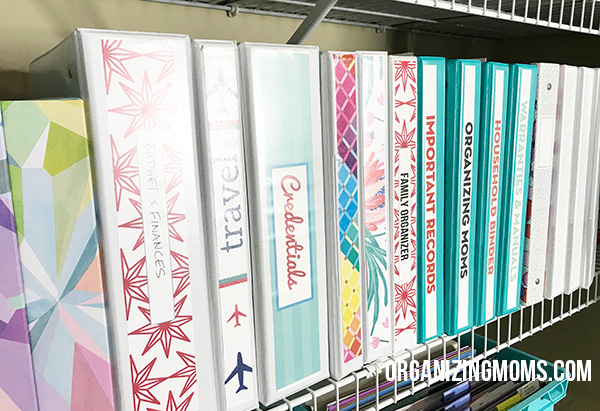 Create binders for information you want to be able to access easily to show to someone else.
It's also helpful to create binders for information you might need to take with you out of the house.
Here are some more ideas:
Family Organizer Binder – If someone has to take over for you, this is the perfect way to give them all of the information they need at once. Great for babysitters or grandparents!
Recipe Binder – Keep all of your favorites in one place so you can find the recipes you like to make.
Credentials Binder – If you have certificates, evaluations, or anything else you might need for employment, putting it all together in a credentials binder makes finding what you need easy.
Travel Binder – Keep information about rewards programs, upcoming trips, TSA Pre-Check, etc. all in one binder so you can be organized for your next travel and make the most of your rewards points.
Organizing with binders works for our family at this season in our lives.
It's flexible, and easy-to-use. I like how I can grab documents and take them with me to important appointments.
We plan on moving a lot in the next few years, and I'm glad we have all of our essential information consolidated and easy-to-find.
We can take our binders with us in the car so we don't have to worry about them being lost in the move.
More Organizing Resources
FREE Paper Organization Challenge – Organize all your paperwork once and for all!
See inside the Erin Condren LifePlanner Binder
Our Amazing Home Management Planner Printable Set
The Best Home Filing System for You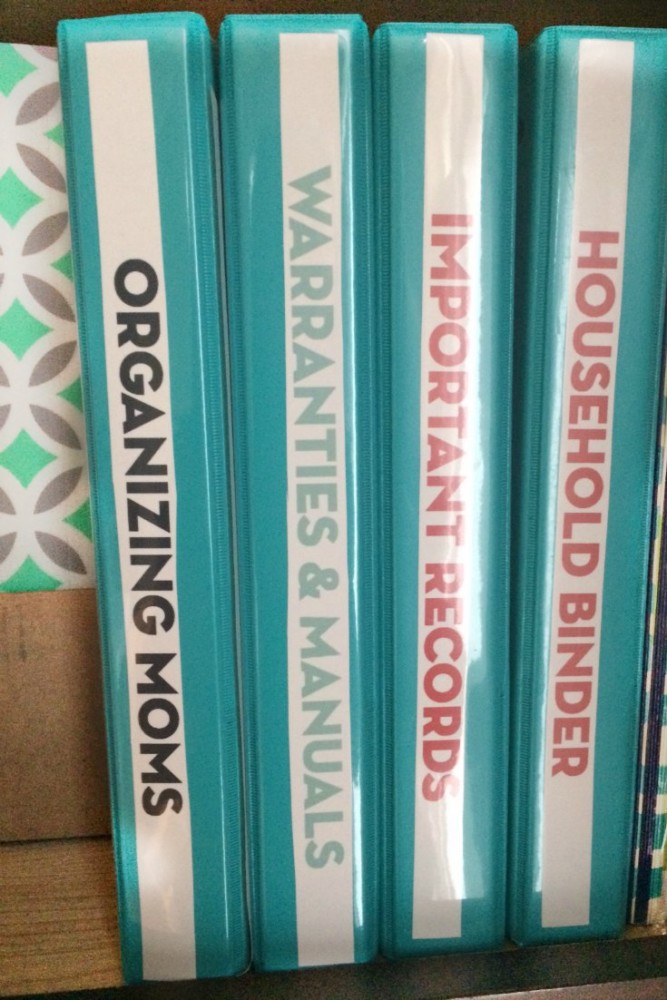 What type of paperwork is your biggest organizing challenge?
Want to read more about organizing paperwork? Check out these posts:
Working from home can be super comfortable and productive — unless your home office is a disaster. Follow these 10 simple tips to help declutter your space.
Related To:
PURGE PAPER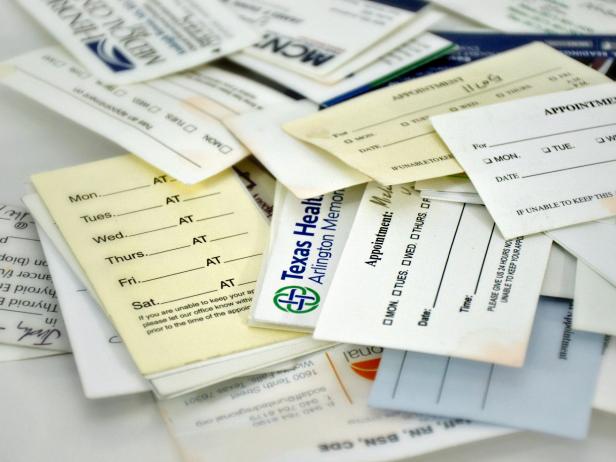 Pile of Papers
It's easy to let papers pile up in your home office. Get control of the clutter before it takes over your space. Go through every piece of paper in your office by using the System of Three: shred/toss it, file it or take action from it. File your important paperwork in a color-coded filing system.
COLOR-CODE YOUR FILING SYSTEM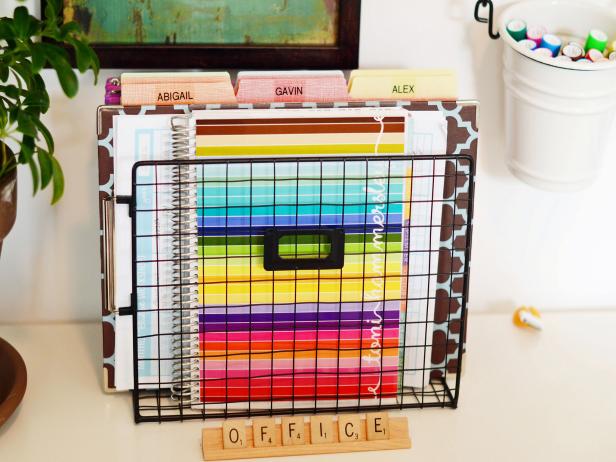 Create a Mail Organizer with File Folders
Everything needs a home, even stacks of mail — get things under control by creating a mail organizer. Make labeled folders for incoming and outgoing mail, mail to file, bills and for every family member. A folder organizer or a box can serve as a handy holding place for your newly created mail folders.
A well-organized filing system is a good indication of a functional office space. To organize, separate the filing system into five color-coded categories, and label each hanging folder according to your needs.
GREEN: Financial
RED: Medical
ORANGE: Personal
YELLOW: Insurance
BLUE: House
CREATE A MAIL STATION
Bins Used to Sort Mail
Simple office bins are attached to a slat wall that can be used to sort incoming and outgoing mail.
In order to maintain control of the paper coming into the home office, create a mail station. Make a folder for incoming and outgoing mail, mail to file, bills and a folder for every family member. As soon as the mail comes in, file it in the mail station. Then once a week, take a few minutes and go through each folder.
10 Stylish Mail Organizers That'll Help You Avoid the Annoying Junk Mail Pileup
CREATE A PRINTING STATION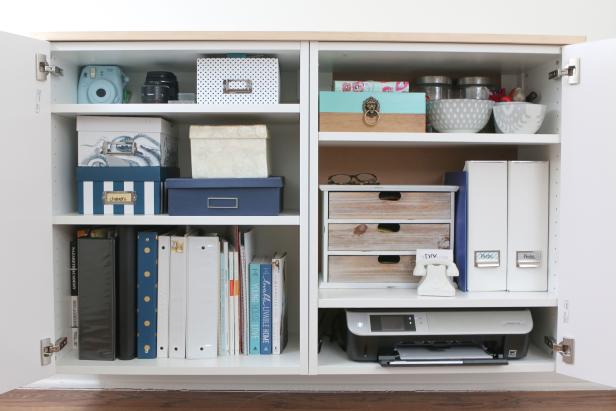 DIY Fauxdenza
Build a fauxdenza for the home office to conceal the hefty printer, miscellaneous chargers and immense amount of paperwork. Get the step-by-step instructions here >>
Designate a space in your office to house the printer and printer supplies. If you have a wireless printer, it doesn't need to go on your desk. By placing it in a cabinet or other area in your office, you will gain much more space on your desk for other items.
STORE IN CONTAINERS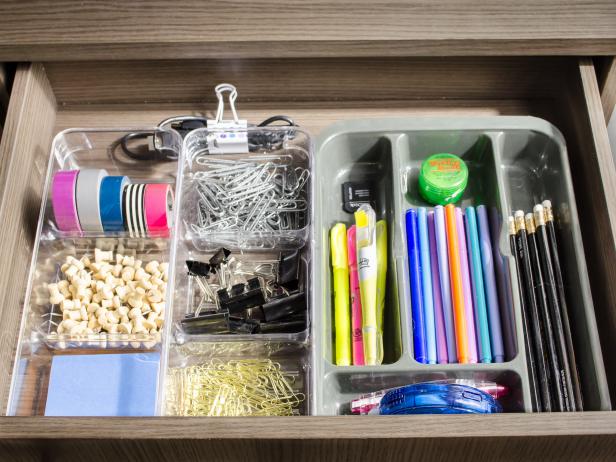 Drawer Divider in Organized Home Office
Drawers can quickly become a disorganized mess. Separate small items like paper clips and pushpins with a drawer divider. When each item has its own place, keeping things organized is easy!
Photo by: Melissa George, Polished Habitat
Store all your office supplies in containers, drawers, baskets and bins. Putting all these supplies out of sight will give your office a decluttered look.
USE A LABEL MAKER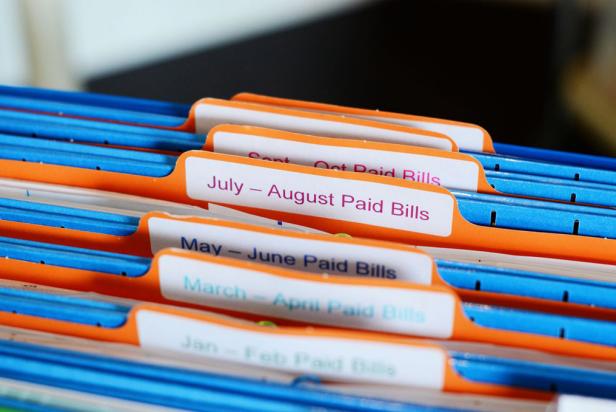 Organized Labeled File Folders
Depending on the amount of paper clutter, you could use a small and simple 12-tabbed file folder or an entire office-style filing cabinet. Start by clearing off the kitchen table and creating stacks of the same type of paper or mail: car insurance, health insurance, utilities, taxes, credit cards, bank statements, receipts, etc. It may be easier to combine certain areas and create broader subjects like bills, insurance and personal. The important thing is to have a go-to file for each subject for reference. Anything that requires a response in the near future should be placed in an "action stack" that will eventually be filed away once that particular bill is paid or form is filled out. For any papers you don't find file-worthy, create a "shred and recycle" stack.
The household notebook is one of those home management tools that can help you stay on top of your home life. In this article you will learn about the benefits of having your own household notebook, and help you get started with 10 essential cleaning lists you should keep in it.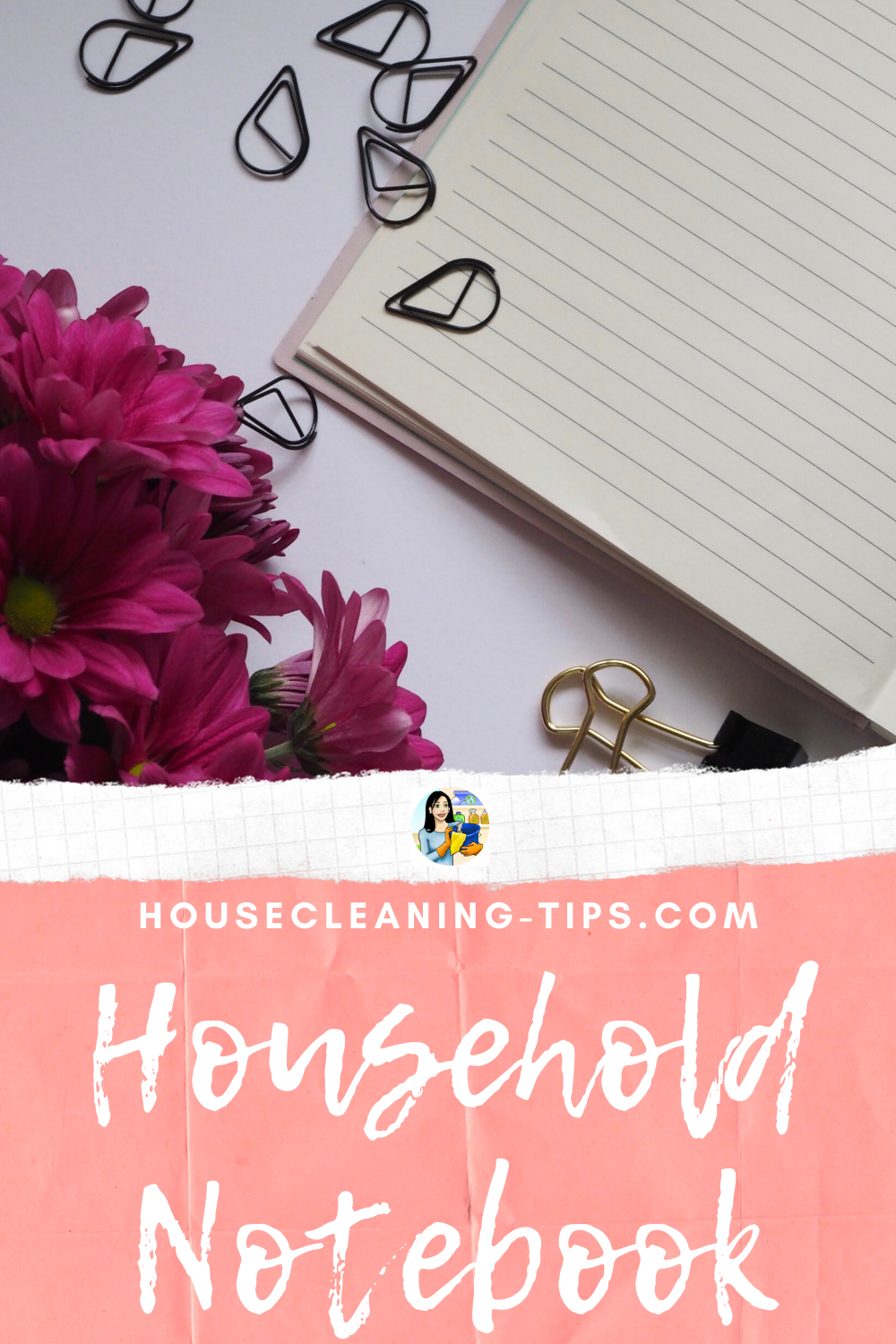 In the old days the household notebook was common place. Women would pass down the housecleaning tips, recipes for cooking, and recipes for homemade cleaning products and remedies for cuts and bruises, daily schedules and meal plans. A lot of this wisdom was bound in scrapbooks (a.k.a. Household Notebook).
Today, there seems to be a much needed revival of this tradition. The idea of creating a household notebook is more like making a home management system. A system for keeping you organized, your family organized and your home organized.
Creating a household notebook will help reduce or eliminate chaos.
You know what I mean!
The Benefits of Using a Household Notebook
If you are anything like me you know that there is work to be done – you see it all around you. The floors need mopping, the windows need cleaning, you dread opening the refrigerator, the laundry is piling up and only you can distinguish the clean from the not so clean.
Not only that, but you might live with the others who don't have a clue about cleaning or where they're supposed to be at a certain time.
Fill it with family schedules, meal plan, chore charts, grocery lists etc. This way everyone in the family knows what it takes to run the household they live in.
The household notebook can be made to suit your life at home. If you have a large family you can or must include schedules, chore charts, emergency contact numbers, meal plans, medical info, bills etc.
If you home-school your children you can add a section to you household notebook. Or if it's just you and you spouse, you can include travel information, training, warranties, budgets and medical information. You see the household notebook is flexible and you can create it according to your needs.
There is however – one small but important caveat about the household notebook. There are some bits of information you do not want to place in the household notebook. Like if you do online banking or shopping online – don't put your password information in the notebook. Look at it this way. When creating your notebook – picture your worst enemy casually browsing through.
If there is any part that you would die if they see it, then don't include it in your household notebook.
10 Essential Cleaning Lists You Should Include in Your Household Notebook
Inventory of cleaning supplies – including machines such as vacuum cleaners, equipment such as mops and brooms and cleaning solutions such as dishwashing liquid.
The purpose of this inventory is to ensure that you have everything that you need before you start a clean session. I find that nothing is more demotivating than to be in the middle of a cleaning task and realizing that I don't have the right tools or enough cleaning products.
List of items to regularly inspect for damage. Include the date the item was last inspected. There are two reasons this list is important.
First, you don't want your home to be a mystery to you. For example – you should know if something just does not sound right. Second, the earlier you see a problem the less it will cost to repair then. Waiting to fix an issue or just not seeing until it is really bad, can be more expensive to deal with.
Maintain list of items that need to be repaired. This goes along with the previous point. You don't want items to be on this list for long. For me, what mainly ends up on my list is splintered legs on wooden furniture.
Checklist of frequently touched items. The purpose of this list is to cleaning these items and spaces daily to lower the risk of spreading germs.
List of daily cleaning tasks that fit into your morning and evening cleaning routines.
List of items that should never be allowed back into your home. This list can be created as you declutter.
List of annual and monthly cleaning tasks. Since these happen rarely, they can be easy to forget. So write them done and include them in your weekly cleaning schedule when the time comes to get them done.
A list the maps items to places where they should be. This one can be optional – mainly used to help get little ones to put stuff back in their rightful place. Also, if you're not around to do it – would everyone else in the home know where everything should be – or for that matter, know where everthing is?
List of homemade cleaning product recipes and ingredients and what they are best used for.
List of companies that recycle electronic products, that accept donations of books, clothes and furniture. I'm sure you know by now, that while it's easy to buy stuff – getting rid of things can be challenging and time consuming. Having this list at hand can at least save you some time.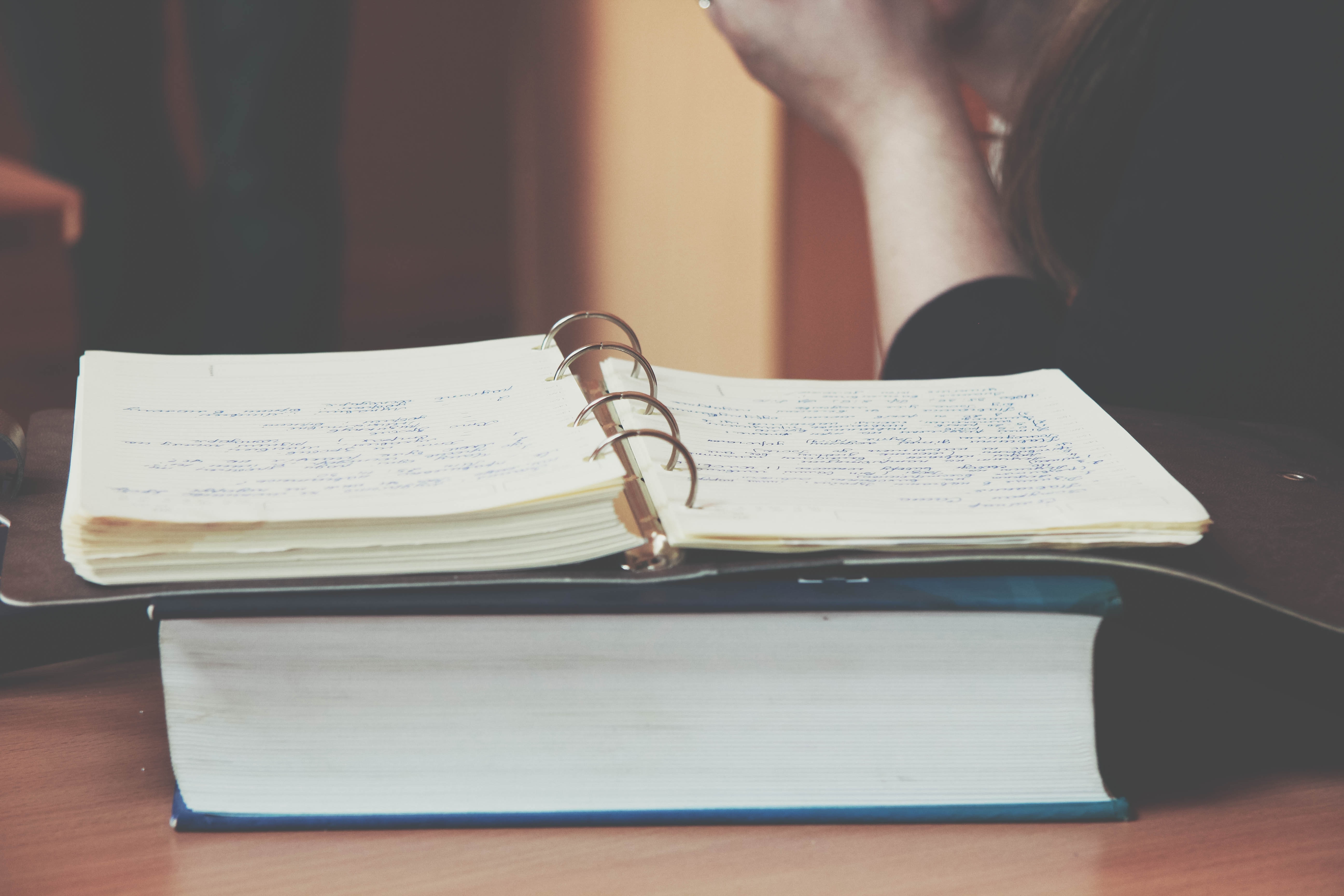 Finally, to make checklists for your household notebook – you can use the online checklist maker here. Be sure to read to instructions at the bottom of the page.
Created On: October 10, 2018 &nbsp| Updated: April 16, 2020 |
This post may contain affiliate links. Please read our disclosure policy here.
Facebook
Twitter
Pinterest
Reddit
Email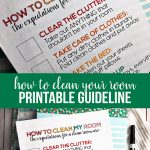 Use this cute and straight forward "How to Clean Your Room" printable for your kids to lay out the expectations!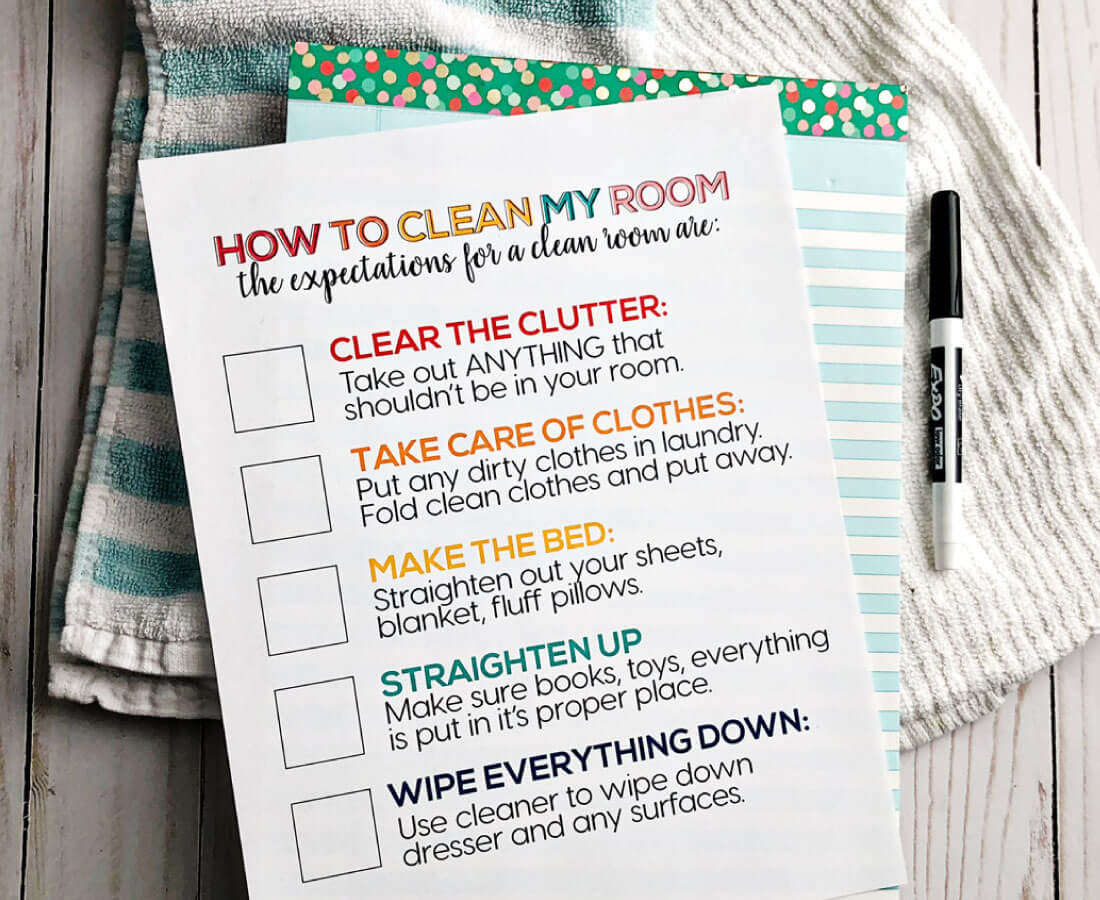 Note: the typo has been fixed on "it's!"
Interested in a full set of cleaning printables? Get them here! Or GET AN EDITABLE VERSION HERE.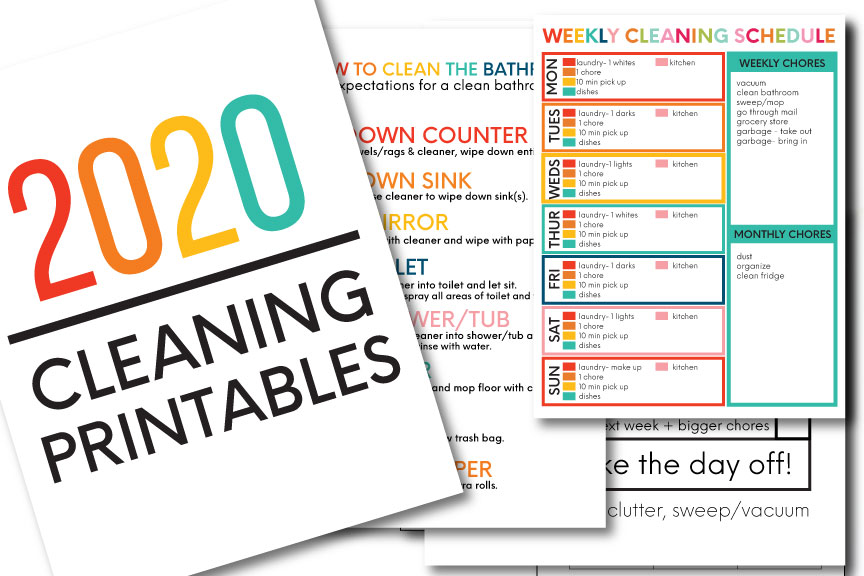 How to Clean Your Room
One of the things I dread most with my kids is nagging them about cleaning up, doing their chores or doing a better job at their chores. But I know that the only way that they will a) do their chores b) learn how to do them correctly and c) become contributing members of society, is by being consistent with them. Here's how to teach them to clean their room:
Clear the Clutter
Take Care of the Clothes
Make the Bed
Straighten Up
Wipe Everything Down
Get the full instructions on the printable, included below.
How to Keep Your Room Clean
Equally as important as cleaning your room, is keeping your room clean. Each family has their own rules and ways of running things but here are a few ideas for how to keep your room clean:
Keep everything in its place.
Having a designated spot for everything is key to having a clean room. If the room is unorganized chaos right now, make it a goal to clear the clutter and assign a place for everything.
Wash your sheets!
Teaching kids how to do laundry is super important. To be honest, I didn't really know how to do the laundry when I left for college. I want my kids to know how to take care of themselves and learning to do their laundry and wash is one of those things. Having them wash the sheets is an easy way to teach them how to do the laundry.
Keep the top of your dresser clear of clutter.
It is way harder to keep a clean room with a dresser full of stuff. If you take the time to clear all of it off, you're one step closer to a consistently clean room.
Throw stuff away regularly.
This one has been hard for me over the years. I am sentimental and like holding on to all of the things. As I've gotten older, I've realized that I don't need things to keep memories so I've gotten better about throwing things out. I hope to pass this on to my kids.
No food in the room.
In our family we have a no food rule in the kids rooms. We haven't been 100% on this (I have one child who likes to sneak food to her room, ahem) but when we do it helps keep the room clean. And it majorly cuts down on the stink!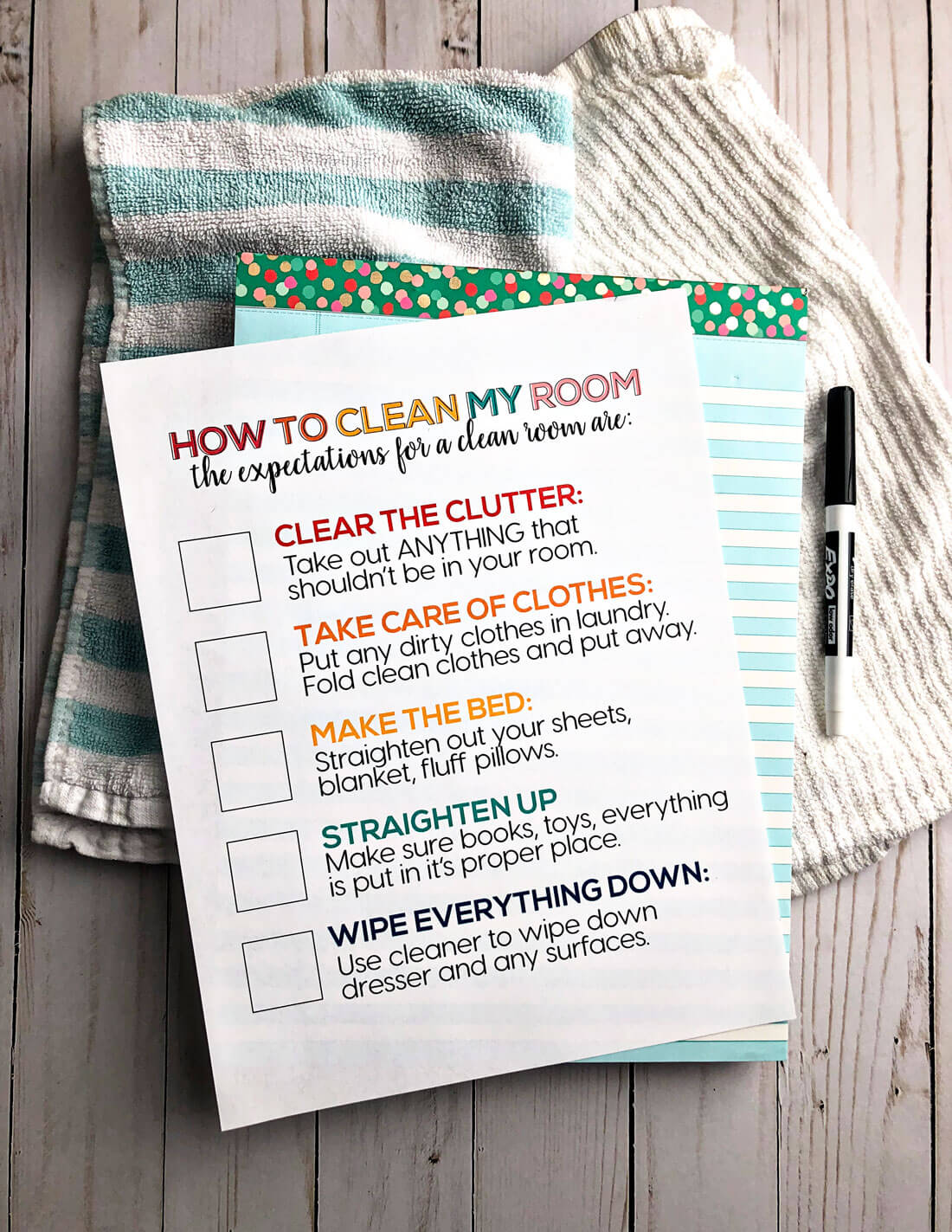 Other Cleaning and Chore Posts
If you love this how to clean your room post, you're going to love these other cleaning posts. Please click each link below to find the information:
Being organized and staying organized is often times a battle – there are schedules to keep for you and the family, after-school activities, meetings and of course cleaning and meals to prepare. This Home Management Binder will help you stay on top of everything that needs to be done in your home, life and family!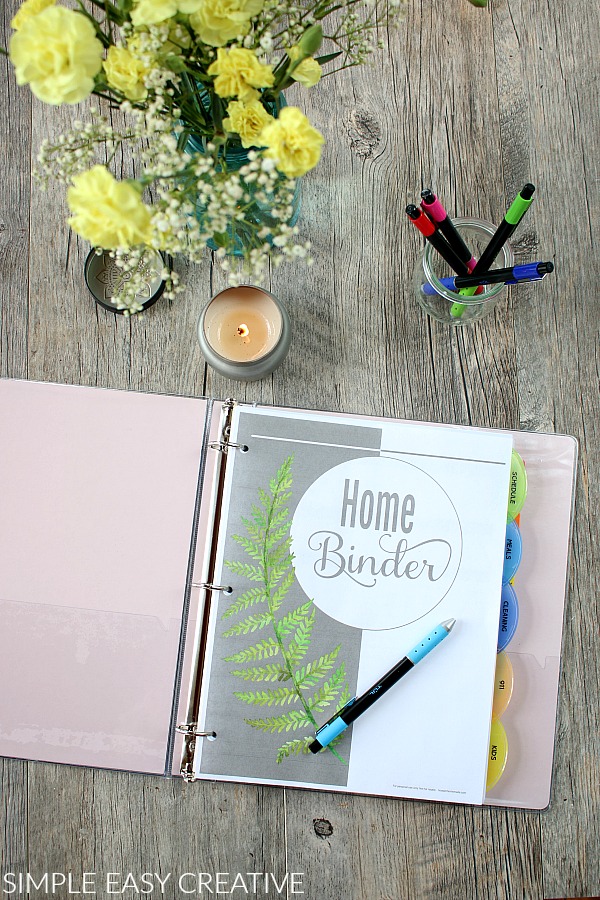 So, how do you keep your routine running smoothly will all that needs to be done? Not to mention all the things that you want to do!
Many moons ago I started using a Home Management Binder to keep track of calendars, schedules, menu plans, cleaning the house, bills and more.
There are many different options to choose from when you are creating a Home Organization Binder, depending on what works best for you and your family.
However there are a few must have home binder printables in my opinion, that will help you create an organized home and life and are included in the FREE Starter Pack for you!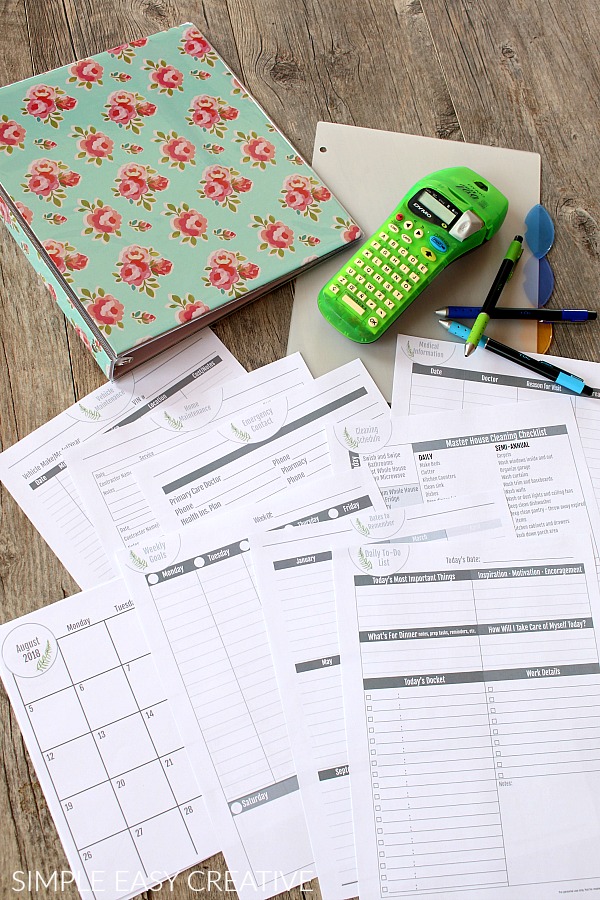 To get you started on your own Binder, you can download the FREE Home Management Binder Printables now!
Home Management Binder FREE Printables Starter Pack includes:
Daily To Do List – see how we use this page in our Daily System
Weekly Goals
Dates to Remember
Medical Information
Emergency Contacts
Cleaning Schedule
Home Maintenance Page
Vehicle Maintenance
2020 Calendar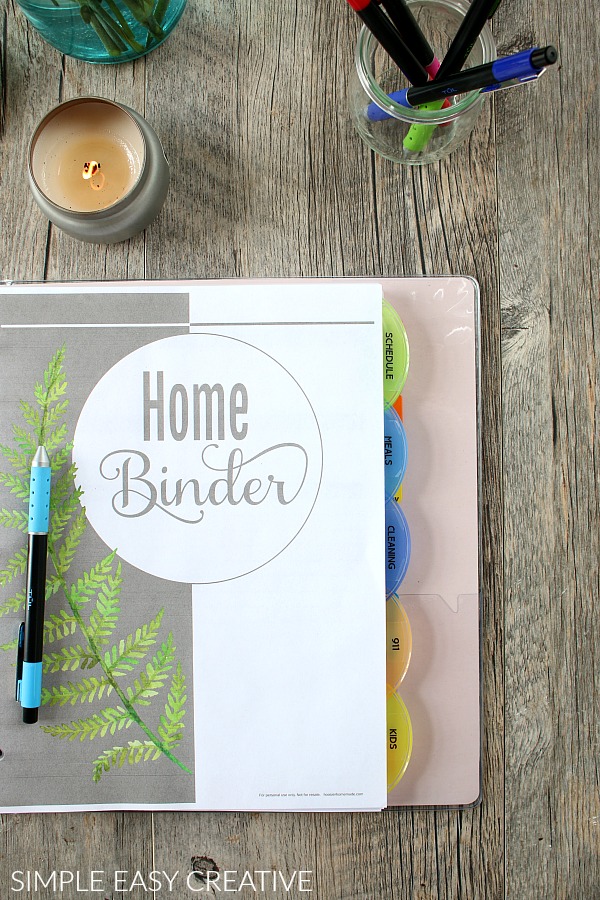 No matter what you include in your binder, I would suggest separating the categories with tabs. Keeping your binder organized is super important and the tabs will help save you time!
With all the Back to School sales, now is a great time to buy all of your supplies. A 3-three hole punch and label maker (love this one for the fun colored tapes!) are also great items to have.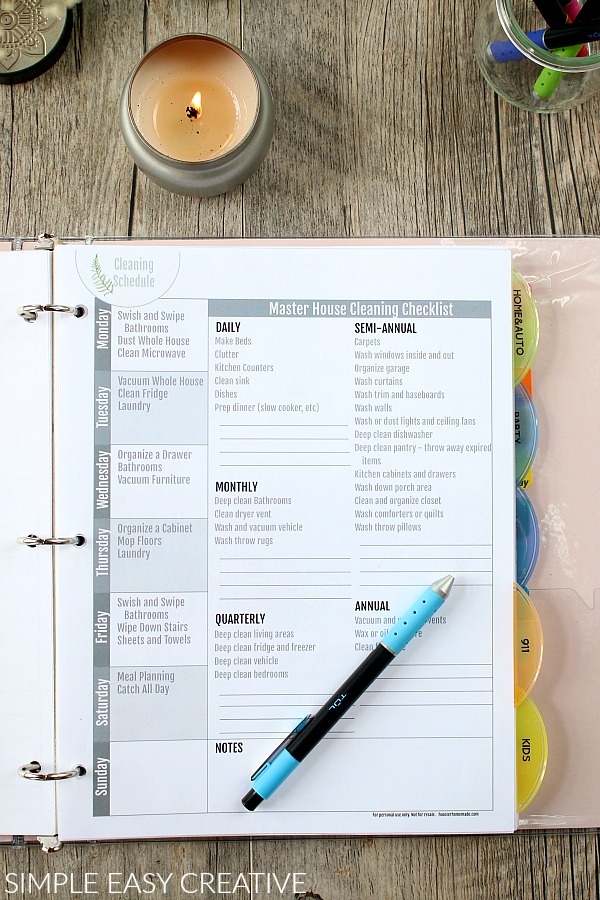 Having a cleaning schedule has saved me countless hours! At a quick glance, I can see what needs to be done that day and then add it into my daily schedule. And breaking down the chores into small tasks each day, spreads out the work and makes it more manageable.
This Cleaning Schedule printable is FREE in the Starter Pack! Add your email to the form below and we will send it right over to your inbox!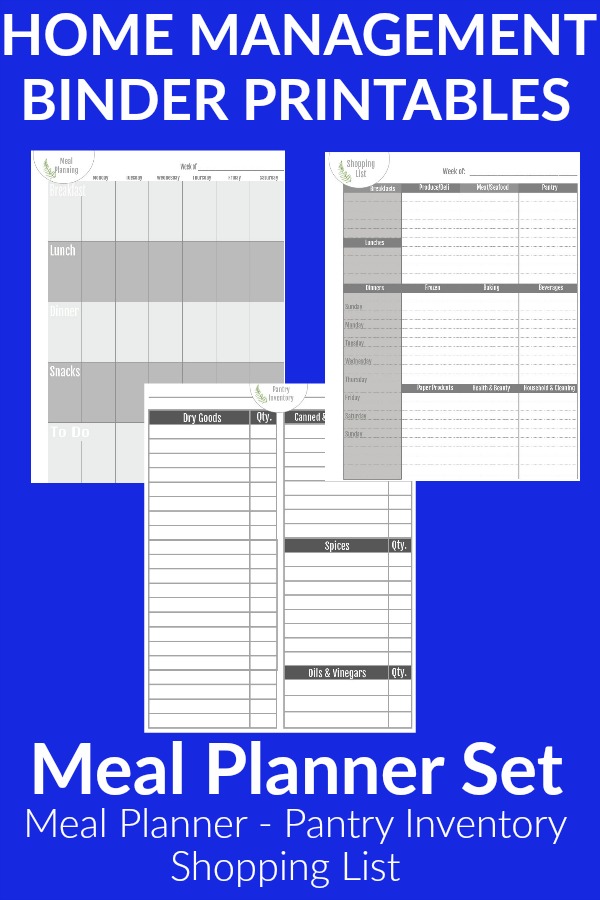 Meal Planning
Okay, let's chat about meal planning for a minute! Next to my cleaning schedule, my monthly meal plan is the best time saver I have!
I have done a Monthly Menu Plan for many, many years. I like planning the whole month so there aren't duplicate meals, but I only shop weekly.
Having your meals figured out ahead of time is not only a time saver, but also cuts down on your grocery budget. I know for us if I have the meals planned out, we eat out far less.
The Meal Planner set is included in the Home Management Binder Printables that you can purchase now to add to your Starter Set!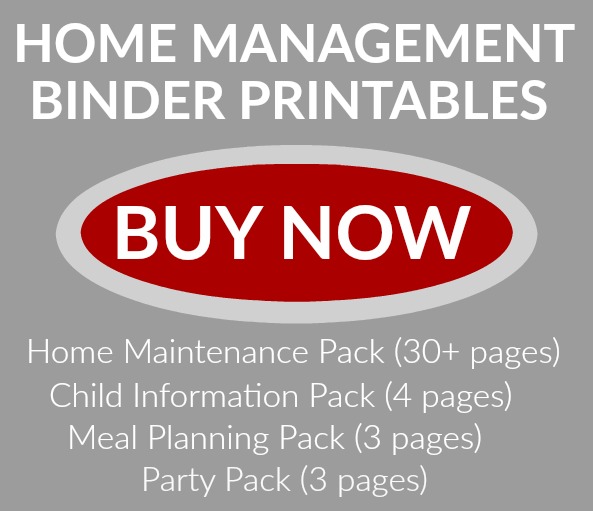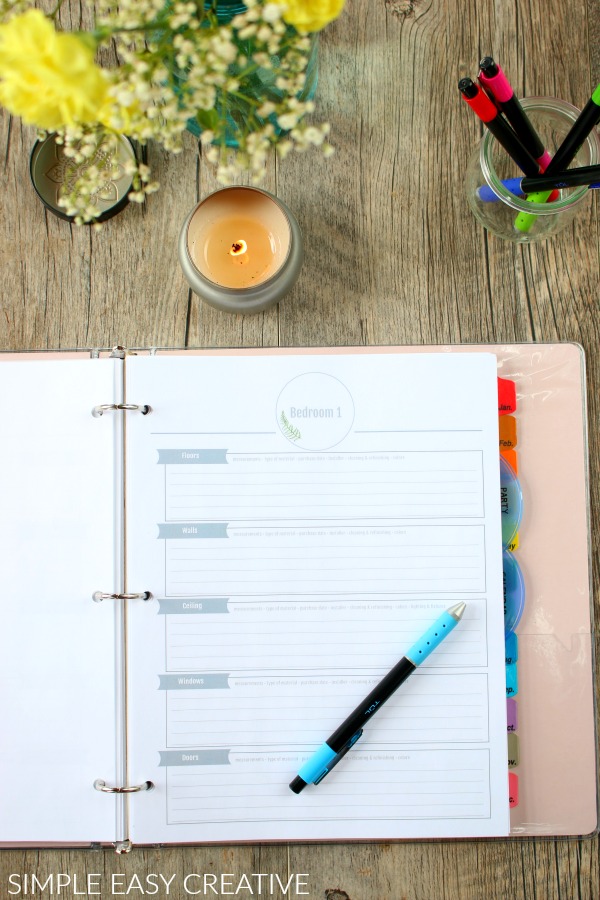 Now tell me – how often do you look for a paint color to touch up a room in your home? Or maybe you put carpet down and need to know the date it was installed?
Or better yet, you want to add some plants to your landscaping and need to know what plants are already growing.
The Home Maintenance section of the Home Binder has each room broken into a separate sheet for you, as well as the exterior of your home. Here is what is included:
Home Maintenance Interior:
Master Bedroom
Master Bathroom
Bedrooms (5)
Bathrooms (2)
Dining Room
Den/Office
Living Room
Kitchen
Laundry Room
Home Maintenance Exterior:
Exterior
Garage
Landscaping Details
Landscaping Graph for Design
Shed/Out Building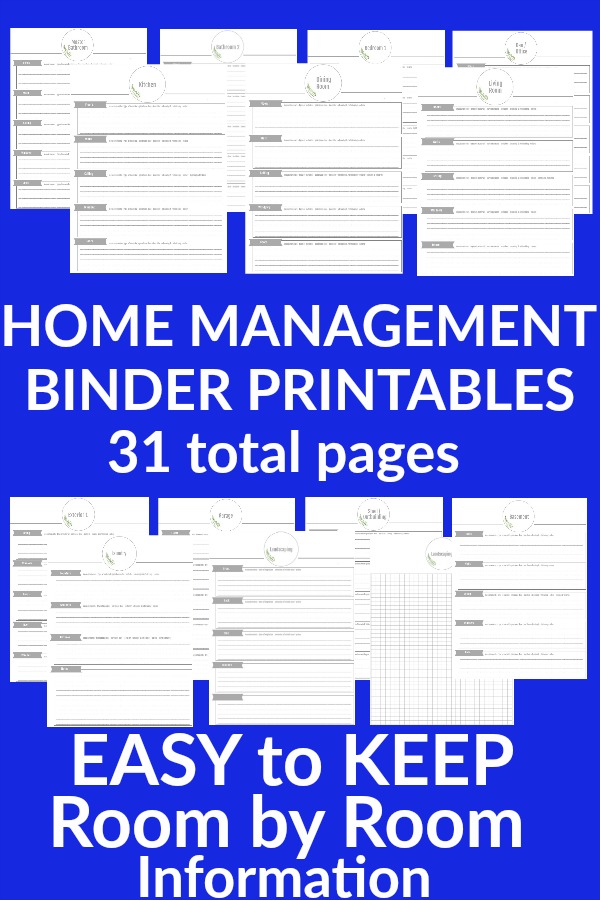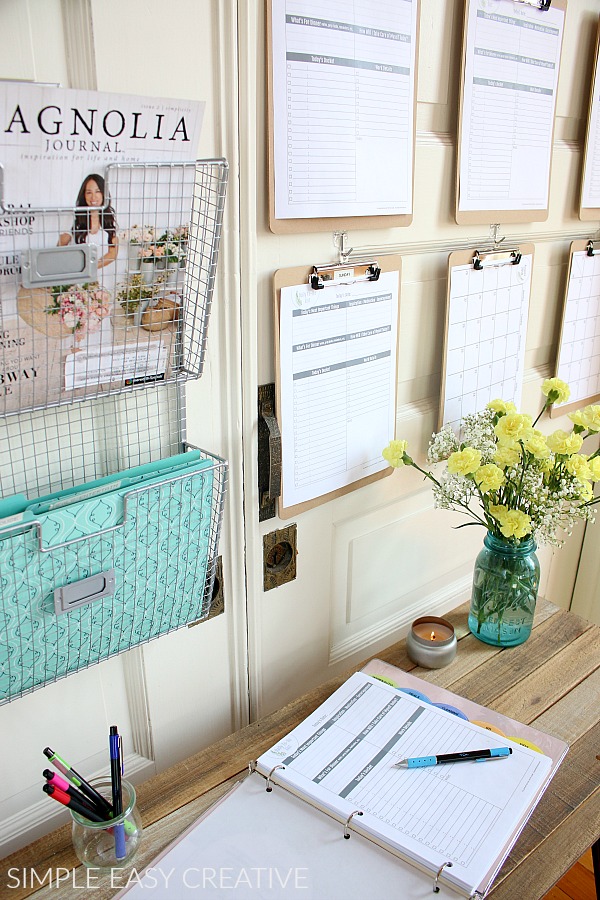 Now that you have your Home Management Binder completed, it's time to find a spot in your home that you can easily update it and have it available to you daily! This Command Center has a spot for the Daily System with the clipboards, a chalkboard that holds the weekly menu plan, and wire file folder.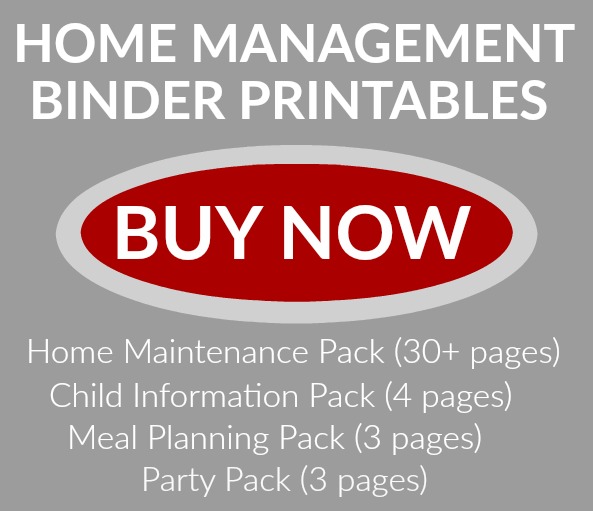 Welcome to Simple Easy Creative
Simple Easy Creative is a new kind of online lifestyle magazine, one that takes it's inspiration from the best of Midwestern traditions, and makes them new, modern and inspiring. Decorating, DIY projects, parties, gardening, good food, family and fun–we cover it all! We'll help you make your house a welcoming home every day, all year long.
Shannon Cairns
January 22, 2020
How to Budget
Sharing is caring!
One of the best ways to keep your finances organized for your home, is to make a budget binder.
A budget binder is easy to create, and will save you a lot of time later once it's set up and ready to go.
You can use your budget binder at your monthly budget meeting with your spouse, track your spending, keep account information safe, or keep track of which bills you have paid each month.
How to Make a Budget Binder (with Free Printables!)
Grab your free Budget Binder Printables by filling out the form below:
Monthly Budget Printable
The first thing you need in your budget binder is a place to keep your BUDGET!
A budgethelps you to tell your money where to go each month, instead of struggling to figure out how to pay your bills at the end of each month, and desperately waiting for that next pay check.
I recommend a zero based budget, which allows you to allocate every single dollar to an expense or spending category.
Payments Due Calendar
A payments due calendar can be really helpful in deciding when you should pay bills so that you can make sure you have enough money in your budget, and avoid costly late fees.
I recommend sitting down to pay bills twice a month, based on a business budgeting book that I recently read called "Profit First". It focuses on money management for business owners, but it has some really great little pearls for keeping your finances organized.
Paying bills twice a month helps you to stay organized, and feel less overwhelmed by payments.
Spending Log
A lot of people forgo balancing their check book or keeping a log of their spending because of the ease of online banking.
Checking your bank account to see how much money is in there from day to day, is not a good way to manage your accounts because it does not give you a realistic picture of your spending.
I like to use the spending log to keep track of any checks that are out and have not yet cleared, or to log my spending for my cash envelopes so I'm not having to recount the money each time I use them.
Debt Snowball Tracker
If you have debt, the debt snowball method is an effective way to pay off debt fast.
The debt snowball requires you to list your debts from smallest to largest, and pay all of the minimum payments as usual.
After you do your monthly budget, you will assign any and all extra cash to your smallest debt, and attack that debt with everything you've got!
Once the smallest debt is paid in full, you will take the minimum payment that you were paying on it, and roll it to the next smallest debt, and repeat the process.
The reason the debt snowball works so well, is because it gives you "quick" wins, and keeps you motivated as you gain momentum.
You can keep track of your debt snowball with the printable debt snowball sheet in my budget planner.
Bill Checklist
Is there anything more satisfying than checking things off of your to do list?
If you love to check off bills as they are paid, then you will love keeping a bill checklist in your budget binder.
This bill checklist allows you to check off each bill each month, so you know it's paid, avoiding late fees or missed payments.
Keeping it All Together
You now have all of the printables you need for a well organized budget binder, but now you need to print it out, and keep it all together.
I use HP Instant Ink as an affordable way to print all of my budget and debt payoff printables each month.
I use this printer, which I got on Amazon, and the quality and price are great!
The printer is connected to the HP Instant Ink service, and knows when I'm running out of ink. You don't get charged until they ship you a replacement pack, and for the plan I use, it's less than $12 each time they ship me a new ink pack (color and black and white!)
I used to spend hundreds on ink, so I was very excited to find this service!
You'll also want a place to keep your printables once they are printed off.
You can use any traditional three ring binder. I love to get office supplies at The Dollar Tree. You can't beat a three ring binder for only a buck!
Another fun way to keep your printables collated is to use a discbound hole punch and binder.
The discbound punch and binder keep your printables together in more of a notebook or planner type format.
I have used both methods, and they both work great for keeping your budget binder together.
Do whatever works best for you!
Congrats! Now you know how to make a budget binder, and set it up for budgeting success.
Now you need to start using your budget binder so you can organize your finances and change your financial future.
Grab the free budgeting printables in my budget planner here, and create your budget binder today!
Because a lone binder of tax forms and a tray of mail near the door is not going to cut it.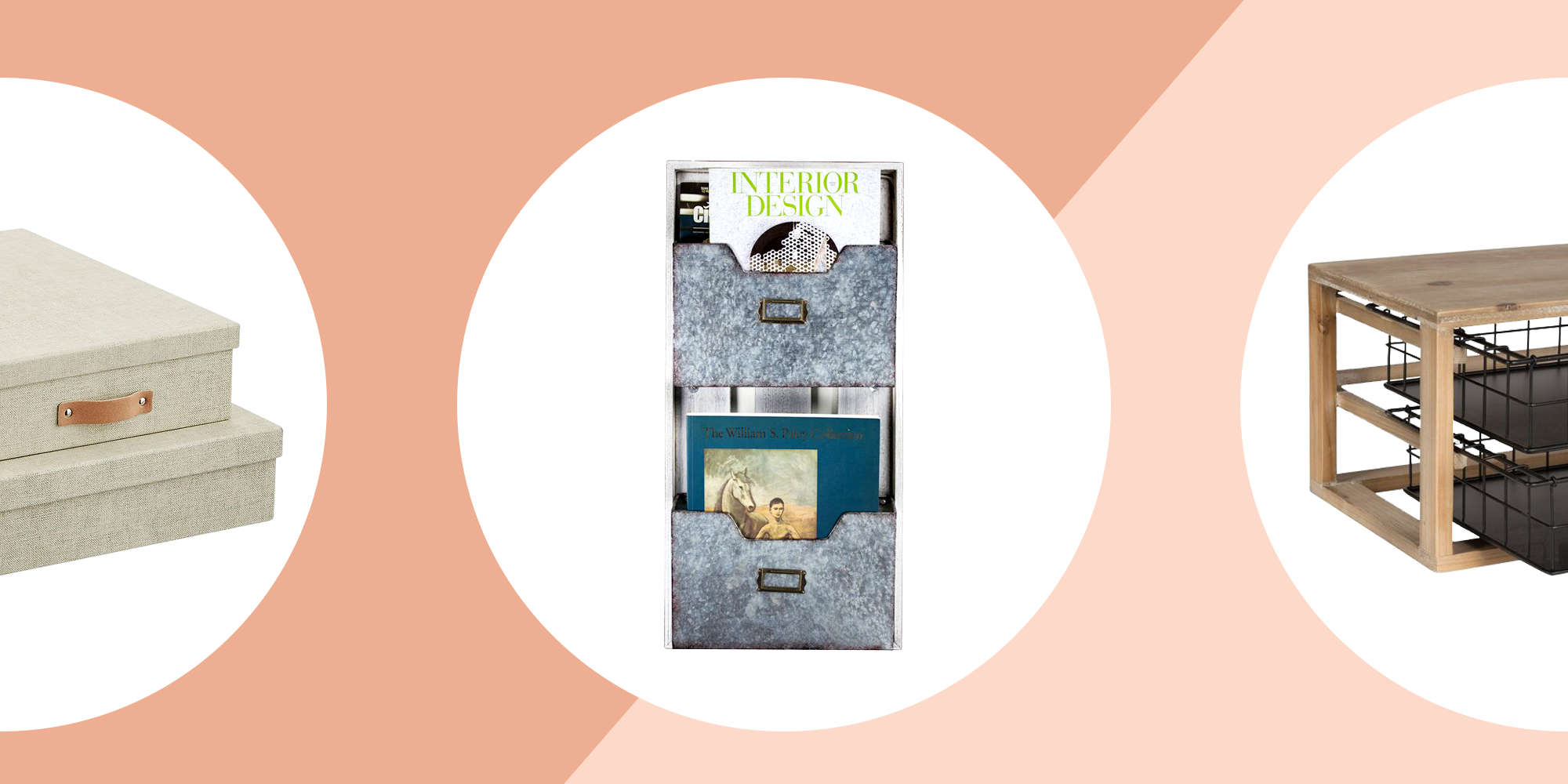 Sorting through your email takes long enough — and that's just one type of document we're confronted with nowadays. Add tax forms, medical info, and even your kid's many (many) drawings into the mix and your office desk — and everywhere else — can get buried quickly. Fortunately, there's an easy way to curb the mess: by making a clearcut paperwork organizing system.
To help you get started, we've found the best paper organization ideas that will keep everything sorted (and your mind sane) when it comes to finally paying the cable bill. These ideas — from desktop letter trays and drawers to color-coded binders and personalized memory boxes — will make sure every piece of paper has a happy place to land. And for even more ways to never lose anything again, check out these easy desk organization ideas.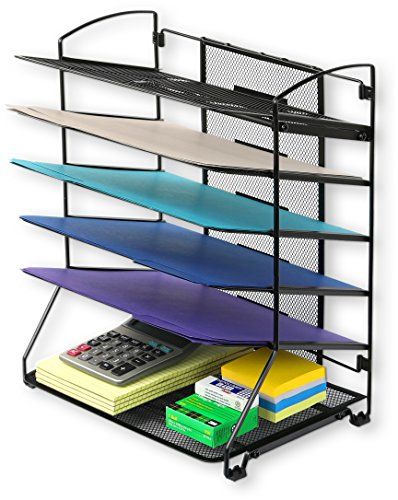 The best-selling file folder rack on Amazon offers five tilted trays for your biggest projects, plus a bottom shelf for other desktop essentials.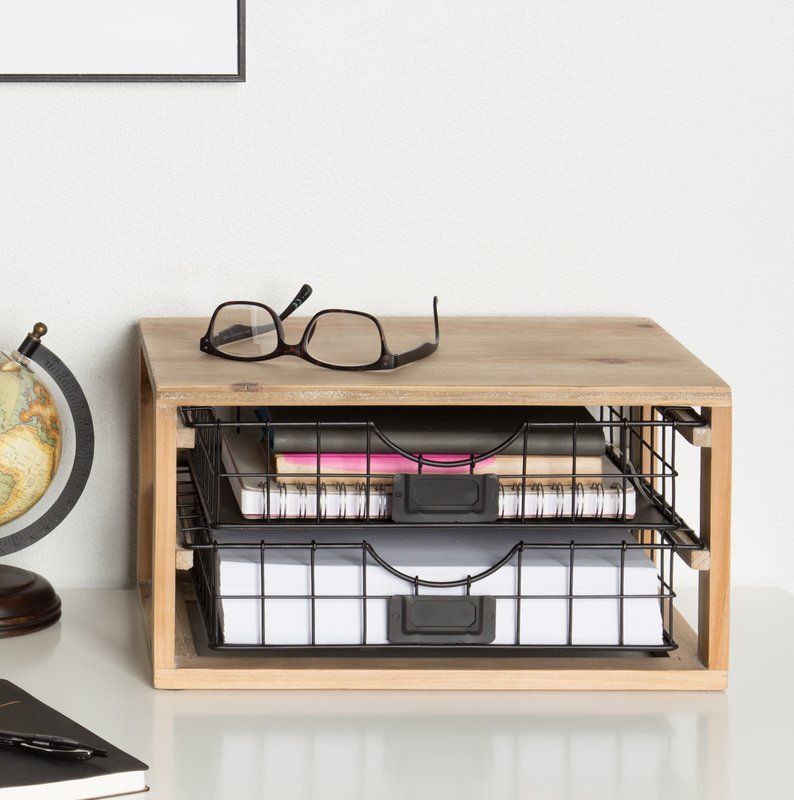 If you want something a little more low-profile (with a chic wood frame to boot), these desktop drawers have two spots for labels — perfect for creating an inbox/outbox system.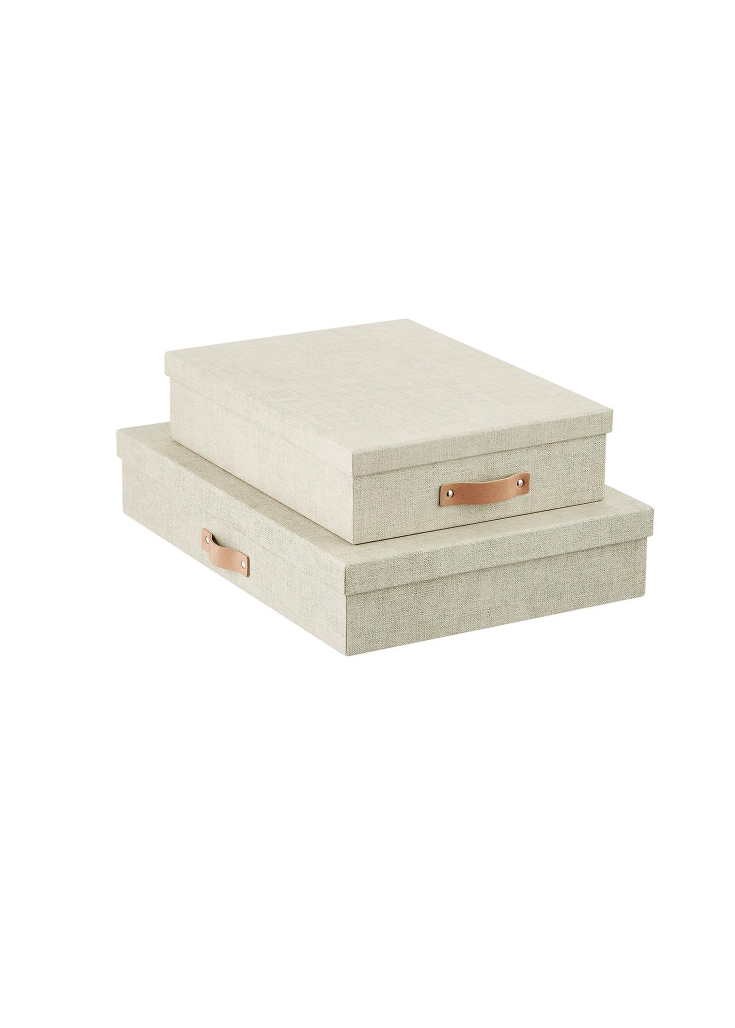 Fabric boxes help hide the visual clutter that inevitably invades home offices. The Container Store's linen boxes come in multiple sizes, so you have options depending on whether you want to store recipe cards, photos, printed documents, or other paper mementos.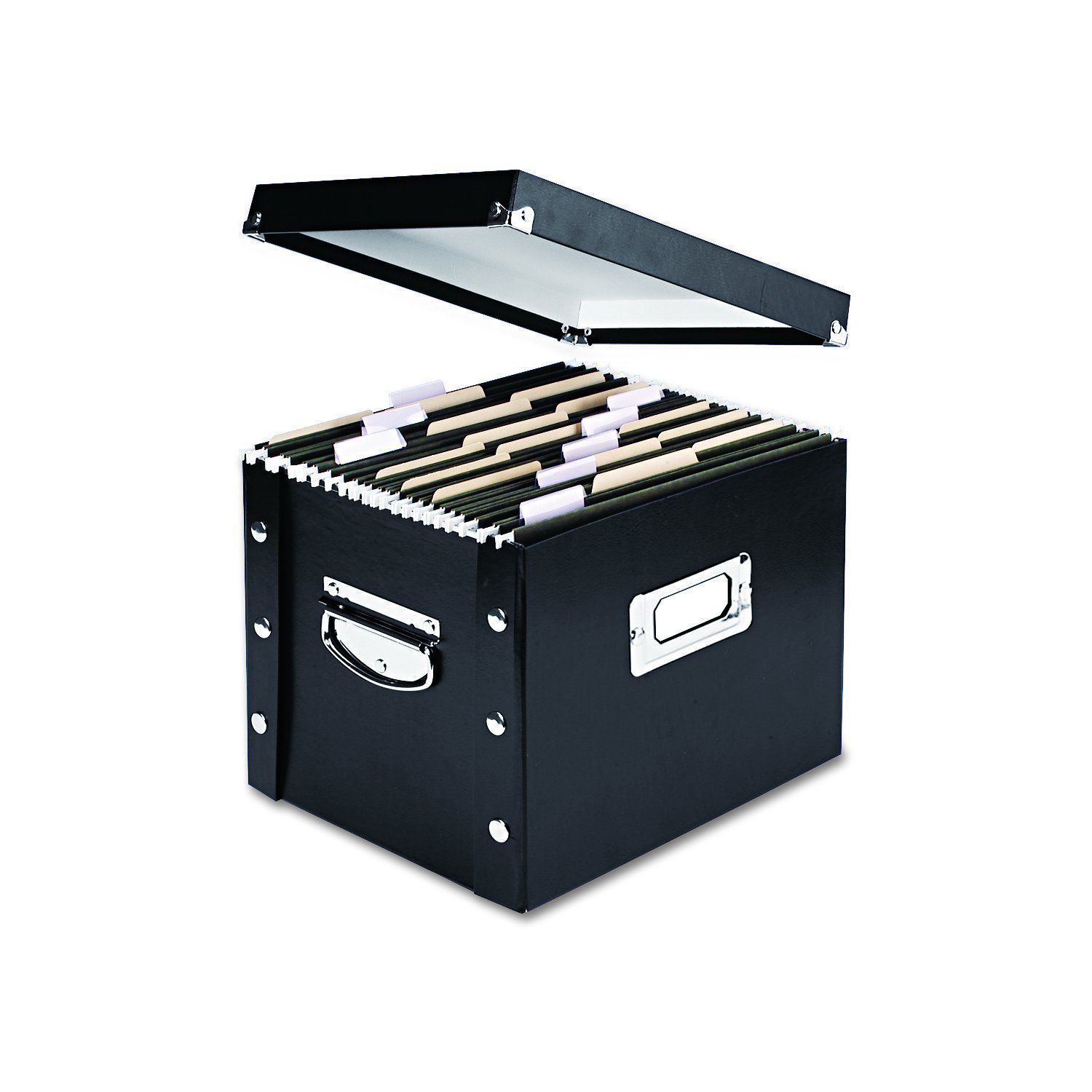 Need a box you can fit hanging files in? This steel-handled container comes in multiple sizes for both letter and legal paper. The sides also unsnap and fold flat when you don't need it, and the extra-deep lid leaves room for tabs too.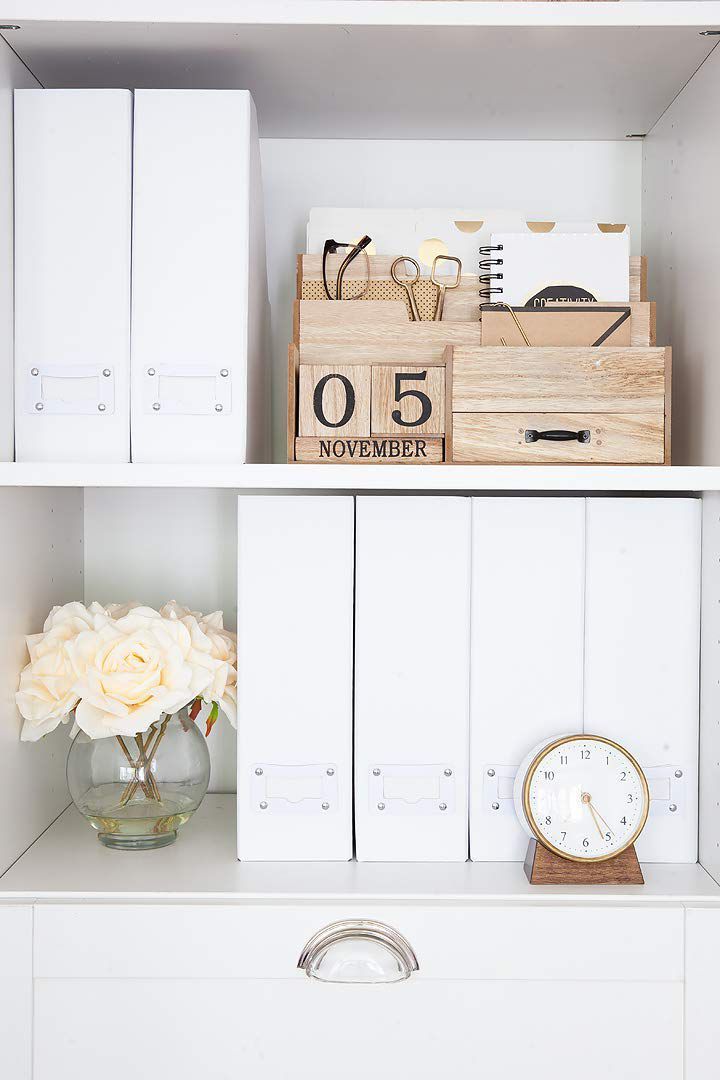 If you know you won't need to reference the materials on the reg, turn to sleek magazine files for a more stylish bookshelf. These ones with leather label slots come in sets of six.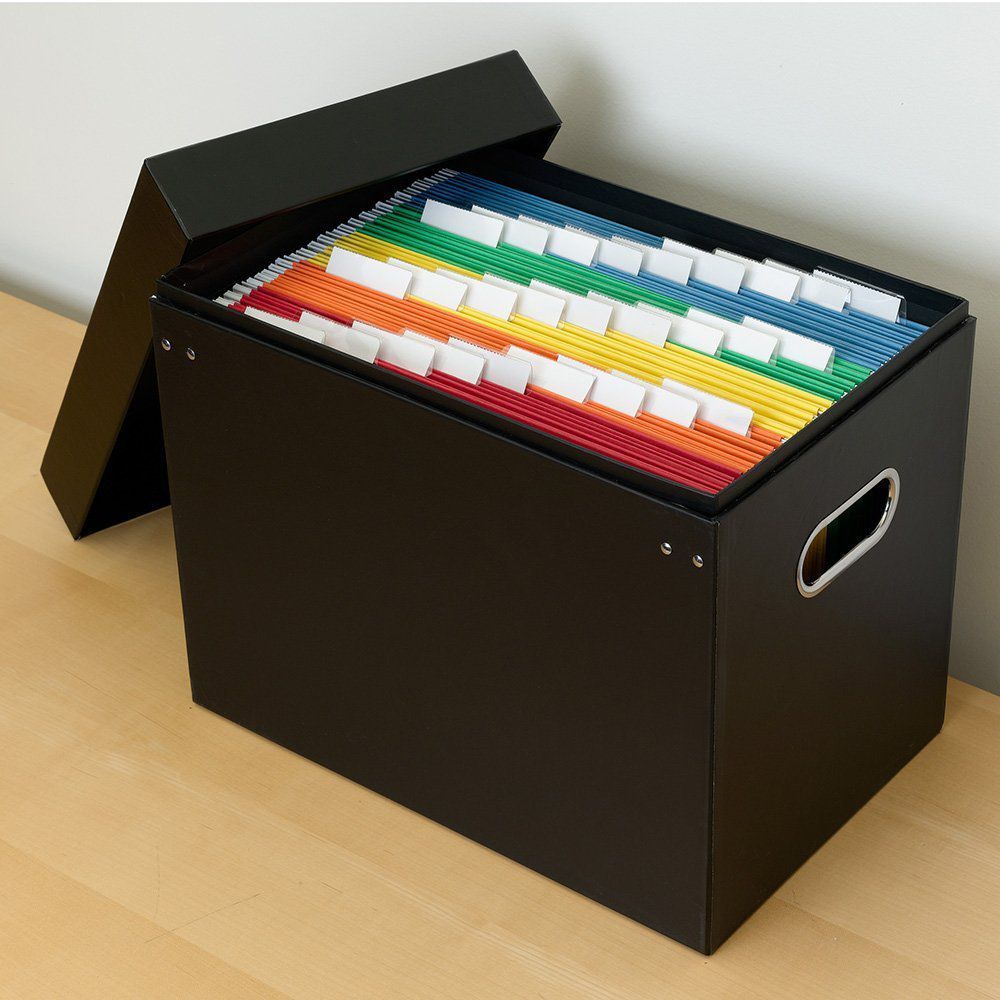 Not only is this tried-and-true system pretty to look at, it'll also make hunting through papers way faster. All you have to do is look for the green folders when you want to find your tax info or blue for medical docs.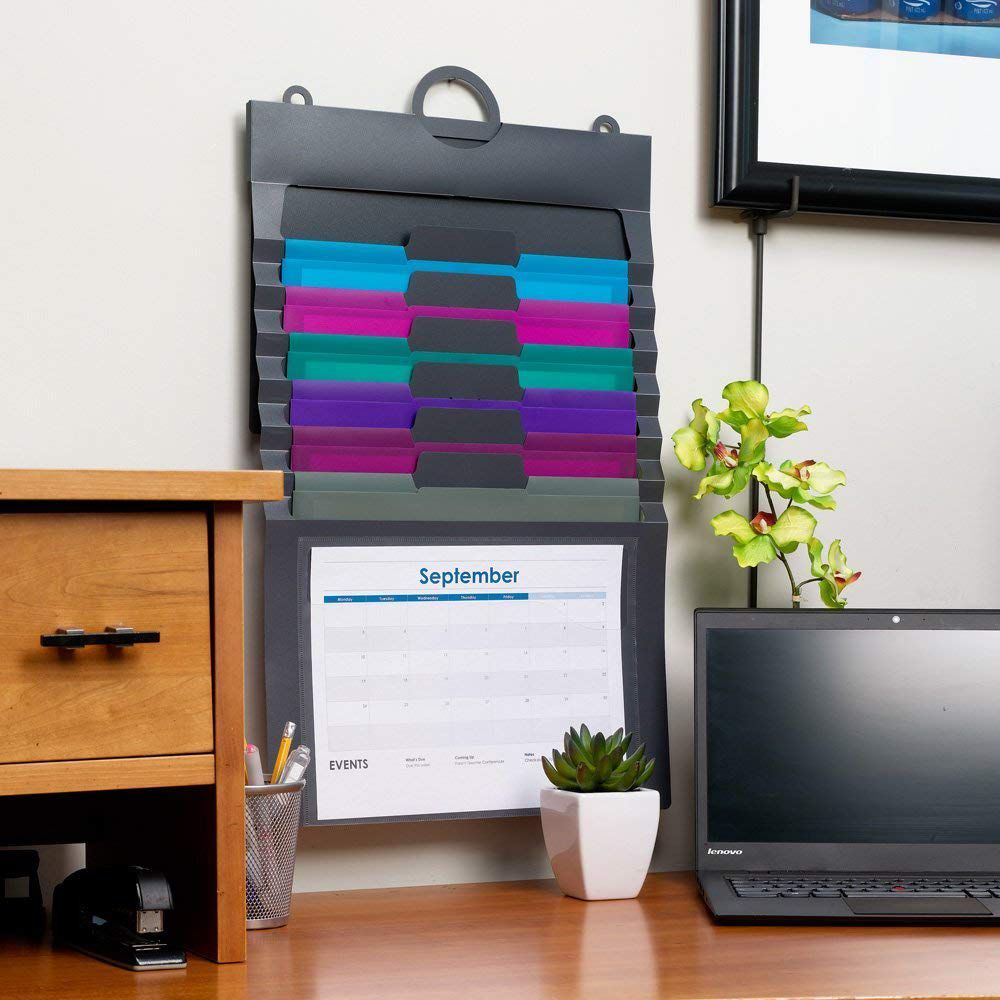 More than 1,400 Amazon customers have given this vertical file folder a 4.5-star rating. "I purchased this to use as a part of our family's kitchen 'command center,'" one reviewer wrote. "I wanted something that was functional, low-profile, and not an eyesore. This organizer is PERFECT. There are enough pockets for each of our four family members, plus a few more that I've designated for bills and other correspondence."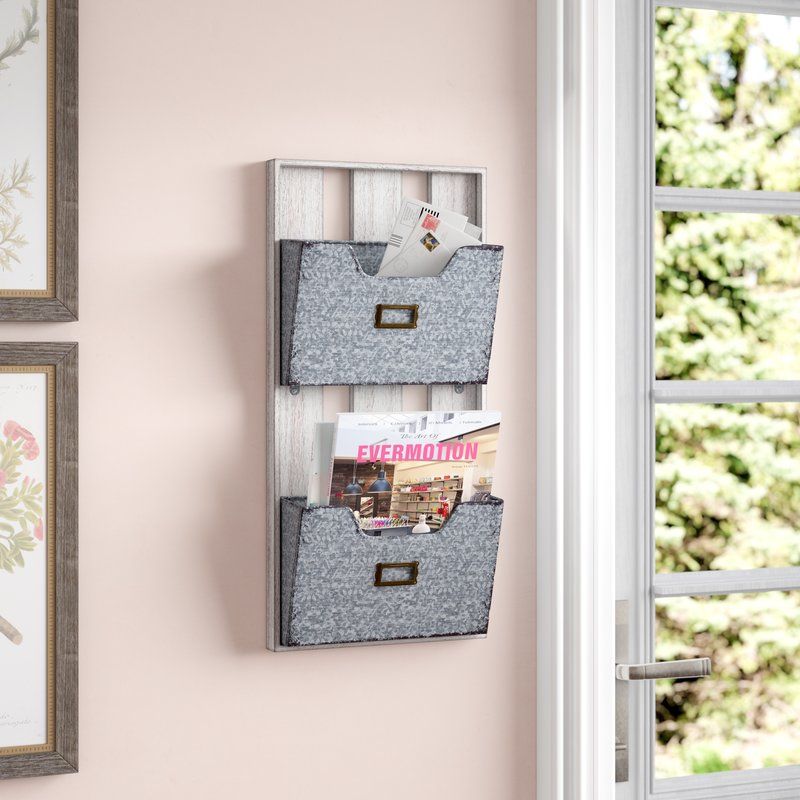 If you want something a bit sturdier than plastic, this mail file combines distressed wood and galvanized metal pockets big enough to hold whatever comes its way.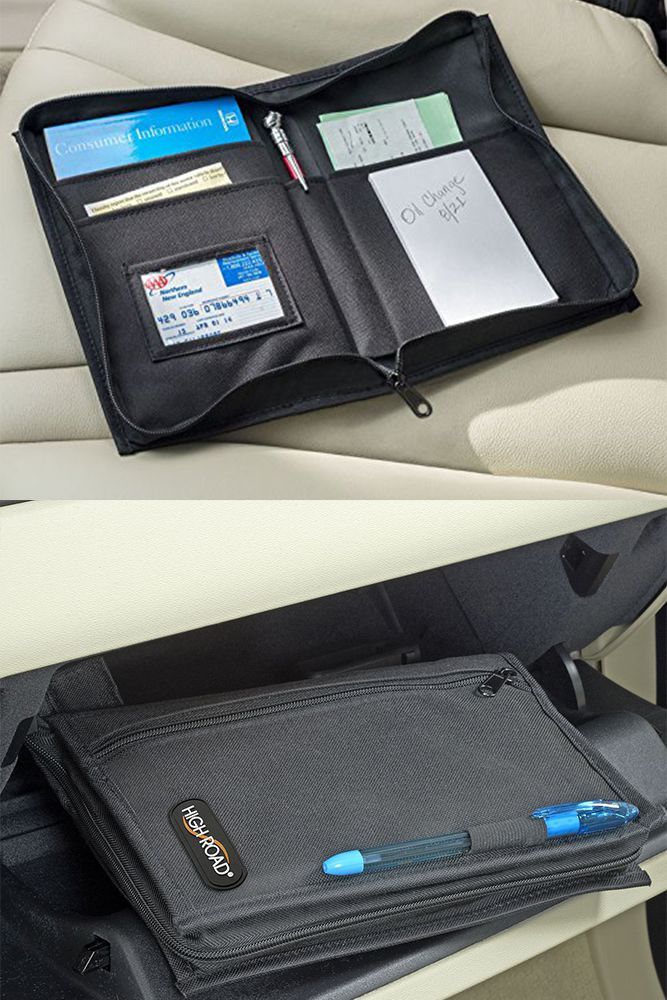 Keep your registration, insurance, and car maintenance information all in the same place. Five interior pockets stow important auto papers, and an included pen and pad give you a spot to jot down the last time you took the car to the shop.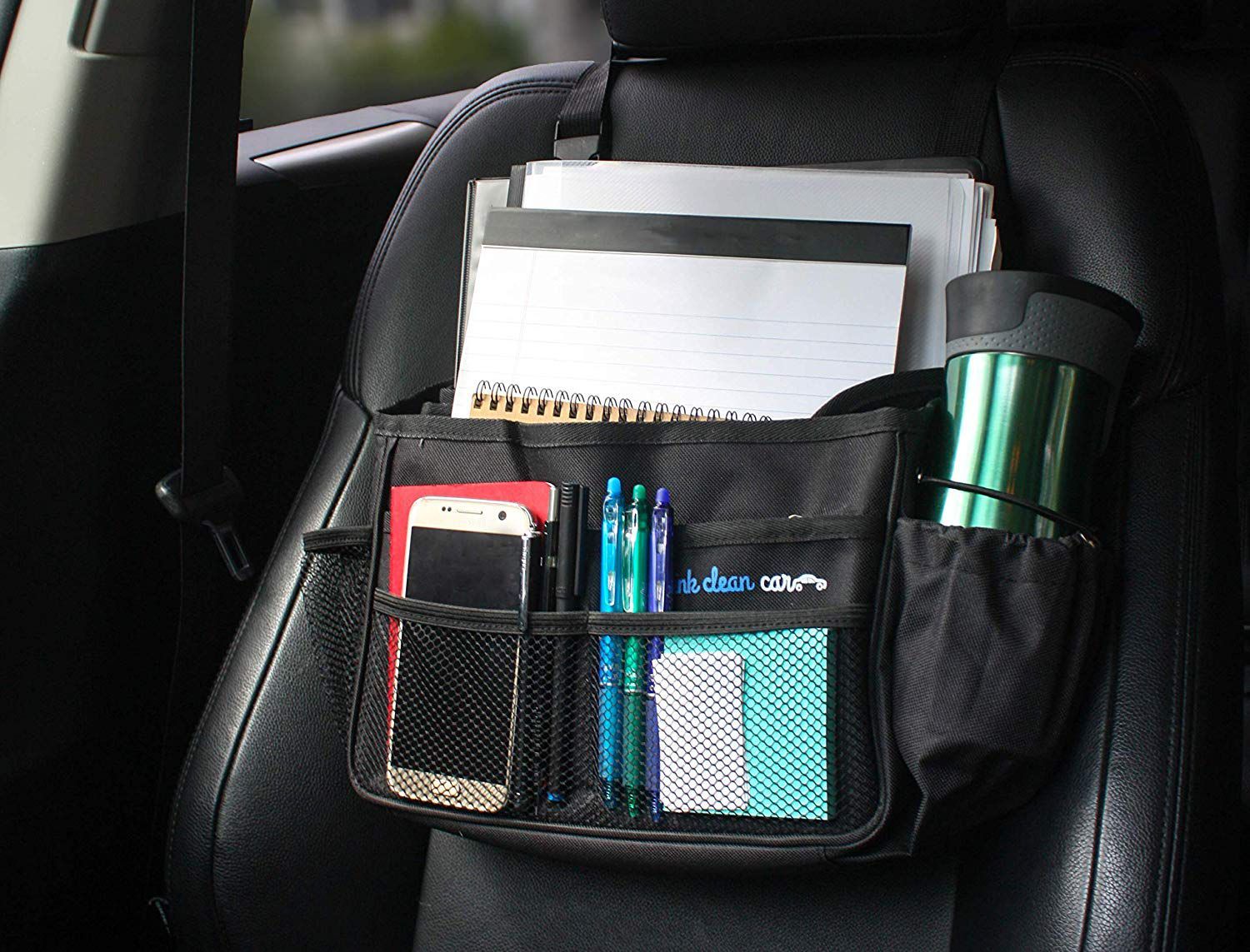 And if you're a true road warrior, a clip-on organizer will save work documents from getting crumpled down in the foot well. (The extra cup holder never hurts either.)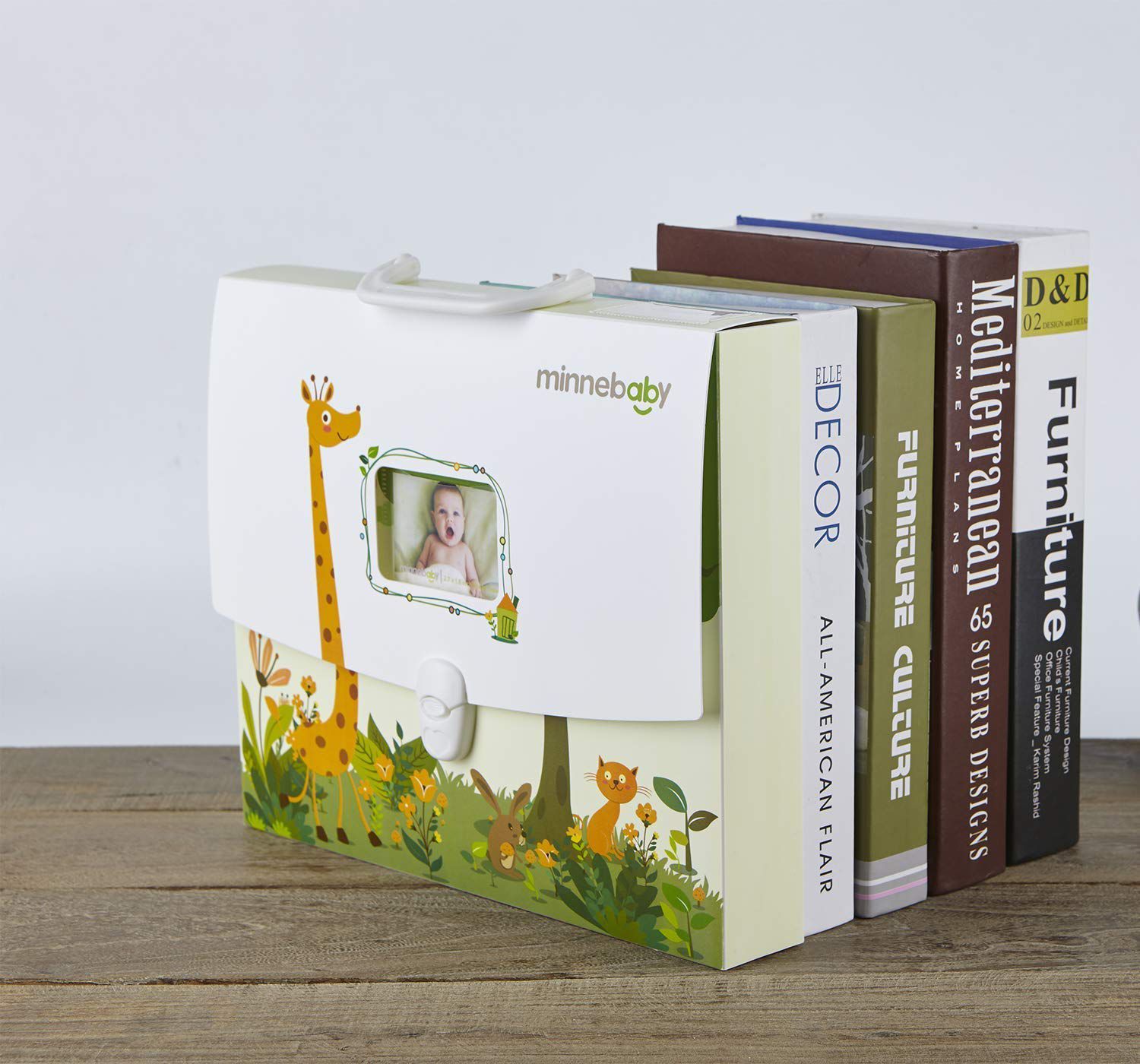 Keep pregnancy reports, pediatrician records, immunizations, and your little one's ID certifications (you don't want to lose that social security card!) safe and together in a plastic briefcase. The folders come with stick-on labels, or you can customize your own.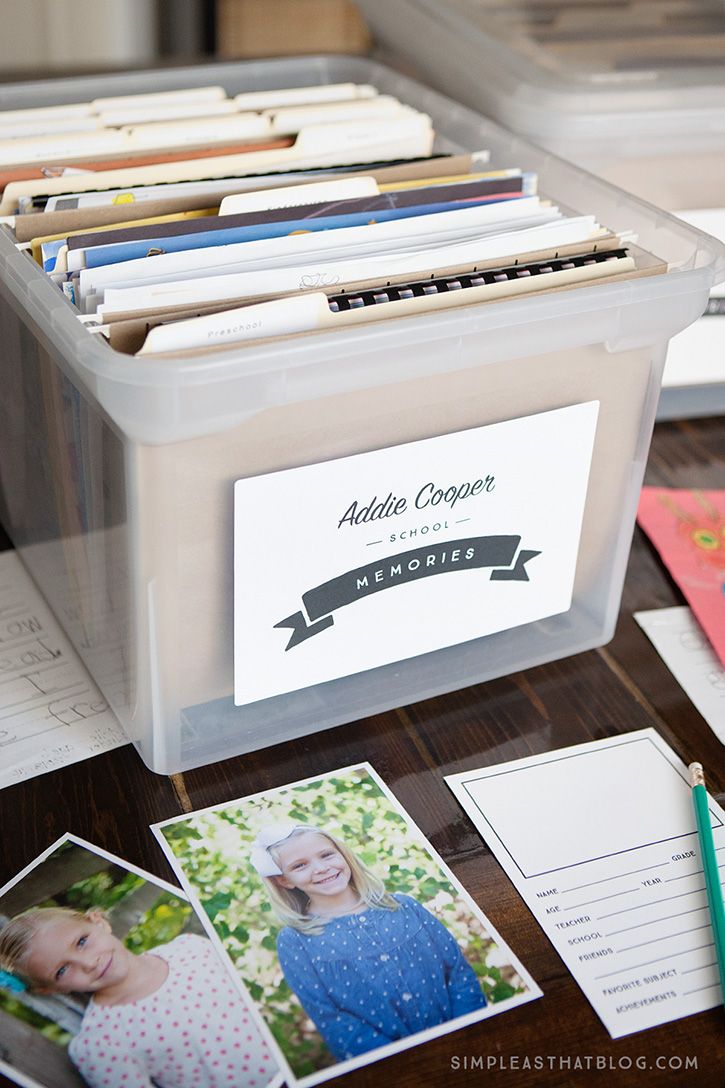 Don't let sentimental items get mixed up on your desk. Dedicate a bin to each of your children and divide it up by school age — preschool, middle school, and even high school.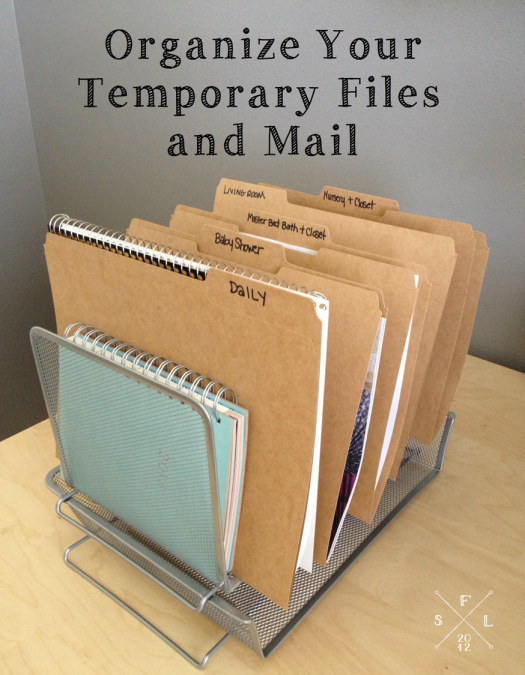 Your coworker's baby shower? Your family's holiday gift lists? Just because you won't need to reference these papers forever doesn't mean they aren't important. Create files for upcoming events so you stay on top of what's currently happening in your life.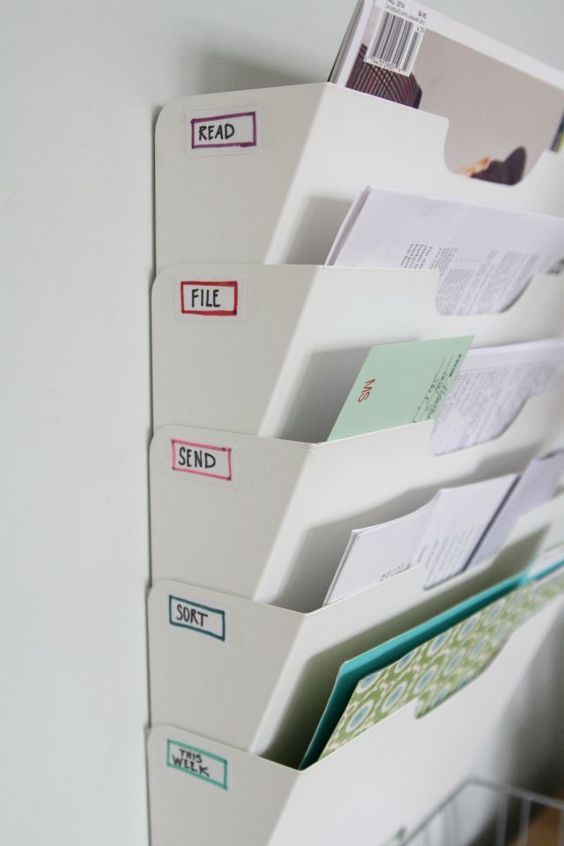 Don't just dump papers in your filing system and then forget to look at them for the next month. Smart categories like "read," "file," and "this week" provide clear action steps for your bills and correspondence.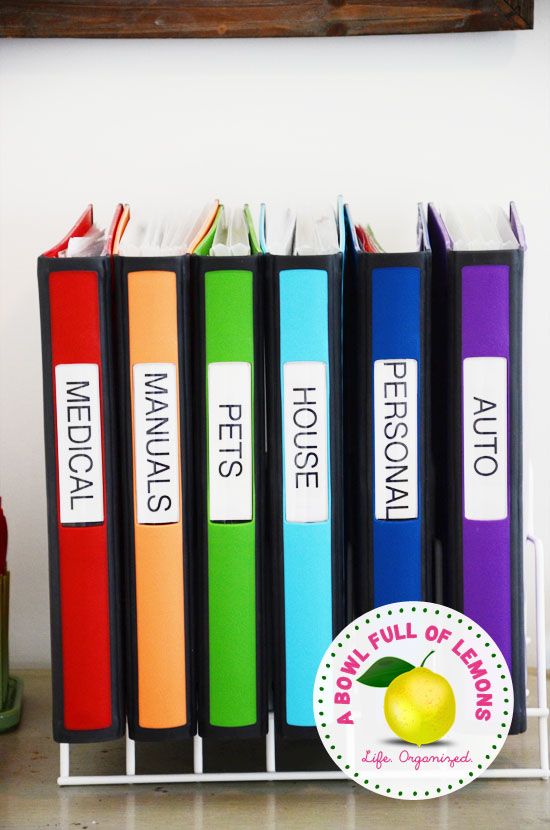 Organizing your papers in a few small binders makes it easier to tote one or two around with you to appointments. Try storing them upright and organized on the counter with the help of a dish-drying rack.
How to make a practical home management binder that simplifies your to-do list. A must-have home management tool for every household.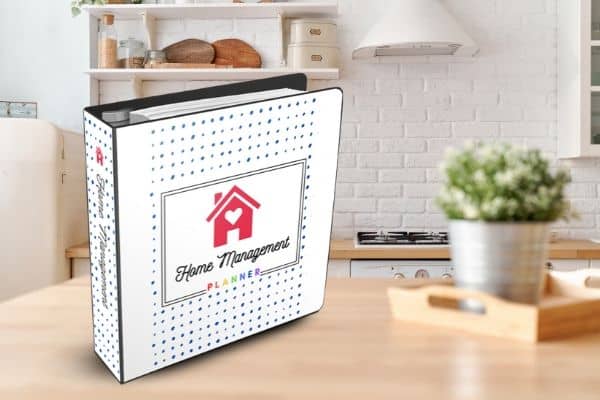 Home Management Binder
If you haven't tried using a home management binder yet, you're going to love this practical tool for organizing everything home-related.
Or maybe you already have a home management binder, and you want some ideas for how it can do more for you, and help keep you more organized.
In this article, I'm going to show you my home management binder, give you some ideas for what you can include in your own binder, and show you ways you can use your binder to help you stay organized.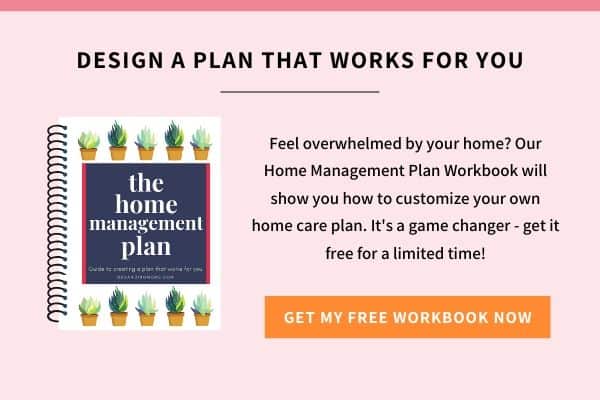 What Is a Home Management Binder?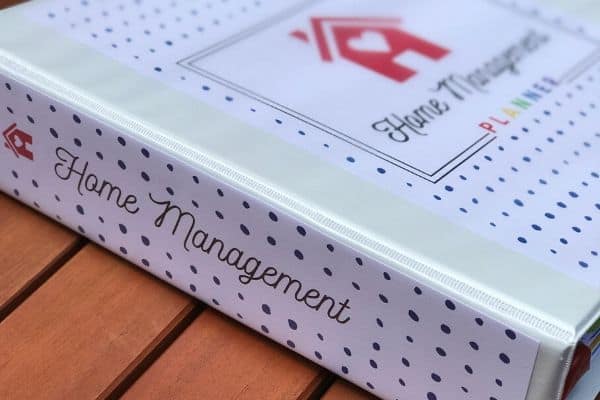 A home management binder is a tool that helps you organize all of the maintenance and upkeep information for your home.
If you've ever felt overwhelmed by all of the home maintenance tasks you need to do each year, a home management planner can make everything much easier to maintain.
My Home Binder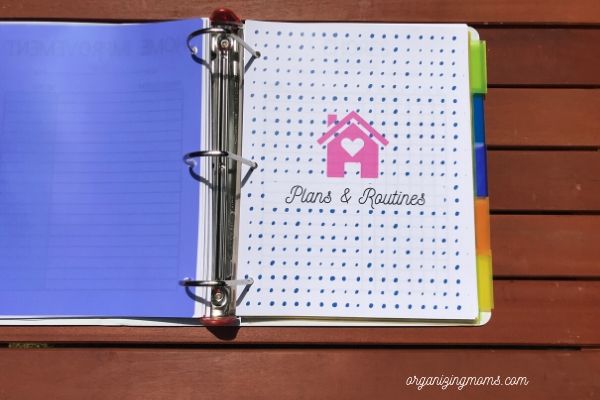 I created my home management systems binder because I needed a centralized location for all of my home management information.
When we moved into our home a few years ago, I had trouble keeping up with everything we needed to do for home maintenance.
The home management binder helped me remember how often I needed to do things like have the pest control company come by to do a check, or have maintenance done on our furnace.
But, I also used it to plan organizing and home improvement projects, cleanings, remember to get oil changes for our cars, and even plan our meals.
It's truly helped me stay on top of everything I need to remember to do around the house, which has been a huge relief.
We all have so many things we need to remember, and having this binder as a place where I can dump all of that info is priceless.
Home Management Binder Printables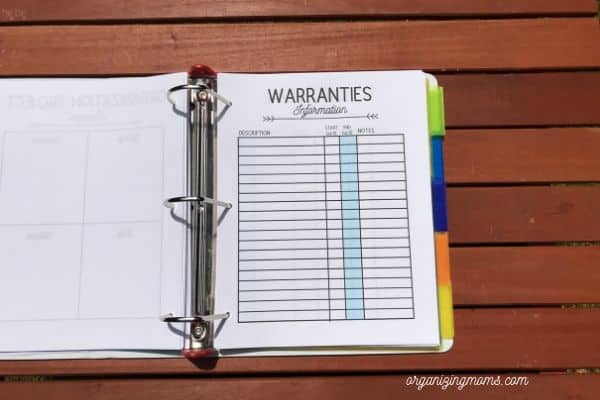 The home management binder printables include everything you'd ever need to keep track of all of your home management tasks.
I designed these cute home management binder printables based on feedback I received from thousands of readers who are in charge of managing their homes. There's truly something for everyone in this system.
The printable set is delivered as a PDF download that you can print again and again as needed.
Home Management Binder Categories
The best home management binders are easy to navigate, and divided into categories.
I like to use slash pocket dividers in my binder so I can add important papers or business cards in the pockets for safekeeping.
The home management binder system includes the following sections:
Contacts
Maintenance
Plans and Routines
Cleaning
Care (for people and pets!)
Meal Planning
Special Occasions
Travel
Money
How to Create a Home Management Binder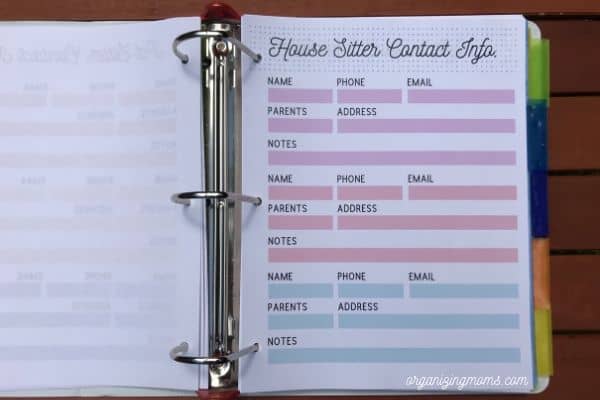 To make the best home management binder for you, start by listing out the home management tasks that are falling through the cracks.
Maybe you're forgetting to replace the air filter for your furnace.
Maybe you want to get better at remembering to have checkup for your air conditioner each year.
List out all of the things you have to maintain in your home, and start there.
From that point, you can use the home management planner printables to keep a record of all of the important home maintenance tasks.
You can also use the printables to keep track of daily, weekly, and monthly tasks you want to keep up with.
What to Include in a Home Management Binder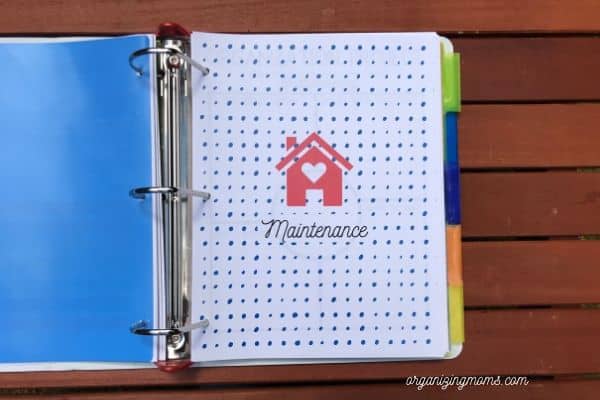 If you're looking for binder organization ideas, start by thinking of ways to make your home binder easy to use.
Store your binder in an easy-to-access place. I like to keep mine near my home command central.
Use tabs to make each section easy to find.
Only include pages that make sense for you.
The home management planner printable set has planning pages for almost everything you'd ever want to track in your home.
Pick and choose the pages that will really help you stay organized, and leave the other pages out.
When you get the printable set, you get a PDF download of the entire set, so you can always go back later and print more pages if needed.
How to Use a Home Binder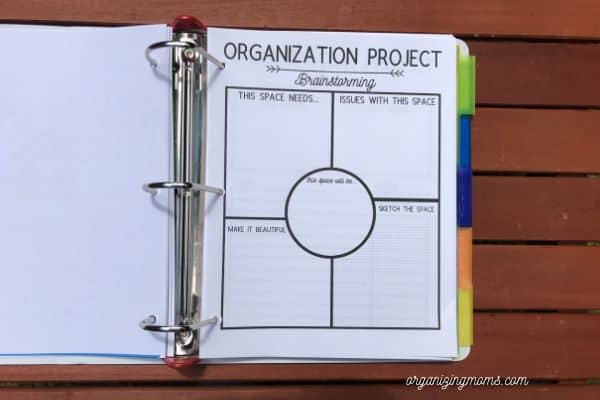 You can use your home organization binder however you see fit.
It can be strictly a home maintenance record keeper that you use to make sure you're doing all of the things you need to do to maintain your home.
Or, you can use it as a comprehensive home management planner that helps you remember daily, weekly, monthly, and yearly tasks.
The home management planner printables also include pages to help you plan for special events, plan home improvement and organization projects, and even plan your meals!
Design your home management binder so it's like a super-responsible personal assistant that helps you stay on top of all things home related.
If you spend more time trying to find a particular recipe than you do actually cooking it, don't miss this post! Check out 7 great ways to organize your recipe collection here.
Keeping things organized can be tricky for me at the best of times (I'll go ahead and blame ADHD for that one!), and that's especially apparent when it comes to my recipe collection! It barely even qualifies as a collection because it exists in so many different places.
More Ideas You'll Love
I have recipes from magazines on my fridge, printed recipes in my office, digital recipes that I've pinned on Pinterest, handwritten cards in an old recipe book… and that's just off the top of my head! Organizing my recipe collection has been on my to-do list for a long time now, and I'm finally ready to do something about it! 🙂
So today, both for my own benefit and hopefully yours too, I'll be sharing 7 ideas for ways to organize your recipes. From binders to boxes to journals and beyond, you're sure to find the right fit for you in the list below!
7 Of The Best Ways To Organize Your Recipes
1. Recipe Binder
Keep it simple-yet-stylish with this recipe binder set! The binder comes with recipe cards, page protectors, and tabbed dividers included, so all you have to do is copy over your recipes and arrange them to your liking!
2. Recipe Tin
Interested in a storage solution that's cute enough to keep out on the counter? Look no further than this adorable recipe tin!
Along with the tin, you'll also get blank recipe cards in a matching style, plus tabbed dividers that will help you organize your collection into categories.
3. Recipe Journal
If you enjoy journaling, then check out this recipe journal! At around 7 x 9", it's not too big or too small, and offers enough pages for you to record up to 100 different recipes!
One thing that sets this journal apart is the format of the recipe pages. Each one has spots to jot down a star rating, difficulty, servings, notes, and more! If you are the type who likes to annotate your recipes, this is a great option for you.
More Ideas You'll Love
4. Accordion File
If you're more interested in organization than aesthetics, or don't want to copy your recipes out by hand, then check out this recipe accordion file. The tab dividers are already labeled with different food categories, so all you need to do is sort your recipes into it!
This is a great option if your recipes are in a variety of formats, like magazine pages, printed recipes, handwritten notes, etc.
5. Leather Binder
This binder offers similar features to the one I mentioned as #1 in this list, but the leatherette cover makes it a bit more gift-worthy. You'll still get recipe cards, page protectors, and tabbed dividers with this one too!
6. DIY Binder
Both our production manager Brittany and our photographer Kaitlyn use a binder to keep their recipes organized, but with a DIY twist! They print recipes they find online, slip them into sheet protectors, and put them in a simple 3-ring binder outfitted with tab dividers.
Brittany also mentioned that the sheet protectors are great at protecting her recipes from spills and splatters! If she spills anything on them, they are easy to wipe clean.
7. Prepear
The last option I wanted to highlight is an app called Prepear, which I only learned about very recently! It has all the bells and whistles you could hope for, including the ability to save recipes from anywhere, upload your old favorites, and organize them to your liking in your own digital cookbook.
More Ideas You'll Love
With Prepear, you can also plan your meals for the week AND it will make a shopping list for you based on the recipes you've chosen! (And don't worry, you can add anything else you need to buy to that shopping list too, eliminating the hassle of having multiple shopping lists.)
Unfortunately, my mom's box of handwritten recipe cards went missing sometime during her most recent move.
Even though many of the actual recipes had been copied down by me and my siblings in other places, we felt devastated by the loss of her handwritten cards.
That's why I highly recommend scanning or photographing your most treasured recipes, especially the handwritten ones!
Back up those files somewhere safe, just in case the real ones ever get lost.
This post may contain affiliate links and as an Amazon Associate I earn from qualifying purchases. Click here for full disclosure and privacy policy.
Sharing is caring!
Create a home management binder that will help you stay organized and reduce stress. You can easily make your own, including free printables.
I've been using a home management binder for years. For a long time, it was also my planner. Now I'm using an Erin Condren Lifeplanner for a lot of things but I still have a home management binder as well.
Since I have a planner my home management binder is not something I reach for every day. I use it now more for reference. It's also where I keep my holiday planner.
There are so many amazing free printables out there for home management binders. It can be easy to want to print them all. The problem with this is your home management binder can become overwhelming. If it's overwhelming you won't use it.
I have run into this problem from time to time. I will get overly excited about all the pretty printables and start printing them all. Soon my binder is full and I end up using less than half of them. Over the years I've been simplifying mine to the things I will really use.
You will likely need to play around with your home management binder to find what works for you. If it's not working for you change it up. I had to do this many times before finding a system that works.
Creating a Home Management Binder
There are a few sections you may want to keep in your binder. Dividing your binder up will make it a lot easier to find what you need quickly. I make section dividers using a plastic sheet protector with a piece of scrapbook paper inside and a Post-it tab on the side. There are several categories you may want to include, here are some you want to consider.
Time Management
This section is very important if you don't use a planner. It was my most used section before I switched to my Happy Planner. It will contain the things that help keep you on track daily. Things to include:
Goal Setting
Daily To-Do Lists
Monthly Calendars
Week-at-a-glance planners
Stop Doing List
Cleaning & Organizing
This section was the main reason I started a home management binder. I wanted to keep track of the cleaning chores I needed to get done around the house. It's easy to let things slip, especially seasonal cleaning tasks. Things to include:
Daily Cleaning List
Weekly Cleaning List
Monthly Cleaning List
Seasonal Cleaning List
Spring Cleaning List
Cleaning Supplies Inventory Sheet
Cleaning Supply Shopping List
Decluttering Checklist
For these pages, I use my cleaning planner printable pages. They work really well for keeping me organized.
Important Information
This is a great place to keep emergency information for your family. You want to make sure members of your family know where this is in case they need to reference it. Things to include:
Medical Information
School Information
Vet Records
Babysitter Information
Pet Sitter Information
Passwords
Important Contacts
Food & Meal Planning
Meal planning is a great way to save money so this section is a must if you are trying to be more frugal. It also helps if you are trying to eat healthier. Things to include:
Meal Plans
Grocery Lists
Food Inventory
Favorite Recipes
Recipes You Want to Try
Health & Fitness
There are some really great printables out there to help you improve and track your health. This is a great place to keep all of those things. Things to include:
Vaccination Records
Health & Fitness Trackers
Daily Food Log
Fitness Challenge Printables
Budget & Finances
A lot of people like to use computer programs to track their finances. I tend to do better with a mix of digital and paper. Even if you use a lot of digital budgeting you may want to have some things in this section. Things to include:
Monthly Budget
Emergency Fund Tracker
Account Information
Bill Tracker
My Home Management Binder
Like I said I use a Happy Planner for my daily planning and home management. I will be sharing soon how I use my planner for home management. Subscribe to my mailing list so you don't miss it.
Since I use my planner for the daily things I don't have all of the things that I talked about in my home management binder, some things are in my planner instead. Here is what is in my binder, this system may work well for you if you are a planner user. Goals– This is where I keep my goals for this year. I also keep them in my planner but this where I do my more detailed goal setting.
Date Night Ideas- It's easy to slip into just doing the same old things with your spouse. I like to keep a running list of date night ideas so we always have ideas of fun things to do.
Freezer Cooking Day Planner– This sheet helps you plan a day of freezer meal cooking.
Food Inventory-This is a great tool to help you reduce food waste and save money. I like to reference this when meal planning and writing grocery lists.
Cleaner Recipes- I keep all of my recipes for my DIY cleaners here. It's great for referencing when I need to make more cleaners.
Project To-Do List– This is where I keep a running list of all the bigger projects I want to get done around the house. It also has a place for notes and contacts for the projects.
Passwords– I don't keep my personal passwords here as I know those but if I'm working on a project for someone else I'll keep my passwords on this sheet.
Pet Sitter Information Sheets– It's always good to have a few of these filled out in case of an emergency.
Holiday Planner– An organized holiday season is what keeps me sane and able to enjoy the season. I like to keep this in my binder so I can look at it throughout the year and be planning ahead.
Now that you have some ideas about where to start and know what I use you can get started making your own. Decide what you want to include in your home management binder, gather your supplies, and get printing. Be sure to pay attention to what you use over the next couple of months and remove and add things to make it work well for you.
One of my favorite sites for free home management printables is Scattered Squirrel, she has beautiful printables. You can also find some great free printables on my Pinterest board Planners and Home Management Binders.
If you use a home management binder, what do you keep in yours?
Sharing is caring!
Are you looking to add some organization and order in your life and home? If you need to get organized in your daily/weekly/monthly planning, your goals, your finances, your eating, your exercise, your meal-planning and more – there is a free printable for you. Keep reading to grab them – for free! Updated for 2022!

Last Update: January 2, 2022
To Organize Your Life, Free Printables are the Solution
As much as I love Christmas (which, to me, is just about the only redeemable quality about the god-awful season of winter), by the time January rolls around, I'm crawling of out my skin to get the decorations put away, the house cleaned, and my life organized with some semblance of normalcy.
I've always been a fan of routine, and I'm a sucker for any system that promises to keep life organized. And if it's pretty, too? Well, I'm sold. If you add in the motivation of a new year and new goals, the restart of life in January might be the second redeemable quality of winter.
If you are like me and looking to get your life and home organized again, I've got just the tools for you. These free printables are exactly the thing to help get you back on the organizational track again. I even came up with a set of my own printables for a step-by-step plan to really reach your goals and make them stick.
If you need to get organized in your daily/weekly/monthly planning, your goals, your finances, your eating, your exercise, your meal-planning – there is a free printable for you.
Why Free Printables are Amazing
There are many reasons to love free printables, but here are a few.
1| They're free. Do I have to elaborate on that. Some planners are SOOOO expensive! I mean, over the top expensive. These are all 100% free.
2| They're customizable. You can mix and match and print out the ones that are most useful. I have such a hard time finding planners that are exactly what I'm looking for. I always ended up with a ton of wasted pages because they really weren't something I needed.
3| I'm a pen-and-paper-kinda-gal. I've tried calendars on my phone, on my tablet – but I really just do best with physical paper and pens. And I need all the important info right in front of my face, as a visual reminder, not tucked into my phone.
All the printables you'll find below serve a functional purpose. And not only that, I picked the prettiest ones, too. 🙂
Take a look below and grab what you need to get your life and home in order again! I'm right there with you!
21 Free Printables to Help You Organize Your Life & Home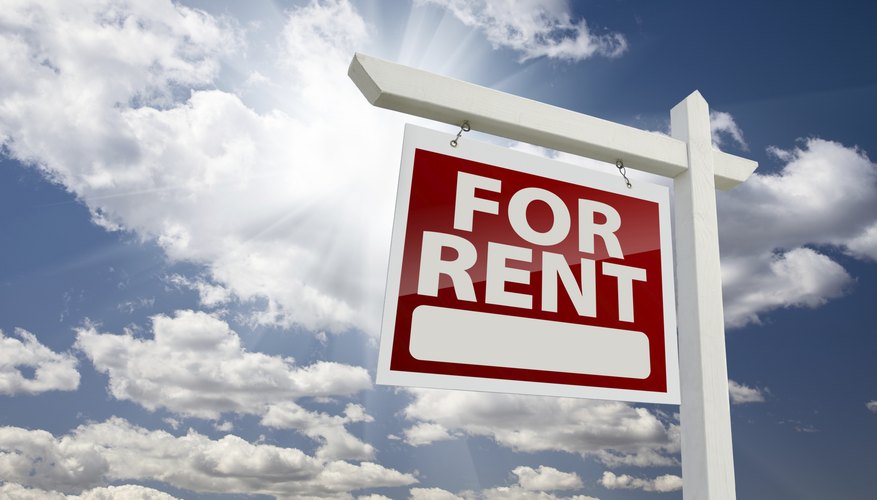 Andy Dean/iStock/Getty Images


Basic Bookkeeping for the Self-Employed
Whether you own one rental property or several, it's important to keep all the paperwork associated with the properties organized. You need easy access to leases and any addenda to them if tenant questions arise, and you should keep all rental applications in case a denied applicant makes a future claim against you. In addition, and perhaps most importantly, you can deduct expenses on your income tax only when you can prove them through your records. Paperwork needed for taxes is the most challenging to keep organized because there is so much of it.
What You Should Keep
Always keep a copy of the lease, any addenda to the lease and all rental applications from prospective tenants in a safe place. A good idea is to create a file for each rental property. Keep the files in a filing cabinet. You also need proof regarding whether you made or lost money on the rental property each year and how much. You do that by listing your rental income and subtracting the expenses. Canceled checks, bank statements that show direct deposit or receipts you write if you accept cash all prove rental income. Your receipts from anything you spend on the house for repairs, insurance, taxes and anything else, such as termite and trash service, serve as proof of your expenses. You need to keep separate income and expense records for each rental property you own.
Paper Trail
There's nothing wrong with keeping records the old-fashioned way by writing down your income and expenses in a notebook or ledger and keeping the income paperwork and expense receipts in a storage box or in a compartment in your notebook. This method is acceptable to the Internal Revenue Service, according to legal advice website Nolo. It's a good idea to note on the receipt what it was for if this information isn't already on the receipt. The paper method can be the simplest way of keeping records, especially if that's how you've always done things. Simply list an income column and an expense column for each month to see how you fare at the end of the year. Divide expenses you might pay once a year, such as property tax, by 12 to get a true monthly account.
Electronic Methods
Many computer software programs are available to help with your record-keeping. Spreadsheet software, such as Microsoft Excel, Lotus 1-2-3 and Ability Office, can keep track of your income and expenses. You would create a separate spreadsheet for each rental property. But you would still need to keep paper copies of your income and expense receipts in case the IRS audits you. The other options for keeping receipts are to use an Internet storage service that you can upload your receipts to, such as Shoeboxed, or to use an at-home version, such as NeatReceipts, to keep digital receipts at your home. Once a month, look at your income and expense receipts, and enter the data on the spreadsheet.
Property Management Software
Landlords also can use property management software to keep rental property paperwork organized. Quicken, for example, has software that organizes all the paperwork for you. It also helps find all your tax deductions, gives you a place to record late fees or partial payments and lets you compare the statuses of your rental properties. Property management software typically has many advanced features that landlords with one or two properties might not need. Landlords with more than 10 properties often find them useful, according to Nolo.
Nolo: Recordkeeping for Landlords
TopTenReviews: Spreadsheet Software Review
Shoeboxed.com: What is a Shoeboxed DIY account?
Neat: NeatReceipts
Laura Agadoni has been writing professionally since 1983. Her feature stories on area businesses, human interest and health and fitness appear in her local newspaper. She has also written and edited for a grassroots outreach effort and has been published in "Clean Eating" magazine and in "Dimensions" magazine, a CUNA Mutual publication. Agadoni has a Bachelor of Arts in communications from California State University-Fullerton.
This house cleaning checklist is a big picture overview that helps you recall what house cleaning chores need to be done daily, weekly, quarterly, and less frequently around your home.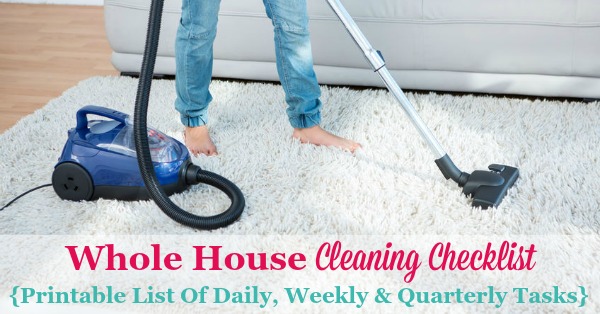 The purpose of this list is to help you adequately plan and schedule your housework.
It does this by giving you a big picture view of what is needed to clean your home, and at what frequency.
Throughout the checklist I have provided links to more detailed lists for various areas of the house, and time frames.
You can even scroll to the bottom of this page for a link to a free printable version of the whole house checklist!
Daily House Cleaning Tasks
There is not too much actual "cleaning" in the daily house cleaning tasks, except in the kitchen (or if there is a spilling emergency).
The main principle on a daily basis is to keep things neat and tidy, and just like your mother always told you, "pick up after yourself" and "put away your toys!"
Tidy and neaten each room in the house
Clean up kitchen after meals
Deal with spills immediately
Put away (in a designated place) everything that comes into the home (such as mail, groceries, etc.), and empty anything that has become too full (like overflowing trash, or throwing away an old broken spoon once you purchase the new one)
Click here for a more detailed daily house cleaning schedule.
Weekly House Cleaning Tasks
A weekly cleaning schedule is the heart of keeping a clean home.
This portion of the house cleaning checklist is actually where most of the cleaning in your home takes place.
And when I say "cleaning" below in the checklist I mean the normal things, such as dusting, mopping, vacuuming, and scrubbing.
Of course, you don't have to do all the cleaning in one day, unless you want to. In fact, I suggest spacing it out throughout the week so it is not so overwhelming.
Clean bathrooms (see this bathroom cleaning checklist for more details)
Clean kitchen (see this kitchen cleaning checklist for more details)
Clean bedrooms (see this bedroom cleaning checklist for more details)
Clean home office, and deal with weekly paperwork and bill paying
Clean all other rooms in your home (not the garage and attic though)
Laundry (see information about laundry schedules for more details)
Menu planning, making grocery list and grocery shopping
Quarterly House Cleaning Tasks
The tasks listed below as quarterly and biannually are important, or they wouldn't be listed, but they don't have the same impact on your daily life and comfort as the daily and weekly tasks listed above.
If you are in a time crunch, and need to prioritize, skip these tasks and focus on the daily and weekly parts of the house cleaning checklist.
However, let them slide for too long and things will begin to deteriorate, comfort wise.
Sweep garage, basement and attic
Wash or air pillows
Wash windows
Biannual House Cleaning Tasks
These tasks are typically things we do during spring cleaning and fall cleaning.
Listed below are only the most important.
Air and turn mattresses
Clean drapes and curtains
Wash rugs and clean carpets
Clean basement, garage and attic
Here's Your Free Printable
Get your free version of the cleaning checklist here. Make sure you put it in your household notebook!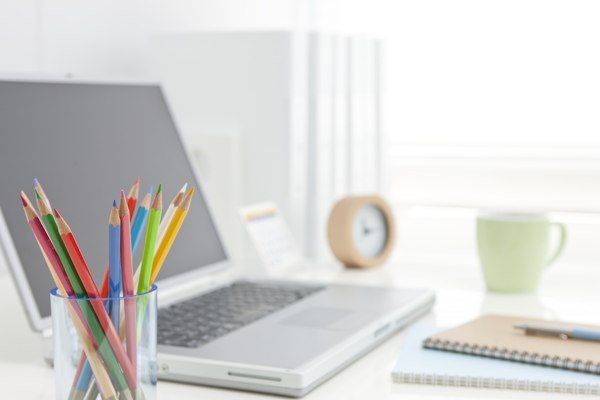 Is your desk a mess?
Do you return to more clutter than you remember leaving in the first place?
Don't let your messy workplace impede your ability to get your work done.
Here are 10 tips to keep your desk clear of clutter and ready for work.
Cleanliness = Productivity
Keeping your desk clean is key to being able to get your work done.
Despite the excuses that some will give, piles are not organization. And a messy workspace isn't conducive to being productive.
"If your desk is a mess, you don't have space to work, nor any room for creativity."
When inspiration or motivation hits, you don't want to be searching for space to set down your important work or fighting back the flood of stuff on your desk.
Here are 10 Tips to Help You Keep Your Desk Clean and Organized:
Designate a Physical Inbox – We all have too many email inboxes, yet many people no longer have a physical one on their desk. You need one place for incoming papers to reside. Otherwise, they will scatter all over the existing documents on your desk.
Have a Trash Can Within Reach – If you have to get up from your desk to reach the trash, then it is too far away. (Nor do you want to be playing trashcan paper toss…) Make sure that you can easily and quickly reach the trash from your chair.
Minimize Incoming Paper – Stop that incoming paper flood, or at least minimize it to the extent possible. Eliminate unnecessary subscriptions, reduce the number of paper reports and memos. If you don't need something in hard copy, then stop it from coming to your desk.
Get Rid of Unnecessary Clutter – Do you need all those knickknacks and office accessories laying all over your desk? Unless they serve a purpose, get them off your work surface. You don't have to go to the extreme of creating a sterile workspace, but if you are not using it, move it off your desk.
Schedule Regular Cleaning Time – If you have not cleaned your desk in a month, it could take you a few hours to tidy it up. However, if you do it daily, it should only take a few moments. Avoid compounding your organizing time by scheduling a designated time each day.
Never Put Trash Down – Whether it is a piece of paper or a food wrapper, never set trash down. Get in the habit of holding it in your hand until you can reach your trash can. (See #2) You don't want to put trash on your desk and forget about it. As well, that half-empty soda is an accident waiting to happen.
Take a Picture – Do you have items on your desk that are simply for reference? A battery or ink cartridge that you need to replace? Or a clipping or article? Instead of leaving these items on your desk, take a picture with your smartphone. You will be more likely to have your phone with you when you need to reference the item.
When in Doubt, Throw It Out – You will never need 99% of the papers that you are saving. When in doubt, throw it out. If you truly need a hard copy, make sure you have a filing system to put it where you will know where to locate it.
Scan It– Is the price of a scanner worth the peace and organization it will bring? Yes! Clear that paper clutter, by scanning it into soft copy or PDF. Here is my favorite scanner via Amazon.
Clean It Before You Leave It – If your boss were to come to your desk after you departed for the day, would you be proud of what he or she would see? One of the best times to clean your desk is the end of the day. It brings closure to your work day and sets you up for a clean start tomorrow.
Keep it Clean
An organized work area helps you get more done.
It starts by giving you space to actually work, instead of stacking new work on top of old papers.
Keep your desk clean and improve your productivity.
Question: Do you keep your desk clean or are you constantly working among clutter? You can leave a comment by clicking here.
A beautifully organized desk will make studying a lot more tolerable. Learn our top desk organization tips here.
This post may contain affiliate links, which means we may receive a commission if you purchase through our links. Please read our full disclosure here.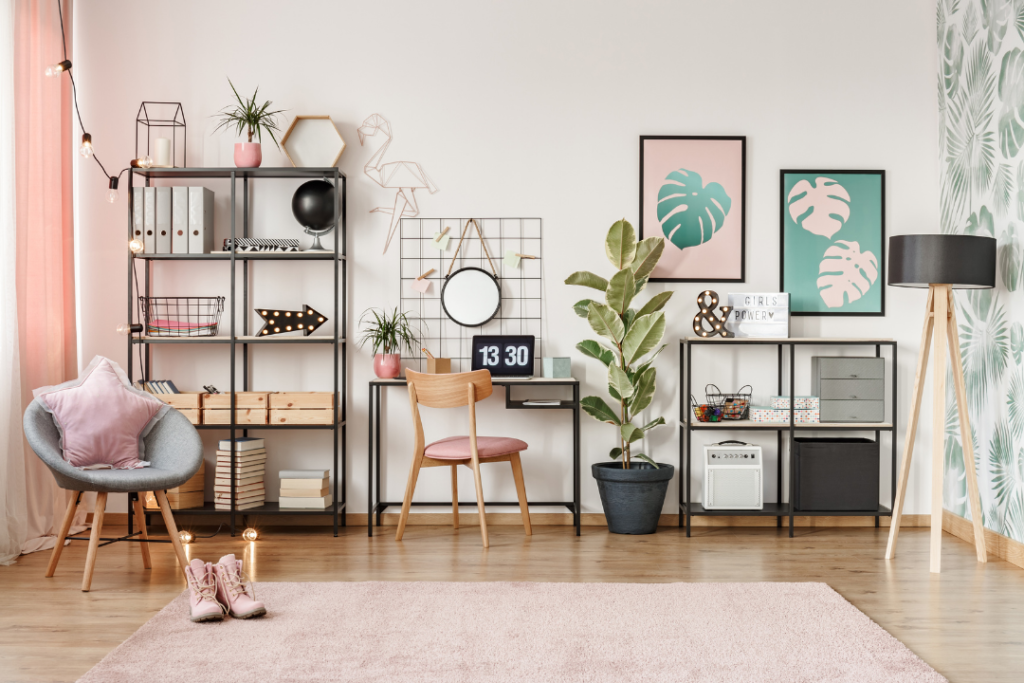 I'm pretty sure we can all agree that buying school supplies is very near the top on the list of Life's Greatest Little Pleasures.
Remember getting our supply lists in elementary school and begging Mom and Dad to take us to the local office supply store? Even now, when I walk through an OfficeMax or Staples, I get thoroughly overexcited about the neatly packaged rows of pens, notebooks, and protractors.
"Not that I've needed a protractor since I was eleven – but don't they look nice, all clean and unscratched in their packets?" – Becky Bloomwood, Confessions of a Shopaholic
That being said, it's very important to stay organized during college. After all, you're there to learn! Staying on top of things will give you soВ much more free time and will minimize stress. And of course, if anyone can make organizing look chic and effortless, it would have to be CF readers.
In this article, we'll talk about some inexpensive and creative ways to organize your dorm room study space, ranging from keeping your literature in line to managing your writing utensils. Once your study area is organized to fit your needs and style, everyone on your floor will be trying to figure out ways to make off with your desk!
Table of Contents
Managing Your Literature
Even if you didn't bring half your home library to college with you, there are undoubtedly textbooks, magazines, and binders floating around your dorm room. Keeping these organized will help you tremendously when you're packing your bag for a sojourn at the library, and will also help you keep track of every printed work so that you leave with the same number you came with.
Our Picks for Organizing Books and Magazines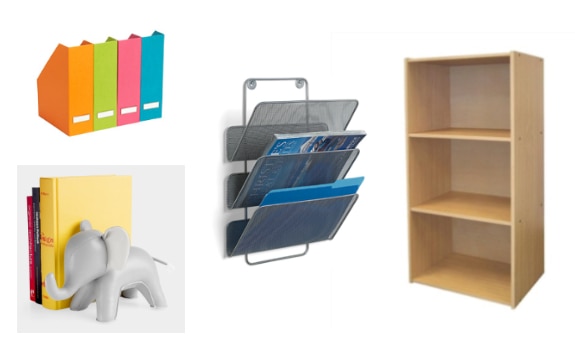 These colorful magazine holders are chic and functional, and can be labeled however you want! I would recommend labeling them first by issue title, then by date.
Bookends are adorable and come in virtually every shape and size! I picked this cute elephant bookend because it's unique and is a great conversation starter.
Vertical literature organizers like this metal tier are especially handy because they use wall space. Try using these to store important papers for class, or even smaller textbooks that you can easily reach.
I can't overstress the importance of bookshelves as a simple and chic way to store literature. My bookshelf is organized by color, even though I only brought about 20 books to school with me, and looks like a scaled-down version of this image. Bonus: the bookshelf can double as a display case, and you can even group your collectibles and displays to match the colors of the books they're next to!
Pens, Pencils, Markers, Oh My!
Writing is glorious. Writing with nice pens is even better, as is coloring with brand-new markers. (Everyone can agree on that!) You probably brought nearly all of the following things to school with you: pens, mechanical pencils, highlighters, regular pencils, permanent markers, regular markers… and the list goes on and on. With all of these utensils, keeping them organized is essential, and there are plenty of ways to do so.
Chic Ways to Organize Your Writing Utensils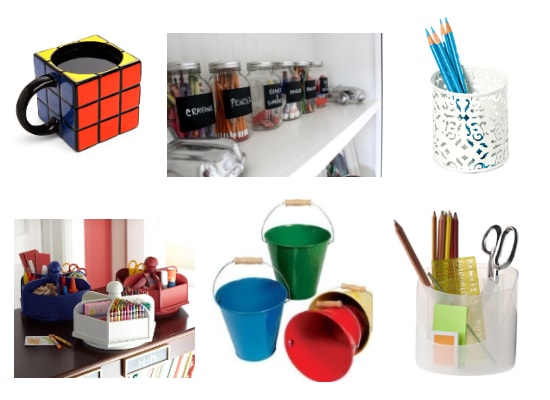 Try a unique-looking coffee mug to store your pens and pencils! This awesome Rubik's cube-inspired mug will add so much visual interest to your desk.
Glass jars lined up against the wall on your desk or dresser and labeled with chalkboard labels are absolutely fantastic and such a creative way to organize your writing utensils. They're also inexpensive and can be easily re-purposed. I really wanted to do this, but I decided on another way to store mine, which I'll talk about below.
Of course, simple pencil cups like this feminine brocade one are a sweet way to add some life to your desk.
This Pottery Barn Rotating Desk Caddy is supposed to be for younger children, but isn't it gorgeous? I took it upon myself to make my own version, learning from this DIY tutorial, and I now have a $15 (versus $35) replica living on my desk!
Tin pails are clever and unique ways to store your pens and pencils. Target has them for $1 each in the dollar section, which is where I stocked up on about 20 of them. You can also try sticking Command hooks to the wall above your desk and hanging the pails on them to hold your writing implements!
A nice spinning desktop organizer is functional and also saves space on your desk, leaving you free to spread out your books and laptop.
What do you think?
Will you be using any of these tips? How is your desk at college or home organized? Have you ever made an expensive accessory your own using DIY? What are your tips for college students seeking to stay organized during their four years? Let us know with a comment!
The flexibility of studying online frees you from the constraints of a physical classroom and allows you to schedule study time around work and family commitments. But all this convenience and flexibility leaves you with too many options for when, where and how to study.
Since you may not have face-to-face contact with your professor and other students, you'll have to keep yourself on track. These organizational tips for online learning will help make sure you stay on top of everything and successfully balance your work, family and online classes.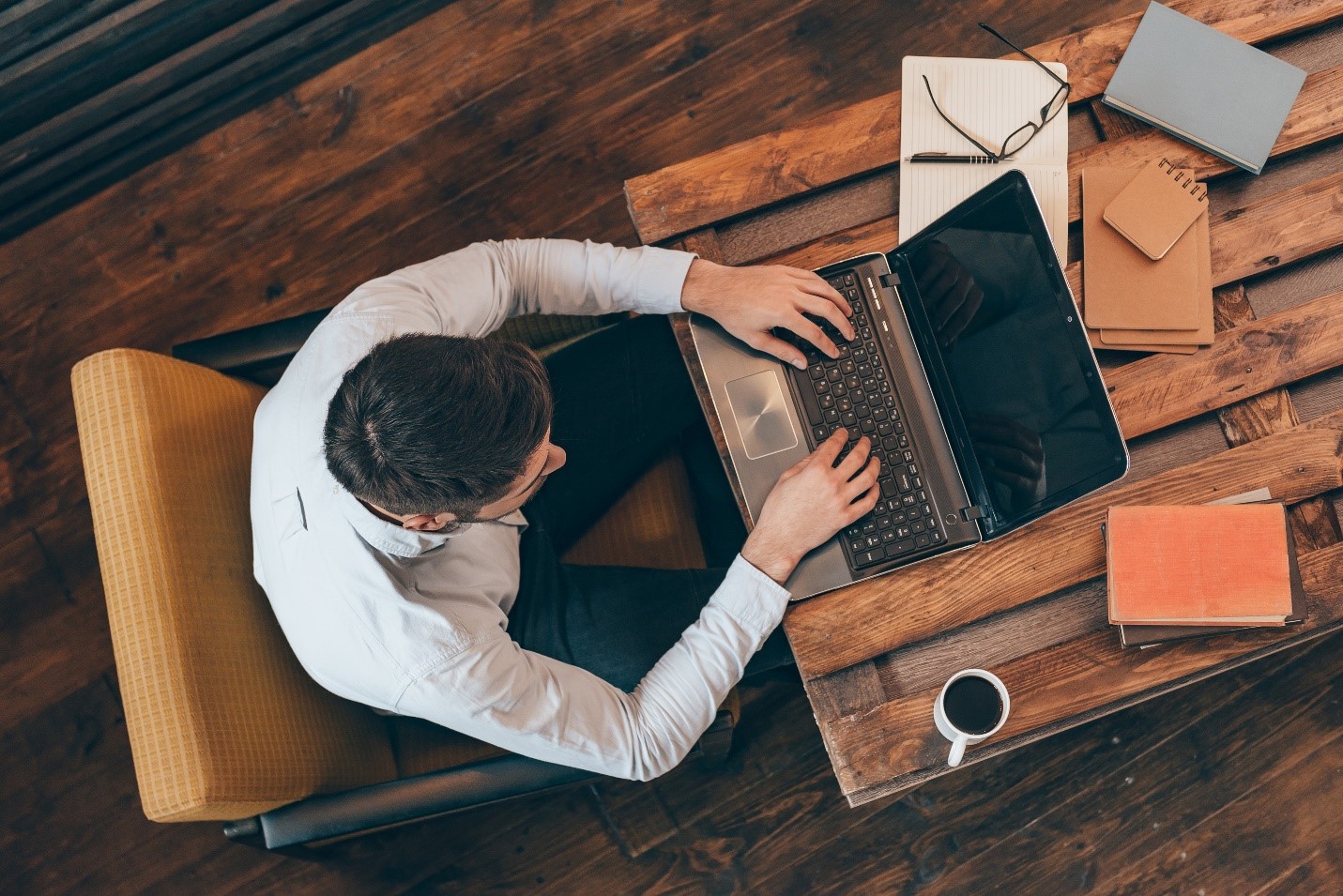 Find a Quiet Space for Attending Class
When you are taking an online class, the classroom is wherever you are. You will want to find a place that is quiet and free from distraction, yet provides enough room for you to take notes, either on your computer or by hand. You may also need an electric outlet nearby to keep your device charged while logged in to the class.
Classes may be live or recorded, and in a live class, you may be asked to turn on your webcam or your microphone when you participate during the session. One advantage of online classes is that you can attend from the comfort of your home. However, you will want to pay attention to what other attendees and the instructor will see when your webcam is on.
Create an Effective Work Space for Studying
It can be tempting to be a little too relaxed about creating a dedicated workspace for your school work. If a potential study space is already associated with activities such as eating, watching television or sleeping, it's probably not ideal. Instead, select an area you already associate with learning. The more time you spend in it, the stronger the association will become. Eventually, you will find yourself feeling more focused as soon as you enter the space.
If your space is limited or you can't create a dedicated study space, store your school materials in a rolling cart, backpack, or something else easily transportable. Whenever it's time to study, you will have everything you need already organized for a smooth transition. If you frequently find yourself needing to study or attend class away from home, make sure to keep your phone or computer charger with you so that you can remain connected.
Make sure your space is comfortable
When ensuring your study space is comfortable, one of the most important things to keep in mind is ergonomics. Both your study table and chair should allow good posture, and when you're seated, the top of your desk should rest somewhere between your chest and rib cage. This way, you'll be able to rest your elbows on the desktop without having to hunch your shoulders forward. Additionally, the chair should be comfortable, fit the height of the desk and allow your feet to rest flat on the floor.
Organize Your Files
Your course materials should be easily accessible whenever you need them. If you prefer working with hard copies, you can invest in a physical filing system, but online students also have the option to enjoy the ease and flexibility of working digitally. Store your computer files in folders and use descriptive names to facilitate identification.
Schedule Your Time
When you enroll in an online course, it's vital to familiarize yourself with the syllabus, class requirements and assignment due dates to avoid unpleasant surprises down the line. Hang a calendar on the wall of your study space and fill out once you get the syllabus. Alternatively, use an online calendar and set alerts. Organizing your schedule will not only facilitate your studies but will also help you set aside time for the other elements of your life.
Stay Organized Online
Bookmark sites that you often use in your research so you don't have to hunt them down every time you need them and try using online helpers like Quizlet , which lets you create flashcards and games that will help you study. The site also stores study aides that other students have created, so you may already be able to find what you need.
While working online is a necessity when taking a web-based class, the internet can also be a distraction. If you find yourself checking Facebook every few minutes, taking a Netflix break that never seems to end, or otherwise wasting time online when you're supposed to be working, there are apps that can help. Try online tools like StayFocusd , which helps you restrict the amount of time you spend on these distractions.
Establish a Routine
Getting into a routine will increase the chances that you'll stay on top of what you need to be doing, rather than letting deadlines sneak up on you. Once you have a syllabus for each class and are clear on what's expected of you, make a study schedule for each course. Include blocks of time for regular study and reading, as well as extra time to prepare for tests and projects such as research papers.
Use an old-school paper planner if that works best for you or try a planning app like My Study App , which lets you store your schedule in the cloud so you can access it from all your devices.
Create a Support System
Enlist your friends and family to help you stay on track with your online education. Whether that's making sure they understand your commitments and time constraints or encouraging those you live with to help out with household chores, their help and cooperation can make it easier for you to focus on your coursework.
Taking one or more online classes may seem a little isolating, but it doesn't have to be. If you have trouble staying organized, reach out to your fellow students online – or perhaps meet in person – to help each other stay accountable.
Study groups can be an effective way of keeping yourself on track and if you need help from the professor or would like to meet in person, don't hesitate to ask. Part of staying organized – especially with online learning – is being proactive and reaching out before you run into trouble.
Getting organized and putting some systems in place can make it easier to be successful in online classes. Try these tactics and let us know which ones help you the most!
What's Next
Are you ready to go back to school and looking for online programs that fit your career goals? The University of Texas at El Paso offers a variety of 100%-online undergraduate, graduate, and certificate programs. We invite you to explore our online programs and see what it will take to make that next step for your professional future. If you are interested in learning more about our team and UTEP Connect's 100%-online programs, reach out. An enrollment counselor will contact you directly.