Following a plant-based diet and love baking? Satisfy your sweet tooth with our vegan cake recipes. Try our fluffy Victoria sponge, chocolate cake and more.
Dive into even more vegan dessert recipes and vegan snack recipes to keep you going. Try a variety of cakes, cookies and more with our best vegan baking recipes.
Showing items 1 to 18 of 18
Vegan sponge cake
Treat friends and family to a Victoria sponge cake made with vegan ingredients. This easy recipe is perfect for afternoon tea or a coffee morning
Easy vegan chocolate cake
This indulgent, fudgy vegan cake is topped with a rich frosting – you'd never guess that it's gluten-free and made without dairy, eggs, wheat or nuts
Vegan simnel cake
Make a vegan-friendly version of a classic simnel cake this Easter so everyone can enjoy a treat. Use a kitchen blowtorch to easily achieve that signature burnished look on the marzipan
Vegan apple cake
Make this apple and almond cake to fill your cake tin. It's an ideal treat for anyone following a dairy-free or vegan diet, and is delicious for afternoon tea with a cuppa
Vegan courgette cake
Use up a glut of courgettes and bake this vegan loaf cake with tangy lemon drizzle. Ideal for a coffee morning or afternoon tea
Vegan chocolate orange cake
Bake our indulgent vegan chocolate orange cake with a smooth chocolate frosting. This sponge is perfect for a special occasion or weekend treat
Vegan ginger loaf cake
Get set for autumn with this iced and spiced ginger loaf cake. It's a real treat, whether you're vegan or not
Vegan carrot cake
Give free-from baking a go with this easy vegan sandwich cake – an indulgent carrot cake with coconut and cashew icing that everyone will want another slice of
Vegan birthday cake
This decadent, plant-based chocolate cake is guaranteed to bring joy to any birthday party. Everyone will love the dairy-free buttercream and colourful sprinkles
Vegan chocolate brownies
Try these squidgy brownies without the dairy or eggs. They're perfect for vegans and people following a dairy-free diet and they taste utterly divine
Vegan lemon cake
Try baking a vegan version of lemon cake. Light and zingy, it also works well if you replace the flour and baking powder with gluten-free alternatives
Vegan chocolate cake
Make our easy vegan chocolate sponge for a special occasion using dairy substitutes. It's finished with luscious 'buttercream' and seasonal fruits
Vegan mug cake
Bake a simple vegan mug cake in the microwave – you can have it ready in under 10 minutes to satisfy a craving. Serve with a scoop of dairy-free ice cream
Vegan cupcakes with banana & peanut butter
Employ some clever tricks to achieve a dairy-free bake. Egg-free mayonnaise, almond milk and margarine are the secrets to these vegan cupcakes
Vegan rhubarb & custard bake
Use clever replacements in this dairy-free fruit pudding with soya custard. Serve as a cake or warm for pudding
Vegan cherry & almond brownies
Deeply rich and decadent, this dairy and egg-free chocolate bake makes an indulgent vegan treat
Choc-cherry fudge torte with cherry sorbet
This divine, squidgy chocolate cake is dairy and gluten-free, so everyone can enjoy a slice for dessert – even the vegans at your dinner party
Vegan Christmas cake
Substitute eggs for chia seeds in this vegan take on a traditional Christmas cake. The coconut oil adds a great background flavour and keeps the cake moist
Dive into a deliciously indulgent vegan cake with one of our classic recipes – perfect for celebrating a special occasion in the sweetest way
Interested in trying our FREE 7-day healthy diet plan? Click here and choose between our meat eaters, vegetarian or vegan meal plans.
There's nothing better than a slice of squidgy chocolate cake, slab of zingy lemon sponge or Victoria sandwedge. If you're following a plant-based diet, get your fill of vegan cakes with our easy step-by-step recipes. Vegan desserts don't have to be any less scrumptious. Discover a whole host of sweets that are ideal for afternoon tea, a showstopping centrepiece or Sunday afternoon treat.
Find even more cakes, puddings, biscuits and brownies in our ultimate vegan baking collection.
Victoria sponge cake
We think it's about time for tea. Of course, it wouldn't be teatime without a slice of classic Victoria sponge. This deliciously delicate cake is filled with sweet buttercream and lashings of strawberry jam. If you need a bake for a coffee morning, bake sale or afternoon tea, look no further.
Lemon cake
Nothing says 'summer' quite like a slice of light and zesty lemon cake. Turn a handful of storecupboard ingredients into a tasty loaf cake with zingy icing. You're just three steps away from baking bliss. You can also freeze it for later if you're keen to prep in advance. We guarantee slices will be gobbled up in no time.
Easy chocolate cake
It's hard to believe our rich, fudgy chocolate cake topped with a sumptuous frosting is vegan, but it's true! Using our secret ingredient, ripe avocado, keeps the sponge moist and light and makes the topping extra smooth. It's deliciously chocolatey without being too sweet. Be sure to spread the frosting as soon as it's ready as it thickens quickly.
Carrot cake
Our 5-star carrot cake is the pinnacle of free-from baking. This easy sandwich cake has a smooth coconut and cashew icing and plenty of cinnamon, ginger and nutmeg for a well-spiced masterpiece. Decorate with edible flowers for a professional flourish.
Choc-cherry fudge torte
Can't get enough chocolate? Satisfy your sweet tooth with our choc-cherry fudge torte. This is the definition of a dinner party dessert. Rich cocoa and dried sour cherries combine to create a dreamy pudding. Serve with a scoop of sharp cherry sorbet for a lavish treat.
Banana & peanut butter cupcakes
Our banana & peanut butter cupcakes use yet another genius secret ingredient to create these picture-perfect cupcakes. You might be sceptical but trust us, a spoonful of mayonnaise makes for ultra-light cupcakes. Whether you're vegan or not, these perfect peanut butter beauties are well worth bookmarking – you'll be wanting to make them again and again.
Raspberry mug cake
Need a quick cake fix? Try our raspberry mug cake. You can go from craving something sweet to satisfied in under 10 minutes. Your sponge will puff up before your eyes – it really is a microwave marvel. Try serving this cake with a scoop of dairy-free ice cream for a speedy dessert.
Vegan banana & walnut bread
Everyone loves a slice of banana bread with a cuppa. If you have any over-ripe bananas languishing in the fruit bowl, turn them into a beautiful golden-brown bake. You'll most likely have all the ingredients ready to go so no need to run to the supermarket. We recommend trying a slice, toasted, with a generous dollop of peanut butter. It's delicious freshly baked but develops a lovely gooey quality the day after.
Enjoyed baking these cakes? Try our other vegan recipes.
What's your absolute favourite cake recipe? Leave a comment below.
Vegans LOVE cake. It's true. The number of vegan bakeries and cupcake shops in proportion to the population of vegans is a testament to this fact. Of course, this could also just prove that EVERYONE loves vegan cakes, whether or not they're vegan! And why not? Most of the time, you'd never be able to tell if a cake is egg-free or dairy-free.
All kinds of vegan cakes
" data-caption="Vegan white cake" data-expand="300″ data-tracking-container="true" />
Get creative with these unusual vegan cake flavors! Here are a few vegan cake ideas that can't be confined to just one category. Enjoy!
Vegan chocolate cakes
" data-caption="" data-expand="300″ data-tracking-container="true" />
guy-ozenne / Getty Images
There are as many ways to make vegan chocolate cakes as there are ways to make non-vegan chocolate cakes! Whether you're looking for a plain chocolate cake or something a bit more gourmet, try out one of these delicious vegan chocolate cakes:
Low-fat applesauce cake (pictured)
5-star Mexican chocolate cake
Vegan chocolate chip cake
Vegan chocolate pudding cake
Five-star chocolate peanut butter crockpot cake
Chocolate mint cake
Vegan carrot cake, four ways
For some reason or another, I've found that carrot cake is even more popular amongst vegans than amongst the general population. I don't know why. Perhaps because we're not afraid to eat our veggies? At any rate, here's four fantastic vegan carrot cakes to try:
Vegan banana cake
" data-caption="" data-expand="300″ data-tracking-container="true" />
The Spruce / Diana Chistruga
This vegan banana cake recipe is one of the most popular vegan cakes on The Spruce. With nearly a dozen positive reviews, it's a nearly fool-proof recipe. One reviewer, for example, called this vegan cake recipe "scrummy" and said: "I always seem to have leftover bananas and this is a great way of using up those ones going soft. I just put everything in the food mixer and it's done in minutes. We've eaten it warm when we couldn't wait!"
Vegan "dump" cakes
" data-caption="" data-expand="300″ data-tracking-container="true" />
Who doesn't love a "dump" cake? Dump cakes are different than upside-down cakes, which may require more work, more mixing and arranging of ingredients. With a true dump cake, you should be able to just dump all the ingredients into a cake pan and stick it in the oven. Here are a few vegan dump cake versions:
The perfect vegan frosting
" data-caption="" data-expand="300″ data-tracking-container="true" />
The Spruce / Diana Chistruga
You certainly can't have a vegan cake without something on top, whether it's a light glaze, a sprinkling of sugar or, of course, a vegan frosting! Vegan frosting is just as easy to make at home as regular frostings (and just as full of sugar, too!). Here are a few recipes to try:
Our professional vegan sponge cake mix can be used to make perfectly baked cakes, cupcakes, muffins, loaf cakes, and tray bakes! It tastes so delicious, it's hard to believe it's actually a mix that you simply add water and vegetable oil to and not home baked!
The cake mix is available in 500g and 1kg bags – see our quantity guide below for how much cake mix you will need for different size cakes etc.
For this 8″ sponge cake we used:
180ml vegetable oil
Fresh raspberries or strawberries
Step One
Preheat the oven to Gas 2 / 150'C and prepare two 8″ tins or sandwich pans by lining with greaseproof paper or spread over with Release-A-Cake to stop the cakes sticking. If you do not have 2 tins, cook one after the other!
Step Two
Put the cake mix, water and oil into a large mixing bowl and mix on a medium setting for approximately 3 minutes.
Step Three
Pour the mix evenly between the two tins and cover each tin with tin foil. This will keep the cake extra moist and help the cakes to rise evenly.
Step Four
Start checking the cakes after 30 mins. If the top of the cake has no wobble, insert a skewer or cake tester into the middle – if it comes out clean, the cake is cooked. If not continue baking checking every 5-10 minutes. The deeper the cake, the longer it will take to cook!
Step Five
When baked, leave to cool for a while then remove from the tin and leave to continue cooling. When completely cool the cake can be decorated or tightly wrapped in clingfilm for decorating at a later date.
Step Six
Use a sharp knife or cake leveller to slice the cake in half and wash and dry enough fresh raspberries to layer inside the cake and decorate the top. Follow the recipe below for creamy vegan frosting which can be layered inside the cake and across the top.
Vegan Vanilla Frosting
We love this smooth and creamy vanilla frosting recipe, it's very quick and easy to make and is perfect for spreading on cakes, cupcakes, brownies and cookies! Just make sure when you are buying the ingredients that they are vegan friendly!
We used
50g vegan butter
450g icing sugar
60 ml unsweetened almond milk
Step One
Put the vegan butter, icing sugar and approximately half the almond milk into a mixing bowl and start mixing with a wooden spoon to incorporate all the ingredients to stop the icing sugar going everywhere!
Step Two
Continue mixing with an electric mixer. Starting on slow, gradually increase the speed, adding the rest of the almond milk and a few drops of vanilla essence or flavouring until the frosting is smooth and the consistency is thick but easily spreadable. Depending on the vegan butter used, you may have to use slightly less almond milk to achieve a thick consistency – you can always add a little more icing sugar if the frosting is too runny!
Chocolate Frosting
To create a delicious chocolate frosting, follow the recipe above adding approximately 4 tablespoons of vegan cocoa powder.
Quantity Guide For Vegan Sponge Cake Mix
This is an approximate guide for 3″ deep round cakes.
Cupcakes & loaf pans
2lb / large loaf pan 500g
15 cupcakes or 12 large muffins 500g
Check out our vegan chocolate cake mix that is just as delicious and simple to bake!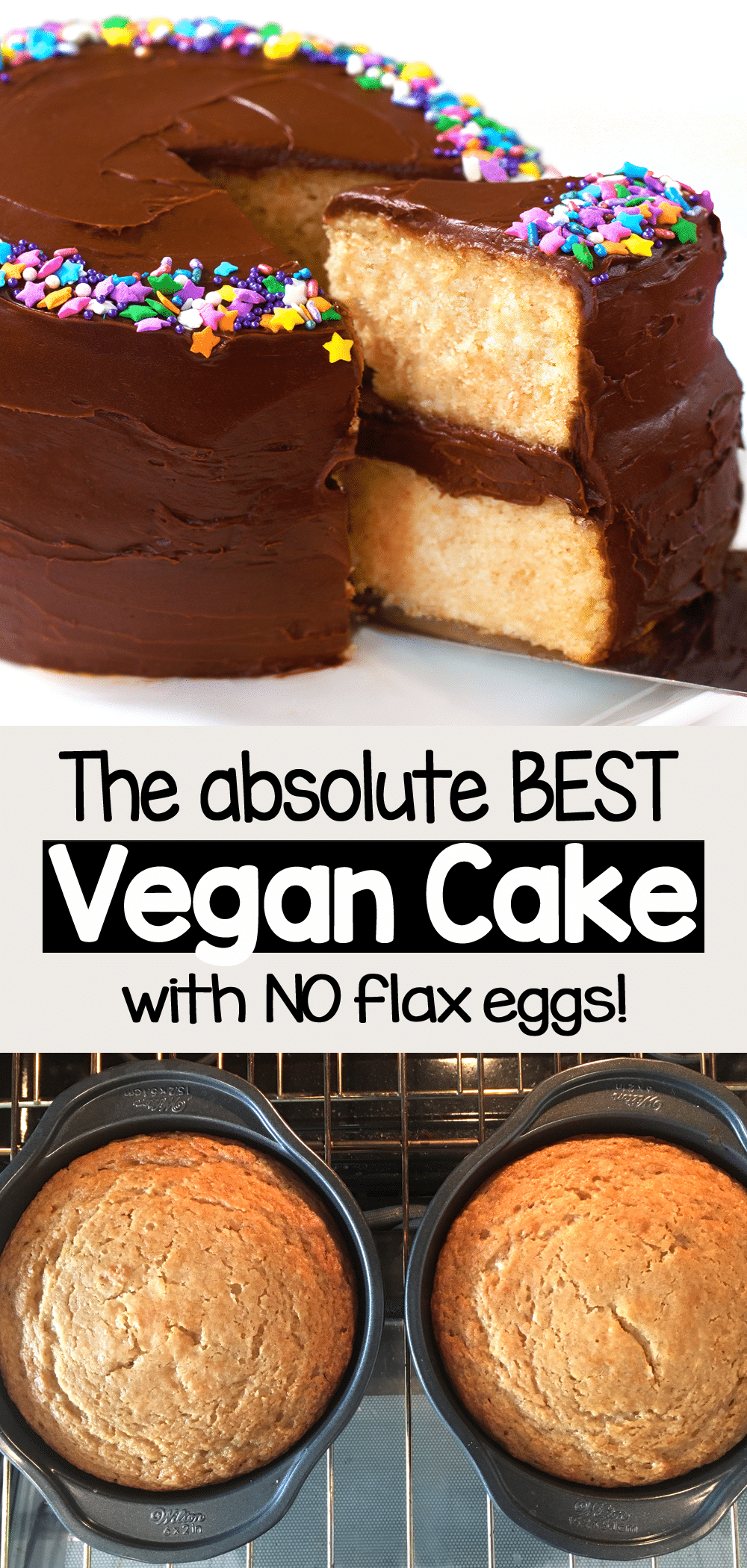 How to make the best easy vegan cake from scratch, with absolutely NO eggs, no milk, and no butter!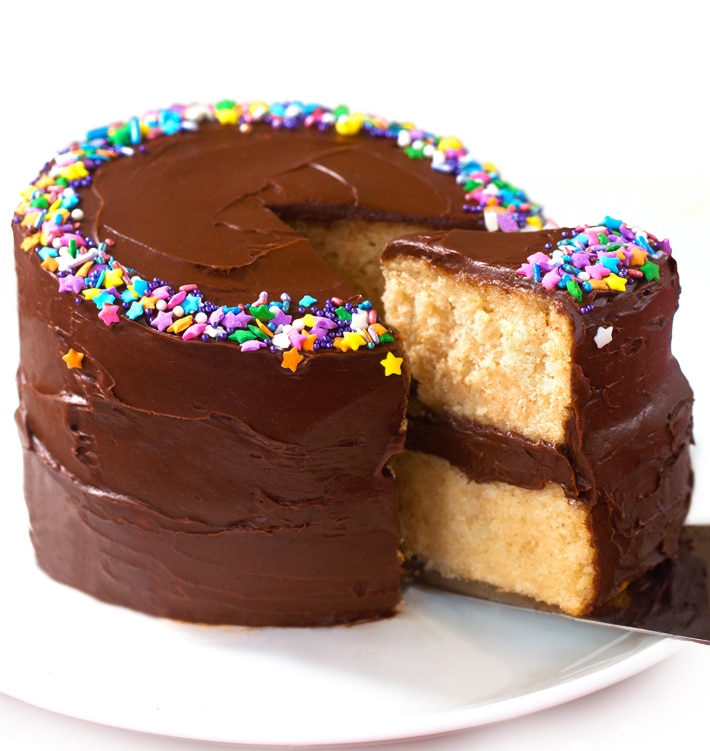 This is my go-to vegan vanilla cake recipe.
It's a perfect choice for holidays, birthday parties, or any occasion at all.
Just one taste of the ultra soft and fluffy homemade cake, and you will never go back to boxed cake mix ever again.
The recipe can hold its own against any classic nonvegan vanilla cake, because it's made with only traditional ingredients – no chia or flax eggs, no tofu, no beans or chickpeas, and no fancy expensive flours.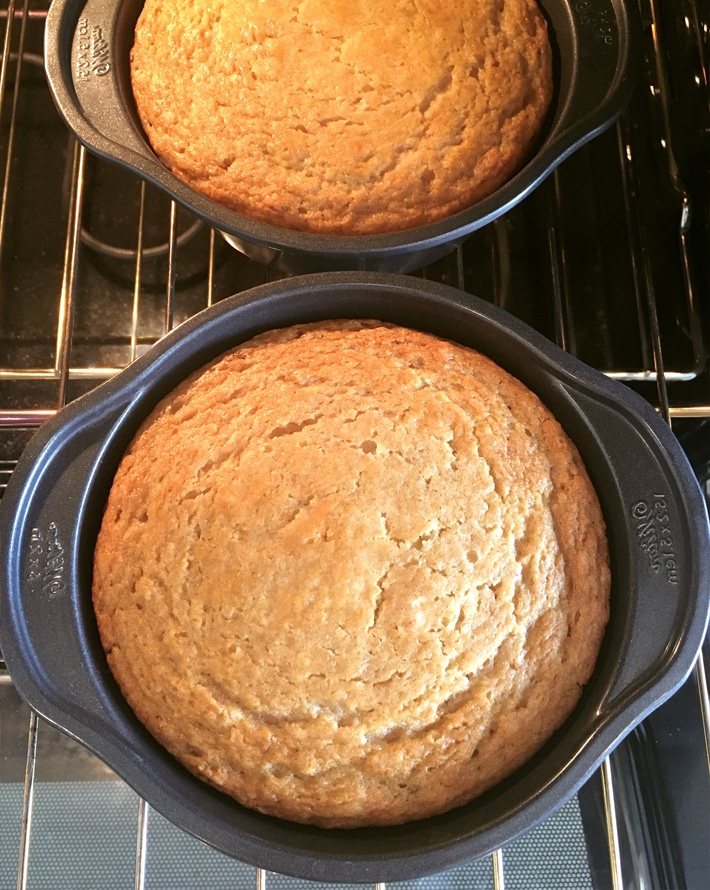 Not only is it easy to make a cake without any eggs or milk, vegan birthday cake can taste so light, fluffy, and delicious that you might even find yourself choosing this vegan recipe as your new go-to cake recipe…
Even if you're not a vegan!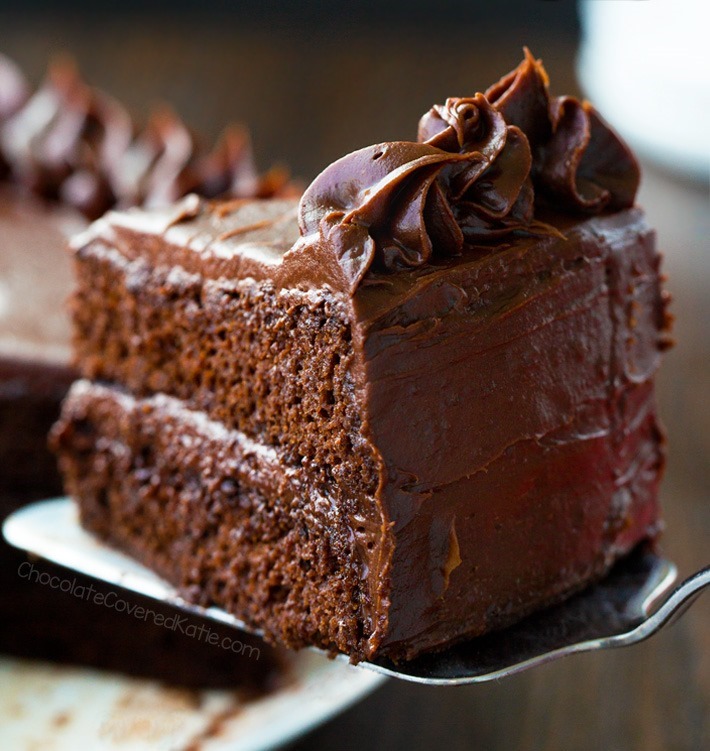 Vegan Cake Recipes
You can also add 1/2 cup of sprinkles to the basic cake recipe below for a kid friendly rainbow vegan funfetti cake.
Or stir 1 tsp of coconut extract and a handful of shredded coconut into the batter, then frost with coconut icing for a vegan coconut cake.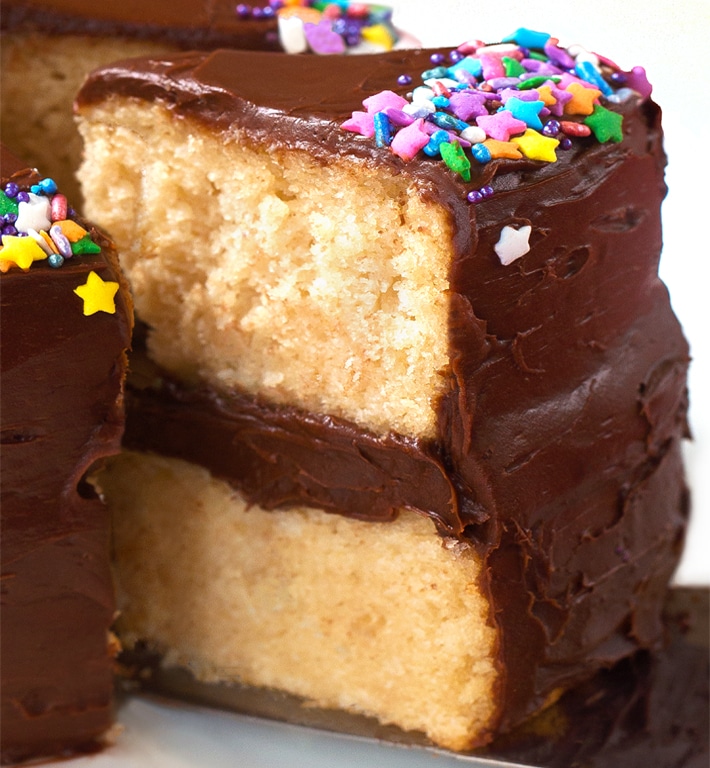 How to make vegan cake
Start by gathering all of the ingredients.
Preheat your oven to 350 degrees Fahrenheit, and grease two 8-inch pans or one 9×13 pan, then set the pans aside while you make the batter.
Combine the nondairy milk, vinegar, oil, and pure vanilla extract in a large mixing bowl, and let this sit for at least ten minutes.
Stir together the flour, sugar, salt, and baking powder in a new bowl. (For a one bowl cake, you can add the dry ingredients to the first bowl if you prefer. Just be sure to do this after letting the liquid mixture sit.)
Pour dry into wet, and stir just until evenly mixed. Overmixing cakes can activate the gluten too much and thus result in tough or chewy baked goods.
Transfer the batter to the prepared pan or pans, and bake on the oven's center rack for 30 minutes or until the cakes have risen and a toothpick inserted into the center comes out mostly clean.
You may also like this Vegan Pizza – just 4 ingredients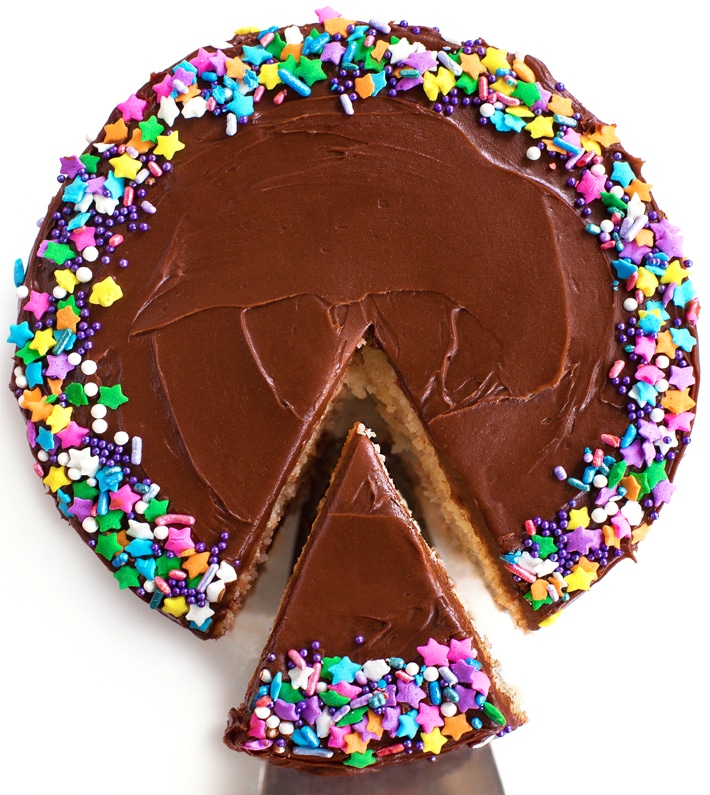 Eggless Cake
Even if you're not a vegan, knowing how to make a cake without eggs is a good idea for so many reasons:
If you need to make dessert but don't have any eggs on hand.
When you're baking for a friend or family member with an egg allergy or someone who's watching their cholesterol.
For those times when you want to bake a cake and eat spoonfuls of the cake batter as you work.
After all, who doesn't love cake batter?!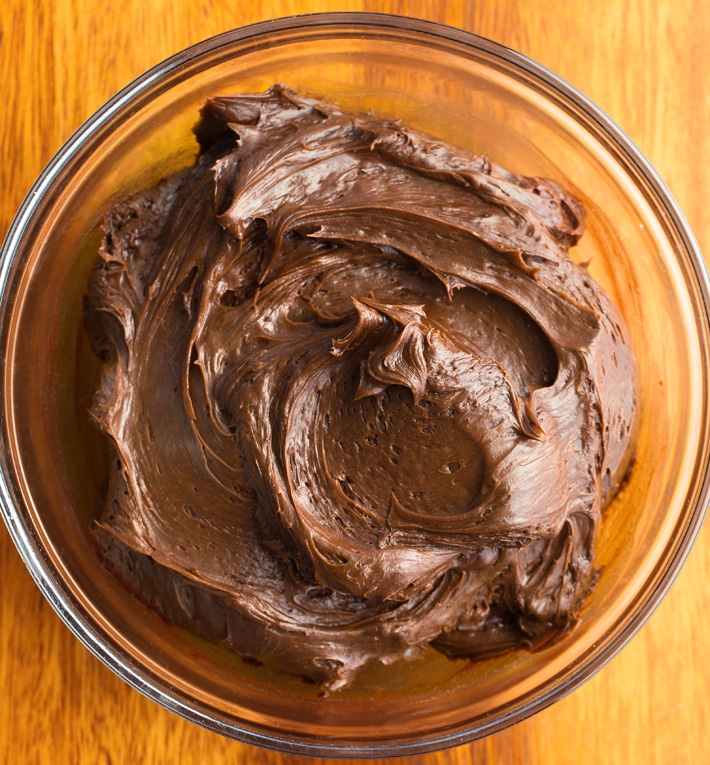 Frosting Ideas
There are so many ways you can frost a vegan white cake, including Healthy Chocolate Frosting, raspberry jam, powdered sugar, chocolate chips, or chocolate ganache.
Or top it with fresh fruit and Coconut Whipped Cream.
Surprisingly, many store-bought icings are accidentally vegan, including some flavors from both Duncan Hines and Pillsbury.
To make an easy homemade vegan cream cheese frosting, simply whip together 8 oz store-bought or homemade Vegan Cream Cheese with 4 oz vegan butter, 2 cups powdered sugar, and 1 tsp pure vanilla extract.
For the cake in the photos, I used my Chocolate Cream Cheese Frosting
Above, watch the vegan layer cake recipe video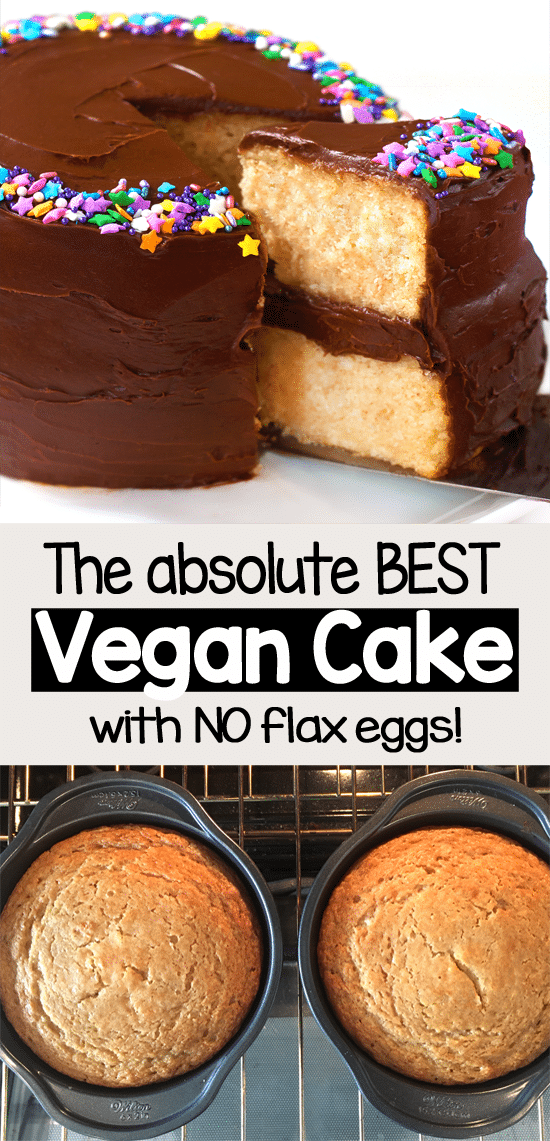 The recipe was adapted from these Vegan Chocolate Cupcakes.
Author: Rachel Smith
Celebrate every birthday (or special occasion) with one of these magnificent vegan birthday cake recipes that are guaranteed to get the party started!
Birthdays are a time for indulgence and few things are more decadent than a vegan layer cake filled with buttercream and piled high with toppings.
Whether you have a birthday coming up or you're looking to bake a cake for someone special, you'll find everything from fruity vegan cakes adorned with fresh fruit to spectacularly rich chocolate cakes oozing with caramel.
You'll find it hard to choose just one when it comes to these stylish vegan birthday cake recipes!
1. Vegan Piñata Cake Recipe
This spectacular vegan piñata cake is just begging to be cut into! This impressive cake features four layers of chocolate cake with a sweet surprise inside and is guaranteed to be the star of the show!
ADVERTISEMENT
2. Vegan White Chocoholic Mud Cake with Buttercream and Raspberries
Is there a more heavenly combination than sweet white chocolate paired with tart raspberries? We think not! They come together in all their glory in this stylish vegan birthday cake recipe.
3. Vegan Raspberry & Lemon Cake Recipe
If your birthday falls in summer then this vibrant cake is sure to wow! Three layers of fluffy, moist and zesty lemon sponges are separated with layers of luscious vegan frosting and a refreshing vegan lemon curd all topped off with fresh raspberries. The colours alone will stop you in your tracks!
4. Vegan S'Mores Cake
Whether you celebrate your birthday in autumn or if you just love the heavenly combination of marshmallows and chocolate, this stunning cake is a must-make!
This baked masterpiece features three layers of rich chocolate cake with biscuit crumbs, a smooth vanilla buttercream, topped with a chocolate ganache drip and toasted marshmallows. It's a good thing it's large as you'll be asking for s'more after the first taste!
5. Chocolate Caramel Popcorn Cake
This drool-worthy cake is a real crowd-pleaser and is a classic flavour combination that will please the palates of both young and old alike!
The cake is a chocolate sponge made in four layers, sandwiched and frosted with caramel-infused buttercream. As if that wasn't enough, it's drizzled with extra caramel and decorated with toffee popcorn. It's unbelievably delicious.
Published: Feb 20, 2019 · Modified: Apr 19, 2022 by Kate Hackworthy · This post may contain affiliate links ·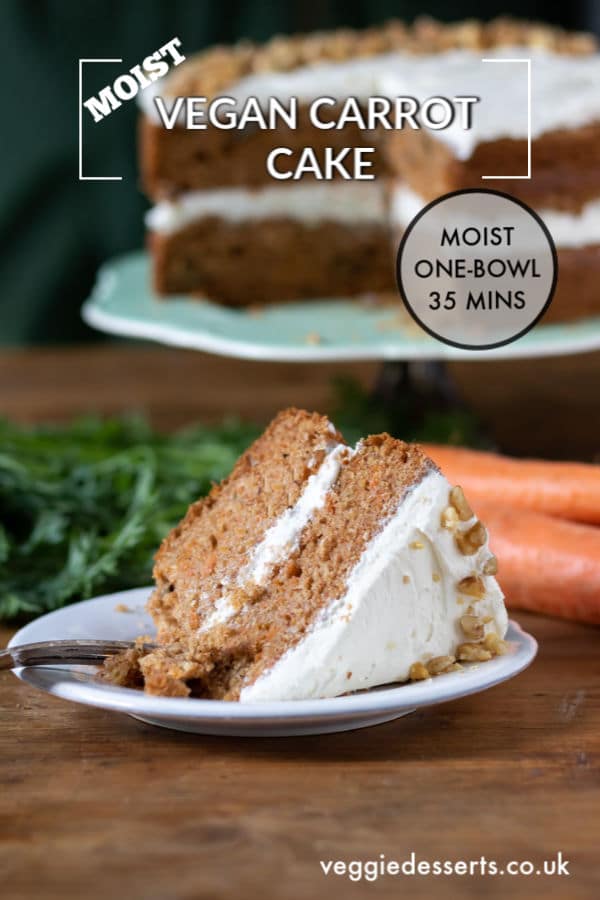 This 1-bowl vegan carrot cake is insanely delicious! It's moist, flavourful, fluffy and also super easy to make in just 35 minutes. Seriously, nobody will guess that it's vegan.
Moist vegan carrot cake
Looking for a Vegan Carrot Cake? You've come to the right place! This one has been a hit time and time again.
Carrots make cakes so wonderfully moist. And the same is definitely true for this dairy-free carrot cake.
It's got that classic moist texture and unmistakable carrot cake taste, but it's vegan.
My husband's favourite cake is most definitely carrot cake and it's the one that he requests for birthdays.
So I made this one into a two layer easy carrot cake. It's a perfect vegan birthday cake or for any celebration.
Today the sun was shining and it felt almost warm outside.
The February chill faded for a few blissful hours and I walked through the park and saw colorful bulbs starting to break through the ground as if looking for the sunshine.
It feels like Spring is finally coming, so it is the perfect time to make a carrot cake.
Reader Testimonials
⭐⭐⭐⭐⭐ "This is a beautiful carrot cake, turned out perfect. Was intending to slice it and freeze it for myself but all my non vegan family ate it and didn't know it was vegan, thank you." – Michele
⭐⭐⭐⭐⭐ "Fantastic! Big thumbs up from the vegans and non vegans alike." – Alyson
⭐⭐⭐⭐⭐ "This carrot cake is stunning! Love that it's vegan and I'm soooooo in love with your vegan cream cheese frosting!" – Sherri
⭐⭐⭐⭐⭐ "This recipe was awesome with your vegan cream cheese frosting! It was the perfect match, thank you for your vegan recipes! " – Noelle
The Best Vegan Carrot Cake
I'm obviously a huge fan of a good vegetable cake, so I adore carrot cake.
It's one of those cakes that people like in slightly different ways, so feel free to adapt it.
This one is really moist with a soft texture, but it's not soggy (like some carrot cakes can be).
This one stands up to having layers, while still having a soft moist crumb.
If you like it with raisins, go ahead and add some in.
Not a fan of walnuts? Leave them out of substitute for pecans, pistachios or any other nuts.
If you like the cake to be fully frosted, then double the batch of frosting and smooth it around the sides of the cake.
This is my perfect vegan carrot cake, and I hope it will be yours too.
The perfect topping is my quick vegan cream cheese frosting, though you could also opt for vegan vanilla frosting or vegan lemon frosting. Both work beautifully with this cake.
When you add the dry ingredients, be sure to combine it all, but don't over mix.
You can grate the carrots by hand, or use a food processor.
This is an eggless carrot cake.
Additions
If you like raisins in your carrot cake, add in a handful. Dried cranberries are great, too!
If you don't like walnuts, swap them for different nuts or leave them out altogether.
Storage Tips
Keep this vegan carrot cake in an airtight container (or wrapped) at room temperature on a kitchen counter for up to 4 days
Alternatively, keep it covered in the fridge for up to 7 days.
If you've used my vegan cream cheese frosting it will need to be kept in the fridge (for up to 4 days).
You can freeze this cake for up to 3 months. Just wrap the cake layers well. It can't be frozen if it has been frosted.
Vegan Cake Recipes
Looking for more vegan cake recipes? Try these!
vegan chocolate cake
vegan vanilla cake
lemon cake vegan
Vegan Pumpkin Cake
Black Forest cake (vegan)
vegan Victoria sponge
red velvet vegan cupcakes
vegan chocolate cupcakes
vegan kale cake (yes, I just said kale. This is a carrot cake, so consider it your gateway vegetable cake and try some of my wackier vegetable cakes too!)
Step by step tutorial
I know some people think making a cake is a hassle. But I promise you, this one is super easy.
You just need to mix it up in one bowl (less dishes to wash, yay!), pour it into pans and bake.
While it's baking, whip up a batch of frosting and soon you'll have a moist, fluffy and delicious vegan carrot cake.
Here are the step by step instructions in pictures.
Scroll down for the full instructions in the recipe card.
1: Add the oil, sugar and vanilla to a large bowl.
2: Whisk together for a few minutes until the sugar starts to dissolve.
3: Stir in the milk.
4: Sift in the flour, baking powder, baking soda, spices and salt and gently combine.
5: Stir in the walnuts and grated carrot.
6: Pour into the cake tins and bake for 25 minutes or until an inserted toothpick or knife comes out clean. Allow to cool, then turn out onto a wire rack to cool completely.
Did you make this recipe? Please let me know how it turned out for you!
Leave a comment and star rating below and share a picture on Instagram, Twitter or Facebook with the hashtag #veggiedesserts.
Thanks for checking out my recipe! I love hearing from my readers. You all allow me to do what I love and write this food blog, sharing vegetarian recipes, vegan recipes, vegetable cake recipes, vegan cake and also easy vegan desserts.
Kate x
Baking a vegan cake doesn't have to be complicated. In fact, the cake doesn't even need to be made from scratch! Tons of plant-based cake mixes can easily be prepared without dairy or eggs and with little time and money! Here are a few tips for veganizing your favorite boxed cake mix:
Skip the Eggs
Countless egg replacers can be found at practically any grocer, including whole foods like chia seeds, flax meal, banana, and applesauce, as well as branded products like Ener-G Egg Replacer or Bob's Red Mill Egg Replacer.
Here's a quick guide: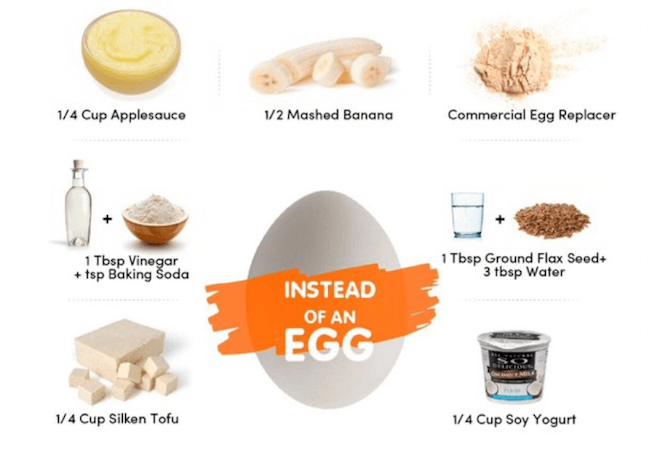 Ditch the Dairy
Look for mixes that call for oil (rather than butter), and be sure that your mix is dairy-free. If the recipe calls for milk, try your favorite dairy-free variety, and consider using an unsweetened vegan milk to avoid making the recipe too sweet.
Try Soda
Yes, you read that right. Rather than adding vegan milk or oil, choose a can of your favorite soda pop! This will act as an egg replacer, making a delicious fluffy cake with minimum ingredients!
Find Your Favorites
The varieties available at grocery stores are virtually endless, from Betty Crocker to Duncan Hines! Here are a few of our favorite plant-based cake mixes:
Betty Crocker Super Moist French Vanilla
Duncan Hines Signature German Chocolate
Pillsbury Girl Scouts Thin Mints
Duncan Hines Decadent Carrot Cake
Pillsbury Moist Supreme Strawberry Flavored Premium
Betty Crocker Super Moist Chocolate Fudge
Don't Forget the Frosting
From double chocolate to creamy vanilla, several big-name brands offer frostings that are vegan too!
—
Inspired to make a cake from scratch? Here is a list of amazing vegan cake recipes that are so good you'll be able to open your own vegan bakery!
Published: May 13, 2018 · Modified: Jul 14, 2020 by Sina · This post may contain affiliate links · 1 Comment
If you're looking for vegan cake recipes, you will LOVE this roundup of 28 drool-worthy vegan cake recipes! Vegan baking is so much easier than you think!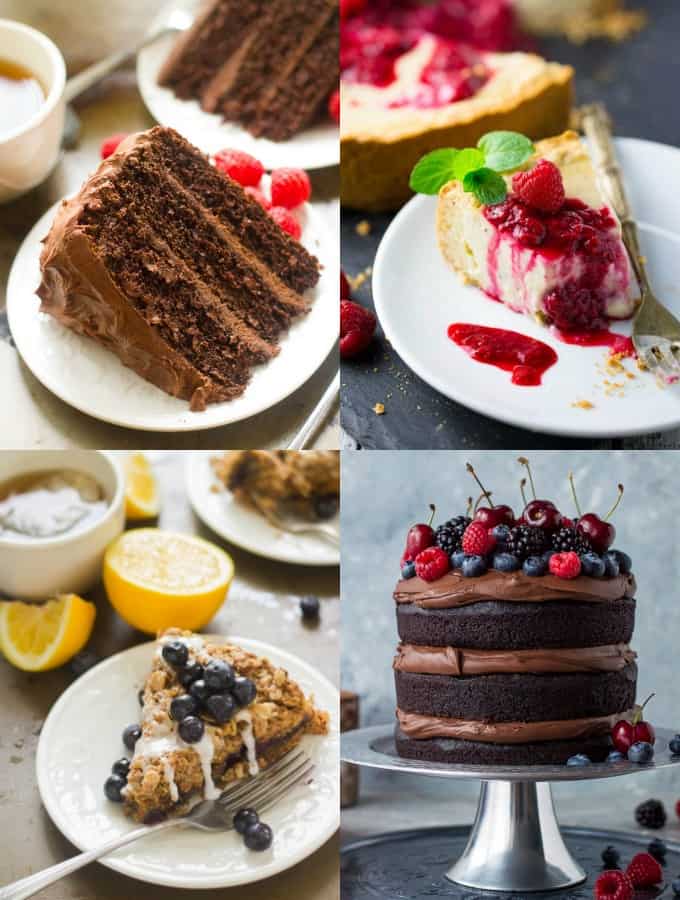 Can vegans eat cake?
I've heard this question so many times! While traditional cakes usually contain eggs and dairy and are, thus, not vegan, it's super easy to make vegan cakes! Vegan baking is so much easier than a lot of people think. There are many different ways to substitute dairy and eggs in baked goods.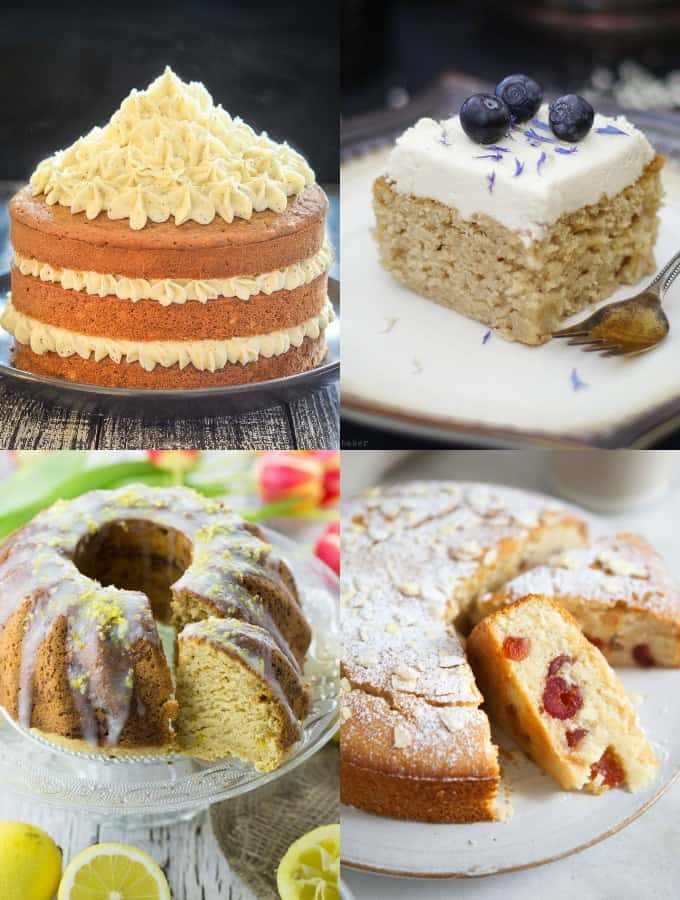 How to Make Vegan Cakes
If you want to make a vegan cake, you can't use any eggs or dairy products. So no milk, cream, or yogurt. But don't worry! There are tons of plant-based milk alternatives and many ways to substitute eggs.
You can even veganize old cake recipes if you just substitute a couple of the ingredients. I've done that so many times and it always worked out pretty well!
What to use as a substitute for milk in a vegan cake:
Instead of cow's milk, you can just use plant-based milk alternatives such as almond milk, soy milk, oat milk, or even rice milk.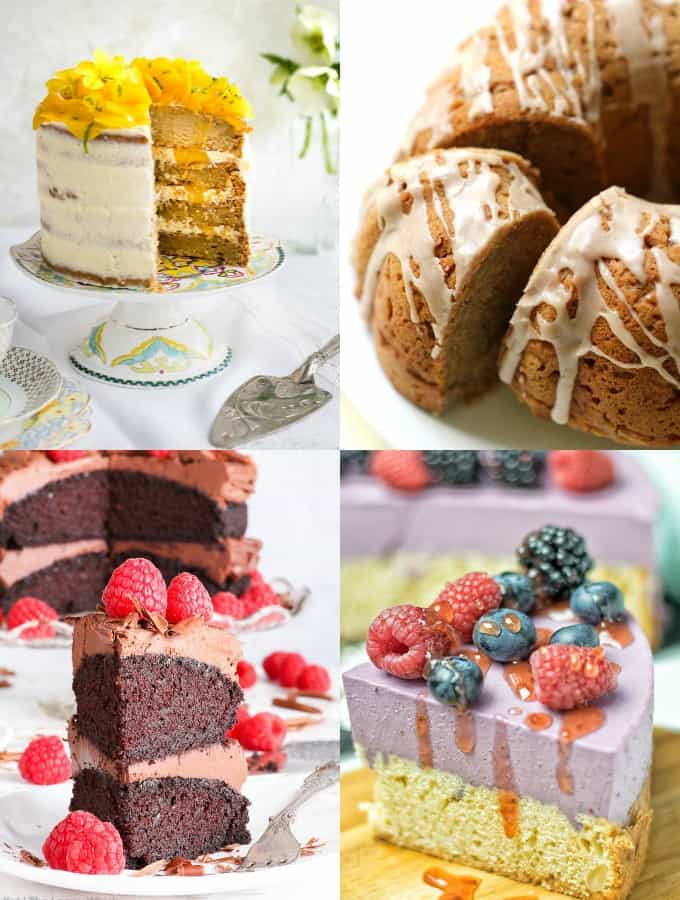 What to use as a substitute for eggs in a vegan cake:
You can for example use applesauce, flaxseeds, or mashed bananas instead of eggs. This might sound a bit weird if you're new to vegan baking, but it's amazing how well this works!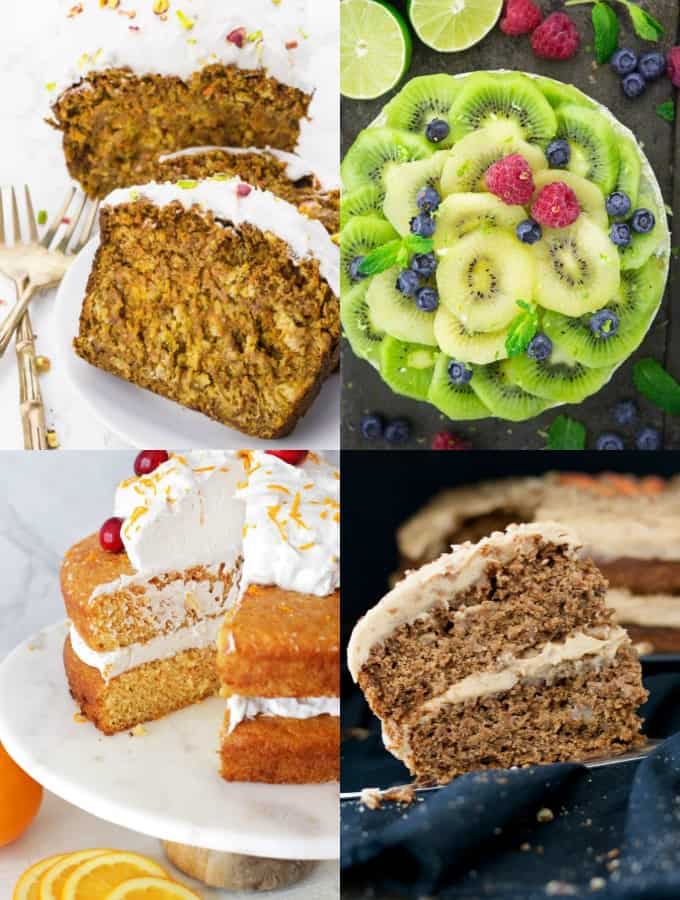 These are my favorite vegan substitutes for eggs:
Mashed Banana – I love using mashed bananas for cookies, muffins, and brownies. I usually add about 1/2 cup of mashed bananas. Make sure the banana you use is very ripe!
Flaxseeds – Soaked flaxseeds, also called flax eggs, are probably the vegan egg substitute I use the most. You can use them for all kind of baked good: vegan brownies, cakes, cookies, and even pancakes. For a flax egg, combine 1 tablespoon of ground flaxseeds with 3 tablespoons of water and let it sit for 5 minutes.
Applesauce – Applesauce is a great egg substitute for vegan cakes and muffins! I usually use 1/4 cup of unsweetened apple sauce.
Chia Seeds – Chia seeds as an egg substitute work similar to flaxseeds. Use the same ratio as the flaxseed mix.
Pumpkin Puree – I love using pumpkin puree for all fall-inspired recipes with cinnamon and nutmeg. 1/4 cup of pumpkin puree can substitute one egg.
To provide you with a list of delicious vegan cake recipes, I teamed up with some fellow food bloggers. Don't these vegan cakes all look AMAZING?!
As always, click on the link underneath each photo to see the recipes.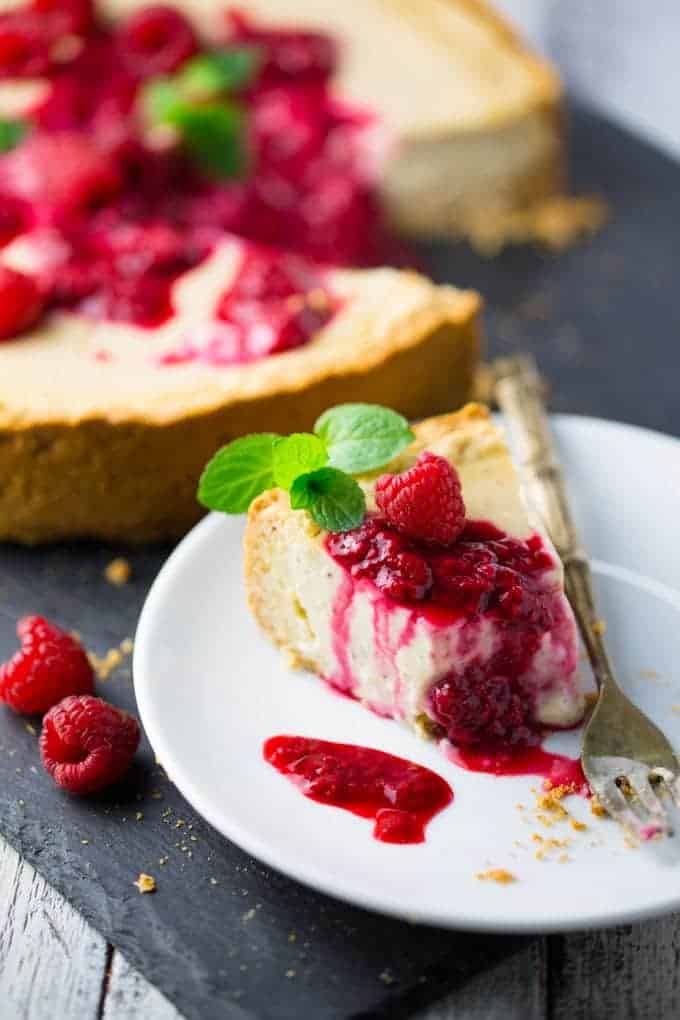 Chocolate Mocha Layer Cake by Alissa from Connoisseurus Veg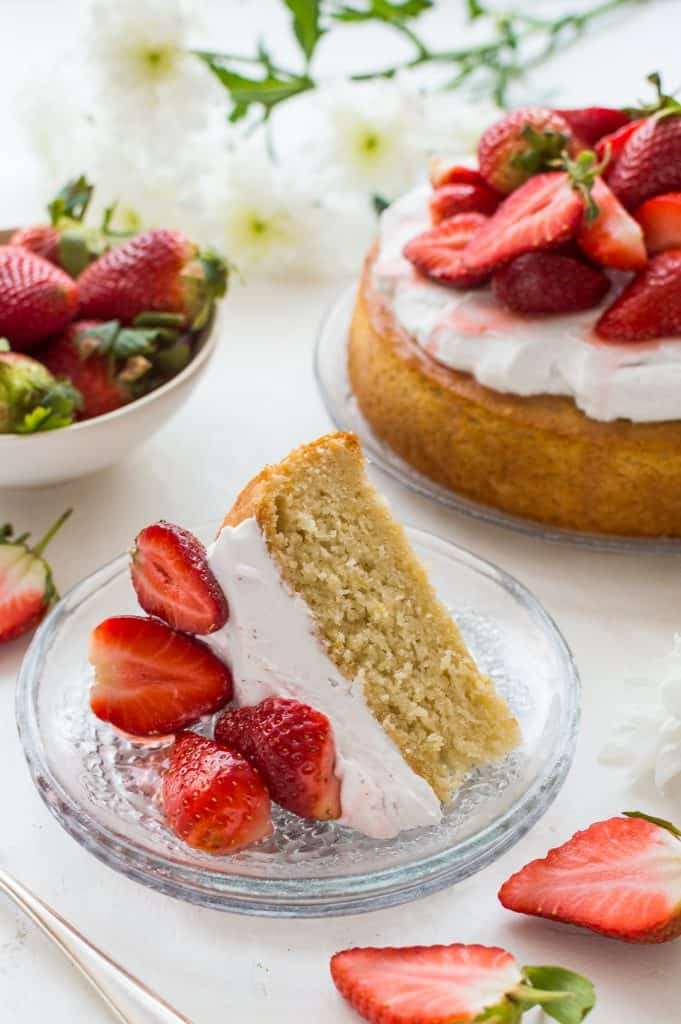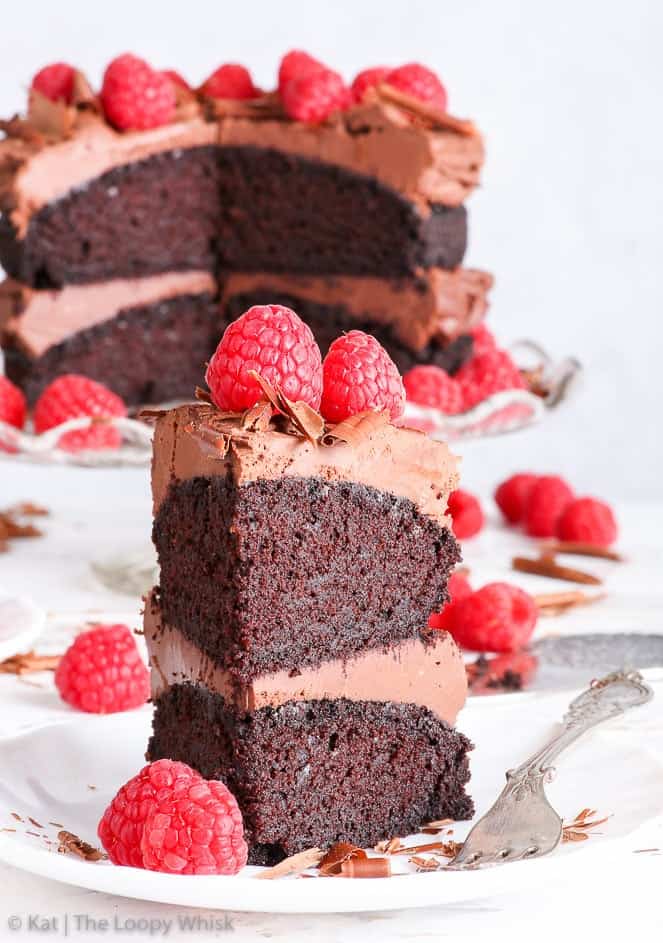 Lemon Blueberry Coffee Cake by Alissa from Connoisseurus Veg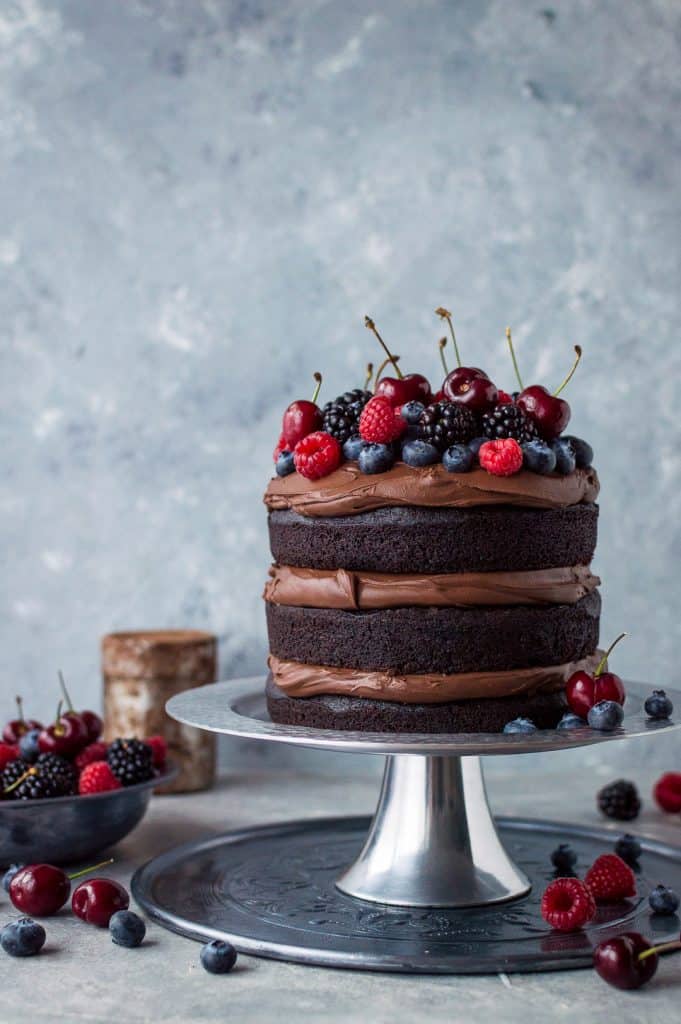 Vegan Chocolate Fudge Cake by Hannah from Domestic Gothess
Classic Cashew Vanilla Birthday Cake by Audrey from Unconventional Baker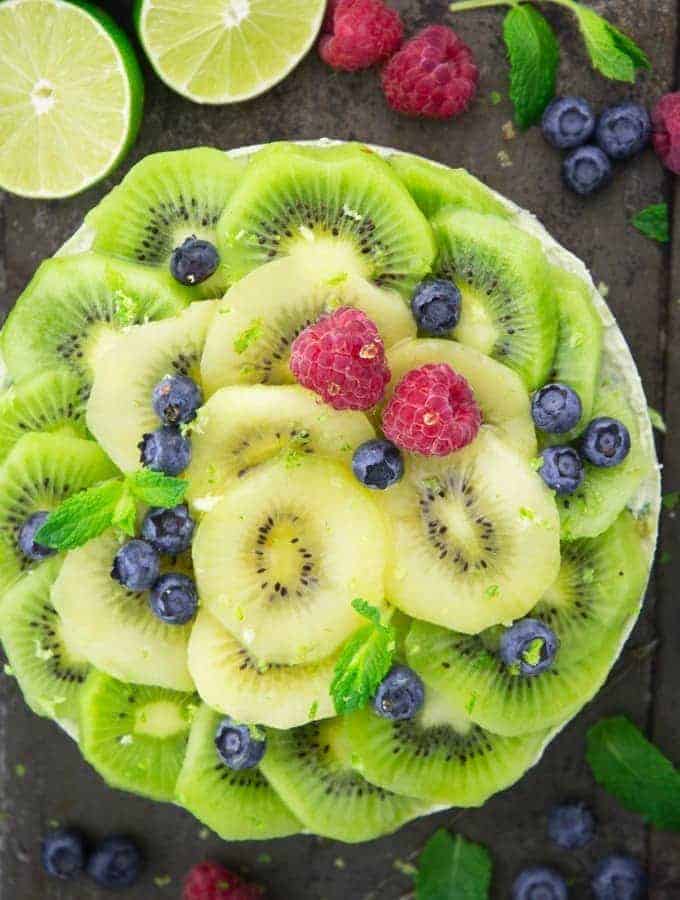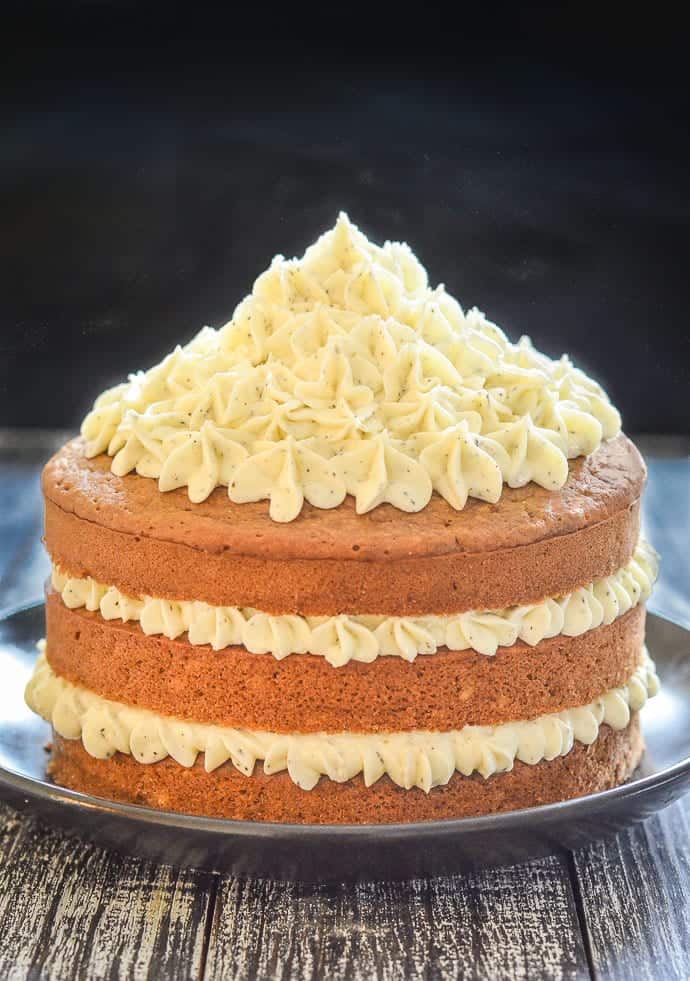 Chery and Almond Cake by Stacey from Goodness is Gorgeous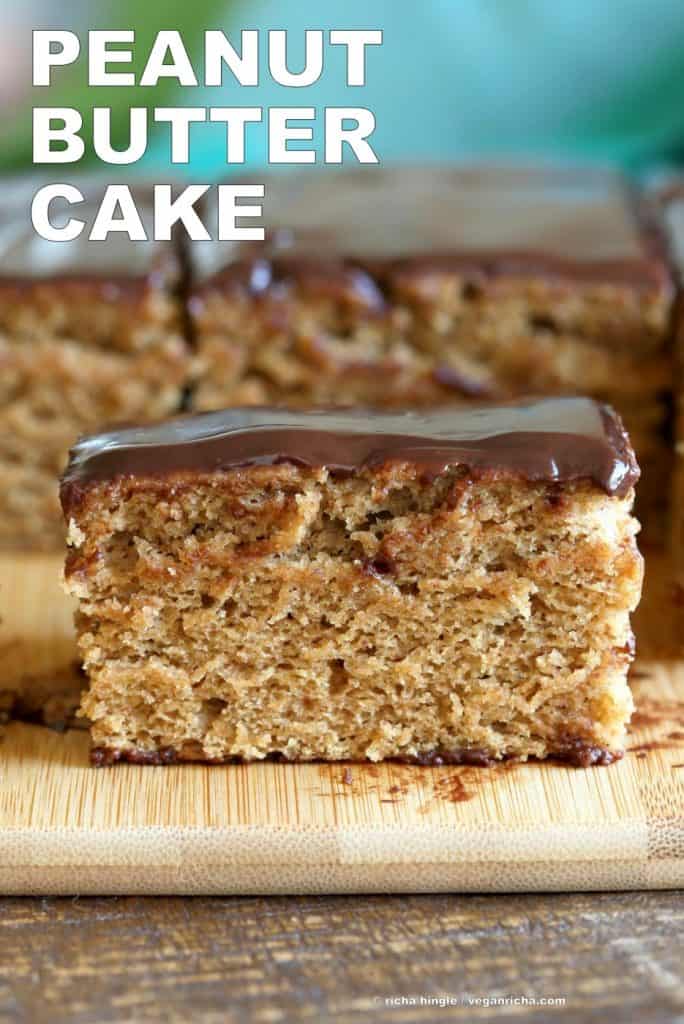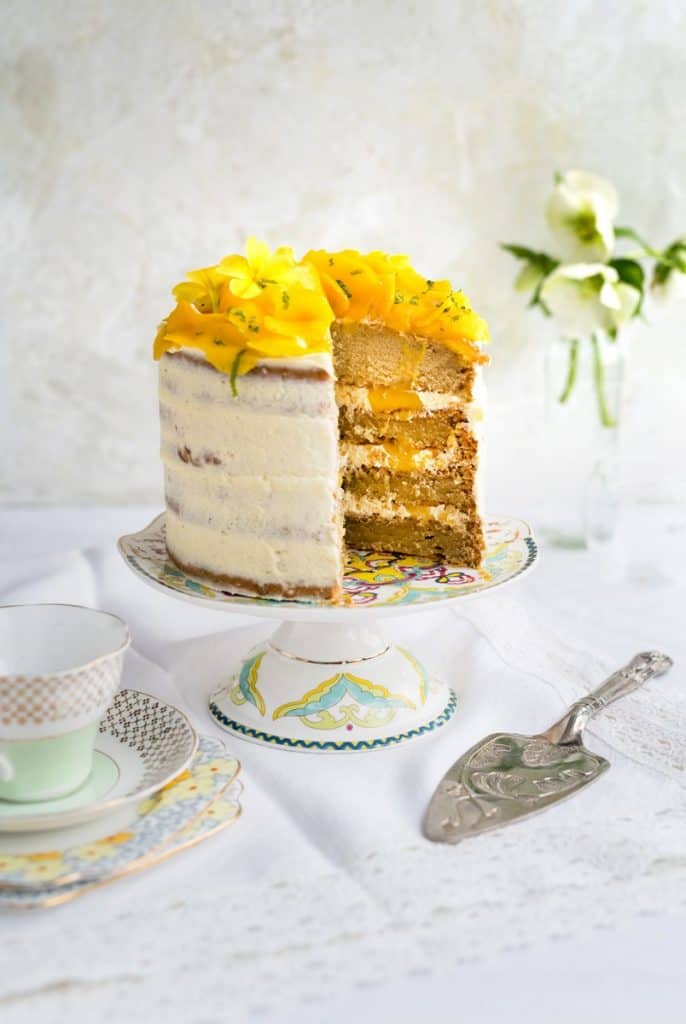 Vegan Tropical Celebration Cake by Lucy from Super Golden Bakes
Gluten-Free Vegan Tiramisu by Audrey from Unconventional Baker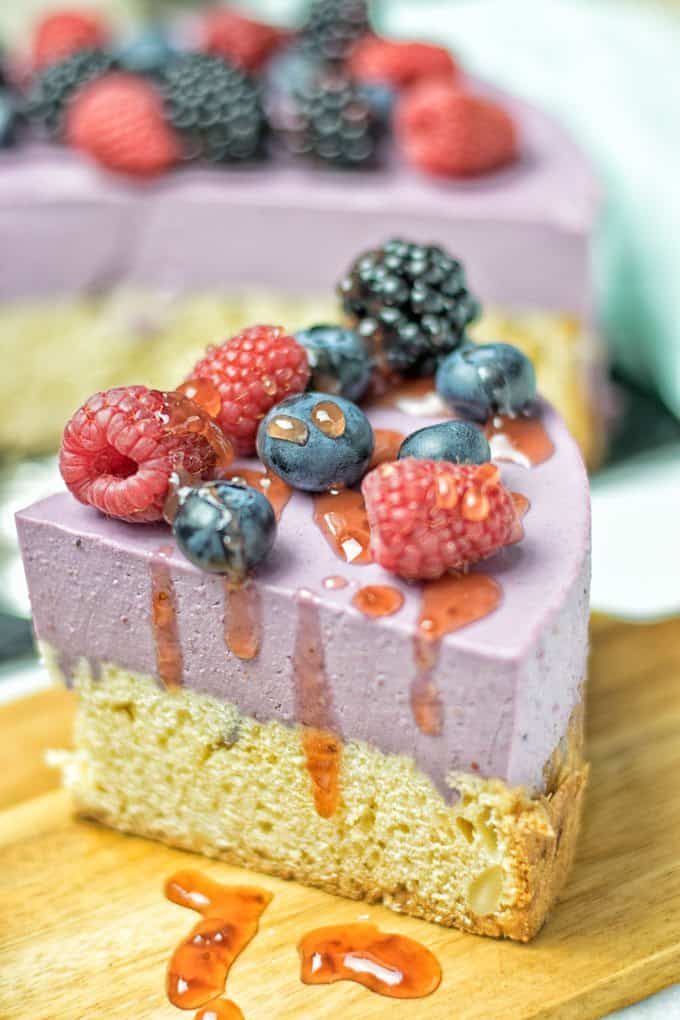 Berry Smoothie Yoghurt Cake by Florian from Contentedness Cooking
Peanut Butter Carrot Cake by Sophia from Veggies Don't Bite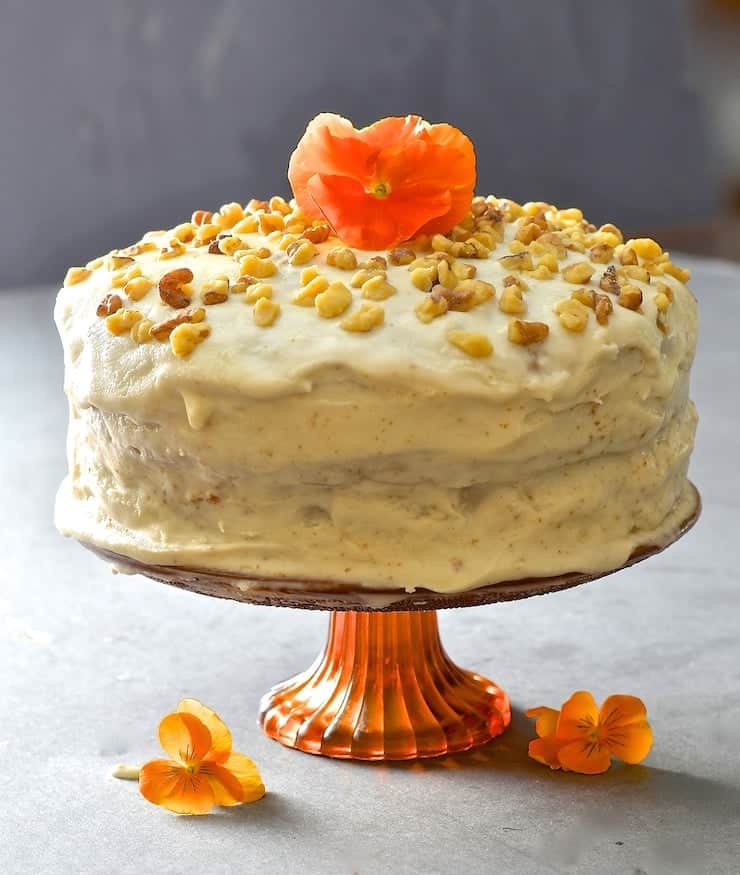 Maple Walnut Cake by Melanie from A Virtual Vegan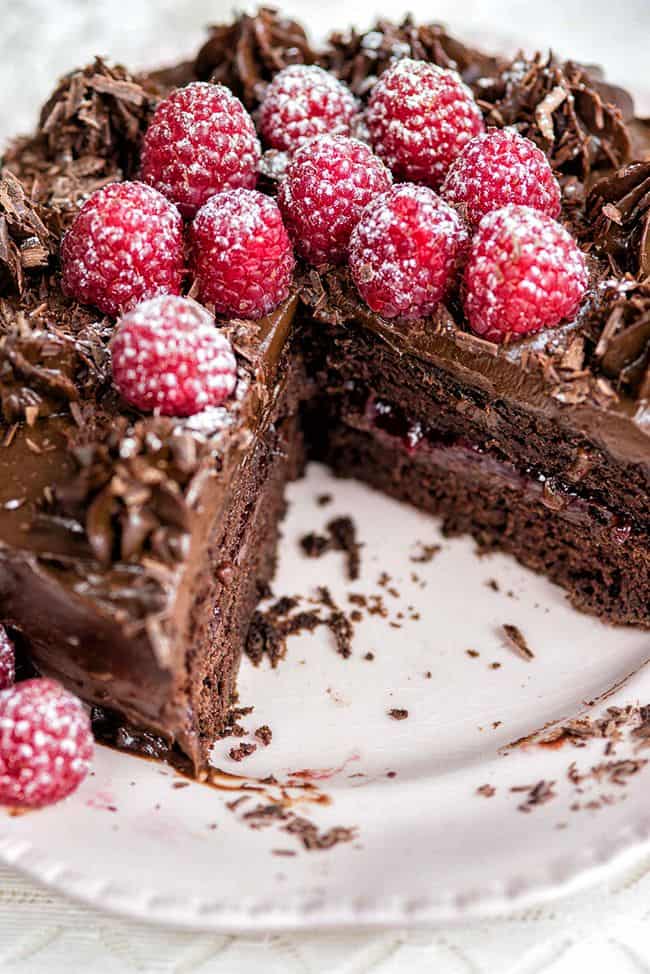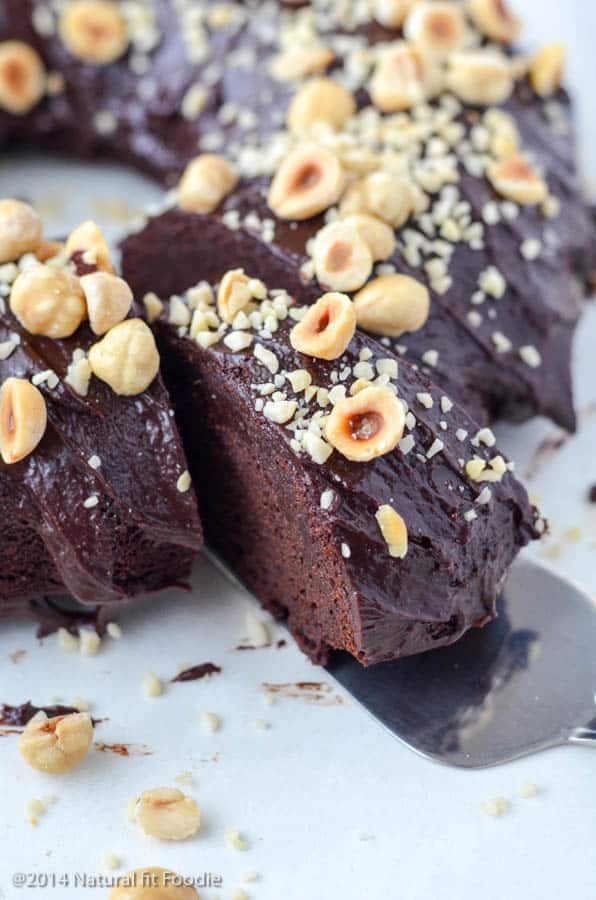 Hazelnut Chocolate Zucchini Cake by Krystal from Natural Fit Foodie
Plum Cinnamon Streusel Cake by Bianca from Elephantastic Vegan
Published: Jun 19, 2020 · Updated: Jul 5, 2021 · by Nicole · This post may contain affiliate links.
This decadent Vegan Birthday Cake is perfect for any special occasion. Made with ingredients you can find in your pantry, this dessert is super simple. Finish off your cake with a homemade vegan buttercream frosting, and you have one perfect treat!
Table of contents
How to Make Vegan Birthday Cake
Tips & Tricks for Vegan Birthday Cake

Storage
Reheating
Use A Frosting Smoother

Variations to Vegan Birthday Cake
Vegan Birthday Cake FAQs

Why is my vegan cake rubbery?
How do I apply the sprinkles?

More Vegan Cake Recipes
I am a lover of all things cake and vegan desserts in general. There's just something about that perfectly soft center paired with that super sweet vegan buttercream frosting that hits the spot.
One of my favorite vegan cakes is this vegan carrot cake with dairy-free cream cheese frosting. But don't ask me to tell you my favorite cake of all time. That's an impossible question that I would never be able to answer!
I enjoy whipping up one of these Vegan Birthday Cakes for all kinds of parties. They're especially nice for girl's night, a family gathering. or just because you want cake.
It's also super easy to customize this cake to fit any event or occasion. You can make the frosting whatever color you need and decorate the cake itself with any fun topping you can think of.
It's nice to have one go to, basic vegan cake recipe that you can use as a blank slate!
This Vegan Birthday Cake recipe is.
Vegan
Vegetarian
Low-sugar
Versatile
If you love vegan baking, make sure you grab a copy of my free vegan baking cheat sheet while you're here. It's packed with all my favorite plant-based substitutions to help you vegan-ize any recipe!
How to Make Vegan Birthday Cake
Full directions on how to make Vegan Birthday Cake are in the printable recipe card below.
Tips & Tricks for Vegan Birthday Cake
Storage
Leave the cake on the cake board and over it in plastic wrap to store in either the fridge or freezer. In the fridge, your cake will last 2 weeks. In the freezer, it will last 3 months.
If you're not storing your cake in the fridge or freezer, store it in a cake keeper in a cool, dry place.
Reheating
Do not reheat the cake once it's been cooled. Simply let the cake come to room temperature on its own. If the cake is reheated, the frosting will melt and make a mess—trust me.
Use A Frosting Smoother
If you want to get your frosting to spread more evenly, invest in a frosting smoother. It's a little tool you use to get the icing smooth and even. These frosting smoothers are usually $10 or less—and worth every penny when it comes to frosting a cake!
Variations to Vegan Birthday Cake
Use Different Colors
It's super easy to make the frosting a different color. Simply pick a gel food color and add a tiny bit to your frosting. Mix the gel into the frosting, and keep adding more a bit at a time until you reach your desired color.
Vegan Birthday Cake FAQs
Why is my vegan cake rubbery?
If your vegan cake is rubbery, it could be one of two things.
One—you undermixed the ingredients, causing them to not set up right when cooking.
Two—you used ingredients that were too cold. Strangely enough, the outcome of your recipe can even be affected by the temperature of your ingredients during mixing.
Be sure to use room temperature ingredients and mix them well. Use a hand mixer if necessary.
How do I apply the sprinkles?
The easiest way to apply the sprinkles is by simply putting some in your hand and press them up the sides. Yes, sprinkles will pretty much get everywhere, but that's part of the fun. Be sure to put the sprinkles on right after you frost the cake—before the frosting dries—or they won't stick. (If you're looking for vegan sprinkles, check these out!)
Let me know in the comments below if you loved this Vegan Birthday Cake as much as we did!
More Vegan Cake Recipes
Chocolate Quinoa Cake
Vegan Chocolate Cake
Vegan Carrot Cake
Vegan Red Velvet Cake
Vegan Vanilla Cake
And don't forget to grab a copy of my free vegan cheat sheet too! It's packed with my favorite easy substitutions to help you make just about any recipe vegan!
We've taken classic British cakes and made them vegan friendly. Our decadent chocolate cake, moist carrot cake and tangy lemon loaf are just as moist and moreish without the dairy
Looking for the ultimate vegan chocolate cake? Want a classic carrot cake without eggs or dairy? Try our epic vegan cake recipes from expert Richard Makin (aka School Night Vegan) and our in-house cookery team. Next, try our vegan baking recipes, vegan snacks and vegan comfort food recipes.
Want ideas for plant-based gifts? Check out our pick of the best vegan hampers.
We also have a dedicated section for healthy vegan recipes that are low in calories here. Or try our vegan dessert recipes, including vegan chocolate mousse and vegan apple crumble.
Best vegan cake recipes
Classic vegan carrot cake
This classic frosted carrot cake is made with a surprising (vegan) ingredient that guarantees a moist sponge every time.
Vegan chocolate layer cake
Decent espresso powder is the key to this luxurious vegan chocolate sponge, sandwiched together with indulgent (and butter-free) chocolate buttercream.
Simple vegan chocolate cheesecake
Make a smooth and creamy vegan cheesecake using a simple, shop-bought ingredient – silken tofu. Choose a good quality dark chocolate for the filling and use Oreos (yes, they're vegan!) for the base.
Vegan lemon loaf cake
A delicate, zingy vegan lemon cake made without eggs, milk or butter! The key to that lemony tang is a decent lemon extract (we use Nielsen-Massey).
Vegan banana cake
Use up left over bananas in our moist vegan loaf with tea-infused dried fruit and malt extract. Malt adds an extra nutty caramel taste to this moreish tea time treat.
Vegan brownies
Bake a batch of our decadent vegan chocolate brownies for an indulgent treat. Our unique recipe is super chocolaty so vegan and non-vegan friends and family will all love it! For our classic brownies and some fun twists, click here.
Vegan banana bread
This recipe is super moreish and easy to make, it goes perfectly with your morning tea. We have more fab banana bakes to try here.
Vegan lemon sheet cake
Use olive oil in place of butter and chia seeds instead of eggs in this beautiful grown-up take on a classic lemon cake. It makes for a much lighter (and totally vegan) bake.
Vegan chocolate cupcakes
Bake a batch of dairy-free cupcakes and top with a swirl of rich chocolate frosting for an afternoon vegan treat.
Vegan banana loaf
Oat milk, tahini and super-ripe bananas keep this egg-free, dairy-free banana bread moist and moreish.
Nutrition Facts (per serving)
147
Calories
6g
Fat
21g
Carbs
3g
Protein
×
Nutrition Facts
Servings: 16
Amount per serving
Calories
147
% Daily Value*
Total Fat 6g
8%
Saturated Fat 1g
6%
Cholesterol 0mg
0%
Sodium 47mg
2%
Total Carbohydrate 21g
8%
Dietary Fiber 0g
1%
Total Sugars 13g
Protein 3g
Vitamin C 0mg
0%
Calcium 26mg
2%
Iron 1mg
5%
Potassium 50mg
1%
*The % Daily Value (DV) tells you how much a nutrient in a food serving contributes to a daily diet. 2,000 calories a day is used for general nutrition advice.
If there's a basic American multipurpose cake, it's yellow cake mix. Sure, you can use a yellow cake mix from a box, but if you're a vegan, there are limited choices and you are better off making your own from scratch. This could be your go-to yellow cake recipe—a light and fluffy vegan yellow cake recipe.
This recipe uses vegan margarine, egg replacer, and soy milk instead of dairy and eggs. When selecting a margarine or vegan butter, make sure it is suitable for baking; some products are for spreading only. Commercial egg replacer comes in powder form and it's available in the baking aisle of the grocery store. Of all the plant milk alternatives, soy milk is the best for baking because it has the highest protein content, which makes the case rise. Also important: the high-protein content helps the cake brown nicely.
There are many different things you can do with a yellow cake, virtually any recipe that calls for a yellow cake mix works. Yellow cake with strawberry filling is a classic but you can also use other berries, such as blueberries, or a mix of summer berries for the filling. Many poke cakes such as strawberry poke cake or banana poke cake also use yellow cake.
For frosting, you can simply cover the entire cake with a vanilla or chocolate frosting. Or for special occasions and children's birthday, make it a layer cake. Double, or, for an extra tall cake, triple the recipe and bake two or three cakes, then fill them with your favorite frosting. Take your cues from any of these decorating ideas.
The possibilities of what you can do with yellow cake do not end here. Instead of using it as a cake, You can also use it in a parfait, in a trifle instead of sponge cake, or in a punch bowl cake.
If you have any leftovers, even if they are a bit dry, yellow cake crumbs make great cake pops.
This easy vegan vanilla cake is the perfect dessert for birthday parties, graduations, weddings or just because occasions. Nothing says happy like a soft and sweet vanilla cake and creamy frosting!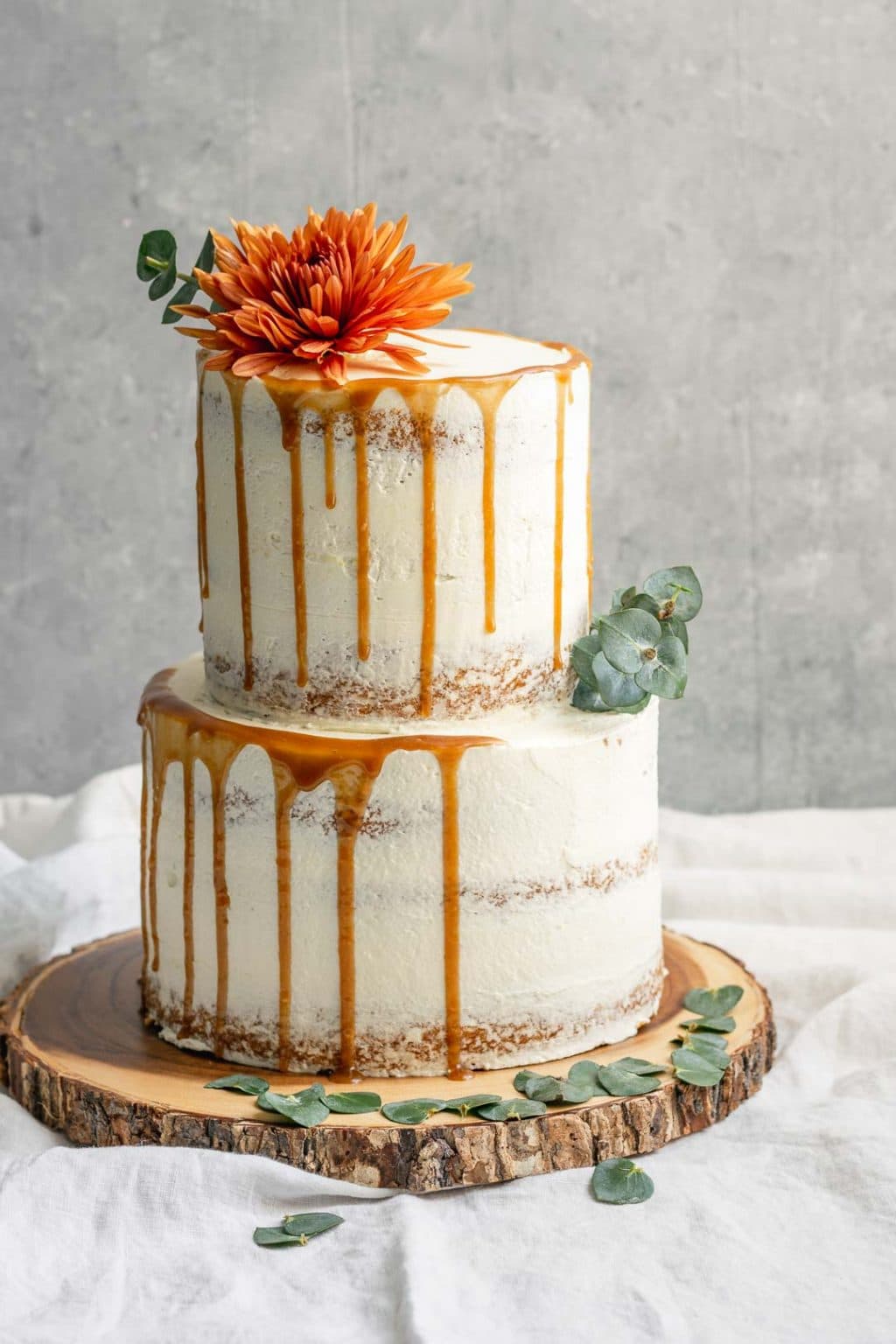 This white cake has it all–it's fluffy, has the most tender and moist crumb, and a deep vanilla flavor. Dress it up with some fancy buttercream work or keep it simple with a drizzle of chocolate ganache, this cake is sure to delight!
It's admittedly a lot harder to make a good vanilla cake vegan than it is to make a chocolate or other strongly flavored cake (carrot, apple, red velvet–you get the idea). Vanilla is a delicate flavor that is easily overpowered if you use the wrong ingredients or even the wrong proportions of ingredients. White cakes also have the propensity to come out dry, for whatever reason.
This recipe is everything you want from a vanilla cake and more! Even better that it just happens to be vegan. Making vegan cakes is a unique process from their egg and dairy counterparts, but the results are equally tasty!
How to make a vegan cake:
Traditional baking uses butter to whip air into a batter and eggs for structure, stability, and leavening. We switch out butter for a neutral flavored oil (like canola or safflower), and depend on leavening from baking powder and baking soda.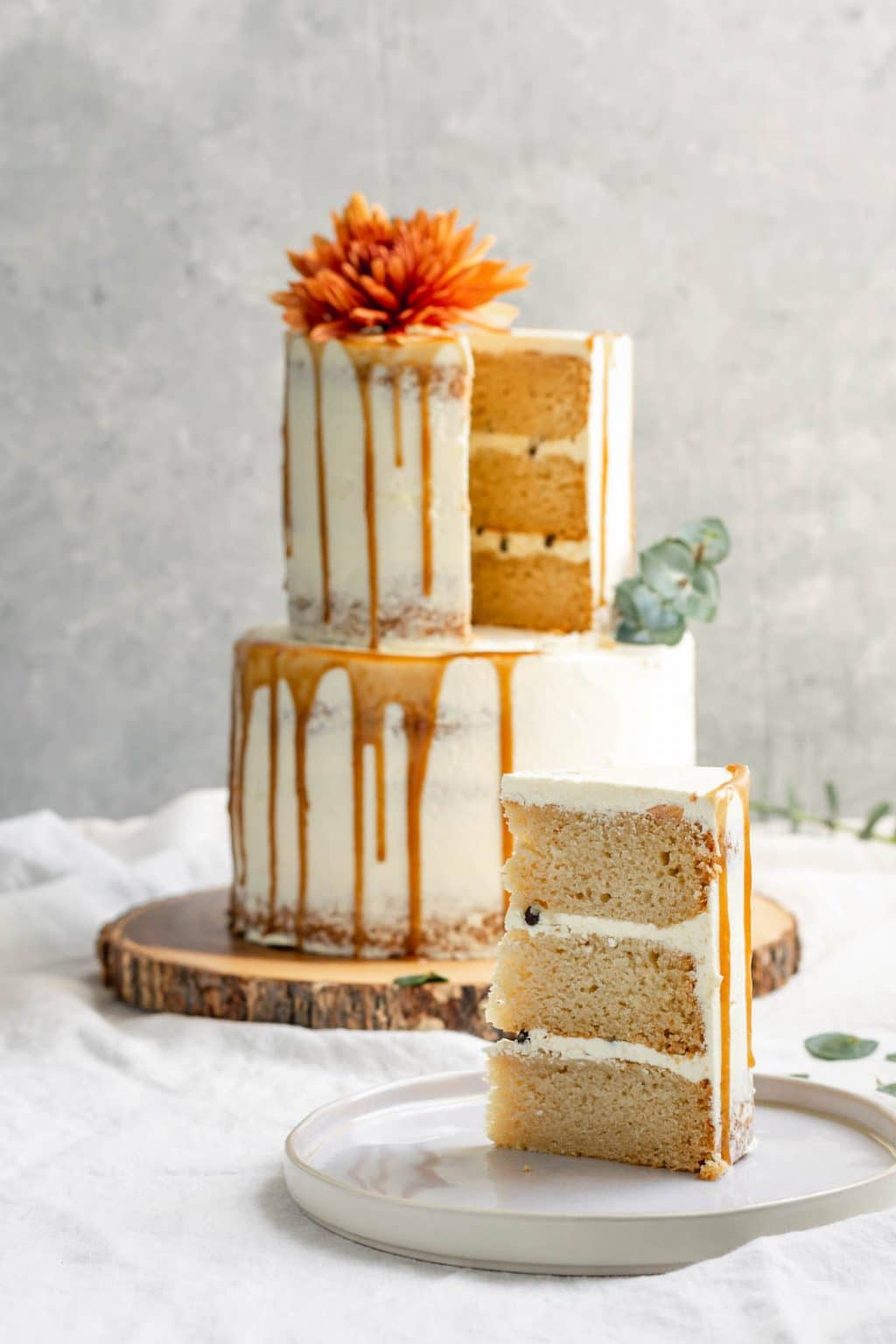 To start we clabber the plant milk with apple cider vinegar to make a quick buttermilk. While most non-dairy milk options will work, soy milk, almond/cashew milk, and oat milk will have the best results (and please don't use rice milk which is too watery).
Adding a little vinegar to the recipe does a few things: it reacts with the baking soda for leavening, it tenderizes the gluten formation for a softer cake, and it slows down browning as it lowers the pH of the cake.
Next, we mix together the dry ingredients. I'm a huge proponent of weighing your ingredients as there is very little room for error if you weigh. Kitchen scales are inexpensive and yet one of the best investments you can make if you love to bake!
If you're measuring by volume, I ask that you measure your flour in this specific way: First whisk the flour in its container to fluff and undo any settling of the flour. Then scoop with your measuring cup so it's overflowing.
Remove the excess by scraping across the top with the back of a knife. This is how I measure, so for best results you should do the same! Also keep in mind I use US standard measuring cups, which are a little different than UK and Australian.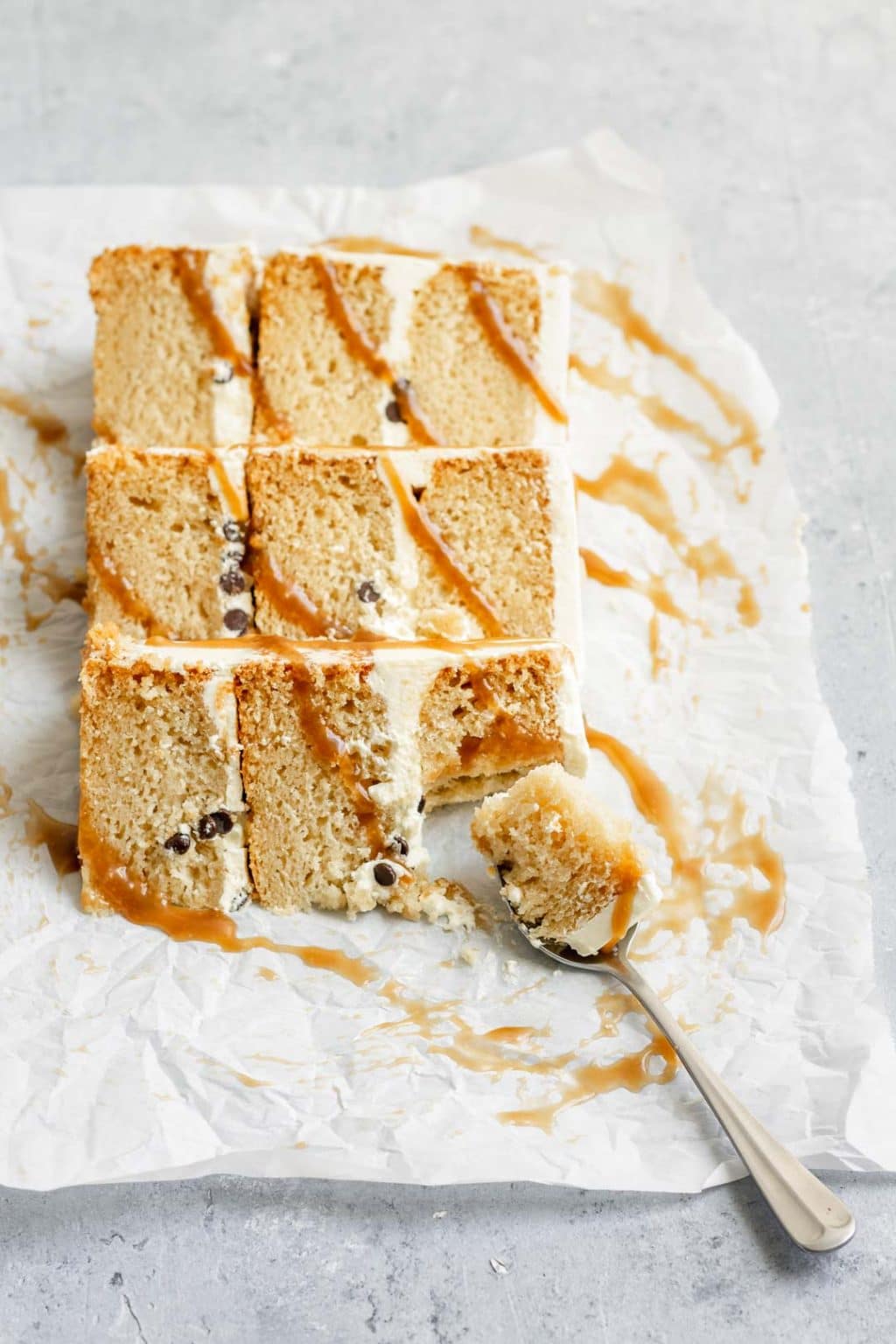 With the flour we add in the granulated sugar (use organic or a certified vegan one if you're concerned about bone char in the mix), baking powder, baking soda, and salt. Whisk everything together so it's fluffy and well combined.
Then to the buttermilk mixture, mix in oil and vanilla extract until smooth. Use a good quality pure vanilla extract, this recipe calls for a lot of vanilla and the flavor really shines through at the end.
We add the wet ingredients to the dry, and mix with a whisk. While with egg-based cakes you have to be very careful to not over whisk, this is less of an issue with vegan cakes.
In fact, a little gluten development through whisking helps build the structure and stability of the cake. Don't over do it, just mix the cake batter just until it's nice and smooth.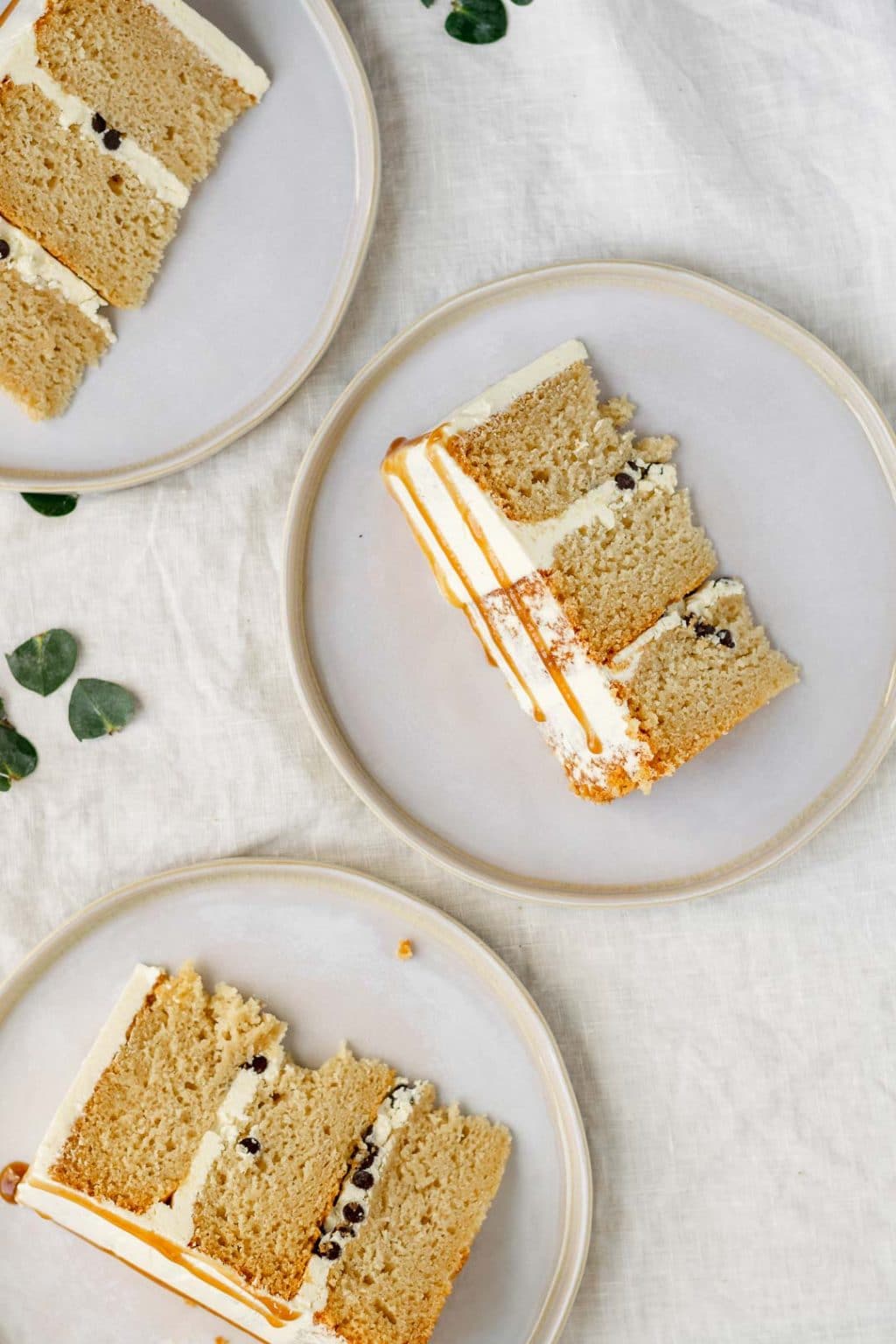 Baking the cakes:
Do not add the wet ingredients to the dry until 1) your oven is preheated and 2) your baking pan(s) are prepared. Once the wet ingredients are added the baking soda will immediately begin to react, so waiting to bake your cake will result in a flatter and less desirable result.
The cakes are baked at 350 ºF. This relatively low temperature keeps the cake from browning too quickly on the outside, and helps lessen the doming of the cake.
Watch for visual cues that you cakes are done baking. When done, the edges of the cake will be golden and have started to pull away from the sides of the pan. A cake tester will also pull out clean, or with one or two crumbs. If there is any stickiness then continue baking it until done.
If you open the oven door too early in the baking process, this can cause the center of the cake to collapse. An oven light helps you keep an eye on the cake to watch for the visual cues before opening to test.
To prep your baking pans, I use a method I learned from the vegan dessert guru, Fran Costigan. I spray a coating of oil inside the pan, then add a piece of parchment to cover the bottom. I love buying the precut parchment circles, but you can also cut them out yourself. This method allows for easy release from the pan, then just remove the parchment paper from the bottom and you're good to go!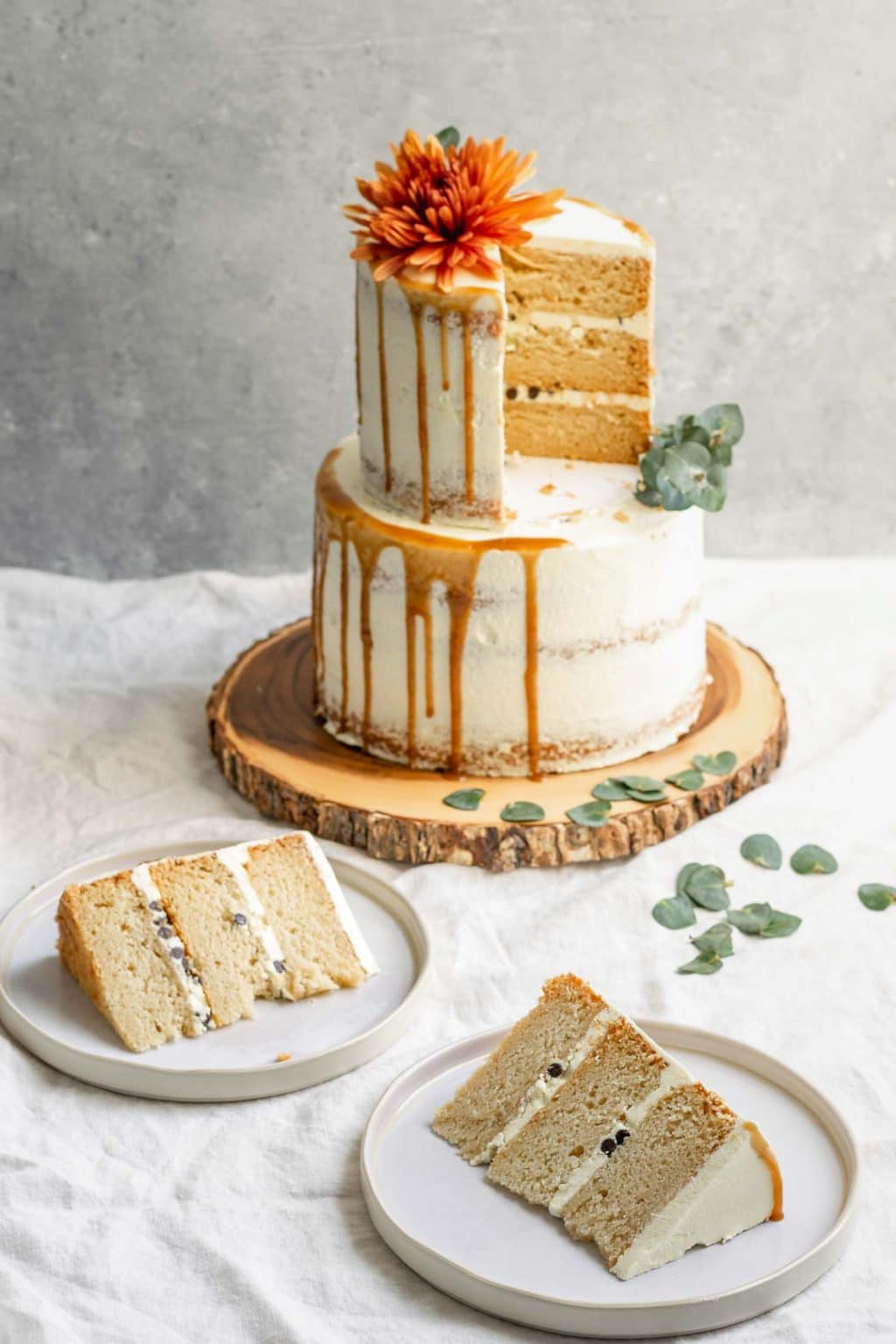 Decorating the cakes:
This post is more about baking the cake than decorating. But just a few quick notes to set yourself up for success.
Always chill the cakes before frosting. Cold cakes = less crumbs = a better finish on the frosting. This is also true if you plan on cutting off the top of your cake to level, or to cut it in half to create more layers.
Use cake boards when wrapping up your cakes to refrigerate as they will keep the bottom of the cake nice and flat. While you could cut up clean cardboard or foam core board to size, you can also just buy pre-cut cake cardboard.
I used my Vegan Aquafaba Strawberry Italian Meringue Buttercream on this cake, minus the strawberry part. Feel free to use that recipe (and check out that post for a step by step photo tutorial of frosting a cake). You can make the buttercream in advance–it freezes well–and then rewhip (defrost in the fridge if frozen) to fluff it back up for easy spreading.
I sprinkled mini-chocolate chips between the layers after adding the buttercream. These led to a nice textural contrast to the cake, and I love me some chocolate! If you're unsure where to find them, Enjoy Life Foods makes vegan chocolate chips in full size and minis.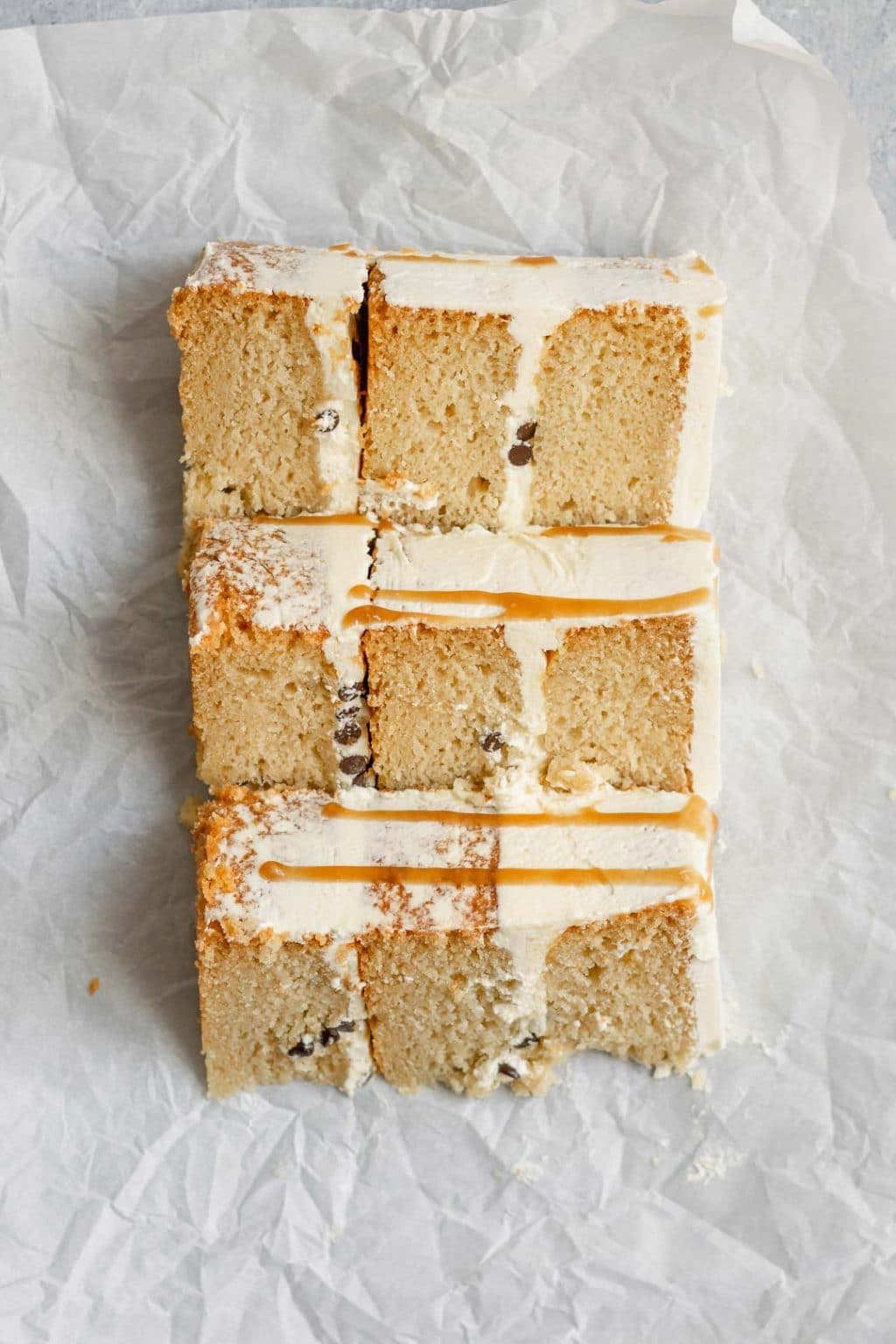 Lastly I drizzled some Vegan Salted Caramel Sauce over the cake, and used the recipe from my friend Cupful of Kale. The salted caramel is made from brown sugar and is sooo delicious, we found ourselves drizzling it over each slice of cake to serve!
If you're going to use fresh flowers to decorate make sure to do so in a food safe manner! Here's one nice article on How to Decorate a Cake with Flowers by Olive and Artisan. Just make sure you do your research on how to safely use flowers if you are going to do so!
I made this cake as a tiered cake because it was a test for the cake I am making for my friends' wedding. It held up beautifully sitting out on the counter overnight, and the ultra moist and tender crumb makes for the most delectable cake! There are plenty of tutorials online if you wish to do the same. Or if you ask nicely, maybe I'll make one too 🙂 !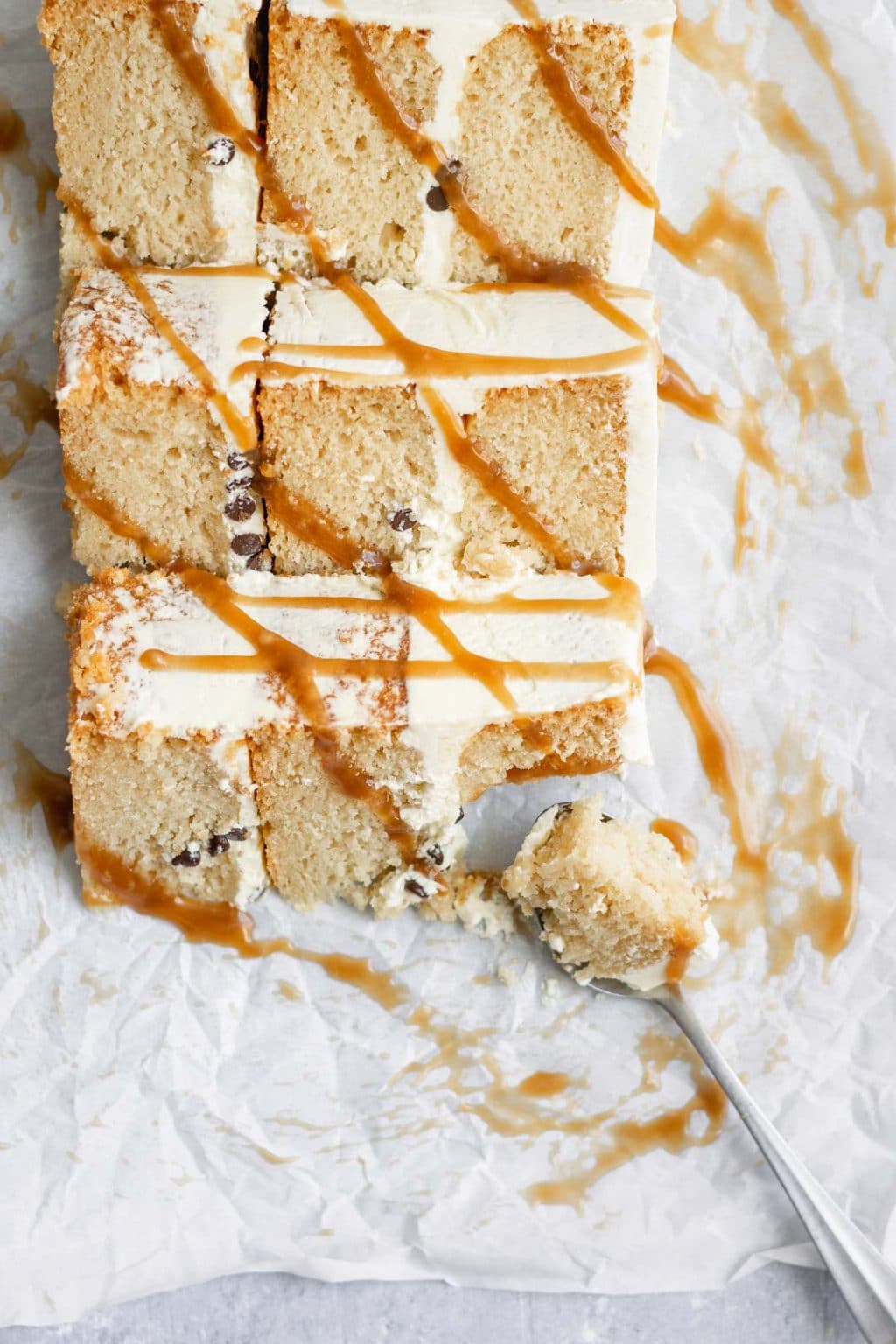 If you make this cake, please let me know! Give the recipe a rating and leave a review below! Also don't forget to share your creations with me on Instagram, tag @thecuriouschickpea and #thecuriouschickpea, I absolutely love seeing your photos!
Valentine's day is on it's way, so what better time to share my fresh, fruity and easy Vegan Raspberry Cake.
This cake has 2 delicious vanilla and raspberry sponge cakes, raspberry compote with a fresh raspberry buttercream, topped with fresh raspberries (and raspberry compote hearts).
Make sure to 'PIN' this photo below to your favourite Pinterest Board!
I am extremely excited to share a BRAND NEW cake to the blog! Raspberry is one of my favourite berries. I love how it bursts with flavour, whilst also being a little bit on the tart side.
My Small Batch Strawberry Cake and my Mini Lemon Cake were my main inspirations for this bake. I loved the gorgeous pink colour on my strawberry cake and I adore how I decorated the lemon cake with the lemon slices! I made my pink raspberry buttercream using real raspberries, and decorated the cake with raspberry compote. It's such a simple design yet fun and effective.
Originally I decided for this cake to be a three layer, but for ease (as I know you guys love an easier recipe), I decided to make it 2 layer. I am actually really happy I chose to go for a 2 layer cake. It look's adorable, and takes less time to bake & less time to decorate. Yippee- haha!
How to make the BEST Vegan Raspberry Cake?
Firstly, You'll want to make two scrumptious raspberry sponge cakes. I am pretty biased but I have to say, my vegan sponge cakes are some of the best cakes I've ever tried! I have worked so hard to perfect the perfect sponge.
To jam pack (pun intended) the cake with raspberry flavour, I made a homemade compote. A compote is kind of like a jam, buts it's a more concentrated version, plus it's super easy to make! You have to try it!
I swirled the compote into the batter before baking. I originally was going to press whole / fresh raspberries into the sponge, but when I did this on my recipe testings, the raspberries made the sponge too moist. The compote allows you to add it into the sponge, and doesn't effect the texture. If that, it makes the sponge perfectly moist!
Instead of a raspberry jam, make a homemade raspberry compote. don't get me wrong, use raspberry jam if you fancy, but to elevate the berry flavour, making and using your own homemade raspberry compote is divine! The flavours really burst leaving you with an irresistible berry cake.
It doesn't even bother me if the compote makes the cakes a little sticky… the flavour is heavenly! It reminds me of raspberry ripple with the swirls of compote mixed throughout the sponge, into the filling and the silky smooth buttercream.
Make my vegan Swiss meringue buttercream! This (along with my Vegan Italian Meringue Buttercream) are my current favourites to bake with! They are not only silky smooth, but are so easy to make. For this recipe I used Swiss meringue buttercream, with some compote in for added fruity flavour. Does having fruit in a cake count as healthy? – haha!
Looking for more fruity recipes? Look no further:
Why I LOVE this Vegan Raspberry Cake!
The main thing I LOVE about this cake, is that its easily adaptable! If you wanted more layers, it's super simple to adapt, just double up the recipe! This recipe makes for a delicious 3 tier, 8 inch cake!
No pink food colour needed! The pink is completely natural. Add tablespoons of compote into the plain buttercream and watch the magic happen.
Adding compote into the sponge before baking makes for a extremely berry packed cake! It makes the cakes perfectly moist also. You'll love it!
Its the perfect size for a small gathering or party.
I decorated this cake with compote hearts, but by all means, decorate it as you fancy! Go all out with freeze dried berries, sprinkles or nuts!
I hope you LOVE this cake! You'll be going back for a second slice, trust me!
Published by Ela on 10. March, 2019, updated on 19. June, 2022 | 102 Comments As an Amazon Associate I earn from qualifying purchases
This rich vegan lava cake with a gooey molten chocolate center is made without egg, dairy, or oil, and is even gluten-free! It's the perfect vegan quick treat for every chocolate lover!
Rich and gooey Vegan Chocolate Lava Cake
I am a "chocoholic" which means I adore everything made with chocolate (anyone else?). Therefore, you have probably noticed that I share a lot of chocolate recipes on my blog. One of my favorite chocolate cakes is this Chocolate Zucchini Cake and this Vegan Chocolate Pie. But I also love smaller chocolatey snacks like these Vegan Chocolate Muffins and these Flourless Chocolate Fudge Cookies.
Even though all these vegan chocolate desserts are super delicious, none of them have a runny chocolate center like this vegan molten lava cake! If you never tried such a treat, you are really missing out!
What is a Molten Chocolate Cake?
According to Wikipedia, "Molten chocolate cake is a popular dessert that combines the elements of a chocolate cake and a soufflé. Its name derives from the dessert's liquid chocolate center, and it is also known as chocolate moelleux (from French for "soft"), chocolate lava cake, or simply lava cake."
Traditional molten chocolate cakes contain butter, eggs, sugar, chocolate, and flour. My vegan lava cake recipe ditches the dairy, eggs, and regular flour and instead uses healthier plant-based ingredients like oats, almonds, banana, etc.
The Ingredients
This vegan chocolate lava cake requires just simple pantry ingredients and uses banana in place of butter/oil for a lighter treat.
The Dry Ingredients:
Ground oats: You can use store-bought oat flour (regular or gluten-free) or make your own, by blending rolled oats into flour. If you aren't gluten-free, you can also use whole wheat flour.
Ground almonds: Use store-bought almond flour (100% ground almonds) or make your own by blending blanched almonds into flour. Any ground nuts or seeds (e.g. sunflower seeds) should work, though.
Sugar: I used unrefined coconut sugar. However, use the sugar of your choice. A sugar-free option like granulated Erythritol may also work.
Cocoa powder: Use unsweetened cacao or cocoa powder.
Baking powder + soda: Baking powder and baking soda will provide the lift and texture for this gluten-free vegan lava cake.
Salt: Just a pinch to enhance the cocoa flavor.
The Wet Ingredients:
Plant-based milk: Any dairy-free milk should work (almond milk, soy, coconut, cashew, etc.). For a more decadent dairy-free chocolate cake, use full-fat coconut milk.
Banana: Use a small ripe banana. Unsweetened applesauce may work as a substitute.
Apple cider vinegar: You can use lemon juice instead.
Vanilla extract: Use natural, pure vanilla for the best (non-artificial) flavor.
Chocolate Filling:
Dairy-free chocolate: It depends on the type of chocolate whether you will have a lava-like runny center or not. I did melt 30 grams of dairy-free chocolate chips with 1/2 tbsp coconut milk in a double boiler and poured the mixture into a silicone muffin mold. Transfer it to the fridge for about 30 minutes, or until firm. Then use it like regular chocolate.
How to make vegan Chocolate Lava Cake?
Preheat the oven to 360 °F (180 °C) and grease one big ramekin (5 1/2 inches diameter) or 4 small ones with oil.
How to serve?
This vegan lava cake tastes incredibly delicious even without toppings. Nevertheless, it can be made even more decadent. Here are some serving options:
A scoop of ice cream (vanilla, peanut butter, chocolate, coffee, etc.)
Add a dollop of whipped coconut cream and some berry compote.
Drizzle some nut butter over the top
Drizzle caramel sauce over it
A dusting of cocoa powder
FAQs and Recipe Tips
Mini lava cakes: If you have a muffin tin, you could also make mini chocolate cakes or muffins with a lava center. Simply fill the dough into the muffin pan (grease it beforehand) and then put a few pieces of chocolate into each muffin.
Optional add-ins: Add 1/4 tsp of instant coffee powder to the batter for a stronger chocolate flavor.
Flavorings: Boost the flavor of the chocolate lava cake with natural food flavorings/oils like orange, almond, peppermint, etc.
How to store: This vegan lava cake is best enjoyed immediately, as long as the chocolate center is still runny.
More Vegan Chocolate Recipes
Healthy Vegan Brownies
Vegan Zucchini Brownies
Vegan Chocolate Ice Cream
Chocolate Keto Chia Pudding
Healthy No-Bake Brownies
Vegan Chocolate Pudding
Chocolate Stuffed Pancakes
Chocolate Stuffed Cookies
Should you give this fudgy vegan gluten-free lava cake recipe a try, please leave a comment below, and don't forget to tag me in your Instagram or Facebook post with @elavegan #elavegan because I would love to see it.
Published: Sep 17, 2020 · Modified: Sep 17, 2020 by Richa 55 Comments
The best and easiest Vegan White Cake recipe ever! Filled with raspberry preserves and topped with coconut whipped cream, this is a super pretty vegan vanilla layer cake that's perfect for a special occasion. Gluten-free & Oil-free options included! Jump to Recipe
If you're looking for a simple yet elegant vegan layer cake that is perfect for a birthday, or dinner party, this vegan white cake is a good one to try. No matter the occasion, this one will fit the bill! You can keep it simple by just filling the layers with some store-bought raspberry jam and topping it off with some coconut whipped cream for a summer cake or make it fancy and frost it with a sugar frosting or cashew cream frosting plus sprinkles for a birthday cake!
This vegan white cake is light and fluffy, spongey, and perfect and that without any egg or egg-replacer such as aquafaba.
For Glutenfree, see my Glutenfree vegan vanilla cake.
Vegan White Cake Recipe
Ingredients
1 cup ( 236.59 ml ) non dairy milk such as almond, light coconut, oat or soy
1.5 tbsp ( 1 tbsp ) applesauce or non dairy yogurt or more non dairy milk (Yogurt work best)
1 tsp Apple cider or white vinegar
1/4 cup ( 59.15 ml ) neutral oil or use 3 tbsp applesauce to make oil-free
1/3 cup ( 66.67 g ) sugar 1 tbsp more for sweeter
1/2 tsp vanilla extract
a few drops of almond extract optional but wonderful
1.5 to 1.75 cups ( 187.5 g ) flour I use All purpose flour. see GF option in notes
1.5 tbsp cornstarch
2 tsp baking powder
1/4 tsp baking soda
1/2 tsp salt
Filling:
1/2 to 3/4 cup ( 170 g ) Raspberry preserves
1 cup ( 60 g ) Coconut Whipped Cream
Instructions
Video
Notes
For Glutenfree, see my Glutenfree vegan vanilla cake.
Nutrition
Ingredients:
for wet ingredients, I am using a combination of non-dairy milk such as almond or soy milk, applesauce or non-dairy yogurt and a neutral-tasting oil.
1 tsp vinegar makes this cake super fluffy and acts as an egg replacement.
the dry ingredients are a classic combination of flour and a small amount of cornstarch, which makes the cake extra tender.
baking powder and baking soda give this vegan layer cake the perfect rise.
vanilla extract and almond essence give this cake its gorgeous flavor. You can skip the almond extract but I find it makes it just so special.
for the filling, I went with raspberry preserves as it just looks so pretty against the white cake and makes for a fresh summery cake.
coconut whipped cream makes the perfect light summer topping.
you can add spices like cinnamon, nutmeg or pumpkin spice to the cake mix, if you like. As additional add-ins add berries, or pineapple, or some chopped candied ginger if you like.
coconut whipped cream goes so well with the raspberry jam, but you could use any other frosting or my cashew buttercream instead.
add 2 tbsp almond flour to the dry for additional texture and moisture.
instead of oil, you can use 3 tbsp of unsweetened applesauce to make this vegan cake oil-free.
the cake is best the day it's made, it's soft and spongey and absolutely perfect.
How to make Vegan White Cake
Line two 6 inch springform pans with parchment paper. Preheat the oven to 350 F (176 C). In a bowl, mix the wet ingredients with sugar until the sugar is fully combined.
In another bowl, whisk 1 1/2 cup flour, cornstarch, baking powder, baking soda, and salt. (see tips and variations for add-ins). Fold dry into the wet ingredients until just about combined. Add more flour if needed 1 tbsp at a time to make just slightly thick batter. Pour into the parchment-lined pans.
Bake for 20 to 22 minutes or until a toothpick from the center comes out clean. Remove the pan from the oven and cool for 10 minutes then remove the cakes from the pan.
Let the cakes cool completely at room temperature. Then put them in the fridge for half an hour to chill. Use a serrated knife to slice off the domed top.
Warm the preserves in the microwave so that the jam is easier to spread. Add the jam on one of the layers of the cake and spread evenly using a butter knife or offset spatula.
Place the other cake layer on top. Top off this layer cake with some whipped coconut cream and fruit of choice.
Slice and enjoy
MORE VEGAN CAKE RECIPES:
Eggless Chocolate Cake with Chocolate Peanut Butter Ganache
Vegan Carrot Cake
Lemon Blueberry Yogurt Loaf Cake
Pumpkin Cake with Chocolate Ganache
Vegan Coffee Cake
Marbled Vegan Chocolate Banana Bread
and check out these 25 Eggless Cake Recipes
GF Cashew Butter Chocolate Marble Cake.
GF Vanilla Cake
Sweet Potato Crumb Cake. GF
GF Christmas Cake
If you take one peek in my fridge, you'll see it. It's obvious. There's a teetering tower of it perched high on my top shelf.
Like any dairy-loving pastry cook who has a (cough cough) healthy obsession with this ingredient, I enjoy using butter in baking.
Its greasy goodness is smeared allllll over so many of my recipes for Foodal. Especially in my frostings.
I even add a little to my ganache recipe. Because, well, butter.
But even someone as obsessed as I am has a limit! All that dairy… oof. It certainly isn't the best for your daily diet!
After working in a vegan bakeshop and ice creamery, I was able to explore alternative recipes without dairy, ones that didn't sacrifice any flavor.
This amazing vegan vanilla frosting is a great example!
It is still sweet, thick, fluffy, and perfect piped high on a cupcake – just like any lactose-laden buttercream.
Five ingredients, and just 5 minutes to make, it's a simple and easy recipe that you can mix together in a flash for an effortless, delicious icing.
Whip up this tasty creation now with the recipe below.
by Sarah McMinn / Posted: December 19, 2018 / Updated: July 8, 2020 / Disclosure: This post may contain affiliate links. Jump to Recipe Print Recipe Total Time: 1 hr 10 mins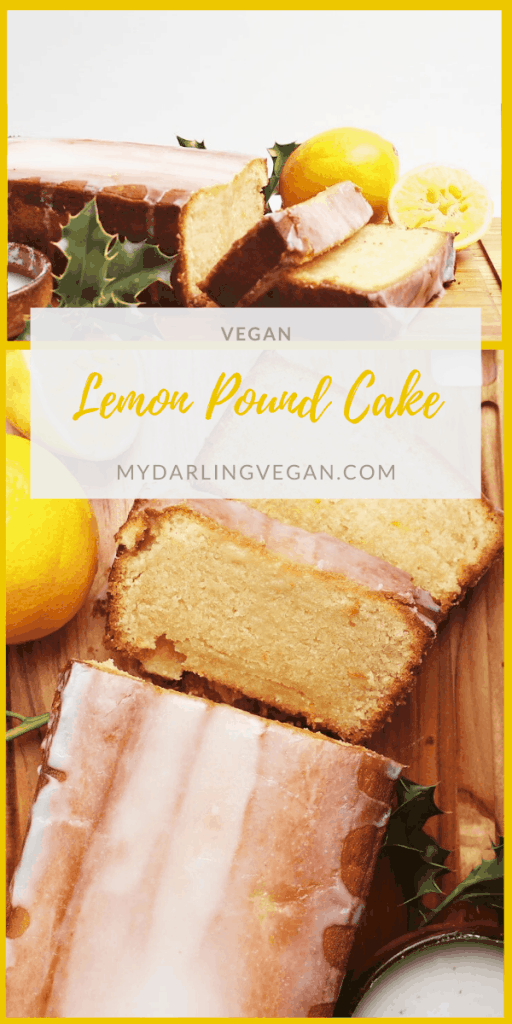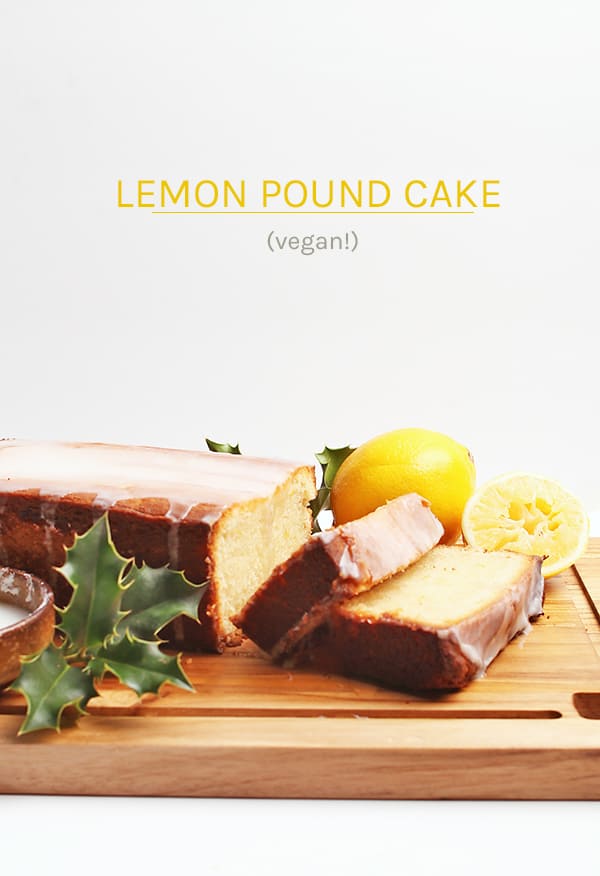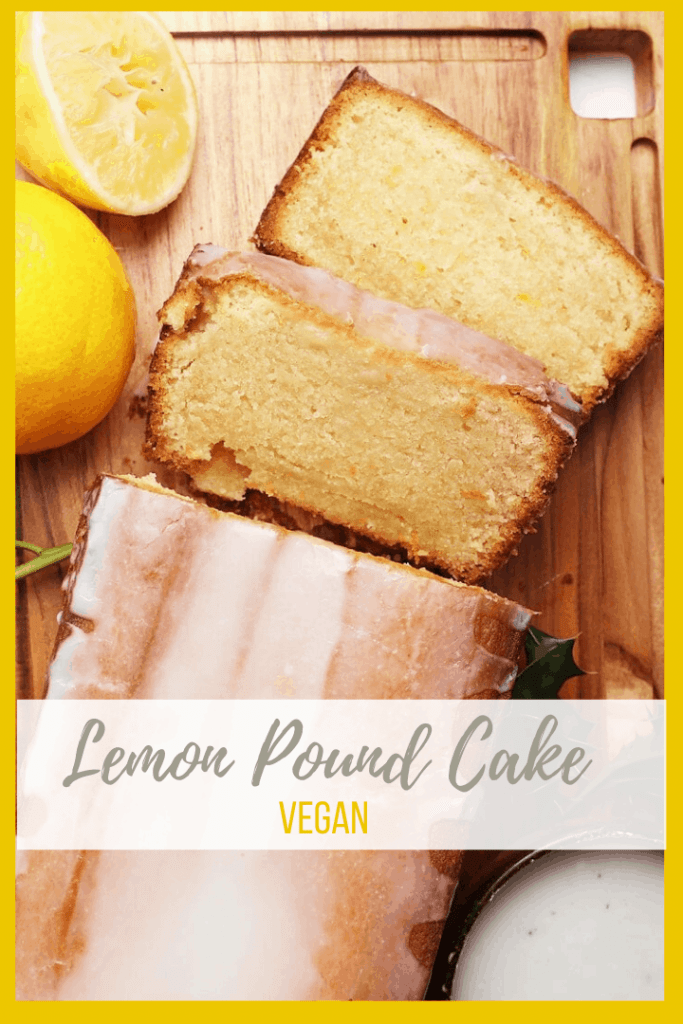 A Pound Cake that is so rich and decadent no one will believe it's vegan. It is topped with a lemony glaze for a delightful sweet morning or midday snack.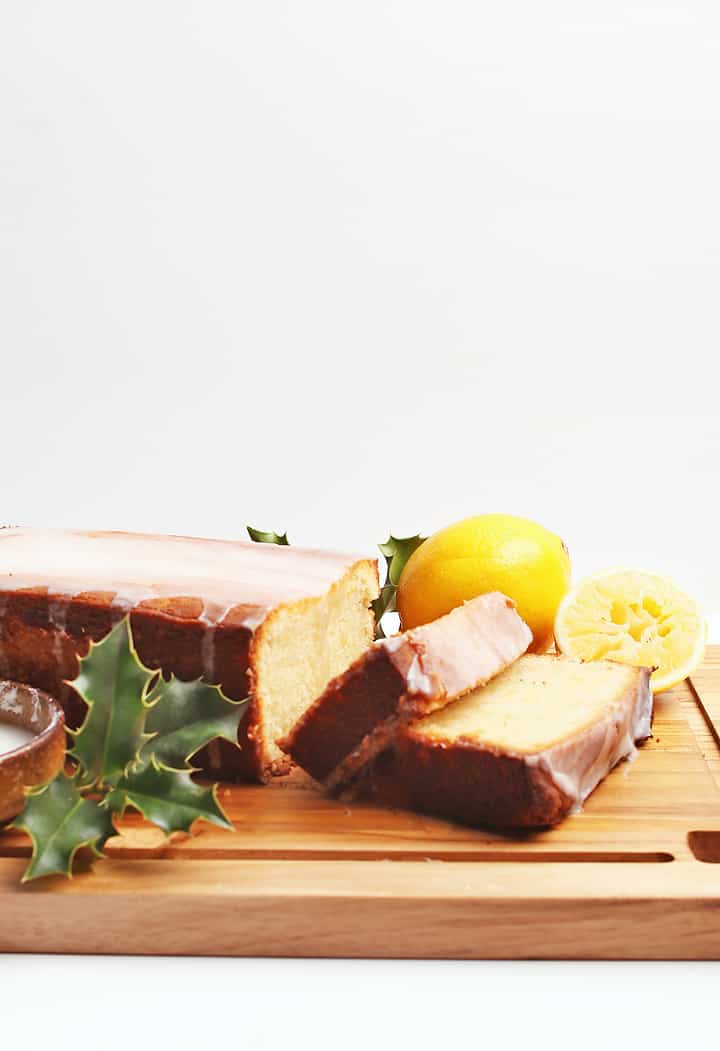 Christmas is less than a week away!
And that means I've got just 2 more recipes before the end of the year.
After that, it's time for some 30-day cleansing. So before that happens, I have to sneak in at least one more decadent recipe this holiday season. And decadence is just what I've got for you. This Vegan Pound Cake is a remake of one of my first recipe for the blog. The original recipe was an Orange Poppy Seed Pound Cake. I have since re-tested and updated the recipe to make it easier, tastier, richer, and overall better.
If you came here looking for the Orange Poppy Seed Poundcake, you can still access it here. But I think you're going to love this new and improved vegan pound cake recipe. I omitted the commercial egg replacers, switched oils, adjusted the leavening agents, and pumped up the flavor so that you get a rich, vibrantly lemon, buttery, decadent vegan pound cake that makes the perfect dessert or snack at the last of your upcoming holiday parties.
Let's take a closer look.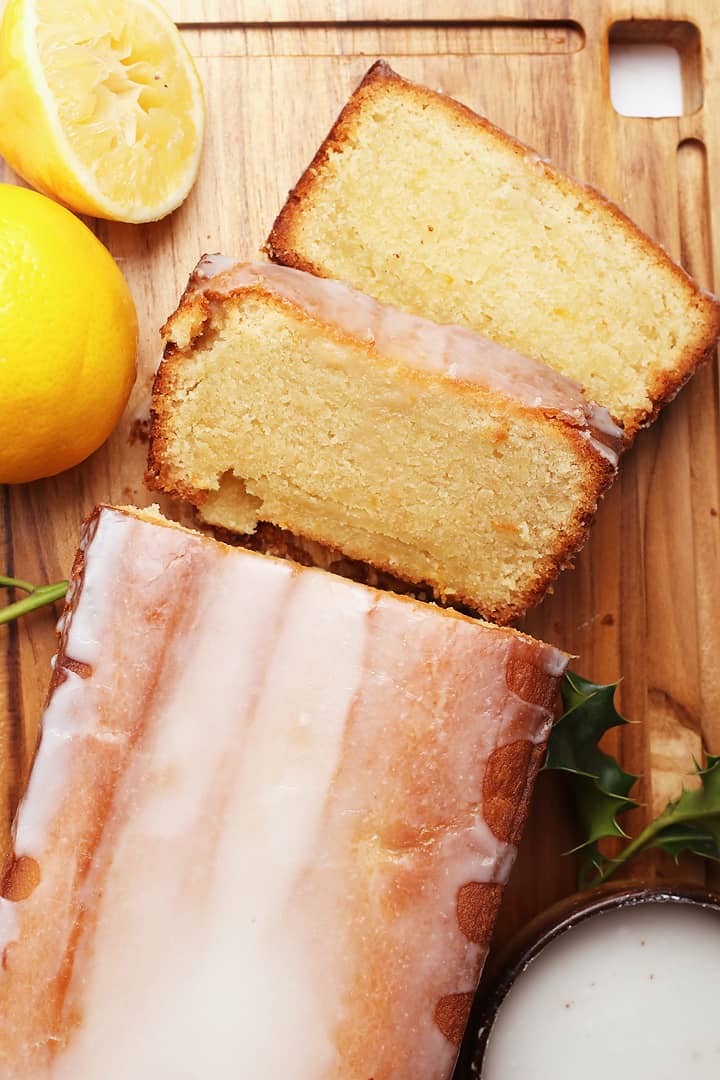 How to Make Vegan Pound Cake [Video]
Recommended Ingredients & Equipment
Traditionally pound cake is made from combining equal parts butter, flour, sugar, and eggs. Over time the ingredients in a pound cake have gotten more complex. It is now common to add extracts (such as lemon or vanilla) and/or fruit, swap out some of the butter for sour cream, and even add a few teaspoons of baking powder to make the cake lighter and less dense.
My modern take on a pound cake has made many of these adjustments.
Ingredients & Substitutions
All-Purpose Flour – I have also made this recipe with 1:1 Gluten-Free Flour Baking Blend with great success.
Baking Powder – Typically pound cake does not use a chemical leavener like baking powder or soda. Rather it relies on eggs. However, for this vegan pound cake, I recommend a combination of baking powder and vegan sour cream for the perfect texture and rise.
Salt
Vegan Butter – Look for a high-quality non-hydrogenated vegan butter. I recommend either Earth Balance or Miyoko's.
Granulated & Powdered Sugar – Check out my guide to vegan sugars and alternative sugar replacements. For a healthier sugar alternative, I recommend coconut sugar.
Lemon Juice & Zest
Vegan Sour Cream – This is used as the egg replacer in this recipe. It adds moisture and a delicious tangy flavor. There are a lot of vegan cream cheeses and sour creams on the market. I suggest looking for Daiya or Tofutti brands. You can also make homemade sour cream.
Coconut Oil – You could also use vegetable oil or olive oil. However, olive oil will add a slight savory taste.
Recommended Equipment
For this recipe, I recommend a stand-up mixer. These make whipping, beating, and blending so much easier. However, they are pricy and if they are not in your budget, you can make cookies with by hand or with a handheld mixer.
How to Make Vegan Pound Cake
Step One: Mix the Ingredients
Mix together the dry ingredients in a small bowl. That's the flour, salt, and baking powder. In a stand-up mixer beat together the vegan butter, sugar, and lemon zest.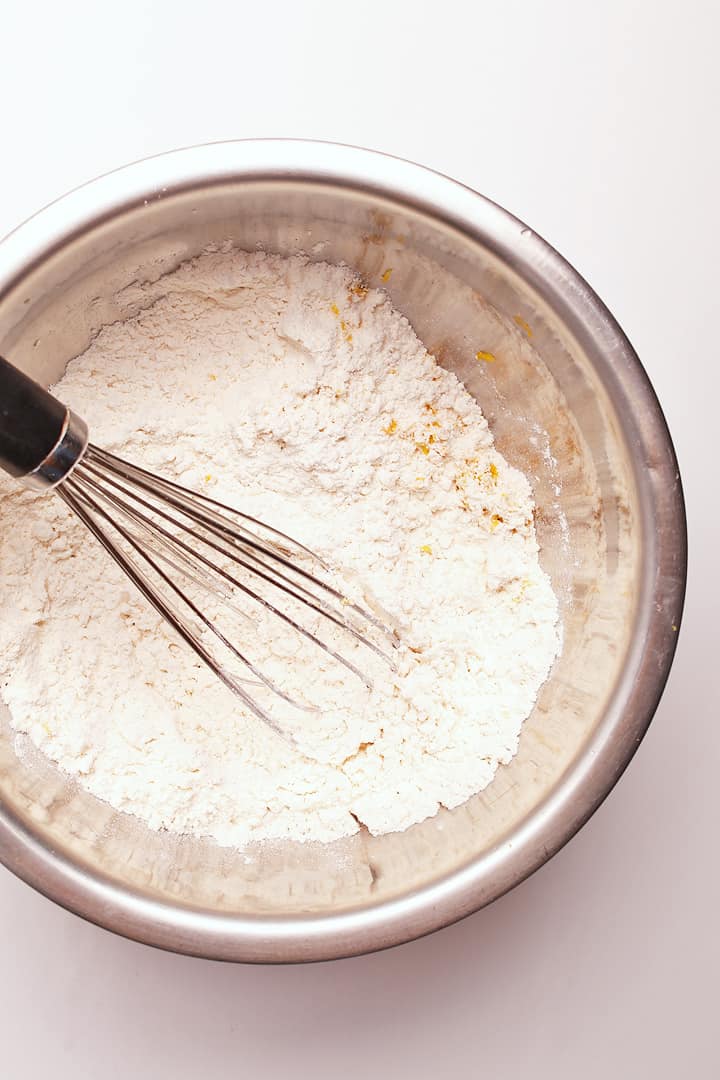 Slowly add the sour cream. At this point, the batter might curdle a bit and that's okay. It will come back together when the flour is added. Finish the cake by alternating the dry and wet ingredients into the batter.
Step Two: Bake the Cake
Pour your batter into a greased 9×5 loaf pan and smooth top.
Place the cake in the oven and bake until the top is golden brown (about 50-55 minutes). To check for doneness, insert a toothpick in the center of the cake. When it comes out clean, your cake is done!
Remove the cake from the oven and let cool completely before topping it with lemon glaze.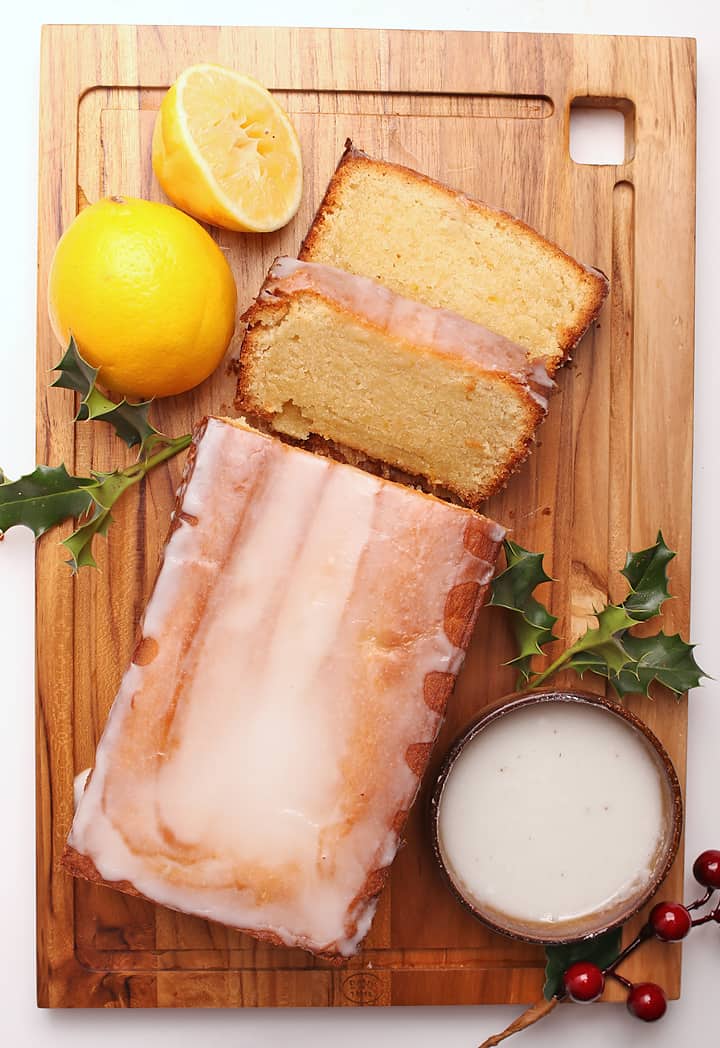 Serving And Storing
Serve immediately or place it in the refrigerator until ready to serve.
Store for up to 3 days in an airtight container in the refrigerator. This cake can also be store in the freezer for up to 2 months. When ready to serve, simply pull out and let thaw at room temperature.
Tips and Tricks
Don't over-mix the batter. By alternating the dries and wets into the batter, we are ensuring the batter does not get over-mixed and gummy.
Generously spray your loaf pans. We do not want any of this delicious cake sticking to its edges.
Do not open the oven door while the cake is baking. This causes the structure to fall leaving you with a dent in the middle of your cakes. You can check for doneness after 50 minutes.
Bake until a toothpick inserted in the middle comes out clean. If the cake starts to get dark around the edges, you can cover it with tin foil to bake the last 10 minutes.
Let the cake cool at least 30 minutes in the loaf pans before turning it onto a wire cooling rack to cool completely.
Frequently Asked Questions
Why Alternate Wet and Dry Ingredients?
By alternating we are making sure the batter stays as tender as possible. By adding all the liquid ingredients first, the butter would start to separate from everything. Yet, adding all the dry ingredients first would cause the batter to get thick and require over-mixing in order for it so even out. And, as we know, over-mixing results in a gummy glutenous texture – not what we're looking for in a cake.
Can this recipe be made in advance?
Yes! This cake can be made in advance. To do this, bake the cake according to the instructions. Once the cake is cool, wrap it tightly in plastic wrap and place it in the freezer. This cake can be frozen for up to 2 months. When ready to frost, let the cake thaw at room temperature for 3-4 hours.
Can this recipe be gluten-free?
Yes. I have had a lot of luck with Bob's Red Mill 1:1 Gluten-Free Baking Flour. (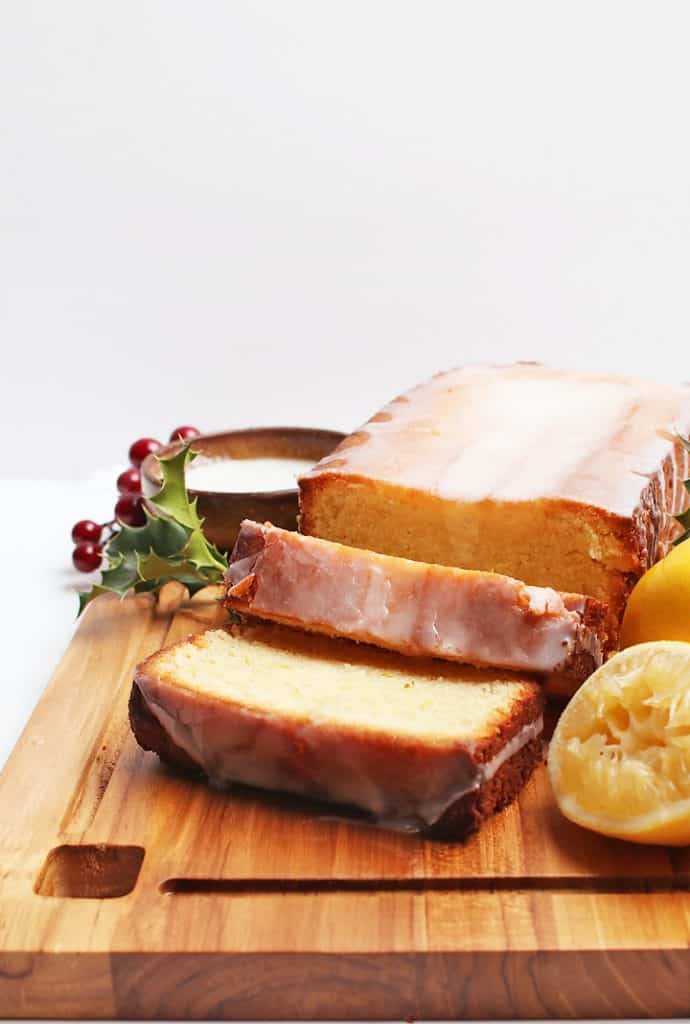 Intensely chocolatey, perfectly moist, super pretty and dead easy to make – this vegan chocolate cake is EVERYTHING a chocolate cake should be, and more. With no egg replacements and no fancy ingredients or equipment needed – this is the vegan dessert recipe you need to make. ASAP.
This post may contain affiliate links, which allow me to make a small commission for my referral, at no additional cost to you. For more info, check out the Disclosure Policy . Thank you for supporting The Loopy Whisk.
Let's slow down a bit. Keep things simple and relaxed. Sounds good? Mmkay.
I'm usually all for three-tiered elaborately decorated cakes, but sometimes you just need a simple chocolate cake that's easy and quick to make, and requires the minimal amount of bowls. And, therefore, the minimal amount of washing up.
That's not to say this VEGAN chocolate cake isn't delicious, mouthwatering, gorgeous, intensely chocolatey and basically EVERYTHING you'd want a chocolate cake to be – it is. I promise you, it is.
And it does all that without eggs, without butter or milk or cream. Yes, sometimes baking is a bit magical like that.
The best thing about this vegan chocolate cake is that it's virtually impossible to tell it's vegan. It has the perfect crumb – moist and decadent without being too dense or claggy. Because the sponge contains both cocoa powder and melted chocolate, the wonderful bittersweetness of chocolate really shines in all its glory.
The vegan chocolate ganache is a 2-ingredient affair – just hot coconut cream poured over some dark chocolate, stirred until luscious and glossy and wonderful. When it cools down a bit, it firms up into the perfect consistency for swirling on top of the cake.
And while the swirly ganache itself is so beautiful it would be decoration enough… adding a small mountain of chocolate shavings is a great idea. Because (a) they're pretty and (b) MORE CHOCOLATE.
Before we get to the bits and bobs of making this wonderful cake – if you like what you're seeing, subscribe to my newsletter to keep up to date on the latest recipes and tips!
How do you make vegan chocolate cake?
Okay, first of all, it's DEAD SIMPLE. If you're capable of sifting and mixing together a few ingredients (with a whisk, no fancy equipment needed) – you're good.
First up, we'll sift together some all-purpose flour (plain, not self raising), baking powder, baking soda, cocoa powder and salt.
Then, add in the sugar and whisk until everything is evenly distributed.
In goes the almond (or other non-dairy) milk, warm water and lemon juice. Then, we'll pour in the luscious melted chocolate + coconut oil mixture. Oh, the shine! Oh, that warm brown colour! Oh, the sheer chocolatey lusciousness!
Whisk it all together until you get a smooth cake batter (it will be super tempting to just go at it with a spoon, but try to resist). Then, we'll transfer it to a lined cake tin and smooth out the top.
And into the oven it goes!
How long do you bake vegan chocolate cake?
For an 8 inch (20 cm) vegan chocolate cake, I recommend baking it at 355 ºF (180 ºC) for about 1 hour. I know it may seem like a looooong time (and it is, especially when the kitchen starts smelling all lovely and mouthwatering), but this is a properly moist chocolate cake – and it does require the long baking time to get the perfect texture.
Once baked, this vegan cake is super moist – without being too dense, and fluffy – without being too crumbly. It's basically everything you might want a chocolate cake to be, and more.
If you adjust the ingredient quantities or use a different cake tin size, you'll probably have to change the baking time. In that case, I recommend using a toothpick or skewer to check when your cake is baked to perfection.
To do this, insert a toothpick or skewer into the middle of the cake. When it comes out mostly clean with a few stray crumbs attached, the cake is perfectly baked.
How do you make vegan chocolate ganache?
The vegan chocolate ganache is a 2-ingredient recipe: all you need is some coconut cream and dark chocolate.
To make the vegan chocolate ganache, pour the hot coconut cream onto the the chopped dark chocolate. The heat from the coconut cream will melt the chocolate – and after stirring it all together, you'll be left with a luscious, glossy vegan chocolate ganache.
Allow the ganache too cool (either at room temperature or in the fridge if you want to speed things up a bit) with frequent stirring, until it reaches the perfect spreadable consistency. (If it firms up too much, just reheat it briefly in the microwave). Then, you just need to swirl it on top of the cake.
The ganache complements the vegan chocolate cake PERFECTLY – although, honestly, I could eat it all on its own… it's seriously good.
How long does the cake keep?
There are two answers to this question.
The theoretical/idealistic answer: for 3 – 4 days in a closed container or wrapped in cling film, in a cool dry place (the fridge works too).
The realistic answer: depending on how many chocolate-obsessed people are present and/or how strong the chocolate craving is… not long at all.
You might think I'm joking, but I mean… just look at it!
How do you keep vegan chocolate cake moist?
If you follow my recipe below, I guarantee you'll get the moistest, most delicious vegan chocolate cake. Ever.
It's basically all down to the wet:dry ingredients ratio. You want enough wet/liquid ingredients to keep the cake moist – but not too much, lest it ends up a gloopy mess. The addition of chocolate and cocoa powder (in addition to making it intensely chocolatey and just amazing) also helps keep the cake moist and lovely.
Truly, at this point I'm running out of superlatives when it comes to this vegan chocolate cake. And it deserves every single one of them.
But the proof's in making and eating the cake – so get baking. And then, enjoy the sheer chocolatey brilliance of this rather simple (and yet, so darn impressive) dessert.
If you like what you're seeing, subscribe to my newsletter to keep up to date on the latest recipes and tips!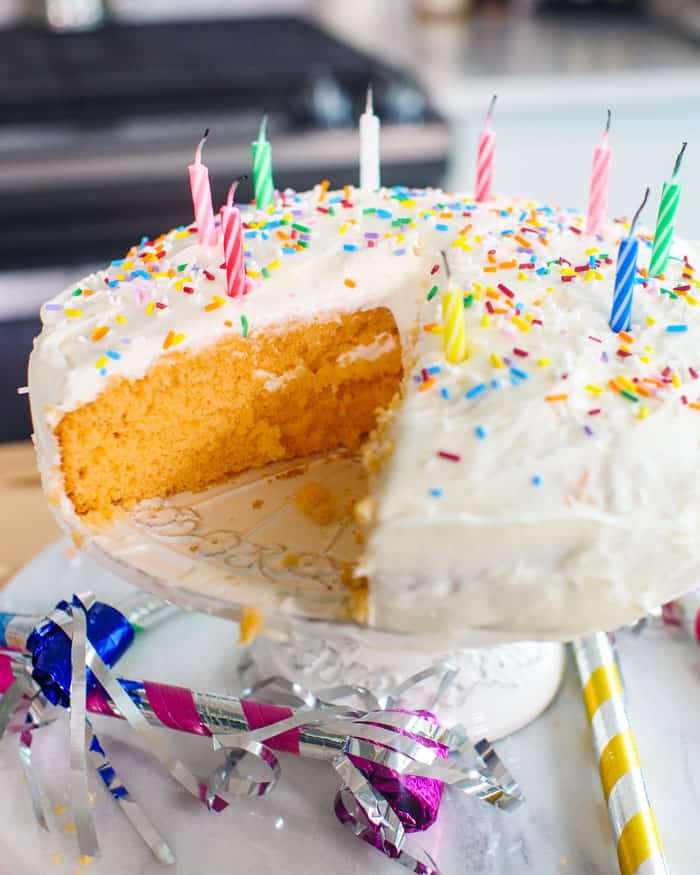 Looking for a super easy vegan creamsicle cake recipe? Well, you've come to the right place! This moist and fruity vegan cake, topped with a rich vegan butter cream is the easiest vegan birthday cake you will ever make. Feel free to view & print my recipe below to make your own 2-ingredient creamsicle cake! Or watch me on YouTube show you how to make it!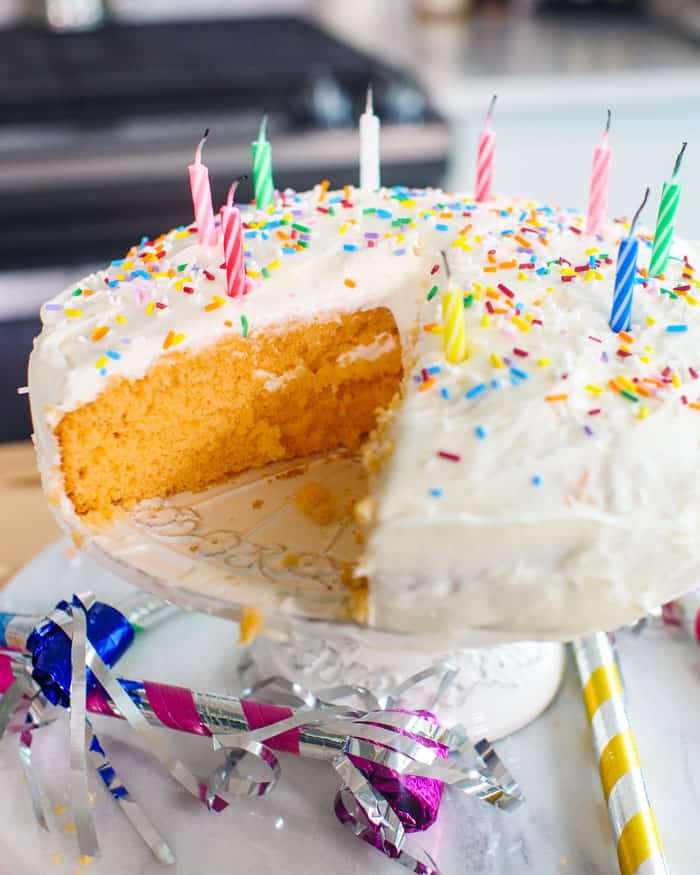 This recipe is part of my monthly #HACKED series that shows you vegan food hacks & cooking hacks to make life easier for you! It's my birthday today, so I thought I would show you how to make a Vegan Orange Creamsicle Cake recipe using 2 ingredients!
Did you know that you can use a boxed cake mix to make a 2-ingredient vegan cake?! Can you guess what the other ingredient is besides boxed cake mix to make a vegan cake?
In my newest video, I discuss 3 easy vegan cake mix hacks and how to make this easy creamsicle cake recipe, as well as pumpkin spice muffins and chocolate peanut butter cookies using cake mix!
How To Make Easy Creamsicle Cake | VEGAN RECIPE
If you want to view or print the recipe card, just scroll down for the full list of ingredients and simple instructions on how to make this delicious orange creamsicle cake recipe.
All you need for this recipe is boxed Yellow Cake Mix, as shown in my youtube video, and Orange Soda! SO EASY! And obviously, if you want, you can add frosting and sprinkles as I did… cause y'know, a birthday needs frosting, sprinkles, and candles!
Recipe for Vegan Orange Creamsicle Cake
The first thing that you want to do is add your cake mix into a bowl and add the orange soda. Whisk it all together!
Next, you want to grease a cake tin and line it. Spread the batter into the cake tin and put it in the oven for 20-25 mins at 350 F.
Afterward, let the cake cool completely, especially if you plan to add frosting to your cake next. A warm frosted cake will only end up in a thick goopy mess, so WAIT until your cake is cooled before frosting! I mean it!
Did you know that most premade, store-bought "whipped" frostings are accidentally vegan? Because I feel like being a lazy vegan on my birthday, I bought pre-made vanilla icing that I'll be putting on my orange creamsicle cake!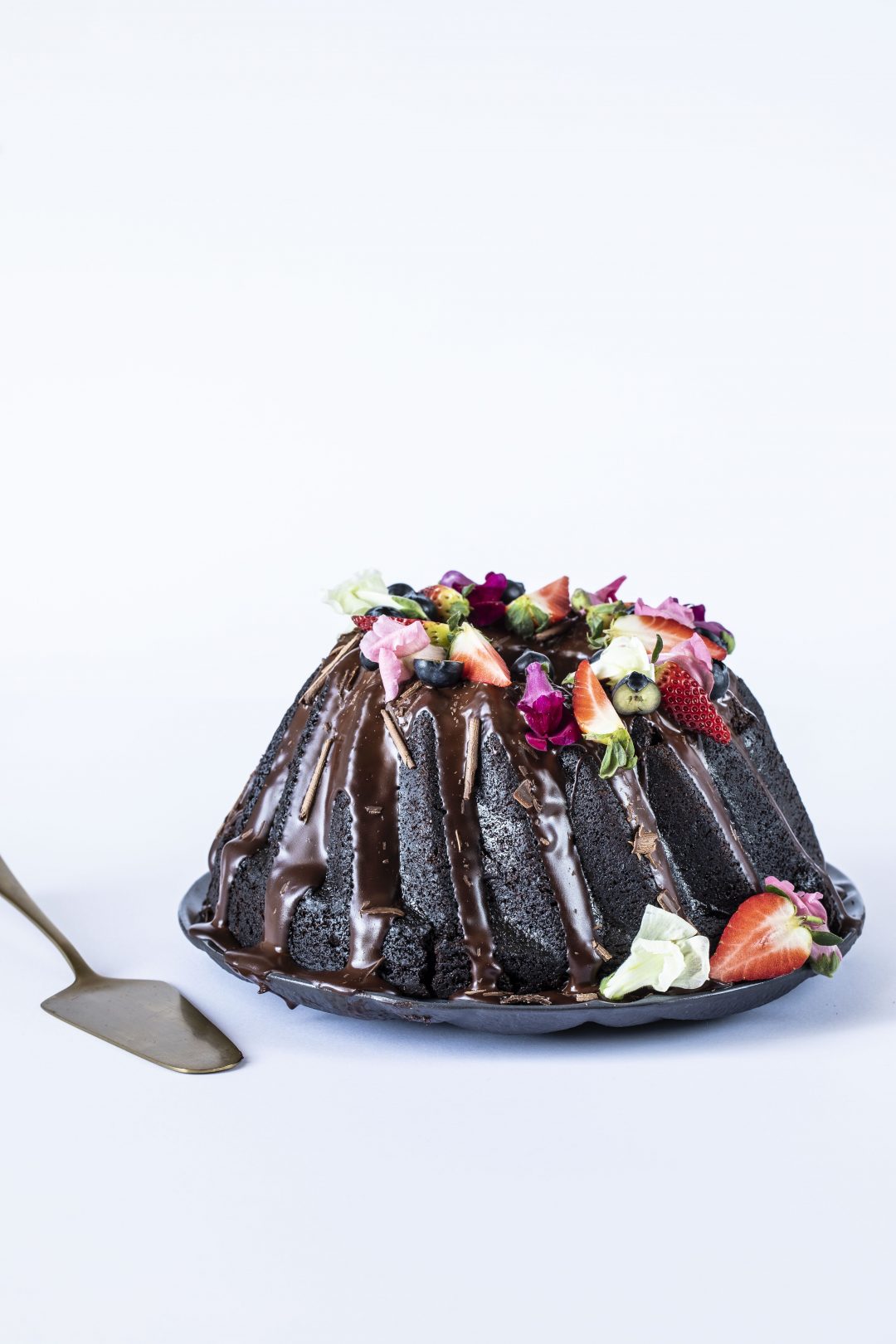 shares
Share
Tweet
Share
Pinterest
E-mail
Print
If you're looking for a fun Saturday activity, try our super easy vegan chocolate cake! We used vegan butter, olive oil and vegan chocolate to create a perfectly moist, springy cake topped in a decadent chocolate ganache. This is an easy cake to make for a vegan friend's birthday, celebration or just for some fun!
Easy Vegan Chocolate Cake
HANDS-ON TIME 20 min | TOTAL TIME 1 hr 45 min | SERVES 10-12
INGREDIENTS
Vegan Chocolate cake
20 grams vegan butter, melted, for the cake tin
3 Tbsp. cocoa powder, for the cake tin
6 cups flour
1 cup cocoa powder
2 tsp. salt
4 tsp. baking soda
4 cups brown sugar
4 cups boiling water
3 Tbsp. instant coffee granules
1 Tbsp. vanilla essence
20 ml white vinegar
330 ml olive oil
Vegan chocolate ganache
100 grams vegan dark chocolate, finely chopped
150 grams tinned coconut cream
Pinch salt
To serve
80 grams chocolate, for curls
150 grams berries of choice
Edible flowers
METHOD
For the vegan chocolate cake
PREHEAT oven to 180°C. Brush a thin layer of melted butter inside a 26cm-diameter bundt tin and dust over the cocoa powder, tapping out any excess. Spray over a layer of non-stick spray.
SIFT the flour, cocoa, salt and baking soda in a bowl and whisk in the sugar.
COMBINE the coffee and boiling water together in a separate bowl and mix until dissolved. Add vanilla, vinegar and oil and mix well to combine.
POUR the wet ingredients into the dry ingredients and whisk to form a smooth batter.
POUR the cake batter into the prepared cake pan and bake for 1 hour 25 minutes or until a toothpick inserted into the centre of the cake comes out clean. Allow to cool completely before turning the cake out of the pan.
Vegan chocolate ganache
PLACE the chocolate in a heat-proof bowl.
HEAT the coconut cream in a small pot until steaming and pour over the chocolate. Allow to sit for a moment and stir to create a smooth, glossy ganache. Sprinkle in salt and stir to combine.
Chocolate curls
USE a vegetable peeler or small knife to carefully shave small chocolate curls from the smooth back of the chocolate slab.
To assemble
POUR the ganache over the cooled cake and serve topped with chocolate curls, berries and flowers.
Published: Jun 28, 2019 · Modified: Jun 28, 2019 by Sina · This post may contain affiliate links · 18 Comments
This vegan lemon cake is absolutely perfect for spring and summer! It's super fluffy, moist, and it has a deep lemon flavor. And it's so easy to make!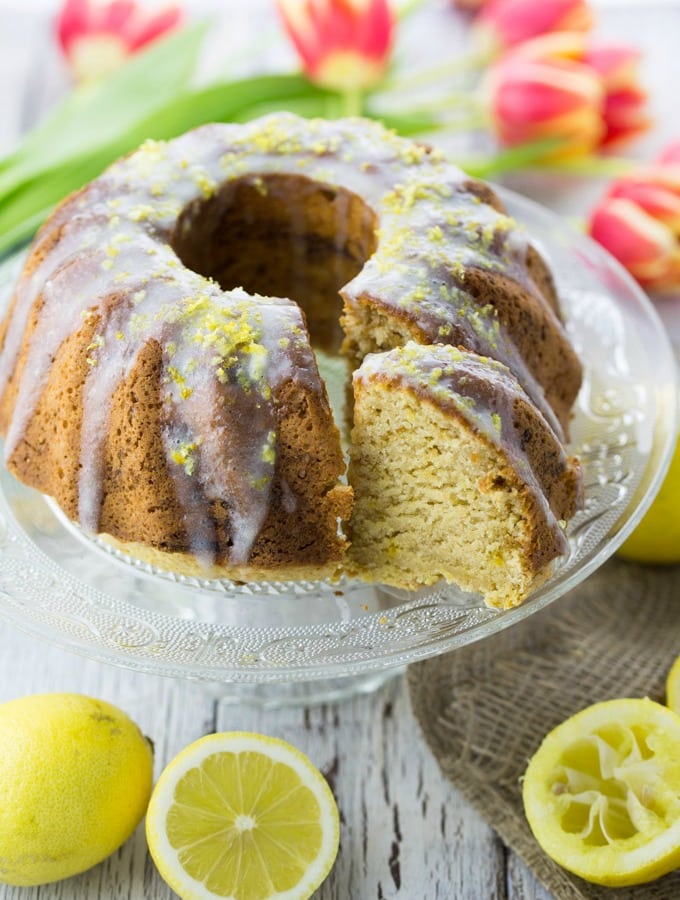 It's hard to believe that I used to absolutely hate lemon cake. I still don't like the combination of lemons or oranges with chocolate, but I absolutely LOVE lemon cake!
The "secret ingredient" to make this vegan lemon cake extra moist is vegan soy yogurt.
I recommend using lemon-flavored soy yogurt, but if you can't get hold of it you could also use plain soy or coconut yogurt.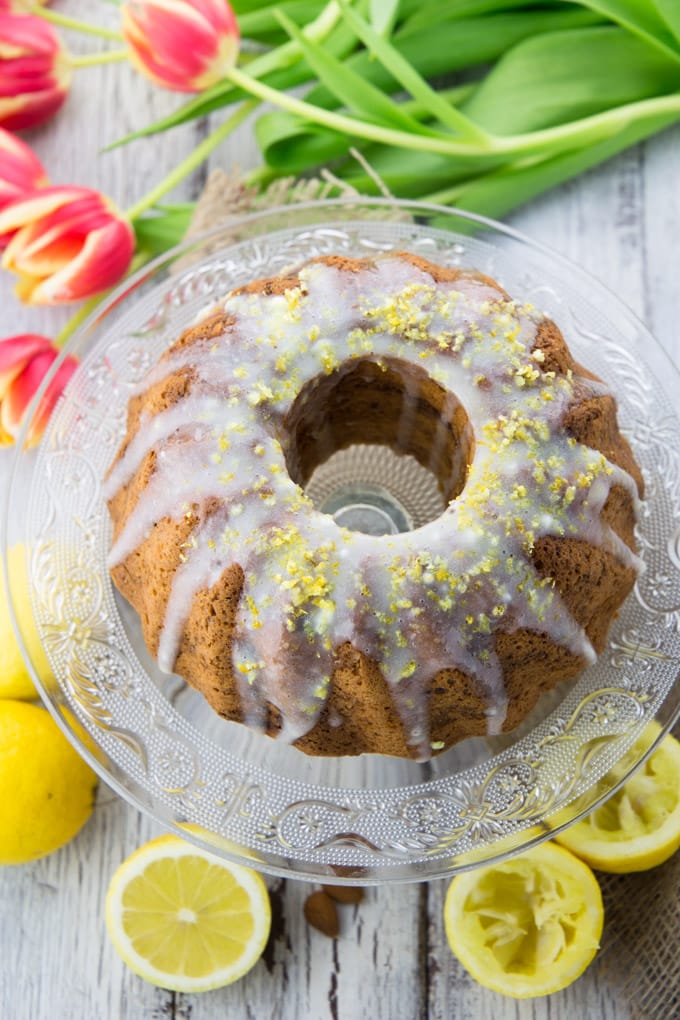 What You Need For This Vegan Lemon Cake:
all-purpose flour
almond flour
brown sugar
lemon-flavored soy yogurt (or plain soy or coconut yogurt)
baking powder
baking soda
vegan margarine
apple cider vinegar
olive or canola oil
fresh lemon juice
lemon zest
powdered sugar (for the glaze)
As always, you can find the full ingredient list and the recipe instructions in a separate, printable recipe box at the end of this post.
The lemon cake recipe is super easy! You just combine all of the ingredients in a bowl and stir them with a wooden spoon. Easy, peasy!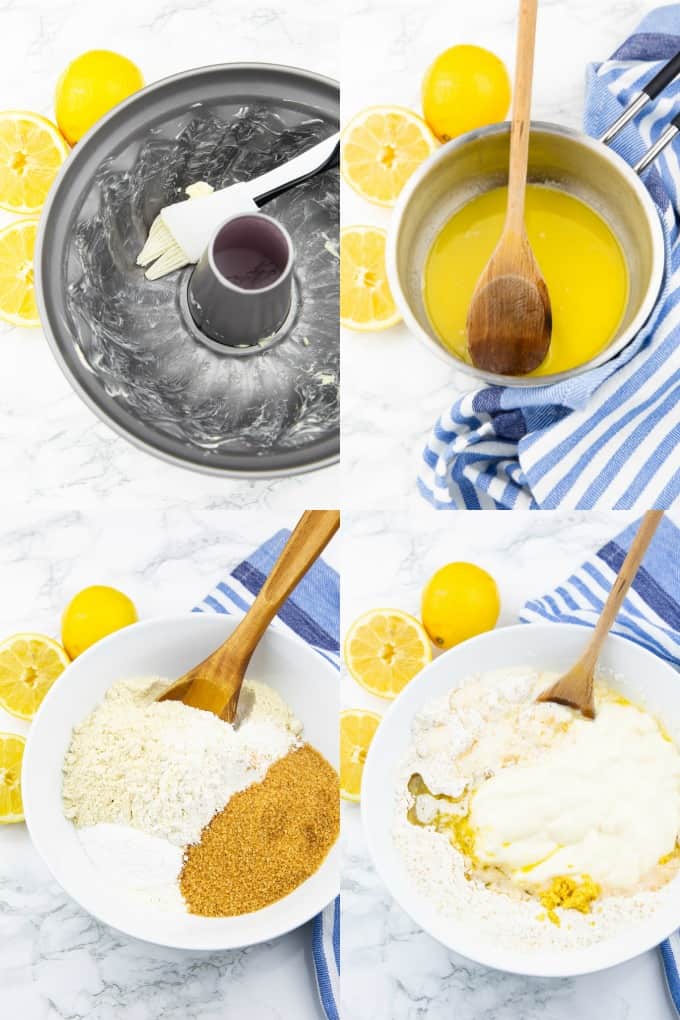 STEP 1: Preheat the oven to 350 °F.
STEP 2: Grease the bundt pan with vegan margarine and lightly dust it with flour. Melt the margarine in a small pot.
STEP 3: In a large mixing bowl, combine all ingredients and stir with a wooden spoon. Pour the dough into the bundt pan.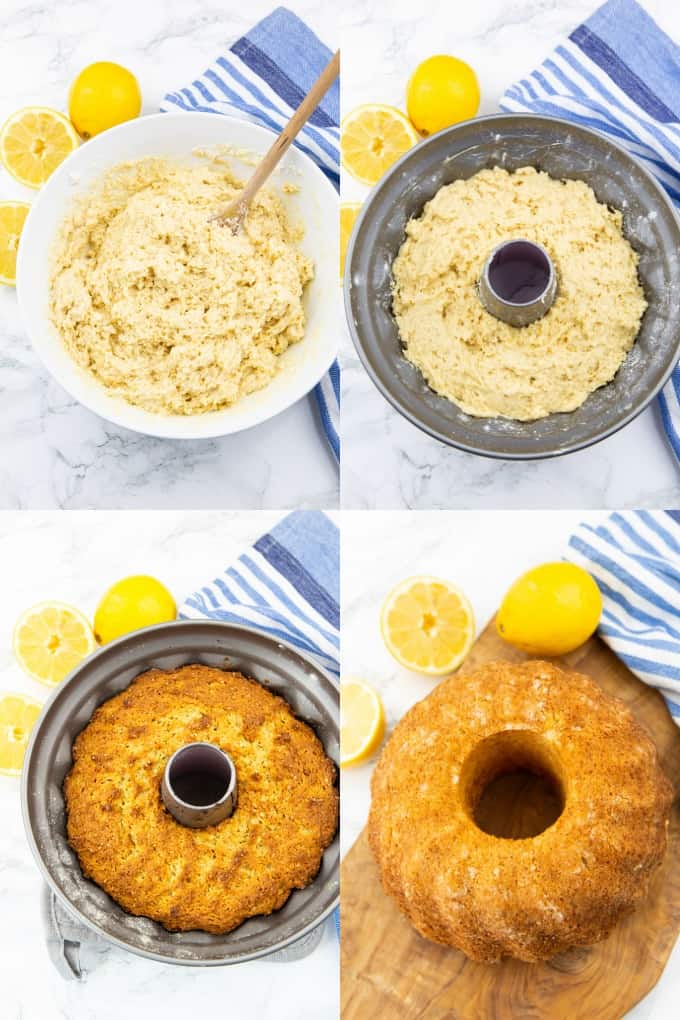 STEP 3: Bake for about 40 minutes. Use a toothpick to check if the cake is ready. Leave in the pan for 10 minutes. Then transfer it to a wire rack to cool completely.
STEP 4: Meanwhile make the glaze: Combine the powdered sugar, the lemon juice, and the water and stir well. If the frosting seems to runny, just add bit more powdered sugar until you reach the right consistency.
STEP 5: Once the cake has completely cooled, pour the glaze over the cake and sprinkle with the remaining lemon zest. Enjoy!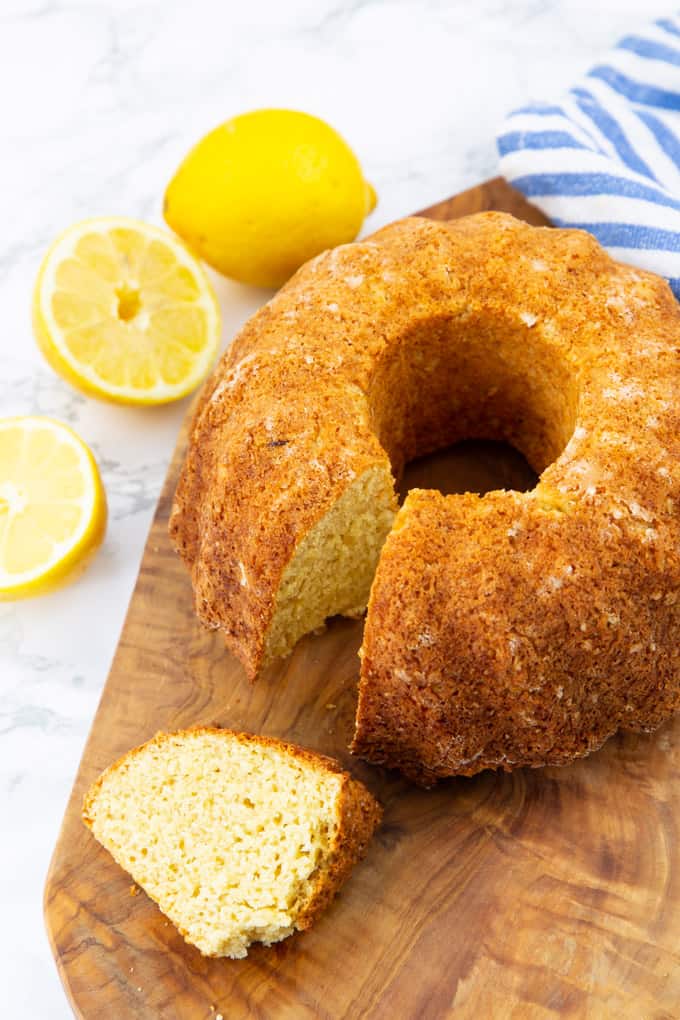 Vegan Lemon Cake – Recipe Notes:
I used lemon and lime-flavored soy yogurt for my vegan lemon cake, which worked perfectly. If you can't get hold of this flavor you could also use plain soy yogurt or coconut yogurt. In this case you could slightly increase the fresh lemon juice and the lemon zest to give the cake a deeper lemon flavor.
The vegan lemon cake is even better the next day! So don't eat it all at once. I know that's always hard with a cake being around, but in this case it's really worth it.
To make the lemon cake even moister, I added a little bit of almond flour. I really like the texture and the taste it gives the lemon cake. I've experimented a bit with the almond flour and I ended up replacing about 1/5 of the all-purpose flour with the almond flour. However, you could also leave it out and use 100 % all-purpose flour.
I've had some readers use this vegan lemon cake as a base for other cakes for example chocolate cakes, marble cakes, or berry cakes. I haven't tried it myself yet, but they told me it worked out great.
Vegan Lemon Cake – FAQs:
Can You Freeze Vegan Lemon Cake?
Yes, like most cakes this vegan lemon cake can easily be frozen without the frosting.
You can either freeze the whole cake or individual slices. Just wrap the cake in plastic wrap and then put it into a freezer bag.
To thaw the lemon cake, unwrap it and put it on a cooling rack. Let it thaw at room temperature for about 4 hours. Individual slices take less time (only about an hour).
What Kind of Frosting Can You Make?
I made a simple powdered sugar glaze with lemon juice and water. To add even more lemon flavor, I sprinkled the lemon cake with lemon zest. This also looks super nice!
If you want a more decadent and rich frosting, you could also try a vegan buttercream frosting or a vegan cream cheese frosting instead.
In this case, I'd also sprinkle a bit of lemon zest on top.
What Baking Pan Do I Need For This Vegan Lemon Cake?
I used a 9 x 4.5 inch bundt pan for my vegan lemon cake with a nonstick coating.
Can I Make This Cake Gluten-Free?
I haven't tried making this lemon cake gluten-free. However, I think it should work by replacing the all-purpose flour with a gluten-free flour blend.
How Do I Keep This Vegan Lemon Cake?
I usually wrap my lemon cake with aluminium foil and store it a room temperature. It will keep fresh for several days.
It will taste even better on the next day as the lemon flavor will be deeper.
I'm not the biggest fan of storing it in the fridge as it will lose some of its flavor this way. However, it will stay fresh for about a week in the fridge.
Other Delicious Vegan Cake Recipes You Might Like:
Vegan Carrot Cake
Vegan Birthday Cake
Apple Cake with Almonds
Vegan Cheesecake (without cashews)
No Bake Kiwi Cheesecake
Vegan Chocolate Cake
I LOVE TO HEAR FROM YOU GUYS!
I hope you like this vegan lemon cake as much as we do around here.
If you give it a try, I'd love to know what you think about it. Just leave me a comment and a star rating below. Your comments really make my day!
You like my recipes and want to see more? Then follow me on Facebook, Instagram, or Pinterest!
Published: Jan 19, 2018 · Modified: Jun 13, 2022 by Kate Ford · This post may contain affiliate links.
This decadent vegan coffee and walnut cake is easy to make, and a real showstopper. Light and nutty sponge layers filled with fluffy coffee buttercream.
🍴Why you will love this recipe
This deliciously light and moist vegan coffee and walnut cake is so very easy to make. You don't need a fancy food mixer or other equipment, just a bowl and a spatula!
There are no weird ingredients in this cake – no vinegar, flax seeds or egg replacers, and it turns out brilliantly every time, just read the reviews at the bottom of the post.
The coffee buttercream is incredibly creamy and light, and the dark, nutty sponge has just the right level of coffee to be a strong flavour without turning bitter. Follow my top tips for best results. If you have time, keeping the cooled cakes in an airtight tin overnight before adding the buttercream makes a huge difference for an extra-soft and moist sponge.
📝 What you need
Instant Coffee This cake has just the right amount of coffee to have a good coffee kick to it without being bitter. You can use any instant coffee granules or powder, or if you prefer you can swap in liquid coffee essence (like Camp Coffee) in which case you don't need to mix it with water.
Walnuts I chop these by hand rather than using a mini-chopper, so that they don't become chopped too finely.
Oil Use a flavourless oil like rapeseed or sunflower oil. Avoid anything with a stronger flavour like olive or coconut oil.
👩🏽‍🍳 How to make your Vegan Coffee Cake
For a full, printable recipe with ingredients and detailed instructions, scroll to the bottom of this page.
Mix the coffee granules and water and set aside to cool. Roughly chop the walnuts.
Mix the flour, sugar and baking powder in a large bowl. In a separate jug, mix the oil, soya milk and coffee mixture.
Combine the wet and dry ingredients and mix until smooth. Stir through the walnuts. Divide the mixture between two tins.
Make the buttercream. When the cakes are completely cool, layer with buttercream and scatter with chopped walnuts.
⭐️ Reader Testimonials
⭐️⭐️⭐️⭐️⭐️ "I just wanted to express my appreciation for your wonderful recipe! I made this cake yesterday and was so happy with how it turned out! This cake will now be a regular feature in our household. Lovely recipe, thanks again. " Priyam
⭐️⭐️⭐️⭐️⭐️ "Just made this today, my first attempt at making a cake and omg, its amazing! Im so proud to have done this. It's so so good! Thank you! I'll certainly be bookmarking your website and trying many more! 😁" Leigh
⭐️⭐️⭐️⭐️⭐️ "Great cake – have used this recipe a few times (was turning into a post Parkrun classic – now is just a classic )🥇 Not many complaints – the only one being 'where's my second slice gone!'" John
⭐️⭐️⭐️⭐️⭐️ "Brilliant recipe. this really worked well, came out perfectly, looked good, tasted delicious, best vegan coffee cake I've made. Thank you" Jules
⭐️⭐️⭐️⭐️⭐️ "The cake is absolutely delicious! Perfect texture and sweetness and so nice and simple to make. Thank you for the recipe and building my confidence as a baker!" Antonia
🔪 Top Tips & FAQs
Work quickly once you have combined the wet and dry ingredients. The raising agent will get to work straight away creating tiny bubbles, and you want these to form in the oven, not on your worktop!
If you can, store the cooled cakes overnight in an airtight tin before icing. This process draws moisture through the cakes and makes them deliciously soft and moist.
Frequently Asked Questions
Yes! The coffee sponges themselves freeze very well so you can make them ahead of time, (or even batch-cook two at once!). Pop a sheet of greaseproof paper or baking parchment between each layer then wrap the whole lot tightly in foil.
When you need to serve the cake you can just defrost. make the buttercream and layer it up – it is almost impossible to tell that it isn't freshly baked!
An instant coffee powder is easiest to mix to a paste with boiling water, though granules work fine too. If you prefer, you can use a coffee essence (like Camp Coffee) which doesn't need to be mixed with water.
This cake is lovely and moist, so will keep for 2-3 days in an airtight tin or container.
Yes absolutely. The quantities in the recipe make 20-22 fairly large cupcakes, so you might need to adjust these. The simplest way to do this is to go to 'Print Recipe' and adjust the number of slices. Adjusting to 6 slices will give you 12 cupcakes.
🍽 If you liked that.
. you might also enjoy these vegan recipes from The Veg Space:
Loved this recipe? ⭐️ Leave a star rating below! 📸 Snap a photo of your finished dish and share it with me on Instagram, tagging me @thevegspace or #thevegspace 📩 And get all my latest recipes in a weekly e-mail by subscribing to my newsletter.