Introduction: How to Make a Clothespin Gun
In this instructable I will be showing you how to make a precision classroom weapon. It takes a lot of time to create, but if you take your time and make it quality by following my steps, I promise you will be pleased with the results. This will shoot either toothpicks or matches.. this particular model will not shoot the strike anywhere ones but i will soon put up an instructable for one that ignites them when you fire it.
Step 1: Gather Materials
To get started you are going to need to gather some materials that you might have laying around your house.
1) Super Glue
2) Quick Dry Spray (optional)
3) Terrorist Knife =]
4) Wire Cutters (optional)
5) Two Wooden Clothespins
6) A File
7) And Last Of All You Need WAY Too Much Time on Your Hands
Step 2: Getting Started
Now it is time to get everything ready and disassemble your clothespin. Be sure you keep the metal spring because it is important.
Step 3: Carving Out the Internals
In this step you are going to need your file and your handy little knife. Using your knife, you are going to take out all of the parts like they are shown in the picture. Be sure to take your time and make it nice, because later on when you are finished you will not be able to access this area to fix any problems. You are also going to have to cut off a little bit of both ends of each peg.
Step 4: Glueing
After you have finished your carving you are going to need put the spring back on like shown in the picture and make sure your holes and slit things line up. If they line up you are going to glue the two pieces together and use some of your spray to quicken it up and make it dry stronger. If you want to you can take a piece of another clothespin and attach it to the top to make sure the spring does not pop out of place. This also makes it look cooler also.
Step 5: Sanding
Now you are going to want to take some sand paper or a really fine file and do some sanding to smooth out the edges and blend everything together. This will take a lot of time if you want to make it look nice and professional.
Step 6: Your Done
Now that you are done have fun but be SAFE. Do not fire this at anyone because it might hurt you. You can also make different designs like i did on another instructable on another account. I made it look like an ak 47 and it turned out okay. To fire this you have to push the non red part of the match back into the hole until the spring locks into the notch and then push down on the spring and it will fire.
Be the First to Share
Did you make this project? Share it with us!
Introduction: Clothespin Gun
a super awesome gun that shoots pretty much anything!
Step 1: The Parts
one clothespin and a rubber band
Step 2: Cutting the Clothespin
cut along the line in the picture to make one side of the clothespin shorter.
Step 3: Putting the Spring On
to put the spring back on is a necessary step.
put it on using the image below.
make sure that when you look at it, the spring goes around the top not the bottom as shown in the diagram below.
Step 4: Putting the Rest of It Together.
put the smaller part on top of the longer one.
rubber band them together where shown in the image below.
DO NOT RUBBER BAND TOO TIGHT!!
IT WILL MAKE IT SHOOT NOT AS FAR!!
Step 5: Cocking It
to cock this gun uses two steps.
Step one:
slide the top shorter piece towards the front of the weapon untill the spring pops into the little notch in the wooden part.
Step 6: Almost There!
Step two:
slide the top part back again to the back of the weapon untill it drops into the little slot again.
this one may be a little bit awkward but it will work fine.
Step 7: Ammo!!
put ammo between the two pieces of wooden clothspin.
i used an airsoft BB
most anything will work tho.
toothpicks also work very well.
you will see that the spring looks sort of like a trigger. this is to be used as a trigger.
pull it just like you would pull a trigger and it will shoot.
have fun!!
Be the First to Share
Did you make this project? Share it with us!
Introduction: How to Make a Clothespin Gun – EASY
A Clothespin (Wood)
1 Rubber band
Cutting tool
Marking tool (optional)
Step 1: Take Your Clothespin Apart
Simply slide the top clothespin part from the spring. And simply take the spring off. Be careful.
Step 2: Measure the Length You Want
Use a pencil or pen to mark the part you want to cut.
Step 3: Start Cutting
Use your cutting tool to cut the part you marked. Please be really careful.
Step 4: Finished Cutting
Now you're ready to put it all together
Step 5: Attach the Spring Like This
Step 6: You Can Also Cut a Notch So That the Spring Will Hold Tighter
Step 7: Attach the Spring
Then attach the spring. It should look like this.
Step 8: Tie the Rubber Band (NOT TOO TIGHT)
Step 9: Now You Have a Clothespin Gun.
Step 10: Aiming and Shooting
This is how you shoot and reload
Step 11: Malfunctions That Might Happen
If your gun does this, then make the notch a little bit more deeper. Use your cutting tool to do this. Then put it back together. Finished.
Step 12: Enjoy!
Make bullets for your gun. You can also use the piece that you've cut.
P.S- This is my first instructable, so yeah 🙂
Be the First to Share
Did you make this project? Share it with us!
Update your desktop arsenal with this creation
By Ina Yang | Published Apr 22, 2014 5:00 PM
DIY enthusiast Grant Thompson, who previously made a 10-penny battery that powered a small light for almost two weeks, is at it again. Inspired by another project tutorial, Thompson created seven variations of a mini-pistol that can fire matches over 20 feet.
Clothespins
Wood glue
Utility knife
Matches
Take apart the clothespin by removing its metal spring, then hold the two wooden clips back-to-back. With the utility knife, carve out a barrel for the matchstick ammunition. Then glue together the two parts, back-to-back. After allowing time for the glue to dry, slide one end of the metal spring through the space between the clips, and place the other end over the outside notch. Now load a matchstick, and there you have it: a mini-sized pocket pistol that shoots matchsticks and toothpicks.
Warning (via Grant Thompson): "Projectiles should never be shot at any living thing. Injury or damage may result. Lighting match heads and firing them indoors is strongly discouraged. Competent adult supervision is advised when using the device. There may be other risks associated with these projects that have not been disclosed, or of which I am not aware. Use of video content is at own risk."
Clothespins are pretty innocent-looking, but with a mod here and a hack there, that innocence quickly turns into danger. Well, sort of. In this project, we'll be turning an ordinary spring-action clothespin into powerful matchstick and toothpick shooter that can shoot apples and lob fiery darts over 20 feet.
This project was inspired by Instructables author "Samarai" and his awesome tutorial on making a Clothespin Gun.
A matchstick gun is essential to your collection of desktop weaponry.
This little pocket pistol will shoot a matchstick with power, blast toothpicks into fruit, and lob fiery darts. The best parts is, it can be made fairly easily and for almost nothing!
All you need for this project is some wood glue, a utility knife, and a wooden clothespin. Just make sure it's the kind with the metal spring.
Check out the video above for step-by-step instructions. And if you liked this project, perhaps you'll like some of my others. Check them out here on WonderHowTo or over at thekingofrandom.com.
Keep Your Connection Secure Without a Monthly Bill. Get a lifetime subscription to VPN Unlimited for all your devices with a one-time purchase from the new Gadget Hacks Shop, and watch Hulu or Netflix without regional restrictions, increase security when browsing on public networks, and more.
One sultry summer's evening about 20 years ago, my
grandfather–who was quite an ingenious old
gentleman–sat whittling away on the back porch while
Grandma cooked supper for the family. When Grandpa turned
his finished handiwork over to me, I found it was a new
plaything, one that kept me fascinated for days
afterward.
Granddaddy's clothespin gun or clothespin popper is an easy-to-put-together
homemade toy. You can make it for your youngsters
(or your grandchildren) in just a few minutes using
only a handful of common household items. All you'll need
to fashion one of the child-pleasers are two spring-type
clothespins, a pocketknife, and a strong rubber band.
First, remove the spring from one of the clothespins, pick
up your whittling knife, and square off the rounded inner
notch on one of the halves … and on the same wooden piece use the point
of the knife to deepen the outside notch just a
bit. Then put the two sections back together, wrap a
rubber band several times around their tapered ends, and mount the spring so that its round
coil is on top of the toy.
The other clothespin, when it's taken apart, will provide
two rounds of "ammunition" for your popper. Simply whittle
away about 1/8″ from– and square
off–the tapered end of each piece, and you (or an
eager youngster) will be able to wedge the stick into the
popper. Cock the "trigger"–or spring coil–by
sliding one of the tapered pieces
into the popper until it pushes the inside lever of the
spring into the square notch you whittled out. (If the
spring won't stay in place, you'll have to take the device
apart and carve the "catch" a little deeper so that
it's closer to a right angle.) Then position the popper's
"ammunition" just in front of that ledge. (Wrap the rubber
band tightly enough to lodge the "shell" snugly between the
jaws of the popper.)
At this point, the down-home toy is ready for action. Hold
it (with its open end pointing away from you) by grasping
the bottom section between your thumb and index finger.
Then aim the device at the ceiling–or at a soft,
unbreakable object–and pull the trigger toward you
with your other forefinger. (You'll probably find that you
need to balance the rubber band end of the popper with the
thumb of your "trigger" hand.) The spring lever will push
forward and send the pin flying 10 or 20 feet.
Once you've tested the popper, remind the young'uns to
point their new toy at things instead of people, and then let them try out Grandpa's invention. They're
sure to have as much fun with the old-fangled plaything as
I did!
By Brenda H. Murphy | Submitted On January 30, 2006
Back in the days when kids made a lot of their toys, some devious little mind came up with a way to fire rubber bands off more than their own thumbs. Thus was born the rubber band gun. Today, they're enjoying such a resurgence of popularity, that you can even buy guns carved from wood, that replicate actual weapons such as repeating rifles, pistols and more.
But for a simply weapon to give your friends a snapping good time, try this. Gather up a piece of wood, such as a short section of 1×2″ lumber, a wooden clothespin, some Crazy Glue, a nail and a hammer.
You're going to want to glue the clothespin at the rear of the 1″ side, which should be on top. But first, take a nail no more than 2″ long, and 1/8″ thick, and cut the flat head off, and file it down. Mark on the piece of wood, where the end of the clothespin will be, and drive the nail into the wood, sharp end down, about 1/3″ from where the mark is. Leave about 3/4″ of the nail sticking up.
Now drill a hole through the end of the clothespin, with a bit that is slightly larger than the width of the nail. Make sure you drill through both sides of the pin. Apply glue to one narrow side of the clothespin, from the open end, down to the drilled hole. Don't get glue in the hole. Now place the clothespin on the piece of 1×2″, making sure it's got the nail fitted through the hole. You might want to try the fit, before applying the glue.
Cut a notch in the end of your wood, just below the top, so you can hook one end of the rubber band there. Now pull it back, and hook the other end over the protruding nail. To fire, just open the clothespin. There should be enough motion to allow the upper part of the pin, to push the rubber band off.
For more zing to your gun, cut a second shorter piece of wood and glue it underneath at a 90-degree angle, to approximate the shape of a pistol. Insert your nail and glue your clothespin to the back of the "grip". This will make for a longer stretch to the band, and more snap when you fire.
Save this idea for later so you don't forget to use it!
If your kids love STEM activities and engineering activities for kids, they will love this clothespin airplane building challenge. What kind of airplane can you make?
For this engineering activity, I challenged my kids to see what sort of airplane they could create using clothespins and popsicle sticks.
I really couldn't believe how well the airplanes turned out!
If you want to make your own wooden airplanes, you can't go wrong with these materials!
How to Make a Plane Out of Popsicle Sticks
This activity is simple, but there is so much to learn! We did this engineering challenge as part of a STEM unit around the Wright Brothers, the math and science of flight, and the history of aviation.
Supplies for the Clothespin Airplane Craft
Wooden clothespins
Popsicle sticks (we used jumbo size)
Scissors
Hot glue gun and glue sticks
Acrylic paint
Paintbrushes
Flight: The Complete History (for reference)
Pony beads
How to Make Airplanes out of Wooden Clothespins
First, we discussed airplanes and the history of flight before beginning our clothespin airplane challenge. We learned how older planes flew and how planes fly today.
Monkey decided she wanted to make a modern plane and we made the WWI plane together.
The challenge was to build a realistic airplane using clothespins and popsicle sticks. Additionally, Monkey wanted her airplane to be able to fly.
Airplane Science for Kids
For inspiration, we read the airplane page of How Things Work, and we also looked at pictures of old WWI planes and the original Wright Flyer.
The Sopwith Triplane was the inspiration for our joint design. Here is a bit more about the science behind why airplanes can fly.
First, we assembled our supplies. We ended up cutting our popsicle sticks with scissors. That worked well to create the angles we needed. We only used wood from the popsicle sticks and clothespins.
Use our designs as inspiration for your own clothespin airplane creations.
How to Make Modern Clothespin Airplanes
2 popsicle sticks
1 clothespin (spring removed)
We assembled our planes with hot glue. When the glue dried, we painted our planes with acrylic paints.
Monkey wanted her plane to look fast, so she chose red and yellow.
How to Make a Wooden Airplane: Sopwith Triplane
5 popsicle sticks
1 clothespin
5 pony beads
We decided to go with the precise colors of the Sopwith Triplane to stick with tradition.
How to Fly a Clothespin Airplane
After the planes dried, we launched them into the air like you would a paper airplane.
Put something soft under the landing area to prevent a fatal crash for your plane that you won't be able to recover from!
As expected, Monkey's plane flew much better than the historical design.
Her plane actually flew quite well for how heavy it was. The pointed nose and the wide wingspan kept it aloft longer than I thought it would.
The other plane, I guess, would need a motor to keep it in the air.
More Engineering Activities for Kids
Save this idea for later so you don't forget to use it!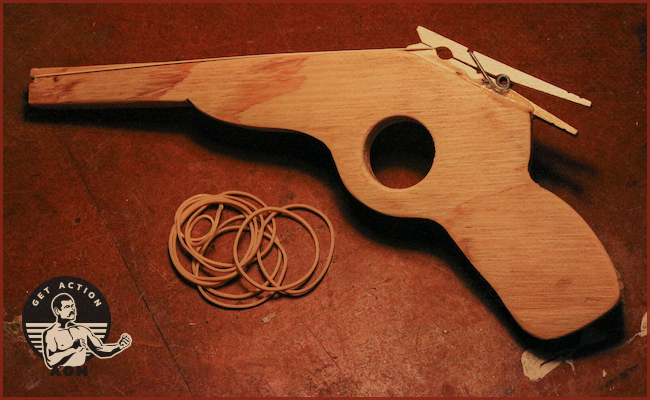 While much of the world is in quarantine of some form, and often sequestered with children who are itching for something to do, we thought it would be fun to offer a weekly craft/project idea you can work on together to help while away the time. If you make the craft, we'd love to see it; share on social media with the hashtag #aomkidcraft.
Every generation seems to have its own version of the toy gun. Maybe you grew up with cap guns or spud guns. And, if you've spent any time around kids since about 1990, or grew up during that time, chances are you've engaged in a Nerf battle.
Modern toy guns that shoot 100 darts a minute and hold 200 "rounds," can be pretty slick and cool. But what's also pretty cool is making your own toy gun.
This craft recaptures the simple joy of an old school DIY shooter. Numerous varieties of rubber band guns have been around for generations, and continue to be fun to mess with. With just a piece of plywood and a few tools, you and your kid can create your own and start firing off rubber bands for target practice and intra-familial battles.
How to Make a Wooden Rubber Band Gun
Things you'll need:
6×12 piece of plywood
Clothespin
Rubber bands
Drill, with hole saw bit
Clamps
Glue
Handsaw
Step 1: Trace Gun Onto Plywood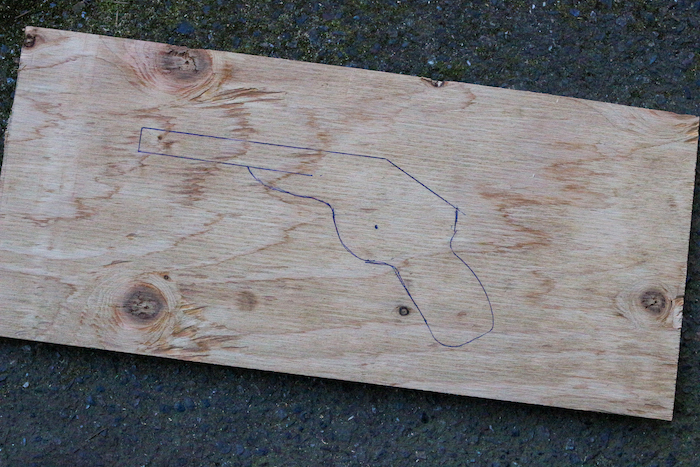 Draw out your gun onto a piece of plywood. This example uses ¾-inch plywood, but you could easily replicate this project with ½-inch or just about any board, as long as it's wide enough and not too thick. Anything thicker than an inch would probably start to get cumbersome.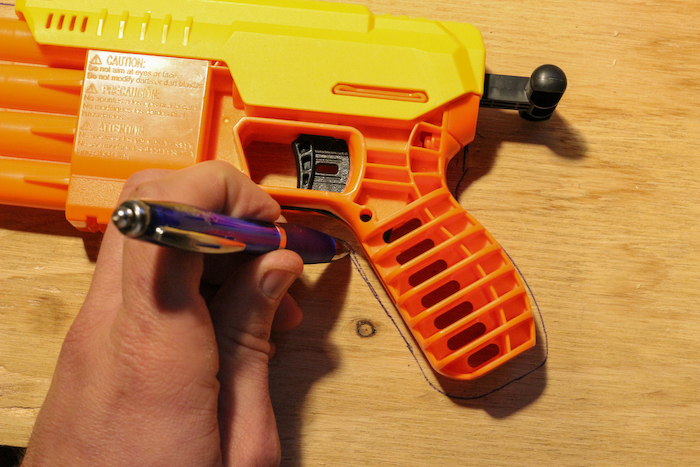 In this example, I used the handle of a dart gun to get me started, but you could freehand the whole thing.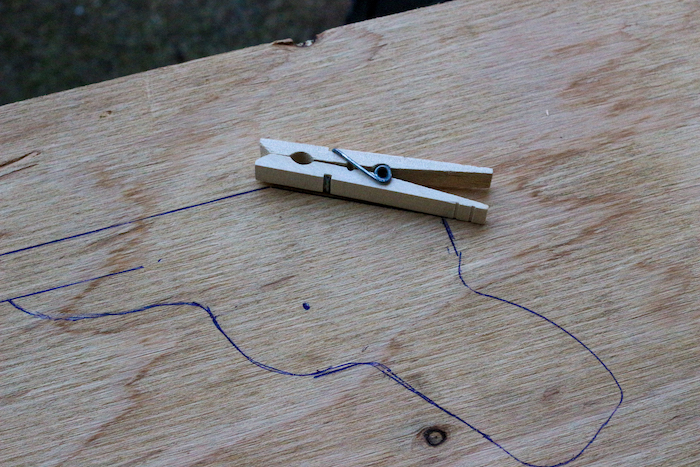 The most critical part to get right is the angle and length of the area where the clothespin will go. Make sure it's at a fairly low angle to the barrel, and that it's large enough for more than half the clothespin to rest on.
Step 2: Drill the Hole for the "Trigger"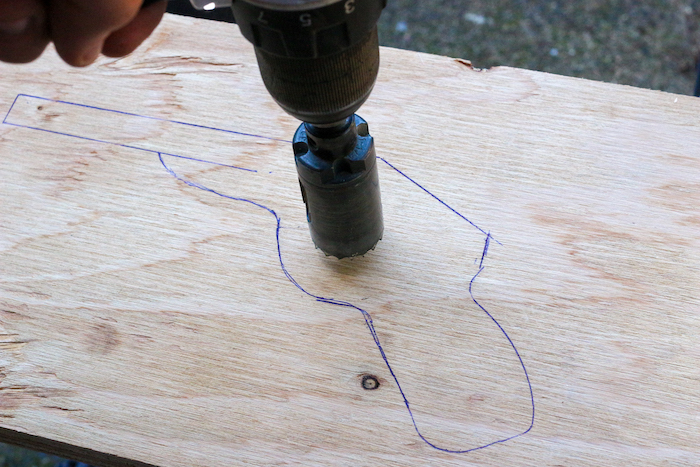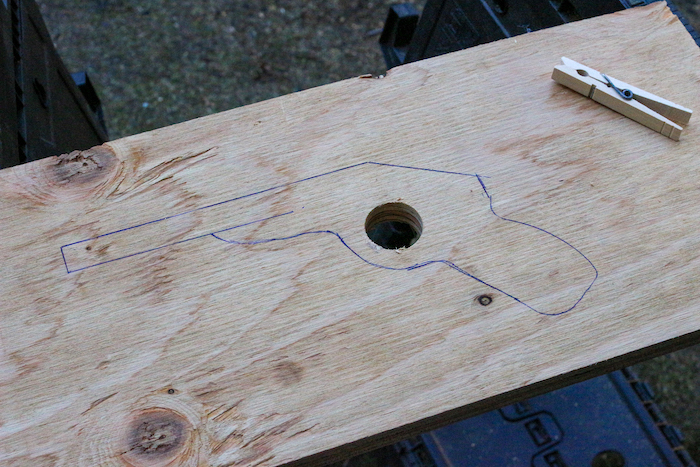 Use a drill with a hole saw bit to cut out your trigger area. For this gun, I used a 1-inch hole saw, but anything similar will work just fine.
Step 3: Cut Out the Gun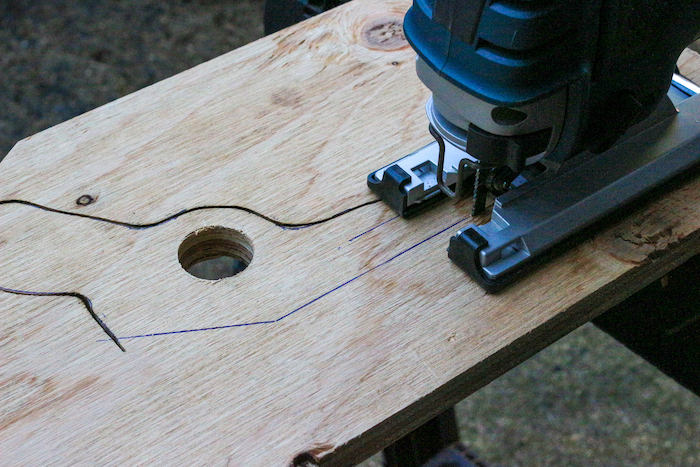 Cut out the gun with a jigsaw. If you don't have a jigsaw, you can likely use a handsaw as long as you make your gun shape fairly simple.
Step 4: Sand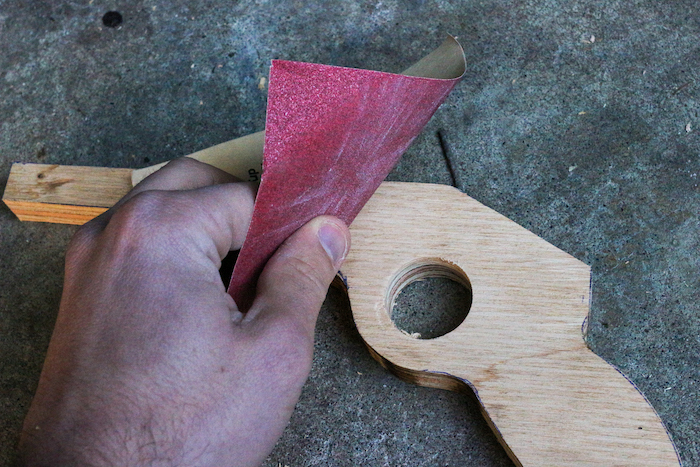 Sand the gun so it's smooth on both sides and at the edges. Don't forget to round over the edges in the trigger area too.
Step 5: Cut a Notch in the Barrel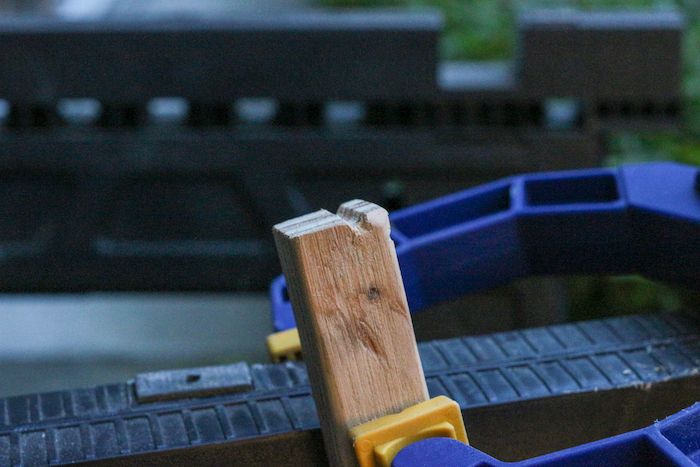 Cut a notch into the tip of the barrel to rest your rubber band in. Clamp the gun to something sturdy while you saw. I used a handsaw here, but you could also do this with a utility knife or other sharp blade.
Step 6: Attach the Clothespin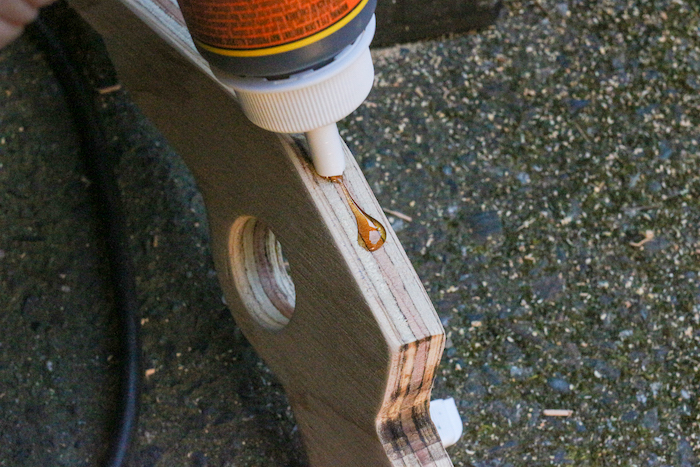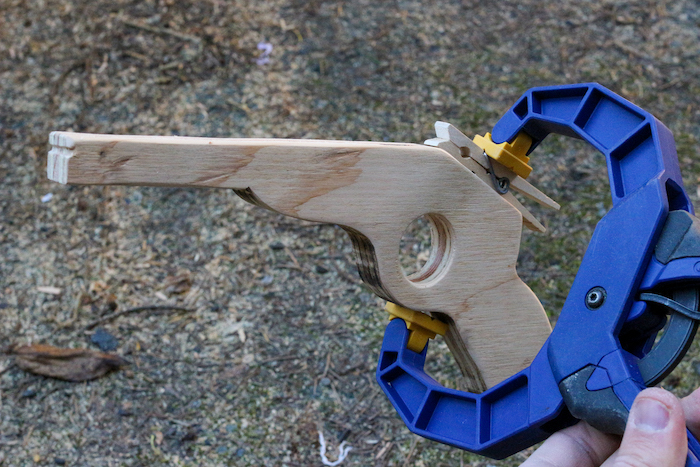 Glue and clamp the clothespin onto the rear of the gun. Position the pin so the mouth extends just above the barrel of the gun.
Step 7: Fire Away!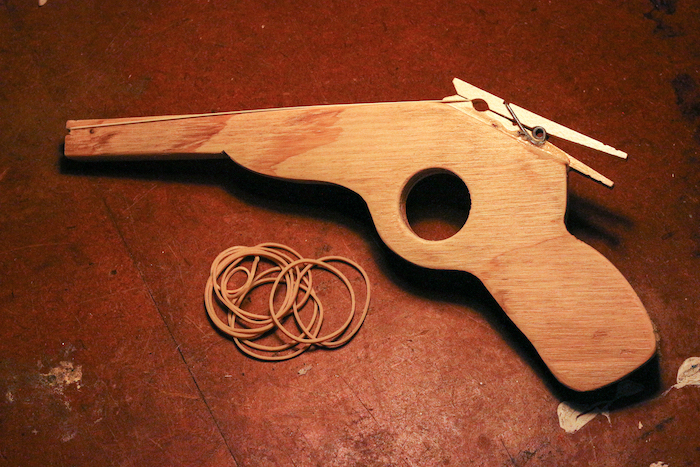 Once the glue dries, grab a handful of rubber bands and draw some targets. To load your "ammo," rest one end of the rubber band in the notch at the end of your barrel. Stretch the rubber band back, open the clothespin, and then close the mouth down on the rubber band.
If you put the rubber band back into the circular slot past the mouth of the clothespin, it often gets stuck. The tension in the mouth should be enough to hold the rubber band in place until you're ready to fire. When you've got your aim lined up, simply press down on the top of the clothespin with your thumb!
Sharing is caring!
How To Make A Clothes Pin Crocodile Craft
Today on The Inspiration Edit I have a fantastic, fun, and simple clothes peg crocodile craft to share with you. This is a great clothespin craft that can be made both at home and as an easy preschool craft idea.
Painting and creating with kids is not only fun but educational. It's a great way to expand the imagination, develop fine motor skills, and get kids talking and working on those arty skills.
*I use affiliate links in this post. If you buy anything from my links I will earn a small commission*
What You Will Need For This Crocodile Craft
Clothing pegs
Poster Board
Red & Green Paint
Paint Brush
Scissors
Google Eyes
Hot Glue Gun and Glue Sticks
Magnets
Green Pipe Cleaners
Don't have time to do this craft now? Pin it to Pinterest so you can save it for later! I appreciate all shares and am grateful for your support!
Let's Make The Crocodile Craft
Begin by painting your clothespins green. Set aside and allow your clothespins to dry completely.
Bend your green pipe cleaner in a zigzag pattern.
Cut your pipe cleaner to fit the top of your clothespin using the metal portion as a guide. Don't go past the metal with the pipe cleaner.
Paint the inside of your crocodile's mouth red.
Allow to dry completely before moving on to the next step.
Using scraps of white poster board, create alligator teeth by zigzagging your scissors.
Hot glue the zig zag teeth in place.
Turn over your Crocodile craft and glue a magnet to the back.
Your magnet is finished and ready to hang your children's masterpieces on the fridge
Enjoy this fantastic crocodile craft idea. It is such an easy craft for preschoolers and I love it.
Have you ever made clothespin crafts for preschoolers before? I'd love to hear your ideas!
Why not try making more clothing pin creatures.
It is super fun and a fantastic craft to make at home with the kids or in the classroom.
November 13, 2016 by Ashley Hackshaw
For this year's Christmas tree I wanted to add some vintage inspired candles but without the hazard of actual candles. I found some unfinished clothespins at Michaels and used them to make these clothespin faux candles.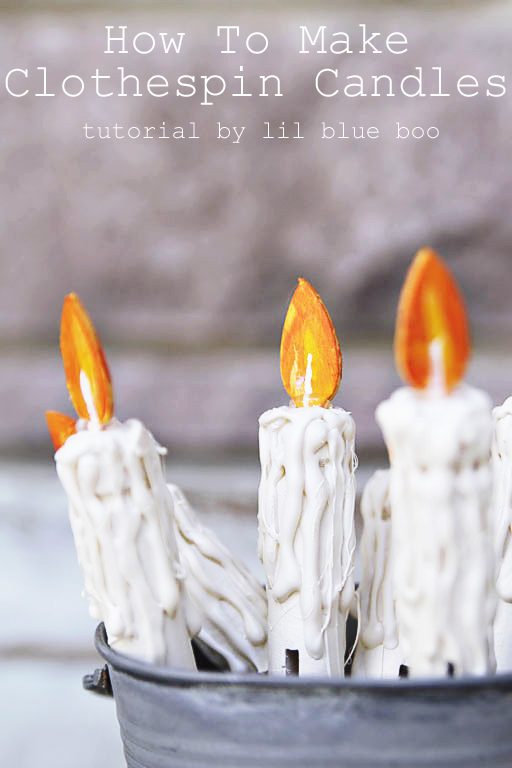 You'll get to see the candles on the actual tree tomorrow but I wanted to show you how I made them first.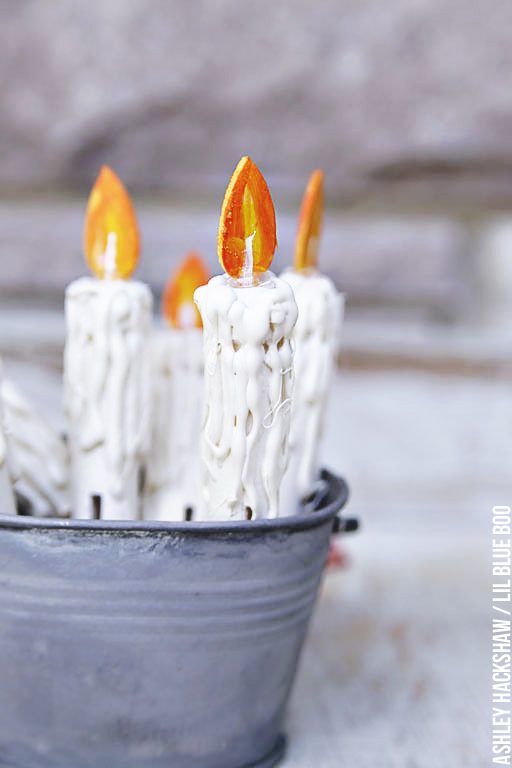 I bought a pack of wood clothespins and a pack of the assorted wood shapes from Michaels. The wood shape packs has all different sized of teardrop shapes, which make perfect flames!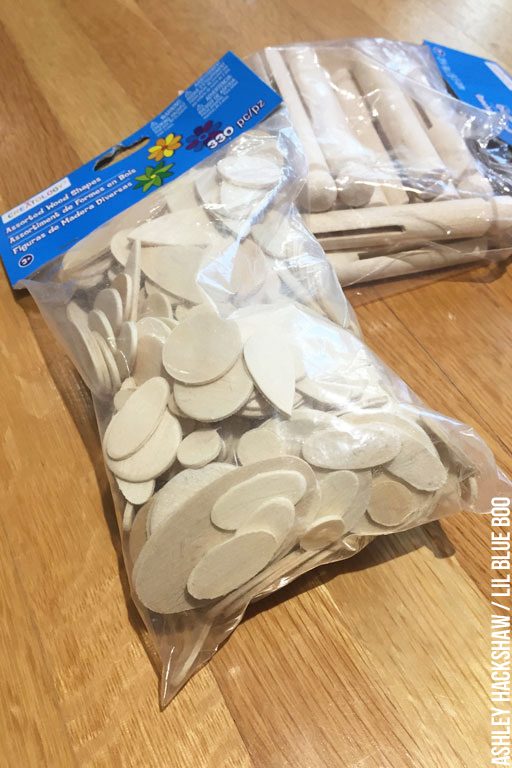 First I spray painted the clothespins with a light coat of spray paint (with primer included). The most efficient way to spray paint clothespins is to attach them to a box: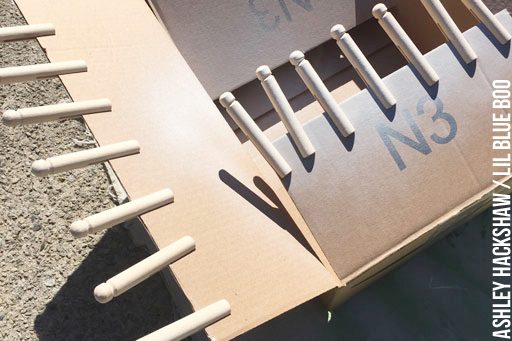 You can get every angle all at once: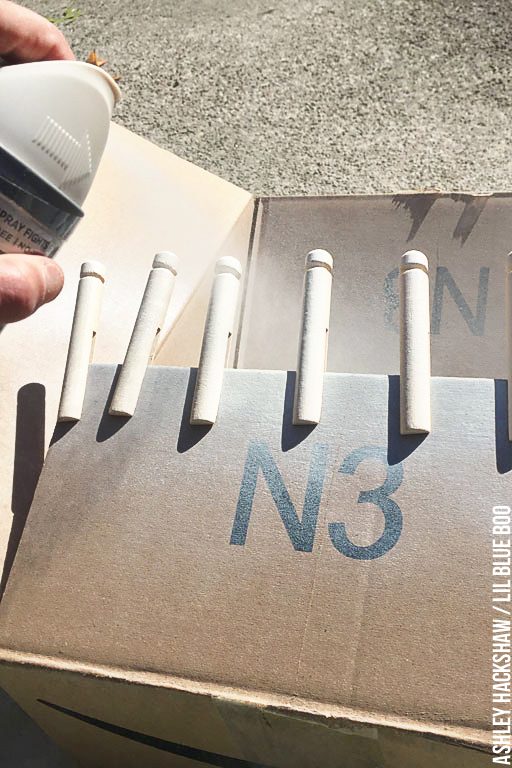 After the paint dried I used a glue gun to apply long strands of glue down each side of the clothespins . I alternated lengths and overlapped to mimic what actual candle wax might look like dripping down the sides: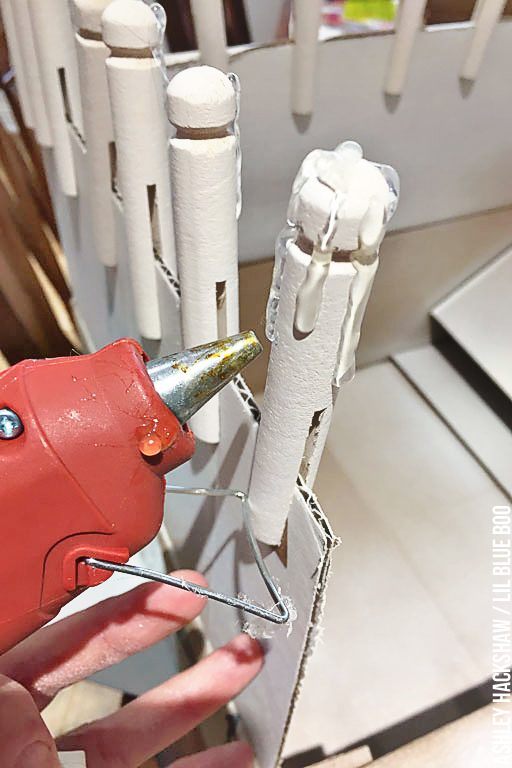 After I was happy with the wax effect I let the glue cool and then re-spraypainted the pins: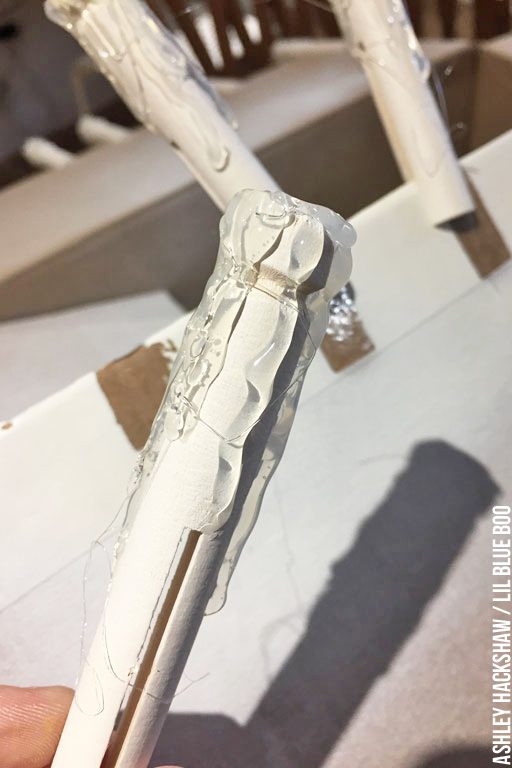 To make the flames I spray painted the teardrop shaped wood pieces with a base of yellow paint: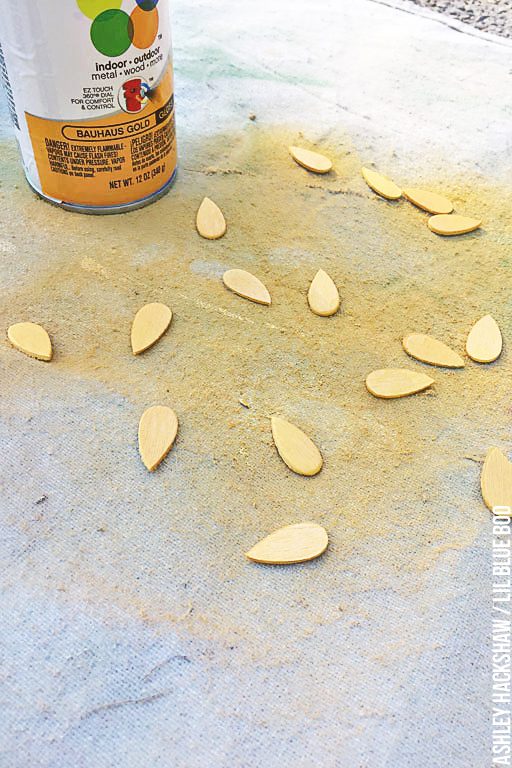 When the spray paint was dry I added orange acrylic paint around the edges: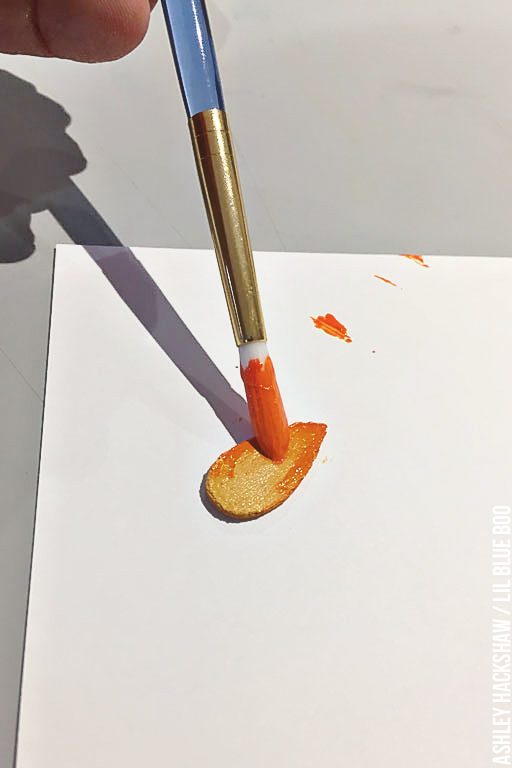 I layered with a little more yellow and the just a little strip of white in the middle: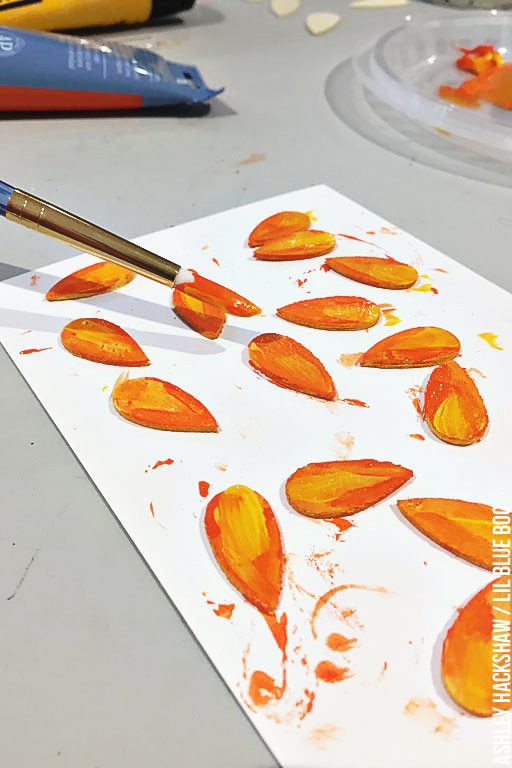 The last step was to glue each flame (using the glue gun) onto the top of each candle.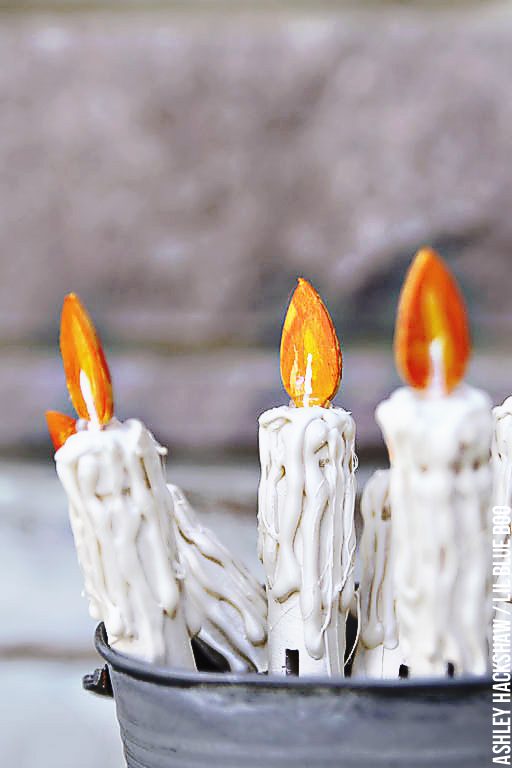 I love how they turned out and they clip right onto the branches of the tree!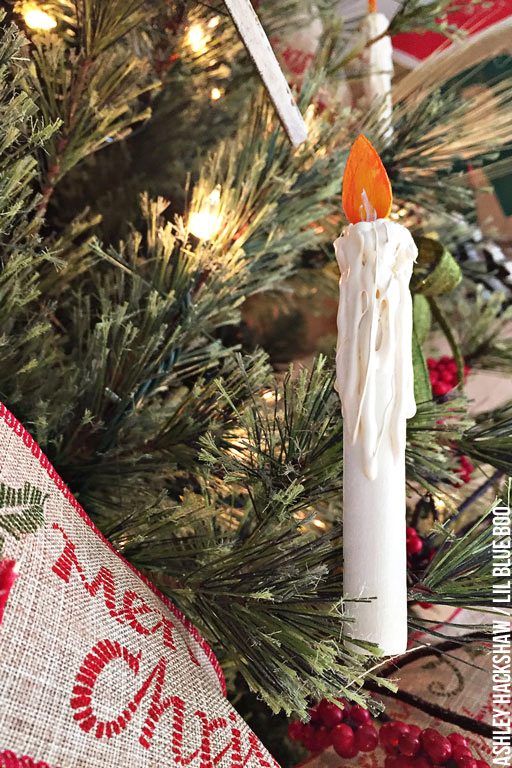 About Ashley Hackshaw
Living a simple, creative life in #smalltownusa Bryson City, NC. Renovating a 1960s ranch house and an old train depot. Thank you for reading! Read more in my about section.
Make a clothespin pocket pistol. via youtube
Learn how to turn boring old clothespins into powerful matchstick & toothpick shooters, that will stick into apples, and lob firey darts over 20 feet.
Stop breadboarding and soldering – start making immediately! Adafruit's Circuit Playground is jam-packed with LEDs, sensors, buttons, alligator clip pads and more. Build projects with Circuit Playground in a few minutes with the drag-and-drop MakeCode programming site, learn computer science using the CS Discoveries class on code.org, jump into CircuitPython to learn Python and hardware together, TinyGO, or even use the Arduino IDE. Circuit Playground Express is the newest and best Circuit Playground board, with support for CircuitPython, MakeCode, and Arduino. It has a powerful processor, 10 NeoPixels, mini speaker, InfraRed receive and transmit, two buttons, a switch, 14 alligator clip pads, and lots of sensors: capacitive touch, IR proximity, temperature, light, motion and sound. A whole wide world of electronics and coding is waiting for you, and it fits in the palm of your hand.
Join 32,000+ makers on Adafruit's Discord channels and be part of the community! http://adafru.it/discord
Have an amazing project to share? The Electronics Show and Tell is every Wednesday at 7pm ET! To join, head over to YouTube and check out the show's live chat – we'll post the link there.
Join us every Wednesday night at 8pm ET for Ask an Engineer!
CircuitPython – The easiest way to program microcontrollers – CircuitPython.org
Maker Business — Foxconn executive discusses the dramatically scaled back project in Wisconsin
Wearables — Flex your mind, flex your circuit board
Electronics — Damp Sponge vs Drenched Sponge
Python for Microcontrollers — Python on Microcontrollers Newsletter: New CircuitPython and MicroPython Minor Updates and More! #Python #CircuitPython @micropython @ThePSF
Adafruit IoT Monthly — eInk Postcard, VR Spectrum Instrumentation, and more!
EYE on NPI — Maxim's Himalaya uSLIC Step-Down Power Module #EyeOnNPI @maximintegrated @digikey
New Products – Adafruit Industries – Makers, hackers, artists, designers and engineers! — JP's Product Pick of the Week 6/28/22 USB/DC/Solar LiPo Charger bq24074 @adafruit @johnedgarpark #adafruit #newproductpick
No Comments
No comments yet.
Sorry, the comment form is closed at this time.
Comments Off on Make A Mini Matchstick Gun With A Clothespin
Posted on Last updated: May 6, 2022
Home / Craft Ideas / Cheap Crafts / Clothespin Magnets Are Easy to Make (with Glitter!)
Learn how to make DIY clothespin magnets the easy way! This is a great craft for kids or adults, and no crafting experience is needed.
Skills Required: None. Even if you've never made anything before, you'll be able to accomplish this project. In fact, it's perfect for kids or adults. You'll be using Mod Podge and glitter, which is very easy.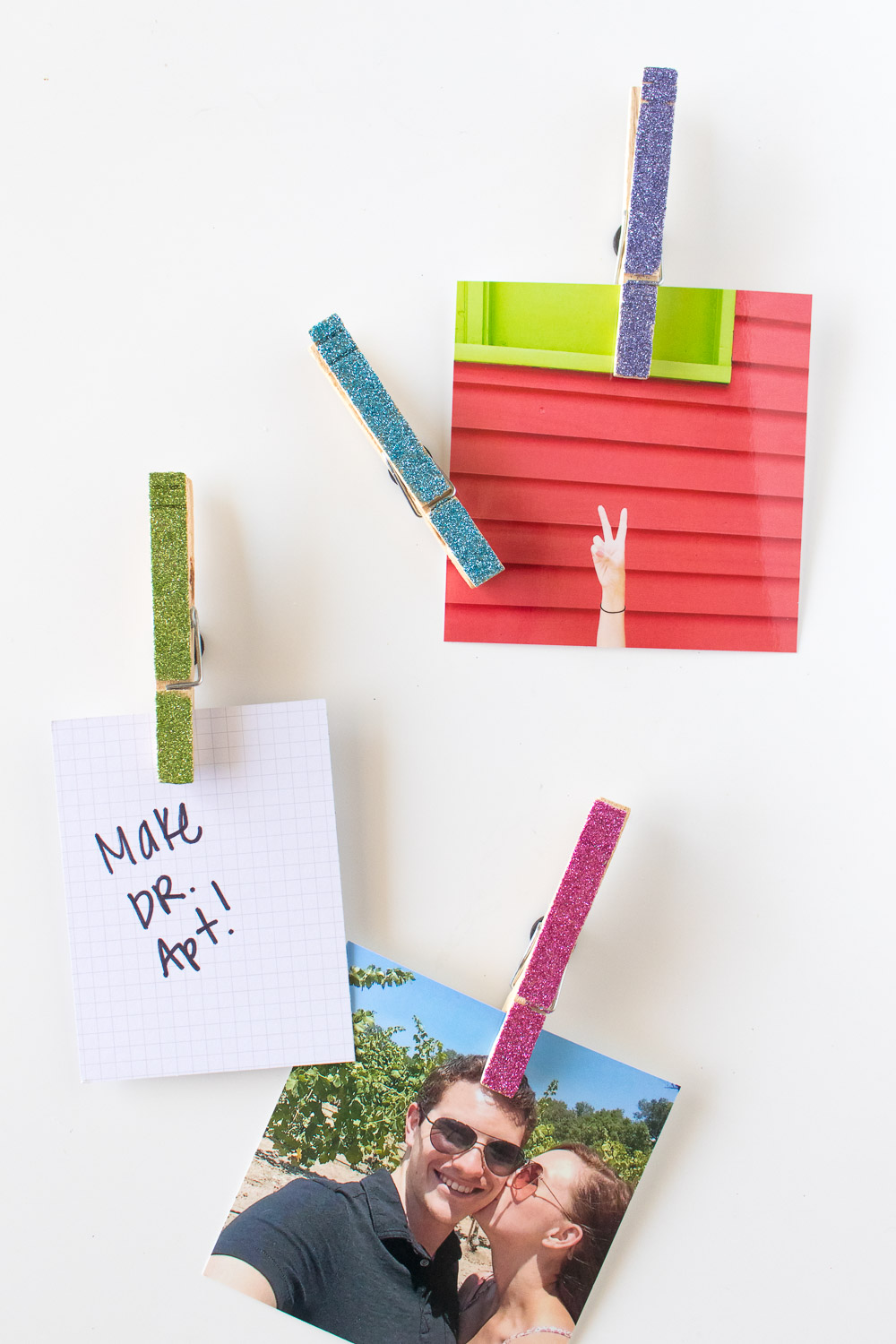 Anyone else a magnet hoarder? No? Just me, Holly. The side of my fridge is covered with handmade magnets holding up photos, cards, my niece's drawings, etc.
It's where I display random items that don't work in frames, but some of my magnets are so bulky that they cover up the items I'm hanging, so instead I made these DIY glittery clothespin magnets to hold up my photos and cards more easily!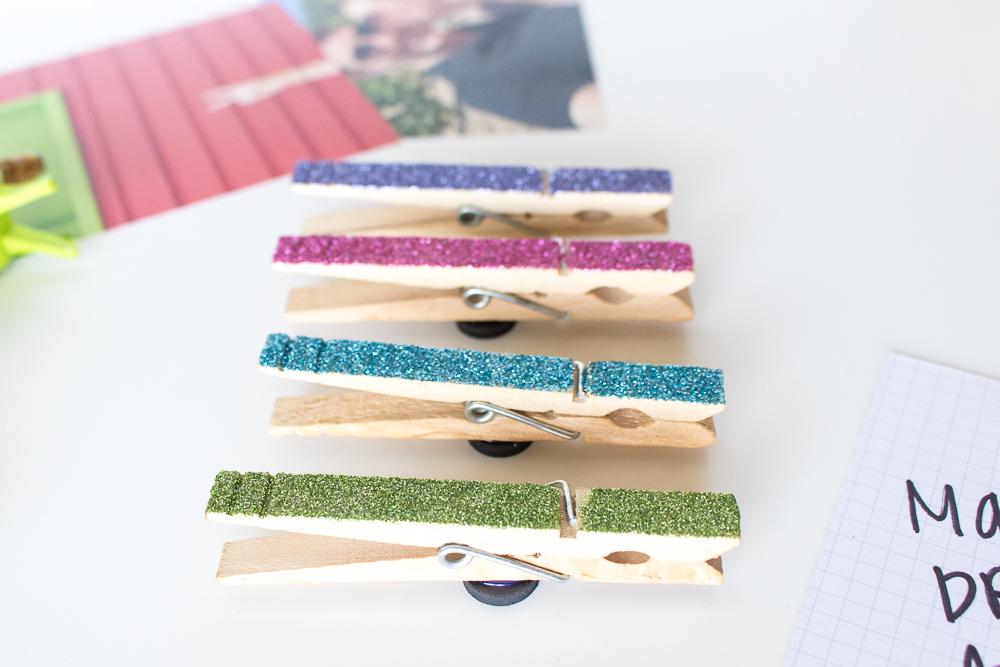 Clothespins are useful to have around for a million reasons, and now you can add this use to the list as well. Use Mod Podge and glitter to decorate them, and glue a small but heavy-duty magnet to the back to create magnets that clip your papers in place. They're as functional as they are cute!
This is a great craft idea for adults as well as kids – if your littles don't have anything to do, you can give this to them as a boredom buster or back to school craft. But trust me, adults will enjoy making these too. Get the tutorial for this easy clothespin craft below.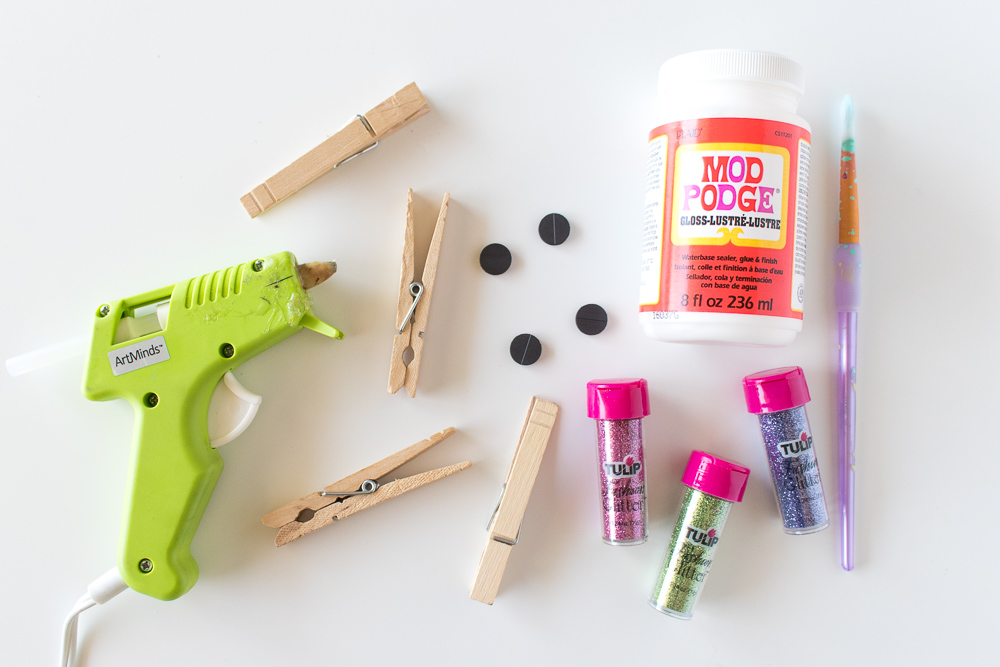 Gather These Supplies
Clothespins
Mod Podge Gloss
Glitter
Paint brush
Small magnets
Hot glue gun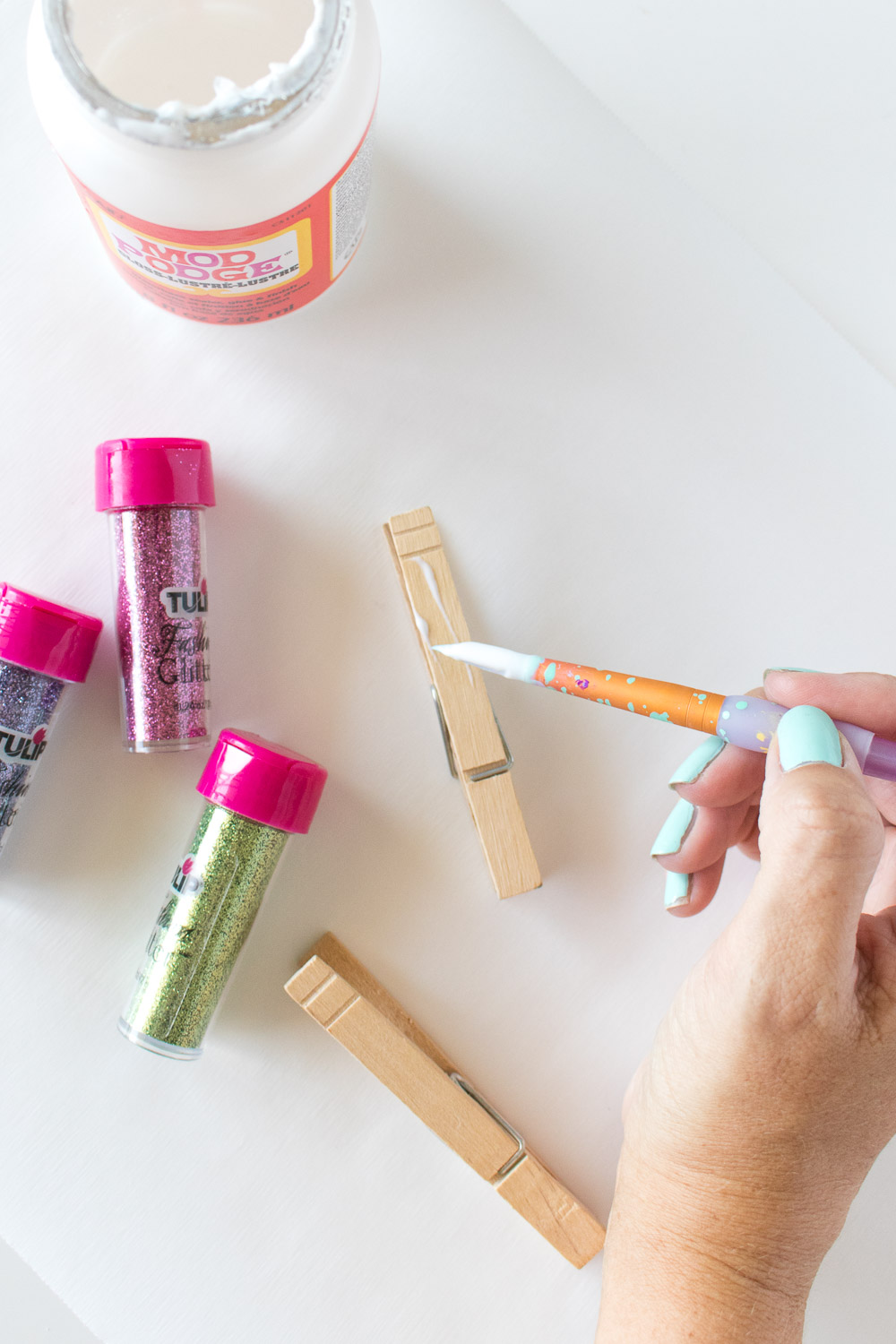 Step 1: Paint one side of each clothespin with a thin layer of Mod Podge.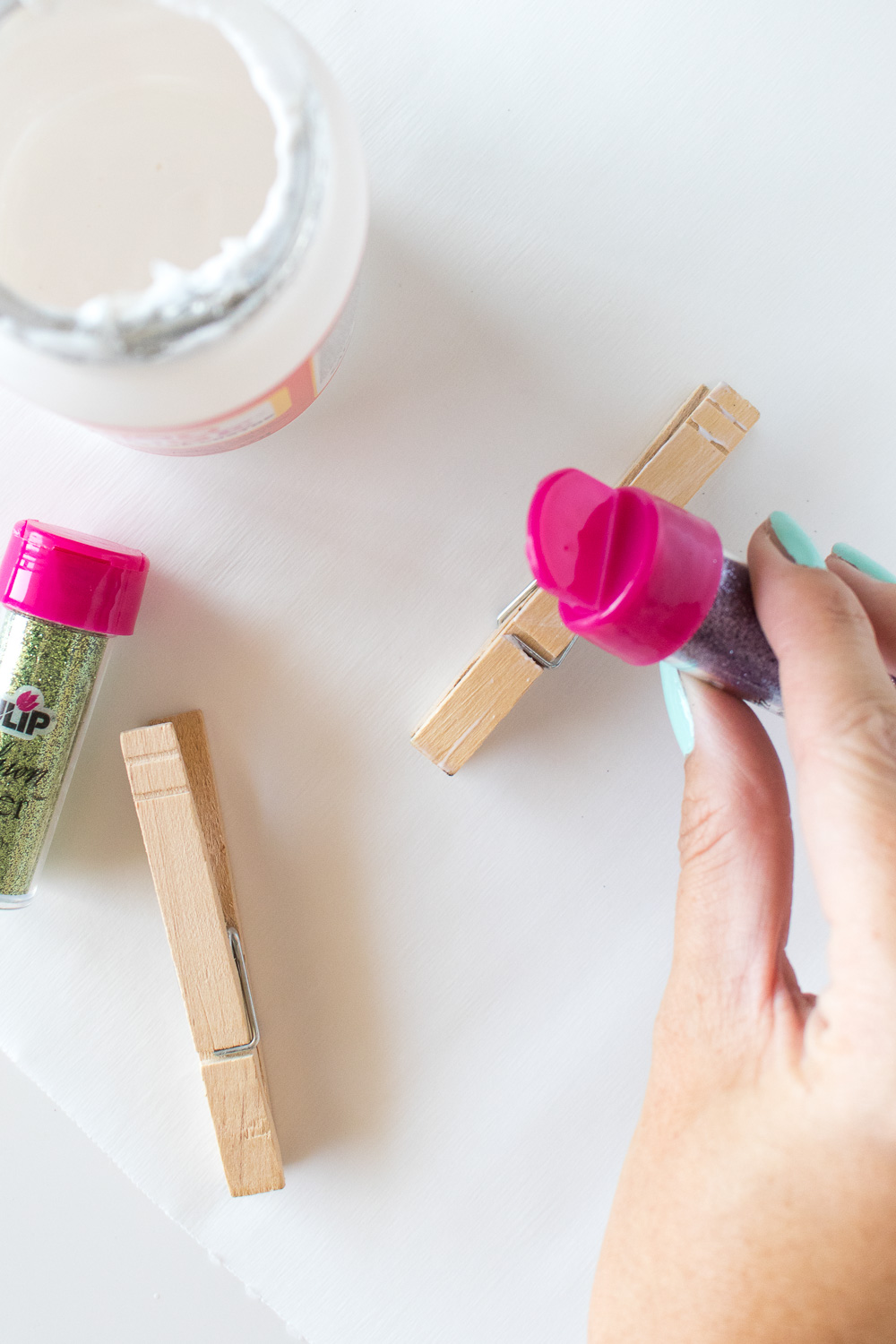 Step 2: Sprinkle the Mod Podge with glitter and then tap off excess glitter. Set aside to dry. See if there are any bare spots and repeat. Be careful not to build up too much Mod Podge and glitter, as it will clump.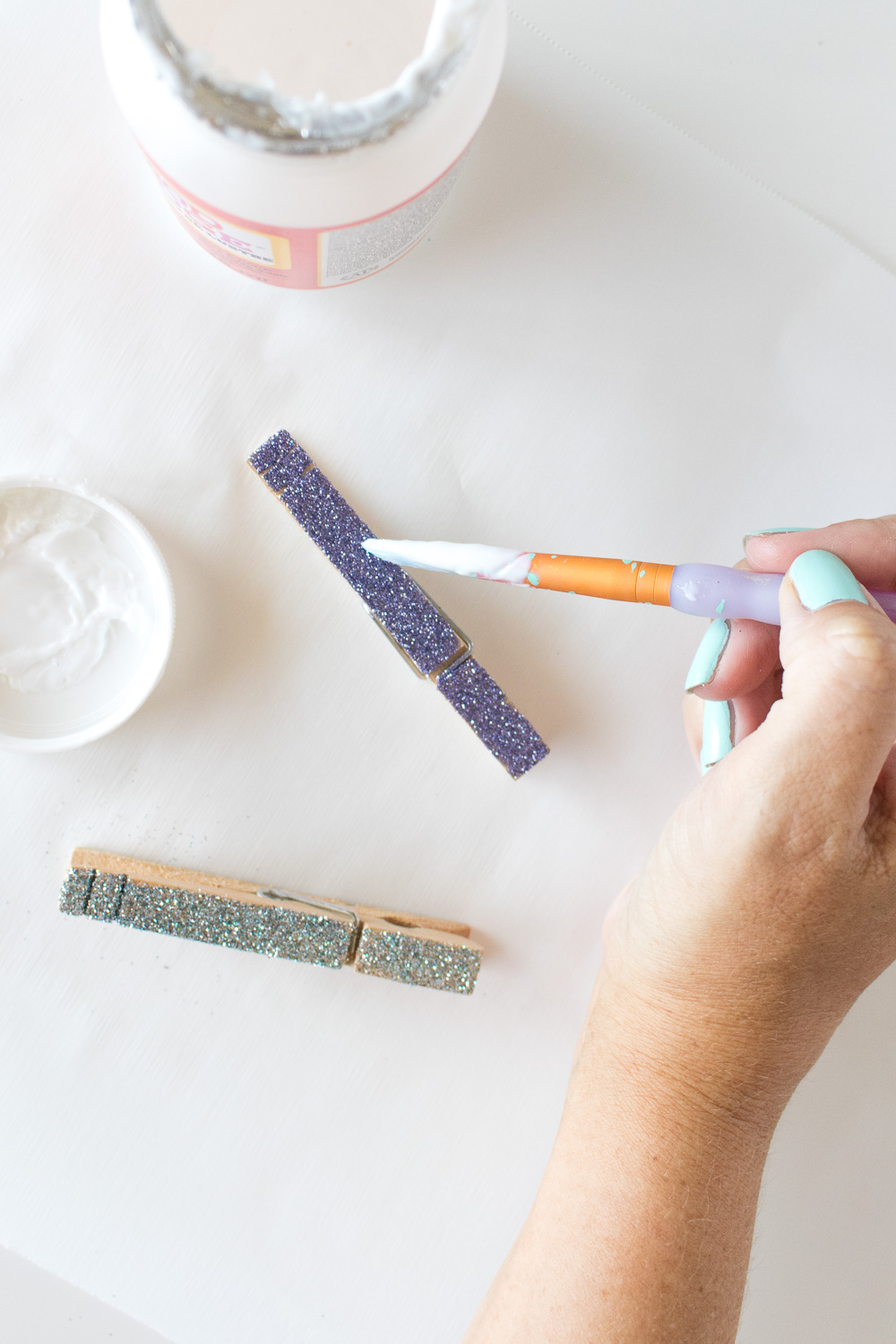 Step 3: Once it has dried, apply one more layer of Mod Podge to seal the glitter.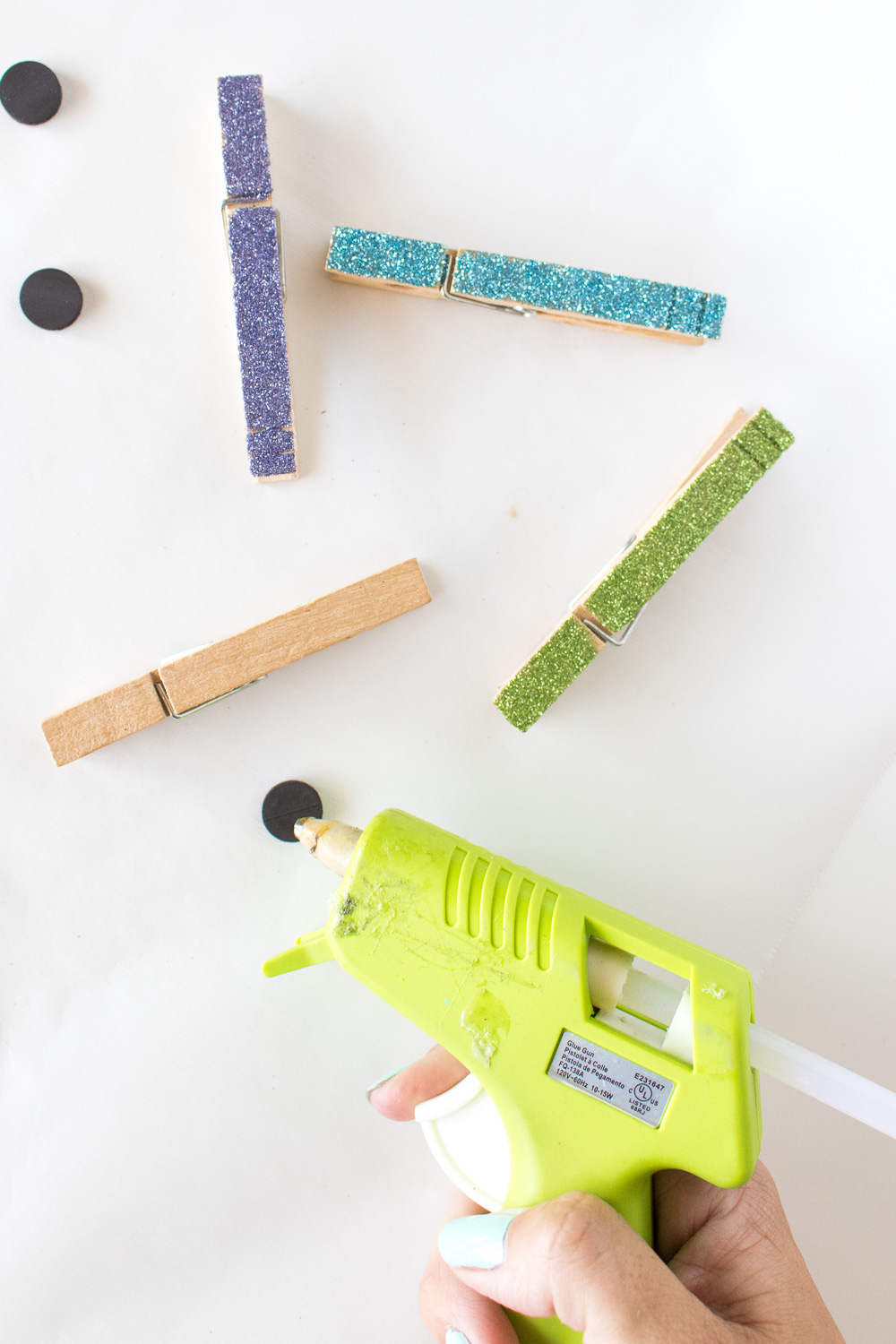 Step 4: Use a small amount of hot glue (or your Mod Melts gun) to attach a magnet to the mid-back of the clothespin and remove any glue strings.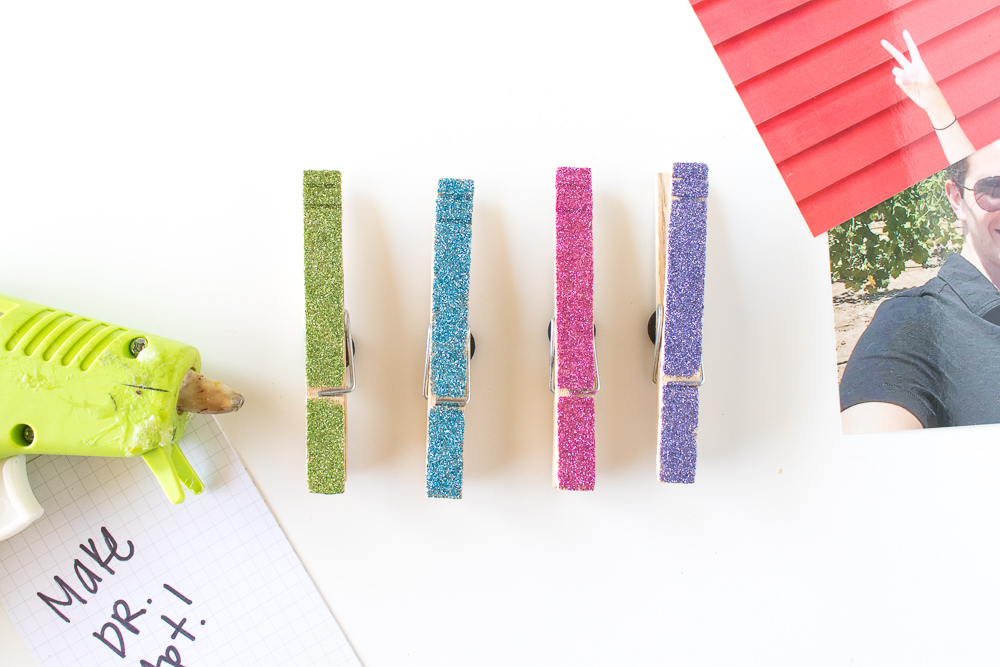 Hang your new clothespin magnets on your fridge and simply clip photos and papers in place to display in your home! I love using these to pin items in place without having bulky or unsightly magnets around.
Did you enjoy this DIY magnet craft? I'd love for you to share it – and also check out these other related ideas you can make at home:
I'm always up for a fun repurposing project, and this latest one is one of my all-time favorites. In this tutorial, I'm going to show you how easy it is to turn regular clothespins into a fun, modern lamp.
This is a great lamp for teenager's rooms or anywhere that you want to add some modern style.
Table of Contents
What You Need To Make This Clothespin Lamp
So for this great DIY lamp, I used wooden clothespins. I really don't know how well it would work with plastic ones, since you are using this as a lamp and it could get pretty hot. You need a couple of packages of wooden clothespins , which you can get at the Dollar Store for just a couple of dollars per pack.
You also want to make sure that you get the clip type clothespins that have the spring in the center. You don't need the spring, but you do need two sides for each clothespin, so those more modern ones won't work here.
How Big Can You Make Your DIY Clothespin Lamp?
I used about 20 clothespins for this project, but you could do more or less, depending on how big you want to make your lamp.
Note that you take the clothespins apart, and you actually get two pieces for each clothespin, so keep that in mind when you are deciding how big you want your lamp to be and how many clothespins you will need.
Do You Need A Lamp Kit?
Not necessarily. You could make an entirely new lamp if you wanted, but you could also just use this as a lampshade and place it over an LED candle or smaller lamp.
How you set it up when you get it finished is entirely up to you. I'm actually only showing you how to make the lampshade and you can decide where to put it when you get it finished.
How To Make A Modern Lamp With Clothespins
If you are looking to add a modern and fun lamp to your home, this DIY modern clothespin lamp is the perfect fit.
This is such an easy project and it's the perfect lamp for a teen's room or anywhere that you want to add a contemporary touch to your décor.
Learn how to turn ordinary clothespins into this fabulous and funky lantern. Watch the video tutorial to see how easy this DIY clothespin lamp is to make.
Materials
Wooden Clothespins
Cardboard
Tools
Instructions
Part of the prep part of this project is to take apart your clothespins. You need to determine how many clothespins you need – I used 20 total – and then separate them, taking out the spring mechanism and putting it aside.
Once you have your clothespin halves, you are ready to start assembling your lamp shade.
Lay out three clothespins, creating a triangle with them.
Add hot glue to the corners of each so that you can secure them together.
You are going to repeat this process, building your lamp up as you go along, until it as a tall as you want it to be.
Remember to alternate your design as shown in the video.
Once you have the lamp built up as tall as you want it, you want to trace around it onto the cardboard. This gives you a bottom for adding your candle. Note that if you are going to put this over an actual lamp, you can skip this step.
Now, add your lamp or an LED candle and you're all set.
Your DIY clothespin lamp should look something like this one:
Recommended Products
My favorite Etsy lamps.
What Other Things Can You Make With Clothespins?
Before Easter, I showed you how to make this adorable clothespin bunny. You can also make some gorgeous DIY wedding photo displays with clothespins and there are some great ideas for turning clothespins into markers in my list of DIY garden markers. And since clothespins are so inexpensive, they are the perfect craft supply for all sorts of DIY projects.
Pin this project:
Subscribe to Blog via Email
Comments
Kathy. Sipp says
I. love all the craft. things. And I've done a couple of. them. At times it is hard to get the supplies.
Leave a Reply Cancel reply
This site uses Akismet to reduce spam. Learn how your comment data is processed.
Inside: How to make a clothespin wreath with different variations: sunflower wreath, springtime or summer clothespin wreath, and more. Clothespin wreaths are affordable and easy to make.
I love making clothespin wreaths. They are cheap, fast, and versatile.
Here's my favorite – a spring sunflower clothespin wreath on my red door! The instructions below are for a generic clothespins wreath. But if you're only into sunflowers, check the sunflower wreath tutorial at the bottom.
How to make a beautiful clothespin wreath for your front door
Supplies for Clothespins Wreaths
This post contains affiliate links.
Below are the basic supplies. I prefer to use spray paint because it's so incredibly fast and I don't really have the patience to paint each individual clothespin. If painting is more your thing then that's certainly an option and it may be cheaper too.
12″ or 14" wire wreath (tip – sometimes you can find these smaller wreath forms at the dollar store)
Spray paint – 2 colors (I like hot pink and chocolate!) and a finishing coat
Clothespins (the dollar store ones work great)
Hot Glue & Gun (not pictured)
You will need about 60 clothespins to decorate a 14" wreath. However, a few usually get thrown out in the process or some don't always look great so make sure to paint extra.
I buy my clothespin at the dollar store. This is great because they are cheap but it also means they are full of imperfections, so I spray paint about 10-20 extra clothespins.
Directions for Clothespin Wreath
Start by spray painting the wire wreath the darkest of the two colors of spray paint you have. Most of the wire wreaths are green by default but easily painting the darkest color you have will allow it to fade into the background and the original color of the wreath won't show through.
At the same time spray paint one side of all of the clothespins.
I have a large piece of cardboard I keep in my garage just for spray painting.
3. Follow up with the sealant spray then flip and spray the other sides. When dry, spray paint with the sealant.
4. Allow to dry a few hours or overnight.
5. When completely dry it's time to begin placing the clothespins on the wreath one section at a time. Keep the wreath so that the curve is upward. Alternating the clothespins placing them as tightly and as far down as they will go. As soon as you get to the end of a section (a green wire) then stop.
6. Barely open each one up and put a small amount of hot glue inside each one. You may not feel like this is necessary as the clothespins are on there really tight. However, I like to add this extra bit of security and it doesn't take very long.
7. Continue around the wreath like this leaving a small opening at one end to adhere some ribbon for hanging.
Alternate: Make a Sunflower Clothespin Wreath
Follow the instructions above, except add an extra outside layer of clothespins and 2 different colors of yellow.
Bright Idea spray paint by Krylon
Sun Yellow spray paint by Krylon
Dark Brown spray paint by Krylon
Don't forget the sealant and hot glue the pins down as you go.
Here's how it looks up close in between
more Ideas for Clothespins Wreaths
You can play around with this. Add two layers and not alternate them as I did above. Or add a monogram or embellishments.
Another idea is to not alternate clothespins. Simply lay all the clothespins on the bottom row of the wire wreath then add clothespins to another row above it.
For more examples, I created the clothespins wreaths below using an embroidery circle to place the clothespins on. I spray-painted the embroidery circle the same color as the clothespins.
I still used hot glue throughout. This technique is even faster and cheaper.
DIY craft for kids.Your kids will have so much fun with their DIY Rubber Band Gun and target. Great for summer time, rainy days, or weekend kid crafts.
This post may contain affiliate links. For more information, see my disclosures here.

DIY Rubber Band Gun and Target
Rubber band guns are epic at my house! I have boys.. so anything that keeps them busy with out electronics is completely awesome in my book. This DIY rubber band gun and target took us maybe 45 min to make the target and a day for the gun to dry because we used E6000. If you try to play with your gun before it's set it will break then you will have to wait another 24 hours for it to reset… bummer!
A parent or responsible adult
any box you have handy
disposable plastic cups
box cutter or small knife
spray paint for your cardboard box
paint for target circles
small paint brush
hot glue gun (& sticks) or E6000
I cut down the side of my box and turned it inside out to hide the black lettering (just an idea for you). The plastic cups will catch your rubber bands so decide where you want your holes and be sure to trace a smaller circle than the size of the cup. You will want to be able to catch the rubber band when its shot into the target instead of bouncing right back out. For safety reasons, an adult should cut your holes out, spray paint your box and use the hot glue.
Time to paint! Take your box outdoors if you are spray painting. We gave ours one good coat of paint, and it took no time to dry. Once dry my son painted his red circles around the target holes. Let dry. Then glue the cups either with E6000 or hot glue. E6000 will take around a day to dry so keep that in mind when creating your target. I glued mine with hot glue but if you use too much it will melt the cup so be careful.
Lastly, my son and I connected the back of the box back together using hot glue so it would stand up. You could also make holes for your target to be hung or lean it against something. We made this target for a playful afternoon or weekend craft then let our imaginations to take control. As of now our target is holding Lego men hostage.. lol.
ADULT needed. Seriously between the glue and saw.. help or do it for your child!
12-inch small wooden dowels
a small saw or pliers to make a cut in the end for the band to sit)
1 clothes pin for each child's gun
E6000 ( I love this stuff)
rubber bands of a good size
When making this rubber band gun our small hand saw was (of course) nowhere to be found. So being the determined person that I am, I used a pair of pliers and took small bites out of the end of the stick until I thought a rubber band would fit comfortably. If you can find your hand saw then make cut a nice slice through the end of the dowel (see picture).
Once finished make sure the cut you made is level with the floor, then using the E6000 glue attach your clothespin on the top of the rod. Be super careful to get this part right, because you will want your dowel and clothes pin to match up. Set on a piece of paper towel in case the glue drips. Your rubber band gun should be dry in a day. We tried ours too soon and had to re-glue it. That was a letdown.. so make sure you wait the full day.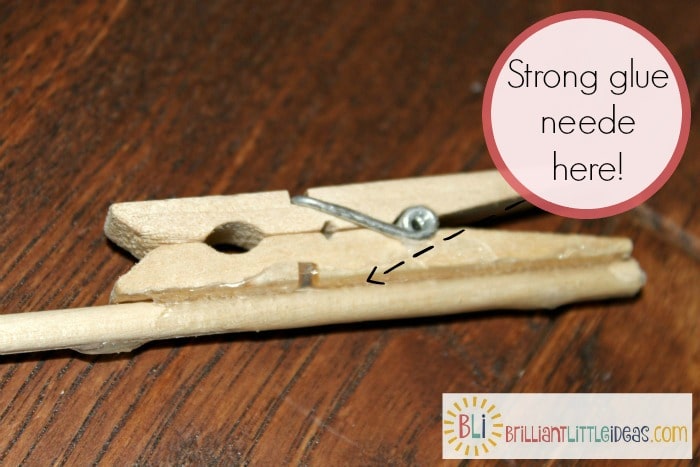 Now you are ready to launch! If you are anything like me, you will want to shoot it first, after all, I made it. Did I mention I can be a giant child? So the best plan would be to make at least 2 (I didn't think of that ahead of time).
Warning!
Warning! You may snap yourself a couple of times with the rubber band trying to stretch it to the end so be careful!! Don't ever point a rubber band gun toward someone's face, the gun could accidentally let the rubber band go and it hurts.. I should know its happened to me! Ouch! You may snap yourself a couple of times with the rubber band trying to stretch it to the end so be careful!!
I hope you have lots of fun with your new toy. My son and I played for hours.
Do your kids love rubber band guns?

This post contains affiliate links. For more information, see my disclosures here.
This is a pretty simple craft that only requires a clothespin and 2 craft popsicle sticks. You glue down one popsicle stick to the "teeth" or closed side of the clothespin. You cut off a small amount of each edge of the other popsicle stick and glue it down to the open side of the clothespin. Regular glue works fine, but I like to use a hot glue gun. You can also cut out a triangle from craft foam and add it to the backside of the plane, but this is optional. Decorate with markers and you're done 🙂
Popsicle Stick Catapult
This craft is super fun to play with, but requires a bit of prep work.
What you'll need is 11 craft popsicle sticks, 11 rubber bands, a hot glue gun/crazy glue, and something to use as a launcher (I created my own by cutting pieces of craft foam and gluing them together with a hot glue gun.
How to make this:
1. Take 7 craft popsicle sticks and stack them together. Bind them with 2 rubber bands–1 on each edge.
2. Take 2 craft popsicle sticks and place one on top of the other so that they overlap a couple of inches. Bind them together with 3 rubber bands side by side. (If you're using larger rubber bands, you may not need to use 3)
3. Repeat step 2 with the last couple of craft sticks.
4. Take the two sets of sticks from steps 1 & 2, and place one set on the bottom of the sticks from Step 1, and one set on the top so that they're kind of centered. Bind them together with two rubber bands so that they form an "X" shape.
5. Bind together one edge of the catapult with a rubber band.
6. Find or create a launcher. You can use foam pieces like I did, or you can you other household materials like a bottle cap. Glue this to one side of the catapult.
7. Decorate
Spaceship Frisbee
Materials Needed:
-2 Paper plates (Dixie Ultra plates work great)
-1 Paper Bowl
-Hot glue gun or crazy glue
-Markers and/or colored pencils. Sharpies also work
-Aluminum foil (Optional)
-Cute foam alien or star stickers (Optional)
How to make it:
1. Glue 2 paper plates together using either a hot glue gun or crazy glue. You only need to glue the edges together. It doesn't seem to fly as well with just one plate.
2. Glue the paper bowl to the top center of the paper plates.
3. Decorate with markers or colored pencils
4. You can cut out and glue (with regular Elmer's glue) aluminum foil to make it shine 🙂
5. You can add cute foam stickers if you want to, also.
This cute spaceship Frisbee/flying disc works pretty good and is extra cool! Kids can have lots of fun making it and then testing it out outside. You can add your own little tweeks to this craft to make it your own. 🙂
Spinning Tops
This spinning top craft is so much fun and it works great!
What you'll need:
-Cardboard
-X-Acto Knife or box cutter
-Scissors
-Paper (preferably cardstock)
-Drinking straw
-2 small beads
-Crayons, markers, or colored pencils
-Hot glue gun or crazy glue
How to make it:
1. Cut out a circle from cardboard, roughly 3-inches in diameter.
2. Cut a straw so that it's about 2 1/2 inches long. (It doesn't have to be exact)
3. Take two small beads and push them gently into each end of the straw so they fit snuggly inside. Not all beads will work, you'll need to use trial and error to find the right size.
4. Trace the cardboard circle onto a piece of cardstock paper and decorate it with crayons, markers, or colored pencils.
5. Cut out your decorated circle.
6. Glue the decorated cardstock circle to the cardboard circle using a hot glue gun or crazy glue.
7. Poke a hole through the cardboard and cardstock paper directly in the center of the circle.
8. Stick the straw through the hole to make sure it fits nicely. If it warps the straw, the hole is too small, if the straw falls through, it's too loose. Adjust the hole accordingly if needed.
9. Take the straw back out, and using the hot glue gun or crazy glue, glue around the rim of the straw roughly an inch up from the bottom of the straw.
10. Gently push the straw through the hole until the rim of glue is level with the cardboard and hold it there for a few seconds until the glue dries.
If you have any other suggestions or variations of this craft, feel free to let me know! Enjoy 🙂
Sharing is caring!
Share 119
Tweet
Pin 22.4K
Clothes Pin Butterfly Magnet Craft For Kids
Spring is such a wonderful time of the year. It's lovely to see the flowers blooming, see the green grass and spend time in the fresh air. I also love the lighter evenings.
Spring is a great time to go on a bug hunt, read about animals, bugs, and small creatures, and get crafting. Today on the blog we have a fun tutorial on how to make a clothespin butterfly. I hope you enjoy.
Either way it' s a fun activity and one I'm sure you will enjoy making with the kids. This is a colourful and easy to make craft.
*I use affiliate links in this post. If you buy anything from my links I will earn a small commission*
Supplies For This Butterfly Magnet Craft
Clothespins
Pipe Cleaners
Google Eyes
Pom Poms
Magnets
Hot Glue
Scissors
Don't have time to do this craft now? Pin it to Pinterest so you can save it for later! I appreciate all shares and am grateful for your support!
How To Make A Butterfly Magnet
Begin by choosing a colourful selection of 1 inch and 1.5 inch pom poms and pipe cleaners.
Lay your clothespin flat with the clip facing up.
Starting from the bottom of your clothespin, glue four 1 inch pom poms in a row and then glue one 1.5 inch pom pom for your butterfly's head.
You will need two pipe cleaners for this step.
Bend your pipe cleaners in half and then cut your pipe cleaners at the bend.
Use two pipe cleaner halves to create the butterfly's top wings.
Loop the wings and hot glue them into their shape. Cut the other pipe cleaner halves into four even sections.
Use two of the pipe cleaner sections to create the bottom wings.
Glue your top and bottom butterfly wings onto the back of the clothespin.
I used the metal portion of the clothespin as a guideline.
I glued the top wings right above it and the bottom wings right below it.
Glue a strong magnet on the back of your clothespin at the top.
Take the last two sections of your pipe cleaners and make a loop at the top of them to create an antennae shape.
Glue them on top of the butterfly's pom pom head.
Your butterfly is ready to take flight to a fridge near you!
Watch the YouTube Video
Clothes Pin Butterfly Magnet Craft For Kids
This is a tutorial on how to make a clothes pin butterfly magnet craft
Materials
Clothespins
Pipe Cleaners
Google Eyes
Pom Poms
Magnets
Hot Glue
Tools
Instructions
Begin by choosing a colourful selection of 1 inch and 1.5 inch pom poms and pipe cleaners.
Lay your clothespin flat with the clip facing up.
Starting from the bottom of your clothespin, glue four 1 inch pom poms in a row and then glue one 1.5 inch pom pom for your butterfly's head.
You will need two pipe cleaners for this step.
Bend your pipe cleaners in half and then cut your pipe cleaners at the bend.
Use two pipe cleaner halves to create the butterfly's top wings.
Loop the wings and hot glue them into their shape. Cut the other pipe cleaner halves into four even sections.
Use two of the pipe cleaner sections to create the bottom wings.
Glue your top and bottom butterfly wings onto the back of the clothespin.
I used the metal portion of the clothespin as a guideline.
I glued the top wings right above it and the bottom wings right below it.
Glue a strong magnet on the back of your clothespin at the top.
Take the last two sections of your pipe cleaners and make a loop at the top of them to create an antennae shape.
Glue them on top of the butterfly's pom pom head.
Your butterfly is ready to take a flight to a fridge near you!
MORE CRAFTS YOU MIGHT LIKE:
Don't have time to do this craft now? Pin it to Pinterest so you can save it for later! I appreciate all shares and am grateful for your support!
About Angela Milnes
Angela Milnes is a Qualified Early Years Teacher who has specialised in Preschool and Kindergarten teaching. She has a wealth of experience teaching young children and is passionate about kids crafts and having fun as a family. Angela has also taught cooking skills and loves to share both family recipes and easy instant pot recipes here on The Inspiration Edit. Follow her on Pinterest!
Author by Amanda Formaro on August 22, 2014 Updated on March 17, 2020
Share
Tweet
Pin
Flipboard
Email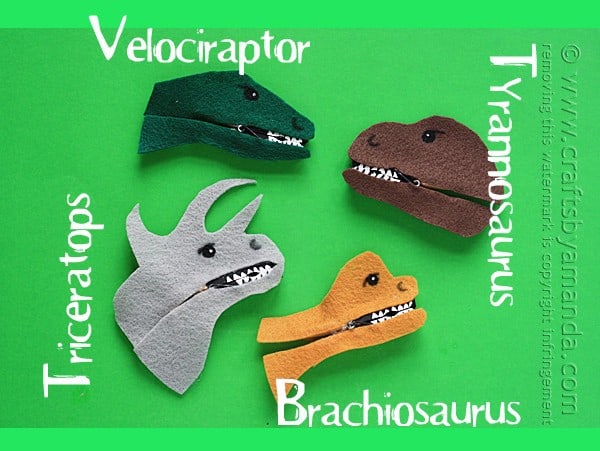 Clothespins make perfect chomping jaws for this fun dinosaur craft. While dinosaurs are often more appealing to boys, I'm sure there are plenty of girls out there that will love this too! So, pull out that bag of wooden clothespins and spend an afternoon making these fun Jurassic characters. Then sit back and watch them come to life with your kids' fingers!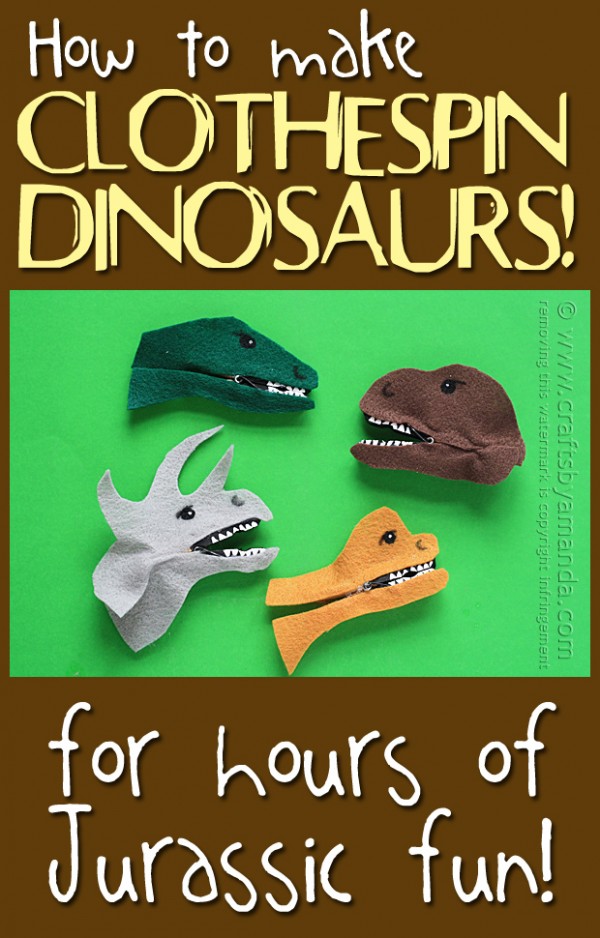 I've created a printable dinosaur pattern for you, it's linked in the supply list below. There are four different dinosaurs in this craft that kids will recognize. You can use this opportunity to teach them more about dinosaurs.
Related – try our coffee ground fossils with your dinosaur lovers!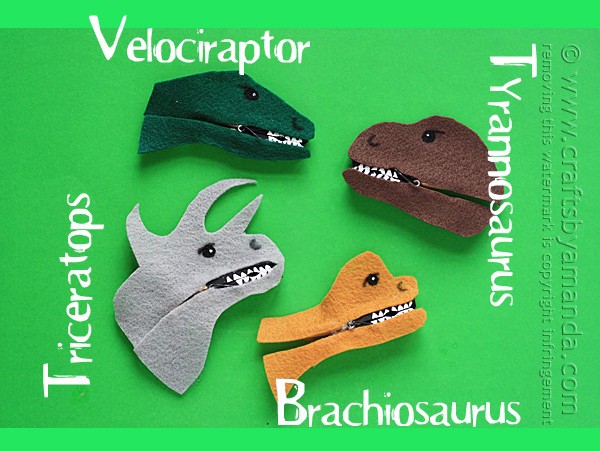 Triceratops (meaning: three horned face)
Velociraptor (meaning: swift robber)
Brachiosaurus (meaning: arm lizard)
Tyrannosaurus Rex (meaning: tyrant lizard king)
When you're done, if you find that they really liked this dinosaur craft, head over to Fun Family Crafts where there's a large selection of dinosaur and fossil ideas. Plenty of crafts and activities for your budding archeologist! And if you're looking for dinosaur birthday parties, there are 30 ideas here to get you started. While it's not dinosaur related, girls and boys alike will love learning how to make a rubber band car!
Clothespin Dinosaurs
4 wooden clothespins
Paint: black and white
Felt : green, brown, gold and gray
Dinosaur pattern
Tools: paintbrush, toothpick, black marker, hot glue gun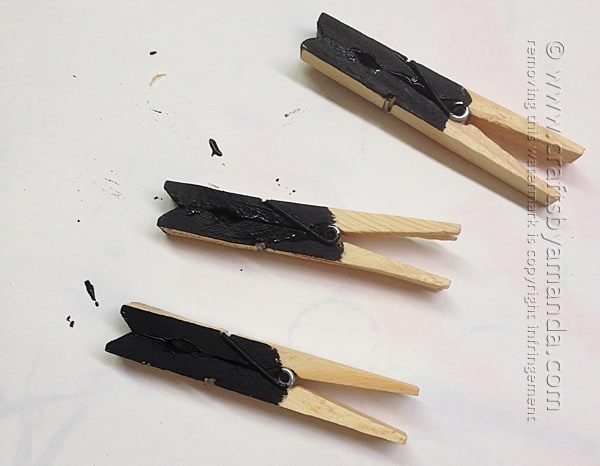 Lay clothespins on their sides and paint the closed half black.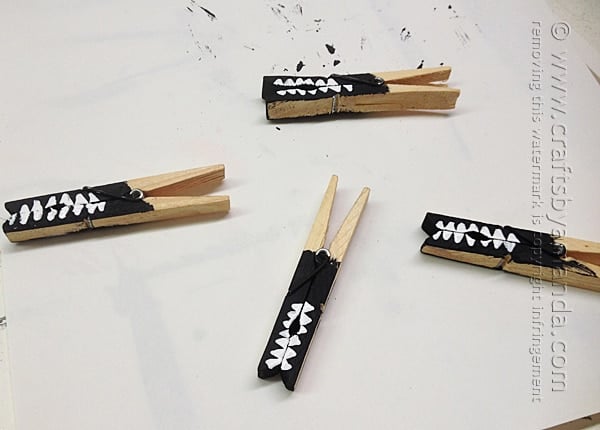 Use a toothpick to add white teeth to the black clothespins.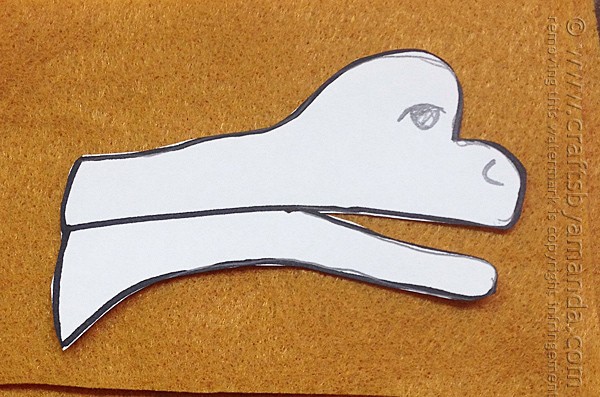 Cut dinosaurs from felt using the patterns provided.
Carefully glue the felt dinosaur head to the side of the clothespin.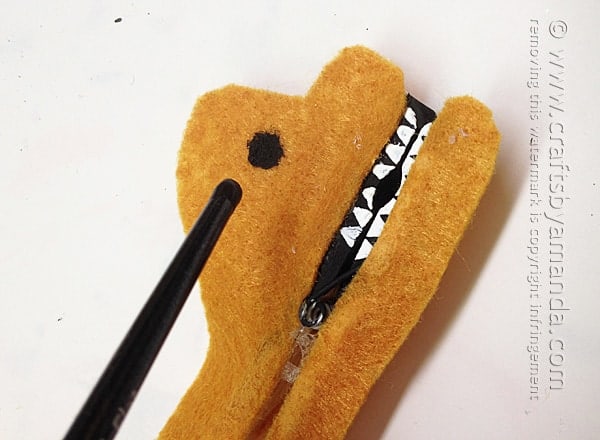 Add eyes by dipping the handle end of a paintbrush in black paint. Add a small white dot with a toothpick. Eyebrows can be added with a black marker. I think this would be a super fun birthday craft too! Great as a make and take. While I'm sure girls will like these too, I have a feeling that boys will be crazy for them! And if you're looking for birthday ideas, I found these awesome birthday cake ideas for boys!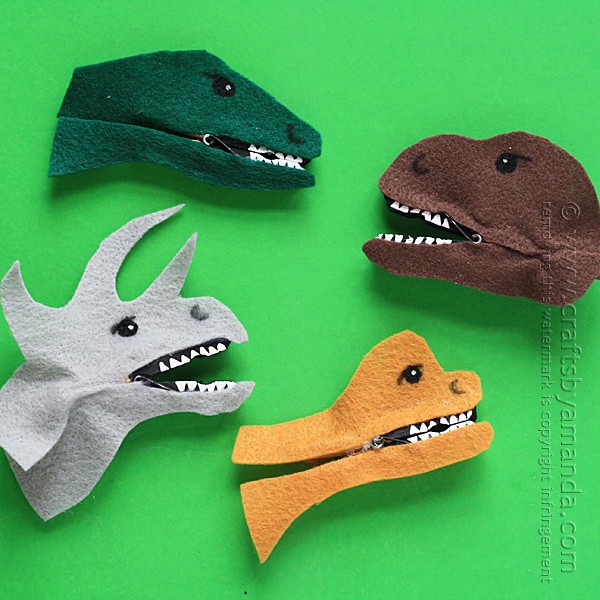 More clothespin crafts
I've made several other things using clothespins. Here are some of my favorites.
Hidden Springs Homestead may earn a commission for purchases made after clicking links on this page. Learn More.
How to make these Snowman Clothespin ornaments for your Christmas tree. These cute handmade ornaments are easy to make and perfect for your rustic holiday decor.
Made with simple wooden craft clothespins, they are simple to make and cost less than a dollar each since they only require a few supplies. And best of all, they fast to make and easy to do.
So easy, the kids will love helping to make them too.
So if you are looking for cheap Christmas craft ideas and handmade ornament ideas, I've got you covered.
How to Make Snowman Clothespin Ornaments for Christmas
Supplies:
Craft Doll Pins (3.75 inches long)
Miniature Top Hats
Matte Acrylic Paints in: Red, White and Black
Bakers Twine (Red-White stripe)
20 gauge – Copper Wire in Black
Tools:
Hot Glue Gun
Glue sticks
Craft Paint Brush
Foam Brush
Wire Cutters
STEP 1:
Start by using the foam brush and paint clothespins white with Acrylic paint. Don't worry, this is easy to wash off and dries quickly.
I normally put 2 coats on since I don't want the wooden clothespin to show. Let dry between coats.
The bottle says 1 hour between, but it dries much faster than this, normally within about 15-20 minutes.
STEP 2:
Now is time to pants his "striped pants." Using a craft paint brush and the red acrylic paint, lightly put a bit of paint on your brush and begin with first stripe at the bottom.
Leave a space the width of your brush and paint another stripe. End paint stripes at the top of the groove.
Do this for both legs, lining up stripes. These only need 1 coat. Let dry.
NOTE – of course I use red for Christmas colors, but you can be creative and use any color you like. It does not have to be red.
STEP 3:
And now you'll put on his shirt and shoes.
SHOES –
Next, using black acrylic paint, paint the space below the first stripe on his pants both inside and out, this creates his shoes.
SHIRT –
Now, with the "end" of the paint brush, carefully dip the "TIP" into black acrylic paint and carefully but lightly, touch the tip to the clothes pin where his buttons and eyes will be.
TIP: I dip my brush tip into paint for EACH black dot this keeps them looking closely the same in size.
Let all this dry for 1 hour.
STEP 4:
Holding the clothes pin tight, wrap the black copper wire around his neck leaving a couple inches on each side. This gives him some arms.
Next, using your craft paint brush, carefully wrap the copper wire around it and then slowly pull it out. Create his "spiral arms."
STEP 5:
Using Baker's Twine cut a piece 6-7 inches long. Starting in the middle, wrap copper wire around his neck twice, ending in the front.
Tie a knot to hold in place. This gives him his red and white scarf.
Glue on black top hat.
STEP 6:
Cut more bakers twine to the length you like for a hanger, tie it off and then glue to the back of his neck onto his scarf.
And that's it! You are done! See how easy it is to make a handmade Snowman Clothespin ornament.
And now you have made your own DIY wood ornament or wood snowman ornament using just simple clothespins.
More Christmas Decoration Ideas
How to Make a Natural Twig Wreath
Christmas Stocking Ornaments
45 Handmade Christmas Ornaments
DIY Christmas Tree Garland
DIY Primitive Christmas Tree
How To Make Snowman Clothespin Ornaments
These Snowman Clothespin Ornaments are super easy to make and can be done in just a short bit. And best of all, they are easy enough for a perfect kids craft too.
Materials
Doll Clothespins
Miniature Top Hats
Matte Acrylic Paints in: Red, White and Black
Bakers String (Red-White stripe)
20 gauge – Craft Wire in Black
Tools
Hot Glue Gun
Glue sticks
Craft Paint Brush
Foam Brush
Wire Cutters
Instructions
Using the foam brush, paint 2 coats of white with Acrylic paint on clothespins.
With a paint brush, paint red stripes around both sides of his legs. Leave a space the width of your brush and paint another stripe. End paint stripes at the top of the groove. Do this for both legs, lining up stripes. Let dry.
Shoes:
Using black Acrylic paint, paint the space below the first stripe on his pants both inside and out, to create his shoes.
Shirt and eyes:
Take the "end" of the paint brush, dip the "TIP" into black paint and place 3 dots for his buttons and 2 for his eyes.
TIP: I dip my brush tip into paint for EACH black dot this keeps them looking closely the same in size. Let dry.
Holding the clothes pin tight, wrap the black craft wire around his neck leaving a couple inches on each side. With paint brush handle, wrap wire around handle and then slowly pull brush out. Create his "spiral arms."
Cut a piece of bakers twine 6-7 inches long. Starting in the middle wrap around his neck twice, ending in the front. Tie a knot to hold in place. And glue on black top hat.
Cut more bakers twin to the length you like for a hanger, tie it off and then glue to the back of his neck onto the scarf.

Notes

Stripes on legs can be any color you prefer. Bakers twine also comes in a black/white or green/white too.

Click Here To See The Comments

There are a number of arguments about the possibility of using ice bullets for ammunition. Read on and find out if it works.

In this article:

Does Frozen Ammo Like Ice Bullets Actually Work?

Shooting Frozen Bullets

Can you really use ice bullets and shoot them with a gun? This isn't the first time people have asked if it's possible to use an ice gun to fire ice bullets.

Will they still be lethal to the target? Or will they melt before they actually hit?

We are going to revisit this concept and see if people have come up with a way to make ice ammunition. This video will try to mimic a shotgun slug with the ice material in Polyethylene.

What is Polyethylene? A very common plastic material used in a wide range of applications due to its toughness and flexibility. A few examples are food containers, plastic wrap, and grocery bags.

However, frozen water is not very heavy, so the key is to make the slug as big as possible.
Allegiance Ammunition, Turning Conventional Ammo Wisdom On Its Head
Ammo Lingo Part II: Understanding +P Ammunition
How To Disassemble A Glock: Step By Step Field Stripping
Editor's Note: This post was originally published on November 28, 2017, and has been updated for quality and relevancy.
The products and services mentioned below were selected independent of sales and advertising. However, Simplemost may receive a small commission from the purchase of any products or services through an affiliate link to the retailer's website.
This is such a cute and easy craft. It is perfect for any patriotic Holiday and will look great on your front porch or in your house. Because it only involves a little spray paint, a hole punch and some glue, set up a drop cloth and let your kids go to town.
Materials
Clothespins (about 75)
Satin spray paint – red, white & blue
Ivory or white card stock paper
Star hole punch
Glue or tacky glue
Hot glue gun
White ribbon (1-1.5″ thick)
12″ wire wreath
Crafting Instructions
Paint wire wreath white.
Spray paint clothespins red & white (about 25 each).
Spray paint clothespins blue (about 20).
Punch out 100 white stars w/ star punch.
When blue paint is dry, glue 5 stars to the front of each blue clothespin.
Attach clothespins according to instructions in the video.
Use 5 red, then alternate to 5 white; repeat so there's 5 sets of red & white.
Affix blue/star clothespins in remaining space on wire wreath
Cut & tie ribbon to back of the wreath. Hang wherever you'd like!
*Note* I ordered the clothespins off Amazon. They came clipped to little cardboard strips. I left them on the strips to paint one side. When that side was dry, I was easily able to flip over and paint the other side.
For best results, do two coats, and be careful to get on the insides of the clothes pins as well so the natural wood doesn't peek through.
Sharing is caring!
Quick and easy Dollar Tree Clothespin Bunnies are the cutest 15 minute craft for Easter. Ideal for tucking into the kiddos baskets or even hiding in a plastic egg for the Easter egg hunt. I am joining my super sweet and crafty bestie Laura of Me and My Inklings today to share another project that pairs perfectly with my bunnies. Can you guess what it is? Scroll down and see the fun surprise!
Quick and Easy Dollar Tree Clothespin Bunnies
This post, Dollar Tree Clothespin Bunnies the Cutest 15 Minute Craft, contains affiliate links. Using links to these sites means I will earn a percentage of the purchase at no extra cost to you.
Here's what you need to make Bunny Clothespins for Easter:
Wooden Spring-Style Clothespins – Dollar Tree
Americana Acrylic Craft Paint by DecoArt – Titanium White and Cotton Candy Pink
Tombow MONOTWIN Permanent Black Marker
Tombow MONO Multi Liquid Glue with a fine tip applicator
Low Temp Glue Gun and Glue Sticks
Paintbrush
Wiggle Eyes; Mini – Dollar Tree
Rhinestones; Pink – Dollar Tree
Baker's Twine; Assorted Colors – Dollar Tree
Pom Pom; White – Dollar Tree
Embroidery Floss; Black
Scissors
Ruler
Don't Miss a Single Crafty Thing!
Join my colorful community to get inspirational tips, tricks & tutorials straight to your inbox! Creatively, Beth
Thanks bunches!
You have successfully joined my subscriber list!
Here's how to create a Bunny Clothespin Craft with Dollar Tree Supplies:
STEP ONE
To begin the Dollar Tree Clothespin Bunnies, gather all materials and remove supplies from packaging. Remove metal springs from wooden clothespins and set them aside. Attach the two clothespin halves back together in the same configuration using a glue gun and glue sticks. MONO Multi Liquid Glue can be used, but you will have to wait for it to dry.
STEP TWO
Basecoat the front, back, and sides of the wooden clothespins with Titanium White acrylic craft paint and a flat paintbrush. Let dry and apply a second coat, if necessary. Using a small paintbrush, add the inside of the bunny ears with Cotton Candy Pink acrylic craft paint.
STEP THREE
Measure and cut one-inch sections of black embroidery floss. Separate the floss into six strands and place three onto the bunny's face, using the photo as a guide. Apply a small dot of MONO Multi Liquid Glue on the back of a pink rhinestone and attach over whiskers where they intersect. Glue wiggle eyes above nose with MONO Multi using the fine tip applicator.
STEP FOUR
Draw a mouth under the nose and paws on each foot of the clothespin bunny with the fine point tip of the MONOTWIN Permanent Black Marker, using the photo as a guide.
STEP FIVE
Tie a variety of colorful baker's twine into small bows. Attach to the bunny under the mouth with a small dot of MONO Multi Liquid Glue. These fun Spring colors of baker's twine come three to a pack for just one dollar in the craft section of the Dollar Tree! Attach a small white pom pom to the back of the Clothespin Bunny as the fluffy tail.
Make 15 Minute Dollar Tree Clothespin Bunnies with the Kids
This quick and easy Dollar Tree Clothespin Bunny Craft goes together in just about 15 minutes with limited supplies that you probably already have in your stash! Spend the afternoon crafting with your kids and make memories along with a mess.
Did you guess what goes perfectly with Dollar Tree Clothespin Bunnies? CARROTS! My crafty bestie Laura of Me and My Inklings is crazy for CARROTS! So she is sharing Dollar Tree Clothespin Carrots that pair wonderfully with the bunnies. A match made in Heaven!
More Bunny and Carrot crafts can be found sprinkled throughout my blog, but here are a few I think that you will enjoy. I always love to share my FREE Easter Coloring Pages and Cards to Print and Color. My Clay Pot Carrot Container is another 15 Minute DIY. Can you believe this super cute Bunny Tail Embroidery Hoop for Spring is made from quilt batting? I think it looks just like bunny fur.
Too busy to make this right now? Pin it for later! I'd love for you to pin this project to your favorite craft board on Pinterest and then it'll be waiting for you when you're ready.
Making these quick and easy farmhouse carrots from clothespins is a really great way to bring a bit of color to your Easter tiered tray!
These easy and rustic farmhouse carrots from clothespins are so fast to put together and super cute in a farmhouse tiered tray for Easter!
Farmhouse Carrots from ClothesPins
Here at Ruffles and Rain Boots, we are all about the farmhouse craft lately. I don't know what my current bug is, but I really just want to update all of my decor pieces. So, while rearranging my farmhouse tiered tray for Easter, I decided to make a quick set of farmhouse carrots from clothespins that really bring a pop of fun!
Super simple to make, these farmhouse carrots are a bright sprinkle of rustic charm that also makes for any bunny gnome's favorite treat. If you're ready to make a farmhouse carrot for yourself, let's get started.
No Time to Make This Now? Pin it for Later
You're busy, I get it. Pin this to your favorite farmhouse crafts board on Pinterest and it'll be here when you're ready.
As an Amazon Associate, I can earn from qualifying purchases.
Tips to Make Rustic Clothespin Carrots
I got everything I needed to make these rustic clothespin carrots at the Dollar Tree. That's half the fun, you know. But that's not a requirement. You can find all of these supplies at a LOT of different stores. But if you're concerned about finding clothespins, you can grab some here to get you on your way!
The way these turned out was absolutely perfect for what I wanted. But if you want a more rustic look, you can use a more desaturated orange for the carrot body and then add some brown raffia or paler green ribbon bits to make the greenery and you're really talking rustic!
If you need a great way to display your little farmhouse carrots made of clothespins, you can make a quick DIY farmhouse tiered tray.
How Do I Make this Farmhouse Carrots from Clothespins?
I'm so glad you asked. Below is our written tutorial.
Farmhouse Carrots from Clothespins
I love making these easy farmhouse carrots from clothespins. They're a great and easy way to bring some color to your farmhouse tiered tray for spring!
Materials
Wood Spring-Style Clothespins
Orange Acrylic Craft Paint
Assorted Ribbons and Trims in a variety of Green Shades
Tools
Hot Glue Gun and Glue
Paintbrush
Scissors
Ruler
Wire Cutters
Instructions
Using wire cutters, take off the metal springs from each of the clothespins. Turn the clothespin halves back-to-back and glue them together.
Paint all sides of the glued clothespins with the orange acrylic craft paint. Allow the paint to dry and apply a second coat, if desired.
Cut 5-6-inch lengths of the various green ribbon options and combine into bunches of 5-6 pieces. Tie each bunch together in a knot in the center. Add a small dab of hot glue to the knot to secure it. To keep the 'leaves' from flopping around, press the ribbon together just above the knot while the glue is still hot to add structure.
Glue one of the bunches of ribbon to the top center of each carrot. Then place them in your tiered tray and enjoy!
Did you make this?
Please leave a comment or share a photo and tag me @rufflesandrain
More Farmhouse Dollar Tree Crafts You Might Like
Geometric Shelf Dollar Tree Hack – SUPER simple DIY that turns a couple of shelves into a fun and easy geometric shelf perfect for the bathroom, kids' room or kitchen!
Moss Holiday Farmhouse Tiered Tray Fillers – If you love a little touch of green in your farmhouse tiered tray decor, this fun moss DIY is perfect!
Dollar Tree Gnome Stand DIY – I LOVE my gnomes, but sometimes they're super short. So I like to make a little gnome stand to give a little height to my arrangements.
Please Save This to Pinterest
Your shares are how this site grows and I am sincerely grateful. Know a friend who'd like this? Please share it on Facebook or save it to your favorite Dollar Tree DIYs board on Pinterest.
Sharing is caring!
I live in Florida and we never get snow for the Holidays. That is why I am super excited to create a flurry of DIY Glittery Clothespin Snowflakes to celebrate Christmas in July. I gathered supplies from the Dollar Tree and others I had in my craft stash, plus my trusty glue gun. A blizzard is definitely in my future, even though it's in the 90's this week! Does it snow for Christmas where you live?
Dollar Tree DIY Glittery Clothespin Snowflakes
This post, DIY Glittery Clothespin Snowflakes a Christmas in July Craft, contains affiliate links. Using links to these sites means I will earn a percentage of the purchase at no extra cost to you.
Here's what you need to make Clothespin Snowflakes:
Wooden Clothespins, Small, Medium and Large – Dollar Tree
Americana Acrylic by DecoArt – Titanium White
Decou-Page Medium from DecoArt
Glitter, Fine Iridescent and Large Clear – Dollar Tree
Glue Gun and Glue Sticks – hot glue works best for this project!
Paintbrush
Scissors – I love my Fiskars!
Ribbon – Dollar Tree
Baker's Twine – Dollar Tree
Here's how to create Glittery Snowflake Christmas Tree ornaments:
STEP ONE
Gather all supplies. Remove the metal spring clip from the wooden clothespins. I used wooden clothespins in three different sizes, found in the laundry and craft sections of Dollar Tree.
STEP TWO
Flip the clothespin pieces around and glue the flat sides together with a glue gun and glue sticks, as pictured below.
STEP THREE
Assemble each snowflake by creating a cross with four clothespins and then adding clothespins in the four diagonal sections. I know that a traditional snowflake has six sides, but there wasn't a good way to properly secure only six sections. I used my creative license to change it up!
STEP FOUR
Basecoat each snowflake with Titanium White using a paintbrush. Let dry and apply a second coat, if necessary. For a rustic look, leave the edges bare wood.
STEP FIVE
Apply a generous layer of Decou-Page medium to the top of each snowflake with a paintbrush. Over a plain piece of paper, sprinkle the snowflake with clear glitter. Tap the glitter gently into the glue with a finger and then gather the paper and return the excess glitter to the container. I made a mixture of clear chunky glitter and fine iridescent glitter for added sparkle!
Step Six
Layer the snowflakes with the glue gun and glue sticks to create added dimension and interest to the ornaments. Glue a small snowflake onto a large one, or attach two of the same size snowflakes together.
Step Seven
To finish the DIY Glittery Clothespin Snowflakes, glue a loop with a bow to the top of the snowflake. Use a festive combination of green and white baker's twine and red and white gingham ribbon.
Celebrate Christmas in July with DIY Glittery Clothespin Snowflakes
Use some down time this Summer to get started on your Christmas crafting. I promise you will totally enjoy creating with the kiddos and making some great memories.
This is a fun activity to keep the kiddos busy with counting and motor skills. Create a blizzard in just about 30 minutes! This project does work best with Hot Glue. If you are worried about the younger kiddos, tacky craft glue would work as well, but you have to wait for it to dry.
For more Christmas in July fun, check out my Snow Globe Christmas Card from a recycled jelly jar. I love turning traditional supplies into super cute projects!
Make these simple clothespin puppets with kids, using our free printable designs as the starting point! A fun STEAM project, with the puppets working around the mechanism of a clothespin.
With several sets of elaborate shadow puppets in my craft baggage, I always wanted to give a go to something quite different and make a simple puppet from some commonplace object. My goal was to prove – to myself if no one else – that making a theatrical performance with kids can be very easy. For that reason, I have been eyeing socks and gloves for ages. But in the end, it was a clothespin that prompted us to creation this time.
Clothespins are fun! Commonly available, made of wood and featuring a mechanism that can fascinate children just by itself. Incidentally, absolutely perfect as a base for a paper puppet that opens and closes its mouth. In my opinion, the project is a fun combination of art and engineering. Older kids can easily create their own puppets, while younger ones can try our printable design.
I made a dragon and a unicorn for my kids. There is a coloured version as well as the one for colouring, both available as free printable for a quick crafting and theatrical experience.
While I thought it was an interesting engineering project, my son and my husband (!) had a blast making an improvised performance with the beasts. They're reading The Hobbit right now, so the dragon was naturally named Smaug. I couldn't hold in a laugh, listening to my son trying to speak in a tiny voice for the unicorn and in a big gruff voice for the dragon. Why, the same attempts on my husband's part put me in hysterics as well – you can hear him in the video tutorial below.
Print the heads. They're made in two parts: the lower jaw that gets glued on the lower part of the clothespin and the rest of the head that goes on the upper part and overlaps the jaw a little. On the photos, I use the glue gun. It sets quickly and there is a possibility for making the head part sit a little higher, thus making sure that it wouldn't interfere with the jaw. All the same, usual white glue would be a safer alternative for smaller kids – it worked fine when I tried it. Just make sure that the paper parts stay in place for the first minute and let it sit until dry afterwards. The advantage of using white glue would be that you could adjust the position of the jaws to your satisfaction.
If you want to make your own puppets, colour or print ours, get the template by putting your email below!
Great idea. I'll be doing it with a group of kids at a Unicorn themed craft afternoon.
Here at Dollar Store Crafts, we are a fan of the Starburst Mirror, and this version by Diane at In My Own Style is one of the easiest and most elegant versions we've seen. You can get all the materials you need at the dollar store, so what are you waiting for? [how to make a clothespin starburst mirror]
Diane was very clever – she removed a mirror from a dollar store handheld mirror! You can sometimes find round mirror tiles in the candle section of the dollar store too. Don't forget to check out her blog to see several very cool variations of this mirror.
Frameless mirror, $1
Package of clothespins, $1
Hot glue and glue gun, on hand
Total: $2
Heather
Heather Mann is chief editor of Dollar Store Crafts, and specializes in transforming inexpensive materials into stylish and simple craft projects. She has appeared on the Martha Stewart Show, in Reader's Digest and the New York Times. DSC has been recognized as named one of Babble.com's Top 10 Best Overall Craft Blogs (2011 & 2012) and Apartment Therapy's 10 Crafty Blogs We Love (2010). Her work has been viewed by millions on the cover of FamilyFun magazine and on top websites such as RealSimple, Huffington Post, ABCNews.com, and others.
Disclosure: this article may contain affiliate links or other forms of sponsored content. Opinions are 100% the author's. Full disclosure policy.
1 Comment
[email protected]
Hi Heather –
XOXO for featuring the clothespin mirror. When I saw the pingback in my dashboard I smiled and thought – Heather – she is the best. Thanks
The next best thing will be to get to meet you in person. I look forward to that day.
Valentine's Day is only a month away! That means it's time to start working on any DIY Valentine's home decor you'd like to put up. I love to make wreaths for most seasons and holidays, and Valentine's Day is no exception! I wanted to do something different for my wreath this year, so I decided to make it out of clothespins! If you want to make a pretty wreath for Valentine's this year, you've got to make this DIY Valentine's Day Clothespin Wreath!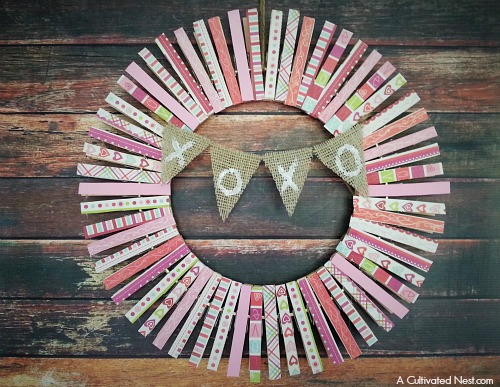 Disclosure: This post may contain affiliate links to Amazon and/or Etsy, which means that I may earn a small commission from some of the links in this post. Please see our Disclosure Page for more information.
This cute Valentine wreath was so fun to make! It would make a great craft to do with the kids or grandkids. And it's a great way to use up any scraps of scrapbook paper you may have laying around!
DIY Valentine's Day Clothespin Wreath
Materials: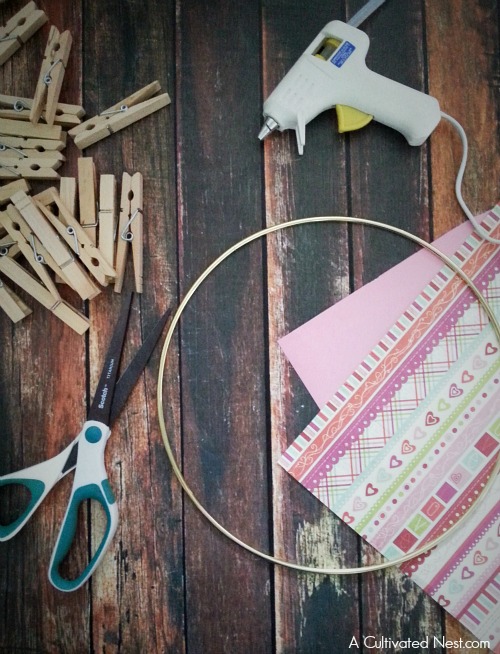 10 inch single circle wire wreath form
58 clothespins
Hot glue gun + glue
Valentine's/love themed card stock or scrapbook paper of your choice (it's fun to alternate different patterns)
Scissors
Ribbon/string/twine to hang
Directions:
1. Start by cutting out strips of your card stock or scrapbook paper so that the strips are the size of your clothespins.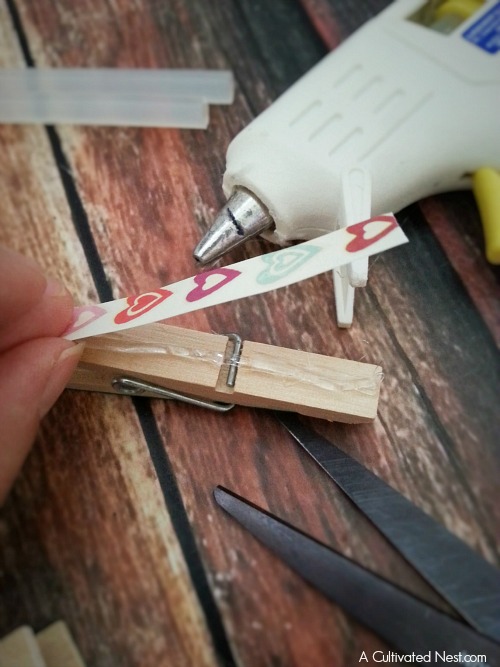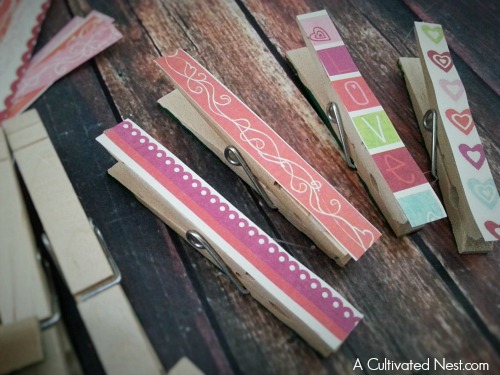 2. Once you have your 58 pieces cut out, take your hot glue gun and run a bead of glue on a clothespin and stick a paper strip to it, making sure it adheres well. Do this until all of your clothespins are covered.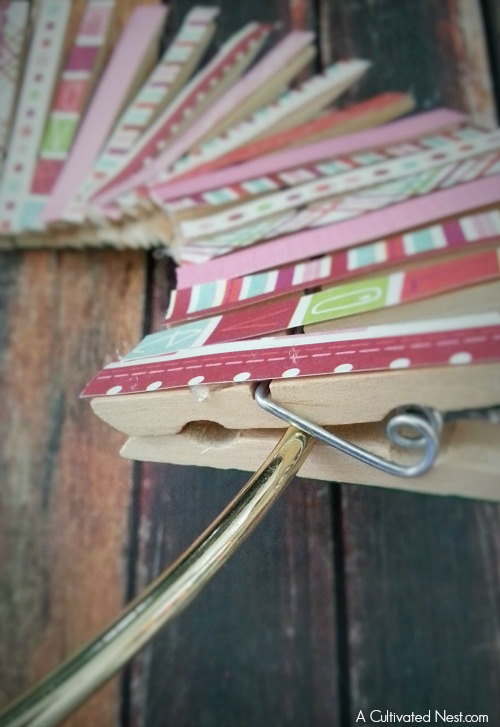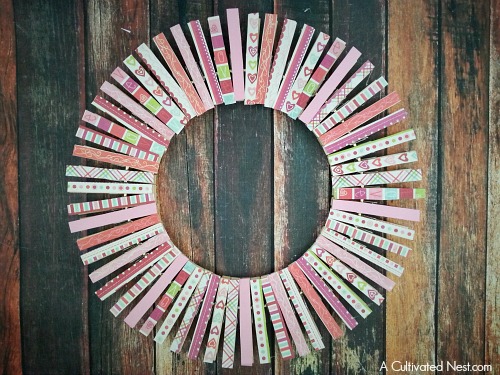 3. Take your clothespins and clip them to the wreath. Make sure that each pin's hinge is touching the wire form, as this gives it a more secure form in the end (otherwise they will be twisting and turning and you would need a lot more clothespins to fill it up).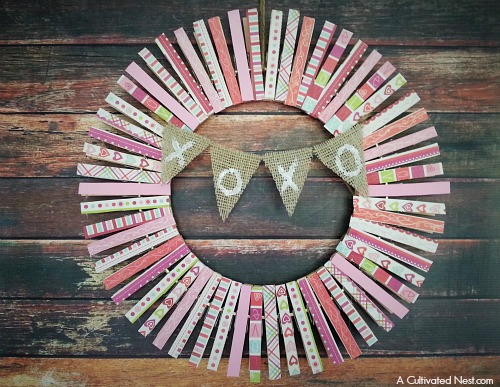 4. Jazz up your DIY Valentine's wreath with a cute banner or bow and attach twine to the wire form to hang!
Then put your Valentine's Day clothespin wreath up somewhere your whole family can enjoy it! You can hang it on a door, in front of a mirror, or prop it up in the middle of a Valentine's display on a table or mantel. Wherever you choose to put it, it's sure to look great!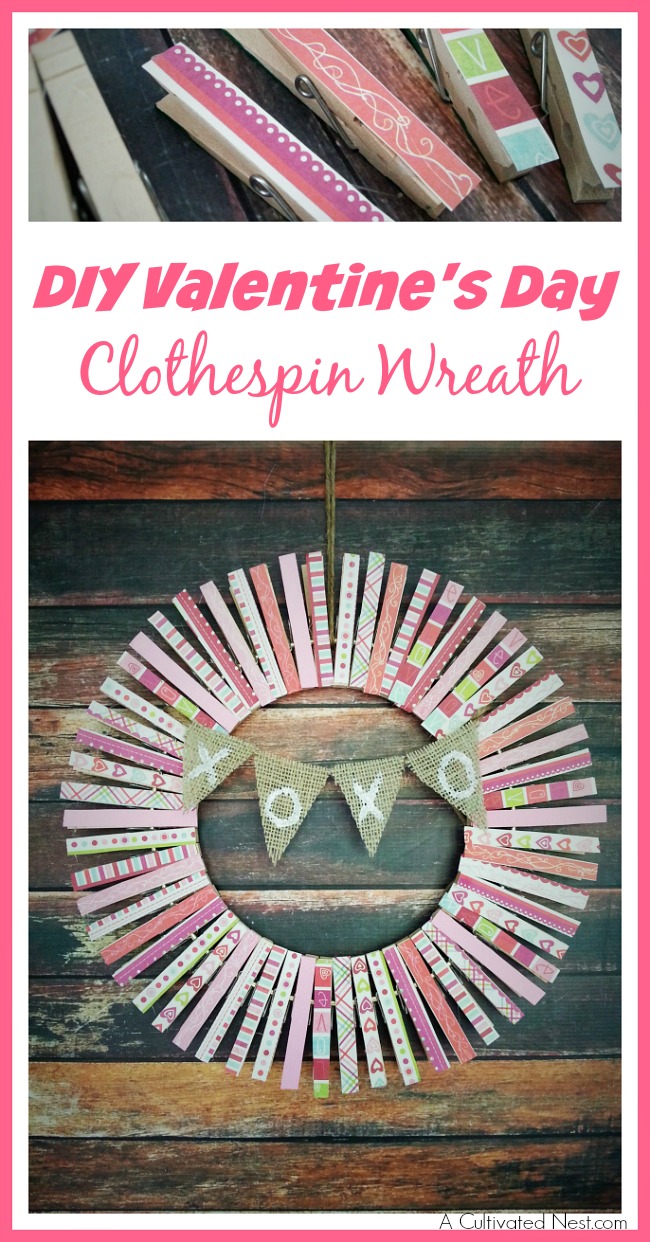 This post contains affiliate links to Amazon, which means that I may earn a small commission from some of the links in this post. Please see our Disclosure Page for more information.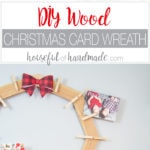 Create a DIY Wood Christmas Card Wreath that makes a perfect display to hold the Christmas cards you receive.
Are the Christmas cards starting to pour in at your house yet?
Thanksgiving weekend I always seem to get one or two cards, reminding me I am behind on getting mine ordered (again). And helping me remember I haven't found a way to display them through the season.
Well not this year! Okay, we haven't ordered our cards yet (but I am planning on doing that tomorrow, so I'm not that behind), but this year I have this DIY wood Christmas card wreath ready to hold all those Christmas cards.
This post may contain affiliate links. As an Amazon Associate I earn from qualifying purchases. Click here to read my full disclosure policy.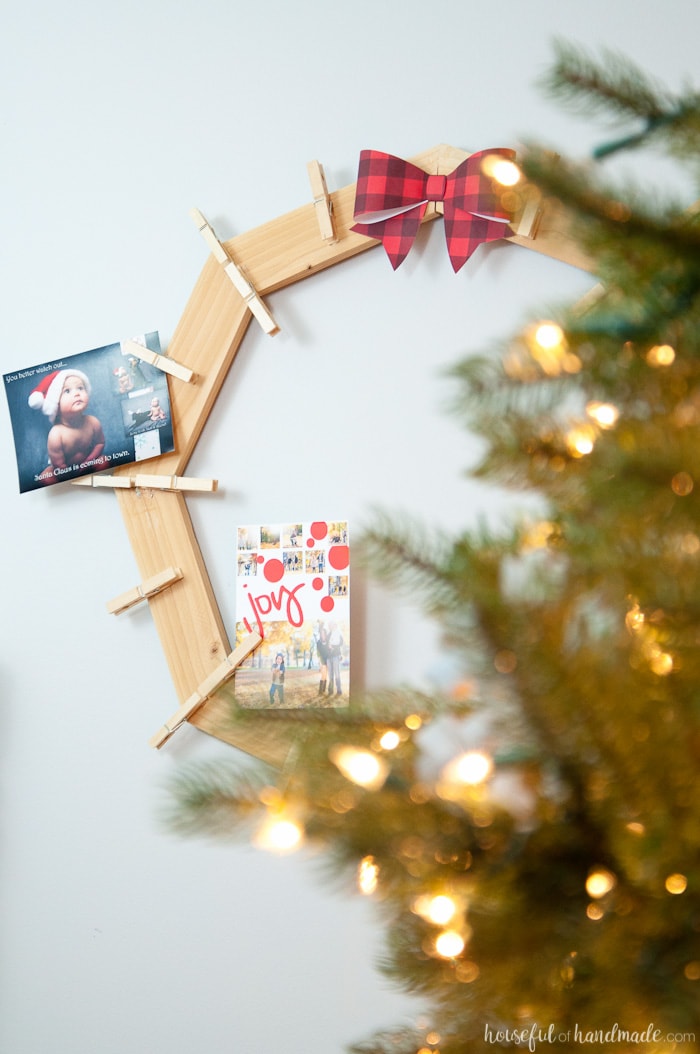 Unique Christmas Card Holders
I love that the trend for Christmas cards is to use pictures of your family. It makes the arrival of each card so fun as we get to see all the people we love. Sometimes we even leave them up way past Christmas just so we can display the pictures.
I even use the Christmas card excuse as a reminder to get our family photos done each year.
This wreath shaped Christmas card holder is perfect for displaying all the photos of family and friends. Or for even more Christmas spirit, you can make a Christmas tree shaped Christmas card holder.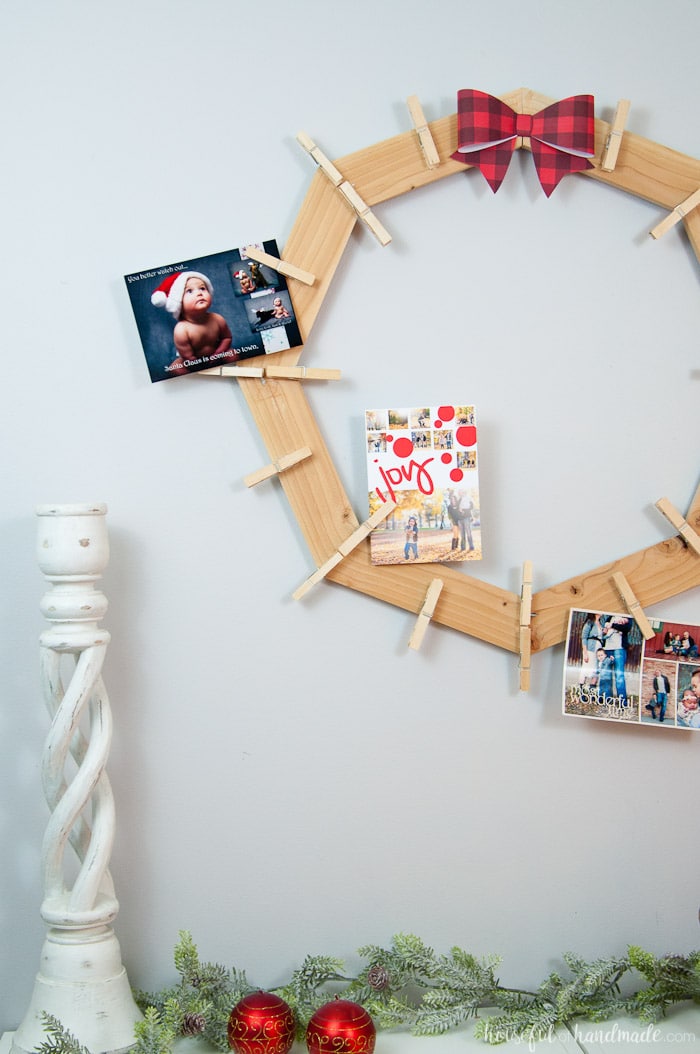 Usually when the Christmas cards start arriving, they make their way onto our fridge. The whole fridge becomes a mess of magnets and faces. Sometimes the kids play with them, sometimes they fall and get lost.
The system was not good. My mom always taped hers to the doorframe into the kitchen, but I am not lucky enough to have a perfect doorframe to display our cards so the fridge it was. Not this year though!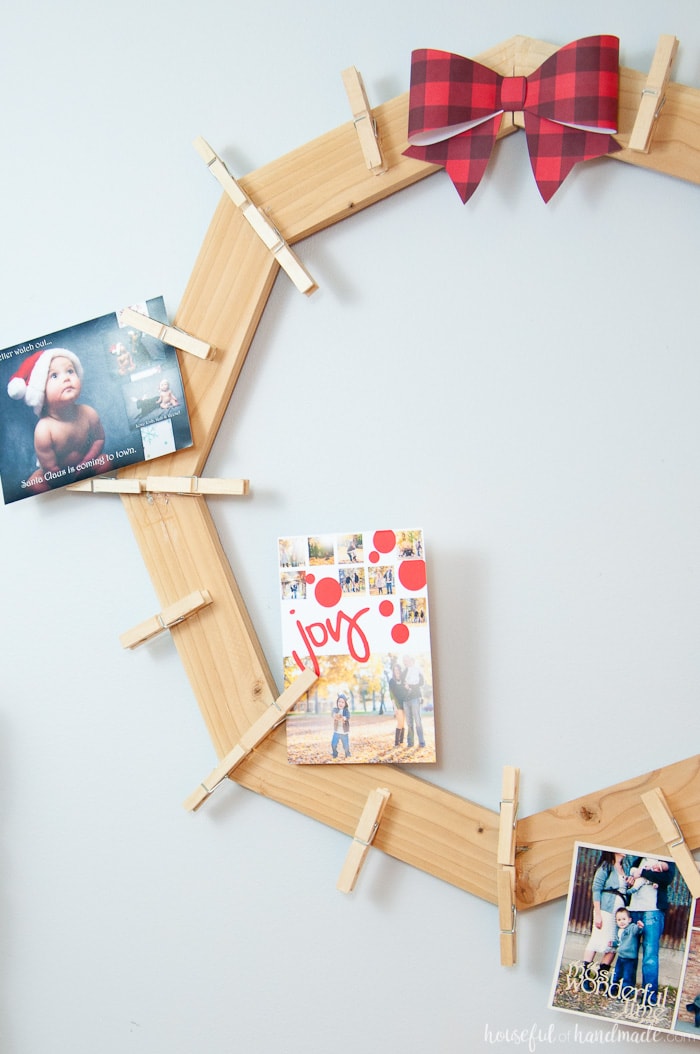 I was finally upset enough about the awful way I was trying to display our the Christmas cards that were beautiful pictures of our friends & family. After making two wood wreath forms for actual wreaths (one for spring and one for Halloween) I figured why not use the same idea but make it into a Christmas card holder.
The wood form was perfect for the addition of wood clothespins. Now we can proudly display our cards on this DIY wood Christmas card wreath.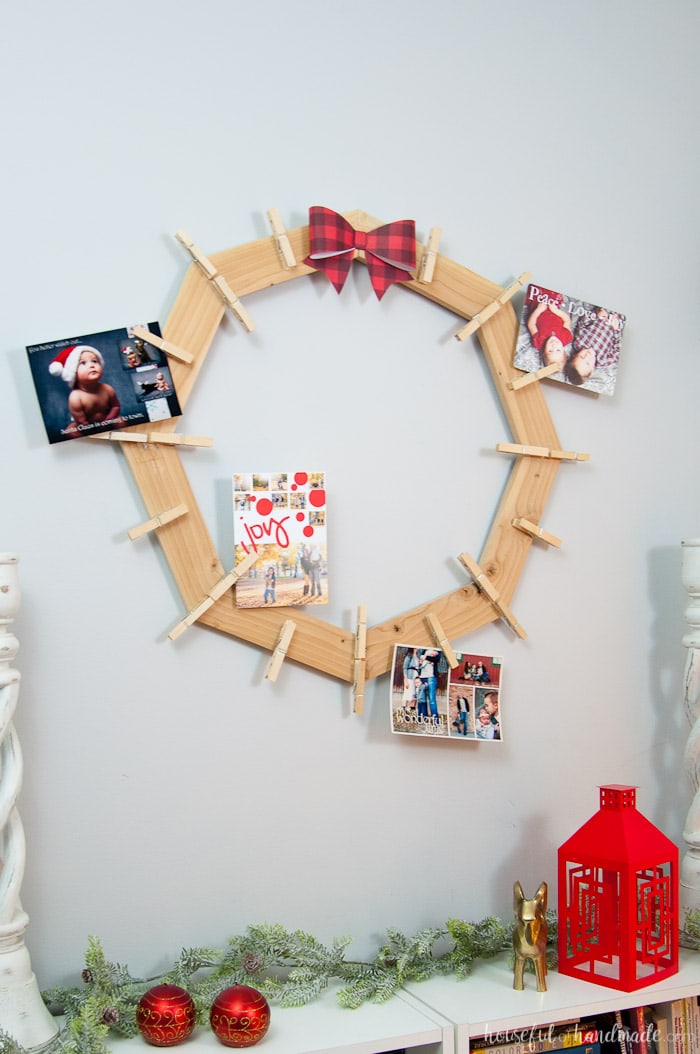 And the best part about this (fairly easy) wood project… it is made with 1 8′ 1×3 board and a pack of wood clothespins from the dollar store! Yep, this entire project cost less than $3 and only an hour of work.
So are you ready for this easy Christmas project?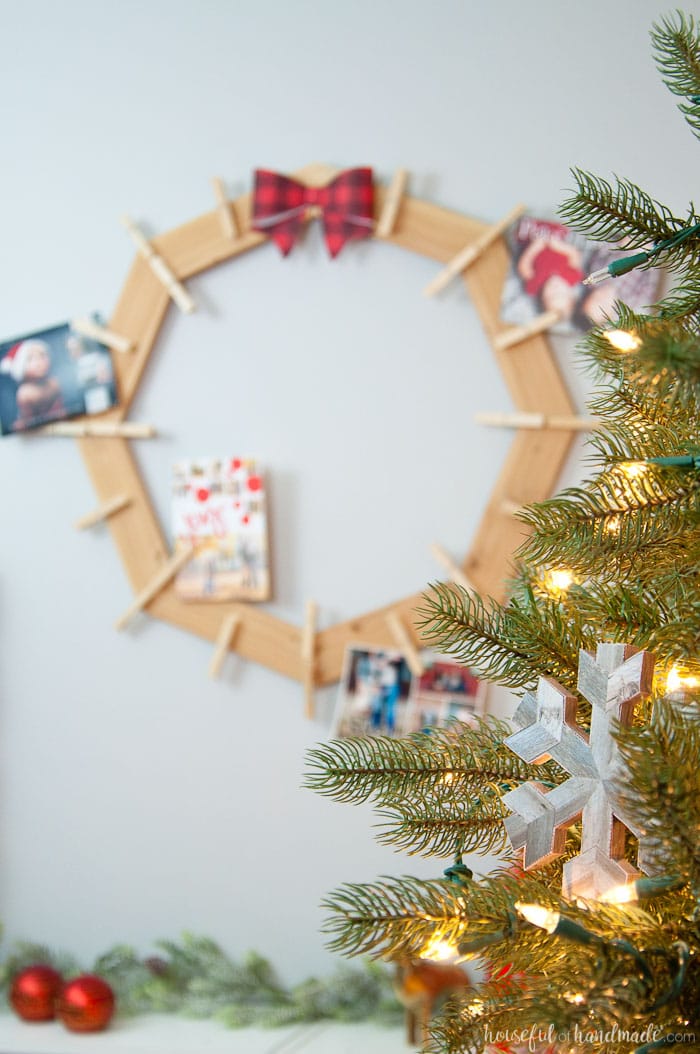 How to Make a DIY Wood Christmas Card Wreath
1 8′ 1×3 board
Kreg jig
1 1/4″ pocket hole screws
Wood clothespins
Hot glue gun & glue sticks
Ribbon or paper bow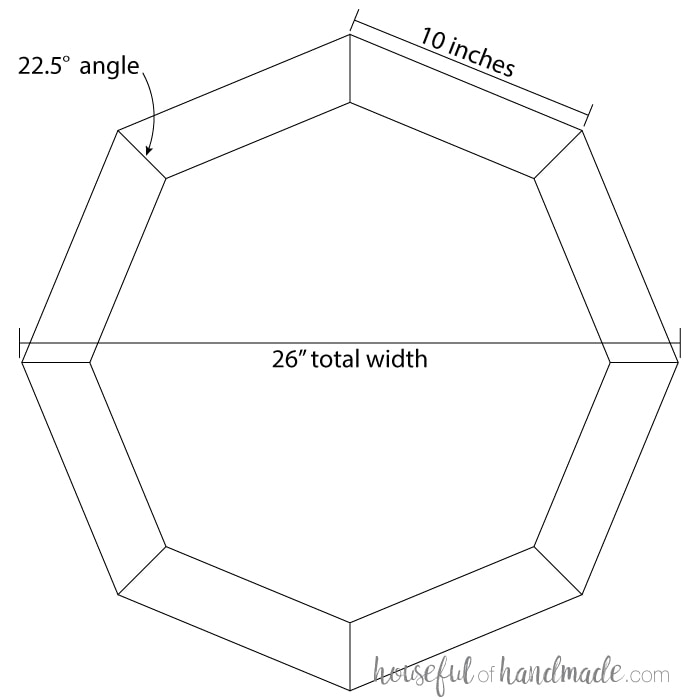 Cut 8 pieces of the 1×3 board to 10″ long with each end cut tapered in at a 22.5 degree angle.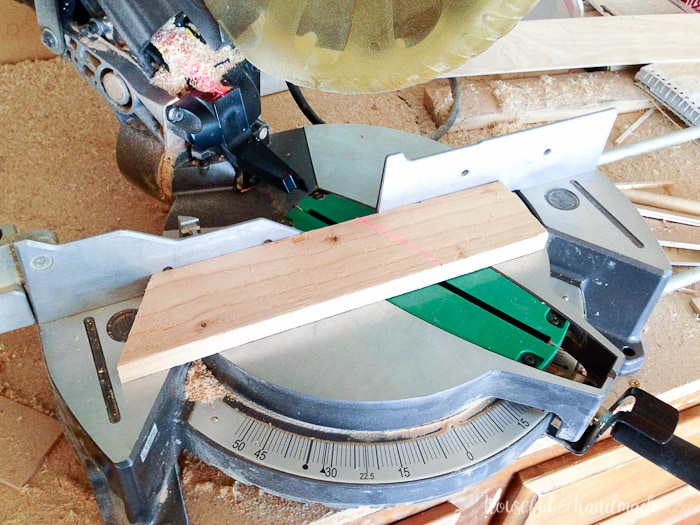 Drill 2 pocket holes in one end of each board. Clamp two boards together well and secure the boards using pocket hole screws. Continue securing the boards to each other until you have completed the circle.
If you do not have a Kreg pocket hole jig, you can also secure the boards together with glue and staples.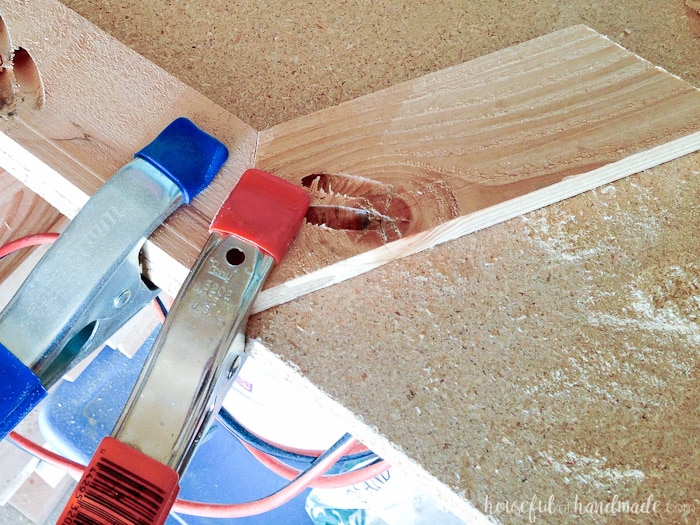 Once you have completed your wood wreath, glue the clothespins around the wreath with your hot glue gun. The outside of the wreath can hold a lot more cards. Add a clothespin with the clamp side on the outside at every seam (except the top one) and in the center of each board.
Add a clothespin with the clamp side on the inside at every seam (except the top one).
The clothespin over the seams also help hide less than awesome seams!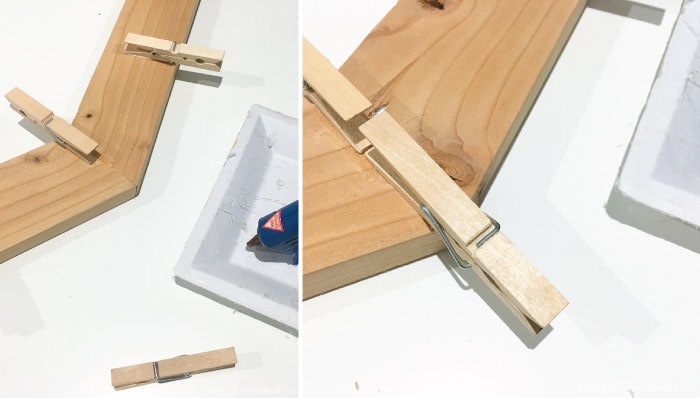 Once the hot glue is dry, it's time to add a Christmas bow to the top. I really suck at tying bows so I made a paper one with a red buffalo check pattern.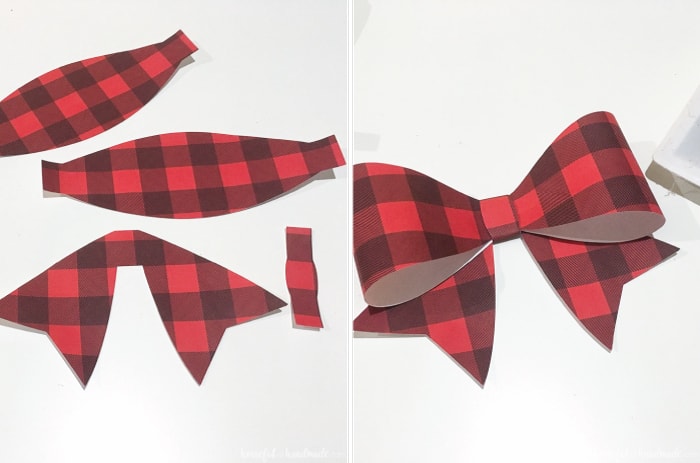 Glue your bow to the top of your DIY wood Christmas card wreath. Add a picture hanger to the back and you are ready to hang it.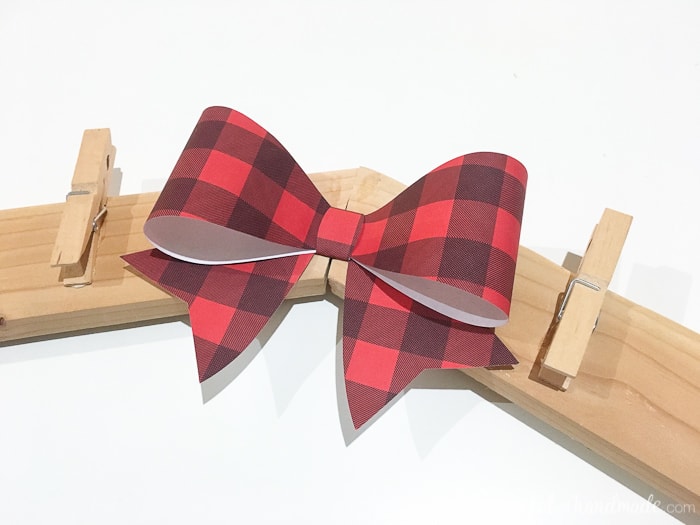 Now you can display all those cards as they start coming in. Since we don't have a bunch of cards yet, I clipped old Christmas cards from our family these past years.
I love looking back on these fun cards, it gets me ready to design and order this year's cards! And it was fun to reminisce over all the fun pictures of our family.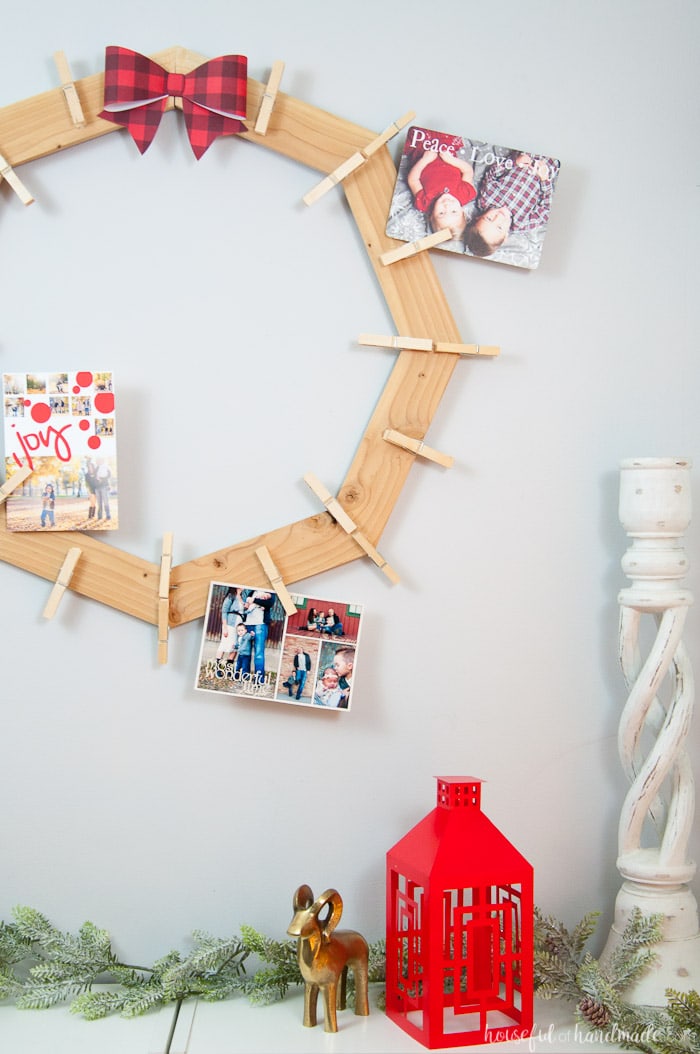 And now all the beautiful Christmas cards can become part of our Christmas decor. What better way to celebrate the holiday than with your family & friends smiling at you!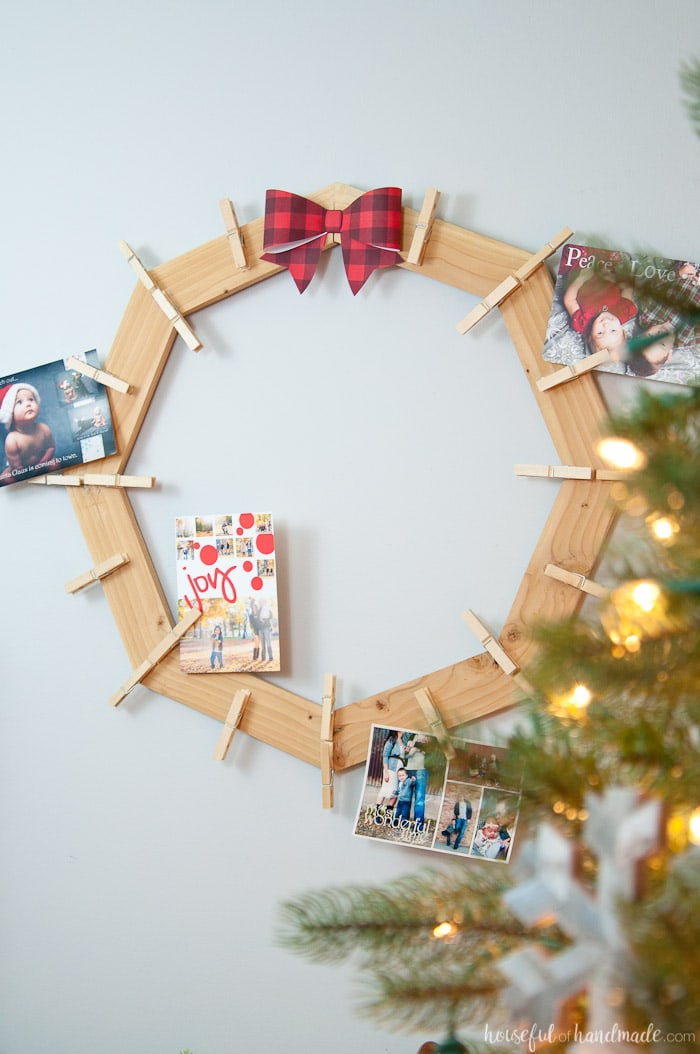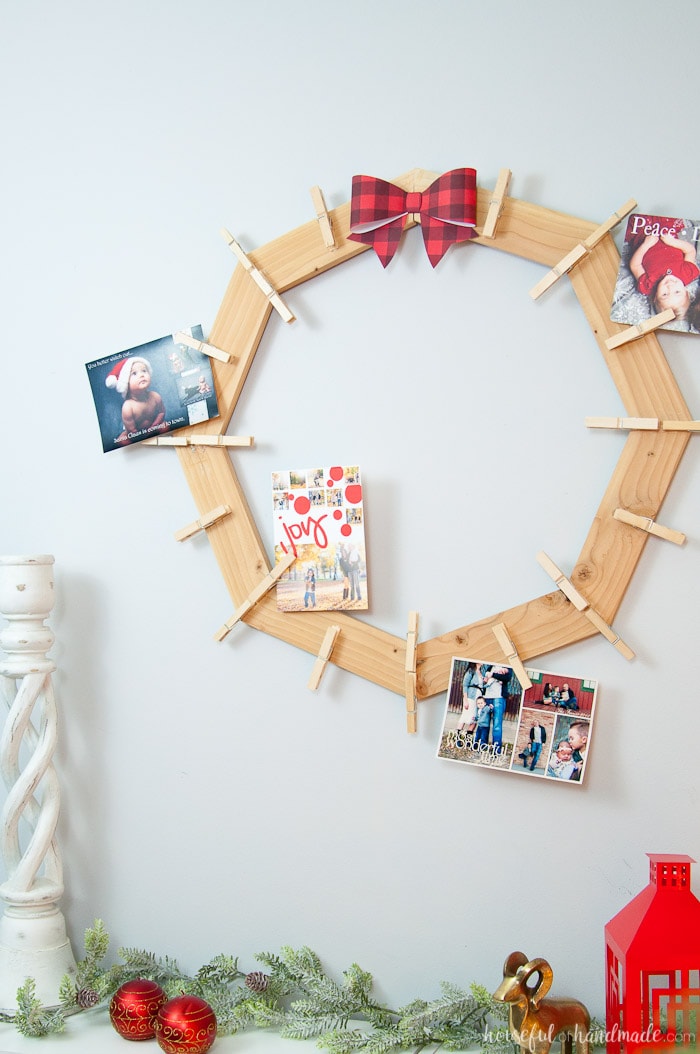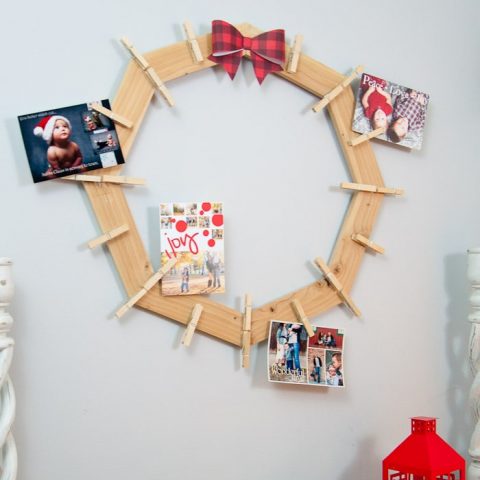 DIY Wood Christmas Card Wreath
Display all the beautiful cards and photos you receive for Christmas with this easy to make DIY Christmas Card Wreath.
Save this idea for later so you don't forget to use it!
Do you want to learn how to make a scribble bot? We turned the classic scribble bot into a hilarious unicorn bot by attaching our motor to a plastic unicorn.
This rainbow scribble bot project is so much fun for kids and will spark their creativity so they want to make more robots from toys.
This is a creative STEM activity idea that you can use in the classroom or at home. Kids will love transforming their toys into art doodle bots!
We had the best time making this unicorn scribble bot! She is a fully motorized bot that draws rainbows. You cannot get much cooler than that.
My kids (and I) were laughing the whole time we were playing with her! Your kids will LOVE this simple robot STEM project.
Easy-to-Build Unicorn Scribble Robot
Within 30 minutes, you can have your very own motorized unicorn that draws rainbows!
Disclaimer: This post contains affiliate links at no cost to you for your convenience.
What you'll need to build a bot unicorn:
Large plastic unicorn (we used this one)
3 volt motor
AAA battery pack with wires
Needlenose pliers
Hot glue gun and glue sticks
Markers (in rainbow colors)
Large play tray
White paper
Scotch tape or electrical tape
Mini clothespin
2 AAA batteries
How to make a robot for a science fair project
First, you have to make sure your motor is up and running properly. Attach the wires from your battery pack to the motor. We found it didn't matter which wires touched which side of the motor.
They worked as long as they were both attached (making a closed circuit). Because this motor runs off direct current, you don't have to worry about getting shocked when setting everything up, making it friendlier for little hands.
Once the motor is running, attach your mini clothespin to the rotating part of the motor (we used hot glue). This will make the motor run off-kilter, making it vibrate (which is what you want in this case).
Attach your motor to the back of the unicorn. We used a combination of tape and hot glue to hold it in place. Make sure there is enough space for the clothespin to spin around without knocking into the unicorn's head.
Attach the battery pack to the underside of the unicorn with hot glue.
Plug in the batteries and make sure your unicorn can move around without toppling over. If she can't, move things around until the unicorn will move without falling over.
At this point, our unicorn was spinning in circles, which the kids thought was hilarious.
Next, arrange your markers into a rainbow pattern. We made two stacks of three colors each, staggering them so (most of) the colors all would touch the paper at the same time.
Attach the markers to the back of the unicorn's tail so she can drag them along behind her.
Cover your play tray in white paper. You may want to tape some of the edges together so they don't trip your unicorn.
Place your unicorn scribble bot inside the play tray and place the battery inside the battery pack. Watch as your unicorn draws rainbows all over your paper!
Unicorn Bot STEAM Elements
Science: Kids will have to use the scientific method to refine the design for their scribble bot.
Technology: Kids use motors, batteries, and markers to bring their toys to life.
Engineering: Designing a motorized robot is a tricky challenge for kids! They must work carefully to make all elements of the design work without flaw.
Art: Drawing rainbows is a delightful way to use art in this project.
Math: Calculating the right angle for the markers and the correct power source for the motor is essential to making this project work without burning out the motor.
More Creative STEAM Projects
Save this idea for later so you don't forget to use it!
Easy, easy, easy! That's what this project is/was. Easy. Today, I am sharing how to make a clothes pin rag wreath.
I made a burlap rag wreath a few years ago, and still have it. As a matter a fact I just moved it to the laundry room.
I been sprucing up the place and of course that means relocating things.
As far as the laundry room goes…well that is my least favorite room in the house. I'm betting it your least favorite as well. Such a daunting, never ending task.
Of course it would be, you step inside and it means, work, more work, fold, and back at it again the next day. Laundry is a never ending task we all must do. May as well make the place pleasant if you have to be there.
I will show you around there soon. It's in the process of also being cleaned and organized. That room seems to be the catch all! Close the door and ignore the mess room. Considering it is off the kitchen, I thought a cute wreath on the closed door would be a nice cheery addition.
The supplies were simple.
A mini wire wreath form, I found at Michaels craft store. An old kitchen window valance, and a few packs of clothes pins from the dollar tree.
Some of the pics are a little fuzzy because I started this craft later on in the evening. I like to craft at night it seems, but that is not great for photo taking to show you. You get the gist. I had this old kitchen valance and thought it would be perfect to use as the rag part of the wreath.
First I clipped my clothes pins in sections
and then I filled in the spaces with the cut fabric.
As you can see you just randomly put the material in between the openings of the wire wreath and match it from end to end, then make a knot.
I cut the pieces about 10- 12 inches a piece. I wound up trimming the ends so you wouldn't see the hemmed parts of the valance.
Embellished with a burlap and fabric flower I also found at Michaels. The fabric yellow flowers are actually glued onto clothes pins and the burlap flower is just a clip on. So this project required no sewing, and no hot glue gun. I always wind up burning a finger or two when I use that thing!
Just some clipping and tying knots of fabric.
Pretty darn cute if I do say so myself!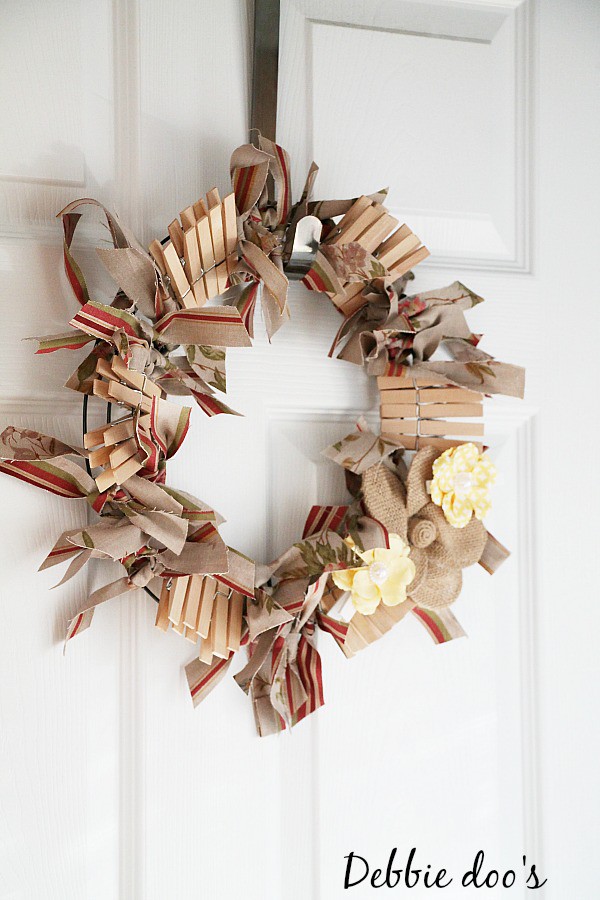 Glad you stopped over today. If you are not a regular here, I sure would love to see you back again.
I am on a wreath roll..check out my
You may check out my Dollar tree gallery of ideas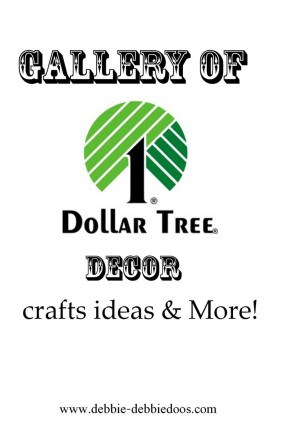 or you may like
Burlap, Stenciling, ideas just to name a few more.