Introduction: Make a Denim Purse With Cardboard
I came up with the idea of making a "denim" covered purse out of cardboard and acrylic paint.
Step 1: Cut Pieces Out of Cardboard
For this purse, the length is 7 and 1/2 inches. One piece is cut to to a width of 3 and 1/2 inch, while the large, triangle shaped piece is 7 inches overall.
Step 2: Using Paper As the Hem
Cut several pieces of kraft paper to 3/4 of an inch. This will be folded in half, fitted to the cardboard pieces of the purse, and glued into place.
Step 3: Glue the Two Pieces Together
I used regular white glue for this, but a tacky glue is good too.
Step 4: Prime the Pieces With White Paint
Just like painting the barn, you need to start with a primer coat.
Step 5: Paint Purse With "Denim" Colored Paint
Paint with the grain of the cardboard, and try to leave bits of the white primer showing through. Using a "dry" brush works best.
Step 6: Paint White Highlights
Again, using a dry brush, add white highlights to the blue denim "material".
Step 7: Paint on Stitching
I used an orange paint diluted with some white so the thread appears faded. It is used denim, after all. Each stitch is highlighted with an off white, and a shadow is placed next to each stitch with a very fine marker. Dots are painted at the end of each stitch.
Step 8: Add Rivets and Clasp Button
Here, I painted the rivets with orange and burnt sienna. A shadow is drawn with the black marker to give the appearance of a shadow. For the clasp button, I used a template to draw a black circle, then filled it in with a gold paint. Lettering is added: Levi Strauss. appropriate enough.
Step 9: Velcro Is Used As a Closure
Velcro is added to keep the top closed and protect the money!
Be the First to Share
Did you make this project? Share it with us!
Recommendations
Stone Concrete Cement Contest
Remote Control Contest
Tinkercad to Fusion 360 Challenge
18 Comments
12 years ago on Step 9
why not use actual denim? it would be more practical and harder wearing
Sure did look like denim. I read that it was cardboard and had to look at it again just to make sure you weren't pulling our legs. Still not sure!
Great instructable. Good photos. Good step by step process.
Reply 12 years ago on Introduction
Gotcha! Thanks for your comment. I assure you it is painted cboard! Cman
Beautiful execution of a clever idea. This would be a great way to 'wrap' a gift of cash or a gift card for a teenager. It could be reused to keep ticket stubs and other bits and pieces. Something like that just might inspire me to keep track of my receipts. *g*
**Please scroll down the page for the links to the free patterns**
Put your old jeans to good use with this collection of over thirty free denim bag and purse patterns, tutorials, and diy sewing projects gathered from all over the web!
Sew a bag or purse from denim when you need a sturdy, durable, casual bag that will stand up to lots of use and abuse. Plus, not only will sewing a bag from old jeans save you from the need to purchase new fabric, the old denim will be softer and nicely broken in. Plus, you'll be able to feel good about your old jeans not taking up space in a landfill.
And because denim is such a thick fabric, sewing with it can be a bit tricky. Therefore, here are some tips for working with denim that you may find helpful: Make sure to use sharp scissors when cutting your denim to prevent hand fatigue. And if your denim is extra thick, you may want to cut it in a single layer instead of doubling the fabric.
Use a brand new, heavy duty, denim needle in your sewing machine which will be able to pierce the layers of the thick denim easily and without breaking. And you may want to use a longer stitch length. For sewing over extra bulky seams, you may want to use a "hump jumper" or "jean-a-ma-jig" to make the task easier. And because denim frays easily, finish your seams by either zigzagging or serging the raw edges, or encasing the raw edges within a flat-felled seam. And trim your seam allowances (and clip curves and corners) to cut down on bulk. Also, to reduce bulk, press your seam allowances open when possible. And when you do press your denim fabric, use a high heat setting and lots of steam.
And since denim is so thick, and working with any thick fabric can be challenging, it may not be the best fabric for a beginner to try to sew.
And you may want to check out the Denim Projects page for even more denim inspiration.
Please note: Most of the links below will take you to another website.
Also, this page may contain affiliate links, which means I may make a commission if you purchase something from one of these websites (but the patterns linked to should be free).
Flaunt the distressed look of stylish arm candies by crafting these fabulous purses cut out of jeans. You can sport the cool denim-on-denim look by choosing an all denim outfit with these beauties. Otherwise, a short casual dress works just fine. We have compiled the directions for the best denim bags we could get hold of.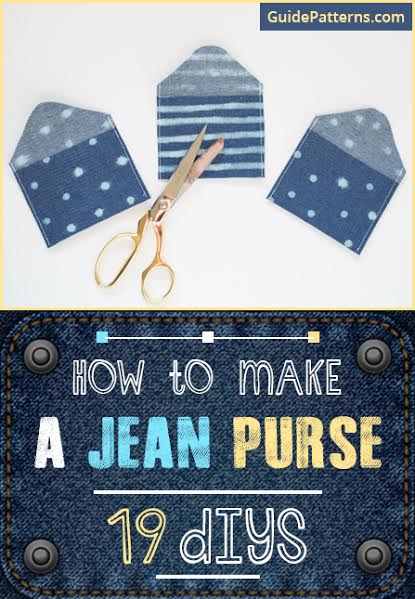 Here comes a fun way of upcycling a ripped pair of jeans. Cutting out the legs, making the straps and sewing everything up neatly, should nail the look. You can decorate with studs, beads and spikes to ensure all eyes are on you, rather, your bag.
Recycle old pants or shorts to makes this awesome booty bag that comes with a lot of pockets. Note the aesthetic use of a colorful belt fitted through the belt hoops and buckled just the way you would if you were wearing them.
How to Make a Purse Out Of Jeans
The easy pattern boasts of a colorful lining on the inner side of the lovely purses. Adding a lacy crochet edging at the top adds to the charming looks.
This versatile pattern done out of a pair of old jeans exudes a rustic charm. You can customize it by choosing contrasting shades of cloth for the bow and trim.
How to Make a Jean Purse
Sewing cute fabric flowers on squares and attaching them to the front of the purse, making a knotted strap, and choosing a floral fabric for a decorative belt sums up this fabulous project.
Blue Jean Purse
Sample the gorgeous look imparted to the otherwise distressed look of the jeans purse by the cheery jean flowers.
You would have to go through the instructions to believe that something as simple as a jeans pocket can turn into such a brilliant purse! The lace glued at the center adds class to the rugged looks of the fabric.
Jean Pocket Purse
Cupcake appliqués make this pattern a hot favorite with the girls.
Jean Purse Pattern
A beautiful customized heart ornament has been sewn partially to a jeans pocket for an excellent pocket-on-pocket look.
Blue Jean Purse Pattern
Here is a great excuse for never having to trash your favorite pair of jeans that don't fit you anymore.
Recycled Jeans Purse
Denim Jean Purse
Jean Purse Ideas
Felt flowers and feathers can be added to up the glam quotient of this denim purse with fringes.
Jean Purse Free Pattern
How to Make a Jean Purse without Sewing
Jean Clutch Purse
We are happy to present a creative way of storing your change.
Jean Coin Purse
Jean Crossbody Purse
Jean Shorts Purse
With your mind brimming with ideas, you are all set to give wings to your creativity in this denim purse project. As we sign off, here is wishing you luck with all your ill-fitting jeans. Let them see the light of the day!
Published on April 19th 2016 by Peyton Derrida
Get Out & Sew!
I've been trying to limit myself to sewing with fabrics and patterns I already own instead of adding more to my collections. For support in accomplishing this goal I joined a Facebook group called Stashbusting Sewalong 2014. Stashbusting Sewalong members dedicate themselves to sewing from their current fabric stashes rather than buying new fabrics. A worthy goal, and one I'm seriously working on. But recently I realized that in addition to my fabric and pattern hoards I have another guilty stash secret: my sewing books! So I'm also pledging to quit using my sewing books just as dust collectors. I'm going to sew at least one project from each of the sewing books I already own before I buy any additional sewing books.
My first sewing book project, pictured above, is a jeans purse I made from the book denim redesign by Amy Barickman. I purchased this book when it was published in 2007 because I wanted to repurpose jeans that no longer fit me. Of course I've long since gotten rid of all those ill-fitting jeans, so I had to purchase a thrift store pair in order to make this purse. Sigh, why does procrastination have to be my greatest talent?
I like several of the 20 projects included in denim redesign so I believe I'll use this book again in the future. (And by then I'll have some of my own jeans to repurpose.) The first project I chose to make from this book was the 2 pocket denim purse, and it was super easy to sew. The purse is made from a pair of men's 38″ waist blue jeans. However, I wanted to make a black purse, so I used the only black denims I could find at my local thrift store with a large enough waistband: women's capris in size 2X. So for this particular project none of my old jeans would have worked anyway since a 38″ waistband is necessary to make the purse handle the correct length.
To create this purse, measure 10.5″ up from the jeans hem on both the legs and cut off. Then cut down the center back of each of the 10.5″ leg portions. Remove the watch and back pockets from the jeans. Detach the belt loops and remove the waistband. Lay the 10.5″ leg portions flat with right sides together and hems at the top and stitch a 1/2″ seam on both sides, leaving the bottom open. Press the seams open and turn right side out. This will be the body of your purse.
Sew the jean pockets on the purse body 3″ down from the top, centering each pocket on each purse side seam. Remember to leave the tops of the pockets open! Turn the purse wrong side out and sew a 1/2″ seam across the bottom. Cut 6″ off the buttonhole end of the waistband and set aside. Pin the long waistband ends about 1.5″ inside each of the pockets, being careful not to twist the waistband. Stitch in place. The long waistband piece is now your purse handle.
Remove the metal button from the 6″ piece of waistband by cutting around the fabric at the base of the button and pulling on the button. This is the hardest part of the project – you'll have to pull hard! Place the raw end of the 6″ piece 1.5″ down from the top center back of your purse, zigzagging across the raw edge. This is your closure flap. Center one of the belt loops over the stitched edge of the closure flap and sew the ends of the belt loop down, concealing the zigzagged flap edge. Flip the closure flap over the top of the purse opening and mark where you want the buttonhole to button closed on the purse body. Sew a button that fits through the existing buttonhole to the purse at that spot. Stitch the ends of another belt loop 2″ above the button on the purse. Above that add another belt loop to the top edge of the purse – the flap closure will pass through these loops and create an extra secure closure. Sew 2 more belt loops on either sides of the purse, concealing the ends of the purse handle.
For the purse lining, cut 2 pieces of fabric 11″ high by 14″ wide. (I used left over quilting cotton for my lining.) For a small pocket on the purse interior sew the jeans watch pocket closed across the bottom and stitch this pocket onto the right side of one the lining pieces. Then with the lining pieces right sides together stitch the sides and bottom with a 1/2″ seam allowance. Clip corners and press seams open. Press a 1/2″ hem to the wrong side of the lining top opening. With the wrong sides together put the lining inside the purse and handstitch around the top of the purse, securing the lining to the jeans fabric. And you're done! Enjoy your cute jeans purse!
Almost everyone loves denim jeans since they are sturdy as well as easy to clean. What's more, denim is attractive. Therefore, if your favorite pair of old jeans are falling apart, you can turn them into a purse instead of throwing them.
Wash and dry your jeans several times, and they will be easier to sew. Turn zip and button inside out. Prepare a sewing machine with denim thread and denim needle.
Sew across each of your jeans, just below the crotch of the leg opening, and make sure stitch from one end of the leg opening to the other. If you want your handbag to be extra sturdy, you can sew across the opening twice.
Remove your jeans from the sewing machine. Trim any extra thread and tie the ends of the thread.
Use scissors to cut your jeans' legs, about 1/4 "below the pins you just did.
Turn jeans back right side out.
Cut one of the legs up the seam. Trim the legs so that they are about 3 inches longer than the purse you want. Cut out a strip of 4″ wide denim, with no seams.
Fold this denim strip in half vertically and make the inside of the jeans facing out. Stitch the length of the strip.
Turn the strip of denim right side out. Sew the ends of the strip into the pouch. And, this, most likely, will be at the sides of the waistband.
Place Velcro on the inside of the bag, facing each other. Hand–sew them into place to make Velcro bar particularly secure.
Denim purses can be made in so many different ways that no two end up being exactly alike. Because of the fading of the denim, the style of the jeans, and the accessories you add, your purse will be one-of-a-kind, no matter how you make it.
Start by laying a pair of blue jeans on the table. Make sure the zipper is up and there are no wrinkles in the denim. Cut across the jeans, just below the back pockets, staying under the zipper, and making sure to cut the crotch seam completely out. You don't have to cut straight across; you can cut the purse rounded at the bottom.
Turn the jeans inside-out and stitch across the bottom. Take the time to make a double stitch seam, as was previously in the crotch seam, or just sew across it and back-tack. If you don't have a machine you can also use fabric glue to hold the seam together. Denim is very thick so use an abundant amount of the clear-drying glue. Read the label to make sure the glue is washable.
A scarf makes the perfect handle for your denim purse. Glue or sew one end of the scarf to the inside edge of the back side of the purse. Measure up a few inches from the unattached end of the scarf and attach that area to the top edge of the front side of the purse. By doing this, you not only create the handle for the purse but you also leave a piece that hangs down and adds flair to the purse.
There are all sorts of ways to decorate a denim purse. Instead of a scarf, use decorative roping to make the handle, or use something like a child's belt to make the handle. Tuck a folded scarf into the pocket of the denim purse for a burst of color. Tack on chains, use fabric paints, attach faux jewels or rhinestones, or just cut tiny squares of fabric to glue or stitch all over the purse. Add a piece of velcro to the top edges if you want a way to close the bag.
Denim purses are very easy to make and can add pizzazz to many different outfits, depending upon how you decorate it. You can also make these purses out of other pants or shorts – they don't have to be denim. This gives you lots of options for making colored purses to match outfits that may not go well with denim. The purses are so easy to make that you'll want to make a large assortment for any occasion.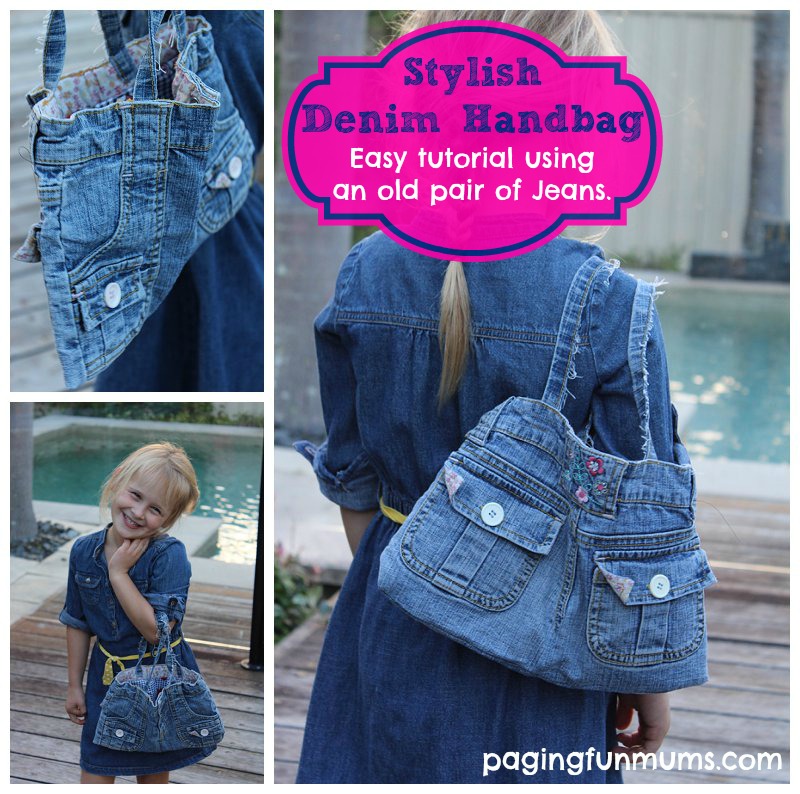 My daughter is very lucky to have a grandmother who loves to sew – we call her Granty. Granty recently made my daughter a few of these recycled denim handbags! I thought they would be perfect to share with our Fellow Fun Mums so I asked 'Granty' to take some pictures of the process В so we could share the instructions with you.
My Mum sourced all the jeans from a Second-hand Store for under $2 each – she keeps her eye out for jeans with an interesting pattern, embroidery or pockets to make the bags extra special.
What you'll need –В
1 x pair of old Denim Jeans or Shorts
Fabric to use as a liner
Scissors
Sewing Machine with a Denim strength needle and tread
Velcro or magnetic fastener
Instructions –В
Simply cut the legs off the jeans at crotch length (don't throw the excess denim legs away as we will use this for the straps).
Lay the top part of the jeans over a folded section of lining, using this as a guide, cut the lining to size and sew the lining down one side to make a tube.
Turn the jeans inside out, attach the lining around the inside of the waist band using pins and then sew it on.
Keep Jeans inside out, trim the bottom of the jeans to make a straight line and then sew along this seam line.
Fold the lining down over the jeans and trim to length.
Pull the lining back above the Jeans and sew the edge of the lining from each side towards the middle, leave a gap in the middle to turn the bag through *as pictured below.
Once you have turned the bag through this gap you can finish sewing the gap between each side of the lining (this creates a seamless inside lining).
Cut the bottom seams from both reserved denim legs and join these two strips together to create the handle.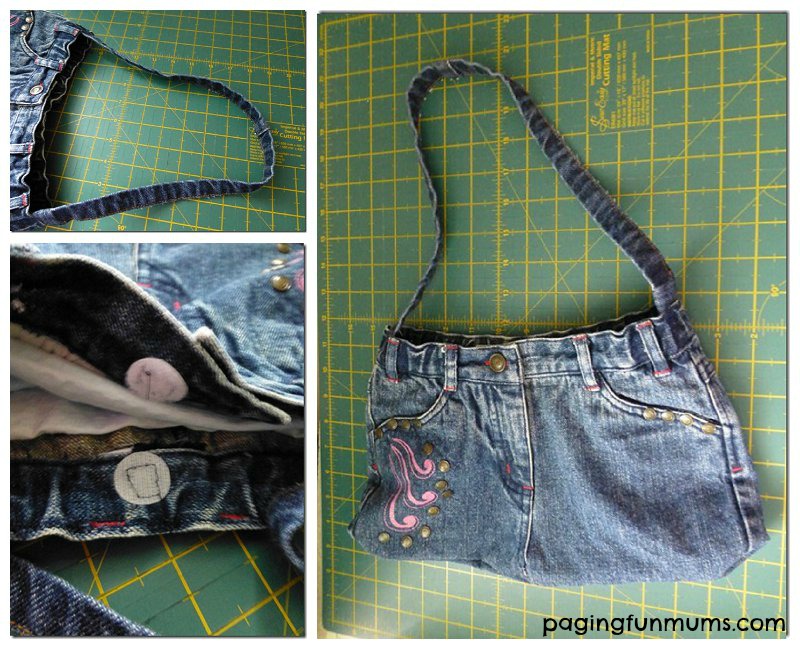 Attach the handle to the inside edge and sew a fastener behind the button to close the bag.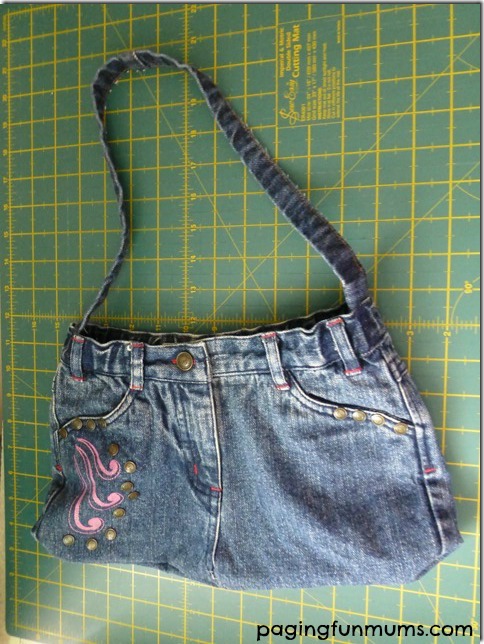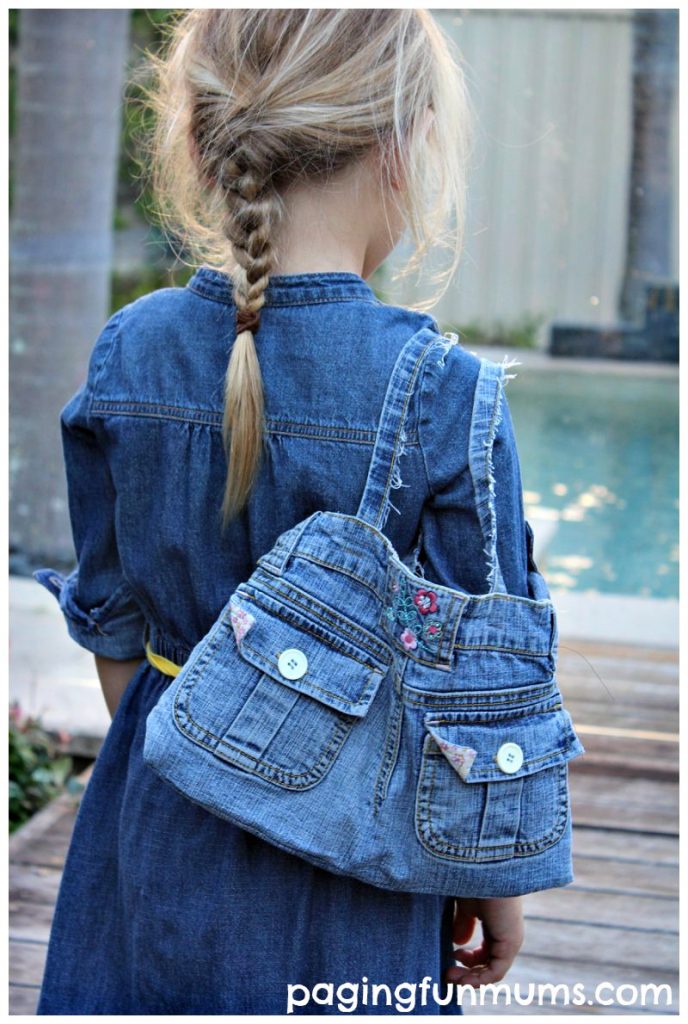 There you have it! My 5 year old daughter just loves her range of cute denim handbags…I even had my Mum whip some adult sized ones up for me :).
You might also like the look of our Recycled Denim Chair Covers found here or these nifty Recycled Denim aprons from Happy Hooligans.
And here are a few other sewing projects by our 'Granty' –
How to Line a Leather Clutch Purse
How to Identify Vintage Purses
How to Make Mens Moccasin Boots
How to Make Your Own Bulletin Board Border
How to Narrow Wide Pants
Lining a jean purse gives a frugal idea a professional and finished look. A lining also allows for adding the much-needed pockets that will keep the inside of a purse organized. The pockets on the outside of a jean purse are nice, but the bulk of your necessities are stored inside. Frugal or not, if you have to dig through your purse for a tube of lipstick or a cell phone, it's not worth the trouble.
Measure from the top edge of the waistband down to the seam at the bottom of the purse. Add 1″ to this measurement.
Lay the purse flat and measure the top edge of the purse from one side to the other. Add 1″ to this measurement. Measure the bottom edge of the jean purse from one side to the other side and add 1″.
Center and draw out these measurements on newspaper. Connect a line from the ends of the top measurement to the ends of the bottom measurement. Cut out the newspaper pattern.
Use the pattern to cut out two pieces of lining.
Determine the size and amount of pockets needed for your jean purse. Cut out two pieces of fabric for every pocket desired, 1/2″ longer and wider than the size of the finished pocket.
With right sides facing and using a 1/4″ seam, sew around the pocket shape, leaving 1″ open on the bottom edge.
Turn the lining pockets right-side out and press.
Determine placement of the pockets, at least 1-1/2″ below the top edge of the jean purse lining and no closer than 1/2″ to the sides of the lining piece. Pin to the right sides of the lining.
Top-stitch the sides and the bottom of each pocket.
Pin the two lining pieces together with their right sides facing. Using a 1/2″ seam allowance, sew the sides and the bottom of the lining. If your purse has a boxed bottom, sew a boxed bottom on your lining.
Fold and iron the top edge of the lining down 1/2″ to the wrong side of the lining.
Set the lining into the jean purse and pin the folded edge to the top edge of the waistband.
Using thread that matches the color of the denim, top-stitch the lining to the jean purse.
Learn how easily you can make a denim pouch to carry earbuds and other small items by using material from an old pair of jeans. This DIY sewing project is simple and perfect for any beginner.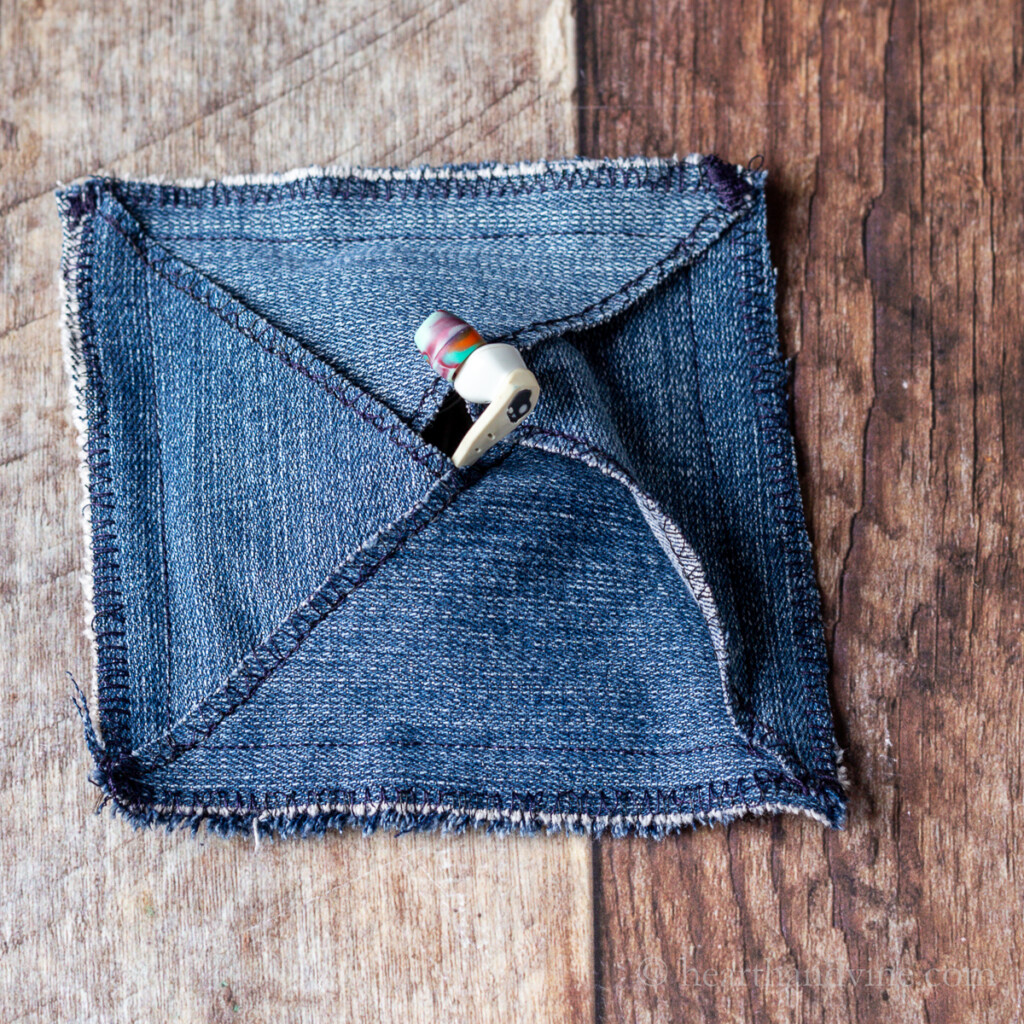 I'm not a leggings gal. I like to wear jeans most of the time. This means I have a lot of them that eventually make it into the trash or donations. Lately, I've recycled them into fun projects such as a jean weekender bag and a mini crossbody bag. I even made placemats from old jeans.
Today I'm sharing a fun little denim pouch that you can stash in your purse for easy access. You can make this with any kind of fabric though I think the sturdy nature of blue jean material makes it a good candidate for this project.
Making the Jean Pouch
You can make this as large or small as you want. Mine is 5 square inches.
Cut out three equal-sized squares.
Then cut two of them in half on the diagonal.
Finish the long edge of each of the four triangles with a zigzag stitch or overcast stitch.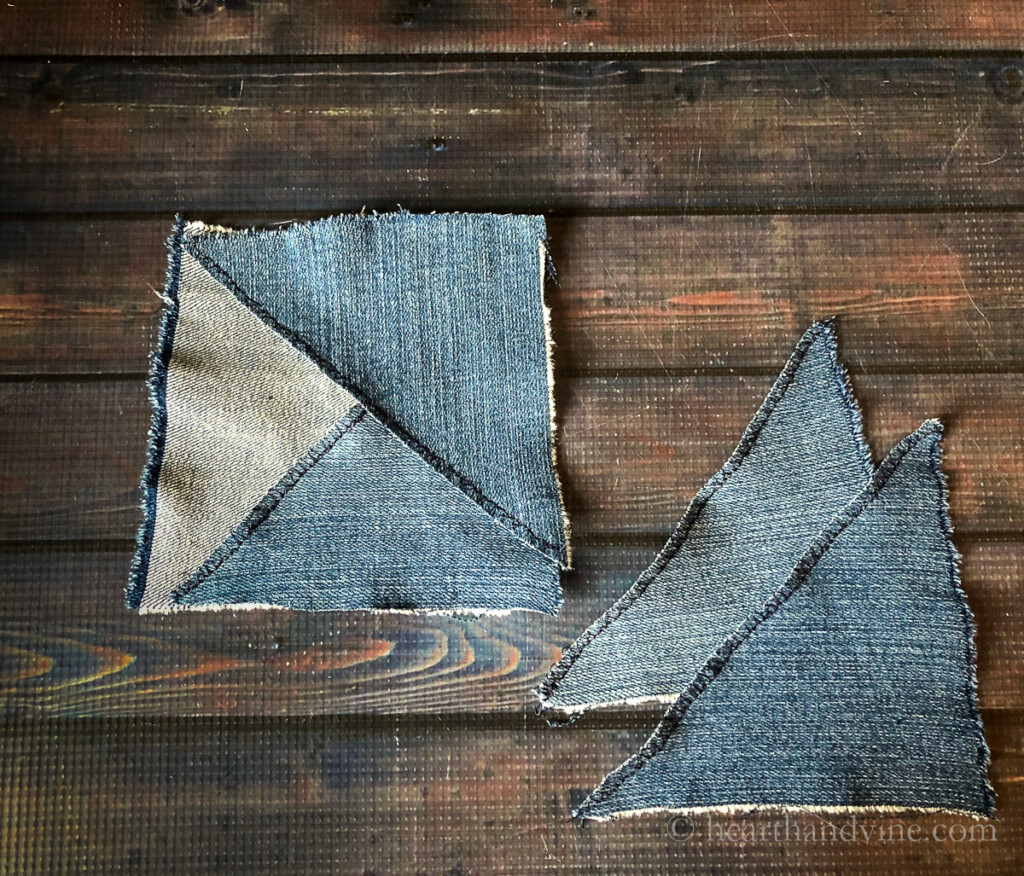 4. Place the triangles on top of the square with the wrong sides facing.
Each one will overlap the other and the last one will be tucked under the first.
5. Pin the pieces in place, then sew around the outside edges using a wide zigzag stitch.
Tip: Practice on a scrap piece of fabric to get the length and width of the zigzag you want.
I used black thread but feel free to have fun with it and use any color that you like.
Now you have a fun little pouch that can carry your earbuds or other small items in your purse or suitcase. The denim is soft and sturdy making it easy to grab in a hurry.
It's a great way to recycle your denim. Another option is to mail your old jeans to Blue Jean Go Green an organization that turns jeans into insulation materials. However, if you're like me, you probably have enough to craft with and donate.
By: Debbie for Kids' Sewing Projects
Looking for crafts using old denim jeans? Make a Denim Pocket Purse from Debbie Madson. It's super stylish and fun. Best of all, you can recycle an old pair of jeans!
Materials:
Old pair of jeans
Tote bag strap
Instructions:
Cut out the front leg of your jeans including the waistband and front pocket. You just want the front panel for this project.


Fold jeans in half, if it is longer than you'd like trim off excess on the end. Hem the bottom of the pant leg.


Fold jeans in half right sides together. Trim to match edges if needed. Pin sides and sew along two side edges. Turn right sides out.
Attach a strap by sewing it onto the sides of the bag. We've used tote bag straps but you can also try a belt, tie, cording, strip of jeans, etc.
This cute DIY purse made from recycled jeans is so easy and simple to make. This is best paired with a casual outfit. I'm sure you are going to pair this with denim pants or denim shorts the most because it is always good to pair denim with denim. Talk about redundancy, but I hear it's a trend this coming Fall season.
Yes, this is another quickie recycled jeans project. As you have probably known by now, I love quick and easy to make tutorials as I see results faster, plus it gives me more time to make other easy sewing projects. I love challenges but for beginners, I think quickies are the best options to practice on.
Cute Purse made from Recycled Jeans
Our kids are back to school again and I think this DIY purse made from recycled jeans purse is a perfect addition to our little girl's back-to-school wardrobe. I can imagine her leaving her heavy school bag on her chair while she has all her important stuff in her purse. Yes, this purse we are making is small but usable. It has a lot of space for small and important items to stash in.
What you need for your DIY purse:
Old jeans
Patterned fabric
Template
Scissor
Sewing machine
Ready? Get set…sew!
Step 1. Trace and cut
Before we start our project, we need to print out our template. Once done, cut out the two bottom parts of the recycled jeans. Cut it open and trace the pattern on it. Add an extra half-inch allowance for sewing.
Step 2. Create the back lining
Get a patterned fabric and trace the template again. Cut the fabric with a good pair of sharp scissors. This will serve as your bags back lining.
Step 3. Cover the edges
Now get another piece of patterned fabric. Then, cut it out into strips. We will be using this to cover the edges of the bag. Fold the fabric in the middle then press it with a hot iron. Put the recycled jeans in the middle of the fold and pin them in place.

Step 4. Sew the zipper
Now that both edges are covered, fold them together so they meet in the middle. Next, pin and sew the zipper in place. Then run a straight stitch using your sewing machine. After this, turn the recycled jeans bag inside out.
Step 5. Sew the handle
Now, make a fold at the bottom of the recycled jeans bag and fix it with pins. We will now polish off the project by sewing the sides and cutting off the excess fabric and zipper. Then turn the bag inside out again to reveal the jeans part. After this, sew the handle to the sides and we are done!
Check the tutorial done by DIY Crafts TV! It just proves how fast and easy this project is.

You can also add accents to your bag by hand sewing lace, patches, buttons and other appliques. You can also embroider your name or use fabric paint on the denim. This small and cute purse is perfect for carrying your kid's bare essentials like their lunch money, mobile phone and maybe even a lip balm.
Sew many fabrics…sew little time! Need more thread? Click here.
Etsy предоставляет возможность прямой связи покупателей и продавцов со всего мира. Когда вы используете сервисы Etsy (мы будем называть etsy.com, Pattern by Etsy, наши мобильные приложения и другие сервисы нашими «Сервисами»), вы несете ответственность за соблюдение этой политики, независимо от вашего местоположения.
Эта политика является частью наших Условий использования. Используя любые наши Сервисы, вы соглашаетесь с этой политикой и нашими Условиями использования.
Как транснациональная компания из США, ведущая деятельность в других странах, Etsy должна соблюдать экономические санкции и торговые ограничения, включая введенные Управлением по контролю за иностранными активами (OFAC) Министерства финансов США. Это означает, что Etsy или кто-либо, пользующийся нашими Сервисами, не может участвовать в транзакциях, в которые вовлечены определенные люди, места или изделия из этих мест, указанные государственными органами, такими как OFAC, в дополнение к торговым санкциям, предусмотренным соответствующими законами и нормами.
Эта политика действует в отношении всех, кто использует наши Сервисы, независимо от их местоположения. Решение об ознакомлении с такими ограничениями остается за вами.
Например, эти ограничения в целом запрещают, кроме прочего, транзакции, в которых участвуют следующие стороны:
определенные географические регионы, такие как Иран, Крым, Куба, Северная Корея, Сирия, Россия, Беларусь, Донецкая Народная Республика («ДНР»), Луганская Народная Республика («ЛНР»), а также любые физические или юридические лица, ведущие деятельность или находящиеся на этих территориях;
физические или юридические лица, состоящие в санкционных списках, таких как Список лиц особых категорий и запрещенных лиц (SDN) или Список иностранных лиц, уклоняющихся от санкций (FSE) организации OFAC;
граждане Кубы независимо от их местоположения, не имеющие гражданства или вида на жительство за пределами Кубы; и
изделия, из Ирана, Крыма, Кубы и Северной Кореи, за исключением информационных материалов, таких как публикации, фильмы, постеры, грампластинки, фотографии, кассеты, компакт-диски и определенные произведения искусства.
Любые товары, услуги и технологические решения из ЛНР и ДНР за исключением информационных материалов и сельскохозяйственной продукции, в том числе продуктов питания для людей, семян сельскохозяйственных культур или удобрений.
Импорт в США следующей продукции российского происхождения: рыба, морепродукты, алмазы непромышленного назначения и любая другая продукция, согласно периодическим указаниям министра торговли США.
Экспорт из США либо гражданами США предметов роскоши и любых других товаров, согласно указаниям министра торговли США, любому лицу, находящемуся в России или Беларуси. Список и определение «предметов роскоши» приведены в «Дополнение № 5 к Разделу 746», опубликованном Федеральным реестром США.
Изделия, изготовленные за пределами США и попадающие под действие Закона о тарифах США и связанных с ним законов о запрещении принудительного труда.
Для защиты нашего сообщества и торговой площадки Etsy предпринимает меры для соблюдения режимов санкций. Например, Etsy запрещает участникам пользоваться своими аккаунтами в определенных географических регионах. Если у нас есть основания полагать, что вы управляете своей аккаунтом из места, находящегося под санкциями, например, любого из перечисленных выше санкционных мест, или иным образом нарушаете какие-либо экономические санкции или торговые ограничения, мы можем приостановить или прекратить использование вами наших Сервисов. Как правило, участникам не разрешается выставлять на продажу, покупать или продавать изделия из регионов, находящихся под санкциями. Сюда входят изделия, появившиеся ранее санкций, поскольку у нас нет возможности проверить, были ли они вывезены из запрещенного места. Etsy оставляет за собой право обращаться к продавцам с запросом предоставить дополнительную информацию, раскрыть страну происхождения изделия на странице товара или предпринять другие шаги для соблюдения обязательств. Мы можем отключить товары или отменить транзакции, представляющие опасность нарушения этой политики.
Кроме соблюдения требований OFAC и применимых местных законов, участникам Etsy следует иметь в виду, что другие страны могут вводить собственные торговые ограничения и что определенные изделия могут не допускаться к экспорту или импорту согласно международным законам. Когда в транзакции участвуют лица из разных стран, вам следует изучить законы любых соответствующих стран.
Наконец, участникам Etsy следует иметь в виду, что сторонние платежные системы, например PayPal, могут самостоятельно отслеживать транзакции на предмет соблюдения санкционных требований и могут блокировать транзакции в рамках собственных программ, обеспечивающих соблюдение требований. Etsy не имеет власти или контроля над процедурами независимого принятия решения в таких системах.
Экономические санкции и торговые ограничения могут применяться к порядку использования вами Сервисов и могут изменяться, поэтому участникам следует регулярно проверять источники информации о санкциях. За юридической консультацией обращайтесь к квалифицированному специалисту.
Вы можете прочитать эту политику на вашем языке, но помните, что версия этого документа на английском имеет преимущественную силу в отношении использования вами сервисов Etsy. Язык можно изменить в настройках аккаунта.
Etsy предоставляет возможность прямой связи покупателей и продавцов со всего мира. Когда вы используете сервисы Etsy (мы будем называть etsy.com, Pattern by Etsy, наши мобильные приложения и другие сервисы нашими «Сервисами»), вы несете ответственность за соблюдение этой политики, независимо от вашего местоположения.
Эта политика является частью наших Условий использования. Используя любые наши Сервисы, вы соглашаетесь с этой политикой и нашими Условиями использования.
Как транснациональная компания из США, ведущая деятельность в других странах, Etsy должна соблюдать экономические санкции и торговые ограничения, включая введенные Управлением по контролю за иностранными активами (OFAC) Министерства финансов США. Это означает, что Etsy или кто-либо, пользующийся нашими Сервисами, не может участвовать в транзакциях, в которые вовлечены определенные люди, места или изделия из этих мест, указанные государственными органами, такими как OFAC, в дополнение к торговым санкциям, предусмотренным соответствующими законами и нормами.
Эта политика действует в отношении всех, кто использует наши Сервисы, независимо от их местоположения. Решение об ознакомлении с такими ограничениями остается за вами.
Например, эти ограничения в целом запрещают, кроме прочего, транзакции, в которых участвуют следующие стороны:
определенные географические регионы, такие как Иран, Крым, Куба, Северная Корея, Сирия, Россия, Беларусь, Донецкая Народная Республика («ДНР»), Луганская Народная Республика («ЛНР»), а также любые физические или юридические лица, ведущие деятельность или находящиеся на этих территориях;
физические или юридические лица, состоящие в санкционных списках, таких как Список лиц особых категорий и запрещенных лиц (SDN) или Список иностранных лиц, уклоняющихся от санкций (FSE) организации OFAC;
граждане Кубы независимо от их местоположения, не имеющие гражданства или вида на жительство за пределами Кубы; и
изделия, из Ирана, Крыма, Кубы и Северной Кореи, за исключением информационных материалов, таких как публикации, фильмы, постеры, грампластинки, фотографии, кассеты, компакт-диски и определенные произведения искусства.
Любые товары, услуги и технологические решения из ЛНР и ДНР за исключением информационных материалов и сельскохозяйственной продукции, в том числе продуктов питания для людей, семян сельскохозяйственных культур или удобрений.
Импорт в США следующей продукции российского происхождения: рыба, морепродукты, алмазы непромышленного назначения и любая другая продукция, согласно периодическим указаниям министра торговли США.
Экспорт из США либо гражданами США предметов роскоши и любых других товаров, согласно указаниям министра торговли США, любому лицу, находящемуся в России или Беларуси. Список и определение «предметов роскоши» приведены в «Дополнение № 5 к Разделу 746», опубликованном Федеральным реестром США.
Изделия, изготовленные за пределами США и попадающие под действие Закона о тарифах США и связанных с ним законов о запрещении принудительного труда.
Для защиты нашего сообщества и торговой площадки Etsy предпринимает меры для соблюдения режимов санкций. Например, Etsy запрещает участникам пользоваться своими аккаунтами в определенных географических регионах. Если у нас есть основания полагать, что вы управляете своей аккаунтом из места, находящегося под санкциями, например, любого из перечисленных выше санкционных мест, или иным образом нарушаете какие-либо экономические санкции или торговые ограничения, мы можем приостановить или прекратить использование вами наших Сервисов. Как правило, участникам не разрешается выставлять на продажу, покупать или продавать изделия из регионов, находящихся под санкциями. Сюда входят изделия, появившиеся ранее санкций, поскольку у нас нет возможности проверить, были ли они вывезены из запрещенного места. Etsy оставляет за собой право обращаться к продавцам с запросом предоставить дополнительную информацию, раскрыть страну происхождения изделия на странице товара или предпринять другие шаги для соблюдения обязательств. Мы можем отключить товары или отменить транзакции, представляющие опасность нарушения этой политики.
Кроме соблюдения требований OFAC и применимых местных законов, участникам Etsy следует иметь в виду, что другие страны могут вводить собственные торговые ограничения и что определенные изделия могут не допускаться к экспорту или импорту согласно международным законам. Когда в транзакции участвуют лица из разных стран, вам следует изучить законы любых соответствующих стран.
Наконец, участникам Etsy следует иметь в виду, что сторонние платежные системы, например PayPal, могут самостоятельно отслеживать транзакции на предмет соблюдения санкционных требований и могут блокировать транзакции в рамках собственных программ, обеспечивающих соблюдение требований. Etsy не имеет власти или контроля над процедурами независимого принятия решения в таких системах.
Экономические санкции и торговые ограничения могут применяться к порядку использования вами Сервисов и могут изменяться, поэтому участникам следует регулярно проверять источники информации о санкциях. За юридической консультацией обращайтесь к квалифицированному специалисту.
Вы можете прочитать эту политику на вашем языке, но помните, что версия этого документа на английском имеет преимущественную силу в отношении использования вами сервисов Etsy. Язык можно изменить в настройках аккаунта.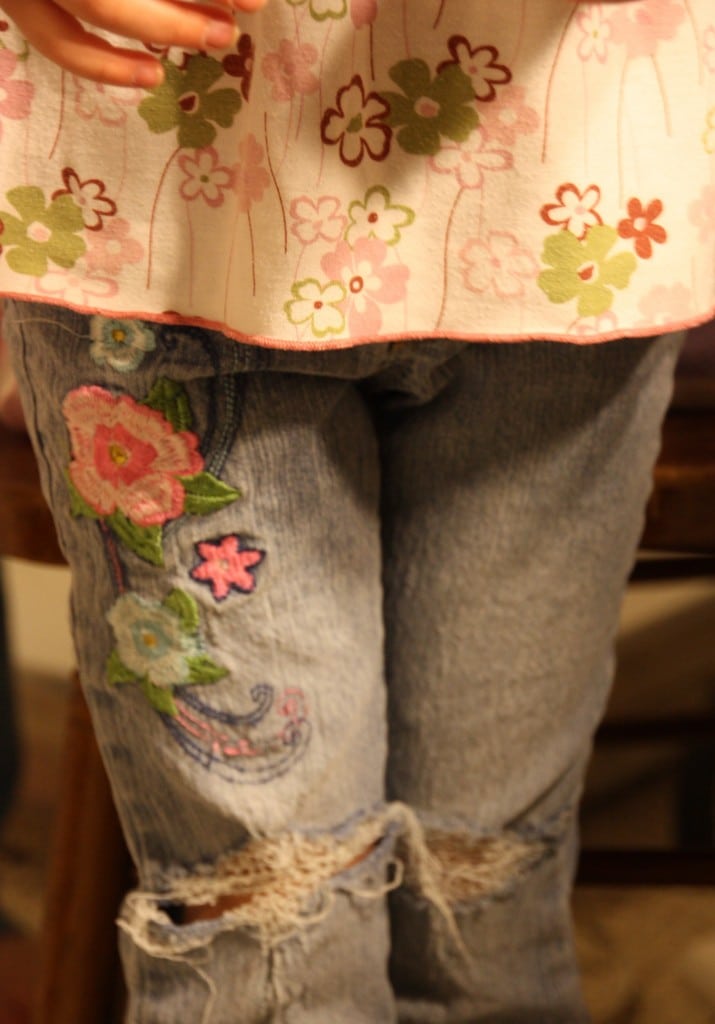 My daughter seems to wear the knees out of her jeans quicker than my boys ever did. I can cut them off for shorts, but many of her jeans have very cute designs on the legs that I didn't want to go to waste.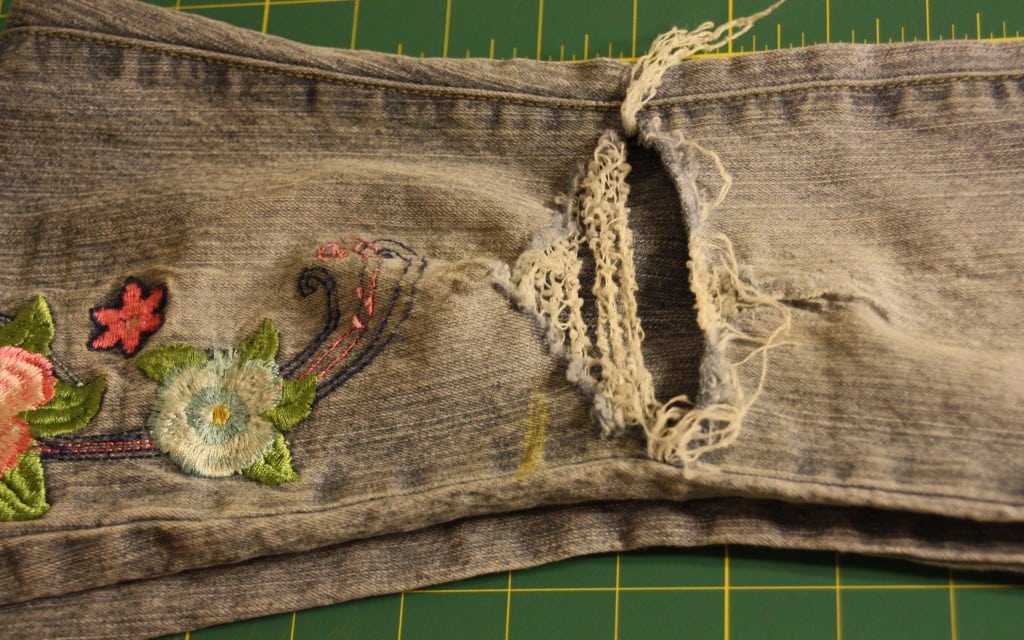 A few weeks ago I took the jeans in the above picture and turned them into this adorable child's purse. It was so simple to make I decided to make a second one for a photo tutorial. The first purse I made is a little different from the tutorial. Instead of closing the coordinating fabric I left it open and threaded a ribbon through the fabric for a drawstring closure. I think it looks cute either way.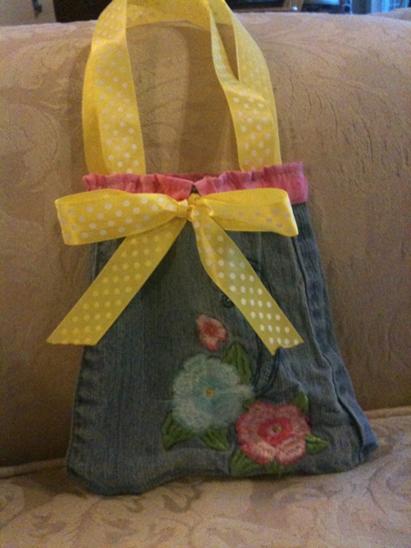 This purse is definitely a low sew design, you only need to know how to sew a straight stitch. It is so easy too, I made the purse in less than 45 minutes and that included trying to figure out exactly what I was making and ripping it apart twice because I changed my mind.
To start, cut off the bottom of a pair of jeans just below the knee. These are kid's jeans size 6, so adjust your cutting accordingly.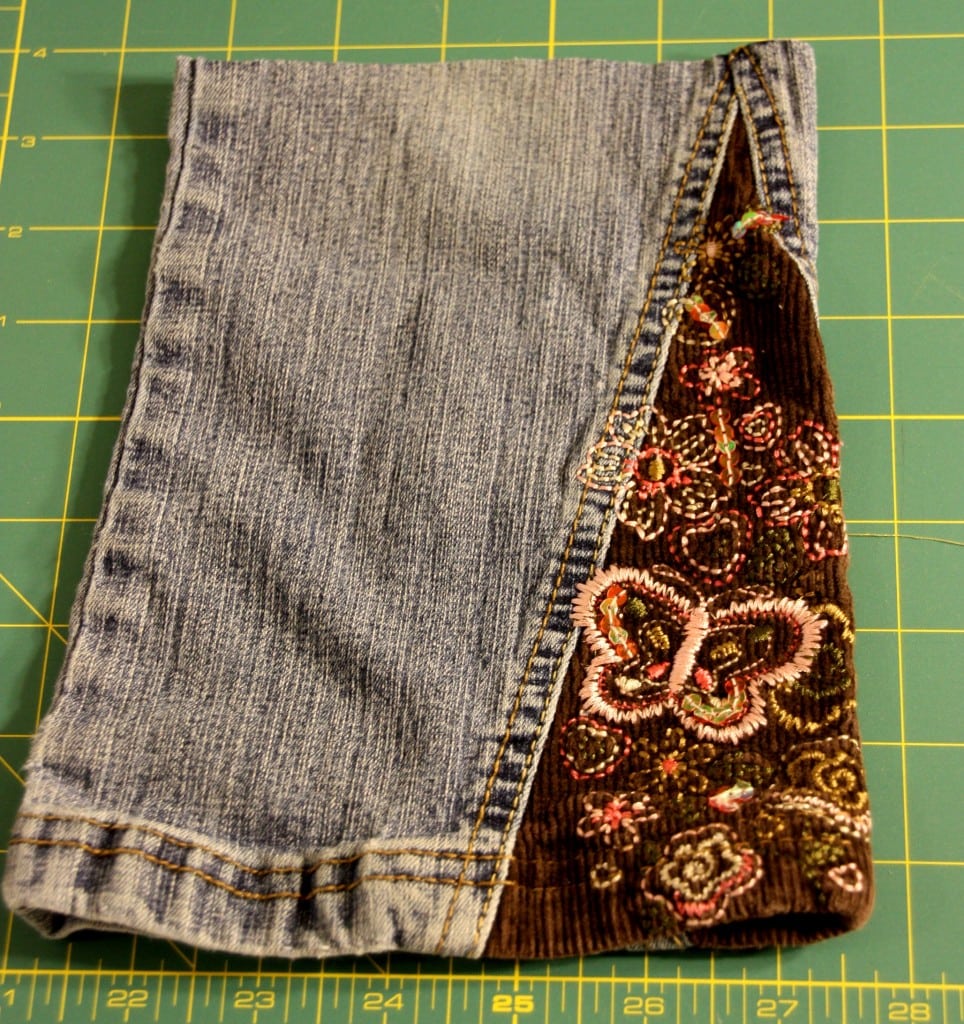 Turn the jeans inside out and sew the bottom together. I used the bottom hem as a guide for my line.
When it is finished you will have stitched the bottom of your purse together.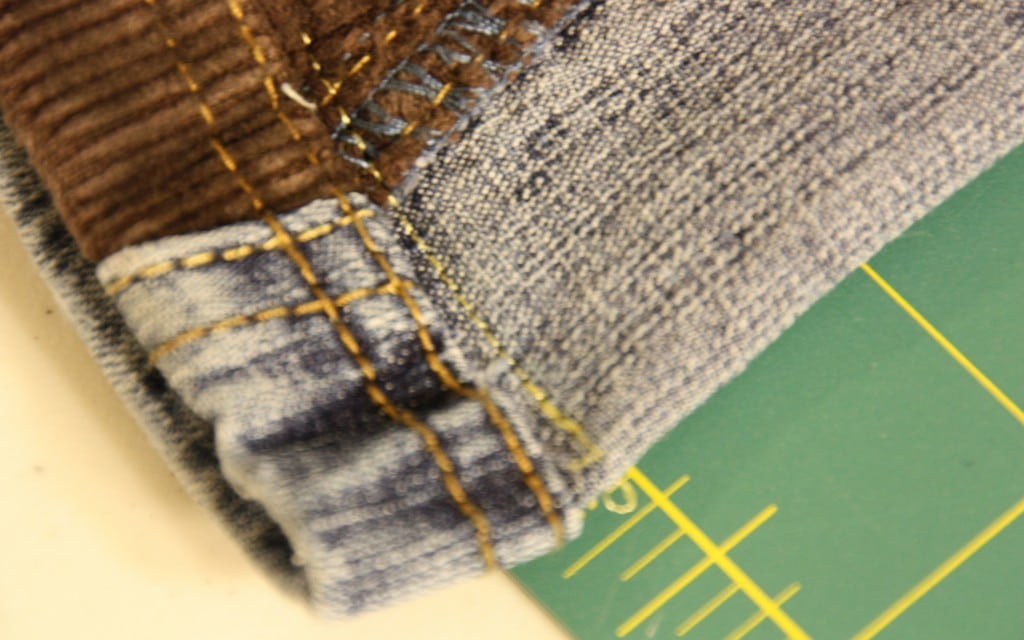 Flip your jeans right side out and measure around the top of the jeans. Add an additional centimeter to your measurement and then cut a strip of coordinating fabric the length of your measurement and about 6 centimeters wide.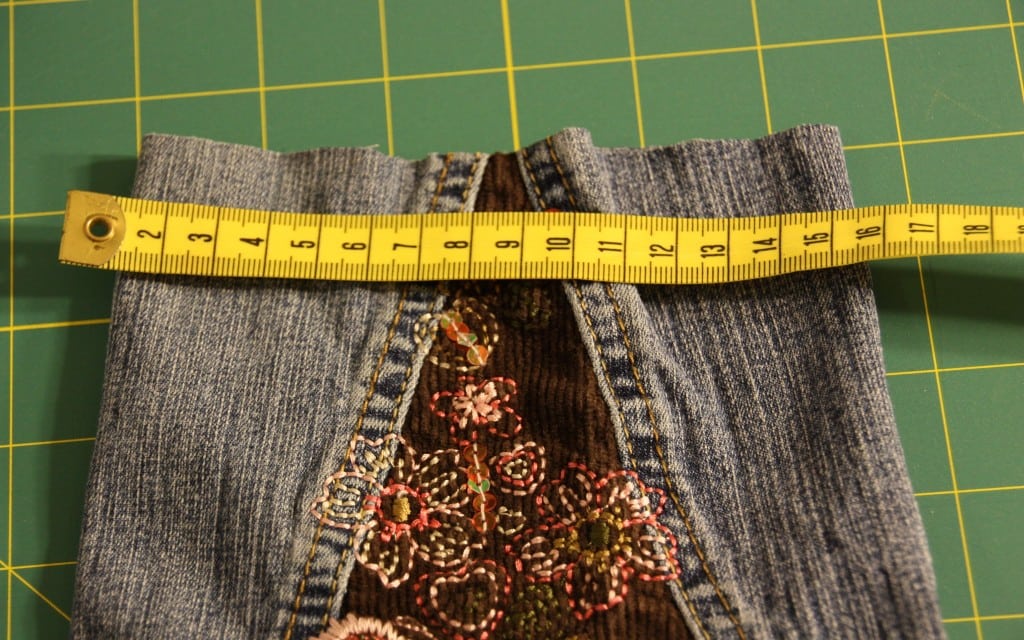 Sew the ends of your strip of fabric wrong sides together.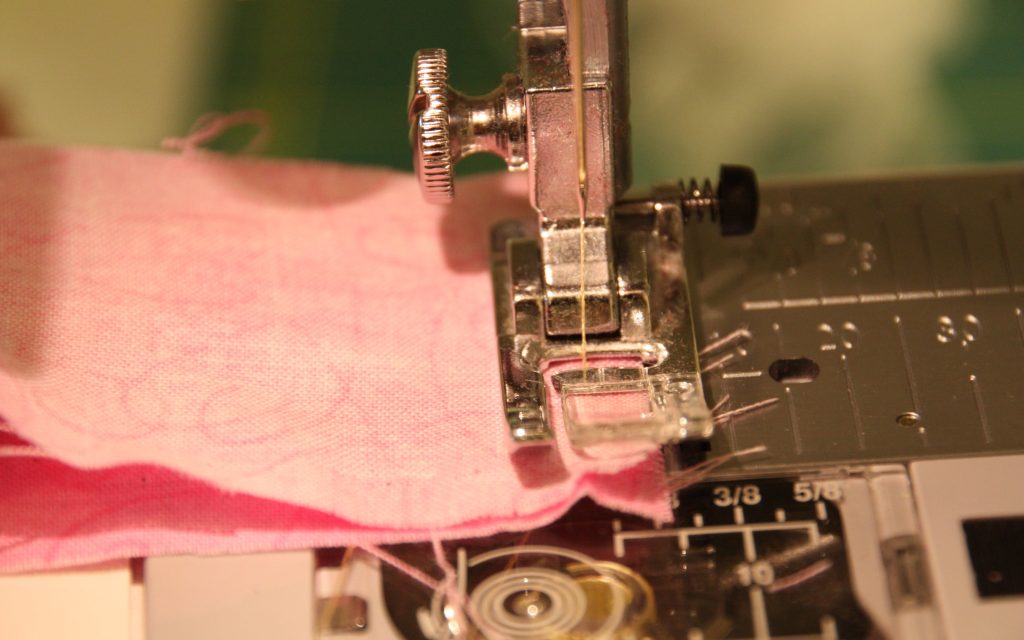 Flip the jeans inside out and match up the right side of the fabric to the wrong side of the top edge of the jeans. You also want to insert your handles. I used ribbon for the handles, but you can make them out of fabric too. The right side of the handles should be facing the right side of the coordinating fabric.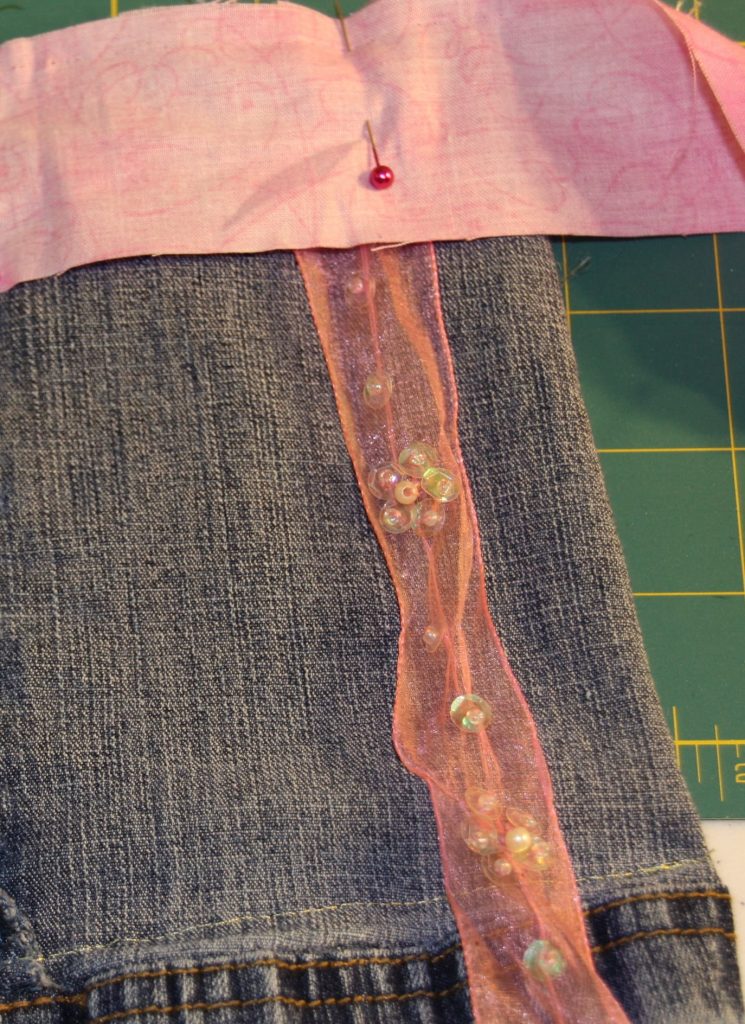 Sew around the entire top edge of the jeans.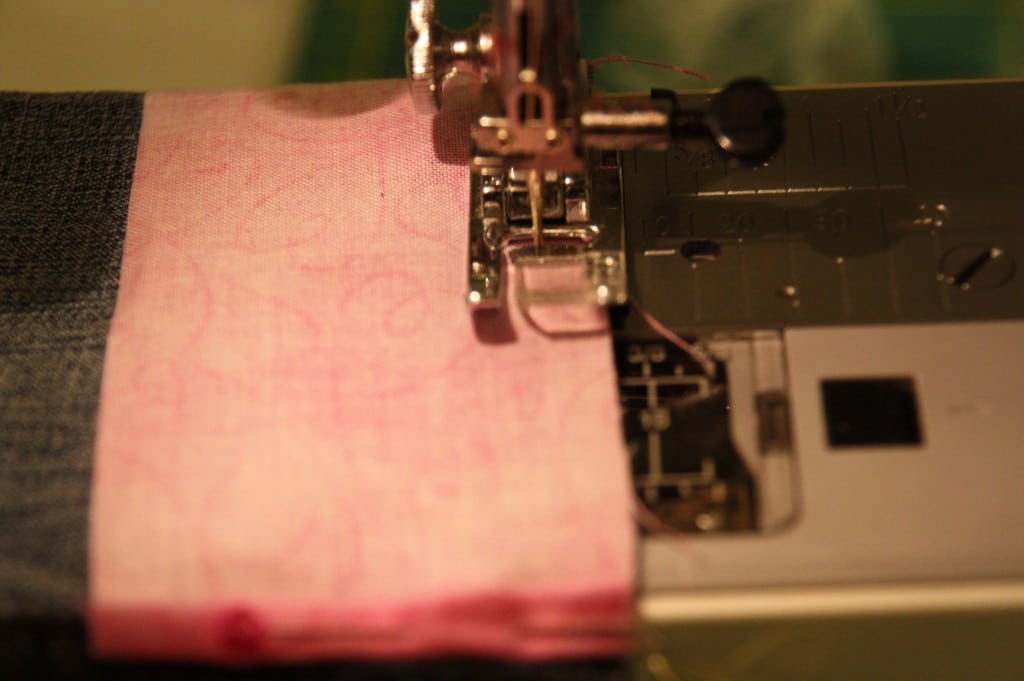 This will create your finished top edge as well as attach your handles.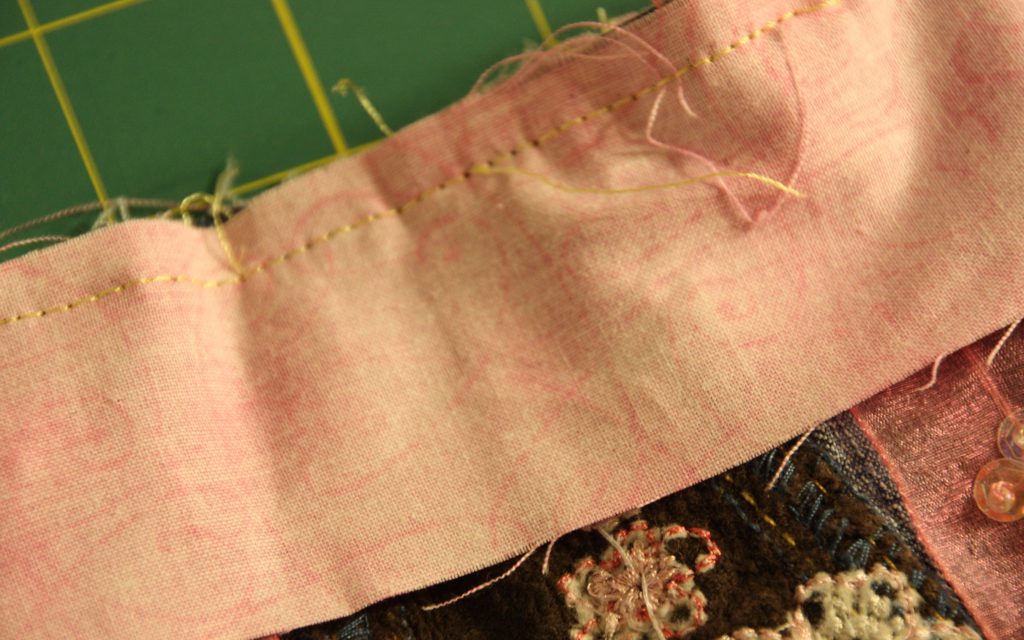 Once the coordinating fabric is attached flip the purse right side out. Fold the coordinating fabric over the top of the purse and press with an iron.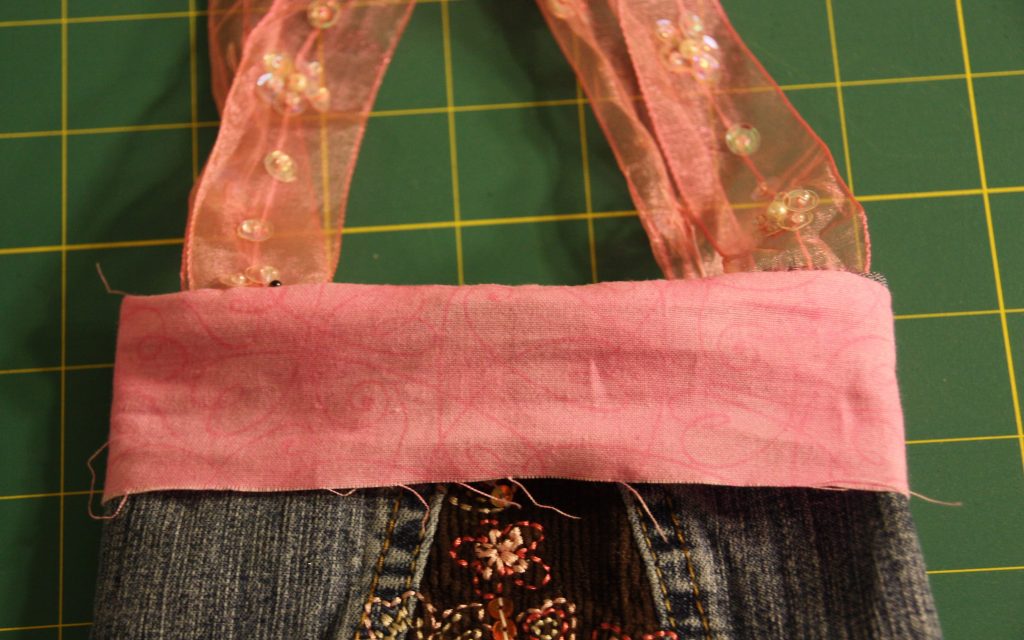 Fold the bottom edge of the coordinating fabric under approximately 1/2 centimeter and press again. Then stitch around the edge to secure the coordinating fabric.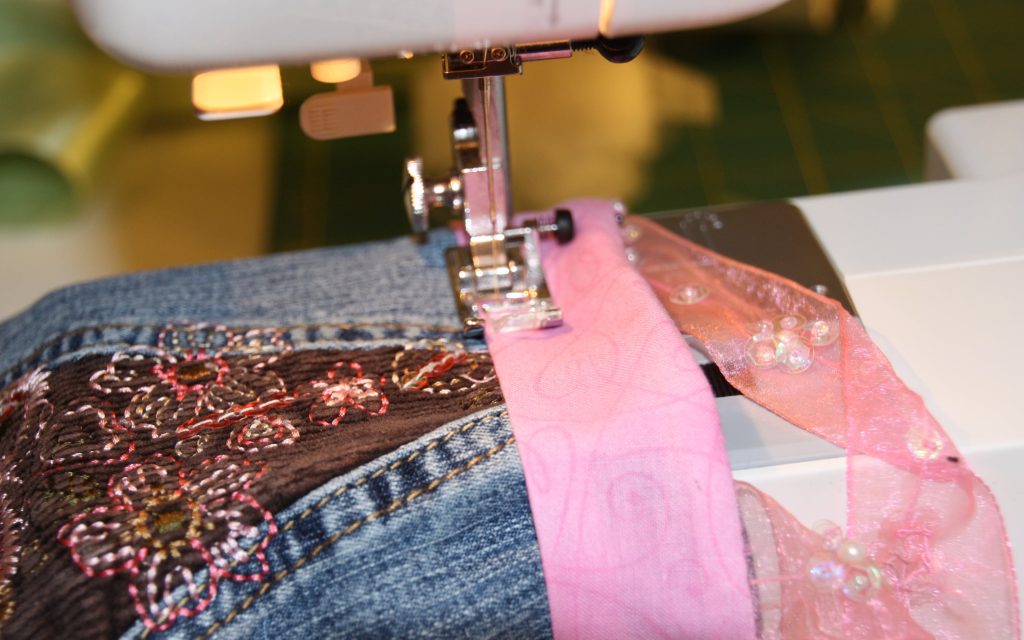 The purse is finished! I added another straight stitch around the top of the purse because I wanted to make sure the handles were securely attached, but it isn't a necessary step.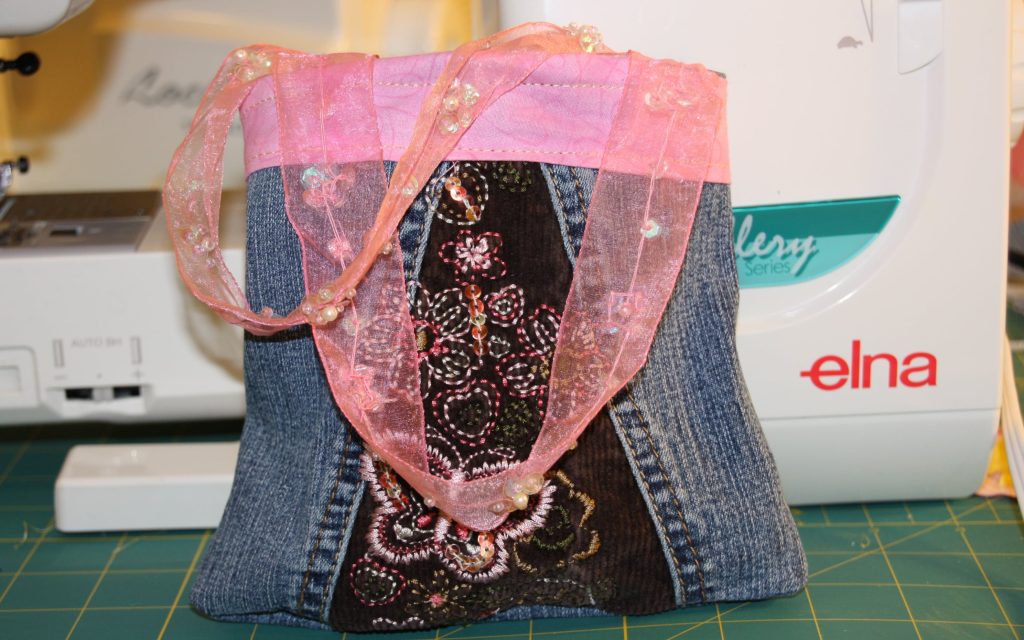 As I was making these I thought they would make perfect party favor bags for a little girl's birthday party.
Craft: Crocheted Denim Purse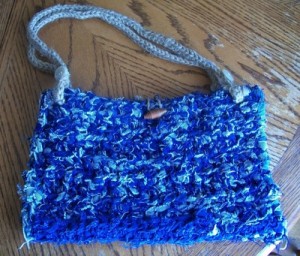 This is a denim purse with jute handles and a button closure. I crocheted a rectangle for a sample, since I wasn't sure the heavy weight denim would work for this project. Instead of starting over, I chose to make a purse with it.
Approximate Time: One afternoon
Supplies:
sewing scissors
denim blue jeans
jute
sewing needle
yarn needle
large button
sewing machine
large crochet hook
elastic ponytail holder
Instructions:
Cut denim into 1 1/2 inch strips. I just used scraps I had from other projects, so the colors don't match exactly.
Sew ends together to have one continuous piece to work with. I did this by machine, but you can also do it by hand.
Crochet a rectangle twice the size you want your purse to be tall. My purse ended up being 14 inches wide by 9 inches high.
Sew the sides together.
Crochet jute as wide as you would like your handles to be. I crocheted the jute about 1 1/2 inches wide until I liked the width for the purse.
Sew the side seams with the sewing needle and fishing line. Attach the jute handles through a "hole" in the crocheted piece and tie a slip knot. Repeat until the handles are attached in a placement that satisfies you.
For closure, attach a large button and an elastic loop for closure.
By Monica from Cortez, CO
Comments
Photos
Share on ThriftyFun Check out these photos. Click at right to share your own photo in this page.
Crocheted Recycled Denim Rag Bag

Recycle those old denim jeans or shirts into a cool Rag Bag! I crocheted this rag bag using two old denim shirts that were worn out.
If you're anything like me, you wear your favorite pair of jeans until they are on their last legs… quite literally. But what do you do once it's time to admit defeat? There are a lot of cool ways that you can repurpose old jeans, like turning them into a pair of shorts or a cute apron, for example, and the best part is, you'll still have some material left over to make an adorable little denim bag or purse for any little girl in your life, whether she's a daughter, a goddaughter, a sister or a niece.
Video instructions:
Pair of jeans
Scissors
Sewing thread
Embellishments
Snip off the bottom part of the leg – where you cut all depends on how deep you want your bag to be. Then flip the piece of material inside-out and sew the cut part closed. Since you want the bag to have a rounded base so that it can stand upright on its own, you'll need to sew the two inside corners. When that's done, flip it the right way, and that's really all there is to it! If you're making this with your daughter, then this is the part where you can hand it over to her to decorate however she likes.
These can be used for storage in her room, or you can simply sew on a strap from either the same pair of jeans or a different piece of fabric so that she gets a cute little purse.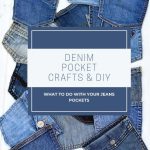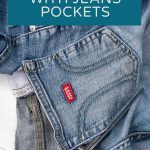 The best upcycled and repurposed jeans pockets ideas.
Denim pockets are one of my favorite parts of a pair of old jeans to upcycle. Along with the waistband, and the denim seams they often give a humble pair of jeans character.
Especially, the larger back jeans pockets which are often decorated with some simple machine embroidery or have a makers tag attached.
On an average pair of jeans, there are normally five denim pockets. Two large back pockets and two front pockets. The fifth pocket is actually a pocket within a pocket. It is the tiny pocket inside the front right pocket.
This pocket was originally designed for pocket watches but it is now referred to as the coin pocket.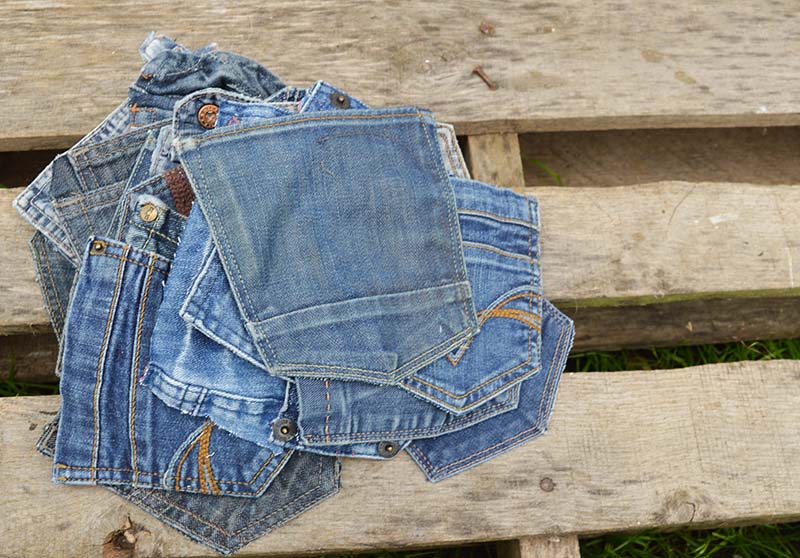 How To Upcycle A Denim Pocket
The best way to remove pockets from a pair of jeans is by using a pair of scissors. However, check the project you are going to use them before cutting out the pockets.
Some of the jeans pockets DIYs below use just the pocket others also use some of the denim fabric surrounding the pocket. That is why it's good to check before getting too scissor happy.
The back pockets on a pair of jeans have a distinct outer seam. It is very easy to cut them out right next to the seam. The great thing about these cut out jeans pockets as they already have a seam and will not fray.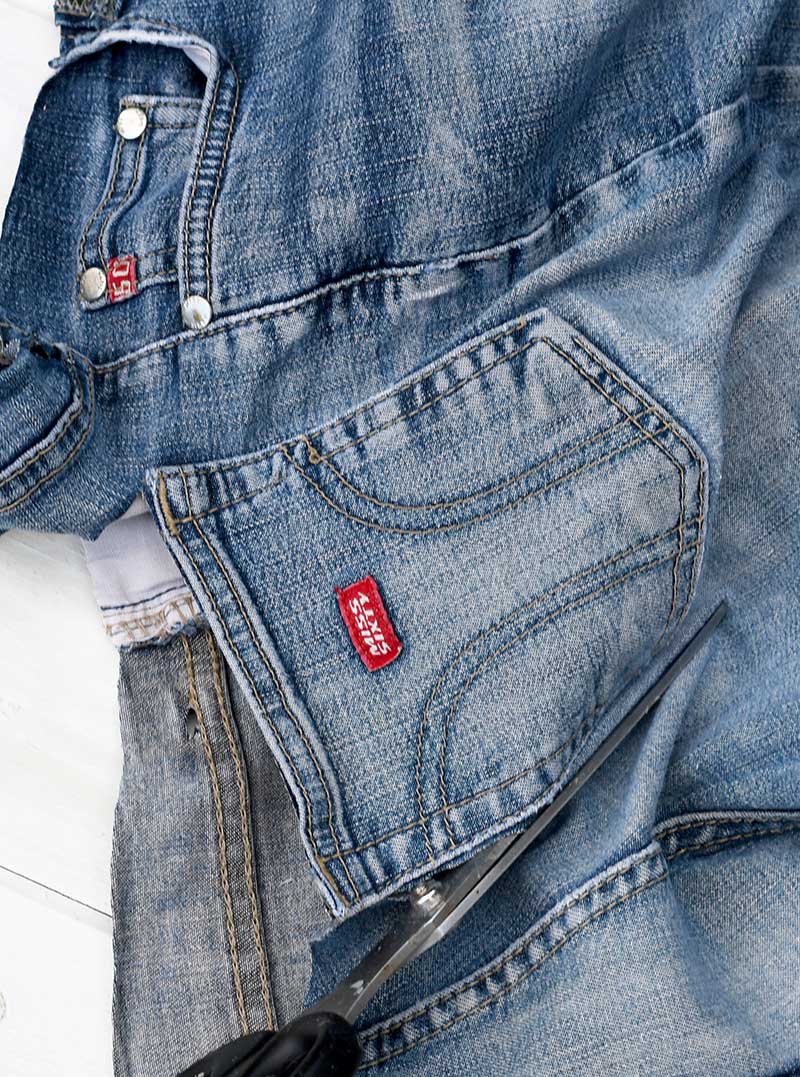 With the front pockets, there is not a distinct seam so the denim around the pockets will fray. Also, with the front pockets, you have to make sure you don't accidentally cut the inside cotton pocket.
Top tip: If you brush fabric glue on raw denim edges, this will stop them from fraying.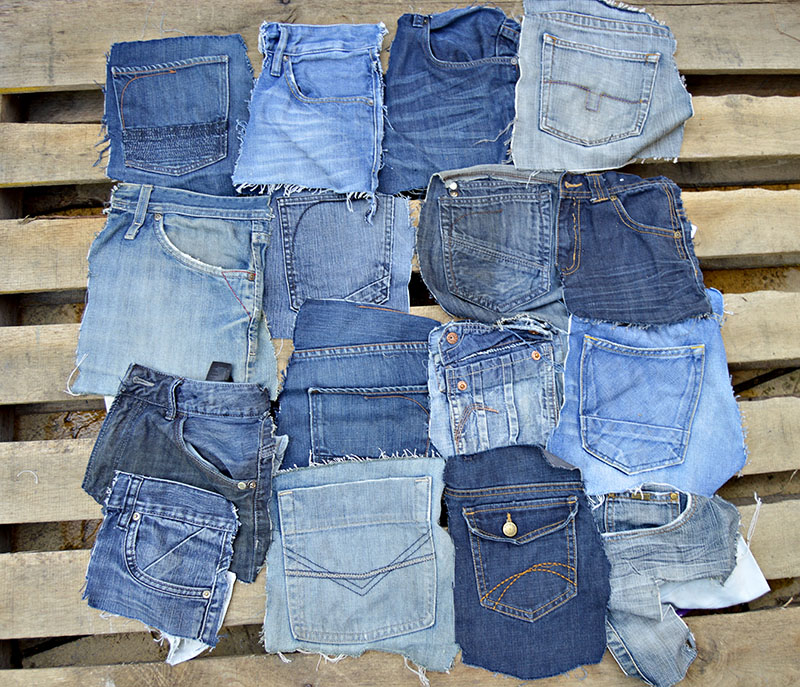 The Best Upcycled Denim Pocket Ideas
Below is a list of some of the best ideas for upcycling and repurposing denim pockets. I've only included ideas that come with a tutorial.
I did come across some other cool ideas, such as coffee cup cozies and denim angels on Pinterest. However, I could not find a tutorial for either of these crafts so I haven't included them.
So before chucking out your worn out old jeans see if you can rescue the pockets and repurpose them into something useful.
These denim pocket ideas were featured under P, for my comprehensive list of A to Z of denim crafts.
What to do with your old jeans pockets? A wonderful collection of DIY tutorials for the upcycle and repurposing of your old denim pockets.
Stacy Fisher is an expert on crafting, sewing, and frugal finds, sharing her knowledge of hands-on DIY creations, finding freebies, and budgeting. Stacy was a guest on "The Dr. Oz Show" and featured in Woman's World Magazine. She has nearly two decades of writing and editing experience.
Use one of these free patterns for denim to recycle your old jeans and use them for something new. You won't believe what you can make out of old denim that you would otherwise give away or throw away. There are quilts, baskets, bins, purses, wall art, organizers, and many more projects that will help you to recycle those jeans instead of tossing them.
Some of these patterns will use a single pair of jeans while others use a dozen or more. It's a great way to give new life to old jeans and you'll be finding yourself raiding your own closet and even your spouse's and kids' closets. If you need more denim than what you have, consider stopping by garage sales or thrift stores. Look for large pairs of jeans with wide legs so you can get as much denim fabric as you can.
How to Sew a Denim Quilt
" data-caption="" data-expand="300″ data-tracking-container="true" />
Create an ombre effect by cutting up old light, medium, and dark wash jeans to create this beautiful modern quilt. Strips of denim are then sewn together to form the top of the quilt. It's then backed in flannel and simple straight-line quilting design is added as the final touch.
Recycled Denim Basket
" data-caption="" data-expand="300″ data-tracking-container="true" />
This free pattern for denim creates a recycled denim basket that you can use to store just about anything. This is a great project if you only have small strips of denim because all the strips are sewn together to form a long ribbon of denim before the weaving begins. A bucket or other container is used as your form to create the basket.
How to Sew a Denim Rug
" data-caption="" data-expand="300″ data-tracking-container="true" />
This gorgeous rug is made completely out of denim cut into hexagons. The hexagons are sewn together in a random pattern, highlighting the different colors of denim that are being used. The rug is then backed with grip tape so it will stay where it needs to be.
Jean Purse
" data-caption="" data-expand="300″ data-tracking-container="true" />
You'll need just one pair of jeans to create this adorable denim purse. An old belt is used to create the closure and strap for the purse. There are lots of ways that you can customize this project by using stencils and fabric paint to add any design you'd like.
Colorful Denim Reupholstered Chair
" data-caption="" data-expand="300″ data-tracking-container="true" />
Here's a more unique way to use up some old denim. This DIY project uses a pair of colored denim to reupholster a chair. It's a quick and easy project and you'll be delighted by the end result.
Denim Canvas Wall Art
" data-caption="" data-expand="300″ data-tracking-container="true" />
Easily create a masterpiece using denim as your background with this free project. A white paint marker is used to spell out words or create a drawing. The denim is then stretched like a canvas. It's then ready to hang!
Hand Sewn Recycled Denim Bins
" data-caption="" data-expand="300″ data-tracking-container="true" />
With a single pair of jeans and a little bit of hand sewing, you can create these unique denim bins. It's a quick and easy project and you'll find that you can make a ton of them in a short period of time.
Fold Over Denim Clutch
" data-caption="" data-expand="300″ data-tracking-container="true" />
You can never have too many bags and this project will give you one more for your collection. This clutch uses recycled denim as well as old shirts to create a one-of-a-kind bag that would look great with your next casual outfit.
Rug from Old Denim
" data-caption="" data-expand="300″ data-tracking-container="true" />
A handful of old jeans are used to create this unique denim rug. Long pieces of denim are sewn together in a circle to create a round rug that's perfect for a kids room, playroom, or any other place in your home.
Denim Triangle Quilt
" data-caption="" data-expand="300″ data-tracking-container="true" />
If you have a large number of old jeans that you're looking to repurpose, consider making this quilt. Triangles are cut from the jeans and then sewn together to form the top of the quilt. Different colors of denim are randomly placed to give it a fun modern vibe.
Kids' Denim Purse with Drawstring Closure
" data-caption="" data-expand="300″ data-tracking-container="true" />
It doesn't get much cuter than this pattern for denim. Perfect for a child, the bottom of this purse is made from the leg of a pair of old jeans, and the strap is made from a waistband. The lining of the purse is made from quilting cotton with a drawstring closure so all those treasures stay where they're mean to be.
Recycled Denim Bracelet
" data-caption="" data-expand="300″ data-tracking-container="true" />
You'll just need a little bit of denim for this DIY project. You'll be using a double seam on an old pair of jeans and cut to size a piece of denim that will fit around your wrist to create a bracelet. Then some basic jewelry making techniques are used so you can add a closure and beads to your bracelet. You could customize these in endless ways using different beads and charms.
Upcycled Denim Pocket Organizer
Recycle what you have to create something new with this free denim project. This unique project uses both the pockets and the waistbands of jeans to create a wall pocket organizer that's perfect for a kids' room. It's a great place to stash away small toys and keep everything nice and tidy.
Kids' Pants to Overalls
" data-caption="" data-expand="300″ data-tracking-container="true" />
This free pattern for denim takes a child's outgrown jeans and creates overalls out of them. It sounds trickier than it is, but the tutorial takes you through each step of cutting up the jeans then reassembling them. The outcome is an adorable pair of overalls that any kid would love.
Reverse Indigo Shibori on Denim
" data-caption="" data-expand="300″ data-tracking-container="true" />
With some bleach, you can transform those used jeans into artwork using shibori and tie-dye techniques. It's a great way to try your hand at textile dying and you'll have a unique piece of art that you can display in your home or use for another project.
Ten stylish handbags that you can easily make at home.

A girl can never have too many handbags, right? A bag habit can easily become expensive, but not if you learn how to make, or remake, them yourself. Here are ten of our favorite DIY bag projects, some which can be done in as little as ten minutes.
1.Minimalist Tote Bag
A talented seamstress with a mission, Renske Solkesz decided to create her own wardrobe after finding herself frustrated with high fashion prices. She created this self-closing utilitarian DIY tote bag for Design*Sponge. It's made from inexpensive materials, yet looks totally luxe. Visit Renske's blog, The Dress I Made, for more of her creations.

image: Design*Sponge
2. Trompe L'oeil Tote Bags and Pouch
These kinds of Trompe L'oil bags, based on the design of famous it-bags, were all the rage last year. We still fancy them and thanks to Martha Stewart, who created this DIY clip art ready to be printed onto fabric transfers, it's now easier than ever to turn a plain tote into a witty style statement.

image: Martha Stewart
3. Cotton + Leather Clutch Purse
We love the simple yet beautiful contrast between the patterned cotton fabric and the leather used in this simple tote by A Beautiful Mess. You can make one yourself, using scraps of your favorite fabric, with little more than solid lining cotton, a zipper, scissors, a sewing machine, and some good-old patience.

image: A Beautiful Mess
4. Neon Dot Tote Bag
Sometimes easy does it. As long as you have a plain old canvas tote at home, this neon dot tote bag by Say Yes to Hoboken can truly be made in ten minutes or less. All you need is fabric paint and a brush.

image: Say Yes to Hoboken
5. Seat Belt Purse
We've seen seat belt bags around for quite some time, and always been amazed at how polished they manage to look. We never thought of making one, until we came across this thorough DIY tutorial by Twofoos. It does require some skill, and possibly an industrial sewing machine, but the compliments you'll get will make it all worthwhile. The seat belts can be from an old car, purchased from a local auto upholstery supply store, or found online (ten yards of it will make a bag about 8″x10″ with a 60″ strap).

image: Twofoos
6. Scalloped Tote Bag
Perfect for spring and summer, this scalloped tote bag by Frolic! is both sweet and unique. Click here for a PDF download of a free packet of instructions and pattern pieces to make the scalloped bag. All you need to buy is a yard of linen. The lovely illustrations featured on the pattern were done by watercolor artist Heather Smith Jones.

image: Frolic!
7. Mesh Beach Bag
Before you know it, it will be beach time once again. A mesh bag is not only cute, but will prevent some amount of sand from entering your home as well. This good looking beach bag by Between the Lines is made from, believe it or not, old window screen material. The same kind of screen used to keep out mosquitoes.

image: Between the Lines
8. Weekender Bag
Are you a serious DIYer who like to take a lot of weekend trips? If so, this project is definitely for you — a weekender bag made from cotton waxcloth and faux leather. This 30-step DIY tutorial by The Weekend Designer is thorough and easy to follow, and even includes patterns for you to use. Now all you have to figure out is where you are going to take it next weekend.

image: The Weekend Designer
9. Boxy Bag
Elegant, glamorous, boxy bags are definitely making a big comeback. Don't spend your hard-earned money on a designer version, though, when you can make this faux croc carryall by P.S. I Made This from an old lunchbox. The gold accents make all the difference. We love the idea of using your favorite brooch to glam up a bag, any bag, really.

image: P.S. I Made This
10. Feed Sack Messenger Bag
Vintage feed sacks don't sound like much fun, but it turns out they make for great bag-crafting material. Gather up a leather belt and some denim lining and follow this inspired tutorial by 645 Workshop by the Crafty CPA. If you don't have any feed bags on hand, you can use any kind of material that looks like it's aching to be turned into a messenger bag.

image: Crafty CPA
Etsy предоставляет возможность прямой связи покупателей и продавцов со всего мира. Когда вы используете сервисы Etsy (мы будем называть etsy.com, Pattern by Etsy, наши мобильные приложения и другие сервисы нашими «Сервисами»), вы несете ответственность за соблюдение этой политики, независимо от вашего местоположения.
Эта политика является частью наших Условий использования. Используя любые наши Сервисы, вы соглашаетесь с этой политикой и нашими Условиями использования.
Как транснациональная компания из США, ведущая деятельность в других странах, Etsy должна соблюдать экономические санкции и торговые ограничения, включая введенные Управлением по контролю за иностранными активами (OFAC) Министерства финансов США. Это означает, что Etsy или кто-либо, пользующийся нашими Сервисами, не может участвовать в транзакциях, в которые вовлечены определенные люди, места или изделия из этих мест, указанные государственными органами, такими как OFAC, в дополнение к торговым санкциям, предусмотренным соответствующими законами и нормами.
Эта политика действует в отношении всех, кто использует наши Сервисы, независимо от их местоположения. Решение об ознакомлении с такими ограничениями остается за вами.
Например, эти ограничения в целом запрещают, кроме прочего, транзакции, в которых участвуют следующие стороны:
определенные географические регионы, такие как Иран, Крым, Куба, Северная Корея, Сирия, Россия, Беларусь, Донецкая Народная Республика («ДНР»), Луганская Народная Республика («ЛНР»), а также любые физические или юридические лица, ведущие деятельность или находящиеся на этих территориях;
физические или юридические лица, состоящие в санкционных списках, таких как Список лиц особых категорий и запрещенных лиц (SDN) или Список иностранных лиц, уклоняющихся от санкций (FSE) организации OFAC;
граждане Кубы независимо от их местоположения, не имеющие гражданства или вида на жительство за пределами Кубы; и
изделия, из Ирана, Крыма, Кубы и Северной Кореи, за исключением информационных материалов, таких как публикации, фильмы, постеры, грампластинки, фотографии, кассеты, компакт-диски и определенные произведения искусства.
Любые товары, услуги и технологические решения из ЛНР и ДНР за исключением информационных материалов и сельскохозяйственной продукции, в том числе продуктов питания для людей, семян сельскохозяйственных культур или удобрений.
Импорт в США следующей продукции российского происхождения: рыба, морепродукты, алмазы непромышленного назначения и любая другая продукция, согласно периодическим указаниям министра торговли США.
Экспорт из США либо гражданами США предметов роскоши и любых других товаров, согласно указаниям министра торговли США, любому лицу, находящемуся в России или Беларуси. Список и определение «предметов роскоши» приведены в «Дополнение № 5 к Разделу 746», опубликованном Федеральным реестром США.
Изделия, изготовленные за пределами США и попадающие под действие Закона о тарифах США и связанных с ним законов о запрещении принудительного труда.
Для защиты нашего сообщества и торговой площадки Etsy предпринимает меры для соблюдения режимов санкций. Например, Etsy запрещает участникам пользоваться своими аккаунтами в определенных географических регионах. Если у нас есть основания полагать, что вы управляете своей аккаунтом из места, находящегося под санкциями, например, любого из перечисленных выше санкционных мест, или иным образом нарушаете какие-либо экономические санкции или торговые ограничения, мы можем приостановить или прекратить использование вами наших Сервисов. Как правило, участникам не разрешается выставлять на продажу, покупать или продавать изделия из регионов, находящихся под санкциями. Сюда входят изделия, появившиеся ранее санкций, поскольку у нас нет возможности проверить, были ли они вывезены из запрещенного места. Etsy оставляет за собой право обращаться к продавцам с запросом предоставить дополнительную информацию, раскрыть страну происхождения изделия на странице товара или предпринять другие шаги для соблюдения обязательств. Мы можем отключить товары или отменить транзакции, представляющие опасность нарушения этой политики.
Кроме соблюдения требований OFAC и применимых местных законов, участникам Etsy следует иметь в виду, что другие страны могут вводить собственные торговые ограничения и что определенные изделия могут не допускаться к экспорту или импорту согласно международным законам. Когда в транзакции участвуют лица из разных стран, вам следует изучить законы любых соответствующих стран.
Наконец, участникам Etsy следует иметь в виду, что сторонние платежные системы, например PayPal, могут самостоятельно отслеживать транзакции на предмет соблюдения санкционных требований и могут блокировать транзакции в рамках собственных программ, обеспечивающих соблюдение требований. Etsy не имеет власти или контроля над процедурами независимого принятия решения в таких системах.
Экономические санкции и торговые ограничения могут применяться к порядку использования вами Сервисов и могут изменяться, поэтому участникам следует регулярно проверять источники информации о санкциях. За юридической консультацией обращайтесь к квалифицированному специалисту.
Вы можете прочитать эту политику на вашем языке, но помните, что версия этого документа на английском имеет преимущественную силу в отношении использования вами сервисов Etsy. Язык можно изменить в настройках аккаунта.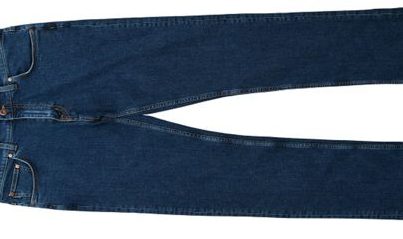 This letter is from David S. in Davenport, Iowa. It's in response to a column I wrote about finding new uses for old jeans.
Cut off old pants leg from blue jean or canvas pant when you get a hole in the legs, use for a pouch or coin purse. He included directions and a rough sample. Isn't that sweet?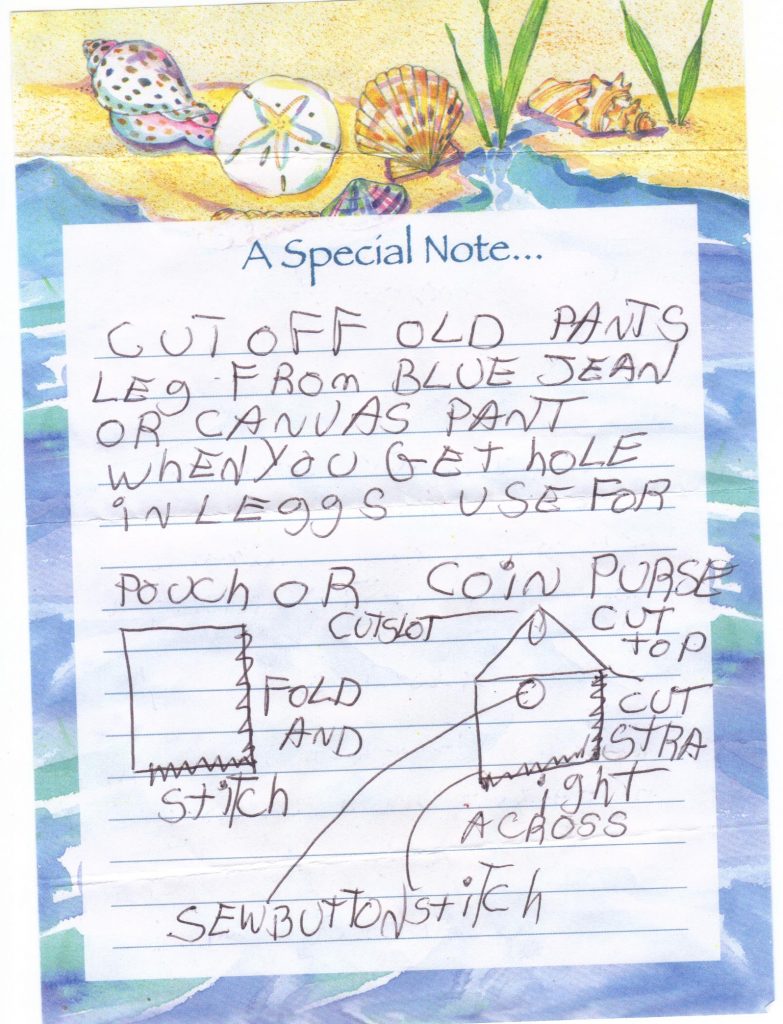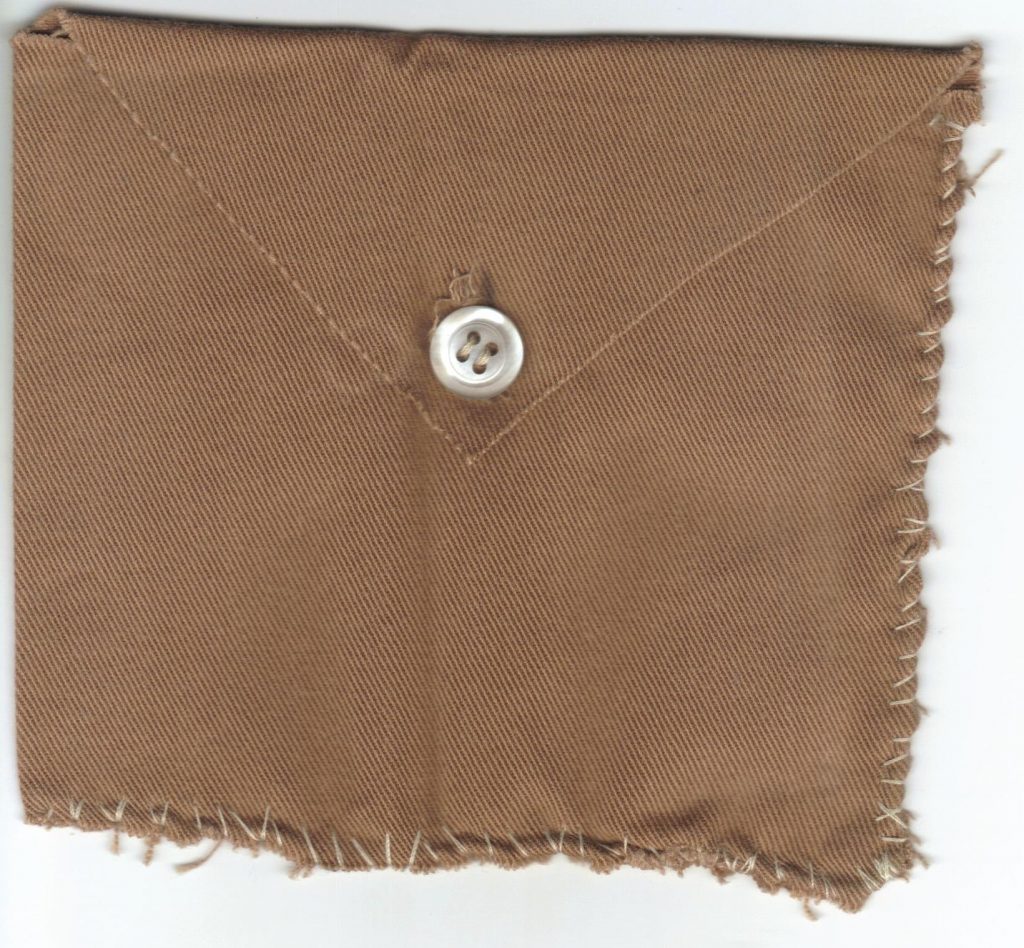 Here's another version in denim with lace.
Pocket Purse (Belt from http://www.WeAreSeiba.com/)
Easy no-sew neck roll/bolster pillow: Use a pair of jeans, 2 rubber bands, poly-fill, ribbon. Cut the jeans to shorts and set aside. Using the two pant legs. You want roughly 18-inches of denim each. Cut off the bottom hem of the legs so both ends match and will fray . Put a rubber band on one end about 4 inches from the end and secure it tight. Put the poly-fill in from the open end until it is about 4 inches from the end. Secure another rubber-band on that end . Cut the ribbon to the desired length (need to cut two lengths of ribbon) and wrap one around each rubber band and tie as desired. Repeat with the other pant leg for matching set. If you don't want to buy poly-fill, you can simply roll a bed pillow lengthwise. Secure it with rubber-bands or ribbons, so it doesn't unroll and fit that into your jean leg that you cut.
Free Printable Owl Template
Denim or old pair of jeans
Felt
Embroidery floss and needle
2 Buttons
Scissors
Sewing Pins
Ribbon
Step One: Click and print my free Owl Template. Cut out all the pieces with scissors. Using sewing pins, secure the body cutout to two pieces of denim with wrong sides together. Pin the rest of the cutouts to the felt. The number on the cutouts corresponds with the number of pieces you will need to pin together.
Step Two: Using scissors, cut around all the templates. Remove the pins and template.
Step Three: Choose one piece of the body to be the front and the other the back. Layer the buttons and eyes on the body. Using embroidery floss, sew the eyes and button to the denim.
Step Six: Stitch the front and back pieces of the body together using matching embroidery floss. Remember not to sew the top so that the bag will be able to open.
Step Seven: Use a strip of denim to create the shoulder strap. Make it as long or short as you want. Stitch it to the inside of the bag, by the ears. For a sturdier and more finished looking strap, use the inseam of a pair of jeans.
After you're done creating this easy denim owl purse, come back here and share what you've made!
This DIY market bag does double duty: recycles old denim and reduces your single use plastic consumption!
You've now cut your old jeans to make a sexy upcycled mini skirt, craft supply organizer or I-pod case– what do you do with all those…well, leg scraps laying around? In a few simple and experimental steps you can create this super eco craft hat has double the Earth-loving power: an upcycled denim BYOB (bring your own bag) tote!
Not only is a DIY market bag a great way to reuse your old jeans but this crafty shopper will help stop the plastic bag litter that is poisoning ground water and soil. This sassy project deserves twp green stars!
DIY Market Bag
You Will Need:
legs left over from your last denim craft project
scissors
sewing machine or turn of the century hand sewing skills
thread of a fun contrasting color
STEP #1: Choosing – I chose legs from two different stone washed jeans to make subtle contrasting stripes, but you can use any number scrap colors. You can also go for the mono color look, and let the thread be your main contrast.
STEP #2: Cutting – Now is the time to lay out those jean legs and cut them open. You will want to save the thick seams for the straps of the bag, so cut directly up the seams on both sides and remove them. Then cut 9 rectangles at 13inch X 5 inch ( you can make them larger or smaller if you'd like to change the size of the bag, as long as every rectangle is the same exact size.)
STEP #3: Sewing– This is the fun part, that you can be experimental with! I took this as an opportunity to try out every bizarre stitch on my sewing machine, you know all those stitches that are zig zaggy, wavy and you don't always know what they are for. I laid each jean strip right edge on top left edge, and then used a new (yet tight) stitch to sew each of the four front panels together. Repeat this step for the back four panels also. All eight stitch lines are totally different and unique, which makes the bag extra attractive. Now you have two pieces (each made of four panels), which you will turn inside out and prepare to sew the left and right sides, leaving the bottom and top completely open. (Kind of like making a pillow.) The one left over panel can now be sewn into the bottom. I put this in by centering the panel in the middle of the front piece and then simply sewing an inner seam by following along the edges (including the sharp turning edges).
STEP #4: Finishing Touches – The last of your finishing touches will be the straps and a snazzy decorative item. I turned the seam-line straps with the inside facing out, and placed them on the very inside corners of the bag (right and left) & used a very tight stitch over them. Make sure they are not twisted when you do this (cause that would stink). Now throw this BYOB baby in your wash & dry cycle with your next laundry load and let it make the 80's fray. For the perfect finishing touch put an old and preferably gaudy broach from the thrift store on it and use as a clasp. Adorable!
Now go out and flaunt your DIY market bag at your local grocery store and famer's market!
Newsletter
Want more stuff like this?
Get the best DIY crafts straight into your inbox!
It's a devastating day when your favorite and most trusted pair of jeans finally become worn and unwearable…but fear not for we have some great ideas for you to make the most out of the old denim and turn them into something else spectacular.
We have searched high and low for these great tutorials which involve kids games, storage, Christmas stockings, baby bibs and much more.
Take a look for yourself and see what you can make out of a pair of old jeans…
How To Make Bean Bag Toss Game – This game tutorial is a great outdoor activity for the children and uses old jeans pockets….
How To Make Denim Baby Bibs – These cost virtually nothing to make and can be cut into any shape.
How To Make A Denim Floor Mat – This tutorial uses the parts of jeans that often get unused in other Jean DIY's and crafts.
Make A Denim Coffee Cozy – These will keep your hands safe and your coffee warm, whilst looking stylish!
Make Christmas Stockings From Old Jeans – A clever original DIY, which will hopefully save you lots of pennies.
How To Make A Patched Pocket Panel – A great home organizer, perfect for all those bits and bobs which never have a home.
Make An Oven Mitt Using Old Jeans – This very practical DIY allows you to make a much needed oven mitt for very little money.
How To Make A Denim Placemat – A Kids old pair of jeans are perfect for this DIY, the smaller pockets are just right to hold cutlery and a napkin.
How To Crochet A Denim Scarf – Follow this tutorial and you could even make a scarf out of old jeans – amazing.
Make A Pair Of Slippers From Denim – With a bit of imagination (and this tutorial) you too can make a pair of slippers out of old jeans!
Make A Denim Wine Carry Bag – A very cute DIY perfect to place that bottle of wine in when giving to a host or loved one, it's re-usable too!
How To Make Denim Balls – Perfect for indoor play, these can keep kids entertained for hours.
How To Make A Denim Camera Strap – Not only is this DIY strong, practical and robust, it's stylish and ever so cool.
Make Your Own Denim Party Bunting – These are a great way to use up old jeans, don't waste money on store bought bunting, these can be personalized too!
Related Articles
If you're a do-it-yourself kind of person, you probably already know the importance of using the best measuring tape. "Measure twice, cut once" is an accurate adage for most projects, and it's true for a reason: Once you've made a cut, there's usually no going back. Making sure you have the proper measuring tape for the job is important, and luckily, there are a lot of options from which to choose when you're wondering, "What is the best measuring tape?"
Pocket Measuring Tapes
Most DIY types are familiar with the cased measuring tape, also called a pocket measuring tape. These tapes are made with a metal or fiberglass measuring strip that's pulled from a case and can be locked in place if needed. They usually retract on a spring and coil up inside the case. This is the sort of measuring tape that is found in most homes for general use.
This style of tape comes in a number of different kinds of cases and can usually be found in versions that are waterproof, magnetic, ergonomic or rust-resistant. There are even versions that come with a laser sight to accurately measure longer distances, which can be helpful on a large project where you constantly need to check a measurement. However, this may not be the only kind of measuring tape you need for a project if you work on a lot of different jobs.
Types Of Measuring Tapes
There are a number of measuring tape types beyond the traditional pocket measuring tapes. Open-reel tape measures feature a very long measuring blade on a crank. They're used when you're measuring distances longer than your usual cased tape measure (which is typically 25 or 35 feet long).
A diameter tape measure features a flexible blade you can wrap around pipes or poles to measure the circumference of an object, which you can then use to calculate the diameter or radius. A sewing tape measure, also called tailor's tape, is a flexible strip marked with measurements that's often used to measure the body, fabric and clothing. While these may be the best measuring tapes for the body, they can also come in handy in DIY projects when you're working with something that isn't straight or flat.
You should also keep in mind that not all measuring tapes are the same length, even within a particular category. Think about how much fabric (or other material) you'll need to measure before you purchase a measuring tape.
Finding the Best Measuring Tape
Of course, the best measuring tape for your project will depend on your needs and your budget, but Home Depot offers a few tips on how to make your selection. It suggests that you consider limiting the tape to just about the length you'll need. Longer tapes might seem better, but they can be heavy or unwieldy if you're only trying to measure short distances.
The material of the blade is another consideration. If you're going to be working outside in bad weather, consider a rust-resistant measuring blade. The standout of the blade (the distance you can extend the blade before it bends or droops) is another important factor to consider if you're mostly going to be working by yourself. Consider the hook at the end of the tape as well. Some tapes have hooks that are coated for better grip or that are magnetic or double-sided.
Popular Mechanics also recommends considering the size of the markings on your tape. Extra-large numbers can be convenient if you're reading the tape from a distance, but if you're doing a lot of precise work, you may want markings in smaller intervals on your blade. It recommends two cased measuring tapes by Stanley as its top picks. Woodsmith recommends models from Komelon and Craftsman, citing their handy rubber cases and self-locking mechanisms as reasons for its choice. Bob Vila's top picks include one from Stanley, one from Komelon and a Magnelex professional-grade tape.
Home Depot: Best Tape Measures
Popular Mechanics: The Best Tape Measures for Small and Large DIY Tasks
Woodsmith: Best Tape Measures For Professionals and DIYers
Bob Vila: Buyer's Guide: The Best Tape Measures
Danielle Smyth is a writer and content marketer from upstate New York. She holds a Master of Science in Publishing from Pace University. She owns her own content marketing agency, Wordsmyth Creative Content Marketing, and she enjoys writing home and DIY articles and blogs for clients in a variety of related industries. She also runs her own lifestyle blog, Sweet Frivolity.
I wear denim every day, it's like my uniform. As everything, after a while, they become old and have holes. As I hate to throw away…even old clothes, I try to find ways to upcycle things.
I already made a recycled denim basket, this time I give a try with a DIY rug. I love how it turns out. It's not very complicated to make but it does take time to cut out and sew the fabric pieces together.
The result was totally worth the time and my son have a nice rug to play in his bedroom.
[ This post probably contains affiliates links, our full disclosure policy is really boring, but you can read it HERE ]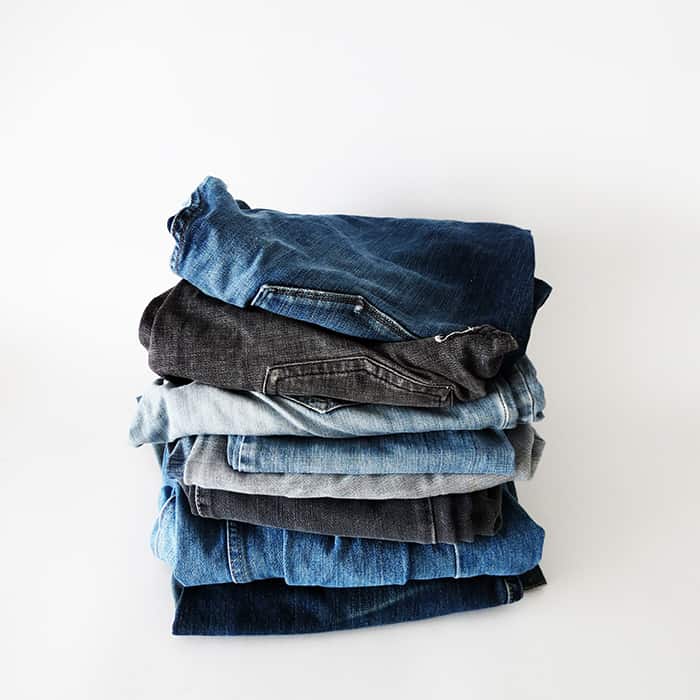 The finished rug will have a diameter of 5 feet 10 inches. You will need at least 6 denim pants to complete this project. I use some of my pants, size 10, and others from my husband. The smallest the pants are the more you gonna need…for once I was happy not to be a size 6 😉
Materials you will need to make a DIY recycled denim rug
6 used denim pants (maybe more depending of the size)
Scissors (a very good pair as denim is a thick fabric)
Matching thread
Sewing machine
Jeans and denim machine needles
Anti-slip underlays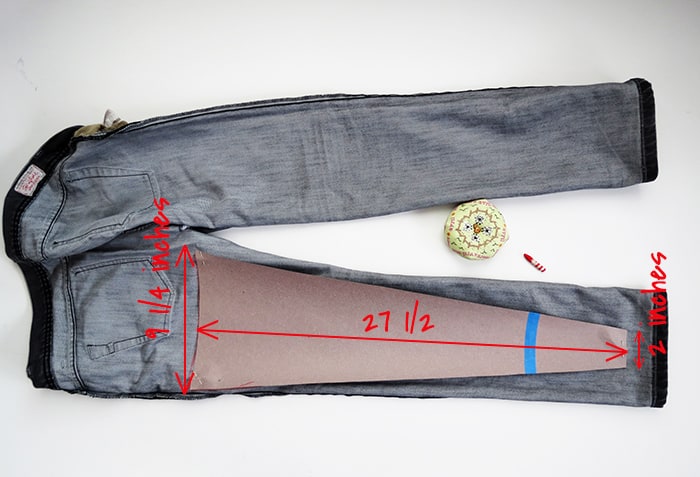 The first thing you need to do is drawing the pattern to cut out the pieces. Take some paper or cardboard you have around and trace a trapezoid.
The large base dimension is 9 1/4, the high 27 1/2 and the small base is 2 inches (in centimeters this will be: 23.5 cm for the base, 70 cm high and 5.5 cm for the small side). You report the trapezoid shape on the denim and you cut out the piece, leaving 1 inch around for the seam.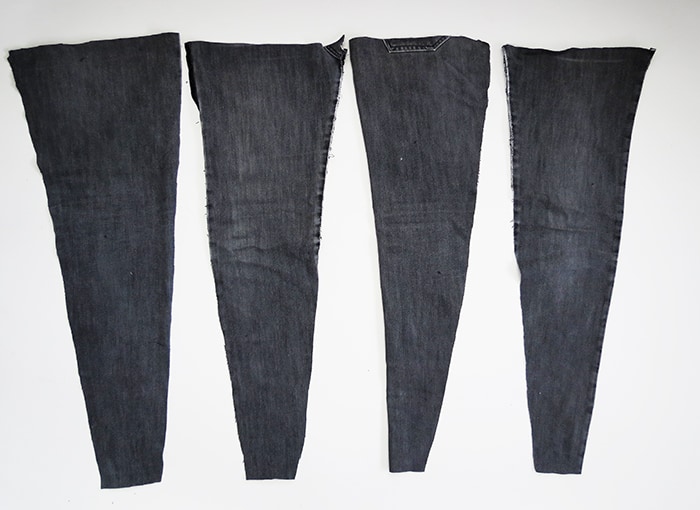 You cut 4 pieces from each denim, you will need 24 pieces to complete the rug (which mean 6 pants…..I'm too good at math, I know 😉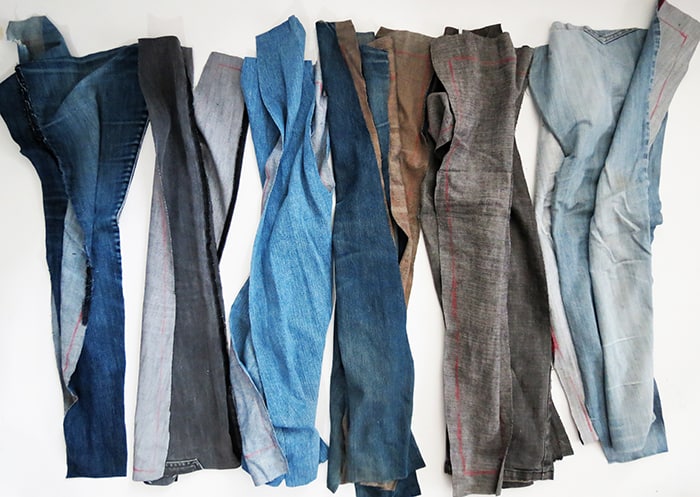 A lot of cutting after you are ready to sew the pieces together.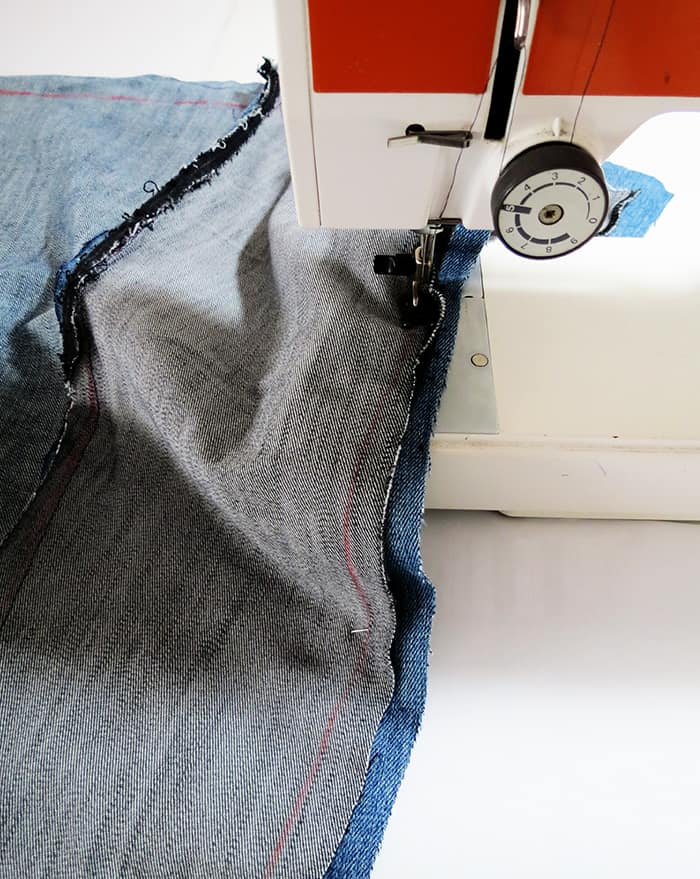 Put two pieces wrong side on wrong side, and sew the long sides together.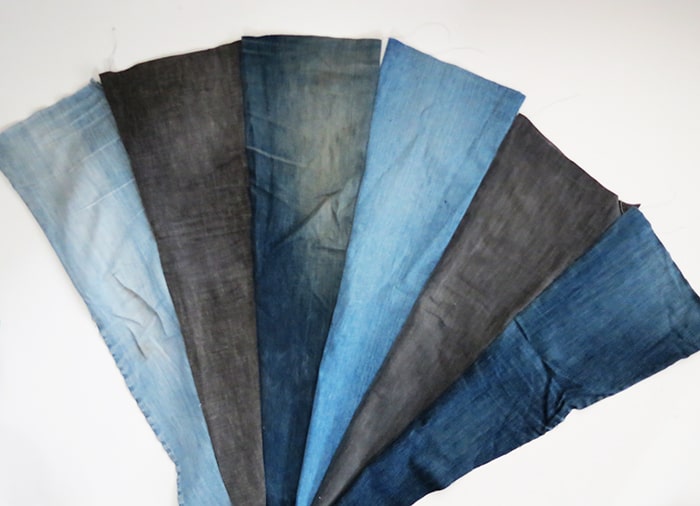 Repeat with another piece, and another one…until you finished the circle. I had different denim colors, so I mix the pieces.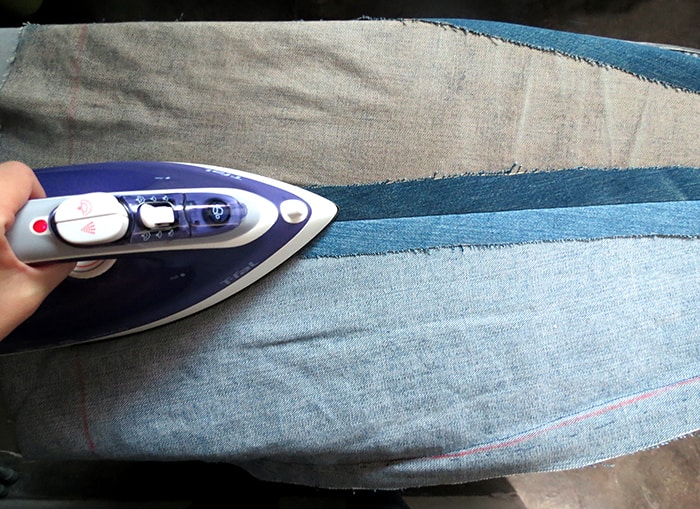 When all pieces are sewn, iron the seams. Don't skip this part if you want to have a nice flat rug!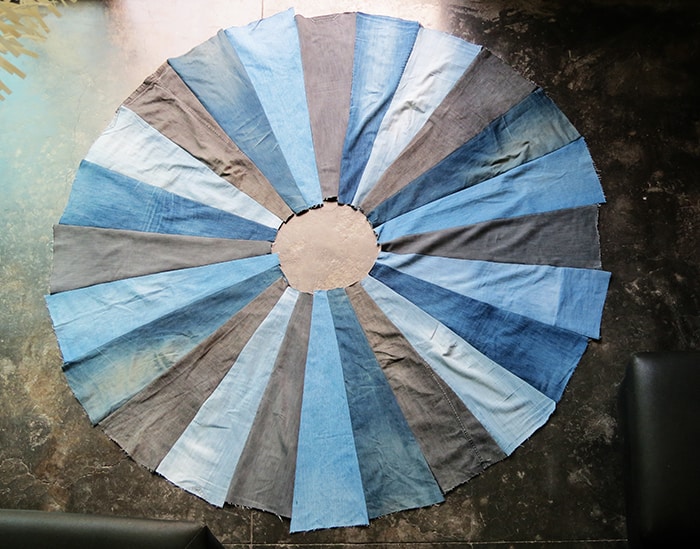 Here we are, almost done. The finish the outside of the rug, fold the edge through inside, pin and make a seam al along.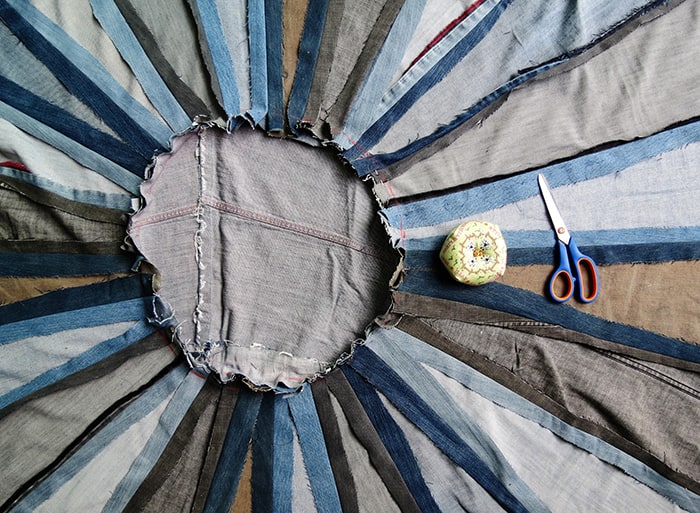 Take the last pant and cut a circle of 1 1/2 feet (43 cm) in it. It's fine if you need to sew fabric pieces together to make the circle. Pin the circle in the center and sew it with the rug. Iron the seam.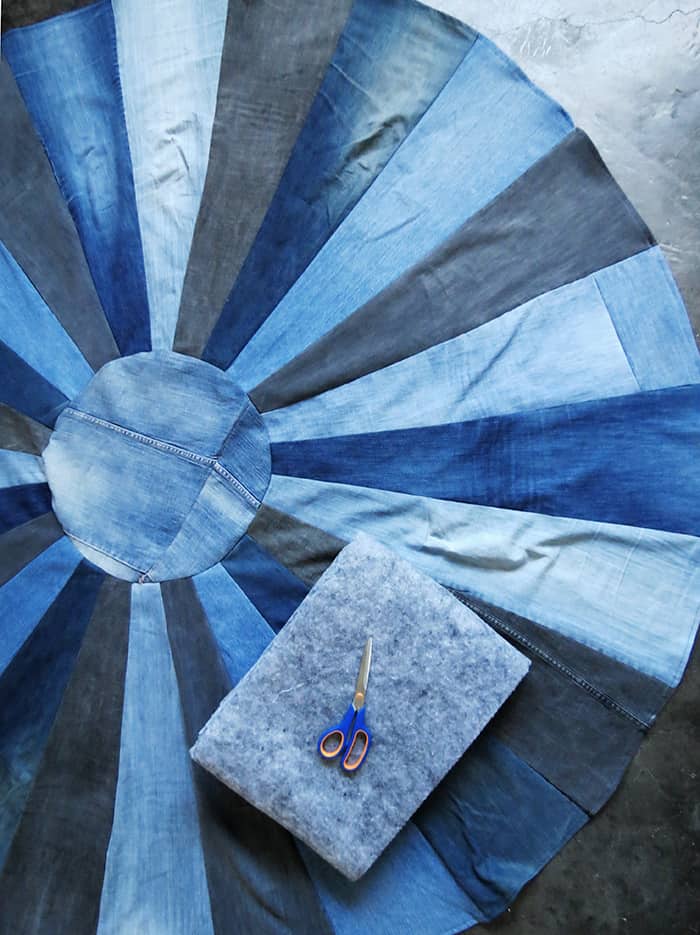 The rug is done! Happy dance!
And now you can make a safe and happy dance on your new rug!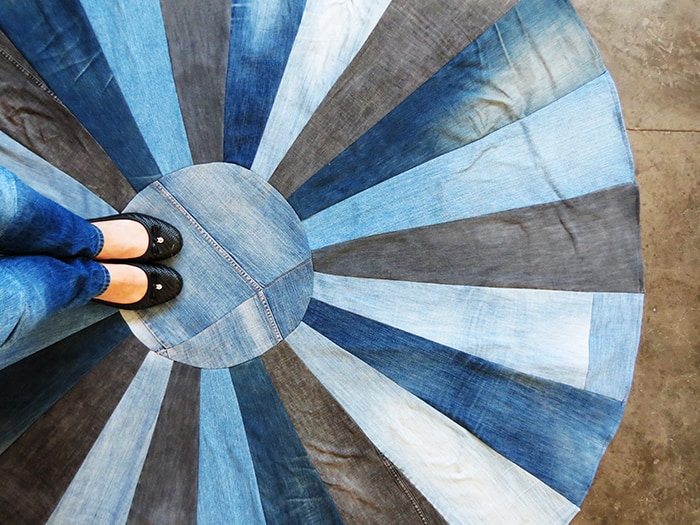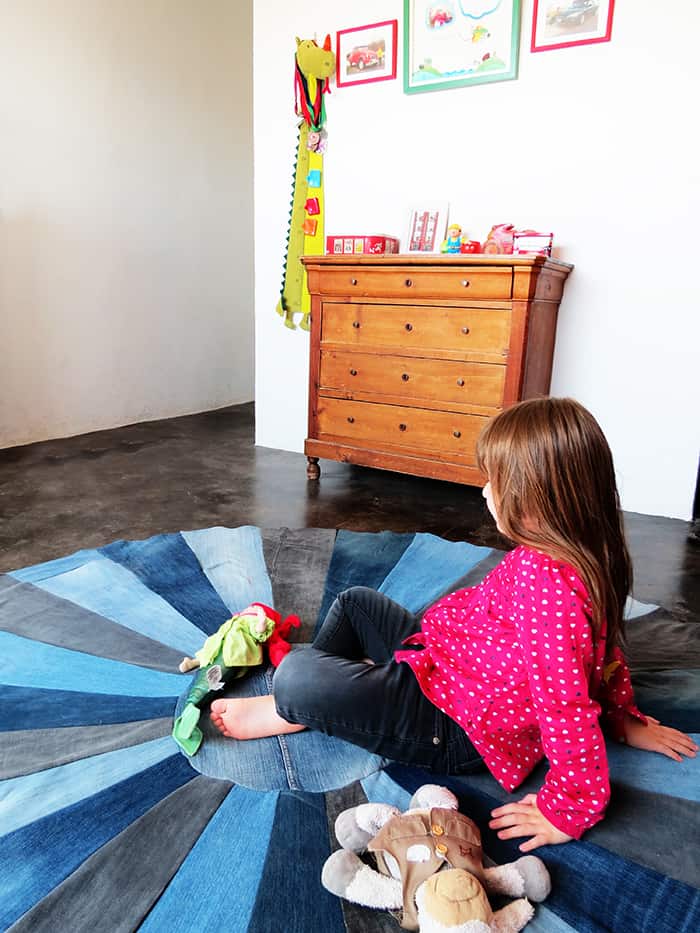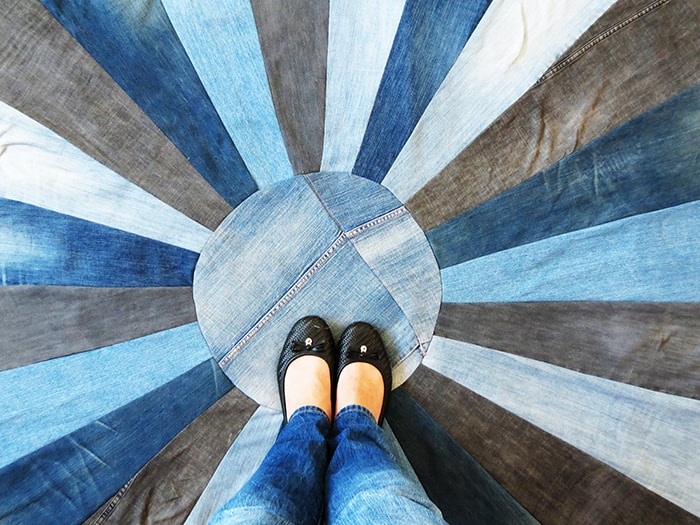 So what do you think? Any other fabric we can use to make an upcycled rug?
If you like the crates storage in the picture below, take a tour HERE for the tutorial.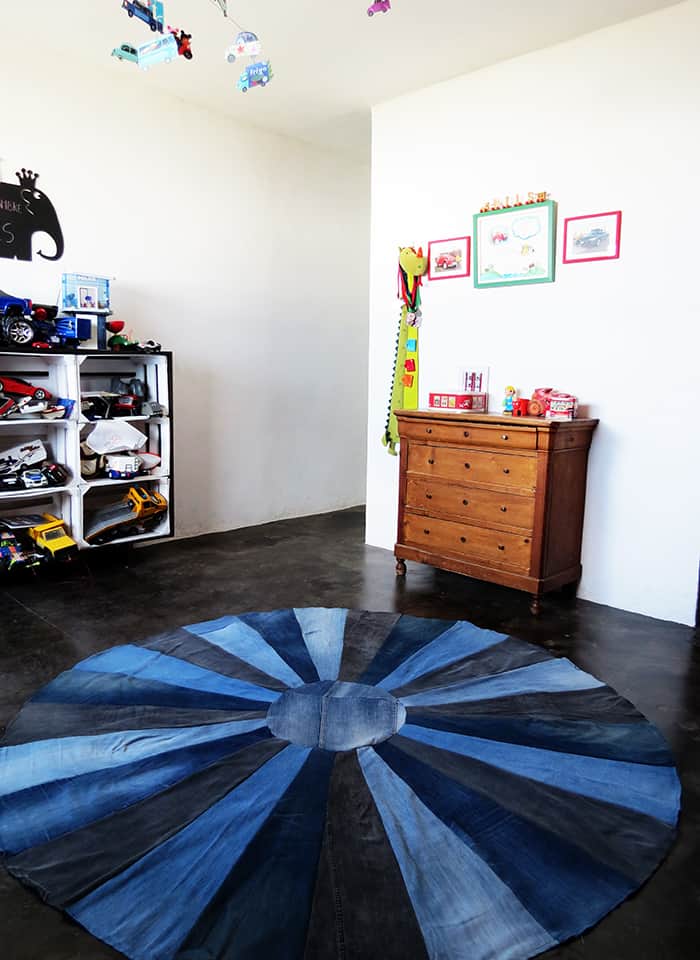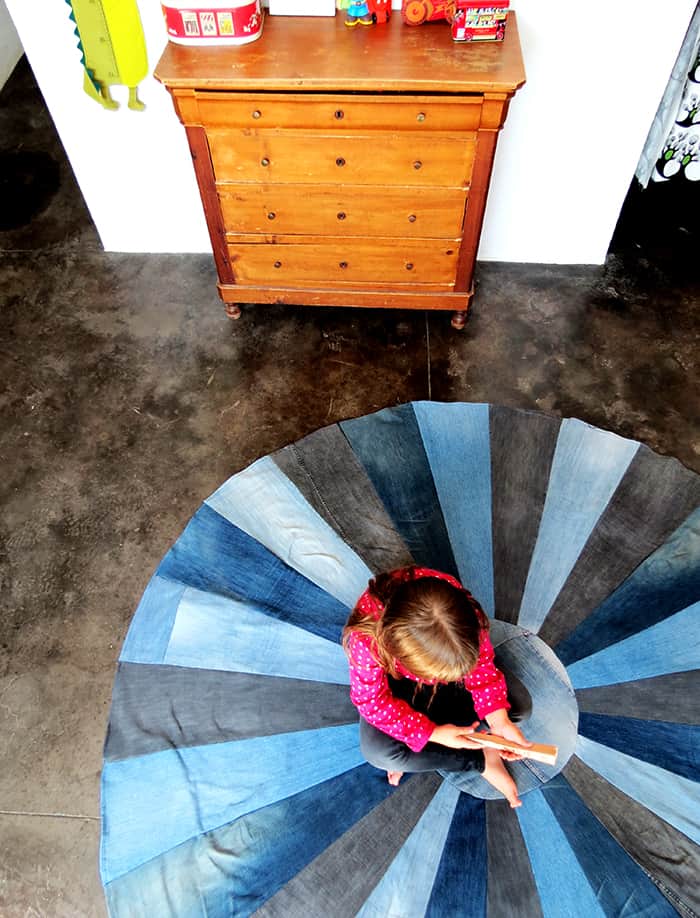 Looking for more ideas to upcycle your denim? You can find inspiration with these 30 DIY ideas or in this great book.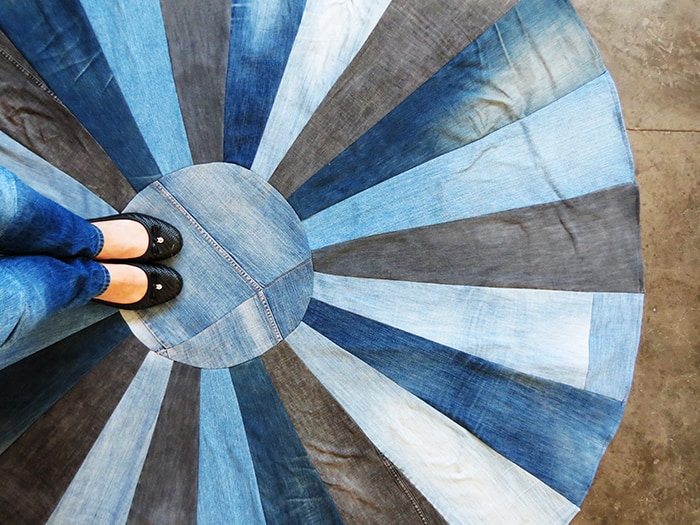 You will find all the tutorials featured in the video on my "Best DIY" page.
Add to List
In "Fast & Fabulous Purses", Threads #178 (April/May 2015), Judith Neukam shared a pattern and step-by-step instructions for sewing a quick-to-make clutch bag. While this elegant little bag gives you enough room to store your wallet among other essentials, you may find a time when all you need to carry is your cell phone. For such occasions, we're offering a free, downloadable pattern to make a stylish bag just for your mobile device.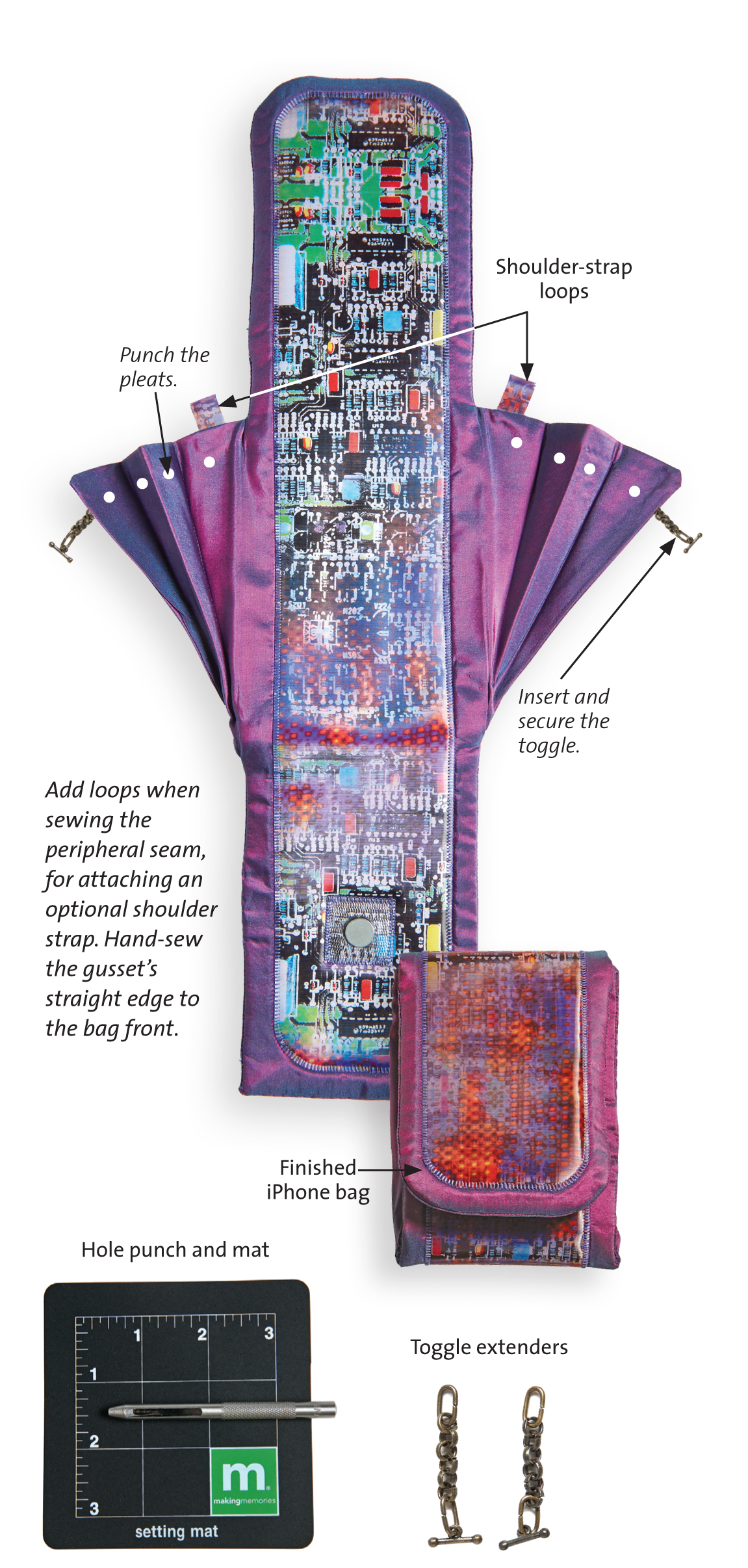 To make this cell phone bag you'll need the instructions found in the original story. The bag is narrower than the clutch pattern shown in the article. It has a 90-degree gusset folded four times to create pleats, as shown.
Print the free pattern, then enlarge it so the 1-inch sample square measures 1 inch on a side. You can do this on a photocopier, or you can hand-draft the pattern on paper with a 1-inch grid.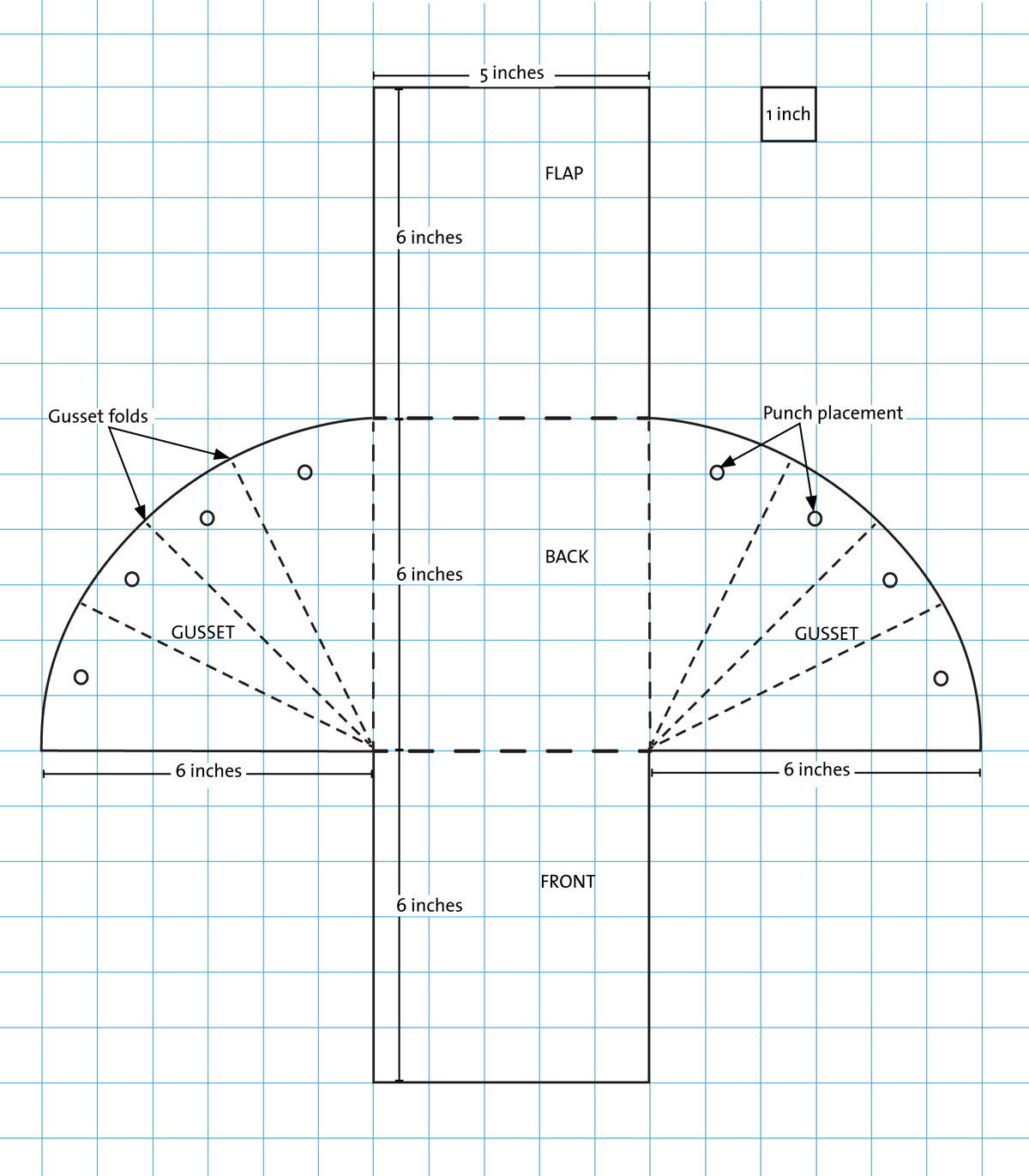 As you can see, we've included gusset foldlines and the punch-hole placements. Notice in the original instructions that you'll need to hand-sew the free edge of the gusset to the bag front (Step 3 beneath "Anchor the Gusset" page 31), because the 90-degree gusset has a free edge.
Do you plan on sewing this cell phone bag? If so, be sure to share your creations in our Readers Closet photo gallery.
There's always a clutch that would match with any event or activity you're going to.
Whether it's for evening wear, casual-daytime wear, casual cool or even for the office, you'll definitely enjoy having to carry this stylish accessory with you anywhere.
Here are some outfits to wear with a clutch purse.
Denim with Patterned Clutch Purse
Putting together a denim on denim ensemble is basically an easy way to create a unique style. While it's a little tricky, one tip you should always follow is to have two different shades of denim incorporated into an outfit. A clutch purse that would look great with an outfit like this is something bold and printed, like this leopard-print one.
Pastel dress
Pastel dresses are so cute but when you're wearing all pastel, you're going to think that your outfit can look a little boring. One way to spice up a pastel dress is by adding a multicolored clutch bag where you can store all your essentials.
Sheer top
When wearing a sheer top, choose a clutch purse that has beaded embellishments to get a boho vibe going on. Sheer tops are plain and an accessory like this one will give your getup a major style update.
Wrap around coat
For a casual, laid-back look, wear a wrap around coat similar to a cardigan for a simple, stylish outfit. A clutch purse that would look great with this outfit are large, rectangular ones.
Button-down shirt
Look professional in a button down and denim jeans by adding a leather or textured clutch purse in your outfit.
White dress
Some women prefer a clean, uniform look. Others would like to add a pop of color to that look. If you're one of those women, opt for a bold-colored clutch purse.
Shirt dress
If you're wearing a shirt dress or a really casual dress for the day, it's best to choose a clutch purse that looks casual as well.
Poncho
Many women use a clutch purse when paired with their poncho.
Maxi skirt
When wearing a simple maxi, choose a statement-making clutch purse to complete your otherwise plain ensemble.
Ripped jeans
When in doubt, choose any type of clutch purse to go with your favorite pair of ripped jeans.
Pencil skirt
A great attire to wear to the office consists of a polo blouse, pencil skirt and an envelope clutch purse that isn't statement-making but is stylish enough to make you look fashionable.
Cardigan and denim jeans
Don't be afraid of trying out different colors, prints and textures of clutch purses.
Fur coat
A fur coat with a petite clutch purse gives us regal vibes. It's totally classy and chic and would look great in so many formal events.
White pants, striped shirt
You can try a monochromatic look – gray top, white pants, black and white clutch purse.
Subtle-print top
When wearing a printed top with tiny prints, choose a black clutch purse to give your outfit a nice touch.
Boho-inspired top, denim shorts
This getup would look great on weekends and other festivals that doesn't require you to dress up. Make sure the fabric of your top is lightweight and there are fun prints. Go with a boho-inspired clutch purse also.
Orange blouse, denim jeans
When wearing a bright colored top, tone down the brightness with a neutral-colored accessory.
Off-the-shoulder dress
For plain, off-the-shoulder dress, choose a printed clutch purse to complete your look.
Yellow blazer with watch and bracelets
Don't forget to add a watch and bracelets to your outfits to look trendy and stylish.
Neon dress
If you love bright neon, pair your neon dress with a neon clutch purse. You'll definitely be the one people will turn their heads to.
How are you going to style your clutch purse?
Kamis, 04 Februari 2010
Blue Jeans Denim Bootie Bag Purse
1 Old pair of jeans
Scissors
Glue gun (if gluing)
Glue sticks (if gluing)
Optional embellishments
Denim Jeans purses or booty bag patterns are all the rage right now with literally 100's of patterns on the market.
We decided to bring you this Booty Bag pattern for free.
This bag has the option of being a sewing project or a quick no sew bag by using glue. Glue is a great alternative for a quick kids craft thought it may not be as durable.
Low-rise or small jeans make a smaller bag, bigger or high-waist jeans make for a roomier bag.
Lay the jeans flat and cut off the legs.
Cut through the crotch, then straight across for an even edge.
Turn the jeans inside out and glue the bottom closed leaving about 1/2 inch of fabric (or an even edge). Let the glue dry or alternatively sew this section closed.
Turn inside the right way and check bottom for even edge.
Cut the inside seams from both pant legs and make handles from these. Glue or sew them on.
You can also glue or sew in a cheap bandanna as a lining & add embellishments to decorate the outside of the bag.
Velcro or magnetic closures can also be added.
For extra strength you can SEW this bag closed, but then of course it would not be a quick no sew bag for non sewers.
With craft glue this bag is suitable for carrying around lightweight items or as a overnight bag only.
November 7, 2011 By Bonnie Way
Shoulder bag made from a pair of pants
I recently found myself shopping for a shoulder bag/purse and getting frustrated when, after a few months, I still hadn't found something that met my needs. All the bags were the wrong colour or price or size or lacked pockets. When a friend gave me the idea of sewing my own bag, I dug through my fabric stash, only to find nothing suitable… beyond a pair of old pants that had holes on the inseam but were otherwise in perfect condition. As I looked at my pants (once a favourite pair), an idea sparked. Here's how I turned that pair of pants into a shoulder bag and how you can do the same thing.
1. Select a pair of pants to recycle.
Find a pair of pants that still have some use left; e.g., perhaps there are holes in the bum or inseam, but lots of good fabric in the legs. Decide how tall you want your bag and cut the legs off the pants. I wanted my bag to hold a binder, so I cut the legs just above the knee. Using a seam ripper or scissors, tear or cut the legs open along one side (whichever seam isn't topstitched).
Pant legs cut off, seam ripped open
2. Cut out your bag.
Lay the fabric from the pant legs flat and cut to the size of your bag, leaving extra space for your seam allowance. You will be using the hem of the pants as the top of your bag (unless it is the part worn out), so measure from there. The seam on the pants can be used as decoration on your bag; I wanted this seam in the centre of my bag, so I trimmed the edges of the fabric.
3. Add pockets.
Back pocket made into pens pocket
Using your seam rippers, tear the pockets off your pants Position them on your bag and sew them on, following the topstitching originally used to sew the pockets to the pants. My pants had two back pockets and a large "cargo" pocket on each leg. I used one cargo pocket to create a pocket for my coffee mug on one side of my bag. Pay attention to pocket placement so you still have seam allowances on the sides of the bag.
To hide a pocket inside the bag, place a pocket on the outside of the bag in the same place. On my bag, I sewed one back pants pocket on the inside of the bag and added four seams for five pens; then I sewed the other back pocket on the outside of the bag to hide the seams from the inside pocket.
Two pockets on the outside of the bag
If your pants have other decals (embroidery, tags) that you'd like to use, cut or tear them off and sew them onto your bag now.
4. Sew the bag.
Place the two sides of your bag right sides together and sew the sides and bottom, using the pants hem (if possible) as the top hem of the bag. If the pants hem isn't useable, then hem the bag after sewing the side seams.
5. Add a handle.
Using the scraps from your pants, cut out a handle for your bag. I used four pieces of fabric, each about 2 1/2 inches wide and 21 inches long. Sew the scraps together on the short ends, then place right sides together and sew the long ends to create a tube. Turn the tube inside out and topstitch (if desired). Stitch handles to the inside of your bag, at the sides.
Strut your new purse for your friends!
Toddler wearing small shoulder bag
To Make a Smaller Bag:
When I had finished my bag, my daughters wanted bags of their own. I took another pair of pants and cut the legs off. Instead of ripping the side seams out, I turned the legs inside out and sewed across the open, unhemmed end to create a bag the same width as the pants leg. I then cut another strip of fabric from the legs, folded it in half and zigzag stitched along it, and stitched it onto the top of the bag. Voila—two bags for my daughters to play with.
About Bonnie Way
Bonnie Way has written 31 posts in this blog.
Bonnie Way has a BA in English (2006) and a BA in Writing (2014). She and her husband have been married since 2007 and have four daughters. They currently live in Vancouver, BC, where they are active in their local church and homeschooling community.
Now that school's in session, maximizing weekend fun is all the more important. How about spending a crafternoon with the kids? Research suggests that crafting with kids can have social, cognitive, and emotional benefits.
These eco-friendly crafts are a great way for kids to express their creativity, release a little back-to-school stress and give their outgrown Levi's® jeans and jackets a second lease on life. So gather up the young ones (or the young-at-heart), get some snacks and denim-strate your skills by upcycling those outgrown jeans into something fun.
Woven Place Settings
Kids of all ages will enjoy this simple weaving project. Older children can also help create a loom and may enjoy incorporating various shades of denim to create patterns in their projects. Cut out some denim squares for napkins and jean jacket cuffs for napkin rings, and voila, you have an entirely upcycled place setting for future tea parties! (Via Green Issues by Agy)
Pant Leg Aprons
This activity requires a sewing machine, so if you don't think your kids are quite ready for the challenge, create the aprons ahead of time for kids to decorate. For future arts or cooking projects, kids can wear the aprons and keep their new jeans splatter-free. (Via Happy Hooligans)
Party Pennant
Allow kids to lend a hand in making party decorations or bedroom decor with a DIY denim banner. Offer up a variety of markers, stamps, paints, felt or stickers so kids put their own unique spin on their flags and create a one-of-a-kind keepsake. (Via Denim Do Over)
Reusable Lunch Bag
Old jeans can make a great repurposed and reusable lunch bag. Create stamps by dipping a halved apple into paint, or carving shapes (safely!) into a cut potato. (Via Inner Child Fun)
Pocket Purse
Take advantage of old jeans pockets to create pocket purses. Kids can personalize the bags with buttons, beads, glitter or paint and use them to store all those can't lose treasures. (Via Frugal Living)
Dog Toy
Have kids tie together denim strips to create washable and tug-able dog toys! Or, for more ambitious dog owners, go wild and make Snuggles a new denim vest. (Via Instructables)
Hot House Flowers
Break out the hot glue gun to make blooming denim flowers. Help kids grow entire bouquets to pin to their clothes, decorate bedrooms, or even a new lunchbox. (Via Miss Party)
Bedazzled Bracelets
Kids can watch and learn from a YouTube video of a fellow young upcycler fashioning bracelets out of jean seams. She and her friends make bendy denim bracelets and add beads for decoration. (Via Mich L. in L.A.)
Need some new kids clothing to go with all of their new denim craft accessories? Check out Levi's Kids for the latest in kids denim styles.
Like this story?
Sign up for the Unzipped newsletter to get the best of the Unzipped blog — company news and views, employee profiles, innovation and sustainability stories, behind-the-scenes and Archives highlights — sent straight to your inbox weekly.