Before you start throwing together another sad desk salad, take a step back and think how much happier you'd be with something really delicious for lunch. With just a little preparation and inspiration, you can have a healthy, fulfilling, and tasty lunch that will keep you full and focused through the afternoon.
Bringing a healthy lunch to work is not only great for your mind and body — it's also great for your wallet. When you have something nutritious ready to go in your lunch box, you're much less likely to go for fast food or to a nearby cafe.
Here are some of our tips for building a healthy lunch that you will actually look forward to eating.
1. Load up on veggies.
Vegetables offer our bodies many vital nutrients, and they are so versatile. You can eat your favorites raw, or steam, saute, boil, or roast veggies at home, and simply warm them up at work. With a little seasoning, you can make one vegetable taste many different ways, too.
2. Stick with whole grains for sandwiches, wraps, and more.
Whether you're packing a sandwich or settling for a bowl of cereal (no judgment!), choose whole grains. They'll keep you fuller and provide more nutrients and fiber than refined grains, according to Choose My Plate . Whole grains are also full of flavor.
3. It's OK to snack.
Don't be afraid to pack snacks to supplement your lunch. Keeping a few healthy options on hand will keep you full from mid-morning until it's time to clock out. Opt for fruits, raw veggies, nuts, seeds, yogurt, or granola bars — bonus points if you make them yourself.
4. Transform your sad desk salad.
Salad has gotten a bad rap — wilted, soggy lettuce and stale croutons come to mind. But a salad is a healthy option that can also be quite delicious. The secret is to load up your salad with plenty of (healthy) toppings with different textures to make every bite exciting. Add a mix of greens, raw and/or cooked veggies, nuts, and a homemade dressing for a salad that's easy and healthy.
5. Incorporate lean proteins into your meal.
Vitamin B, vitamin E, iron, zinc, and magnesium are important components to a healthy diet . These vitamins and minerals are found in meat, poultry, eggs, beans, seeds, nuts, and seafood, which also contains omega-3s — all of which help our body function properly and ward off illnesses.
Add any combination of lean, low-fat proteins to your salads, sandwiches, wraps, pastas, and more to ensure your body gets these nutrients.
6. Embrace fats!
Small amounts of polyunsaturated and monounsaturated fats provide essential nutrients, like vitamin E, according to Choose My Plate . Whether it's a bit of homemade dressing, a couple tablespoons of peanut butter, or that delicious avocado, be sure to add some fats to your lunch for flavor and health benefits.
7. Sweeten things up with fruit.
It's easy to grab a candy bar from the vending machine when your sweet tooth strikes, but all of that sugar will leave you crashing by mid-afternoon. Keep plenty of fresh fruit stashed in your lunchbox or the refrigerator to satisfy your cravings.
8. Skimp on salt — use other herbs and spices for flavor.
Even if you don't love certain vegetables or proteins, you might still feel inspired to add them to your lunch for their health benefits. It's tempting to season everything with plenty of salt, but why not make use of the spices hidden in the back of your cupboards?
Experiment with different seasonings that you don't use often, and you might find you actually love how Brussels sprouts, Lima beans, or kale taste.
9. Eat seasonally for the biggest nutrition boost.
Produce that is in season doesn't just taste better … it actually retains more nutrients, too, according to Seasonal Foods . Shopping at a local farmers market is the best bet for fresh, in-season produce, but if you don't have one nearby, do a little research to find out what is current before hitting the grocery store.
Sure, this means you probably shouldn't enjoy strawberries year-round, but it also means you can find new favorites to look forward to every season.
10. Stick with smaller portions.
It can be enticing to fill a container to the brim with last night's veggie lasagna, but sometimes, you can have too much of a good thing. Stick to smaller containers, and if you can, use a container with portioning sections. This will help you pack just the right ratio of grains, protein, veggies, fruits, fats, and dairy.
11. Get creative
Not everyone loves to cook, but even if it's your most-dreaded task, you can make it fun. Try new, healthy recipes, and make enough to share with a coworker. Experiment with your favorite comfort dishes by swapping heavier ingredients for more nutritious options. Snap photos of your dishes for Instagram to impress your friends.
Pack your meals in a lunchbox or bag that makes you smile. When you making healthy cooking fun, your meals are going to taste better (it's the extra love) and keep you motivated.
Malia Frey is a weight loss expert, certified health coach, weight management specialist, personal trainer​, and fitness nutrition specialist.
Sometimes that mid-afternoon meal can make you feel sluggish and sleepy. But it doesn't have to be that way. If you take a few minutes to learn how to prepare a balanced lunch, you'll set yourself up to feel stronger and more energized throughout the entire afternoon.
Here are some tips for creating balanced and nutritious lunches for work or home.
Making a Balanced Lunch
A balanced lunch will satisfy your hunger at meal time. But it should also keep you feeling full and energized through the late afternoon slump so. There are three essential components to include:
Choose Lean Proteins
If you build your lunch around a source of protein, you'll help keep yourself feeling satisfied in two different ways. First, protein takes longer to eat and longer for your body to digest. So a protein-rich meal will last longer while you're eating it, and it will keep you feeling full longer.
Also, protein helps to build and maintain muscle mass, which keeps you strong, vibrant, and able to tackle daily tasks. Proteins also often contain energizing nutrients like B vitamins, zinc, and iron.
Pick Fiber Filled Foods
High-fiber foods are essential for sustained energy. Eating fiber is similar to eating protein in that it takes longer for your body to digest. So fiber helps you feel full for a more extended period. If you choose fiber-rich bread for your sandwich or fill your salad bowl with foods high in fiber, you set yourself up for sustained energy later in the day.
Fiber also improves digestion, helps lower cholesterol levels, and reduces your risk of colon and breast cancer.
Hydrate Well
Not getting enough hydration during the day may cause you to feel tired and increase brain fog. When it comes to choosing your beverage, water is usually the best choice. Research shows drinking enough water can help keep mood and fatigue levels stable.
It might be best to skip the caffeinated and sugar-filled sodas at lunch for better energy levels. These drinks can be especially problematic around noon because even though they may provide a quick boost of energy in the short run, they may leave you dehydrated and zapped of energy later while contributing nothing to your nutrition. Drink plain or flavored water instead, or try diet soda.
How Much Should I Eat?
The average adult needs about 2,000 to 2,500 calories per day to maintain their weight. The actual number of calories you need will be different depending on your body composition and activity levels. If you eat three meals per day, consider eating about a third of them at lunch, or a little less if you like to add snacks.
Tips For Packing Nutritious Lunches
Packing a lunch that will provide the nutrients your body needs is not complicated. It's a good idea to make lunch at home and bring it with you to work. This will ensure you have enough food in the right proportions and combinations that you enjoy to keep you full and energized.
Pair lean protein with healthy fat and fiber-rich whole grains, fruits, and veggies
Choose fruit and veggies that pack well
Prep easy options for grab and go lunches
To ensure lasting energy and satisfaction throughout the day, pair a serving of lean protein with veggies to make a simple, satisfying lunch. A bowl of soup or salad will do the job or grab a ready-to-eat protein snack with a piece of fresh fruit. You can also make a nutrient-rich smoothie if you're in a rush.
Fiber, antioxidants, vitamins, and minerals in fruits and vegetables should be included in your lunch. These foods help balance your blood sugar and energy levels, fill you up, and taste great while proving your body with the nutrients it needs.
Choose fruit that doesn't bruise easily and packs well such as apple slices, oranges, berries, grapes, and melons. Chop up veggies to serve with a dip or in a salad or atop a sandwich, such as carrots, snap peas, greens, celery sticks, and grape tomatoes. Veggies also taste great in soups, burritos, and casseroles.
Whole grains will sustain your energy for longer than refined types. This means prioritizing whole grain bread, brown rice, and quinoa over white bread, potato chips, or baked goods (although those are still great to add as a treat in smaller portions).
Nutritious fats will keep your meal satisfying and tasty while providing essential fatty acids to your diet. Excellent fat sources to include in your lunch are nuts, seeds, fish, olive oil, and avocados. Use them as a snack, on top of salads, or in dressings.
A Word From Verywell
Your lunch should be a welcome reprieve from your busy day, providing a chance to connect with yourself and your physical and mental needs. This includes a satisfying, enjoyable meal that helps keep you full and energized for the rest of the afternoon.
Focusing mainly on nutrient-dense foods and including tasty, filling options will give you the re-set you need to keep being productive. Remember that enjoying your food is essential and including foods you love is always a smart decision.
There's more to lunch than sandwiches and salads (although those aren't so bad, either). Whether you're at home, headed to the office or packing a brown bag lunch for school, these delicious recipes are sure to fit the bill.
Pinterest
Facebook
Twitter
Related To:
Photo By: Justin Walker
Photo By: Con Poulos Prop Stylist: Marina Malchin 917 751 2855
Photo By: Armando Rafael
Photo By: KATE MATHIS
Photo By: Matt Armendariz ©2012, Television Food Network, G.P. All Rights Reserved
Photo By: Min Kwon ©2015,Television Food Network, G.P. All Rights Reserved
Photo By: Matt Armendariz ©2013, Television Food Network, G.P. All Rights Reserved.
Photo By: Tara Donne ©2012, Television Food Network, G.P. All Rights Reserved.
Photo By: Ryan Dausch
Photo By: Tara Donne
Photo By: Renee Comet
Photo By: Justin Walker
Photo By: Con Poulos
Photo By: Matt Armendariz ©2013, Television Food Network, G.P. All Rights Reserved.
Photo By: Antonis Achilleos
Photo By: Stephen Johnson ©2014, Television Food Network, G.P. All Rights Reserved
Photo By: RYAN DAUSCH
Photo By: Armando Rafael
Photo By: Stephen Johnson ©2014, Television Food Network, G.P. All Rights Reserved
Photo By: Stephen Johnson ©2014, Television Food Network, G.P. All Rights Reserved
Photo By: Ryan Dausch
Photo By: Antonis Achilleos
Photo By: Min Kwon ©2015,Television Food Network, G.P. All Rights Reserved
Photo By: RYAN DAUSCH
Photo By: Antonis Achilleos
Photo By: Jason Clairy ©Clairy Productions Inc.
Photo By: Antonis Achilleos
Photo By: Antonis Achilleos
Photo By: Jason Clairy ©Clairy Productions Inc.
Photo By: Justin Walker
Chipotle Veggie Burritos
Burritos can be a healthy, vegetarian dish when you load them up with wholesome ingredients like rice, beans and corn.
Lemon-Herb Rice Salad
Fresh herbs, like mint and basil, add bursts of fresh flavor to this simple salad. Make sure you leave room for leftovers — the dish tastes even better the next day!
Miso Soup
Forget take-out and the packaged stuff. Our Miso Soup is a cinch to make, and clocks in at just 115 calories per serving.
Keto Tuna Salad Cups
Tuna salad meets BLT in this keto-friendly mashup. Hang on to that oil in the tuna can for a flavor bonus.
Lightened-Up Stuffed Peppers
White rice, lentils and ground beef bulk up the filling for this gluten-free lunch.
Tex-Mex Chicken Quinoa
Top a mixture of cooked chicken and quinoa with heart-healthy avocado and black beans for a filling lunch that's ready in a flash.
Kale and Apple Salad
Veggie Lover's Club Sandwich
Stacked high with veggies, this sandwich is as appealing to look at as it is to eat. With luscious avocado spread and smoky tofu, there's no bacon or deli meat required.
California Grain Salad
This sunny salad can brighten up the dreariest desk lunch. Thanks to rice cereal, veggies and goat cheese, there's a combination of flavors and textures to enjoy.
Vegetarian Chili
Beans and vegetables add a rich bite to this meatless chili. With fiery spices and a dash of hot sauce, it's guaranteed to power you through the afternoon.
Nordic Shrimp Toast
These decorative toasts have all the flavors of Nordic cuisine and no foraging is required! Delicate shrimp get double-hacked: first, they are quickly cooked in a covered pot off the stovetop and then sliced en masse using a trick involving two plastic lids. A protein-packed snack or part of lunch.
Chicken Tacos with Avocado Salad
These quick-and-easy tacos make the perfect midday meal. Packed with protein and veggies — and topped with salsa and sour cream — they're healthy and flavorful.
Pizza with Cauliflower Crust
Enjoy pizza night a little more with Katie Lee's gluten-free, cauliflower version.
Hummus and Grilled Vegetable Wrap
Israeli Couscous with Cherries
Gem-like fresh cherries, parsley, red onions and scallions make for a fresh and colorful salad when combined with Israeli couscous.
Breadless Peanut Butter and Chia Jam Sandwiches
Satisfy a PB&J craving with these high-fiber sandwiches (bread not necessary). The chia jam is quick to make and can be stored for up to 3 days- spread on anything you would regularly eat with jam to add extra fiber.
Pork and Broccoli Grain Bowl
A fresh, slightly spicy grain bowl adds a fun zing to your lunch break. The pork, quinoa and sweet potato combo are enough to keep you satisfied, but not so heavy that you'll fall asleep at your desk.
Sweet Potato Toast with Steak, Roasted Peppers and Arugula
Turn leftover steak into a bright and healthy, low-carb lunch with this sweet potato toast topped with sweet red peppers and spicy arugula.
Vegetable Noodle Soup
Make this childhood favorite in less than 20 minutes.
Garden Egg Salad
Celery, radishes, romaine and sprouts add a heart-healthy crunch to this vegetarian lunch. Don't skip the mustard in this egg salad — just a little bit adds loads of flavor!
Ellie's Tuscan Vegetable Soup
Lentil Toast
Though we love avocado toast, we're always excited to try fun alternatives. This recipe uses mashed lentils, tomato and scallion for a protein-packed flavor punch.
Broccoli Melts
These ooey-gooey vegetarian sandwich melts are made with broccolini and two kinds of cheese, but they clock in at just 261 calories and 12 grams of fat each.
Monte Cristo Crepes
A raspberry mustard and side salad make an excellent accompaniment to these cheesy, meaty crepes.
Antipasti Penne
This healthy, budget-friendly pasta dinner is inspired by pricey antipasti platters. We love the spicy-garlicky flavor the soppressata brings — lots of bang for your buck!
Grilled Spiced Chicken and Plums
Fire up the grill — and cook more than just meat! Sweet stone fruits (like plums) go great with honey-glazed chicken.
Plus: 6 fun new ideas of what to eat, from a dietitian
Ever wondered what the healthiest lunch going is? Well, the short answer to that is: whatever you fancy—within reason. What we mean to say is that the healthiest lunch for you doesn't look like one specific sandwich, wrap or salad. It's really not that prescriptive.
What is the healthiest lunch to eat?
Rather, creating the healthiest lunch to fuel your afternoons is about building a plate—or bowl—of food with a healthy balance of macronutrients (remember: carbs, fats, protein) and micronutrients (vitamins, minerals) that will fuel your body and brain.
Want to get right to some healthy lunch ideas, from a dietitian? Scroll to the bottom of the page
The ultimate goal is that you remain satisfied and energised enough to handle whatever the latter half of the day may hurl at you.
What should I eat at lunch to lose weight?
Straight up: your choice of lunch is not a silver bullet to healthy weight loss. Safe, sustainable weight loss, rather, is the result of a blend of behaviours you tick off each day: good nutrition, a mix of cardio and resistance training, proper rest and stress management techniques all have their role to play.
When it comes to your midday meal, however, if you've got a weight loss or maintenance goal in mind, it could help to keep your carbs to a quarter of your plate, or opt for an open sandwich.
As for pronto protein? Grab cooked chicken breasts, smoked mackerel fillets or tinned tuna or, if you're plant-based, opt for ready-prepped lentils and drain your tinned chickpeas the night before so you can just tip them into a salad faff-free.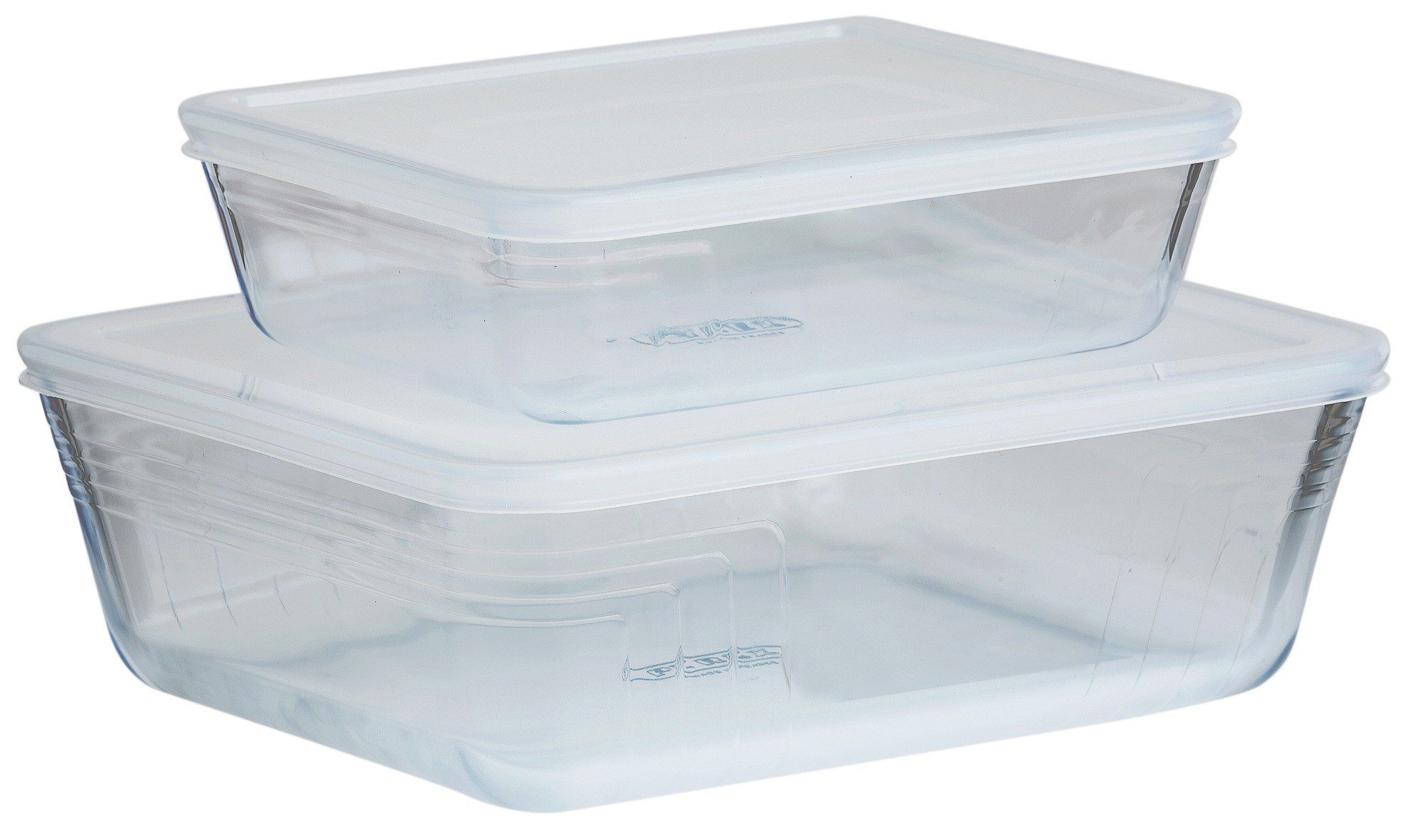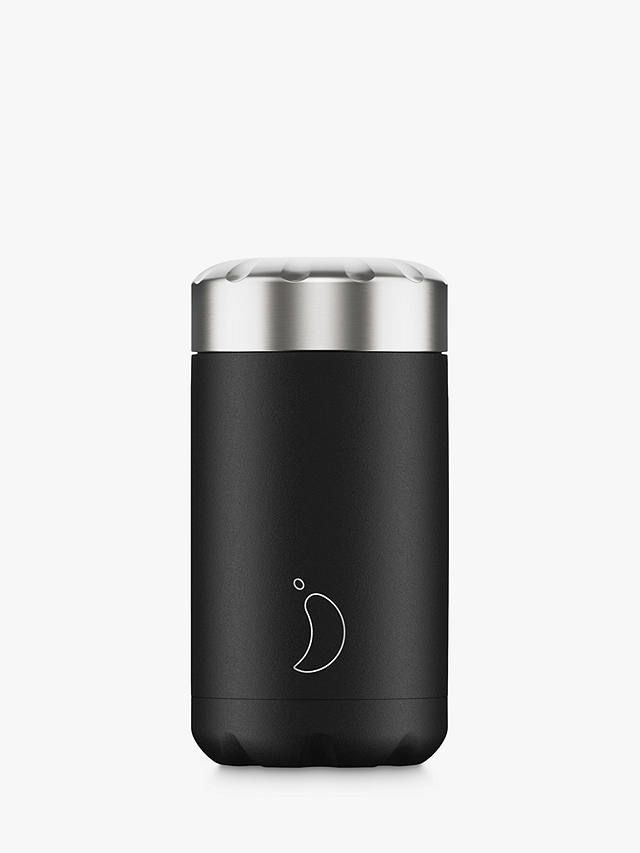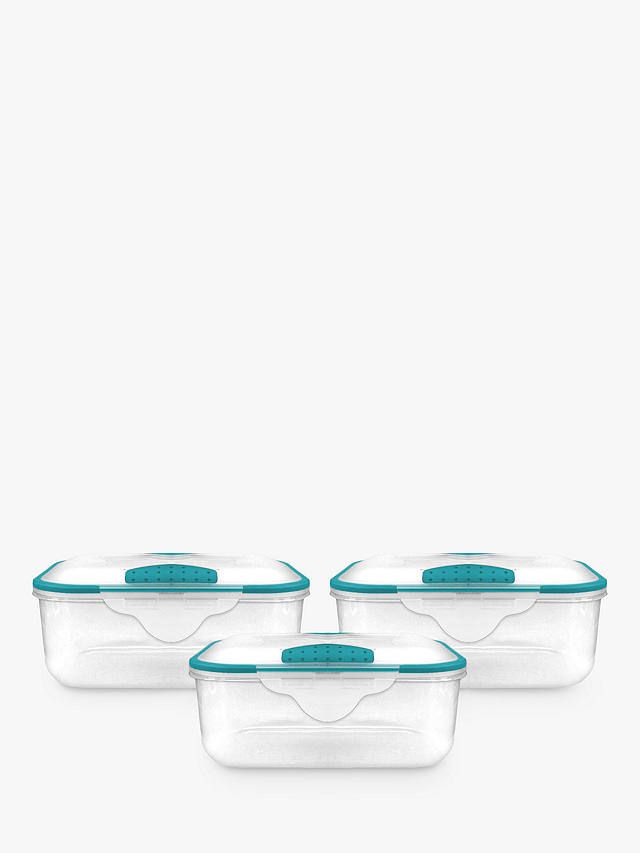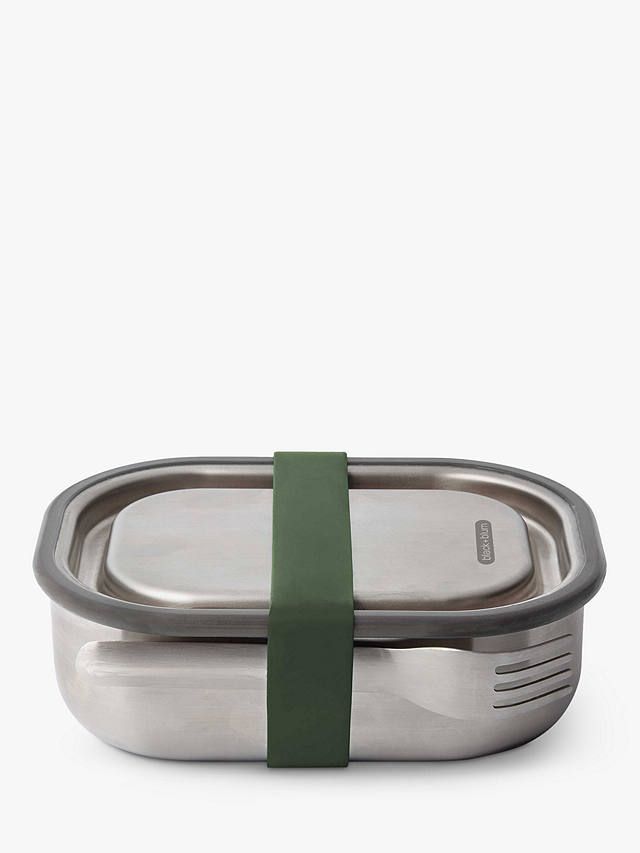 While meat alternatives (looking at you frozen veggie sausages) can be useful, they're often full of added ingredients and best not to be relied on—sliced tofu's a better shout. And a solid rule to follow? Aim for your lunch to be 50% veggies, says Dr Chintal Patel, NHS GP and healthy food blogger (@drchintalskitchen).
Sounds daunting, but this is something you can achieve pretty easily. 'Chucking a generous handful of spinach and frozen peas into your shop-bought soup takes seconds,' she suggests.
Anything else I should know about creating a healthy lunch?
Toppings? Not just for pizza. They present yet another opportunity to add more variety, flavour and nutrients. 'Top salads with a tablespoon of seeds or a drizzle of olive oil and fresh herbs, add some sauerkraut to a sandwich, or a few tablespoons of kefir or yoghurt to a curry or daal,' adds dietitian and gut health specialist Laura Tilt, (@nutritilty).
And how can I look after my gut health, at lunch?
One thing to think about when you prep or buy your lunch is your gut health. 'Having a varied diet is important to ensure you get the nutrients you need,' says Tilt, who adds that you should be shooting for 30 different types of plants a week to encourage diversity in your gut microbes.
And look, while we're not saying that to nail the healthiest lunch brief you need have a full-on Insta-perfect rainbow plate, it's a good shout to help yourself towards your weekly target with your midday meal.
'Whether it's bread, pasta, rice or another grain, opt for wholegrain varieties to get the added fibre, which is great nutrition for your gut microbes and is good for sustaining your blood sugar levels—and, with them, your energy,' adds Tilt.
Purchase pre-cooked grain packets, like Merchant Gourmet, for ease, or cook an extra portion the night before if you don't want to pay a premium.
How do I build the healthiest sandwich?
If you think that sandwiches have no place in the realms of the healthiest lunch options then, well, we're pleased to announce you are way off the mark. Bread—and we will repeat this until we're blue in the face—is not bad. In fact, wholegrain varieties contribute much to a healthy, nutritionally-varied diet.
What can make it hard for sandwiches to hit your healthiest lunch goals is the fact that they're not as easy a vehicle as, say, a salad for getting in tonnes of veg.
If you're having a sarnie, practicalities mean you'll probably need to chop up some veg, kiddie style, on the side, rather than squeezing them between slices.
'Seven cherry tomatoes count as a portion,' notes Tilt. 'As does a 5cm chunk of cucumber and a carrot.'
Is it healthy to buy lunch on the run?
When you're working out of the house, consuming the healthiest lunch possible doesn't come cheap. Pre-pandemic, the average office-working Brit spent an annual £1,580 on lunch*, with Londoners forking out an eye-watering £4,000.
So why were some of us prepared to drop so much hard-earned cash on buying the healthiest lunch we could find? One word: convenience. But it's worth keeping your wits about you, when you try and buy goodness-filled eats, on the go.
'Convenience food labelled as "healthy" often isn't as nutritious as it appears,' says Dr Patel. 'Often, the focus is on calorie content rather than nutrient density. Plus, ready-prepared food can often be high in added sugar and salt —something that's not always obvious from a quick glance at the label.'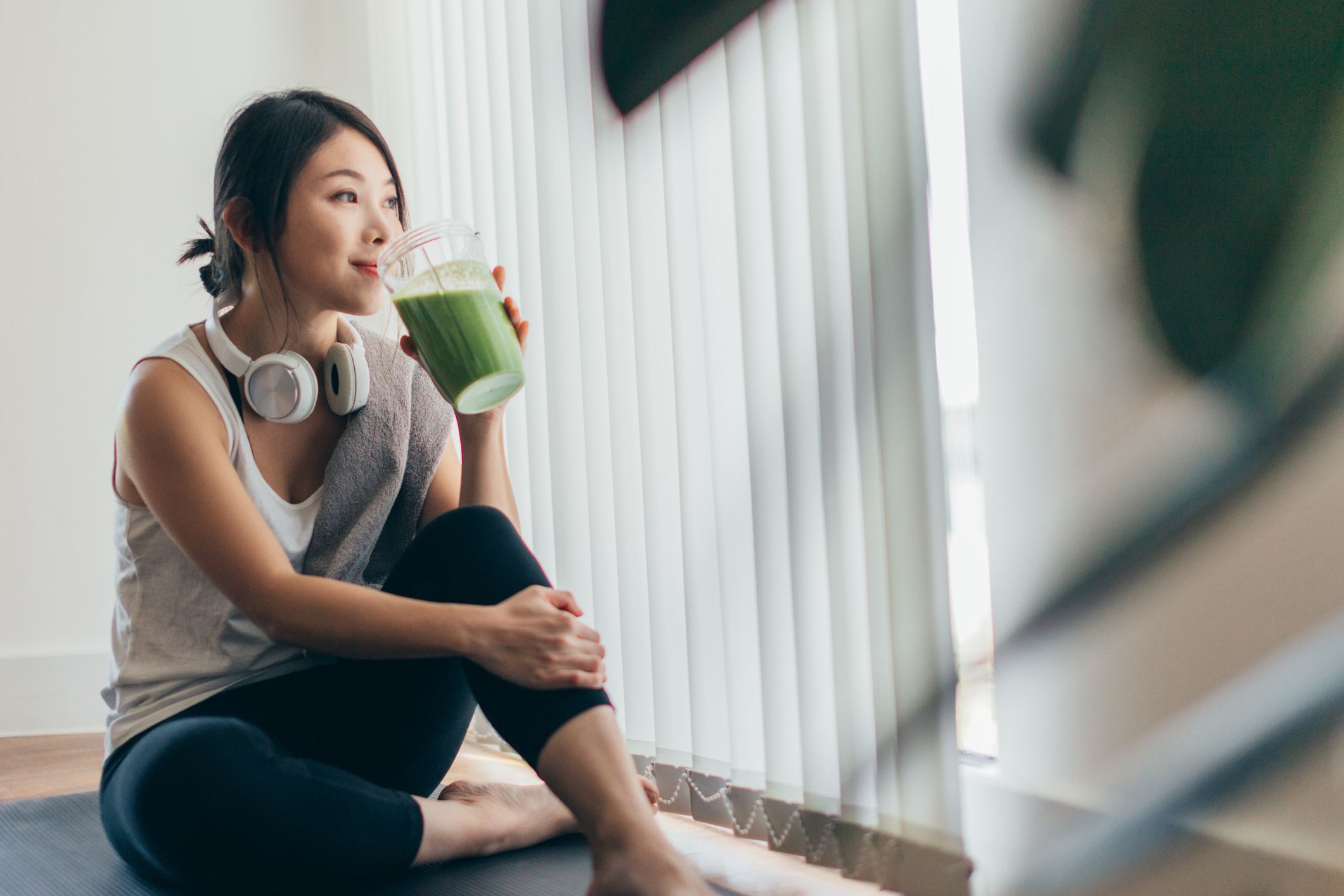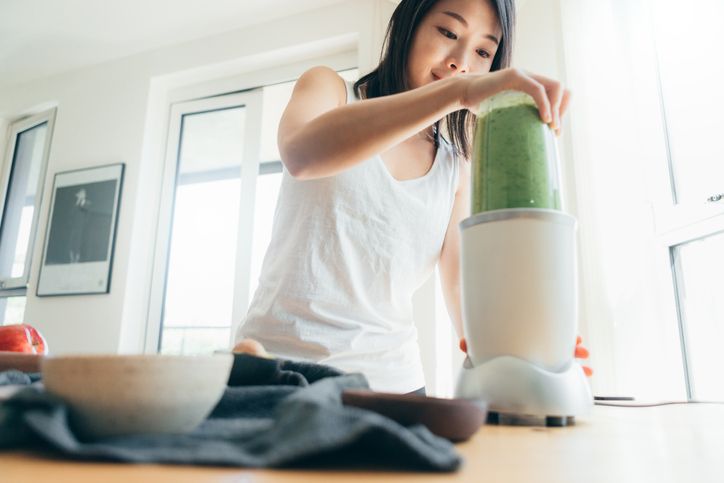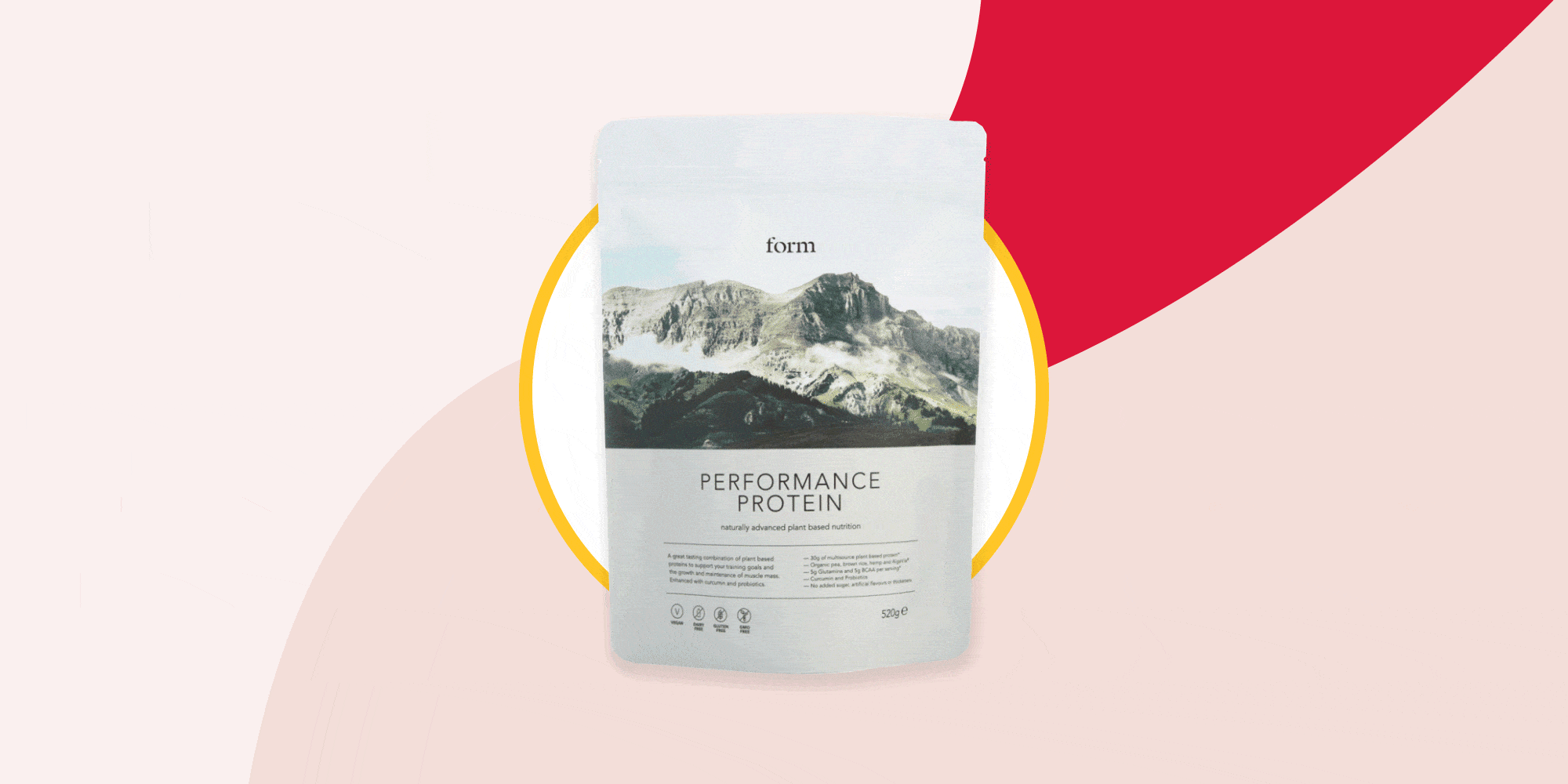 That's not to say that every meal you buy out at 1pm isn't great nutritional news. 'A grab-and-go salad or hot box with grains can give you more diversity in your diet than you might get otherwise, particularly if you're a creature of habit,' says Tilt.
'You might make a chilli with rice at home—but buy a chilli to go and you might get three types of beans, avocado, slaw and yoghurt,' she says, of a strong on-the-go healthiest lunch option. 'And even if you're buying ingredients like edamame beans, olives and kimchi in your weekly shop,' she adds—'chances are, you'll be eating them all week.'
Tips for sprucing up your brown bag lunch at work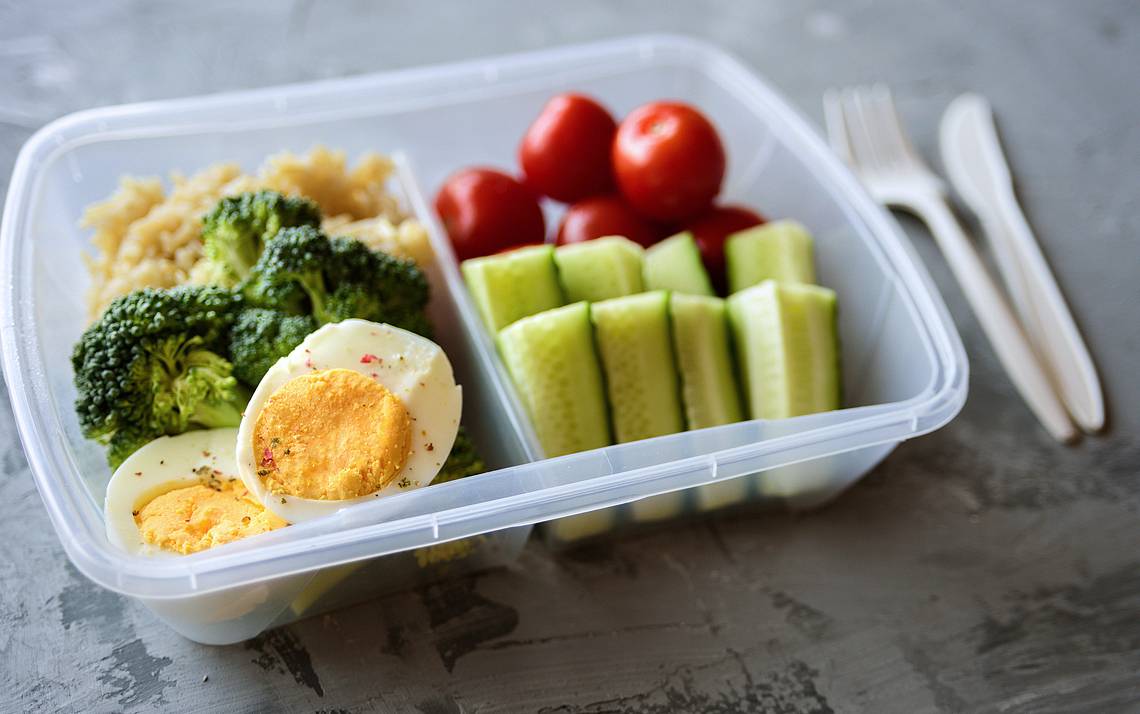 Sunday is meal prep day for Minoka Gunesekera and her boyfriend, Christopher.
The couple spends the afternoon slicing and cooking vegetables and chicken for a stir fry, browning ground turkey for tacos and packing containers of carrots and hummus for snacks.
"Since my boyfriend and I knock out our cooking on Sunday, we don't have to buy something quick and unhealthy if we get busy during the week," said Gunesekera, an admissions recruiter for the Duke Divinity School.
Meet with a Dietitian
LIVE FOR LIFE dietitians can assist you with nutritional guidance for weight loss or weight gain, weight maintenance, general healthy eating, high blood pressure, high cholesterol and diabetes.
Save money and pack in nutrition by preparing your own lunch, said Esther Granville, a registered dietitian and manager of nutrition and health coaching programs for LIVE FOR LIFE, Duke's employee wellness program.
A 2016 study by the Journal of the Academy of Nutrition and Dietetics found that 92 percent of meals from large-chain and local restaurants have more calories than recommended for an average person. Eating out is also linked to increased intake of fat and sodium, according to the Centers for Disease Control and Prevention.
"When you pack your lunch, you have more control over portion size and what ingredients you're choosing to eat," Granville said. "You control how much salt to add, what oils to cook with and how much you're serving yourself."
Pack away these tips to prepare a healthy lunch.
Keep the meal balanced
While the food may differ in Mary Story's lunch every day, the food groups remain the same.
Some days, she includes banana, broccoli, brown rice and chicken. Another day, she has a yogurt with fruit and a mixed greens salad. What matters is she eats a mix of fruits, vegetables, whole grains and lean protein.
"I try to balance different food groups," said Story, professor of Global Health and Community and Family Medicine at Duke and director of Healthy Eating Research, a national program that supports healthy eating among children.
Story bases her meal selection on the U.S. Office of Disease Prevention and Health Promotion's "2015-2020 Dietary Guidelines for Americans." The guidelines recommend half of your meal include fruits and vegetables. The guidelines also suggest eating low-fat or fat-free milk or yogurt, sticking to lean or low-fat proteins like chicken and beans, and making half the grains consumed whole grains.
"Packing your lunch becomes a bit easier when you have guidelines telling you what to do," Story said. "Try making a grain bowl, soup or salad. They are all easy to pack and easy to incorporate most of the food groups you need in a day."
Cook extra for leftovers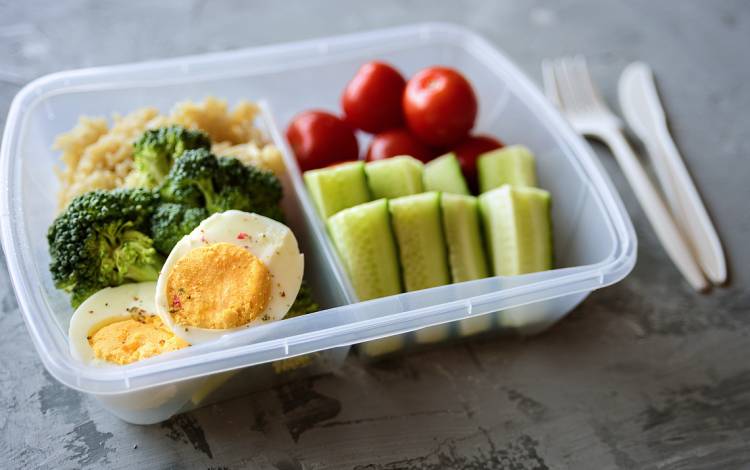 One of Esther Granville's favorite cold-weather recipes is a heaping pot of bean soup.
She mixes kidney and pinto beans, carrots, celery and tomatoes in a crockpot to cook for eight hours. The soup is large enough to serve a family, or in Granville's case, it provides four lunches for the week.
"When I meal prep, I'm not cooking for me but a family of four," she said. "I always try to make extra food to have for meals throughout the week."
Granville recommends doubling recipes for an easy way to stock up on meals.
"You have to think a little bit in advance, but the payoff is worth it," she said. "I reduce the number of nights I have to cook throughout the week."
Include snacks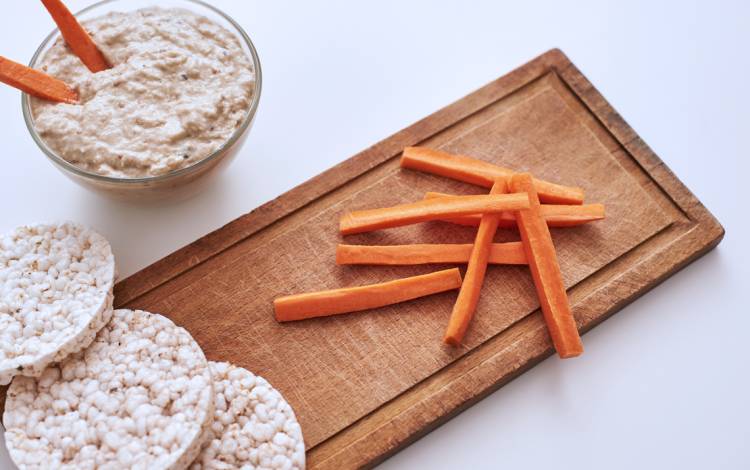 Minoka Gunesekera's relies on snacks when her energy dips around 10 a.m. and 3 p.m.
She typically eats hummus and carrots mid-morning and saves something sweet for the afternoon. Usually, trail mix with a piece of dark chocolate.
"Knowing I have a big sweet tooth I try to have something I really enjoy in the afternoon," she said. "It's a little perk and energy booster to get through the final load of work."
Mary Story said it's fine to snack as long as you keep your caloric intake for the day at the recommended level. The "2015-2020 Dietary Guidelines for Americans" recommends 1,600 to 2,400 calories per day for adult women and 2,000 to 3,000 calories per day for adult men.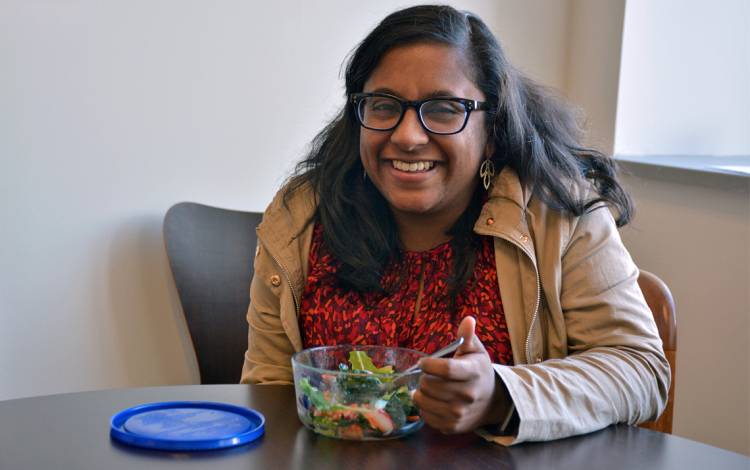 Story advises people to go no longer than four hours without eating. Waiting too long can lead to overeating. Try a snack of apple slices dipped in almond butter, a handful of raw nuts, a half-cup of cottage cheese or hummus with vegetables, or one container of low-fat Greek yogurt.
"For a lot of people 2,000 calories per day looks very different," Story said. "It can be four to five small meals or three large meals. The main point is to do what's best for you."
Do you have a story about your health and fitness efforts? Share it with [email protected]
This article was co-authored by Dee Dine. Dee Dine is a Nutrition and Vegan Food Specialist and the founder of Green Smoothie Gourmet, a blog dedicated to healthy, plant-based vegan, limited ingredient recipes. Dee holds a BS in Biology/Biochemistry with an emphasis in Immunology. Dee has written two books full of healthy plant-based recipes, including chocolate desserts, snacks, juices and, wellness shots. They are: "Crazy Healthy with 4 Ingredients: Dessert, Breakfast & Snack Vegan Recipes" and "4-Ingredient Smoothies and Juices: 100 Easy Nutritious Recipes for Lifelong Health". Dee is an editor with TheFeedFeed, a crowdsourced digital cooking publication, and has been featured on BuzzFeed, Marie Claire, the Academy of Culinary Nutrition, Well + Good, and Hello Glow.
There are 8 references cited in this article, which can be found at the bottom of the page.
This article has been viewed 12,391 times.
Sandwiches are a very popular and quick meal. Whether you're grabbing an egg sandwich for breakfast or a turkey BLT at lunch, sandwiches are convenient, quick, and easy. Unfortunately, not all sandwich breads or fillings are considered healthy. Depending on what combination you choose, your sandwich could end up being high in calories, fat, sugar, sodium, and carbohydrates; however, if you choose lower-calorie, more nutritious breads, wraps and fillings, you can end up with a much more healthy sandwich. Make small changes to your what you currently choose for your sandwiches to make a better meal.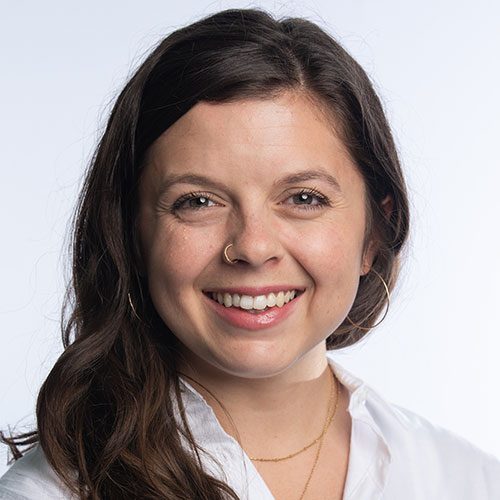 Breakfast may be the "most important meal of the day," but lunch is certainly a huge deal as well. A good, healthy lunch can help keep your energy levels high and prevent you from mindless mid-afternoon snacking later. But what would be considered the healthiest lunches to have? We reached out to a few registered dietitians and asked them their recommendations for the healthiest lunches you can possibly have.
Here are the meals they say are the best-of-the-best, and for more healthy tips, be sure to check out our list of the 100 Easiest Recipes You Can Make.
Salmon with greens
"One of the healthiest lunches you can have is grilled salmon over a colorful salad," says Lisa Young, PhD, RDN, and author of Finally Full, Finally Slim. "Salmon is high in protein which helps you to feel full and rich in heart-healthy omega 3 fatty acids (known as "good fats"). A colorful salad contains an assortment of veggies, which are high in antioxidants, vitamins, and minerals and the different colors ensure that you are getting a mix of different nutrients. I love a blend of romaine lettuce, spinach, carrots, tomatoes, red peppers, and cucumbers."
Tuna melt
"Did you know that seafood is one of the best dietary sources of animal protein? It's packed with vital nutrients, such as heart-healthy omega-3s, and has less saturated fat and cholesterol than other protein options," says Rima Kleiner MS, RD, a Registered and Licensed Dietitian and Nutritionist at Dish on Fish. "Protein may help our brains recognize the hormone leptin, which helps us feel fuller longer and provides energy for our bodies."
An easy way to get seafood into your lunch routine is prepping a tuna melt! This healthy tuna and veggie melt is a filling lunch that's still low in calories but packed with nutrients.
Grain bowls
"I love putting veggies and grain bowl together because you can use up what you've got in the fridge and create endless variations," says Frances Largeman-Roth, RDN. "I like starting with a base of high fiber barley or quinoa and adding whatever colorful veggies I have on hand. This time of year it's probably roasted Brussels sprouts and carrots, plus a bit of kimchee for probiotics and then a packet of tuna for high-quality protein. I like the ones from Bumble Bee because they come in tasty flavors like Thai Chili, they require no prep, and they offer important vitamins and minerals, like vitamin D (so important for winter!), iron, and selenium."
Adult "Lunchables"
"I am a huge fan of packing my lunch like you would your kid's for school," says Amy Goodson, MS, RD, CSSD, LD, and author of The Sports Nutrition Playbook. "One of my go-to's is the 'Adult Lunchable' that includes cheese, whole grain crackers, grapes, turkey, veggie like mini sweet peppers, baby carrots or cherry tomatoes, and some nuts. With fiber, protein, and healthy fat, you will get full faster and stay full longer, plus get tons of nutrients!"
5-food group salad
"So many people get protein and veggies on their salad, but then find themselves sluggish mid-afternoon because they did not get carbohydrates at lunch," says Goodson. "The ultimate salad is one with all the food groups. As a dietitian, one of my favorites is a pan-seared salmon salad with mixed greens, goat cheese, berries, pecans, and a grain like quinoa or farro. The best part of the 5-Food Group salad lunch is that you can mix and match your proteins, cheese, nuts, fruit, and grains to make all kinds of combinations to keep it interesting and flavorful. Including all five food groups will help you feel more satisfied and less likely to go grazing on snack foods a few hours later."
Or try our Warm-Kale Quinoa Salad, which includes all of the food groups Goodson recommends!
Soup & salad
"Soup and salad lunches offer an opportunity to get lots of healthy foods such as veggies, beans, lentils, nuts, and seeds," says MyNetDiary's Registered Dietitian and MS, Brenda Braslow. "These plant-based meals offer loads of protein, vitamins, minerals, antioxidants, and fiber to keep our bodies healthy and immune systems strong."
Try our Veggie-Packed Minestrone Pesto Soup with a simple green salad for lunch!
Egg scramble wrap
"A quick and easy lunch I rely on quite a bit is what I call [the] Egg Scramble Whole Wheat Tortilla Wrap," says Cheryl Mussatto MS, RD, LD of Eat Well To Be Well RD. "Scramble two eggs with black beans along with diced cherry tomatoes and diced avocado. When cooked, place in the whole wheat wrap with a sprinkle of pepper jack cheese topped with fresh salsa and you're done. Protein-packed, fiber-filled, rich in monounsaturated fat, and simply delicious, this keeps me satiated for hours until dinner. I'll also include a side of fruit such as a few apple slices, grapes, or a small pear for a more well-balanced meal and for extra fiber." 6254a4d1642c605c54bf1cab17d50f1e
Try our version with this Fiber-Filled Breakfast Burrito recipe!
Mediterranean-style salad
"Lunch is an important meal of the day. You want to go for, not only what keeps you full, but also what gives you the energy to go about the next five or so hours of school, work, or any other day's activity," says Edie Reads, RD and chief editor at healthadvise.org. "You also want to avoid [processed] carbs. These are unhealthy, will easily lead to weight gain and digestive issues such as constipation, diarrhea, and bloating."
Reads says salads, in particular, are a great choice for lunch.
"Make yours with lots of proteins, and greens," says Reads. "If you want, you can top it up with some dressing. Try out the Mediterranean-style salad."
This Greek Salad Recipe is a great place to start!
Vegetable curry
"Some vegetable curry will also do," says Reads. "it comes packed with lots of vitamins and antioxidants. You'll also feel full for longer and may not need to snack."
Stuffed avocado
Rachel Paul, PhD, RD, CDN, recommends making a stuffed avocado salad for an easy, filling, low-carb lunch idea.
"[To make], slice an avocado in half and take out the pit," says Paul. "Mix a can of tuna with 1/4 cup diced grape tomatoes. Add the tuna to the avocado halves and sprinkle with everything but the bagel seasoning. Have 1 to 2 cups of baby carrots on the side. This meal is full of protein, fat, and high fiber veggies, making it very filling—it will keep you full for hours."
Or try our version with this Light Avocado Crab Salad!
Avocado & egg sandwich
Breakfast sandwiches make for great lunch sandwiches, too!
"It consists of carbohydrates, protein, and sodium that are healthy and also can help in weight loss," says Shannon Henry, RD for EZCare Clinic.
To make this particular sandwich, cook up two eggs. Spread a little bit of butter on your bread and add a slice of Swiss cheese, fried egg, avocado, cheddar cheese, and the remaining bread slice. Grill on the stove for a few minutes on each side until golden brown!
For more lunch ideas, try one of these 73+ Best Healthy Lunch Recipes.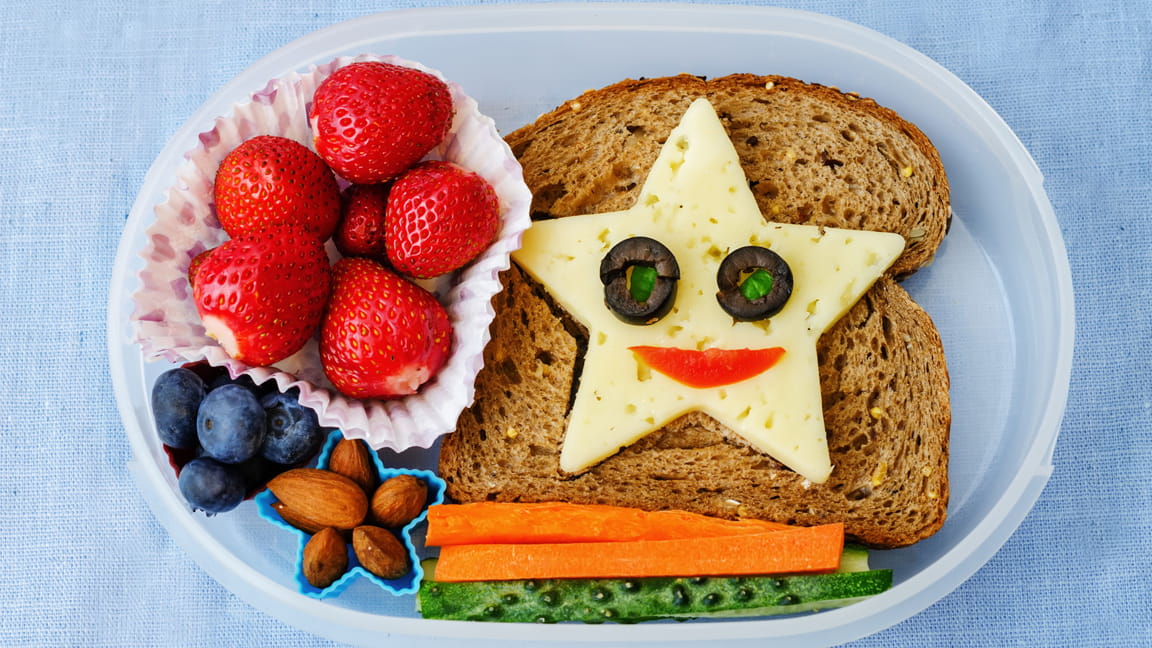 Packing the kids' lunches for school means you know which nutritious foods they are eating. Here are some budget-friendly, creative ideas to keep kids happy and healthy at lunchtime:
Make a Smarter Sandwich
While some kids prefer the same thing every day, others may be OK with a slight switch to their sandwich.
Use different breads like 100% whole-wheat tortilla wraps (choose wraps low in saturated fat and made with no hydrogenated oils) or 100% whole-wheat pita pockets.
In addition to lettuce and tomato, try shredded carrot or zucchini and sliced apple or pear with a turkey sandwich.
Try avocado or hummus as a swap for cheese or mayo.
Try a leftover grilled chicken in your sandwich as a switch for lunch meat.
Love those Leftovers
Think about using the leftovers from a family favorite dinner for a next day lunch. Use a thermos to keep foods hot or cold until the lunch bell rings. Some ideas:
Soup – tomato, vegetable or bean
Chili (vegetarian or made with lean or extra lean ground chicken)
Spaghetti (whole wheat with with tomato, pesto or marinara sauce)
Bean casserole or beans & rice
These foods sometimes have a lot of sodium, so make them homemade with little or no salt, or compare nutrition facts of similar products and choose the ones with less sodium.
Let Them Dunk
Sometimes it's OK to let your kids play with their food, especially when they are getting extra nutrition. Try packing one of these fun dunks with dippers:
Apple and pear slices to dip into low-fat plain yogurt or peanut butter.
Carrot, celery and sweet pepper strips to dip into hummus, fresh salsa or homemade bean dip.
Whole-grain crackers* or slices of grilled tofu (a soybean product) to dunk into soup.
*Choose crackers low in sodium and saturated fat and made without hydrogenated oils.
Get Them Involved
When kids help pack their lunch, they're more likely to eat that lunch! On nights you have a bit more time, like a Sunday night, have them choose which piece of fruit or what type of whole grain bread they want and let them assemble their lunch. Make this a weekly routine – it's another great way to spend family time together.
Last reviewed 9/2015
Written by American Heart Association editorial staff and reviewed by science and medicine advisers. See our editorial policies and staff.
Q: My kids like lunch meat for sandwiches and it's very convenient, so is there a way to pick a healthier lunch meat option?
A: Processed meat, like lunch meat, hot dogs and sausage, are generally considered unhealthy. These types of meat have large amounts of saturated fat and sodium, both of which have been linked to cancer, obesity and heart disease.
Cleveland Clinic is a non-profit academic medical center. Advertising on our site helps support our mission. We do not endorse non-Cleveland Clinic products or services. Policy
But lunch meat is also incredibly convenient and many times kids prefer lunch meat over other types of meat. So if you're searching for a healthier lunch meat option, consider these tips:
Always choose fresh deli meat over prepackaged lunch meat. Deli meat that is sliced fresh off the bone or slab contain natural nitrates and is minimally processed.
Look for a low-sodium deli meat. Fresh deli meat still has sodium because it's used for preservation, so look for options that say low-sodium to help cut down on the salt.
Choose the leanest cut of deli meat possible such as turkey, chicken breast, lean ham or roast beef. These type of deli meat have the highest nutritional value compared to others.
If your only option is prepackaged lunch meat, you'll want to read the food label carefully, specifically the ingredients and what's been added. Look for nitrate-free and low-sodium options and make sure you understand the serving size.
You can also buy a roast, ham or chicken breast and cook it yourself, then slice it off into lunch meat size portions. This helps to ensure you know what's in the meat you're eating.
As our lives are increasingly busy, eating a healthy lunch is not always a priority, but making time for a filling and nutritious meal can pay off both physically and mentally.
Eating in the middle of the workday provides your body with essential fuel and keeps you refreshed, energized and ready to tackle the rest of your day.
Now, if you're ready to give up the quick but unbalanced on-the-go lunches at work, you might be looking for healthy easy lunch ideas. You've come to the right place!
I know how time-consuming finding ideas for healthy make-ahead lunches can be, so I thought I would share some of my favorite recipes with you.
Here is a compilation of 21 healthy packable lunches that are delicious, quick to make, and easier on the wallet than eating out all the time.
Healthy Lunch Bowls

Spicy Chicken Meal-Prep Bowls by 'Primavera Kitchen'
Firecracker Chicken Meal Prep Bowls by 'Sweet Peas & Saffron'
Fish Taco Bowls by 'The Live-In Kitchen'
Meal Prep Burrito Bowls by 'Free Your Fork'

Healthy Cold Lunch Ideas

BLTA Wrap by 'Yummy Healthy Easy'
Roast Vegetable Quinoa Salad by 'Wallflower Kitchen'
Spicy Tuna Wraps with Homemade Chipotle Greek Yogurt Ranch by 'Ambitious Kitchen'
Summer Veggie Pasta Salad by 'Life Made Simple'

Healthy Salads for Lunch

Whole Wheat Greek Pasta Salad by 'Foodie Crush'
Detox Strawberry Chicken Salad by 'Joyful Healthy Eats'
Easy Quinoa Salad by 'Green Healthy Cooking'
Chopped Salad with Chicken by 'Dinner at the Zoo'
Mango and Curried Sweet Potato Salad by 'Loveleaf co'

Healthy Vegetarian Lunch Recipes

Coconut Peanut Veggie Noodles by 'This Healthy Kitchen'
Easy Vegan Mushroom Risotto with Green Peas by Natt Wrobel
Brown Rice Bowl with Lemongrass, Tofu, and Cashews by Emily Han
Mediterranean Baked Sweet Potatoes by 'Minimalist Baker'

Healthy Lunch Sandwiches

Easy Chickpea Salad Sandwich by 'A Couple Cooks'
Loaded Mediterranean Veggie Sandwich by 'Layers of Happiness'
Avocado Grilled Cheese Sandwich with Herbed Goat Cheese and Garlic by 'Well Plated by Erin'
Tuscan Tuna Sandwich by 'Half Baked Harvest'

Wrapping It Up
Healthy Lunch Bowls
Spicy Chicken Meal-Prep Bowls by 'Primavera Kitchen'
Quick overview
Whole30, paleo-friendly, gluten-free hot and spicy roasted chicken with low-carb roasted vegetables.
Why we love it
It's a flavorful dish that's quick and easy to make. The original recipe uses low-carb veggies such as broccoli and cauliflower, making it the perfect keto meal. If you're not doing keto, you can use whatever vegetables you like to reach your nutrition/macro goals.
About the author
'Primavera Kitchen' is run by Olivia, a native Brazilian now living in Canada with her husband and son. She focuses on low-carb, paleo, whole30 dishes that are influenced by her Brazilian roots.
Firecracker Chicken Meal Prep Bowls by 'Sweet Peas & Saffron'
Quick overview
A healthy version of the Chinese takeout staple Firecracker Chicken with rice, edamame, and zucchini.
Why we love it
The sweet and sour chicken tastes absolutely amazing and just like the real thing! Although originally served with zucchini and edamame, it's a versatile dish that can be easily turned into a low-carb, paleo, or vegan meal with just a few simple swaps.
About the author
'Sweet Peas & Saffron' is run by world-traveler Denise who now lives in Calgary, Alberta with her partner and two children. Her site focuses exclusively on meal prepping advice and healthy meal prep recipes.
Fish Taco Bowls by 'The Live-In Kitchen'
Quick overview
A gluten-free dinner or lunch bowl with spicy fish, avocado, fresh bell peppers, and brown rice.
Why we love it
We've never tried spicy fish before, but boy are we glad we did! This dish is super flavorful, and we absolutely love the combination of rice with avocado and fresh vegetables.
About the author
'The Live-In Kitchen' is the creation of Lindsay, a lone vegetarian in a house full of meat eaters. She has been focusing on meatless recipes since 2012, although you can still find several non-vegetarian recipes on the site. Expect to find simple and customizable recipes that can be easily adapted to different dietary needs.
Meal Prep Burrito Bowls by 'Free Your Fork'
Quick overview
A high-protein, fiber-rich burrito bowl with lean turkey, black beans, whole grains, and healthy fats.
Why we love it
It's a healthier, more filling version of the otherwise calorie-loaded take-out favorite that can be easily prepared and stored for all your weekday lunches. And the whole thing takes less than an hour to cook!
About the author
'Free Your Fork' is a wellness site created by Lauren Kenson, Holistic Health Coach. The site has grown to be a great resource for healthy recipes, cooking tips, and healthy living info. Join Lauren's Facebook group if you too are curious and passionate about living well or tune in to her new podcast "Free to Thrive."
Grab a couple of glass food containers, they are freezer, microwave, oven, and dishwasher safe. Very handy for packing lunches!
Need quick and affordable school lunches? We got you covered – here are 5 healthy school lunches ready in 10 minutes or less.
Written by American Heart Association editorial staff and reviewed by science and medicine advisers. See our editorial policies and staff.
Last Reviewed: Feb 3, 2017
Related Articles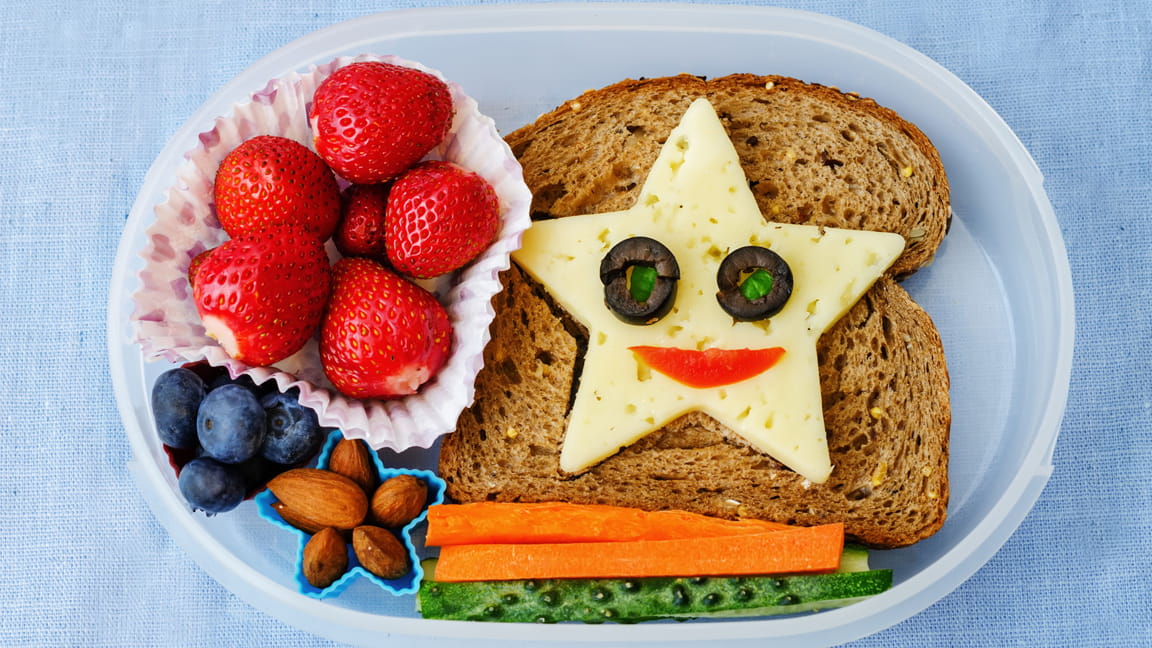 Meal Planning: How to Pack a Healthy School Lunch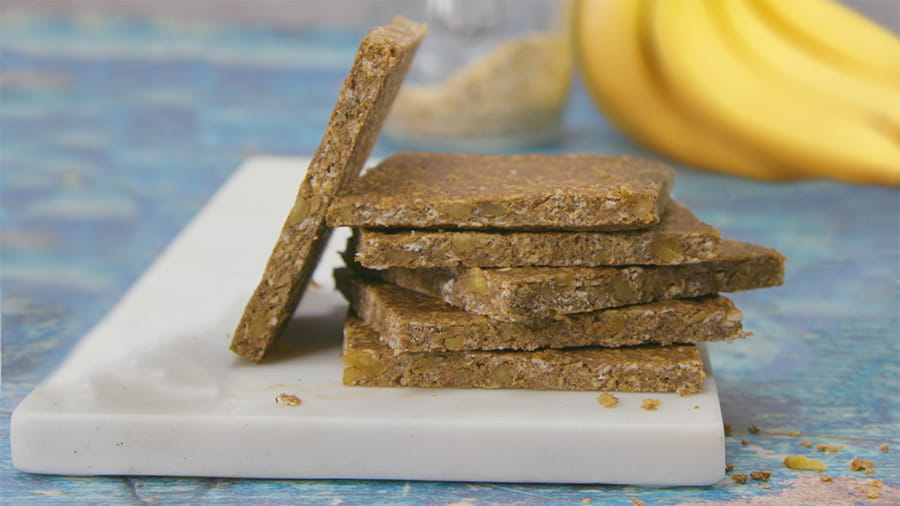 Peanut Butter Banana Protein Bars
Popular Articles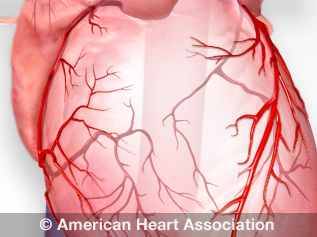 Acute Coronary Syndrome
Heart transplants from donors with hepatitis C may be safe
Kroger Health
Nationally Sponsored by
Eggland's Best
Nationally Supported by
*All health/medical information on this website has been reviewed and approved by the American Heart Association, based on scientific research and American Heart Association guidelines. Find more information on our content editorial process.
Contact Us
National Center
7272 Greenville Ave.
Dallas, TX 75231
Customer Service
1-800-AHA-USA-1
1-800-242-8721
Hours
Monday – Friday: 7 a.m. – 7 p.m. CT
Saturday: 9 a.m. – 5 p.m. CT
Closed on Sundays
Tax Identification Number
13-5613797
About Us
Get Involved
Our Sites
AHA Careers
Privacy Policy
Medical Advice Disclaimer
Copyright Policy
Accessibility Statement
Ethics Policy
Conflict of Interest Policy
Linking Policy
Content Editorial Guidelines
Diversity
Suppliers & Providers
State Fundraising Notices
©2022 American Heart Association, Inc. All rights reserved. Unauthorized use prohibited.
The American Heart Association is a qualified 501(c)(3) tax-exempt organization.
*Red Dress ™ DHHS, Go Red ™ AHA ; National Wear Red Day® is a registered trademark.
Speed Bump
This link is provided for convenience only and is not an endorsement of either the linked-to entity or any product or service.
Our healthy lunch ideas for kids incorporate lots of nutritious ingredients. They're also simple to make and will keep little tummies fuller for longer.
Knowing what to pack in children's lunchboxes can be tricky, especially if they're fussy eaters. However, if you choose fresh and colourful ingredients, chances are that what you make will be more wholesome and appetising.
You don't have to spend too much time prepping either. From crunchy taco salad to pitta pockets, our recipes are easy to make and stuffed full of freshness and flavour. So, ditch the soggy sarnies and try something different.
Find more simple lunches in our kids' cooking collection.
1. Chicken taco salad
It's healthy, it's four of your five-a-day and it's topped with crunchy crushed taco shells. Our chicken taco salad is perfect if you want to get some variety into your child's lunchbox. A smattering of creamy avocado chunks and barbecued chicken upgrades this salad to a next level feast.
2. Pitta pockets
Looking for something to replace sandwiches? Our easy pitta pockets are the answer. Try pairing them with finger food like our crushed pea & mint dip with carrot sticks, or some snackable spiced almonds. These fuss-free pittas can be thrown together in minutes and are an easy low-fat option.
3. Peanut hummus with fruit & veg sticks
Get dipping with our peanut hummus with fruit & veg sticks. This healthy, nutty dip has silky smooth tahini and a pinch of smoked paprika to make your chickpeas pop with flavour. Stir in some whole chickpeas once your hummus is blended for texture. With no cooking involved, this is an ideal midweek lunch for when you're short on time. Fancy trying a different flavour? Discover more easy healthy hummus recipes, ideal for popping into lunchboxes.
4. Mini spinach & cottage cheese frittatas
Our cheesy mini spinach frittatas are easy for little hands to hold, healthy and packed full of all-important greens. It takes just seven ingredients and a muffin tin to bake these marvellous marbled treats. Not a fan of spinach? Try making a batch of mini butternut squash frittatas at the weekend, ready for midweek snacking.
5. Stuffed Moroccan pitta
Hearty chickpea falafels, creamy hummus and crunchy red pepper stuffed into pitta pockets makes a simple veggie lunch the kids will want more of. Use shop-bought hummus and falafels if you need a quick fix. If you want to make your own, try our easy falafel recipe with a quick hummus.
6. Chicken, carrot & avocado rolls
Lunch is all wrapped up with our simple, quick chicken tortilla rolls. Raid the fridge and put together the perfect mix of cheese, chicken and avocado for a midday hunger killer. For a packed lunch, wrap them in cling film and twist them shut to avoid spillage in school bags.
7. Tuna rice salad
Ensure the kids are eating well with rainbow rice salads, designed with easy meal prep in mind – make the rice base in a batch and divide up for the whole family. Our healthy tuna-topped version provides a protein boost and for more grown-up tastebuds, there's a feta and beetroot variation.
8. Turkey & pepper pittas
These snacky turkey pittas served with a dollop of soured cream and soft pieces of avocado make a dreamy lunch. Older kids may be up for a sprinkle of chilli flakes, too, along with peppers for satisfying crunch. If putting in a lunchbox, pack the soured cream in an extra pot so the pittas don't get soggy.
9. Green bean & penne salad
This speedy pasta salad with a healthy tomato and basil dressing counts as three of your five-a-day and is sure to perk up any lunchbox. It's a colourful recipe that blows beige sandwiches out of the water. Top up with rocket and basil for extra greens.
10. Chicken & tzatziki wraps
Give the kids a taste of summer hot off the griddle pan with our chicken & tzatziki wraps. Wrap up your chicken and pepper chunks with a healthy spread of tzatziki and a handful of baby spinach for a filling, picnic-style lunch.
Enjoyed these recipes? Check out more family favourites.
Do you have any tips for getting children to eat their veggies? Leave a comment below.
As many countries urge populations to stay at home, many of us are paying more attention to our diets and how the food we eat can support our health. To help sort out the fact from the fiction, BBC Future is updating some of their most popular nutrition stories from their archive.
Susan Bowerman M.S., R.D., CSSD, CSOWM, FAND – Sr. Director, Worldwide Nutrition Education and Training
Meal plans are essential to any healthy diet, although sometimes it can be hard to know just how to plan balanced meals every day. But don't worry, we've got you.
Herbalife Nutrition dietitians have created easy and effective meal plans that have built-in calorie counts and additional tools to help you plan your meals. They are designed to provide you with the protein your body needs every day to function at its best.
Just follow these simple steps:
Step 1: Meal Plan Selection Tool
No two people are alike, and everyone's protein and calorie needs vary. So how do you know which meal plan is right for you? Start with the Meal Plan Selection Tool. The charts will help you determine the suggested meal plan for you, and your plan is designed to match your individual needs for protein and calories.
The Meal Plan Selection Tool will guide you to the recommended Meal Plan A, B, C or D, based on your gender, weight and height.
You can find your recommended plan using our digital Meal Plan Selection Tool.
Once you know which plan is recommended for you, you'll go to Step 2 to see your suggested plan based on your goals.
Step 2: Meal Plans A, B, C and D
Each meal plan has three options:
Daily nutrition (or weight maintenance)
Weight loss
Weight gain
Choose the option within the plan that best suits your personal goals. You can download the Meal Plan Chart here.
The Meal Plan Chart shows you what a typical day will look like, with recommended meals, snacks and shakes to choose from each day. Meal Plans are created by choosing items from the following categories:
Balanced Meals (25 grams protein, 400 calories or 40 grams protein, 600 calories)
Protein Snacks (10-30 grams protein, 150-300 calories)
Herbalife Nutrition Formula 1 Shakes (20-30 g protein, 250-300 calories)
Daily Nutrition (Weight Maintenance)
When coupled with an appropriate exercise program, this option replaces one meal per day (typically breakfast) with a shake.
Weight Loss
This option promotes weight and fat loss when coupled with an appropriate exercise program and replaces two meals per day (typically lunch and dinner) with a shake.
Weight Gain
Using this option, get more protein and calories by supplementing a healthy diet with up to three Herbalife Nutrition Formula 1 shakes per day. When coupled with an appropriate exercise program, gain healthy weight (as lean body mass).
Step 3: Meal Builder Tool
The Meal Builder tool is a simple, step-by-step approach to putting together healthy meals. Meals are made up of foods from five categories: Protein, Vegetables, Healthy Carbohydrates, Healthy Fats, and Seasonings.
Depending on your Meal Plan, you will create meals that have either approximately 25 grams of protein and 400 calories, or 40 grams of protein and 600 calories. Using the Meal Builder, you can select the exact foods you need to create your healthy, balanced meals.
There are two Meal Builders: one that incorporates meat and one that is vegetarian. Choose the meal builder that works for you.
Choose the column that corresponds to the meal you are going to build (25 grams of protein and 400 calories, or 40 grams of protein and 600 calories)
Select the amounts of food that are listed in each food group and combine items in a variety of ways to create healthy, balanced meals.
You can find the Meal Builder tools here:
An Example Meal Plan: 1500 Calories
If you're looking for inspiration, here is an example of a 1500 Calorie Weight Loss Plan (Plan C, Weight Loss option).
The meal plan calls for the following:
Breakfast: Herbalife Nutrition Formula 1 Shake (about 30g Protein, 300 calories)
Mid-morning Snack: about 10g Protein, 150 Calories
Lunch: Herbalife Nutrition Formula 1 Shake (about 30g Protein, 300 calories)
Mid-afternoon Snack: about 10g Protein, 150 Calories
Dinner: about 40g Protein, 600 Calories
Using the tools to help you plan, here is what a typical day might look like:
Breakfast: Green Dream Kiwi Protein Shake
2 scoops Herbalife Nutrition Formula 1 Shake Mix, French Vanilla
2 scoops Herbalife Nutrition Protein Drink Mix, Vanilla
1 cup water
1 ripe kiwifruit, peeled and coarsely chopped
1 handful baby spinach leaves
½ cup mango chunks
4-6 fresh mint leaves or ½ tsp dried mint
3-5 ice cubes
Combine ingredients in a blender and mix well.
Calories: 300
Protein: 27 grams
Mid-Morning Snack: Herbalife Nutrition Protein Bar Deluxe, Citrus Lemon
Calories: 140
Protein: 10g
Lunch: Banana Bonbon Chiller Protein Shake
2 scoops Herbalife Nutrition Formula 1 Shake Mix, Dutch Chocolate
2 tbsp Herbalife Nutrition Personalized Protein Powder
1 cup non-fat milk
1 banana
3-5 ice cubes
Combine ingredients in a blender and mix well.
Calories: 330
Protein: 28g
Mid-Afternoon Snack: (See alternative snack ideas)
2 ounces sliced turkey breast
4 medium-sized whole grain crackers
Calories: 145
Protein: 18 grams
Dinner (Non-Vegetarian): Southwest Grilled Chicken Salad
5 ounces grilled chicken breast (Protein)
2 cups grilled onions and peppers (Cooked Vegetable)
½ cup black beans (Healthy Carbohydrate)
½ small avocado (Healthy Fat)
Prepared salsa (Seasoning)
mixed greens, any amount (Raw Vegetable)
2 corn tortillas (Healthy Carbohydrate)
Toss all ingredients together in a large salad bowl and enjoy!
Calories: about 600
Protein: about 40 grams
Free Resources to Help You Achieve a Healthy Weight
When you have the right resources, it's so much easier to achieve your weight management goals. Get started now and enjoy all of the benefits of improving your wellness.
Download our free meal plan selector today and visit our Recipe page to explore creative ways you can use Herbalife Nutrition products, as well as recipes for healthy meal items and snacks.
Susan Bowerman M.S., R.D., CSSD, CSOWM, FAND – Sr. Director, Worldwide Nutrition Education and Training
Susan Bowerman is the senior director of Worldwide Nutrition Education and Training at Herbalife Nutrition. She also serves as a chairwoman of the Dietetic Advisory Board (DAB). As a registered dietitian, she educates distributors about our global nutrition philosophy and is responsible for developing nutrition education and training materials.
Published on July 9, 2021
We love making Homemade Lunchables! We love that they are healthy and easy to make! My kids love taking lunchables to school or when we are heading on a long road trip.
Healthy Lunchables
What is it about finger foods in a box? I don't know, but I know my kids would probably take a lunchable over packed lunches every day.
My kids would rather bring their lunch than eat the school lunch. It seems crazy to me, but it is what it is. However, I want to feed my kids a healthy lunchable. That is why we love the homemade version.
What I love is that I know that I can send my kids off to school with a healthy lunch! Plus, I love that I can make them based on what each kid preferences. I know that one of my kids do not like cheese and one likes turkey over ham.
Each lunchable is customizable for everyone!
Products you need:
We love these easy lunchboxes or some people refer to them as bento box. We have used a cheaper version in the past, but I have switched to the name brand easy lunchboxes. They do a much better job and they last a lot longer. It is worth the few extra dollars for the name brand.
I also love to use the rectangle silicone cupcake molds to separate food in the later containers. They are great to hold treats and other items that you don't want to "touch". I used 3 of them to keep my food separate into separate containers just like a store bought lunchable.
Use a formula for Homemade lunchables:
If you have never made homemade lunchables before, you may be surprised at how easy they are to throw together. We use a very simple formula. I just make sure my kids have (2) proteins, (1) carb, (1 or 2) fruits or veggies and a drink. I also add in a small dessert.
We like using an assembly line to make these Homemade Lunchables. As you know I have a large family, so I just set everything out and everyone can assemble their own lunchable.
I check to make sure everyone has a complete box and then we put the lid on and off they go!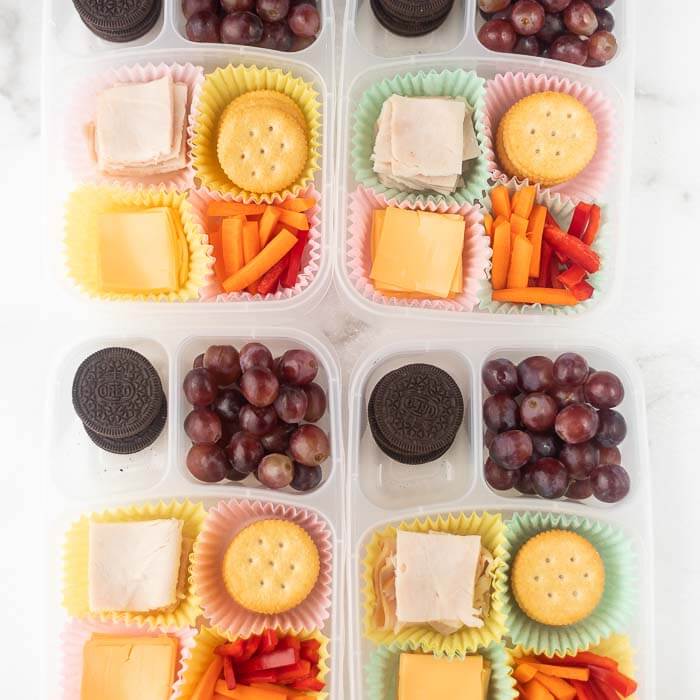 Are Lunchables Healthy?
Yes! That is why I love Homemade Lunchables. I find that my kids prefer homemade lunchables over the store bought ones. They also eat more of a balance lunch as they can add what they like in their lunchable.
When I finally started making them at home, I discovered how much time and money it saved me. I found that we always have items on hand that we can put together to make the lunchable healthy and easy to make!
Variation Ideas:
If you are not sure what to put in your lunchables, simply start by looking in your fridge. What food do you already have? What do you have that you know your kids like?
If you are completely stuck, here are some examples of different foods I have used. I always try and make sure they have meat and cheese.
Protein (choose two):
pepperoni
turkey breast
ham
salami
bologna
cheese (all varieties)
chicken nuggets
hot dog
boiled egg
Carbohydrate (choose one):
crackers (my kids like wheat thins, saltines and club crackers)
pitas
bread or buns
pretzels
chips
Fruit and Veggies (choose two):
grapes
apples
oranges (my kids prefer clementines)
strawberries
bananas
carrots
broccoli
cauliflower
grape tomatoes
Extras:
If your lunchable needs a little extra, don't forget the dips or sauces. Here are some ideas:
mustard
BBQ Sauce (my kids love our homemade one)
ketchup
mustard
ranch
pizza sauce (way cheaper to make it yourself)
Desserts:
My kids love homemade desserts the best, so I try to put a homemade goodie in their lunch most days. Here are some of their favorites:
Have the kids make their own Healthy Lunchables:
Since this is such an easy lunch idea, the kids can make them! You can easily print out the list of items to make their own and they can pick from each list to make their own approved lunchable. These homemade lunchables are kid friendly too.
My kids love making these! They can't complain about what is in their lunch when they making their own! It is also great to include in your lunch meal plans for the kids during the week. We love making healthy recipes part of our meal plan and they love making their own protein and crackers lunch combinations!
How to make DIY Lunchables:
Now that I got you started, I am sure you can probably think of a bunch of different proteins, carbs and fruits & veggies that your kids like.
Just in case you are still struggling with how to put it all together, here are a few homemade lunchables ideas for you:
pepperoni, cheese, pitas and grapes
Turkey Lunchable – turkey and cheese, crackers (ritz) and carrots
Ham Lunchable – ham, cheese and crackers and apple slices
chicken nuggets, pretzels and orange slices
hot dogs, mini buns and grape tomatoes
The possibilities are endless! Start here and then figure out what your kids like the best. Mix and match their favorites and you'll make their day with a lunchable they will love!
They may even get their friends to ask their parents to start making homemade lunchables for them.
Make them Ahead of Time!
I hope you feel like you know how to make healthy lunchables for your kids' lunches. If you are short on time in the morning, lunchables are very easy to make ahead of time.
There is not much I like better then going to bed knowing my kids' lunches are already made and ready to go for the next day.
Do you already make your own homemade lunchables? What are your favorite things to add? How do you make them a healthier alternative to the store bought lunchables?
If you're looking for new healthy lunch ideas, you're in the right place. These 50+ lunch recipes are fun, filling, and good for you, too!
Good healthy lunch ideas are like gold. In the middle of a busy work day, lunch is the longest break I take. It's a time to reset, to relax, and to re-energize to tackle the tasks that lie ahead. Great healthy lunch recipes are ones that I can make ahead of time and that will keep me full and focused throughout the afternoon. But the best healthy lunch ideas taste great, too! They add something fun and flavorful to the middle of the work day, making my mid-day break extra-refreshing and worth looking forward to.
Below, you'll find my top healthy lunch ideas, tricks, and tips, plus a slew of delicious healthy lunch recipes. Whether you're new to packing lunch or are a seasoned pro looking for new easy lunch ideas, I hope you find something you love!
Sandwich, Wrap & Roll Healthy Lunch Ideas
If you want to go beyond your usual PB&J or chicken salad sandwich, try one of the sandwiches or wraps below! To make these healthy lunch recipes ahead of time, meal prep the filling over the weekend. Then, assemble and pack your sandwich each morning before you head out the door.
Say hello to the ULTIMATE desk lunch! This crispy baked falafel keeps well for up to 4 days in the fridge, so it's perfect for prepping ahead of time. Stuff it into pita with pickled onions, hummus, fresh veggies, and herbs, and it'll be the envy of the office at lunchtime.
This extra-fresh egg salad is briny, bright, and loaded with herbs. For a delicious vegan variation, use diced tofu in place of the egg!
I love to make these spring rolls when I'm craving something fresh and light, but totally fun! I stuff them with gooey peanut noodles, avocado, and sautéed mushrooms. Pack extra peanut sauce on the side for dipping!
These chickpea salad sandwiches are my vegan riff on a pan bagnat! A briny chickpea salad steps in for the tuna. Then, I finish them off with green beans, radishes, cucumbers, olives, and fresh basil.
Salad & Bowl Healthy Lunch Recipes
If there's one category of healthy lunch ideas that I turn to most often, it's salads and bowls. These flexible recipes are easy ways to pack in a serving of veggies in the middle of the day, and mix-ins like dried fruit, herbs, nuts, and cheese make them flavorful and fun to eat!
Even if you're someone who's concerned about getting enough protein at lunchtime, salads can be great healthy lunch ideas for you. Bulk up any salad with black beans, lentils, chickpeas, tofu, or tempeh!
There's more to this chickpea salad than meets the eye! Medjool dates and a cumin-spiced dressing give it a surprising sweet, aromatic flavor.
One of my go-to healthy lunch ideas! This recipe calls for radishes and steamed snap peas, but the tangy sesame-ginger dressing will make any seasonal veggies pop.
Smoky roasted nuts take the place of bacon in this lighter version of classic broccoli salad. The flavors improve as it sits, so it's a great recipe for making ahead and taking on the go.
Studded with feta cheese, chickpeas, herbs, and veggies, this easy pasta salad is fresh and fun to eat! Its zippy lemon dressing is tangy and delicious – I love it on green salads and roasted veggies, too!
Nothing beats a buddha bowl when it comes to combining flavor, nutrition, and simplicity. This one is a punchy combination of steamed veggies, brown rice, beans, sauerkraut, and a vibrant turmeric tahini dressing.
Re-heatable Soup Lunch Recipes
When it's cold outside, I want to eat soup all the time, and lunch is no exception. Make a big batch of soup for dinner, and save the leftovers for easy lunch ideas down the road. Most soups keep in the fridge for up to 4 days or in the freezer for up to a month.
To make lighter soups into a heartier meal, pair them with good crusty bread or avocado toast. To pack avocado and take it on the go, store it in a ziplock bag with a wedge of lemon and an onion slice to keep it from browning.
Make this versatile vegetable soup with whatever veggies you have in the fridge. Try using butternut squash instead of sweet potato or adding spinach, bell peppers, or broccoli. No matter what, it'll come out great.
You'd never guess that this rich potato soup is totally dairy-free. In fact, it's a creamy, nourishing blend of white beans and potatoes that's hearty enough to be a meal on its own!
If you're looking for healthy lunch ideas that will improve throughout the week, this lentil soup is for you. To make leftovers extra delicious, brighten them up with a big squeeze of lime juice.
One of my favorite recipes from our first cookbook, this creamy vegan soup is a blend of roasted red peppers, carrots, fennel, onion, and white beans. It gets a punch of tangy flavor from balsamic vinegar, and it tastes even better on the second or third day!
Build Your Own Bowl Healthy Lunch Ideas
All the lunch recipes above are delicious, but some of my favorite work lunches have come from mixing and matching components I've had on hand in the fridge. Try skipping a recipe altogether, and meal prep one (or more) item from each of the categories below. Then, combine them to make delicious DIY grain bowls throughout the week!
Grains
Cook a big batch of grains on the weekend, and add them to salads and bowls all week long! If I'm craving a lighter lunch, I'll meal prep a veggie "grain," like zucchini noodles or cauliflower rice, instead.
A Vegetable!
Choose one roasted, raw, or steamed veggie, or use a mix! Here are a few of my favorites:
Proteins
This category is key for making hearty lunches that will keep you full till dinnertime. Meal prep one of the proteins below, or pack hard-boiled eggs or your favorite type of beans.
Sauces
A good sauce can transform a humble mix of veggies and grains into an A+ desk lunch! I like to store sauce in a separate container and drizzle it over the other components when it's time to eat.
Cilantro Lime Dressing
Peanut Sauce
Tahini Sauce
Chipotle Sauce
Tzatziki
Basil Pesto
Caesar Dressing
Baba Ganoush
Hummus
Cashew Cream
For more healthy lunch ideas, check out this meal prep guide!
14 January 2020
About half of primary school children in the UK have a packed lunch.
But unlike school dinners, there are no official rules about what should be in them to make them nutritious.
And a new study from Leeds University found 98 in every 100 packed lunches eaten by children at primary school failed to meet nutritional standards.
Some schools set their own standards and even inspect lunchboxes and remove "contraband" unhealthy foods such as sausage rolls.
And one academy, in Norwich, recently suggested scrapping packed lunches for infants entirely to get more pupils eating their healthy school meals.
So what does a healthy packed lunch look like?
The sandwich
Experts say the "main event" should be something filling, such as bread, rice, pasta or potatoes. Choose wholegrain where you can.
When it comes to the filling of a sandwich, wrap or bagel, always add salad if you can because it will count towards your child's recommended five a day of fresh fruit and veg.
The study, published in BMJ Open, which looked at how healthy children's packed lunches were, in 2006 and again in 2016, found the most popular filling was ham, followed by cheese, chicken, tuna and then a chocolate nut spread or jam.
Veg, such as sweetcorn and carrots, rarely featured although experts say these would be good, healthy fillings to give children, along with hummus or coleslaw, especially as an alternative to sugary jam or chocolate spread.
Try to avoid using lots of mayonnaise, butter and spread – a little bit can go a long way.
Reduced-fat alternatives are available for many spreads and cheese.
Lunchbox recipes and ideas
Fifteen easy and nutritious lunchbox ideas
Vegan lunchbox recipes
The snack
The study found while the amount of sugar in packed lunches was declining overall, many still contained foods too high in sugar, salt or fat.
Most lunchboxes in the surveys of nearly 1,500 children contained crisps or other savoury snacks, while about one in three included a chocolate biscuit.
To make lunches healthier, choose:
malt loaf, fruited teacakes, fruit breads or fruit instead of cakes, chocolate, cereal bars and biscuits
plain rice cakes or popcorn instead of crisps
low-sugar yoghurt or fromage frais or a pot of sugar-free jelly instead of full-sugar ones
Extra fruit and veg
Try chopped apple, peeled satsuma segments or melon slices to make it easier for young children to eat and enjoy. A squeeze of lemon juice can stop the fruit going brown.
Cherry tomatoes, peppers and celery also count.
The drink
Water is the obvious choice but milk or unsweetened (no added sugar) fruit juice is also good.
Other expert tips
Study author Dr Charlotte Evans said getting children involved in shopping for and preparing packed lunches could help with educating them about making healthy choices.
"Changing behaviour is very difficult," she said. "We know that. And we do need the food industry to help by making the choices that are available healthier.
"But involving children and getting them engaged with food choices from a young age is important.
"Encouraging a child to go to the shops with you and buy a pepper, then go home and slice some off and put it into their lunchbox would be great.
"It's about making it feel normal to have vegetables."
Loughborough University's Dr Emma Haycraft has studied the psychology of getting kids to eat more veg.
She said: "Research has shown that children need to be exposed to foods a number of times before they learn to like them. So it's important that foods are offered in lunchboxes on multiple times.
"These can be small portions initially, to minimise waste, but this will allow children time to become familiar with foods that they might not be used to eating."
More on this story
Some people 'genetically wired' to avoid veg
Published: Sep 7, 2020 by Terri Gilson · Modified: Sep 3, 2021 · As an Amazon Associate I earn from qualifying purchases. This post may contain affiliate links · 10 Comments
Sharing is caring!
Share
Tweet
Pin
Reddit
Yummly
Mix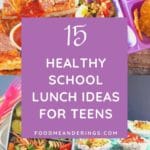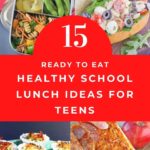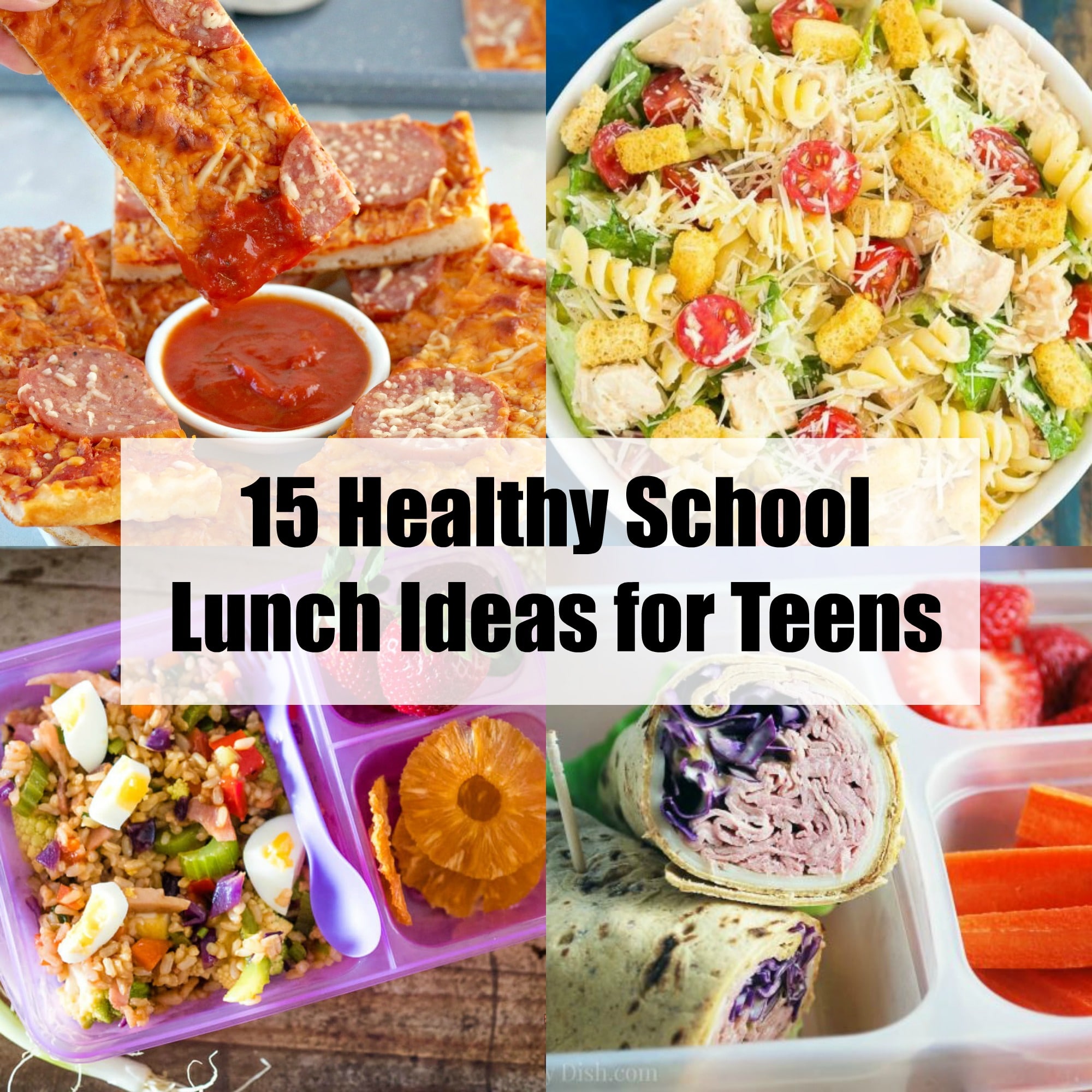 Given the current state, heating up lunches at my kids' schools is not an option. My kids are not only designated to certain floors, bathrooms and stairwells this year, they no longer have access to a microwave. Unfortunately for me, I've always relied on frozen meals (A LOT more than I'd like to admit) and other lunch ideas for teens that require reheating. And for some weird reason, my kids refuse to use a thermos these days- I guess it's no longer "cool."
S**t just got real!
So. I find myself scrambling to ensure we have lots of ideas for cold lunches and trying to decide what to make for lunches that they'll like, that are healthy, I can eat myself, don't require reheating and won't take a ton of time ! If you find yourself in the same boat, you'll love these ready to eat school lunch ideas for teens.
When I look back at what I ate for lunch as a teenager, that's when I get concerned. Let's just say I ate more fries and gravy at the cafeteria than any person should have. However, the school cafeterias and canteens probably won't be open this year, so at least I get a bit of a reprieve on that. And fortunately, all the years we nagged our kids (aka tried to instill healthy eating habits in them) seem to be paying off. My teenagers are both pretty health conscious now and like the idea of eating healthier versions of the junkier foods they love! So without further adieu. here are a collection of delicious school lunch ideas!
Need a new lunchbox? My Amazon Recommendations (affiliate links)
Not only will teens love these healthy school lunch ideas, so will parents!
Reader Interactions
Comments
September 22, 2020 at 6:10 pm
Haha, mind if I make some of these delicious recipes for myself? I mean, I act like a teenager sometimes.
It is SO HARD to get those teenagers to bring food to school, or wear a jacket in the winter, or do homework.
September 27, 2020 at 6:50 am
Of course hahah- I eat them all too! Oh and those teenagers definitely do push all those buttons, Bernice!
September 22, 2020 at 9:48 pm
So many great ideas! It's always a challenge to keep things interesting.
September 27, 2020 at 6:49 am
Thanks, Vanessa! Yes, we're trying to switch it up so they don't get bored.
September 27, 2020 at 8:33 pm
Ooooh nevermind for teenagers, I'm taking some of these great ideas for my toddler – muffin tin sushi cups, omg she's going to LOVE them!
September 27, 2020 at 11:13 pm
I don't have any teens at home but these lunch ideas look great for all ages. 😊 Especially that cute mandarin bento box.
Nicoletta De Angelis Nardelli
September 28, 2020 at 10:19 am
Such great recipes, here! We don't have any teens at home, but I would make some lunch for myself or for Loreto to bring to work! 🙂
Cindy Mom, the Lunch Lady
September 28, 2020 at 10:32 am
Thank you so much for some new ideas. My two, 1 preteen and one teenager, are distance learning and driving me crazy saying there's nothing good to eat in the house. Hopefully they'll appreciate some of these new lunch ideas!
December 12, 2021 at 7:07 pm
Wow I don't have a teen, but I do have a kid. She LOVES tacos. If she opens her lunchbox and there is a taco bowl in there she would freak out! Thanks for all of the great ideas.
December 12, 2021 at 8:05 pm
I'm so glad you found something your kiddo will LOVE!
Including 20+ fresh new ways to enjoy salad, and expert tips for turning leftovers into an entirely new meal.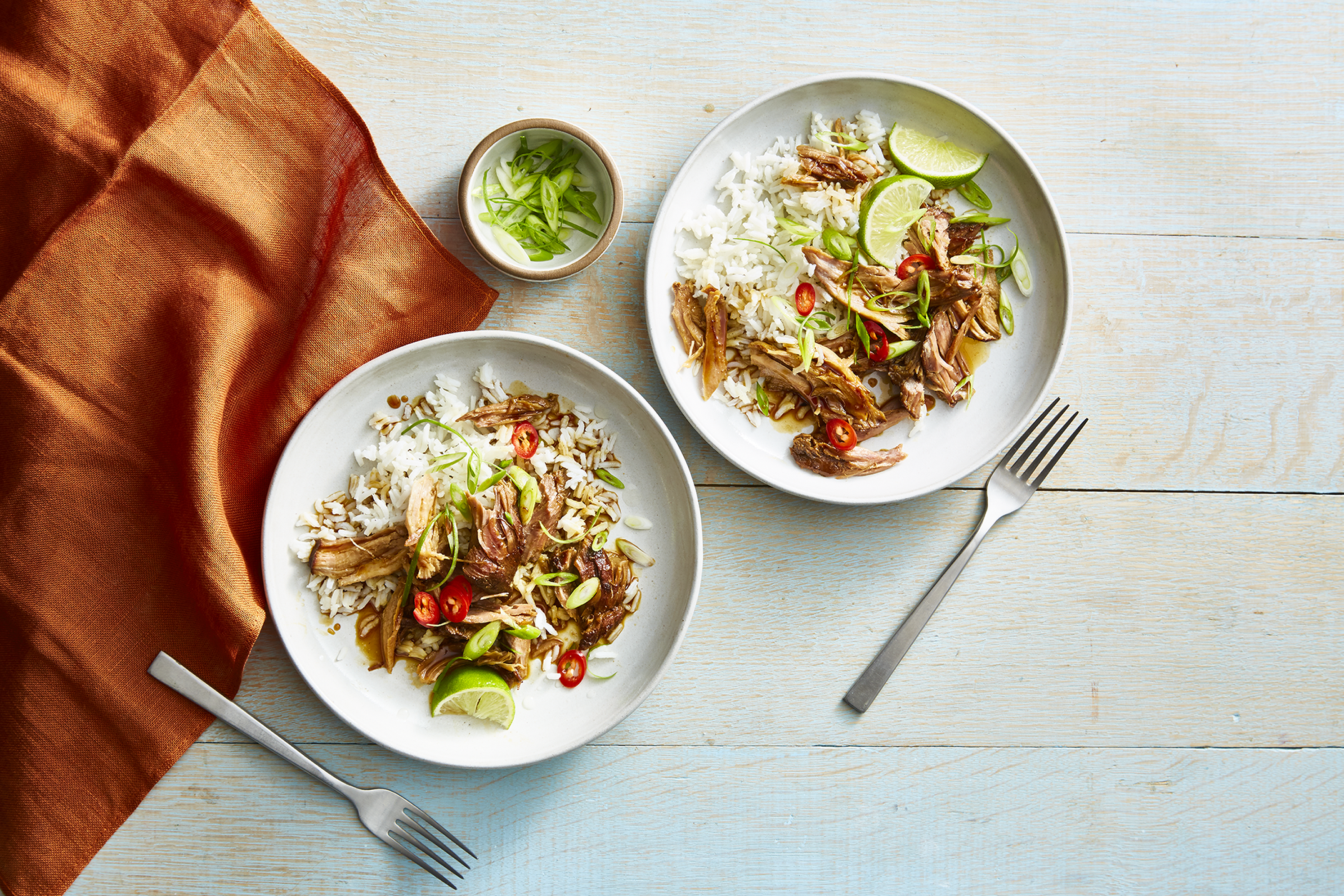 A healthy lunch doesn't need to be a salad, as inspiration can definitely revolutionize any bowl of lettuce, sandwiches, grain bowls or pasta mixes you may already love. These crazy delicious soup, sandwich and pasta recipes are proof that health-friendly lunches are much more than just a bed of greens. Not only are these lunches effortless, they're also super quick — you can throw them together in a few spare minutes in the morning, or set aside a little bit of meal prep time the night before. Many of our favorite healthy lunch ideas are make-ahead friendly or reinvent leftovers you may have in the fridge already.
The heartiest items on our lunch menus are chock-full of lean protein, which can help you feel satisfied all the way up until dinner. Think staples like chicken and salmon, rich dairy sources including cottage cheese and yogurt, and nutrient-packed add-ons like seeds (i.e. sunflower seeds!) and legumes. And don't be surprised if you see a lot of ingredients with lots of fiber, like avocado and chickpeas, as they're low in calories and also aid in helping you feel wholly satisfied.
These easy-to-prep recipes are also seriously affordable, which means you'll have more money to spend when the weekend rolls around. Of course, healthy eating doesn't stop at noon: Start your day off with a healthy breakfast recipe and then keep it going with one of these low-calorie dinners.
Successfully making a quick and healthy lunch that doesn't come out of a greasy takeout bag is all about thinking ahead. If you keep healthy proteins in the fridge, like a rotisserie chicken, your favorite cheeses, eggs, and low-sodium lunch meats, the options for a meal you can whip up in no time are pretty endless.
Although, it's also important to stock your pantry with other ingredients that lend themselves to a fast midday meal. You'll need canned beans, quick-cooking rice, and your favorite spices. In the freezer, stock your favorite frozen veggie combos and some specialty items like frozen udon noodles. This way, you'll have everything you need to throw together all of these quick healthy lunch recipes.
The swift and delicious lunch recipes that follow don't require full-on meal prep. Instead, all of these meals can be made on the fly or prepped before you head out the door. Plus, if you're super short on time, don't miss 20+ Healthy Mug Recipes You Can Make in 5 Minutes (Or Less!)
Open-Face Hot Ham and Cheese with Chipotle Mayo
Skip the fast-food McGriddle that's grease-filled and loaded with processed ingredients. Instead, make a quick sammie with one sunny-side-up egg, two pieces of all-natural bacon (or ham), and a slice of cheese. Leave off the top of the sandwich to cut back on the starchy carbs and keep you away from that overstuffed feeling.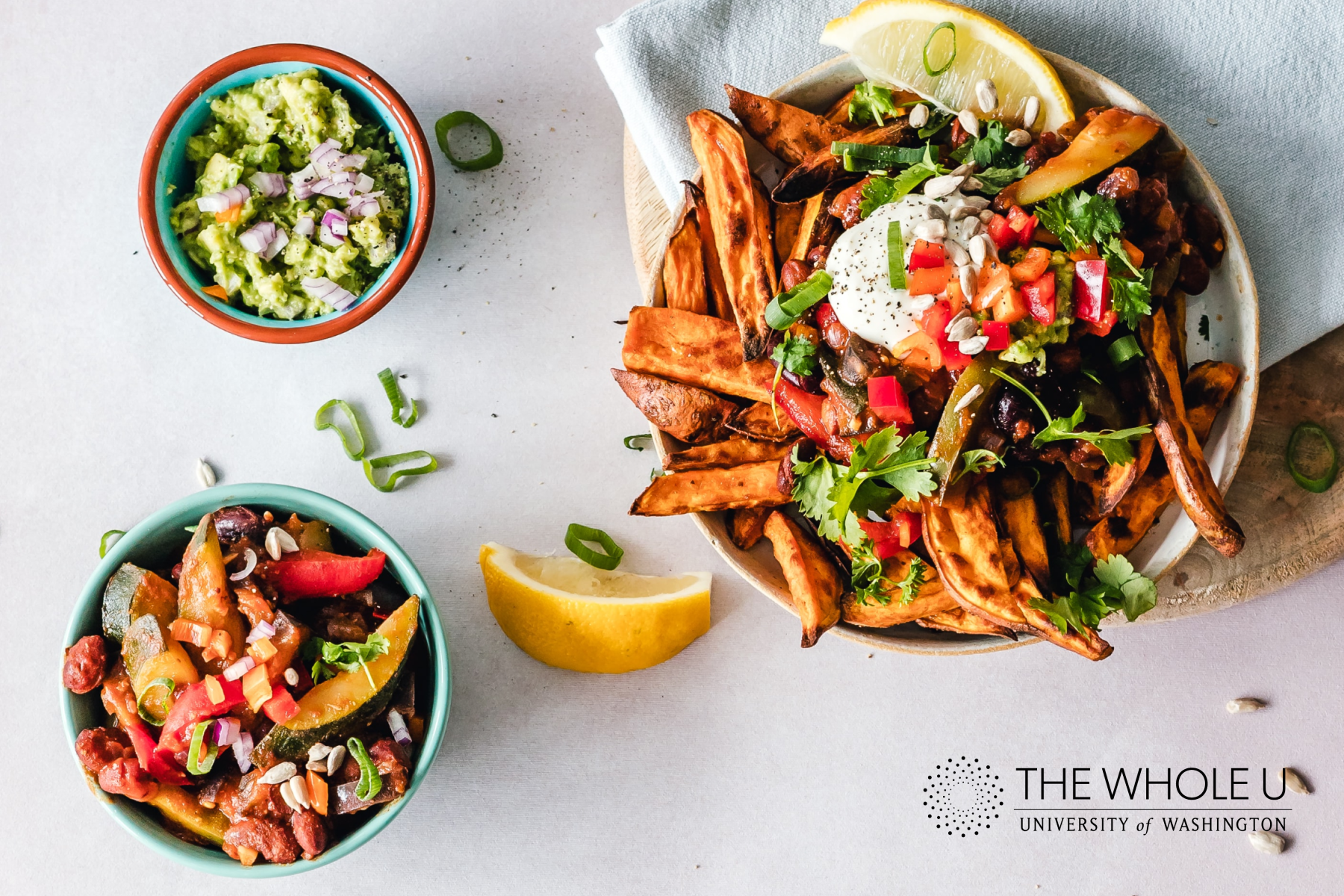 What Does a Healthy Lunch Look Like?
Now that we know how to start off our day right with a nutritious breakfast, let's explore lunch. We asked Judy Simon, dietitian at the UW Medical Center Roosevelt Clinic, adjunct faculty member of the Nutritional Sciences program, and host of our Ask the Dietitian Wednesday Q&A on our Eating Well group, if she would give us a few pointers. Together with her student intern Julian Whitford, she provided us some easy tips to create tasty, balanced meals.
What foods make a nutritious lunch?
Lunches, like any other meals, should be nutritionally balanced and enjoyable. An easy way to help build a balanced lunch is to include foods from at least 3 food groups (vegetables, fruits, grains, protein and dairy/calcium-rich foods).
What should my lunch never lack?
Good and tasty food! The most nutritious foods in the world are no good if we don't enjoy eating them.
What foods should I limit?
Try and limit processed foods (such as canned soups and sauces, deli meats, pre-made meals, and sodas). Choose mostly whole foods (fresh vegetables and fruits, nuts, and whole grains) and lightly processed foods (pre-cut and frozen vegetables and fruit, hard-boiled eggs, canned tuna).
What are some ideas for quick and easy lunches?

What about portion size?
Size depends on your needs! Some people do well with a larger lunch if they have an active day. Other people may eat small snacks throughout the day and, for them, a light lunch is enough. I encourage folks to be intuitive with their food. If they are satisfied with ¾ of their lunch, save the rest for a snack later or keep it for the next day.
Packing your lunch vs. eating out – Does it really make a big difference?
You can have nutritious meals whether you are eating out or bringing food to work from home. However, eating meals that you prepared gives you control and knowledge of what and how much you are eating. Sodium and fat are usually much higher when eating out, and there are often many hidden calories from added fat or inexpensive processed grains.
Do you have any tips on how to plan in advance?
Write down some easy-to-prepare lunch ideas before the work week begins. Try writing down a weeks' worth of lunches ahead of time.
When cooking dinner, make more than enough for the meal and use the leftovers as an easy lunch.
Prepare multiple lunches at one time.
What are some of your favorite lunch recipes?
During the workweek I love leftovers such as a hearty split pea soup, fruit and ak mak crackers when the weather is cold. I enjoy making entrée salads in Mason jars or grain bowls when I prefer a cold meal (check out these fun, tasty Mason jar recipes). On the weekends I love soup and splitting a grilled sandwich with my husband. It's often grilled cheese and tomato on fresh bread with a little olive oil in the pan and fruit on the side.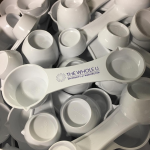 Share your lunch pictures and recipes on the Whole U Eating Well Facebook Group this week and we'll send you a Whole U multi-use measuring spoon (pictured at left). There is still time to register for the Put Your Best Fork Forward for 28 Days challenge we designed to celebrate National Nutrition Month. Register here and commit to making a small change each week for the next 3 weeks for what, with a little daily dedication, will amount to significantly better nutrition habits.
Say goodbye to your tired old ham sandwich. Brighten up your day with these easy, tasty lunch ideas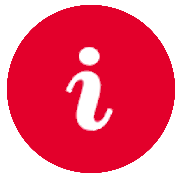 19 March 2016 • 6 min read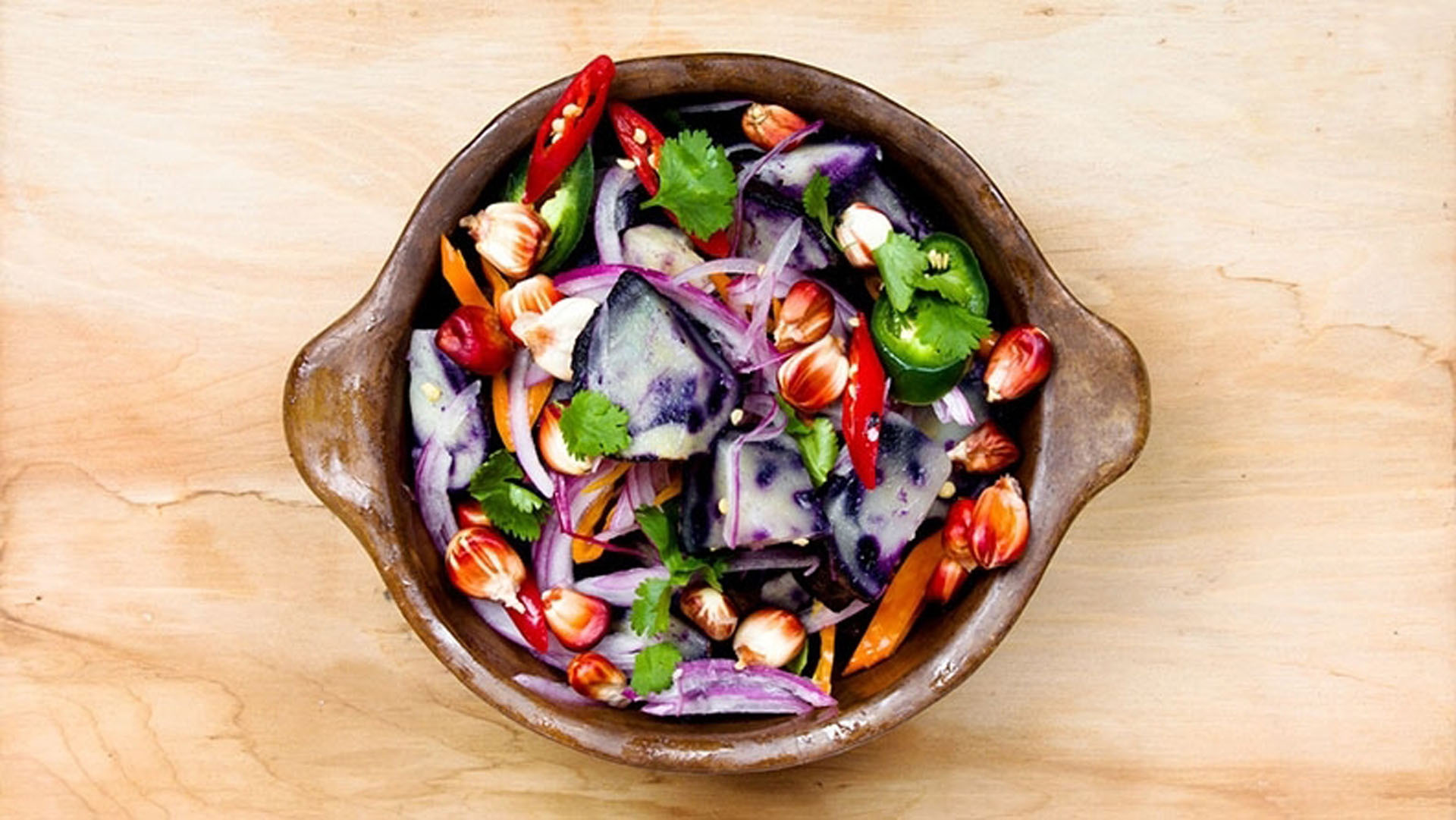 Fact: a good lunch makes your day infinitely better. Here are some fresh, nourishing ideas you can whip up at home and bring with you for delicious midday feast.
1. Easy Wraps and Sandwiches
Take some wholegrain bread, slather on some mashed avocado, fill up with leafy greens, chopped capsicum, tomatoes and grilled chicken, and voila! A quick and easy lunch, just as delicious as the sandwich you pay $10 for at the cafГ© down the road.
The great thing about wraps and sandwiches is they're so versatile, so you can have something completely different every day. Here's a simple formula to play with: pick a protein (tuna, chicken, turkey, lean beef, tofu, falafels), choose a mix of veggies, and complete with a healthy spread (think salsa, hummus, cottage or cream cheese, mustard, relish, pesto or chutneys).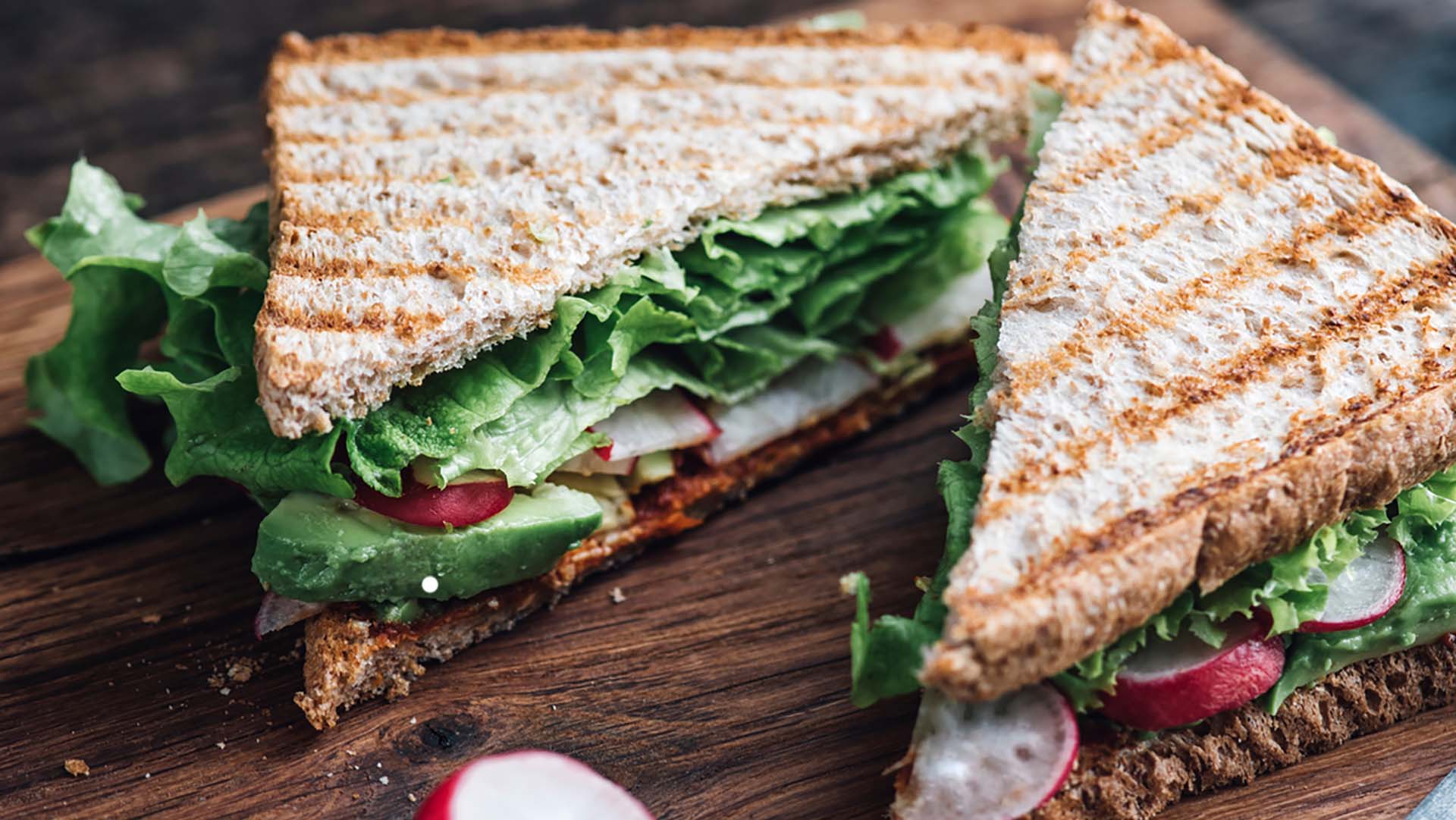 2. Homemade pizza
Whip up a homemade pizza for dinner and enjoy the rest for lunch the next day. It's a great way to feel indulgent, without all the extra salt, oil and fat you'd get with pizza from the food court.
It's easy to make your own base – check out this quick and easy pizza dough recipe by chef Adrian Richardson to get started. Then all you need to do is choose your toppings. Load up your favourite vegetables, experiment with different sauces and pastes and add some lean meat or even kidney beans for a protein hit.
Need topping inspiration? Try some of these healthy pizza recipes for some delicious ideas.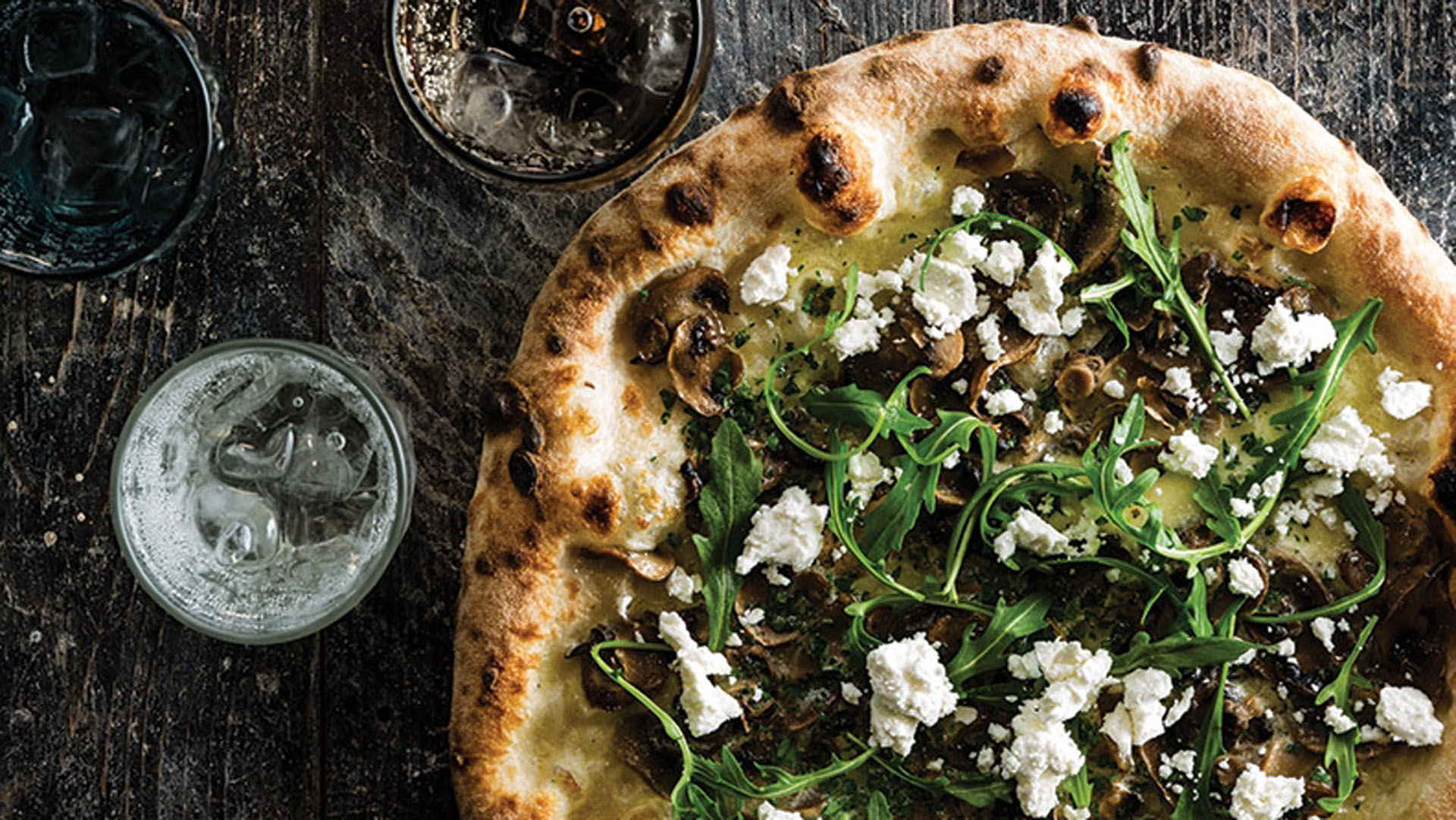 3. Soup
Perfect for the cooler months, a hearty soup will get you warmed up and feeling nourished – it's comfort food you can feel good about. Fill up with a variety of colourful vegetables to get a super nutrient hit, and try adding some protein and even wholegrains to give it some more substance.
Soups are also a fantastic way to use up whatever vegetables you have left in the fridge at the end of the week – so get creative. Check out our collection of soup recipes for some inspiration.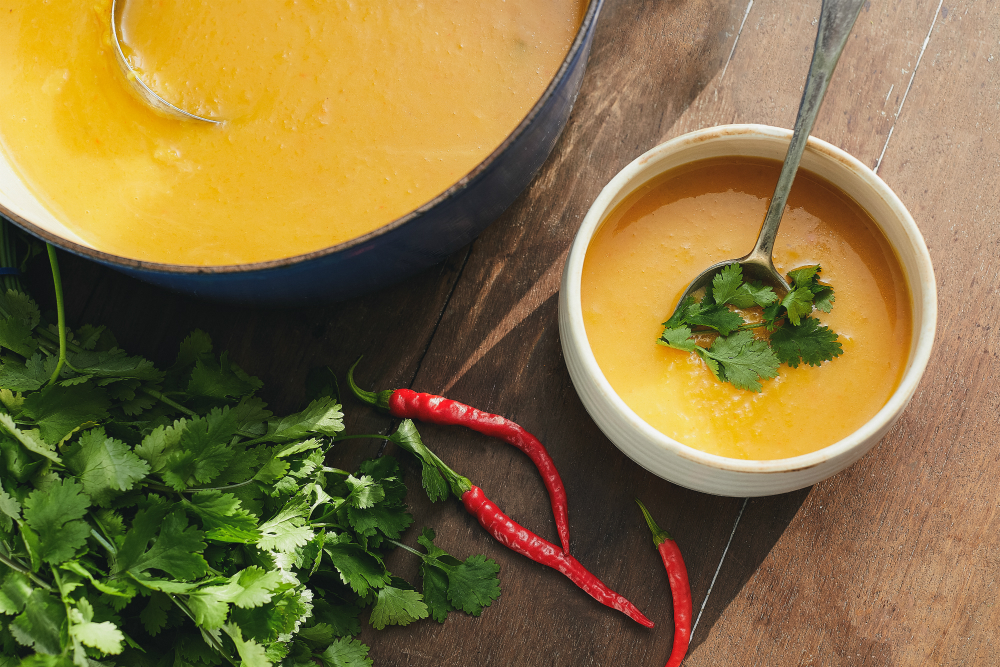 4. Rice paper rolls
If you're after something light and fresh, but you're a bit over salads, rice paper rolls are a wonderful healthy option. Even better, they're easy to make at home.
You can buy packages of rice paper wraps from most supermarkets. Simply prep as instructed, fill with a mix of bean sprouts, shredded carrots, vermicelli rice, ribbon cucumbers, avocado, spring onion and some parsley or coriander, then parcel it all up. Check out this delicious rice paper roll recipe for more ideas and guidance.
These refreshing rolls are yummy with soy sauce, or you can even make your own dip by mixing your soy sauce with a little sweet chilli sauce, ginger, garlic and lemon juice.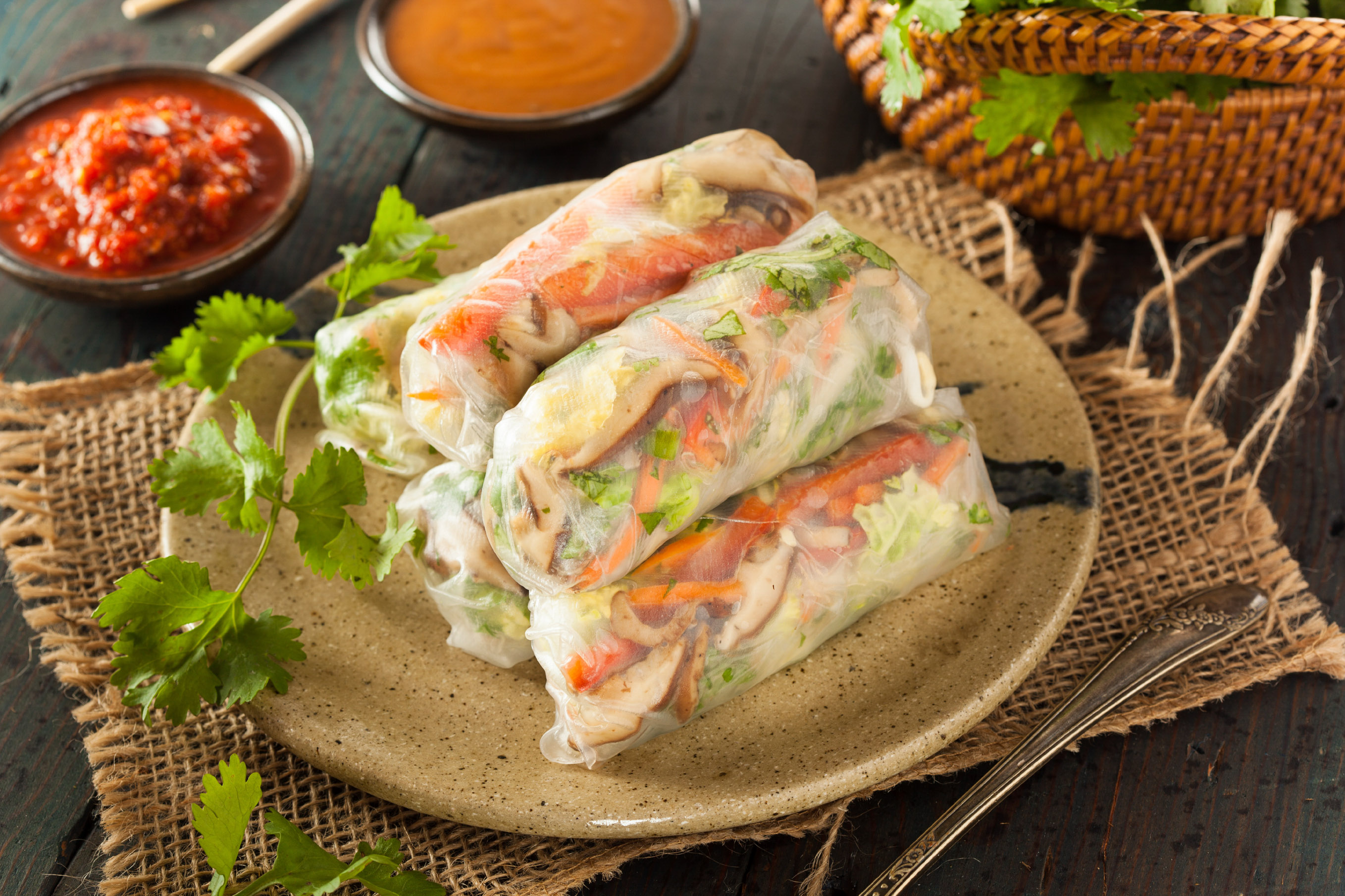 5. Salads (and better yet, salad jars)
Another healthy lunch classic, salads are great for whipping up big batches and taking a portion to work with you. Bored of your wilted lettuce and tomatoes? Start experimenting with different ingredients and you'll soon discover salads are anything but boring. Add fresh herbs and toasted nuts and seeds for extra flavour, season with good quality olive oil, and try adding grains like quinoa, brown rice or barley to give it some bulk.
An easy way to make your salad seem instantly more exciting is to put it in a jar. The simple rule is to put wet ingredients (like your dressing) in first at the bottom of the jar, then stack your ingredients upwards. Salad leaves, carrots and anything else that tends to go soggy should go right at the top.
Need more ideas? Check out our huge collection of deliciously healthy salad recipes and get creative.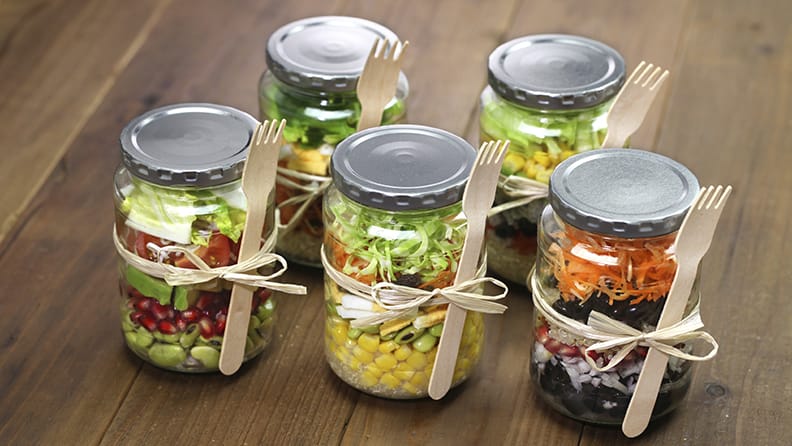 6. Sushi rolls
Light, delicious, and with so many options for different fillings, sushi is the perfect healthy lunch. If you're feeling creative, try making your own. It's easier than you think – promise. Try this fresh and tasty quinoa sushi rolls recipe to get started.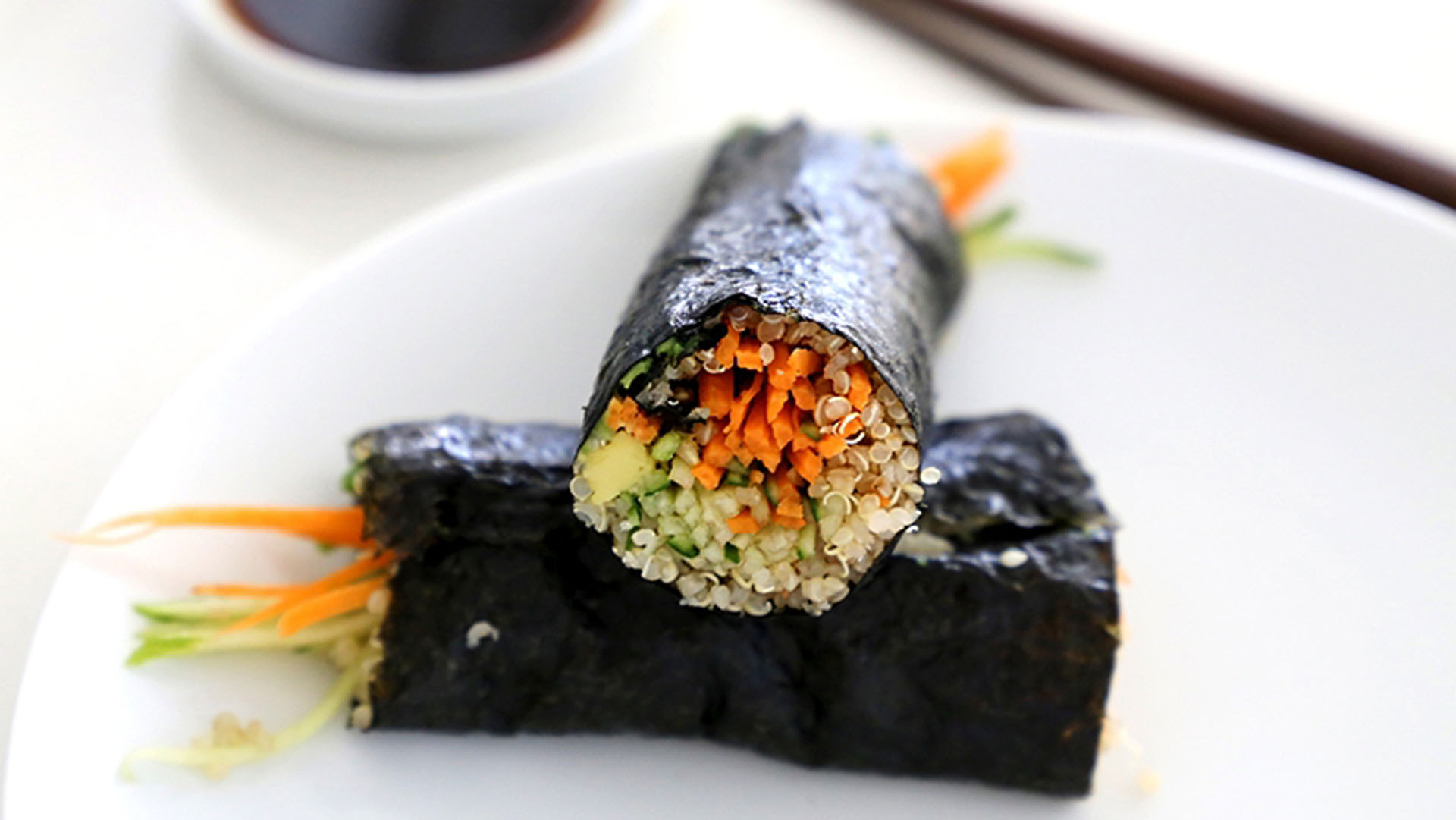 7. Noodles with veggies and herbs
Throw together whatever vegetables you have in the fridge in a quick and easy noodle dish. Flavour it with fresh herbs and spices, garlic, olive oil or soy sauce – super simple, and super delicious.
For a similar idea with a twist, try a Vietnamese pho packed full of bright flavour and leafy ingredients, with an aromatic fusion of chicken, bean shoots, coriander and chili. Or try spiralized vegetables for a carb free alternative.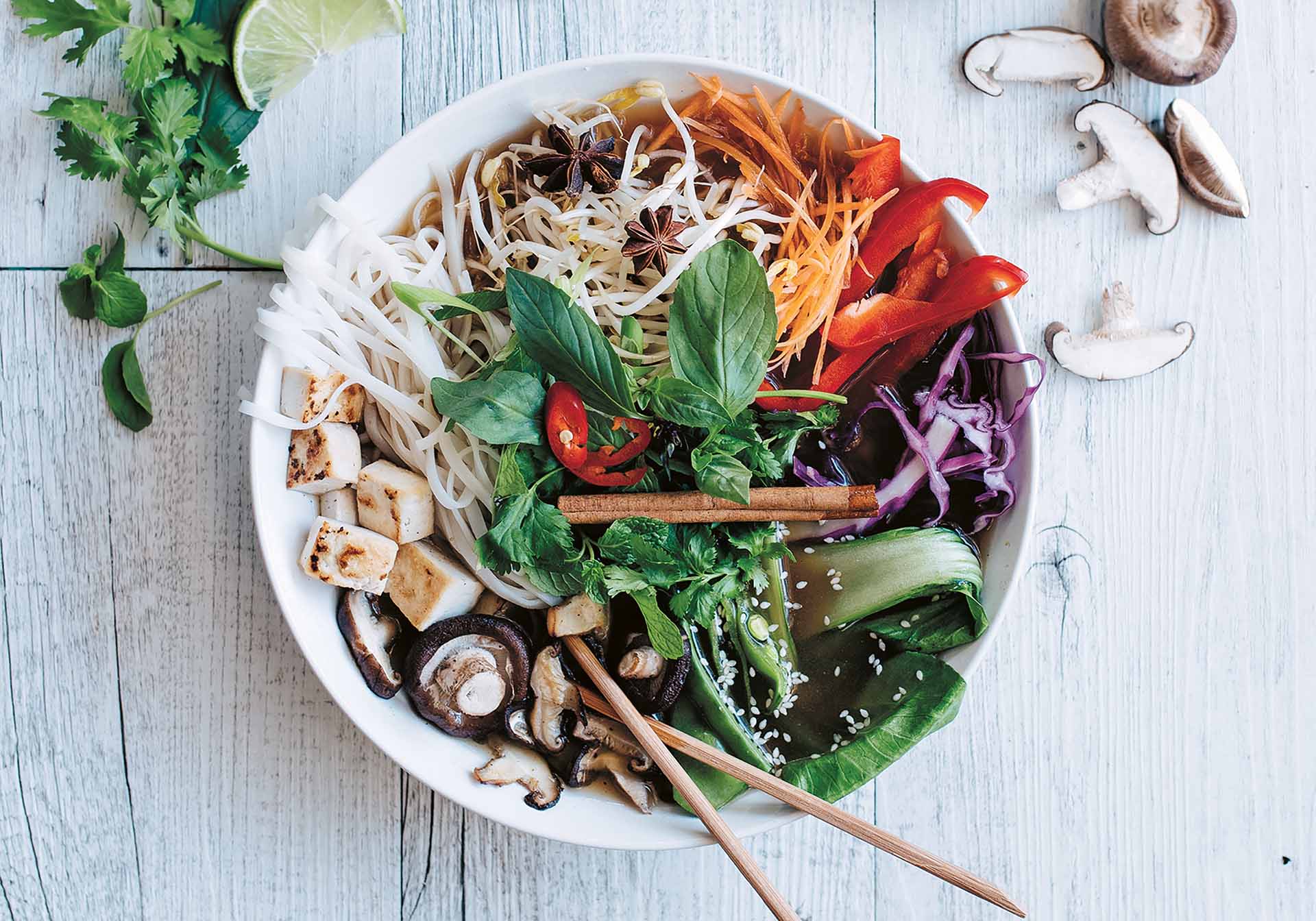 8. Frittatas, quiches and tarts
Baking a vegetable-filled tart or frittata at the start of the week is an excellent idea, especially if you're low on time to prepare meals each day. Portion it up, freeze some for later, and you've got an easy lunch ready to be heated up and enjoyed with some salad.
Try this pumpkin, tomato and beetroot frittata, asparagus, leek and pea tart, or easy Easy cheesy quiche recipe. Or, experiment with your own version using all your favourite vegetables and some legumes or meat for variety and protein.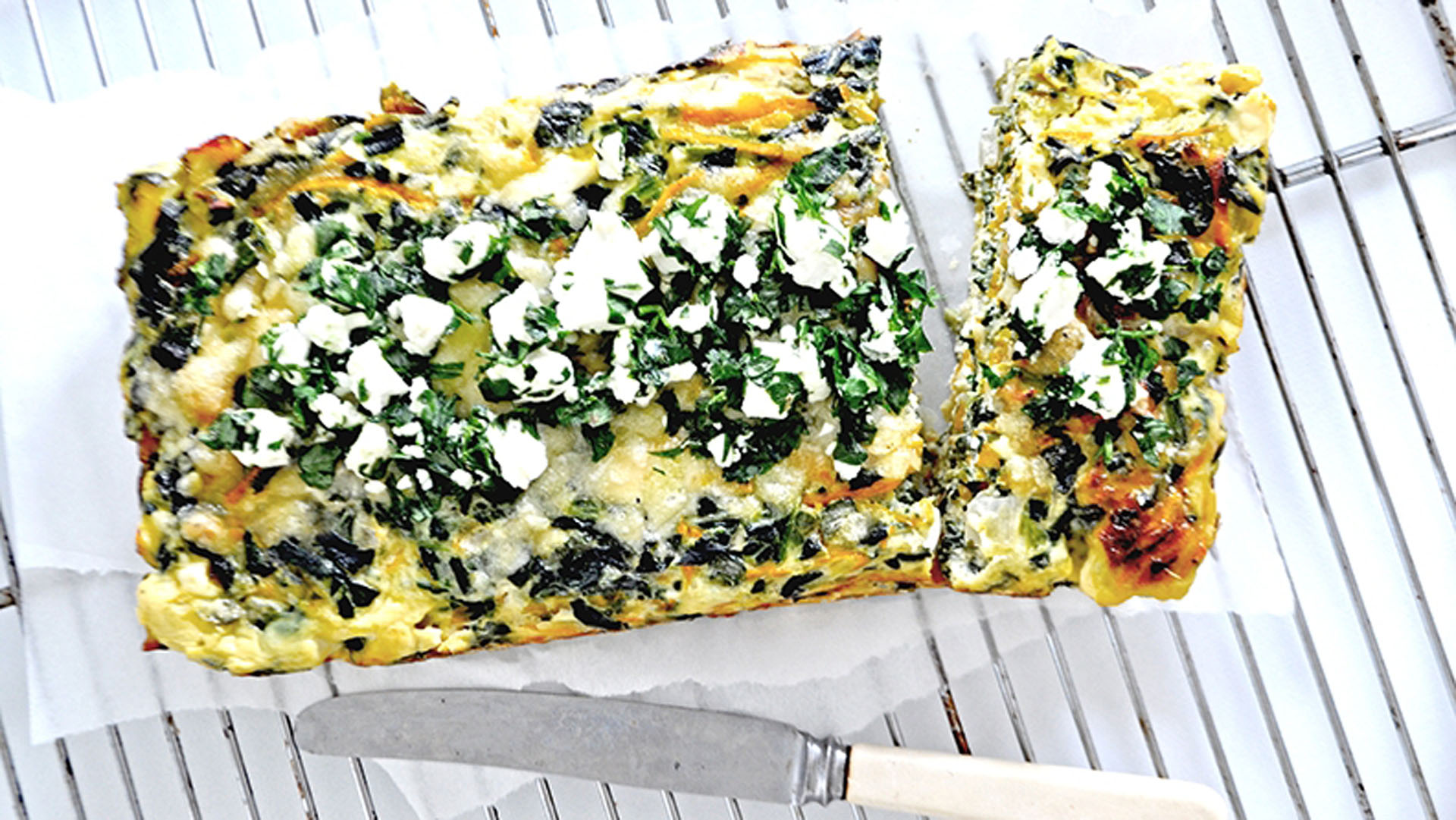 9. Fish and salad
You can't go past a classic fish and salad combo for a perfect dose of protein, omega-3s and veggie nutrients. The omega-3 fatty acids in oily fish like salmon and mackerel support your brain function, so it's a great way to break up the work day, as well as filling you up.
Grab a tin of tuna or grill up some salmon and enjoy with your favourite leafy sides. Check out some of these delicious ideas for fish and seafood recipes.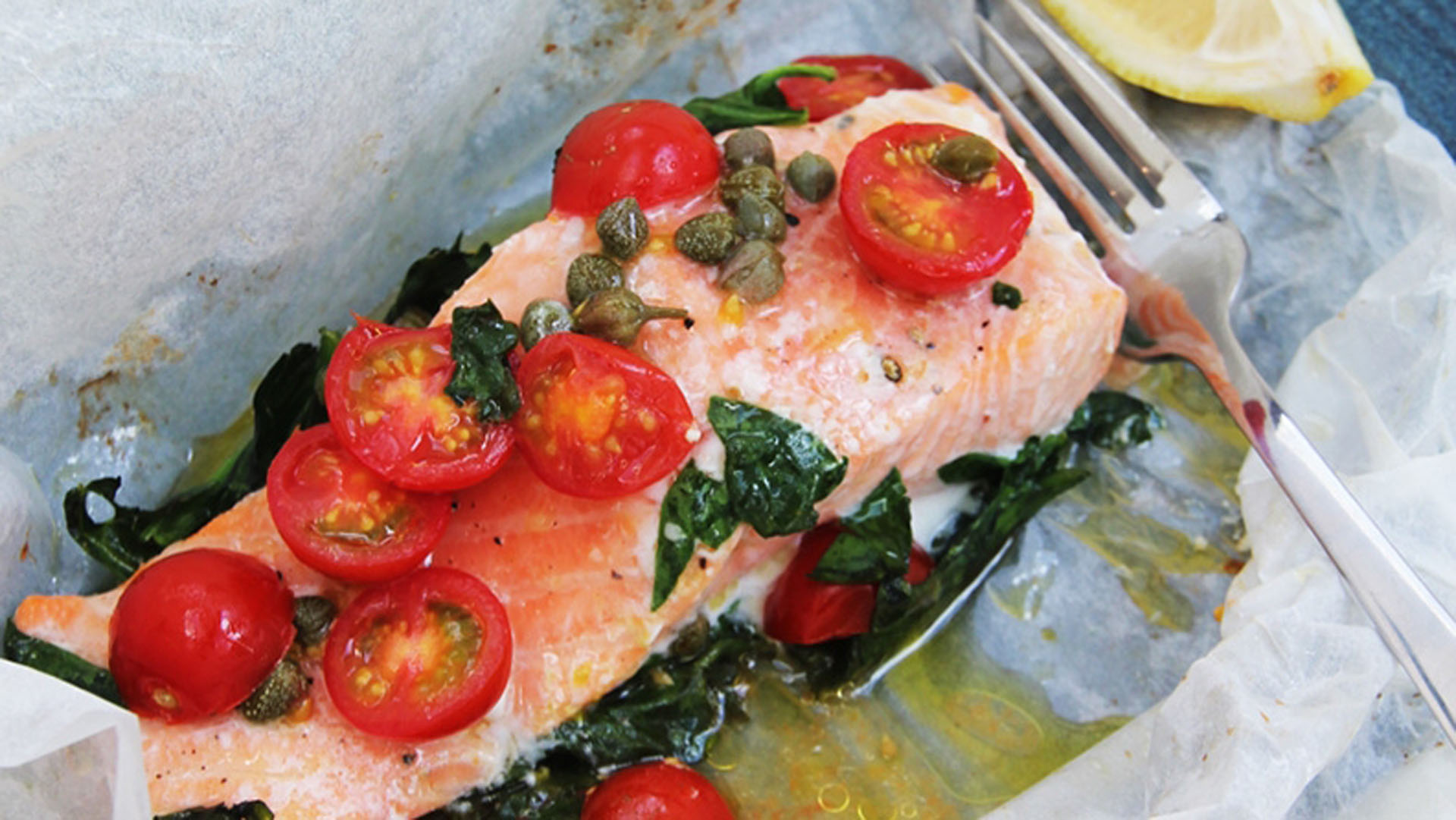 10. Curries
Warm and aromatic, curries are a delicious way to brighten up your lunchtime – and making it yourself lets you up the vegetable content and lower the oil content. Start with a basic recipe and mix it up with your favourite ingredients. Try this Indian lamb curry, Malaysian chicken curry or Eggplant curry with yoghurt for some tasty ideas.
Brighten your days with any of these easy, light lunch recipes that are healthy and flavorful.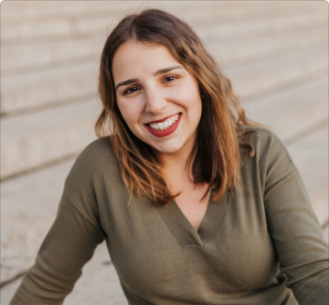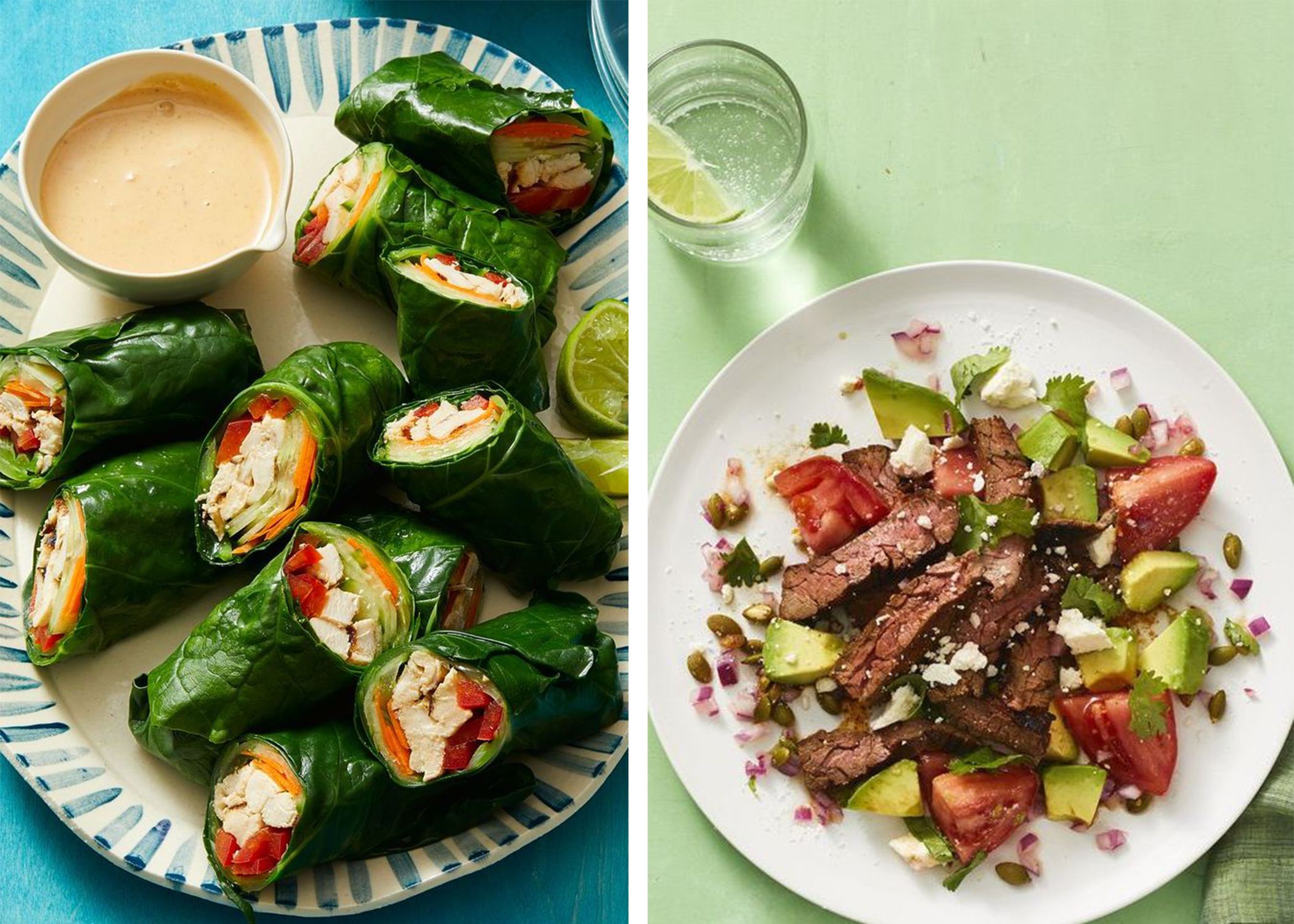 It's a common misconception that when searching for healthy lunch recipes, or just easy and light meals, your options are profoundly limited. Turns out, there are plenty of healthy meals out there that aren't just salads or blandly seasoned fish with steamed vegetables (though those do work, if that's what you like!)
"The key to building a healthy lunch is having a balance of protein, healthy fat, and carbohydrate, and there [are] infinite ways to do this," Marisa Moore, a registered dietitian nutritionist in Atlanta, tells Woman's Day. "You might enjoy fish tacos with the tortilla, fish, and vegetables, you're all set in one dish. Or maybe it's a soup and salad kind of day — both great opportunities to pile in plenty of vegetables."
In addition to protein, healthy fats, and some carbohydrates, adding whole grains, fruits, and vegetables to all of your meals can give your light, easy lunch even more health benefits, Amy Gorin, MS, RDN, a plant-based registered dietitian and owner of Plant-Based Eats in Stamford, CT, says. "The protein, healthy fat, and fiber from the whole grain and produce help keep you fuller for longer — and this combination of foods also provides important vitamins, minerals, and antioxidants," she tells Woman's Day. For protein, the dietitian suggests eggs, salmon, and beans, just to name a few. Oats, quinoa, and whole-grain or sprouted-grain bread are great carbohydrate options. And as for fruits and veggies? They all have plenty of health benefits, so take your pick. There are so many healthy lunch ideas, but it all come down to balance. Protein, healthy fats, whole grains, vegetables, and fruits are all you need to make these easy, light lunch recipes.
If you're anything like me, life is always on-the-go. Running between classes, time with friends, a part-time job (or two!) and study groups. Making sure that you've got food on hand that not only tastes great but is healthy can sometimes be a stretch. A pasta salad might be tasty, but is it going to give you the nutrients you need? The same thing goes for avocado toast. You need to fuel your body well.
That's why we need lunches that are EASY and fast. The trick is to have a formula to follow. That way you can easily swap out parts of the dish for something else without having to build the whole recipe from scratch. These ideas below can be swapped around so that you'll always be able to build a lunch idea that is damn delicious.
Does it still seem like too much work? You can always rely on store bought parts of these lunch recipes, rather than making it all from scratch. Buy single serves of the nut butters, pre-grated cheese (great for a quick grilled cheese too!) or guacamole. No more waiting for avocados to ripen before you can make that perfect avocado salad!
If you've only got 20 minutes for lunch at work, you need something that's ready to go when you are. No more waiting in line for food, you can sit and relax knowing that you've got work lunches under control. Without having egg salad (or chickpea salad sandwiches) every day. You also don't want to be that person in the work lunch room heating up a tuna melt.
Here's my go-to formula for lunches & dinners
If you're cooking, I generally recommend cooking with an oil spray instead of using oil, because eating the fat is typically more filling and satisfying than having it in more of a liquid form.
Protein is another great option to mix up. You can get a great a variety of slices of meat from the deli section. Otherwise, you can always batch cook some meat at home and have it ready to go for the rest of the week. A little bit of preparation will set you up for success and doesn't have to take all weekend.
The two cups of non-starchy vegetables can be almost anything you want! Skip the potato and aim for more salad greens, other root vegetables like sweet potato or zoodles (noodles made from vegetables!). Have a little of everything or stick to your favorite ingredient, depending on the day. I've kept things simple by just using one food in each category, but you can have a mixture of the various options under each.
The fat part of this recipe is my favorite. It's definitely the bit that is most delicious. Those creamy foods are designed to make us feel full and satiated. Trust me on that one.
Putting the Formula to Use
Here are some simple, portable ways to put this formula to use in a lunch!
Give them some variety.
By Jean Levasseur | Updated Sep 12, 2021 7:51 AM
As a stay-at-home parent, lunch has always been the hardest meal to make for my kids. They rarely want leftovers, my personal default, and it's financially impossible to go to restaurants every day. Most of the time, they eat sandwiches—PB&J as often as they can, and turkey or ham when I insist on something different for variety's sake.
But as my kids have begun first grade and their first in-person schooling experience, I want them to have something healthier and more filling. After all, studies suggest that bad nutrition and hunger are connected to poor grades and decreased cognitive performance. And for parents it's not only a matter of caring—research shows that despite our best intentions, many packed lunches don't have as many essential nutrients as those provided by the National School Lunch program.
Considering how busy our day-to-day life can get, fixing nutritious meals for our kids is easier said than done, so we spoke to some experts for advice on how to make it happen.
Prep in advance
Most mornings, I don't have time to make anything more than a sandwich. They're fast, easy, and require essentially no thought or real work to put together.
Time in the morning is always at a premium, so Rachel Rothman, a pediatric dietitian and feeding expert out of San Diego, recommends prepping lunches in advance to save time and reduce stress when you're just starting your day.
"Chop and wash fruits and vegetables you'll use later, and batch-cook protein and carbs so they are available throughout the week," she says.
If you make a weekly lunch calendar, you can maximize your use of this prep time, and reduce the number of days you just give up, and fill lunchboxes with a PB&J and a bag of chips.
Prepping lunches in advance for summer camp was a huge help for my wife and I. Sunday night, we made fresh fruit salad and a pasta salad with the kids' favorite vegetables and dressing that we could just scoop out during the week. My children also love roll-ups—lunch meat rolled around cheese and veggie slices like cucumbers or carrots, which are easy to batch out in advance.
Get your kids involved
Prepping meals also creates opportunities for your kids to get involved in making their own lunches, says Samantha Barnes, a mom, former teacher, and founder of Raddish Kids, a subscription service that teaches kids how to cook. With guidance, tykes as young as kindergarten can help with packing lunches, and if you have a picky eater at home, being involved in food prep is a great way to help them broaden their horizons.
According to Trista Best, a registered dietician at Balance One Supplements, kids are also more likely to actually eat their lunch if they feel some ownership over the meal. "A child that is allowed to be involved in the planning, preparation, and cooking process may be more inclined to sit and enjoy the meal they've helped create," she says. That involvement also helps them learn important life lessons about how to prepare nutritionally balanced meals.
Kids can help with all kinds of tasks—from shopping to washing fruits and vegetables, to spooning out dips, and perhaps most importantly, picking what healthy meals they want to eat that week. My kids love to help chop fruit, for example—we even bought them plastic kids' knives so they can lend a hand.
Create healthy "lunchables"
A lot of people we talked to recommended the idea of a compartmentalized, bento box-style lunch.
Dawn Jackson Blatner, registered dietician and author of The Superfood Swap, says "each section of the bento box can be a reminder to fill it with a specific food group so that they are always balanced and interesting."
The divided sections of the box help you and your kids to remember to maximize a mPenalizing kids for school lunch debt can harm their mental healthal's nutritional benefits by always including one protein, whole grains, vegetables, fruit, and some kind of fat. The process of putting these lunches together can also be fun—kids can select their own options from what's available, and you can even create food themes for special days.
You can get a bento box like the colorful OmieBox, if you want, but you definitely don't have to. You can just include small bags or containers with each of the food groups in whatever lunchbox you have at home.
Keep it simple and quick
While lunchtimes are different district by district, a common complaint among parents and students is short lunchtimes. According to the CDC, about half of US school districts don't have policies requiring at least twenty minutes for students to eat lunch. This means that your kids may be crunched for time. My kids' number one complaint about the first week of school, for instance, has been that they don't have enough time to eat.
To help them get the most out of their lunch, keep the meals simple and easy to eat. No difficult-to-open packages, meals with complex assembly, or anything small and intricate.
Some simple suggestions that can keep lunch quick and healthy include:
Chopped veggies and hummus
Lunch-meat roll-ups with cheese and cucumbers
Whole-wheat wraps
Chopped fruit
Trail mix
Yogurt
Smoothies
Packing a nutritious, fast, and filling lunch for our kids every day seems daunting. But with a little bit of planning, we can keep them well-fed and ready to learn at all times.
And remember—you don't necessarily have to pack them a lunch every day. Give yourself, and them, a break once in a while. Sometimes the school's Taco Tuesday offering is the best lunch option for everyone.
Jean Levasseur is a DIY contributor at Popular Science. He's an avid woodworker and a stay-at-home parent of twin boys. When he's not chasing the twins around the house or trying to fix or build something, Jean is a fiction writer, musician, and avid gamer.
Although buying a quick lunch at the corner store or the fast-food joint by your office might be a tempting option, packing a healthy lunch for yourself and your children is likely better in the long run. Packing your lunch not only will probably save you money, but you can help your family make healthier choices. When you pack a lunch for your kids, you have control over what they're eating. Here are four ways you can build healthy lunches for you and your family.
1. Choose your snacks wisely. "Healthy" and "snacks" aren't incompatible words. Snacks can do wonderful things for your overall health, provided the treats themselves are nutritious and appropriately sized.
Skipping snacks and just eating three large meals a day works fine for some people; however, for others, leaving long gaps between eating can mean hunger pains and fatigue throughout the day, and may eventually lead to binging. If you fall into this group, healthy snacks are the answer for you. Pack yourself a little something between meals and plan after-school snacks for the kids ahead of time to give everyone energy until dinnertime. The trick is to make sure your snack isn't full of empty calories.
Junk food like chips might satisfy a craving, but you're not doing anything good for your body by eating them. Instead, pack healthy treats like fruits and veggies. Tools like an apple wedger can slice snacks into bite-size pieces, so they're easier to snack on and take on-the-go.
Apple Wedger
2. Consider healthy alternatives. Eating a healthy lunch can be hard at times, especially when you have a hectic schedule and packing leftover pasta or fast sandwiches seems like an easier solution. But even the smallest substitutions for healthier options can make a huge difference. It's helpful to plan out your lunch the night before so you're not stressed in the morning.
Instead of packing regular pasta, consider making veggie noodles with a spiralizer. They'll give you an extra boost of flavor and nutrients. Other little changes work, too. Swap out white bread for whole-wheat, or prepacked cereal bars for homemade energy bites. You'll end up with a healthier lunch and you'll feel better throughout the day.
Veggie Spiralizer
3. Focus on the fun for your kids. Any parent knows that kids love to play and that extends to lunches as much as anything else. Think about the foods your kids are most drawn to—odds are good there's something quirky or off-beat about it that makes it feel like a departure from the norm. If you keep this in mind when packing your children's lunches, they're sure to love what they find inside.
One way to do this is to make your kids crustless sandwiches. You can fill them with your kids' favorite ingredients. Another option is to make them finger-friendly foods. Scoop out melon balls for their lunch—the melon will give them plenty of vitamins and nutrients.
Cut-N-Seal ®
4. Store safely. It's important to make sure you're storing your foods properly, especially if something needs to stay cool. Just a half an hour in the car or on the bus is enough to let icky bacteria get to work in your mayonnaise, so make sure you have an insulated lunch box.
If your drive is longer than 30 minutes, or if you don't have access to a refrigerator, make sure you're keeping everything cool. You can grab an ice pack or use a cooling tray to keep your foods well-organized and at a safe temperature for hours.