This fruity strawberry martini is an easy and delicious cocktail to make this spring. Made with strawberry syrup infused with real strawberries for the purest flavor. Then shaken with vodka and a bit of lemon juice and served in a chilled glass.
Flavored martinis such as this espresso martini or this raspberry martini are always fun cocktails to make.
If you like strawberry flavored drinks, try this strawberry mocktail or this strawberry gimlet for a refreshing summer drink.
For other vodka based drinks, try these watermelon shooters, this grapefruit cocktail or this vodka sunrise.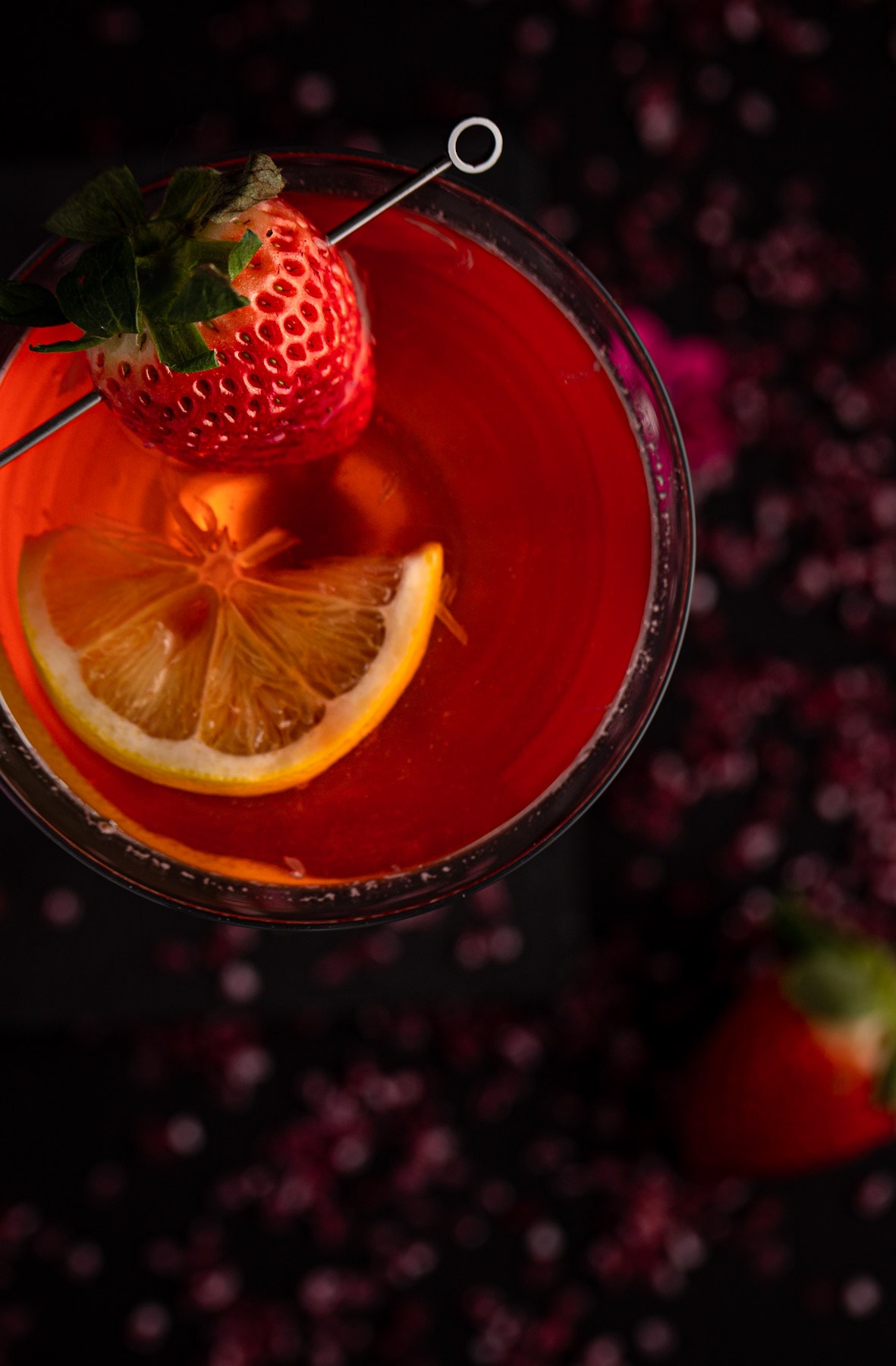 Why this is the best strawberry vodka martini
It's made with real strawberries. The strawberry flavor comes from real fruit so there is no artificial flavoring.
Simple ingredients. You don't need to buy expensive, flavored liqueurs for this martini. All the ingredients are easy to find.
It's easy to make. In just 20 minutes you can prepare a large batch of strawberry martinis for a crowd.
Ingredients
Vodka: Use your favorite brand. If you have strawberry flavored vodka, you can use that, but it is not needed for this recipe.
Instructions
First, make the homemade strawberry simple syrup. Heat the strawberries, water and sugar on a saucepan over medium heat. Bring the mixture to a simmer, stirring occasionally. Let it simmer before removing the pan from the heat, and straining out the strawberry chunks.
Add the strawberry syrup, vodka and lemon juice to a cocktail shaker with ice. Shake well, strain and serve.
Yes, just let them thaw before making the simple syrup.
Store any leftover syrup in an airtight container in the fridge for up to a couple weeks.
If you want ideas for how to use up extra syrup, try this strawberry gimlet, this strawberry milk tea or this strawberry mojito.
Expert Tips
Make the syrup in advance. If you are making these martinis for guests, it's easiest to make the syrup a day or two ahead of time.
Chill the glasses. For an extra cold cocktail, chill the glasses in the fridge or freezer for 30 minutes before serving.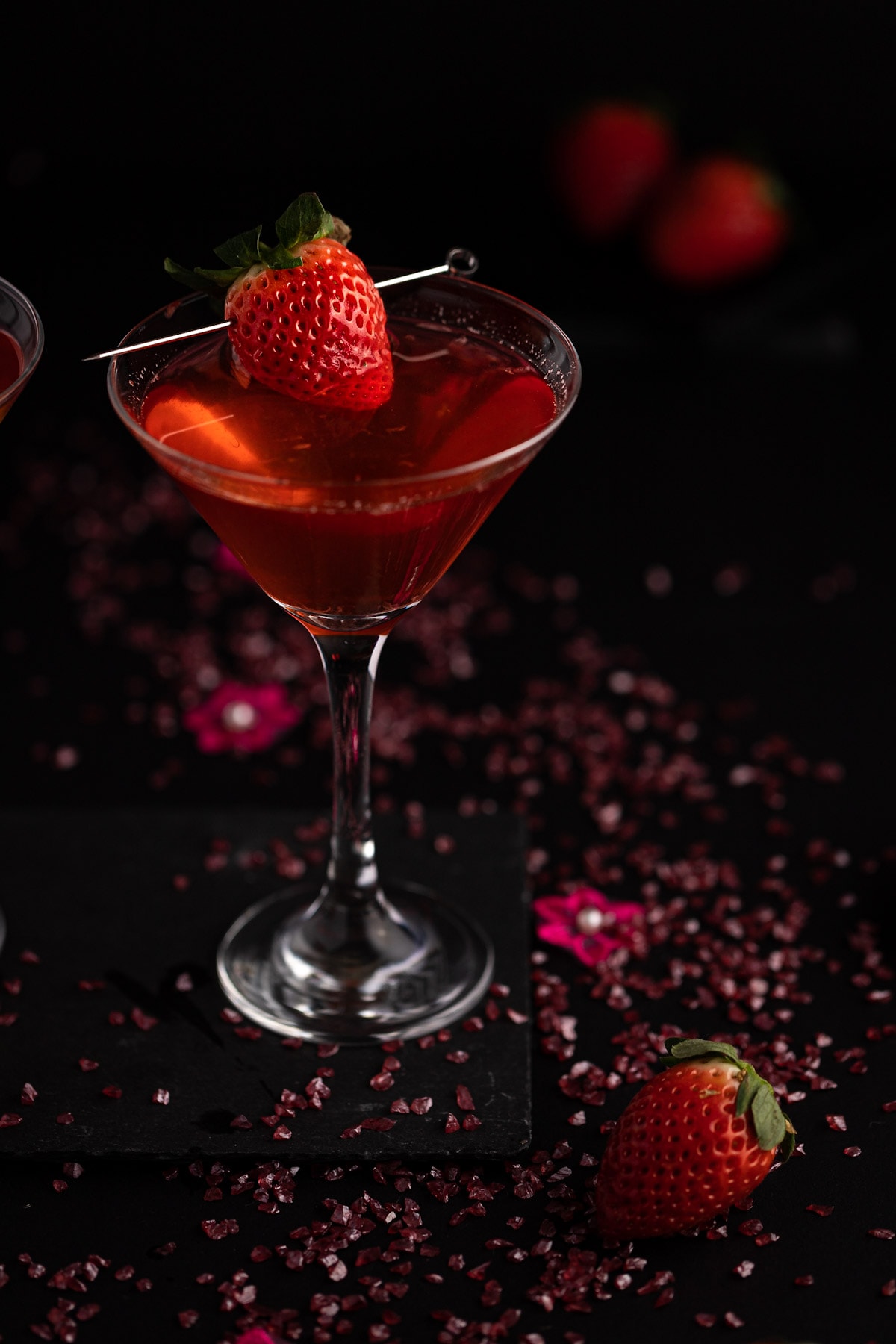 cutlery cutlery icon
folder folder icon
instagram instagram icon
pinterest pinterest icon
facebook facebook icon
print print icon
squares squares icon
heart heart icon
heart solid heart solid icon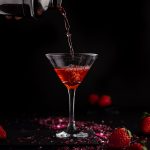 Strawberry Martini
Author: Ali
Total Time: 20 minutes
Yield: 2 cocktails 1 x
Diet: Vegan
Description
This fruity strawberry vodka martini is an easy and delicious cocktail to make this spring.
Ingredients
Strawberry Syrup

½ cup strawberries
¼ cup granulated sugar
¼ cup water

Strawberry Vodka Martini

2 oz strawberry simple syrup
2 oz vodka
2 oz lemon juice, freshly squeezed
Instructions
Make the strawberry simple syrup: Heat the strawberries, sugar and water together in a saucepan over medium heat. Bring to a simmer, stirring occasionally to dissolve the sugar. As the strawberries heat up, use a fork to gently mash them, releasing their juices. Continue to simmer the syrup for 10 minutes to let the flavor fully infuse. Remove the syrup from the stove and strain out the strawberry chunks. Let it cool slightly before mixing it into your drink.
Make the martini: Add the strawberry syrup, vodka and lemon juice to a cocktail shaker filled with ice. Shake well for 5-7 seconds until the outside of the cocktail shaker is frosted. Strain and serve into a chilled glass with fresh ice. Enjoy responsibly!
Notes
Frozen strawberries: If using frozen fruit, let it thaw first before making the syrup.
Storing strawberry syrup: Store leftover syrup in an airtight container in the fridge for up to a couple weeks.
Prep Time: 5 minutes
Cook Time: 15 minutes
Category: Cocktails
Method: Shaken
Cuisine: American
Nutrition
Serving Size: 1
Calories: 180
Sugar: 27.7g
Sodium: 7mg
Fat: 0.2g
Saturated Fat: 0g
Unsaturated Fat: 0.2g
Trans Fat: 0g
Carbohydrates: 29.7g
Fiber: 1g
Protein: 0.6g
Cholesterol: 0mg
Keywords: martini recipe, strawberry drinks, vodka cocktails
Leave a comment if you tried this recipe!
Other cocktail recipes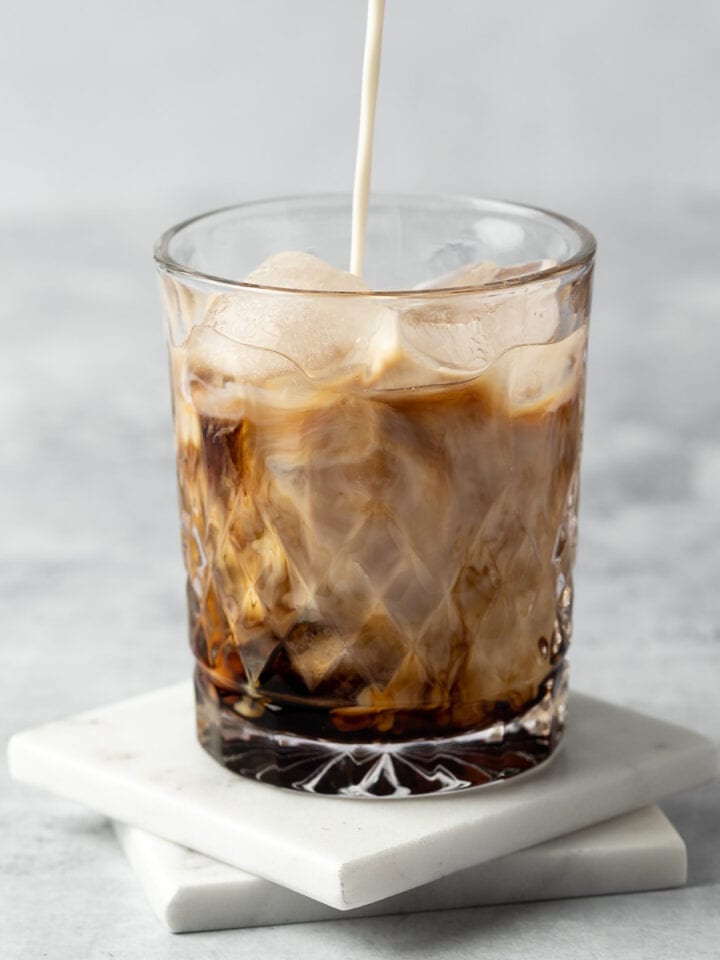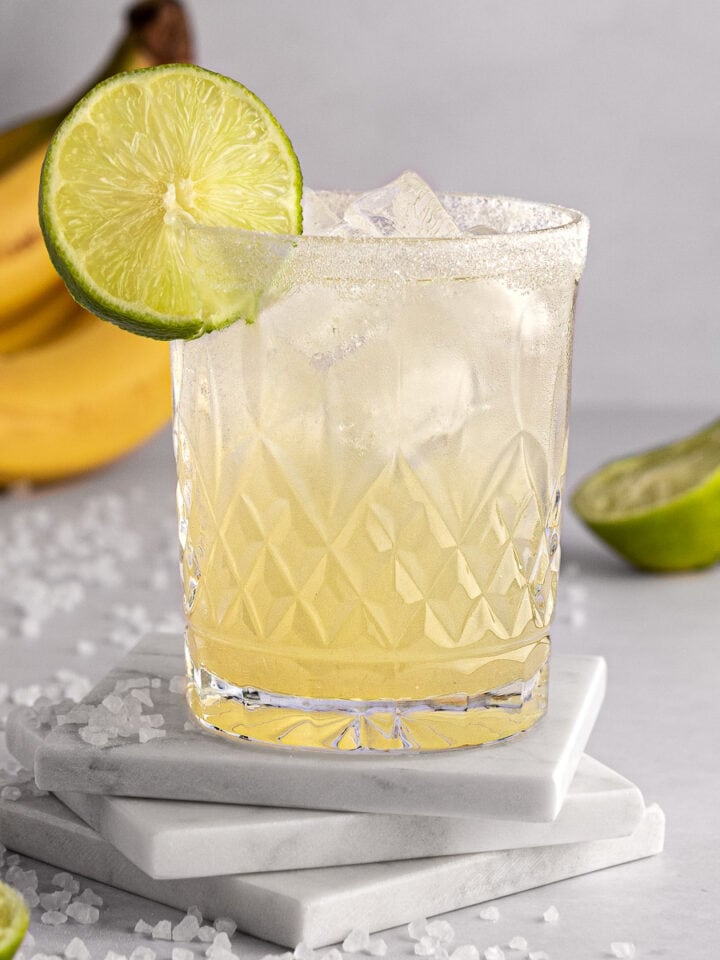 Reader Interactions
Leave a Reply Cancel reply
Primary Sidebar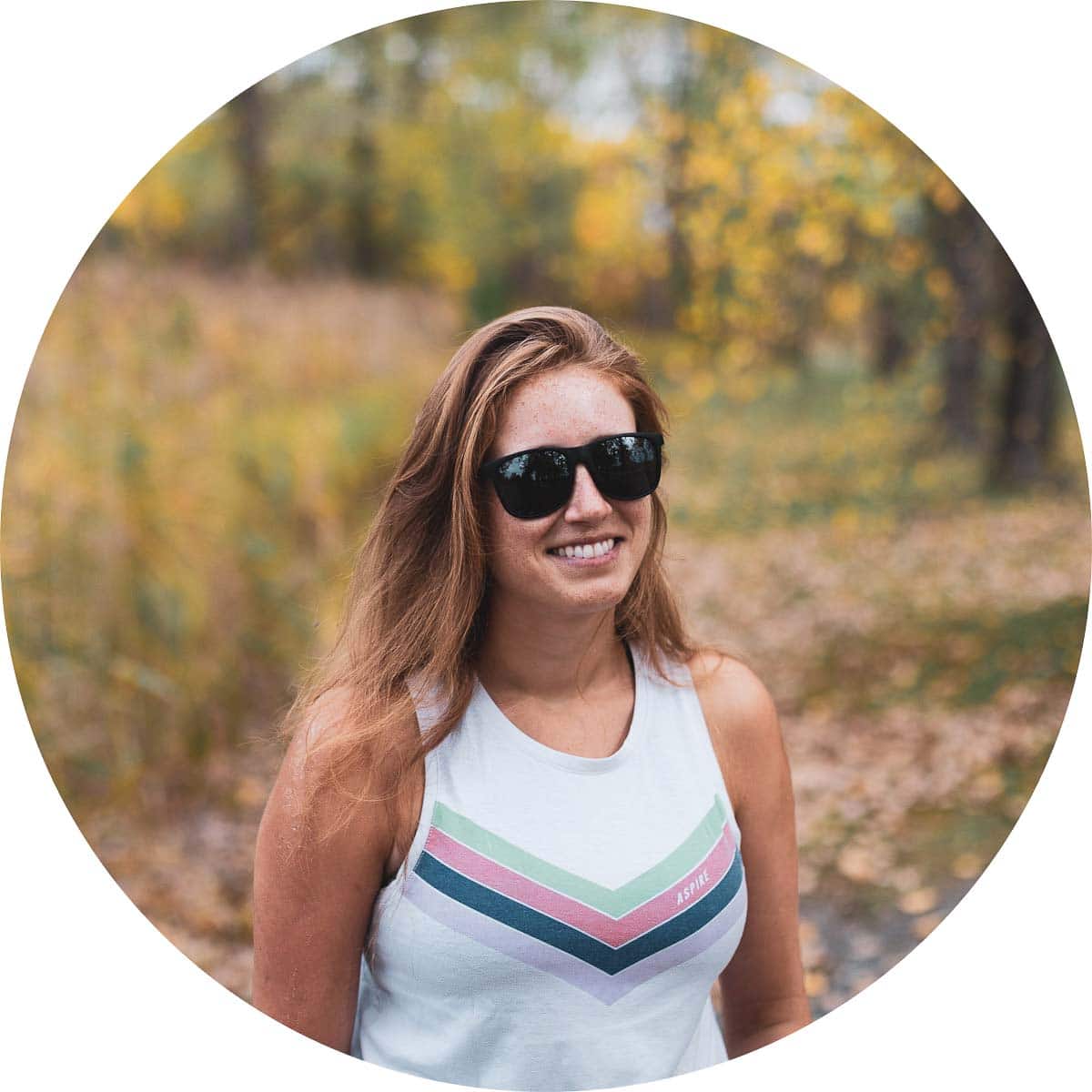 Hi, I'm Ali! Full-time nurse, lifetime foodie. Join me as I create, eat and drink the most delicious brunch, cocktail & dessert recipes!
Share with friends!
A mouthwatering blend of fresh strawberries, vodka, and triple sec, a strawberry martini has to be one of the most iconic summer cocktails! We love making these quick, easy, and delicious cocktails for our friends, be warned though – they'll want more!
Why you'll love this easy cocktail recipe
It's a quick and easy martini recipe to make, you'll be drinking this fruity cocktail in just 5 minutes.
A real crowd-pleaser it's perfect for summer parties, BBQ's and celebrations.
Long hot days and an easy summer cocktail recipe, what's not to like?
Fresh strawberries vs strawberry puree
You can get some good purees now but fresh is always best in this drink.
No preservatives and strawberries that smell so good.
As this delicious cocktail is all about the strawberry then it would be a shame to not use the freshest of ingredients, pop them in the food processor or blender and it only takes 5 minutes tops.
Learn how to make a strawberry puree with our easy guide.
But strawberries aren't in season all year round, so you can either blend and freeze strawberry puree when they are in season or buy store bought puree.
Do I put ice in this drink?
No, you don't put ice in our martini.
You do still need ice though, as you'll put it in your shaker, this will then cool down your drink.
Got frozen strawberries?
What does a martini taste like?
The honest answer is that it depends.
Talk to different people and they'll use different ingredients and different ratios.
Some use vodka, some use gin, and some use vermouth.
For a classic dry martini, you'll use gin and just a small splash of vermouth.
For a wet martini, there is more vermouth included, usually a 50-50 ratio.
Then you have a dirty martini which also includes olive brine and an olive garnish.
Our martinis are fruit-based and vodka-based, and they're very delicious!
Like martinis? Why not try our Pornstar Martini made with passion fruit liqueur or our perfect Lemon Drop Martini.
What vodka is best for this?
The best vodka to use for your strawberry martinis is the vodka you prefer and don't go breaking the bank either.
Having said this, we don't think that you should be using your top-shelf vodka as the flavor is masked by the strawberries and lemon juice.
Just use your favorite vodka brand.
Can I use strawberry vodka?
Yes, it's perfectly fine to use strawberry vodka, it'll give your martini an extra strawberry boost.
You can even make your own strawberry vodka if you prefer!
Is bottled lemon juice ok to use in this drink?
Store-bought bottled lemon juice just isn't the same as freshly squeezed.
It'll take less than a minute to squeeze your lemons and it'll bring such a fresh flavor to the drink, so please don't skip this step.
You'll also need a fresh lemon wedge to wipe around the rim of your cocktail glass, so you may as well squeeze them!
How do I make a sugar rim for a cocktail glass?
We love sugar rims on our martini glasses, and we think that adding lemon zest to them, gives a wonderful citrus contrast to the sweet sugar and strawberries.
It also makes homemade drinks look very professional.
Sugar rims are very easy to make, we've listed full instructions in the recipe card below.
Simply zest a lemon into your sugar and massage it in with your fingers.
Then you'll need to cut a lemon wedge and gently wipe it around the rim of your cocktail glass.
Then, with the lemon sugar on a flat surface, turn your glass upside down and gently swirl the glass until you have an evenly coated sugar rim – it's that simple!
What's the best glass for a martini?
The best glass to use for our strawberry martini is a martini glass.
A martini glass is stylish and elegant but it also has a wonderfully wide rim which is perfect for your sweet sugared rim.
But not everyone has a martini glass lurking in the cupboard and if you don't have one that you can lay your hands on, then choose any glass that has a wide rim.
Recipe notes and tips
No blender?
You could always muddle strawberries instead of blending them, do this in a mixing glass, you won't get smooth strawberry martinis but they will still be delicious.
Don't like strawberry pips?
That's not a problem, just press the strawberry puree through a fine sieve before adding it to your shaker.
A large sterilized mason jar with a tightly fitting lid will make a great temporary cocktail shaker if you don't have one. You need to have a lid as you'll shake it and you don't want it all ending up on the ceiling.
Use a tea strainer or small sieve to strain your drinks if you don't have a Hawthorne strainer.
Get prepared and make your strawberry puree ahead of time, it'll keep for 3 to 5 days and it'll freeze for 3 months.
More cocktail recipes for you to enjoy
If you love this martini cocktail, then you should try our other martini recipes; Pornstar martini, Passion fruit martini, Lemon drop martini, pornstar martini gin, and Espresso martini.
These links will open in a new window
You must be logged in to add items to Your Favourites
You must be logged in to add items to Your Wish List
Fruitini cocktails
Fruity cocktails

Cocktails & mixed drinks

Serve in a

Garnish:

Strawberry on rim

How to make:

MUDDLE strawberries in base of shaker. Add other ingredients, SHAKE with ice and fine strain into chilled glass.

| | |
| --- | --- |
| 5 fresh | Small ripe strawberries (hulled) |
| 2 shot | Ketel One Vodka |
| 1 ⁄2 shot | Sugar syrup (65.0°brix, 2 sugar to 1 water rich syrup) |
| 2 grind | Black pepper |

You must be logged in to add your own notes

Review:

Rich strawberries fortified with vodka and a hint of pepper spice.

History:

Originated in London during the late 1990s.

Nutrition:

One serving of Strawberry Martini contains 182 calories.

Alcohol content:

1.4 standard drinks
25.81% alc./vol. (51.62° proof)
19.4 grams of pure alcohol

Home
Cocktails & Mixed Drinks
Strawberry Martini

Join the Discussion

You must log in to your account to make a comment.

Report comment

You must be logged in to upvote or downvote a comment

Previous Cocktail

Next Cocktail

Wimbledon cocktails

When Wimbledon kicks off the British summer has officially begun. Cue hordes of tennis fans making their annual.

20 best Gin cocktails

Gin challenges even vodka for its cocktail versatility, and as the leading spirit in vintage cocktail books there are.

20 best Irish whiskey cocktails

Irish whiskey tends not to be peated so usually lacks the subtle smoky notes associated with Scotch whisky, so making.

20 best Espresso Martinis

The Espresso Martini is itself a riff, by its creator, on his earlier Vodka Espresso. Indeed, the Espresso Martini is a.

20 best Absinthe cocktails

Absinthe is a most unusual cocktail ingredient as it's the main base spirit in some cocktails while is used as mere.

20 best Crème de Banane banana liqueur cocktails

Bananas neatly unzip to reveal a healthy tasty snack, especially when overripe and for cocktail use, save your bananas.

You must be logged in to submit a rating

This post may contain affiliate links, please read our disclosure policy.

Blended strawberries with your favorite vodka? Sounds like berry bliss to me! Enjoy this Strawberry martini made with 4 simply delicious ingredients. Cheers!

How To Make An Amazing Strawberry Martini

The last couple cocktails I created were to celebrate the holidays, so I figured it was time to create a new one. I looked in my refrigerator and since I haven't been to the grocery store this week, the only thing I really had was a pint of strawberries that I have been using in my smoothies. I love strawberries! And since I live in Florida, we are pretty lucky that we can get them fresh and local. So, I decided that a Strawberry Martini was in order. Strawberries are loaded with vitamins C, B5 and B6, iron, magnesium, and fiber. They are also known to as an anti-inflammatory. I mean, why not get in a dose of fruit in with our happy hour, right??

This delicious strawberry martini only has 4 ingredients, one of them being simple syrup. Did you know how incredibly easy it was to make simple syrup? Please don't ever buy it. Make your own simple syrup with this recipe. It's simple 😉

Now, here's how to make my amazing Strawberry Martinis, be sure to Print and Pin this cocktail recipe so that you can make them again and again.

Strawberry season has arrived! I finally received notice that a local farm has strawberries ready to pick. I've been waiting on this for months. The anticipation of how the fruit will be grows as the season gets closer. One year they are big, plump, juicy, and almost as sweet as candy. Another year they are small, firm, and quite tart. The weather is a factor and hopefully all the recent rain won't dilute their flavor this year. To celebrate the season's arrival, I had to shake up a Strawberry Martini and sip on the goodness of it.

What happens in Vegas stays in Vegas. Well, not all of the time. Some of it really should. And yet other things are so good and fun it has to be brought home. Such is the case with this martini. I discovered it when we visited Vegas with friends. It was the best strawberry cocktail I ever tasted. Re-creating it at home was inevitable. The search for the recipe began immediately and I quickly found it. I was beyond excited to make it for friends after our trip.

Muddling strawberries for a martini has its downsides. First there is how you can get bits of pulp in the drink. I prefer my cocktails to be smooth. Then there is the seeds. I'm not a fan of having those tiny seeds in my drink either. That meant this part of the recipe had to be changed. The answer was the blender. It also made for an easy way to make a part of the martini in advance and not have to take the time to muddle each one individually.

The rest of the martini ingredients are simple. There's vodka, lemon juice, balsamic vinegar, and pepper. Yes, you read that correctly. Balsamic vinegar may sound odd however it just works. Cracked pepper sprinkled on top works too. Those savory components balance strawberry sweetness in a wonderful way. There is only a touch of each for a background accent.

Cheers to strawberry season! Each year I get buckets and use some right away and freeze the rest. It's so nice to enjoy local strawberries in the middle of winter. I've made Strawberry Cake, Strawberry Almond Quick Bread, and Strawberry Sorbet with the wonderful berries. I'm always on the hunt for more ways to use and enjoy strawberries so let me know your favorite way. I do plan to get a bunch to play with this year.

STRAWBERRY MARTINI | FRUIT RECIPES | JAMIE OLIVER RECIPES

This strawberry martini is utterly, mouthwateringly fruity and perfect for summer parties

Total Time 5 minutes

Number Of Ingredients 4

2 handfuls of strawberries preferably wild ones
1 splash of dry vermouth
1 sprig of fresh mint
150 ml gin or vodka

Chill two martini glasses and a cocktail shaker in the freezer for 30 minutes.
Wash and hull the strawberries, and pick the mint leaves.
Put a few drops of dry vermouth into each glass and swirl it around.
Put 3 strawberries into the bottom of each glass – if they're big, cut them into pieces first.
Throw the remaining strawberries and the mint leaves into the cold cocktail shaker and squash them with the end of a rolling pin.
Add 2 handfuls of ice cubes and the gin or vodka, then put the top on and shake it about.
Strain into the martini glasses.

Nutrition Facts : Calories 34 calories, FatContent 0.1 g fat, SaturatedFatContent 0.0 g saturated fat, ProteinContent 0.5 g protein, CarbohydrateContent 3.6 g carbohydrate, SugarContent 3.5 g sugar, SodiumContent 0 g salt, FiberContent 0 g fibre

The strawberry martini recipe is perfect for any holiday or fun time.

We came home with so many I almost didn't know what to do. Almost. Quickly, I made a strawberry sauce, perfect for this recent post for strawberry sundaes. I then made this strawberry simple syrup, thinking cocktails. These fresh berries made a deep, flavorful strawberry syrup.

How to Make the Perfect Strawberry Martini Recipe

I experimented at 10:00 in the morning, and this is the strawberry martini recipe that won the day. I tried adding lemon juice and we didn't like that. We tried regular vodka and mandarin vodka, and opted for the Mandarin. If you only have regular vodka, add a tiny squeeze of orange (not much or skip it). We used even amounts of vodka and simple syrup and a splash of dry vermouth. I wanted to add fresh basil, but it's too newly planted, so keep that in mind.

You could use the strawberry simple syrup to make all sorts of fun cocktails, including this strawberry sangria.

Whether you like it shaken or stirred, it's up to you. But we can all agree that a Strawberry Vodka Martini is one special cocktail.

I will state my usual disclaimer about alcohol. I honestly do not drink much of it. My husband is the alcohol aficionado, with his prized collection of liqueurs and wines. Most of the alcoholic drinks inspired on this blog are for him.

Me, on the other hand, I drink about 1 cocktail a month. Maybe not even THAT much. I don't care for the taste of alcohol and it makes me sleepy and certainly not the life of a party. I do like some cocktails, and I'm certainly fascinated to coming up with new and pretty drinks.

Perhaps a bartending class is in our future?

Why you should try this recipe

Since I am on a roll with my strawberry recipes, I decided to try out one of my favorite techniques. Infusing vodka with fresh fruit. And this time I used strawberries. It's nothing complicated and you can make any fruit infused alcohol using this same technique.

Fill a jar with chopped strawberries and fill the jar up with vodka. Pop it in the fridge and 3-7 days later you have this magenta-colored strawberry vodka. See, I told it was easy.

Although I am not a martini drinker or even a vodka drinker, I do love how the flavors of the fruit get infused in vodka. It is such an easy way to add some fruity flavor to whatever cocktail you are enjoying.

I like to make infused booze in large batches, then bottle it up and give as gifts to friends and family. I have made orange vodka (orange peels with vodka) and pomegranate vodka. So you see, the possibilities are endless!

Ingredients you need

Step-by-step directions

1. In a 1-pint jar, fill with chopped strawberries. Cover berries with vodka, seal jar and store in the refrigerator to infuse for 3-7 days. The longer the infusion, the more intense the strawberry flavor. Strain out strawberries and discard. Your strawberry vodka is ready to use.

2. When vodka is ready, swirl some vermouth inside an a martini glass. Fill a cocktail shaker with ice and add strawberry vodka, then shake until chilled, about 15-30 seconds. Strain out the chilled vodka into your prepared martini glass.

Recipe tips and FAQs

Although I am not a Martini drinker, I did so my research on it. And sure enough, whether you choose vodka or gin as your base, this plus a bit of Vermouth and you have a Martini.

Martini-drinkers are very passionate about their drink, about the shaking versus stirring controversy I thought was only a line spoken in the James Bond movies.

Shaking your martini in a cocktail shaker supposedly dissolves the vermouth better. You also get a colder martini by shaking it, as well your cocktail having more air bubbles and is more diluted than its stirred counterparts. If you want a stiffer strawberry martini, then stir it.

There is much analysis about the damaging of the alcohol or too much oxygen or whatever it is that keeps "the shaken on one side and "the stirred" on the other. I will let you be the judge of that.

I will stick with a bit of strawberry vodka and some club soda.

When it comes to limoncello, you infuse the vodka with the lemon peels for up to 6 weeks. But with strawberry vodka, since you are using actual fruit it can get a little gross. I infuse vodka with strawberries for up to 1 week.

While the vodka is infusing with fruit, store you vodka in a cool and dark place. Once you strain out the fruit, you can store the bottle of vodka in your bar or even your freezer to keep chilled.

If you are enjoying my recipes, I would love for you to sign up for my newsletter (and get my free citrus e-cookbook!) or follow me on Instagram or Facebook.

The Spruce / S&C Design Studios

Nutrition Facts (per serving)
208
Calories
0g
Fat
22g
Carbs
0g
Protein

×

Nutrition Facts
Servings: 1
Amount per serving
Calories
208
% Daily Value*
Total Fat 0g
0%
Saturated Fat 0g
0%
Cholesterol 0mg
0%
Sodium 8mg
0%
Total Carbohydrate 22g
8%
Dietary Fiber 0g
1%
Total Sugars 21g
Protein 0g
Vitamin C 4mg
22%
Calcium 3mg
0%
Iron 0mg
0%
Potassium 34mg
1%
*The % Daily Value (DV) tells you how much a nutrient in a food serving contributes to a daily diet. 2,000 calories a day is used for general nutrition advice.

This strawberry martini has a delightful taste and requires just three simple ingredients. The flirty pink martini is a delicate mix of citrus and strawberries. It's perfect for romantic dinners or anytime you want a lovely and not-too-sweet cocktail.

Making this fruity vodka martini could not be any easier. Simply shake the three ingredients and serve. It's a recipe you can quickly memorize, too. For all these reasons, it can quickly become a new favorite among all the tempting strawberry cocktails you could mix up.

STRAWBERRY MARTINI | FRUIT RECIPES | JAMIE OLIVER RECIPES

This strawberry martini is utterly, mouthwateringly fruity and perfect for summer parties

Total Time 5 minutes

Number Of Ingredients 4

2 handfuls of strawberries preferably wild ones
1 splash of dry vermouth
1 sprig of fresh mint
150 ml gin or vodka

Chill two martini glasses and a cocktail shaker in the freezer for 30 minutes.
Wash and hull the strawberries, and pick the mint leaves.
Put a few drops of dry vermouth into each glass and swirl it around.
Put 3 strawberries into the bottom of each glass – if they're big, cut them into pieces first.
Throw the remaining strawberries and the mint leaves into the cold cocktail shaker and squash them with the end of a rolling pin.
Add 2 handfuls of ice cubes and the gin or vodka, then put the top on and shake it about.
Strain into the martini glasses.

Nutrition Facts : Calories 34 calories, FatContent 0.1 g fat, SaturatedFatContent 0.0 g saturated fat, ProteinContent 0.5 g protein, CarbohydrateContent 3.6 g carbohydrate, SugarContent 3.5 g sugar, SodiumContent 0 g salt, FiberContent 0 g fibre

A strawberry lemon drop martini is a sweet spin on the classic lemon drop cocktail. Give it a try, and if you're like everyone else, you'll be smitten!



I've been making The Best Lemon Drop Martini You'll Ever Have for years now.

As an Amazon Associate I earn from qualifying purchases.

I've never felt the need to improve upon this recipe, however, it occurred to me a while ago, that I didn't need to improve upon it, and could still enjoy something a little different. It's rather like having strawberry lemonade once in a while. The classic old fashioned lemonade may still be best, but who's keeping score?

Fresh Strawberry Lemon Drop Martini

Ingredients (for one)

2 shots Ketel One Citroen Vodka
juice of 1/2 lemon (fresh Meyer lemons are best)
2 or 3 fresh strawberries, finely chopped
2 teaspoons Baker's (extra-fine) Sugar
(extra sugar for rimming glass)

Place the chopped strawberries in a small ramekin or cup and crush with the tines of a fork, then stir in 1 teaspoon of sugar. Set aside for about 4 or 5 minutes.

Rub the edge of a martini glass with half a lemon, then dip rim in a bowl of extra fine sugar.

Fill a beverage shaker with ice and add the lemon juice, strawberries, the other teaspoon of sugar and the vodka. Close and shake 50 times, then pour through a small sieve into the prepared martini glass, using the back of a spoon to press the strawberry puree.

Garnish the strawberry lemon drop martini with a strawberry and lemon slice and repeat as needed because everyone's going to want one! (A standard sized shaker can accommodate the ingredients for two drinks at a time.) Cheers!

PLEASE DRINK RESPONSIBLY and DON'T DRINK AND DRIVE!

Don't miss another post! Sign up for my FREE subscription below.

Sauvignon Blanc is my fave! And sometimes, when I'm feeling a little fruity, I'll add some sliced strawberries to it. It's a great pairing! And since I love to make cocktails, a Sauvignon Blanc Martini just made sense!

It's full of strawberry flavor, it's tart from the wine and packs an extra kick with the vodka. Whether you're looking for vodka recipes or wine cocktails, this drink will have you smacking your lips with glee!

One Hope Wine sent me wine to use in this post. Which is super awesome. When a brand sends me a sample of their product it means that I don't have to buy it myself. And then I can spend money on taking my kids somewhere fun instead. That's rad.

Sauvignon Blanc Cocktails are Awesome!

It's so hard to decide if I like cocktails or wine better. Wine is so easy. You just pop off the top and pour into a glass. But any cocktail I would make (I'm a little bit lazy) is super easy too. I decided to experiment and combine the two.

It had to be done. I couldn't cram all these delicious cocktail recipes, featuring wine, into one post. I made red wine based cocktail recipes. I made a few with white wine and even one with White Zinfandel!

But, since I love Sauvignon Blanc, I knew that I needed to make a cocktail with it also. I used this recipe as a guideline but swapped the watermelon juice (too much work, I'm lazy, and I'm not a huge fan of watermelon) for muddled strawberries. YUM!

This drink could be considered a martini due to the vodka. (I know that doesn't MAKE a martini but in my head it pretty much does). The vodka, wine and club soda are tasty. But the lemon juice and strawberries…WOW! It really makes some cocktail magic!

Ingredients

Sauvignon Blanc
vodka
fresh strawberries, hulled
simple syrup
lemon juice
club soda

For this Strawberry Basil Margarita recipe, I made a strawberry simple syrup. But that was a long time ago. Before I got lazy. But also before I realized that muddling fresh fruit gives a drink a ton of flavor.

It's a little bit of a different flavor than simple syrup – it can be more concentrated, but it loses that freshness that I love.

Also, feel free to play around with the amount of the simple syrup. I don't love overly sweet drinks so I would usually do less than this. But I tend to like things more on the bitter side so I kept it in the recipe for the "average" person.

Wondering what type of sauvignon blanc to use? Read my 5 favorite bottles from New Zealand.

Smirnoff Vodka Review

I'm sure you've seen this red packaging and, of course, you've heard of Smirnoff. I did a tasting recently of vodkas hanging around my house (I have a bunch of vodka recipes on the blog and I like to change things up).

Unlike with wine, vodka should be pretty unassuming meaning not a huge burning sensation on the swallow and overall non-offensive.

The Smirnoff vodka didn't have a strong smell like some of the others but it did have a bit more of a burn on the throat. Not in an off-putting way, but when compared to other brands, you knew you were drinking vodka.

And since the smell was minimal, I was expecting not a lot of flavor.

It had more flavor than I expected. It was certainly not unpleasant to drink and I know it mixes really well in cocktail recipes. I also didn't try the vodka chilled which would probably really help things in the flavor department.

But listen, I'm not an expert in anything other than knowing what cocktails I like to drink. So take this review for what it's worth. Which is not much. You can ready more about my favorite vodka to use for Moscow Mules and beyond.

How to Make a Strawberry Sauvignon Blanc Martini

I absolutely loved that there was an inspiring quote on the side of the One Hope Wine cork. A pretty cool touch if you ask me. I love when companies make the decision to add little details intended for the consumer. It makes my heart happy.

In a cocktail shaker, add lemon juice and fresh strawberries.
With a muddler, muddle the heck out it.
Add vodka, Sauvignon Blanc and simple syrup.
Add ice and shake well.
Strain into a cocktail glass and top with soda water, to taste.

This Sauvignon Blanc Cocktail recipe is super easy and totally different. Make these for your friends. You will totally impress them. And that is what friendship is all about, right? One-upping them? No? Oops.

Strain into a martini glass and you've got yourself a delicious Strawberry Sauvignon Blanc Martini.

This cocktail was super tasty. The strawberries added a nice sweetness and the lemon juice really brightened it up. I'll admit to being a total nerd about these wine cocktails. I had a blast trying them all out!

(A note: my neighbor got super lucky because I would make a drink, taste it, shoot the photos and then take it to her house and keep working on the other ones. I'll let you know if anyone ever moves out of my neighborhood so you can move in…)

This delicious Sauvignon Blanc cocktail recipe is full of fresh fruit flavor and mixes my favorite with wine with vodka for a fun wine cocktail idea!

Variations

The last time I made this drink I left out the club soda and it was still delicious! If you don't enjoy that fizz in your drinks, just skip it!

You can use strawberry simple syrup instead of muddling fresh strawberries but it will lose some of that freshness that I so love when using fruit.

You can try this with flavored vodka for another flavor boost. A citrus version would be tasty!

LAST UPDATED: September 26, 2019

FIRST PUBLISHED: June 20, 2014

Facebook
Pinterest
Yummly
Flipboard

Its strawberry season! What better to celebrate with than a Strawberry Martini?

This strawberry martini is made with and juicy strawberries mixed with vodka and a touch of balsamic. It's our favorite strawberry cocktail!

The city I live in, Abbotsford BC, is known for its berries. In fact it is often called the Raspberry capital of Canada, but its more like the berry capital of Canada. Or maybe even the world! Sometimes it seems as if everyone here either has a berry farm, and uncle with a berry farm, or has worked on a berry farm lol.

While that might be a little far fetched, you would be hard pressed to find a person who grew up here who hasnt gone berry picking once in their life… When I was little, my mom used to take my brother and I to the U-Pick farm where we would pick/eat berries till our tummy's or pails were full. Whichever came first.

We are a little spoiled in this part of the world, when it comes to strawberries. The fresh and local ones we get at this time of year are so incredibly juicy and sweet, it almost makes it tough to buy strawberries the rest of the year.

They are so fresh that the other day, I was at a produce market at 9 am to get strawberries and I had to wait because that mornings shipment from the farm hadnt made it in yet. I will gladly wait for freshly picked strawberries!

You dont have to have local strawberries to make this martini, but if you do, take advantage!

Debbie and I first found this drink at Cactus Club and now we have it every time we eat there, but we had to figure out a way to make them at home too. I think ours is pretty damn good.

You might look at the ingredient list and think "WTF, why is there vinegar in there?" But trust us, we know its weird, but it brings out the strawberry flavor just a bit. Just like a splash of balsamic when you macerate strawberries for a sauce.

We like a little bit of pulp in our martini, especially when the strawberry flesh is so perfect. But you can just use the strained juice if you prefer.

If you love strawberries and you love martinis, your going to be in heaven with this one.

February 22, 2021 by Amber 7 Comments

The Strawberry Shortcake Martini is made with cake flavored vodka, Bailey's Strawberries and Cream and a homemade fresh strawberry simple syrup.

You may have seen those outrageous Frozen Strawberry Mudslides on the site a couple weeks back made with Baileys Strawberries and Cream! The stuff was just too good not to share another super tasty strawberry recipe right away. And yes, you should expect a few more in the future.

Strawberry Shortcake Martini

Strawberry Shortcake Martini really does taste like a delicious strawberry shortcake dessert in liquid form with a little kick of alcohol added. Dessert that will get you buzzed! I am so on board with this one. You will taste the sweet strawberry and burst of cake notes in each sip. The cocktail goes down easy, yet is still strong and packed full of flavor. Not to mention, the drink is a beautiful pink hue so you can serve it for a friends 21+ birthday or to celebrate a holiday like Valentine's Day or even Mother's Day.

What You Need

Pinnacle Vodka Cake Flavored
Baileys Strawberries and Cream
Strawberry Simple Simple. Homemade is super easy! You just need : fresh strawberries, water and sugar with a saucepan, whisk, mesh strainer and jar.
Cocktail Shaker
Ice
Martini Glass

Process

Martinis are great to make! They are strong little drinks that only need a few ingredients that you add to a cocktail shaker with ice and pour into a glass to enjoy.

Place ice into a cocktail shaker.
Add equal parts vodka and Baileys.
Add in a splash of strawberry simple syrup.
Shake it up.
Pour into a martini glass.
Add a fresh strawberry on the rim for cute garnish.

No cocktail shaker? Use a protein shake blender bottle! That's how I roll. Protein shake in the morning, martini at night.

Strawberry Simple Syrup

You don't HAVE to make the strawberry simple syrup yourself. You can buy at the grocery. However, making a fresh syrup with fresh strawberries just tastes… well, fresh. Plus, it is crazy easy to make.

Ingredients:

8 ounces strawberries, diced (1 & 1/2 cups)
1 cup water
1 cup granulated sugar

Instructions:

Wash and dice strawberries.
Place diced strawberries in a small saucepan with the sugar and water.
Bring to a low boil.
Lower to a simmer for 20 minutes, whisking from time to time.
Use a mesh strainer to pour sauce into a container. Don't squish the strawberries down or anything in this step. Just pour and let it strain.
Cool and store in fridge.

The strawberry simple syrup can be used for all sorts of foodie creations. Strawberry lemonade, cocktails, desserts like strawberry shortcake or poured over ice cream or sweeten up breakfast with some strawberry simple syrup drizzled over pancakes.

Affiliate links are provided below for your convenience. You can see my full disclosure policy here.

Strawberry Shortcake Martini

Super yummy strawberry shortcake martini recipe that is crowd pleasing.

Easy Bailey's strawberry and cream drinks that you will be making all the time.

Simple and delicious strawberry cream liqueur drinks for happy hour or parties.

Tasty strawberry shortcake martini alcohol drink recipe that is loved by all.

If you are looking for a strawberry and cream alcoholic drink this is the one for you.

Get ready to make the best strawberry shortcake martini.

Check out these other

Alcohol Drink Recipes

How to Make Strawberry Shortcake Martini

for Strawberry Simple Syrup:

Add water and sugar to a small pan.

Bring to a boil and then reduce heat to low.

Stirring regularly, cook for 15 minutes.

Remove from heat.

Stir in the strawberry preserves.

Set aside and allow to cool completely.

for the Strawberry Shortcake Crumble:

Add crushed cookies and jello to a mixing bowl.

Pour in the melted butter.

Combine with a fork.

for the Strawberry Shortcake Martini:

Dip rim of your glass into the strawberry simple syrup and then into the strawberry shortcake crumble.
Add ice to your cocktail shaker.

Add in the vodka, Baileys Strawberries and Cream and strawberry simple syrup.

Shake ingredients for 15-20 seconds.

Pour into the martini glass. Garnish with a fresh strawberry.

Strawberry Shortcake Martini

Ingredients

for the Martini:

2 ounces vanilla vodka
2 ounces Baileys Strawberries and Cream
1 ounce strawberry simple syrup
Shallow bowl with ¼ cup Strawberry Shortcake Crumble
Shallow bowl with ¼ cup Strawberry simple syrup
Martini glass chilled
Ice
Small cocktail shaker
Fresh strawberry for garnish

for the Strawberry Simple Syrup:

½ cup strawberry jam or preserves
½ cup water
½ cup granulated sugar

for the Strawberry Shortcake Crumble:

1 –3-ounce box of strawberry jello
20 vanilla cream sandwich cookies crushed
¼ cup butter melted

Instructions

for Strawberry Simple Syrup:

for the Strawberry Shortcake Crumble:

for the Strawberry Shortcake Martini:

DID YOU MAKE THIS RECIPE? Let me know I'd love to see it! Please Share @kimspireddiy and tag #kimspireddiy – Please Leave A Rating

I would love for you to share a link to this recipe, but please Do Not copy/paste the recipe or instructions to social media or websites. You may share one photo with a link back.

Do Not Forget To Pin! So you can come back and make this tasty Strawberry Shortcake Martini recipe!

It is the responsibility of the Reader to assure the products or ingredients they use in any recipes from Kimspireddiy are allergen-free, sugar free, gluten-free, egg-free and/or dairy-free, for example) Weight Watcher friendly, Keto friendly or Vegetarian friendly. Kimspireddiy assumes no liability for inaccuracies or misstatement about products, nutrition, points, opinions or comments on this site. Even though nutritional information is given it is the readers responsibility to calculate points, net carbs & nutritional information. KimspiredDIY holds no responsibility for calculations.

Can you fall in love with a cocktail at first sip? I definitely did when I first tasted the beauty that is the strawberry basil martini a few years ago. And I'm SO excited to share with you my at-home version of this deliciously fresh and fruity cocktail.

One of the first cocktails I ever tried was the iconic cosmopolitan made ultra famous by Ms. Carrie Bradshaw. Ever since, I've been a fan of nearly any sweet drink that is served in a martini glass.

Fast forward several years and I'm at a restaurant here in Toronto called Scaddabush. With a menu full of delicious italian food, we found ourselves there often. Their herby cocktails became the highlight of my meal. The cucumber gin + tonic, blood orange margaritas, then I tried the strawberry basil martini.

Have you ever tried a drink and thought to yourself, this is what I would taste like if I were a cocktail. This is my spirit drink.

Fresh strawberry, vibrant basil, refreshing lime, it all came together in the perfect martini glass with the brightest natural red colour I've ever seen a drink be.

Imagine my heartbreak when they removed it from the menu. Something about the supplier not making the strawberry syrup anymore.

It wasn't until a year later I was on vacation in Puerto Rico dining at Serafina that the strawberry martini and I were reunited. Of course our affair was short lived because my vacation was only a weekend.

Ever since, I've been on a mission to perfect an at-home version of this summer cocktail recipe.

And I've finally done it.

How to Make Strawberry Basil Syrup

This is similar to a simple syrup (sugar and water) with the addition of fresh strawberries. You can find my quick recipe here.

Feel free to double the syrup recipe and store it in the fridge for a few weeks. This strawberry basil martini comes together quickly when the syrup is ready and waiting for you to make this easy summer cocktail.

Food Pairings to Serve With

Personally, the real question here is when isn't this the perfect drink to serve. But if you're looking to really impress guests, serve this as an aperitif (before dinner) preceding fresh pasta or other homemade Italian favourites. A margherita pizza or spaghetti with marinara sauce topped with fresh basil, of course, would be a delectable menu following this summer cocktail with basil.

Volg de onderstaande instructies voor een verfrissende zomercocktail met een kick. Je zult geen spijt hebben . of nuchter! Recept maakt 2 heerlijke drankjes.

ingrediënten

5 ons (150 ml) wodka
3 theelepels (12,5 gram) suiker of Splenda
1 kop (245 gram) aardbeien

Stappen

1 koude martini-glazen in de vriezer
2crush

1 kopje grote aardbeien, gewassen met steel en bladeren verwijderd, in een kom en laat het sap in een shaker vallen (een vijzel en een stamper is handig voor deze stap), laat 2 aardbeien over voor garnering

3voeg gemalen ijs toe aan de shaker
4giet 5 ons van wodka in shaker (vanille wodka kan worden gebruikt voor een zoetere smaak)
5 voeg 3 theelepel toe. van suiker of Splenda
6schud krachtig
7giet voldoende suiker op een klein bord om het oppervlak te bedekken
8verwijder martini-glazen uit de vriezer
9Snijd de uiteinden van 2 overgebleven aardbeien verticaal, zodat er een spleet in de onderste helft van elk is
10plaats bessen op de rand van glas en schuif volledig rond de rand, zodat het oppervlak bevochtigd wordt met sap
11verwijder aardbei en plaats glas, rand naar beneden, op plaat met suiker, zodat elk glas een suikerrand heeft
12giet de inhoud van de shaker gelijkmatig tussen 2 gesuikerde glazen en garneer vervolgens met de aardbei op de rand
13drinken, genieten, herhalen
14 Afgewerkt.

Affiliate links are provided below for your convenience. You can see my full disclosure policy here.

Chocolate Covered Strawberry Martini Alcohol Drinks

Looking for the best alcohol drink recipe?

Try this chocolate covered strawberry martini.

Easy chocolate strawberry martini that will please any crowd.

Tasty and delish chocolate covered strawberry drink.

Homemade strawberry chocolate martini for happy hour, parties, Valentines day or just a yummy alcoholic drink.

Simple and quick strawberry vodka martini that you will be making over and over.

Strawberry and cream martini idea that will be your new favorite.

Get ready to shake up the best chocolate covered strawberry martini.

Check out these other

Alcohol Drink Recipes

How To Make Chocolate Covered Strawberry Martini

Melt chocolate chips in a microwave safe bowl for 20 seconds and stir until smooth and melted.

Dip rim in chocolate to coat.

Add all ingredients to a cocktail shaker

and shake for 10 seconds.

Pour mixture into prepared glass.

Garnish with chocolate shavings

and strawberry on rim.

Chocolate Covered Strawberry Martini

Ingredients

¼ cup dark chocolate chips
3 oz strawberry flavored vodka
2 oz creme de cacao
4 oz heavy cream
4 oz 1% milk
2 tbsp chocolate syrup
Garnish with chocolate shavings and fresh strawberry

Instructions

DID YOU MAKE THIS RECIPE? Let me know I'd love to see it! Please Share @kimspireddiy and tag #kimspireddiy – Please Leave A Rating

I would love for you to share a link to this recipe, but please Do Not copy/paste the recipe or instructions to social media or websites. You may share one photo with a link back.

Do Not Forget To Pin! So you can come back and make this tasty chocolate covered strawberry martini recipe!

It is the responsibility of the Reader to assure the products or ingredients they use in any recipes from Kimspireddiy are allergen-free, sugar free, gluten-free, egg-free and/or dairy-free, for example) Weight Watcher friendly, Keto friendly or Vegetarian friendly. Kimspireddiy assumes no liability for inaccuracies or misstatement about products, nutrition, points, opinions or comments on this site. Even though nutritional information is given it is the readers responsibility to calculate points, net carbs & nutritional information. KimspiredDIY holds no responsibility for calculations.

The original Daiquiri dates back to the early 1900s in Cuba. The recipe combined rum, lime juice and sugar. The original grew in popularity over the years with different variations being created; bartenders would add fruits like strawberries, raspberries and even bananas into the recipe, which people loved. It can be served chilled, or you can use frozen fruit to blend to make a super refreshing tipple. Today we're showing you how to make a Frozen Strawberry Daiquiri which combines the original recipe with frozen strawberries.

How To Make A Strawberry Daiquiri Cocktail

Make this delicious cocktail by combining rum, lime, sugar and frozen strawberries in a blender to create the perfect summer cooler.

Strawberry Daiquiri Ingredients

250g frozen strawberries and a fresh strawberry to garnish.
150g ice
50ml rum
25ml of lime juice

Step By Step Guide To Making A Strawberry Daiquiri

Step One

Chill your Coupe glass in the freezer 10 minutes before you make this cocktail.

Step Two

Add your frozen strawberries, ice, rum and lime juice into your blender. Blend until smooth.

Step Three

Pour your mix into your glass, garnish with a strawberry and a slice of lime, enjoy!

Serve Your Strawberry Daiquiri In One Of Our Glasses

When serving any cocktail, you want the presentation to look like it's in a high-end bar. Our Hand-made Crystal Coupe glasses are perfect for so many cocktails, and it lets everyone around you know that you are a person that appreciates details and the finer things in life. Our hand-made glasses come in an elegant gift box, a perfect gift for a cocktail lover or, in fact, yourself.

Share Your Strawberry Daiquiri With Us On Instagram

We love to see your creations, especially if you're using our incredible glasses. When you have made the Strawberry Daiquiri cocktail, before enjoying it, make sure you grab a picture & tag us on Instagram at @vemacityuk.

Cocktail Friday returns. Take it away hubs…

Yo foodies! It feels SO good to be back in the saddle and shaking drinks for the blogging community. Happy Friday! I've been loving life with my new gig but all the traveling and deal making has kept me away from the bar. My BAD and thanks for the patience.

Look, I know some of you are still experiencing cool weather out there but it's H.O.T. in Florida. I find my myself in South Beach every Wednesday with sweaty arm pits every week so cold fruity drinks are all I can think about. Since it's spring (even though it feels like summer) we are bursting with berries here. I am married to a berry-holic so they're always on hand. I spotted a gang of strawberries in the fridge and my mind started to wander. Strawberries make me think of a favorite dessert… strawberry shortcake.

Strawberry shortcake sounds pretty good so my mind wandered what it would taste like in a cocktail.

Well, it tastes pretty dang good. Pinnacle Vodka has a good thing going on and their Cake Vodka is no joke. Really this drink is so simple BUT so flavorful. Homemade strawberry syrup and cake vodka…say no more; just mix, sip and smile!

Tina prettied this lovely little drink up with fresh authentic whipped cream and sliced berries. Ain't it beautiful?

Thanks for you patience people. It feels good to back with you in the blogosphere. Happy Friday to us all.

Strawberry Shortcake Martini

Yield: 5 martinis

Prep Time: 15 – 20 minutes

Total Time: 20 minutes

Adult Strawberry Shortcake. a drinkable version! 😉

Ingredients:

For the Strawberry Puree (enough for 5 martinis):
16 ounces frozen whole strawberries
1/2 cup water
1/2 cup sugar
2 tablespoons lemon juice

For the Strawberry Shortcake Martini:
2 ounces cake flavored vodka
3 ounces of strawberry puree
fresh whipped cream, for garnish (optional)

Directions:

For the Strawberry Puree:
Simmer for 10 minutes until sugar is dissolved and fruit is softened. Allow to cool and blend vigorously until smooth. If there are any pulp/seeds left, strain through a fine mesh strainer (Note: If you have a Blendtec, blend on whole juice setting and you won't need to strain the mixture).

For the Strawberry Shortcake Martini:
Place ingredients in a cocktail shaker filled with ice and shake vigorously until chilled. Pour into a martini glass and top with (optional) dallop of fresh whipped cream, and garnish with a sliced strawberry.

These links will open in a new window

You must be logged in to add items to Your Favourites

You must be logged in to add items to Your Wish List

Modern cocktails
Fruity cocktails

Cocktails & mixed drinks

Serve in a

Garnish:

How to make:

MUDDLE strawberries in base of shaker. Add other ingredients, SHAKE with ice and fine strain into chilled glass.

| | |
| --- | --- |
| 5 fresh | Small ripe strawberries (hulled) |
| 2 1 ⁄2 shot | Ketel One Vodka |
| 1 ⁄6 shot | Balsamic vinegar of Modena |
| 1 ⁄2 shot | Sugar syrup (65.0°brix, 2 sugar to 1 water rich syrup) |

You must be logged in to add your own notes

Review:

The balsamic adds a little extra interest to the fortified strawberries.

History:

Created in Che, St James's Street, London, England and originally named Strawberry & Balsamic Martini, this drink was popular in London bars during 2002.

Nutrition:

One serving of Strawberry & Balsamic Cocktail contains 220 calories.

Strawberry mocktail recipe. Learn how to make a delicious, refreshing, sweet strawberry drink perfect for a summer party. A non alcoholic cocktail for strawberry lovers.

A Martini glass makes any drink look sophisticated and elegant and elegance is sophistication is just what exudes this wonderful pink mocktail made withg strawberry and tonic water.

This mocktail looks a little like a thick Cosmopolitan but it is alcohol-free and full of the delicious summer flavor of fresh strawberries, enhanced by a touch of lemon and fresh mint.

Strawberry Mocktail Recipe – Pin this!

What do you need to make this strawberry mocktail

A sharp knife – to chop your strawberries

A glass or porcelain container– to marinate your strawberries

A shaker – for mixing your concoction

A cocktail skewer – for adding a decorative fresh strawberry to your finished mocktail

How to make this simple alcohol-free strawberry cocktail

Wash your fresh strawberries, then use a sharp knife to cut off their stem.

Set two aside, and slice all the others into small chunks. Pur your chopped strawberries into a bowl, add lemon and sugar, cover with cling film and let them marinate (about 30 mins).

Once macerated, move them into a shaker, add tonic water and ice and shake well.

Pour into a martini glass (use a strainer if you prefer a thinner consistency), then use the two strawberries you saved as decoration. Add fresh mint leaves as an extra garnish.

Top tip: for an extra touch, you can rim your glass with sugar and make it look even more curated!

Strawberry mocktail recipe

A delicious, refreshing, sweet strawberry drink perfect for a summer party. A non alcoholic cocktail for strawberry lovers

Ingredients

200gr fresh strawberries
3 teaspoons of sugar
The juice of one lemon
20ml tonic water
Ice
Fresh mint leaves for decoration

Instructions

Wash and chop the strawberries, then leave to marinate in lemon and sugar for about 30 mins
Once macerated, move into a shaker then add tonic water and ice
Shake really well and serve into a martini glass, with an extra strawberry as decoration and fresh mint leaves for a dash of colour

Looking for more refreshing non-alcoholic summer mocktails? Head over to over magical mocktails home page for more ideas.

By Lauren on December 31, 2019 , Updated April 27, 2021 10 Comments

Fresh sweet strawberry shaken cold with smooth vodka and topped with just the right amount of sparkling wine. Sparkling Strawberry Martinis are the perfect cocktail for any celebration, especially to toast the New Year!

Another year in the books and we begin to make plans to make plans to celebrate the closing of 365 days and a decade. Woah. Perhaps I'm not the only one out there feeling conflicted about all that's happened in 2019. It's been chock full of ups and downs. The ups have been so so great and the downs. well. let's pack them up on a rocket and send them to space.

In the meantime, I'm going to fill my glass with strawberry martinis and sparkling wine because they are just a smidge too easy to sip on.

Boozy Strawberry Bliss

This martini is positively delicious, goes down way way way too easily, and the champagne is just a little float on top to add an appropriate amount of festive bubbles and a hint of bubbly wine flavor. Champagne + Strawberries – yes, please.

"Wait. whaat? Champagne and vodka? I mean 2019 had it's moments but it wasn't that bad. " Don't go running for the hills just yet.

The fresh muddled fruit shaken cold with vodka and simple syrup makes the base for this martini boozy enough but without being a shock of harsh alcohol taste. The sparkling wine adds a little natural acidity and balances the sweet while providing a pleasant fizz.

Making sparkling strawberry martinis is easy, quick and seriously. that strawberry flavor is unreal.

Building the cocktail

Great news! You'll have cocktails for cheersing in no time.. In a martini shaker, muddle 4 large strawberries. Smoosh them down like you're in one of those old Bacardi mojito commercials from 2005. After muddling, they should resemble strawberry purée. Add your simple syrup – equal parts sugar (dissolved) and water – and the vodka.

Give it a really good shake over ice. Like 'I skipped arm day' shake.

The trickiest part, that really isn't that tricky, is that you need to double strain it into the martini glass. So really, it just involves holding a small mesh strainer (like a tea strainer or heck a really small holed colander) above the martini while you empty the contents of the shaker.

Then just top off the martini with enough champagne or sparkling wine to fill the glass and you are off and cocktailing.

Tips for making sparkling strawberry martinis

CAN I USE FROZEN STRAWBERRIES?

Yes! If the strawberries at the store are looking a little sad and unripe, pick up frozen, whole, unsweetened strawberries and just let them thaw before muddling.

CAN I JUST PUT THE STRAWBERRIES IN THE BLENDER?

Unfortunately, no. Unless you plan on making it a frozen drink and blending them with ice. The muddling of the strawberries turns it into a juice, but when you blend them they just get chopped up into smaller bits and you won't get enough of that strawberry juice flavor in the drink.

If you're able to get your hands on fresh strawberry purée – something a bar would use – that will work as an easy substitute.

WHAT IS MUDDLING?

An important tool in the bartender's arsenal. A muddle – or even the handle of a wooden spoon – is used to mash fruit, herbs, and sometimes spices in the bottom of a mixing glass to add flavor to drinks. It's the first step when building a muddle drink.

When muddling the mint for a mint julep or whiskey smash, it's just to bruise the mint. When you're muddling the strawberries for these sparkling martinis, you want to mash the fruit. Really get that anger out.

Tip: add crushed ice to the mixing tin helps to mash the strawberries.

DO I NEED A DOUBLE STRAINER?

For a really smooth and delicious martini, yes. This small mesh sifter is a good one. If you're okay with serving this cocktail over ice, then I'd say you could skip the double strainer. The difference is that the mesh strainer is going to keep out the strawberry pulp. Having some pulp is more forgiving if served over ice rather than martini style.

All dressed up and no where to go.

To dress up the appearance of your drink, it's New Year's after all, you can float a thin slice strawberry and/or rim the glass with sugar. To do that just pour a little simple syrup on one plate and granulated sugar on another plate. Dip the martini glass rim in the simple syrup, shake off excess liquid and then repeat with the sugar.

Voila! All dressed up and no where to go but down the hatch.

If you're hosting the holiday or serving this up for brunch, these fig flatbreads go wonderfully with strawberry martinis or fresh homemade bruschetta. They're quick, simple and delicious – just like your cocktail!

Written by Corina Nielsen on March 22, 2021

ADD MORE DELICIOUSNESS TO YOUR INBOX

Subscribe to get simple, easy, and insanely delicious new keto recipes every week.

You're in! We'll send you delicious recipes once a week 🙂

Alcoholic drinks like sangria, mojitos, and margaritas may hit the spot in terms of taste, but they're also a one-way ticket out of ketosis. In this classic cocktail recipe, you'll use fresh lemon juice, exogenous ketones, and stevia for flavor, and vodka as your spirit of choice.

This cocktail recipe is:

Sweet
Refreshing
Fruity
Satisfying

The ingredients include:

Optional additional ingredients

Monk fruit sweetener
Lime juice
Keto-friendly flavoring

Health Benefits of This Strawberry Lemon Drop Martini

Boosts Energy

If you're looking forward to relaxing with a cocktail but also want to put a little pep in your step while you do it, this lemon drop cocktail is like hitting two birds with one stone. Naturally, the vodka will give you a nice buzz, but the real secret ingredient here is the exogenous ketones.

Since exogenous ketones can be used immediately for energy, no drawn-out digestive process needed; when you sip on this cocktail, you'll be providing your body with a little boost in energy[*].

Take the keto quiz

Find the right keto snacks & supplements
for your unique goals

Blood Sugar Regulating Plus Antioxidants

Most lemon drop martinis that you order at a bar come packed with sugar. That's what makes this cocktail such a treat, after all. The downside is that once you're done with your tasty treat, you'll be craving more…and more. Why? Because you're on a blood sugar roller coaster.

True to keto-style, this low-carb martini replaces the sugar with stevia, resulting in zero grams of sugar and only two net carbs. In addition to keeping your blood sugar stable, stevia is packed with antioxidant compounds that support the fight against oxidative stress[*].

While alcohol can be a nice way to relax at the end of the day, one of the downfalls is that it increases oxidative stress in your body. When you sip on this keto martini, however, you'll be naturally supporting your antioxidant defenses to help combat some of the stress that the alcohol is inducing[*].

Are There Carbs In Martini's?

The number of carbs in your martini depends on the type of martini you're enjoying.

Vodka itself has zero carbohydrates, but most martinis don't just include vodka. For instance, a Cosmopolitan will get its carbs from cranberry juice, and an apple martini will be loaded with sugar from the apple-flavored syrup.

However, a dirty martini with a splash of olive juice will yield little to no carbs.

To ensure your martini is keto, keep a steady eye on the ingredients you're adding. Low-carb cocktails should include no added sugars.

Do's And Don'ts When Making A Keto Cocktail

To ensure that your martini is going to fit squarely into your keto diet, keep these guidelines in mind:

Stay away from flavored or sweetened vodka. Even vodka that says "lemon flavor" likely comes with a hefty dose of sugar in it as well. Instead, add your own flavors like fresh lemon juice or flavor extracts that are sugar-free.
Always go for water or soda water, and avoid tonic water. Even though you may not have guessed it, tonic water is full of sugar and could kick you out of ketosis even in moderate amounts.
Avoid fruit juices or any type of syrup. Many cocktails come with little extras like a splash of juice or a pump of simple syrup. If you're out at a bar, always ask what ingredients are added to your drink.
Use salt to lime the rim of your martini, not sugar. This may seem obvious, but it's an easy mistake to make, especially when you're not the one making the cocktail.
Watch out for liqueur like triple sec, it may add a nice flavor, but it's packed with carbs.

Will Alcohol Kick You Out Of Ketosis?

Alcohol in moderation shouldn't kick you out of ketosis — as long as the alcohol is low carb.

With that being said, excessive alcohol intake can interrupt ketosis as your body wisely chooses to metabolize alcohol before any other nutrient that comes in. Therefore, if you're enjoying higher or even moderate carb cocktails, this could lead to increased blood sugar, or at the very least, a halting of fat burning.

As long as you drink low-carb alcohol in moderation, you should be fine. As always, each individual is unique, so check your ketones to figure out your alcohol limit.

ADD MORE DELICIOUSNESS TO YOUR INBOX

Subscribe to get simple, easy, and insanely delicious new keto recipes every week.

You're in! We'll send you delicious recipes once a week 🙂

Berry Delicious Lemon Drop Martini

This keto strawberry lemon drop martini is a delicious summer cocktail made with simple ingredients like fresh lime juice, exogenous ketones, and vodka.

Author: Corina Nielsen
Total Time: 5 minutes
Yield: 2 martini's 1 x

Ingredients

2 scoops Perfect Keto Strawberry Lemonade Base
4 ounces vodka
2 tablespoons lemon juice
1 tablespoon stevia

Instructions

Add vodka, ice, Perfect Keto base, and lemon juice to a cocktail shaker. Shake well for 10-15 seconds.
Dip the rim of each martini glass in water, then dip into stevia.
Pour martini's into each glass and garnish with a sliced lemon and a small strawberry.

Nutrition

Serving Size: 1 martini
Calories: 159
Fat: 0
Carbohydrates: 2g
Fiber: 0
Protein: 0

Keywords: Keto strawberry lemon drop martini

Did you make this recipe?

Tag @perfectketo on Instagram and hashtag it #perfectketo

Are you of legal drinking age? Click Enter only if you are at least 18 years of age.

Just added to your cart


What you need

These cocktails don't need much equipment and usually use ingredients that are already in your cupboards or available at your local supermarket. All you need is a shaker, strainer & double strainer.

Cocktail #1 – Jam Jar Pie


A delicious mix of sweet & sour. A super refreshing cocktail with a burst of citrus.

To make our delicious Jam Jar Pie, you will need:

20ml Vanilla Syrup

20ml Elderflower Cordial

75ml Apple Juice

Our glass of choice would be a lowball with lots of ice!

Steps to make our Jam Jar Pie:

Add ice to your glass to get that frosty effect

Add all ingredients into your shaker, add ice, then shake!

Strain into your glass of ice

Garnish with a mint leaf or apple fan

Cocktail #2 – Scottish Haartini

This is our Scottish twist on the classic French martini. This cocktail uses both the signature Lunun Gin & Brambley. A match made in heaven if you ask me.

To make it, you will need:

10ml vanilla syrup

75ml Pineapple juice

This cocktail looks best in a Martini glass

How to make this twisted classic:

Add a couple of ice cubes to your martini glass

Add all ingredients into your shaker, add ice and shake!

Remove the ice from your now chilled martini glass

Double strain the cocktail

Garnish with a juicy Scottish Bramble

Cocktail #3 – Jamberry Buck

This cocktail uses our Jamberry sweetened gin. The best thing about our sweetened gins is that they are made up of Lunun Gin but we add in fresh Scottish fruits to create them. So cocktails made using Jamberry or Brambley, do not need may ingredients as we have already added them in for you.

For our Jamberry Buck you will need:

Steps to recreate our Jamberry Buck:

In a tumbler style glass, muddle up a couple of strawberries

Add a 50ml measure of Jamberry Sweetened gin

Fill glass 3/4 full of crushed ice

Top with ginger beer

Garnish with a generous strawberry slice

Try out these amazing recipes and be sure to tag us on instagram @lunungin

I found these Oreo Cookie Shots at Headquarters, in Nashville, TN. Wendy the bartender was kind enough to share the recipe with me. So of course, as soon as I got home, I tried it. Yummy!

Oreo Cookie Shots

Ingredients that you'll need to make Oreo Cookie Shots

You'll need first and foremost Oreo cookies! Then a vodka, whole milk, heavy whipping cream and a box of junket dried soft serve ice cream. Yes, I said dried soft serve ice cream. I thought the same thing at first but then I googled it. It does exist and you can find it here.

This post may contain affiliate links. We make a small commission if you buy the products from these links (at no extra cost to you). As an Associate, I earn from qualifying purchases. But we only recommend products we would use ourselves. For more information, click here to see our disclosures.

Oreo Cookie Shots

Oreo Cookie Shot Directions

Add the dried soft serve ice cream, milk, whipping cream and vodka to a blender and blend for 10 seconds. If you don't have a blender, you can do this in a deep mixing bowl with a beater.

Oreo Cookie Shots Oreo Cookie Shots

Break each Oreo cookie into 4 pieces and add it to the blended milk mixture.

Oreo Cookie Shots Oreo Cookie Shots

Blend for just 5 seconds.

Oreo Cookie Shots

Once blended, pour the ingredients into a plastic container. Place this container in the freezer for 3 – 4 hours, until chilled, then move it to the refrigerator. Your shots are now ready to drink!

Oreo Cookie Shots

Other easy cocktails that you may like

Blue Passion
Spiced Tea
Dark & Stormy
Pina Colada
Ice Breaker
Endless Summer
Mead Sour
Moscow Mule
Mojito
Coconut Mojito
Bourbon Ginger Old Fashion
Bourbon Blackberry Mead

Quick links are to the left and at the bottom of the post. Sharing is caring! Follow me on Facebook, Instagram and Pinterest!

published on March 15, 2021 · last updated on June 4, 2022

Strawberry Champagne is a sweet, easy-to-make bubbly cocktail. It requires just four simple ingredients. Perfect for Easter brunch, Valentine's Day or any other time you want some bubbly. Makes 4 cocktails.

This Strawberry Champagne Cocktail was originally published on March 18, 2016. The post was updated with new text and images in March 2021.

I'm a sucker for champagne drinks, and since we're hosting family here for Easter this year, I'm already thinking about our Easter brunch menu.

I knew I wanted to throw together a delicious cocktail for our get-together. Champagne has always been a favorite brunch alcohol of mine. I meaaaaaaaan… how can you go wrong with a mimosa?

So while I was brainstorming, I wondered if I could do a take on the classic mimosa.

Why I love this recipe:

Strawberry Champagne is bubbly and sweet; the perfect springtime champagne cocktail.

It has a stronger pour of the champagne (or other sparkling wine you use), and the homemade strawberry simple syrup allows the drink to end on a sweet strawberry note. It adds a gorgeous color, too.

If you're hosting brunch with girlfriends, looking for an Easter brunch drink or want to make a champagne cocktail for your sweet at Valentine's (or any other time), this Strawberry Champagne is for you!

Looking for a different type of sipper? Head on over to my Drinks Recipe Index for some inspiration!

What you need to make Strawberry Champagne

The Speckled Palate participates in affiliate programs. As an Amazon Associate, I earn a commission from qualifying purchases. Please refer to my disclosure page for more information about these affiliate programs.

Blender or food processor (to make the strawberry puree.)
Saucepan to make the strawberry simple syrup
Champagne flutes

In addition to these tools, you're going to need some ingredients, too:

Water
Granulated sugar
Strawberries—fresh or frozen. We chop them up to go into the strawberry simple syrup, which is essentially a sweetened strawberry puree. Use what you can find, and defrost frozen strawberries beforehand if using those. Pro tip: Frozen strawberries will probably be sweeter in the winter months.
Your favorite sparkling wine—a dry sparkling wine works best here, so feel free to use prosecco, cava, champagne or even brut rosé champagne

How to make Strawberry Simple Syrup

Make the Strawberry Simple Syrup

In a small saucepan, combine the water, sugar and chopped strawberries. Bring to a simmer over high heat. Cook until all the sugar has dissolved. This shouldn't take more than 5 minutes.

Remove from the heat, and let the flavors infuse for about 30 minutes while sitting in the saucepan and cooling.

Once infused, blend the simple syrup together in a blender, then transfer to an 8 oz. mason jar. Refrigerate until chilled.

A note on this simple syrup recipe: You can make this up to a week in advance, and store it in the refrigerator. This recipe will make for 4 strawberry champagnes, but you can easily double or triple it if hosting a crowd for an at-home brunch.

How to make a Strawberry Champagne Cocktail

First, get out your champagne glasses or flutes. Measure out the strawberry simple syrup into them.

Pour the champagne or other sparkling wine on top of the strawberry simple syrup.

Stir gently with a cocktail spoon—if you stir too vigorously, your flute will overflow!—and then enjoy immediately.

Erin's Easy Entertaining Tips and Tricks

Champagne mixed drinks are one of my favorite drinks to serve at an at-home brunch, whether or not it's a holiday brunch, because everyone enjoys bubbly in the morning when paired with breakfast foods.

This Strawberry Champagne definitely fits right in! Here are a few ideas of making this cocktail for entertaining in the near future.

Purchase your ingredients in advance… and if you're hosting a crowd, consider doubling or tripling this recipe. We love Strawberry Champagne so much in our house and have had the unfortunate instance of running out of champagne while making them to share. Be sure to have enough on hand if guests want to enjoy more than one drink.
Chill your champagne, too! While you can drink champagne on ice, this drink is especially delicious when served chilled.
Make ahead tip: The strawberry simple syrup keeps in the refrigerator, so you can make this in advance! However, you cannot pour the champagne mixed drinks in advance because the sparkling wine will go flat.
Add some twists to this Strawberry Champagne Cocktail! Variety is the spice of life, and you can certainly do that with this strawberry drink. Add a shot of gin to turn it into a Strawberry French 75 or add a splash of orange juice to turn it into a Strawberry Orange Mimosa.

When should you serve this champagne cocktail? Whenever you feel like opening up bubbly! We've served this at brunch for friends, as well as served family at Easter brunch. I think this would make a delightful drink to serve on Valentine's Day, too.

Frequently Asked Questions

Yes! While some people refer to Strawberry Champagne as rose champagne (and it's oftentimes served over ice), this recipe is for a combination of strawberries with champagne.

If your champagne isn't cold enough, yes, you most certainly can. We try to put our champagne "on ice" (AKA in the coldest part of our wine fridge) about a day before we make this so it's nice and cold.

Once your champagne is open, pop it into an ice bucket to keep it cold!

Here's how we made this champagne mixed drink:

Strawberry Hennessy is the flavor combo you never knew you needed. The rich, smooth taste of cognac, paired with bubbly champagne and sweet strawberry syrup is incredibly refreshing and delicious. If you like to get lit with a fruity margarita cocktail, you're sure to enjoy this one!

Many people enjoy Hennessy on the rocks or as a shot, but it's also great for cocktails. Skip the bar and whip up this fruity drink at home. You don't need advanced bartending skills for this simple mix.

What is Strawberry Hennessy?

Though there's no official strawberry variation of Hennessy, bartenders have been mixing the popular cognac with fruit for quite some time. The sweet-yet-tangy taste of strawberries goes well with the smooth oak and vanilla flavors of cognac. Strawberry and "Henny" can be combined to make delicious margaritas and other cocktails.

What Does Strawberry Hennessy Margarita Taste Like?

A Strawberry Hennessy Margarita is exactly what you need on vacation (or when you feel like you need a vacation!). It's a fruity, summery drink that's both sweet and tangy, thanks to the strawberries. You'll be making your own syrup with fresh berries for an authentic fruity flavor.

Ingredients You'll Need

How to Make Strawberry Hennessy

Step 1: Make Strawberry Syrup

Step 2: Make Strawberry Hennessy Cocktail

Tips for the Perfect Strawberry Hennessy

A homemade strawberry sauce will definitely give you the best Strawberry Hennessy cocktail. Be sure to make it ahead of time so that it's nice and cool before mixing it with the rest of the ingredients.
You can customize the level of sweetness and of your drink. Start with less amount of syrup and slowly add more. Taste and adjust for the perfect flavor.
Use Stevia for a healthier drink.

Variations

Strawberry Pineapple Hennessy Cocktail: Make a strawberry pineapple sauce by adding pineapple chunks, strawberry slices, sugar, and water to a saucepan. Use this syrup instead of strawberry syrup in the recipe.
Strawberry Lemonade Hennessy: Simply add some lemonade into your drink.
Strawberry Hennessy Island: Combine 10z Hennessey, ½ oz lime juice, ½ oz triple sec, and ½ oz Blue Curacao. Stir in strawberry syrup and serve over ice.

If You Like This Recipe Try These Out

Jungle Juice
Vegas Bomb
Screwball Drink
Mimosa

If you tried this recipe, let me know how your Strawberry Hennessy Drink turns out in the comments below!

February 6, 2017

Chocolate strawberry martini – your favorite strawberries and chocolate combo gets a boozy lift in this dangerously delicious cocktail.

What's the first thing that pops into your head when you think Valentine's day treat? I bet it's chocolate, and then I am ready to bet, your next thought will be chocolate-dipped strawberries. There is a good reason why chocolate and strawberries is such a cliche for this holiday – not only they scream sophisticated treat, but the red, heart-shaped strawberries, almost symbolic in appearance, dipped in luscious chocolate are the perfect, seductive, one-bite treat.

This Valentine's day, may I suggest something a little more fun, and flirty, yet with the same amazing taste, like this chocolate strawberry martini? In this impressive cocktail, the classic pair is further 'enhanced' with some Wild strawberry vodka, White creme de cacao liqueur, and vanilla ice cream! It is absolutely delicious, and served in chocolate-dipped glasses, it makes for a killer presentation. Be warned though, it goes down dangerously fast!

Frozen strawberries can be substituted if fresh ones are hard to find still. I started to see the first fresh strawberries coming up on the markets, and I couldn't resist. I chose white chocolate liqueur like Hiram Walker white creme de cacao, which is clear and sweet with a lovely chocolate aroma, so as not to muddle the delicate pink color of the cocktail. You can also make a mocktail version for your kids, by skipping the liquor, and blending the strawberries and vanilla or white chocolate ice cream instead.

For decoration, you can use any chocolate you like – white, dark, or milk to dip your glasses. Simply melt it over a double boiler, and then get creative by tilting the glass rim to make those chocolate waves, and drips, or hold the glass vertically, and dip down for a straight edge.

Impress your sweetheart by serving this chocolate strawberry martini at the end of a romantic dinner, and resist the temptation to bite off the rim of the glass! ?

Disclosure: This post may contain affiliate links. I receive a small commission at no cost to you when you make a purchase using my link. Click here for details.

The essence of a chocolate dipped strawberry is all about the strawberry! You need that juicy, sweet strawberry flavor to be right there in front or there's no point. And that is what I have here in my latest cocktail! A strawberry chocolate martini! Intense strawberry flavor, a little cream to soften things, and chocolate to round things out. Yum!

I knew as I began developing this drink that I needed a kick-ass, intense strawberry sauce. One that wasn't too sweet, and also one that wasn't too thick since I didn't want all the strawberry flavor sitting at the bottom of the glass or requiring us to pull out our straws. Not for this drink at least. 🙂

It took me a few tries, but finally I came up with my Strawberry Vanilla Bean Syrup. The moment I smelled it as it cooked on the stove, I knew it was the winner. A little time spent dialing in on the right amount of sugar, and we had intense, amazing syrup. The foundation of the drink had arrived!

The next question was what to use for the chocolate flavor? A chocolate syrup? A chocolate liqueur? Creme de cacao?

Chocolate syrup was too heavy and sank. Nope to that one!
Chocolate liqueur made the flavor muddy and obscured the strawberry. Remember the amazing strawberry syrup? No obscuring it, so nope to that one too!
Creme de cacao kept the strawberry flavor bright and – in something that turned out to be very important – didn't didn't muddy up the color of the drink. I wanted a chocolate strawberry martini that was as pretty to look at as it was tasty to drink.

One look and one sip of my strawberry syrup + creme de cacao + vodka cocktail and I was almost convinced. It was almost there. And then I had it!

A dollop of cream to round out the drink was the last little bit that put it over the top. Now I finally had the romantic chocolate dipped strawberry martini of my dreams. And I hope it will be the martini of your dreams as well.

If you try my recipe for Chocolate Strawberry Martini, I would love to hear from you in the comments with your experience and rating! And I'm happy to answer any questions you might have.

You can connect with me by subscribing to my emails (see the form in the sidebar or below the recipe card), liking my FACEBOOK page, or by following me on PINTEREST.

A strawberry lemon drop martini is like a little slice of Summer. It tastes quite similar to strawberry lemonade. It is refreshing, delicious, and a must have!

What is a Strawberry Lemon Drop Martini?

You might be wondering what exactly a strawberry lemon drop martini is. Quite frankly, it sounds a little complicated. However, you are in luck, as it is super simple to make.

Martinis are one of my favorite cocktails. You can make them in most any flavor. Chocolate martinis, strawberry martini, chocolate strawberry martinis, but one of my favorites is a lemon drop martini. A lemon drop martini tastes like a refreshing drink of lemonade.

So I got to thinking what could be better than fresh lemonade? And the answer is strawberry lemonade! And that's exactly what the strawberry lemon drop martini tastes like.

This cocktail is perfect for Summers and sipping. It's light and refreshing, it has a little tart citrusy flavor from the lemon, but the strawberry gives it enough sweet to balance that out perfectly.

Additionally, this cocktail is a beautiful pink color. It's colorful nature makes it perfect for bright and vibrant festivities and celebrations. Perfect for girls nights, any get-togethers, or sipping by the poolside.

Ingredients

This recipe only takes five simple ingredients. You will need:

Instructions

Luckily, this drink is not too difficult to make. You'll be able to whip the perfect one up and just a few minutes.

Step 1:

Place your martini glass in your freezer to chill.

Step 2:

Take your strawberries and simple syrup and place them in your shaker. Next, you want to muddle your strawberries and simple syrup together. Make sure that they are thoroughly muddled. You do not want big chunks of strawberry left so they should be thoroughly pureed.

(Optional: if you do not want to muddle strawberries, you can simply use strawberry flavored vodka. This will not give you quite the same fresh fruit flavor however it works in a pinch if you don't have fresh strawberries.)

Step 3:

Add ice, vodka, triple sec and lemon juice to the shaker with the strawberries and syrup. Put your top on your shaker. Shake until the outside of a shaker is icy.

Step 4:

Remove your martini glass from the freezer.

(Optional garnish): run a wedge of lemon around the rim of your glass. Place your martini glass rim down on a plate or saucer filled with sugar. Move around until the rim of your glass is thoroughly coated in sugar.

Step 5:

Pour the liquid from your shaker through a Hawthorne strainer into your martini glass. And place a strawberry and/or lemon wedge on the rim. Or both if you like.

How to Add Color to Your Cocktails: A Rainbow of (Natural) Color

A fun colored cocktail can create an entirely different ambience to your craft cocktail experience. Unfortunately, brightly colored cocktails are usually the sign of artificial colors, "red dye #2″ or unnaturally bright hues.

But, it doesn't have to be this way! In fact, here are dozens of beautifully and brightly colored natural ingredients that you can use to make cocktails of just about any color

How to make Red Cocktails

Cosmopolitan , Hurricane and Strawberry Daiquiri are some well-known red cocktail , but the possibilities go far beyond these classics! Check your kitchen cabinets, home bar and vegetabl drawer for some red-inspiring ingredients.

You can turn to liqueurs, like Campari and Martini Riserva, to achieve a bold red colored cocktail. Or, get some help from red colored bitter's, grenadine, fruity raspberries, pomegranates, or tart cranberries. There's so many options for the color "red", it's hard to go wrong!

Campari
Grenadine
Pana
Luxardo aperitivo
Cappelleti
Peychauds Bitters
Contrqatti Bitter
Martini Riserva
Angostura Bitters
Wild Roots Raspberry
Martini Bitter
Cinzano Bitter
Cranberry Liqueur
Cherry Liquer
Raspberry Liquer

Strawberry
Raspberry
Cherry
Red Dragon Fruit
Pomegranate
Blood Orange
Watermelon
Cranberry
Ruby Red Grapefruit
Pink Flesh Apple
Tomatoes
Sorrel Fruit
Goji Berries

Beet
Red Bell Pepper
Rhubarb
Radish
Beet Microgreens

Herbs, Spices,
Teas & Other

Rooibos tea
Hibiscus Flower Tea
Pink peppercorn
Paprika
Saffron
Red bean

How to make Orange Cocktails

Moving down the rainbow, orange cocktails are naturally next. Aperol can turn a standard glass of champagne into an orange and tasty Aperol Spritz. Or, some fresh mango can turn a summer margarita into a blended glass of orange-y goodness. Pro tip: add a tajin rim for a spicy kick. You may not have tajin, but as you look through this list, I think you'll find you may already have a naturally orange color-boosting ingredient tucked away in your pantry or fridge!

Creole Shrub
Pamplemousse
Arancello
Aperol
Grand Marrier
Orange Curaçao

Papaya
Oranges
Mango
Apricot
Persimmon
Cantaloupe
Nectarines
Passion Fruit
Orange Tomatoes
Kumquat
Papaya
Orange Prickly Pear

Carrot
Orange Bell Peppers
Habanero
Pumpkin
Squash Blossoms
Butternit Squash

Herbs, Spices,
Teas & Other

How to make Yellow Cocktails

Creating a naturally yellow cocktail will generally require fruits like pineapple, lemon and yellow dragon fruit. So, definitely expect a sweet and fruity concoction!You can also create a rum-forward Dirty Banana cocktail with banana liqueur and real bananas. (Warning: this cocktail is just as filling as it is tasty!)

Not all yellow ingredients are fruit, however – yellow bell peppers, beets, carrots and squash aren't nearly as sweet and bring their own unique flavors too. Try experimenting with them in syrups or purees to bring out their color and flavor!

Yellow Chartreuse
Strega
Galiano
Banana Liqueur
Salers Gentian
Limoncello
Suze
Damiana
St. Germain
Pear Liqueur

Yellow Watermelon
Grapefruit
Yellow Dragon Fruit
Pineapple
Banana
Mango
Papaya
Nectarine
Yellow Tomatoes
Golden Kiwi
Pear
Jackfruit
Golden Raspberry
Gooseberry
Lemon
Star Fruit
Pomelo
Etrog

Yellow Bell Pepper
Yellow beets
Yellow Carrots
Squash

Herbs, Spices,
Teas & Other

How to make Green Cocktails

Feelin' lucky? Then why not spruce up your cocktail with a fun green hue! Green doesn't have to be relegated to St. Patrick's Day (and certainly doesn't have to be filled with food coloring.) While Apple Pucker can create a vibrant apple martini and Midori can brighten up a sour, both liqueurs are pretty sweet. If you want something more refreshing, then cucumber, lime, mint and basil are all great options. I love getting creative when creating cocktails, so why not try several green elements together? I'll be the first to tell you that cucumber and mint are a match made in heaven!

Green Chartreuse
Midori
Creme De Menthe
Apple Pucker
Genepy
Ancho Reyes Verde
Absinthe
Ty Ku Citrus
Peppermint Liqueur

Kiwi
Apple
Pear
Avocado
Lime
Grape
Green Tomato
Honeydew Melon
Tomatillo
Cherimoya
Star Fruit

Cucumber
Celery
Green Bell Pepper
Spinach
Kale
Green Bean
Asparagus

Herbs, Spices,
Teas & Other

Green Tea
Capers
Olive
Basil
Sage
Thyme
Mint
Parsley
Cilantro
Dill
Rosemary
Green Spirulina

How to make Blue Cocktails

If you've ever had a blue cocktail (does Blue Lagoon, Blue Hawaiin or Blue Monday ring a bell?), then the blue hue was most likely thanks to blue Curaçao. While I won't knock Blue Curaçao, it's also made with artificial coloring and wouldn't exactly qualify as "natural". While there aren't a ton of natural blues out there, here are a few! Try playing with purple cabbage, blue spirulina, or even blue corn flowers. Feeling less adventurous? Blueberries work well too!

Blue Curaçao
Hypnotiq
Crème De Violette
(some brands)

Blueberries
Wine grapes
Damson Plums

Herbs, Spices,
Teas & Other

Butterfly pea Flower
Blue Spirulina
Blue Corn Flowers

How to make Purple Cocktails

Why would you want to make a purple cocktail? Why not? Purple is a color found quite often in natural ingredients, from fruit to vegetables to flowers, teas and spices. It's a beautiful and vibrant color with loads of flavor options! Lavender liqueur (or fresh lavender), elderberry, hibiscur or muddled blackberries can all add a delicious taste while creating a gorgeous purple hue in your glass.

Crème De Violette
(some brands)
Parfait Amor
Empress indigo gin
Chambord
Crème De Cassis
Red Wine
Lavender Liqueur
Marionberry Liqueur
Loganberry Liqueur
Sloe Gin

Figs
Grapes
Blackberries
Blueberries
Plums
Prunes
Raisins
Currants
Elderberry
Passion Fruit
Star Apple
Prickly Pear
Pluot

Purple Carrots
Raddichio
Beets
Eggplant
Red Shiso
Purple Cauliflower
Turnips
Kohlrabi

Herbs, Spices,
Teas & Other

Hibiscus
Purple potato
Purple Beans
Lavender
Purple Basil
Violets
Lavender

Naturally Flavored Cocktails

So that's a wrap! Hopefully this guide has given you some great inspiration for naturally flavored cocktails that span the whole rainbow. Whatever color you're trying to create, you have options for sweet, savory, and somewhere in between. By the way: if you're looking to make a lighter or "pastel" colored drink, I recommend adding egg whites or other cocktail foams. These foams will lighten up the color as well as creating a deliciously velvety texture.

Making something gorgeous? Come share with us in our Craft Cocktail Club! I'd love to see your naturally colored cocktail creations!