Making your own pizza is one of the ultimate cooking experiences. No matter how misshapen, over-sauced or charred it comes out, it will always be in a different league to what you can pick up from a takeout pizza chain.
HOW TO MAKE PIZZA
Why? Your hands have been in the dough. They've stretched it, torn it, and reworked it. They've spread the sauce, torn the mozzarella, and they slid it all into the oven. It almost doesn't matter how it comes out!
There are, however, a few simple secrets that will help you turn your humble homemade pizza into something that'll make your guests gasp, and Jamie's chef director across his specialist restaurants, Steve Pooley, is here to spill the beans on his pizza recipe. He's worked at Jamie's Fifteen, opened and headed up both Union Jacks and Barbecoa, as well as numerous Jamie's Italian sites. We invited him into the office to take us through the process behind the perfect homemade pizza.
Combine these tips with Jamie's basic pizza recipe and what you pull out of the oven will be perfect every time.
The surface
First, thoroughly clean a sturdy surface. Making sure it's dry, heap your flour onto it, and in a bowl, mix some warm water with yeast, salt and sugar.
Using warm (roughly blood temperature) water will help the yeast react better – not too fast, and not too slow.
Making the dough
Make a deep, high-walled well in the middle of the flour. Slowly start adding a third of the water. Using a fork, bring the flour in from the middle, retaining the well shape. Gradually add the remaining water until a sticky dough is formed. Don't worry if it feels too wet – go with it!
Kneading makes a huge difference. Working your dough for 10 minutes will help to release the proteins in the flour and give you a stronger, more stretchy end product.
Transfer to an oiled bowl. Here, fold the dough into itself a few times – this will help to delay the process slightly. Cover with clingfilm and allow to double in size (about 45 minutes to an hour).
Proving
Divide your dough into balls – a general rule is approximately 200g per portion.
Now it's time to form your dough into rounds before their final prove. Use both hands in a scissor motion, bringing the edges of your palms together – this will give you a smooth top and pinched bottom, ensuring an even rise.
Place, evenly spaced, on a lightly floured tray. Leave approximately three centimetres between each round. When they've expanded enough to touch each other, they're ready!
Carefully remove each round with a fish slice or pastry scraper, taking care to retain their shapes. Turn the smooth side down onto lightly floured surface.
Shaping
Option one (playing it safe)
Using fingertips and middle of fingers, gently stretch your round into a flat circle, and keep pushing the edges out until it reaches your desired size.
Option two (for the brave)Get to the end of option one and pick up the dough, place fists together, and stretch the dough out with a circular motion to increase its diameter.
Option three (for the showoff)
Toss in the air and use the weight of the dough as it lands to stretch it even thinner. This takes practice – don't do it in front of guests until you're confident!
Topping & baking
Place your base onto a baking tray that's been lightly dusted with semolina or flour.
To achieve a good, even spread of sauce, it's worth purchasing a flat-bottomed ladle. Alternatively, ladle as evenly as possible and spread with a large tablespoon to fill in the gaps. Next, cover with your chosen toppings. We've got loads of pizza recipes here if you're looking for some topping inspo.
It's best to place the topping ingredients where the sauce is thinnest. This will reduce the final weight and make it easier to transfer into the oven in one piece.
To ensure a great bake at home, make sure your oven is as hot as it can possibly get. Don't put your pizza in while the oven is still getting up to temperature.
Why not try making Anna Jones' gluten-free pizza recipe: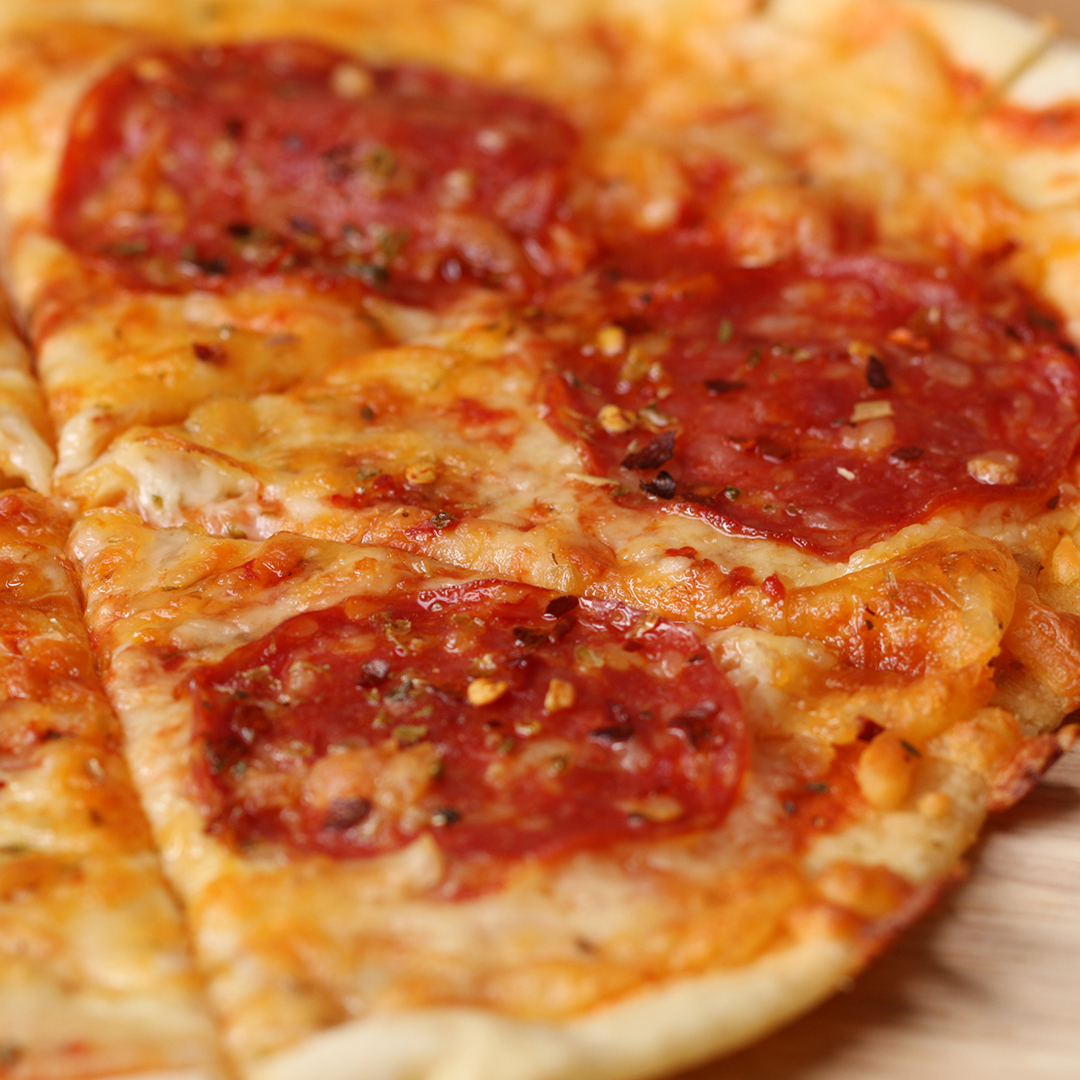 Ingredients
¾ cup self-raising flour ( 100 g )
¼ cup water ( 50 mL )
1 tablespoon olive oil , for frying
3 tablespoons pizza sauce
1 handful mozzarella cheese , grated
6 slices pepperoni
dried oregano
¼ teaspoon chili flakes
Nutrition Info
Calories 707
Fat 27 g
Carbs 87 g
Fiber 3 g
Sugar 3 g
Protein 26 g
Estimated values based on one serving size.
Preparation
Whizz together the flour and water in a food processor for a minute or so until it clumps together to form a single ball. You might need to add a little bit more water or flour to get the consistency right. (Dough should be soft, but not sticky!)
Preheat the grill (broiler) on high.
On a floured surface, roll out the dough to about 1 cm (½ inch) thick.
Ingredients
¾ cup self-raising flour ( 100 g )
¼ cup water ( 50 mL )
1 tablespoon olive oil , for frying
3 tablespoons pizza sauce
1 handful mozzarella cheese , grated
6 slices pepperoni
dried oregano
¼ teaspoon chili flakes
Nutrition Info
Calories 707
Fat 27 g
Carbs 87 g
Fiber 3 g
Sugar 3 g
Protein 26 g
Estimated values based on one serving size.
Making homemade pizza dough can sound like a lot of work, but it's so worth the bragging rights. The dough itself requires few ingredients and just a little bit of rising and rest time. While you wait for the dough to be ready, you can get to work prepping your tomato sauce, chopping fresh vegetables, or grating the cheese you'll put on top. Bake for 15 minutes, garnish with basil (or, let's be real, more cheese), and enjoy showing off your way-better-than-takeout creation.
Share via pinterest
Share via facebook
Share via email
Share via sms
Print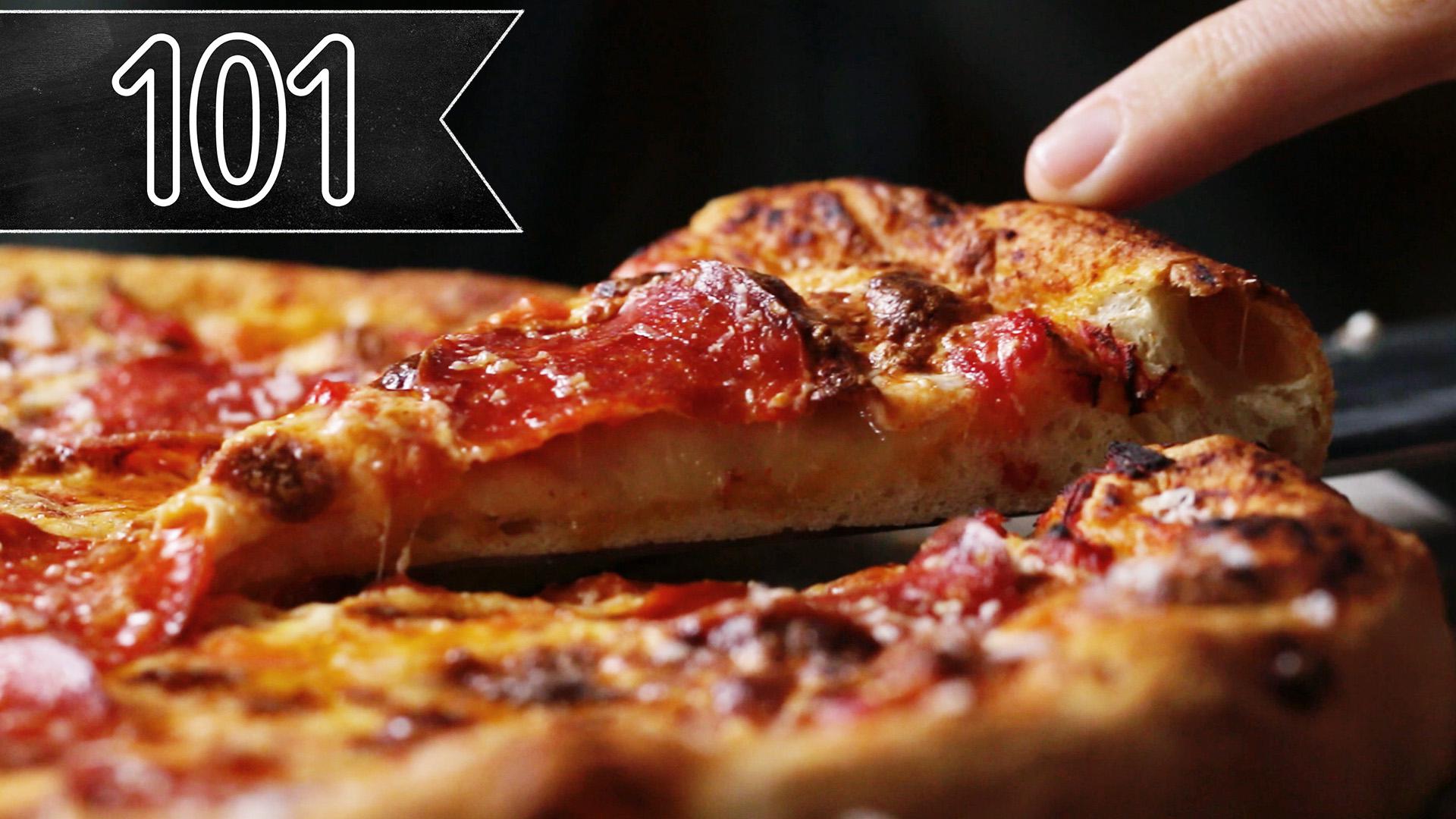 Ingredients
for 16 servings
2 ½ cups warm water ( 600 mL )
1 teaspoon sugar
2 teaspoons active dry yeast
7 cups all-purpose flour ( 875 g ) , plus more for dusting
6 tablespoons extra virgin olive oil , plus more for greasing
1 ½ teaspoons kosher salt
¼ cup semolina flour ( 30 g )
28 oz canned whole tomatoes ( 795 g )
1 tablespoon kosher salt
tomato sauce
fresh mozzarella cheese , torn into small pieces
fresh basil leaf
extra virgin olive oil
fresh mozzarella cheese , torn into small pieces
ricotta cheese
fresh basil pesto
dried oregano
tomato sauce
fresh mozzarella cheese , torn into small pieces
spicy pepperoni slice
freshly grated parmesan cheese
Nutrition Info
Calories 302
Fat 7 g
Carbs 50 g
Fiber 2 g
Sugar 1 g
Protein 6 g
Estimated values based on one serving size.
Preparation
"Bloom" the yeast by sprinkling the sugar and yeast in the warm water. Let sit for 10 minutes, until bubbles form on the surface.
In a large bowl, combine the flour and salt. Make a well in the middle and add the olive oil and bloomed yeast mixture. Using a spoon, mix until a shaggy dough begins to form.
Once the flour is mostly hydrated, turn the dough out onto a clean work surface and knead for 10-15 minutes. The dough should be soft, smooth, and bouncy. Form the dough into a taut round.
Ingredients
for 16 servings
2 ½ cups warm water ( 600 mL )
1 teaspoon sugar
2 teaspoons active dry yeast
7 cups all-purpose flour ( 875 g ) , plus more for dusting
6 tablespoons extra virgin olive oil , plus more for greasing
1 ½ teaspoons kosher salt
¼ cup semolina flour ( 30 g )
28 oz canned whole tomatoes ( 795 g )
1 tablespoon kosher salt
tomato sauce
fresh mozzarella cheese , torn into small pieces
fresh basil leaf
extra virgin olive oil
fresh mozzarella cheese , torn into small pieces
ricotta cheese
fresh basil pesto
dried oregano
tomato sauce
fresh mozzarella cheese , torn into small pieces
spicy pepperoni slice
freshly grated parmesan cheese
Nutrition Info
Calories 302
Fat 7 g
Carbs 50 g
Fiber 2 g
Sugar 1 g
Protein 6 g
Estimated values based on one serving size.
When Matt Robinson of Real Food by Dad needs a quick dinner he knows his kids will love, he turns to pizza. Check out his simple method for how to make pizza dough.
Pizza is a staple in my home. Along with being easy to make and inexpensive to construct, it's like a blank canvas that allows me to create an endless variety according to our mood or what we have on hand.
An added plus to that is the kids love getting involved. While they aren't totally into making the dough, they do love to make their own personal pizzas — which of course always makes for a fun dinner and one that guarantees it will be consumed by the mouthfuls.
Speaking of dough, the pizza dough recipe below makes an easy, straight dough that can mixed and rolled right away. No need for rise time.
Dough can be made ahead of time and refrigerated for up to three days. The advantage in doing that is like any bread, the natural gases that build between the gluten creates an even lighter, thinner crust. Here's how to make homemade pizza dough.
Homemade Pizza Dough Recipe
See other pizza crust recipes for options.
Ingredients
¾ cup lukewarm water
1 teaspoon active-dry yeast
10 ounces unbleached all-purpose flour
1.5 teaspoons kosher salt
Directions
Preparation: Place pizza stone on lower middle rack. Preheat oven to 500° F. (A pizza stone is the key to a crisp, evenly baked pizza crust. You might like this pizza stone from Williams-Sonoma.)
Step 1: Combine and stir water and yeast in a mixing bowl until mixture resembles miso soup.
Step 2: Add flour and salt to mixture and mix until dough just comes together. Turn the dough onto a lightly floured surface.
Step 3: Knead the dough until the flour is incorporated, about five minutes or until it is smooth and elastic. The dough should be moist and slightly tacky. (If it's sticky, add in more flour 1 tablespoon at a time until smooth).
Step 4: Evenly divide dough in half and refrigerated one half for another time or double the topping recipe to make two 10-inch pizzas. If you would rather make individual pizza pies, portion the dough into as many round balls as you want pies. Once the portions have been formed, cover and let the dough sit for five to 10 minutes to allow the gluten to relax before rolling the dough out.
Step 5: Lightly grease a sheet of parchment paper with olive oil. Or, you can use cornmeal to dust the surface of your work area to keep the dough from sticking.
Step 6: Transfer ball of dough to parchment. Stretch out dough by hand as much as possible, then lightly brush with olive oil, cover with another piece of parchment. Another approach is to pound the dough down with your fist or the palm of your hand — this is just a preliminary shaping, to form the dough ball into a disc.
Step 7: Use a rolling pin (this adjustable rolling pin has over 1,300 5-star reviews on Amazon) and work from the middle of the dough outward to flatten dough to ¼ inch thickness. For those of you that like a thicker crust, roll the dough to your desired thickness. Using a rolling pin (rather than your fingers) will help maintain a consistent thickness.
If you don't have something flat to roll with, you can use the hand method. Dust your hands with flour to keep the dough from sticking. Gently stretch the dough using the back of your floured hands, letting the weight of the dough pull the dough thinner.
Use the backs of your fingers to push the dough out wider. Start in the middle of the dough with both hands close together, and slowly pull your hands apart, allowing the dough to glide above your hands. Turn the dough about 15 degrees on your hands and repeat this step until the dough is thinner, wider, and consistent throughout the entire circumference of the crust. Or even better, try spinning the dough in the air. This is certainly not required, but it's a lot of fun! It also helps to make the dough more round.
Posted on Published: Apr 2, 2021 – Last updated: Jun 14, 2022
Home / Baking / Homemade Pizza Recipe (from scratch)
Homemade pizzas are fun to make and taste absolutely out of this world. This is one of my favorites, it's topped with pepperoni, Pineapple, ground beef, and Green peppers.
Easy Pizza Recipe
Making your homemade pizza is like an art that you have to do over and over again in order to master it, even after the mastery you might still need some tweakings here and there just to suit your needs.
The Pizza Crust
There are various types of pizza crusts but my favorite is the thick and chewy crust but this pizza dough recipe that I'm sharing today can also work for the thin and crispy crust it just depends on how flat or how thick you layout your crust.
I also have a 20 minutes pan pizza recipe no-knead and done on the stovetop so if you are in a pinch and still want pizza, you can go for this. It will still satisfy your pizza cravings!
Easy Pizza Recipe
Making your homemade pizza is like an art that you have to do over and over again in order to master it, even after the mastery you might still need some tweakings here and there just to suit your needs.
All you need for an awesome pizza are quality dough, Tomatoes, Toppings, and cheese coupled with the right tools and a fair amount of practice – The more you make pizza, the more you learn about the tips and techniques that will suit your taste.
Pizza Dough
A good pizza starts with a good dough. When making Pizza, the wetter your dough is, the lighter and crispier your Pizza will be. However, you don't need to make it overly wet. It needs to be well manageable.
Pizza Toppings – What type of cheese should I use?
Be flexible and creative with your pizza toppings. In this recipe, I used pepperoni, pineapple, beef, sausage, and cheese but there are a whole lot of other toppings that you can use.
I like to use a combination of low moisture mozzarella cheese and provolone cheese for a stretchy cheesy pizza but you are free to also use the choice of mozzarella cheese you like – fresh or low moisture.
I prefer the low moisture mozzarella for a traditional homemade pizza like this one because the fresh mozzarella has high moisture content and this might affect your crust (or the whole pizza in general).
The low moisture mozzarella cheese has little moisture and it has the ability to adhere to your crust (toppings) because it is aged which makes it stickier when melted.
Related To: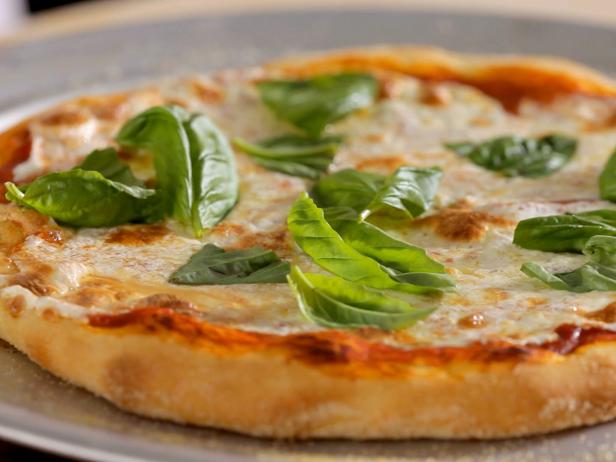 Step 1: Getting Started
Start with a medium bowl that's been lightly coated with olive oil. Add warm water (about 110 degrees F), dry yeast and sugar. Note: The activated yeast feeds on the sugar and makes the dough rise. In another bowl, combine flour and salt. Have a fork, cutting board, knife, pizza pan and rolling pin (optional) handy.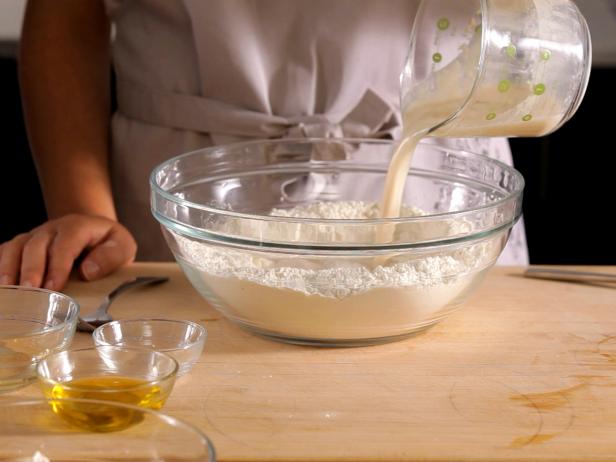 Step 2: Make a Well in the Center of the Dough
In the bowl containing the flour and salt, make a well in the center and add the yeast. Tip: If the yeast doesn't foam, check the expiration date and water temperature (should be approximately 110 degrees F). Add the olive oil. Use a fork to pull the dry into the wet, then mix.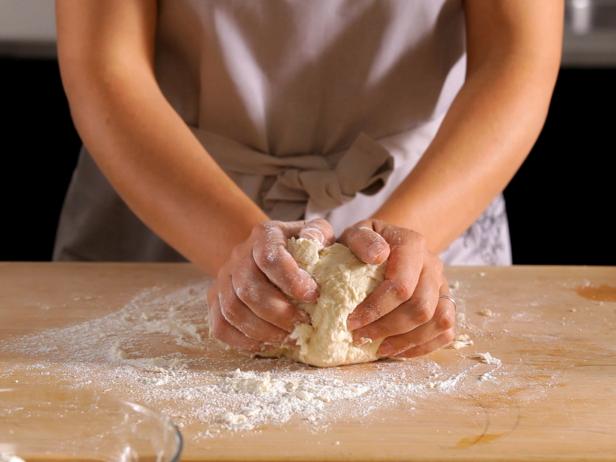 Step 3: Knead the Dough
When the dough starts to come together, get in there with your hands and knead it for a few minutes on a lightly floured board. Use the heel of your hand to push the dough down and forward. Give it a few turns. You're done when the dough is a little tacky.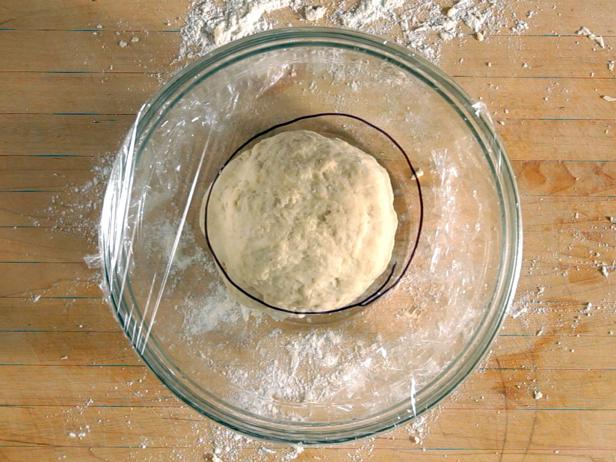 Step 4: Cover the Dough in Plastic Wrap
Place the kneaded dough into the oiled bowl, cover with plastic wrap and let it rise in a warm spot until it doubles in size. Tip: Chart the progress of the rising dough by using a marker on the plastic wrap to circle the size of the ball of dough at the beginning of the process. It can take anywhere from 1 to 2 hours for the dough to rise, depending on the recipe and ambient temperature.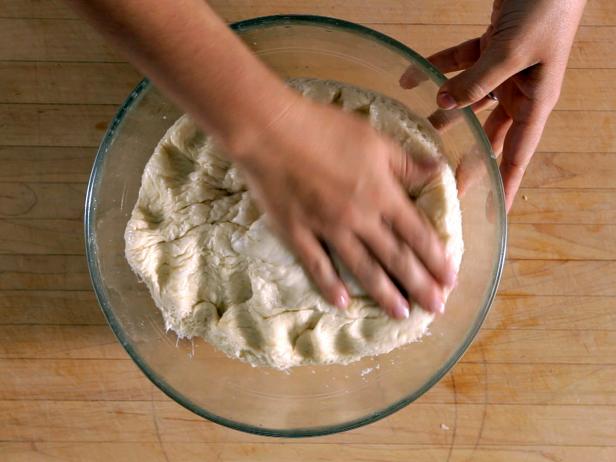 Step 5: Check to See If the Dough Is Done
If the dough leaves an indentation when poked, it's ready.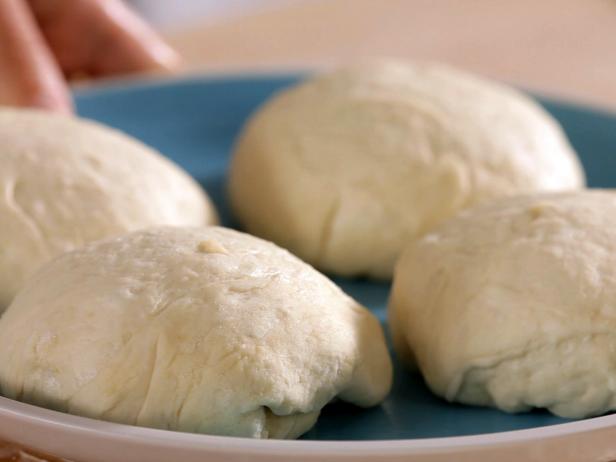 Step 6: Divide the Dough
Once the dough has risen properly, use a knife to divide it. The larger the piece, the bigger the pizza; the smaller portions are easier to handle at home. Form into balls for individual pizzas, and place on a plate. Cover with a damp cloth. Let the balls of dough rest until you poke them and see an indentation.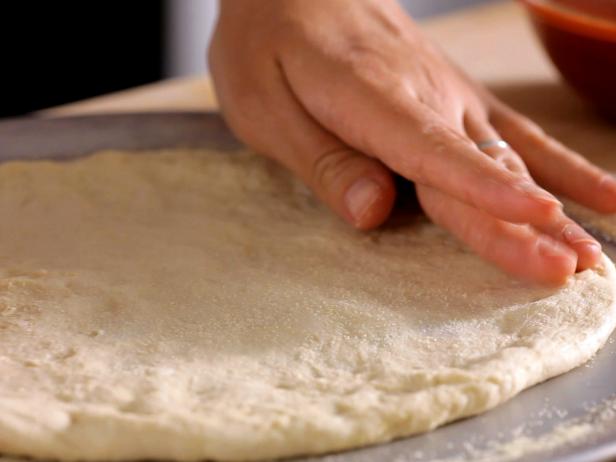 Step 7: Shape the Dough
Sprinkle a pizza pan with a little semolina for good separation and a nutty crunch. Place a ball of dough in the center of the pan and spread it out, using a rolling pin or your hands. Spin it. Pull the dough to the edges of the pan to thin out the center. Add some more semolina for better separation. Make sure the thickness is even.
This easy pizza dough recipe is great for beginners and produces a soft homemade pizza crust. Skip the pizza delivery because you only need 6 basic ingredients to begin!
This recipe is brought to you in partnership with Red Star Yeast.
This is my go-to pizza dough recipe. It was published on my blog 6 years ago and after making it for the millionth time, I decided it's time for an update with a video tutorial and clearer recipe instructions. Plus, many of you said you want to conquer your fear of yeast this year! Consider this your starting guide and refer back to it often.
(And if you've ever made homemade bagels or sandwich bread, you can easily make pizza dough because it's quicker, easier, and requires fewer steps.)
Pizza dough is the foundation and every great pizza begins with a great pizza crust. Some like thin and crisp pizza crust, while others prefer thick and soft pizza crust. This homemade pizza crust has it all: soft & chewy with a delicious crisp and AWESOME flavor.
Why waste the time when you can just buy frozen pizza dough? Frozen pizza dough is certainly convenient, but from-scratch crust has a delicious flavor and texture that only comes from homemade. Plus, most of the work is hands-off!
Overview: Homemade Pizza Dough Ingredients
All pizza dough starts with the same basic ingredients: flour, yeast, water, salt, and olive oil. Here's the breakdown of what I use in my homemade pizza crust recipe. The full printable recipe is below.
Yeast: I use Platinum Yeast from Red Star. I have the best results when I use this instant yeast. The Platinum yeast is fantastic because its careful formula strengthens your dough and makes making working with yeast simple. You only need 1 standard packet of yeast (2 and 1/4 teaspoons) to get the job done.
Water: I tested this pizza dough recipe with different amounts of water. 1 and 1/3 cups is the perfect amount. Use warm water to cut down on rise time, about 100-110°F. Anything over 130ºF kills the yeast.
Flour: Use unbleached all-purpose white flour in this recipe. Bleaching the flour strips away some of the protein, which will affect how much water the flour absorbs. You can substitute bread flour for a chewier pizza crust, but add a couple extra Tablespoons of water since bread flour contains more protein than all-purpose flour. If you love whole grain bread, try this whole wheat pizza dough instead.
Oil: A couple Tablespoons of extra virgin olive oil adds wonderful flavor to the dough. Don't forget to brush the dough with olive oil before adding the toppings, which prevents the crust from tasting soggy.
Salt: Salt adds necessary flavor.
Sugar: 1 Tablespoon of sugar increases the yeast's activity and tenderizes the dough, especially when paired with a little olive oil.
Cornmeal: Cornmeal isn't in the dough, but it's used to dust the pizza pan. Cornmeal gives the pizza crust a little extra flavor and crisp. Most delivery pizzas you enjoy have cornmeal on the bottom crust!
This is a Lean Bread Dough
Pizza crust, like homemade bagels, artisan bread, and focaccia, requires a lean dough. A lean dough doesn't use eggs or butter. Without the extra fat to make the dough soft, you're promised a crusty pizza crust. (However, I recommend using some olive oil for flavor and to keep the interior on the softer side.) Recipes like dinner rolls and overnight cinnamon rolls require fat to yield a "rich dough," which creates a softer and more dessert-like bread.
Overview: How to Make Easy Pizza Dough (for bread beginners)
Mix the dough ingredients together by hand or use a hand-held or stand mixer. Do this in steps as described in the written recipe below.
Knead by hand or beat the dough with your mixer. I like doing this by hand and you can watch me in the video.
Place dough into a greased mixing bowl, cover tightly, and set aside to rise for about 90 minutes or overnight in the refrigerator.
Punch down risen dough to release air bubbles. Divide in 2.
Roll dough out into a 12-inch circle. Cover and rest as you prep the pizza toppings.
Top with favorite pizza toppings.
Bake pizza at a very high temperature for only about 15 minutes.
Little bakers can lend a hand AND have fun in the process. Let the kids help you press down the dough and shape into a circle. They can add their cheeses and make pepperoni faces on top of the pie. Who doesn't love a smiley pizza? 🙂
Home / Pizza & Savory Tarts / How to Make Roman-Style Pizza from Scratch (Inspired by Rome's Forno Campo de Fiori Pizza)
This recipe will teach how to make Roman-style pizza from scratch. Inspired by the memorable pizza sold at Rome's Forno Campo de Fiori.
This post contains affiliate links. Full disclosure is at the bottom of the article.
I've recently noticed that when I think back on my recent trip to Rome, of all the amazing food I enjoyed, it's pizza I remember best. Well, maybe it shouldn't come as such a surprise given the city's pizza-making notoriety, but I didn't expect it to be the dish that would stick to my mind. During our stay in Italy's capital, E and I had pizza at many different trattorie, but the one pizza I remember best and still long for, months after, was the one served by weight at a take-out counter. Forno Campo de Fiori was always packed: keeping my place in line without being passed by locals used to the place's chaotic ordering and check-outing process was always a bit of a sport, but the prize was absolutely worth the struggle.
Forno's pizza is cooked as 6-foot long pies and is served with different toppings, but the combinations are always very simple. Usually, two or three carefully chosen ingredients garnish the pizza's crunchy dough, but the place is also famous for its minimalist pizza bianca, topped only with olive oil and coarse sea salt, which should become the poster-child for the merits of culinary simplicity.
Forno Campo de' Fiori's Pizza Bianca:

We loved Forno's so much that we went back to taste many varieties but our favorite was the zucchini pizza – the soft, nutty taste of thinly sliced zucchini combined with the milkiness of fresh mozzarella, contrasting with the crust's saltiness was an absolute chef d'oeuvre and we went crazy for it. Seriously, I could have eaten that pizza every day for a week. Of course, the fact that we enjoyed our €2 slices sitting on the rim of Campo de Fiori's fountain under the warm fall sun, while we watched busy and elegant Romans walk by didn't hurt to imprint the souvenir upon my memory either.
Campo de Fiori's Zucchini Pizza:

Picture-Perfect Campo de Fiori, Rome:
Back home, I started to experiment making Roman pizza, wanting to come as close to Forno's as I could. Much of the success depended on the crust's crispiness, which was difficult to achieve in a regular home oven. Also, as I usually made the pizza dough in my bread machine, my efforts produced a crust which rose too much during the baking process, even when rolled paper-thin.
Then the "new" Bon Appetit came along, with its first Italy-focused issue. I bought it out of curiosity, and found a recipe for Roman pizza that felt very close to the goal I was trying to reach. I couldn't resist trialing the recipe just a couple of days after. I kneaded the dough by hand and noticed right away that it stretched very easily and held its shape even after being rolled extremely thin. I felt hopeful and garnished the pizza with a classic tomato, mozzarella di bufala, and fresh basil combination. The result was flabbergasting in its deliciousness: I couldn't have come closer to the goal I was trying to reach. We wolfed down the first pie and I promised to quickly make the zucchini variety – which I did a couple of days later with equal success.
I now believe I have found the perfect Roman-style pizza dough. If you like thin, crispy pizza, I believe you'll fall in love with it too. Don't be put off by the idea of making your own dough by hand, it's a lot quicker than you think – believe me, I don't have a lot of patience for dough but this one was easy. Once you have made the dough, the key to the perfect pizza is keeping the toppings simple and using the very best ingredients. Now is the time to use your best olive oil, to splurge on mozzarella di bufala and to sprinkle liberally with precious fleur de sel. Your taste buds will thank you.
Helpful Tip for Making Roman-Style Pizza Dough
Rolling the dough extra-thin and the use of a pizza stone to bake the pizza are essential to get a crispy Roman-style crust. This recipe is for the crust only; choose the topping you want to try (see recipes below) and read recipes carefully to multi-task while the pizza dough is resting.
Making pizza at home can be a fun activity with your partner or the whole family. The variety and combination of toppings is endless and each person can personalize their pie. At Lock & Key in Los Angeles, Chef Tony Hernandez serves three different types of pizza: Chicago deep dish, New York-style thin crust, and Sicilian-style pizza with a sourdough crust.
Hernandez shares his dough-making and baking tips, so you can make a pie that looks like it came straight out of an artisanal pizza shop.
Below, we break homemade pizza down into each of its components: dough, sauce, cheese, and toppings, making it easy to master at home.
Make your pizza dough
There are so many different styles of pizza, and many different types of flour can work for pizza dough depending on your preference. Superfine 00 flour is best for Neapolitan-style pizza, and Hernandez recommends it for a chewier bite. While all-purpose flour won't create a dough that's quite as stretchy, it will result in a crispier crust. Quad Cities-style pizza includes malt in the dough for a sweeter, nutty flavor.
What you'll need
1 ⅓ cups of warm water between 100 and 110 degrees Fahrenheit
2 tsp. instant yeast
2 ⅛ Tbsp. olive oil
1 tsp. Kosher salt
3 ⅓ cups bread flour (all-purpose flour works if you can't find bread flour)
How to make pizza dough
Proof the yeast. Add yeast and honey to your bowl of warm water and let it dissolve. Then let it rest for 15 minutes.
Mix the dough. Add the flour, olive oil, and salt and mix with your hands until there are no dry lumps of flour left in the bowl.
Let it rise. Cover the bowl with plastic wrap and let it rest until the dough doubles in size. "If your kitchen's overall temperature is between 80 [degrees Fahrenheit] to 90 [degrees Fahrenheit], it'll generally take 90 minutes for the dough to rise," Hernandez says. "In cooler kitchens [under 80 degrees Fahrenheit], we are talking two hours and a half on average."
Let it rest. Put the risen dough in your fridge overnight or for up to 48 hours. Hernandez recommends the full 48 hours for maximum flavor. Pull your dough out of the refrigerator and let it rest for 30 minutes to one hour ahead of time before final shaping. Preheat your oven to 500 degrees Fahrenheit while the dough comes to room temperature.
Build your pizza. The next step is shaping your dough and topping it with everything that makes it delicious. Keep reading for more.
Select your sauce
Hernandez recommends making your own sauce using fresh ripe tomatoes, assuring that it's a lot less complicated than it seems. But if you are short on time, he says canned tomato sauce works too. "If you use traditional tomato sauce from a can, add herbs like basil, parsley and oregano to give it a little extra flavor," he says.
Quick tip: To make tomato sauce at home, blend one can of San Marzano tomatoes lightly with a few leaves of fresh basil. It's that simple. If you have time, Hernandez says simmering the tomato and basil blend on medium heat for 30 minutes with a little salt, pepper, and olive oil will help develop a darker color and deeper flavor.
Choose your cheese
Mozzarella is the most popular cheese for pizza for its simple, pure flavor that plays well with other ingredients as well as how easily it melts. But the sky's the limit, so feel free to experiment.
"I have used everything from Monterey jack, cheddar, and fontina to manchego, asiago, and truffle-infused cheese," Hernandez says. Grated cheese will yield a more evenly covered traditional pizza, whereas torn pieces of fresh mozzarella or any other cheese will create pockets of cheese.
"Most cheeses will melt so the texture is going to be soft, but you can use dry-aged cheese, like Parmesan or Grana Padano to garnish your pizza once it's out of the oven to get a different texture," he says.
Pick your toppings
Classic pizza toppings include pepperoni, sausage, garlic, mushrooms, basil, and spinach. Hernandez recommends playing around with creative flavor combinations at home — maybe roasted cauliflower with tahini or blue cheese with figs and caramelized onions.
Begin with a thin layer of sauce — too much sauce can make your crust soggy. "Put cheese evenly on top of the tomato sauce," Hernandez says. "After that, you can add the rest of your toppings, including any vegetables or meats."
Baking your pizza
Shape your dough. Pizza dough should feel bouncy, airy, and relaxed before the final shaping. Otherwise, give it more time and make sure it's not cold. Working from the middle of the dough outward stretch a dough round into a 10 to 12-inch circle that's slightly thicker towards the rim to form a crust.
Place stretched dough on a floured baking peel. If you're not transferring your pizza to a pizza stone or into a pizza oven, instead place your dough on a baking sheet.
Add sauce and toppings. Traditionally, the sauce goes first, then the cheese, then the toppings, but you can always experiment to discover new textures and flavor combos.
Bake until the bottom is crispy. In a traditional oven, cook pizza for 15-20 minutes at 500 degrees Fahrenheit. If you're baking in a high-temperature pizza oven, bake time is reduced dramatically, and the pizza will be ready in mere minutes. You can use a pizza stone to mimic the hearth, but you don't necessarily need one to get a crispy bottom.
Insider's Takeaway
There are many different types of pizzas and pizza doughs, but for a simple pizza at home, use bread flour or all-purpose flour. Mix your water and flour gently with a touch of honey and olive oil to make the dough, and let your dough rest and refrigerate it overnight and for up to 48 hours. Then pull it out to temper at room temperature before the final shaping and baking. It's worth it to make your own sauce with flavorful tomatoes, and have fun with the cheese and topping combinations you choose. Depending on how crispy or soft you like your crust, you can bake your pie for longer or a shorter time at a higher temperature.
This post may contain affiliate links.
Make pizza night a new camping tradition! Take your camp cooking skills to the next level with this campfire pizza recipe.
We used to think pizza was completely incompatible with camp cooking. Despite being one of the foods we find ourselves constantly craving, just the concept of trying to make pizza at a campsite seemed entirely impossible to us. You had to make the dough, you needed to have an oven, it just didn't seem like it was going to work.
But Michael's East Coast love for pizza runs deep, and where there is a will, there is a way. So we set out to make a camping-friendly pizza recipe that would allow us to achieve our dream of enjoying hot pizza and cold beer at a campsite. (Can you possibly imagine anything more perfect? Of course you can't!)
However, our quest was fraught with challenges. Not only were we trying to develop a way to make pizza from scratch… at a campsite…. without an oven, but the process had to be simple enough for us to actually want to make it. (Nothing deters us from a recipe like overly-complicated instruction or specialty single-use pieces of equipment!) This had to be simple, easy, and delicious.
The first major hurdle was the dough. We are wary of baking and when we see recipes that call for yeast, we usually run away and hide. But we decided to face our fears on this one, and to our surprise, it was a lot easier than we could have ever imagined. All we had to do was combine some flour, water and a packet of rapid yeast into a pot. Knead it around a couple of times and then leave it alone for 20 minutes. We can totally do that, and we guarantee you can too!

The next challenge was the actual cooking process. Obviously, every pizza recipe calls for an oven – which most people don't carry with them while camping. But perhaps we could figure out a way to grill it? Back when we lived in LA, we would make grilled pizzas on a small hibachi stove outside to avoid overheating our apartment (we didn't have A/C). The only problem with this approach at a campsite is fire ring needs to have a proper grate on it, which, in our experience, is far from a guarantee.
So we developed this recipe to be done in a cast iron skillet instead. By using cast iron, it allows us to cook over a campfire if there's a grate, or, cook using our propane-powered camp stove.
Now there are a couple tricks to cooking an amazing pizza in a cast iron skillet (which we will outline thoroughly in the recipe below), but here's general overview.
To shape the dough in the pan, place one of the dough halves into the pan and then press the dough outwards to form the crust. Once you've formed your dough in the pan, you'll want to generate even heat across the entire surface of the pan. This is easy if you're sticking your cast iron over a campfire because the broad heat coming off the fire encompasses the whole skillet. If you're cooking over propane camp stove, you'll want to move the pan around over the heat source so all sides are hot. (Cast iron retains heat like crazy, so rotate the edges of the pan over the heat source to let the whole thing heat up.)
Once the bottom of your dough starts to toast up and turn golden brown, you'll want to remove the entire pan from the heat. The reason we suggest taking it off the heat is that things start moving very quickly at this point and if you're not careful you can end up burning the dough. Removing the pan from the heat buys you some time to get your toppings in order.
Flip the dough, so the toasted side is facing up and the uncooked side is facing down, and then lay down your sauce, cheese, and toppings. Once everything is set, return to the heat and cover with a cast iron lid or aluminum foil. By covering the dough, you're trapping the heat and allowing the cheese to melt.
If your toppings have a lot of moisture (i.e. mozzarella, heirloom tomatoes, spinach, etc) you'll want to remove the cover half way through so the steam can escape. Basically, you're just trying to melt the cheese, so once that's done, you can remove the cover, so you're not left with soggy a soggy pizza.
Once the bottom is toasted to your liking, remove the skillet from heat and transfer to a plate. It's that simple! At this point, we're usually torn between eating the first pizza and reloading for the second pizza. Repeat, repeat, repeat.
You don't need a $300 portable pizza oven to make great pizza while camping. If you follow this recipe, all you will need is a good cast iron skillet. So what are you waiting for? It's pizza time!
Making Gourmet Easy, One Jaw-Dropping Recipe at a Time
We can't all build a brick oven in the backyard, but you CAN make perfect light and airy pizza at home! It all comes down to the dough…
Making the perfect pizza dough is most certainly a creative act, and for me it has been an obsession. I have experimented for years with different ways of making pizza dough: different flours, yeasts, resting time, kneading techniques, no-knead dough… A few months ago, I decided that I wanted to publish a pizza dough that was easy to make and would yield the results you might expect from a top pizzeria. So I rolled up my sleeves, read as much as I could on the chemistry of yeast and flour, and made dough – lots of dough.
This pizza dough recipe is the result of all my research and experiments (failures too!), and I must say that I am extremely excited to finally publish it.
To make a restaurant-style thin-crust pizza, the dough needs to have the right consistency (that is, slightly sticky) and the oven needs to deliver tons of heat. In the step-by step video, I address both of these issues in depth. So be sure to watch.
Two great flour options: the old standby, Tipo "00", or the "King" of bread flours!
And of course, let's not forget about the flour! This recipe calls for either bread flour (I use King Arthur's) or Caputo Tipo "00" Pizza Flour. Both flours yield superb crusts that are almost identical in texture and flavor, with the "00" flour delivering a slightly more refined pizza.
Are you ready to roll up your sleeves? I am… Let me show you how to make the perfect pizza dough, and then shape it into the most delicious thin-crust pizza!
Making fresh pizza dough is easy; it just requires a little advance planning.
There's no denying that pizza is one of our favorite foods; in fact, the USDA reports that in America alone, one in eight people eats pizza on any given day. The reason we're crazy for piping hot slices of pie should be clear — pizza is downright delicious.
Ask anyone about his or her favorite pizza and we're willing to bet that, while many will mention the toppings and some people will mention the sauce, almost every single person polled with have something to say about the crust. In the words of Craig Whitson and Tore Gjesteland, authors of Passion for Pizza: A Journey Through Thick and Thin to Find the Pizza Elite, "good ingredients on a poorly made crust do not a great pizza make." Luckily, excellent pizza dough is easy to make from scratch.
None of the steps in making pizza dough from scratch are inherently difficult, but mixing, kneading, shaping, and proofing the perfect pizza crust does take time and planning. Regardless of the style of pizza dough you're making (deep-dish, Neapolitan, New York, Sicilian, etc.), you'll want to plan ahead. Though pizza dough can be made and used the same day, it benefits from being made a day or two in advance; this gives the dough time to develop a more complex flavor and a better texture. Even if you're making pizza dough and using it the same day, it can be several hours from the time you mix the dough until it's ready to bake, so be sure to read your recipe in advance and plan accordingly.
Not only is fresh pizza dough simple to make from scratch, but the ingredients are easily accessible — all you need for a basic pizza dough is flour, salt, yeast, and water. Though you have a number of options when it comes to flour and salt, the most basic versions (all-purpose flour and either sea salt or table salt) make a really great pizza crust. Once you have the basic technique down, feel free to experiment with different types of flour and salt and create your own custom pizza crust.
Ready to mix up a batch of your own? Here are seven simple steps you'll need to follow:
Activate the Yeast
Whether you're using fresh or dried yeast, it must be active before you add it to the dough. Recipes that call for dried yeast will have you mix the yeast into a warm (but not hot) liquid before adding it to the dough, while recipes that call for fresh yeast will typically instruct you to mix it with a small amount of flour and water before adding it.
Mix the Dough
Once your yeast is active, add it to the other dough ingredients. If you have a stand mixer, you can combine your ingredients with a dough hook. If not, make a well in the center of your dry ingredients (like flour) and pour the wet ingredients (water and yeast) into the well before mixing by hand.
Kristie Collado is The Daily Meal's Cook Editor. Follow her on Twitter @KColladoCook.
Published February 19, 2021 Last updated June 7, 2021 By Recipe Garden Leave a Comment | This post may contain affiliate links. As an Amazon Associate I earn from qualifying purchases.
Soft & fluffy pizza dough using all purpose flour, milk and yeast as the main ingredients is perfect to make delicious, soft, fluffy crusted homemade pizzas from scratch.
I know, the dough doesn't loos so good in th epicture, but honestly I am not that good at kneading dough by hands to perfection!
Still the dough is very soft in texture and you can make fluffy & soft homemade pizzas using this dough.
So even if you are not an expert in kneading pizza dough or any kind of dough by hands, you do not need to worry about making soft pizza dough even if you do not have a stand mixer to do the job!
This easy & soft & fluffy pizza dough recipe is the best fluffy pizza dough recipe for any beginners looking to bake simple & delicious homemade pizzas without much efforts.
You can even make pizza without cheese using this soft & fluffy pizza crust (by using just pizza sauce and toppings) since the crust itself is very fluffy, soft & delicious.
Using this soft and fluffy pizza dough recipe, I made one pizza without cheese using added sweet corn, which is made in a skillet and so it's super fluffy & soft in texture.
Sweet corn pizza may be an unusual pizza, but my kids love sweet corn and so why not make it if you love it? There is no reason not to add corn on the pizza if you really likes corn.
This soft & fluufy skillet pizza with lots of sweet corn (without any cheese!) is so delicious and perfect for anyone who loves sweet corn!
The other Indian style pizza that I made was also without using regular cheese, but I added paneer which is actually a kind of cheese very popular in India.
As you can see from the picture, I didn't add any cheese other than the paneer which is cheese in a different texture (it doesn't melt) but it's delicious & very filling when added as a pizza topping.
You can also add paneer as a topping to regular pizza along with mozzarella cheese as usual.
I just didn't use any extra cheese this time for both sweet corn pizza & paneer pizza since I wanted to make them without mozzarella cheese since I didn't have any while I was making these pizzas!
But these pizzas turned out really good with the flufy crust.
Basically, this is just how I made it but you can add your favorite toppings & cheese as usual, and make the pizza just like you want it using this soft and fluffy pizza dough!
I also have more simple and easy homemade pizza ideas like this easy thick crust cheese pizza, thin crust cheese pizza etc which are so easy to make at home from scratch!
Try this Whole wheat Veg Pizza Recipe with step by step process and photos. Today, i am sharing our all time favorite best veg pizza recipe made from scratch. It is one of my best tried and tested recipe of a veg pizza you might have ever made at home. And if you follow it correctly, you will be able to make great pizzas at home. With this recipe of homemade veg pizza you will definately win hearts of your family and friends.
There was a time when I used to make pizzas at home, with the readily available pizza base from the market. But after trying my hand in baking during lockdown last year, I couldn't stop myself from baking pizza base at home too. And they turn out far better than the market ones- soft, yummy and healthier. In this post, I am sharing a step by step veg pizza recipe. Everything here is made from scratch (except for cheese). Yes, the pizza base, Pizza sauce everything is homemade with love.
Recipe for homemade veg pizza with wheat flour
Treat this Whole wheat Veg Pizza Recipe as the basic version of a vegetarian pizza You may build upon your personal favourite as per your choice of toppings and spice levels.
How to make a whole wheat Veg Pizza from scratch at home
I have tried to make it a healthier pizza and hence used Wheat flour instead of maida (all-purpose flour). This way it is the pizza base is a little dense. You may choose to use maida or a combination of maida and wheat flour too. To understand the process, I am dividing the entire recipe into 3 main parts, making the pizza base, the pizza sauce, and assembling the entire pizza.
Veg Pizza Recipe step 1 – making the pizza base at home
INGREDIENTS to make soft and spongy pizza base bread at home.
Sugar- 1 tsp
Dry active yeast – 1 tsp
whole wheat flour- 2 cup
salt- 1 pinch
Oil- 1/2 cup
The Recipe to Make the pizza base dough
Mix 1 tsp of sugar with 1 tsp of active dry yeast with warm water and keep it aside for 10 minutes till the solution turns frothy.
Take 1 cup flour, salt, and oil n a bowl and mix them well
Add the frothy solution to the flour mixture and mix with a spoon. it will be a sticky mixture.
Add another cup of flour and kneed well while stretching motion. once it starts sticking, make one big ball.
rub a little oil and cover it. leave it to rest for 2-2.5 hours till it doubles in volume.
meanwhile, prepare the pizza sauce.
Once the dough has risen, knock it down and kneed for 2 more minutes. It is then ready for assembling the pizza (Step 3)
Whole wheat pizza dough recipe
Veg Pizza Recipe step 2 – Making pizza sauce at Home
INGREDIENTS to make pizza sauce at home, just like store-bought.
Tomatoes 3-4 medium ones
onion – 2 medium ones
garlic- 10-12 cloves
Oregano- 2 tsp
Chilli Flakes 1-2 tsp
mixed herbs- 1 tsp
basil- 1 tsp
salt- 1 tsp
Olive Oil- 2 tsp
tomato ketchup- 3-4 tsp (Optional)
THE RECIPE for Pizza Sauce
Chop the garlic, tomatoes and onions finely
Take 2 spoons of olive oil in a wok. Roast chopped garlic till cooked.
Add 2 medium chopped onions cook.
Add 3-4 medium tomatoes, add salt, cover and cook till soft.
Once the water from the tomatoes is gone, add all the herbs, including basil, oregano and chilli flakes.
simmer and cook for 1 more minute and turn off the gas. Leave it to cool down.
Veg Pizza Recipe step 3 – Assembling the veg pizza
INGREDIENTS to make pizza home, just like store-bought with your favourite toppings
Pizza Base bread dough– refer to step 1 above to make at home
Pizza sauce– refer to step 2 above for an easy homemade recipe
cheese – Morzella 1/2 cup
Vegetable toppings– Onion, Capsicum, Tomatoes, corn, olives etc
Optional topics– Paneer (cottage cheese), Red chilli, basil leaves etc
Olive oil for greasing the pan
Cornmeal or maize flour (the yellow one- used to make Makki ki roti) for dusting
THE RECIPE to make a veg pizza at home with a healthy whole wheat flour twist.
Start by preheating your microwave oven to 200 degrees.
To prepare a pan for baking pizza, grease it with oil and will dust with some maize flour later
Take a big ball of the Pizza base dough and roll it and put it in the pan, tuck the sides of the dough with fingers.
Generously apply the pizza sauce and place all the vegetable topping over it.
Spread one handful of cheese on top.
brush some oil on the sides of the pizza if you like it crisp.
bake it at 200 degrees for 12-15 minutes until the sides turn golden.
Turn off the oven and leave it inside for 2 minutes. Then bring it out, cut and serve immediately.
Like this post, PIN this image for later!
Introduction: How to Make a Homemade Pizza Oven
This is a step by step guide on how to build a homemade pizza oven from scratch!! This is a great, relatively cheap project, that will keep you entertained all through the summer and surprisingly, even the winter!! I made it with Darren Lewis and Josh Bagshawe and it always ends up getting lit at every party and actually becomes quite the centre piece!!
As you will discover, as well as making fantastic pizzas, this oven comes into its element when slow cooking large joints of meat! Lovely slow cooked shoulder of lamb, belly pork, beef ribs, pork ribs and even a whole pot of curry! Whatever joint you decide, wrapping it in layers of tin foil will protect it from the fire and keep it tender and succulent!
Happy building! I look forward to seeing what you make! For further designs and projects please check out my website – www.philreillydesigns.com
I am currently working on a new minimalist ballpoint pen and stylus, check it out at: www.529studio.co.uk or follow me on instagram @529studio
Step 1: What You Will Need
There are many different styles of pizza oven, ranging from small clay ovens to larger scale concrete ovens. What you decide to build depends on a few factors including budget, location size constraints, time, what you wish to cook etc.
We decided to build this pizza oven on a wooden crate so we had the option of moving it if we needed to! Although if you decide to do this, please remember that the construction will probably be about half a tonne so a pallet truck or fork lift will be required! A lot of people find a more permanent location for the oven and build a brick stand for it so the pizza oven is at waist level when stood infront of it.
What you require:
• Sharp sand (general purpose sand usually containing small amounts of aggregate in the mix)
• Builders sand (finer sand that is good for detailed work)
• Cement
• Aggregate
• A bucket or pot for the chimney (Optional!)
• Spade for mixing
• Trowel for brick laying
• Bricks (ideally heat resistant but not essential)
• Large cellophane sheet
• Some old pieces of wood / foam for shaping the arch
• Chipboard (if building on a pallet) – make sure it is for outdoor use otherwise it will warp!
• Wooden pallet
• Drill
• Wood Screws
• Wood Saw
The exact quantities depend on what size you decide to build. You can build this oven in stages so there is no need to know exact quantities when you initially start building. Lots of people say that heat resistant bricks should be used when building an oven. When heated to a high temperature, standard building bricks can expand and cause the oven to crack a little. We have had this oven extremely hot and have not had issues with cracking so a lot if down to personal preference!
Step 2: Creating the Base
When you have decided on a location for the pizza oven, lay the pallet down and make sure that it is horizontal. The floor that it is laying on might not be flat so use some off-cuts of wood to wedge under the pallet to raise it up if needed.
After the pallet is sorted, use the wood saw to cut a section of chip-board that exactly fits the base of the pallet. Cut some strips of chipboard that are about 50mm high to form a perimeter around the top of the pallet. make sure that there are no large gaps between the boards as this will form the seal to hold in the concrete!!
Mix the concrete in a 1:2:4 ratio (1 part cement, 2 parts sharp sand, 4 parts aggregate). Use the spade to put the concrete in the wooden mould. You can use a long wooden baton lengthways to ensure that the concrete is flat and has the best finish. This top layer will create the floor for the pizza oven so try and get it as smooth as you can.
Step 3: Arranging the Bricks / Planning Size
It is a good idea to roughly lay the bricks in the correct position before permanently fixing them in place. With the standard house brick I would advise chopping them in half so you can have more shape to your pizza oven. Arranging the bricks before ensures that you know roughly where the bricks are going to go and also roughly how many you are going to need.
Step 4: Creating the Arch
The arch is going to form the roof of the area where you access the inside of the oven. Generally speaking the arch is about two-thirds the height of the whole oven. We used foam to create a support but you could use layered cardboard or even off-cuts from the chip-board to create the curve on which the archway bricks rest. This purely provides support whilst the archway bricks are drying. The advantage of having a curved archway rather than a flat one is that you can use the weight of the bricks resting on each other to provide support (almost wedging themselves in place).
Step 5: Cementing the Bricks in Place
The first step here is to cement the first (ground) layer of bricks in place using a fine mix of cement and fine sand (a ratio of about 1:3 would be fine). At this stage I would also cement in place the arch. Lay the cellophane sheet across the base layer and begin to fill with sand. A sand mould of the inside of the oven is created so that the bricks can be supported on the sand whilst being cemented in place (prevents a collapse whilst the cement is wet!). The sand is wrapped in cellophane or plastic sheeting to prevent the sand from sticking to the inside of the oven where there may be some wet cement.
Begin layering up the bricks working up the side of the cellophane sheeting. At this stage it is good to cement in place the chimney. Having the chimney slightly higher than the door ensures that the smoke travels out of the chimney as opposed to just coming out of the front of the oven. Don't worry about the cement looking a bit messy. This will be sorted in the next step.
Step 6: Creating the Concrete Outer Layer
Mix some more concrete up as in step 2. Liberally spread it over the entire outside of the pizza oven. Not only does this make the pizza oven look better, it provides more insulation which will keep your oven hotter for longer!!
Step 7: Removing the Supports and Sand
Once the concrete has dried (usually a couple of days), it is time to remove the supports for the archway. This will then provide access to the bag of sand that currently still occupies the inside of the oven. Carefully rip the side of the bag and begin digging out the sand. Once the majority of the sand has been removed, the whole plastic sheeting can be pulled out bringing with it the remaining sand.
Step 8: Creating a Small Fire and Then Cooking Time!!
A small fire should be created first to slowly dry the inside of the oven out. By now it should be pretty much dry anyway but starting small ensures that no cracks begin to form from steam trying to escape! After that it is time to cook. Try a little pizza and get a feel as to how your oven behaves!!
Happy cooking and I wish you all the best!
p.s if you get your oven hot enough you may even see some pretty flames escaping from the chimney!!
Posted on Published: November 5, 2019 – Last updated: August 29, 2020
This shop has been compensated by Collective Bias, Inc. and its advertiser. All opinions are mine alone. #BakeItYourself #CollectiveBias #BakeFromScratch
Delicious Greek Inspired Pizza with soft and chewy homemade pizza dough made from scratch in just over 30 minutes. I'll show you how it's done!
I love everything about this pizza:
Fresh, colorful, flavorful toppings like marinated artichoke hearts, olives, red onion, feta cheese, fresh juicy tomatoes, parsley, and oregano
Lots of cheese. This recipe uses mozzarella cheese for that ooey gooey melty cheesy goodness and feta cheese for lots of wonderful salty sharp flavor. If you've never had feta cheese on pizza, you've GOT to try this recipe!
Soft and chewy homemade pizza dough made with Fleischmann's® RapidRise® Yeast that bakes up beautifully and is made in just 15 minutes. 15 minutes!!
This pizza crust is delicious and holds up to lots of toppings.
Just look at it at that gorgeous golden brown crust! If I can make pizza dough from scratch, trust me, you can too.
Nothing tastes better than super fresh homemade pizza dough. I want to show you that baking pizza from scratch can totally be done at home, even on busy weeknights, to give you and your family the freshest homemade pizza possible.
There is something so therapeutic about the mixing, measuring, and pouring while you are baking. The results are always worth it, especially when it only really takes 15 minutes to make the dough!
Making pizza dough at home is also a great activity to share with someone, whether it's a friend, your husband or wife, or getting your kids involved. Because creating something that you've baked from scratch is always such a special experience.
Easy homemade pizza dough
Homemade pizza dough can seem intimidating, but it doesn't have to be. Fleischmann's® RapidRise® Yeast is what you need to make delicious, soft, and chewy pizza dough from scratch in just 15 minutes.
This recipe uses one package of Fleischmann's® RapidRise® Yeast, so it's extra easy: no need to measure the yeast or figure out how to awkwardly save a half a package of yeast for later.
How to make pizza dough
To make the dough, you'll mix flour, sugar, salt, and 1 whole packet of Fleischmann's® RapidRise® Yeast in a large bowl. Add 2/3 cups warm water between 120˚F-130˚F (use a thermometer to measure the temperature, the water should be lukewarm and not hot) and 3 tablespoons of canola oil. Mix with a fork until it's all shaggy:
Then use your hands to mix everything into a ball. Continue to knead for 4 minutes.
Fleischmann's® RapidRise® Yeast doesn't require pizza dough to go through several rest-and-rise cycles. After kneading, just let the dough rest while you get all the toppings ready. About 10 minutes.
The dough will become soft and puffy after resting and will continue to rise as it bakes, forming a delicious chewy pizza crust that is just right.
After resting the rough, roll it out or stretch it right into your baking dish and load it up with toppings!
Tricks to making pizza dough at home
A few things to keep in mind when making pizza dough at home:
Make sure your yeast isn't expired. Expired yeast is often the reason for dough not rising.
Use the correct temperature water: 120˚F-130˚F. Yeast is a living organism and will not survive above 130˚F. At the same time, the water must be warm enough to "wake up" and activate the yeast. So follow the instructions in the recipe and on the package.
You can roll the dough out with a rolling pin or shape it free-form with your hands by pressing it into an oiled baking sheet. I prefer the latter: it gives pizza a more rustic homemade look, plus there is less clean up. If you decide to roll the dough out into a circle, make sure you add some flour to a clean surface so the dough doesn't stick to the surface. Whatever method you choose, make sure to form the pizza dough once and leave it alone. If you decide to start over, the dough will be harder to spread out, as it will keep shrinking back. So just embrace the imperfections of your first attempt and just add the toppings!
Greek pizza and other topping ideas
This pizza is inspired by Greek cuisine and is topped with my favorite ingredients from Greek food: feta, olives, artichokes. Feel free to customize the toppings however you like. Here are a few other pizza topping ideas that will go well with the rest of these ingredients:
Chicken breast (make sure it's cooked before adding it to the pizza)
Salmon (cooked or canned)
Tuna (cooked or canned)
Fresh basil
Roasted red peppers
Chopped scallions
Baby spinach (add before baking)
Arugula (add after baking)
Looking for more easy flatbread and pizza recipes? Give these a try:
Grilled naan bread pizza
Shrimp naan pizza
BBQ pulled pork and asparagus pizza
Caramelized onion, fig, and goat cheese flatbread – using a 2 ingredient dough recipe!
Basil pesto pizza with fresh mozzarella – using the 2 ingredient dough recipe again!
Artichoke and roasted red pepper flatbread – 2 ingredient dough.. again!
Veggie loaded breakfast flatbread
Leftover chicken tikka masala naan pizza
If you enjoyed this recipe, let me know with a comment and a star rating below. And don't forget to share it on Facebook and save it on Pinterest for later!



Pizza dough from scratch is the only way to make pizzas. This is my fool proof and easy recipe for homemade pizza dough and how to grill it to perfection!
Today… I've brought you a lot of beige.
Beige bowl. Beige pizza dough… beige, beige, beige, BEIGE, blah. Sorry.
After the 167th time of being asked if I had a pizza dough recipe on my blog I finally realized that it might not be the easiest recipe to find here on SS. That's ummm, because I did the step-by-step of it for a calzone recipe… but hey it's still a great reference if you don't have a Kitchen Aid and want to make it by hand. But since I have one of those beasts… and strongly dislike wearing dough-gloves while mixing, I thought that I should probably make this pizza dough recipe a post all in its own. Ya know… so you can actually find it.
Homemade. From scratch pizza dough is where it's at you guys. I tell ya, it's easier than it looks and the more times you make it… the more you'll be able to do it with your eyes closed.
PLUS. I made grilled pizza… and who doesn't love the sound of that?
Next, in the bowl to your mixer add some honey… about a half teaspoon, I eyeball it.
Then add a cup of water that is between 115-120 ° (my mom goes by instinct… I use a digital thermometer [affiliate] , I'm not that good) and quickly whisk so the honey dissolves into the water.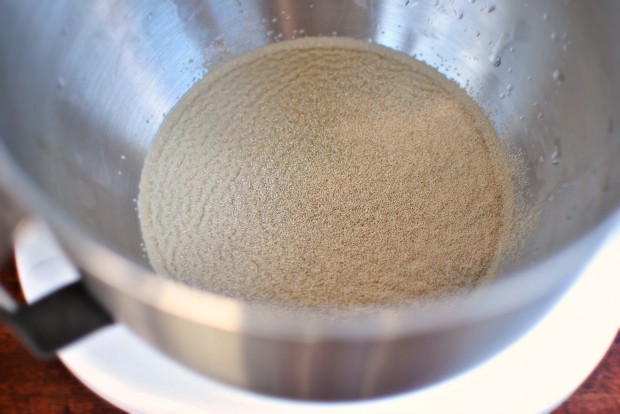 Next, sprinkle in a packet of yeast, DO NOT MIX.
Next, allow it to just sit there for about 10 minutes.
Then add in a skosh of olive oil… like about a teaspoon. Again, I eyeball it.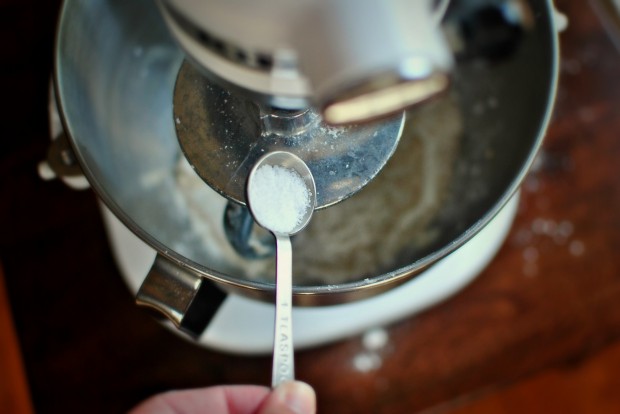 Next, measure and add in 3/4 teaspoon of kosher salt.
Then add in a cup of flour and mix on low to incorporate.
Repeat with more flour.
Next add in all of the flour until the dough is sticky, it should pull clean from the sides of the bowl.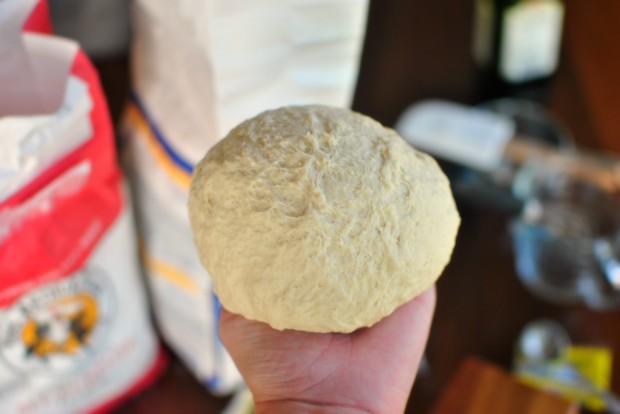 Next form a ball.
Then add a splash of olive oil to a large bowl. Use the pizza dough to coat the inside of the bowl. Roll the ball around and up the sides to coat the dough and bowl completely with olive oil.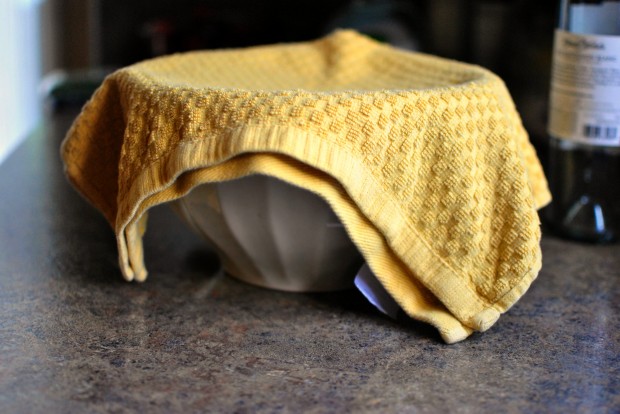 Next, cover with a towel and let'er rise for an hour.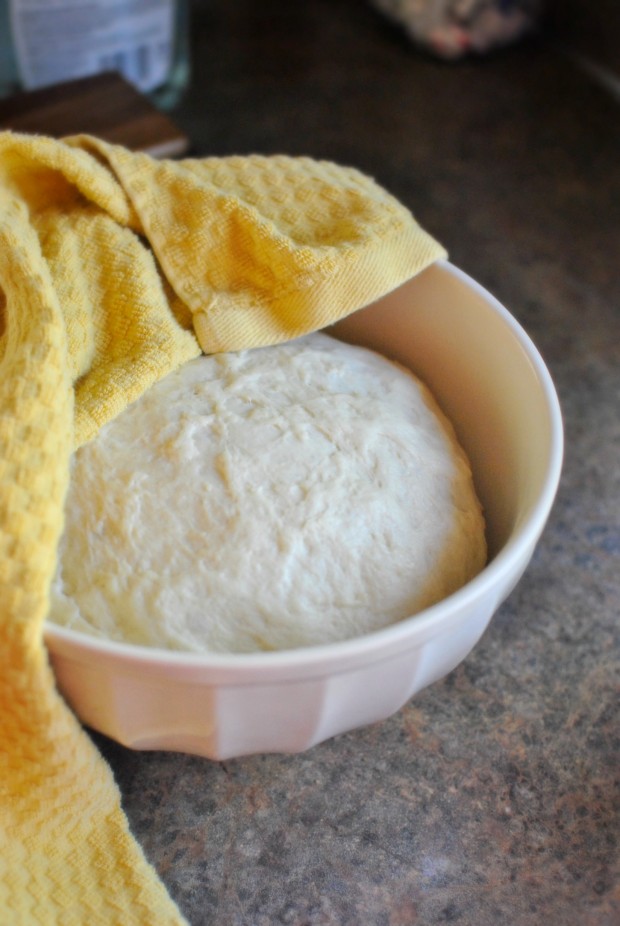 There you go, pizza dough from scratch! You know it's ready when it has doubled in size.
Next, once risen, punch down the dough with your fingers.
Then lightly flour a large cutting board and sprinkle the dough as well…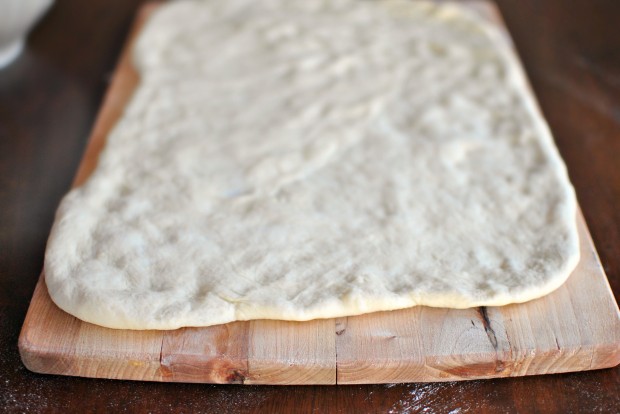 With your impeccably clean hands, work the dough into a shape that will fit on your grill or on a pan in your oven.
Next, clean the grates and rub with a little olive oil before preheating. I drizzled some olive oil on a paper towel and used tongs to wipe every square inch. ALSO this is very important: make sure all of your ingredients are ready to go; sauce made, cheese grated… etc. Have it all by the grill because this pizza moves FAST.
Once hot; open the lid for a few to let the heat escape a tad, reduce the temp to medium-high and slide the dough onto your grill.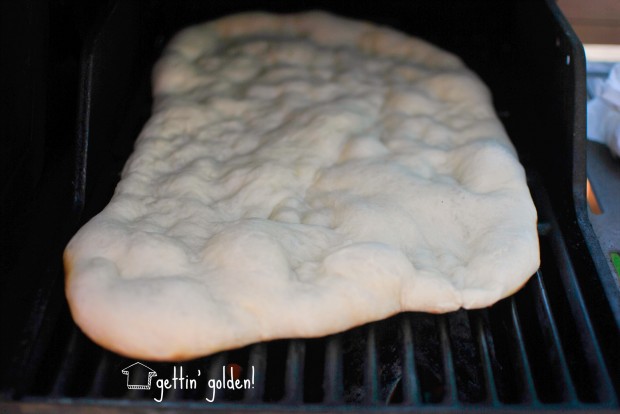 Check on the pizza crust after 3-4 minutes. Watch for the bottom side to start getting nice and golden. And for the record, no I did NOT purposefully shape my pizza to look like a stocking. It's cool… but not that cold.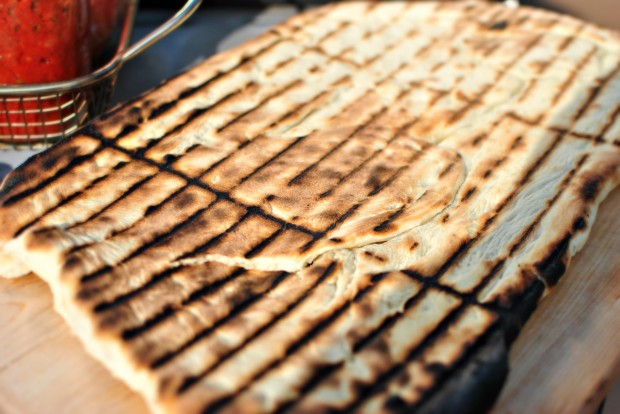 Using tongs and a flipper-do, I flipped the dough onto my cutting board. I reduced the temp again to medium…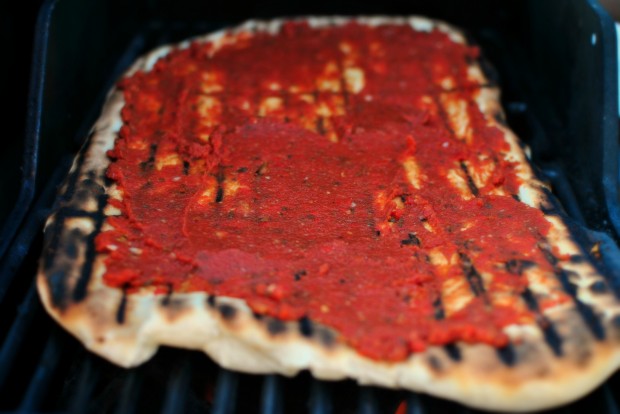 … And slid the dough off and back onto the grill. Working fast, I smothered it in this sauce…
Next, top it with grated farmers cheese (or use Mozzarella) and with as many pepperonis as you can fit.
Close the lid and let the grills heat circulate to melt the cheese… I also sprinkled it with Parmesan. I couldn't resist.
Once the cheese is melted and the bottom side of the pizza is golden… I pulled it back onto the cutting board and let it cool down for a smidge.
There is nothing like a pizza made from pizza dough from scratch.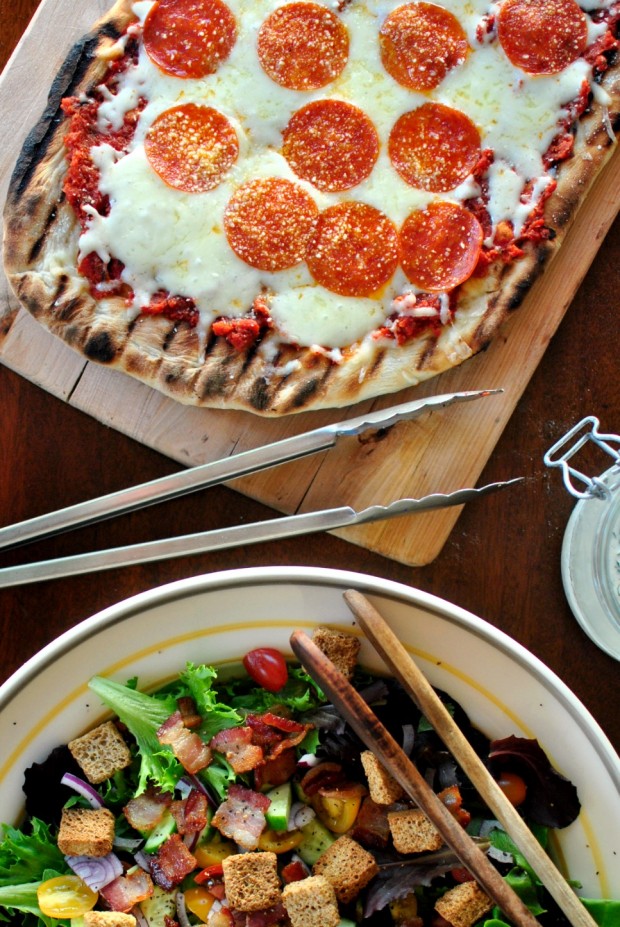 I urge you to grill your next pizza. It's WAY faster and tastes unbelievable. I prefer the darker edges, but you knew that already.
I know it feels like fall out there, especially here in the mitten. But it's never, EVER too cold for pizza.
Oh and here's my whole wheat version!
Enjoy! And if you give this Pizza dough from scratch recipe a try, let me know! Snap a photo and tag me on twitter or instagram !
My cookbook Simply Scratch : 120 Wholesome Homemade Recipes Made Easy is now available! CLICK HERE for details and THANK YOU in advance!
Mini pizzas on homemade thin crust dough + tons of topping ideas! These little bites are perfect for parties and fun for weeknights!



One of the best things about knowing how to cook is that you turn whatever's in your fridge into a fabulous, delicious appetizer for friends and family!
With a batch of freshly made pizza dough, mozzarella, sauce, and a few of my favorite toppings, these little two-bite pizzas were easy to make and a total hit. Well… I didn't have a chance to taste more than one of them, but if there weren't guests to feed you could bet I'd have gone back for more!

I like to make my pizza dough at home – There's something that knocks my socks off about watching a bunch of simple ingredients turn into a puffy, cloudlike ball of bready goodness! Plus, you can add in dried herbs or grated cheese and give it a little extra flavor than the store bought stuff.
Read up on how to get these perfect mini pizza circles in the recipe below.

Now onto the good stuff! Sometimes you just gotta use what you got. This time, it was roasted red peppers, spinach, ham, and a thoroughly loved block of Asiago cheese. Oh, Asiago I love you.
Onto the pizza they went, along with freshly grated ribbons of shredded mozzarella and a swirl of my favorite pasta sauce. You can use pizza sauce, too, or do it up homemade with your bad self!

After baking for about ten minutes, these bubbling hot beauties were ready for munching – and boy, did they go fast!
Get inspired with plenty of creative topping ideas below, including different meats, vegetables, cheeses and more than you may not have tried before. I love to get funky with different flavors, and pizza is a great canvas for experimenting!
Author by Amanda Formaro on July 11, 2019 Updated on April 4, 2021
Share
Tweet
Pin
Yummly
Email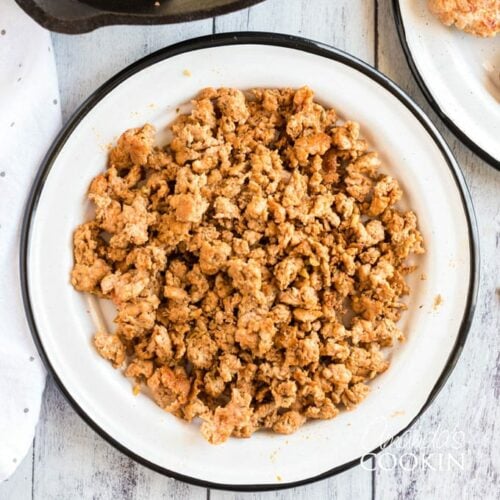 I have been making homemade pizza for many years. Homemade pizza sausage is super easy to make and tastes delicious. It's similar to Italian sausage, so you could serve it as patties and eat it on a bun too!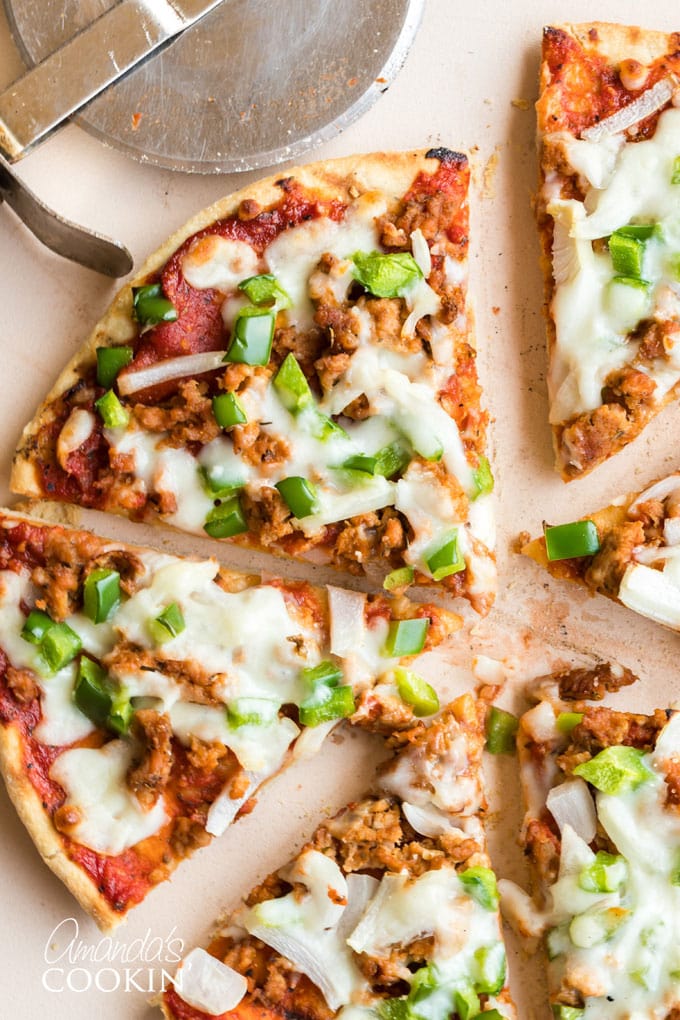 Homemade Pizza Sausage
Making pizza at home, especially with kids, is a fun experience. Growing up my kids always wanted pepperoni. I've never liked pepperoni on my pizza. Sausage, onion, green pepper, olives, and mushrooms… now that's a pizza!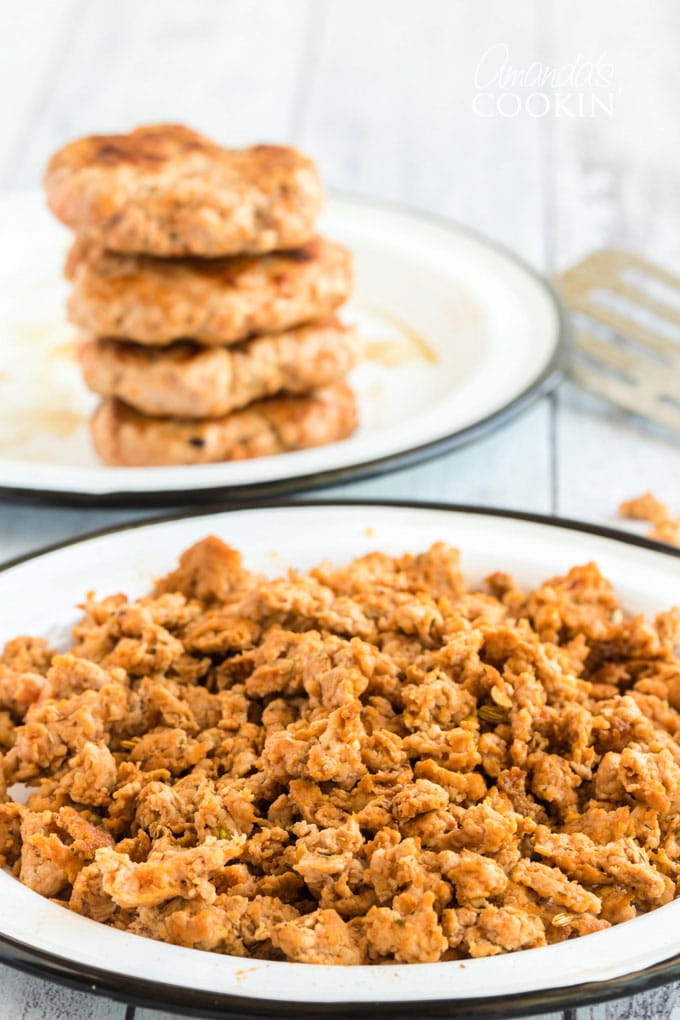 When I learned how to make my own pizza dough, real homemade pizza dough, I was totally hooked. The kids thought it was the best thing since sliced bread and asked for it all the time. They loved helping in the kitchen too.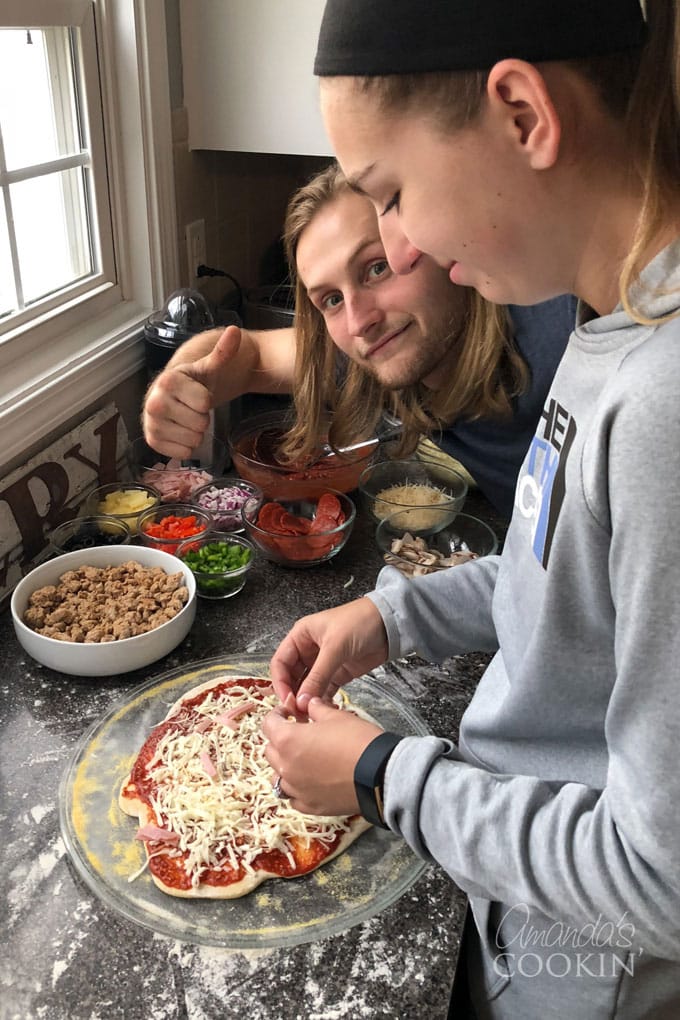 Fast forward about 15 years and they still love my homemade pizza. Their favorite way is when I make personal sized pies. That way they can customize their own pizza with the toppings of their choice. Me, I always add the sausage.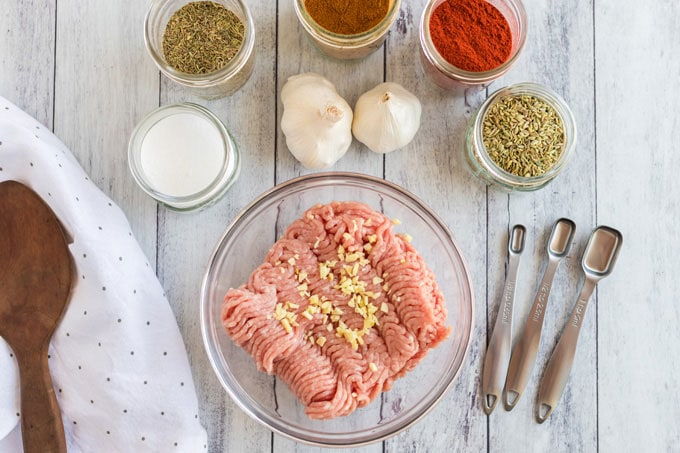 Ingredients to make sausage at home:
I use lean ground pork, which can be found at most grocery stores and definitely at your butcher shop. If your store doesn't have any, grab some boneless pork chops and ask the meat department to grind it up for you.
A clove of garlic or jarred minced garlic is needed, but not dried minced garlic.
Dried herbs and spices include paprika, crushed thyme, fennel seeds, cayenne pepper, and regular table salt.
Helpful kitchen tools:
Skillet, I prefer cast iron
Mixing bowls
Measuring spoons
Spatula or wooden spoon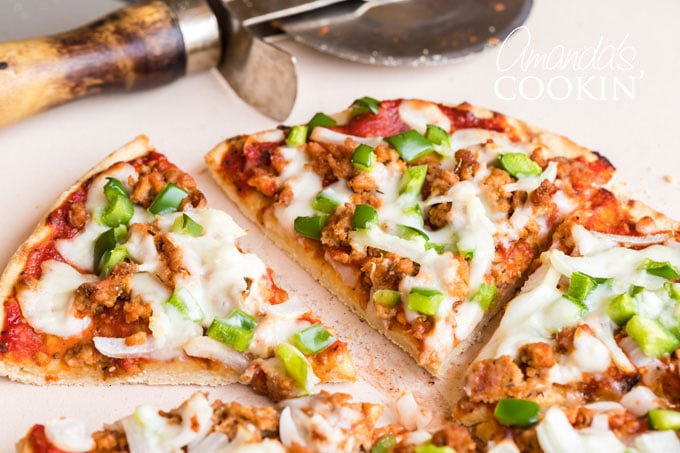 How to Make Pizza Sausage
This couldn't be easier, honestly.
Place raw ground pork into a mixing bowl.
Measure out all your herbs and spices and sprinkle over the pork.
Thoroughly mix everything together.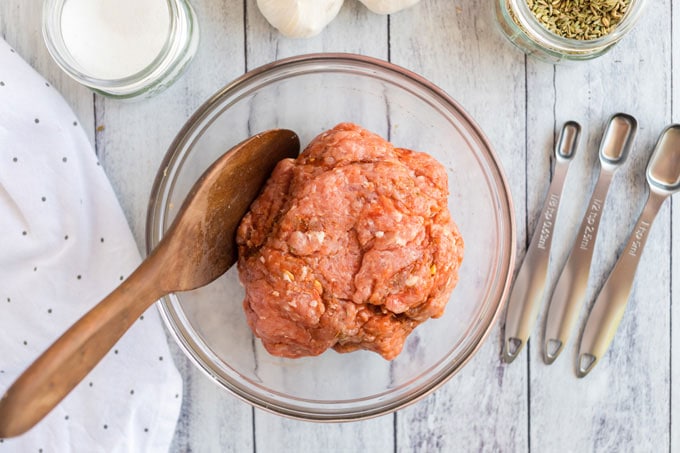 Brown the meat mixture in a skillet over medium-high heat.
Drain sausage on a paper towel lined plate.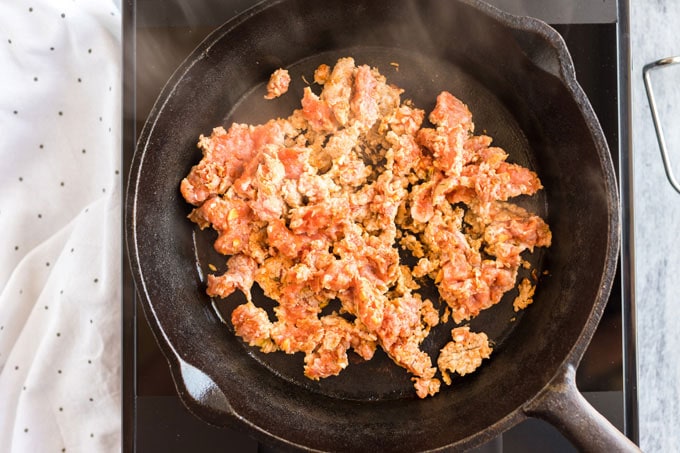 Add cooked sausage to your pizza with other toppings of choice.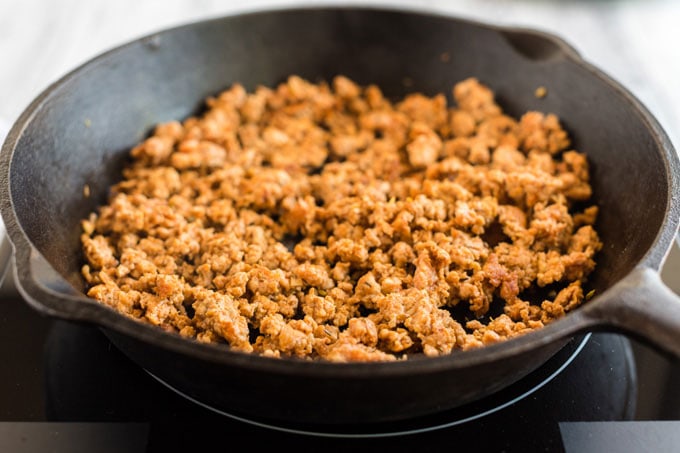 More recipes to use this sausage:
While I primarily use this recipe for pizza, the sausage is perfect for these recipes as well.
For perfect pizzas- follow these foolproof tips by celebrity chef Pankaj Bhadouria.
HOW TO MAKE THE DOUGH
Homemade dough takes just 15 minutes to make but at least 2 ½ hours to rise. if you won't be able to tend to it ,mix up a batch in the morning and let it rise slowly in the fridge (8 to 12 hours). Dough balls can be wrapped separately and frozen for up to three months. To shape the dough, pat it flat with your hands . Pick up the dough and rotate your hands around the edge to create a circle. Place the round over the tops of your knuckles, and pull gently to stretch it into a 10 -to 12 -inch pie. Continue until you've stretched it very thinly – that's what it crispy. (If it breaks, simply pinch it together with your fingers.) You will find the recipe for the home made dough here on my website.
SPREAD THE SAUCE
Place the dough of on to parchment paper and put a dollop of sauce in the center. Start with less then you need – otherwise your pie will be soggy – and use the back of your spoon to distribute. If using pesto, simply dot spoonfuls around the dough.
LAYER THE TOPPINGS
If using delicate greens like spinach, start with those. Otherwise, sprinkle a layer of cheese first, but go easy so the other ingredients shine. Next add any fresh herbs , seasonal produce , and proteins you like . Drizzling olive oil over fresh vegetables will ensure they roast nice. You can also turn left overs into toppings; try cooked greens, veggies and cooked meats (sprinkle with a little more cheese so they don't dry out during baking).
Some tips and suggestions
– Think of the pizza as a blank slate for what's in season and use that for a topping.
Dated: July 20, 2016 Last Modified: April 29, 2022 This post contains affiliate links. As an Amazon Associate I earn from qualifying purchases.
Learn How To Make Homemade Pizza Dough at home! This step by step guide will teach you how to make a dough recipe that works every time.
Follow this step-by-step guide and learn How To Make Homemade Pizza Dough that's perfect to use with all of your favorite toppings!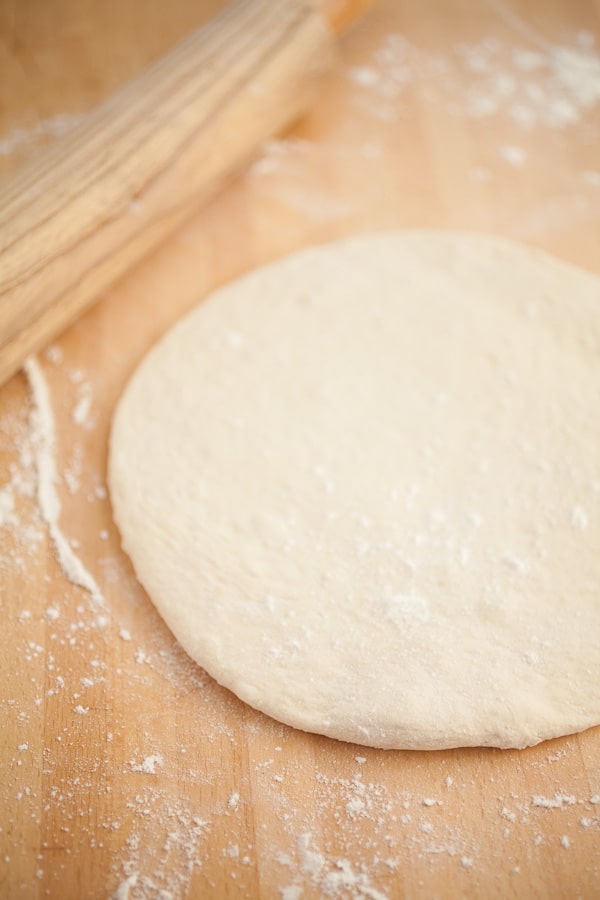 Homemade pizza dough is definitely one of those recipes that you want in your kitchen repertoire. It can seem kind of daunting, but in reality is very do-able!
Once you go start making your own pizza dough, you'll never go back to the pre-made stuff again. Pizza is so versatile – The amount and combination of pizza toppings is virtually endless.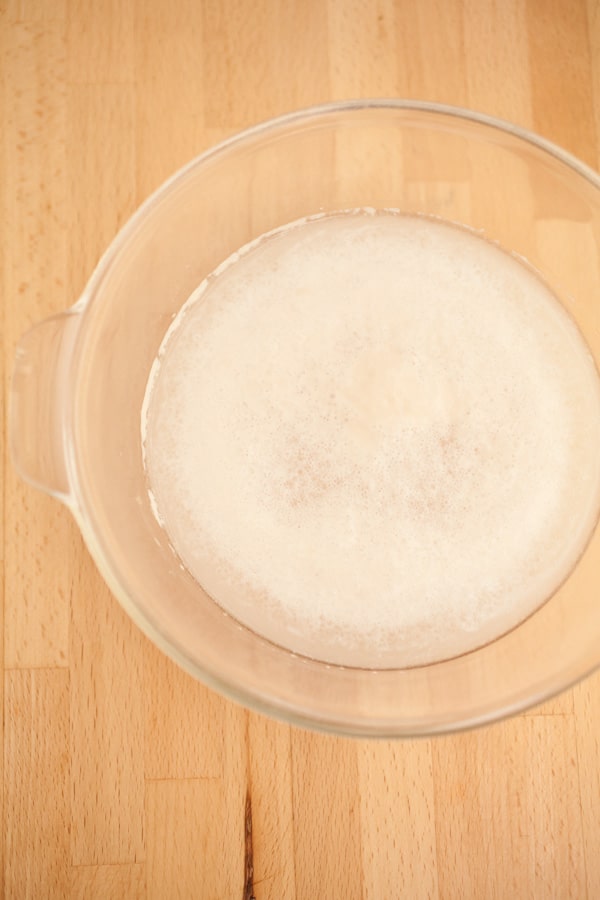 How To Make Homemade Pizza Dough
Start with the yeast. Yeast is essential for the dough to rise and gives it the distinctive flavor that we all know and love.
Combine 1 cup of warm water – It's really important that the water is warm and not hot – And 2 ¼ tsp. of jarred active dry yeast. This is equivalent to 1 packet of active dry yeast. Active dry yeast can be found in any grocery store in those little packages. I buy bulk yeast from a food coop and store it in the refrigerator but both of these will work equally well.
Sprinkle about ½ tsp-1 Tbsp. of sugar into the water and yeast mixture and let sit for at least 15 minutes. The mixture will get kind of 'bubbly' and form a little 'film' on top of the water.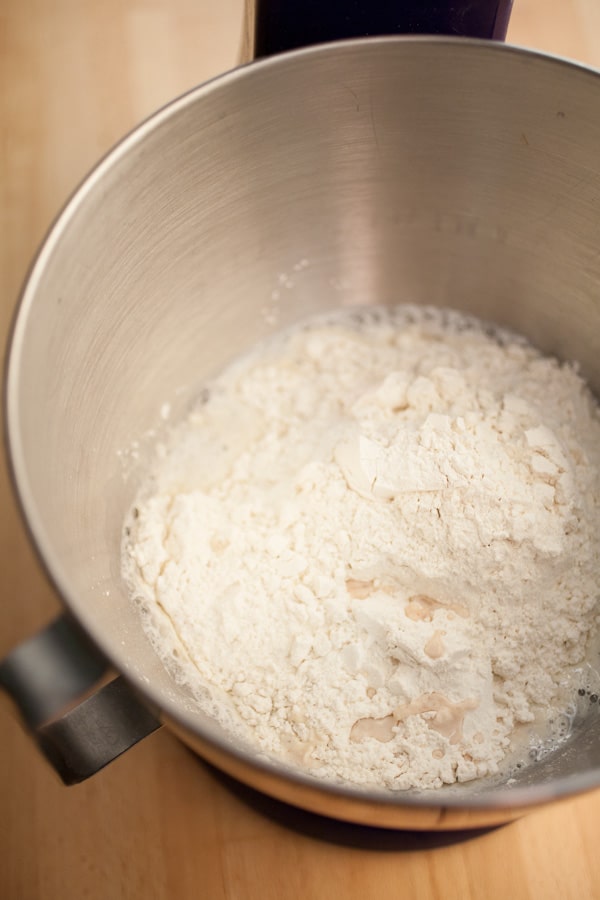 Mix The Pizza Dough
After your yeast has proofed, you can add the rest of the ingredients. I like to use a Kitchen Aid mixer when making pizza dough because it makes the process much easier. You can kind of set it and forget it.
You can absolutely make pizza dough by hand, though! You will just need your hands to do the work that would otherwise be done with the machine. Kneading the crap out of pizza dough is a really good way to get your aggression out.
Combine 2 ½ cups all-purpose flour, ¼ tsp. salt, and the water/yeast mixture in a large bowl.
Begin mixing these ingredients using the hook attachment.
As it begins to mix, slowly add 1 Tbsp. of olive oil to the bowl. This will keep the dough from sticking to the side.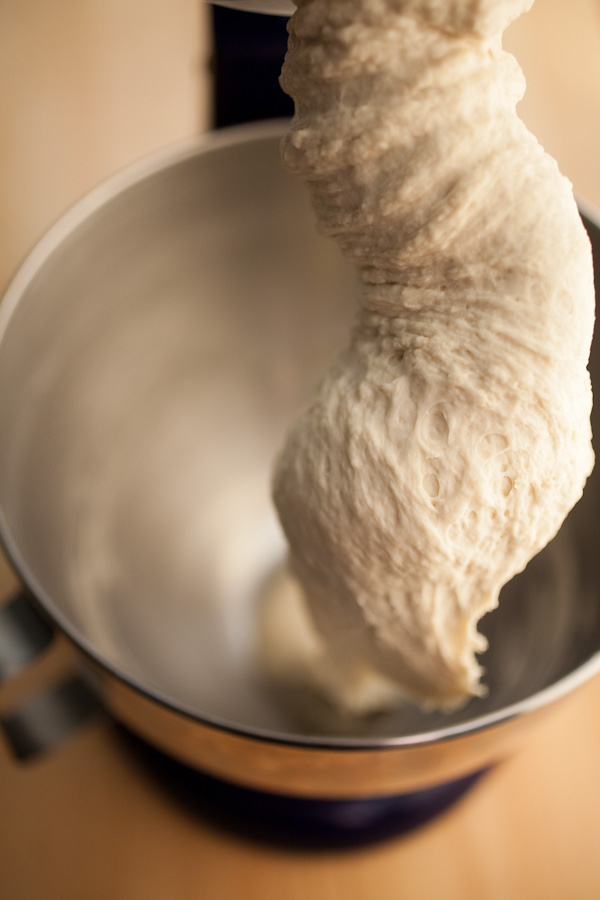 Let the mixer run on low for 6-8 minutes until all the ingredients have combined and the dough is kind of sticky, stiff, and elastic. It shouldn't be dry and clumpy at all.
If you prepare the dough manually, just work it with your hands until it reaches this consistency.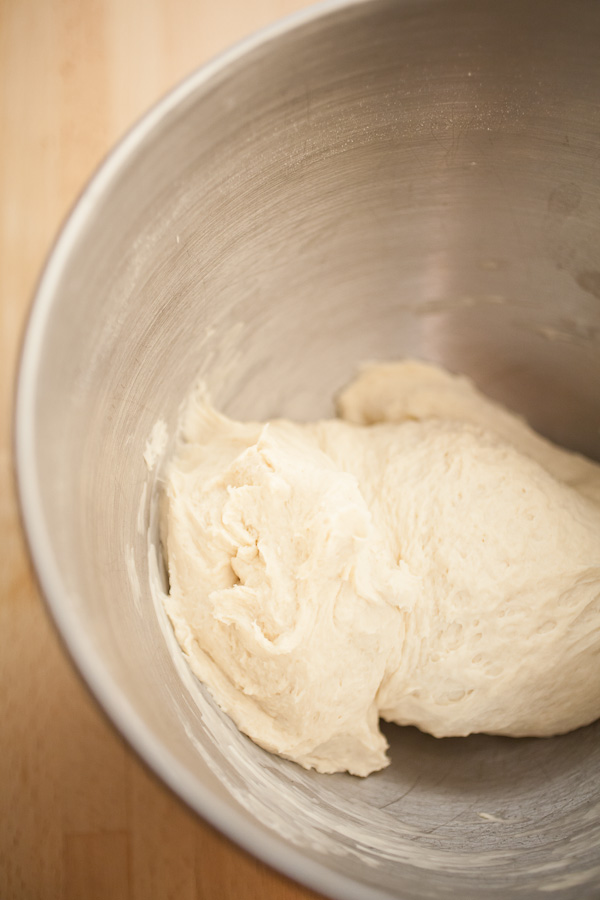 Allow The Dough To Rest
Scrape the dough off the hook and let it sit in a large bowl. You can rub a little more olive oil on the sides of the bowl to prevent it from sticking.
The mixture is kind of a dense lump at this point.
How Long Should Pizza Dough Rest?
Now all you have to do is place a wet towel on top of the bowl and let it sit for at least 30 minutes. Let it sit longer if you can.
The flavors will develop more the longer it sits. And place it in the warmest room in your house. This will help it rise faster.
I like to start my pizza dough a few hours beforehand so that it can rise nicely and develop some awesome flavor.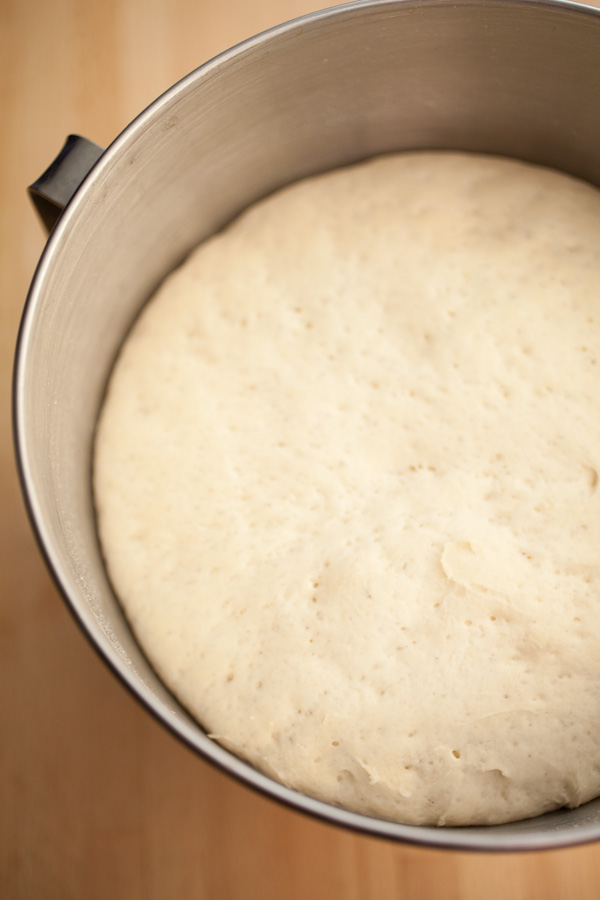 Voila. After you've waited for awhile, remove the towel and your pizza dough should have risen. It will at least double in size. Now your dough is ready to become pizza!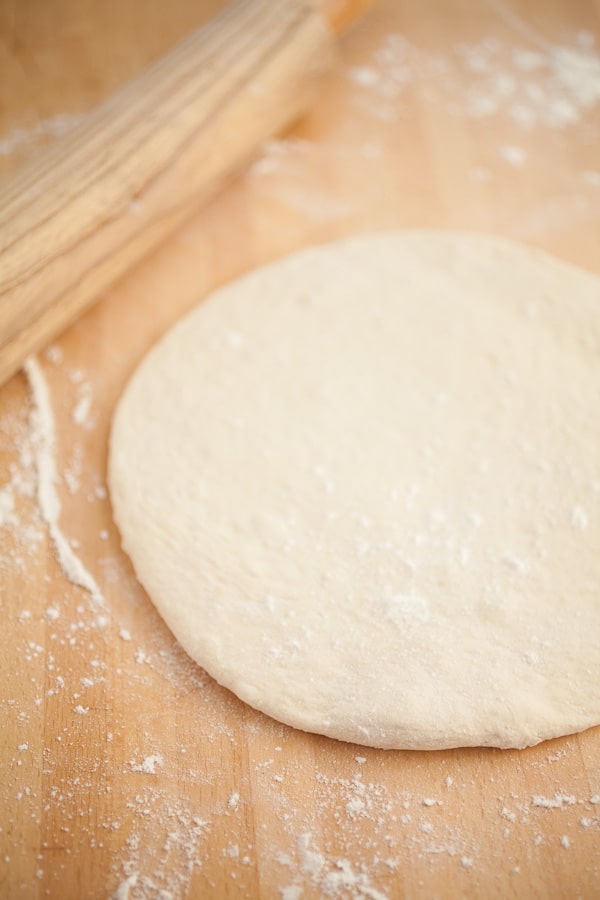 How To Roll Out Pizza Dough
Remove it from the bowl and cut it in half. This recipe makes two pizza crusts.
I find that it works well to prepare the dough on a smooth surface that has been sprinkled with flour.
Use your hands to smash the dough ball into a disc shape and then roll it out with a rolling pin. You can toss it into the air like you see in the movies, roll it out, smash it. Use whatever means necessary to get the shape you want.
Just remember that it doesn't need to look perfect!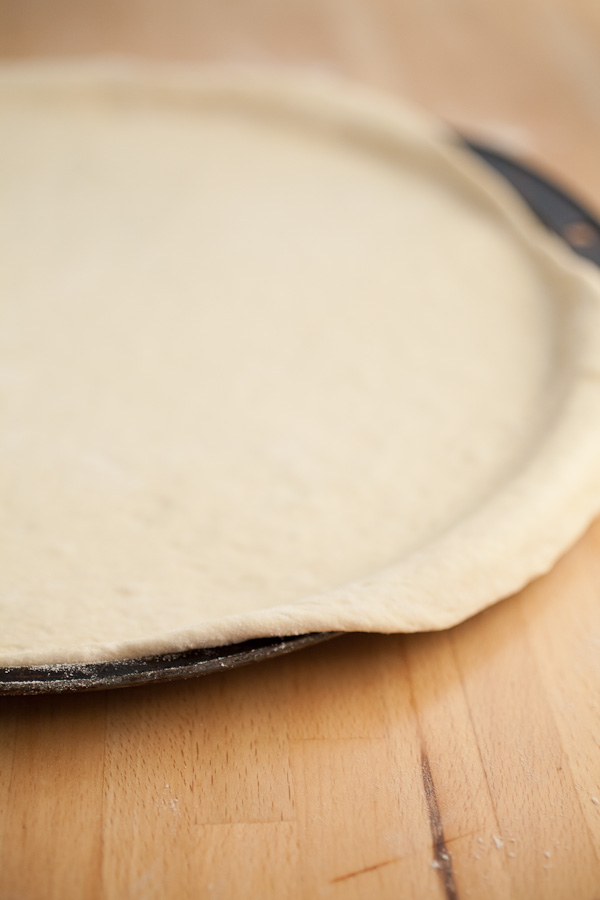 Place the dough onto your favorite pizza pan and add your favorite toppings. You can sprinkle a little bit of cornmeal onto the pan before adding the dough to prevent it from sticking after it has baked, but this is optional.
After the pizza toppings are added, I bake it at 425 degrees for 10-12 minutes. I discovered this recipe a few years ago and haven't looked back. Now you can make all kinds of tasty pizza recipes!
If you like to make homemade pizza crust, check out How To Make Homemade Pie Crust and How To Make Gluten Free Pie Crust!
Check out this recipe if you're looking for a Homemade Gluten Free Pizza Crust!
Make pizza at home from scratch… base, to sauce everything done at home. It is a lot of work but totally worth the effort. The base tastes amazing and so does the pizza sauce. Making pizza at home can be a fun activity for the whole family. What's best is that every one can have a personalized toppings and flavors.
Veg Pizza From Scratch | How To Make Veg Pizza At Home
Equipment
Main Ingredients
Maida (All Purpose Flour)
Dry Instant Yeast
Pizza Cheese
Oregano
Butter
Basil Leaves
There are 3 parts to pizza making. Making dough, making the sauce and getting the pizza toppings ready. Each step has been covered below.
Ingredients for HOmemade Pizza Base:
1 cup = 250 ml
3 cups Maida (All Purpose Flour)
280 – 300 ml Water
2 tblsp Sugar
2 tblsp Olive Oil / Ghee
1 tsp Salt
2 tsp Instant Yeast
Ingredients for Homemade Pizza Sauce:
1 medium Onion
3 – 4 large Tomatoes
10 cloves Garlic
1 tsp Oregano
2 tsp Tomato Ketchup
1 tbsp Barbecue Sauce (optional)
2 tsp Sriracha / Red Chilli Sauce
1/2 tsp Black Pepper
Salt to taste
Fresh Basil Leaves / Dry Basil Powder
Ingredients for Pizza Toppings:
1 Onion sliced
1 Tomato sliced ( seeds removed)
2 tsp Olives sliced
1/4 Bell Peppers (Red & Yellow)
1/4 Green Capsicum
Loads of mozzarella cheese
Olive oil
How to Make Pizza Base :
In a microwave safe bowl heat 100 ml of water at 30 seconds. Take it out and now add sugar. Stir it and let the sugar dissolve. This process will allow the water to become lukewarm. Just the right temperature for the yeast to bloom. IMPORTANT :DO NOT add salt at this point. This will kill the yeast.

Now add the 2 tsp yeast and mix well. Cover it and put it back in the microwave for next 10 mins or till it froths.
If that this point the yeast does not froth discard the yeast mixture and start again.
While the yeast is blooming, in a wide bowl, add maida, salt and keep it ready.
Also lukewarm the rest of the 180 ml water.
Once the yeast blooms, add this liquid to the maida and add the remaining lukewarm water and start kneading. Initially the dough will be highly sticky. But do not add any extra maida. As you keep kneading the dough will get pliable.
Now move this dough to a clean kitchen counter. Start to knead this dough from the f base of your palm. Stretch and pull. Knead the dough for exactly 6 – 8 mins. No compromise on that for a restaurant style pan crust pizza base. After 2 mins add 1 tblsp of oil and knead further. After some time add the remaining oil and continue kneading.
Once the dough is kneaded make a ball and put it in a clean big bowl. Brush the bowl with oil and place the dough in it to rise. Smear the remaining oil on the dough. Cover it with a tight lid or plate and let the dough ferment.
This should take approximately 2 – 3 hours depending upon the weather conditions.
After 2 hours the dough will get double in size.
Now punch the dough. and knead it again for 2-3 minutes. Divide the dough into equal 3-4 potions and roll like a pizza base. The base should not be thicker than 1 cm.
Now place them on greased baking tray. Cover them with a towel and let them rise again.
The pizza base will double in size.
How to Make Pizza Sauce :
In a pan heat some butter and add the chopped tomatoes, onions and peeled garlic. Add salt. Cover the pan and let it cook for 10 mins or till the tomatoes get soft.
Now let the tomatoes get cool. Once cool with the help of a blender make a fine paste of this mixture.
Switch on the fire and start cooking this tomato sauce on low flame. Add all the sauces. Mix well and let the sauce thicken. Once the sauce gets thick switch off the flame and let the sauce cool. Add some fresh basil leaves.
How to Make veg pizza at home:
First Preheat the pizza at 200 C.
Now take the rolled pizza base and apply butter on the outer edge of the pizza base.
Now with the help of a fork make few holes. Otherwise the pizza base will rise unevenly.
Apply 1 tsp pizza sauce. Do not apply too much sauce. Otherwise the pizza will come out soggy.
Sprinkle little grated cheese.
Now sprinkle all the toppings – bell peppers, onions and tomatoes.
Add a generous amount of grated pizza cheese. Now place the olives.
Drizzle some olive oil.
Place this pizza in the preheated oven.
Bake the pizza for 15 – 20 mins. or till the cheese melts and base looks brown.
Once you take the pizza sprinkle the oregano and some fresh basil leaves.
What To Serve With Veg Pizza :
Serve your pizza with any cold beverage or garlic bread or baked potatoes.
For most of my 23 years in the pizza business, I was always fascinated with the dough making process. As of recent years, there is alot of implementation of wild yeast starters in pizza dough recipes. Often times a new student in pizza will ask a question on how something will "come out" when using certain ingredients or methods. My answer is always the same, "Let's do it and see what happens!" We then get to see first hand the results of our experiment. This is how we learn about how the ingredients interact with each other. First hand, real life, right in front of you, to taste, and touch, and smell. Quite honestly, I have gotten some bad results from experimenting throughout the years. I have had some great results too. But I have always reverted back to my good old dough recipe because it was always so versatile and awesome. I have to say, after this wild yeast starter experiment, I am very very excited.
My latest pizza project here at the Goodfella's Pizza School of NY was making a wild yeast starter from scratch and incorporating it into my dough recipe. The results were amazing! I am going to illustrate how I did it, all the tools and techniques I used, the ingredients as well as timelines so you can play around at home or in your business and see and taste the results for yourself.
Again, on the beginning of the 3rd day its ok if you have not seen much activity. You can see here to the left that by the beginning of my 3rd day, beneficial bacteria and yeast are beginning to take hold.
Regardless of what your new starter is showing you, keep on feeding and you will soon see this starter take form.
Take your clean jar and 0 it out on the scale. Scoop 75 grams of the mixture you have been fermenting the day before into the clean jar, add 50 grams of Rye Flour, 50 grams of Whole Wheat Flour, and 125 grams of water. Stir and incorporate well till all is hydrated. Cover the jar and rest in the same warm spot for 24 hours until day 4. Clean out your previous jar.
Day 4 is the first day we begin to feed our starter twice a day. I fed my starter 10 am every morning and 10 pm every evening. You can do it anytime that is convenient for you but it must be fed every 12 hours.
By day 4 you should be seeing activity if you have not already. You should see bubbles scattered throughout the mixture. You may see that the mixture has risen and fallen a bit seeing the streaks along the glass where the starter once risen to.
We are feeding the same way as day 3:
0 out your clean jar on the scale and scoop 75 grams of the mixture you have been fermenting, discarding the rest. Add 50 grams of Rye Flour, 50 grams of Whole Wheat Flour, and 125 grams of water. Mix thoroughly, cover it up, and let it rest in a warm spot for 12 hour. Set an alarm on your phone or timer so you do not forget to feed it. After 12 hours, repeat the steps above again and store it overnight for another 12 hours.
You are going to feed the starter the same ingredients as day 4 every 12 hours on day 5 and 6. You can see that the activity was so strong in my starter on day 5 that it overflowed out of the small container I stored it in. Don't forget to feed your starter.
IMG_6478
In the morning on the 7th day, 0 out your clean jar on the scale. Add 50 grams of the mixture you have been fermenting, 100 grams of your staple flour (in my case it is All Trumps 50111) and 100 grams of water. We are finished with the Rye flour and the Whole Wheat flour for now. Mix well and hydrate. Cover and rest in the same warm spot and repeat this process 12 hours later.
Your starter should rise and fall predictably by now. If it is, its ready to be used in a recipe. If it is not rising and falling predictably, refresh your starter for a day or two more until it begins to show signs strength. This happened to me, so I reverted back to the Rye and the Whole Wheat for an additional day. On my 9th day, I omitted the Rye and Whole Wheat and went back to the All Trumps. My starter has been stronger ever since.
Making pizza from scratch is easy with this recipe! The dough is versatile — you can roll it out thin or make it kind of thick. You can bake this pizza on a baking stone or in a pan. And of course do what you want with the sauce and toppings. In this video, I show you how we like to make it. Double the recipe for two pizzas.
** I mentioned when I was about to put the pizza in the oven that I would show the pizza in place in the oven, but going back through the video, I just realized I forgot to record that part! 🤦🏻‍♀️ It was just the pizza on the parchment paper on the baking stone on the bottom rack of my oven. Sorry for the confusion. **
Amazon affiliate links for your convenience:
Here is the baking stone I have: https://amzn.to/3IzmjXf
Here is my pizza peel: https://amzn.to/3HDKC5c
Here is the rolling pin I use in this video: https://amzn.to/3MhCk6I
INGREDIENTS for dough
2 cups all-purpose flour
1 1/8 tsp. yeast (I mistakenly said Tbsp in the video but it should be tsp! Thanks to Paul Wright for catching my error!)
1/2 tsp. sugar
1 tsp. salt
3/4 cup warm water (about 110º F)
1 Tbsp. oil (I use olive oil)
1/2 jar of pizza sauce
8 oz. of shredded mozzarella cheese
pepperoni
[Note about pre-heating: About 20-30 minutes before dough has risen all the way, preheat oven to 500º F. If you're using a baking stone, let it stay at 500º for at least 20 minutes to get the stone heated all the way through.]
Mix all ingredients well and knead dough until smooth and elastic. I like to use my stand mixer, but you can mix by hand if you like. Expect to knead the dough for about 7 to 10 minutes if you're kneading by hand.
Once dough is smooth and elastic, shape into ball, spray inside of bowl or coat with olive oil, and leave dough in and cover with plastic bag or damp cloth until dough doubles in size.
When dough is ready, roll out on floured surface. Add your favorite pizza sauce, cheese, and toppings.
Bake in preheated 500º F oven for about 8 or 9 minutes or until cheese is bubbly.
Bucket List Ideas and Inspiration From a Solo Traveler
You Are Here
Home
Food & Drink
Make Vegan Pizza From Scratch
Make Vegan Pizza From Scratch
Groupon is like a religion for me, and I'm always on the hunt for a new experience at a great price. One deal offering a pizza making class (with a free glass of wine) caught my eye. I realize making pizza from scratch isn't the crazy, peeing-your-pants-from-the-excitement type of adventure you may imagine when you think "bucket list" but it's still a new experience for me, which makes it an easy check off the ol' bucket list.
Pummarola is a South Florida pizzeria making authentic Neapolitan pizza with recipes passed down from the owner's nonna. By default, that means the food must be A1. So, what better place to learn the art of pizza making?
In class, we would learn the art of dough-making and kneading, plus we would form our pizza dough by hand and top with our toppings of choice.
We started out by adding flour to a bowl of warm water and yeast. Then, we combined the ingredients until it became a sticky dough.
Tip: flour your hands before touching the dough. It will make the process a lot easier and the dough won't stick to your hands. Following directions has never been my strong suit, so I skipped that part.
My hunk of flour was starting to look a lot like a proper pizza dough. Admittedly, our instructor helped me with about 80% of the work, but my 20% was solid. 😉
The dough had to "proof" which takes about a day. We were able to cling wrap our dough and bring them home to make pizza later in the week. For the remainder of the class, we worked with proofed dough provided by the restaurant.
Leo helped me pat, stretch and toss the dough until it was looking a lot more pizza-like. I topped mine with vegan cheese, tomatoes, basil, and Kalamata olives.
My pizza was loaded up and ready for the pizza oven! The beauty of Neapolitan pizza is that it's cooked in a wood fire oven and the whole process takes 60 seconds. I wish all cooking only took 60 seconds.
I posed for a picture with my masterpiece and then I was ready to dig in! Yes, it tasted as delicious as it looked.
How To Do It: Pummarola has locations all over South Florida and in Spain. Making a pizza from scratch is straightforward, easy and cheap to do at home.
Would I Do It Again?: Yes! Making dough with my own hands gave me a new appreciation for pizza — it's not just a food, it's an art form!
What's your go-to pizza topping?
Get ready to add all your favorite toppings!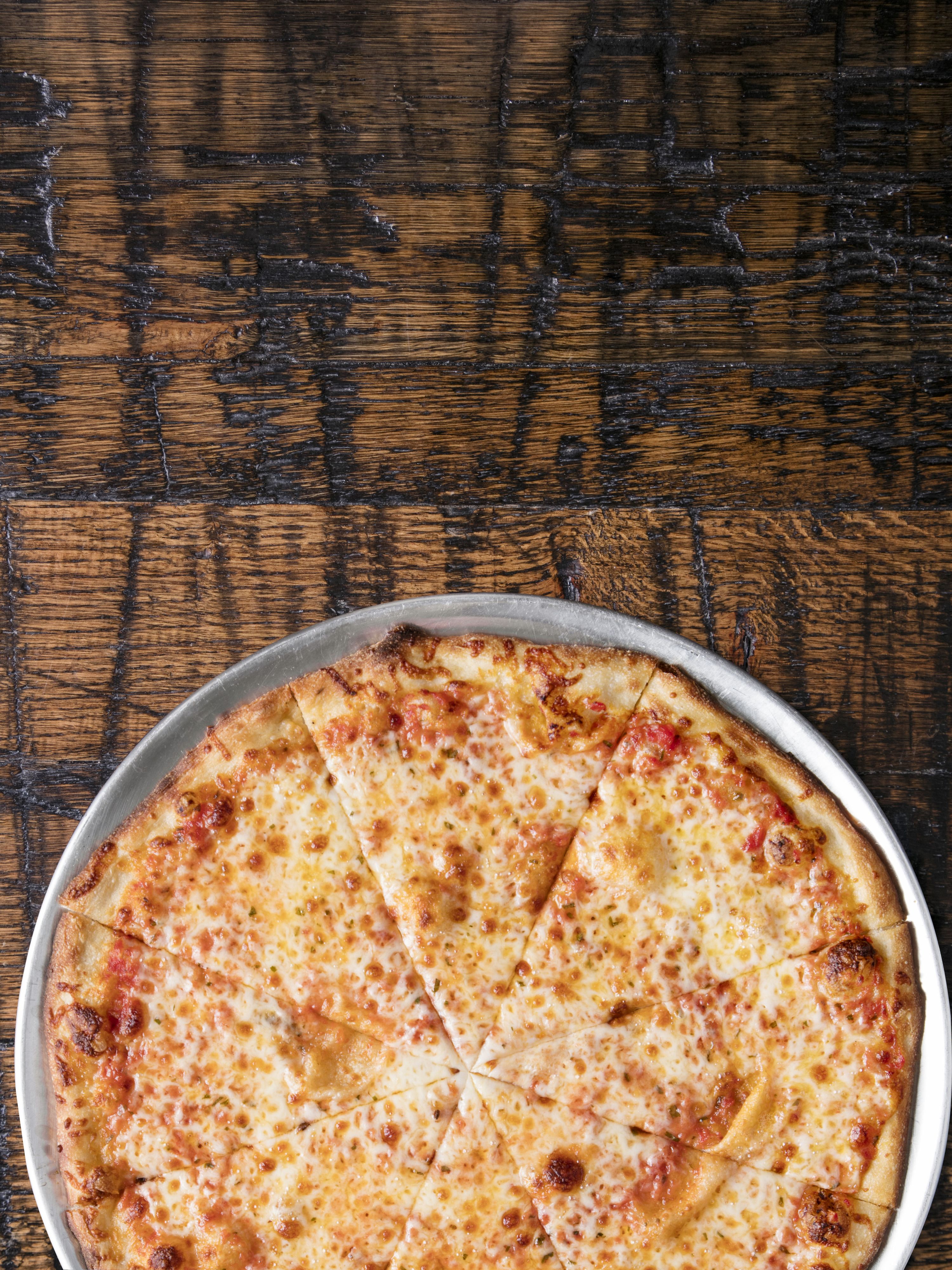 A nice slice of pizza is one of life's greatest pleasures. Just ask Ree Drummond, who loves pizza so much that she and her husband, Ladd, started their own pizza restaurant, P-Town Pizza, in their hometown of Pawhuska, Oklahoma. P-Town serves dozens of pies with unique toppings, but they all have one thing in common: the perfect basic pizza dough.
You've probably been going to your favorite pizza place for years and maybe you've even wondered how you can recreate their dough. Well, here's some good news: The team at P-Town Pizza shared a version of their basic pizza dough recipe so you can make your own similar pies at home! According to the team, it took about 73 tries to perfect this recipe—so you can trust that it's delicious! Read on for how to make it yourself.
How do you make easy pizza dough from scratch?
Pizza dough is actually a lot easier to make than you'd think. You just need flour, water and yeast, plus a little olive oil and salt. You also need time and patience! Check out the recipe below for specific steps.
Is yeast necessary for pizza dough?
The short answer here is yes. Yeast is the most important ingredient in this basic pizza dough because it is the leavening agent. Without it, the dough would be flat and not rise, and it wouldn't have any of those bubbles that make the crust chewy and crispy. You can find yeast-free pizza dough recipes out there (some people mix yogurt with self-rising flour), but that will give you a very different texture. For the true pizza parlor experience, a basic pizza dough that calls for yeast is recommended.

What is the secret to good pizza dough?
Making great pizza dough is an art, but it all starts with a solid dough recipe, like the one below. Some helpful things to remember when making this recipe: Be sure the temperature of your water isn't too cold (or the yeast won't bloom) or too hot (which will kill the yeast). The sweet spot for the water is about 110˚and you should use a thermometer to check. Also, don't skimp on rising time—this is key for developing both flavor and texture.
Can I use regular flour for pizza dough?
Yes! The recipe below calls for regular all-purpose flour. Some recipes call for bread flour or self-rising flour, which have different protein levels that contribute to the texture of the dough. It is best to use the type of flour that your recipe calls for to get the best results.
Modified: Jan 22, 2022 · Published: May 16, 2021 · by Ramona · This post may contain affiliate links
If you ever ask kids what they want for dinner 8/10 chances are that you get pizza as an answer and truthfully it is okay and fun to get a high street pizza once in a while. It is expensive but most importantly it is not the healthiest pizza option either. This is why this pizza sauce is a must make.
Knowing how to make homemade pizza from scratch is essential to enjoy a good pizza every time we fancy it – it cuts the costs, it is healthier and we can customise the pizza toppings as we wish and fancy. You can keep it super simple, you can make your pizza a vegan, a vegetarian or a meat feast one.
Pizza toppings are important but for me the pizza sauce it's what makes it a yummy or a not so yummy pizza. It is as simple as that. The sauce acidity balance it's very important – if it's too sour or too sweet – no, thanks! Yes, I am fussy when it comes to homemade pizzas and pizza in general.
This is the thing. Ive been making this sauce for a very long time and sometimes we add some weird things to it ( Sriracha sauce, cajun powder, chopped lovage) but the base it's always the same. Nothing really beats a homemade pizza sauce recipe or that sauce made with fresh tomatoes, mmmm! I will come to this a bit later on.
What is the difference between pizza sauce and pasta sauce?
This is a question that I came across a few times and to be fair it is a good question.
Using any jarred sauce like a marinara sauce it's absolutely fine but that will need to be reduced due to higher water content. Those are made for pasta and the sauce needs to be runnier since the pasta will need to absorb that.
This is a common question I get asked all the time! Here are some distinctions between the two
Spaghetti sauce has and needshigher water content– This is why I don't recommend using jar sauce when making homemade pizza, you could end up with a bit of a mess!
Pizza sauce is and needs to be thicker – Pizza sauce contains tomato paste, which causes it to spread evenly and a lot easier too!
Pizza sauce has more flavour – we like to add a lot more spices in our pizza sauce than we do in our spaghetti sauce for instance.
Non- cooked version:
1. Mix tomato paste and tomato sauce together in a medium-sized bowl until well homogenised.
2. Add the remaining ingredients – oregano, Italian seasoning or mixed Italian herbs, garlic (fresh or powder, onion powder, celery salt, pepper and maple syrup) and mix well!
This is IT! Ready to use in your favourite pizza recipe! It is this easy, I told you!
Cooked version:
1. Heat the olive oil in a medium-size pot over medium heat;
2. Add garlic and saute for a minute or so;
3. Add tomatoes (fresh- grated (skin off or chopped canned and whizzed), tomato paste, oregano, fresh basil, bay leaves, fresh thyme and salt/pepper;
4. Bring to a simmer and reduce the sauce until the bubbles turn into puffed bubbles;
5. Simmer for 10-15 minutes so the flavours blend. How easy, right?
Yes, you can, if you don't have any tomato paste on hand, you certainly can use pasta sauce on pizza but you will need to do the following:
strain the pasta sauce to remove excess liquid and then add the pasta sauce to a food processor or blender and pulse until it becomes smooth. Add your desired seasoning and salt to taste.
Or, you can pulse the pasta sauce in a blender, transfer this to a pan and reduce it for 5 minutes on medium fire until it becomes a thick and water-free paste which can then be spread nicely on a homemade pizza base.
Yes, you certainly can! You can freeze pizza sauce without much loss in quality or taste it. Freezing is the best way to keep and store the sauce for up to 2.5 months. When you need it to thaw it in the refrigerator overnight and use it the next day.
Yes, it is and I confess that I have used it in the past. In fact, the marinara sauce can be used for so many other dishes like pasta, pizza, or as a dipping sauce as opposed to a pizza sauce that can only be used for pizza. The taste of marinara sauce can be too complex to use as a pizza sauce for some. I personally do not mind it at all.
Well, I know that some people add cornstarch or cornflour to it. I personally like to either strain it or cook it for 5-7 min to reduce and therefore thicken the pizza sauce.
Ingredients for the cooked pizza sauce
dry mixed Italian herbs
fresh herbs ( thyme, parsley, bay leaf, flat-leaf parsley, basil and chives)
chilli flakes
shallot
fresh garlic
tomato sauce (you can use blended chopped tomatoes too)
tomato paste
seasoning (salt and pepper to taste)
olive oil (optional)
Making the cooked pizza sauce :
Add oil to a pan, place this on fire and add the finely chopped shallot as well as the garlic
Add the tomato paste, tomato sauce, the mixed dry herbs, the bay leaves and chilli flakes.
Cook for 5 minutes to blend in the flavours and to reduce the sauce
Use as desired in your pizza recipe
The uncooked homemade pizza sauce version
It literally takes 5 minutes or even less once you have gathered all the ingredients
This pizza sauce recipe will be the uncooked version but I will tell you all about the cooked pizza sauce recipe one here too. Not a biggie, still super easy, quick and absolutely delicious. See the recipe card for details.
making homemade pizza sauce with fresh tomatoes
Like I said earlier, nothing beats a homemade pizza sauce made from scratch. Especially when made with fresh own tomatoes harvested from our own garden.
You will need to grate these, add to a pan, add the desired seasoning and cook it a little – only 10 minutes or so until the bubbles are beginning to sound like little puffs.
HOMEMADE PIZZA SAUCE SERVING SIZE
This super-easy homemade pizza sauce recipe makes enough sauce to make two medium pizzas or one quite large pizza!
Some more recipes you may like that you can use this pizza sauce: