During holidays, most stores reap big as shoppers purchase different things to make their holidays enjoyable. However, sales may diminish after the holiday spending is over. Luckily, there are excellent methods that can help you sustain good sales even after the holidays. Understanding the needs post-holiday buyers can help you boost sales. This guide contains proven ways to help you boost post-holiday sales.
1. Give Discounts
Include discounts for post-holiday purchases in items sold during the holiday. This means that you should consist of an attractive deal or discount to future purchases after the initial purchase. This is a great way to make holiday shoppers come back to your store after a holiday when there is low traffic. For instance, you can offer gift cards to customers for January purchases.
Attaching discounts to post-holiday sales is beneficial to the present and future growth of your business. Gift cards promote purchases during the holiday season and act as incentives for encouraging purchases in the post-holiday period. Typically, most returning consumers spend more than face value which is a good tactic for dealing with competition.
If you have an ecommerce site, create a clearance site and drive traffic there. Giving buyers free products when they make a purchase will keep your sales moving.
2. Invest In Marketing
Most business owners reduce their marketing efforts after the holiday season. This is a mistake you should avoid by all means. Ensure you continue with advertising, emailing, social media marketing and PR even after the holiday season. Most customers will still be in spending mode during the New Year when people spend money they received on holiday and cash in on gift certificates. You should, therefore, maintain the aggressiveness with post-holiday marketing.
Invest in social media. Social media advertising is more effective than coupons and mail lists. Also, retarget customers using traffic from holiday period and direct ads to them depending on their location. Step and repeat banners are the best choices for outdoor advertising. They provide more brand visibility to potential customers.
3. Give Loyal Customers Special Deals
Another excellent way to boost post-holiday sales is by thanking loyal customers with exclusive deals. Send follow up emails to customers who made purchases during the holiday season with targeted deals and exclusive offers for a specified period. You can even ask the customer to share the deal with their loved ones and hence extend the promotion. Consumers endear a great bargain regardless of the time of the year.
4. Run a Contents
A fun contest is yet another way to promote post-holiday sales. Ensure that everyone who enters wins a gift. The winner should get a prize that will support your products.
5. Follow Up On Customers
Follow up on your customers and suggest great merchandise they can buy. You can even create automated emails that promote your products. The promotions should be well-timed to coincide with the time the customer is likely to make the next purchase. Check abandoned shopping carts and make follow-ups. Most consumers use carts to store products they plan to buy in the future. Email addresses of abandoned carts can create a pool of potential buyers to market to and keep your growing even after the holidays.
6. Invest in Brand Identity
Creating an excellent business image is an essential factor when competing for customers. Customers tend to make a repeat purchase on brands they can identify with.
Conclusion
It is essential to ensure that your business does not come to a standstill after the holiday season. Post-holiday sales are crucial for business growth and sustainability. The best way to ensure that customers keep coming back is by offering excellent services and rewarding them accordingly.
For many businesses, the hustle and bustle of holiday shopping has come to a close. You've probably noticed a decrease in customer sales and an increase in returns and exchanges. But fear not. This just means that it's time to give your post-holiday sales some love.
With the right promotions, marketing tactics, and pricing strategies, you can change your after-holiday sales from "blah" to "wow."
Ready to give your post-holiday sales numbers a makeover this year?
How to give your post-holiday sales a boost
It's normal to have a dip in sales after the holiday season. But that doesn't mean you can't try to pick up the pace and keep the ball rolling after.
Use these seven post-holiday sales tips to get back in business after the holidays.
1. Get consumers back through the door with another promotion
Black Friday, Small Business Saturday, and Cyber Monday aren't the only times for great deals. You can entice customers to buy from you after the holiday shopping season comes to an end by coming up with some after-Christmas deals.
Promotions can help you increase your post-holiday sales numbers and get rid of some outdated inventory. You might consider offering deals like:
Buy-one-get-one free
Freebies with purchases
Percentages off items or purchases
Promote your post-holiday sales event on your website, on social media pages, and in email campaigns. And, you can hand out coupons for upcoming after-holiday sales when customers purchase from you during the holiday shopping season.
2. Upsell and cross-sell based on holiday sales
During the holidays, your customers likely made a number of purchases, both for themselves and others. And hopefully, you have a clear record of those sales.
Why not use that data as a baseline for cross-selling and upselling other products or services to said customers?
Consider cross-selling if there are related products or services you can market to the customer that complement their purchase. You may consider upselling if you have a new-and-improved version of something they already bought.
Of course, it's a little more involved to upsell and cross-sell after the customer has made the purchase. You have to do a bit of marketing footwork to make it work (e.g., send tailored emails).
3. Start a loyalty program and offer limited-time incentives
A small business loyalty program can give your bottom line a boost year-round. But, you can especially promote it after the holidays by offering limited-time incentives.
First, let's take a step back and recap what are customer loyalty programs. A loyalty program rewards customers when they make repeat purchases from a business. For example, a customer might get a free drink when they buy a certain number of coffees.
To incentivize customers after the holidays, you might double the loyalty program points or rewards they can receive.
4. Use new customer contact information to your advantage
Did you collect names and email addresses from customers over the holidays? Be sure that information doesn't go to waste.
Whether you have a digital or physical list of all your customers' contact information, reference it. Send follow-up emails about their purchases, promote upcoming sales, and announce newly released products.
Don't shut away your contact list in a drawer. Take advantage of it by marketing to your customers and keeping in touch after the holidays are over.
5. Target new year trends, not last year's holidays
The marketing efforts for the holiday shopping season do a good job enticing customers to buy for their loved ones. When the season is over, you may want to change up your marketing strategies, too.
Rather than marketing to customers shopping for gifts, try marketing to new year's trends, like healthy eating and exercising, spring cleaning, and upcoming events (e.g., Valentine's Day).
The new year is a time to move forward, right? So, be sure to capitalize on that mentality when marketing to customers and implementing new deals.
6. Engage with your customers on social media
Did your customers post pictures of your products on their social media pages? Or, did you post pictures from a Small Business Saturday event you hosted?
If the answers to either of these is yes, you've got a prime excuse to keep the conversation going after the holidays are said and done.
Leaving a comment on a customer's post like, "Thank you for making us part of your holiday shopping experience!" or "So happy your mom loved the book!" can ignite a conversation between you and the customer and their followers.
But why stop there? Post engaging status updates on your business social media pages to keep the conversation going, too. That way, you can stay at the forefront of your customers' minds, even when the holiday shopping buzz wears off.
7. Don't coast through the post-holiday time period
Although it's only normal for sales to be a little slower after the holidays, try not to use it as a time to coast. You and your employees should aim for the same standards you set during the rest of the year.
Record every transaction in your accounting books, keep detailed records of any discounts you offer, and track your efforts.
Try not to get discouraged if your monthly small business revenue is lower than in previous months. Keep testing new sales tactics and marketing efforts to try to get out of the post-Christmas sales slump.
Want to see how your post-holiday sales compare to your holiday sales? With Patriot's online accounting software, generating reports about your financial health is easy. Start your free trial now!
This is not intended as legal advice; for more information, please click here.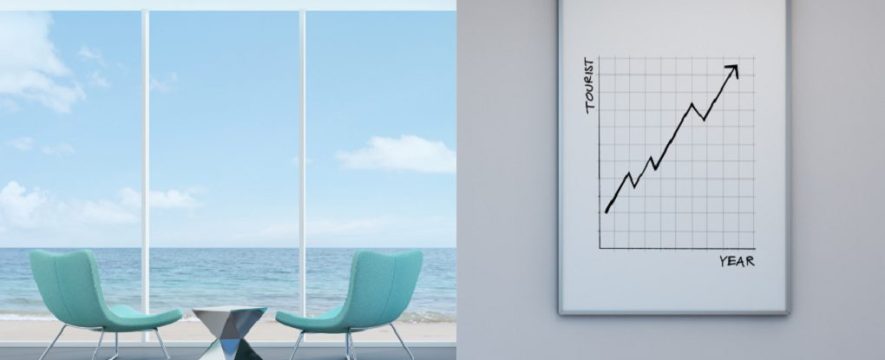 Constantly increasing sales in a tour operating company, especially as travel begins to return, should be the number one priority for any travel business.
The competition is rough and plentiful – and even now the new tour operators, OTA-s and travel agencies are popping up as you're reading this. On the other hand, the ones that survived the crisis are hungry for new revenue and are putting a lot of effort into making sure they get their own piece of the cake on the travel rebound market.
We've talked to many of our customers going through the same situation and compiled 8 tips you can use to keep the customer in focus, increase sales in your travel agency or tour operator business, and build a reputation that will help you book more trips.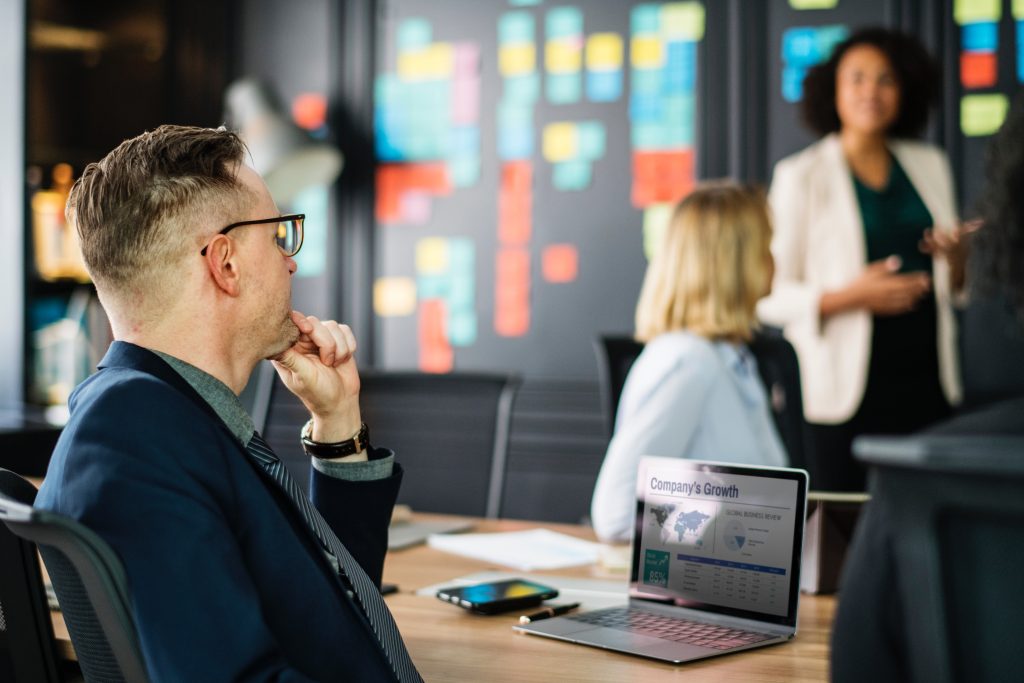 "Have we sold anything today?"
Related: 5 Advantages of B2B Online Booking for Tour Operators
1. Highlight the benefits of your product/service
Instead of trying to compete with your competitors, focus on pointing out the unique benefits of your service. Ask your existing, satisfied customers for a review, highlighting all the positive aspects of the experience they've had with your agency.
Most satisfied customers won't hesitate to give a testimonial – some might even be glad to. Post it proudly on your company's website and watch as you attract new potential clients.
Always remember – focus on providing the best experience to your customer! That ensures returning customers and good word of mouth.
2. Engage with customers on social media
Travelers of all age groups are using social media networks, where they talk about travel products, share experiences, or express their preferences.
Use images, videos, questions, or statuses to spark conversation and motivate potential clients to follow you. Listening to their comments and receiving feedback helps you create better-tailored trips and packages.
3. Upsell products – provide an experience
Suggesting additional products on top of a standard package is the most straightforward method of increasing your revenue per customer. For example, if your customer is going on a city tour of Madrid, offer lunch and dinner options to go along with it.
On the other hand, an observatory tour operator who offers private telescope viewing sessions might offer a glass of wine and tapas prior to the viewing to make the experience more romantic for a couple who booked it.
Explore and test to find out what your customers want, and use travel agency software to easily track and manage special offers and complementary products.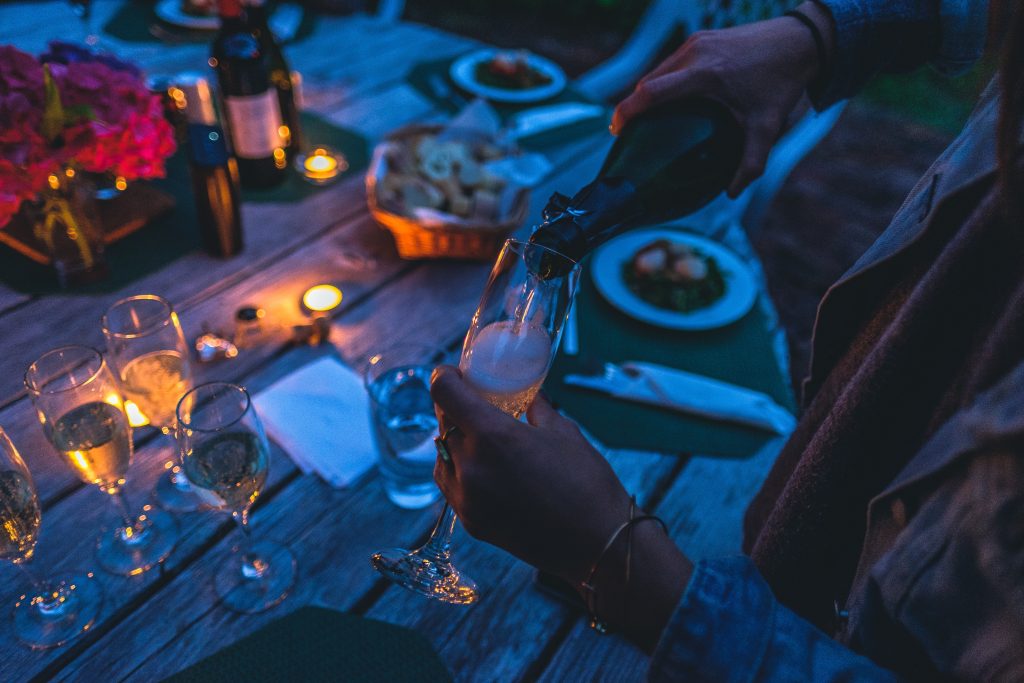 4. Package travel components into unique travel products and multi-day tours
Combine different products into a unique travel experience. Create multi-day tours and try to offer a better price by selling hotels, flights, and activities together to create a unique experience.
But with many incoming inquiries, the process of creating a package has to be quick and simple. With the help of tour operator software, creating a multi-day tour or a package is completed in just a few steps.
5. Find a travel niche market
One way to be a successful travel company is to establish your business in a niche market. The travel niche doesn't need to be complicated or rare – but the more unique it is, the better. Niche travel means you are selling something that no one else sells, and that your product is different in some way.
That can mean you're specializing in a certain demographic area, like organizing trips for senior French couples, a type of travel – like hiking through the mountains off the beaten path, or doing trips only for one particular destination. This type of segmentation is rising in popularity as the competition rises significantly, too.
6. Introduce travel technology to create multi-day tours
The Covid crisis has accelerated the digitalization of the travel industry and it has also affected how travelers book trips and how agencies can sell their products and multi-day tours. You can offer your visitors the option of booking multi-day tours online through the web page.
That way, you don't have to worry about whether or not your employees are sitting at their desks. Via an online booking system, your customers can book 24/7 because the system receives and processes the reservations automatically. Providing your customers with a completely easy and safe way to book travel arrangements online is a great policy to grow your revenue.
7. Extend your B2B network
It is no big news that your business relationship with partners is very important. Business partners help you reach new markets, acquire new customers, get new ideas for further product development, and more. When your work is supported by good travel technology, you're able to focus on the relationship with your B2B partners, and not administration that comes with it.
But remember that finding a new B2B partner is just the tip of the iceberg, and keeping one is what requires hard and honest work. Learn how to easily extend your B2B network.
8. Enhance your offer by integrating with GDS systems
A good way to stay ahead of your competitors is by offering the best possible prices on a worldwide range of high-quality transfer services, car rentals, tickets for museums and attractions, and excursions.
With a travel software, this is made simple through XML integration with different hotel systems (third-party systems). Combining different sources into a unique travel experience takes your service to the next level.
By E. Justin Swanson
Retail sales in the United States jumped nearly 11 percent this season compared with the holiday period in 2019, the year before the pandemic upended the global economy, according to a report Mastercard published on Sunday.
The report, Mastercard SpendingPulse, showed an 8.5 percent increase in retail sales over the holiday season, defined as Nov. 1 to Dec. 24, compared with last year. The figures exclude automobile sales.
Sales in stores were up 8.1 percent compared with last year, while e-commerce sales were up 11 percent. Compared with 2019, before the pandemic brought about an explosion of online ordering, e-commerce sales jumped over 61 percent.
Online sales made up 20.9 percent of all retail sales this year, according to the Mastercard report. In 2019, online sales accounted for just 14.6 percent of all retail sales, underscoring how the pandemic has accelerated the shift to e-commerce.
In a statement, Steve Sadove, senior adviser for Mastercard, said many Americans got their Christmas shopping done early this year. "Shoppers were eager to secure their gifts ahead of the retail rush," he said, "with conversations surrounding supply chain and labor supply issues sending consumers online and to stores in droves."
Indeed, despite early fears, holiday shoppers received their gifts mostly on time, with many shopping early and in person. Retailers, as well, placed merchandise orders early and tried to head off other bottlenecks. For their part, delivery companies ramped up hiring to handle the deluge of packages, which crushed the Postal Service last year. Nearly all packages delivered this year by UPS, FedEx and the Postal Service arrived on time or with minimal delays, according to ShipMatrix.
While the holiday period starts on Nov. 1 according to the Mastercard accounting, Thanksgiving weekend, the traditional start to holiday shopping, was crucial for retailers. Black Friday, Mastercard noted, was the top day for spending during the holiday season, and spending for the entire long weekend was up 14 percent compared with last year.
Here's How to Save at the Craft Store Giant
Stacy Fisher is an expert on crafting, sewing, and frugal finds, sharing her knowledge of hands-on DIY creations, finding freebies, and budgeting. Stacy was a guest on "The Dr. Oz Show" and featured in Woman's World Magazine. She has nearly two decades of writing and editing experience.
You may think you know everything there is to know about how to get the most out of Hobby Lobby sales, but there are a lot more ways to save than the obvious sale ads and coupons. From discovering secret sale schedules to finding the hidden clearance section, here are some Hobby Lobby hacks to help you save even more.
Tip: Looking for more deals on craft supplies? Check out how you can save at Michaels too.
There's a Secret Sales Schedule
Have you noticed that the Hobby Lobby ad seems to repeat itself often? That's because they have a secret sales schedule that they follow with sales on a rotating basis. If you plan your shopping trip around it, you'll be able to save some cash.
Items that go on sale once every four weeks include home décor (50% off), paper crafts (50% off), and fabric (30% off). These are the items that go on clearance less frequently than other categories, so you won't want to miss out.
Once every three weeks, you'll find a sale on yarn and needle art (30% off), crafts (30% off), art supplies (40-50% off), and jewelry making (50% off).
You can get some items on sale once every two weeks and these include floral (50% off), frames (50% off), paper crafts (50% off), and ribbon & trim spools (30% off).
Some items go on sale every two out of three weeks. These are canvases (50% off) and glass beads and hair accessories (50% off).
Things that are on sale every three out of four weeks include home décor like candles, candleholders, clocks, ceramic, and more (50% off).
There are some items that are always on sale – furniture (30% off), potted trees and floor plans (30% off), frames (50% off), T-shirts (30% off), and some fabric (30% off).
Buy a Hobby Lobby Gift Card for Less Than the Gift Card Amount
Visit a website like Raise, and you can buy Hobby Lobby gift cards for less than the balance on them. The people selling these gift cards have decided that they'd rather have cash instead and their choice is your win.
Each Store Has at Least One Clearance Wall
Hobby Lobby has started putting their clearance items together on a section of the wall in the back or on the sides of the store. Walk around the perimeter of your store to find it. You can get items up to 90% off there!
Those Yellow Price Tags Mean Great Deals
The yellow price tags mean that the item is on clearance. While you'll find a bunch of these on the clearance wall, they'll also be scattered around the store. Keep your eye on end caps especially, but yellow price tags will occasionally be found in the regular aisles as well.
Wait for the Home Accent Clearance Sales and Save 50 to 90 Percent
Twice a year, Hobby Lobby has a home accent clearance sale that starts at 50% off. Just wait though, because in a few weeks it will go up to 90% off. It's usually after the holidays and towards the beginning of summer.
Holiday Clearance Will Go Up to 90 Percent Off if You Wait Long Enough
After each holiday, the holiday clearance will start to get discounted. It starts at just 50% but after a few weeks, it will go to 90%. This is a great opportunity to stock up for next year.
Get a Price Adjustment and Save
Hobby Lobby does offer price adjustments, but you'll need to bring in your receipt and the item back into the store to get the price difference. Though keep in mind that price adjustments aren't eligible on clearance items.
They Give Discounts on Damaged Items
See an item that's damaged but not on clearance? Show the cashier and he or she could give you 10 to 15% off that item.
Hobby Lobby Honors Competitors' Ads
Hobby Lobby price matches, but does so in a limited way. You'll need to bring a competitor's physical ad with you (such as a Michaels or Jo-Ann coupon) and it needs to be the exact same item that they'll price match. It's not good on doorbusters, clearance, Simplicity & McCall's patterns, and electronic cutting machines.
You Can Request a Rain Check
Just when you thought rain checks were a thing of the past, Hobby Lobby made them valid again. If the item you want is on sale but out of stock, you can get a rain check and use it on the item when it's restocked.
You Can Make a Return Without a Receipt
According to Hobby Lobby's return policy, you can exchange a purchase or be issued credit based on the lowest selling price in the last 60 days, even if you don't have a receipt. If you do have a receipt, you have 90 days after your purchase to make an exchange, get store credit, or receive a refund on your original method of payment.
Use the Hobby Lobby Rewards Credit Card to Save Even More
There's a Hobby Lobby Rewards Visa credit card that will get you points that you can use to redeem for a Hobby Lobby gift card. You can rack up points on purchases made wherever Visa is accepted, and you can gain even more points on Hobby Lobby purchases.
Schools and Charitable Organizations Get 10 Percent Off Their Purchases
Schools, churches, and national charitable organizations get a 10% off in-store discount, but you'll need to bring a credit card or check from the organization to pay.
Employees Get a 15% Discount
Apply for a job at Hobby Lobby and as an employee, you'll get a 15% off discount on top of coupons and sales.
Black Friday is the name given to the first day after Thanksgiving. It is one of the most important retail and spending events in the United States. Every holiday season, prognosticators make predictions about the level of sales on Black Friday, and investor confidence may be affected by whether or not those expectations are met or exceeded.
If consumers follow up Thanksgiving by spending a lot of money on Black Friday and retailers show strong numbers, then investors might have their first indication that it is shaping up to be a particularly profitable shopping season. This confidence can be reflected in the stock prices of the retailers that post strong sales. Conversely, many take it as a sign of trouble if retailers are unable to meet expectations on Black Friday. Concern over the economy is magnified if consumers are perceived to be reining in their spending.
Key Takeaways
Black Friday is the name given to the day after Thanksgiving, when retailers traditionally would be "in the black" for the year; now it signals the biggest day of the important holiday shopping weekend.
Cyber Monday is the Monday after the holiday weekend; sales during the five-day period of Thanksgiving through Cyber Monday are seen as reflective of consumer sentiment.
Strong sales during this period can benefit retail sector stocks, particularly the stocks of companies that report strong sales.
However, the overall stock market and broader investor sentiment are not always impacted by the results of Black Friday, with market participants focused on a variety of economic and political developments.
Millions Shop on Thanksgiving Weekend
In 2020, an estimated 186.4 people shopped in stores or online during the period from Thanksgiving through Cyber Monday, according to the National Retail Federation (NRF), spending an average of $311.75 over the five-day period, down 13.9% from $361.90 in 2019. More than 100 million people shopped online for the first time, and the number of online-only shoppers increased by 44% to 95.7 million.
Cyber Monday, the Monday after Thanksgiving weekend, in which consumers go back to work and shop online, is also a notable day for the retail industry; it marks the end of the five-day Thanksgiving weekend shopping period.
Black Friday Weekend and Stocks
Thanksgiving is an important day for a lot of businesses, particularly those in the food industry. However, U.S. stock markets are closed on Thanksgiving and open for only half the day on Black Friday. Global markets are open, but stock market trading is unlikely to be affected by Thanksgiving alone because of the importance of the day after.
Black Friday is important because this is the shopping day when many retailers have traditionally made enough sales to put them in the black for the year. Since many retailers consider Black Friday to be crucial to their business's annual performance, investors look at Black Friday sales numbers as a way to gauge the overall state of the entire retail industry. Economists, based on the Keynesian assumption that spending drives economic activity, view lower Black Friday numbers as an indication of slowed growth.
The stock market can be affected by having extra days off for Thanksgiving or Christmas. The markets tend to see increased trading activity and higher returns the day before a holiday or a long weekend, a phenomenon known as the holiday effect or the weekend effect. Many traders look to capitalize on these seasonal effects.
A particularly strong or weak Black Friday-through-Cyber Monday shopping period tends to have a big impact on retail stocks, but it may not be significant enough to sway broader stock market sentiment.
Black Friday and Stocks
Many analysts and investors scoff at the notion that Black Friday has any real predictability for either the fourth quarter or markets as a whole. Instead, they suggest that it only causes very short-term gains or losses.
Of note, the best U.S. sector from one week before to one week after Black Friday is retail. From 2007 to 2017, a grouping of S&P 500 retail stocks posted a 5% return, compared to the average 3% return for the S&P 500 over that period. For all 10 years, this basket of retail stocks has traded positively for the 10-day period. This trend continued with the S&P 500 Retailing Industry Group outperforming the S&P 500 by 1.5% and 0.1% during that period in 2018 and 2019, respectively. This pattern didn't continue in 2020, when the S&P 500 returned 4.1% but the retailing industry group only returned 2.2%.
Holiday Sales 2020
The NRF announced on Jan. 15, 2021, that retail sales over the 2020 holiday season grew 8.3% year over year (YOY), to $789.4 billion, exceeding NRF expectations. "Online and other non-store sales" rose 23.9% to $209 billion. This was more than double the five-year average YOY growth of 3.5%.
By Indeed Editorial Team
Updated June 22, 2022 | Published April 3, 2020
Updated June 22, 2022
Published April 3, 2020
Copy to Clipboard
Employee pay bonuses increase morale and overall performance within a company. When your employer offers you a pay bonus, they're showing you they value your work and your accomplishments. This helps to build loyalty among employees who know that their company has their best interests in mind.
In this article, we discuss employee bonuses, including the different types, and explain how to calculate an employee bonus yourself.
What is an employee bonus?
An employee bonus is pay awarded to an employee in addition to their regular salary or pay rate. In most cases, employees earn bonus pay as an award for excellent work or as an end-of-year reward.
What are the types of employee bonuses?
While employers award bonuses for different reasons, there are many different types they offer, including:
: A sign-on or signing bonus is a sum of money paid to new employees upon hire and is determined while negotiating a job offer. Employers use this type of bonus as an incentive to garner more interest in open positions. Sign-on bonuses are commonly seen in sales roles.
: Profit-sharing is a bonus made of a percentage of a company's profits over a set period of time, such as one year. The amount paid depends on the company's current profitability as well as the employee's salary. Publicly traded companies allocate shares to employees as part of their profit-sharing plan.
: Holiday bonuses are extra sums of money gifted to employees at the end of the year. Some employers award this money as either a percentage of an individual's salary or a flat rate. Whether you receive a holiday bonus often depends on factors such as the industry you work in, your employer's preferences and how your company performed in the past year.
: Team incentives are bonuses earned for increased or excellent performance over a given time. These bonuses foster collaborative environments that promote helpful teamwork and overall focus. Options for team incentives include gain-sharing plans, profit-sharing plans and earnings-at-risk plans.
: Employees earn milestone or project bonuses by reaching important deadlines. These are well-defined goals that often cover a short time period. Milestone plans promote employee productivity and overall performance.
: Gifts or similar incentives include gift cards, travel vouchers and stock options. These are often awarded to employees based on individual performance and status within the company. Stock options—if an employer offers them—are a rarer bonus usually given to those with tenure.
How to calculate bonus earnings
Many companies have their own unique calculations that fit their industry and their specific business. However, there are several methods to choose from, including:
Sales commission
Companies that want to incentivize their sales process offer sales commission bonuses, which is a performance-based bonus. You can calculate it by multiplying the amount earned by the bonus percentage. Follow these steps to determine a sales commission:
Determine the total sales made.
Determine a total bonus percentage.
Multiply total sales by total bonus percentage.
For example, you make $10,000 in sales, and your company offers you a 5% commission. Here's the calculation:
$10,000 x .05 = $500
Percent of salary
If you're a manager or department head deciding on bonuses, determining the appropriate salary percentage bonus involves considering all employee salary and wage amounts. Use the prior year's annual wage estimate if required. Base the bonus itself on the amount that each employee makes individually. Follow these steps:
Determine the employee's salary.
Determine a percentage.
Multiply employee salary by the percentage.
One employee makes $50,000 per year, and the bonus percentage is 3%. Here's the calculation:
$50,000 x .03 = $1,500
Sign-on bonus
Sign-on bonuses are almost always paid as flat rates and don't require a calculation. However, if you receive the bonus in increments, some calculations are necessary. Determine a contract length, and divide that number by the bonus amount. Follow these steps:
Determine the sign-on amount.
Determine the contract length.
Divide the sign-on amount by the contract length.
The sign-on amount for a role is $1,000, and the contract length over which the bonus will be paid is five months. Here's the calculation:
Sales commission example
The following example offers a specific scenario for calculating bonus earnings:
Alana is a saleswoman for a vacuum cleaner manufacturer. During a major weekend convention, Alana sold $10,000 worth of the company's vacuums on day one and $4,000 on day two. Knowing that the company offers a bonus percentage of 3%, here's how to find out Alana's commission earnings:
1. Determine the total sales made
Identify how much money Alana earned each day and add them together.
$10,000 + $4,000 = $14,000
2. Determine a bonus percentage
The company offered 3% sales commission for the weekend. Change the percentage to a decimal by dividing by 100 or move the decimal two places to the left.
3. Multiply total sales by total bonus percentage
With total sales and total percentage identified, multiply the two values together.
$14,000 x .03 = $420
Alana earned $420 in sales commission for the weekend.
Percent of salary example
The following example demonstrates how to calculate a bonus determined by salary percentage:
Victor's company plans to implement a new initiative of weekly bonuses for exceptional work at a percentage of 4%. Victor currently makes $35,000 per year. Let's determine how much he now makes in bonuses on a weekly, monthly and yearly basis:
1. Determine the employee's salary
Victor makes $35,000 annually.
Employee salary = $35,000
2. Determine a percentage
The company offers a 4% bonus on a weekly basis where 4.3 represents the average number of weeks in a year. Convert the decimal to a percentage by dividing by 100 or moving the decimal two places to the left.
3. Multiply employee salary by percentage
With both the salary and percentage figures determined, multiply them together.
$35,000 x .043 = $1,505
Victor can earn a potential bonus of $1,505 each week.
4. Determine a monthly amount
Finding a monthly amount involves multiplying the weekly amount by 4.3 for the average number of weeks in a month.
$1,505 x 4.3 = $6,471.50
Victor can earn a maximum bonus amount of $6,471.50 each month.
5. Determine a yearly amount
To find the annual bonus amount, multiply the monthly amount by 12 for the months in a year.
$6,471.50 x 12 = $77,658
With exceptional work performance every week, Victor could receive up to $77,658 in bonuses before taxes.
Travis Balinas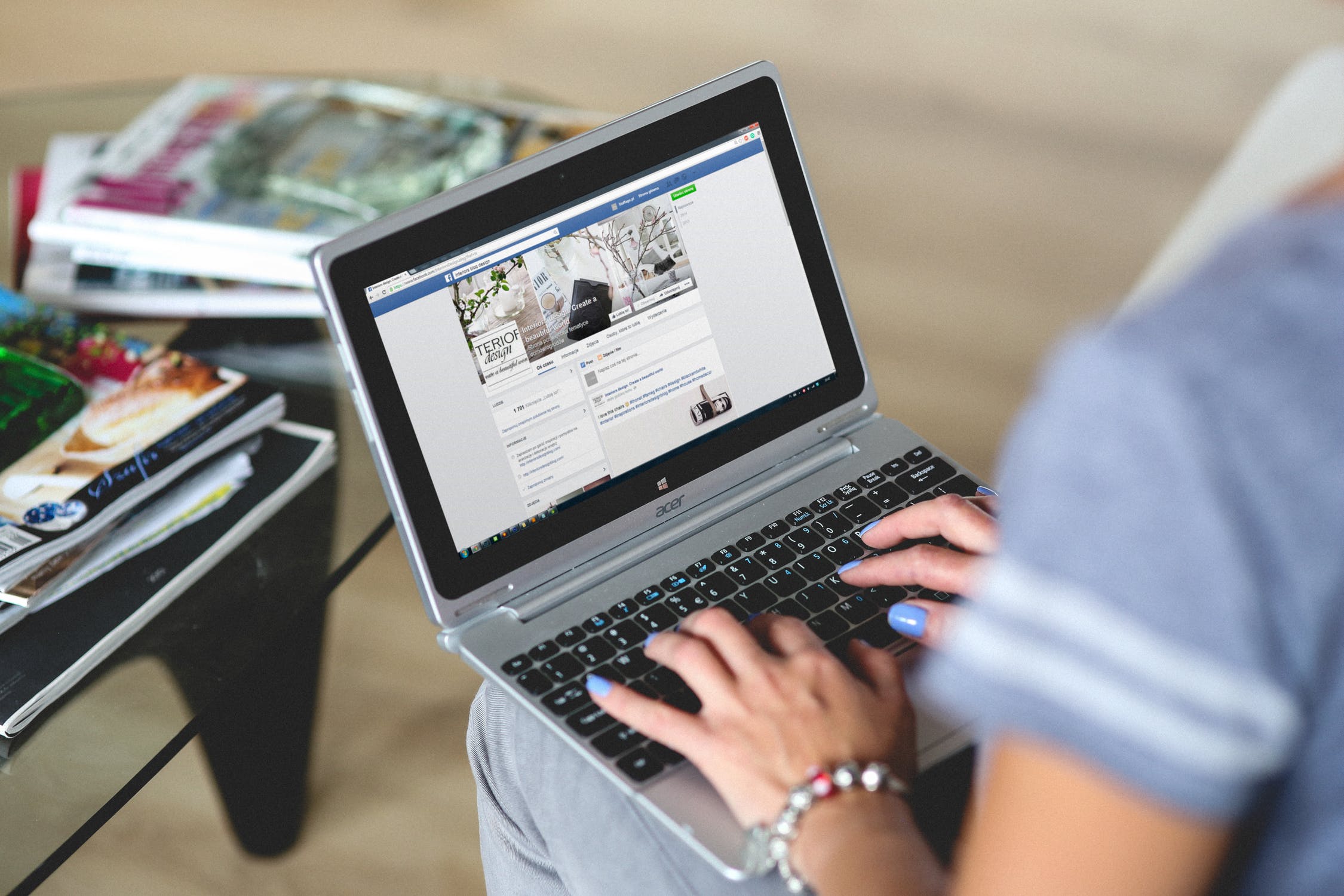 Despite being nearly two decades old, Facebook is still the most popular social platform in the world, reaching 2.91 billion monthly active users by the end of 2021. That means small businesses need to understand how to use Facebook to connect with potential customers and create a presence that makes you look great. But how do you accomplish that goal?
Bonus Content: Grab a copy of our Social Media Field Guide.
Whether you're currently posting and not sure if you're doing it right, afraid that you'll post the wrong thing, or just don't feel comfortable doing it, we've put together 6 tips to help you learn how to write good Facebook posts.
Tip #1: Balance the Self-Promotion
No one likes to be bombarded with ads. The more "likes" you have on your page, the greater the number of people that will be able to see your posts. However, if all you post about is your business and nothing else, then more people will think of your posts like commercials they want to skip over.
The solution? Find a good balance between posting helpful, interesting content and posting specifically about your business. A good rule of thumb to follow is the 80/20 rule: for every 10 Facebook posts, 8 should be not about you and 2 can be self-promotion. Think of it as earned promotional abilities.
Here is an example of interesting, non-promotional content, followed by one of subtle self-promotion:
Non-promotional example: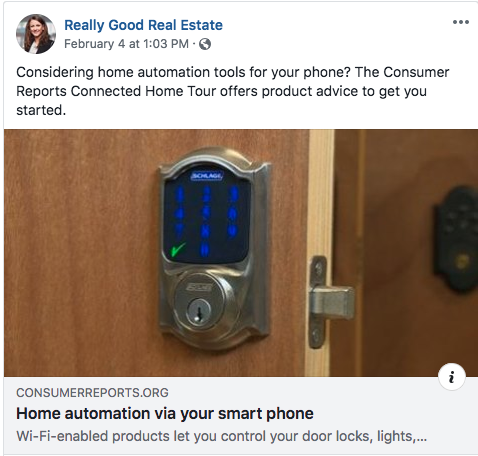 Subtle self-promotion example: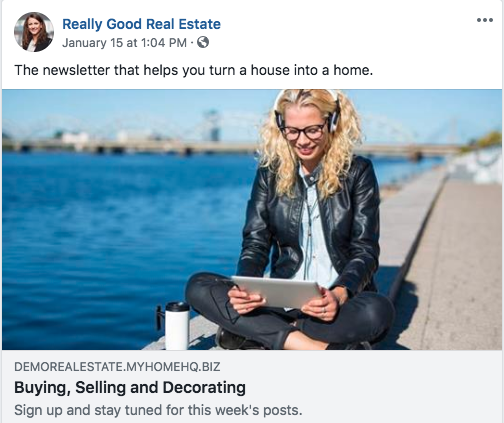 Tip #2: Know Your Content Style
Finding your voice on social media can be a challenge. If someone comes to you to do business, you don't immediately jump right into the hard sales pitch. You make small talk about friends and family, maybe mention something topically relevant to your industry, and get to know each other a little. This is what your content style is and what you should be talking about online.
Content style is very important when you're learning how to write good Facebook posts. For example, if you're a mortgage broker, you'd sound like a broken record talking about interest rates all day long.
When you craft posts, think local and industry adjacent. Post examples can include:
Upcoming events in the area (including virtual events)
Great weekend sales or local deals
Photos of events you attend
Blog posts on how to save money
All of these topics help you solidify you as a well-rounded professional and encourage followers to look to you as a trusted source.
Tip #3: Brand Your Business
Similar to content style, making your Facebook business page personal is key to mastering how to write good Facebook posts. This can be tough for some people because they feel exposed, but this is the type of content that softens a professional image to make it more relatable.
For example, now that many people are working from home, it's a great time to get your pets involved. Post a photo with a caption about what your furry friend thinks of the new normal. People will like these photos, comment on them, and begin to engage with you more socially.
This kind of idea might sound cheesy, but it helps show your human side. Being seen as both a person AND a professional is a way to build loyalty and confidence with your network.
This post from OutboundEngine showcases something important to our business that has nothing to do with revenue. It's OutboundOutreach, an internal volunteer group that organizes our monthly volunteer opportunities.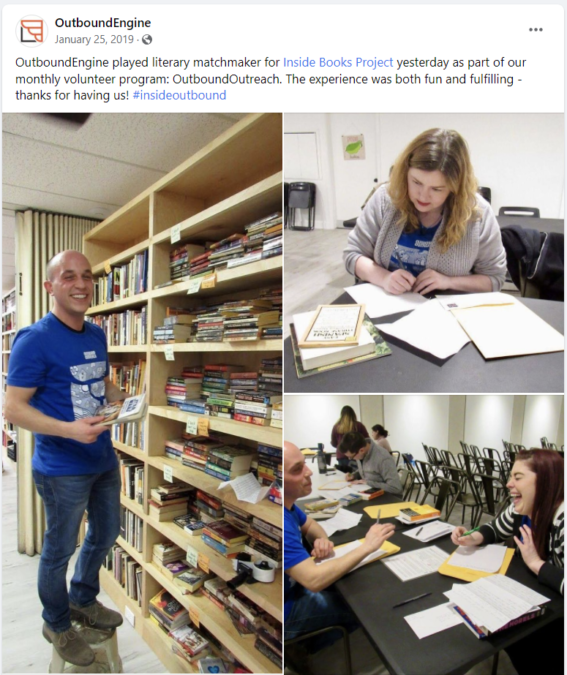 Tip #4: Set The Frequency
How much you should post to your Facebook page is a topic of much debate. There are tons of studies, some often contradicting the other, with "ideal" times to post.
It's easy to fall into the categories of posting too much or not enough. Facebook recommends that you post at least 1 – 2 times a week to your page. Other experts say that you can post 1 – 2 times a day and still be OK. Our advice is to post a couple of times a week, making sure that you include a mix of content. Use photos and videos, interesting blog posts or articles, and the occasional self-promotional posts.
Tip #5: Be Conversational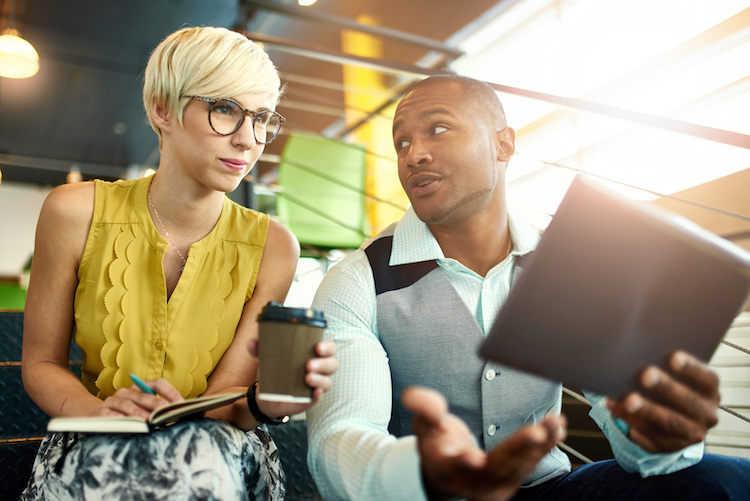 Remember that Facebook was exclusively a social network before it became a place for businesses to connect with customers. With that in mind, when people are on Facebook, they expect to find socially engaging content, conversations, and topics they can relate to. Remember this as you focus on how to write good Facebook posts.
Don't be afraid to ask questions as status updates. Make sure you respond to comments, questions, and concerns. Even if they are negative, it's important that you show your Facebook followers that you're listening and that you care.
Facebook is meant to connect you to your prospects and clients, and ultimately help to brand your business as a relatable, trustworthy entity that people seek out when they need your services.
Tip #6: Listen To Your Audience
Sometimes listening to your audience means listening for clues they might not be saying. If your posts aren't getting seen by a lot of people, try posting different times of the day. If they don't have a lot of engagement, try different content. They're sending you lots of feedback both directly and indirectly. Pay attention to these results and it will significantly help the success of your posts.
Like many things small business owners have to do outside of their comfort zone, posting to Facebook is tough. If you get stuck and need help, we can certainly do the work for you. Our professional writers will create content for you and our software will automatically post it for you.
If you do choose to go it alone, remember that practice makes perfect. You'll be teaching others how to write good Facebook posts in no time!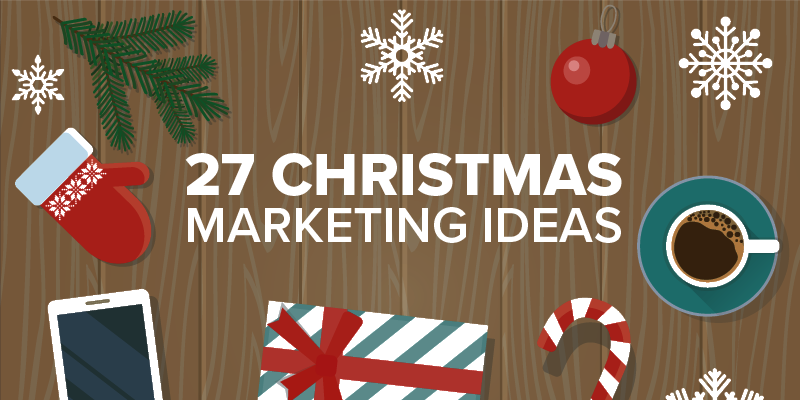 Regardless of what your preferred marketing channel is, we have put together a list of 27 Christmas marketing ideas you can use to add some sparkle to your holiday marketing and sales strategy. There is still enough time to implement many of these ahead of this Christmas, and for those that require a little more planning, you have around 52 weeks left to finalise them for next Christmas.
As we approach Christmas each year, there are a few things we can count on: Christmas decor will seem to go up earlier than the year before, a once popular musician will release a Christmas themed album, and there'll be a new Doctor Who Christmas special. And once the season is over, there will be multiple reports examining the performance of retailers and products, and even changes in customer behaviour. More recently these reports have started to include analysis of online sales, including purchases made using a mobile device.
Although these reports are sometimes a little heavy on the superlatives and hyperbole, they do offer valuable insights into how any business can benefit from the ways in which technology are influencing customer behaviour. For one, small businesses were limited to operating and marketing within a small radius of their geographical location, making it difficult to grow and effectively compete with larger businesses. The internet has changed this, first slowly, but much more rapidly in the last decade; with e-commerce platforms, email marketing and mobile apps becoming more accessible to small businesses.
It is important for small businesses to embrace these changes, and to take advantage of the benefits they bring throughout the year, but especially over the Christmas period. Businesses began taking advantage of the commercial aspects of Christmas in the late 19th Century, first marketing their Christmas wares through their store fronts, then in print, radio and television ads. Available marketing opportunities have since grown to include online advertising, e-commerce stores, and much more recently, mobile apps. Which isn't to suggest you should be using all of these marketing avenues, but rather those that are most frequently used by your specific audience in addition to considering online and mobile.
Why online and mobile? As noted earlier, small businesses were previously limited to operating and marketing within a small radius of their geographical location, but even with the addition of online and social media advertising, their pool of potential customers is still restricted to those who live, or pass close-by. Moving into online sales via an e-commerce site or mobile app removes those restrictions, with the only impediment to significant sales growth being how discoverable they are online, and the number of territories they ship to.
Thirteen of the last fifteen Christmas seasons in the US have seen sales growth of 2-6% over the previous year, with the only dips following the 2008 recession.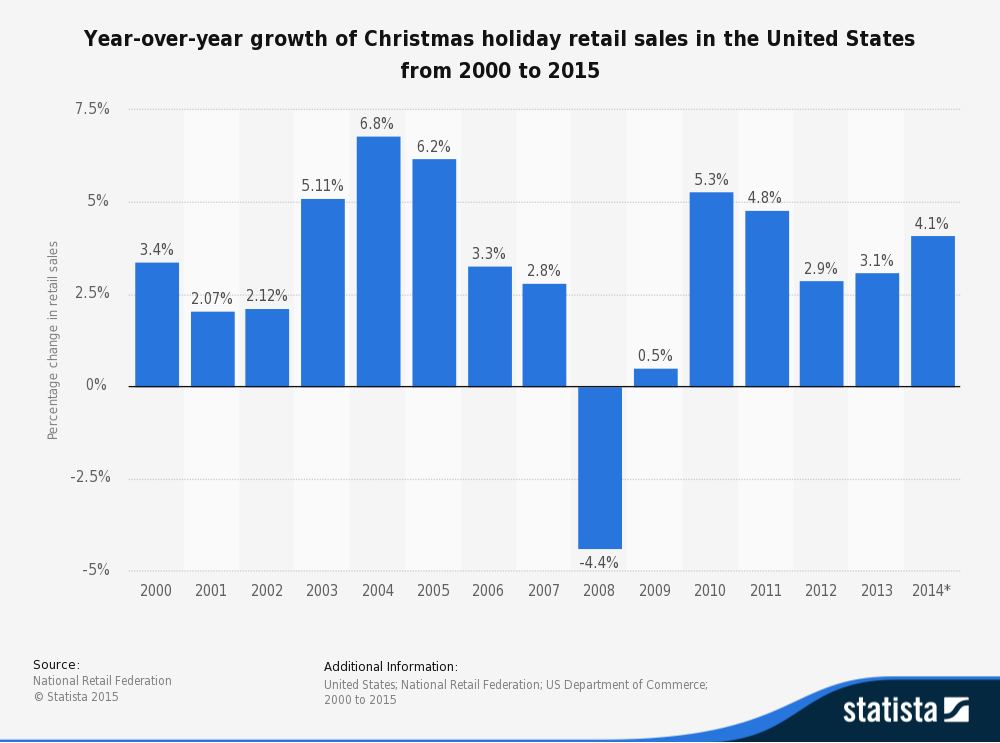 In the UK, retail sales grow by 30% during Christmas, with 14% of all Christmas sales happening online – up from only 9% in 2011.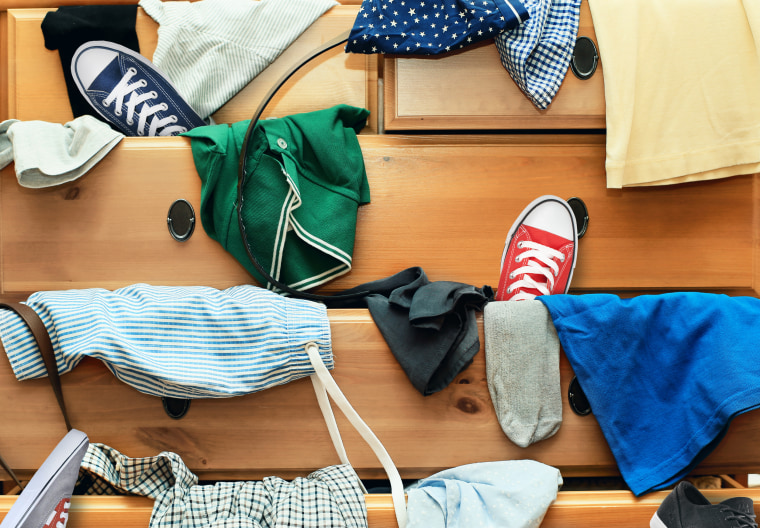 This past holiday season, e-commerce sales hit a record high, accounting for 14.6 percent of total retail purchases between Nov. 1 through Christmas Eve; that's a growth of more than three percent from 2019. Despite my impassioned but disastrously unsuccessful plan to DIY on a budget all gifts to my loved ones, I was one of the millions of Americans who helped nourish this e-commerce growth spurt, managing to not set foot into a single brick-and-mortar store. Armed with my coupon codes and cashback browser extensions, I felt certain that I was saving oodles of money by online shopping only — but as my credit card statements now show, even with discounts, I still spent a lot. To my dismay, I've started 2020 off in a fresh dugout of debt.
And so, I will return to where my troubles began: the Internet — though this time not to buy, but to sell. Sites such as eBay, Poshmark, ThredUp and Facebook Marketplace allow just about anybody to vend their goods. Here's what you need to know to get started, and what has the best chance of selling (and where).
On eBay you can sell everything from books to cars
EBay touts 15 categories, making it the eclectic vendor's favorite site. Sellers have the choice of opening items to auction, or setting the price with the "Buy It Now" option.
Daniella Flores, creator and author of "I Like To Dabble", a blog about money tips and side hustles avows "there's nothing you can't sell on eBay", where she's found fortune "flipping" items, mainly guitars.
"My wife and I make $2,000 to $3,000 in side income from [selling on eBay]," says Flores. "You can sell anything from collector's items, to electronics, to doll clothes and even mason jars and vacuum bags. When you search for the item you want to resell to do pricing research, filter your search on items that already sold. Look at the prices that past items similar or exactly the same as yours sold for and use that as your base price for when you list your items."
Check out the site and app's trending list for up to date insights on what's hot right now. Presently, searches are buzzing around LSU Tigers merch, CorningWare, and "Joker". If you happen to have a '68 Ford Mustang lying around, you might join other vendors listing theirs for upwards of $139k.
"The best items to sell on sites like eBay, are name-brand items and those that are in high demand," says Melanie Hartmann, owner of Creo Home Solutions. "If you are just starting out with no prior experience or reviews/credibility to your eBay or similar account, you may not obtain as high of a price for high-ticket items as someone with an established account; therefore, it may be better to list and sell a few small-ticket items to first build your reputation and trust with potential buyers before listing something more expensive like a video game system."
EBay tacks on final value fees (percentages vary based on category and selling price) and, if you're selling upwards of 50 items a month, insertion fees. Read the fine print here.
Is the popularity of online shopping here to stay?
In 2020, online sales during the holiday season increased by a much higher margin compared to previous years, which was largely due to the impact of COVID-19. This trend in the popularity of online shopping is set to continue in 2021, with U.S. retail e-commerce holiday sales predicted to grow to record numbers of over 200 billion U.S. dollars, although this isn't quite as large of a year-on-year increase as in the previous year. Over half of consumers in the country stated they were likely to visit online retailers when buying gifts, making it the favorite option in 2021. Specifically, the favorite e-retailer to go to for those gifts was the usual suspect: Amazon.com. There were, however, 4% more people planning to do their holiday shopping in-store than in the previous year, although this still lagged behind pre-pandemic levels.
Consumer shopping plans
The Christmas shopping season can start as early as September and some consumers begin even earlier. In 2021, approximately 40 percent of Christmas shoppers in the United States stated they normally start before the end of October, while just about 10 percent of consumers usually begin in December. The average amount people in the United States believed they would spend in 2021 amounted to some 880 U.S. dollars, which is a little more than the previous year's budget.
Christmas trees
The Christmas tree is considered to be the main symbol of this pagan tradition. In 2021, most U.S. consumers were planning to put one up, whether it was a real or an artificial tree. In 2021, over half of people aged 30 to 49 years were planning to spend over 50 U.S. dollars on a tree.
The economic impact of Christmas is a factor that has grown steadily, not only throughout the United States, but also around the world. The merry season will continue to be a significant key sales period for businesses and retailers alike. Overall, the 2021 holiday season showed some recovery from the effects of coronavirus, mostly seen in a planned increase in consumers' holiday budget, but also in the slight increase in in-store shoppers.
This text provides general information. Statista assumes no liability for the information given being complete or correct. Due to varying update cycles, statistics can display more up-to-date data than referenced in the text.
The holiday season is the biggest shopping time of the entire year. Businesses and stores gear up for that special time of the year months in advance. Creating a great holiday marketing campaign is absolutely essential in the success of your holiday sales. A good and cheery slogan that represents the season is exactly the thing to help you to stick our from the competition. Here is a fabulous list of great holiday marketing slogans.
A good conscience is a continual Christmas.
A hug is the perfect Christmas Gift, one size fits all and it is easily returned.
A new hour of fun, a new day under the son. A new year has just begun.
A wonderland of snow.
All hearts come home at Christmas.
All I want for Christmas is true love.
Are you thinking about Christmas shopping yet?
At Christmas you are supposed to get presents. Not extra pounds.
At the close of another year, we gratefully pause to wish you a warm and happy Holiday Season.
Be jolly and make good cheer for Christmas comes but once a year.
Be naughty, save Santa the trip.
Believe in Santa Clause, Teddy bears and friends, and a magical joy that never ends!
By golly, be jolly!
Celebrating another year with love, happiness and cheer.
Check off your list before Santa Checks off his.
Chestnuts roasting on an open fire.
Christmas comes but once a year, so straighten up because Santa is near!
Christmas Gifts, Christmas Trees, Christmas is the time to please.
Christmas is fun with friends like you!
Christmas is the day that holds all time together.
Christmas is, of course, the time to be home – in heart as well as body.
Christmas isn't a season. It's a feeling.
Christmas just got cheesier.
Christmas season is sure to be pleasin'.
Christmas, children, is not a date. It is a state of mind.
Christmas, my child, is love in action.
Christmas…hope yours is all about the merry!
Come get ready for Christmas.
Come in and pray today.
Dear Santa I've been good.
Dear Santa, Define good.
Dear Santa, I can explain…
Deck the Halls with Billiard Balls.
Deck your halls.
Decorate your Christmas with joy!
Don't be a Grinch.
Don't get your tinsel in a tangle!
Dream a little dream.
Eat, Drink, and Jingle like you mean it.
Elfmade toys are the best!
Expectancy is the atmosphere for miracles.
Friends and family should be near to celebrate a Happy New Year.
From Our Store To Your Home.
Get into the spirit of the season.
Give a big cheer for the New Year.
Giving is better than receiving.
God is in the details.
Have a simply beautiful holiday season.
Have Yourself A Merry Little Christmas.
HO! HO! HOpe your holidays are filled with fun!
Holiday hustle and bustle.
Home is the heart of the holidays.
Hope this season finds you all wrapped up in happy!
Hope your Christmas is perfect.
I hope you have a wonderful Christmas.
I saw mommy kissing Santa at our annual Christmas party.
I'm dreaming of a white Christmas.
I'm the Reason for the Season!
If Christmas isn't found in your heart, you won't find it under a tree.
If you don't believe, you won't receive.
Indulge yourself in joy.
Is it too late to be good?
It is a fine seasoning for joy to think of those we love.
It just isn't Christmas without your family and friends.
It's beginning to look a lot like Christmas.
It's the season of giving!
It's the most wonderful time of the year.
Jesus is the reason for the season.
Jingle bell time, it's a swell time.
Jolly holly-days to you and yours!
Let it snow, let it snow, let it snow.
Let Santa's helpers take the hustle out of holiday lights.
Let's be naughty and save Santa the trip.
Let's let music fill the air and joy fill our hearts.
Light up your life; we'll do the rest.
Love is an Art.
May all your days be happy and bright!
May the holidays bring your joy.
May the Spirit of the Holidays be with you throughout the New Year.
May you see many more.
May your Christmas be filled with joyful noise!
May your days be filled with magic and cheer!
May your home be filled with all the joys of the season.
Memories of the holidays.
Merry Christmas with all the trimmings!
Merry up and have your best Christmas ever!
Most Wonderful Time of the Year.
My Christmases have always just been very simple and about family.
Naughty Is The New Nice.
One out of control Christmas sale!
Open Your Heart to Others.
Our bells are jingling!
Peace and joy sold here.
Peace, Love, and Harmony!
Remember the reason for the season.
Santa Claus has the right idea – visit people only once a year.
Santa stuffed the stockings and we stuffed our faces.
Santa, Santa, please stop here. Fill our Christmas with joy and cheer.
Santa's flying in the skies, Watch Out for the Reindeer Pies.
Snowdays are mother nature's gift to us.
Snowfall and Starlight.
Sorry Santa, Naughty just feels Nice!
Sugar and spice makes Christmas nice!
The magic of the season.
The sparkle in children's eyes of wonder and delight shines brighter than any Christmas lights.
The time is near. Give a big cheer.
There has been only one Christmas–the rest are anniversaries.
There's no place like home for the holidays.
These days they say that Christmas is just for children. So be children and enjoy.
Tree-mendous wishes.
Walking in a winter wonderland.
Warm Holiday Fun.
Warm wishes from us to you.
Warmest greetings this season.
We have everything they want!
We're Dreaming of a Perfect Christmas!
We're so in the mood for Christmas.
Welcome Christmas into your heart.
What happens under the Mistletoe stays under the Mistletoe.
Wishing a happy holiday!
Wishing you love, cheer and a happy New Year!
Wishing you peace and prosperity.
Wishing you peace, health, and happiness in this New Year.
Without you, all I am is helpless.
You are either a little late or very, very early.
Please take a quick second to share this post on Pinterest.
Christmas is fast-approaching, and it won't be long before the turkey is roasting in the oven and presents are being opened on Christmas Day. Now's the time to show your appreciation and gratitude to the most important people in your business – your clients, customers and employees.
Sending holiday greetings is a great way for small business owners to create a personable, appreciative and long-lasting professional relationship with clients, customers and employees. After all, if it wasn't for such individuals, you wouldn't have a business.
Holiday Messages for Businesses
If you're struggling for the right words to use for holiday messages for businesses, take a look at the following best examples of holiday greeting for business owners so you can share your gratitude to those who have made the biggest impact on your business during the last 12 months and wish them a Merry Christmas.
And, if you need some great New Years Day greetings, check out: 30 New Year Greetings for Business Owners.
Best 15 Holiday Greetings for Customers and Clients
A word of thanks and best wishes can go a long way in letting your customers and clients recognize that you appreciate their business.
Here's 15 holiday messages for businesses that you could send to your loyal customers or clients either by email, on a note through the post, or even via social media.
1. Wishing you a Merry Christmas and a Happy New Year and thanks for all your support throughout the year. All the best for 2020.
2. We would like to take this opportunity to thank you for doing business with us and to wish you a very Merry Christmas and a Happy New Year
3. It's been fantastic working with you in 2019 and we hope we can continue doing business together in the forthcoming year. In the meantime, have a wonderful Christmas and a happy holiday season.
4. Christmas is a time of giving, and we'd like to give you a huge thanks for being our cherished customer. Have a happy happy holiday season and we look forward to working with you in the New Year.
5. We hope your dreams come true this Christmas as you've made our dreams come true this year by simply being our customer. Have a very Merry Christmas.
6. May your holiday be blessed with the love and warmth of family and friends. A client of ours is considered a friend. Thank you and Merry Christmas.
7. From everyone at [name of business], we'd like to say thank you for your continued loyalty and faith in us. Put your feet up and have a well-deserved rest this Christmas and let every day of the holiday season be filled with joy.
8. Thank you for the great business we did together this year. Now's time for us both to relax and celebrate. Wishing you a Merry Christmas and a Happy New Year.
9. We value each and every one of our customers and cannot express our gratitude enough for your ongoing support. We hope you have a beautiful Christmas and a Happy New Year.
10. From the entire team at [name of business], have a Merry Christmas and a prosperous New Year.
11. It's been an absolute pleasure working with you during the past 12 months, let's make 2020 even better. Best wishes for the holiday season.
12. May you and your family have a safe and happy Christmas that is full of making happy memories. Thank you for being our treasured customer.
13. Thank you for buying in our store. We would like to wish you a Merry Christmas that is full of joy and happiness.
14. We would like to take this opportunity to say thank you for the business you have given us throughout the year. We hope you will continue being one of our valued customers in 2020. All the best for the holiday season.
15. To our esteemed customer. Thank for your continued support. We hope you enjoy spending a relaxing time with your friends and family this holiday season. Have a very Merry Christmas and all the best in 2020.
15 Best Holiday Messages to Employees
Like customers and clients, a business would not be able to operate without our valued employees. When sending out holiday messages for businesses, don't forget to thank your employees for their hard work and wish them a happy holiday season.
If you're unsure what to say, here's 15 holiday messages to employees to give you some inspiration.
1. Extending our warm wishes to you this Christmas. Thanks for your hard work and have a fabulous Christmas.
2. You have been a true inspiration to our business this year. Keep up the fantastic work in the New Year. In the meantime, have a lovely Christmas with your friends and family.
3. Thank you for serving our business so well. May your holiday season be filled with happiness and fond memories.
4. Merry Christmas on behalf of the management team at [name of business] and thank you for your hard work.
5. We couldn't have had such a successful year without you. Thanks for your hard work and have a fantastic Christmas.
6. We would like to send our sincere thanks for your ongoing commitment to our business and high quality of work. Have a very Merry Christmas and a Happy New Year.
7. Merry Christmas to our business family. Have a joyful holiday season.
8. Happy Christmas and New Year. May the festive season be filled with love and joy. Thank you for being part of our team.
9. Our business couldn't be luckier to have quality team members like you on board. Thanks for your ongoing hard work and support Have a fabulous Christmas.
10. Our members of staff deserve only the warmest and sincerest of best wishes this holiday season. Have a well-deserved break this Christmas.
11. We hope you have a happy Christmas and New Year. Thanks for everything you have done for us this year. Now's the time to put your feet up, relax and have a warming glass of mulled wine.
12. As one of our key team members, we'd like to say thank you for your exceptional work this year and have a very Merry Christmas.
13. We are so fortunate to have such a hardworking, honest and valued person as you working for us. Thank you for always being there for us. All the best for the holiday season.
14. We may have had many challenges this year but with your help, we overcame them all. Thank you for your hard work and commitment and have a lovely Christmas.
15. Due to your creativity, innovation and commitment, we have thrived this year. Many thanks for all you have done and all the best for Christmas and the New Year.
Having your shop's sales history on show (i.e. clickable so anyone can view your shop's sales history) can be a good way to show off what you've sold and if people browse through your sales history they may see an item has sold 50 times which gives social proof that the product must be good and could encourage them to buy from you. Moreover, if you sell one of a kind handmade goods, people could use it to see what style they might like and to request a custom order from you. But in my opinion, the benefits of hiding your sales history far outweigh any potential sales you could make by having them available for all to see.
If you don't then you're helping the competition
Tell me I'm not the only one that snoops on the competition? Admit it, we've all clicked on the number of sales to see what's selling. It's a good way to see if a product is popular. 'That person has sold this product 20 times today, it must be a popular product!'
But the problem with this is that it works both ways, I can see the competitions' sales and they can see mine. I've already had dozens of Etsy shops rip off my planner sticker designs.
'They say copying is the sincerest form of flattery'
I disagree. Having my sales history available for all to see is like handing over the keys to your shop and half the secrets to your success!
Stop wasting time worrying about what everyone else is doing and just worry about what you're doing. If you spent half as much time focusing on the competition and spent that time on your own shop making new products etc. then you'd probably be making more sales.
Moreover, if you spend too much time looking at the competition, you're likely to end up copying them in some way or another, whether it's a color scheme, layout etc. Focus on what you're doing and your unique style, not on what everyone else is doing!
If you've renewed an item that hasn't sold then people can see that it hasn't sold
'Oh this item hasn't sold in the past 4 months, it mustn't be very good…' Actually it could be a brand new product, or it could be that it's a seasonal product which you listed in December for Christmas and it didn't sell because the last time someone bought it was on Christmas Eve and it's been 4 months since Christmas Eve so of course a Christmas-themed item is not going to sell in March.
Note that I recommend deactivating holiday themed items or you could do an after Christmas sale, reduce the quantity to 1 so when it sells it becomes 'sold out'. I don't recommend 'going over the top' of a listing i.e. replacing it with a new item just because you're too stingy and don't want that 20c you paid for the listing to 'go to waste' having it expire while the product is deactivated. Because then you're going to have to re-do it when the product come back in season = wasted time repeating the same thing.Plus if you think about it: it only costs 5c a month for that listing.
The number of sales is not the only way to judge the quality of an Etsy shop
Shop sales are only one indicator of success. What you don't see are the sales that seller may have made outside of Etsy (on their own website). Plus, if you put your shop on vacation when you went on maternity leave, on vacation, closed your shop to focus on college finals, took a 1 year hiatus from selling on Etsy etc. then it looks like you've had a very low number of sales in proportion to the time you've been selling on Etsy.
People focus too much on the numbers
If people want to buy from you, then you want them to be looking at other aspects of your shop such as your about page and your reviews. People say 'oh I've made 12,000 sales on Etsy' as an indicator of quality and success (I know, I'm guilty of doing that) and yes that's true (I have indeed made over 12,000 sales on Etsy). But like I said before, sales are only one indicator of success. You may have been doing the stuff your selling for years but only just started your shop 2 months ago so you haven't made many sales yet.
People go through the sales history and want items you no longer stock
People start questioning. Why doesn't she sell this anymore? I wanted that one or I wanted this product in this color but it's sold out. And you say I do have these other 5 similar ones in the shop. And they say, but I really wanted that one and if I can't have that one then I don't want anything from your shop (because you 'annoyed' them by not having the exact one they wanted in stock).
Again, the competition can snoop on what you're doing. Let's say you both sell supplies and the competition sees that this was selling well but you're out of stock of that item. They're probably going to think 'I might reduce my price for that and get those customers'. You never want to lose customers this way. It's easier to get a customer to come back again than it is to find a new one.
Here's how to do it:
Go to the top menu in Etsy – go to 'shop settings' then 'options' that will bring up this menu
Then scroll to the last section where it says 'sold listings' and choose 'no, hide them' then hit save
Included in the course is:
A 37 minute video where I walk you through EXACTLY how I write a product description (using a product from my own shop as an example)
A 5 page editable PDF for you to outline your product descriptions – it includes the 14 elements you should include in your product descriptions, what order to place them in and the things most people forget to include
How I upsell in a non-icky way
How to choose keywords that help your products get found (including my favorite keyword tools)
Product photos – how to choose photos, elements all of your photos need and what order they should appear in
My stock photography directory ebook with over 200 stock photography resources (most are free!) as well as mockup templates for your products
There are many wonderful things happening across the board for Surface, and I want to share a few of them with you.
Our team gets so excited about meeting new Surface users and hearing their feedback, and we get to meet a lot more this holiday season! From Surface Pro, to Surface Book, to Surface Studio, to Surface Hub, we're having our best holiday ever.
In October, the unveiling of Surface Studio and Surface Dial captured people's imagination with a completely new way to create at your desk. The announcement of Surface Book with Performance Base took the laptop with industry-leading customer satisfaction and made it even better by adding twice the graphics power and 30% more battery.
November was our best month ever for consumer Surface sales. The Best Buy-exclusive Surface bundle sold out on the first day. The momentum was seen worldwide. In the UK, we had the best single week for Surface ever and in Germany the Surface Pen became the best seller in PC Accessories on Amazon.com for over 12 hours.
Surface Studio is shipping and people love it.
The excitement for Surface Studio is clear – evidenced by the 10+ million people that have viewed our launch video and the hundreds of thousands who watched the excitement of a fun unboxing of a Surface Studio. But what makes me excited is seeing how people are using, and loving their Surface Studios. Digital artists, to architects, to executives are using this beautiful PC to get things done and be their most creative.
More people are switching from Macs to Surface than ever before. Our trade-in program for MacBooks was our best ever, and the combination of excitement for the innovation of Surface coupled with the disappointment of the new MacBook Pro – especially among professionals – is leading more and more people to make the switch to Surface, like this. It seems like a new review recommending Surface over MacBook comes out daily. This makes our team so proud, because it means we're doing good work.
Surface Book with Performance Base is now available in Australia and New Zealand.
More markets for Surface Book with Performance Base: Coming off strong momentum in the US and Canada, Surface Book with Performance Base is now available in Australia and New Zealand, and we're excited to announce we will make it available in more markets. Starting early next quarter, Surface Book with Performance Base will go on sale in Austria, China, France, Germany, Hong Kong, Japan, Switzerland and the UK.
Surface Hub is also gaining momentum as it continues to change how organizations collaborate and create. To add to our already-stellar momentum, we're excited to share more details about the ways Surface Hub is helping teams in the workplace be more productive. Check it out:

By the end of 2016, nine months since our launch, we will have shipped Surface Hubs to over 2,000 customers in 24 markets.
The demand we are seeing with Surface Hub far exceeds our expectations, even though we knew it was a game-changing product. By the end of 2016, nine months since our launch, we will have shipped Surface Hubs to over 2,000 customers in 24 markets. The average deal size we see in the pipeline is approximately 50 units, but we've seen orders as large as 1,500 units to a large car manufacturer. This makes our team so, so proud.*
We've ramped up Surface Hub production and it's available for customers worldwide. Resellers worldwide have units. To help meet the demand for Surface Hub, and to provide a great experience for customers, we're adding more value-added partners who will resell Surface and provide 5-star service to our customers.
We're introducing a Surface Hub Try-and-Buy Program.
We're introducing a Surface Hub Try-and-Buy Program: We will enable a select set of our resellers to provide customers Hubs for 30 days before the committing to purchasing a large set of devices. This will launch in US and European Surface Hub markets this winter, and in Asia pacific at a later date. We have the data to show that this is a winner program, because people and businesses that use Surface Hub are amazed by it – and really want their business to use Surface Hub.
We've added new Surface Hub features and programs. In a February 2016 study, Forrester estimated that the ROI of integrating a Surface Hub into an organization was 138%. They measured meeting time saved per meeting to be 15 – 23 minutes and sales as a result of the Surface Hub were up 20% with a payback period is nine months. We believe our momentum in just nine months proves the study correct, and we've added some features that our customers have asked for most upgrade executive offices and conferences rooms around the world – with the power of a software-driven product:
Inking support across Word, Excel and PowerPoint. People are loving using Pen on Surface Hub, now we let them do it in the most used Office apps!
Support for simultaneous Pen and Touch. People, especially people that have used Surfaces, expect these things to work together. They do now!
Save & recall Whiteboards directly through OneDrive. If we do important work together, let's make sure we can save it and share it!
Support for 3 rd -party peripherals like BiAmp TesireForte CI, Jabra 810, Logitech Group, Logitech PTZ Pro and Polycom CX5100. We have amazing cameras and audio equipment people want to use in their conference rooms and exec offices. We now have more they can use!
Preloading PowerBI, OneDrive, and Photos apps. Every Surface Hub user should be able to analyze data better, get to their files, and go through the teams' images.
As you can see, we're so proud of the momentum and progress we are making with our Surface line-up. We're learning a ton from Surface and Surface Hub customers and have an amazing team of hardware and software engineers dedicated to continually improving our products. You should expect the best and we expect to give you the best, today and tomorrow. We will continue to create new experiences for you that will change the way you create, collaborate and have an impact on your world in 2017, and beyond. Thanks for making it a great holiday season!
*12/12/16: This blog post was updated to clarify Surface Hub demand data.
Reviewed by Brendan Sullivan, Indeed Recruiter
4+ years of experience, 150+ roles filled
Crafting a compelling job description is essential to helping you attract the most qualified candidates for your job. With more than 25 million jobs listed on Indeed, a great job description can help your jobs stand out from the rest. Your job descriptions are where you start marketing your company and your job to your future hire.
The key to writing effective job descriptions is to find the perfect balance between providing enough detail so candidates understand the role and your company while keeping your description concise.
Use the tips and sample job descriptions below to create a compelling job listing.
Are you a job seeker? Find Jobs.
What Is a Job Description?
A job description summarizes the essential responsibilities, activities, qualifications and skills for a role. Also known as a JD, this document describes the type of work performed.
A job description should include important company details — company mission, culture and any benefits it provides to employees. It may also specify to whom the position reports and salary range.
An effective job description will provide enough detail for candidates to determine if they're qualified for the position. Not only that, but according to an Indeed survey, 52% of job seekers say the quality of a job description is very or extremely influential on their decision to apply for a job.*
*Indeed survey, n=2,091
Job Title
Make your job titles specific. Targeted job titles are more effective than generic ones, so be precise by including key phrases that accurately describe the role. In fact, a 2020 Indeed survey found that 36% of job seekers that use job sites search for a job using the title of the job they're looking for.*
*Indeed survey, n=2,091
Avoid internal lingo that may confuse the job seeker. Stick to standard experience levels like "Senior" rather than "VI" or other terms people are less likely to look for. The language of your job description should be as inclusive as possible. Consider going over your finished job description and revising any verbiage that may be exclusionary to any groups of people who may be considering this opportunity.
Job Summary
Open with a strong, attention-grabbing summary. Your summary should provide an overview of your company and expectations for the position.
Hook your reader with details about what makes your company unique. Your job description is an introduction to your company and your employer brand. Include details about your company culture to sum up why a candidate would love to work for you. An Indeed survey found that 72% of job seekers say it's extremely or very important to see details about company culture in job descriptions.*
*Indeed survey, n=2,091
Include an exact job location. Provide an exact job location to optimize your job posting so it appears higher in job search results.
Responsibilities and Duties
Outline the core responsibilities of the position. Make sure your list of responsibilities is detailed but concise. Also emphasize the duties that may be unique to your organization. For example, if you are hiring for an "Event Management" role and the position requires social media expertise to promote events, include this detail to ensure candidates understand the requirements and can determine if they're qualified.
Highlight the day-to-day activities of the position. This will help candidates understand the work environment and the activities they will be exposed to on a daily basis. This level of detail will help the candidate determine if the role and company are a right fit, helping you attract the best candidates for your position.
Specify how the position fits into the organization. Indicate who the job reports to and how the person will function within your organization, helping candidates see the bigger picture and understand how the role impacts the business.
Qualifications and Skills
Include a list of hard and soft skills. Of course, the job description should specify
education, previous job experience, certifications and technical skills required for the role.
You may also include soft skills, like communication and problem solving, as well as personality
traits that you envision for a successful hire.
Keep your list concise. While you may be tempted to list out every requirement you envision for your ideal hire, including too many qualifications and skills could dissuade potential candidates. According to a 2018 Indeed survey, 63% of candidates said they chose not to apply for a job because they felt like they didn't know the specific tools or skills listed in the job description. A further 47% said they didn't apply because they didn't have the specific years of experience listed in the job description.*
That's why it's important to identify the must-haves vs nice-to-have skills and qualifications for the role to encourage a more diverse set of candidates to apply. 71% of the employers we surveyed said they're already doing this.**
*Indeed survey, n=607
**Indeed survey, n=250
Salary and Benefits
Include a salary range. Quality candidates look for opportunities that meet their salary needs. However, according to a 2019 Indeed survey, almost 70% of candidates said they never or only occasionally saw job descriptions that included salary information.* Stand out from other employers by adding the salary band to your job description to help attract best fit candidates.
*Indeed survey, n=1,000
List out your top perks and benefits. What's in it for the candidate? Most jobseekers (83%) agree that a company's benefits and perks have a significant impact on their decision of whether or not to accept a job offer there.* Encourage more people to apply by sharing the attractive rewards and benefits you offer your employees, such as:
Unlimited PTO
Flexible hours
Medical, dental and vision coverage
Office snacks
Tuition reimbursement
Dog-friendly office
*Indeed survey, n=2,091
Brendan Sullivan is an Indeed recruiter based in Austin, TX with 4+ years of experience. You can usually find him enjoying one of the several amazing coffee shops in Austin or organizing his record collection.
Are you a job seeker? Find Jobs.
Job Description Examples
Need help writing a job description for a specific role? Use these job description examples to create your next great job posting. Or if you're ready to hire, post your job on Indeed.
Planning a garage sale this summer? If you haven't already settled on a date, you might want to take a look at this list of best and worst weekends to have a garage sale below. Believe it or not, there are some weeks you'll want to avoid and others you want to take advantage of.
Best Weekends to have a garage sale
Weekend AFTER a major holiday: We never recommend having a yard sale during a major holiday weekend, simply for the fact that everyone has travel, BBQ and family fun on the brain. The last thing they are thinking about is hitting up local yard sales. Do yourself a favor and wait a week, and hold your sale the weekend AFTER a holiday when people have settled back into their normal routines and are looking for something to do.
1st & 15th of the month: Can you take a wild guess as to why we recommend having a yard sale close to the 1st & the 15th of the month? It's because that's when most people get paid! The majority of Americans are paid twice a month usually near the 1st & 15th of the month which makes it a great time to have a yard sale because people have some spending cash.
Back to school: Moms with school aged children start prepping for the upcoming school year at the end of July through August. This is a great time to have a garage sale and sell off your children's clothing, coats & jackets, backpacks, shoes and other items that might be on a back to school shopping list.
Worst weekends to have a garage sale
First Nice Weekend of the Spring: While it may be tempting to have a yard sale during the first nice weekend of the spring…we highly recommend against it. Why? Because people are more focused on enjoying the nice weather than being cooped up in a car driving from yard sale to sale. Waiting a week or two to have your sale will result in more people!
Holiday weekends: This is a no-brainer. Lots of people travel during the major holiday weekends and usually have an itinerary of family fun activities that do not include yard sales. Wait just one week and you'll have a much better turnout.
Now that you know which weekends are the best for your yard sale, we definitely recommend picking up a copy of our newest ebook, "The Ultimate Guide to Hosting a Yard Sale"
In 1968, marketers Engel, Blackwell and Kollat outlined the customer purchase decision process in five steps. And you know what? Decades later the five-step explanation to the customer purchase decision question is still the most persuasive marketing model around.
With the evolution of digital shopping and technology completely changing consumer behavior, businesses are forced to look into new ways to play a role in the each stage of the consumer's decision-making process. It makes sense to explore how integrating Digital advice and Guided Selling can help you leverage each step in the modern decision-making process to generate conversions and increase brand awareness.
Stage 1: Need recognition / Problem recognition
Know that the trigger for all purchases is a need or a problem that the shopper tries to satisfy or solve quickly.
Where it concerns this recognition, Guided Selling acts as an efficient prospector, uncovering latent consumer needs just waiting to rise to the surface.
Role of Digital Advice: Teaser advisor banners prime the user with gamification elements or engaging content like quizzes. Maybe a budding photographer is scrolling through his or her Facebook feed one day and comes across a banner quiz with the header "What kind of a photog are you?" After answering the questions, a summary appears offering tips to the viewer as well as product options that can help them on their quest to improve their craft.
See the effect? The viewer didn't know that a new product or accessory was needed—until Guided Selling pointed him in that direction.
Stage 2: Information search
Now that the need has been recognized, the consumer seeks information to help fulfill that need. The amateur photographer, will want to compare and contrast products, as well as their features. This stage has the highest potential of frustrating and overwhelming potential customers, if they can't find the right product or solution or feel unable to make a choice. Also, at any time these consumers can get bogged down by a very real phenomenon called choice overload.
Role of Digital Advice: Guided Selling alleviates this problem by reducing consumer choice through education. Interactive product advisors act as personalized digital shopping assistants. They're always at the ready to keep shoppers from wandering off the purchase path by recommending only products curated and relevant to the consumer's specific needs.
Stage 3: Alternative evaluation
Now that consumers have harvested all their data, they'll set about evaluating the alternatives in order to make the best decision. Two considerations will come into play during this stage: objective characteristics of the alternative choices as well as the subjective characteristics. For example, subjective issues with a specific camera feature, reported by fellow consumers.
This culminates in the "evoked set" of product options, which is the set of products the consumer will most likely buy. The "inert set" (the products that have made no impact whatsoever on the consumer) follows a distant second, and left out entirely is the "inept set," or the products that the consumer rejects due to a past negative experience or other factors.
Role of Digital Advice: Guided Selling solutions not only filter out the superfluous product sets entirely, but they also narrow down the evoked set by targeting specific attributes and making it easy for shoppers to compare them: this camera is great for newbies; this one is perfect for nature/wildlife; this model is ideal for the portrait photographer.
Stage 4: Purchase decision
This stage comes after the consumer has taken into account all solutions relevant to his or her shopping needs, and thus is ready to buy. Those that have adhered to the above principals and offered assistance at every stage will find themselves strategically positioned for this impending sale.
But that's no reason to get complacent. Customers may be dissuaded at the last minute to make a certain purchase—this is backed up by statistics that say ¾ of the world's digital shopping carts go abandoned. Abandonment at the moment of purchase can be attributed to a number of things: poor in-store experience, a frustrating online experience, too many pain points in the purchase cycle such as choice overload, etc.
Role of Digital Advice: Guided Selling intervenes in this potential pitfall by ensuring that the path to purchase is as effortless as possible. It's all about increasing customer confidence, which Guided Selling does by considering the shopper's needs and integrating them into the overall strategy.
Gift Consumers' Behaviors 2021: What They Actually Want
Stage 5: Post-purchase behavior
Every winning sales strategy since the dawn of commerce has accounted for repeat business. It all comes back to customer satisfaction. How satisfied a consumer is with a product or service depends directly on how he or she evaluates the experience according to their original needs. Is the new camera as user-friendly for beginners as the marketing suggested?
If the customer is satisfied with the purchase, he or she will remember the experience and the retailer or brand when a similar need arises, which is the dictionary definition of brand loyalty.
However, if the customer believes the purchase to be a disappointment, he or she will repeat the five stages exactly as before with one notable exception—the disappointing brand or retailer will be absent from his or her decision-making process.
Role of Digital Advice: Guided Selling optimizes the customer experience not only by delivering need-oriented, personalized and targeted recommendations, but also by making the purchase decision-process less of a hassle. In fact, a client of SMARTASSISTANT who implemented Guided Selling solutions in-store found that 70% of customers rated the recommendations highly valuable and important. This is a great way to keep consumers satisfied and coming back for more.
Ultimately, Guided Selling delivers the tools retailers and brands need to keep modern shoppers engaged and satisfied, thus driving conversions and loyalty. And in the most ideal scenarios, when businesses utilize key Guided Selling solutions to effectively leverage the above five stages, they find that the lifetime-customer value of their loyal shoppers shoots up.
Don't miss an update!
Subscribe to get new insights and tips delivered
directly to your inbox.
This epic list of 100 things to do this Christmas is going to get you motivated and inspired to enjoy this festive season. We all love thinking up new Christmassy activities to celebrate with friends and family.
It's the most wonderful time… of the year…Yes, it's time to start getting in the mood for the winter season and figure how to have a jolly good time.
If you are a strictly no Christmas chat until the 1st of December then bookmark this post and come back later!
IT'S NEARLY CHRISTMAS! And it's my favourite time of year.
I love Christmas so much I even start thinking about it back in August. I love decorating the tree, making Christmas gifts, cooking delicious festive recipes and planning lots to do over Xmas.
And so, with years of Christmas planning and enthusiasm, I have compiled an epic list of 100 things to do at Christmas to help inspire you to make your own list.
I have also written other epic posts for the celebratory season, including 100 Christmas Gift Ideas and 100 Christmas Recipes . I hope this helps you with your festive planning.
Note: the original version of this post first appeared on this blog in October 2015. It has since been revised and updated.
How to make Christmas special
If you love Christmas half as much as I do then you will most likely want to be getting rather organised now so you can make the most of enjoying all of December.
Back in the very early days of our relationship, the husband bought me an alternative reusable advent calendar which was actually 24 small pouches that hang with pegs on a piece of string. In each pouch, we write a festive activity so that we make the most of our December in the lead up to Christmas.
It was wonderful to think beyond the usual Christmas stuff and have an excuse to enjoy every minute of the festivities.
In that spirit of this joyful time, and inspired by my 100 Things To Do In Autumn list, I have been busy creating an epic list of potential activities you can get up to this Christmas.
Some but not all of the links below are affiliate links. It means I might get a few pennies in return for recommending a product. This helps me pay for website costs etc, but does not influence what I've recommended. The priority for me is to inspire you to enjoy your time. Thank you in advance if you do purchase anything following my recommendation and links.
100 Things To Do This Christmas
1. Cover the house in fairy lights ( I just bought these )
2. Visit your local German Christmas Market
3. Make mulled wine or cider (this recipe looks delicious)
5. Bake your own gingerbread (this is the best recipe)
6. Prepare Christmas pudding (I've heard Delia's recipe is good)
7. Sing at a carol service
9. Visit your local castle or stately home (I love Osbourne House on the Isle of Wight)
10. Go watch a pantomime at the theatre
11. Go to your local town's switching on of the Christmas lights
12. Visit a plush department store for festive shopping
13. Order your turkey or Christmas Day meat
14. Make your own advent calendar
15. Decorate your Christmas tree ( real or artificial , which do you prefer?)
16. Make a wreath for the front door
17. Compile your own Christmas playlist
18. Decorate the house with festive cheer (I buy quirky decorations here )
19. Create your ideal Christmas Day menu ( recipe ideas here )
20. Go to your local church or cathedral for Christmas service
21. Make a christingle
22. Kiss under the mistletoe
24. Go see some reindeers (did you know the UK has a small group of free-range reindeer in Scotland?)
28. Hide chocolate coins around the house
29. Go sales shopping
31. Build a snowman (of course, we need snow for that – I find the weather channel is most reliable for snow watch)
32. Make paper snowflakes
33. Make a nativity scene
34. Knit a hat or scarf
36. Drink port and eat cheese
37. Visit your Grandparents, parents, relatives (or volunteer to befriend the elderly in your community)
39. Eat mince pies
40. Buy some woolly socks (these are my favourite )
41. Organise a Christmas jumper day ( it's now charity fundraising day on the 13th )
42. Make Christmas Cake
43. Volunteer your time with homeless people and rough sleepers in the UK ( see Crisis for details )
44. Tell someone you love them
46. Leave out a brandy for Santa and a carrot for Rudolph ( see what children around the world leave out for Father Christmas)
47. Hang out a stocking
48. Make toffee vodka for all your friends
49. Go tobogganing (snow allowing, or find an indoor ski run )
50. Watch the Queen's speech (the Royal Christmas Message has been a tradition since 1932)
51. Volunteer at a local food bank (visit the Trussell Trust to find yours or watch my video for ideas)
53. Watch A Christmas Carol
54. Sit around a fire and warm your cockles ( cockney rhyming slang )
55. Make DIY gift tags
56. Go to Winter Wonderland in London
57. Go ice skating
58. Listen to a carol concert at your local stately home
60. Go to watch The Nutcracker ballet (we go to the Birmingham Hippodrome to see Birmingham Royal Ballet every year)
61. Roast chestnuts on an open fire
62. Visit a Victorian Christmas Fayre
64. Make a Yule Log
65. Write a list of everything you are grateful for (love the Gratitude Journal )
Elizabeth Weintraub is a nationally recognized expert in real estate, titles, and escrow. She is a licensed Realtor and broker with more than 40 years of experience in titles and escrow. Her expertise has appeared in the New York Times, Washington Post, CBS Evening News, and HGTV's House Hunters.
The Balance / Emilie Dunphy
When it comes time to sell a house, many people don't have much choice in the matter. Whether it's relocating for a new job opportunity, to be closer to family, or simply finding a place that better fits your needs, it may be most important to get your house on the market as soon as possible. But if you have a little bit more flexibility in your situation, you may be able to use that to your advantage.
If you have the opportunity to choose, learn some of the tips about the best time to sell your house.
Key Takeaways
Many people don't have a choice about when to list their home for sale.
Some real estate professionals say May, June, or other summer months are good choices.
The best time to list with the MLS (multiple listing service) or other platforms is early on Friday.
These factors may vary based on your local market, so do some research specific to your area.
The Best Months To Sell
Which month is best to sell your house? There might not be an exact consensus among real estate professionals—Zillow says May, while ATTOM says June—but selling your home in the summer months seems to be a good bet. However, this also may vary greatly, depending on your local market.
Deciding on the Right Time
List your house for sale as early as possible on a Friday for the best results. Potential homebuyers often use the weekend to look at homes, and they'll check online listings from their real estate agents on Fridays to identify homes they'd like to see. Obviously, a desirable home is likely to sell regardless of when it is listed, and a less-desirable home may linger on the market even if the sellers do everything perfectly. However, putting a fresh listing in front of potential buyers when they are most likely to be looking can give you an edge.
Posting on MLS
Multiple listing service (MLS) works with real estate professionals to create a database of homes available on the market. Real estate agents often send their clients automated emails based on MLS listings on Fridays, so listings that hit MLS before emails go out will be among the most recent. Automatic listings from MLS usually are released when internet traffic slows in the wee morning hours.
Homebuyers receiving these emails sometimes contact their buyers' agents before even they know about the listings, if they were just posted. When listings hit buyers' computers, they stand out as new and available for showing that day.
Buyers are motivated to check out new listings—in any kind of market—because everyone wants to check out that squeaky-clean and sparkly new home.
For this reason, the best time for agents to post homes on MLS is 12:01 a.m. on a Friday. They even can create the listings ahead of time in a private status that only they can see, and they can schedule it to go live at 12:01 a.m. on a Friday. In addition to showing up as new listings when people wake up on a Friday morning, these will reach those who stay up late on Thursdays.
Other Days
While Fridays offer advantages for when to list homes, it's certainly possible to list homes on other days and still sell them. There tend to be more arguments against listing on other days, however, than there are against listing on Fridays.
The problem with Monday is that people tend to be more focused on the workweek than on shopping for homes. Moreover, Mondays often are when federal holidays land. The weekend also is not a great time to list your home for sale because most people like to plan a weekend in advance. Thursday is a bad idea because agents who work weekends typically take Thursdays off. That leaves Tuesday and Wednesday, which allow buyers to plan for the weekend but don't offer the same benefits as Friday.
Best Time of the Year
In addition to knowing which day is the best to list a home, it's a good idea to know the best and worst times of the year to list one. For example, you might not want to go on the market just before Christmas if you can help it. It's not that your home definitely won't sell during the holidays, but the pool of potential buyers will be much smaller. That means it might take longer to sell, and you might get less for it than you would during an optimum season.
Springtime is usually considered the best time of year to list a home. The National Association of Realtors designated April 20 and 21 as Nationwide Open House Weekend in 2013.
In some parts of the country where it doesn't snow, February or March might be an excellent time to list your home. Your local real estate agent would be your best source of information about which month in the spring is best for you, and they can offer tips about selling in spring.
If you miss the spring market, the second-best option is the fall market, right after Labor Day weekend. Contrary to popular belief, most people don't want to move over the summer. It is a time for vacations, family get-togethers, kicking back, or home-improvement projects that are in line with planned fall activities.
Best Time of the Month
In addition to the best day and the best time of year, there is the best time of the month to list a house. From a financial standpoint, it is a week after you've made your mortgage payment, or the second week of the month. With any luck, your home should sell within the next 21 days. After you make the mortgage payment for the following month, that should be the last payment you'll have to make before closing.
If you are moving up and buying a new home to close concurrently, you would be closing escrow at the end of the month. Because of the way interest prorations are handled, you will not have a mortgage payment on your new home for another month. It's almost like getting a free month, even though you are paying interest.
Frequently Asked Questions (FAQs)
How long does it take to sell a house?
The time it takes to complete a home sale varies significantly based on market conditions, your neighborhood, the condition of your home, your sales and marketing choices, and when you choose to list your home. According to realtor.com, in September 2021, the average home was on the market for 43 days before being sold.
Do real estate agents work on weekends?
Most real estate agents work on weekends because that's the most popular time for home viewings. And since Friday is the best day to list, they should be prepared to do a lot of showings Fridays and through the weekend.
How soon can you sell a house after buying it?
Technically, you're free to sell your house as soon as you close on the purchase of it. However, weigh the costs before you do. Generally, if you've been in your house for less than five years, you may not recoup the costs of the interest, agent fees, and closing costs you'll incur so soon after your original purchase. Check how much your home's value has increased, how much equity you've gained, and what you'll pay to sell your home to decide if it's worth it.
This article is outdated. While the MySQL part is still valid, PHP has changed a lot in the way the database connectipn is done, templating and more. And you can easily use a charting library nowadays.
This is a classic problem but I was surprised to see that there's not a great deal of info on the web on how to do a proper daily report – one that doesn't have any gaps when data is missing. In this post I'll guide you through building such a report using MySQL and PHP for presentation. Obviously, you will need to adapt the code for your needs, but the concepts should be valid for a wide range of similar needs.
So, one sunny morning your boss comes in and says "The system we currently have for handling online transactions has a big shortcoming; it has no reporting capabilities. I want to see how our widget sales are doing. Can I have it done by noon?"
Looking at the database, you will most likely have something similar to the sample orders table below with (some of) the columns & associated data looking like this:
| id | order_date | product_id | quantity | customer_id |
| --- | --- | --- | --- | --- |
| 1 | 2009-08-15 12:20:20 | 1 | 2 | 123 |
| 2 | 2009-08-15 12:20:20 | 2 | 2 | 123 |
| 3 | 2009-08-17 16:43:09 | 1 | 1 | 456 |
| 4 | 2009-08-18 09:21:43 | 1 | 5 | 789 |
| 5 | 2009-08-18 14:23:11 | 3 | 7 | 123 |
| 6 | 2009-08-21 08:34:21 | 1 | 1 | 456 |
If you don't have any table even remotely similar to this, but wish to follow this article, you can create your own:
The simple query
Obtaining the total sales for each day is very easy:
The result (based on the table above, would be
| date | total_sales |
| --- | --- |
| 2009-08-15 | 4 |
| 2009-08-17 | 1 |
| 2009-08-18 | 12 |
| 2009-08-21 | 1 |
As you prepare to run to your boss and tell him that the problem is solved, you might notice the gap between some of the dates. What's happening? Well, in this particular example, there is no data for the date 2009-08-16 ; on the other hand, you have to show that for some dates there were zero sales, so what do you do?
Instinctively, the answer seems to be generating a range of values (dates) on the fly via something like GENERATE_RANGE(start_value, end_value) and JOIN in with the dates in the table. I know quite many people new to MySQL think this way. Let me give you the bad new first: there is no such function in MySQL. There are ways to do this in MSSQL and Oracle, but even then it's not straightforward.
The good news is that you don't have to generate the dates on the fly – in fact you shouldn't even want to. Think this way: why generate the same range of dates each time you run the query? Cache. Reuse. Create a calendar table. Not a temporary one; a clean honest calendar table. The benefit is that not only it's significantly faster, but you can also add additional information to it – for example you could add a bit for holidays and some notes, like the holiday names. You can go further and mark the dates where you started special discounts to see if they had any impact on the sales. Endless possibilities.
Creating and filling the calendar table
In this article we'll create a calendar table with just one column – the date, but as I've said, there's nothing stopping you from adding more information to it.
We now need a way to fill the calendar. For this, you can use a simple stored procedure:
The code is very simple. I've seen other (faster but less intuitive) approaches. Considering that you'll run this sproc just once or maybe once every couple of years, saving a few miliseconds is not a big deal.
To call it, just enter the date ranges you want created:
Now we can redo our SELECT query, JOIN -ing the dates in the orders with the ones from the calendar .
The complete query
If you run this query, you'll notice two flaws:
it includes all dates in the calendar, so even those in the future will be included;
for dates not present in orders , the query will show total_sales as NULL instead of 0 .
This is very easy to fix, but as usual I wanted to show you why I'm building a query in a particular way:
So, we're using IFNULL function to replace NULL s with zeroes and two subselects to restrict the interval.
| date | total_sales |
| --- | --- |
| 2009-08-15 | 4 |
| 2009-08-16 | 0 |
| 2009-08-17 | 1 |
| 2009-08-18 | 12 |
| 2009-08-19 | 0 |
| 2009-08-20 | 0 |
| 2009-08-21 | 1 |
Don't make views
At this point, if you are coming from a MSSQL, Oracle or even Access background, you might be tempted into turning the query above into a view. It makes sense to aggregate some info into a view (toal sales, total income, sales for each widget) and then query the view to focus on particular areas.
Views are horribly slow in MySQL. Without going in detail, views in MySQL offer nowhere near the sophistication you might be used to from other databases so it's best to just avoid them.
Charting the results
At this point, you can display the aggregated data in a nice format. Ideally you'd use a flash charting solution, which has the benefit of looking great (always a bonus for the boss) and being very efficient (you just output some XML from PHP and the flash chart does the rest).
However, in this tutorial I'll show you how to generate a cahrt using plain html. It's not very efficient, but it works.
First, lets obtain the data:
Now that you have the data, it's time to build the chart:
You will need a simple colored graphic file for the bar (in this example bar.gif )
If you want to output the dates below each bar, you'll have use mysql_data_seek($dailySalesResult, 0) to move the pointer of the results back to the beginning and output another table row. It's not very efficient, but I couldn't find a better solution with tables.
Below you can see a real-world example of the chart: