7
4 star values:
2
3 star values:
2
2 star values:
0
1 star values:
11 Ratings
10 Reviews
4 Photos
Try these quick and easy vegan gingerbread cookies, made with allspice, ginger, cinnamon, and molasses; just in time for vegan Christmas baking!
Gallery
Recipe Summary
Ingredients
Preheat oven to 350 degrees F (175 degrees C). Line 2 baking sheets with parchment paper.
Sift flour, baking powder, cinnamon, baking soda, ginger, allspice, and salt into a bowl.
Cream coconut oil, molasses, and sugar in a bowl with an electric mixer; add vanilla extract. Stir in flour mixture; mix until a sticky dough forms, about 2 minutes. Wrap dough in plastic wrap and chill for 2 hours.
Roll out dough on a floured surface to 1/4 to 1/2-inch thickness. Dip cookie cutter in flour, cut out cookies, and place on the prepared baking sheets.
Bake in the preheated oven until lightly golden, 8 to 10 minutes.
Reviews ( 10 )
Most helpful positive review
I followed the directions exactly and these cookies were delicious. For me, 1/2″ thickness was easier to cut and made cleaner cut cookies. Great recipe!
Most helpful critical review
This was the first time I ever made a vegan cookie! I thought the consistency was great but I will add more spices next time. I couldn't taste the difference between this and a cookie made with butter. Also the 2 hours of chilling time didn't do much in my opinion, so next time I will probably only chill if I'm having trouble rolling it out.
7
4 star values:
2
3 star values:
2
2 star values:
0
1 star values:
This was the first time I ever made a vegan cookie! I thought the consistency was great but I will add more spices next time. I couldn't taste the difference between this and a cookie made with butter. Also the 2 hours of chilling time didn't do much in my opinion, so next time I will probably only chill if I'm having trouble rolling it out.
I followed the directions exactly and these cookies were delicious. For me, 1/2″ thickness was easier to cut and made cleaner cut cookies. Great recipe!
So I made quite a few substitutions for my dietary needs. First, I used bob's mill 1 to 1 flour, coconut sugar, and blackstrap molasses. The result while making them was a very crumbly dough. But working it with my hands helped soften the coconut oil and make it a very firm dough. Chilling did not help, as I couldn't roll it out without it breaking apart, so I rolled them into individual balls, pressed flat, and cookie cut out. The result was a very dark, only light sweet, and kinda dry cookie. Next time, I will add a little more wet ingredient. But for a first try, it wasn't bad
Really good, wasn't expecting much but ended up loving the cookies (and the dough ??) The third time I made them I forgot to pick up molasses and so substituted it with maple syrup and a few ground cloves, still good. Glad this recipe is so wonderful
turned out a little dense but still good
Wonderful! Super easy and tasty. I used daiya soy-free dairy-free "butter" instead of coconut oil.
Published: Dec 15, 2016 Updated: Jul 5, 2021 by Alison Andrews This post may contain affiliate links
Festive and fun vegan gingerbread cookies. These gingerbread men are crisp on the outside, soft on the inside and packed with ginger flavor.
Making these vegan gingerbread cookies signals my first foray into the world of molasses.
And…I found it weird! This is probably no surprise to you if you're familiar with this ingredient – it is weird right?
Like really weird.
It looks a lot like date syrup, which is a syrup I use a lot, as it's awesome, and made from dates and nothing but dates. But aside from looks, there is no other similarity. Date syrup is very sweet, whereas molasses…. is not.
It's not just that it's not very sweet, it's that it's got the weirdest taste to it.
The good thing is that molasses in gingerbread cookie batter does the job amazingly well. Going in as an ingredient molasses is quite weird, but once baked into something, it adds something pretty great to the flavor!
These gingerbread cookies came out fabulously well and were so easy too.
And if you love all things ginger then check out our vegan gingerbread cake and our vegan gingersnap cookies too.
How To Make Vegan Gingerbread Cookies
I adapted a recipe from Sally's Baking Addiction in order to make it vegan and I took a few other shortcuts to make sure that I didn't have to take too much time in making these.
I am always looking for shortcuts. In this case I didn't want to chill the dough for a couple of hours before baking, I just wanted to mix the dough and then bake the cookies!
So I took some shortcuts and they worked! Yay!
So these gingerbread cookies are super quick. Just 20 minutes to prepare and 10-12 minutes to bake.
If you prefer a crispier/crunchier cookie then you can bake them up to 15 minutes.
If you want yours to be more on the soft side, then you can take them out the oven after 10 minutes.
The main time consuming factor in these cookies is rolling out the dough and cutting out the gingerbread men.
It doesn't take long, but that's really the only reason the prep takes 20 minutes rather than 10 or 15.
Decorating
And then there's decorating them.
Of course this step is completely optional. This was my first attempt at decorating cookies and I have to admit to not being very successful. I had to hand the job over to Jaye who is much more steady-handed when it comes to the 'fine arts' of putting eyes and mouths onto cookies.
Even so, some of these guys look a bit psycho!
If you have a few kiddos around, make these with them. My niece was not into the flavor too much (I think I probably wasn't that big on ginger either when I was 6), but she LOVED the look of these guys!
More Vegan Cookies
Vegan Sugar Cookies
Vegan Oatmeal Cookies
Vegan Chocolate Cookies
Vegan Peanut Butter Cookies
Vegan Chocolate Chip Cookies
Vegan Coconut Cookies
Did you make this recipe? Be sure to leave a comment and rating below!
Published: Dec 3, 2019 · Modified: Dec 18, 2020 by Sina · This post may contain affiliate links · Leave a Comment
These vegan gingerbread cookies are just perfect for the holiday season! They're festive, super easy to make, crispy on the outside, and soft on the inside. And aren't they insanely cute?

I love Christmas baking! And gingerbread men are one of my favorites! They're so much fun to make and they're perfectly spiced with Christmas spices! And they also make a cute litte homemade gift for family and friends!
What You Need For The Vegan Gingerbread Cookies
The ingredient list for these vegan gingerbread men mostly contains spices and basic ingredients like flour and sugar. You should be able to find all of the ingredients in any regular grocery store.
all-purpose flour
baking powder
cinnamon
ground ginger
ground cloves
nutmeg
salt
a flax egg (ground flaxseeds soaked in water)
almond butter
brown sugar
almond or soy milk
As always, you can find the full ingredient list and the recipe instructions in a separate recipe box at the end of this post.
How To Make Vegan Gingerbread Cookies
This vegan gingerbread cookie recipe is super easy! All you need is two big bowls, a wooden spoon, and your oven. No electric mixer or blender required!
STEP 1: Prepare the flax egg by combining the ground flaxseeds with water in a small bowl. Let it sit for about 5 minutes.
STEP 2: In a large bowl, combine the dry ingredients. In another bowl combine the wet ingredients and the brown sugar including the flax egg.
STEP 3: Mix the dry and wet ingredients with a wooden spoon. Stir well. Then knead the dough with your hands.
STEP 4: Form a ball and wrap it with plastic wrap. Store it in the fridge for about 1 1 /2 hours.
STEP 5: Use a rolling pin to roll out the dough. Cut out the gingerbread men with a cookie cutter. I used a smaller and a bigger one.
STEP 6: Preheat the oven to 350 °F. Line a baking sheet with parchment paper and place the gingerbread men on top. Leave some space in between.
STEP 7: Bake for 10 minutes. Decorate with royal icing, sprinkles, and candy.
Vegan Gingerbread Cookies – FAQs:
Can I Freeze These Gingerbread Cookies?
Yes, these cookies freeze really well. However, you should freeze them before you decorate them. After baking, make sure to let them cool off completely. Then you can freeze them in a freezer-safe container or in freezer bags.
You could also freeze the cookie dough for up to 3 months. Let it chill in the fridge first and then transfer it to the freezer in a freezer bag. Don't forget to label the bag, so you know what kind of cookie dough is in there.
How Can I Make These Vegan Gingerbread Cookies Gluten-Free?
I haven't tried making these cookies gluten-free yet. But I think you could just replace the all-purpose flour with a gluten-free flour blend. I've done this with other cookies and it worked quite well.
Other Vegan Cookie Recipes You Might Like:
25 Amazing Vegan Christmas Cookies
Vegan Sugar Cookies
Orange Cinnamon Christmas Cookies
Vegan Peanut Butter Cookies
Chocolate Banana Cookies
Vegan Pumpkin Cookies
I LOVE TO HEAR FROM YOU GUYS!
I hope you like these vegan gingerbread cookies as much as we do around here.
If you give them a try, I'd love to know what you think about them. Just leave me a comment and a star rating below. Your comments really make my day!
You like my recipes and want to see more? Then follow me on Facebook, Instagram, or Pinterest!
The Spruce / Cara Cormack
Nutrition Facts (per serving)
243
Calories
8g
Fat
39g
Carbs
4g
Protein
×
Nutrition Facts
Servings: 24
Amount per serving
Calories
243
% Daily Value*
Total Fat 8g
10%
Saturated Fat 2g
8%
Cholesterol 8mg
3%
Sodium 142mg
6%
Total Carbohydrate 39g
14%
Dietary Fiber 1g
3%
Total Sugars 19g
Protein 4g
Vitamin C 0mg
0%
Calcium 41mg
3%
Iron 2mg
12%
Potassium 254mg
5%
*The % Daily Value (DV) tells you how much a nutrient in a food serving contributes to a daily diet. 2,000 calories a day is used for general nutrition advice.
Looking for the perfect homemade vegan gingerbread cookie recipe for Christmas or the holidays? Look no further, because you've found it! These classic holiday gingerbread cookies are completely vegan and made with egg replacer and vegan margarine, which means they are completely cholesterol-free as well.
Vegan gingerbread cookies are perfect for a Christmas cookie exchange. Then again, why wait for the holidays? Vegan gingerbread cookies are wonderful year-round (and you don't have to roll them out into shapes, just form them into flat balls if you're making them outside of the holidays). These cookies are made with molasses, egg replacer, cinnamon, nutmeg, and cloves.
Note that with this recipe, you'll need to plan in advance, as the dough does need to be chilled for at least an hour or two, and up to overnight.
The molasses in these vegan gingerbread cookies keeps them super soft, which I absolutely love in a cookie, but, as one reviewer pointed out if you're looking to construct gingerbread houses, you'll need something that turns out a bit firmer. But these gingerbread cookies are great for decorating, or for people like me who love super soft gingerbread cookies! The cookies can be baked just rolled into small balls, or, you can roll them out and cut them into shapes and decorate them with any kind of vegan icing.
Either way, enjoy your homemade vegan holiday gingerbread cookies!
These vegan gingerbread cookies are perfect for the holidays! Soft, chewy, and deliciously spiced, they're fun to make, fun to decorate, and fun to eat.
These vegan gingerbread cookies might just be my new favorite holiday cookie! They're so good that I've made them quite a few times this month already. We (ahem, Jack) kept devouring batch after batch, so I just had to make them again this weekend so we could snap some photos and share them with all of you!
These vegan gingerbread cookies are soft, chewy, and deliciously spiced. If you ask me, they're just as good as traditional gingerbread, but they're made with wholesome, plant-based ingredients like coconut sugar, coconut oil, and almond butter – my secret ingredient. It makes these vegan gingerbread cookies so tasty that I couldn't stop eating little pieces of the dough while I was mixing it together!
Vegan Gingerbread Cookies Ingredients
These vegan gingerbread cookies are a treat, don't get me wrong, but they're still packed with good-for-you ingredients. Here's what you'll need to make them:
Ground flaxseed – You'll mix it with a little water to make a flax egg. It helps bind the other ingredients together and adds fiber and healthy fats to these vegan gingerbread cookies.
Spelt flour – If you don't have spelt flour on hand, don't worry! A 50/50 mix of white and whole wheat flour will work here too.
Spices – You can't make good gingerbread without them! I use ginger, of course, as well as cinnamon and cardamom. They fill these cookies with delicious warm flavor.
Baking soda – To help the cookies puff up as they bake.
Melted coconut oil – It makes these vegan gingerbread cookies rich, soft, and chewy.
Almond butter – It adds extra richness and nutty depth of flavor.
Coconut sugar – This natural sweetener has a dark, molasses-like taste, so it adds depth to the cookies' spiced, sweet flavor.
Molasses – A gingerbread essential! Along with the coconut sugar, it makes these cookies lightly sweet.
And sea salt – Don't skip it! It makes all the sweet, spiced flavors pop.
Find the complete recipe with measurements below.
How to Make Vegan Gingerbread Cookies
Like classic sugar cookies, these vegan gingerbread cookies are a bit of a project. Still, they're super fun to make – the perfect holiday activity to do with family, friends, or all on your own! Here's what you need to do:
First, mix up the dough. Whisk together the flax and water, and set it aside to thicken. Meanwhile, whisk together the dry ingredients. Then, add the remaining wet ingredients to the flax mixture, whisking until smooth. Pour in the dry ingredients, and stir to combine. When the dough becomes too thick to stir, use your hands to knead and form it into a thick disk. Wrap it in plastic wrap, and chill for 30 minutes.
Then, roll it out. Place the dough between 2 sheets of parchment paper, and roll it out until it's 1/4-inch thick.
Now for the fun part! Use cookie cutters to cut out your desired shapes. I like to start near the edges and work inwards, puzzling together the cut-outs to create as many cookies as I can. Re-roll the scraps as necessary to cut out more cookies.
As you work, transfer the cut-outs to a parchment-lined baking sheet.
Finally, bake! Transfer the cookie sheet to a 325° oven and bake for about 10 minutes, or until the cookies are lightly browned. If you have too many cookies for a single baking sheet, bake one sheet at a time so that the cookies bake evenly.
It'll be tempting to eat these cookies right away (they smell amazing right out of the oven!), but it's crucial that you don't. They're soft and tender, so let them rest for 10 minutes on the baking sheet before transferring them to a cooling rack to cool completely.
Vegan Gingerbread Cookies Variations
These vegan gingerbread cookies are really tasty on their own, but they're also fun to decorate. Top them with this vegan frosting, the glaze from this recipe, or traditional royal icing. I think they'd also be adorable with a simple dusting of powdered sugar.
If you're not in the mood for decorating or cutting out cookies, you can skip both! Instead of rolling out the dough, roll it into balls to make chewy, soft gingerbread cookies instead. Both versions of these vegan gingerbread cookies are delicious, so you really can't go wrong. Just note that if you choose to decorate the cookies, they'll need to be at room temperature before you begin. If they're still warm, the frosting or icing will melt. Happy holidays, friends!
More Favorite Holiday Treats
If you love these vegan gingerbread cookies, try one of these tasty holiday treats next:
What's Christmastime without a soft and chewy gingerbread cookie? If you aren't a fan of royal icing, learn how to use a cookie stamp and a simple glaze to make (easy!) elegant vegan gingerbread cookies that are perfect for gifting.
I'm very particular about my gingerbread cookies. Like, I'm not a picky eater at all yet gingerbread cookies could fall into that picky category.
I like big, soft, pillowy gingerbread. If they are crispy they enter that gingersnap territory which is not my thing.
These cookies are so unbelievably soft they are like a sliver of aromatic gingery heaven.
What Ingredients and Tools You Need
Classic gingerbread cookies are made even better using plant-based ingredients. Here is everything needed for this recipe:
Flax egg
Vegan butter – like Earth Balance
Light brown sugar
Pure vanilla extract
Molasses
Applesauce
Apple cider vinegar
All-purpose flour
Spices – salt, ginger, cinnamon, cloves, nutmeg, and allspice (optional)
While I am not fond of crunchy gingerbread, I'm also not a big fan of decorating cookies. Don't get me wrong, decorated cookies can be elegant and beautiful, but my patience is not ready to handle that.
A cookie stamp takes some getting used to but once you get the hang of it, you can create stunning cookies with the most intricate design.
How to make the best vegan gingerbread cookies
In a small bowl make the flax egg per recipe instructions below, and set in the fridge. (fig. 1)
Next, in a large bowl use a hand mixer to cream together the vegan butter and sugar until nice and fluffy. (fig. 2)
To the same bowl add the flax egg, molasses, applesauce and apple cider vinegar, and vanilla. Beat to combine. (fig. 3)
In a separate medium bowl, whisk together the all-purpose flour and spices. (fig. 4)
Working just a bit at a time, slowly incorporate the dry ingredients into the large bowl with the wet ingredients. (fig. 5)
Continue beating until a soft, sticky dough is formed…but be mindful to not over-mix! (fig. 6)
The dough should be slightly sticky but not too wet. However, if it is, add some more flour. If the dough is too firm, add a teeny tiny amount of water or almond milk
Wrap dough in plastic wrap and let chill in the fridge for at least 1 hour or preferably overnight.
Can You Freeze Vegan Gingerbread Cookie dough?
Yes, you can! If you plan to make the dough ahead of time by more than a day or so it's a good idea to freeze it. Place the plastic wrapped dough in a freezer-safe plastic bag, and keep in the freezer for up to a month.
Allow the dough to thaw completely in the fridge overnight before using to make gingerbread cookies.
How to use a cookie stamp
Cookie stamps come in an array of sizes, shapes, and designs. You can buy traditional stamps with a handle.
The difference between a cookie stamp and cookie mold is with the stamp you need to cut out the shape before stamping it, whereas with a mold you press the dough directly into the mold. If you have a traditional cookie stamp, you will want to roll out the dough about 1/4″ thick. Then stamp the cookie dough, pressing down evenly and gently – making sure not pushing through the dough. Use a circle cookie cutter to cut out the shape.
Additional cookie stamp tips
Keep workstation and cookie stamp floured. You will want to flour the stamp in between uses.
But make sure there's not too much flour on the stamp. If it's stuck in the crevices it will not come out as defined, and the design will get lost during the baking process.
Use one firm, even motion to push the stamp into the dough.
Once cookies are baked and cooled, simply paint with a glaze to give these a stunning finished look!
How to Make a Vegan Cookie Glaze
In a small bowl combine:
Water
Sugar
Vanilla extract
Once the cookies have cooled, use a pastry brush to lightly paint the gingerbread with the glaze. Let sit undisturbed for one hour so that the glaze dries completely.
How to Store Vegan Gingerbread Cookies
Keep cooled gingerbread in an airtight container at room temperature for up to a week.
You can freeze vegan gingerbread cookies in a sealed plastic bag for up to 2 months. However, I would recommend you defrost them completely at room temperature before enjoying.
These vegan gingerbread cookies are the perfect Christmas gift. And using a handy cookie stamp makes them super easy to whip up in large batches. Give a box to your friends and family for the holidays, and have a very merry season by keeping a dozen or so for yourself!
If you tried this vegan gingerbread cookie recipe, let me know in the comments below and share a photo using #mindfulavocado. I'd love to hear from you! Want to see more recipes? Let's get social! CONNECT WITH ME on Facebook, Twitter, Instagram, or Pinterest to see what I'm currently cooking up!
Published: Dec 3, 2019 · Modified: Dec 3, 2019 by LarishaBernard · This post may contain affiliate links · 4 Comments
Sharing is caring!
Vegan Gingerbread Cookies are perfect for your holiday baking schedule. These spiced cookies make for a great alternative to decorating.
Are you ready to bust out those decorating skills? If so, we've got the perfect vegan gingerbread cookies for you to try.
Whether you are trying to make a delicious vegan gingerbread cookie recipe to decorate individually, or you are trying to make an entire gingerbread house, then this recipe will work for you.
Pair our dairy free gingerbread cookies with either dairy free vanilla frosting or royal icing to decorate for any holiday season. You could even pair these dairy free cookies with a dairy free chocolate frosting if you'd prefer.
These dairy free gingerbread cookies are:
dairy free
egg free
corn free
vegan
nut free option
gluten free option
soy free option
Never miss another post! Sign up for our weekly newsletter and get them all delivered easily! Plus, 15 easy recipes delivered immediately!
CLICK HERE TO SIGN UP!
What ingredients do I need for vegan gingerbread cookies?
This recipe doesn't need a lot of ingredients and is really easy to make! Nothing is a hard to find ingredients and almost any store you should be able to find everything.
The ingredients that you will need are:
vegan butter
brown sugar
molasses
ground flax seed
water
vanilla extract
all purpose flour
ground ginger
baking soda
cinnamon
cloves
salt
nutmeg
WHAT IS A FLAX EGG?
A flax egg is a combination of ground flax seeds and water that after sitting, will turn gelatinous.
This mixture gives you a vegan replacement in eggs that works great in many baked goods, like these vegan gingerbread cookies
How do you make vegan gingerbread cookies?
You are going to start by making a flax egg by combining the ground flax seed with water and letting it sit for 10 minutes.
While that's sitting, in a large bowl, beat together the vegan butter, brown sugar and molasses until creamy, about 3 minutes.
When you flax egg is ready, add that and vanilla to the bowl and beat again.
Next, add in the flour, spices, baking soda and salt. Stir these together with a spatula until combined. Use your hands to form 2 equal size balls.
Lay down a piece of parchment paper, then one ball, then another same size piece of parchment paper on top. Take a rolling pin and roll our the dough to be 1/4″ thick.
Preheat oven to 350 degrees and line a baking sheet with parchment paper.
Cut out gingerbread men or other desired shapes. Transfer cut outs to a baking sheet.
Place in oven and cook for 9-11 minutes. Shorter time for smaller cut outs, longer time for bigger cut outs.
Remove and transfer to a cooling rack and allow to cool completely before icing.
Repeat with remaining ball of dough.
We recommend our vegan royal icing to decorate these dairy free gingerbread cookies.
Tips for making vegan gingerbread cookies:
Try to use the same size cut outs when cooking so they cook evenly and you don't have overdone and uncooked cookies on the same try.
For example, if you are cutting out 1″ snowflakes and 3″ gingerbread men, the cook all the snowflakes first and then do a separate batch with the bigger cut outs.
How do you know when vegan gingerbread cookies are done?
When you are making dark colored cookies, it is not always easy to tell since you can't just see golden brown. Vegan gingerbread cookies are done when the edges are firm if gently touched with a spatula.
WHAT OTHER PRODUCTS DO I NEED TO MAKE THESE CUT OUT DAIRY FREE GINGERBREAD COOKIES?
Beyond the actual dairy free cookie ingredients that you will need to make these gingerbread cookies, you'll want to grab a few things to make these perfectly.
Baking Sheets
Rolling Pin
Cooling Racks
Parchment Paper
Gingerbread Men Cookie Cutters and other Cookie Cutters
Vegan royal icing , Vanilla Frosting or Chocolate Frosting
Piping Bag and Tips
Sprinkles or Other Decorations
Cookie Tin
Can I make these Top 8 Allergen Free Gingerbread Cookies?
The two allergens in our written recipe is vegan butter (soy) and flour (gluten).
The vegan butter can easily be swapped for a soy free vegan butter. We love Earth Balance soy free for this. It comes in a red tub.
For the flour, you can use Measure for Measure Gluten Free flour in this cookie recipe.
Can I prep these vegan gingerbread cookies ahead?
Yes! You can make these a few days in advance if you plan to make ahead and decorate at another time or even decorate and take with you a few days from now.
Alternatively, you can make the dough and freeze the dough if you don't need all of it at one time. Just let completely thaw before rolling out and cutting into shapes.
WHAT ARE OTHER VEGAN COOKIES THAT I CAN MAKE?
If you love baking cookies for the holidays, then you are in for a treat. These are part of our 12 days of cookies and here's a few more for you to try. All our cookie recipes are vegan (dairy and egg free) and most about allergen friendly.
We will update will all 12 at the end, but here's a few to try!
Vegan Gingerbread Cookies are pretty amazing on their own, but how about topped with this Vegan Royal Icing? Yes, it is entirely possible to make a vegan royal icing that not only dries hard, but glossy! Insert 'ooooh's and aahhhs' here 😉 And last but not least, later in the post I'll also talk a little bit about vegan food coloring. So this is sort of a 3-in-1 post because quite frankly, I would love to say that I am all prepared for Christmas, shopping done, presents wrapped and waiting under the tree, but alas…this normally overly organized person is just not that prepared this year. Life happens, and it's ok. It will all work out in the end.
I absolutely love this recipe for gingerbread because these cookies do not spread. They puff up, but retain their shape which is important for a cut out cookie! So let's begin there…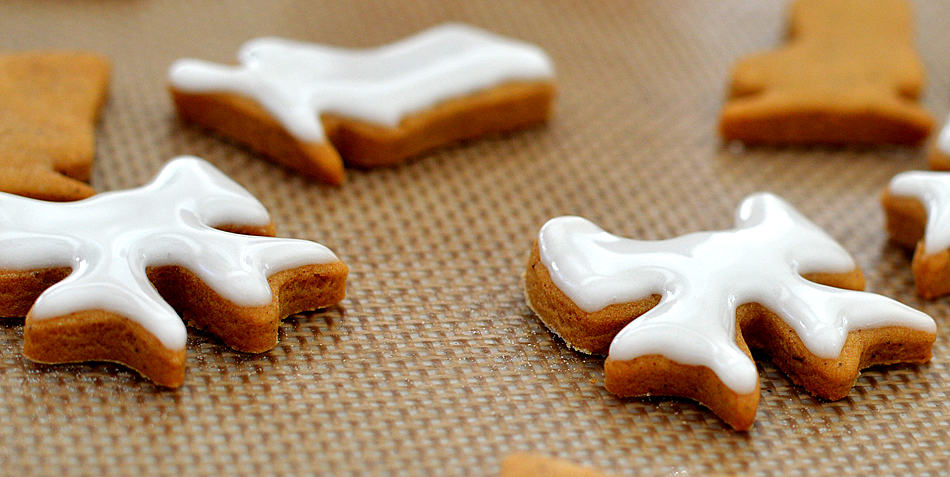 You will need vegan margarine, brown sugar, molasses, all purpose flour, salt and baking powder. We'll spice them up with cinnamon, ginger, cloves.
There is one specialty ingredient. I used Ener-G Egg Replacer (which is my current favorite). It is a plant-based, vegan mixture of starches and leavening agents. 1-1/2 teaspoons of Ener-G plus 2 Tablespoons of water are the equivalent to 1 egg. I have had the most consistent results in baking using this product. Not affiliated in any way, it just works.
I do like to chill the dough (wrapped in plastic wrap) for several hours or over night, as it is much easier to work with that way.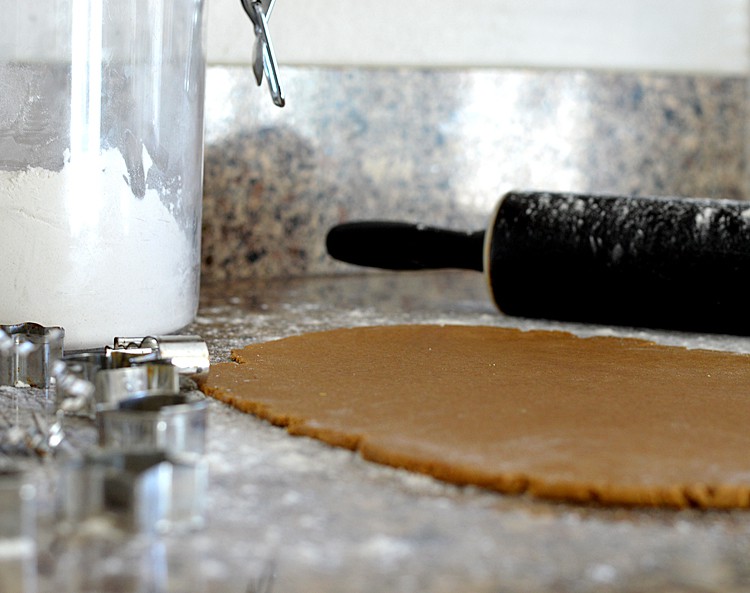 I choose a variety of small Christmas themed cutters. Snowflakes, snowmen, mittens, trees, stockings, bows and ice skates. Got it off of Amazon as well. Are you surprised? 😉 I know, I know…I am slightly addicted to the convenience of Amazon, but I love that I can provide you all with a resource where you can obtain these things as well.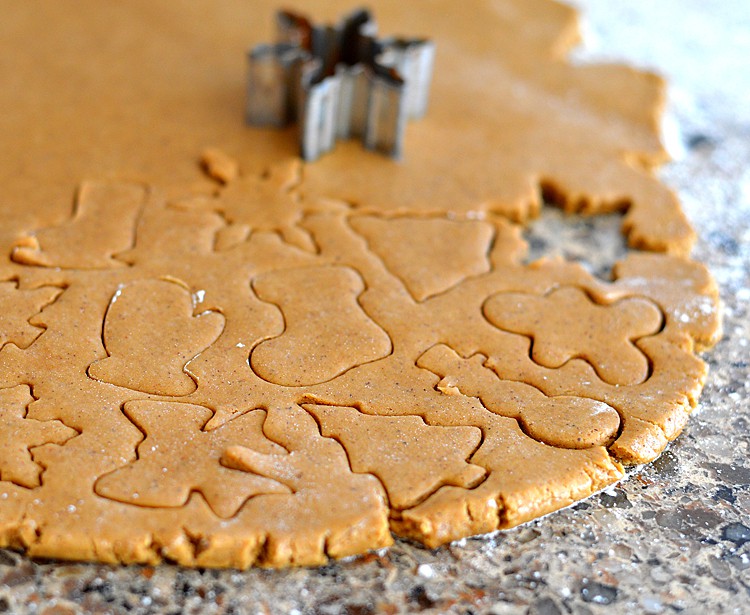 They bake for just about 5-6 minutes and are transferred to a rack to cool completely.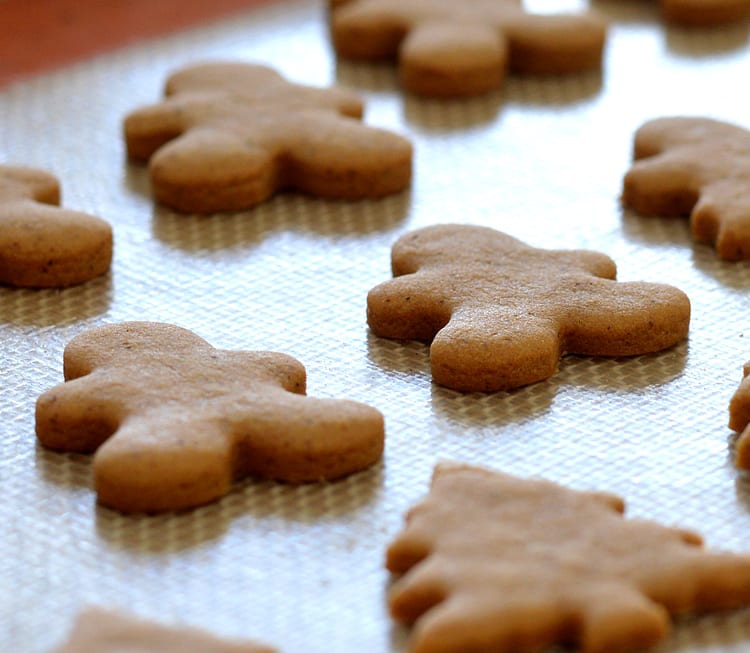 Now onto the icing. Just 3 simple ingredients include: confectioner's (powdered) sugar, light corn syrup (I like this one because it is certified vegan, but most syrups are technically vegan) and almond milk. That's it!
This is a 'flood consistency' icing meaning it is able to be piped and retain its shape, but will 'heal' or settle back into itself creating the smooth surface you see here.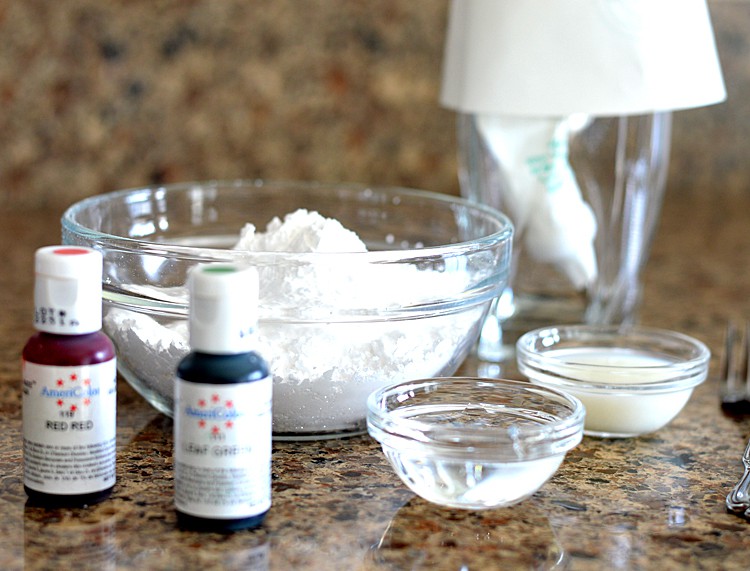 Consistency is key here. On the left should be what you get from my base recipe. Icing is very dependent on humidity, so you may need more (or less) liquid than I do here in Arizona. On the right is an example of an icing that is too thin and it will run right off of your cookie. It is easier to add than to take away, so start by adding 1/2 tsp at a time to the thicker mixture until you get an icing that when it falls back on itself, leaves a trail but eventually levels out.
I picked up a simple piping bag, round tip and coupler for a few dollars. Everything is washable and reusable, but you can also find disposable bags.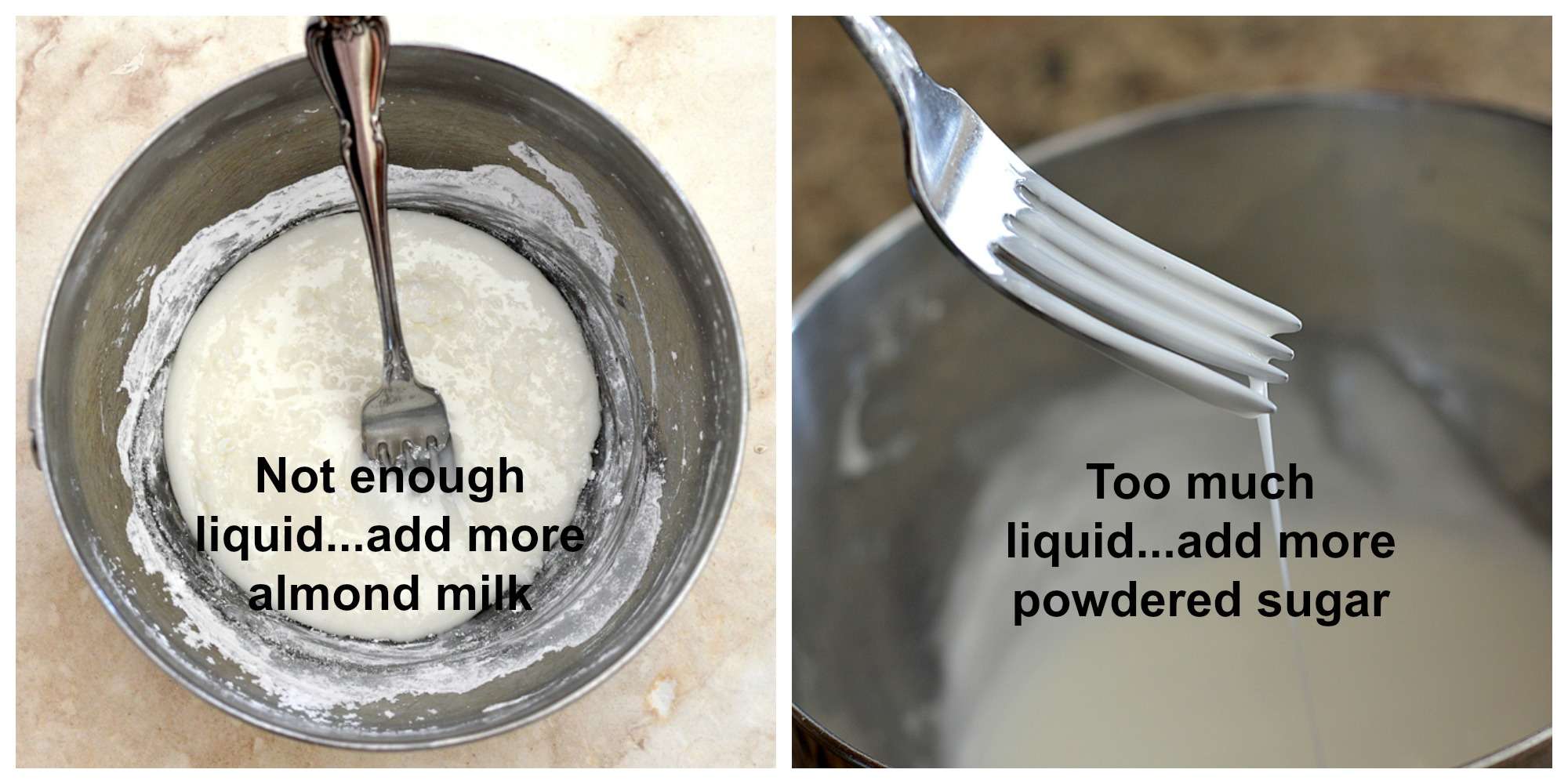 Another option, and a question I get quite often, is about food coloring. Vegan food coloring to be more precise. Although there are companies producing natural vegan colors, they are not true colors and appear very pastel and dull. Most of my readers have been less than impressed with those.
I use these professional colors by AmeriColor. This junior starter set is around $20 on Amazon and is perfect for the beginning decorator. AmeriColor produces dozens and dozens of colors (it's easy to get carried away), but if you have a craft store, Walmart, cake decorating shop, etc. near you…you can just buy individual bottles. They are about $2 a bottle and worth the investment! I use 'Red Red' and 'Leaf Green' at Christmas time and they produce very vibrant iced cookies. They are also completely VEGAN. I recently contacted the manufacturer a few weeks ago and this is their response… "Dear Aimee, Thank you for your interest in AmeriColor! Yes, our food color is vegan friendly. … On the seldom occasion that we produce Meringue Powder, as it has been discontinued, it is made in a segregated area and the equipment we use for food color is not used. I have attached our Allergen Statement for your reference as well. Please let me know if you need further assistance. Best wishes!"
If you are able to find it, there is one called 'Xmas Red' that I absolutely love for the holidays.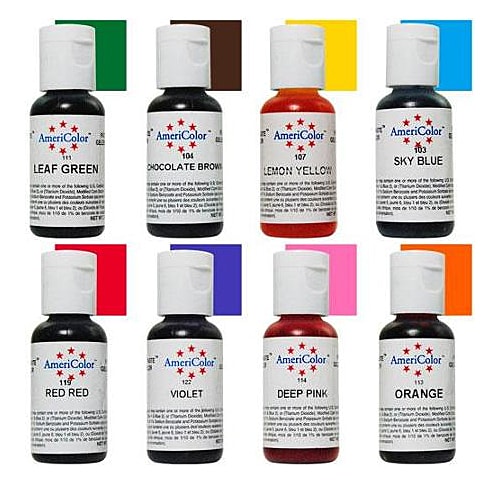 I chose to do most of mine in white, but can you see how shiny they are? You could also use edible food color markers once they have hardened. Sprinkles, nonpareils, the possibilities are endless. Have fun. Get creative.
One little helpful hint, keep a paper towel with warm water nearby to wipe the piping tip occasionally as this icing dries quickly. You'll want to keep the tip clean and the icing flowing freely. Allow to dry completely.
Another tip, keep a toothpick to help pop any little air bubbles that may occur. Do this before the icing starts to set.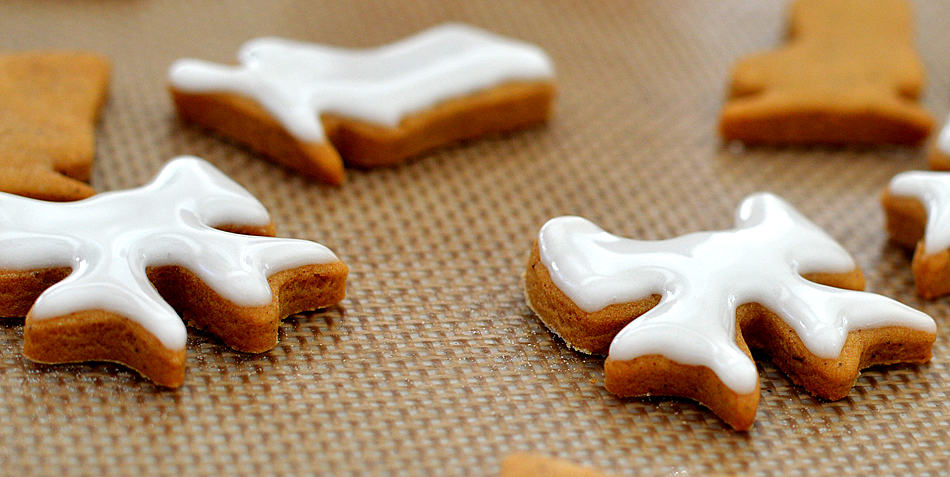 I'll be bringing you a lovely buttercream style frosting in a few weeks, so stay tuned for that!
Last updated – July 15, 2021 ; Published – November 3, 2017 By Rhian Williams 18 Comments
These Gluten-Free Vegan Gingerbread Cookies are crispy yet chewy, fragrantly spiced and have a rich, molasses-like flavour whilst being refined sugar free! They're super easy to make as they come together in one bowl and there's no need to chill the dough beforehand. The perfect sweet treat for Christmas and they make excellent edible gifts.
The ground almonds help to bind the dough together without the need for any eggs, and create a light and crispy yet slightly chewy texture reminiscent of real butter- and sugar-laden gingerbread cookies. The almonds also add extra protein and fibre.
Instead of sweetening them with sugar, I went for date syrup – if you've never tried date syrup, it's thick, dark and nectar-like and looks and tastes a little like molasses. It adds an amazingly rich flavour, whilst keeping these gingerbread cookies refined sugar free.
They're seriously easy to make as there's no need to bother with all the clean-up required because of a floured surface: you can use a sheet of greaseproof baking paper instead, which is much easier to work with.
How to make this recipe
Scroll down to the bottom of the post for the full recipe.
Mix together the ingredients for the cookie dough in a glass mixing bowl.
Use a medium-sized cookie cutter to cut shapes out of the dough – you will probably have to roll the dough a few times until you use it all up.
Transfer the cookies onto two rectangular baking tray.
Tip: Line the baking trays with greased baking paper to make sure the cookies don't stick.
Bake in oven for around 10-12 minutes, until golden brown.
If you're not absolutely set on keeping these cookies completely refined sugar free, you can also have fun decorating them with icing!
How long do these Gingerbread Cookies keep for?
These Gingerbread Cookies can be kept in an airtight container for up to a few days.
Substitutions you can make
You can replace the date syrup with any other liquid sweetener: maple syrup, agave syrup or brown rice syrup.
You can use any type of plant-based milk: almond milk, cashew milk, oat milk, soy milk, rice milk etc.
You can replace the gluten-free flour with rice flour.
You can use plain flour instead of gluten-free flour if you don't need them to be gluten-free.
More delicious vegan festive treats
Pecan Pie
Apple Cake
Chocolate Cherry Trifle
Pumpkin Cake
Apple Pie
Matcha Shortbread
Pumpkin Pie
Gingerbread Cookie Bars
If you try out this recipe or anything else from my blog, I'd really love to hear any feedback! Please give it a rating, leave a comment, or tag a photo @rhiansrecipes #rhiansrecipes on Instagram! Thank you.
It's this time of the year again – as soon as you step outside you get bombarded with various reminders that's it's almost Xmas. I ventured out to the city centre this week in search of fine piping nozzles and I came home a little down, I must admit. Although I thought I was prepared for the Xmas frenzy, seeing the high street awash with cheap, mass produced trinkets that we have all been brainwashed to buy and which end up in a landfill as soon as we move on to the next commercialised occasion has made me feel really, really low.
The amount of 'stuff' that no one really needs screaming out to you from every shopping window is dizzying and mind-boggling and it feels like it is on an ever growing scale despite the constant environmental crises happening left, right and centre. We are still far too detached from the fact that this mindless consumerism is killing our planet and is bringing us no happiness at all and I don't know what will it take to get us to take notice. End of the world, I guess, but it will be too late by then…
We are going to Poland for Xmas and at my suggestion we are doing away with Xmas presents completely this year cos we all have enough stuff, cos no matter how hard you try you always end up with unwanted gifts cluttering your home at best and because we all know there is no Santa by now so we can roll with this. It felt like I was being a bit of a grumpy old Grinch but everybody was relieved cos let's face it Xmas shopping is a chore. I love giving presents and I am totally up for giving thoughtful and / or homemade gifts, but it's buying stuff to just tick a box that I can't get behind.
So speaking of homemade presents, gifting little parcels of homemade cookies is a nice present, I think. These soft vegan gingerbread cookies are really easy to make and fun to decorate too. I am not going to win any icing competitions for my effort, but they are nice enough to look at plus they fill your house with the most amazing Xmassy scent, so they will get everybody in the Xmas spirit without the need for tinsel or Xmas crackers 😉 .
Published: Dec 19, 2019 · Modified: May 19, 2020 by Marlena Luna
Share
Pin 749
Email
Tweet
These vegan gingerbread cookies come together with simple ingredients, they're easy to make, and require NO chill time! Add these cute 'lil guys to your holiday cookie tins, or spend an evening with the kids decorating gingerbread men. You won't be able to resist their Christmas charm!
When I think of a classic Christmas cookie gingerbread men are the first to come to mind.
Snowball cookies and sugar cookies are an easy second.
But, when I want a cookie with that Christmas flavor I'm grabbing for a vegan gingerbread man.
Their aromatic spices, sweet molasses flavor, and chewy yet soft center have me baking up double batches of these irresistible, kid-approved cookies.
Just look at that adorable little gingerbread face!
How can you not want to bake up a batch or two and share them?!
Instructions
These vegan gingerbread cookies are easy to make and require NO chill time. Just follow the simple steps below.
step 1. Cream together the oil and sugar until the mixture resembles a sandy texture similar to the image above.
step 2. Pour the remaining wet ingredients into the bowl.
step 3. Mix everything together using a hand mixer or wooden spoon.
step 4. Add half of the dry ingredients into the bowl and mix until the flour is fully incorporated.
step 5. Add the remaining dry ingredients and mix as well as you can. It should create crumbly dough.
step 6. To fully bring the dough together you'll want to use your hands and gently knead it. If necessary, add a bit more non-dairy milk until the dough comes together and forms a dough ball.
step 7. To easily handle the cutout cookie dough, place a sheet of parchment paper down on your work surface and dust it with flour. Place the dough ball down and add another sheet of parchment paper on top. Slightly flatten the gingerbread dough ball.
step 8. Roll the gingerbread dough out to about 1/4-inch thickness using a rolling pin.
step 9. Use a good quality cookie cutter. Dip the cutter in flour to keep it from sticking to the dough.
step 10. Remove the excess dough from around the cookies. Then, use a spatula to transfer the cookies to a baking sheet lined with parchment paper and bake.
Allow the gingerbread cookies to cool on the baking sheet for about 5 minutes then transfer them to a wire rack to cool completely.
To Decorate the Cookies
Once the gingerbread cookies are fully cooled it's time to make the icing and decorate those cute little guys.
Decorate these vegan cookies any way you like using a piping bag and a small round-shaped tip. Use your imagination and add overalls, a shirt, pants, hair, bowtie, etc.
For a simple design pipe on zigzags and buttons.
To pipe the eyes and buttons, hold the piping bag straight up and close to the cookie. Squeeze out a small dollop of icing. Stop squeezing and pull up as the dollop reaches the desired size.
To pipe the mouth and zig-zags, the tip of the piping bag should be held close to the cookie (but not touching) and at a slight angle. Slowly and gently squeeze the bag while moving it in the direction of the mouth and zig-zags.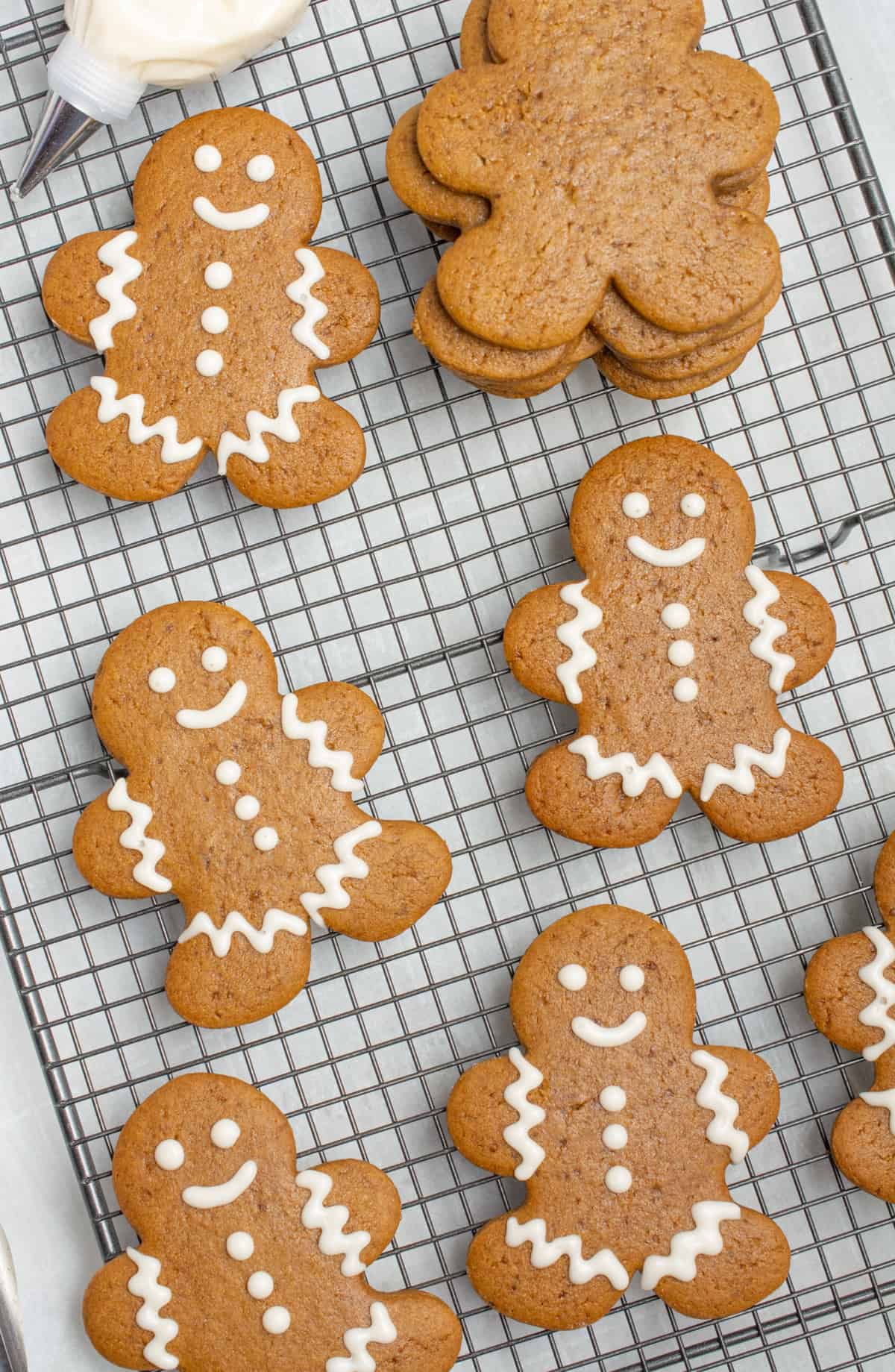 Store the baked cookies in an airtight bag or container at room temperature for up to 5 days. If the cookies are decorated, store them in a single layer to not mess up the icing.
Yes! These vegan gingerbread cookies freeze well after baking. Store them undecorated in an airtight container or bag for up to 2 months in the freezer.
Expert Tips
For the perfect taste and color use light molasses such as Grandma's Original Molasses. Avoid using blackstrap molasses. It's too dark and best used in savory dishes.
For just the right amount of gingerbread flavor, slightly over-measure the spices rather than leveling them.
Dip the cookie cutter in flour to keep the dough from sticking to it.
Use a spatula to carefully transfer the cutout dough to the baking sheet. There should be no need to chill the dough if it's handled with care.
A small piping tip works best to decorate the cookies. Slowly pipe the icing on the cookies for a clean look.
We'd love to hear from you!
If you enjoyed this vegan recipe, please leave a 5-star rating in the recipe card and share your thoughts in the comments below.
Also, if you snap a photo be sure to share it with us! We love to see your creations!! You can find us on Pinterest, Facebook, and Instagram.
Or, get the links to new recipes delivered straight to your inbox by signing up for our newsletter. See ya there!
Published: Mar 26, 2021 · Modified: Mar 27, 2021 by Tajda Ferko This post may contain affiliate links
Facebook
Twitter
Pinterest
Email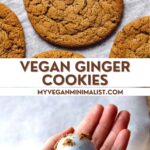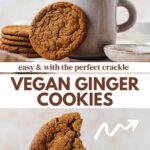 These beautiful vegan ginger cookies are super easy to make! With just a 7-minute baking time, they're packed full of flavour, quick to make, and a real hit among vegans and non-vegans alike.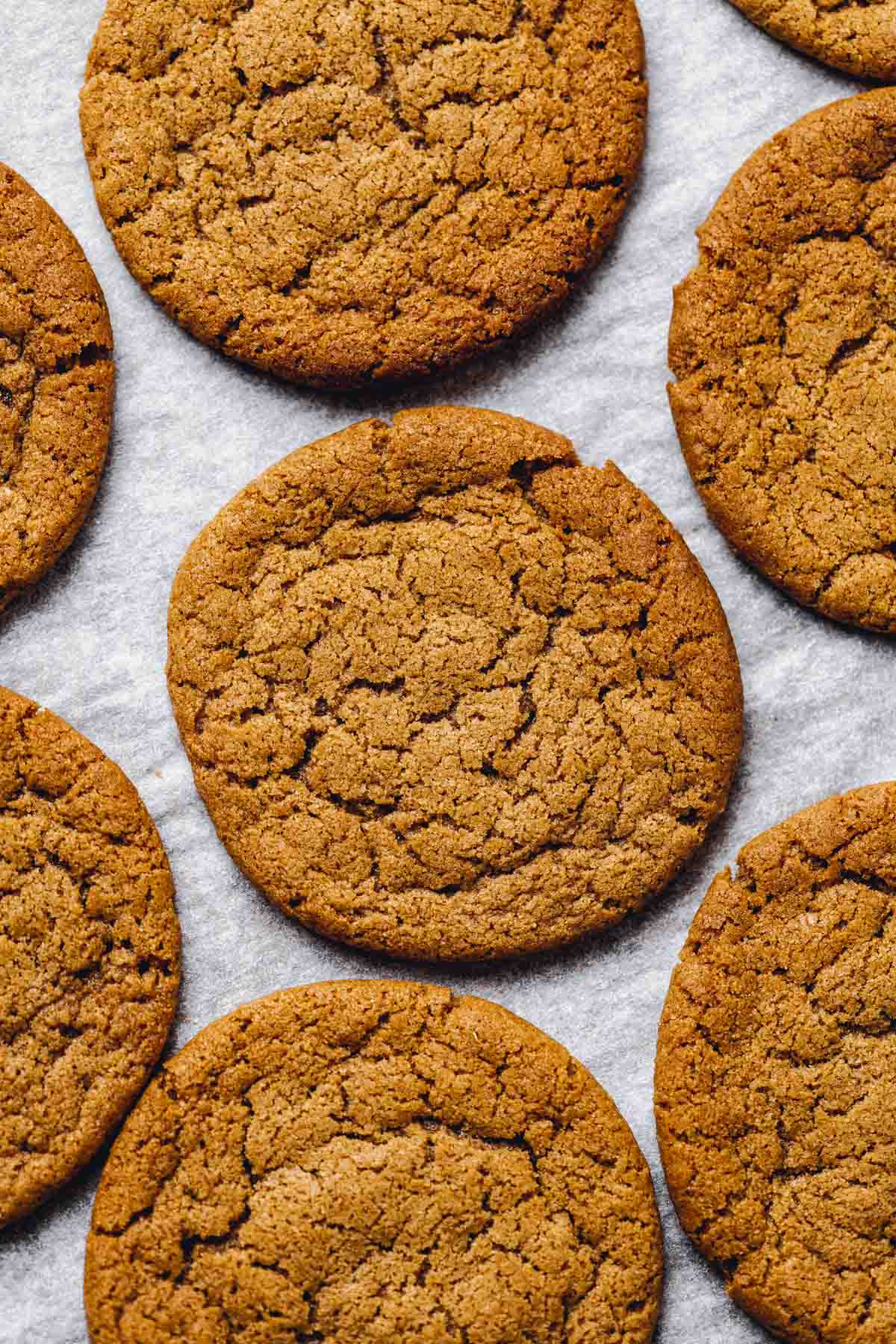 Why make these?
So easy to make and beginner-friendly
The combination of two types of sugar creates the ultimate cookie dough
Packed with rich spices for that mesmerising flavour explosion
Crunchy on the outside, but beautifully gooey on the inside
Ingredients
Here are the ingredients you'll need to make these gorgeous ginger cookies. Note that the exact measurements are at the bottom of this post.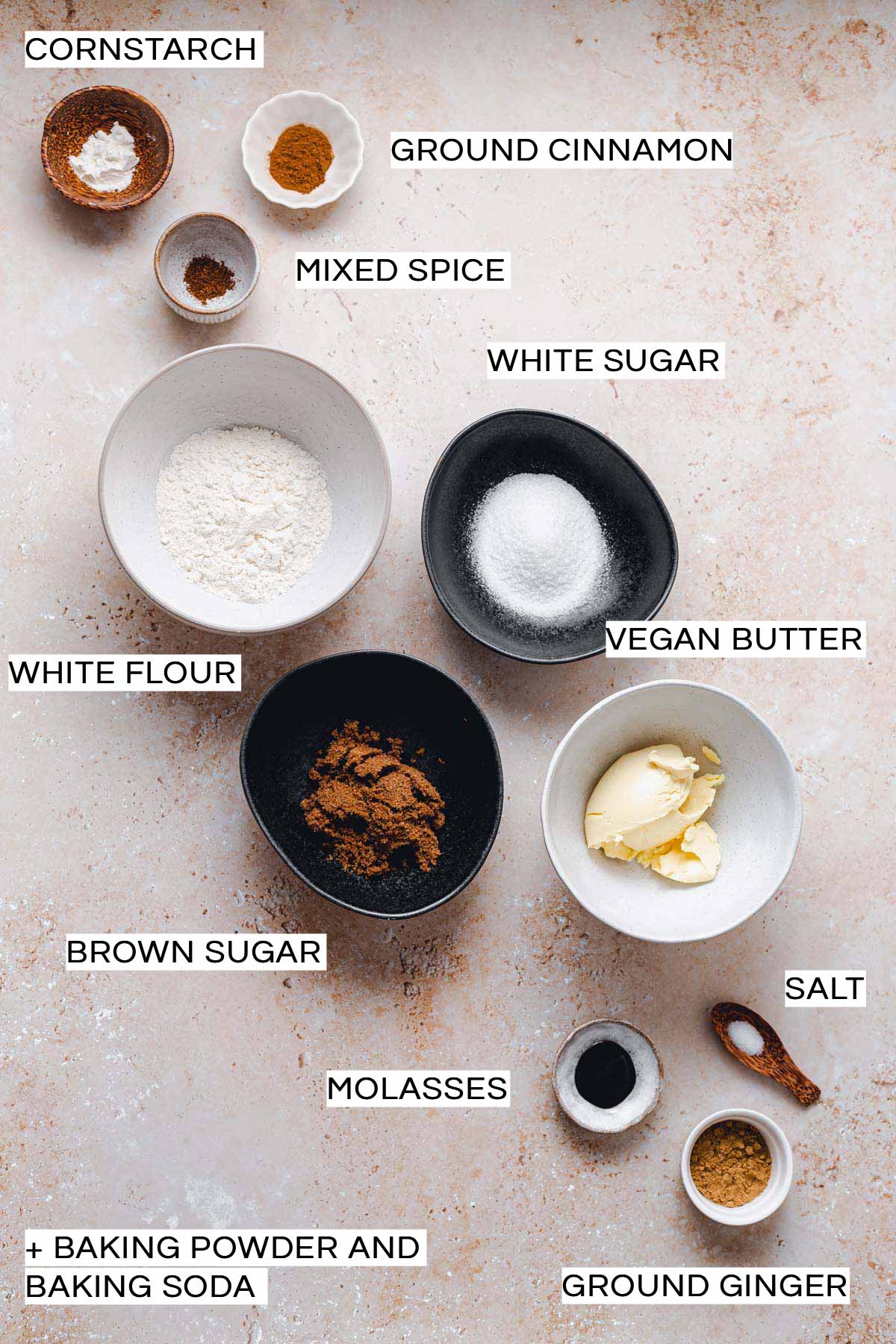 Ingredients notes
Sugars – Each type of sugar has a different purpose in this recipe. Brown sugar gives a caramel-like flavour and chewy texture. White sugar on the other hand gives the cookie a crunchy outside. Feel free to substitute for just one kind of sugar but remember that results might differ.
Mixed spice – This is a British spice mix that includes cinnamon, coriander seed, nutmeg, clove, and ginger. It can easily be replaced with pumpkin pie spice.
Black treacle or molasses – Gives an extra depth of flavour and works very well with the ginger. Can be substituted with vanilla paste if you can't get your hands on molasses (US) or black treacle (UK).
Cinnamon – Can be substituted with cloves, nutmeg, all-spice, cardamom, additional ginger or completely left out. Ginger will work well with any of the spices mentioned and if you choose to add ginger only, I wouldn't add more than a teaspoon per 4 cookies in total. The ginger flavour will become very strong if you add more than that and might become overwhelming.
Step-by-step Process
Tips and Tricks
FAQ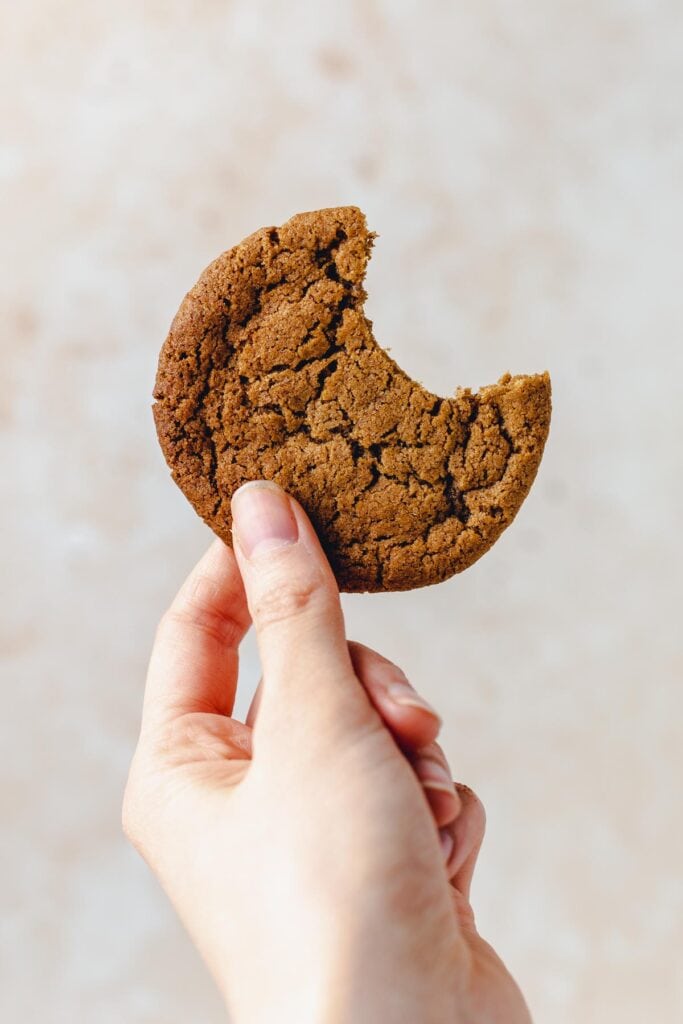 The reason behind this is often the type of vegan butter you've used. Vegan butter can have a different ratio of moisture compared to fat. Depending on which one you use the butter can make your dough drier or wetter.
If the dough is too dry don't worry. Simply add half a teaspoon of plant based milk at a time to the dough until it comes together. Add until your dough has a drop cookie texture (in between a firm biscuit dough and a cake batter).
There are a few things that can prevent cookies from having that beloved cracked look.
– The dough is overworked, making it more difficult for the baking soda to do its job and rising to its full potential.
– The oven is not hot enough.
– When you put the cookies in the oven make sure to do it fast to keep the oven temperature high.
– Secondly, make sure you preheat the oven properly.
– Another reason for this could be that you've left out one of the rising agents. I find that the best crackled cookies are those that used two types of rising agents: both baking soda and baking powder.
If your cookies are sinking after you've taken them out of the oven don't worry. This is exactly what they are supposed to do.
You want them to puff up in the oven and then sink again so that they are not stodgy and still have a slightly denser chewy centre.
The dough for these cookies is quite sticky but when chilled you should be able to shape it into a ball after scooping.
I used a round measuring spoon to scoop the dough to give them a nice round shape whilst scooping. Then I've rolled them in the palms of my hands until perfectly round.
If it gets too sticky try running your hands under cold water, dry them, and try again. Warm hands will melt the butter in the dough and make it even stickier.
If the dough can't be formed into a ball from the off, pop it back in the fridge for a bit longer to let it cool down further. This way, the butter in the dough will harden, making it easier to shape.
Other Vegan Cookie Recipes
Loved the look of my vegan ginger cookies? Check out my top favourite cookie recipes:
Or explore my full desserts section here!
If you run into any issues when making this recipe don't be afraid to get in touch via the comments below. And if you loved the recipe, it would make my day to hear your review!
There are many symbols of Christmas, from holly to Santa Claus, and crackers to Christmas pud. One of my favourites is the gingerbread man with his cute smiling face and rosy cheeks. I am always drawn towards gingerbread man decorations for my tree, and Christmas cards featuring these adorable characters. These Vegan Gingerbread Men are a fun and delicious way to enjoy one of the most charming symbols of Christmas time. It would be great fun to make them with kids and let them get creative with the decorations! They have the perfect balance of sweetness against spicy ginger, making them a tasty treat for the whole family this Christmas.
Aren't these friendly smiling vegan gingerbread men just the cutest? Almost too cute to eat, but only almost! They are absolutely yummy – crispy round the edges, then nice and soft in the middle. The punch of ginger flavour is just right, and you get bits of sweet icing in every bite.
Ingredient Tips & Equipment Information
You can use a dairy free baking block or a dairy free baking spread to make the biscuit dough, but either way it should be used cold.
If you don't want to use wholemeal flour, you can replace it with regular plain flour.
Mixed spice is a British spice blend containing cinnamon, coriander seed, nutmeg, clove, pimento and ginger. If you can't get hold of it, you can use a pumpkin spice mix instead.
I really recommend using light brown soft sugar if you can for these biscuits, but caster sugar will work well too.
Golden syrup is sold all over the world, so check the international section in your supermarket if you're not based in the UK. You can also buy it online from Amazon (see link below). If you can't get hold of it, you can substitute it with light corn syrup, maple syrup or honey, please note I've not tested this recipe with these substitutions.
Although I provide cup measurements, I highly recommend weighing your ingredients out using digital kitchen scales*. It is the most accurate way to measure ingredients and will ensure the best results. Digital scales are very low cost and can be purchased for around £12 ($16.50) .
For teaspoon (tsp) and tablespoon (tbsp) measurements, please use measuring spoons* and not the type of spoons you eat with. Again this will ensure accuracy and provide the best results.
For the full recipe with measurements, head to the recipe card at the end of this post.
How to make Vegan Gingerbread Men
Start by putting all of the dry ingredients into a bowl and stirring them together. In a small pan, melt the dairy free spread with the golden syrup and treacle.
Pour the syrup mixture into the dry ingredients and mix until a dough forms. Wrap it in cling film and chill it in the fridge for 1 hour. Roll the dough out onto a well floured surface.
Cut out gingerbread man shapes using a cookie cutter and lay them onto baking trays. Put the cut out shapes on the trays into the freezer for 10 minutes, then bake them for 8-10 minutes.
Once they are fully cool, make some icing and pipe it onto the biscuits to decorate them.
How long do the gingerbread men last and can they be frozen?
The gingerbread men biscuits will last for 1 week stored in an airtight container in a cool place. You can also freeze them for up to 3 months. Freeze them in a freezer bag, a tupperware container, or wrap them well in cling film. You can also freeze the dough before rolling it out, wrap it well in cling film and freeze for up to 3 months.
Can this recipe be made gluten free?
Yes! For gluten free you can replace the plain flour with a gluten free plain flour blend. I also recommend adding ¼ tsp Xantham Gum for better texture.
Do you need any special equipment to make these biscuits?
You can make the dough completely by hand, but if you have a food processor it does make it a little easier and quicker. For rolling out the dough you will need a rolling pin, I also like to use a silicone mat to make clean up a little easier. To bake the biscuits you will need some baking paper and some baking trays. And of course you will need a gingerbread man shaped cookie cutter!
More tips for making the Vegan Gingerbread Men:
You can cut the dough into any shapes you like besides gingerbread men.
If you are using a metal cookie cutter, to stop it from going rusty wash it in warm soapy water, then pop it in a warm oven to dry it out.
You could also use chocolate to decorate them, or leave them plain.
Troubleshooting
If you have any questions about this recipe, or if something went wrong and you need help, please use the comment form below and I will get back to you. You can also get in touch with me on my Twitter, Instagram or Facebook. I'd love to hear from you!
Recommended equipment & ingredients*
Baking trays
Mixing bowls
Piping bags
Cooling rack
Kitchen scales
Rolling pin
Gingerbread man cutter
Mixed spice
*I earn a small amount of money if you buy the products after clicking on the links. You will not be charged anything extra for this. Thank you for supporting The Baking Explorer!
by Sarah McMinn / Posted: December 16, 2020 / Disclosure: This post may contain affiliate links. Jump to Recipe Print Recipe Total Time: 1 hr 20 mins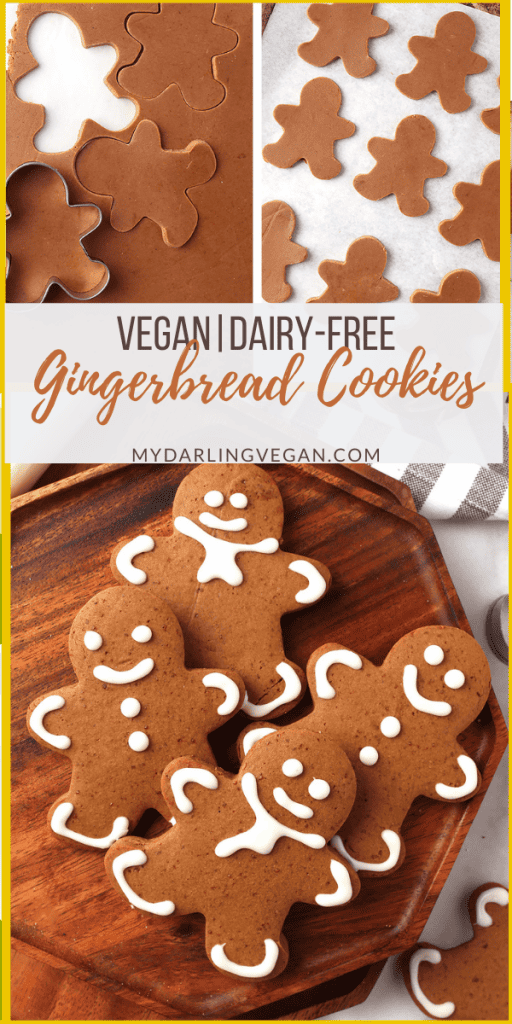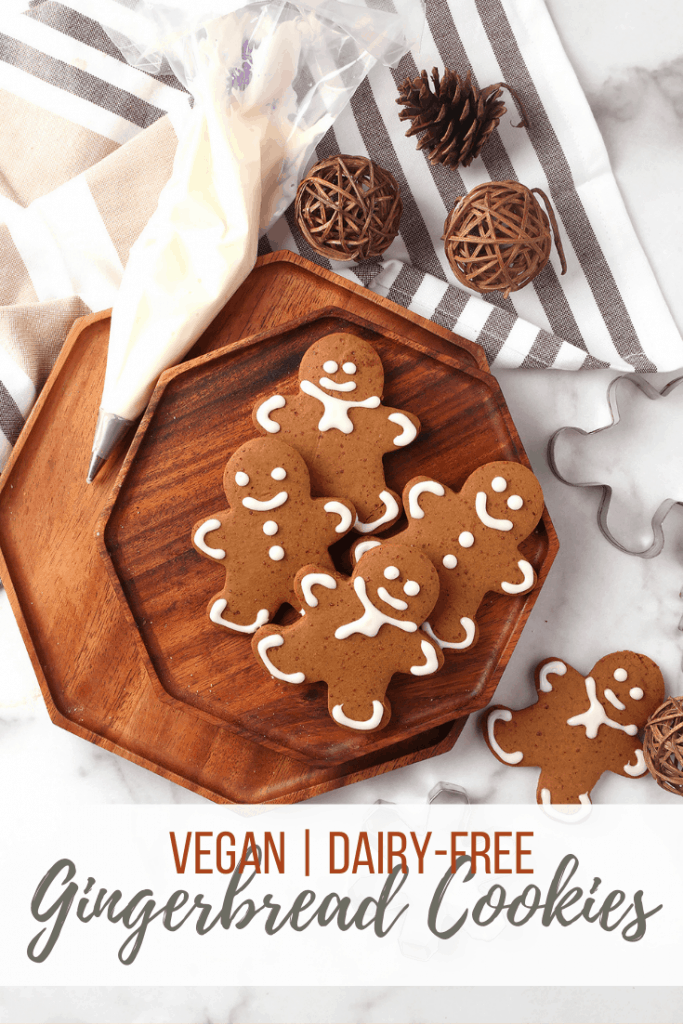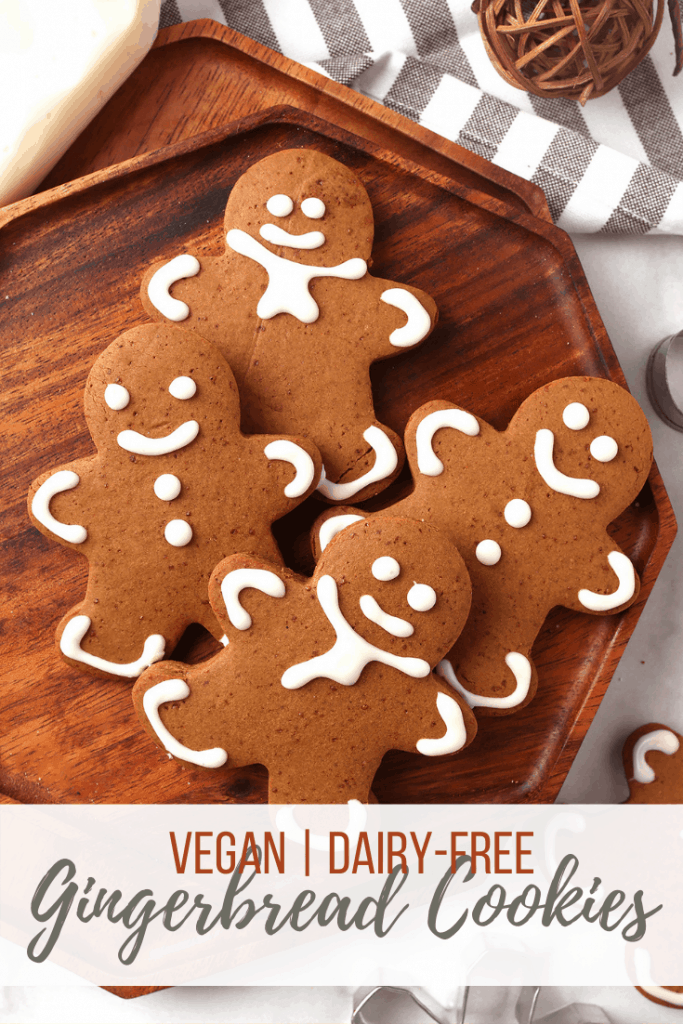 It's the perfect Vegan Gingerbread Cookie! They are sweet, spicy, and with a delightful crunch. If you want, you can make them a little healthier by using coconut sugar. You won't even be able to taste the difference!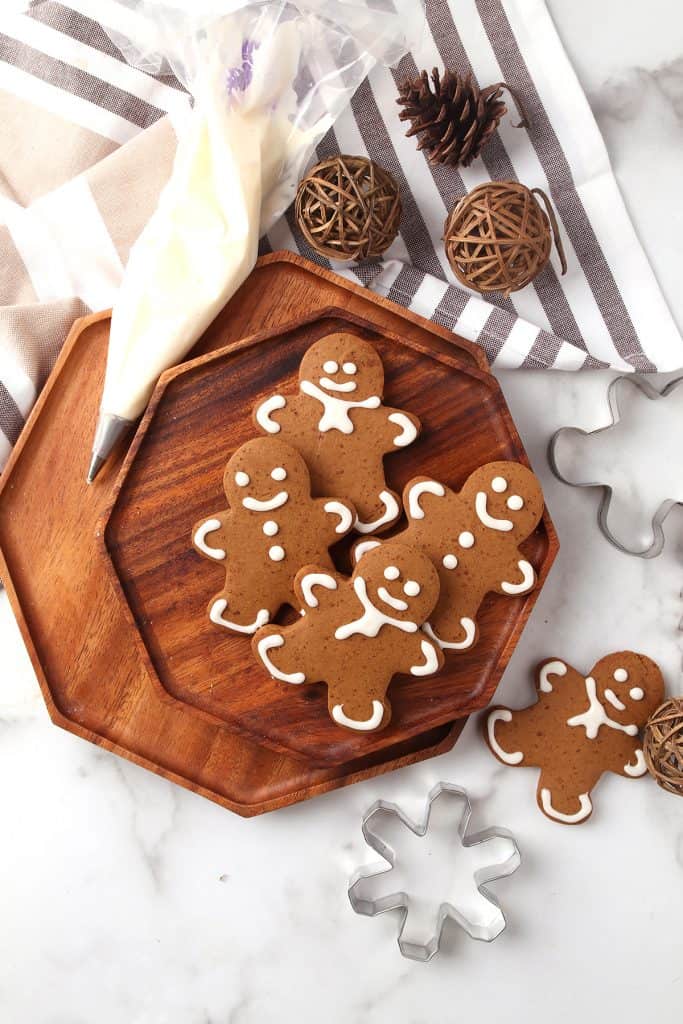 It's that time of year again!
Yep, it's time to get out your wire whisks and paper piping bags, stock up on spices and sweeteners, and put on your stretchy pants. we are gonna start baking. And we are starting with these vegan gingerbread cookies.
These vegan gingerbread men are just as you imagine they would be. Sweet, spicy, and with that perfect crunch. Start your baking tradition by whipping up a batch of these easy cookies and sharing them with your friends and family.
Recommended Ingredients & Equipment
You don't need much to make these vegan cookies. And best of all, they are likely ingredients you already have on hand!
Here is everything you need.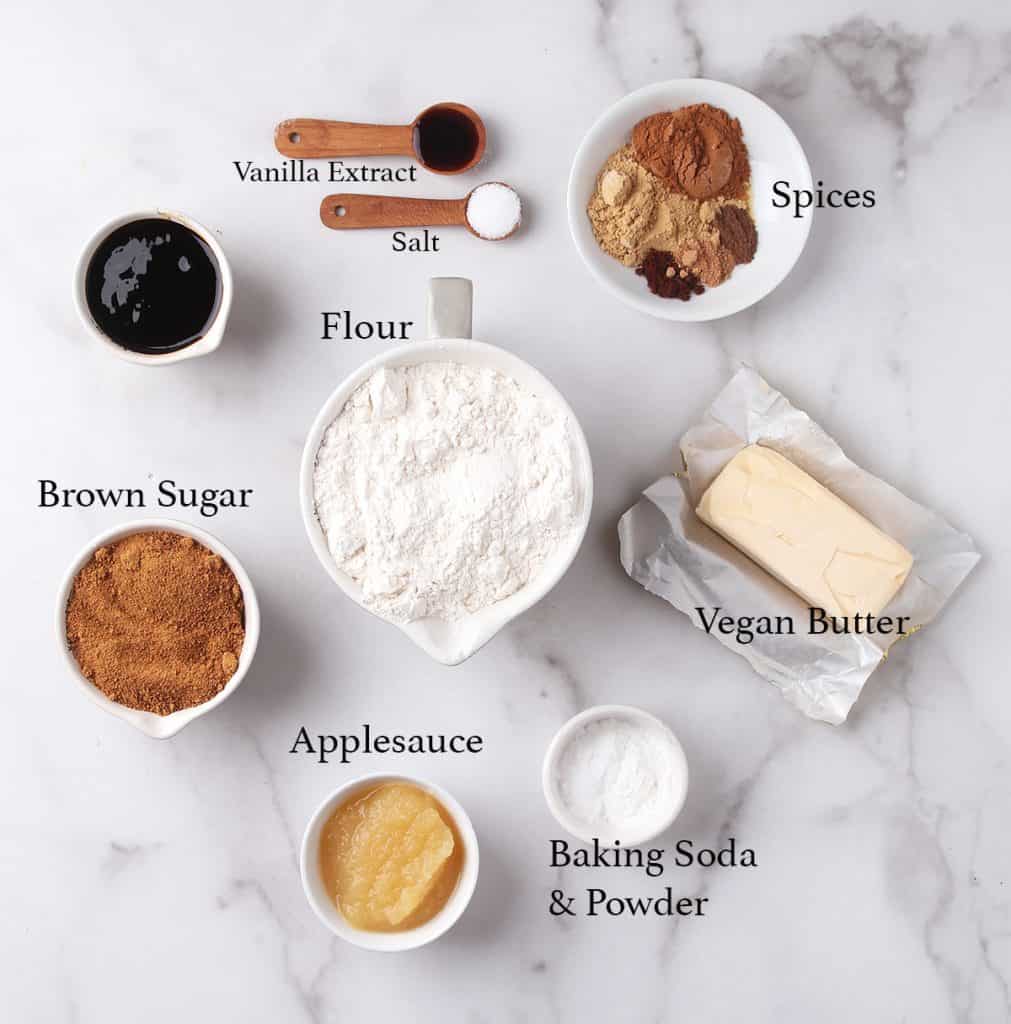 Ingredient Notes
Vegan Butter – Look for a high-quality non-hydrogenated vegan butter. I recommend either Earth Balance or Miyoko's.
Brown Sugar – Check out my guide to vegan sugars and healthy sugar alternatives. I recommend trying these cookies with coconut sugar.
Applesauce – The applesauce acts as the binder for these cookies. You can't taste the applesauce but if you would prefer a different kind of egg replacer, check out my complete guide on replacing eggsto get a few more ideas.
All-Purpose Flour – For gluten-free options, you can use a 1:1 Gluten-Free Flour Baking Blend(
Step-by-Step Instructions
Step One – Make the Dough
To begin, mix together the dry ingredients in a medium bowl. That's the flour, baking soda, baking powder, salt and spices. Next, using a stand-up mixer, cream together the butter and sugar until the mixture is light and airy. Add the molasses and applesauce and combine.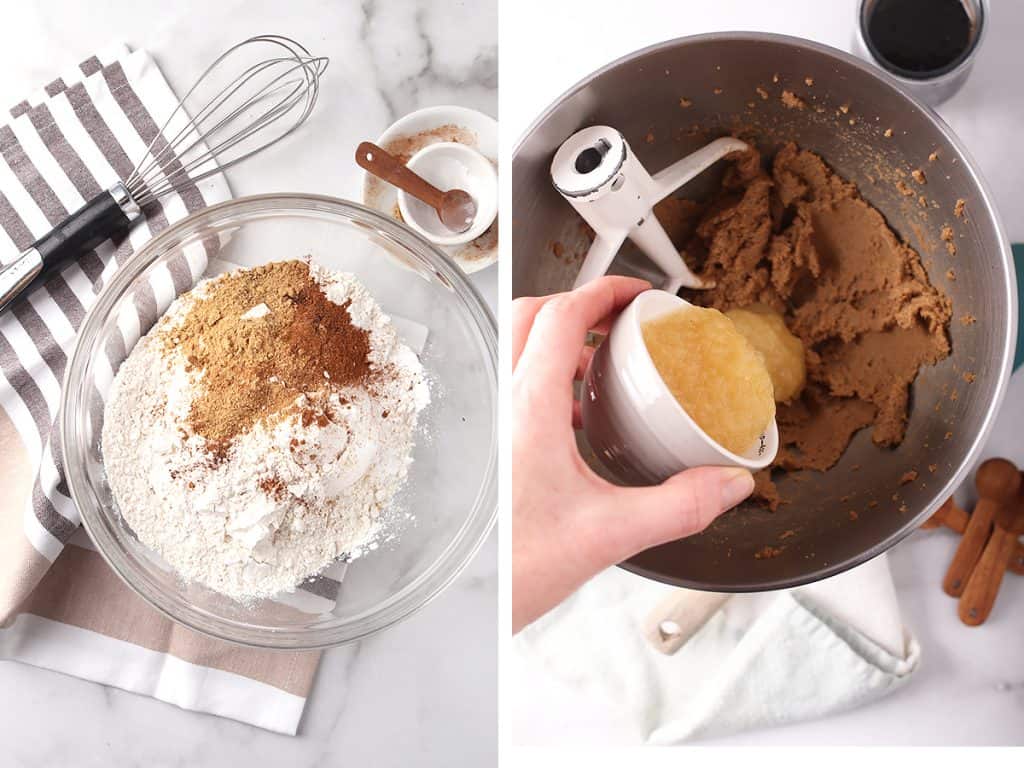 The dough may look a little curdled at this point. That's okay! It will sort itself out once the rest of the ingredients are added.
Add the dry ingredients and mix to combine. Do not over mix that dough. Once you add the flour, mix it until it just starts coming together. At that point, turn it out onto a floured work surface and bring it together with your hands. Otherwise your cookies will be tough and brittle.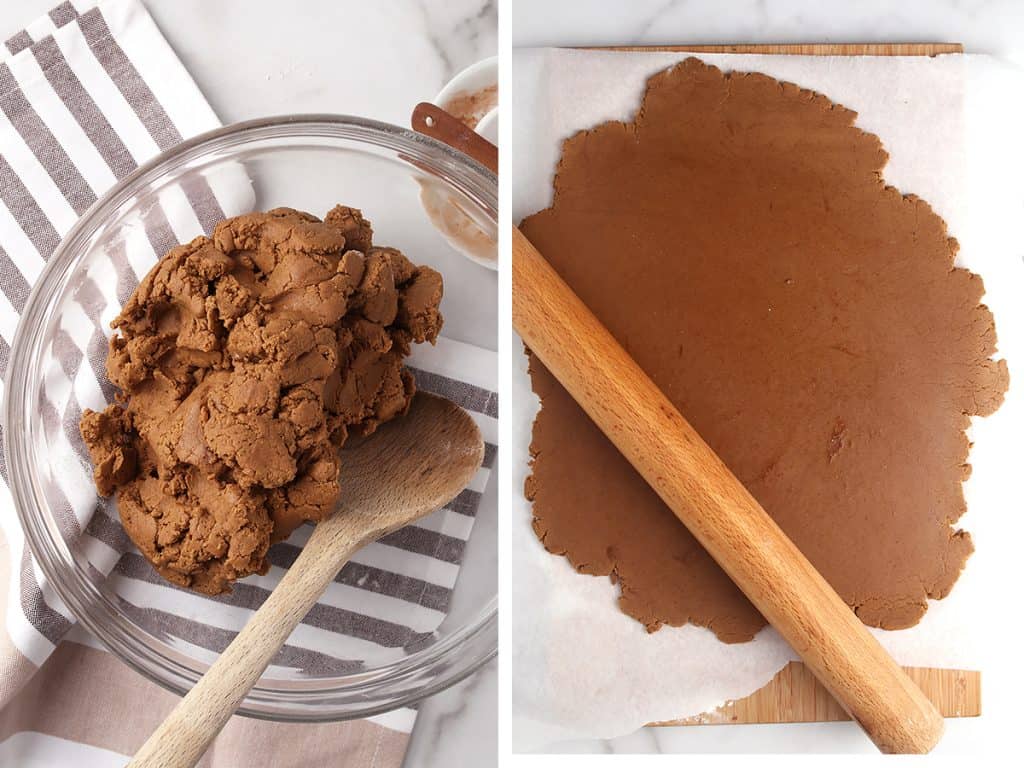 Transfer the dough to a piece of parchment paper, top with another paper and roll out to about ¼ inch thick. Refrigerate for 1 hour.
Step Two – Bake the Cookies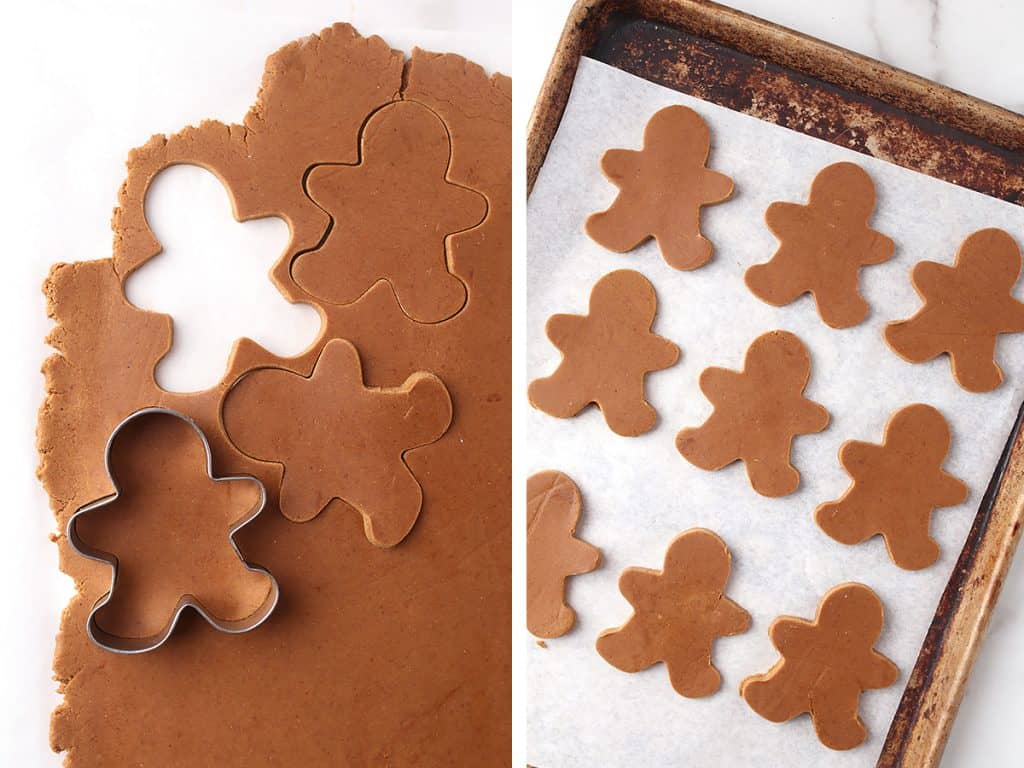 Preheat the oven to 400 degrees F. Once your dough is chilled, cut out shapes with your cookie cutters.
Pro Tip: Avoid rolling out the dough many times. Each time the dough is rolled, it will get more cracked and dense. Keep the shapes as close together as possible.
Bake the cookies for 9-11 minutes, until browned on the edges and cooked all the way through. Allow the cookies to cool for 5 minutes on baking sheets before transferring to a wire rack to cool completely.
Step Three – Decorate with Icing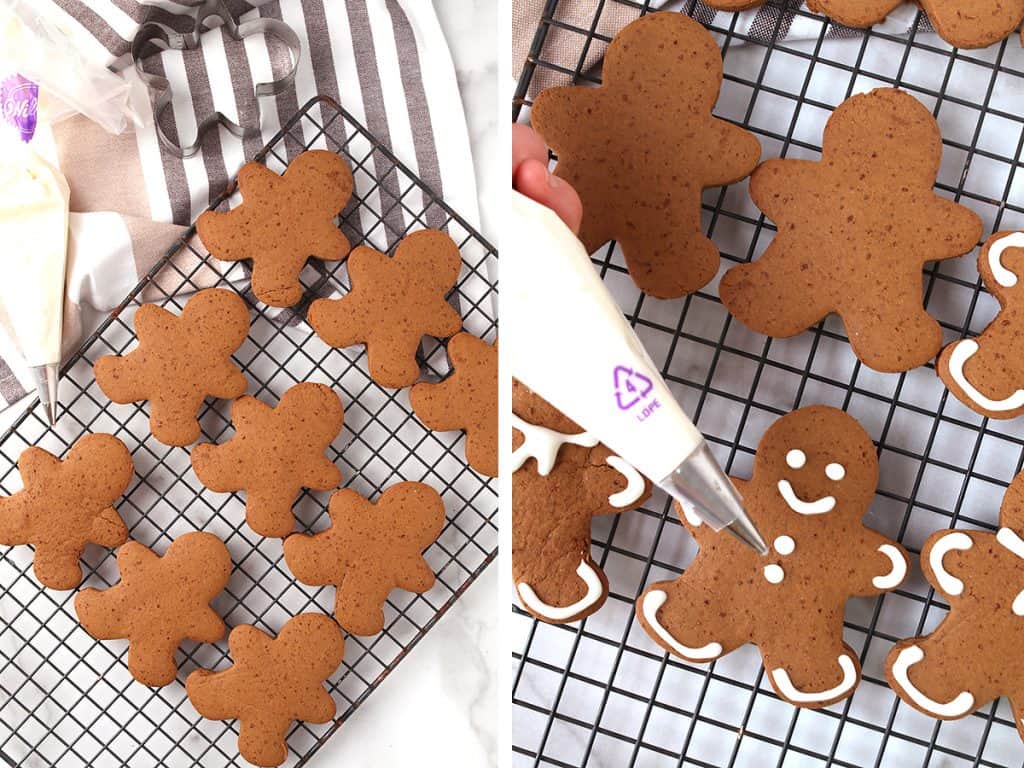 While cookies are cooling, whisk together sugar and milk until it is completely smooth. You may need to adjust the wet and dry ingredients. Make sure the frosting is pipeable but no so thin that it will lose its shape once on the cookie.
Once cookies are completely cool, decorate with royal icing.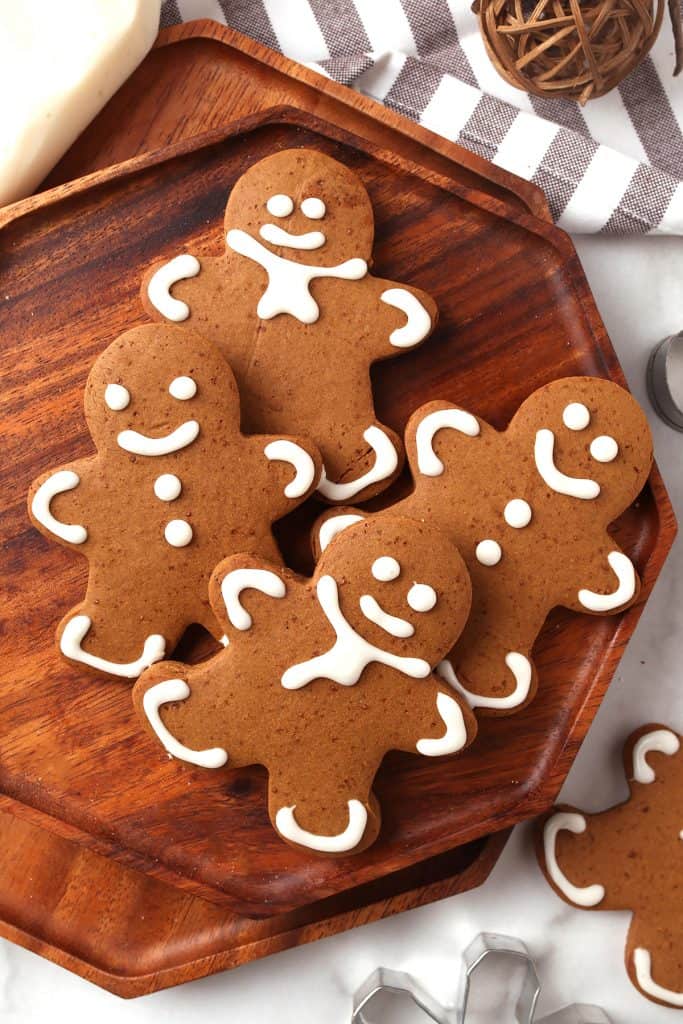 Serving and Storing
Store Cookies: Once cookies are completely cool, store in an airtight container at room temperature for up to 5 days. Raw dough can be frozen for up to 2 months.
Freeze Cookie Dough: If you only want to make only a few at a time, you can store the remaining dough in the freezer. To do this, shape the cookies into their shapes and place them in a single layer on a baking sheet. Set them in the freezer to freeze all the way through. Once frozen, transfer the unbaked cookies to a large ziplock bag and return to the freezer. You can store the cookies this way for up to 2 months. When you're ready to bake, remove from freezer and bake!
Tips and Tricks
Do not over mix that dough. Once you add the flour, mix it until it just starts coming together. At that point, turn it out onto a floured work surface and bring it together with your hands.
Chill your dough. Make sure to chill your dough for at least one hour before baking it. This allows the dough to firm up and hold its shape in the oven.
Bake at a higher temperature. For that crispy texture bake your gingerbread cookies at 400F.
Do not overbake. Once those edges have just begun browning pull them out. The cookie will continue to harden as it cools.
Frequently Asked Questions
If you need some ideas on how to decorate your vegan gingerbread men, check out this video tutorial. You will need a piping bag to finished these cookies.
The edges of the cookies will become lightly brown. You can also check for doneness by lightly pressing your finger in the center of the cookie. The cookies should be soft but not so soft that your finger goes through easily. Don't let them get too hard. They will continue to harden as they cool.
For sure! Feel free to add sprinkles, vegan candies, or more frosting to your gingerbread people.
More Vegan Christmas Cookie Recipes
Vegan Eggnog Cheesecake Thumbprint Cookies
Red Velvet Crinkle Cookies
Hazelnut Sandies
Chocolate-Dipped Rosemary Shortbread Cookies
For more inspiration, make sure to grab a copy of my FREE Christmas Cookie Recipe eBook.
Dec 6, 2019 (Last updated Sep 13, 2021) by Hannah Sunderani
Soft and Chewy Gingerbread Cookies (V+GF)
You're looking at the BEST Soft and Chewy Gingerbread Cookies. Truly, I cannot stop eating them! It's definitely a recipe you'll want on your holiday baking list. They're quick and easy with simple ingredients. And they're vegan and gluten-free. Spiced with ginger, cinnamon and cloves, and cooked to perfection for an ultra soft and chewy cookie. Certainly, it's one of my favourite sweet holiday treats I've shared.
There is no doubt you could feed these Soft and Chewy Gingerbread Cookies to a vegan skeptic and have them devoured. In fact, I'm planning to serve them at our next holiday gathering with the in-laws, (proof from sharing with my neighbours – they win over a crowd).
It's often faced with trepidation when we hear, "vegan and gluten-free baking." But I can assure you this recipe proves the stereotypes wrong. You won't be able to tell the difference between this recipe vs. grandma's classic. The taste and texture is spot on for a deliciously moist, soft and chewy gingerbread cookie. We couldn't ask for anything more.
Now, let me tell you exactly how to make these gingerbread cookies so that you can be the centre of attention at your next cookie swap.
Soft and Chewy Gingerbread Cookies
The ingredients:
The ingredients for this recipe is pretty straight forward. And you might already have them in your pantry! Which is why I have labelled this recipe newbie cook approved. Truly, there is nothing fancy about the ingredient list.
For this recipe you will need:
all-purpose gluten-free flour
demerara sugar
vegan butter
almond butter
molasses
ground flax (to make a flax egg)
ginger
cinnamon
cloves
sea salt
baking powder
almond milk
For the gluten-free flour. I recommend using a gluten-free flour blend. They're usually a mix of rice, potato, tapioca etc. and I find they are the best substitute for all-purpose flour when it comes to gluten-free baking. Bob's Red Mill has a good gluten-free blend, and you can find other gluten-free flour blends at most grocery stores. In my experience, if you're choosing a gluten-free flour blend you really can't go wrong with the brand.
How to make Soft and Chewy gingerbread cookies
We will begin by creaming together the vegan butter with sugar, and then adding the remaining wet ingredients. Then, we will sift our dry ingredient and add them to the dough. Finally we will knead together the dough until combined.
The steps are simple to create stellar gingerbread cookies. Check the recipe instructions below for all the details on how to make them.
How long do these Soft and Chewy Gingerbread Cookies last?
The real question is how long will these soft and chewy gingerbread cookies last. Because honestly, they go like hot cakes. But, if you're able to show some self-restraint then they can last 3-5 days, while still tasting fresh.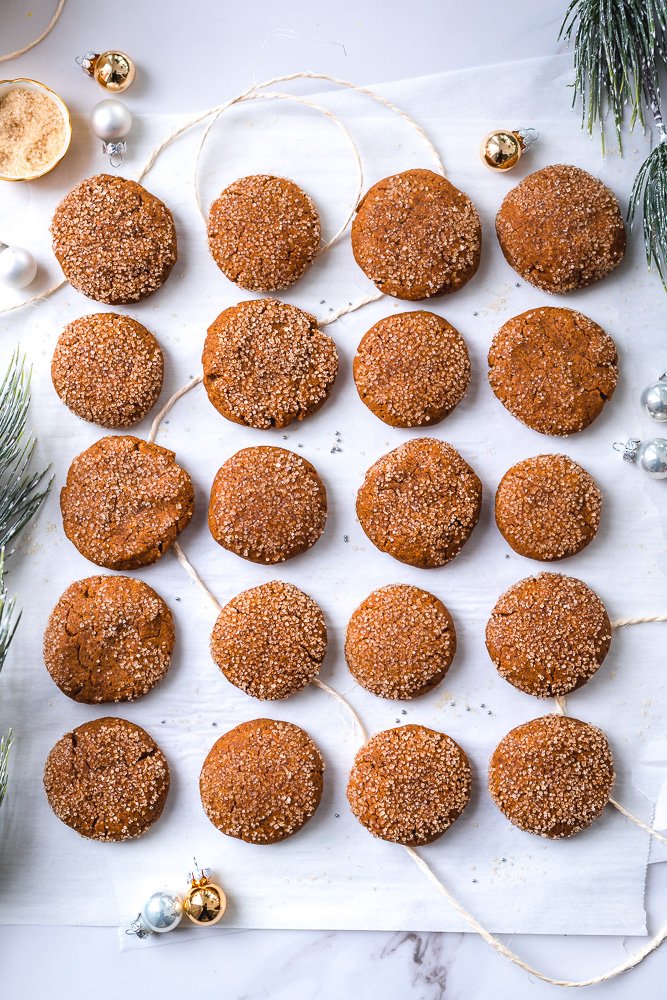 How to keep gingerbread cookies fresh?
After baking, store your cookies in an air-tight container. I've used a tin box, but any Tupperware will do. This will keep them nice and fresh.
If you plan to keep for more than 3 days I would recommend to freeze half the batch for ultimate freshness. Wrap well and store in an air-tight container. Keep in freezer for 2-3 weeks. Simply remove from freezer a couple hours before eating for sufficient time to defrost. They'll taste just as fresh as the day you made them.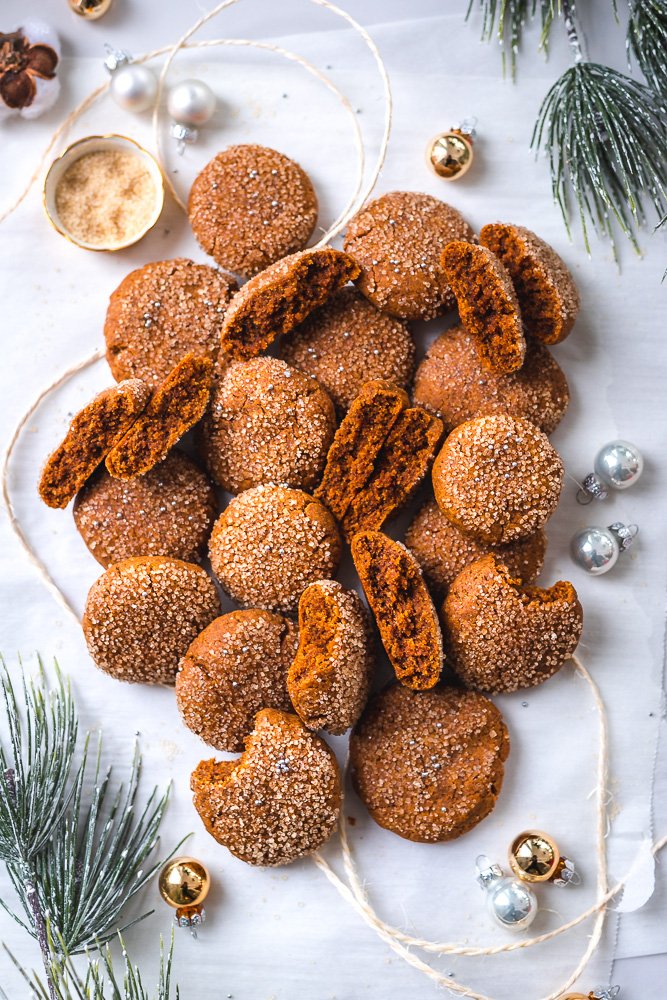 Other Holiday recipes you might like:
If you're digging these Soft and Chewy Gingerbread Cookies, you may also like these Holiday recipes:
Shop my kitchen:
I'm often asked what items I like to use in the kitchen. So, I've included my favourites for making these Soft and Chewy Gingerbread Cookies. You can find more of my favourite kitchen items on the shop page.
(Commissions earned as an affiliate. I only recommend products I know and love).
This is from the bakeware set I have, and I love it. But any baking sheet will do.
And there it is, a simple holiday cookie recipe for Soft and Chewy Gingerbread Cookies. They're vegan and gluten-free, but so classic they will win over any crowd. Perfectly spiced and so moist, this is a cookie you will have in your Holiday recipe roster for years to come.
And, if you do make this recipe please let me know in the comments below what you think! I love hearing from you. And of course, tag me on Instagram with the hashtag #twospoons. Nothing makes me happier than to see your recreations.
It's that time of year again! Give your home (and the home of your favorite cookie man) a holiday makeover by making a delicious vegan gingerbread house. Besides looking great and making the entire place smell like fresh cookies (yum!), it will be a ton of fun to make. So, grab some childlike wonder (or an actual child if you have one), check out the instructions below, and get baking!
Vegan Gingerbread House
1/3 cup vegan margarine (try Earth Balance brand)
1 cup packed brown sugar
1 cup unsulphured molasses
1 cup water
6 cups all-purpose flour
2 tsp. baking soda
3/4 tsp. salt
2 tsp. cinnamon
1/2 tsp. cloves
1/2 tsp. allspice
Parchment paper
Mix the vegan margarine, brown sugar, molasses, and 1/2 cup of the water together in a large bowl until creamy.
In another bowl, combine the flour, baking soda, salt, cinnamon, cloves, and allspice.
Add the dry ingredients to the wet mixture and mix well, adding enough water to produce a sticky dough (about 1/2 cup).
Divide the dough into four equal balls.
Preheat the oven to 350ºF. Line some baking sheets with parchment paper and set aside.
Flatten one of the dough balls between two pieces of parchment paper with a rolling pin until about 1/2-inch thick.
Cut the dough into 4 squares with a knife (these will be the walls of your gingerbread house). Using a spatula, transfer to a cookie sheet. Bake for 10 to 12 minutes, until the surface is firm.
Roll out the remaining dough until it is 1/4-inch thick and cut out your roof pieces (the thinner dough will make the roof pieces easier to hold up). Cut out any other decorations you may want. (For our house, we cut out a big tree and a bear. You can also cut out a porch roof like we did in the example. Be creative!) Place on a baking sheet and bake for about 7 to 10 minutes, until the surface is firm. (If your shapes don't turn out the way that you wanted them to after baking, you can just eat them.)
When each batch of gingerbread is finished baking, transfer the pieces from the cookie sheet to the counter to cool down. Don't start decorating until the pieces are completely cooled off because the candy and icing will melt.
For the Icing:
1 box confectioner's sugar
1/4 cup powdered soy milk
5 Tbsp. soy milk
6 Tbsp. corn syrup
Strong plastic sandwich bags
Mix the sugar, powdered soy milk, and most of the soy milk together in a large bowl.
Add the corn syrup and stir until just combined.
If needed, slowly add the remaining soy milk until the mixture is smooth. But be careful: The icing needs to be really thick, or your house will fall apart!
To Assemble:
Cover a cookie sheet with tin foil. This is going to be your base.
Take a sandwich bag and cut off one of the bottom corners so that there is a hole smaller than a pencil eraser. Fill the bag with some of the icing. When you are ready to decorate, you can squeeze the bag so that the icing comes out of the hole.
Take a wall piece and place a thick line of icing along the bottom edge. Place on the baking sheet and hold until the icing hardens and the wall can stand up by itself.
Take another wall piece and place a thick line of icing along the bottom edge as well on one of its sides so that it will stick to the other wall. Place on the baking sheet and hold until the icing hardens.
Continue building like this until your roof is securely in place. It will take a while for each piece to set, but it's worth the wait! Nothing is worse than having your gingerbread house collapse.
Once the house is built, add more icing in all the corners and other places where your pieces come together. This will make your house sturdier and make it look nicer on the outside because all the holes and joints will be covered.
Let all the icing harden completely.
Suggested Decorations:
Vegan candy canes
Swedish fish (some Swedish Fish contain beeswax, so be sure to check the label)
DOTS gum drops
Dried coconut
Blue and green sprinkles
Red licorice
And your favorite vegan candies!
The only rule about decorating is that there are no rules! Get your icing and candy out and place the candy wherever you want. If you don't like the way one of your decorations turns out, just pull the candy off, eat it, and try again.
Here are instructions for how to decorate your house like ours:
Make a line of icing where the roof and side walls attach to the front wall and stick on red licorice as an outline.
Use DOTS to make a walking path from the front door out into the yard.
Use candy canes as columns to help support the porch roof.
Create a "river" of icing alongside the house and cover with blue sprinkles to mimic water. Add a dollop of icing to the tails of the Swedish fish and place on the river so that the fish appear to be jumping out of the water.
Spread a layer of icing over the surface of the tree cutout, then cover with green sprinkles. Add icing along the bottom edge and place next to the house.
Add icing to the bottom edge of the bear cutout—or any other animal cutout that you decide to make—and place next to the tree. Add some candy eyes or a candy nose.
Make a wreath for the front of the house using icing and green sprinkles.
Cover the top of the house and the yard with dried coconut to mimic snow.
Tasty all year round and absolutely essential at Christmas, these vegan gingerbread men are a delicious sweet treat and they always make me smile!
Making Vegan Gingerbread Men With Children
Baking gingerbread people was a massive part of my early motherhood. I think we pretty much made a weekly batch from the time they could stand on a stool and hold a spoon.
Gingerbread cookies are perfect first bakes for little ones. The recipe is uncomplicated and vegan gingerbread dough is, basically, edible playdough!
You don't have to stick to people shaped cutters, there are cookie cutters in so many shapes! Try cute animals, dinosaurs, flowers, ninjabread men – whatever suits your child or you!
There are an infinite number of beautifully decorated gingerbread biscuits with complicated and intricate designs out there in internet land, but I keep mine simple. A happy face and some party clothes are all that's required and making them doesn't daunt children (or their grown ups)!
Once we start, there's no stopping us! Here's a whole batch of gingerbread people having a party at Gingerbread Towers!
How To Make Vegan Gingerbread Men
Veganising my gingerbread recipe was far easier than I thought it would be. I was worried that the dough would spread in the oven and my people would lose their shape but that didn't happen at all!
These tips should help you to bake a batch of handsome folk.
Once the dough is made it will need cooling completely and chilling in the fridge until it firms up. I make my dough the day before I need it.
I tested for spread by freezing one batch of cut out people for 20 minutes before cooking and cooking another batch without chilling them. Both sets of people kept their shape without spreading. Hoorah! I'm all for an easy life! If you find yours spread a little (all vegan butters are different and ovens all cook slightly differently) try the freezer method.
If you like a biscuit with snap, roll your dough out thinly to about 1/4cm but reduce the cooking time and check them regularly. No one wants a burnt foot!
If you prefer a softer bite roll it thicker, 1/2cm works well.
Once your gingerbread people are baked leave them to cool and firm up on their baking tray for a few minutes before transferring to a wire rack to cool completely.
Glacé icing is made with icing sugar and a little water. You will need far less water than you think. Add it a couple of drops at a time and mix well. You are looking for a thick paste which will hold its shape when piped. Test it on a practice biscuit or a piece of card until you are happy with it. Use a teeny piping nozzle for detail.
Hunt down vegan friendly cake decorations to use as buttons glued on with a blob of icing.
More Vegan Baking Ideas
If you have the baking bug, you might also enjoy making these!
Follow me on Pinterest , Facebook , Twitter and Instagram where I share recipe ideas, links to vegan events and articles and where I natter on about my favourite subject – vegan food
1
4 star values:
0
3 star values:
0
2 star values:
0
1 star values:
Coconut oil stands in for butter in this dairy-free, eggless cookie recipe for completely mouthwatering gingerbread cut-outs. Decorate cookies with a simple vegan icing or sanding sugar.
Gallery
Recipe Summary
Nutrition Profile:
Heart Healthy
Low-Calorie
Low Carbohydrate
Low Fat
Dairy-Free
Diabetes Appropriate
Vegetarian
Vegan
Low Sodium
Nut-Free
Soy-Free
Low Added Sugars
Ingredients
Combine whole-wheat flour, all-purpose flour, baking powder, baking soda, cinnamon, ginger, nutmeg and salt in a medium bowl.
Cream coconut oil and sugar together with an electric mixer in a large bowl until light. Add molasses, water and vanilla and beat until mixed thoroughly. Gradually add the flour mixture, beating at low speed until just combined.
Divide the dough into thirds. Place one third of the dough on a 12-inch-long sheet of parchment paper and shape into a disk. Top with a second sheet of parchment. Roll out the dough between the parchment to a thickness of about 1/4 inch. Place the parchment with the rolled dough on a baking sheet. Repeat with the remaining dough, stacking each piece of parchment with rolled dough on top of the previous one. Freeze on the baking sheet until cold and firm, at least 30 minutes and up to 1 day.
To shape and bake cookies: Position a rack in middle of oven; preheat to 350 degrees F. Line 2 or 3 large baking sheets with parchment paper.
Working with one portion of dough at a time, remove from the freezer. Remove the top sheet of parchment and cut out cookies with 2 1/2- to 3-inch cookie cutters. Transfer the cookies to a prepared baking sheet with a wide, thin spatula, spacing them about 1 1/2 inches apart. Repeat with the remaining dough. (If the dough gets too soft, freeze until firm again.) As you cut out cookies, set aside the scraps. Shape all the scraps back into a disk and reroll between parchment. Freeze for at least 30 minutes before cutting out.
Bake, one baking sheet at a time, until cookies are browned around the edges and somewhat firm in the center, about 10 minutes. Repeat with the remaining dough. Let the cookies cool on the baking sheet for 5 minutes, then transfer to a wire rack to cool. Decorate as desired.
To make ahead: Store cookies in an airtight container for up to 1 week.
This Post May Contain Affiliate Links. Please Read my Disclosure Policy.
Christmas gingerbread cookie recipes are all over the Internet this time of year, but they're rarely vegan and if they are, they always contain oil or butter. I tweaked a recipe to make my version of vegan gingerbread cookies that can also be made into biscotti. Both are plant based, low-fat and delicious.
Whether you're a vegan or not, I have been testing out and succeeded in finding a way to make vegan gingerbread cookies that are whole-food plant based, no oil or even vegan butter to keep them low-fat, as well dairy-free.
I do make banana oatmeal cookies all the time, but I wanted to bake a traditional Christmas cookie and that is how this recipe came about.
These easy gingerbread cookies taste equally as good made into cookies or biscotti. I have made a few batches and learned a few tips along the way to make every batch delicious. See the notes section on the recipe card that you can print below.
What Is In My Vegan Gingerbread Cookies?
No oil or vegan butter, but simple seasonal ingredients that include molasses, ground ginger, and cinnamon, plus a hint of clove. This mix of ingredients makes them perfect for holiday celebrations or an afternoon snack.
While experimenting with the recipe, I made it into biscotti first. It was better than I imagined as many vegan recipes can be tasteless. I also rolled the dough to make star shaped cookies – equally delicious for a no-oil, eggs, butter or milk cookie recipe.
Are Gingerbread Cookies Supposed to Be Soft or Crispy?
These vegan cookies are crispy on the edges and tender and slightly chewy in the center. If you prefer a softer cookie, decrease the baking time. Either way they are flavorful.
The biscotti will be hard – perfect for dunking into a cup of tea, coffee or vegan hot chocolate.
Vegan Gingerbread Cookie Recipe – No Oil
Besides being delicious, this recipe is also easy to make and can be made in one bowl, no need to bring out your stand mixer.
They have just the right mix of flavors and spices – ginger, cinnamon, cloves and regular molasses as the sweetener.
If you are trying to stay plant based over the holidays, but don't want to miss out on the pleasure of enjoying a Christmas cookie or simply want a low-fat cookie option – give these a try.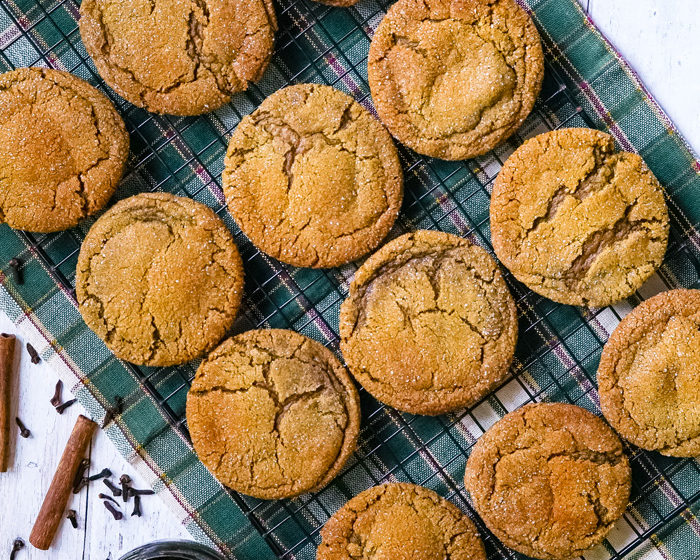 This vegan ginger molasses cookies recipe is my absolute favourite cookies! Use gluten-free flour to make gluten-free vegan ginger molasses cookies.
I made this recipe because I found there weren't any good vegan replacements for my absolute favourite cookies! This ginger molasses cookie recipe uses 12-ingredients including aquafaba & dark molasses which makes them super chewy and perfectly spiced.
Vegan Ginger Molasses Cookies
GLUTEN-FREE OPTION
I'm obsessed with Ginger molasses cookies. If you know me, you'll know I have the biggest sweet tooth and this cookie is the perfect sweet treat. I've experimented with many cookie recipes and discovered the best way to make this holiday cookie.
They taste like the holidays and the sweet smell of fresh-baked cookies will fill the air throughout your home.
INGREDIENTS FOR VEGAN GINGER MOLASSES COOKIES:
All-Purpose Flour(use GF option if you need to)
Ground Ginger
Ground Cinnamon
Ground Cloves
Nutmeg
Baking Soda
Vegan Butter
Brown Sugar
Granulated White Sugar
Dark Molasses
Aquafaba(liquid from a can of chickpeas)
Vanilla Extract
FULL RECIPE DOWN BELOW
KITCHEN EQUIPMENT I USED:
Measuring Utensils
Large Mixing Bowl
Whisk
Stand Mixer (optional)
Baking Sheet
Wire Cooling Rack
HOW DO YOU MAKE GINGER MOLASSES COOKIES?
1. Whisk together dry ingredients.
2. Cream together butter and sugars. Add molasses and mix until fluffy.
3. Add aquafaba and vanilla and mix.
4. Gradually add in dry ingredients.
5. Cover bowl and chill for 1 hour.
6. When ready to bake, preheat the oven to 350F and line two baking sheets.
7. Roll dough into balls and roll around in a bowl of sugar to cover and place onto lined baking sheets.
8. Bake for 8-10 minutes, remove from oven and bang on the counter until they fall slightly and crack, then bake for another minute.
9. Allow to cool for a few minutes then transfer to a wire rack to cool completely.
Related Recipe: Air Fryer Cookie
Nov 7, 2020 · This post may contain affiliate links · Leave a Comment
Read in: Deutsch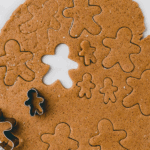 An easy vegan gingerbread cookie recipe for Christmas! They are soft and chewy, have a beautiful gingerbread flavor, and are fun to make!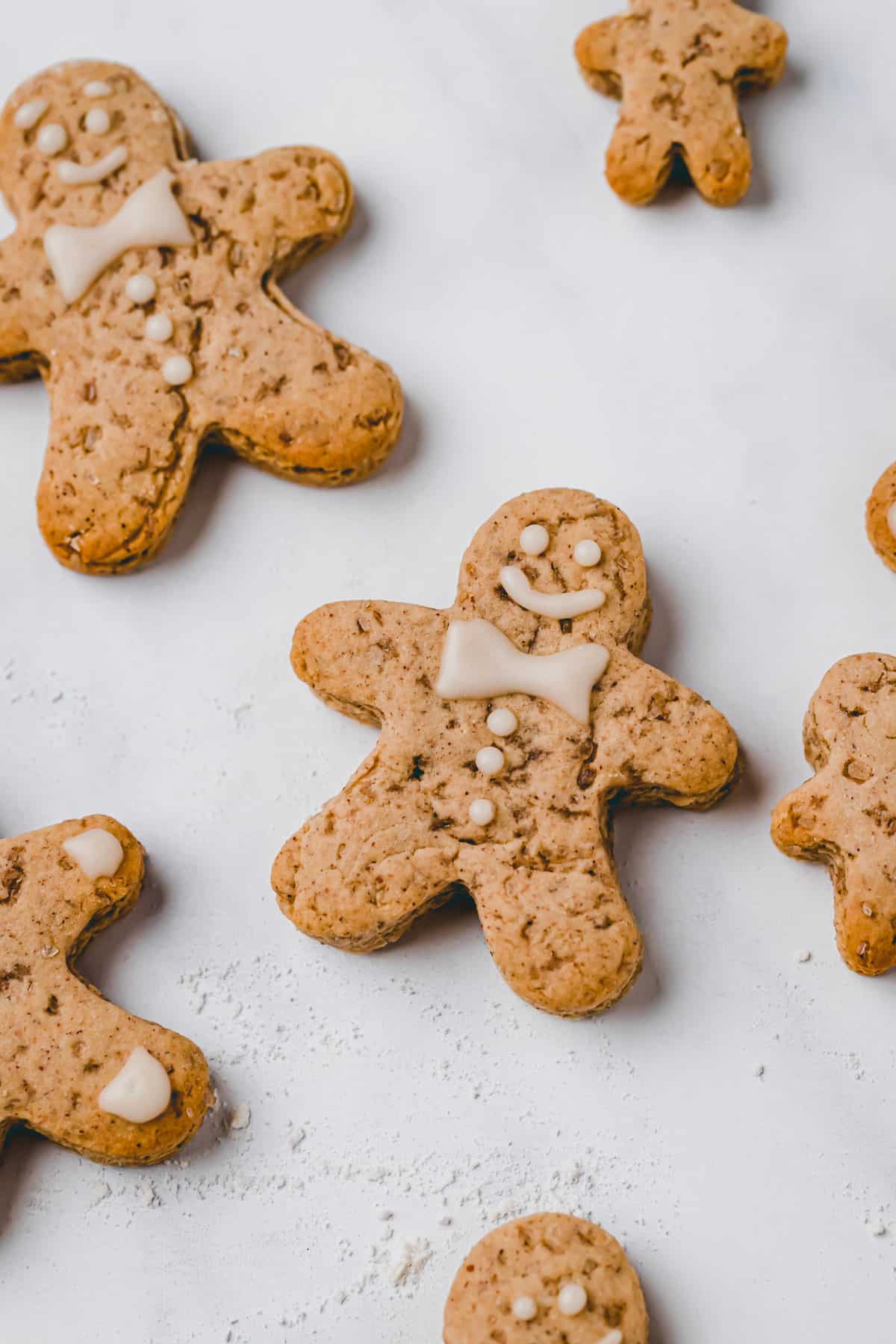 Gingerbread cookies are one of the most classic and popular Christmas cookies!
No wonder, the spices used for the dough are typical winter spices and turn every meal and hot comfort drink during the winter chill into a delicious treat.
Ground cinnamon, ginger, cloves, and nutmeg, those four spices are responsible for the gingerbread cookies deliberate taste.
And let me tell you, baking dairy-free and egg-free gingerbread cookies is a breeze. So simple!
The dough is mixed together in no time, and cut-out cookies are always fun to make with or without kids.
Molasses & Alternative Product
Classic gingerbread cookies are made with unsulfured blackstrap molasses, which gives them a unique flavor and the typical dark brown color.
If you didn't know, molasses is a by-product of sugar production.
But let's be honest, buying a can of molasses only to use it once a year for baking isn't something everybody is interested in. Furthermore, in some places it's hard to get.
Where I live, we don't get the blackstrap molasses, only a mixture of molasses and glucose syrup. That's why my gingerbread men are slightly lighter in color.
If you don't have molasses at hand or don't want to buy it just to make one recipe, go for maple syrup.
You can add two tablespoons of cacao powder to the dough to achieve almost the same dark-brown color as with molasses. However, adding cacao powder is totally optional!
Gingerbread Cookies Recipe – Step by Step
This step-by-step guide will help you along the way – definitely recommended if you're a baking beginner!
The exact quantities and everything else you need to know for the recipe can be found in the recipe card below.
Dough
Mix vegan butter, brown sugar, molasses, and vanilla extract until creamy (2-3 minutes) in a bowl using a stand or hand mixer.
Whisk the flour, baking powder, salt, and all the spices in a bowl.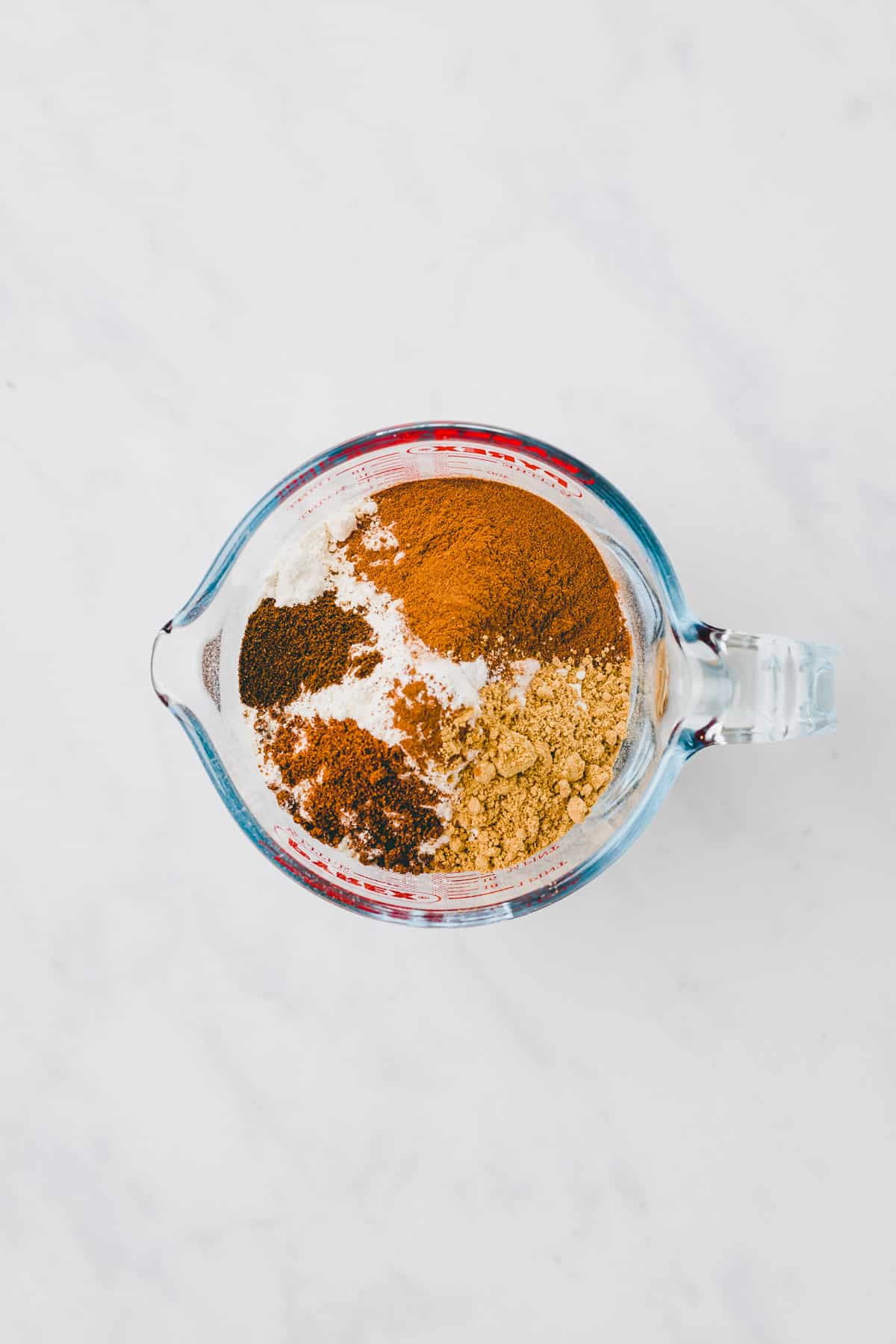 Add the dry ingredients with ¼ cup dairy-free milk to the wet ingredients and mix for another minute until you have a smooth dough.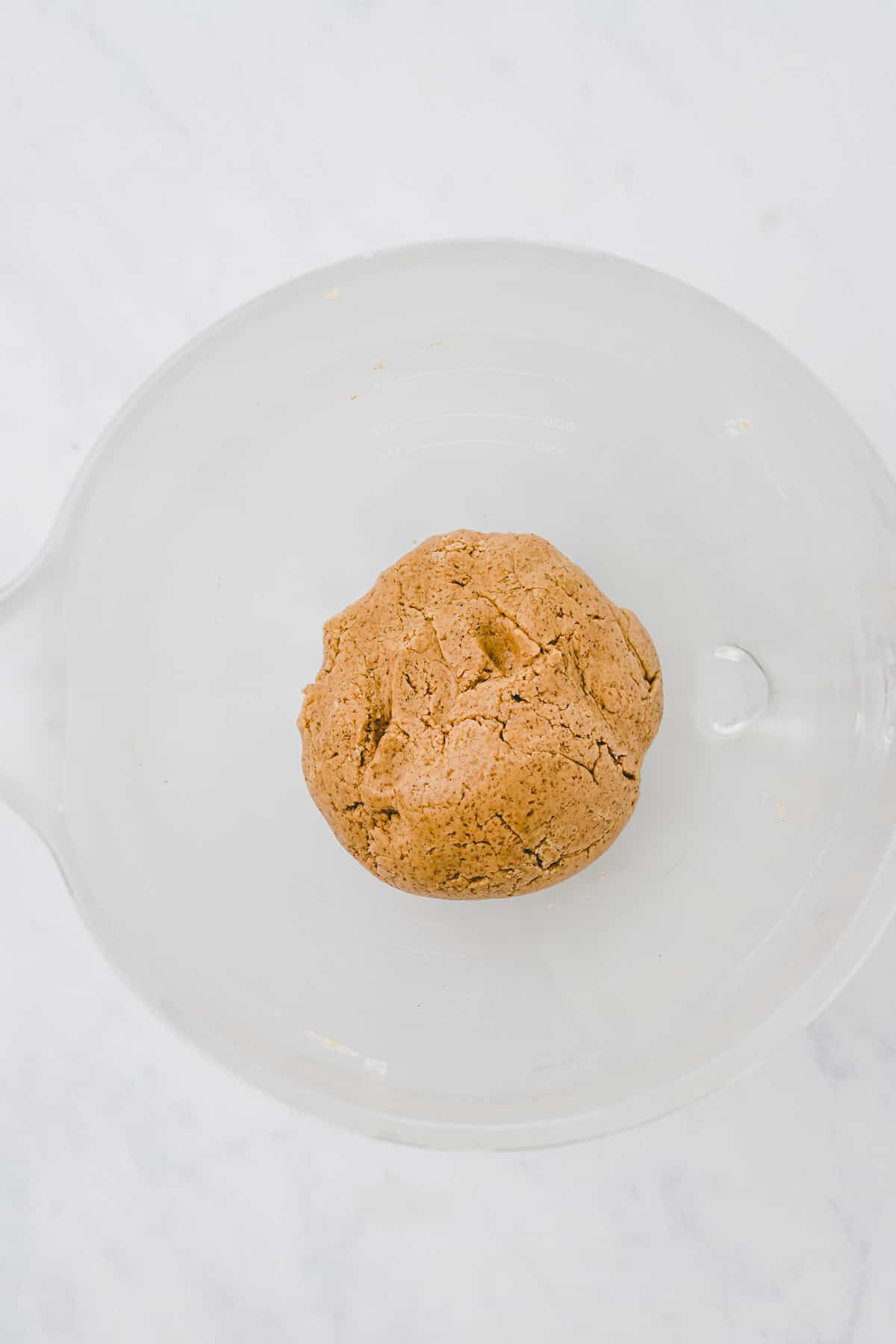 Form it into a ball or disc, cover with plastic wrap, and refrigerate for 30 minutes. → The dough can be refrigerated for up to two days. If so, let it sit for 15 minutes at room temperature before rolling it out.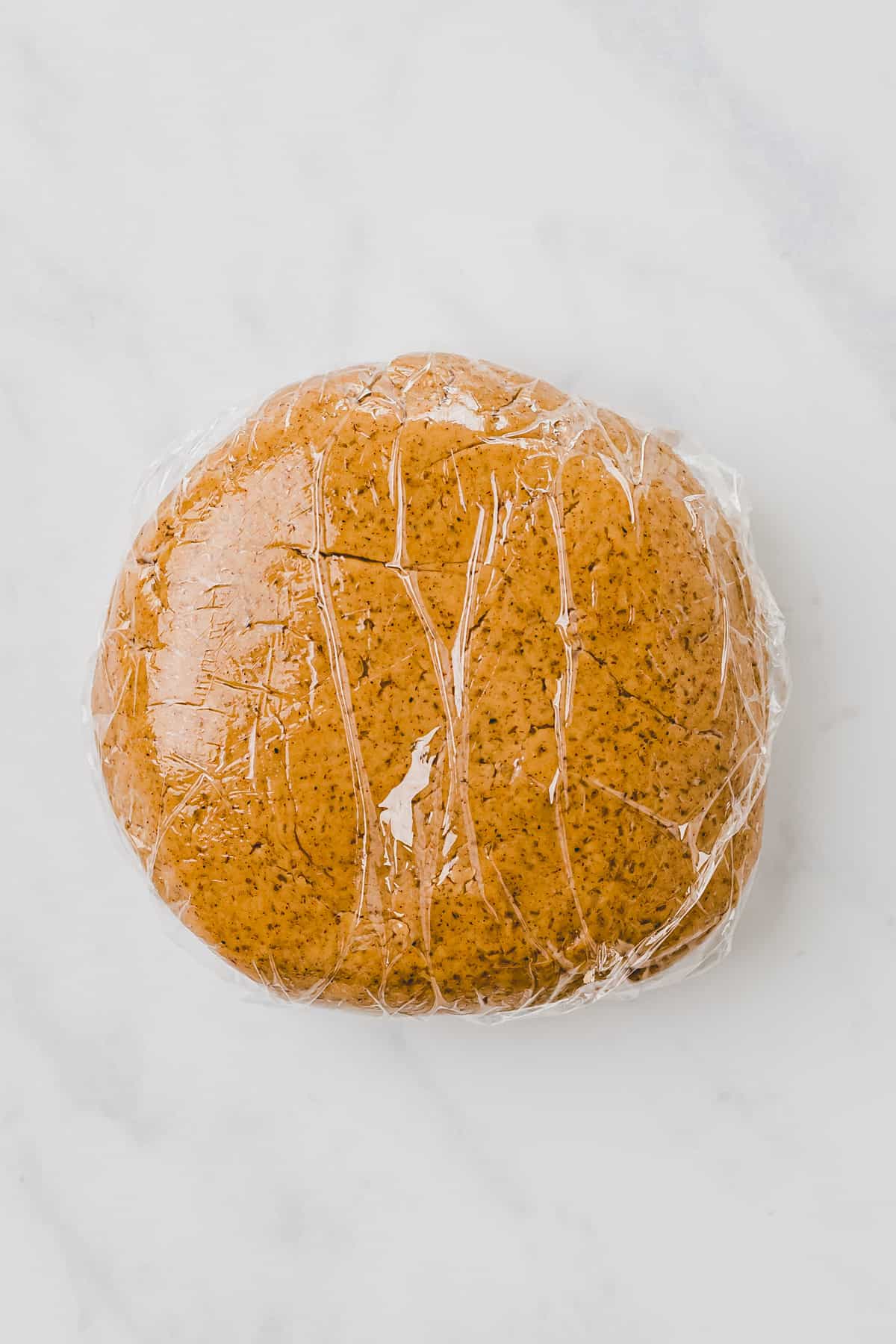 Preheat your oven to 355°F (180°C).
Place the dough on a floured surface and roll it out, using a rolling pin, to about ¼-inch (½ cm) thickness.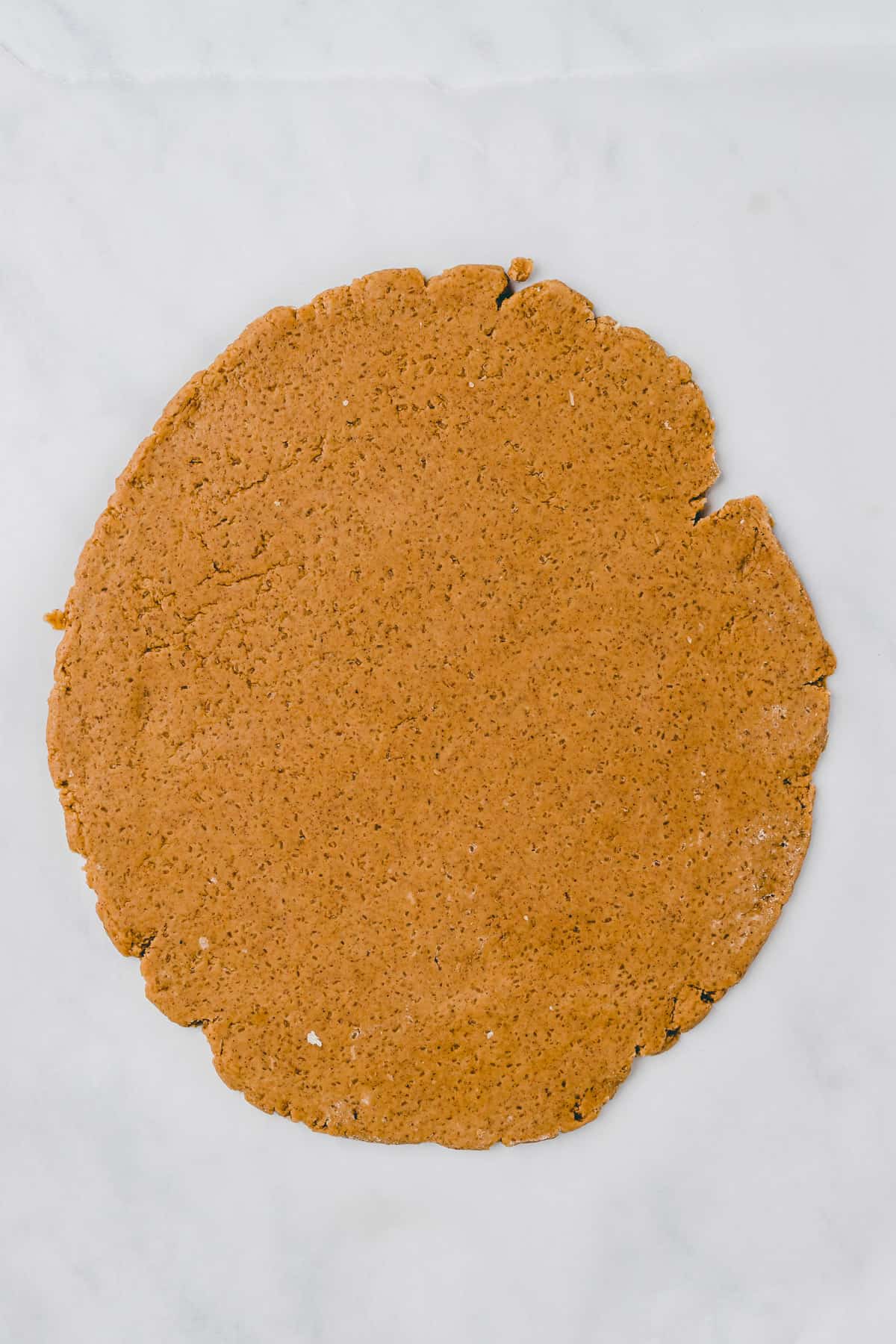 Using gingerbread man cookie cutters, cut the dough into shapes. Re-roll the remaining dough and continue cutting until all dough is used.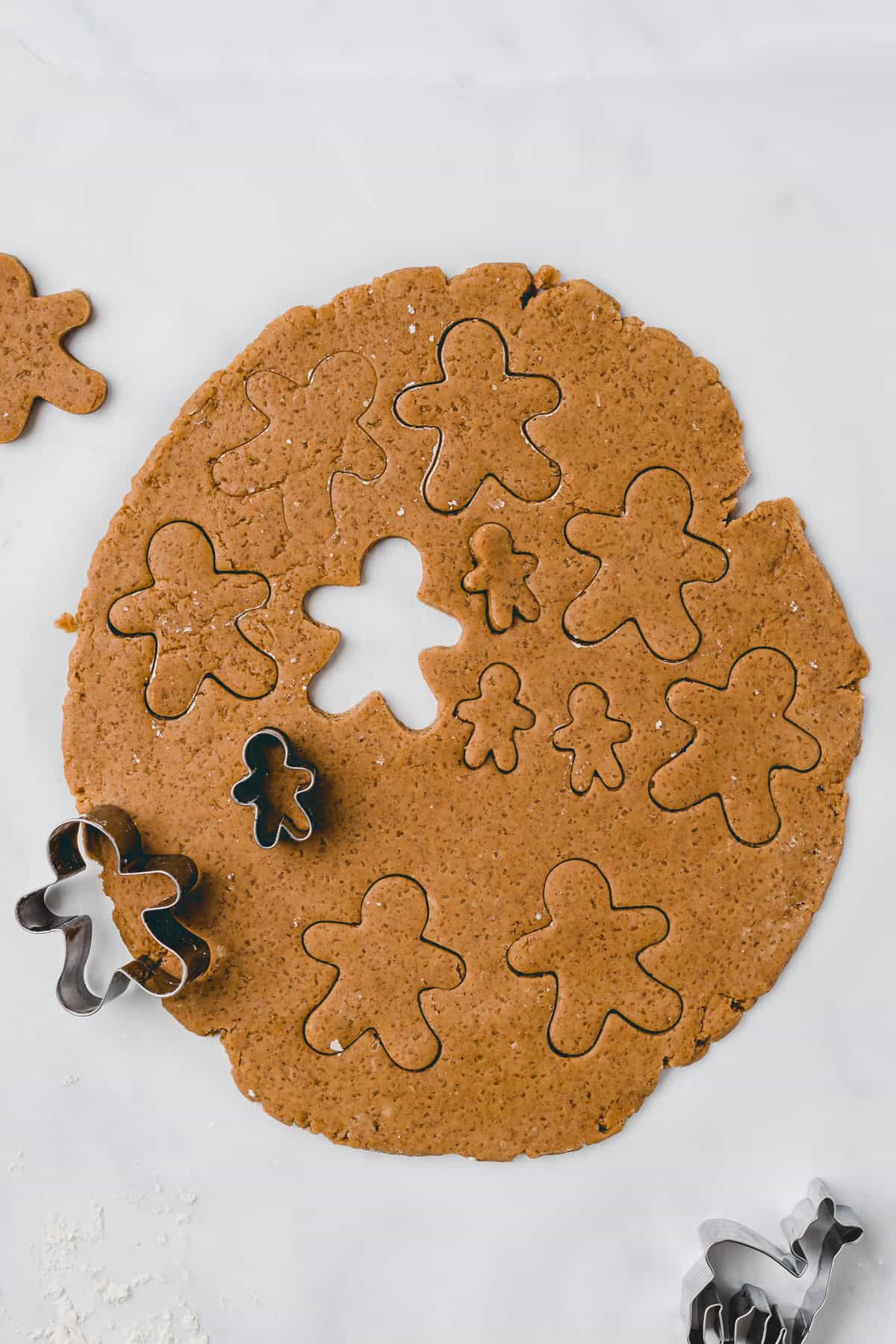 Transfer the cookies to a parchment paper-lined baking sheet
Bake for 6-8 minutes in the preheated oven. → The shorter the baking time, the softer they are.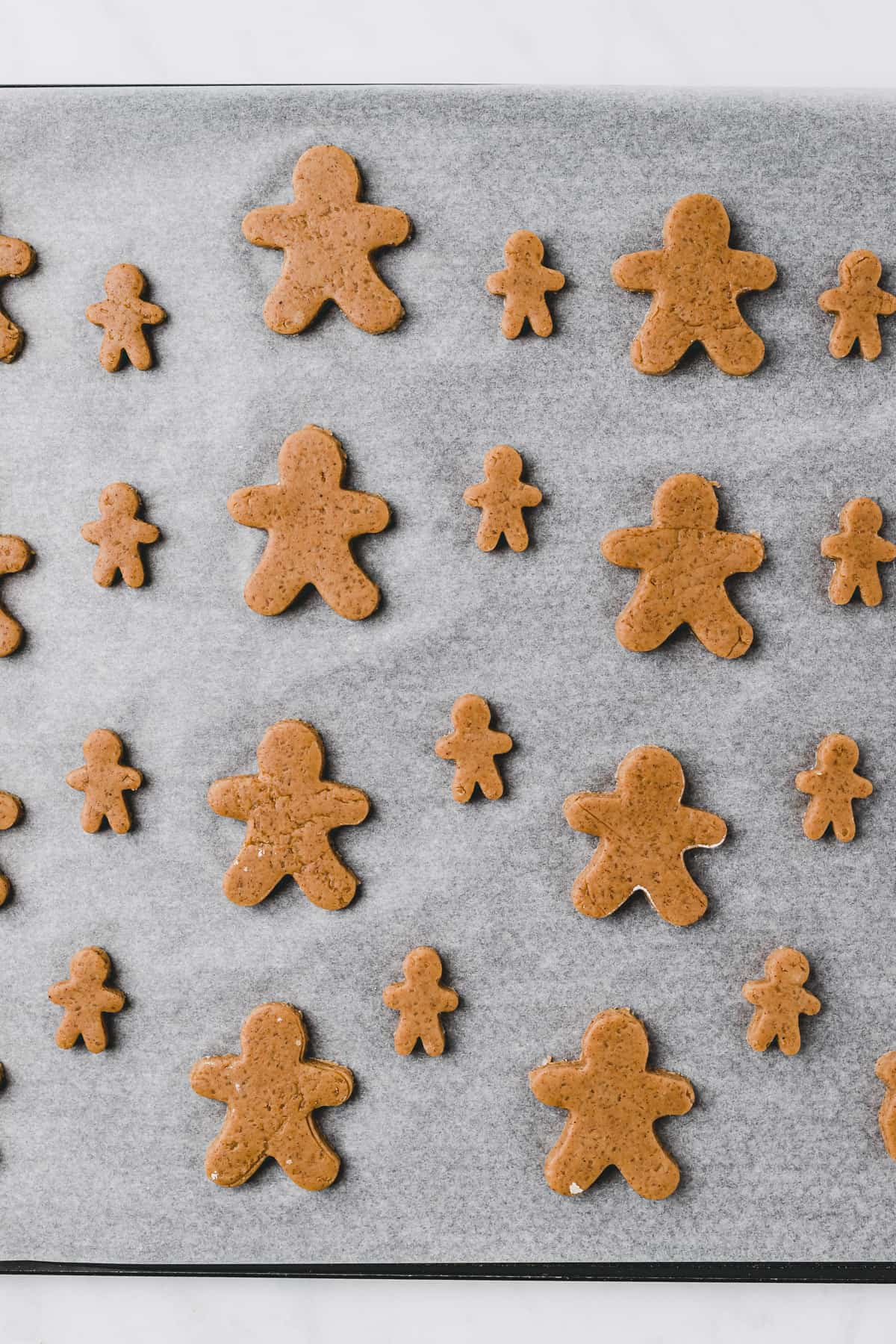 Remove from the oven, allow cookies to cool for 5 minutes on the baking sheet, and then transfer to a cooling rack to cool completely before decorating.
Icing
Whisk powdered sugar, dairy-free milk, and vanilla extract in a small bowl. → It should be quite thick! Add more powdered sugar if it's too thin or more dairy-free milk if it's too thick.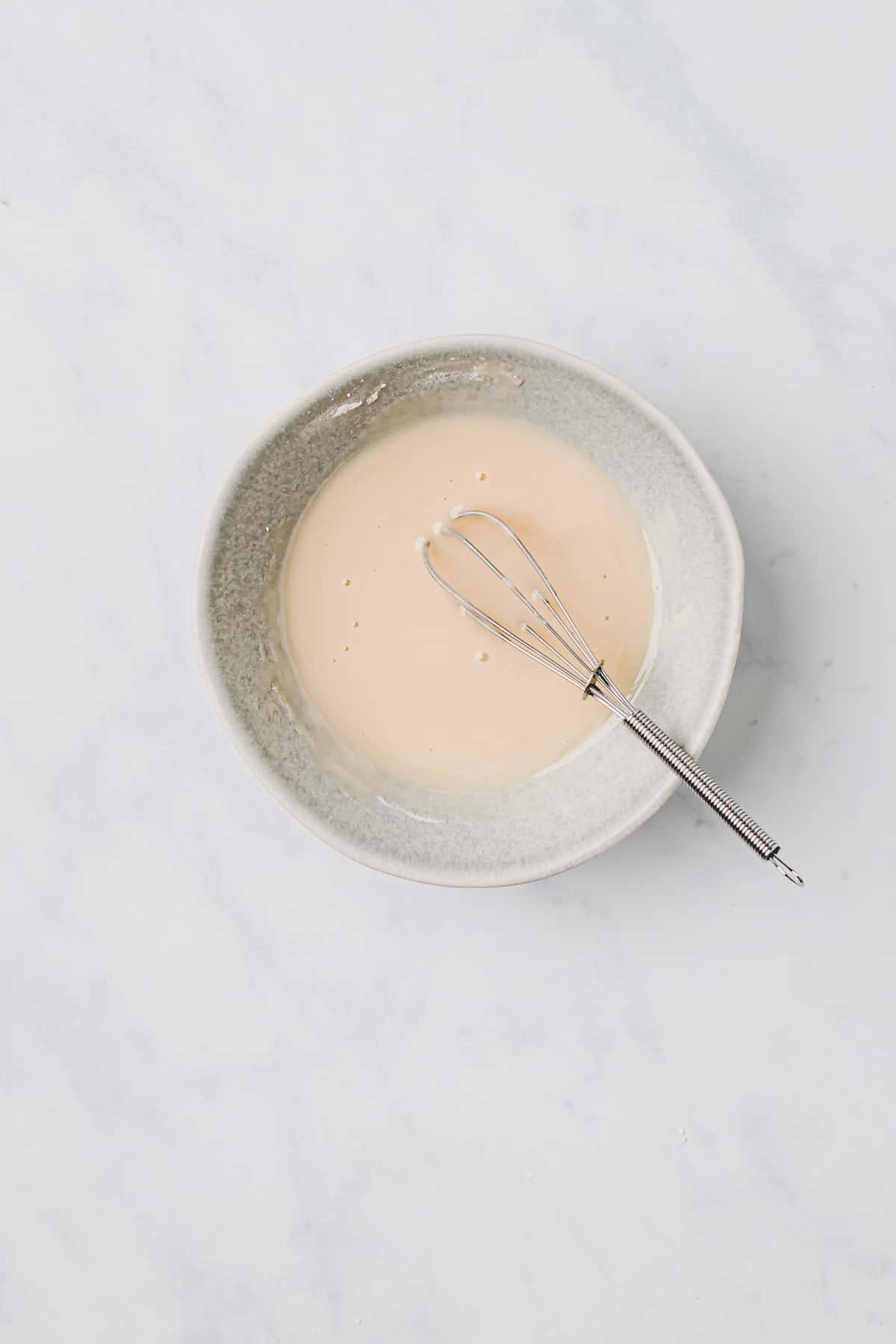 Transfer in a piping bag and decorate the cookies to your liking. Don't have a piping bag? Use a Ziploc bag and snip a small corner of the bag off. It's not ideal but works just fine.
Let the icing dry for a few hours before storing the cookies in a cookie tin.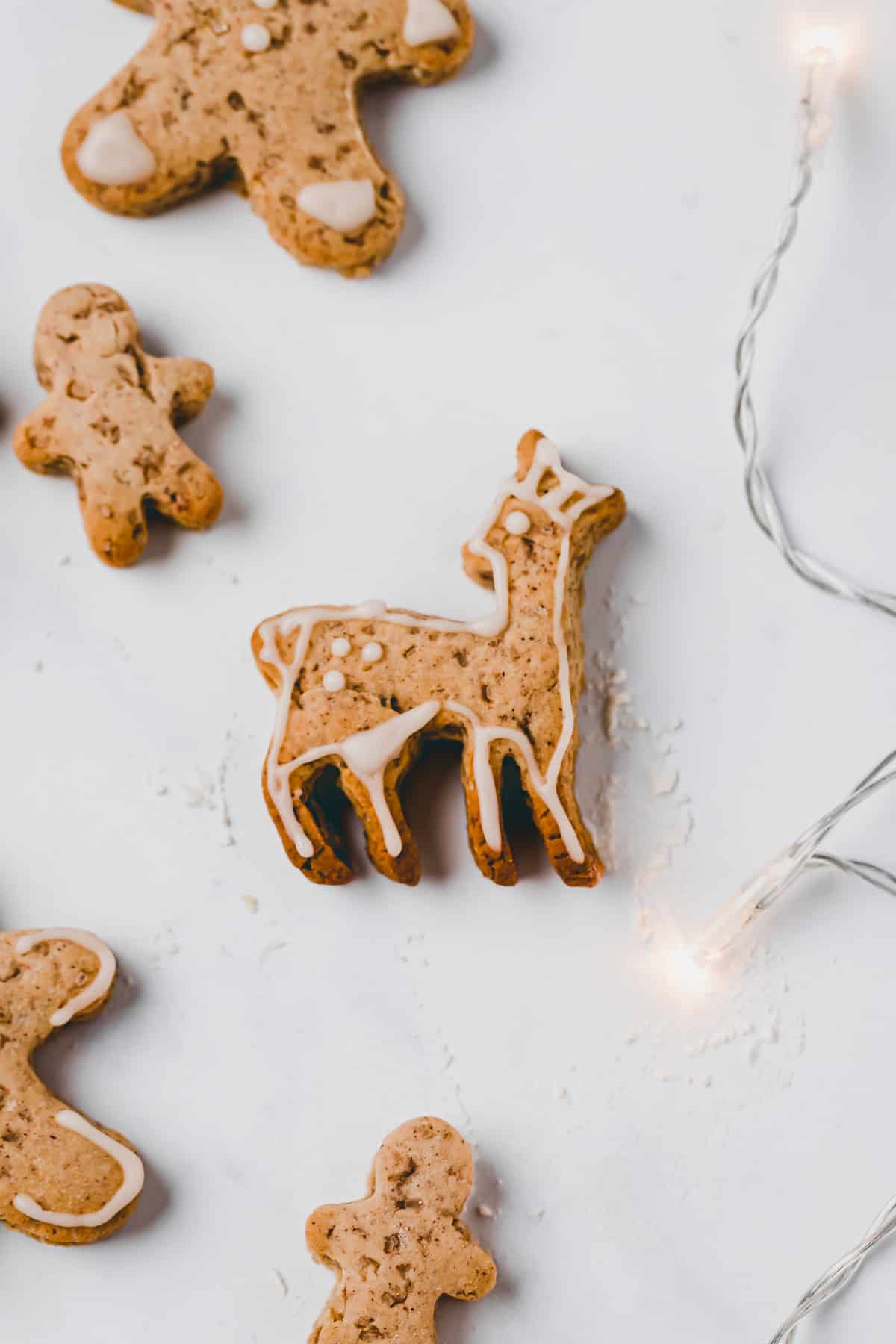 Do you love colorful cookies? Divide the icing between different small bowls and add to each a different food coloring.
Recipe FAQ & Tips
How long do they stay fresh? They are best freshly baked. However, you can store them for one week in a cookie tin or airtight container at room temperature.
Can I freeze those cookies? Once cool, transfer them into a freezer bag and freeze for a maximum of 3 months. Defrost them one by one at room temperature (takes 15-30 minutes) or rebake them for a few minutes in the oven.
Can I make the dough ahead of time? Absolutely! Store the raw cookie dough after step 3 for up to 2 days in the refrigerator. Let it sit for 15 minutes at room temperature, then continue with step 4.
Want to make gingerbread cookies without molasses? Use maple syrup instead and add 2 tbsp of cacao powder!
More Vegan Cookie Recipes You'll Love:
Vegan Sugar Cookies
Hazelnut Slice & Bake Cookies
Almond Crescent Cookies (German Vanillekipferl)
Cinnamon Star Cookies (German Zimtsterne) → these are gluten-free
Vegan Linzer Cookies
Did You Try This Recipe?
I would love it if you leave me a 5-star rating or comment. This way, I better get to know which recipes you like and can make more of them.
Please follow me on Facebook, Instagram, and Pinterest for more free recipes! I would be thrilled to welcome you to my community!
I couldn't stop eating Nutella by the spoonful so… in my haste, I threw my giant Nutella jar in the trash can, put on a major cleavage shirt and went to empty the trash. That's just real life. Sometimes you have to throw out your chocolate and haul out the cleavage.
After that!… I found my new favorite cookie. It's gingery without being a spice cookie. It's soft and chewy and wholesome… and vegan!
These ginger cookies are also full of whole wheat flour, apple sauce, ground flaxseeds and lemon juice.
I love love love them.
They come from the cookbook Organic and Chic. Lovely recipe and lovely book.
Oh! I made milk too… from cashews and oats. I love it. I'll show you how to make that in two days. Promise.
Soft Vegan Double Ginger Cookies
Makes about 2 dozen cookies
Recipe from Organic and Chic (I really love this cookbook)
1 1/2 cups all-purpose flour
1 1/2 whole wheat flour
1 teaspoon baking powder
1/2 teaspoon baking soda
1/2 teaspoon salt
1 teaspoon ground ginger
1 cup minced candied ginger
1 cup vegan granulated sugar (if you're hardcore… or just go for regular granulated sugar)
2 tablespoons ground flaxseed
1/2 cup unsweetened applesauce
1/4 cup canola oil
1 teaspoon lemon zest
1 tablespoon fresh lemon juice
1/4 cup vegan granulated sugar, for rolling the cookies balls
In a large bowl, whisk together flours, baking powder, baking soda, salt, ground ginger, and minced candied ginger. Set aside.
In a medium bowl, whisk together sugar, ground flaxseed, applesauce, oil, and lemon zest and juice.
Add the wet ingredients, all at once, to the dry ingredients and carefully mix together with a wooden spoon. Make sure all the flour bits are moistened and well incorporated. Form dough into a disk shape and wrap well in plastic wrap. Refrigerate for an hour, or overnight.
Place a rack in the center and upper third of the oven and preheat 350 degrees F. Line two baking sheets with parchment paper.
Remove the dough from the fridge and use your hands to roll dough into walnut sized balls. Rolls balls in granulated sugar and place of baking sheet. Use the palm of your hand to slightly flatten the dough ball. Bake for 15 to 18 minutes, until just slightly browned but still slightly soft in the center. Remove from the oven and allow to cool on the baking sheet for 5 minutes before removing.
Store cookies in an airtight container at room temperature for up to 4 days.
For our 12th and final day of 12 Days of (vegan) Christmas, we're giving you the recipe for delicious gingerbread cookies! We've had so much fun so far with 12 Days and hope you have too. Did you miss a day? Get the links to every recipe here!
12 Days of Christmas
Day 4: Puppy Chow
Day 9: Magic Bars
(TODAY) Day 12: Gingerbread Men!
These vegan gingerbread cookies are perfect for the holidays – they're so easy to make, so fun to decorate, and so festive!
Ingredients
For the dough, we use:
Flour
Baking Soda
Baking Powder
Salt
Ginger (duh)
Cinnamon
Vegan Margarine (Check out this kind!)
Brown Sugar
Molasses
Nondairy Milk
Vanilla
To decorate, we topped them with a frosting made of powdered sugar, vegan butter (we like these sticks!), and nondairy milk! We also used vegan M&Ms (these are our fav) and sprinkles.
What to pair them with
These are delicious on their own, but for an out-of-this-world combo, try dipping them into our cookie dough dip!
Looking for more?
Check out our 12 Days of Vegan Christmas eBook for 12 more holiday-inspired recipes!
Isn't about time to take a break from all the holiday bustle? I think you should enjoy a piece of gluten-free vegan teff gingerbread.
Sit in your favorite chair, with a hot tea, and watch it snow, or just enjoy the fireplace. Happy holidays!
Please note that this post is sponsored by The Teff Company, the makers of Maskal Teff™ products .
If you can't find them in your local store you can order Maskal Teff™ products on Amazon.
How Are Your Holidays?
The past few months have been whooshing by for me. But for now, I'm planning on curling up with a plate of this spicy and moist cake.
But don't worry, I'll only stay cocooned for a little while with a comforting hot drink in one hand.
What About Gingerbread Cookies?
I'm not a huge fan of gingerbread cookies because they are usually a little dry for me.
But I love a pan of moist and spicy gingerbread cake. The flavors scream winter.
It's so easy to make that you can take it to all the parties you get invited to, plus this recipe is gluten-free.
What ingredients do I need to make Teff Gingerbread?
Teff gingerbread needs both dry and wet ingredients, and you'll be mixing each group first before you mix them all together.
Dry Ingredients
Maskal Brown Teff Flour
Gluten-free baking mix (I used Bob's Red Mill 1 to 1)
Brown sugar or coconut sugar
Ground ginger
Baking soda
Cinnamon
Ground cloves
Ground allspice
Salt
Ground nutmeg
Wet Ingredients
Unsweetened nondairy milk
Avocado oil or other mild flavored oil (*or use mashed pumpkin or sweet potato to make oil-free)
Molasses
Ground flax seeds mixed with warm water
Vanilla
How to make Gingerbread
Preheat the oven to 350 degrees. Oil a square pan and/or line with parchment paper. (I like to use one that has a tart pan bottom so it's easy to get it out.)
Mix the dry ingredients together in a medium-sized mixing bowl. Then mix the wet ingredients in a small mixing bowl.
Add the dry to the wet and mix well.
Carefully scrape the batter into the prepared pan and even out the top.
Bake for 40 to 50 minutes, or until a toothpick comes out clean when stuck into the center.
Can I Make Individual Servings of Gingerbread?
You can also try making these in muffin pans. They would be easy to serve to a classroom of kids or as a snack at your holiday cocktail party.
Is teff flour good for baking?
Yes, and it works so well with chocolate, coffee, and holiday spices. You may use teff flour in gluten-free cakes, brownies, and cookies.
It gives your desserts a delectably moist and deep flavor, as it does this vegan gingerbread!
What is the difference between white and brown teff flour?
There's no difference, nutritionally. But when you add brown teff to the batter, it becomes darker and makes it difficult to know when your baked goodie is done.
The white (ivory) teff flour is lighter and turns the batter color lighter, too, although t's still slightly darker than white wheat flour.
In terms of taste, ivory teff has a slightly sweet and milder flavor, while brown teff is a little more earthy.
Does teff flour go bad?
Yes. Teff flour can last 4 months up to 1 year if you store it properly. Many recommend keeping it in an airtight container and storing it in the freezer.
All the ginger goodness without dairy and eggs.
Hannah Latour
By adding your email you agree to get updates about Spoon University Healthier
Gingerbread cookies are one of the mainstays of holiday baking. Like the majority of pastries, most of the gingerbread cookies out there contain butter and eggs. This recipe makes the holiday classic vegan so that everyone can be festive regardless of dietary restrictions.
Vegan Gingerbread Cookies
Prep Time: 1 hr
Cook Time: 10 mins
Total Time: 1 hr 10 mins
Servings: 24
Medium
Ingredients

Step 1

Combine the flour, baking powder, baking soda, salt, cinnamon, ginger and cloves in a bowl. Set aside.

Hannah Latour

Step 2

Beat coconut oil, brown sugar and flax "egg" together with an electric mixer.

Hannah Latour

Step 3

Add molasses and vanilla and mix until blended.

Hannah Latour

Step 4

Add the dry ingredients and continue blending until well-combined. The dough should hold itself together without being overly sticky.

Hannah Latour

Step 5

Separate the dough into two balls and cover with plastic wrap. Allow them to stand at room temperature for 2 hours.

Photo by Hannah Latour

Step 6

Preheat oven to 375° and grease baking sheets or line with parchment paper.

Step 7

Roll out dough on a floured surface until about 1/4-inch thick.

Hannah Latour

Step 8

Using cookie cutters, cut dough into festive shapes.

Hannah Latour

Step 9

Place cookies on baking sheets about 1 ½ inches apart and bake for 7-10 minutes.

Hannah Latour

Step 10

Remove from oven and let cool on a cooling rack.

Hannah Latour

Step 11

Combine the last four ingredients (icing sugar, almond milk, corn syrup and vanilla) to make the vegan frosting. Place in a piping bag (or a regular plastic bag with a small corner cut off).

Hannah Latour

Step 12

Decorate with vegan frosting (or however you want to).

Hannah Latour
Now go consume your egg and dairy-free masterpieces. I guarantee that they'll taste as good (if not better) than the traditional version.