TikTok is a video-platform first, and while visual content is critical to its popularity, what has carried many of these videos to millions upon millions of views isn't only what you see but what you hear.
Many viral videos on TikTok are accompanied by sounds, which can be mishmashes of popular songs, remixes, sound effects, movie dialogue, original audio, and more. Usually, it's the sound that drives the video's content, whether it's someone dancing in unison to a track or lip-syncing along to the dialogue.
While creating these original sounds takes a bit of work, marketing the sound and making it go viral is a whole other beast. Fortunately, there's one easy way to make your unique sound more shareable, and all it takes is a few taps.
Instead of allowing TikTok to name your unique sound, edit it so that you can include other important information in the title, such as song name, song artist, your own name, social media username, and more. That way, when your sound is shared, other people can get a better picture of your sound and you, the creator.
Step 1: Add Your Sound to TikTok
The way you add your original sound to your video is up to you, but there are several options. The easiest and most common way is to record sound as you record video within TikTok. Audio is picked up from your smartphone's microphone as you record a video, and it's uploaded as an original sound.
However, you can still create an original sound without having to record sound within TikTok. Using any number of editing services on your computer, tablet, or smartphone, you can create your own unique sounds using song snippets, sound effects, and more.
If you do create your own unique sound, you can add the music to any video, including a black screen, and upload it to TikTok so that you can have the sound to use. Instead of making it public, you can upload it as private and then create another TikTok video — of you dancing or whatever — using the sound you just created and uploaded.
Step 2: Rename Your Sound
By default, TikTok will name any sound you upload as "original sound – [your username]." This is usually fine if you only care about having your username in the title. But if you want other information such as a song title or artist, another username (for other social media accounts), or any different important details, you must rename your sound.
To do so, find the video you uploaded with your original sound and play it. In the bottom right, tap the spinning vinyl icon, which is where your unique sound lives. If you can't select it, wait a few minutes because it might take some time for the sound to load. Next, tap on the edit icon at the end of your default sound name at the top of the page.
Now type in whatever you want to name your sound. You can't include symbols like @, –, or ( ), but you can write something like "Route 73 by XxTxTxT on Soundcloud" to have the sound name, artist, and where it can be listened to (if it's a song).
It should be noted that whatever you enter, your TikTok username will disappear from the sound title (after the hyphen) and instead, be replaced with "@[your name]." If your account name (usually your first name) is different from your username, you might want to include your username in the sound title or change your name to your username.
If you use music or any other audio from an artist or movie, you may see "contains music from:" in your sound title with the applicable name or title after. There is no way to remove this, but it's just a way for TikTok to properly credit creators for their sound.
Finally, before you hit "Save" in the top right, it's important to make sure that your new sound title is exactly what you want because you can only rename your original sound once.
Step 3: Use Your Renamed Sound
If you want to use your newly renamed sound again, in case the original video is blank, you can do so from the sound's unique page by tapping on the vinyl icon in the bottom right of your video. At the bottom of the sound's page, tap on "Use this sound" and create a video with the sound.
Once your new video finishes uploading, you'll see the new sound title scroll across the bottom of the screen on the left. As mentioned before, your username will disappear from the title, but your tagged name with an @ in front of it will appear after the title instead.
Keep Your Connection Secure Without a Monthly Bill. Get a lifetime subscription to VPN Unlimited for all your devices with a one-time purchase from the new Gadget Hacks Shop, and watch Hulu or Netflix without regional restrictions, increase security when browsing on public networks, and more.
Sounds are central to TikTok. A video paired with just the right sound can increase the shareability of your post, and viral sounds can inspire creators from all over the TikTok community to use your sound in their own videos.
When making videos on TikTok, you can use your own sounds, sounds from other videos, or sounds from TikTok's music library. You can also record a voiceover. Below, we walk you through the different options.
How to make a sound on TikTok
If you want to create your own sounds to use in future TikTok videos, you can do so using this workaround in the app. Custom sounds can be a funny voice, a sound effect, a cover of a popular song, or anything else you can come up with.
1. Open the TikTok app. Tap the plus + icon at the bottom of the screen to create a new video.
2. Tap the red circle on the bottom of the screen to record a video. This audio will become your custom sound. When you're finished recording, tap the red circle again, then tap the red checkmark on the bottom-right of the screen.
3. (Optional) Edit your audio recording using the options on the bottom and side panels. You can slow down the audio using the slow-mo effect, clip the audio, or add a voice effect. When you're finished, tap Next.
4. Post your TikTok by tapping Post.
5. On the TikTok video, tap the spinning record on the bottom-right of the screen.
6. Tap Add to Favorites to use the audio later. Alternatively, tap Use this sound to create a new TikTok video using your custom sound.
How to add a voiceover to TikTok
Whether you're uploading a cooking tutorial or narrating your dog's inner monologue, a voiceover can be useful.
1. Open the TikTok app. Tap the plus + icon at the bottom of the screen to create a new video.
2. Record or upload a video, then tap the red checkmark on the bottom-right of the screen.
3. On the side panel, tap Voiceover.
4. Tap or long press to record a voiceover. If you want to keep the video's original audio in the final video, ensure the circle next to Keep original sound is checked. When you're finished, tap Save.
5. Tap Next, then post your TikTok.
Tips for creating sounds on TikTok
Ready to go viral on TikTok and quit your day job? Of course, there are no guarantees, but here are some tips for creating shareable sounds:
Make it clean. Aim for a clean sound recording with minimal background noise, which can be distracting.
Turn up the volume. Make your sounds loud and clear, so that even if someone is listening to your video over their phone speakers in a crowded place, they'll still get the gist.
Loop it. Keep your audio short, and if it loops seamlessly, even better.
Go viral with creativity. Create something new and unique. Think about what you can bring to the table that's different.
How to add a sound to TikTok from the in-app music library
If making your own audio isn't your thing, TikTok has a substantial in-app music library to choose from.
1. Open the TikTok app. Tap the plus + icon at the bottom of the screen to create a new video.
2. Tap the red circle on the bottom of the screen to record a video. When you're finished recording, tap the red circle again, then tap the red checkmark on the bottom-right of the screen.
3. Tap the Sounds icon at the bottom-left of the screen.
4. Tap to select a sound from the Recommended list, or tap More to search for additional sounds.
5. Tap the snipping tool, then drag the audio clip left and right to pick the section you want to include. Tap the red checkmark when you're finished.
6. When you're finished adding sound, tap Next.
7. Post your TikTok by tapping Post.
TikTok users have taken to the internet with worries over the favourite sounds no longer appearing on their account.
A favourite sound is a TikTok sound which you have saved. Usually people save sounds so that they can join in with a TikTok trend or make a video to the sound.
However, others save sounds so that they can find them easily and listen to them when they want to. Here is everything we know…
my favorite music genre is tiktok sounds
TikTok users cannot find their favorite sounds
TikTok users have taken to Twitter to share their concerns over the fact that their favourite sounds on the app seem to have disappeared.
Users have been going to the 'favourites' section and looking under the 'sounds' tab, but their favourite sounds don't seem to be showing there.
Ozark | Season 4 Part 1 Trailer | Netflix
One user wrote: "Why did all of my favorite sounds go away."
Another said: "My favorite sounds on tiktok are gone, how am i gonna get the brain itch now."
People united on Twitter over the disappearance of their favourite sounds on TikTok, and one person said: "I am so sad my tiktok favorite sounds aren't loading how can i imagine scenarios to them if they don't load."
Several people responded to their tweet, with someone writing: "Don't worry it happened to me too."
Although TikTok is yet to respond to these complaints, it is likely just a bug on the app which has caused this error to happen.
I guess my question isssss where tf are all of the sounds and filters I favorite in TikTok!? lol
How to view your favorite sounds
To view your favourite sounds, you need to open up TikTok and click on the tab at the bottom of the screen labelled "me."
Next to the 'Edit Profile' button there is a bookmark shaped symbol. This is where everything you "favourite" or save on TikTok is stored.
"Sounds" is the third tab along in this section and is where all the TikTok sounds you save are kept. You can also "favourite" videos, hashtags, effects, questions, and products.
my favorite sounds in tiktok are literally better than my whole spotify playlists
TikTok TV launches in North America
In January, TikTok launched their latest project called "TikTok TV," in the US and Canada. The app first appeared on Amazon Fire TV before making its way onto Google TV™ and other Android TV™ OS devices, LG Smart TVs*, and Samsung Smart TVs.
TikTok announced in a press release that TikTok TV is built "for a TV home-viewing experience" which makes it easy to watch TikTok videos on the big screen.
The release states: "We're taking TikTok to the big screen in the living room, offering a new way to experience the joy and creativity of TikTok together at home."
Have something to tell us about this article? Let us know
Summary: On this page, you can learn the three best ways to upload your sound to TikTok. If you are interested in this page, you can keep on reading.
TikTok is a popular video-sharing social platform. This app is famous for short funny videos. If a YouTube blogger should have some expertise in video editing, then the TikTok video-sharing platform has a wider audience.
Image board: The Post of TikTok
A humor video, a funny photo slideshow, a perfect dance, and more can be shared on this platform. This app provides a lot of video effects, background music, and simple video editing tools. If you are a beginner, you just need to shoot part of your life video, and then add music. Creating a video is so easy!
If you want to add your sound or favorite music in TikTok, here are two methods to help you do this. Choose one of the sounds that exist on the platform music library, or find a powerful third-party app to help you.
Part 1, How to Upload a Sound or Music within the TikTok
In this part, I will show you how to upload your sound within the TikTok app. Although the music in this app is limited, it can be enough for you to make a simple video. Adding music or sound to this app is so easy.
Next, I will you how to add sounds to the TikTok video.
Step 1 Open this app and click the "+" button at the bottom of the interface to start shooting videos. When you finish shooting, click the "Sound" button to access the music library.
Image board: Add Sound in TikTok
Step 2 Select a sound from the music library and apply it to your video. When you're finished editing, you can follow the on-screen prompts to share your videos online.
Part 2, How to Upload a Sound or Music to a TikTok video with Third-party Software
If you want to add customs sound or music, you may get help from third-party apps. In this part, I will show you the two best tools, and you can keep on reading.
1, InShot
InShot is a powerful video editing app. This app is available for Android and iPhone. You can use this software to crop and trim video, blur the background, add music, transition effects, and more. With these video editing functions, you can easily create YouTube, Instagram, TikTok, or Facebook videos.
Image board: The Post of InShot
If you want to use your won music in the video, of course yes. In addition to uploading custom music, this app also supports extracting music from video, adding your own voice to videos, and adjusting music or sound fade in/out effects.
Do you know how to upload your sound or music using InShot? Next, I will show you the steps.
Step 1 Download and install this app on your phone, then open it. Click the "Video" button to input your video.
Image board: InShot – Input the Video
Step 2 Click the "Music" button to select the music you like, and then add it to your video. And then, you can trim the music, apply effects to music, and record your voice.
Image board: InShot – Add Sound to Video
Step 3 When you're done editing, you can share the video online.
About how to upload your sound in TikTok, here I list a video about how to custom add sound in the video.
2, FlexClip (Online)
We have already know how to add sound to video. But many beginners may be confused about how to make the video look more professional. So, I find a great video editor that you can use this tool to create a perfect video easily. It's called FlexClip.
FlexClip is an all-in-one online video editor. Like most video editors, this online tool has many powerful built-in video editing tools. For example, you can use these tools to add text, add music, add voiceover, record screen, convert file formats, and more. And this editor also has a music library that you can free to use. Not only can you select your favorite music from the library, but you also can upload your own sound and music to the video.
Meanwhile, this online editor also has a rich video template library. It includes business, holidays, festivals, and many other different theme templates. And all of these video templates you can use for free. That's why I recommend this online tool to you.
Hello friends today in this post I will tell you how to add a sound to TikTok so you don't know about this then you can read this post completely in this post I will tell you how to add a sound to TikTok with step by step.
How to Add a sound to TikTok
Step 1. Open TikTok app and click on "plus" icon.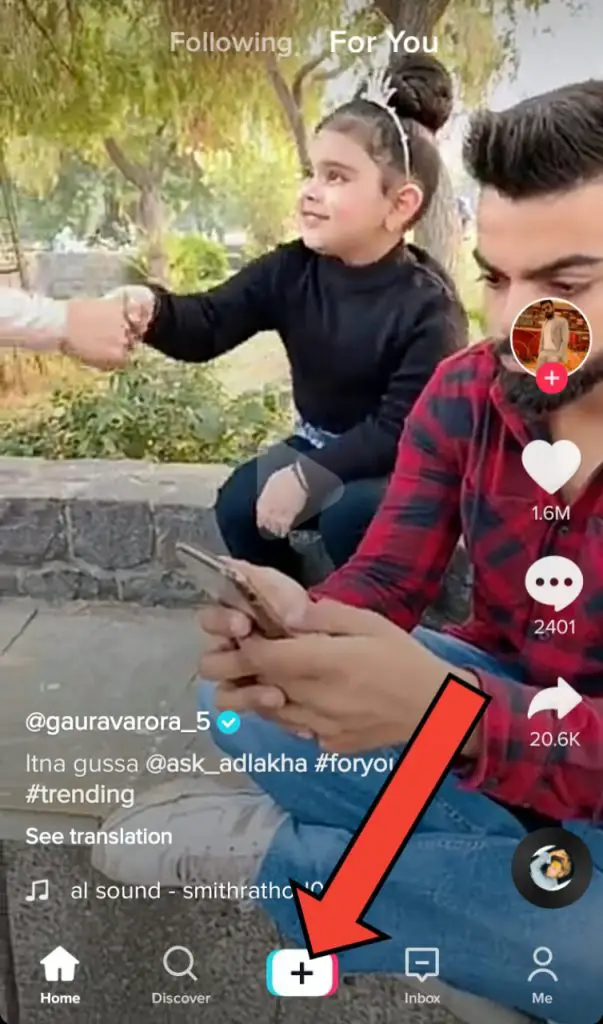 Step 2. Now after shooting your video click on "tick" button.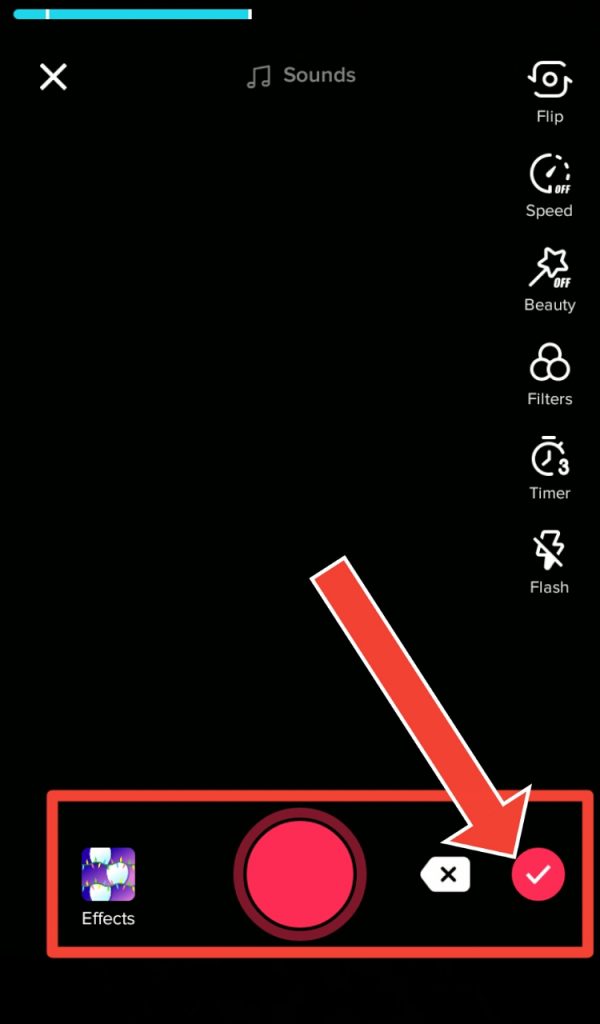 Step 3. Click on "Sound"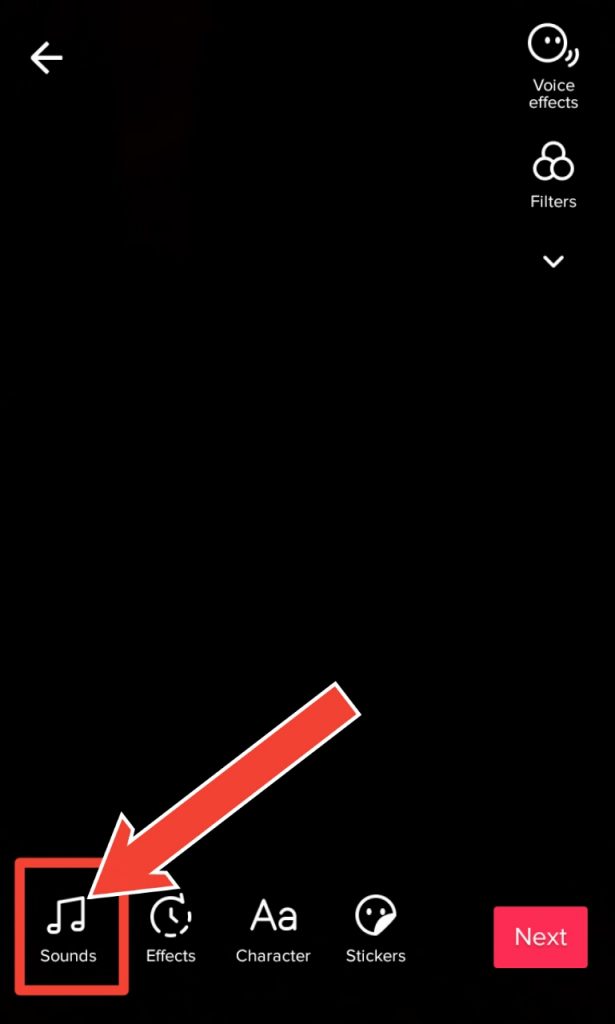 Step 4. Now choose a "song" and click on "Tick" button.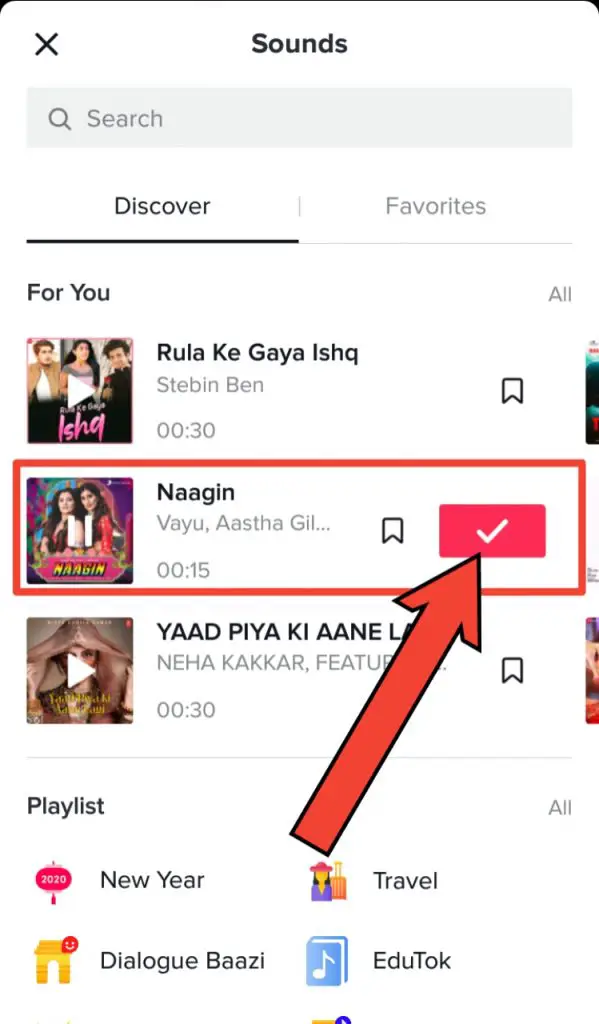 Step 5. Now click on next button so your song will be added successfully in your TikTok video and then you can publish your video.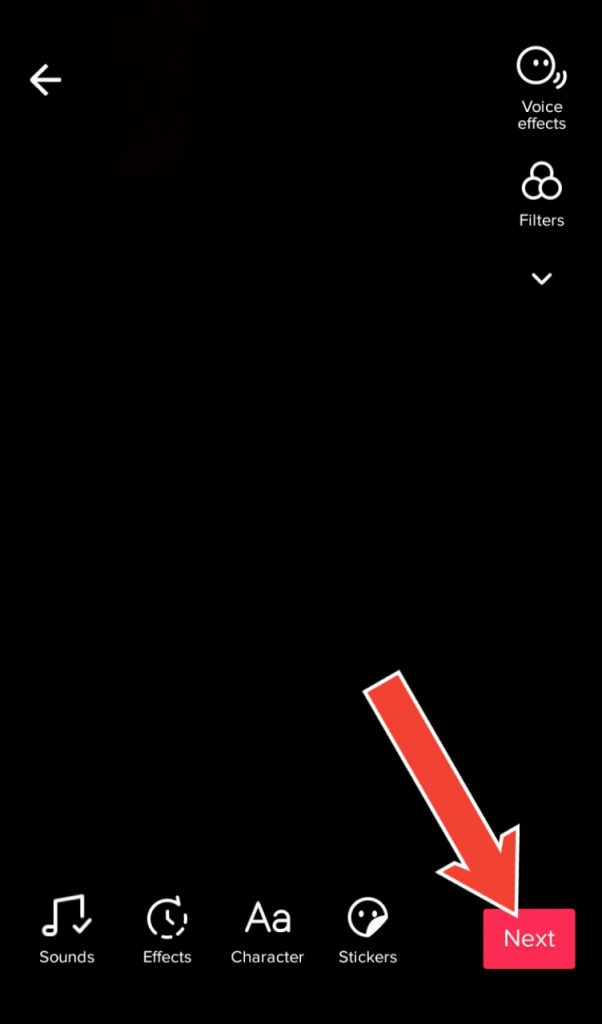 How to Add custom sound on TikTok
I told you how to add sound to TikTok, but if you want to add custom sound or music in addition to the already given sound in TikTok, then I will also tell you how to add custom sound on TikTok with step by step.
Note : Here, let me tell you one thing that earlier you used to get the "My Sound" option in the TikTok app to add any custom sound. But since the new update of TicTok has come, this option is not available in the TikTok app. So I will tell you how you can add your custom sound even without "My Sound" option.
Step 1. First of all, download the song or music from the Internet in video format which you want to add in TikTok video. (make sure it should be in video format because we can only upload video on TikTok from "upload" option)
Step 2. Open TikTok and click on "upload"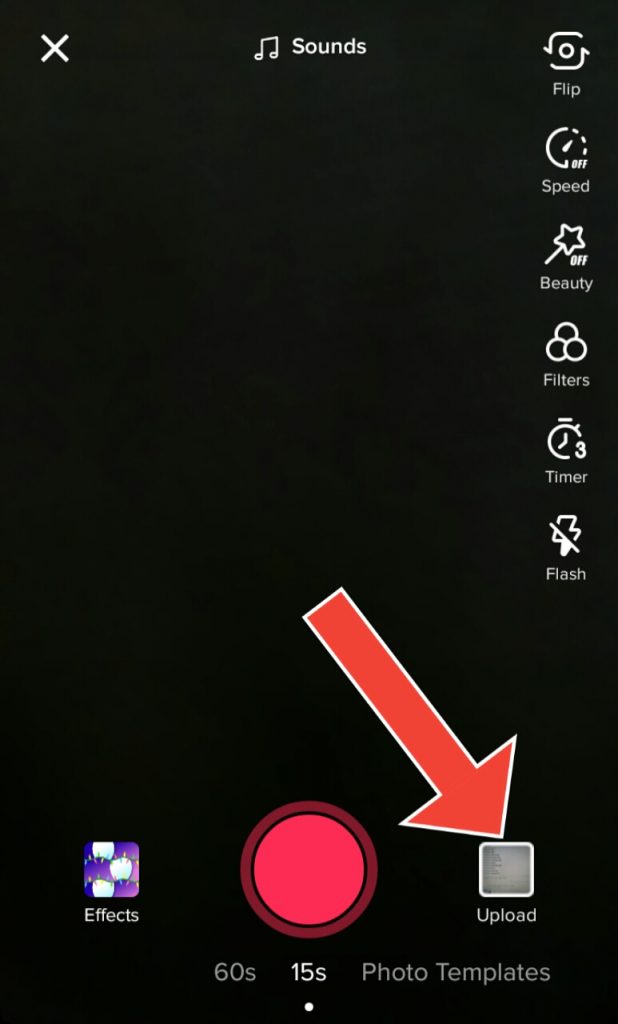 Step 3. Then Upload the sound that you previous download in video format.
Step 4. Now publish it as "private" (So others will not able to see it)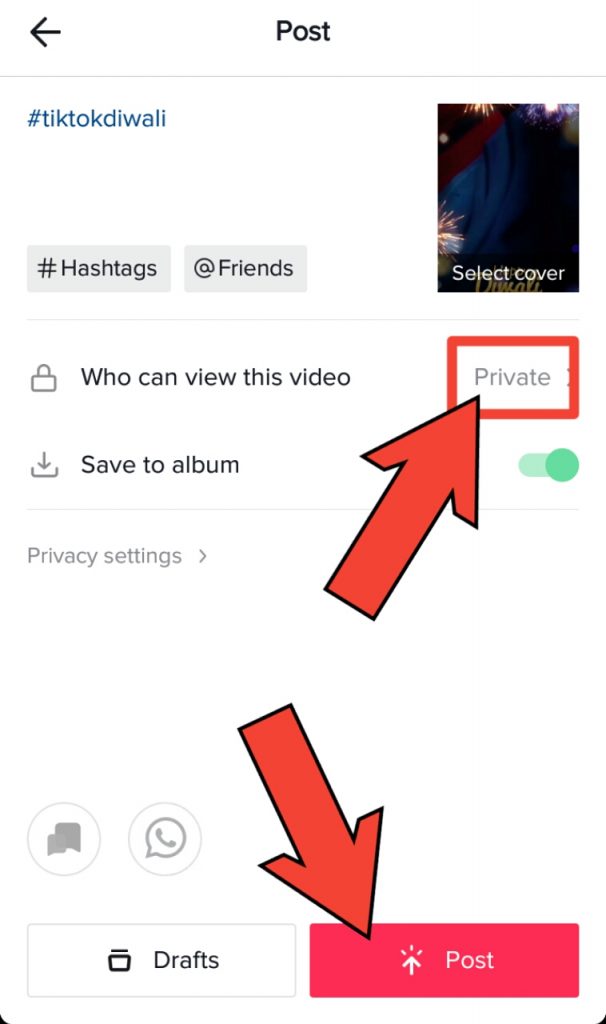 Step 5. Finally, Open your posted video and click on your sound.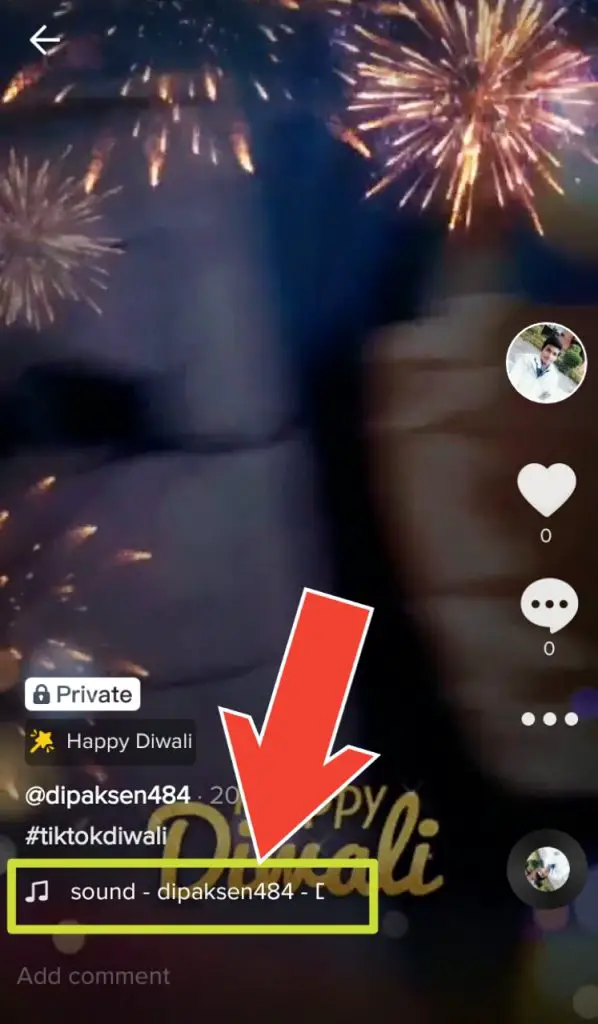 Step 6. Then Click on "Use this sound"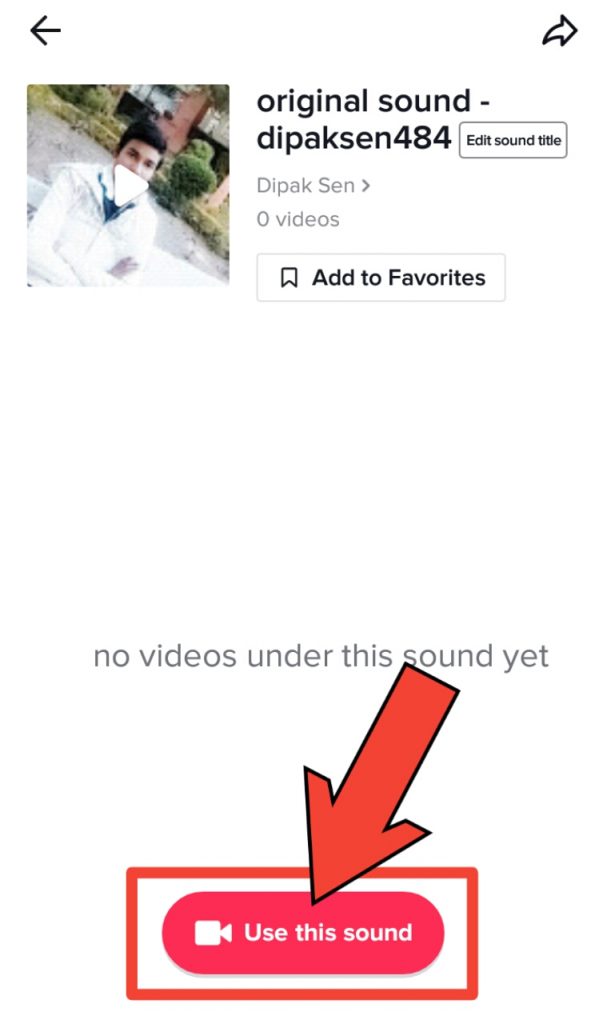 Now you can can use this "custom sound" in your TikTok video that is your custom sound of your choice.
(So By this trick you can also add custom sound to TikTok)
This is the simple method to add sound to TikTok and I hope you will understand very well how to add a sound to TikTok so if you like this post then give your feedback in comment and share this with your friends.
Tiktok is a social app that allows you to create and share your own animated stories. You can voice act, add sound effects, and edit the story in real time. It's a fun and interactive way to make friends and have fun with other people! Here is our step-by-step guide on how to use Tiktok for creating sounds.
Creating a sound on Tiktok
1) Press and hold the "Record" button.
2) Speak or use your voice to record sound.
3) When you're done recording, release the button.
4) Make sure you are getting a clear sound or if necessary, press and hold the microphone icon on top of your screen to get better feedback.
5) Press the "Play" button to hear your recording.
6) Give it a name by typing in something creative and press save! Your story is now complete!
Adding sounds to your Tiktok story
Step 1: Tap on the "Add sound" button in the lower left corner of your screen.
Step 2: Select from a variety of sound effects.
Step 3: Adjust the volume and choose whether you want to have it be on your story or off.
Editing your story
You can use the control panel to change your story's background color, typeface, and text.To create sounds for your story, you'll need to download a sound pack from the store.
Before you begin editing your story, make sure you have all necessary assets downloaded. You can navigate through your assets by clicking on the gear icon in the top right corner of the screen.
1) Start off by importing an asset into your project that will serve as a sound for your story. For example, I imported an introductory sound pack called "Get Ready!"
2) The next step is to find a sound effect you want to use. To do this, click on the search bar at the top of the screen and enter in a keyword related to what you're looking for. So if I were looking for a sound effect related to a car driving down a street, I would search "car drive." There are many different categories available such as cars or animals. Once you find what you're looking for, drag it into your project like this:
3) Now that we have our sound effect selected, we need to set up where it is going in our project. For this example, I'm going to put it underneath
Sharing your story with friends.
Once you create a story by voice acting and adding sound effects, you can share your story with friends on social media. You'll want to make sure that your friend lists are up to date before sharing a story.
In order to share your story with friends, you'll need to know how Tiktok works first. When you're ready to share, tap the arrow in the bottom right corner of the screen. Then tap "Share With Friends" and follow the steps below:
1) Tap "Add Friends"
2) Choose which friends you want to add from your list of contacts
3) Tap "Done" when finished adding friends
4) Once all necessary details have been added, tap "Share.
Check out How To Make Playlists on Tiktok: A Beginners Guide.
Photo Credit: TikTok
Music is an essential part of creating viral TikTok videos. Here's how to trim music on TikTok, add voiceovers, and more.
You can trim music on TikTok to suit your needs, thanks to the built-in sound editor. TikTok has an extensive library of music and sound effects – here's how to edit them with ease.
How to Trim Music on TikTok
Let's start by assuming you will be using sounds that are available on the TikTok platform. Here's how you can edit sound on TikTok to create viral sensations in the 'Discover' tab.
Open the TikTok app on your iPhone or Android device.
Tap the '+' icon at the bottom center of the screen.
Record your video or upload an existing video.
Click the 'Sounds' icon to begin your music editing.
Select the song you want by searching.
You can tap 'More' to see more available songs.
Tap the 'Red Checkmark' next to the song you want and then tap 'Next.'
When you're finished, you can see a preview of the video before posting. If you're not happy with the clip the algorithm chose, you can make edits. But what if you want to include a specific bit of the song? Here's how to edit the sound length and trim audio on TikTok.
How to Trim Audio on TikTok
TikTok videos are typically anywhere from 15 to 60 seconds long. You can't fit a full-length song in a video, but the song hook can make a great backing for these short videos. Think of the viral skateboarder singing Fleetwood Mac's "Dreams."
When you're ready to trim the audio on TikTok, follow the steps above and then look for the scissors icon. That's where the music editing magic happens.
Tap on the 'Scissors' icon to see the audio sound wave.
Use your finger to move to the section of the song you want to feature in the video.
You can use exact timestamps to help you find the portion of the song.
Once you have that portion highlighted in teal, you can also adjust the volume.
Once selected, preview your video to make sure it is ready to be posted.
Can you Change Music After Posting a TikTok?
If you've posted a video to TikTok and want to change the audio, you'll need to delete the video. Unfortunately, TikTok does not allow video edits once a post has gone live. Before the video goes live, you can preview it as many times as you like.
That allows the changing of the music, captions, editing, and anything else. You should always make sure you're 100% satisfied with the video before you post it – since deleting a post removes its virality.
How to Add a Voiceover on TikTok
Voiceovers are a popular way of responding to others' videos on TikTok. If you want to create a voiceover video on TikTok, here's the process to follow.
Record or upload a video from your library to TikTok.
Skip the 'Sound' icon and instead tap 'Next.'
Click the 'Voiceover' icon on the right side of the screen.
Press the red 'Record' button and start recording.
Tap 'Save' when you are done to continue editing.
Adding music and voiceovers are a great way to keep the TikTok community engaged with content you create. Music is the backbone of TikTok's success as a platform, which is why music editing skills are important for achieving success there.
TikTok is a fast-growing app that, if used well, can bring you more followers (and more customers).
So how do you use TikTok to get 10 and 10 thousand followers? Here are some tips:
1. Keep it short
If you want to get 10 followers on Tiktok, keep your videos short.
This is especially true because TikTok is all about sharing the most interesting and fun moments of our lives with others. When people are scrolling through their feed, they don't want to see a low-quality 15-second clip that bores them or makes them uncomfortable. Instead, they want to see something fun and engaging—so try and get your message across as quickly as you can without leaving out any important details!
2. Make it interesting
To start, make sure your videos are interesting. There are plenty of ways to do this. You can use your creativity and think outside the box by making the video funny, relatable, informative or original. Another way is to keep it short (no longer than 30 seconds). If you do all this, then people will be more likely to watch your video!
3. Make sure your audience can hear you
You'll be putting your best foot forward if you make sure that your audience can hear you clearly. You want them to be able to understand every word and enjoy listening to you.
If you're not already using a good microphone, this is the time to start! Make sure it's clear enough for others who might be watching your videos, too.
And remember: don't overdo it on the music or background noise; otherwise, your followers may have trouble hearing what you're saying because of how loud things are around them (or inside their ears).
4. Find the right hashtags
When you share a video on TikTok, you can put in as many hashtags as you want. But there are certain hashtags that will attract more attention from viewers and increase your chances of getting likes and views.
The most important thing to remember about hashtags is that they're a way of grouping content together. So make sure that your videos have at least one relevant hashtag—if not several—to help users find them easily. A good example would be "#tiktok #tiktokvideos #funnyvideos #videostagrams"
You can also add other tags like "#followme" or "#followusnow" if they fit the overall theme of your video or channel. If not, just omit them altogether and focus on adding more relevant ones instead!
5. Use the right music and sounds
Use the right music and sounds
There are a few things you should keep in mind when picking out music for your videos:
First, make sure that the song fits the theme of your content. If it doesn't, people won't be able to enjoy what you've made because they won't be able to connect with it.
Second, try using songs that suit both your voice and that of other collaborators who will appear in the video (if there are any). This will help make it easier for viewers who aren't familiar with either one of you to understand what's happening onscreen.
Thirdly, pick songs carefully based on how they affect moods—you'd like something upbeat if making an entertaining video or something calming if making a relaxing one!
6. Know what's trending on TikTok
You can use trending tags to find new followers and content, as well as get inspiration for your own TikToks. You can find trending tags by searching for them in the app or on the web.
To find a list of all the popular tags currently being used, go to tiktok.com/tags and search for "popular." This will take you to a page with links to each letter of the alphabet; click on any letter to bring up its corresponding list of trends (such as #A4Z). These lists are constantly changing, so if you want more info about how these trends work or what they're all about, check out this article on Mashable's website!
You should also know that there aren't any rules when it comes to using hashtags—but there are some best practices that can help increase engagement with your videos and help other users find them later down the line after they've already been posted online somewhere else (like Facebook).
7. Be active on other social media platforms, too
One of the best ways to get followers on TikTok is by using other social media platforms. The more active you are on social media, the more likely people are to follow your account.
For example, if someone follows your Instagram profile and sees that you've posted a lot of pictures and videos, they might be more willing to give TikTok a try because they know what kind of content you post. Similarly, if someone sees that you have thousands of likes and comments on Twitter or Facebook posts about your TikTok account, it's likely that those same fans will want to do the same thing for their own TikTok accounts.
It also helps if people can see how many viewers each video has received so far—this gives them an idea as to whether or not they should follow along in order to enjoy similar success themselves!
Tiktok is a great app with lots of potential. If you're looking for an easy way to reach new customers, then TikTok might be just what you're looking for.
There are a lot of songs which make a trend on the tiktok application. You can easily find songs on tiktok on which you want to make a tiktok video and follow the trend. Just follow the step by step guide below to find songs on tiktok. You can find and add any song to your tiktok video. So just follow the steps given below and you are good to go.
Steps to find songs on tiktok:
1. Open the TikTok application: First of all, you will need to open the tiktok application for your android phone. For that just look for the tiktok logo which is in black color with a music note on it. Just tap on the logo to open the tiktok application.
2. Tap on Search: After the tiktok application is open you can see a search icon with a magnifying glass logo. It will present at the bottom bar of the main page of the tiktok application. Just tap on it to search songs on tiktok.
3. Tap on the Search box: Now you will see a search box at the top of the page. Just tap on the box to search for songs or the tune which you want to add to the tiktok video.
4. Enter the Song name: In the search box enter the name of the song which you want to your video. Make sure you type the spelling correctly as there might be some different song with that spelling.
5. Tap on Search: After you have entered the name of song correctly you can tap on the search button which is present just at the right-hand side of the search box. Tap on the search option to look for the song in the Tiktok audio library.
6. Tap on Sounds: Now there will be different tabs, for example, Users, Sounds, Hashtags, Videos. Just tap on the Sounds tab to look for the sound. You can also see the videos of that particular song by tapping on the videos tab.
7. Tap on the sound: You will see a list of songs with the name you entered. Choose the most appropriate one by just tapping on the song. The song will be selected and you can now make a video on that song.
You can now share the video with your fans. You should also use proper hashtags to get more and more likes and follows. We can always search for trending songs and make videos to attract more and more fans.
TikTok's popularity with its US audience continues to grow, breaking through its norm of appealing mostly to the younger crowd. As of June 2020, here's what TikTok's users look like by age in the US, according to Statista:
Ages 10-19
Ages 20-29
Ages 30-39
Ages 40-49
Ages 50+
People are drawn to TikTok for its short, entertaining video clips that almost always have a song accompaniment or original sound. Users may access TikTok's library of songs or upload original music and sounds, such as a voice-over or background noise.
When you're trying to draw a crowd to your TikTok videos , the best TikTok songs to use are often its trending songs. Otherwise, if your audience prefers a particular music genre, TikTok makes it easy to choose between various music styles and categories.
Find Trending TikTok Songs for Your Videos
Trending songs are typically tied to a TikTok challenge, and joining a challenge is a great strategy to get noticed on TikTok. When you join a challenge, be sure to use its accompanying hashtag and use the trending audio in your video to get you noticed. Follow these steps to put the most popular songs on TikTok into your videos:
In the TikTok app, tap the white plus sign at the bottom of the screen.
Tap Sounds at the top of the screen.
Scroll through the Featured, TikTok Viral and Trends playlists.
To preview a song, click on it.
When you find the music you want, hit the red tick symbol and start filming your video.
To key in on a particular genre that appeals to your audience, scroll through various categories of playlists. The categories will change from time to time, but here are some of the music genres you're likely to find on the app:
Latin
Hip-hop
Classics
K-pop
Electronic
Dance
Pop
Rock
RnB
Funky
Country
Playlists may change depending on the season — like Summer Vibes — or cultural trends — like Pride. Know your audience and have their current needs and interests in mind as you search for the best TikTok songs for your video.
Check the Discover Page for Trending Songs
Another way to find trending songs on TikTok is through the Discover page. Hit the magnifying glass icon at the bottom of your screen. From there, you will see all of the videos and challenges that are currently trending, organized by hashtag. Scroll through to find a topic that would pique your audience's interest. From #TikTokGrandparents and #MakeupRoutine to #ScienceAtHome, these are just a few examples of what you might find trending at any given moment.
When you find a challenge you'd like to join or hear a song that will appeal to your target audience, look at the bottom of the video. This is where you'll find the name of the song or sound. Tap on it to go to a page that lists the song and all videos that contain it.
If you're ready to make a video right away, tap on "Use this sound" at the bottom of your screen and start creating. Or, if you want to save the song for later, tap on Favorites, and it will be available when you're ready to make your video. You'll find your Favorites playlist on the same screen where you discovered trending songs by hitting the white plus sign.
TikTok's Spotify Playlists
Spotify also creates a playlist of the top TikTok songs, and TikTok itself and other users make playlists of the best TikTok songs as well. In Spotify, search for TikTok and scroll through the results to find the top and trending songs.
Playlists change over time, but here are some examples of what you might find that will help you choose TikTok songs for your audience:
From dances and sounds to transitions
Share this story
Share this on Facebook
Share this on Twitter
Share All sharing options for: How to jump on TikTok trends
Illustration by Alex Castro / The Verge
So you've started posting videos on Tiktok, and now you're ready to up your game. One of the easiest ways to make your videos more entertaining and to potentially get more views is to jump on trends.
The way the TikTok algorithm is designed, it rewards videos that use certain trending sounds, effects, or hashtags. These videos are more likely to receive views because they're pushed to other people who also enjoy that trend, and they're easier to find when browsing in the Discover tab. Here's how to improve your TikTok strategy by using trends to your advantage.
Identify trends
Trends can originate from a variety of features on the app: sounds, dances, transitions, or hashtags. One of the easiest ways to identify trends is to browse via the Discover tab, which will feature a variety of trending sounds or topics.
In fact, there's a hashtag that you can follow that does the work for you. #trendalert is a popular hashtag that some TikTokers use to identify trending features that others can follow. They take it upon themselves to scour TikTok and identify what is gaining in popularity, usually by watching the ratio of sounds to the videos made using those sounds, and looking for quick growth. The appeal of following this hashtag is that all you have to do is jump on whatever trend they've identified.
TikTok's Discover tab is useful for trending features.
#trendalert is a popular tag for TikTokers that identify trends for you.
Trends can also vary depending on what niche of the algorithm you are trapped in. For example, what's trending on Tech TikTok may not be trending on Fashion TikTok. That's totally okay, though, because this helps get your videos onto the For You pages of people who will appreciate that trend. If you are in a niche or want to be, finding trending features requires you to just pay attention to your For You page. If you notice a sound is appearing every few videos, it's likely that it's gaining traction. Same goes for hashtags, dances, or some transitions.
Use a trending feature
This can apply to anything that's trending, but for the purpose of this article, I'll be focusing on sounds. If you've found a song or other audio that is popular, add it to your favorites for easy access later. And don't worry about repeating it — it's common for a creator to use a sound multiple times. Once you've identified the sound, make a video using whatever matches that trend. Often, it's a dance or lip-syncing skit. When you've finished recording your video, add your caption, slap on a few appropriate hashtags, and upload!
The key to successfully using a trending sound to get more views, though, is to ensure the sound is still popular. TikTok's algorithm is designed to tailor your For You page to show things you like — it doesn't pay as much attention to when a video was posted so much as it does the content within that video. This means you may have been following a sound from weeks ago that is no longer popular.
Trending sounds are easy and fun to use.
The date above the caption can help you identify whether a sound may be old.
The best way to ensure the timeliness of a sound is to go to the sound's page and look at the most recent videos that use it. Ideally, they'll have been posted as recently as a day or two ago. If most of the videos are over several days or weeks old, it's safe to assume the window for high views on a video with that sound has passed.
Don't let that hold you back, though! TikTok is all about having fun, so post your video anyway!
Trends are a great way to boost your following and viewership if that's what you're interested in — but keep in mind that they change frequently and can be hard to keep up with. At its core, TikTok is a social media platform, and what makes social media so fun is participating in a way that's fun for you! Bucking the trends and creating the content you want can be just as rewarding as learning the latest dance.
The Verge on TikTok
Join us for TikToks about the future of technology and science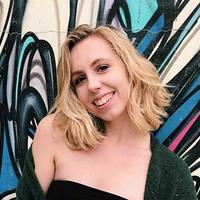 Sep. 1 2021, Published 7:32 p.m. ET
Popular video-sharing app TikTok is home to countless trends (both good and bad) and is a hub of creativity for many Gen Z and millennial creators. If you're not familiar with the app, there can be a learning curve when it comes to creating content.
At certain times, you'll want to upload your own audio to the app to add to your videos. Here's how to make an original sound on TikTok.
Here's how to make an original sound on TikTok and upload your own audio.
TikTok is filled with original audios to add to your videos, but sometimes you need to create your own. Whether you want to share your own original creation or upload your own version of popular audio for your own trend, there are a variety of reasons you would want to have your own original ones for your videos.
It's actually pretty easy to make your own audio on the app. To start, make sure you have your audio already saved to your phone as a video.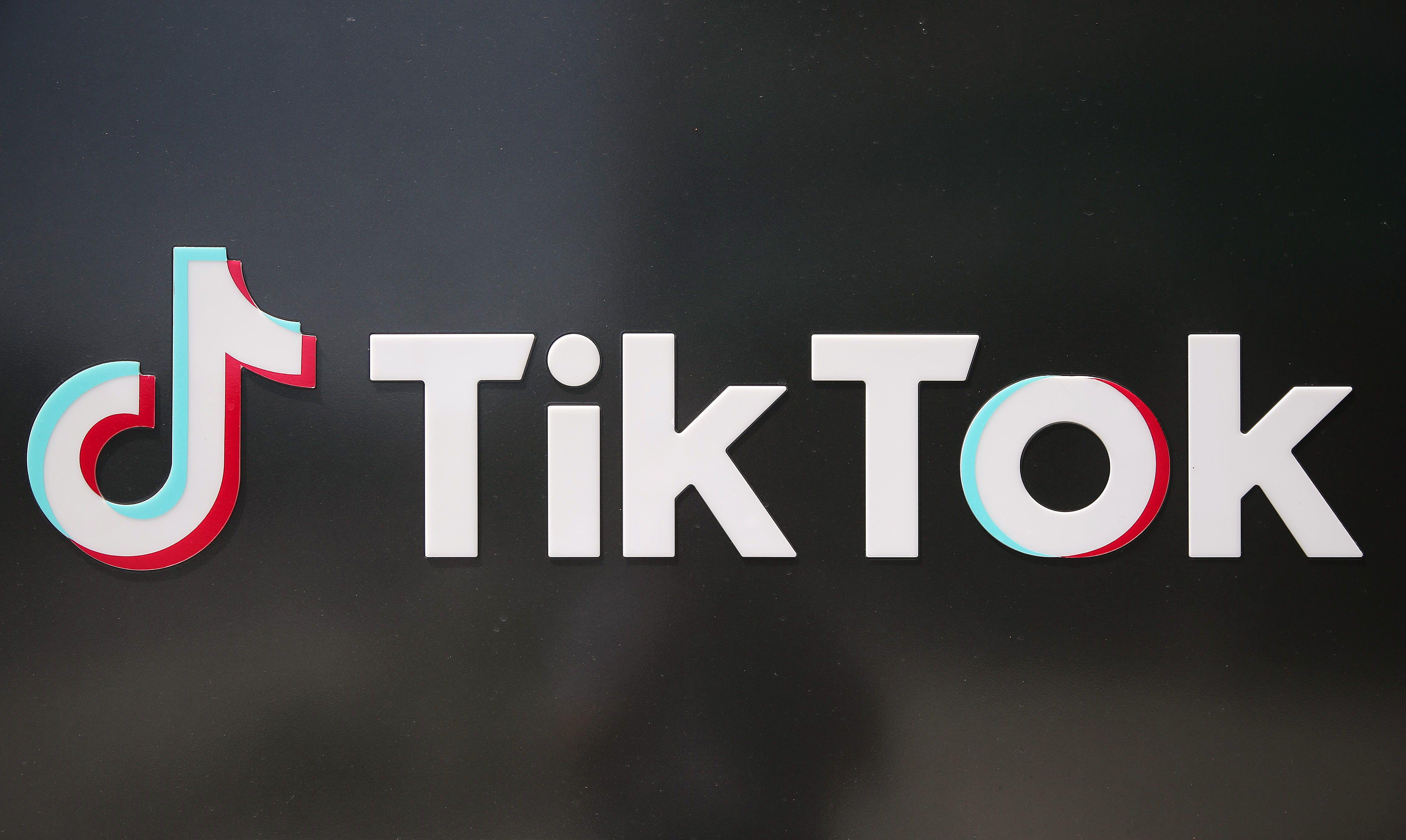 You can use any third-party apps to make your audio or record it on your phone regularly, depending on what kind of audio you're looking to upload.
Upload your video to TikTok by selecting the "+" sign in the center of the bottom bar. Click "Upload" and select your video from your camera roll. Progress to the end of the upload process, but before you post the video, edit the privacy settings on it.
Make sure you change your video from "public" to "private" so only you can see it. Once your video is posted, go to your profile and select the lock button to view your private videos.
Select the video you just uploaded and click on the audio at the bottom. Then, you should be able to make more videos using that sound.
If you can't make more videos with that sound for some reason, temporarily set the video to public until there are other videos made with the sound. Then it should remain available.
20:47, 16 Mar 2022
Updated : 20:55, 16 Mar 2022
TIKTOK is a popular video-sharing app similar to Vine.
Users are able to add their own sounds to creations, or they can use sounds from previous videos.
How do you make a sound on TikTok?
To add your own sound to a TikTok video, users can record audio along with a new video.
The audio can then be edited using the side panels on the video creator.
Audio can be edited to be put in slow-mo, clipped, or given a voice effect.
Users are also able to do custom voiceovers on their videos.
Read More on The US Sun
What to know about The Ski Mask Girl
To add a voiceover, simply press the "voiceover" on the side panel, available via the video-editing screen.
Also within the video-editing screen is an option to search through premade TikTok sounds and songs, which can be added to any video.
Most read in Tech
Warning for ALL Facebook Messenger users over malicious chatbot
Aldi is selling AirPods 'dupes' for just £25 – and they're nearly all gone
WhatsApp to make HUGE change to one of its best features… but some might hate it
Strange figures with huge heads found in ancient cave paintings
How do I get more views on TikTok?
For prime optimization of the video-sharing app, users should remember to include the following with their videos:
Hashtags: By including relevant hashtags with each post, others who watch videos with the same hashtag will likely see yours
Captions: When writing a caption, make sure to try and keep it related to your video – this will help the algorithm know who to share the video with
Keep it short: When a video is too long, many users often scroll past – keeping it between 10 and 60 seconds is practical
Trending sounds: Focus on a trending song or sound to help your video be seen by people
Other options include duetting a popular video, sharing your posts on other social media sites, and uploading multiple times a day.
How can you find TikTok trends?
Trending topics on TikTok show up via the app's explore page or search tab.
Whatever is trending at the time will be displayed, from hashtags to challenges.
Posted Feb 26, 2021
If you've ever wondered how to find TikTok songs, you're not alone.
Most users on the app have probably had some version of this experience: You're watching a viral video (or 1,000, we don't judge), and you think, "What's the name of this song I keep hearing? If only there was a Shazam app for TikTok songs."
As it turns out, there sort of is.
A new iPhone hack is going viral on TikTok for showing users exactly how to look up TikTok sounds and find their real names. Apparently, there's a "secret" iPhone setting that will do it all for you.
Enter here for the chance to win a $250 DoorDash gift card.
TikTok user @ios14tipstrend shared the trick in a clip that's since drawn millions of views.
"If you have an iPhone, you need to know this trick," the user says in his video.
As the clip shows, iPhone users can find the names of TikTok songs by adding the "music recognition" feature to their control center. You can do that by going to "Settings," then "Control Center," then hitting the plus sign next to "Music Recognition."
You may need download the latest iPhone update before doing this, or just make sure you've downloaded the Shazam app on your phone.
From there, you can use the feature from the control center while using TikTok — meaning you'll never again have to wonder about the name of that "Rasputin" song (here's a free one, it's literally called "Rasputin").
Some TikTok users commented on @ios14tipstrend's video saying they already knew about the life hack. Others, however, were thoroughly impressed.
"THIS IS SO COOL I CAN'T WAIT TO TRY THIS," one user wrote.
"Omg, it changes the game. Thank you," another added.
In The Know is now available on Apple News — follow us here!
If you liked this story, check out this article on rise of "Vinyl TikTok."
Your TikTok sound is the snippet of your song that you will be promoting in your campaign.
For most artists, your song will already be available in TikTok because it was delivered through your distributor. This means that most artists can use Method #1 below.
However, if you search for your song on TikTok and it's not available, then you can use method #2 to manually upload it.
Method #1: Search TikTok for the Link Sent by Your Distributor
Please note: depending on your distributor, they may send a 15, 30, or 60 second snippet to TikTok. Most videos on campaigns will be 10-15 seconds and the creator can choose the portion of your snippet to use. The only way to customize your snippet is through your distributor or by using method #2.
1) Open TikTok on your phone and tap the search button at the bottom.
2) Type your "artist name + song name" in the search bar. Then tap the "Sounds" tab. Find your song and tap on it.
Note: If you don't see your song in the search results, use Method #2 below.
3) Tap the share button in the upper right. Then tap "Copy Link"
4) Paste the sound link into your TikTok Campaign Application
Note: if you want to customize your snippet this must be done through your distributor.
Method #2: Upload a Video with your Song Snippet
Upload a video to your channel using a snippet of your song as the audio.
Once you do this, TikTok will create a "sound" from the video. Once your video is uploaded, just tap on the sound, then edit the name of the sound to your artist name + song name.
Hit the share button to copy the link.
Note: with method #2 the sound will not be linked or tracked through your distributor.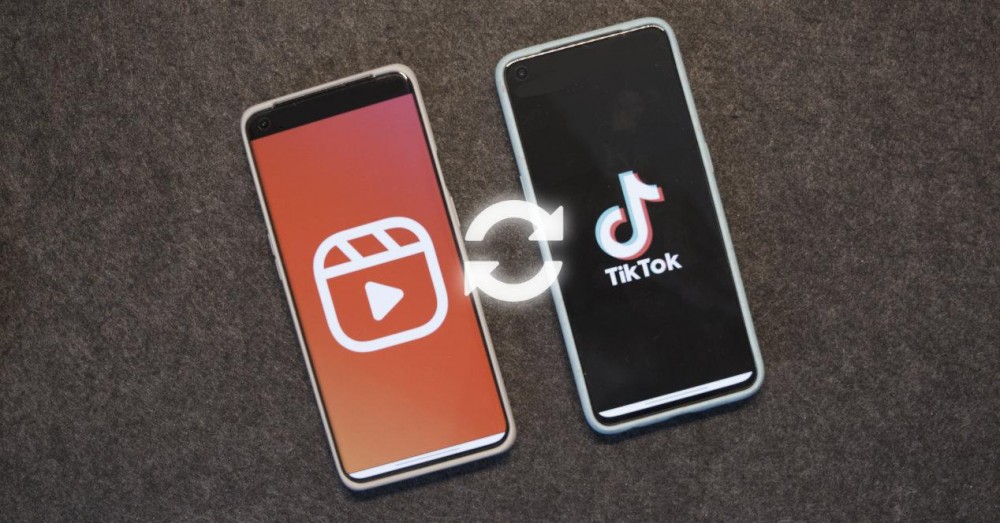 We are not going to deceive you, neither TikTok nor Instagram want you to do this: share the videos that you create in one on the other. Therefore, if the algorithms detect that it is content with the watermark of other networks, it can reduce its visibility. Even so, it is a very common practice, because it avoids having to generate duplicate content. So we see how to post Instagram Reels to TikTok and vice versa.
The tsunami of short videos and viral soul
How to Share TikTok Videos on Instagram Reels
Share Instagram Reels on TikTok
Aspects to consider if you are going to refuse content
The tsunami of short videos and viral soul
With the confinement, we all witnessed the rise of TikTok and its proposal of short videos with a clear vocation to be consumed quickly, one after the other and with the intention of going viral if possible. Because that always triggers traffic and ultimately is what any platform and its own users are interested in.
Well, those short videos are already common and not only within TikTok. Many other platforms have adopted the format in the same way as stories. So now you have options to publish short videos on Instagram, YouTube, Snapchat … practically almost any social network already offers its own interpretation of those of TikTok.
Therefore, with the popularization of a format that increasingly attracts more content creators, regardless of whether they do it professionally or just as hobbies, it is logical that ways are sought to reuse material uploaded to one network in another. This has been and continues to be done mainly from TikTok to other platforms.
The reasons why it's posted earlier on TikTok are usually pretty obvious. In the first place, because TikTok has much more weight in this type of content. So, in order to start making videos like this, there seems to be no better place than said network.
In second place are the creative tools it offers, usually above the rest of the competitors. Although here it must also be said that Instagram is getting the hang of it.
And finally, there are some options that TikTok offers that make it even easier to be able to quickly share those videos on other networks.
How to Share TikTok Videos on Instagram Reels
The first option you have when it comes to sharing the videos you post on TikTok on other networks and in particular on Instagram through the Reels section is to publish and then download them with a third-party application or service.
This has long been the most used option by many users. And in part because it is very simple and does not force you to do it imminently. Which is not bad at all, just in case you detect an error or want to first test the validity of the content and idea on TikTok. And if it works well, then take it to Reels.
To download these short videos from TikTok you have options such as:
SSSTikTok
Musical down
SnapTik
TTDownloader
The advantages of these videos is that they also allow you to do something that can be very useful for the upload and impact on Instagram: remove the TikTok logo.
That is, you can delete the watermark of the video and Instagram would not detect a priori that it is rejected content. So they would not "penalize" it by reducing its visibility and with them reaching your publications in that network and you should grow more quickly. Although it is not guaranteed either.
The other option is the native or official one offered by TikTok. You can link your Instagram account on TikTok and when you record a video you will have the option to mark which platform of the available ones you want to share it on. For example, on Instagram, Facebook or WhatsApp.
If you check this option, when you publish your video you will only have to open Instagram in this case, go to the Reels section and you will see that the video appears in recent items so that you can upload it. Although if you don't, another option would be to go to your TikTok feed, enter a video and in the three-dot icon look for the Save video option. When you press you will see sharing options.
The only problem or disadvantage is that you will keep the TikTok logo. Although that does not matter to you, you do value simplicity and not depending on a third-party service.
Share Instagram Reels on TikTok

When it comes to reusing any of the Reels that you have published on Instagram, you will not have to follow complex processes either. Basically everything is summed up the same way as before with short TikTok videos.
All you need is an application or service that allows you to download that video or those videos that you have linked to. Or make use of the option to download a Reel that Instagram offers. Something that also offers an added advantage over TikTok: it does not include a watermark.
Therefore, unless you need a TikTok own creative tool, you are still more interested in creating them in Reels and then taking them to TikTok. However, that is a decision for each one, as there are those who are so used to the Bytedance application that they feel much more comfortable even when there are certain shortcomings or limitations compared to the rest.
Returning to Instagram Reels, when you finish making a video and publishing it, you will see that there is an option within the three-dot icon that allows you to download the video to the reel of your phone. So you just have to open the other app and load the content. You can also activate the option to Save reels to the device automatically.
To activate this do the following:
Open Reels
Hit the camera icon to create one
Now to the gear icon in the upper left corner
In that Camera Settings screen, tap on Reels
Activate Save reels to device
Aspects to consider if you are going to refuse content
Sometimes there may be titles that are covered on one platform and not on another, so they could knock your video down and even worse, block your account. So that last is what you have to take into account the most and very clear.
Therefore, if the project you are working on is more professional and you want to have many more editing options, etc., you may be interested in making a short video in an editor like Final Cut or Premiere and after exporting it, take it to any network. Although it is a somewhat more demanding job.
If you want to become the Charlie D'Amelio of the artist world, then TikTok is the next social media platform you need to tackle. It might seem daunting to start creating video content if you're new to it, but if your audience is out there, you'll want to know how to reach them and how to promote art TikToks.
There are about 689 million active users on TikTok, and when you're reading this, there are probably plenty more. The app is known for having a young audience, with most of its users falling within the 10- to 29-year-old age bracket. If you're trying to target the younger generations, then TikTok is the place to be. That being said, there are still plenty of other ages and niche groups within the app, so if you market yourself right, then promoting art on TikTok can be very successful.
First Up, the Videos
The great thing about TikTok is that you have tons of freedom to create. TikTok users like to learn and be entertained, so think about all the ways you can cater to this and showcase your art. To get you started, here are some video styles that other artists have used:
Film the creation of a piece from start to finish
Talk about your favorite tools
Give artist tips of your own
Show the sketch you started with versus the final product
Talk about your preferred medium
Hashtags, Hashtags
Hashtags are important for any social media platform, and TikTok is no exception. When you create a video, add hashtags before you post it to help people discover your work. You don't want to go crazy here; a few relevant hashtags will do the trick to get you noticed. If you participate in a challenge or trend, then definitely include the corresponding hashtag. You can add some of the following hashtags to make sure the right people see your videos:
Choose Your Sounds
Just like hashtags, the sounds and music you use are important to promote art TikToks. There are a few ways to choose a sound. Using your own sound can benefit you because if it's catchy, other people might want to use it. Every time someone uses your sound, you'll get the credit, which can drive more people to your profile.
You can also browse the popular sounds for something that fits the vibe of your video. Using popular sounds can lead to more views and getting your art TikToks noticed, so definitely give this feature a try.
Bounce Off Other Creatives
TikTok is unique in that people love when you reuse their ideas. If you see another creator starting a trend or doing something that inspires you, respond to their video with a duet or stitch. These features allow you to show your video side by side or respond to their video with yours, respectively. Always be sure to credit the original creator if possible, partly because it's good karma and partly because it can help you gain views when their viewers see your video.
Add a Linktree
TikTok isn't a selling platform (not yet anyway…) so you'll need to let people know where they can find and buy your art on TikTok. If you have a website that you want to direct everyone to, add the link in your profile bio. If you have multiple places that you want to link to, like your website, Instagram, and store on Contrado (wink wink), you can create a linktree. People can tap this link in your bio, which will bring them to a page to access all your other platforms.
Some General Art on TikTok Pointers
Authenticity is Key
As an artist, you probably already know that being true to yourself and your work is immensely important. You don't need to overdo your art TikToks to have people appreciate it. If you're the type of person to inject wild creativity into everything you do, then don't stop here! If you'd prefer to take a more minimal approach with your content, then that's totally an option.
Hop on the Trends
TikTok artist trends move quickly, so you'll have to be fast. If you see a trend that you want to partake in, don't hesitate to start making moves. The great thing about the amount of content on TikTok is that if you've run out of video ideas yourself, there are thousands of other ideas right in front of you to recreate.
Interact with Others
Comment on other videos and reply to comments. This gives you a chance to keep putting your profile in front of everyone! If you say something funny or interesting on someone elses video, people will 'like' your comment and are more likely to go to your profile.
Sell Your Art With Contrado
It's possible that you could get TikTok famous overnight, but it'll probably take some time. While you're waiting, consider selling your art with Contrado! You can design hundreds of incredible products to sell and include in your art TikToks, including wall art, apparel, and accessories. Everything is handmade to order so that you can put your best designs forward.
Online download TikTok Mp3 for free
The best TikTok to MP3 converter
LoveTik allows you to convert and download TikTok videos in MP3 format for free. Now you can easily edit, combine or make unique ringtones or alarm tones for your phone. All with just a few simple steps and unlimited number of conversions
How to convert TikTok to MP3 file?
COPY TIKTOK VIDEO LINK
Open the TikTok video you want to download, click the "Share" button and then click "Copy Link"
PASTE THE TIKTOK LINK
Go back to LoveTik.com, paste the link into the field, then click "Start" button
Select the MP3 format then click the "Download" button
Features
Frequently asked questions (FAQ)
Step 1: Open the TikTok app, then play the video you want to download
Step 2: Tap the "Share" button, then taps "Copy Link"
Step 3: Go back to Lovetik.com, paste the TikTok URL in the field and press the "Start" button
Step 4: Select the download format as MP3, then press the "Download" button
1. TikTok MP3 file has been downloaded to your iPhone device
2. Install "MusicToRingtone" app from the AppStore
3. Install the app "GabareBand" from the AppStore
Step 1: Open the MusicToRingtone app
Step 2: Click the "Load" button, then select the TikTok MP3 file in your device that you need to make your ringtone
Step 3: Cut the TikTok audio and choose the duration of the ringtone you want to create
Step 4: Click "Save" button, then tap "Share as GarageBand file"
Step 5: Scroll to GarageBand and tap
Step 6: GarageBand will open with the ringtone imported. Tap and hold on the file to display the menu.
Step 7: Tap on "Share", then tap on "Ringtone"
Step 8: Tap on "Continue", "Export", and "OK". The ringtone will begin to export
Step 9: Open the "Settings" app on your iPhone
Step 10: Select "Sound & Haptics" item, then tap "Ringtone"
Step 11: Here you will see the ringtone you just created. Tap and you're done.
Step 1: Download the TikTok MP3 file to your Android phone
Step 2: Open "Settings" on your Android
Step 3: Select "Sound & vibration"
Step 4: Scroll down and select "Ringtone"
Step 5: Depending on what phone you have, there are different paths to set a custom ringtone on your Android. It might be a separate "Custom" section where you'll find an option to "Select from files", or it could be a "+" icon that you'll need to select to add a custom ringtone. You'll then see a list of all of your downloaded TikTok MP3 files. Select one of them to set as your new custom Android ringtone.
social media platform TikTokHow to add filters or effects to your video in ? We explained the answer to the question at length the other day. Also, add post-record effects there is a subject, not to prolong the subject too much How to add audio to your TikTok video We wanted to cover it in our content today. What you need to do for this is pretty easy.
How to add post-record effect in TikTok? How to add audio to your TikTok video
Popular video sharing application, which is widely used especially among young people and has more than 1 billion active users worldwide. How to add post-record effect in TikTok? How to add audio to your TikTok video We have listed the answers to these questions step by step in detail in our content.
How to add post post text on TikTok?
1. located at the bottom of the edit screen text Tap .
2. Choose the font you want and customize the color of your text and background.
3. Finished Tap .
4. Tap and drag to move the text to a desired spot in your video.
How to change text size in TikTok?

1. Pinch or zoom the text.
2. Adjust to desired text size.
How to add a sticker or emoji after registration on TikTok?
1. located at the bottom of the edit screen stickers Tap .
2. stickers or emojis select tab or live GIF' search for.
3. Tap to make your selection, then drag to move your animation to a desired spot in your video.
Note: Multiple texts and stickers can be added to a video.
How to delete text or stickers on TikTok?
1. Long press the text or sticker you want to delete and move it to the top of the video.
2. Sil option will appear.
3. Move the text or sticker to the icon until it turns red. The item will be deleted.
How to add audio to video on TikTok?
1. Click the bottom of the screen to create a video. + Tap the icon.
2. From the top of the camera screen Sounds Tap .
3. Discover or search for a specific sound using the search bar.
4. To preview the audio play option or to record the sound. Bookmark Tap .
5. To add the audio to your video Check one Select the option.
Note: Sounds can also be added to uploaded videos during editing.
*We just want readers to access information more quickly and easily with other multilingual content, instead of information only available in a certain language.
Last month, TikTok introduced a brand new feature being dubbed the 'Siri voice' that lets you turn your text into speech. Here's how to do it.
If you've got an iPhone, you'll be familiar with Siri. The automated voice is your own virtual assistant that appears on all Apple devices. However, it's become so popular that the term 'Siri' is now used to refer to any automated voice, even on TikTok.
TikTok's latest popular feature allows you to turn your text into speech using an automated voice. Let's explore TikTok's own Siri Voice…
TRENDING: A Woodchuck Revolution is taking place on TikTok
What is the TikTok Siri voice?
TikTok just launched its own automated voice that reads out your text for you. Its official name is 'text to speech', but most users just call it Siri.
Essentially, it turns text that you write on the screen into speech, and it's really easy to do.
Ozark | Season 4 Part 1 Trailer | Netflix
Some people use it because they don't want to use their real voice on TikTok, whilst others find it funny to see how the automated voice says specific words. Either way, it's becoming really popular on the social media app.
The Siri voiceovers on TikTok is honestly the best thing that has happened so far in 2021 😭
How to use the Siri voice on TikTok
Open TikTok and film your video.
Then, write your text on the screen.
Click on the text that you want to be read by the Siri voice and tap 'text to speech'.
VIRAL: TikTok's safety calls make walking alone less dangerous
This new text to speech feature is awesome. I even looped it 😂 – #texttospeech #newfeature #tiktoktips #tiktokfeature
Social media users love 'text to speech'
TikTok's text to speech feature is proving to be really popular, and it's being used for a number of different sketches on the app. In fact, the hashtag #texttospeech has actually had 327.5 million views on TikTok.
One social media user tweeted: "I can't stop reading everything in that Siri closed caption voice from TikTok. Help."
"The Siri voiceovers on TikTok is honestly the best thing that has happened so far in 2021," said another.
Another person wrote: "I talk to myself in my brain the way the text to speech from TikTok sounds."
I can't stop reading everything in that Siri closed caption voice from TikTok. Help.
Have something to tell us about this article? Let us know
One of the producers/artists we work with has over 150 million streams on Spotify. I tell you this not to brag, but to give you insight into how they got there.
Was it the music marketing on FB/IG advertising? Nope. Not a dime. Was it the branding around a hot new release? Nope, the album was released years ago. OK, pencils down. It was TikTok (mostly). But, how?
You probably know TikTok as the short form video app filled with thirst traps, bikini bounces, beard worship, kinks, cosplay, and now, the generational wars. (Side note: GenX still doesn't care about your jeans or hair, and Cheugy is just fine with us, we've been called worse).
▼ Article continues below ▼
But for all of that video-centric content, the secret is – TikTok runs on audio. Spoken audio, recordings, and last but not least, song clips. Notice the difference, not songs, but "clips." Whether it's a viral dance to a hit, a challenge, or a remixed mashup, or that insane, "Oh no, oh no, oh no no no no no," there is normally music involved.
This is not meant to be a user guide for TikTok. I'm going to assume you've wiped your eyes and looked up after blowing two hours scrolling through your feed laughing. But here are some tips for how to use it as a music maker.
Here are some facts to consider. In 2020, over 70 artists were signed to major label deals directly from their TikTok. And these aren't all young rappers, either. Someone we work with in his late twenties got a distribution deal for back catalog and a 1+ 1 from a major.
There were 176 songs that were featured in 1 billion unique video views on the app in 2020 alone, and that number is growing.
First things first, you ain't gonna make the money FROM TikTok. There is a royalty share when your song is used a lot, but nowhere near what the value of streams are. This means, to really do this right, you have to have released the music before you do the TikTok. There needs to be somewhere for people to go to listen to the whole thing. If they like it, they'll search it on their favorite streamer. This means that when you do your own music with TikTok, it may blow up and get your followers, but it basically won't make you any money. Even if you are part of the Creator's Fund, you really need to be doing hundreds of thousands of views to see any real revenue. And as the TikTok says, "it's a full-time job…"
Whenever you release a song now, you must check with your distributor on how you can choose the 30 sec sample that DSPs use. This is crucial. You are going to want to find the 15 seconds or less of your song that you think could really go viral. Is it a lyric that describes something everyone does or goes through? Is it a weird vocalization that someone could make funny faces to? Is it a part that could easily become a dance? Pick this part, because this is what people will actually be using when they choose the "sound" for their TikTok, and it's nearly impossible to change after it's ingested.
Get familiar with how "Sounds" work. Find a favorite TikTok, click on the bottom sound. That will take you to a page that shows all the videos using that sound. If you've never made a TikTok, click in the bottom center on the app, and you will see right at the top "Add Sound" which opens up a Search, Discovery, and Favorites. You'll see all the sounds you are familiar with. But, in the search, look for your song, and that is how you add it. This will ensure it gets counted because it is tied to the file provided by your distributor.
TikTok is really authentic, and for the most part, surprisingly nice and friendly. It's important to understand that. If you are just promoting your music and don't really interact with others, or worse, don't understand and participate in the other trends, you are going to fail. We see it time and again.
Some hints on picking parts of songs. Lyrics that match physical parts work really well. Lyrics that talk about who you are, what you like, where you're from, or describing someone else. Lyrics that talk about getting fucked up really work well. Lots of drunks and stoners on TikTok. Weird sounding vocals- high pitched voices, bad singing – are everywhere. It's sad, but it's true.
The key to any virality on TikTok is not just sharing, but stealing, or interpreting. It's when other people use your sound and do their own video of it. They have more followers than you, then their followers have more than them, and that's how it happens. This is why "Challenges" work. Because the original video may not even have that many views, but it will be tied to the original audio when someone clicks on the "sound" to use it, and bam, another view and so on, and so on. So, if you're going to survive and thrive on TikTok, it's not like the other social media channels, you actually have to care and be there.
Here are a few more strategies.
You don't have to show your face to use your sound. Go to use a clip of your own song on something that old people do not understand. Anime is a great place to start. Take a clip, put your sad sappy song to it. Same thing with showing action on the street or something in your funky in your house.
Start a challenge with your sound. It could be a dance, but more likely it's a trick or a drinking game or sliding into a wall. When you find a trend like the "dead sweatshirt" one that isn't reliant on a song, always use one of your songs, even if the audio is down.
Find influencers who will use your music to do a dance or as background in one of their videos. It will cost you anywhere from $30-$1,000, or more. This is product placement, and you'd be surprised how well it works. One of our artists bumped their streams and YouTube channel by over 50,000 based on one usage. Look in the bios of the people you follow, and you will often find their info for business. Send them a 15 second clip and ask for their rate or offer them $50-$100 per 100,000 followers. You can also look on SubmitHub for these opportunities.
Try to isolate which Tok your song fits into. Is it WitchTok, CosTok, HorseTok, DadbodTok, GeriatricMillTok? When you find the niche that your 15 sec clip fits into, it becomes gold.
Look, the songs you have out right now, just might not work on TikTok. You could create a single or an EP that shoots for this. You could create another artist name on your distro and focus on these. Just be aware, your music may not work, yet. But, maybe you do have a part of a song that will? Maybe after a while on TikTok, you will be able to write one, because you'll know what would "work perfectly here."
The biggest takeaway I can give you is to have fun and join in on the fun. If you make this all about your music and money, it won't work.
In Part 2, I'll walk you through some strategies to starting your own TikTok music maker channel, which will also blow up your music, and maybe your music career.
ABOUT THE AUTHOR
–Michael St. James is the founder and creative director of St. James Media, specializing in music licensing, publishing, production and artist development.
**main photo by photo by Solen Feyissa, used with a Creative Commons license.
TikTok has made some changes to their text-to-speech feature, allowing users to choose from multiple different voices.
Text-to-speech is one of TikTok's most popular features, and it's changed a lot in the past year.
Initially, TikTok text-to-speech was a male voice. However, in May 2021, the app changed it to a female voice.
Now, they've changed the feature again, and this update is the best one yet.
OMG: PSG gains 4m Instagram followers after PSG signing
TikTok – Hum Nose Trailer
TikTok changes text-to-speech feature
This week, many TikTok users began noticing that their text-to-speech feature had changed.
Rather than only having one default voice, it now has the option to choose between multiple different voices.
The voice options all have different names, and you can choose between Alex, Joey, Chris, Taylor and Eddie.
If you're wondering how to change the voice, here's what to do.
TikTok now let's you choose the voice of the text to speech! Is that a new feature? Or am I just discovering this now? #tiktok pic.twitter.com/zGuJSC9mPo
How to change text-to-speech voice on TikTok
To apply the text-to-speech feature on your app, you just have to follow the simple steps.
Film your TikTok video.
Select 'Text' at the bottom of the screen and type the text you want to turn into speech.
Press and hold on to the text box and tap 'Text-to-Speech'.
Now you should be able to choose which voice you want.
TikTok users say it's disappeared
Users first noticed the feature on Tuesday (August 10th), but they're now claiming that it's disppeared.
One person wrote: "You were able to change TikTok text to speech voice to a different one. Now I can't anymore. Has anyone had this issue? #TikTok."
"Now it's taken away the option to change the text to speech voice? I literally had it yesterday! Why is TikTok giving me things then taking them away?!" said another.
A third person added: "@tiktok_us Why does the app keep taking away the text-to-speech options? I had 6 voices to choose from but I'm stuck with the valley girl again. Why did you give us options just to take them away?"
At the time of writing this, it's unclear why the voices have disappeared.
TRENDING: Why TikTok's Lawrence is feuding with Zak Jack
did tiktok remove all the text to speech voices?? i can't pick them anymore, only the default one
Songs new and old are given a fresh purpose through the TikTok meme machine, but it can be tricky to figure out where a track originally comes from. Sure, you can tap the name of the song to see the source on TikTok, but if it were a snippet uploaded by someone other than the track's creator, the song title likely wouldn't be listed. Luckily, there is an easy way to figure it out.
First, you need to install Genius (iOS | Android) or Shazam (iOS | Android). These apps identify songs based on just a few seconds of playback, which makes them perfect tools for figuring out TikTok tracks. That said, we'd recommend Genius over Shazam in terms of simplicity.
Start a search in Genius by tapping the soundwave button in the top left of the app, switch over to TikTok, play the video with the audio on, then switch back to Genius. If the song is a part of Genius' library, it'll show up right away, as seen below.
Shazam also works but is both less convenient and far less reliable. First, you need to enable "Auto Shazam" by long-pressing the Shazam button, since a standard search doesn't work when leaving the app. With Auto Shazam engaged, play the TikTok video as you would for Genius, then head back to Shazam. Instead of seeing the song right away, though, you'll need to jump over to your Library by swiping right. If the song is listed in Shazam's library, you'll find it under "Recent Shazams."
Keep Your Connection Secure Without a Monthly Bill. Get a lifetime subscription to VPN Unlimited for all your devices with a one-time purchase from the new Gadget Hacks Shop, and watch Hulu or Netflix without regional restrictions, increase security when browsing on public networks, and more.
Reposting your own videos on TikTok is simple as you're only required to upload it from your gallery again.
However, if you want to repost other people's videos on TikTok, it's more challenging.
Whenever you save a video on TikTok, the video will have a watermark of the TikTok logo.
If you were to repost it, the video will have the watermark.
To make matters worse, if someone were to save the video, it'll have two watermarks.
That being said, if you want to repost someone else's video on TikTok, you'll have to download it without the watermark.
In this guide, you'll learn how to repost videos on TikTok without the watermark in 3 easy steps.
How to Repost Videos on TikTok
Can you repost videos on TikTok?
Can you repost your own TikTok?
Should you repost a TikTok?
How to repost videos on TikTok
To repost videos on TikTok, copy the video's link, paste it on TikTok downloader, download the video, and upload it on TikTok from your gallery.
When you download the video from the "TikTok downloader" website, the watermark will be removed from the video.
If you upload the video on TikTok, it won't look like a repost as the watermark is removed.
Alternatively, you can save the video on your gallery then repost it.
However, the watermark will remain intact.
In addition, some people have disabled the option for others to download their videos so certain videos may not have the "Save Video" option.
All in all, it's still best to download the video on the "TikTok downloader" website first before reposting it on TikTok.
Below is a step-by-step guide on how you can do this.
Step #1: Copy the video's link
Firstly, open TikTok and navigate to the video that you want to repost.
Once you're on the video, tap on the share icon on the left of your screen.
Tapping on the share icon will open a menu containing various share options.
Under the "Share to" header, you'll see multiple places that you can share the video to.
Tap on the first icon that says "Copy Link" to copy the link to the video.
There's an option where you can save the video, but you don't want to use that as it'll contain the TikTok watermark.
You've successfully copied the TikTok video's link to your clipboard.
You need to use the link in the next step to download the video without the watermark.
Step #2: Paste the link on TikTok downloader
Go to "TikTok Downloader" > paste the video's link > download button > Download Server 01/02/03 > download > download icon > share icon > Save Video.
After you've copied the video's link from the previous step, you need to download the video without the watermark.
Then, you'll be able to save it to your gallery.
Firstly, head on over to the TikTok Downloader website.
You can search for "TikTok Downloader" on Google or visit the website directly on https://snaptik.app/.
Once you're on the website, paste the video's link on the empty field.
Then, tap on the "Download" icon (in green) to start downloading the video.
Wait for their server to process the download.
After the video is processed, three download buttons will appear—Download Server 01. Download Server 02, and Download Server 03.
Tap on any of those download buttons to download the video.
If one of the download servers does not work, you can try using the other one.
After you've tapped on one of the download servers, there'll be a pop-up message prompting you to view or download the video.
Here's an example of the pop-up message, "Do you want to download "Snaptik_123_paola-official.mp4″?".
Tap on "Download" to download the video.
Once it's done, tap on the download icon on the top navigation bar and open the video.
Lastly, tap on the share icon on the bottom navigation bar followed by "Save Video" to save the video to your camera roll.
You've successfully downloaded the video and saved it to your camera roll.
In the final step, you'll have to repost the video on TikTok.
Step #3: Repost the video on TikTok
The final step is to repost the video on TikTok.
To begin with, open the TikTok app on your mobile device.
Next, tap on the "+" icon on the bottom navigation bar.
Once you're on the recording screen, tap on "Upload" to go to your camera roll.
If you've saved the video from the previous step, it will be located in your camera roll.
Find the video in your camera roll that you've saved from the previous step, select it, then tap on "Next".
Crop the duration of the video if you'd like, then tap on "Next".
Edit the video if you'd like, then tap on "Next".
Lastly, include a caption for the video and tap on "Post" to repost the video on TikTok.
Congrats, you've successfully reposted a video on TikTok without its watermark.
Repeat steps 1 to 3 again if you want to repost future videos on TikTok.
Can you repost videos on TikTok?
Yes, you can repost videos on TikTok.
Before you repost a video on TikTok, make sure to give credits to the original poster by mentioning them in your caption.
Even so, it might not be a good idea to repost as you need to ask them for permission first.
Can you repost your own TikTok?
Yes, you can repost your own TikTok.
In fact, reposting your video(s) on TikTok is a strategy that is used by many TikTok users to get more followers, views, and engagement.
The idea is to repost an older video of yours that went viral or had performed well on TikTok.
If a video went viral in the past, it may have a high chance of getting viral again if it's reposted.
Consequently, if the video goes viral again, it'll lead to more followers, views, and engagement.
Should you repost a TikTok?
You should only repost a TikTok if it has a decent number of views and engagement.
There's no point in reposting a video of TikTok if it performed really poorly the first time you've posted it.
This is because it might get a lower number of views and decreased engagement.
In a nutshell, the most important factor you should consider before reposting a video on TikTok is its previous performance.
Conclusion
When a video doesn't take off like you hoped to, you might be thinking of reposting it on tikTok.
However, reposting a video on TikTok has its pros as well as cons.
By reposting a video, it'll be shown to a different audience.
This means that it will have another chance of getting "viral".
However, frequent reposting can be harmful to your TikTok account as your videos might get shadowbanned.
At the end of the day, the quality of your content determines how well it performs on TikTok—not the number of reposts.
The trends and tracks that start on TikTok often go on to become worldwide sensations. Even unknown songs become heavy hitters once TikTok popularizes them, boosting their audience immeasurably via the video-sharing app.
A number of popular sounds and songs have become instantly recognizable thanks to the TikTok treatment, worming their way into our ears and taking up residence there for any number of weeks and months. While some of the sounds that purchase real estate in our brains do so because they're annoying or jarring, most remain forever in our memories due to their unforgettable natures.
The best sounds on TikTok
There are far too many audio options on TikTok to possibly sort through them all. Not even the most avid user has managed to track down each and every audio clip and song excerpt, which is thoroughly unsurprising given the massive number of new audio uploads the app receives on the daily. That said, here are a few that we think rank among the very best.
"Working is just not my top priority"
All jokes here ppl. Ya know I love the Kardashian Klan #fyp #foryoupage #kourtneykardashian #thekardashians #funny
This little gem comes from a 2020 episode of Keeping Up With the Kardashians. In a conversation between Kourtney, Kim, and Khloe, the eldest Kardashian daughter explains that "we all have different priorities," but that, for Kourtney, "working is just not my top priority."
There's no need to explain why this sound is so popular. All of us wish that working could be lower on our list of priorities, but most people don't have that privilege. So we grind on and make funny TikToks pretending that we live an easygoing Kardashian lifestyle. More than 8,500 TikToks currently utilize this sound.
"Don't be suspicious"
This may be the best TikTok audio of all time. Taken from an episode of NBC's Parks and Recreation, the clip features Mona-Lisa and Jean-Ralphio Saperstein as they sing a weird and hilarious song in an attempt to avoid suspicion. The sound has been used in an utterly massive number of TikToks since it appeared on the platform. The video honestly doesn't need to make any sense in conjunction with the audio — the sound clip is that good. It's funny in literally any context, which is probably why it's been used more than 728,000 times over its lifespan on the app.
"Oh No"
Even people who have never spent a day on TikTok will recognize this sound. That's because it's been used a whopping 19.3 million times on the app, soundtracking hundreds of thousands of different videos. Taken from Kreepa's "Oh No," this clip is a perfect match for so many kinds of content. It commonly provides background music to fail videos, as well as documentation of people coming to a sudden realization. But it honestly works with far more videos, from pranks to crazy Karen clips.
"Spongebob tomfoolery"
Far from the first audio to be inspired by Nickelodeon's popular series, "Spongebob tomfoolery" has been one of TikTok's most popular sounds for months. It never really disappears from "For You" pages thanks to its general versatility. Because this song isn't overly specific in tone, it suits pretty much any kind of video you can imagine. It has provided excellent background music for over 5.7 million videos so far.
"Monkeys spinning monkeys"
@daddygus99 have fun sleeping ever after this lmaoooo
You may not recognize its name, but you've definitely heard this audio before. It's an enduring favorite among TikTok users, appearing on almost any user's page at least once or twice. Like "Spongebob tomfoolery," it's extremely versatile, which helps the sound to maintain its popularity far past other TikTok tracks. Created by Kevin MacLeod and Kevin the Monkey, this audio is a great length for TikTok. Most clips using it are under 20 seconds long, which provides enough time for users to share a video, but doesn't give them time to linger on unnecessary details.
"Bored in the house"
This sound, which initially cropped up in early March of 2020, became one of the pandemic's first-ever anthems. It was casually recorded by user @curtisroach as he endured yet another dull day of quarantine and soon became one of the most popular pieces of audio on the app. Like so many other songs on this list, this one works with almost any kind of video. The original upload has been used more than 3.3 million times and dozens of imitations also litter the app. It's perfectly suited to people dancing around in their pajamas, but it might be even better paired with all the weird shit we do when we think we're alone.
"Edamame"
Reply to @lukedavies621 here you go!! Haha 😎 #crocs #heels #edamamechallenge
bbno$'s unbelievably catchy "edamame," featuring Rich Brian, took over TikTok over the latter months of 2021. Its contagious tempo suits videos of pretty much every stripe, but works best with quick, snappy dance clips. The audio's been used in 563,800 TikToks so far and its latest upload only hit the platform less than a week ago. Its enduring popularity on the app displays how much social media can boost the lifespan of a trend.
"I'm a snake"
Now cat is snake. I should have thought of this earlier. #cat #catsoftiktok #blackcat #snake #imasnake #sneekysnake
Some of TikTok's weirdest sounds are also some of its best. Such is certainly the case with creator @marco2487's beautifully strange "I'm a snake" audio, which simply proclaims, in a playful, goofy voice, that "I'm a snake." The audio has been used in more than 12,000 TikToks so far and has been replicated and remixed a number of times. It's the perfect TikTok audio. The clip most people use is short — only 10 seconds long — thus forcing any videos using it to likewise remain brief. It's silly and fun and brightens any video it accompanies.
"Twinnem"
That's my twinnem🤪 Hey mommy 🥰🥰
"Twinnem" by Coi Leray inspired a trend that emphasizes collaboration, urging creators all over TikTok to combine their talents. The quick, snappy shifts in tempo make for perfect cuts in the resulting videos, many of which feature real life twins. Even when they don't, TikToks leaning into the "Twinning" audio are rarely solo events. The audio, which has been used 1.5 million creators so far, is almost exclusively used in dual-person uploads.
"Yoncé"
The song behind TikTok's popular "drop challenge" — "Yoncé" by Queen Bey herself — is a straight-up banger. It inspired the popular challenge when Atsuko Okatsuka decided to use the song as a soundtrack for a series of impressive squats. The rest is history. The song quickly became the soundtrack to a massive TikTok challenge, appearing in more than 215,000 videos.
Did you know about TikTok's text-to-speech feature? Follow these steps as we show you how to easily and quickly add narration to your videos with a Siri-like voice reading your text aloud.
Say hello to TikTok's robotic voice
Although TikTok primarily positions text-to-speech as an accessibility option for people with impaired vision, creators have quickly embraced it as a quick way to add pretty natural-sounding voiceover to their videos. With text-to-speech enabled, TikTok will automatically read aloud any text that the creator has put over their videos using a quality AI-powered voice.
Text-to-speech was officially announced in the TikTok Newsroom on December 15, 2020. Thanks to machine learning and artificial intelligence, people will hear a synthetic voice narrating your TikTok videos that sounds similar to Siri and other voice assistants.
Follow along with our quick step-by-step tutorial right ahead to learn how to easily add some fun narration to your videos with TikTok's text-to-speech feature.
How to narrate your TikTok videos with text-to-speech
To activate TikTok's text-to-speech feature, upload type some text on top of your video, then touch the text you just typed out and select the bubble labeled "Text-to-Speech".
Open TikTok and record your video.
On the editing screen, hit the button labeled "Text" at the bottom.
Type out the text to add as an overlay on top of the video.
Touch the line of text you just typed out, then choose "Text-to-Speech".
TikTok will automatically read aloud the selected text when watching the video.
Read these tips before using TikTok's text-to-speech
TikTok's AI can create either a male or a female voice though you cannot choose voice gender. What you can do instead is remove the original audio so the viewer only hears the synthetic narration. To do so, choose "Sound" at the bottom, then "Volume" and then set the volume to 0%. To remove AI narration from the video, tap the text box and choose the option.
Also, keep your text short to avoid having the voiceover cut before the video has ended. To adjust the duration of the text, touch the text box and choose "Set duration" from the menu.
Lastly, text-to-speech can be used more than once in the same video: Use the Text feature to add a few different text boxes to the video, then enable text-to-speech for each text box.
For further information, visit TikTok's Help Center.
A fun way to annotate your TikTok videos
When used properly, TikTok's text-to-speech can liven up and make videos more interesting. There's a whole bunch of funny videos on TikTok that exploit the way AI creates this slightly robotic-sounding voice to a great comedic effect. As said earlier, this is also a great accessibility feature. For instance, people with poor eyesight will prefer narrated videos.
One of the keys to creating a TikTok video with text-to-speech that doesn't suck is variety. So feel free to experiment with TikTok's creative tools to create text boxes with different typefaces, font sizes, colors and designs to emphasize something.
And that's how you add AI-powered narration to your TikTok's with text-to-speech.
There's no doubt that the TikTok app is a phenomenon. If you're looking to make a name for yourself on the platform, one of the best ways to do it is by getting on the TikTok fyp page.
With over 1 billion active users, it's one of the most popular social media platforms around. Let's get started! In this article, we'll give you tips on how to get featured on the TikTok For You page and grow your following on TikTok.
What does FYP Mean on TikTok?
Photo Credit: Pexels
Whether you're a new TikTok user or just planning to explore this virtual land, you have to know the basics. One of the most commonly used terms is "FYP," with so much to learn. If you don't have any single idea what TikTok fyp is, read further to learn more about this popular term in the TikTok world.
While this popular platform started as Musical.ly before changing its brand name, it's a great tool if you want to showcase your content online. For new users, FYP means For You Page.
The TikTok FYP is a part of the app's homepage. Upon opening the TikTok app, it'll lead you to the main page, divided into two sections – Following and For You.
The TikTok FYP page shows videos and contents that TikTok's algorithm recommends to you. They are based on the videos you've watched before. Most of the videos you've watched will also appear here. The "Following" section contains the people, but you follow videos.
Through the TikTok FYP, your content or TikTok videos are led to your landing page. A recommendation system powers the feeds that deliver content to each user based on a certain user's interests. This way, it increases the likelihood of a user being shown to more people.
Thus, you can receive great weight from viewers. This is the reason most users add the tag to their content. Also, it's easier to grow your followers in this app compared to other platforms like Instagram and Twitter. Thus, you can receive a greater weight of viewers in TikTok.
It's pretty simple. Here's how:
Get your music on TikTok —CD Baby delivers songs to TikTok (as well as Spotify, Instagram, Apple Music, Amazon Music, and 150+ other platforrms) as part of our standard digital distribution service.
Open TikTok and click the + icon — This will open the camera function so you can record video in the TikTok app.
Click "Sounds" at the top of the screen — Then search for the artist or song title you want to add to your video.
Click "Trim" — Once you've selected the song, you'll want to swipe to the correct 15 second snippet. To do that, hit the "Trim" icon, which looks like a musical note being cut by scissors.
Swipe through the audio — Once you've got the timing right, it's time to record!
Shoot your video! — Go wild. Get funky. Dance like a maniac. And know that you can record video in segments, editing as you go. The audio for your song will stop and start again accordingly. And if you shoot video in fast or slow motion, the audio will slow down or speed up automatically; then when you're finished shooting, the song will play at normal speed for the final video.
Want to know how to grow your audience on TikTok?
Chris Robley is the Editor of CD Baby's DIY Musician Blog. I write Beatlesque indie-pop songs that've been praised by No Depression, KCRW, The LA Times, & others. My poems have appeared in Poetry Magazine, Prairie Schooner, The Poetry Review, & more. I live in Maine and like peanut butter chocolate chip cookies, a little too much.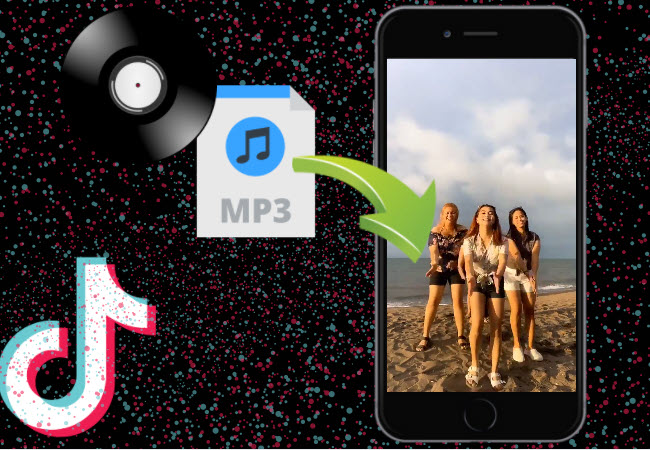 TikTok is a popular mobile app for creating unique and funniest videos for your social media accounts. Furthermore, it lets users make short videos for up to 15 to 60 seconds while doing anything like dancing and singing. In fact, you can showcase your creativity by using its rich collections of effects, voice effects, filters, and voiceover. Aside from that, it provides beneficial editing functions that you can use to customize the raw videos. Despite its features, you might wonder how to add music to TikTok video with the app itself. Dig deep into this article to see the 3 simple ways you can follow on adding music to TikTok videos.
How to Add Music to TikTok Videos within TikTok
TikTok
Here, we will show you the simple ways to add music to TikTok using the app itself. Not to mention, it has two methods in inserting audio clips into the videos. The first method is the native feature, which no longer exists for other users. Even it's not available for everyone, and we will still be tackling the technique in case you have it. On the other hand, the second technique is uploading your music or soundtrack to your videos manually. See the steps below on how to put your own music on TikTok using the two methods.
Method 1: TikTok Native Feature
Get the app from Google Play Store and App Store, then open the app after installing it.
Next, tap the "+" icon and hit the "Upload" icon below to upload the videos you want to use.
Then, tap the "Select Sound" option and look for the "My Sound" button to choose the song you want to insert in the video.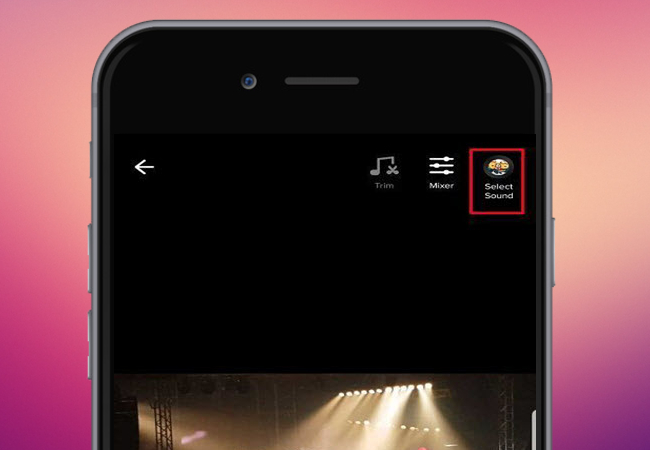 Lastly, tap the "Next" button after that to insert a caption, then hit the "Post" to publish the video on your account.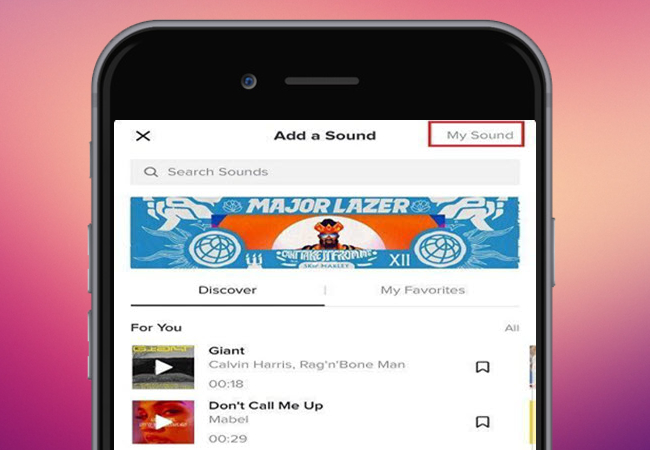 Medthod 2: Add your music to TikTok by Uploading
To get started, open YouTube or Spotify to get ready on how to add music to the TikTok video. Then, record your favorite music using the built-in recorder on your phone.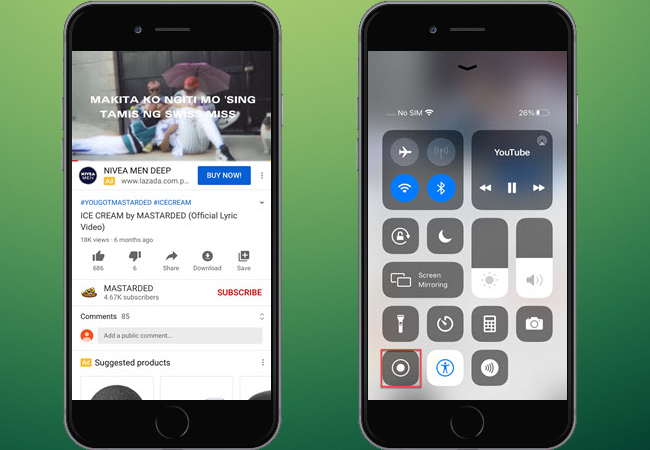 After recording the clip, open TikTok and tap the "+" icon, then tap the "Upload" icon to upload the videos you recorded earlier.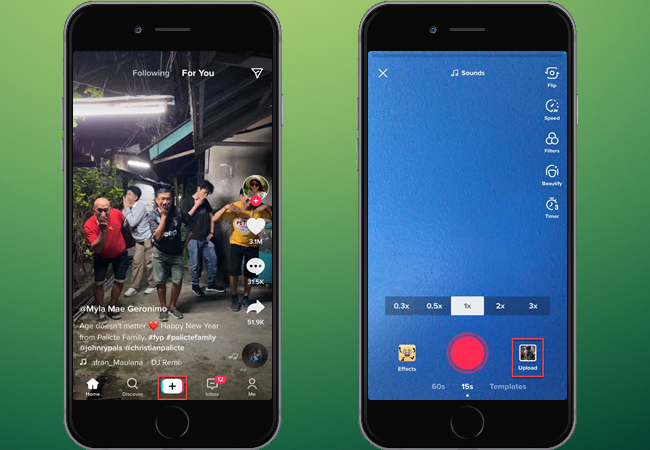 At this time, tap the "Next" button below and hit the "Post" to publish it on your account.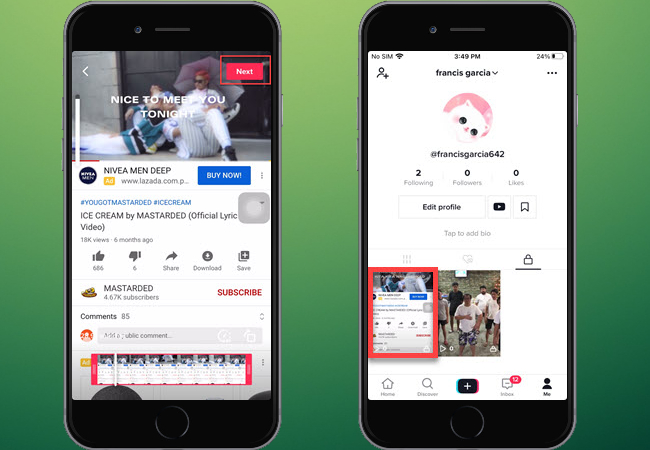 Once it's published successfully, go to the video and tap the "Soundtrack" use.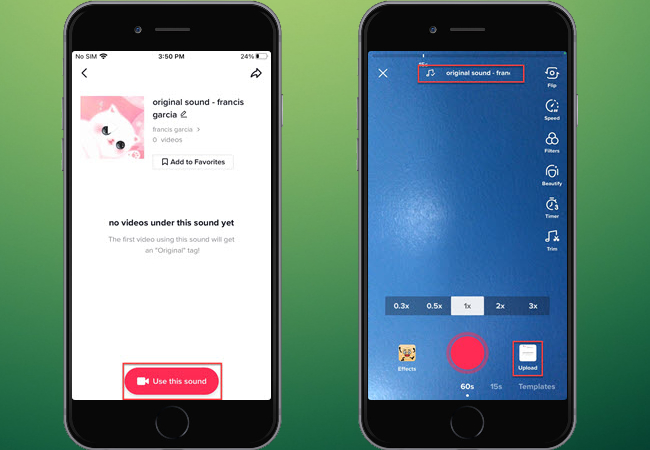 From here, click the "Use this sound" button below to start uploading the video you want to use.
Extra Tips: How to put your own music on TikTok
LightMV
If you're looking for another way to insert music into your TikTok video, you can use LightMV. This is one of the excellent online video editing programs that you can access on the internet. Besides that, it also has software and app version for Windows, Android, and iOS platforms. Actually, this lets first-time users edit videos like a pro because of its straightforward interface and awesome video templates. Furthermore, it allows you to save the video in Full HD quality and post it to different social media account instantly. Follow the written guidelines below on how to put music on TikTok with LightMV.
First, open a web browser and visit the tool's official website. From here, click the "Get Started" button to access all the available templates.
Second, select the template you want to use for your TikTok video.

Tips: Click the picture below to watch this TikTok style video template.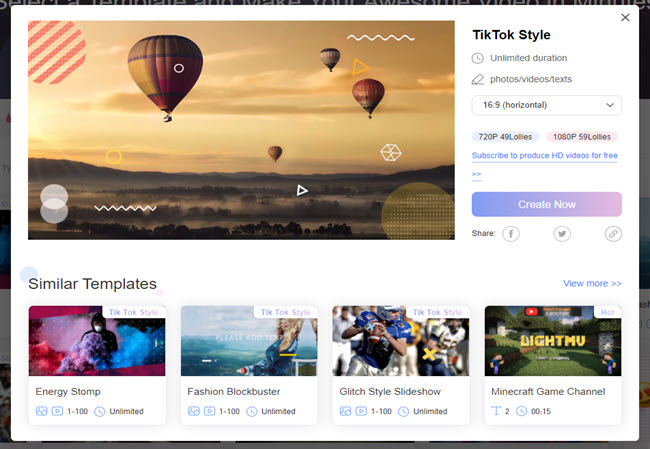 Third, click the "+" icon to upload the videos you want to use. After uploading files, click the "Edit" button to customize them.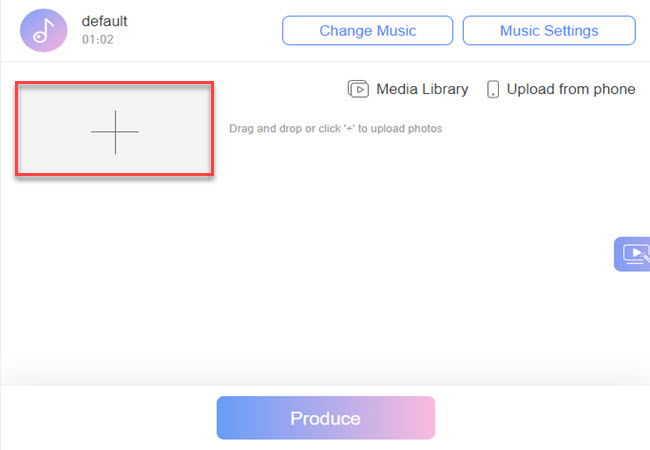 Fourth, head on to the "Change Music" option above, then click the "Add Music" button to upload your own music.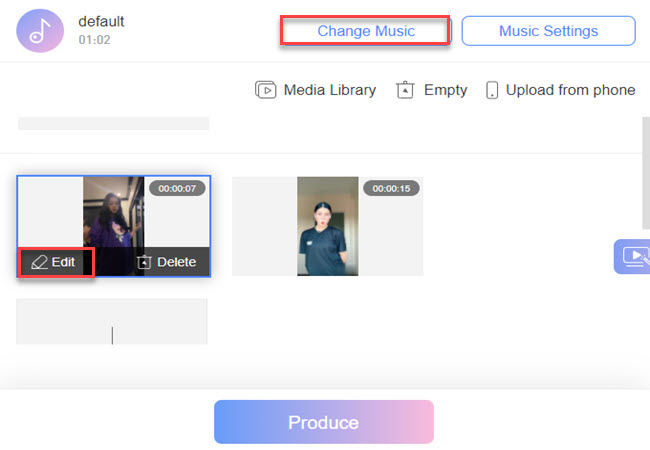 Fifth, click the "Produce" button below once done editing the video. Lastly, click the "Download" button to save it on your computer.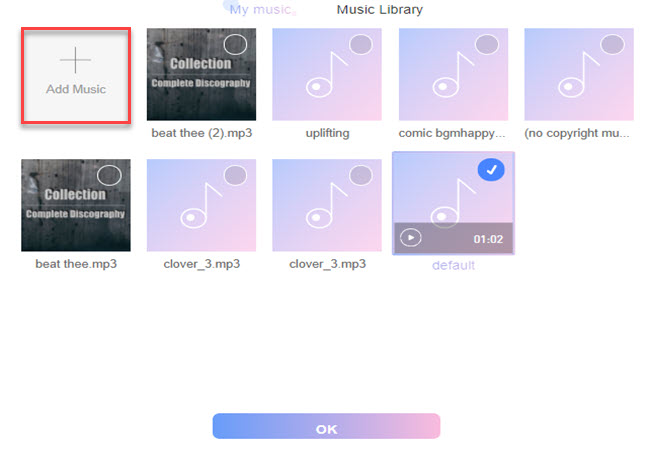 Conclusion
These techniques mentioned above are the three simple ways on how do you add music to TikTok with ease. However, LightMV allows you to enhance the video's quality by using its video editing functions. Aside from that, this enables you to customize videos using different platforms as long as you have a network connection. Write your comment down below for further suggestions.