When it comes to storage, we tend to favor "the more space, the better" philosophy. If you have a deep closet, however, you may find yourself struggling to optimize all that space that's out of arm's reach without turning it into a storage graveyard. Luckily, there are ways to do it. We asked a few organization experts for their best advice for organizing a deep closet-and harnessing its full storage potential-whether in the bedroom, entryway, or your children's playroom.
Think in Rotations
If deep closets have made it impossible to access items further back, try using that to your advantage. In other words, store what you don't need or use as often in the back and keep more day-to-day items up front, says Kendra Stanley of Healthy Organizing, a personalized organizing service. "The clothes you wear the most should be the most accessible and organized by season," Stanley tells us. "Special occasion items can also be stored deeper back." You can also rotate items by need in kids' closets, depending on their age and what toys or clothing items they've outgrown or are not yet ready for. "As far as clothing goes, only the size they are currently wearing should be accessible," says Stanley. "The rest can go into clear plastic bins, labeled by age or size, and stored either deeper in the closet or on top of a high shelf."
Keep the Floor Clean
It may be tempting to store less frequently used items on the bottom of your closet shelves, but Cynthia Kienzle of The Clutter Whisperer, an organizing service, advises otherwise. "Keeping the floor clear is key to being able to walk into the closet freely. Plus, it will make the closet feel a lot more welcoming when the floor is not jammed with stuff," she says. Furthermore, Kienzle notes that items on the floor are not only harder to see and access but they'll quickly collect dust. For shoes, consider storing seasonal pairs away, in clear plastic bins, or using a hanging shoe bag to keep them off the floor. Store day-to-day pairs by the entryway or door. For anything else, Kienzle says to reconsider your need for them in the first place.
Use Labeled Bins
As both experts have mentioned, clearly labeled storage bins are your best friend when it comes to decluttering and maximizing space in a deep closet. Whether storing batches of extra toiletries, old baby necessities, or stacks of winter sweaters in the back of your closet, Stanley says, "It is crucial to be able to see what items are where." Keeping the items you don't regularly use in order will also save you time and stress when it comes time to accessing or swap them out. Closed bins also make for easy stacking and moving, come in all shapes and sizes, and can be reused anywhere around the home.
Don't Forget the Door
Your closet door isn't just for hiding storage; instead, think of it as an extra wall for hooks and other hanging organizers. "It's valuable real estate which is often overlooked," says Kienzle. And while many people may default to hanging a 16-pocket shoe organizer on the door, Kienzle says this can quickly look messy. "I prefer using the Elfa closet door rack system, which is perfect for smaller items like sunglasses, small purses, belts, hats, gloves, scarves, and more."
Store a Stool Nearby
To avoid straining on your tippy toes to reach a bin higher up, Kienzle also recommends keeping a lightweight folding step stool in the closet, like this one from Target. "It's a small investment that will make higher shelves easier to access," she says. "And you can keep shelves neater when you can reach them."
Not all closets are created with the same dimensions. Some are taller, some are wider, and there are a few that are even much deeper than most. Of course, this added depth opens the door for some enticing closet organization innovations. If you are trying to maximize the storage space in an overly deep closet, the following are some tips to consider. This is why our design team is called upon to assist with custom deep closet design services to help with the inspirational ideas that will help tailor a solution specific to you and your needs. Some of these deep closet design ideas are below.
Place A Dresser In The Back
A dresser is a great way to keep loose items like socks and undergarments as well as folded items like sweaters. It can also free up some space in the rest of the bedroom. Even if your current closet space isn't quite deep enough to accommodate your current dresser, a custom unit can often be installed at a very reasonable cost.
Install Adjustable Shelves
Shelves are a great way to store narrow items like books and mementos. It might even be a space where you could keep extra pairs of shoes that you reserve for special occasions. Installing an adjustable track makes rear closet shelves more versatile as you can space them to maximize the vertical area.
Install Heavy Duty Wall Hooks
If you have 12-inches or less of available space behind your hangers, then drawers and shelves might not work best. However, it doesn't mean that space needs to be wasted. Instead, you could hang heavy duty wall hooks. This can be a great way to store seasonal jackets, coats, and scarves. Staggering the hooks in a diamond pattern can also help maximize the available storage space.
Even if the structure of the back wall won't accommodate heavy duty wall hooks, you might want to try a pegboard system. These units have evolved from their early days when you would find them holding tools in the garage or a basement workshop. Modern pegboard systems can look sleek and stylish. The hooks can also be changed from one location to the next, making them versatile as your hanging needs change throughout the seasons.
Install A Second Hanger Rod
If you have a lot of available depth, and a lot of clothes that benefit from being hung, you might want to consider installing a second hanger rod. Setting it slightly lower or higher can further reduce the contact between hangers from one rod to the next.
This option also allows you to rotate clothes for the season. When seasons change from summer to winter, you simply move the summer clothes to the back and move the warm sweatshirts, sweaters, and coats to the front.
Use Stackable, Tote Bins With Labels
Heavy-duty plastic tote bins are great for storing heavy items with little worry about the top collapsing when you stack them. This makes them a good option for long term storage of things like old books, seasonal clothing, and holiday decorations, just to name a few.
The key to this storage tip is to label them accurately. This includes a general label on the outside, as well as a more detailed manifest or inventory taped to the bottom of the lid. While it might take a few extra minutes when you are filling the bins, it can save you potential hours when you need to retrieve something.
Make Use Of The Door
With many deep closets, the hanger bar is centered on the span between both sidewalls. This can leave some significant share inches between the corner of the hangers and the backside of the closet door. With a little effort, you can make the most out of this precious real estate by hanging hooks or small caddies.
Hooks that are installed in a diamond pattern can be a great way to store multiple scarves, as well as light jackets, sweatshirts, and outerwear. There are also over-the-door hanging units that can be secured at the top of the jamb. They can be used for shoe caddy pouches or to serve as another lightweight hanger rod.
Keep A Step Stool Inside the Closet
With some closets, the upper portion can be very high allowing items and boxes to be stacked. Sometimes there is even enough vertical space to accommodate two shelves. In a situation like this, only the tallest members of your household might be able to safely reach them.
Keeping a small, collapsible step stool inside the closet gives you the ability to reach higher. If nothing else, it makes it safer to pull down a heavy box from a top-shelf.
Install A Basket Or Bin System On The Back Wall
Even if the back wall of the closet has less than 12-inches of available depth, you might still be able to install a basket or a bin system. This gives you the ability to store copious amounts of loose items. There are even some stylish options that can be used as a caddy for jewelry items and other small accessories.
Closettec Offers Experience And Innovative Storage Options
If you're at a loss for how to make the most out of your deep closet, you can always turn to the experienced storage professionals at Closettec. Our design team has decades of experience transforming closets of all shapes and sizes into modern-day storage systems customized to meet our client's specific needs. With every project, we keep an eye trained toward long-term versatility, which allows you to change the closet dynamics as it grows with you.
We are also proud to host our own manufacturing facility, with a large showroom. This gives us the ability to keep our prices lower than the competition by cutting out middle-man costs. It also gives you the ability to explore all the options in our showroom to create a truly custom storage solution that matches your style.
Our on-staff installation crews are well-versed in a wide range of construction techniques. With most projects we can discreetly complete installation in a single day, making it easy for you to realize you're the vision for your new closet.
Certified Platinum KonMari Organizing Consultant + Parenting Coach
In many of the older homes I've visited, most of them have deep closets with shelves that are difficult to keep organized. Anything placed in the back of the shelf is often forgotten because it's hard to see or reach, and taking anything out usually ends up in a mess.
This was the problem for my client in this week's Before & After. And why newer constructions and remodeling projects have either switched to adding pull-out drawers, or shelves that are 12-14 inches deep. (Although, there are benefits to having the deep shelves. When organized properly, you can keep out of season clothing in the back and rotate them as needed.)
BEFORE:
my client did use a few pull-out containers. She also had some of the shirts rolled up and "filed" away. The upper shelves were hard to maintain without a physical boundary, and the division of the type of clothing within each space was unclear.
This is where the KonMari Method is the most effective. For anyone who has felt discouraged after organizing their closet, only for it to be messy again after a short time, it is possible to keep your closet tidy.
We started out by emptying out every shelf and container and created a mountain of clothes on the bed. This is the most overwhelming part of the process, to see the volume of what you have accumulated. To ease into the process, I asked my client to pick out 3 of her favorite items that definitely sparks joy for her. It's important to pay attention to your gut reaction. You will notice that the clothes you love make you feel happy and light.
Repeat the joy-checking process for what you'll keep. I like to put them in subcategories for long, short sleeve, or by material (cotton, wool). This will make it easier when it comes time to put everything back. When we pick up an item we don't wish to keep, make sure you understand why you no longer need it in your life. Thanking it before discarding is to help you recognize the purpose fulfilled by the item, even if it's just to let you know "don't buy this again."
As you hone your joy-checking skills, you will start to notice a pattern in the style or color of what you keep. These are important insights into your personal style and will help you in your future purchasing decisions.
During our session, we took a little break to reflect on our progress. Sometimes our clothes paint pictures of our journey of the person we once were, the person we are now or want to become. What was the purpose of each item? Does it still serve that purpose? Does a special dress bring back positive or negative emotions? Or it's simply about fashion and what you'd like to see yourself wearing more of? Focus on creating a closet full of clothes that make you feel confident, comfortable, and beautiful. One that feels like YOU!
Once my client has decided on what to keep, it was time to fold them following the KonMari method as shown in this video. Folding and filing your clothes so they can stand up on their own means you can pull out the one you need without messing up the rest of the drawer. We used only the existing baskets my client owned and lined them up by height. We placed the most frequently worn clothing at eye level, and made one of the containers for working out clothes for easy access. Everything is visible and easily accessible.
SIMPLE JOY TIP:
Don't buy any container until you have completed tidying each category. You may discover you can use what you already own to hold everything you're keeping. Or you will learn your personal style from tidying, then decide to purchase containers that sparks joy.
AFTER:
This closet now has room to breathe.
One for sweaters, one for cotton long sleeves.

One basket for pants and skirts, another for short sleeve tops.
I never get tired of seeing the organized clothes all lined up, and the joy on my clients' faces. Getting ready in the morning has just become a little more fun.
If you have a challenging storage space that you need help with, let's schedule a free 30-minute consultation.
Linen closets are an essential space in the standard home. Designed for storing linens such as sheets, pillows, and even towels. They tend to be a magnet for more than linens and gravitate towards housing all the necessities in life.
Storage space is something every person wants more of in most homes. A deep linen closet can be both a blessing and a curse if not organized well.
When you have a deep linen closet, it's hard to utilize all that space in an efficient and organized way. There's more to organizing a deep linen closet than simply folding. Thankfully, you don't need a big budget to get the job done.
Using a few baskets and some clever organizing can help you get your deep linen closet organized and functional. Here is how to best organize your deep linen closet.
How to Organize a Deep Linen Closet
Remove Everything From Your Linen Closet and Lay It All Out to Sort
Starting your organization journey begins by cleaning out the linen closet. Start with a clean slate.
Choose a room where you can lay out all of your items and begin to organize and make important selections.
This is the perfect opportunity to dust those shelves and add nice liners if you want.
Start By Getting Rid of What You Don't Need or Use
All closets end up collecting items that you don't feel like dealing with. Especially when you have deep closets and items can get lost towards the back!
The first place to start when organizing your deep linen closet is to get rid of anything you don't want or use. Donate or toss these items. Anything that is stained or torn should be tossed.
Any sentimental items you don't want to use but want to keep should be stored with heirlooms. Keep these in a storage space meant for actual storage, not functional storage.
Sort Items by Type
A functional deep linen closet has everything sorted out by item type. Categorize all the items you've identified as something you will use. Sorting items by sheets, blankets, pillows, toiletries, towels, etc.
This can help you create a space that is easy to grab exactly what you need. It may be a good idea at this step to take inventory to know what you have.
This helps to ensure you don't spend money on items you already have. Giving every item a home will help to keep you organized in the long run.
Invest in Storage Bins or Baskets and Label Them
Clearly labeled storage bins or baskets are going to be your best friend when it comes to organizing and decluttering your deep linen closet. You can organize smaller items within the bins to create a cleaner look.
It gives each small item a place that is easy to find and easily grab when you need them.
Bins make it easier to contain messes and allow you to reorganize and move when needed if you have something stored behind the bins.
Get the Most Out of Your Space
When organizing your linen closet, optimize your space by placing the most used items in the front. Making them easily accessible.
All seasonal items or things you rarely use should be stored on the top shelves or in the back of the closet. Keeping these items behind the most frequently used items will optimize your deep linen closets.
Bonus Tip: Try to use space saver bags for bulkier items like comforters to maximize the space in your closet.
Use Shelf Dividers and Add Ons for More Storage
Shelf dividers can be a great way to section off your deep linen closet and help make the space more functional. Your linens can be aligned on one shelf in a way they do not start falling into each other with shelf dividers.
You can optimize your space by adding under-mount shelves for smaller items and help keep stacks of linens from falling over.
Master the Art of Folding
Folding linens may seem like it's a simple task. Still, you may be surprised to know that many people do not know how to fold a fitted sheet or even fold a towel in a way that saves space.
Folding Towels – Two great methods can make your towels look organized and neat, the three-fold or the rolling method. Rolling towels can save space and give a nice unique, clean look to break up all the folds in your linen closet.
If you want to keep the folds consistent, fold your towels in thirds lengthwise. Face the edges towards the inside of the closet for a clean look. This method is great for bulky towels.
Folding Sheets – If you have multiple sheet sets, bundling them with pillowcases and fitted sheets can be a great way to maximize space.
Your linen closet will look clean! You will be able to easily grab a new set without having to hunt down the match. Martha Stewart has an excellent article and YouTube video to show you how to fold those fitted sheets nicely and prevent bulk.
Keep Your Linen Closet Fresh
Linens, when stored, can become stagnant when they are not used as frequently. You can keep your linens fresh by storing a box of baking soda behind linens in that deep space or hanging a bundle of lavender inside the door.
You can also add a few dryer sheets, so they continue to smell like a fresh load of laundry for days on end.
Organizing your deep linen closet with bins, proper folding, and storing less frequently used items in the back can maximize the space. Creating an efficient and clean look.
Keep your deep linen closet in control with these steps above. You can have a clean, organized deep linen closet in no time.
Decluttering and organization are essential to living a minimalist lifestyle. Need more tips on how to declutter and organize your life? Check out my YouTube channel for quick and easy tips, or for an in-depth look at decluttering, download my eBook today!
Whether you are designing your dream closet from scratch or reconfiguring an existing closet space, you have the perfect opportunity to get organized. Aside from the shelving layout possibilities, additional design options to consider include the amount of space you need, lighting opportunities and whether to include built-in conveniences, such as an ironing board and hamper.
Closet Dimensions
How big should your closet be? How deep is closet shelving? Your dream closet doesn't need to be gigantic. On the contrary, a well-designed closet with shelving, drawers, cubbies, and a shoe tree can fit your space limitations and still include places to tuck handbags, lingerie, and jewelry neatly. Use these storage space dimensions as guidelines:
14″, 16″ and 20″ deep: Standard closet drawer depths
Ideally, a minimum walk-in closet starts at 4′ deep x 72″ wide
24″ deep x any width: Standard reach-in closet
How Deep Are Closet Shelves?
When redesigning your closet, first, measure your existing space to determine the depth of the current shelves. Then ask yourself if the current shelving depth is helping or hindering your organization. For instance, if your shelves are too deep, hats and accessories can get pushed out of view, to become lost and forgotten. On the other hand, shelves that are not deep enough can limit the type of items that can be stored on them.
The items intended to be stored on the shelves will determine necessary shelf sizes. When in doubt, always measure. Keep in mind that bulky oversize items are often best stored on the top shelf of a closet where there is extra space. The rest of the closet shelves are usually used for shoes and folded clothing. Closet shelves come in standard depths of 12″, 14″, or 16″. You can go deeper with a custom depth shelf for linen or storage closets not intended for clothing depending on what you plan to put on them and whether you want to include closet accessories. If you have a lot of tiny items to store on a closet shelf, you're usually better off going with pull-out shelves in a standard depth so that you can easily access items stored in the back rather than installing a non-standard shallow depth shelf.
The most desirable depth for any wood or laminate closet shelving is 14-inches. The reason for this centers around closet accessories. Tie racks, scarf organizers, built-in hampers, slide-out wire baskets, and various closet organizers of all sorts are all available to fit inside a standard 14-inch-deep closet section. Closet drawers also come standard in this 14-inch-deep depth. A limited number of accessories will fit a 12-inch-deep closet section, but not many. And let's face it, it's these little bells and whistles that can make all the difference between a Plain Jane versus a luxury closet system. The 14-inch accessories can be installed in a 16-inch-deep closet shelving section, but you'll have about 2-inches of wasted empty space behind the accessory. Some items, such as drawers, can be made to custom depths and sizes but this customization drives up the cost of the closet very quickly. Plus there are no drawer organizers for jewelry or anything else made to fit the custom drawer sizes. For maximum storage options and best value all around, choose 14-inch-deep shelves and panels for your closet system.
Door vs. No Door
Sometimes, the only thing standing in the way of an organized reach-in closet is the closet door. Adding shelving and drawers to an existing closet space might remove the need for a closet door.
This closet is part of a child's very small bedroom. The clients wanted both more closet storage and a larger bedroom for their daughter. We decided to remove the closet doors and place a built-in dresser with a mirror and overhead cabinets in the center of the closet opening. Hanging space was moved into the deep returns on either side of the closet. Double and triple hang rods ensure there is enough room for all the clothes. This change visually opened the room and immediately made it seem larger.
Lighting
Tired of relying on one overhead closet light that only casts shadows and doesn't help you locate your items? A custom closet could include LED display lighting to help you quickly spot your favorite accessories.
The lighting in this closet is both dramatic and practical. The targeted illumination helps the owners to find what they're looking for in a hurry. It also adds a touch of glamour and highlights some of the more attractive features of this galley style walk-in closet design.
Storage
Some people prefer to see all their wardrobe components at one glance. It helps them decide what to wear, what needs to be laundered, which seasonal items can be packed away, etc. Other individuals prefer to keep clothing and accessories neatly tucked away and out of view. A Closet Works designer can work with you to determine the perfect storage options for your preferences.
Your clothes aren't one-size-fits-all, and your closet space shouldn't be, either. Closet Works can design an organized closet space especially for you. Our designers ask all the right questions, such as:
Do you need a new walk-in closet, or can a redesign of an existing reach-in closet provide the ideal storage space?
How deep should your closet shelves be?
Would your new closet benefit from the addition of LED display lighting?
What about including built-in accessories, such as jewelry organizers, clothing hampers or a fold-out ironing board?
More Organizing Advice from www.thecustomcloset.net
Organizing Tip: Solutions for DEEP SHELVING
Some of my clients have very deep shelving (deep front to back) in their closets, cabinets or open shelves in their garages and other storage areas. It's great to have all that room, but sometimes it can do more harm than good if not organized properly. Deep shelving can cause things to get lost in the back, and make it really cumbersome to access things stored in the back. This can make all that extra space become ineffective, and even wasteful. So, what to do? Here are some options:
1) INSTALL PULL-OUT SHELVES: This is an optimal solution for kitchen/bathroom cabinets, and even some closets because the shelves can then be pulled-out and you will have easy access to everything. But, this may not be a workable solution for wire shelving or garage/attic shelving.
2) LAZY SUSANS: For shelves at or below eye level, put inexpensive 'lazy-susans" in the back section of the shelves. Not a maximum use of space, but whatever is put there can be easily accessed by spinning what's needed into reachable distance.
3) STADIUM SEATING: Think of the concept of the tiered spice racks for the back-end of the shelf, or a make-shift version of this using old shoeboxes or even sturdy cardboard mailing boxes to raise up what's in the back half of the shelf so it's view-able. Keep what you store in the front of the shelf low, so you can see what's on the higher level in the back. (you can wrap the boxes in nice paper to make it look more pleasing. Can combine this w/ the lazy susan idea as well.
4) DEEP BASKETS OR TRAYS: Long baskets or trays that you can pull out to see what's in back. I've also heard someone using window box liners. Not the best looking, but can be very func tional and act as a long slide-able tray.
5) USE THE DOOR: If it's a closet or cabinet, then another great solution I I found is installing baskets, racks, bins, on the inside of the door itself. These can be a larger/deeper size if you install them in the right location on the door so that when the door closes, these bins fit in the space between the shelves. You can then mark a line on the shelf w/ paint, marker, shelf-paper. to block out the area that get's taken up by the baskets, so you know not to put stuff there. Then, your shelf is not so deep anymore b/c you're only storing stuff behind the marked line, and everything, both on the door and on the shelves, is more easily accessible. I've also heard of cutting a U-shaped area out of the front of each shelf to accommodate baskets on the back of the doors and allowing you to reach the back of the shelves.
6) IDENTICAL FRONT TO BACK : Process-wise, you want to store identical things on deep shelves in rows going front to back (no surprises on what's behind the front item – all the same going to the back and nothing unknown get's lost behind the front.)
7) LABEL: Even if you do have to store items in the back that don't relate to what's in front, then simply label the front of the shelves so it's clear what's stored in the back.
So, you can see, with a little creativity, you can transform those deep shelves into much more functional storage spaces!
Not sure how to organize a pantry with deep shelves? No worries! Here are some easy to implement ideas!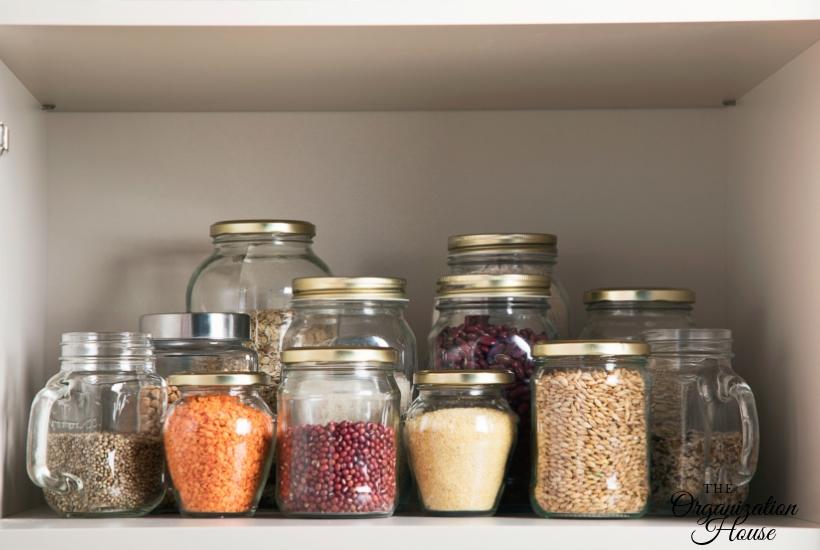 Pantries can be hard to organize. The food items and cooking utensils are all different sizes and shapes, making it hard to stack and make things easy to see. This is even harder when you have deep pantry shelves.
How to Organize a Pantry with Deep Shelves
While it can be challenging to organize a pantry with deep shelves, here are ways to create a functional pantry that you can use and enjoy.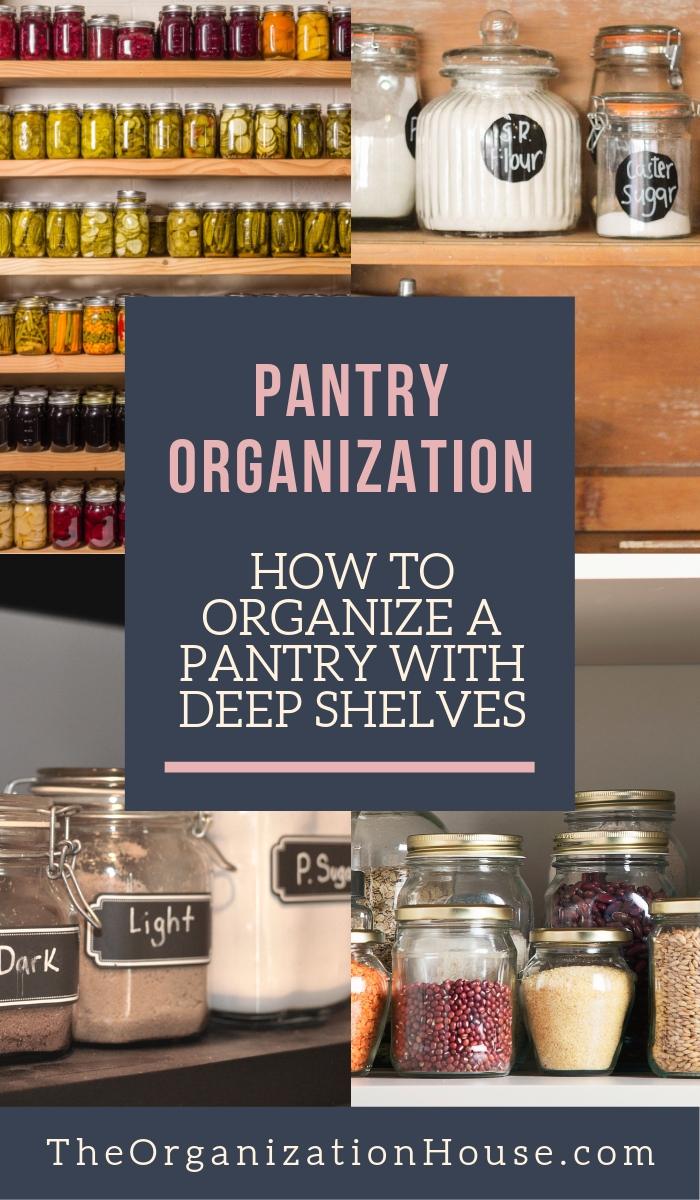 This article contains affiliate links to products that will help you get organized.
Use a Lazy Susan to Organize Your Deep Pantry Shelves
We love our lazy susan kitchen cabinet, but lazy susans are also perfect to use in the pantry – especially in corners! Here's the one we have and love – notice how it has a raised outer edge to keep things on it and two tiers to give us extra space.
Lazy susans create a way to see everything you have on a deep shelf with just a small turn. They're perfect for things like spices or bottles of flavored oils and vinegars.
You Might Also Like: How to Declutter a House
Containers Work Great on Deep Pantry Shelves
When it comes to trying to store things that are in bags or in unusually shaped boxes, it can be helpful to put the items inside of a container.
Things like pasta, beans or brown sugar, for example, are easier to store in clear stackable containers. Whereas, snacks are great when stored in long open containers or long wire baskets. Finding the right containers to store your goods is key!
Drawers Can Make Deep Pantry Shelves Super Functional
Adding drawers, either built in or premade plastic drawers, are perfect for storing small items. Things like sprinkles, nuts, or other small items that don't need to be put into a storage container but won't stack or sit well to be organized are excellent items for pantry drawers.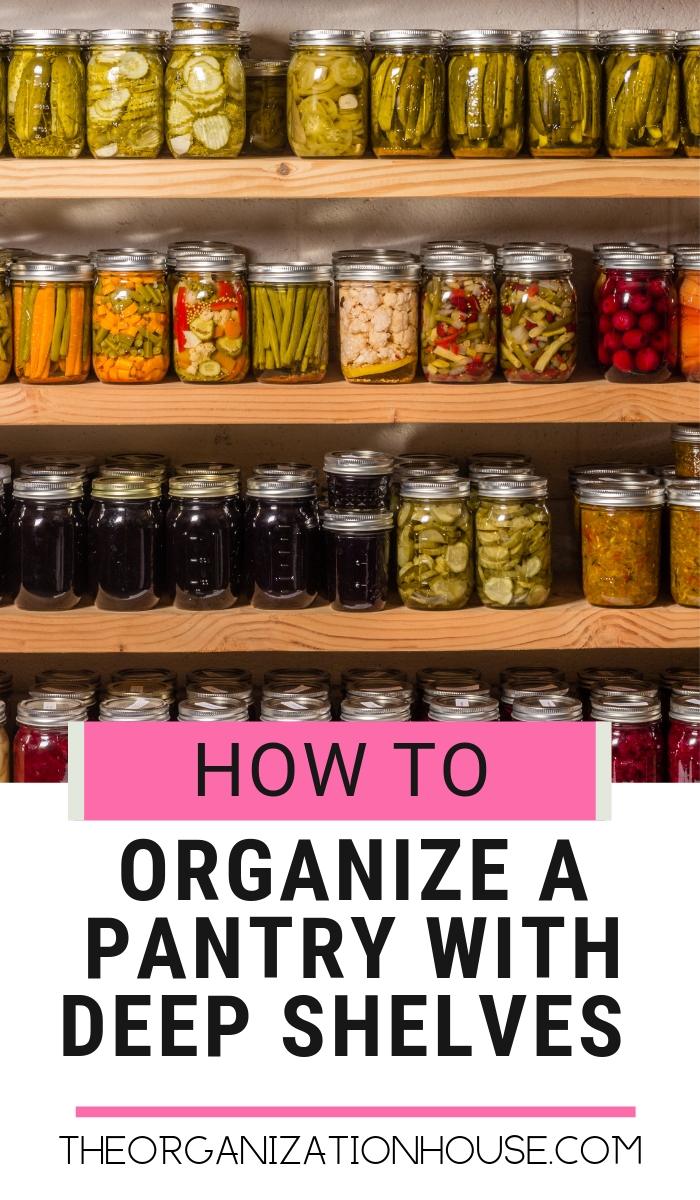 Shelf Risers Add Space to Deep Pantry Shelves
When trying to do deep pantry organization, you can use shelves to create more space. Not only do the shelves make it easier to see the things in the back, they help you keep your pantry organized.
If you're using open bottom shelf risers like these, use the space under them to store extras of the items on the shelves.
Baskets Rule When Working on Deep Pantry Organization
When all else fails, use baskets to organize. Baskets are great for anything in the pantry that needs to be grouped together or for things that might not stand well on their own. Snacks, boxes of cereal, and even bread work well in pantry baskets.
How to Organize a Deep Pantry
Once you have the items needed to start organizing your pantry, it's time to get started. And, in order to start, you first have to take everything out of the pantry. Sounds a bit counterintuitive at first doesn't it?
The trick is that once you have everything out of the way, you can see what you have and get a better idea about how to sort it all. This is the first step in getting organized.
Next you want to take whatever needs to be moved to new containers and set them aside. Things like cereals, sugar, flour, etc. are great for storing in sealable containers instead of their awkward original packaging. When you have the items in new containers, slowly start adding things back into the pantry.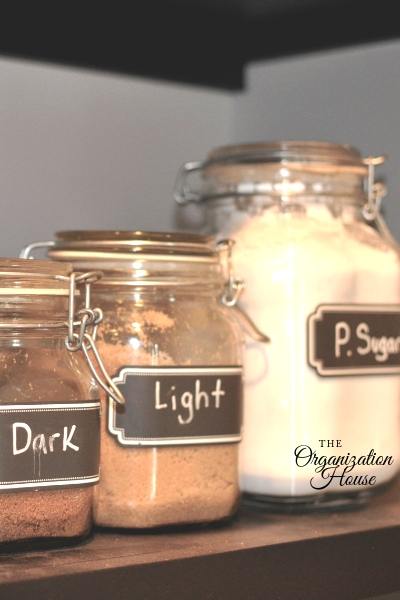 Put things that are used often towards the front of the deep shelves. Place heavy or breakable things out of reach of kids. Keep snacks and things that children might want to get themselves in easy reach in labeled bins or tubs.
Don't forget to label your baskets, bins, and containers! When things are labeled it's easy to see what's out of place and keep the pantry organized. It also helps other members of the family know where everything is supposed to go!
Once you have the pantry organized, it gets much easier to stay organized. As the old saying goes, there should be a place for everything, and everything should be in its place!
Last Modified: January 24, 2022 Sabrina Quairoli This blog uses cookies. It also has affiliate links. We earn sponsored content income.
Narrow linen closet storage is great but can be a challenge to organize. You can see everything at a glance and nothing is hidden but when you try to look for storage options in the stores, you need to have exact measurements to make sure the item fits properly. It's a hassle to deal with this detailed step, but it can be done. Here is how I found items for my narrow linen closet.
Tips on how to organize a narrow linen closet
First, I measured the depth of the shelf. My shelves were 9 inches deep. Since the shelves fit and the doors closed properly, this was a good measurement to use.
Then, I measured the width of the shelf to see how many bins I can use on the shelf. I took this number with me so if I found a bin that worked, I would be able to read the label at the store and find out how many I can fit on my shelf.
Boutique Rugs –FREE SHIPPING ON ALL ORDERS WITHIN THE U.S. Visit their Best Selling Rugs sorted by size and type!
Lastly, I measured the height of the opening. I did this just in case, I found a really deep bin that would restrict me from removing the content easily. I didn't want to take out the bin every time I needed to get an item.
Off I went to the store with my measurements and tape measure in hand. These are the items I found.
What to use to organize small items in the narrow linen closet?
First, I found a Sterilite ClearView 3 Storage Drawer Organizer : This would hold my extra toothbrushes, toothbrush tips, toothpaste, Q-tips Cotton Swabs, 500 Count (1 Pack) , and sunblock. This storage drawer organizer fits either way but I preferred that it was easier to use so I did it this way.
What size bins should I use for a narrow linen closet shelf?
Secondly, there were rectangle wicker bins. They look pretty and they fit the items better. I tend to buy supplies at a wholesale place so I have a lot of extra supplies that need to be stored. I picked a bin that was a rectangle with no rounded edges because it doesn't allow maximum storage of items.
Here are some additional problems I needed to find solutions for.
How to fold towels for a narrow shelf?
I'm glad you asked. With a narrow closet, I needed to fold the towels in threes. Fold the towel in half longways, then fold it again short ways. You should have a narrow 18 inches by 24 inches shape. Then, trifold it. This will get you to the size of about 9 inches. See the image below for the size.
Want to Organize Your Home But Are Stuck? Check out this product! You can do one card task a day and get it done!

Visit Release Repurpose Reorganize (affiliate) website to purchase these motivating deck of cards.
Where to put these items on the shelves?
Check out the picture below to see the entire linen closet.
The top shelf was for cleaning supplies. I wanted to keep these items away from the kiddos when they were little so I placed them on top.
The second shelf down was for extra cleaning supplies and the toothbrush storage bin. Since the drawers pulled out onto the shelf, I needed a cleared shelf.
The third shelf was for the extra supplies storage. I have a bin for dog shampoo and other misc. supplies, a bin for extra beauty supplies, and a bin for my jewelry cleaner.
And the lowest shelf was for beach towels, an extra robe, and hand towels. If you want to know where I placed my bath towels, check out my post on wasted storage spaces.
And of course, my laundry baskets on the floor. If you want to revisit that post, here is a link.
That's it. I hope this inspires you to tackle your more difficult spaces.
Let's continue the conversation, what area of your home is difficult to organize? Please share the area and how you managed to organize it. I would love to hear from you.
(Full disclosure: I receive a referral fee for any purchases you make from Amazon or Easy Closets from this post.)
Update 2019:
Recently I had to update a few of these bins in the linen closet. I picked them up at Target (affiliate link). These brown-black colored bins are 9 inches deep and fit perfectly on my narrow linen closet. These bins have linens in them which helps give an extra layer to the bin. And if anything spills, I can toss them into the wash and clean them up! Yay!
I bought five of these bins to hold the misc stuff I had in the narrow closet. They are more shallow than the other wicker ones. But that is OK. It makes it a little easier to take stuff out because the items do not hit the wire shelf bar.

I still have a gap between each bin. Did you see my shelf liner paper? I wrapped it to cover a foam core board and cut them narrow enough to fit on the shelf. Pretty, right?

It also holds all my cleaning supplies – nice and neat. The labels are the same labels from before. I used the Chalkboard tape and wrote on it with a Chalkboard white marker. When it dries, it does not come off unless you wet it.

Are you looking for ways on how to organize your bathroom closet? If so, you may want to consider using deep shelves. Deep shelves can provide you with more storage space, and they can help you organize your belongings in a more efficient way.
In this blog post, we will discuss the benefits of using deep shelves in a bathroom closet, and we will provide you with some tips on how to organize your closet using these shelves.
What are the Benefits of Deep Shelves in a Bathroom Closet?
There are several benefits of using deep shelves in a bathroom closet. One of the best things about using deep shelves in a bathroom closet is that they can help you maximize your storage space. If you have a lot of belongings that you need to store, then deep shelves are definitely the way to go. These shelves can accommodate large items, and they can help you keep your closet organized and tidy.
Another great thing about deep shelves is that they can make it easier for you to find what you are looking for. When everything is stored in a small space, it can be difficult to locate specific items. But with deep shelves, you can store your belongings in an easily accessible manner. This will make it simple for you to get what you need when you need it.
How can I Organize my Bathroom Closet with Deep Shelves?
There are several ways that you can organize your bathroom closet using deep shelves. One way to organize your closet is by using different color-coded bins or boxes.
This will help you keep track of which items are stored in which bin. Another way to organize your closet is by using labels.
You can create labels for each category of item, or you can create labels for individual items. This will make it easy for you to find what you are looking for, even when the closet is cluttered.
Tips For Keeping Your Bathroom Closet With Deep Shelves Organized
Here are some tips to help you keep your bathroom closet with deep shelves organized:
Grouping Your Items
The best way to group your items is by type. This will help you find what you need when you need it.
Toiletries: Shampoo, conditioner, soap, towels
Medicine: Pain killers, cold medicine, allergy pills
Beauty Products: Razors, shampoo, conditioner, body wash
Other: Deodorant, toothpaste, floss
You can also group your items by usage. This will help you use them up before they go bad.
Shampoo and conditioner together
Soap and towels together
Toothpaste and floss together etc.
Grouping your items is essential for an organized closet. You can group your items by type, function or season. This will help you to find what you need when you need it and keep the space looking neat and tidy.
Organizing With Containers
Containers are a great way to organize your items. You can find containers in all shapes and sizes. They also come in a variety of materials such as plastic, metal, and wood.
Plastic containers are the most common type of container. They are affordable and come in many different shapes and sizes. The downside to plastic is that it can be brittle and break.
Metal containers are more expensive than plastic, but they are more durable. They also do not rust.
Wooden containers are the most expensive, but they are the most decorative. They also come in many different shapes and sizes.
The type of container you choose will depend on your needs and budget.
Organizing with containers is a great way to keep everything in its place. Choose containers that are the right size and shape for the items you are storing. If you have a lot of small items, choose containers with multiple compartments. Labeling your containers can also be helpful, especially if you have a cluttered closet.
Arranging The Shelves
The way you arrange your shelves will depend on the items you are storing. If you have a lot of small items, you will want to store them in smaller containers. This will take up less space and make it easier to find what you are looking for.
If you have a lot of large items, you will want to store them on the bottom shelf. This will free up space on the top shelves for smaller items.
You can also use the space on the sides of the shelves to store taller items.
Arranging your shelves is a great way to make the most of your space. You can arrange them by type, function or size. You can also change the arrangement depending on what you are storing. Just be sure to keep everything in its place so you can find it when you need it.
Use Color-Coded Bins Or Boxes
One way to keep your bathroom closet organized is by using color-coded bins or boxes. This will help you keep track of which items are stored in which bin.
Create Labels For Each Category Of Item
Another way to keep your bathroom closet organized is by creating labels for each category of item. This will make it easy for you to find what you are looking for, even when the closet is cluttered.
Store Large Items on the bottom shelf
If you have large items that need to be stored, try to store them on the bottom shelf. This will make it easier for you to access these items, and it will prevent them from taking up valuable space on the top shelves.
Keep Seldom Used Items In The Back Of Closet
If you have a lot of items that you only use occasionally, try to store them in the back of the closet. This will free up space on the shelves for more frequently used items.
These are just a few tips for organizing your bathroom closet with deep shelves. By using these tips, you can create a space that is neat and organized. Organization is the key to a stress-free life, so why not start with your bathroom closet?
Conclusion
The best way to organize your bathroom closet is by using deep shelves. This will give you enough storage space to store all of your belongings. Make sure to use a labeling system so that you can easily find what you are looking for. By following these tips, you can create an organized and functional bathroom closet. Thanks for reading!
Leave a Comment Cancel reply
This site uses Akismet to reduce spam. Learn how your comment data is processed.
In the 2020 Real Simple Home, Fillip and Jamie Hord, the organizing pros behind Horderly, created our dream bedroom closet. Custom Elfa shelving, neatly folded stacks of sweaters and jeans, and glorious rows of shoe storage make this closet especially covetable. Short of calling this closet our own (a clear first choice), our next best bet is to borrow some of the organization ideas hiding inside. Even mini moves, like switching to slimline hangers, can make a tiny closet feel instantly more spacious. Here are five things the pros know about closet organization.
Switch to Slimline Hangers
If you're still using mismatched clothing hangers you've collected over the years, you could be inadvertently wasting precious closet space. The best way to instantly upgrade your closet for less than 30 bucks? Invest in a set of slimline, no-slip hangers.
Opt for a Double Hang Closet Rod
There's a good chance you're not maximizing all of the vertical space in your bedroom closet. Horderly's solution: add a second closet rod. Place one near the ceiling (just make sure it's still accessible) and a second rod several feet above the floor. The top rod holds blouses, while the bottom one stores skirts and pants. Voila—closet space doubled.
Start Shelves a Few Inches Above the Floor
It's no mistake that the Horderly team chose to start the shelving in the utility closet just a few inches off the floor. This way, using the floor for storage simply isn't an option. "When items live on the floor, items can easily pile up and create clutter!" explains Jamie Hord. Instead, kitty litter and trash bags are all neatly stashed on the lowest shelf.
FACEBOOK
PINTEREST
EMAILSHARE
Like possibly every other apartment dweller, I often find myself longing for more closet space. Sure, I'm diligent about paring down my wardrobe as needed and enjoy a good organizing spree every now and then, but that doesn't change the fact that my deep, narrow closets aren't ever going to change in size.
I will note that I'm lucky enough to have three closets in my one-bedroom unit, which has helped me divide up and effectively categorize my belongings. There's one small, shallow closet in the entryway, which I use to store a whole bunch of miscellaneous items: my vacuum, extra décor, and my gift stash, to name a few. The second one holds all of my coats, as well as my luggage. The third closet, which is in my bedroom, is packed with blazers, sweaters, sweatshirts, hanging garments, and dresses, which can definitely make for a bit of a chaotic situation when it begins to get too full.
Both the coat closet and my bedroom closet are very deep, but by no means are they walk-ins. I knew I wanted to do something to make better use of the space they do provide. However, I didn't want to spend too much money on a revamp (I'm in a rental, after all) and also didn't want to take on a project that would require a large investment of my time.
I was scrolling through Facebook Marketplace when I happened upon the perfect solution: a tall, narrow, pre-assembled five-drawer dresser that was listed nearby for just $70. Not having to construct a piece of furniture on my own is always a win, and the chest was thin enough that I could easily place it in my bedroom closet perpendicular to the door.
A day later, the piece was mine, and it ended up providing me with enough storage for underwear, workout gear, T-shirts, and leggings. In fact, it holds so many items that I was able to sell my existing dresser and free up space for a desk.
I was so inspired by this setup that I knew I wanted to replicate it in my coat closet. While the exact piece that I had purchased for the bedroom closet was discontinued online, I ordered a budget-friendly storage system from Amazon that has truly been a lifesaver. Featuring five sturdy cloth drawers, the piece now holds my extra bed linens, bath towels, scarves, winter gear, and more. Whenever I'm looking for something, I know where it's housed immediately, and because the drawers aren't see-through, I don't need to be meticulous when tossing items inside of them.
Both of these pieces have transformed my so-so closets for the better for under $150 total and are items I'll be able to bring with me to future apartments or use in other rooms, too. While I'll still lust over giant walk-in closets, I'll also happily take an efficient, budget-friendly solution any day.
SHARE
Get ideas for arranging your clothes closet with 8 combinations of shelves, hooks, rods and drawers.
SHARE
Large, luxurious walk-in closets may be the stuff dreams are made of, but they are not always the reality. If the closet space you have to work with is on the petite side, there's still plenty you can do to make the most of it. From ultraslim shelving to wall-mounted storage, here are steal-worthy ideas from eight closets that put every inch to work.
1. Dresser + hanging rod + curtains. Replacing the closet doors with curtains has freed up some much-needed space in this small bedroom, allowing access to every inch of the reach-in closet. Inside the closet, a high shelf holds baskets (perfect for storing less-used items) over a hanging rod, with a dresser below. The dresser top is put to work too, with a wire storage basket and space for a few pairs of shoes.
Best for: Reach-in bedroom closet.
2. Tall bookcase + hanging rods + wall hooks. A tall, shallow bookcase anchored to the wall provides ample storage space for folded clothes and accessories in this petite closet. Opposite the shelving, rods hold hanging clothes and a set of wall hooks provides a handy drop spot for scarves and jackets.
Best for: Narrow walk-in closet.
3. Shelves under eaves + short hanging rod. Shelves in graduated sizes make the most of this space beneath a sloped ceiling. Two wide drawers hold folded clothes below, and a short rod provides space for hanging items.
Best for: Bedroom with sloped ceiling.
4. Wall-mounted shoe rack + hanging rod + high shelf. A slim wire shoe rack mounted on the wall holds plenty of pairs without taking up precious floor space. At the back of the closet, two high wire shelves over the hanging rod hold luggage and other infrequently used items.
Best for: Deep, narrow closet.
5. Shelves + crates + lidded boxes. A simple setup with wall-mounted shelving is made more functional with the addition of crates to keep bulky items from toppling over. Wall hooks hung both low and high keep bags and belts neatly stowed, and lidded boxes provide a spot for stashing small accessories.
Best for: Small closet with more folded than hanging clothes.
6. Hanging rod + high shelf + floor basket. An easy setup for a petite closet, this allows room for hanging items on the single rod, with a storage shelf above and a basket on the floor to hold accessories (or clothes to be dry-cleaned). If your closet is a bit wider, add shelving to the wall opposite.
Best for: Small closet with more hanging than folded clothes.
7. Extra-high hanging rod + step stool. Take advantage of a space with a high ceiling by hanging a second rod extra high, and use it to store off-season or less-used clothes. This frees up the lower portion of the closet for shelves, with wire baskets to keep small items and accessories neat. Be sure to keep a step stool handy to reach the upper rod.
Best for: Petite closet with high ceiling.
8. Shelves + drawers + dressing table. With shelves on one side, a short hanging rod on the other and dresser drawers in the center, this petite closet fits in a little bit of everything. The mirror against the back wall turns the drawer unit into a dressing table with room for jewelry, perfume and other getting-ready essentials. Open bins on the highest shelves keeps less-used items out of the way but still easily accessible.
Best for: Small reach-in closet with mostly folded clothes.
Tell us: Do you have a small closet? Share a photo in the Comments!
Victoria Keichinger is the Vice President, Brand Marketing for Coldwell Banker Real Estate. When she's not managing national media and advertising for the Coldwell Banker brand at work, she finds herself most at home in Jersey City, NJ with her pre-school crush turned spouse and son. A true Francophile, she loves to travel and will go anywhere there are ski slopes.
Subscribe to Blue Matter and get the latest updates
3 Comments
Berg Larsen Group
Great tips! Love it! Wonderful content, thanks for letting us share it. #BLGTeam
Berg Larsen Group
Thanks for the great tips! Can't wait to share them with our followers. #BLGTeam
Finley Moreira
I think you provided some really helpful tips on how I can make the most out of my space for storage. I especially liked how you utilized height when storing to make the most out of smaller spaces. This would be perfect for me since my bedroom is pretty small.
Say goodbye to clutter with these awesome closet organizing tips and tricks.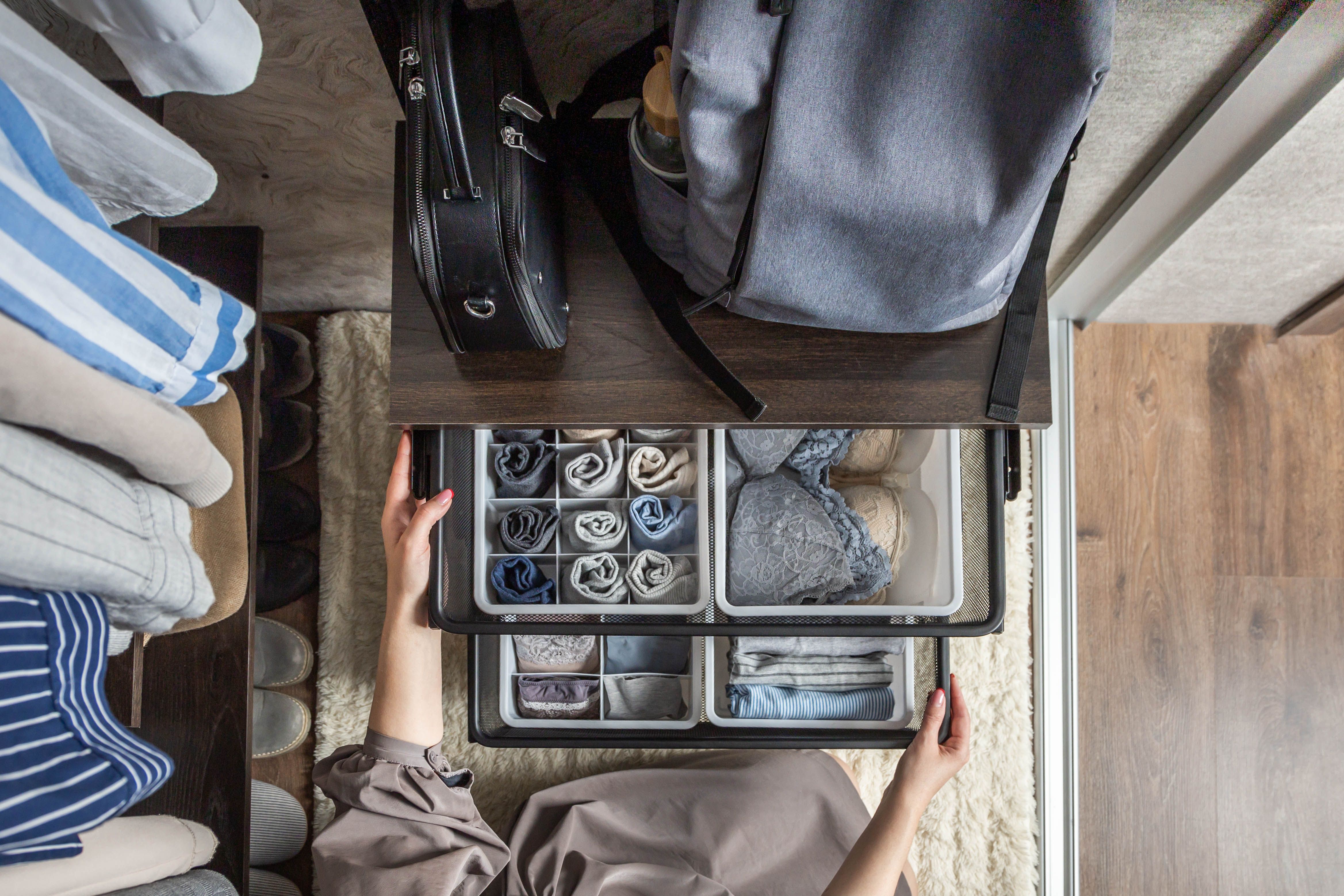 Time to organize your closet? Why does it feel like we're always decluttering and trying to make our closets look nice? An annual occurrence (and for some, even more frequent), we go through what we have, eliminate what we don't use, then put everything back in. If you're lucky, the closet stays neat and tidy for the whole year. But likely, it lasts for up to a season until we say, "out with the old and in with the new" again.
Before you embark on your clutter-clearing journey, our experts have closet organization ideas and storage tips to relay.
"The most important tip for organizing anything is to make sure that the tools we're using work for us," says Lisa Lawmaster Hess, author of Know Thyself: The Imperfectionist's Guide to Sorting Your Stuff. "So often, we adopt things that work for other people and then become frustrated (and a little poorer) when those things don't work for us."
"The organizer has to fit the user, and we need to make it as easy to put things away as it is to just put them down," Hess adds. These closet organizer ideas are chosen with this advice in mind.
Another pro tip? Before you buy anything to help you contain, take inventory and group things. "When organizing a closet, think about sorting existing items first," Barbara Brock, founder and CEO of Beauty & The Box and former President of the New York Chapter of the National Association of Productivity & Organizing Professionals, suggests. "Weed out items you don't use. Collect like-minded products so you can see what you have."
1 of 11
Your closet can be a storage powerhouse, but without the right organizational strategies and storage products it can quickly become a chaotic mess. The easiest way to prevent the former from becoming the latter? Enlist the help of a professional—or, at the very least, organize exactly the way they do.
To help you do so, we tapped Monica Leed, the CEO and owner of Simply Spaced; she is passionate about shifting her clients from the "overwhelmed" to "overjoyed" category as they simplify and create storage solutions for their home. Specifically, we asked her to elaborate on how to maximize the existing space you have, since a full-blown renovation likely isn't an option. Drawing from the information in her new book, Simply Spaced, Clear the Clutter and Style Your Life ($19.88, amazon.com), Leed explained her best tips and tricks for making event the smallest of closets feel expansive—and equipped to hold all of your clothes, shoes, bags, and hats with ease. These tips run the gamut; some are as granular as manually labeling hangers by clothing category, while others involve identifying bigger issues, like wasted horizontal or vertical space—and then finding ways to fill those holes.
Looking for more inspiration to begin your organizational journey? Pick up Leed's book for more expert tips, storage tools, and insights on how to think like a professional organizer. The book is about as comprehensive as it gets: It includes checklists, worksheets, advice, and her exact methodology, along with 15 things to let go of right now for each space in your home.
Closet Organization can be a tricky task and often, space is left underutilized. There are a number of mistakes that people make that create more chaos than before. Here are a few of them:
1. Failing to Purge –Know what needs to go. This NEEDS to be your first step. Don't try and organize more stuff than is necessary. Get rid of some things first and make the whole process easier.
2. Failing to Take Inventory – After the big purge, the logical next step is to make a list of what you have. When you don't know what you have, you don't know what to plan for. Know what's in your closet and what you NEED to keep. When this mistake is made, the likelihood of committing mistake number three increases exponentially!
3. Stuff to Hold Your Stuff – Storage is big business these days, with all the Big Box Stores displaying more and more "stuff to hold your stuff." Some of these products are well designed and effective. But many times, buying a bunch of unrelated items creates a big mess of containers and dividers, and the "solution" is worse than the original problem. Also, the cost of those containers can add up and become an expensive mistake.
4. Lacking Goals –Figure out what you want to accomplish with this project. Set up specific goals to achieve. Going into the task without any planning can create a bigger mess than before. Some good goals to get you started might be finding a place for your shoes or making room for purses.
5. Drawer Deficiency – Organizing a closet that has no drawers is a very difficult task. Even a couple of drawers for underwear and socks makes a huge difference so you can get dressed all in one place without going back and forth from the bedroom to the closet.
6. Shoe Storage – We all have shoes, and some of us have hundreds of pairs. It's virtually impossible to effectively and completely organize your closet without shelving dedicated to your shoes. Correctly designed shoe shelves also allows you to see every pair, so the daily frustrating shoe hunt is no longer a part of your life!
7. Depth of Shelves – Most homes come with 11 ¼" deep shelving, which is OK for shoes and small purses, but completely ineffective for folded clothing, linens, large handbags and totes. You will be much better served with 14" or 16" deep shelving for your folded items and larger shoulder bags. Anything deeper than this (18" or greater) is too deep. Overly deep shelving is very difficult to keep organized, and just as bad as shelving that is not deep enough.
8. Wasted Corner Space – Running a hanging rod into another hanging rod in a closet corner is the cardinal sin of closet design. It makes it very difficult to access the clothing that is tucked back in the corner. On one wall, the hanging should run into the corner. On the adjacent wall, something other than hanging that is less deep (shoe shelves, purse shelves, folded clothing shelves, drawers) should begin 24" off of that corner to allow easy access to those hanging clothes.
9. Lacking Visibility – Try to keep all items in your closet visible. Storing things behind other things will just lead to a mess in the long run. It's likely that when it comes time to find these hidden items, desperation will take over and things are going to be thrown around in the hunt.
10. Hanging Pants on Bottom – This is my personal favorite. Most people put their folded pants on the bottom of the double hang and their shirts/tops/jackets above, because that's how we wear the clothing. Your pants hang less deep than your shirts/tops/jackets and are shorter. So put your folded pants on the top! It's revolutionary! Your closet will seem wider, and you will be able to store things on the middle shelf which is now accessible.
To get a good idea of the RIGHT way to get organized, take a look at our post How to Organize Your Closet. Soon enough, you'll be on your way to organized bliss!

The Romance of a Beautiful Sweater
Like a great love affair, I remember the first one. I had just graduated from college and started a part-time job ghostwriting letters for a wealthy Park Avenue dowager and her husband. She presented me with a box from the elegant department store Bergdorf Goodman. Inside was a glorious light grey, long sleeve, mock turtleneck cashmere sweater. It was a thing of beauty. I took care of that sweater as if it were a piece of gold descended from the Heavens. A decade later when I passed it on to a friend it still looked like new. I was hooked.
Now I live in California and my winter uniform consists of a pair of jeans and – you guessed it – a cashmere sweater. Caring for all of your sweaters whether cashmere, wool, alpaca or cotton will preserve their life and luster. Of course, I can't guarantee a decade!
Here are some of my favorite sweater storing/preserving tips to help you through the long winter weeks still ahead of us.
Sweater Storage 101

1. Never hang sweaters because they will stretch and lose their shape. Folded is the best choice. If you have to hang them do invest in those thick, padded hangers to preserve the shape of the shoulder. You don't ever want to hang a sweater on a wire hanger from the dry cleaners. Of course, as a professional organizer, I'd advise you to never hang anything on those hangers. Your dry cleaner gave you the wire hangers to help you transport your garments home. Recycle them and transfer the clothes to your own hangers when you get home.
2. If you only have a few sweaters, try storing them in a dresser drawer. Do order organize them by color no matter where you decide to store your collection. I use: white/off white or cream; beige/brown; blue/purple; pink/red; green/yellow and grey/black. You can use any order or combination you like. Just be sure to repeat it in every category you create. You don't want your sweaters, slacks and shoes following different color patterns. Instead of a restful visual that looks like an Impressionist painting, you'll create a visual kaleidoscope that will jar you every time you need to fetch a garment. This isn't exactly the Zen experience I try and help you create throughout your home!
3. If you like to see your sweaters and want them handy, keep them in stacks on a closet shelf divided by a shelf divider. This prevents stacks from imploding. In this image (right) from an organization store, you see the shelf dividers separating the handbags. There are several styles and they aren't expensive. You can use them all over the house including the linen closet and the pantry.

4. If you have a walk-in closet you might use a stack of clear storage drawers on the floor or keep a few on a shelf side by side. These drawers add protection for your sweaters from dust. If you have a lot, keep them separated by type as well: v-neck, button down, turtle neck etc. Your height may be a factor here so be sure and have a two-step step stool handy. I have one in my kitchen and one in my closet and I'm 5'9" tall! They make very narrow ones that can slip into the smallest of spaces. Why not use one of those discount coupons you have been saving from Bed, Bath & Beyond and pick one up this week? Here's my favorite mini stool. And here's another tip: Bed Bath & Beyond accepts their coupons even after the expiration date is past.
5. If your shelf is too high for you to reach your sweaters try this container on a shelf.
6. When your sweaters are in containers they are automatically ready for off-season storage. Do you see a big space between your existing shelf and the ceiling? Pop in an extra shelf! You'll need brackets and a piece of wood. You can leave it plain or paint it.
7. Many of my clients prefer to use sweater bags . And never discount Space Bags as a way to store sweaters in the off-season especially if you live in an apartment and are pressed for closet shelf space.
Protection First
Whatever choices you embrace do protect your woolens with cedar chips or one of the other natural choices. I avoid mothballs because of the terrible odor that, of course, ultimately coats your sweaters. One of my clients turned me on to using canned tobacco. You make your own pouches with cheesecloth. No, your clothes won't smell like cigarettes! You'd have to light up and puff away to achieve that distinction. How did she discover this clever tidbit? She asked some high-end rug merchants how the ancients transported wool carpets without incurring moth damage. Give it a try!
The Best for Last
My clients always ask me how they can learn to fold sweaters the way the pros do. The Container Store has come to your rescue with a product called The Flip FOLD. After using it for a while you'll be able to fold perfectly without it! And here's a final trick from my organizing arsenal: find a piece of cardboard with smooth edges. Let's say roughly 8.5 x 11. When you want to grab a sweater from the bottom of a stack, slide the cardboard underneath the sweater just above the one you want to wear. Lift up and remove your chosen sweater. Carefully slide out the cardboard and voila! Your stack is preserved.
Related Articles
You can wedge a reach-in closet into a small space, but in order for the closet to be useable and to make the most efficient use of the available space, it has to meet some minimum design standards. A double reach-in closet with deep sides, or a shallow closet with double doors, has a more complex layout and door arrangement than a single-door closet, and it introduces a couple of additional design challenges, according to Organized Living.
Minimum Closet Depth
Reach-in closets are typically installed where there's not enough available space for a larger walk-in closet. But even with a reach-in closet, you need enough depth so that your clothes will fit between the back wall of the closet and the door when they're hanging perpendicular to the wall. The standard minimum depth for a reach-in closet is 24 inches. If your available space is shallower than that, you can still incorporate shelves and drawers into the design, but don't include hanging rods.
Closet Side Returns
A closet's side return is the part of the closet to either side of the door opening. Because the front wall and door frame block direct access to the side return, you have to reach around the door frame to get to it. If the side return is too deep, you'll have difficulty reaching items stored in the corners of the closet near the side walls. Design the closet so the side returns are as shallow as possible; ideally, they should be 12 inches deep or less.
If your closet has double doors with a section of front wall between the doors, the center wall section will create a hard-to-reach space similar to a side return, so the center section should be narrow enough that you can easily reach around it.
Closet Door Types
Reach-in closet designs often use bi-fold or sliding doors rather than swinging doors. Both of these door styles make good use of limited space because they don't require room for the door to swing inward or outward. However, both styles block some portion of the closet opening, even when the doors are fully open.
Bi-fold doors fold on themselves but still take up some of the door opening when they're open; simple sliding door panels overlap each other when they're open, but at least one of the panels always blocks the opening. To minimize this problem, choose door styles that fold open as completely as possible.
Pocket doors don't block any of the door opening when they're completely open, but they require a substantial amount of side wall to contain the pocket they slide into; this creates a deep side return that is problematic in a reach-in closet. Doors that swing outward provide good access to the closet, and they're a convenient alternative if you have the space for them.
Closet Storage Heights
In a double-hang closet design with one hanging rod above another, the rods should be at least 42 inches apart to allow hanging space for shirts, jackets and folded pants. If you need space in the closet to hang dresses, coats or longer items, include an area of single-hang space, with one rod mounted 84 inches high and no bar below it.
If you're designing a double his-and-hers closet, keep in mind that the reach is typically lower for a woman than for a man – so consider putting the rod in the "hers" closet at a height of about 80 inches. No rod or shelf should be more than 96 inches above the floor.
Closet Organization Options
Reach-in closets are commonly used as bedroom closets, in children's rooms and as coat closets near entrances to homes. Modern closet organizing systems with shelves and drawers make shallow reach-ins viable options for storing things other than clothes, according to Easy Closets. A double reach-in closet outfitted with a well-thought-out shelving system, for example, can function as a large pantry in a kitchen or as a supply storage area in a home office.
So you can finally find that sweater you've been looking for.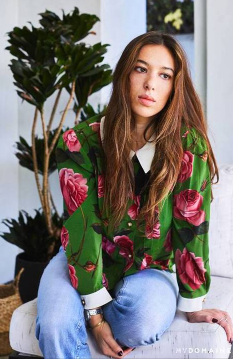 A clean, organized closet is simply the best: It streamlines your morning routine, and all that extra space gives you an excuse to expand your wardrobe (or at least reimagine it with new combinations now that you can actually see everything clearly). If you want to make the most of your space, try some of these closet organization and storage ideas, including a video tutorial with easy-to-follow steps. We came up with 34 plus one video tutorial, so there's something for every style and budget. So ahead, learn how to organize any and all closets.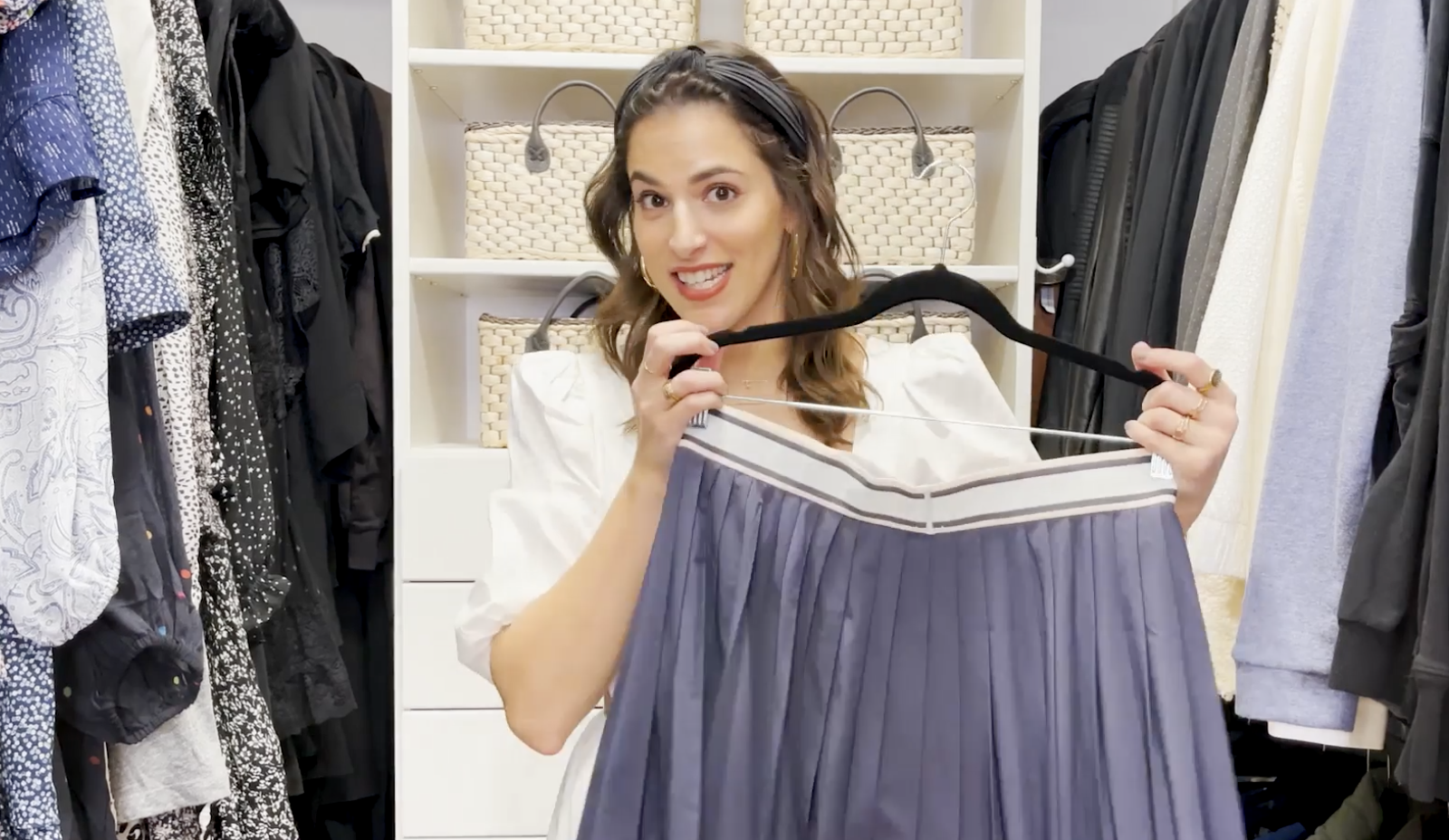 Janelle Cohen, the expert organizer behind Straighten Up, provides an easy step-by-step tutorial for how to organize a closet of any size (hint: it starts with a clean and clear closet for a fresh slate). Watch her video for clever, detail-oriented tips along with big picture visual aids.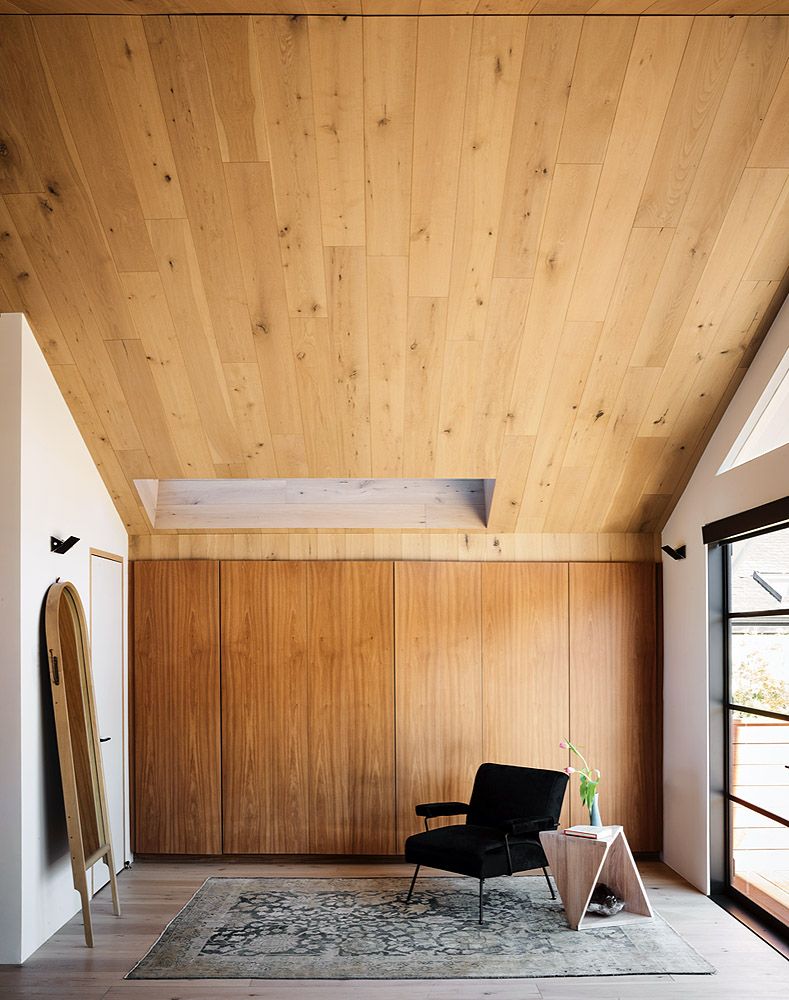 Exposed shelving isn't for everyone. If you're a minimalist, take note and keep the floors clear like Brigette Romanek Studio did in this California home dressing room for an elevated, clutter-free environment. An armchair in the corner adds some dimension, as does a leaning floor mirror.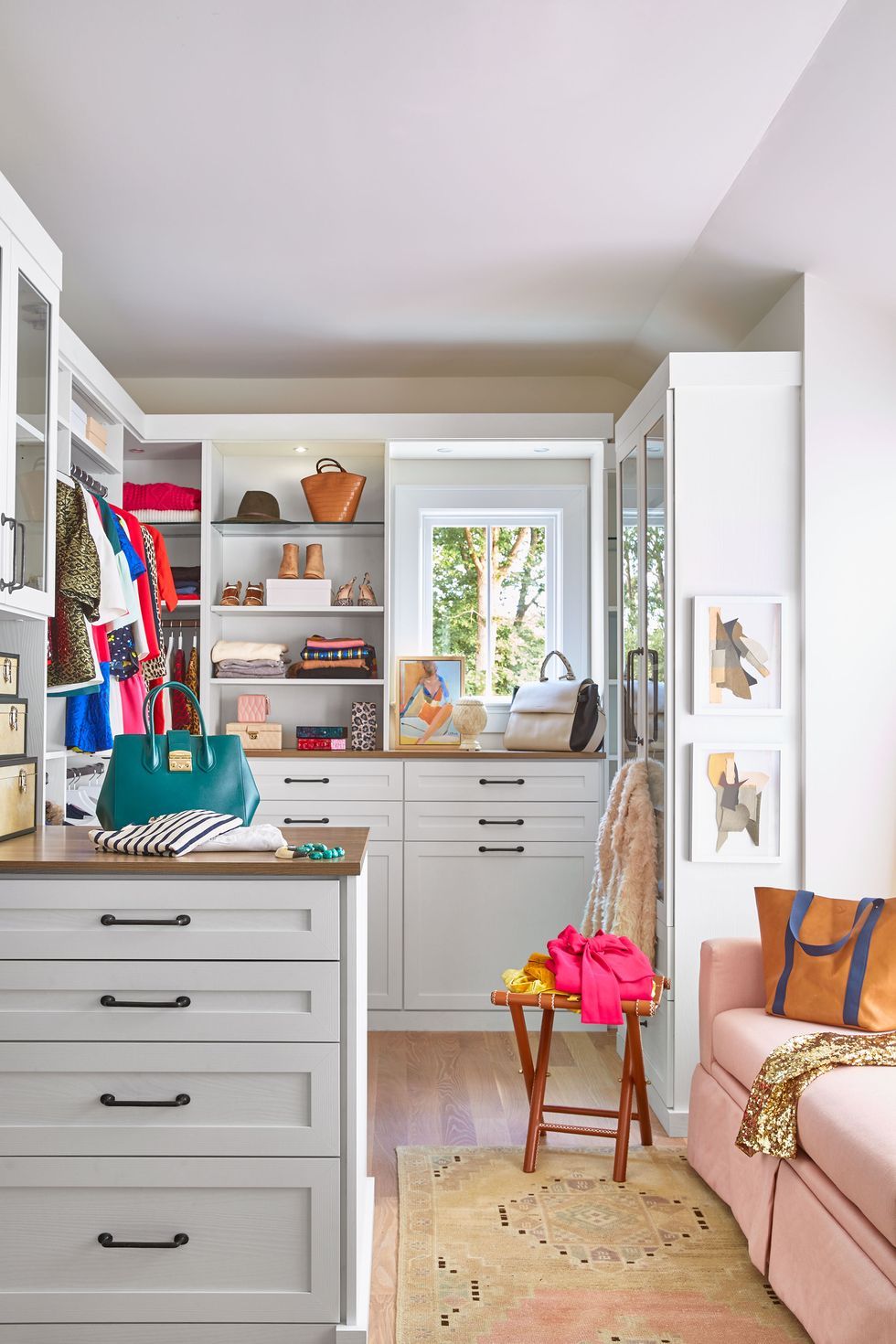 Why use an armchair when you have room for a sofa? Slide up a stool and colorful area rug to complete the look, and then make a mini gallery wall to polish things off. And a closet island/dresser? It's not just storage, it's motivation to fold and put away your clothes.
March 10, 2017 by Bethany Sy
Once upon a time, there was a unappreciated closet in the guest room. It housed my old prom dresses and random other nonsense.
Since it was the guest room, we rarely went in there and it just didn't matter. IT JUST DIDN'T. But then it did. It started to matter when our guest room became our twin girls' room a couple years ago…
…at which point this closet suddenly had to hold lots of pink and purple little garments.
Nick was gone for the day, so I decided to impulsively tackle their closet.
Since the ONE shelf was suuuuuper deep (like two feet), I hauled it out to the garage and ripped it in half with a circular saw. Then I put one back in the same place, and popped in some wooden brackets to hold up the second shelf down lower. Because unused wall space in a closet is WASTED SPACE.
My thought process behind the height of the lower shelf is that I wanted the girls' hanging clothing to be accessible to them, but wanted it high enough that their dresses wouldn't touch the floor. SUCH A SIMPLE FIX.
This worked decently well for over a year, but I couldn't shake the feeling that there's still SO MUCH WASTED SPACE. So I decided to do something about it this week! The one wall to the right could have shelving without taking away from the function of the other shelves or clothing rod.
I bought a bunch of 1×10 pine boards for the shelving, and cut part of one into these 2×6 chunks of wood to be my brackets. The rest of the boards became the ACTUAL shelves! 10" deep
I marked out where I wanted my brackets to be, made sure each one was level, and shot some nails in with my cordless >> AirStrike Bradnailer.
Since our house is 117 years old, nothing is level or straight, so I measured how long each shelf should be before cutting my 1×10's. Some of them varied by up to 3/4 of an inch!
I know the brackets under the shelves aren't very pretty… and I could have used a strip of wood that extended the full distance under each shelf to make things look more cohesive. But that just seemed like a waste of wood. And once everything got a coat of white paint, it looked just fine!
We actually took the shelves out to the garage to paint with a roller, and just hit the brackets with a paint brush.
OH! And I should probably discuss what I did at the bottom of this wall! I wanted a big area for the girls to stuff their dress-up clothes. So I nailed a couple vertical brackets on either side, and stacked two 1/10's and nailed them into place. SO SIMPLE.
As you would expect, the fun part was loading up allll their brightly colored EVERYTHING.
Obviously you can see that it would be SO EASY to customize this how ever you wish to fit your organizational needs. If you don't have little girls, you probably don't need the area for dress-up clothes. Or maybe you want to add a corkboard or pegboard above one of the shelves for jewelry, or to hang pictures, OR WHATEVER YOU WANT! Make it your own! Make it function for you!
Please like, pin and SHARE with a friend who has small children, or loves organization, or BOTH!
And also! Check out how we added tons of storage to the nursery closet and added similar shelving in our master closet!
About Bethany Sy
Nick and Bethany Sy are the creative free-spirits behind DIY/Lifestyle blog, Reality Daydream. They recently purchased a historic mansion and have been documenting the ups and downs of renovation and making this home their own. all while sharing tips and tutorials along the way! When they found themselves in the trenches of infertility, they started a journey that would prove to be their most important DIY project ever, and have 3 beautiful girls to show for it.
Learning how to organize a pantry with deep shelves? We've got you covered.





2 Comments
You must be logged in to add a private note. Login | Register
My Notes
Share This Link
We are adding the idea to your Ideas.
The idea was added to your Ideas.
You must be logged in to add a idea. Login | Register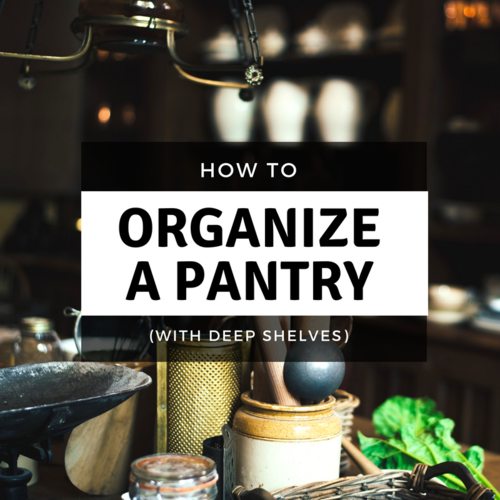 One of the biggest pains in kitchen organization is figuring out how to organize your pantry. This can become especially irritating when you're organizing a pantry with deep shelves. You don't want to push everything back and hide your pantry items, but you want to maximize your space. What's the solution?
Luckily, there are a few handy DIY tips and tricks to keep in mind for how to organize a pantry with deep shelves. Don't throw up your hands in frustration quite yet. These deep pantry solutions are serious lifesavers. Never let organizing a pantry with deep shelves get the best of you again.
How to Organize a Pantry with Deep Shelves
The main issues that most people have with deep shelves are 1) clutter and 2) functionality. Really, these two problems go hand-in-hand, and when one gets out of control, the other is usually sure to follow! Deep shelves let clutter sneak up on you as things get pushed further and further back. Then, the messiness makes the pantry less functional. No one likes pulling out twenty items to find that one container!
So, the solution is to organize and declutter. We highly suggest the "basket method."
Get this FREE eBook, and don't forget to sign up for the Daily Dose of DIY newsletter for more easy homemade storage ideas and DIY project ideas! Get Organized: 8 DIY Storage Ideas and Organization Projects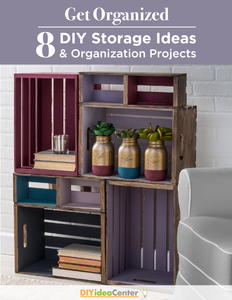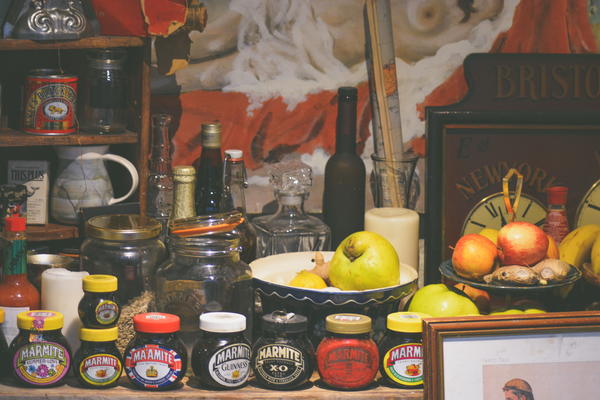 Step One
The first thing you need to do is visit your local dollar store and buy plenty of bins in different shapes and sizes according to your needs.
Step Two
Go to your pantry and take everything out — we mean everything! Throw out unwanted items as you go along. This will weed out your clutter far more easily than you would imagine. While the pantry is empty, this might be a good time to wipe down the shelves with a dishrag.
Step Three
Start grouping "like" items. For example, the cereals might all go into one pile, and all of the condiments go into another. Place these groups of items into your plastic bins.
Step Four
Place the bins back into the deep shelves, probably in two rows per shelf. Put your less-used items in the back and your most-needed items in the front. If you only bake once a month, for example, the baking items would go in the back row.
Step Five: Profit!
With this system, you always know exactly where every one of your items is. When you add new grocery items to the pantry, it doesn't get cluttered, because each type of item has a spot. Best of all, if you want something in the way back of the pantry, you only have to take out two items: the bin you need, and the bin that was in front of that bin. Far easier than pulling out dozens of bottles and boxes!
Build this DIY pantry project for even more storage solutions! Pantry DIY Door Organizer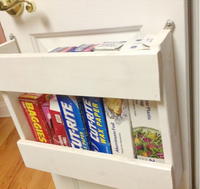 Other Simple Pantry Organization Hacks
Still have a clutter problem on your hands? Use one (or more) of these simple organization tricks to make your pantry organization that much better.
Install pull-out drawers (especially for spices!)
Hang a shower organizer (or equivalent) from the inside of the door.
Use a hanging shoe organizer.
Hang pots and pans from a pegboard instead of stacking them.
Label everything! (It helps!)
Do you have any kitchen organization hacks? Share them with us in the comments below!
Newest Video! I love creating, here's what I'm up to!
A reader favorite, our wood closet shelving plans are easy to build, easy to customize, and budget friendly! It costs about $20 a linear foot (our 10 foot closet cost $200) to build. You'll love our free step by step plans with full diagrams and lots of reader submitted photos.
Do you need to organize your closets, but –
Want a truly custom closet organizer – perfect for your things and no wasted space or compromises
Want solid wood closet shelving (no particle board)
Want a freestanding closet, that does not need to be attached to the wall
Have minimal experience with tools, but are up for an easy and inexpensive project?
You can build your own wood closet shelving. It's easier than you might think and you only need a couple of tools.
You simply build "legs" from 2x4s with 1x4s screwed to the outsides. Then you add 1x4s inside the legs, at whatever length your closet is. You can do this!
And the end result is beautiful and functional! Here's how my ten foot long closet turned out.
I also added a couple of smaller shelves in the middle, using the same method – 2×4 supports with 1x4s on top.
How much did it cost?
The cost was surprising too! Here's what I spent –
Lumber (all new) – $120
Pipes for closet rods – $60
Stain and screws – $20
If I had used dowels for closet rods, this project would have been under $150.
I'd estimate between $15-$20 a linear foot to build your own closets.
Industrial Iron Pipe Rods
The iron pipes were a big part of the budget. I wanted the look, and it is beautiful!
You can save alot of money (and it's easier) by just using wood dowels as recommended in the plans. But we also wanted to provide instruction on how the iron pipes went together.
I used all 3/4″ fittings. Per each rod, I purchased:
(1) 36″ pipe
(2) Ts
(4) 8″ nipples
(4) end caps
This was definitely the most expensive part, but the splurge was absolutely worth it!
Costs could be cut down by using a smaller pipe (1/2″) or having less individual rods, and using longer pipes as the cost is in all the fittings.
But one thing to consider is the shelves above and below the pipes shouldn't span more than about 3 feet or they will start to sag, so I opted to make my closet rods using 36″ pipes.
To get the closet to work with the 36″ pipe pieces, I put the pipe fittings together first, then figured out how far apart I needed to space the legs. Then attached the shelving to the legs so it worked with my measurements.
Freestanding Closet
This closet is freestanding, but we do recommend attaching to the wall just to prevent forward tipping.
It's nice because you can build it in the garage, and then just set it up in the closet, or even in your room.
Wood Closet Shelving Plans
The plans for our freestanding closet is below.
If you build, please share, we very much appreciate your brag posts!
Pin For Later!
This closet can be customized to any length. Leg supports should be placed about every 3 feet to avoid shelf sagging.
Note that this closet is most likely too tall to fit inside doorways and will need to be assembled in the closet (after you make the leg supports). If your closet is really tight, you may wish to shorten the entire closet by a few inches (measure you doorways).
Preparation
PER LEG SUPPORT (You'll need at least two leg supports, and additional leg supports every 3 feet or so)
2 – 1×4 @ 8 feet long (for the legs)
4 feet of 2×4 for the legs with closet rods and upper shelves, 8 feet of 2x4s for legs with closet rods, upper shelves AND and extra shelf supports
I'd buy one extra 2×4 for things like supporting the closet rod (if not using the pipes) and for cutting around knots, cracks, splits etc
2-1/2″ self tapping screws for attaching the legs to the 2×4 ends, two per joint
SHELVES
4 – 1×4 @ length of closet PER SHELF
Additional 1x4s for smaller shelves if using
1-1/2″ self tapping screws for attaching shelving or brad nails (recommend two per joint)
Wood stain or paint – I stained all of my boards first, before cutting. I let them dry overnight. After completing the project, I touched up unstained areas (cut ends).
Pictures no longer available.
Today's guest post offers some great strategies on how to make the most of closet corners complete with diagrams. I love diagrams. I wish I had a diagram for everything in life. It would make things so much easier wouldn't it? 🙂 There is no affiliation here, I just thought it was interesting info that might be helpful to some of you.
There are hundreds, possibly thousands of ways you can customize a closet for better organization and use of storage space. Closet accessories, closet organizers and custom closet systems are just a few, but what do you do about those tricky closet corners? This is a problem for many households, so we've put together a list of easy do-it-yourself solutions to maximize space in closet corners.
Fix Overlapping Closet Rods
Overlapping hanging rods in closets create a square shaped space in the corner where nothing fits and it's impossible to see or access your clothes.
For a quick fix, shorten one of the closet rods by at least 24" and then reinforce the hanging rod with a closet support bracket if needed. One closet rod will stop short of the adjacent wall, creating not only more hanging space but also making it easier to see and access clothes on both sides.
C loset Rod Height Variation
For further closet corner accessibility, adjust the closet rod heights when shortening closet rods or fixing overlapping poles. When closet rods of the same height meet in the corner of a closet, although functional from a storage standpoint, it's challenging to access clothes or hangers that are located towards the far corner.
In this example, one wall has only a single long hanging closet rod at 70″ high; while the adjoining wall includes a double hanging section where the closet rods are 80-84" high and 38-42" high.
Add Corner Shelving
Much like kitchen cabinetry, some shelving units are made specifically for corner spaces. They can be "L" shaped or angled; either configuration can maximize storage in closet corners by adding space for folded clothing, boxes, shoes and linens. This is a great solution for those who have more shelving items than hanging clothes or if the closet dimensions present design challenges to incorporate storage goals.
Proper Spacing of Closet Organizers
If you want to maximize space throughout your entire closet with closet organizers, proper closet section spacing should be utilized in all corners.
A general rule of thumb is to leave 12″ of empty wall space between closet sections in a corner. (24" from the adjacent wall to a closet section… assuming shelving is 12" deep.) This allows full access to clothing hung in the corner space.
In this example, the left wall includes a shelving section and stops short 24" from the corner. The adjoining wall can then accommodate the hanging sections beginning from the corner. Hanging clothes in the corner are accessible by the 12" spacing between the adjacent sections.
If possible, avoid placing hanging sections on both sides of the corner, but if you must, vary the heights of the adjacent closet rods; this will create a design that allows for better garment accessibility.
Whether you opt for simple closet rod adjustments or DIY closet organizers, either route you choose will result in added space and less clutter!
The type of closet you have is very important when choosing the depth of your closet organizer.
Recommended Shelf Depth: 12 inches for 26 inch deep closets or less
Recommended Shelf Depth: 16 inches for 28 inch deep closets or more
The most common reach-in closet is a 24 inch deep closet with a header. The header is the area between the top of the closet door and the ceiling. Unless your closet uses tall doors or doors that go all the way to the ceiling, a 12 inch shelf depth is recommended. The reason is because of the space between the header and the top shelf in the closet.
In standard construction, the bottom of a header is typically positioned at 72 inches from the floor. The top shelf in a closet is typically placed at 84 inches from the floor. If you use a 16 inch shelf depth you will only have 8 inches of open space between the front of the top shelf and the closet header. You will only be able to place items on the top shelf that will fit between that space. When using a 12 inch shelf depth you will have 1 foot of access space allowing for larger items t be organized.
Recommended Shelf Depth: 16 inches
Typically you want to use the largest shelf depth for walk-in closet types. This will give you the most space for shelf storage. Deeper shelf depths also allow for more accessory choices because of the overall size.
There is a misconception that smaller walk in closets require smaller shelf depths, but that is not necessarily true. Whether you choose a 12 inch or 16 inch shelf depth, your garment bar is still going to be in the same position. 12 inches off the back wall. This means the hanging clothes will not move just because your shelf depth does. The used space is the same. A 16 inch deep shelf depth will provide more storage space in tighter areas however using a 12 inch deep shelf depth will give the appearance and feeling of more space.
Find What Works For You
Try our closet organizer wizard to find the best fit for you.
Order FAQs
View the most common questions about John Louis Home direct orders.
Nathalie
I have a lot of clothes, and in the dozen or so homes I've lived in, many had very little closet space. Here are 12+ years worth of tips on how to cram your stuff into the minimal space you have. Women may benefit the most from these tips, but men might learn a thing or two!
The personal images I link to below are from this album of my current closet situation.
General Tips
Use ALL available space, but keep it organised.
Keep out-of-season (winter/summer) clothes out of the way.
You're more likely to wear something if you can see it.
Keep 1-2 hooks empty for quick-n-dirty clean up.
Don't forget the backs of deep shelves, and high-up places.
Hanging Clothes
Try installing a second closet rod above your main one. This basically doubles your hanging space. Buy a stool (my preference) or a reaching rod for access. I have often done this myself on the cheap — search around for tutorials or visit your local home improvement store.
Matching hangers makes everything look so nice. I have these Joy Mangano ones and I LOVE THEM SO MUCH. I bought a 200-pack or something like that when it was on special. Worth it.
Cascading hooks are bloody genius and work with almost any hanger. Use two at a time!
You can get a tiered hanger for skirts. Mine is over 30 years old and still going strong.
I have yet to find the perfect single skirt hanger commercially available, but it must have spring-clips and smooth rubber grips. The Joy Mangano clips suck — don't waste your money.
Folded Clothes
Fold all knit items to prevent hanger bumps. That includes sweaters, most t-shirts and some blouses.
Got deep shelves? Fold clothes appropriately. If you still have space behind your folded clothes (i.e. really deep shelves) store your out-of-season sandals/sweaters back there. (Tip 2 & 5 combo!)
If you are using a dresser or other drawers, stack clothes vertically rather than horizontally. (See tip 3.) I do this for everything including tights, socks, PJs, and even underwear! By the way, folding your underwear saves space but people may call you OCD. Weigh your options wisely!
For open shelving, be sure not to stack so high that it tumbles.
Feel free to use extra shelving in already existing shelves.
Shoes and Boots
Use an over-the-door shoe organiser — I like these better than hang-in-the-closet versions because hanging space is so valuable. Ideally, look for ones where you can put both shoes in one slot. This is the one I have and I love it.
Small cheap bookshelves are great for boots. Check your local Craigslist for cheapies.
Some people love keeping their original shoe boxes, but this violates tip 3.
Bags
Stuff bags with tissue to keep their shape. When using a bag, leave tissue as holding space.
Sit them on a shelf rather than hanging them to prevent handles from stretching out.
Use bookends to keep them up. I built my own.
If you must hang, use an over the door coat rack or this handy thing (on the other side of the door from your shoes) to hang bags, and even hats. Potentially keep some of these hooks open (tip 4).
For less often used bags, create a drawer out of a long bootbox. Line them up in the box, and slide it into a shelf — great for deep shelves (tip 5).
I love having a junk bowl/box/space for the things that I often but not always keep in my purse like hand sanitiser or a different-sized wallet.
Other Accessories
Hang scarves on towel racks — you can get one for less than $US4 at your local home improvement store. I have two on the inside of a closet door, but have also had this hanging over a boot bookcase (see above) on the wall before.
For belts, jewellery, sunglasses, and basically everything else ever, buy some screw in hooks in bulk at the home improvement store, and leave no wall or cabinet space uncovered. These are also very handy in the kitchen. They work best if you drill a hole first.
Corral smaller items into open boxes, jars and cups purchased at thrift stores.
Items that you intend to use infrequently can be hidden away in boxes. Those are from IKEA and hold travel organisation tools, special occasion undies and hats.
Creating More Space
Buy an armoire — that's what I did!
Are you handy? Build a closet in a corner!
Only kind of handy? Get a stud-finder, drill, closet brackets, a shelf and closet rod. Install brackets, add shelf on top, slip rod into place. Beware of how much your wardrobe weighs; you may need more than two of those brackets. Note: I once installed just the shelf, then had a towel rod underneath for scarves, and below that was the boots bookshelf.
Get a freestanding rack. I have one in my pantry for coats. Whatever, it works.
Many of the photos are of my current storage situation which includes two separate closets and an enormous armoire, so I left plenty of unfilled space. However, I will soon be moving to a smaller apartment where I will have one dresser and half of a closet!
So tell me, what other tips do you have for closet organisation and space saving (or creating)?
Nathalie loves fashion and food, and blogs at Purple Closet Beauty.
Sharing is caring!
Pin Me! 4.1K
Share on Facebook 2
Share a Tweet
A DIY but custom shelving system for a linen closet makeover. Check out the organizational ideas and how to DIY your own shelves!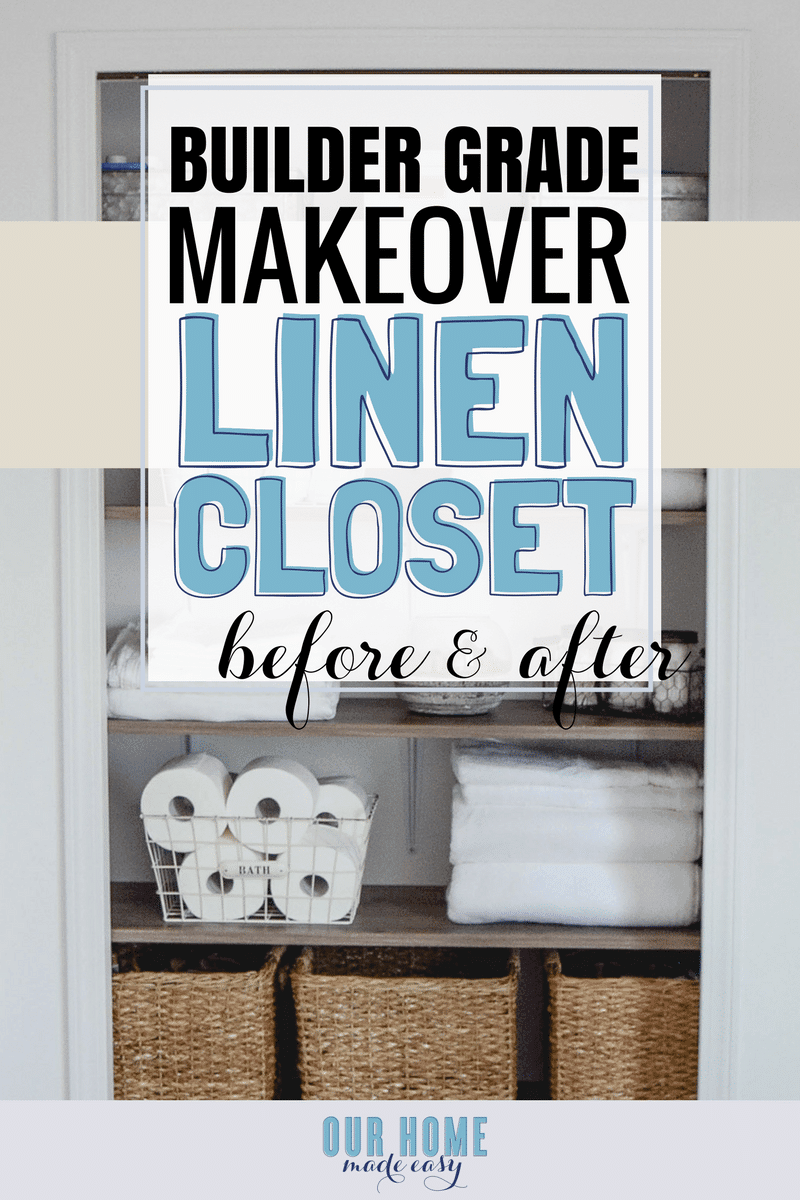 This post contains affiliate links. Please see my Disclaimer for more information.
Whew, talk about a post that is long time coming! I feel like I posted a sneak peek of our bathroom linen closet plans so long ago…. and today I am super excited to share with you how we decluttered and organized our own bathroom closet!
Wondering what is making me declutter? Join us in the Free 6 Week Decluttering Challenge! You'll catch the decluttering bug too! 🙂
The Linen Closet Before
But first, let's take a look at the 'Before.' We built our home about 4 years ago and our bathroom hasn't received any love. And it looks like it. Every single day. 🙁
This linen closet is weirdly shaped in our master bathroom. It's 14 inches deep by more than 50 inches wide. The shelves extend behind the door frame over towards the left wall and then end by the shower tile.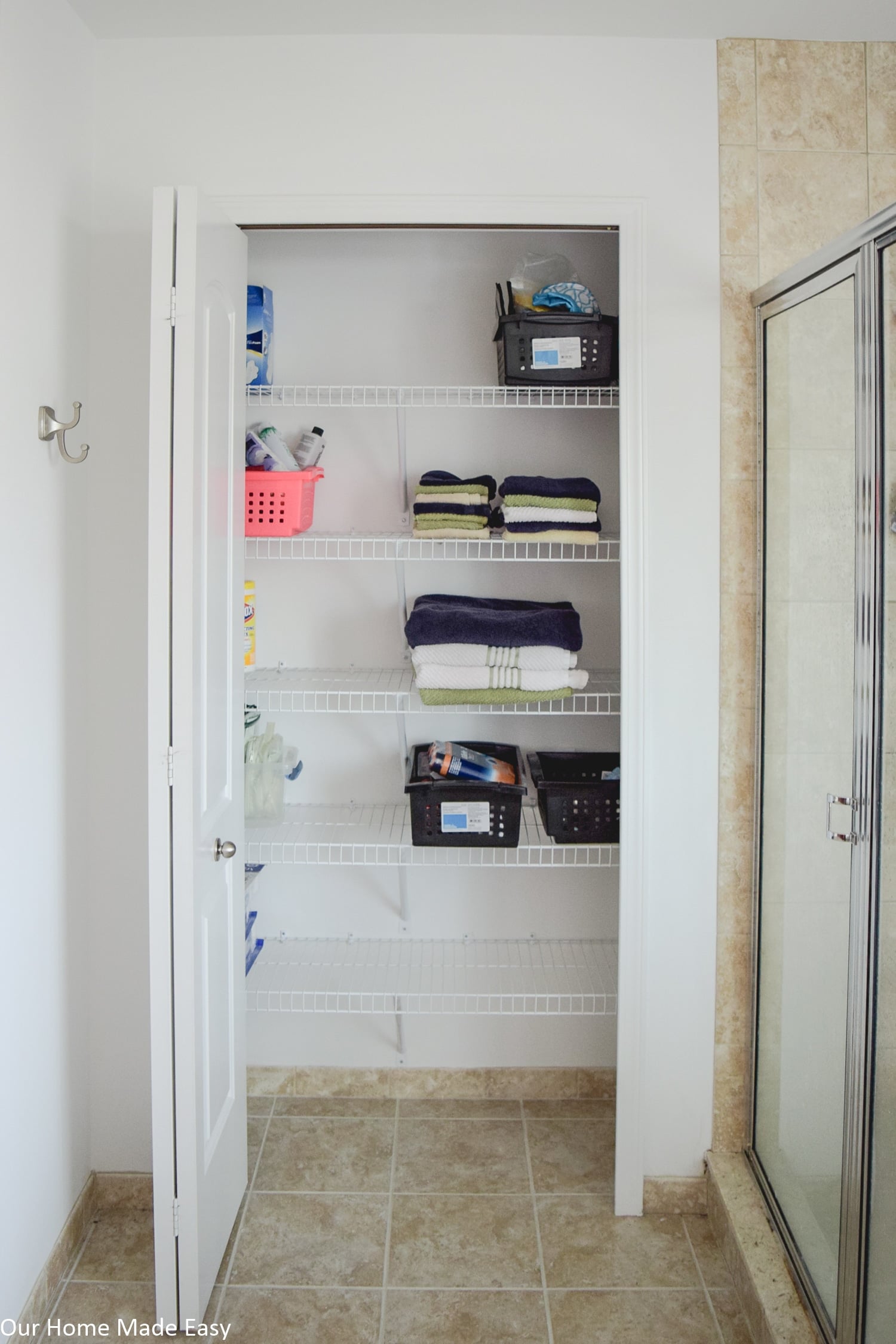 The basic wire racks had supports that came down and pretty much left most of the surface area useless. We couldn't place anything wide in the closet because the supports would get in the way.
I struggled keeping anything standing upright since the wire was just far enough apart to make sure all my spray bottles fell over.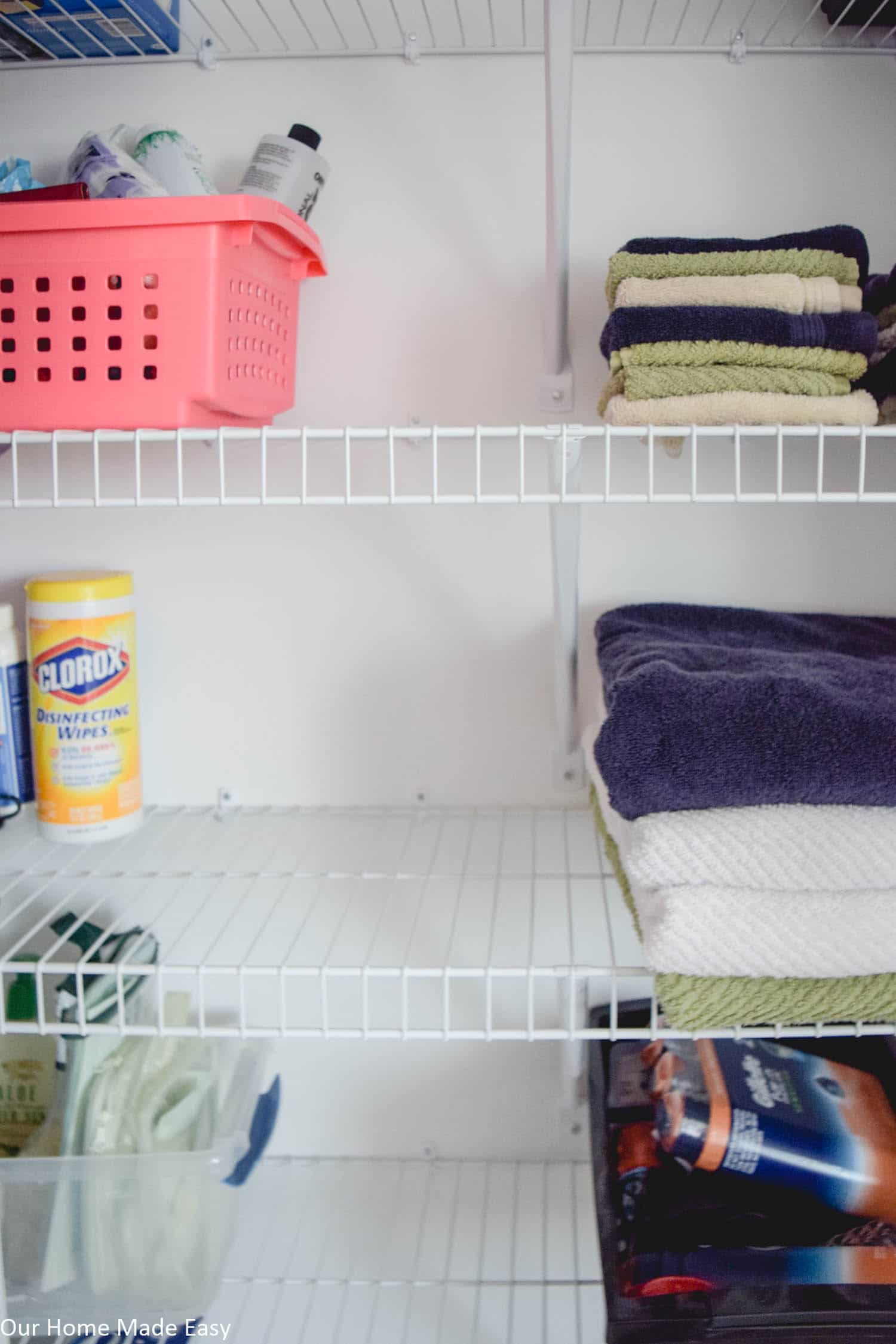 And those towels? They are from our wedding and from previous moves around the country. We've loved them, but they were starting to show some major wear. I was hoping that we'd have enough money in the budget to sneak in a small set of new towels, too!
The current wire racks were about 12 inches deep and our towels hung awkwardly off the front of the lip. It wasn't a deal breaker, but just one of those things that would've been nice to fix up since we were already planning to organize.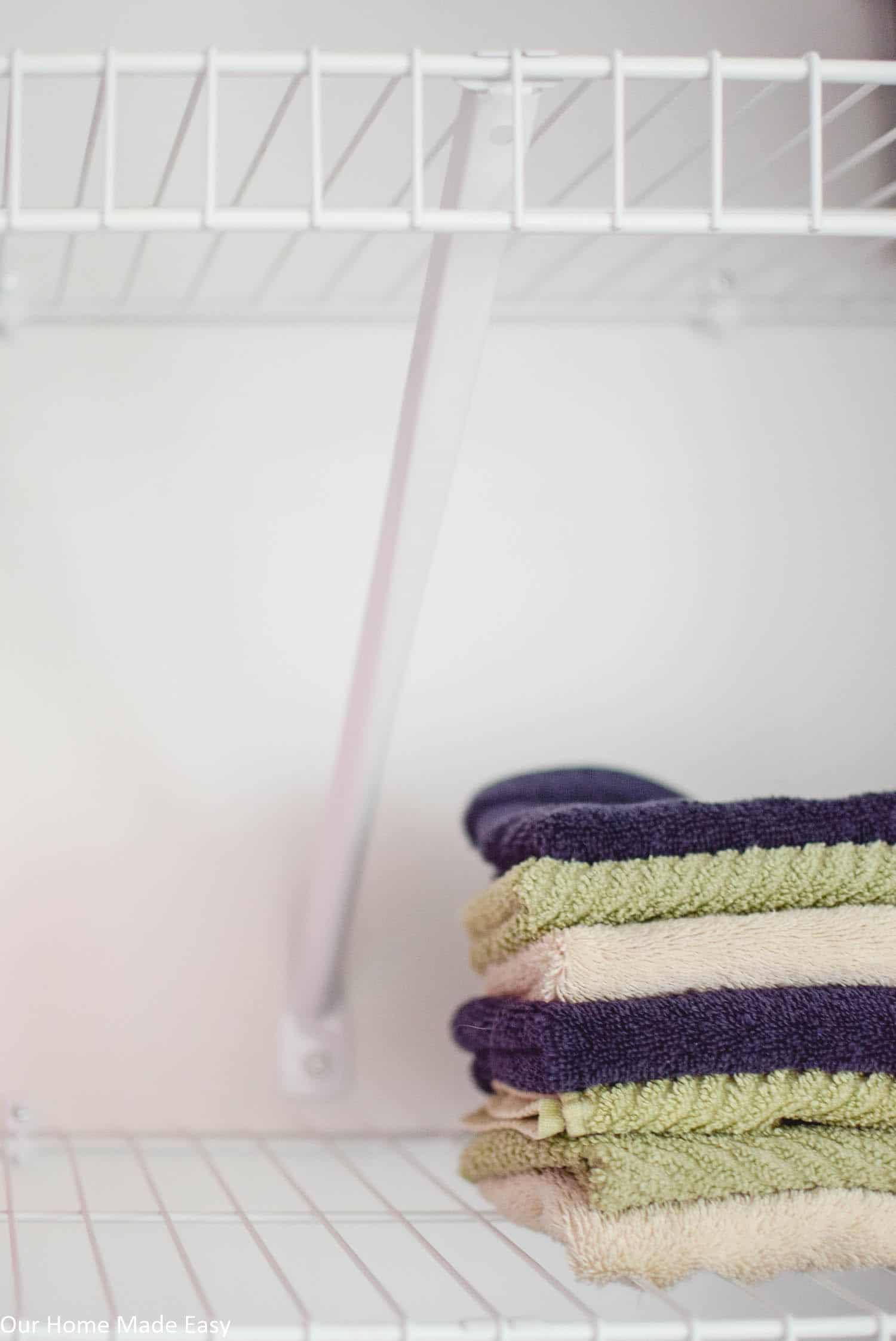 DIY Linen Closet Shelving for $60
We ended up building custom shelving for the closet for less than $60!
And here is how we did it.
First, we removed all the existing wire racking and supports. Then we filled in the existing anchor holes. Once they were filled, Jordan sanded and painted the closet a bright white.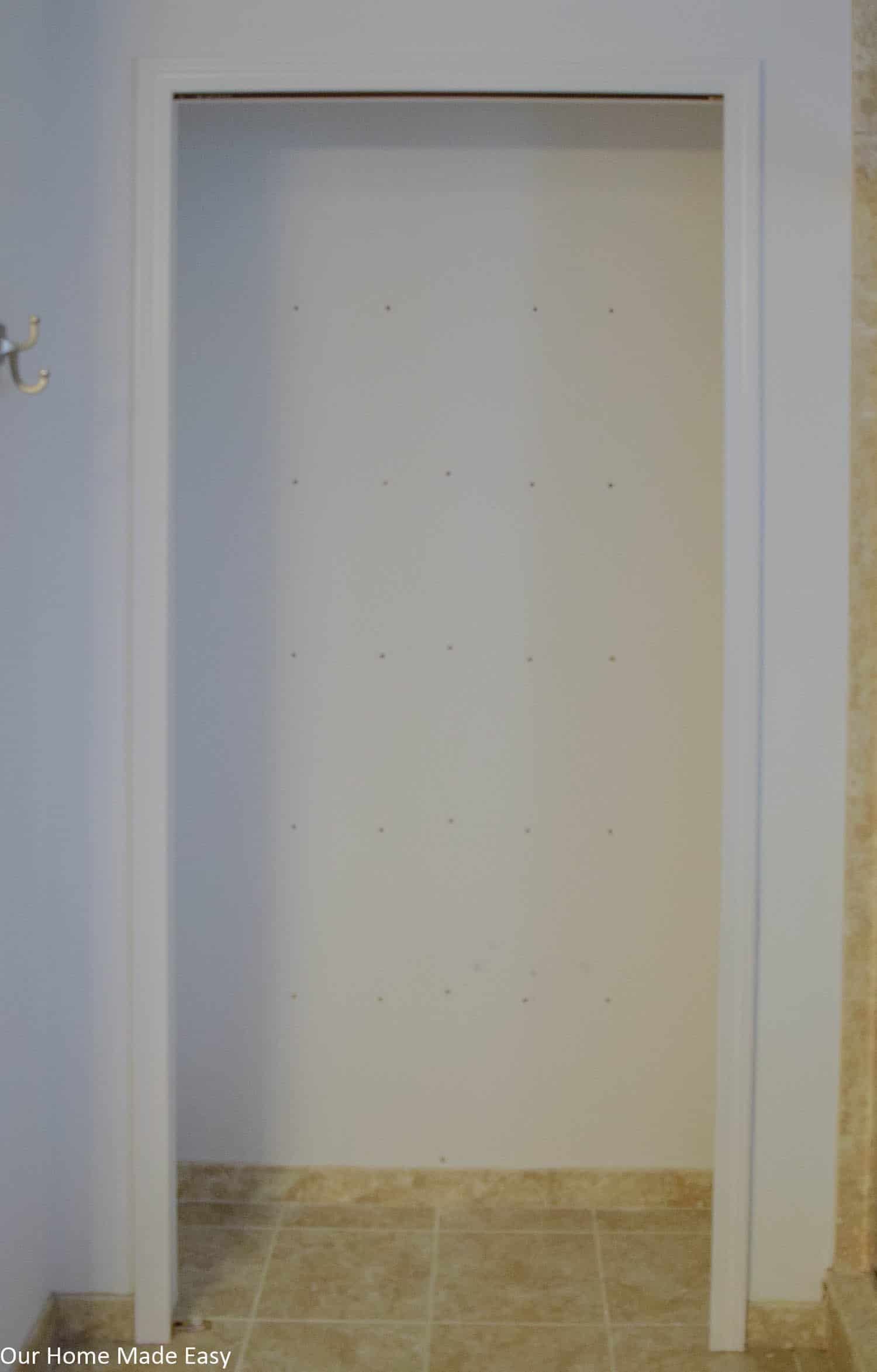 Next up it was time to find shelving that fit the entire space and would allow us to use the entire shelf, not have supports in the way. We didn't want to pay for custom shelving from a shelving store, so we decided to DIY this part.
Jordan bought 15 inch deep by 8 foot wide MDF shelves. We found them at a local hardware store, Menard's. They cost about $11 apiece! We picked up 5 shelves to replace the 5 levels we were already using.
Using both a table saw & circular saw, he cut them down to fit into the depth of the closet and the width needed.
When you are going to do this, measure each shelving level's dimension to account for any measurement changes. While you may think your levels should be the same dimensions, you'll be surprised at the variability.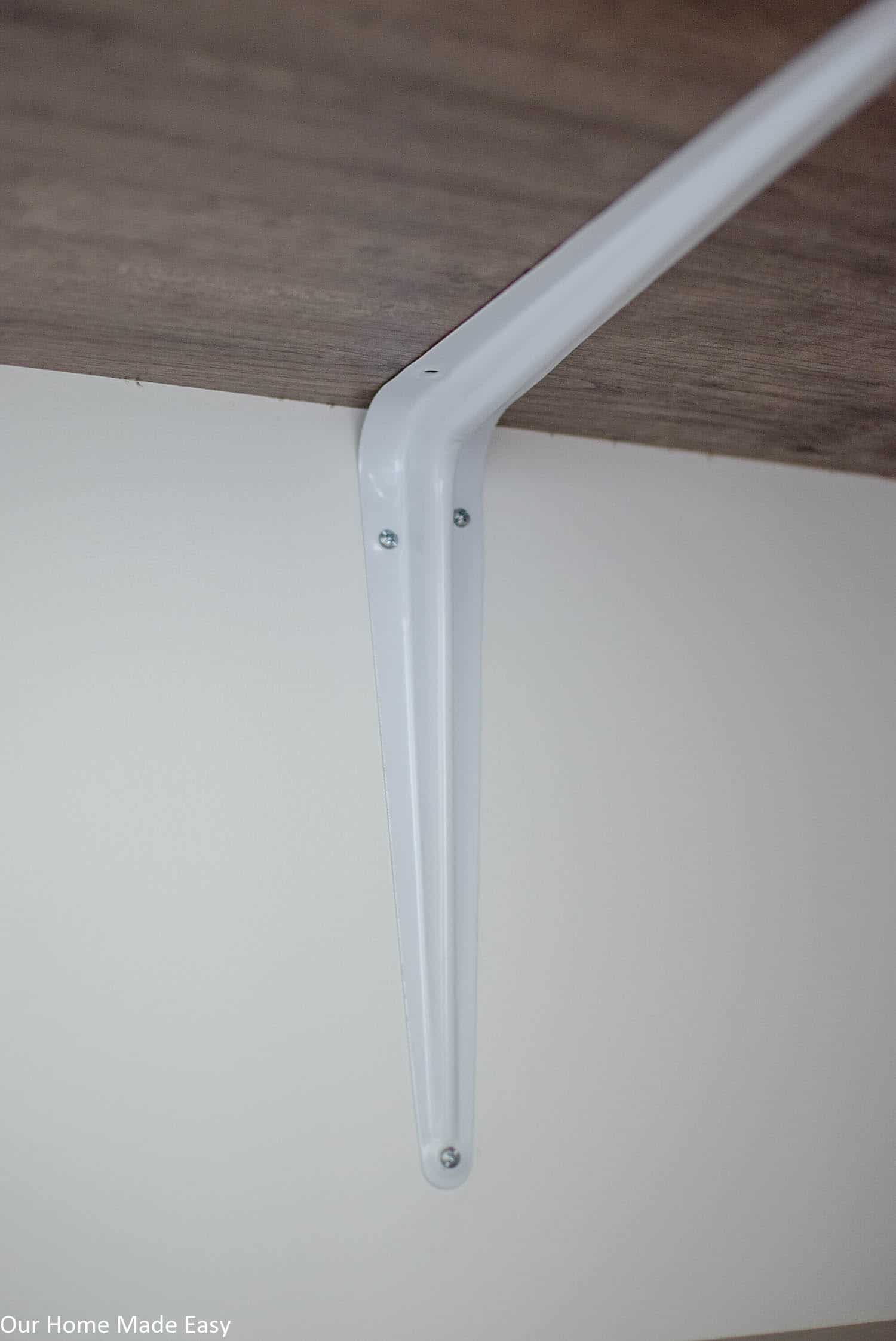 He then installed these brackets across the levels to support the shelves but without taking any space.
Wondering what the linen closet looks like now?
The Linen Closet Before….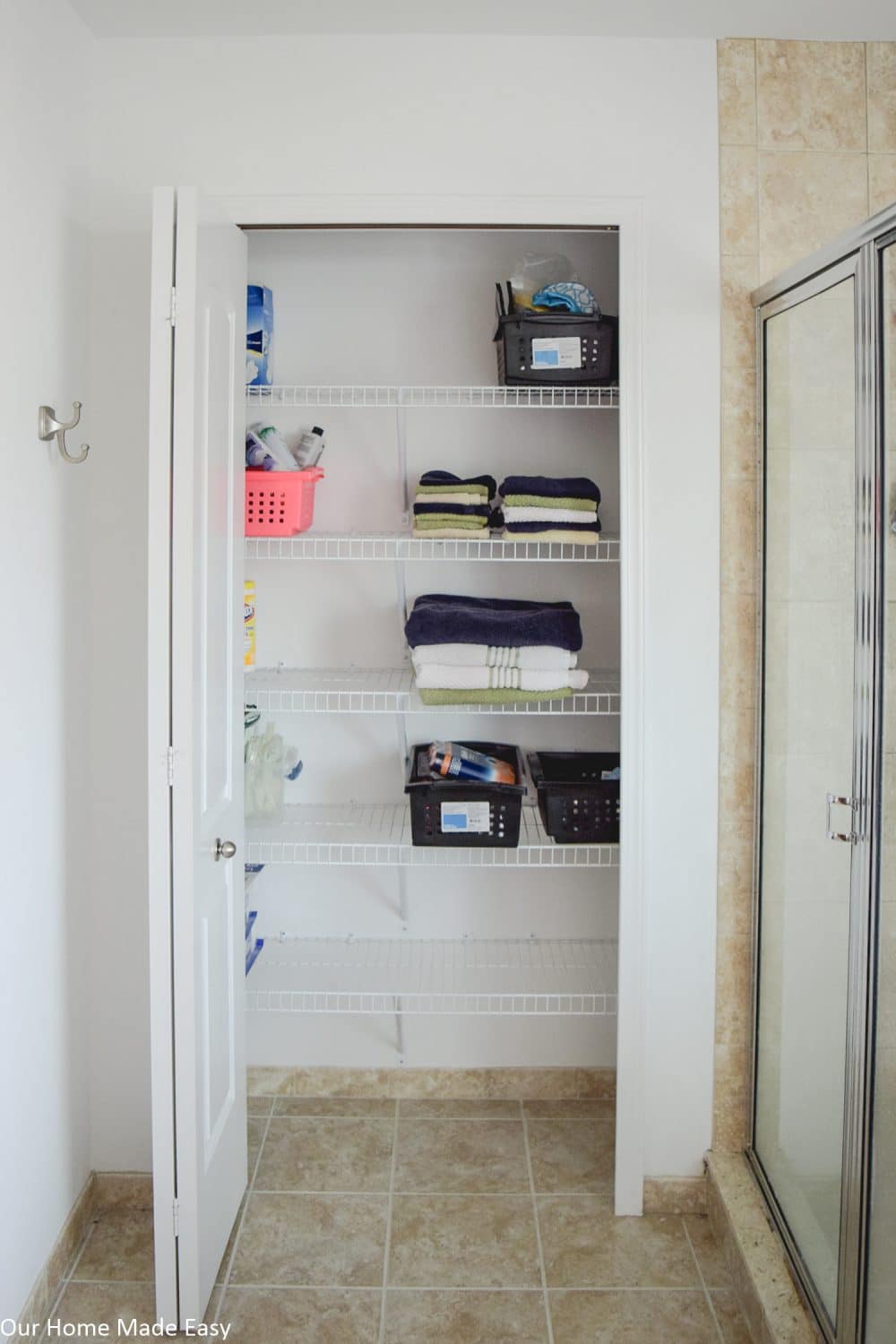 After!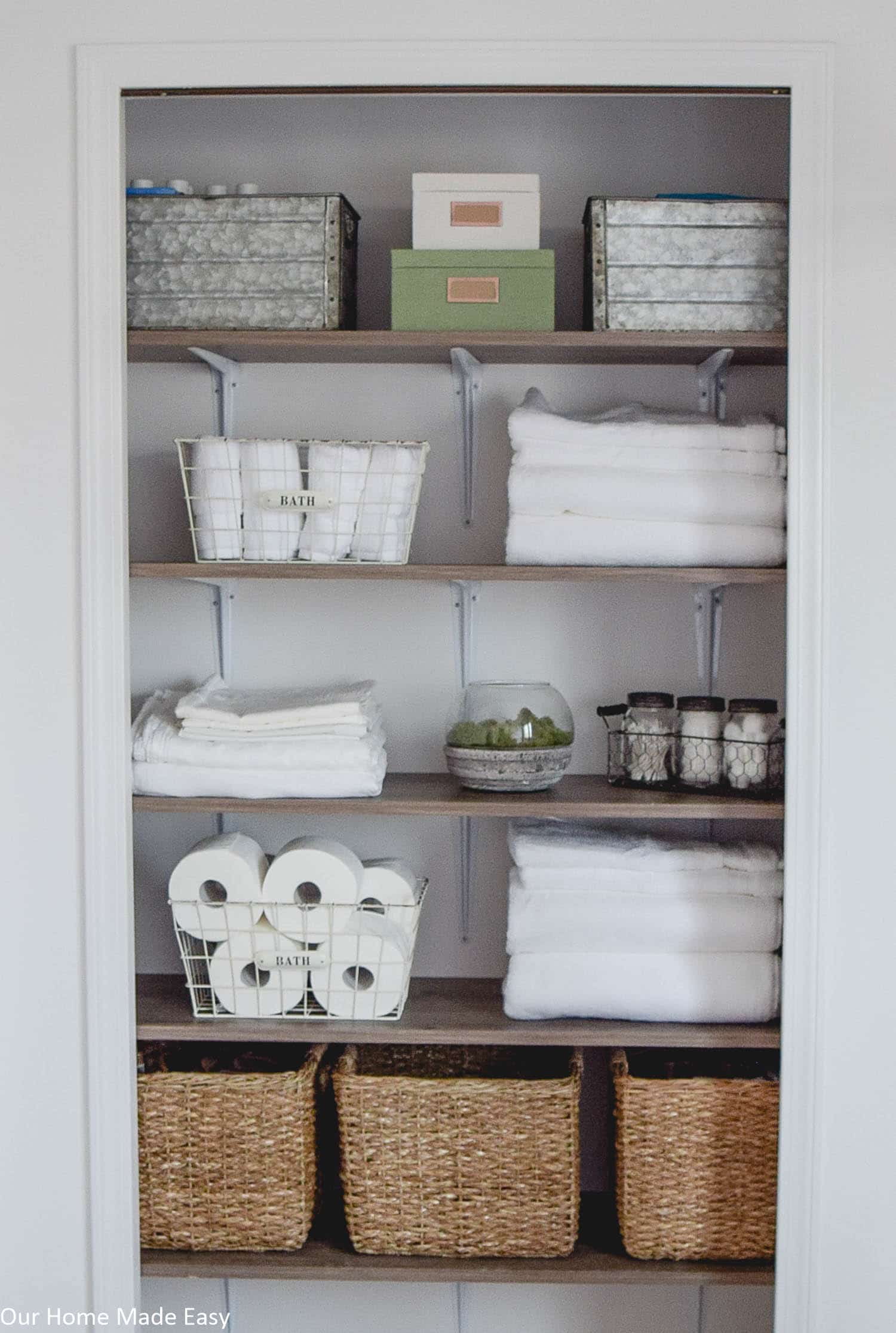 What a change! I am absolutely giddy with having bins that are cute & functional.
I found the galvanized metal storage bins from World Market. They are sturdy to hold all my dry shampoo bottles and other health care items, but light enough to stack on the shelves.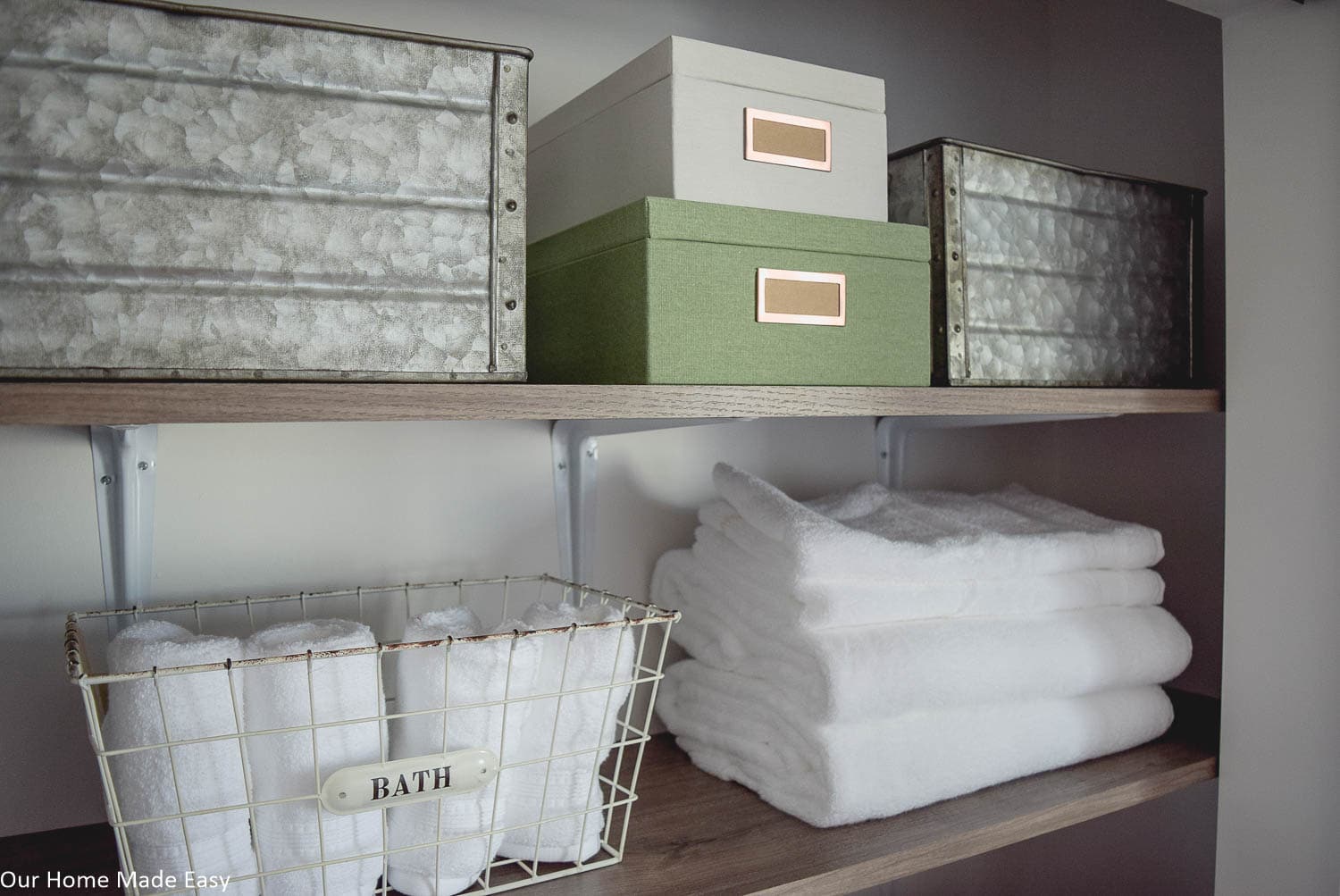 Confession: Jordan & I decluttered an entire garbage bag full of stuff out of this closet. Everything that remained are items we regularly use or came from a mega pack from Costco & Sam's Club (yes, we have a membership to both)!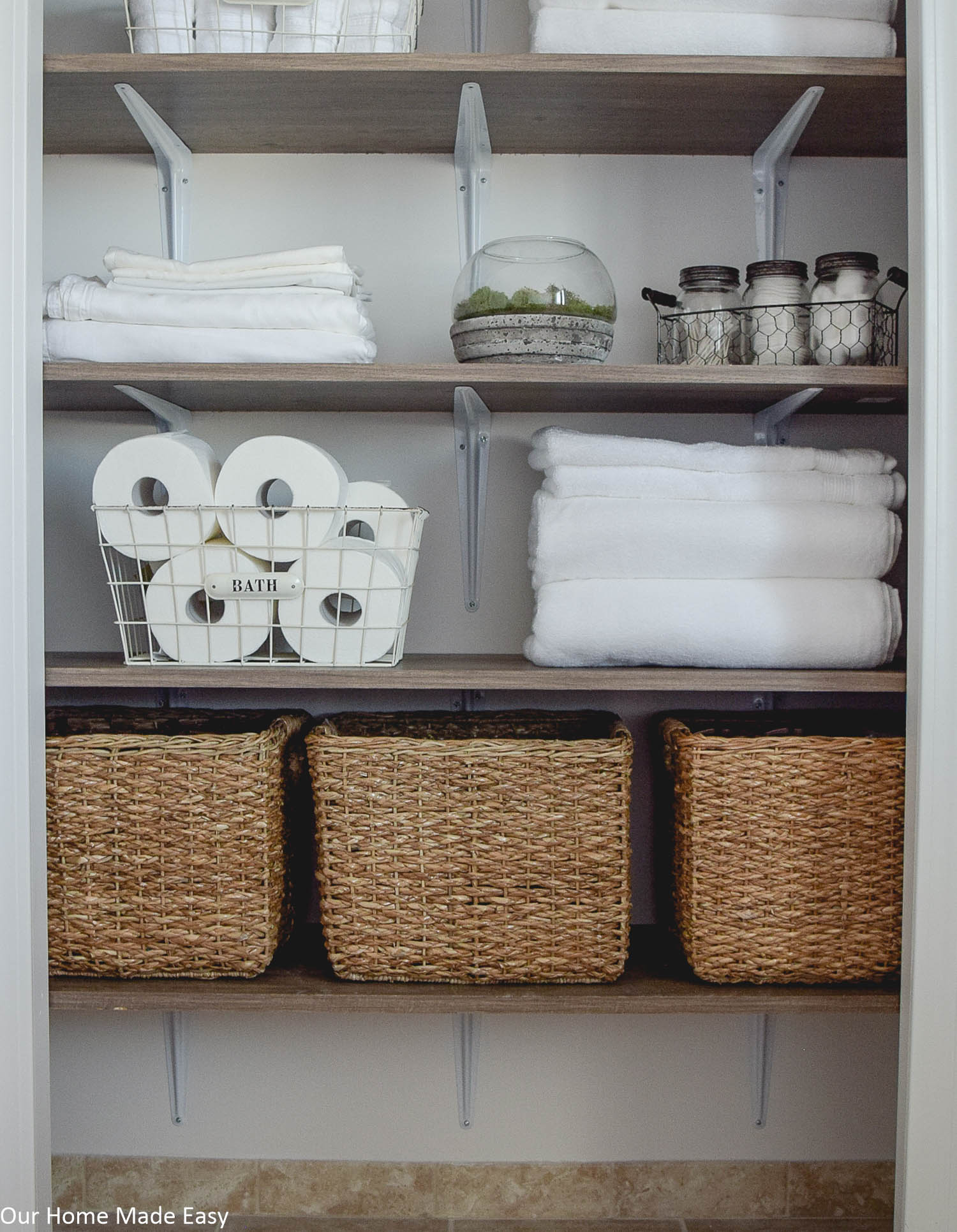 The wicker baskets on the bottom shelf hold the heavier items like body wash and large club-sized bottles. To keep them from scratching the new shelving, we are planning to add some clear plastic bumpers on the bottom of each basket.
I found the 'BATH' wire baskets from World Market too. I love that they add some style and still keep everything in one place.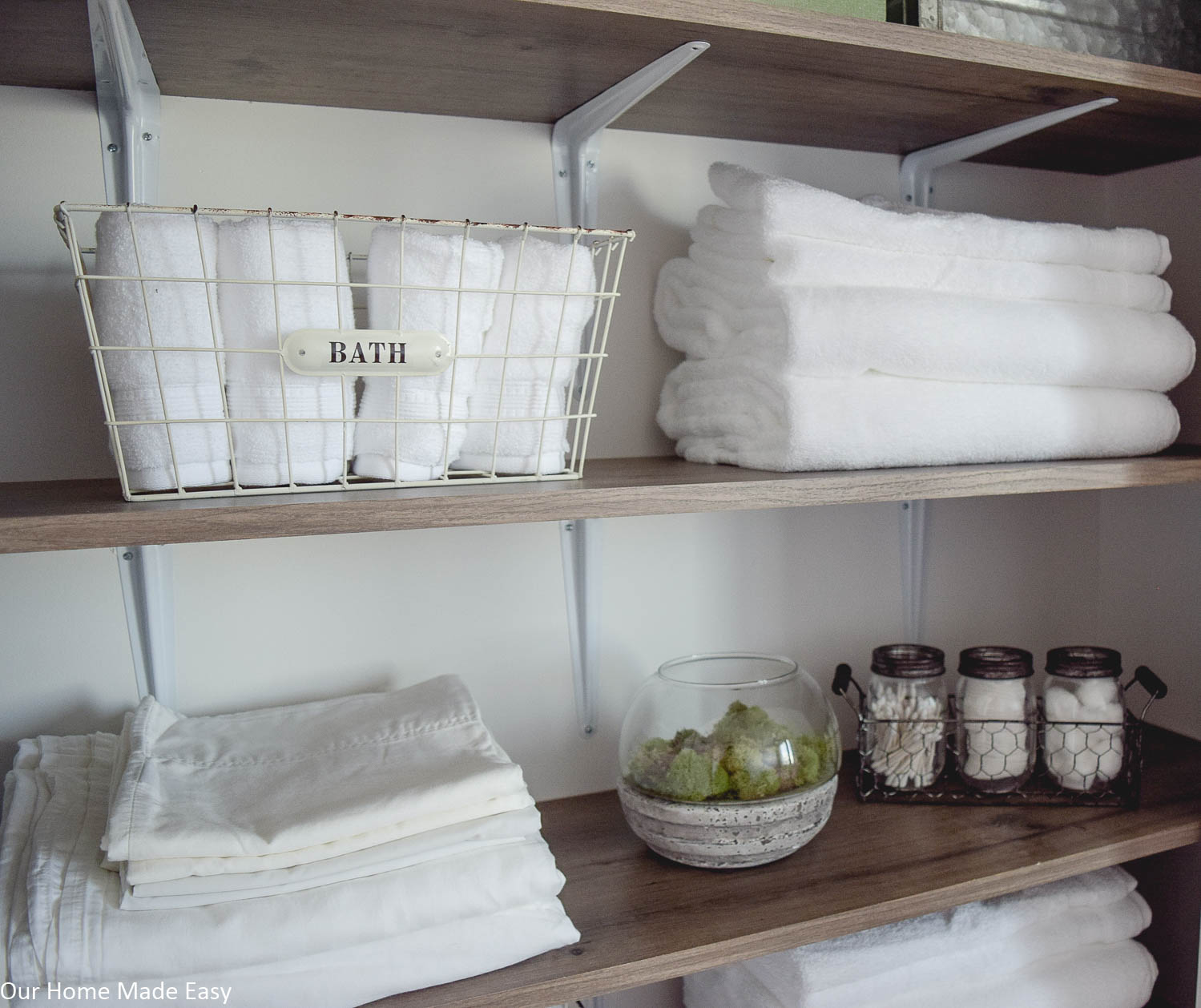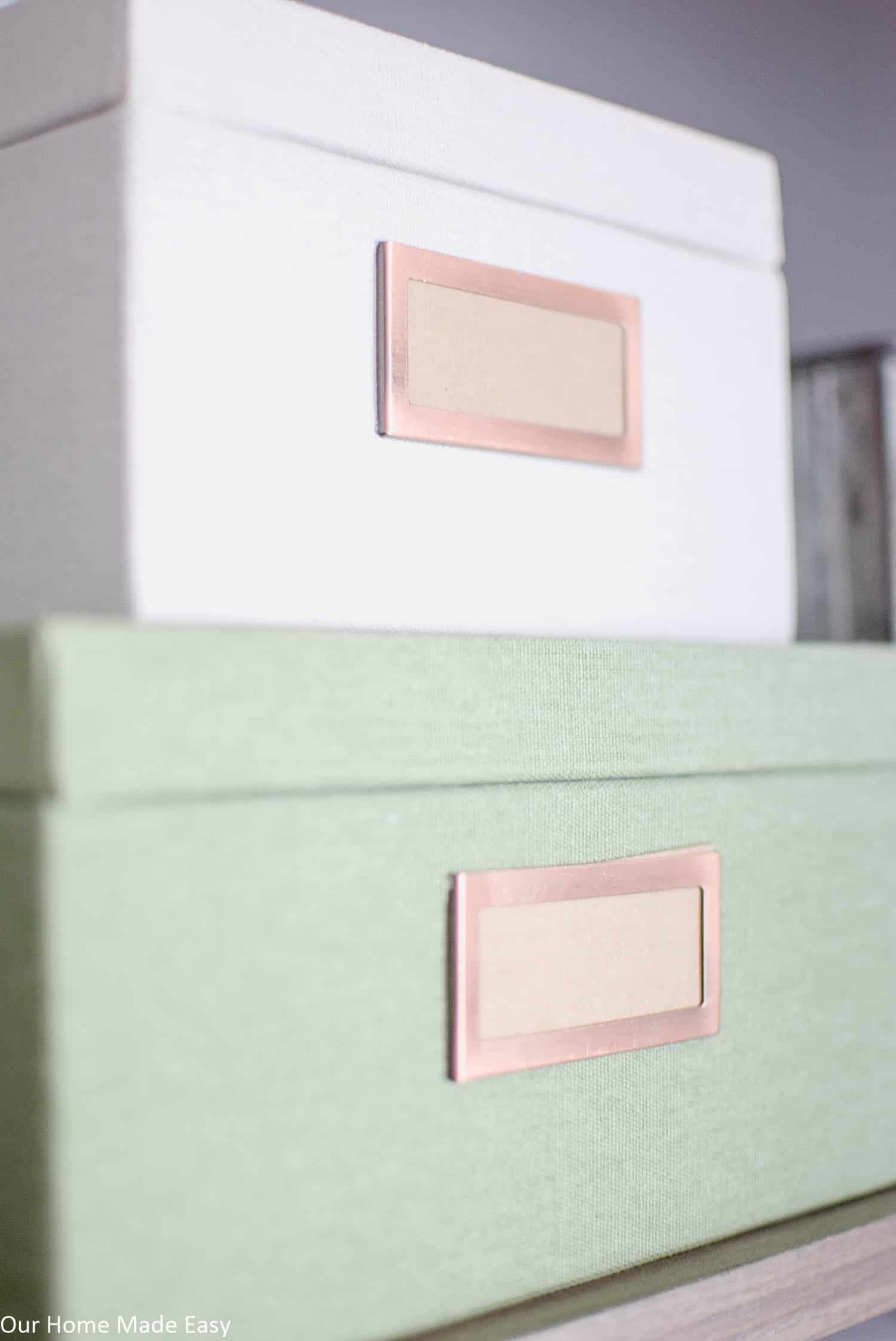 These little white & green boxes hold all my nail polishes. My original thought was to find small baskets, but everything we found had a wicker or uneven bottom. When I saw these storage boxes in the Hearth & Hand by Magnolia section at Target, I knew they'd be perfect for keeping nail polishes organized!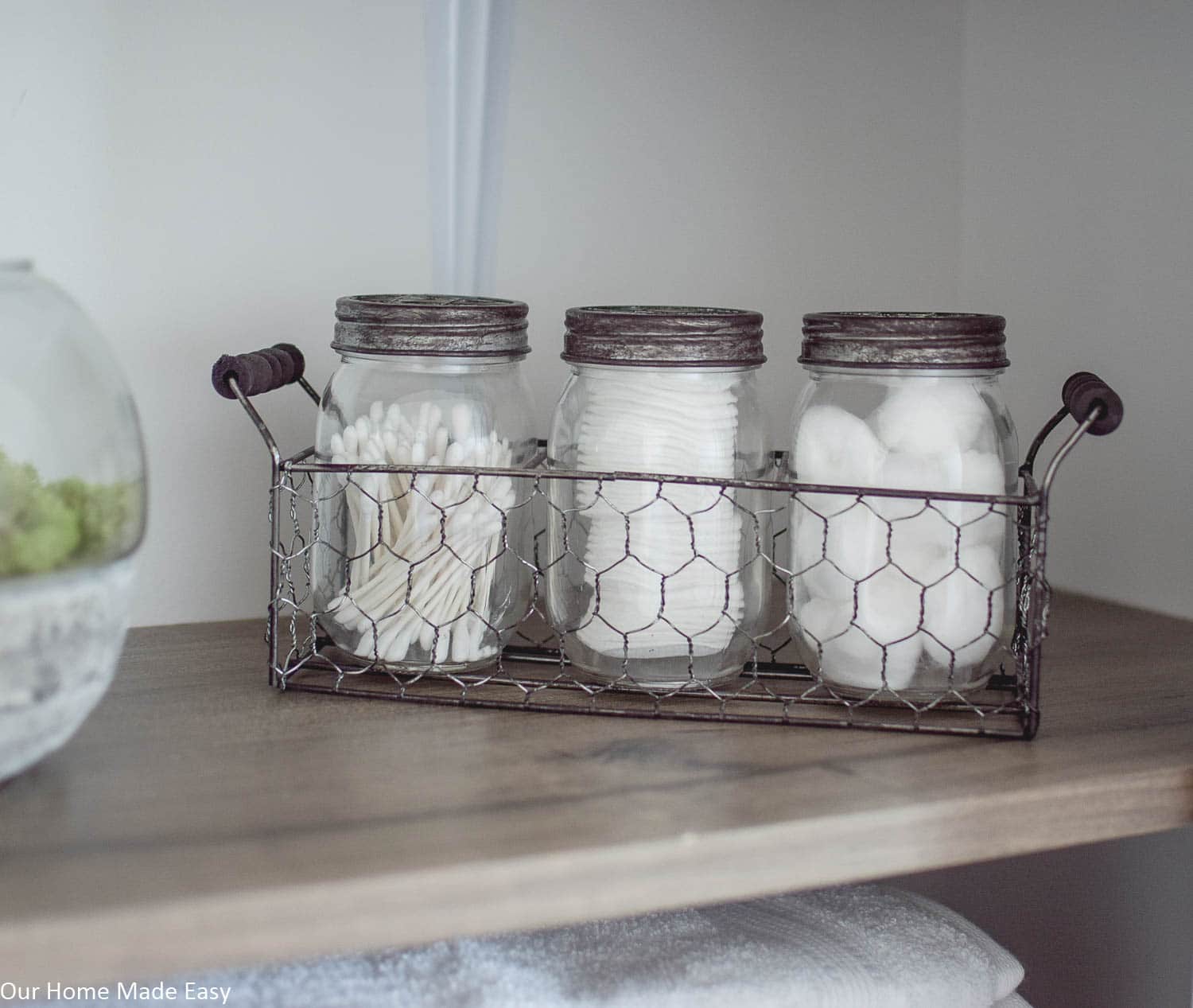 To keep our cotton balls in one spot, I put them in this cute little mason jar organizer.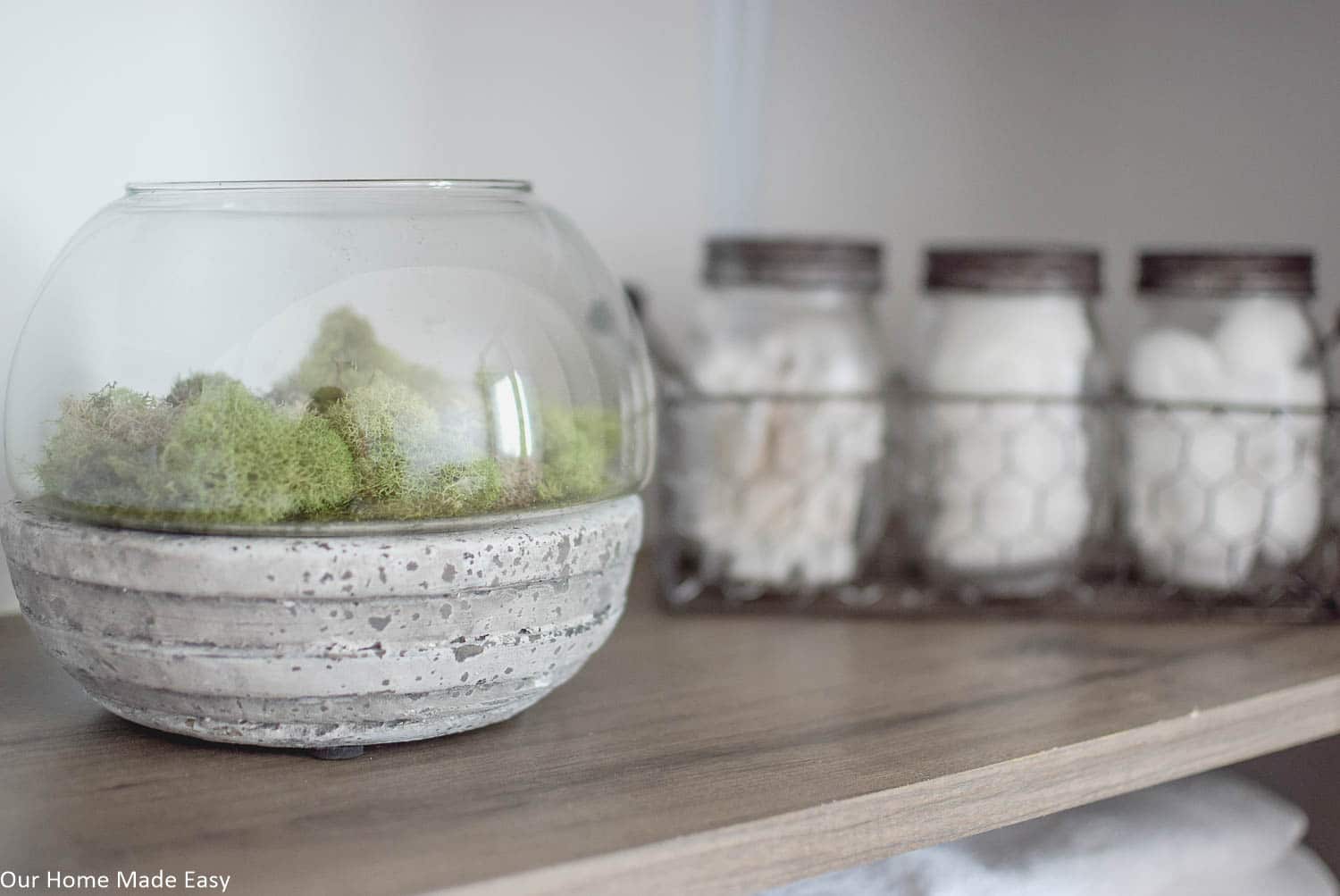 And of course we couldn't pass on the concrete terrarium. It adds a little softness to the space.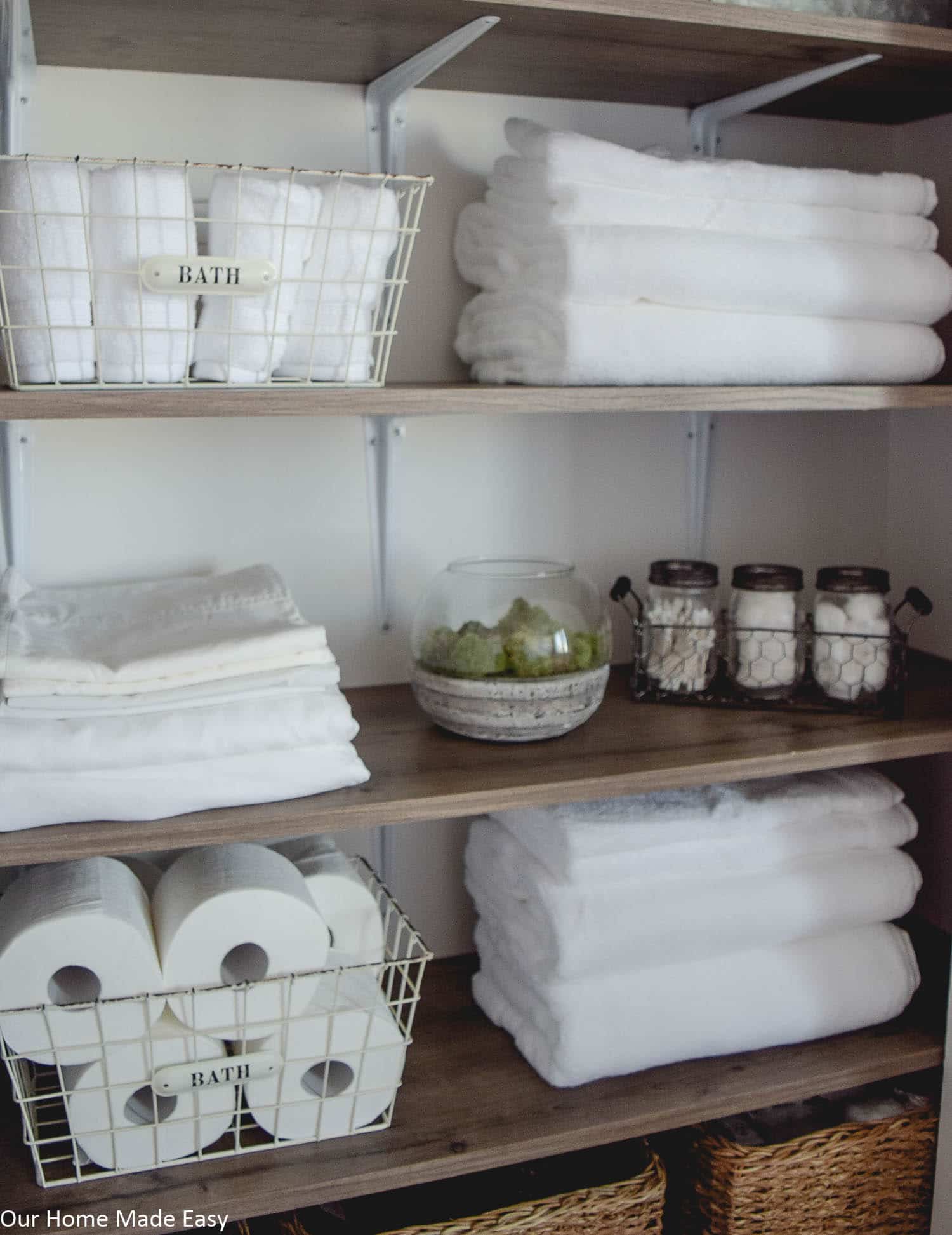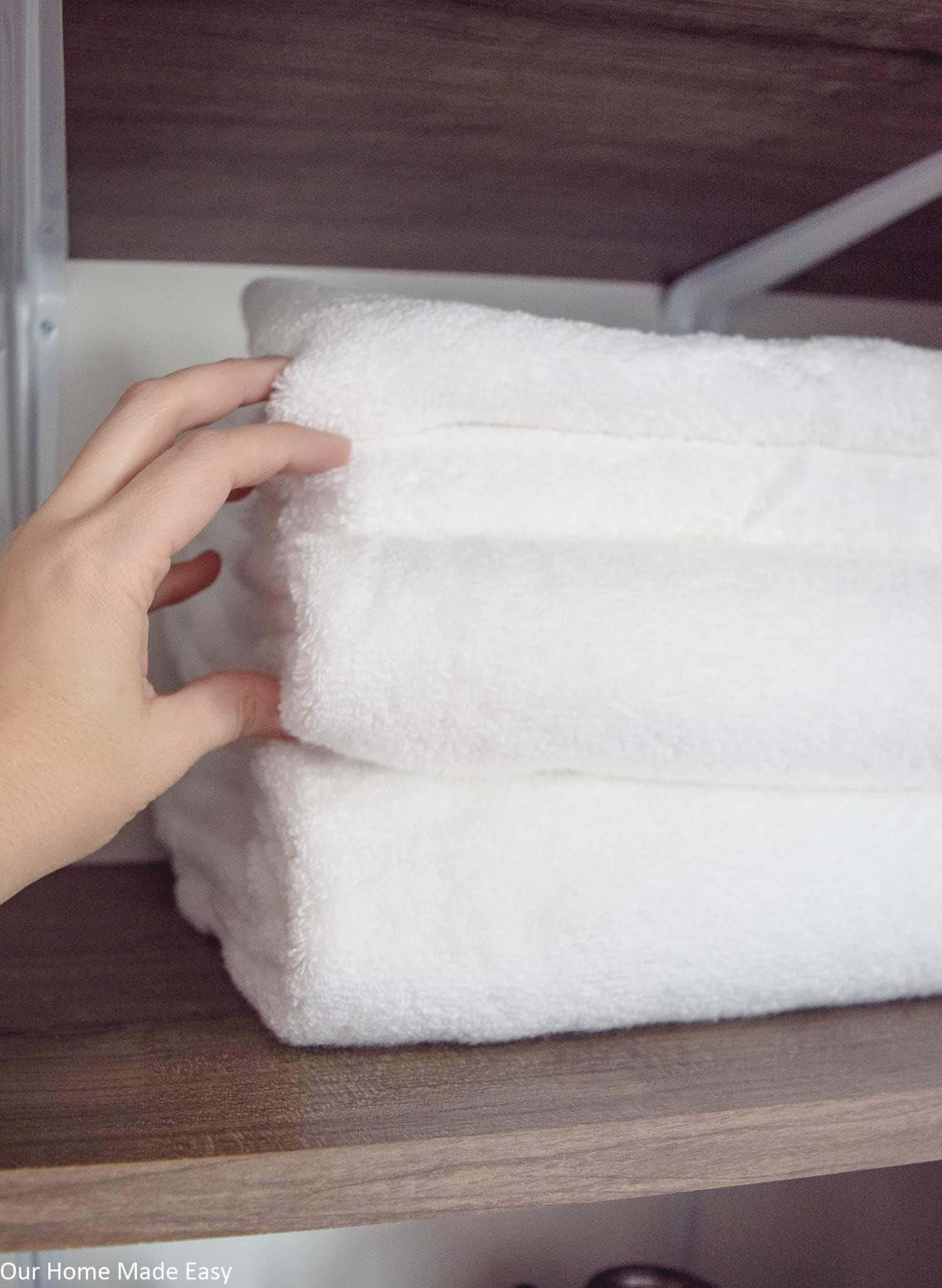 And lastly— momma received some new towels! There was room in the budget to pickup these really thick ones from Costco! All the towels were sitting right there on an end cap across from the mega jar of garlic. #love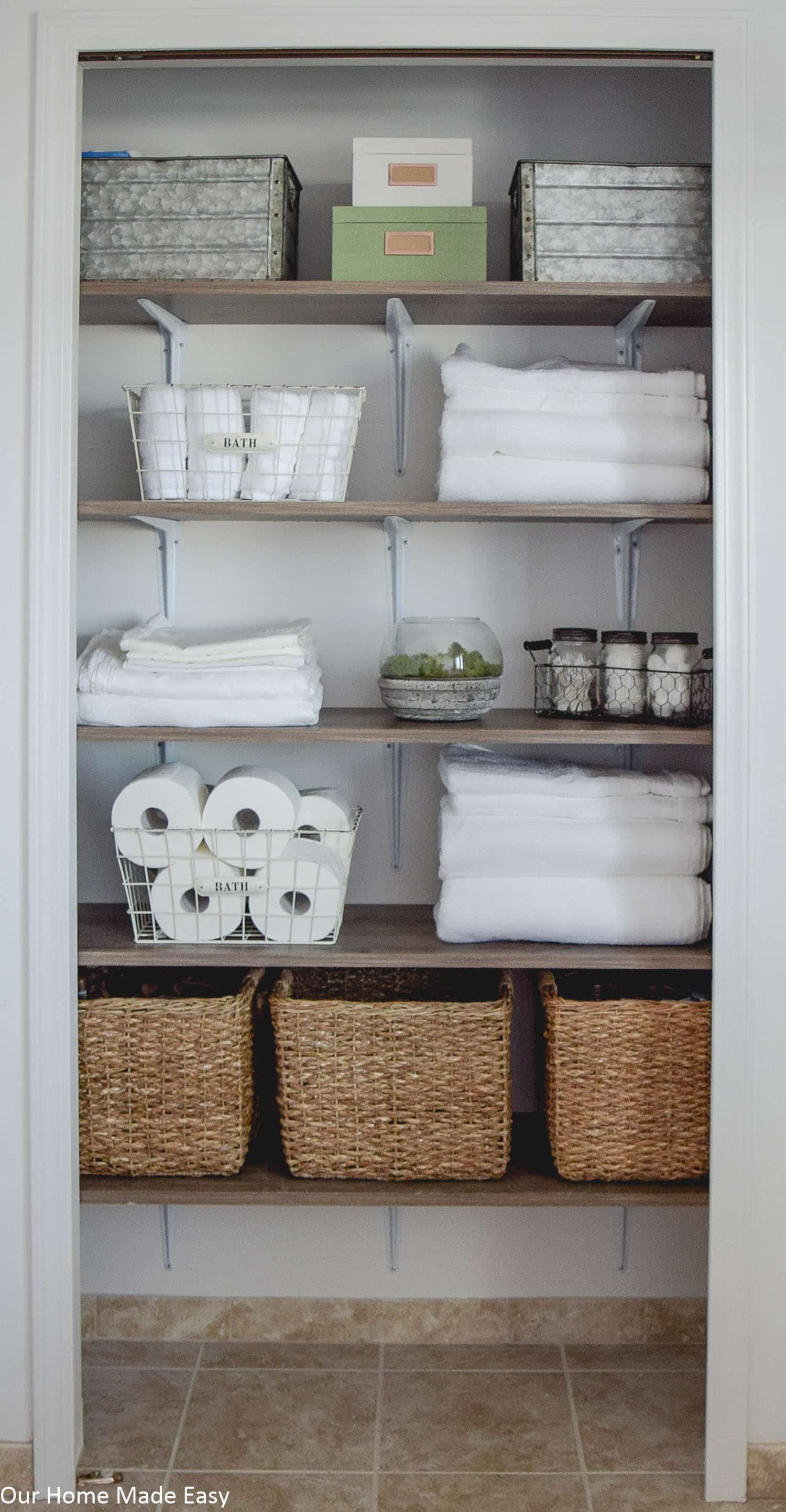 Okay you guys, would I be totally crazy if I left the doors off the linen closet? I think it finally adds some decor to a room that needed so much of it! I've already asked Jordan to remove the door tract. Don't worry, we'll keep the hardware for future owners. In the meantime, I'd like to enjoy something pretty to look at in the mornings!
Sources:
Thanks for stopping by and checking out the progress in our bathroom! Creating your own custom shelving solution doesn't need to be expensive. And don't forget to join us in the free 6 Week Decluttering Challenge! Organizing doesn't need to be an expensive solution, just one that works well for your family!
Squeeze every square inch out of your small closet with these genius tips and tricks.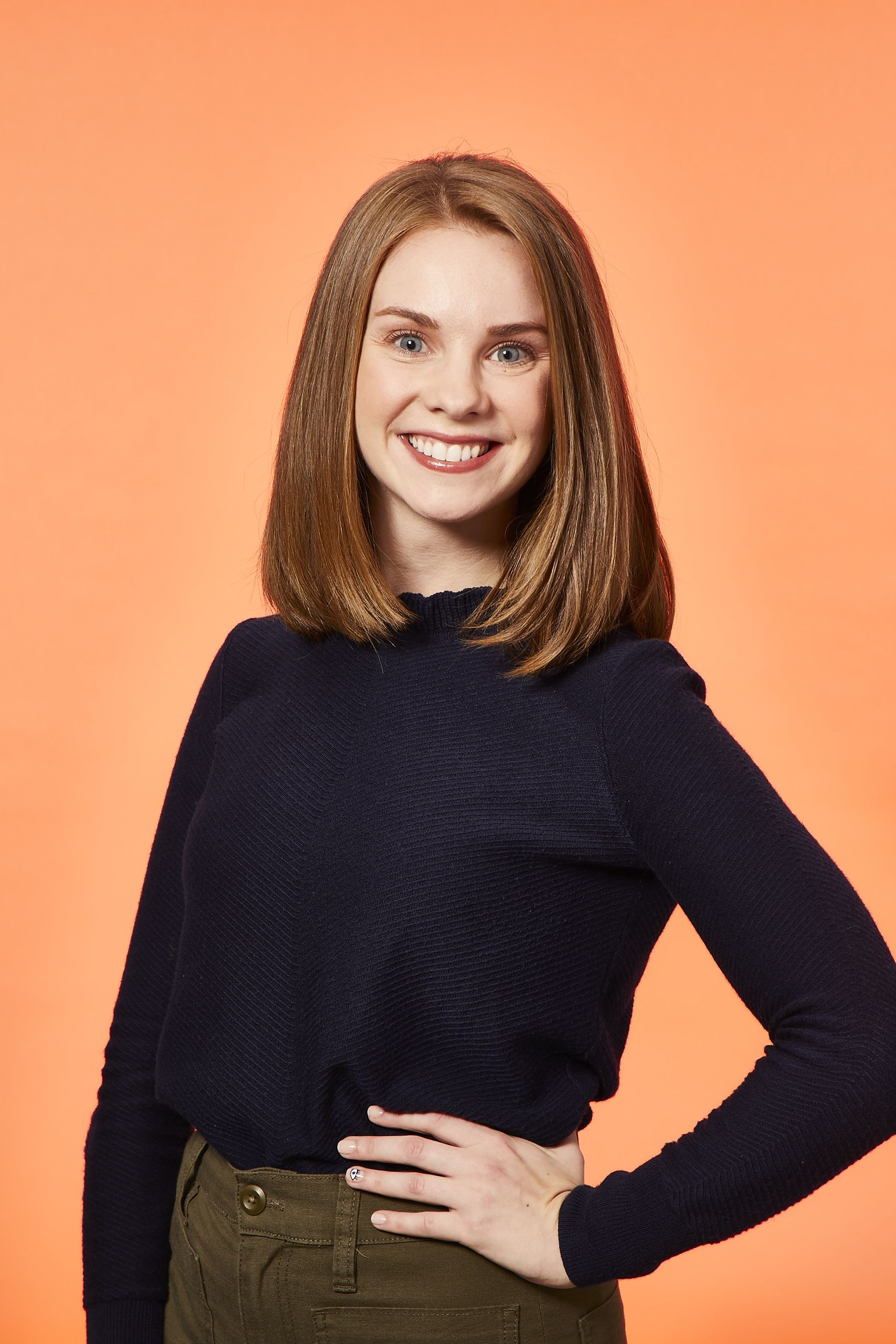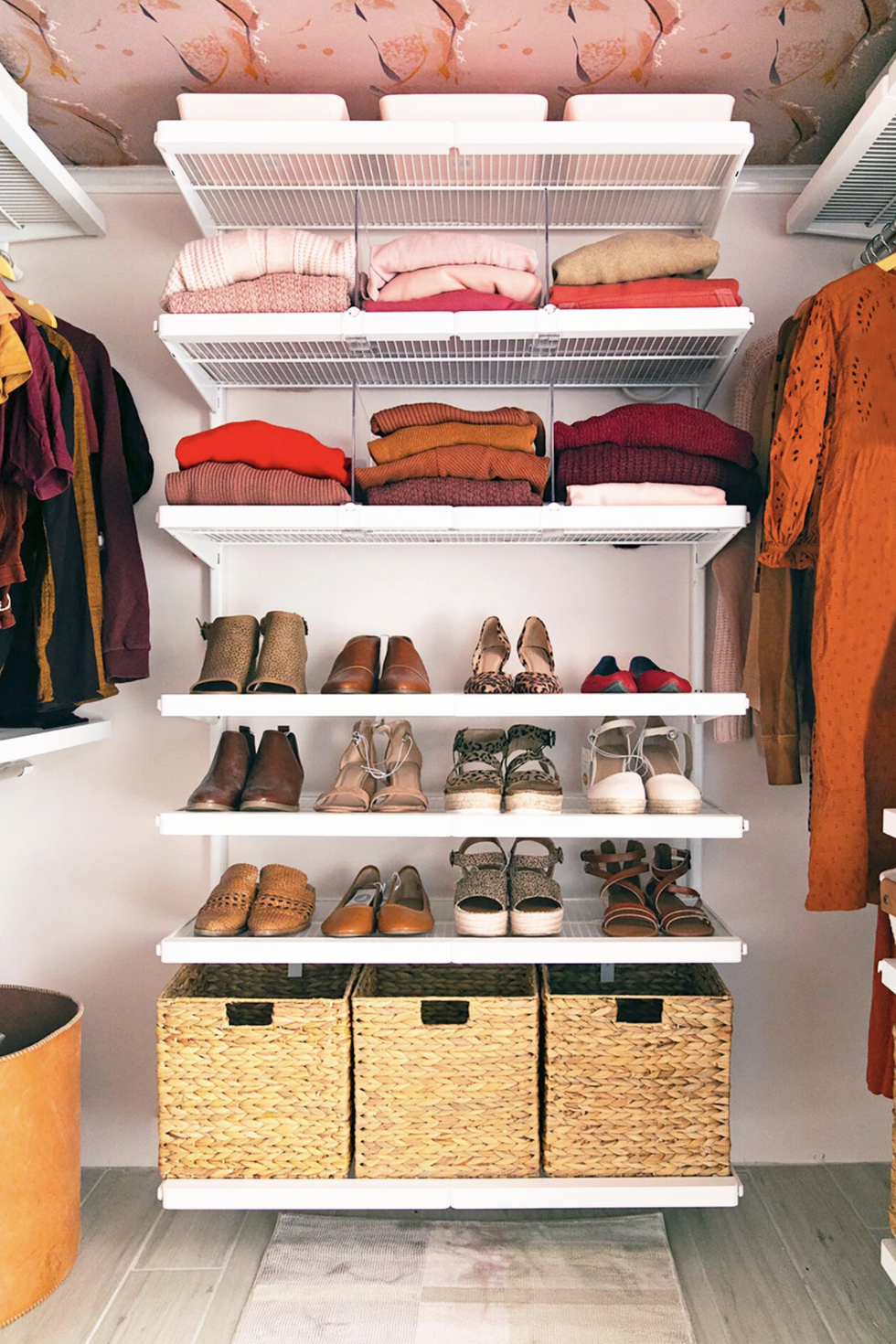 In a perfect world, you'd have a sprawling walk-in closet with floor-to-ceiling shelves, color-coded clothing racks and storage galore. The reality? Your small closet is stuffed to the brim with clothes, shoes, accessories and just about everything else. But since knocking out a wall or splurging on a built-in storage system isn't exactly in the cards for you, make the most of whatever space you do have with these closet organization ideas, perfect for kids and adults alike.
Before you move ahead with any of these tips and tricks, clear out the mess to get a sense of your problem areas — shoes, clothing, jewelry or purses— and see how much space you really have. Then browse through these ideas until you find something that suits your space, budget and overall needs. Start small with basic tidying tricks and affordable organizing products, then if you still feel like there's still more work to be done, go all-out with DIY storage solutions and large built-ins. In the end, you'll have a closet that works for you, so you can finally keep the clutter (ahem, chaos) under control.
If you've run out of excuses to put this cleaning project off any longer, we're here to help.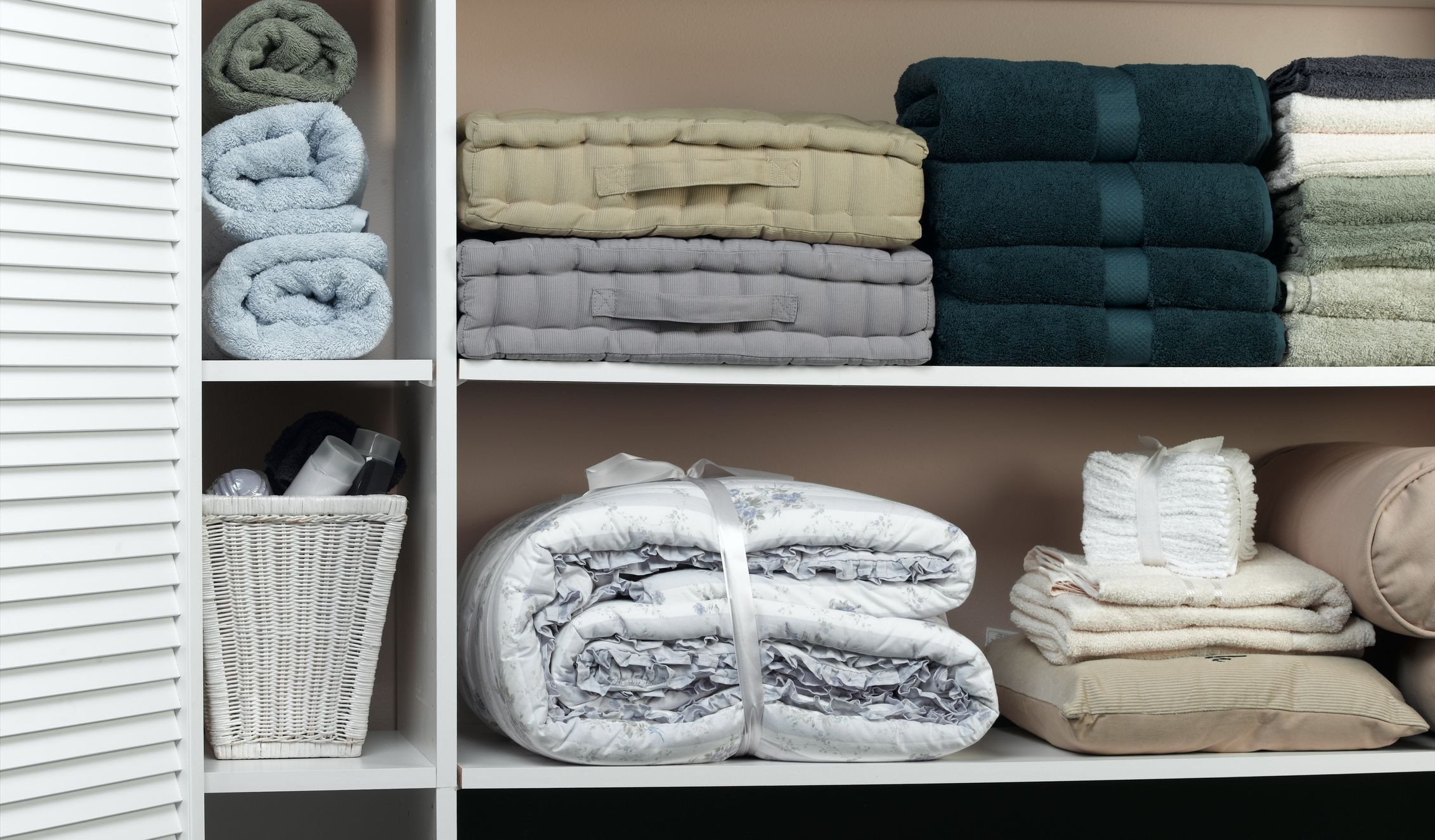 So, you're finally getting around to cleaning your filled-to-the-brim linen closet, huh? Despite how much clutter you've stashed in there over the past few years, you can easily tackle any of these linen closet organization ideas as your next weekend project. Think: wire basket washcloth storage, extra over-the-door toiletry shelving, and more—along with how to arrange it all. No matter how large or small your linen closet is, check out how to restock in style with these closet organization ideas that recast bed-and-bath basics as a decadent experience. Learning how to organize a linen closet has never been easier. (And if you're in the mood to do other organization projects after, check out our pantry organization ideas and bathroom organization ideas too.)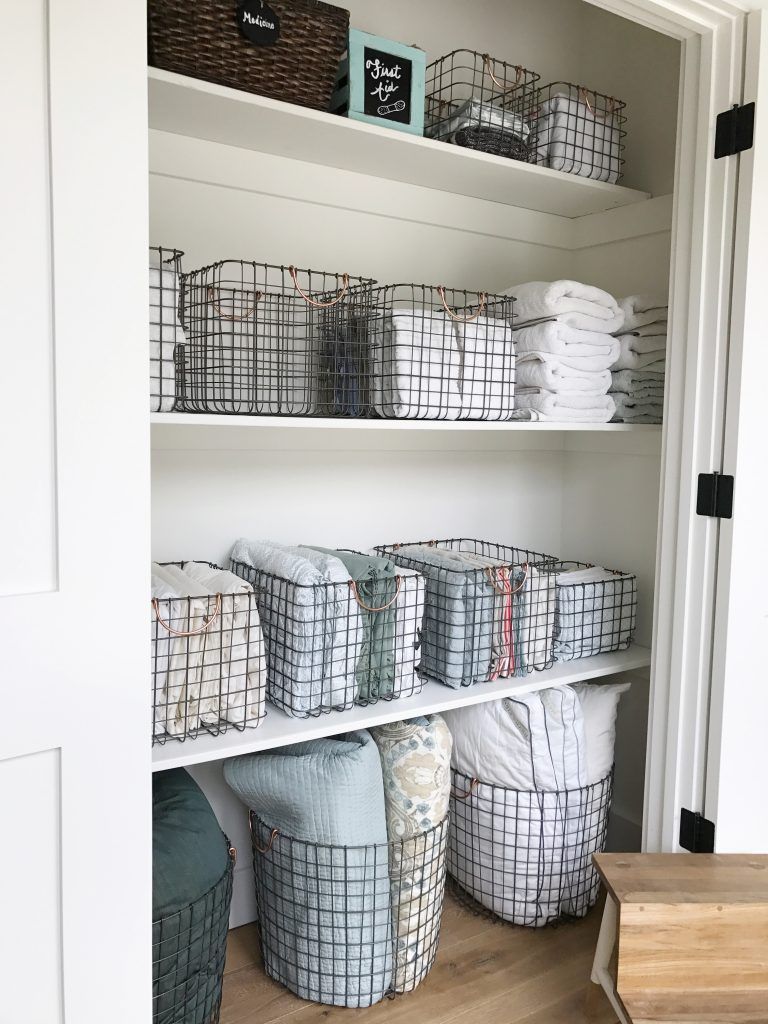 Wire bins, especially ones with liners, organize and conceal cleaning supplies, toilet paper, and the like. Label each each basket to ensure that each container's contents are perfectly clear.
See more at Simply Organized.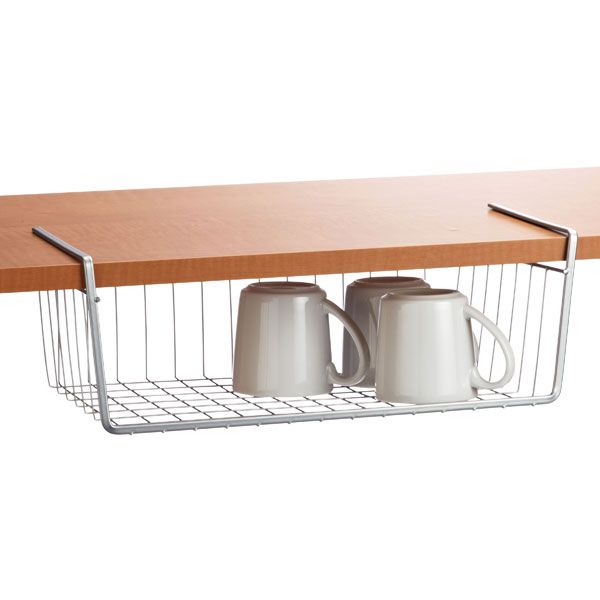 The Container Store's nimble under-shelf bin takes advantage of linen closet space that's often wasted. Use it as a spot to store a stack of washcloths, hand towels, or extra pillowcases.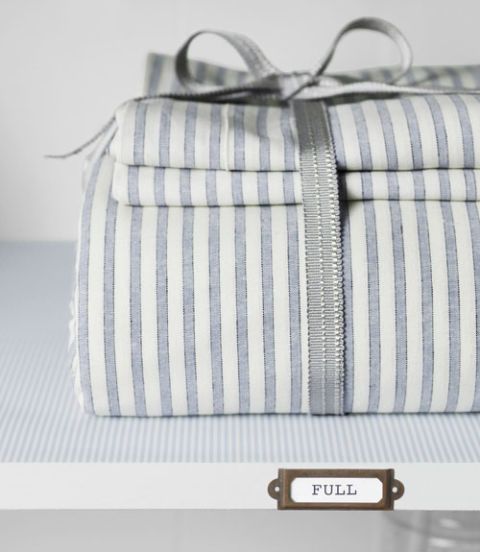 Pretty ribbon solves the lost pillowcase conundrum and offers a polished presentation. Metal labels separate the twins from the fulls and queens.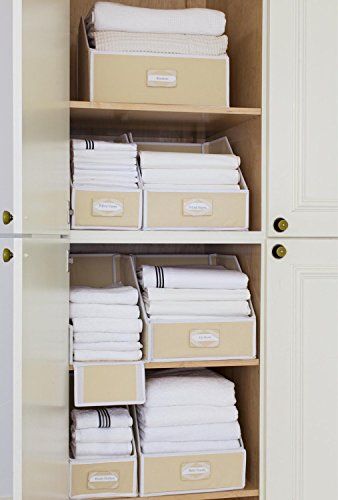 For a linen closet setup that's both organized and practical, stash your sheets and towels in Great Useful Stuff's collapsable labeled bins. The front flap folds down, meaning you can conveniently grab and go instead of digging around and messing up the pristine stack.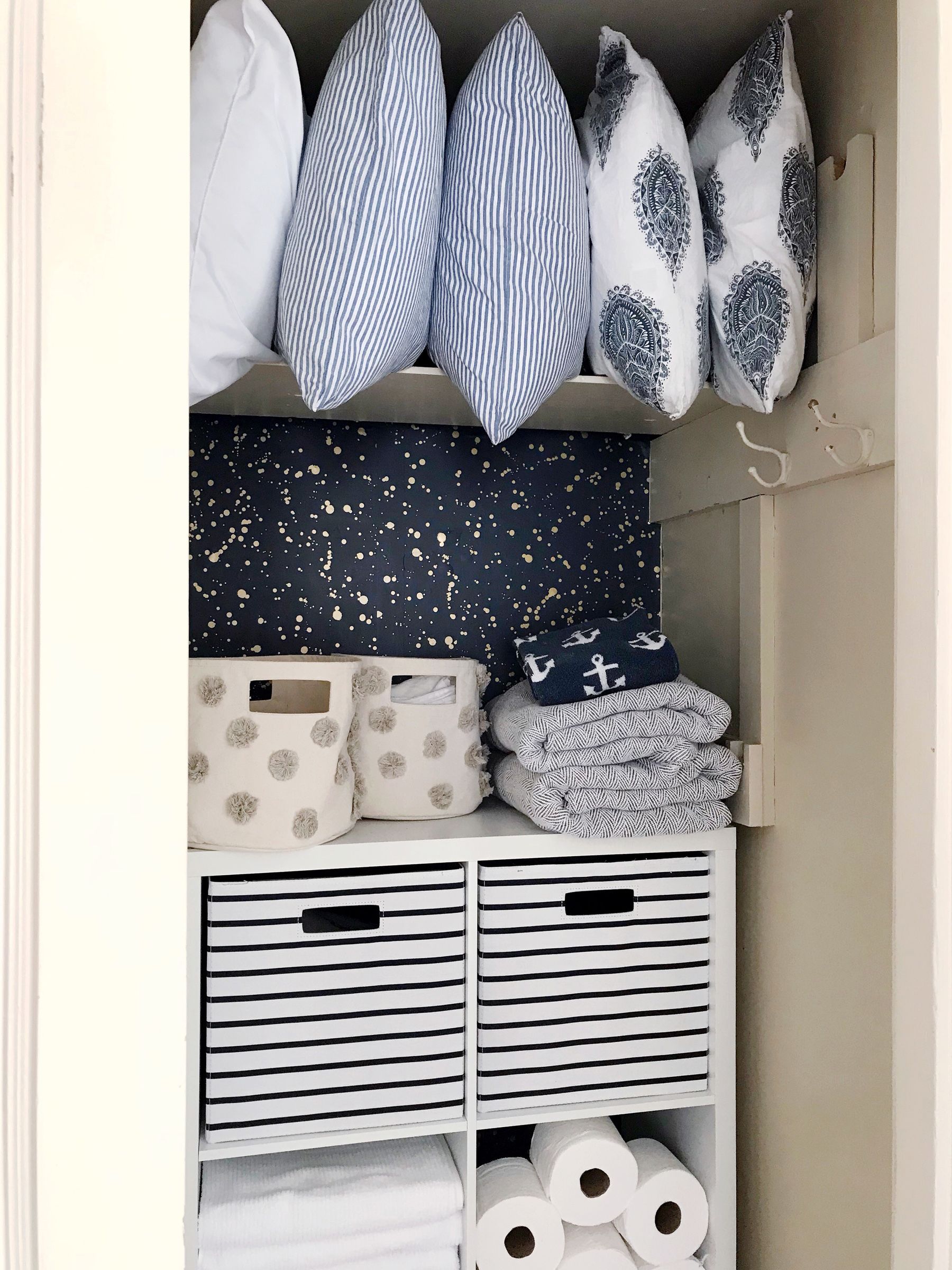 Yep, your eye for design can even extend to your linen closet. To give the space even more of a facelift, consider adding decorative wallpaper—fit to match your storage containers, of course. You'll find yourself opening the door just to admire your work.
See more at Domesitkated Life.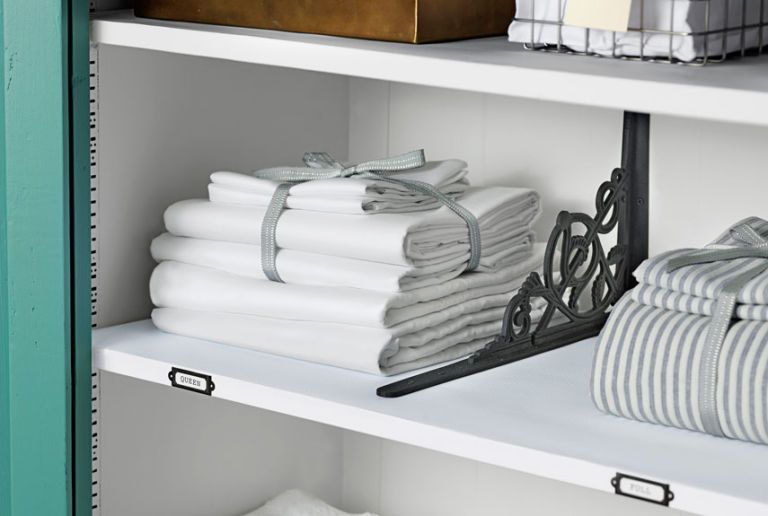 These iron beauties deftly divide linen closet shelves into separate units.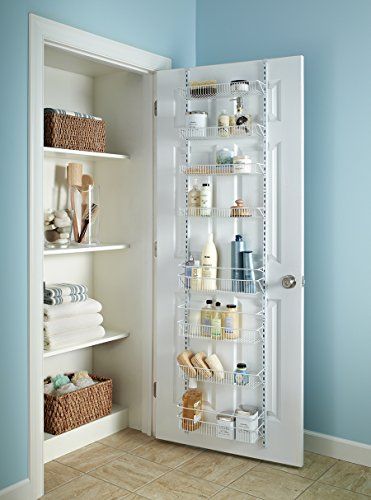 No more shelf space? No problem. Create your own with ClosetMaid's adjustable 8-tier door rack, perfect for any stray toiletries or cleaning products. Consider this your small closet saving grace.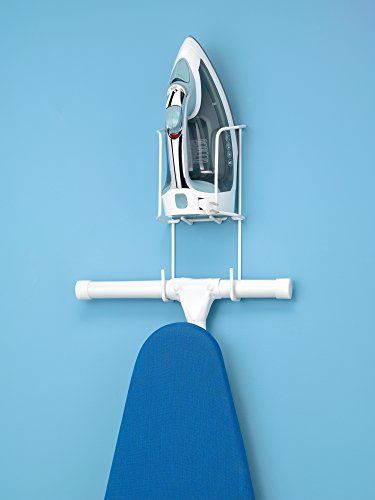 Or, you can also cut back on valuable space by hanging chunky items—like your iron and ironing board, thanks to this hanging carry-all caddy.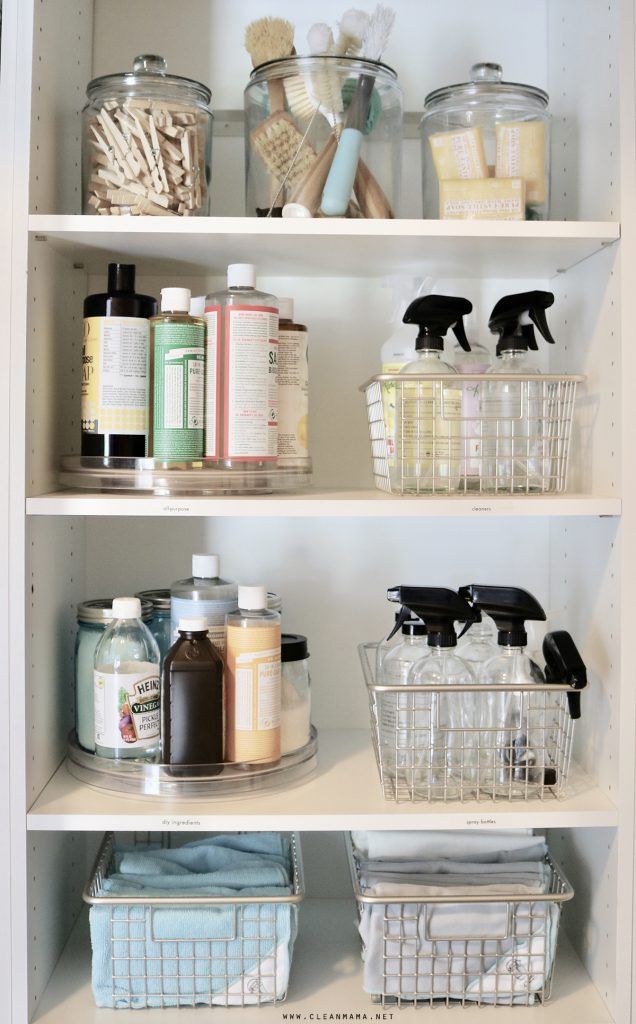 An assortment of wire baskets and round trays will move from closet to bathroom or kitchen with grace, while glass jars present clothespins and scrubbing brushes in a luxurious way.
See more at Clean Mama.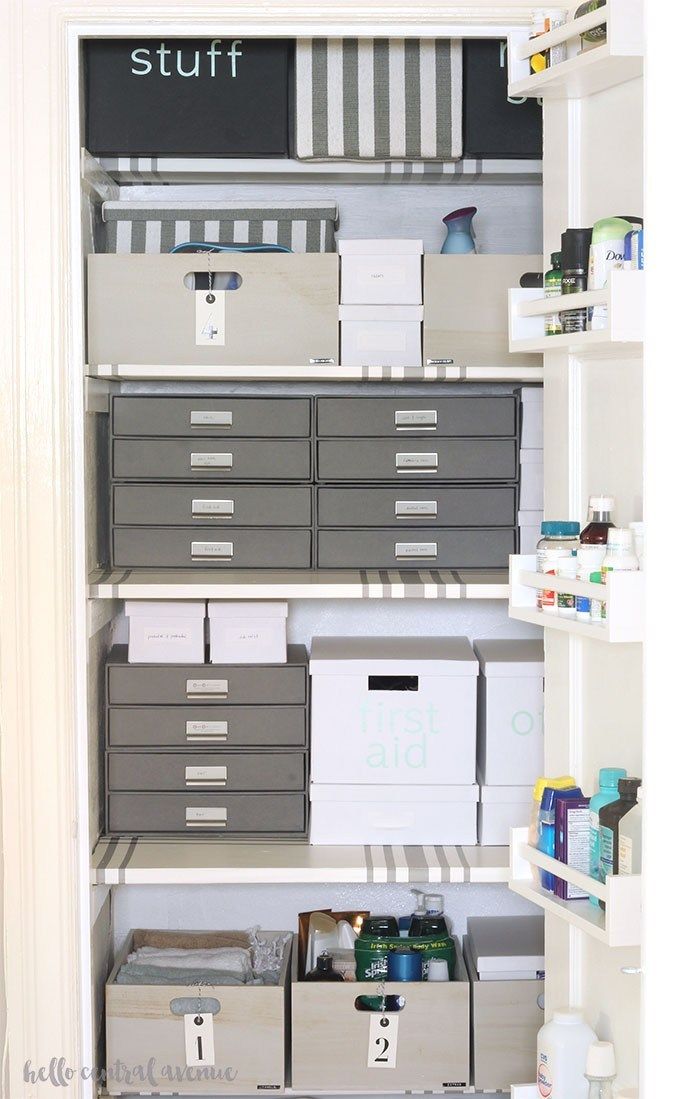 Since you're working in such a confined area, you may want to stick to a unified color palette. But you can also have fun experimenting with different hues and patterns for a mismatched-meets-orderly look.
See more at Hello Central Avenue.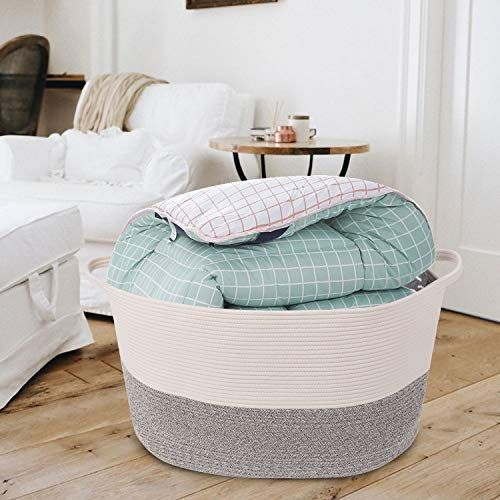 It can be tough figuring out just how to stash them. Good thing, then, that The Land of Nod's iron drop-front basket snugly accommodates two standard pillows.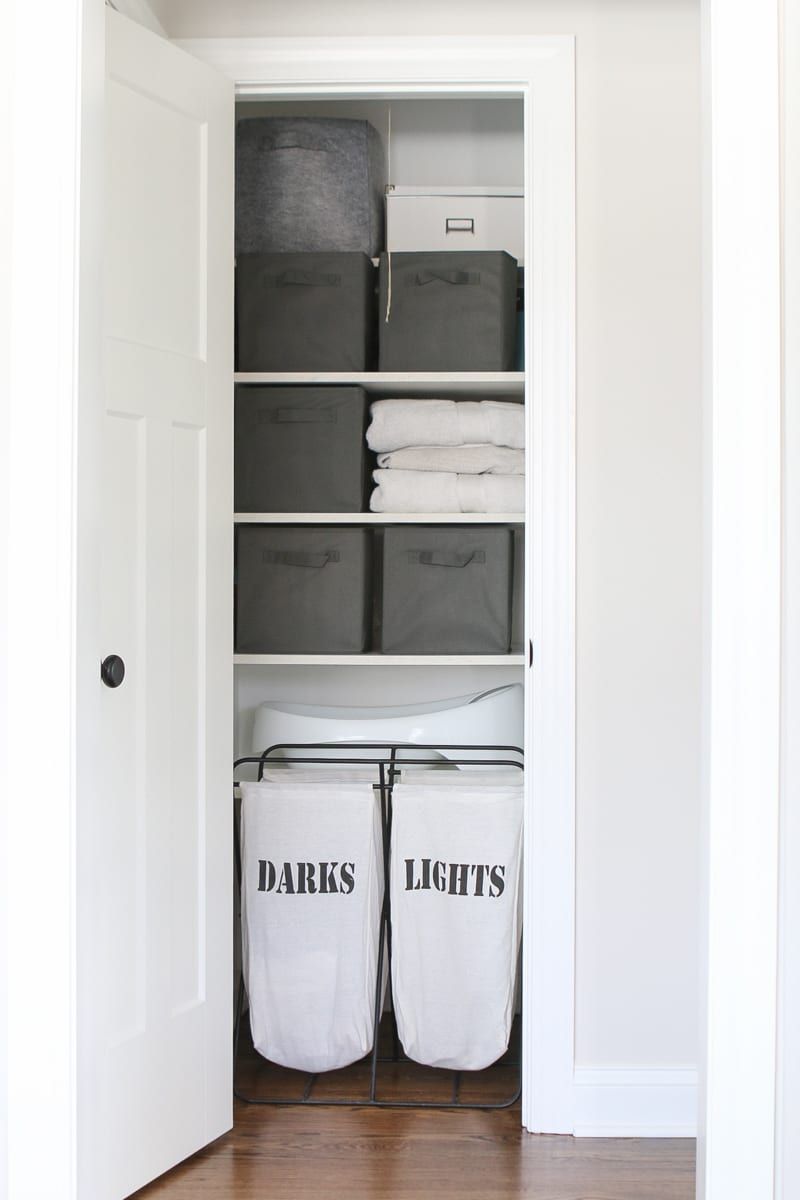 The charming answer to a guest's "Should I strip my bed?" question, this adorable two-part hamper provides subtle cues concerning the preferred place to leave used sheets and towels.
See more at The DIY Playbook.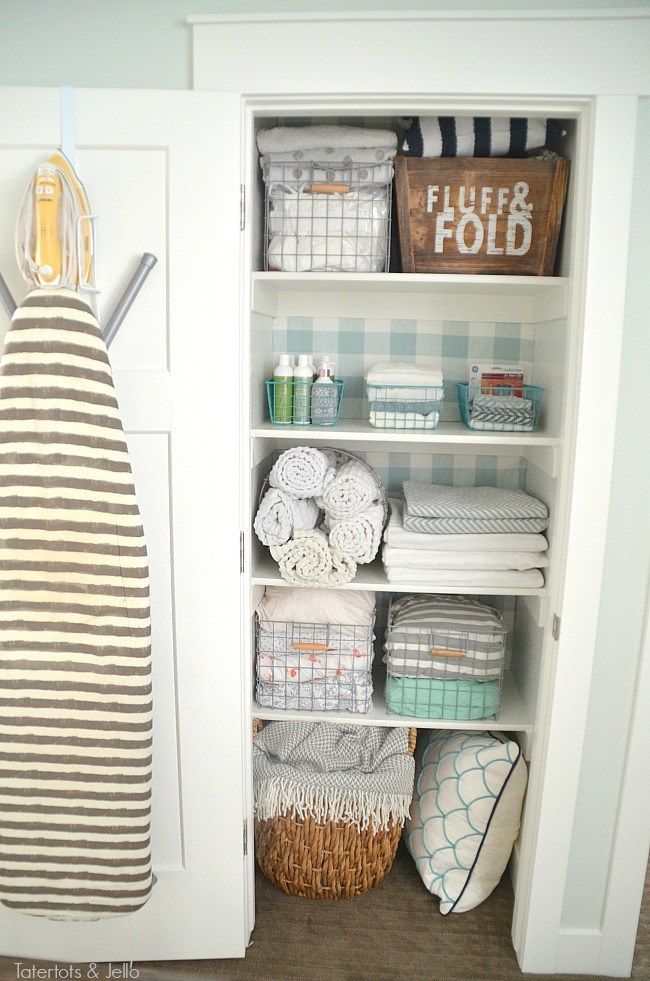 Rather than only folding and stacking your linen collection in a pile, roll up a row of towels to conserve space and add variety. You can even stow the bundle away in a bin of its own.
See more at Tatertots & Jello.