Does the thought of organizing school supplies send shivers up your spine?
Today's post covers one of the bigger back-to-school topics: how to organize all those school supplies!
Here are a few ideas to help you get those school supplies organized and under control:
Sort supplies by type.
When it comes to school supplies, sorting supplies according to type or function can make it easy to find what you need in a pinch when you need it.
You could follow the old standby and store like with like (pencils with pencils and books with books, for example) or you could try out your own methods for sorting supplies.
Use your imagination and sort items according to your needs!
Let's say you are a really tactile person; you like being able to organize items by touch or use and might decide to group supplies according to their tactile function for easy retrieval:
Sticky – glue, paste, rubber cement, tape, tack
Pointy – scissors, compass, stapler, staples, thumbtacks, paper clips
Smooth – writing paper, loose leaf, construction paper, writing notebooks, plastic sleeves, binders
…and so on and so forth.
You could also sort items according to class or subject (plastic bricks and compass for math class, magnifying glass and scale for science), by color, by weight, or go with the old standby of like with like.
Separate everyday supplies from project supplies.
It makes little sense to sort through a mass of supplies to find a small item that you need on a regular basis, such as a pair of scissors.
Once you've sorted supplies by type (see above), it's time to figure out what items you will use on a regular basis. These supplies should be stored on top of, inside of, or kept close to the student's desk or homework station.
Less frequently used supplies, perhaps such as glitter, fabric, ribbon or other items used for projects, presentations and other events, should be stored away from these daily use items.
You might store project supplies in a spare bedroom, empty closet, or in a corner of a room on a shelf or in a large container.
Diversify storage containers.
Over the course of a school year you'll come across lots of different projects and supplies.
While small plastic containers are great for smaller items such as crayons, markers and the like, they aren't too helpful for larger items such as poster board, large sheets of paper or pieces of canvas.
When planning storage for school supplies, be sure to include small, medium, large and flat storage containers.
Place items into appropriately sized containers or vessels for easy retrieval and storage–it doesn't make much sense to store a handful of pencils into a giant five gallon plastic tub or tin!
Remember, you don't have to purchase storage containers to organize or store items: take a look around your home for sturdy boxes, baskets, plastic containers, tins and the like that could be re-purposed.
Now to you…what school supply do you think is the most difficult to organize and/or store? Leave a comment below and join in the conversation!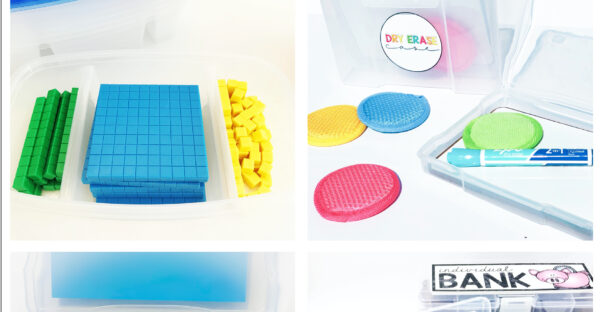 Organizing supplies for individual student is something I did a lot of in my classroom. This was because it saved me so much prep time (and learning time) to just already have it ready to go for students to take back to their centers.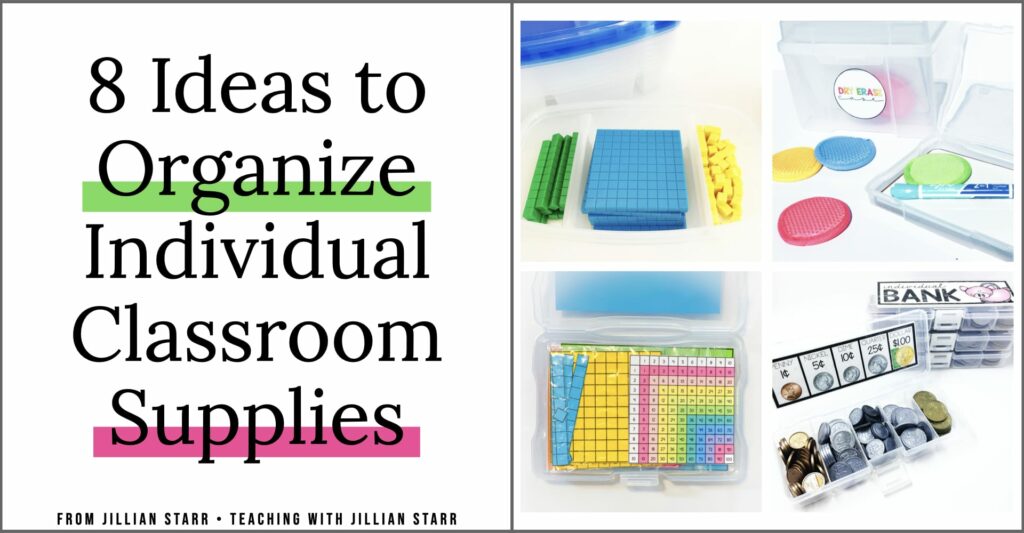 However, now with the need to keep student materials separated during this time, I know many teachers who have never set up their classrooms in this way are scrambling for ideas. I wanted to offer some ways that I have worked in my classroom that you could implement in your own.
White Board Organization
I used these for my small math and reading groups, and they are the perfect way to keep individual white board supplies separated!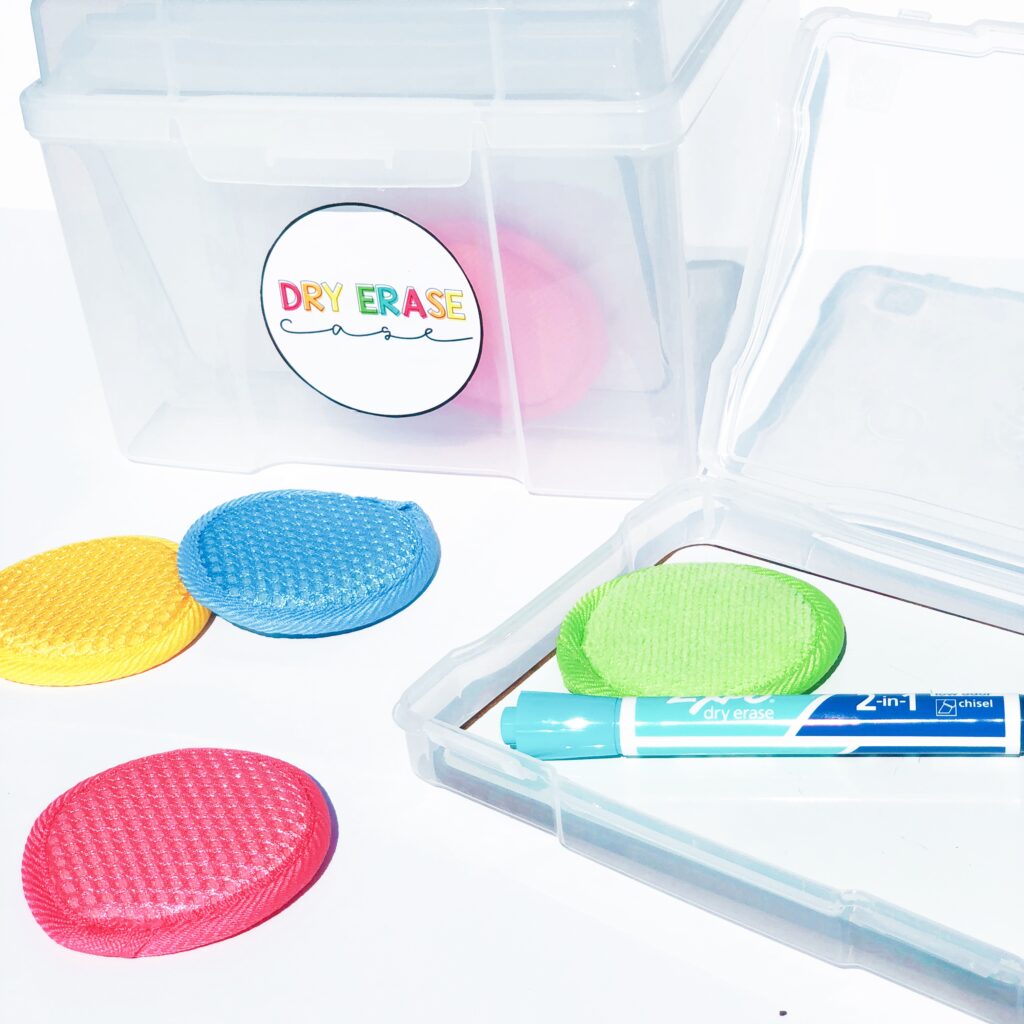 The cases are 5x 7 IRIS photo cases from Michaels.
The erasers are face scrubbers from the Dollar Tree
The 5 x 7 mini white boards are from Lakeshore Learning
Place Value Blocks Organization
I love using sandwich Tupperware from the Dollar Spot to house individual place value blocks. They're the perfect size for your hundred flats, ten rods, and ones units.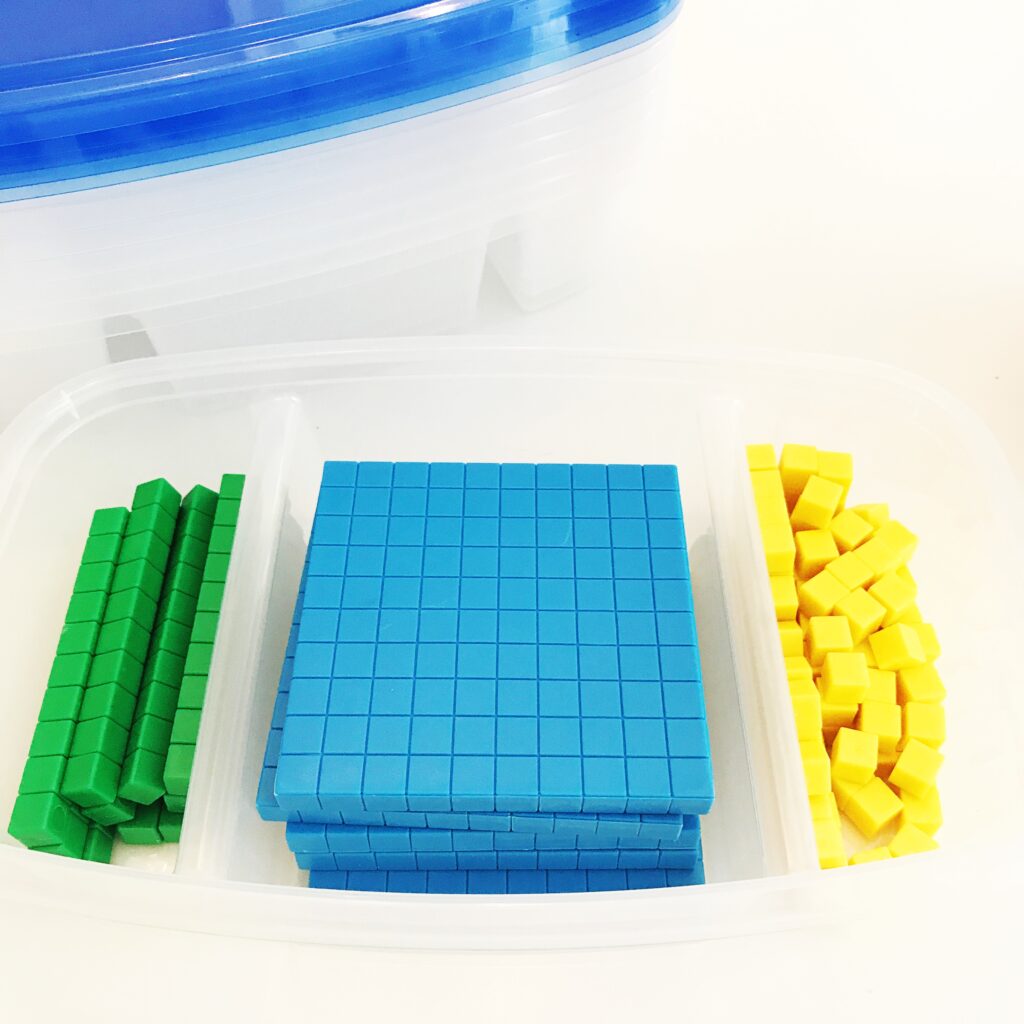 Coin Organization
These are something I created a long time ago because I was so tired of having to prep coins for my students, divvying up pennies, nickels, dimes and quarters each time we needed to do an activity. (Not to mention cleaning piles upon piles of coins after those activities.)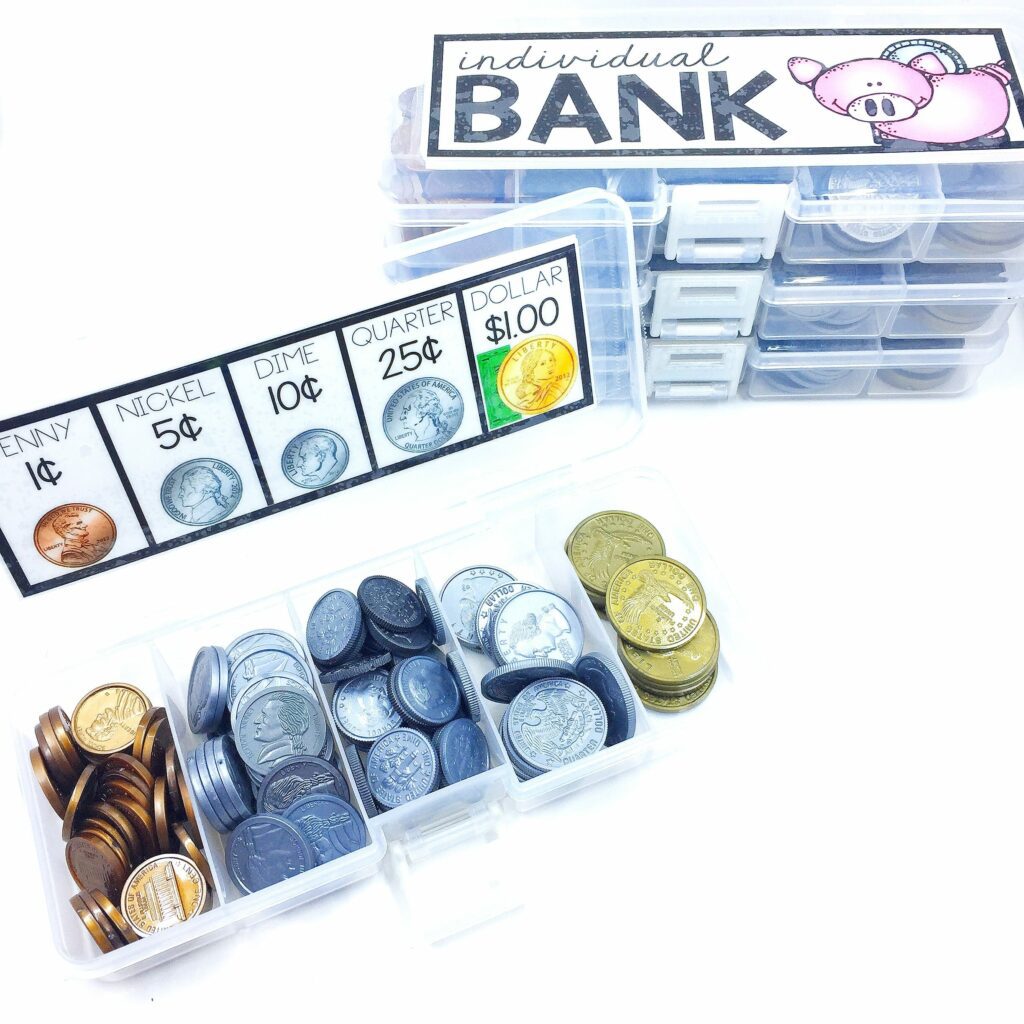 These coin banks have been a game changer, and I love how easy the prep and clean up have become. The visuals have also proven to be a great way to for my students to sort coins and reinforce their names and amounts while working.
These boxes can be found HERE from The Container Store
These labels are free HERE
Dice Organization
I used to save all of our baby food containers and use the for student dice containers. Each student just grabbed a container and they were set.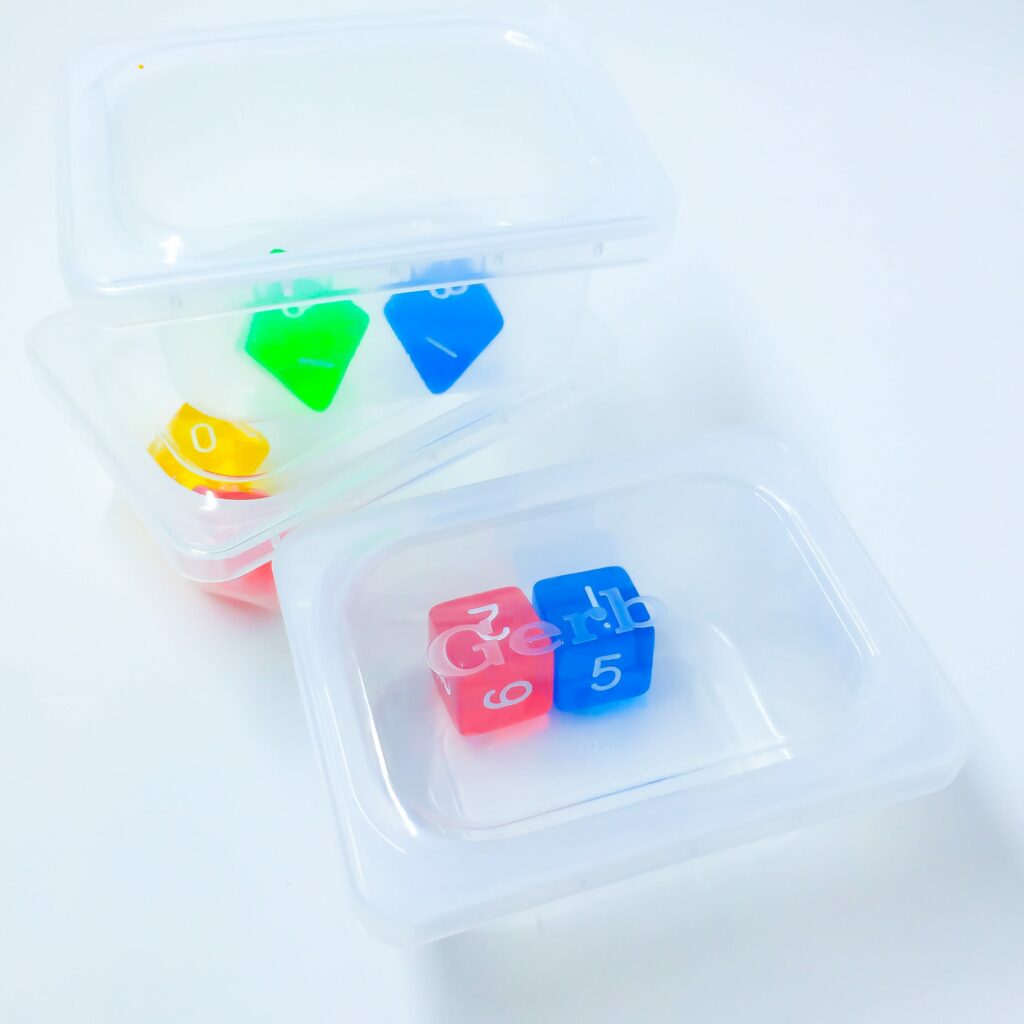 Pro Tip: You can also glue felt to the bottom to soften the sound they make when shaking.
Unifix Cubes Organization
In addition to baby food containers, we also saved all of our formula tins. These made an amazing home for unifix cubes.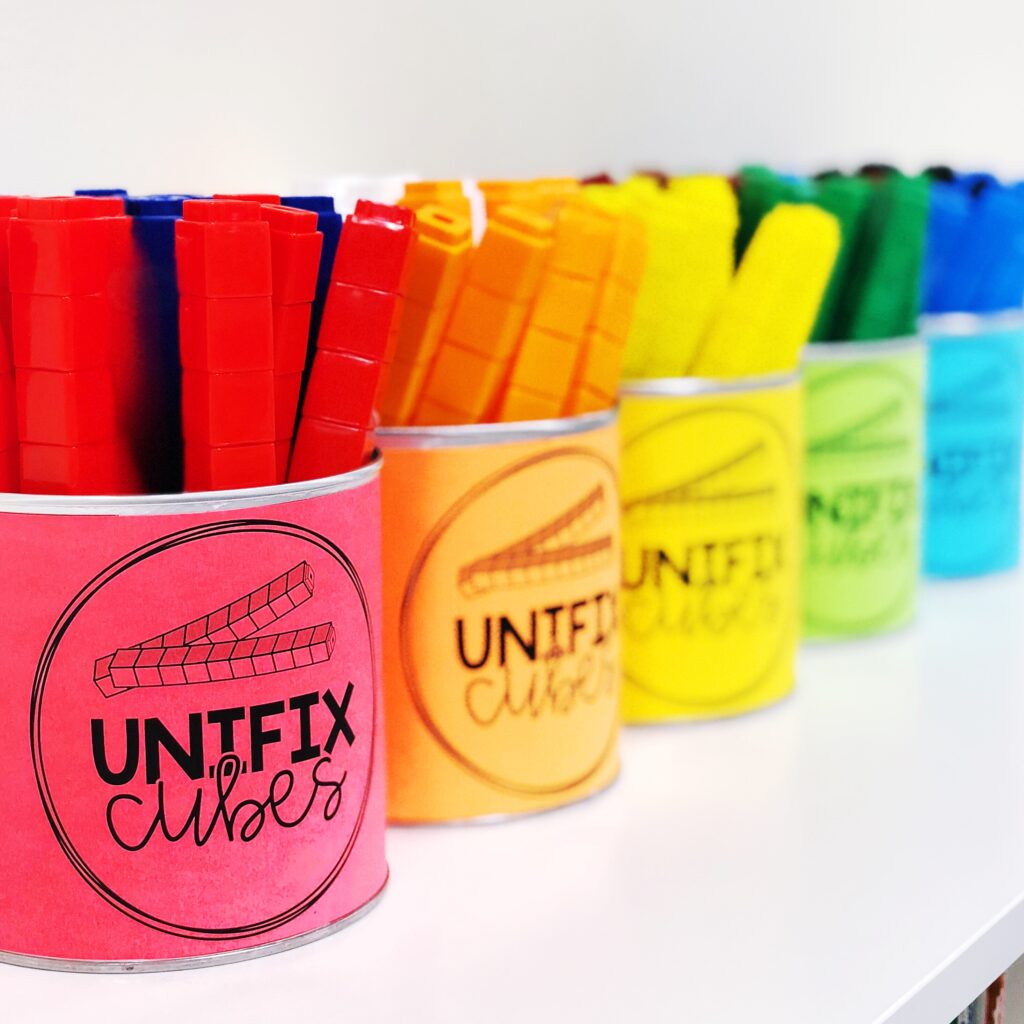 I include two different colors in each tin (perfect for creating different colors for different addends) and organize them in sticks of ten. I find this to be really helpful at reinforcing the concept of ten, even when putting away their supplies.
Individual Math Tool Kits
Over the summer, I created a set of printable math manipulatives to send home to families to support remote learning. However, they are also an awesome solution to organizing supplies for in-person learning right now as well!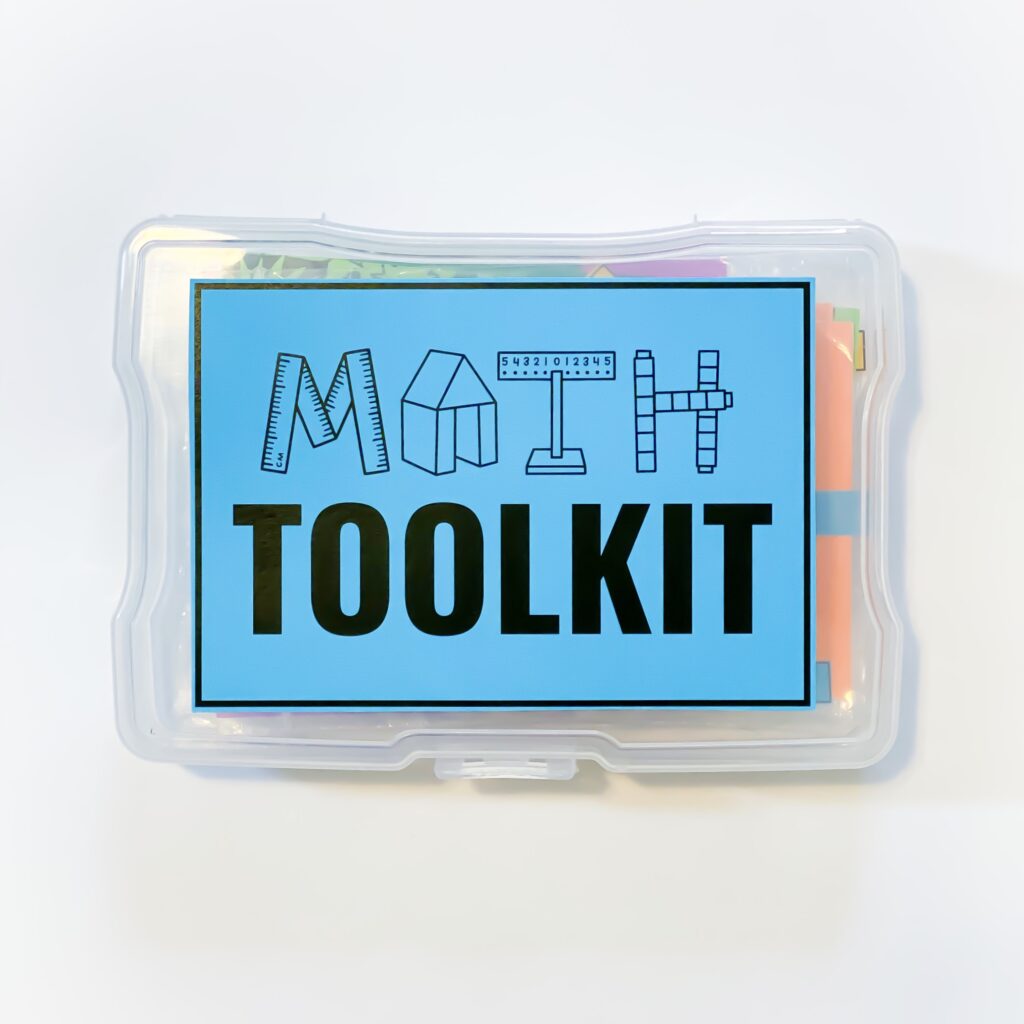 These are specific to the needs of first, second and third grade math content. Inside, you can find:
Base Ten Blocks
Pattern Blocks
Coins (U.S. & Canadian)
Rulers (inches & cms)
Square inch tiles
1-10 Color Rods
Ten Frames
Playing Cards
1-100/0-99 Chart
1-120/0-119 Chart
Fraction Bars
Multiplication Chart
Fraction Bars
Number Lines
Number Bonds
Par/Part/Whole Model
Blank Clocks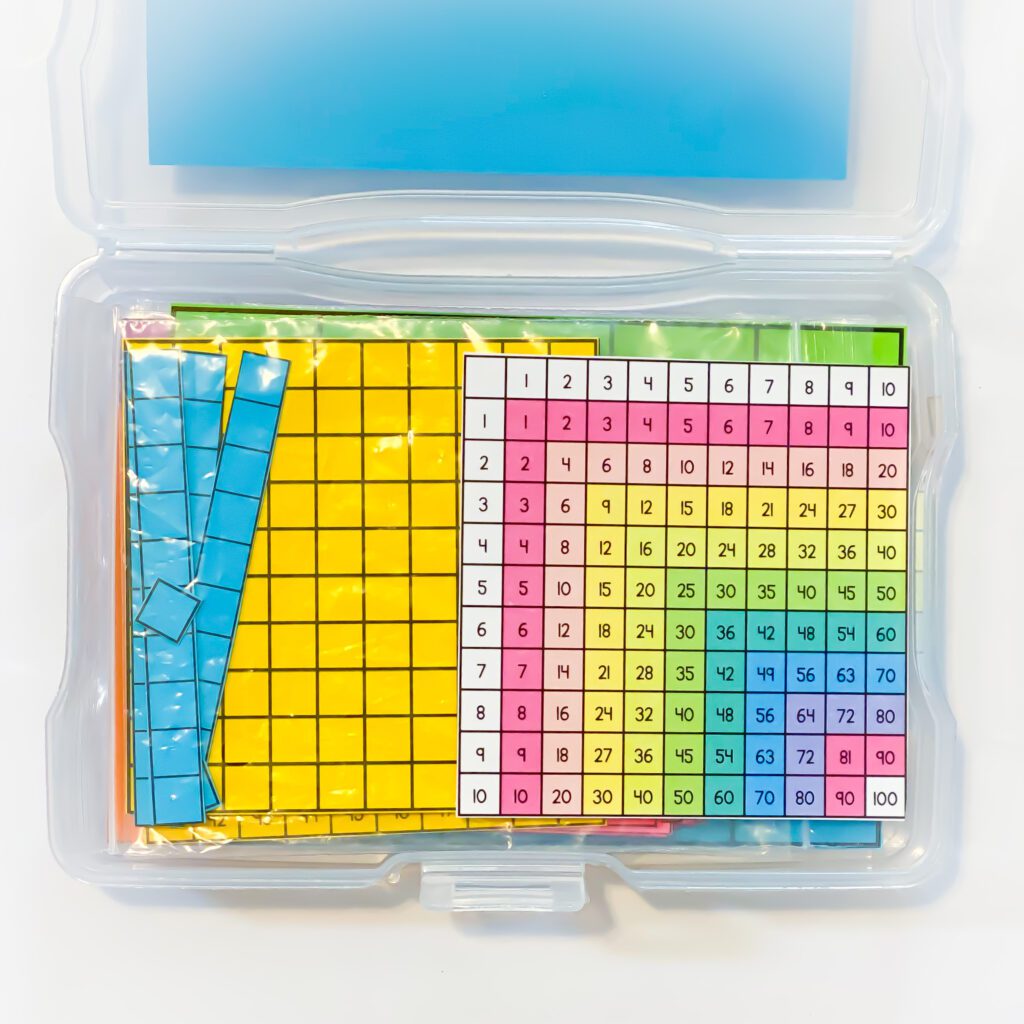 You can grab your free set here:
Small Manipulative Organization
I have always kept things like counters and game chips in small Tupperware containers because it just made my life easier when setting up activities. Now, these little containers are the perfect way to separate supplies for in person learning!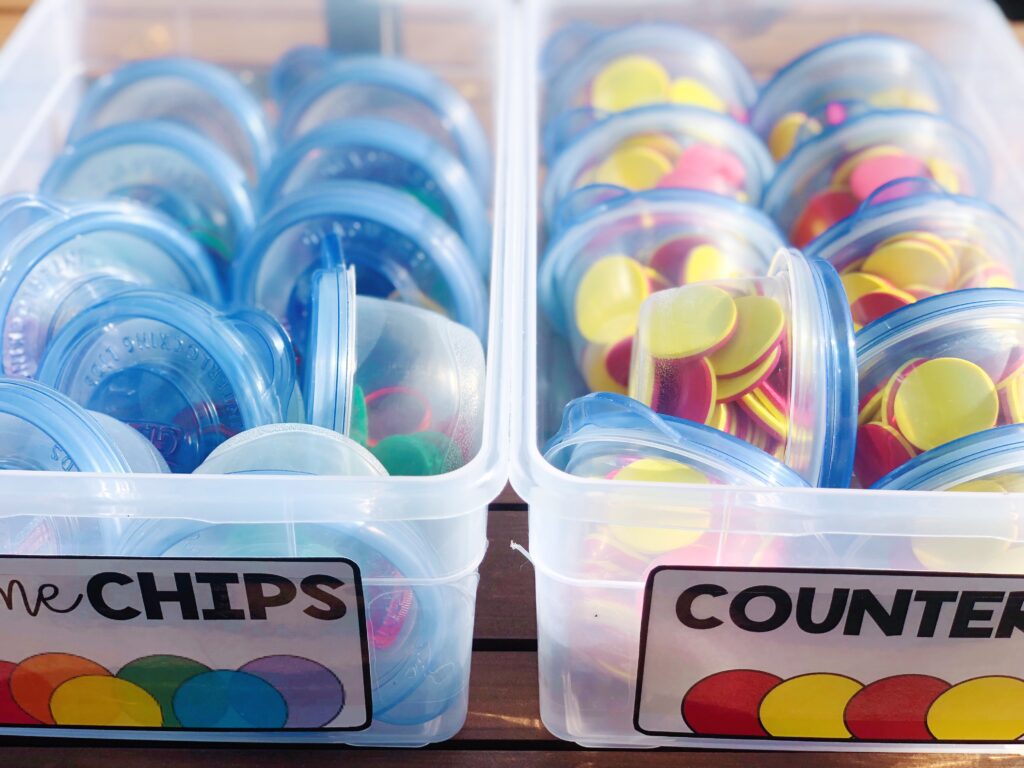 You can find these containers HERE.
You can find the labels HERE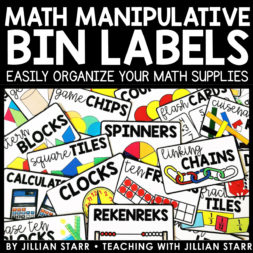 Math Manipulative Bin Labels
Organizing Everyday Student Materials
I have kept my students daily materials in pencil boxes for the past few years. This had really helped support our flexible seating efforts. Students could grab their "tool box" and sit anywhere in the classroom that would be a good fit.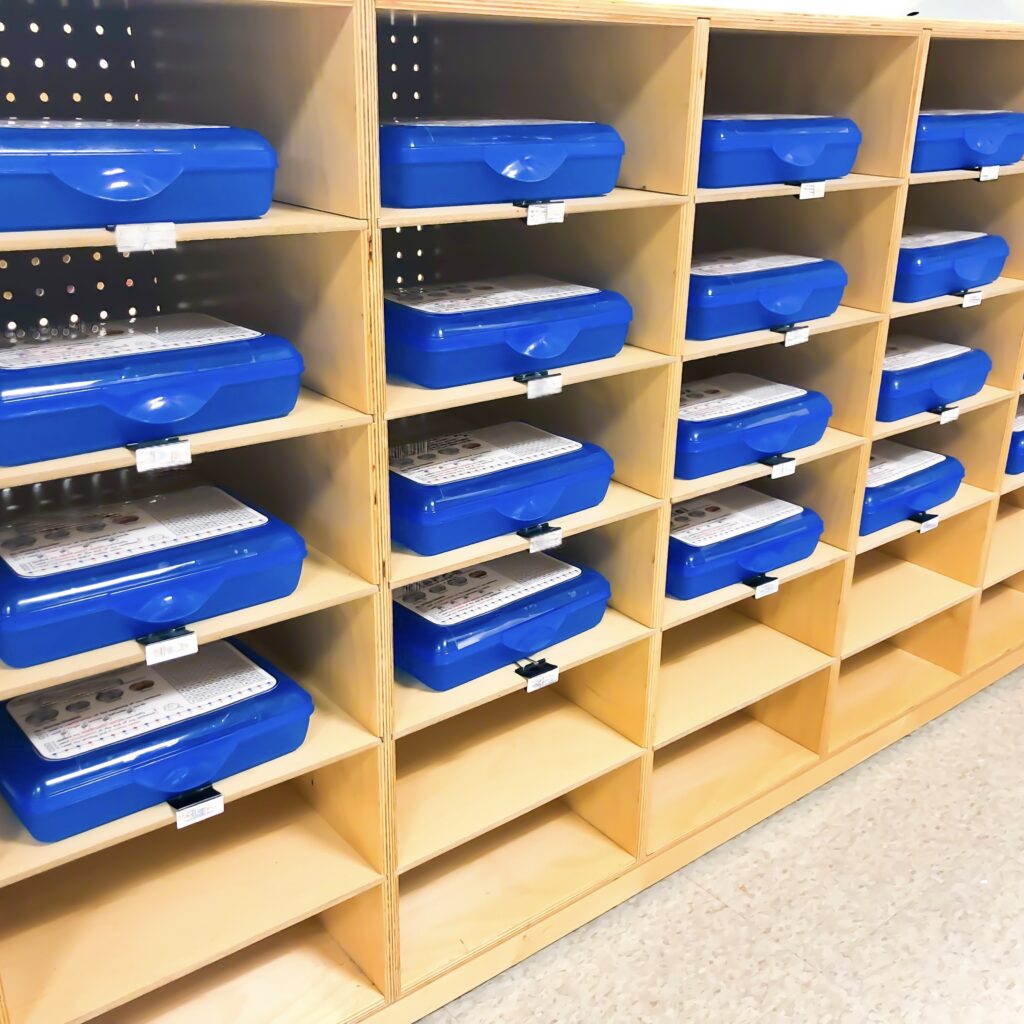 Now, the "tool boxes" are a great solution to keeping individual supplies together (crayons, scissors, glue sticks, pencils, highlights…etc.).
I hope these tips have been helpful as you navigate how to organize your supplies this year. Wishing you all the best!
Whether you are in high school, college, or beyond, organization is key to academic success. Did you know that you can actually improve your grades if you can organize your homework and study time effectively? One way to do this is to incorporate a color coding system into your homework routine.
Here's how it works.
1. Gather a Set of Inexpensive, Colored Supplies
You may want to start with a pack of colored highlighters, then find folders, notes, and stickers to match them.
Sticky notes
Folders
Highlighters
Colored labels, flags, or round stickers (for sale items)
2. Select a Color for Each Class
For example, you may want to use the following colors with a system like this:
Orange=World History
Green=Math
Red=Biology
Yellow=Health or PE
Blue=Geography
Pink=Literature
3. Make a Mental Connection Between the Color and the Class
For instance, you might relate the color green to money—to make you think of math.
You may have to play around with the color system to make each color makes sense for each class. This is just to get you started. The color connection will be clear in your mind after a few days.
4. Folders
Obviously, you'll use each folder to keep track of homework for each class. The type of folder isn't important; just use the type that is best for you or the type that your teacher requires.
5. Sticky Notes
Sticky notes are useful when doing library research, writing down book and article titles, quotes, brief passages to use in your paper, bibliographical citations, and reminders. If you can't carry around several packs of sticky notes, then keep white notes and use colored pens.
6. Colored Flags
These handy markers are for marking pages or reading assignments in books. When your teacher gives a reading assignment, just place a colored flag at the beginning and ending points.
Another use for colored flags is marking a date in your organizer. If you carry around a calendar, always place a flag marker on a date when an important assignment is due. That way, you'll have a constant reminder that a due date is approaching.
7. Highlighters
Highlighters should be used when reading over your notes. In class, take notes as normal—and be sure to date them. Then, at home, read over and highlight in an appropriate color.
If papers get separated from your folder (or never make it into your folder) you can easily recognize them by the colored highlights.
8. Labels or Round Stickers
Stickers or labels are great for keeping your wall calendar organized. Keep a calendar in your room or office, and place a color-coded sticker on the day that an assignment is due.
For instance, on the day you receive a research paper assignment in history class, you should place an orange sticker on the due date. This way, everyone can see an important day approaching, even at a glance.
Why Use Color Coding?
Color coding can come in useful in a number of ways, even for a very disorganized student. Just think: if you see a random paper floating around you'll be able to know at a glance if it's a history note, research paper note, or math paper.
Organizing your notes and paperwork isn't the only part of a good homework system. You need a space designated for the time spent studying and working that is also well kept and organized.
Ideally, you should have a desk in a well-lit, comfortable, and quiet area. Keeping your workspace organized is just as important as your work. Even though you may keep a planner with you, a wall calendar can be exceptionally useful. School isn't your whole life and sometimes you have a lot of clubs and engagements to keep track of. Having all that information in one spot will help you organize everything in your life, to make sure you never have conflicting obligations.
You Can Make a Big Difference In Your Community
Looking for a simple way to give back this summer? Organize a backpack drive with your friends, family or co-workers. It's a simple way to help kids in your community.
Did you know that the average cost of a backpack full of school supplies is $87? Wow! That's an expense families living in homeless shelters simply can't afford.
When you donate a new backpack and school supplies to Operation Backpack®, you help prepare kids in need with the tools to succeed in school.
In this guide, we'll show you easy steps to host your own back to school backpack and supply drive.
It's as easy as A, B, C, 1, 2, 3!
1. Learn about who you are helping
Take a moment to read (okay, or skim) our How-To Guidebook, which is a thorough explanation of what Operation Backpack® is, who it helps and how to get involved. It even includes sample social media posts you can copy and paste to spread the word.
Operation Backpack® is a back-to-school drive that collects and distributes new backpacks full of school supplies to thousands of homeless and at-risk children throughout the greater Cincinnati/Dayton, Cleveland, Columbus and Indianapolis areas.
All of the backpacks and school supplies benefit local children in our programs and those living in homeless shelters. Teamwork makes the dream work so we also work with partner agencies to ensure as many children as possible benefit from Operation Backpack®.
2. Tell us how awesome you are
Send us a quick email telling us that you are planning on organizing a drive.
Email us at [email protected]
Take photos of your crew and your back to school backpack and supply drive. If you're collecting backpacks in your workplace lobby, take some Before and After pictures. Snap a photo at the start and then another at the end of the drive to see just how many backpacks were collected. You'll be amazed at how your lobby fills up!
We want to see all the amazing work you're doing so feel free to email your photos to us too.
3. Round up the gang and give them the 411
Gather up your crew and tell them what's going on.
To get everybody involved, set up collection boxes in well-trafficked areas like a lobby or near an entrance.
Hang up posters to let friends know what they should donate and when to bring in the donations.
Be sure that the receptionist or those near the collection bin are able to answer questions and have information about your back to school backpack supply drive.
4. Get creative with your backpack drive!
There's no right or wrong way to host a backpack drive. The possibilities are endless! Think about what would appeal to your group of friends or co workers.
Host a 50/50 raffle where 50% of profits are donated to Operation Backpack® and the other 50% go to a lucky winner.
Hold a bake sale. Everybody can bring in homemade goodies, then sell the treats for $1 each, and either donate the profits or use the money to buy new backpacks.
Offer employees the option to dress-down if they make a small pledge
Have a weekly trivia question about Operation Backpack® and correct answers are eligible for a prize drawing.
Join the Pack Challenge. Can your team collect over 50 new backpacks filled with school supplies? Compete against fellow teams inside your company or with other companies. A little competition never hurt anybody.
5. Spread the word
Shout it from the rooftop that you are organizing a backpack drive. (Okay, don't actually climb on the roof.)
You can let people know about your back to school backpack and supply drive through a number of ways.
Hang up a poster on a bulletin board
Create a display in your lobby about your backpack drive
Mention Operation Backpack® in your newsletter
Bring it up in team meetings
Send out an email to everyone
Share your progress on Facebook, Twitter and Instagram
Be sure to use #OperationBackpack and tag @voaohin so we can pat you on the back for all your great work.
6. Drop off your backpacks and school supplies
Our generous sponsors and partners have made it possible to have many convenient drop off locations in Columbus, Cincinnati/Dayton, Cleveland and Indianapolis .
Make sure you drop off all your backpacks and school supplies on time, before the drop off deadline. We want to get the backpacks and supplies to kids before they start school.
Be sure to send us your Reporting Form so we can keep track of the donations and formally thank you. Don't forget your name, phone number, address and email address.
Thank you for all your support! Feel free to reach out to us with questions.
News & Media
Get Involved
Careers
© 2022 Volunteers of America – All Rights Reserved. We are designated tax-exempt under section 501(c)3 of the Internal Revenue Code.
Tax ID 34-0861121. Your contributions are tax-deductible to the fullest extent of the law.
Part of maintaining an efficient office is ensuring that everyone has access to the tools they need. While it can be difficult to decide which tools an office can most benefit from, one resource that the entire office uses is office supplies. But when everyone needs access to the same supply room, how do you prevent it from being abused?
Managing Office Supplies

Office supplies are easy to use and easier to run out of. Paper, pens, inks, toners, staples, tape, paper clips, and more are all important, but can become a hassle if they aren't monitored. Also, your employees may take too many office supplies at once, which can lead to over-ordering and overspending.
Workplace flexibility can increase these issues. How should you regulate supply use when some employees work remotely for some or all of the week?
Looking for better ways to manage your office supplies? See our strategies below:
Limit access to supplies
Start by improving the organization system you already have. How do you currently keep track of supplies? Open supply rooms, while great in theory, are often poor in practice because they don't limit which or how many supplies employees can take.
There are three ways to limit access. First, you can appoint someone to be the gatekeeper. This person is in charge of the supply room; if employees need office supplies, then they must go through the gatekeeper to get them. This is the most effective method for maintaining inventory, but it may be inefficient for offices that don't have someone who can absorb a gatekeeper's responsibilities.
Second, you can limit access to a select group of employees. By installing a keypad or putting a lock on the supply room door, you can still control the flow of office supplies. The group of employees you select should be the only individuals who know the keypad code or who have a copy of the supply room key. They can then distribute office supplies to employees as is necessary.
Finally, you can create a log for employees to use and keep it in an open supply room. Employees should write down which supplies they take, how many they take, and when they take them every time they leave the supply room. While this may be the easiest of the three options, it is also the least effective because it relies on the honor system. Employees may forget to fill it out, which can cause confusion and bring the office back to square one. Choose the option that is best for your office based on how often you use office supplies and whether or not your office is already experiencing a misuse of supplies.
Download the Checklist for New Offices
Organize what you already have
Once you have decided how to limit access to office supplies, it's time to organize your supply room. Make it easy for employees to find the supplies they need by grouping similar items together (for example, put paper clips and thumbtacks on the same shelf). Place the most frequently used items on shelves at eye level and place less popular items higher up. If something isn't being used, toss it and make a note not to order more in the future.
Keep the supply room as neat as possible. Encourage employees to put extra supplies back where they found them. If you have a larger supply room, you may want to post a list that explains where different supplies can be found. Organizing your supply room this way will also make maintaining an inventory much easier.
Use it up first, then buy more
Prevent over-ordering by encouraging employees to use up what the office already has before they break into new supplies. After a certain amount of time, paper will turn yellow, inks and toners will dry out, and pens will stop working, so use up what's already available first. This also prevents the office from wasting money by throwing out supplies that were never opened but grew too old to use. You'll reduce waste and the office's carbon footprint — and you may even help out the planet a little, too.
Strategize when to reorder supplies
Many office supply companies offer a discount when companies order in bulk. To get the most out of your company's dollars, you want to order the most supplies your office will need right when you run out of them. The ultimate goal is to avoid an excessive order (see tip above), but to place one that is large enough to merit a bulk discount.
Keep track of which supplies your office uses the most and how long it takes to receive a shipment of those supplies. You should combine these numbers to find a time when the office will be low on supplies but not so low that it will run out before the next shipment arrives. It's a careful science, but one that will pay off in the long run.
Consider setting up an automated reorder process with some or all of your supply companies. This way, you will always receive a shipment in time and you won't forget to place an order in the future.
Keep an inventory log
Keeping an inventory log is the best way to ensure that you always know how many supplies the office has. If you are unsure where to start, try downloading a free office supply inventory template from one of the many available online. This one is great to start with, and you can adjust it to fit your office's needs.
But an inventory log only works if it is regularly updated. Be sure to periodically perform inventory checks so you can revise your log and remain aware of which supplies may be running low. A good rule of thumb is to always have enough office supplies on hand to keep your workplace running for one week.
These tips can help you get the most out of your supply room and prevent dreaded office supply shortages. Manage your office supplies now to prevent headaches later
With proper resources at their disposal, students find the confidence to return to school day in and day out. Teachers, too, are empowered to do their best work when they are supported by the resources they need to maintain effective, equitable learning environments.
By hosting a supply drive, you can level the playing field in underserved schools.
Already have supplies collected? Complete the supply drive donation form. We're proud to offer free shipping from anywhere in the country for boxes under 50lbs!
Hosting a school supply drive requires the dedication of time, energy, and effort to mobilize a group's efforts.
Here are the aspects of your supply drive to determine before you get started:
Type of drive:
Collect supplies only
Collect supplies + financial support (designated for supplies)
Collect financial support only designated for supplies (online and/or in-person)
Method of collection:
One-day event
Designated timeframe of collection (week/month/etc.)
Additional collection ideas:
A one-day event in which donations are brought to one location to fill a school bus/large truck.
A week or month-long collection with barrels or boxes in stores, businesses, and highly trafficked areas where items can be dropped off.
Tips for Success
How do you want to collect supplies? Two popular options include:
A designated day, week, or month-long collection with barrels or boxes in stores and businesses
A one-day event in which the community brings donations to fill a school bus or a large truck or supplies are collected in conjunction with a corporate, community, or sporting event
Who will you invite to participate? Engage the corporations, businesses, and individuals in your community who will help promote and support your project. Share details about your drive in your social media spaces. Issue a press release about your drive and follow up with local media about running your story. Create signs and posters to promote your drive.
Collect what students need most​. ​Kids In Need Foundation is grateful to accept all new school supplies. According to teachers, crayons, glue sticks, markers, notebooks, pencils, and pens are what they need most. Please avoid any used school supplies or items that have offensive words, artwork, or symbols on the packaging or surface.
Try a friendly competition! ​Create competitions among businesses, departments, and individuals to see who can collect the most supplies.
Ship or deliver your collected supplies. ​When your supply drive is complete, simply click here ​to complete a supply drive donation form. On the form you will see two options for delivering your supplies to students:
You can ship your supply drive products, free of charge, with a special shipping label courtesy of our generous partner, Zappos, and its Zappos for Good campaign. All collected supplies will be shipped to Kids In Need Foundation at no cost to you and distributed to students and teachers from underserved schools at no cost to them. Simply box up the collected supplies, print and attach a unique label for as many boxes as you have (50 lbs limit per box), and drop your boxes off at any UPS shipping location. Your donation will be on the way to making a difference in the lives of students! Click here for details.
Follow-up! ​Send thank-you letters to all who supported your drive, letting them know how much their support means. Let them know how many supplies were collected and how many students will be able to participate in their classroom activities because of your school supply drive.
The average student spends about 17 hours a week preparing for classes, which involves completing homework, reading materials and studying for tests. This statistic doesn't even account for other events — like extracurriculars, athletics and family obligations — that also place time strains in your schedule.
Knowing how to organize your schoolwork is essential to gain as much as you can from your education. By learning different organization hacks for school now, you can help prevent things from piling up and becoming overwhelming. Plus, practicing tips for staying organized in school now will help you get ahead in your high school and future college education. Below, we've gathered 10 of the best school organization tips for students of all ages.
1. Get Into a Routine
Creating a routine can help you stay consistent day-to-day and week-to-week. Write down your general weekly schedule on a whiteboard or calendar, then establish time blocks that you will spend doing your homework. This schedule can help focus your time and stay on task.
Remember your routine may change if a last-minute obligation comes up. You can update your schedule to plan ahead and adjust accordingly.
2. Set Rules for Yourself
Setting rules for yourself can help you understand what you need to complete each day and not feel rushed to complete an assignment. Some rules you could make to keep yourself on track might be:
· Complete all projects two days before the due date.
· Start studying for tests one week in advance.
· Finish essays three days before they're due.
3. Write Everything Down
Write down everything — homework assignments, test dates, essay topics and even little details like how to turn in your paper. That way, you don't have to remember it, and you can use your writing as a way to double-check what you need to complete.
4. Set Your Own Deadline
Create a new deadline at least two days ahead of the actual class deadline. Plan ahead and complete the assignments according to your early due dates rather than the ones your instructor assigns.
Deciding on an early due date will reduce your stress as you will not be working on the assignment last minute. It also allows for extra time in case the task takes longer than expected or you have an unforeseen issue.
5. Don't Multitask
Multitasking seems like it would be beneficial because you could get more done in less time. However, studies show multitaskers spend 50 percent more time trying to accomplish a task.
Focus on one assignment at a time, and only turn your attention to the next task when you've completed the first.
6. Use Tools to Stay Organized
You can find a vast array of school supplies dedicated to keeping your materials organized. They can keep everything you need for your classes and assignments together so that nothing gets lost or misplaced.
Consider using these tools in particular:
· Planner: Write down schedule and assignments as you're given them.
· Multi-pocket backpack: Use the various pockets to organize your items so that you know exactly where to find them.
· Pencil pouch: Keep your writing utensils together to avoid digging through your backpack before each class or losing supplies.
· Folder: Keep all papers for a class in one central location. Use a different folder for each course to find items more easily.
· Notebook: Get a notebook for each class to keep all relevant information together.
7. Use a Planner
A planner can be one of the most useful tools for organizing your school work because you can visually see everything on your schedule.
Write down all homework, projects and test due dates with one color and sports practices, extracurricular meetings and family obligations with another. This way, you can remember everything you need to do. When you get to class, put your planner on your desk so that you can immediately write down anything the teacher mentions.
A variety of digital options are also great possibilities.
Planners come in various formats, so find one that works best for you. Most retail stores sell them, or you can print template pages online.
8. Take Organized Notes
Notes will only be useful if you record them with a method you can understand later. These might include:
· Cornell method: Record only key points and questions rather than all the instructor's examples. Then, summarize the main ideas at the bottom of each page.
· Mind map method: Draw bubbles and lines and label them with key points to connect similar ideas.
9. Color-Code and Label Everything
Color-coding your materials is a visual cue that allows you to easily see what belongs together. For example, buy a blue folder and notebook for math, a red folder and notebook for science and so on.
Placing labels on these items can help your organization by giving everything a designated place. In a folder, you could use the left pocket for previous assignments and the right for new ones, for instance.
10. Break Down Big Tasks Into Smaller Ones
Looking at everything you need to do for a big task, like writing an essay, can seem overwhelming and discouraging. By breaking it down into easily manageable parts, you can work on parts of the assignment each day and not feel rushed.
A breakdown for writing an essay could look like this:
· Pick your essay topic.
· Read three articles on the topic.
· Write your thesis statement.
· Write your first main point.
· Write your second main point.
· Write your third main point.
· Proofread the essay.
Further Your Child's Education at Wilbraham & Monson Academy
Wilbraham & Monson Academy is a place you can turn to enrich your child's organizational and relational skills as much as their academic ones. We're proud to teach and house students from more than 30 countries around the world — you'll find no shortage of innovative minds that come together to create an unforgettable learning experience.
If you think a supportive boarding school environment would be a perfect fit for your child, request more information or complete our contact form today!
By Amanda Morin
Your child's backpack is an important link between home and school. But if your child has trouble with organization, keeping it neat can be a challenge. Over time, a backpack can become a mess of junk and crumpled papers. If kids can't find what they need in there, the link breaks down.
Families can help kids get their backpacks under control. Here are eight ways to organize your child's backpack. You can also watch this video to see these organization techniques in action.
1. Find a backpack that matches your child's needs.
Organizing your child's backpack begins with finding the right one. Young kids, especially if they struggle with motor skills, can have a hard time handling a large backpack unless it has wheels. Some schools don't allow backpacks on wheels. If your child needs one, be sure to clear it with the school.
Make sure the backpack you choose is sturdy and has multiple compartments and zipper pockets. If your child gets frustrated looking for things or has a hard time with zippers, opt for Velcro and fewer pockets.
2. Start with an empty backpack.
If your child has a brand-new backpack, you're ready to organize. But if you're starting with a backpack you already have, empty it out and start from scratch.
Have your child sort everything that was in the backpack into two piles. One is for school supplies, like pens, pencils, notebooks, and papers. The other is for miscellaneous items that need to go back and forth from school, like gym clothes or a lunchbox. Everything else gets put away at home or goes into the trash. (Don't forget to shake the backpack over a trash can to get out all the crumbs and crumpled-up paper.)
3. Sort and group school supplies.
Help your child sort school supplies into clear categories. For example, put pens, pencils, and highlighters together. Match up notebooks with folders and textbooks.
Next, assign each category to a compartment or zipper pocket. One big compartment can be for books and another for notebooks and folders. Choose a smaller pocket for writing tools. You may also need a compartment for things that change from day to day, like gym clothes.
4. Map out the backpack.
Once everything has a place, help your child draw a picture of the backpack, labeling it with what goes where. A backpack "map" will remind your child where things go once homework is finished, or when packing up for the next day. Have your child practice using the map by emptying out the backpack and then putting everything back in its place.
Keep a copy of the map in the main front pocket of the backpack, plus another one at home.
5. Use a luggage tag checklist.
Use a clear luggage tag to keep track of stuff. Remove the address label. Then print out and follow the directions on our luggage tag checklist.
If you don't use our backpack checklist, you can create your own. Use a red marker to make a checklist on a piece of paper that will fit in the tag. It should list what your child needs to bring to school in the backpack. Use a blue marker to make a checklist of what needs to come home from school.
Place the papers back to back and put them in the luggage tag. Attach it to the zipper tab of the backpack and show your child how to use the checklists as a guide.
6. Make a school-to-home-to-school folder.
Give your child a folder for all the papers the teacher passes out but doesn't collect. Remind your child that this folder needs to come home at the end of the day.
Check the folder each afternoon and sign the forms that need to go back. Take out anything that doesn't need to go back. Then have your child put the folder back in the backpack for the next day.
7. Ask for extra textbooks to keep at home.
One big cause of backpack mess is carrying textbooks. Speak to the school if your child tends to forget to bring home the right books for homework or study, or if the backpack can't fit them all. You may be able to have an extra set to keep at home.
(If your child has an IEP , you can ask the team to make having extra textbooks an accommodation . Stress that having extra books makes it easier for your child to stay organized and remember to do homework.)
8. Schedule a regular time to do a backpack check-in.
Getting organized is one thing. Staying organized is another. To keep your child's backpack from getting disorganized, set aside time for backpack check-ins. This is a good time to get rid of all that crumb and tissue buildup. You can do this together every Sunday night, every two weeks, or monthly.
Keep in mind that kids may need a lot of practice before they can consistently keep their backpacks in order. Talk to your child about the different ways to stay organized. And give lots of opportunities to practice these techniques.
Learn more about how to teach your child organization skills.
Watch a video on color-coding school supplies.
Get a list of tools for getting your child organized for school.
Tell us what interests you
Share
About the author
About the author
Amanda Morin is the director of thought leadership at Understood and author of "The Everything Parent's Guide to Special Education." She worked as a classroom teacher and early intervention specialist for more than a decade.
Reviewed by
Reviewed by
Sheldon H. Horowitz, EdD is senior director of learning resources and research at the National Center for Learning Disabilities.
Discover what's possible when you're understood.
We'll email you our most helpful stories and resources.
Wunder The first community app for parents and caregivers of children who learn and think differently.
Understood is a tax-exempt 501(c)(3) private operating foundation (tax identification number 83-2365235). Donations are tax-deductible as allowed by law. Understood does not provide medical or other professional advice. The health and medical related resources on this website are provided solely for informational and educational purposes and are not a substitute for a professional diagnosis or for medical or professional advice.
Use of this website is subject to our Terms of Use and Privacy Policy.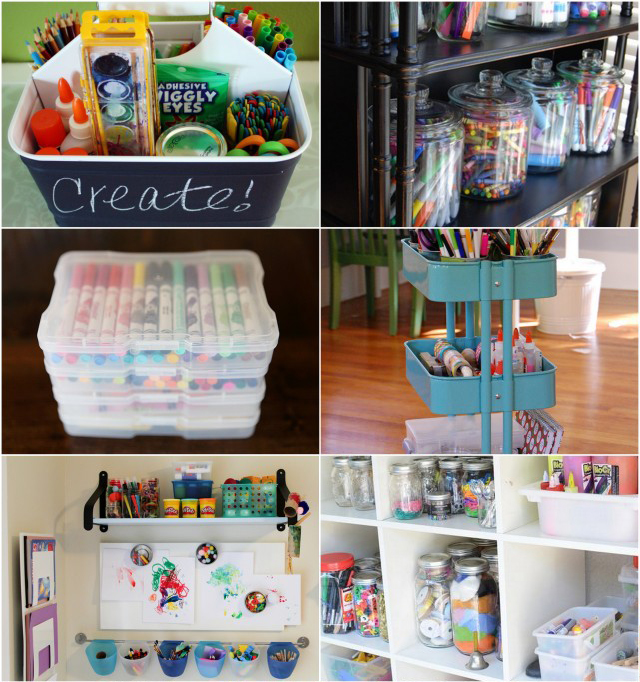 I recently mentioned my newly rekindled desire to set up a tinkering/creation station in our new house for the kids. So – of course – I had to put our resident professional organizer on the job to make sure I had all the resources I needed to get it done right.
Here's Annie with her ideas on how to create a beautifully functional and organized art space for your kiddos.
School's out for summer, which means generous doses of free time for children and the seemingly endless task on your part to help them fill it.
The best way to encourage continued creativity (and temporarily distract kids from the screens) is to ensure that the art supplies in your home are organized, accessible, and therefore, inviting. Kids crave order as much as they do self-expression. But the only way they'll be putting crayon to paper is if they can locate the supplies first.
Establishing clearly defined art supplies storage also helps children learn to clean up after themselves. After all, they can only be expected to properly do so if it's clear to them where things belong.
But where to start? How to set it all up? How to decide the best storage system for your space?
Fear not – I've rounded up 10 stellar examples of art supplies organization. Prepare to be inspired.
1. If flexibility is what you're seeking, Tinkerlab has got just the thing. Their "Art Cart" is a virtual arts and crafts room on wheels, capable of being stationed wherever it's most convenient at any given moment, and kept out of sight when not in use.
Cart that thing out like a game show host would a free car, and listen for the squeals of delight.
2. Tiffany of Raising Lemons had a little theory that if art supplies were kept in a highly visible spot her children would be more apt to utilize them. Her glass canister system is so naturally enticing I dare you to avoid the desire to get your craft on after seeing it.
3. For those of who looking for a budget-friendly organization option (who isn't, really?) that can cater to your multi-aged family, you must check out the baby-proof and toddler friendly DIY Creativity Center featured right here on MPMK.
Intentionally set up to be accessible for a slightly older sibling but completely out of baby's and toddler's reach, this DIY Creativity Center has space for all variety of art supplies, and, with the materials coming from IKEA as they do, costs around $70 to establish. Winning.
4. Raven Major of Do Not Milk The Dog makes a case for using jars with lids to organize art supplies. One look at her system and you'll see she's right: they're perfectly sized to the supplies contained within and they go a long way towards ensuring said supplies don't end up spilling all over the floor.
5. Perhaps the easiest to establish (and maintain!) and simultaneously most small-space-friendly is the over the door solution utilized by Kara's Classroom. It doesn't hurt to mention that it cost Kara about $11.
6. Jen of IHeart Organizing puts things in admirably simple terms with her organized art caddy. It's got divided sections for keeping things like markers and crayons upright, plus enough room to add a confetti-filled mason jar and a glue bottle or two.
7. As a massive proponent of cubbies as an ultimate storage solution, it's no wonder why I've chosen to include Meri Cherry's art supply system (that's her real name, by the way). Cubbies define a space for each supply category. They also allow you to utilize individual containers best suited for each respective art material, and retain a cohesive look overall.
8. I love the method used by Deep Space Sparkle for those of you who want to keep art supplies in a highly accessible place, but not necessarily advertise their presence. The solid white containers she uses neatly conceal the contents so that the shelves appear clean and clutter-free. Meanwhile, the addition of chalk labels stylishly identifies the supplies contained within.
9. Simple As That's system goes beyond merely corralling art supplies. Through the use of individual containers–all stored together in a set of drawers–she ensures that the drawers, themselves, stay organized, makes it easy for her kids to access all the materials they'll need to do a particular kind of project, and makes it possible to take art supplies to go.
10. Lastly, Fig Milkshakes offers an organizational idea that is nothing if not convenient: a 3-ring art supplies binder. Transportable, capable of being personalized, and most of all, maintainable for the budding artiste.
Get Your Free Printable
Subscribe to our newsletter today and get our free printable. No More, "Mom, I'm Bored!"
Success! Now check your email to get your No More "Mom, I'm Bored!" Printable. Refer to it whenever the kids get restless!
The physical arrangement of a laboratory can have a strong effect on a bioscientist's efficiency; those extra steps and seconds of time can really add up! Here is a compilation of tips to help you organize your lab space to minimize inefficiencies and maximize your productivity in the lab.
Organize Your Lab Space with Stations
Keep all supplies and tools for a process or protocol together. One example is a weigh station near the chemical supply with an analytical balance, weighing dishes, weighing boats, and lab scoops. You have everything you need to measure out a quantity of chemical in one place. If the procedure has multiple steps, arrange the equipment from left to right by step for intuitive use. You can even demarcate the location of each step or sub-step on the lab bench surface with label tape so everyone knows where all pieces of equipment "live".
Corral Most-Used Supplies in Clear Bins
Clear bins are useful because they a) can maximize previous real estate on shelves and b) hold items of many different sizes and shapes. Furthermore, they're clear, so you can see the stuff inside easily, and they're easy to clean and reuse. In a small space, someone looking for a small chemical bottle on a shelf jumbled with equipment and products can lead to everything toppling down in a giant mess. Bins can help avoid that!
Use Vertical Space
Vertical space may be overlooked when you organize your lab space. Are you using the full height available in the area? For instance, you may have dead space under a table or bench where you could store bigger supplies. Can you stack equipment on top of one another (assuming it doesn't damage the equipment)? Could you hang multi-use shelves or hooks for lab coats to an open wall?
You Can Never Have Too Many Labels!
In a shared space, labels aid in communication between lab members and may need to be in service for months or years. Labels can be used to mark contents of a container or to demarcate areas on a shelf. They can add notices, notifications, dates, initials, or any combination of these. You may want to purchase an inexpensive label maker for the lab so that handwriting doesn't need to be interpreted. However, marker on a piece of colored label tape works well too!
Designate an "Overflow" Space for Extra Supplies
Many supplies in a laboratory are used up quickly and require frequent restocking, such as pipette tips, cell culture flasks, or common buffers. Keep supplies currently in use in an easy-to-access place near eye level, and also designate a space to store extra and overflow supplies. Whenever someone needs to unpack a new shipment of disposable supplies, they know where to go first.
Remember Ergonomics When You Organize Your Lab Space
Storing frequently-used supplies near eye level ensures that they are the easiest to see and reach. Keep items on the bench where they are the most convenient and comfortable for you. For example, it is much more comfortable to use your benchtop biohazard bin on the right side of your work station if you are right-handed. The same principle applies for pipette tips, too.
Manage Freezer Contents
There are both free solutions and commercial solutions to keep a freezer inventory. A low-tech solution is to draw a diagram of the shelves inside each freestanding freezer, along with each box or container on those shelves. Then give each box a unique identifier, such as a number or letter. On a spreadsheet, list out the contents of each box along with important information regarding those samples or supplies. This spreadsheet can be shared with the lab through Google Docs and updated easily as needed. Alternatively, you can use software such as Freezerworks or FreezerPro to maintain an accurate record of freezer inventory. The advantage of the software solutions is the ability to save time and improve accuracy compared with a more manual system.
Maintain a Lab Notebook Archive
If your lab uses physical lab notebooks, you need a system to archive filled notebooks so that lab members can find old data and protocols in the future. One solution is to keep all lab notebooks together in a file cabinet or on a shelf organized by date or lab member. Alternatively, you can use an electronic lab notebook system such as LabArchives. These systems have the added benefit of being searchable and are easier to read compared with deciphering handwriting.
Develop a Lab Inventory System
Do you know what to do when you receive a new supply or want to order a refill of something? It greatly improves communication within a lab group to establish a system for this and stops reagents or equipment being misplaced or lost. Such a system could be simple, such a binder with printed purchase orders for recent packages, or more complex, such a full electronic lab inventory system like eLABInventory or BrightLab. Some software solutions can integrate with electronic lab notebooks for an even smoother experience.
Embrace Flexible Systems
Laboratory needs change over time as projects evolve, the lab buys new equipment, or existing equipment is upgraded. Consider adjustable shelving instead of built-in cabinetry. Furthermore, the number of people requiring bench space may grow or shrink as lab members come and go from the research group. Enduring systems, whether they are physical or electronic, are those that can expand, reconfigure, or shift over time.
In addition to being more enjoyable to use, a well-organized space makes onboarding easier for new lab members. It can also reduce time wasted looking for a particular item or gathering items necessary for a protocol from a bunch of different areas. A more productive researcher is able to better reach their fullest potential!
For more tips on having an organized lab space, check out our article on How to Marie Kondo Your Laboratory.
It finally happened, y'all. Both of my kids are now at the same school and I no longer have to navigate a double drop-off. This means I can confidently take my favorite detour to the coffee shop drive-through (which is only 1.75 miles out of the way) and still make it on time. I'm not saying that my desire for being caffeinated without leaving my car has ever jeopardized my children's education. I mean, what says "I'm ready to learn" like walking into class fashionably late with a cake pop that your mother bribed you with so you'd finally put your shoes back on? Just kidding, I'm well aware that a kid with a sugar-high only leads to more parent-teacher conferences. I'll pass.
With that said, do you know what having two kids in elementary school at the same time also means? A NEVER-ENDING CYCLE OF PROJECTS. No, not the ones they complete at school and bring home with them (which are never-ending in their own right and often breach my strict no-glitter policy), I'm talking about the ones that they have to do at home.
rule #1: prepare ahead of time
Sure, I'm all about visual learning, but not about the fact that if I don't keep a steady supply of pom-poms, pipe cleaners, glue sticks, googly eyes, yarn, and every *class-approved* marker, crayon, and paint in my home, then once again I'll be that exhausted mom who waits until the last minute and ends up pleading with a store employee to not just point her in the direction of the craft aisle, but personally escort her.
It's pretty simple: Be prepared, shop online so you don't have to leave the house, and make sure that if you are spending your hard-earned money on a variety pack of pom-poms and pipe cleaners, you are at least getting something in return for it.
The Capital One Quicksilver card is a great option because it allows you to earn unlimited 1.5% cashback on every purchase, everywhere. If your house is anything like mine at this time of year, having one less thing to worry about, like knowing I'm earning cash back no matter what I'm buying, is a huge win…especially since I'm buying a lot!
rule #2: help them to help you
In addition to my role as Craft Services, I'm also the Project Manager. I find it's always better to err on the side of caution because as they say, "When you give a kid a pair of scissors, she may try to cut her brother's hair." Kids are notorious for making messes, in addition to not being able to find something even when it's right in front of them. The best thing you can do is to create a functional system with storage solutions that allow kids to access the items they need and make clean-up less of a chore.
Use canisters and light bins to store supplies in separate categories, which makes it easy to remove only what you need from a shelf or cabinet and return it when they are done. This will help you stay on top of the mess by organizing as you go in small steps.
If you have kids, let alone a house, you need turntables in your life. They provide easy access to small items and since art supplies can be sorted in ROYGBIV, we are huge supporters of letting a turntable live its best life on a tabletop. It helps to include cups or jars in a turntable for items like crayons to keep them upright, making it easier to see every color.
And when all else fails, pour yourself a glass of champagne (or if you're Joanna, some candy), remember you got 1.5% cashback on all of this (thanks, Capital One), and hit the spa.
*Capital One does not provide, endorse or guarantee any third-party product, service, information or recommendation listed above. The third parties listed are not affiliated with Capital One and are solely responsible for their products and services. All trademarks are the property of their respective owners.
Sharing is caring!
Come see how one mom was able to simply and inexpensively organize kids craft supplies in her home. Follow these tips for organizing success.
I have 4.5-year-old twins who LOVE to do "projects". In fact, the opportunity to do a "project" is often used as a bribery tool in my home. Hurry up and get dressed, and then we can do a project. Eat all of your veggies, and then we can do a project. If no one yells or fights for the next 30 minutes, we can do a project. You get the picture.
Today I'm giving you a peek behind the curtain. I'm literally opening my cupboards and letting you take a peek inside. Come see how I keep my kids' arts and craft supplies organized – in a real home, without fancy or expensive organizer systems.
How to Organize Kids Craft Supplies
Organizing should not be complicated or expensive. Here are 4 simple tips to help you design a successful organizational system of your own.
1 – Minimize!
The answer is not more organization. The answer is less stuff.
While we may do lots of crafting in our house, we do not have lots of craft supplies. We keep it simple and let our imaginations do the work!
2 – Think About Where they Craft
Think about where your kids do most of their crafting. At a desk in their bedroom? In a playroom? The family room? Your kitchen table? You want their craft supplies to be handy, so where they craft is going to be the biggest influence on how you store their craft supplies.
We do 99% of our crafting in the kitchen – either at the kitchen table or at the little play table right next to the kitchen table. Both have the same concrete table top finish that is easy to clean, making them perfect for our crafting activities.
Since all of our crafting takes place in the kitchen (which is maxed out on storage to begin with), I had to create extra storage in our dining area for craft supply storage. This came in the form of (1) a sideboard with cabinets to hide our supplies and (2) a little craft caddy for stylish storage at our fingertips.
3 – Make it Accessible to Them
The day that I gave the twins total access to their craft supplies was a day that drastically changed my life. Ok – everything except paint. I'll never trust them alone with paint.
Adopt the mantra: A place for everything, everything in its place. Then teach it to your children. When you give your children access to craft supplies at their level, two things happen. 1. They can be creative whenever they want (Yay!) and 2. They can be responsible for putting away their art supplies when their craft time is over (double Yay!).
This is about more than just giving your children access. This is about instilling in them the understanding that their belongings have a designated place. If they want to be able to find and use that craft supply again next time, they need to put it away. This obviously takes practice, but after having to search high and low for a favorite roll of tape, even a four-year-old will start to get the picture. A place for everything, and everything in its place.
This is also much easier to accomplish when you follow Tip #1. If you have fewer craft supplies, and keep the system simple, even the youngest kiddos can help keep things organized.
Aside from the craft caddy above, we have two sideboard cupboards with supplies that the twins can play with whenever they want. On the right side, we have a basket with coloring books, pads of craft paper, and stickers.
Then on the left side, we have two dollar store baskets. One has play dough supplies, and the other has lacing beads, flash cards, and other miscellaneous supplies.
4 – Make a Craft Supply Stash
Ok, moms. Hear me out. You NEED to make a craft supply stash. Trust me here.
Now, here's the key to success. Your kids must never find out about this stash. Never, never, ever! Ok? This is one shelf in our hall closet. It's the same closet with our first aid supplies, and some other miscellaneous mom stuff. It has a child-proof cover on the handle, and the kids are not allowed in here.
This one shelf in our hall closet is filled with craft kits that I snag at Target or buy on clearance at the end of the season at the craft store. I wish I were a "Pinterest Mom," who plans craft activities and homemade meals. I'm not. I'm a "buy a pre-made craft kit from the store Mom," and I'm OK with that.
So here's my budget mom pro tip: buy craft kits at the end of the season when they are marked down on super clearance, and then put them in your Craft Stash. Your kids can deal with playing with last year's craft kids. They will survive.
Now, whenever you hear "I'm bored," or "Mom, I want to do a craft project," you can sneak into your stash and save the day.
Organization Success
So there you have it! 4 simple tips for organization success. It's not complicated. It's definitely not expensive. But it works for us, and that's what matters. I hope these tips help you create a more organized system in your home. Happy organizing!
For children with ADHD, the ability to organize, prioritize, and manage time is impaired by neurological deficiencies that make it hard for them to stay on top of school assignments. Find out how to help ADHD students master organization at home and at school.
The problem: The child forgets to bring the right books and supplies home or to school. His desk, locker, backpack, and notebook are in disarray. He forgets deadlines and scheduled activities.
The reason: The neurological process that lets us organize, prioritize, and analyze is called "executive function." Children with attention-deficit/hyperactivity disorder and related neurobiological problems have impaired executive function skills due to abnormal dopamine levels in the frontal lobe of the brain.
The obstacles: Punishment will not change disorganized behaviors that are related to brain pathology. It's confusing to teachers and parents when students with ADHD are inconsistent in their ability to organize because it may seem like the child is just "sloppy" or "lazy." If a child handles one task in an organized way, it's tempting to believe he could always be organized if he wanted to, but that's not necessarily the case.
Solutions in the Classroom
Children who take ADHD medication may show some improvement in their ability to stay organized; however, they still need teachers and parents to provide support and teach them essential life skills. The key to helping kids stay organized is constant communication between teachers and parents.
Provide additional supplies. If possible, provide the student with two sets of books and supplies—one for home and one for school. This way, there is less for the child to remember to bring back and forth to school, which will also help conserve the child's mental energy for his most important task: learning.
Use the right supplies. Have ADHD children use assignment notebooks with larger-than-usual spaces in which to write. Also, if the child tends to cram and stuff papers in his folders, a binder with pocket-type inserts in which to stuff papers may work better than the standard three-ring binder with tabbed sections.
Give assignments in writing. If printed instructions aren't possible, check that the child has written down the entire assignment and seems to understand what he needs to do at home.
Color-code books and supplies by subject. For example, use yellow for all geography book covers, notebook dividers, and files. Use red for everything related to history class, and so on.
Design a folder system that works. If ADHD students misplace or forget assignments with your standard folder system, work with the child to come up with an organization system that works for him. It may take time and experimentation, but keep trying, and listen to the student—kids often come up with their own good ideas.
Solutions at Home
Organizational skills rarely come naturally. Consider yourself your child's organization consultant and spend some time teaching her the basics of planning and organization. Involve her when setting up organization systems so she is invested and allowed to make choices and decisions. Help your child practice her skills on a regular basis, and follow through with the systems you create together.
Enforce time concepts. Understanding time is essential for ADHD students to learn to keep on task and stay organized. Help your child practice by giving specific verbal cues—first, next, then, before, after—as you develop a routine. Make it fun: "First do 10 jumping jacks, then write your name backward." Have your child give you directions, as well. A child who masters the concept of sequence will be better able to organize and prioritize tasks.
Make a calendar. Calendars offer multisensory learning opportunities by being a visual record of activities that you and your child write down and cross off, and it prompts auditory reinforcement as you talk about the day's events. Calendars will also help your child develop other skills like accountability because he'll see when you will or will not be available to help with a project, and can plan accordingly and assume responsibility for himself.
Create a filing system. Set up a color-coded file system, with colors matching the system devised for school, on your child's desk. He then can easily store all of his science or English papers together in one place. This way, all of his work that doesn't have to go back and forth each day can be easily found in one place.
Provide a place for everything. Keep a box for school supplies, a holder for CDs, a shelf for books, a bulletin board for announcements, an under-bed box for old artwork and papers. If your child rejects your efforts to help him stay organized, impose logical consequences; for example, if he loses a CD, he has to be the one to replace it.
Emphasize accomplishments and successes. Praise your child as you continue to work with him on new skills. Your support and perseverance help make organizing a positive and effective experience for your ADHD child, one that will prove to be a lifetime asset.
Solutions at Home: Quick Tips
Check assignment books. Double-check your child's assignment notebooks or planner to make sure that homework is in its proper place once completed. With guidance, she can learn to write down all homework deadlines and avoid last-minute cramming and unpleasant surprises.
Keep copies of important papers. Make multiple copies of permission slips, event announcements, and other paperwork to post in several areas of the house. These will serve as visual reminders of important dates and deadlines.
Have a hole punch handy. Keeping a three-hole punch on your child's desk will help him make sure that important papers can be easily punched and inserted into his school binder.
Have a weekly clean-out. Check your child's belongings daily and help him organize them weekly. Once a week clean out and reorder backpacks, assignment notebooks, and work binders.
Whether you have an office the size of a closet, a whole classroom or even a traveling cart, school counseling office organization can be daunting. Do you prioritize having a Pinterest perfect space or functionality? Can you have both? These 10 steps will help you get that school counseling space organized regardless of the size. The most important thing is having a space that lets you connect with and effectively support students.
Add Personal Touches
We can spend over 8 hours a day in our classrooms and offices, making it a home away from home. Adding personal touches adds comfort, makes the space inviting, and helps you make connections with staff and students. I love adding pictures of my dogs. Students want to know more about them and I get to ask about their pets. It's a natural icebreaker.
Choose Your Color Palette Wisely
Themes come and go as you and your school change with each new school year. So pick a foundation of colors that can work for any theme. Use these colors as the base of your bulletin boards, storage bins, rugs, etc. Then, add on top specifics based your theme or the school theme that year.
Don't Go Broke
It's easy to get carried away in the Target Dollar Spot, but it can add up quickly. Before you buy something new ask yourself:
"Do I need this or do I just want this?"
"How will I use this?"
"Does this add use to my space or does it just add clutter?"
"Does this go with my theme and style?"
Make Labels Your Friend
It may take time early on, but it will give you time back later when you need to quickly grab a book on behavior. I love using The Responsive Counselor labels because they fit into the square label pouch from the Target Dollar Spot. The clear pouches make it easy to change and relabel as your space continues to grow. I organize most of my books by topic and some by the author.
Take Inventory
I use Book Buddy Pro and Goodreads to inventory my books. When I see a new book in a store, I can easily check and see if I own it and Book Buddy Pro allows me to track who I've loaned books out to.
Don't just inventory your books, take time to inventory all of your supplies. Taking the time to inventory your supplies will help you see what you are using most, uncover items you may have forgotten, help identify what you need, and organize your space for summer pack up. Apps like Box Me Up or Sortly to create QR codes as you pack up your boxes at the end of the year.
Think About Your Line of Sight
When you open your refrigerator, where do you first look? Probably the middle shelf, right? Our eyes naturally go to eye level spaces, so take this into consideration when organizing your room. Store the supplies you use most frequently at eye level height. This goes for students as well. Don't want students grabbing scissors or tearing up your favorite book? Place these items higher up. Out of sight, out of mind!
Have Individual Props Ready to Go
Most days we hit the ground running and don't stop until the coffee is cold. I try and take time in between students to review notes and set up, things don't always go as planned. For example, I may have a referral to meet with a student about friendship skills, but through conversation, I realize anger is a central issue. I love using the visual of a "fuse" using yarn or string, but it can slow down the momentum of a session if I have to dig through my office trying to find it. Put your individual props in an easy to access location. Check out more ways to use props in school counseling.
Plastic Tubs Instead of File Folders
For 10 years I tried unsuccessfully to keep file cabinets organized and neat. Finally, I traded in my folders for document holders . I organize my document boxes by topic and include all my notes, files, and copies in each box without worrying if the papers will get shoved, lost and wrinkled. Check out this before and after!
Minimize to Maximize
Each year I do a huge purge of my office and classroom. As I do, I am finding items I had forgotten or not used and ask myself "why?". Did I forget it and need to move it to a not so hidden location or did I not need it? A good rule of thumb, if you haven't touched it in a year: get rid of it.
Go Slow and Steady
I read a gardening tip which suggested living in a house for one year before planting, so that you could know the light patterns of your house. I like to take the same approach to my office. You don't need to have a space straight out from Pinterest your first year. Live in the space, get to know the flow and needs of the school, and then slowly decorate and make the space fit you instead of you trying to fit into the space.
What tips do you have for school counseling office organization? Share in the comments below!
Check out our other School Counseling office posts here and here.
Just in time for back to school.
Published Aug 15, 2019 7:00 AM
Why is it that your kids' art supplies are always so hard to tidy up? Bundles of yarn defiantly intertwined, half-open jars spilling glitter everywhere, that one rogue marker whose origins remain unknown…it's a nightmare. But it doesn't have to be. Professional organizer Shira Gill (@ shiragill ) knows how to get it done—and according to the expert, it won't take more than 15 minutes.
"If your crafting station or your children's art supplies are beginning to gather dust, it's time to reevaluate and start fresh with a little editing session," she says. "Organized clutter is still clutter!" Set aside a chunk of time this weekend, blast your favorite playlist, and get started. Who knows? You might just find a buried treasure that's perfect for that DIY headboard you've been planning.
Step 1: Start With a Clean Slate
The most important thing to do in any decluttering project is to figure out what to keep and what to get rid of. Gill recommends laying everything out on the floor or a bed so you can assess the damage. "Consider how often you use the supplies, and make sure the items you keep are truly worth the real estate they take up," she explains. "If you're feeling stuck, ask yourself: Would I buy this item for full price today? Would I take this item with me if I moved? Could it be more useful to someone else right now?"
And don't just toss the supplies that didn't make the cut! Do Mother Earth a favor and donate them to a local charity, school, or nonprofit.
Step 2: Divide and Conquer
Separate the frequently used supplies from the specialty tools. "It's generally handy to have scissors, pens, pencils, tape, and paper easily accessible, whereas a stamp collection or watercolor kit can be stowed away for occasional use," offers Gill.
Step 3: Make Little Groups
Next, zone items by both type and usage. For example, bundle all gift wrap together, all markers, all tape dispensers…you know the drill.
Step 4: Choose the Best Homes for Your Collection
If your art station is on the smaller side, maximize vertical space with a wall-mounted storage system or even pegboards . "Rolling carts or modular units with drawers work well for bulkier items, like fabric, stuffing, and yarn," says Gill. She suggests using prime tabletop space for the items you use daily, and relegating the things you've deemed "specialty supplies" to harder-to-reach shelves.
Step 5: Add Finishing Touches
Now for the fun part: Styling everything! "Streamlined storage will keep crafts looking cohesive and stylish—ditch the bulky packaging and decant staples into uniform bins , baskets, and jars," says Gill. Try Mason jars or even washed-out jam containers for things like pencils, confetti, and pom-poms. (Psst: Keep reading till the end to shop a few of our favorite storage items.)
Oh, and don't forget labels. If you opt for a ton of opaque boxes, it will end up being difficult to remember which one houses the colored paper and which one holds the fabric . Digging through everything and making a mess will just land you right back where you started—no, thanks.
Do you unexpectedly run out of printer toner, paper and pens in your office or workspace at critical moments?
In today's post I'll give you some tips to track and keep on top of your office supplies.
Whether you work in an office building or work from home, you'll be able to keep tabs on existing supplies and soon-to-be ordered supplies.
Make a detailed master list of supplies.
This list is more than just a simple shopping list of paper, pens and notebooks — it could be considered the ultimate list!
Create a detailed list of all your regularly used office supplies, including the product brand, name, number, color and other details.
Having all the details in place will make it easier to order or restock items, especially when it's important to get a particular brand or type of product.
For example, you could make a note in your list of the specific brand and type of toner your large printer needs so you won't have to keep checking the details each and every time you need a replacement cartridge.
Store items in a central location.
It's much easier to keep track of your office supplies when they are stored in the same area.
If you don't have a centralized office supply area, you might want to consider creating one on a shelf, inside of a closet, or on top of an unused desk or counter in the office.
After you've carved out an area, you can organize items by frequency and use.
What items are more likely to be used on a daily or weekly basis than a monthly or quarterly basis?
Consider labeling storage shelves, baskets and containers so everyone knows where to find the materials they need.
Schedule a routine supply check.
Don't wait for your supplies to run out on you the night before you have to print up a giant presentation for a client!
Schedule regular supply checks for your office, be it weekly, bi-weekly or monthly and make note of the items that need to be restocked.
You could also keep track of which supplies move the fastest (you'll have to order these items more frequently than others) as well as the lowest possible level of supplies on which you can function before you need to order more items.
For example, you might find that once you get down to half a case of printing paper, it's time to order several more cases.
Take advantage of office supply rewards programs.
Lastly, consider taking advantage of online ordering of office supplies.
There's several good reasons behind this: you can often save orders so it's easy to reorder supplies in future.
Plus, you can sign up to receive points or rewards for your purchase and apply them towards future purchases.
How about you? What's the one office supply item that always seems to catch you by surprise once you've run out of the item? How will you use the above tips to help prevent last-minute restocking? Join in the conversation and leave a comment below!
Teenagers don't always welcome our input and ideas. Sometimes they need to learn the hard way, and other times we need to make sure they've got specific supports in place. Here are six essential organizational strategies that will make a big difference in your son's academic life.
Verified Updated on December 3, 2021
Save
Print
Facebook
Twitter
Instagram
Pinterest
Q: "How do I get my 13 year old to use ADHD-friendly strategies for organization such as writing assignments in his agenda, handing in homework, having one book for school and one for home, etc.?" — TamaraRT
Dear TamaraRT:
Over the years, I have seen so many students struggle with trying to manage all the organizing tasks that come with school. It's overwhelming to say the least. Most students need a simple and manageable system to organize themselves for school.
Here are my general rules of thumb.
1. Clear is king. If your son can't see it, it doesn't exist. Clear folders, dividers, etc., will give him a natural way to receive reminders of where everything is and also prompt him to remember to turn that math homework into his teacher!
2. If it takes more than two steps…your child won't do it. So perhaps, for your son, writing in a planner is too many steps for him at this time. He may find it easier to take a snapshot of the whiteboard, record an audio reminder or even text it to himself. Think unfussy and streamlined when coming up with systems that will work for him.
3. Pair like with like. In other words, ditch the homework folder. They are dumping grounds where important assignments and papers are easily misplaced. Group materials by subject. Math homework goes in the math binder. Science lab in the science folder.
4. Simplify supplies! Any way you can. I can't stress this enough. Less stuff to manage = greater organization. Most students need a simple, manageable solution to organize school papers, so they spend less time on the looking and more time on the doing!
5. Set up a launching pad for your son. This is a designated place in your home to keep his belongings that go back and forth to school every day. This will take the stress of "I forgot to bring my homework to school!" or "I don't know where that book is!" out of the equation. Pick a location that is heavily trafficked by your son. It could literally be outside his bedroom. His completed homework, books, backpack, etc. should all be stored here.
6. Make a reminder checklist… for his locker! It's one thing to have organizing systems in place at home. It's another at school. Have him post a reminder checklist on the inside door of his locker so he is reminded everyday what needs to travel home with him. Make sure to include items, such as his lunch bag, gym clothes, musical instrument, etc., as well as his school supplies.
If you want more tips and tools for getting and keeping your son organized, please check out our website at orderoochaos.com.
ADHD Family Coach Leslie Josel, of Order Out of Chaos, will answer questions from ADDitude readers about everything from paper clutter to disaster-zone bedrooms and from mastering to-do lists to arriving on time every time.
Support August 7 2010
Having school supplies they need to achieve helps keep kids focused and learning at school. With school starting up again soon, August is a great time to organize a school supply drive among family, friends or an even larger community of people who know how important it is to help at-risk youth get the school supplies they need to succeed in the new school year.
United Way of Cullman County held its first school supply drive on the National Day of Action, held annually on June 21. "It was not that difficult to put together" said Jacqueline B. Schendel, Marketing Communications Director. "We did not get sponsors for this event, but may in the future. It did not cost us any money. We had free advertising with our local paper, radio station and TV stations. We promoted it for several weeks and requested people drop off supplies at our office. We stood in front of Walmart one day and collected over 90 percent of the supplies. It was a great way for us to give back to the community."
School supply drives are flexible and can be tailored to your community. Here are the three basic steps to organizing a school supply drive:
Begin with the end in mind. Ask schools or youth-serving organizations agencies that will receive the supplies what they need, when they need it, and how it should be packaged so that the supplies can be stored and distributed easily. While you are at it, ask how they would like to be involved!
Recruit partners. Identify and recruit partners to serve as collection sites, supply sorters, transportation providers, etc.
Execute:
Collect supplies. Make it easy to be involved. Provide the sites with what they need to promote the supply drive within their organization and collect the supplies
Sort supplies. Many hands make light work. Hold a "sort-a-thon" and make it fun.
Deliver supplies to schools or agencies who will provide them to children in need.
View United Way Worldwide's School Supply Drive Volunteer Project Idea to learn more about planning a drive and how to make an impact on education.
Share this post:
Tweet This
Share on Facebook
Share on Linkedin

How many times in a week do you walk into your homeschool space and see papers strewn across the table in some version of stacks, teacher edition books earmarked and scattered around, and think to yourself, "I have GOT to get organized. And where did that red pen go?"
According to moms who do this every year, there is light at the end of the tunnel. Getting your homeschool curriculum organized may take a little time, but it's very doable, and once you get there, life will be so much easier. Fortunately, homeschool moms love to share their tricks and tips, and here's one that is tried and true: the crate method.
The Crate Method
The idea behind the crate method system is that you do the work on the front end to get daily (and weekly) worksheets and lessons pulled together in one place, so that each day, all you have to do is pull out that tab (or that binder) and go. By the end, you'll have an organized system for each of your kids' weekly schoolwork for all 40 weeks of school.
Step 1: Start by pulling out each day's worksheets and stacking them.
Get out your video manuals or lesson plans and accompanying workbooks, and pull out each lesson's worksheets for each day, and stack them together. Then, file them together by day of the week into a filing folder.
**Note: There will be some textbooks you won't want to pull the sheets out of. Notating that in a planner will help you remember.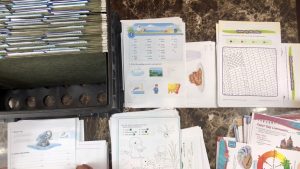 Step 2: Group the daily lessons into weeks.
Take the daily grouped lesson sheets for each week and place them into their own three-ringed binder for easy access. Using a clear, two-pocket (front and back) filer, place each day's lesson sheets inside the frontside pocket. The backside pocket can be used for your child to add his or her completed work each day. Label the file for each day of the week with a tab.
Repeat steps 1 and 2 for all 40 weeks of the school year.
Step 3: Place weekly lessons into the crate by week.
File each week's lesson into the crate in chronological order for the school year, and place it somewhere easy for you and your kids to access every day. That's it! You're done.

Pro Tips:
➔ Keep the books you don't tear the lessons and worksheets out of in a separate bin for easy access.
➔ If you don't finish a lesson or worksheet one day, having a planner on hand to make notes in and reference the next day will help you stay on track.
➔ If you plan to tear out pages for the crate method, purchasing unbound books will make it easier.
➔ Color-coding your subjects when you're organizing your manual is a helpful trick. Label sections of your manual to match the color of the corresponding folder or binder for each subject.
➔ Try using the same-color highlighter or pen for each task or activity you find to be regularly included in the teacher edition or manual. For instance, use a pink highlighter to bring attention to places within the teaching manual for review, a blue highlighter for math speed drills, and orange for the reading practice outlined. And then keep a notecard with the color code for yourself, in case you forget.
Do you have an awesome way to organize your A beka Homeschool curriculum each year? Leave us a comment at the end of this post, or share it on our Facebook page ! We'd love to hear from you.
If you'd like to see a real mom taking on the crate method, here's a super-helpful video created by an Abeka mom on YouTube.
Share This
Email This
Pin This
Comments for Organizing Your Abeka Homeschool Curriculum: The Crate Method
Tiffany Rand:
I have a really big binder for each semester. With labeled dividers for each student and each each subject. All of my kids have their own 3 ring binders they use for weekly assignments and study notes and organized by subject as well. At the end of each week we all sit one on one and go over everything we've completed and take the time to go over anything they may not have fully comprehended throughout their studies. This helps us decide what we are able to move forward on and what we need more help and learning on. This isn't a public school "no child left behind act program" this is real parents wanting the very best for their children. It is a program that allows us parents to truly see our children's strengths and weaknesses as well as gives us the personal one on one time to help teach them in the ways each of them require to truly learn it all. Its not about just getting our children by. It's about then actually understanding it to a degree they can utilize in real life at the drop of a dime. Thank you Abeka.
Making lunches made easy.
Share on Facebook
Share on Twitter
Share on Pinterest
Share on Email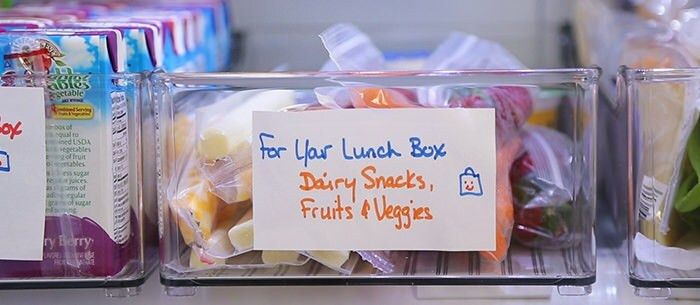 Whether you're a parent or nanny of one or twenty, making a kids' school lunch is often time-consuming — and one.more.thing.you.have.to.do. Yuck. Here is a simple trick to organizing your refrigerator so lunches can be more grab-and-go style.
Materials:
Four clear plastic fridge-storage bins (like these)
Labels
Lunch supplies
Directions:
Have lunch boxes cleaned and set up next to the refrigerator. Also place bread (if left out) right by your fridge.
Take three plastic bins and designate one for cold snacks (yogurt, cheese sticks, fruit, etc.), one for water, juice or milk boxes, and another for sandwich fixings (include condiments you typically use). Make space for these bins to live in your refrigerator — and only be used for lunch items. Label your bins with a lunch box so kids know this food is only for school days.
Standing in front of the fridge with your lunch box, grab the drink and snack, put them in the bag. Then take out the bin for sandwich fixings.
Grab your bread and make your sandwich. Put sandwich in the lunch box and the bin back in the fridge.
Place one last bin or bowl next to your refrigerator for room-temperature snacks, such as granola bars or small bags of cookies and crackers. Throw one in your lunch box before sending it off to school.
To get you started, fill your fridge with the ingredients for these 4 Easy Lunch Box Recipe Ideas.
Andrea Rice is an award-winning journalist and a freelance writer, editor, and fact-checker specializing in health and wellness.
By the time your child reaches high school, you may feel concerned that it's too late to instill some basic organizational skills—but the truth is that it's not. In fact, it's more important now than ever, especially if your child plans to attend college.   Being organized is also an important work skill. Use these tips to help your child get organized for high school.
Plan Their Week With Them
Gone are the days when your child comes home yelling, "Guess what happened to me today?!" More likely, they'll walk in the door and head straight to their room without saying much. If you're like most parents of high school students, you probably find out about things either very last-minute or even after the fact.  
Parenting Tip
A weekly meeting can help you stay in the loop regarding your teen's school progress without smothering your child. Sunday evenings are a great family meeting time for you to go over homework and other important school-related issues.
Everyone should consider bringing their planners or calendars to your family meeting. If your teen doesn't have a planner, be sure to get them one. Work your way through each day asking what everyone has scheduled for work, practices, games, and before and after-school activities. Next, determine all transportation needs. Does your child have a ride to each event on their calendar, or will you need to provide transportation on one or more days?
Next review school-related things. Are any projects due or big tests scheduled? Does your child have all the necessary tools or supplies?
Lastly, cover their social calendar. Do they want to go to the Friday night football game, go to the movies with friends, or have a birthday party to attend? If so, discuss the needs for each event like transportation. Does your child need anything like a special outfit washed or dry cleaned, or a gift for their friend? Then fit the preparation items into your calendars.
While these weekly meetings will be important to you as you juggle both work and family responsibilities, their true value is teaching your child to think and plan ahead. That's a skill that will come in handy for years to come.
Clean Out Your Bags Together
Your child lives out of their backpack all week, just like you might with your purse or briefcase. At the end of your weekly meeting, take time to empty out your bags together. You can lead by example and reinforce the benefits of getting organized and starting the week off on a clean slate.
A backpack has many compartments. Make it a point to have your teen clean out every little pocket so they can get rid of unnecessary clutter and refill the bag with school essentials.
Help Them Unlearn Procrastination
Many teenagers seem predisposed to procrastination. While this will no doubt drive some parents crazy, try resist the urge to micromanage them. Here are some ways to encourage your child to stop procrastinating.
Don't try to have a rational conversation about procrastination with your child when they are in the middle of getting something done at the last minute. Tempers will flare and it's quite likely nothing productive will come out of it.
Instead, discuss the situation at a later time. Ask your child to explain the circumstances that led to the last-minute time crunch. Looking back, is there anything they could have done differently? With that action plan, help them figure out how can they apply it to their next project or test so they'll avoid procrastinating again.
Not all children are taught studying strategies in middle school, which only catches up with them in high school and beyond.
Many schools and tutoring clubs offer study skills classes designed to teach your child how to study efficiently and effectively. Consider enrolling your child in one of these courses. It's an investment with long-term dividends.
Set Expectations and Consequences
By high school, you should have a pretty clear understanding of your child's capabilities. Tell your child what you expect from them in terms of grades and test scores based on their capabilities. Some parents even put them in a written academic contract between themselves and their teen.
Whether you communicate your expectations verbally or in writing, you should also include the consequences if the expectations are not met. Decide with your children what the consequences will be such as eliminating extracurricular activities, no weekend social events, or loss of phone or gaming privileges.
When it comes to time management and organization, one of the best lessons you can teach your child is personal responsibility, self-discipline, and the understanding that there are consequences for every decision.
Don't Bail Them Out
It's 9 p.m. and your child comes running into your room holding a dirty uniform they need for tomorrow's big game. What do you do? If these situations rarely happen, you can, of course, wash it. But if they are a common occurrence, perhaps it's time to stop bailing out your kid.
If you do choose to bail them out, you are reinforcing your child's disorganized habits. You are also sending the message that it doesn't matter if they are organized or not; that it all works out in the end. But you won't be there to bail them out in college, and you certainly won't be there when they get their first post-college job.
That doesn't mean you need to be stern about this, either. Express sympathy for the predicament and show interest in your child's ideas for solving the problem themselves. You may find that they can get out of the jam without your help. That's a great way to build independence, confidence, and life skills.
Teach Them Organizational Tools
Now that they have a planner consider what other organizational needs they might need. A different color folder for each subject can help them grab the right paperwork quickly. Sticky notes for quick messages, sticky tabs to mark important reference material in a book, or sticky dots can help them prioritize their workload.
If they need to store notes for a long period of time try a classic three-ring binder, and get them their own three-hole puncher and tabs. Another option is finding an accordion file folder to organize loose papers.
Also, get them their own timer or watch, or show them how to use the timer feature on their phone (if they have one). We all know the importance of taking breaks during our workday and this same notion can be applied to your teenager. Teach them how a quick 15-minute break may help them overcome writer's block or help solve that hard math problem.  
You could also show them how to use highlighters or colored pens for note-taking. Not only is this great for finding information quickly, but adding a bit of creativity to the learning process can be fun! If you want to encourage them to get even more creative, consider giving them their own whiteboard. You probably use one (or two) to keep track of lists, so why not give them one to help them do the very same thing.
The Ultimate Organized Classroom
Step One: Organize resources and materials.
Every teacher gets buried in paperwork from time to time. But there are painless ways to reduce clutter and confusion. Here are a few tips:
Color code everything. Use the same color for all materials for each subject or unit. If you can, color code assignments and handouts by using colored copy paper. If you don't have access to colored paper, then use colored labels. Use colored labels on resource books for students so they'll return articles to the right notebook. Use different colors for student records in each class.
Put everything in binders. Place your teacher resource books in three-ring binders using plastic sleeves. Once again, color code these binders according to subject. Use binders to store articles that you'd like to keep.
Store items in boxes. Use plastic tubs or cardboard file boxes to store holiday projects, art projects, special books, and supplies. Be sure to label these boxes with the name of each project or unit.
Step Two: Organize student records.
As soon as you get your student list, set up a system that will allow you to access student records quickly and easily. Here are a few suggestions:
Assign numbers to students. Assign the same number to each student that you used in your gradebook. Have each student write his or her number on every assignment. Use corresponding student numbers to label all student materials, including mailboxes.
Use an online gradebook. Online gradebooks allow you to automatically give out online assignments and record grades. Check out http://mygradebook.com for an example.
Make labels with each student's name. Have your students write their names and numbers on labels, which you can peel off and use for all folders, notebooks, and other materials that need student identification, including forms. This is a real time-saver.
Be prepared for new students. Have packets of information for new students prepared ahead of time so that when a new student enters your class in the middle of a lesson, you're ready.
Create a seating chart. As soon as your class list is final, create a seating chart from your perspective at the front of the class. This should help you learn students' names and help keep some order in the classroom.
Create an assignment basket or tray. Use a basket or tray for students to turn in assignments. You can have a different basket or tray for each class or subject. Then train your students to turn in assignments in these places.
Step Three: Train your students.
When your students know and understand class rules and procedures, they'll help you maintain order in the classroom throughout the school year. Here are a few key points:
Establish classroom rules and policies. During the first week of school ask your students to suggest class rules. Chances are, the rules that they suggest will be similar to those you have in mind. If not, you can guide them. ("Should we have rules for getting ready for lunch? What should they be?") Include general classroom standards such as cooperation and routines, including restroom use, assignment turn-in, and work standards.
Go over district rules with students. These might include suspension and school behavior codes.
Explain class organization to students. Tell students where they will find supplies and how they should put supplies and materials back. Give them rewards or credits for following directions.
This post may contain affiliate links provided for your convenience. We earn commissions if you shop through the links on this page. I am also an Amazon Associate and earn from qualifying purchases Read my full disclosure policy.
Sharing is caring!
The first step to organizing your home office is to declutter your office. That can be pretty scary for many of us. But it doesn't have to be a daunting task, when you follow these 11 tips and use the free printable Declutter Your Office checklist.
How Do You Declutter an Office?
You can find more details and in-depth explanation for each step in the declutter your office process are below.
Remove obvious and easy to access items that don't belong in the office.
Pull everything out – and that means everything.
If the job will take too much time and you have limited space, you can tackle one area at a time, for example the top of the desk, one drawer at a time, the bookshelf and so on.
Put all the items into categories as part of the declutter your office process.
As you sort, immediately place trash, recycling and donation items into labeled boxes or bags.
Within the categories, put like items with like items.
Wipe down all furniture and surfaces. Clean behind and under furniture.
Be ruthless as you determine which items to declutter.
If the job is too large, you can place items into labeled boxes for you to sort through later. This is a last resort hack to declutter your office. And the key is that you will sort through it in the near future.
Make every single item earn its spot in your newly organized office.
Consider going digital as much as you can.
If you haven't already, be sure to sign up for the Organized Home Challenge so you'll have access to the support group, additional videos, and even giveaways.
Declutter Your Office
Let's go through each step as though I'm there with you as your professional organizer working along side with you.
Make Space to Start Decluttering
Remove obvious trash or items that don't belong in the office. Don't waste time digging through piles or drawers yet. Your goal is to make more space for you to work and to give yourself and easy early decluttering win.
Pull Everything Out
You need to pull everything out so that you can determine what you have and how much of each item you have. You won't realize that you have five staplers if you just leave them all where they are.
Plus, pulling everything out now as part of the home office decluttering process makes it easier to assess what you have and how to better organize it later.
It's ideal if you can pull every single thing out and sort it all into piles and groups. However, this isn't always possible given time and space limitations, so let me share two alternate solutions.
Address Smaller Areas of the Home Office One at a Time
You can choose to tackle one area at a time if, this is the better solution for your situation. However, you'll have to be very careful to keep track of duplicate items that show up when you move onto other areas. You'll need to group those duplicate items together so you can address them at one time.
You should only use this strategy if you are committed to work though your entire office decluttering and won't give up after a few hours, having only created a bigger mess than you started with.
Declutter Your Office Hack
This hack should only be used as a last resort. But if you are overwhelmed, then this may help you.
Ideally, you'll go through every single piece of paper and make a decision about whether to keep it and where it should be filed. However, if that's just never going to happen because of your life situation, I suggest you remove the past six months of papers from the top of the stacks and any critical files or documents.
Put those in a bin marked current. You will sort through these papers as soon as you can. This will allow you to start fresh after you've completed the declutter your office process and stay on top of keeping paper organized from this point on.
Take the older paperwork and files and place them in a box(es). If you can easily identify the year or subject, identify those piles by binding them together with the identifying information.
If you can't easily identify what the piles of papers are, then simply place them in a box. Do your best to keep them in the order that they're already piled. You'll keep them this way, because they're most likely already in a rough chronological order with the oldest papers at the bottom of the piles.
Let's be honest. If you had to find a specific piece of paper now, you'd have to dig through all those piles. So if you place these papers into a box and have to locate a specific single piece of paper, you can still dig through the papers – just in boxes rather than stacked in your office.
Be sure to mark the boxes with the date that you boxed them up. This will help you in the future know when you can declutter the entire box.
A Step-by-Step Guide to Organized Money Management
Erin Huffstetler is an expert on budgeting whose advice has been featured in The New York Times, Chicago Tribune, Forbes, and many other publications. She founded the My Frugal Home blog, and has also been published by The Spruce, TripSavvy, and Byrdie, among others. Huffstetler has a bachelor's degree from Maryville College.
Charlene Rhinehart is an expert in accounting, banking, investing, real estate, and personal finance. She is a CPA, CFE, Chair of the Illinois CPA Society Individual Tax Committee, and was recognized as one of Practice Ignition's Top 50 women in accounting. She is the founder of Wealth Women Daily and an author.
Living frugally means being in control of your finances, which can sometimes feel like a full-time job—especially when life gets busy. Who has time to do all the little things to save money, like clipping and using coupons, or finding ways to cut costs with do-it-yourself projects? Some of those personal finance "to-dos" often fall by the wayside.
But there are some simple ways you can organize your income and expenses in a way that contributes to your financial success. This four-step guide will help you to determine your net worth, set financial goals, track your spending, and create a budget.
Key Takeaways
To find out your net worth, add up assets such as cash or valuable property, then subtract liabilities such as credit card debt or student loans.
Identifying your financial goals will help you stay organized and create a clear plan for achieving them on a specific timeline.
You can track your spending by recording your expenses for a month or examining your bank statements from the previous months.
Create a budget by calculating your monthly income, then allocating that among your expenses in a way that allows you to work toward financial goals.
Determine Your Net Worth
Your net worth—the total of all your assets minus your liabilities—can tell you a lot about your current financial health, and it can also help you to plan for your financial future.
Your net worth is the cash you would pocket if you were to sell everything you own and pay off all your debts. If you take a hard, honest look and determine this simple figure, you can work backward to create a budget, set financial goals, track your spending, and, ultimately, take control of your finances.
When making your net-worth calculations, these items are considered assets:
Cash (savings and checking accounts)
Investments, including stocks, bonds, securities, and retirement accounts
Real estate equity
Vehicles
Art, jewelry, collector's items, and other valuable items
The following items are liabilities:
Credit card debt
Student-loan balance
Balance remaining on your mortgage or car loan
Any other debt
Add up the value of your assets, then add up the value of your liabilities. Subtract your liabilities from your assets; the number you get back is your net worth.
After finding out what your net worth is right now, get in the habit of recalculating it yearly or whenever there is a significant change to your finances.
It might be tempting to skip this step, but determining your net worth may be one of the most important parts of organizing your finances.
Set Financial Goals
To get your finances in order, you first need to decide what you hope to accomplish. Do you want to save for your retirement, a vacation, your child's college education, a new car, or a house? Do you hope to pay off debt or build up an emergency fund? Spend some time identifying your financial goals—big and small—and put them on paper. Think about how you're going to reach those goals.
A financial plan can help you get ready for whatever that big expense is with minimal worry. If you take the time to plant the seeds for your future by creating a plan with clear goals and a specific timeline, you will reap the rewards years down the line.
Don't forget—while it may seem like a good idea to direct all or most of your money toward accomplishing your specific goals, it's important to be realistic. You still have to account for everyday expenses and life's unexpected moments.
Track Your Spending
Do you know how much you spend each month? If not, now is the time to find out.
Whether you decide to pore over bank statements from the past few months or track your spending over a one-month period, knowing where your money goes can help paint a clear picture of your spending habits.
Are you spending too much on incidentals, such as coffee and vending machine snacks? Are you falling behind on your savings goals or spending more than you make? Looking at the hard numbers may show that small things really add up.
By the end of the month, you should have a better idea of where you're spending money and where you may be able to cut back.
Create a Budget
Once you have established a list of financial goals and have taken a close look at your spending habits, it's time to create a budget that reflects how you want to spend your money. To create an effective budget, start with a budget worksheet, where you'll gather all of your financial statements, record your sources of income, create a list of monthly expenses, and make adjustments to those expenses. Then, you'll want to learn how to budget your annual spending and break that down to develop a monthly spending plan.