Well it's that time of year; many of you are trying to nail down the final details of your wedding day. Here are some of my favourite wedding day tips to make sure you get the most beautiful photos and help you plan the perfect timeline!
Getting Ready
-Choose a well-lit area with lots of room for getting ready in the morning. Having lots of natural window light will not only be great for flattering photographs of you and your gals, it's also really helpful for your hair and makeup stylists.
-Designate a separate "mess" room, closet, or corner where everyone can keep their things out of sight so that you don't have clutter in the background of your images. If you're in a bedroom or hotel make the beds and tuck away any laundry.
– Have all of your details handy (shoes, jewellery, hairpieces, dress, vows, rings, etc.) for when photography/video get there in the morning so that nothing gets missed.
-Bring along a wooden hanger for dress pictures. The plastic and wire hangers just don't do your gown justice!
-For the boys. all of the above with an emphasis on de-cluttering!
-Timeline- At minimum I recommend having your photographer there to capture getting ready photos for an hour; the mornings are full of anticipation and emotion and this presents many opportunities for candid images as well as detail shots with all of the little details you've put so much time and effort into planning; handwritten vows, family heirlooms, emotional moments with parents and so much laughter with friends. One hour will be just enough time to get the details, getting dressed and a few candids but if candids are your jam opt for a bit more time!
First Look
This is an intimate moment between the two of you that provides an amazing opportunity to capture very candid and emotional shots of the first time you see each other on your wedding day, without the distraction of an audience.
There are afew benefits to a first look if you choose to do so…
1) With just the two of you there it creates a great space to just let yourself get lost in the emotion of the moment.
2) It helps to get rid of some of those wedding jitters before the ceremony.
3) It will give you a little more flexibility with the timeline so you could do the photo session portion before the ceremony- eliminating the big break for your guests between ceremony and reception.
The Ceremony
– IPhoneography… Ask your officiant to make a polite announcement asking your guests to refrain from taking photos during the ceremony (or at least to do so discretely). It's not that your photographer minds other people taking photos, it's just that the ceremony is all about candid moments and emotion; if we are trying to capture an image of the father of the bride wiping a tear from his daughter's cheek and Uncle Joe leans into the aisle with his iPad blocking the shot, we can't get that moment back.
– First Kiss… Your first kiss should last at least 3 seconds!
Knock on wood, I myself have never missed the first kiss but I know others that have and I've had some close calls! Every wedding photographer knows that the first kiss is one of the most important moments of the day and we do everything in our power to make sure we capture it but the camera can take a second to focus (especially if the lighting is dim) so if you go in for a super quick peck on the lips and nothing more it can be missed no matter how skilled the photographer or impressive the equipment. This is not a day to be shy with PDA's, savour that lip lock and don't be afraid to go in for a second!
Family Portraits
– The best time for family portraits is immediately following the ceremony, it is pretty much the only time that you are guaranteed to have everyone in one place! Have your officiant make an announcement at the end of the ceremony letting everyone know that family photos will be taking place right away and where they will be.
– Make a list of the different family group shots you would like and send a copy to your photographer prior to the day; that way they can find a suitable space to use as a backdrop, ensure there is appropriate lighting and plan the groupings to make sure your family portraits run as smoothly as possible.
– Designating a friend who knows most of your family to assist in gathering everyone is extremely helpful.
– Set aside 30-45 minutes for family photos depending on the size of your families. (Of course every family is different, once your photographer has your group list they can give you a pretty accurate timeline.)
Bridal Party & Couple Portraits
– Set aside 2-2.5 hrs for couple/wedding party photos… depending on the size of your wedding party and how many locations you plan on using. (Don't forget to add on travel time between locations.)
– Bring comfy shoes! You will likely be doing a bit of walking to get to some of the best locations for photos and you don't want you or your bridal party getting sore feet and blisters before the dance. Throw some flip flops or slip ons in your vehicle so you have them handy, your feet will thank you later!
– Have snacks & water handy… being a model is exhausting work! Sometimes in all the excitement of a wedding day we forget the essentials; food and water. Make sure to bring some munchies and H2O for yourself and your wedding party to snack and sip on during portraits. Pictures are supposed to be fun and the last thing we want is for someone to start feeling sick because they're dehydrated or worse yet… HANGRY!
– Bring along some supplies to keep everyone looking and feeling fresh. For example; makeup for touch ups, bobby pins/hairspray to fix hair, deodorant, hand or baby wipes, usually at some point in the day someone will ask for a safety pin or sewing kit so those are great things to have handy as well.
– Don't forget to come prepared for the weather! If you are getting married in the winter please bring boots, jackets, gloves and even blankets. You don't need to wear them for photos but you are more than likely going to need to take breaks to warm up. If you are having a summer wedding bring a cooler with cold drinks/water, sunscreen, deodorant and umbrellas in case it rains and even for shade.
Reception
– Light it up… if your venue is dark (for instance outside or in a dimly lit hall) adding lots of candles, string lights, up lighting, etc. will not only add a romantic feel, they will also add some dimension and interest to the background of your images.
– First Dance… some couples have a tendency to chat a lot during their first dance. While it is adorable if we can capture you making each other giggle, talking in photographs tends to look awkward. So just enjoy the music, get lost in each others eyes and let your dance moves do the talking!
Last but not least… Relax, enjoy your day, and celebrate being in love!
A wedding is just a single day, but the photos you have taken will stay with you forever. This is why it is so important that you create a beautiful wedding that will photograph well and provide you with memories that you can enjoy for years to come. Creating a photogenic wedding takes time and effort, but if you do it correctly, you can build something really special so you can always remember one of the best days of your life.
Carefully Choose the Color Scheme
The colors you choose for your wedding will set the tone for the event and help to create a feeling of beauty for your pictures in the future. It's important to choose a color scheme that you like and that really looks good together . If you aren't confident with your ability to choose great colors, do some research online and ask friends and relatives. Remember that it's your wedding, so you don't have to follow anyone else's advice, but you can take what they have to say into account. It's important to make sure you are choosing colors that look good in the present at your wedding and photograph well. This step ensures that you feel pretty in the moment and when you look at pictures in the future.
Get Professional Help with Attire
One way to make sure that your pictures look great is to ensure that your whole bridal party is dressed incredibly. The best way to make that happen is by having your looks professionally coordinated. You don't need everyone to match perfectly but you do want for the entire bridal party to have looks that go together well and look amazing. Having a professional to coordinate all the clothing choices can help give your wedding a cohesive feel that will translate incredibly well into photographs. With a little professional guidance, you can create photos that are unbelievably rich and gorgeous.
Create a Beautiful Scene
You also want to make sure that the overall look and feel of your venue is appealing and beautiful. This means making sure that everything is coordinated to fit the space and create a picturesque appearance . Having a theme and using your color scheme can give you the tools you need to create something beautiful and appealing. Make sure that you are careful with every design decision so you can impress your friends and come up with something amazing to share with the people you love. Years down the line, the scene you create at your wedding will make a huge impression.
Create Picture-Perfect Food
The food is one of the most important elements of any wedding. And at a wedding, it's important that you balance delicious things with beautiful appearances. This should be true for everything from your cake to appetizers and any other food you offer. Having foods that are beautiful and easy to eat can help to ensure that your guests aren't covered in stains in your pictures either. Bamboo skewers add detail to your presentation that will impress guests. Try to plan out a menu that looks great, tastes amazing, and will help to contribute to the overall feeling and beauty of your wedding day.
Build Impressive Details
Sometimes brides and grooms can get so caught up in the big picture that they forget about the little details . And it is those little details that actually help to create stunning pictures that bring back memories. From the tablecloths you choose to the lighting, all the small decisions you make will come together to make the beautiful wedding you were dreaming of. You don't want to neglect the details and regret it later. Instead, it can be a good idea to let some of the smaller more intimate details guide your wedding plan and lead you to the beautiful full picture you are creating.
Focus on the Flowers
Flowers are one of the best ways to bring beauty to your wedding. It's important that you have your flowers done professionally so that you can enjoy the beauty they bring to your wedding now and when you look through the photos in the future . You want to choose flowers that are beautiful and that you personally like. A florist can help walk you through your options and will guide you to come up with flower options that get your guests excited about the way your wedding looks.
Have Fun
If you are stiff and serious in your wedding photos, it won't come through in a positive and beautiful way. It is important that your wedding is a fun time for you and that you are enjoying yourself, it's supposed to be one of the best days of your life. Not only will having fun make your day more enjoyable but it will also help you to have more beautiful and natural looking pictures. The formal professional pictures you have taken will be incredible, but the candid shots you take throughout the wedding and reception will be some of the most important memories that you have from your wedding.
Get Your Guests Involved
While your guests can simply passively attend your wedding, you can also give them opportunities to be a part of things and have fun. Give your guests things to do so that they can enjoy your wedding and help add to the beauty you have created. All of your guests are there to support you and getting them in on the fun can help create stronger bonds and beautiful memories and photos. Every guest has something to offer so make sure that you are having photos taken of your guests as well during your wedding.
Your wedding should be an event that you remember in a positive way for the rest of your life. The photos you take are one of the main ways that you are able to remember how beautiful your wedding actually was. As you work to create a gorgeous wedding, you will have a better time and keep strong memories for the future.
Work hand in hand with your wedding photographer so that you can bring the best out of your wedding photos.
Long after the event is over, your wedding photos will serve as a memoir of this special day in your life. This is why you need to put in extra effort to make your wedding more photogenic. But how can you do this? Well, it all starts with your wedding plan. Yes, you might be under pressure to make your wedding as beautiful and perfect as those you see on the internet. But, this is a special occasion and should only consist of things that matter to you, your partner, and the guests. Therefore there is no need to go overboard or break your bank.
Although it is the responsibility of your wedding photographer to create beautiful images, there are several ways on how you can help make it easier for them. Below is the ultimate wedding plan checklist that will help make your wedding more photogenic.
1. Bridal Preparation
During bridal preparation, you will need to consider clothing, hair, and even makeup that is more photogenic. For instance, some cosmetic makeup can give you a picture-perfect look. It is essential for you to make your makeup work for you.
Choose your bridal makeup wisely. Working with a professional artist can offer you photogenic makeup tips that you can use in your ceremony. The clothing and shoes should also be a perfect match. Give them a try before your special day and see how you will look like in them.
The hairstyle you choose is as important as your makeup. You need to pick a hairstyle that keeps hair off your face, especially if your reception will be outdoors. It is always a good idea to have a makeup and hair trial before the event. You should never wait until your wedding day to see how your makeup or hair will turn out to be.
2. Venue and Décor
The venue contributes immensely to having a photogenic wedding. A destination wedding can help add beauty, elegance, and uniqueness in your photos. For instance, having a wedding in Greece, the pristine sandy beaches, and Greek Cycladic villas adds ambiance and visual interest to your photos. Choosing the perfect venue isn't enough. You will also have to do some decorations. For you to bring the best out of your wedding, the décor needs to match the theme of your wedding. Be it flowers, aisle runners, or seating markers. The décor should be breath-taking and elegant with the guidance of your wedding planner.
3. Food and Cake
Contrary to most people's opinion, food and cake play a vital role in making your wedding more photogenic. Well prepared and served delicacies are some of the smaller details that can make your wedding photos stand out. Therefore, take time to hire the best cooks and choose tasty recipes. When choosing a wedding cake, feel free to consult on social media and always bring your partner along.
4. Catch Your Photographer up to Speed with The Order of Events
If you are interested in making your wedding more photogenic, then you should be on one page with your photographer. This refers to catching her to speed with the order of events through a detailed timetable. If you have a wedding planner, you should ensure the two meet up and clarifies on what people will be doing at certain times. This helps a photographer know which angles to capture. It also helps her know which guests to focus on, such as parents, siblings, and best friends. Check also: https://www.mkourti.com/4-reasons-to-hire-professional-photographer/
5. Lighting
When preparing your reception, you need to highly consider the lighting. Lighting doesn't only set a beautiful mood, but it is essential in the capture of good photographs. Outdoor weddings have access to natural light. Therefore you have got nothing to worry about. But if it is indoors, ask your photographer for advice on how to light up your reception. You don't have to use bright blinding light, ..candles, chandeliers, and strung lights are sufficient. Check: https://www.mkourti.com/your-guide-to-wedding-lighting/
6. Smile and Enjoy
Smile, real and bright smiles are photogenic. The last and most important thing you need to do is to relax and enjoy yourself. Remember that a wedding is a once in a lifetime event, and so is your wedding photoshoot. Therefore, be yourself and live your Big day.
Although my documentary photography style is discreet observation, if you are nervous about being in front of a camera, or if it is going to be your first-time you can consider having an engagement portrait session with your partner before the wedding. Being photographed takes some getting used to, and an engagement shoot can adequately prepare you for this.
Home
Weddings

Wedding Portfolio
Wedding Pricing

Engagements

Engagement Sessions
Engagements Portfolio
How Important is an Engagement Session, Really?

About

About Ben
Ben Rasmussen Photography on Facebook
Follow Ben on Twitter
Ben Rasmussen Photography on WeddingWire

Info

Wedding Pricing
Portrait Pricing
Wedding Albums
Timeline for Wedding Clients
Wedding Tips
Clients' Raves!
Photo Booth
Payment Options

Contact
Subscribe
Wedding Tips: Plan a Photogenic Wedding, Timelines, and more
Posted Wednesday, February 11, 2009 in Wedding Tips
As I mentioned a while ago, I've been planning to start a regular series of blog posts that shares some of the tips and ideas I find while browsing the various wedding blogs and sites I read. I'm not exactly sure how I want this feature to work, but I've procrastinated it long enough. So, I'm just going to dive in and let it work itself out.
First up is a 3-part article all about how to plan for a photogenic wedding. It's written by Darbi G., a photographer out of Missouri and one who participates in a couple photographer forums that I frequent. She was recently married at the time she wrote the article and these are her thoughts looking back on the photography of her wedding day:
Planning a Photogenic Wedding – Part 1
Part one has general tips for the day, including my two favorites which are: be aware of sunset hours and plan accordingly, and your photographs should be a priority. Part one also includes a general run-down of how long to plan for the various 'events' of the day.
Planning a Photogenic Wedding – Part 2
Part two gives some tips on the ceremony itself as well as a little discussion of the details. In my opinion, the details like the place settings and cake are a huge part of the day and can really contribute to the feel of the day. Plus, they're a lot of fun to pick out (and a lot of fun for me to shoot!).
Planning a Photogenic Wedding – Part 3
Part three deals with the reception. As with the other parts, it has some great tips about the reception in general as well as things to consider regarding the photography of the reception. It also includes her reception timeline that sounds like it worked really well.
Next up, a 'wiki of the day' entry from Weddingbee. If you're planning a wedding and not reading Weddingbee, you really should start. It's a blog that follows 20 or so actual brides who are planning/have just finished their own weddings and gives a ton of their tips, ideas and research. Additionally, they have a wiki where anyone can contribute information, forums and classifieds. It's really a great resource and one that I imagine will be featured regularly in this series of blog entries.
Wedding day timelines are extremely helpful to all of the parties involved in your wedding day. Everyone from the photographer, to the bridesmaids, to the parents all benefit from having a detailed day-of timeline!
I can really attest to the importance of a good wedding day timeline. It really makes a big difference when the day's schedule has been thought out and everyone is on the same page. Of course, things will happen that can make the schedule slip, so it's also important to be flexible and not get stressed if/when something goes awry .
Lastly, here are a few random tips from various sites:
Floral Faux Pas
This is a good tip from Grand Events about giving some thought to your photos when selecting and positioning your flowers. Includes bonus picture of an ill-placed, multi-tentacled floral arrangement about to consume the happy couple.
To help make sure your photographer captures everyone you want, write out the names of key people to be pictured and delegate a friend or relative to point them out to the photographer.
This is something that I always discuss with my brides. This is especially helpful while shooting the group shots. It allows me to focus on shooting while the friend or relative gathers the various groups to be shot.
Fabulous Practical Wedding Favors!
Here are a few cool ideas for wedding favors. The gumball machines are my favorite.
"Includes bonus picture of an ill-placed, multi-tentacled floral arrangement about to consume the happy couple."
HA! With a lead-in like that, how could anyone not click on that link. What a fantastic "DON'T DO THIS" photo.
I like the idea of your "wedding tips" series. And I'm not even gettin' married.
Let's face it: everyone loves good, professional photos. But the magic does not happen just by letting the photographer do his thing. If you want to have a special photogenic wedding, we as a planner have to take into account lots of details. Like wedding menus and how to make them look special on camera and off camera too.
To get picture-perfect food, you have to start by planning a photogenic menu.
1. WHITE PLATES.
The plates you use to serve your guests have a significant impact on how any food will look at your wedding. You may worry using white plates will look boring, but it's the best thing you can do for your food.
White plates make every dish look more vibrant, enticing people to take a closer look and maybe even a bite or two.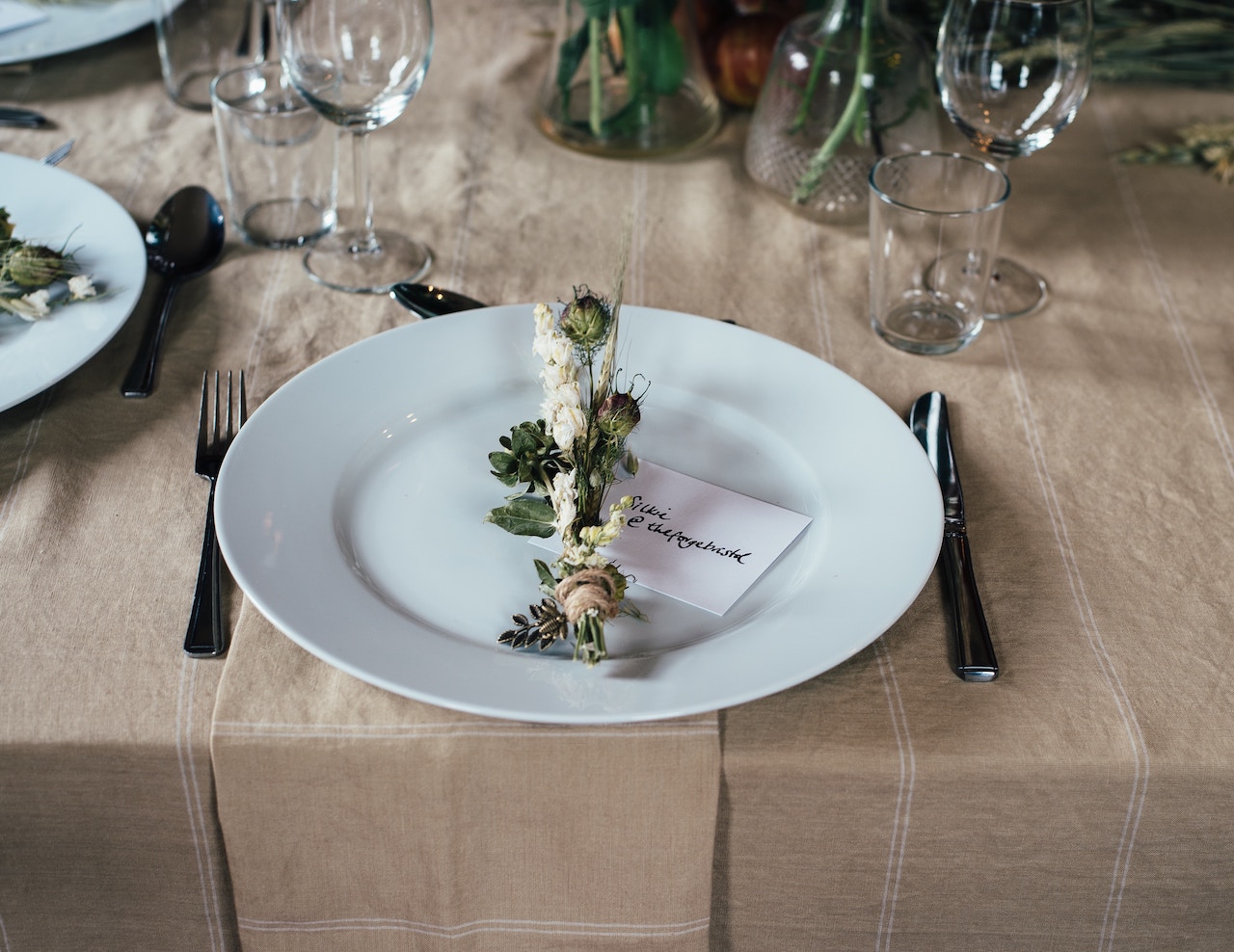 2. DECIDE ON A SERVING STYLE.
Making your wedding food look pretty will depend on how you choose to serve it. Have you thought about that yet? Your guests can get their food from a buffet-style setup, or have servers bring the plates of food out to them.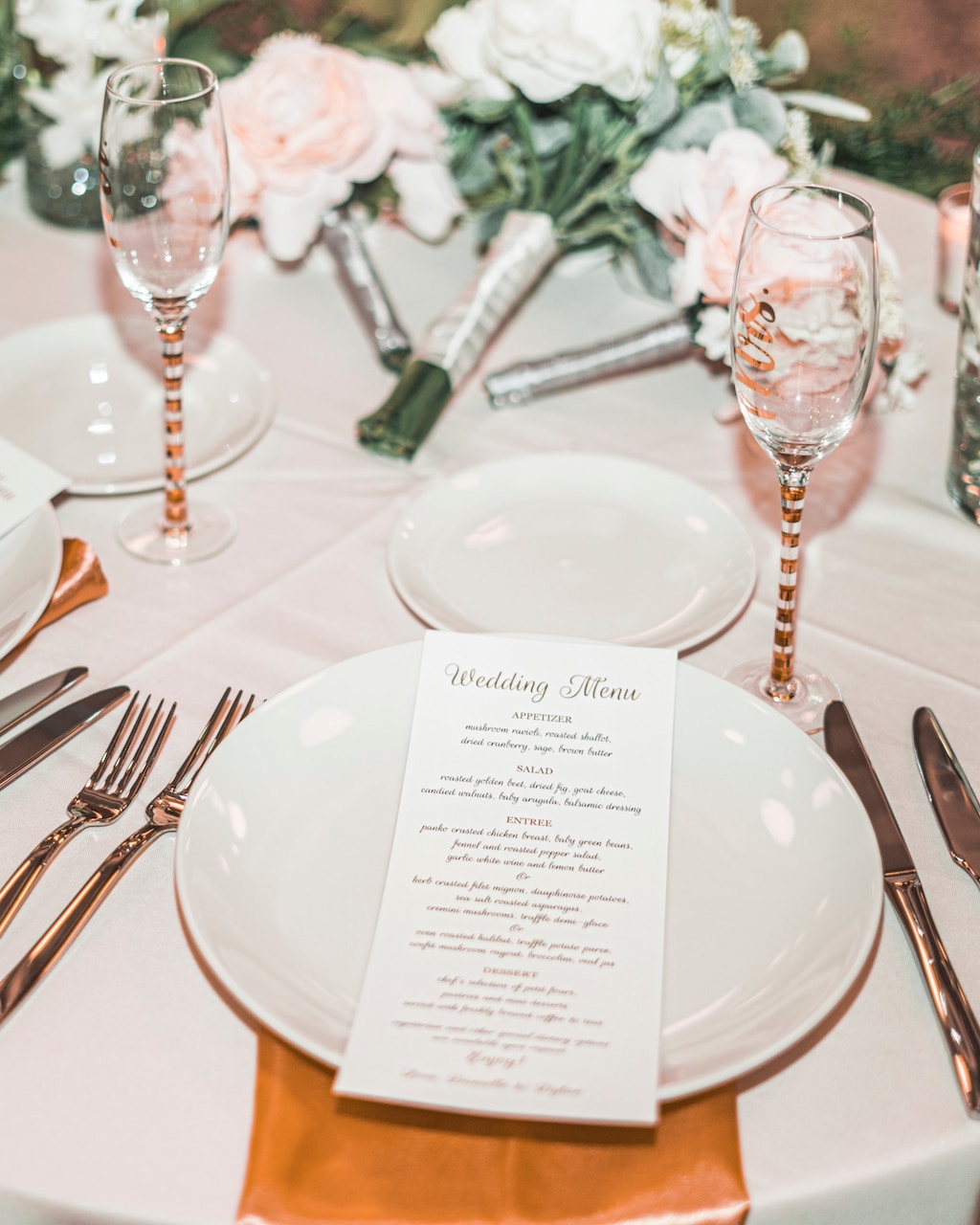 3. TALK WITH YOUR CATERER.
Most likely, your wedding is not the first event your caterer has worked. Talk with your caterer to see if they have a history with making food into picture-perfect plates. They might be able to suggest types of food or preparation techniques that will change what you picture people eating at your wedding.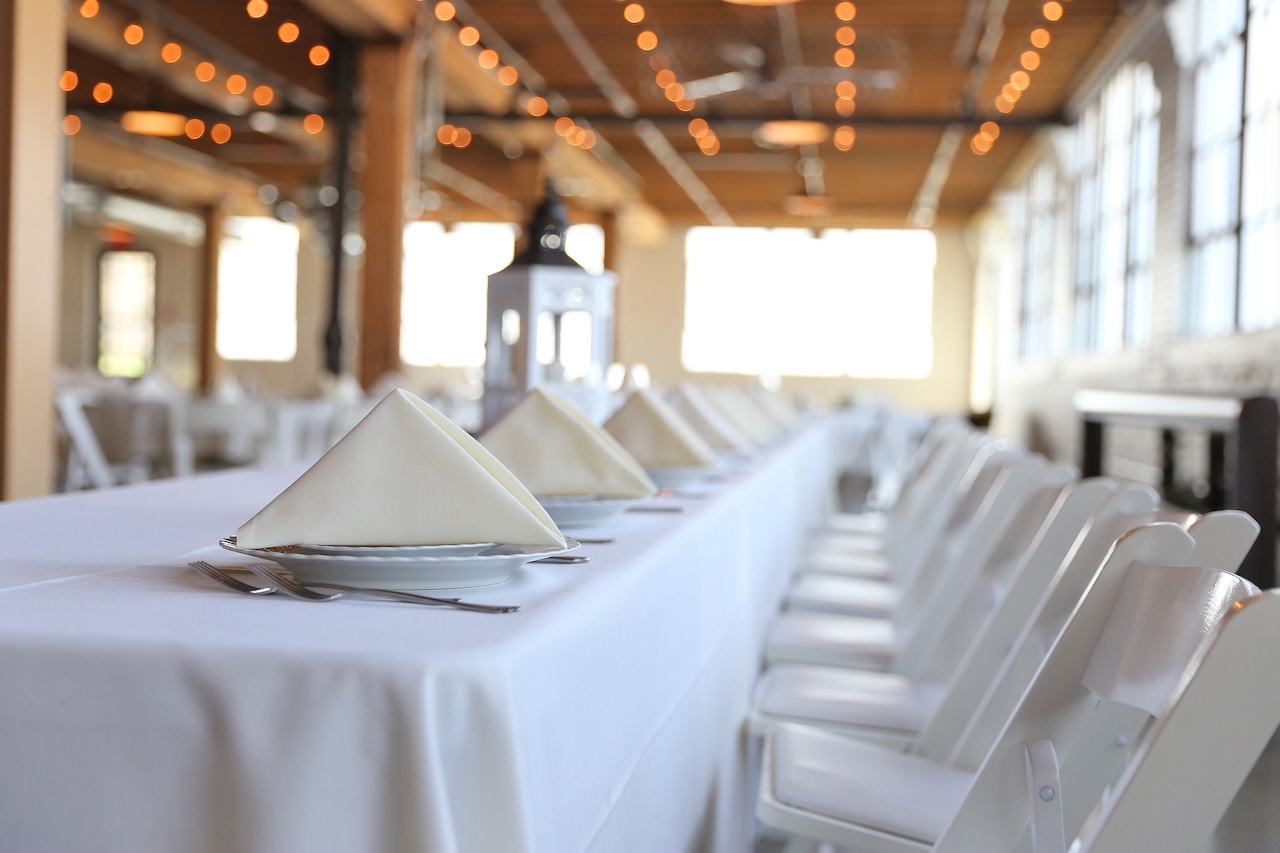 4. AIM FOR VARIETY.
Variety is the spice of life, especially when it comes to planning your reception menu. Your guests will want at least some kind of choice in their food. Whether they get to serve themselves at a buffet or choose between two entrees on the menu, they'll appreciate having a variety to choose from. It especially helps those who have food allergies or kids who are picky eaters.
Having a variety of food will also make your pictures turn out much better. You won't end up with a million identical photos of baked potatoes. Instead, you'll get to look back on guests having a great time while eating different salads and desserts.
If you are like most brides, your wedding day may be the first occasion on which you have a professional photoshoot! So, don't be surprised if you are nervous about the whole experience. Fortunately, a little planning and preparation can help you be your photogenic best and have wedding photos that look amazing. The Best for Bride team from Canada offers the following tips to be a photogenic bride.
Book an engagement photoshoot
An engagement photo shoot is a great idea for several reasons, as you will see here. When you book an engagement photo session, you find out what to expect at your wedding photoshoot. It gives you the opportunity to become familiar with your wedding photographer's style of working. Once you strike a rapport with your photographer, you will find it easier to follow his instructions and pose as he suggests on your wedding day.
Practice a pose or two
Although you may never have participated in a professional photo-shoot before, you will have taken plenty of other photos. Take a look at your favorites. Identify the profile and angles that highlight your best features in these pictures. Use this as a guide to recognizing your most flattering poses. Then practice in front of the mirror, so you can settle into them quickly when it is time to say cheese!
Get your smile to glow
A dazzling smile is a wonderful accessory for any bride. Get a wedding-worthy smile by putting in a little effort before your wedding day. Brighten your teeth with whitening toothpaste, or have a dentist polish your teeth till they sparkle. The lipstick color you wear will also affect the brightness of your smile. Colors with a blue overtone make teeth appear brighter. Unless your teeth are pure white, stay away from red and brown hues that give teeth a yellow appearance.
Choose your makeup carefully
Certain cosmetics do not look good in pictures. So, be careful when you choose your wedding day makeup. We suggest that you have a trial makeup session, and see how your choice of makeup translates in pictures. Snap photos of your bridal look in different lights. This will allow you to make necessary changes if you aren't happy with the results you see. Be careful when using bronzer, fake tans and glitter, as these don't usually turn out well in pictures. On your wedding day, use slightly more makeup than you usually do. However, try to keep the look natural. Don't experiment with drastic colors and extreme trends to avoid a dated look in your wedding photos.
Keep hair away from your face
Unruly hair that flies into your face can spoil your wedding pictures. If your wedding is at an outdoor venue like the beach, keep your hair off your face with hairpins and setting spray. If you leave your hair open, ensure that it is manageable. Choose a hairstyle that highlights your facial features and also suits the contours of your face. A few tendrils look good, but too many curls will look artificial and spoil the effect. Also, hairstyles with a bit of volume in the crown look better from all angles than tightly pulled, sleek hairdo's. For more tips on getting photo-shoot ready hair, take a look at this article.
Be comfortable
Some poses can make you uncomfortable, and this will reflect in the pictures. If you aren't happy about striking certain poses, ask your photographer to come up with some other idea. The key is to be comfortable and relaxed in front of the camera, and your photos will look amazing. The best pictures are in fact candid shots, where you needn't even look at the camera. So, just ignore the camera unless your photographer instructs you to look at it. The only exception is for posed portrait shots when you should be facing the camera.
Smile but don't fake it
A pleasant smile can greatly enhance your look in wedding photos. So, smile genuinely and your pictures will be more appealing. Nonetheless, it is quite natural to feel exhausted after smiling for so long. If you are tired of all the smiling, don't be tempted to fake a smile for a photo. Fake smiles do not flatter anyone. Instead, smile with your eyes. Let your eyes reflect your joy and your pictures will turn out to be good enough.
Make the most of natural lighting
Photos flooded with natural lighting are always beautiful! Sunlight will flatter your natural features and liven up the imagery in the backdrop. Find the best-lit spots in your venue and plan your photo sessions in these places. If possible, head outdoors and make the most of the golden hour before sunset. In case your venue isn't very well-lit, inform your photographer so he can make suitable arrangements.
Relax and have a good time
You will look most photogenic in pictures that capture your personality! Keep this in mind and be yourself on your wedding day. Don't be obsessed with the camera. Just relax, have fun and trust your photographer to do the rest. Enjoy every special moment, and your wedding pictures will also reflect the happiness and joy at your wedding.
Author Bio: Having served brides in Canada and all over the world for over a decade, Best for Bride is a one-stop bridal destination with wedding dresses, wedding services and more. Choose from designer wedding dresses, enjoy professional alteration services or pick dresses from a range of bridesmaids collections, when you shop at any of their four store locations. All details about the dress collections and services offered are on their website. Best For Bride
You've got a date. Now on to the place. And yes there are so many factors to consider including budget, location, convenience, etc. But we want you to think of one more thing during your exciting tour of venues: how it photographs. And not just the ceremony, but how photogenic is everything going to be?
Don't forget about the before
Most venues will show you your ceremony and reception locations. But so much of the wedding day happens before the ceremony. Ask your guide to show you where you will get ready. Pay particular attention to the amount and kind of light in the room. Natural light is not only better for photos and video, it's also better for makeup (if you're opting for it)! You should also ask where people normally hang their dress (or whatever you choose to wear!) up for pictures. We've seen some beautiful spots and this definitely shouldn't be an afterthought. You'll also want to ask where your fiancé will get ready and, if they are hanging with the wedding party or needing makeup before the ceremony, too, consider light!
Ask for examples
Ask about some locations where other couples have taken pictures or done the first look (even if you don't plan on doing a first look). Think about different looks and moments you want to capture. Is there enough variety to give you the stunning pictures and video you're looking for? You should also think about family photos and where you'll want those to be. Don't discount the convenience factor for your family as well. You might have a great spot but if it's too far from cocktail hour, it's not worth the time cost.
Outdoor: Think about time of day
If any of your wedding is outdoors, the best thing you can do is tour the venue as close as possible to when you'll be in those areas. If you plan to get married a couple of hours before sunset, see the ceremony location at the same general time. Go stand at the altar. If the sun is in either of your eyes, or directly facing the audience, you may want to consider an alternative arrangement or even a whole different venue.
Indoor: Think about light
If your wedding is taking place indoors with not very much natural light, ask your venue guide about lighting packages or vendors they recommend. You don't want fluorescent light because it can make skin tones look sickly. You don't want too much light because it can ruin the mood. You DO want a cool lighting feature and enough light so your photographer and videographer can limit flash and top-lighting as much as possible. It's really good to ask about this now because it might factor in to your budget!
Make sure it fits your style
If you have a specific look you are going for, you should make sure the venue reflects that in all stages of the wedding: before, ceremony, reception and portraits. Consider the backdrops to everything and the details your photographer and videographer will be able to get. If it inspires you, it will probably inspire us!
And remember, searching for a wedding venue can be stressful, but it should be super fun! Take a moment to visualize things with your fiancé and get excited about the future to come!
Your wedding photos are records of your wedding day for the future. However, these photographs are not just about documenting the events of the day; they should also capture the happiness and special moments of the day in the best way possible. Planning a photogenic wedding is easy, when you have the right photographer for the job and when you give them the time and materials they need to capture the uniqueness of your wedding day. Here are some tips to help you ensure your wedding is photogenic.
1. Allot enough time for your photo sessions
Beautiful photos happen when the couple are relaxed and the photographer can exercise his/her creativity. It is never the same when the photos are taken in a hurry. So, give your photographer enough time and space to work some magic.
2. Keep everything pretty for the getting-ready photos
Give some thought to how your surroundings will look in your getting-ready shots. A spacious and well-lit room will look better than a dingy, dark, and cluttered one. Hang your wedding dress on a beautiful hanger and arrange accessories to look attractive. It will look pretty when everything is organized and generally neat in the background of your pictures.
3. Create a shot list in advance
Plan your group photos and decide on the photo sessions with your photographer ahead of time. This will help to streamline the entire process. Discuss the group portraits and other must-haves with your photographer so that he/she is prepared to capture those moments. Inform family or friends who are to be in the different photos in advance, so they are where they should be at the time they will be needed.
4. Take time to enjoy the special moments of the day
Take your time to relax and enjoy the special moments and events like your wedding day first kiss or tossing the bouquet. When you do them slowly, your photographer will have enough time to capture the expressions and joy of that special moment. If you are too hasty, your photographer will just be able to take a quick picture and it won't be as perfect as it ought to be.
5. Plan photogenic settings
Choose your venue, food, décor, and bridal party outfits with the aesthetic factor in mind. Opt for bright colored food, beautiful decor, bridesmaids dresses, and accessories that enhance the beauty of the scenery and that will look good on camera. Choose contrasting and complementing colors in your wedding palette carefully, for the best effects.
6. Trust your photographer
Your photographer has the expertise to plan your shots in the best way. This is not the first time he/she has shot a wedding. Avoid too much supervision or a long list of planned pictures, and you are likely to get the best results. Follow his/her suggestions, even if you aren't sure of it. The more freedom you give your photographer, the greater the chances are for your wedding pictures to be fantastic.
Author Bio: Best For Bride is Canada's top bridal destination. They feature wedding dress collections, bridal party outfits and offer a range of wedding services for the modern bride. More details are available on the Best for Bride website here.
Photography Credit: All of the photography has been brought to you by KS Studios Photography. KS Studios has been voted Toronto's #1 photography studio by Wedding Wire. This photography company services the Greater Toronto Area, York Region, Simcoe Region, Durham Region, and Malton Region. They also offer destination and travel services. For more details, check out their website by clicking here.

What does having a photogenic wedding day even mean? Wedding days are beautiful no matter what. What's better than marrying your best friend, right? But there are a couple things you can do to make you wedding day photos even more perfect!
Keep those hair ties off your wrist!
As soon as your hair and make up are done make sure you take any hair ties off your wrist. They don't look good in photos and can leave weird marks! Assign someone the job of "wrist police" and have them make sure none of your bridesmaids, flower girls, mother of the bride have hair ties on their wrist. In the same vein- have a conversation with your bridal party before hand on whether or not smart watches are okay.
Keep the room as clean as possible.
No matter how many wedding party members you have, getting ready areas clutter up fast. Try to keep a designated zone for "stuff" and throw away trash as you go. Crumpled plastic garment bags, water bottles, remains of lunch don't look so great in photos. When you're having getting ready photos done or putting your dress on you want the area to be free and clear of clutter!
No plastic hangers.
Get a wooden hanger for you dress and the bridesmaids dresses. It doesn't have to be a super expensive custom hanger off of Etsy, just plain ones are fine! They just look so much nicer with dresses than plastic! They'll also hold a heavy wedding dress a lot better.
Kiss proof lip color.
Make up artists are pros and will help you pick a product that will stay and not smudge, but if you're doing your own make up its super important to pick a lip product that won't get everywhere. You don't want your grooms face covered in lipstick or have it all over your teeth or be worried about it smearing while everyone is hugging you. Matte liquid lipsticks are a great stay all day option and come in a price for every budget.
The guys shoes need to match.
This might sound so strange, but the groomsmen need to be wearing the same colored shoes. Its very distracting if they all have different colored browns, blacks, and tans and looks more cohesive if they're all the same color. Having them all wear different cool/funny socks is a fun detail though!
Natural light is the best.
One thing to pay attention to when choosing a venue and/or getting ready space is the amount of natural light in the getting ready and ceremony areas. Natural light is the most flattering and helps create the best environment for good photos. Fluorescent lights can create weird shadows on people where natural light helps keep things more even.
Plan around the sun.
Light plays such an important role in photography! When planning out your day, sun position and strength is very important to keep in mind. The time of best light for a summer wedding is going to be significantly different than that of a winter wedding. If you want those amazing glowy sunset photos, make sure you tell your venue and photographer that they're a priority, that way the timeline for the day can be planned around optimal lighting.
Wear shoes you can walk in.
Heels are beautiful, truly. But, if you don't normally wear heels and find them hard to move around in, go with something else. With most dresses you can't really see the shoes anyway and you move around a lot on your wedding day. If you're thinking "well, I'll just change shoes before the reception"- don't underestimate all the things that have to happen before then. There's walking to your first look, bridal party photos, walking down the aisle, bride and groom portraits, family photos. If you're feet hurt, or you're having trouble walking its going to show up in your photos. You don't want to look back on your wedding photos and only remember how much your feet hurt!
Help those details shine.
You and your partner worked hard to pick out all the details that went into your day. Make sure you keep all the details together (invitations/paper goods, jewelry, rings, shoes etc) so that they can be document by your photographer. Invest in a long ribbon in one of your wedding colors, a pretty ring box, and ask your florist for a few extra blooms and greens to help add depth and contrast to your detail photos!
The ceremony location matters.
The ceremony is arguably the most important part of the day. After all, this is what a wedding is all about- the getting married to your best friend. That makes your ceremony photos integral to the story that is your wedding day. When looking at venues or planning ceremony areas, think about where the light will be. The trick to beautiful glowy photos, no matter the time of day, is to keep the sun behind you. For example, if a venue has a beautiful mountain background in the east, but the sun sets in the west, its going to be really hard to get good photos with the mountains in the background as the sun will be in your face. A ceremony area that's side lit means one person will be squinting into the sun for the entire ceremony while the other person casts a shadow.
Worried that you might not look photogenic in your wedding photographs?
You're not the kind of couple that wants to stand around for ages posing so your wedding looks like a magazine cover. Your day is all about having fun and you want you wedding photos to reflect that.
But at the same time, you also want relaxed photos of the two of you together looking AMAZING!
Here's how you can do just that!
1) Choose a photographer that makes you feel relaxed
Feeling relaxed is the best way to look photogenic in front of the camera!
The last thing you want is for your photographer to make you feel a little awkward by jamming you into loads of poses.
If you're left wondering 'what do I do with my hands'? or 'which way should I look?', it's only going to make you feel self-conscious.
For couples' portraits, I'll only ask you to do things that you'd normally do together!
The best way to get natural photos of the two of you is to go for a short walk around the grounds while holding hands (if you feel uncomfortable about doing that, then maybe you shouldn't be getting married, haha).
We'll stop off at a few spots along the way where the light is good or the backdrop is interesting and see where the moment takes us.
Maybe you'll have a little dance, cuddle-up or even, in your sexiest voice, whisper the name of your fave vegetable in your spouse's ear (this never fails to bring extra laughter)!
2) Have a pre-wedding shoot
Having a pre-wedding shoot will make you'll feel even more relaxed in front of the camera.
On your Big Day, having lots of pictures taken together might be a new experience for you. After all it's not very often that you get to be rock stars for the day!
By spending a little time with your wedding photographer in front of the camera before your wedding, the whole experience will feel familiar to you.
The best thing is you'll get to see how easy it is to look super photogenic because you'll have the photos to prove it!
Until the end of the month, I'm offering a complimentary pre-wedding shoot with bookings! (get in touch below to find out more)!
3) Have fun during your couples portraits
It's my job as a photographer to bring out your natural loveliness for all to remember. That's why I'm not big into posing, what a mood killer.
The way I approach taking picture of couples is by remembering, its NOT a photoshoot. I want you to have some fun time-out from the wedding party where you'll have photos of the two looking amazing and the end of it.
If you're having a great time, you'll always be photogenic because you will be smiling interacting naturally.
Plus, this approach will give you photos that'll capture your personalities too. This is great because you're not the kind of couple that want the same set of photos as everyone else anyway!
Finally
When your big day arrives, you're going to be so love-struck that you won't be able to resist smiling and feeling good. So its going to be hard for you NOT to look photogenic on your wedding day!
Long after the event and a few years later, photographs are the best things to rewind those beautiful wedding memories. Therefore your look on your wedding day is most important to capture stunning photographs. Being a candid wedding photographer, I will suggest a few top tips to look photogenic on wedding day.
Top Tips to Look Photogenic on Wedding Day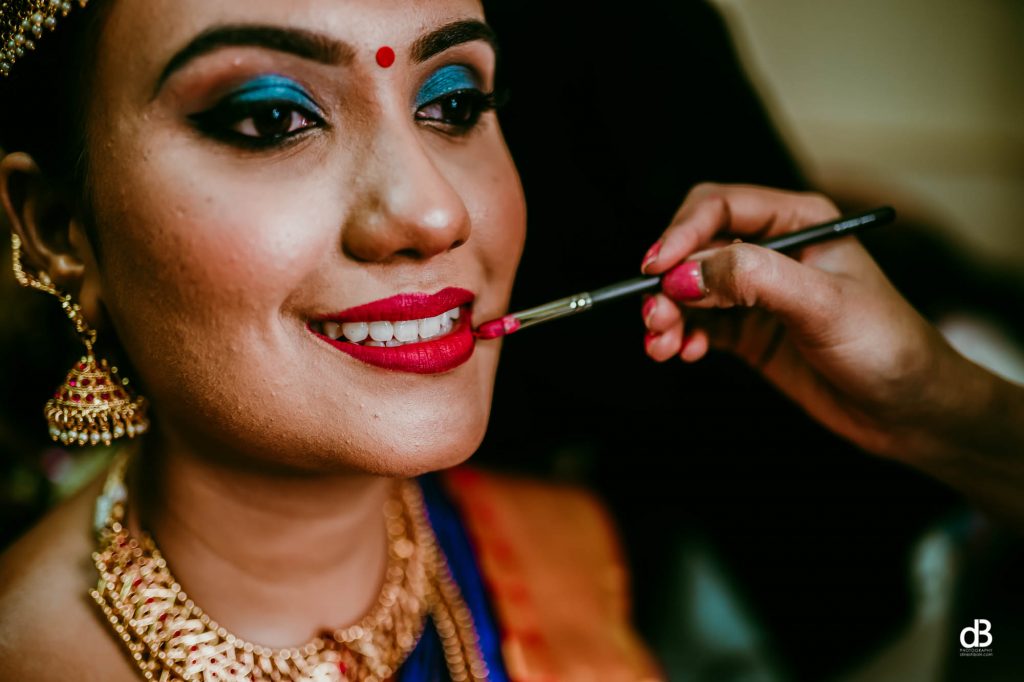 Certain Cosmetic effects and over makeup reflects in your photographs. Also, Few shades of the foundation cause a washout look of the bride and also some colours of lipstick look different in photographs. It is best advised that minimum makeup can be the best option and choose your makeup wisely that really suits you. You can ask your makeup artist to be simple and make sure that your look must be photogenic on the occasion.
Sometimes your wedding day makeup looks good as a person but it does not reflect in the same way on the camera. If you have not done makeup before, it is the best idea to book a makeup trial before the wedding day to avoid on time disappointment. Makeup plays an important role in how to look photogenic on wedding day. Asked your makeup artist to dress up you in the same way as going to be done on your wedding day and clicked some photographs to check it suits the camera or not.
Your hairstyle plays an important role in wedding photography. Don't wait till the wedding day for how it looks to be, Ask your hairstylist to do a trial run of your wedding day hairstyle. Click some pictures and check how it looks in photographs, once you have finalized it. Make it on the wedding day. Also, while making up a hairstyle make sure that your hairs keep off your face. Your face must be visible for clear and beautiful photographs.
Work on Your Postureto Look Photogenic on Wedding Day
Many couples are shy and don't know how to pose for photographs, like for group photos. Don't hesitate to ask your wedding photographer for the perfect poses. Good posture helps you to look more confident and photographs also come up stunning and smart. Stand straight when every time the camera focuses on you. Keep your alignment straight, with chest push forward and by keeping your spine straight. This helps you appear taller and confident.
Smile Freely and Naturally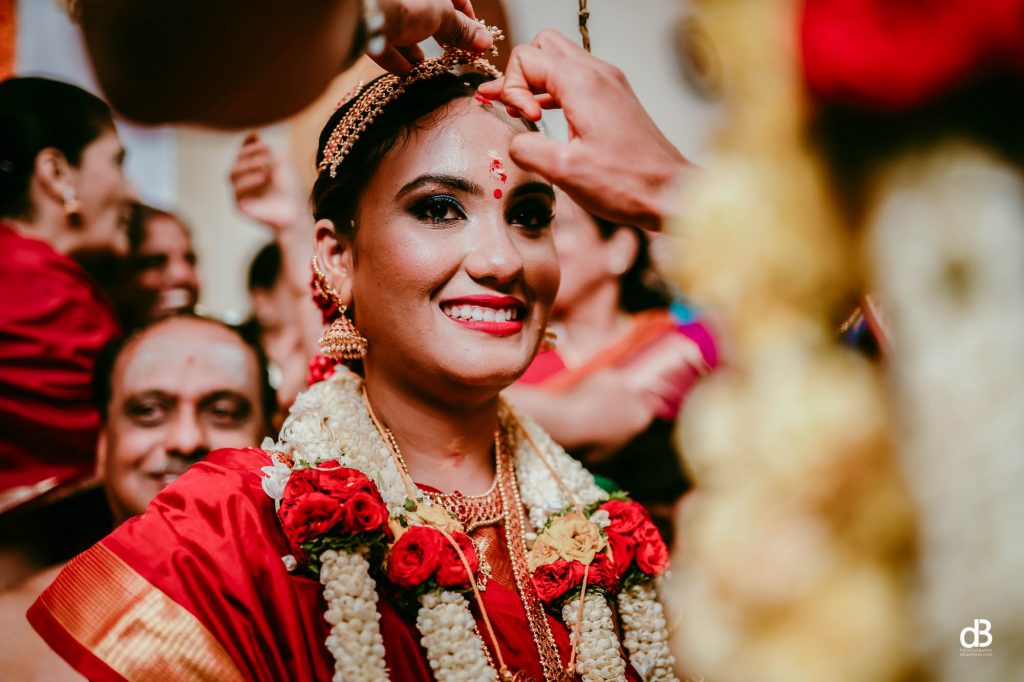 A simple smile makes any photograph stunning and beautiful. A bright, natural smile is always photogenic. Book an appointment with a dentist before the wedding and clean your teeth if required to make sure it will look clean and white on wedding day. You can also practice smiling in front of a mirror if you want. Make sure it comes naturally on your wedding day. Do not fake with a smile, photographs are a lifetime memory for you, be natural and beautiful, smile with eyes make photographs amazing.
These are some tips to make your wedding photography stunning and amazing. With some planning and practices you can adopt the techniques to how to pose for photos. Nowadays candid wedding photographers do not ask you for poses as they capture your candid and natural moment but smile and posture play an important role in candid photography as well.
If you're here, you're looking for tips for a more photogenic wedding. Well, what if I told you that all those beautiful, romantic, and dreamy wedding images you see on the internet were not just happenstance, but rather, they were the result of planning, and positioning, and intentionality? And what if I told you that you could have images just like that?! I'll let in on my secrets for how to make your wedding more photogenic because who doesn't want their wedding to look like it belongs in a magazine? Here we go!
✨Consider renting out an Airbnb!
One of the cool things with renting out an Aribnb for your wedding is the fact that you can rent one based on how you want you photos to look. Want white backgrounds? Pine walls? Velvet chairs? Floor to ceiling windows? There are tons of choices and there will also be options for you that fit your budget.
✨Remember to think of lighting!
Lighting is so very crucial for photography. While many things can be done in camera – and later in editing to provide the desired look, choosing a room with plenty of natural light is ideal!
✨Bring alllllll the details!
Make sure you have everything in one place for me for details shots. Jewelry, flowers, shoes, dress, invitations, programs, hair piece, veil, etc. I will use any and everything you provide for me!
✨Add details to your outfits!
I love a gold watch, or pearl earrings, or a fur wrap, or statement jewelry to spice things up! Not only are they incredible for your detail images, you also look stunning ON you!
✨Consider a first look!
First looks are great because they can be orchestrated in a way that leaves you breathless when you look at the images. You can really see his face when he sees you for the first time on your wedding day. You can also take some time to have a moment with just the two of you! Read about why you should consider a first look here!
✨Interact with each other!
I work with the chemistry of my couples. This is how I learn what they are comfortable with and what comes natural when it comes to posing. So play with his hair, and kiss her softly on the cheek, do a twirl or dip, and have fun! I'm just there to capture it.
✨Details at the Ceremony & Reception!
If possible, getting images of all the decorations at your ceremony and reception locations before people are seated is an excellent way to elevate the quality of the content in your wedding images!
✨Ask the Officiant to step to the side for the first kiss!
The first kiss is a high-pressure moment for everyone in the room and the last thing you want ruining the perfect picture is your officiant's nose between your faces as you go in for that big kiss. If you ask the officiant to take a step to the left or right just before the kiss, this will take care of the possible photobomb!
✨Consider a background for your first dance!
Having a background that I can shoot against for your first dance is a great idea! This can be your head table, string lights, your cake table, or something else!
✨Do a send off!
These are so fun and romantic. Consider options like sparklers, biodegradable paper hearts, flower petals, bubbles, etc. And don't forget to kiss at the end of the tunnel or in your car!
I hope these tips for a more photogenic wedding are helpful to you in your wedding planning!
Undeniably, we all relish taking a trip down memory lane. Even in this age of smartphones, tablets, laptops and digital images, printed photographs stand out. Therefore, most married couples make wedding photo albums, which help them relive cherish able wedding memories even a few months or years later.
Ensure you hire a professional wedding photographer in Nottingham to capture beautiful moments that you spend with your fiancé, family, and friends. Moments become memories over time. So it is of utmost importance to capture every blissful and memorable wedding moment and frame them.
You may resort to your closed ones, but no one can take sharp, clear, focused, and praiseworthy photographs other than an experienced wedding photographer. If you wonder whether you will look photogenic enough on your wedding day, give this article a thorough read.
Here's how to appear more photogenic on your D-Day.
Hire a Professional Wedding Photographer
No tips and tricks will come to your help if you hire a photographer who doesn't cooperate with you. Choosing and relying on a photographer who makes you and your partner feel relaxed before the photoshoot is essential. It is the job of a versed wedding photographer to make things easier and more organic for both the bride and groom.
To look more photogenic in your wedding photographs, you have to focus on enjoying precious moments with your beloved. A proficient photographer can make you feel less self-conscious and more comfortable. The less nervous you feel before the wedding photoshoot, the more natural you look in each photograph.
Opt for a Pre-Wedding Photo Shoot
To feel completely relaxed and become camera friendly before your marriage ceremony, the best thing you can do is ask your photographer to conduct a pre-wedding photoshoot. There won't be any guests other than you and your fiancé while the photographer takes candid pictures of both of you during the pre-wedding shoot.
You will become a lot familiar with everything happening in front of you and won't feel nervous when the wedding shoot will take place on your wedding day. A thorough professional wedding or family photographer in Nottingham will make you aware of different camera angles beforehand. You will develop a sound idea of where you should look and pose to appear more photogenic.
Wedding photo Editing Service:
Choose a professional wedding photo editing service like https://photoseditingservices.com/wedding-photo-editing to make your wedding event look perfect.
Enjoy the Once-In-A-Lifetime Experience
Just be yourself on your wedding day, and this is what matters to look smart, confident, and exceptionally photogenic. Know that a wedding is one such event that you would experience only once in your life. Hence, it is imperative to make the most of your D-Day.
Staying happy and having fun with your near and dear ones throughout your wedding day will help you appear classy and charming in each wedding photograph. There should be a smile on your face on one of the happiest days in your life, and your wedding photographer will take care of the rest.
Final Words
By now, you have understood that there's no better alternative to look photogenic on your wedding day other than staying natural and relying on an expert wedding photographer. Book a trusted and competent photographer for your pre-wedding and wedding photoshoot today.
Tips and tricks to help you look your best!
Here are tips and tricks to help make sure the final pictures represent how great you looked and felt in person on your wedding.
The reason it is so often advised to splurge on the photography for your wedding day is that the pictures are what remain once all is said and done. Naturally, you will want to look your best. However, finding the right photographer is only the first step to absolutely fabulous snapshots from your big day. Wearing perhaps the best outfit of your life and having your hair and makeup done by professionals certainly helps too.


Photo by Hugh Forte; Planning & Design by Tessa Lyn Events
Everyone knows one or two people who manage to always look good in photographs, but if that doesn't describe you – don't fret! There are tips and tricks to help make sure the final pictures represent how great you looked and felt in person on your wedding.
– Smile with your eyes. While it may sound silly when Tyra Banks talks about "smizing" on America's Next Top Model, this really does work. For your more serious-looking portraits, this will help convey the warmth and joy of the occasion.
– Hold something. Luckily, you're likely to have your bouquet to keep your arms occupied, which can help prevent awkward posing when you don't know what to do with your hands.
– Avoid the camera lens. Looking directly into the camera, especially from a straight-on angle, is often not as flattering. Try looking away, staring into your beloved's eyes, or even giving the camera a playful sideways glance.
– Relax your face. As happy as you (hopefully) are, there can still be a lot of tension on the big day, especially if you're not comfortable having your picture taken. However, you certainly don't want to look strained in your photographs. As you start to feel stiff, close your eyes and take a deep breath in between shots.
– Find your angles. This may take practicing in the mirror beforehand, but different poses and angles may help elongate your body. Look to red-carpet photos for ideas, as celebrities have plenty of practice and guidance on this subject.
For more tips, discover expert advice from a wedding photographer on what to expect, find out how much retouching can be done on wedding photos, and learn what detail shots you should be sure to include.
Home
About
Portfolio
Wedding
Packages
Bride guide
Contact
Tips for a Photogenic Wedding..
A bride's worries sometimes seem never-ending. The last thing a bride wants to worry about is how she looks in the hundreds of pictures being taken that day. Of course, putting your best face forward is not only achievable but easy as well. Here are some helpful tips in order to be your most photogenic self on your big day.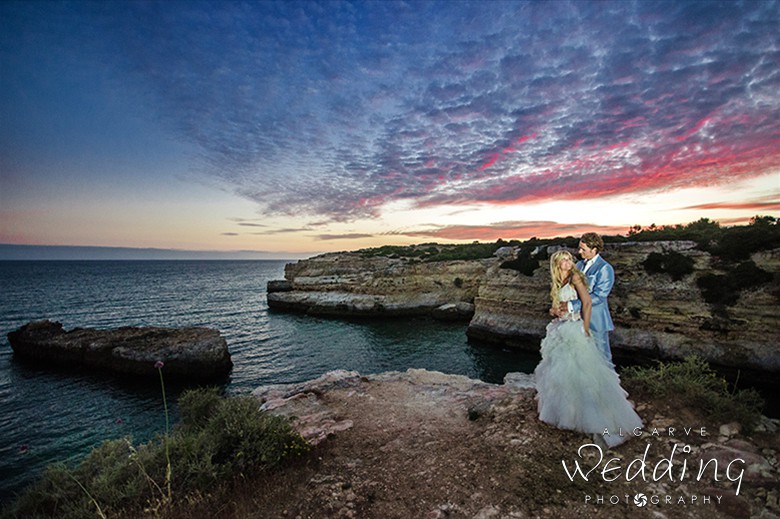 Be Yourself
In ten years you still want to recognize yourself; you don't want a stranger hanging on your mantel. Whether you hire a professional or do your makeup yourself, remember it's still your face under there. You should enhance your beauty not change it.
Time of Day Matters
Photographers know how important lighting is. If you are having a wedding outside, try to avoid direct sunlight and don't squint. Also, less is more in this case in terms of makeup. Softer lighting will be more flattering to skin tones. Evening weddings are ideal for this.
The time of day definitely plays a part in what you choose to wear and the makeup; consider the formality and mood of your session or event to lead the direction.
It's All in the Pose
We are all aware of our "good side" and "bad side". Accentuate your best features by posing in such a way to hide your flaws. Also practice good posture. Standing up straight for photos while wearing your flawless wedding gown will create a beautiful silhouette and make for a very proud bride.
Relax
The more poise you have, the more you are likely to look natural and show off your best features. The most attractive pictures are the result of someone who is comfortable around the camera and knows what they want. This kind of relaxation does not always come naturally. As always, practice makes perfect.
Most people getting married are not professional models and are not used to being in front of the camera, but don't worry! That doesn't mean you can't have beautiful wedding photos that you will cherish forever. We created this list to help you plan your wedding photo moments, to help you get the most photogenic wedding photos and most out of your photographer.
This may sound silly, but the easiest way to make sure that you and your photographer are on the same page with what your photo vision is to create a pinterest board of the types of photos you want. Some people want more detailed shots of their wedding dress and accessories, some people want only posed group shots, others only want candid shots of everything and often times there is one or two dream photos. The best way to communicate exactly what you want is by finding examples to show your photographer.
When deciding on a photographer, most people don't realize that the person they will be spending the most time with their wedding is actually their photographer. The photographer will most likely be with you from the start of your day till the finale and every moment in between, so make sure you choose a photographer that you vibe with.
*At Sea to Sky Weddings, we believe there's a healthy balance between being your #1 hypeman and being a fly on the wall with a camera.
This tip doesn't matter as much for inside weddings, but for outside weddings this is crucial. Some questions you want to ask yourself. Will it be hot? Windy? Humid? If your outdoor location is any of those things then you might want to go for an updo, or a hairstyle that pulls your hair away from your face. The last thing any bride wants is sweaty stringy hair in their face for their photos. This also helps for the first kiss photos because your hair won't be blocking your face or blowing in your face (or anyone else's face). Make sure you tell your hairstylist when planning your wedding hair what sort of environment your ceremony will be held in, so they can prepare the best hairstyle that will stay put.
This photo is great for tips 3 and 4! You can't go wrong with pulled back hair that doesn't obstruct the view of the brides face or get blown around in the wind.
The first kiss photo is classic! This may seem like another silly tip, but definitely practice your first kiss! When couples go in for their first kiss, usually only one person's face is in full view of the audience/photographer. The bride generally spends more money and time on her overall look, so most couples prefer the bride to be featured in this moment. Practice your first kiss so that the groom does not block the bride's beautiful face during this shot.
*This is a good tip to have in mind for all kissing photos throughout the day.
A basic concept of most photography is symmetry. One thing that irks us as photographers is that bridesmaids naturally tend to stand close together in front of the audience whereas the groomsmen stand far apart from each other, leading to an uneven photo. This can be distracting in photos of the ceremony. A super easy fix to this is to mark each person's position at the altar during the rehearsal. If you are having an outdoor wedding we suggest couples use golf tees. If it is an indoor ceremony then stickers work just fine. I promise, this super simple trick will really enhance the photos of the ceremony.
Any nice photos of the bridal party and/or immediate family with the bride and groom need to happen before the ceremony. This means that couples usually have "first look" photos of the bride and groom seeing each other for the first time and then having bridal party and family photos after that, but before the ceremony. A first look often times is a nice moment for the couple to just relax and be with each other before the ceremony amongst the craziness as well.
What happens to a lot of couples who takes photos after the ceremony is they are so relieved to have the ceremony over with, they decide they no longer care about that pinterest board full of beautiful photos they will cherish forever and would rather celebrate with the family and friends all around. The bridal party is usually hungry, ready to party, and having to gather immediate family members is like herding cats. The easiest way to avoid this situation is to do a first look. Take the photos you absolutely want before the ceremony and then if you want more photos after the ceremony then by all means take more photos after the ceremony. This way, it ensures you will get the photos you hired the photographer to take in the first place.
This is totally dependent on the couple, but most of the photographer's photos are going to be taken from behind the audience. If everyone in the audience has their phone up recording every moment of the ceremony, it can block the photos the professional photographer is hired to take. It's especially common while the bride walks down the aisle and during the first kiss. Most weddings we have photographed, the couple will ask the officiant to kindly ask the audience to keep their phones put away during the ceremony.
Another tip is to ask the officiant to move aside during the first kiss. Like I mentioned earlier, the first kiss is usually one of the photos that most couples cherish the most. During the ceremony, the officiant is standing between the bride and groom. Having the officiant move during this moment will create a cleaner photo that is more focused on the bride and groom and not the officiant making a funny face or blinking in the background.
*If you have a longgggg kiss it gives the photographers and videographer more time to nail the shot & you'll get better images!
HOW TO LOOK PHOTOGENIC ON YOUR WEDDING DAY
Your wedding album gives you the opportunity to look back at your big day for years to come with fond memories, but unfortunately, there are no do-overs or retakes of your one perfect day. It's natural for couples to want the best of the best when it comes to a wedding photographer for this very reason. Beyond that, there are a multitude of things you can do to ensure that you and your future spouse look beautifully photogenic without worry!
Professional hair and makeup is key for flawless photos, if you're planning to wear makeup at all. Not only will you inevitably feel more confident, but those with many weddings already under their belt will have the expertise on which products to use so that you photograph well. For example, wedding makeup artists know which shades of concealer or powder to avoid that can cause 'flashback' in photos, making you look washed out. Mix in flash photography and it can be a recipe for disaster!
Better yet, it never hurts to have a professional style your hair and makeup in a way that ensures it stays intact through eating, dancing, and hugging all of your closest friends and family. Even for the men that think they don't necessarily need a stylist – you'll be forever thankful for the lack of flyaway hairs in your photos.
One way to test the staying power of your hair and makeup is to perform a trial (or two) in the weeks leading up to the wedding itself. It's better to experiment in similar weather and see how it holds up for a few hours than waiting until the big day to realize that you need more hairspray or a major touch -up after your makeup artist has left for the day.
While it's true that your photographer should primarily take care of posing, there are certainly some unflattering angles that you may look back on and regret. This can be anything from slouching, looking too stiff and unrelaxed, or faking a smile in the moment. After many years in the industry, we completely understand that it's easy to get caught up in the moment and not necessarily think about how your poses will reflect in the finished photos when you have so many other things on your mind.
Above all, try to stay relaxed! Keep your shoulders loose, stand up straight, and make sure your chin is out and down. This pose is universally flattering on everyone, and you'll look effortlessly comfortable and graceful.
It's also important to keep in mind that not every photo has to be staged. Don't be afraid to opt for a more natural, candid pose with your new spouse by talking to each other, laughing, and just enjoying the few moments you have alone together. These shots can turn out to be some of the most romantic of the entire day.
Being photogenic is ultimately more than just surface attributes, although it's always a plus to look your best for such a milestone. You want to look relaxed, refreshed, and genuine in your photos, regardless of how talented your photographer.
The one thing we've always asked you to splurge on at your wedding is the wedding photographer. Because once the event is over and everyone goes back to their respective homes, it's only pictures that you have. Every bride wants to look like a dream in her wedding pictures. And you will, babe. But here are a few tips to make those pictures look even better! Yes, you sure need a great photographer but there are so many more things that can change the way you look in your photos. Follow these 10 genius tips to look photogenic at your wedding.
1. Plan a pre-wedding shoot
It's a fab way to break the ice between you and your photographer. And it also gives you, the couple, a fair idea of what it's going to be like on the big day. Working together as a team before the wedding will help you all understand each other better and you can also expect some expert tips from your photographer.
2. Comfort comes first
When you're uncomfortable, it shows on your face and in the pictures, no matter how hard you try to fake it! Make sure you choose a pair of heels that don't kill your feet. Wear a weather appropriate lehenga that you can carry off with ease and most importantly, ensure that once the dupatta is pinned onto your head, you can twist and turn your head without much discomfort.
3. The getting ready session
Getting ready pictures are such a rage right now and honestly, this is where you can get the prettiest, most candid and the most beautiful shots. Create a playlist of all your favourite soundtracks and play it in your bridal room. Else, you'll only have a hundred tasks and emotions running through your mind. Ease out and relax as you play that music and let the photographer get to the job. You need to be in a relaxed state of mind for your pictures to look good!
4. Natural lighting is SO flattering
We know that your wedding day will be super packed but if you can find time when the light is just right, don't think twice before posing. Natural lighting can look really, really flattering. If you're not the very spontaneous kind, opt for a quick photo session at dusk. The light during this hour is extremely soft and does not cast shadows. It also lights up the area under your eyes to give your face a natural glow.
5. Make your eyes pop open!
Those harsh studio lights and camera flashes at the venue make it difficult to keep your eyes open. And how can pictures with half shut eyes ever look nice? Firstly, try and keep the lights to a minimum since they can also make you look washed out. Secondly, before every click, look directly at the source of light, shut your eyes for a second or two and then reopen them. It'll be much easier for you to keep your eyes open while the picture is being clicked.
6. The left or the right profile?
Everyone has a 'good side' of their face. For some, the left side photographs better, while for others, it could be the right side that does the trick. Find out which side of your face looks more flattering in pictures. Ideally, your photographer will be able to help you out with this during the pre-wedding shoot. Or else, we girls have pretty much already figured it out thanks to all those selfies!
7. Keep your favourites closeby!
We mean your besties and all the people you love. Because you'll feel happy around them and thus, look happy too! A natural smile always looks better than a forced one. And as they say, your smile should reach your eyes.
8. Drink plenty of water
No, in no way are we saying that water makes you look more photogenic. But consumption of alcohol, sodas or insane amounts of caffeine sure do cause puffiness while also dehydrating you. Basically, your natural glow is gone! Keep the content of these liquids low and balance it out by drinking lots of water.
9. A makeup trial is a must
Your makeup may look great in person, but does it picture equally well? You'll never know until you get your pictures. That is exactly why we suggest you get a trial done before the wedding. Most makeup artists are happy to oblige, and once your trial is done, you can try clicking your pictures under various kinds of lighting. Find out if you look washed out or too bright before finalising the look.
10. Smile!
Because nothing can make you look more photogenic than a nice, big, bright smile! But yes, there is no harm in practicing your best smiley face in front of the mirror. And yup, do get a teeth whitening treatment before the big day. A beautiful smile = a beautiful you, and the most amazing wedding pictures!
Everyone wants their wedding to be gorgeous, sorry not sorry. You dream of that Pinterest worthy wedding, where all your decor flows together, your dress is a perfect match for the beauty of the venue and the details you worked on for months are perfect from every angle. I promise, it doesn't take a million bucks to help your wedding stand out from the crowd. It really takes details that are from the heart, pieces that suit you and your partner perfectly, plus a sense of style and colour help a ton.
If you're not the naturally stylish type, but still want your wedding to look AMAZING, don't hesitate to ask your maid of honour, your friends, your parents or this blog post for help. Obviously, places like Pinterest can be a huge source of inspiration for your big day. But actually putting all those gorgeous ideas into place can be a bit more challenging, especially if you're like me and love multiple style types.
Talk to Your Photographer!
This one might seem obvious, but it's a huge help so I'm going to mention it anyway! Your photographer (likely) has a great eye for design and details. Getting an opinion from the person actually taking the photos of your wedding will ensure your vision comes to life. Talk to them about your personal styling, your colour schemes and your unique pieces so they can focus on those specific details and add them to your wedding album.
Your photographer is a big part of your day, from getting ready to dancing the night away, they are by your side capturing those moments. They also likely have lots of experience capturing other gorgeous weddings and would be happy to share some styling tips.
Timing is Everything
One of the most important aspects of a photo is lighting, meaning the time of day you choose to capture those key parts of your wedding is massively important. This ties into talking to your photographer about your style as well. 'Golden Hour' is the hour (or so, depending on the time of year) before dusk or after dawn. Most couples don't choose to get married at 7am, but if that's you, kudos! Most commonly, couples have a mid-late afternoon ceremony followed by bridal party and family photos.
Having your outdoor photos taken late afternoon and early evening will help ensure a softer more natural light to compliment you and your guests. No squinting or pesky sunglasses to take away from your photos. If you have to take your photos around noon, shade or an indoor area will make a great location. Also, overcast skies are lovely for wedding photos because they create an even diffusion of all that bright light.
If you want those dreamy golden hour photos of you and your partner, schedule some time in the evening to sneak away with your photographer. The warm golden tones from the low sun will create some Instagram worthy images and will be sure to wow everyone.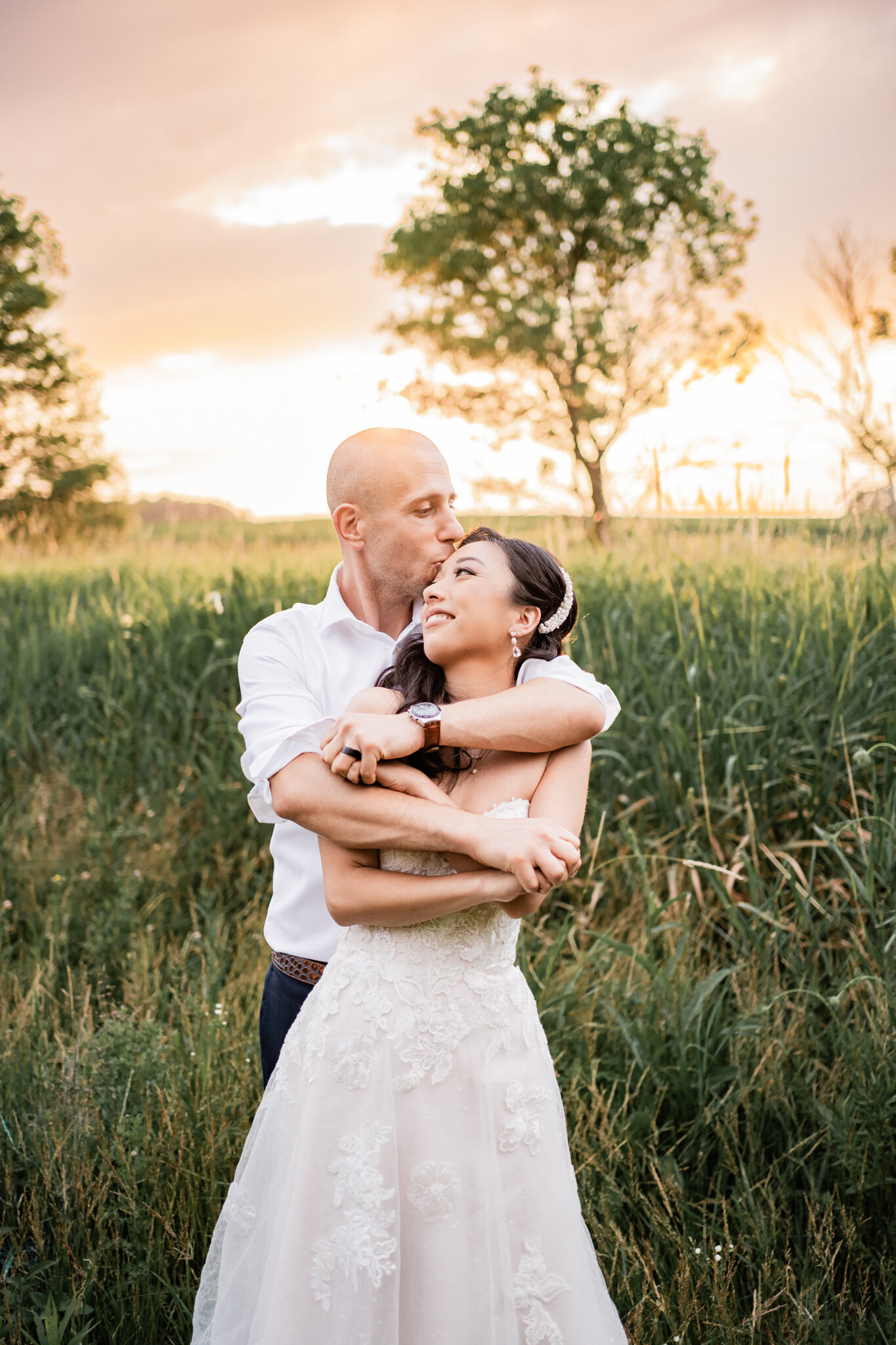 The Venue
Choosing a photogenic venue plays a huge part on capturing those perfect photos. If you have dreams of a high-elegance wedding with crisp, clean details and a more formal atmosphere, choose a venue that speaks to that. Pay attention to the parts of the venue you can't change, such as carpeting, because these will likely show up in lots of your photos.
Conference halls can be gorgeous venues, but it may be a challenge to get that vintage inspired wedding theme you're dreaming of. Whether your venue is indoors or outdoors, I always recommend having some outdoor space to work with. A lovely wooded area or skyline can do wonders for photos, and might encourage your guests to get in some photos as well.
FACEBOOK
PINTEREST
EMAILSHARE
PHOTO BY ELIZABETH MESSINA
A Gothic wedding is a delightful way to celebrate partners who gravitate to the "dark side." Instead of adopting the typical white gown and pastel decor, the couple can express their offbeat personalities through edgy yet elegant food, flowers, and fashion.
When planning a Gothic ceremony, begin by picking a theme that fits your aesthetic—such as Day of the Dead sugar skulls or New Orleans vampire decadence. Then, elevate the space with fine and moody design accents, such as antique candelabras on long velvet table runners. In addition to pitch black, you can play with colors like blood reds, deep purples, and starry blues.
The overall atmosphere should convey dark and graceful romance, rather than feeling like a kitschy Halloween party.
From tarot card invitations to skull desserts, here are ideas for making your Gothic wedding a wicked affair.
Invitations and Paper Goods
" data-caption="" data-expand="300″ data-tracking-container="true" />
PHOTO BY AMBER GRESS PHOTOGRAPHY
Your invitations are an opportunity to be playful and creative while setting the tone of the Gothic wedding. Guests will be delighted to open up a black envelope to find a tarot card or coffin-shaped invite. If the partners have a medical background, perhaps they might choose a vintage illustration of two skeletons or an anatomical heart. Include haute elements to differentiate your invitations from Halloween greeting cards. Play around with dried petals and lace overlay, or a laser-cut paper gate that opens up to a Victorian manor. For an antique feel, choose a calligraphy font and stamp the envelope with hot red wax.
Décor & Flowers
" data-caption="" data-expand="300″ data-tracking-container="true" />
PHOTO BY ELIZABETH MESSINA
Book an event space that evokes age-old glamour with a touch of the macabre. Antique architecture (such as a cathedral, castle, or centuries-old manor) creates the perfect setting for a Goth wedding. Look for photogenic details such as elaborate fireplaces, chandeliers, pointed spires, and stained wood. Don't forget to consider the outdoors: a Gothic ceremony would look stunning in a dark green forest, or cavern lit by candles.
Take a cue from movies like Interview with the Vampire, and dress up the space with dozens of towering candles. Add lush tapestries or fabrics made from lace, satin, and velvet. Don't forget artisanal touches that match your wedding's theme, such as fresh white pumpkins for an autumn gathering, or purple crystals and hanging twig stars for a witchy occasion.
Flowers play an essential role in establishing the mood. Fill the space with black, violet, and crimson roses, as well as dark greenery such as ferns. Bouquets or centerpieces could feature the blood-red hanging amaranthus, appropriately nicknamed "love-lies-bleeding."
Any bride will tell you: The most important thing about your wedding day (besides your groom and, like, every other tiny little detail) is the photo album. So we asked wedding photographer Alisha Siegel for advice on how to snag the best photos that you'll pore over for years to come.
1. Choose a Photographer You Really Like and Trust
Posing for pictures all day can feel forced and strange. But having a photographer you feel relaxed around helps open you up to the camera, which means more authentic moments and less of that fake smile that makes you cringe.
2. Plan a Pre-Wedding Photo Session with Your Photographer
Yes, engagement photos serve a purpose beyond making the world jealous of your perfect relationship: They help you get to know your photographer and vice versa. If your pre-wedding photo session feels relaxed, you can probably expect the same vibes on your wedding day.
3. Do a Trial Run with Your Hair And Makeup Team
Even if you booked a pro, his or her aesthetic might be totally different from what you're going for. A trial will get you both on the same page—and help you avoid being stuck with a 1940s pinup-girl look (that you didn't want).
4. Scout Photo Locations Prior to the Wedding
On one of your pre-wedding venue visits, snap some phone pics of spots you like. Your photographer can help figure out which locations will yield the best photos and which you can probably skip. (Ivy wall: yes; overtly phallic fountain: no)
5. Create a Playlist That You Can Rock Out To
Or have your MOH do it. Good tunes will keep you relaxed while you're getting ready. While you're jamming to RiRi, you won't be thinking about whether you forgot to order the one vegetarian dinner. Trust: Anxiety will show in photos.
6. Play Around with Natural Light
You may have a list of 50 shots you need to get. But if your photographer notices something magical happening with the light, be OK with spontaneity. (Hello, romantic "magic hour" shots.)
7. Be Comfortable in Your Dress
Every bride will tell you: Sit in your dress before you buy it. If you're uncomfortable in what you're wearing, you might miss out on fun non-portrait poses.
8. Carefully Select the People Around You
Aka your bridal party. These folks will be spending all day with you getting ready and being candidly snapped. So definitely pick the friends and family who make you feel (and look) happy.
9. Stay Far, Far Away from Anyone Who Brings You Stress
And on the contrary, some people just drain your energy. So pick one calm friend to help keep some distance between you and whoever's bringing that frown to your face.
10. Remember What the Day Is Really About
This is your wedding! So be in love, because you are in love. Don't overthink the photos too much. The camera will naturally capture your best self.
Behind the scenes look at the wedding industry with tips from Laura on wedding planning, preparation, and managing your Big Day!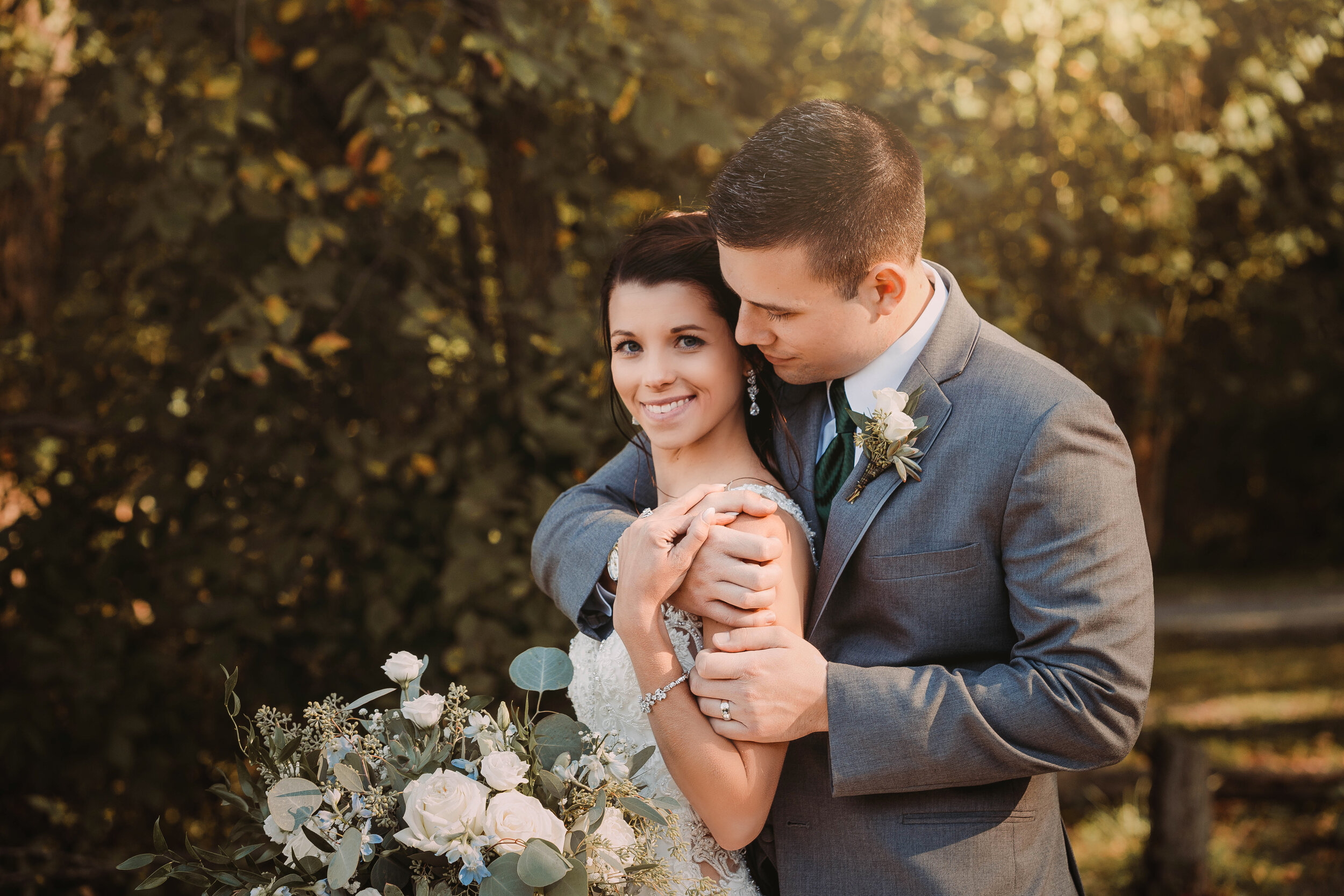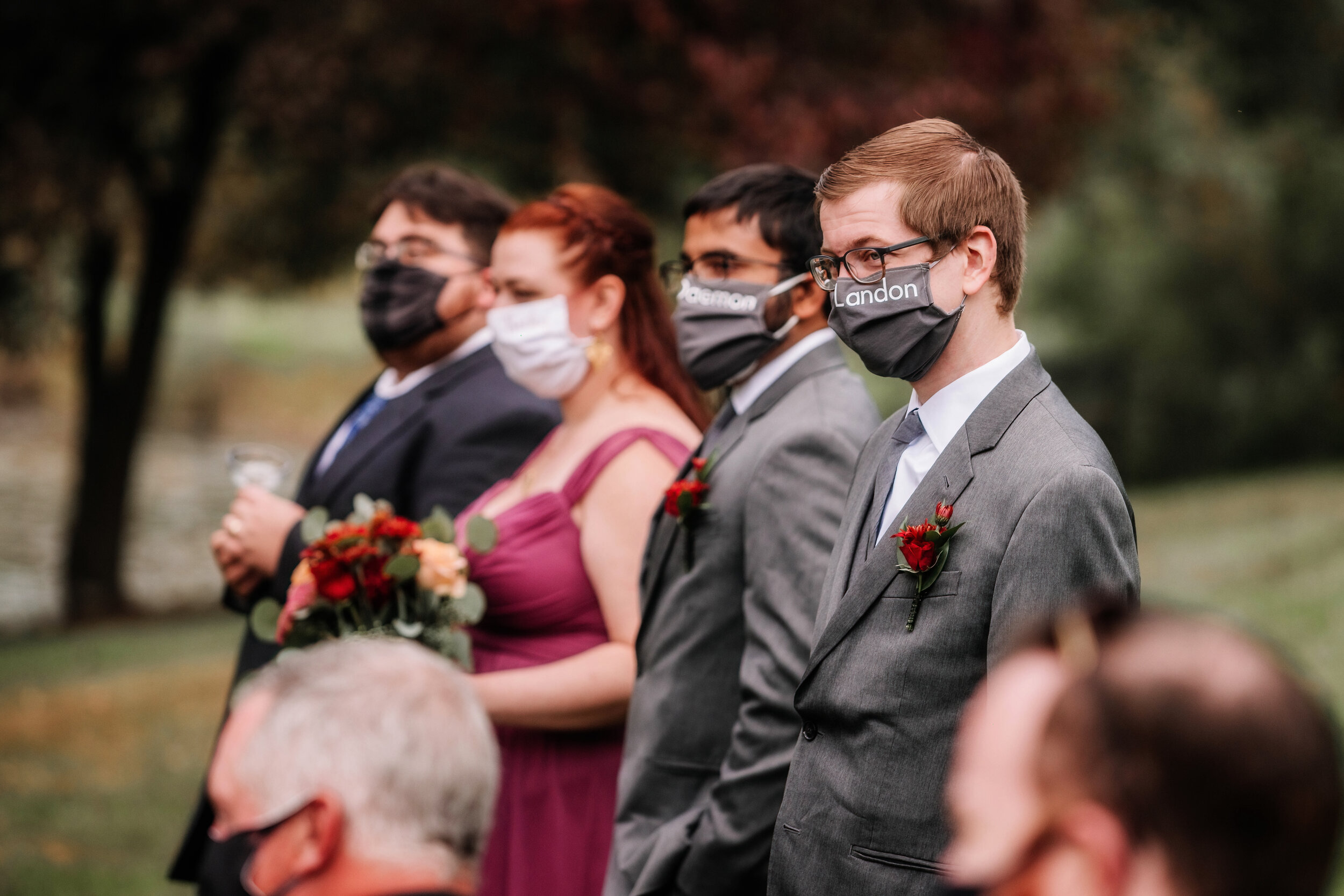 No matter what your budget or venue, you can always make your wedding more photogenic by getting a little creative with the space you have to work with. Here are simple tips to help make the most out of what you have to work with…..
Tidy up. This is the most important tip I can give. Especially when it comes to the getting ready area, simply keeping the space organized and clean makes a huge difference. Designate a corner or specific area for bags to be stored and keep the rest of the space free of garments, empty cups, trash, etc. If something is particularly distracting or unsightly and can be removed and then put back, do it. Again, getting ready spaces are the worst for this. If there is a large poster on the wall that can come down, take it down and put it in the designated corner. Just be sure to put everything back where it came from. Start your day by going through and removing anything you don't want to be seen in your photos. Look out for trashcans and if they can be moved to a corner or somewhere less prominent, move them.
Consider the space you have and work with it, not against it. You may love mustard and gray for your color scheme, but when the carpet at your venue is red, it isn't going to do anything for creating a photogenic environment. Consider the colors that are already present in the space when choosing your color scheme. If you're getting married outside, be sure to pick florals without an abundance of green – the green will just fade into the greens of the background and get lost. Sometimes letting the natural landscape be the main focus is best outside, while indoor spaces benefit from larger florals to create a more lush environment.
Choose your time wisely. Especially if you have a venue without any shade, this one is very important. Lighting makes or breaks a photo. The closer to noon you take photos outside, the more harsh the light will be (it softens as the day goes on). If you can set a schedule that allows you to take photos later in the afternoon or evening, your photographer will appreciate it (and you won't sweat in the summer heat, either!) Work with your photographer to set a schedule that will allow for formal photos to be taken at the best time of day. When it comes to picking a ceremony site, or where to put the head table, lighting is also important. You never want a window directly behind a main photo op spot – harsh backlighting is extremely difficult to work with. Avoid putting the head table or cake cutting area in front of a window. If you get married outside, pick a spot where the sunlight will be behind the officiant to help soften shadows if you can't find a shady spot (also avoid areas with spotty light cast from trees. Stand under the tree in full sun and see if you get sunspots hitting your skin).
Add string lights or candles. A great way to liven up a space and give it depth without breaking the bank is by adding lights. It softens the atmosphere and creates a more appealing space.
Be in the moment. Don't spend your day worried about where the photographer is and smiling at them. Your natural reactions and emotions showing through will be your guaranteed favorite shots. During the ceremony, it is understandable to be nervous, but try to remember to stand closely together and not feet apart. Also, look at each other, not the officiant! If you're looking at each other, that means the photographer can see your face and capture your expressions, and not just the back of your head.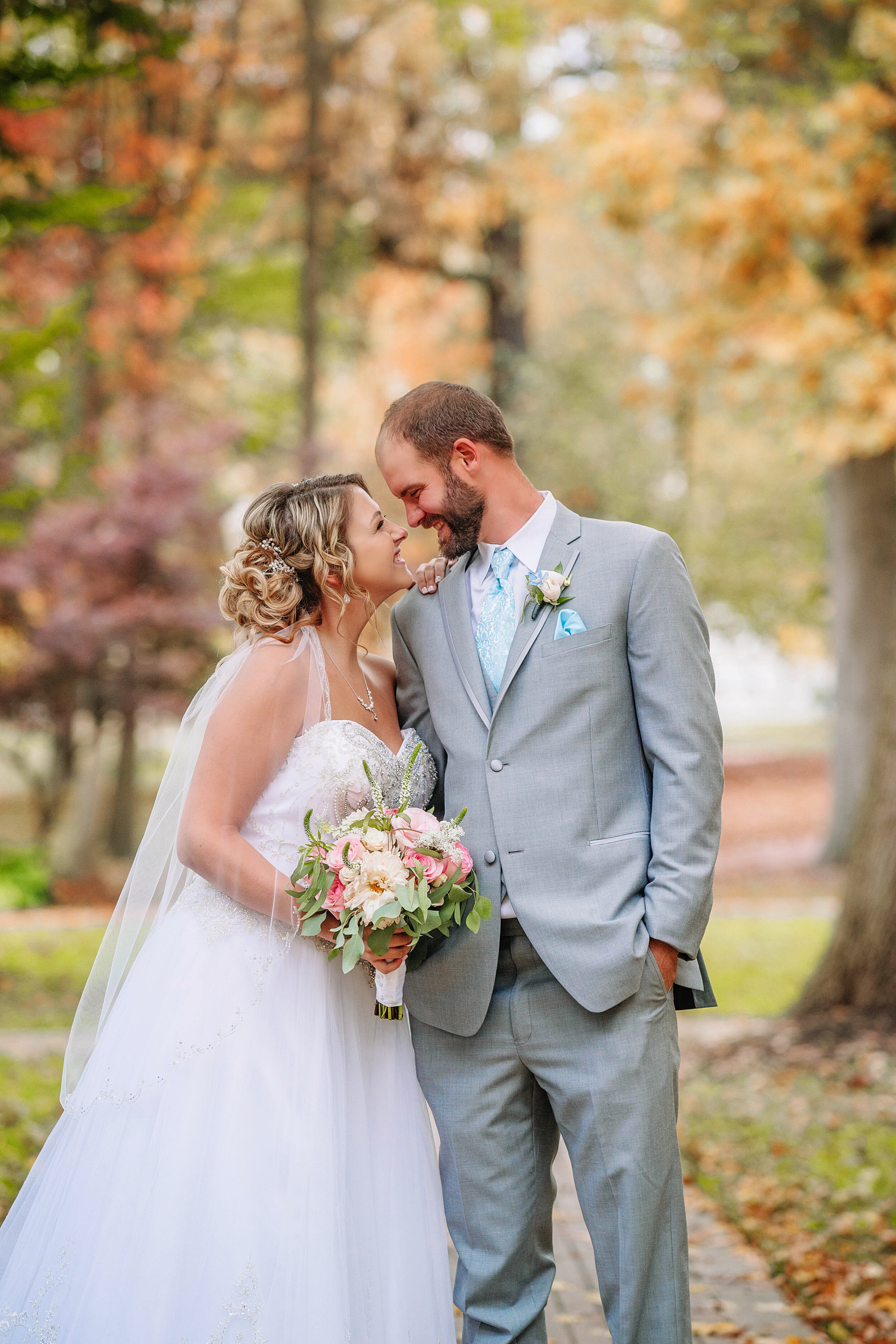 Don't skip on the fitting. If your straps are too long, your waist too big, bust too tight – it all shows. A properly fitted dress makes a huge difference in being happy with your own appearance. This is one thing to not skip out on to budget money elsewhere.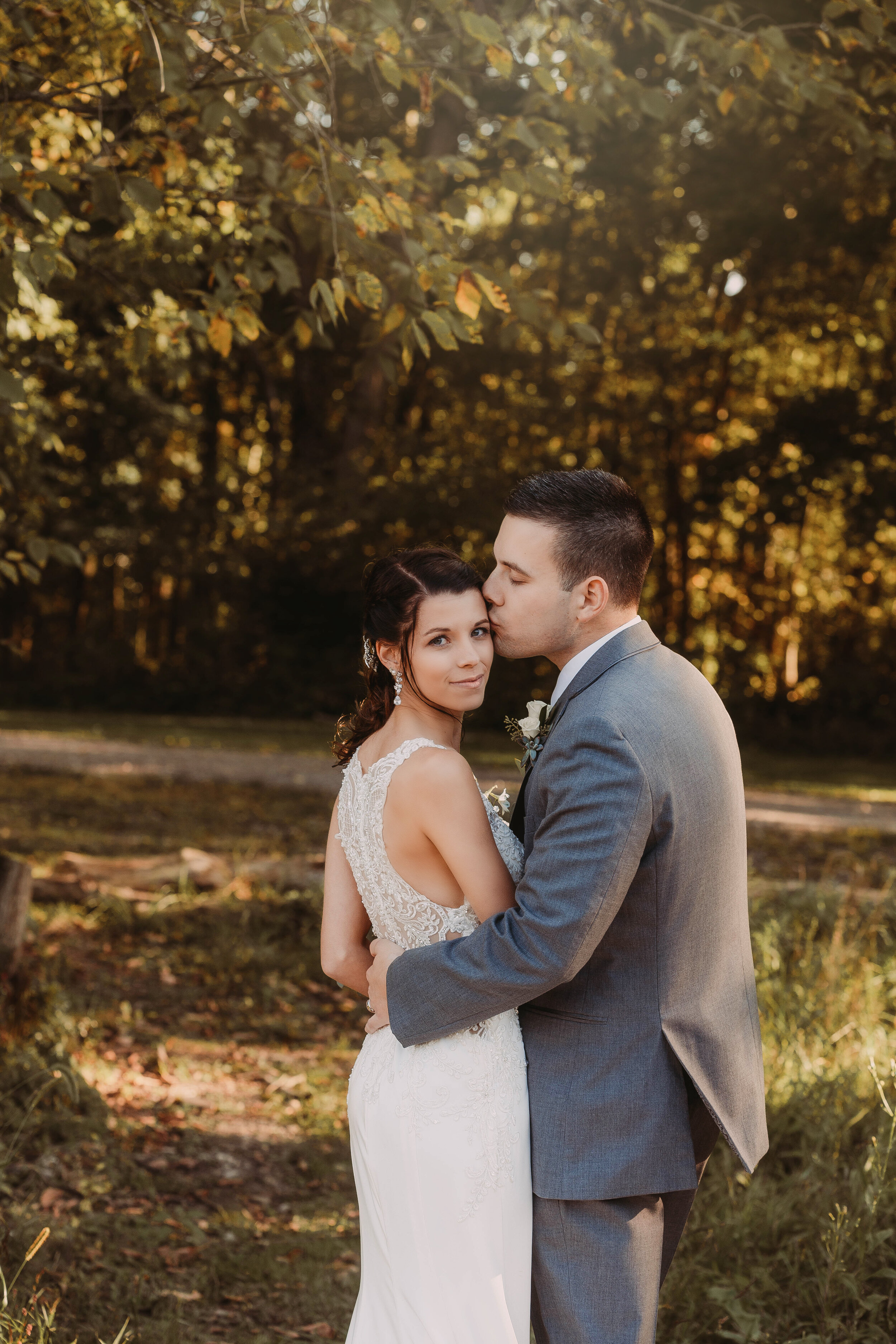 Its all in the details. An interesting space is always more photogenic than a basic one. Even on a budget, you can add simple touches to make a space more interesting, and therefore more photogenic. Add a table with your parents/grandparents wedding photos or photos of the two of you throughout your relationship – this is cheap to do and guests will love it. Buy tulle, lace, or other textured fabric and use it to create draping (it may even be a good way to cover up something you don't particularly like or want in your backgrounds). Bring in things from your home and use them to decorate – sometimes adding little personal touches about who you are as a couple work just as well as decor purchased specifically to decorate for the wedding. Buy/sell sites can also be a great place to pick up decor at a big discount if you're on a budget.
Mariam and Tunde are smiling lovingly while looking through their wedding pictures on an iPad on their way to an extravagant honeymoon. Jumoke and Wale are so flustered by the stress of planning their wedding, the huge expenses they incured in the process and calling their photographer to find out when the pictures will be ready… He said in 3 whole weeks! What did Mariam and Tunde do right? They hired PhotoGenic services to give them the following for their special day:
Theme Design: PhotoGenic's team of in-house artists worked with the newly weds before their big day to design a beautiful wedding theme with colourful design backdrop and props which reflected their individual tastes yet captured the significance of their special day. This saved them a lot of extra cost for an interior designer.
Onsite Printing: This meant they didn't have to wait for days and weeks to have pictures of their big day. The lucky couple and their guests had a great time drawing neon signatures for images on their pictures and viewing them on the wireless slideshow. They also had their pictures printed immediately thanks to PhotoGenic's onsite wireless printing device.
PhotoGenic Lounge: Mariam and Tunde also booked one of PhotoGenic's Magical Celebration Package, The PhotoGenic Lounge to give their friends the VIP treatment. This meant their wedding guests were able to pose for shots in the programmable multi-color semi-enclosed spiral booth and have the pictures shared instantly on social media. This added to the aesthetics of the event hall creating the perfect ambiance for the couple and their guests to relax and have fun while having their pictures taken by the skilled PhotoGenic Fairies.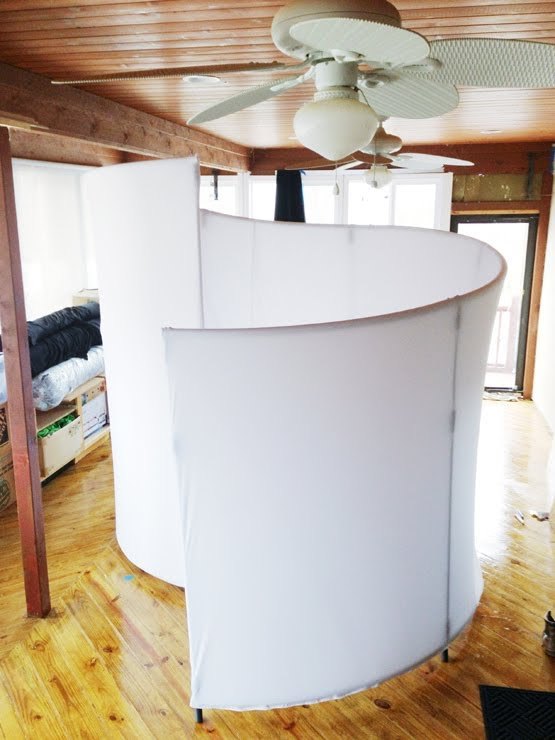 PhotoGenic Mirror: They booked the PhotoGenic Photo booth mirror, a full-length mirror that also serves as a camera with engaging animated displays and communicates with the user. This mirror also features a fun game of vocal cord strength. The couple and their friends particularly enjoyed this magical mirror as it left them feeling excited and satisfied at the end of the day.
Hashtag Activation: Mariam and Tunde wanted a small wedding to save cost but also wanted all their loved ones to be part of their celebration so they booked the Hashtag Activation. With this, family members and friends who couldn't attend the wedding could participate in the celebration through social media without being there. How? The PhotoGenic team worked with the couple before the wedding to create a fun hashtag and during the event, live pictures were uploaded and shared on social media so their loved ones could follow the event every step of the way.
Free Souvenirs: The couple saved a lot of money in souvenirs because PhotoGenic had that covered for them. Guests received photo souvenirs personalized with the theme of the day and names of the couple to leave a lasting memory of the couple's special day on their minds. The Group Reprint Feature ensured everyone in a group photo got a copy free of charge as well! The couple also got a high-quality photo guest album with guests' inscriptions of well wishes at no extra charge!
Be like Mariam and Tunde and call 08060903561 or send an email to [email protected] to book the PhotoGenic photo booth at an affordable price for your wedding day today!
Once you are engaged
"Guess what?" – You can announce it in local and national papers if you wish or even the local village newsletter.
"HOW much??" and decide on what your priorities are. If parents are helping with the finances then make clear who is paying for what and how much – this will avoid any arguments later!
"Where when how?" Book the church/registry office/registrar and licensed venue – if you don't book it straight away someone else might get in there before you!
"I know the perfect place!" – Decide on a venue and book it – some venues get booked up 12/18 months in advance!
"And this next tune is for the newlyweds!" – Book your entertainment – be this DJ, musicians, magicians, pipers or casinos.
No Aunt Maud IS NOT coming – Draw up a guest list – if parents are helping financially then it's only polite to consult with them. If you don't want aunt Edna and uncle Bob then the best way of avoiding having to invite them is to find the wedding yourself. Unless you have a guest list you won't know if your venue will be big enough or too big and might incur extra charges for being under the minimum number for avoiding fees.
12-6 months to go!
Wedding stationary – if you are going to order it then start shopping around for deals now. Keep your eyes peeled for special offers and see the thread about wedding stationary for ways of keeping costs low.
"Say CHEEEESE" – book your photographer and Videographer if you are hiring them. Of course you really should book this earlier if possible. At the same time or soon after the venue would be best. Venue and photographer are the two things that get booked up the quickest.
"Bring round the car Parker" – if you are not having your ceremony and reception at the same place or need to get there in the first place in style – now is the time to book your transport.
"Let them eat cake!" – Decide on whether you are making your own or paying someone to make it. If you are not DIYing it then start thinking about where to get it from and how big, how, tall and how pink/blue/yellow etc you want it.
"HELP!!" – If you haven't already now is a good time to pick your bridesmaids, ushers, best man and pageboys.
"Like a princess" – Start looking at wedding dresses – decide on style and colour – this could seriously affect your colour scheme so deciding now is a good idea! Also start thinking about attendants outfits. If your partner is Scottish you might want to check what colour their tartan is and whether this might affect your decision in colours on your dress and accessories.
6-3 Months to go!
"Pretty as a Rose – Order your flowers – check with your venue and see what florist the use. It might be possible to match the venues own decorations with yours saving money – and they might be open to negotiation as they will be delivering flowers to the venue anyway.
" Tahiti ? Bermuda ? Inverness ?" – Start thinking about where you want to go on your honeymoon – are you flexible about where you are going? Can you book last minute to save money? If you are going in high season and you ONLY want to go to Hawaii – book early!
"But where shall we go?" – look a possible accommodation for relatives near to your venue. Not everyone will want to drive home after the reception. Include a list of places to choose from with your invitations.
Three months to go!
"I want THAT one!" Wedding gift lists need to be organised too. If like most people you have lived together for some time then chances are you have all the toasters you need, and waffle irons are not going to be top of your list. Some shops give you £50 if you set up a list with them but can be poor value for your guests. Or maybe money would be more helpful? A donation towards your honeymoon?
"One ring to rule them all" – pick your wedding rings – don't forget that wearing two rings of different metals will usually wear one down faster than the other. So if you have a white gold engagement ring, don't get a platinum wedding ring – it will rub the white gold and eventually wear it down.
"Walk this way" – Run through the order of the service, choose music and what readings you want and check them with the minister/registrar.
"Is this going to hurt nurse?" – get your jabs if you are going to places that needs them and make sure your visas are in order and passports are showing the right names and if you are not going last minute then BOOK the honeymoon.
"Please please please come!" – Send invitations at least 6 weeks before the wedding. Ideally 12 weeks before. You could send "Keep the date free" cards out if you want to make sure that people don't pre-book the date.
"It was an Act Of God!" – Wedding insurance. get it!
"It was a magical night!" – book your first-night hotel. And if you have any sense you will keep its location secret and secure from the best man and probably the maid of honour and anyone else not trust worthy. bribe the hotel staff if need be!
"A face to launch a 1000 ships" – Make-up practice sessions are a must.
Only 4 weeks to go!
"DON'T do that!!" – Give ushers instructions for the day – write them down if you want to have ANY hope of them remembering them.
"Another toaster? Thank you!" – as your presents start flooding in write the thank you letters. Or you can leave it till after the day and use a good picture of you both and write a thank you note on the back and send as a thank you.
"So that is bright green and pink you wanted?" – Confirm everything for the reception, flowers, catering and the final guest numbers. Some places are happy to accept last numbers as late as a week before, others want much longer.
Uncle Bob next to uhmmm" – Seating plan. decide on your layout and who sits where.
"Organize organize organize!" – Wedding rehearsal, hen and stag do's, best mans duties and don't forget FINAL DRESS FITTING!
OMG only a week to go!
"So much to say!" – Remind the groom to write his speech – he's a man, he WILL forget!
"Last chance Saloon" – Confirm everything! Reception, photographer, caterer, florist, cake maker, travel and so on.
"OUCH!" – Wear your wedding shoes around the house for a few hours during the week. Last thing you want is sore feet on your wedding day.
It's the BIG day!!
Make sure everything is organised and pre-planned, leave yourself NOTHING to do other than get ready – have a nice bath in the morning, if you have time then book a massage and manicure and pedicure but avoid facials on your wedding day.
Enjoy your wedding day and remember – this day is about the two of you – everyone else are there to celebrate you and it's not your job to worry about them now This is why you have best men and bridesmaids – they are your peacekeepers!
Very few people have total confidence in front of a camera. Most people, unfortunately, think they don't look good in pictures. A belief like this can quickly become self-fulfilling: whenever we see a camera pointing at us, we get a little tense, and we look a little defensive… violate all rules of looking photogenic… and further entrench our belief.
Take a look at two pictures of beautiful Blake Lively. If you only saw the picture to the left, would you maybe think she's not all that photogenic?
We can probably all agree that the picture to the right is much more flattering.
Is it a learned skill? Are there certain rules that we can follow? You bet. These rules apply to both women and men, by the way.
Stand tall

If there is only one thing you will remember… your spine must be straight as an arrow. Make it as tall as possible. This is the cornerstone of your confident look. Ignore this rule, and – it does not matter what else you do – the camera will not do you justice.
3 rules apply:
Never compress the neck. Lift the back of your head to the sky. If you want to move your head, by all means, move your chin down, to the left, or to the right, or tilt your head. Don't move your chin forward, like Blake on the above left picture.
Your entire mid-back, from neck to the curvature of the waist, must be straight and long. This lends you confidence and strength. Breathe in to elongate the back further – yes, you can even time your breathing to match the timing of the photography.
Exaggerate the curve of the lower back / hips to look sexy and elegant. Pregnant Blake shows us how slimming this look is (see picture to the right).
Position legs

Models, like flamingos, are never caught dead standing evenly on both legs. Shifting weight between legs not only feels better – it looks relaxed on photographs.
Here's how photogenic people stand:
Bend one leg or cross your legs. Even if you have a big puffy dress, the posture will look more relaxed. Take a look at the picture to the right and notice how the model's hips and shoulders bend into an elegant S-curve.
Avoid pigeon-toeing if you can. It is impossible to bend your knee if your toes point inwards (on the picture to the left, Blake shows us what it looks like).
To walk, photogenic people imagine they were on a tightrope or a thin line – overlapping front foot in front of their back foot (see the picture above).
Avoid distractions

Unlike the liveliness of real life, still photographs are notorious for confusing the viewers' attention. You want your face to be the focal point of the photograph – but something strange or unnatural about your pose could distract the eye.
Take a look at a couple of pictures. There's the Duchess of Cambridge to the left. You keep wondering what she is looking at, who amused her so much, who did her hair and how it is holding up in the rain.
Then, there's a picture of a purse to the right. You keep wondering what's so special about the purse, why it is so big and heavy, what could be in it. Fashion photography is designed to draw attention to the clothes or accessories – rather than the model. Notice how you are not even looking at the model's face.
This next picture is a thriller. An expensive purse is hanging on by the fingernails to her careless owner, wind in its ears, while whizzing through the great expanse of United States. You get anxious about the purse's chances of survival in this terrible world of heavy cars and long winded highways. You can't help looking back and checking if it's still there.
Now, you won't have a fashion photographer in front of you, so you may rest assured your pictures will convey no thrillers… but you can still unwittingly distract the eye with an unnatural pose. Especially your hands. Especially if you are tense or tired. Try to relax your hands and let them curve gracefully, in soft unbroken lines, while being photographed. Try for yourself what a relaxed hand looks like: push fingers very close together, or make a fist, and then relax completely. See how fingers flare out just a bit, curve a bit, and all point in the same direction? Avoid sharp angles of wrists and elbows, avoid spreading out your fingers too much or, on the contrary, sticking together too closely. Also, i f you are posing with your spouse, don't put one person's fingers inbetween the other's or interlock fingers – otherwise, the viewer's brain will be busy trying to count the fingers to make sure there's not too many. Instead, hold hands lightly, and superimpose fingers. Finally, hug each other lightly. You don't want hands sticking out from unexpected places. And since you are already watching your hands… Viewers will assume that hands are placed intentionally to point out important information. Notice how Stacey Solomon's hand points to Sir Richard Branson's tummy, and you can't help wondering what he had for dinner yesterday. Use this power of the hands and fingers to emphasize flattering features.
F or example:
– put your hands close to your waist or hips to accentuate the curve,
– touch your hair to show off the beautiful look, or
– bring one hand close to your heart or collarbone to show off your exquisite dress.
As you can see, you don't need to be a negative-size model to follow these rules and look gorgeous in front of the camera.
In the spirit of Oprah… I hope that this advice will give you confidence to celebrate yourself – and be yourself – all day long, and forever.
Related content
Now you just need to select a great photographer. Read about Wedding Photography and find recommendations for great photographers.
V alentine is a season where lovers get to celebrate each other, reflect and define relationship goals with plans for the future.
Despite the abundance of romance laced with the season, some lovers don't really know where to go and how to make the most of the season to grease their relationship.
Don't worry, our PhotoGenic love doctors got you covered and will be taking you through the places you can exploit to get your magic moments in the season.
Cinema: It is almost impossible for any lady not to love any type of movie at all but the real question is what type of movies?.
Relational statistics has shown that ladies are more inclined to enjoy family or controversial movies but by the reason of the season, getting your partner to watch a movie that tells a love story of its own can be all you need to put her in the mood of the season while you pull the trigger – ask her out, propose to her or anything trigger means to you.
This is your best shot if you are trying to get a lady's deep affection and you have not been getting it before. Imagine the quietness that comes from watching a love movie, the kind of attention she will pay, the dark and very cool air-conditioned environment, holding her hands while cautiously whispering words and remaining in that position for some few hours….OMG!
You can try out ozone, filmhouse, Imax, silverbird among many others.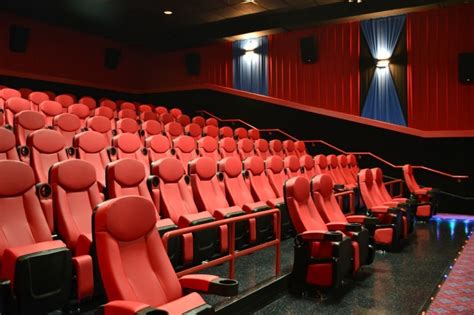 Beach: With the freshness and exposure to natural hair, beach is a place you can explore when you already have deep affection with your partner because there are lots of distractions and it is almost impossible for him/ her to concentrate.
Bar beach, kuramo beach among many others will be fine.
Valentine Getaway: Apart from been pricy which makes it an option only if you have money to spend, it will work only when you have been intimate with your partner and you just want to try something different.
It works fine when you get other group of lovers to make a pair of 3-5 couples, where you just go somewhere like Dubai and catch all the fun together.
It comes with its twist and turns but definitely not beyond what can be handled provided the company of people on board are mutually acceptable to you and your partner.
Music concert: This depends on the kind of partner you have and will only work when both of you are intimate because there will surely be distractions and it won't matter anymore.
These are the top place you can go to fully maximize the season.
Are there more? Let us know in the comment section.
Are you planning a party? Contact us
Our 2018/2019 PhotoGenic awards was featured recently on Linda Ikeji's blog, you might want to see the winners and categories in full here