Although we don't know of any Pac-Man 256 cheats, the following tips and tricks will help you eat more pac-dots to achieve a big-time combo, upgrade all of the power-ups and devour those pesky ghosts. The best part? You won't have to spend money on in-app purchases to become better at Pac-Man 256 and climb the online leaderboard.
Know Your Ghosts
In Pac-Man 256, not all ghosts are created equal. You'll recognize the famous foursome of Blinky, Inky, Pinky and Clyde, but also additional pests floating around the infinite board. Your ability to recognize these enemies and their signature abilities will oftentimes save Pac-Man's life.
Pinky, for example, will follow Pac-Man in one direction as soon as the ghost spots our hero. Easily outwit this foe by quickly changing direction, and whatever you do, avoid a footrace. Pinky is faster than Pac-Man and will quickly catch up to him.
Then we have the gray ghost, Spunky. Similar to Pinky, he'll go after Pac-Man upon first sight, but will give chase around corners, making him trickier to lose.
Glitchy, on the other hand, first appears as a bunch of letters on the maze before materializing into his final form. Unless you ate a power pellet, keep your distance.
The other ghosts are predictable. Some move randomly around the maze, while groups of four simply travel back and forth.
Tip: There's more to worry about than ghosts. A huge glitch slowly rises from the bottom of the screen, forcing you to constantly move up through the maze. Think twice before backtracking.
Credits Versus Play for Free
Pac-Man 256 is a free-to-play video game with a catch. In order to play with power-ups you need to spend one credit, but you only have six credits to start, and must wait for credits to refill over time. Run out and you have the following options:
Wait for the game to replenish lost credits.
Spend $0.99 for 12 credits or $7.99 for unlimited credits.
Play for free without power-ups.
We already coughed up $0.99 for 12 credits. While not expensive, it's best to wait 10 minutes for more.
Tip: While chomping pac-dots, make a point to eat as many coins as possible. This virtual currency lets you upgrade power-ups. If you want an edge, Bandai Namco sells a coin doubler for $4.99, but simply playing the game will give you enough loot without opening your wallet.
Pick Your Power-ups
Pac-Man 256 comes with 15 unique power-ups to give you an edge. Among them…
Laser: Pac-Man fires a laser from his mouth for a limited time.
Freeze: Temporarily freezes ghosts in place.
Giant: Pac-Man grows in size and gains invincibility. Simply charge through ghosts in his path.
Stealth: Move unseen like Metal Gear's Solid Snake, but without the cardboard box.
Upgrading power-ups usually makes these items last longer, but you won't be able to use a power-up while upgrading it. Thankfully, the game lets you know how long the upgrading process will take, and since you can have a maximum of three active at once, you're free to swap them at will.
Tip: The more you upgrade a power-up, the more expensive the process becomes. Better save those coins!
Earn Rewards
Watching brief videos is a decent way to earn free coins, but you'll add plenty more by completing in-game missions. The list includes destroying a certain number of ghosts with the Laser power-up and eating a specific type of fruit, among other tasks. Always know the current mission and make a point to complete it, then later, tap the box to earn the reward.
More Pac-Man 256 Tips
Eat 256 consecutive pac-dots and ghosts in the surrounding area will disappear. Doing this is much tougher than it sounds. Not only must you avoid ghosts, but also sections of the board without pac-dots. Once you break the chain, you must start over again. If you see numbers trailing Pac-Man, the chain is still active; this is the only way to monitor your progress, but watch out for hazards along the way.
Know when to end your game. Pac-Man 256 lets you continue for one credit upon death, but we think it's a better idea to restart if you don't have a lot of points. Don't waste credits.
After eating a power pellet, go after as many ghosts as possible for even more points. Don't worry if they start to flash. You still have a few seconds before they return to their original colors. On the other hand, don't be greedy.
See arrows on the board pointing in one direction? Pac-Man will move slower if you force him to go the opposite way.
Remain in the center of the maze as much as possible. This gives you the maximum number of chances to escape ghosts and continue the pac-dot chain. Getting trapped on one of the edges is an easy way to die.
Warp paths (Pac-Man disappears on one side of the screen and then reappears on the other) may seem like a good idea, but remember ghosts use these as well, and may suddenly appear right before Pac-Man enters one. Most of the time this is a great way to lose enemies.
Unlike other Pac-Man and Ms. Pac-Man video games, you don't have as much wiggle room to dodge ghosts at close range. Several times we attempted to quickly turn left or right, under the assumption Pac-Man would slip by his pursuers by the slimmest distance, only to fall victim to a hungry ghost.
Always think at least two moves ahead. This is essential for eating 256 consecutive pac-dots and staying alive.
Interested in playing this game? Download Pac-Man 256 for iPhone (iPad also supported) or Android. The game is also available from the Amazon App Store.
If you play Pac-Man 256, share your favorite tips in the comments section below!
Download PAC-MAN 256 – Endless Maze on PC
PAC-MAN 256 – Endless Maze
Features of PAC-MAN 256 – Endless Maze on PC
With all your passion for playing PAC-MAN 256 – Endless Maze, you hands are not supposed to be limited on a tiny screen of your phone. Play like a pro and get full control of your game with keyboard and mouse. MEmu offers you all the things that you are expecting. Download and play PAC-MAN 256 – Endless Maze on PC. Play as long as you want, no more limitations of battery, mobile data and disturbing calls. The brand new MEmu 7 is the best choice of playing PAC-MAN 256 – Endless Maze on PC. Prepared with our expertise, the exquisite preset keymapping system makes PAC-MAN 256 – Endless Maze a real PC game. Coded with our absorption, the multi-instance manager makes playing 2 or more accounts on the same device possible. And the most important, our exclusive emulation engine can release full potential of your PC, make everything smooth. We care not only how you play, but also the whole process of enjoying the happiness of gaming.
Screenshots & Video of PAC-MAN 256 – Endless Maze PC
Download PAC-MAN 256 – Endless Maze on PC with MEmu Android Emulator. Enjoy playing on big screen. ** Google Best Games of 2015 **.
Game Info
** Google Best Games of 2015 **
** Facebook The 10 Most Talked About Games of 2015 **
** The Game Awards 2015 Nominated Best Mobile/Handheld Game **
From the creators of Crossy Road…
Cherries are red
Ghosts are blue
Munch a power pellet
Get Lasers too!
PAC-MAN 256 is the maze that never ends. But the Glitch is coming for you…
——————————-
FEATURES:
• PAC-MAN perfectly reinvented for your mobile phone or tablet
• Outsmart ghosts with over 15 ridiculous power ups: Laser, Tornado, Giant and much more
• Stay ahead of the super-villain lurking in PAC-MAN since the beginning: The Glitch
• Take on a new gang of revived retro-ghosts including Sue, Funky, and Spunky
• Waka waka on PAC-DOTS and string a 256 combo for a super special surprise
• Controller support
• Play it on NVIDIA SHIELD
Featured on NVIDIA SHIELD Hub!
Like us:
facebook.com/CrossyRoad
facebook.com/Pacman
facebook.com/BandaiNamcoEU
facebook.com/BandaiNamcoCA
Follow us:
@CrossyRoad
@BandaiNamcoEU
@BandaiNamcoCA
@3sprockets
Have any problems or suggestions? You can reach us at [email protected]
How to Download PAC-MAN 256 – Endless Maze on PC
1. Download MEmu installer and finish the setup
2. Start MEmu then open Google Play on the desktop
3. Search PAC-MAN 256 – Endless Maze in Google Play
4. Download and Install PAC-MAN 256 – Endless Maze
5. On install completion click the icon to start
6. Enjoy playing PAC-MAN 256 – Endless Maze on PC with MEmu
Why Use MEmu for PAC-MAN 256 – Endless Maze
MEmu Play is the best Android emulator and 100 million people already enjoy its superb Android gaming experience. The MEmu virtualization technology empowers you to play thousands of Android games smoothly on your PC, even the most graphic-intensive ones.
Bigger screen with better graphics; Long duration, without limitation of battery or mobile data.
Full Keymapping support for precise control of keyboard and mouse or gamepad.
Multiple game accounts or tasks on single PC at one time with Multi-Instance manager.
Chains Are Tough
When you run around the maze, each consecutive pellet that you grab adds to a chain. At intervals of 16, all the way up to 256, you receive additional rewards worth more points, and these values are also impacted by any fruit you may have snagged. A chain is easily broken, though, if you pass over a gap between pellets, even when that gap is only a single pellet wide. If you are chasing after big chains, which are tracked on leaderboards, try to always plan ahead a couple of moves and don't make a high score your priority. Don't chase after ghosts, either. Such distractions only make it more likely that you'll break a chain and have to start over again from 1. That will happen anyway, once you hit 256, but at least that time it will be intentional.
Ghosts Are Unique
You'll be dodging eight different ghosts as you run through the mazes, rather than the conventional five. They move differently, and some are more aggressive than others. If you play long enough, you should get a feel for their general moves, and that will allow you to make choices about where to run when things get tight. Some things never change, though. Blinky (the red ghost) is still the most dangerous.
Conserve Power Pellets
Don't eat power pellets unless you need them. They're precious resources, and you want to gobble them down when they can do the most good, just like in conventional Pac-Man games. When you do eat one, your enemies will temporarily become vulnerable, until the effects expire. You can eat a second pellet–or extend an activated power-up, when appropriate–to keep a combo going, so try to string together combos for more points. Just don't get greedy.
Plan Ahead
When Pac-Man is cruising along a lengthy corridor, he'll eventually reach its end and will stop unless you have instructed him otherwise. You can anticipate that moment and make sure that he doesn't stop dead by having a move in queue. Keep in mind that he'll always act according to your last swipe when he reaches a junction. So if you're heading along a corridor and you know you want him to go left at the end, go ahead and make that swipe now and then he'll follow your instructions at the next opportunity.
Stop and Smell the Roses
Pac-Man sure does like to move, but sometimes he also likes to stop when he runs up against a wall and you haven't given him directions about what to do next. If you have a lot of space between yourself and the advancing wall and there's a dangerous situation ahead of you, pausing to catch your breath (or wait for the hazard to grow a little friendlier) can work in your favor.
Landscape Mode Is Your Friend
Especially when you start a new run, playing in landscape mode can work in your favor because it allows you to see more of the action. Portrait mode (when your phone is held vertically) prevents you from seeing part of the wider mazes. Note that mazes do grow narrower as your advance continues, and eventually portrait mode is just fine, but it's not how you should start.
Your Score Is Fruity
If you've played Crossy Road, you know the value of going far in life, but Pac-Man 256 takes a different approach. You earn points instead based on what you're able to gobble down before you bite the big one, so you should prioritize consumption rather than worrying about how far you run. Look for fruit as often as possible, too. When you gobble down fruit, it will multiply the value of everything you do while its effects are active (which can mean a massive boost to your score). Cherries are the least valuable fruit, while a green melon is truly special. Only one fruit can be in effect at once, so try to spend as much time as possible enjoying a melon or orange rush. And of course, there's no better way to build up your score than to gobble down fruit around the same time you also eat a power pellet.
Spend Money If You Like
Though Pac-Man 256 is a free game with in-game currency, you can also spend real money if you prefer. There are some major benefits to doing so. You can either buy a coin doubler (available if you tap the "+ coins" icon near the corner of the screen) or unlimited credits. The latter option is available when you run out of credits and try to continue or play with power-ups activated. You can purchase a temporary boost or, if you prefer, spend a much larger chunk of chain to eliminate credit requirements from the game entirely.
Know Your Currency
You will collect both coins and credits as you play the game. Coins, which you can find within mazes or receive as a reward for viewing ads, upgrade your power-ups so that they last longer or award more points. Credits let you continue a run a single time when you die (even if you have the maximum of 6 credits available). Credits are awarded over time, like energy in other similar games, and sometimes you can also gain them by watching ads. You have to use a credit whenever you want to activate power-ups on an upcoming run. Using a credit also increases the pellets you earn on that run.
PAC-MAN 256 – Endless Maze!, a maze game with to aim to collect coins by the pac-man, gets hot popularity with the simple and addictive gameplay. With playing PAC-MAN 256 on pc, players can battle the ghost gang and perform the chain combo! Here is the guide as follows.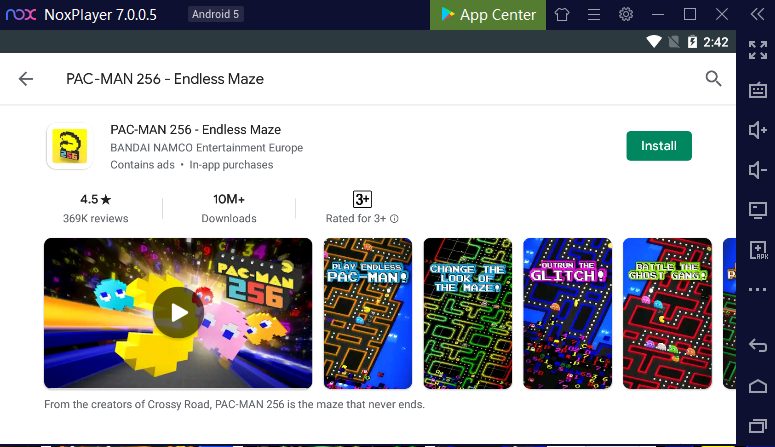 PAC-MAN 256 – Endless Maze! Guide: Tips for Playing PAC-MAN 256 on PC with NoxPlayer
1. Manage and upgrade your power-ups. Power up your pac man and collect more coins as you can.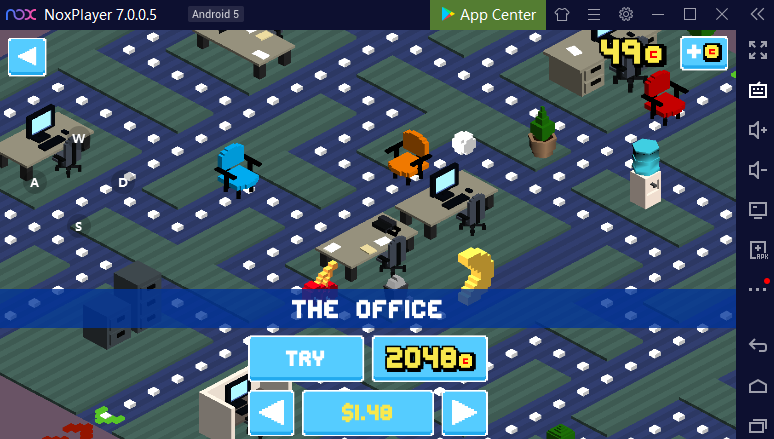 2. Remember not to be grabbed by the ghosts, which has different functions with different colors.
3. For instance, the glitchy ghost is harmless, and once it transforms into a colored ghost, it will harm you.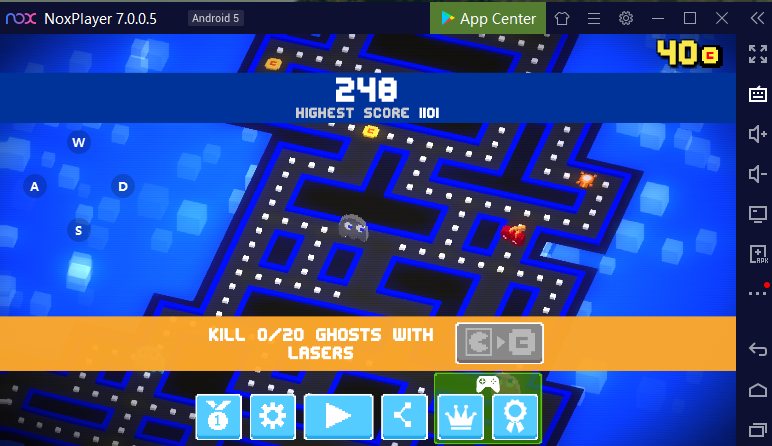 4. You need to know your ghosts and avoid them according to their type. Here is a brief introduction .
5. Finish the task and kill the ghosts by picking up the tools.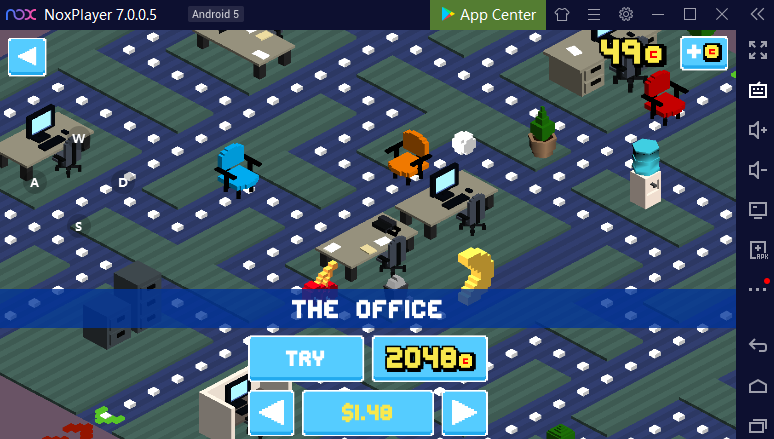 6. Change the theme (paid) according to your needs.
7. Utilize the keyboard to control the moving direction of pac-man, like WASD.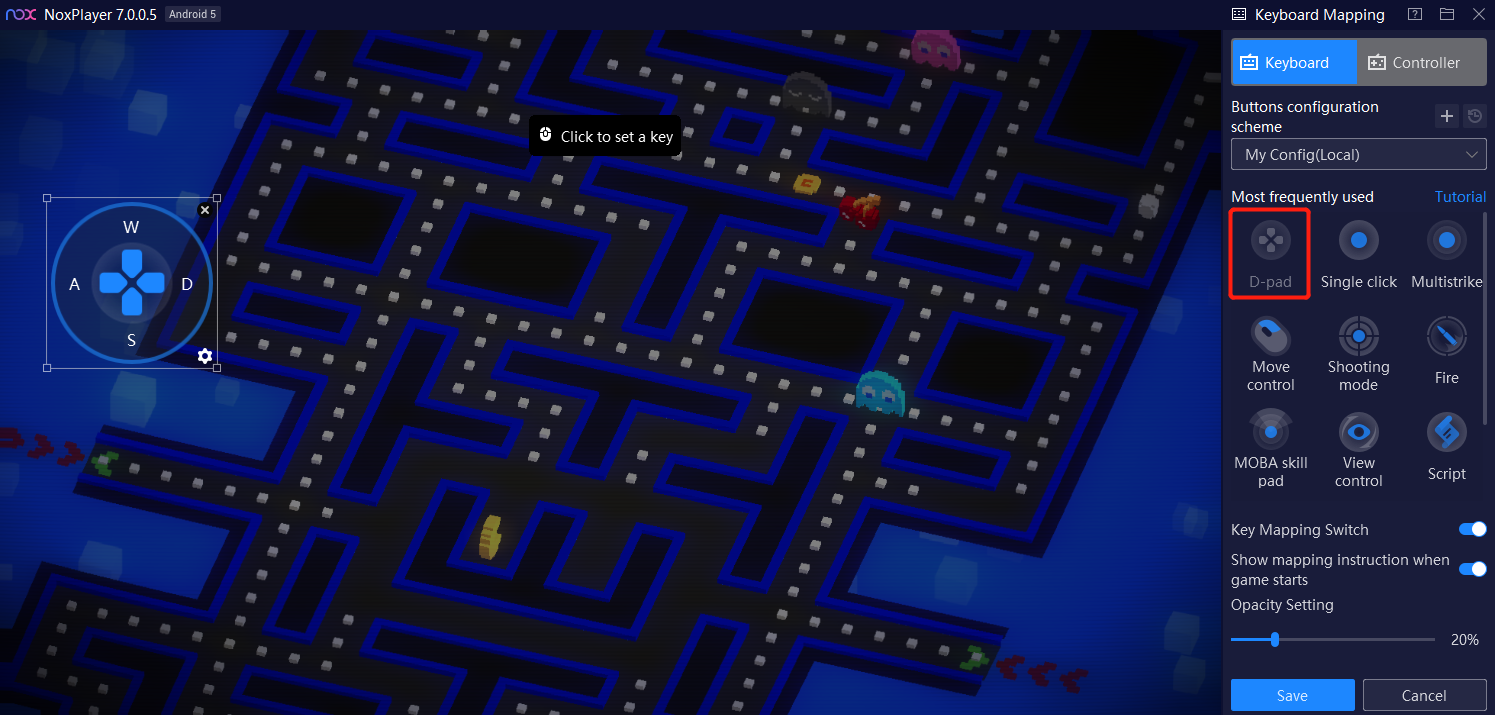 PAC-MAN 256 Gameplay: How to Download PAC-MAN 256 on PC on PC with NoxPlayer
Download NoxPlayer
Click Tools👉Google play👉Sign-in Google account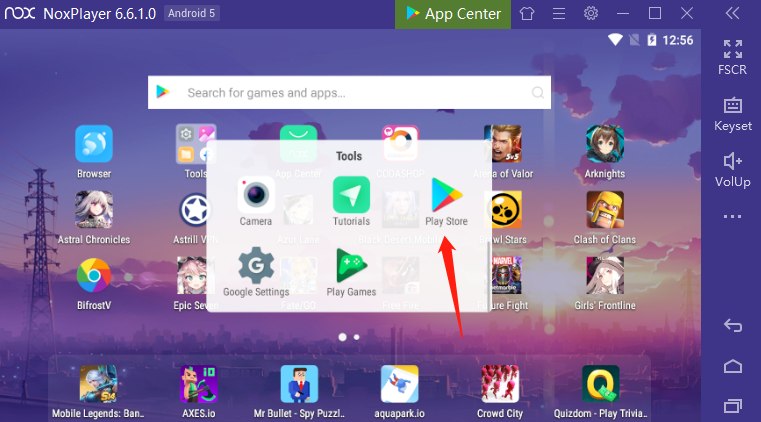 3. Download PAC-MAN 256 – Endless Maze!
Where do I even start…I mean how in the hell do you screw up Pac-Man?
Pac-Man 256 is inspired by the glitch that appeared in the original Pac-Man game. I shit you not, the basis of this game was a freakin' glitch. Oh, but of course they had to chuck in plenty of pointless in-app purchases because if there is anything Pac-Man needed to cement his legacy it was to be made into a free to play, endless runner…inspired by a glitch.
It's simple enough…you control Pac-Man in a never-ending 3D maze while trying to avoid ghosts, eat dots & make it as far as you can to set a high score. All while the Pac-Man glitch is chasing you down.
So this glitch…in the original Pac-Man game should you make it to map 256 the right side of the map turns into a mess of numbers & letters obscuring the dots making the level impossible to beat.
This numbers/letters mess is what fills up the bottom of the screen as you play forcing you to constantly move Pac-Man onwards.
To try & add more to a pretty basic game a number of new ghosts have been included & the further you make it the more hectic it gets. Thankfully power pellets make their return as does a number of new abilities that Pac-Man can use such as lasers.
You get 6 credits to play with it & they are refilled over time. 1 credit, every 10 minutes or you can watch an advert to earn more quickly. You can pay 79p for an extra 12 or £3.99 for unlimited credits (please note that this is currently on sale & the normal price is £5.99). Now it is nice to see this option available as paying for unlimited credits will open up most of the game to you however that price is a joke.
This is an endless runner where you set a high score, that is it. They are charging more than the cost of Grand Theft Auto: San Andreas, Grand Theft Auto: Vice City, The Sims 3, Goat Simulator, Lego Jurassic World, Five Nights at Freddys, Hitman Go, Worms 3, Sonic the Hedgehog, Sonic the Hedgehog 2…these are fully fleshed out games with not just hours of fun but days & even weeks of gameplay!
…but it doesn't end there.
You have the option of playing on different looking mazes, basically different skins. There is a range from the classic 80's look to one that takes on the form of an office. Each costs 79p or can be bought using in-game coins that collect as you play. To buy one of these skins you would need 2048 coins. I hope you've got a lot of time on your hands because you're going to need it.
You can speed up your coin count by purchasing (are you surprised?) a coin doubler which automatically gives you 2048 coins & doubles any collected afterwards. It only costs £3.99…
The thing is while gameplay is brief, it is fun. Pac-Man 256 encourages you to try once more when it comes to beating your own high score & having a 'free play' option (although you get no power-ups in this mode) is a great idea. It's not enough to make this game anything but another poorly thought out free to play game obsessed with trying to take as much money from its customer base before they work out they've been ripped off.
BANDAI NAMCO Entertainment Europe
Free
Offers In-App Purchases
Screenshots
Description
** Apple Best Games of 2015 **
** Facebook The 10 Most Talked About Games of 2015 **
** The Game Awards 2015 Nominated Best Mobile/Handheld Game **
From the creators of Crossy Road…
Cherries are red
Ghosts are blue
Munch a power pellet
Get Lasers too!
PAC-MAN 256 is the maze that never ends. But the Glitch is coming for you…
FEATURES:
● PAC-MAN perfectly reinvented for your mobile phone or tablet
● Outsmart ghosts with over 15 ridiculous power ups: Laser, Tornado, Giant and much more
● Stay ahead of the super-villain lurking in PAC-MAN since the beginning: The Glitch
● Take on a new gang of revived retro-ghosts including Sue, Funky, and Spunky
● Waka waka on PAC-DOTS and string a 256 combo for a super special surprise
● Controller support
Like us:
facebook.com/CrossyRoad
facebook.com/Pacman
facebook.com/BandaiNamcoEU
facebook.com/BandaiNamcoVancouver
Follow us:
@CrossyRoad
@BandaiNamcoEU
@BandaiNamcoCA
@3sprockets
Have any problems or suggestions? You can reach us at [email protected]
*iPhone 4 devices are not supported
What's New
This app has been updated by Apple to display the Apple Watch app icon.
Minor bug fixes
Ratings and Reviews
Editors' Choice
Developed by the creators of Crossy Road, Pac-Man 256 takes the familiar classic in a whole new direction—infinite maze-running! As you chomp through a never-ending grid of dots, fruit, and multi-colored ghosts, a creeping glitch pushes you ever forward. Fortunately, a slew of upgrades—from lasers to bombs—will help you demolish ghosts and forge a new high score. It's a lovingly assembled package that'll delight both arcade aficionados and casual gamers.
Amazing classical twist
I love Pac-man. I always thought the classical frenzy would be my favorite, yet this twist, is amazing. It starts easy and gets harder, yet in a more frantic way. The power ups, power pellets, fruit that Pac man eats and gets more points than normal for a duration, and 256 dot-chains that destroy all ghosts on the screen, are all incredible. Also it is cool that the PAC dot chains are 256 of them since the original PAC man had 256 levels then was supposed to end, although I don't know how anyone is supposed to be that, which made the original fun as well. If I could make one suggestion, although this game seems to be perfect and I understand if it doesn't get added, is I would love to see the ability to upgrade fruits. Thank you for reading and I love this game so much!
Only good for what the original Pac-Man had to offer.
This game is somewhat fun and has great graphics but it comes with its downfalls. It is very glitchy. Times when the game lags and you grab that power up just in the nick of the time but it still kills you. Or how it constantly resets the theme to the original no matter how many times you go back to the one you purchased. Not to mention the coin system.
It takes days of constant play to save up enough coins to buy a new theme and then it doesn't even keep it set. The power ups go up in cost as you upgrade as any game is. However with how long it takes to save up it's not worth upgrading because it only adds one second to the power up timer. And that's only for some I upgraded one of my power ups twice and it didn't even add length to the time it just added 5 points to the kill worth instead of time.
Overall it's a fun game if your playing for the overall principle of Pac-Man original. Which is to get as far along as possible while taking out ghosts along the way. If you're looking to enjoy the little additives this game brings the classic game I'd say look elsewhere.
App Privacy
The developer, BANDAI NAMCO Entertainment Europe , has not provided details about its privacy practices and handling of data to Apple. For more information, see the developer's privacy policy.
No Details Provided
The developer will be required to provide privacy details when they submit their next app update.
Information
English, Arabic, French, German, Italian, Japanese, Portuguese, Russian, Simplified Chinese, Spanish, Traditional Chinese
App Support
Privacy Policy
App Support
Privacy Policy
Supports
Game Center
Challenge friends and check leaderboards and achievements.
Hipster Whale professes a love of old arcade games, but I'm not so sure.
Just as its Crossy Road transformed Frogger into some kind of nightmarish endless fever dream for the protagonist, Pac-Man 256 feels a lot like the backdrop to a certain yellow dot-muncher's fitful sleep, with him clearly having eaten far too much cheese.
It takes place beyond the infamous level 256 glitch in an endless, unforgiving maze chock full of ghosts. Pac-Man has to keep eating until his inevitable demise, pursued all the while by the usual gang of spectres.
He also has to outrun the glitch itself, which relentlessly marches onwards, determined to take our rotund yellow hero into blissful pixel oblivion.
Munch bunch
If that all sounds quite tough, not everything is against Pac-Man in his endless task. Beyond the skill within your digits, Pac-Man has further assistance in the form of power-ups.
You get the usual power pellets, of course, which temporarily turn ghosts blue, enabling Pac-Man to wolf them down. But the more you play, the more additional items are unlocked, like bombs, lasers, and a tornado.
Up to three items can be added to your loadout prior to play, and they make a world of difference once you're deep into the maze.
Without them, lengthy survival is extremely tough. Slightly irritatingly, then, power-ups are on a credits system, but this can at least be bought out entirely, as noted in the IAP section glued elsewhere to this page.
Going dotty
Really, then, 256 is an endless Pac-Man, which is nice enough but hardly essential. What propels the game into must-have territory is some really smart thinking regarding scoring.
As outlined in Mark's strategy guide, there's a surprising amount of depth, largely centred around learning ghost movement patterns (which are very different from those in the original Pac-Man), bonuses, and multipliers.
For the casual player, this won't matter a jot, but it affords 256 enough depth to keep the hardcore arcade crowd (and veteran Pac-Man fans) around for the long haul.
It'll be tough trying to figure out how to best juggle your time between 256's chunky isometric goodness, and the neon-infused time-attack thrills of the also excellent Pac-Man Championship Edition DX.
Pac-Fan
Which is all to say that Pac-Man 256 is a great game. It's respectful to the source material but builds upon it to make for a more rewarding and compelling mobile experience.
The business model might initially irk but you can buy yourself out of the credits system at any point. And even the gamble evident in most endless games – the huge amount of investment you eventually need to best a really high score – is lessened somewhat by Pac-Man 256 offering a much tougher prospect than the likes of Crossy Road.
Had you marched into Pocket Gamer Towers six months ago and decreed 2015 would be the year we'd all have the two best-ever Pac-Man games nestled on our iOS and Android devices, we'd have called you nuts.
But it's great to be proven wrong, with Namco having unleashed DX and now lobbing 256 into the mix. More, please.
The Bottom Line
Pac-Man 256 is the best thing to happen to the arcade mascot since his wedding day.
Reinvents Pac-Man as an endless mobile game.
Fun power-ups.
Gorgeous art style translates Pac-Man's pixels into 3D.
Occasionally frustrating deaths.
Limits what you can play without paying.
The original, arcade version of Pac-Man is such a simple game that most attempts to reinvent it just end up becoming entirely different experiences. The best Pac-Man follow-ups, like Ms. Pac-Man or the recent Pac-Man Championship Edition DX, make small, smart tweaks instead of massive, misguided changes. Today's iPhone and iPad gaming landscape is a lot like the arcade scene in the 1980s, so sooner or later Pac-Man had to make an appearance. Fortunately, Pac-Man 256's great, less-is-more approach delivers a modern, mobile evolution of the classic Pac-Man formula. It's an Editors' Choice for mobile games.
Pac-Man Crosses the Road
Pac-Man 256 takes inspiration from the original Pac-Man, as well as last year's smash hit mobile game Crossy Road. The game is essentially a fusion of Pac-Man's maze-running, dot-munching, and ghost-evading and Crossy Road's endless structure and retro 3D style. But don't worry, this isn't outright theft. Crossy Road and Pac-Man 256 were both made by developer Hipster Whale.
Grafting Crossy Road's ideas onto Pac-Man may have started as nothing more than an attempt to exploit the value of both properties, but the end result is so harmonious it doesn't matter. You're still navigating mazes and trying to earn high scores by eating dots, ghosts, and fruit. But the infinite nature of each run totally changes your approach to typical Pac-Man scenarios. No longer are you concerned with sweeping over every inch of the map to make sure no dot gets left uneaten. And you can't memorize routes since they are constantly, randomly changing. These twists are exciting and refreshing.
Similar Products
Spider: Rite of the Shrouded Moon (for iPad)
Final Fantasy VII (for iPad)
FireWhip (for iPhone)
Race the Sun (for iPad)
Hitman: Sniper (for iPhone)
Fallout Shelter (for iPad)
Transistor (for iPad)
Her Story (for iPad)
Angry Birds 2 (for iPad)
Piloteer (for iPad)
Plants vs. Zombies 2: It's About Time (for iPad)
In the original Pac-Man, if you reached level 256, a "kill screen," the game would glitch out and crash. In Pac-Man 256, if you're not constantly moving forward, that same glitch will swallow you alive. But at least it's a beautiful death. The glitch, rendered as a restless mass of colorful numbers, is the most visually impressive part of the game's already outstanding chunky, 3D, neon, isometric aesthetic. It's a gorgeous dream of the 1980s only possible on 2010s technology, like the iPad Air 2 ($445.00 at eBay) (Opens in a new window) I used for testing.
Insert Coin
There are a few moments when Pac-Man 256's dueling influences don't entirely mesh. Being forced to think on your feet as you only get partial glimpses of your next possible path forward is thrilling. However, this also leads to deaths that feel cheaper than those in the original Pac-Man. This frustration is compounded by the game's free-to-play features. You can play Pac-Man 256 as often as you like without spending a cent. But to play the full version of the game, you must spend a credit, which is just cute arcade slang for using currency that costs real money or waiting until the next day. If you die, you can also burn a credit to continue without resetting your run. You get six free credits per day and a pack of 12 costs one dollar.
What the full version of the game adds that the free version lacks are a host of fun power-ups that introduce even more strategies into the mix. You ever wanted to see Pac-Man freeze a whole gang of ghosts or shoot a giant laser out of his mouth? Now you can.
The free-to-play model consistently annoys me, but Pac-Man 256's free version is good enough that I am totally satisfied mostly playing that mode. I also understand what the game is going for by putting some features behind a paywall. It sort of replicates the familiar arcade tension of putting real money on the line to rack up the highest score possible. Thankfully, you can also just pay $8 up front and unlock the entire game, an option that's shamefully rare among free-to-play games. I'm looking at you Angry Birds 2 ($445.00 at eBay) (Opens in a new window) and Plants vs. Zombies 2!
Pac-Man Fever
Over the years, Pac-Man has struggled to reclaim the dominant position he once had in the gaming industry. But Pac-Man 256 is the right game on the right platform to remind us all why this character and this gameplay deserve their permanent spots in gaming's shared consciousness. It's an Editors' Choice and a must-download for anyone even casually interested in mobile gaming.
Review
Retro fun. for a short time
Classic
I wasn't around for Pac-Man's original foray into the game world back in 1980. Well, I was around, but far too young to appreciate it. But of course, with a classic such as Pacman, I have played numerous adaptations and clones since on practically every game machine I've owned. The latest game with the Pac-Man moniker is Pac-Man 256, a game co-developed by indie developer Hipster Whale, the team behind Crossy Road, and 3Sprockets of Cubemen fame.
Pac-Man 256 is a fairly straightforward game – guide the titular hero around a maze and collect as many pellets as you can before the ghosts can catch you. Along the way, Pac-Man can pick up fruit (he always was healthy) that can act as multipliers, and grab the occasional power-up to give him a short burst of protection or improved attacking ability. As with the original, power pellets can be found and consumed after which Pac-Man becomes the hunter rather than the hunted for a short period of time.
Original traits
The game takes place on a 2D isometric plane which scrolls upward as you progress. Stay near the bottom too long, and you will be devoured by the 256 glitch that gives this game its name. Also ready to devour our circular hero are the ghosts that we all know from the original Pac-Man. Each of the brightly coloured ghost creatures acts in different ways. The Blue ghost, for instance, patrols a specified route whilst the Black ghost is like a sentry, moving to catch Pacman only when he comes within a certain range. The Pink ghost is similar in that he is stationary only until he has a direct line of sight to Pac-Man. He is the toughest of the ghosts, as he is quicker than our hero. Unlike the original Pac-Man where there were only four ghosts chasing Pac-Man, in Pac-Man 256, there are multiples of each ghost that appear as you progress.
Trying to score as much as possible before dying – you get only get one shot at it, no such thing as three lives here – you are given challenges which provide special benefits when completed. A challenge can be destroying a certain amount of ghosts in a particular fashion, or collecting a random number of fruit. Once completed, you receive special crates filled with gold coins.
These gold coins can then be used to upgrade Pac-Man's special abilities, for example by extending their duration or increasing scores for destroying ghosts. To unlock the abilities themselves, you collect pellets and each new ability requires an exponentially greater number of pellets in order to unlock. Special abilities include slowing down the ghosts, becoming stealthy and being able to move undetected past ghosts, or a giant mode that lets Pac-Man squash any ghosts in his path. Each of the abilities has a different feel, and I quickly acquired a couple of favourites that I stuck to for most sessions unless I was prompted to change in order to complete a challenge. Once all unlocked, you will have some twenty to choose from and Pac-Man can take any three of them into a game, but can only activate them once he gobbles up the abilities icon in the maze.
The developers have gone with the full retro feel, though there are a number of different themes in the mazes. For fans of the mobile game Crossy Road, there is even a mode that lets you play as that game`s hero against a series of vehicles. Each of the themes has its own charm but in the end, the differences are aesthetic and do not adjust the gameplay at all. The sound effects too, contain the beeps and bops from the original classic arcade title.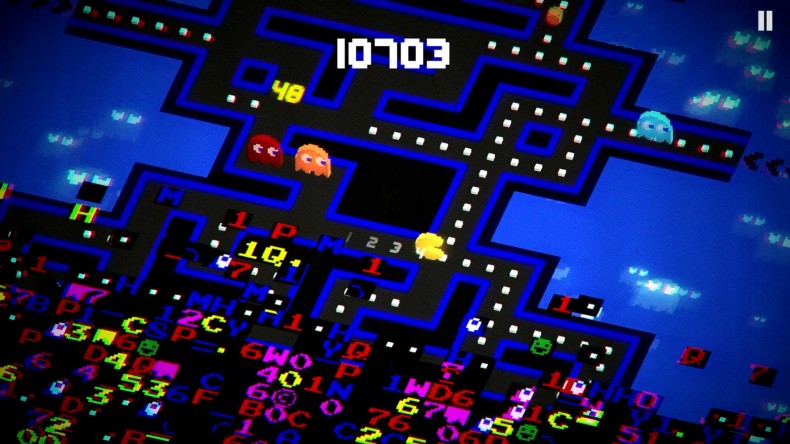 I'm not a big endless runner fan, so, when asked to review a budget PS4 Pac-Man endless runner game I fully expected something that would pass ten fidgety minutes before being thrown on the scrapheap with the rest of its ilk, "go back to mobile gaming where you belong!"
However, what Crossy Road creators Hipster Whale and 3 Sprockets, of Cubemen fame, have created here is an entertaining and addictive mash-up of classic Pac-Man gameplay and endless runner which works really well and has kept me glued to my screen for far more hours than its miniscule price-tag suggested it could.
Taking its clever cue from the infamous level 256 glitch in the original Pac-Man game, which would see the right hand side of the player's screen turn into a jumbled soup of letter and numbers, here that soup become a tsunami, slowly engulfing everything in its path, devouring all before it and pushing the player headlong through an endless maze filled with randomly generated ghosts, pickups and power-ups.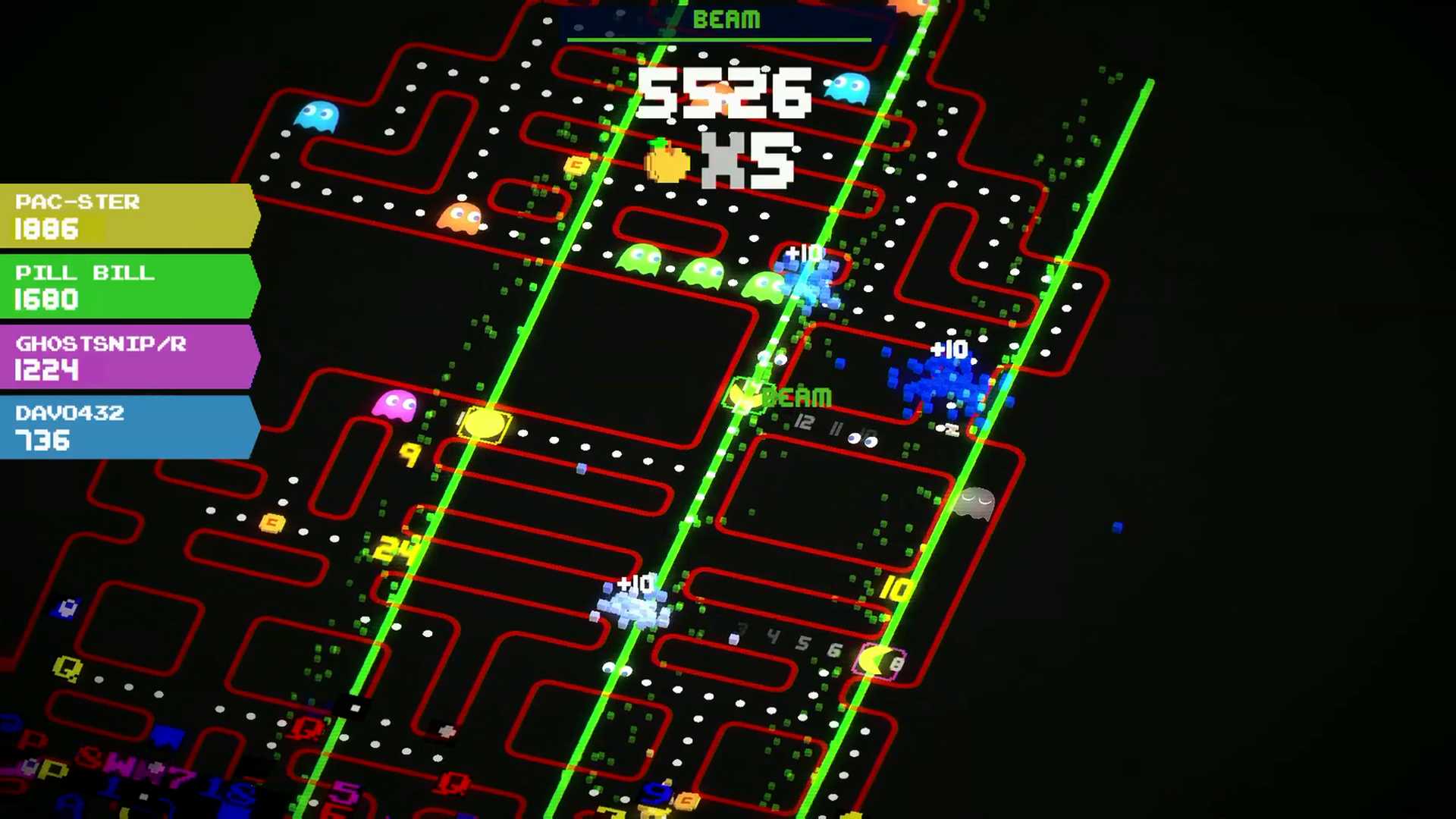 You'll instantly recognise your enemies if you've played a Pac-Man game in the past and slowly but surely begin to relearn their various behaviours as those dormant Pac-Man skills begin to come back online. Blue ghosts traverse corridors in a repeated pattern, orange drop in a straight line, red acts like a homing missile while pink (or Pinky) waits for visual contact before striking at speed to put an end to your pellet munching.
All of the classic gameplay is here and it isn't long before you find yourself back in that Pac-Man trance, slowly transitioning from the panicked charge forward of a newbie to a much more considered, side to side means of traversal, scanning the horizon, planning your advance and making those signature last second escapes to, very temporary, victory. To aid in your march up the leaderboards Hipster Whale and 3 Sprocket has added a whole host of ghostbusting powerups to proceedings and amazingly none of them interfere with or break the classic gameplay.
By doing what a Pac-Man does and eating every pac-dot in sight you'll gain access to hurricanes, stealth, trails of destructive fire, mini pac-men who devour every ghost in sight, a proximity bomb and ghost-blasting laser, to name a few of the tons on offer here. All of these power-ups are upgradeable through eight levels using credits which you obtain by completing special missions such as "kill ten ghosts with bombs" or "eat 15 cherries" and three can be allocated to your inventory at any one time, appearing as random drops scattered around the maze as you go.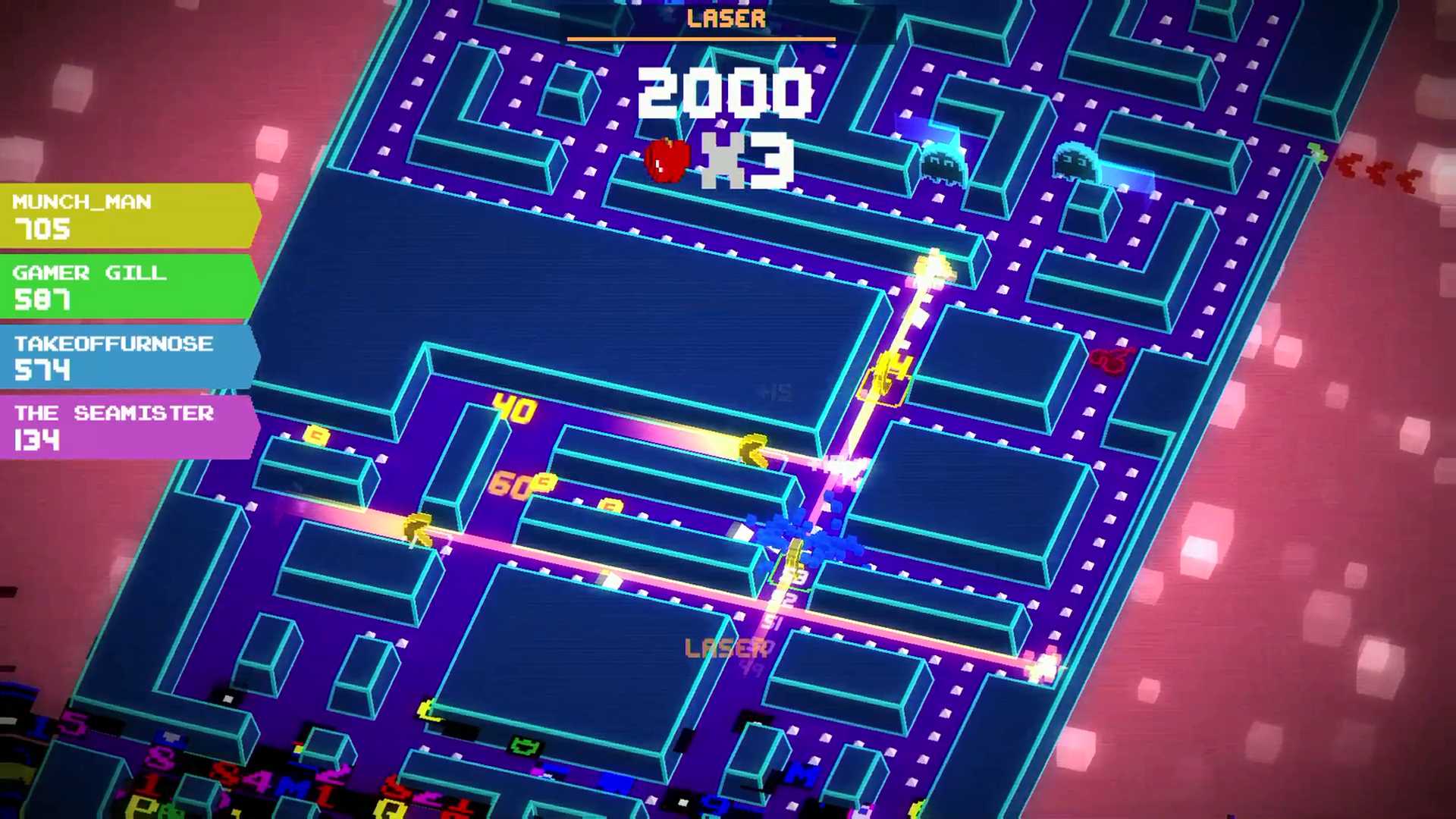 There is a beautiful balance here between learning to avoid the various ghost types, completing missions and grabbing fruit multipliers to boost your score all while trying to outrun the 256 glitch. Add to this the fact that eating an unbroken chain of 256 pac-dots gives your score a mega boost and Pac-Man 256 has you juggling a sizable to-do list as you rush through its corridors.
It's very important that, in order to offer more than just a few minutes of diversion, endless runners, due to the heavily repetitive and singular nature of their gameplay style, put players in a zone, totally focused, bombarded with things to do, and with enough happening tactically that they forget about the fact they are ultimately rushing to their doom. The best runners achieve this and Pac-Man 256 is up there with the best I've played in this genre.
Originally a free-to-play game released on mobile last year, here console and PC players avoid the irritation of incentivised adverts, pop-ups, credits and all that other free-to-play guff by paying £3.99 and being left alone to enjoy the game.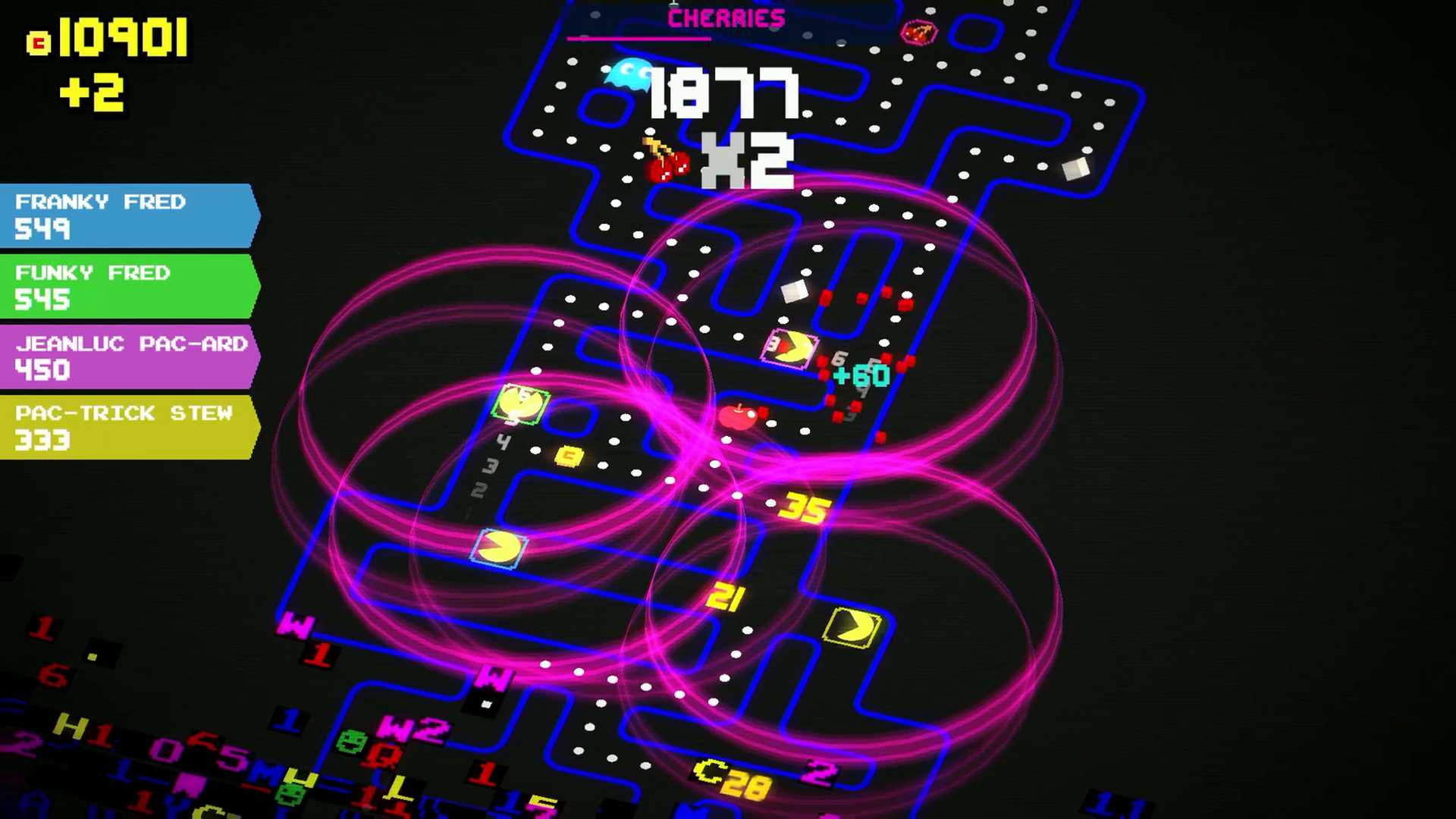 Alongside standard one player action, four player local co-op is available and adds a nice layer of fun to proceedings, while online play is only available via Share Play, which is a pity because some sort of proper online competitive mode would work really well here.
Add to all of this unlockable character skins, as well as a bunch of different level styles such as Classic 80s Pac-Man, Pac-Mania, and Crossy-Road, and you've got a great little game that will keep you entertained for far longer than that footlong sandwich you could have bought instead.
Decades after Pac-Man's original appearance, Pac-Man Championship DX breathed new life into the classic formula, Pac-Man 256 continues that tradition, taking the classic addictive gameplay we all know and love and successfully mixing it with the endless runner genre to create a surprisingly good and extremely affordable little gem.
Game » consists of 7 releases. Released Aug 19, 2015
iPad
iPhone
Android
PlayStation 4
+ 4 more
Xbox One
Mac
PC
Linux
From the developers of Crossy Road comes an isometric free-to-play "endless runner" adaptation of the classic Pac-Man series. While chomping down on dots, collecting power-ups, and avoiding ghosts, our hero must escape the slow creep of game corruption (a reference to the original game's infamous "kill screen" glitch).
PAC-MAN 256 Is a port of a free to play mobile game developed by Hipster Whale, the talented studio behind the very addictive Crossy Road.
This particular PAC-MAN title is based around the infamous level 256 glitch in the 1980's classic, PAC-MAN. The glitch occurred when the player makes it to level 256, where the right-hand side of the screen would turn in to a jumble of letters and numbers.
This is a very unique take on the PAC-MAN formula where you will be challenged to continuously move upwards in a never ending battle with the maze, ghosts, power-ups and the infamous level 256 glitch that is following behind.
The aim of the game, like most PAC-MAN and arcade titles is to chase the highest score possible. There are many ways to increase the score multiplier as such as eating many ghosts in quick succession, as you would expect from a PAC-MAN title. The core mechanics that you would expect from a PAC-MAN game are here and they work well, controlling PAC-MAN feels as tight and responsive as ever.
Hipster Whale evolve some of the original core PAC-MAN gameplay elements; collecting 256 pac-dots in a row will erupt 256 pac-dot chain that explodes the screen in celebration all while eliminating all ghosts on the screen. I found myself obsessively attempting to earn the 256 pac-dot chain as it was both satisfying and rewarding.
Each ghost has their own idiosyncrasies where for example, the pink ghost will chase PAC-MAN if you appear in its line of sight, the orange ghost will continuously move down the screen while the blue ghost will always hug a maze wall and move in a counter-clockwise rotation. Learning how each ghost works is imperative to your success in PAC-MAN 256.
Unlike previous titles in the series, PAC-MAN 256 features an array of power-ups that add new elements of fun, tactics and hilarity as you see a large PAC-MAN stomping around the maze squishing ghosts like a out of control bulldozer.
Power-ups can be that can be upgraded using coins that are earned within the game and not purchased with real money, unlike the mobile counterpart. Upgrading a power-up will make it more powerful; for example, leveling up the Laser power-up will allow the laser to last longer, giving PAC-MAN more protection from those ever pesky ghosts. As well as earning them in game, you will be rewarded with free coin gifts at random intervals after several runs through the game. This makes this version of the game far more generous with the coins than the original mobile game.
On top of the generousness of the in-game currency; upgrade times have been significantly reduced from the mobile game. Within PAC-MAN 256 on mobile devices, it would take anywhere from a few seconds to a few hours to upgrade the power ups. In the PC version of the game, these updates happen instantaneously.
The audio should be commended as it sticks to the classic and iconic PAC-MAN sounds and music that PAC-MAN fans have come to love over the years. It does not feel outdated and in fact feels right at home in this zany take on the franchise.
A local multiplayer mode is also featured in the game where up to 4 players can share the same screen in a frenzy to earn the highest score. Unfortunately, no online multiplayer is available.
As expected, there is not much in the way of graphics options however the game can be played in both windowed and fullscreen with a range of different screen resolutions available to chose from. In-game effects can also be turned on or off.
A option to change the skin of each maze is available and this provided me with many extra hours of enjoyment as I waka-waka'd my way through a office, garden, classic 80's PAC-MAN and even Crossy Road.
At £3.99, this game includes no micro-transactions, no advertisements and comes with all add-ons that were available for purchase in the games mobile version. If you have any interest in PAC-MAN or are just looking for a quick and fun time killer, I would need to recommend you check out PAC-MAN 256 and its unique take on the classic yellow icon.
Posted on Last updated: August 23, 2015
It's been around for decades, and you can now play it on your Android or iOS device, albeit with more than a few twists. Bandai Namco's Pac-Man 256 offers a new take on the iconic, classic video game, and the developer says the game is "perfectly reinvented" for your cell phone or tablet. You can now collect up to more than 15 power-ups that can help you against the villainous ghosts, and also help you stay ahead of the main super villain. Yes, it's Pac-Man alright, though we have to say we agree with Bandai Namco – it is indeed reinvented for a new generation of mobile-centric gamers.
Anyone who is just starting out or doesn't play too much Pac-Man (or remember its mechanics) should check out the first part of our Pac-Man 256 cheats and strategy guide – even if you're an expert, a lot, if not all of these tips may be worth checking out.
1. Know The Difference Between Coins And Credits
In Pac-Man 256, you've got two different kinds of currency. Coins are the currency you should be using if you want to upgrade your power-ups. Upgrading power-ups makes them last longer and gives you more points. You can earn coins naturally by playing the game, and you can also gather more by watching ad videos or completing in-game quests or objectives.
Credits, on the other hand, are what you should spend before beginning a round if you want to use power-ups in the upcoming run. All power-ups allowed in a playthrough will cost you a credit, regardless of how many power-ups you utilize. You will also spend credits if you get killed, though the limit is one usage per run. In other words, if you've got three credits, you won't be able to use all three of them in a single run. As an aside, you can also use credits, assuming you used one during a run, in order to bring you closer to unlocking power-ups.
2. Keep On Eating
Just like in the classic Pac-Man games, your score will be determined by the amount of food that you eat. This isn't like Crossy Road or other similar "endless" titles where you perform better if you're able to move or travel farther. Once again, all you need to do here is eat, eat, eat – distance doesn't matter in this game, so you can also explore the maze in greater depth.
3. Play The Game In Landscape Mode
You have the option to play this game in landscape or portrait mode, but it's Landscape mode that you really want to focus on. Playing in Portrait mode will still allow you to play the game, but you wouldn't see everything in the map. But when in Landscape, you'll be able to plan your moves more carefully. As the maze becomes thinner in appearance, you'll need all the help you can get, and your best tool here would be to play the game in landscape, not portrait mode.
4. Stand Still When It's Necessary
As we told you above, Pac-Man 256 is an endless game, even if it's got some truly classic routes. And while your first instinct would be to keep on moving, you really do not have to do that. In fact, you can stand still and pause for a few moments, as the ghosts hover around ; you can have Pac-Man stop for a few moments at the nearest wall and let the ghosts pass by before going to the next stage.
5. Purchase Stuff In The Pac-Shop
Pac-Man 256 is a freemium title, which means you can purchase stuff from the game's in-app store. So what can you buy right now? We would recommend the Coin Doubler, which, as the name suggests, doubles the amount of coins that you've got on you. You can buy this for $4.99, which is a rather costly amount to spend on a power-up, though the next one we'll share to you is a bit more on the premium side. Likewise, for $7.99, you can buy yourself unlimited credits via the Pac-Shop, get a temporary boost in credit, or watch ad videos. Sometimes, watching ads would give you two free credits, so don't mind it if the ads don't look or feel relevant.
6. Aim For Multipliers
The game has a wealth of different multipliers, starting with ghosts, which would give you ten points for each ghost you eat in power pellet mode. Each ghost you eat on one pellet will increase their value by ten points. Pellets are worth a point apiece, and when you chain 16 of them together, you'll get a bonus of 16 points. Chaining 32 together gives you a 32-point bonus, and so on until you reach 256. Once that happens, all ghosts will be destroyed and you'll get a fat 256-point bonus right before the chain resets automatically.
The fruit multiplier is a bit trickier. This multiplier will cover everything you do while the fruit remains active. Once you eat some fruit, the icon and multiplier will show up below your score, and when they're both gone, that means that's it for your current fruit multiplier. Cherry is worth a multiplier of two, apple worth three, strawberry worth four, orange worth five, and green melon worth six. So if you eat a green melon, with its respective multiplier active as a result, you'll get six times the usual number of points when you eat anything else; for example, pellets will score you six points, while ghosts will earn you 60. Lastly, take note that eating another fruit while your current fruit multiplier is still active will make the new fruit/multiplier replace the old one.
7. Use Your Power-Ups Wisely
The use of power pellets is a fundamental part of Pac-Man as a whole, and for this game, that also applies to power-ups. You should make it a point to use these two very wisely; even if you know you'll see more power-ups as you progress along, it's best to save what you currently have for those occasions when you really need them.
When eating one of these power pellets or power-ups, the entire board will be converted into white cubes. Eating more of these cubes extends the effective duration of your power-ups, though it won't be by much. And once your power's finally out, all white cubes will revert back to normal.
PAC-MAN 256 – Endless Maze On Pc
PAC-MAN 256 – Endless Maze, coming from the BANDAI NAMCO Entertainment Europe, is running on Android systerm in the past.
Now, You can play PAC-MAN 256 – Endless Maze on PC with Gameloop smoothly.
Download it in the Gameloop library or search results. No more eyeing the battery or frustrating calls at the wrong time any more.
Just enjoy PAC-MAN 256 – Endless Maze on the large screen for free!
PAC-MAN 256 – Endless Maze Introduction
** Google Best Games of 2015 **
** Facebook The 10 Most Talked About Games of 2015 **
** The Game Awards 2015 Nominated Best Mobile/Handheld Game **
From the creators of Crossy Road…
Cherries are red
Ghosts are blue
Munch a power pellet
PAC-MAN 256 is the maze that never ends. But the Glitch is coming for you…
• PAC-MAN perfectly reinvented for your mobile phone or tablet
• Outsmart ghosts with over 15 ridiculous power ups: Laser, Tornado, Giant and much more
• Stay ahead of the super-villain lurking in PAC-MAN since the beginning: The Glitch
• Take on a new gang of revived retro-ghosts including Sue, Funky, and Spunky
• Waka waka on PAC-DOTS and string a 256 combo for a super special surprise
• Play it on NVIDIA SHIELD
Featured on NVIDIA SHIELD Hub!
Have any problems or suggestions? You can reach us at [email protected]
How to play PAC-MAN 256 – Endless Maze with GameLoop on PC
1 . Download GameLoop from the official website, then run the exe file to install GameLoop
2 . Open GameLoop and search for "PAC-MAN 256 – Endless Maze" , find PAC-MAN 256 – Endless Maze in the search results and click "Install"
3 . Enjoy playing PAC-MAN 256 – Endless Maze on GameLoop
Ever since his debut way back in 1980, Pac-Man has been one of the most iconic characters in all of gaming, which has spawned countless spinoffs, television shows, and merchandise. Dating back to the original arcade cabinet for Pac-Man, a bug in the game would eventually cause the game to become unplayable due to on-screen glitching, which is used as the basic premise for the endless maze game Pac-Man 256.
Gaming has changed a lot since the days of the arcade, where the focus then was on high scores that are still being broken today. The Pac-Man record that was most recently broken in 2013 is very special as the score is limited due to a glitch on the 256th stage of the game where an integer overage causes the screen to glitch on that stage, making it impossible to complete. This glitch has become infamous over the years and was used as inspiration by the developers for a new game.
Pac-Man 256 takes the basic mechanics that anybody would be familiar with in Pac-Man and mixes them into an endless runner style game, though you have complete control of him at all time. Rather than offering separate level after separate level, Pac-Man 256 has you playing continuously for as long as you can stay alive.
The usual Pac-Man enemies are located all around the maze, though they come with a twist this time. There are a number of different color ghosts that you will come across, mixing the classic foursome and new, with each one having different movement patterns. The easiest to avoid are the blue and green ones, which move in set patterns, though the latter come in groups of more than one moving only left and right.
Pinky is very fast and cannot be outrun in a straight shot, requiring you to maneuver around covers carefully to lose them. The grey ones are also difficult, as they are somewhat hidden and can really become a problem when you're already being chased by others. There are others you'll see as well, but these are just a few examples of the variety you can expect from the ghosts, rather than just what might be expected from classic Pac-Man.
The ghosts will definitely get in your way, but your bigger concern in Pac-Man 256 is the actual inspiration of the game itself, the glitched screen. From the start, the bottom of the screen will start to look very buggy with numbers popping up and moving upward. This means you need to start moving upward as well, as the glitched screen can lead to your demise. This is a pretty neat twist on the classic game and adds a lot more tension into the levels as you attempt to stay alive and eat more Pac-Dots.
The goal of Pac-Man since the very start has mostly been to eat these dots located all around the maze, which would then advance you to the next maze for doing so. However, with the game being all one big maze in Pac-Man 256, collecting Pac-Dots are for another purpose now. There are no actual lives in the game, so each your goal is to eat as many Pac-Dots as you can every time, which will then unlock a number of different power-ups for you to use to advance further.
A pretty neat twist on the classic game
These power-ups are vital for prolonging each playthrough, as they can help you in a variety of ways. The weapons such as the laser and bomb can be used directly on enemies, while there are others that help you keep ghosts away from you, such as the tornado and stealth, and even a few that even help you obtain higher scores and numbers of Pac-Dots. You have the capability to choose a loadout of three of these that you have unlocked at a time and they will then start to pop up in the maze, along with the classic fruits that help with score multipliers. In addition, each of these power-ups can be leveled up by spending in-game earned currency to make them last longer and be more effective.
As with many mobile games that are then brought to consoles, Pac-Man 256 definitely feels somewhat lacking in content. The mazes alter with each time you play, but the problem is that once you unlock all the power-ups, the experience can feel a little stale if played consistently. However, the bargain price of $4.99 does help to alleviate that quite a bit.
The one new addition in Pac-Man 256 on consoles is that of local co-op multiplayer, which is literally the same experience as the single player. Up to four players can work together with the goal of collecting more dots, with the ability to revive teammates that die by picking up a special life item at certain points. The disappointing aspect here is that they do not include any sort of online capabilities for this, so you will have to play with friends locally unless you want to utilize the PS4's Share Play feature, which the game even promotes on the multiplayer screen.
The Verdict
Pac-Man is one of the mainstays in gaming that continues to stay relevant and Pac-Man 256 proves that the classic formula works even today. The game still has its base mechanics in tact, but the addition of power-ups, specialized ghosts, and the looming glitched out bottom of the maze will provide players with a fun, albeit limited, experience in Pac-Man 256.
We have already shared with you some really useful Pac-Man 256 tips and tricks to help you score big in this amazing game, but if you want more, we've got more! We have played the game extensively and we have managed to create what I consider to be the best possible Pac-Man 256 tips article, sharing the top 10 tips and strategies you need to know in order to get the best possible score and have the most fun.
So let's not waste a single second and instead let's check out Touch Tap Play's top 10 Pac Man 256 cheats and tips!
1. The time lapse cheat
One of the biggest advantages you can get in the game is by using the time lapse cheat: when you run out of credits or you want to rush an upgrade of your power-ups, simply go to your device's settings and set the time forward. But have in mind that you can still play the game without power-ups, but you can't use continues or power-ups.
2. Know your enemy
Extremely important for a long run and a super high score is to know exactly how each of the ghosts acts. In case you don't, we have a list for you below which will surely help:
– Red (Blinky): he chases Pac-Man, but he's really slow so not really a threat unless you run into another ghost coming from the opposite direction.
– Pink (Pinky): I really dislike this one, as it is very fast and moves quickly towards you when you cross its path (either vertically or horizontally) so make sure that there's a lot of space between you two when you have to go by it.
– Grey (Spunky): He's the one that's always sleeping and will wake up when you get next to it. It doesn't really have a pattern, and will fall asleep again soon, but you can never predict its movement once it wakes up
– Orange (Clyde): This one always goes towards the bottom of the screen and follows the shortest route to go down. Easy to avoid if you can go left or right out of its way.
– Blue (Inky): Each follows a preset route, "patrolling" a given area, so if you have time to learn it, you can easily avoit it.
– Purple & Green: they always go in packs, but they only move horizontally.
– Glitchy: He appears later on and will behave like a random ghost and it's sometimes easy to guess by looking at his movement or lack of it thereof.
3. Spend some time to strategise
You don't have a lot of time to spend thinking and planning your moves, but take advantage of every moment you can spare to do so: this means better scores and a longer run! When starting the game, look at the ghosts around you and plan your movement. Later on, if you hit a wall with Pac Man and don't swipe in any direction, he will stop (and you won't lose your dot counts): use this to look at patterns of the ghosts or wait for the right time to make your move.
4. Eat your dots
A dot a day keeps the Pac Doc away, but more result in the best high score! You get score multipliers for collecting a specific amount of dots (16, 32, 64, 128) and a super bonus if you manage to eat 256 dots in a row: you will destroy all the ghosts on the screen at that given time! So plan your moves so that you always eat some dots and never skip one, as it resets the counter.
5. Eat your fruit too!
Each fruit gives you a set number of points, plus a score multiplier for each dot that you eat. They all have different values: cherries give 60 points and 2x multiplier, while the green fruit gives you 180 points and 6x multiplier, but you really can't be picky when playing, so you should go and eat as many as possible without risking your life.
6. Play without power-ups!
If you don't like cheating (and this is really a game that has the lightest IAPs we've seen in a while), keep playing the game when you run out of credits! Even though your chances of scoring high scores are limited in such a case since you will play without power-ups and with no continues, all the dots that you eat will count towards unlocking new power-ups, so it's not all lost. Plus, when playing without extra options, you really bring up your A game and improve your game tremendously.
7. Do you really want a continue but have no credits?
You can still get one if you wait a bit – simply let the game run for 10 minutes or as much as needed to get one extra energy, then turn on your device and use that credit to continue! Alternately, you can always take the offer to watch an ad and get that extra credit!
8. Upgrade your power-ups
The only reason why you're collecting coins (yeah, so collect those too!) in the game is to upgrade the power-ups you are unlocking. Some are better than others, obviously, so focus on those that you really like. Out of the first three, find a favorite (mine is the laser, for example) and keep upgrading it, because you might unlock better ones later on, and since coins are hard to get, you shouldn't waste them on upgrading power-ups you are not going to use.
9. The portals of invincibility
When passing through a portal (on the right, for example, to be ported to the left side or vice-versa), Pac Man enters in a state of invincibility and can't be hurt by any ghost for a brief period of time, so have that in mind when you're in trouble. But also have in mind that it also removes the effect of a pellet, so use them wisely!
10. Give movement instructions early on
A nice feature in the game is that if you swipe the screen right, for example, when Pac's going up a long line, the first moment he'll have the option to go right, he will do so. This way, you can give instructions early on to make sure that you don't miss a swipe or swipe a bit too late if you're in a "chicken" game with a ghost.
We believe that this is as extensive as it gets, but if you have more tips and tricks to share with fellow Pac Man 256 players, let us know by commenting below!
We are hiring game guide writers!
Touch, Tap, Play is looking for experienced writers to produce guides for popular mobile and Nintendo Switch titles. If mobile gaming is your passion and you want to get paid to create guides, you're in the right place. Check out our job ad today!
Pac-Man 256 features a really interesting take on the classic Pac-Man gameplay formula. The game developed by Hipster Whale is an endless game where players have to get the highest score possible by eating fruits and dots while navigating an endless maze while trying to avoid ghosts.
If you have never played Pac-Man before and want to learn more about the game and its mechanics, you have come to the right place. In this Pac-Man 256 Cheats: Tricks and Tips guide we will cover some useful tricks that will help you earn even higher scores.
Score Multipliers
Just like in the classic Pac-Man, in Pac-Man 256 players will be able to eat fruits every once in a while. These fruits bestow useful score multipliers which allow players to earn more points. Fruits appear randomly and each type gives a different multiplier so always keep an eye on the whole screen to find fruits eat them and take advantage of the multiplier.
Credits
Being a free to play game, Pac-Man 256 comes with a currency system and an upgrade system. The game's free to play mechanics are among the most generous ever seen, as it's entirely possible to play the game even when out of credits, only that it won't be able to use power-ups. If you really cannot play without power-ups, you can simply change your device's time to restore all credits. This trick can also be used to upgrade power-ups without waiting.
Free Coins
In Pac-Man 256, players will be able to earn coins while playing. These coins are used to upgrade power-ups, which are quite useful. Getting coins during regular play isn't difficult at all but if you need more, you can watch a video ad every once in a while to get a few free coins. The offer pops up quite often so make sure to play the game as often as possible to earn as many free coins as possible.
If you want to check out the best Pac-Man 256 tips and tricks, click here to read more and get our top 10 tips!
We are hiring game guide writers!
Touch, Tap, Play is looking for experienced writers to produce guides for popular mobile and Nintendo Switch titles. If mobile gaming is your passion and you want to get paid to create guides, you're in the right place. Check out our job ad today!
Summary
Critic Reviews
User Reviews
Details & Credits
Trailers & Videos

Generally favorable reviews – based on 13 Critic Reviews What's this?
Generally favorable reviews – based on 55 Ratings

Generally favorable reviews – based on 55 Ratings
Summary: PAC-MAN 256 is the maze that never ends.
Developer: HIPSTER WHALE
Genre(s): Action , General , Arcade
# of players: No Online Multiplayer
Cheats: On GameFAQs
More Details and Credits »
Critic Reviews
All this publication's reviews
Read full review
All this publication's reviews
Read full review
All this publication's reviews
Read full review
All this publication's reviews
Read full review
All this publication's reviews
Read full review
All this publication's reviews
Read full review
User Reviews
PAC-MAN 256 is an endless PAC-MAN game made by Hipster Whale, the creators of the insanely addicting and award-winning game, Crossy Road, PAC-MAN 256 is an endless PAC-MAN game made by Hipster Whale, the creators of the insanely addicting and award-winning game, Crossy Road, based on the glitchy 256th level of the classic arcade hit. Hipster Whale was hired by Bandai-Namco games to make this game, so the burning question is, is it any good? I'm happy to report that PAC-MAN 256 is an fantastic free-to-play game that is thankfully not a cash grab.
In this game you obviously play as PAC-MAN and collect as many points is possible while outrunning the infamous level 256 glitch. The game is paced steadily as it is easy for newcomers to the PAC-MAN franchise to play, but it is hard to master as you will have navigate around many ghosts and trails of glitchy sprites.
The presentation is beautiful as the presentation style of Crossy Road and the gameplay of PAC-MAN combine to make a fantastic 2.5D game. They have detailed this game very well as the style of it emulates an old 1980s arcade machine, yet it feels so new. If there are only a couple of small complaints I have with the presentation, it would probably be where the edges of the maze are edged off and not rounded like the original PAC-MAN, and the irritating sound of the level 256 glitch.
This game also contains power-ups you can use to your advantage as you unlock them by eating PAC-DOTS. Power-ups can vary from slowing down ghosts to absolutely squashing them. They are a lot of fun to use, but you can't always use them. You see, there is a credits system in the game in which you use one of your six credits to either play with power-ups or continue when you die. When you're out of credits, you have to wait before you can play with power-ups again or continue after you die. Luckily, if you run out of credits, there is a free play option which uses no credits at all at the cost of no power-ups, which is a very good feature to have. This separates PAC-MAN 256 from other free-to-play games as it is not a money-making scheme.
Overall, PAC-MAN 256 is an excellent spin on the arcade classic. It's gameplay is both simple and challenging, and it's presentation is excellent on most parts. It does miss a perfect score though as there are a couple of minor annoyances with how the maze was made, the awful ear-grating level 256 glitch sound, and limited use of power-ups. Don't let these negatives mess with your thoughts of getting the game though, as the positives greatly outweigh the negatives. This is still a fun game to play, and it is a must-have for fans of PAC-MAN and classic arcade game enthusiasts alike. Hipster Whale, well done. My final score is an 8 out of 10. … Expand
Crossy Road is famous for employing a free to play model that doesn't make you want to puke all over your shoes. It has no boosts or energy system, ads are opt-in, and purchases are purely cosmetic.
So, what about its pseudo-sequel, the barmy arcade remix Pac-Man 256? How does this game, also made by Hipster Whale, compare?
For starters, the game does have an energy system. You'll need a credit to play, and can spend one credit per game to keep playing after you die. As ever, you can buy more credits (12 for 79p / 99c) or wait about 10 minutes for your six freebies to regenerate.
You can also buy unlimited credits for £5.99 / $7.99.
But here's the clever twist: you can play without credits for as long as you like in "free play mode", which is exactly the same game but without any power-ups to help you out.
Power-ups, like a laser beam and a tornado, are free – you unlock them by eating pellets in game – and you can only equip a maximum of three at once. You can spend coins to upgrade them.
Coins are earned in game, or unlocked by watching an advert. You can't buy them with in-app purchases, but you can get a coin doubler for £3.99 / $4.99.
Overall, the game is pretty generous. It has an energy system that doesn't actually stop you playing, and would rather you watch an advert than spend real cash if you want to power-up your power-ups more rapidly.
It's not quite as pure as Crossy Road – swapping high-scores won't be so pleasurable when power-ups and continues are taken into account – but, once again, Hipster Whale has one of the more admirable implementations of the model.
Pac-Man 256 is out soonish on iOS and Android.
PAC-MAN 256 Review and cheats for your iPhone, iPad, iPod Touch and Android device. The creators of the hit game Crossy Roads now bring us one of our all time favourite games as a child, PAC-MAN… REMIXED! Your goal in this crazy edition of Pac-Man is to outrun the glitch, Battle the ghost gang and collect all those white dots! Unlock power-ups and most of all have fun while playing. Below is a quick review, download and hopefully some neat cheats and glitches that we all can enjoy, That means we need the community input to help others out.
You can pick PAC-MAN 256 the Endless Arcade Maze up for free from the iTunes App Store and Google Play Store for your iPhone, iPad, iPod Touch, Android Device and Windows Mobile right now, So what are you waiting for?
Straight from BANDAI NAMCO
"Cherries are red
Ghosts are blue
Munch a power pellet
Get lasers too!"
Best bit about PAC-MAN 256 is that this is totally and endless arcade maze, But you need to outrun that damn glitch. Try to outsmart those pesky ghosts with some crazy power ups such as Tornado, Laser, Giant and many more with a total of 15 to play with. Lets get the community together and get some 'REAL' glitches and cheats to score our way to the top. With every contribution will get a shoutout next to their cheat.
Cheats:
Check out PAC-MAN 256 from the link below.
Game Center: dylanando
Snapchat: dylanando
Hope to see you outrunning the glitch soon.
PAC-MAN 256 úspěšně mění pravidla arkád s populární žravou postavičkou a dokazuje, že může fungovat i ve formě nekonečné hry. Zážitek jen trochu kazí násilné zakomponování free-to-play modelu.
Mobilní zařízení
Android
iOS (iPhone, iPad)

Další informace
| | |
| --- | --- |
| Výrobce : | Hipster Whale |
| Vydání : | 19. srpna 2015 |
| Štítky : | arkáda, platby uvnitř hry, zdarma |
Tvůrcům že studia Hipster Whale se podařilo zachovat esenci původního konceptu a ještě ho smysluplně rozvíjet prostřednictvím moderních prvků. Prostředí je stále koncipováno do podoby bludiště, zůstávají body k sezobání i zákeřní duchové jako nepřátelé. Nově se však budete snažit s PAC-MANem v rámci jediné nekonečné úrovně doběhnout co nejdál. Motivovat vás k tomu bude pochopitelně honba za vyšším skóre, ale také řada novinek.
Možná přemítáte, na co odkazuje číslo 256 z názvu hry. Jednak se jedná o referenci na známou chybu z 256. úrovně originálu z roku 1980, a za druhé jde o množství bodů, které musíte v řadě bez přerušení s PAC-MANem sebrat, abyste dosáhli na absolutní bonus hry – zmizení všech nepřátel z herní plochy. Mimo této kratochvíle na vás čekají tradiční uhýbací manévry před duchy a zlaťáky rozseté porůznu po úrovni. Ty lze v herním obchodě směnit za upgrady pro PAC-MANa, jako jsou laser nebo bomby. Je sympatické, že vylepšení příjemným způsobem nabourávají zažitou hratelnost PAC-MANovských dobrodružství a přinášejí svěží vítr do plachet značky.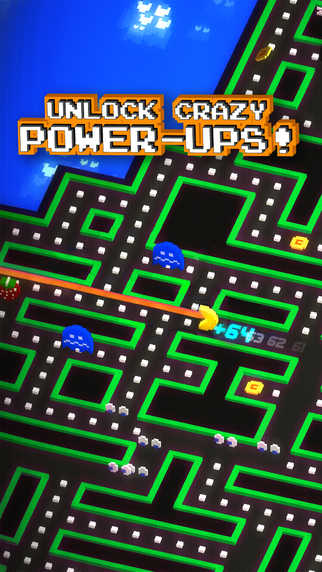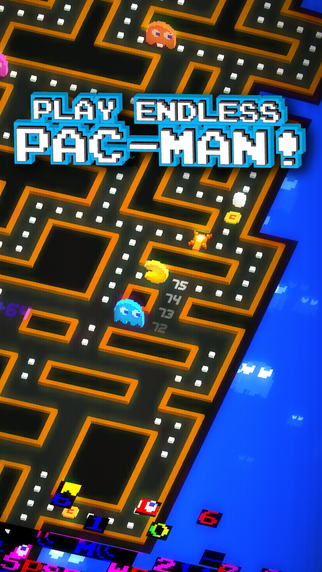 Na bonusech je však zároveň vystavěn prapodivný free-to-play model hry. Všemožná zlepšovadla si hráč nakupuje a následně leveluje za herní měnu, potud vše v pořádku, čekání na jejich namontování nicméně trvá řádově i desítky minut, což u titulu s krátkou herní smyčkou nedává absolutně smysl. Obdobné to je v nakládání s energií coby dalším elementem. Jestliže ji honěním PAC-MANa po obrazovce vyčerpáte, zahrajete si stejně, ovšem tentokrát bez přítomnosti bonusů. Toto omezení lze samozřejmě prostřednictvím jednorázového poplatku zrušit, 213 korun ale není zrovna málo.
PAC-MAN 256 je důkazem, že lze oprášit mechanismy staré klasiky a s trochou péče z ní udělat zábavu nové doby. Ovládá se výtečně jen jedním prstem, retro zpracování jí sluší a jediné, nad čím nezbývá, než si povzdechnout, je málo přívětivý, byť ne přímo omezující obchodní model.
Fresh out the Google Play Store, Bandai Namco and Hipster Whale — the folks that brought your Crossy Road — have finally released their latest creation to the Google Play Store: PAC-MAN 256. We told you guys about the game back in May when the trailer was first uploaded to the YouTubes.
The game joins one of the many found on Google Play, only this time we're looking at a Pac-Man title loosely based on the infamous level 256 glitch. Combined with the tried and true gameplay of an endless runner and you have the recipe for success. The end result is a free-to-play title that hopes placing players on time-outs will nudge them into reaching for their wallets for more credits.
PAC-MAN 256 starts you out with 6 credits you can only use to continue when hitting a ghost (but not when the 256 glitch — hit that and you'll have to start over). You gain a single credit every 10 minutes, so play too frequently and you'll need to either cool off or purchase additional credits, 12 credits for $.99 or unlimited for $7.06. Don't let that scare you away, there's always "free play" which doesn't use any credits, but you'll lose out on some fancy new power-ups found in the game.
Power-ups are unlocked by consuming dots, and equipping on the character where they'll appear at random inside the game. These power-ups can further upgraded using coins, which are a bit harder to come by. Of course, those can also be purchased by using a "Coin doubler" for $4.39, or by watching game trailers (ads).
None of the in-app purchases are too bad, and you never really feel like they're shoving anything down your throat. Our favorite part about the game is that it can be played in both landscape and portrait mode, with an option to lower the frame rate for added battery savings. You can give PAC-MAN 256 a spin for yourself using the link below.
We'll begin emailing you updates about %gameName%.
Latest on Pac-Man
Pac-Man Crossover With Fortnite Announced, Launches June 2
The popular gaming brand that dates back to the '80s is crossing over with the battle royale game very soon.
Pac-Man Museum+ Is Bringing 14 Pac-Man Games To Console And PC This May
The collection will also launch on Xbox Game Pass day one.
New Arcade1Up Jr. Line Is Specifically Designed For Kids
Arcade1Up's new Jr. line will initially offer Pac-Man and Paw Patrol cabinets, which are smaller in size and feature larger buttons than normal arcade cabinets.
Google Adds Pac-Man, Hello Kitty, And Evangelion Unit To AR Search
Characters from Japanese anime and video games are the latest models new to Google's AR search function.
Apr 20, 2021 1:09pm
Pac-Man: Waka Waka Is An Amazon Alexa Exclusive With Voice Control
You'll make use of Pac-Man's unique language to control him on the screen, eating fruit and avoiding ghosts.
Dec 10, 2020 12:06pm
New Demos Let You Try Immortals: Fenyx Rising And 64-Player Pac-Man Game For Limited Time
The demos, which include Immortals: Fenyx Rising, will be live on Google Stadia for a week.
Oct 22, 2020 9:14am
This Pac-Man 40th Anniversary Mini Arcade Cabinet Is An Impressive Feat
Numskull's new quarter arcade cabinet is a deftly crafted machine that looks great on your desk.
Sep 23, 2020 9:47am
Pac-Man Celebrates 40th Anniversary With Gorgeous New Arcade Cabinet
Bandai Namco is releasing a quarter-size Pac-Man arcade cabinet for the game's 40th anniversary, and there's even a limited edition signed by the creator of Pac-Man.
May 22, 2020 1:58pm
AI Recreates Pac-Man From Scratch, Without Any Human Input
Researchers at Nvidia have managed to train an AI to develop and manage its own version of Pac-Man.
May 22, 2020 9:41am
Video Game History Month: Pac-Man Fever
The GameSpot Staff look back on the time that Pac-Mania gripped the world after the release of one of history's most addictive games.
Oct 28, 2019 12:04pm
Greatest Game Hero: Pac-Man
Pac-Man is the original game hero. Find out why this legendary character has made it this far in GameSpot's All-Time Greatest Game Hero competition.
Oct 24, 2019 4:33pm
Pac-Man Gameplay Movie 2
May 23, 2019 3:38pm
Pac-Man Gameplay Movie 1
May 23, 2019 3:33pm
Sonic And Pac-Man Crossing Over For One Month Only
Pac-Man and Sonic the Hedgehog's worlds collide for a limited time.
Feb 21, 2018 5:00am
Hello Kitty Loves PAC-MAN – Announcement Trailer
A brand new update is available for the iOS and Android versions of PAC-MAN that will bring Hello Kitty into the game.
Jul 19, 2017 6:54pm
You Can Play Pac-Man On Google Maps Again
Convert your neighborhood or most any set of streets into a custom Pac-Man level.
Mar 31, 2017 12:13pm
Namco Founder Dies Aged 91
Masaya Nakamura, founder of historic Japanese games publisher Namco, has passed away.
Jan 30, 2017 8:53am
How to Get a NES Classic This Week (Maybe)
This might be your last chance to get one before Christmas.
Dec 21, 2016 7:40am
Pac-Man
Android
Apple II
+ 31 more
Arcade Games
Atari 2600
Atari 5200
Atari 8-bit
BlackBerry
Commodore 64
Famicom Disk System
Game Boy
Game Boy Advance
Game Boy Color
GameGear
Intellivision
iOS (iPhone/iPad)
Macintosh
Mobile
MSX
NEC PC88
NEC PC98
Neo Geo Pocket Color
NES
Nintendo Switch
PC
PlayStation 4
Sharp X1
Sharp X68000
Sinclair ZX81/Spectrum
TI-99/4A
VIC-20
Windows Mobile
Xbox 360
Xbox One
As one of the most famous games of all time, Pac-Man was one of the first games to inspire a flood of licensed products, including breakfast cereal, toys, and a Saturday morning cartoon.
Namco Bandai Games
Bandai Namco Games
Namco
Namco Networks America
Atari
Bootleg
Midway
Atari Corporation
Polyvox
Datasoft
Thunder Mountain
Nintendo
Acclaim
Bug-Byte
Sharp-Epcom
Dempa Shinbunsha
Wiz
SNK
Tengen
HES Interactive
Hamster
Big Fish Games
Sharp
AtariSoft
If you have a fondness for old arcade games and want to play them again, try the Multiple Arcade Machine Emulator (MAME), a free emulator that lets you recreate the look and feel of old arcade game systems in software. While it's written for Windows, you can run this open source application under Linux.
MAME produces highly accurate video and audio emulation of every component of the original arcade games. Since the emulated games are usually older ones, which originally ran on 8- or 16-bit CPUs at (by today's standards) slow speeds, a 1GHz Pentium is fast enough to run MAME, though you'll want a faster machine for more recent games.
MAME was first released in February 1997 and is currently up to version 0.121, released not under the General Public License (GPL) but rather a special license. It's getting close to being able to run 4,000 different games and is in active development.
Run MAME on Linux
Several projects existed for porting MAME to Linux, but only one is still active. SDLMAME, based on the Windows code, aims to run MAME with as few changes as possible so it can follow new MAME releases more quickly. It runs on Linux (32- and 64-bit), FreeBSD, and Mac OS X. It even supports Windows, though it would make little sense to run SDLMAME instead of the original MAME.
To install SDLMAME, download the latest version. You must have installed the SDL and SDL-devel packages; get them with Smart, YaST, yum, or whatever package manager your distribution uses. Unzip the archive file and change to the directory it creates. Edit the makefile file to set the right option for your CPU type, then run make to create a mame executable file.
If downloading ROM images is legal in your country, a simple search will provide the files. Store the images (don't unzip them!) in the $HOME/bin/sdmame0121/roms directory. To play a game, enter ./mame theRomYouWantToPlay . (For Athlon processors, the command is mameat .) Everything from there on is automatic.
If you want to set up specific options, such as full screen or windowed game play, you can use ./mame -showusage to learn the possible parameters, and then create a mame.ini file with them, so you won't have to type them each time you play.
Certain keystrokes have special meaning under MAME:
Tab: Invoke the MAME menu.
Escape: Go back or end the game.
5: Insert a quarter.
1: Start a one-player game.
But is it legal?
If you want to get ROM images to play, you must be able to prove that the software is really free (as in freedom, not as in free beer) or you'll risk running afoul of the law.
Computer programs and video games distributed in formats that have become obsolete and that require the original media or hardware as a condition of access, when circumvention is accomplished for the purpose of preservation or archival reproduction of published digital works by a library or archive. A format shall be considered obsolete if the machine or system necessary to render perceptible a work stored in that format is no longer manufactured or is no longer reasonably available in the commercial marketplace.
However, it's unlikely you'll be able to prove that your PC qualifies as a library or archive. Even if you do manage to qualify, you should legally own the game first before being allowed to do anything with it, so just downloading it from a Web site is a "no go."
Conclusion
If you're hankering for some nostalgic video game time, try SDLMAME. Shoot those aliens, kill that boss, and advance to the next stage!
We knew it was only a matter of time before Crossy Road came to PAC-MAN 256: developer Hipster Whale is the talent behind both endless hits, and they love their character cameos. The car-dodging chicken has shown up in Land Sliders and Shooty Skies, while welcoming guests from Monument Valley, Clicker Heroes, Pac-Man, and a half dozen other titles to her own game. Why did the chicken cross the road? To become a mobile gaming guest megastar, apparently.
This time around, the Crossy Chicken brought the whole highway system with her, adding an entirely Crossy-themed map to PAC-MAN 256. She devours dots in place of Pac-Man while ghost-colored cars give chase. The world is a lush green dotted with trees, railroad signs, and decorative lakes. We're loving the entire new aesthetic, but one of our favorite parts is the sleeping cars that have replaced Spunky. Oh, and Crossy Chicken shooting laser beams out of her head, of course.
While the Crossy Road theme is free for all players along with this update, you can drop a dollar to get another additional theme: the Grid. This turns Pac-Man's world into an extra-3D futurescape where everything is a bit more digitized, likely inspired by PAC-MAN Championship Edition DX. Power pellets are now cubes, ghosts give off a lengthy afterglow, and everything is almost-transparent with a shadowed overlay. It's another nice change of pace, especially since the theme added in the last update—Classic 80s—was a bit too similar to the standard PAC-MAN 256 map to feel quite as new.
If you purchase The Grid soon enough, it's available as part of a special offer for the next 48 hours: the cost is still 99 cents, but you'll get The Grid theme; 1,024 coins; eight "instant upgrades" for your power-ups (which skip the upgrade timer); and a new power-up, Beam.
This latter feature alone is reason enough to hit the "buy" button: Beam is similar to Laser or Optics in that it shoots out a laser beam that destroys all ghosts in its path. However, Beam's laser shoots in both directions vertically and it goes through walls. This means unless you're unluckily trapped in a single row with every ghost on screen, Beam Pac-Man is probably going to tear it up. It's easily one of the most powerful abilities in the game and once purchased, you don't have to "unlock" it with power pellets—it's available for use immediately.
In case that's not enough goodies for a single update (it is), there's now iCloud support, and random abilities you don't even have unlocked will sometimes appear on-screen. For instance, we haven't unlocked Radar yet, but a Radar power-up materialized in front of us mid-game last run. (That's not even an official part of the update, it's just something that started happening and is awesome.)
Update PAC-MAN 256 today to try out the Crossy Road theme and snag the Beam and Grid special offer for 99 cents.
Description
Pac-Man 256 is an updated version of the mobile game Pac-Man 256, for PC and consoles. The concept is identical to the original game: it is a 3D endless maze game that combines the maze mechanics of the classic Pac-Man with the endless environments while being chased by a persistent threat. Pac-Man needs to be guided through a maze with a fixed width and an endless vertical distance with a lay-out randomized for each session. The game is shown from a slightly diagonal view instead of top-down and the camera sometimes zoom in, making the gameplay resemble a 2D game more. The goal is to score points and survive as long as possible while being chased by a glitch that eats up the maze. The glitch is shown as a garble of code and moves at a consistent speed at the bottom of the screen or out of sight as Pac-Man attempts to outrun it. There are sometimes also small glitches in the regular playfield. The title refers to the map 256 glitch of the original arcade game where upon reaching level 256 the right side of the screen turns into a mess of letters and numbers while the left side remains normal. It is referred to as the kill screen or the split-screen level and it is impossible to beat.
The game uses many elements of the classic Pac-Man gameplay. He can move in any direction where there is a passage and eats dots for points. There are also some exits to the left and the right of the maze to appear on the other side. By eating many dots in succession, without halting or following a broken trail, a combo can be built up and Pac-Man's speed increases. Fruits can be eaten for score multipliers. There are different types of ghosts with different behaviour in the maze and these need to be avoided, sometimes also by returning when the glitch is not too close. Some ghosts are asleep and only wake up when Pac-Man is nearby. At certain sections the colour of the game environment changes. Regularly there are power pellets that turn the ghosts blue and allow Pac-Man to eat them. There are also many other types of power-ups such as a tornado that advances and removes ghosts, a laser that toasts them, a cherry bomb, a freeze ray, a stealth mode, turning Pac-Man into a giant that eats everything etc. These are picked up in the levels. A single collision is immediately fatal and ends the game, unless certain power-ups are used.
Just like the original version power-ups are unlocked gradually and can then be added to a loadout so a maximum of three per game. Coins collected during runs can be used to upgrade the power-ups multiple times, enhancing their effects. While the original title was a free-to-play version with in-app purchases, this is a commercial title. That means there is no longer a second, premium currency to upgrade power-ups, advertisements, waiting times or paid power-ups such as coin doublers. By completing tasks additional coins can be earned next to finding them in the levels. These missions include using certain power-ups, getting a long combo, eating certain fruits and so on. Additional coins are also provided every now and then.
There are now different environments acting as skins for the levels, Pac-Man and the enemies, which is entirely new for this version. The included variants are Classic 80's (original Pac-Man look), The Grid, Crossy Road (based on Crossy Road), Robotz, CEDX (based on Pac-Man: Championship Edition DX), The Office, Go Karts, Garden, Pac-Mania (based on Pac-Mania) and Shuffle. This edition of the game supports a new multiplayer game mode with up to four local players working cooperatively on the same field.
Screenshots
There are no PlayStation 4 user screenshots for this game.
There are 62 other screenshots from other versions of this game or official promotional screenshots.
Pac-Man's infamous glitch is now its own game. Map 256 is an impossible level to beat in the original Pac-Man title as the game just splits the screen into an incoherent mess. The reason for this is the game being programmed as an 8-bit integer, 255 being the highest value it can hold. If I remember correctly some PlayStation era games has this integer limitation too, specifically the Final Fantasy games (e.g. you cannot raise your characters' stats past 255 in Final Fantasy VIII).
History lesson aside, this arcade classic exploits the premise of its buggy origins. Pac-Man 256 is beauty in the middle of chaos, not just because of its colorful visual aesthetics, or my own personal nostalgia, but because it updates the classic game with modern gameplay mechanics.
Pac-Man 256 is free to download and play, though it retains its arcade roots. Do not worry, Hipster Whale did make sure that you won't be hemorrhaging coins out of your pockets. The in-app purchase options of this game is wonderful. A credit is required to play the game, and you spend this credit if you continue after you navigated Pac-Man to his death. The credits is limited at six and you can replenish it after a few minutes. The credits are also used in using power-ups. You can bypass the entire system and have unlimited credits by paying $7.99. There are other options too like coin doublers and credit boost, but why bother? Just get the unlimited credits and you are done.
Pac-Man 256 is an endless runner which has a pretty high difficulty setting. It is not impossible to play though, if that is what you are asking. However, a little bit of skill is needed if you want to go far in this game. The core gameplay is familiar, as you are going to eat pellets and run away from / chase the ghosts just like before. This time around, there is an added challenge: running away from the glitch that slowly disintegrates the game. The game is more about survival, as you will get overwhelmed anyway, but this is all about being able to
The power-up system is buffed up in order to keep up with the added complexity and difficulty of the core gameplay. The power pellets do exactly the same as before, but you can unlock additional power-ups as you spend more time playing the game. And you will spend a lot of time playing the game because it is fun, and the gameplay is just timeless and eternal. You'd thought that you cannot improve on the classic Pac-Man, but you can. This is a testament of that.
Pac-Man largely relies on its art direction. Though we have seen 3D Pac-Man before, and it did look and play good, there is nothing that exceeds the 2D low fidelity. There might not be thousands of polygons in this game, but wow, the colors are just lighting up my brain. Music is also great because it is the same as ever, iconic munching in chiptune greatness!
Download this game immediately and pay for the unlimited credits. Nothing in the AppStore comes even close to this game in terms of value and polish. Pac-Man 256 is how you treat a classic IP and bring it to a new audience, and pleasing the hardcore fans at the same time.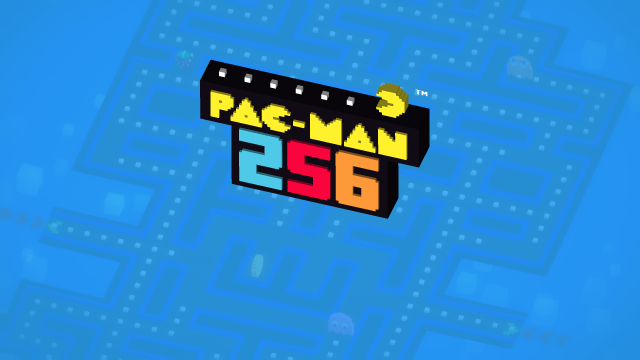 Ottime notizie per gli appassionati di retro gaming o per i videogiocatori più in la con gli anni, che hanno vissuto la storia dei videogiochi fin dagli albori. Bandai Namco ha infatti pubblicato sul Play Store PAC-MAN 256 Endless Maze, in occasione del 35° anniversario dalla pubblicazione del titolo originale.
Vedrete PAC-MAN come non lo avete mai visto, con un sacco di power-up che ovviamente non erano presente nel gioco di 35 anni fa così come la visuale di gioco, ora realizzato in 3D. Aggiornata anche la meccanica di gioco che trasforma PAC-MAN 256 in un endless game. Scordatevi quindi i quadri fissi nel quale cercare i pellet da divorare cercando di evitare i fantasmi.
Lo scopo del gioco rimane sempre lo stesso, ovvero raccogliere più pellet possibile e quindi fare un maggiore numero di punti ma in PAC-MAN 256 tutto diventa più frenetico visto che dovrete sfuggire ai glitch che fagociteranno il gioco alle vostre spalle costringendovi a ragionare velocemente per evitare di fare una brutta fine.
Se vi state chiedendo il motivo del nome del gioco, probabilmente non ci avete mai giocato in maniera approfondita. Il numero 256 si riferisce infatti a quello che può essere considerato l'ultimo livello di PAC-MAN. Il gioco in realtà avrebbe potuto continuare all'infinito ma a causa si un errore di programmazione, il 256° livello risultava praticamente ingiocabile.
Oltre a power-up come laser, tornado e giganti. Bandai Namco ha riservato una sorpresa a chi riesce a realizzare una combo da 256 punti quindi affrettatevi a scaricarlo gratuitamente dal Play Store attraverso il badge sottostante per scoprire di cosa si tratta. Nel frattempo di lasciamo con un breve trailer di PAC-MAN 256 Endless Maze.

Pac-Man (o Come-eat per gli anziani) è probabilmente il personaggio più noto nei giochi. Dalla sua creazione nel 1980, il piccolo essere giallo è stato presente in innumerevoli giochi, molti dei quali disponibili per Android. Ora un Pac-Man in stile corridore infinito arriva al Play Store.
Bandai Namco ha rilasciato l'uso di Pac-Man da parte di terzi con il pagamento di royalties, il che spiega l'enorme quantità di giochi con il personaggio su piattaforme diverse. PAC-MAN 256 è il primo corridoio infinito di Namco, in esso lo studio ha trasformato il labirinto in cui fantasmi e Pac-Man convivono in un labirinto infinito, un errore del codice (problema tecnico) distrugge il labirinto, che costringe il personaggio a seguire sempre nella stessa direzione.
Labirinto infinito. / © ANDROIDPIT
Altre differenze includono fantasmi con comportamenti diversi: alcuni camminano semplicemente lungo la stessa linea, altri si svegliano quando Pac-Man si avvicina, altri spargono la voce. problema tecnico, … Forse il più grande cambiamento è nel labirinto stesso, rendendolo infinito, Namco ha cambiato molto il gameplay, dove era noto dove fossero le pillole energetiche, da dove provenivano i fantasmi, beh, è ​​cambiato molto.
Power-up, regali, condivisione, classifica. / © ANDROIDPIT
Il gioco è gratuito con gli acquisti: puoi pagare per continuare il gioco quando muori o acquisti potenziamento, come raggi laser, congelamento, ecc.; tuttavia, puoi giocare senza problemi senza utilizzare il sistema di crediti. Oltre a queste nuove funzionalità, il gioco è lo stesso: mangia le "pietre", frutta e pillole energetiche ci sono.
PAC-MAN 256 è nella versione 1.0, occupa poco più di 72 MB e richiede Android 2.3.3 o versioni successive.
Per coloro a cui piacciono i giochi di corridori infiniti, è una variazione interessante sul tema, per quelli a cui non piace, puoi saltare questo.
Qual è il miglior gioco arcade classico disponibile sul Play Store?
A downloadable game for Windows
Discover an original and revisited pac-man !
It's FREE, click on DOWNLOAD button, then click on
"No thanks, just take me to the downloads"

After, execute the .exe file and that's it !
by Tetraxel, Xen and max #5056
Pacman, PacMan, Pac-Man, PAC-MAN, PACMAN !
| | |
| --- | --- |
| Status | Released |
| Platforms | Windows |
| Author | Tetraxel |
| Genre | Action |
Install instructions
It's free, just download and execute the .exe file !
Download
Comments
it doesnt work i cant open it
is this multiplayer
me and my familly enjoy this!
why when it downloads it opens the file but then it immediately closes it and goes back to downloads, without the Pac man file showing up.
Mmhhh. The download button is supposed to download a .zip in your downloads folder. Then you need to unzip it (normally Windows allows it but otherwise use Winrar). And finally you have to launch the .exe.
So first, Do you pass these steps or are you stuck somewhere?
extract to on winrar?
Why am I replying this is an EXTREMELY late reply and I don't even know the password to my original account so I'm using this instead.
Used it as a generator for a pac-man themed labyrinth. Good work on the level editor!
It has trojan downloader and trojan dropper why when I scan this it says dat
Look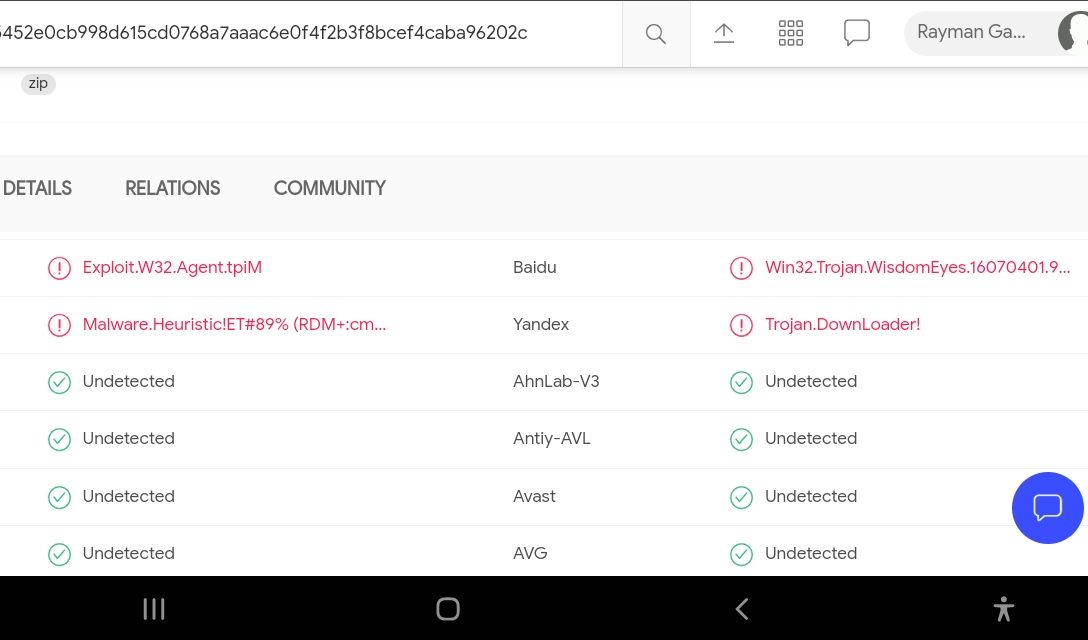 I was really looking forward to this!
But. sadly, the controls are jank, Pac-Man moves very unfaithfully to the original game, the visuals look off, and overall it was a terrible experience.
Please play the original Pac-Man a little bit more before you start working on a Pac-Man fangame like this.
From Snake to Pac-Man to Tetris, these games don't actually go on forever.
Kyle Orland – Apr 11, 2013 12:30 pm UTC
reader comments
Share this story
Share on Facebook
Share on Twitter
Share on Reddit
Sure, every game has an ending of sorts. For a certain class of classic game, though, that ending was always of the "You Are Dead Ha Ha Ha!" variety. From Robotron 2084's ever-increasing robot hordes to Missile Command's memorable "THE END" explosion, you went into these games knowing that failure was not just an option, but really the only option.
Then there are the games that seem like they should go on forever but, for one reason or another, just don't. Whether it's because of a coding error leading to an unintentional "kill screen" or a simple design choice stopping an otherwise never-ending series of loops, a lot of games that seem unbeatable at first glance can actually be conquered in one way or another.
To be clear, these aren't just games that are hard to beat (though most of them are incredibly difficult). These are games that, by all rights, shouldn't have a victory condition yet eventually reach a point where it's technically impossible to keep playing even if you don't fail in any way. Enjoy.
Snake

The GIF that inspired this list (and became a hit on reddit over the weekend) is probably the only way you'll ever see a perfect game of Snake, the simple 2D game that's so old that Managing Editor Eric Bangeman wrote a BASIC version in 1982 (though this animation looks like it comes from a Russian Flash knock-off with the same general gameplay). Sure, you do technically "lose" when every single section of the playfield is taken up by a piece of your snakey body. But considering that it's technically impossible to get a better score once you've achieved this feat, we think it's safe to call this one a "win."
Also see: If you don't have the patience to watch the 19-minute original GIF above, you can watch a sped-up version that only takes a couple minutes, or look at an especially mesmerizing super-speed version that takes less than 30 seconds.
Pac-Man
One of the most well-known accidental endings in gaming, Pac-Man descends into chaos after 256 levels, when an overflowing 8-bit level register causes half the screen to be filled with random symbols and become unbeatable. This actually means you can complete a perfect game of Pac-Man by eating every pellet and swallowing every ghost in all of the game's 255 levels, a feat first pulled off by the legendary Billy Mitchell back in 1999 and later bested by David Race, who completed the feat in a blistering 3 hours, 33 minutes, and 1.4 seconds.
Want to keep playing Pac-Man longer? In 2007, hacker Don Hodges dove into the Pac-Man assembly code and devised some MAME fixes that actually correct the problem.
Also see: The upside-down Ms. Pac-Man kill screens that start at level 134 and the Jr. Pac-Man kill screen that turns most of the playfield into a black void at level 146.
Donkey Kong
The second-most famous kill screen in all of gaming was popularized by the 2007 documentary The King of Kong, which shows Steve Weibe's memorable journey to beat Billy Mitchell's Donkey Kong high score. While the error occurs once the level counter reads "22," you actually have to beat 117 "screens" before an overflow error messes up the bonus counter and internal timer, leaving you without enough time to even make it up past the second girder. Only a few people in the world are able to consistently reach this screen, but even then, there's no known upper limit to the score you can obtain in those 117 screens, thanks to the role of luck and ever-evolving point-hoarding strategies.
Fun fact: Donkey Kong actually includes a bit of code to stop the level counter from going above 99, despite the fact that the timer bug stops the game at level 22.
Also see: The extremely similar Donkey Kong Jr. kill screen, which also happens at level 22.
Dig Dug
Yet another classic arcade kill screen, Dig Dug's "ending" comes after round 255, when the titular hero loops back to "Round 0." There, he finds only a hellish void where he can't even move before exploding over and over again, until being finally, mercifully spared by the sweet release of oblivion. The horror. THE HORROR!
Also see: This poignant comic featuring Dig Dug and Pac-Man contemplating the meaninglessness of existence in the face of the inevitable kill screen.
Duck Hunt
Also see: The arcade version of the game, Vs. Duck Hunt, which actually lets you shoot that dumb dog in a bonus round.