Trending
The Official List of Harper's Winter 2023 YA Cover Reveals
36 Must-Read LGBTQ+ Books by BIPOC Authors
Which Selection Series Character Are You?
Archives
At any given time, you can probably find the members of Team Epic Reads reading at least four books at once. We can't help it—there's usually that epic fantasy we've been looking forward to, something more realistic when we need a break, maybe an old favorite just for fun, and, oh, we can't forget those books that won't be on shelves for at least six more months. And that's during a light reading period. So you could say we've become expert at balancing reading multiple books. And now we want to share all that we've learned with you!
Whether you find yourself juggling two or something more in the area of seven or eight, we think all of these tips could come in handy for those book nerds who just aren't able to commit. Scroll down and check them out!
7 Ways to Balance Reading Multiple Books
1. Try to diversify their genres
As we said above, we like to balance what we're reading against each other. If we're diving into a fantasy that we know is going to be super emotional and all-encompassing, we might also try to have something light and fluffy on the side. Then there's also the grounded, realistic fiction for when we want something serious but contemporary, and then the magical realism for when we're just sort of feeling in-between. See what we mean? A book for every mood! And you'll hopefully make decent progress through them all.
2. Read in different formats
Hardcovers, paperbacks, ebooks, audiobooks—there's no shortage of ways for you to consume all the books on your TBR. It might help you balance your current reads better if you're reading some in physical formats and some in other formats—digital or audio—so that your progress is tied to convenience as much as it is mood. And this way you won't need to wrestle out that brick of a book on a crowded train!
3. Seriously, write down your TBR
We know the concept of a real TBR pile is daunting—just looking around our rooms at all the shelves and piles is intimidating as heck. But writing down the books you want to read in the order you want to read them will help you an unbelievable amount. Plus, it could stop you from starting too many books! If you're holding yourself to that top bunch, you'll always be able to check in, know what you're keeping available to yourself, and what you need to get through in order to get to the next batch. Is there a better light at the end of the list than more books?!
4. Read with friends
YOUR BOOK BFFS WILL HOLD YOU ACCOUNTABLE. And if you're chatting with different friends about different books, it's the perfect way to make sure you're making progress on all of them, and not just letting a handful sit there, half-read, while you binge your way through sixteen others. These book BFFs can be real friends, internet friends (hi, we love you Bookstagram and YA Twitter and BookTube and everyone else), or even us! Seriously, let's talk books at any time.
5. Use apps like Goodreads and Libby
Not only do they keep track of what you're reading, but they're the perfect way to keep track of your progress within them. As long as you hold yourself to updating them promptly (though Libby will keep track of your digital progress for you!), they're the perfect organizational tools.
6. Limit yourself to a book budget
THIS MIGHT BE CRAZY, BUT MAYBE STOP BUYING BOOKS UNTIL YOU READ MORE. Okay, it's definitely crazy, because we can't even hold ourselves to that. But if you're already reading a bunch of books, it'll just overwhelm you if you keep adding to that shelf and diving into a brand new story! You'll never finish anything you've already started. But if you start using new books as a sort-of reward system, we can promise that you'll be motivated to get through all those books you're in the middle of.
7. Set time aside every day
The most important, enjoyable, and easiest way to balance all those books you're reading? READ THEM. Carve time out every day, whether it's on your lunch break, after school, before work, or as you're going to bed. Just do it. Try to hit fifty pages a day—see if you can! Then, once you get into a rhythm, make a pattern out of it. Dive into one book on Mondays and Wednesdays, then another on Tuesdays and Thursdays. Maybe give each genre a day, or a week, and rotate between everything you want to get through. Just start reading, and we promise you can do it!
It's also not as hard as you think
I made a commitment to read more, and ended up going to my old habit of reading multiple books at once. Looking back, the times I've stuck to a single book at a time were also the times I read less frequently. If I wasn't in the mood to read that specific book on that specific day, I wouldn't. Sometimes that feeling would last for days, in which case I did little reading.
Now, looking back at the last few months when I've had multiple books going at once, I've spent at least an hour reading every night. Both because I've made a conscious effort to open and read a book, but also because I have so many to choose from.
The books I currently have a bookmark in:
The Greatest Adventures of Sherlock Holmes, by Sir Arthur Conan Doyle
Ketotarian, by Dr. Will Cole
The Price of Peace, by Zachary D. Carter
Norse Mythology, by Matt Clayton
Bag of Bones, by Stephen King
Most are ones that I've started within the past couple weeks, but Sherlock Holmes is a collection of short stories that are easy 15-minute reads that I've been going through for a few months.
The informal rules I follow, when I feel like it, that is. So, really the loose guidelines of reading multiple books at once, are:
Once I finish a book, I can then choose to either focus and finish another, or open one that I've been wanting to start.
Pick up at least one book every day. I mean, I have multiple open so I need to be making progress on one of them.
Use the amazing "Try a Sample" feature on Amazon Kindle. This saves me from buying/renting books I don't like.
Have a designated book for nighttime reading. Something that doesn't make my mind race when I put it down. And nothing scary.
Having multiple books open at once, and trying to follow the rules listed above, has ultimately led to me reading more, the first major benefit I've noticed.
The bottom line is when I read multiple books at once, I read more. And there are many reasons for this. Having more options of what to read makes it easier to read. I can pick-up something to read for 15 minutes, or grab something different and read for an hour. I can open something that's fantasy, or a mystery, or a biography, depending on what mood I'm in. Essentially, there's always a book I want to be reading, because I have so many choices.
Then, there's the pressure of feeling the need to always be reading. To always be making progress so I can finish a book, thus allowing me to start a new one. I've found that when I'm reading just one book at a time, it's much easier to ignore it for days at a time. When I have five books going at once, taking a few days off means I've ignored five books, not just one. Although the end result is really the same, the psychology is the difference. I'm not comfortable procrastinating when the "workload" is higher.
Now, this is far different pressure or workload than that of my job. This is free time pressure of something I enjoy. If reading led to the same stress as other things, it simply wouldn't be enjoyable. This is a positive sense of urgency to always be making progress on one book, where I can choose what that one book is.
This may seem backwards since I'm always reading multiple books at once, which means the likelihood of reading bad books is higher. Yet, I find it's much easier to put down or put away a book I'm not enjoying when I have three or four others I can open. Whereas when I'm working on a single book at a time, I feel the pressure to finish it so I can move on to one I actually enjoy. This is the bad kind of pressure.
If I haven't touched a book for a few weeks it probably means I wasn't really enjoying it. Normally, it would have been one I felt the need to finish just so I could move on. But, when I already have others open I can just put it aside and either get back to it when I'm ready to just put it on the shelf.
Then there's the point I already touched on. If I fall in love with a book, like I did with Breaking the Two Party Doom Loop, I just do a sprint finish and focus almost all my attention on it. Plus, it was a rented book from the library with a return-by date.
When I put a book down for a few days, and then pick it back up in Chapter 6, I have to do a memory jog to remember where I left off. Sometimes this means sitting and thinking for a few minutes, other times it's reading the last few paragraphs in the previous chapter. This helps me remember what just happened, as well as some key points that led to it.
When switching between three, four, or five books at a time I'm always looking back and trying to remember what I previously read. Now, this isn't scientifically proven. Well, they do say reading in general can improve your memory, or at least slow down the decline of losing your memory. So… reading multiple books… maybe even better at improving my memory?
What I do know is that personally I'm spending more time using my memory to think back on what I've read, sometimes multiple times in one day. Although I am still a physical book lover, looking back at highlights in an ebook has really helped me follow along with a book and really hone in on some of the key things I've recently read. Mostly, I'm highlighting in nonfiction books like How to Be an Antiracist or Tools of Titans.
Which is a curious thing to realize from just reading multiple books at once. I grew up reading fiction, since that's what most children and young adult books seem to be, but for most of the past decade my book of choice has been nonfiction or biographical. And when I'm only reading one book at a time, of course I'm going to stick to what I love.
What helped get me to this realization started with a book that was a gift, and also technically nonfiction. The Killers of the Flower Moon, by David Gramm is historical, but given the murder-mystery in it, it reads like fiction at points. Now, as I make my way through Bag of Bones, I'm remembering how easy it is to get sucked in by a good fiction story.
If it wasn't for taking on a few books at once I probably would have continued my ways of playing it safe with books I could learn something from, instead of something to simply enjoy. It turns out there are good and bad fiction books, I just need to find the good ones.
Now that I'm reflecting on what I learned from reading more than one book at a time, there's no way I'm ever going back. I've learned things about myself and become more creative and energized about my own writing. Then there's the thing I value and judge most of my days by, productivity. Reading is something I can relax and enjoy while still feeling like I did something productive and worthwhile with my time.
I don't mean simultaneously reading several books, maybe two at a time, one with each eye. That would be awesome in some ways, as I'd get to read a lot more, but I can also imagine it would just melt my brain. But, quite obviously, I mean having several different books on the go at once. I've always done it, but a conversation I had with someone the other day surprised me. They were astounded that I could do such a thing, their reasoning being that they couldn't imagine remembering two or more different stories at once.
I don't get that. I'm currently reading George R R Martin's A Game Of Thrones in paperback. I mentioned before how I'd been putting off reading the series even though I had it because I was waiting for it to be finished. However, I'm reading it now before the HBO TV series starts, as I want to read before I watch. I'm also reading Peter Watts' Blindsight on my iPhone. Peter makes all his books available as free ebooks on his website, so I converted Blindsight to epub and I'm reading that. I'm also reading a non-fiction book, Mysterious Cornwall, by Rupert Matthews. I picked that up in hardcover on my recent trip to the UK and it's all about the various magical myths and legends of the West Country. Which, incidentally, are uniformly awesome. Great fodder for the imagination that I'll be co-opting into my own writing here and there, I'm sure.
I don't have any trouble following these different books. Game Of Thrones is my current main read. When I sit down to read, that's the book I pick up. But I don't usually carry books around any more. When I'm out and about I'll read Blindsight, because it's right there on my phone and very handy to read anywhere. Sometimes I'll be at home and the urge to read one or the other will hit me, so I'll read whichever one I find myself in the mood for.
If I'm in the mood to read, but not either of those two, I'll pick up Mysterious Cornwall. Or if I have ten minutes to kill, I'll read a quick chapter from it as it's easier to read in bite-sized time gaps, being a book about stuff rather than a long story. It's always better, for me anyway, to read novels in bigger chunks.
Then again, I'll read three pages of a novel if I have five minutes spare and the story has me gripped. I used to walk to school reading a book, which is probably something that helped me develop the incredible peripheral vision skills I've since used successfully in martial arts. Books rule in so many ways.
As well as these three books I'm reading, I'm also reading the latest couple of issues of Aurealis magazine and a couple of anthologies I picked up at Worldcon. I get the urge to read a short story and pick one of those up and enjoy a quick short yarn. None of these things overlap each other or strike me as difficult and this is where the conversation I mentioned at the start of this post surprised me.
We watch TV shows mixed up all the time. You might watch Battlestar Galactica on a Monday night, Deadwood on a Tuesday and Fringe on a Wednesday. You don't get to the following Monday and complain that you can't remember what was happening in BSG because you watched Deadwood and it messed up your memory. For me, books are the same. Game Of Thrones and Blindsight are two very different stories. One does nothing to interrupt the other. Nor do the short stories or non-fiction I read interfere with either novel I currently have on the go.
Sometimes, when a book really gets under my skin, as many good books do, I'll forsake all other reading and just voraciously consume that one novel. That's always an indicator to me of a really good book. But even then, with one book making me put aside all other stuff and read it single-mindedly, if I'm out without that book and have time to read, I'll pull out my iPhone and read some of an ebook I'm currently into.
Truth is, I'm just addicted to reading. Which is a pretty healthy vice, really.
So what about you? Do you read lots of stuff at once or are you novel-monogamous? I'd love to hear your thoughts.
Для этого и создано приложение.
A good step forward to generating profits is to own your own e-book website. Better still is having your own e-book website with your own written books available to buy. Writing and selling your own e-books is paramount to a successful e-book business. If you can think of a good idea for an e-book then do it! Sell it on after all you may be on for a winner and sell thousands.
If you look on e-bay now you will find e-books everywhere and because most of these have resale rights these books are being sold by more than one person. Most e-books are being sold by quite a few people you may notice that sellers are selling some e-books with the same titles. Someone wrote these books and every e-book sold is a link to the author whoever sells the e-book. These e-books are not just on eBay I have also seen them all over the internet. The beauty of it all is that this e-book links back to one place and one place only the authors links, so everyone that reads this e-book will be taken to a website/sales page where ultimately more sales are generated.
Reading several books at once
I read a lot everyday. Sometimes I am reading all day long. I always have several books on the go so, at any given time, I am reading between 2 and 5 books. I read each for a few hours and then change to another one. I told one of my friends and he was slightly offended. Like if I was bragging or trying to outdo him as a reader. I just feel like I need a change of scenery now and then. Do you experience this or do you always read just one book at a time?
Еще кое-что любопытное
The Wise Man's Fear was good?
I know I'm late on this thread but I'd like to hear from some readers. I recently finished the book and I just hated it. Nothing interesting actually happens in the story and apparently, the author's only focus was to stall for hundreds of pages pointing out that Kvothe has the sex, and is very good at having the sex, with a female, all the time, all women want to have the sex with him….. OK Patrick, I get the idea.
This book totally discouraged me to continue the series.
Then I found out that the author is lazy and we will never have the third book anyway.
Killing Eve Book Author Slams Series Finale for 'Punishing' Eve and Villanelle
submitted by /u/a_Ninja_b0y
[link] [comments]
from So many books, so little time https://ift.tt/J9dLzbo
Terry Crews Looks Back on Career, Life and Finding a "Place of Peace" in 'Tough' Memoir
submitted by /u/a_Ninja_b0y
[link] [comments]
from So many books, so little time https://ift.tt/FJl9NoO
Stephen King's 'Scariest Work Yet' Might Be This Ridiculous Microwave Recipe
submitted by /u/a_Ninja_b0y
[link] [comments]
from So many books, so little time https://ift.tt/sc3oluG
[Book Club] "The Atlas Six" by Olivie Blake: Week 3, VII – Intent (Tristain)
Welcome to the third discussion thread for the April selection, The Atlas Six by Olivie Blake! Hopefully you have all managed to find the book but if you haven't, you can still catch up and join in on a later discussion; however, this thread will be openly discussing up though (and including) VII – Intent (Tristian).
Below are some questions to help start conversation; feel free to answer some or all of them, or post about whatever your thoughts on the material.
What are some of your favorite characters, parts or quotes? Which parts did you find confusing?
What are your takeaways of the experience Tristian had with Ezra? How, if at all, did that space change your understanding of his abilities or what is to come?
Had you been approached by The Forum as the Six had, how would you navigate their offer? Where would your allegiance or inclinations lie in terms of the missions or ethics of The Society vs The Forum?
What do the last lines in this section suggest about the world and talismans? What dangers or opportunities present themselves with this capacity to operate in "noncorporeal" spaces?
What other questions or predictions do you have moving forward? Who will it be??
Reminder that fourth and final discussion will be posted on Friday, April 29th, and cover everything in the book. Then the AMA with author Olivie Blake will happen on Saturday, April 30th, at 2pm ET.
The announcement for May's selection(s!) has been posted so make sure to get a hold of the books before week one!
Posted on 04/23/2019 at 10:00 AM by Guest Author
Are you nervous about picking up another book? Don't be!
Discover the many great benefits of reading multiple books at once.
Table of Contents
Why It's Worth Reading Multiple Books at Once
"So many books, so little time."
Back in 2010, Google Books attempted to calculate the total number of published books.
After cross-referencing records from hundreds of providers, removing duplicates, and discarding non-book entries, the number they came up with was roughly 130,000,000.
Of course, this was nearly 10 years ago. And Google Books didn't take into account self-published e-books, as these works aren't required to have ISBNs.
Therefore, it's safe to assume that number is significantly higher today.
For the avid reader, this presents something of a dilemma. On one hand, having so many books available to you means there's no shortage of reading material.
On the other hand, there's no way you could get through that many titles in your lifetime, especially since new books are being published every day…
However, this does introduce an opportunity you may not be taking advantage of now: reading multiple books at once.
If you're currently taking it one book at a time, you'll likely miss out on a number of great works.
Sure, even someone with a wide-open schedule and the ability to speed-read couldn't tackle every single book out there, but by increasing the number of books you consume at one time, you can actually get more out of your favorite pastime than you ever thought possible.
Here are a few benefits of reading multiple books at once you may not be aware of…
Exposure to a Variety of Genres
When you read one book at a time, you're limited to one particular genre and story.
However, when you switch to reading multiple books at once, you get to experience a wider variety, which can actually make reading easier and more enjoyable!
Let's be honest—at one time or another, we've all struggled to get through a book.
A technical book that confused you with unfamiliar jargon…
A dark piece of fiction that left you feeling troubled…
A "must-read" recommended by a friend that you just couldn't connect with…
In such cases, you tend to feel as though you have to "power through," even when you're filled with a sense of dread as soon as you pick up the book.
However, by reading multiple books at once, you give yourself a break from the more difficult or less exciting works you've chosen.
As a result, you're more likely to actually finish what you're reading instead of allowing it to collect dust on your nightstand…
Opportunity to Experience Different Mediums
Another advantage to reading multiple books at once is that you're not restricted to a single medium.
You can tackle an audiobook on your way to work, devour an e-book on your lunch break, and curl up with a paperback before you go to bed.
Variety doesn't just apply to genres — it applies to formats too.
By reading several books that vary in medium, you can change up the way you experience the written word. And, in the case of audiobooks, you can give your eyes a rest without hitting pause on reading altogether.
Plus, adding some variety with regard to reading format means you'll probably wind up finishing your books much faster!
Chance to Deepen Knowledge
When reading multiple books at once, some people opt for works that relate to one another; others prefer to bounce between books that couldn't be more different.
Regardless of which approach you like best, you'll find that consuming several works at one time offers the chance to deepen your knowledge in a wide range of subjects.
If you stick to books that revolve around the same theme or setting, you can often glean context from one that helps you understand another better.
For example, reading a nonfiction book about the Victorian era can provide a historical framework to use while also reading Jane Eyre, which may prove helpful in figuring out why characters act a certain way.
If you select two or more completely different books, you may be surprised at the connections you can make.
For instance, if you happen to be reading a science fiction novel that features an intergalactic opera singer, perusing a biography of Giuseppe Verdi at the same time will allow you experience that "Aha!" moment when the former work introduces a term such as cabaletta.
Oftentimes it's just fun to form links between seemingly unrelated books.
Reading about a person, concept, or location in one book and then spotting a reference to it in another can be exciting!
And as a result, your experience will be richer and more fulfilling.
Ability to Enjoy All Benefits of Reading
Reading is a fantastic activity that allows you to learn and grow. And by reading multiple books at once, you can reap all the benefits this pastime provides.
If you want to further your education, you can pick up a scientific journal, historical text, or virtually any other nonfiction work.
If you want to feel inspired, you can grab a self-help book or autobiography from someone you admire.
If you want to explore the world without leaving the comfort of home, you can open up a travel book or a novel set in some faraway place.
The possibilities are truly endless, and when you have several books on hand, you never have to settle. Instead, you can go on whatever journey and experience whatever feeling you want!
Quicker Reduction of TBR List
Like most bibliophiles, you undoubtedly have a large stack (or an entire virtual shelf) of books to be read. And with each trip to the bookstore, library, or e-book marketplace, that pile grows larger…
Fortunately, reading multiple books at once allows you to cut down your TBR list much faster than by reading one at a time.
As previously mentioned, when you're struggling to make your way through a difficult text, it may take months before you finally finish.
But when you expand your reading list and give yourself a break, you're more likely to come back to it with fresh eyes and a new appreciation.
And you know that satisfaction you get when you finish a book? Imagine it multiplied!
Takeaway
There are millions of books out there right now (and plenty more to come). Doesn't it make sense to open yourself up to new ways of reading so you can experience as many as possible?
Reading multiple books at once allows you to do just that. Plus, this approach offers a number of benefits you may not have even realized.
So, what are you waiting for? Grab that second (or third, or fourth, or fifth) book and get to reading!
Categories: Today in Books
Joe Queenan writes in One for the Books that during his adult life he has always been reading at least fifteen books simultaneously and as he wrote that chapter he was reading 32!
Naturally I had to think about what I was reading at the moment and at first assumed that I was reading two books, An Angel at my Table by Janet Frame (her autobiography) and The Little Drummer Girl by John le Carré, plus Tom Nissey's A Reader's Book of Days which I keep on my living room table and read a few pages in now and again. But when I started to look around, it didn't take long for me to find The Library: A World History by James W.P. Campbell which I received for Christmas and even though it is extremely large, it has been buried under a variety of other books, magazines and a newspaper clipping about the new police museum in Hamburg. It's not the type of book one reads in one sitting, but rather piece by piece and I get easily distracted by the wonderful photos, so it's rather slow going. Should I count the gardening book I started reading in October, but then put aside? I may as well keep it out now, since it's already March. What about Spanisch für Büffelmuffel by Christof Kehr which is also in the living room table and which I peek into once a month or so, does that count? Or Cay Rademacher's Der Trümmermörder which I started reading out loud to Ralf while we were driving to a dog training one weekend but has not been opened since, so we've only gotten to page 73? That makes a total of seven. When my kids were very young I kept a book in almost every room, so whenever I had a few quiet minutes, I could read a couple of pages without ever having to waste time looking for my book, which turned out to be an excellent strategy.
Just for fun, I googled "reading several books at the same time" and got completely sidetracked reading a few of the literally millions of entries. There is even a wikiHow article on the subject, which I thought was some kind of satire at first, but it appears to be meant seriously.
Ack, I am so behind on reviews. I am working on a project that requires a lot of attention (fortunately I can work on it while still watching classic Doctor Who), which is the excuse I'm using for my negligence. Feel free to be distracted from this by a picture of my beautiful hat: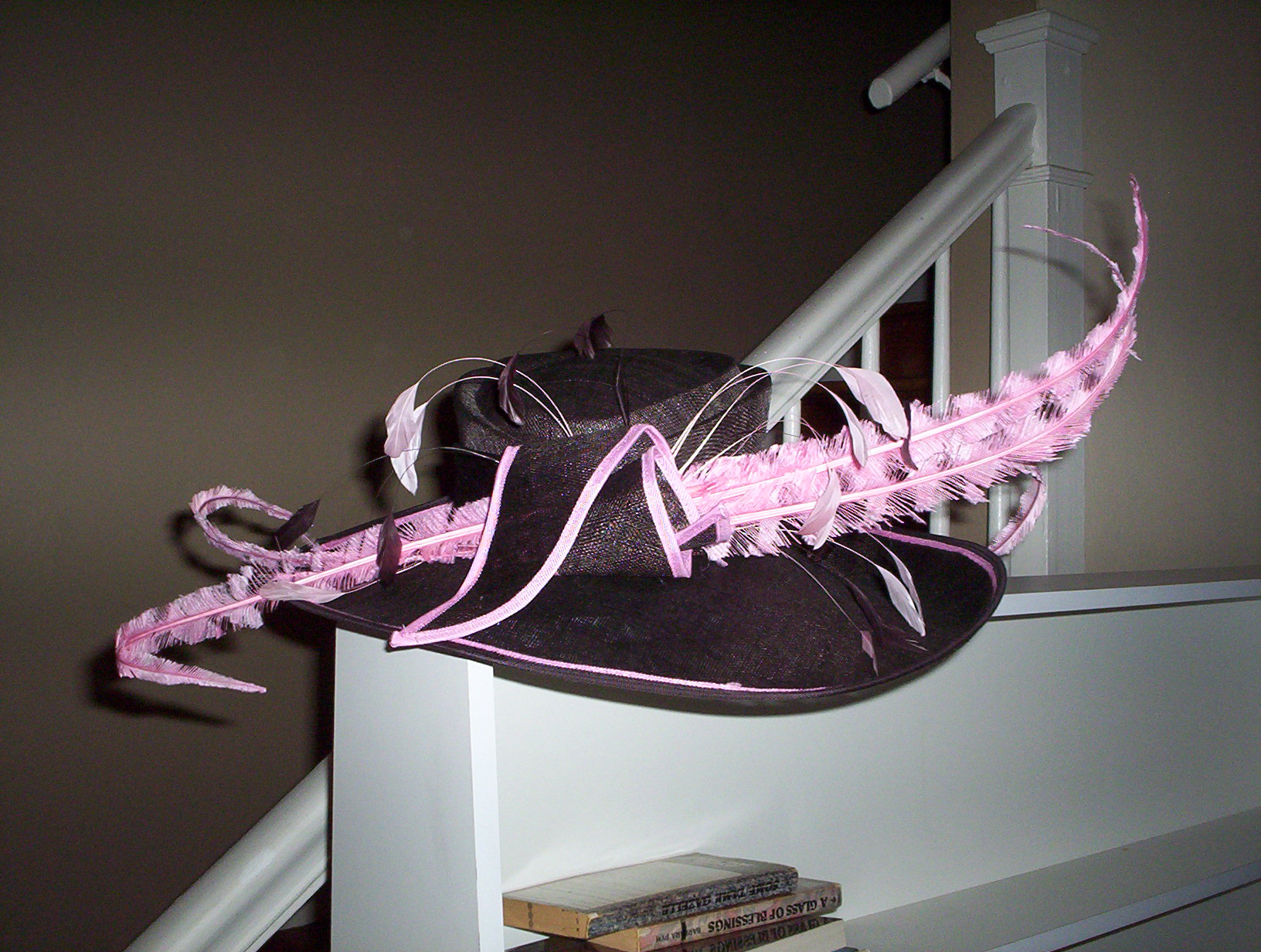 Essentially, Gerald Morris writes very sweet retellings of King Arthur legends from various sources, making fun of impractical chivalry rules and having Gawain be the coolest knight of all the knights. Instead of Lancelot, who starts out really lame and gets much less lame as time goes on. Every time he writes a new one, I'm afraid he's going to have Mordred show up, which finally did happen in The Quest for the Fair Unknown (or maybe it happened before? I haven't been reading his new books faithfully because they have insufficient Gawain & Terence in them), and now I am far too worried to read any future books in case Arthur dies. DO NOT WANT. (The ostrich approach to literature.) Oh, and Gerald Morris's books are for children, and rereading them as an adult I find they are a smidge simplistic. Still charming though and if I have children I will assuredly procure these books for them.
Gerald Morris's early books (including The Squire's Tale) are better than his later ones. This is because he started with all the best stories. The Squire, His Knight, and His Lady is best of all, because it is Sir Gawain & the Green Knight. And who doesn't love that story? So The Quest of the Fair Unknown, you know, it had moments that were really fun, but none as good as those early stories that were all about Gawain and Terence. However, the covers I am linking to are all pretty and matchy, and they make me want to buy all of Gerald Morris's books at once.
P.S. It is possible that part of the reason I am writing these half-assed reviews is that I am addicted to TVTropes.org. Don't go to that website. I am not even going to provide a link to it. I am telling you that if you enter you won't be able to get out again. Hey, did you see my hat (above)?
Did you ever read these books? Essentially these two people Griffin and Sabine, are mentally connected. Sabine can see the pictures that Griffin draws, and one day she writes to him. They write each other angsty letters about the power of love and how much they miss each other; they overcome a bunch of obstacles and eventually find each other and have major reunion snuggles.
Which I realize doesn't sound all that great. If you were to accuse these books of being short on plot, you would be correct.
But. But but but! Here is why it is that great! Because the letters are there, in the book! Griffin and Sabine are both artists, so they create beautiful postcards and envelopes, which are eye candy for me, and sometimes you get to take the letters out of the envelopes.
And yes, okay, mostly the letters themselves are not thrilling (it gets more interesting when they introduce a villain character), but you get to TAKE THEM OUT OF THE ENVELOPES. It is like The Jolly Postman for adults. With darker, edgier art. And did I mention that there are actual letters that you can physically take out of the envelopes? Envelopes containing removable letters? GLORIOUS.
Speaking of glorious, did you see my hat? Wasn't it good?
Talk Book talk
Join LibraryThing to post.
This topic is currently marked as "dormant"—the last message is more than 90 days old. You can revive it by posting a reply.
1cestovatela
2rufustfirefly66
3bookishbunny
How do you read two books at once?
4AngelaB86
5kingkama
6rebeccanyc
I mix genres, so that I usually have at least one fiction and one nonfiction going at a time. Then, for carrying around/reading on the subway, etc., I usually have a book that's easy to dip into and out of (and not too heavy — weight-wise, that is). Sometimes, I have more; for example, now I have a book that I've been trying to read for a month or more, but I haven't decided not to finish it yet.
Having said that, sometimes I'll get so absorbed in one book, I'll neglect the others until I finish it.
7bazling
8lefty33
I have no rules. I read up to 8-ish books at a time and pick up each as I am in the mood for that one. I don't try to mix up what I'm reading. Might be 5 fiction, all classics, exclusively fantasy, whatever. (Though if my current reading list is a mixture, that's just as well.)
I've been reading Great Expectations for quite some time because other books keep sounding better at the moment. But then I read Elantris in two days.
9MerryMary
It never occurred to me that I was a promiscuous reader!! I generally have one going in the car (when I'm not driving), one in the living room, and an old favorite beside the bed. (Can't have an exciting new book then – I'd never sleep!!)
Mixing genres helps. Or maybe I can just compartmentalize my mind. I don't know how I do it. I just need to be reading. I've been known to read labels on bathroom products if there's nothing else available.
10vpfluke
11Kerian
When I read multiple books, it's usually for one of two reasons. I may be reading a book for a class and one for me. By doing this, I find that I'm able to keep with the stories better than if I read ahead for my class and jumped into something else. I can participate in class better. Other times, I read books of different genres. Right now, I'm reading a nonfiction and a fictional book. Both are tied together because they share a theme (the Harry Potter series). At the same time, they differ enough that I can recognize them as separate books and won't confuse them with each other.
#3 bookishbunny:
Good one. 🙂
12thorold
Creditable reasons for starting one book before finishing another:
– I read in different settings (at home, at work, while travelling, in bed, at mealtimes, on holiday. ) and it isn't always practical to carry on reading a particular book in all those settings, especially if it's very heavy, or it's a nice copy I don't want to damage.
– Sometimes I want to read a particular book with other reference books handy.
– A book might "jump the queue" because someone else is waiting for me to finish it.
Discreditable reasons:
– Because I get bored with the book I'm reading, or I'm just not in the mood for that subject.
– Just bought a new book, couldn't wait, and started reading it in the train home despite the fact that I already have several started books.
– Didn't want to be seen reading that in public.
13Cecilturtle
14blackcat348
I'm usually reading atleast 2 books at once, 1 for school, 1 for myself, and I read fanfic and original stories online almost every day.
To remind myself whats happening in what ever I'm reading at the time I reread part of the last chapter to remind me whats happening and continue from there. Its an aquired skill to be able to tell what you're reading apart, so practice is how I read multiple things at once.
15AsYouKnow_Bob
How do you read two books at once?
One in front of each eye.
After about an hour, it usually gives me a headache, though.
More seriously, I'm usually reading several books at once – but typically in different genres. I leave a book by every chair in the house, and pick up and resume whatever is ready to hand.
16tiffin
Constantly. or three. or four.
Different rooms (even different chairs in same room), different genres, different moods. Lunch bag.
17Bookmarque
Up until about a year ago, I always had 2-4 books going at once, not counting an audio book for the commute. It was never a problem for me and was my standard way of reading. Usually they varied in style, genre and type so as to provide the variety my many moods demanded. Maybe in my old age I don't need that kind of mental shell game anymore and can settle down with one book until I'm done.
I do still have a book at work for reading at lunch though, and an audio book for the commute, but the # of backbone/focus books I read has sadly dwindled down to 1 at a time.
18Windy
19aluvalibri
20carmen29
Message #9:
I've been known to read labels on bathroom products if there's nothing else available.
lol. I can relate!
21im_a_bookwyrm
How do you read two books at once?
Are we only limiting it to two? 😉
I think I'm in the middle of reading 18 books at the moment, possibly more. I'm not even counting ones for school.
I find it very easy to read many books at once. I get so into each book I'm reading that I can't concentrate on anything else. That way, I keep all the plotlines straight in my head and can enjoy each book separately.
Part of the reason I read so many is that I buy so many. I get home and want to start my new books right away, even if I have already started others. So I read the beginning, sometimes even half, then jockey back and forth between new and old books.
On the matter of switching books, i varies with my mood. If I'm in the mood to read three different books in an afternoon, I will. Usually though, I stick with one book for a day.
As for finishing. well, let's just say I have a very large "to read" pile. It's always a satisfying victory when I can clear a book off that pile. But I do finish at least two a month, and as many as fifteen.
22avaland
23vatia First Message
24kperfetto
25southernbooklady
26inkdrinker
I only skimmed all of the posts so pardon me if I'm repeating something already said.
If a book isn't doing it for you after 50 – 100 pages, you may want to consider giving up on it for the time being. Life's way too short and there are far too many books to torture yourself over one. Keep it and come backe to it in a year or so. You may find your taste/mood/mental powers have changed. It's happened to me more than once.
That said, like many others here I read up to 8 books at a time. Sometimes a book will get shoved aside for months before I get back to it, but I generally do come back to it. When I do return many times the book will have a freshness to it which reinvigorates me. Unfortunately sometimes I completely lose my mood for a book by the time I get back to it.
27FeralCats
I usually have about three going at once
One that I carry with me when I'm away from home to read while I'm waiting, bored, etc. This is usually one that can take me up to a month to read as I don't get a lot of opportunities to read while I'm out.
One that I'm steadily reading when I'm home. These usually take me three to four days to read, if I can find enough time in one sitting.
And, currently, I'm reading the Harry Potter series again in preparation for The Deathly Hallows. With the series, I read a chapter or two (possibly three if I'm feeling. uh, froggy) each day.
The great balancing act: being polynarritivus. Yes, that is a made up word, but if Dr. Seuss and Shakespeare have taught me anything, it's that you can make words. They might catch on. It means reading more than one book at a time, and the antonym is another made up word: mononarritivus. While many start by cherishing one book at a time, there are several advantages of switching to multiple stories at a time. Making the change from mononarritivus to polynarritivus can be scary. You may worry you'll forget which story is which, or that you won't finish them. Image courtesy of …
The great balancing act: being polynarritivus. Yes, that is a made up word, but if Dr. Seuss and Shakespeare have taught me anything, it's that you can make words. They might catch on. It means reading more than one book at a time, and the antonym is another made up word: mononarritivus.
While many start by cherishing one book at a time, there are several advantages of switching to multiple stories at a time. Making the change from mononarritivus to polynarritivus can be scary. You may worry you'll forget which story is which, or that you won't finish them.
Image courtesy of
The benefits outweigh the negatives, though! You'd be surprised how easy it is to keep track of separate books. Plus, reading multiple books at once can actually help you finish faster. If you don't like a book, you have a backup. If you can't remember a story, re-read it.
On her blog, Rachel Ann Hanley says the amount of reading she does has tripled since switching from reading one book to reading many. If you get bored of the narrative in a book, it can be a chore to start to read it for the goal of finishing it. When you read multiple books, you can choose which book to read and avoid more of the slumps of uninspiring narratives.
Image courtesy of
But what if I never finish that book because I can read other books that are more interesting? Well, if you are having a hard time finishing it, do you really want to read that book? You can push yourself to read through it, but that problem is still there and even more present if you choose to read only one book at a time.
When reading multiple books at once, you never have to sacrifice. You can read multiple genres, different authors, and different styles of prose. This way you can also balance reading for work and reading for pleasure. Students who have to write an essay on "The Great Gatsby" can also read "Infinite Jest" if they want. They can probably even finish several novels throughout reading "Infinite Jest" if they commit to it.
On the opposite side of that, if you have a HUGE craving for a story, but no narrative seems to satisfy it, you can read multiple books of the same type to subside that hunger. You can read ALL Harry Potters at once, you crazy kid.
Besides speeding through TBR piles and having a variety of life, you also get to make connections across books that you might not have otherwise. How does "2001: A Space Odyssey" relate to "Looking for Alaska?"
If this isn't for you, that's okay. Stick to what works, and read one book at a time. However, if you haven't tried multiple stories at once, maybe it can fix some of your struggles as a reader. Many people who have made the switch love its benefits like Laura Sackton who was scared of the change at first.
We all have different reasons to read a lot of books. From avoiding reading slumps, to wanting to enter several fantasy worlds at once. What's your reason? Comment below! 🙂
I read a lot of books at once because I love reading about different characters and different worlds. I also get a bit bored if I'm just sticking to one story at once and often fall into a reading slump. So reading several books at once helps me out!
I don't intentionally TRY to read a lot of books at once. I sort of just sometimes find myself getting bored of one book, so I start another to prevent myself from falling into a reading slump. I still manage to read several books at once and I would consider that a skill ahaha!
Mishall wrote: "I don't intentionally TRY to read a lot of books at once. I sort of just sometimes find myself getting bored of one book, so I start another to prevent myself from falling into a reading slump. I s. "
Yes it's definitely a skill! Not everyone can do it. 🙂
When I'm bored with a book I'm reading I just add a new one to read😂
Charlotte wrote: "When I'm bored with a book I'm reading I just add a new one to read😂"
I kind of do the same. 🙂
It's a bad habit but oh well 🤷‍♀️😂
Charlotte wrote: "It's a bad habit but oh well 🤷‍♀️😂"
It's not that bad! It's also fun. 🙂
Charlotte wrote: "It's a bad habit but oh well 🤷‍♀️😂"
I wouldn't say it's a bad habit haha
It can sometimes be though because then you never really finish a book
Or you just take really long to
Charlotte wrote: "Or you just take really long to"
Yes that does happen, but that's why we made this group. To motivate people!

I have this huge procrastination issue where I even procrastinate on things that I actually want to do. So I might be dying to continue reading a book but at the same time I'll probably just sit and stare at the cover for 10 hours instead of opening and continuing it.
@Naomi, I feel you on this. This happens with me too.

Bhavya wrote: "@Naomi, I feel you on this. This happens with me too."
That's why I love buddy reads so much! It kind of forces you to continue and catch up with the other person
Yes! I love buddy reads too. 🙂
This is a really good question. I never thought of this before. I like to switch between 2 to 3 books once a while when I get bored with the same book, basically if it becomes slow or gets stuck. Also, I read 2 to 3 books at a time because I like to read books according to my mood (lol).
Whatever suits the mood, I must have a book!
Rushali wrote: "This is a really good question. I never thought of this before. I like to switch between 2 to 3 books once a while when I get bored with the same book, basically if it becomes slow or gets stuck. A. "
I'm a mood reader too, I literally have so many books I haven't read since ages because I'm not in the mood for them. 🙂
We should make that into a slogan, 'Whatever suits the mood, I must have a book'!
I never really used to read more than 3 books at once. But then since the virus, I've been reading all these books online and when I put holds on books they all come at once. And then I have to read them all at the same time or i'll have to wait for 12 weeks to read them.
That's probably the main reason I'm reading so many books right now, but also because I have books I'm reading for myself, books for school, book for writing class, and books for book club too.
In highschool I used to finish the books I start in one day (sometimes I finish the book and.. wow 3 hours passed already! lol) But recently I started listening to audiobook and decided to clear my TBR list since I had books from 2015 that I didn't read and I found myself buying new ones. First I started reading a book in English and another in Arabic + audiobook. But with time, I started reading more than 3 books. I think it works better for me instead of reading one book (especially that I'm a senior student at uni now and I don't have 3 hours a day to read one book lol)
✧・゚⁽⁽ଘ Shreya ଓ⁾⁾✧・゚ wrote: "I never really used to read more than 3 books at once. But then since the virus, I've been reading all these books online and when I put holds on books they all come at once. And then I have to rea. "
Good luck on finishing! Happy reading Shreya. 🙂
Maitha wrote: "In highschool I used to finish the books I start in one day (sometimes I finish the book and.. wow 3 hours passed already! lol) But recently I started listening to audiobook and decided to clear my. "
I read a lot of audiobooks too. Most of my reading is through audiobooks. Reading several books is defiantly convenient! 🙂
For those you enjoying have multiple books open on a Kindle device, using the standard settings on your Kindle won't allow you to do this. There are several different ways to be able to have more than one book open at a time on your Kindle. The following will explain how you can open more than one book at a time on your Kindle tablet to make it better to use.
There are several apps that allow you to do this, one example is the Kindle Cloud Reader and the other is the Calibre App. You can also manually switch between books on your Kindle to view several books at the same time.
Kindle Cloud Reader
Kindle Cloud Reader will allow you to quickly open several different books on your Kindle device. You can use the Kindle Cloud reader on your Internet browser by going to read.amazon.com and create a new account. This method will easily allow you to open multiple books on your Kindle at the same time.
Fast User Switching
Another method that will allow you to open more than one book at a time on a Kindle is to view different books on several devices. You can set up a new user on your Mac or PC, have that account registered to your Kindle for Mac app. This solution works if the Internet is unavailable or you are not comfortable with removing DRM on your Kindle purchases. The downside is that it's slow and can be awkward to keep simultaneous notes
Calibre App
Instead of using the Kindle Cloud Reader, you can download and use the Calibre app. Calibre is an open-source e-reader and is free to use. You can use this app to copy all your Kindle content into a format that Calibre can read, allowing you to have Kindle open on one desktop and Calibre on another. If any of your Kindle books are DRM'd, use this free resource to un-DRM them.
Science fiction. Fantasy. The universe. And related subjects.
Reading all of it at once, or reading all of them at once
I think I've mentioned that my husband and I have different philosophies on reading series—I tend to prefer internal chronological order, and he tends to prefer publication order. There's another difference in our approach to series. I want to read all of a series at once, plunging right in to that world. My posts about the Aubrey-Maturin books appeared here every Monday for months, but I actually read all twenty books in about three weeks of non-stop O'Brian immersion. You can probably tell that I do this if you read my posts regularly, because there'll be a burst of posts about a series from time to time—all the Miles books, or all the Vlad books.
What Emmet likes to do though is to read, or re-read, a series slowly, interspersed with other things. He'll sometimes be in the middle of slow re-reads of several series, where he'll pick up the next book as much as a month afterwards. When he reads book 2 directly after book 1, it's something to take notice of. You'd think I'd be used to this, but while I do now know about it I still find it really strange that he doesn't want to keep breathing the same air.
And then I discovered that there are people who stop reading a book in the middle and read something else. I don't mean because it's a great big hardback and they don't want to carry it with all the shopping they'll be carrying so they take F&SF out with them to read on the metro—I sometimes do that. It's generally a magazine with short stories I take in that situation, but I do understand the usefulness of it even if I can't always bring myself to do it if the heavy hardback is particularly compelling. I also don't mean that they start reading something else if they leave the book they are reading at home, or locked into somebody else's car. That's perfectly normal.
I also don't mean the thing where somebody is bored with a book and they read something else while deciding whether to make the effort to finish it. I occasionally do this—not very often, but it has happened. Or there is the related thing where you're reading book A which is something merely okay and book B which is something wonderful and awaited arrives at the library (or in the post) and you have to read book B now now now now now! I have done this two or three times over the last thirty years, but it takes a particular combination of A and B. If book A is actually a pretty good book, I'll usually finish it first.
Nor do I mean the thing where you're reading one book slowly for research while reading fiction fast at the same time—like a while ago I was reading Vienna 1814 at breakfast, a couple of chapters a day for a month or so. It's a great book—gossip about the Congress of Vienna—but there was only so much of it I could take at once.
No, I'm talking about fiction reading done entirely for pleasure, and I'm talking about what Emmet does with series, except with individual books. In a situation where nothing prevents someone from carrying on with the book they're reading except their own whimsy, but they put it down on a whim and pick up something else and read that instead—or read part of that. I heard of a case recently where somebody had half a dozen books unfinished on their nightstand—and they had enjoyed as much as they had read of all of them.
Now I know—it's Ugol's law—that you can never say "Does anyone else do this?" There might be nobody who reads with a pineapple on their head, but if even one person does it, then there are always lots of people who do it. So my question is addressed to those of you who do this strange thing: if you do this, why do you?
I'd really like to understand.
My feeling is that once I'm immersed in a world and characters and plot and the author's style, I don't want to get used to a whole new set of those things and then switch back to the first lot. It gives me whiplash. Even at end-of-book natural breakpoints, if I'm enjoying the series I'd rather read the next one than anything else.
So what is it that makes you enjoy this reckless chopping and changing? Why doesn't the desire to find out what happens, or (in the case of re-reading) follow the road along to its ending, keep you reading the first book until it's done, and then pick up the second book in an orderly fashion? And having immersed yourself in the airs and style of one writer and accustomed yourself to their mode and pacing, why do you want to keep switching atmosphere? (I keep thinking of this in terms of going from breathing oxygen to chlorine…) There must be some benefit to it, but I don't understand what it is.
Enlighten me, please?
And those of you who do it with series, I'm interested in your thoughts on this too.
Photo of woman reading books by Rachel Sian used under Creative Commons license
Jo Walton is a science fiction and fantasy writer. She's published two poetry collections and nine novels, most recently Among Others, and if you liked this post you will like it. She reads a lot, and blogs about it here regularly. She comes from Wales but lives in Montreal where the food and books are more varied.
Whether you are faithful to a single book, serially monogamous or prefer to play the field – now's your chance to share your reading habits
"This week I am reading two completely different books. I am about to finish On the Road, a very powerful book with a big shot of frenzy. As for Consciousness Explained, I have just started, and it seems promising." – algernon_19001 Photograph: algernon_19001/GuardianWitness Photograph: algernon_19001 /GuardianWitness
"This week I am reading two completely different books. I am about to finish On the Road, a very powerful book with a big shot of frenzy. As for Consciousness Explained, I have just started, and it seems promising." – algernon_19001 Photograph: algernon_19001/GuardianWitness Photograph: algernon_19001 /GuardianWitness
In this week's Tips, Links and Suggestions column, edinflo sparked a lively conversation by asking:
Does anyone else have a problem sticking to one book? For me there are so many that I want to read that I end up picking at lots and have trouble focusing on one book completely.
veritypontiki replied: "I tend to have one for the morning commute, one for the evening commute and one to read in bed. But I can't do more than 1 of the same type. So 3 fiction books is a 'no no' for me. But I can happily balance fiction, history, philosophy, theology and science."
Aliquidcow said: "I have some ebook-only books on my phone (I don't read ebooks enough for it to be worth getting a kindle), but I don't like reading that way at home, only on the train, so in that case I'll be reading something else at home," while SnowyJohn mused on the value of "snacking books" for those inbetween moments when deciding on the next big read. "I ended up reading through the whole of Brewer's Phrase and Fable and then Brewer's Rogues, Villains and Eccentrics that way a few years back – great for when you want to read for a bit but don't want to commit to anything."
Finally, Jantar touched on the emotional value of reading in stereo:
I love reading a handful of books 'at the same time' but most of the time they will be very different types of books. So those books will be, for instance, a biography and a poetry anthology, a book with essays, a short story collection and one or two novels. I also reread a lot, so at any one time I will wander through both new and familiar worlds. (My comfort rereading I do mostly in bed – and that's mostly novels I have read at least a couple of times.)
Do you have more than one book on the go at any one time? What are your tips for a satisfying reading life?
A strategy for nonfiction.
Reading gives us access to great ideas, allows us peek into the minds of the smartest people, and gives us fuel to be valuable contributors in conversations. But who really has time to read every book that would help us as business leaders? Everyone, according to the author, because the key to reading is not taking in every word, but understanding the concepts that the author presents. Following his advice, you have the potential to read at least one nonfiction book a week. The formula comes down to being engaged with the material, keeping your mind alert, and actively trying to figure out what the book really means.
A strategy for nonfiction.
It was the late 1980s and I was sitting in a university lecture hall listening to Abbie Hoffman, an author and an activist, ranting about my generation's indifference. Next to me was Gloria Emerson, a brilliant and eccentric journalist and author. We were discussing Hoffman's talk when I told her how much I loved being in the thick of all these ideas.
"It's such a unique opportunity to be here," I said to her, "to be part of these conversations with smart, thoughtful people."
"Oh, don't be silly," she responded. "Anybody can be part of these conversations. Just read some books!"
Ironically, as a history major, I was reading three to four books a week. And Gloria was right: through these books, I had a seat at the table. I was part of a cutting-edge conversation that was going on between great minds.
Flash forward too many years, and I am now back in that conversation. Since I started my podcast, I read as many nonfiction books as I can — at least one a week. It's a requirement, first, to decide if I want to speak with an author and share their ideas, and, second, to make the conversation valuable if I do decide to have them on as a guest. (This may seem obvious, but you might be surprised at how many times I have been interviewed by people who have not read any of my books.)
I am richer for all this reading. I know more and take more risks as I apply what I'm learning. I also feel more confident in my own views and actions, as well as empathize and understand others better, since I have more context.
But reading is time-consuming. I was already over-busy before I started reading several books a week. And I am a slow reader.
I tried the traditional shortcuts, but none of them worked. Reading the PR materials is insufficient for understanding a book, and executive summaries are awful. I have never read an executive summary that came close to conveying what's interesting and useful about an author's work.
So how can we read a book or more a week? It turns out that what works best for me is following some advice I got while I was still in college. Michael Jimenez, a professor of Latin American history, was one of the best professors I ever had. One day I told him that I was struggling with the reading load.
"I hope you're not reading these books word-for-word like they're fiction books," he told me.
I told him I was.
He looked around the room and the other students sheepishly nodded alongside me. So he pulled a number of us together and taught us how to read nonfiction.
"Listen," he said, "you don't need to read these books. You need to understand them."
He explained more: Fiction demands that we enter a world of the author's making, inspiring a more immersive experience. Nonfiction — at least the type we tend to read to support our work as business leaders — makes a point and asks us to learn from it.
As readers, we gain momentum with each book we read. The more we read, the more quickly we can understand their perspectives and where they fit into a conversation they're having with other authors, and the more informed we are when we use their advice or incorporate their perspectives into our work.
In other words, the more books we read, the faster it goes.
Here's Professor Jimenez's advice on reading nonfiction, with a few additions of my own:
Start with the author. Who wrote the book? Read his or her bio. If you can find a brief interview or article online about the author, read that quickly. It will give you a sense of the person's bias and perspective.
Read the title, the subtitle, the front flap, and the table of contents. What's the big-picture argument of the book? How is that argument laid out? By now, you could probably describe the main idea of the book to someone who hasn't read it.
Read the introduction and the conclusion. The author makes their case in the opening and closing argument of the book. Read these two sections word for word but quickly. You already have a general sense of where the author is going, and these sections will tell you how they plan to get there (introduction) and what they hope you got out of it (conclusion).
Read/skim each chapter. Read the title and anywhere from the first few paragraphs to the first few pages of the chapter to figure out how the author is using this chapter and where it fits into the argument of the book. Then skim through the headings and subheadings (if there are any) to get a feel for the flow. Read the first sentence of each paragraph and the last. If you get the meaning, move on. Otherwise, you may want to read the whole paragraph. Once you've gotten an understanding of the chapter, you may be able to skim over whole pages, as the argument may be clear to you and also may repeat itself.
End with the table of contents again. Once you've finished the book, return to the table of contents and summarize it in your head. Take a few moments to relive the flow of the book, the arguments you considered, the stories you remember, the journey you went on with the author.
Throughout my reading, I take notes in preparation for my conversation with the author. Where do I agree? Where do I disagree? What questions are still simmering? What might I want to discuss with others or think more about in the coming days? These notes are a good idea for every reader to take.
Here's the interesting thing about reading a book like this: while it's much faster than a traditional reading (it takes me 1–2 hours to read a book, instead of the usual 6–8), you will retain far more.
That's because you're not simply reading the material; you're actively engaging with it. Your mind is alert the whole time and you're able to see the book more holistically. You're not just taking it in; you're figuring it out.
When I started my podcast, it was with the intention of giving people spectator seats to conversations I was having with smart, thoughtful people about their passions, learnings, and perspectives. What took me a little by surprise is how much we all already have access to those people simply by reading them. Yes, I am enriched by these conversations. But 90% of that is because I have read what the author has written.
We can all read books and listen to podcast conversations with smart, thoughtful people. We can all have access to great ideas and apply them to our lives.
In other words, with a little effort, we can all go to back to college.
Photo credit: Dvortygirl on Flickr
I used to be the kind of reader who could only read one book at a time. I'd often binge read and get through a book quickly—especially if I was enjoying it, especially especially if I was enjoying it and eager to read another book—but one book at a time was a firm rule for me.
Then I started doing literature programs in college and I didn't have the luxury of sticking to my one book at a time rule.
Granted, I suppose I could have added all the pages I needed to read in a week (adding together the page counts of the books I needed to read) and then gone through one book at a time that way, but for some reason I've found it's less daunting to read 50 pages of one book and 30 pages of another book and 35 pages of yet another book than it is to read 115 pages of a single book. Which is silly, I know, because I'm reading 115 pages a day either way, but it doesn't feel like it as much as it would if I was reading that amount from a single book.
After I broke that rule initially years ago now, I started occasionally pleasure-reading multiple books at once, oftentimes because I'd get a book I was really excited about and couldn't wait to read so I'd dive into that one while still reading another one. It's not something I did often but. #noregrets.
The other thing book hopping allows me to do is get through books I'm not enjoying as much (a necessity, in literature programs because invariably there will be books I have to read I'm not really into) in bite-sized pieces. I'll tell myself, okay, I'll read 50 pages of this book I don't love first, then I'll get to read 65 pages of those other books I do like.

Granted, reading several books at once means it takes me longer to finish all of them—but it evens out because I end up finishing a bunch of them within a couple days as I near the end of every book around the same time.
Moving to reading a bunch of books at once has actually been easier than I anticipated, although it's quickly becoming clear to me that pleasure reading is a thing that's probably going to be rare as long as I have three (or more) books in a week to read for school. But that's okay—I'm reading lots of books I probably wouldn't have otherwise—or at least wouldn't have so soon. And that's certainly not a bad thing.
Do you read multiple books at once?

Twitter-sized bites:
Do you read multiple books at once? Join the discussion on @Ava_Jae's blog. (Click to tweet)
Warren Buffett, the man commonly referred to as the greatest investor of the 20th century, was standing in front of 165 wide-eyed students from Columbia University.
One of the students raised his hand and asked Buffett for his thoughts on the best way to prepare for an investing career. After thinking for a moment, Buffett pulled out a stack of papers and trade reports he had brought with him and said, "Read 500 pages like this every day. That's how knowledge works. It builds up, like compound interest. All of you can do it, but I guarantee not many of you will do it." 1
Buffett estimates that 80 percent of his working hours are spent reading or thinking. It's enough to make you ask, "Am I reading enough books?"
When I asked myself that question recently, I realized that there were some simple reasons I wasn't reading as much as I would like to, and I developed a reasonable system that is helping me read more than 30 books per year.
How to Read More Books
If you know how to read, then reading books is relatively easy. You simply have to make time to read. Easier said than done, of course.
When I looked at my own reading habits, I realized that my reading habits were mostly reactive, not proactive. If an interesting link flashed across my screen on Facebook or Twitter, then I would read it as a reaction. I wasn't proactively making time to read books each day. I was simply reading interesting ideas that were pushed in front of me.
As a result, most of my reading was done online. Now, there are plenty of excellent articles on the web, but generally speaking, the quality of good books is better. Books typically have better writing (more tightly edited) and higher quality information (better fact-checking and more extensive research). From a learning perspective, it's probably a better use of my time to read books than to read online content.
So, I had to figure out a strategy that would allow me to read more books without letting typical distractions get in the way.
How do you do that?
20 Pages Per Day
Here's the only pattern I've been able to stick with consistently:
Read 20 pages to start the day.
I usually wake up, drink a glass of water, write down 3 things I'm grateful for, and read 20 pages of a book. For the last 10 weeks, I have followed this new habit. As of today, I'm 100 pages into my 7th book. At that pace (7 books per 10 weeks) I'll read about 36 books in the next year. Not bad.
Here's why I think this pattern works: 20 pages is small enough that it's not intimidating. Most people can finish reading 20 pages within 30 minutes. And if you do it first thing in the morning, then the urgencies of the day don't get in the way.
Finally, 20 pages seems small but adds up fast. It's a great average speed.
If time allows, I'll read more at other times as well. After the research I did for my article on how to get better sleep, I have added reading to my "prepare for bed" routine as well. But regardless of what happens during the rest of the day, I still get my 20 pages in each morning.
The First Hour
Most people spend it getting dressed, getting ready, and rushing out the door. What if that time was spent making yourself a better person? What if you woke up an hour before you needed to each day and worked on yourself? How much better would you be at work, in your relationships, and as a person?
That's essentially what this reading strategy is asking you to do. Before you move on to the normal bustle of the day, invest in yourself. Before your life turns into a whirlwind of activity, read a book that will make you better. As with most habits that can greatly impact your life, this will never feel urgent, but it is important.
20 pages per day. That's all you need.
Read Next
Looking for good books to read? I created a public reading list where you can see all of my book recommendations across a wide range of categories. Here are a few of the best books to start with…
If you want practical ideas for creating more good habits (like reading!), check out my book Atomic Habits, which will show you how small changes in habits can lead to remarkable results.
Thanks for reading. You can get more actionable ideas in my popular email newsletter. Each week, I share 3 short ideas from me, 2 quotes from others, and 1 question to think about. Over 1,000,000 people subscribe. Enter your email now and join us.
James Clear writes about habits, decision making, and continuous improvement. He is the author of the #1 New York Times bestseller, Atomic Habits. The book has sold over 7 million copies worldwide and has been translated into more than 50 languages.
By shadowplay,
July 26, 2012 in Topics
Recommended Posts
Archived
This topic is now archived and is closed to further replies.
Top Discussions this Week
By bbogdanov
Started June 23
By Angel_325
Started Monday at 10:39 PM
By Lp86
Started Monday at 05:54 AM
By Guyonajourney
Started Tuesday at 02:14 PM
By Helpmesavethis
Started Saturday at 10:34 PM
Our picks
How To Make A Woman Want You Sexually (Guide To Building Her Interest And Sexual Attraction)
Joyanima posted a blog entry in Youtube, March 28
Learn how to make a woman want you sexually! In today's video we're talking about sexual attraction and how you make a woman want you! We're going to be discussing some useful tips you can put to work to get a woman interested in you and building that sexual desire. Often men think they know exactly what women want, men in sports cars with big houses a big wallet and a bad boy attitude. This might be what the ladies want in movies but not in real life it's very different. To know what a lady wants you need to understand what you need to do to make her want you sexually. Imagine if you knew the secret formula to do this, the one that tells you exactly what women want sexually. The formula would let you know exactly what you need to do to get a woman to fall into your arms, sounds too good to be true right? Well it's not! It's as easy as being mindful of your own behaviour and adopting steel-proof boundaries. Want to know some more? Well don't move an inch.
Picked By
How to know when he's really fallen in LOVE
Mark Rosenfeld posted a blog entry in Youtube, March 28
You're falling in love with your man deeper every day, but you don't know if he feels the same way for you. It's natural to want to know his feelings for you. What happens when he doesn't say it or he's not the type to say that? His actions tell you he loves you, but you could be wrong, right? So how do you know when he's really in love with you? It's not always so easy, but it's not impossible either!
Picked By
6 Psychological Secrets of Attraction
Psych2Go posted a blog entry in Youtube, March 28
Knowing whether or not someone is "into you" can be incredibly difficult if they don't explicitly say it. In this video, we will be looking at some psychological secrets of attraction.
Picked By
This Healing Mindset That Helps Overcome Trauma Symptoms
Crappy Childhood Fairy posted a blog entry in Youtube, February 22
If you grew up with neglect and abuse, you've needed time to talk about what happened, and how parents and others treated you. But THEN what? Once you've acknowledged the past and gained an understanding of how you developed symptoms of trauma, how can you overcome those symptoms, and move forward with building a happy and fulfilled life? In this video I teach about the two general categories of comments I see on my channel, and what that suggestions about the commenter's readiness to heal.
Picked By
"I Want A Girlfriend" Do THIS First
Joyanima posted a blog entry in Youtube, February 22
I want a girlfriend. Have you ever found yourself thinking "I want a girlfriend" but you're not quite sure if you're actually ready for one? Before you go about doing anything else it's important to make sure that you actually need a girlfriend right now.
It's no mystery why it's a good idea to read some books more than once.
It's no mystery why it's a good idea to read some books more than once.
First of all, you don't need a reason to read a book more than once. When I was a kid, reading a book was the only form of entertainment you could do twice. You could go to see a movie once in the theater, and the next weekend it would be gone forever, replaced by another movie. If you missed a television show, you waited six months for a rerun, and then that show was most likely gone forever. There was no cable, no internet, no tablets. But books? If you liked a book, you could read it as many times as you wanted. Sometimes we read a book more than once simply because we could.
But in these modern times, there are other reasons to read a book more than once. Even with so many other forms of entertainment, even when there are so many books out there that it's impossible to read them all, sometimes it's still better to reread a book that you've already read before.
SIX REASONS TO READ A BOOK MORE THAN ONCE
1. Every other book you try reading sucks
The Godfather by Mario Puzo
Sometimes you need a sure thing when you're reading a book. Whether you're waiting for good/bad news in a hospital or sitting at an airport, you want something that you know will get your mind off of whatever you don't want your mind on. That is NOT the time to experiment with an unfamiliar book or author. There are times you need a sure thing, and The Godfather is my sure thing.
Yeah, the movies (the first two) are okay, but the book has so many sub-plots that you can randomly pick a page and find something interesting. It's not a perfect book (a couple sub-plots are out of place and stupid), but it's very readable. And I turn to it when I need to know that I'll enjoy what I'm reading.
2. Just because you like it
The Three Musketeers by Alexandre Dumas
I read The Three Musketeers a couple times when I was in middle school. It might have been the first novel that I ever read twice, but I'm not sure. I liked it. That was the only reason I reread it. Just because… I liked it. It might be the best reason. But it's not an interesting reason. The Three Musketeers is the only classic literature on my list. I have fond memories of the 1970s movies with Michael York as D'Artagnan and Raquel Welch as Constance, and those movies spurred me on to read the book. Even without the movies (and the Classics Illustrated comic), I would have loved this book.
3. To relive the experience
The Thin Man by Dashiell Hammett
I accidentally found this novel during a low point in my teen years (I won't go into what was going on). This book was lying around the house (I don't know who bought it), and I liked the title because people often commented that I was thin, and it wasn't meant as a compliment. I realized as I read that the thin man was the murder victim, but I liked the mystery novel anyway. The Thin Man got me through a really bad weekend. I don't want to relive that bad weekend by reading The Thin Man, but I like remembering the joy of an unexpected great book. That doesn't happen very often.
4. To win a contest
The Lord of the Rings by J.R.R. Tolkien
When I was in ninth grade, I got into a reading contest with another kid to see who could read The Lord of the Rings the most times. I had read it three times, and he had read it four times, and every time I read it again, he'd read it again just to stay ahead of me. The fourth time I read it, I skipped The Fellowship of the Ring (I claimed to have read it over a weekend). And the fifth time, I just lied and carried The Two Towers with me while I read something else. It may have been the first time I had ever lied about reading a book that I hadn't really read. But it wouldn't be the last time.
I always vowed that if I ever got into another reading contest, it would involve a short book and not a trilogy.
To be honest, I might never read this again. I read it several times in junior high/high school. Back in the 1970s, the rip-offs hadn't been written yet, so there was nothing else quite like it (as far as we knew). TLOTR was a trilogy to be savored. It was a trilogy before trilogies were common. It was a trilogy that made sense as a trilogy. It even had a prequel. Any youngster reading The Lord of the Rings might not see anything unique in it because it's been copied so many times in so many exciting ways (from a youngster's point of view).
Referring to people younger than me as "youngster" probably makes me sound older than I really am.
5. To avoid reading anything by James Patterson
James Patterson writes too many books, so any time you reread a book, it keeps you from buying a James Patterson book (or a book with written by somebody else with James Patterson's name on it).
6. To find details you didn't notice the first time
Some people read books a second time to catch details that they missed the first time. That's a great reason to read a book more than once, but I've never done it. I usually don't care if I missed details the first time I read a book. I might notice details the second time I read a book, but that's never the reason I reread a book. I hope I'm not being disrespectful to people who reread books for this reason. It's not a bad reason. It's probably a better reason than trying to win a contest.
BONUS BOOK to read more than once
The Bible– by God
When God writes a book, it's probably a good idea to read it. Maybe it's a good idea to read it more than once. Any of the above reasons would be ideal for reading The Bible more than once. I would have included The Bible as the example for all six reasons, but it wouldn't be fair to the other books. No human author can compete with God, not even James Patterson (I hope James Patterson isn't thinking of writing his own version of The Bible, but I wouldn't be surprised if he did.). So I hope God understands why I didn't include The Bible as an example for any book that's worth reading more than once.
But enough about me! What books do you turn to when you need a sure thing? What books have you read more than once and why?
Here's the romantic comedy you can read and listen to…
I have hundreds of medium sized Excel files (between 5000 and 50.0000 rows with about 100 columns) to load into R. They have a well-defined naming pattern, like x_1.xlsx , x_2.xlsx , etc.
How can I load these files into R in the fastest, most straightforward way?
1 Answer 1
With list.files you can create a list of all the filenames in your workingdirectory. Next you can use lapply to loop over that list and read each file with the read_excel function from the readxl package:
This method can off course also be used with other file reading functions like read.csv or read.table . Just replace read_excel with the appropriate file reading function and make sure you use the correct pattern in list.files .
If you also want to include the files in subdirectories, use:
Other possible packages for reading Excel-files: openxlsx & xlsx
Supposing the columns are the same for each file, you can bind them together in one dataframe with bind_rows from dplyr:
or with rbindlist from data.table:
Both have the option to add a id column for identifying the separate datasets.
Update: If you don't want a numeric identifier, just use sapply with simplify = FALSE to read the files in file.list :
When using bind_rows from dplyr or rbindlist from data.table, the id column now contains the filenames.
Even another approach is using the purrr -package:
Other approaches to getting a named list: If you don't want just a numeric identifier, than you can assign the filenames to the dataframes in the list before you bind them together. There are several ways to do this:
Effective textbook reading is a key study skill for student success. Nearly every class makes you read them.
"Makes" is the right word here. "Requires," "forces," or "insists" will also work. Few people read textbooks unless they have to. If you read textbooks for fun, shoot me an email. I need to interview you, because I don't think you exist.
Reading textbooks is weird. That's right – weird. Granted, we all have to read them. But even you bookworms – the kinds of people who devour the Twilight books in one week, or Harry Potter, or the Hunger Games books – know that textbooks are a bit weird.
Think about it. Textbooks are the only books you read today that have pictures on nearly every page (Dr. Seuss fans excluded). In fact, should you be forced to read a textbook without pictures, you are in real trouble. Those books get seriously tough. Nevertheless, understanding how to read a textbook is vital.
The goal of a textbook is simple: inform and educate.
The goal of the Harry Potter books is very different. Novels tell stories. Textbooks communicate ideas through explanations of information. Because of this, you need a different strategy for reading textbooks. Follow these four easy steps to get on your way.
1. Don't read front to back (aka, READ BACKWARDS)
Reading a textbook chapter front to back ensures that you will waste time.
I know it's counter-intuitive to not read a book front to back, but don't do it. Mystery novels stink when you read the back first, as do good thriller movies. If you read the last page of a Sherlock Holmes novel before you read the story, it'll be lame. If you know Bruce Willis is dead, don't watch the 6th Sense.
But textbooks are rarely building to a suspenseful twist at the end. I promise. I've read a lot. They don't come with surprise endings. "And then, Abraham Lincoln dodged the bullet!" Yep, that's never going to be in a textbook.
Want to try this strategy? Try reading your textbook chapter in this order:
Go to the questions at the end first . Read them, answer them to the best of your ability, and then begin your actual reading strategies. This will sort of "prime the engine" of retention.
Next, read the final summary of the chapter. This will give you a general background as to the Big Ideas in the chapter.
Third, look at the headings and subdivision of the chapter.
Fourth, read the chapter introduction.
From that point you can then work through the chapter from front to back. By taking this out-of-order strategy, you are focusing not on the chronological order, but rather connecting the ideas found in the chapter together. This is infinitely more important than reading things in the order they were written.
2. Read for Big Ideas
Textbooks are extremely thorough. You, while needing thoroughness, are not going to be able to absorb every tiny detail found in a chapter. You have to focus on what's most important. See our posts on filtering for more info on this.
Textbooks are great because they explain those Big Ideas in context, but make sure you don't get lost in the minutiae. Read for the Big Ideas first and foremost and you'll be able to sift through the mountain of information available.
In textbooks, Big Ideas are easy to spot because they are often in bold print or section headings. Look for the complete sentence thought that summarizes and drives each subdivision and you'll have identified the Big Ideas.
3. Read for Key Details
Big Ideas need support. Otherwise they're just opinions. After you identify each Big Idea, make note of the supporting details that fill out and help the Big Idea make sense.
While this looks different in each subject, they should be relatively easy to pick out. Key people, places, and events often make up the key details in history books. Grammar rules are the important details frequently in grammar books. For languages, vocab are some of the most important key details of the chapter. Check your notes against the questions at the end of the chapter. If they reflect the same key details, you know you are barking up the right tree.
4. Read the book once but your notes multiple times
You should never have to read a chapter more than once (in theory). If you've done your reading well and taken notes as you read, you have a record of the thoughts being communicated.
Granted, it takes a while to adapt to this approach. Don't be upset if you have a time of adjustment before being able to read a chapter only once.
But if you put in the work now to get used to reading a textbook more effectively, consider the time you'll save in the long-run. We promise you'll see the benefits quickly. For those of you who are already using this type of active textbook reading strategy, congratulations on making the honor without losing your social life. Well done.
How to Read Kindle Books on Multiple Devices
Can I read Kindle books on multiple devices? For instance, I bought an book on Amazon, can my family read my kindle books with another android or iOS device too? Can I share my Kindle books with friends?
If you also wonder to know if we can read kindle books on other devices, this post may be just what you are looking for.
With your own amazon account, reading kindle books on one kindle device is very easy. so here I will introduce you 2 ways to read kindle books on multiple devices.
Method 1: Install free kindle reading app
This way is suitable for you if you want to read kindle books on other tablets or smart phones. Such as, read kindle books on iPad, iPod, iPhone, Nexus 7, Nook tablet, Kobo Arc, etc.
And this is also a feasible solution to read kindle books on pc / mac, make sure you can read kindle books on computer.
Step1: Go to Amazon's official site, and select the free kindle reading apps for your device.
Step 2: Register your Kindle app with amazon account.
Step 3: Buy and download books you like. After books downloaded, you can read them on your devices.
Method 2: Make your Kindle books convertible
If you want to read kindle books on other eReaders, such as Kobo glo, Sony eReader, Nook Simple Touch, etc, for you can't install apps on e-ink readers, so we must make our books convertible and transferable to Kindle.
Here are steps for you about how to make kindle books convertible. At first let me tell you the reason why we have to convert kindle books.
Kindle books are with DRM protection
Kindle books are with Kindle format, not common epub or pdf
The DRM problem is one of the obstacles that prevent us reading kindle books on any other devices. And , as you know, non-Kindle devices, such as Kobo, Nook, iPad, and so on, their common ebook formats are EPUB and PDF. So we need a tool to help us strip drm from kindle and convert kindle to pdf or epub. You can search the Internet to find a good tool, here I write my suggestion Epubor Ultimate.
1 Install Epubor Ultimate Converter on your PC
2 Download Kindle books to computer via version 1.24 Kindle for PC/Mac .
3 Remove DRM from Kindle books
Launch Epubor Ultimate, your downloaded Kindle books are listed under Kindle tab in the left side-bar of Epubor Ultimate. Select the books you want to read on other devices, then drag them to the right area to remove DRM.
4 Convert Kindle books to other formats
Set the common epub or pdf as your output format please. So choose the right format and then click on the Convert button to start the conversion. When the conversion has been finished, you will see Succeeded to the right of the book title.
5 Transfer converted Kindle books to other devices for reading
Click on the Folder icon at the bottom right corner of the software, you will get all the converted books from the pop-up window. All you need to do is to transfer them to your devices with USB cable.
As your books are DRM free, you can transfer them to any tablet, eReaders, computers, share them with anybody.
Nothing is more exciting than this, right?
Further reading
More detailed guide about reading kindle books on more devices. Prefer to this list below.
Suppose we have a folder containing multiple data.csv files, each containing the same number of variables but each from different times. Is there a way in R to import them all simultaneously rather than having to import them all individually?
My problem is that I have around 2000 data files to import and having to import them individually just by using the code:
is not very efficient.
15 Answers 15
You can now choose to sort by Trending, which boosts votes that have happened recently, helping to surface more up-to-date answers.
Trending is based off of the highest score sort and falls back to it if no posts are trending.
Something like the following should result in each data frame as a separate element in a single list:
This assumes that you have those CSVs in a single directory–your current working directory–and that all of them have the lower-case extension .csv .
If you then want to combine those data frames into a single data frame, see the solutions in other answers using things like do.call(rbind. ) , dplyr::bind_rows() or data.table::rbindlist() .
If you really want each data frame in a separate object, even though that's often inadvisable, you could do the following with assign :
Or, without assign , and to demonstrate (1) how the file name can be cleaned up and (2) show how to use list2env , you can try the following:
But again, it's often better to leave them in a single list.
A speedy and succinct tidyverse solution: (more than twice as fast as Base R's read.csv )
and data.table's fread() can even cut those load times by half again. (for 1/4 the Base R times)
The stringsAsFactors = FALSE argument keeps the dataframe factor free, (and as marbel points out, is the default setting for fread )
If the typecasting is being cheeky, you can force all the columns to be as characters with the col_types argument.
If you are wanting to dip into subdirectories to construct your list of files to eventually bind, then be sure to include the path name, as well as register the files with their full names in your list. This will allow the binding work to go on outside of the current directory. (Thinking of the full pathnames as operating like passports to allow movement back across directory 'borders'.)
As Hadley describes here (about halfway down):
map_df(x, f) is effectively the same as do.call("rbind", lapply(x, f)) .
Bonus Feature – adding filenames to the records per Niks feature request in comments below:
* Add original filename to each record.
Code explained: make a function to append the filename to each record during the initial reading of the tables. Then use that function instead of the simple read_csv() function.
(The typecasting and subdirectory handling approaches can also be handled inside the read_plus() function in the same manner as illustrated in the second and third variants suggested above.)
Middling Use Case
Larger Use Case
Variety of Use Cases
Rows: file counts (1000, 100, 10)
Columns: final dataframe size (5MB, 50MB, 500MB)
(click on image to view original size)
The base R results are better for the smallest use cases where the overhead of bringing the C libraries of purrr and dplyr to bear outweigh the performance gains that are observed when performing larger scale processing tasks.
if you want to run your own tests you may find this bash script helpful.
bash what_you_name_this_script.sh "fileName_you_want_copied" 100 will create 100 copies of your file sequentially numbered (after the initial 8 characters of the filename and an underscore).
Attributions and Appreciations
With special thanks to:
Tyler Rinker and Akrun for demonstrating microbenchmark.
Jake Kaupp for introducing me to map_df() here.
David McLaughlin for helpful feedback on improving the visualizations and discussing/confirming the performance inversions observed in the small file, small dataframe analysis results.
marbel for pointing out the default behavior for fread() . (I need to study up on data.table .)
Here are some options to convert the .csv files into one data.frame using R base and some of the available packages for reading files in R.
This is slower than the options below.
Edit: – A few more extra choices using data.table and readr
A fread() version, which is a function of the data.table package. This is by far the fastest option in R.
Using readr, which is another package for reading csv files. It's slower than fread , faster than base R but has different functionalities.
With many files and many cores, fread xargs cat (described below) is about 50x faster than the fastest solution in the top 3 answers.
Time to read 121401 csvs into a single data.table. Each time is an average of three runs then rounded. Each csv has 3 columns, one header row, and, on average, 4.510 rows. Machine is a GCP VM with 96 cores.
The top three answers by @A5C1D2H2I1M1N2O1R2T1, @leerssej, and @marbel and are all essentially the same: apply fread (or read.delim) to each file, then rbind/rbindlist the resulting data.tables. For small datasets, I usually use the rbindlist(lapply(list.files("*.csv"),fread)) form. For medium-sized datasets, I use parallel's mclapply instead of lapply, which is much faster if you have many cores.
This is better than other R-internal alternatives, but not the best for a large number of small csvs when speed matters. In that case, it can be much faster to first use cat to first concatenate all the csvs into one csv, as in @Spacedman's answer. I'll add some detail on how to do this from within R:
However, what if each csv has a header?
And what if you have so many files that the *.csv shell glob fails?
And what if all files have a header AND there are too many files?
And what if the resulting concatenated csv is too big for system memory? (e.g., /dev/shm out of space error)
Finally, what if you don't want all .csv in a directory, but rather a specific set of files? (Also, they all have headers.) (This is my use case.)
and this is about the same speed as plain fread xargs cat 🙂
Note: for data.table pre-v1.11.6 (19 Sep 2018), omit the cmd= from fread(cmd= .
To sum up, if you're interested in speed, and have many files and many cores, fread xargs cat is about 50x faster than the fastest solution in the top 3 answers.
Update: here is a function I wrote to easily apply the fastest solution. I use it in production in several situations, but you should test it thoroughly with your own data before trusting it.
Update 2: here is a more complicated version of the fread_many function for cases where you want the resulting data.table to include a column for the inpath of each csv. In this case, one must also explicitly specify the csv separator with the sep argument.
Caveat: all of my solutions that concatenate the csvs before reading them assumes they all have the same separator. If not all of your csvs use the same delimiter, instead use rbindlist lapply fread, rbindlist mclapply fread, or fread xargs cat in batches, where all csvs in a batch use the same separator.
Several years ago I was enrolled in a neurolinguistic programming course. The creator of the course said something that has had a profound impact on how I consume information.
Most people think they're going to listen to something one time and change. But the problem is that the subconscious mind doesn't work that way. There are so many things competing for the attention of your subconscious mind. It's only when you listen to something over and over that it manages to cut through the noise and your subconscious realizes "this is important."
In my mind, this applies to books, courses, seminars and just about anything else you consume in an effort to change your behavior.
Many of the books on my shelf I've read more than once.
There are some that I crack open on a regular basis to serve as inspiration for my daily writing session.
And of course, there are those very special books that as Darius Foroux says you should read once a year.
So let's look at some of the hidden benefits.
While the best possible way to remember what you read is to write about it, revisiting it is another powerful way to remember it. The goal, of course, isn't to mindlessly read something over and over. Use a system like Ryan Holiday's notecard system or the index system that Cal Newport talks about in this blog post.
Anytime I return to a book or program of some sort, I catch things that I didn't the first time. I find new pages to dog ear, new quotes that catch my attention, and as a result, I have new thoughts and ideas of my own. You'll be amazed at how much you didn't catch the first time you read a book or listened to something. You might have missed the one sentence or one moment that would have caused the change in behavior that you're seeking.
"If you read it and hear it, you're much more likely to take action on it." — Zig Ziglar
For many of my books, I end up listening to the audiobook and also buying the physical book.
For example, I originally listened to the audiobook of Broadcasting Happiness. I found the ideas so valuable, that I bought the physical book. I'm also planning on doing the same with Peak by Anders Ericsson. It also doesn't hurt that I've been fortunate enough to interview both authors.
Seth Godin said the following about audiobooks in a post on his blog
There's no doubt that a well-read recording of a novel can make a long car ride pass much more quickly. We're eager to find out what happens next, and sometimes, it's even worth sitting in the driveway just to find out……I'm more interested, though, in non-fiction audio, particularly the kind you listen to ten or fifteen or a hundred times in a row……One listen isn't going to do you any good, but if you make it a habit, you might be surprised.
If a message is drilled into your head over and over again, you're much more likely to take action on it.
If you've ever been to a conference, a weekend seminar or some sort of motivational event, you've experienced the "high" that comes from such a thing. You sit there on the last day convinced that you're going to completely change your life, write that book you've been thinking about, start that company, etc, etc. A day or two after you return home, the buzz wears off, and it's back to the grind.
One of the reasons for this is your environment. The environment at these events is designed to elicit such a response. Fortunately, it's possible to design your environment for optimal performance and creativity once you're aware of the 9 environments that make up your life.
When you revisit something over and over again, the impact of that information actually lasts. It's not the temporary buzz you get from motivation and inspiration.
In his program How to Stay Motivated, Zig Ziglar tells the story of people who say to him "you know Zig whenever I get down I put in one of your tapes and it gives me a little boost." Zig says "why on earth would you wait until you get down? That's like constantly waiting to fill your tank until it's almost empty."
The point that I believe Zig was trying to make is that when we revisit something, a book or program, the impact of that program lasts.
There are a number of different ways to go about this:
You can return to a book and just read a passage from it. Some of my favorite books to do this with are The War of Art, The Obstacle is the Way, Bird by Bird, and Unthink. I actually have one shelf dedicated to books that I refer to for daily inspiration.
Read a book all the way through a second time. I recently read Jhumpa Lahiri's The Namesake after almost 8 years. As somebody who is now and author, and somebody who has grown up as an Indian American male (the major theme of the story) I had a much deeper appreciation for it.
Play an audiobook on repeat until you're sick of it. While that might sound torturous, when you realize just how much more powerful the ideas have become, you won't dread it so much.
Don't underestimate the value of reading any book more than once. A second read contains so many hidden benefits, far beyond what I mentioned above. You may not know what those benefits will be, but that doesn't mean it's not worth giving any book a second read.
If doing the best work of your life is important to you, you'll love my free guide: " Optimizing Productivity & Creativity. "
The tactics I've packed into this guide allowed me to write over 1 million words in the last 2 years. What could it do for your life's work? Don't miss it.
Like the article? Click the 💚 below to share with others on Medium.
Lori Kaufman is a technology expert with 25 years of experience. She's been a senior technical writer, worked as a programmer, and has even run her own multi-location business. Read more.
When laying out your document in Word, it's sometimes helpful to view multiple pages on the screen at one time, especially if you have a large monitor. Seeing multiple pages at a time allows you to get a sense of how your overall layout looks.
NOTE: We used Word 2013 to illustrate this feature.
You must be in "Print Layout" view to view multiple pages at one time. If you are not in "Print Layout" view, or if you're not sure which layout is currently active, click the "View" tab.
In the "Views" section of the "View" tab, click "Print Layout."
To view multiple pages at one time, keep the "View" tab active. Place your cursor in the text of the first page you want to view in the multiple-page view. In the "Zoom" section, click "Multiple Pages."
By default, two pages are shown side-by-side. The pages are shrunk so the full pages can be viewed. This is why viewing multiple pages at once is good for reviewing your layout, but not necessarily for reading your document.
To return to viewing one page at a time, click "One Page" in the "Zoom" section of the "View" tab.
The page in which you had placed the cursor displays, but smaller than 100 percent. To zoom back to regular size, click "100%" in the "Zoom" section.
You can view more than two pages at a time. To do so, click the "Zoom" button in the "Zoom" section of the "View" tab.
The "Zoom" dialog box displays. You can zoom to various percentages (including a custom percent), widths, or the whole page. To view multiple pages, select the "Many pages" radio button. Then, click the monitor button below the radio button and select the number of pages you want to view at a time from the drop-down menu.
The "Preview" shows how the pages will be displayed. Click "OK" to accept the change and close the "Zoom" dialog box.
The view changes to show the number of pages at once that you specified.
Remember to go back to viewing one page at a time, click the "One Page" button. To go back to viewing your text at 100 percent, click the "100%" button.
Account Information
Share with Your Friends
How to work with multiple documents in Microsoft Word
How to work with multiple documents in Microsoft Word
Learn tricks for opening, viewing, and managing multiple documents in Microsoft Word.

Image: iStockphoto/rvolkan
If you ever need to view and work with multiple Microsoft Word documents at the same time, Word has several features to help you with that maneuver. You can easily switch back and forth between each document. You can view two or more open documents horizontally or side by side. You can work with each document separately. You can also enable synchronous scrolling to scroll through two documents together. Let's check out some of these helpful Word features.
I'm using Word from an Office 365 subscription, but the following information will apply to the past few versions of Word as well.
To start, launch Word and open two documents–maximize both of them. You can switch from one document to another a couple of ways. In either document, click the View tab, click the Select Document icon, and then select the document you wish to see (Figure A).
Figure A
Alternatively, you can press Alt-Tab to view and cycle through all your open windows and then choose the document you want to view (Figure B).
Figure B
Maybe you want to see both documents on the screen at the same time. In either document, make sure you're at the View Ribbon and click the icon for Arrange All. The two documents open horizontally with one window on top of the other. You can work with each document independently. Your toolbars and Ribbons remain the same size, so all the necessary commands and features are accessible (Figure C).
Figure C
If you'd rather work with the two documents vertically, click the icon on the View Ribbon for View Side By Side. You can do this in either window. The two windows are rearranged vertically (Figure D).
Figure D
Perhaps you want to work with one document full-screen but then return to the two-window layout. Maximize the document you want to see full-screen. When you're done, click the Restore icon to bring back the previous two-window layout.
By default, each document window works independently, so you can scroll in one document without affecting the other. You can also scroll through both documents at the same time. To do this, make sure both documents are in side-by-side mode. In the View Ribbon, click the icon for Synchronous Scrolling (it's the second small icon to the right of Arrange All)–you'll need to activate this icon in both windows. Now try scrolling in one document–the other document should scroll in tandem. To turn off synchronous scrolling, click the same icon in one or both windows.
Maybe you want to throw another document or two into the mix. On a practical level, you don't want to juggle too many documents at the same time because then the process becomes unwieldy. But perhaps you just want to open a third and even a fourth document to find information or copy and paste content from one document to another.
First, return to the original horizontal layout by clicking off the View Side By Side icon (it's the first small icon above the icon for Synchronous Scrolling). Then, go to File and Open. Click Browse to get to a File Manager window. If you want to open more than one additional document, simply hold down the Ctrl key and then select the documents you need.
After the new documents appear, go back to the View Ribbon. You can use the Switch Window icon or the Alt-Tab keystroke to jump from one document to another. If you want to see them all on the screen, click Arrange All. The layout you get will depend on how many documents you're viewing. But viewing four or more documents at the same time may be awkward, as you can't see much of each document. You can try Side By Side View and choosing which documents you want to view side-by-side. You can also zoom in and out and change the view in each document in other ways. Here's one tip that can help: Collapse the ribbon in each window–click the Collapse The Ribbon icon all the way at the right of the Ribbon. That will free up more space for you to see more of each document (Figure E).
Figure E
Microsoft Weekly Newsletter
Be your company's Microsoft insider by reading these Windows and Office tips, tricks, and cheat sheets.