Advice On Renting An Antique Booth
Let's talk turkey. and I am not referring to Thanksgiving, I'm talking about renting a booth space in an Antique Mall or Antique group shop. How much should one expect to pay for leasing space and what kind of space is right for you? My experience as a leasee covers a few decades. I have been known to stuff my kitsch n collectibles into shelves, showcases, open shelves, small booths, large booths as well as odd shaped nooks and crannies. I love challenging spaces.
Everything And The Kitsch n Sink
I even offered to clean the bathroom of one Antique group shop in exchange for allowing me to hang my kitschy decor on the walls. The joke is that I sold more stuff from the bathroom than from my open shelves at the opposite end of the store.

What Kind Of Space Do You Need For Your Antique Business?
There are many different types of rentals available including showcases, booths (full or half) and shelves. If you walk into a lovely store and they show you a nicley placed open shelf unit or perhaps an available half booth (i.e. 6′ X 9″) would you know if that is a good deal or not? Here are some of the questions to review.
What You Need To Consider When Renting An Antique Booth
1. How large is the group shop or Antique Mall ( how many dealers are there?)
2. How much traffic does the Antique Mall get.
3. How many years has the store been in business?
4. How many days is the store open?
5. How much space will you get?
6. Do you have to work the floor?
7. How much stuff do you have?
8. What is the average price your items will sell for?
9. How big is your stuff?
10. Does your stuff need to be locked up?

How Much Do Antique Booths, Showcases, Open Shelves Rent For?
Remember rental prices vary throughout the country. But most stores that I am familiar with offer full booths at $200 -350.00 a month and half booths $125.00 -175.00 a month. You may also find that you can rent open shelves or showcases for $75.00-200.00 depending on size and placement.
What Are You Planning On Selling In Your Antique Booth Or Showcase?
So readers how do you begin figuring all this out. what will make sense for you. a booth (half or full), a showcase, shelving and where? First I would ask what are you planning on selling? If you like to go to tag sales and pick up a little of this and a little of that. does this and that add up to what your rent is? If most of what you have to sell are collectibles under $15.00-20.00, will you make your rent?
On the other hand if you are selling gorgeous antique and collectible perfume bottles and you have a following, a showcase for $150.00 might be just fine. But don't take a showcase for selling Beanie Babies in 2012-2013 cause you'll get burnt!
Where Is The Antique Mall Or Group Shop?
Now that we have cleared up what you are selling and if you can make the rent . Where is this Antique Mall or group shop you are considering? If you have to bring an Eagle Scout with you to find it you may be in trouble. On the other hand if the antique store is located on a main road, has been around for a long time and has a waiting list, that's a positive sign.
How Many Days Is The Antique Store Open?
And how many days is the antique group shop open? Is this a 7 days a week place? Or is it only weekends? Use your noodle, why pay the same amount of money for a weekend place as for a place that is open full time, sevens days a week? While you are contemplating your options, also look at how many people are on hand helping customers in the prospective store you want to rent space in. I would also wonder about how well the store is managed. Are all the moving parts working together for a smooth operation? Do you feel comfortable in this store?
How Frequently Will You Get Paid?
Some antique stores are run with fancy computer systems while others (even successful ones) use
old fashioned record keeping? Find out more about how sales are processed. Is there a administrative charge deducted from your check? Do you have to do floor time? How often will you get paid? How does the store keep track of inventory? What kind of record will you receive etc.
Is This Where You Want Your Antique Business To Be
Before you sign on the dotted line, is this store conveniently located ? Remember you will need to replenish your stock frequently. Can you see yourself travelling easily to this store? Do you like the staff? Is this where you want your Antique business to be?
I welcome comments, experiences, suggestions, ideas from my readers.
Location, Location, Location. Where Will Your Antique Booth Be Located ?
I swore when I moved into The Collinsv
ille Antiques Company of New Hartford, Connecticut a few years ago that once I moved into my assigned spot, that I was never moving again. I mean I had SO MUCH stuff . the thought of moving (even from one space in the store to another) was insane. Well after plenty of time in the back of my Mall, I gave in and decided I could pack and move after all.
Moving Uptown (Upfront)
So after a better piece of real estate materialized, I packed up my booth and moved "uptown" (to the front of the store) a few
weeks ago. I am happy as a lark. The new location is fabulous. And what perks the new spot has. I am a stone throws from the powder room and close to the entrance to the shop (easier schlepping ).
Challenging Spots In An Antique Mall
Now I have been in many different Group
Shops over the years and have a good deal of experience with all kinds of spaces. I happen to like odd spots. I enjoy the challenge of making them work. I have even had an annex spot in the bathroom of one of the stores I rented from.
The truth is..if you have items of interest to others. people will find you, no matter where you are in a big Antique Mall. But if you had to decide where in the shop to go. there are some issues to consider..
Questions To Think About When Renting Antique Booth Space
So what can I tell you about getting ready to rent a space in an Antique Mall
mall? Here are some ideas to think about.
1. Does your booth have good lighting?
2. Do you have built in wall space? (Important if you have a lot of pictures).
3. Is your booth on an end of an aisle where traffic is? (Premier space). Can you place shelving units towards the aisle?
4. Who is next to you, near you, across from you? (Will you be buried, lost, overshadowed?) Are you near similar or different dealers. What is your preference?
5. Which way does the traffic seem to flow in your Group Shop? (Watch the movement)
6. Can you hang lighting fixtures for sale and other items above your booth?
7. Are there any built in shelves in your booth? Are their natural walls? Are their any structural "quirks" taking up your space?
8. Is your booth large enough for furniture? Can you fit a showcase in your booth?
9. Is there electricity in or near your booth?
10. Are you close to the front desk? (I was rented space next to the register..great location).
11. Do you mind being on the second floor or basement level? Is the rent much less for these options?
12. Is there a lot of staff on the floor to help customers and to open showcases? Watch the activity first hand.
Postscript : Often it takes time before you learn about the premier spots in any given Antique Mall. In very good Antique Malls you may have to work your way up to the better real estate.
If there is truly a waiting list in the mall you are after, keep checking with the owner. Many times it is all a matter of timing. Stick with it, and be wary of a place that has a lot of openings.
busy and successful Antique Malls are worth the wait. And by all means talk to as many dealers as you can before hand and get the inside scoop.
Rent A Booth
Who We Are – Holly Antiques has a long history of being a quality source for antiques and unique collectibles. We pride ourselves in our historic setting, pleasant, helpful and knowledgeable staff as well as the diverse offerings of our vendors.
Booth Rental
Booth Leasing – Three (3) month minimum initially, then month to month thereafter.
Rent – Booths are priced per sq. ft., beginning the first day of each month, payable in monthly installments, payable in advance, and due on the first day of each month.
Security Deposit – $50 is due upon signing.
Credit Card – A valid credit card is necessary to lease booth space and will be kept on file.
Showcases – Locking and non-locking Rental Display cases/units are available on a first come, first serve basis. Price varies based on the specific case(s) dimensions in question. Showcases leases are month to month. Booth Vendors may also bring in their own showcases to be placed in their booth. If showcases are to be locked, a labeled/tagged key MUST be provided to Holly Antiques to permit access by Holly Antiques Staff. If vendor rents a case from Holly Antiques that does not come with a lock, the vendor may supply a suitable lock and key of their own. Lighting and shelves for showcases rented from Holly Antiques will be dealt with on a case by case basis.
Commission, House Fees and Sales Tax – A 10% commission will be charged on all cash/check sales and an additional 2% on credit card transactions. A booth is considered 100 sq. ft.; larger booths require more work days. Items over $20 are subject to a 10% discount (upon customer request) unless tag is marked "Firm". Renter agrees to clean, dust, rearrange, and replenish merchandise within leased space at least twice monthly. If Holly Antiques Staff is required to clean leased space, a monthly $40.00 fee will be added to rent to cover labor and supplies. Holly Antiques collects any eligible sales tax. Sales tax is then paid to the Renter whose responsibility it is to report via their own sales tax number.
Merchandise – No New, reproductions or crafts permitted. All Items must be dated prior to 1980 or be of significant collect-ability. Holly Antiques reserves the right to refuse items.
To find out if your items would be appropriate for Holly Antiques, contact us at 248-634-1800 with a list of the types of merchandise you will be featuring. Photos may also be presented. They will be peer reviewed and any concerns will be addressed by the owners of Holly Antiques or their representative.
Liability – Holly Antiques owners and employees are not responsible for any resulting damage, loss, injury or legal action. Holly Antiques will maintain liability insurance. Renter is responsible for any desired renters insurance. The renter will sell at their own risk. Holly Antiques will monitor all goods in the shop to the best of their ability. Holly Antiques has invested in an electronic video monitoring system, alarm system and trustworthy staff. We will make every effort to safe guard your inventory.
Marketing and Branding – Holly Antiques, retains the right to display and market products through its web site, social media pages, promotional events, advertising and in-store displays. Renters are encouraged to advertise through their own channels such as their own website and social media platforms. Holly Antiques also encourages you to tag, pin, or comment on any of the Holly Antiques social media sites as a means of bringing visibility to the shop. Printed materials such as flyers and cards will be made available to share with interested people.
Lessee/Vendor Rules and Responsibilities –
The Renter agrees to maintain their space, and to keep it replenished.
The Renter and Holly Antiques will work hand in hand on the displaying of goods the Vendor wishes to sell. Holly Antiques staff will have final word as to display location
ALL merchandise must be clearly and accurately tagged at all times. Items found in the mall without tags will be handled through the Owners Account (#83) for safe keeping. If sold, the renter may recover the item or value thereof upon identifying the untagged/missing item.
Items being used for display purposes ONLY must be clearly marked with your Vendor/booth number and "Display Only" or "Not for Sale".
Decorating, cleaning and maintaining your space is the renter's responsibility. A "cleaning fee" may be charged if neglect occurs. See above "Commissions, house fees and sales tax"
The Renter may stock their booth anytime during the regular store hours. HA Staff and Management may not be kept after hours to work on your space.
Holly Antiques is a Smoke-free building.
Termination of Lease – In the event a renter wishes to discontinue the rental agreement after the initial 3 month lease period, a two (2) week notice is requested. Holly Antiques has the right to terminate a renter's privileges immediately if policies are not adhered to. If the Renter prematurely terminates the agreement, Holly Antiques reserves the right to invoice for the full balance of the agreement plus all incurred fees due.
Hours of Operation – Holly Antiques will be closed on some holidays (Christmas Day, Thanksgiving Day, Easter and New Year's Day) as well as any severely inclement weather days and reserves the right to close at the owners' discretion. Hours of operation will be posted.
Staffing – Holly Antiques will provide necessary Key Holders and Sales Counter Staff for daily operation. Holly Antiques Staff's primary duty is to Open and Close, manage the facilities, oversee daily sales operation and transactions and provide assistance with greeting guests. For this to truly be a success, Vendors are encouraged to be present whenever possible to work their booth, wait on guests, answer questions and encourage sales. Only Holly Antiques Staff and Trained Personal will be permitted to process sales transactions.
Booth Vendor Duty Days and Work Schedule – In order for us to keep our rental fee competitive, Vendors are required to work the Mall. It's a simple fact; Vendors who "work" tend to sell more items! Each Booth Vendor is required to work the Mall two days per month per 100 sq. ft. (3 days for up to 200 sq. ft., and 4 days for up to 300 sq. ft.). Sign up for work days is be permitted up to a quarter (3 months) at a time on a first come first serve basis. Holly Antiques must be notified 24hrs in advance should the Vendor be unavailable to work a specific day at which time a sub will be hired. For Vendors who cannot work or choose to not work their duty days, Holly Antiques will provide someone to cover your shift at a fee of $35 per day. These work days are in addition to the regular visits to refresh, dust and restock your booth. On Work Days, Vendors are responsible for greeting and assisting guests, working "the floor", answering questions and providing support as needed to the Holly Antique staff.
We hope this answers your basic questions. We look forward to possibly working with you. It is our goal to provide a safe, organized, clean and attractive historic environment that will only enhance the shopping experience for our guests.
Should you wish to become a Vendor at Holly Antiques, contact us at 248-634-1800 to schedule an appointment.
I got a sweet note from Jayne at Chalk Mercantile in CT. ( Stop by and LIKE her on FaceBook! ) She's starting a mall and would like some advice. Here's a bit of her note:
I own a small shop , ChalkMercantile.com, and am moving into a much larger space in one of our shoreline towns. I've changed my business plan a bit and will now have vendor space and your blog has been such an important resource for me! If you have any advice for a newbie antique/decor mall owner I would truly appreciate it.
There should be an entire blog devoted to the owner side of the business! I have never been an owner so I can't possibly know all the details, but I have picked up plenty of info from several owners along the way. If I ever wanted to open my own shop, I feel like I'd have a head start on most, but as I keep saying, I'm a retired teacher and I don't want to work too hard at anything! 😀
Anyway, here are a few things that come to mind right off the top of my head. They aren't in any certain order.
1. Build some mutually beneficial connections.
One of the best tips I can tell you is to go to a similar store that you admire (not so close that it's competition – maybe a couple of towns away) and talk to the owner. Most owners are really happy to offer advice if you aren't their competition. Even after you are established, whenever you go out of town, if time permits, always stop by malls and talk to owners. If an owner is super helpful, offer to buy them lunch or do something to show your appreciation. Always give them a shoutout and share their Facebook page when you get home. This is how the owner at Rockin' B Antiques (one of the stores I promote) got started 15 years ago. She still talks about how helpful this was and she is great at passing help along to other mall owners.
2. Promote Your Store AND Your Vendors.
Make your Facebook page a priority and promote the big items of anyone who rents a space from you. A web page is hit or miss. Facebook can go out to more people on a regular basis. Show your furniture often – that really gets folks in the store. And encourage your vendors to participate on Facebook. Bribe them if necessary – promote things more for those who participate. Their participation will help increase the number of LIKEs on your page!
If you aren't good on Facebook, find someone who is. You can even trade rent for Facebook services. If you farm this task out, make sure that YOU are the page manager and they are just a content creator. Do NOT have two managers. One manager can oust another. They can take off with your page. They can do all sorts of vile things. It happens more often than you'd believe. Let them start on a trial basis. You don't want to get stuck with someone who doesn't do a good job and then have to go through an uncomfortable dismissal. Better to ask them to do it for a few months and then, if you love their work, ask them if they'd like to do it for a little longer. Also, make sure you have a good opportunity to look at their writing before you sign them on. It's amazing how many creative, talented, well-spoken people can't write or spell worth a flip. Which brings me to the next tip.
3. Delegate Wisely.
Have special vendors help with some tasks so you won't be overloaded. Everyone has talents. Not every person excels at writing, just as not every person is artistic. No one can do it all. You need to figure out what your vendors do best and enlist their help when possible. You may not want that creative person with poor writing doing your Facebook page, but they might be just the person to set up a window display that makes customers swoon. You may not want a shy or depressed person helping at the register, but they might be just the person to keep plants at the store looking perky.
4. When you change a policy, give advance notice.
When you make a change that affects vendors (rent going up, pricetag requirements, certain items no longer allowed, etc) try not to say effective immediately. Most vendors can't get over to the give advance warning. Starting in two months or whatever. This is just a matter of respect.
5. Choose vendors wisely. Insist on photos. If they have a booth elsewhere, check it out – online or in person. Once you have a full store, let future incoming vendors start out in a small out-of the-way space on a trial basis. After they have proven themselves with a nice booth and decent sales (and you have interacted with them enough to know they aren't a complete nut) then let them move into a better booth when one comes open.
6. Allow one space per vendor. This one is iffy. I know of some great exceptions. But generally speaking, it's better to have more vendors in the store than fewer vendors with multiple booths. If a vendor has one space, they work harder to keep it looking good and they change things around regularly. When they spread out into more booths, the booths tend to get stale or even unkempt and the vendor isn't always as good at filling in as things sell. If the vendor is great, give them a slightly larger booth. Also, more vendors in the store generally gives the store more variety. Each vendor brings their own specialty. A mall with nothing but chalk painted furniture wouldn't attract as many customers as a mall with a number of styles.
7. Pay Extra Attention to Your Store's First Impression. Think about all the senses. When a customer first enters, the immediate surroundings should look fabulous, feel comfortable (not too hot or too cold), and smell pleasant without being overly perfume-y. Change front displays often so repeat customers will never get bored.
8. A mall owner has two customer groups – the people who shop at the store and the vendors who rent spaces.
The mall owner needs to keep both groups happy. Most owners strive to keep customers happy. They know that's their bottom line. Not all owners realize they should work just as hard at making the vendors happy and doing whatever they can to help them do better. Word travels. If you want to make sure you keep great vendors and keep a waiting list of potential good vendors, then be a great owner. My smart friend, Martie, taught me this one. She's a booth vendor but used to own a shop.
Antique malls are shopping malls that provide the opportunity for shoppers to browse through a wide range of items that are considered to be collectibles. Various stores or booths in the antique mall may be devoted to such items as furnishings, clothing, jewelry, and even appliances. In many instances, the mall is located in sites formerly occupied by department stores, such as the anchor store space in a strip mall.
One of the reasons why so many people enjoy antiquing at a mall of this type is the wide range of selections. Unlike a single antique store, where the type and number of available items is usually more limited, the antique mall caters to collectors of both the usual and the unusual. For example, a single store of this type is likely to carry the more predictable items such as beds, dressers, and sofas. But this mall is also likely to have hard to find items like fainting couches, original wood burning stoves, tapestries, and even authentic period clothing from eras gone by. Even for people who are not looking for a particular item, browsing through an antique mall may provide hours of enjoyment.
In some communities, the antique store has brought renewal to older shopping centers. As demographics change and large department stores move to new areas of the city that are growing in population, many of these older shopping hubs fall into decay or are torn down to make room for new construction. The advent of the antique mall can often signal a revival for the area, enticing niche shoppers to the area. In turn, small cafes and other specialty shops begin to fill smaller spaces around the mall and make the old shopping center a favorite destination once again.
While many may think that an antique mall would be an expensive place to shop, the fact is that many items carried in malls of this type are very affordable. Some of the items are not restored, making them attractive bargains. There is usually an array of old books, costume jewelry, and knick-knacks that tend to be low-ticket items. Some malls today even carry vinyl records, making the mall attractive to yet another niche market of customers.
Along with brick and mortar antique venues, there is also the option of shopping online. As with other retail options, people can choose to set up an Internet based store and offer antiques for sale online. While these types of stores may not offer as wide a selection as the more traditional antique mall down the street, they are great places to look for items that cannot be found elsewhere. Some of these online malls even offer free shipping for purchases over a certain amount.
After many years in the teleconferencing industry, Michael decided to embrace his passion for trivia, research, and writing by becoming a full-time freelance writer. Since then, he has contributed articles to a variety of print and online publications, including SmartCapitalMind, and his work has also appeared in poetry collections, devotional anthologies, and several newspapers. Malcolm's other interests include collecting vinyl records, minor league baseball, and cycling.
After many years in the teleconferencing industry, Michael decided to embrace his passion for trivia, research, and writing by becoming a full-time freelance writer. Since then, he has contributed articles to a variety of print and online publications, including SmartCapitalMind, and his work has also appeared in poetry collections, devotional anthologies, and several newspapers. Malcolm's other interests include collecting vinyl records, minor league baseball, and cycling.
St. Louis Antique Mall is now accepting applications for booth rentals.
We are a group of dedicated buyers and sellers of antiques, vintage and collectibles with extensive marketing experience that are looking for like-minded people to join us.
Calling All Lovers of the Old and the Odd (Meet the Owner)
Why Have a Booth at St. Louis Antique Mall?
The mall is conveniently located and easy to reach from I-70, I-170, the airport and Highway 40.
Owners are successful marketers with a decade of small business marketing success and an extensive budget to drive people through the front door.
Passionate and friendly vendors and team members.
Support and advice from successful vendors regarding staging, pricing, finding items, etc via our own private FB group for vendors.
Amazingly simple inventory and barcode system to track inventory. Log your items from home, print off labels at the store, and you're done. Inventory is updated automatically as your booth sells items.
Automatic monthly payment of sales into your account.
Access to a wide network of malls, collectors, and vendors – all committed to your success.
Start Your Application Now
Are you in love with the old and the odd? Handcrafted, vintage, collectibles, antiques, primitives, midcentury, boho, records, toys, etc? Come join us. Begin your application by completing the form below.
Browse and book from thousands of venues available internationally on Storefront
Choose your country
Renting Shopping Centre Space
The shopping mall has it all! Consumers go there for entertainment, dining and shopping. They have retail stores, department stores, and the food court to have fun. There's no doubt that malls attract many shoppers! Try renting a pop-up store in a mall for a day, week, month, or more and be amongst like-minded retailers while benefitting from tons of shoppers and high foot traffic.
Mall spaces are perfect for pop-up stores because there are so many different configurations of spaces available, all surrounded by other retailers, brands, and shops that drive higher levels of traffic compared to permanent locations. Plus, there are so many different types of shoppers that enter malls that it's easy to attract new customers as well as reach your your target demographic.
You can rent space for your pop-ups, kiosks, carts in a shopping mall for your retail operations. Mobile carts and kiosks are used for non-traditional uses such as product launches, speciality shops, and experimental marketing. Rent kiosks or carts on a monthly rental basis at your favourite mall.
Storefront can help you rent a pop-up or lease retail space in the top cities of the United States: Washington DC, Atlanta, and from malls like the Mall of America. Storefront is the world's largest online marketplace with suitable space options to rent pop-ups and event spaces for businesses. Our aim is to make retail space for businesses accessible. We have access to 10,000 listings with more than 25 million square feet worldwide to find your ideal space with flexible lease terms and the best leasing opportunities. It is also customizable according to your business plan and base rental budget.
If you already know the location you want – city(ies), neighbourhood (s), then jump over our city list and browse our 10,000+ spaces available across 60+ cities worldwide.
If you are unsure about what retail area is the best fit for your brand, look at one of our neighbourhood guides or contact a concierge. At Storefront, we live and breathe shopping mall space: we'll be happy to provide corporate clients with a free consultation!
How to rent a space in the mall
Just browse our list of cities and find your favourite mall: you will be able to read the details of each listing and post your inquiry directly there! To maximize your chances to secure the best space, have the following at hand: your brand profile (products, pricing, website, social media, previous mall experience) and your top requirements (surface needed, power capacity etc.).
The benefits of a short term rental in a shopping center location
In a shopping mall, visitors come to be surprised, discover new things, and of course: shop! This is the ideal set-up for you to create a connection with your customers. A pop-up store in a mall will surprise passersby, allow them to walk inside and discover something new as they are passing by the spaces! By popping up in a mall location, you'll surprise and delight your customers with a memorable experience and a unique approach to retail: a win-win!
Top reasons to rent mall space with Storefront
Incomparable foot traffic from the best locations
On average, malls have between 5 million and 8 million visitors a year!. Identifying where your customer target while choosing the location is important.
Meet the consumers where they are
It's not just a destination; it's a high-action zone! Consumers go there for surprises, to discover new things, and especially to buy!
Unparalleled Visibility
Mall spaces give you the visibility and flexibility you need to activate your store.
Open 7 days a week
As malls are open every day of the week, it's the perfect opportunity to increase cash flow on high traffic on both the weekdays and weekends for your business.
Great customer experience
Feel free to get creative and innovative in this pop-up space; it's yours for the taking!
The proximity
Popping up in a mall is a great way to get closer to your customers, get to know them better, and create a memorable experience.
Peerspace
April 13, 2022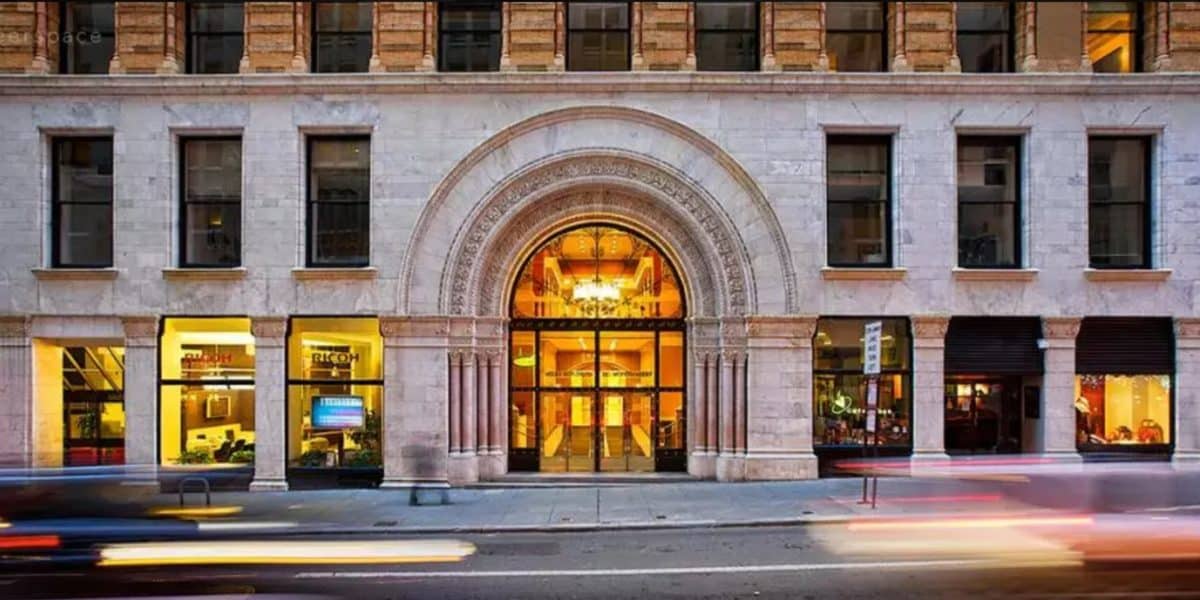 Answered
Storefront spaces on Peerspace cost anywhere between $40 — $250 per hour.
Are you looking to launch a memorable pop-up or retail experience? Finding the perfect space can be a daunting task with so many unknown variables — and one of the first important questions that will arise is, "How much does it cost to rent a store in the mall?"
Luckily, you've come to Peerspace, the largest online marketplace for hourly venue rentals. We offer access to one-of-a-kind spaces in thousands of cities and towns across North America and beyond. And yes, this includes fabulous retail spaces and venues you may never have realized would make sensational mall store alternatives. Ahead, we'll discuss how much it costs to rent a mall store, the alternatives we just discussed, and how to go about renting one.
First of all, does location matter?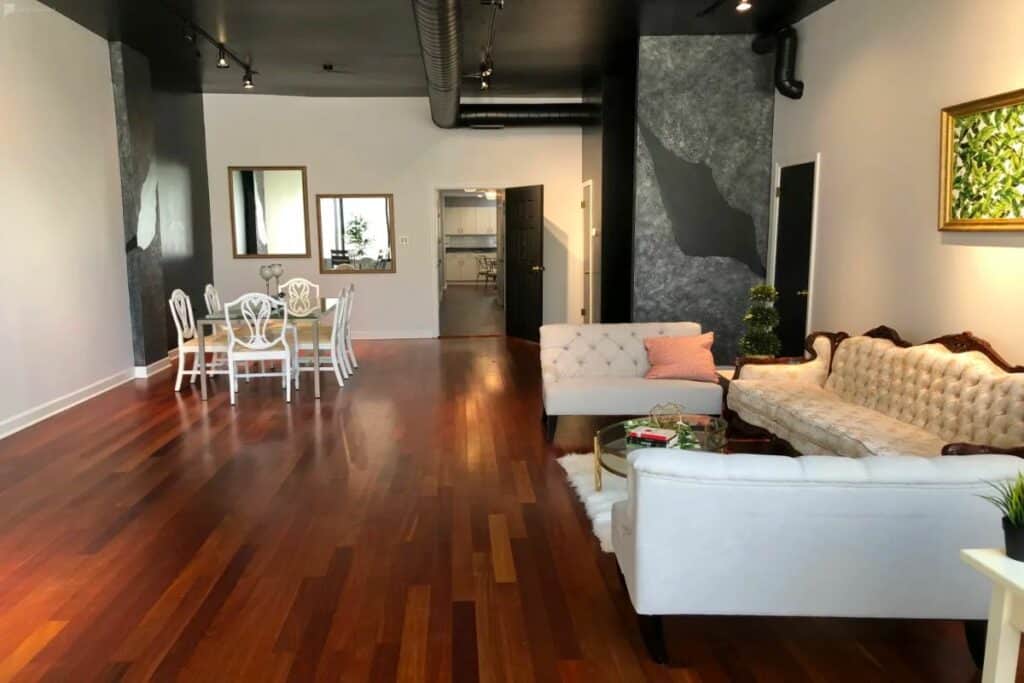 Absolutely! Temporary retail experiences are all about getting the right location where customers will engage with your product or service. However, many malls make you go through hoops to find out the prices for the best available stores. Therefore, considering alternative locations to make your target shoppers feel comfortable in a post-pandemic world is crucial.
Luckily, you have Peerspace, the largest online marketplace for hourly venue rentals, including — but not limited to — retail space! Check out our platform to rent retail space for your event. You can rent actual retail space or something a bit more unique that you can dress up to suit your needs, like a warehouse, loft, gallery, and more.
We've compiled information on what rental spaces in the mall have to offer, as well as an estimate on what it costs to rent one. We'll also offer some alternatives to mall spaces that include charming cafes, bright art galleries, and so much more that you can book with ease on Peerspace.
Why do people rent stores in the mall?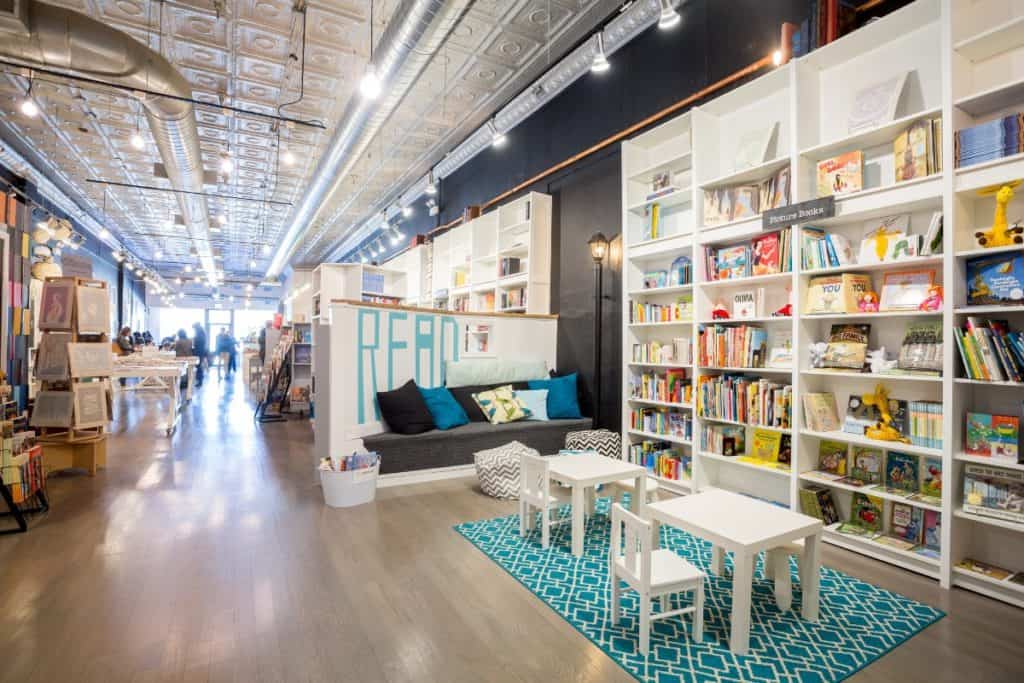 Although malls are not as popular as they once were, the shopping centers are still a hub for shoppers to peruse their favorite stores and discover new ones. There are many reasons why someone would want to rent a store in the mall — whether it be to open a boutique, provide services, or entertain.
Pop-up shops and retail experiences are other growing areas for malls and rental spaces. Companies want to create unique experiences that aren't like a traditional brick-and-mortar store. These short-term events can give brands of all sizes and budgets a chance to launch. Doing so, they enter a physical market in a city or country they haven't had a presence in yet.
Small businesses that specialize in local, artisanal products benefit from introducing their products in an established setting. The temporary shops can create exciting buzz on social media and draw new customers to your company.
Mall alternatives
Besides mall spaces, you can also try other unique rental spaces like cafes, art galleries, renovated warehouses, or modern storefronts to give your pop-up a special flare.
How you choose the type of space best suited to your needs depends on several factors. It's especially crucial to consider the type of space in relation to your brand, your products, and your ideal shopper.
For instance, if you own a high-end self-care brand that caters to customers who want natural products, setting up shop in an area of your city where there are lots of spas and boutique shops is wise. Conversely, if your product is hip and geared towards people in their early twenties, renting a renovated warehouse that is gritty yet exciting can be fruitful.
We'll include some fun suggestions later in the article to give you an idea of what's out there besides space in a mall. But next, we'll continue answering the primary question: "How much does it cost to rent a store in the mall?"
Book the perfect retail space.
Peerspace makes it easy to book the perfect retail space. Browse our location library and enjoy no-hassle bookings today.

How to Decorate an Antique Mall Booth
Whether displaying antiques by color, era or similarity, it is important to create a tidy and inviting atmosphere that brings customers into your spot and makes them comfortable enough to spend time looking around, says antiques dealer Shirley Mastney, owner of Medina Depot Antique Mall in Ohio. In addition, she adds, items are best displayed when they are easily seen and accessible. The key is to create different levels of height and depth within your booth.
Create height with shelving units, positioning taller ones against walls or back-to-back as dividers within a booth. Place smaller shelves on tables for a fuller-looking display.
Establish a walkway in the booth with the placement of tables and other furniture. A long table across the front allows people to browse smaller items easily, yet can inhibit them from entering the booth. Tables scattered within the spot or different sized tables grouped together invites customers in to view larger items and leads them through the booth.
Focus lighting on key areas of the booth to accent items, or illuminate dark areas customers normally have trouble seeing. Also use lighting to create a mood or as an attention-getter, via flashing or colored lights. Incorporating antique lighting sources that are also for sale is ideal.
Hang framed artwork and other items that can be displayed on any available wall space. Hanging groups of like items, such as kitchen utensils, is a smart use of such space. Use room dividers or backs of tall shelves as wall space in a pinch.
Place wooden boxes and crates or small stepladders in the booth to create dimension. Display items inside boxes/crates turned on their sides, or place items on top of upside down boxes/crates. Arrange them on tables, stack them on the floor or elevate items in the back by piling small boxes on shelves.
Accent displays with linens, doilies and greenery — such as artificial flowers or ivy — for a finishing touch.
Antique booths are prone to clutter. Avoid overfilling your spot.
Keep fragile items securely displayed.
If possible, hang jewelry, linens and clothing to make it easier for customers to look through.
Do not lean framed pictures or racks in corners or against furniture — it looks cluttered and is a potential hazard.
Think of unusual but practical ways to display items, such as displaying linens on the slatted side of a baby crib or hanging old photos from a clothesline, like in a darkroom.
Warnings
Make sure shelving units are stable and secure.
Leave enough space in your booth for customers to walk through comfortably. Walkways that are too narrow or cluttered are potential hazards.
We are a dedicated group of St. Louis, Missouri antique and vintage junkies, bringing you over 140 unique booths full of treasures and collectibles.
Come in to find your next obsession:
Antique and vintage furniture
Superhero collectibles
Vintage and collectible toys
Midcentury decor and home goods
"Granny Chic" and Boho furnishings
Vintage movie and concert posters
Coins, comics and more!
Come in today to find your treasures in a welcoming and friendly environment!
Sign up to receive email updates and to hear what's going on!
About the Antique Mall
St. Louis Antique Mall is your St. Louis antiquing destination to find your newest treasures. Conveniently located due south of the St. Louis, Missouri Airport, near 170 and St. Charles Rock Rd, we boast 21,000 square feet containing over …
What's in store for you?
What can you find at St. Louis Antique Mall? A better question is – what can't you find at St. Louis Antique Mall? When you come inside our mall, you'll find an exceptionally wide variety of antiques, vintage items, and collectibles. Each …
Our History
St. Louis Antique Mall began as "Manhattan Antique Marketplace," located in St. Ann, Missouri. Within a few years, "MAM" as it was known, grew into a community of dedicated antiquers and pickers. The biggest asset of "MAM" was not just the …
Our goal is to bring the joy of antiquing and collecting to the St. Louis community. Antiquing is a perfect way to preserve the environment while allowing people to find things that truly bring them joy. – Chad Lane, Co-Owner, St. Louis Antique Mall
Peerspace
January 13, 2022
If you'd like to establish your own prepared food operation in a mall and run a lucrative business for years to come, here are the key details on renting a space in a mall food court. We'll tell you why it's worth renting space in a mall food court, how you go about the rental process, and most importantly, the answer to the titular question: "How much does it cost to rent space in a mall food court?" In addition to malls, we'll provide a number of appealing alternative options when it comes to having your own restaurant.
For instance, you can rent a retail space or a commercial kitchen on Peerspace that has everything you need, minus the lease and other legal documents that go with renting a space in a mall food court. Plus, you can rely on Peerspace's incredible Concierge service to arrange for any extras you need at your food court-like venue.
So then, we will also present the question: How much does it cost to rent these spaces on Peerspace?
Answered
Retail spaces and commercial kitchens on Peerspace cost about $95-$125 per hour.
We understand that it can be confusing when you need to book a mall food court space. Luckily, as the largest online marketplace for hourly venue rentals, we at Peerspace can shine a light on some of your concerns. Ahead, we'll address everything you need to know about renting space in a mall food court. We'll also present viable options that may be better suited to your brand, personal taste, and budget. Let's go!
Why should you rent space in a mall food court?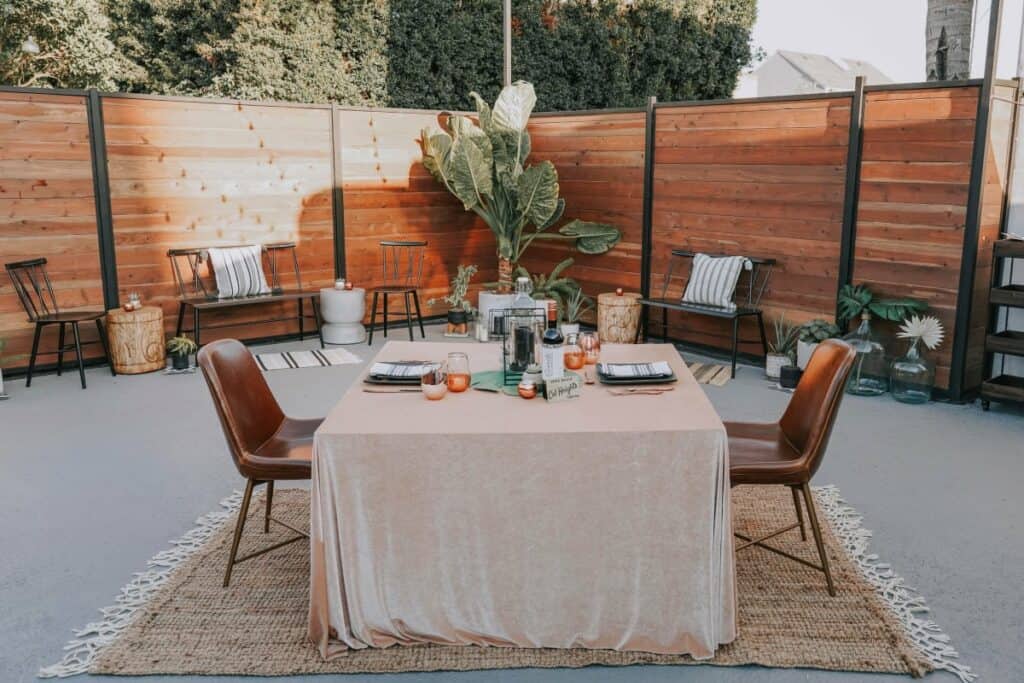 Malls can be incredibly lucrative locations for restaurateurs. Typically, they constantly have visitors at the various stores throughout the building, who are bound to get hungry at some point during their day of shopping. Rather than having your restaurant in some out-of-the-way location, particularly one where people have to drive to get there or else locate scant street parking, it's much better to situate yourself in a high-traffic area such as a mall food court.
That way, visitors will spot your restaurant as they're getting hungry and be drawn to it, helping you to make big profits. If they're happy with their food, they may also seek out your restaurant next time they're at the mall (and even bring their friends!), earning you return customers as well as new ones. Likewise, in bustling cities like Los Angeles, foodies can often discover underrated and hidden culinary gems in assuming strip malls and food courts.
Book the perfect launch venue.
Peerspace is the easiest way to book the perfect launch space. Enjoy the largest location library and hassle-free bookings today.
How do you rent space in a mall food court?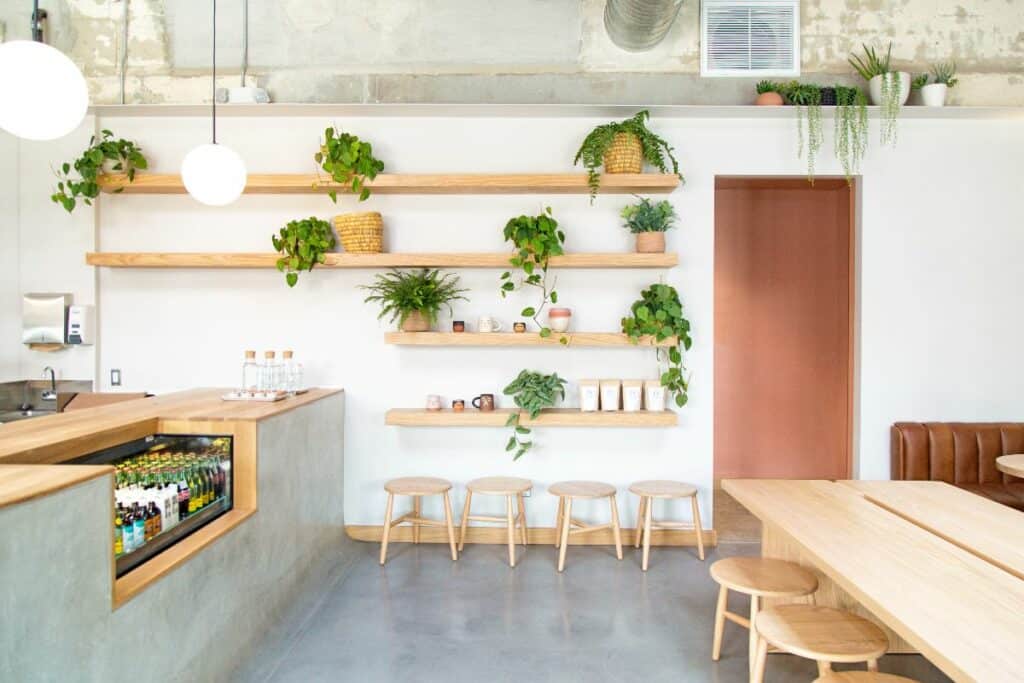 To start, do some online research into spaces at malls in your area. Unfortunately, we can't give any specific advice on this aspect of the process, since every local region will be different. But make sure you keep tabs on what the prices are per square foot, so you can compare your options. Then ask for a tenant information package from the mall, which includes all the info you'll need to prepare for renting a space — everything from building permits to security, to trash removal, and more.
As you're comparing options, keep a particular eye out for whether or not restaurants, as well as other stores in the mall, appear to be getting a lot of business and doing well. This will tell you if you're likely to find business success there, too.
Consider the lease and its terms
Once you've chosen a space, be sure to be very careful in reviewing the lease. How much will you have to pay — is it just a flat payment or also a share of the income you make from your restaurant, for instance? How much are the security deposit and other initial payments? And how long does the lease extend?
There are benefits and drawbacks to a more extended lease; with a lease lasting a few years, you know that you're going to have plenty of time to lay the groundwork for a long-lasting business. At the same time, you also lose the possibility to change locations if your mall location becomes less lucrative. Be mindful of up-and-coming places that may not seem bustling at first, but may eventually draw in a larger crowd as the neighborhood becomes more popular.
Once you've decided where you're going to establish your new food court restaurant, be sure to advertise the opening to get a lot of new customers at the beginning and set your business on the right track!
How much does it cost to rent a space in a mall food court?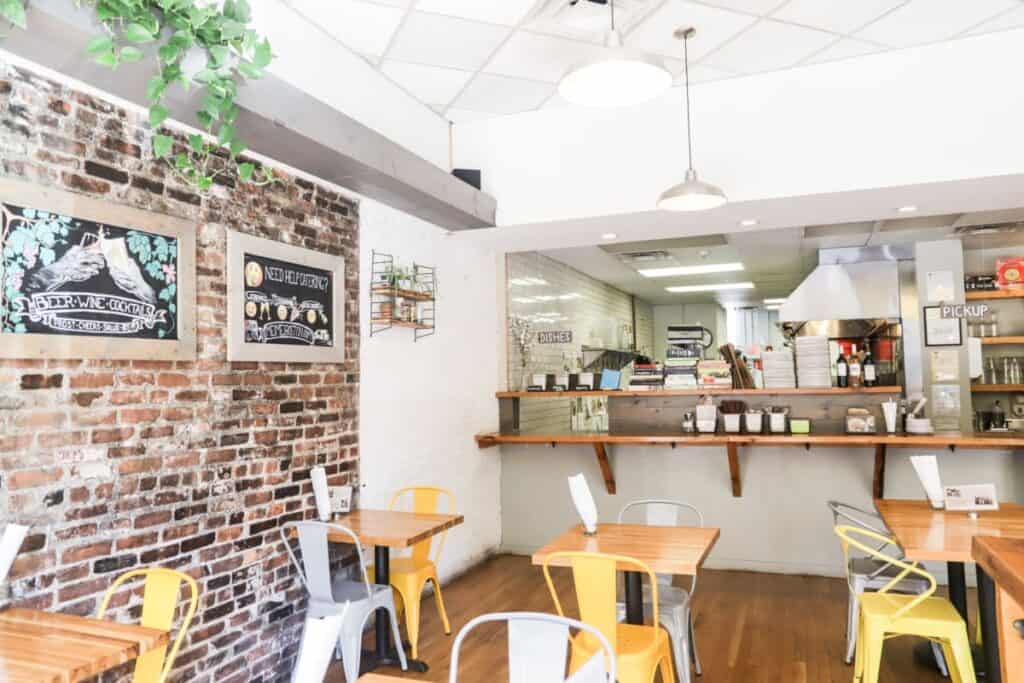 We can't make a broad generalization, as spaces in mall food courts will vary enormously in price depending on a number of factors. This includes where the mall is located, as space in a mall in a city with a higher cost of living (such as Los Angeles, CA, or Boston, MA) is typically going to cost more than in a mall in a very affordable city (for instance, Fort Wayne, IN, or Cleveland, OH).
In addition, a mall that's very popular with lots of visitors will be able to command higher rental prices for its spaces. Finally, some malls are significantly more high-end than others and tend to sell costly luxury products and draw wealthier visitors — this allows them to charge higher rental prices as well. An example of these types of malls include South Coast Plaza in the city of Costa Mesa, CA, just south of Los Angeles, which is home to famed fashion houses like Louis Vuitton, Hermès, and Christian Louboutin.
All these factors and more are why prices vary so widely. However, we can say that the average mall rent is now at least $800 per month as of 2021. At a smaller shopping mall, that price drops lower to about $20 to $25 per square foot. Among the leading mall property real estate companies, prices per square foot range from about $29 to $62.
That may seem quite high, but the reason that retail space at malls may cost so much more than at a separate store is that they also tend to get significantly more consistent visitors and foot traffic.
Book the perfect launch venue.
Peerspace is the easiest way to book the perfect launch space. Enjoy the largest location library and hassle-free bookings today.
Canton Marketplace. The Canton Marketplace features 93,000 square feet of air-conditioned shopping, just north of the original grounds, and south of I-20 on Texas Highway 19. The Marketplace features over 300 vendors, a food court, deli,. Barnyard Flea Market Augusta. Daily Rental Rates: 10′ x 10′ with minimum electricity. Rows A or B or center walkways: $17. Rows C – L: $14. Row H 01-13 covered 10×30 spaces: $22. Outside, uncovered tables, no electricity: $9. Permanent Warehouses/Mini-stores. 10′ x 20′ – $190/month.. Indoor Stores: Indoor stores are significantly larger than individual tables, ranging from 7×18 ft. up to 24×32 ft., and are priced from $100 to $300 per weekend. Outdoor Spaces: Located in the Yard at the Patapsco Flea Market, outdoor spaces are available for rent year-round. These spaces are 20×20 ft. in size and rent for $25 per day. Opening a flea market booth is a great way to make extra income and clean out your house at the same time. If executed correctly flea market booths can create a great source of side income. Flea market booths are quite cheap to rent and relatively low maintenance. Furthermore, as you're renting the booth they are normally staffed by the owners. As a booth renter you are considered an independent contractor and you will issue a 1099 misc to the owner of the salon /spa at the end for the year for the rent you paid. You will pay your taxes and have business write-offs unlike an employee. The salon owner cannot require a booth renter to attend meetings, work certain hours or do chores. Customized receipt books are also a great way to market your flea market booth! . the price of your gas and your stall rental. General retail markups for lower priced products is 40% to 50%. . Too many exhibiters at flea markets, craft shows, fairs and conventions seem to think the merchandise speaks for itself. Yes, it's hard work to. How much does it cost to rent a inside/outside booth at Flea Land Flea Market? We get asked this question several times a week on Facebook. But, to answer your question. Just like with any. The Outdoor Flea Market. Open Saturdays & Sundays 8am to 4pm. We are NY's Largest Market! Hundreds of dealers set up both indoors and outdoors. Offering antiques & collectibles including furniture, jewelry, clothing , toys, etc. New & Used merchandise, trade cards, crafts, fresh produce and MUCH more! Please Note: Vendors arrive very early . $10 Registration fee is required to sell every calendar year. Outdoor Vendors, Reserve your space on a weekly basis below (no reservation charge) or call in at 262-835-2177 Ext. 220 with a $10.00 fee. When calling in have your vendor number available. Not registered for the 2022 calendar year?. 77 Flea Market, Brownsville: "Whatvis the size & cost to rent a booth?" | Check out answers, plus see 27 reviews, articles, and 8 photos of 77 Flea Market, ranked No.9 on Tripadvisor among 71 attractions in Brownsville.. Oct 22, 2018 – Explore Sonya Borum Stover's board "Flea Market Booth Layout", followed by 292 people on Pinterest. See more ideas about flea market booth, booth display, craft booth. Aug 26, 2020. Photo booth rentals cost $125-$200 per hour, and generally have a 2 or 3 hour minimum. Props, photo strips, custom backdrops, and video capabilities are popular add-ons that will increase the cost. Photo booth rental companies often give a discount for weekday rentals. Photo booths are a phenomenon. Top Space. Prime Melrose Pop-Up Storefront creative space. 200 sq ft ∙ West Hollywood. from $150 per day. Sunset View in Amazing Location. 4,900 sq ft ∙ Central LA. from $6,000 per day. The largest selection of spaces in the world. Flexible cancelations for your peace of mind. How much does it cost to rent a inside/outside booth at Flea Land Flea Market? We get asked this question several times a week on Facebook. But, to. Whether you're renting a space in a market-style mall or setting up your canopy at an outdoor flea market, certain tactics can make or break your business. I do online sales, sell at local markets, and have two booths I share with another vendor at a local antiques and collectibles mall.
Book from a selection of hundreds of spaces
Explore more spaces worldwide:
Need to boost your visibility, acquire new customers, or launch a new product?
Renting a kiosk space in a shopping mall is an ideal opportunity to boost your business easily, while enjoying maximum flexibility.
Storefront is the world leader for short term rental of commercial spaces, we support you with the launch of your kiosk by offering you 100% customizable mall kiosks for rent.
Set up your mall booth in the heart of the most frequented shopping centres and malls in 60+ cities, and reach a large qualified audience.
Why rent a pop up kiosk in a shopping mall?
Located in the busy aisles of shopping centers, kiosks, booths and corners are suitable for a multitude of activities, ranging from product demonstrations to a nail bar or a perfume stand, including catering or a telephone repair service.
1. Create a real direct link with your customers
A privileged space for interacting with consumers, a shopping mall booth space is ideal for strengthening your relationships with your existing customers, but also for attracting new customers. Offer a unique and exceptional shopping experience, arouse the curiosity of prospects, seduce them, and collect valuable feedback in real-time.
2. Benefit from strategic, high foot traffic locations
Build a presence right at the heart of the real places of life that shopping centers have become. Take advantage of a high potential traffic location and easily establish direct contact with mall visitors.
3. Take advantage of a 100% flexible and customizable solution
Storefront offers spaces for kiosks and stands that are completely customizable and suitable for all types of sectors. Modular surface, flexible rental periods, your flexibility is maximum. Get support from our dedicated concierge team, and benefit from our solutions to find the ideal location for your project.
Storefront helps you find the right venue in three easy steps:
Storefront features flexible rentals in areas with high foot traffic and visibility to give your project maximum exposure.
Find spaces that meet your criteria. Our Storefront team is here to assist you.
Storefront offers advice and guarantees to streamline your short term opening process.
Troll house reveal!! We renovated this 300 year old troll house, swipe thru to see our improvements ✨🏠🧹🧼
Happy pride from the staff of @fremontvintagemall ! 🌈🏳️‍🌈👨‍❤️‍👨👩‍❤️‍💋‍👩🏳️‍⚧️
Wear this adorable handmade crochet halter top to celebrate your pride all year long 🙂
Happy pride from the staff of @fremontvintagemall ! 🌈🏳️‍🌈👨‍❤️‍👨👩‍❤️‍💋‍👩🏳️‍⚧️
We've got this vintage felt wall hanging so you can adorn your home in gay Pride year round 🙂
Moses supposes his toes are roses 🌹
For art day take a look see at this hanging rose stained glass from #fvm777 for $55 🥀🎨 (at Fremont Vintage Mall)
https://www.instagram.com/p/CfRzqVEPpEN/?igshid=NGJjMDIxMWI=
We're having a heatwave! It's gonna be 90 on Monday! Cool down with this antique fan from #fvm27 for $98 (at Fremont Vintage Mall)
https://www.instagram.com/p/CfPh3z9v9tf/?igshid=NGJjMDIxMWI=
The weather's sunny 🌞 you need a sundial! 1981 orbital clock by Ronin Ferina, $650 from #fvm860! @vintagety (at Fremont Vintage Mall)
https://www.instagram.com/p/CfPRS2vvQMh/?igshid=NGJjMDIxMWI=
It's tiny Friday!✨ Check out these tiny Hindu god and goddess figurines for $25 each from #fvm3 . They depict Ganesh, elephant god of good fortune and Kali, goddess of death, time, and change. 🐘💀⏰ (at Fremont Vintage Mall)
https://www.instagram.com/p/CfNPwc5vi6o/?igshid=NGJjMDIxMWI=
In bloom with room to grow! Take a peek at this pressed flower art made by our very own @misael.salinas.37 #fvm505 $24-28 each 🌻🌷🌼🌸 (at Fremont Vintage Mall)
https://www.instagram.com/p/CfAVYuIv_XH/?igshid=NGJjMDIxMWI=
Who's your daddy?? Does he need a gift?? This collection of clothing cologne, vtg shaving brush, belt and hat can be perfect gifts!
Shirt $33 #fvm887
Swimming shorts $25 #fvm21
Shaving brush #fvm3 $16
October fest hat #fvm3 $38
Belt #fvm3 $29
Car Cologne #fvm206 $14
Happy Fathers Day from The Fremont vintage mall! 🐌🤠 (at Fremont Vintage Mall)
https://www.instagram.com/p/CfACyKTvRBV/?igshid=NGJjMDIxMWI=
Art day spotlight: Paint by numbers! A midcentury trend that's always in style 🎨🔢🌈
1: $30 #fvm21 @rexvillevintage
2: $20 #fvm286 @standardfandf
3: $30 #fvm286
4: $30 #fvm286
5: $45 #fvm286 (at Fremont Vintage Mall)
https://www.instagram.com/p/Ce_2di_P-M9/?igshid=NGJjMDIxMWI=
He'll crawl into your garden and your heart. Mini snail planter for $15 from #fvm286 @standardfandf 🐌❤️🌿 (at Fremont Vintage Mall)
https://www.instagram.com/p/Ce7ChU3PTj3/?igshid=NGJjMDIxMWI=
Forget about pinbacks, we are bringing back the brooch!
👀 these cuties from #fvm111 @howdy_vintage 🦋🖤🥰
18 N. Liberty Street
POWELL, OH 43065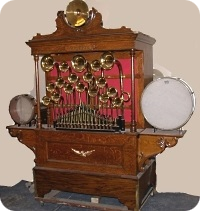 Here at Liberty Antique Mall, we specialize in a variety of unique antiques, everything from vintage advertising and music machines to jewelry and china items. The more unique and odd, the better! Since 1968 our experience in antiques and collectibles in combination with our superb reputation makes us your best buying source, so why not give us a try?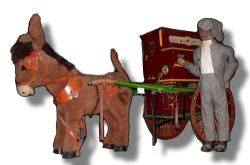 Whether you are looking to expand your collection, start your collection, or simply add some outrageous flavor to your collection, we can help. With one of the most extensive arrays of antiques, our inventory houses something for everyone. Our selection is constantly changing and growing in order to please the novice or advanced collector, as well as an investor or casual admirer of off-the-wall pieces. We also rent space for other collectors / seller providing even a stronger selection of items second to none in Central Ohio.
If it is a unique collectible or outrageous item you are looking for, chances are we have it here in our store. Take time to view our Website, or if you have any questions or inquiries, please feel free to contact us toll free at 614-885-5588. We accept Visa, MasterCard and Discover.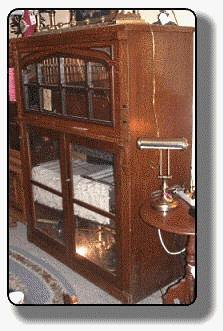 The Liberty Antique Mall has decades of experience in both buying and selling antiques music machines. Come in an listen to a variety of these vintage nickelodeons, or click the image and listen online.
We welcome inquiries from anyone interested in renting space to sell antiques and collectibles, including anything from coins and pocket knives to antique buffets and china cabinets. We have numerous dealers who started their business with us that had never been in a mall before.
We also have a number of dealers who have been in the business for many years and have space in other antique malls as well. Our booth rental rates are very reasonable, and are still the same today as they were when we opened the doors in 1968! Contact us for more details or call @ 614-855-5588

We are always interested in buying quality antiques and collectibles. from a single item to an entire household. Please call us at 614-885-5588 if you have items to sell.
RIAM's impressive retail facility & reputation will help you sell your items quickly and at a great price.
Start Selling Now
Best Rates and Results
Best Rates and Results
Start Selling Now
RIAM Consignment
General Merchandise Guidelines
Limitations
How It Works
We will help you to properly identify your item and to determine the right selling price for it.
RIAM reserves the right to reject any item for any reason.
The consignor agrees to allow the store to extend the industry standard 10% discount to any dealer/customer possessing a valid resale certificate or to anyone during marketed storewide sale events.
Store policy allows for customer offers on any item over $100. In the event of an offer, the store will contact the consignor via phone first for acceptance, rejection, or counter-offer.
Periodic Mark-Downs:
Special Terms for Consignment of Furniture, Large Wall Hung Items, & Other Large Items
35/35 Plan:
50/50 Plan:
RIAM 35/35 Plan Consignment Rates
Small Objects
Size: Able to fit inside a showcase: 40% commission
Size: Able to sit on a table: 50% commission
No space rental fee.
Large Objects
Size: Inquire about objects larger than 4 square feet of floor, table-top, wall, or showcase space.
Commission Rate: 50%
No space rental fee.
Small Wall Art & Mirrors
Size: Up to 320 square inches (16″ x 20″)
Commission Rate: 40%
No space rental fee.
Medium Wall Art & Mirrors
Size: Up to 600 square inches (20″ x 30″)
Space Rental Fee: $15 per month*
Commission Rate: 35%
Large Wall Art & Mirrors
Size: Over 600 square inches (larger than 20″ x 30″)
Space Rental Fee: $4 a square foot per month*
Commission Rate: 35%
Small Furniture
Size: Items such as a side chair or a fern stand.
Space Rental Fee: $15 per month*
Commission Rate: 35%
Large Furniture
Size: Items such as a coffee table, china cabinet, or settee (up to 10 square feet).
Space Rental Fee: $35 per month*
Commission Rate: 35%
Oversized Furniture
Size: Larger than 10 square feet such as a dining table or a large couch (over 10 square feet).
Space Rental Fee: $3.50 a square foot per month*
Commission Rate: 35%
Vehicles, Machinery, etc.
Commission Rate: 20% to 50%. Contact us for details and a firm quote.
Additional Fees: Seller covers any auction fees and/or expenses.
Items in this category do not need to be antique or vintage.
High Value Items Get Special Discounted Rates
Items with a selling price over $2,500 may be eligible for discounted commission rates. Inquire for details.
Contact Us and Start Selling Your Valuable Items Today
Please be sure to include high quality images of your item(s) as they are required for us to adequately research and assess your item(s).
Here are a few tips that can help you take images of your item(s):
Place the item in a well lit space without clutter.
Use a white-colored or natural light source if possible.
Make sure to photograph any details such as damage or a signature.
For objects such as art, mirrors or furniture, provide images of the back and/or bottom.
Provide a mix of images that show the entire item as well as details.
If possible, name your image files with descriptive titles. For example: Cane Side Chair_Front View.jpg.
Keep image files under 1MB in size.
The Rhode Island Antiques Mall combines a beautiful retail space, a stellar reputation and years of experience to help you get the most out of your antiques and collectibles.
Additional Info
Important details about selling or consigning.
RIAM may be willing to purchase certain items outright at a wholesale rate if you prefer not to wait for them to get sold at a retail price over time. Ask us about this option. We also make house calls for large collections and may be willing to purchase your entire estate or any fraction of it outright. Full estate clean-out is also available. Please inquire for details.
Our standard consignment term is 60 days. If your item doesn't sell within that timeframe, the selling price is automatically reduced (usually by 30%) for the next 30 days. If it still doesn't sell, the price is automatically reduced again (usually by another 20%). If after 90 days the item has still not sold then the consignor must either take it back or contact us to make other arrangements. Items not reclaimed within 15 days after the expiration of the consignment term shall be considered abandoned and the store will dispose of them at its sole discretion. As a courtesy RIAM will send you a reminder postcard if your item does not sell after the first 60 days, however we accept no responsibility for undelivered, lost, or forgotten notices.
No matter what day your consignment is initiated or what day your item sells, all sales are tallied on the last day of each month. Payments are then processed and mailed out by the 10th of the following month. Mid-month payouts can usually be arranged for a $10 service fee.
While every reasonable effort is made to protect your items, occasional breakage and theft are unavoidable in all retail establishments. All consigned items are taken in at the risk of the consignor. In many cases your homeowner's policy will cover such losses (subject to your deductible). RIAM offers an insurance option for those who are concerned about such potential losses. The fee is calculated at 6% of the item's retail value (for example, insurance for a $200 item is $12) and must be purchased at the time of consignment. In the event of theft or destruction of the insured item, the policy will pay the consignor the net value of the item (after the store's commission) and where practical the damaged item is forfeited to the insurer. Thus for example, an insured stolen item currently priced at the time of loss at $500 with a 40% commission would pay the consignor $300. Minor "shop wear" is not covered by this policy.
RIAM management might determine that certain items may sell better on-line than in our shop. We will offer this alternative to you if appropriate.
Our fees are the same as in-store consignment, except that a $60 non-refundable listing fee will be charged for any item reclaimed by the consigner before it is sold. This listing fee will be fully waived if the item sells. No listing fee is charged for items listed using an absolute auction format starting at $9.99.
Out of The Attic Antique Mall
10912 County Seat Highway Laurel, De. 19956 302- 875- 4725
Vendor Rental Agreement
This agreement made and entered into on this _____ day of _____________, 20__ by and between Out of the Attic Antique Mall, hereinafter called Mall and:
Home Phone________________________________Cell Phone______________________________, hereinafter called Vendor.
In consideration of the covenants hereinafter set forth and other good and valuable consideration, the receipt & sufficiency of which is hereby acknowledged, it is mutually agreed by the parties hereto as follows:
The mall shall allow Vendor to occupy booth # ___________ and/or showcase #____________, for the sole purpose of the sale of antiques and collectibles. The property on display is in said Vendor's booth or showcase and shall be kept stocked & meet Mall's standard of quality.
Vendor shall pay Mall rent in the sum of $________ per month, with the initial one month period beginning on _______
Day of _____________, 20_______. All rent is due monthly and is due and payable on the first day of each month. After the initial one month period this rental agreement will become a month to month rental agreement that will automatically renew every month unless Vendor provides written notification to terminate this agreement at least 30 days in advance. If notice is received less than 30 days prior to the last day of the month in which it is received, termination will be effective at the end of the month following the month in which the notice was received.
The first month's rent is due upon the verbal agreement of Mall and the Vendor.
Security Deposit: Vendor, concurrently with the execution hereof, has deposited with Mall an amount of $_________ as security for the full & faithful performance of every provision of this space rental agreement to be performed by the vendor. If Vendor defaults with respect to any provisions of the space rental agreement, including but not limited to the provisions relating to the payment of rent, Mall, at it's sole discretion, may elect to sue, apply or retain all or any part of the security deposit for payment of the rent or any other sum in default or for the payment of any other loss or damage which Mall may suffer by reason of Vendor's default.
Mall shall collect $______________late fee for any rental payments not received by the fifth day of each month and also a $___________ fee for any returned checks written by the Vendor.
When a customer wishes to buy items offered for sale in the Vendor booth or showcase, Mall or its employees shall act agent for the Vendor herein and accept payment for said item(s), collect monies and make delivery to said customer. Mall shall provide the Vendor with a written copy of sales. Each statement should be retained for your tax reporting purposes. Mall does not provide any 1099 or other tax forms. It is the Vendor's own responsibility to report their taxes. All sales shall go through Mall's register, and each item must carry a tag clearly showing the Vendor number, price and a description of the item. No items are to be sold directly by the Vendor on the premises- either inside or outside. Doing so will result in immediate termination of agreement, loss of security deposit and a request to vacate space within 48 hours.
For such service as above described in paragraph (6) Mall shall receive 10% of the sale price of all property sold. Payments to the Vendor will reflect deductions for allowed discounts, Mall commissions, rent due and/or any late fees.
Mall shall not be responsible or have any obligation to protect the property of Vendor from fire, theft, flood, shoplifting, breakage or any other loss or damage to said property of Vendor offered for sale except for acts of gross negligence of Mall employees.
Vendor hereby acknowledges & agrees that Mall shall have no obligation to provide any insurance: fire, theft, flood or other casualty or protect Vendor from loss or damage by reason of destruction of property of Vendor, in whole or part, while stored or offered for sale in Mall premises.
Mall reserves the right to revise this contract & establish new monthly rental rates and additions to Vendor contract at any time.
Out of The Attic Antique Mall
Vendor shall hold Mall harmless from all claims of third parties for any reason whatsoever except gross negligence of Mall arising out of the renting of the premises.
Vendor must keep booth(s) and showcase(s) clean and orderly. Mall reserves the right to refuse or limit merchandise placed in the Mall's premises. All merchandise must be clean and in working order. Vendor warrants that merchandise has a good, marketable title, free and clear of liens and encounters to all property offered for sale by Vendor in Mall's premises.
Mall requires a 30 day written notice when and if Vendor decides not to renew this rental agreement. Mall may immediately terminate this agreement upon written notification to Vendor if Vendor fails to comply with all terms of this agreement. Vendor agrees to remove all items from the Vendor's booth(s) and/or showcase(s) within 48 hours after written termination and/or non- renewal of this rental agreement. Mall shall have the right to removed Vendor items and exercise lien rights on such items to secure and guarantee payment of all monies due to Mall. In the event Mall enforces such lien by obtaining possession of any property belonging to Vendor, and if Vendor does not redeem said property by paying all amounts due to Mall within 15 days after such seizure, Mall shall have the right to sell such property and apply the proceeds to the cost of removing and storing the property and all other charges which are past due and owing to Mall. Any amount remaining for the proceeds of such sales will be paid to Vendor.
By signing this agreement Vendor agrees to all current and future Mall rules, restrictions, regulations, policies and procedures.
Mall Representative__________________________________ Date_____________________________________
Welcome to our Webpage!
We are a 10,000 square foot Antique Mall located in Bakersfield, CA with over 40 different vendors. We rent out spaces to small business owners just like you who love vintage, collectibles and antique items! Come shop with us and find a unique treasure! We would love to meet or hear from you. Please keep checking with us as we update the site with new pictures of items for sale, our wonderful vendors are always bringing in something new! We have something for everyone here!! Stay tuned for more new stuff ! Well, actually, old stuff.
Follow us on facebook !
Follow us on Instagram !
Mill Creek Is Happy To Be Part Of The "Bakersfield Second Saturday" Event every 2nd Saturday of every Month !
This wasn't our idea originally, but we like the idea and wanted to show our support as well !
Come on down to Mill Creek Antique Mall and pick up your soldier soldier and show your support today !
Sometimes, on any particular day, you never know what event might happen that can change someone's day or even be something that they, as well as yourself, might remember that moment, a day or even for a lifetime.
This was one of those days.
A gentleman named Xenos Lopez and his family came in and were shopping here at Mill Creek Antique Mall, something that he said he would usually not choose do as the Antique Store and Thrift Store shopping is not his thing, when his wife spotted a Military uniform hanging in one of my spaces.
He brought it to the counter and said "this is my uniform!"
Apparently it was lost during a move years ago and he thought he might never see it again. It had made its way into our store, waiting for him for years.
They graciously offered to pay for it, but that wasn't the right thing to do. He earned that uniform and was obviously proud of it, and he allowed me to be blessed and return it to him, the rightful owner.
So just goes to show you, you never know what a day might bring, who you might meet and what can happen!
Thank you for your service Sir !
UPDATE .
Since Xenos and I have shared this story on Facebook, it has made it all over the USA and beyond. I have heard from people all over the Country, even Canada !
Two local stations, 23 and 29 here in Bakersfield, did stories on this. Since then, I have heard from people in Los Angeles, and several other places in California, and other states like New Jersey, Florida, Texas, Iowa, Ohio to name just some of them.
I think the bigger story is, how far this story has reached. Something that I thought was just another day, returning something that had been lost, and a simple thanks to someone that had served our Country.
This just shows how much people want to hear some good news instead of all the bad news that is out there now days!
Here are some of the places that I know it made the news.
Selecting the Allen Antique Barn is as simple as ABC.
A. Why choose the Allen Antique Barn?
1. The Allen Antique Barn is open 360 days per year to provide you with the best opportunity to sell your merchandise.
2. Our friendly staff handles all sales transactions so that you can concentrate on purchasing high quality merchandise for sale. We submit and record sales tax to the State of Michigan (for each dealer), while providing you with daily email updates when your items sell.
4. We were voted # 1 in customer satisfaction.
5. We are centrally located between major population centers, making our store available to millions of customers within a two-hour's drive.
6. We have one of the lowest costs in the nation. Compare our monthly costs to the competition. We do not charge commission or high rent prices, etc. YOU CANNOT FIND A BETTER DEAL ANYWHERE ELSE!

B. How much does it cost?
See our rental prices below: Please note that spaces are on a first come first served basis, based on availability. Booth rental rates are subject to change. Contact the store for the most current pricing in effect. A $3 monthly advertising fee is in addition to booth rental costs. This $3 advertising fee is only charged once monthly to each dealer and does not get multiplied by each rental area.
*** Special Starter Spaces for only $26 per month ***
Downstairs:(12,000 sq. ft. retail space)
Shelf space-locked= $16/month (two shelve minimum)
Wall space= $26/month
Showcase-locked 6x4x1.4= $46/month
8 x 8 Booth= $76/month
Upstairs:(12,000 sq. ft. retail space) full service elevator on premises
4 x 4 Booth = $26.00/month
6 x 4 Booth = $36.00/month
6 x 6 Booth = $41/month
8 x 6 Booth = $51/month
8 x 8 Booth = $61/month


*Outside Booths:(1,600 sq. ft. retail space) Approximately 3 X 4 = $15.00/month
*Reserved for in-house dealers only.
C. What kind of fees/requirements do you have?
We do not charge commissions, do not require dealers to work the mall, and do not have contracts. 30-day notice policy applies to all rentals. We only ask that you stock your booth with great selling quality merchandise!
IF YOU HAVE QUESTIONS, OR WOULD LIKE MORE INFORMATION ON BECOMING A DEALER, PLEASE FILL OUT THE FORM BELOW.
Are you a crafter, antique, vintage or collectible dealer looking for a place to display and sell your items seven days a week? Then Craftiques Mall is excited to offer you the opportunity to apply to become one of our dealers. At Craftiques Mall you may mix and match crafts, vintage, collectibles and antiques in your booth. This is what makes us so unique. Our customers eagerly seek all the above mentioned items and enjoy the wide variety of items offered by our dealers. Each month we pay out thousands of dollars to our dealers for their sales. We invite you to email any questions or comments you might have. We're looking forward to meeting you and hope to do business with you in the future.
Marketing:
We want people to know about us! One of the services you'll receive when you become a CM Dealer is extensive marketing locally as well as online. We advertise regularly on Facebook, Instagram, Nextdoor and we have an extensive email marketing list to promote both stores and the Garden Tea Lounge. These take place year round – not just in the holiday season. You'll also have the opportunity to be featured here on our website and facebook.
Store commissions:
Craftiques Mall charges a monthly fee for rent on your space and a 10% commission to cover advertising, credit card charges, supplies, etc. There are no other fees for our dealers.
Why Craftiques Mall:
We are open 7 days a week, collect and pay all sales tax, pay outs are made monthly along with a monthly newsletter to inform you of the latest Craftiques happenings. We offer special orders and a layaway program. We accept Visa, Master Card, Discover and American Express at no extra charge to you. Craftiques Mall also protects you from credit card fraud and bad checks that the store might receive. YOU as a Craftiques Mall Dealer get paid regardless!
Security:
Our stores have numerous Secuity Cameras throughout the spaces that help us monitor customers at all times.
Check Your Sales Online:

Craftiques Mall has the capability for our dealers to check their daily sales on-line. You, as the dealer, have access to your sales during a current period or to past sales periods. This can be an effective tool in keeping tabs on your inventory or knowing what to bring with you when you stock your booth. Access is available 24/7, all present day postings will be posted to the web after the store closes for the day. If you would like to participate in this service, there is a $1.00 charge to your rent account which will be posted on the 1st of each month.
Simply go to www.CraftiquesMall.com and click on the "Dealer Login" button and choose your location – CM1 is Bandera Road, CM2 is NW Military. This will take you to a login screen. Enter your dealer number and a password (remember, passwords are "case sensitive" all upper caps.) Please report functional problems with your sales date entry to [email protected]. Once you login, take note of the green message boxes; one is a general message to all dealers and the other is a personal message to the individual dealer. Contact store for setup.
Demographics:
In case you are not familiar with San Antonio here is a brief description of the city and our location. San Antonio and the surrounding area has a population of approximately 1,344,925 and the average income is between 25K – 50K. The population within a 5.00 mile radius is 306,824. It's a great tourist town with sites like the River Walk, Sea World, Fiesta Texas, Museums, The Alamo, etc.
Our Bandera Road location is close to the busiest intersection in San Antonio according to our local newspaper. We're in a highly populated and rapidly growing area. Other tenants in our shopping center include a Nail Salon, a Dentist, a Day Care, Baskin Robbins, Arbys, and several others.
Our NW Military location is nested in one of the fastest growing ares of the city, just north of Castle Hills. Our neighbors include Ross Dress For Less, Dollar Store, Johnnie Chouke's Home and Hardware and many others.
1. Rent is due on the 1st of each month. A $20.00 late fee will be charged on the 4th of the month.
2. When lease is fulfilled, it automatically extends month to month. A 30-day written notice is required to activate last months rent (deposit). Craftiques reserves the right to ask you to sign a new lease agreement upon fulfillment of your lease term. You may sign a new lease agreement to upgrade to a larger space at any time.
3. All items are to be marked with dealer #, description and price, in that order.
Dealer #
Description
$ Price $
4. Booths can be stocked and decorated any time during store hours. No oil-based paint can be used to paint the booths. Structures built in the booth that are permanently attached become property of Craftiques when vacating. (Ask store manager for details).
5. Items for display are to be marked "display only" or NSF" with your dealer # on it.
6. Keep items clear of walkways; 36″ clearance has to be enforced in walkways.
7. Please measure your space before beginning any construction; spaces may vary in size.
8. Booth's can be decorated with fabric or wallpaper attached with pins or staples only, no glue please. Use only latex paint, no oil based or spray paint is allowed.
9. Sketching and picture taking of other dealer's items in the store other than your own is not permitted.
10. When running a sale in your booth please inform the staff of such sale. Booth wide "percentage off" sales can be entered into the computer and you simply hang a sign in your booth stating the sale percentage with your dealer # and how long the sale is good for. Specific items on sale, mark through price with a red pen and add new price with your initials.
11. Move into space within 7 days of lease start date.
12. All questions, comments and concerns are to be addressed to management.
13. Only bring enough inventory to fill in your rented space. Space available booths are under the authority of Craftiques Mall.
14. Permissible items in the store are antiques, collectibles, vintage and crafts. No other items are allowed. If in question about an item, check at the front counter.
Antique: an item that is 50 to 100 years old.
Collectible: an object that is collected by fanciers, one other than such traditionally collectible items as memorabilia of sports, people and events.
Vintage: a period of origin or manufacturing. Length of existence. A period of history, the period contemporary with a persons lifetime or with his or hers active life. Usually shabby-chic style items.
Craft: an occupation or trade requiring manual dexterity or artistic skill. Handmade item or altered item for resale.
Updates
St Wally's Mall Sale
Join us next month when we celebrate our 3rd St Wally's Sale. From March 16th- April 3rd, select Vendors will be offering 10-40% off of their booths. Your favorite Patron Saint of Deals will be rocking at Wally's Treasures Antique Mall on 28th St. Mark your calendars.
Festivus Mall Sale 12/8/21-12/26/21
Selected Vendors offering 10-35% off of their booths.
Small Business Giveback Weekend Event
We will be having our 3rd Small Business Event this weekend.
Over half the mall will be participating at 10/15% off. Mall wide you can save 5% by paying cash (except FIRM)
5 Shoppers will have their purchases returned in full, up to $50 each, as we will be randomly selecting receipt numbers af.
Small Business & Anniversary Event
Select Vendors will be 15% off Via Cash and 10% off via credit payments.
Mall Wide you can save 5% paying cash.
4 Lucky shoppers will have their total purchases refunded (up to $50) winners drawn Nov 29th
Final Fleamarket (Smaller Than Normal)
Come join us this Sunday for our final Fleamarket. 11am-4pm
Harvest Hunt Mall Sale 9/8/21- 9/19/21
101 of our Vendors will be offering 10-30% off on their booths.
Wally's Treasures Harvest Hunt SALE
101 of our 150+ Vendors are offering 10-30% off of items from their booth. Stop out and support local small businesses
8/8/21 Sidewalk Slamboree Flea Market 11-4pm
We have some fun upcoming events this month at Wally's Treasures Antique Mall.
1438 28th St SE, Grand Rapids, MI 49508
*Aug 8th, Sunday 11-4pm we will be having another one of our Sidewalk Slamboree Flea Markets. We will be having 15-20 vendors bringing different items outside to sell for the .
Testimonials
Where do we begin. Arguably your best option in the area to find whatever vintage, collectibles, or (most importantly) vintage tools you're into. Great place to start building up your traditional woodworking tools. Solid vendors that carry quality, vintage tools ofteb at great prices that are in good, functional condition.
Went to Wally's this weekend for the first time and will definitely be back! We bought two gumball/candy machines from Wally's personal booth, and he was so informative about how they work, how he restored them, and his personal history as well as history of the machines. These will be a great addition to our game room! Great guy and great place!
Over 15,000 sf.
Waiting to be Explored
Offering True Antiques & Vintage Finds in Historic Downtown McKinney, TX
" What a Fabulous antique shop!! I found the most Awesome rusty crusty mailbox. been looking for a couple of years, and a vintage bunny sprinkler. Very unique items and tons of great booths, you won't be disappointed. "
Some markets are stuffed with VHS tapes and old paper back romance novels.
Others have vintage looking decor. But it was mass produced in Asia 6 months ago.
But you aren't looking for mass market items you can find at a big department store.
You're looking for something unique. Something real. Something with a story.
No one likes to be let down by a bad antique mall.
For over 25 years, we've strived to provide the best selection of antique goods, finds, and collectibles in North Texas.
At the Antique Company Mall, our dealers are required to stock at least 80% of truly vintage items.
So whether you're trying to find a collectible, or you're looking for that one-of-a-kind accent for your home, you can be sure that what you'll find is truly vintage and truly unique.
" The Antique Company Mall is an absolute must-visit when I go to Texas.
We spent hours pouring over the carefully curated booths and always find great items to take home to Rhode Island. I highly recommend this sweet spot for surprising and unique treasures. "
With over 100 dealers spread between 2 floors, we have a little something for everyone.
You can find primitives, farmhouse, cottage style, shabby chic, country, retro, boho, garden goods, mid-century modern, industrial, collectibles and so much more!
1) Plan your trip
The historic McKinney square is a fantastic place to spend your afternoon, or even a getaway weekend. After you've shopped with us, you can walk to lunch at one of the nearby restaurants or grab a cup of coffee with a your antiquing friends!
2) See what you can find
With over 15,000 sf. and 100+ dealers, there is no telling what you will find. Our items are hand picked and ready to buy, which means there's always something new for you to see.
3) Find your treasure!
Whether you're adding to your collection, or decorating your home, you'll walk away excited. Excited to get home and see how it looks. And excited to share what you've found with your friends.
Vero Beach, Florida
Visit Website
Wildwood Antique Mall
720 South US Hwy 1
Vero Beach, Florida 32962
(772) 562-8777
Email Wildwood Antique Mall
Hours
Mon – Sat.
10:00am to 7:00pm
Sunday
10:00am to 6:00pm
Reviews
Visit Wildwood Antique Mall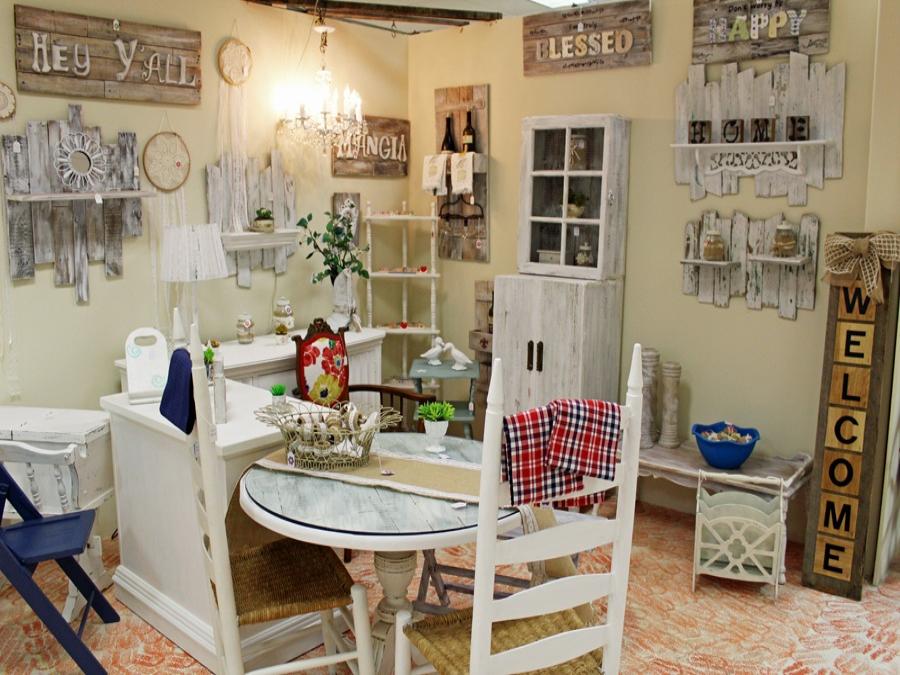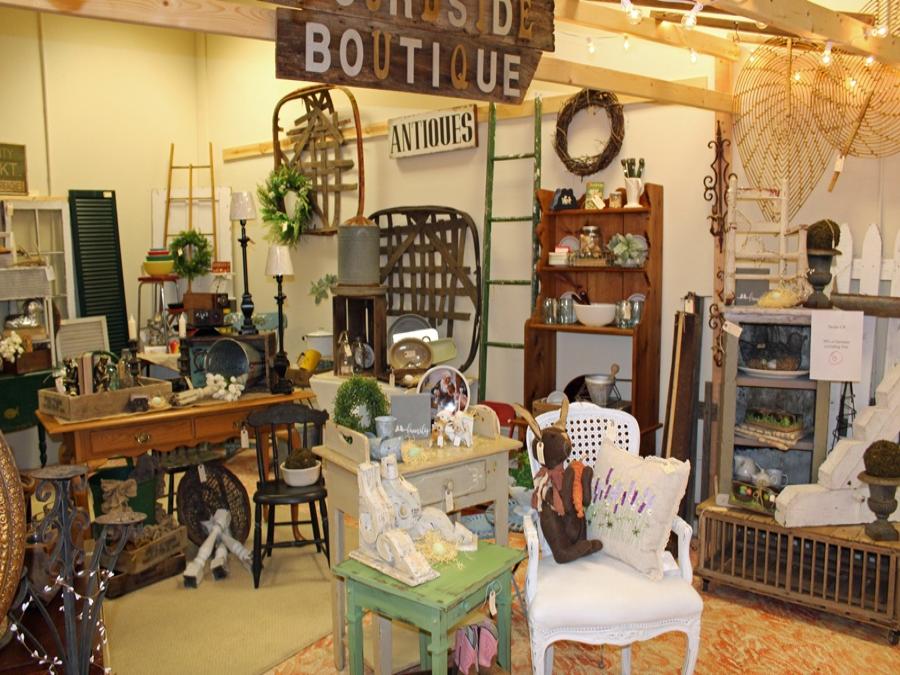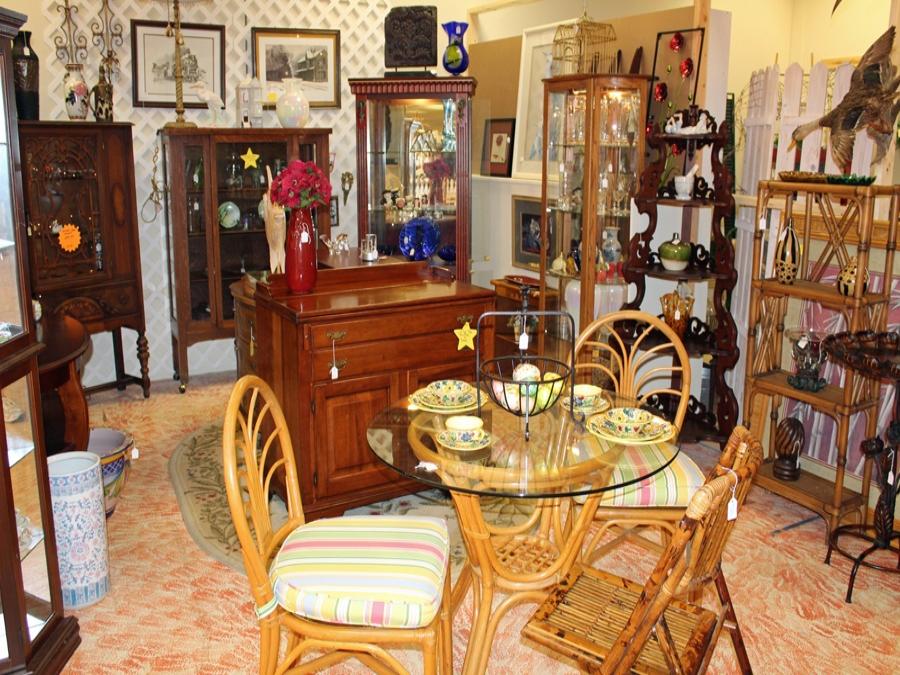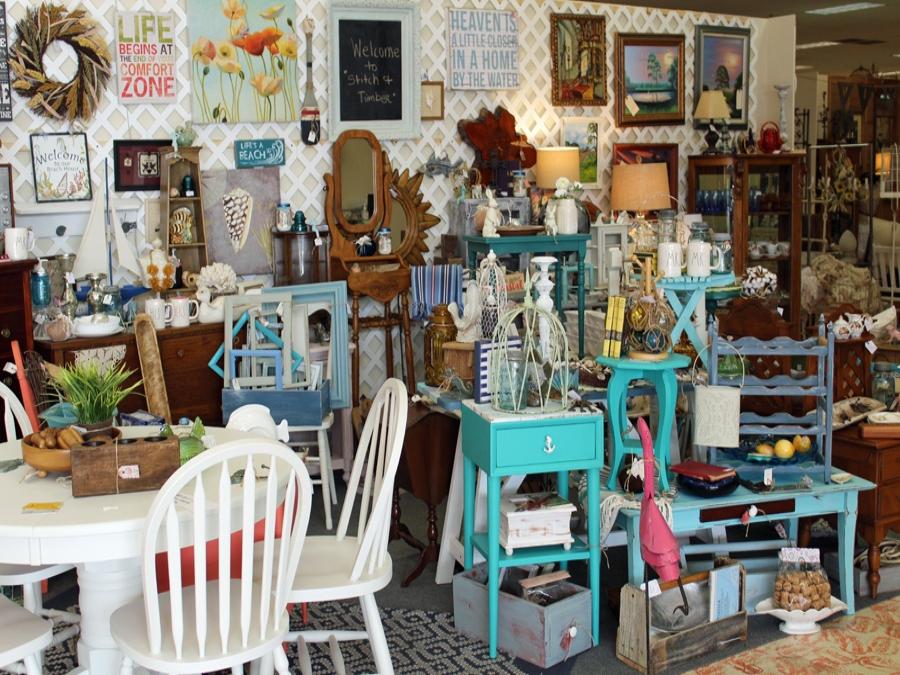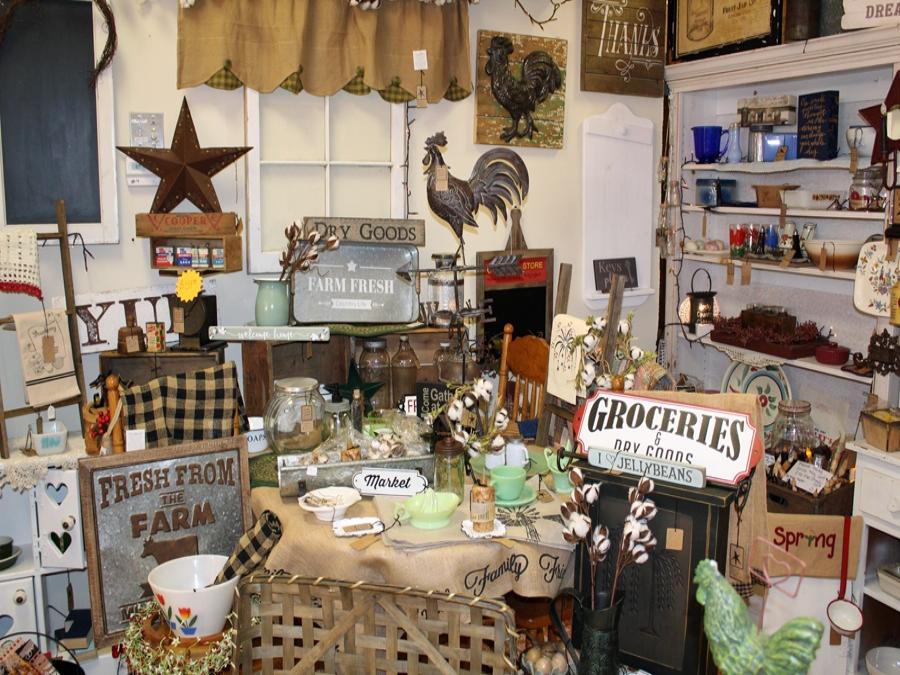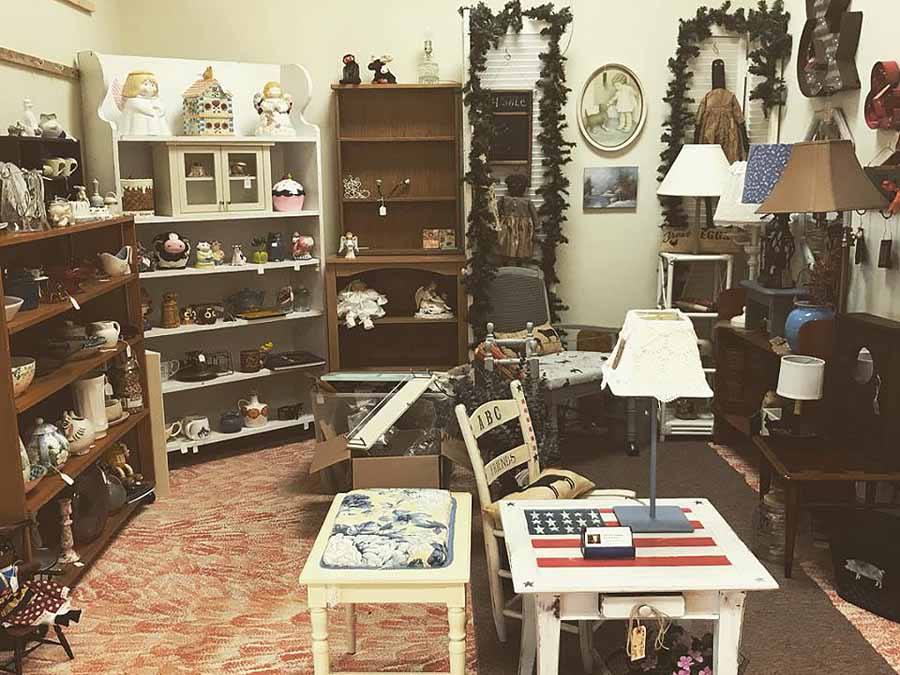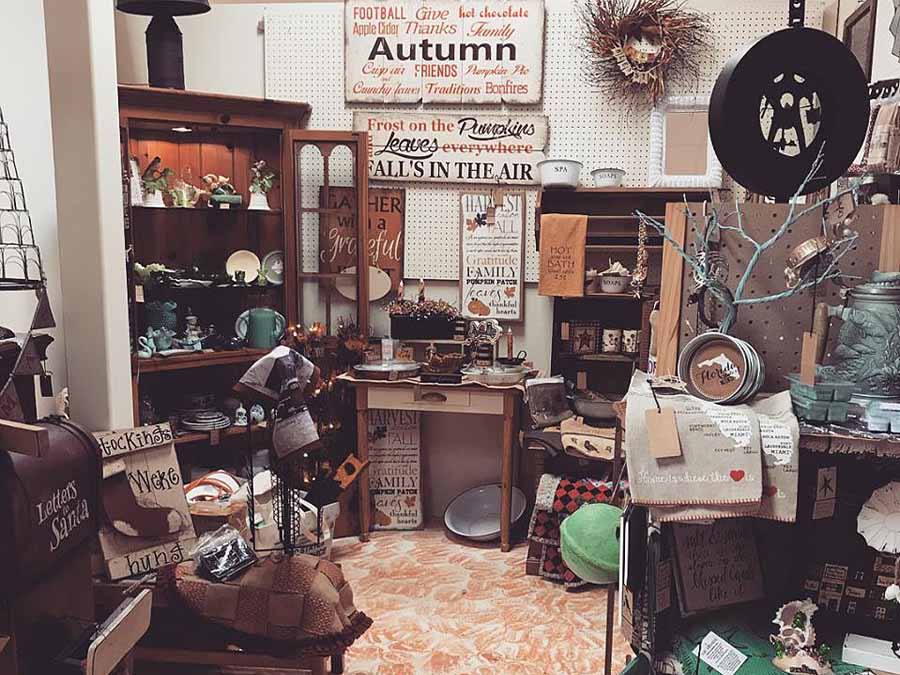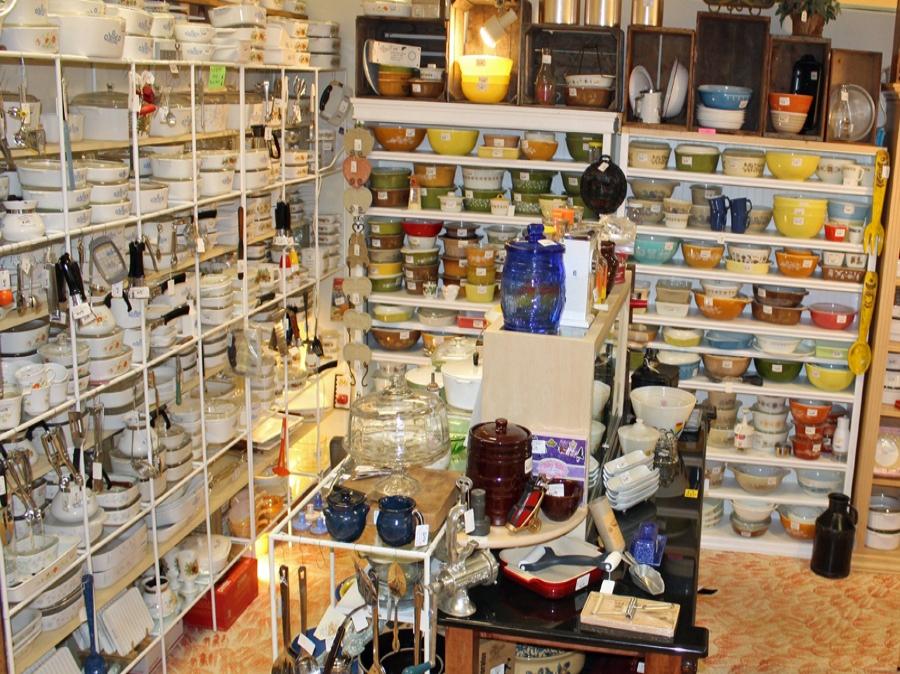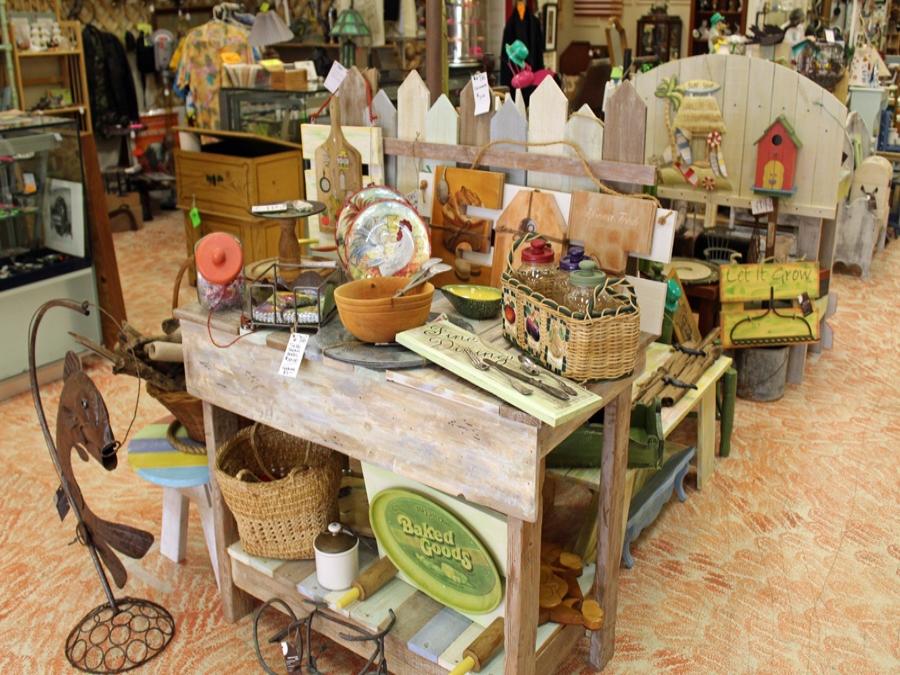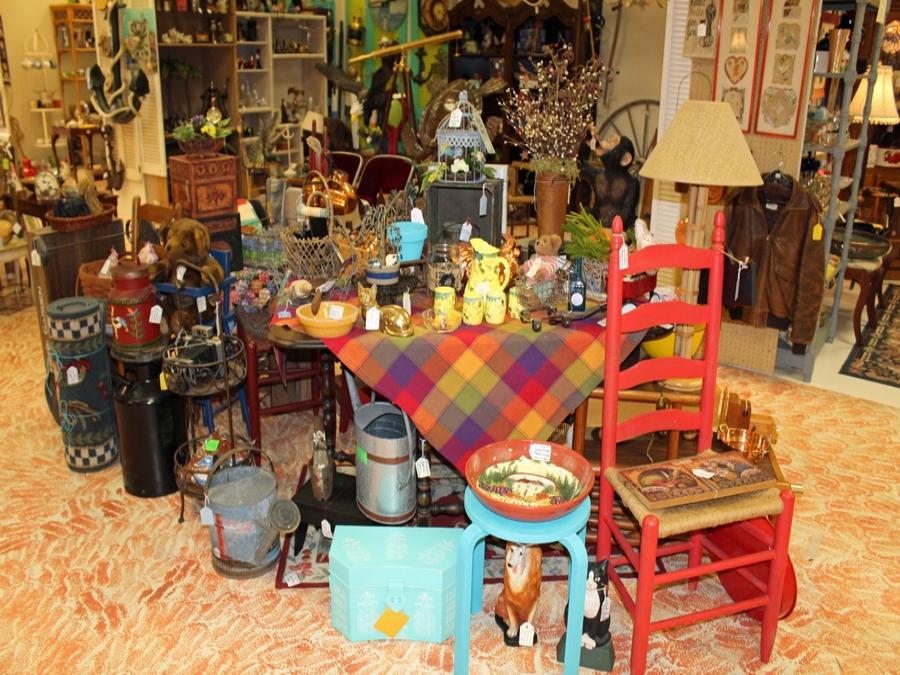 About Wildwood Antique Malls
Wildwood Antique Malls offer the largest selection of antique, vintage and collectible finds in the state of Florida. Showcasing antique and vintage furniture, china, home décor including kitchenware, jewelry, rare coins, memorabilia and vinyl records for sale by 1,000+ dealer partners, Wildwood's seven Florida locations collectively span more than 200,000 square feet of clean, air-conditioned, wheelchair-friendly shopping space.
Each Wildwood Antique Mall is staffed with friendly, knowledgeable customer service professionals who are happy to assist you on your hunt for antique treasures and vintage collectibles. In fact, Wildwood Antique Malls pride themselves on providing the best antique shopping experience in Florida.
What Wildwood's customers have to say:
"By far the best antique mall I've found in Florida. … There's a good mix of every era in here . from all the way back in the 1800's to [more] modern day items. They have tons of furniture, glassware, knick-knacks and collectibles." – Rachel F. about Wildwood Antique Mall of Lakeland
"Great staff and lots to choose from! Even the prices were lower than many places I have looked. It's worth your time to stop in and find what you are looking for!" – Pete K. about
"This place was packed with antiques, very nicely displayed, the environment was air conditioned and had nice lighting – very relaxing! I will be back during my next visit to Florida." – Maura C. about
In addition, the Wildwood Antique Malls have a user-friendly , providing antiques enthusiasts and vintage collectors alike the ability to conveniently search for and locate rare finds from the comfort of their homes and offices.
History
Wildwood Antique Malls come from humble but proud beginnings. In 2011, the then-77-year-old took the $4,000 he had left after his auction company was driven out of business by the 2008 Great Recession, and invested the money into the very first Wildwood Antique Mall.
Thanks to Manny's leap of faith, today Wildwood Antique Malls are flourishing. In 2017 alone, the locations combined did more than
Timeline
February 2011 – The first Wildwood Antique Mall opened at I-75 and the Florida Turnpike in , Florida. The name comes from the town at that intersection.
November 2011 – The second Wildwood Antique Mall launched in the (Space Coast) area.
December 2012 – In , the third Wildwood Antique Mall opened its doors to the public.
July 2015 – Wildwood opened its fourth mall at 3530 U.S. 98 N. in the old Sports Authority space on an outparcel of Square Mall.
November 2017 – welcomed the fifth Wildwood Antique Mall, aptly placing a one-stop shop for antique treasures and collectibles right in the heart of the Treasure Coast.
March 2018 –The first Florida West Coast location, Wildwood Antique Malls' sixth location overall, opened in .
April 2018 – Location number seven, the newest for Wildwood Antique Malls, opens in (Mount Dora).
There are many excellent reasons to become an Exit 76 Antique Mall merchant. Here are just a few:
To create extra income
To supplement an income
To sell items that are no longer used — if it's just collecting dust, make money on it instead!
To get rid of that storage unit fee — why store when you can sell?
We can help you to downsize – Assistance with booth and case setup is available
An ideal way to liquidate an estate or collection!
If you're unable to get out and about, it's a great way to sell — you can check your sales online!
Why pay rent and overhead for a retail location and pay employees to sell your items, when we can do all of that for you?
Mall-wide state-of-the-art surveillance system
Lots of advertising $$$ spent for the benefit of our merchants
Worldwide shipping is available
Track your sales as they grow, through custom Dealer Sales Reports provided by Mall-Central.com . This service is provided for ALL Exit 76 Antique Mall merchants, completely free of charge!
The Exit 76 Antique Mall is a one-level, climate-controlled and secure setting. Our Red Vest team is always ready to assist you with your needs. You can check your sales nightly, using the free Internet-based service provided with your merchant account. Why not become an Exit 76 merchant? Contact us at 812-526-7676 , and start reaping the benefits today!
Looking for vinyl records? Check out space 117C at the AAA I-76 Antique Mall at the Route 44 exit on I-76 between Akron and Youngstown. At space 117C I have albums or LPs (50s-80s Rock) at various reasonable prices / 45s (50s-70s Rock, Soul/R and B, etc.) for $2.00 except for the Elvis and Beatles 45s / Elvis and Beatles 45s – some with picture sleeves / 45 RPM record tote cases / rock related books. Most of the records are not the common ones you see everywhere. There are lots of unusual and inexpensive pieces here.
5-26-22: I brought in another box of fresh LP records today along with a fresh box of 50s and 60s 45 RPM records. I also added several new Beatles and Elvis 45s.
4-30-22: Today I added a new box of albums with rock records from the 1950s to the 1980s. In addition, I brought in another new box of 50s and 60s 45 rpm records.
4-11-22: I just placed a fresh box of 50s to 80s record albums in the I-76 Antique Mall in Space 117C. I also put in a fresh box of 50s and 60s 45 RPM records today.
3-21-22: I added a fresh box of LPs today (a 50s and 60s section and a 70s and 80s section) in Space 117C at the I-76 Antique Mall. I also added a fresh box of 45 rpm records (50s and 60s). A few new Beatles and related 45s were also added.
2-25-22: New LP and 45 rpm records were added today in Space 117C at the I-76 Antique Mall. Also added is a book about living in Laurel Canyon in the 60s and one about Dick Clark's Bandstand.
1-31-22: I brought in a fresh box of LPs and a fresh box of 50s and 60s 45 rpm records today. They are in Space 117C.
1-7-22: Earlier today I put a new box of LPs in Space 117C. This box included a 50s and 60s section and a 70s and 80s section. I also brought in two new boxes of 45 RPM records. One box is 50s and 60s 45s. The other box is 70s and 80s 45s.
12-16-21: A fresh box of albums (50s/60s, 70s/80s) and a fresh box of 45 RPM records were added today in Space 117C along with some fresh Beatles 45s.
11/22/21: I put a new box of albums (Christmas, 50s/60s, 70s/80s) in Space 117C today along with a new box of 45 rpm records (50s/60s).
11/4/21: A fresh box of albums (50s and 60s / 70s and 80s) and a fresh box of 45 rpm records (50s and 60s) were added today. Also added was a blue metal 45 rpm carrying case.
We have reopened oour regular store hours.
We will be limiting customer occupancy as the County is requiring, so please be patient. In order to reduce risk to our Staff and customers we will be requiring Masks to be worn inside the store and please do your Social Distancing best. We have missed you, and can't wait to see you all soon.
We have the Most reasonable rates in Madison.
Booths – $1.55 per SqFt. plus 6% commission
NO WORK HOURS REQUIRED.
Cases, 3 & 4 Foot – $40 – $50 plus 6% commission
NO WORK HOURS REQUIRED.
38 Years
Building a Greener world,
One antique at a time.
The Antiques Mall of Madison, Wisconsin,
is proud to have been serving
the Dane County and Madison area for over 38 Years.
——————————————————————-
If your in the area, please stop in the mall and check us out.
Our dealers have devoted themselves to offering you their finest items at the lowest possible prices.
We have a large(no I should say HUGE, no ENORMOUS) amount of items on display.
From fine jewelry, fiestaware, vintage clothing, advertising memorabilia, tin toys, steiff, Red Wing pottery, silver sets, baseball cards, albums, fine china sets,
Quality furniture, functional furniture, to whole bedroom sets.
P lease stop in the Antique Mall and spend a few hours enjoying the in person shopping experience. Take advantage of the ability to really see, touch and evaluate the thousands and thousands of items that our dealers have assembled for you.
We have over 120 dealers that are doing their very best to offer the highest quality and largest variety of antiques at prices that everyone can take advantage of.
We have some dealers that have been selling antiques for over 30 years, now that should tell you something about their ability to offer antiques that are desirable and affordable.
Longevity in one location is one of the best ways to judge the ability
of antique dealers to adapt and prosper.
We have been here for over 38 years
and we appreciate your support.
With the constantly changing economy,
antiques are still a great way to save money and a great way to add quality items to your household.
Dresser's, bedroom sets, and kitchen tables are just a few examples of items we have available.
These older, quality made pieces of furniture, are a much better investment than mass produced furniture of recent times.
So please stop in, often, and check out our constantly changing inventory of antiques from over 120 dealers..
6′ tall x 5′ wide x 20″ deep
• With 4 sets of shelves
$155
3.5′ tall x 6′ wide x 20″ deep
• With 2 sets of shelves
$95
3.5′ tall x 6′ wide x 20″ deep
• With 1 sets of shelves
$95
(limited availability, must contact in advance of show)
20' shipping container
$250 a month/$2500 a year
40' shipping container
$350 a month/$3500 a year
4×6 Panels
$10
2×6 Panels
$5
4×6 Metal Grid
$10
2×6 Double-Sided Panels
$5
* Showcases, Safes, Walls, Pegboard & Storage Units available only at Atlanta, GA facility.
For information on renting Showcases, Safes, Walls and Storage Units, call (740) 569-9700
**For charting and booth registration, contact the building charters at (740) 569-2800 or visit our registration page.
Home
Antique Store
Vintage Store
Events & Media
Dealer Rates
Outdoor Market
Services
Hours & Location
Contact Us
Gallery
Wish List
Vendor Login
Home
Antique Store
Vintage Store
Events & Media
Dealer Rates
Outdoor Market
Services
Hours & Location
Contact Us
Gallery
Wish List
Vendor Login
Hidden Treasures Mall & Antiques named one of
The 10 Best Antique Stores in Illinois!
Loves Park IL. 61111 (779) 210-7602
Hidden Treasures Antique Mall in Loves Park, Illinois
Antique Mall Near Rockford Illinois
The Largest Antique Mall in Northern Illinois
We offer a better shopping experience!
We offer the inventory and variety of hundreds of antique stores in our convenient and fun antique mall atmosphere!
You'll love shopping for Antiques and Vintage items here!
Our outdoor flea markets have grown to be some of the most loved markets by both sellers and buyers. These flea markets are well established well managed and well attended.
Over 100 spaces of bargains galore from vendors from all around the state. Held the 3rd Sunday of every month April – October in the huge parking lot of our busy mall and as always FREE admission.
Terry VanHorn from Zack's Tunes DJ service plays music and entertains you while you eat great food and enjoy the great fellowship of our flea market vendors. Don't be surprised if we just bust out and start doing the Cupid Shuffle or the Cha Cha Slide! Dealers and shoppers really look forward to each and every one of our flea markets. Flea markets are held from 10am-3pm but many vendors stay past 3pm since the mall is open until 6pm.
Anybody can be a vendor. You can't have a successful flea market without great vendors and I truly have the best bunch of traveling vendors plus a large amount of newbies that continuously come and often "sell out." We can accommodate 100 spaces and most times sell out in advance. The secret is to keep it simple. Our flea markets are one day. Pre-reserve your space by going into the Mega Mall or calling us at 517-487-3275 with a credit card. Just your name and your money will secure your space. The cost is $25.00 if pre-reserved 30 days in advance. Late registration all the way up to and including the day of, if space is available, is $30.00 for a huge 18 x 20 space (2 parking spots).
All shows are held rain or shine. Since we heavily advertise all shows in advance there are no refunds or credit if you chose not to show up due to inclement weather or other reason.
Dealer set-up starts at 6:30 am (NOT BEFORE) and is advertised to start at 10 am but customers start to show up around 9 am. Upon your arrival I will assign you a space. You may pay for the entire season or remainder of the season in full to permanently reserve the same space and to gain early set up rights (prior to 6:30 am) if you choose to. You may choose to use your car on the same space with you but it must be within that 18×20 space. You may also pull up to your assigned space, unload and then park in the customer parking lot. Bring your own tables or rent our 6 foot tables delivered to your space for $6.00 each.
I have saved the best for last.
Free doughnuts and juice to all participating dealers!
Remember anybody can be a vendor and sell anything from antiques to garage sale stuff. Our flea markets even commonly include produce. No food or beverages unless you are one of our food vendors. Our flea markets are also a great way to advertise or market your business cheaply to a large amount of people in a short time. We encourage and welcome new faces!
The third Sunday of every month April through November.
Junk in Your Trunk sales – starting May 5, 2016
Trunk shows are a trendy variety of a small flea market. It's design is for people to simply pull up. open their trunk and start selling their goodies. Every Thursday afternoon May 5th through October. 4:00 – 8:30.
Vendor Space only $5.00 per parking space. Minimum of 2 spaces must be rented. Pay upon arrival, no reservations needed. Bring your own tables or rent ours for $6.00 each. Set up starts at 3:00 – take down at 8:30.
Below is a list of our flea market advertising
Lansing State Journal
All 13 Community Newspapers
Auction Exchange
Great Lakes Trader
Antique Trader
Lansing Visitors Bureau
Social Media including Facebook
Tons of Craigslist all across the state
Other internet event listings
Direct Advertising at shows and festivals
Thousands of fliers distributed via dealers & the mall
Tons of road signs put out 4-5 days prior to every flea market and even more on the flea market day(that morning)