Looking for ways to pare down your wedding budget here and there? From the guest list to the music, here are a number of easy wedding details to modify and help save some money (without anyone noticing).
Reception
1. Trim your guest list.
We know it's hard to consider celebrating without certain people, but cutting your guest list is the easiest way to reduce your budget. It'll lower everything, including your catering and invitation costs, your venue size and rentals.
2. Choose a Shoulder-Season Date
Depending on where you plan to tie the knot, you could save hundreds, even thousands, of dollars by doing so in your destination's off-season or during one of the general shoulder seasons (typically late winter and early spring). We know the weather might not be as optimal, but it could totally be worth a February wedding to afford your dream venue.
3. Host It All in One Place
Having your ceremony and reception at one location will cut travel time for vendors you'd have to pay by the hour.
4. Skip Saturdays
Venues charge way more for Saturday events because they're by far the most popular day of the week, and there's far more competition. So, while it's not always as convenient for you or your guests, a Friday or Sunday (or pretty much any other non-Saturday) wedding date could be the answer to your budget prayers.
Flowers
5. Choose Greenery Over Flowers
Foliage over flowers? Not only is it gorgeous, it's super popular right now too. Use garlands to fill your tables and drape your altar.
6. Swap Out Pricey Blooms
Replace expensive flower varieties for less expensive ones. Even little substitutions add up: Exchange black magic roses for more reasonably priced deeply colored dahlias in all your bouquets and table arrangements, you'll save about $4 a stem. If you were planning on having five roses per bouquet and 10 per centerpiece—with a wedding party of five and guest list of 150 people, you've just saved $520. (Your florist will be able to recommend other great ways to swap and save too!)
7. Stick to One (or Two) Stems
If your florist is only sourcing two types of stems, they can buy in bulk, saving you big bucks. Consider sticking to flowers in a similar color scheme or shape for a more cohesive look.
8. Buy Local, In-Season Flowers
This will guarantee the freshest blooms, plus the stems will be less costly too. Your second-best option is choosing from widely available, year-round blossoms, like roses, calla lilies and orchids. If you go local, you'll save on transport costs too (tulips from Holland don't come cheap).
9. Consider Nonfloral Décor
No need to splurge on buds if you don't care about them. Try adding books, seashells, extra candles, heirloom photos or other nonfloral elements to your day.
Food and Drink
10. Have a Cocktail Hour Reception
Skip the sit-down dinner or big buffet and opt for passed appetizers (just make sure you have enough to go around—don't let your guests go hungry).
11. Limit Your Bar
Please don't have a cash bar, but it's perfectly okay to limit your alcohol offerings. Instead of a full bar with a dozen pricey spirits, serve only beer and wine, and one signature cocktail, or some combination of the two.
12. Skip the Champagne
Your love will be no less legit if you skip the Dom Perignon. If you're set on a toast moment, all that matters are your designated drink's bubbles and drinkability. Let people say "cheers" with whatever cocktail they're holding, or opt for one of champagne's more affordable cousins: prosecco, cava or other sparkling wine.
Cakes
13. Order a Small Cake
Have a beautiful a one- or two-tier cake for that quintessential cake-cutting moment, then supplement it with a larger sheet cake (hidden in the kitchen) for everyone to have a slice.
14. Keep Embellishments Minimal
The more ornate your cake decorations, the more it'll cost you. Keep add-ons to simple, minimal details that won't jack up the price too much.
15. Choose Fresh Flowers (Not Sugar)
We know they're small, but sugar flowers are super pricey because they cost your cake baker time and effort (it's like a gorgeous mini flower sculpture—made of sugar!). Fresh flowers are your most affordable bet for a floral-adorned confection.
16. Stick to Classic Fillings
Skip exotic fillings like guava and mango and shoot for simple, but no less delicious, flavors.
Stationery & Favors
17. Send Single-Page Invites
Save on postage with smaller, flat, single-page invites.
18. Give One Favor Per Couple
Choose a favor, like candles or a potted plant, where you only need one per couple.
19. Make Escort Cards Double as Favors
A classic two-for-one.
Photo, Video and Music
20. Book an Associate
Ask about booking a photographer, band or DJ's associate. Oftentimes, great vendors can recommend another person who works for them at a lower price, meaning you get a similar vibe and quality, just not the one most in demand.
21. Get a Smaller Band
The smaller the band, the fewer people and equipment you'll need to pay for. It's not always an option, but cutting down your band from 12 pieces to eight or even six instruments and vocalists is an easy way to save on live music.
22. Hire for More Than One Service
Hire a band or DJ who can do both the ceremony and the reception. For example, if you're having a band at your reception, ask about hiring one or two members for the ceremony.
Looking to shrink your budget? These are the top ways to save money on a wedding, without sacrificing style.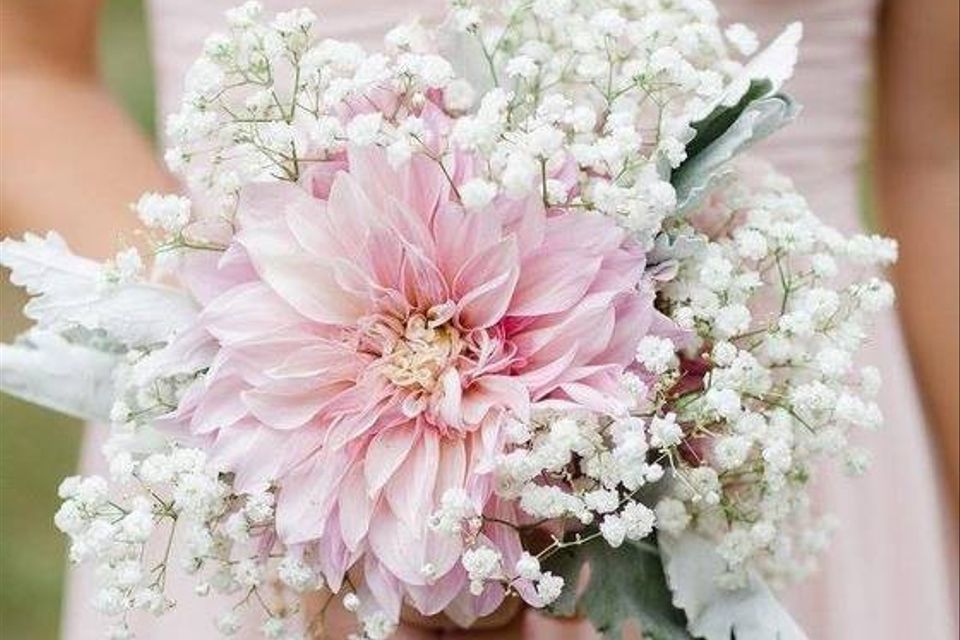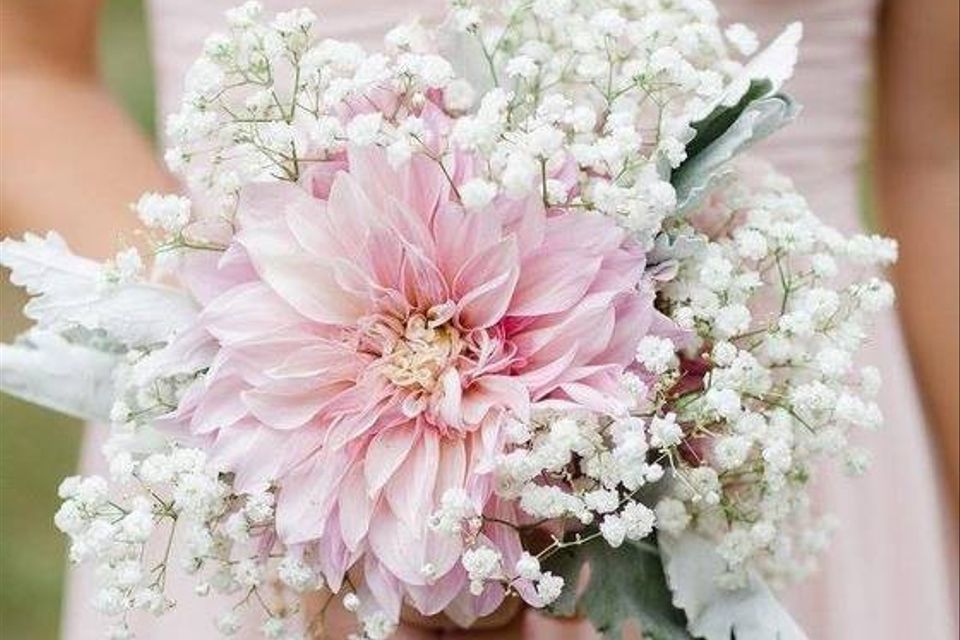 It's no secret that weddings are incredibly expensive. It seems with each passing year, the price tag keeps going up. So when it's your turn to walk down the aisle, you may want to think outside the box to come up with creative ways to save money on your wedding. These tips will help you stick to your budget without sacrificing your wedding's style or your guests' experience.
Here, we're bringing you nine ways to save money on a wedding to help you stay within budget!
Choose dress styles you love, and find ways to save.
One of the first expenses you'll likely bump up against is your wedding dress. After all, who doesn't want to hit the bridal shops the moment that ring is on their finger? It's a great idea to try on a bunch of dresses to get a sense for what you like, but there are a few key ways to save money on your wedding dress. First off, skip dresses with lots of custom or hand-sewn adornments; these gowns often come with a hefty price tag. Your options? Stick with a simpler dress without lots of decorations, or find one with minimal decorations displayed prominently, like at the neckline. Finally, if you're in love with a particular dress but it's out of your price range, look for a dress in a similar cut or with similar designs by a less expensive designer. With a little sleuthing, you can find your perfect gown at a price that works for you!
Marry on a weekday.
There's nothing that says you have to get married on a weekend. And in fact, you can save a ton of money if you don't! Think about it: when brides are booking months (and sometimes even years!) in advance to snag a coveted Saturday in June, the venue can pretty much charge whatever they want. But on a Wednesday evening? They'll be chomping at the bit to accommodate your event. If you've got your heart set on a weekend, look into having your reception at a swanky restaurant. Depending on the size of your guest list, you can actually save money over renting a traditional reception venue.
Have a micro wedding.
And speaking of your guest list, if you're looking for a way to really splash out without breaking the bank, consider a micro wedding! Keeping your guest list super small allows you to spend more per head and still have a lavish affair if that's what you're dreaming of. It'll be tough to trim down that guest list, we know, but think of the wonderful, intimate wedding you could have.
Limit your photographer's time.
One of the things you'll cherish the most from your wedding is your photos, so when you're choosing your photographer, definitely go with the one whose style speaks to you the most. To save money and since photographers usually factor the time they'll spend into their rate, another great way to save on your wedding photographer is to dismiss them right after the cake cutting. You'll end up with plenty of beautiful wedding pictures while skipping the ones of your distant relatives dancing.
Get married outdoors.
When it comes to saving money on your wedding, there's nothing like natural décor. If you're envisioning a ceremony accentuated by tons of lush flowers and greenery, consider getting married in a beautiful garden or park instead of paying top-dollar to haul all that natural beauty indoors. Or maybe you've always dreamed of getting hitched as the sun sinks below serene mountain peaks behind you—go for it! It's a great way to save tons of money on your wedding ceremony. Another option? Look for a venue that can accommodate an outdoor ceremony and an indoor reception—you'll get the best of both worlds and save a ton on transportation, too!
Work with your caterer to find ways to save.
If your local reception hotspot comes with its own catering service, you can kill two birds with one stone, but be sure to think outside the box and ask lots of questions to ensure you end up with a menu that works for your budget. One great way to save on wedding catering costs is to have an early afternoon wedding, where guests won't be expecting a sit-down dinner. Or, you could ask your caterer to prepare simpler fare, like BBQ fare with lots of yummy sauces and sides, or a taco or baked potato bar with tons of toppings to choose from.
And watch out for hidden costs, like extra table linens, disposable goods like tongs, paper towels and trash bags—go over your catering contract with a fine-tooth comb and don't be afraid to ask whether you'll be charged for those. After all, those little hidden fees can really add up!
Streamline your beverages.
Similar to the above, don't feel like you have to have a top-shelf bar at your wedding—you definitely don't! This is one of the easiest ways to save money on your wedding. Having a limited selection of beer and wine is perfectly acceptable for your reception, and let's face it—it's safer for your guests too, if they'll be driving home from your venue. Just be sure to go over things like corkage fees with your caterer (if they'll be providing the alcohol) in advance, so there aren't any surprise charges.
Save on flowers.
Flowers are an essential part of just about every wedding. But they can really add up! Most estimates indicate that flowers alone take up a whopping 8 percent of your total wedding expenses. The good news? There are lots of ways to save money on wedding flowers without having a bare-bones wedding. Once you've nailed down the color scheme for your wedding, sit down with your florist and draw up a plan. Let him or her know you're on a tight budget and see what they come up with. Then, consider mixing florals with less-expensive greenery, or combining expensive blooms with more affordable ones to add bulk and visual interest to your arrangements. And remember—it's your wedding, so if you want to go big in one area while cutting back on another, you can totally do that!
Skip the bridesmaid bouquets.
In keeping with the above, save money on your wedding flowers by getting a little creative with your bridesmaids bouquets. Especially if you have a large wedding party, you'll shell out a huge chunk of change to have them carry extravagant bundles of blooms down the aisle. Some great options to consider are beautiful illuminated lanterns or candles (safely, of course!) or a single flower or small nosegay. If you'll be ordering your bridesmaids bouquets from your florist, though, be sure to pick their dresses first (or at least the color). You could be charged extra if you change your mind and need your florist to revamp their bouquets.
Wedding receptions swallow up a big part of every bride's budget, but it doesn't mean you have to get into debt! Follow our fab guide and we'll help you stay in the black on your big day.
Prioritise costs
Spend more on the things you need the most. The four big items of a wedding are the dress, the photographer, the venue and your entertainment, so focus getting those first.
Consider all inclusive days
It's not always cheaper to do everything yourself – package deals are often much cheaper than hiring all the different details on the day and the convenience of having it all sorted for you makes the whole process a lot less stressful!
Attend wedding fayres
Wedding fayres are brilliant for gathering ideas for your big day, shopping for unique items and grabbing some big day bargains. The National Wedding Shows are a great starting point for new brides-to-be and many suppliers offer exclusive show discounts.
Off-peak discounts
You can save money by having your wedding on a weekday. On the day, you'll be on cloud nine and won't care what day it is, just make sure your send out your RSVPs early so your guests have time to book holiday at work.
DIY your details
The best way to save money and make the day your own is to make some details yourself. Use the skills of friends and family to help you out as their wedding gift to you.
Like this? You'll love…
14 Luxury UK Minimoon Hotels to Visit Without Breaking the Bank
Eco-friendly Weddings: 7 Things to Think About to Lessen Your Environmental.
Venue of the Month: Callow Hall, Derbyshire
All the Bridgerton Filming Locations You Can Get Married at
Out of season dates
Your venue and all your suppliers will cost less if you hold your big day out of season (October to April). You are also more likely to get your first choice of venue out of season – it may even be cheaper outside of the popular summer months.
Double up!
Save money by using your wedding items more than once. Your ceremony flowers can be used at the reception, your bridesmaids' bouquets can be used as top table decorations, and favours can double up as place cards.
Discount venues
The wedding venue can be the most expensive part of the budget. So slash costs by hiring a local village hall or a private club. These can be dressed up to be made to look as good as any big-budget wedding venue.
Hold on for offers
Don't just settle on the first quote you get – shop around and hold on for special offers on some of your big budget items.
Stay organised
Don't rush into buying details right at the start of your planning. Work out a colour or theme before you start shopping – that way you'll avoid any costly mistakes. And also, once you've found your wedding dress, stop looking! Deposits on dresses are usually non refundable so make sure it's the one before parting with any cash.
Keep a record
Keep track of what you spend all the way through your wedding planning. This way, there are no nasty surprises when you go to check your final figures. Wedding Ideas has some handy budget spreadsheets that will help you spread the costs.
Cut your guest list
It may sound harsh but cutting your guest list is the easiest way to stay in budget. If money is tight, prune the people who don't make the A-list!
Contingency plans
Invest in wedding insurance, even before you've fully started planning your big day. Policies start from just £20 and they could save you a much larger amount should anything go wrong with one of your larger suppliers on the day.
It's not all in the decorations
Sometimes the best parts of the wedding day are the bits that cost nothing. More people will remember your big day for being fun, rather than the finishing touches you've spent the last of your budget on.
Book last minute
If you can get organised quickly, there are some great last-minute deals to be had, especially on wedding venues. Plan your day in six months or less and you could save yourself anything up to £5,000 – and in some cases more!
Consider chair covers
If you haven't got the budget to hire brand new chairs for your reception, chair covers can transform the reception room in minutes and are worth every penny.
A photogenic budget
Photography is a key part of the wedding. Your photographer can capture your big day perfectly and create memories that will last a lifetime. We'd even suggest allocating a large proportion of your budget towards finding a photographer that's right for you.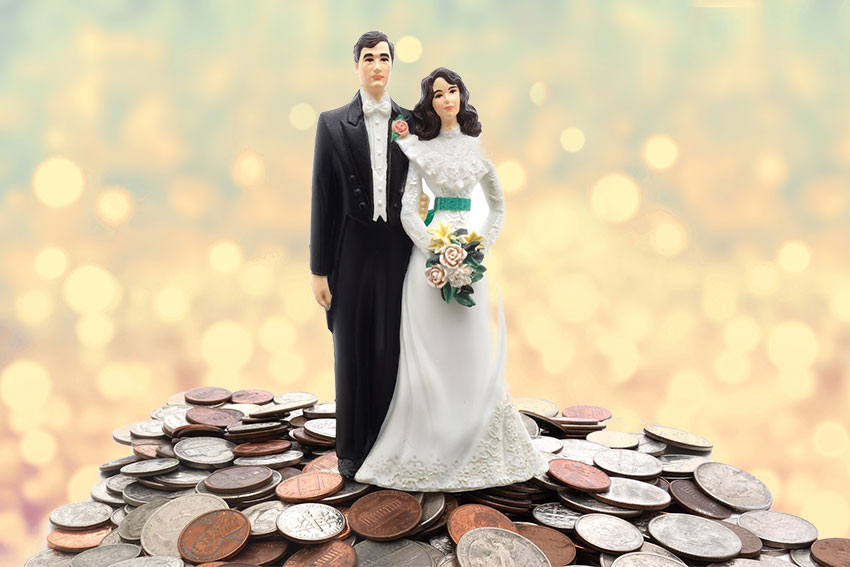 After the wedding ceremony traditionally everyone heads over to the wedding reception to dance, enjoy good food and drinks and most importantly to celebrate the lovely newlyweds. The reception can be just as expensive as the wedding ceremony if not more. The wedding reception is a big part of the bride and grooms wedding day however there is no need to go into debt over it. Follow these tips to help you stay on budget for your big day.
Prioritize your wedding costs
For your big day there are some things every bride and groom wants and our not willing to compromise one. The major items for most weddings are the dress/tuxedo, the photographer, location and entertainment. If you budget according to these priorities you should be able to save a lot of money overall on your reception. Download our Wedding Checklist and take 60 seconds to figure out your top priority items!
Consider package deals
Contrary to popular belief doing everything yourself is not always the cheapest way to go we it comes to your wedding. When planning your reception be sure to inquire about package deals that your venue offers you may be surprised at how much money you can actually save.
Attend wedding shows
The National Wedding Shows are a great place to get ideas and bargains for your big day. Many suppliers offer exclusive discounts for attending.
Off-season discounts
If you are looking for a less than traditional wedding opt to have your wedding and reception during the week, this is a guaranteed money saver. A Thursday evening reception in October at a warm and toasty venue can cost less than a third of what a Saturday wedding in July will cost at the same venue.
DIY your reception decorations
One of the best ways to save money is to DIY decorations and enlist your talented friends and family to help make your day special. Our Pinterest board has some great ideas, and we'd love if you shared some with us!
Reuse your flowers
Flowers can be very expensive so save money by using your ceremony flowers at your reception too. Smaller flowers can be used as table decorations and wedding favors can double up as place cards as well.
Look for discounted venues
The wedding and reception venue is typically the most expensive part of the entire wedding. Look for places that aren't marketed as wedding venues to host your reception, such as at a local hall or private club. You'll save money, and once decorated it will look like the top of the line wedding venue.
Stay focused and organized
It is very easy to get distracted and frazzled when planning your wedding but in order to have a successful day do not rush into making any major purchases. Also choose your colors and or theme for your wedding first so when you are out shopping you will know what to look for. Keep track of whatever you spend throughout the entire wedding planning process.
Slash your guest list
The easiest way to stay on budget is to cut your guest list so if your money is tight then choose who you want to share your big day with wisely. Consider keeping the list short and simple. If you haven't spoken to them in over a year, they're non-essential. Try to work out only inviting super close friends and immediate family.
Budget for a photographer
Photography is an essential part of the wedding and reception. You want your photographer to capture your big day and create memories that will last you and your family a lifetime. Be sure to set aside the right amount of money to make sure you have the best photographer for your big day.
We all know planning a dream wedding can be very costly however if you are flexible and try these money saving tips you are sure to have a cost efficient and fabulous wedding reception.
Your wedding day is the most important day of your life, a day to celebrate the love you share with that particular person in your life, and a day to create lifelong happy memories while putting smiles on the faces of your family and friends. We all want a unique wedding, but most people also have to consider their wedding budget carefully. Don't worry that doesn't necessarily mean you have to organize a smaller wedding; it just means you have to have a smarter wedding. The following are some ways to save money on your wedding, while still making your wedding day dreams come true.
1. Compare Prices
One way that the internet has changed our lives for the better is that we can now compare prices for many essential purchases. Most people know the importance of comparing insurance costs before purchasing, as well as utility costs to keep the household bills down. Your wedding is just as essential, and thankfully you can use our wedding stats to ensure that you get the best value on all that you purchase. Using our site, you can find the average cost of everything from the groom's tuxedo to wedding dresses, dinners, and the wedding guest book. It reassures you that you're getting great value as well as excellent quality.
2. Hire Expert Wedding Event Planners
A wedding is the most important event you'll ever organize, and yet most people attempt to do so without any previous experience in this specialist field. That's why it makes a lot of sense to hire the services of expert wedding event planners such as Event Lab . They'll work alongside you, or upon your instructions, and can arrange everything from the reception venue and floral arrangements to wedding furniture rental MN and beyond. Their extensive contact list means that they can obtain great value prices on all the things you need. It can also greatly alleviate the stress that organizing a wedding can bring, which is a service that many people find priceless.
3. Make the Most of Your Friends
One of the very most important things about a wedding day is that you can share it with all your very best friends. They will love the day just as much as you, and you can make them feel even more special by giving them unique roles within the event. We all have friends who are supremely talented at the thing they love, whether that be arts and crafting, baking, or photography. These can all be essential skills for your wedding, so why pay for unknown professionals to provide the services that your friends may be able to do just as well? Don't forget, however, that it's only fair to pay your friend for the services or products they provide, but it should still save you money as well as adding that all-important personal touch .
Getting help from friends and wedding event planners, as well as comparing average prices on wedding items, will save you money and stress without you having to cut any corners. Whether you're a bride or groom, or a parent of one of the happy couple, these invaluable tips can change a good day into a great day.
4. Find a place that does not require you to use your suppliers
"My best advice to save on weddings is to find a place that doesn't require you to use a private barman/catering / DJ. We bought most of the alcohol ourselves for $ 400 from a liquor store for wholesalers, and we had a full bar), DJ (fixed rate of $ 350, and even played the music of our ceremony!) and photographer. We ended up paying $ 3,345 when we could have paid $ 10,700 for those things ($ 4,000 for catering, $ 700 for four hours of a DJ and $ 2,000 for a photographer) at the other place I was considering. I saved $ 7,355 just by choosing another site."
5. Rent a house for the wedding and accommodation
"We rented a home, which served a triple purpose: as a party site, as accommodation for out-of-state guests and as a hidden site for the honeymoon the following week. (The low season is an excellent time for a getaway romantic in a holiday destination)."
"We rented huge holiday home, and we had a home party! It was simple, intimate, but it was still a significant reason to celebrate. Hiring a food provider with a menu from the other world to offer at the party was much better than a formal meal. We didn't even set up tables, there were lots of bar bars and comfortable furniture to sit in. We could also accommodate all the courtship in the rooms of the house, saving them expenses too," a source said.
6. Have your ceremony and reception at the same time, in the same space
"We had our wedding ceremony and the reception in the same space. Our guests sat during the ceremony, and we were able to start cocktail/snack time immediately after the service while we were taking pictures. That saved on transportation to the bridal party: no limousines, fewer time restrictions, and no guests from outside the city who care about getting lost."
"I got married in a hotel. The flowers from the lounge were taken to the dining area, and nobody needed transportation to the reception. Since many guests stayed at the hotel, the administration made a deal with the food."
7. Have your reception in a restaurant
"After conducting thorough research, we realized that getting married in an elegant restaurant was our most affordable option. Instead of paying $ 1,000 or more to lease a space and then take everything, we just had to buy the food and liquor. Space, furniture, linens, lights, beautiful decoration, dishes, silverware, elegant items, etc., were included. That was much cheaper than renting a space and having to bring everything from forks to external structures."
8. Marry in a Registry Office
"We got married in such a way and had a reception only for family and close friends. It was much more comfortable because they guide you through the whole process so that there is no confusion. It also eliminates the pressure of having to create a fairy tale for everyone."
A wedding in a civil ceremony does not have to feel like a visit to the car dealership; You can wear an elegant dress anyway and invite a moderate amount of people! Find historical civil records in your state. Buildings are often beautiful but still economical.
Getting married can put a serious dent in your bank account, but there are ways to host a fabulous wedding while also sticking to a budget.
Insider spoke to wedding planners to get their tips for cutting costs without sacrificing style.
Here are the best ways to save money on your wedding, according to experts.
Keep your guest list exclusive.
Wedding planner and designer Meggie Francisco told Insider that one of the best ways to cut costs on your wedding day is to be ruthless with your guest list.
"Each guest represents money that could be going toward a home or a college fund for a new baby. Couples who limit their weddings to only their closest family and friends rarely regret it," said Francisco.
Ask your venue's caterers if you can purchase food "on consumption."
Wedding and event planner Greg Jenkins of Bravo Events shared a cost-cutting tip with Insider that may help save couples from covering the cost of uneaten food.
"Ask the venue whether you can purchase food 'on consumption.' Many venues won't propose this to a couple, but the benefit is you only actually pay for food and beverage that is consumed," said Jenkins.
If your venue isn't willing to allow you to purchase all your food "on consumption," try offering to pay a minimum for food and proposing that anything consumed after that amount is paid for as it is eaten.
At a buffet-style reception, use smaller dinner plates to help stop guests from taking portions that are too large.
Jenkins suggested using slightly smaller dinner plates if you're looking to save cash on a buffet-style reception.
"I suggest using 7-inch rather than 10-inch dinner plates. Guests usually only eat what's on their plate, and smaller plates will help you avoid having to place a reorder for food," said Jenkins.
Ask for pitchers of water with slices of fruit instead of bottled water.
One simple move that could save you hundreds is to swap bottled water with naturally flavored water that's served with style.
"Request pitchers of water with lemon or cucumber slices instead of pricey bottled water. This substitution should also apply to water provided at the bars," said Jenkins.
If your local area's tap water is not ideal, you can still skip on sometimes-pricey water bottles by buying larger jugs of water that can be poured into pitchers.
Make sure your vegetable dishes are in season before ordering them.
Asking for seasonal fare can save you a surprising amount of money if you're planning on serving your guests a salad or vegetable side.
"Request the venue or your caterer to provide seasonal vegetables instead of more pricey items that may be out of season," said Jenkins.
Though your savings will depend on the time of year and your wedding's location, Jenkins told Insider you can easily save a few hundred dollars by serving seasonal food.
Consider shortening the length of your reception if you really want to save.
If you're looking for an easy way to keep your wedding costs down, simply trim the length of your reception.
"Most couples really don't need more than a five-hour reception, including cocktail hour, dinner, and dancing. More intimate weddings with 100 guests or fewer are best ended at four hours," said Francisco.
When you reduce the length of your party, you can save money on alcohol (particularly if you have an open bar) and many other time-sensitive elements, such as entertainment, photography, videography, and transportation.
Rent your bridesmaid dresses instead of buying them.
It's a cliché that bridesmaid dresses are only worn once, but with modern formal-wear rental options, that's not necessarily a bad thing.
By renting dresses instead of purchasing them, you can easily save hundreds of dollars, plus, as Francisco pointed out, you won't be saddling "bridesmaids with another $300 dress that will hang lifeless in their closet after the wedding day."
Sometimes it's cheaper to buy linens instead of renting them.
Though it may sound counterintuitive, wedding planner Emily Monus told Insider that renting event linens like tablecloths and napkins can actually be more expensive than buying them outright.
"Renting linens is expensive because the process to clean them is labor-intensive and included in the rental price. If you purchase your own linens, you will cut costs by over 50%," said Monus.
Plus, after your wedding, you can resell any unused or clean linens to further recoup your costs.
Instead of ordering a big, fancy cake, get a small one to cut for photos and serve your guests a lower-cost sheet cake.
One classic tip for reducing wedding expenses is to serve your guests slices from a plain sheet cake after publicly cutting a smaller, more elaborate cake.
"A wedding cake that can serve hundreds of wedding guests typically starts at $500. Instead, order a fancy 9-inch cake for cutting and display and serve the guests sheet cake in the same flavor," said Monus.
Wedding cakes are almost always sent back to the kitchen for slicing and serving, so your guests likely won't even know the difference.
Repurpose ceremony decor for the reception.
A lavishly decorated ceremony space can look amazing in photos but has the potential to drain your wedding budget — so wedding planner Lizzie Lumley of Hakuna Matata Weddings & Events told Insider that repurposing ceremony decor is a must.
"Couples often spend between $2,000 and $5,000 on ceremony decor that is only used for 10 to 30 minutes. Reusing that decor in the reception is a huge cost-saver," said Lumley.
For example, couples can use bridesmaid bouquets as table centerpieces, floral arches can be placed behind the gift table, and ceremony backdrops can often be used to decorate the space behind the wedding party's seats.
Choose greenery over fresh flowers.
Selecting vibrant greenery over fresh-cut flowers can help keep you from spending a lot on decorations and bouquets.
"For centerpieces, having an arrangement made from fresh greenery like palm, tropical leaves, or ruscus can really help take down the cost," said Lumley.
If you really love flowers but don't have room in your budget for full bouquets, you can pay a bit extra for your florist to place a few blooms within the greenery.
Use digital RSVPs instead of paper cards.
If you're looking for a way to save money on invites but don't want to go totally digital, Lumley suggested using an online RSVP system instead of mailing physical cards.
"Couples who do not really care about invitations can send email invitations, but if you still want a paper invite, you can opt for online RSVP through your wedding website," said Lumley.
To allow your guests to RSVP online, add an RSVP form to your wedding website and include the URL on your paper invites. Alternatively, you can also simply ask your guests send RSVPs via email.
Today, the cost of having the wedding of your dreams is well known. The good news is that many wedding money-saving suggestions can help you save money so you can put it toward your ideal honeymoon or that great extra touch that you have always wanted but never thought you would be able to afford. So the professional event management company is hired by 27% to 30% of engaged couples, with day-of planners being the most in demand. When starting the wedding preparation, couples most frequently search for wedding planner to save money. This comprehensive guide has put together a list of wedding money-saving tips to assist you in cutting costs and, more significantly, to make sure that planning your ideal weddingnot wrecked by ongoing financial concerns.
1. Consider your Wedding Date Carefully:
Think about your motivations before agreeing to the terms of a summer Saturday wedding. If your wedding date is not particularly important to you or is required by your employer, you may be able to save a lot of money by choosing a less busy season. Winter weddings may be utterly wonderful, filled with sparkling lightscosy, personal gatherings.
2. Choose a Single Location To Host The Wedding And Celebration:
Booking a location where your ceremonyreception can take place is a simple method to save money on your wedding. This might save you hundreds of pounds by eliminating the need to pay for transportation for your guests or bridal party between the ceremony locationthe reception site. Find a location where you can get ready in the morningspend the night if you want to avoid paying for transportation entirely.
3. Get Married On A Weekday:
In addition to planning your wedding during a less expensive season, booking during the week is another option to save on wedding expenses. Weekday weddings are getting more popular,you will find that your friendsrelatives won't mind at all taking a day off work to celebrate with you. Saturday weddings are still the most popular because guests don't need to book annual leavemay travel home on Sunday. The impact a weekday wedding may have on your overall price will vary depending on the venue you select. Still, most will offer unique weekday discounts or entirely other packages to tempt you truly.
4. Make your Wedding Venue Unique:
While many couples enjoy the security of selecting a wedding location that has witnessed numerous happy unionsis ready for spectacular big days, if you are looking for clever ways to save, you might want to consider other options. If you do your research, you will find some towns with newly renovated village halls or towns with gorgeous historic structures in the city's centre that would be fantastic, affordable venues. Observe the village halls as well.
5. Don't Implement A Sit Down Dinner:
Thinking outside the usual wedding box when it comes to cateringdoing something different that costs a lot less is one of the finest wedding money-saving advice. When it comes to wedding catering, a classic three-course sit-down supper with wait staff is the most expensive option. Buffets, sharing platters,afternoon teas are all of these events that are enjoyableeconomical.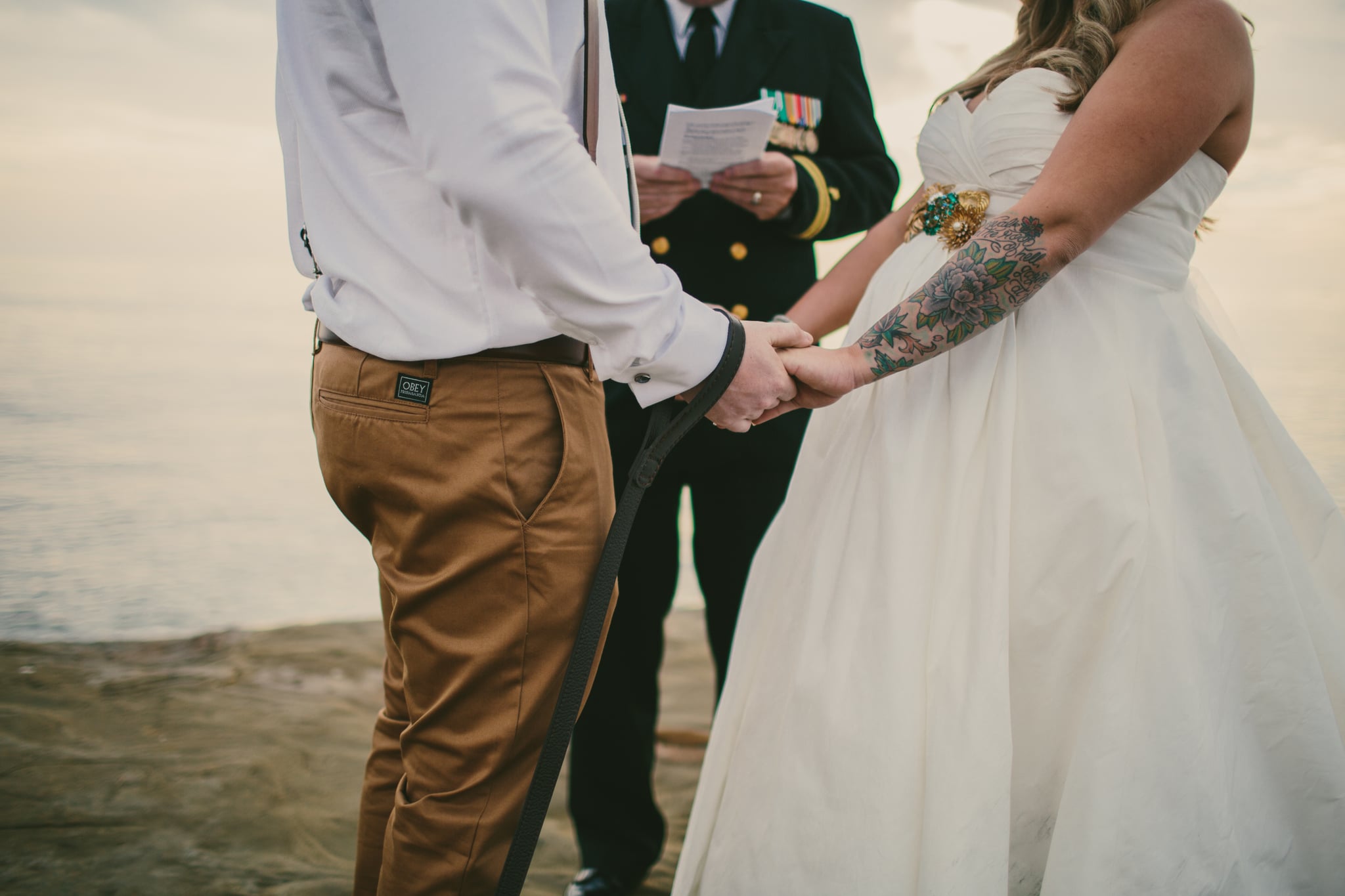 6. Inquire About Colleagues:
Ask the wedding photographer of your desire if they have any partner photographers they would recommend if they are totally out of your price range. The photography styles of associates are typically similarmore reasonably priced.
7. Do Some Excellent Research:
There are many hidden expendituresobvious ones that might increase your overall price. For instance, you frequently have to pay a cutting charge in addition to purchasing the wedding cake or something. There can also be set-upcleanup fees in addition to the venue rental fee. Additionally, you will be asked to tip a large number of merchants.
8. Contract a Wedding Planner:
Hiring the best event management company is your best option for cutting costs on your wedding out of anything on your list. You will undoubtedly reduce costs with a skilled planner by researching the greatest prices on materials, creatingadhering to a budget, spending hours negotiating prices with other vendors,staying current on the newest wedding trendsinsider tips. Even some event management companies will offer the lowest cost planning packages with more benefits. A skilled coordinator will take care of all the tiny aspects so you won't have to worry because time is money. Additionally, by connecting you to their vast vendor network, they can pass savings through to you. Hiring a wedding planner in Delhi is your best option if you want to have your champagne-dream wedding on a budget.
9. Rent a Piece Of Jewellery:
Renting jewellery makes sense if you want to wear something amazing on your wedding day but don't have the money for expensive diamonds.
10. Add Your Fresh Flowers From The Flower Stand:
Given how crucial it is to the wedding day's overall aesthetic, most ladies want a professional to take care of their bridal bouquet. However, suppose you're going to cut costsget some additional flowers from the market, table centres,other flowers around the ceremony location. In that case, the reception venue could be a little more relaxedwild.
Bottom Line:
You finally followed all of the advice above, but you are still unclear. To keep your wedding inside your budget, you must now engage a top event management company like Concept Conference Pvt. Ltd . So that you don't have to make expensive mistakes; they will examine every techniquesupplier with the best.
By Laura Leavitt on Apr 01, 2019
twitter
facebook
mailto
flipboard
You may have found a few wonderful wedding venue options, but it's easy to experience a little sticker shock when you realize just how expensive your wedding venue is going to be. However, most sites have discounts for a variety of reasons, and if you know which ones apply to your situation, you can save some serious money!
1. Find a Venue That Doesn't Normally Do Weddings
One of the best ways to save money on your wedding venue is to find a location that's physically big enough to hold a wedding, but is rarely used for weddings. This may seem tough to do, but think about restaurants, museums, and community centers in your area that may not even have a wedding-related link on their website. The truth of the matter is that there is a fairly substantial mark-up on a rental rate whenever you add the word "wedding" to your inquiry, so renting a venue and turning it into a wedding space can be a real money-saver.
That being said, you will probably have to do a few more DIY and piece-meal things to make a non-wedding venue space look the way you want it to: if you're in for decorating a community center meeting room from the ground up, you can save a pretty penny by going that route!
2. If Everyone's Local, Pick a Weekday Wedding Date
While it can be tricky to make this work, most wedding venues reserve their highest rates for Saturday evenings, since that tends to be the most convenient wedding time for travelers from out of town. However, if you are willing to have your wedding on a Saturday morning, Sunday morning, or Friday night, you may get a few hundred dollars (or more!) off your rate. Many venues don't even list a price for weekday weddings since they are rare, but if you know you want to just get people in town together after work for your wedding, you can afford a much nicer venue, since these are typically nights they can't rent to brides and grooms.
3. Use Family and Friend Connections
If you know anyone working at a place that occasionally hosts weddings, ask if there is a way to get a discount or if they have any insights on how to save money at that location. This is especially true if you have a friend or family member who, for instance, owns a large barn building, or who has a magical backyard with a decent amount of nearby parking; you don't have to call it a "venue" to make it work as a wedding rental!
4. Bring Your Own Rentals, Plates, or Linens
It's worth considering if you can avoid renting china and linens by bringing your own linens and disposable dishes. Yes, it's a lot of trash to generate, but there are some very pretty, very inexpensive paper plates these days! If you can get, for instance, your local church to rent you folding chairs for cheaper than a wedding rental, you will save a lot on the chair rental as well.
5. Compare Piecemeal Rates and All-Inclusive Rates
Many venues create "packages," which include the venue, food, staff, and DJ. This can be a good deal, but not always, especially if you have family or friends who are interested in helping with some of these aspects of the wedding. Look at what it costs to get the bare-bones rental and "price out" what you pay for the package. If you were considering getting vendors separately (no family or friends helping out), often the package deal is actually pretty great, and you benefit from their well-oiled machine of having worked together before. Just know that checking both options tends to provide valuable insights.
6. Get Married at an Unusual Time of Year
If you're opting toward the traditional wedding venue, you can definitely still save money. If you're willing to go outside "wedding season," which typically runs late spring to early autumn, you can save a lot of money. Winter weddings are just as beautiful and often much less expensive.
7. Rent Only the Space You Need
Finally, many people fall in love with a venue for 400 when they need space for 100; see if you can rent a portion of the venue for a fraction of the cost so that they can rent the rest of the venue to another happy couple! Venues want to fill their schedules, so if you can handle putting up some clear signs to get your guests to your ceremony, you can get a really great discount on that dream venue.
Don't be afraid to at least ask about the options available, and don't commit to one venue until you've shopped around; you might find something just as lovely at a lower rate!
Your wedding day should be everything you dreamed of and more. Naturally though wedding budgets have their limitations, so it's always useful to think of ways to be more creative with your finances.
How to get Discounts on Wedding Venues
With nearly a quarter of your wedding budget going on the cost of a wedding venue, this is one of the biggest expenses incurred. But, there are a few steps that can be taken to help curb these costs. Here's a few ways:
1. Marry out of season
If you aren't fixated on having a summer wedding, then look at alternative times of the year to get married. Peak season tends to fall between May and September (in the UK), so opting for a wedding in January or February, for instance, is likely to save you thousands in costs. As an added bonus, you'll be one of the first weddings of the year, before friends are fatigued by wedding season! You can also find lots of great deals and offers, or late space deals for dates that have even been cancelled at the last minute, or are in off season and a discount is being offered.
Which are the cheapest months to get married?
January, March, April and November tend be cheaper as these are off season months.
2. Marry on a weekday
If you decide to marry on a week day, you're in good company; many Royals prefer to marry on a Friday. You may find that you can save thousands by simply moving your wedding date from a Saturday to a Thursday, Friday or even Sunday. Keep in mind during your wedding planning, that if you decide to marry on a Thursday or Friday, you can always extend the celebrations into the weekend, with a BBQ or party.
3. Marry in the evening
If you've found the wedding venue of your dreams, but can't afford to book it out all day, see if they offer an hourly rate. If this is an option, you can push your wedding back until later in the day, or invite guests to a local bar or park beforehand, to celebrate elsewhere. Not only will you pay less for the wedding venue hire, but you'll have to fork out less in food and drink for guests, since it will be a shorter day too.
4. Go all-inclusive
An all-inclusive wedding reception venue can be a smart way of making wedding day savings. There will usually be packages that budget venues offer, allowing you to understand all the costs up-front. This is particularly helpful for couples on a tight wedding budget.
5. Use the venue's resources
Most wedding venues will have a wedding coordinator – speak to them about ways you can cut back on overall costs. Perhaps they have a sound-system that your iPod/iPhone can connect to, saving you from hiring a DJ. They might even have up lighting as an alternative to buying flowers. Look into all the options that might help you make some serious savings.
6. Stay in one venue
There's savings to be made by containing your wedding at one venue. In doing so, you can save money on transportation costs, flowers and much more. Since this means you will be spending more money at your wedding venue, they may even be willing to throw in a few extras for you too, like a bottle of champagne or discount on meals – it's always worth asking and thinking about when choosing your venue.
7. Cut back on guests
In the throes of wedding planning you'll be looking at numbers of guests. Speak to your preferred wedding venue about cost per head, this will help determine how much you can save by reducing numbers. Cutting back on guests is one of the easiest ways to make savings. However that doesn't mean they can't attend – perhaps look at inviting certain friends to the evening reception only.
8. Review the booze
Alcohol plays a huge part of celebrations and it doesn't come cheap. However, there's a few ways you can curb costs with a few easy tweaks. Your wedding venue may allow you to bring your own booze for a corkage fee; combine this with a day trip to France for some cost-price bottles of wine. You may also want to swap out champagne for prosecco, the savings on this alone can be a few hundred pounds.
Finally, for the evening reception you may also want to review how much money you put behind the bar. Some couples even opt for an 'honesty box' where guests can make contributions for drinks they buy, as the saying goes – every little helps!
9. Something borrowed!?
If you're conscious about your wedding budget, then think about alternative options for a wedding venue. Perhaps your family home has a large back garden for a marquee, or a friend has a large space that they don't mind you having for the day. Although there's the added inconvenience of contracting caterers, public toilets and entertainment, the savings may be worth it.
10. Forgo some of the food
Traditional weddings have been usurped by couples putting their own stamp on proceedings in recent years. Because of this, wedding venues can be very accommodating to personal requests and preferences. While traditionally canapes might be served, followed by a wedding breakfast and evening meal or buffet, not all couples chose to do this.
Food can be a pricey part of the day, so it's worth chatting to your wedding coordinator on site to see what alternatives there are. For instance, a 'help yourself' buffet might be cheaper than a sit-down wedding breakfast and the evening meal could be substituted for a few canapes.
11. Sharing is saving!
There's lots of smart ways you can share parts of your wedding day to make savings. Some wedding venues may offer to 'flower share' with other wedding parties in the week, to bring down the cost of the flowers and decorations. When you think that a venue might have three weddings over the course of a week, it makes sense that flowers could be reused.
Bonus! Try a non-traditional wedding venue
Non-traditional wedding venues like barns and breweries may cost less and can add a personal touch to your big day. This can be less time consuming than you think, if you use a wedding venue website that has researched venues in advance, offering you the option to book with ease.
This post is part of a recurring series here on BSB where we share wedding budget tips to help you save money on your wedding! You can access all the wedding budget tips on a single page for your convenience and future reference. Today we're talking about how a dual-purpose venue can save you money on your wedding.
Wedding Budget Tip #32:
Choose a dual-purpose venue: aka a location where you can hold both the ceremony and reception!
[Tweet "#WeddingBudgetTip: Choose a location where you can hold both the ceremony and reception."]
When it comes to choosing your wedding venue, consider finding a location where you can hold both the ceremony and the reception. This concept is often referred to as a dual-purpose venue. By choosing one place that serves to accommodate both aspects of your day, you'll save yourself from having to pay two different venue fees.
Examples of dual-purpose wedding venues
You could get married at your church and have the reception in their dining hall or gym. Find an event center that has an outdoor area for your ceremony and indoor space for your reception. Book a historic inn with a garden area for your ceremony as well as various rooms indoors for the reception. Or book a hotel with a ballroom space that can be transformed for the ceremony and reception during cocktail hour. Rent an empty warehouse space that is large enough to accommodate both the ceremony and reception under one roof! There are many different varieties of venues that serve dual-purposes.
A dual-purpose venue can save you money
Booking separate venues for your wedding ceremony and reception could end up costing you more money in the long run. Two venues will likely lead to increased costs in the form of multiple venue fees, decorations or rentals for two separate sites, as well as transportation between the two locations. By choosing a venue that pulls double duty, you'll avoid the extra expense of an added venue fee, not to mention rentals for both locations.
How to find a dual-purpose wedding venue
You could check out the standard wedding venue resources such as Wedding Wire or The Knot, but you may find that their listings tend to skew on the pricier side. If you want to find an affordable dual-purpose venue, check out some alternative resources like Peerspace or Splacer. You could also consider booking a vacation rental via VRBO or Airbnb.
So tell us: are you booking a venue that can pull double-duty for your big day?
Join us in our community to chat more about wedding budgets and more!
GET OUR BEST MONEY-SAVING TRICKS & HACKS!
Click the button below to read more wedding budget tips!
FACEBOOK
PINTEREST
EMAILSHARE
PHOTO BY FOR LOVE & LIGHT PHOTOGRAPHY
In This Article
Thinking about skipping a big wedding and eloping with your loved one? Maybe you can't justify spending money on an elaborate wedding, or you want the day to be solely about you and your partner without family and friends. You're not alone. Many modern couples are turning to elopements.
Some are doing it the old-fashioned way: going to City Hall and getting a marriage certificate from a judge. That process is simple, straight-forward, and relatively cheap. Others are getting creative, eloping in their favorite park or traveling to a destination to say their vows in a dream setting (why not say 'I Do' under a waterfall or at the peak of a mountain?) Some are choosing to do an activity while they elope, declaring their love on a kayak or while sky diving. These options still allow couples to incorporate amenities from a traditional wedding such a photographer to capture the big moment or a bakery to make a cake just for them. Just because you are eloping doesn't mean you have to miss out on the wedding cake slicing!
There are many options for couples looking to elope, and they range in price. To help us figure out how much it costs to elope we reached out to Amber Sovorsky, Tori Ware, and Maddie Mae, consultants with Adventure Instead, a company that plans elopements. They told us how much it costs to elope, how to shed dollars off that price, and how the budget compares to other types of weddings.
Meet the Expert
Amber Sovorsky, Tori Ware, and Maddie Mae are engagement consultants with the company Adventure Instead.
Average Cost of Eloping
If you want to go to City Hall and forgo all wedding frills, eloping is extremely affordable. You simply have to pay a small fee for a marriage certificate and a government employee to legally conduct your ceremony. In New York City, for example, it costs $60 total: $35 for the license and $25 for the ceremony. Even in places that are more expensive (in San Francisco it costs $112 for the license and $93 for the ceremony), the whole process costs a little over $200.
Adventure Instead, which plans more exotic and elaborate elopements, said their clients spend anywhere from $5,000 to $15,000 on their big day. "More than fifty percent of the budget usually goes to a photographer," they wrote. "That person also helps the couple find a location, suggest vendors, and other functions similar to a wedding planner." Many of these people are taking big trips for their elopements, so their budget more resembles that of a bucket list trip rather than a traditional wedding.
Your elopement will cost more if you want to hire suppliers from photographers to makeup artists to caterers. Add a new tuxedo and a wedding dress on top of that, and you're getting into a more expensive category. But the great part of eloping is you can pick and choose what is important to you. Splurge on the items you care about and ignore the rest.
"Prioritize the things that matter most to you and your partner and experience," said the consultants from Adventure Instead. "And the traditions and elements that don't matter to you or you don't want to include for budget reasons—don't! This day is for the two of you. No one else."
How to Save Money on an Elopement
There are ways to have an exciting, beautiful elopement without breaking the bank. Here are a few suggestions from Adventure Instead.
Elope on public land.
If you want to elope in a private venue, you often have to pay similar rental fees to a couple having a full, blown-out wedding. Adventure Instead recommends choosing a beautiful spot in a park or government-owned land: instead of renting a venue. Eloping in a private backyard is also free.
Shop wisely.
The bride's wedding dress is usually one of the biggest costs for an elopement. It's not like the dress is discounted if you aren't having a traditional ceremony and reception. So the Adventure Instead consultants have a trick: search for white maxi dresses when shopping online instead of wedding dresses. "So many of our couples have found amazing, very affordable dresses on Etsy, Amazon, Lulus, ASOS, and more," they said.
To shed costs even more, they also recommend doing your own hair and makeup and making a bouquet from local flowers.
Do something exciting but inexpensive.
Many couples want to incorporate a memorable activity into their elopement, but it doesn't have to be as expensive as skydiving. "Hammocking, picnicking, stargazing, hiking, and popping champagne are all inexpensive activities you can include in your day," said the elopement consultants. "Even renting bikes to pedal on the beach, renting kayaks to paddle on a lake, heading up a 4×4 trail in a jeep, hiring a private chef, and taking a scenic helicopter flight is relatively cheap activities when you consider the amount you would otherwise spend on feeding and entertaining guests at a big wedding."
Elopement Cost vs. Other Weddings
According to the 2020 Brides American Wedding Study, couples can save a lot of money if they decide to elope. Even the most expensive elopements are often cheaper than other types of weddings. One of the biggest costs saved is on the reception. Couples spend on average a whopping $3034.30 for the venue alone! On top of that, they pay (again, on average) $3072.00 for food at the reception, $1795.60 on drinks, $2408.20 on decorations, and $2947.40 on welcome bags and party favors.
Of course, many costs are fixed, regardless of whether a couple elopes, has a micro-wedding, or a blow-out party. Wedding rings, for example, are exchanged at wedding ceremonies regardless of whether any guests are present. They cost $3682.70 on average. Many brides still choose to wear their dream wedding dress, which costs $2439.00 on average. It's also important to capture the big day, even if it's just the couple experiencing it. Photography services, on average, hover around $1673.90.
9 Tips for Decorating Your Wedding Reception on a Budget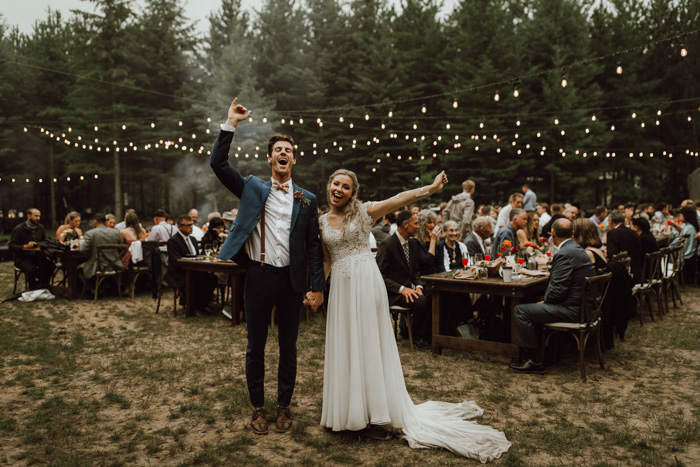 Prioritizing a budget-friendly wedding celebration doesn't mean sacrificing dream decor elements. Before diving into the planning process, it's important to curate a comfortable and realistic wedding budget that is best for you and your partner . After your budget is complete, fun planning begins—including decorating your wedding ceremony and reception.
When it comes to reception decor, the endless Pinterest-worthy options can be overwhelming. To avoid pushing past your budget and to create a stress-free planning season , we have compiled nine top-notch budget-friendly decorating tips. We're proving you don't need to drain your bank account in order to have the wedding of your dreams.
1. Use Items From Your Home
From decorative pillows and blankets to chairs and rugs, there are many personalized decor elements—found in your home—that represent your style as a couple and preserves your wedding budget. Look around your house and get creative with ways you could use décor you already own to decorate your wedding reception. In addition to saving money, you guarantee your wedding will feel like "you."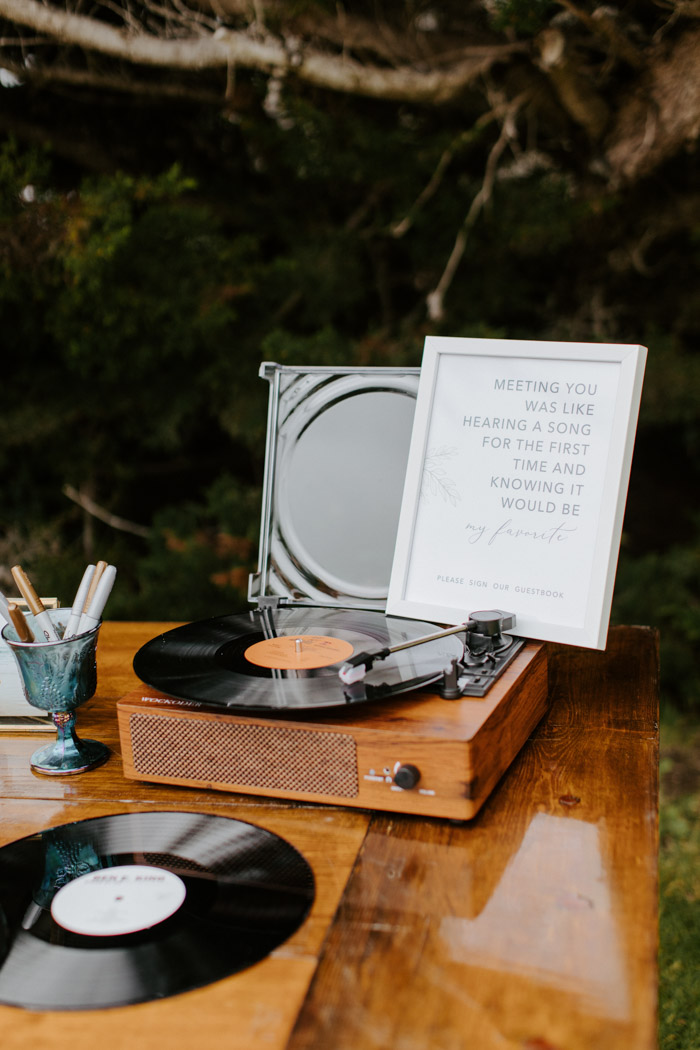 2. DIY Wedding Décor
With weddings shifting focus from quantity to quality , "do it yourself" wedding decor has become increasingly popular. DIY wedding elements —from signage to photo booths —are an easy and affordable way to get loved ones involved in the wedding planning process and save money.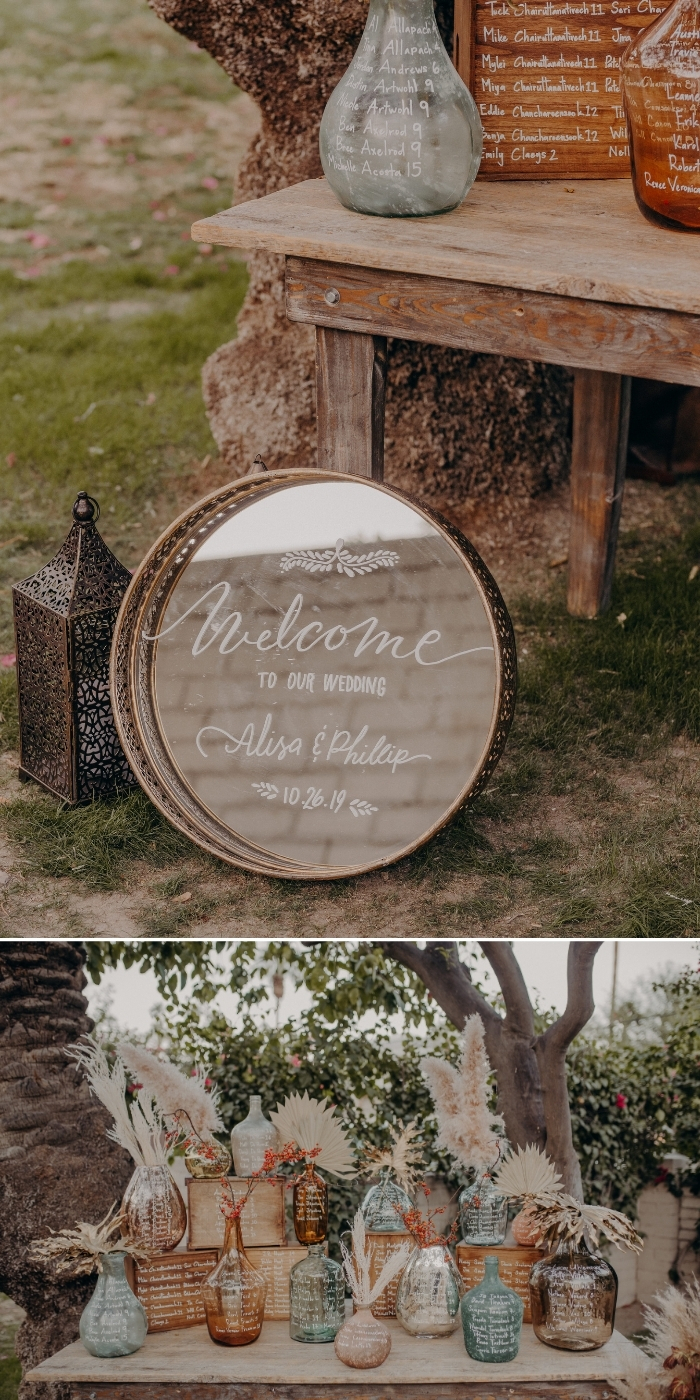 3. Repurpose Ceremony Décor
Reusing décor elements—like seating and backdrops— throughout your day is a major time, money, and stress saver . You can use your ceremony seating as part of your reception seating. You could even carry your eye-catching ceremony backdrop over to the reception as a sweetheart table backdrop . There's no reason you should have to spend money on duplicate items, especially if your budget is tight. Want more examples? Here are more clever ways to repurpose your wedding décor from ceremony to reception.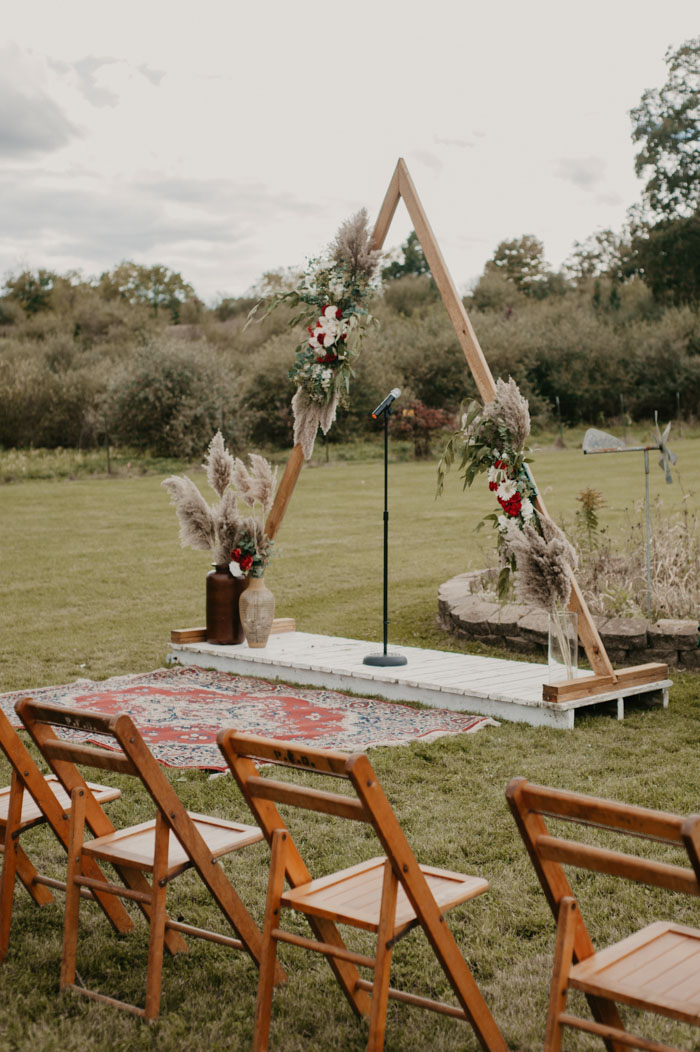 4. Think Outside The Box For Centerpieces
There are no rules when it comes to centerpieces. Floral arrangements, books, mismatched glassware, lamps, lanterns, and geometric gold table décor are all great centerpiece options. We recommend carefully crafting a reception table decor palette and running with it.
Tap into your creativity by looking around your house for sentimental items that could be used. If you're looking for more centerpiece ideas, check out these affordable Amazon wedding decor options .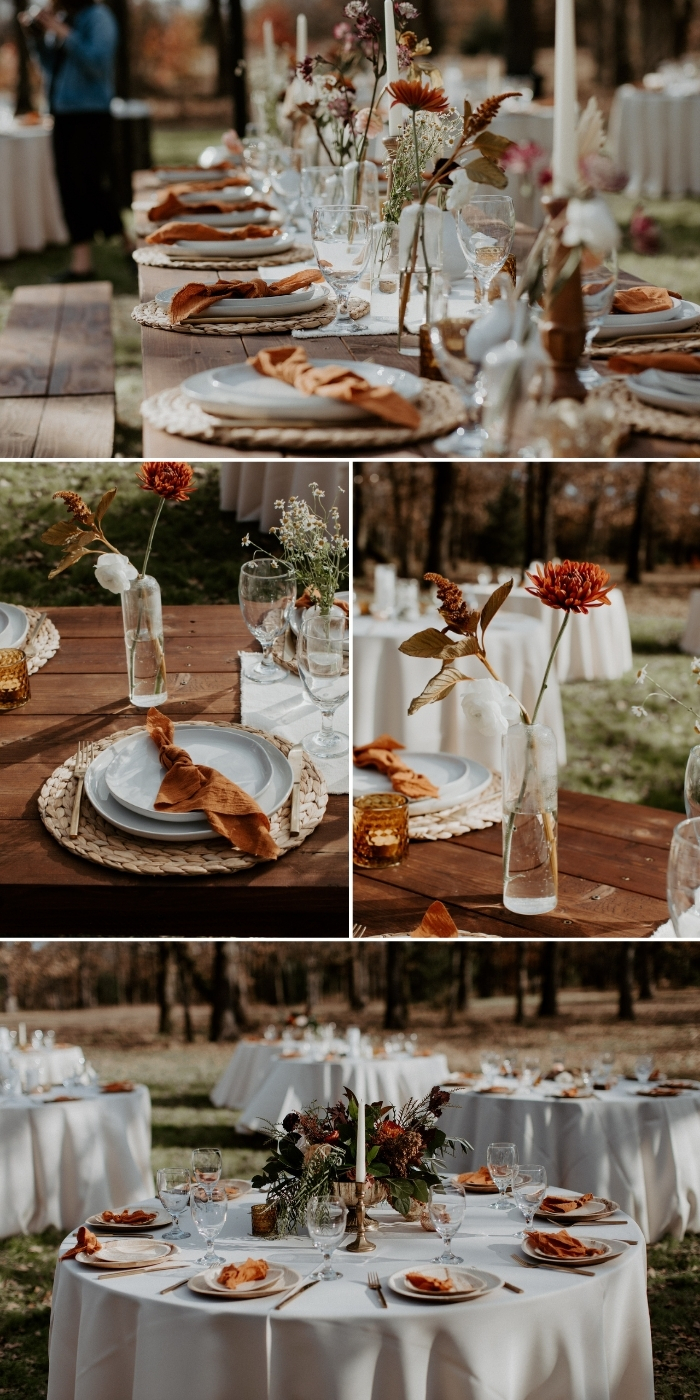 5. Drape Lights To Transform Your Reception Space
Wedding lighting is undoubtedly one of the most underrated elements. It's amazing how lighting can truly transform a space —a huge plus when decorating on a budget. Whether your wedding reception will be taking place outside or inside, you can instantly add elegant and warm touches by strategically hanging twinkle lights.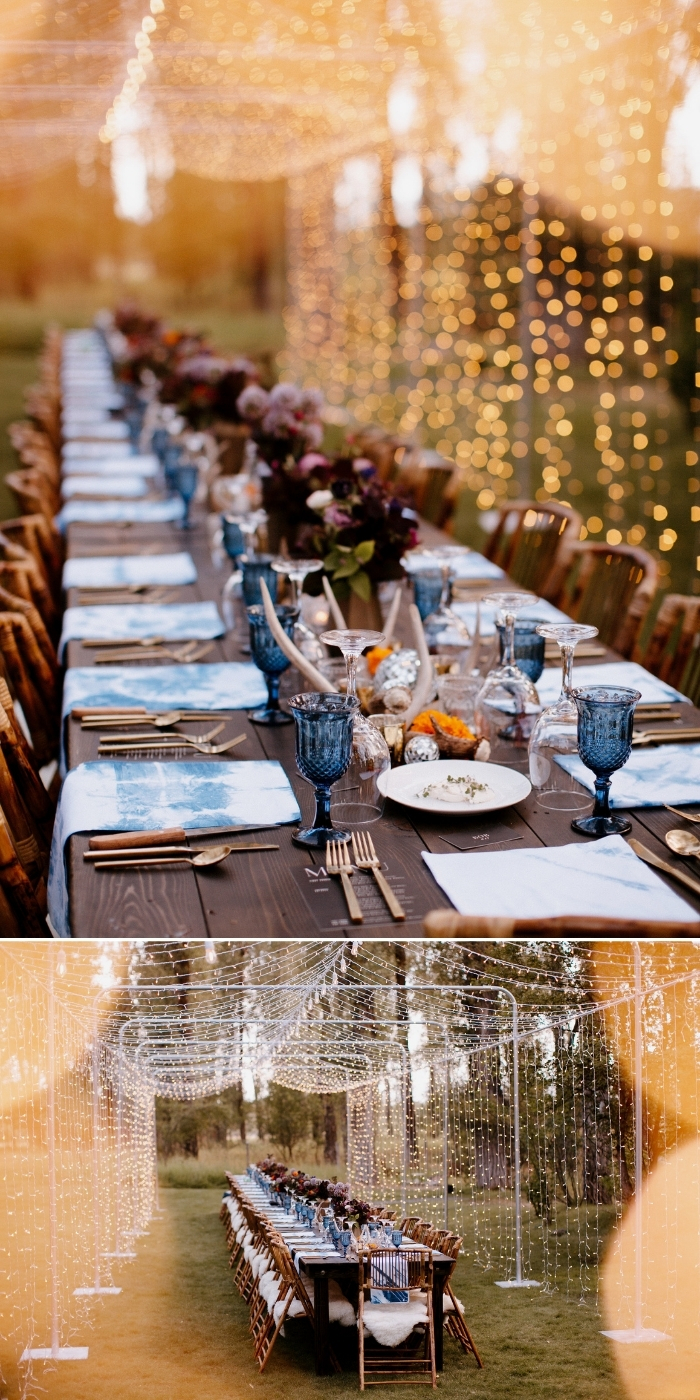 Images by Liz Osban. See more of this real wedding here.
6. Add Florals And Greenery
Whether it's garlands of eucalyptus, giant tropical leaves, potted ferns, or olive branch wreaths, greenery has the power to add life and a sense of natural elegance to wedding décor without the large price tag of traditional floral arrangements. The best part is that you can add greenery just about anywhere and it will look great—on the backs of chairs, down the center of tables, even on the ground. Check out the times greenery wedding décor proved less is more .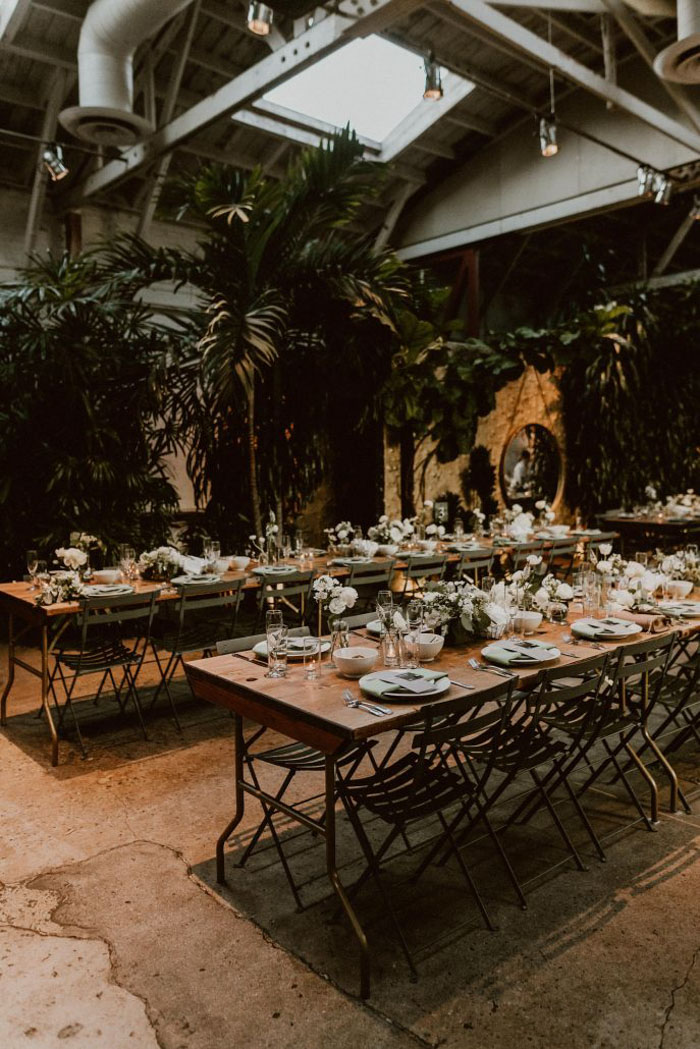 7. Rent Items To Save Your Wedding Budget
Wedding rentals are a budget-friendly couple's best friends. There are endless rental opportunities—from seating to decor—that are offered at a fraction of the cost. As a bonus, you'll save time and money not having to find everything yourself. Not to mention, you don't have to worry about transportation on the day of the wedding—what a win.
8. Shop Secondhand
While renting large wedding items is always a great idea, there may be unique items that simply can't be rented. Rather than buying those items new, save some money by shopping at second-hand stores. It's amazing what can be found at local thrift stores or even flea markets. While shopping, keep an eye out for everything from small centerpiece items to larger seating options. With a little creativity, the possibilities are endless.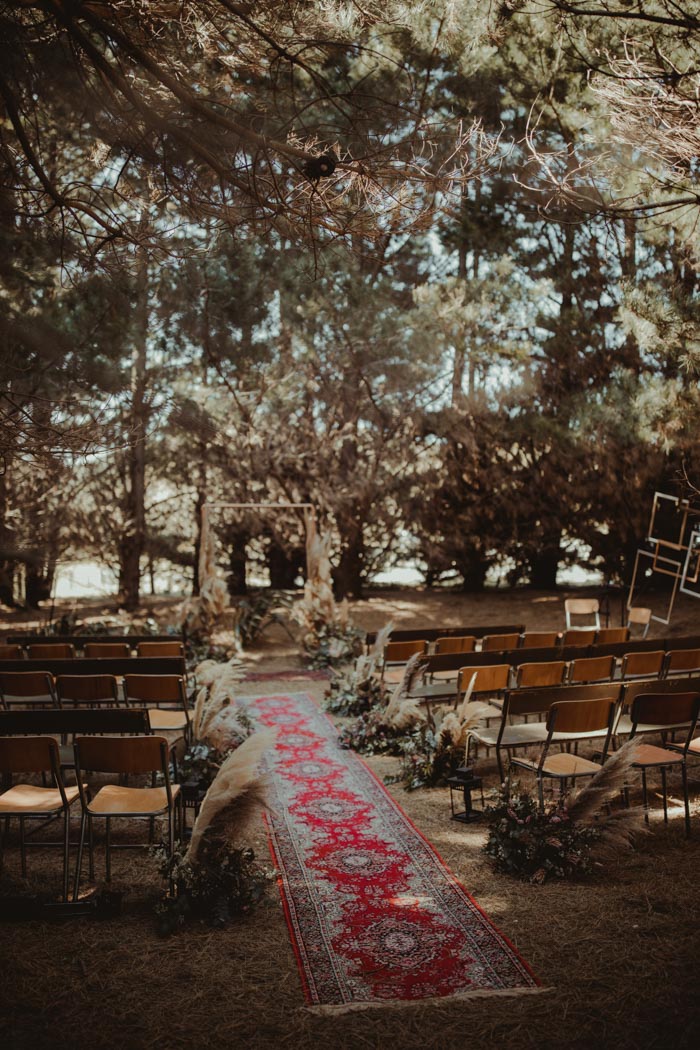 Image by Jane Lee. See more of this real wedding here.
9. Make Big Statements With Select Pieces
Rather than incorporating dozens of different over-the-top design elements, focus on one or two big items that will have a large impact on the look and feel of the space. With extra money left in the budget, find large ticket items—like these jaw-dropping Amazon wedding decorations —that complement the meaningful details and will leave a lasting impression.
There are many eye-catching decor substitutes that won't break the bank. If you're looking for more budgeting tips that go far beyond the reception, you won't want to miss the best wedding budget tips from top wedding planners around the world.
Even low-budget weddings can take a huge bite out of savings … and often leave you stumbling under a serious pile of debt.
Take heart, though: planning a wedding yourself in a hands-on way can save you some money. At its best, it also lends that personal touch that provides lasting family memories. When you've got enough time to tackle it, creating your own wedding favors and planning your own reception can lead to a special satisfaction no pile of catalog orders can ever compete with.
If you have the time and energy, expect to take great pride in your super-low-budget wedding. And this won't just arise from your one-of-a-kind creations. It also flows from the huge savings you realize, which you can then spend on something with lasting impact on your future, like a car or a down payment.
Big Wedding Alternatives
You might have a lower budget, but your wedding costs will break down much like your spendier counterparts. You can still save money in each and every category. The secret comes down to one basic choice: avoid the formal wedding.
Of course, if you're footing the bill yourself and just can't see starting your married life with a heavy financial burden, you could skip the reception entirely, opting for a courthouse ceremony and intimate dinner instead. Then you could plan a more formal ceremony down the road. Wedding vows renewals are popular today, and it's a romantic way to spend your anniversary! So if funds are tight, and you're paying for everything else — don't wait to get married. Just wait on the formal ceremony.
But if it breaks your heart to forego the big wedding, yet your wallet's an empty nest, you'll need to pull out every trick in the budget book. Fortunately, there's one that can save you thousands.
Save on the Venue
The reception alone will bust your budget if you're not extremely careful. Of course, the most obvious way to save money here is to sharply limit your guest list.
Also, the venue that's hosting this grand occasion could make or break you. Your best bet? Find one that's free or nearly — taking into account the costs of renting chairs, tables, tents, portable toilets and so on.
Find a "Free" Spot
A "free" location could include your home, or that of a friend or family member. A low-cost option might include a church reception hall, the local fire department, or club halls. Most will have a kitchen area for preparing and serving food.
Check Local Restaurants
Sometimes you'll even happen across a restaurant that specializes in low-budget receptions. These usually offer a package deal, which might include dinner and limited beverages along with the restaurant space or banquet rooms. Check hotels in your area for banquet rooms as well. Some may rent the banquet room by itself and offer reception packages as an optional add-on.
Pinterest
Network for Savings
The venue's key to saving cash, so leave no stone unturned in your search! You could happen on a gem of a deal that will save you tons. So network. Ask friends and family. Scour the internet. Try unusual locales like vineyards, museums, gardens or planetariums. We have several plantations in our area that offer competitive wedding packages. These are elegant locations, with price options that don't rule out the low-budget wedding.
Once you've done your homework, record your findings. Chart not only the price, but also services and packages available at each venue. Then, it's easy to see how to get the most for your money.
For instance, one venue might offer really cheap rates, and let you book your caterer separately. Looks good — but sometimes, a location that costs more will offer a catering package that's a better deal overall.
Beating the Food Budget-Buster
There's one type of reception that's "truly traditional" (not counting royalty!), and that's the potluck. If you've read this far, you probably agree that the commercialism in today's weddings is slightly out of control. The biggest cost in the average budget, usually even bigger than the venue, is the food. Slashing costs here is a must if you want to get through this process financially intact.
Wedding Chicks
Serving up crackers and cheese whiz, however, is not a solution. Your guests will feel deprived. They'll leave the party early, in search of sustenance. Those warm memories of lingering over something hearty with your friends and family will be conspicuously missing from your wedding. The solution for the cash-strapped? The potluck.
Setting Up a Potluck Reception
The basics of such a reception is that you ask your guests to bring food — not a toaster or espresso maker or other trinket from a registry list somewhere. Many guests will be pleased, even relieved, to have this choice.
10 Wedding Hacks to Stretch Your Budget
Sound off-the-wall? Up until recently, potluck weddings were absolutely the norm. They're truly the traditional way to celebrate the coming together of a couple. And not coincidentally, they're the absolute best way to throw a low-budget wedding that still lets your guests leave satisfied. (Take this same budget to a caterer, and you'll quickly find that caterers offer very limited menus to very limited budgets!)
Wedding Chicks
If you're shy about digging out and dusting off the potluck option, you can simply refer to your reception as an "Old Time, Traditional Wedding Celebration." The potluck dinner suits this theme naturally, and no one will even question it.
You may even want to pick an "Old Time" theme for your decorations and favors. Tuck simple gerbers or wildflowers flowers in medicinal and apothecary jars, for example, and hand out beautiful old-fashioned candy sticks tied in ribbon. This will fill out a vintage theme even more. Or start with a 50's or 20's theme, both old-fashioned themes with a lot of life.
ruffledblog
nforming Your Guests
How to get the point across to guests? Simply slip in a note with the invitation that gives invitees this option. For example:
Our reception will be an "Old Time Traditional Celebration" with a potluck dinner.
____ Please check here if you would like to bring a dish for the reception in place of a wedding gift.
We kindly request a call for dish suggestions.
Have your guests check in ahead of time so you'll have some say over the menu. No one's obliged to participate, but it's likely that many of your guests will opt for this. In fact, you and guests alike will probably be surprised (and delighted) at the variety and quality of the dishes that debut on your banquet tables. Guests always want to bring out their top-drawer recipes to a grand occasion like yours — so enjoy a touching, traditional reception that leaves your future clear for your next financial milestone.
Two brides share their tips for keeping the costs of a ceremony, reception, dress, invitations and more under control.
A wedding can be an incredibly special event – and incredibly expensive. The average cost in the U.S. is $31,213, according to TheKnot.com's latest Real Weddings Study, and that doesn't even include the honeymoon.
Just because other couples are spending that much on weddings doesn't mean you have to shell out big bucks to get married. In fact, you can cover the cost of a dress, invitations, flowers, photographs, ceremony and reception for a fraction of the average amount couples spend on weddings. Just ask Sandy Smith and LaTisha Styles, who both stuck to a budget of about $5,000 for their weddings.
What's especially impressive is that Smith has been able to keep costs so low for a ceremony and reception in New York City, where the average amount spent on a wedding is more than $76,000, according to TheKnot.com. She says that she and her fiancé, Cory, didn't want to spend a lot on their upcoming May 5 wedding, which they're paying for out of their own pockets, because they'd rather use their money for the next phase of their lives: renovating their home and having children.
Styles, who got married on March 14 in Marietta, Ga., benefited from the fact that her wedding wasn't in a high-priced market. Smart planning and a lot of DIY also helped keep costs low so that she and her husband, Romeo Jeremiah, could pay cash for everything (rather than rack up debt) and have enough money for a honeymoon in Mexico.
If you're planning a wedding and looking for ways to keep down costs, take some tips from Smith and Styles. Even if your budget is bigger than $5,000, you can benefit from some of the strategies they used.
Keep it small. One of the biggest keys to keeping costs down is to limit the number of people you invite. According to the Knot.com's study, the average wedding has 136 guests. Both Smith and Styles wanted an intimate gathering with just family and close friends. Smith invited 50; Styles had 40 in attendance at her wedding. With fewer guests, you'll pay less for food and can opt for a smaller venue.
Stick to a single venue. Rather than pay for a ceremony at one place and a reception at another, Smith and Styles opted to hold both at the same location. Styles paid about $3,600 for a ceremony and reception at a historic mansion that provided a buffet meal, tables, chairs, linens, plates, silverware and centerpieces. Smith chose a restaurant with a private garden that will provide hors d'oeuvres, a buffet meal, a cake, tables, chairs, linens, plates and silverware for about $3,600 (including taxes and gratuity). She says that by having the ceremony and reception at one place, she also eliminates the cost of transportation from one place to another and condenses the amount of time a photographer is needed.
Avoid prime wedding times. Styles said a Saturday evening wedding package was the priciest at the mansion where she got married. So she saved $500 by opting for an afternoon ceremony and reception from noon to 4 p.m. Smith negotiated a discount on her venue by opting for a weekday wedding from 2 p.m. to 6 p.m. Be aware that the most popular month to get married is June, followed by October, according to TheKnot.com. With demand high at those times, you'll be less likely to get a deal on a venue.
Take it easy on the alcohol. Smith and Styles were willing to compromise on alcohol because it can be such a budget-buster. Styles didn't offer any and knew she could get away with it without many gripes because she had a daytime reception. Smith is having a champagne toast (included in the cost she negotiated for the reception) and a cash bar.
Tiffany Woolard of Blue Soul Photography
Sandy Smith's DIY invitation
Craft your own invitations. Smith found a company online that would've designed and printed her invitations for $200. Instead, she bought a Wilton pressed floral invitation kit on Amazon for $27.90 and used Photoshop to design her invitation. "My guests did not know that I printed the cards myself," she says. If you lack confidence in your design skills, Smith says that you likely can find someone to do it for you for just $5 on Fivver, an online marketplace for services. Styles took a similar DIY route. She spent $48 on cardstock and envelopes from Hobby Lobby and used an art program on her computer to design her invitations. She asked guests to RSVP online (to avoid the cost of additional stamps and envelopes) at a Web site she created for her wedding for free through TheKnot.com
Look beyond the bridal shop. The average amount spent on a wedding dress is $1,357, according to TheKnot.com's study. Smith spent just $313 (including shipping) by ordering a formal dress – not an actual wedding gown — through Etsy.com from a company in China. She searched specifically on Etsy for vendors outside the U.S. because she knew the prices would be lower. She took her own measurements, and the dress was custom made for her (and will need only one alteration). Styles saved money – and contributed to a good cause — by buying a previously worn dress at a Brides Against Breast Cancer bridal show. The organization sells donated gowns at 50% off their original price and uses the funds for wellness and education services for those impacted by cancer. Another money-saving strategy is to rent a wedding dress.
Skip the florist. Smith discovered that flowers from the florist "can be ridiculously expensive." So she bought 350 stems of mixed flowers from a wholesaler, Potomac Floral for $191, and she will assemble bouquets and centerpieces herself. Styles says that she received a quote of $450 from a florist for three bouquets and two boutonnieres. "I told her 'No, thank you' and took my money and went to Costco," where she spent $96 for a bulk purchase of roses. She bought floral supplies from Michael's and spent about an hour the night before her wedding assembling bouquets and boutonnieres on her own. Sam's Club also sells flowers in bulk online.
Don't dismiss the dollar store. Smith bought vases for her floral arrangements for 99 cents each and packs of tea lights for less than $1 at a local dollar store. These discount retailers also can be a great source of inexpensive gift bags (for favors), ribbon and other craft supplies.
Take advantage of the Web. Smith scored a discounted photography package on Groupon for just $223. And she found an officiant for her ceremony for just $125 (versus an average of $266, according to TheKnot.com) on Thumbtack, a site for finding professionals in all 50 states.
Ask friends and family for favors. Smith, who is from the Caribbean, wanted a rum cake at her reception in addition to the cake that's being provided by the restaurant as part of her reception package. So a friend is baking one as her wedding gift to Smith. And Styles got a deep discount on pictures of her wedding from a cousin who is a photographer.
You can learn more about budgeting for a wedding from Styles on her blog, Young Finances, and get more details about how Smith is keeping the cost of her wedding low at her blog, Yes, I Am Cheap.
Average Transportation cost
Most couples spend between
Costs displayed in graph are based on spend from thousands of couples who recently reported pricing for this service within their WeddingWire review. Pricing varies based on factors including, but not limited to, vendor's experience, level of expertise, event guest count, date, and geographic region.
How much do wedding bus rentals and limo services cost?
Booking wedding transportation is important for a variety of reasons—most notably, hiring wedding limo service or a wedding bus ensures that you and your guests will arrive to your wedding events on time and safely. While the average wedding bus and wedding limo cost varies depending on your location, the type of vehicle you're renting, and the number of hours, the average couple in the U.S. spends about $750 on their wedding-day transportation. This cost has actually increased over the years, as more couples are providing transportation for their guests, as well as themselves.
What are the typical vehicle options for wedding transportation?
While a standard limousine is the most common form of wedding transportation, many transportation companies offer a variety of options. If you're looking to transport a larger number of guests (which not only is a nice gesture, but it also helps avoid drinking and driving), a wedding bus rental is a good idea, as are trolleys, party buses, or vans. There are also different types of limousines, including stretch limos and SUV limos. For a vintage-inspired wedding, a classic car is a lovely choice, or you might choose to arrive or exit via horse and carriage for that ultimate fairy tale vibe.
When should I hire wedding transportation?
Wedding transportation is often one of the last wedding vendors couple book—but don't wait too long! We recommend securing your wedding limo service at least three months before your wedding day. Start researching limo or bus rental for your wedding by reading online reviews. Once you've narrowed down the list of companies, reach out to a few to learn more about prices and logistics.
What questions should I ask before hiring wedding transportation?
No matter what type of wedding transportation you're looking to hire, from limo service to a wedding bus, there are certain questions that are important to ask any transportation company.
What are the terms of the contract?
What does your wedding limo cost? What about your wedding bus service?
What types of vehicles does your company offer?
Are the vehicles insured?
Are your chauffeurs professionally hired and trained?
Do you have back-up options in case the vehicle breaks down on the wedding day?
Do your vehicles have GPS?
How many people can fit inside each vehicle comfortably?
Do you provide beverages or food in your vehicles?
How would you handle timing and logistics for my wedding?
Do I have to tip the drivers?
Wedding tips are an important part of your transportation budget. When it comes to wedding limo cost or wedding bus rental cost, tips are usually included in the total fee. However, if this isn't the case, we recommend tipping between 15 to 20 percent to each driver. It's also important to write an online review of your transportation company—giving a shout-out to drivers by name so they get deserved credit for their work.
How much of my budget should I allocate for transportation?
We recommend allocating at least two percent of your wedding budget for wedding limo service and/or wedding bus rental. While the cost of your wedding transportation can vary depending on the number of people you'd like to transport, as well as the distance and times, transportation can be a very important part of the logistics of your wedding day.
How can I save money on my wedding transportation?
Hiring a professional transportation company for your wedding day is important in ensuring that everything runs smoothly. There are, however, several ways that you can save some money on your wedding limo rental or wedding bus.
Host your ceremony and reception in the same place: The fewer locations your guests have to travel, the better. Hosting your wedding ceremony and reception at the same venue will eliminate the need to shuttle guests in between locations. You'll just need to secure limo service to arrive to the venue before your ceremony, and from your venue at the end of the night.
Book convenient hotels for out-of-town guests: The hotel blocks you book for your wedding guests should be as close to your venue as possible. Wedding bus rental is typically charged by the hour, so the less time it takes transporting your guests from hotel to venue, the better for your budget.
Keep your vehicles simple: Exotic cars, party buses, horse and carriages, luxury coaches, and SUV limos tend to cost more than standard sedans, vans, shuttles, or limousine service. Don't go overboard with the type of vehicle you hire for your wedding parties—simple is often best.
Think size: While renting a super-luxe vehicle can be costly, so can having your wedding-day vehicles make multiple trips. Make sure that you hire vehicles that are large enough to comfortably fit the groups of people you want to transport, so that shuttles can be done quickly and efficiently without too much back-and-forth.
Cheap Wedding Decor Ideas
Weddings are wonderful events, even without the decorations and bling, though most brides deeply desire a beautifully decorated wedding and reception. Save money with these cheap wedding decoration ideas.
These cheap wedding decorating ideas can help you plan a beautiful wedding and still have money left over for the honeymoon.
Location, Location, Location
The best way to save on wedding decorations is to pick a fabulous location. After all, if the setting is gorgeous, you shouldn't have to do a lot to enhance the space. However, if you are planning a wedding on a tight budget, it's certainly not going to be feasible to rent a vineyard in Napa. Consider a bed and breakfast, a public park or an art gallery for a wedding and reception. Or go rustic! If you can get outside of the city, you may save thousands. Country settings and small-town locations are usually much less expensive than big city venues.
He Loves Me Not. He Loves Me!
Flowers dress up any occasion, and they don't have to be expensive. Or forgo greenery and save even more – cut branches with twinkling lights or baby's breath can be a fabulous substitution for expensive flowers. Check out these fun DIY floral decorations that would be perfect for a wedding or reception.
Lighting the Way
Twinkling lights or the glow of candles can add instant (and inexpensive!) charm to a sunset or nighttime wedding or reception. But don't discount the allure of lighting during the daytime hours, especially if your venue is indoors or shady.
Stress-less Ideas for the Table
The wedding tables can cause a lot of stress. Following a decor theme and rental costs can cause budget dilemmas. Many couples forego traditional seating and opt instead for several food tables amongst scattered seating. Whether you need seating for 150 or only need to dress a few buffet tables, this fun, and frugal ideas may help.
It's a Sign
If only finding the groom was this easy! Signs not only add whimsy to a wedding and can help point the way toward the ceremony or reception, but they can serve as wonderful decorative mementos to the day you say "I do."
The Best Things in Life Are.
. free, of course! The advent of premade printables has made expensive wedding booklets, favors and other wedding paper goods extremely inexpensive. Here are some great resources for free printables for your wedding.
Other Cheap Wedding Decoration Ideas
You may not have a lot of time before your wedding to get crafty so enlist bridesmaids, friends and family members to lend a hand. If you like a handmade look but the wedding date is closing in fast, check Etsy and other online retailers for frugally priced items.
Phase 4 of wedding planning involves nailing the final details to execute your dream day. From logistics, timelines, deliveries, payments, and more– this info will help ensure everything is in order and that your day is set to run smoothly!
Wedding Logistics + Execution Tips for DIY Weddings
Wedding Planning Checklists + Timelines

Checklists + Timelines

Wedding Logistics Help & Support

Day-of Wedding Logistics
Social Media

Wedding Ceremony

Ceremony Resources

Wedding Insurance

Do you need wedding insurance? Find out here.

Things You'll Need on the Day-Of

Wedding Emergency Kit

Other Helpful Wedding Guides

Moving on to Post-Wedding
Wedding Logistics + Execution Tips for DIY Weddings
One of the biggest parts of planning a DIY wedding that you'll have to tackle is the logistics and execution. Executing a DIY wedding involves organization, careful planning, and thorough communication with all parties involved. We love creating resources to make this task manageable for couples who want to tackle it themselves. Check out the resources, printables, posts, and tools below to put together a tactical wedding day plan!
Wedding Planning Checklists + Timelines
Here on The Budget Savvy Bride, we've created a ton of printable resources and tools to help you stay organized in your planning! Check them out below.
Want to DIY a custom day-of plan? Check out this post to learn how to make your own wedding day timeline.
Checklists + Timelines
Wedding Planning Checklist
Wedding Planning Timeline
Wedding Decor Checklist
Wedding Venue Question Checklist
Sample Wedding Day Timelines
What to Pack for Your Wedding Night
Wedding Logistics Help & Support
There's no shame in admitting that you need some professional help! Luckily, there are affordable options to get some wedding logistics and planning support for couples who are on a budget! Join our Community to get support and advice from fellow savvy brides!
Day-of Wedding Logistics
Seatings Charts
Crafting a Wedding Day Timeline
Affordable supplies for DIY Catering
Social Media
How to Create a Wedding Hashtag
Social Media and Weddings
Wedding Ceremony
If you're looking for help putting together your wedding ceremony, check out these helpful resources!
Ceremony Resources
How to Write Your Own Wedding Vows
Affordable Ceremony Altars for Your Wedding
DIY Unity Ceremony Idea: Three Cords Unity Board
Alternative Ceremony Readings
The Best Way to Ask Someone to Officiate Your Wedding
Having a First Look Before Your Wedding Ceremony
Marriage Licenses: What You Need to Know
Wedding Insurance
Do you need wedding insurance?
Find out here.
Get a free quote for your event from our partners at WedSafe!
PS – Check out this article from the New York Times on the importance of Wedding Insurance.
Things You'll Need on the Day-Of
Wedding Emergency Kit
It's good to have certain items on hand on the wedding day in case of "emergencies." Want to put together your own wedding day emergency kit? Check out this post!
Other Helpful Wedding Guides
Sometimes in wedding planning, things don't go as expected. Here are some helpful posts to keep in mind should you need a little extra guidance.
Average Ceremony Music cost
Most couples spend between
Costs displayed in graph are based on spend from thousands of couples who recently reported pricing for this service within their WeddingWire review. Pricing varies based on factors including, but not limited to, vendor's experience, level of expertise, event guest count, date, and geographic region.
How much does wedding ceremony music cost?
While the cost of wedding ceremony music can vary widely depending on the type of musicians you choose, their level of expertise and a number of other factors, the average wedding musicians' cost in the U.S. comes in at $500. Note that this cost is only an average and can increase or decrease depending on where you are in the country—the average wedding ceremony music cost in Atlanta, Georgia is $500 while the average cost in Portland, Oregon is $335. Wedding music prices for ceremonies have actually increased over the past few years, as couples are now focusing more on music and creating a unique and memorable experience for their guests.
What are the different wedding ceremony music options?
The right wedding ceremony music can truly set the tone for the most important part of your big day. Whether you want your ceremony to be traditional and formal or modern and quirky, the music and musicians you choose will personalize your wedding even more—and it's essential to hire professionals to ensure the day runs smoothly.
There are many different types and groupings you could choose—it all depends on your wedding venue, style, and budget. In general, there are a few options:
A live soloist: Hiring a single musician can be a cost-effective way to have live wedding ceremony music. This could be a harpist, guitarist, organist, keyboardist, violinist, or something more unique like a bagpiper!
A live duo: Pairing two instrumentalists, or a vocalist and an instrumentalist, will provide a fuller sound than a soloist. A few ideas include a vocalist and a guitarist, a string duo, two harps, a flute and a harp, a piano and a guitar, and more.
A live group: While a string quartet (two violins, a viola, and a cello) is the most traditional of wedding ceremony music groups, there are other ensemble options to choose from to get that full, rich sound. We particularly like adding a flute to a string ensemble, or even a brass ensemble. If you're looking for unique ceremony music, we've even seen gospel choirs, steel drum bands, or a jazz ensemble.
Recorded music played by a DJ or AV specialist: While live music is definitely the more traditional way to go for your ceremony music, you can also have your DJ play prerecorded tracks or a pre-made playlist during your ceremony.
Be sure to consider your venue's size and any space restrictions when selecting your ceremony musicians. If you're getting married in a more intimate indoor venue, you might not be able to accommodate a large ensemble. On the other hand, if you're marrying at a huge, grand venue, the music of a single musician might not create enough sound to fill the space, depending on the speakers and other audio equipment.
How far in advance of my wedding day will I need to book my wedding musicians?
We recommend researching and booking your wedding ceremony music about 6 months before your wedding day. This will give you enough time to find the right pros.
What are the different songs I'll need to choose for my ceremony?
There are several "musical moments" during your wedding ceremony where you'll want to work with your music pros to choose specific songs. These include:
Prelude: These are songs that are played as your guests enter and take their seats before the ceremony begins. We recommend working with your music pros to select upbeat, joyful, and romantic songs for your ceremony prelude.
Processional: During this portion of the ceremony, music will be played as the wedding party walks down the aisle. Then, a different song is played as the bride (or brides, or grooms in same-sex weddings) walks down the aisle. Processional songs can be a bit tricky to choose. They should be neither too fast nor too slow—a good rule of thumb is to choose songs that matches a natural walking pace. For the main processional, the song should match the grandeur of the moment.
Interlude: Some ceremonies use music to transition from different portions of the proceedings. These are usually emotional songs, and are sometimes performed by friends or family members with musical talent (similar to a ceremony reading, it's a nice way to give a shout-out to a loved one).
Recessional: Once the couple is married, a celebratory and very upbeat song is usually played as they exit the ceremony, following by their wedding party.
Postlude: This instrumental music is played as guests are leaving the ceremony. Your ceremony musicians usually will select these songs to match the feel of your recessional.
What are some wedding ceremony song ideas?
When it comes to choosing wedding ceremony music, there are lots of different songs to choose from, particularly for your processional and recessional. Your ceremony musicians will likely have a list of songs on their repertoire, but they may be able to learn a special song or two if you give them enough advanced notice.
Here are a few of our favorite wedding ceremony songs:
Classical: "Canon in D" by Pachelbel, "Air" by Handel, "Wedding March" by Mendelssohn, "Bridal Chorus" by Wagner, "Ode to Joy" by Beethoven
Modern: "Signed, Sealed, Delivered" by Stevie Wonder,"Somewhere Over the Rainbow" by Israel Kamakawiwo'Ole,"A Thousand Years (Instrumental)" by The Piano Guys, "Here Comes the Sun" by The Beatles, "Ave Maria" by Beyonce
What is included in the price of a ceremony music package?
Of course, the more musicians who will be performing at your ceremony, the more you'll pay. Typically, you will pay for the musicians' time—meaning they will arrive with enough time to set up before your ceremony, play music for about 20-30 minutes before your ceremony, perform during your ceremony and during the recessional until your guests have exited. If you would like for your ceremony musicians to also perform during your cocktail hour, that's an extra charge. Be sure to also factor in travel time—if your ceremony musicians are traveling a longer distance to be present at your ceremony, you may have to pay an additional travel fee.
If you're getting married outdoors, your musicians may need amplification so that they can be heard. You can work with your ceremony musicians to arrange this amplification (usually a PA system with microphones and speakers)—but it may be an additional charge. You may need to provide your ceremony musicians with chairs to sit on (your venue can easily handle this), but they will probably bring their own music stands.
Are there any additional costs associated with wedding ceremony music?
Be sure to factor tips into your ceremony music budget. Each musician should receive a gratuity of between $25 and $50. And don't forget write an online review for your wedding musicians to help future clients find them.
What are the wedding musician costs in a church, temple or other house of worship?
If you're getting married in a house of worship, an organist will likely be included with the wedding fee. Houses of worship may have specific rules as it pertains to live music and amplification, so it's usually best to go with the provided musician if offered.
How can you save money on wedding ceremony music?
If you're on a tight budget, we recommend hiring a soloist or duo as opposed to a larger ensemble. It's a more cost-effective way to have live ceremony music without spending a huge amount.
By Wedding Spot
The average wedding includes 141 guests, but nowadays, more and more couples are having micro weddings. In this post, you'll discover what a micro wedding is, as well as its many benefits. Then, you'll explore some of the best micro wedding ideas for every season, and learn how to make your micro wedding perfect for you and your partner.
What is a micro wedding?
A micro wedding is any ceremony and/or reception with less than 50 total guests. Couples often combine an elopement and a reception to create their micro wedding, but you have the option to do both with a smaller party. Some married couples even choose to do a micro wedding for their anniversary or vow renewal. Save money on your nuptials, reception, or vow renewal with this more intimate — yet still beautiful — wedding option.
How much does a micro wedding cost?
A micro wedding costs anywhere from $1,600 for an elopement and reception combination with 12 or fewer guests to $10,000 for a full ceremony and reception with 50 or fewer guests.
Discover 33 of the best micro wedding ideas:
These ideas include packages, venues, receptions, and cakes that take a smaller guest list into account without sacrificing style. Add one or more of these creative ideas to your own wedding plans to get the most out of your small wedding.
Micro wedding packages
These packages include all the same elements of a regular wedding package but are tailor-made for the couple's budget, style, and guest-list size. Enjoy these examples of packages you can book for your own celebration.
1. Storybrook Farm Weddings' Fairytale micro-wedding package.
Plan the themed wedding of your dreams at this Tennessee venue with their package deal for weddings with 24 or fewer guests. The cost includes spaces for both a ceremony and reception, an onsite officiant, flowers, cake, and decor, plus an event coordinator to help you finalize details. Use this package as a template for your own event planning even if you don't plan to travel to Tennessee — it includes all the bare essentials a micro wedding should have.
Rock climb, surf, or hot air balloon for your ceremony with help from this North Carolina-based wedding planning company. The 10-guest package covers destination research, travel booking, wedding photography, an officiant, and some flowers. Consider a thrilling and original ceremony idea for your own destination micro wedding since it's much easier to travel with a small group.
Average Ceremony & Reception Venue cost
Most couples spend between
Costs displayed in graph are based on spend from thousands of couples who recently reported pricing for this service within their WeddingWire review. Pricing varies based on factors including, but not limited to, vendor's experience, level of expertise, event guest count, date, and geographic region.
How much does a wedding reception venue cost?
One of the first decisions you'll make when planning your wedding is choosing your wedding venue—and there are lots of types of wedding venues to choose from, from barns to ballrooms! You'll likely spend a large portion of your budget on your wedding venue cost (half of couple's total budgets are spent on wedding venue cost, catering, and rentals), so it's important to do your research before selecting your wedding site. The average wedding venue cost in the U.S. is $6,000, with most couples spending between $3,000 to $11,000. Note that these are only averages and pricing varies widely depending on a variety of factors, like whether in-house catering is included.
How much does a wedding ceremony venue cost?
Some couples choose to have their wedding ceremony and reception in separate locations. A wedding ceremony is shorter than a reception and doesn't include catering, so the cost of a ceremony venue is typically cheaper than wedding reception prices. In the U.S., the average starting site fee for wedding ceremonies is $600.
Do you save money by having your ceremony and reception in the same venue?
In many cases, you will save money by having your ceremony and reception at the same venue. You'll not only save on the venue itself, but also on other wedding costs including transportation (you won't have to worry about shuttling from one site to another), and rentals (you can reuse chairs and other items for both ceremony and reception).
What impacts a wedding venue's prices?
There are many factors that can drive wedding venue prices up or down, including:
Location: Wedding venues located in major cities tend to cost more than those in more rural areas. In fact, the most expensive places to get married in the country are big cities, like New York City, San Francisco, and Boston.
Wedding date: It's true, the wedding date you choose can have an impact on your wedding venue cost. If you want to get married on a Saturday night during peak season, you'll likely pay more than a weekday wedding during an off-peak time of year. Many venues offer discounts for weddings during low season or on a weekday.
Size: The more guests you invite, the more money you'll spend. Larger venues that accommodate more people will cost more than smaller venues with lower capacities. If your venue includes catering, you'll pay "per person," so a large number of a guests means a higher wedding venue cost.
What's included: For some venues, you'll pay a site fee and then have to hire an outside caterer, rental company, and all other vendors. Other venues are all-inclusive (typically hotels, banquet halls, and country clubs, for example) and have an in-house vendor and other vendors. While there's no rule that all-inclusive venues always cost less, you may be able to find some savings on your wedding reception prices if your venue has in-house vendors.
Do wedding reception venue prices include rentals, like tables and chairs?
69 percent of venues do include tables and chairs, but with others, you'll have to hire an outside rentals company to provide tables, chairs, china, flatware, linens, and more. Also, if you would like a wider range of rentals to choose from, consulting with a rentals company can be a good idea. On average, you'll spend about $650 on event rentals.
Are there additional wedding venue costs that a couple should plan for?
When it comes to the average cost of a wedding venue, there are a lot of expenses that you might not have anticipated. Here are a few of these little-known expenses:
Parking: If many of your guests will be driving to your venue, you may have to pay for valet parking or other parking fees.
Taxes and fees: From cake cutting fees, corkage costs, service charges, and more, your wedding venue contract may include additional fees you might not have expected. Be sure to talk to your venue coordinator to clarify these additional expenses before signing on the dotted line.
Tips: Many of your vendors will receive gratuities for a job especially well done. At your venue, you should tip the wait staff, bartenders, restroom attendants, and coatroom attendants. We also recommend writing an online review of your venue as an additional thank-you.
Outside vendor fee: Many wedding venues have approved vendor lists—a list of vendors the venue has vetted and trusts. If you choose to hire a vendor outside of this list, you may have to pay an additional fee.
How can you save money on your wedding venue?
Yes, your wedding venue will likely be one of the most expensive things you pay for during your wedding planning journey—so every bit of money you can save on your wedding venue cost is a good thing! Here are a few ways to save money on your wedding venue:
Cut the guest list: As mentioned, the more guests you invite, the more you'll pay. Cutting even just 10 guests from your list can save you major bucks!
Be smart about setting a date: Saturday night weddings during peak season will cost more than weekday weddings during the off-peak season.
Look for tax-deductible sites: Certain venues that are affiliated with nonprofit organizations (museums, historic homes, parks, etc.) may have tax-deductible site fees.
Read all contracts closely: Be open and honest with your venue about your budget, and be sure you completely understand your venue contract. There may be some fees that your venue can waive if you ask politely.
What questions should you ask your wedding venue before booking?
Choosing a venue is one of the first decisions you'll make—at least a year before your wedding date. You'll want to start by figuring out if you want to host a destination wedding or a hometown wedding. Once you've selected the area where you'd like to wed, read online reviews of wedding venues and narrow down the list to a few you'd like to visit. When touring venues, be sure to ask the following questions:
Is your venue available on my target date?
What's the capacity?
For outdoor wedding venues: What is your Plan B in case of bad weather?
Do you have climate control?
Can I see the restrooms?
How big is the dance floor?
What's the parking situation?
What's included in the contract?
Who is my main contact? Will he or she be present on my wedding day?
Are you accessible to guests with special needs?
What are your rules and regulations?
How much time do my vendors have to set up and clean up at the end of the night?
Do you have an approved vendor list or can I hire whomever I want?
Can I host my ceremony here as well?
The reception venue is part of every wedding and it includes several costs. In the article down below we will explain what are the main costs of the wedding reception.
Bar service
Most of the couples want to have a bar service at their wedding reception, and the costs of the bar service are from $1,800 to $3,000. You can make a cash bar, and all your guests will pay for their booze, but the best option is to get cheaper booze and pay for your guest's bar service.
Another thing about the reception cost's list which is the most expensive is catered food. You do not want hungry guests at your wedding, and for average catered food you will pay $4,200 for 140 guests. It is $30 per plate if you count. If you want to buy fancier food be prepared to pay $100 per plate.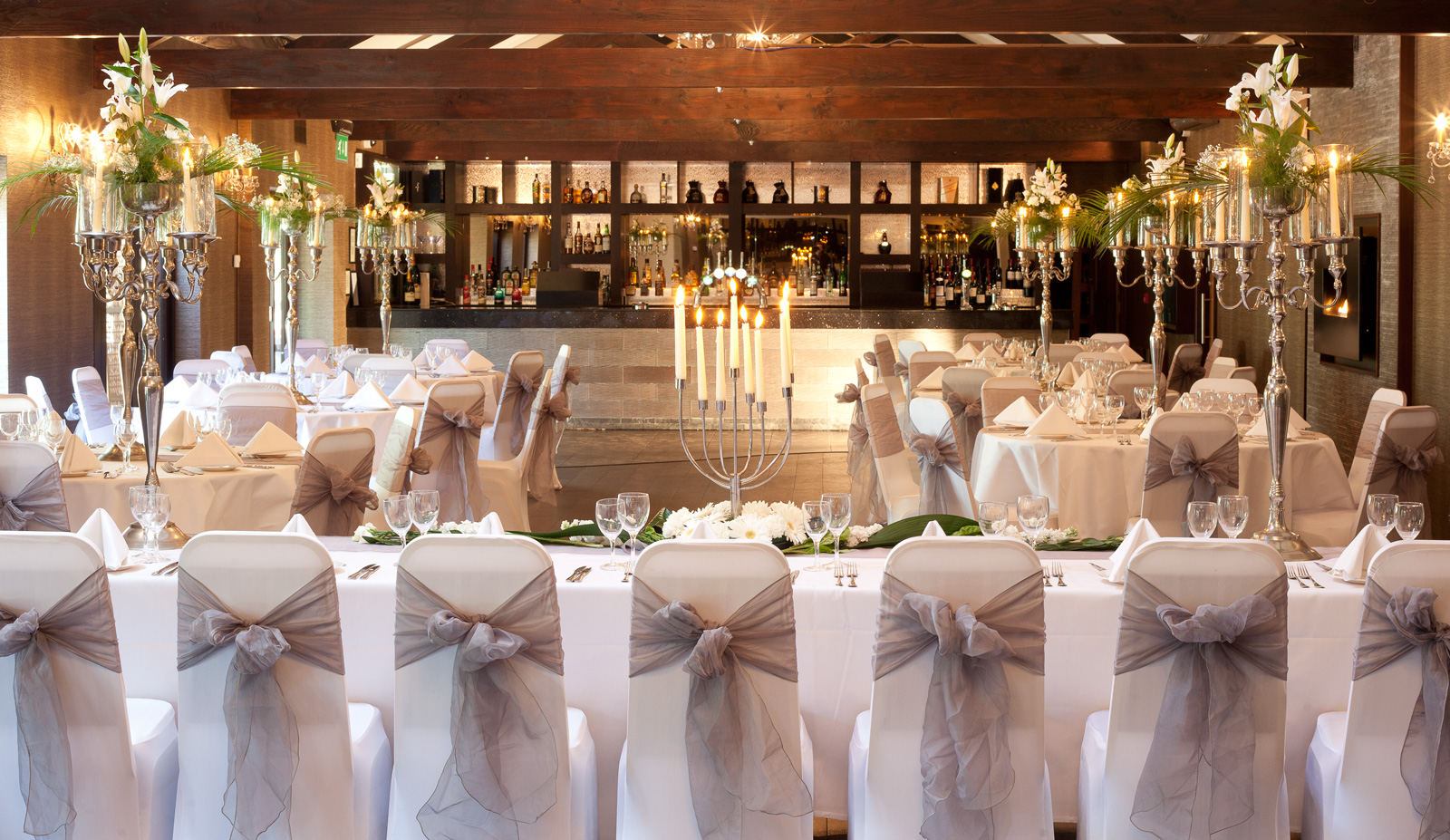 Img source: goosedale.uk
Venue Rental
You must choose what kind of reception venue do you want, and you must pay a venue rental at around $3,000. The venue rental is cheaper than the catered food, but it is an expensive component on the list. When the venue does not have chairs, tables you must rent them too. The equipment cost is $1,700 on average.
Engagement ring
The engagement ring is the thing on the list that varies the most. You can buy a ring from $100 to $1 million, in many shapes, sizes, and design, from traditional to modern.
Reception Band
The reception band is part of every celebration, especially weddings, and you must decide if you want to hire a band or a DJ. The cost of the band is around 3,500 and DJ is cheaper, around 1,000.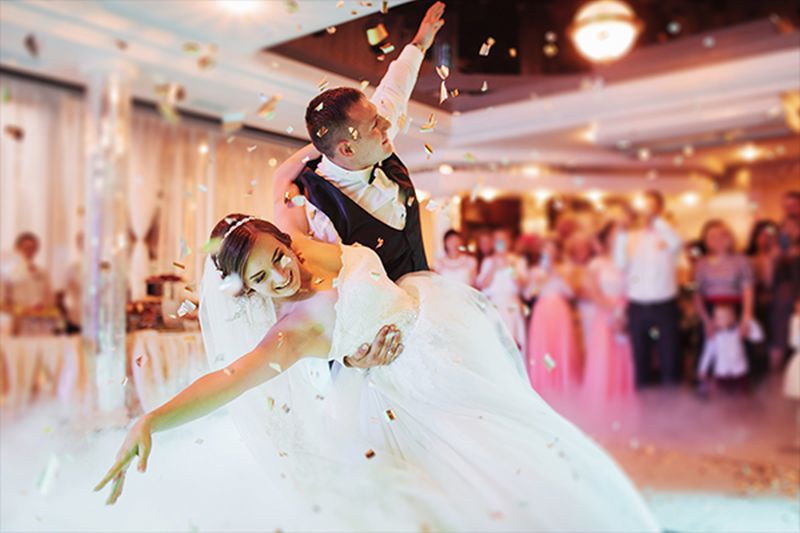 Img source: weddingbee.com
Photographer
Most couples want to hire a professional photographer to capture their happiest day in life. The people love to watch photos after the event and save the memories in that way. It is an expensive part of your reception cost's list, around $2,500, without a videographer. Katebackdrop has more.
Ceremony site
At the moment, in 2022, the most wanted ceremony sites are nontraditional like the beach for example, or a green field on a big cliff. The wedding in the church is not expensive, but it is not popular so much. The cost of the average ceremony site is $2,000.
There are a few costs that you can cut off your list and save some money, for example, wedding favors. Do you really need them? They usually end up in a bin at the end of the party or collect dust on some shelf in the home of the cousins and friends. You can save up to $200 and you can give a CD with your favorite songs or pictures of the wedding to your guests instead of favors. Photos or songs on a CD a cheaper but very memorable choice.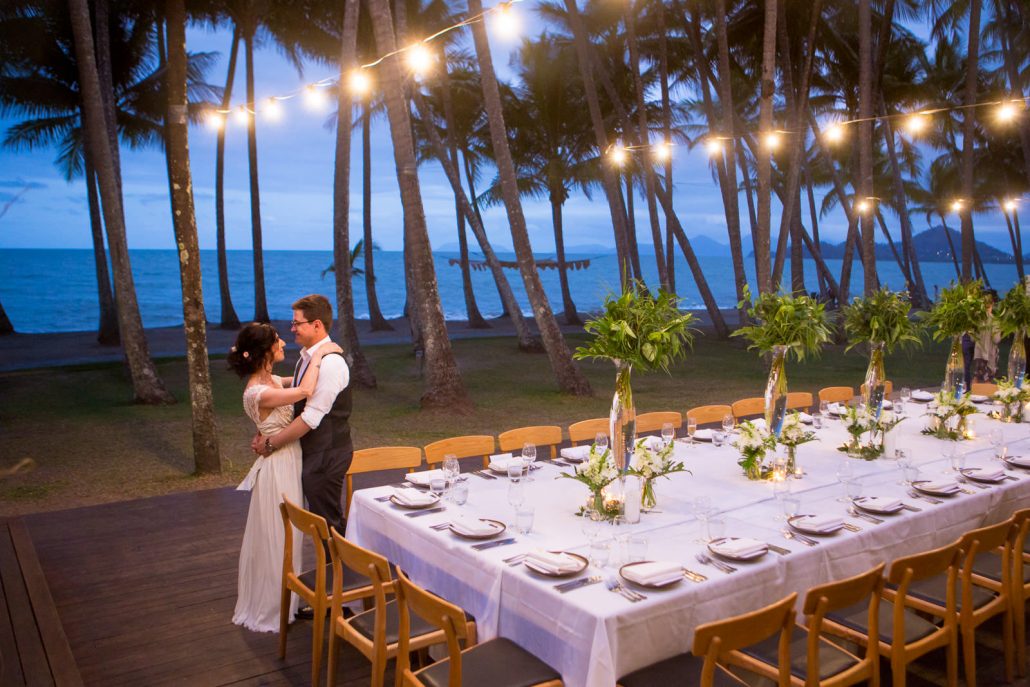 Img source: tourismpalmcove.com
You can also save your money on the invitations that cost $6.32 and more per piece. You can always put some effort and make your own DIY cards, and print them on your printer, or just sent them via email.
One more cost on the reception wedding where you can save your money is wedding cake. The price of the piece of the wedding cake is $3.90, and you can order a half slice per each guest not a full slice because most people just eat half of the piece. You can also order a smaller wedding cake.
The important part of the wedding is ceremony musicians, you need to hire some when you decided what instruments do you want on your special day. You can save up to $600 if you decided not to hire professionals. If you have friends who are musicians you can hire them for free to play instruments on the ceremony.
You can also save money if you do not need limo because 3 hours of service costs more than $700.
You can also save money if you do not need a limo because 3 hours of service costs more than $700. If planning your wedding has become overwhelming, you may be searching online for how to fund the extras. There are ways to get the financial help you need for your big day! See how MaxCashTitleLoans can help.