As an Amazon Associate I earn from qualifying purchases. Learn More
Last Updated on April 21, 2022
How to straighten your hair with a flat iron simply means two things; using the best products and using the best flat iron. If you want to know how to straighten natural hair with a flat iron to enable you to sport beautiful healthy, trendy hair, you've got to do your research beforehand.
Because there are some products and utensils that can be dangerous not only to your health but to your hair too – that goes without saying.
But assuming you are in possession of a high-quality flat iron, but you are not sure how to straighten hair with a flat iron, whilst at the same time protecting it, here are a few steps to guide you carefully through the process.
This process will leave you and your hair looking glowing, healthy, achieving the WOW factor from those who see you and touch your hair!
How To Straighten Hair With A Flat Iron?
Step One
Hair needs to be washed first to get it ready to add a good straightening conditioner on it. Clean hair makes the whole straightening process better. If you haven't got time to wash your hair, even a dry shampoo can be used.
This will add shine as a starter. Remember that it's not just any shampoo or conditioner which will give you the look you want.
You will have to select the right one, something like what everyone loves and knows, something professional for example like the L'Oreal products.
If it doesn't suit your hair, try and pick another good brand that you might be familiar with.
If your hair has been dyed before, you will need a straightening shampoo that's got sodium lauryl sulfate in it and sodium laureth sulfate to keep your colour well.
Step Two
After washing and conditioning, apply hair straightening serum. The right one for your particular hair type will work wonders. It is a good idea to add the serum while your hair is wet because then it is able to spread evenly into your hair without clumping the chair.
Comb gently through your hair using a wide-toothed comb. Start from the hair roots to the tips, with more volume added to the hair tips. Evenly distribute throughout all the hair strands. You can air dry your hair now for about 5 minutes or so. Air-drying is making your hair dry via unheated air.
Lovely products such as argon nut oil, or Moroccan oil, coconut oil are also examples of products that will help with keeping your hair hydrated during the course of the day. Any products that have silicone in will also contribute towards keeping your hair straight.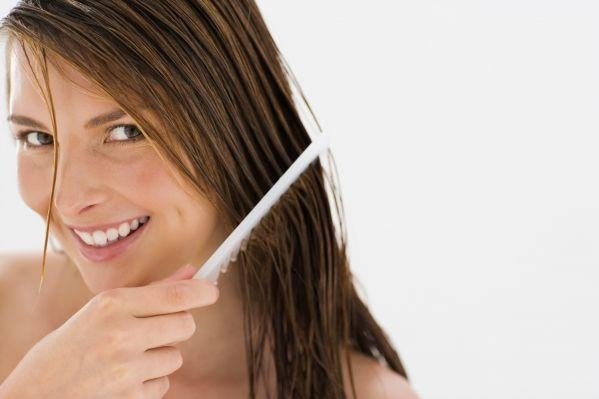 Step Three
Blow-dry your hair, not with a hair dryer, but a blow-dryer. Once again, it is not just any blow dryer to blow-dry your hair. A high-quality one will seal your hair and keep it clean and straight for longer. If you blow dry your hair more than once a week.
Then you also need to add a moisturizing mask before using your dryer and flat iron. The blower drier should be about 1500 watts while drying with your round brush.
Step Four
You would have turned your flat iron to prepare to straighten hair. Make sure that you did not go over the correct temperature that is suitable for your hair. A good guide is if you have light and fine hair, the heat should usually be on the low setting while thick and curly hair will require a high heat temperature.
For in-between type hair, the medium heat setting will be suitable.
If your hair is prone to damage, don't take the risk of ruining it further; know which temperatures apply for your kind of hair type when you want to straighten hair with flat iron.
Next step is to put up all your hair, holding it back with a hair tie or clip. Just leave the bottom layers available, because this is where you are going to start with your hair.
You should try and place the straightener as close to your roots of the section you have chosen, but just don't burn yourself. It means you will probably start straightening about an inch away from your scalp.
Straighten your bottom layer and maybe even the next layer, going over them only once with your flat iron.
When you are finished straightening the bottom part, you will let down another layer of hair for strengthening. You will repeat this until your whole head of straightening hair process leaves your hair straight and sleek.
You do it by clamping the hot iron down so that each of the heated blades touches with your hair resting between.
Don't clamp too tightly so as to avoid creating a ridge in the hair where you start to straighten. Also, don't hold the iron in a certain spot for too long because that can also cause a ridge.
Now run your flat iron down from the top down the hair section. Move with fluid movements from the hair roots to the ends of your hair. Remember not to hold the straightener in any area for too long to prevent ridging.
If your hair is very thick you might have to go a few times. The strength of the flat iron will also determine a number of times you go over the section of hair. Basically, the lower the setting, the more times you will go over the hair.
If you see steam coming from your flat iron, don't panic, it is caused by the hot iron contacting with the moisture that was left over in your hair. If you smelling burning hair though, turn the settings down straight away.
Once you have got the section of hair straight, move it out the way and unclip the next layer ready to straighten hair. Things are easier if you move around your head from side to side rather than just selecting any piece of hair and straightening it.
If your hair tends to get frizzy, put on a hair spray or some setting-serum after completing a section.
Try not to get hair products on hair that you have not straightened yet because these products can actually negatively influence your process of hair straightening and can cause damage to your hair. Here is the list of flat irons you can choose if struggle with, how to straightening damaged hair.
Step Five
Hair spray is added to the hair. It is vital as well because it locks in all the straightening processes you have undertaken with your hair, and it protects the hair too from the weather and pollution.
At The End Of The Day
Smile for that selfie – for a job well done! Remember, good hair speaks louder than words!​
Hair straightening is not that that difficult if you take your time to pay attention to all the steps that are listed below.
Any slight mistake can cause a hair burn which is not healthy at all to your hair; you can avoid such issues with prompt preparation and by treating your hair with a product that can protect your hair from heat.
Below are steps one can follow to know how to straighten hair with a flat iron;
Step 01
Nikola from bestironindia.in say: Wash your hair, then after that, you can leave it for some time to dry until almost all water is gone, or you can also prefer to give it a blow dry. Blow drying can make your hair to at least straight than it was before and this just save you some more time.
image source: youtube.com
Remove all tangles by brushing your hair using the best straightening brush to avoid knots during the straightening process. Evenly distribute heat protection on your hair then blow dry to enable your hair dry completely.
Now plug the in the flat iron and let it heat up to the temperature of your desire depending on your type of hair.
Step 02
Divide your hair into sections then hold each section with a clip, the only section that should not be clipped should be the section of the lowest layer. Starting with hair that has the lowest layer, you are now supposed to separate your hair to a distance of between one and two inches.
This distance should be reasonably small to enable the flat iron to fit around it in an easy manner and straighten your hair in one round.
Step 03
Put the flat iron just above your scalp and shut the two hot sides together with the hair that is in between them, not that you should not straighten too close to your scalp because it might just burn you.
If you notice that there is an excess hair in the iron that is falling out, then you are advised to open it and reduce the amount of hair in your iron. Now move the iron down through the length of your hair, ensure that you put in the same amount of pressure through the entire process.
If you notice steam coming out from your hair, you should not worry because it is normal; the steam you see is just as a result of the hair protection cream evaporating.
image source: notjustanothersoutherngal.blogspot.com
Step 04
On this step, if you notice that your hair is not straight after a single pass, then you have to do it again for the second time, and if this continues, then you have to reduce the size of your hair locks or increase flat iron temperature.
Step 05
After finishing with the initial section, it is time to unpin and move to the next section, always remember to straighten from the lowest layers on to the surface.
After you are through with straightening your hair with a flat iron, now you can smooth your hair by maybe rubbing in just a drop of hair oil, and then spray your hair as you comb it downwards.
Final Word:
A flat iron is basically a heating tool that is used to get the hair to any desired shape, now why to wait, get the best flat irons and straighten your hair in a less effort and cost-effective manner by learning how to straighten hair with a flat iron and following all the instructions up to the latter.
As an Amazon Associate I earn from qualifying purchases. Learn More
Last Updated on April 23, 2022
To get the perfect straight hair with a flat iron works better than a blow dryer. Sleek shiny straight hair is gorgeous, and it is easy to maintain, and it is quick to get it with a flat iron.
Knowing how to use a flat iron properly and hair treatments to use before and after ironing will prevent your hair from heat damage and keep your hair straight throughout.
Step By Step Guide: How to Use a Flat Iron?
Follow these steps as a guide on how to use a flat iron from start to finish properly.
Have The Right Flat Iron
It would be best if you used the right flat iron to protect your hair from heat damage. The best flat irons should have ceramic plates rather than metal plates.
Ceramic flat irons distribute heat evenly and straighten hair smoothly without causing snags or leaving patches.
Also, flat iron with a ½ or 1-inch plate is easier to work with. Having the right flat iron makes straightening your hair process effortless.
Prep Your Hair
Start by washing your hair with smoothing or moisturizing shampoo and conditioners for straight hair. Your hair is best for straightening after a fresh conditioning and shampooing session.
Avoid straightening dirty hair. Well-conditioned and moisturized hair can handle flat ironing heat without getting damaged.
Flat ironing brittle and dry hair will only damage it. It leads to frazzled hair that won't lie flat. That is why you need to make sure that your hair is well conditioned and moisturized.
Once you have conditioned your hair, take a paddle brush, and comb the conditioner through.
Finish by rinsing your hair gently. When buying hair cleansing products, look for those labeled as creating sleek or straight hair.
Dry Your Hair
Using your towel, tap your hair by gently squeezing it in sections until it dries. Patting the hair dry will prevent it from getting excess frizz after washing your hair.
Alternatively, you can rough dry your hair using your blow dryer until it is 80% dry. This is where you shake your dryer back and forth until the hair is dry.
For the other 20%, you can allow your hair to air dry. You might be tempted to straight wet hair to fasten the straightening process. Do not do this because your hair is more fragile when it is wet. Wait for your hair to dry before you start ironing it.
Use a Heat Protectant Spray
Protecting your hair locks from heat damage is very vital. Before applying heat on your hair, apply a thermal protection serum or a heat protectant spray all around your hair without creating clumps.
If you want to keep your hair straight throughout the day, use silicon and vegetable oil products like coconut oil and argan oil. If your hair is thick and coarse, you can use Moroccan oil to moisturize and add shine to it.
Once you have sprayed your heat protectant, comb your hair with a wide-toothed comb to spread the spray throughout the hair.
Thermal protectant works best on damp hair, and it protects your hair up to 450 degrees.
Blow Dry Your Hair
A flat iron gives long-lasting results on only dry hair. That is why you need to blow dry your hair to dry it before using your flat iron fully.
When you flat iron semi-wet hair, it makes it frizz up. When blow-drying your hair, ensure that your blow dryer is pointing downward and goes with hair flow while blow-drying it.
This ensures that your hair dries straight and smoothens it down to reduce the risk of frizz. When blow-drying your hair, set your dryer on the lowest heat setting to protect your hair from heat damage.
Divide Your Hair into Sections
To make your ironing easier and get the best results:
Divide your hair into two sections or more if your hair is thicker.
Don't work on random bits of hair as this will lengthen your straightening process.
Use a hair clip or a hairband to hold the upper section of your hair to keep it out of your way so that you can start with the half bottom. This ensures that you iron your hair thoroughly without skipping some areas.
Start Ironing Your Hair
Plug in your flat iron and turn it on. If you use one with different heat adjustment settings, select your desired heat level depending on your hair type. If your hair is fine and thin, use the lowest heat setting to prevent your hair from heat damage. If your hair is thick, long, and coarse, use a higher heat setting level.
Pick a small section of hair about 1-inch and place your flat iron as close as possible near your roots. Big chunky sections of hair will no straighten properly ad will take a longer time. Clamp your flat iron down so that the heating sides touch while your hair is in between the plates. Pull your flat iron down in s smooth motion.
Go slow and steady and ensure that your flat iron does not sit on one place for long as this can cause a ridge or undesirable folds to form in your hair.
Run the flat iron from the root down the length of your hair in a steady sweep. If you iron a section of hair quickly, you will have to go over the same section over and over for it to be fully straight.
Repeat this process in small sections until all your hair is done. Make each pass count, and you can run your flat iron over the same sections 2-3 times. Straightening the same section over and over many times can cause hair damage.
If you want to create volume at the roots, you can achieve that at the top layer of your hair. Straighten each section of hair upwards like you are pulling your flat iron to the ceiling. It will help your hair not to look totally flat once you have completed straightening it.
Finish with A Serum
To keep your hair smooth with a silky finish and a luminous shine apply hair serum. The serum helps to tame the frizz away and keeps your hair beautiful.
By following these tips on using a flat iron, you can achieve smooth silky straight hair within a few minutes. Straight hair is easy to manage and looks good on any skin tone.
You don't have to go to the salon if you want to straighten your hair. Following these tips will enable you to create straight hair in the comfort of your home.
Fine hair is very delicate and straightening it the wrong way can easily damage it or burn it. With the new technologies like flat irons designed for fine hair, you can safely straighten your fine hair and keep it smooth and shiny.
How to Straighten Fine Hair Safely
Wash Your Hair with the Right Products
With fine hair, you need to use volumizing shampoos and conditioners that strengthen and boost your hair volume. Wash your hair gently to remove all impurities and dirt.
Dry Your Hair
Your hair is weakest when it is wet. Using a flat iron on wet hair leads to heat damage. To prevent this, dry your hair gently using a microfiber towel. If you have time, it's better to wait for your hair to dry completely through the air-drying method. If you are in a hurry use a blow dryer to quicken the process.
Comb Your Hair
Fine hair is very fragile, and straightening it with tangles can lead to breakage. Comb your hair to clear all tangles and knots on your hair for a smooth straightening experience and avoid breakage.
Apply Heat Protectant
Before using your flat iron, you need to use a heat protectant on your hair. This creates a barrier between your hair and the heat styling tool to protect it from heat damage.
Some of the benefits of using heat protectant spray on hair before straightening it include:
It acts as a protective barrier to prevent moisture loss caused during heating the hair
It protects your hair from heat damage
It helps to quicken the drying process thus less time straightening your hair
It smoothes your hair follicles thus, reducing frizz
It detangles your hair and makes it easily manageable
Use the Right Flat Iron
Flat irons come in various plates and different size plates and shapes. With fine hair, you should use a flat iron with a 1-inch plate or less. Also, ceramic flat irons are great for fine hair because you don't need high heat.
Separate Your Hair into Small Sections
Before you start straightening your hair, separating it into small sections will make the process easier. It will also prevent you from styling the same section over and over, which can lead to heat damage.
Use the Lower Heat Setting
With fine hair, you should use the lowest heat setting on your flat iron. Fine hair doesn't need much heat to be straightened fully or, you will risk burning it.
Pass the flat iron Quickly and Smoothly
Start with a section of hair and make quick passes evenly and smoothly with your flat iron. Don't let your flat iron plate rest on one area for more than a second or two.
This reduces the time your hair is exposed to heat thus, reducing the risk of heat damage. Smooth even passes create a sleek and shiny finish.
By following these steps, you can straighten fine hair with a flat iron safely.
Ride-or-die tricks from a professional straightener (me).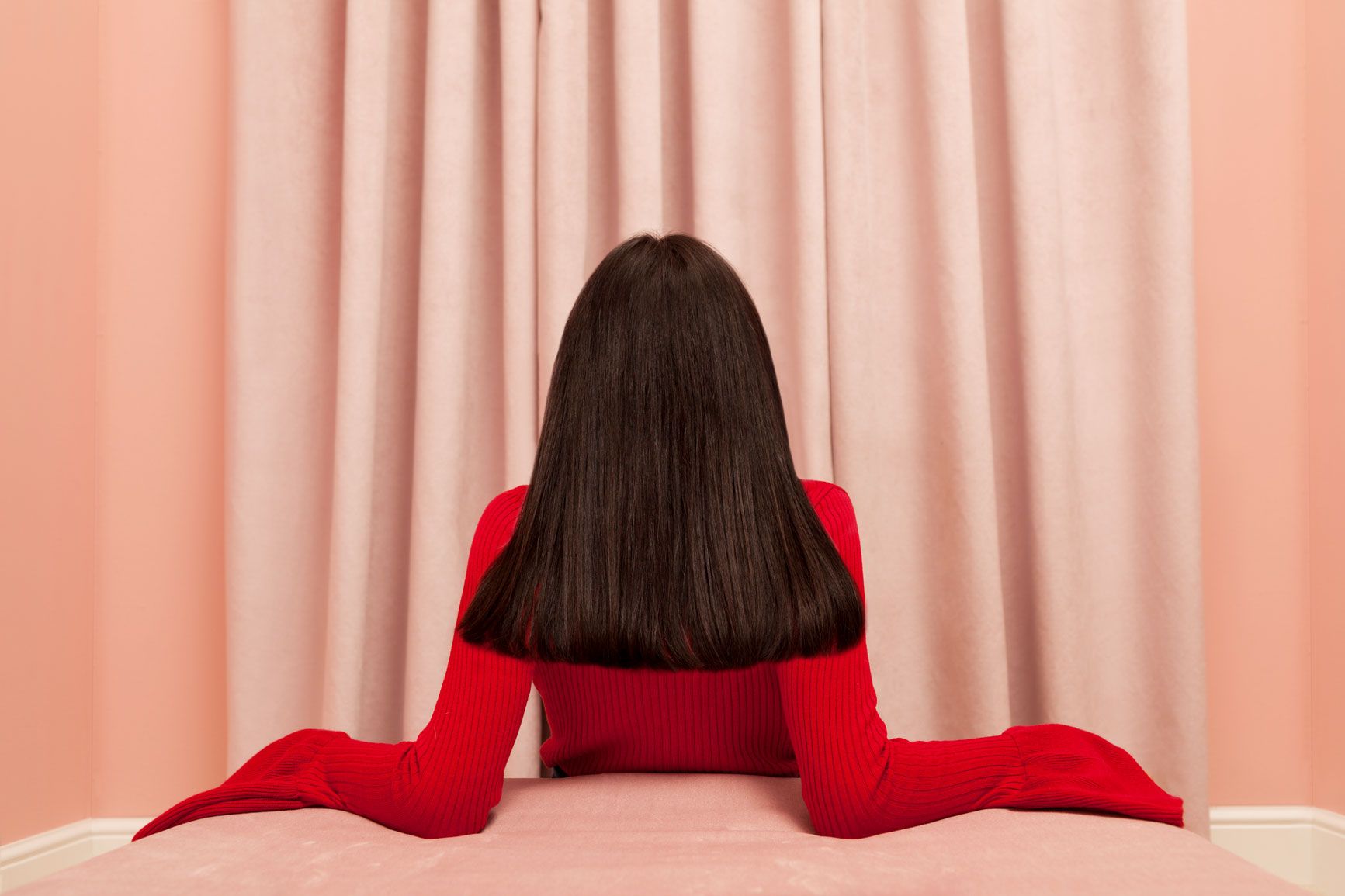 Confession time: Waaay back during my emo phase in the sixth grade, I'd straighten the crap out of my hair every single morning with a $15 flat iron from CVS (t-b-freaking-t, man). And as a 12 year old with basically zero knowledge about heat damage, you can imagine how fried and sizzled my hair looked by the time I grew out of my phase. Flash forward many years later, and I can confidently say I've mastered the art of straightening my hair without, you know, destroying it—and all it took was a little technique, a few products, and a genuinely good flat iron. So, if you're still learning how to straighten your hair to sleek, shiny perfection, read on for my tried-and-true hacks for getting a perfect finish every time.
Sure, flat-ironing your hair is preeeeetty intuitive, but there are a few technique you should keep in mind. First and foremost: Make sure your hair is 100 percent dry before you do anything, since straightening even semi-damp hair guarantees a ton of heat damage.
You'll also want to separate your hair into sections your flat iron can easily pass over—even though it might seem faster to grab huge chunks, it will take you way longer to get a smooth, straight finish (which, in turn, equals even more damage). Need a visual? This YouTube tutorial is an excellent place to start. And as for products, I've got you covered with the best heat protectants, finishing sprays, and more, below.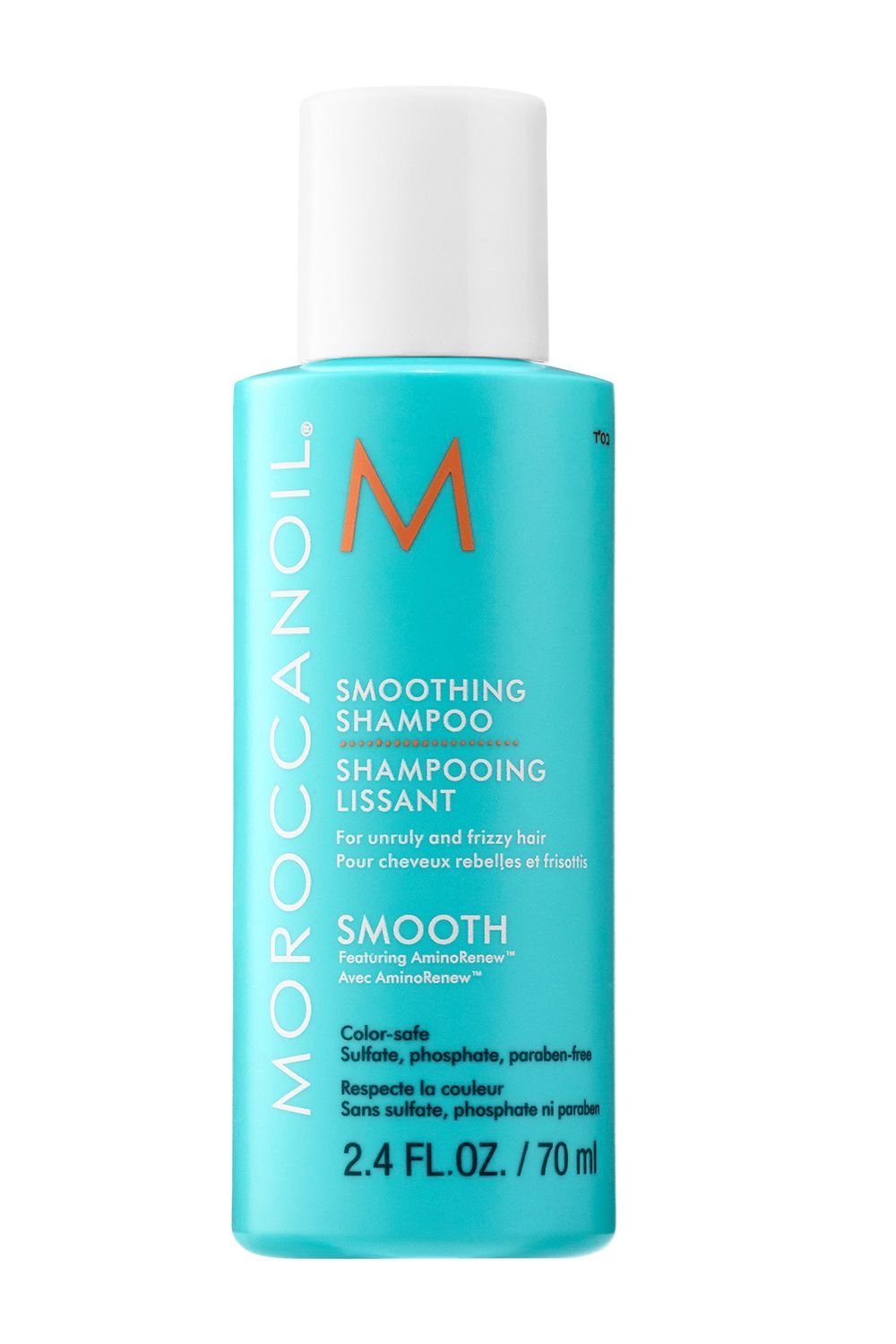 IMHO, if you're looking to really straighten your hair, it's best to start the process in the shower (yup, before you even plug in your flat iron). I like to cleanse with a super-hydrating sulfate-free shampoo—like this one from Moroccanoil. Why no sulfates? They can be really harsh and drying, and the last thing your hair needs before being literally ironed is a lack of protective moisture.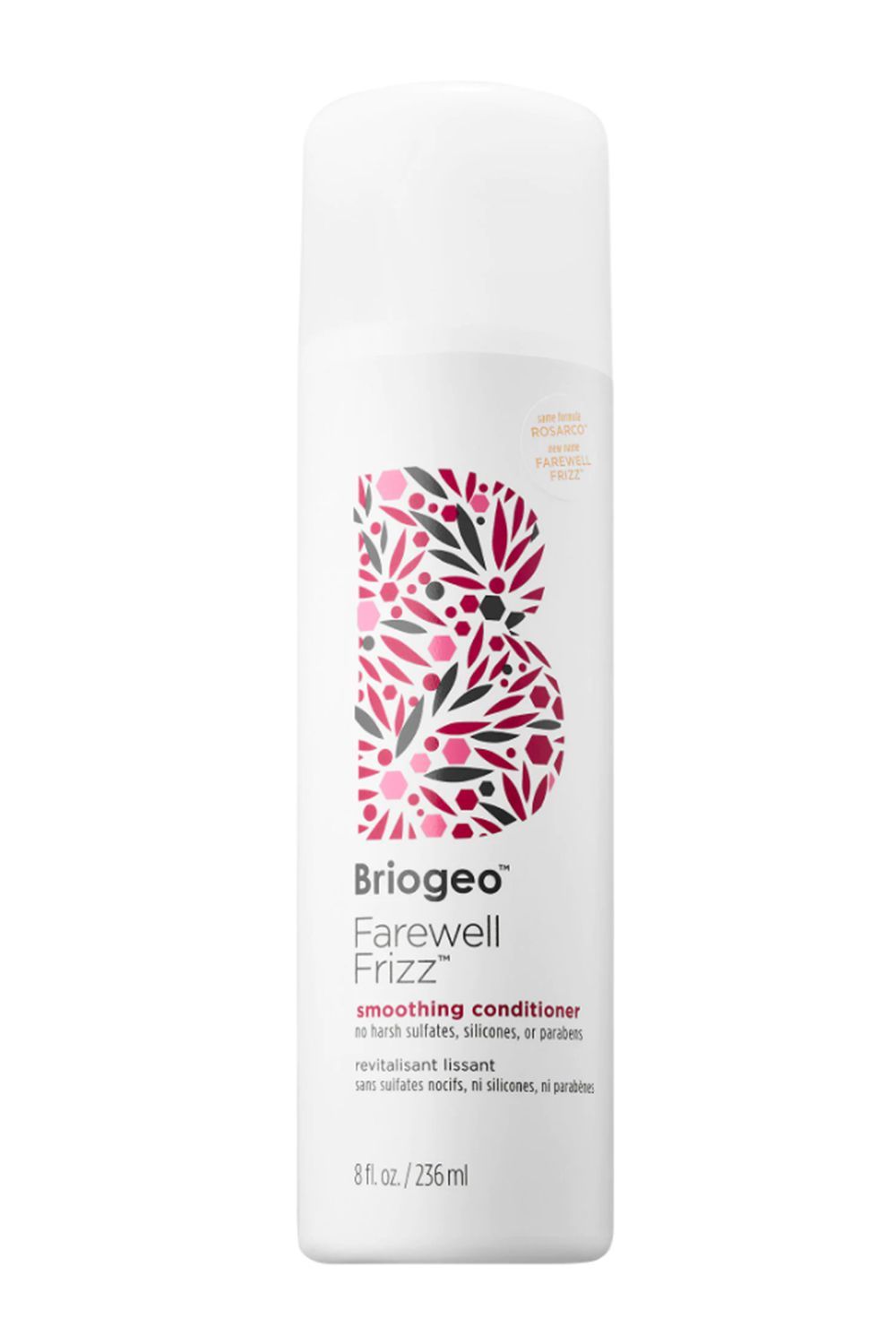 Fun fact: Even if you're just rinsing your hair—i.e., not using shampoo—you still need to coat your ends with a conditioner. Your hair is super delicate when it's wet, and a nice dollop of conditioner (this one from Briogeo is spiked with hydrators like rosehip, argan, and coconut oils) gives you an extra layer of protection against damage (which you'll def need if heat styling is on your agenda).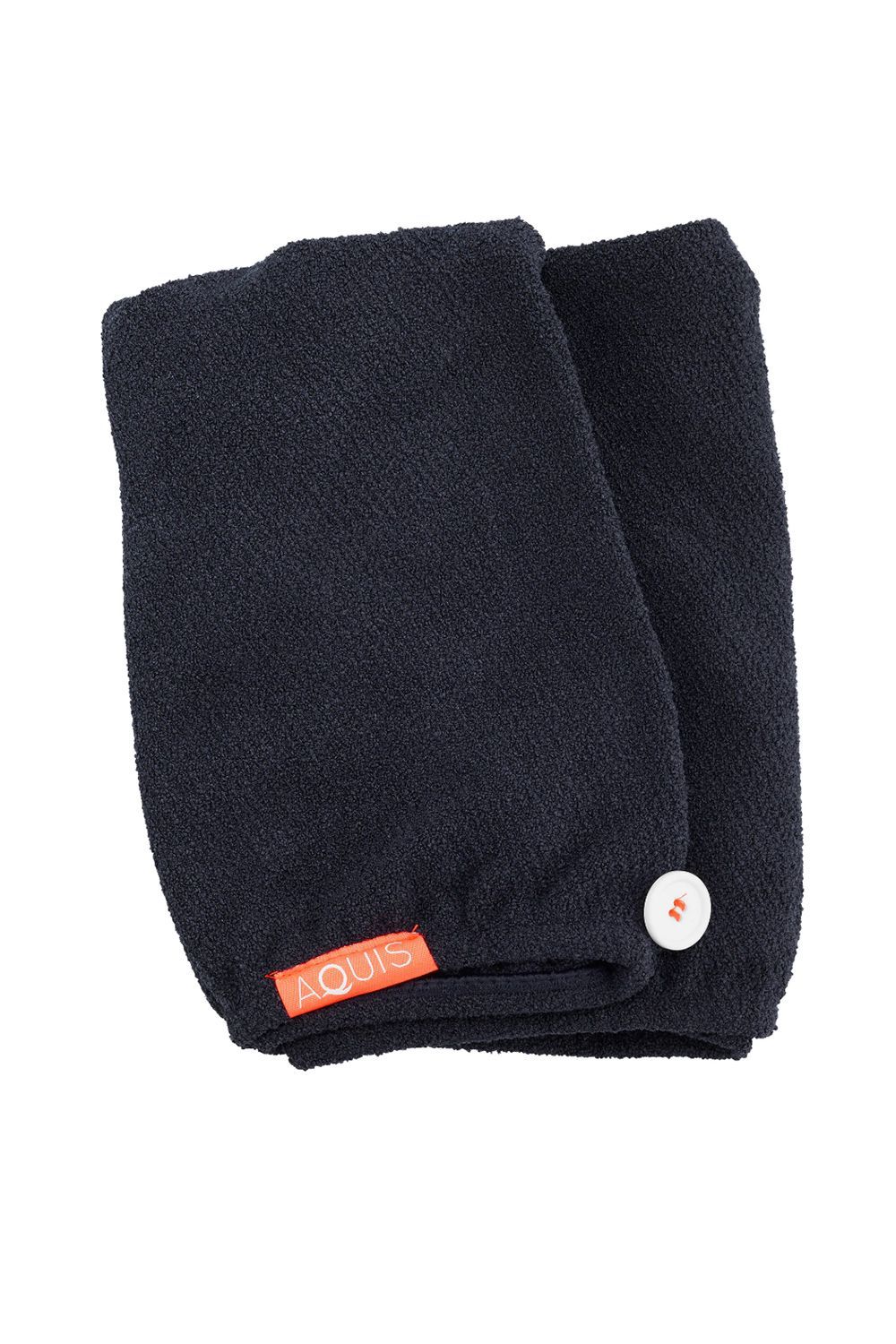 Wait! Before you wrap your wet hair in a scratchy cotton towel, pls consider using this microfiber wrap instead. Not only does it cut down your drying time, but it also helps minimize frizz and prevent breakage (for real), without roughing up your hair cuticle like a traditional towel. If you're an air-dryer like me, twist it around your hair and get cozy. Need to blow dry? Wear it for a few mins to soak up any excess water before blowing it out.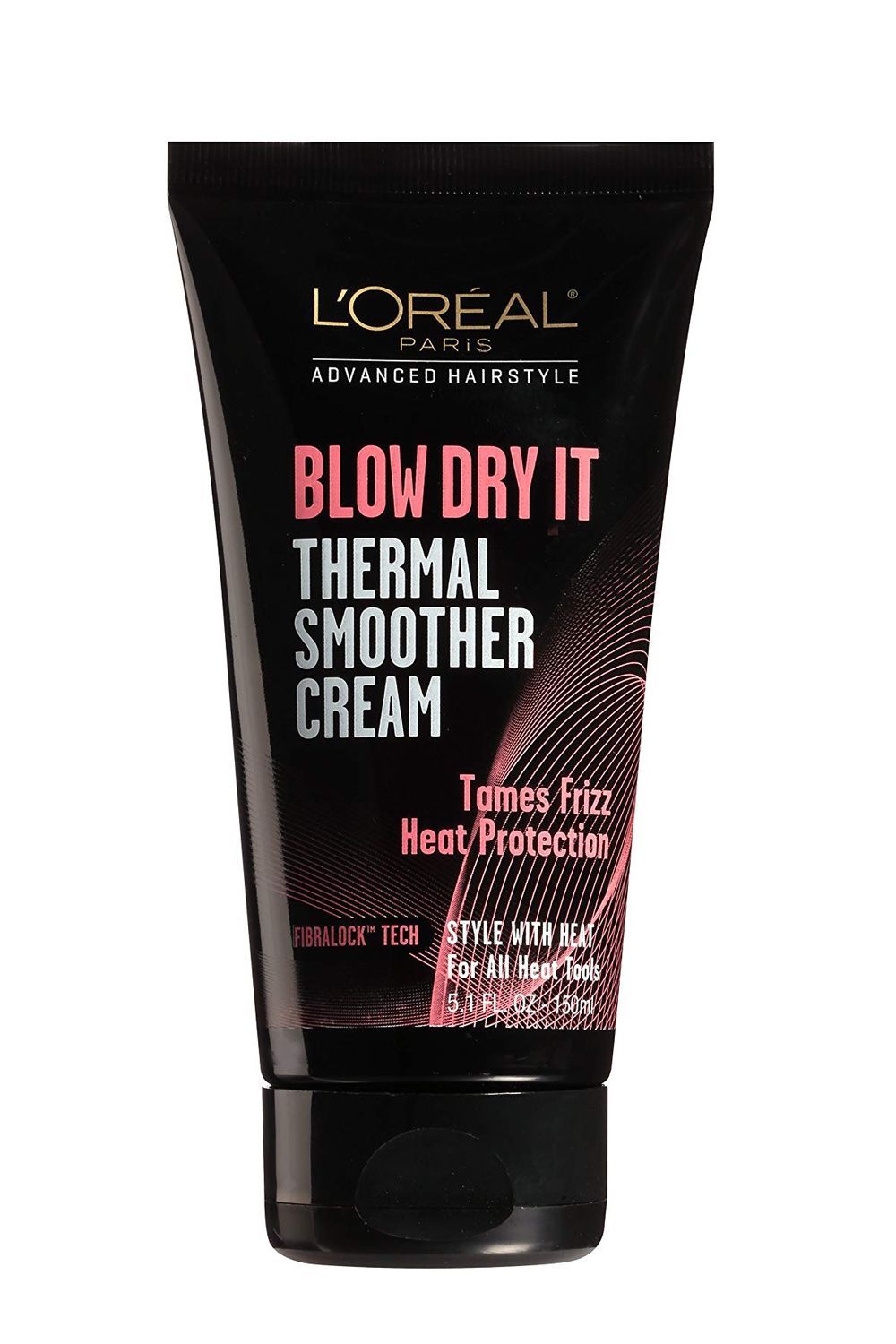 Next up, heat protectant. While your hair is still damp, smooth a quarter-size dollop of a flyaway-smoothing, heat-protecting cream all over (hi, this one from L'Oréal is my favorite). Follow with a quick blow dry—angling your dryer downwards will cut down on frizz and tangles—or let it completely air dry.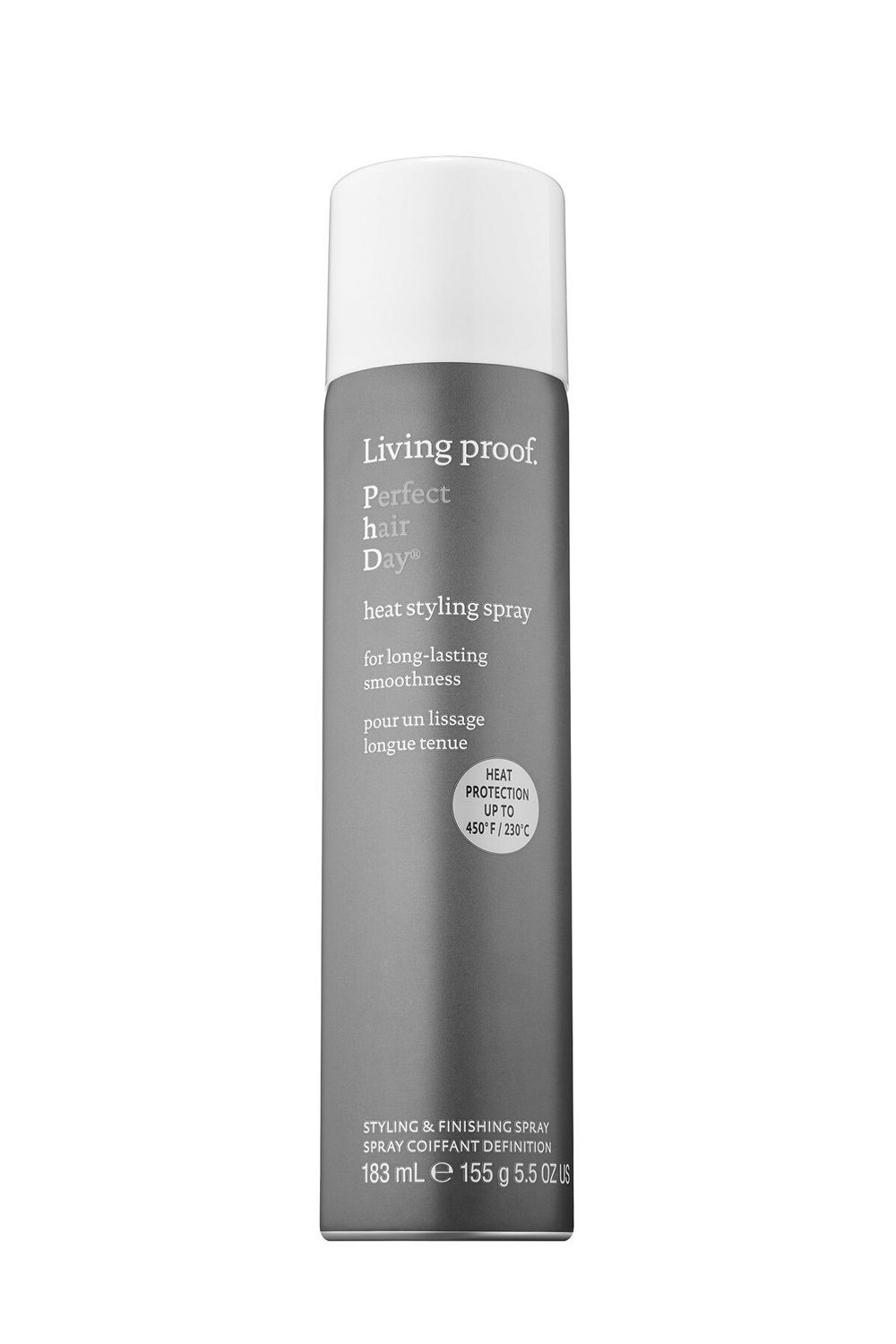 Once your hair is dry, you're ready for your second round of heat protectant. Blast your hair with a few quick spritzes of a lightweight, non-greasy spray like this option from Living Proof. I like to spray section by section to make sure each strand is coated, especially the ends and around my hairline.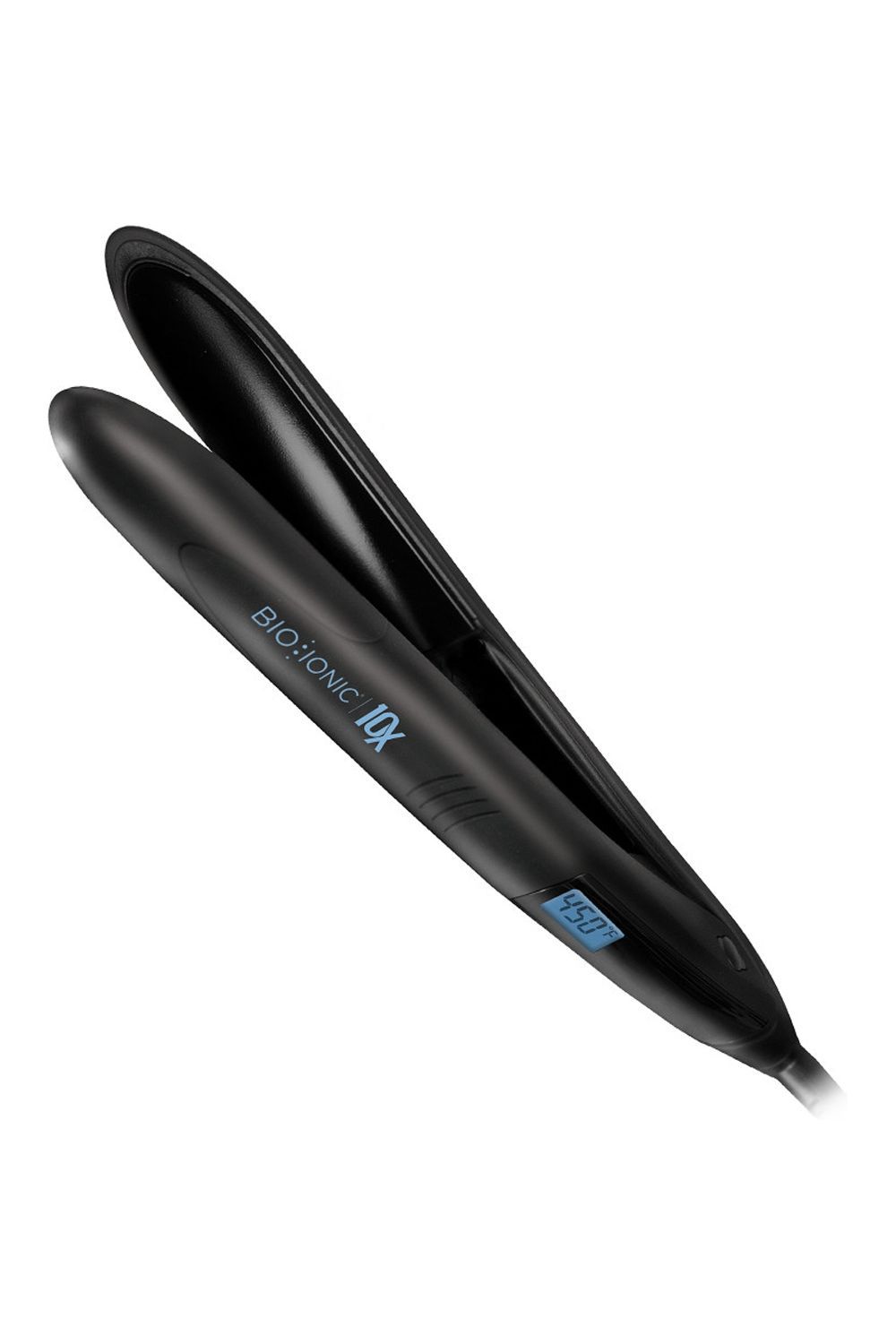 Now comes the step you've been waiting for: actually straightening your hair. BTW, flat irons aren't exactly a one-size-fits-all tool—you need to make sure you're using the best one for your specific texture. This Bio Ionic hair straightener has vibrating—yup, vibrating—plates that help evenly flatten out waves and curls with each pass, so you're left with fewer kinks.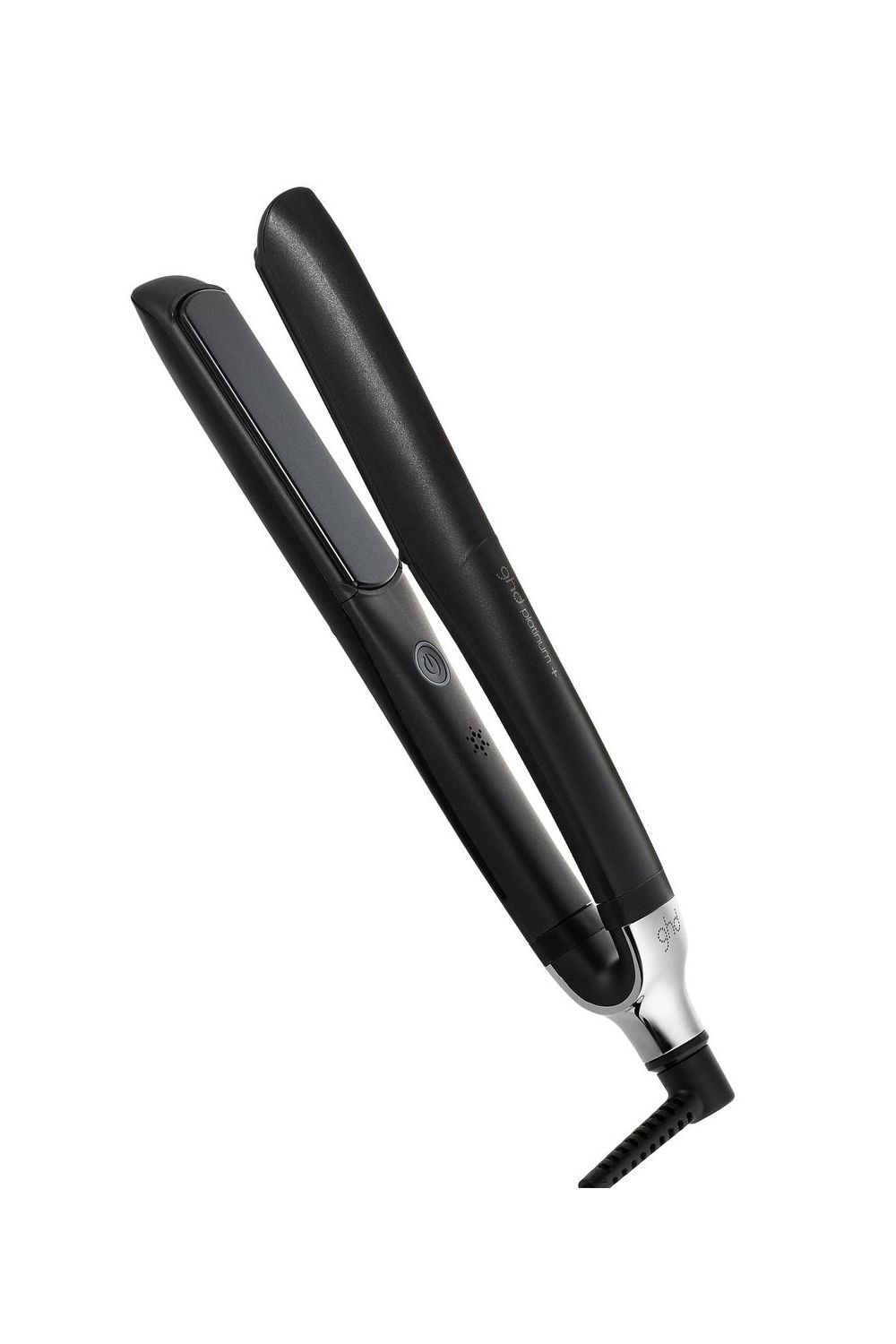 Got damaged hair? Spend your money on this Ghd flat iron, which takes 20 seconds to heat up to its max of 365 degrees (aka the highest, optimum heat for straightening your hair without completely damaging it).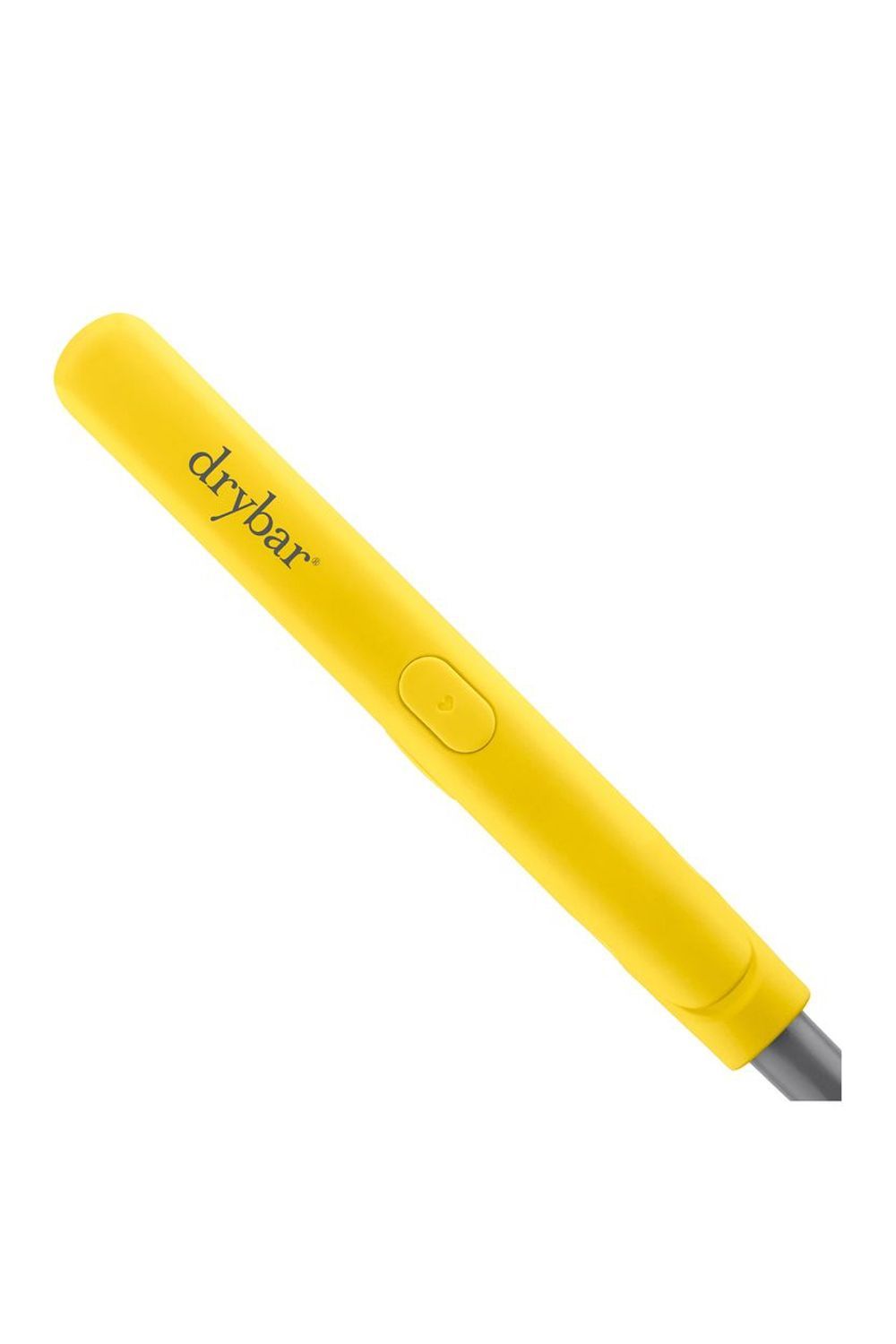 Take it from an emo girl who had eye-skimming bangs: Straightening your bangs can go really wrong really fast. That's why I love this mini iron from Drybar—it makes it way easy to clamp small hairs without burning your skin (which, yay!).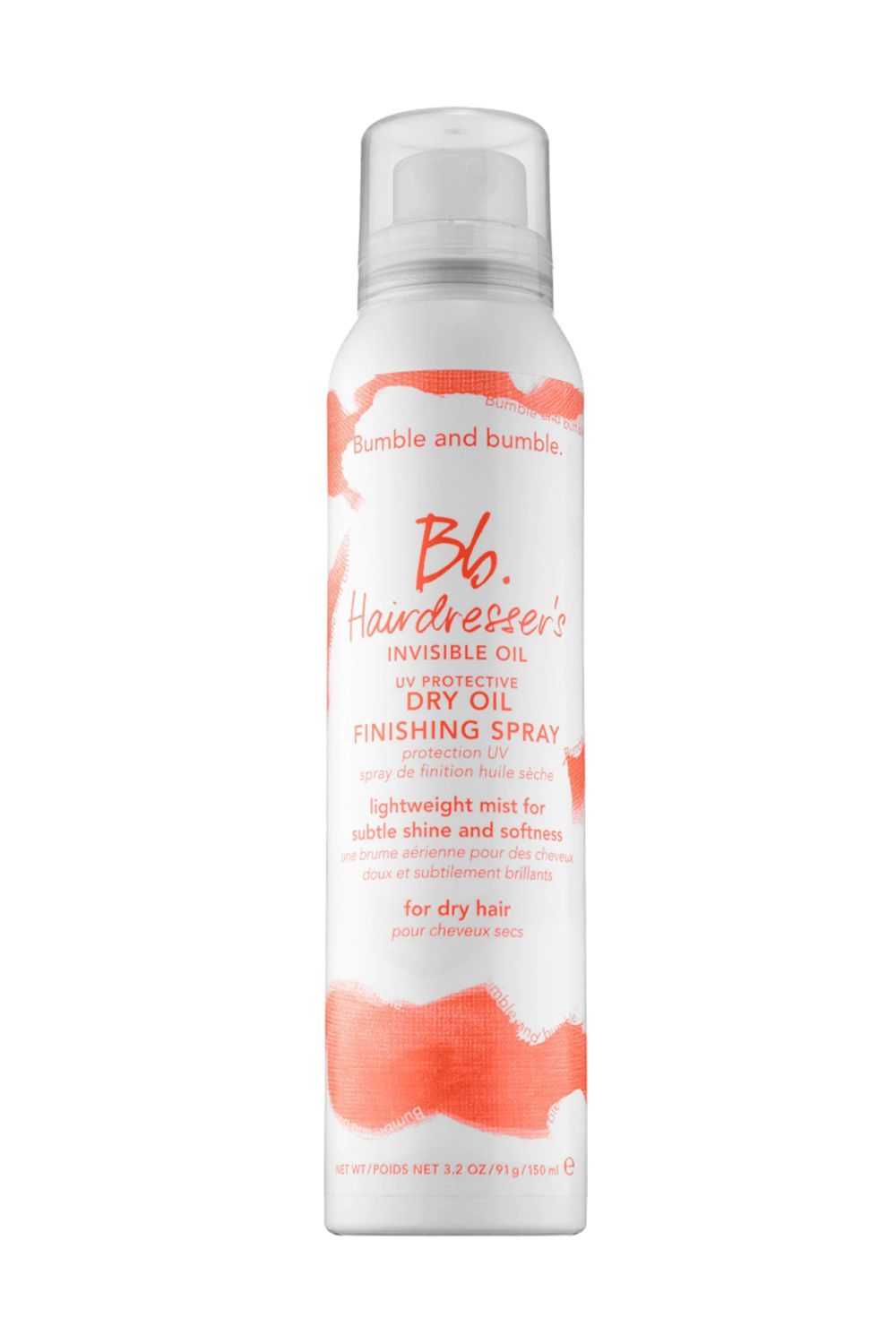 Last, but certainly not least, freshly flat-ironed hair requires a quick coat of finishing spray. This dry oil from Bumble and Bumble is a cult-favorite, and for good reason: It's lightweight enough that it doesn't make your hair look greasy, but it still gives you a nice dose of shine and hold. Spritz it on your hands, rub them together, then rake your hands through your hair, focusing on the mid-lengths to ends for mega shine.
By Amanda Walsh | Submitted On December 03, 2009
Those women who have thick, curly, frizzy or unmanageable hair have often use heavy gels or sleep in big curlers or spend too much money at hair salons in order to try to get their unruly locks to become sleek and silky like the hair-styles of fashionable women. The flat iron, also called hair straightener or straightening iron, is the way to tame uncontrollable hair into straight, lovely tresses.
There are some rules to follow before straightening can take place. Do not use a flat iron on dirty hair. The oils and dirt from the scalp, or leftover gel or hairspray from the previous day, can become fixed to the iron. They will cook on the iron and then damage or singe the hair. A hair straightener should not be used every day because that will cause drying and damage to the hair. Buy strengthening balms or anti-frizz gels that will protect hair when ironing.
The first thing to do when straightening is to wash the hair and then apply conditioner. After the hair is rinsed out, the hair can be left to air dry or a blow dryer can be used. It is better to leave the hair to air dry, rather than use a blow dryer, because that makes sure that the hair doesn't have to go through two heating processes. But if there is no time to let the hair dry naturally, a blow dryer may be used. To get rid of curls or waves in the hair, brush the hair at the same time as using the blow dryer.
The next thing is to plug in the flat iron to an outlet near a mirror, just as if it were a blow dryer. While it heats up, the hair can be divided into sections.
For medium to long hair, separate the hair into two sections. It is best to straighten the underlying hair first, so put the upper hair (from above ear level) into two top knots or use hair clips to anchor it into two sections at the top of the head. Put up one part on the left side and one part on the right to make it easier to work on one side at a time. Work on the lower half of the hair first.
When the top strands are in place so they won't get in the way, use a heat protecting spray or gel, which should be light-weight and not too heavy on the hair. Lightly spray the hair, or smooth a small amount of gel onto it, before using the straightener. It is best to use thermal products specifically designed for flat irons to protect the hair from damage and from the extreme heat of the straightener.
On the lower half, comb the hair to make sure there are no tangles, then separate a small section in one hand and use the other hand to put the iron around that section starting at the roots of the hair. Slowly slide the iron along the length of the hair from roots to the tips. It may have to be done several times before the hair straightens completely. When that section is done, do the next. When the lower part of the hair is completely straight, undo one of the upper sides and apply the same technique to that part. After one side is done, do the other. It is helpful to have a hand mirror to see the back of the hair in a larger mirror to be sure that the back is completely straight. If there are still some curls or waves in the hair, keep using the flat iron until they are gone.
Hacks we swear by for the best flat ironing experience.
You may be wondering, "Can I straighten my hair with leave-in conditioner?" Well, the answer is a little bit complicated. When you flat iron your hair though, you need to keep a few things in mind. Like temperature, first and foremost: Most flat irons nowadays can get up to 400 degrees or more (!), which is, literally, playing with fire. And since we care about both the health of your hair and your style, we urge you to follow our quick six tips before you flat iron your hair to make sure you aren't going to fry your ends. Read on to learn how a leave-in conditioner plays into flat ironing your hair and how to keep your hair in the best possible shape.
5 Ways to Flat Iron Your Hair Safely and Effectively
1. Hydrate thirsty hair.
In answer to your question, "Can I straighten my hair with a leave-in conditioner?" the answer is: technically, no. But, if your hair runs dry, it can be extremely helpful to use a leave-in conditioner after you wash and before you flat iron. It will help keep your ends from getting that dry, burnt, straw-like look. We suggest Emerge My Mane BFF Leave-In Conditioner. Not only is it going to hydrate your hair, but the Pequi oil and shea butter smooth down the outer layer of your hair for a sleek look.
Emerge My Mane BFF Leave-In Conditioner
3. Flat-iron when hair is dry, please.
For best results (a.k.a literally not burning your hair), make sure your hair is totally dry before busting out your flat iron by first blow-drying hair or allowing it to air-dry hair. It's a great option for gals with curly hair to start off your style by blow-drying your hair mostly straight. That way you'll have to spend less time with the heat directly on your hair. You could also just wash your hair at night and flat-iron the next morning.
4. Protect, protect, protect.
Whenever you do get to flat ironing your hair, use heat protection! We're serious, a good heat protector like Dove Style+Care Smooth and Shine Heat Protection Spray can save your hair. This heat protector makes sure that the heat isn't as damaging to your hair. Just spray it evenly through strands and let dry.
Dove Style+Care Smooth and Shine Heat Protection Spray
5. Heat her up!
Let's talk about flat iron heat for a minute. Did you know the optimal heat for most hair types is around 350 degrees? Sure, if you have very coarse or stubborn hair, you can go hotter than that, but if you have damaged hair or very fine hair, try a lower temperature. We suggest you start at the lowest temperature your flat iron allows, then bump up the heat as you see fit. It's the best way to keep from going in way too hot.
6. Section off and go.
To make your life a million times easier (and to prevent ironing the same section twice), section off your hair. You don't need to get wild and do a whole bunch of sections, but three or four sections will make things so much easier and help you see your progress as you go.
Thinking about trying out these hair straightening hacks? Make sure to snap a picture and tag us @AllThingsHairUS!
It's no secret that straightening your hair with a flat iron can cause heat damage if you're not taking the proper precautions; without first prepping your hair properly, using these popular tools can actually lead to some strand breakage. But there's no need to trade in your favorite sleek, straight hairstyle quite yet. With these tips from industry experts, getting glossy, silky, straight hair is as simple as following a few steps. From the essential products used before you start styling to the right techniques to employ, find out what experts swear by to achieve straight hair without the use of a flat iron.
Using a Round Brush
An at-home blow-out is a surefire way to create a straight hairstyle. Start with freshly washed, slightly damp hair. "Then set the blow-dryer to medium heat, while keeping the dryer above the head and pointed down. When you blow-dry the head downwards, you are not roughing up the [hair] cuticle, and it lays smoother, so less damage is done and the hair is left smooth and straight," says Marilisa Sears, artistic director at Marc Anthony True Professional.
While drying, be sure to use a round brush as it allows you to create the kind of tension you need to effectively manipulate the hair to lay the way you want it, notes Kat Lewis, BELLAMI head of education and expert stylist. "Specifically, a boar bristle round brush helps drag your natural oils down the hair shaft, leaving the hair feeling soft and shiny."
Smoothing Products
Once you're done brushing, it's important to avoid any watery hair products, like leave-in conditioners or gels. "This will add moisture and open the hair follicle and revert the hair to the texture it had before being dried," notes Giovanni Vaccaro, Glamsquad artistic director. Instead, use a finishing product that smooths flyaways or creates definition and separation at the tips.
These finishing products should also be full of things that will maintain your look. "Proteins that will help hold the style and protect against environmental damage, like macadamia oil, which works to seal the hair's cuticle [are good]. Also, stay away from ingredients like parabens and harsh sulfates," notes MariLynne Cosmillo, Cherry Blow Dry Bar's director of education. It's also important to avoid mineral oils and phthalates because they can strip your hair of natural oils—leaving hair dry, the scalp damaged and unable to straighten, explains Mindy McKnight, founder of Hairitage.
Professional-Level Treatments
Not interested in using any heat at all? Opt for a professional treatment for a semi-permanent effect like a Keratin Complex Express Blow Out treatment offered at many salons. It's a one-hour treatment "that contains a less harsh chemical makeup and a breathable formula that works to eliminate frizz and smooth the hair without completely flattening it out, so there's still body and movement for up to six weeks," says Trey Gillen, a hairstylist at O&M Salon in New York.
There are also options that contain low levels of formaldehyde and even some that are formaldehyde-free, like the Lasio keratin treatment, says celebrity hairstylist Nunzio Saviano. These treatments make the hair straight by injecting the porous parts of your hair with protein, but since it's less toxic, the newly straightened hair maintains. "And grows back mostly with its natural texture and shape. It lasts anywhere between four to five months and can be repeated without worrying about damaging the hair," he says.
Hair Care, Haircuts, Hair Styles, Hair Products, Grooming & Lifestyle
TUTORIALS
Last updated on July 15th, 2020 at 02:09 am
If you buy something through our posts (or "links"), we may receive a commission from your purchase
A hair straightener, also known as a flat iron, is a hairstyling tool used to straighten the hair. Now, a hair straightener is normally used on wavy, curly (coiled) or kinky hair but it too can be used on straight hair since the hair straightener allows for the straightened locks to be styled as layers.
While hair straighteners are most commonly used by women, flat irons do also serve a great styling purpose for men with medium length (or longer) hair. Used erroneously, however, hair straighteners will fry your hair and damage it beyond repair.
A hair straightener aka flat iron
A hair straightener is a clipping device in that it has two plates that are closed and clipped together, with a single lock (or several) of hair clipped in between the 2 plates. The hair straightener heats up, and it is the expelled heat that temporarily modifies (i.e. straightens) the hair. Because of the extreme heat that the hair is subjected to, you as a male must precisely know how to use a hair straightener, for there is no room for error.
How to use a hair straightener or flat iron
Clean your hair prior to straightening the hair. The hair should be clean and you should master the No Shampoo method for this.
Dry the hair: unlike for styling, you want the hair in this scenario to be thoroughly dried. It should not be left wet or damp.
Apply some heat protection serum to the hair. This is very important as it will minimize any damage from the heat of the hair straightener.
Grab a section of the hair, consisting of either 1 lock or several locks, and place the hair in between the 2 parts of the hair straightener. Try to place the hair straightener as close to the scalp as possible.
Close the plates of the hair straightener so they're clipped with the chosen segments of the hair in between the plates.
Run the hair straightener smoothly in one go till the end of the lock/s.
Repeat on any new locks you want straightened.
Easy, huh? Follow the tips below to ensure you get the most out of your hair straightener.
Tips to straighten your hair with a flat iron
Use the lowest temperature in the setting; this is typically 120 degrees Celsius (240 degrees Fahrenheit).
Use a high-quality hair straightener; buy one that is ceramic made like the one recommended below. Ceramic hair straighteners last many times longer than cheaper non-ceramic alternatives.
If you have very curly hair (e.g. kinky hair), it is a good idea to lightly blow dry the hair prior to straightening the hair with the flat iron. Remember, you also use the lowest temperature with the blow dryer (aka hair dryer).
Recommended hair products to straighten your hair with a flat iron
Hair straightener: purchase the HSI flat iron, which was reviewed by Paolo.
Heat protection serum: puchase this serum at Amazon.
Blow dryer: purchase this blow dryer at Amazon for the highest quality. A cheaper good-quality alternative on Amazon is this one.
I recommend you to invest in the above products if you want to straighten your hair because, by having the daily option of straightening your locks (be they wavy, curly, kinky or even straight shaped), you are then able to have a wider array of hairstyles open for you such as the Zyzz hairstyle or the Neymar Mohawk. And remember, if you decide to straighten your hair with a hair straightener, do it the right way as per this article!
All the best, gents.
For your male grooming needs, visit the Barbershop Forums, the mens style and fashion community with some epic male grooming stuff thrown in!
In the world of hair styling, flat iron is almost considered to be the core stable. After all, it literally only takes a few minutes to create a sleek hairstyle using the flat iron. However, one of the downsides of a flat iron is that people can often overdo them without even realizing. As a result of this, the hair end up getting damaged and dried out. In comparison, something like the Japanese hair straightening would be much more suitable in the long-run.
Nevertheless, for those who want to stick with the flat iron, it is extremely important to know how often they should use it.
In this article, we aim to answer this question with some extra information including the damages and precautions.
In the past, people used to rely on flat irons for special occasions only. However, since they provide very quick results, they are not used on a daily basis. While this might be a habit that is very difficult to give up, giving it up actually provides a number of benefits. First of all, it will allow you to undo all the damage caused by excessive styling. So in order to avoid further damage, strictly limit the use of a flat iron for hair straightening.
In case you want long-term results, consider going for keratin treatment or other similar hair straightening treatments.
How much damage can flight irons cause?
Nowadays, flat irons are available at a much cheaper price. However, they tend to dry the hair out very quickly. In comparison, ceramic flat irons are far less damaging as compared to metal flat irons. However, it is also important to note that flat irons made of ceramic tend to apply a higher level of heat. As a result of this, the hair bonds get damaged. This results in breakage from the middle, along with split ends.
What is the right method?
Well, if you are planning to use the flat iron to straighten your hair on special occasions, it is important t know the right method. This way, you can minimize the amount of hair damage and loss. First of all, make sure that your hairs are totally dry before starting out. Otherwise, the shaft may get burned.
Furthermore, avoid holding the flat iron in one place for long. Otherwise, your hair will end up burning. Instead, move it from the root to the tip.
Precautions and preventions
The best way to minimize the damage from a flat iron is to condition the hair whenever you wash it. Then, leave the conditioner in the hair for a while before washing off. Moreover, also protect your hair from other harmful factors such as the sun. At the same time, get your hair trimmed on a regular basis in order to allow better growth.
Occasionally using an essential oils mask or an egg mask can also help. This is because eggs contain a wide range of nutrients that your scalp needs. However, make sure that you are not overdoing this.
Ending note
In case you want long-term straightening results, we will recommend you to go to a keratin treatment salon Bethesda. Otherwise, with a flat iron, your results will always be temporary (however, the damage can be in the long-run). So, it is not really worth it to use the flat iron on a daily basis. For that, there are a range of other straightening treatments that are highly safe and tested. Ultimately, the health of your hair matters and you would certainly not want to give it up for temporary results.
Whether you want to straighten your hair for a super-sleek evening look or create more manageable curls, you can choose from a variety of styling products and appliances. Using a regular clothes iron may seem more like an urban legend than a practical solution, but with the proper technique and care a clothes iron can be the most efficient and long-lasting way to straighten even the thickest and curliest hair.
Wash your hair with a mild shampoo and strong conditioner to protect it from the damage caused by hot appliances. Gently towel hair until it is just damp. Massage a straightening gel through the length of your locks to help them maintain the straightness throughout the day.
Blow dry hair with a medium temperature setting. Start with the dryer at the top of your head and move it down the length of your mane to straighten hair as much as possible and avoid adding too much body or frizz.
Separate hair into two segments parted down the middle. Pin one side up out of the way. Select a small section of the remaining hair and clip the rest back. Plug in the iron and set it to a medium-high non-steam setting.
Place a towel-wrapped palm underneath the top of the loose section of hair. Press the clothes iron to the outer surface of the hair as if clapped to your hand. In one long smooth motion, move the iron and hand down the length of the hair and through the ends. One pass of the iron should be enough to straighten hair.
Repeat with another segment of hair until the entire side is straightened, then clip that side back and perform the steps again for the second side. After all sections have been straightened, brush hair to blend the sections back together.
A clothes iron works especially well for thick hair that cannot be straightened with normal hair styling appliances. Experiment with the iron temperature setting to find the most appropriate heat level for your hair type. Adjust the setting gradually to avoid burning.
Warning
Use the clothes iron only occasionally to avoid excessive damage to hair.
A short bob haircut is a style with blunt ends that frames the face. A short bob can stop anywhere from the cheekbones to just above the chin. Flat ironing the short bob hair cut will give you a sleek hair style. You will want to use a few additional products to protect your hair from the heat of the styling tools.
Squeeze a dime-sized amount of heat-protection cream into your hands and work it through your hair from the roots to the ends. This product will prevent your hair from getting frizzy and damaged from the styling tools.
Blow-dry your hair, using the comb to straighten your hair as you go. Make sure your hair is completely dry before you flat iron it. While you're drying your hair, turn on your flat iron. The coarser your hair is, the higher you need to set the iron.
Start in the back of your hair. Separate a small section of hair and comb it out. Place the section of hair between the flat iron blades and close the flat iron. Pull it towards the ends of your hair while exerting gentle pressure to keep it closed.
Move to the next section of your hair and repeat the process of combing and flat ironing. Move from the back of your head to the front and from the bottom section of the bob to the top. If you reach any sections that are too short to run through the flat iron, simply close the flat iron over the section and hold it there for three seconds to straighten it out.
Spray hairspray over your hair when you're done flat ironing. This will prevent frizz and hold the shape of your style.
Yes, you can go smooth even without heat!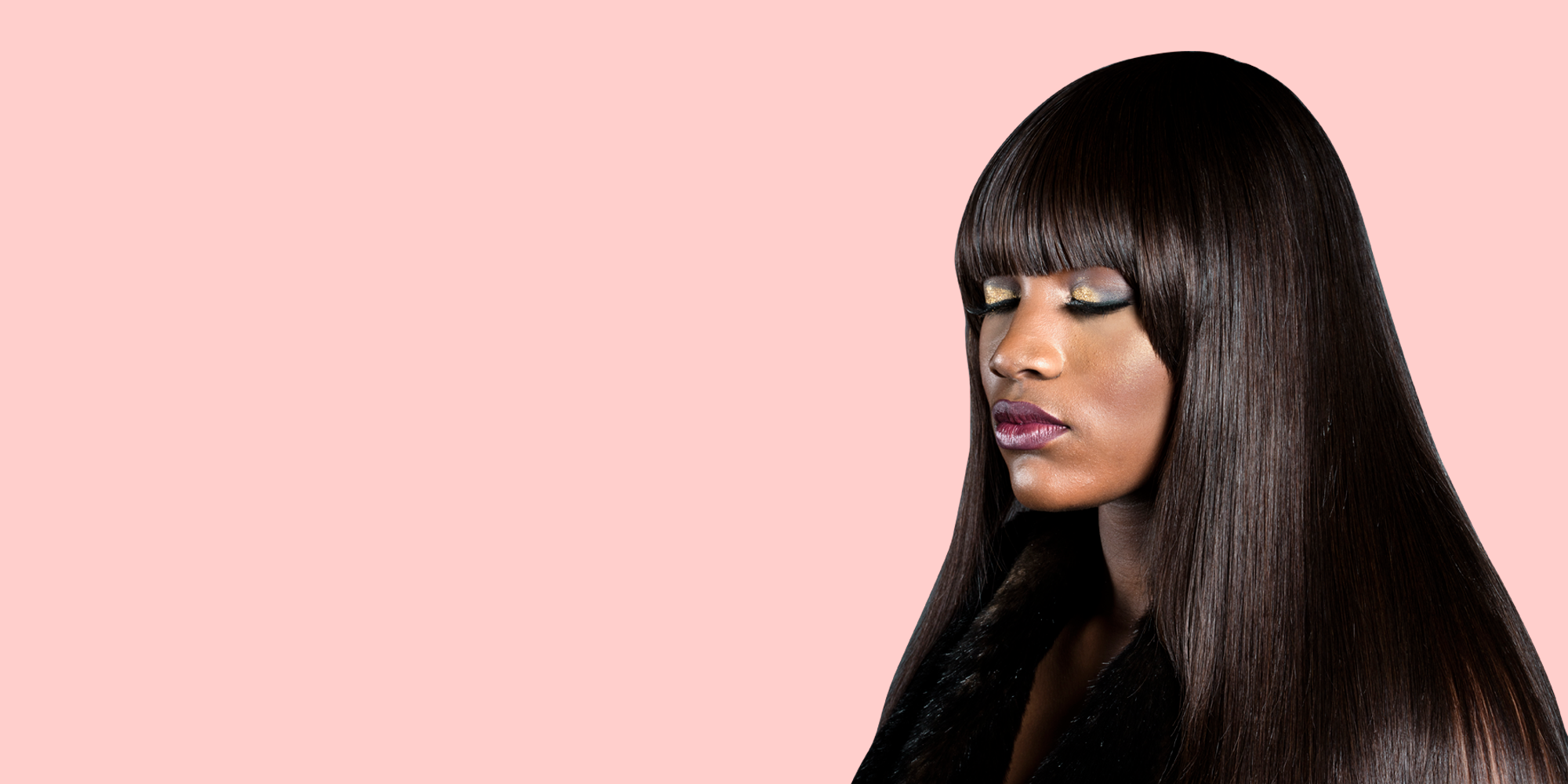 Hair trends may come and go, but straight, smooth strands are a classic look that never goes out of style. That said, getting salon-level results at home can be tricky. So we asked Good Housekeeping Institute Beauty Lab experts and top styling pros for their hair straightening secrets.
Here, they explain how to straighten your hair at home perfectly with a straightener or flat iron without damaging it (including curly hair!), plus how to naturally straighten hair without heat:
How to straighten hair with a flat iron
It may seem, well, straightforward, but GH Beauty Lab scientists reveal their key techniques for smooth sailing when it comes to flat ironing your hair.
Get smart about straighteners. No research suggests that a flat iron's materials (like titanium, ceramic, tourmaline, and copper) have different effects on hair, explains GH Beauty Lab Chemist Danusia Wnek. Instead, choose a tool that fits within your budget and hair's needs.
Protect and smooth strands. In general, unless your hair is naturally somewhat straight, it's best to start with a smooth blow-dry so you have to do less work with the flat iron, which saves both time and potential hair damage. Post-blow dry, apply a small amount of a heat-protective styling product all over hair and be sure it's fully dry before flat-ironing it (if your hair is prone to frizz, opt for an anti-frizz serum).
I.D.your heat level. When it comes to heat tools, "Begin at a lower temperature and raise it as needed," Wnek advises. Use low heat on fine hair (240ºF to 330ºF); medium heat on medium-textured, healthy strands (330ºF to 370ºF); and high heat on thick, natural hair (390ºF to 445ºF). If you have chemically treated hair, which is more susceptible to damage, go even lower.
Work from the top down. For the most uniform finish, clamp the flat iron onto a 1-inch section of hair at the roots and slowly pull the closed iron straight down to the ends. Release and repeat on the rest of hair.
How to straighten curly and natural textured hair
Whether you're blessed with natural waves, curls, or coils, you can play with smooth styles, too, thanks to these expert tips tailored to your texture.
Choose the right tool. When it comes to straightening textured and curly hair, GH Beauty Lab testing has found both ceramic and titanium flat irons, which are commonly used, to be good conductors of heat and effectively smooth even coarse strands. Most importantly, you'll want to pick a tool with adjustable heat to get hair sleek without damaging it.
Set the best temp. Picking the right temperature is key to minimizing damage. Here are the guidelines for natural hair, according to Leigh Hardges, a hairstylist at Maxine Salon in Chicago. Keep in mind these ranges are a bit different than the above temperature settings in order to effectively smooth thick, coarse, or damage-prone strands:
• Use low heat on fine curls (320ºF to 350ºF)
• Use medium heat on normal-thickness natural hair (350ºF to 385ºF)
• Use high heat on coarse hair and curls (390ºF to 425ºF)
One caveat: "If you have a 4c curl type, never go above 375ºF or 380ºF," as this texture is especially damage-prone, Hardges advises.
Do some prep. Make sure hair is completely dry before flat ironing and always apply a heat protectant product (and let it dry) before beginning, Hardges recommends, which is even more important for fragile natural and curly textured hair.
Divideyour hair into vertical sections, which will prevent your arms from getting tired too quickly. Work from your roots to ends, pressing firmly as you move down the section to prevent having to go over it multiple times." Try your best to only do a single pass from the mid-strand down to the ends, as that is the the oldest hair on the head and most prone to heat damage," Hardges says.
How to straighten hair without heat
Is it possible to fully straighten your hair without heat or a flat iron? Not entirely, unless your hair is fairly straight to begin with, pros say. But you can get a smoother style using rollers. For "the roller trick", which adds sleekness to hair without heat, use large velcro or plastic rollers, advises Olivia Smalley, hairstylist and Joico Brand Storyteller in Fort Lauderdale, Florida. "The bigger the roller, the smoother your hair will get," she explains. Here's how:
Set up. Thoroughly towel-dry your hair, then smooth on an air-drying styling cream and comb through hair to evenly distribute and detangle before styling.
Section your hair into large two to three inch pieces (you'll need one roller for each section). "The number of sections you'll need depends on the thickness of your hair and the size of the rollers, but you'll probably need at least six rollers, three on each side," Smalley says. "If your hair is tightly coiled or very thick, you may need eight or more."
Wind a section of hair, starting near the ends, up around a roller moving away from your face, until all strands in the piece are wound in the roller and you've reached the roots. Use a bobby pin or pin curl clip to secure the hair in the roller if needed. Repeat on the rest of the sections. "Affix the rollers as tight to the roots as possible for the best straightening effect," she advises.
Allow strands to air dry completely in the rollers, then unwind the each one and brush through hair.
Curling irons are great tools to have on hand. In fact, you've probably used one many times to take your hairstyle up a notch. If you don't have a curling iron available, however, you can actually use a flat iron to curl your hair in a pinch. Yep, it's true! All it takes is a little bit of practice—and the right tips based on if you have short hair, medium hair, or long hair. Ready to learn how to curl your hair with a flat iron? Grab your straightener—and a heat protectant—and follow along for beautiful flat iron curls.
THE BEST FLAT IRON FOR CURLING YOUR HAIR
Can you curl hair with a flat iron? Yes, but just any old flat iron won't do. There are a lot of different flat irons available, and in addition to offering different features, like temperature controls, ceramic plates, and automatic shut-off options, they come in a full range of sizes. As far as the best flat iron for curling your hair goes, you'll want to use a straightener that is only one or two inches wide.
It's a good idea to steer clear of flat irons that are flat with large paddles, since you won't get round curls from these, plus it'll be difficult to wrap your hair around them. A thin flat iron that's one to two inches in width is the perfect size for creating curls. It can also be beneficial to look for a hair straightener with rounded ends, as these tend to make curling your hair a little bit easier.
HOW TO PREP YOUR HAIR FOR USING A FLAT IRON
Before learning how to curl your hair with a flat iron, you'll need to put in the proper prep work. The best way to prep for curling hair with a flat iron is to blow-dry it smooth first. Start in the shower by using a smoothing shampoo and conditioner system, like the L'Oréal Paris EverSleek Keratin Caring Shampoo and L'Oréal Paris EverSleek Keratin Caring Conditioner.
After hopping out of the shower, apply a heat protectant. Try the L'Oréal Paris Advanced Hairstyle SLEEK IT Iron Straight Heatspray. Now it's time to blow-dry your hair! Section your hair off so that it's easier to dry, and use a paddle brush for a smooth finish. Once you're done with that, you're ready to move on to the next step. That is to say, you're ready to put your flat iron to work and master how to curl hair with a straightener.
HOW TO CURL YOUR HAIR WITH A FLAT IRON
When it comes to learning how to curl your hair with a straightening iron, there isn't just one method—there are actually quite a few! Today, we're going to highlight one of the most popular techniques. You'll be able to master this how-to with just a little practice, trust us. While it might be tricky at first, the more you do it, the easier it'll become.
To start, split your hair into sections so that it is easier to work with. If you have thinner strands, a top and bottom layer should be sufficient. Thick hair may need to be divided into further sections.
Begin curling by clamping your hair inside the flat iron where you want the curl to start. Wrap the ends of your hair over the flat iron, while twisting the iron toward you. Hold for a few seconds. Keep the ends in your grip, and gently pull the iron down until you reach the ends of your hair, then let it go. The process can be boiled down to clamp, wrap, twist, and pull. If you're a visual learner, watch the video above and mimic the movements with your flat iron.
Editor's note: You can actually decide to roll the flat iron over or under—just make sure to pick the same direction for every section of hair so that your flat iron curls look uniform.
HOW TO CURL SHORT HAIR WITH A FLAT IRON
Styling short hair with hot tools may seem difficult, but we promise it can be done. All you need are the right tools and a little patience. While the steps we shared above are perfect for medium or long hair, to curl short hair, we recommend a different approach.
Once you're ready, clamp the section of your hair, starting as close to your roots as possible. Twist away from your face and hold the hair for a few seconds. Slightly release your grip and roll your hair in between the plates of the flat iron to repeat. Now, you can clamp and release the flat iron until you reach the ends of your hair. This leaves your strands with wavy curls. Pro tip: Switch up the direction you're curling your hair for a more voluminous look.
HOW TO KEEP YOUR FLAT IRON CURLS FROM DROPPING
After you're done curling your entire head of hair with a flat iron, break up the curls with your fingers for a looser (and chicer) final look. Your last step should be setting your hairstyle with hair spray. Spritz on the L'Oréal Paris Elnett Precious Oil Satin Hairspray, then show off those beautiful waves or curls!
Now that you know how to curl with a straightener, let's move on to more hairstyle ideas and tutorials. Head on over to our article, 10 Step-by-Step Hairstyle Tutorials for Cute, Easy Hairdos, next.
Straightening your hair with a flat iron can help make it look super-smooth—it's no wonder it's the go-to heat tool of so many women. In fact, straight hair has been a beloved beauty look for centuries! Of course, overdoing it with any heat tool can lead to damage, so you're going to want to exercise caution when it comes to using your flat iron. Your technique—and the hair styling products you use—are important as well. Want to take your hair straightening game to the next level? Below, we're setting the record straight on how to use a flat iron the right way. So, the next time you go to use yours, remember to follow these flat iron-focused beauty tips!
FLAT IRON TIP #1: USE SHAMPOO AND CONDITIONER FOR STRAIGHT HAIR
Start your hair straightening routine in the shower and replace your standard shampoo and conditioner with ones for straight hair. While it's true that hair care systems meant for straight hair won't instantly provide you with sleek, straight hair, á la a flat iron, they're perfect for prepping your hair for straightening.
FLAT IRON TIP #2: SPRITZ ON A HEAT PROTECTANT SPRAY PRIOR TO STYLING
One of the golden rules of hair care is to protect your locks from heat. And that means limiting exposure to all hot tools like blow-dryers and curling wands. But what about when you really want that oh-so-sleek look that only a flat iron can provide? Well, just remember to use a heat protectant spray or lotion beforehand to help provide hair with some protection against high temps. The L'Oréal Paris Advanced Hairstyle SLEEK IT Iron Straight Heatspray offers protection for up to 450 degrees and can be used on damp or dry hair prior to heat styling.
FLAT IRON TIP #3: ONLY STRAIGHTEN DRY HAIR
While it might be tempting to speed up the straightening process by starting on hair that's still slightly wet, this is definitely a hair care no-no. Your hair is at its most fragile when its wet, so wait until it's completely dry before you get to straightening. Another option: Once your hair is about halfway dry, blow-dry it the rest of the way, then flat iron. If you go that route, just be sure to use a heat protectant first!
FLAT IRON TIP #4: SEPARATE YOUR HAIR INTO SECTIONS
For the best results, separate your hair into different layers while you style. Use a clip to hold the upper layer out of your way, and straighten the hair that's left down first. Slowly release sections of hair from the clip and use the iron on one section at a time until all strands are straight.
FLAT IRON TIP #5: CONSIDER DIFFERENT SIZES
Not all flat irons are the same. While the standard size for flat iron plates is 1 inch, depending on your hair length, you may need a different size. Generally, if your hair is on the shorter side, you should be using a smaller flat iron. If your hair is longer, a flat iron with bigger plates will be better.
FLAT IRON TIP #6: DON'T TURN UP THE TEMPERATURE
Don't assume that the hotter your flat iron gets, the straighter your hair will be. By cranking the temperature up too high you may actually be causing unnecessary damage. Instead of immediately putting heat tools on the hottest setting, start off using them on one of the lowest temperatures. If you think your hair requires more heat, you can gradually turn up the temperature.
FLAT IRON TIP #7: MAKE EACH PASS COUNT
Slow and steady! When using a straightener, don't focus on speed. Rather, pay attention to going over each section of hair as few times as possible. Pull the tool through your hair slowly, allowing the heat to work out any twists and curls with a single pass. Repeatedly straightening the same section over and over again can cause damage.
FLAT IRON TIP #8: CREATE VOLUME AT YOUR ROOTS
Despite the name, flat iron, your hair doesn't need to be totally flat after straightening. Rather, with the right technique, you can have voluminous, straight strands. To keep your locks from looking lank, create volume at your roots. Don't worry, it's easy! When you get to the top layer of hair, straighten each section upwards, pulling the flat iron towards the ceiling. And that's all there is to it, switching the direction you move the flat iron in is the trick to a voluminous 'do.
FLAT IRON TIP #9: USE IT TO MAKE WAVES, TOO
Contrary to the name, flat irons aren't only good for flattening. You can use the same tool for creating soft wavy hair or bouncy curls. To add shape and body to your look, start by placing a piece of hair in between the iron's plates. Bear down on the section and start turning the straightener away from your face, making your hair flow over the iron. Pull the iron through your hair, continuing to hold down to create a curvaceous curl. Repeat!
FLAT IRON TIP #10: FINISH WITH A SERUM
Complete all your straightening efforts with a finishing product. Once you're done with your flat iron, work a hair serum through your tresses to help keep your mane smooth. Try the L'Oréal Paris EverSleek Frizz Finish Oil-In-Serum, which helps to tame frizzy hair and flyaways and smooth each strand. It also provides a silky finish and luminous shine, making it the perfect way to complete your look.
FLAT IRON TIP #11: CLEAN THE PLATES REGULARLY
Ironing your hair with product in it can cause build up on the plates, making the tool less effective over time. Your straightening solution: Use a cloth dampened with rubbing alcohol to help gently sweep away dirt and grime from unheated plates. A quick cleanup and your iron should work as good as new!
FLAT IRON TIP #12: PUT IT AWAY COOL
Allow your heat tools to cool down before placing them in their designated spot. This ensures the iron won't melt or singe anything by accident. Once it's no longer warm, wrap the cord around the body and store safely until the next time you're ready to use it.
Editor's tip: If you've ever found yourself traveling with your flat iron, without time to let it cool down before packing up, you'll want to invest in a flat iron case. The protective cases, with heat resistant liners, will keep your luggage safe while the heat tool is still hot.
Want to be a curling iron pro, too? Here's How to Use a Curling Iron.
You can straighten your hair with a curlers and flat iron. They both work by molding the hair. Holding the hair for a few seconds will cause the hair bonds to reform in a new shape. The bond will stay in place until it is broken. You can use water to help break down the hair bond and straighten your tresses. However, you should not let the water touch the straightened hair.
How to straighten your hair with a curling iron
When styling your hair with a curling iron, you should start at the top and run the iron down the length of the hair. Don't stop halfway because it will dent the hair. Afterwards, run your fingers through your hair to complete the style. If you do not want your tresses to get damaged, apply some hairspray. If you are not comfortable using a flat iron, use a curling wand.
The temperature of your hair should be around 392 degrees Fahrenheit for thick and fine hair. Thin hair should be straightened using the lowest heat setting. If you have a wavy or curly style, you can adjust the temperature by turning the device off before you begin. After finishing the process, you can go back to straightening your tresses. The process will take a little more time, but it will be well worth the effort.
A curling iron should be used with a clamp for maximum safety
The barrel of the flat iron should be one inch in diameter. Using a comb to detangle your tresses will help avoid damage. Besides, a clamp prevents the hot end of the barrel from contacting your hair. This is a great way to curl your tresses.
When using a curling iron, remember that a clamp is essential for best results. The clamp will keep the hair in place while you're styling it. It is recommended to use a clamp with a curling iron to get the best results. You should also practice using a flat iron to straighten your tresses. It's very useful for those with brittle, thin, or damaged tresses.
A curling iron is that it allows you to create a variety of styles
You can achieve loose curls, beach waves, or soft waves with a curling iron. The only catch is that you need to know how to use it correctly. If you don't have this knowledge, try to look for a tutorial on how to straighten your hair.
If you want to learn how to straighten your hair with a curve iron, this article will help you. First, you need to purchase a curling iron. You'll need a straightening iron with a clamp. You should use the clamp to get the best results, as it will hold your hair in place while you're curling. Also, you will need a few different pieces of hairstyling tape to make sure you're not damaging your hair.
Clip the top portion of your hair back and keep it away from your face
Next, take a small section of hair and clamp the iron onto it. Pull it down to straighten your hair evenly. Once you're satisfied with the way your hair looks, undo the clips and spray your hair to protect it. If your hair is long, you can straighten it in sections.
Before curling your hair, you should make sure you have wet hair. It's important to untangle the hair before using the curling iron. Start with the bottom section. Grab the curling iron with one end of your hair. Press down on the section of your curly hair, ensuring that the curl is evenly distributed. Once you've achieved the desired look, unclip the top part and spray it with hairspray to set the style.
Then, take a small section of your hair and section it
Using a smoothing serum will help to prevent the curling iron from sticking to your hair. You can also spray the entire head with the product, but it will result in less coverage. Apply the serum on the sections of thick and curly hair and leave them for a couple of minutes to straighten. You can practice this technique until it becomes second nature.
To straighten your hair with a curling wand, start by clipping the top section away from your face. Then, place the curling iron on the top of a small section. Continue to pull it down until the entire section is straight. Once you've finished the process, you should unclip the top and the rest. You can also spray hairspray to help your hair stay in place while you're curling.
Use a flat iron with plates
When using a curling wand, be sure to use a flat iron with plates. The barrel will prevent the curling wand from getting hot when the hair is straight. If your hair has several layers, use a wide comb to break the curls. A wide comb will also help you straighten your wand more effectively. If you have curly locks, it will be easier to curl your wand with a wider barrel.
If you ever straighten your hair with those super hot flat irons, or even if you let your hairdryer stay in one place too long, you are all too familiar with the terrible smell of burned hair. Not to mention, you have turned your hair into straw.
What to do? I have accidentally burned my hair one too many times and the worst is sitting at my desk smelling that burnt hair all day. It is enough to make you sick! I have received a few emails from readers about this issue – My straightening iron just fried my hair! asking how to fix it. Here are a few ideas to help repair your hair after this common mistake.
After the burn, reach for your hydrating leave-in conditioner or light oil. Even olive oil will work in a pinch! Run your fingers through your strands and concentrate on the scorched part. Be careful not to saturate. A little will go a long way. After you apply, comb through with your fingers.
"It will instantly smooth and moisturize the straw-like texture," says DJ Riggs, hairstylist and TIGI creative director. This trick will also get rid of the smell of burned hair.
Use a heat protecting spray.
If your iron has a temperature gauge, keep the temp at no higher than 350 degrees.
Need to go a step further because your hair is very damaged from all your flat ironing? You can apply a protein hair mask. They can be purchased at any salon or beauty supply store. Apply to your hair twice a week. A hair protein mask is a deep conditioner protein-enhanced treatment that is helpful for hydrating and nourishing the hair that has been damaged from the burn.
If you have had your flat iron for more than five years, it is probably time to replace it. After time the temperature gauge will stop working properly. Replace it with ceramic plates that will evenly distribute heat and reduce damage.
Make sure your hair is completely dry before you use a flat iron. If your hair is wet or damp, the flat iron will boil the water that is in your hair and damage the ends.
Sleek, glamorous, and always fashionable, straightened hair is one of the most popular hairstyles in the world. Done in professional salons or at home, it is also one of the most accessible and easy to do. But after we finish the look and head out in the world, we see that little frizz here, that little curl there, and we soon look like we just visited a steam room. This is one of the most frustrating feelings but today we are going to find out how to battle this ongoing problem.
1. Be Careful When You Choose To Straighten Your Hair
Image Credits: Pinterest
This is one of the most important points on our list. If the weather outside is dry and sunny it means that it is also a perfect day for straightened hair. But if the weather outside is very humid or it is even raining, you may want to avoid growing some white hair of frustration from a bad straightened hair day. Also, if you are traveling in tropical areas it is better to leave your flat iron at home.
2. Less Sweat Means Longer Wear
Sweat is largely made of water and we all know that water is going to ruin any straightened hairstyle. If you want to hit the gym or to go for a jog, make sure that you are tapping the sweat from your scalp, forehead, and neck to prevent the hair from frizzing and curling.
Indique's Best Selling Products:
PURE STRAIGHT HAIR EXTENSIONS
REMIX RELAXED CLOSURE 4X4
SEA BALI STRAIGHT LACE FRONT WIG
3. Use The Appropriate Flat Iron
Image Credits: Pinterest
Different hair texture needs different flat irons. Do a bit of research and see which is the best for you. This step is extremely important especially if you are straightening long 4c hair. Before you use a flat-iron consider the size of the flat iron, it's plate size in regards to your hair texture, metal used in the plate, and voltage while using the iron. Using the wrong flat iron can lead to unnecessary frustration and also damaged hair.
4. Deep Conditioning
This is one of the best ways to make sure that your hairstyle lasts. Even though it is not a hair straightening treatment, it will greatly improve the texture of your hair, making it behave better after the straightening process. Just make sure that the conditioner you use is highly moisturising and is of good quality. Make sure you don't use leave in conditioner before straightening your hair out.
5. Satin Pillowcases
Image Credits: Pinterest
Yes, you heard that right. These pillowcases will make your hair straightening last longer because you will wake up with less frizz and knots in your hair. They can also prevent the horrid hair breakage of chemically treated hair. It also helps in retaining the hair moisture. In short satin pillowcases will help your hair with healthy life.
6. Headwraps
They are useful when sleeping or when heading into humid environments like the bathroom. Taking a bath while having this glamorous hairstyle is possible as long as you protect your hair from humidity. They've recently become quite trendy in the fashion industry and gives your hair a healthy environment along with the fashion and trends.
7. Straightening Brush
Image Credits: Pinterest
The hair straightening brush is one of the best inventions in history and it can be used in the hair straightening process itself or for touch-ups and it is particularly useful is you are straightening 4c hair. It can be a good alternative to traditional hair iron and can give a really long lasting effect.
8. Use The Correct Heat
Most of us tend to hop to the highest temperature but this can lead to dry, damaged, and coarse hair that will go frizzy. See the manual of the flat iron and set the correct temperature for your hair. A perfect amount of heat can do wonders on your hair so make sure that you understand your hair texture before you set the heat on your iron for straightening.
9. Don't Forget The Roots
Start straightening from the roots down. Many women tend to neglect this part from the feat of burns but a lasting look begins from sleek and straightened roots. Apart from straightening make sure sure you condition your hair properly else that can lead to breakage and split ends.
Straightening your hair is pretty easy with an HSI hair straightener and HSI's hair products, but one of the biggest challenges that many of us face is getting a little bit more volume, or any volume at all into our hair once all is said and done. More than once, we've heard people complain that they finish straightening their hair, and it simply falls flat.
There are some people who like the 'flat' look, but if you're someone who wants a little bit more volume in their hair, then you're probably searching desperately for products and methods to get the volume back into your hair and give yourself the look that you've been imagining all along. Yep, that's a challenge, but we have a few key pieces of advice here that should get you to where you need and what to be even after you use flat irons for hair.
Tips for Maintaining Volume with Flat Irons for Hair
In its own way, straight hair can be extremely pretty. It's very sleeping, it's shiny, and it moves well. The problem is that hair straighteners often leave it with no volume and no movement, so to start, we're going to talk about how you should go about preparing your hair with a flat iron in such a way that you get the straightness, but you also the volume that your hair needs to give you just a bit of personality.
Step 1: Apply Heat Protectant. You can find heat protectant right here in our store, and the first thing you need to know is that it's not going to add volume to your hair. In spite of that, however, it WILL keep your hair from becoming brittle and dry, which contributes to greater volume later on in the process.
Step 2: Pull it into a Bun. For this next step, you'll want to pull the top half of your hair, into a bun. You're going to need to straighten your hair in three different layers, at least, but if you have very thick hair, you'll probably have to separate it into, even more, thinner sections.
Step 3: Start Small. The next thing you'll want to do is start with a small section of hair near your hairline. Taking a 1 to 2-inch section, clamp your iron as close as you can without burning your scalp. When you do this, we would recommend that you use an iron with less than one inch in thickness to ensure that you can actually get close enough to the scalp. Step 4: Up and Away. Instead of pulling the hair back and straight as you might be accustomed to with straightening, pull it upward and way from your scalp. Once the straightener is halfway through the strand, go ahead, and pull the iron away from your head. Going upward, instead of straight back or down will create volume.
Tip: If you're having trouble touching your hair after straightening, use a hairbrush, or use a heat protectant glove. Keep in mind however that this can indicate that your flat iron is at too high of a temperature, and you might want to scale it back a little.
Step 5: Continue straightening and finish the rest of the layers in a similar fashion to the first. At this point, you can start teasing your hair, but make sure you use a flexible hairspray to ensure that you can style the hair while allowing it to move around a bit – this too will help to add more volume.
Step 6: Continue using your HSI hair straightener to bring out the best in your hair, and remember to work in small sections. The thicker your hair is, the more work it is going to be, but it's definitely worth it in the end!
Step 7: Finish the job by running your fingers through the hair, beginning at the roots to give it some lift.
You're Done!
Your hair finally has the volume that you want, and straightening it was easy! Use this method every time you want to add volume and enjoy!
A foolproof way to get straight hair with a flat iron

Anyone can hold a flat iron to his or her head and straighten hair to 2D proportions. But that's not a very modern way to do straight.
In 2015, covetable straight hair (like seen on Kendall Jenner, Gigi Hadid and Joan Smalls) doesn't hang lifeless from the head—instead, roots are aerated.
"Today's straight hair is not so flat to the head like it was in the past," explained Marc Mena, an E! Style Collective member and celebrity hairstylist. "There's more body and movement instead of the hair being stick straight."
To get the new straight look right—without frying hair—Mena offered these pro tips.
Protect strands: It's hard not to fry hair with frequent ironing. To diminish damage, Mena suggested applying heat protectant, which can help add moisture and allow for a touch of body without the frizz.
Add shine: The heat from a flat iron often reduces shine. Fight the effect by using a straightening shampoo and conditioner, which can not only reduce frizz, but create high-shine strands as well.
Raise the roots: As Mena mentioned, ultra-flat hair looks dated. Before taking the iron to your hair, add volume to the roots with a few spritzes of volumizing spray equipped with heat protectant.
JENNIFER BLAIR
When you want a sleek, modern look for your hair, straightening it with a flat iron can definitely be the way to go. The problem with flat irons and other heated styling tools is that their high temperatures can actually damage your locks, leading to dry, brittle, frizzy hair. But you don't have to be doomed to frizz every time you flat iron your hair. With the right tools and techniques, you can get super smooth, shiny, straight hair every time you pick up your iron.
Explore this article
Choose the Right Iron
Prep Your Hair
Protect Your Hair
Smooth It Out
1 Choose the Right Iron
The material that your flat iron is made of can play a role in whether you wind up with frizzy hair or not. Ceramic, tourmaline and titanium irons are usually the best option, because these metals conduct heat more evenly so they are less likely to dry out your hair and cause frizz. They also give off negative ions that help tighten the hair's cuticle, making it appear smoother. If you are worried about frizz, avoid ceramic "coated" or Teflon "coated" flat irons. They usually don't heat evenly and lead to frizz.
2 Prep Your Hair
Properly prepare your hair for flat-ironing to help cut back on frizz. Wash your hair with a gentle shampoo that won't strip your hair of moisture, and follow up with a smoothing conditioner to ensure that it's properly hydrated. While your hair is still damp, apply a straightening cream or serum to help keep it smooth. Allow your hair to dry naturally or use a round, natural-bristled brush while you blow dry it. Never use your flat iron on damp hair.
3 Protect Your Hair
Once your hair is dry, you still need to protect it from the heat of the flat iron. Heat-protectant products are designed to add moisture to your hair, so its natural moisture doesn't evaporate when the iron heats it up. Look for a lightweight heat-protectant spray that contains oils such as argan nut, olive or coconut that help condition and protect hair. Spray the heat-protectant product throughout your hair and comb it through to make sure that it is properly distributed. Allow it to sit in your hair for a few minutes, so you know that it's fully absorbed before you pick up your flat iron.
4 Smooth It Out
Once you have flat-ironed your hair, take an extra step to help reduce any lingering frizz. Apply a silicone-based shine or smoothing product to your hair to smooth the cuticle and boost shine to reduce frizz. If you have fine or thin hair, opt for a spray, which won't weigh down your hair. Spray it lightly over your hair for a smooth, sleek look. For thick, coarse hair, a silicone serum is a better option. Place a small amount in your palm, rub your hands together and carefully smooth it over your hair.
Using a hair straightener can be difficult, but it becomes even more so when you're trying to work with the hair in the back of your head. There are so many different problems with it, for example, your arm might not bend that way, you can't see it, you may even be having issues with uneven lengths in the back. There are so many different potential problems, it's not even funny. One of the toughest problems for those with denser hair is the fact that it seems to curl up at the ends, which wouldn't be a problem for those with longer hair, but if you have hair that is less than shoulder length, it tends to be a bit of a nightmare. So, let's talk a bit about the art of straightening and how you can arrange for a better experience with some of the best HSI hair straighteners out there.
Preparing to Use your HSI Hair Straightener
You're going to start by washing your hair, and when you do so, it might be to your advantage to use a volumizing shampoo and conditioner. Also, if you have thick or coarse hair, pick a smoothing shampoo. To compliment all of this, you will want to use a smoothing serum after your shower that promotes heat protection. Remember, natural ingredients are going to be much smoother on your hair, in the long run, so choose your products carefully.
Make Sure Your Hair is Dry
Before you can straighten, you have to make sure that your hair is bone dry. Let's re-iterate this in a way that can be understood by everyone: your straightener should not be sizzling when you pull it off of your hair, nor should it be steaming. That said, you need to blow dry your hair thoroughly, and to aid the process, you can use a bristle brush during the process to get your coverage and to aid in the straightening – it's a great way to start. Just remember to blow dry sparingly, as too much heat can cause damage even at this stage.
Layering your Hair
One of the biggest mistakes that people tend to make when straightening their hair is to simply grab a handful and try to straighten. You don't exactly get amazing coverage when you do this because you there is too much chance of tangled hair in those clumps. By separating it into sections you have a better opportunity to straighten every single strand. That said, start by clipping the top layer of your hair to the top of your head so that the bottom is exposed. If you want to take it even further, you can section the back into two parts, though it will take a bit longer. Remember, even if you have the best flat iron the market has to offer, you're still going to need to properly layer your hair.
Get to Straightening
At this point, you will want to take your professional hair iron and start straightening. Before you do so, however, make sure you spray it down with a heat protectant, and, for added measure, it is recommended that you try spraying your hair lightly with a leave in conditioner both before and after you start. Getting the hair that you want does not have to be difficult, you simply need to make sure that you're using the right technique. Follow the instructions above and get the back of your hair looking as good as the front.
We think that you should embrace your natural curls, but sometimes a girl's just gotta go sleek. So we're making the case for splurging on a straightener. Here's why: A high-quality straightener works faster, makes hair smoother and causes less damage than lower quality tools. Plus, it can do WAY more than just straighten your hair. Here are 15 ultra smooth celeb styles (both straight and wavy) along with the all-star straighteners you need to get the same looks.
1. Flipped Out Ends: Julianne Hough's chin-length bob is straight and polished, but not too perfect. Blow dry your hair with a medium-sized round brush and then use a low heat iron like the GHD 2″ Styler ($225) to add a slight bend at the ends. (via Daily Makeover)
2. Change the Temp: One thing we don't love about flat irons is that most don't allow you to change the temperature — which can result in a lot of hair damage. But Cloud 9 Straighteners ($140) have an innovative temperature control, which means you can style from a mild 100 degrees to a steaming 200 to keep your locks looking healthy like Anne Hathaway's. (via Just Jared)
3. Crimp It: To get a cool crimp like Jennifer Hudson, twist your wrist back and forth as you glide the iron all the way down to your ends. The Corioliss C3 Gold Leopard Hair Straightener ($90) not only look glamorous, but it's also capable of tackling course and fine hair. (via Cosmopolitan)
4. Matte Bangs: If you're rocking blunt bangs like Kate Beckinsale, try flat ironing them with a narrow iron like the GHD V Emerald Styler ($235), then spraying them with a dry shampoo to counteract the shine brought on by heat styling. (via Red Book Mag)
5. Create Beachy Waves: Curling with a straightener may seem counter-intuitive, but it gives an edgier curl than a curling iron and it totally works on shorter hair. Use a narrow flat iron like the Chi Ceramic Iron ($99) to get Nicole Richie's perfectly edgy ringlets. And if you're as obsessed with purple hair as we are, check out these killer looks. (via Glamour)
6. Long and Straight Drama: If you want to go sleek like Kelly Rowland, check out H2D MK4 Wide Salon Hair Straighteners ($50) which are particularly popular with thicker haired ladies, as the lightweight wide plates make easy work of styling. (via Posh 24)
7. Show Off That Ombré: Straight hair shows off ombré highlights beautifully. The Remington s8500 Shine Therapy Straighteners ($43) feature a digital display and ceramic-coated plates that glide effortlessly through your locks, leaving them with a glossy Ciara-approved finish. (via Daily Makeover)
8. Carefree Curls: When you curl your hair with a flat iron, it makes more natural looking curls and adds more volume without going full bombshell (though we'll take any style good enough for Scarlett Johansson!). The Hana Professional Flat Iron ($130) is just the tool you need to do it. (via Smart Girl Consulting)
9. Lock Out the Frizz: If you have fine hair that gets frizzy from time to time, you will not need a straightener with very high heat output. Instead, opt for a ceramic model with super smooth plates like the John Frieda Smooth and Style Finish Straightener ($43) that can help you fight frizz like a gladiator (hear that, Kerry Washington?) without damaging your hair. (via Stylist)
10. Sophisticated Side Part: Tourmaline plates like the Remington T Studio Wide Plate Straightener With Tourmaline ($22) make negative ions to reduce frizz and create additional pressure on your hair so that your tresses are shiny and sleek just like Drew Barrymore's glam down 'do. (via Cosmopolitan)
11. Don't Overwork Thin Hair: If you have thin hair like Naomi Watts, straighten your hair with a blow dryer and then use a very low heat iron like the Rusk Professional STR8 Iron ($95) to keep your volume. (via Cosmopolitan)
12. Add Some Shine: If you want an affordable, but quality tool that protects hair, the Babyliss Pro Nano-Titanium Flat Iron ($100) gives you a super smooth surface that adds Tyra Banks-level shine. (via HairstylesDB)
13. Rock a Sleek Lob: If you decided to make the cut like Emma Stone, style your long bob with a Sedu Ionic Ceramic Flat Iron ($129) for ultimate sleekness. This iron gets really, really hot and you can adjust the temperature. Although it's a bit expensive, this iron will last you through years of frizziness. (via Popsugar Beauty)
14. Keep Your Ends Clean: Straight hair can actually highlight all of the imperfections in your haircut and color, so use an iron that won't further damage your hair like the Paul Mitchell Protools Express ($82). It'll also shorten the entire styling process by heating up and styling your locks quickly, a real bonus for long-haired girls like Kaley Cuoco. (via Cosmopolitan)
15. Straight and Short Styles: Emma Watson proves you don't have to have long hair to rock the super straight look. If your hair is short, try the TS-2 Millenium Professional Flat Iron ($99), which will help you get in close to your scalp and ears, where normal flat irons may be too bulky. (via Hairstyles Weekly)
What is your favorite straightener? Let us know in the comments below!
Somewhere between the bouffant blowout of the '80s and the so-slick-it-sticks-to-your-head look of the '90s, there lies a sleek yet bouncy medium. Here, some pointers for straightening your hair so you don't lose too much volume in the process.
Here's what you'll need:
A lightweight leave-in conditioner
Blow dryer
Flat iron
Flexible hold hairspray
Here's what to do:
Step 1: After washing your hair as usual, squeeze out as much water as you can. (We recommend using a microfiber towel for this.) Next, spritz on a lightweight leave-in conditioner and comb it through, so it coats your strands evenly. This will help smooth the cuticle, which is crucial to preventing fuzz without weighing things down.
Step 2: Take your blow dryer and quickly blast your hair with heat, using your fingertips to rough dry your hair until it's about 70 percent there. If you have the time, let it air-dry the rest of the way to reduce the amount of heat exposure and potential damage.
Step 3: Once fully dry, divide your hair into small, even sections around your head. (The reason the sections should be small: You want the heat to penetrate all of the strands in fewer swipes.)
Step 4: Now here's the key to keeping your volume while straightening it: When running a flat iron down the length of your hair, do not clamp it down like a panini press. (That's what, obviously, flattens it.) Instead, leave it slightly open so your strands still benefit from the direct heat, while maintaining as much volume as possible.
Step 5: If you need a little more polish afterward, spritz a shine serum into your palms (not directly on your hair) and work it sparingly through the ends only.
For even more volume: You can always take a cue from your mom (and beauty TikTokers) and pop in a few Velcro rollers. Starting at the ends of each section you want more bounce, roll the hair forward, toward the crown and secure. After 15 or so minutes, gently unravel them one by one, following the same direction they were rolled in.
And for the finishing touch, flip your head upside down and mist on a flexible hold hairspray. Use your fingers to gently rake the hairspray through your hair while still upside down. Then, flip your hair back and enjoy that va va volume.
Every once in a while, those of us who normally rock our curls want to show off a new look (because let's face it: shrinkage is very real). However, straightening natural hair has always been a touchy subject since putting any sort of heat on it is usually a major no-no. In fact, it's a big reason why many people have made the transition to go natural (so they can prevent heat damage and keep their strands healthy).
It also sparked a longstanding debate about whether straight hair is inherently "better." Politics aside, we say you're allowed to showcase your gorgeous kinky curls and rock straight styles, because there's no shame in switching it up (at the end of the day, it's your hair). Whatever look you choose, just make sure you're tracking the health of your hair and understanding what works best to avoid damage in the long run.
What are the best methods to straighten natural hair?
Before picking an option and applying heat, make sure you prep your hair. Start by washing your hair thoroughly with shampoo and conditioner to make the straightening process easier. (Tip: Use a deep conditioner or treatment if you're prone to dryness. Moisture is key to a smoother finish.)
Once your hair is clean, apply a nickel-size amount of heat protectant (we like TRESemme Thermal Creations Heat Tamer Spray, HSI Professional Argan Oil Heat Protector or Brigeo Farewell Frizz Blow Dry Perfection Heat Protectant Creme) through the damp strands. Whether you prefer serums, sprays or creams, it's important not to skip this step as it prepares your hair for the heat and prevents future damage or frizz. It also keeps your hair shiny and soft (and who doesn't want that?).
Now that your hair is ready, you can decide which option works best for you.
1. Flatiron
When purchasing a flatiron, look for one with customizable settings. You want to keep your iron at the lowest setting required to straighten your hair (most irons go up to 450 degrees, but reaching for at least 360 degrees is beneficial). Flatirons like Babylisspro Nano Titanium Ultra-Thin Straightening Iron, HSI Professional Glider Ceramic Tourmaline Ionic Flat Iron, and CHI Tourmaline Ceramic Hairstyling Iron all have a wide range of settings and make it easier to be in control.
How to flatiron your hair:
Heat up your iron, start sectioning off your hair and apply your protectant product.
Grab a section and clamp the hair tool as close to the root as you can and gently glide it down the mid-lengths and ends. (Option to use a fine-toothed comb with the iron to get a sleeker look.)
Go over each section once or twice more. If you hear sizzling or smell something burning, you probably want to dial the heat down a bit before resuming.
After you've straightened every section, finish the look with a hydrating serum or humidity-resistant gel like Ouidad Advanced Climate Control Heat & Humidity Gel, DevaCurl Frizz Free Volumizing Foam or It's A 10 Miracle Leave-In Plus Keratin to keep the flyaways at bay and prevent frizz from forming.
It's important to note that if your hair is already pretty damaged to start, the flatiron might not be the best choice.
2. Blow-Dryer
Using a blow-dryer to straighten your hair will give you a more voluminous look. Similar to the flatiron, you'll want to pick a blow-dryer that lets you control the heat settings. The Dyson Supersonic Hair Dryer and the DevaDryer have customizable settings and come with a nozzle attachment made for achieving a straighter style.
How to blow-dry your hair straight:
Prep your hair with a heat protectant and divide in to sections.
Turn your dryer on a cool-to-medium setting.
Use a round bristle brush or a Denman brush to avoid tangles.
Hold the dryer two to three inches from your head and glide the brush (and the heat) down from root to tip. You want to brush your hair up at the crown (for added volume) and down for the rest of your hair (for optimal smoothness and shine).
3. Rollers
The best way to use rollers is to apply them to wet hair. When it comes to finding the right rollers, it's all about the texture of your hair and the look you're going for. The thicker your hair, the bigger the roller should be (a bigger roller means a looser curl). There are a ton of options like Conair Xtreme Big Curls Hairsetter (it heats the rollers for you), Conair Magnetic Rollers (a great preparation for straightening with the help of pins) and Drybar High Tops Self-Grip Rollers (which use Velcro instead of pins and are perfect for women with shorter hair).
How to use rollers to straighten your hair:
Prep wet hair with a heat protectant and section it off.
Roll up each section and secure rollers in place with pins if needed.
Once you finish rolling your hair, let it air-dry or use a hood bonnet on low/medium heat for 30 minutes to an hour (depending on your hair texture and length). If your hair is on the thicker side, you might want to consider using a hood bonnet for the best results.
Wait until your hair is completely dry before removing the rollers (for both techniques).
The best part about rollers is that you can use a flatiron or blow-dryer to straighten your hair even more afterwards. If not, you can leave your hair curled or brush it through to maintain volume.
A few things to keep in mind
Regardless of which straightening approach you decide on, make sure to wrap your hair with a satin or silk scarf before you go to bed. This will protect your newly smoothed strands from any friction while you sleep (which can cause it to curl back up). You can also use a bit of dry shampoo on your roots to keep your style fresh for the rest of the week.
Another thing to consider: Depending on your hair texture, the products and tools you use, and whatever the weather is doing at the moment (hello, summer frizz), a method that works well for your friend might not be right for you. Everyone's hair is different so experiment with the hair tools outlined above to find what works best for your hair.
Web editor, W magazine
"What kind of flat iron do you use?" Ryan Tamras, my hairdresser at New York City's Chris Mitchell Studio, asked when trimming off inches of my split ends.
"Ummm…." I couldn't even think of the brand name. "I bought it at a drug store?"
"How many years have you had it?"
I blankly stared back at his shear-wielding stature.
"What temperature do you keep it at?" he asked.
"You can change the temperature?" I responded.
By this point Ryan had realized that I was clearly clueless when it came to straightening my own hair, something I have done on a regular basis for close to a decade.
"No wonder your hair is so fried," Ryan said, as he pulled out a notebook and proceeded to give me instructions on how to care for my sad strands.
As I have fine, wavy (and supposedly damaged) hair, Ryan suggested that my first step to recovery was to clean up the split ends and cut a bit of length. "It will only get worse," he instructed, showing how my disgusting habit of picking at my split ends had caused the bottom four inches of my hair to resemble a rat's nest. After cutting off the thin and most frayed portion of my hair, he suggested that I step up my bi-annual haircut to every three months. "Trimming your ends more regularly will actually make your hair grow," he claims. Ah, I have heard this before, but have always been skeptical. Will getting my hair cut more regularly make it grow faster? (I'll address this in another post). At the very least, I won't have to have quite so much hair cut off at my next trim.
With a new, shorter style (about 4 inches), Ryan began instructing me on how to maintain my healthier locks, starting with a boot camp in flat irons. His how-to-have-healthy-heat-styled-hair rules below:
1) Invest in your flat iron. A quality flat iron should last up to 10 years. Make sure to purchase one that says "ceramic plates," which will ensure that the heat is evenly distributed. Don't skimp on the purchase, it will cause more damage in the long run. The first thing I did when I got home was throw away my flat iron, which I realized must have been over six years old. As per Ryan's recommendation, I tried the FHI Platform. Lightweight, simple and ceramic, the FHI flat iron also had the option to adjust the temperature. I had a winner. I also liked the CHI Auto Digital Iron which was similarly lightweight, offered different temperatures and additionally had a timer to automatically shut off. No more worrying I left my flat iron on after leaving the house.
2) A heat protector is a must! Ryan recommended MoroccanOil. For fine hair, use MoroccanOil Light. Avoid applying any heat protector 2 1/2 -3 inches from the scalp because they contain oil, which will make your hair look greasy. Put a drop on your hands, rub your hands together and then apply from the bottom up, as if your fingers are a comb. With this kind of product, a little bit goes a long way. With our Beauty Editor Dana Oliver's help, I found some Kerastase Nectar Thermique and MoroccanOil Light. In addition to my Living Proof "Restore" shampoo, conditioner and leave-in conditioning treatment, I was ready to flat iron.
3) Make sure the temperature is right for your hair. This is a big one. My hair should only be ironed at a low setting, below 300 degrees, as it is fine and damaged (the same goes for chemically treated hair). Normal hair can be ironed at 300-380 and thick, coarse or extra curly hair at 350-400. Start at a lower level and increase as needed. I had to rule out some options like the Remington Style Pink 1'' Ceramic Flat Iron, as although I liked the bright packaging I couldn't adjust the temperature and the auto setting was too hot for my hair.
Not only have I received compliments on my super-straight hair since I got it cut almost two months ago, but I have noticed a significant improvement in my hair quality: it's softer, smoother, shinier and appears to be growing faster. And since it's been a few months since I last saw Ryan, it's about time I schedule another trim.
Take a look at some of our favorite straight hair looks below: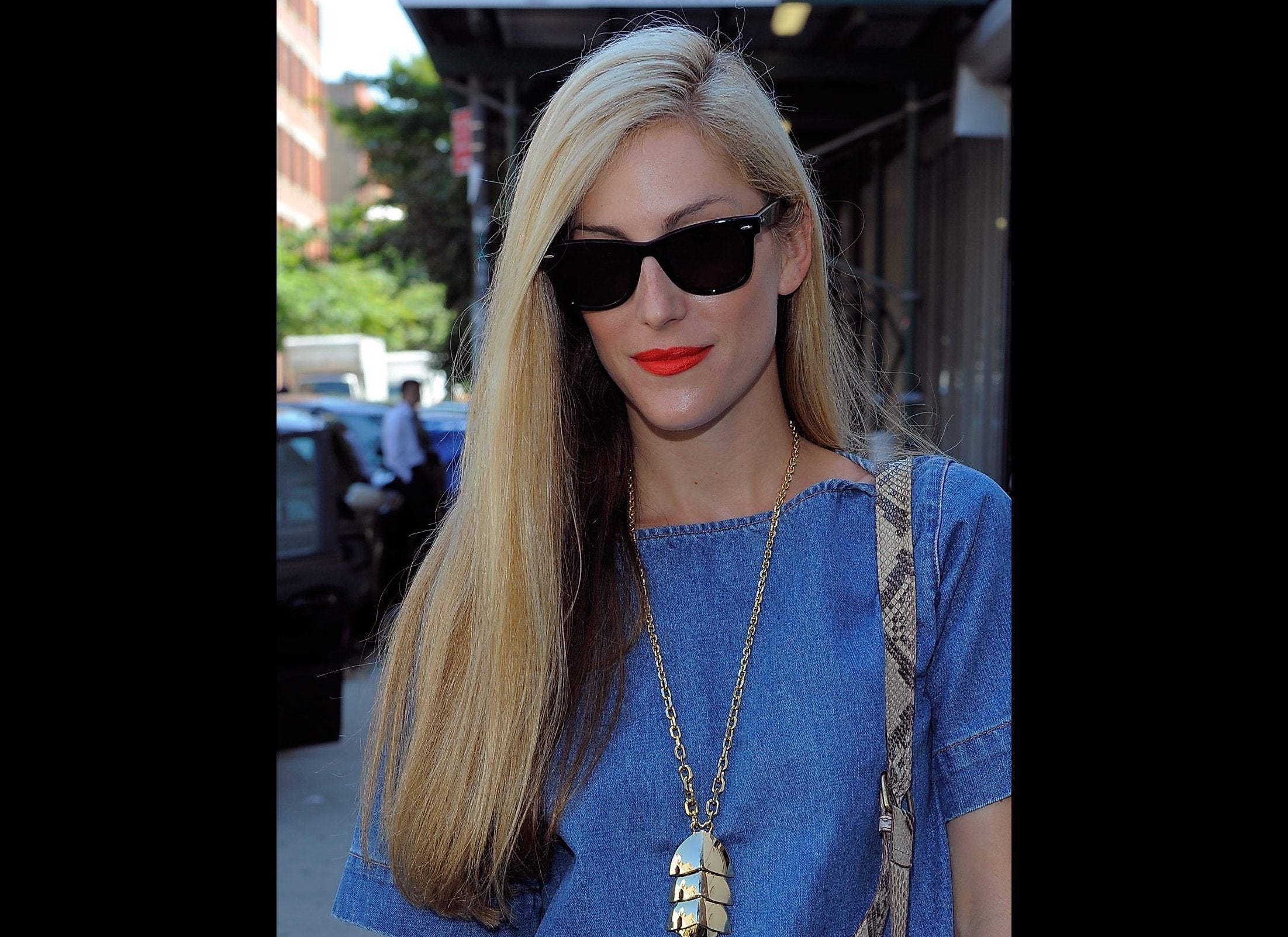 Want more? Be sure to check out Stylelist on Twitter, Facebook and Pinterest.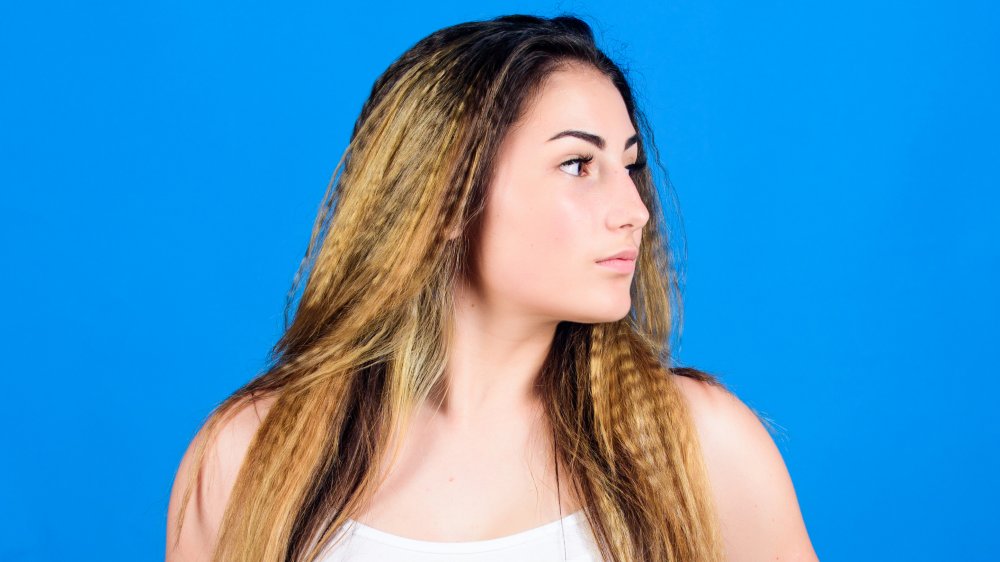 Crimped hair was crucial to '90s fashion and with icons like Kim Kardashian sporting the style recently, you're likely wondering how you can get the look (via Vogue). But most of us don't own a crimper these days. However, if a flat iron is in your styling tool arsenal, you're in luck.
Flat irons are a great multi-purpose tool. You can obviously create perfectly straight locks, but straighteners can also be used in place of a curling iron — and now, a crimper. With a straightener, on-trend crinkled hair is just a few steps away.
To get those crimped tresses, start with dry and thoroughly brushed hair. And don't forget, any time heat is being applied to your hair it's a good idea to protect it with some sort of product — crimping is no different. Next, section off your hair — the more sections you have the better. Use the sections to create tight and tiny braids as close to your scalp as possible. The more compact your braids are, the more voluminous the outcome will be (via Shaver Shop).
How to easily crimp hair with a flat iron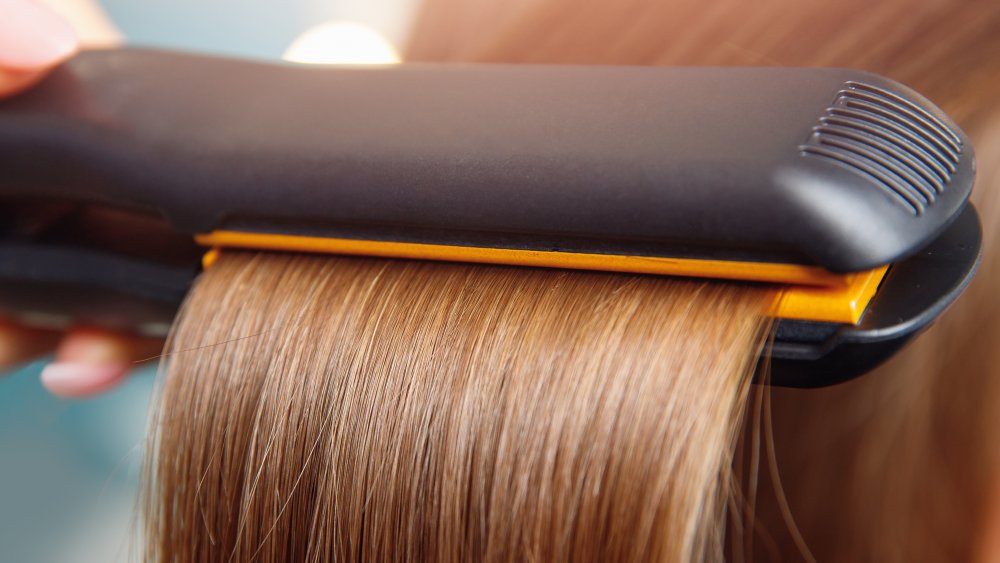 Next, give each braid a comprehensive spray down with your favorite hair spray. Then it's the straightener's time to shine. Start near the root of each braid and slowly move down the length of each bundle of hair. If you are feeling extra ambitious you can go around twice. Once your hair has fully cooled off, it's time for the unveiling. Carefully unbraid all of your hard work to see the fruits of your labor (via Beauty Hair Guide).
If you are feeling a little less dedicated but still want a version of the crimped look, you can try an even easier version. All you need to do is prep your hair for the heat and then guide your flat iron down sections of your hair while flicking your wrist back and forth about every inch. For the most crisp and consistent lines, make your iron extra hot and keep your pressure persistent. For a more loose and subtle look, increase the space between each crimp (via Her Campus).
Next time you want to bring a bit of nostalgia into your hairdo without investing in a crimper, try one of these simple methods with your straightener. It's an instant time machine back to the '90s.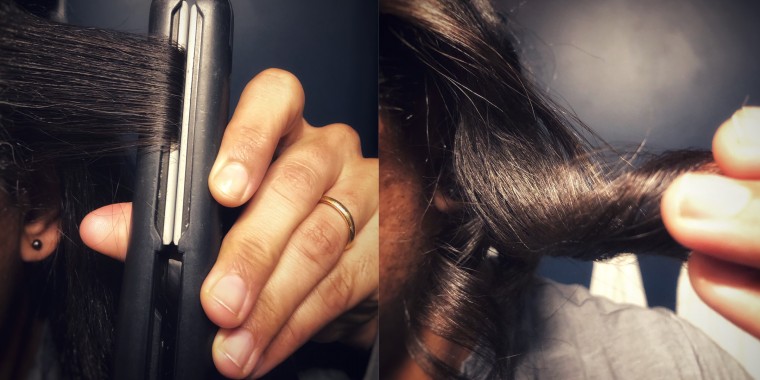 If you've ever watched beauty videos on YouTube, you've probably seen someone create perfectly beachy waves using a flat iron. It looks effortless, but somehow, it's not quite the same when we do it.
TODAY Style tapped two experts — Joseph Bennett, Hilaria Baldwin's go-to hairdresser, and Andy Glickman, a prominent Philadelphia-based hairstylist — to explain the common mistakes people make and exactly how to curl your hair with a flat iron. Their biggest hint? Keep things moving.
How to prep:
Start with completely dry hair. "You could damage your hair if there is moisture," said Bennett. "I also like to use a heat-protectant spray or serum before using any hot tool."
And if you're using this curling technique, be sure to start with low heat on the iron to avoid creating damage.
Here's what to do:
1. Section out 1 inch of hair by the hairline.
2. Use a small, see-through section and pin up the rest of the hair. If your section is too big, it could not curl or quickly fall flat.
Pro tip: Be sure to position curls away from the face on either side of the hairline, said Glickman, creator of @beautifulmasterpeace_.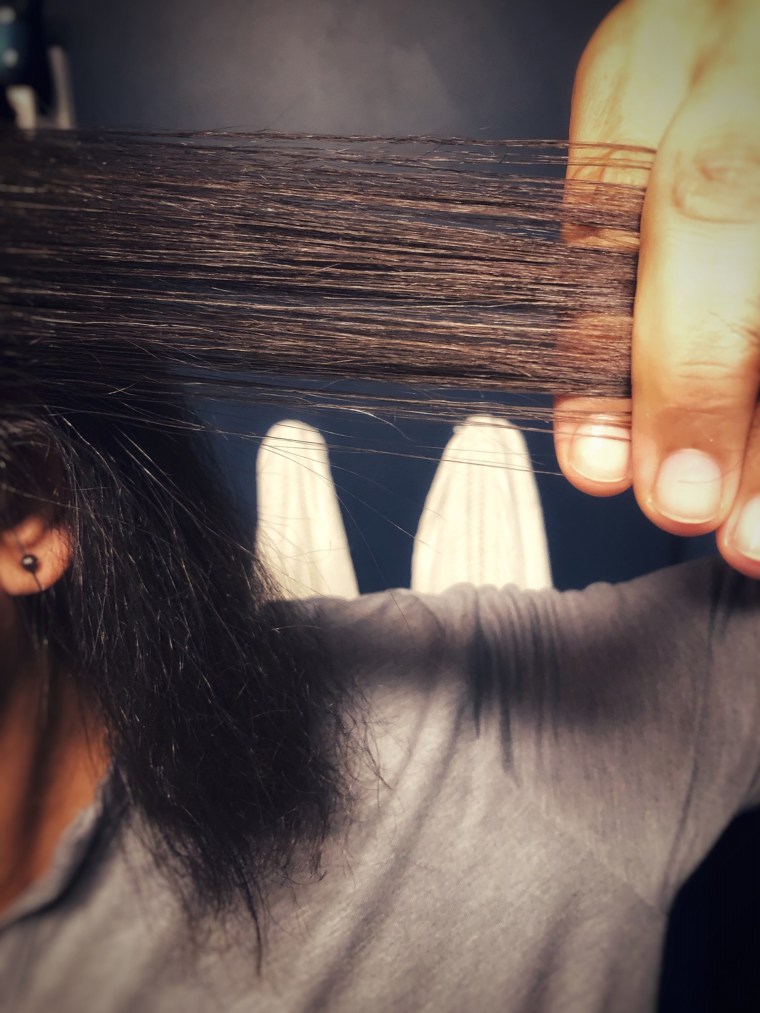 Use a small enough section of hair that it appears see-through. Joseph Bennett
3. Holding the flat iron vertically, press hair at the root and bend in half, continually twirling and feeding the hair through the iron.
Pro tip: "Place the iron at the point of the hair where you want to curl," said Bennett. "If you want curls from the root to start there or start at the end if you want them there."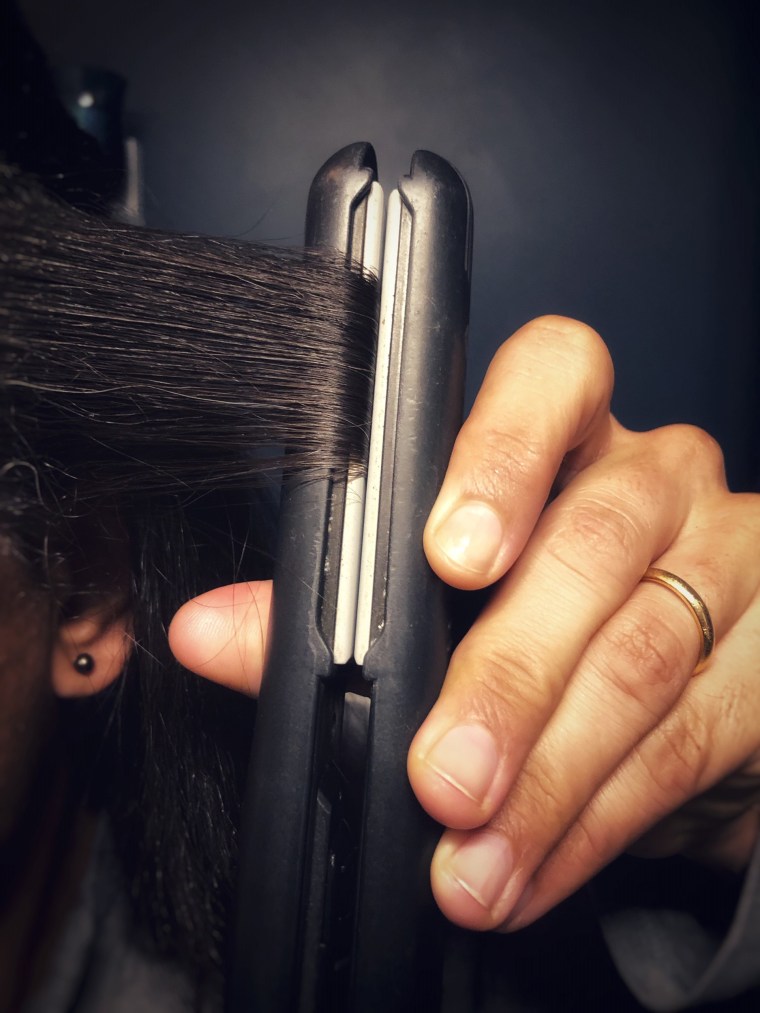 Don't leave the hair iron in the same place for too long or you'll create a crease. Joseph Bennett
4. Hold the ends of your hair and feed it through the iron to maintain control and an even curl pattern.
Pro tip: The motion is similar to curling a ribbon with scissors. "The slower you pull, the tighter the curl," added Glickman. "The faster you, pull the looser the curl."
5. When you get about an inch and a half from the ends, let the hair go and press the hair straighter with the flat iron on the ends to give a more natural finish.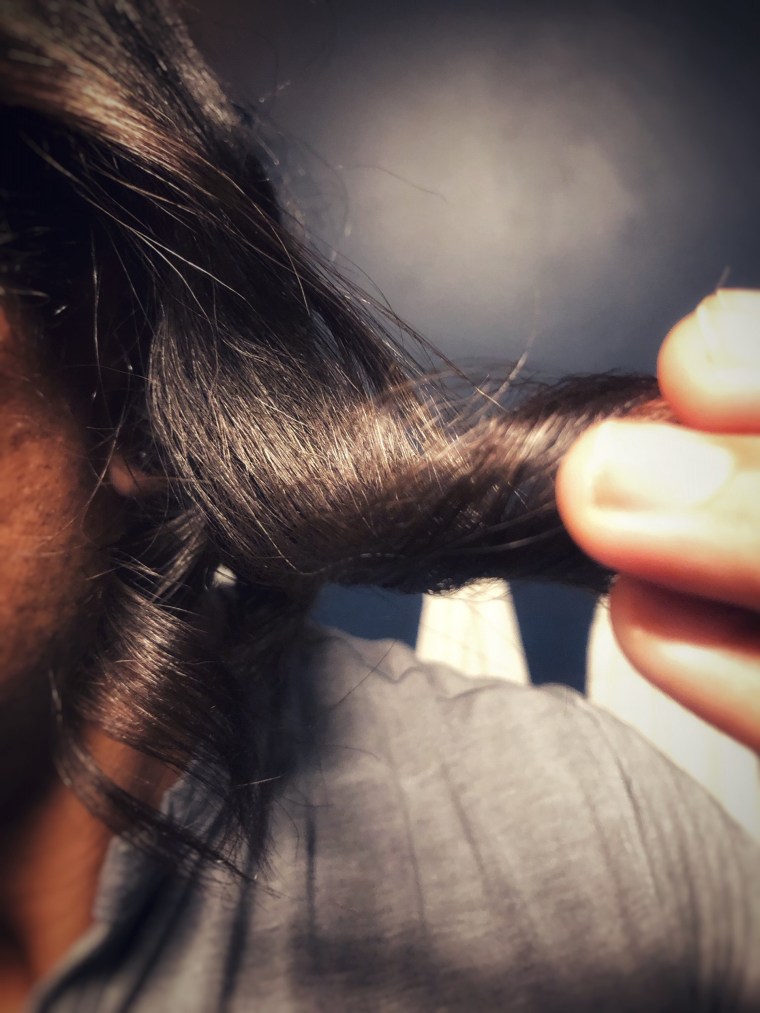 Once you've finished the curl, you can optionally straighten the ends for a more natural, beachy finish. Joseph Bennett
6. Working in 1-inch sections, continue your way around the head. Alternate the direction of the curls to create lived-in waves.
Pro tip: Using random directions of the curls (besides the hairline) tend to look the best, according to Bennett.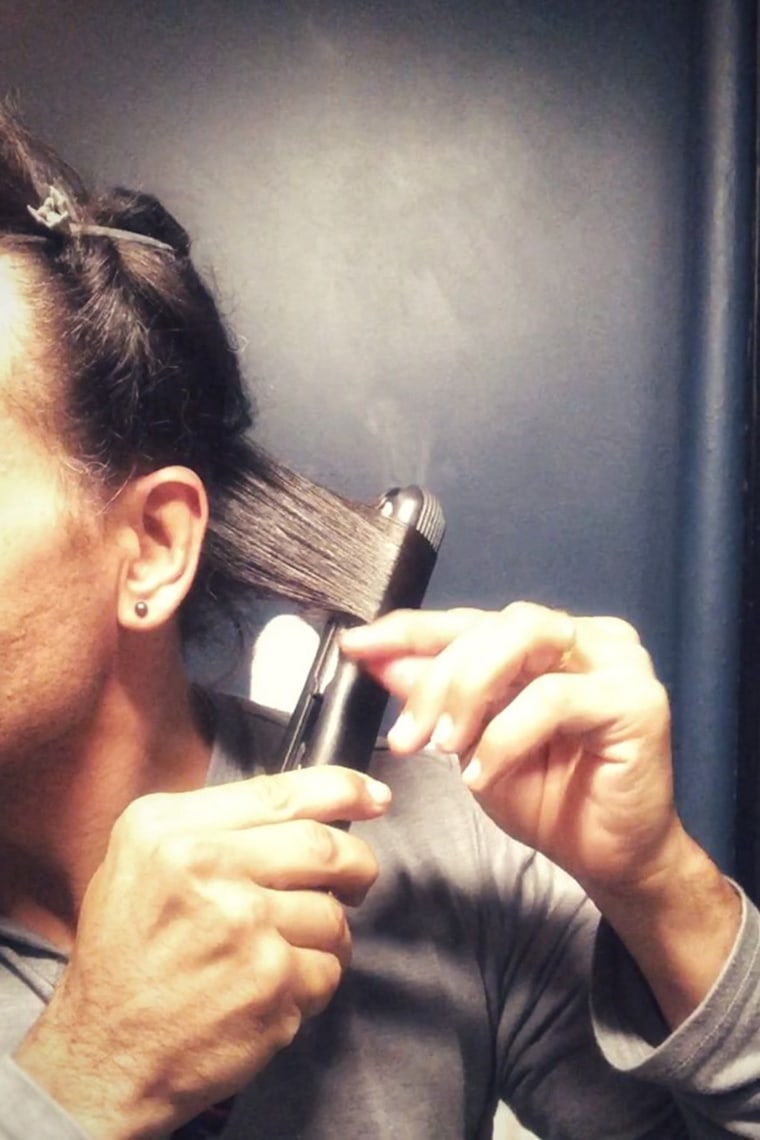 Joseph Bennett
7. Finish with your favorite dry texture spray for volume.
While anyone can achieve curls with a flat iron, this technique is especially good for people who have natural texture or wiry hair, according to Bennett.
"You can use the iron to smooth the root and then use it to curl the rest of the hair," he said, adding that the secret to perfecting the look is starting with a good blowout. "It smooths the textured hair and will get a better result when curling," said Bennett.
Related
Shop The best flat iron for your hair may not be the most expensive one
As far as the mistake people make most often? "They hold the flat iron in one spot for too long and create a crease," said Glickman. "It's imperative to keep moving."