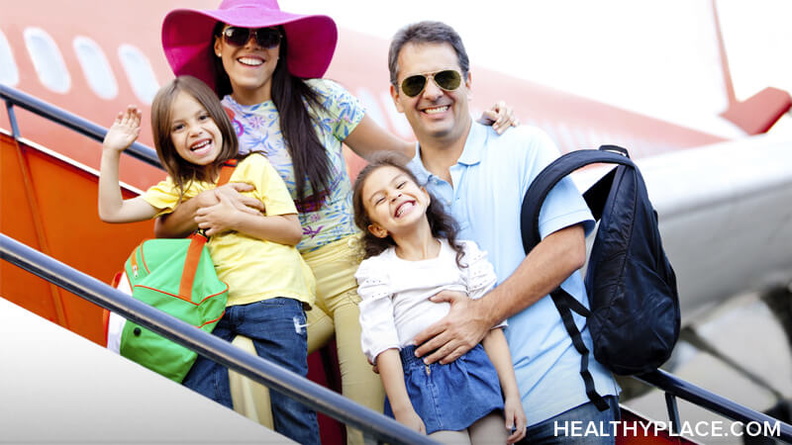 Family vacations can make me feel like I'm losing my mind. I pack so many expectations into our annual, family vacation that I forget to be realistic about what I need, who my family is, and just how much togetherness we can endure. But this year, I'm dead-set on surviving our family vacation without losing my mind.
How Do We Ever Survive Our Family Vacations?
Getting There Is a Struggle
Every summer, we spend half a day packing our car so full of camping gear, bikes and junk food that the four of us can barely fit into our seats. My husband usually needs a shower and a day off after all of the sweating and swearing that goes into packing such a load. But he climbs into the car anyway, all crabby and stinky, so we can speed down the Oregon coast to reach our campsite before dark. Along the way, we're pulling over at least once an hour because someone has spilled chocolate milk all over themselves or needs to go to the bathroom for the umpteenth time. The four hour trip turns into a seven hour trek and we're worn out before we even reach our campground.
It's More Work than Staying Home
Once we've found our campsite, we unload every piece of camping gear imaginable. We set up the tent, while making sure the kids don't run away, eat a pine-cone, blow up the air mattresses or pull out the coolers and supply boxes, and then discuss what we're going to cook for dinner.
I'm not saying that we don't have fun once we recover from our day-long process of getting to and setting up the campsite. But, it is exhausting. Last year, I was a puddle of tears by the third day of our family vacation. I had to excuse myself from the campfire to hide in the tent and cry. Yes, I really did sit in the tent and cry. When my husband came in to check on me, I looked at him and said, "This is not a vacation. This is everything I do at home, but harder. This is like double work."
I sat in the tent and took a long minute to feel very sorry for myself (When Bipolar Ruins Your Vacation). Then I wiped my tears and tried to see all the good in our situation: healthy kids, a mom who is living well with bipolar disorder, a husband and father who loves us all so generously (Marriage and Mental Illness: Take Care of the Caregiver), the means to take a vacation together, a beautiful campground to stay in and more.
Tips to Survive Your Family Vacation without Losing Your Mind
After taking stock of all of my blessings, I realized that this family vacation thing might always be a lot of work but maybe I could approach it differently. Here's what I'm going to try during our camping trip this year, to survive my family vacation without losing my mind:
Rest up before the family vacation. I worked a lot last summer, and I was exhausted by the time we took the kids on vacation. I expected that I would have an opportunity to rest up on vacation but I was wrong. I needed to be rested before the vacation so that I could focus on spending quality time with my family (and avoid crying in the tent).
Get some time off as a couple before the family vacation. Last year one of our biggest mistakes was allowing ourselves very little time together before the vacation. It's difficult to work as a team when our relationship isn't getting the attention it deserves.
Be realistic in your expectations of your family vacation (Reasonable Expectations and Healthy Goals and Mental Illness). See family vacation as an opportunity to get your family away from your usual distractions. Accept that things may not go as planned. Accept that at least one kid will get sick. Accept that the kids will fight and need disciplining. Accept that you and your partner will disagree at some point during the vacation.
Stay long enough to make your preparations worth the effort. Nothing is worse than having to pack everything back up before you've had time to enjoy your family. Make a deal with your family: if we can't get a campsite or cabin or room for so many nights, it's not worth the effort.
Pre-make meals. Everything from hamburger patties to pancakes can be prepared ahead so that meal prep and cleanup are minimal.
Plan Ahead and Let Go of What You Can't Plan
I've realized that I need to get more realistic about our family vacation. I needed to remind myself that the kids will still fight and my husband and I are not going to agree about everything. That's okay. No family is perfect, especially a family on vacation.
I'm hoping that by going to all of this work to take our little crew camping each year, that the good memories will outweigh the bad. And that somewhere between the car trips that never seem to end, the bickering and the campfire-singed dinners, we are actually, amazingly, become closer as a family. That thought alone is worth surviving family vacation and will, hopefully, keep me from losing my mind.
Holidays and vacations with family can be stressful . This is especially true if you're traveling with those who knew you as a kid and still expect the dynamic to be the same. Here are some steps you can take to establish yourself as an adult and survive the family trip.
Top 10 Ways to Survive Going Home for the Holidays
Whenever the holidays draw near, stress levels seem to skyrocket worldwide. Whether it's the…
Get Involved in the Planning Process
Dive into the planning of the vacation. The more input you have into the trip, the more ownership you'll feel. This will also help you make sure the vacation has activities that you want to participate in and it also relieves the pressure from one person. You can also apply this to others and try to get them involved in the planning process. Ask other relatives close to your age what they want to do on the trip so that everyone's interests are represented (and so hopefully everyone will be happy). Remember, everyone doesn't need to do everything together . Plan some activities for smaller groups or on your own to give people a chance to recharge and connect with one another on a deeper level.
How to Travel with a Group of Friends (and Not Lose Your Mind)
Traveling with friends can be extremely fun. It can also be stressful, which causes tension.…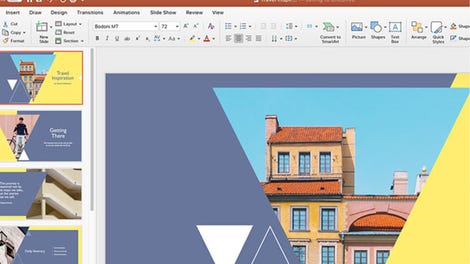 Microsoft Office Professional 2021 Lifetime License
Get smart
Enjoy Microsoft's suite of essentials with a one-time purchase and installation, as opposed to that fee you're paying every month.
Take Responsibility
There is a lot that goes into planning a family vacation and you can show that you're part of the "grown-ups" by taking responsibility in a couple ways.
Monetary responsibility: Offer to help cover the cost of the trip, including transportation, meals, and accommodations.
Responsibility for your behavior: Besides acting like an adult, you should be self-aware and monitor your mood and mindset. If you need a break from the group, take it—there's no shame in that.
Be prepared for the trip: Know what supplies you'll need for the trip and make sure to bring them. This can be anything from the right clothing to things everyone will be using. (If you aren't sure, ask the others!)
Beyond these areas, be responsible for the atmosphere of the time everyone is spending together. One way you can do this is by steering the conversation to interesting and conflict free topics—which will vary depending on your family . Marie Hartwell-Walker, writing on Psych Central , suggests playing The Conversation Game. Essentially, you prepare a stack of cards with questions on them and pass the stack around the table. Everyone who wants to answers the question, then the stack moves on to the next person. This spreads out the conversation starter to include everyone, not just you. You don't really need a deck of cards to use this method, the main takeaway is to come prepared with some questions to jump start the conversation and go beyond the baseline topics of work, the weather, and news events.
How to Handle Your High Maintenance Friends and Family Without Losing Your Mind
We all have that one friend or family member who's a constant drain on our energy. You want to keep
Believe it or not…
I actually have a lot of personal tips on staying sane on a family vacation.
Want my #1 for families with young children?
Don't sleep all four of you in a two-person tent.
(unless you enjoy the heat and weight of a 60-pound child on you, with mosquitoes buzzing around and sand up your…sleeping bag)
But then again, my husband loved it. To "stay sane," he'd say, you have to go!
The moral of the story? Different strokes for different folks. What keeps you sane and happy?
Try as I might though, I have never felt entirely sane on a family vacation. No parent does! Some parents even question whether you should even use the word "vacation" when traveling with young children.
The work of parenting just never ends!
Interestingly enough though, it's not the big things that cause a family to break down. A fall, a robbery, an accident – those things are typically handled with the required maturity.
But try agreeing on a radio station, tolerating another dispute over the plumpest chicken leg, or losing the hairbrush again…Now THAT is something to make any member lose it completely — from the 2-year-old to the 62-year-old.
My Number One Tip For Staying Sane
Because it is not going to be realistically possible for all family members to act calm and mature throughout the entire vacation, here is my #1 tip to help you manage this reality:
Take turns losing it.
That's right, tensions will rise, people will get tired, hungry, and annoyed. Children are naturally good at taking turns melting down; getting the whole family to operate this way takes work.
Taking turns losing it means that parents and children agree, tacitly or through discussion, that when one family member seems to be having difficulty, the other family members will not judge, criticize, punish, or
otherwise act negatively to that person. Instead, they will ignore the agitation. And they will try to be nice, or help solve a problem, or be otherwise helpful and comforting.
Here's How You Do It
Mom (who got no sleep because she was being slept on by a 60-pound child) can't find the hairbrush. She starts grumbling, but nobody listens, so then she starts to raise her voice: "If we can't put things where they belong,
I'm not going to spend my entire [there-may-be-a-curse-word-in-here] vacation searching for something. WHO TOOK THE [DEFINITE CURSE-WORD HERE] HAIRBRUSH?"
Dad says, "Chill out! It's just a brush."
This response could make Mom realize she's foolish. Unless she has a fabulous sense of humor that can survive anything, feeling foolish will probably do little to improve her mood. To truly let her take her turn losing it,
Dad should say, "We need to start putting things away better. Kids – look for that brush, now! Mom, let me get you another cup of coffee."
Dad discovers that the GPS has put him in an endless loop, and he has no clue where they are or how to get to where they're going. He shouts, "Kids! Quiet!"
Mom does not roll her eyes and say, "Oh, there you go again. This isn't the end of the world, just pull into that gas station and get the directions, Geez."
Again, this could make Dad feel foolish. Instead, Mom should allow Dad to take his turn losing it, instead of being what Johnny Cash would call "a big-mouthed woman."
She should tell the kids: "Shhhhh, Dad is having trouble concentrating."
Little Sister
Little Sally's Popsicle has broken, and she insists that you walk another two miles to replace it.
You are tired. There is just no way this is going to happen.
If you want to let Sally take her turn losing it, don't say, "Sally, I've gotten you everything you wanted this week, for once, just once, you are going to have to deal with not getting every little thing you want."
This is going to make her cry much harder. Not only does she have no Popsicle now, but Mommy is mad at her too. Now she's really going to start wailing.
Instead, Mom should allow Sally to take her turn losing it and say, "Sally, I am so sorry I can't walk two miles to get you another Popsicle right now. But I will make it up to you, trust me."
Sally may cry a little more, but just allow her to her take her turn while you rest in your chair, trying to recover from not having slept, and welcome her into your lap if necessary.
Why You Should Take Turns Losing It
Taking turns and allowing each member to be comfortably grumpy, disgruntled, agitated, upset, or angry is an excellent way for a family to manage the inevitable:
it is entirely impossible to have a vacation free of tension, and no family member can consistently maintain that tension with complete maturity and calm.
The Challenges
Taking turns sounds like it could be easy, but sometimes it isn't because tension is contagious. Prepare yourself beforehand not to "catch" the tension so that you can better care for the person who is hijacked, and train your family to do the same.
And by the way, taking turns is not always a fair game. Some family members may lose it regularly and consistently, while others can stay regulated all throughout the trip. Taking turns is not a counting game, it's a way of getting out of each other's way to recover faster.
The Deep Benefits of Taking Turns
When you can learn, as a family, to take turns losing it, your vacation will not only be fun and interesting, but it will also create unforgettable feelings of emotional safety and contentedness, and sometimes, deep healing too.
So that's my tip: Discuss beforehand, taking turns being there for each other. Learn to tolerate agitation with as much kindness and forgiveness as possible. This is what will make your family vacation the best one you will have ever had.
What's holding you back is not what you think
Is your emotional wobble keeping you stuck?
When your emotions are unresolved, they rear up and hijack
your behavior. You feel out of control- unable to make choices.
I call these unresolved emotions "wobbles"
Take Your FREE "Wobble Quiz" and learn to "see" your
unresolved emotions so you can change them
.
The new Mighty Mommy has 5 more expert tips on how to keep your kids happy and busy during their summer vacation, without losing your sanity.
In Part 1 of this series, I gave you 5 tips to surviving your kids' summer vacation without losing your sanity. When you have a moment, check out ideas 1-5.
And today, I've got 5 more ways to have a lot more fun in the sun during summer vacation:
Tip #6: Practice Random Acts of Summer Kindness
Last summer, a single mom of two young boys in our community was scheduled to have hip surgery and would be off her feet for nearly a month. Summer camp was not an option due to finances so she was in a bind to keep her two little guys occupied while she healed. We organized a group of high-school students to take turns watching the boys and a few moms actually spent the night to help care for her while she was just out of the hospital. She was super grateful and the boys had a fantastic summer. This experience inspired a new family tradition of giving. This summer we are going to help out at a local animal shelter. Not only does this give the kids something to do, but it also teaches them the importance of random acts of kindness and community service.
Tip #7: Host a Kid Swap
One thing that other parents might find comforting during the long weeks of summer is that they're not alone! As much as we all adore our kids, by the time August hits, we're sometimes hanging on by a measly thread. If you know other families with kids that are about the same ages as yours, you might suggest a "kid swap" every few weeks. One afternoon you send your kids to their friend's home so you can have some free time, and then you return the favor the following week. If you find a handful of families to participate, this can be a fun, free way to amuse the kids and give you time and freedom to run errands, or simply stay home, soak in a luxurious bubble bath, and read a book uninterrupted!
Tip #8: Don't Leave Summer Reading Until the Last Minute
It likely that your children received suggested summer reading lists from school (unless of course, they're too young). One of the first things we do in our house each summer is get the books on the list from the library, the bookstore, or from friends to make sure everyone has the recommended books on hand for the first week of vacation. I used to wait until August and wound up paying dearly for my delay. Either we couldn't find the books we needed, or one of my kids would undoubtedly not start reading until a couple of nights before heading back to school.
Schedule in regular reading time during the week right from the get go. If reports need to be completed, see to it that those are done immediately after the book is finished. This sounds so simple but for many families it can be a nightmare. Be sure and let your kids see you reading this summer, too. If they see you enjoying a good book, they are much more likely to follow suit.
Tip #9: Embrace Different Cultures
During the school year we are focused on schedules, studying, homework, and other such commitments, and there isn't a lot of free time to explore anything extra. Summer is the perfect time to change all that and learn about something completely new and different for the sheer enjoyment of it, not because we have to. My family is going to shake things up this summer by embracing different cultures. One way to do that is by preparing meals from around the world. Each member of the family got to choose a country (for a total of 10), and throughout the summer, we're going to create a complete meal from each of these countries, ranging from Cuba to Germany. During each dinner, the person who chose the country will share some interesting facts about the culture of that country with the family. We're looking forward to this tasty new experience and hope to add some new dishes to our family favorites for the fall.
Tip #10: Establish Regular Quiet Time
If you think you have to entertain your kids all day long during summer vacation, I hope you'll pay close attention to this tip: Establish regular quiet time for every member of the family, every day of the week. It's really quite simple—allot a certain amount of down time for you and your kids every day. Setting the timer is one way to get your kids used to this unscheduled time, especially if they are younger. Even if you only take 15-20 minutes every afternoon and simply retreat to your bedrooms with a book to read, the idea is to teach your kids to settle down and learn to spend some quality time alone. This way, you can all finish out the day a bit more refreshed, and more importantly, the kids will learn to rely on themselves to stay occupied once in a while so you don't have to be their constant source of entertainment.
Believe it or not, summer vacations really do go by much too quickly. So if you can implement some of the strategies I just shared, you will help your family ease into a relaxing summer mode rather than a stressful one. Here's to the best summer ever!
If you have a question or have a suggestion for a future Mighty Mommy episode, please e-mail me at [email protected] . Check out the Mighty Mommy Facebook page where I share lots of quick parenting tips all week long. You can also follow me on Twitter @MightyMommy or join Mighty Mommy on Pinterest.com where you can visit all of my family-friendly boards.
Enjoy a wonderful summer with your family and as always—Happy Parenting!
Uploaded By: Sally Black
DOWNLOAD Fearless Family Vacations Make Everyone Happy Without Losing Your Mind PDF Online. Family Vacation California Download PC Game Free Join the Simmons family as they embark on their Family Vacation to sunny California in this family friendly adventure. Hit the beach, take in a ballgame and ride the rollercoaster at the theme park all before helping the family compete on the game show; The Price is Nice! for cash and prizes. Family Vacation 2 Road Trip Download PC Game Free Family Vacation 2 Road Trip free PC game to download. Enjoy Family Vacation 2 Road Trip and join the Simmons on an amazing road trip JetBlue Airline Tickets, Flights Airfare Book Direct JetBlue offers flights to 90+ destinations with free inflight entertainment, free brand name snacks and drinks, lots of legroom and award winning service. . Adventure trips, girlfriend getaways, family resorts, romantic escapes – we go there. And when you book flights + hotel together, you get extra savings on both. . Download the JetBlue . ORANGE BEACH 2017 || GULF SHORES || FAMILY VACATION || BEACH VLOG || TRAVEL VLOG || PHOENIX WEST 2 In todays video We headed to Orange Beach, Alabama for the girls Fall Break! We love the Gulf Shores Orange Beach area so much that we decided to take our family vacation there again this year . Norm of the North Family Vacation IMDb Directed by Anthony Bell. With Lisa Durupt, Brian Drummond, Lee Tockar, Paul Dobson. Overwhelmed with his Kingly duties, Norm s crown is stolen and he embarks on a journey to find it in conjunction with repairing his family s relationship. Fearless Family Vacations Make Everyone Happy Without . [Sally Black] on Amazon.com. *FREE* shipping on qualifying offers. Travel is one of the best gifts parents can give to their children. If lucky, most families get about 15 chances to create lifelong vacation memories with their kids. Overwhelmed Moms and Dads need help sifting through the millions of vacation options for . Fearless Family Vacations Make Everyone Happy Without . Sally currently holds the position Mom Executive Officer of Vacationkids.com, the online travel agency she founded in 2000 dedicated to creating customized family vacations. She recently added the distinction of author to her quirky resume by writing her book "Fearless Family Vacations. Make Everyone Happy Without Losing Your Mind". Download Free.
Fearless Family Vacations Make Everyone Happy Without Losing Your Mind eBook
Fearless Family Vacations Make Everyone Happy Without Losing Your Mind eBook Reader PDF
Fearless Family Vacations Make Everyone Happy Without Losing Your Mind ePub
Fearless Family Vacations Make Everyone Happy Without Losing Your Mind PDF
eBook Download Fearless Family Vacations Make Everyone Happy Without Losing Your Mind Online
Uploaded By: Sally Black
DOWNLOAD Fearless Family Vacations Make Everyone Happy Without Losing Your Mind PDF Online. Family Vacation California Download PC Game Free Join the Simmons family as they embark on their Family Vacation to sunny California in this family friendly adventure. Hit the beach, take in a ballgame and ride the rollercoaster at the theme park all before helping the family compete on the game show; The Price is Nice! for cash and prizes. Family Vacation 2 Road Trip Download PC Game Free Family Vacation 2 Road Trip free PC game to download. Enjoy Family Vacation 2 Road Trip and join the Simmons on an amazing road trip JetBlue Airline Tickets, Flights Airfare Book Direct JetBlue offers flights to 90+ destinations with free inflight entertainment, free brand name snacks and drinks, lots of legroom and award winning service. . Adventure trips, girlfriend getaways, family resorts, romantic escapes – we go there. And when you book flights + hotel together, you get extra savings on both. . Download the JetBlue . ORANGE BEACH 2017 || GULF SHORES || FAMILY VACATION || BEACH VLOG || TRAVEL VLOG || PHOENIX WEST 2 In todays video We headed to Orange Beach, Alabama for the girls Fall Break! We love the Gulf Shores Orange Beach area so much that we decided to take our family vacation there again this year . Norm of the North Family Vacation IMDb Directed by Anthony Bell. With Lisa Durupt, Brian Drummond, Lee Tockar, Paul Dobson. Overwhelmed with his Kingly duties, Norm s crown is stolen and he embarks on a journey to find it in conjunction with repairing his family s relationship. Fearless Family Vacations Make Everyone Happy Without . [Sally Black] on Amazon.com. *FREE* shipping on qualifying offers. Travel is one of the best gifts parents can give to their children. If lucky, most families get about 15 chances to create lifelong vacation memories with their kids. Overwhelmed Moms and Dads need help sifting through the millions of vacation options for . Fearless Family Vacations Make Everyone Happy Without . Sally currently holds the position Mom Executive Officer of Vacationkids.com, the online travel agency she founded in 2000 dedicated to creating customized family vacations. She recently added the distinction of author to her quirky resume by writing her book "Fearless Family Vacations. Make Everyone Happy Without Losing Your Mind". Download Free.
Fearless Family Vacations Make Everyone Happy Without Losing Your Mind eBook
Fearless Family Vacations Make Everyone Happy Without Losing Your Mind eBook Reader PDF
Fearless Family Vacations Make Everyone Happy Without Losing Your Mind ePub
Fearless Family Vacations Make Everyone Happy Without Losing Your Mind PDF
eBook Download Fearless Family Vacations Make Everyone Happy Without Losing Your Mind Online
This article was co-authored by Jessica George, MA, CHt. Jessica George is a Marriage and Family Therapist, Certified Professional Master Life Coach, and Co-Founder of Evolve Therapy Coaching based in Glendale, California. With more than 20 years of experience, she specializes in hybrid therapy and coaching services, couples counseling, and clinical hypnotherapy. Jessica holds a Bachelor's degree from The University of California, Santa Barbara and an MA in Counseling Psychology and Talk Therapy from Ryokan College. Jessica is trained in the Imago technique and the Gottman method for couples therapy. She also earned a Professional Life-Coach Certification from The Fowler Academy and an Infinite Possibilities Relationship Certification. She is a member of the International Board of Coaches and Practitioners (IBCP).
There are 7 references cited in this article, which can be found at the bottom of the page.
wikiHow marks an article as reader-approved once it receives enough positive feedback. In this case, 93% of readers who voted found the article helpful, earning it our reader-approved status.
This article has been viewed 268,261 times.
Relationships, whether platonic, familial, or romantic, can be challenging. People often get hurt, and it takes time and effort to rebuild. If both people are committed, reconciliation is possible. You can go through this process and maintain your dignity, if you approach it the right way.
Jessica George, MA, CHt
Certified Professional Master Life Coach Expert Interview. 11 February 2022. Because reconciliation is a process, do not expect things to go back to normal after one conversation. Focus on the small victories along the way instead of the final outcome. [3] X Research source It takes time for relationships to heal.
An example of a small victory would be having a pleasant conversation or discussing an issue without raising your voice.
Jessica George, MA, CHt
Certified Professional Master Life Coach Expert Interview. 11 February 2022. Reconciliation requires honesty. Whether you were the offender or the offended, prepare to hear things about yourself that you may not like. [5] X Research source Be willing to admit that you were wrong, that you were hurt, and to see things from the other person's perspective.
Your desire and willingness to reconcile shows your strength. [6] X Expert Source
Jessica George, MA, CHt
Certified Professional Master Life Coach Expert Interview. 11 February 2022.
It may be helpful to journal about these feelings before you talk to the person. This will allow you to work through your thoughts and anticipate some of the conversations that you will be having.
Jessica George, MA, CHt
Certified Professional Master Life Coach Expert Interview. 11 February 2022. Write down the specific issues and how you contributed to them. Also, write down possible solutions to the issues that you identified.
This will help you stay focused when you are talking to the other person and will also show him or her that you are committed to working on the relationship.
As you brainstorm for possible solutions, think of the specific issue, write down how you contributed to the issue and the effect it had on the other person. Consider how the other person viewed your actions and how it made him or her feel. Then think of how the other person contributed to the issue and how his or her actions made you feel. Any possible solutions that you come up with should be helpful to both you and the other person.
This may be difficult as you may still feel anger or resentment towards the person. You will have to make a conscious decision to put yourself in the other person's shoes.
Imagine how the other person feels. Did he or she feel angry, hurt, or disgusted? Think of a time when you felt those same emotions. This will allow you to establish some common ground with the other person.
This article was co-authored by William Schroeder, MA, LPC, NCC. William Schroeder is a Licensed Professional Counselor and the Co-Owner of Just Mind, a counseling center in Austin, Texas that aims to remove the stigma from therapy. With more than 14 years of experience, he specializes in cognitive counseling with adults on issues such as loss, life transition, happiness, relationships, and career exploration. He has also received advanced training and works with clients with ADHD and Aspergers (ASD). William and Just Mind have been featured in publications such as The New York Times, Business Insider, and Readers Digest. William holds a BBA in Marketing from Loyola University, New Orleans, and an MA in Counseling Psychology from St. Mary's University.
There are 7 references cited in this article, which can be found at the bottom of the page.
wikiHow marks an article as reader-approved once it receives enough positive feedback. In this case, 100% of readers who voted found the article helpful, earning it our reader-approved status.
This article has been viewed 537,787 times.
Many people who travel on vacation/holiday find themselves experiencing post-vacation blues, also known as post-vacation or post-travel depression. This condition is marked by an overall decrease in well-being and work productivity following a satisfying vacation. Having to get back into the routine of work, school, and daily life in general can be a source of distress, disorientation and discomfort. However unpleasant it may be, though, the post-vacation blues can be overcome with a little determination, some perspective, some insight on lessons learned from vacation, and a little self-care.
There are no quick tips or easy ways to learn how to be alone after years of marriage. There's no "getting over it" – but there are small, incremental steps toward feeling just a little bit better every day.
These ideas for surviving life alone when your spouse dies are inspired by a widow named Ken. He said:
"My wife died recently, we were married for 37 years," says Ken on on Living Alone After the Death of a Spouse. "She died at home from cancer, with my arms around her. She fought it for seven years but the last six months was heartbreaking to see her waste away. She was my truest friend and my true love. EMPTY is the way i feel and lonely. Every day is a battle. I wake up, kiss her photo, and ask how do I learn how to be alone after years of marriage without her. I honor her memory by doing things the way she did them. Keep the house clean and tidy. Change the bed clothes weekly. Cook the way she taught me. I remember what she did for me in our life together. I continue being the man she made me and would want me to continue to be. We never had children together. But we did everything together, as one. I'm finding life very difficult alone without her. I ask myself, 'For who am I doing things for when life without her seems so pointless and empty?'"
If this man was in a grief support group, I would attend every meeting! What a lovely soul, so kind and sensitive. His heart is tender, his sadness so touching, and his spirit searching for love, comfort, and peace. He would be so valuable if he was interacting with other widows in a support group. And, he might find helpful tips on how to be alone after years of marriage for his own comfort and healing.
Grief support groups can be helpful for widows and widowers – but I have also heard some people say that they're too sad and depressing. When you're grieving and looking for ways to live alone after years of being married to someone you dearly loved, you need to find what works for you.
Being Alone After Years of Marriage
"You will grieve your loss of the rest of your life, but healing is something different," writes Theresa Caputo in Good Grief: Heal Your Soul, Honor Your Loved Ones, and Learn to Live Again. "You must find ways for your grief and healing to coexist…grief is especially hard because it's not every day that a situation demands you walk the line between feeling your heaviest feelings so you can heal and trying to protect yourself from getting stuck in a negative place."
These ideas for surviving life alone when your spouse dies are both practical and emotional. I welcome your thoughts in the comments section below – I can't offer advice, but writing can help you heal.
Find comforting people, places and pets – and keep going there
I love that Ken honors his wife's memory by taking care of their house the way she would like. He tidies up, makes the bed, cooks his meals the way she taught him…it's a bittersweet way to be alone after years of marriage, isn't it? These daily tasks and chores keep her close to his heart and memory. They keep her spirit and soul alive.
What can you do to honor your beloved partner? You don't have to focus on household chores; you can try painting or pottery if your husband was an artist, or even sailing or kayaking if your wife was an ocean lover! Honoring your spouse's memory can bring you peace and comfort, and even a sprinkle of joy.
One of the most important ways to heal the pain after losing someone you love is to take time to process your loss. Give yourself as much time as you need. Your soul will heal and you will learn how to be alone after years of marriage, even though your grief may never permanently leave your heart.
Need encouragement?
Allow yourself to feel terrible, awful and horrible
"Grieving from the soul means honoring your own unique timeline for healing," writes Caputo in Good Grief. "It is not God's plan for you to become stuck in your grief indefinitely, but there is also no typical response to loss. Grief is a process. Healing faster does not mean healing better."
You'll never be the same, but you will find small moments of forgetfulness and even joy in your day. The sharp sting or dull ache of loss will morph into something tolerable and even comforting. Living alone after years of marriage is an odd place to be; everything is different yet nothing has changed.
The grief you feel is unique to you, but it's also the same for all of us. Being alone is difficult and painful after years of marriage, and there is no magic solution for making life easy or better. The only way out is to go through the grief by writing about your feelings and connecting with other widows and widowers who are also learning how to be alone after years of marriage.
Know that this, too, will pass
Your life – and the grief you feel because of your loss – isn't random or meaningless. The emptiness you feel existed before your spouse died, but you were distracted by your life together.
When Ken said, "Who am I doing things for when life without my wife seems so pointless and empty?" I realized that he speaks for all of us – even if we're not searching for tips on how to be alone after years of marriage.
Why are we here? What were we created to do, see, experience, be? Life isn't just about love, marriage, family, or even meaningful ways to change our the big and little worlds we live in. God created us for a purpose. Loving a spouse and family is part of that purpose, but not the whole thing.
How do you feel after reading these ideas on how to be alone after years of marriage? Share your thoughts below. Tell me the story of your marriage, and how you're learning to be alone. Feel free to write about whatever is on your mind – for getting it out of your heart and mind can help you heal.
If you're up for another "Blossom" article with ideas for being alone, read Comfort and Hope After Your Husband's Unexpected Death.
Learning how to live alone again
"Grief is not an illness like the common cold, where we can expect to recover and be as good as new in a few days," writes Gary Roe, author of Heartbroken: Healing from the Loss of a Spouse. "Grief is more like an extended battle or a demanding marathon. We must learn to pace ourselves and appreciate that our entire system is under duress. Weathering this physically challenging storm is a long-term adventure. Taking ourselves and our bodies seriously is a key to grieving in a healing and healthy way."
Gary is a bestselling author, hospice chaplain, and grief specialist who has walked with hundreds of spouses through this painful valley. From their stories he has composed an incredibly practical book that will touch your heart and comfort your soul as you learn how to be alone after years of marriage.
May you find hope and healing, faith and comfort in this season of grief. May you let go of the pain, and accept God's love, peace, and hope for your future.
Political arguments are an issue that's plagued family holiday celebrations for decades, but lately it seems to be particularly pronounced. In theory, healthy, productive political discussions between smart, grounded loved ones should be encouraged; but, in reality, the often-controversial subject of politics is more difficult to contain than ever, especially at holiday gatherings where family members of different political views feel comfortable enough to go head-to-head (and particularly after a few cocktails). It's rare for the conversation not to teeter on the edge of discomfort, at the very least.
Despite your being blood relatives, a range of factors can cause political arguments between family members, including generational divides, personality types, varying levels of education, and personal political opinions. And these days, these can be dangerous waters to navigate at a family dinner or event.
From an etiquette standpoint, politics have no place at the table. "Tradition would dictate you don't speak about politics at the table," says Elaine Swann, an etiquette expert and CEO of her own lifestyle and coaching company. "But because of our modern society today and the current political climate that's super prevalent in our everyday lives—whether it's a policy or a law that is affecting many of our lives—stifling guests or family members from having a conversation at all would be difficult."
So what can you do? We spoke to a few etiquette experts who weigh in on what to do to prevent an overheated political argument between family members who butt heads—and exactly what to say if things get out of hand. Here's how to prepare and keep the peace as everyone arrives for the holidays.
1 Talk to key players beforehand.
If you're bringing a new boyfriend or friend to dinner, be proactive. Grab a parent, sibling, or other trused close relative and make a plan to be the peacekeepers. If your parent is often the one starting debates, it's OK to respectfully ask them to tone it down for the evening, says Diane Gottsman, founder of The Protocol School of Texas. Try saying, "I want to be comfortable, and part of that is not wanting to feel 'on guard.'"
2 Have conversation starters and activities at the ready.
As for the keeping difficult conversations to a minimum, one etiquette expert recommends the host create a list of planned talking points, like discussions about food and travel. "The holidays are a time to reflect on positive subjects, not doom and gloom," says Jacqueline Whitmore, founder of the Protocol School of Palm Beach.
If everyone's milling about and starting to argue, send them outside or set up a game of charades. "This way, they're not talking, they're just doing something," Gottsman says.
3 If you're hosting, seat people strategically.
Normally, you can trust everyone to find their own spot at the table, but if you have a few family members who love to stir the pot, a seating chart could save the day. "Mix it up," Gottsman says. "Put somebody you know can hold their own next to that person."
4 Have a designated room for political talk.
Hosts have the burden of ensuring an event runs smoothly—and they shouldn't just plan ahead for the food and decor. Both Swann and Thomas P. Farley, an etiquette expert, consultant, and speaker, agree the host should designate a room (with a door that can close), or a specified time, for any kind of political conversations. That way, those who wish to participate, debate, or share their points of view will have the opportunity to do so in a controlled setting, away from those who'd rather not partake.
5 Don't engage.
Not to state the obvious, but if you're hoping to avoid a heated debate at the dinner table, don't stoke the flames yourself—as hard as it may be to keep your mouth shut sometimes. An impassioned speech won't change your relatives' political leanings, Farley says. While it may be particularly hard if you know one relative of yours has what you believe is an uninformed point of view, try to hold back.
"If you're worried you can't hold your peace, I'd enlist an accountability partner," Farley says. In other words, find someone who can help you steer the conversation in another direction if it goes awry.
6 As a guest, make it known when you're uncomfortable.
Whether or not you're familiar with the family dynamic, or your relatives' political standings, Swann says guests should alert the host right away if they're especially uneasy. Before the event, guests who think this may be an issue should consider what kinds of suggestions they can give the host to alleviate the situation. A good host will recognize your feelings and help handle the situation quickly. Additionally, or making it clear to other guests that they don't wish to speak about the subject.
7 Have an exit plan for sticky one-on-one conversations.
Luckily, there's a polite way to back out of an uncomfortable dialogue using a single sentence. If you're stuck in one of your uncle's classic tirades, for example, put it to a halt by saying his name, Gottsman says. It will make him feel heard. Then, follow with: "I love you, but I don't want to get into a debate right now. Let's agree to disagree." You have to "own it," says Gottsman. Simply put: If you want to end a debate, say so.
8 If the table gets fired up, propose a toast.
A surefire way to get everyone quiet is to raise your glass to the family, Gottsman says. As soon as the shouting becomes unbearable, toast to love, gratitude, and the chance you all have to be together. Then, redirect—possibly to a child's recent accomplishment or a funny TV show you know everyone would love.
9 Prepare for the inevitable (and keep an open mind).
As Swann says, politics are a difficult topic to avoid—they've entered so many facets of life, and simply trying to stifle them at the dinner table may not be the best option. Of course, some conversations can be helpful, and going into them with an open mind is highly recommended.
"If you have family members who can enjoy a respectful, thoughtful political discourse and still be smiling at the end of it, and feel they both learned something, then that kind of healthy engagement isn't a bad thing," Farley says. But, he and other etiquette experts warn that that's not usually the case.
Often the only thing you can do is to remove yourself from a situation. "Sometimes you can't change crazy," Swann says. "If there's nothing they're going to do to change their perspective, you can change how you deal with it." She suggests that anyone uncomfortable with a situation can remove themselves entirely and even find a fun game to play with the kids.
This page is meant to inform you about Mind Mapping and provide ideas that can help you create and benefit from Mind Maps.
This page is meant to inform you about Mind Mapping and provide ideas that can help you create and benefit from Mind Maps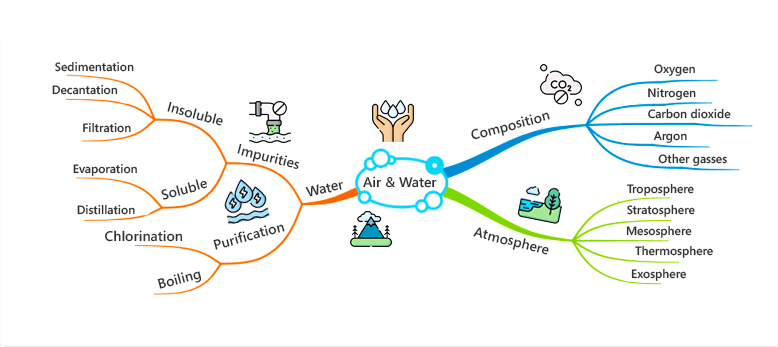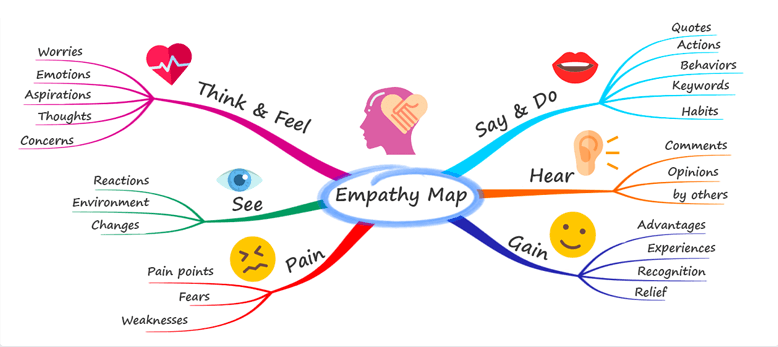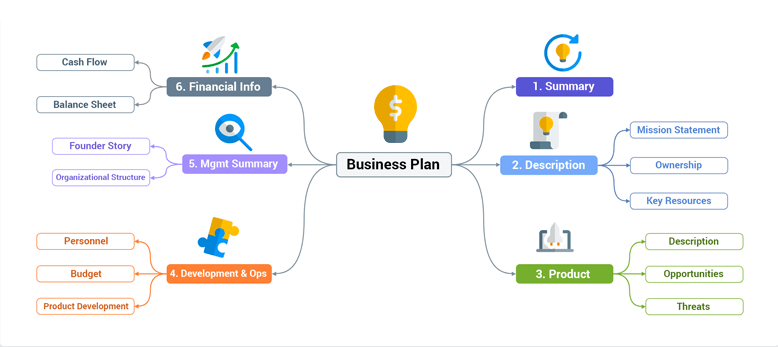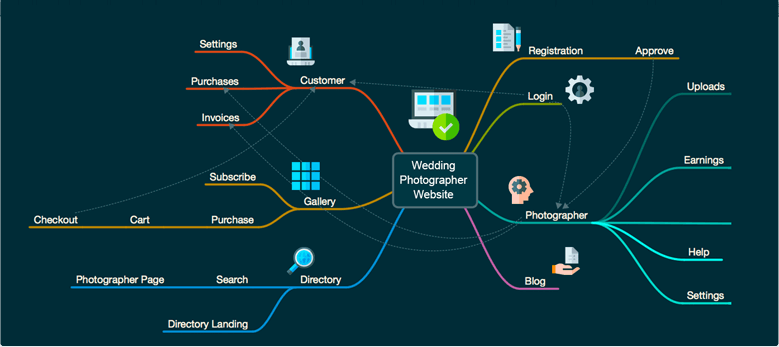 How to Make a Mind Map with Mind Mapping Software
Once you have learned what a mind map is, it's time to get started!
This page will describe how to make a mind map and follow best practices in doing so. We will assume that you will be using a mind mapping software tool as opposed to pen and paper.
6 Easy Steps to Make a Mind Map
Enter the Main Topic. Start by entering the main subject in the center of the mind map, for instance "Capitals of the world".
Brainstorm Topics. Create main branches to enter your topics such as "London", "Paris", "New York" and "Beijing". Do not worry about the order of the topics.
Create Sub-Topics. Elaborate on your topics by creating sub-topics. Make sure to use very short phrases or even single words.
Rearrange the Topics. If you need to rearrange the topics in your mind map, most software tools allow you to drag-and-drop branches. This will enable you to structure the topics that you brainstormed.
Add Images and Formatting. According to the mind mapping theory, images and colors improve memory retention. You can use different colors and fonts and place images on branches.
Notes and Research. Take notes to your topics and attached research files – if your mind mapping software allows you to.
Learn how to use mind mapping in Business and Education.
Benefits when Creating Mind Maps with Software:
It is faster to brainstorm and enter information.
Re-arranging branches and formatting is much easier.
You do not run out of "space", as you tend to do with larger mind maps on paper.
You can take unlimited notes and attach files.
Some commercial mind mapping software tools enable you to export your mind map to Word, PowerPoint, Excel, Project etc. without re-entering information.
Mind Mapping Software Tips
Do you want to get started making mind maps? There are several mind mapping software programs on the market, so how do you choose? Which platform do you pick and which program is the best? Before you select your preferred mind mapping software it is important to understand your needs, objectives and costs/benefits. Here are a few software tips that you might find useful.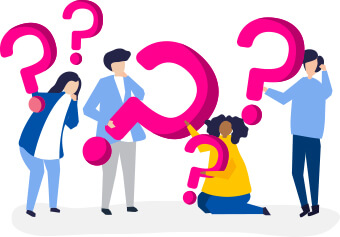 Free Mind Mapping Software
There are many free mind mapping tools, such as FreeMind, that are a good option if you want to make basic mind maps. There are also some subscription-based online mind mapping tools which allow users to store maps on the internet for sharing and collaboration. Working online may prove a little cumbersome because it is dependent on your internet connection and some features, shortcuts and habits will be different from traditional desktop software. However, online mind mapping software makes it easy for an educational institution to provide remote access to students.
Storing mind maps containing confidential or sensitive information online could cause some security issues that conflict with company policies, GDPR compliance and educational regulations for storing student data. Please beware that some cloud solutions lure you in with free basic versions but charge on a monthly basis for the advanced features you may need.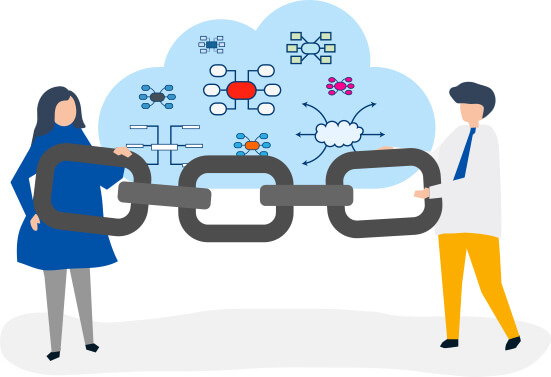 There are many iPad, mobile and Tablet PC solutions available but they are yet to reach the standard of desktop applications when it comes to creating the basic mind map. As far as overviewing the map, small screen size is a problem even for average sized maps – which is basically the whole point! It will take some time and practice to master typing and capturing information on a small screen.
Commercial Mind Mapping Software
If you are planning to use mind mapping in a corporate environment, as a productivity tool, it is important to consider what the program allows you do with the mind map once you've created it. For example, can you convert your mind map into an outline in MS Word? Professional desktop applications typically integrate with MS Office which enables you to continue working with your ideas in other documents without re-entering data. You should always test the MS Office integration properly before selecting your tool. There is a big discrepancy in quality among the mind mapping software available on the market.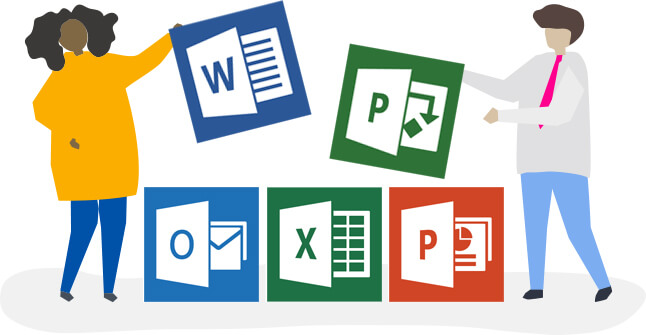 Does the software offer several layouts, such as Top-Down, Left-Right, Fishbone, Timeline, Outline, Gantt charts, etc.? How complex and useful is each view? Can you transfer information between each view without losing information?
Many mind mapping software users rely on mind maps to plan projects at different levels, from simple "to-do lists", work breakdown structures or complete Gantt charts. Professional mind mapping software tools such as MindView allow you to add task information to the map and contain a built-in Gantt chart view.
Here is a useful check list when evaluating mind mapping software:
We've got some 101-level tips on essential gear for your home office.
Scharon Harding – Jun 27, 2022 1:00 pm UTC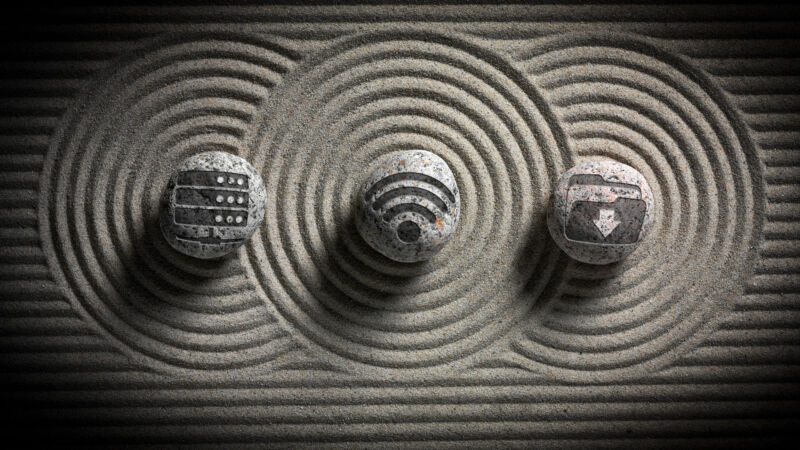 reader comments
Share this story
Share on Facebook
Share on Twitter
Share on Reddit
Home offices have gotten a lot of attention over the last couple of years. When offices all over the world shut down at the beginning of the pandemic, we were all reminded how important it is to have a consistent, comfortable workspace with all the tools and tech you need to work successfully. But what's next?
If you hastily created your home office during the pandemic, there are likely some luxuries you overlooked (or weren't able to find in stock). If you've shifted to hybrid working, where you sometimes work remotely and sometimes go to an office, some home office upgrades could help ensure you're always productive, regardless of where you're working from. Long-standing home offices, meanwhile, also deserve some fresh hacks to keep up with your evolving needs.
If you're ready to graduate to the next level of home office-ing, take a look at these eight pieces of tech we recommend for elevating your workspace. Today we're focusing on general ideas rather than specific products.
Your own router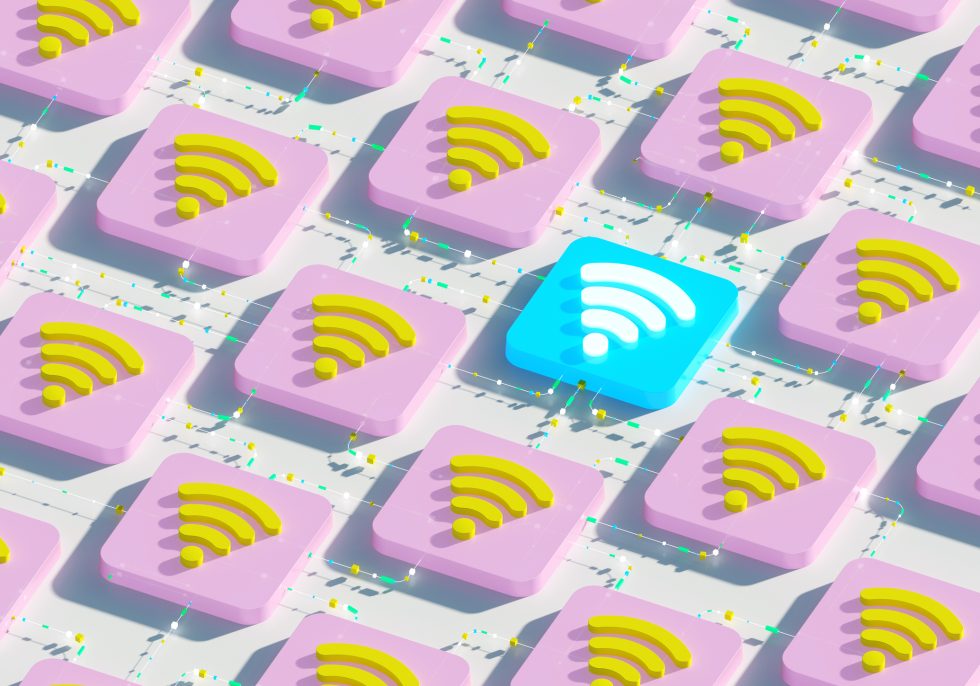 Deciding whether to rent or own is often a complex decision, but it's simpler when it comes to your home router. If you have a permanent home office, it makes sense to buy your own router. You'll save money over the long term, and you'll actually own the hardware rather than paying monthly fees to your Internet service provider to borrow one. Buying your own means you'll no longer be able to rely on your ISP to help with hardware issues, however.
When you invest in your own Wi-Fi router, you take control over the features you get. Make sure to get a router equipped to handle your max speeds and one with the bandwidth to support the computers, smartphones, tablets, smart bulbs, and everything else tapping into your home's Wi-Fi network.
If you have a more demanding use case, like a highly connected smart home with a lot of members, a large home with dead zones, or a computer that does a lot of high-res game livestreaming, you may want some advanced features that you won't see in a basic router/Wi-Fi combo device. A mesh system, for example, helps extend coverage across a widespread area. There are also more complex enterprise-lite Wi-Fi setups if you want to dive into truly powerful Wi-Fi setups. Advertisement
Network-based storage you can access from anywhere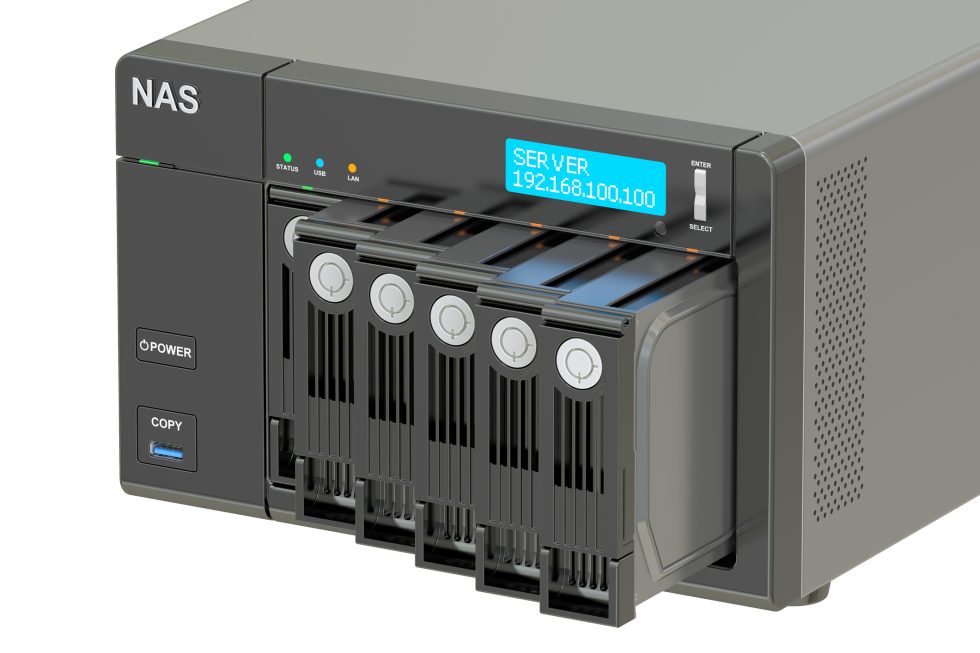 Cloud storage services like Google Drive and Dropbox are convenient, but they come with storage caps, subscription fees, and that icky feeling of sharing your data with or providing a license to a third party.
With a network-attached storage (NAS) device that supports remote access, you can view your files on the web, whether you're working remotely or in person at the office. You don't need to remotely access a computer that you may or may not have left on. And only you—not Google or anyone else—have control over the data.
Even a NAS that doesn't support remote access can add convenience to your home office. As a one-stop hub for the files in your home, a NAS drive can function as a media server, so every device and person connected to your network can check out the spreadsheet you made, movies you've purchased, or photos from the last family vacation without having to send files or storage hardware around. Just remember that with most consumer-grade NAS devices, access isn't as speedy as local storage, so you might want to avoid using your NAS for things like high-res video editing—or cough up the big bucks for something really fast.
If you have sensitive files you can't afford to lose, a NAS device with some basic redundancy can help you feel safer than simply using an external hard drive or SSD, although those are typically more portable. You can rack up a massive amount of storage by adding multiple SSDs or hard drives to the NAS drive bays.
(Keep in mind, though, the axiom that "RAID is not a backup." Having a NAS with redundant disks will keep your data accessible in the event of a failure, but it won't save you if someone breaks into your home and steals the NAS or if your home burns down. Make sure you're making off-site backup copies of any truly irreplaceable data!)
"Friends are the family we choose for ourselves."
A few years ago I ended all contact with my parents, and I have not seen or spoken to them since then.
The truth is I am actually okay with that. Initially, I thought I was going to lose my mind. I had been brought up to believe that family comes first. Children should respect and take care of their parents. Family should—and will—always be there for each other.
Those beliefs were based on love, and I cherished them.
I wanted so much to feel that connection—that unconditional love those beliefs promised. It was never there.
Our lives were filled with so much fear, pain, hurt, betrayal, and lies. Manipulation and deceit were at the core of our home.
I told myself that all families have degrees of dysfunction, and our family was no different. I could not allow myself to believe that our family was different. I believed that one day my parents would realize what they were doing and change. I desperately wanted their love and approval.
On the night when my husband and I ended up inside a police station explaining why I thought my father was about to come to my home and hurt me, while my two grown sons waited in the car, I realized I had to wake up.
My fantasy was over. I could no longer go on pretending our family was just like everyone else. That night I said my last goodbye to my mother as she lied to protect my father. The next day I spoke the last words to my father as he screamed into the phone repeating the lies from my childhood. It was over.
Giving up the hope that things would get better was the hardest part. I was terrified that I was doing the wrong thing. I thought I was being a bad daughter. I was going against every cherished belief about family.
It broke my heart to know that my life had been based on an illusion. The picture I had created of my parents was shattered. They had never been there for me, and they never would be.
I had lied to myself to protect my fantasy and keep them in my life. Now I could no longer do it.
Over time I began to understand why I had fought so hard to live out the lie, and I began to forgive myself for not being brave enough to stand up earlier.
One of the problems was my belief that family were always there for each other. That was the cause of my pain and my guilt. The fact that I no longer had them in my life meant that I was going against a code I held close to my heart.
I had to modify that belief. I had to change my definition of family. It was no longer those to whom I was linked by blood. My family now became the friends who had been there the whole time. People who I knew I could count on when things went wrong. That was never my parents.
I also realized that I was afraid I was not lovable. In my mind if my own parents could not love me, there had to be something wrong with me.
I did everything I could to minimize disagreements between us, keeping quiet just to keep the peace. I knew that if I spoke up we would argue, they would get mad at me, and they would not love me. I failed to realize that this was something I only experienced with them.
It was hard work just to be around them. I was always on edge, cautious, and scared. That was not a loving relationship. I came to accept that if they could not love me, it didn't change anything about me. I had created other loving relationships around me, and they were the scaffolding holding me up.
My first Christmas after was hard. I had always gone to my parents' house to live the fairy tale of being surrounded by love.
It was always hard to ready myself for those days. We would act out the roles of happy family, hoping in some way that was our truth. It wasn't. I had no idea how tense I was at these interactions until I no longer had to do it.
Part of the hurt was that I now had no tradition, so I decided to start a new one. Christmas is no longer a day of obligation. I now spend it with the people who are my true family.
I've come to realize that the love I had for my parents was based on a childhood need for safety and security. I had to see them as the parents who loved me, despite the things they did. I could not accept that the people responsible for my well-being were also responsible for my suffering.
So much of the world I had created around my parents was simply not real. I have had to accept that truth and move on with my life.
One of my fears was that by breaking contact with my parents, I was setting an example that my sons could repeat with me. I'd like to think this won't happen because of my parents.
The pain of my childhood taught me how important it is for a child to truly feel loved, safe, and cherished. I've tried to live that truth with my boys. I don't know what the future holds for us. I can only hope that the love I've shown them will have created a space in their hearts where I will always be thought of with love.
I try to imagine how I'll feel when I find out that my parents have died. I honestly don't know. I'm sure that part of me will be sad that we did not have a better ending. However, I know in my heart of hearts that I tried for over forty years to make it work. In the end, it just wasn't enough.
My parents were never who I thought them to be. I have had to let it all go. The fantasy of the perfect ending with them is over. I am setting out on a new horizon where I have redefined my world.
As abused children, we may feel that it is somehow our responsibility to fix the broken parts of our family. It's not. Sometimes there is no fairy tale ending where our parents realize how truly wonderful we are.
The hard part is recognizing that and moving on. Sometimes it's the only way to find real peace. It's heartbreaking. It's not easy. Finding and surrounding yourself with people who truly care for you is your gift to yourself. You deserve that. You will be okay.
I no longer believe that I have lost my family. I have only now finally recognized who they truly are.
About The Blog
Want more Tiny Buddha? Follow on Twitter, Facebook, and Instagram, and don't forget to subscribe to Tiny Buddha to receive free daily or weekly emails! You can also grab the latest book, Tiny Buddha's Worry Journal, along with the complete Tiny Buddha book series, here.
How to avoid conflict during the holidays with troublesome family members.
The holidays are a special time for some, perhaps the only time all year they get to see other family members. As special as these occasions are, we all know a family—it might even be your family—for whom get-togethers are often fraught with trepidation, concern, and in some cases fear, because of the behavior of one family member. That individual predictably, in his or her unique way, manages to say the wrong thing, act out inappropriately, irritate others, contrives to be the center of attention, arrives late and expects you to wait yet again, or is never happy and wants you to suffer also.
These socially toxic individuals don't care whom they inconvenience, irritate, or hurt. They are not mindful of others. If their disruptions ruin a long-awaited, carefully planned family reunion, in their eyes, so be it—and it is never their fault.
Do you know someone like this? Here is a list from Dangerous Personalities of behaviors that toxic family members often display that can alert you to potential issues or enmity. These traits drive others to desperation but don't seem to affect the misbehaving individual in the least:
Is irresponsible in speech and actions to the point of irritating others or hurting others' feelings—it is as if this person negligently feels no need to filter what he or she says.
Has a "short fuse." Displays of intense anger and outbursts are common and very disproportionate to the circumstances or the event that triggered the outburst.
Being around this person leaves you less happy, less fulfilled, emotionally drained, crying, or constantly on edge, as you fret about the next act that will embarrass or hurt you.
Tends to be opinionated, rigid in thinking, suspicious without cause, unyielding, or just plain truculent—seeming to enjoy conflict even at the expense of family harmony.
Needs to be the center of attention at all times or acts out with unjustified irritation or anger if feeling left out of anything (conversations, events, outings, et cetera).
When you are around this person, you feel emotionally and even physically drained or you feel anxious, troubled, tormented, or infuriated.
Those who are closest (e.g., you, family, children, spouses, boyfriend or girlfriend, etc.) routinely have to "check" to gauge this person's "mood." You and others find yourself "walking on eggshells" around this person.
Arguments that should last a few minutes may go on for hours or days with no effort to ameliorate or end them.
Seems to play role of "victim" (to get attention) or "princess" (expecting special treatment). Has been known to accuse others of some perceived injustice or demands to be treated as royalty – with every whim catered to at the expense of others.
Is a "wound collector." Collects past injustices, faux pas, mistakes, slights, or perceived social injuries and resurrects them to argue with or harangue others. There is no forgiving and forgetting—even mishaps from decades past are collected and cultivated for later reuse.
With individuals like this, the first thing to do is to recognize that you are not imagining things. Just because this person acted fine one day does not mean you should ignore the many other days of boorish or insensitive behavior at the expense of others. Someone who behaves this way as a matter of course is not being quirky. This is about being socially toxic to others—a common trait of the emotionally unstable personality. People like this need help, and they should seek out professionals who can handle this kind of disorder. In the meantime, we have to protect ourselves.
By Jonathan Mui — Written on Oct 14, 2021
It can be quite difficult when the most important people in your life are miles and miles away. But at the very least, realizing how much you miss your family offers you an opportunity to reflect on the memories you share.
And sometimes, the best way to show those relatives (and friends who are so close they may as well be family) how much you miss them is by sending them sweet "missing you" quotes to bridge the distance.
The right sayings can be perfect gifts that let friends and family members know just how much you care about them, no matter how far apart you are or how long it will be until you can see them again.
These thoughtful quotes about how much you love and miss their company will be something that you will both enjoy.
After all, your closest family and friends share something beautiful in common — they love and support you through the most difficult and lonely of times.
And yet, no matter how lucky and grateful we know we are to have them in our lives, sometimes it can be hard for us to express just how much we appreciate them and how much they mean to us.
These 25 quotes for when you miss your family are the perfect way to get your message across, no matter how far the distance
1. "It's always nice to have someone in your life who can make you smile even when they're not around." — Unknown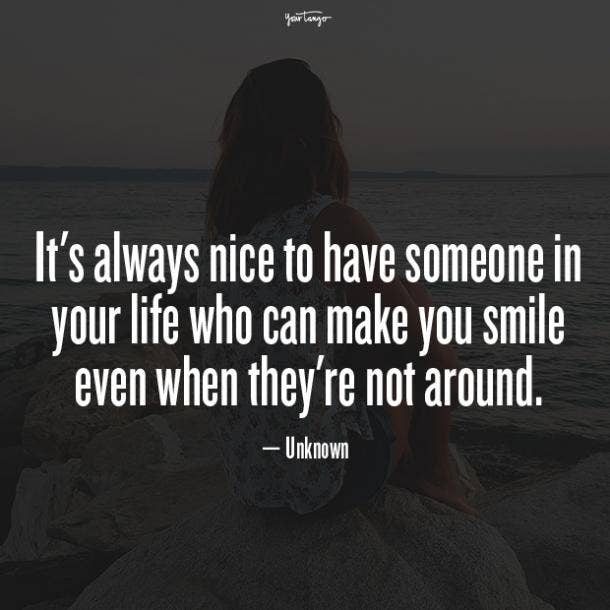 Photo: Marjan Apostolovic / Shutterstock
Let them know how happy they make you.
2. "How lucky I am to have something that makes saying goodbye so hard." — A.A. Milne, "Winnie the Pooh"
Goodbyes are the worst when you love someone.
3. "Missing you comes in waves, tonight I'm drowning." — Unknown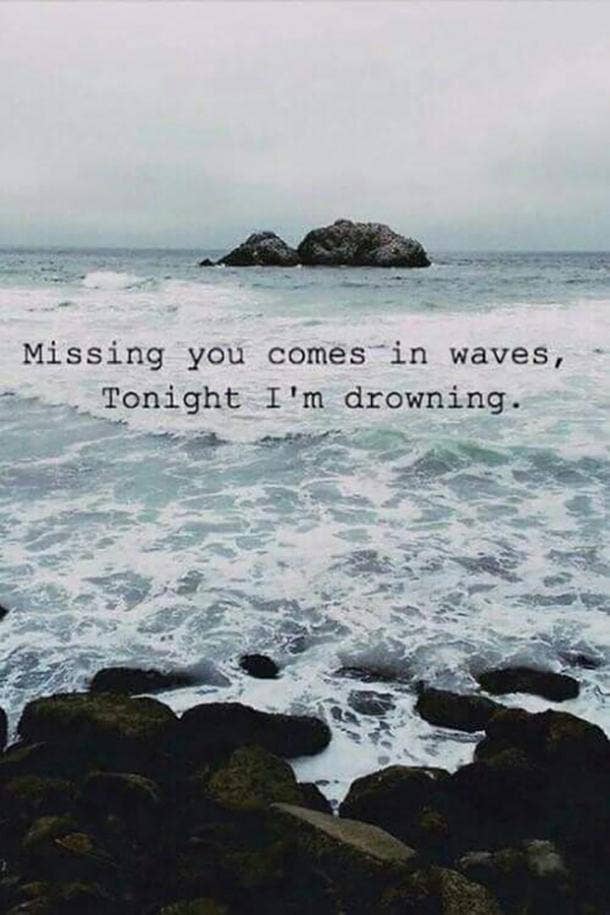 When you miss them every day.
4. "Even if I spent the whole day with you. I will miss you the second you leave." — Unknown
When you can never spend too much time together.
5. "Hey . I miss you." — Unknown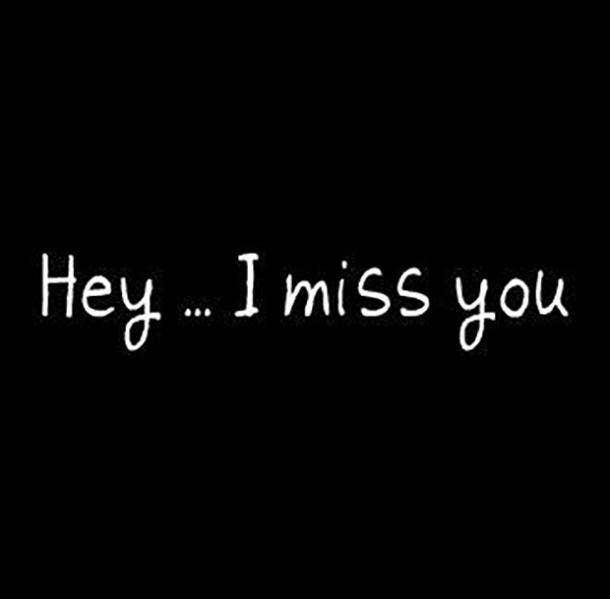 Keep it sweet and simple.
6. "Goodbyes are not forever, are not the end; it simply means I'll miss you until we meet again." — Unknown
It's not goodbye, it's see you later.
7. "Dad, remembering you is easy, I do it every day. Missing you is the heartache that never goes away." — Unknown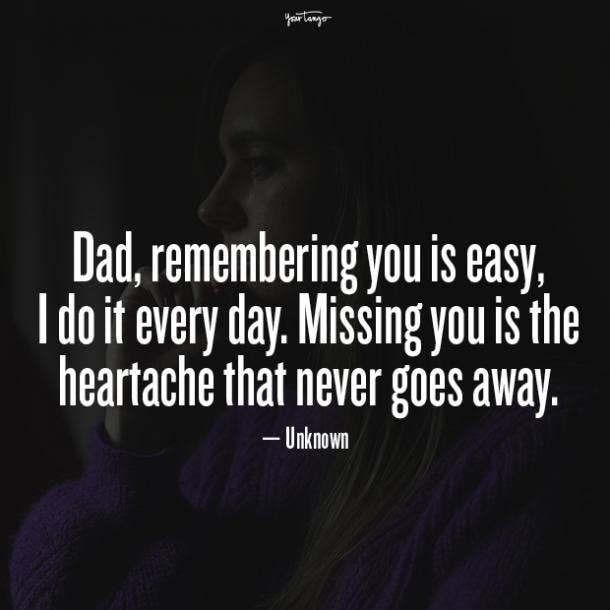 Photo: Bricolage / Shutterstock
Missing dad can be the hardest.
8. "Distance gives us a reason to love harder." — Unknown
Distance makes the heart grow fonder.
9. "No matter how bad things got between us I still miss you and wish nothing but the best for you." — Unknown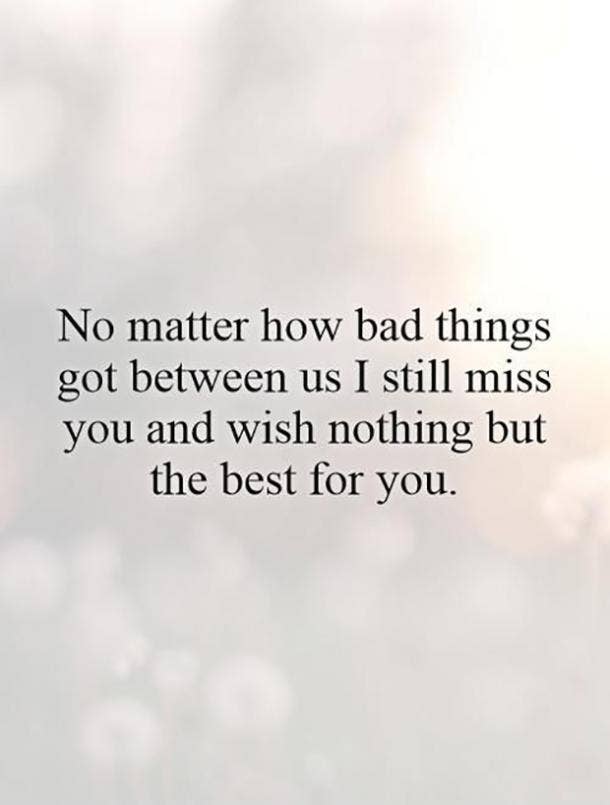 When you only want the best for each other.
10. Let them know how much you are thinking of them.
"You may be out of my sight . but never out of my mind . I miss you . " — Unknown
11. "I miss you like the mountains miss the sky." — Unknown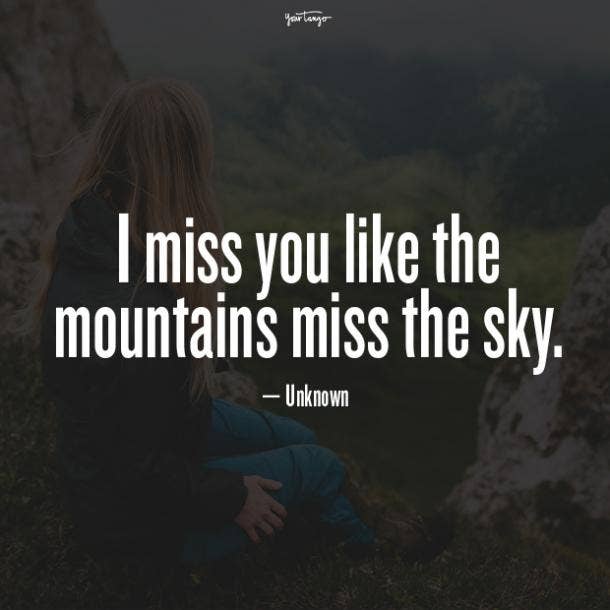 Photo: everst / Shutterstock
A metaphor for love.
12. Give virtual hugs to your loved ones.
"I just hugged you in my thoughts . Hope you felt the squeeze!" — Unknown
13. "I miss you more than words can say." — Unknown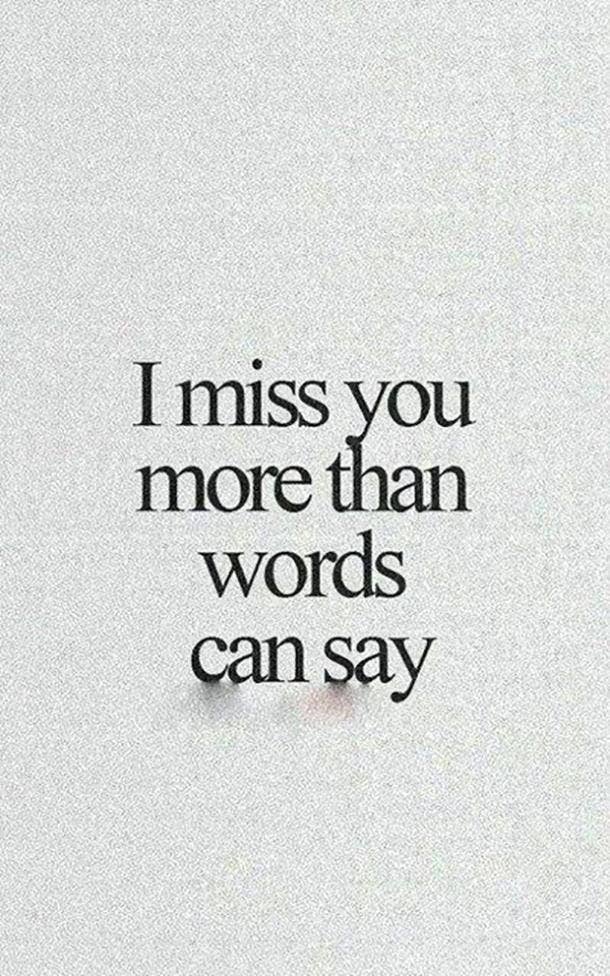 When words aren't enough.
14. "The thought of being with you tomorrow, is what gives me the strength to go on today." — Unknown
Express how their love for you keeps you going.
15. "Talking to you makes my day." — Unknown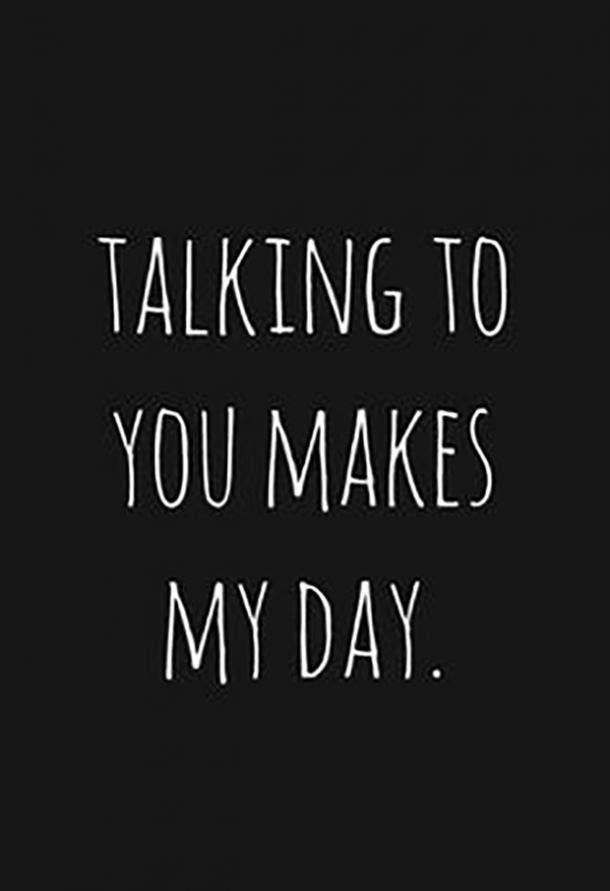 To the loved one who makes your day.
16. "There's no substitute for someone who gets you." — Unknown
When you just get each other.
17. "You will always be . the sister of my soul, the friend of my heart." — Unknown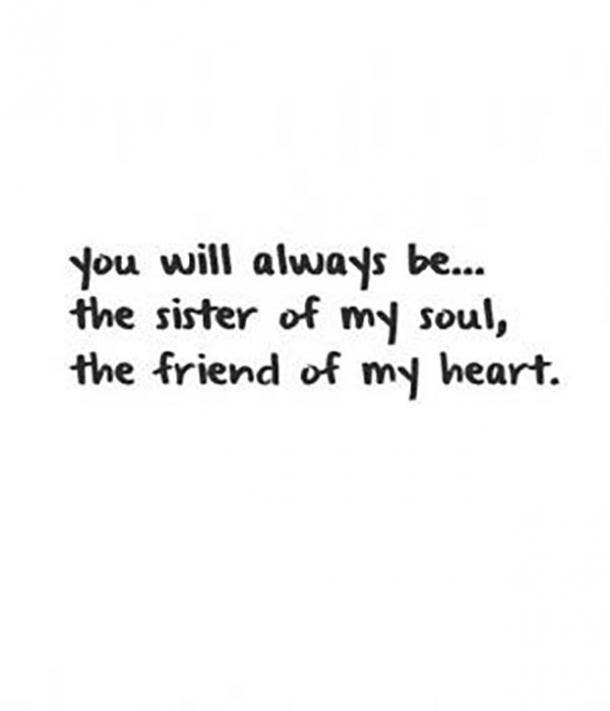 When you're missing your sister.
23. "Good friends are like stars. You don't always see them, but they're always there." — Unknown
Tell your friends how special they are.
19. "Close together or far apart, you're forever in my heart." — Unknown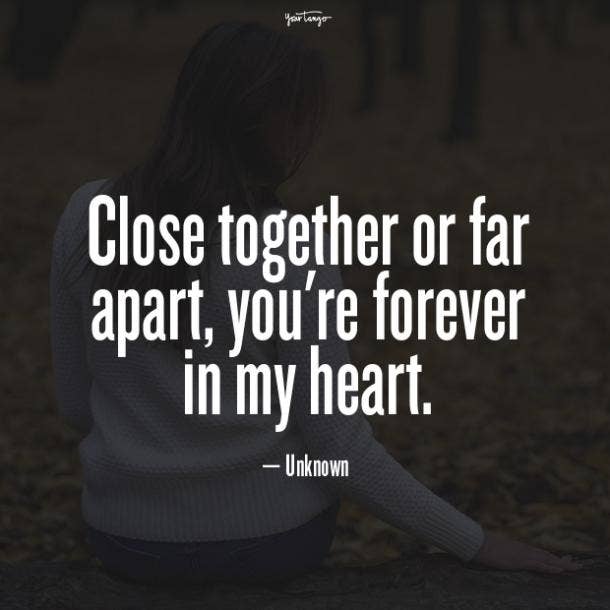 Photo: Motortion Films / Shutterstock
Related Stories From YourTango:
Remind them that they will be always in your heart.
20. "I don't hate you. I never will. I just act like I do. Because it's easier than admitting that I miss you." — Unknown
It's all out of love.
21. "I miss you, not the 'I haven't seen you in a while' kind of miss you, but the 'I wish you were here at this very moment' kind of miss you." — Unknown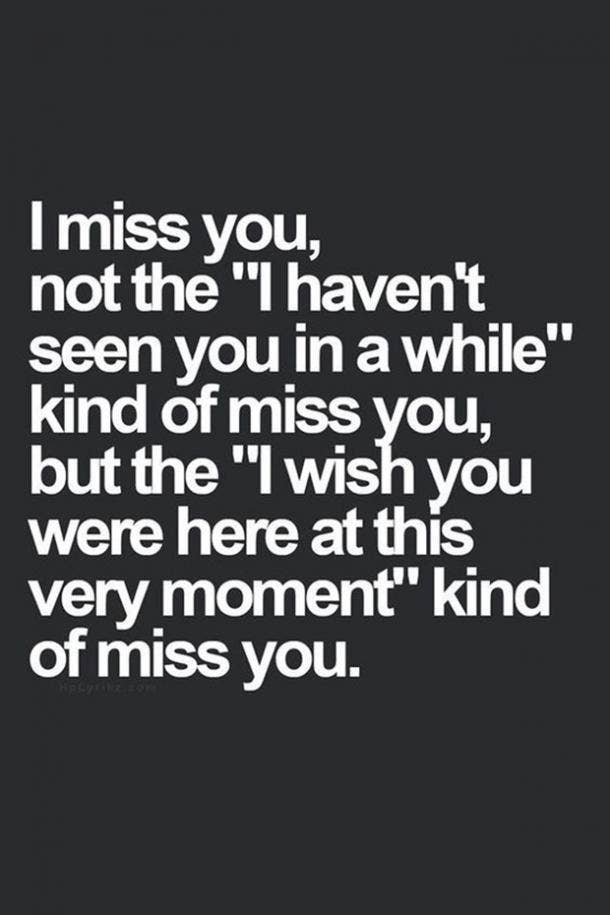 I miss all of you.
22. "When I miss you, it seems every song I listen to is about you." — Unknown
When missing them bleeds into music.
23. "I love you past the moon and miss you beyond the stars." —​ JmStorm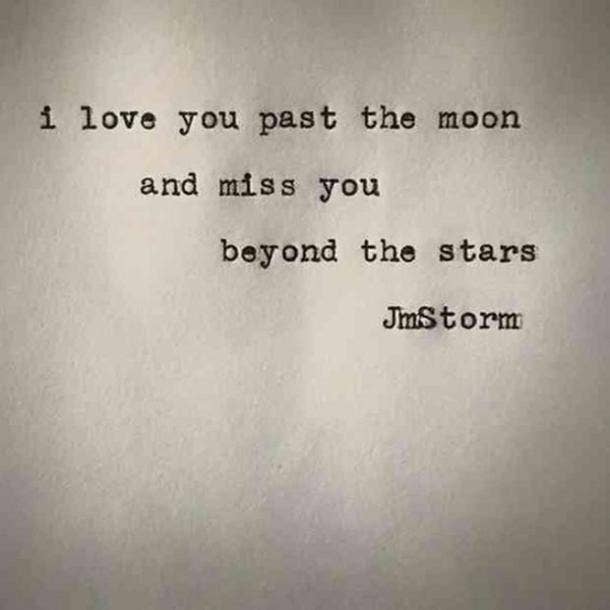 When you feel worlds apart.
24. "Brother. You may not know that you are the best gift I ever got, I will always be there with you in every up and down of life." — Unknown
Some brotherly heart-to-heart feels.
25. "True friends are never apart. Maybe in distance but never in heart." — Unknown
When your friends become part of your family.
Everyone needs a break.
Between the pandemic and its economic fallout, it may be hard to fathom taking a vacation this year. But the research is clear: Vacations lead to improved productivity, lower stress and better overall mental health. It also spurs greater creativity — for example, Lin-Manuel Miranda conceived of Hamilton while on vacation. Even if you can't travel, the author recommends following these six guidelines to help you make the most of your time off: Get a change in scenery; plan ahead; identify the type of experience you want to have; spend time outdoors; unplug; and create memories.
Everyone needs a break.
Many of us have had our summer vacation plans cancelled due to the pandemic. Perhaps you planned to visit family or take your annual beach vacation. Or maybe you were scheduled to celebrate a milestone with big trip — a food and wine tour of France or an African safari. Whatever your thwarted plans entailed, you might be thinking of skipping a vacation altogether. And given that productivity has been hampered for many of us over the last few months, it's easy to think, "I should keep working, so I can get more done," or "What's the point? I can't really go anywhere."
Don't give in to this limited thinking. Several studies indicate that performance nose-dives when we work for extended periods without a break. In addition, the benefits of taking a vacation are clear: It results in improved productivity, lower stress and better overall mental health. It also spurs greater creativity — for example, Lin-Manuel Miranda conceived of Hamilton while on vacation.
Research on elite athletes shows that rest is what enables them to perform at peak levels, and the same is true for us. Taking a vacation allows us to come back feeling refreshed and recharged, with renewed focus. Some companies are even requiring employees to take time off. Vacations may even help your personal bottom line: Research shows that those who take more than 10 days of vacation are 30% more likely to receive a raise, and those who take regular vacations have greater job satisfaction.
While your plans will likely look different than before, below are some guidelines to help you reap the benefits of vacation, wherever you go.
Get a change in scenery. Vacation doesn't need to entail extensive travel. The fun of it is going somewhere that is different from your daily life. This may be a short drive from home, an extended road trip, or an excursion to the other side of town. One friend rented a beach house for her family 10 miles from her home. A team member rented an RV with her family and drove to the mountains with another family. (Each family had their own RV and got tested for Covid-19 before leaving.) Another colleague took a solo weekend a few hours outside his city at an Airbnb to read and reflect. Another team member planned gourmet food excursions in her own city, seeking out the best versions of her favorite foods in different neighborhoods across town.
Plan ahead. While a spontaneous getaway can be exciting, research shows that the stress of poorly planned vacations can eliminate the positive benefits of time off. In particular, planning a month ahead and focusing on the details in advance versus figuring things out while on vacation has been shown to result in a better vacation experience with more positive outcomes. Planning ahead also gives us something to look forward to — something that Gretchen Rubin, author of The Happiness Project, says not only makes us feel good, but also adds an "atmosphere of growth" to our lives and makes us optimistic. Even if you're only going across town, you can still identify which days you're going to take off and plan what you're going to do in advance.
Identify the type of experience you want to have. The ideal vacation is different for each of us. What is your idea of recreation? What allows you to recharge? What nourishes you? For some, it's soaking up the sun by the water. For others, it's a creative pursuit, exploring a new location, trying new cuisine or engaging in an adventure sport. Knowing this will help inform potential destinations and activities. You might not be able to take that cooking class in Provence, but you can still go to the countryside, have a gourmet experience, and cook Provençal cuisine.
Spend time outdoors. Research shows that spending time in nature benefits us both mentally and physically. Moreover, these benefits are reaped whether you are in a national park or an urban park, and with as little as two hours in nature per week. Whether you're traveling or staying home, build in time outdoors as part of your vacation, whether it's taking a morning walk, skipping stones on a lake, watching the waves crash at the beach or picnicking in a small park. Being outside also provides open space and more social distancing (aside from the occasional crowded monuments or visitor centers).
Unplug. A 2017 Glassdoor study showed that two-thirds of Americans work on vacation. Doing so has been found to negatively affect intrinsic motivation and causes us to enjoy our work less. Unplugging from work is a big part of what makes vacation feel like vacation. It's down time for our brains from the barrage of cognitive demands that come with our jobs. It creates the space for creativity to emerge and allows us to be fully present with our families or travel partners. My colleague who went on the RV trip sans laptop and cell reception felt liberated and like she was able to truly slow down and reset. She let clients know in advance she'd be unavailable during that time. My friend who rented the beach house brought games, puzzles, a good book, and some wine and relished being able to disconnect from work. To be sure, disconnecting can feel difficult — many people fear missed opportunities or the back-to-work email dread. Identify a colleague who can answer questions while you're away and indicate this as well as how you'll be following up (if at all) in your out-of-office message.
Create memories. Vacations are also great opportunities to create lasting, positive memories. Several studies show that recalling happy memories can head off stress, anxiety, and depression — something that is much needed in our busy lives and even more so in current times. Since it's easy to capture the most enjoyable moments of our vacations with a smartphone, go ahead and record singing around the campfire while eating s'mores. Take pictures of the scenic views, your picnic spread, the fish your teenager caught, or the thousand-piece puzzle your family put together. You'll enjoy revisiting these memories in the months and years to come.
As easy as it might be to keep on working and skip a vacation, don't. Following the suggestions above can provide you with an experience that leaves you refreshed and re-energized, and you don't have to go very far to do it. So, get packing and go. You'll be glad you did.
Career and Success
Life is full of challenges. Some people seem to meet every challenge with confidence, while others struggle to overcome them. Pittas especially get a sense of satisfaction from facing challenges head on—it brings a sense of accomplishment and can be very fulfilling. On some level, you actually seek challenges. Your highest self wants you to learn and grow, and life's most effective tool toward growth is experience.
The problem is that all too often you might find yourself faced with the same challenges over and over again, and that's when you start to lose motivation to face the issue and lose sight of the potential lesson. At that point, challenges can become problems that can spiral you into despair and frustration.
As a co-creator of your own reality, you have the ability to overcome these challenges. It is with this sense of responsibility and awareness that you can begin your journey into a higher state of consciousness where challenges are no longer challenges, but opportunities to get a glimpse of your highest self.
Here are some ways to better accept and meet your personal challenges, whatever they may be.
Face the Challenge
In many cases this is the most important step, the most obvious step, yet it is also the most often missed. People spend time looking for a way around the issue, or wallowing in despair at the enormity of the challenge, instead of facing it. Even mundane things, like a pileup of laundry or work, get ignored. Putting a challenge off doesn't make it go away. This is true of big challenges, as well as the small ones. The most important thing you can do is face what's in front of you head on.
Be Present
Do not underestimate the power of being present. If you make a practice of facing your challenges—even in failure—with full presence and awareness, you will find most challenges are not challenges at all. Instead life's challenges become messages from the universe. Meditation can help you cultivate silent awareness and is a good tool to help bring that focus to yourself during difficult times.
You can ask yourself questions that help you better understand the problem and how it affects you.
Why is this a challenge?
Do I believe that I am capable of being successful at this challenge?
What are the possible outcomes if I succeed?
What is the outcome if I fail?
These questions are not meant to solve the problem, rather they are meant to help bring you into fuller awareness of the challenge itself and your emotional reaction to it.
Look to Your SELF for the Solution
Others can help you arrive at your own understanding, but no one ever solves your problems for you. Even in circumstances where someone else is acting as an authority or partner, only you can decide for yourself how you will process the situation. The longer you spend searching for guidance outside of yourself, the longer you spend ignoring the problem. Asses the situation, your resources, and your abilities, and then act. Your action may include enlisting help from others, but it will be your challenge to solve. The sooner you take up the challenge, the quicker it stops being a problem.
Know Yourself
Challenges are opportunities to grow. That growth takes place out of potentiality, your potentiality, which is infinite and highly active in every moment of life. Come to know yourself as that. You are pure potential experiencing life through what seems like limitation. Challenges are spikes in that imaginary limitation barrier that guide you to awareness. You decide: Are you limited or are you an ever-expansive growth of consciousness and love? Choose the latter, and take another look at that so-called challenge you've been facing.
There is a reason why certain challenges seem hard to you while others breeze right through the same situations. It's not because they are better than you. It's all about consciousness. Those who face challenging tasks have found a way to avoid seeing those activities as challenges.
Detach From the Outcome
Stressing about the potential outcome is often what turns a molehill into a mountain. Once you shift your focus to the thing you're actually doing, instead of the result, the most intimidating parts of the trial start to disappear. If you simply perform the task at hand without worrying about the outcome, you have power over the situation.
Some challenges seem enormous and harsh, but if you remain centered and full of awareness, no challenge is too big to meet with power and grace.
Tune into the Boost Your Confidence program for more tips to develop trust and faith in yourself, available now in the Chopra App.
By Michele Lerner
Happy memories of children gathering at your family home cast a sentimental spell over the process of passing property to the next generation. But as with any other real estate transaction, it's important to move past emotion when deciding what will happen to your abode in the future.
Whether you have a cozy vacation cottage, a palatial estate or a sophisticated condominium, drawing up a clear estate plan can ensure your property is distributed in a way that suits both you and your family's best interests.
"The best place to start the process of passing your home onto the next generation is to have a conversation with your kids about their expectations and interests," said Thomas Six, a wealth strategies consultant with RBC Wealth Management in San Francisco.
"If you own a vacation home and plan to pass it on, make sure they really want it. If it's an investment property that has renters in it, ask them if they want to take on the responsibility of being a landlord. If it's your own home, ask if any of your kids will want to live there after you pass away or if they plan to sell it."
There are several ways to pass on your home to your kids, including selling or gifting your home to them while you're alive, bequeathing it when you pass away or signing a "Transfer-on-Death" deed in states where it's available.
"How you handle your property has both legal and tax implications, so if you don't do it right, it can become a burden instead of a gift for your kids," said Lloyd Cohen, a law professor at George Mason University School of Law in Arlington, Va.
Here's what you should know about each option:
1. Selling Your Home To Your Kids
Parents can sell their home to their children, even if the parents plan to continue living in the house, said Six.
"The parents need to sell it to their kids at fair market value—comparable to what other similar properties are currently selling for—because if they opt to do a bargain sale, then that's partially a gift and will generate tax implications," said Six.
Parents can loan money to their children to purchase the home, but legally the parents must charge interest to the kids and then declare the interest they earn as income.
"If the kids can afford to buy the home, a sale can be great for parents who want to downsize and need the proceeds of the sale to move," said Six.
You can opt for a life estate that allows you to live in the property until you pass away. But Six said you must pay fair market rent in order for it to be considered a legal sale.
"Never do a life estate unless the property is land-only without a resident," said Cohen. "If the person living in a home under a life estate must move, such as to an assisted living facility or just to move in with another family member, that life estate cannot be sold. No one wants to buy a home in which someone else is legally allowed to live until they die."
Another option is to establish a Qualified Personal Resident Trust (QPRT), said Six, which transfers ownership of the home to a trust.
"The terms of the trust can allow the parents to live in the home rent-free for a certain period of time, but this is an irrevocable trust that cannot be changed," said Six. If the parents outlive the terms of the trust, the property will be excluded from their estate. If they want to continue to live in the home after the term of the trust ends they must pay fair market rent while living in the home.
Cohen cautions a QPRT may not be for every family. He warns parents should be mindful if there is a falling-out in the family, the kids could evict their parents.
2. Giving Your Property To Your Kids
If you want to give your property to your kids, Six said it's generally better to do so through a revocable living trust. This gives you the option of changing your mind in the future. In addition, Six said you must check your mortgage agreement or ask your lender if transferring ownership of the property as a gift will trigger a "due-on-sale" clause (which would force you to immediately pay your mortgage in full).
When gifting property, Cohen reminds owners if the recipient gets into financial trouble in the future, the property could be foreclosed on and taken out of the family in a bankruptcy.
"It's usually better to transfer property as a gift after your death because of tax implications," said Six.
3. Bequeathing Your Property
Six recommended putting a trust in place with a plan for how you want your property distributed after your death.
"Talk to your family about it first to discuss whether anyone wants to live in it, and has the wherewithal to keep up with the property taxes, insurance and maintenance costs," Six said. "If no one wants the property, the trust can sell it after you pass away and distribute the proceeds."
If one heir wants the property and others do not, Six suggested making equitable financial arrangements to compensate, such as leaving additional money to the heir who won't inherit the home.
4. Deed Transfer
Twenty-five states and the District of Columbia allow property owners to sign a Transfer-on-Death deed, said Cohen.
"It works in a similar way to a 'payable-on-death' designation for a bank account that people use to transfer assets to their heirs," said Cohen. "You avoid probate on the property and you can also easily change the designation at any time before you pass away. It's a great idea, but it's just not available in every state."
You can sign a Transfer-on-Death deed for any property located in a state that allows this legal process regardless of whether your permanent residence is in that state.
Given the complications of passing your home onto your kids, it's best to consult a team of wealth advisors to make sure your decisions are in your best interests as well as the interests of your heirs.
RBC Wealth Management, a division of RBC Capital Markets, LLC, Member NYSE/FINRA/SIPC.
Jackie Burrell is a former education and parenting reporter, experienced in issues around parenting young adults as a mother of four.
Adah Chung is a fact checker, writer, researcher, and occupational therapist.
Turning 18 is a big deal, not just from a parent's emotional perspective, but legally too. Here's a quick rundown on some of the big changes that happen when your child turns 18 and becomes an adult.
18-Year-Olds Have New Legal Rights and Responsibilities
Eighteen is a magic birthday, a milestone into adulthood accompanied by great privileges as well as serious legal implications. At 18, your teen can vote, buy a house, or wed their high school sweetheart. They can also go to jail, get sued, and gamble away their tuition in Vegas.
18-Year-Old Boys Must Register With the Selective Service
There hasn't been a military draft in the United States since the 1970s, but your son still has to register (if he was assigned male at birth; those assigned female at birth are not required to register). You may want to learn more about the who, why, where and how of the Selective Service, plus the background of the system and its link to college financial aid.
18-Year-Olds Have New Privacy Rights
It's natural for parents to get sentimental when kids turn 18, but this milestone carries profound legal implications. Want to see your 18-year-old's medical records, grades, or bank statements? No can do (unless your child formally agrees). The same federal privacy laws that allowed you access to school transcripts and disciplinary records close that door when your child turns 18.
Sex Carries More Consequences for 18-Year-Olds
You know that sweet teen romance, the one between your 18-year-old and their slightly younger beau? Be careful. While statutory rape and similar laws were written to protect children from abuse by older, predatory partners, teenagers can get caught in the crossfire.
What's permissible in some states means jail time in others. Enforcement can range from a slap on the wrist to a decade in jail and having to register as a sex offender for life, which can make it very difficult to hold a job or find a place to live.
18-Year-Olds Need to Know About the Dangers of Drug and Alcohol Abuse
Drug and alcohol use and abuse by college students have long been a concern for parents.   As part of the process of getting your child ready for college, you need to help your young adult understand the very real dangers of the college party scene, which includes, among other things, binge drinking, roofies, and taking prescription drugs for recreational use.
18-Year-Olds Need to Prepare for Job Interviews
Job interviews are never easy. The idea of presenting our best selves during a 15-minute conversation makes even the most confident person nervous—especially if it's a young adult who is fairly new to the interviewing process. As newly minted graduates begin their job hunts, help them learn a few essentials that will make the interview process successful.
18-Year-Olds Can Still Take Family Vacaions
Just because the kids are grown doesn't mean you have to give up family vacations. In fact, an increasing number of families with teens, college kids, and 20-somethings continue to vacation together, at least occasionally.
The trips may be different than they were with little ones, but they are still meaningful. Teens and 20-somethings are adventuresome travel companions who often enjoy a mix of outdoor adventure, cultural immersion, fine dining, and shopping.
My pal Rachel Lucas got a question from one of her readers that read,
I'm a former liberal who's made a difficult transformation to a conservative…I'm hopeful that you'll consider a post on how a conservative can deal with liberals, in the situation that the liberals are loving and caring family members. Any advice? On how to make a point while remaining civil, and un-excommunicated?
Here's how you deal with friends, family members, and random people you're meeting on the street who are liberal.
#1) Avoid talking about politics in the first place. I mean, if you think George Bush is the Truman of his time, a man who will be vindicated by history for bringing freedom to the Middle East and your friend thinks he's Hitler, it's going to be hard to bridge the gap — especially since there are probably 50 issues where you have that big of a disagreement. So, try to stay away from politics in general.
#2) Be big enough to handle disagreements. If you can't handle the fact that your friend thinks Michael Moore is a cinematic genius and that Barack Obama is a "lightbringer," then how are you going to be able to hold up your end of the friendship? You have to just realize that you're not going to agree on some very important issues and deal with it.
#3) Correct them gently. I hate to be this blunt, but in my experience, the average person thinks it's very important to know about politics, but simultaneously, is horribly uninformed about the subject compared to the typical person who reads blogs, listens to talk radio, etc. So as a general rule, most people believe all sorts of things that are ridiculous, completely incorrect, that some "friend of a friend" told them, etc.
With that in mind, if you are well informed, it's generally very easy to make them look like an idiot. Don't do this. Feel free to politely disagree with them if they are wrong and then move on. If THEY ask for a follow-up, explain your opinion, in neutral language — and then try to move on from politics.
#4) Do you want to be friends or do you want to prove you're right? I'm not saying you should go along to get along, because I don't believe in doing that, but people get very sensitive about how little they know about politics. If you rub it in their faces or make them look like idiots, which incidentally, is what generally makes for a good blog post =D, it's going to upset them. It's one thing to do that to liberal bloggers or liberals in a comment section, whom you probably don't care about one way or the other, but it's another thing to do that to your friends and family. So, let them know you disagree, but don't make a huge issue out of it or humiliate them.
#5) Remember that people are not groups. As a group, liberals suck. They're dishonest, selfish, hedonistic, and slowly eating away at everything that's good, decent, and worthwhile about American society. However, your friend or a family member is not "liberals;" he's just a person. Treat him like an individual and don't try to make him bear the sins of liberals everywhere. That's too heavy of a burden for anyone to bear.
#6) Just realize it may not work. I find that there are liberals and then there are fanatical liberals. Liberals who aren't all that into politics, you can have fairly normal discussions with. On the other hand, the fanatical liberals tend to infuse politics into every part of their life and if you are conservative, they genuinely see you as a bad person just because you don't agree with them. Realistically, you're probably not going to be able to be friends with someone like that, no matter how great you are as a friend, unless you want to be a doormat who spends all your time getting browbeaten and pretending you agree with him.
Give significance to your current life.
Studies show that loneliness can lead to feelings of anxiety and depression. But there are ways to combat loneliness even when you're alone.
The first step is to acknowledge any feelings or signs of loneliness, such as a sense of emptiness, excessive procrastination, insomnia, and others.
Pay attention to what you read and watch, and understand how it may be impacting your thinking.
Invest your time in something constructive, like a creative project or an online course. Or, find a way to care or provide for others. These activities will give you a sense of purpose, autonomy, and achievement.
Continue to reach out to your colleagues and friends virtually, keeping up as many normal interactions as you can. But use technology wisely — utilize tools like social media to have meaningful conversations instead of comparing yourself to others.
Give significance to your current life.
Where your work meets your life. See more from Ascend here.
Being alone is often a luxury which has many positive outcomes. In our busy lives, we all strive to carve out space or time to find peace and solitude — to reflect, unwind, and be creative.
Loneliness, which is far less satisfying, occurs when we crave social and emotional needs that are not being met. It is when we miss mattering to others — irrespective of whether we are alone or living with someone. Social loneliness is felt when we do not have a confidante and are unable to get support from peers, colleagues, family, or friends. Emotional loneliness is more likely when there is a lack of intimacy in close, exclusive relationships with one's romantic partner, parents, or kids. Loneliness, in its different forms, can lead to despair and depression.
Past studies during the SARS pandemic show that individuals who were quarantined during the outbreak had higher levels of anxiety and depression and reported more alcohol abuse three years later. The lockdown and distancing measures in the wake of Covid-19 has forced many single adults to be "alone" in their homes such that they are essentially quarantined and restricted in the type of social interactions they can have. At first, such individuals may see in an increase in productivity as they are likely to replace social activities with more alone time on work. People may savor being alone at first as they suddenly feel they have more time to do things they have always wanted to do (e.g., cook more, read more, learn a language, write a blog). However, as weeks pass by, and "being alone" does not remain a personal choice but something that is mandated upon you, one can feel burnout and restlessness as loneliness sets in.
How to Combat Loneliness While Being Alone
1) Understand the underlying causes for the symptoms you feel and then challenge your reactions. It is expected that the emotional and mental toll of what we are doing and seeing in these Covid-19 times will have significant effects on us. It isn't always easy to admit to yourself that you're feeling lonely. If you notice any of the following signs of loneliness, the first step is to acknowledge them:
A sense of emptiness and reduced motivation to get up on time, work virtually, and engage in regular forms of physical exercise.
Excessive procrastination and restlessness, which is not relieved despite engaging in passive leisure activities like watching TV or listening to the radio.
Other signs include insomnia, emotional exhaustion, decreased motivation to interact virtually with a need to further alienate from others, and finally, substance abuse (drinking and smoking more than usual).
When we start to believe that we have no control over what happens and that the only thing we can do is accept our fate or just give up on trying — that is a sign of helplessness. However, what is needed is a reminder that "this too shall pass." Carefully analyze what you are thinking and actively challenge these ideas and dispute the negative thought patterns. When you become aware of your feelings and recognize the patterns in thoughts — while engaging in self-talk that takes you out of what may be a downward spiral of learned helplessness and sadness — your mental health improves.
2) Watch what you consume. Pay attention to what you read and watch while at home. If you're practicing social distancing, obsessively reviewing live updates on Covid-19 may not be necessary. It will take time to flatten the curve, and this may last longer than we thought. Thus, daily checks on global transmission and death rates may at times give the impression that nothing is changing. Information you consume has a conscious and unconscious effect on your emotions and thoughts. One way to regulate your emotions while engaging in passive leisure like TV and radio is to pick episodes that make you feel the emotions you are craving rather than instituting further fear and feelings of loss.
3) Find a project that gives you creative control. At this stage, many of us are uncertain about the future and feel that we lack control over when this period of isolation will end. Such a lack of control can lead to grief and sadness. Research shows that activities that provide control, autonomy, and a sense of achievement lead to more happiness. Creative art projects that require repetitive movements can reduce stress. Building something from scratch (even a Lego assembly) can give you a sense of control, purpose and achievement. You could also invest time in your future by using the time to upskill yourself. Many free online courses are being promoted; this may be the time to take advantage of them.
4) The quality is more critical than the quantity in your tribe. Feeling connected irrespective of whether you are an introvert or an extrovert, is a fundamental human need. Social attachment and intimacy we share with friends, family, and our colleagues promote mental and physical health. If you are working from home, acknowledge that the colleagues at work — with whom you spent a majority of your working hours, sharing work stressors and celebrating success, and sneaking out for that lunch or Friday evening drink — filled an essential gap in your life. You must reach out to them and continue as many of those interactions virtually. Pick up that phone and message a friend or a colleague. Just ask them how they are doing. Do not fear interrupting others (if it's not odd hours) as they may be waiting to catch up and connect too.
Create family memories that last long after your suntans fade
Expert Verified
We've been there done that so you can avoid speedbumps
Nitty-gritty details
Must-pack items, hotels with cribs, kid-friendly menus, and more
All ages & stages
From tots to teens, we have ideas to keep everyone happy
Most Popular Stories
10 Best Clothing Brands for Women and Moms
There's definitely a lot of criteria to consider as a busy mom or hardworking woman on the go. Clothing needs to be practical, functional and…
The 10 Best Maternity Swimsuits 2022
Pregnancy feels better when you just add water. And a dip in the ocean, pool or lake is all the more inviting when you can…
The 15 Best Women's Flip Flops for Travel
Shoe trends may come and go, but flip flops are an eternal summer staple. These sandals are the next best thing to running around barefoot,…
8 Things You Should Never Put in Your Checked Bag
As I wandered the racks of Unclaimed Baggage, a shopping wonderland where lost luggage goes to find new homes just outside of Huntsville, Alabama, I…
11 Best Purses for Moms
The mom bag; it's an institution. I remember rifling through my mom's purse as a kid. It wasn't the most attractive bag, but it got…
11 Best Christmas Pajamas for the Whole Family
You may think you don't want Christmas pajamas for the whole family. But then you see your friends on Instagram posing for their holiday photos…
10 Best Ski and Snowsuits for Kids 2021
Baby, it's cold outside! If you're planning a family ski vacation or just want to get out in the snow and do some sledding during…
The Best Digital Picture Frames
So often, our phones get filled with photos that we smile at from time to time as they pop up as a memory, but we…
(opens new window)
(opens new window)
(opens new window)
(opens new window)
Yes, send me expert tips and deals!
By proceeding, you agree to our Privacy Policy and Terms of Use.
Our team of parents and travel experts chooses each product and service we recommend. Anything you purchase through links on our site may earn us a commission.
Your personal family vacation planning starts now
Get expert advice, handpicked recommendations, and tips for your family all year round!
Yvonne Bertovich
Contributing writer
Cake values integrity and transparency. We follow a strict editorial process to provide you with the best content possible. We also may earn commission from purchases made through affiliate links. As an Amazon Associate, we earn from qualifying purchases. Learn more in our affiliate disclosure.
When a family emergency occurs, your first instinct may be to drop everything and prioritize your family members' needs. In some situations, it's the only available solution — and that could mean taking time away from other obligations.
Jump ahead to these sections:
What Qualifies as a Family Emergency for Work or School?
How to Email or Notify a Teacher, Professor, or Boss of a Family Emergency
Family Emergency FAQs
But what constitutes a family emergency, and how does your work or school define it? Here's what you need to know.
What Qualifies as a Family Emergency for Work or School?
Whether you're currently going through a family emergency or you're thinking proactively, carefully consider who's a part of your family. It may seem obvious to you, but sometimes the closest to us aren't recognized by others as "real" family members.
Who's in your immediate family?
Your workplace or school may only grant leave or support for emergencies in your immediate family. Your immediate family is made up of your:
Spouse or domestic partner
Parents or legal guardian
Grandparents
Children
Grandchildren
Siblings
Mother- and father-in-law
Brother- and sister-in-law
Daughter- and son-in-law
Adopted, half, and stepfamily members
Who's in your extended family?
Your work or school may offer leave and support for your extended family as well. Your extended family is made up of:
Aunts and uncles
Great-aunts and uncles (and so on)
Cousins
Unfortunately, close family friends of no relation do not fall into your extended family as it is formally recognized. However, if you have a particularly understanding instructor or boss, you may consider disclosing this information with them and asking how to proceed.
It may be wise to use paid time off or work on your assignments remotely while you provide support to loved ones.
Types of family emergencies that should excuse you from work or school
Every family has its own unique dynamic and may have different ideas about what constitutes a family emergency. Environmental danger or death are the big ones.
What constitutes a family emergency for health or medical reasons is outlined by the Family and Medical Leave Act (FMLA) . The FMLA applies to all public agencies, all public and private elementary and secondary schools, and companies with 50 or more employees.
Employers operating under the FMLA must provide an eligible employee with up to 12 weeks of unpaid leave each year for family emergencies. Whether emergent or ongoing, family emergencies include the following:
The birth and care of the newborn child of an employee.
Adoption or foster care of a child of an employee.
To care for an immediate family member (such as a spouse, child, or parent) with a serious health condition.
To take medical leave when the employee is unable to work because of a serious health condition.
A car accident or similar accident of an immediate family member or another family member in your care
A death or the funeral of an immediate or extended family member
A natural disaster or other external danger that puts a family member's life or livelihood at risk
A threat of other emotional or physical damage
Anything else that may cause trauma or detriment to a family member
You may choose to request a leave of absence, use paid time off, or even switch to remote work to deal with the above circumstances, depending on your state, school, or work policies.
Post-loss tip: If you are the executor for a deceased loved one after a sudden death, the emotional and technical aspects of handling their unfinished business can be overwhelming without a way to organize your process. We have a post-loss checklist that will help you ensure that your loved one's family, estate, and other affairs are taken care of.
How to Email or Notify a Teacher, Professor, or Boss of a Family Emergency
When emailing a teacher, professor, or boss about a family emergency, your exact process may differ. However, if formal emails are a rare thing for you, you may want to consider following the steps below.
The more professional and mindful you sound, the more respect and support you'll likely receive. Keep in mind the details you need to share with the person you're contacting.
It may also be wise to ask these individuals about their policies for making up work and meeting other deadlines that you may miss.