Instead of switching between windows to take notes on your Android tablet, check out this app that could save you some time and frustration.
Nicole Cozma has an affinity for Android apps and devices, but loves technology in general. Based out of the Tampa Bay Area, she enjoys being a spectator to both sunsets and lightning storms.
Related stories
Add floating IM windows to your Android tablet
Free Android note-takers: A rundown
Get better file management on Android with Solid Explorer
Android is great about multitasking in the sense that background applications will be suspended where you left them. That means you can go back and look at the previous app you were using, but it's going to be in full-screen covering whatever you're trying to look at now. This makes note-taking for research really difficult when you're always having to tab back and forth and can only see one app at a time.
Hovernote seeks to remedy this issue by adding a floating notepad to your Android tablet screen. That way, you can read a Web site and take your notes at the same time.
Download a copy of Hovernote for your Android device. Despite being optimal for tablets, you can use this app on any Android device — though I'm not sure how useful it will be on a smaller screen.
Tap on the small h icon in the notification area. On your tablet, this will likely be the bottom right-hand corner. On a phone, it will be at the top in the notification shade.
Hovernote for Android before resizing the text window. Screenshot by Nicole Cozma/CNET
You can start typing right away, but you can also make a couple of adjustments if you like. For starters, the window can be dragged around the screen by pressing and holding on the hovernote text at the bottom of the window. That way you can move it out of the way if what you're reading is being covered. You can also change the size of the window by pressing and holding on the dots in the bottom right-hand corner. Luckily the window even allows copy and pasting functions, so you can clip quotes from the Web.
Hovernote for Android after resizing the text window. Screenshot by Nicole Cozma/CNET
When you're done taking notes, you can save them by sharing to Google Drive, Dropbox, Gmail, or several other services. And when you're ready to close the app, just tap the menu button in the bottom left-hand corner and then the X.
In the future, it would be really nice to see apps like Evernote or Google Drive (Docs) implement this floating window feature.
Most Android based smart-phones sport large screens, giving users a lot of real estate to work with. Having handy little notes on your screen can be a convenience for those who have lots to do. While there are several apps on the Play Store which allow you to enter notes and save them, for this guide we will be using the ColorNote app which has a lot of useful features and options.
Others are Reading
How to Scan a Page to PDF With Android
How to Record a Call With Android
Instructions
font-size: 13px !important;color: #474747;text-align: justify;line-height: 21px;" >
Run the Google Play Store app on your device or login to the Play Store online from your Desktop. While the Play Store app allows for direct downloads, the web version can also send apps to your device as long as it is connected to the internet.
Using the Play Store's search feature, look for an app called 'ColorNote Notepad Notes To Do', developed by Notes. The app is free and you can tap the install button to download it to your device
Once the app is installed, you can access it from the app drawer. Tap the ColorNote icon to proceed.
The apps main screen is very simple and there are three main buttons on the top bar. The first (saying ColorNote) is the menu button, the second is the 'add new' button and the third is for search.
If you tap the menu button, a sidebar will slide out. On the sidebar you can select whether to add a new note, a calendar entry, change the applications theme or view the archive and the trash can. There is a backup option as well, which is useful in case your want to retrieve your notes on another device.
To add a new note, tap the plus button (add new) and select the type of note from the dialogue box (you can choose between Text and Checklist).
An editing window will open up with space for you to add text using the virtual keyboard. In the editing window, there will be a coloured box on the top right, which you can tap to change the colour theme of the note.
Once you have entered the desired text in the editing window, you can press the back key to save it and return to the main screen. Now the note you just created will be listed, along with the time of creation.
You can long press a listed note (keep your finger on it till the interface changes) and choose to either strike-out the title (like a checklist), archive it (remove from the list but keep in the archives), delete it, set a reminder for it or protect it using a password.
If you accidentally delete a note, you can restore it from the trash can (using the sidebar explained earlier).
If you want your note to appear on a home screen, simply go to your widgets and select the ColorNote widget. Once you place it on your home screen, a dialogue box will appear listing all your notes and you can select whichever entry you want the widget to display.
There are a couple of iconic scenes in Mad Men where Don Draper is fresh off the "motivation buzz" from a glass of whiskey (oh the sweet 60s), he's relaxing on his couch and is holding a voice recorder in one hand. There he is, effortlessly recording his thoughts for his next big ad. I'm a big fan of Don Draper, but these scenes stand out particularly for me. Because I can't do that. I can't lay in a sunlit office in a skyscraper, casually day drinking, recording my thoughts that someone else would then transcribe and edit.
But here in reality land, I can get pretty close to that last part. Another reason I'm so attached to that scene isn't purely because of the glamor but about the simplicity – the intimacy of creating voice notes. I'm not one of those "we had it better back then" guys, but after trying out a couple of dozen note taking services and trying to organize all of my notes, I do appreciate simplicity.
In the modern times, voice notes are a necessity. You don't always have time to write things down, even if you always have your smartphone with you. A voice memo is the quick and dirty way. Read on to bring a piece of Don Draper in your Android life (specifically to the home screen, via widgets).
1. Google Keep
Google Keep is Google's own note taking service available for Android and the web. The Android app has a great widget with a shortcut to the voice note feature. Using Keep you can come the closest to the Don Draper scenario. Because not only will Keep record your voice, it will also transcribe it for you. Using Google's pretty awesome speech-to-text engine, you'll end up with both your voice and the transcription in the same note. And you didn't even need to hire a secretary.
Cool Tip: We love Google Keep and have already written about why you should use it. You can use Google Keep on iOS too.
If all you want to store is the resultant text, you can also use Google Now's voice search and say "note to self…" and the transcribed note will be added to Google Keep. Here you can also change the note taking app from Google Keep to Evernote.
2. Evernote
Like any other overly feature-rich note taking suite, Evernote has a voice notes component. You can add it as a widget on the home screen. But this is purely a voice recording feature, there's no transcribing like with Google Keep. If Evernote is your default note taking app, you should probably try to manage your voice notes with it as well.
But the problem is that the interaction isn't quick. When you press the recording button, Evernote opens the app and then starts the recording process. While that doesn't sound like much, it's still a delay that's a disadvantage when we're talking about spur-of-the-moment recordings.
Which leads us to the next option.
3. Easy Voice Recorder
I thought the Play Store would be riddled with dedicated voice memo apps. Have they never seen Mad Men? Turns out, no, they haven't (or maybe they watched Louis in Suits, creepily using his voice recorder, and decided against making an app). There aren't that many great voice memo apps and when you talk about an easy-to-use widget, the list narrows down further. From my research, that's just one. One voice memo app that still uses the Halo design language (that's two generations old at this point). But it works, and it works well.
Easy Voice Recorder will let you take mono voice notes for free. You can upgrade to the paid version for stereo recording, support for external mics, removing ads, and more.
Easy Voice Recorder is the app that avid voice notes users should go for. It has a great collection of widgets. You can start, pause, and stop recording right from the widgets. This means no loading screens, no waiting for the app to launch. This is the fastest way to take voice notes.
The app also makes it easy to manage voice notes. You can go in and edit titles for notes and better manage them.
Additional Alternative: If a widget is not a necessity, check out Sony's Audio Recorder app. You get stereo and lossless recording with a clean interface, all for free.
How Do You Take Notes?
Do you use an old school notepad, a complicated note management system or just something simple? Share with us in the comments below.
Last updated on 03 February, 2022
The above article may contain affiliate links which help support Guiding Tech. However, it does not affect our editorial integrity. The content remains unbiased and authentic.
There are several apps to take notes on android devices, but there are a few good apps for taking handwritten notes. It is now common to take notes on the android device? If you are habitual of taking notes on your smartphone there apps will help you to quickly take notes. Today android phones have become a necessity and taking notes is a very common thing that keeps everything organized.
But it is not that easy to take notes and make it very organized on your Android device. Due to this issue handwriting apps were created to resolve the issue of taking notes where proper formatting and other major things can be done.
Using handwriting apps is better as it makes it very easy to take notes. Here are the best note-taking apps with a stylus that can easily help you to take notes.
Top Handwriting Apps For Android
While there are many apps available on Google Play Store on a few taps but finding the right app is hard and time-consuming. We have done the same and found some of the top apps for note-taking, so you don't have to waste time installing multiple apps.
These are some of the top Apps to take handwritten notes on your Android device, you can use any of these and check which suits you better.
1. Squid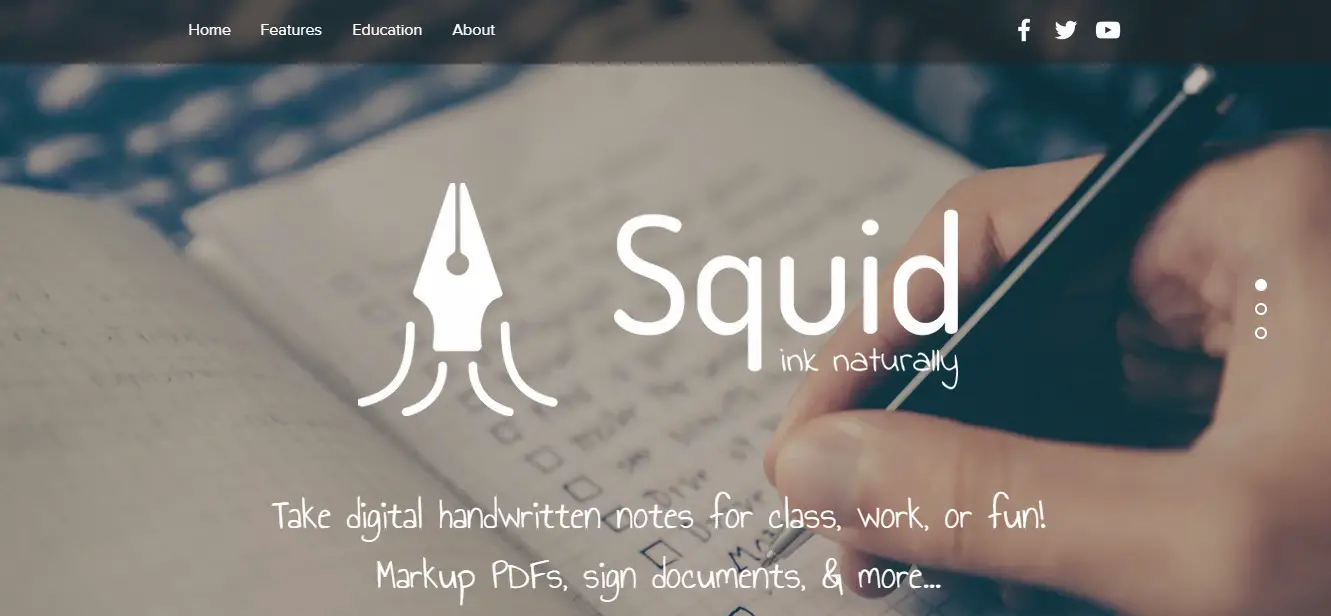 Squid is an attractive note writing application known as Papyrus by which you can create notes in handwritten form. It allows you to create notes in PDF form on the device and save notes easily.
You can keep notes in zoom format and on any device. You can write notes with the stylus pen present in it and even can clear the mistakes easily.
Features
It allows you to change multiple colors so that you can identify the most and least important items.
With Squid, you can create PDF markups on your device and can easily fill the blank PDF forms easily.
You can backup and restore your written notes so that just in case the notes are lost you can easily restore them.
Users can add images and crop them if needed and it also works best for tablets.
2. INKredible
It is a well-known note writing an application that works incredibly for android devices. It is counted amongst one of the best handwriting apps for android note-taking.
Moreover, you can upload images from your mobile in this app and can add images in your notes, or other than that you can take screenshots and can even edit them.
Features
It has an automatic palm and wrist rejection feature to avoid writing unnecessary text.
You can avoid putting unnecessary pressure on the same.
It offers a great layout of writing notes and does not cover extra space on your android device.
A convenient setup for easy note-taking has been done so that users won't have any problem with the layout.
3. LectureNotes

It is considered as one of the known note-taking apps with a stylus. If you are looking for paid apps to organize your notes then LectureNotes is a good choice to go with.
It also gives you an option to install LectureVideos and LectureRecordings by which users can insert audio and video along with the notes.
Features
You do not require an online connection to run this application and you can easily check the number of pages it has.
LectureNotes takes PDF's and images by which you can easily adjust them within your notes and give them a presentable format.
The application is designed to keep all the professional needs in mind and people going to the office or who are from a corporate background can prefer using this background.
4. FiiWrite

FiiWrite is a free note-taking application for its users that not only allows you to take notes but also paint. You can easily organize your notes with the sequence of dates and other important factors.
It allows users to add videos, audio notes, and images to their notes and can add various types of doodles and diagrams for a better explanation.
Features
It has a stylus pen included in the app which helps in adjusting the color and thickness of the content you are writing.
FiiWrite has easy doodle options which help in drawing additional diagrams for easier explanation.
If by mistake you have deleted any of your notes you can go in the trash tab and restore your tab.
5. KeepMyNotes

If you are a beginner in writing notes and have no idea about how to write notes then you can try KeepMyNotes to create notes. There are various options to style your text and change the formatting like bold, underline, or italicize – among other things Also the notes can be saved in a sticky format for easy usage
Features
All notes that you have written can easily be password protected and you can save them.
It can be linked to the cloud and all your data can be stored in the cloud, where the user can be logged in and watch the notes.
You can share your notes within other applications also, and people can easily view the notes you have shared.
6. Google Lens
Google Lens got its update recently and after its update, it got an option of writing text notes and copy it to your computer. Just install the Google Lens app on your android device and can set up your account and id on your device connected with Google Chrome on your computer.
Google Lens is undoubtedly one of the best handwriting apps for android note-taking that can use it for personal as well as professional use.
Features
It is a trusted application by Google and all your data will be safe inside the notes application.
This app works for both android as well as ios and you can easily copy-paste your notes to different apps.
It can also read aloud notes that are copied to other software and can be converted into digital text.
7. Rough Animator

It is an animation app with the help of it people can let you animate moving pictures. You can draw things easily can even shoot little animated movies to make your notes more valuable.
It is one of the few apps with the help of a stylus and pen support directly. It is easy to export an animation to QuickTime video, GIF, or an image sequence as well to make it easy to use for users.
Features
It is a fully-featured application for android users that is easily compatible with any phone.
The app does not take much space on your device and is even available for ios devices.
It has full control timing of drawings on the timeline.
These were some of the top apps for taking handwritten notes on your Android device. You can try them and check which fits your needs better. Also, if you are using some other apps then let us know.
Taking notes is easy if you have a smartphone, tablet, or computer
Whether you're a full-time student, taking an online course, or trying to stay organized in business or at home, note-taking apps for computers and mobile devices make it easy to gather, sort, and store information. Here are our picks for the 10 best note-taking apps for students or anyone who wants to stay on top of the flood of information in their lives.
The note-taking apps on this list include apps for iOS and Android devices as well as Windows and Mac desktop PCs.
Best for the Apple Universe: Notes
Preinstalled on iOS and macOS devices.
Supports the Apple Pencil for iPad note-taking.
Use Siri voice commands to create a note.
Share Notes for group lists.
Syncs between iOS devices with the same iCloud account.
No support for Android or Windows devices.
Notes is the Apple note-taking app, and it's deeply integrated with iOS and macOS. This handy tool lets you jot down quick notes or use an Apple Pencil or your finger to take handwritten notes. Easily create checklists and share with others, so everyone can tap to check off an item or edit the note. When you set up iCloud, you can keep your notes in sync across all your devices.
Notes is incredibly powerful and feature-rich. Pin important notes to the top of your list, add photos, create sketches, scan paper documents into Notes, add attachments and tables, search notes, and use Siri to start a note.
Download For:
Best for Group Projects: Notability
Edit PDF documents.
Group notes by subject and create dividers.
Supports the Apple Pencil.
Syncs notes with audio and listen to the original source.
Work two notes side-by-side.
No Android or Windows support.
Notability is a third-party app for Apple devices that's a good alternative if you don't like the feel of Notes. Notability is solid when it comes to creating and editing text and image notes. However, its real appeal is its ability to edit and annotate PDFs.
Notability's audio features are also noteworthy. Have collaborators leave audio notes when working on a project. Record a lecture or meeting and let Notability sync your notes to the recording so you can replay what was said. Share Notability notes using Google Drive, AirDrop, any email service, and Dropbox.
Notability is $8.99 on the App Store and $1.99 on the Mac App Store.
Account Information
Share with Your Friends
The top five mind mapping apps for the Android tablet
The top five mind mapping apps for the Android tablet
Andy Makar highlights five of his favorite mind mapping applications for the Android tablet platform.
Mind mapping solutions and tablet computing are made for each other. Whenever I attend conferences or lectures, I frequently bring my tablet instead of lugging around a laptop, power plug, and laptop case. Even with structured presentations, the discussions and ideas generated from the presentation are non-linear, which makes mind mapping the perfect note-taking and thought mapping solution.
(Side note: Tablet portability not only helps take notes but ensures that I'm first in line for all the free SWAG.)
A few years ago, mind mapping solutions on a tablet platform were hard to find and limited in functionality. Fortunately, mind mapping software development on both the iPad and Android platforms have matured, and software vendors are providing solutions for multiple platforms — desktops, tablets, smartphones, and cloud-based solutions. The popularity of cloud computing has enabled users to seamlessly integrate the tablet, the computer, and the cloud.
Using a Verizon-branded Samsung Galaxy Tab 10.1, I reviewed 10 of the free mind mapping applications in the Google Play store (Figure A) for the Android platform.
Figure A
10 free mind mapping applications for Android.
Android mind mapping applications
Here are the 10 Android mind mapping applications I reviewed:
Considering mind mapping is a simple technique of creating a network diagram of thoughts, colors, and relationships, you'd be surprised at the range of functionality available in the tablet mind mapping software. Some of the Android applications supported simple map creation and other provided rich formatting and task management within the mind map. I developed maps in each of the applications, and based on each application's usability, ease of editing, map creation, and sharing features, I created the following short list of my favorite Android mind mapping applications.
Mindjet for Android
Mindjet is an impressive and innovative company. In just a few years, they've taken their predominantly PC-based platform to Mac OS, iOS, Android, and cloud computing platforms. The Mindjet for Android app (Figure B) seamlessly integrates with Mindjet's hosted Connect solution. I was able to create a map on the Android tablet and access it on a separate computer by accessing http://connect.mindjet.com.
Figure B
Mindjet for Android on the Samsung Galaxy Tab.
Creating mind maps in Mindjet for Android was very easy. Adding nodes, relationships, colors, notes, and icons was accomplished with the menu system in the lower left corner.
The ability to take notes, sync them with Mindjet Connect, and download the map on my computer is a nice feature that mind mappers will frequently use to translate ideas into new digital assets and actionable items. If you have a desktop version of Mindjet, accessing the tablet version is seamless and perfect for taking notes and brainstorming.
Mindomo
Mindomo is also an impressive tablet mind mapping solution that's feature rich with task management support and layout formatting, in addition to the standard "add a node" functionality. Mindomo has an intuitive interface that lets you create mind maps quickly. I found the layout management feature useful for project management (Figure C), as I can create a work breakdown structure, organization charge, or Six Sigma Fishbone diagram depending on the upcoming meetings purpose.
Android users will be pleased with Mindomo, because it offers a free account for online maps. If you create an online map via the browser or the Mindomo Android application, it will be synchronized with the server for future viewing.
Figure C
The Mindomo app provides a useful layout management feature.
iMindMap HD
If there was an award for the most visually appealing mind mapping tool, I'd award it to iMindMapHD. Most mind mapping tools create a node and growth direction for you. With iMindMap HD, your built-in human equipped stylus draws branches and nodes in the exact direction of your finger (Figure D). The colors and fonts are engaging, and by combining graphics with colors, you'll truly have a mind map that's picture worthy of framing, while helping you organize your thoughts.
Figure D
The iMindMap HD app is the most visually appealing mind mapping tool.
The free version of iMindMap HD includes free access to store five mind maps in their hosted iMindMap Freedom account. If you own a license for the desktop version of iMindMap, you can import it into your desktop or laptop. Other mind mapping apps have more features, but iMindMap HD creates the most creative looking mind maps on the tablet.
MindMaps Lite
Another winner in my book is Endare's MindMaps Lite (Figure E). Touching each node opens a graphical set of options that make it easy to add, edit, and delete nodes. When you're taking notes in a lecture, you want to easily create notes without having to struggle with a tool. MindMaps Lite is an excellent choice for new users looking to start with mind mapping. The full version of MindMaps Lite supports export formats, including PNG and PDF, and other mind mapping tools, like Xmind and FreeMind.
Figure E
MindMaps Lite is an excellent choice for new users.
MindMeister for Android
When mind mapping tools were predominately delivered on desktops, MindMeister demonstrated innovation by deploying their solution entirely via a web browser. MindMeister on the tablet is a natural extension of a popular hosted platform. Since tablet users also typically have desktop computers, the ability to easily integrate the tablet mind map with a desktop is a must in today's mind mapping web 2.0 world.
This tool successfully develops a mind map but lacks a lot of the "bells and whistles" found in the other mind mapping solutions (Figure F). However, simplicity and well-designed software is more important than packing in all the features you'd find in a desktop-based application.
MindMeister offers a free account with a limited number of maps and allows users to expand into paid accounts. However, the tablet must be connected to the Internet to use the application. If the application worked offline, it would have ranked higher in the evaluation.
Figure F
MindMeister on an Android tablet.
Summary
Mind mapping tools are improving as they integrate web-based solutions with tablets and desktop computing platforms. All of these applications offer a free version that let you explore mind mapping on the Android platform. Paid versions are also available with additional features. Once you start working with mind maps, you'll quickly find new ways to apply mind mapping to business and your personal brainstorming process.
What mind mapping applications do you recommend? Share your experience in the discussion thread below.
What's bigger than a Moleskine but smaller than a MacBook? Any of these writer-friendly tablets.
Associate Editor / Reviews – Tablets and monitors
Xiomara Blanco is an associate editor for CNET Reviews. She's a Bay Area native with a knack for tech that makes life easier and more enjoyable. So, don't expect her to review printers anytime soon.
I like to write. (I would hope so, since I do it for a living.)
When a nascent idea or perfect sentence begins bubbling inside of my head, an onscreen keyboard gets the job done in a pinch, but when it comes to actually hunkering down and having a writing session it falls short of a traditional keyboard or pen and paper.
If carrying around a laptop or notebook and pen isn't convenient for you (I always lose my pens, even the nice ones), here are the best tablet alternatives for cranking out those midterm papers or the last few chapters of your memoir.
The S Pen stylus is one of the best things about the Galaxy Tab S3.
Samsung Galaxy Tab S3
I can't decide what the Samsung S Pen's best feature is: the way its rubber tip smoothly glides across the Galaxy Tab S3's screen like a fish flowing in a stream, or the fact that it's free. Packaged with the stunningly sleek 9.7-inch tablet, the S Pen is one of the best things about it. It's also super low maintenance; you never have to charge or pair it. Samsung makes a keyboard for the Galaxy Tab S3, too, but trust me, the stylus is where it's at. The only downside is there's no place to store it on the tablet, so try not to lose it. (Replacements are available, but it'll cost you.)
The sturdiest keyboard in all the land.
Google Pixel C
Often find yourself typing on your lap? The Google Pixel C has one of the sturdiest keyboards I've ever used. It attaches magnetically, but the magnets are so strong you can hold the tablet upside down and it won't budge. It's also one of the best Android tablets you can buy and, since it's a Google-branded device, it gets all the latest OS updates first.
A tablet with unique writing chops.
Lenovo Yoga Book
The Lenovo Yoga Book is one of the coolest tablets I've seen in a long time. Its keyboard doubles as a Wacom tablet, meaning you can write on it with a stylus. And, if you prefer writing in a notebook (like myself), it comes with a (detachable) magnetic paper notepad that perfectly fits over the keyboard. You can write on it (just like a notebook) and all of your writing magically appears on the screen. Well, it's not magic, but it is one of the most innovative digital note-writing devices available.
Stylus included, but keyboard sold separately.
Microsoft Surface Pro 4
If you want a laptop inside of a tablet's body, the Microsoft Surface Pro 4 is the way to go. It comes with a stylus, but the keyboard is sold separately. You definitely want to pick one up to get the full Surface experience, though. The superslim keyboard magnetically attaches to the tablet and doubles as a cover when not in use. Aside from its impeccably compact design, it's also comfortable to use.
The Apple Pencil is a stylus made for artists, but writers can use it, too.
Apple iPad Pro
The iPad is an obvious suggestion, right? But it's still worth mentioning, especially for those interested in using a stylus. The Apple iPad Pro comes in two sizes, a 9.7-inch model and a larger 12.9-inch version. Though the sold separately, Apple Pencil (it's not actually a pencil) is designed for artists and graphic designers — anyone who simply wants a solid stylus should check it out. Not to mention, there's a bevy of keyboard accessories available for both models.
Update 22 May 2021: we have now created a 3 hour 4K aquarium video for those who prefer a longer video to looping shorter ones. It is available on a new platform for us (Gumroad), which allows you to download the 4K video (and set to loop if you like), or stream the video in Full HD online.
Want to know how to loop a video on Android? Don't worry, it is easy. Our MP4 videos (and other video types) can be transferred to Android mobile phones and tablets running and then used as a manual screensaver, looping as long as you like.
To do this plug the USB cable into your computer and transfer the MP4 video file to your Android phone or tablet. It is super easy to transfer a video to an Android phone. You could even use the cloud or Bluetooth but your USB cable is fastest.
Once you have transferred the video to your Android device. Just go to Files. Then Video and click on the video name. Once playing you should see a loop option in the settings icon. If not just download a free media player like VLC to easily loop videos on Android phones and tablets.
Update on how to loop a video on Android 2020:
It is now easier than ever to loop a video on an Android tablet or phone. I like using VLC media player but almost all media players have a repeat or loop function. Visit 4K Aquarium Video Download to see the best videos to loop on Android devices of all sizes.
Update late 2016: You can now use VLC free media player on Android devices (maybe iPhones and iPads too?). Download it then press play. Then click on the circle with 3 dots in. Then click on the last option which is a square with arrows on the end of 2 lines. Then it will keep repeating.
If you want to check whether you should download a HD or 4K video please click here to go to our samples page. I highly recommend you just stick with the Full HD versions. Firstly you won't notice the difference in quality on these small tablet and phone screens. Also your device may not be able to play our format of 4K videos (encoded in H.265 whereas HD is H.264)
This makes the below information out of date as VLC is an excellent media player anyway. I always use it instead of the video player that comes with my Android devices. It is great to have a Tablet screensaver, especially for helping one relax. When I use the videos to help sleep I just don't have the repeat function selected so they are not looping all night.
Next download a video player app which can loop videos. Our videos are best looped so you can just forget about them and enjoy them as a background video. Our videos last 20 minutes but you don't really want to be restarting them all the time. I use Video Looper which is free and does the job without any adverts.
Just search Google Play for Video Looper, install, then click on the app and select the video. It will automatically play continuously, looping until you exit the app. There will probably be other apps that can do this too. Video Looper was the first I saw and it does the job just fine.
Videos will play smoother on higher-end Android devices. I have a cheap smartphone and it doesn't play smoothly. On our Galaxy Note 2 (and now 9 in 2020). it plays beautifully (see photo). On a decent tablet, the videos will look great on the larger screens. This is a really good use of your device when you don't have the means to watch the videos on your TV, or when traveling. In just a couple of clicks, you can use one of our aquarium, scenery or fireplace videos as a tablet or smartphone screensaver.
If you are on a good internet connection you can actually stream the video from the "cloud" e.g. Dropbox or Google Drive. This is a very useful feature for devices which don't allow extra storage as our videos are often around 900MB in size.
Visit 4K Fireplace Video Download to see the best winter screensaver MP4 videos to loop on Android devices of all sizes. Also see our categories for aquariums and scenery videos which are perfect to be looped for long periods of time on Android devices and all other devices.
Supported devices
While it is possible to write in Nebo with either a passive pen or an active pen, active pens are recommended for the best note-taking experience.
To run Nebo, we recommend devices with the following HW requirements
RAM: 4GB RAM (6G RAM will be optimal), 3GB may cause slowdowns with Nebo on some devices.
Display: A high-quality touch screen
Stylus: An active pen or a passive pen
OS: Android 6.0 or superior
The list below is not fully comprehensive. We cannot test all devices on the market, so if your device is not listed, please check that it is compliant with the above hardware requirements.
Supported devices with active pens
Huawei MatePad Pro (Nebo preinstalled)
Huawei MatePad M5 Lite
Huawei MediaPad M5 Pro
Galaxy Tab S8,S8+ & S8 Ultra
Galaxy Tab S7 and S7+
Galaxy Tab S6 (2019) and Lite (2020)
Galaxy Tab A (8″, 2019 LTE)
Galaxy Tab A 9.7
Galaxy Tab A 10 (S-pen)*
Galaxy Note 10.1 2014Edition
Pad 5 & Pad 5 Pro
ONLY Global version
* Only the Galaxy Tab A models that support the S-pen technology.
**Except for the Samsung Galaxy Note 8 WiFi GT-N5110, 2013-2015 models.
Compatible devices using passive pens (Only Android 6.0 or superior)
Thousands of devices can be used with Nebo, we can not list all here. Please check the hardware compatibility of your device.
RAM: 4GB RAM (6G RAM will be optimal), 3GB may cause slowdowns with Nebo on some devices.
Display: A high-quality touch screen
Stylus: passive pen (called a capacitive pen or capacitive stylus), have less precision than an active pen, and we don't recommend taking heavy notes.
OS: Android 6.0 or superior
Information about tablets categories:
A. Creation devices: Devices used to create materials such as Word, PowerPoint presentations, that use note-taking in a heavy way (such as with Nebo), design illustrations, etc. These devices are powerful good RAM +6GB RAM, great CPU, ample storage, and great displays. These devices also generally have active pen compatibility. Examples of such devices can be found in the table above.
B. Consumer devices: Devices used to see emails, watch videos and get information and content such as news or social media. These are not powerful (low RAM low memory and CPU), and are not expensive due to their hardware and can work only with passive pens (capacitive pens).
Updated June 20, 2022
Whether you're trying to access your notes on Android or Windows, or looking for an easy way to send a GoodNotes document to someone who doesn't have the app — we're here to tell you it's possible.
Today we'll share a little secret with you: Even though you might be using a Windows computer or tablet, you can still view all your notes from GoodNotes — via your browser.
There are two ways you can view your GoodNotes documents on the web:
GoodNotes Web Viewer
Automatic backup
When you create a share link to share a notebook, you can open the link in a browser too. That means as long as you have a link to a GoodNotes document, you can open and view your notes on an Android phone or Windows computer.
Here's how to enable web link sharing:
Open the GoodNotes document that you want to share.
Tap the Share icon in the navigation bar > Share Link to Collaborate.
Open Share Settings and make sure "Open Document on Web" is on.
Send the link to whoever you want to share your notebook with!
This also means that you can share any of your notebooks or documents on GoodNotes with friends that aren't using Apple devices.
See it in action:
So yes, you (and anyone you want to collaborate with) will be able to view GoodNotes from Android or Windows using Google Chrome, Safari, Firefox — you name it.
*The web viewer is available after unlocking the full version of GoodNotes.
So long as you have the cloud storage app on your device, you'll be able to view your GoodNotes notes on Windows or Android too.
If you have auto-backup turned on, GoodNotes will upload all your notes your the cloud storage of choice:
Dropbox
GoogleDrive
OneDrive
Box
All changes will automatically update in the copies in your cloud storage. Originally, the feature has been implemented to keep your files safe so you never need to worry about losing them.
But it also means that the latest version of your notes will always be available online.
How to turn on auto-backup:
Tap the ⚙️ icon in the top-right corner of the Library view > Settings > Automatic Backup, and enable Auto Backup.
Choose a cloud storage and sign in to it.
Change other auto-backup settings if needed, and tap Done.
Now you can head over to your Windows computer or Android phone and always see the latest changes to your notes and documents in the cloud.
Looking for a tablet primarily for consuming media? Here's what to look for in an Android tablet along with our top choices.
Our 10 Top Picks
Best Media Tablet for Amazon Fans
Amazon Fire HD 10 (2021)
Best Affordable Android Tablet
Lenovo Tab P11 Plus
Best for Large-Format E Ink Reading
Onyx Boox Note Air 2
Best for Affordable 4G Connectivity
Alcatel Joy Tab 2
Best Smart Display Alternative
Lenovo Yoga Tab 13
Best for Video Playback and Zoom Calls
Amazon Fire HD 8 (2020)
Best Low-Cost Model With Google Play
onn. 8-Inch Tablet
Best for E Ink Computing
Onyx Boox Max Lumi 2
Best for Taking Notes
Samsung Galaxy Tab S6 Lite
Best for Artists
Samsung Galaxy Tab S8
You might think that Apple's iPad has won the tablet wars, but think again. High-end iPads and Windows tablets dominate the top of the field with impressive tools for productivity, but Google's Android operating system is very popular at lower price points. The least expensive new iPad costs $329. The range of Android tablets is much broader, with an option for every budget. Android tablets also sometimes show up with interesting and unusual features, such as E Ink screens.
In 2022, most Android tablet options fall in the budget category. You can find an endless array of no-name, plasticky sub-$100 slates sold at your local CVS or through mysterious "fulfilled by Amazon" drop-shippers. Acer, Asus, Lenovo, and Samsung used to deliver solid iPad competitors, but they've all slowed down their tablet production. Samsung did announce a new lineup of S8 tablets recently, however.
Start With Software
Android tablet manufacturers rarely use the latest version of the OS, and software upgrades are even less common. Though most Android smartphones ship with Android 12, it's difficult to find a tablet that runs the latest version. We recommend skipping over tablets running anything older than Android 10, except for those in Amazon's Fire lineup.
Speaking of Amazon, it and other large manufacturers like Samsung like to customize Google's OS by adding a bevy of features, new app stores, and completely revamped user interfaces. It's not for everyone, but those who are familiar with Amazon's Fire OS or Samsung's One UI should give the latest devices from each company a try. And if you're already heavily invested in Amazon's ecosystem, you might want to stick with one of the latest Fire tablets.
The Best Android Tablet Deals This Week*
*Deals are selected by our commerce team
Even if you don't have the most recent OS iteration, Android continues to be the most configurable tablet operating system you'll find. It's a master multitasker, with an excellent notification system and top-notch integration with Google services like Gmail, Meet, and Google Maps.
Android is home to plenty of great apps, though there are far fewer tablet-specific versions than you'll find on Apple's App Store, and they tend to be updated less frequently.
Should You Buy a Cellular or Wi-Fi Tablet?
All of the major carriers offer a small selection of cellular-enabled tablets. It's easy to find them on promotion when you're upgrading your plan or bundled with a new smartphone purchase. Tablet data plans tend to run around $10 a month, although some carriers offer daily plans.
T-Mobile sells unlocked tablets, but some have very limited band support if you decide to switch carriers. AT&T and Verizon tablets are locked by default, but Verizon will unlock tablets 60 days after purchase, provided they're paid off. If you're thinking of switching to a different carrier in the soon, check out LTE and 5G band support to make sure your tablet will work without any hiccups.
Frequent travelers and car commuters will find cellular connectivity to be a must. If you're the type who primarily uses your tablet for streaming at home, Wi-Fi connectivity will save you some money. Most carriers allow you to use your phone as a hotspot for those times when you're not close to Wi-Fi, and many newer cars have built-in LTE connectivity for road trips or keeping your child occupied while you sit in traffic. Of course, hotspotting quickly burns through your phone battery, but that's where power banks come in. Make sure to check out the details of your phone plan before making any decisions, though, because carriers limit the amount of data that you can use with a mobile hotspot.
Don't Forget About Design
Performance on even the least expensive tablets is typically fine for media streaming or surfing the web. There's also a slim chance you'll see a software upgrade that offers a performance boost as well. What won't change, however, is the build, so think twice before buying a tablet with a flimsy plastic body.
Low-cost tablets also tend to have dull 1,024-by-600 or 1,280-by-800 screens that can look grainy even to those who own budget phones. Higher-quality tablets are often in the 2,048-by-1,536 range, which is notably sharper.
There are plenty of bargain options out there promising the same Android experience as big names. Many of these off-label tabs are perfectly serviceable, but we recommend choosing a brand you can count on for software support and hardware quality control. For more, see our favorite budget-friendly models.
These are the best Android tablets we've tested. If you're looking for a great phone to complement your new tablet, head over to our roundup of the best Android phones. Or if you want to look beyond the realm of Android, check out our roundups of the best tablets overall, which includes our favorite Apple options.
How to Read Kindle Books on an Android Phone/Tablet
Reading Kindle books can be an excellent experience for all book lovers, especially when you consider the variety and prices of the Kindle ebooks. The Kindle books at first are only available on kindle eReader devices, nowadays you can freely read kindle books on any mobile devices. Since more and more people are purchasing low-cost but powerful Android devices, this guide will tell you how to read Kindle books on an Android phone/tablet. If you prefer to reading Kindle on computer, here are Three Methods to Read Kindle Books on PC.
Before reading Kindle books on the Android device, we should first install the Kindle reader app for Android.
Method 1. Read Kindle Books on Android with Kindle App for Android
Method 2. Read Kindle Books on Android with Any eBook Reader for Android
Method 1. Read Kindle Books on Android with Kindle Android App
The Kindle App is the offcial App realeased by Amazon that lets every users download for free. Almost every App Stores in the Android device provide the Kindle App for Android, including Google Play Store. Just Search for Kindle on Google Play and tap Kindle icon to install it to your Android phone/tablet.
When Kindle App has been installed to Android device, we can easily read Kindle books on our Android tablets and smartphones. The Complete guide can be concluded as the following steps.
Step 1 Launch Kindle App for Android and register it with your Amazon Kindle account.
If you don't have an Amazon account yet, just create a new Amazon account.
Step 2 Purchase (free) Kindle books to an Android phone/tablet (Internet connection required).
If you don't have any Kindle book, you can find many free books or purchase some books on Amazon website. Just tap the "Store" button at the bottom to go to the Kindle ebook store.
Step 3 Download (free) Kindle books to Android phone/tablet.
All your purchased Kindle books in your account will be synced to the "Library" automatically, together with the related notes, highlights and the latest reading page. Just any book cover and it will be downloaded to the device.
Step 4 Read Kindle books on Android phone/tablet.
All the downloaded books are displayed under the "downloaded" tab in the "Library". Tap a title to open and read it. Holding down a word enables users to note, highlight and do other operations (search in Book, search Wikipedia or search the Web).
Tips: Books we downloaded via Kindle android app are with KFX format, and they are stored here: \Internal storage\Android\data\com.amazon.kindlefc\files\
Method 2. Read Kindle Books on Android with Any eBook Reader for Android
Many people complained that the Kindle app on Android often crashes and would prefer a better to read Kindle books on Kindlw with a better ebook reader. Is it possible to read Kindle books with some other ebook reader on Android? Sure, of course! But before that, you should do something else to make your Kindle books compatible with your ebook reader, since the Kindle books are all DRM-protected and has its own format, which is not supported by any other readers. So here is the solution for you.
Step 1 Remove DRM from Kindle books and convert Kindle books to EPUB or PDF with Epubor Ultimate.
Step 2 Find and install an eBook reader to your Android phone/tablet.
VIP Tips: Can we read Kindle books on our android phone without an app? Yes, you can also use Kindle Cloud Reader to access your kindle library.
Step 3 Transfer the DRM-free and converted (epub) Kindle books to Android.
Ada Wang works for Epubor and writes articles for a collection of blogs such as ebookconverter.blogspot.com.
Hi KMF,
We write different articles from different angles to cover different readers.
And this post if for those pure tech rookies.
So what do you want to know about reading Kindle books on Android? Maybe we can answer your questions in private, or write another post.
I am not sure if the Kindle app is able to recognize a serie of books.
However you can create colletion to organize your books in my experience.
Hi,I basically have 2 Questions?
1. Which format does the Kindle recognise, i mean .mobi, .epub or any other?
2. Can i read .pdf books in Kindle Android without saving any books in my amazon account and instead pointing to some folder in my Android device through Kindle app?
Kindle recognise .mobi and .pdf format.
You'd better copy and paste your dowanloaded books to the "Kindle" folder.
Maybe you can try to uninstall Kindle app on your tablet, then reinstall it to solve the problem.
This is a great post and everything but LET'S FACE REALITY: Most people who publish Kindle books NEVER MAKE ANY MONEY!
There's no getting around this harsh truth.
They did not publish the RIGHT book.
It does not get any simpler than that.
Your book must be in a CATEGORY that SELLS! Just because you think a topic is 'hot' doesn't mean someone else will agree with you. Worse yet, just because you're excited about your
topic doesn't mean peoople will actually PAY HARD-EARNED CASH for your book.
Next, even if you did pick the right niche, you need to make sure it is well-written.
Sadly, very few Kindle authors know how to write. for KINDLE! Fiverr or upwork are NOT great places for Kindle talent. You need tried and proven writers. Do a search on Google for "Gene Eugenio writer" to find an experienced writer who will write a full book for only $99 or some other similar affordable service.. There's a few of them. I only listed Ozki because of their relatively low pricing.
Third, you need to SELL an AUTHOR BRAND. Kindle books are not commodities. Best selling authors make BANK because they sell a whole SERIES of books to their fans. You can do the same by making sure your
writer writes your book to string them into a SERIES!
Keep the 3 tips above in mind if you're serious about getting a snowball's chance in hell of actually making money on Kindle.
The bottom line? Kindle publishing IS NO JOKE