21 questions is a GOATed game. And coming up with 21 questions to ask a girl is pretty easy if you know what you're doing. For example, if you've got homework you haven't done, one question could be 'What's the answer to 1A?'.
Right, but we want fun questions though. The best 21 questions to ask girls give them a chance to open up and lead to you having a great conversation about their answer. So, let's get into it.
GOOD 21 QUESTIONS TO ASK A GIRL OR GUY
Once you have a bunch of good questions for 21 questions to ask a girl, you have the opportunity to ask her things that could otherwise be a little awkward to approach. Keep in mind that the best 21 questions to ask a girl you like are the ones that are fun, unique, and that they can't respond to with only 'yes' or 'no' answers.
Check out these good questions for 21 questions to ask a girl to get your crush to open up and have a great time:
What are five words you would use to describe yourself?
What are five words you think other people would use to describe you?
What is your dream vacation?
If you could have a house by the ocean or in the mountains, which would you choose?
What does your dream house look like?
If you could be a character in a movie, who would you be?
What is your biggest achievement?
What's something about you that I wouldn't know when first meeting you?
If you could binge watch an entire movie series in one day, which would you choose? (Or ask what show they've done that with already).
If you could have one superpower, what would it be?
What's the craziest thing you've ever done?
What was your dream job as a kid?
If you could have dinner with three people living or dead, who would they be?
Who is your celebrity crush? (Try and guess this one, we often have a completely different idea of who our crush finds attractive – fingers crossed they choose a celebrity that kinda looks like you).
What's your favorite smell on a guy? (Hopefully you'll find it here).
If you could switch places with anyone for a day, who would it be?
What's your favorite dinosaur? (Throw a random one in there, mix it up).
Who was your first crush/first kiss?
What's your idea of the perfect date? (And take notes!)
What are your bad habits?
Imagine yourself in 10 years: what do you see?
The best questions to ask a girl or guy should always aim to discover more about them. Make sure that you're really listening to the answers they give you.
Common man, you're not the only one who is having difficulties talking to a girl you like. Instead of being shy, you are one step ahead when starting a conversation with that young lady you like. It can be presumably the most frightening and nerve-racking situation for most guys to deal with.
Most guys have lots of trouble thinking of ideas and what to talk about with ladies they've just seen. To start with, having a good conversation gambit has been effective in spotting out the difference between striking and hitting out. It is often easy to talk to a girl if she is not a special new young lady. You mustn't call her by the wrong name otherwise, she may get a wrong impression of you. So; be brave and don't be afraid to fall in love .
On the internet, you can hide your identity with a vpn apps for chrome and be calm in your conversations. It is always easy to talk to someone inside the monitor, than tet-a-tet. But in real life, you have to face your fears and the girl without any masks.
Here are some things that you need to do in order to get her to like you:
1. Compliment Her
Girls love it when they receive compliments from guys. It will be very easy to talk to a girl if you know the right ways and time to compliment her. Only compliment her when it's necessary else you make her feel awkward. You can say something great about the way she looks or about her dress, then as your conversation goes on, you can compliment her hair or her eyes. Just do it naturally. If you are taking her picture, you can compliment her looks. Be sure to use the Instasize app.
2. Build Your Self-Confidence
Before you can get close to her, you have to compose yourself and ensure that you have enough confidence to talk to her. Don't push too forward else she will think that you are proud and very aggressive. If you happen to be the shy type, you will need to work more on your self-confidence. You can ask your closest friend's help and figure out how to gain self-confidence. This is one of the best qualities that you need in order to attract her. Try to learn alpha male body language.
3. Open Up
Most guys don't find it easy to open up about our feelings, goals and insecurities, especially the first time we have a conversation with a lady. Indeed, it is a difficult thing to do but it is mandatory. It moves the conversation into a deeper level and allows emotional connections between the both of you. Guys are usually not comfortable talking about themselves, and they've been socialized to abstain from displaying any sign of vulnerability.
Be that as it may, ladies tend to see vulnerability to be an asset, since they are more likely able to acknowledge the quality that it can take to open up to someone else. If you can open up to a lady, you'll have a better chance of starting a conversation and propping it up.
4. Find Interesting Topics
Don't talk about anything that will make her feel out of place. You need to right words. Don't highlight any topic you think she is not interested in. Try not to discuss anything that ladies want to do so that you won't give her a notion that you are gay. Venturing into topics like popular restaurants, favorite cities, latest movies et cetera will impress her.
5. Build An Emotional Connection
In case you are wondering on how to open up to a lady you are interested in, here's how to go about it. The best way to do this is to talk about the best or worse things that have ever happened in your life. It can be about your childhood, your passion in life, and maybe a dramatic event that happened while you were in college. By opening up a bit, you start to build the trust and enthusiastic rapport with her which leaves her no option but to open up to you also. In as much as you are eager and ready to be a good listener, this can be a great beginning of something big for you.
Tripp Kramer (instagram.com/trippadvice) is a dating coach for men teaching them how to attract and keep the type of girls they truly desire. After coaching thousands of clients for 10 years, Tripp discovered the quickest and most practical way to help men become their most attractive and confident selves. This podcast will show you new strategies, techniques and tips for dating the girls you want, talking to them with ease and becoming super confident.
The Secrets Behind Female Desire & Attraction
By combining my popular and easy to follow TED system for creating attraction, along with improving your style, and being on your mission. you can maximize your powers of attraction. We'll go over how to do this and how to avoid competing on the same levels as 95% of other men.
The Different Archetypes Of Men & Women (Controversial)
When you know which archetype you are, you can develop your innate talents and become your most successful self. And when you understand the different archetypes of women, you stop getting frustrated with the wrong ones and find true happiness and fulfillment with the right ones.
Why You Should Talk To Strangers
Going up and talking to a beautiful woman, getting into a fun conversation with her and walking away with her number can happen far more often when you have the habit of talking to people you don't know. So let's go over how, where, when and with whom you can practice doing this.
Life is short (Motivational)
Let's go deep on this one and discuss your most valuable resource. your time. Time can't be replenished or reused, which is why it is critical that you make the most of your time and not squander is making the same mistakes over and over again when it comes to women and dating.
Here's What To Do If You Think You're Ugly…
Any guy in the world, no matter his looks, with a little bit of effort, can turn himself into a 6-7 and be attractive to 60-70% of women. So if you think you're ugly, I made a list of actions steps that you can start on today to give yourself a makeover and become more handsome.
Sexual Escalation & Kissing On The First Date
A common question I get is: how do I physically escalate with a girl without getting rejected? So let's address this issue and go over each step of overcoming this fear so you can touch a girl, hold her hand, go for the kiss and lead her to the bedroom so she is 100% comfortable.
Men feel anxious before approaching a woman, because they are afraid of awkward silence, even more than of potential rejection.
When you're trying to attract a woman you are interested in, any conversations that you have with her are like little games of poker. Your goal is to get her to invest an equal or greater amount of effort into the conversation because the more invested she is in your conversation the more invested she is going to be in your interaction.
All great seducers understand this. They know that sharing a great conversation with a woman isn't just about what they say to her. They understand that it's as much about what they can get a woman saying back to them.
It's this conversational effort that a woman commits that will help you find commonalities between the two of you to create rapport, and help you discover unique things about her that you can show genuine attraction towards; both crucial ingredients if you are to escalate the interaction towards a romantic or sexual outcome.
So in today's article, I want to share six conversational topics that I think are more effective than others when it comes to interacting with and attracting women.
One important thing before we start: more important than what do you speak, is how you speak. No matter what subject you choose, lways keep it fun and playful, trying to make her laugh, without trying too hard. Easier said, than done, I know. Check out our Ultimate Guide to Make Her Laugh and become authentically funnier.
1. Books, Movies, Music and Art
Let's face it. You're not going to have a woman baring her soul to you and sharing her hopes, dreams and deepest fears with you from the get-go. You'll need to build a whole lot of comfort and rapport before you get there. This is why you need a few conversational topics that are low effort and still engaging to get things started. Getting a woman talking about her favorite books, movies, music or art is a great way to do so.
The trick here, however, is to not ask for too little. For example, if a woman tells you that she loves music, don't just ask her what her favorite band is. Ask her for two songs from her favorite band that she thinks you should listen to and ask her what those two songs mean to her. Or if a woman tells you that she loves to read, instead of just asking her who her favorite author is, ask her to recommend a book to you and get her to tell you what it's about.
Not only will this allow you to coax her into putting more conversational effort into your interaction, but it'll also help you find out things that you both are into.
2. Relationships
I swear to God, relationship related topics are like conversational crack for most women. And if there's one thing that women love more than hearing relationship stories, it's coming up with solutions to relationship problems.
So the next time you hear about your little cousin's problems with her boyfriend or hear about your roommate complaints about his overly possessive girlfriend, make a mental note of the story and use it in conversation. You'll be surprised with just how into these topics women can get.
3. The People Around You
Sometimes I hear a lot of guys complain saying that they run out of topics to talk about when they're with a girl that they're interested in. But here's the thing. If you pay close attention to your surroundings the chances are that you'll find more than enough conversational ammunition to last a whole day.
For example, there's a fun little game that I love playing with girls that I'm out on dates on. I call it the "what's their story" game. When you're out on a date with a girl, pick a stranger at random and talk about what you imagine what their story must be like.
And then ask your date to tell you her version. Once she gets the hang of it to start getting more and more imaginative and ridiculous with your stories. I guarantee that you'll both have a blast.
4. Travel
Whenever I'm interacting with a woman I always try to direct the conversation in a direction that's fun and imaginative. I hate conversations that drab and uninteresting. And if there's one thing I've learned through my experiences with women is that talking about travel always gets them feeling happy and excited.
You see, people love to travel, and those who aren't able to travel daydream about having either the time or the money to do it. The key here, again, is to ask for more than just an impersonal list of travel destinations.
Ask her where the most exciting place she's travelled to was and what she loved about it. Or ask her where she would go if she could disappear for an entire month without having to worry about her work or any other responsibilities. These types of conversations will get her imagination firing on overdrive and put her in an uplifted emotional state; both feelings which she will start associating with you.
5. Observations About Her
There's a school of thought among some men who teach attraction skills that a guy should never compliment or show interest in a woman. I disagree. I believe that to truly attract and seduce a woman you need to make her feel as if she's won you over. To do this you need to find out things about her that are unique and appreciate them. Being curious about women can significantly improve your dating life!
You see, a woman's observational skills are often much more keenly tuned than a man, and being with a man who notices things that other men usually don't will have a powerful effect on her.
Does she have a fashion sense that you hardly ever get to see on other women? Does she circle words that she thinks sound cute when she's reading? Let her know that you notice these things and ask her about them. And when she tells you these stories let her know that you find these things attractive about her.
6. Her Passions, Her Dreams and Her Goals
Do you remember the last time someone showed genuine interest in your dreams and planning your goals? It's always such a nice feeling to talk about things that you are passionate about with a person who's genuinely interested in these things. And here's the cool thing. Once you've built up a certain level of trust and rapport with a woman, all you need to do to find out these things about her is to ask.
You see, sometimes being a great conversationalist is like learning to become a mirror. The point isn't to grope about blindly in search of things that your conversational partner to talk about. Asking about her dreams and goals can teach you so much about her personality.
You can also talk about passions and hobbies. It can be whatever! From adventurous sports you do or would like to try, like surfing, hiking some spectacular mountains through, playing music or playing board games.
The point is to learn to develop a feel for what topics get them excited and to learn to steer the conversation towards those topics. Women will feel refreshed by the genuine interest that you show in their lives and they will remember how you made them feel when talking about these things that they're passionate about.
So keep these conversational topics in mind and make a conscious effort to practice your conversational skills, and I guarantee that you'll see a marked difference in the quality of the conversations you share with women.
Patrick is a Berlin-based dating advisor, motivational speaker, a huge fitness and vegan diet enthusiast and the main editor at Wingman Magazine, specialised in men's health. His ultimate goal is to share with men around the world his passion for self-development and to help them to become the greatest version of themselves. He believes a healthy body and successful social interactions are two main keys to happiness.
She catches your eye from across the room. Everything inside of you says, "Go talk to her," but you just can't seem to get past the gaggle of girls hanging around her. If the object of your affection is always with her gal pals, getting time for a one-on-one conversation isn't always easy. Instead of feeling ignored, join in and start socializing with her group, breeze by with a casually cool intro or flirt via the web.
Explore this article
1 Remove Fears
One of the biggest obstacles to talking to a girl is the fear of rejection. Add on a group of girls that are hanging around her and double the stress. Before you consider approaching your cute crush and her gaggle of girlfriends, put your fears aside. Give yourself a confidence-building pep talk. Instead of focusing on the reasons why she — and her friends — might reject you, think about your good points. Remind yourself that you are a smart, sweet guy who has a sparkling sense of humor.
2 Mix In
Don't assume that you and her group of friends can't mix and mingle. If she's always surrounded by at least a few friends, get to know them too. For example, if your lab partner is also friends with your cute crush, use your chemistry acquaintance as an entry to the group's conversation. Talk to your lab mate beforehand to establish the fact that you like her as a friend. Ask her to play the role of your wing-woman as you talk to her and your crush. Even though you should engage the whole group in your conversation, focus most of your attention on your crush. This will let her know that you are interested in her — not in her pals.
3 Act Cool
You are in her immediate social circle, but now what? Take a look at your surroundings and either ask a question or make a statement about what you see. For example, you're at your school's basketball game when you spy your crush with her girls. Make your way through the rest of the group and focus only on the object of your affection. Approach her casually and say something such as, "Did you see the winning point?" or, "That was an exciting game." This type of ice breaker almost blends into the background, making it seem natural — even with a group of other girls around.
4 Tech Time
When her friends just won't leave and you are desperate for alone time with her, try a more tech-savvy approach. Even though the two of you are in the same room, whip out your phone and send her a text. If you don't know her number yet, consider friending her on Facebook or another social media outlet. Message her via her page, striking up a flirty conversation. Ask her out on a date — minus her friends.
Do you ever see a girl and can't figure out if you wanna be her or kiss her? Hello, this is my daily dilemma, and I'm here to talk it out with you! Bring real with yourself and thinking "I like a girl" can lead to a casual existential crisis, but it doesn't have to be too terrifying. Let me clue you in to a top secret memo from Planet Queer: We all start off with absolutely no idea how to deal with our feelings, but this improves with a lot of mistakes and some intense pop music-scored angst sessions (for the record, Haim is really good for this) — and, you know, conversations with friends. Consider me your queer big sister! I've even brought a few of my pals along for the ride, so let's get through this together.
Am I gay? What are these feelings I'm feeling?
Do you want to stare at this girl for socially unacceptable amounts of time? Do you think she smells like good poetry? Have you memorized the order of her Facebook profile photos purely by accident? Yeah, you might like a girl. Your feelings for another girl don't mean the world is going to collapse around you though! Promise! As for whether this crush means you're gay. the truth of the matter is that nobody can answer that but yourself. There are no rules: You don't have to label yourself gay or lesbian or queer or any other word simply over butterfly feelings. In fact, you don't ever have to label yourself.
Sexuality is more than a spectrum or a gay-straight binary with bi firmly in the middle. There are a bajillion places being a girl who likes a girl might lead. You could realize you're 100% only into girls, but it might also mean you like kissing girls but really want a relationship with guys, or maybe it means something else entirely. The possibilities are truly endless.
As 19-year-old Isabela Villareal explains, "I identify as queer because I believe sexuality is a fluid concept. While I might fall for a woman now, I may develop a crush on a trans man some day. My sexuality and attraction to people doesn't rely on gender." But remember: Identification isn't for everyone, and there's no need to rush. "Labeling is more harmful than helpful to me because I'm so new to this," says 20-year old Naomi Waltengus. "I'm hesitant to give myself a label that might not fit. I don't want people questioning me or asking me to prove myself."
So rather than categorizing yourself the second there's a Valentine in your heart, take a minute to breathe: Your feelings don't have to dictate your entire identity from now until forever. Let the feelings exist, and accept that you have them. You can deal as they come and go.
OK, so I have capital-F Feelings. How do I know if she's even into girls?
Well, if you begin venturing into your school's queer community or go to events in your neighborhood, you might have that question answered without even having to ask. If those resources aren't available to you, fear not. Swing your way into the same social settings as her and find a way to talk one-on-one. If she stares right back at you until you blush, lean in a little closer and gauge her reaction. You can also totally just flirt with her and see if she flirts back! Girls have an advantage over guys in the flirting department because the power dynamics are different (and thus the creepiness factor is all but gone). Even if she isn't gay and doesn't return the flirtation (or if she is gay, but isn't into you), your compliment might still make her day. I mean, wouldn't you love if the Cool Girl at School complimented you? You're the Cool Girl in this situation, so there's nothing to lose.
My pal Lola Pellegrino (who was featured as one of NYC's most eligible bachelorettes, so you know she's fighting off the babes) has some solid advice on how to tell if a girl likes you: "If after a few encounters you find yourself reading into her texts and deconstructing your last hangout session for clues, she's probably not interested. Caveat: In my experience, like everyone else on the planet, girls are hesitant to show interest, and there's a lot of waiting around for the other person to make a move. This is why you, Questioning Teen Vogue Reader, are going to be proactive. If you're in the waiting scenario I described, make a move yourself!"
What are some solid openers?
Approach her like a person you want to be friends with! If you're the super confident type, you might just hand her your number and smile assertively after telling her she's cute and you'd like to get to know her better. If you're shyer? Here's a fool-proof tip, courtesy of writer Krista Burton: "Ask her about herself! If she's saying one word for every 10 of yours, she's probably not interested at the moment."
Oh no! She's not into me 🙁
It didn't work out? It's OK — hopefully she wasn't mean about the rejection because you're a sweet person and we're proud you put yourself out there! Being vulnerable about your feelings is an act of bravery, especially as a queer person (or even if you're someone who's just questioning) because the stakes are higher. Queer teens are bullied more often than straight teens are, and the rates of violence against the queer community are significantly higher, so living your truth can feel pretty scary. That's all to say, it's really amazing that you were honest, even if it didn't work out. Spend some time away from situations involving this person and get back into having a crush on yourself. Build a mythology around your life where you are your own hero. My friends and I have learned this cool trick in regards to coping with rejection: Make your life a party where everyone who supports you is invited. The people who love you will stay later than everyone else — and even if they don't stay for very long, it was a fun party regardless.
She likes me back! SHE LIKES ME BACK!
Hold on, let me get the confetti! Congratulations, you deserve all the cute feelings in the world. But before you DTR and nominate yourselves for Homecoming Queen and Queen (which, by the way, would be awesome), have fun and get to know each other. You'll also want to figure out your comfort levels in regards to displays of intimacy, both public and private. This is something every potential couple deals with at one point or another! Having up-front conversations about this stuff makes going public about your relationship — and the sexuality that is implicit in it — a whole lot easier for both of you. If you know where you stand, you know how to deal with surprised friends or family members. And remember: This is just one part of your totally amazing party.
So you like a girl but cannot figure out how to tell her? Read on to know five ways to tell your crush that you like her and want to be more than just friends.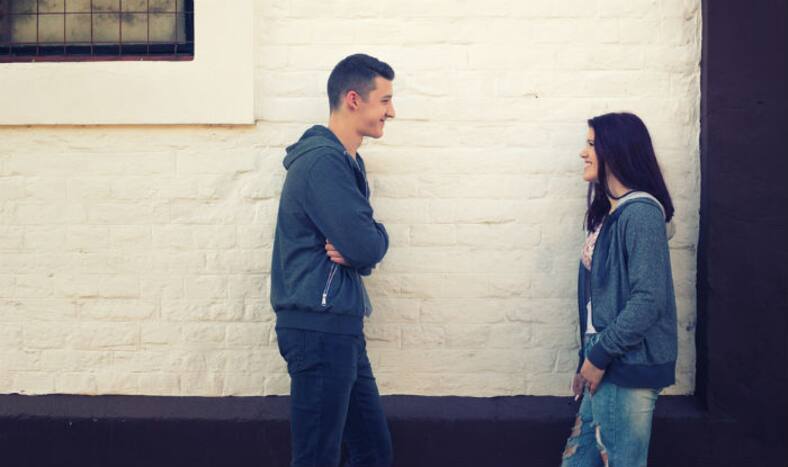 If you had been besotted with a girl in your class or office for some time now but do not know how to tell her that you like her, we are here to help you out. This is a very common issue and many boys do not know how to express their feelings to a girl properly. They become either too emotional or too vague and detached. You may have made up your mind to tell her but would end up just beating around the bush. We know it is really difficult to confess it to her but you need to let her know that you like her. Here are some tips to help you out. (ALSO READ How to tell your crush you like him: 7 ways to let him know about your feelings!). Also Read – Viral Video: Ukrainian Soldier Proposes to Girlfriend at Checkpoint, Video Melts Hearts | Watch
1. Spend time with her to test the waters
We usually hang out with people we like so, when you start spending time with her, she will get a hint that you like her company. Do not turn on your romantic mode right away as it will creep out the girl. Have a casual conversation, smile, compliment her, let her know you like her company and do not forget to give her a small memento. It need not be a big gift but small things like a coin from your collection or something you made or a small toy. This will remind her of you and will let her know that you like her. Also Read – 6 Golden Rules While Looking For a Life Partner
2. Prepare what you are going to say
Prepare what you are going to say
It will not help you if you start mumbling something or just freeze when the time comes to tell her that you like her. Prepare and practice what you want to say but do not overdo it or it will sound like an essay. Keep in mind all the important points. Be genuine and tell her what you actually feel. (ALSO READ 7 reasons why long distance relationships don't work!). Also Read – Thief Robs iPhone at Knife-Point, Says He Wanted to Give Expensive Gift to His Girlfriend!
3. Take her to a decent place and look presentable when you decide to tell her that you like her
It is important to look presentable when you want to talk to her about your feelings as it will give an impression that you are serious about her. Make sure, you take her to a decent place where you both can talk. Be understanding and kind, these are the things every girl likes in a man. And when you talk to her, be confident. Tell her clearly how you feel about her.
4. Tell her to think about it before giving an answer
Girl give her the time to process it
She may not be expecting what you are about to tell her so give her the time to process it all. You can start by saying that you do not want to make it weird but had to let her know that you like her. She may not have the same feelings for you, so ask her to think it over or take her time. Answer her if she has any doubts and tell her that she need not feel pressured. (ALSO READ ALSO READ Relationship goals for 2017: 7 goals that you need to set for a happier life!).
5. Be ready to accept her answer
Once you are done telling her about your feelings for her, be prepared for her reaction. If her answer is not what you were expecting, then do not get agitated. Be patient and calm. Accept her decision and tell her that you value her as a friend. Your attitude will definitely make a good impression and who knows, she may even change her mind.
Found this story interesting? Like our Facebook page to read more such articles. Also, share your comments below. We would love to hear from you!
What to say when meeting a girl for the first time can be challenging even for the not so shy type of man.
Talking to a strange girl can be daunting because she's someone you don't even have a clue about and you're just wondering if this is the actual time to talk to her and make her like you, or should you wait for some other time?
Whether you're searching for how to talk to a girl for the first time face to face, on Facebook, Instagram or over text, search no more, this is the only post you need to read to master the art of talking to a girl.
What you will learn on this post
Meeting a girl for the first time in person, what to say?
How to start a conversation with a girl for the first time
What to say to a girl when you walk up to her even if you're shy
The following tips are proven to make a girl like you, they're the cutest things to say which are very simple and will help you talk to a girl even if you're shy.
Best ways to talk to a girl for the first time and make her like you.
1. Be confident enough
Low confidence or lack of confidence can make you let a girl you like pass by without talking to her.
When you want to approach a girl for the first time, try to at least have enough confidence, this will make you not to go off the track while you're to engage in a conversation with her. In as much as it is pertinent to develop self-confidence for talking to a girl, it shouldn't be way too much to mean you're being prideful.
In other words, a good and reliable means to approach a girl for the first time depends on how good you've built your self confidence.
2. Say how you feel
When you're intimidated with a girl's appearance, it could be a lot of tasks trying to express how you feel about her.
Are you a shy guy? Most shy guys can't open up to a woman, but here's what to do even if you're a shy type of man and it is your first time to approach a strange girl and start a conversation with her.
Open up to her about your feelings, her responses will let you know if you should proceed to tell her about your life goals and insecurity or if it should just be a plain discussion at the moment.
Whatsoever your findings might be, it is pertinent to note that saying how you feel to her for the first time, can lead to lovely conversations that will bring in emotional connections between the both of you.
3. Ask her vague questions
I mean you should ask her questions that will make her pause and ponder, when she does and finally answer your question, then you will notice you both are already talking like you knew each other from the 90s.
Immediately she's done answering the question, remember you have a lot of work to do, to ensure you keep the discussion lively. You don't have to be boring. Feel free to introduce yourself to her, don't be shy to tell her how long you waited to meet her.
Although it is your first time talking with her, she might have noticed you've been crushing on her. There's no need to hide the confession, so go on, say it and garnish it with more interesting questions that will definitely make her tell you more about herself without hassle.
4. Discuss interesting topics
Self-confidence isn't just enough to start a conversation with a girl for the first time. It is true that self-confidence will make you approach a girl without being shy, but interesting topics will determine the duration of the conversation and whether she's going to like you or not.
Interesting topics to discuss with a lady for the first time can include; the best eateries nearby, favourite travel destinations, movie cinemas and more… Think of any other interesting topics for her, that will make her like you. Discussing topics with a girl regarding politics and football might throw her off if she's not too crazy about it.
5. Control your eyes
Yes, you have good eyes, she's just perfect for you and it is your first time coming across such a pretty girl. Do not be carried away to stare at her like you're lost.
When discussing for the first time with a girl you like, try not to stare at her boobs or ass, no matter the shape and size.
Honestly, staring at sensitive parts of a lady you just met can send messages to her you're simply after her body and this can unwrap a lot of insults to you when it is obvious you're gaping.
Here's what to do to make a girl like you when discussing with her for the first time, try to look at her face or into her eyes instead, this will enable you to keep good eye contact with her while discussing.
6. Compliment her
Is there anyone here who doesn't like compliments? Everyone to some extent wants compliment. According to recent research, most women are deeply in love with compliments, especially when it comes from a guy.
Let your compliment not make her feel awkward, that's why you have to learn how to compliment a girl naturally. Feel free to compliment her dress/appearances and more when the relationship gets stronger.
BONUS: How To Talk To A Girl You've Never Met Before
I believe at this point you've learned how to talk to a girl you've never met, and you're now properly equipped with what to say when approaching her for the first time.
Meeting a girl for the first time in person should be among the things you should worry less about if you've followed this guide properly.
However, differences exist in humans but trust me, it works for most people who're trying to start a conversation with a new girl.
If you find this post intriguing, kindly share it with friends online and let us know what are your challenges in talking with a girl you've never met before and what are the best strategies to start a conversation with a girl you just met, that works out for you all the time.
So, i'm in University and there is this girl in 4 of my classes that i'm really interested in. we talked twice, but that was it.. point is.. i'm too scared to talk to her after class. I can't talk to her on campus 'cause I never see her outside class for some reason.. and for some reason I get really awkward when i'm near her. I also feel like because of my awkwardness, i'm giving her the impression that i'm not interested.. she smiled at me once, I smiled back then after the class left without talking to her, and once we had a group project and I presented, she whispered "good job" right after and I just gave her a thumbs up. I really feel like i'm unintentionally giving her the impression that i'm not interested in her, but in reality I actually am really interested.. my question is.. since I never see her on campus, how do I get the confidence to talk to her after class and how can I do so without coming off as a bit of a creep?
This is a common problem. You are over thinking the situation. All you know about this girl is that she has similar interests to you, and that she is not ugly.
But you have done this time travelling thing where like what if she is destined to be the mother of my children and yet if I say the wrong thing then we will never hook up and I will die a Virgin at a young age from some horrible horrible disease that only she could cure.
If fact you don't even know if you want to be in the same room as her for more than ten minutes. Perhaps she is a member of some crazy cult and she only is at the university to find and indoctrinate to members and then force them into their horrible dark rites, like scrap booking or posting craft projects on pinterist. You know crazy stuff.
So at the end of class you say, "I like what you said in that discussion, would you like to grab a coffee and chat" she either says yes or no. If it is no, her cult member status is confirmed and you dodged a bullet.
If it is yes, you go for coffee. One of two things happen. You either order coffee and then five minutes later the waiter asks you to leave because it is 2 am and they were supposed to close 4 hours ago OR You glace at your watch thinking it has been four hours and it has actually only been five minutes and all she talks about is her ex boyfriend or her rabbit or how she can't decide to dye her hair green or not. In which case you finish you coffee and leave.
If it is the first way, you say you enjoyed the time and you would like to see more of her. On the second date she may still reveal her "true self," or she may still be a nice person. You may go on a few dates but the spark may not be there.
As for the "creep" you cannot be this person. Assuming you are of a similar age, you are not in a position of authority over her, and you don't want to wear her skin, you can't be a creep. And if you ask her for a coffee and she says no, then it is only creepy if you start sleeping outside her apartment or kidnap her kittens and turn them into lampshades so you can be "close to her"
It's perfectly normal to feel anxious about engaging in conversation with a girl you have just met. Your anxiety may come from shyness, low self-esteem, a lack of dating experience or a fear of rejection, says psychologist Jeremy Nicholson in the article "Break the Ice: How to Talk to Girls and Guys," for "Psychology Today." Don't let these worries stop you from getting to know a girl you like. A few simple techniques will help — and the key is to practice them often.
Break the Ice
When you first meet a girl, you may both be feeling nervous. The first step toward an enjoyable conversation is to break the ice. Don't obsess over trying to impress her, advises Nicholson. Focus more on getting to know her. Be curious. Ask her a question, and try to keep it lighthearted and fun. For example, if she is wearing a purple top, ask her if it's her favorite color, and why. You could quiz her on her choice of beverage or ask something completely random, to grab her attention and make her smile, such as "What was the name of your first childhood pet?" or "What do you want to be when you grow up?" (regardless of her age.) This type of exchange will kick start the process of getting to know each other.
Ask the Right Questions
To keep conversation flowing, you need to ask open-ended questions, i.e. questions that require more than a "yes" or "no" answer. Start your questions with "what," "when," "where," "how" and "why," suggests relationship coach Lyndsay Katauskas in the article "How to Talk to Women — 5 Tips," for "YourTango." If you're worried you'll become tongue-tied, prepare some questions or topics in advance. Having a list in your mind of things you can talk about, such as topical events, sports teams or summer vacations, will take the pressure off.
Give Back
While it's great to ask a girl questions to show you are interested in her, don't make her feel that you are interrogating her. Let her get to know you, too. Keep the focus on her, but show your personality and respond to what she says with information about yourself. Don't forget your body language, says body language expert Judi James, author of "The Body Language Bible." Maintain good eye contact, listen actively, smile regularly and keep your body open (no crossed arms.) James recommends a technique called "mirroring," which involves imitating — without being too obvious — the pace and style of her body movements. For example, lean on the bar or cross one leg in front of the other when she does. This sends her a subtle signal that you're interested in her.
Stay in the Present
Worrying about whether a girl is going to reject you, how long she will talk to you for or how she will respond if you ask for her number is pointless. Embrace your fear, take a deep breath and get on with it, advises health coach Catherine Chen in the article "Operation Charisma — How to Talk to That Cute Guy or Girl With Total Confidence," for "Huffington Post." Enjoy getting to know the girl without letting your mind race ahead to start planning your future. She may not end up being your girlfriend, but you can still have an enjoyable conversation and make a new friend.
Talking to a strange girl could be tense or tension soak at time because she is someone you've never met before and you can't be comfortable around her if you don't know some clues on how to talk to girl you never met before and impress her.
It is not something that cannot be done by anyone but it requires you to learn some few things that will make you look comfortable and be a smooth talker.
Table of Contents
Ways to talk to girl You Never Met Before and impress her
There is different in talking to girl someone introduce to you and talking to girls totally strange to you with no introduction from anyone.
The formal is much easier because the first brick has already been cracked down for you but the latter requires you to crack down the brick by yourself which will put you in a tense position if you're not a master of the act. If the girls are in group, this is how to approach them and win them over
How do you talk to girl you've never met before and impress her to win her over? The following suggested ideas have been very effective in talking to girls not known before that present time.
1. She need to know you're interested:
Walking up to a lady and started talking without her having a hint of your approach can't walk in most situation. You may have watched that in the movie happening but in real life is not going to happen that way.
A girl needs to know that you're interested in her so that she can assess you. Bumping on her will make her remember what her mother told her about guys to be on the defensive and that exactly is what she is going to do if you don't let her know you're interested in her.
2. Staring Game should come in:
When the girl is aware of your presence, it is time to play the staring game, stare at her now and then to arouse her curiosity, if she glances at you back smiling to herself, then you're a good to go but if she stare at you back with a dirty kind of looks, there is no point approaching her because most often such scenario end up in disaster, just avoid her, simple.
3. It's Advisable not to use a pick up line but make use of pick up circumstances:
Pick-up lines will fail you in how to talk to girl you never met before and impress her, though pick up line are smart and cocky but not in this kind of seen. Use picks up circumstances in case of the pick-up line.
What I mean by pick up circumstances is that, looking at the situation around her or the place where you find her, just look for something that is relevant to that surrounding and say it from the blue.
For instance, maybe she is an usher in the church, you can use her role as the circumstance, ask her how she manage to play such role well without annoying the other members of the church and standing for such long hour.
She will feel so much interested because you've been able to relate your talk with the situation around her.
4. Ask her vague question to open her for your introduction:
Vague questions are the types of questions that make girls wonder for few seconds but still respond to your question. When she responds, you're both in a talking mood.
She could have just answer you and look away elsewhere but you just have to keep the conversation going by introducing yourself to her or ask more questions before the introduction, what is more important here is to make it lively and exciting.
Be frank, tell her you have a confession to make, that you've been waiting to meet her for a long time or all evening.
She obviously knows you've been staring at her, so why pretend like you're picking her up. Telling her the truth may flatter her instead of making her feel like she's being picked up.
5. Smile often and limit your time:
Making her comfortable should be one of your goals because that is when she will be happy to talk with you for long. How do you do that? Just ensure you smile a lot when conversing with an excitement.
She will be willing to let the talk flow and you can use the opportunity to flirt with her while making it humorous.
Don't forget that she has her time and there is something that brought her into such places, don't try to use your own to waste her time away, when you talk too much she get annoy when she remember that she's there for some reasons.
You have to limit your time and let her do what she wanted to do before your appearance. One of the best ways to avoid getting her annoy is to ask her if she has to go somewhere, and flatter her at the same time.
Saying something like "I'd really love to stay here and talk with you for a while. Would that be alright with you?" Try it, you'll see the difference.
Yah! That's it. You've gotten it now, so, how to talk to girl you never met before and impress her shouldn't be a thing to worry about anymore if you can follow this guide.
Here's something very important.
If you don't want to be rejected if you want to take your game further and turn any girl into your girlfriend, then you've got to read right now, the 6 frustrations every single guy goes through and the best ways you can avoid these frustrations and begin to get girlfirend effortlessly.
Go HERE right now to learn it and in return, you're going to get girtfirnd effortlessly with a proven secrets, that have been working without fail since its discovery.
Let me assure you, if you can get hold of what I'm going to show you, then, you will never have problem turning any girl into your girlfriend.
When you like someone, whether it's a crush or your long-term partner, sometimes just telling them you like them isn't enough—showing them how much you care can speak volumes. Here's 50 creative ways to tell someone you like them without just flat out saying it. Especially if it's a budding relationship, these little actions can be the perfect way to drop hints.
Touch your face and hair when you're talking to them.
Touch them, casually, on the arm or knee when you're talking to them.
Laugh at their jokes.
Touch their arm or knee when you laugh at their jokes.
Notice when their glass is empty, and always offer to fill it up or get them another.
Make eye contact from across the room at parties; smile.
If you get an inside joke going between just the two of you, work it into conversation often.
Say their name when you're talking to them. (It's true! People thrill at the sound of their own name—especially when uttered by someone they're interested in.)
Find a common enemy: another party guest, an annoying guy at the bar, a broken jukebox, the lack of pizza joints in this part of town. It's you two against the world.
If they mention an ex, or a date gone bad, tell them that they're too good for that person, anyway.
Give them a ridiculously huge tip. (This only works if they're your waiter, bartender or barista. Obviously.)
Email them because you just saw something and it "made me think of you."
Treat them to something sometime.
Make up a nickname for them. Be the only one who calls them that.
Invent any excuse for them to come over — a new movie, a sports game, a dinner party, a home repair project you really need help with.
Be genuinely delighted every time you see them — make no effort to hide it.
Loan them a book that you "just thought they would like."
Offer to hold their purse/bag/coat/cup.
MIX TAPE! (No one makes a mix tape/cd for you unless they like you.)
Make sure to get pictures of the two of you when you're out together.
Handwrite a note on your business card when you give it to them. i.e. "Really good to meet you."
Remember what their drink is without having to ask. Order it for them.
Show up to their art opening/soccer game/open mic night/thing.
Don't leave without saying goodbye.
That shirt/perfume/ring/pair of shoes they once mentioned they liked? Wear it. A lot.
Remember what you talked about the last time you saw each other, and ask them how things turned out the next time you see each other.
If they take your hand, squeeze it or run your thumb over their knuckles.
Text them. Not just to make plans, but just because.
Dress up a little when you know you're going to see them.
Bring up something little that you remember they once said to you.
Offer to drive them to the airport.
Just talk to them. About anything. Whenever you get the chance.
Check out that TV show/movie/band/restaurant they mentioned. Tell them what you thought of it.
Compliment them on something you think other people might notice about them.
Pass them a note during class/a meeting/at a crowded bar.
Find whatever excuse you possibly can for the two of you to end up at a karaoke bar. Insist on singing a duet.
Always "randomly" have an extra ticket . (To "this movie," "this art thing," "my friend's band that's playing," "this lecture that seemed cool.")
Ask their opinion on things. ("What TV show should I watch next on Netflix?")
"Like" their stuff on Facebook. (Not too much—just enough to let them know you're reading.)
Text back right away.
Make friends with their friends.
Tell them, as off-handedly as you can, that they smell good today.
Send them a postcard when you're away.
Give them your number, so you can take the conversation off email/Facebook/Twitter.
Assume they want coffee and bring them one. Learn how they take it first.
Post baby animal videos on their Facebook wall.
Remember their birthday.
Find a reasonable excuse (birthday, promotion at work) and send them flowers.
Send them YouTube links to that band they mentioned they liked, or send them links to new bands that you think they'd like.
You're almost there! Just confirm how you got your ticket.
How did you buy your ticket?
Let's get your review verified.
AMCTheatres.com or AMC App New
Cinemark Coming Soon
We won't be able to verify your ticket today, but it's great to know for the future.
Regal Coming Soon
We won't be able to verify your ticket today, but it's great to know for the future.
Theater box office or somewhere else
By opting to have your ticket verified for this movie, you are allowing us to check the email address associated with your Rotten Tomatoes account against an email address associated with a Fandango ticket purchase for the same movie.
You're almost there! Just confirm how you got your ticket.
Rate this movie
Oof, that was Rotten.
Meh, it passed the time.
It's good – I'd recommend it.
So Fresh: Absolute Must See!
What did you think of the movie? (optional)
How did you buy your ticket?
AMCTheatres.com or AMC App New
Cinemark Coming Soon
We won't be able to verify your ticket today, but it's great to know for the future.
Regal Coming Soon
We won't be able to verify your ticket today, but it's great to know for the future.
Theater box office or somewhere else
By opting to have your ticket verified for this movie, you are allowing us to check the email address associated with your Rotten Tomatoes account against an email address associated with a Fandango ticket purchase for the same movie.
You haven't finished your review yet, want to submit as-is?
You can always edit your review after.
Are you sure?
Verified reviews are considered more trustworthy by fellow moviegoers.
Want to submit changes to your review before closing?
Done Already? A few more words can help others decide if it's worth watching
They won't be able to see your review if you only submit your rating.
Done Already? A few more words can help others decide if it's worth watching
They won't be able to see your review if you only submit your rating.
The image is an example of a ticket confirmation email that AMC sent you when you purchased your ticket. Your Ticket Confirmation # is located under the header in your email that reads "Your Ticket Reservation Details". Just below that it reads "Ticket Confirmation#:" followed by a 10-digit number. This 10-digit number is your confirmation number.
Your AMC Ticket Confirmation# can be found in your order confirmation email.
Need something to say to a girl you just met? Well this article will do you one better. Not only will it give you something to say to a girl you just met; it will show you how to talk to the girl in a way that will get her attracted to you.
Step 1: Banter with women
Bantering with women helps to ease the tension that comes along with meeting someone for the first time (remember, she's nervous, too). If you can get a girl to smile, relax, and have fun early in the conversation, it will get her interested in you and in carrying the conversation further.
Now, the first step in how to banter with a girl successfully is to get the right mindset. You want to be like a fun, carefree kid who is just looking to have a good time. Getting the girl to smile really just becomes a side-effect of your own playful self-amusement.
As for what to say to a girl using banter, the possibilities are endless. You could, for instance, start to banter with a girl through role-play. Pretending, for example, that your husband and wife heading toward a divorce ("That's it, we're breaking up. I want half my stuff back – thank God for prenups…"). Another fun way to banter with a girl is to flip the script and pretend that she is hitting on you ("ummmm excuse me, my eyes are up here, missy").
Step 2: Qualification – make her chase you
Now that she is relaxed, comfortable, and the girl is interested in you, the next step is to get her to qualify herself. Qualification allows you to signal your interest in a girl in a way that will actually make you become more attractive to the girl. Women want a man with standards and qualification is your way of showing that for a girl to keep your interest she needs to be more than just a pretty face.
To get a girl to qualify herself, all you have to do is prompt her with a question that will get her talking about herself. In a pleasant tone you could ask the girl a question like "so what's your deal?" An open-ended question like that is a great question to ask a girl as it allows her to share with you whatever information she feels comfortable sharing.
Other good questions to ask a girl you just met would be "so what kind of things do you do for fun?" or "what adventures have you been up to lately?" If you're meeting a girl in the daytime or in a low-key environment, simply asking "so what do you have going on the rest of the day?" is a perfectly good question to ask a girl that will get her to open to you.
Step 3: Building rapport with a woman
Banter and qualification are great for getting a girl attracted to you initially. But if you want that attraction with a woman to last you need to build rapport. Building rapport with a woman just means creating an emotional connection – and having that emotional connection will make women attracted to you on a deeper level.
To build that deep attraction with women, here's a simple formula that will help you create rapport with a girl you just met:
First, ask the girl an open-ended question that gets her to share her emotions with you. You could either build off the open-ended question you asked the girl in the qualification stage, or ask a girl a different question. For instance, you could ask "so what is it about this bar that you like?" or "what does this song remind you of?" (assuming there's a song playing in the background). Listen to her answer (really, listen!) and then share your own perspective and feelings on the subject with her. Accepting her feelings and emotions and then relating them to your own is how you build that deep connection and strong attraction with women.
Step 4: Building sexual tension with women
The big key to building sexual tension with a woman is to touch her. Start with light, playful taps at the beginning of the interaction, and gradually touch her more and for longer periods of time.
Aside from touch, another important factor in building sexual attraction with women is to be open and honest with your interest in her. It's no secret women want confident men, and saying exactly what you're feeling without holding back is a great way to show that confidence with women.
So to build that sexual tension and get a woman turned on with your confidence, verbally express your interest in the woman. If you're in a sexually charged environment like a club, just come out and say "you're really turning me on right now". If you're meeting a girl in the daytime – or someplace where the sexual energy isn't as potent, something like "I really dig you, let's go get coffee together" works great. Really, whatever it is you're feeling at the moment is exactly what you should say to the woman.
What to say to a girl from there
If you've gone through these steps and still find yourself searching for something to say to a girl you just met, simply jump around the various stages once again in whatever order suits you (excluding qualification). That interchange between bantering with the woman, sexual escalation, and rapport building will keep the conversation with the girl you just met fun and interesting.
Photo: © Eros International (Main Image)
Men are usually swayed by good looks when they see a woman and they decide if they are attracted towards a woman or not in the first few minutes of the initial meetings. Though this, later on, can change, they might initially feel infatuated towards her and later on think that she isn't worth it or gets distracted by someone else. A lot of how your relationship will be with a woman depends on how you treat her in her early days when you started talking to her. It is not that difficult to make a girl fall for you and we are making sure you are on top of your game. Men who never chase are the ones who ultimately get the girl. Also, women like it when men don't chase them and are not easy to get.
So here are a few tips that'll help you in making her fall for you. No, this is not the same technique that Shahrukh Khan used in KJo's 'Kal Ho Na Ho'. This is nothing like '6 din ladki In' if you know what I mean?
So, we devised 10 simple ways to make the ladies swoon and follow us!
Make Your First Impression Count
Be confident. Do not fumble. Have something to say. You can't risk killing your first date with her or else that just might be your last one. There can be nothing worse than not having anything to say and the other person feeling sleepy or blabbering alone. You don't want to do that. To avoid the storm inside your head gets even worse, start talking. Ask questions and show some interest. By the end of it make her curious wherein she wants to know more and you know enough to row your boat further.
© Thinkstock/Getty Images
Be A Challenge
Instead of doing the hard work, create situations where she has do the chasing instead. Don't be the desperate, needy, and always-eager-to-please guy. Come across as a powerful guy, who has a lot going on his life and wouldn't go after a woman. Instead, build the mystery factor and draw them towards you.
© Thinkstock/Getty Images
Ask The Right Questions
You are doomed forever if your opening statement is "Do you have a boyfriend?". Period. Women generally think of us with a one-track mind, and this is your chance to prove them wrong. Never get into silly questions or details. Instead, ask her what's her equation with pets. Or what's her favourite genre of music and maybe you can play her favourite song once she agrees.
© Thinkstock/Getty Images
Don't Linger
Too much of anything is bad. And trust us, women don't like men hovering around them all the time and "baby'-ing them. Give them the chance to yearn for you. Stay close, but stay away. Let them come after you when you make yourself scarce. In other words, use absence to make her heart grow fonder.
© Thinkstock/Getty Images
Pay Attention To Small Details
Buying her a bouquet of roses everyday or dropping obvious compliments aren't going to earn you any brownie points. Women are suckers for details. Tell her how her dress reminded you of your favourite love story writer, or drop her a text about how she's in your thoughts even when you are not around. She will definitely come back for more of those.
© Thinkstock/Getty Images
Know Where To Draw The Line
You like her, she likes you back. Next thing to do? You ask her out on a date! But don't keep doing it again and again. Give her the chance to miss you. If she asks you out for dinner one night, play around a bit. Tell her you are not sure, you might have to check. Of course, don't keep refusing her every time; else she might lose interest in you. Figure out the real way and you could be the real boss!
© Thinkstock/Getty Images
Get To Know Her Better
In an interview, the balance strikes when both parties have doubts and both their doubts are clarified. Do not go on blurting out everything about yourself without asking her a single thing. Find out what her likes and dislikes are, and whether she fits the bill too or not. It's crucial to do so, as this gives women an assurance that you are equally interested to take matters forward. Add a pinch of humour to the questions and you are on the right path, my friend!
© Thinkstock/Getty Images
Know The Difference Between 'Cocky' And 'Funny'
If you can make a woman laugh, she will be yours. And we don't doubt this fact one bit. But there's a huge difference between being funny and being cocky. Don't ever try to demean her (especially in front of others by trying to prove how sarcastic you can be), or she will never be yours. Make her laugh with good humour and that will keep her thinking more about you. Good humor can do wonders, whereas sarcasm can often kill the vibe.
© Thinkstock/Getty Images
Hold On To Your Cards
Transparency is good. But mystery is better. At least when it comes to wooing women. Don't be an open book. Build some suspense and create some mystery. These are foolproof ways of creating attraction, an attraction so strong, that she can't resist chasing you.
© Thinkstock/Getty Images
Stop Chasing
There are only a few ways that you can be different. Don't go chasing her like any other guy out there. Let her take the first step, for a change. Use the above tips and make sure you are not the one standing outside her balcony every night like Romeo. It's time for some role reversal, bro!
© Thinkstock/Getty Images

Hey! Chase Amante here.
You've read all the free articles I can offer you for this month.
If you'd like to read more, I've got to ask for your help keeping the lights on at Girls Chase.
Click a plan below to sign up now and get right back to reading. It's only 99¢ the first month.
Monthly
Unlimited access to GirlsChase.com
Quarterly
Unlimited access to GirlsChase.com
Annually
Unlimited access to GirlsChase.com
Already a GirlsChase.com subscriber? Log in here.
Lately we've had a number of readers asking about more ways to talk to women and keep the conversation going. Here's JFav, answering the question of what he'd like to see in the new forum 's bonus book:
" Love to see something on keeping the conversation going. Some strategies a newbie could possibly use to deep dive. "
Wanting to know more about conversation, particularly for newer guys.
And on the recent article about how to pick up girls shopping , Maxz commented:
" Hey Chase, another rocking article.

Question for you man, I have been having problems on the conversational aspect of the game lately. When you talk about deep diving and all, is it all about asking girls qestions about themselves? I can't seem to truly crack this nut. Some of the girls I have talked to lately, we usually just end up in strange silences at some point in the conversation. What kind of easy probing questions will you suggest to carry on these conversations?

Thanks Chase, love every single lessons on here. "
I referred Maxz to a few articles to help him get his bearings, but I realize that a lot of guys need a more basic layout of how to talk to women properly than is laid out in the article on deep diving or being a conversationalist .
So, today's article has been put together to be exactly that: talking to women for beginners (with a few neat tips thrown in here and there to spice things up for the old pros), broken down into four lessons with five points each – a total of 20 ways to talk to women and make it go swimmingly.
Men, today we are going to look at how to talk to a black girl you like. I know from experience there are guys out there who fancy black women but don't feel they are able to tell them how they feel. This could be for a number of reasons, many of which shouldn't hold you back from pursuing the person you like.
So read on below for tips on talking to that black beauty… I hope you get your woman!
1. Remember, Black Or Not, We Are All Human
First of all, you need to remember we are all human. There is no reason why you should feel talking to black girls is different from talking to girls of any other race.
Where you grow up, your culture and other things do of course all have an impact on the person you become. That said, everyone is different. Just because of a women's skin color it doesn't mean they are going to have a set personality. Some will be open to talking to you, others won't. But a woman being black isn't reason enough for them not to talk to you.
Don't look at black girls as women who are harder to talk to, because the truth is they aren't.
2. Be Genuine If You Really Like Her
One of the most attractive qualities guy can have is them being genuine. We've all been there; meeting someone who seems like one thing at first, but down the line we find out they're someone else entirely.
Usually, a genuine personality stands out. Forget the pickup lines, forget putting on a front. Be true to who you are, and if you have a personality that matches the girl you like, they will be open to talking to you.
3. Don't Fear Rejection From Black Girls You Like
Now I'll be honest with you, not every black girl you like and approach is going to be interested in you. But that's to be expected right? After all, is every white girl you approach interested in you? What about every Chinese girl? Or every Indian girl?
The truth is, regardless of whether you talk to a black girl or a girl of another race, you are going to get rejected a percentage of the time. This is because not everyone is everyone else's taste.
You may get rejected because you're physically not their type, because you approached them wrong, or because any other 1000+ reasons. That said, don't let that demotivate you. Approach enough black girls and eventually you will find some who are also interested in you. From there you can find that special one over time.
I can admit that it can be pretty tough for boys to get an idea of how to impress a girl on WhatsApp that they might like. All social media is a minefield, especially when conversations are happening over WhatsApp chats and text, it could be really easy to be rejected and the feel this anxiety all the time.
Allow me to introduce myself. I am Frankie Caruso and I have spent the past five years analyzing and testing every type of text message a man might send to a woman.
Many are often worried that they say the wrong thing when sending a message that could convey the wrong idea. Worse yet, she may not even know that you are flirting.
Trust me, we all have these concerns.
Additionally, you have the dilemma of choosing a topic that keeps her interest while sending flirtatious text that cannot get misconstrued as sleazy or dirty. Too much and she loses interest rapidly.
Seem like it is an overwhelming task? Welcome to the club. No need to worry however, because today I'm going to give you 10 Tips to Impress the Girl of Your Dreams Using WhatsApp. This guide is going to help her see that you are the one for her.
Before you read into the 10 tips that I will provide, you should check out another excellent guide called Obsession Method. I was able to get a lot of valuable information about my texting experiments here.
Really, this is nothing but a simple guide providing real examples to help illustrate points. The author offers multiple obstacles you might face and the best approaches they determine to overcome them. Use this the gain some perspective about who is getting your messages and learn many of the common mistakes that boys make when they message girls.
Below you are going to find some excellent tips to help you land your crush. Apart from these, I would also recommend learning some good WhatsApp tricks that can come in handy while chatting with the love of your life.
It is obvious that for a relationship to be exciting, fun and happy, both partners need to always add new things into it. There are several ways to assist a relationship grow closer, but nothing beats up communication between man and a women and more so a new relationship. Now, we all know how good most women are with words and how challenged men are in comparison. While there do exist some good conversationalists amongst men, a lot of them still need a lot of tutoring.
Talking to women can be intimidating for most guys but women love men who are fun and easy to talk to. It is important to stay confident throughout the conversation to show the girl that you believe in what you saying and that you are happy to be with.
1. Start with a light topic.
When you first start talking to the girl, pick a light topic that you can both chat about pretty casually that won't make things awkward. Don't tell her about the weird rash on your back or ask her about her most embarrassing moment; you can save that stuff for when you get to know each other better. Stick to the topics that can still lead to an interesting conversation without making the girl feel uncomfortable. For most women, opening up about their life is a very fragile moment so asking the wrong questions or too many questions can make her feel like she's being interrogated. Try asking her to a friendly game such as darts where you can both relax and get to know each other a little more.
2. Start things off to invite her to talk.
Pay attention to the scenario, and mold your invitation to the circumstances. If you want to strike up a conversation with a girl you don't know, try making a recommendation. For example, if you see a beautiful girl at a coffee shop, and she looks undecided about her order, then recommend your favorite drink or tell her that you're going to guess exactly what she wants just by looking at her. When you already know the girl, start with some common ground. If you're in school together, then make a comment about classes or talk about your extra curricular activities.
3. Talk about her friends, her interests and her family.
It is important to ask her about her family, friends and their lives, ensure you have long conversations about her interests also and those things she likes to do most when she's got enough time on her hands. Talking with her about her interests will assist her see that you're authentically interested in knowing all about her and her life in general. Also, if the two of you do share particular hobbies, then the two of you will be in a position to bond even better with each other.
4. Focus on her, not you.
Don't let anxieties of being shot down or approaching a woman turn you off from talking to a woman. If she chooses not to respond to you, it is not about you. It's about her. She probably isn't looking for anyone, has her own insecurities, or is not interested. If you are focusing on what you're going to say next or the thoughts in your head, she will pick up on the fact that she does not have 100% of your attention. Why? You're too focused on yourself. Bottom line, if you're both listening to your own thoughts or you get distracted by something else, then you aren't having a conversation with someone else in the first place!
5. Ask her some questions.
You want to show her that you're interested in her while at the same time deciding whether she's really worth your interest. A great question will make her think, laugh, and like you, all at the same time. Avoid "yes" and "no" questions. A question like, "Did you like the new movie that came out this weekend?" will get you either a "yes" or a "no" but may not launch a meaningful conversation. Girls often like guys to make the first move. Instead of waiting for her to ask you questions, be proactive and do the asking first.
6. Discus about both your childhood and your past.
Childhood memories are such memories that are full of fun to either talk about or listen to, particularly if it involves a funny or an embarrassing incident. Discus with her about your first crush, , the first time you got drunk, your good looking teacher or even the time you did something silly. It is at this point whereby your girlfriend will definitely take pleasure in and have a good laugh while spending time with you.
7. Keep smiling.
Maintaining a smile and a positive demeanor will keep the girl's interest and will make her more likely to keep talking to you. Though you don't have to grin until your cheeks are numb, you should smile whenever it's appropriate. This will let the girl see that you really like talking to her and will leave her with a positive feeling. You may be so nervous that you forget to smile, so remember to keep yourself in check. Smiling is especially important when you first start talking to the girl and at the end of the conversation.
8. Focus on body language.
For yourself, use great eye contact, sit up straight and smile warmly. When you do these things, she'll feel as though you're focused on her. Watch the way she uses her body. If she makes eye contact with you, lightly touches your arm or leans in toward you while you're talking, then you can feel confident that she's into you. Make sure you're projecting good body language, too. Don't cross your arms, tap your feet, sigh or groan audibly. All these tics are signs that you're bored or dissatisfied with her.
9. End on a good note if she tells you that she has to leave.
Tell her that you enjoyed talking to her and getting to know her. If you felt a real connection to her, ask for her phone number. The next morning, send her a text saying that you had a great time, and wish her a good day. You might get a second chance at continuing that initial conversation if she texts you back. A good rule of thumb is to wait a least a day before you call her, especially if you approached her as a stranger. You don't want her to think you're too forward, and you don't want to appear too needy, so it is best to delay for a day.When you call her, keep things short and sweet. Unless she's really enjoying the conversation, simply ask her if she'd want to see a movie or go out for coffee and leave it at that.
Some of the things that may make a woman uncomfortable are if you are nervous, putting yourself down or making comments about how you can't find anything to talk about. This is likely to make her lose interest in you and she may never want to talk to you again. You don't need to act like you are the most interesting guy in the world. Just act like you are confident and happy with being you and around her and the rest will follow into place.