Want to plan an American themed party? There are lots of reasons to get patriotic and throw a USA themed bash. Memorial Day, 4th of July and Veterans Day are all great times to break out the red white and blue party decorations. If you're American or just want to celebrate like one, here are some great tips for throwing the ultimate American themed party.
How to host an american themed party
Table of contents
How to plan an American themed party
American theme party decorations
American themed party food
American themed party games
American themed party costumes
USA Party Music
How to plan an American themed party
In many parts of the world, outside of the United States it has become a bit of a "thing" to host "American" theme parties. It's funny to see what people in other countries think Americans do at parties. Europeans host parties based on what they think Americans eat, drink and do for entertainment. Buzzfeed did a whole story on it and there are lots of funny pictures floating around the internet. To be fair, most of what other countries think Americans do at parties isn't really that far off.
For those of you who don't know I was born and raised in Canada. I moved to the states in 2009 and when I got married to my husband.
I recently passed my civics test and am officially a US citizen! This year I definitely have a reason to celebrate.
American theme party decorations
One of the most important aspects of any party is the decorations. When decorating for your American themed party you will want to use lots of red white and blue (the colors of the American flag) decor.
Feel free to also decorate with USA flags in a tasteful and respectful way. Paper decorations are easy and you can get them off Amazon. Balloons are cheap and easy and you can make a fun balloon arch.
The following are affiliate links. We are a participant in the Amazon Services LLC Associates Program, an affiliate advertising program designed to provide a means for us to earn fees by linking to Amazon.com and affiliated sites. Thank you for being part of Crafty Little Gnome.
Use stars, stripes and red, white and blue table cloths and fabrics. Floral arrangement in red, white and blue will also fit right in.
Bandanas are cheap and very "American" use them as napkins or table decor.
American theme party food ideas
American themed party food
American cuisine gets a bad rep with the rest of the world for being unhealthy. While this may be true let me just say that I have done quite a bit of traveling in my life and although American food will probably clog your arteries and make you gain some extra pounds you can't deny that it is delicious.
Here are some American foods to serve at your party:
Hamburgers
Apple pie
Coca Cola
Budweiser or other American beer
Donuts
Fruit plates resembling flags or any food that is red white or blue
American themed party games
It's very well known that Americans love football. If you have the outdoor space organize a round of flag football. Baseball is another great choice if you have a large field nearby.
Other games your party guests will like
Corn hole
Beer pong
Mini golf
Bingo
American themed party costumes
If you want to make your American themed party a costume party there are lots of different costume options. You can dress up as an important figure from American history like presidents or other politicians. You could also dress up as the Statue of Liberty or a celebrity. Athletes, actors and actresses or comic book superheros make great dress-up options.
If you don't want to go as a character or historical figure you can wear lots of red, white and blue clothing or wear one of the most icon American fashions: blue jeans.
USA Party Music
No party is complete with out some tunes on in the background. There are so many great American singers and bands there should be no trouble finding some music that everyone likes. Bruce Springsteen, Bon Jovi and Michael Jackson are all great choices.
If you want to go the traditional route, country music is very "American" as well as bands and musicians from the southern states.
How would you plan your American themed party? Let me know in the comments!
Primary Sidebar
Hi I'm Adrienne Carrie Hubbard.I believe a rich life comes not from the things you have, but the things you do; the experiences you create and the people you meet along the way. Thanks for hanging out!
AD | Collaborative post
Last year my sister got engaged and is planning on getting married in New York. John and I got married in Florida. It would seem that weddings in our family only happen in America now! John and I had a big party when we got home but I kind of wish it had been American themed. Maybe I can talk my sister into doing this instead though!
American food is probably one of the easiest ways to go for party food because there are so many options. Food could be themed around an American holiday such as Thanksgiving with pumpkin and turkey options or it could be Independence Day themed. I find that canapés for parties are a really easy way to go though. They are super easy and there's something for everyone! You could also add in some 'potato chips', Oreos and smores for sweet treats.
Entertainment
If you're having a DJ at your event it would be really easy to request that they only play music by American artists. Luckily, there are loads of different genres to choose from too and so many great songs.
If you're into country music you could make it a barn dance kind of party, using country music and line dancing as your entertainment. You could even hire a dance teacher and get everyone to learn a routine!
One of the most iconic American themed party games for me is Beer Pong. The red cups have been seen in so many films and as people drink throughout the evening it could get more and more fun.
Decorations
American themed party decorations are super easy to get your hands on. You can easily make a room look special with red, white and blue coloured items, as well as adding in the American flag. You could use one big flag, small flags put into the food or coloured cups. Pinterest has so many great ideas for party decorations and they don't have to be expensive either. If you want to go all out you could look for a commercial flagpole for sale and decorate the front of your house with an American theme.
Main Theme
Seeing as me and John got married in Orlando, Florida, we could have had a theme focusing on a certain state or place. It would be very easy to host a party with a New York or Las Vegas theme. There is so much that you could do for each of these with unlimited possibilities!
Have you ever thrown a party with an American theme before? Do you have any tips?
Whether you're planning a fun children's party or a birthday kickback with friends, it's always fun to attach an engaging theme to the function. In truth, an incredible themed event makes the planning process all the more simple for you. If you're planning a get-together for an artistic, creative loved one, check out these tips for how to throw an art-themed birthday party.
Start With the Invitations
Executing a tremendous art-themed party starts with the invitations, so have fun creating these letters and cards! Creativity is key, so consider homemade, painted invitations that give your guests a hint at what's to come at this event.
Encourage your child to help create and paint these letters for their birthday party, keeping them more involved with the planning and theme. To make these unique invites, purchase thick cards and quick-drying paint. Dip your invitations into dye to give them more vibrance and depth.
Decorate With Detail
When it comes to decorating the event, attention to detail is extremely important. Everything from hanging décor to napkins should feature some nod to the art theme. You don't want to miss any opportunity to add elements related to your theme, so consider all party factors and plan for unique decorations.
Prime Party offers many themed items that are sure to spruce up your event and save you the stress of picking out the perfect products. Plan the ultimate art-themed function with birthday party Bob Ross decorations, gifts, activities, and art supplies.
Plan Colorful Activities
The perfect party features fun activities that keep children engaged and allow adults to unwind from a stressful week. Events that are exciting for all guests are always more successful. For an art-themed birthday party, you should definitely include painting time. Stock up on affordable canvases and plenty of art supplies, including brushes, non-toxic paints, and easels so that every guest can enjoy the act of making art!
For smaller children, consider watercolor and tye-dye activities. They are less complex, make a smaller mess, and are more manageable for adults. For a more mature art-themed birthday gathering with friends, have the group paint a similar picture and complement the activity with a tasty charcuterie board and refreshing glass of wine.
Make Food Masterpieces
Your meal and sweets should join in with the theme of art, and with a bit of creativity, you can make delicious and masterful birthday food items. Many companies offer custom-shaped candies, so opt for paint-shaped sweets that are sure to impress children and adults alike.
Use food coloring to make vibrantly colored foods and get innovative with other features—a cake pop with a brushless paintbrush for a stick is a cute and smart food decoration option. The cake is the most important dessert at any party, and thankfully, plenty of establishments offer custom pastry designs that are perfect for any art-themed function.
Planning an event is tricky, especially when learning how to throw an art-themed birthday party for yourself or a loved one. Prime Party is here to serve all your themed party needs, offering a plethora of trendy and creative decorations and party items.
Many people believe that the best time to throw an American-themed party is in July, on Independence Day. The area can be decorated in red, white, and blue stars and stripes. Rock, country, or blues music can be played in the background, and games like American football or baseball can help keep guests entertained. Simple foods like hamburgers and hot dogs can be cooked on a grill, and a small fireworks display may be the perfect ending to this type of theme party.
When throwing an American-themed party, one may want to consider the timing. Since the Fourth of July is considered to be the United States of America's Independence Day, this is an excellent time to throw a party of this sort. Some individuals may also choose to throw a party to celebrate the start of certain American sports seasons, like American football or baseball.
A true American-themed party is often decorated in the country's colors, red white and blue. Colored streamers can be hung up, for instance, and colored tablecloths can be used as well. Red, white, and blue balloons can also be strung about, and small American flags can also be used to decorate. Small flags can also be used as party favors.
Music is another important consideration when throwing an American-themed party. Patriotic music can be played for an Independence Day party. Rock 'n' roll and country music can also be played. The southern United States is also considered to be the home of jazz and blues music, so these types of music are also appropriate.
Entertainment is an important part of an American-themed party, since it will help keep guests from getting bored. Games like American football and baseball can be played outside, if the host has sufficient room. For those who don't want to play sports, these games can be watched on television instead. American-themed trivia or charades are also excellent games for both kids and adults.
Food at an American-themed party should be simple and abundant. An outdoor backyard BBQ is an excellent way to prepare food for this type of party. Hot dogs and hamburgers can be cooked on a grill, and foods like potato salad, corn on the cob, and watermelon can be served on the side. Ice cream and apple pie can be served for dessert.
Many hosts like to end an American-themed party, particularly a Fourth of July party, with a fireworks display. Depending on a host's budget and know how, along with the local laws in a particular area, this display can be rather large or quite small. Several sparklers are a nice touch at the end of any Independence Day party. They are relatively inexpensive, they are simple to operate, and no special permits are usually required.
You might also Like
Recommended

Related Articles
What Are the Best Tips for Throwing a Caribbean-Themed Party?
What Are the Best Tips for Throwing a Casino-Themed Party?
What Are the Best Tips for Throwing a Western-Themed Party?
What Is a Themed Party?
What Are the Best Tips for Throwing an Australian-Themed Party?
What Are the Best Tips for Throwing a Jungle-Themed Party?
What Are the Best Tips for Throwing an Italian-Themed Party?
Discussion Comments
@fBoyle– Food really depends on what region of the United States you want to use in your theme. For example, you could do a Texas themed party and serve tacos, nachos, chili. This theme can also include things like cowboy hats. donasmrs March 20, 2014
@fBoyle– You could always roast a turkey and serve with sides like mashed potatoes and gravy, macaroni and cheese, mixed veggies or a salad with ranch dressing. Fried chicken or various sandwiches with potato chips and root beer would work as well.
For snacks, you can serve dips with vegetables and nachos. Jello, ice cream, cookies and cheesecake would all work for dessert. You could even get fancy and make root beer floats or banana splits. You could lay out the ingredients for banana splits and your guests could prepare their own.
If you are trying to keep things smaller and simpler, or just want an afternoon snack, doughnuts and coffee is a great idea. fBoyle March 20, 2014
What other types of food can I serve at an American themed party? A barbecue won't be possible, I don't have a backyard. Pippinwhite March 18, 2014
If one is throwing the party overseas, I'd suggest a 50s "Grease" -type theme. You know, malt shop, leather jackets, loafers, poodle skirts and ponytails. It's stereotyping, but most people really associate these images with America.
Play doo-wop, rockabilly and 50s and 60s pop music, serve burgers and hot dogs, along with ice cream and pie. Most people like 50s music and the sock hop atmosphere is always fun and informal.
Following the success of the recent Great Gatsby film, it makes sense everyone is obsessed with 1920's glamour and festivities, with every occasion turning into an opportunity to celebrate all things Gatsby-style. So if you're thinking of hosting your very own Gatsby party, grab a glass of champagne and read on for tips on how to throw an incredible party where you can celebrate with your friends, regardless of the occasion. After all, a little party never did kill anyone.
STEP 1: Pick a time and location
A great Gatsby party should always be held in the evening, and should go on until late (or early, depending on how you look at it). We like an eight o'clock start time, with guests arriving fashionably late, of course.
When choosing a venue for your party, consider your budget, guest list, and weather. We like venues with both indoor and outdoor space, which allow room and opportunity for different kinds of activities and entertainment, and also create a nice flow for guests between spaces, without feeling boxed in.
If you have a short guest list, you could host the party at home, but for anything more than fifty people, we recommend renting out a venue that allows you more space (and also not having to clean up afterwards).
STEP 2: Send out invitations
Send your invites out six to eight weeks before your party—the earlier the better. Because a Great Gatsby party will require costumes or themed outfits, you want to make sure you give your guests ample time to RSVP and find something fabulous to wear to your fete.
We love invites with an art deco look and feel, so choose cards with geometric lines, patterns, arches, or gold accents. If you're sending out digital invites, choose something playful that your guests will love seeing in their inbox.
STEP 3: Focus on décor
The easy way to tell you how to decorate your Great Gatsby themed party is to tell you to watch the movie and copy exactly what Mr. Gatsby does for his big party. But the reality is that life outside of a Hollywood film usually involves nuisances like tight budgets, short timelines, and odd spaces to work with.
Because of this, here are the five main elements that'll turn your space from drab to dazzling, and give your room a cohesive Gatsby-esque look:
Metallic gold fabric swathed across the ceiling
Gold chandeliers and candelabras
Large feather accents (as centerpieces, on the backs of chairs, in floral arrangements)
Floral arrangements, preferably in a unified hue (we like white, peach, or pink)
Strings of pearls and crystal (glass) hung from the ceiling, off railings, from trees, on the backs of chairs (anywhere, really)
Pro Tip: if you're uncertain of what elements are the most important to decorate in your space, do a walk through of the venue with a friend and note down the first things you notice or that catch your eye. Those areas are the ones that your guests will also notice, and that your should focus on decorating.
STEP 4: Find the perfect entertainment
The most important thing to have at your Great Gatsby themed party is good music that people can move to. Whether that means plugging in your iPod and playing your favorite Gatsby-themed playlist (think lots of jazz interspersed with classical pieces, the Great Gatsby movie soundtrack, and dance-y remixes of 1920's tunes), or hiring a great band, just make sure your guests can shake their thing on the dance floor.
If you're hosting a large party, look into hiring interesting entertainers like fire breathers, acrobats, aerial gymnasts, and contortionists to add an extra element of surprise and fun to your party.
STEP 5: Plan your menu
There are only two rules when it comes to what you serve at a Great Gatsby party:
You must serve champagne
You must not run out of champagne
For food, serve canapés and little bites—you don't want to interrupt the fun and dancing by having guests stop for food. Little bites they can nibble on between dancing, conversing, and sipping on champagne are just perfect.
STEP 6: Get ready to party! Fun and flirty 1920's-style glamour
Delicately beaded with soft silhouettes and elegant drop-waists, 1920's fashion sure was stylish. We love the idea of taking your theme one step further by adding an extra element of surprise to the festivities: making it a masquerade party! Whether you choose to do this or not, we've rounded up two of our favorite Daisy Buchanan outfit and accessory pairings for a truly dazzling entrance.
*Knowing how to garden is not a requirement.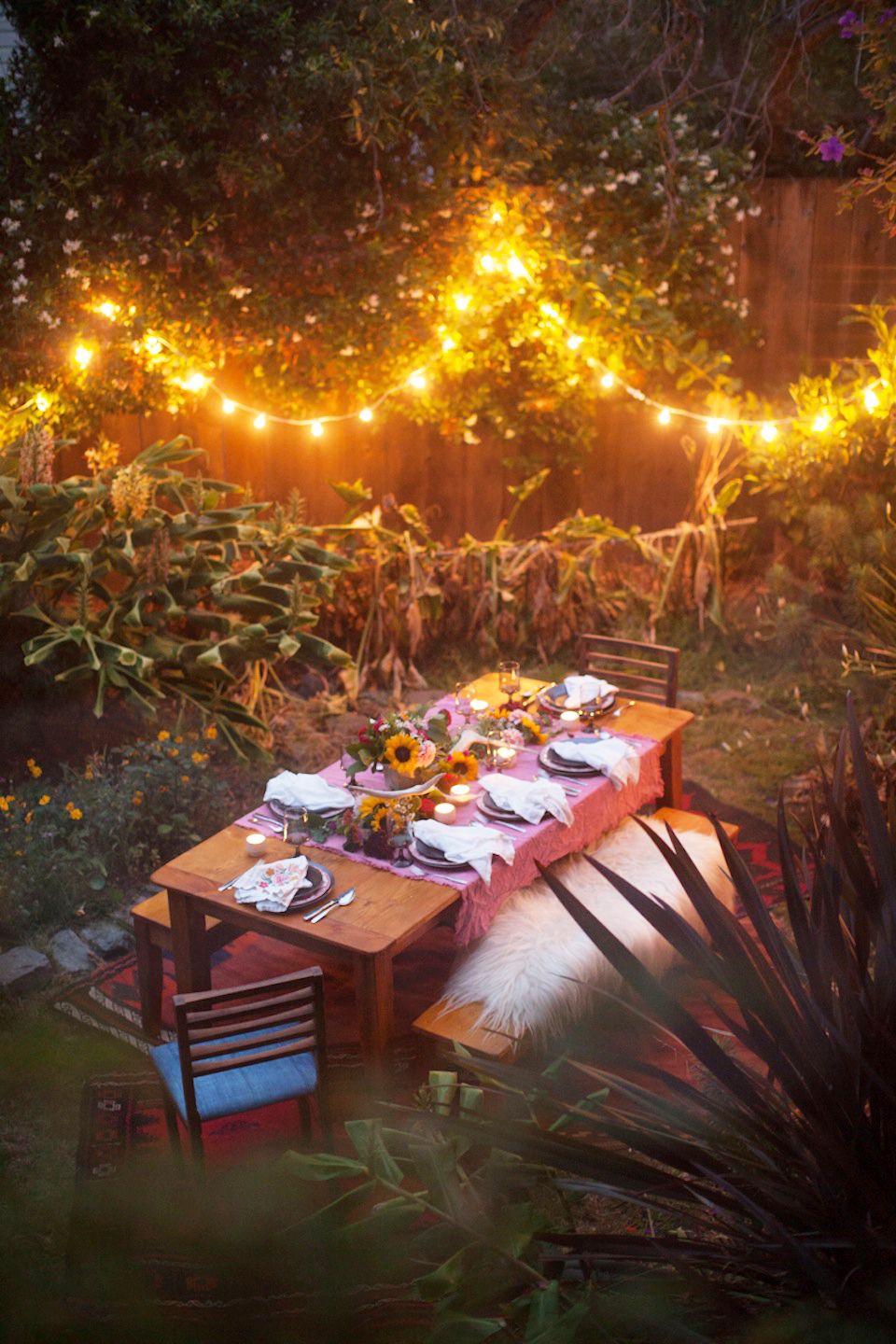 Flower lovers, listen up: If you want to throw a garden party everyone will be talking about for summers to come, you need next-level garden decor, amazing food, and unique cocktails. We've got tons of garden party ideas on this list to make your bash one that even Jay Gatsby would be jealous of.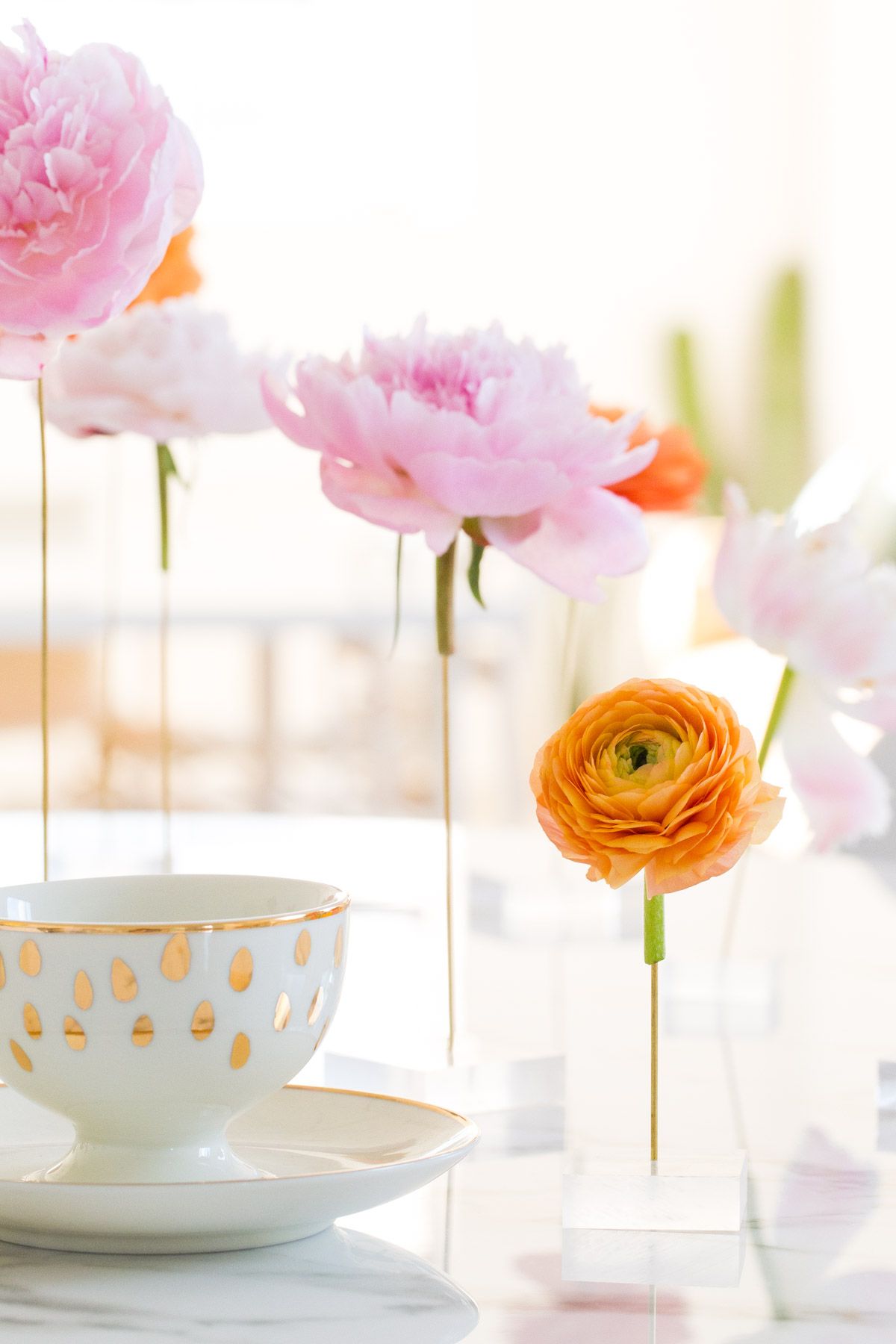 A garden party should be literally overflowing with flowers. This easy DIY will teach you how to make a floating flowers table display.
Get the tutorial at Sugar & Cloth.
BUY NOW Sticky Putty, $4, amazon.com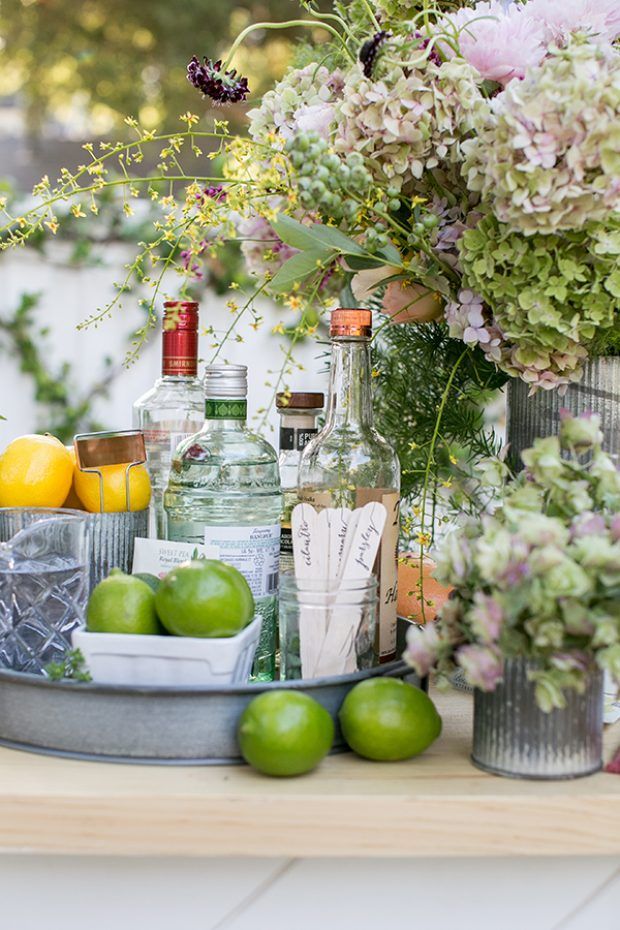 Up your cocktail game by creating a mix & match garden bar. Add several citrus juices, make simple syrups out of different herbs, and have a variety of clear spirits. Garnish with sliced citrus, more fresh herbs, and flowers.
Get the tutorial at Sugar and Charm.
BUY NOW Botanical Grapefruit & Rose Vodka, $18, drizly.com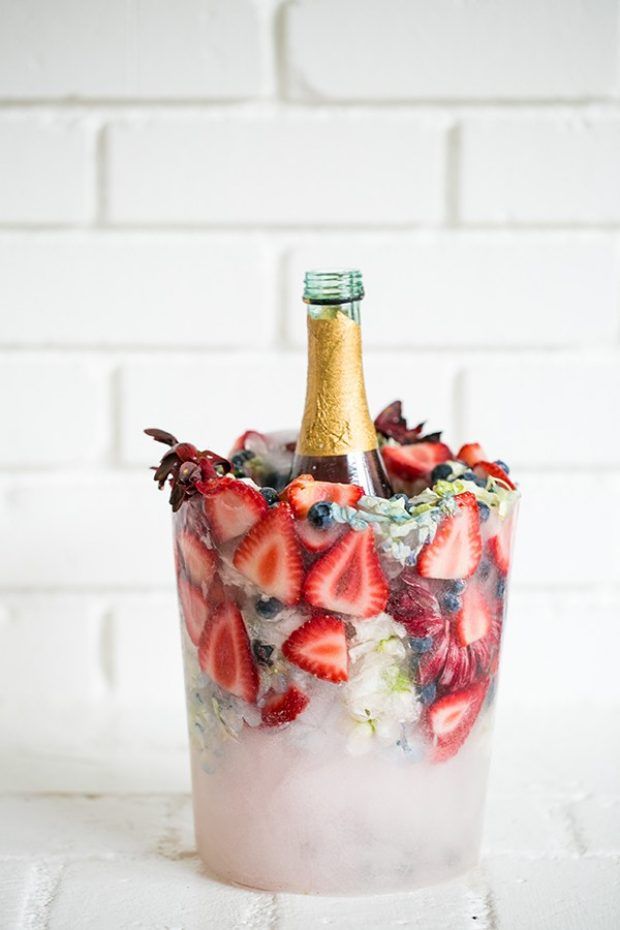 Fill your ice bucket with flowers and fruits. It'll chill your bubbly, and double as a bright and colorful centerpiece.
Get the tutorial at Sugar and Charm.
BUY NOW Ice Bucket, $58, amazon.com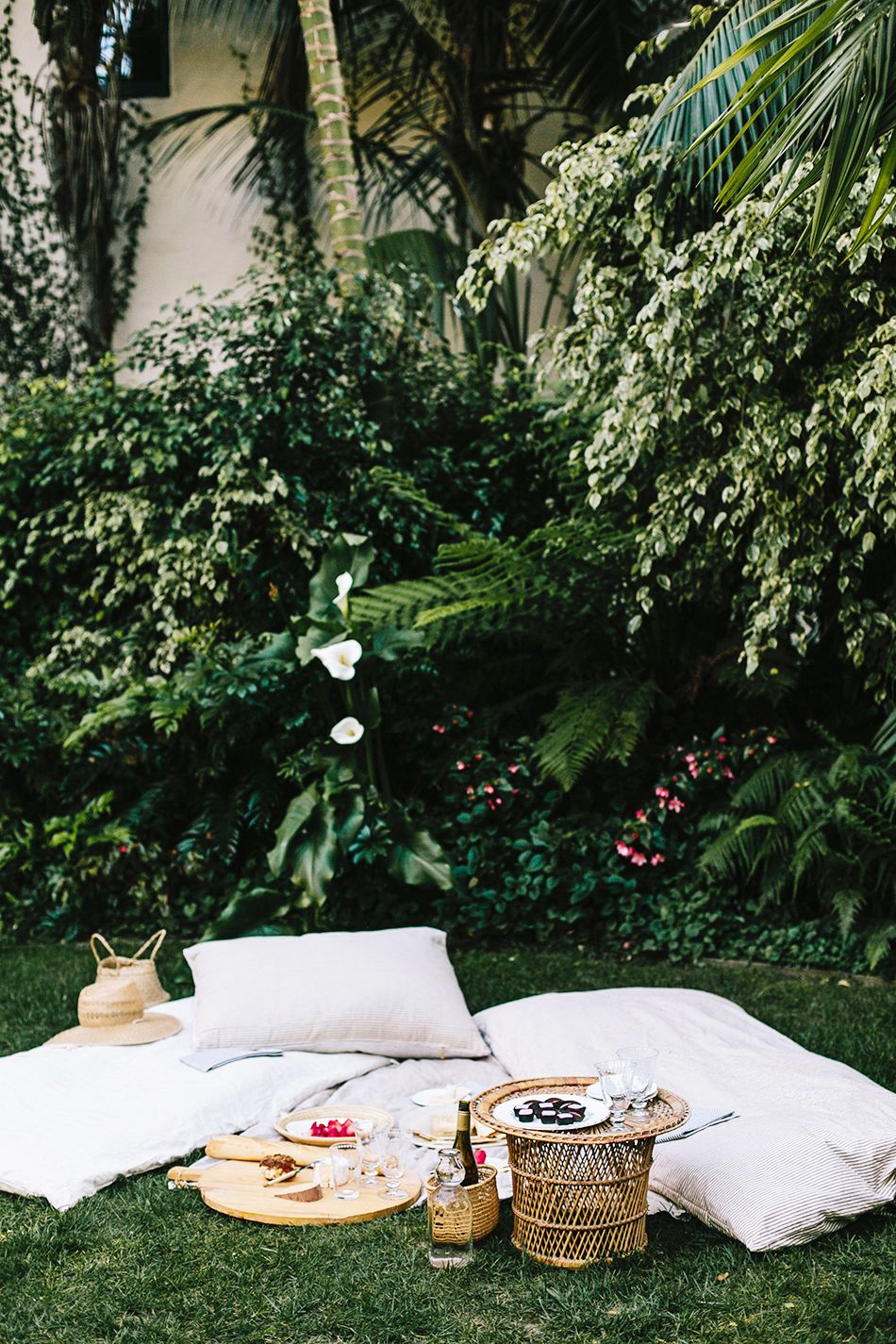 Take note from Alicia Lund of Cheetah is the New Black's picnic set up if you want to throw a laidback but thoroughly stylish garden party. Pile on the throw blankets and pillows and don't forget the rose.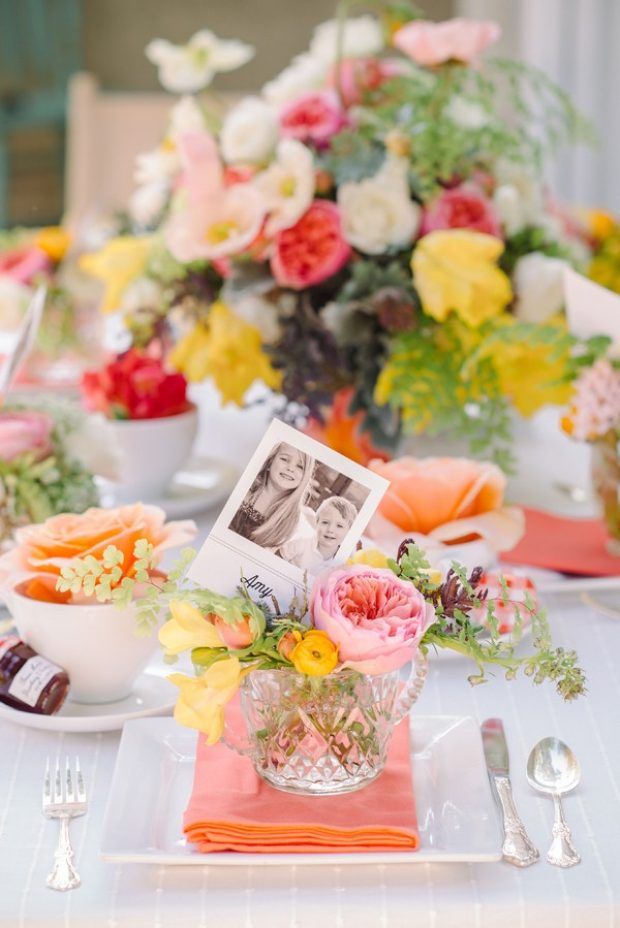 Assemble a small bouquet of flowers in a teacup. Then, tuck your name cards inside the blooms.
BUY NOW Teacups, $24, amazon.com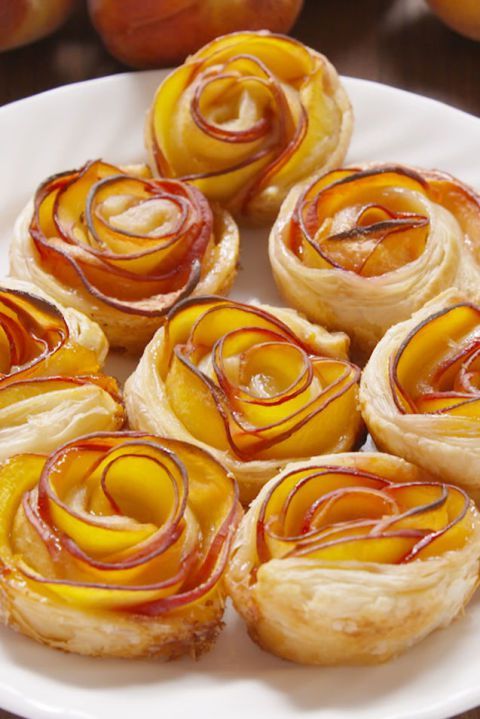 Impress your guests by turning peaches and puff pastry into a gorg dessert. These edible blooms taste as good as they look.
Get the recipe from Delish.
BUY NOW Muffin Tin, $9, amazon.com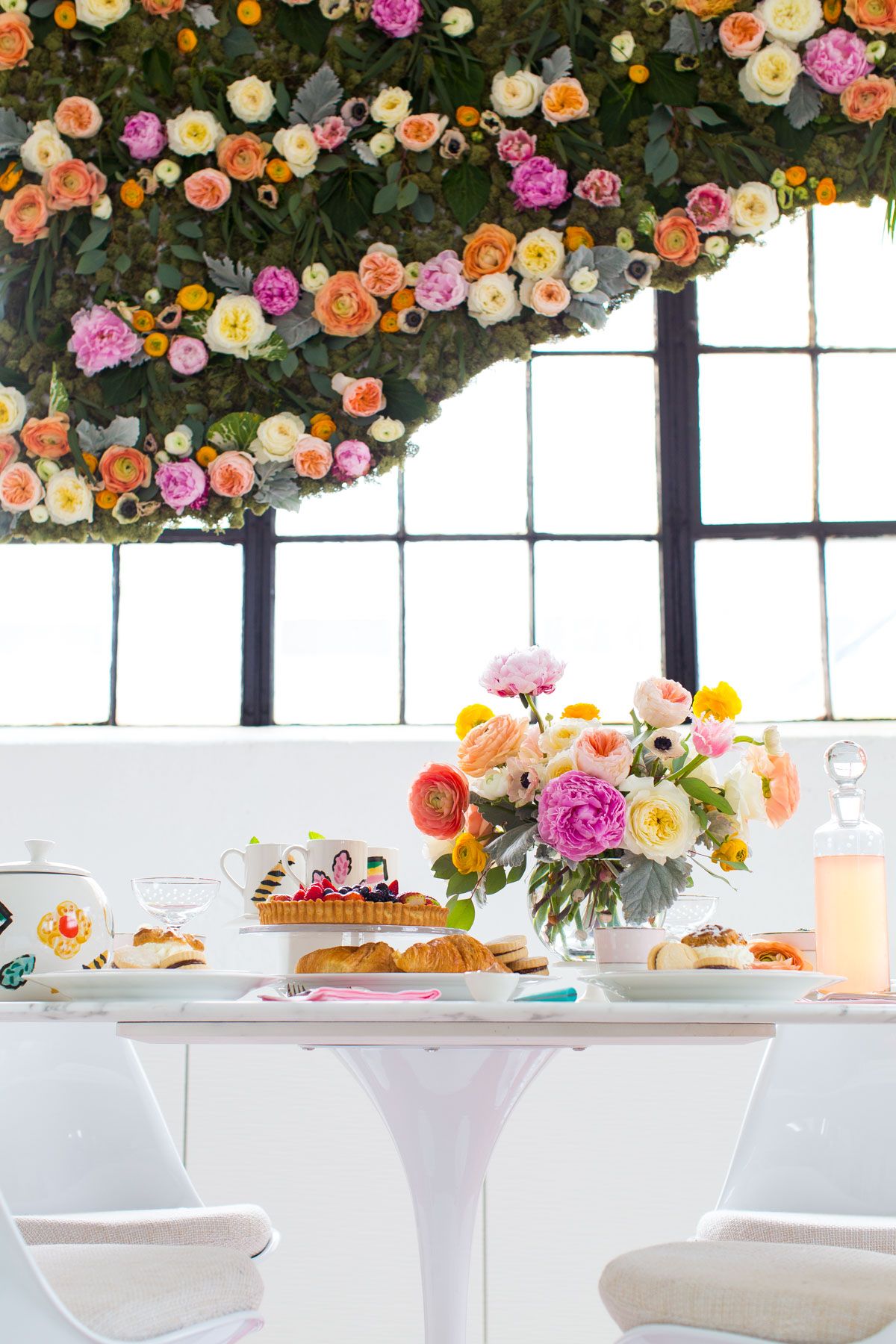 It sounds complicated, but you can handle this. The end result will be Instagram gold for all your party guests.
Get the tutorial at Sugar & Cloth.
BUY NOW Foam Board, $9, amazon.com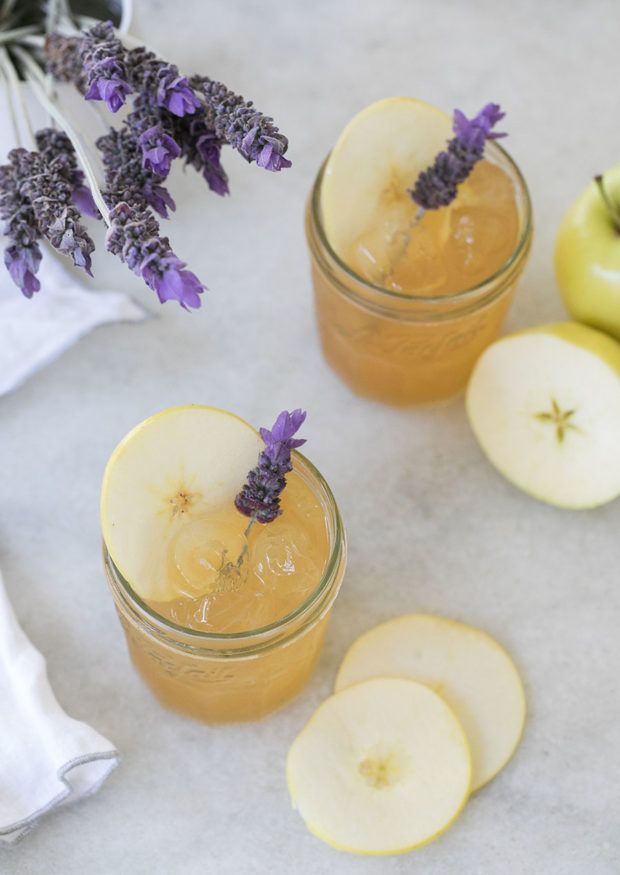 Make sure your drinks are as pretty as your decor. This one might smell sweeter than your actual garden.
BUY NOW Mason Jars, $9, amazon.com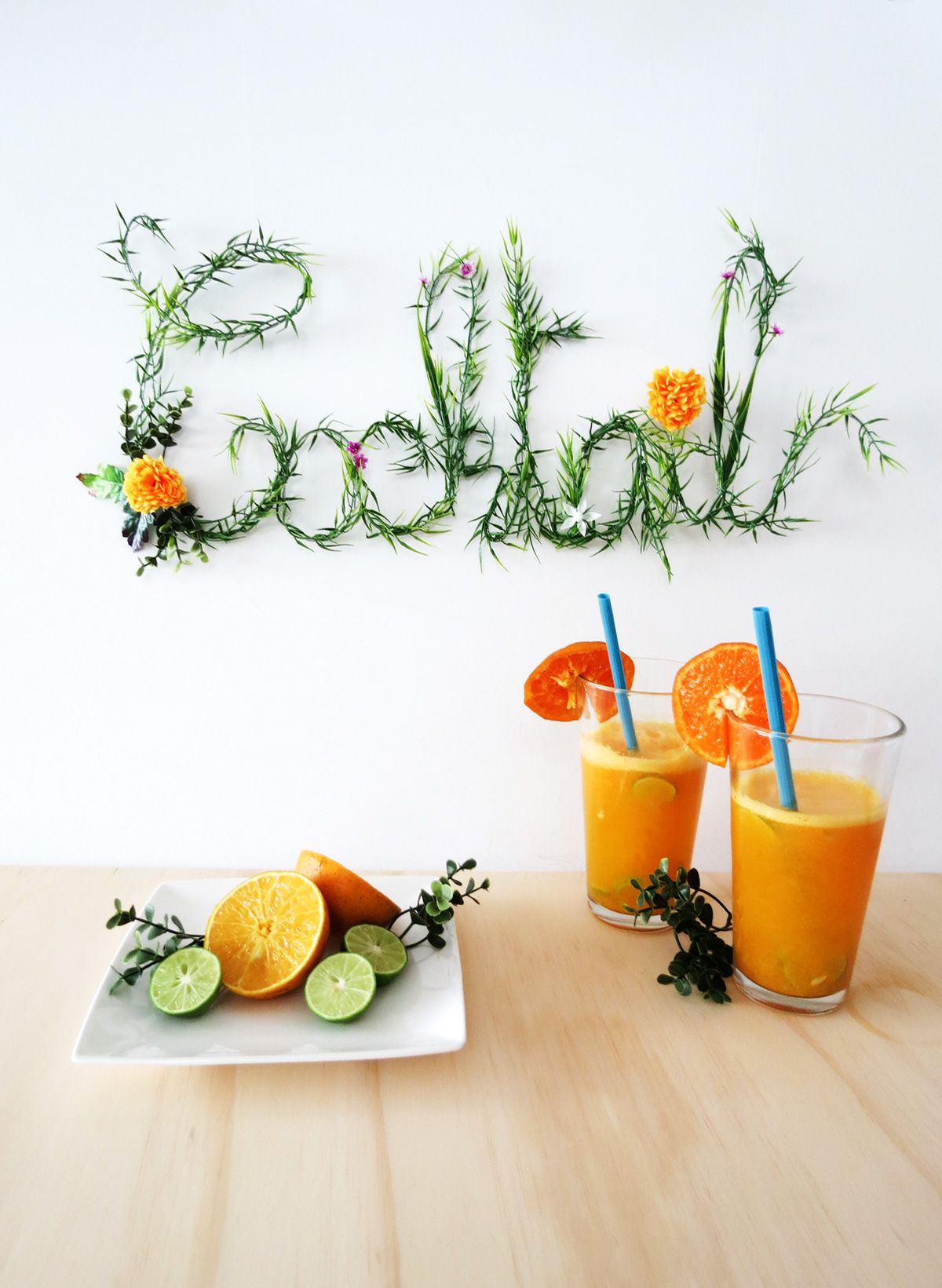 Steel wire, faux foliage, and a glue gun will create this garden magic. Now no one will have to ask you where the drinks are.
Get the tutorial at Sugar & Cloth.
BUY NOW Faux Foliage, $11, amazon.com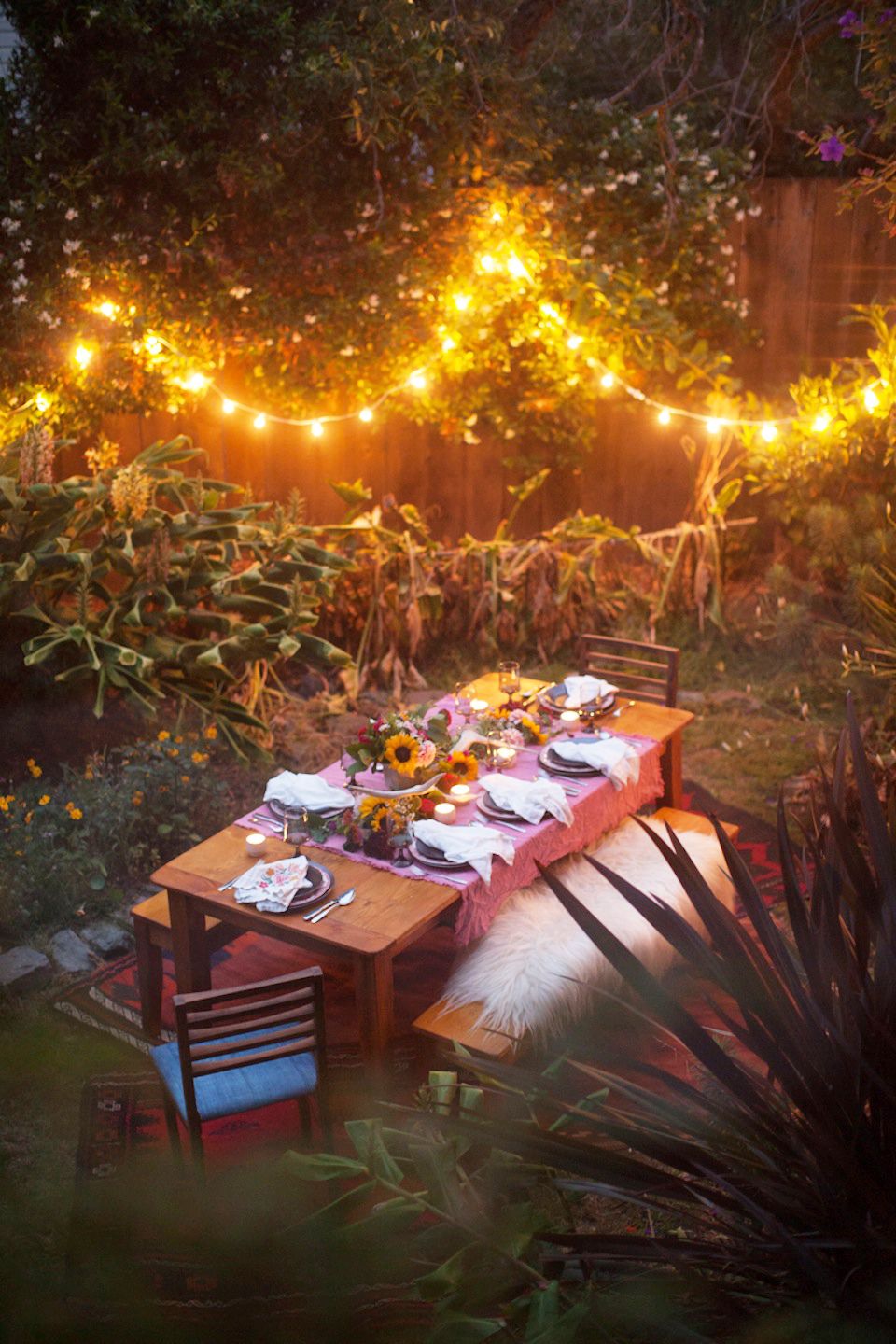 If you're having an al fresco dinner garden party in the evening, make it feel especially magical by hanging string lights. Add plush throws and colorful tabletop decor for a strong finish.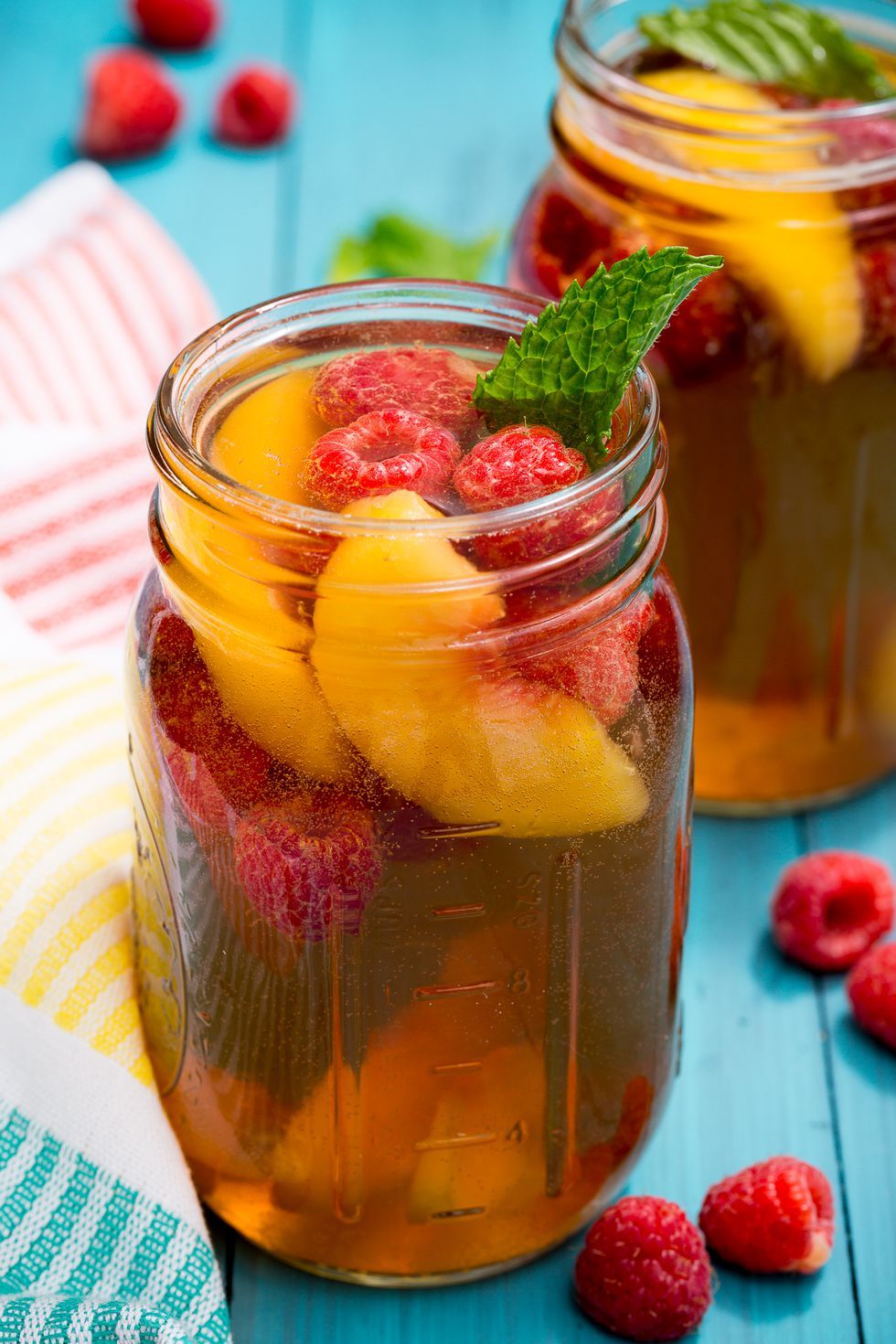 This light, Southern-inspired sweet tea sangria is perfect for an outdoor soirée. Bonus: It can make a big batch, because individual cocktail orders are the worst at parties.
Get the recipe from Delish.
BUY NOW Mason Jars, $9, amazon.com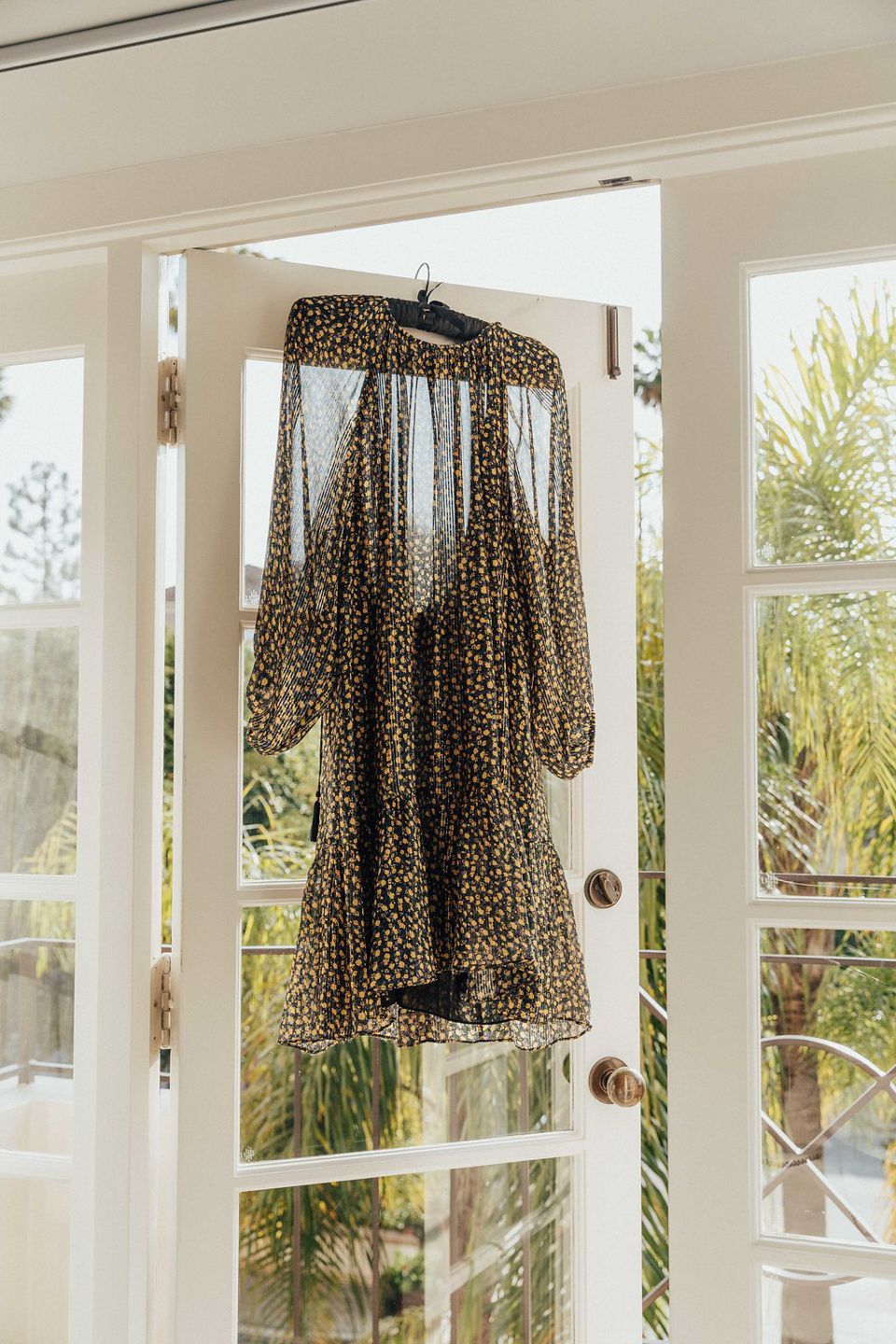 Tell all your guests to wear their favorite florals for an on-theme garden party.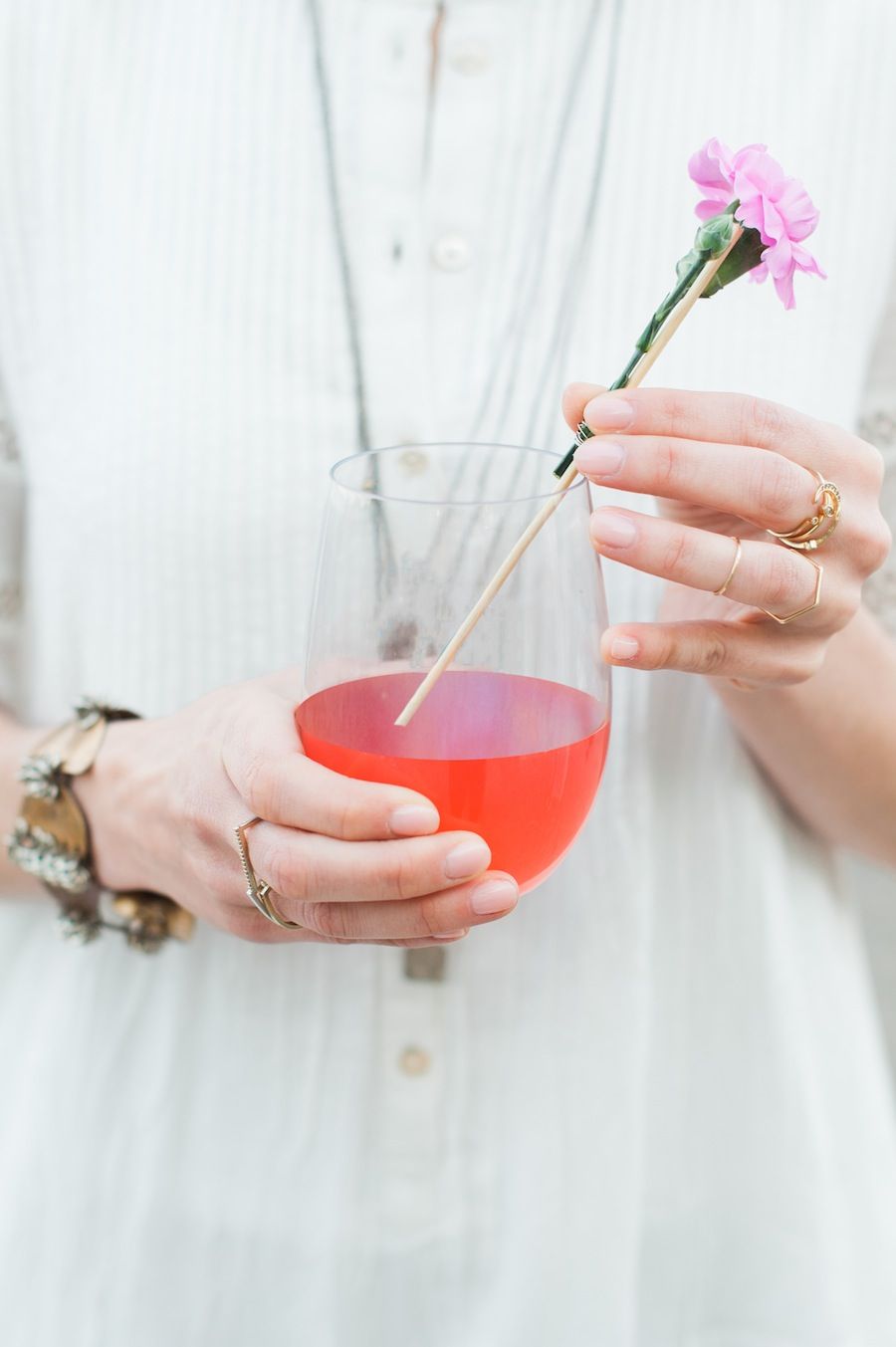 What do you stir your drinks with at a garden party? Flowers, obvs.
Get the tutorial at Lark & Linen.
BUY NOW Bamboo Skewers, $6, amazon.com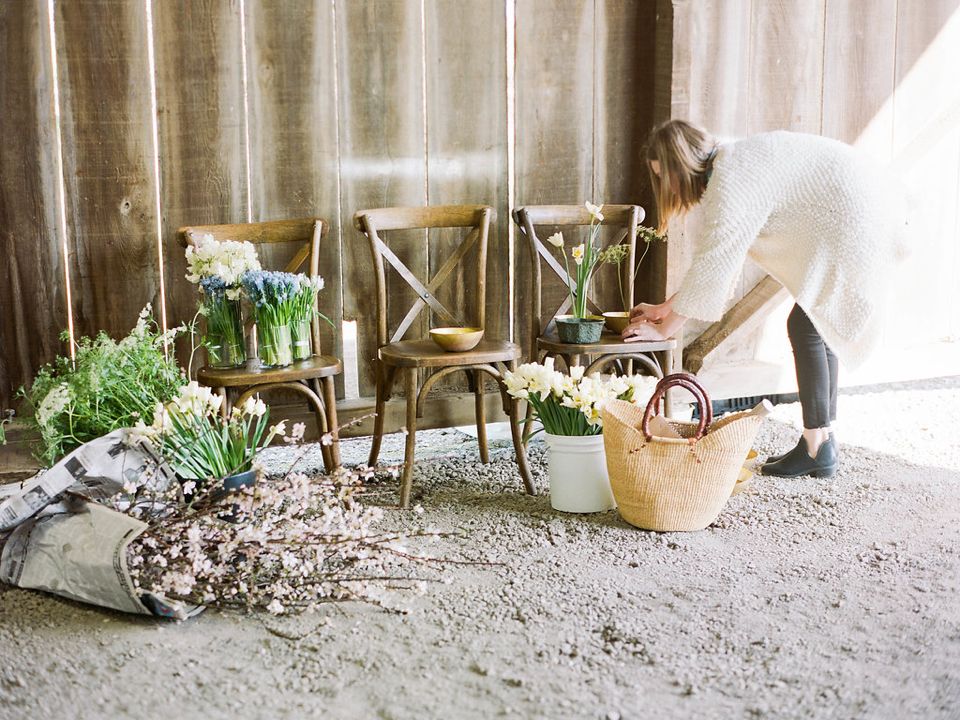 Set up a station for guests to arrange their own bouquets. This will give them something to bring home and remember the party by.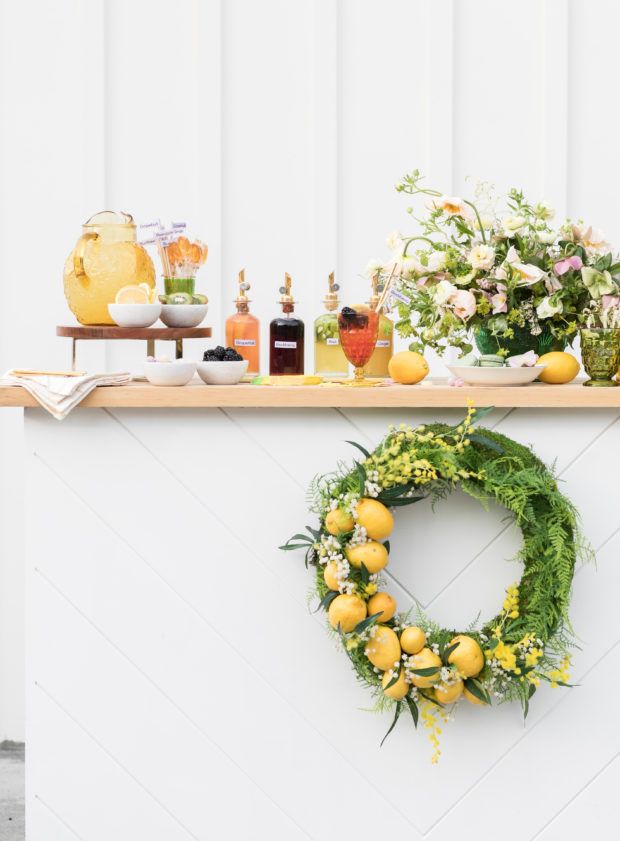 When life gives you lemons, make a DIY lemonade bar. This one is adults only, but if there's kiddos around, skip the spirits.
Get the tutorial at Sugar and Charm.
BUY NOW Pitcher, $30, amazon.com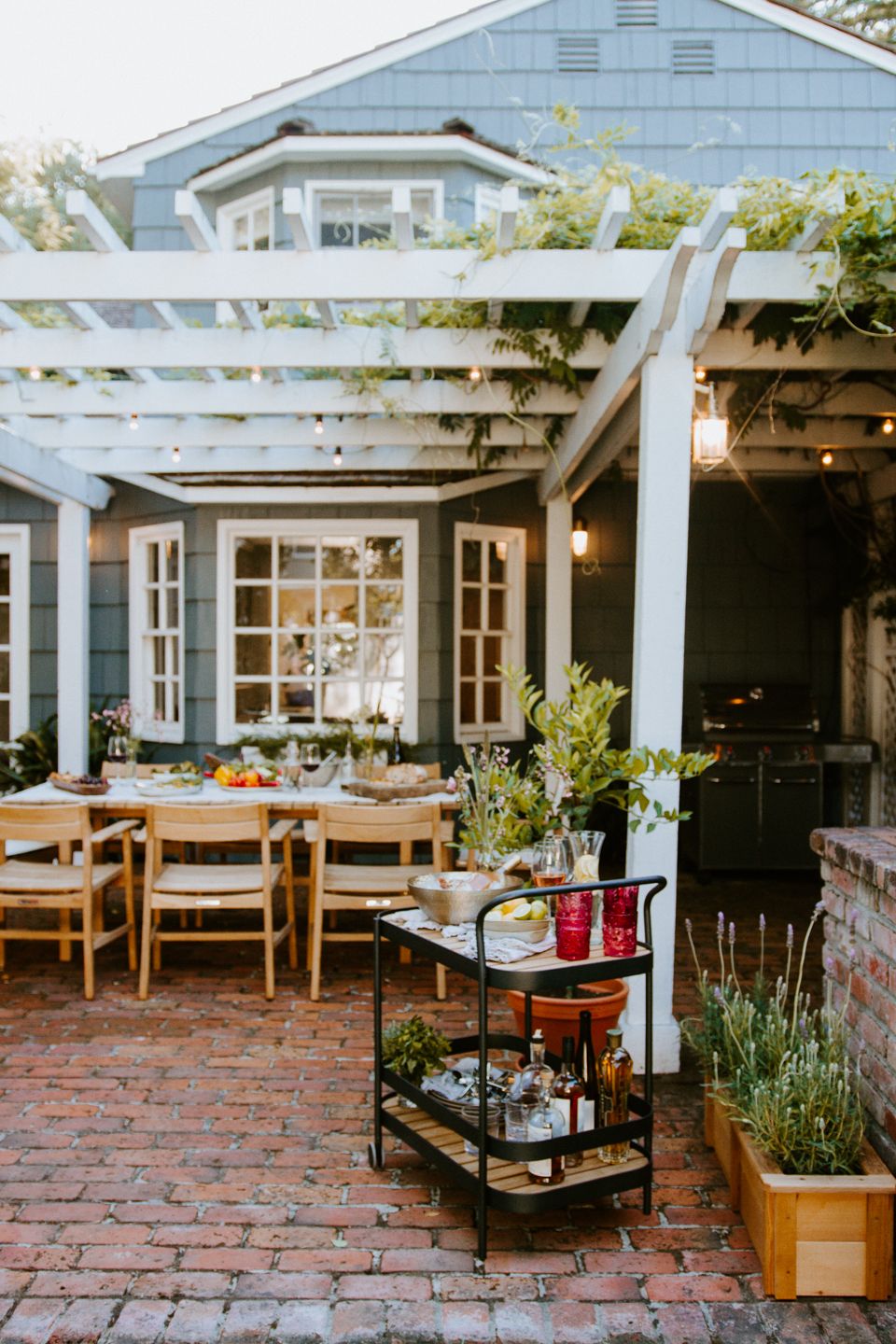 If you don't have a full outdoor bar, wheel out a bar cart. Once you've piled on all the necessary ingredients, deck it out with pretty barware and plants.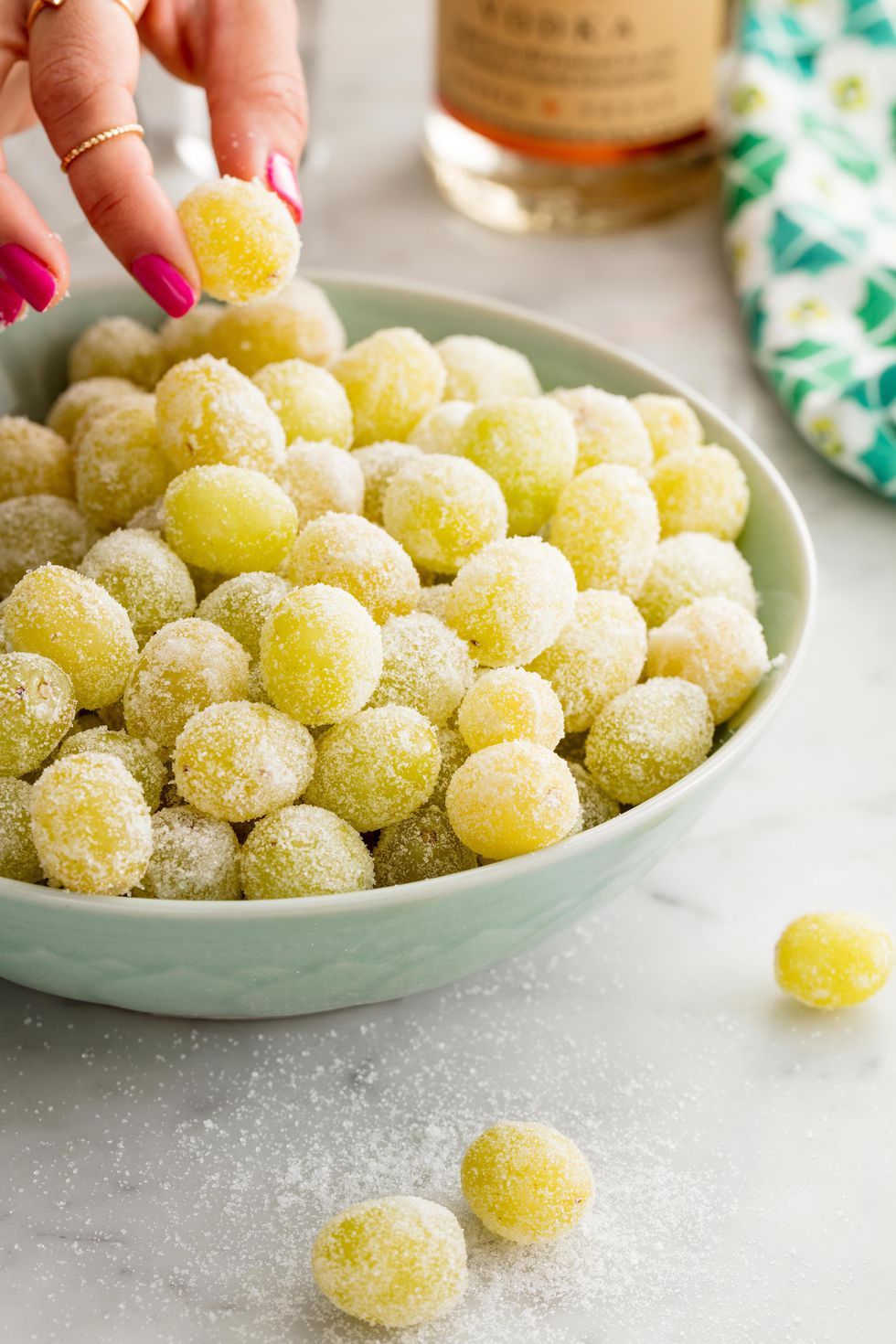 Prosecco is always a good idea. Set out a bowl of these and watch them disappear, almost instantly.
Get the recipe from Delish.
BUY NOW Prosecco, $10, drizly.com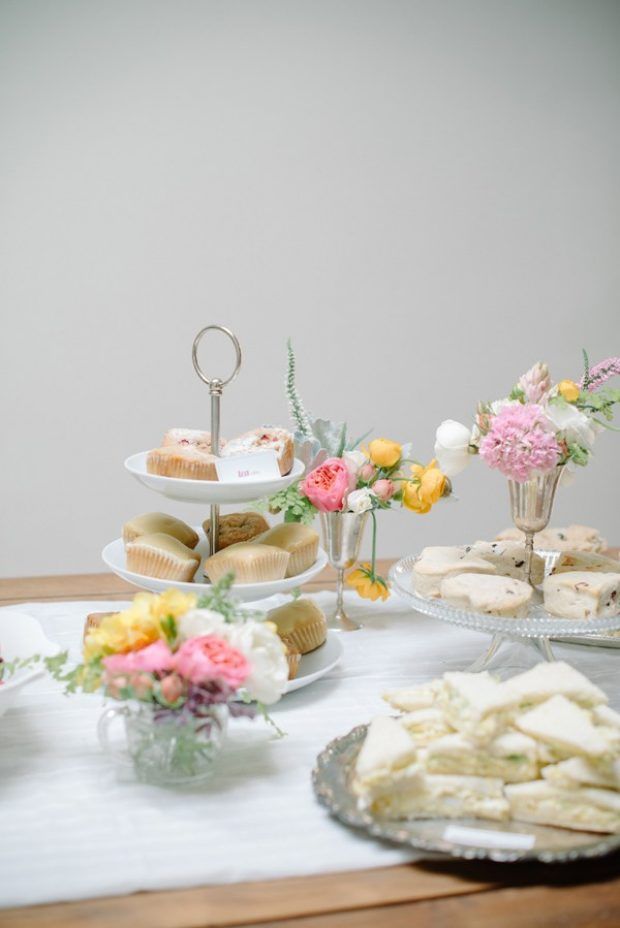 A garden is the ultimate setting for a tea party. Serve mini pastries, scones, and plenty of finger sandwiches.
BUY NOW Tea Serving Stand, $24, amazon.com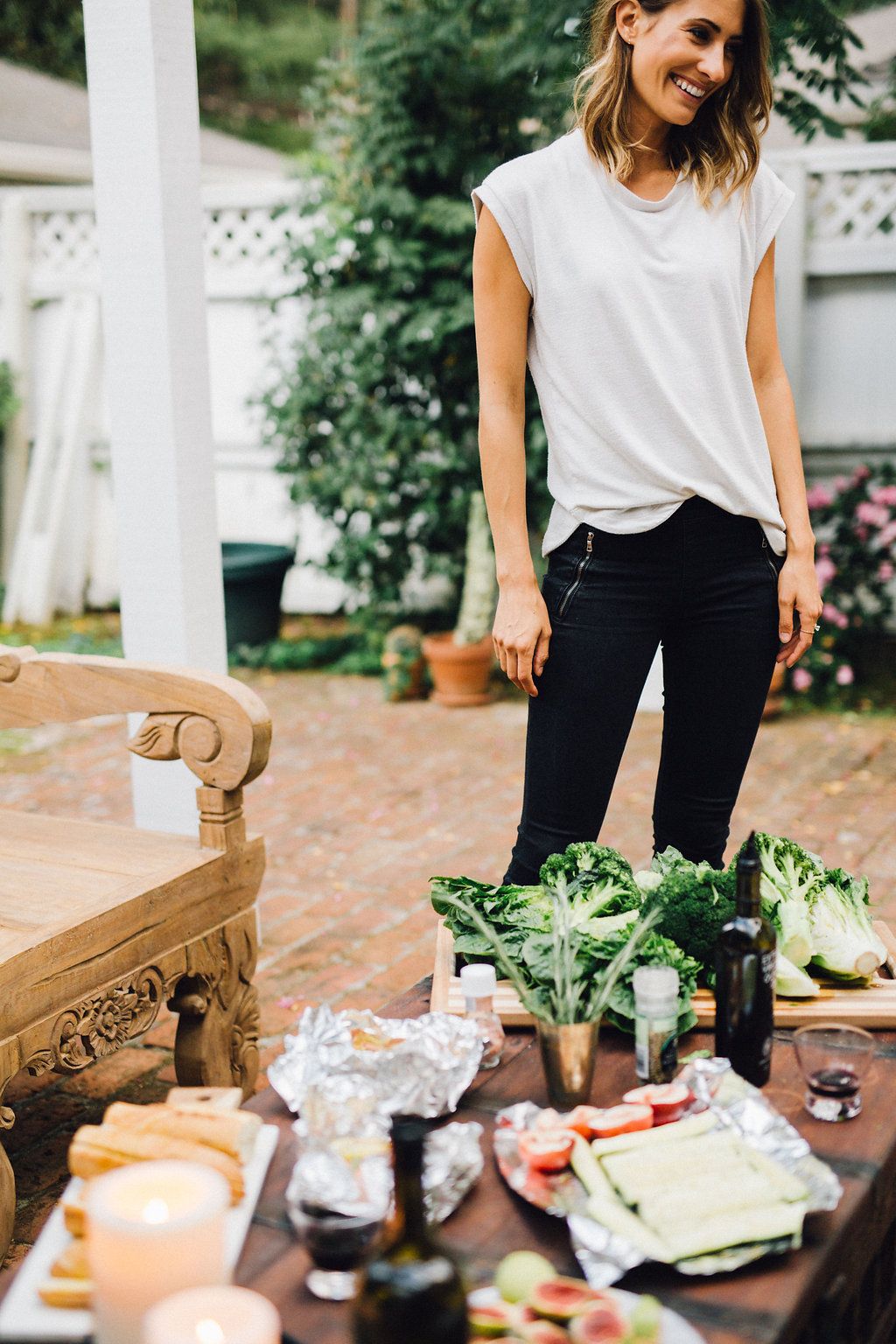 What garden party is complete without a little barbecuing? It's easy, quick, and delicious. If you want to keep things casual (or you just don't want to have to set a table), opt for skewers.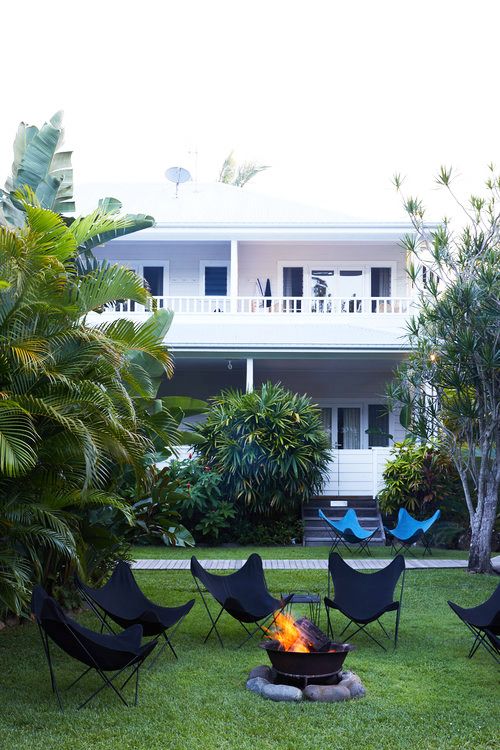 If you want to keep the party going after the sun goes down and the air starts to get crisper, just move over to a fire pit. This warm conversation pit will keep the party going into the wee hours. Don't worry if you don't have one already—there are tones of affordable portable options out there.
1. Set the Menu
German Sausage 101
Oktoberfest is meant to be a celebration where guests are walking around, so handheld foods are the way to go. Set out a spread with a slew of sausages, condiments and rolls, preferably of the pretzel variety! There's a world of wursts out there; cook up any of these classics and let guests pile on toppings as they please.
Frankfurter: The prototype for the American hot dog, this slender, traditionally all-pork wiener is usually seasoned with garlic and spices.
Knackwurst: There's beef and pork in these finely ground sausages, named for their snappy casings ("knack" means "crack" in German).
Bratwurst: There are many varieties in Germany, but here in the States, they're plump pork links — a Midwestern specialty.
Kielbasa: Grill these smoked, oversize Polish pork sausages and serve them in bite-size pieces.
Nurnberger Rostbratwurst: These thin, marjoram-spiced pork sausages are the ideal cocktail frank. Bet you can't eat just one!
Bier Brats: An Oktoberfest favorite, sear these sausages with ginger, white pepper, and lager, and pop 'em on a warm bun. You can find a pre-made version of this recipe with a side of apples and cabbage in the prepared food department at Whole Foods.
Soft pretzels, please!
The twisty treats are a major Oktoberfest staple. Grab some pizza dough and make some yourself!
Here's how: Roll store-bought dough into four 18-inch-long ropes. Twist each rope into a pretzel shape (see below) and place on a parchment paper-lined baking sheet. Cover with a clean kitchen towel and let rise until doubled in size, about 25 minutes. Brush with beaten egg; sprinkle with salt or rosemary. Bake at 400 degrees until golden-brown, about 20 minutes. Let cool for 15 minutes.
Just form the dough into a U shape with the tips pointing up.
Then, take the left tip and press it to the right side at 4 o'clock.
Finally, take the right tip and press it to the left side at 8 o'clock.
Posted on Last updated: June 1, 2021
Planning an Among Us party for a birthday party for a girl or boy? This list of awesome Among Us party ideas will have your crewmates excited about your event.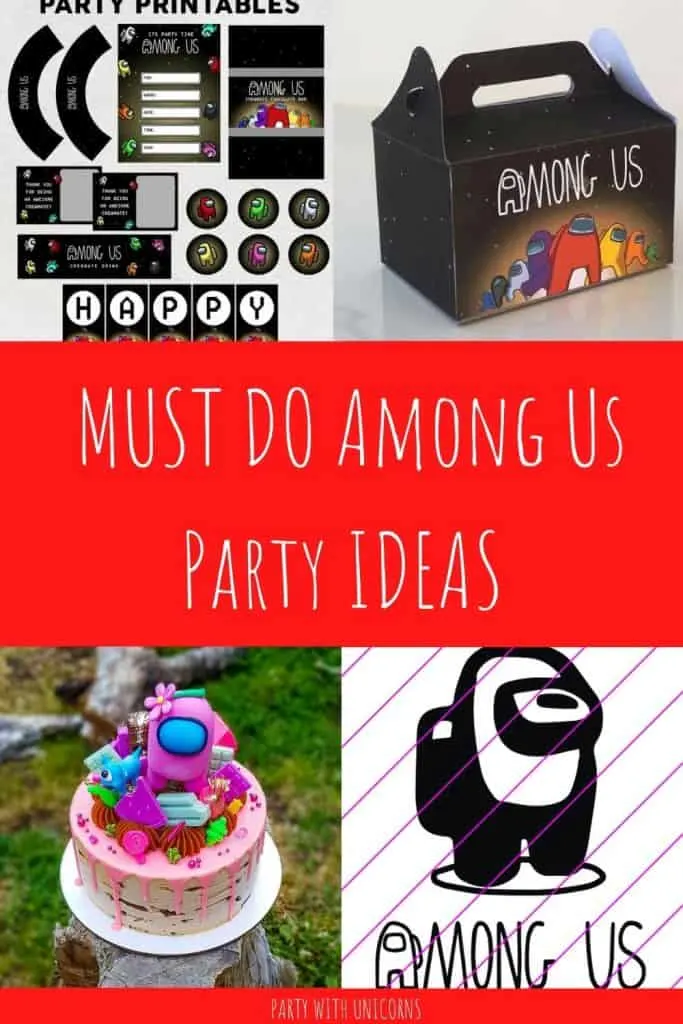 Is your child a fan Among Us the video game? This list of Among Us party ideas will help you plan an awesome birthday to get your gamers off the screen.
Among Us Party Ideas
A list of Among Us Party ideas, including decorations, printables, Among Us Party Favors, cakes ideas, and more. Your crewmates will know you are not an imposter when they see all of these amazing ideas.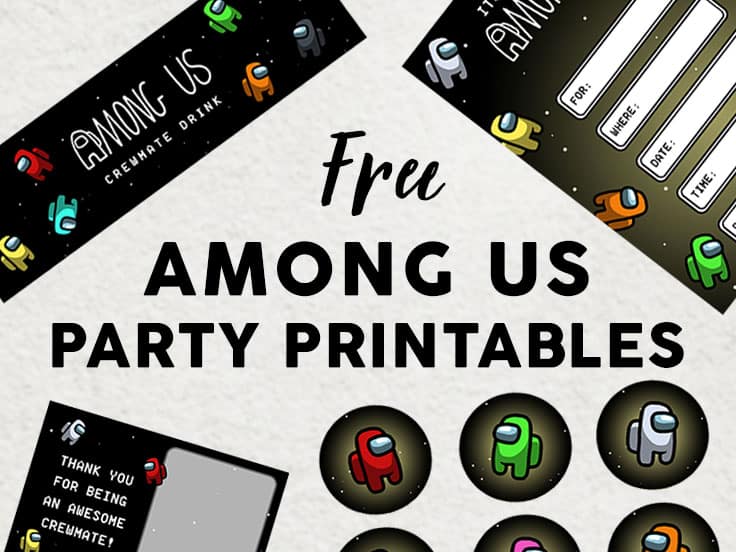 Among Us Party Printables
Get your party planning started with this Free Among Us party printables. This set has everything you need to prepare your ship for your new crewmates. The set includes Among Us party invitations, water bottle labels, cupcake toppers and thank you cards.
Among Us SVG Files
If you would like to DIY your own party supplies and Among Us party decorations, then check out this awesome list of Among Us graphics.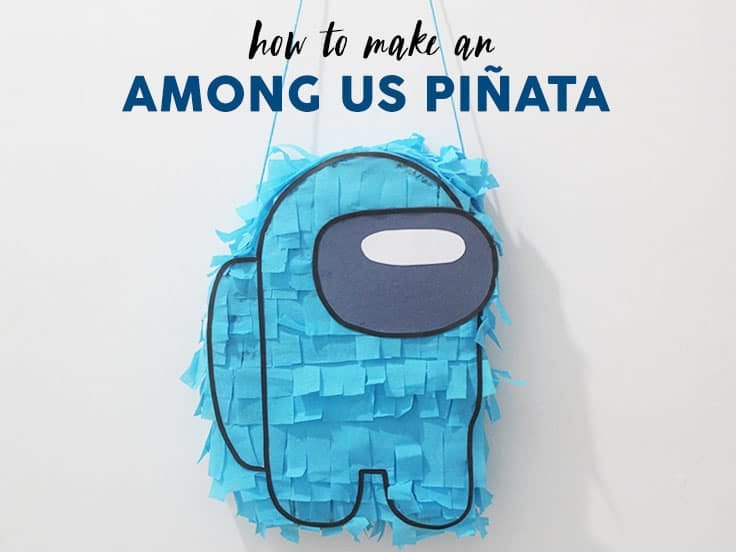 How to Make an Among Us Piñata – with Printable Pattern
Nothing says party like a Piñata. Use our printable template and follow these easy step-by-step instructions to make your own crewmate Piñata.
Birthdays to beach days, find new Evites for every summer moment.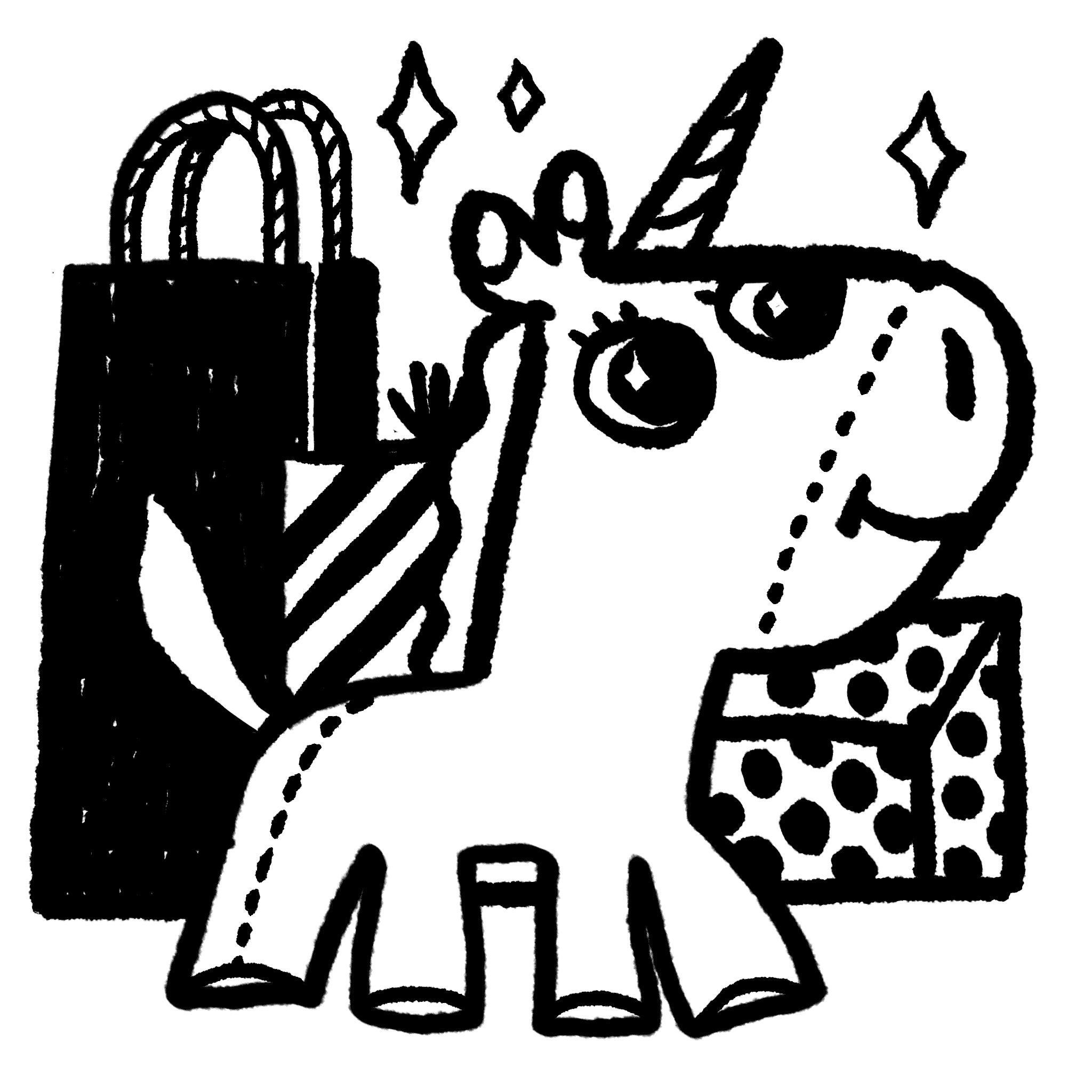 The best birthday gifts for every kid
Baby to tween, finding the perfect gift on Amazon is a piece of cake with our gift guide!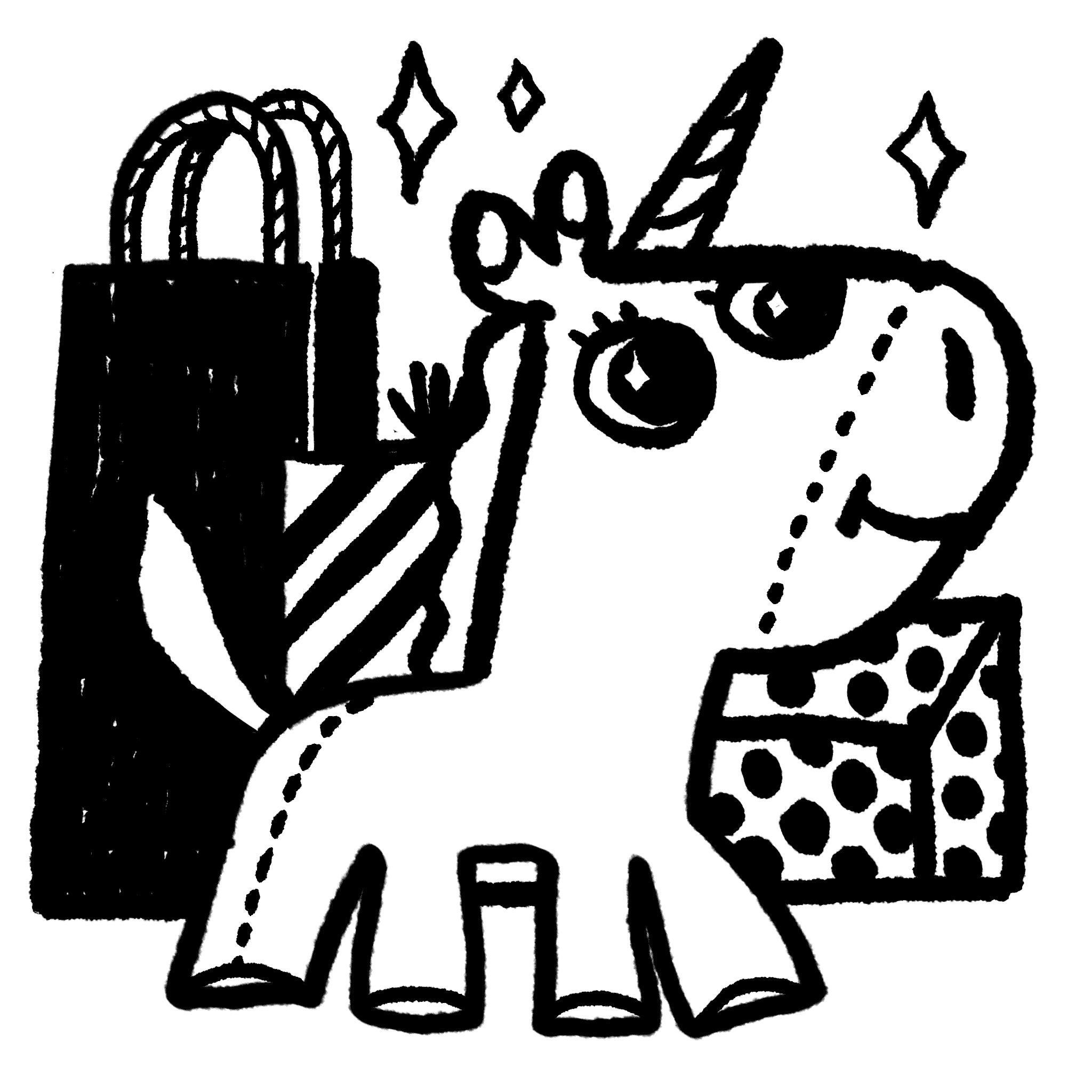 Shop Our Gift Guide All of the products we feature are hand-selected by our editors. Evite may earn a commission.
Life's Better Together
Create online invitations for every celebration
Sleepover, unicorns, superhero and more.
Browse All Birthday for Kids
Baby sprinkle, gender neutral and more.
Browse All Baby Shower
Surprise, themed, milestone and more.
Browse All Birthday for Her
BBQs, pool parties, picnics & more.
Browse All Outdoor Fun
Family reunion, potluck, dinner party and more.
Browse All Family Gathering
Bridal shower, ceremony, reception & more.
Browse All Wedding collection
Party themes & ideas
Evite exists to help make your events effortless and more memorable
About Evite
Evite is the world's leading digital platform for bringing people together face-to-face. We make coming together effortless and more memorable for personal and professional events.
Start the Party
Hand-Illustrated Designs
Choose from thousands of easy-to-use digital invitations and cards. Our free invitations are hand-illustrated, animated, and customizable for occasions big and small.
Create an Invitation
Premium Invitations
Packaged with an animated envelope and digital stamps, Premium Invitations offer a fully customizable, ad-free experience for your guests. Choose packages based on guest list size.
Browse Premium Invitations
Evite Pro
Create and manage professional events like a pro with our annual, unlimited subscription.
Evite Donations ™
Turn any event into an opportunity to give back to a non-profit, or crowdfund for a personal cause.
Mobile Apps
Whether you're hosting or attending, take the party with you with our customer-favorite app.
Get for iOS | Get for Android
About Us
Careers
Press
Blog
eGift Cards
Affiliate
Help
Site Map
Evite® and Life's Better Together ™ are trademarks of Evite, Inc. in the United States and other countries. The Evite logo and all other Evite-related trademarks are trademarks of Evite, Inc. Please use this mark only to refer to our services.
Looking for a cool solution for backyard entertaining this summer? Why not host a themed pool party for a little fun in the sun!
Here are our adult pool party ideas on how to create the perfect get together that will put you and your guests at ease, knowing you've attended to every detail.
Step 1: Pool Party Themes
Style the party by incorporating themed decorations and party supplies that will make a splash without taking a big bite out of the budget. Here are some of my favorite pool party themes.
Beach/Surfer – Make waves with cute and beachy tabletop accents & surfer supplies that will elevate your pool party from an ordinary gathering. Add Carolina shag selections to the party music playlist to give off those good vibrations.
Luau – Whisk away to the tropics by incorporating fruity flavors and aromas into the party palate while dancing the hula under flickering tiki torchlight.
Nautical – Anchors aweigh with bold stripe patterns and nautical motifs scattered in unassuming places like porch pillows and side tables.
Pink Flamingo – Have your yard properly "flocked" 24 hours before the party for classic retro-inspired fun, and personalize pink flamingo sunglasses as a cute party favor.
Colors – Invite your guests to wear coordinated swimwear according to the theme colors, like black & white polka dots or metallic gold.
Step 2: Pool Party Invitations
Give guests plenty of time to respond to your party invitation by sending them out via electronic media such as email/text, social media, or a verbal invite/phone call 2-3 weeks in advance.
Also be sure to mention your party theme when inviting guests to this casual gathering. This gives them a chance to prepare for the party atmosphere, especially by being invited to wear themed swimwear.
Specify whether children are invited to avoid potential confusion.
Step 3: Pool Party Preparation
While I've written up a party preparation timeline and shopping list in previous posts, three important details specific to pool party planning should be mentioned.
Pool Chemicals: Chlorine shock your pool a week before the event so the water is clear and clean, and any potential issues have time to be worked out. In addition to having your chemicals balanced, you may want to start out with chlorine a little high on pool day, depending upon the number of swimmers you plan to invite.
Mosquito control: I like to have my pool area sprayed twice before a party, once the week before the occasion and again the day before it. For big parties, in addition to the two rounds, I'll add an additional spray two weeks before, since more bodies tend to attract more bugs.
Fly control: Flies can also be a concern especially around food tables, so make sure to cover dishes, trays & condiments with lids, plastic wrap, and/or towels. You can also set potted plants like mint, lavender, and basil around the food table, not only as decorations but as naturally fragrant fly repellent.
Step 4: Pool Party Food Ideas
Here are some pool party food ideas and serving guidelines that may be helpful to keep in mind. If the party starts at.
Noon or before: Plan to serve lunch.
1:00-2:00: Offer snacks and appetizers throughout, and a light meal between 4:00-5:00.
3:00-5:00: Serve a full dinner.
Prepare everything before the party starts, preferably several days in advance to give yourself time for last-minute details. This includes.
Cutting garnishes/toppings and refrigerating them in individual serving dishes.
Preparing towel-draped baskets to place bagged finger foods
Having meats/main dishes ready to heat in serving containers.
Here are some pool party food ideas for poolside dining that are substantial without being heavy, and are convenient to serve.
FEATURED PROMOTION
Additional Resources
If you've got it, you've got it. Some people are just born entertainers. From the perfect food, to the best party playlist, to amazing decorations, some folks always throw stellar soirées.
However, the extravagance of a party often relates to the budget. Obviously, a millionaire can throw an impressive, lavish event – but what if your budget is of less epic proportions? From a small gathering like an intimate office retirement party to a bigger affair like a 500-guest wedding, you don't need a huge bank account to throw a party that will have everyone talking at brunch the next morning.
Planning a Party on a Tight Budget
Most of your party budget will go toward things that you feel are the most important to your event. When I throw a party, I prioritize decorations, so I always allocate a large chunk of my budget to candles, banners, and any other mood-setting devices that fit my theme.
It's fine to spend a little extra on your priority items, but that might not leave much for anything else. In this case, try some DIY projects and enlist the help of your friends to relieve some of the financial burden. Here are some of the best tips for entertaining on a strict budget.
1. Use Simple Invitations
Unless its a wedding or formal event, your party doesn't need paper invitations. Instead, opt for email invites using Evite. They're free to send and allow your friends the option to instantly RSVP.
If everyone you wish to invite is on Facebook, you can also create an event page to dole out food assignments, as well as to receive playlist requests for the evening. It's the fastest way to tally guests, and you'll know in advance how much food to purchase.
2. Find Budget Decor
While you may love spending money on fancy decor, some of the stuff you have sitting around your house could be perfect for your party, and it won't cost you a dime.
Instead of stressing over your lack of swanky china, mix and match three or four designs of bowls, plates, and cups. The effect is vintage, quirky, and most importantly, cheap. Looking for the perfect place cards? Grab everyday items and use a tag and a Sharpie to add names – pine cones, small Chinese takeout boxes, and even cheap dollar store votive candles work perfectly. Skip the pricey fresh-cut flowers and use groupings of objects to create centerpieces. A grouping of different-sized candles or vases filled with citrus fruit last longer, and you can even send some home with guests.
3. Supply Cheap Eats
Filet mignon? Please. You don't need to serve pricey cuts of meat to impress your guests. Instead of adding full entrees to the menu, try offering a smattering of appetizer-sized edibles – you'll save major dough on your food budget. Soup shooters, meat skewers, and dips fill up your guests on the cheap without sacrificing taste.
If you're really strapped for cash, consider making your party a potluck dinner. If the word "potluck" gives you pause, try presenting the party as a "recipe exchange" for salads and desserts, and then provide the main dish yourself.
4. Drink Up!
Alcohol can be one of the worst budget-busters when it comes to throwing a party, especially if you need to buy full bottles of a variety of alcohol.
Instead of buying your supplies from the liquor store, go the "chic" route and pick a signature drink for the night. That way, you only have to purchase one or two types of alcohol, and you can specifically base your drink around a cheaper wine spritzer over pricier liquor. Just be sure to supply non-alcohol drinks, like sparkling water and punch, for your thirsty guests and designated drivers.
5. Use Smart Phone Music Apps
Play the role of DJ by loading your smart phone with the Pandora or iHeartRadio apps. They allow you to create your own "radio stations" tailored by mood or similar artists.
Throwing a cocktail party? Load up on Michael Buble and Frank Sinatra. Christmas party? Add an all-holiday station. Anti-Valentine's with the girls? Kelly Clarkson all the way. If you choose premium memberships, the tunes are commercial-free – otherwise, you'll get a 15-second break every 30 minutes or so.
Final Word
An economic recession might not exactly put you in the mood to party, but hosting a night with friends can help you loosen up. By skipping the pricey extras and getting creative with your food and decor, you can throw a cheap party that has the same effect as a pricier fete – time with friends, good food, and epic stories to rehash over breakfast the next day.
What other great budget party ideas have you tried out?
Let's Get This Party Started!
Find event inspiration, themes, and unique party vendors here on The Bash. We'll share customized ideas, personalized tips, and recommended vendors to help bring your celebration to life!
Party Planning Checklist
Parachute pants, Fresh Prince, MTV, the Gin Blossoms—is there any decade better than the 90s? In the words of 90s icon Cher Horowitz: "As if!" If you're looking for 90s theme party ideas for an upcoming shindig, then we've got you covered. Whether you're hosting a 90s birthday party or a post-pandemic bash, we've got lots of 90s theme party outfits, decorations and music to inspire you.
With some of the most classic TV shows and movies like Saved by the Bell, Boy Meets World, Clueless and Titanic, there's so many 90s theme party ideas, that the 90s party possibilities are endless.
Thirty years later, take a look around and you'll see that the era continues to influence today's fashion, media and event space (though as LL Cool J would insist, don't call it a comeback). And then there are all the 90s kids that will be celebrating their 30th birthdays over the next decade. You want to be trendy—we know you do—then throwing a 90s party is the perfect fit for your next event!
READ MORE:
Here are some 90s theme party ideas that Bayside High's cool crowd would rave over.
Mad Libs 90s Theme Party Invitation
Use everyone's favorite fill-in-the-blank fun to invite Ross, Rachel, Joey, Phoebe, Chandler, Monica, and all the rest of your friends. In your mad libs invitation, include party details like the venue, date and time, and RSVP information. Send the invites digitally, and print out guests responses to use as decor.
90s Theme Party Outfits
We're talking about all the plaid, overalls, chokers, JNCO jeans and light-up sneakers you can find. While lots of 90s styles are still so iconic, there are a few different themes that inspired the clothing throughout the decade: grunge, modern preppy, punk and hip-hop.
Early 90s
At the beginning of the decade, most women wore things like crop tops, baby doll dresses, jackets with shoulder pads, and of course ballet flats or classic Keds sneakers. The 90s men rocked bright t-shirts, overalls, letterman or leather jackets, and casual sneakers.
Mid 90s
As we got to the middle of the decade, women were wearing lots of fitted skirts, pantsuits, bright colors and animal print patterns. Men also wore bold prints, lots of sports jerseys and graphic t-shirts, and started incorporating some blazers.
Late 90s
Towards the end of the 1990s, women's fashion brought back some popular trends from the 70s like bell bottom jeans and halter tops, while men started representing a more business casual style with dress pants and button down shirts.
Pro Tip: Throw on your favorite graphic t-shirt, baggy jeans, and sneakers, and you're good to go with your 90s party clothes.
Photo Credit: Kara's Party Ideas
90s Party Decorations
The 90s were bright, so your party should be too! Incorporate bright colors like neons, glowsticks, and graffiti into all aspects of your party decorations, attire, food, and drinks. Colors like pink, teal, yellow, purple, and lime green are the key.
Photo Credit: Pretty My Party
Decked Out Décor
90s party decor is easy! Be sure to incorporate all the familiar icons from the era like tape decks, CDs, boy band posters, and classic arcade games. Use polaroid cameras as a fun activity and decor option. Create a photo booth with milky pens and have guests write messages as if they were signing a yearbook.
Totally Sweet Desserts
Take a page out of this baker's book, and serve up some rad 90s sweets. These Pop rock cupcakes are our personal favorite. Serve donuts covered in classically sweet cereals like Fruity Pebbles, Cinnamon Toast Crunch, and Cocoa Puffs.
Pro Tip: Candy and sweets were everything in the 90s. With your 90's party, set up a candy bar where guests can create their own bags of their favorite treats.
90s Party Songs
Hire a 90s decades band or a cover band to rock the party. You can also hire a DJ to spin 90s hits all night long. Whether you hire a professional, or are streaming our 90s Music Playlist on Spotify, be sure to include boy bands like Hansen, 98 Degrees, Boyz II Men, Backstreet Boys and NSYNC.
Don't forget to include hits from MC Hammer, the Spice Girls, Mariah Carey, and TLC.
Slime Party Favors
The electric green goo was a Nickelodeon staple, and toys like Slime, Gak and Ooze were on everyone's birthday wish list. If slime isn't your thing, you can always hand out slap bracelets, dog tag necklaces, 90s inspired koozies, or customized graffiti cups.
Photo Credit: Etsy
Say Cheese, Yo!
A 90s theme photo booth presents the perfect take home souvenir with a themed party photo. 90s inspired photo props like cassette tapes, boy band CDs, neon sunglasses, and plastic boom boxes are a must. With a photo booth, you can set up your own and create a splatter paint background—all you need is a white sheet and some paint. Or, you can hire a professional to bring the super cute backdrop and props.
Cool Cocktails
If you can get your hands on Surge before it makes it's big return, awesome. If not, serve up cocktails (or mocktails) featuring nostalgic beverages like Capri Sun or Kool-Aid. We personally love these candy inspired cocktails like a Strawberry Gushers Sour, Fruit by the Foot Bahama Mama, or a Sour Punch Straws Unicorn Spritz.
Pro Tip: If you're feeling skeptical about your bartending skills, you can hire a professional to handle the creating and the crafting. With cocktails in the hands of the pro, you can sit back, relax, and enjoy!
90s Theme Party Games Galore
The 90s were all about the fun. What's more fun than party games? Set up traditional games like Twister, Jumanji, or Operation. If you're looking to test your guests' knowledge of the 90s, you can create your own trivia with questions about 90s hit movies, songs, celebrities, sports, and more.
Celebrity Appearances
It's not the 90s if you don't have some kind of reference to Britney Spears or Cher. If you're into politics, how about Bill Clinton? An appearance from a real live impersonator will be a true wow factor at your 90s theme party.
With a 90s theme party, you know your event will be all that and a bag of chips.
You can find other party theme ideas from The Bash.
Look for different ways to throw a party with PartyPOP's party themes and ideas.
Just type in the event or theme you would like and get great ideas.
Native American

Our neighbors are really nice. We met them when we moved into our new home. Not only did they help Jimmy and I settle in, but they invited us over for dinner and we still go over there a few times a month. Jimmy and I wanted to return the favor by making them dinner, but we wanted to do something a bit different. We decided give our dinner party a theme: Native Americans.
I called them up three other couples, making the total eight for dinner. I asked that they come to the house around five in the afternoon and be ready to change clothes. I rented costumes from a shop specializing in the costumes of native peoples. They brought over a variety of styles and sizes.
I love Native American flutes and drums, so I had plenty of CDs to choose from. We moved the stereo speakers onto the patio where dinner would be served. Jimmy piled up rocks around our hibachi grill to make it look like a cooking fire. He even used a recipe he found on the Internet to make some authentic Indian fry bread in a large, cast iron skillet. I made a dish using browned some ground beef, chopped up onions, garlic, cilantro which would be served on black beans and wild rice. I even picked up some some cactus fruit jam and mesquite blossom honey from a specialty food store put on fry bread for dessert. For drinks, because I didn't want to go too overboard with authentic American cuisine I served sodas, juice and wine.
Jimmy were already in our costumes when everyone arrived. Each guest went straight in to one of the bedrooms to change into costume. We all sat around the fire on blankets and ate fry bread with the main dish. I couldn't resist taking a few photos of our Native American feast.
Everyone loved the fry bread. I is very filling and quite tasty, especially with the honey. Jimmy also brought out a bag of marshmallows as a joke, but everyone really enjoyed them. They also prompted a round of ghost stories, though most were funnier than they were scary. Most likely because everyone was a little tipsy. Jimmy led a pretty good imitation of a Native American dance around the fire to the Native American music playing on the stereo. It was a good thing I had our video camera charged. The footage is hysterical!
The party lasted until about 1:00 in the morning, when everyone stumbled out of their costumes and towards their homes. Happily, everyone lived close enough to walk home. The next day I dropped off the video tape to have it professionally edited and copied while I was out returning the costumes.
Jimmy and I started something with our themed dinner party. Each of our guests have called me since that night telling me their ideas for the next one. I heard some of the couples a block over have heard about our party and want to throw their own themed dinner parties. It sounds like the entire neighborhood is becoming party central.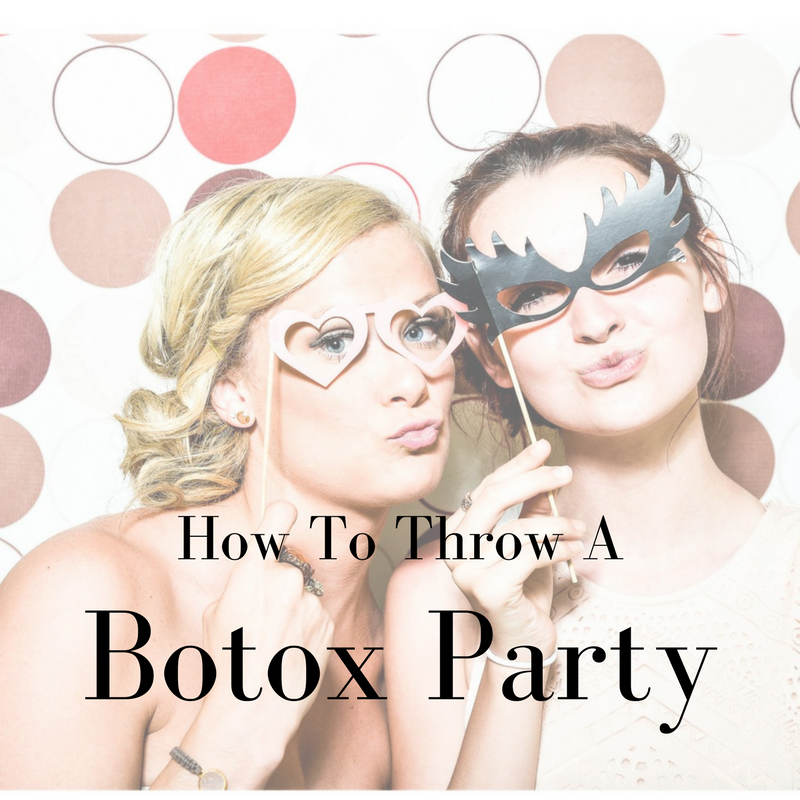 Themed parties are fun, but Tupperware is passé. What better way to get your friends together, enjoy some fun and pamper yourself at the same time than a Botox party? Botox parties are the new girls' night in!
Host a Botox Party
If you are looking for a reason to get your girlfriends together for an evening of relaxation and fun, consider throwing a Botox party. As the host, you can organize all of the festivities and coordinate the location and Botox services. You may choose to throw the party at a local spa or at home. The pivotal detail will be finding a doctor for your party.
Here are some tips for choosing a Botox party doctor to bring pampering and rejuvenation to all your friends:
Be sure to choose someone who is certified to inject Botox. Doctors, PAs, nurses, and other qualified practitioners can get certified to administer Botox. Non-physicians require a physician's permission to administer under the authority of their license.
Experience matters. Find a doctor with plenty of experience giving Botox injections. Botox is safe for most people, but there is an art to administering it to get the results you want.
Parties are supposed to be fun! A doctor who meets your criteria and can embrace the excitement of a Botox party is best. Ask the doctor how he or she feels about working a Botox party.
Getting the right Botox doctor for your party is important. You want your friends to enjoy themselves and leave feeling more beautiful than when they arrived. Treat them to a professional Botox experience.
Botox Party Ideas
Engaging the right Botox doctor is important, but you still have to make it a party. Here are some ideas for throwing the Botox party of the year:
Choose a comfortable location: You may choose to host your Botox party at a spa, at home or at any other party venue. You could have it at a private club or restaurant or throw a garden party. Botox injections are quick and easy to administer almost anywhere and there are almost no side effects. Brought often hosts Botox parties in his office for groups who may also be interested in filler, skin care, laser treatments, or any other products or services he offers. He allows clients to bring their own food and drink if they choose, and has even had the parties catered. Having the party in his office also saves clients from cleaning up and Dr. Brought has access to all the supplies and equipment in his office.
Add services: In addition to Botox, you could make other beauty services available to your guests. Engage a stylist to discuss colors, a massage therapist to give chair massages or a makeup artist to add to the fun. Set up various stations for beauty services throughout the venue, like a carnival of self-love.
Food is fun: Fun food can make a party! Use the beauty theme to design uniquely-shaped cookies or cupcakes to look like makeup and beauty implements. Or, consider the food part of the beauty treatment and serve an array of brightly-colored fresh fruits and vegetables with antioxidant dips and spreads and whole-grain crackers.
No matter how you dress it up, your guests will have a great time at your Botox party — and they'll be talking about it for months!
For more information about Botox, contact SPRSI today!
Published on Feb 2nd 2017
In celebration of Harry Potter Book Night, we're not letting the kids have all the fun.
If you are to throw a Harry Potter party, Pottermore decrees that you take the time to Potter-ise your party in the following ways. Otherwise no one will show up and everyone will stop being your friend. Okay, we're joking. (Or are we?)
Invitations
Before the party has even begun, make sure you get your guests on-side as soon as possible for the greatest Potter extravaganza there ever was. This could only mean one thing. No, not going round to their house and humming Hedwig's Theme on your knees for five hours. Writing out your invitations in the style of Hogwarts letters, of course!
For this, we recommend a green pen/felt-tip and some teabags. Not to make a weird cup of tea, but to create the desired effect to emulate the iconic Hogwarts invitations. Simply stain a normal piece of paper with a used teabag and leave it to dry. Voila: you have some makeshift parchment. The Hogwarts letters are famously written in green ink, so unless you want to lose points for authenticity, invest in some more exciting stationery. Extra house points if you name a specific room they're likely to be in.
If you wanted to go a little off-kilter, you could try the Weasley method of mail, and smother your invites in hundreds of stamps, if you don't mind buying hundreds of stamps for a hilarious joke.
Failing all of this: Facebook.
Decor
First of all, you must make sure your home is suitably magical and up to scratch for all to see. After all, you've got Hogwarts to live up to, and Hogwarts is a giant castle with endless possibilities, moving staircases and an enchanted ceiling that looks like the actual sky. No pressure, but you don't have any of this.
So you can't have talking portraits or floating candles or even a suit of armour (unless you recently struck gold at your local car boot sale), but don't let your Muggle feng shui hinder you. Be creative. Buy toy owls and place them at strategic points of your home. Go for a green, blue, yellow and red colour scheme to honour the Hogwarts houses.
And for heaven's sake, if you really want to try your hand at floating candles, get some artificial tea lights like a responsible adult hosting a Harry Potter party.
Snacks
Food is a very important part of the wizarding world, and only 80 per cent of it is eaten by Ron Weasley. If you are to throw the ultimate Harry Potter party, you will need to have the ultimate Harry Potter party snacks – but what the heck are Harry Potter snacks and can you get them from the shop down the road?
Never fear. Now, we're not asking you to bake a batch of Pumpkin Pasties from scratch (feel free to send some over in the post if you do), but there are hundreds of ways you can feed your guests and have them feel like they're over at one of Slughorn's legendary Christmas parties rather than just your house. Lay out some sherbet lemons, Professor Dumbledore's favourite. Get some corned beef sandwiches, Ron Weasley style. Make your own 'Happy Birthday 'Arry' cake! Eat half the snacks and say that Crabbe and Goyle popped by beforehand!
If you want to go for more detail, the Warner Bros. Studio Tour London has a number of themed Harry Potter confectioneries, such as actual Bertie Bott's Every Flavour Beans and Chocolate Frogs, but if you don't fancy unexpected sausage-flavoured sweets, you could buy normal jelly beans and tell everyone Bertie's been cutting corners.
Music
Hedwig's Theme on loop over and over, until your guests descend into insanity, of course! Or you could arrange everyone into a rousing singalong to 'Hoggy Warty Hogwarts'. Remember, any tune is allowed, so if you ever fancied singing the lyrics along to your favourite Rihanna track – that time has finally come. We would've been so cool at Hogwarts.
Drinks
Now, we know Gigglewater isn't real, but any drink can be Gigglewater if you really put your mind to it.
The art of Harry Potter punning and cocktails is a time-honoured tradition for Harry Potter party planners, so do invent a bunch of drinks and label them wisely.
We're loath to take away this chance for you to be creative, but if you don't have any Voldemortinis, Tom Collins Creeveys, Aunt Marge-ritas, White Wine Hagrid-zers, Daiquiri-us Smiths, Tequila Mad-Eye-ze, or Ginny Weasley 'n' tonics, then you've only got yourself to blame.
Outfits
Yes, you could all purchase some robes or draw a scar on your forehead in eyeliner. But you could also make yourself some actual radish earrings, à la Luna Lovegood, or even get the old PVA glue out and try your hand at creating her famous Gryffindor lion hat. Think outside the box! Draw spiders on your face like you're about to be devoured by some Acromantula! Cover yourself in pretend Splinch wounds! Just have a bit of fun, is all we're saying.
Games
In the wizarding world, the characters love to wind down with some Exploding Snap, Gobstones or a bit of wizard chess. Now, we hasten to remind you that you have none of these.
But never fear, there are tonnes of Muggle ways to also have fun – and that's our story and we're sticking to it. Try some drinking games, like sitting in a circle and trying to name as many Harry Potter characters beginning with M as you can. The loser must be punished with a Voldemortini. Will his reign of terror ever end?
We hope these tips help provide you with the ultimate Harry Potter party, with the Pottermore stamp of approval. We will be patiently waiting for our invite.
By Elliot M. Kass
Who doesn't like a party held in their honor? Throwing an awesome staff appreciation party or an elegant awards bash is a great idea for building a small or midsize enterprise's (SME's) workforce morale and for rewarding outstanding accomplishments.
A well-run celebratory event "can be just as effective at improving employee engagement as a small cash bonus," according to HR in Asia, an online digital media publication and events platform. 1
That's important when you consider that disengaged employees cost the U.S. economy $483 to $605 billion a year in lost productivity, according to a Gallup report. 2 On the flip side, companies with engaged employees outperform those with disengaged employees. The same study found that highly engaged workgroups are 17 percent more productive and 21 percent more profitable than disengaged groups. They also see 70 percent fewer safety incidents and 40 percent fewer quality defects.
Staff appreciation parties can be a great idea for boosting those engagement levels. "We love office parties because they're great for engagement," notes Quantum Workplace, a developer of employee engagement software. "They're rare workplace occasions where titles are tossed out the window and everyone can relax and connect." 3
There are, of course, many ways to throw a party. But when it comes to appreciating employees and rewarding their efforts, Baudville, a provider of employee recognition solutions, recommends choosing ideas tied to corporate values but with enough latitude and imagination to allow for a good time to be had by all. 4
Expert-Recommended Staff Appreciation Party Ideas
Here are seven ideas from a variety of employee recognition experts for staff appreciation party themes that likely align with most SME corporate values and can be customized to a company's individual situation or history.
1. If a company wants to show appreciation for its employees' heroic efforts, one idea is to throw a party with a superhero theme. This is likely to bring out employees' creative sides and motivate them for that next big project. 5
2. The best staff appreciation party ideas are those that are particularly meaningful to the company. One way an SME can achieve this is to throw a flashback party themed around the year in which the SME was founded. Get everyone in on the fun by inviting employees to dress in the attire that was typical of that period. 6
3. For a Spirit Day party, employees are encouraged to wear the uniforms of their favorite sports teams. Along with the dress up, the event can include an award ceremony that uses sport metaphors to celebrate workplace accomplishments, or simply watch a game and share pizzas. 7
4. SMEs know their employees occasionally need to blow off some steam. Those with offices in the New York tri-state area can take staff to Stumpy's Hatchet House in Eaton, NJ. 8 This party site is one of the nation's first indoor hatchet throwing venues—a place to bond with co-workers by hurling diminutive axes at wooden targets. Nuff said. 9
5. Another great staff appreciation party idea is a Texas-style barbeque. In Texas, everything is BIG, which can tie in nicely with many SME objectives. Like the company's goals, everything at the party can be HUGE and GIGANTIC, assuring that everyone will have a smokin' good time. 10
6. Don't overlook more serious themes, like staging an event around random acts of kindness. Some of these can take place throughout the preceding week, during which employees are encouraged to look for opportunities to help each other out. Others can be directed outward to the community, where activities are organized to help those in need. The overarching message is that all of these actions reflect the company's values, and an end-of-week gathering can be used to celebrate the deeds of employees with the vision to look beyond themselves and their department. 11
7. Staff appreciation parties celebrate triumph over adversity—a great metaphor for which is a corporate obstacle course. The 'obstacles' can represent real challenges that employees had to overcome, and awards can be given to both the contest winners and those that persisted at their jobs to accomplish important business goals. This can help enhance teamwork, as employees are likely to bond while working together to navigate fun and surprising stumbling blocks. 12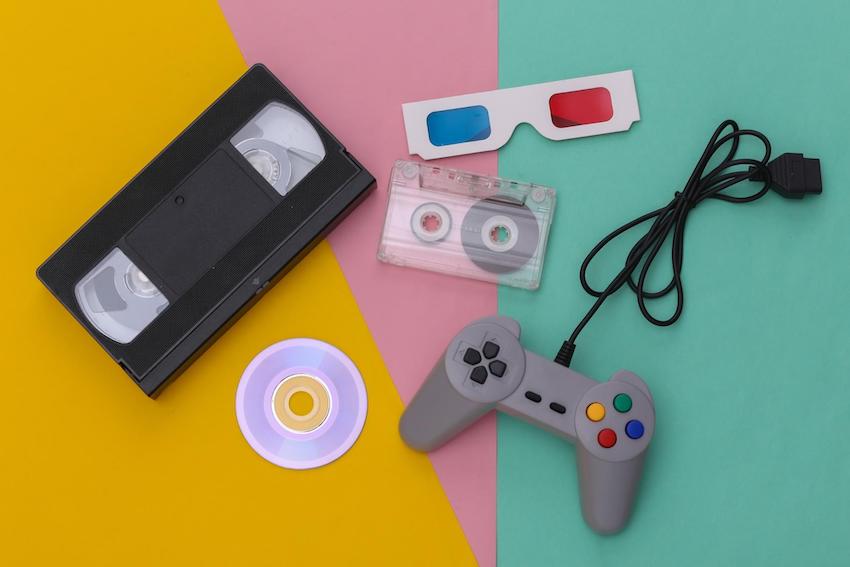 You're ready to throw a retro party , but the idea of being seen in 1980s shoulder pads and leg warmers — ugh, as if! Instead, celebrate the decade that gave us grunge meets boy bands meets bright colors meets butterfly clips. (The outfit ideas alone are endless!)
Even if you're only throwing it back a few decades, it still counts as a throwback party . So get ready to kick it old school — with these 90s theme party ideas , your bash will be all that and a bag of chips.
90s Theme Party Activities, Food, Decorations, and More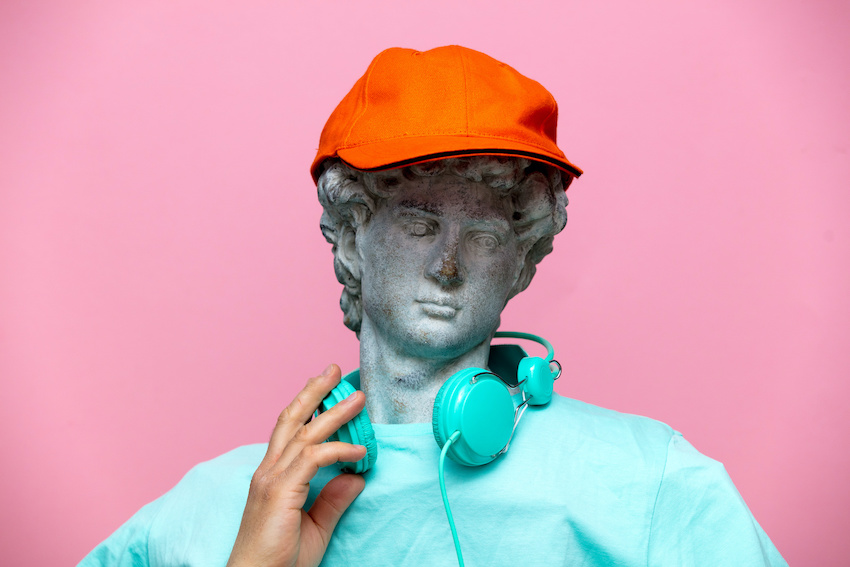 There are so many good reasons to throw a 90s theme party . For example, it's a Tuesday. And if you need more reason than that, how about the fact that 90s kids turn 30 this decade?
" I love the 90s " is one of our favorite birthday party ideas . For a 30th birthday (or any other birthday), host a throwback to the year the guest of honor was born. And for 90s kids who are about to get married or — gasp — have their own kids, throw a 90s-themed bachelorette party , bridal shower , or baby shower .
Whatever you're celebrating, incorporate these 90s touches into your party planning , and it's sure to be a success.
90s Party Activities
One of the best reasons to have a themed party is the entertainment value. These time-period-appropriate activities will bring you back to the 90s (and show you which of your friends remembers the decade).
Set up aphoto booth: Look for 90s photo booth props and a matching backdrop to transform one of your walls. Guests can take photos on their cell phone , or you can keep it authentic and take all your party photos on an old school Polaroid camera.
Have a 90sdance party: Music is an essential part of any throwback party . Make a playlist with Backstreet Boys , NSync, and all your favorite boy bands . Or put on some LL Cool J and Salt-N-Pepa for a hip hop party — bonus points if you put it on a cassette tape and blast it out of a boombox .
Host a 90strivia game: Put together some trivia questions about 90s music, movies, and news stories, and give away a prize to the person or team with the most right answers. ( Tamagotchis for everyone!)
Get slimed: What 90s kid watched Nickelodeon and didn't want to get slimed? Now that you're an adult, you can create your own slime ( all it takes is vanilla pudding and green food coloring ) and dump it on all your friends — or use it as a punishment and slime the losers of your 90s trivia game .
Playretrovideo games on a Nintendo 64: It's time to break out the Donkey Kong and see who can still do a Spinning Kong (hint: hold up + B). You can turn your 90s theme party into a retro video game tournament or just offer it as one of many activities at the party .
Play with other 90s games and toys: Set up a 90s game station complete with a Bop It, Skip It, Pogs, and velcro toss and catch. Let guests get nostalgic with their favorite games from childhood.
90s Party Food
After all the fun and games, your guests will have worked up an appetite. Luckily, serving up some 90s delicacies won't require too much work — most of them are heat and eat. Make it extra easy (and extra on theme) by skipping the fancy tableware and serving everything on paper plates .
For the main course, set out some Lunchables, or serve Hot Pockets, pizza rolls, pizza bagels, or pretty much any pizza-themed food that's not actually pizza. Make it a brunch by including Toaster Strudels, and add a side of cheese puffs, Gushers, Fruit Roll-Ups, and Fruit by the Foot to complete the meal.
Drink up 90s style with Squeeze Its and plenty of Capri Sun. For an adults-only beverage, try mixing up a Capri Sun cocktail .
Cap things off with Dunkaroos for dessert (serve them with milk if you want to keep things classic or with White Russians for a more grown-up version). If you're hosting a 90s birthday party , top the birthday cake with some 90s-themed cupcake toppers .
90s Party Decorations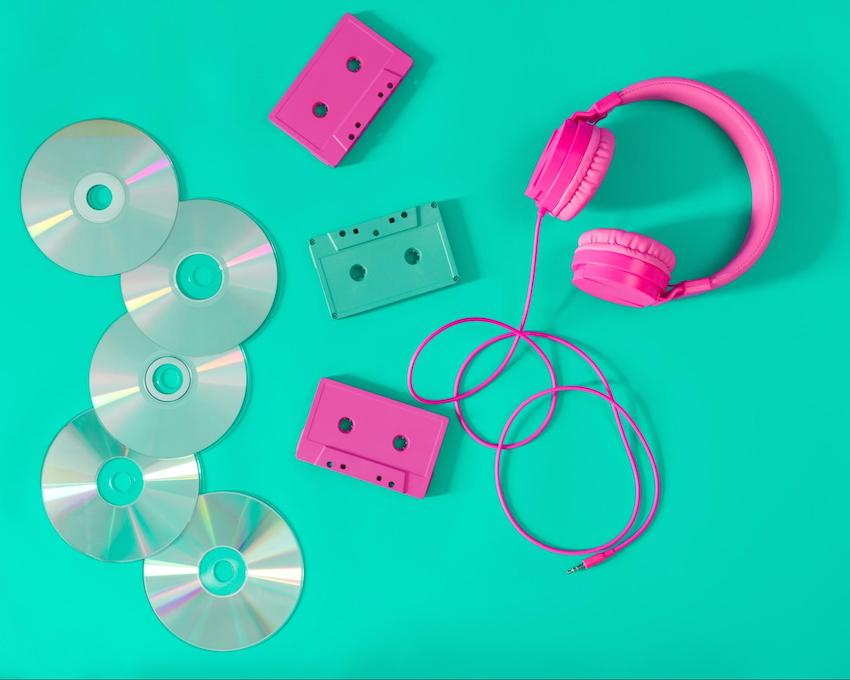 If you want your theme party decorations to be as easy as your menu, you can get an " I love the 90s " party pack from Amazon or Etsy . These packs include essential party supplies like centerpieces , party props , and inflatables (think 90s balloons and matching latex balloons ).
You can also easily create DIY 90s party decor . Scatter some confetti squares and triangles in bright colors , hang rainbow Slinkies from the ceiling, and use Magic 8-Balls as centerpieces (they double as conversation starters!). Keep the conversation going with life-size cutouts of your favorite boy band members and pop culture icons from the 90s.
You can even repurpose abandoned 90s technology and turn it into adorable party decor . Make planters out of floppy disks , or spray paint VHS tapes and scatter them on tables and shelves.
Of course, no 90s birthday party would be complete without party favors . Send guests home with goodies like scrunchies , slap bracelets , butterfly clips, jelly roll pens, and Lisa Frank folders.
90s Party Invitations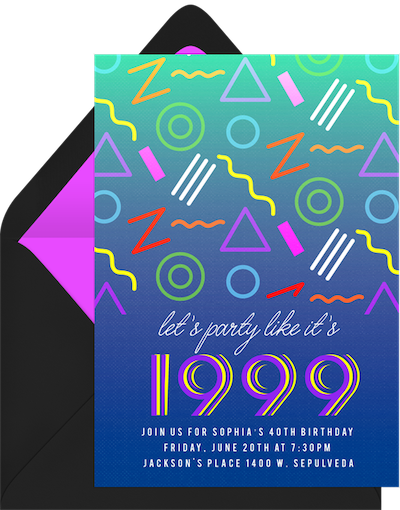 Design: Becky Nimoy Stationery
Now that you've got the finer details of your 90s party worked out, you can invite guests with a party invitation that's perfect for your theme. This invite , with its brightly colored geometric shapes, lets guests know they're in for the most 90s night of their lives (including all the nights that actually took place in the 90s).
You can customize the text to read any year, so if you're celebrating a birthday party , you can change "1999" to the year the guest of honor was born. If you're not celebrating a birthday party , customize the text to announce your bachelorette bash, summer block party, or baby shower .
What To Wear to a 90s Theme Party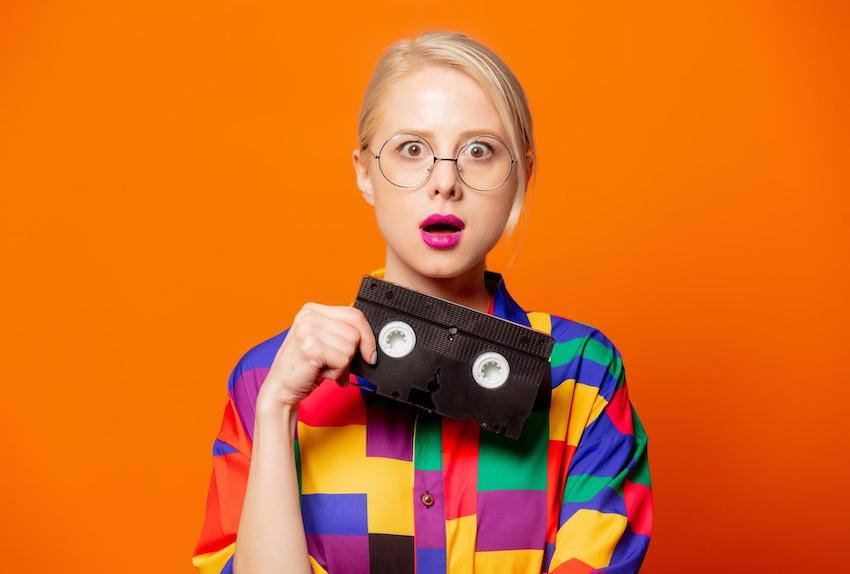 Other than Halloween , a themed party is the best excuse to get dressed up. On your party invitation , ask guests to sport their favorite 90s fashion. You can include tips like: bright colors , busy geometric patterns, bucket hats, and overalls (with one strap undone, of course). Thrift stores are an excellent place to find 90s fashion.
You can also suggest your guests channel their favorite 90s TV shows and movies by copying Will Smith's brightly colored T-shirts on " Fresh Prince of Bel-Air" or Alicia Silverstone's plaid outfit in " Clueless ." Encourage everyone to dress the part by offering a prize for the best 90s outfit.
Get Ready for One Super Fly Party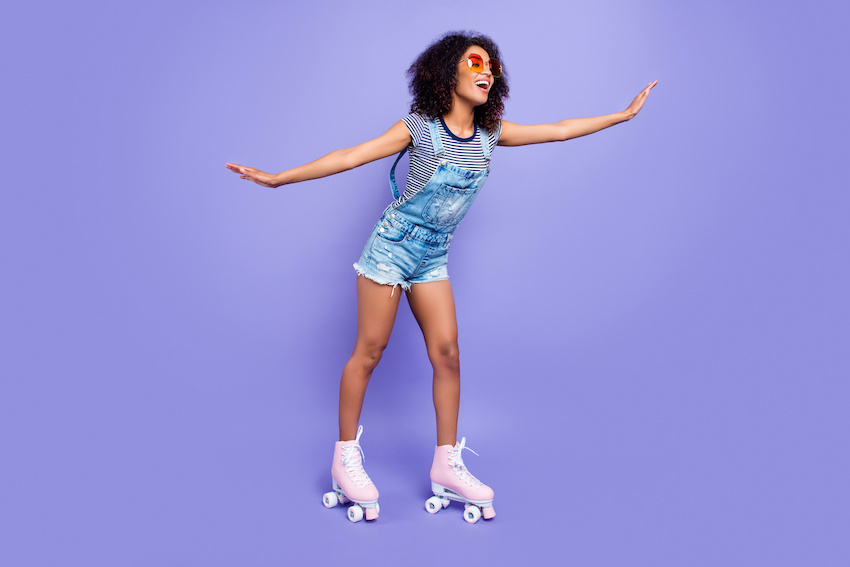 Now that you've got dreams of 90s-themed entertainment, food, and party decorations , the next step is to create your guest list and send out your invitations. Since it's a 90s party and email invites were invented in the 90s, you can stay on theme by sending out digital invitations .
With just a few clicks, you can customize your digital invite, import guests' emails, and send off your invitations. Digital invites have come a long way since the 90s, but they can still help you celebrate in style. And celebrating is what we're all about!
Look for different ways to throw a party with PartyPOP's party themes and ideas.
Just type in the event or theme you would like and get great ideas.
Box Supper
A way to meet people, Couples Fundraiser

Camp Fire
should be a time to have fun like a child again

Carnival in Rio
Lots of action and mixing, games, dancing, networking.

Casino Night
"Small groups of guests organize and make up acts or performance numbers- (like a talent show) or Hire professionals to entertain (this is optional, a Casino Party can be without perfor.

Chef-Cooking Lesson
Party guest either watch or participate in food prep. (limited menu) Party for all occasions.

Circus Circus
A circus party may have many rides, shows; such as singers or bands. It may also have other entertainment such as temporary tattoos, carving, crafts, face painting, candy, palm and card .
The Wedding Expert
Limousine services for your wedding day.
Bargain Balloons
Balloons in Bulk For Less
You can save up to 60% on our extensive selection of balloons. Providing balloons in bulk, we strive to provide the lowest prices and highest customer satisfaction.
I am a participant in the Amazon Services LLC Associates Program, an affiliate advertising program designed to provide a means for me to earn fees by linking to Amazon.com and affiliated sites. I may earn money or products from the companies mentioned in this post. | This post/page may also contain clickable commissions earned/ad text links linking to related products on Amazon.com and affiliated sites. I may earn money or products from the companies mentioned in this post.
Celebrate Diversity Month Event brings people together to share cultural differences and similarities with fun diversity awareness activities event ideas.
April is Celebrate Diversity Month. Cultural diversity celebration events and festivals can be structured and planned for both adults and children alike. Your interest in how to plan and host a Cultural Diversity Celebration Event Party or Festival shows that you recognize the importance of celebrating diversity and inclusion to encourage all people to become culturally knowledgeable and aware.
WATCH CELEBRATE DIVERSITY MONTH VIDEO
Taking the time to learn about the different cultures, races, religions and backgrounds represented by your friends and guests will help to create an overall sense of acceptance and appreciation of others.
Your invitation or flyer for this event should provide the following event information and a similar description based on your event details:
Cultural diversity Celebration Event to be held:
Cultural diversity is a form of appreciating the differences in individuals. Our community will celebrate the many cultures within our community by offering a number of activities during this celebration.
"Let's recognize the importance of celebrating the diverse cultures within our community. Our community is made up of diverse individuals from every part of the world, which creates a dynamic multicultural organization. Such diversity brings with it many differences in skills, abilities and experiences.

Cultural Heritage

Cultural diversity in our community provides strength, and challenges individuals to respond to their environment effectively. "Valuing" individual and community cultural differences is critical to achieving community goals."
Note: You can make adjustments in the information above to more closely fit your cultural diversity celebration event and its attendees. For example, the word "community" may be changed to group, organization, company, town, or city.
Traditional Garb/Dress Parade

Please dress in the traditional dress/garb/costume/fashion representing your cultural heritage native ancestry. This is a big party! So dressing in party costumes related to cultural traditions is fun and acceptable.

We will have a cultural diversity display and international flags from around the world and a scavenger hunt.
You might even consider asking your guests and attendees to, not only participate, but to also contribute to some fun diversity activities by providing diversity awareness party decorations and useful, informative cultural materials.

If you decide to do so, be sure to include that information in your invitation/flyer.
Here are some examples of some contributions you might request your attendees to provide:
Please plan to contribute to our planned activities as follows:
Sample snacks from around the world

Please bring sample snack representing your ancestry, heritage and native culture.

Food from Around the World

Please bring a potluck food dish representative of your cultural ancestry.

Special Items

We are asking our attendees to loan items (maps, photos, artifacts, dolls, posters, etc.) to be included in our cultural display.
Please bring your items to: list location here .
Items will be returned at the close or our celebration.

"My Family Tree" Poster Board Contest/Display

Please bring your family tree decorative poster board/display for a chance to win a prize.
Diversity Awareness Month Ideas and Activities
In addition, to the fun diversity awareness activities listed above, there are many other cultural heritage activities which may be included in your event:
Diversity Games
International Music
Traditional Dance Performance
Other Ethnic Cultural Performance
Other Popular Diversity Awareness Ideas and Activities

Other popular ideas and options to plan diversity awareness activities:
Laura Leavitt, MA in Rhetoric and Composition
Contributing writer
Wow, another decade—80 years is no small number to cross. Your 80th birthday is a big deal! And your party should reflect that.
Jump ahead to these sections:
80th Birthday Party Ideas for Mom or Dad
80th Birthday Party Ideas for Grandma or Grandpa
80th Birthday Party Decoration or Theme Ideas
80th Birthday Party Favor Ideas
80th Birthday Party Game and Activity Ideas
Whether you're turning the page yourself, or you're planning for a relative, we've got a few ideas for planning an 80th birthday blowout.
Let this be your guide to celebrate and honor the 80-year-old in your life. With a little inspiration, you can make it a birthday to remember.
80th Birthday Party Ideas for Mom or Dad
If your Mom or Dad is turning 80, here are some fun and personalized themes. Make the party extra special, and people will remember it for years to come.
Tropical island party
By your 80th birthday, you deserve a trip to the tropics! Cheaper than actually traveling (and more comfortable, honestly) is throwing an island-paradise party.
Go all out with colorful streamers and a fake palm tree, serve tasty tropical smoothies and other drinks. Joke around with the birthday parent and give them some colorful hats or leis to wear.
Hobby-themed birthday, like gardening or cars
Whether Mom and Dad are crazy for cats or wild for motorcycles, use their favorite hobby or activity to plan the party's look and design.
The sillier and more niche, the better. Many 80-year-olds will laugh at a motorcycle-shaped cake, and any kids who are there will be thrilled.
Rock-n-roll themed
Music from the past is often a soft spot for senior citizens, and a fun way to celebrate! Find a way to incorporate rock-n-roll or another favorite genre into the party.
Put old records up on the wall in a way that doesn't damage them for decor. Play the hits from the guest of honor's youth and get the whole family dancing.
Memory lane party
To keep things simple, consider pulling out old family photos and making a long hallway into "memory lane." Everyone can wander through looking at old photos and reminiscing with the birthday parent.
Family members who wouldn't otherwise sit down and look through a whole album can get the full effect as they walk along chatting with each other. You can even make an interactive family tree that lets people place their names in relation to the rest of the attendees.
Simple dinner party with close family
Don't downplay the love and comfort that come from a simple dinner party with an 80-year-old parent. Pick their favorite quiet, comfortable restaurant or cook a feast of their favorites.
Take into account any dietary restrictions to create a deliberate set of enjoyable foods. Arrange for family to join in the fun and take lots of photos to cherish.
80th Birthday Party Ideas for Grandma or Grandpa
Here are some grandparent friendly ideas for the nanas, pop-pops, nonnas, and grampys in your life.
"When We Were Young" themed party
Grandparents will get a kick out of a party that is planned around their life when they were kids.
Even if they aren't the ones skipping rope or dancing in their socks, they can instruct their grandkids on how the different activities work and laugh their way through everyone's trip to the past.
Backyard picnic or barbecue
If you have a nice backyard, consider a simple barbecue. Everyone enjoys nice weather and a long evening outside, maybe with a little firepit blazing after dark.
Marshmallow roasting and making smores with grandkids might be a nice substitute for the traditional birthday cake!
Cozy lodge winter party
For family members whose birthdays are in the winter, consider renting a small local lodge, especially one with a fireplace.
Bring a bunch of blankets, play some music, and create custom hot chocolates for a great party that is focused on cozy feelings and togetherness.
Boardgame night
If your 80-year-old grandparent still hustles at Scrabble, consider making their birthday a board game night.
You'll all test your skills and probably learn a thing or two as well—all while snacking or opening presents.
1 of 8
Basics for a Book Club Party
Book club parties are a good way to get friends together and have great discussion over appetizers, drinks, or brunch. Whether your book club is a few close friends or a larger group, hosting a book club party still takes some amount of planning. Food, seating arrangements, and discussion questions are just some of the things that should be taken into account when you're the host. On the next slides, see our tips for hosting a party, designing the invitations, choosing the book, and picking a fun theme.
1 of 8
2 of 8
Step 1: Choose the Book Club Book
When choosing book club books, it's important to make sure they're ones most everyone can agree on. At the very first meeting, come up with a list of 20 books based on suggestions from each group member and distribute it to everyone. The host of the next book club will pick one from the list. To get ideas for your book list, look up book reviews for books on bestseller lists, or see if your local library has a list of recommendations.
Editor's Tip: After the book is chosen, go online and look for discussion questions. Sometimes, the book publisher includes them at the end of the book or has a link to resources online. If there are no ready-made discussion questions, ask everyone to come up with at least one or two talking points before the next meeting.
2 of 8
3 of 8
Step 2: Choose the Book Club Host
There are several options for choosing the first host (and subsequent hosts) for a book club party. The same person can host every time and have different people bring appetizers and small dishes for each meeting, or a different person can host every time. At the first meeting, put everyone's name on a slip of paper and put it in a bowl to choose the next host at random; the person drawn will host the next meeting and get to choose the next book. The host can decide whether to have the book club party at her house or at a separate venue, such as a restaurant or a coffee shop.
Editor's Tip: If you decide to host the next meeting at a restaurant, be sure to call ahead and make a reservation, especially if the venue has a private meeting room that you can reserve.
October 23, 2020 3 min read
Staying connected with friends and loved ones has taken on a new meaning during this time of social distancing. Instead of gathering in person, virtual hangouts have become the norm — with everything from Halloween parties to birthdays to baby showers happening over Zoom.
Here's how to use our features to throw the Zoom party of the year for your friends, family, or colleagues.
Themed party
Must-use feature: Virtual backgrounds
Themes add an interactive element to virtual parties, and the options are endless. Dress up as your favorite Star Wars character, or put on some '90s jams and ask your friends to come wearing flannel and Day-Glo. Encourage guests to pick out the perfect virtual background to put the final touch on their themed experience.
Get inspired by our curated selection of backgrounds featuring show sets, your favorite sports teams, beautiful travel destinations, and more!
Movie night or watch party
Must-use feature: Screen sharing
Get a group together to watch a live event, movie, or favorite show. You can pull up an event stream or play a video on your device and share your screen with the other participants on your call, just don't forget to check the box to "Share computer sound" when the screen sharing window pops up. You'll still be able to see and talk to each other while you're watching.
Large get-together
Must-use feature: Self-select Breakout Rooms
Want to host a big bash and still offer space for guests to connect? Start a few Breakout Rooms that allow guests to connect in smaller groups based on topics of conversation, or set up a different virtual party game in each room. You can even allow participants to self-select what room they want to join and move freely among them. Think of it as a virtual cocktail hour where guests can mingle and meet different people in a more intimate setting.
Virtual Pictionary
Must-use feature: Whiteboard and annotation
Here's a fun, easy activity for your next virtual office coffee break. Share your screen and select the whiteboard option, which you and your guests can draw on. Play a quick game of Pictionary, Hangman, or Tic Tac Toe as an icebreaker or while waiting for others to join.
Talent show or competition
Must-use feature: Polling (licensed accounts only)
Host a virtual talent show, costume contest, scary story night, or whatever kind of competition you like and get live results! Give all participants a chance to choose the winner with the polling feature — all you have to do is create a poll with your contestants' names and allow your guests to vote. You can even share the results directly to everyone in your party.
Do I need a Basic or Pro account?
Basic accounts allow you to host one-on-one meetings with no time limit, and up to 100 participants in your party for up to 40 minutes at a time. If you'd like to host a Zoom party with your Basic account, you can start a new meeting after the 40-minute limit and allow guests to rejoin as many times as you want.
If you want an uninterrupted experience plus advanced features like polling, upgrade to a Pro account. With no meeting time limit, you and your guests can Zoom on as long as you like!
Ready to jump in? Here's how to schedule a Zoom meeting, invite others to your virtual hangout, and keep your meeting secure.
From the race day dress code to the perfect mint julep recipe, here's how to host a memorable Derby party.
The actual Kentucky Derby may only last a few minutes, but the entire event is a day-long festivity. Start planning your parties now: this year's Derby will take place on Saturday, May 7, 2022.
From a Derby-worthy ensemble (including a hat or fascinator, of course) to the perfect mint julep recipe, here's how to throw a truly memorable Kentucky Derby party.
1. Set the Tone With the Invitations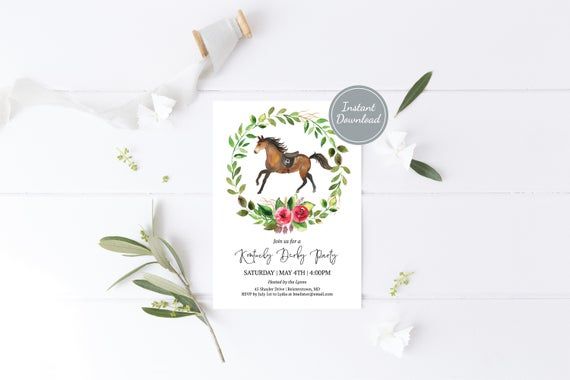 The Kentucky Derby makes for the ultimate theme party, so you want to prepare your guests to celebrate all-things Derby. A Derby party invitation should be equal parts informative and festive to set the tone. Specify "Derby attire" on the invite so everyone knows to dress the part, as this invitation from Etsy does. Be prepared to offer outfit inspiration to your guests if they're not familiar with the race day protocol, so everyone can properly commit to the theme.
2. Remember the Dress Code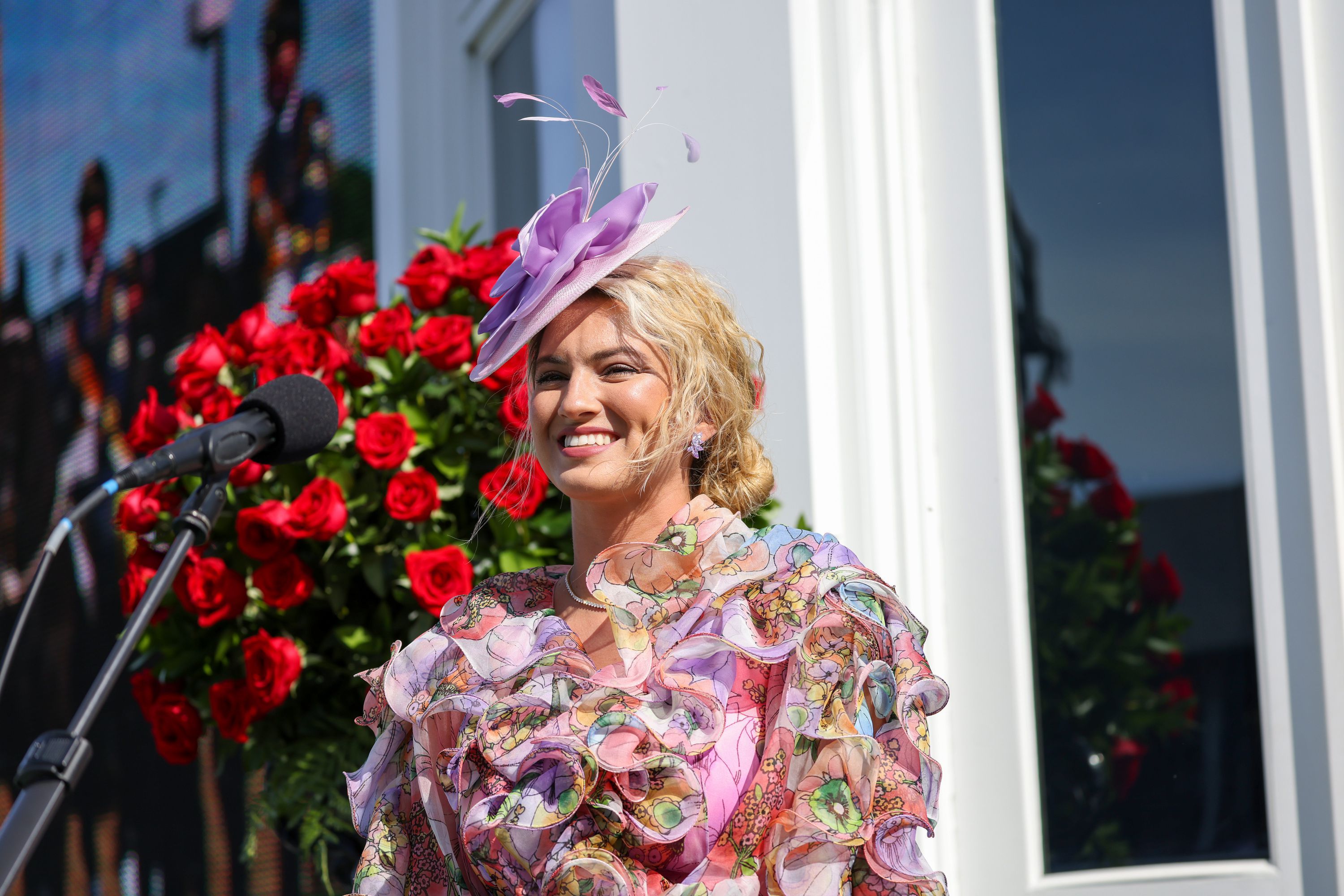 Guests will follow the host's lead on what to wear to a Derby day party, so as the host, you have permission to go all-out: major hat, full suit, a dramatic dress—the Derby is no time to be understated.
Sharing a few style guidelines with guests can also be helpful: a bold hat or festive fascinator is essential for the ladies , along with a bright dress or printed ensemble. Men can opt for a colorful suit (perhaps a pastel?), or stick to seasonal essentials with Derby-specific accessories , like a needlepoint belt or a Derby pocket square.
If you want to entice your guests to step up their style game and aren't afraid of a little friendly competition, hold a best dressed contest by having everyone anonymously vote for their favorite outfit. Then, the winner earns every Derby day's top prize: bragging rights.
Whether you're planning a bangin' bachelorette bash or revving up for a bridal shower, springtime is prime time when it comes to throwing parties. With so many opportunities for events, it doesn't hurt to have a few choices for party themes on hand. The fun + unique ideas below will make yours the hottest bash on the block and maybe even inspire your summer soirees as well. From a pretty-in-pink flamingo fête to a taco-inspired Cinco de Mayo celebration, these themes will take your party from so-so to SO fun in no time.
1. Sorbet-Colored Party: Even though Easter has come and gone, pastels are a trendy color scheme for any spring party. Amp up the vibrant vibe with a bright pastel palette like this sorbet-colored party theme that's perfect for a bridal shower, birthday party or Mother's Day brunch. (via Silence of the Lens / 100 Layer Cake-let)
2. Margarita Day Party: When in doubt, just add margaritas. And if the delicious mixed drinks weren't enough for a party, the brilliant and bold colored decor is the one to keep your guests' compliments coming all day long. Pair with taco bites, and carry this theme all the way to your Cinco de Mayo party. (via Brit + Co)
3. Tropical Party: Embark on an adventure into the tropics with this *wild* theme. Think: pineapples, palm leaves and tropical flora when it comes to decor and more. If there's ever a situation for busting out that Hawaiian shirt you thrifted ages ago, this themed party is it. (via Brit + Co)
4. Vibrant Coral and Green Fiesta: Though this cactus party was for a birthday bash, it can go just as well for a Cinco de Mayo or spring get-together. Bring out the cactus cake toppers, cactus macarons and succulents for an epic day of celebration with your fave cacti. (via Amber Thrane / Inspired By This)
5. Flamingo Party: If you're feeling the pink and green color scheme, opt for a flamingo-themed fête. Throw in some pineapple shaped tumblers, plenty of palm fronds and a flamingo backdrop for unique variation on the tropical theme. (via Amy & Jordan Photography / Style Me Pretty Living)
6. Popsicle Party: Throw the ultimate poolside party with a Popsicle theme to keep guests cool while having fun in the sun. Have guests partake in a yummy Popsicle DIY or relax on Popsicle shaped pool floats. Whichever ideas you carry out for your icy treat of a party, don't forget to throw in these adorable Popsicle garlands. (via You Are My Fave)
7. Snow Cone-Themed Party: For another *chill* theme, take on a snow cone-inspired party. Choose from snow cone piñatas, giant snow cones, snow cone garlands and even snow cone cards to amp up your party guests. (via Brit + Co)
8. Wildflower Themed Party: Embrace your inner bohemian with a wildflower theme. The more colorful, the better! Incorporate a few eclectic, or even thrifted, decorative accents and you're good to go. (via Natasha Esguerra Photography / The Land of Nod)
9. Palm Fronds and Bon Bons Party: Get ready for a chic take on the tropical party theme. With accents like pineapples, palm fronds and bon bons, it's kind of like a classy luau. Just look at that elegant tablescape! (via Mary Costa / Studio DIY)
10. Donut Party: Everybody loves donuts, so you already know a donut party is gonna be a *huge* hit. Impress your guests with a sprinkles bar to let them decorate and garnish their yummy desserts. (via Studio DIY)
11. Tutti Frutti Cocktails Party: Here's a theme that you won't have to worry about running out of ideas for. Take your pick from a huge assortment of fruits for your decorations, food, drinks and favors. (via A Joyful Riot)
12. Floral Spring Brunch: If there was a favorite time of the weekend, it would be brunch, easy. Celebrate the favorite pastime with a garden brunch inspired by a classic floral theme. (via Brit + Co)
13. Gem Party: Whether it's for your BFF's bridal shower or your 30th birthday, a gem-inspired party is a *brilliant* idea. Flash tattoos, metallic-fringed piñatas and glittery sequined decorations are the best ways to pull off this party look. (via @ayphoto / @inspiredbythis)
14. Ice Cream Party: Kids and adults alike are suckers for ice cream, so this theme is as versatile as the frozen dessert itself. Throw in some metallic gold accents to elevate the decor for adults, or add an array of colors (think sprinkles) for a kid's birthday party. (via Classy Clutter)
15. Kate Spade-Themed Party: This classic black and white theme with plenty of gold accents is perfect for the preppy girl. Add a few pops of pink color in your decor, and don't forget to make an epic backdrop with metallic gold streamers for those selfie takers. (via Kara's Party Ideas)
16. Rainbow Party: Throw a ragin' rainbow birthday bash or a cute rainbow baby shower this season. Any way you go, your festivities are sure to be bright and beautiful. Put a unique spin on it using pom poms like this rainbow pom pom party. (via A Subtle Revelry)
17. Swan Pool Party: You've seen the swan pool float pop up everywhere since Taylor Swift and her beau Calvin Harris were seen floating atop it on her Instagram. If you're feeling that Insta-worthy moment, give #swangoals a whole new meaning with an epic swan-inspired pool party. (via Gia Canali / Style Me Pretty)
18. Taco Party: All things taco are straight-up awesome. To take it to party level, munch on delicious tacos, go crazy with DIY taco piñatas and cool down with some yummy paletas. Taco-lovers everywhere will be waiting for an invite. (via Studio DIY)
19. Unicorn Party: Next to mermaids, unicorns are pretty much the coolest mythical creatures ever. Harness that magic, and bring pastels to life for this whimsical wonderland theme. It would be adorable for a kid's birthday party or baby shower. (via The Little Umbrella)
20. Vintage-Themed Party: A vintage-themed party can go so many ways. Commit to a full-fledged old-fashioned theme, or mix it up with a modern twist on retro. Whatever you decide, it helps to think "timeless classics" when it comes to throwing a chic vintage soiree. (via A Fresh Take / Kara's Party Ideas)
21. Watermelon Party: The saying "you're one in a melon" also goes for this party theme. Usher in the warmer months with a juicy melon themed-party that'll have your guests drooling over all the fresh and fruity concoctions you think up. Not to mention, how pretty and pink your decor will be. (via Tell Love and Party)
Which of these themes were your favorite? Follow us on Pinterest for more party ideas!
August is a great month for a party. I'd love to help you with the best August party themes to inspire your next party. Please read on for some unique ideas for all August themed parties no matter where you are in the world.
Themes for Parties in August
Depending on where you are in the world August marks the end of a season each year. If you are in the Northern Hemisphere the end of August is the end of what might have been a very hot summer. Perhaps you're ready for some milder weather or if you want to celebrate how amazing summer was…it may be time for an awesome End of Summer party.
If you are in the Southern Hemisphere, August marks the end of what most likely was a cold, chilly winter. You might be ready to shed those woolly coats and celebrate the start of warmer weather and hello Spring! An End of Winter party might be in order for you to celebrate. Read on for some more fun August party themes.
(This post probably contains affiliate links. See the disclosure policy for more information. You can find the disclosure policy here.)
August Birthday Ideas
People that celebrate their birthday in August have either the star sign of Leo (1 – 22 August) or Virgo (23 – 31 August).
A great excuse to have a Virgo themed birthday party or celebrate your favorite Leo party. What Leo wouldn't like a good party thrown in their honor anyway? One of the difficulties of throwing a unique party is finding the decorations to theme it. If you are considering a Leo themed party check out this awesome Leo party printables pack. Likewise, if you are looking for Virgo themed party decorations here's everything you need to up level your party.
There are many celebrities that have birthdays in August and another fun idea would be to have a celebrity dress up party theme. The only catch is that the celebrity or famous person must also have a birthday in August.
Male celebrities / famous figures that were born in August include: Jason Momoa, Billy Bob Thornton, Barack Obama, Michael Jackson, Roger Federer, Neil Armstrong, Sean Connery, Billy Ray Cyrus, Robert De Niro, Magic Johnson, Bill Clinton, Andy Warhol, James Corden, Hulk Hogan, Jack Black.
Female celebrities / famous figures that were born in August include: Madonna, Jennifer Lawrence, Kylie Jenner, Halle Berry, Whitney Houston, Mother Teresa, Lucille Ball, Meghan Markle, Geri Halliwell, Martha Stewart, Coco Chanel, Sandra Bullock.
Elvis Week falls every year in mid August to commemorate his life on the anniversary of his death. An Elvis party theme is a fun idea to remember and celebrate the amazing entertainer that he was. Super fun idea to have Elvis music as well as dress up and even a photo booth.
More August Themes
Here are some other August themes based on fun holidays and special days that have been allocated to each day of the year. Some of them are trivial yet awesome at the same time. Think Ice Cream Sandwich Day (2 August) is that a thing? Yep it's for real and sounds like fun.
Thanks to timeanddate and daysoftheyear for some of these great daily holidays below. Read on for some great and definitely unique themes for parties in August. Read on for the best August birthday party ideas – or August parties for any special occasion or event.
Full list of August party themes is at the very bottom of this post.
Galentine's Day Party
Girl Friends Day (1 August)
The perfect reason to host a Galentine's Day party. A great party idea to express gratitude to your favorite female friends for being truly amazing.
Beer Lover Party / White Wine Lover Party
International Beer Day (2 August) and White Wine Day (3 August)
August party themes for adults only. If you're into beer and it's a favorite beverage of yours, then this is a party theme that you will enjoy celebrating. The following day is White Wine Day so if you're not into beer then have a wine instead and it's a great fun theme for a party. Wine connoisseurs and beer-drinkers unite!
Watermelon Party
Watermelon Day (3 August)
Watermelon party themes are amazing for all ages after all who doesn't like watermelon! There are so many cute watermelon decorations – you can download a free watermelon banner here.
Beach Party
Sandcastle Day (3 August)
If you're near the beach why not have a beach party to celebrate and make sure you take some watermelon with you too to stay on theme. Beach parties are great in summer, but less busy in winter if you're in the southern hemisphere so winning either way.
Book Lovers Party
Book lovers Day (9 August)
This would be a great party theme for bookworms or a great excuse to start a book club and have regular meetups either virtually or in real life. I love a bookworm party theme. Everyone could bring a book to gift. Or a book to swap with others.
Instagram Themed Party
World Photo Day (19 August)
World Photo Day would be a great excuse for an Instagram themed party for those who love this social media platform. Instagram themed parties are trending right now. At the very least have a party with fabulous decorations and a super-long grazing platter that is Instagram-worthy. And here's a fun and unique Instagram party game (printable) for you to enjoy.
Burger Bar Party
Burger Day (22 August)
Burger Day is a great excuse to invite friends over for a burger bar party. Set up an awesome self-serve burger bar and see what amazing combinations your friends will come up with. And make sure you name them with a prize for the best and funniest new burger creation.
Celebrate Women Party
Women's Equality Day (26 August)
Women's Equality Day – celebrate with the favorite women in your life of all generations.
Camping Party
Toasted Marshmallow Day (30 August)
We don't need an excuse to enjoy toasted marshmallows around a campfire or bonfire pit. Why not have a camping party. BYO sleeping bags.
Fishing Party
The whole of August is Fishing Month. Why not have a fishing party for that fishing enthusiast in your life. Serve fish and chips, make some fun fish (candy) decorated cupcakes.
I hope you've enjoyed these ideas for August themed parties. Happy August!
If anyone dares to throw you in the water, #4 might soften the blow.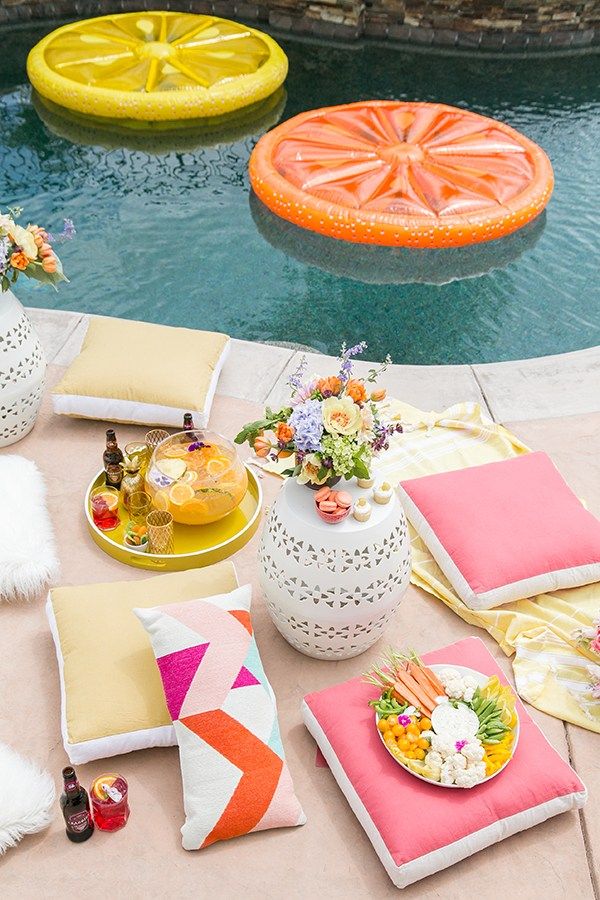 Where's the pool party at? Oh, that'd be your place. With fruity cocktails, festive floats, and creative pool party ideas for bright, colorful decor, you'll have the kind of get-together people rave about (and #TBT) for years afterward. Trust.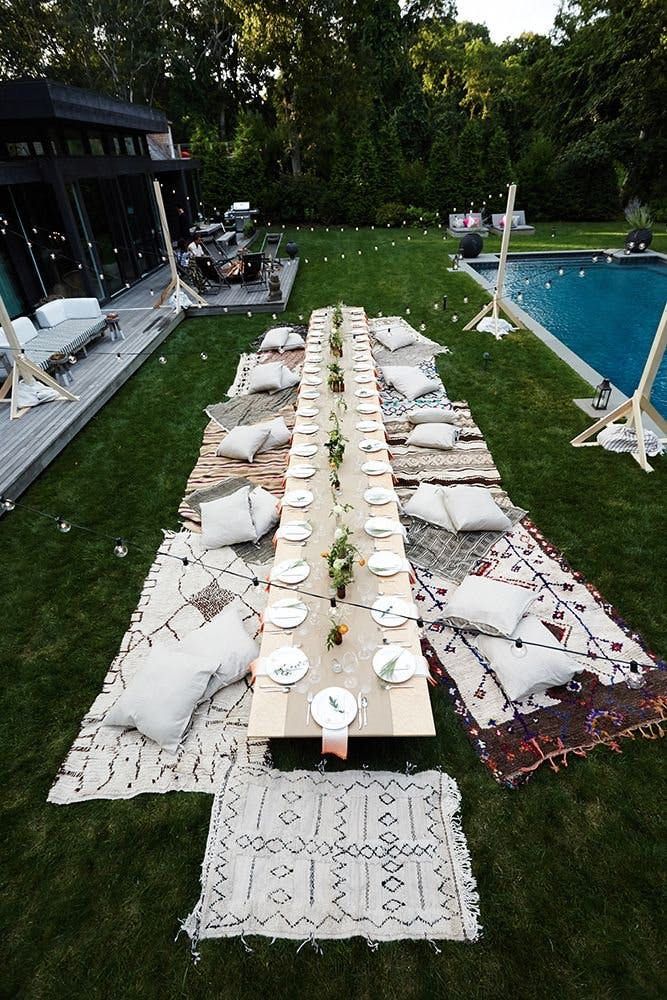 Set a long, low table and bring rugs outside for a super-relaxed, family-style meal. The more mud cloth and floor pillows, the better.
BUY NOW Stripe Rag Rug, $99, urbanoutfitters.com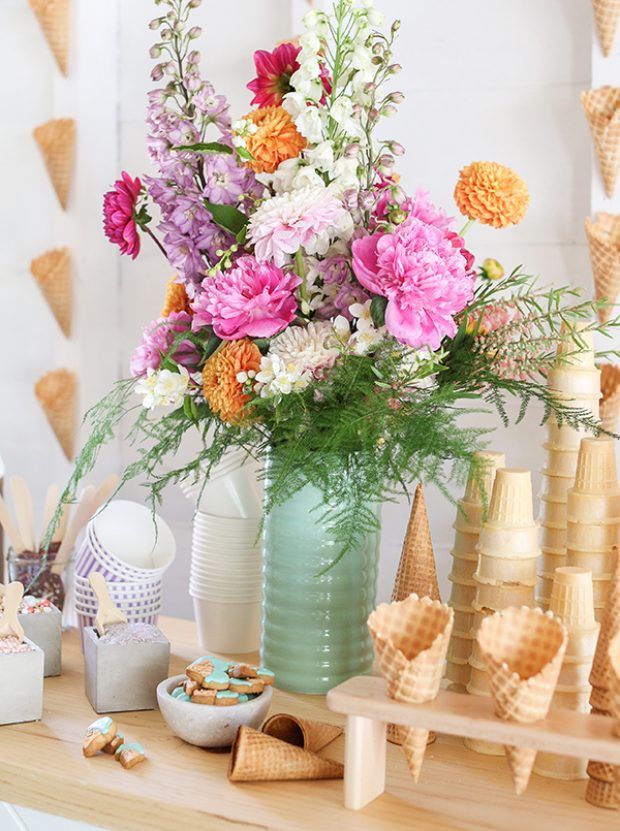 Frozen desserts are a must. This DIY ice cream bar is the easy way to serve a crowd — plus, it's just fun.
BUY NOW Ice Cream Scoop, $12, amazon.com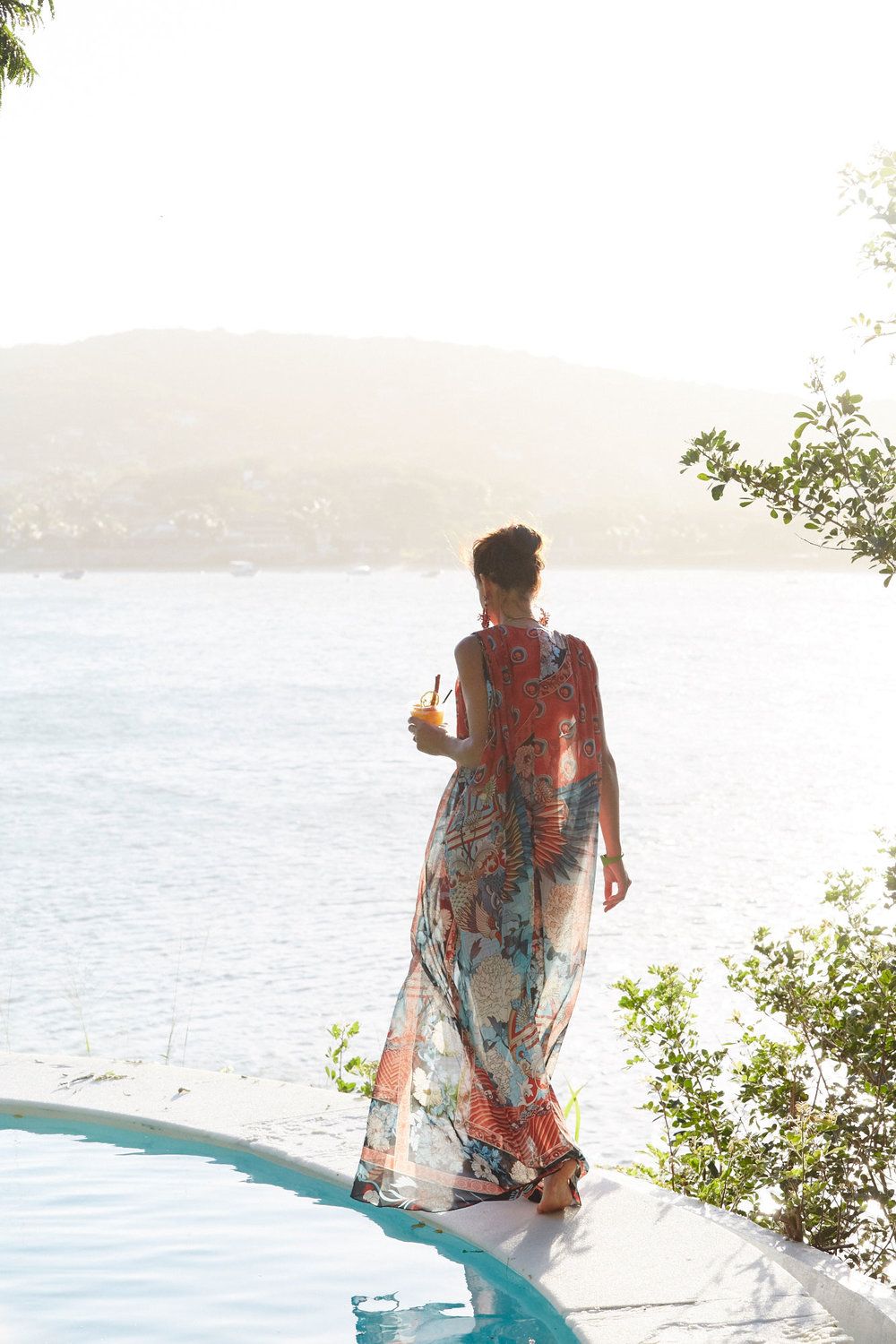 Give your pool party a dress code and then decorate for the theme accordingly. Some ideas include tropical or all-white for a classic, dressier pool party. Or you could get weird and choose a TV show as a jumping off point or something oxymoronic, like summer goth and let your guests get creative.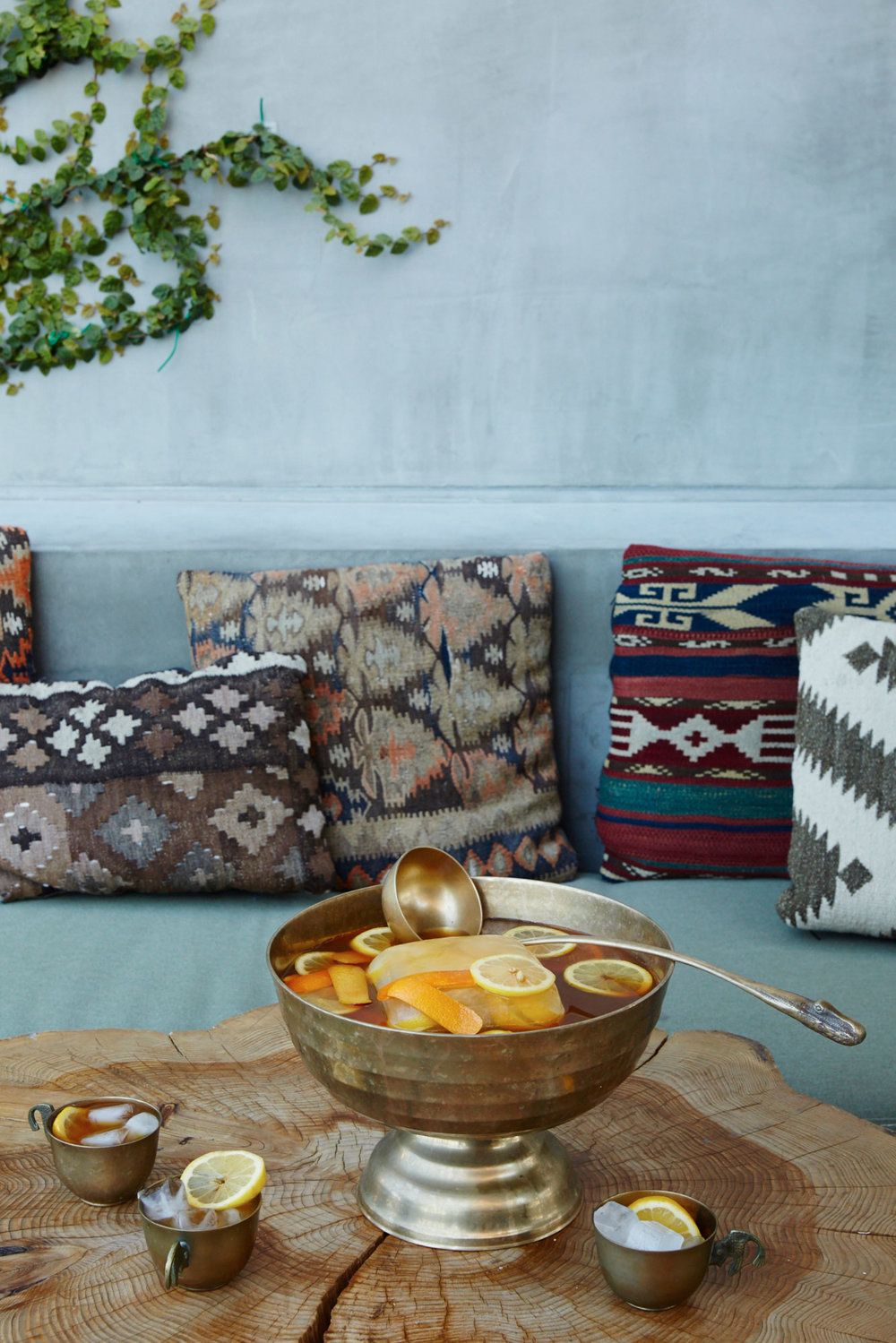 Fruit punch screams summer pool party. Serve it up in a bronze bowl and ladle, and it'll look even more refreshing.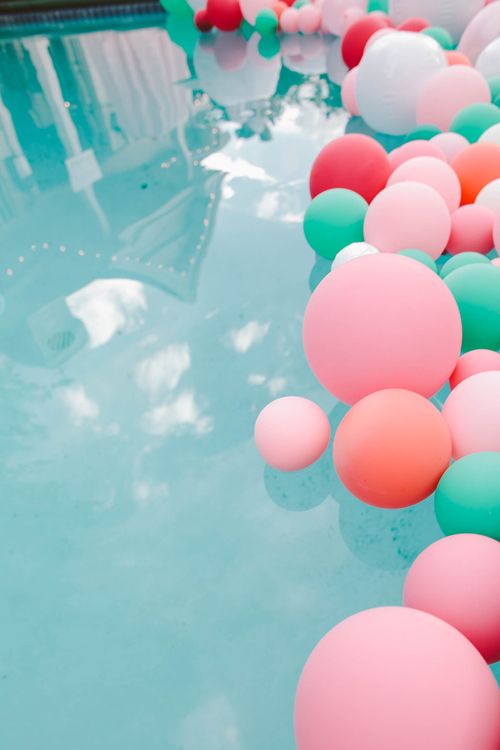 Need a cheap and easy decor idea? These pool balloons might just be cuter than flamingo floats.
BUY NOW Assorted Color Party Ballons, $11, amazon.com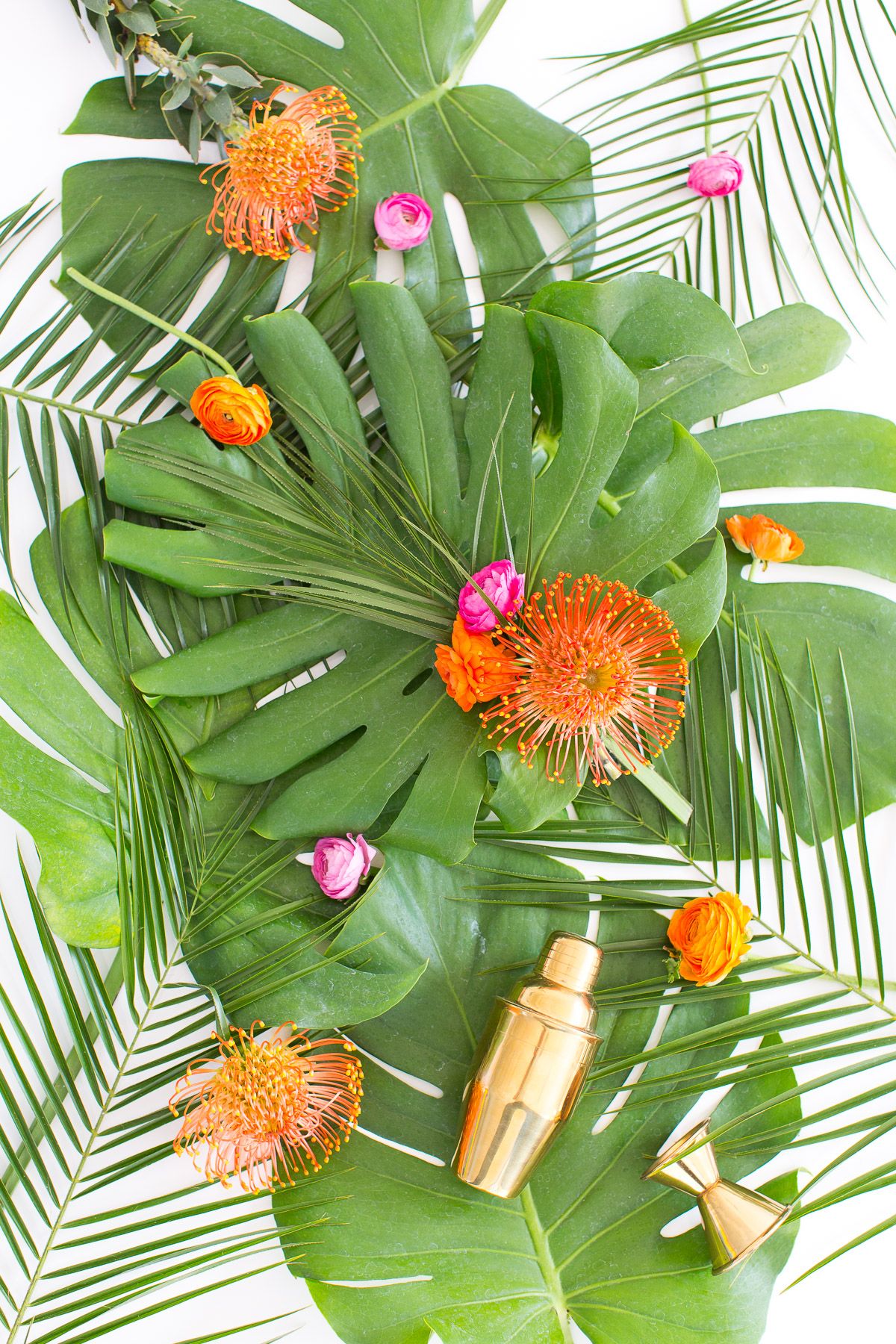 Keep the drinks flowing by setting up your bar cart outdoors. To make it extra summery, top it with a variety of palm leaves and tropical flowers.
Get the tutorial at Sugar & Cloth.
BUY NOW Craft Cutter, $7, amazon.com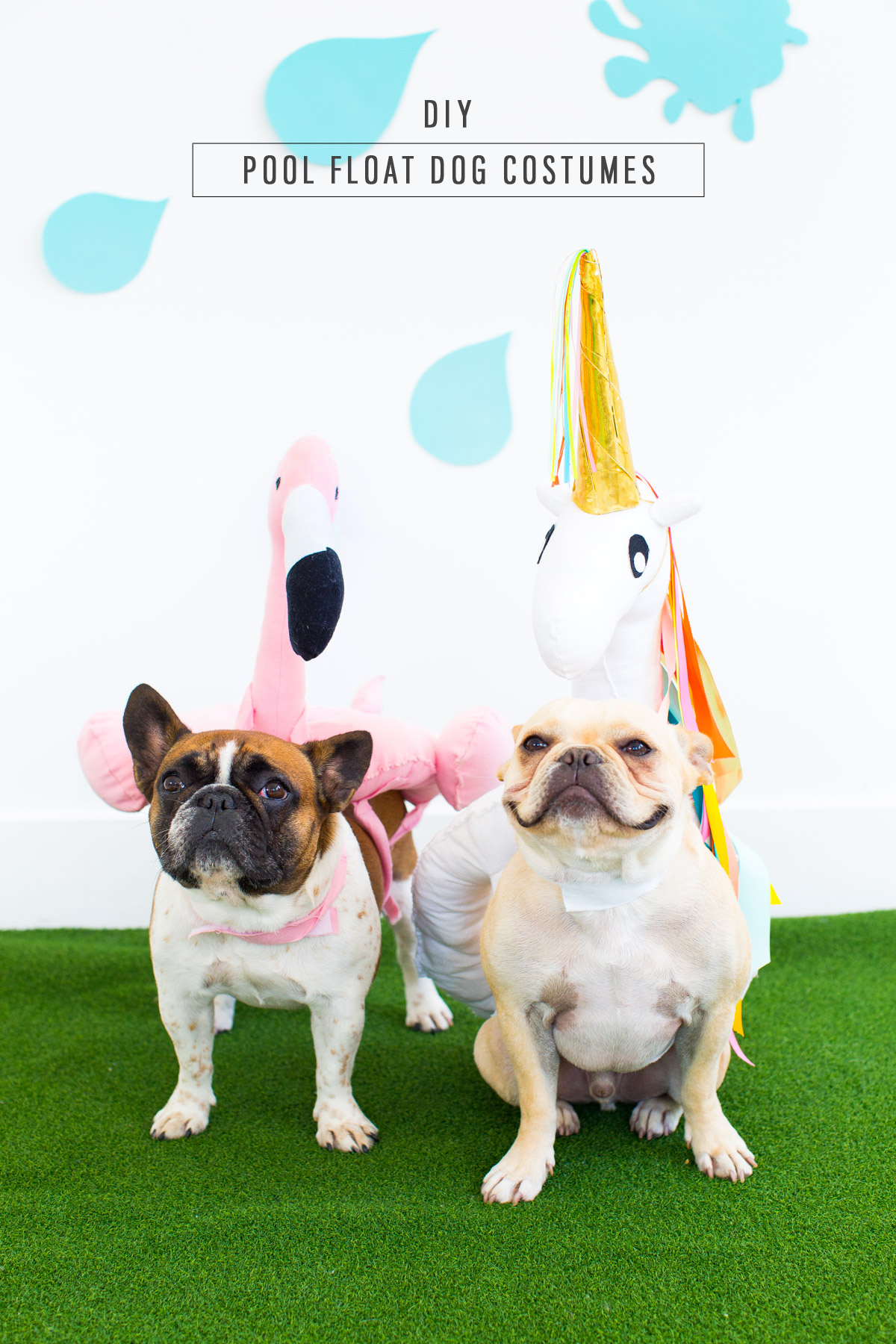 These DIY pool-float dog costumes will get all the likes. And you can reuse them for Halloween!
Get the tutorial at Sugar & Cloth.
BUY NOW Pink Fabric, $6, amazon.com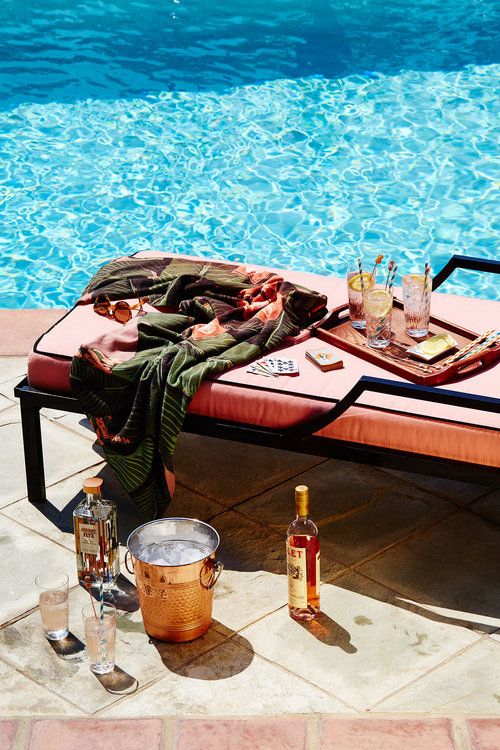 Put out a deck of cards for any guests who'd rather stay on land. You could also put out some less conventional card games, like tarot cards and bring in a fortune teller to entertain guests.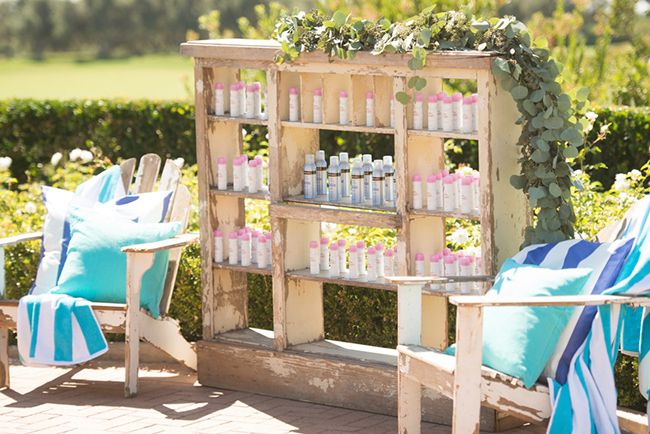 A sunscreen station is an ingenious way to entice a large group of guests to re-apply — especially when you've got kids running around. Add some hydrating mists, and everyone will love you forever.
BUY NOW Evian Facial Spray, $15, amazon.com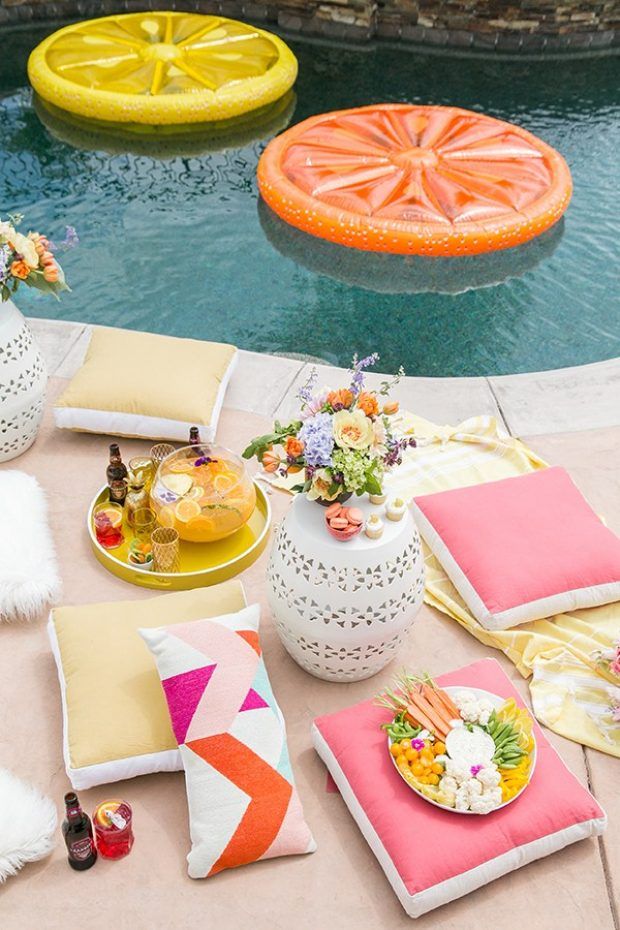 The more colorful your party is, the better. Set up bright and patterned pillows and blankets on the deck for a poolside-picnic effect and for extra lounging space.
BUY NOW Indoor/Outdoor Pillow, $31, anthropologie.com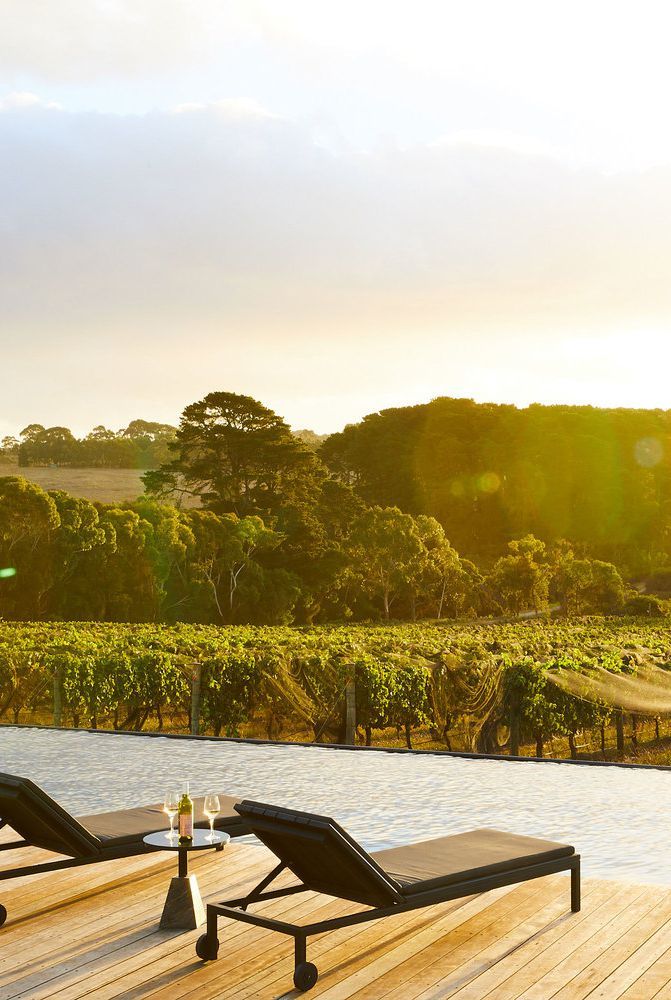 Bring in a sommelier for a mini wine tasting lesson. It'll be a fun activity to keep people busy if they don't want to mingle or splash around in the pool.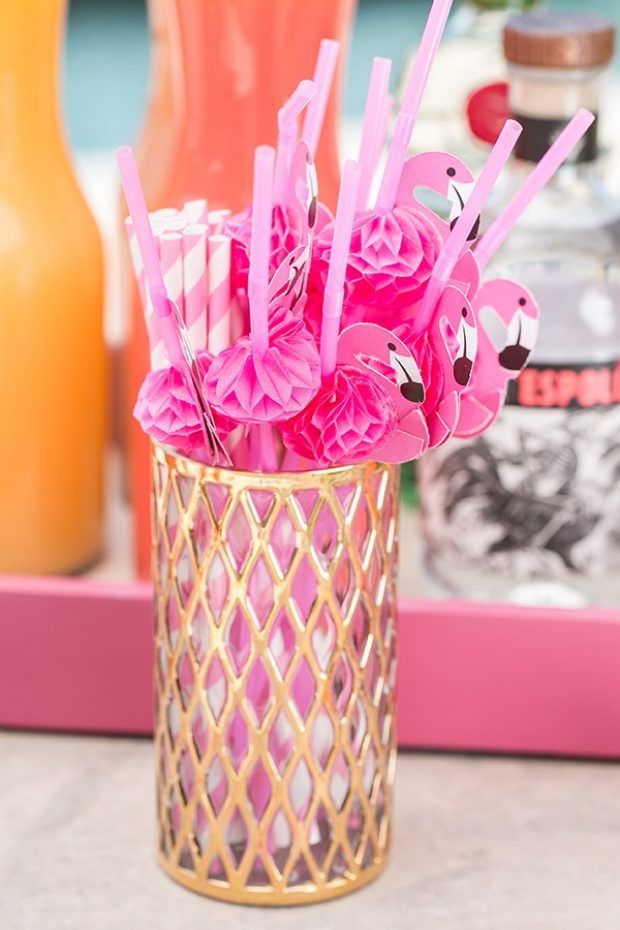 Match your drink to your pool float!
BUY NOW Flamingo Straws, $, amazon.com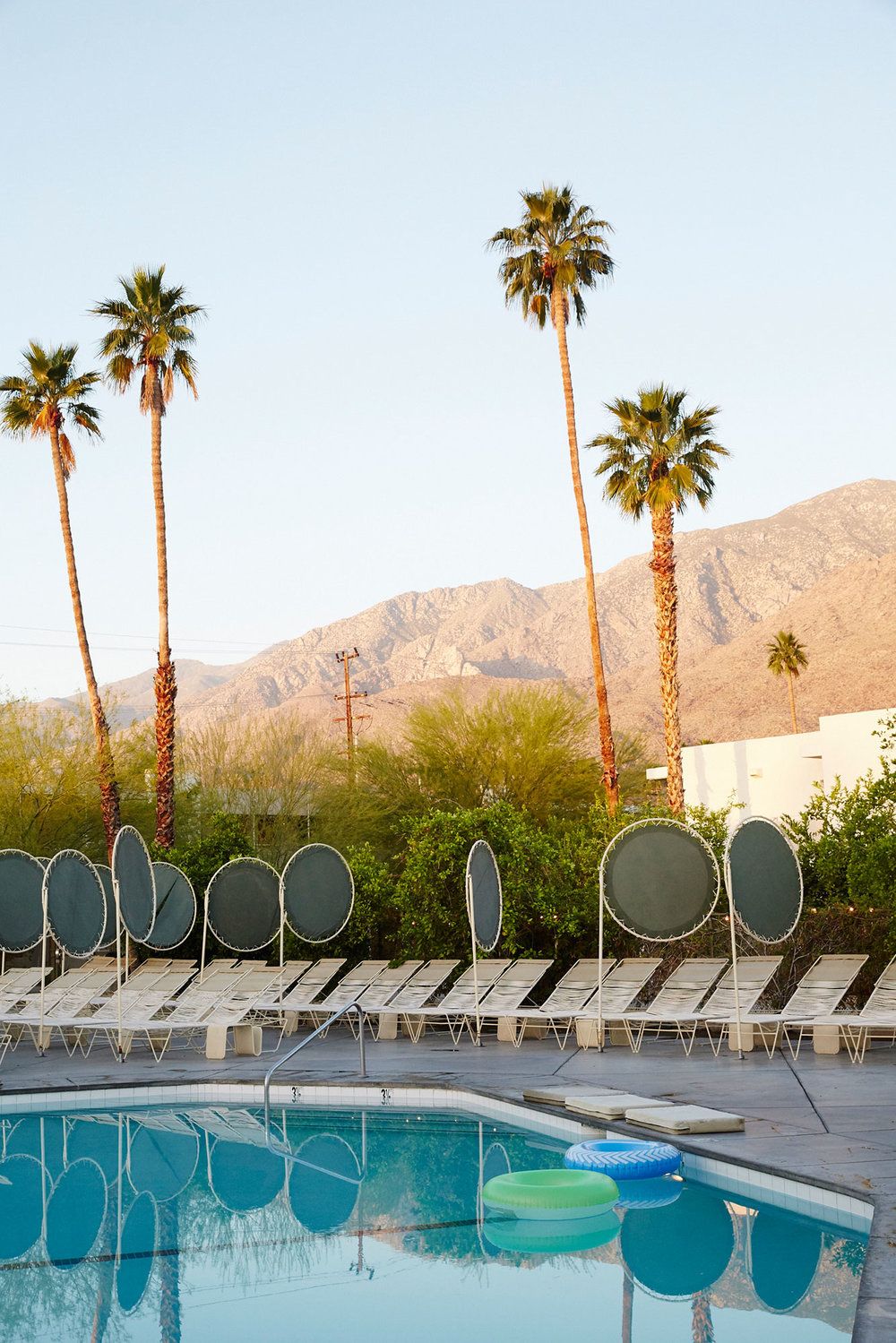 Don't have a pool in your own backyard? Go all out by renting a hotel or local pool for the day. Or research which hotels in your areas have pools and see if any of them every host parties—then round up a group of friends to purchase tickets and attend together.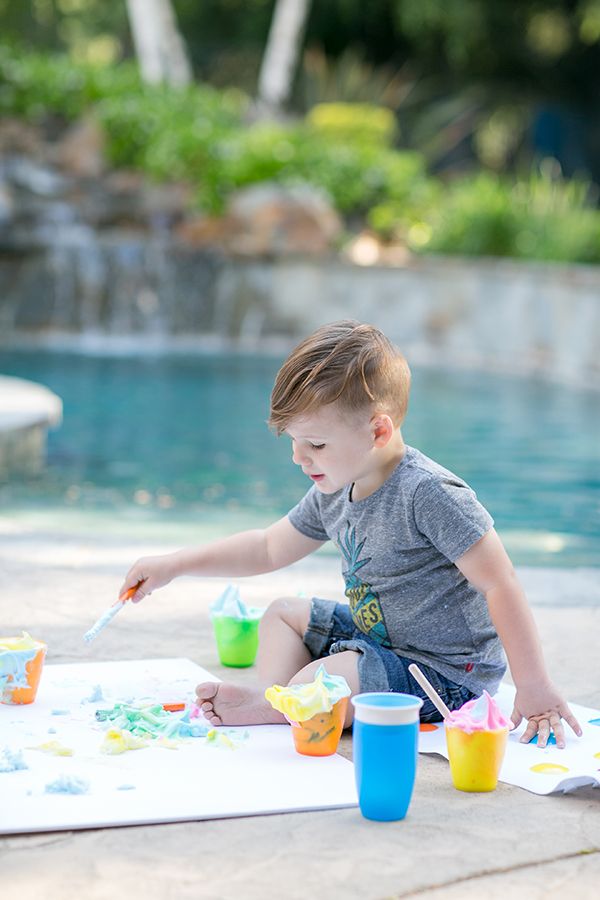 Make it kid-friendly with an arts and crafts station. If there are going to be a lot of little kids running around, you may want to consider bringing in a lifeguard for the day, too.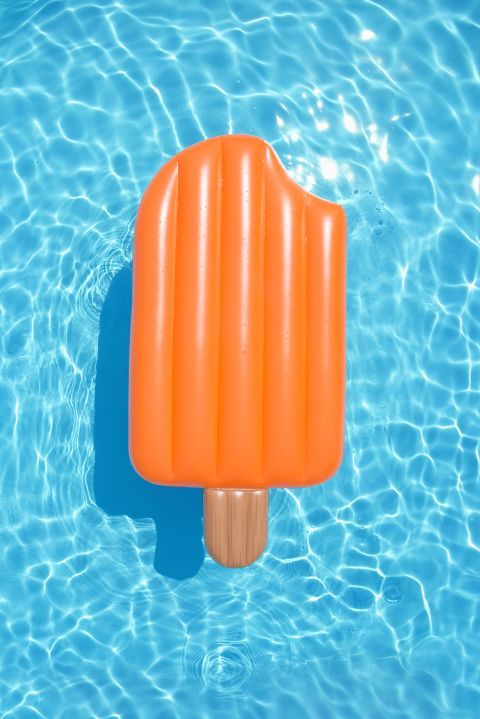 Blow up donuts, flamingos, unicorns, and pineapples for your guests. The crazier the float, the cuter the Instagram photo.
BUY NOW Pool Float Donut, $20, amazon.com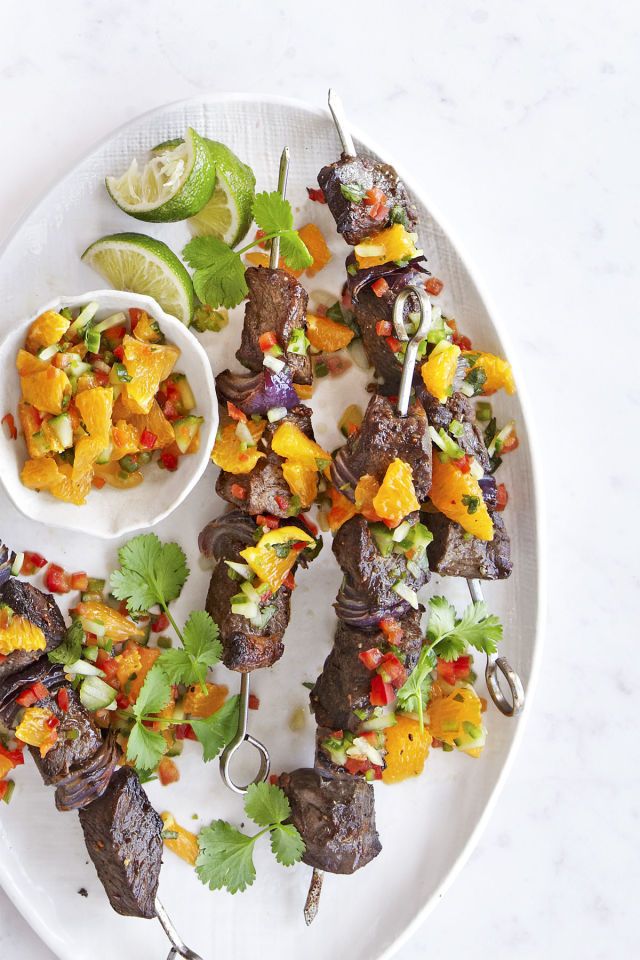 Is it even summer if you aren't grilling? Cover grilled steak kabobs with an orange-jalapeño relish for a jolt of heat.
BUY NOW Charcoal Grill, $99, amazon.com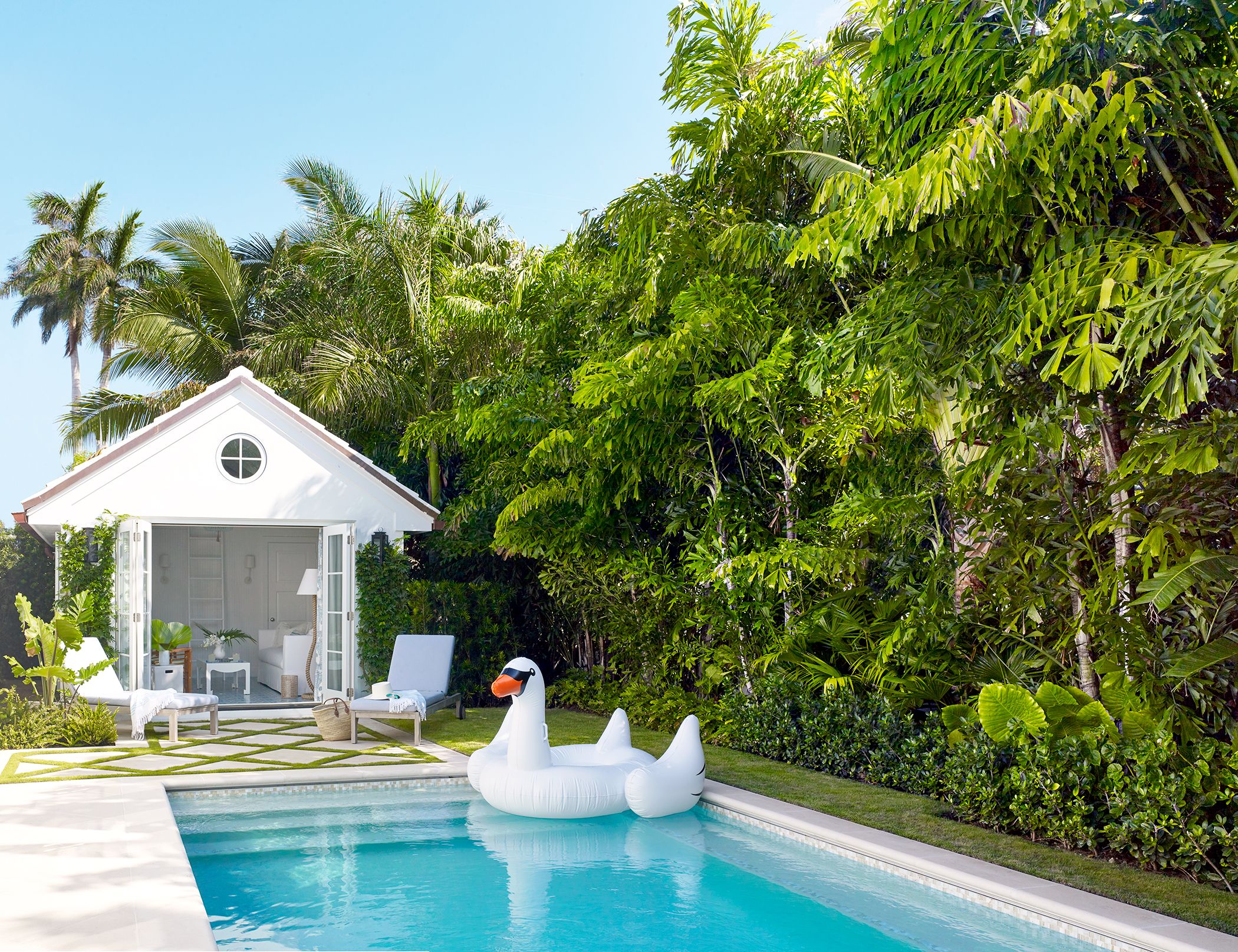 Open up your pool house instead of inviting guests to trample through the main house. If that's not an option, put up signs and make towels available for your guests to dry off before coming into the house to the use the restroom.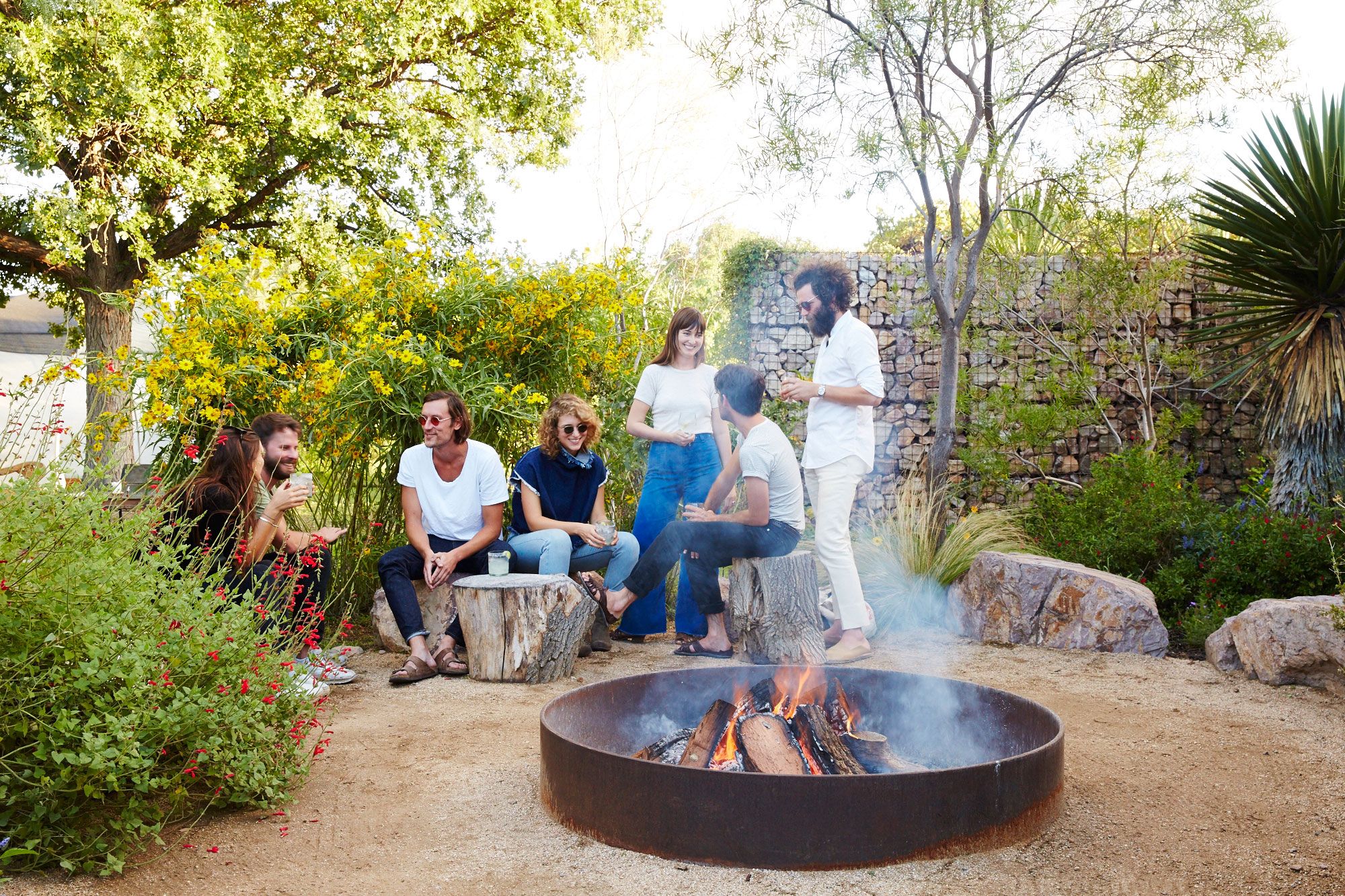 If you want to keep the party going after the sun goes down and the air starts to get crisper, just move over to a fire pit. This warm conversation pit will keep the party going into the wee hours. Don't worry if you don't have one already—there are tons of affordable portable options out there.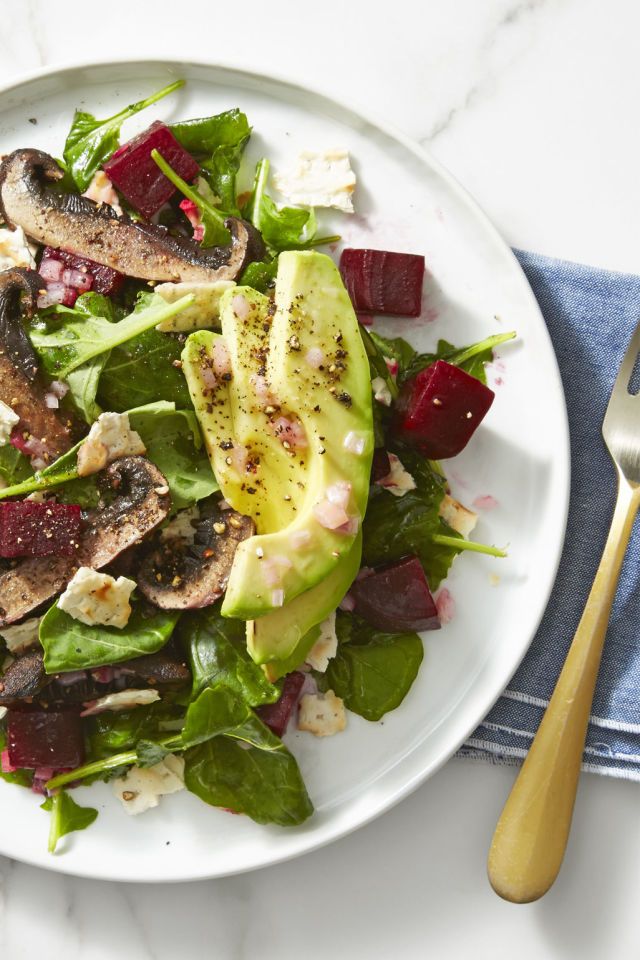 Keep food light — like this salad rich in heart-healthy ingredients like avocados, beets, and spinach — so you don't feel too bogged down to swim later (after the requisite 30-minute wait period, of course). Plus, it's super easy to throw together in a snap. Win-win!
BUY NOW Classic Chef's Knife, $41, amazon.com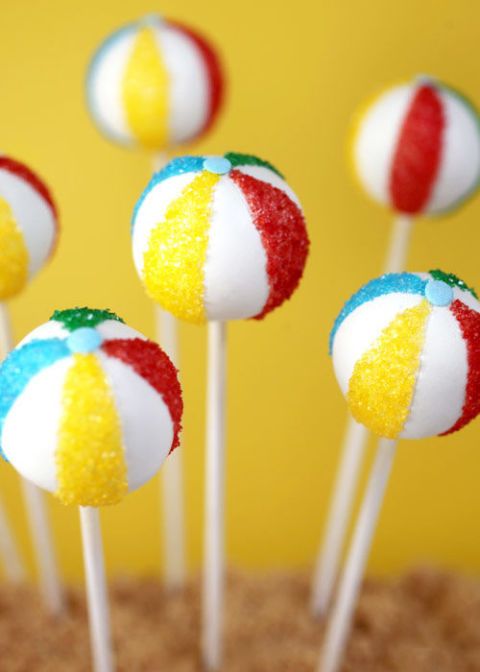 These cute little cake pops are as fun to make as they are to eat. Serve them up at a dessert table, or give them as party favors.