Get the sweat out of your horse, as well as dirt and loose hairs. Dr Mac shows how.
50 shares
Tweet 2
Share 45
Share
Share 0
Print 2
Email 1
Grooming is an important part of caring for your riding horse. If you keep horses naturally out on the veld, grooming is not needed as sweat, mud and loose hairs form a natural waterproof barrier that also protects against parasites such as ticks and midges.
This is one of the reasons horses tend to roll in the mud when there are midges, biting flies and ticks about. However, if you put a numnah and saddle onto a dirty coat, the friction during riding will rub off hair and skin, causing saddle sores.
Simply washing a really dirty horse will not get it clean. You need to brush out the dirt and loose hair with a curry comb.
A circular or oval comb, this is made of hard rubber or plastic with three rows of short teeth on one side, and a band on the opposite side into which you can slip your fingers and palm. Your thumb remains outside of the band and grips the edge of the comb.
The action of removing sweat, dirt and loose hair from a horse is called 'currying' and horses enjoy it, often becoming especially close to the person who grooms them.
In fact, this is the origin of the expression to 'curry favour' with someone. Properly done, currying is almost like a deep massage, with the groom pushing the curry comb in rhythmic circles over the neck, body and hindquarters of the horse.
It also stimulates the natural oils in the hair roots and, when done effectively, results in a shiny coat. The loosened dirt and hair can then be flicked off with a dandy brush or a body brush.
The former has stiff bristles and is not suitable for thin-skinned horses such as Thoroughbreds and Arabians. Use a body brush for these breeds.

Pick a comb for the task
There are several types of curry combs available. The Zoom Groom, for example, has long individual teeth.
It's excellent for massaging sore backs, as well as removing sweat and loose hair. It can also be used on dogs and sometimes it is easier to find this type of comb in a pet shop than at a horse feed supplier.
A curry comb with metal teeth effective at removing long winter hair, but it has to be used very gently, in circles, flicking the wrist, rather than with the hard massaging that can be done with the Zoom Groom. Grooming gloves are also an option. Made of rubber or hard plastic, they can be used to remove mud and dirt when you wash a horse. A newer version is made of a sort of soft, sticky plastic, has very fine teeth and is good for removing hair and polishing a show horse.
A curry comb can be used on wet or dry horses.
You can use it to ruffle sweaty patches so that the horse dries off quickly after a ride, to remove dried mud when the horse comes in from the field, as a scrubbing brush while washing with soap, or as a massager during daily grooming. In short, it's a handy implement essential to the care of your horse.
A few types of horse grooming tools and what they are super good for. And also not good for.
Metal Curry Comb.
This is a beast of a curry comb. It's not forgiving at all, has no flexibility to it, and can be painful for a sensitive horse. Even if your horse does like it, It's best to avoid using a metal curry comb over any bony areas, like the shoulder, hips, or below the elbow and stifle joints.
I use a metal curry comb to scrape hair and dried sweat from western saddle pads. Metal curry combs are also super for scraping your brushes against to get rid of hair and dirt. You can find metal curry combs in two styles, the traditional curry style (below), and the shedding tool style (Second photo below). I find them fairly interchangeable.
Metal curry combs don't fare too well in the washrack, so find another type to use during bath time.
Good, old fashioned rubber curry combs.
These are the general workhorse of the curry comb family. You can find them in all different colors, sizes, and depths. They also vary in flexibility, let your horse tell you if he prefers a softer one versus a stiffer one.
I have one that is relatively stiff, and very deep. It's great for "that spot", and I think the extra deep design gets more dirt collected. I find it particularly satisfying to bang it out on the ground, instant gratification for your grooming efforts. These styles are not good for faces, ears, and legs, but you can use them in the wash rack for bath time.
Curry mitts.
These pimpled gloves are great for sensitive horses, faces, bellies, the lower legs, and all places in between. They are awesome because you can fold them like a taco to really get into nooks and crannies. Is it weird that your horse has nooks and crannies? NO.
Also super in the wash rack. And good for sensitive horses and ponies. And easy to clean and store.
Downside? You get what you pay for. I can't keep these on my hands and the nubs wear off so easily.
The pimple mitt, a close relative of the jelly two-sided variety of curry comb. I can't figure out how to get my hand to stay inside this thing!
The HandsOn grooming glove – my fave!
Jelly mitts.
These guys are also very versatile, as the curry mitts. The pimples are different on each side, and you can still treat them like a taco and fold it up. You may find that the nubs on this style of curry comb also work well to loosen the hair on saddle pads. I really like the stiffer nubs to remove dried poultice from the lower legs.
Specialty curry combs.
These guys range in color, shape, texture, design, you name it. They are still curry combs, designed to bring the dirt and dander up. Just pick what you like and get to working those circles! Some are designed to be used in and out of the wash rack, so added bonus there.
What's your favorite type of curry comb? Or favorite use for a curry comb?

To order a pair of the most amazing grooming tool ever, the HandsOn glove, use code PEG for FREE SHIPPING! Click here:
Plastic curry combs. Some people love them, others hate them. Unsure if you should use one and if so, how? Liz Daniels, communications director at the British Grooms Association, is here to help.
Your Horse reader asks: I've heard that cheap plastic curry combs can create micro-abrasions on the hair, strip the hair of its natural oil coating? Is this true? What should I use instead?
Liz answers…
Recent reports online have suggested that this is the case, and that sharp ends of plastic curry combs can even damage the skin.
When grooming your horse, it's important to use good quality products and if you're using a plastic curry comb then make sure the ends are rounded.
While I have never experienced a plastic curry comb causing any harm, I have seen a similar thing with a cheaper 'flicker' brush because the plastic bristles were too coarse.
Watch your horse's body language as you're brushing him and he'll usually tell you if he's enjoying being brushed with a plastic curry comb or not. If you think he's not happy having a specific brush used on him, try the following:
A great substitute for a plastic curry comb is a rubber curry comb. These are really good for removing mud and loose hair.
Magic brushes are also very useful for doing the same job and have lots of finer plastic bristles, which are also much softer.
If you're still unsure, try brushing your own arm with the same pressure you use on your horse. That way, you'll have a better understanding of what your chosen brush feels like to him.
WE ♡
At Your Horse HQ we're smitten with these brushes from MagicBrush.
A great alternative to the plastic curry comb, they're ideal for horses who love a massage or the occasional scratch — especially when the seasons change and they shed their coats.
RRP: £13.99
Available in all good tack stores.
Don't miss the latest issue of Your Horse Magazine, jam-packed with training and veterinary advice, horse-care tips and the latest equestrian products available on shop shelves, on sale now.
Every self-respecting horse person owns a curry comb, and we use it diligently on our horses to remove the remnants of a mud bath, erase sweat marks and/or give a mini-massage to our beloved partners. It's a handy utensil and an asset to our grooming kit and our horse's hair.
But why is it called "curry"?
For the sake of brevity, we will leave cooking out of this conversation and focus our attention on horses.
The word curry has been around for 800 years or so and means "to rub down or groom a horse." It comes from the French word correier,which means to put order to, prepare or arrange. This makes perfect sense as to why it's called the curry comb because we are rearranging the horse's hair into a more ideal direction.
There has been some controversy, however, over this comb. Back when I was little, the curry comb more closely resembled a bike peddle than something you'd use on your horse. My 2007 Penguin dictionary describes a curry comb as, "A metal comb with rows of teeth or serrated ridges, used to curry horses." Sounds pleasant. I'm sure every chestnut mare would love to see you advancing with that in your hand.
My Pony Club Manual from 1976 says, "The Rubber Curry Comb that is now on the market can be used most effectively on the horse…" This quote suggests that the rubber curry comb was a novel tool in which to groom your horse in the 70s. It also hints that perhaps we should use more capital letters in our day-to-day writing.
Why comb?
Cleary, the modern-day curry comb is neither brush nor comb, but if we think back to that metal contraption, it was more of a comb than a brush. Brushes have bristles, not rows of serrated teeth, while combs, according to my faithful dictionary, are a "toothed instrument." The name "curry comb" was a direct transfer from the metal version to the rubber and those rubber knobbly bits resemble teeth more than bristles, which is why it remains, forever and always, a curry comb.
Curry favor
My mom was the queen of clichés and in turn, so am I. The excessive use of clichés in the Berry household is probably what sparked my interest in the origin of things as they are generally kind of odd. To curry favor is a classic idiom and one that I use often.
If you give your horse copious amounts of treats before you get on in the hopes he won't buck you off, you are currying favor. It means to gain favor by way of flattery or attention or in our case, horse treats.
What does curry favor have to do with horses, other than the word curry? Everything, as usual.
In the 14th century, a man by the name of Gervais du Bus wrote a an exceedingly long poem called Roman de Fauvel. It's a satirical allegory riddled with symbolism mocking society and those that have an insatiable need for power and influence no matter the consequence. It was the direction du Bus saw France heading after the death of King Philip IV in 1314.
A super brief synopsis
Roman de Fauvel has more than 5,000 verses, so we'll just glaze over the ins and outs of it all.
A chestnut horse name Fauvel grows tired of his stable and moves into his master's house. Over time he makes his way to the top floor and has the place remodeled to better suit his needs. He soon gains power, not only over the house, but also the surrounding area. Leaders of the church, monarchs, rulers and other such high-ranking members of society make pilgrimages to see Fauvel. Together they care for him, making sure his every whim is met and keeping him well-groomed, shiny and clean. Fauvel is so powerful and such a tyrant that his care, specifically his grooming, is done not so much out of the kindness of anyone's heart, but rather to keep on his good side. They were, currying Fauvel.
Skipping to the end.
Things take a bit of a downward turn as Fauvel grows more beastly over time and morphs into a man with the head of a horse. He is a devote follower of the Antichrist and destined to father children as powerful as he, and they will eventually destroy the world.
Fauvel to Favor
In medieval France, chestnut horses were often used as metaphors in fables to symbolize cunning and deceit, so when we learn that favel in Old French means flattery, guile and deception things start to fall into place, but if we add that fauvel in Old French was a dun or fallow color we know why du Bus named the chestnut horse Fauvel.
I could go on about the name/word fauvel, and its relations, but shall refrain from boring the pants off you. But, if you are into symbolism or you have an essay to write for your English class that focuses on symbolism, might I suggest Roman de Fauvel as your subject matter.
Over the years, as is always the case, we've morphed the name Fauvel into favor.
Roman de Fauvel today
Originally, the poem came in two volumes and had 3,280 verses but in 1318, a fellow by the name of Chaillou de Pesstain decided to add a further 1,800 verses to the poem as well as 169 musical items and 77 images.
Today, Roman de Fauvel is beautifully bound into a single, though substantial, volume and kept at the Bibliothèque Nationale in Paris as one of France's greatest treasures.
Conclusion
That is a lot of work for a two-word phrase. Next time I want to write about clichés I'll watch Casablanca.
Sources:
Etymonline: Curry
Interlude: Roman de Fauvel: Straight from the Horse's Mouth
By Ruthann Smith
© 2011, Ruthann Smith, All rights reserved.
Originally Published in Gypsy Horse Journal
Currying is one of the best things you can do to assess and promote your Gypsy horse's wellbeing. Benefits even ripple into preventative measures. So, let's consider why and how currying should to be pivotal to your daily routine, especially during wet and cold months.
Listen
Currying is listening. It is a platform for your horse to tell you what hurts. While currying, notice if your horse looks at the area you are working on or flinches. It's your flag. There is likely discomfort, which gives you an opportunity. If you catch heat, soreness, swelling, or a cut early, you can save lots of time and money. Addressing those conditions are much easier and have less impact than if they continue to get exasperated, requiring a veterinarian for lameness or infection.
Promote
Currying is not just a way to loosen mud before a thorough brushing. It promotes soundness, good muscle tone and comfort. Done properly, currying increases circulation. Bringing blood into the muscles allows it to carry out toxins, including lactic acid. This natural byproduct of anaerobic exercise makes muscles sore. Stiffness can lead to injury. Currying helps move toxins out of muscles to promote suppleness. Currying also stimulates natural protective oils, while exfoliating dead skin to release them. This not only increases shine, but also aids the coat in repelling water. By boosting the horse's natural defenses, currying helps the animal stay drier and warmer. Natural oils leave skin more resistant as well. It is less apt to get irritated, skin disease or scurf.
The soft nubbed curry exfoliates and pulls dirt away from the skin.
Prescribe
Choose a curry that is not too gel-like. You want to get through all that hair to the skin. How you use the currycomb is most important. Repeat a circular motion, always in the direction the hair grows. Lean into it. Your power comes from your back, not your arm or wrist. Just pushing hair around does nothing. Pressure and rhythm do wonders. The process should be relaxed, yet vigorous. It puts me out of breath. At Top Turnout Clinics, people are often astounded to realize what great exercise a good currying can be. Use it to loosen yourself up as well as your mount.
The nubbed curry does a good job pulling impurities away from the skin. Whichever style curry comb you choose, the important thing is that you use it often and with elbow grease. For thick, wooly coats, the deep curry works well. Remember, circle in the direction of hair growth… not against the grain. Smaller circles are well suited to longer hair
The deeper curry is great for winter coats and gypsy horses' legs.
Start gently. Get the blood into the muscles before massaging them. If your horse is not used to vigorous currying, work up to more pressure and time every day. Just like a deep muscle massage can make you sore, don't do too much at once if your horse is not accustomed. Once he is, the more the better.
On bony areas of the face, legs and shins, use a rubber mitt or curry gently. Avoid currying heels, they warrant softer treatment. However, be sure to keep them clean and dry to avoid scratches.
Comb feather when it is clean and wet. On a daily basis, be sure to feel the legs for heat and cuts. Pick hooves and check for heat at the same time.
It is best to curry well before and after work, on a daily basis. This assures both you and your charge's muscles will be warmed up. After riding or driving, it will help move lactic acid and other toxins out of muscles. Good circulation is key to soundness. Finish with a medium brush, then a soft brush. I like to really catch a strong rhythm, using a brush in each hand. Putting your horse to bed clean also makes it easier to keep him clean. Otherwise, salt from sweat parches the coat, leaving the skin prone to irritation and disease, while the hair attracts more dirt. Plus, the well-groomed coat is finer. So, everything feels better and is more resilient!
Benefit
Your currycomb is a silent giant. It is a simple yet powerful tool help your horse be: protected against the elements, free of skin disease, gorgeous, and sound. All the while, currying can reduce your costs and improve your fitness. So, curry, curry, curry, and enjoy.
Ruthann Smith has spent a lifetime studying sound horsemanship- both as a groom for top international horses and as a renowned braider. Quietly twisting manes atop a ladder, she watched and learned in some of the best stables in the world.
As her passion for great grooming grew, Ruthann became focused on researching, collecting and sharing the best practices of the world's keenest horsemen. Ultimately, Ruthann used her vast experience to develop exceptional equine grooming products to help raise the bar of horsemanship.
The knowledge she dispenses and the products Ruthann developed solve age-old grooming issues. Making quality horse care easier, they have received the highest honors in the equine industry*. Her Lucky Braids for Top Turnout coat care and braiding products are the best, most versatile, cost-effective and easiest solutions available on the market today.
Now Ruthann offers her LOVE, LOVE Guarantee. If not totally thrilled with a product she developed, Ruthann will refund you in full, regardless of where you purchased it.
It's her life's mission to empower horses by educating, motivating and equipping their people to be true horsemen. You can access Ruthann's tips at: The Grooming Resource on LuckyBraids.com, Facebook, Instagram, Twitter, Pinterest and her Horsemanship Clinics.
*After testing 350 products, Lucky Braids All-In-One Horse Shampoo was named product of the year by Horse Journal, the "Consumer Reports" of the industry. They also named Lucky Braids Shampoo and Top Pick for greys and whites. Lucky Braids specialized braiding yarn also got stellar reviews.
The sharp teeth on currycombs are designed to get deep into the horse's coat, pulling dander and loose hair to the surface. Not only does the currycomb remove dirt and shedding hair, it stimulates production of the natural oils in the horse's skin, which provide a glossy shine. For best results, curry before and after every ride.
Best Over All
Decker Shedder Scraper 22-SS
Currycomb and Sweat Scraper Combination
Top-notch tool for scraping sweat and currying your horse.
What We Liked:
This 24-inch currycomb can be used in a loop by squeezing the handles together or use it open to cover more surface area. One side of this currycomb has regular teeth for removing dirt and hair while the other side is smooth for removing water or sweat. Buy Now.
Best for Mud Removal
Tough 1 Great Grips 3 Blade Curry
Easy-to-Hold Curry for Mud Removal
Easily remove caked-on mud from your horse.
What We Liked:
This currycomb has three shedding blades that allow you to curry your horse faster and more efficiently. Not only does this currycomb have a soft handle, it is also available in a variety of color options. Get Yours Today.
Best Comfort
Weaver Leather Fine Curry Comb
Great for Long Grooming Sessions
Easy to hold in your palm for hours of grooming.
What We Liked:
The palm-held design with a handle allows you to comfortably hold the curry multiple ways: in your palm sideways, in your palm with the handle between your fingers, or just by the handle. The small, rubber bristles offer a different feel than metal currycombs. These bristles work up loose hair, dirt, and dander from your horse's skin. Purchase Now.
Best Budget-Friendly
Roma Glitter Curry Comb
Affordable, Classic Design
The classic currycomb everyone should have.
What We Liked:
This small currycomb fits perfectly in your hand and is easy to hold with a wide strap. Its small size also makes this currycomb great for children learning how to properly groom horses. Made from durable material, this affordable currycomb will last for years before you'll need to replace it. Available On Amazon.
A curry comb is a type of specialized horse comb. It's primarily used to remove mud and dirt that's dried right into the coat of the horse. Three options are available: plastic, rubber, and metal. The plastic and rubber versions are safe to use on a regular basis, but the metal comb should only be used under special circumstances.
One unique feature of the curry comb is that it has a handle that slides over the hand of the groomer to keep it secure during brushing. This gives the groomer a better grip and allows for a more thorough cleaning job. The average curry comb is about the size of a person's hand and is generally round or oval, but they also come in rectangular forms. On the face of the comb are multiple rows of short teeth. During brushing, these teeth work their way into the coat of the horse and help dislodge any dirt and debris that's present.
The curry comb is normally the first comb that a groomer picks up during a daily grooming session. It's typically used by brushing the coat in a circular motion until all of the embedded dirt and debris are lifted and released. This type of grooming is also healthy for the horse because the circular motions help stimulate the skin and promote the release of natural oils. The horse needs these natural oils to keep its skin moisturized and protect it from injuries and infections. This is why daily grooming is always recommended for horses.
When choosing which type of comb to use, keep in mind that it's safe for a groomer to use a plastic or rubber curry comb on a horse daily. All parts of the horse can be brushed with this type of comb, except the legs and head. The skin on these parts is too sensitive for the average curry comb, but special, softer combs can be purchased for this task. The metal version is never recommended to be used directly on the coat of a horse because it is considered too rough and can cause damage to the hair and skin. Metal combs are generally used to clean out other brushes and to work on small trouble spots on the horse's coat when other combs aren't effective.
Round Metal Curry Groomer
Large Rubber Curry Comb
Magnetic Massage Brush
Flexible Large Rubber Curry Comb
Rubber Curry Brush, Small
Large Adjustable Curry Comb
Western curry comb metal w/ handle
Large Adjustable Curry Comb
Steel Curry Comb
Small Flexible Transparent Curry Comb
Sprenger Curry comb rubber, large
Square Metal Curry Groomer
Curry comb, reversable
"New Generation" soft curry comb
Metal Shedder / Curry
"The Good" curry comb
Buy Curry Comby at horze.eu
Free shipping from 199€ Many payment methods & purchase on account Free returns Free customer service & chat
Curry combs for horses – massage and grooming in one
There are many different curry combs for horses, which perform similar functions and should not be missing from your grooming box:
The classic rubber curry comb has soft prongs and is moved over the horse's body in circular movements. In this way you loosen dust, dander and loose fur and at the same time provide a pleasant massage for your four-legged friend. The soft rubber makes the brush fit comfortably in your hand and the integrated hand strap ensures a firm grip.
The needle curry comb (also called plastic curry comb) has a surface with countless small plastic needles (don't worry, they are not pointed!). Similar to the rubber curry comb, you use the needle curry comb to loosen dirt from the horse's coat, which you then brush off with a brush.
The spiral curry comb is used when your horse has mud crusts or a thick winter coat in which dirt gets stuck and is difficult to remove. The metal rings are serrated to get even the most stubborn dried mud out of the coat. On the body, the spiral curry comb is comfortable for most horses, even if you press harder. On the legs, on the other hand, you should remove the mud very carefully with the spiral curry comb, because tendons, ligaments and joints are close to the surface here. By the way: you can use both sides of the metal rings of the spiral curry comb – one side is for the summer coat and the other for the winter coat!
The metal curry comb, which is also available in a plastic version, consists of several ovals laid one inside the other, just like the rubber curry comb. However, the metal curry comb does not have serrations, but the edges of the ovals are wavy. Like the rubber curry comb, this curry comb can also be used to massage loose fur and dust out of the coat. However, it is best suited for brushing out the grooming brush. After a few strokes with the body brush, you simply run it along the plastic/metal curry comb and thus move the dirt and dust out of the brush into the curry comb. You can simply tap it out and both will be clean again.
Home
Mary's Blog
A Step-by-Step Horse Grooming Guide
Posted by Mary's Tack & Feed on 26th Feb 2021
A Step-by-Step Horse Grooming Guide
This step-by-step guide on how to groom a horse for beginners is easy-to-follow, making it perfect for novice riders or new horse owners who want a simple grooming plan laid out for them.
By routinely grooming your horse you will learn a lot about your horse. In no time you'll know the difference between a bump that is normal and a bump that is new. You'll remember to scratch all their favorite itchy spots and get to know what kind of mood your horse is in from day to day. During grooming, you can also spot-check for any physical issues that might affect your animal's health and how it will perform during a ride.
Here's our step-by-step guide on how to groom a horse properly:
1. Secure Your Horse for Grooming
Step one for horse grooming at home is to secure your horse before you begin. You don't want your animal strolling away or moving around excessively. The best way to secure your horse is using a quick-release knot on the lead rope and tying it off or using crossties. If there's no obvious place to tie your horse, have a trusted helper firmly hang onto the horse by its rope.
2. Remove Dust, Dirt and Mud: The Curry Comb
The first tool you'll employ is a curry comb. Brush the rubber curry comb in circular motions to remove dust, dirt and mud. Begin with the neck and work your way down the body to break apart patches of dirt and mud. Curry comb brushing will also give your horse a much-appreciated "scratching" in all of those itchy places the horse can't reach. It's important to note that curry combs, in most instances, should not be used on sensitive areas, especially around the face and legs.
3. Remove Residual Dust, Dirt and Mud: The Hard Brush
To take the cleaning a step further, after you've loosened up the caked-on mud with a curry comb, employ a hard brush. A hard, stiff brush will remove the dislodged dirt the curry comb pulled to the surface of the coat. Brush along the coat in the same manner you did with the curry brush, but with shorter, firmer strokes. You should also avoid using the brush on sensitive areas like the face, although if you apply an exceptionally soft, light-handed technique, you can gently brush around your horse's legs.
4. How to Use a Soft Brush on Your Horse
A soft brush is the horse-grooming tool for sensitive areas. The soft bristles can be used on the face, legs, spine and other sensitive spots that require a gentler touch. Brush in the direction the coat grows rather than against it. Smaller soft brushes can be used for the face, while larger ones can be brushed along the body.
5. Pick Out the Hooves
Pay attention to your horse's hooves. By picking out the hooves daily, you'll help keep your horse in good health and catch problems early. Stand next to the leg you'll be working on. Slide your hand down the leg. If the horse doesn't raise its hoof, gently pinch the leg (just above the pastern) to get the horse to lift its leg, giving you access to the hoof.
Once the hoof is up and in hand, take your hoof pick and scrape outward from the heel corners, working your way toward the toe. Never pick or dig into the triangular frog of the hoof.
6. Cleaning the Head and Face
You can clean around ultra-sensitive areas on your horse with a clean damp cloth or sponge. These spots include the eyes, nose and around the dock, or underside, of the tail. Separate washcloths should be used for the face and dock area.
7. Brushing the Mane
Periodically brush out your horse's mane and tail with a wide-tooth mane and tail brush or comb. Gently work out any kinks and knots in the mane or tail with your fingers before brushing. Begin at the bottom with your brush and work your way upward to complete the whole tail. When working on the tail, keep a hand on your horse's body, so it knows where you are – and never stand directly behind your animal. Detangling sprays and conditioners can help remove knots gently.
Why Groom Your Horse?
It's important you know how to groom a horse properly, as well as how tack up a horse. Consistent grooming practices will help you get to know your animal better, adding depth to that special human and horse bond.
Learning how to tack and groom a horse will also help maintain coat health by increasing circulation, along with distributing skin oil for a shinier coat. By choosing the right grooming tools – which will make your job is easier – you can spot otherwise hidden injuries and skin conditions that may require treatment. A clean horse also reduces the amount of dirt that rubs off on tack. Ultimately, working out how to tack and groom a horse lets you grow closer to your four-legged ward, while boosting your horse's health and well-being at the same time.
How to use a curry comb on a horse?
What would a curry comb be used for? A curry comb is a type of horse grooming brush that removes hair, dandruff, and sweat from a horse's body. It also loosens caked-on mud and dirt. Curry combing your horse is an important part of grooming your horse and maintaining its health and well-being.
What is a horse curry comb? Currycomb: A rubber or plastic tool with short "teeth" on one side that slips over the groom's hand. It is usually the first tool used in daily grooming. The horse is rubbed or "curried" to help loosen dirt, hair and other detritus, in addition to stimulating the skin to produce natural oils.
When brushing a horse's tail, do you start from the top and bottom? Comb the mane and tail
Start at the bottom of the locks and brush downward in sections until you can comb the entire mane from top to bottom. When doing this, gently pull the tail towards you while standing to one side. And watch out in case your horse kicks!
How to Use a Curry Comb on a Horse – Related Questions
Why is it called curry comb?
From the late 13th century, the Anglo-French word curreier comes from the English word curry, which means to rub a horse. The Oxford English Dictionary cites a phrase from 1398 as "coryed wyth an horse combe". So, logically, a comb used to curry a horse could be called a curry-comb.
What does a soft brush do for horses?
The bristles are super soft, like a face brush, and are usually made from natural bristles. The soft bristles help the natural oils glide along the coat and smooth everything out. The finishing brush also removes any dust that may have accumulated after you have finished your brushing.
What moves do you make with a rubber curry comb?
With a rubber curry comb, use a circular motion to loosen mud, dirt, sweat, hair and dandruff (the grayish guck made of skin oil, dandruff and dust that accumulates on the brush). This helps prepare the coat for the brushes to come.
Can I use a horse curry comb on a dog?
2. The FURminator(R) Curry Comb is gentle enough to use even on dogs with sensitive skin. Use the tool for a few minutes each session to remove excess hair and debris, break up mats, tangles and help keep your pet looking their best.
What is the oldest horse breed in the world?
The Icelandic horse
With a lineage dating back at least 10,000 years, the Icelandic is widely considered to be the oldest horse breed in the world.
Do horses like to be brushed?
Body brushing, mane combing and hoof picking are not particularly pleasant for many horses and can even be stressful, uncomfortable or painful. Some horses begin to anticipate grooming and become anxious and avoidant even before the session begins, and other horses are aggressive when groomed.
Can you use a curry comb on a cat?
"And grooming is a great way to bond with your cat." For a short-haired cat, Silcox-Rither advises starting with a rubber cat brush (like a curry comb). Taking it in your hand, you massage the cat's coat in light circular movements.
How to use a goat's comb on a curry?
Use the stiff brush to remove surface mud and dirt, then use the curry comb to remove less obvious soil. A vigorous curry not only brings dirt to the surface, but acts as a gentle massage. Finish with the soft brush, which also helps distribute the oils throughout his coat.
What is a cat curry brush?
Product Description. The Four Paws Kitty Rubber Curry Brush is excellent for removing dead hair from a cat's or kitten's coat. With regular use, our Curry Brush helps remove hairballs.
How often should a ponytail be washed?
To promote growth, the tail should be kept clean, but that doesn't mean over-washing. To promote growth, the tail should be kept clean, but that doesn't mean over-washing. Palm suggests shampooing the tail weekly for the first month, then going once every two weeks.
How do I grow my horse's tail?
To stimulate healthy tail growth, brush the dock of your horse's tail daily with a dandy brush. This will loosen and remove dirt and dander, which can cause your horse to itch. Brushing the tailbone and upper part of the tailbone also increases blood flow, which stimulates growth and promotes healthy ponytails.
Should I braid my horse's tail?
This can cut off your horse's blood circulation.
If you wrap and braid your beloved mare's tail too tightly, you risk cutting off her circulation. The results of poor blood circulation can include a host of health risks, including decreased body temperature and a lower ability to fight infections.
Why do we groom a horse?
It has benefits for you and your horse – it helps you stay fit and it's good for your horse's skin. Basic grooming involves brushing the entire body in the direction of hair growth to remove mud and dust, plucking the feet, and tidying the mane and tail with a brush.
What does Currycomb mean?
: comb made up of rows of metal teeth or serrated ribs and used in particular to curry horses.
How often should horses be groomed?
Encourage a bond with your horse while grooming. Taking care of your horse's coat, hooves and coat allows you to check for any injuries or irritations. Ideally, grooming should take place daily, but it's a must before riding.
What is the foot pick used for?
Hoof tools and hoof care
Horse hoof picks are used to remove dirt, mud or stones from the sole and sensitive frog of the hoof.
Do goats need to be brushed?
Regular brushing is the most important part of grooming a goat. At a minimum, brush goats in late spring or early summer when they are shedding or shedding the undercoat that kept them warm in the winter. Use a grooming brush with firm bristles such as you can get at any feed store or livestock supply catalog.
What is a dog undercoat rake?
Undercoat rakes for dogs have specially designed tines that remove dead hair and falling undercoat while leaving the topcoat intact. Using an undercoat rake before or during bathing usually helps reduce shedding so you can keep those hairs contained.
What is a Deshedding Tool?
Here are some of these detangling tools: Wide-tooth combs: Usually plastic or metal, with widely spaced teeth. Slicker brushes: Often rectangular-headed, these brushes have fine metal teeth. Bladed metal combs on a handle: Newer pet detangling tools, such as the FurBuster or the Furminator.
Which breed of horse is the smartest?
The Arabian horse breed is the smartest of the whole lot and the fastest in the universe. They don't need to learn a trick twice before taking it. They have strong feet and are very healthy with the ability to learn any riding discipline.
Why does my horse hate being brushed?
Some horses hate grooming because it's too scary, too soft, too hard, too dull, or boring. Knowing what Horsenality™ the horse is will give you major clues on how to make your grooming sessions less stressful and build your relationship: Left Brain Extrovert – Grooming is all about fun and should be vigorous!
There are some benefits to grooming a horse. First off it's a great time to bond with your horse between horseback riding lessons, secondly your horse looks obviously really good when you're done grooming her. It's a great way to be able to check for wounds or injuries on your horse because usually you won't be able to see it from the surface but you can feel it when you're grooming them.
Also when you groom your horse there's this oil in their coat called sebum and so when you groom them and distribute the oil throughout the coat sebum waterproofs as well as shines your horse's coat which is really good for your horse.
Grooming your horse also helps improve their circulation.
To start off with grooming your horse you can use a curry comb. There are different types of curry combs. The first one is fine curry comb such as Oster Fine Curry for sensitive areas on the horse's body or similar. The fine curry comb has very soft bristles, they're bendable. This comb is for sensitive horse's skin. You can use fine curry comb on such sensitive spots as your horse's belly, their legs and face.
The second curry comb some people use is Jelly scrubber. On one side there's a soft rubber bristles and on another side it has these hard little knobby things. This is not my favorite but I have it in my collection and use it sometimes.
The third type is actually a very common curry comb. You put your hand in there and it has oval shape with little rows of bristles.
I usually use curry comb in a circular motion on my horse's body. It is best if you use the curry comb in a counter clockwise circular motion instead of clockwise because it just seems to get the dirt out better.
You can use the curry comb on your horse's neck, body, and hindquarters.
After the curry comb I use the dandy brush or a hard bristle brush. So this brush is pretty much hard bristles. This brush is used to get off the larger particles of dirt after you finish currying your horse.
The dandy brush is supposed to brush away the bigger particles of dirt that the curry brought to the surface. Use swift short strokes to really push the dirt out.
After you're done using the Dandy brush grab a body brush. The regular body brush has a little bit softer bristles than the Dandy brush but not quite like a soft brush. I recommend getting your brush with soft grip because it's not only fun to hold but the bristles are quite soft but not too soft so you can use it on your horse's legs as well.
The next brush I use is the soft brush. This brush you can use on your horse's face if you don't have a separate face brush. This brush has such fine bristles that it's used to get like super almost microscopic particles out of your horse's coat.
I have to mention another useful comb which is a metal curry comb. You can run it on the bristles of your soft brush to get the dirt out. And it cleans it off.
The next thing you wanna do is to clean your horse's face. You can use a face brush by Wahl or similar brush with soft bristles.
To finish up her coat I take an old t-shirt and dip it in water, wring it out and go over her whole body with it. This helps get all the dust that's been left behind or anything like that out of her coat. And also it makes it look really shiny.
Before I move on to her hooves, her mane and tale, I usually spray off her body with absorbing Ultra shield red.
After I spray her off I'm gonna pick up her feet. There's pretty much like two different hoof pick options: vinyl hoof pick which costs like 98 cents in a catalog and hoof pick with the handle. It has a tough picker and also a small brush. I recommend getting this one because it is more effective than the first one.
So to ask for your horse's foot you're just going to run your hand down their leg and gently squeeze just above the hoof. If you're not having a success though with picking up your leg there's chestnut (also known as a night eye) on her leg. You just gently squeeze on it and their reflexes lift their foot up.
Take your hoof pick and brush it out and pick along the side. You want to avoid a sensitive part of the hoof like a v shape in the middle of the hoof. Go down the corner like the edges of the v shape (called a frog), and pick on the bars.
It's really important to pick out your horse's feet at least once a day because if you ignore their feet they can grow a bacterial infection called thrush which can cause rotting odor emanating from the underside of a hoof. The responsible bacterium, Spherophorus neaophorus, eats away at the tissues of the frog, leaving a blackish ooze on the surface.
So take care of your horse's feet and the horse's feet will take care of you.
The next step is to take the D-Tangler or similar product which is basically the care for your horse's mane and tail with conditioning spray for a smooth, shiny tangle-free finish, and spread it all over her mane.
Then I just take my Oster Equine Care Series brush out and gently comb out her mane starting at the tips and make your way up to the root.
So I hope now you know the basics of how to groom your horse. As you can see it's not hard and everyone can do it.
This product is currently unavailable for your region
Please select a size
Store Availability
This curry comb has been designed for brushing dirt off your horse's coat during grooming.
Useful & enjoyable: cleans & massages your horse or pony.Flexible material suitable for sensitive horses or ponies. Ergonomic shape and central strap for good hand hold!
BENEFITS
TECHNICAL INFORMATION
VIDEOS
REVIEWS
BENEFITS
Ease of use
Ergonomic grip
TECHNICAL INFORMATIONS
Dimensions: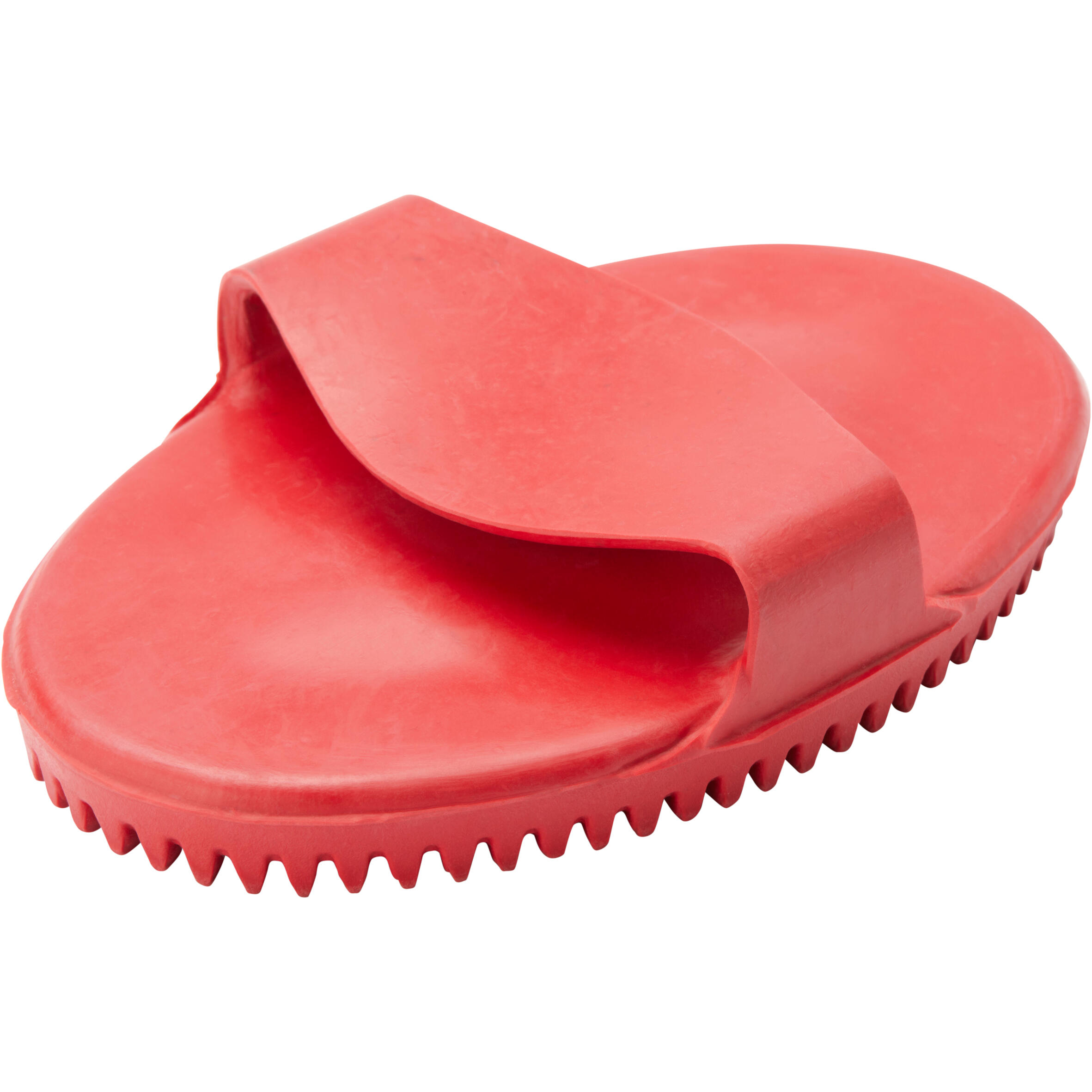 This curry comb has been designed for brushing dirt off your horse's coat during grooming.
Useful & enjoyable: cleans & massages your horse or pony.Flexible material suitable for sensitive horses or ponies. Ergonomic shape and central strap for good hand hold!
More than 80 sports
At Decathlon we've been firm believers in the benefits of sports since 1976.
Free In-Store Pick-up
We offer free shipping on all online orders that customer pick up from our stores.
365 returns
All our products come with a 365 days returns policy.
Home Delivery
Shipping across Lithuania for all our products!
Our company
Legal information
Legal information
Bendrosios naudojimosi sąlygos
Bendrosios pardavimo sąlygos
Data and Cookie policy
Product recall
Decathlon members
Delivery
Return in 365 days
2 year warranty
Contact us
Vilniaus parduotuvė
We recommend
Dirbtuvės
Decathlon paskyros privalumai
Dydžių lentelė
Decathlon sport leaders
Cookies configuration
Functionality / preference / personalisation cookies: These cookies enable our site to provide enhanced functionality and personalisation. They may be set by Decathlon or by our partners. Some features of the website will not function without these cookies. They enable you to visit the website in a personalised way based on your previous visits and purchases, etc. These cookies enable you to quickly find the best offers corresponding to your interests. Performance / statistics / analytics cookies: These cookies collect information about how you use our site, like which pages you visited and which links you clicked on. They may be set by Decathlon or by our partners. None of this information can be used to identify you. It is all aggregated and, therefore, anonymised. Its purpose is to improve website function. Marketing and advertising cookies: These cookies track your online activity to help advertisers deliver more relevant advertising or to limit how many times you see an ad. They may be set by Decathlon or by our partners. These cookies may enable you to receive offers from Decathlon.
These cookies are necessary for the basic functioning of our site, for example cookies that allow the site to hold your items in your cart while you are online shopping and cookies that are essential for the webpage you want to view to load.
If you're new to horses, the amount of grooming brushes and gadgets seems insane. There's something for everything; soft brushes, hard brushes, brushes for legs, brushes for faces, brushes for manes. And that doesn't even touch on things like shampoos, shine spray, and the new tools which make the grooming job a bit easier.
Luckily, we're here to demystify grooming for you. Though your horse's grooming needs will vary a bit depending on where you live and what their turnout conditions are like, this is a good basic step by step process.
Once you've got this sorted and you can do it with no problems, you can start to add in extra steps or products for daily care or even shows.
So, here's what you need to know about the step-by-step process to grooming a horse. Generally, it's easiest to start at the hooves and then go to the body. That way, you know you haven't missed anything out.
Step 1: Secure Your Horse
Make sure your horse is tied or stabled somewhere securely. This stops them moving around and means you can focus on grooming whilst keeping both of you safe.
Step 2: Start with the Feet
Pick your horse's hooves using a hoof pick. This is very important as stones and bruises can cause lameness. In fact, you should always pick your horse's feet before you ride, even if they've had a full grooming earlier in the day.
Start at the back of the foot and use the hoof pick in a firm but smooth motion towards the toe. Remember to clean out the deep V-shaped grooves on either side of the frog. Here is a helpful video if you're not sure how to pick hooves.
Step 3: Curry, Curry, Curry
Now that the hooves are done, it's time to tackle your horse's body. The first brush you are going to use is the curry comb. This is for loosening mud, dirt, and hair.
To use the curry comb properly, firmly rub it in small circular motion all over your horse's body and neck. You want to work in the opposite direction to the horse's hair. Beware that your arm will probably get tired if your horse is very dirty or you're not used to the motion yet. As you go, you'll notice plenty of dirt and dust building up on your horse's coat. That's good! We'll tackle it after this step.
You can use the curry comb on the horse's mane and legs, as long as you have a rubber curry comb. But remember to be very gentle over bony areas so that you don't hurt your horse.
Step 4: Hard Brush to the Rescue
Once the dirt has been loosened by the curry comb, the "beautifying" process begins. The really difficult work is over now, and it becomes easier to groom your horse from this step onwards.
The next brush you'll need is a hard brush. In some places, this is also called a dandy brush. The bristles will be fairly stiff rather than soft and flimsy. This brush is used to remove dust and sweat from your horse's coat.
Work in long, firm strokes from the neck or shoulder towards the horse's flank, going with the direction of the hair. You want to "flick" the worst of the dirt and dust off now that it's been loosened up and worked out of the coat.
Because dandy brushes or hard brushes have firm bristles, you shouldn't use them on your horse's leg or face. These areas are too sensitive for hard brushes like this, and can make your horse uncomfortable.
Step 5: Finishing Off
The end is in sight! Next, you'll want to go for the soft brush, also known as a body brush. I know it sounds strange seeing as almost all the brushes are for the horse's body, but there we go…
This one looks almost exactly like a dandy brush, but has lovely soft bristles for finishing everything off and getting your horse shiny and soft. Use long, gentle strokes to get your horse's coat ready for all-day cuddles and kisses, and to remove any last flecks of dirt. You can also use this brush (gently) on the legs, and to brush out the mane and tail.
Step 6: Cleaning the Face
Of course, you haven't been able to fully clean your horse's face up until now. Most horses don't appreciate having their faces brushed, which is understandable.
To finish off, you'll want to clean your horse's face with a cloth or sponge. Make it damp, and gently use it to wipe your horse's nose, eyes, and around the ears. While you're at it, use a separate sponge to wipe under the tail too. Go gently!
You can use a special face brush to finish the look.
Other Things to Remember
This is a good way to get a hang of the basics of grooming a horse. And in most cases, it will serve you well. There are one or two cases in which you might want to change or add to the routine, however.
For instance, there are lots of effective new tools like grooming gloves or mitts, tail brushes, and grooming blocks. You don't have to use these, but as you get familiar with the process, you might find some of this equipment makes your life a little bit easier. But you should still know the "old-fashioned" way, too!
It's also good to remember if the horse is very dirty, it might be less work all around to skip the curry comb and go straight to the bath. That way you can get all the dirt, mud, or grease off before drying them off and continuing with the rest of the grooming process. In most cases though, a good curry comb will be sufficient.
In summer, you'll also need to finish off with a good fly spray to keep the pesky insects and flies away from your horse. And in winter, you'll likely need to spend more time with the curry comb to get any dried mud off your horse.
And if recommended by the farrier, you may also want to finish your horse's grooming with a coat of hoof oil.
Conclusion
We've all made silly mistakes when learning to groom. But luckily now you know the basics, there's no need for funny mane trims or wondering which brush does what. If you're already an expert, do you have a favorite grooming gadget you think everyone should know about? Tell us in the comments.
Sophie Baker
Sophie is a freelance writer and full-time Marketer currently living in South Africa. She's a competitive Dressage and Showjumping rider and owns the world's gangliest Warmblood.
When she isn't riding, writing, or working, you'll find her watching reruns of Masterchef Australia or being a little too ambitious in the kitchen.
The Spruce / Meg MacDonald
Working Time: 30 mins – 1 hr
Total Time: 30 mins – 1 hr
Encourage a bond with your horse while grooming. Taking care of your horse's coat, hooves and hair provides an opportunity for you to check for injuries or irritations. Ideally, grooming should occur daily, but it's a must before riding. Grit beneath the saddle or girth or cinch will be uncomfortable for your horse and could cause saddle or girth sores.
Preparing to Groom Your Horse
Gather and arrange your grooming tools in a convenient, safe place. A wide bucket may be cheapest and easiest to put your brushes in, although there are lots of grooming boxes on the market that keep your tools organized and handy.
Don't sit your bucket or box too close to your horse where he could knock it over, or where you might trip over it as you move around your horse. Tie the horse securely and safely with cross ties or with a quick-release knot.
What You'll Need
Equipment / Tools
Curry comb or grooming mitt
Body brush with fairly stiff bristles
Mane and tail comb (plastic causes less breakage than metal)
Fine soft bristled finishing brush
Hoof pick
Scissors or clippers (optional)
Materials
Clean sponge or soft cloth
Grooming spray (optional)
Hoof ointment if recommended by your farrier (optional)
Instructions
" data-caption="" data-expand="300″ data-tracking-container="true" />
The Spruce / Meg MacDonald
Clean Your Horse's or Pony's Hooves
Slide your hand down the left foreleg. Squeeze the back of the leg along the tendons just above the pastern and say "up," "hoof," or whatever word your horse responds to.
Hold the hoof and with the hoof pick pry out any dirt, manure, or grit lodged in the frog or sole of the foot. Check for any injury and signs of thrush, grease heel, or other problems, and take note of any cracks in the wall of the hoof, so you can consult with your farrier as to what should be done. Gently place the foot back down on the ground and continue until all four feet are done.
" data-caption="" data-expand="300″ data-tracking-container="true" />
The Spruce / Meg MacDonald
Curry Your Horse or Pony
Starting on the left side, or "offside," use your curry comb or grooming mitt to loosen the dirt in your horse's coat. Remove any mud, grit, dust, and other debris before trying to put a real shine on your horse's coat.
Curry in circular sweeps all over the horse's body, but be careful over the bony areas of the shoulders, hips, and legs. Many horses are sensitive about having their bellies and between the back legs brushed (although some love it). If your horse reacts by laying back his ears or swishing his tail in agitation, he is telling you that the brushing is too vigorous.
While currying, look for any skin lesions or wounds. If you find anything, assess the injury to decide if you want to treat it yourself or if you need a vet.
" data-caption="" data-expand="300″ data-tracking-container="true" />
The Spruce / Meg MacDonald
Comb out the Tangles
A flowing, shiny mane and tail are a joy to behold. Get that full, healthy look by being gentle and patient as you groom your horse's mane or tail.
Start with a mane comb or brush at the bottom of the strands and brush downward in sections until you can smoothly comb from the top to the bottom. When brushing the tail, stand to one side and pull the tail gently over to you, making sure you are out of the way should the horse kick.
A grooming spray that detangles hair is nice to have, as it makes brushing out the long strands easier while cleaning, shining and protecting the hair. A grooming spray may also help prevent the hairs from tangling too much between groomings.
" data-caption="" data-expand="300″ data-tracking-container="true" />
The Spruce / Meg MacDonald
Use the Body Brush to Whisk Away Dirt
After currying the body to get rid of the coarser dirt, it's time to go to work with a body brush. This longer-bristled, stiff brush will get rid of what the curry comb missed.
With the body brush, whisk out the dirt brought to the surface. Start on one side and move around the horse brushing in sweeping strokes following the direction of the hair growth. Some people find the body brush is more useful for cleaning the legs than the curry comb. This is a good time to check for lesions and skin irritations on the legs, knees, and pasterns like small cuts and nick, or perhaps even problems like grease heel.
" data-caption="" data-expand="300″ data-tracking-container="true" />
The Spruce / Meg MacDonald
Use the Finishing Brush
A finishing brush, which has shorter, softer bristles, helps to bring out the shine on your horse's coat and can be used on your horse's or pony's face if you don't have a special brush just for that.
Gently whisk away dust from the broader areas on your horse's face, ears, and throat. With sweeping strokes, whisk away any dust missed by the body brush. The finer bristles help smooth out the body hair and leave your horse looking more finished and glossy.
When you think you are done, apply a grooming spray. Depending on the type, these can provide sun protection and add shine to your horse's coat, but they aren't necessary.
If you plan to ride after grooming, you must be aware that some grooming products may make the hair slippery and could cause your saddle to shift. Try to avoid application to the saddle area.
" data-caption="" data-expand="300″ data-tracking-container="true" />
The Spruce / Meg MacDonald
Clean the Ears, Eyes, Muzzle, and Dock Area
So far, you have cleaned up your horse's body, mane, and tail—now it's time for detailing. With a damp sponge or soft cloth, wipe around the horse's eyes and muzzle and clean away any dirt or chaff. You may prefer a soft cloth, as it can be more easily laundered between uses.
At this point, check your horse's eyes. A bit of tearing at the corner of the eye is not uncommon, but take note of excess tearing, redness, or swelling. Eye infections need to be treated promptly.
Check ears for lodged seed heads or dirt. Some horses are fussy about having their ears handled, so go slowly and be careful not to pinch or pull hairs. Eventually, your horse may come to love having its ears groomed. When you are done with the face, use the cloth to wipe around the dock and tail head.
" data-caption="" data-expand="300″ data-tracking-container="true" />
As the winter is finally coming to an end and summer is at long last rearing its sunny head, we can actually start to think about making our horses look less like furry mud monsters and more like the sleek, elegant animal that they can (occasionally) act and look like!
First off – how do we get rid of the remaining winter coat. it just won't go!
Rubber curry combs are fantastic for getting some of that loose hair put as you can use it in a circular motion all over the horse's body. This will help loosen the hair and also start to lift some of that scurf that has been building up all winter
The Magic Brush is great for round two as it gets a bit deeper than the rubber curry comb. Use the Magic Brush on the body and legs brushing with the lay of the hair, you can use either a metal curry comb or another brush to clean the Magic Brush.
Next comes the dandy brush, this old school favourite is great for the longer hairs and legs to help remove grease and dirt from the skin. Use in the direction of the hair and don't use on any sensitive areas such as their face or stomach.
We would recommend that next you attack the mane – this way any dirt or hair that comes out you can brush off with the body brush.
So, starting with the mane, use a mane brush, such as the Sheldon Grippe brush to brush out any dirt. If your horse has a long mane or it is knotty give it a quick spray with some Canter Mane and Tail to help loosen the knots. Once you've brushed it through thoroughly (not forgetting the forelock) with the mane brush, give it another quick going over with the Magic Brush, this will help it lie flat it give it a lovely finish.
Once you've tackled the mane you might as well give the tail a brush with your Sheldon Grippee brush before finishing off with the body brush. Start by completely dousing the horse's tail in Canter Mane and Tail, then split into sections and brush each section at a time, working your way through the tail and using more Mane and Tail spray where needed! When you finish you should have a lovely soft, clean and knot free tail!
Lastly we need to get that dull coat gleaming again!
Finally to get that coat shining like it did last summer we need to give the horse one final sweep with the body brush. Body brushes are designed to remove the surface dust and grease and bring the natural oils to the surface which helps give your horses coat a natural shine. Start at the horses next and brush the whole body, using a metal or plastic curry comb to clean the brush as you go. Once you are satisfied with that use a face brush to get under the horses forelock and around his eyes and face.
Your horse should now look dazzlingly clean and more like the beautiful horse you remembered owning last summer!!
I hope you enjoyed our blog; let us know if you found it useful and if there is anything in particular you want us to blog about.
Next time we are going to talk about how to use a Smart Tails Thinner on your horse's mane and tail to get a pulled look without the discomfort of pulling!
Etsy предоставляет возможность прямой связи покупателей и продавцов со всего мира. Когда вы используете сервисы Etsy (мы будем называть etsy.com, Pattern by Etsy, наши мобильные приложения и другие сервисы нашими «Сервисами»), вы несете ответственность за соблюдение этой политики, независимо от вашего местоположения.
Эта политика является частью наших Условий использования. Используя любые наши Сервисы, вы соглашаетесь с этой политикой и нашими Условиями использования.
Как транснациональная компания из США, ведущая деятельность в других странах, Etsy должна соблюдать экономические санкции и торговые ограничения, включая введенные Управлением по контролю за иностранными активами (OFAC) Министерства финансов США. Это означает, что Etsy или кто-либо, пользующийся нашими Сервисами, не может участвовать в транзакциях, в которые вовлечены определенные люди, места или изделия из этих мест, указанные государственными органами, такими как OFAC, в дополнение к торговым санкциям, предусмотренным соответствующими законами и нормами.
Эта политика действует в отношении всех, кто использует наши Сервисы, независимо от их местоположения. Решение об ознакомлении с такими ограничениями остается за вами.
Например, эти ограничения в целом запрещают, кроме прочего, транзакции, в которых участвуют следующие стороны:
определенные географические регионы, такие как Иран, Крым, Куба, Северная Корея, Сирия, Россия, Беларусь, Донецкая Народная Республика («ДНР»), Луганская Народная Республика («ЛНР»), а также любые физические или юридические лица, ведущие деятельность или находящиеся на этих территориях;
физические или юридические лица, состоящие в санкционных списках, таких как Список лиц особых категорий и запрещенных лиц (SDN) или Список иностранных лиц, уклоняющихся от санкций (FSE) организации OFAC;
граждане Кубы независимо от их местоположения, не имеющие гражданства или вида на жительство за пределами Кубы; и
изделия, из Ирана, Крыма, Кубы и Северной Кореи, за исключением информационных материалов, таких как публикации, фильмы, постеры, грампластинки, фотографии, кассеты, компакт-диски и определенные произведения искусства.
Любые товары, услуги и технологические решения из ЛНР и ДНР за исключением информационных материалов и сельскохозяйственной продукции, в том числе продуктов питания для людей, семян сельскохозяйственных культур или удобрений.
Импорт в США следующей продукции российского происхождения: рыба, морепродукты, алмазы непромышленного назначения и любая другая продукция, согласно периодическим указаниям министра торговли США.
Экспорт из США либо гражданами США предметов роскоши и любых других товаров, согласно указаниям министра торговли США, любому лицу, находящемуся в России или Беларуси. Список и определение «предметов роскоши» приведены в «Дополнение № 5 к Разделу 746», опубликованном Федеральным реестром США.
Изделия, изготовленные за пределами США и попадающие под действие Закона о тарифах США и связанных с ним законов о запрещении принудительного труда.
Для защиты нашего сообщества и торговой площадки Etsy предпринимает меры для соблюдения режимов санкций. Например, Etsy запрещает участникам пользоваться своими аккаунтами в определенных географических регионах. Если у нас есть основания полагать, что вы управляете своей аккаунтом из места, находящегося под санкциями, например, любого из перечисленных выше санкционных мест, или иным образом нарушаете какие-либо экономические санкции или торговые ограничения, мы можем приостановить или прекратить использование вами наших Сервисов. Как правило, участникам не разрешается выставлять на продажу, покупать или продавать изделия из регионов, находящихся под санкциями. Сюда входят изделия, появившиеся ранее санкций, поскольку у нас нет возможности проверить, были ли они вывезены из запрещенного места. Etsy оставляет за собой право обращаться к продавцам с запросом предоставить дополнительную информацию, раскрыть страну происхождения изделия на странице товара или предпринять другие шаги для соблюдения обязательств. Мы можем отключить товары или отменить транзакции, представляющие опасность нарушения этой политики.
Кроме соблюдения требований OFAC и применимых местных законов, участникам Etsy следует иметь в виду, что другие страны могут вводить собственные торговые ограничения и что определенные изделия могут не допускаться к экспорту или импорту согласно международным законам. Когда в транзакции участвуют лица из разных стран, вам следует изучить законы любых соответствующих стран.
Наконец, участникам Etsy следует иметь в виду, что сторонние платежные системы, например PayPal, могут самостоятельно отслеживать транзакции на предмет соблюдения санкционных требований и могут блокировать транзакции в рамках собственных программ, обеспечивающих соблюдение требований. Etsy не имеет власти или контроля над процедурами независимого принятия решения в таких системах.
Экономические санкции и торговые ограничения могут применяться к порядку использования вами Сервисов и могут изменяться, поэтому участникам следует регулярно проверять источники информации о санкциях. За юридической консультацией обращайтесь к квалифицированному специалисту.
Вы можете прочитать эту политику на вашем языке, но помните, что версия этого документа на английском имеет преимущественную силу в отношении использования вами сервисов Etsy. Язык можно изменить в настройках аккаунта.
Etsy предоставляет возможность прямой связи покупателей и продавцов со всего мира. Когда вы используете сервисы Etsy (мы будем называть etsy.com, Pattern by Etsy, наши мобильные приложения и другие сервисы нашими «Сервисами»), вы несете ответственность за соблюдение этой политики, независимо от вашего местоположения.
Эта политика является частью наших Условий использования. Используя любые наши Сервисы, вы соглашаетесь с этой политикой и нашими Условиями использования.
Как транснациональная компания из США, ведущая деятельность в других странах, Etsy должна соблюдать экономические санкции и торговые ограничения, включая введенные Управлением по контролю за иностранными активами (OFAC) Министерства финансов США. Это означает, что Etsy или кто-либо, пользующийся нашими Сервисами, не может участвовать в транзакциях, в которые вовлечены определенные люди, места или изделия из этих мест, указанные государственными органами, такими как OFAC, в дополнение к торговым санкциям, предусмотренным соответствующими законами и нормами.
Эта политика действует в отношении всех, кто использует наши Сервисы, независимо от их местоположения. Решение об ознакомлении с такими ограничениями остается за вами.
Например, эти ограничения в целом запрещают, кроме прочего, транзакции, в которых участвуют следующие стороны:
определенные географические регионы, такие как Иран, Крым, Куба, Северная Корея, Сирия, Россия, Беларусь, Донецкая Народная Республика («ДНР»), Луганская Народная Республика («ЛНР»), а также любые физические или юридические лица, ведущие деятельность или находящиеся на этих территориях;
физические или юридические лица, состоящие в санкционных списках, таких как Список лиц особых категорий и запрещенных лиц (SDN) или Список иностранных лиц, уклоняющихся от санкций (FSE) организации OFAC;
граждане Кубы независимо от их местоположения, не имеющие гражданства или вида на жительство за пределами Кубы; и
изделия, из Ирана, Крыма, Кубы и Северной Кореи, за исключением информационных материалов, таких как публикации, фильмы, постеры, грампластинки, фотографии, кассеты, компакт-диски и определенные произведения искусства.
Любые товары, услуги и технологические решения из ЛНР и ДНР за исключением информационных материалов и сельскохозяйственной продукции, в том числе продуктов питания для людей, семян сельскохозяйственных культур или удобрений.
Импорт в США следующей продукции российского происхождения: рыба, морепродукты, алмазы непромышленного назначения и любая другая продукция, согласно периодическим указаниям министра торговли США.
Экспорт из США либо гражданами США предметов роскоши и любых других товаров, согласно указаниям министра торговли США, любому лицу, находящемуся в России или Беларуси. Список и определение «предметов роскоши» приведены в «Дополнение № 5 к Разделу 746», опубликованном Федеральным реестром США.
Изделия, изготовленные за пределами США и попадающие под действие Закона о тарифах США и связанных с ним законов о запрещении принудительного труда.
Для защиты нашего сообщества и торговой площадки Etsy предпринимает меры для соблюдения режимов санкций. Например, Etsy запрещает участникам пользоваться своими аккаунтами в определенных географических регионах. Если у нас есть основания полагать, что вы управляете своей аккаунтом из места, находящегося под санкциями, например, любого из перечисленных выше санкционных мест, или иным образом нарушаете какие-либо экономические санкции или торговые ограничения, мы можем приостановить или прекратить использование вами наших Сервисов. Как правило, участникам не разрешается выставлять на продажу, покупать или продавать изделия из регионов, находящихся под санкциями. Сюда входят изделия, появившиеся ранее санкций, поскольку у нас нет возможности проверить, были ли они вывезены из запрещенного места. Etsy оставляет за собой право обращаться к продавцам с запросом предоставить дополнительную информацию, раскрыть страну происхождения изделия на странице товара или предпринять другие шаги для соблюдения обязательств. Мы можем отключить товары или отменить транзакции, представляющие опасность нарушения этой политики.
Кроме соблюдения требований OFAC и применимых местных законов, участникам Etsy следует иметь в виду, что другие страны могут вводить собственные торговые ограничения и что определенные изделия могут не допускаться к экспорту или импорту согласно международным законам. Когда в транзакции участвуют лица из разных стран, вам следует изучить законы любых соответствующих стран.
Наконец, участникам Etsy следует иметь в виду, что сторонние платежные системы, например PayPal, могут самостоятельно отслеживать транзакции на предмет соблюдения санкционных требований и могут блокировать транзакции в рамках собственных программ, обеспечивающих соблюдение требований. Etsy не имеет власти или контроля над процедурами независимого принятия решения в таких системах.
Экономические санкции и торговые ограничения могут применяться к порядку использования вами Сервисов и могут изменяться, поэтому участникам следует регулярно проверять источники информации о санкциях. За юридической консультацией обращайтесь к квалифицированному специалисту.
Вы можете прочитать эту политику на вашем языке, но помните, что версия этого документа на английском имеет преимущественную силу в отношении использования вами сервисов Etsy. Язык можно изменить в настройках аккаунта.
You might be interested in some of our other items, which you can browse below. Alternatively you might want to try the search function, or you can return to the home page.
Equiport Blog
Company Info
Trade Stands
Testimonials
FAQs
Delivery & Returns
Sizing Information
Payment Information
How To Order
Gift Vouchers
Equiport Blog
Company Info
Trade Stands
Testimonials
Contact Us
FAQs
Delivery & Returns
Sizing Information
Payment Information
How To Order
Gift Vouchers
Equiport, 1 London Road,
Allostock, Knutsford,
Cheshire, WA16 9JD
Grooming is one of the first skills that new riders acquire, and it is something they will continue to do throughout their horseback riding career. Grooming a horse with various brushes and utensils to clean it is the very foundation of horsemanship. It helps riders feel at ease around horses while also encouraging a healthy horse and strong bond.
However, how does one groom a horse? Grooming a horse entails several steps that go beyond simply brushing them down with a body brush. Each brush and instrument has a specific purpose, and misusing them might reduce their effectiveness. It can be perplexing to figure out what each tool actually does if you have no prior experience. Prepare ahead of time, with this guide, so you know what to do if a grooming kit is presented to you!
Secure Your Horse
This is the most straightforward step! Put your horse's lead rope in crossties or tether it to a stationary wall. Working with a horse without trying them is dangerous because they have a greater chance of injuring you or themselves.
Curry Your Horse
A curry comb is a spherical brush with a bottom of dull spikes. Typically, they are made of plastic or rubber. To dislodge dirt and debris, use this brush in a circular manner all over their body. The curry comb can be used all year, but it's especially beneficial in the spring since it helps them shed their winter coats. It may appear uncomfortable, but it feels like a massage to them.
Brush Dirt and Mud Away with A Stiff Body Brush
Body brushes come in two varieties, one with stiff bristles and the other with soft bristles. The rigid body brush is first used to remove any dirt or muck released by the curry comb. Brush their bodies with long downward strokes.
Brush Dust Off with a Soft Body Brush
They can use the soft body brush all over their body, as well as in temperate regions like their face. It rubs a lovely shine into their coat while gently removing the final coating of dust. Brush down the bridge of their nose and the insides of their cheeks, then all over their body.
Use a Mane and Tail Brush
A mane and tail brush resembles how we brush our hair (sometimes even the same). Horses' manes, tails, and forelocks are readily tangled and soiled. It's critical to keep them groomed, so they don't become matted and difficult to manage. Brush their mane, tail, and forelock using this brush, just like you would your own. To avoid breakage, start at the bottom and work your way up. If their hair is very unruly or difficult to brush, use a detangler like Mane n' Tail Detangler before brushing.
Clean Their Hooves with a Hoof Pick
These look like long plastic or wood handles with a metal hook on the end. Picking their hooves out regularly is necessary to remove any painful stones and remove mud and bacteria that can cause thrush and other food-borne illnesses. Stand straight and face their hind end to pick their hooves. By gently running your hand down their leg and applying pressure at the bottom, you can get them to pick up their leg. Support their leg while picking the mud out of their hooves in a downward motion once they've picked it up.
The V-shaped area in the center of the area known as the frog should be avoided because it is susceptible. A stiff brush on the back of some hoof picks can be used to brush out any remaining dirt and debris.
Apply Products like Fly Spray
You can apply sprays and products to their bodies once they've been groomed. In the summer, fly spray is popular because it keeps bugs from biting them while riding or grazing in the pasture. Show Sheen, for example, is a product that helps their coat look healthy and shiny. If your horse is suffering from a health problem, you may need to use fungicide or Thrush Buster medications. You can add products to your grooming routine or keep it simple with just brushing, whichever you prefer!
Safety Tips for Grooming
While it may appear to be a safe and straightforward task, horses are still animals with their minds, and caution should be used when working with them. While brushing the horse, avoid standing directly behind it. This is to protect you from being hurt if they kick you out. You can also keep your hand on their halter while grooming their front portion to keep them from biting you.
Ensure you know how to tie a safety knot if you're tying their lead rope instead of using crossties. If something goes wrong, you can quickly untie the horse with these quick-release knots. The best advice is to be aware of where you are and what you are doing at all times. It all begins with you!
Benefits of Grooming
When it comes to grooming your horse, there are several advantages. For starters, it improves circulation and increases blood flow to the skin's surface. It also massages their muscles, removes dead skin, and promotes oil production. A horse with a healthy, shiny coat will be groomed regularly.
Grooming is a great way to spot any abnormalities with your horse because it is so hands-on. Brushing can reveal lumps, skin issues, allergies, a worsening of the condition, and more. If you groom your horse daily, you'll be more likely to notice problems early on, giving you the best chance of successful treatment! Grooming is also an effective way to avoid health problems. Getting rid of dirt and bacteria can help prevent bacterial infections like thrush.
Grooming also has a variety of mental health benefits for both the horse and the rider. It's the ideal time to unwind and bond with your horse. Nothing is expected of you; all you have to do is relax and enjoy your time with your horse. Take the time to get to know and communicate with your horse. Out of the saddle, it's just as important to bond and works with them. It will improve your relationship and horsemanship, and comfort level around horses in the long run.
Your horse will also appreciate the grooming. Don't be concerned that the stiff brushes will harm them. Horses in a herd will frequently engage in "mutual grooming" for pleasure, which involves two horses grooming each other with their teeth. As a result, grooming your horse will bring you similar happiness.
Build a Relationship with The Pine Hill Ranch
Grooming your horse is a natural, beneficial process that benefits their health as well as your relationship. It can be challenging to figure out at first, but it will become a regular part of your barn routine once you do. It's an essential part of horse care that will make your horse happy and healthy. This tutorial walked you through the steps; now it's time to put them into practice! Grooming should be enjoyable! Schedule an appointment to come out and visit our barn, meet our friendly staff and horses.
Horse Grooming is extremely beneficial for both you and your horse. Grooming increases sociability between the both of you as you become used to each other's presence. Grooming also encourages good blood circulation and gives you the chance to check over your horse's body for any external wounds, especially the parts of the body that will come into contact with tack. Stable horses should be groomed on a regular basis, always before and after a ride. However, horses that live more naturally will do some of the job themselves by rubbing against trees and fences and rolling on the floor.
Some people prefer to clip their horse, if you are one of them, head over to our horse clipping, tips and advice page.
STEP 1 – Secure your horse
Although your horse may be trained to stand still, many horses will feel the need to shift and move their feet whilst they are being groomed. To ensure your horse is kept in place, tie the lead rope above the height of the horse's withers (shoulder blades) and use a quick release knot to secure him to a post or ask a friend/colleague to hold the rope.
Always use a quick release knot in case your horse gets spooked and tries to escape by pulling in a backward motion. This is highly dangerous for both of you. In case of an emergency, you should keep a Marlinspike in your grooming kit, this can loosen knots and cut through rope.
STEP 2 – Pick your horse's hooves
Start by standing next to your horse facing in the opposite direction and have your hoof pick in the hand that is furthest away from the horse. To pick up your horses foot, run your hand, that's closest to the horse, down the front of its leg until you a cupping your horse's hoof in your hand. At the same time lean gently into your horse, encouraging them to shift their weight onto the other side. This will cause your horse to pick up its foot. Once the hoof is up, keep it supported securely in your hand.
Using the hoof pick, start at the back of the foot and pick carefully towards the toe, removing all rocks and dirt. Clean the grooves on either side of the V-shaped part of the hoof, also known as the frog. Do not pick the horses frog or dig deep into the grooves.
If you are doing this for the first time or you are unsure, ask someone experienced to help you.
Get your hoof pick here with us at equine superstore.
STEP 3 – Use a Curry comb to loosen hair and dirt
Work from ear to tail without currying the head, mane, tail and lower legs, being extremely careful over bony areas. Move your comb along the horse's coat in small circular motions in the opposite direction to the hair growth. Don't apply too much pressure but be firm enough to lift the dirt from the coat. Whilst circling the brush you'll start to see grains of dirt that have risen up from the horse's skin. This loosened dirt will now be much easier to brush off.
We highly recommend this selection of curry combs .
STEP 4 – Use a Hard brush/Dandy brush to remove hair, dirt and sweat.
A Hard brush or Dandy brush as some like to call it, is a hard bristled brush used to take off the hair and dirt brought to the surface by the curry comb. Don't use this brush on your horses head, mane, tail or lower legs. Start along the neck and work your way down and along the body using short straight flicking motions to 'flick' off the debris.
STEP 5 – Smooth and clean up with a Soft brush/Body brush
The Soft brush also known as the Body brush can be used on all areas of the horse due to its softer bristles. This brush is used to finish off your horse's coat and give it a softened, shiny feel. It's also great for brushing out the mane and the tail.
You need to use this brush in long, smooth strokes, starting at the head and working your way along the body and down the legs. Use quicker sweeping motions on the lower leg to remove dirt where it was too sensitive for the Hard brush. It's also useful to use along the bridge of the nose and the cheeks but be careful to avoid the end of the nose and the eyes as these are all very sensitive areas. Some people prefer to use a separate brush for the face, which is just a smaller version, called a Face brush.
Choose from these great body brushes .
STEP 6 – Clean your horse's face
Using a damp sponge or cloth, gently wipe your horse's eyes, and clean out the nose.
You will also need to clean the dock area beneath the tail. Be sure to use a different sponge or cloth for this part and be very gentle as this is a very sensitive area.
STEP 7 – Brush out the mane and the tail
When brushing the tail make sure you stand to the side of the horse, this way if the horse kicks you are in a much safer position.
First, separate the worst of the tangles with your fingers. With a wide tooth comb or brush, detangle the rest of the mane and tail. Work your way through by taking small sections at a time holding the top of the section in one hand and brushing through with the other to avoid any tugging.
STEP 7 – Spray the horse with fly spray
Flies can be a nuisance to horses, especially in the summer so you may want to spray your horse with fly spray to avoid them spreading infection or even biting and causing your horse pain. Spray the solution over the horse being careful to avoid the face.
written on September 4, 2021
Are you looking for the best curry comb for horses, but are unsure how to make the best choice among a large number of different products? Since the selection of currycombs for horses is large and to give you a better overview of the different products to facilitate your purchase decision, we have taken a closer look at different currycombs for horses and compared individual products with each other.
We have compiled many product recommendations for different currycombs for horses so that you can also find the perfect product. We want to make sure that you are satisfied with your product and have a lot of fun with it. So you can choose the product that best suits you and your ideas and wishes.
Here you will find different products around the topic of curry comb for horses.
Recommended Curry Comb For Horses
We have compared various curry combs for horses with each other and have compiled our product recommendations here for you at a glance. Here you will find the top 7 of the best curry combs for horses – take a look now.
Items 1 – 12 of 47
Starting at £2.03
Our Price Match Promise
We want to offer the best service at the best price possible so we will match the price of our competitors. Find out more
Curry Combs for Horses
An effective grooming tool that is vital to the equine grooming process is the curry comb. Here at Discount Equestrian, we stock only the best products in our Curry Combs collection from market-leading brands!
There are many types of curry comb available to suit your horse's particular coat care requirements, such as plastic curry combs, rubber curry combs, massage brushes, de-shedding tools, and curry comb sponges – as well as metal curry combs, which are obviously intended to clean other brushes and cannot be used on a horse.
We stock Curry Combs from market-leading brands such as Haas®, Hy®, Harlequin®, KBF99®, Kincade®, LeMieux®, Lincoln®, Oster®, Roma®, and many more.
Hy® Equestrian Thelwell Collection Curry Comb – "An oval curry comb with a secure strap that fits your hand for enhanced stability. Featuring a recognisable, timeless, equestrian Thelwell character on the back, this smart rubber curry comb matches the rest of the Thelwell Collection perfectly."
Lincoln® Horse Head Rubber Curry Comb – "This popular, round curry comb is flexible and strong, with rows of circular rubber teeth that are ideal for working deep into the coat of your horse to remove any mud, dust, and loose hair. Featuring an attractive horse head design, this curry comb is available in black and red."
Haas® Ponylove New Generation Curry Comb – "The New Generation 'Ponylove' Curry Comb by HAAS is made using a very soft, special plastic that allows for an effective massaging action. This plastic curry comb is blue coloured with the 'Lia & Alfi' logo and a smart leather strap. A stylish curry comb that makes a lovely addition to any young rider's grooming kit!"
KBF99® Curry Comb – "This highly versatile and innovative KBF99 Curry Comb has short plastic teeth which help loosen dirt, hair, and other debris. An essential tool to begin any grooming session, this comb is impregnated with a special KBF99 additive, which offers anti-fungal and anti-bacterial properties to kill Strangles, Ringworm, E. coli, and Mycotoxin without chemicals! This curry comb is also ideal for removing hair from your other KBF99 brushes."
Roma® Brights Curry Comb – "Affordable and practical, the Roma Brights Curry Comb is a vibrant grooming tool, available in an exciting selection of colours that will brighten up any grooming kit! Colour choices include aqua, hot pink, lime green, and orange."
LeMieux® Mouse Groomer – "The perfect tool for an invigorating and thorough groom, the LeMieux Mouse Groomer removes loose hair, dust, and mud with ease. The soft, rubber nodules offer a revitalising and calming massage effect for your horse. Can be used wet for bath time scrubbing for an easy deep clean, or dry for getting out shedding coats and muddy patches. The ergonomic shape makes this Mouse Groomer easy to hold, with an elasticated strap for comfort and stability. Available in black and red."
Epona® Tiger's Tongue Horse Groomer – "A new way to deep-clean embedded dirt and dung, just like a cat's magical tongue! Vacuum packed, this product expands to the approximate size of a standard curry comb. This flexible scrubber can be used wet or dry, and its superb cleaning features include: removal of dirt without causing dust clouds; cleaning of white markings; can be used to buff hoof walls; removal of sweat marks; and it has a stimulating effect to encourage improved circulation."
Wahl® Curry Comb Rubber – "The rubberised bristles of this handy rubber curry comb effectively remove mud, loose hair, dust, and shavings, to leave your horse's coat with a brilliant shine. Boasts a luxurious new, soft-touch plastic grip, to allow for effortless grooming."
If you need any assistance in selecting the ideal curry comb for your horse, please don't hesitate to contact our friendly Discount Equestrian team – we're always happy to help!
Don't forget to visit other fabulous subcategories in our super Grooming Tools range, such as Body Brushes, Grooming Mitts, and Stain Removers.
Posted by Manna Pro Products, LLC, Thu, Mar 29, 2018
Equine spring cleaning time is here! With longer days and warmer weather comes. shedding. If your horse isn't clipped and/or blanketed they're probably a delightfully fluffy fur ball, and as mud season gets underway their color has likely migrated to a dark, crusty brown.
Horse Grooming Tip:
Before you begin grooming, discard any fleece jacket or fabrics you are wearing that will attract dirt and hair before you start. A plastic apron, such as the type used by dog groomers, is a great aid in keeping you clean.
Option 1: Body Clipping Your Horse
The quickest way to clear all remnants of the equine winter coat is to body clip the entire horse. It's one way to make a clean sweep of the task. It is always best to bathe and clean your horse prior to clipping. Use a deep-cleansing shampoo such as Corona® Concentrated Shampoo. It's economic and pH balanced as well as lanolin enriched for stronger manes and tails.
It is always best to bathe and clean your horse prior to clipping. Use a deep-cleansing shampoo such as Corona® Concentrated Shampoo. It's economic and pH balanced as well as lanolin enriched for stronger manes and tails.
Horse Bathing Tip:
For stubborn stains on a horse's tail, lather the tail with plenty of shampoo and leave it to soak for several minutes before rinsing.
Option 2: The Old-Fashioned Way
If you are up for doing your makeover the old-fashioned way using a horse grooming kit, here are some valuable tips.
Grooming provides great bonding time with an activity the horse enjoys and gives you an opportunity to examine your horse for wounds, scratches, or lumps and bumps. Minor abrasions can be treated with Theracyn™ Wound & Skin Care or Corona Ointment. Your horse's skin and coat are a valuable resource in determining their health. While regular grooming will bring oils to the coat to make it shine, the only true way to resolve a dull coat is via good nutrition and proper horse de-worming practices. Horse Grooming Kit Tip: Retire tired old brushes, dirty brushes and brushes that simply don't fit your hand. These will all make your grooming job more arduous and less effective. 6.5″ to 7″ horse brushes suit most women, while 8″ brushes are designed for larger-handed women or men. Face brushes are smaller and softer to allow more access to the nooks and crannies of the horse's face.
To remove mud on the horse's coat, let the mud dry and then vigorously curry comb in a circular motion to loosen the scurf and mud. Work softly over bony prominences and let your horse indicate how hard they like you to work. A soft jelly curry can be used on the legs over the cannon bones.
Use a mud brush made of tough union fiber to remove stubborn patches of mud effectively and with minimal effort.
Next, brush your horse all over with a dandy brush. Union Tampico bristles tend to work best to gather scurf and dirt. Use a flicking motion to work deep. Start at the neck, working toward the back of the horse and then down. Do not use a regular curry comb, mud brush or dandy brush on your horse's face, as these are too harsh for use in these areas. Follow this with long strokes with a body brush over the horse's entire body. Be sure to clean the brush on the curry comb regularly as you progress.
Then, use a soft horsehair brush over the coat to help bring out its oily shine.
To clean the horse's face, use a clean damp towel to wipe the eyes and then the muzzle. Then, brush the face with a soft brush.
Trim the ear hairs with scissors or clippers. Hold the ear folded together and just trim off the excess longer hairs. Leave hair inside the ear to protect your horse from bug bites.
The mane and tail require special attention and patience to clean properly. Use a detangler such as Corona ® Detangler & Shine before combing them out with a large-toothed mane/tail comb. (If you are trying to grow an excessively long mane and tail, lots of finger combing is required as well as braiding and tail bags. but this is another topic!)
Work carefully with the tail from the bottom up and take just a few strands at a time until all have been completed. You can use your fingers instead of a comb if you wish. Don't use human hairbrushes or yank on a horse's tail, as doing so will break the hair. When finished, spray the tail again with Corona Detangler & Shine to protect the hair from dirt and keep it in peak condition.
Horse Grooming Tip:
A good way to stimulate tail hair growth is by using a daily dandy brush on the dock of the tail. This will stimulate blood circulation. The dock area of the horse should also be cleaned using an old damp towel (not the same one you use on the eyes and face!).
The mane should be carefully combed out. If the mane will not lay flat, you can use a warm damp towel over it to settle it to one side. If the mane is excessively long, you can pull it using the mane comb.
Horse Grooming Tip:
If you pull the mane, do it a bit at a time each day when the horse is warm and their pores are open. If your horse dislikes mane pulling, try thinning scissors. Next, take a sheepskin mitt or towel and spray Corona Detangler & Shine on it; apply across the coat to add shine. Avoid the saddle and girth area, as these conditioners can make the coat slick and cause tack to move.
Powder any of your horse's white areas, such as socks and stockings, with cornstarch or baby powder to make them super bright and white.
Well done! Dress your horse in a stable or turnout sheet and keep them clean!
We stock a great range of horse combs to aid in removing mud and loose hair from your horse from our best seller, Rubber Curry Comb Large a strong plastic comb ideal for winter coats to a metal Pulling Comb for manes and tails. Check out our full range below.
Showing 23 products
Plastic Curry Comb Large Black
Strong plastic curry comb ideal for removing mud and loose hair from winter coats.
From £1.45 inc. VAT
Metal Pulling Comb & Hoof Pick
Pulling comb and Hoof Pick combined
From £1.29 inc. VAT
Roma Fleece Backed Sisal Grooming Mitt
Ideal for removal of grass and stable stains
From £3.49 inc. VAT
FURminator Equine deShedding Tool
FURminator Undercoat deShedding Tool for Equine removes a horse's winter coat and loose hair from shedding up to 99%.
From £30.99 inc. VAT
Rubber Curry Comb Large
Rubber Curry Comb Large. Easily removes dirt, mud and loose hair from your horse's coat and cleans and massage your horse at the same time!
From £2.09 inc. VAT
Plastic Curry Comb Large Blue
Plastic curry comb combines strength with light weight. Idea for removing mud and loose hair.
From £1.45 inc. VAT
The Groomi Tool is the only shedding tool you will ever need! Suitable for Horses, Dogs, Cats and other furry friends!
From £21.09 inc. VAT
Wahl Rubber Curry Brush
Wahl Rubber Curry. A new concept in rubberised curry comb, designed to remove dirt and mud from the coat without using hard plastic tools.
From £4.35 inc. VAT
Metal Pulling Comb
Aluminium pulling comb for thinning and shortening manes and tails
From £0.99 inc. VAT
Bristle Back Grooming Mitt
Two sided grooming mitt. Bristle brush on one side with short plastic teeth on the other.
From £4.25 inc. VAT
Lincoln Small Metal Curry Comb with Handle
Lincoln's Small Metal Curry Comb has been deigned with a metal tooth head comb with a smart, varnished wooden handle for comfort and durability.
From £3.59 inc. VAT
Aluminium Mane Comb
Aluminium mane comb for horses, lightweight and durable.
From £0.99 inc. VAT
Rubber Curry Comb Small
Rubber curry comb with hand strap. Ideal for most animals including horses.
From £1.65 inc. VAT
Plastic Curry Comb Small Black
Perfect for children and their smaller hands with the adjustable strap. Ideal for removing mud and loose hair from winter coats.
From £1.25 inc. VAT
Metal Military Curry Comb with Leather Strap
9 row metal curry comb. Military style with leather hand strap.
From £3.49 inc. VAT
Plastic Curry Comb Small Blue
Adjustable strap – ideal for childrens small hands. Perfect for removing mud and loose hair.
From £1.25 inc. VAT
Smart Coats Coarse
Using the same principle as Smart Tails and Manes, these have a wider blade width of 5″.Brilliant for removing the winter undercoat. Coarse Blades (30 Teeth)are good for very thick, coarse matted coats or particularly dense hair.
From £46.39 inc. VAT
Smart Coats Fine
Using the same principle as Smart Tails and Manes, these have a wider blade width of 5″.Brilliant for removing the winter undercoat. Fine Blades (60 Teeth) are good on finer, softer hair but where there is a lot of it, or for use after being initially thinned with the coarse blade.
From £50.69 inc. VAT
Smart Coats Replacement Blade Coarse
These replacement blades measure 5″ or 12.5cm and can be easily replaced or interchanged. The coarse has 30 teeth.
From £25.85 inc. VAT
Plastic Curry Comb Small Red
Smaller size plastic curry comb with adjustable starap – perfect for childrens small hands.
From £1.25 inc. VAT
Plastic Curry Comb Large Red
Ideal for removing mud and loose hair from winter coats.
From £1.45 inc. VAT
Lincoln Ultimate Groomer
This great product quickly and easily removes the undercoat and loose hair without damaging the topcoat.
From £18.65 inc. VAT
Groomi Powder Coated Spare Combs
This Super Pink and Jet Black Groomi Comb will fit both the Diamond Pink and the Black Groomi Tool.
From £16.25 inc. VAT
Compare
Product Name
Brand
Price
Description
Rating
hyperdrug.co.uk uses cookies. By using our site you agree to our privacy policy
Get the latest offers straight to your inbox
Hyperdrug Pharmaceuticals Limited (Registered in England and Wales with Company Number 01898060) previously registered as Hyperdrug Ltd
Registered Office address: Hyperdrug Pharmaceuticals Ltd, Station Industrial Estate, Barnard Castle, DL12 0NG
VAT Registration Number: 601882062
Medication dispensing under the control of
Geoffrey Watson B.Pharm, Cert. Vet Pharm, D.Ag.Vet.Pharm.Registration .No 2012644
Samantha Bullock M.Pharm, Registration No 2072736
Hyperdrug Pharmaceuticals Ltd is registered with the GPhC 1085202
Hyperdrug Pharmaceuticals Limited is registered with the Veterinary Medicines Directorate (VMD) who are responsible for the regulation of Veterinary Medicines 2030014-1