When it comes to food, the presentation is everything. A Bundt® or shaped cake delights the eye, alerts taste buds and set the stage for the delectable serving to follow. How can anyone resist a slice of a Bundt cake? As they say, first impressions are truly important.
The Bundt® baking pan was introduced in 1950 by Nordic Ware, and these baking pans have become very popular bakeware in the home kitchen. Available in various sizes and shapes, Bundt pans can be used for cakes, muffins, cupcakes, shortcake baskets, gelled desserts or salads, and even meatloaf.
Buy Bundt pans from Amazon
See Nordic Ware pans from Amazon
While there are various other brands of shaped baking pans on the market, Nordic Ware does rule in terms of variety, original and traditional designs, as well as outstanding pan construction and baking performance. For those who love to bake with silicone pans, you can also find these in various shapes.
A Bundt pan is a perfect vehicle for coffee cakes because it lends well to experimenting with recipe ingredients, adding nuts, creating a topping, inserting a fudge tunnel, even a marble cake looks wonderful in a Bundt shape. You can also frost the cake or not, it's up to you. They look terrific with a thin glaze dripped over the cake or just a powdered sugar sprinkle.
These cakes also travel very well with virtually no fear of a layer sliding off, plus they are easy to slice and serve. That makes these cakes fantastic for potlucks or dessert/coffee functions. Considered a specialty baking pan, the cakes from these tend to look like you spent much more time making this dessert than you actually did. Recipients are really impressed with the look of these cakes.
The Bundt® pan shown is a Nordic Ware 12-cup Classic Bundt® Pan with Teflon nonstick coating. It has been used for over 20 years and still produces great results. Although it has sustained a few scratches over the years, cakes are still easily removed. Note that this kind of pan bakes the cake upside down, therefore, it needs to be inverted after it has cooled. Here are a few helpful tips on how to use a Bundt pan:
Convenience Features
A 10 to 12 cup Bundt® will accommodate a standard cake mix or recipe.
For a 6 to 9 cup size: adjust batter or use a single-layer cake mix or recipe.
Cake mixes specially designed for the Bundt pans can be purchased through Nordic Ware or other retailers.
Recipes are readily available from the Nordic Ware website or their cookbooks.
Bundt cakes are very easy to slice, even thin slices hold together well.
The cake is easily removed from the pan and clean-up is no problem.
Quick coffee cakes – easily turn a white or yellow cake mix into a coffee cake by adding/varying ingredients.
A Bundt cake looks like a professionally baked gourmet cake.
Bundt pans can also be used for gelled salads and desserts, as well as a shaped meatloaf.
Bundt pans are available in an interesting array of styles and shapes, for holidays, special events or every day.
How to Use the Pans
Even nonstick coated pans should be well greased or sprayed with baking oil. A dusting of flour sometimes helps especially with chocolate cakes but is not usually necessary.
Cool cake completely before trying to remove it.
Do not use any metal object to release the cake. It will scratch and damage your pan.
A rubber or silicone spatula can be slid down the large fluted edges and this is usually sufficient to help release the cake.
To remove the cake, place a large plate over the Bundt pan and while holding the plate in place, invert the pan, the cake should drop unto the plate.
After inverting, if cake feels a little warm allow a few minutes before frosting.
Fill the pan with hot soapy water and let soak for a few minutes, handwash and dry thoroughly. Although these pans come clean in a dishwasher, depending on your pan's coating, handwashing may be recommended. Confirm care instructions from your pan's product information.
For meatloaf, use leaner meat and you will need to carefully drain off any grease after cooking before you invert it onto the serving plate. Use hot pads or mitts while handling.
Baking & Icing Tips
Since Bundt pans make an inverted cake, anything you want baked into the top of the cake must be placed in the pan first. This includes toppings such as brown sugar and nut mixture, pecans or cherries.
For fillings or tunnels, pour in half of the batter, add the filling and fill with the remaining batter.
Position your Bundt cake in the center of the oven.
There are no temperature adjustments required; follow your recipe guidelines.
Heavy cast aluminum pans provide even baking and browning.
For a quick coffee cake, start with a cake mix or your favorite recipe, reduce liquid accordingly and add a baby food strained dessert, or applesauce, mashed bananas, preserves or blended fruit. A tablespoon of sour cream adds a yummy taste as does a swirl of cinnamon.
Frosting can be as simple as thin icing drizzled over the cake or a dusting of icing sugar.
You can ice it completely with your favorite icing recipe or use whipped cream.
To top, add nuts, shaved chocolate or drizzle chocolate syrup over a thin white glaze for a gourmet look.
Bundt® pans are just as easy to use as regular cake pans and the desserts they produce can be easily and quickly garnished. We find ourselves making more Bundt cakes than regular ones, because of the convenience of the pans and the presentation of the finished dessert.

In addition to standard round and square cake pans, the shelves of cooking stores are lined with plenty of shaped pans. These pans come in designs from sandcastles and cartoon characters to miniature wedding cakes, giving you the option of baking a cake that features an elaborate design without trying to carve an intricate pattern into a cake yourself. Most of these specialty shaped pans come with recipes right on their packaging, but to make them worth the purchase price you'll want to know that you can use them again – and that means that you should be able to bake more than just one recipe in them.
Shaped pans come in a wide variety of shapes and sizes, and it often turns out that no two are going to be exactly alike when it comes to baking times and the amount of batter that they hold. The easiest thing to do is start out with the recipe on the package and tweak it for different flavors, since you know the volume is just right for the pan. Beyond that, there are two main options: you can either measure the volume of the pan and convert existing recipes to match it (8×8-in pan = 6 cups, 9×9-in pan = 10 cups, 10-in bundt = 12 cups) or you can make a full batch of batter for another recipe and just pour as much into the pan as you need. Conversions can be convenient when two pans hold the same volume of cake batter, but I don't like to scale recipes to strange proportions when I don't have to. In those instances, I'll pour batter about 3/4 of the way up the sides of the specialty pan (both for small cakes and larger ones) and bake off any remaining batter in a small muffin pan for a few cupcakes. It streamlines the process and leaves me with a few bonus cupcakes!
It is worth noting that just about all of the shaped pans made by Wilton are made to hold a standard box of cake mix (9×13-in pan = 14 cups). Their pans all come with from-scratch recipes, too, but using the mix as a standard makes the pans very accessible to people who bake very occasionally and want the experience of decorating a cake. It also means that you never have to question how much batter one of their pans needs.
Most shaped pans are made to be nonstick, but it is generally a good idea to oil and flour them to help ensure that you get the cleanest release on your cake to preserve as much of the original design as possible. I typically brush or spray vegetable oil into the nooks and crannies of a pan to ensure a good coat before flouring. Then, you can add a small amount of batter to the pan and rap it a few times on the countertop to eliminate air bubbles that might be in the corners. Finally, you can in the rest of the batter and bake the cake.
Use the recipe that comes with the pan as a guide for baking time and temperature. Most of the shaped pans that I've worked with bake at 350F, but there are some that are unusually deep will call for a lower baking temperature. The best way to ensure an evenly baked cake is to use the guide set out by the manufacturer and test your cake early for doneness. And it doesn't hurt to take a few notes on what recipes work for your shaped pans, so you can reference them the next time that you pull out that pan to bake.
Experience the world of cake decorating like never before with Cake Central Magazine!
When you purchase a digital subscription to Cake Central Magazine, you will get an instant and automatic download of the most recent issue.
Baking Cakes In Ball Shaped Pans
Does anyone have any tips on how to bake a cake in a deep round pan that cooks in the center and does not burn on the outer edges. I had to make a pregnant belly cake for my sis n law baby shower. I used the soccer ball pan to make the belly. The cake took forever to bake 1 1/2 hour. The edges were so hard and crusty that it was hard to actually cut with a butcher knife, but the inside near the middle was still undercooked. I was also not sure how much batter to use but I filled it up halfway and rose to almost overflowing, and then the belly dropped so it looked more like a turtle instead of a pregnant belly. PLEASE HELP SOMEONE
I generally do my ball pans at 325 degrees and cook for about 10-15 minutes longer than stated. For the soccer ball, I inserted a flower nail coated just like the pan and then added the batter. Cooked just fine following the pans directions. Sorry that is all the help I have for you!! HTH.
Originally Posted by tanyascakes
I generally do my ball pans at 325 degrees and cook for about 10-15 minutes longer than stated. For the soccer ball, I inserted a flower nail coated just like the pan and then added the batter. Cooked just fine following the pans directions. Sorry that is all the help I have for you!! HTH.
I agree, that is what I use.
When I have used the sports ball pan or any of the other domed pans, I have used a flower nail in the bottom, plus bake-even strips AND an aluminum foil "heat shield" with a 2-3″ hole in the center.
Before ever putting the batter into the pan, prepare the heat shield by folding a length of aluminum foil in half, so that it is wide enough to completely cover the opening of the pan plus at least an inch extra all around. Fold it in half again and cut a 1-1 1/2″ half circle out of the center. when you open the fold again, it will be a full circle cut out. The hole is to allow steam to escape during baking, and to allow you to test for doneness. Lay it aside till needed.
Bake the cake as usual, but reduce the temp to 325F. It may take longer to bake, but it will be less likely to burn on the edges. When the edges first start to look done, open the oven door and quickly lay the heat shield over the top of the pan, bending the corners down so it stays in place. Bake as long as necessary to be sure the center is done.
When the cake is done, let it cool for 10 minutes, and then level the top while still in the pan. (At this point, MY personal method is to flip the cake onto a papertowel covered rack, and cover the top of the cake with a piece of plastic wrap. Place the dome pan back over the plastic wrap. This allows the cake to cool slowly without losing all its moisture. A number of people disagree with the plastic wrap method, but it works for me, and for many others.) Allow the cake to cool completely in whatever manner you choose.
I really like the look of Wilton's 3D Bunny Cake Pan, so I was excited to try out my first bunny-shaped cake when I discovered one small problem with the pan: it doesn't come with a recipe. Instead, it comes with decorating suggestions and simply states that you'll need 4 1/2 cups of pound cake batter to make the cake. This was a bit of a problem for me because, let's face it, it is much easier to bake a cake that is the right size for a given pan. I didn't want to take the risk of starting off with a too-small recipe that couldn't be sure would rise up enough to fill up the pan. So, I picked a high-rising variation on a pound cake recipe I like and scaled it down to fit the pan.
This pan is very easy to use. You simply grease and flour it, then fill it with batter (once you've got the amount nailed down) and you're ready to go. I was concerned that I wouldn't be able to check the cake for doneness, since you can't see the cake as it bakes, but fortunately there is a small hole in the top of the pan to fit a toothpick or cake tester into and it works well. The cake bakes on its side, and it is easiest to handle if you set it on a baking sheet.
This cake recipe is tender, with a good vanilla flavor to it. It is a bit lighter than some pound cakes, more like a cross between a yellow cake and a pound cake. It's still easy to handle as you're decorating and quite sturdy. Use a wooden skewer or an extra long toothpick to test this cake for doneness, since a short toothpick will not get all the way to the center of the pan to see if it is cooked through.
Now, you can try other recipes in this pan, too. If you use a recipe that makes a big batch (say, a recipe that would ordinarily bake 2 dozen cupcakes), you can measure out the appropriate amount of batter for the bunny and bake the rest off as cupcakes. Choose a high-rising cake if at all possible to ensure that it will fill up the bunny. If you're not sure, you'll know you have enough batter when the bottom part of the bunny is almost completely filled up; this amount of batter will give you the best chance of having a complete bunny. And if you're missing a tiny bit after baking – well, that is what frosting is for!
Vanilla 3D Bunny Cake Recipe
2 cups all purpose flour
1 tsp baking soda
1 tsp baking powder
1/3 tsp salt
1 1/2 cups sugar
1/2 cup butter, softened
1/4 cup vegetable oil
2 large eggs
1 large egg yolk
1 cup buttermilk
2 tsp vanilla extract
Preheat oven to 350F. Grease and flour the Wilton 3D Bunny Cake Pan.
In a medium bowl, whisk together flour, baking powder, baking soda and salt.
In a large bowl, cream together sugar and butter until light, then blend in vegetable oil, eggs and egg yolk. Add half of the flour mixture, followed by the buttermilk and vanilla, then stir in all remaining flour. There should be no streaks of dry ingredients remaining.
Pour into prepared pan (the side without the hole in the top!); batter should come almost all the way to the top of that half of the pan. Place 2nd half of the bunny on top and press gently to snap into place. Place bunny pan on a baking sheet.
Bake for 55-60 minutes, until a long toothpick or cake tester inserted into the bunny through the hole in the top of the pan comes out clean (be sure to use a long tester or skewer!). Cool for about 20 minutes in pan, then open pan and transfer bunny to a wire rack to cool completely. I cooled the bunny on its side, using a paper towel to prop the head up, but you should be able to cool it upright, as well.
The decoration for this cake is up to you. I used white frosting topped with a little powdered sugar to give the bunny a "soft" look. I dyed a bit of the white frosting pink with some red food coloring and made a chocolate eye, although a jellybean or chocolate candy with a small chocolate dot added on for a pupil would have had a great effect, as well.
How to Bake a Cake in a Covered Gas Grill
How to Make Petit Fours
How to Bake With a Pressure Cooker
How to Stop Cakes From Dropping
How to Make a Cake Board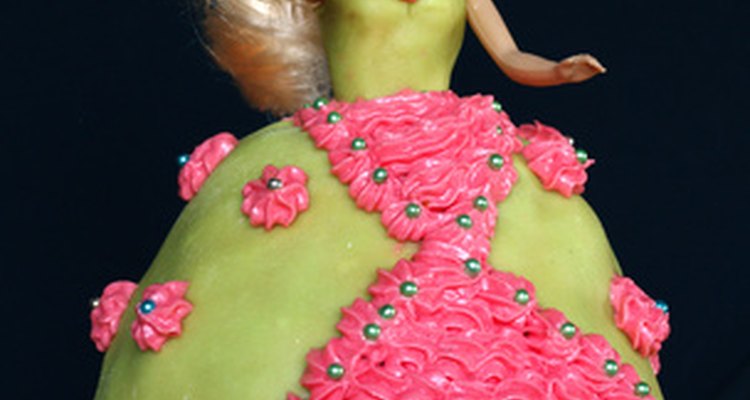 While store-bought cakes will always look perfect and delight party guests, there's nothing quite like baking a cake yourself. People really appreciate the personal touch. It might seem like you need a dome-shaped cake pan when you want to make a cake to look like a Barbie doll's ball gown, an igloo, a baseball cap or something else. However, you can make cakes in those shapes using items you likely already have in your kitchen. Baking the cake does require some simple adjustments in order to achieve the finished look you desire.
Preheat your oven to 25 degrees less than the directions note on your cake mix box or recipe. Mix your cake batter according to the directions.
Choose a large, round oven-safe bowl in which to bake the cake. Spray the bowl with cooking spray and pour in the cake batter.
Leave your cake in the oven for five minutes longer than the directions advise on your recipe. When that amount of time has elapsed, pull your cake out of the oven and stick a wooden dowel (a toothpick will work fine) into the middle of it to test for doneness. The dowel likely won't come out clean–which is the sign of a finished cake–because the center of the cake isn't done.
Turn off the oven and place the cake back inside with the door shut. Use the dowel to check the cake's center every five minutes until it's finished (the dowel comes out clean).
Let the cake cool in the bowl for five minutes, then turn it out onto your cake platter. Wait until it's completely cooled to decorate it as you please.
For those who want to bake sphere cakes have a range of ball shaped pans from which to choose, but you do not need a ball pan to make a 3D cake. The ingredients likely sit in your kitchen, and you can use your favorite cake mix or homemade recipe. This cake bakes in two halves at the same time in the oven. This sphere cake forms the basis for cakes resembling soccer or base balls, planets, round fruits or 3D happy faces. Once you bake your sphere cake, the possibilities for what to do with it will only be limited by your imagination.
Preheat the oven to 350 degrees F and spray the interior of both bowls with cooking spray. Apply a light dusting of flour over the cooking spray inside the bowls.
Divide the batter evenly between the two bowls. Place the bowls inside the round baking pans to maintain stability in the oven.
Set the baking pans holding the bowls of cake batter into the oven and bake at 350 degrees F for 35 to 45 minutes or until the cake springs when pressed in the center and a knife inserted into the middle comes out cleanly.
Leave the cakes in the bowls for 20 minutes after baking, then turn the cakes upside down onto a cooling rack to cool completely.
Trim the bottom one inch from the rounded portion of one of the cake halves to create a flat surface for the cake to stand.
Apply a small amount of icing to this cut portion of the cake and turn it onto a serving platter so the icing holds the cut part of the cake down, like a glue. You should now have one half of the cake, resembling an upright bowl in the center of the serving platter for the bottom half of your sphere cake.
Spread a layer of icing over the top of the bottom half of the sphere cake. Insert six or seven toothpicks halfway into the top of the cake in the shape of a circle to help hold the top half of the sphere.
Set the remaining cake upside down on top of the bottom half so you create a sphere with the two halves.
Spread the colored icing over the entire cake for a base of frosting and to cover the seam between the two cakes.
Fill the pastry bag with any remaining icing of a different color and use the decorator tips to write on the cake, make designs like a sports ball or create shapes.
Use only bowls made from oven-safe materials: stainless steel, stoneware, glass or ceramic.
Reduce the oven temperature to 325 degrees F and increase baking time by five to 10 minutes if using ceramic or glass bowls.
Experience the world of cake decorating like never before with Cake Central Magazine!
When you purchase a digital subscription to Cake Central Magazine, you will get an instant and automatic download of the most recent issue.
Kidney Shaped Cake ??
I have been asked to bake a cake shaped like a human kidney One of my customers has a co-worker who recently donated his kidney to someone. Now they want to celebrate with a "kidney shaped" cake. I am trying to figure the best way to do this. Maybe a heart shaped pan and cut off the pointed end? Maybe an oval cake and cut an indentation? Also what is the best cake recipe (chocolate) to use. My normal cake is too light to cut up. Any input is certainly appreciated.
I vote oval with some trimming.
Sorry – can't help with the recipe. Did you look under the recipes?
they actually sell a comma shaped cake pan that you could use. but unless you intend to make an awful lot of kidney or comma or artist paint tray shaped cakes, i would agree with codex about using a trimmed oval pan.
as for recipes. i personally like cake mix. i use a devil's food mix, one extra egg (total of 4), a box of dry choco pudding (not mixed or anythign), and a little bit of meringue powder. plus the water and oil. i like it.
oh, and about 1/2 tsp of vanilla
bumping. I could use a few more ideas thanks!
How about a Red Velvet kidney?
in 2004 i had a kidney transplant, and so on sept 21 2005 we had a "happy 1st birthday kidney" cake, it was just a reg cake with a kidney drawn on it, it was nice.
wow, its amazing that ive already had the kidney for just about two years. :O crazy.
just thought i would share
Depending on how much cake you need, I would just cut it out of a sheet cake. Search on google for kidney drawings or cartoon kidneys or even kidney coloring pages and you'll probably come up with a good shape that will be easy to cut out. I did this for the tooth cake in my photos. I found a coloring page that had the shape I was looking for and cut it out of a 12×18.
For added effect, a red velvet cake would be great! If you add an extra egg and a box of instant pudding to each box of mix you use, you'll have a nice firm cake that will be easy to cut.
My advice on cutting is to take away small amounts. If you cut too much off it's hard to put it back on!
Published: Aug 25, 2020 · Modified: Oct 12, 2020 by Priya Maha
Have you ever wondered how to calculate cake recipes for odd shaped cake tins?
This is a topic I have been wanting to share for quite a while now. It comes to mind every time I bake a cake that is not in the usual square or round shape. So last weekend, when I baked a domed pound cake, I decided to snap a few pictures on how I go about estimating how much cake batter I needed for the cake. So here I am writing about how I normally calculate cake recipes for non round and square cake tins.
How to Calculate Cake Recipes
This is the exact same technique I used when I baked a 3D car cake in a cake pan. And I use the same technique for all my other cakes which are baked in non round and non square cake pans.
How to Calculate Cake Recipes
Here's what you need to calculate your cake recipes:
This is what I use to calculate and come up with the estimation:
6 inch round cake tin (since I was using a calculated recipe for a 6 inch round cake for the estimation)
Water
A large measuring cup
The actual cake pan to be used for a particular cake project.
And this is what you need to do:
In order for this technique to work, you must know how much batter will your cake recipe yield for a standard round tin. For example, if your recipe is for a 6 inch round cake, you will need to know much will the cake batter fill the 6 inch cake tin, i.e., whether it will fill half of the tin or all the way to ⅔ of it. Only if you know this will this calculation technique work.
For instance, if your recipe normally fills two thirds of a single 6 inch round tin, you will need to fill it with water until it is two thirds full. Then, pour the water into a measuring jug. Note the measurement. In my example, my 6 inch cake pan fills 800 ml water. So, this is how much batter my recipe will yield. If my odd shaped cake pan requires more than 800 ml batter, I will have to scale up my recipe accordingly.
To determine how much batter my dome-shaped tin requires, I fill it with water all the way until it is about ¾ inches to the rim. This is how much I want the cake batter to fill my cake tin. I then pour the water into a large measuring cup. In my example here, the dome-shaped bowl requires almost 1000 ml batter. This is more than the 800 ml for a 6 inch round tin. So I will have to scale up my recipe in order to have enough batter to fill my dome-shaped bowl.
The formula to calculate:
To calculate how much scaling is required, you can use this formula:
Batter for odd shaped cake tin (in ml) / Batter for standard round or square tin (in ml) = number of times the recipes needs to be scaled up or down
I have illustrated this in graphics below.
How to Calculate Cake Recipes – Step by Step:
Fill your standard round cake pan with water, right up to the level where your recipe would fill. You would only be able to do this if you remember the point at which your cake tin is filled with the cake batter based on your experience of baking the cake previously.
How to Calculate Cake Recipes
My calculated butter pound cake recipe (assuming this is the recipe I am going to use for the dome-shaped bowl) for a 6 inch round cake pan would normally fill up to two thirds of the height, so I fill a 6 inch round cake pan with water until its two thirds full.
Next, I pour the water into a large measuring cup and note the measurement.
The measurement is 800 ml.
Next I repeat the same process with my odd shaped cake pan, in this example, the dome shaped bowl. I fill it up with water up to the level where I want my cake batter to fill up.
How to Calculate Cake Recipes
Then, I pour the water into a large measuring cup and note its measurement. In this example, the dome-shaped bowl requires 1000 ml batter.
Formula to calculate cake recipes:
Based on the measures above, here is the formula to calculate the required amount of cake batter for the odd shaped cake pan:
Batter for odd shaped cake tin (in ml) / Batter for standard round or square tin (in ml) = number of times the recipes needs to be scaled up or down.
Using this formula in the example above, the equation to calculate would be as follows:
1000 ml / 800 ml = 1.25 times
This means I will need to scale my recipe by 1.25 times from the original recipe which was meant for a 6 inch tin. To do this, each ingredient in the calculated recipe for a 6 inch round cake tin must be multiplied by 1.25 times. This way I will have the required amount of cake batter for the dome-shaped bowl.
And that's it. This is how I calculate cake recipes for odd shaped cake tins and pans.
I hope this will be able to help you to calculate cake recipes for your baking projects!
Linda
Published on June 24, 2022
This Japanese Cheesecake recipe is different from your typical cheesecake but it so light and fluffy that it truly melts in your mouth!
I love a fluffy international cake because you simply cannot find them in the grocery store like you can every other cake. If you are wanting other recipes like this then you have to check out my French Apple Cake, Mayan Chocolate Glazed Bundt Cake or Apricot Coffee Cake!
You guys, this cake almost defeated me. Honestly, I wasn't sure if I was even going to make this post because it doesn't look perfect. But isn't that a part of life? Even when something isn't perfect, you can still find joy in it! And this is exactly what I did with this Japanese Cheesecake.
I made this cake so many times and had so many fails. I under cooked it, I burned it, I had too much batter in one version. So, while this might not have been the easiest recipe to develop, don't let that keep you away from making this because: THIS CAKE TASTES AMAZING!
Not your Typical Cheesecake
Now, when you first see this recipe you might be thinking, this is not what I think of when I think of a cheesecake. You are absolutely correct. This cake reminds me more of an angel food cake from the texture and how light and fluffy it is. However, when it comes to baking it, it has more of the process and ingredients of a cheesecake.
How to Make Japanese Cheesecake
Assemble your ingredients. For exact amounts see the recipe card below.
Preheat your oven to 350 degrees Fahrenheit.
Grease a 9 inch cake pan and line the bottom with parchment paper.
In a pot on the stove, melt the cream cheese, butter, and milk and whisk together until smooth, then remove from the heat and set aside.
Separate the egg yolks and egg whites into two large bowls. Once the cream cheese mixture has cooled to room temperature whisk it into the bowl with the egg yolks.
Next, add in the lemon juice, vanilla, and half of the sugar into the mix.
Then, add in the flour, cornstarch, and salt into the mix and whisk together until there are no more lumps.
Next, in the bowl of egg whites, use a hand mixer and whip the egg whites. Once you've reached soft peaks, add in the sugar and cream of tartar and continue mixing until firm peaks.
Then, and this is the most important step, using a metal spoon gently fold in в…" of the egg whites into the mixture and then fold in the remainder of the egg whites ever so lightly into the mix.
Note: The batter should look almost marbled, do not fully incorporate them together or it won't come out correctly and you will lose the bubbles and air in the batter.
Pour the batter into the cake pan and place the cake pan on a baking sheet with sides and add in a very thin water bath using hot water (if it's easier to add the water when it's already in the oven that works too and keeps water off your floors).
Bake at 350 degrees Fahrenheit for 30 minutes then lower the temperature to 300 degrees Fahrenheit and bake for 12 minutes. After this, turn the oven off and open the oven door slightly for 30 minutes then remove from the oven and the water bath and allow the cake to cool to room temperature.
Finally, top with a generous dusting of powdered sugar and enjoy!
Important Notes for this Japanese Cheesecake:
When combining the egg whites into the batter mixture be sure to use a metal spoon. This minimizes the amount of air bubbles that are lost. With this being a fluffy, airy cake you want as many of those air bubbles to hold.
As you are folding into the batter you do not want to incorporate completely. You want your batter mixture to look marbled after a few simple folds into the batter
While this cake is in the oven it will stretch and hold this perfect shape. However, because of its spongey consistency, once it has cooled it will shrink down. This is completely normal and will not change the overall flavor of the dish.
Storage Information
You can store this dish in an airtight container on your countertop for 2-3 days. You can also store this cake in your fridge in an airtight container for 3-5 days. If you are wanting to freeze this cake you can do so for 2 weeks in your freezer in an airtight container, but note that you will lose some of the fluffy consistency by doing this. I would not recommend freezing this dish.
Would you like to make your sweetie a heart shaped cake for Valentine's Day and you don't have a cake pan? This heart shaped cake is so easy to make using a mix or you could make it from scratch. Make is for an anniversary or any special event. I made this one with a cake mix and I am NOT a cake decorator but my family loved it. Children will love helping you make this heart shaped cake and you can decorate with sprinkles or whatever you like.
What you will need to make a heart shaped cake:

1 (15.25 ounce) cake mix of your choice. (I used a Red Velvet Cake Mix)
1 (8 inch) square baking pan
1 (8 inch) round cake pan
Mix the cake up according to the package directions. Spray your two pans with cooking spray. Divide the mix between the two pans. I usually put a little more in the square pan and bake in a preheated 350 degree oven for 20 to 25 minutes. Let cool 10 to 15 minutes and remove from pans. Then cool completely. Cut the round cake in half and place on the corners of the square cake. If the round pieces stick up above the square cake you can use a serrated knife to slice off the tops until even with the square cake. Once you slice some off the pieces, turn them over so they will be flat and easier to frost. Check photos below. Frost with your favorite frosting and decorate to your taste. I used the cream cheese frosting recipe below and added a couple drops of food coloring to make it pink. This makes one large heart-shaped cake that will make 8 to 10 servings. You will need a large flat cutting board or tray you can leave the cake on to serve. I do refrigerate it covered with foil.
Cream Cheese Frosting:
1 (8 ounce) package cream cheese, softened
1 stick butter or 8 tablespoons or 1/2 cup, softened
2 cups powdered sugar
1 teaspoon vanilla extract, Optional
Mix together using mixer until creamy and of spreading consistency. Frosts one cake.
Click here to check out other tips from our site: Tips From The Southern Lady Cooks.
Don't Forget to Pin!
You can "share" with friends by clicking on the Pinterest, Twitter or Facebook buttons below.

Published on January 4, 2021
Learn how to make a heart shaped cake without any special pans or supplies required. This is super easy and you probably already have what you need at home!
How to make a heart shaped cake
I have a fun post for you today. As Valentines Day approaches, you might be trying to think of ways you can show your family how much you love them.
One fun way would be to make a heart shaped cake even if you don't have a heart shaped pan.
I am going to show you how to make a heart shaped cake using one square and one circle cake pan. It is so easy you'll be wondering why you never tried it before!
I know that most of you already have these two pans, so this is definitely a frugal dessert for Valentines Day.
Ingredients and Equipment:
Box of Cake Mix (also need oil, water and eggs to make the cake)
square cake pan (I used an 8-inch square pan)
circle cake pan (again, I used an 8-inch circle pan)
That is all you need. Are you ready to learn how to make a heart shaped cake?
How do you make a heart shaped cake?
First, preheat the oven to 350 degrees F. The mix the cake batter according to package directions. Spray cake pans with non-stick cooking spray.
Fill cake pans with batter to about the same height (you'll end up putting a little more batter in the square pan because it has a little more surface area than the circle).
Bake the cake according to the package directions until a toothpick inserted into the cakes comes out clean. I baked my cakes at 350 F for 20 minutes in the 8″ pans and that was the perfect amount of time.
Remove cakes from pans and let cool completely on wire cooling racks.
Once cooled, cut the circle cake in half. Do your best to cut it right down the middle or you'll end up with a lopsided heart.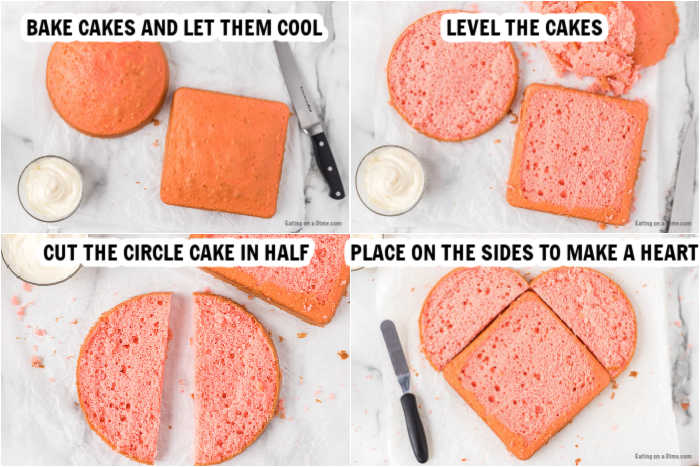 Set the two halves of your circle on two sides of your square and you will see your heart start to take shape.
Now, you'll notice the tops of the cakes aren't even, so you'll want to take a long serrated knife to cut off a portion of the top of each cake, aiming for a nice flat top.
You can also use a cake leveler. Amazon has several for sale here and I just love mine. It makes leveling cakes so much easier!
Once you've trimmed off some of the tops of the cakes and you are satisfied your cakes are pretty level, flip them over! Now you should have a nice beautifully smooth heart shaped cake.
How to make a heart cake without a mold!
Now you know how to easily make a heart cake without a cold. It is so fun and easy! You can use any type of cake you prefer.
Red velvet cake mix is really pretty. We also like strawberry cake and chocolate cake mix. Just use what your family enjoys or whatever you already have in your pantry.
You can also dye the batter from a white cake mix with food coloring so the cake is any color that you prefer. My kids love red, pink, purple or blue cake but any color would work great in this recipe.
Icing ideas:
Now, just decorate the heart cake how ever you desire. I like to put a crumb coat on my cakes before I frost it with my colored or flavored frosting.
The crumb coat ensures you won't have any ugly stray crumbs in your finished cake.
You can use a store bough frosting to decorate this cake or a homemade frosting works great too.
Some of our favorites include: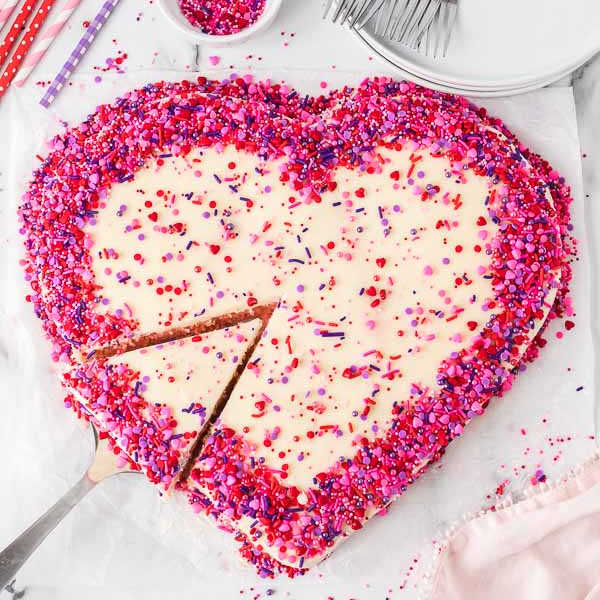 How to Store:
Store any leftover cake covered at room temperature for up to 5-7 days. You can also freeze the cake if you prefer.
Wrap the cake with plastic wrap or foil. Then place it in a freezer bag. Freeze for up to 3 months. Defrost the cake at room temperature and then it's ready to enjoy.
Options:
You can buy a heart shaped pan if you prefer.
It won't be as big as if you piece it together yourself, but it is definitely a time saver. I used the square and circle cake pans because I already had them on hand.
**Note: You can use any size cake pans you have, just make sure the square and circle are the same size in diameter.
What do you think? Now that you know how to make a heart shaped cake from regular cake pans, do you think you'll make your family one for Valentines day? Let us know.
3rd March 2009 by Lindys Team
We are often asked about how to use ball tins. Firstly, it's worth mentioning that the ball cake tins we sell have the manufacturer's suggestions and instructions printed on the reverse of the box label, so please remove it if you are throwing the box out!
Baking a fruit cake in a ball tin
If you are baking a fruit cake in the ball tin you will bake the cake as one ball. Line both halves and sit the bottom half in the tin stand. Fill that half with mixture and continue to pile up the mixture effectively creating the ball shape, leaving a little gap at the top for the cake to rise. Place the top half of the tin over the domed up cake mixture and lock into place, ready for baking.
Baking a sponge cake in a ball tin
If you are planning to bake a Madeira or chocolate ball-shaped cake, we find baking the cake in two halves works best. Line the tins as before and sit the bottom half in the stand. Fill almost to the top. Then make a scrunched up ring of foil to sit the other tin half in. Fill that one almost to the top with mixture and then bake the cakes as normal. When the cakes have cooled trim to the top of the tins and sandwich with buttercream.
Baking tips
Don't be tempted to use a soft sponge, like a Victoria sandwich sponge. It's not strong enough to hold the shape when iced, so will end up getting squashed under the weight. You can also use your tin for other things, try it out for your Christmas pudding, ice cream bombes, steamed puddings and summer puddings.
Ball cake decorating options
The options for decorating a ball cake are huge. What will you create? A football, tennis ball, giant emoji, a planet or the moon? Do share your creations on social media. I'd love to see what you create.
'Bringing world-class sugarcraft into your kitchen'
Once you've decided what size of tiers you need to make, it's time to figure out how much cake batter you need per pan. Whether you're making your own wedding cake, or making one for someone else, it can be challenging knowing how much batter you need to make.
There are a couple different ways to do this. This first is a simple calculation with cups. I include a chart below showing how many cups of batter you need to make different sized cake layers.
I've found using a liquid measuring cup for this works best, rather than a dry measuring cup.
However, you need to know exactly how many cups one batch of the cake recipe you plan to use makes. This can vary drastically recipe to recipe.
The second method is a bit more math intensive, but I actually prefer it! I think it's more precise, and less messy 🙂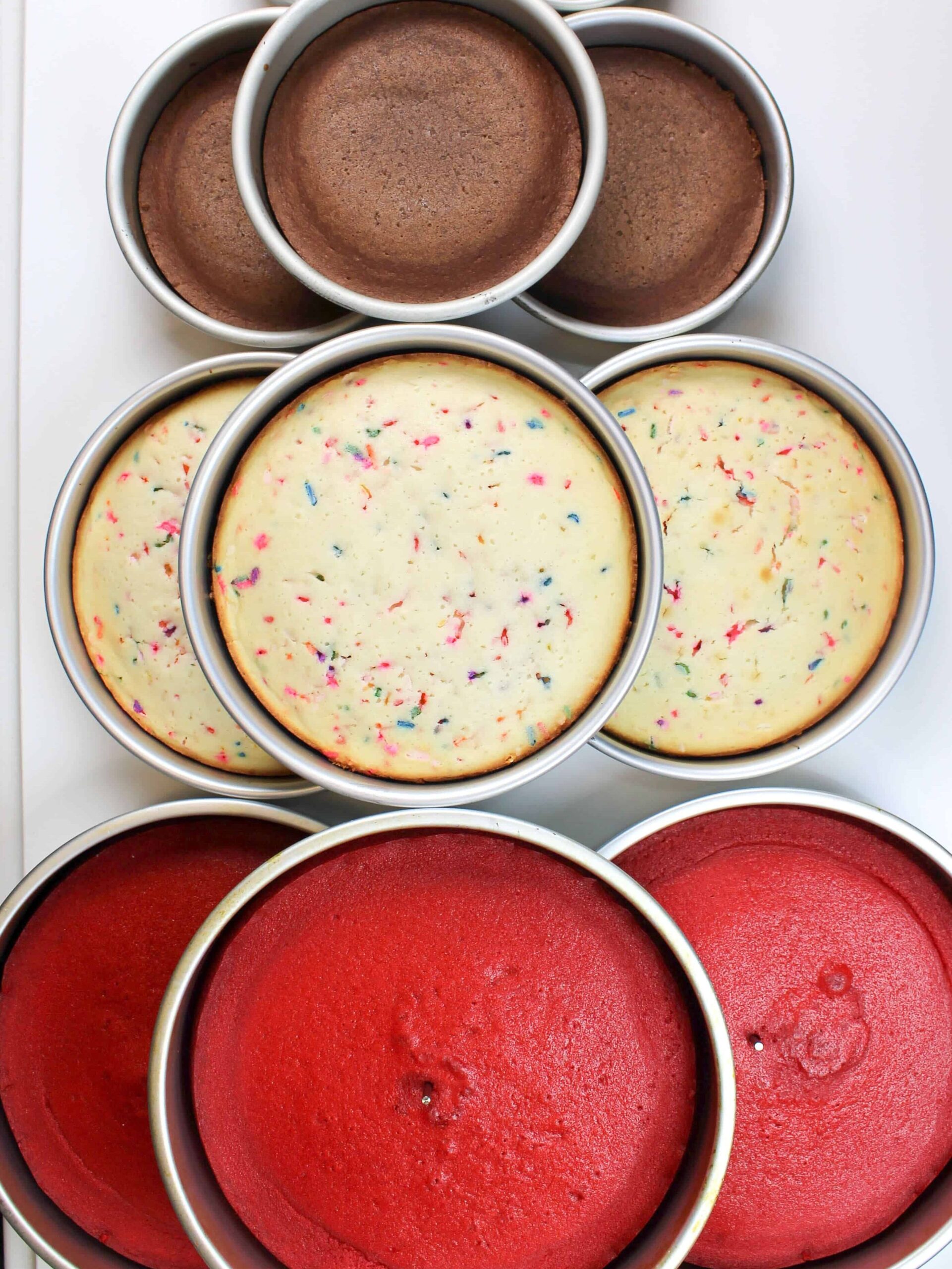 Method 1: The Cup Method
If you don't want to do any calculations, this method is for you! It will quickly give you the answer you need.
In the below table, I share how many cups of batter you need per pan. It's based on pan size and shape. My one caveat is that certain recipes rise more than others.
My vanilla layer cake recipe (shown below) rises less than sponge cake recipes, so I've also included a column with the calculations for it as well.
Based on the recipe you use, you may want to use slightly more or less batter to make your cake layers the perfect height (once baked and leveled). This is why it's important to test a recipe before making a large tiered cake.
Testing a recipe in advance helps you know the rise of the batter, so you can adjust as needed.
I've included the amount of batter you need for a 1-inch cake layer, or a 2-inch cake layer. Traditional wedding cakes are made with two, 2-inch cake layers.
However, I like to make my tiered cakes with three, 1-inch cake layers. I also add a very generous amount of buttercream between each cake layer (about 1/4 of an inch).
This makes my tiers the perfect wedding cake height (4 inches tall).
The height of my tiers can vary though! The amount of frosting I use, how many cake layers I use, and how I level my cake layers all affect the height of each tier.
While a standard wedding cake serving is 4 inches tall, sometimes I make my tiers taller based on the look I'm after for a cake. I also vary the height based on what the bride and groom request.
My Cake Batter Calculator – Chart Showing How Much Cake Batter Per Pan You Need
One batch of my vanilla cake recipe makes about 10 1/2 cups of batter.
If I wanted to make a round cake with four, 7-inch cake layers, I would need about 1 batch of cake batter (2 1/2 cups per 7-inch layer, x 4 layers = 10 cups of batter)
I highly recommend testing out a cake recipe ahead of time, to know how many cups of batter it makes, and how high it rises as it bakes.
You also need to account for the finished height of your cake layers once they're leveled.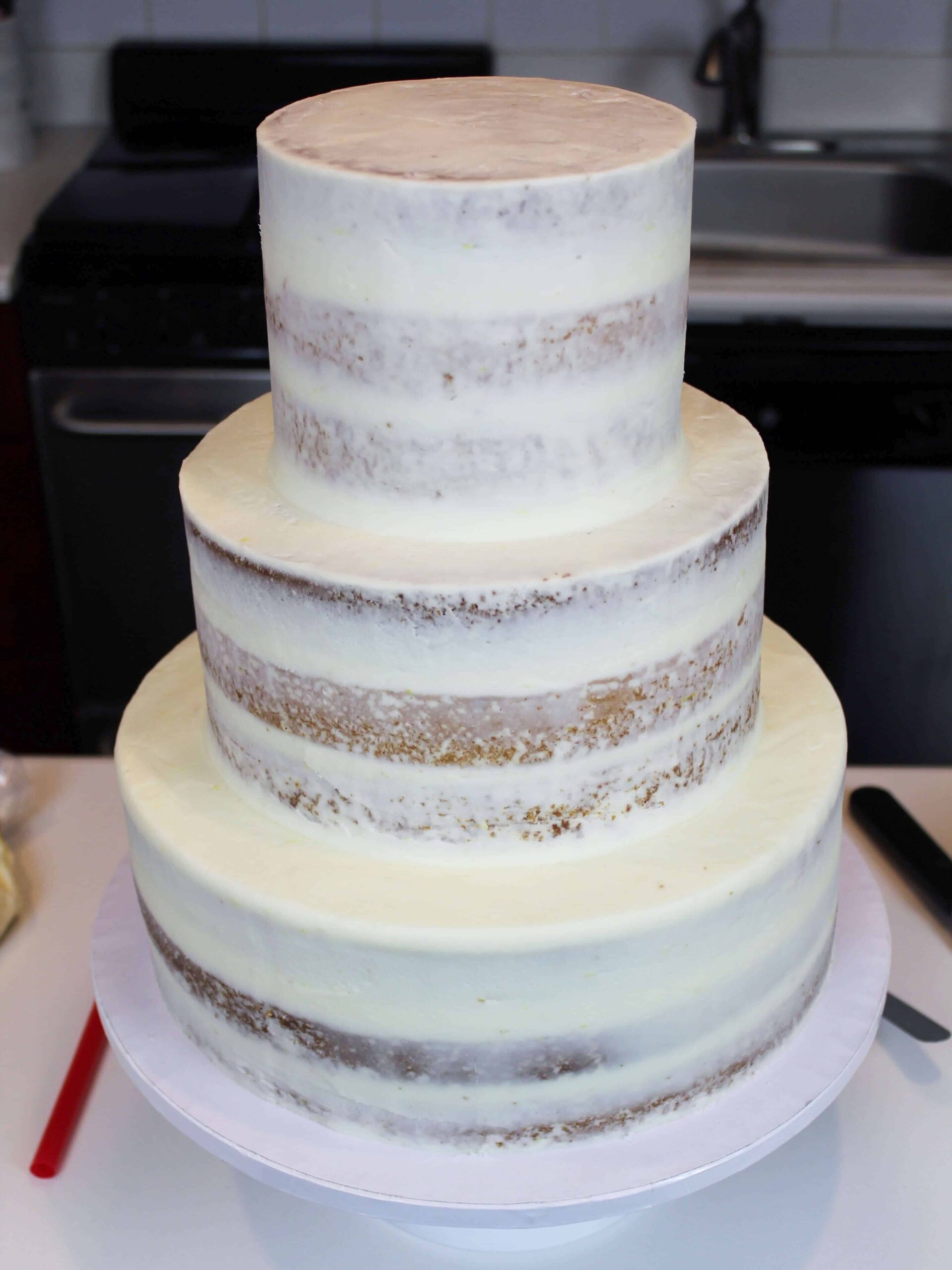 If you'd like to learn more about serving sizes for weddings and parties, I highly recommend checking out my cake portion guide.
It walks through how many people different tiered cakes feed, and what size of cake you should make for big events.
Method 2: The Calculation Method
Now for the nerdier, more precise method. You can use math to figure out how much batter you need per pan!!
To do this, you need to know two important bits of information. The first is knowing how much batter 1 batch of the recipe you plan to use makes.
The second thing you need to know is the equation of a circle! Get ready to relive traumatic memories from high school geometry 😛
Using A Recipe You Know
If you have a tried and true cake recipe that you know and love, you can use what you already know about the cake recipe to figure this out!
I love using my vanilla layer cake recipe or my chocolate layer cake recipe for wedding cakes, because they're incredibly moist and have great structure.
My WASC cake recipe is also always a crowd pleaser at big events.
When I bake a batch of either recipe, they both make four, seven-inch cake layers that are roughly 1-inch tall (once leveled).
I can back my way into the amount of batter one batch makes by knowing this!
The Equation of a Cake Pan
This is where math comes into play. It's nothing crazy. It really just uses the equation of a circle, which is Pi (3.14) x radius squared. In this example with my vanilla cake recipe, I would first calculate the volume of one cake layer.
I'd take 3.14 (Pi) and multiply it by 3.5in x 3.5in (the radius of the cake layer squared). This would give me 38.5 inches squared.
I know that my 7-inch cake layers are about 1-inch tall once they're baked and leveled.
With that in mind, the volume of a single cake layer would be 38.5 inches squared x 1 inch, or 38.5 inches cubed.
Since one batch of batter makes four cake layers, that means it makes about 154 cubic inches of batter (38.5 cubic inches x 4 cake layers).
With this number, I can now calculate the number of batches needed to make for any size of tiered cake.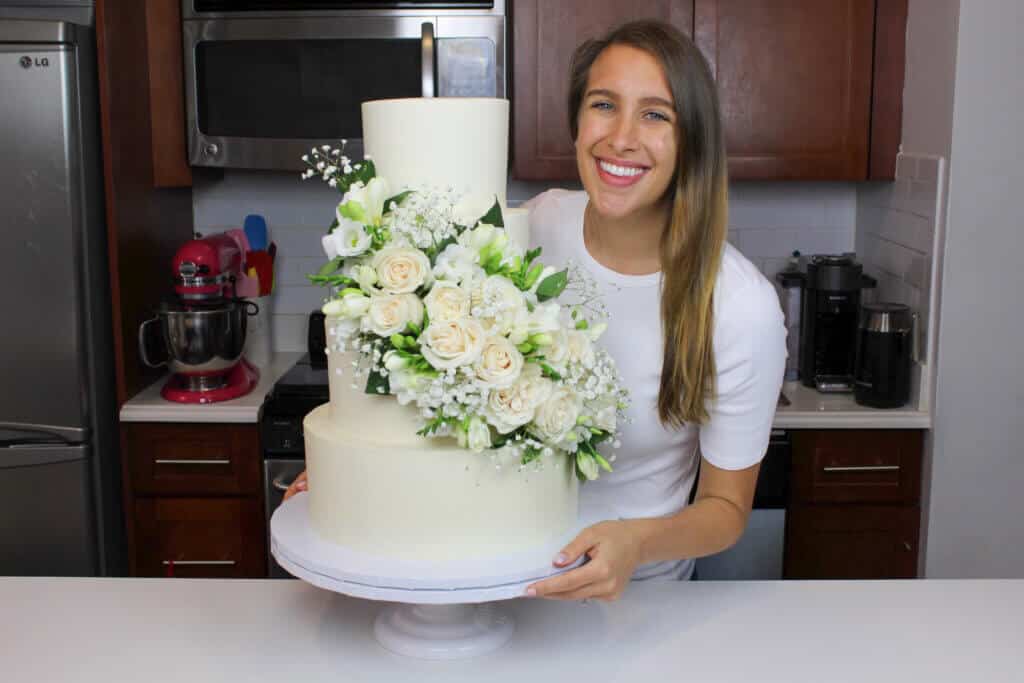 Me with my wedding cake! It was made with 12-inch, 10-inch, 8-inch, and 6-inch tiers.
Example – Calculation For A Three Tiered Cake
Say I wanted to make a tiered cake with 12-inch, 9-inch, and 6-inch cake layers.
Each tier would be made with 3 cake layers that are 1 inch tall. I would make the below calculations:
General Formula for any sized tier: Pi (3.14) x cake layer radius squared x cake layer height x number of cake layers
12 inch tier: 3.14 x (6 in. x 6 in.) x 1 in. x 3 layers= 339 cubic inches
9 inch tier: 3.14 x (4.5 in. x 4.5 in.) x 1 in. x 3 layers = 191 cubic inches
6 inch tier: 3.14 x (3 in. x 3 in.) x 1 in.x 3 layers = 85 cubic inches
This means in total, I will need 615 cubic inches of batter (339+191+85).
Since I know one batch makes about 154 cubic inches, I will need to make 4 batches of batter.
Let Me Know Your Thoughts
I hope this helps you know how many batches of batter you need to make for tiered cakes!!
For those of you who just want to know how much cake batter per pan you need for different sized pans, I hope you find this helpful too.
Let me know your thoughts, whether you use my cake batter calculator chart, or whip out your calculator!! 🙂
What's better for a spring celebration than an egg-shaped Easter cake? Bake your favorite cake recipe then transform it into an egg with these easy steps. The finished cake, decorated with vibrant colors and pastel candy is both a gorgeous centerpiece and deliciously festive dessert.
For this project all you need is: a square and a round cake pan, icing spatulas and a piping bag with an assortment of tips for decorating the cake, and a large serving platter — oval works best.
Use a cake recipe that makes a two-layer cake. I used Martha Stewart's Simple Layer Cake. A pastel cake would work wonderfully too.
1. Prepare the cake batter following the recipe instructions. Divide the batter evenly between one 9 x 9 x 2-inch square baking pan and one 8 or 9-inch round cake pan. Bake and cool the cakes according to the recipe instructions. Remove cakes from the pans and let cool completely before cutting — trimming a warm cake can be a very crumby disaster!
2. To start assembling the Easter cake, place the square cake in the center of the platter.
Next, cut each end of the round cake so that it sits flush against the square cake. Place the half-rounds on either end of the square cake to create an egg shape. (Note: You will not cut the round cake in half, but rather each end separately, with some cake remaining in the center).
Use the remaining cake scraps from the center of the round cake to fill out the top and bottom of the cake, creating an egg shape. Oh, and don't worry if your Easter cake looks a little messy, the frosting in the next step will hide that!
3. Now it is time to start frosting the egg cake. Martha Stewart's Basic Buttercream is really great for this project, but most white or pale colored frosting will work. You could tint your frosting if you want a more vibrantly colored egg cake. Make it pink, yellow green or blue – whatever color you fancy!
Use a pastry bag fitted with a large tip to pipe a little of frosting on to the seams of each of the cake pieces to 'glue' them in place. Then, use spatula to frost the entire cake. Smooth the tops and the sides of the cake and transfer to the refrigerator for 10 to 15 minutes to firm up the frosting before you start decorating.
4. Get creative! You can decorate your Easter egg cake however you like. It's a fun project for kids to help with. I used pink and blue colored icing, piped on with a small circular decorators tip, pastel colored candy eggs and edible Easter grass.
The Easter egg-shaped cake can be refrigerated, just be sure to bring it to room temperature before serving.
Sometimes it's nice to take a little break from the usual round or square cake! When it comes to baking up a hemisphere, half sphere or dome cake (whatever you like to call it), there are a few approaches you can take.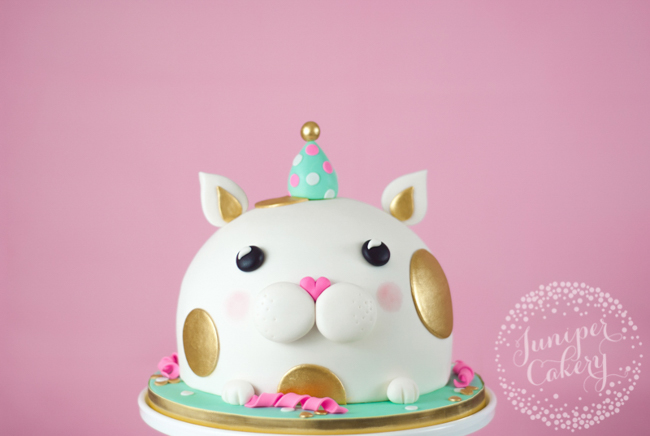 3 ways to create a dome cake
1. Bake the cake in an oven-safe bowl
If you're only a hobby baker and bake many half-sphere cakes, try an oven-safe bowl. While it's not a perfect solution, it's an efficient, affordable starting place!
If you go this route, keep these tips in mind:
Bowls almost always have a flat base, which you'll see on your baked cake. To fix this, you'll have to fill in the top of your cake with cake scraps and buttercream or ganache.
Bowls are usually deeper than hemisphere cake pans, so bear this in mind when it comes to baking times as well as the size of the cake you need. You may find that you'll need to adjust your temperature and time to accommodate the amount of batter.
In our experience, it's hard to remove a cake from a bowl. To make it easier, don't remove your cake from the bowl too early. The cake is more likely to break apart while warm, so leave it to cool before turning out onto a clean, level surface.
2. Carve and sculpt a layer cake
The thought of carving a cake can seem scary at first, but creating a dome shape is actually one of the easier shapes. It's great for a beginner who is feeling a little adventurous!
Begin by stacking a few layers of round cake, just as you would to make a regular layer cake. Crumb coat the cake (we always find it easier to carve a crumb-coated cake — the extra buttercream helps hold the layers and crumbs together).
Starting at the top, use a sharp, serrated knife to slowly remove portions of cake until it looks like a dome. Kimberley Bailey's Sculpting Essentials: The Perfect Sphere class will give you more detail on shaving away cake into a round shape.
3. Bake your cake in a dome baking pan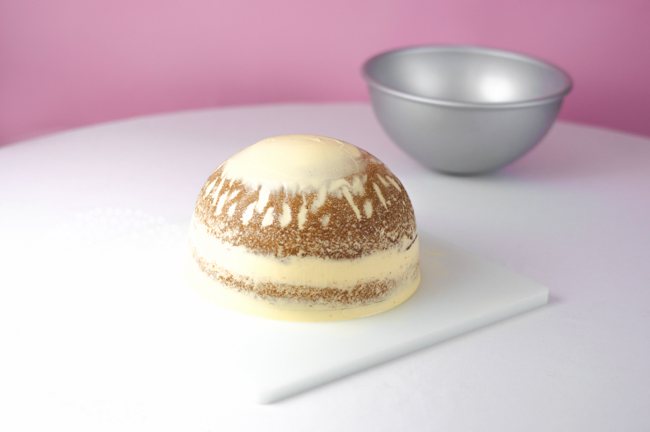 We're pretty cautious when it comes to baking unusual shapes, but we swear by using hemisphere cake pans.
In the end it's so much more straightforward than some of the other options: Carving and sculpting can take a lot of time time. Using a bowl is great if you don't have the time or resources to pick up a baking pan, but it requires a few extra steps. In the end using a baking pan created to do a specific job is pretty much the safest and quickest option.
Here's our best tip for this method: Be generous with greasing the pan. We also like to add a very small parchment circle right at the top or base of the pan, where the cake is most likely to stick.
Giant Cupcake Pan Cooking Tips
How to Make a Number Six Cake
How to Convert a Pan Cake to a Bundt Cake
Easy Strawberry Cake Recipe
How to Decorate Fake Cakes
A giant cupcake is a fun alternative to a traditional cake. It's instantly recognizable, and you can customize it for birthdays or holidays. Make an instant centerpiece for a party, a novelty cake for a bake sale or a special treat for your favorite cupcake lover.
The Basics
The Wilton giant cupcake pan is made of cast aluminum and has two parts, one for the bottom of the cupcake and the other for the top. The bottom resembles an ordinary round cake pan, except that it is ridged to resemble the marks left by a paper cupcake baking liner. The top has a round base which narrows to a point to resemble the top of a frosted cupcake.
Baking
Since the bottom part of the pan holds more batter, it will take longer to bake. You can either bake the bottom for 10 or 15 minutes before adding the top to the oven, or bake both parts at a lower temperature and extend the baking time. According to Scribd.com, you should bake cakes in this pan for 60 to 70 minutes at 325 degrees Fahrenheit.
Grease and flour both parts of the cupcake pan or use a non-stick spray with flour. Be sure to cover all of the indented areas to ensure that the cake will release easily. You can find a recipe for a chocolate pound cake for this pan on the Wilton site (see the Resources section). This recipe advises that you pour 4 1/2 cups of batter into the top section and the remainder into the bottom. After baking, cool the cake in the pan on a cooling rack for 15 minutes, then turn the cake out of the pan and let it sit on the rack until it's completely cold.
Decorating
Since the giant cupcake is in two parts, you'll need to assemble it like an ordinary layer cake by putting some frosting between the two pieces. Be sure to trim the bottom part of the cupcake to make sure it's level before you set the cupcake top on it.
This cake can be decorated for any occasion, but it's especially nice for a child's birthday. Frost the bottom in white, making sure that the ridges are completely covered. Add the cupcake top and frost it in a bright primary color. Use gel or paste food coloring to obtain the brightest shade. Make a number decoration that signifies the child's age. Trace the number onto poster board using a stencil, or draw it freehand. Cut it out and set it on the top of the cupcake, gently pushing the bottom of the number into the cake.
Monday, March 19, 2012
21st Birthday Cake Ideas
Top the cake with 21 candles: A former cake can be topped with 21 candles or two candles in the shape of a 2 and a 1. This leaves abundance of room and emphasizes the phenomenal flavor the birthday celebrant looks transmit to all year. Fill between layers with a beloved flavor like strawberry. Blowing out 21 lit candles is a whole new sense and can be fun to watch. After that, even a 21 year old, realizes they're getting old.
Make the cake in the shape of the numbers for 2 and 1: every person loves cakes made in special shapes. Large numerals made of cake legitimately say it. Years later, it will be easy to tell what birthday it was from the photos. Since a great deal of the cake will be cut away to make the numbers, you should use a full sheet pan or two half sheet pans. Make sure you have abundance of frosting ready because the cut sides of the numerals will gobble it up like crazy.
Cake Pans To Use
Make the cake in the shape of wine bottles or a beer mug: 21 is the legal age for drinking. I don't promote drinking, but a cake in the shape of a wine bottle or beer mug can be fun for the right person. The shape may have to be oversized to have adequate to serve party guests. The label on the wine bottle provides an opportunity for some humor. You can use the year of birth as the vintage and a play on the birthday celebrant's name as the name for the wine. Some wine glasses with ribbons can be set nearby to share a toast. Serve sparkling cider to those under 21 at the party.
Make the cake in the shape of a car: Driving is prominent to a 21-year old. A cake in the shape of his or her beloved car is a great way to celebrate. Use at least two layers, one for the body of the car and a smaller one for the passenger compartment. Tires are easy if you use dark chocolate cookies frosted and pressed on the side of the car ( cake) body. Silver or black are very difficult frosting colors for the car body. Use wild colors like hot pink or lime green for the car body frosting and have fun. The glass in the windows can be done with light blue frosting and a few white highlights to indicate reflections. Very wee information is needed to make it look like a car once you have the basic shape and wheels. Soon your 21 year old will be driving away with a tasty piece of cake. Have fun!
21st Birthday Cake Ideas
The Cake Decorating Wilton method
Frosting a cake can be a fun job, until you get along with it and understand that it is not at all times as straightforward as it appear. How about production your own homemade cakes look as expert and spectacular, like the cakes you get at the store? You can perform this expert appearance merely by following the Cake Decorating Wilton Method. The Wilton cake decoration is one of the most popular and original of all the cake decoration methods. Following are a few tips for succeeding the use of the Wilton cake method.
What kind of Cake compound should be used?
Cake Pans To Use
It doesn't matter what kind of cake compound you are choosing. One can choose any type of compound which suits the requirements. The cake decorating Wilton formula recommends particularly the Duncan Hines cake mixtures in order to make sure that you get the same batter quantity on each cake. So, in real meaning, you would have to go for a cake compound that can give you firmness and consistency. While using the customary Wilton cake method, you would have to add one or two tablespoons of Wilton meringue powder. This single powder will make sure that the cake can get higher than it otherwise would.
How to put in order cake pans for Wilton cake formula
According to cake decorating Wilton formula you will have to take special care while preparation cake pans. Here is a straightforward tip that can make a world of discrepancy when you are preparation the cake pan. Take a straightforward two inch broad paint brush and brush on vegetable shortening in the cake pan. After greasing the cake pan, dust the pan with dinky flour. If you see any part of the pan shining, make sure to brush on more vegetable shortening and then dust with flour. Whatever you do, make sure you don't fill the cake pan more than halfway.
The Wilton cake formula based On Very Easy tips
According to the cake decorating Wilton Method, before beginning the icing of your cake you will have to be completely sure that it is stored in an airtight container. The cake is allowed to set at least for a day or overnight before you start icing it. By using a expert cake leveler put in order the cake for decoration .Level the top of the cake so that you are working with a flat plane cake. Use a saw-like knife if you don't know how to use a cake leveler. Make sure you trim all crumbs that may be left behind. Keep in mind that tries to work only on a flat leveled cake.
Applying the First Coat of Icing
The first coat of icing should be applied liberally. Avoid touching your spatula directly to the cake, as this will cause crumbs to stick. Instead, apply a moderate estimate of icing and spread it around. Assume this first icing as a crumb layer, while applying icing make sure the crumbs are stick to the face of the cake. After applying the first layer of icing, let it set minimum for 15 minutes and if possible then longer.
Icing the Sides of the Cake
For a novice one of the trickiest parts of cake decorating Wilton formula is to ice the sides of the cake. The Wilton cake formula names this trouble with a single tip. This tip is known as tip # 789, and it can help you attain consistency all straight through working on the sides of the cake.
Introduction: Making Shapes in Cakes
This instructable is about how to make a cake with cool shapes inside. It's a twice baking process that will be sure to impress your guests!
This is a simplified version of what I normally do using digitally created dynamic extruded shapes and food safe silicone molds. I hope you enjoy this instructable!
Step 1: Ingredients
For this project you will need:
2 boxes of white cake mix
9X13 (or similarly dimensioned) sheet pan
(3) 4″ springform pan (or small width cake pans)
cookie cutters (optional)
Step 2: Making a Sheet Cake
Oil your pan and line it with parchment paper. Then use the recipe provided on the box mix. Add your choice of food coloring to the batter and then pour it into the lined pan. Gently tap the pan against the counter to reduce the amount of air trapped in the batter. Bake at 350 degrees Fahrenheit until cooked through (roughly 10-15 minutes). Remove from oven and let cool. Then place pan in refrigerator for 1 hour until chilled.
Note: For even more control when cutting your shapes in the next step you may want to chill your cake in the freezer instead of the refrigerator!
Step 3: Cutting Your Shapes
Trace an outline of your pan onto a piece of paper. This will serve as your template so that you can see how what type of geometries might fit inside your cake. Transfer your chilled sheet cake to a cutting board and using cookie cutters or a knife – cut your chosen geometries. Place them on top of your paper template to see how they will fit in the cake pan. Depending on the depth of your pan you may be able to fit several layers of your sheet cake cutouts!
Builder beware: you would ideally like the depth of your shape to be close to the depth of the cake pan. Cake batter likes to move while it is cooking so the deeper your pan is – the more likely the shapes will shift during the baking process.
Step 4: Baking Your Cake
Line your 4″ spring form cake pan with parchment paper and then gently lay one of your shapes into the bottom of the pan. Next, prepare the second box of cake mix (feel free to add any food coloring to this batter as well!). Place the batter around the shape until the batter is level with the top of the shape. You may need to tap the pan to level the batter. Continue adding layers and batter until the pan is almost full. Bake at 325 degrees Fahrenheit until the cake is done (roughly 20 minutes). The cake should spring back when pressed. Cool the cake until room temperature and then chill in the refrigerator until you are ready to serve it.
Note: you will have much more batter than you need for one small cake – you may want to have several pans to bake more than one cake at a time or bake cupcakes with the rest!
Step 5: Cut Your Cake
Remove the cake from the refrigerator, de-mold it from the pan and remove the parchment paper. Cut in half and serve!
Be the First to Share
Did you make this project? Share it with us!
Nothing quite symbolizes autumn like a big, bright pumpkin. At this time of year, you'd be hard-pressed to enter any store that doesn't have pumpkin decor — and we use them ourselves to decorate everything from front porches to dinner party tablescapes. So why not make a pumpkin cake that looks like a pumpkin! Read on to get step-by-step instructions for baking and decorating a pumpkin cake, with recipes for the cake and the frosting.
Items you'll need:
Bundt cake pan with fluted sides that resemble a pumpkin's iconic shape
Ground flaxseed meal
Baking spray made with flour
2 baked pumpkin Bundt cakes (I used this recipe and doubled it to make 2 cakes for the full-size pumpkin version. There's a scaled-down version of this recipe below if you want a smaller cake that's just the top of the pumpkin.)
Cooling rack
Cream cheese frosting ingredients (see below)
2 small spreaders (for frosting the cake) (you might like this set: $16 at Target.com)
A sugar cone ice cream cone (the ones with the flat bottoms, as opposed to a pointy bottom, work best!)
A cake stand or large plate
Optional piping bag with small round tip for extra decorations (you might like this set: $20 at BedBathandBeyond.com)
Optional sprinkles or edible glitter
Important Note: This full-size version of this pumpkin cake is made by stacking 2 Bundt cakes. You'll prep your Bundt cake as per the instructions below, bake your first cake, flip it onto a cooling rack, clean and thoroughly dry your Bundt pan, prep it again, then bake your second cake.
Baking the Cake
Use this recipe for Pumpkin Cake. It's got the perfect fluffy texture with just the right amount of sugar and spice. The frosting is a simple cream cheese frosting, which you'll make as your cake is cooling. (More on that later.) You'll follow recipe directions for mixing and baking the batter, but be sure to take a look at the tips below:
Make an adorable cake out of two round cake layers.
Related To: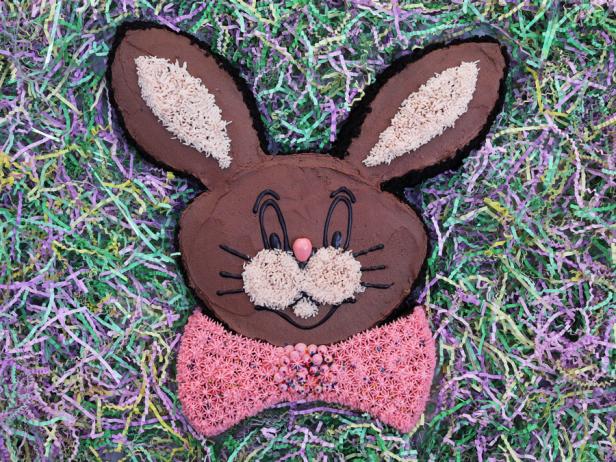 Photo by: Heath Goldman
By Heath Goldman for Food Network Kitchen
Heath Goldman is a culinary editor at Food Network.
Come Easter, you might want to up the ante with an adorable bunny cake. It's totally possible to make one without buying a fancy bunny pan that'll cost you a pretty penny and take up cabinet space the rest of the year. Below, some detailed instructions on achieve this adorable look.
How to Make a Flat Bunny Cake with Round Cake Pans
This type of bunny cake is simple to create and super classic. To pull off this technique, all you need are two round cake layers, frosting and a knife.
The most typical version of this bunny cake is vanilla cake decorated in vanilla frosting and shredded coconut flakes. However, you can use whatever variety of cake you wish, whether it's chocolate, vanilla, red velvet, strawberry — you name it. You can also decorate it however you choose. Because the bunny shape is so easy to create, it becomes a fun canvas that you can customize with fancy piping. Or let your kids get involved and decorate it with simple candy.
Here, we'll walk you through how to make a chocolate bunny cake that's every bit as pretty as the velveteen rabbit himself.
Trying to fit a square cake into a round pan? Find out how much batter you'll need. Here's a handy-dandy infographic to help you out:
If you have an unusual pan size and would like to figure out its capacity, measure the amount of water it takes to fill the pan.
Compare that measurement to the volumes in our chart (or the cake pan size listed in your recipe) to determine how much batter you'll need.
To ensure a cake rises evenly, you should only fill your pans to the half-way mark.
The baking time may change as well, so it is imperative that you keep a watchful eye on your cake, and check for doneness using your preferred method.
It's always better to have a little extra batter, rather than not enough. Once you've filled the pans half-full, use any remaining batter to bake a few cupcakes.
Baking Pan Conversion Chart
Recipe Calls For
Volume
Use Instead
1 (8-inch) round cake pan
1 (8 x 4)-inch loaf pan; 1 (9-inch) round cake pan; 1 (9-inch) pie plate
2 (8-inch) round cake pans
2 (8 x 4-inch) loaf pans; 1 (9-inch) tube pan; 2 (9-inch) round cake pans; 1 (10-inch) Bundt pan; 1 (11 x 7-inch) baking dish; 1 (10-inch) springform pan
1 (9-inch) round cake pan
1 (8-inch) round cake pan; 1 (8 x 4-inch) loaf pan; 1 (11 x 7-inch) baking dish
2 (9-inch) round cake pans
2 (8 x 4-inch) loaf pans; 1 (9-inch) tube pan; 2 (8-inch) round cake pans; 1 (10-inch) Bundt pan; 2 (11 x 7-inch) baking dishes; 1 (10-inch) springform pan
1 (10-inch) round cake pan
2 (8-inch) round cake pans; 1 (9-inch) tube pan; 1 (10-inch) springform pan
2 (10-inch) round cake pans
5 (8-inch) round cake pans; 3 or 4 (9-inch) round cake pans; 2 (10-inch) springform pans
2 (9-inch) round cake pans; 2 (8-inch) round cake pans; 1 (10-inch) Bundt pan
10-inch tube pan
3 (9-inch) round cake pans; 2 (10-inch) pie plates; 2 (9-inch) deep dish pie plates; 4 (8-inch) pie plates; 2 (9×5-inch) loaf pans; 2 (8-inch) square baking dishes; 2 (9-inch) square baking dishes
10-inch Bundt pan
1 (9×13-inch) baking dish; 2 (9-inch) round cake pans; 2 (8-inch) round cake pans; 1 (9-inch) tube pan; 2 (11×7-inch) baking dishes; 1 (10-inch) springform pan
11 x 7 x 2-inch baking dish
1 (8-inch) square baking dish; 1 (9-inch) square baking dish; 1 (9-inch) round cake pan
9 x 13 x 2-inch baking dish
1 (10-inch) Bundt cake pan; 2 (9-inch) round cake pans; 3 (8-inch) round cake pans; 1 (10 x 15-inch) jellyroll pan
10 x 15 x 1-inch jellyroll pan
1 (10-inch) Bundt pan; 2 (9-inch) round cake pans; 2 (8-inch) round cake pans; 1 (9 x 13-inch) baking dish
9 x 5-inch loaf pan
1 (9 x 2-inch) deep dish pie plate; 1 (10-inch) pie plate; 1 (8-inch) square baking dish; 1 (9-inch) square baking dish
8 x 4-inch loaf pan
1 (8-inch) round cake pan; 1 (11 x 7-inch) baking dish
9-inch springform pan
1 (10-inch) round cake pan; 1 (10-inch) springform pan; 2 (8-inch) round cake pans; 2 (9-inch) round cake pans
10-inch springform pan
2 (8 x 4-inch) loaf pans1 (9-inch) tube pan; 2 (9-inch) round cake pans; 1 (10-inch) Bundt pan; 2 (11 x 7-inch) baking dishes; 2 (8-inch) round cake pans
8-inch square baking dish
1 (9 x 2-inch) deep dish pie plate; 1 (9 x 5-inch) loaf pan; 2 (8-inch) pie plates
9-inch square baking dish
1 (11 x 7-inch) baking dish; 1 (9 x 2-inch) deep dish pie plate; 1 (9 x 5-inch) loaf pan; 2 (8-inch) pie plates
As an easy alternative to a loaf pan, bundt pan can be used for nearly all baking applications as well, especially for quick breads such as banana bread and pumpkin bread.If you compare the volume of your loaf pans to this, it will give you the answer.After the bundt has been filled, try to use up as much batter as you can.
Table of contents
Can I Use A Bundt Pan Instead Of A Loaf Pan?
What Can I Use Instead Of A Loaf Pan For Banana Bread?
How Much Longer Do You Bake A Bundt Pan?
What Pans Are Best Used When Making Banana Bread?
What Can I Use If I Don'T Have A Banana Bread Pan?
Can You Substitute A Regular Pan For A Bundt Pan?
Is Baking In A Bundt Pan Different?
What Can I Use If I Don'T Have A Loaf Pan?
Can A Loaf Cake Be Made In A Bundt Pan?
What Size Pan Can I Substitute For A Loaf Pan?
Do Bundt Pans Take Longer Baking?
What Can I Use Instead Of A 9X5 Loaf Pan?
What Can I Use Instead Of 9 Inch Loaf Pan?
Does A Bundt Pan Cook Differently?
How Long Does It Take To Bake A Bundt Cake 350 Degrees?
How Long Should I Leave A Cake In A Bundt Pan?
Is It Better To Bake Banana Bread In A Glass Or Metal Pan?
What Type Of Loaf Pan Is Best?
What Is The Best Size Loaf Pan For Banana Bread?
Can I Use A Bundt Pan Instead Of A Loaf Pan?
As an easy alternative to a loaf pan, bundt pan can be used for nearly all baking applications as well, especially for quick breads such as banana bread and pumpkin bread.If you compare the volume of your loaf pans to this, it will give you the answer.After the bundt has been filled, try to use up as much batter as you can.
What Can I Use Instead Of A Loaf Pan For Banana Bread?
Cake Pan with Square Shape – Here's an invention of the century.I bake the banana bread on the same baking sheet, even though it was baked on a 99-inch loaf pan.Baking in this manner takes less than 20 minutes (compared with 1 hour in a loaf pan) while still producing tasty results.
How Much Longer Do You Bake A Bundt Pan?
You need various factors to consider when baking: size and type of batter, amount of batter, and temperature.Starting with a baseline example: 5 tablespoons cake batter for a 6-cup recipe should be baked at 350 degrees for between 35 and 40 minutes.Bake a bundt cake for 25 minutes after starting at 350 degrees.
What Pans Are Best Used When Making Banana Bread?
What Can I Use If I Don'T Have A Banana Bread Pan?
I believe this is the biggest deal in the cake Pan world right now.My banana bread is baked in a 9 * 9 square cake pan instead of a loaf pan, which saves more space.While a loaf pan is larger (and takes longer to bake in), this gives the bread a quick turn-around and is easy to bake on.The middle should not be under cooked or overcooked, so there is no problem.
Can You Substitute A Regular Pan For A Bundt Pan?
Here are the steps and how you can make your own bundt pan.For making your own Bundt pan substitute, you'll need an oven-safe glass Pyrex dish that is small and empty, a cake pan (usually 9 inches wide by 14 inches wide), and pie weights.
Is Baking In A Bundt Pan Different?
As a matter of fact, Bundt pans are available in more than just a few shapes, sizes, and designs. However, those with grooves are still preferred to those without (though there are other ways to do it).With a Bundt pan, recipes must be extremely moist since plenty of the cake's surface will be exposed to high levels of heat.
Valentine's Day is right around the corner. which is the perfect excuse to ignite your inner cupid and bake a heart-shaped cake. If you have a heart-shaped cake or springform pan, you're all set. If not, don't worry—you don't need one! With a little ingenuity, you'll have a beautiful heart cake using the pans you already own.
Step 1: Bake Two Cakes
Using your favorite cake recipe or box mix, create your batter and pour it into prepared round and square pans with identical diameter and width, respectively. For example, you could use a 9-inch round pan and a 9-inch square pan.
Step 2: Cut the Round Cake
After they're done baking, let the cakes cool completely, then remove both of them from their pans and gently cut the circular cake in half.
Step 3: Assemble Your Heart
Add the two circle halves to two adjacent sides of the square to create a heart shape, as shown below. You may want to add frosting to the crevices to keep it intact and to avoid becoming broken-hearted (hopefully making this cake for someone will prevent that).
Step 4: Frost That Baby
Frost the cake with a smooth coating; the frosting (we prefer to use pretty pink buttercream) will hide the crevices and create the appearance of a full, beautiful heart.
Step 5: The Finale
Garnish your cake with sprinkles, sparkles, glitter, sugar flowers. maybe even the name of the person you've given (and are giving) your "heart" to. Or, just celebrate the holiday itself with friends over cups of hot coffee to offset the delicious sweetness of the cake crumb and buttercream frosting. The choice is yours—either way, no one will deny that your cake is lovely.
And remember, as you relish in your final creation, 'twas you who brought together circle and square for the most epic of love affairs. Happy Valentine's Day!
More Cake Hacks:
8 Tricks That Make Boxed Cake Mix Taste Like Homemade
These Cake Hacks Are So Damn Pretty You'll Have to Eat Another Cake
How to Slice a Cake for Long-Lived Freshness, According to Science
How to Frost Your Cake Like a Pro
The Formula to Making a Perfect Cake Without a Recipe
Want to master Microsoft Excel and take your work-from-home job prospects to the next level? Jump-start your career with our Premium A-to-Z Microsoft Excel Training Bundle from the new Gadget Hacks Shop and get lifetime access to more than 40 hours of Basic to Advanced instruction on functions, formula, tools, and more.
Videos
Recipes
Beauty
Home DIY
Baby
About
Contact
Search
Fudgy Heart-Shaped Brownie
How about a giant heart pan for a Giant fudge topped cookie cake!

Fold a long piece of foil into a long strip about 2-4 inches high. Fold it in half, open ends at top, to create the bottom point of the heart.
Overlap the top ends of the foil strip and fold them together creating the top fold in the heart. (Staple to hold the ends together if needed.) Shape foil into a heart with your hands until you have a nice rounded heart (it doesn't have to be perfect, you will re-shape at the end). Take another piece of foil and place it under your heart. Fold the bottom foil up the sides of the pan, OVER the top and back down the inside walls of the heart.
Re-shape pan into a heart shape.
Spray foil pan with non-stick spray and place in the middle of a slightly larger, baking pan/cake pan/cookie sheet.
Prepare batter and pour into pan. (recipe below)
Smooth top with a knife or off-set spatula.
Bake as directed in a toaster oven or regular conventional oven.
Let cool.
Rip/cut away foil pan.
Enjoy!
1/2 cup (1 stick/4oz.) butter, melted (browned for maximum flavor)
3/4 cup (150g) granulated white sugar
1/4 cup (48g) packed brown sugar
6oz. semisweet or bittersweet chocolate (1 cup chocolate chips)
2 tablespoons (10g) unsweetened cocoa powder
2 teaspoons vanilla extract
2 large eggs
3/4 cup (90g) flour, weighed or spooned and leveled
1/4 teaspoon baking powder
1/4 teaspoon salt
3/4 cup mix-ins (chocolate chips, chopped nuts, M&Ms, chopped candy bar, etc.)
Melt butter in a saucepan over medium heat. To brown the butter, continue to cook, stirring constantly, until brown specks start to appear at the bottom of the pan and butter has turned a light amber color, giving off a nutty aroma (about 5-7 minutes).
Reduce heat to low and add the sugars, chocolate, and cocoa, stirring with a wooden spoon until smooth. Remove from heat and stir for about a minute to cool mixture. Mix in the vanilla extract and eggs, one at a time, beating well after each addition. Stir vigorously for about 1-2 minutes until batter becomes thick, smooth and shiny. Stir in the flour, baking powder and salt, until just incorporated, followed by mix-ins, if desired. Pour batter into prepared pan.
Bake for about 35-45 minutes. An inserted toothpick will come out with moist crumbs sticking to it. Do not over bake. Cool brownies completely in the pan on a cooling rack before cutting. Once completely cool, slice and serve.
by Brenda Priddy / in Food
A three dimensional submarine cake is a striking cake design perfect for a naval officer, child who likes submarines, or for a Beatles-themed event. It is impossible to cook a 3D submarine design unless you have a cake mould, which can be hard to find. The easiest way to make a 3D sub design is to bake two loaf shaped cakes and a round cake and then sculpt the cake into the desired shape after baking the cakes.
A three dimensional submarine cake is a striking cake design perfect for a naval officer, child who likes submarines, or for a Beatles-themed event.
It is impossible to cook a 3D submarine design unless you have a cake mould, which can be hard to find.
Spray the pans with cooking spray, and heat the oven to 162 degrees C. Fill the pans two-thirds full with the batter, then place them in the oven and cook for 20 minutes. The round pan will cook the fastest, so pay attention to it. The loaf pans will take between 30 and 40 minutes. Remove the cake from the oven when the centre is spongy and the cake pulls away from the sides of the pan.
Allow the cake to cool for 15 minutes, then turn out of the pans and freeze for two hours.
Place the cakes on a cake tray, and cut off any part of the cake that is uneven. The top and bottom should be completely level.
Allow the cake to cool for 15 minutes, then turn out of the pans and freeze for two hours.
Place the cakes on a cake tray, and cut off any part of the cake that is uneven.
Arrange the two loafs end to end on the cake tray. Frost the cakes with butter cream icing to crumb coat.
Cut two long pieces from the middle of the round cake and layer them against the long sides of the loaf pieces to create a curved shape. Stack two, 3-inch wide semicircles on top of each other and place against one end of the loafs for a rudder.
Cut two, 5-inch long, 4-inch wide ovals from the round cake and place them on the top of the loaves on the end opposite from the rudder. Place the cake pieces about 6 to 8 inches from the edge. Stick a bamboo skewer through the cake tower and through the loaf base to stabilise the top.
Frost the remaining pieces of cake. Decorate the cake as desired, with fondant, more butter cream icing, or any other desired decorations.
By: Lodge Cast Iron / September 16, 2019
Baking in a cast iron fluted cake pan is similar to baking in other cake pans, however there are a few key differences. Here are five tips to ensure your cakes come out clean and beautiful.
E-mail this page
Share on Facebook
Share on Pinterest
Share on Twitter
Print this page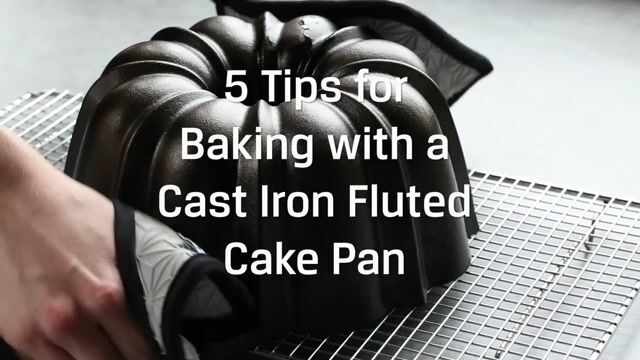 1. Grease the Pan
We recommend using a baking spray that contains flour to grease the pan before baking. If you don't have a cooking spray, you can also use a tablespoon of room temperature butter to coat the pan.
It's not necessary to preheat the pan in the oven before adding the batter, but it won't hurt either. If you do, just remember to grease the pan just before adding the batter.
2. Fill the pan ¾ of the way full.
When pouring the batter into the greased pan, fill it no more than three quarters of the way full. This will ensure your cake rises to the top of the pan without spilling over. For a miniature cake, just fill the pan a quarter of the way full!
3. Let it rest.
We know, you just took your cake out of the oven and it smells DELICIOUS, but you need to let it rest a few minutes before you can flip it out. We recommend letting the cake cool in the pan at least 10 minutes before turning it out. It's worth the wait, we promise!
4. Flip it out.
To flip the cake out, place a baking rack or flat plate on top of the fluted cake pan. Grasp the pan handles with your thumbs facing you, palms down, and flip the cake over so that the baking rack or plate is now on the counter. Lift the pan up evenly using both handles.
5. Hand wash, dry, rub with oil.
When your fluted cake pan has cooled to room temperature, wash it by hand, then dry it off promptly. Spray it with a light coat of oil and using a paper towel or cloth, wipe the pan inside and out so that only a very thin layer of oil remains. If oil pools in the bottom of the flutes, this is a sign that you've used too much oil, so just give it another final wipe.
Have your own cast iron baking tips to share? Tell us on Twitter, Instagram, or Facebook with the hashtag #leavealegacy.
Facebook
Pinterest
Instagram
Twitter
YouTube
Availability: In stock
Share this project
STEP 1: MAKE CAKE AND ICING
Grease and flour the cake pan and bake according to the box directions or our Vanilla Cake Recipe . Once cool, wrap the cake in plastic wrap and place in the freezer for 1/2 hour or so for the cake to firm up before icing it.
Prepare 1 1/2 batch of Brenda's Bakery Buttercream and tint two cups light yellow for piping.
STEP 2: CRUMBCOAT AND ICE CAKE
Remove the cake from the freezer and ice a thin crumb coat to seal in any crumbs. Next, ice the cake in a normal layer of buttercream, maintaining the shape of the onesie as best possible. Let the cake sit out for 1/2- 1 hour until the surface gets slightly crispy before starting the paper towel technique.
Next, use a paper towel (the side with no pattern) to smooth the cake by gently laying it on the surface of the cake and rubbing it with your hand. This should smooth out the spatula marks and will leave a very slight texture from the towel which looks like fabric.
Once smooth, use a toothpick to trace where yellow piping should go. Use your pan as a guide.
Pipe the trim in yellow using a comb tip. We used a #48 comb/flat piping tip.
STEP 3: MAKE FONDANT DUCKIE
Knead 2 oz. of fondant with your hands until smooth and wrinkle free. Push the blob of fondant into the duckie mold cavity and then flatten the back of it with your fingers. The back of the fondant will extend beyond the edge of the mold.
Remove the duck by gently tugging at the edges of the excess fondant until it comes out. Then, use an x-acto knife or pairing knife to cut around the duck to remove the excess fondant.
Thin some orange and blue food coloring with a little water or alcohol and add some color to the duck's beak, cheeks and eyes. Test your color on some extra fondant before painting your duck. Place the duck on the cake using a little dab of buttercream to adhere.
STEP 4: FINISH WITH POLKA DOTS
Roll some yellow fondant 1/4 – 1/8″ thick. Use a piping tip to cut out polka dots. Pop the fondant out of the tip by poking through the tip with a toothpick. Use a tiny bit of buttercream to adhere the dots. Voila! You're done!
Published: 31 Mar 2016 · Modified: 26 Sep 2020 · by Jasline (FoodieBaker)
Sep 2020: I have updated the calculator to include the instructions on the fields to be filled in. Thanks Candice for the suggestion!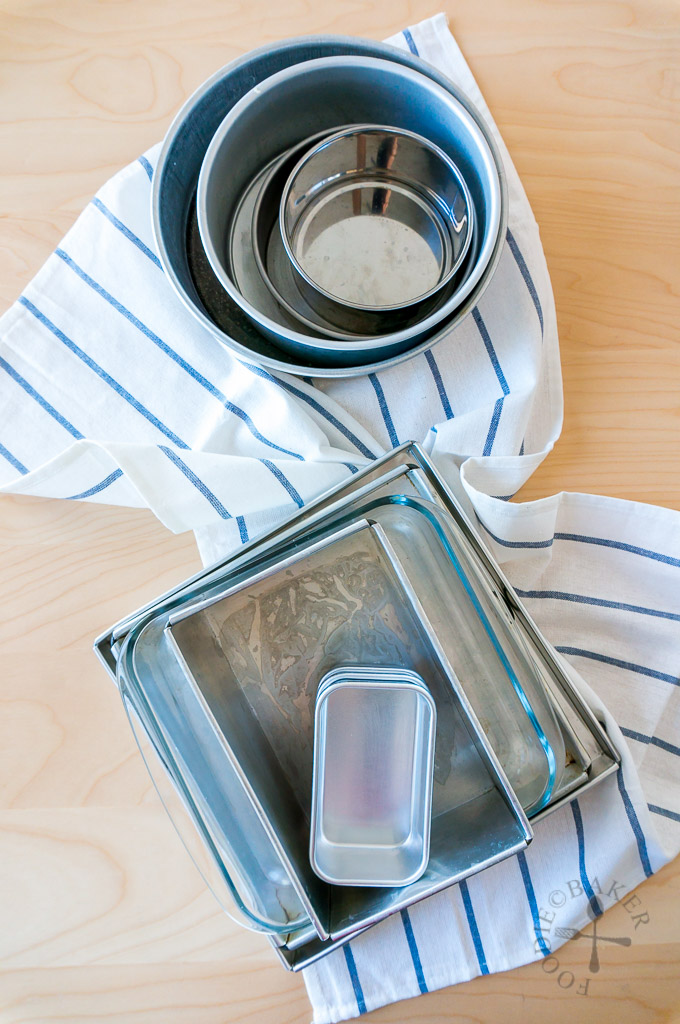 Some of the tins that I brought over with me from Singapore
Recipe calls for a 9-inch cake pan and you've only got a 7-inch one? Want to bake brownies in a round pan instead of a square / rectangular one? Or want to bake a bigger cake for a party? These are perhaps some of the common problems that we home bakers face because firstly, many of us cannot afford stocking up different shapes and sizes of baking tins and pans at home due to space and budget constraints. And secondly, there may be times when we want to bake a cake in a different size – a bigger cake for a party or just a mini cake for that someone special.
Scaling recipes properly and accurately is important because if you try to bake a 7-inch cake in a 9-inch cake pan and follow the baking times stipulated in the recipe, not only will you get a very thin and flat cake, you will also most likely end up with a burnt cake because the cake will be cooked for way too long. If you do it the other way round – baking a 9-inch cake in a 7-inch cake pan – there will too much batter and the baking times will be a lot longer than the one stipulated in the recipe and there is a risk that your cake batter will overflow, leaving a mess in the oven *horrors*.
For me, most of the times I need to scale down recipes because I'm baking only for 2 people these days – if I bake a full recipe, we will have trouble finishing all of the desserts (not to mention the disastrous effects on my waistline). But not to worry, this Cake Pan Conversions Calculator is here to help!
The Formula
The formula used is a very simple and straightforward one we all learned in school – volume. For round cake pans it's just πr²h (π x square of radius x height), for square and rectangular cake pans it's lbh (length x breadth x height). I only made it easier by combining everything in an Excel document so all we need to do is to 1) choose the type of pan you are converting from and converting to and 2) key in the cake pans' measurements.
The only key thing to note is to use the same type of measurements throughout – inches or centimetres. Do not mix them together otherwise the scale factor will not work.
Scale Factor
After entering the details, there will be a scale factor in the yellow box. This scale factor is the number to multiply your ingredients with. Take this scale factor for example (assuming I used inches for the cake pans dimensions):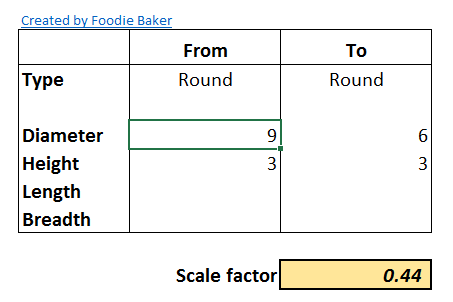 So in order to convert a recipe for 9-inch cake pan to my 6-inch cake pan, I need to scale the ingredients down to 0.44. So the ingredients required for a 6-inch cake pan will be:
Ingredients
Original Recipe
Scaled Recipe
(Multiply everything by 0.44)
Plain flour
Caster sugar
Eggs
200 grams
100 grams
4 eggs
88 grams
44 grams
1.76 eggs
Approximation
From the above, you will noted that the scaled recipe requires 1.76 eggs, which is a very weird quantity of eggs. Unless all your ingredients are measured by weights, you will most likely end up with a weird quantity of eggs. So what I will do is to approximate – I will round up or down the ingredients so that I get something that is easier to work with – in this case I will most likely round up the quantities so that I use 2 eggs for this recipe:
Ingredients
Original Recipe
Scaled Recipe
(Multiply everything by 0.44)
Approximation Recipe
Plain flour
Caster sugar
Eggs
200 grams
100 grams
4 eggs
88 grams
44 grams
1.76 eggs
100 grams
50 grams
2 eggs
Special Cake Pans
The formula will not work for chiffon pans, tube pans, bundt pans or springform pans. Chiffon pans, tube pans and bundt pans have a special design so the computation of its volume is not as straightforward as regular round, square or rectangular cake pans. For the conversion of these cake pans, it will perhaps be better to use the infographic from All Recipes.
For springform pans, the formula will work if you are scaling a recipe for springform pans with another springform pan (i.e. 9-inch springform pan recipe to a 7-inch springform pan). This is because springform pans usually hold more batter than regular cake pans (not sure why but apparently that's the case).
And that's it!
And that is how I scale most of the cake recipes I found on the internet! I've linked up to the calculator under the "Recipes" tab, so you can access it easily whenever you need to. If you would like to download this Excel file to keep it, you can grab it here. If you'd like to embed this on your site, you can find the script in the Excel file as well. And if you have further questions, drop them in the comments below and I hope I'll be able to answer them!
Free Shipping on orders over $50 (See Shipping Info)
20% off any order over $150
Product Details
Use & Care
1. Before initial use and after subsequent uses, hand
wash with warm, soapy water. Extended soaking is
not recommended.
2. Before each use, brush with butter or shortening and
dust with flour or cocoa to coat. Baking spray
containing flour may also be used. Do not use regular
cooking spray.
3. Mixes and recipes may vary. Fill the pan no more
than 3/4 full to avoid overflow.
4. Metal utensils, scouring pads and abrasive cleaners
should not be used on nonstick surfaces.
Product Reviews
Posted by Elizabeth Austin
April 13th, 2022
I haven't used it but was required to rate it. I ordered this pan. It came with a recipe for truffles. I would really like one for cakes. I have recipes for various pound cakes but need oven temp, convection and regular ovens as well as bake times.
Posted by Nordic Ware
April 13th, 2022
Please contact our Customer Experience Team at [email protected] for additional recipes for your Tea Cake and Candies Pan.
Posted by Beverly
December 31st, 2021
I just followed the directions about buttering and flouring the pan, (I sometimes use cocoa instead of flour), shake out the excess, and I have NEVER had a single cakelet fail to come out perfectly. Maybe it's because I let them cool in the pan for 10 minutes or so. I just recently ordered the "charms" pan, for bigger cakes and brownies. Thanks for a wonderful pan.
Posted by Emily
October 16th, 2021
I just got this mold. I was a bit afraid that the cakes would stick since they're so tiny and detailed. I tried the beehive cornbread recipe from this site today and was pleasantly surprised that not one single cakelet stuck or broke when I was taking them out. These will be perfect for brunch or birthday parties.
September 12th, 2021
I just can't get this pan to work for me. I love all my other Nordic ware but these come out undefined and ugly. I've tried 5 recipes and won't yet give up…. But I usually crumble them into cake pops so far…..
Posted by Nordic Ware
September 13th, 2021
We're sorry to hear you of your experience after using the Tea Cakes and Candies Pan. Please contact our Customer Experience Team at [email protected] for helpful hints and tips.
Posted by Rochelle
February 6th, 2021
I have the best tea parties!! My cat eats so much cake he is fat!!
Posted by Sarah
September 24th, 2020
I've used this min mold pan in the traditional "cakelete" sense, but I've also used it for special occasion butter molds. I leave butter out overnight to fully come to room temperature. Then I fold in any ingredients (chives or freshly minced garlic, for example). I then use a mini scooped spatula to fill each mold, then chill overnight to harden. I usually put it in the freezer about 2 hours before I need to plate the butter just so that it comes out more easily. My "pretty little butters" are always a hit at Thanksgiving and Christmas dinners!
Posted by Carlos
September 7th, 2018
I had purchased mold for chocolates but sometimes i got some stick to the molde … any suggestions /// thank you
Posted by Gloria
April 13th, 2018
The molds are so sweet, small, and cute! I love the pans very much and am certain will be used for all special occasions! Many thanks.
Posted by Catelyn
February 3rd, 2018
This pan was my first purchase from Nordic Ware, and it will definitely not be my last. I love all of the unique designs and the pan feels like it will last a lifetime. I'm in love.
Posted by Jacque
February 2nd, 2018
This is going to be used for small cakes for afternoon teas for Mothers' Day and will be great for Christmas when diabetics want just a small bite and not a huge amount of sugar. It would also be able to make sausage/meat balls into an impressive appetizers.
Posted by Carol
I like my purchases from Nordic. It was easy to order on line and the customer service staff were professional.
This pan works beautifully! I bake for my office and instead of baking sprays I use the recipe for "magic cake pan release." I "paint" the pan with the release and the cakelets pop out as expected. Cake pan release is the best thing to use on all Nordicware. You cannot go wrong!
Posted by Giada
February 14th, 2017
I bought this and immediately used it. I tried 2 different recipes (the one that comes with the pan and one of mines) and even though I carefully buttered the holes and the floured them taking excess off, the teacakes don't come off. they stick to the pan like bees to honey. And it's a pain to wash it. Don't bother buying it. Pity because the teacakes looks so cute. I own several nordicware bundt pan and they are just brilliant. What went wrong?
The Secret of the 9 Inch Cake Pan is excerpted from "Baking as a Business." by Helen S. Fletcher. The book is also available on Kindle.
Sometime into my professional baking career, I discovered The Secret of the 9 Inch Cake Pan. When we first started making wedding cakes, it was hit or miss. Since we made everything from scratch and there was no internet, I would simply guess at how much batter to make. Sometimes we were right on, sometimes not enough and sometimes too much. In any case, not a good way of conducting business. I have no idea when or how I came up with this formula but it works and we used it at the bakery for scaling cakes up or down.
This three-tiered cake is a great example of The Secret of the 9 Inch Cake Pan. The middle layer is 9 inches. The top layer is 6″ and the bottom layer is 12″. Calculating the batter needed for the cake was easy using the Secret of the 9 Inch Cake Pan. Three and one-half recipes of the 9″ cake layer would be needed.
First of all, you have to ascertain the amount of batter needed for the number of layers your recipe makes using a 9" round cake pan. The Chocolate Cake Post is a good starting point. It gives you amounts for 2, 3 and 4 layers made from the same recipe. Then you simply add a x1 to each ascending layer size unless otherwise noted. In other words, you would double that recipe for a 12 inch cake, triple it for a 14 inch cake, etc.
The chart below will tell you how many times you need to multiply a recipe using a 9 inch cake pan as your base to obtain a larger or smaller cake size. All of these are round pans. We will discuss square pans later.
I hope The Secret of the 9 Inch Cake Pan will help you if you need to increase the size of the cake you are making. It was a life saver at the bakery.
Round Pan Size Number of Recipes
6" = x½ of a 9 inch
8" = Less ¼ of a 9 inch
9" = x 1
10" increase 9" by ⅓
12" = x 2
14" = x 3
16" = x 4
18" = x 5
20" = x 7 (noticed I increased it here)
22" = x 8
24" = x 9
Square Pan Size
Increase the 9×2 inch recipe by ⅓ as the square inches in a square pan are approximately ⅓ more than a round pan. When you have that measurement, follow the formula above increasing as necessary. A square inch chart can be found at https://pastrieslikeapro.com/2013/09/pan-size-conversions/#.Wm3z_GVh2Rs.
Other posts regarding layer cakes can be found in Baking Information- These are some of them.
Cake Pan Prep or How to get a Flat Layer – This is indispensable to baking cake layer without them humping up in the middle.
Cocoa Fundamentals – Natural vs. Dutched – Which cocoa to use where
Cake Talk – How to assemble a cake
Drying a Fondant Covered Cake – Refrigerating a fondant cake causes the fondant to condensate. There is an easy way to dry it out.
Flour Used in Baking – A discussing of the different types of wheat flour used in cakes
Fluid Ounce Conversions
Ingredient Conversion Chart – This chart gives you volume, grams and ounces of ingredients
Measuring for Baking – Discusses scales, cups, spoons and the importance of correctly measuring with each one.
Pan Size Conversions – This features a square inch chart of pans as well as how to obtain the square inches in a pan.
Top Ingredient Substitutions for Baking – This blog talks about making substitutions in recipes and how to do it if you are out of something and you happen to be baking at midnight.
Vanilla – There is more than one vanilla and each one brings something different to the recipe.
Volume Conversion Chart – An easy chart of quarts, pints, cups, ounces and liters.
One of the greatest things about convection ovens is their versatility and the ability to even bake cakes! They're very compact yet still feature plenty of space inside to create your favorite cakes, making convection oven for cakes a perfect option.
What's even better is most convection ovens come with settings and presets ready for cake baking. Therefore, all you have to do is play around with the settings for a bit, pull out your favorite recipe, and take action to make a wonderful cake.
Sometimes, it might not be that simple and that's why, in this post, we're going to go through the process of baking from the start to the finish – to help you out whenever you get stuck.
Before you Start Using a Convection Oven
Even before you fully start creating your favorite cake, we'd highly recommend you learn more about the baking function on your convection oven – especially if it's brand new and you aren't very familiar with it.
Baking in a convection oven is very similar to baking in a standard-sized oven, however, with all the modern technology involved which includes pre-installed functions – you might find a few new things to complicate your process.
However, that's just one more reason why you should get to know your convection oven before baking your favorite cake. It'll help you understand what your convection oven can really do, and if there's anything that it can't do.
Most recipes are created for traditional ovens, but you might even find your favorite recipe for your convection oven since it might speed up the process and offer an easier way to create your cake.
How to Use Convection Oven for Cakes
Most smart convection ovens come with a preinstalled function that optimizes the oven for baking cakes, among many other modes and food types.
Making sure you understand what your convection oven can help you with, what recipe you need, and if you have everything ready is a half-done job.
Get to Know your Convection Oven First
The first and most important step is to get to know your oven. How many functions does it have, which functions are optimized for baking cakes and how well is it going to serve you for your goal?
If you're using a convection oven for the first time – it's extremely important that you don't skip this step. Because, you could get a recipe and get to the action, but you will have to figure many things out along the way which won't ensure a smooth baking experience.
The best way would be to either find a user's manual you've received or look up for it online to know exactly how to operate your countertop oven and what function would be the best one for your needs.
If you use a wrong function and set the wrong settings – you might end up with a negative baking experience which won't be the convection oven's fault.
Find a Recipe
It's most likely that you've received a recipe book with your awesome convection oven after purchase, either in a hard-cover or a digital format.
Every convection oven comes with a feature to bake, yet baking cakes requires a bit different settings. Even if you have a traditional recipe you've used countless times with a traditional oven, we still highly recommend you to look up for a recipe of your favorite cake that is designed for a convection oven.
Because, with all functions and settings, some steps might be cut and the whole baking process might have been easier. Therefore, it's useful to know exactly how to take advantage of the functions you have available to bake even a better cake.
Get the Convection Oven Ready for Use
When you're confident that you fully understand how your convection oven works and you have confidence in a recipe you're going to follow – it's the time to get your convection oven ready for use and start taking first steps towards a successfully baked cake.
What we like to do is place the convection oven at the place in your kitchen that offers the most space, since it's easier to prepare the recipe and have the oven ready.
If you've followed your recipe and created the mixture ready for your cake, it'd be useful to use a baking pan you've got with your convection oven. If you haven't received one, you could use any baking pan that fits well inside.
After you've placed the mixture inside the convection oven, it's time to do the magic by choosing the correct function and settings. That's why getting to know your convection oven functions is really necessary.
When you're sure you've done everything necessary – pressing that start button is the last thing you should do. Additionally, you could place a timer (if your convection oven features one), so you don't have to worry about checking in on the cake during the baking process.
Cleaning Up After Successfully Baking a Cake
If you don't have the habit of cleaning the oven after each use, when the oven cools down – you should definitely try doing it.
Baking a cake in your convection oven shouldn't leave a lot of mess to clean up. But you should make sure to unplug the convection oven and give it time to cool down.
Cleaning of the interior is easily done by using a soft and damp cloth or even a dry sponge. For the best efficiency and safest cleaning experience, we'd highly recommend you to do it the way you manufacturer recommends.
What You Shouldn't Do When Baking a Cake in Convection Oven
No matter what type of cake you're baking, you shouldn't ever cover the baking pan with any type of foil. Also, overfilling the baking pan with the mixture should never be done.
If you happen to overfill the baking pan, you could end up with a convection oven full of mess, so it's something we highly don't recommend.
Also, if you happen to leave the mess for longer than a few hours after the baking, it might get stiff and hard to clean afterward – so we always recommend cooling down the oven and cleaning it as soon as it's appropriate.
Using convection oven for cakes is really fun after you get a hang of it and hopefully, these steps will help you get your procedure and recipe in order so your cake comes out the best way possible.
Cover photo from Flickr by Jo Zimny
Related Posts
All about the Hamilton Beach Countertop Oven 31103A with Convection and Rotisserie If you're looking…
Countertop Ovens have made life easier when it comes to preparing meals, particularly if your…
Purchasing a top of the line countertop oven has never been so simple, although knowing…