The change of wardrobe from summer to autumn brings back iconic garments such as pleated skirts. These skirts, so characteristic of their ironed and very defined pleats, are very versatile and can be worn in both formal and informal contexts. Therefore, it is a very good choice to create work outfits now that we are gradually changing the home office for the office.
This season, pleated midi skirts with the odd twist will make their way back into many closets. Are you up for it too? If so, we explain how to combine the pleated skirt to get the most out of this feminine garment.
Who does the pleated midi skirt favor?
The pleated skirt is an ideal garment to balance the upper part with the lower part of the body since the pleats add volume. For this reason, this type of skirt suits women with an inverted triangle body very well, that is, they have broad shoulders and are more marked than the hips.
Women with a rectangular body will also do well because the pleats in the pleated skirt will help shape the silhouette.
On the other hand, if you have a triangular silhouette (with the hips wider than the shoulders), better bet on pencil-type skirts, they will adapt better to your figure without adding unnecessary volume.
How to combine the pleated skirt
The pleated skirt is a garment that you can take to its more formal extreme, but that you can also combine informally. It all depends on the clothes you choose to combine them with.
Pleated skirt with wool jersey, pure warmth, and femininity
If you are looking for a comfortable and feminine outfit, get a wool turtleneck and combine it with your pleated skirt. Add some ankle boots and a tote bag, and you will have a trendy and warm look for your day-to-day this fall winter.
Blazer and pleated skirt, a twist on the usual suit
If your blazer has already tired of being accompanied by chinos or jeans, dare to wear it with a pleated skirt. Get a bottle green pleated skirt, one of the tones of the season, and combine it with a black top and kitten heels, you will finish adding sophistication to the ensemble.
Printed pleated skirt and ankle boots, the chicest of the moment
The floral print is autumnal and very feminine. If you like it, a pleated skirt with this type of pattern will be a success. Combine it with a fitted cardigan and choose original burgundy ankle boots to take center stage in the look. An original and much-needed twist to add color to fall. Do you dare?
Thank you for coming to our TED Talk.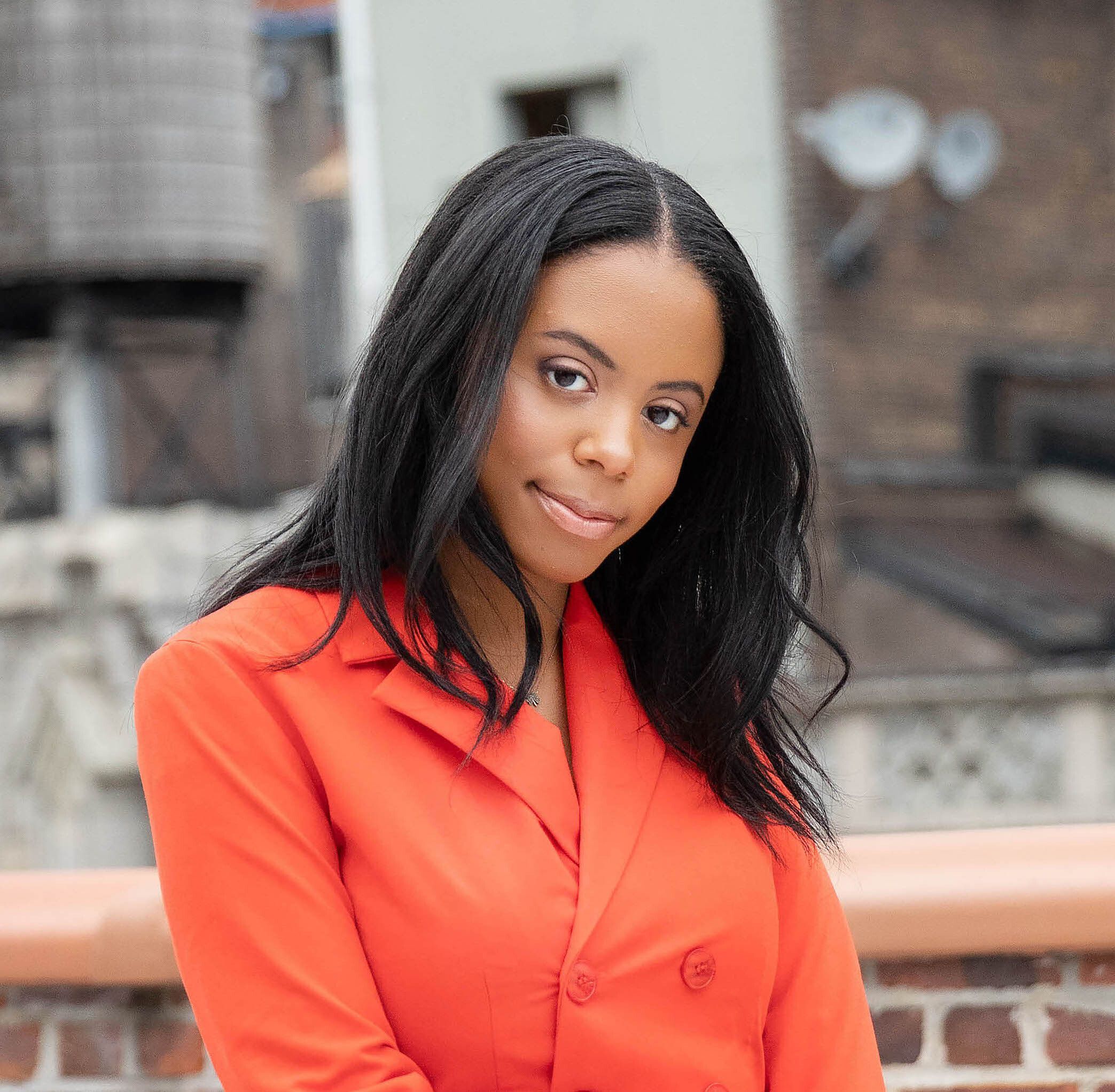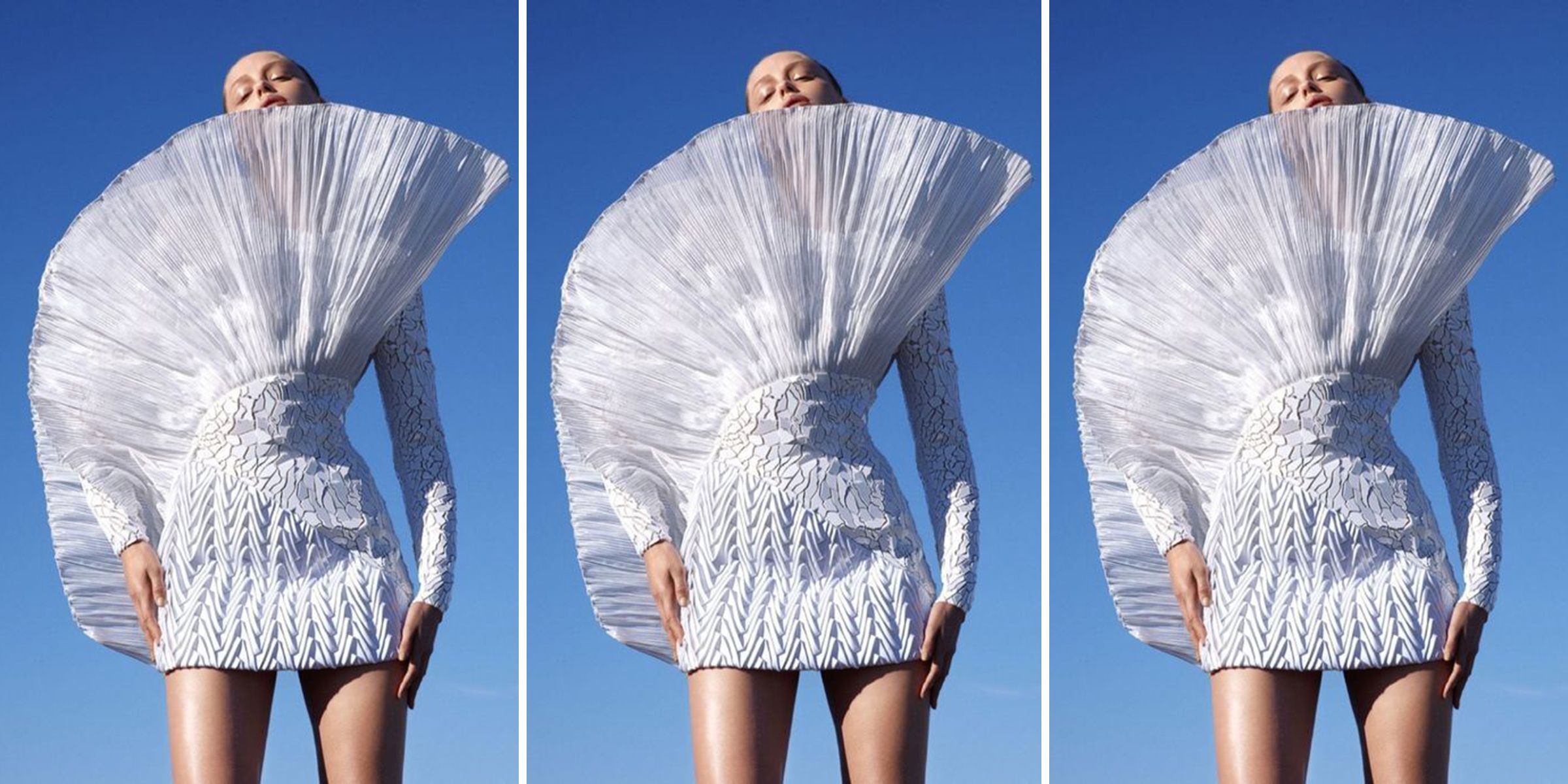 The pleated skirt is a wardrobe staple that has never steered us wrong. The classic piece has grown up with us. We all have a memory linked to it—maybe it's a school uniform, a summer essential from days spent on the tennis court, or the outfit of choice worn to a successful job interview.
After recently adding a new pleated skirt to our collection, we've been considering the best ways to wear it. Join us in honoring the iconic style—and shopping some chic ones.
How did pleats originate?
We can thank the ancient Egyptians for popularizing this classic style. The time and effort that went into creating such a garment gave it upper-echelon status, as it had to be resewn after every wear. Talk about sacrifice in the name of fashion! Since then, pleats have continued to make a statement throughout history, from Queen Elizabeth's classic ruff to Issey Miyake's timeless Pleats Please collection.
What is the best pleated skirt for my vibe?
As always, wear what feels great. But you can't go wrong with a classic maxi style paired with a prep sweater. Accordion pleats give you that sexy librarian feel—nothing too tight or short. Additionally, a drop-waist pleat (when pleats begin below the top of the skirt) give that Ivy League vibe—but make it your own in the styling. And, of course, we can't get enough of the daring pleated miniskirt for a tennis mood all year long.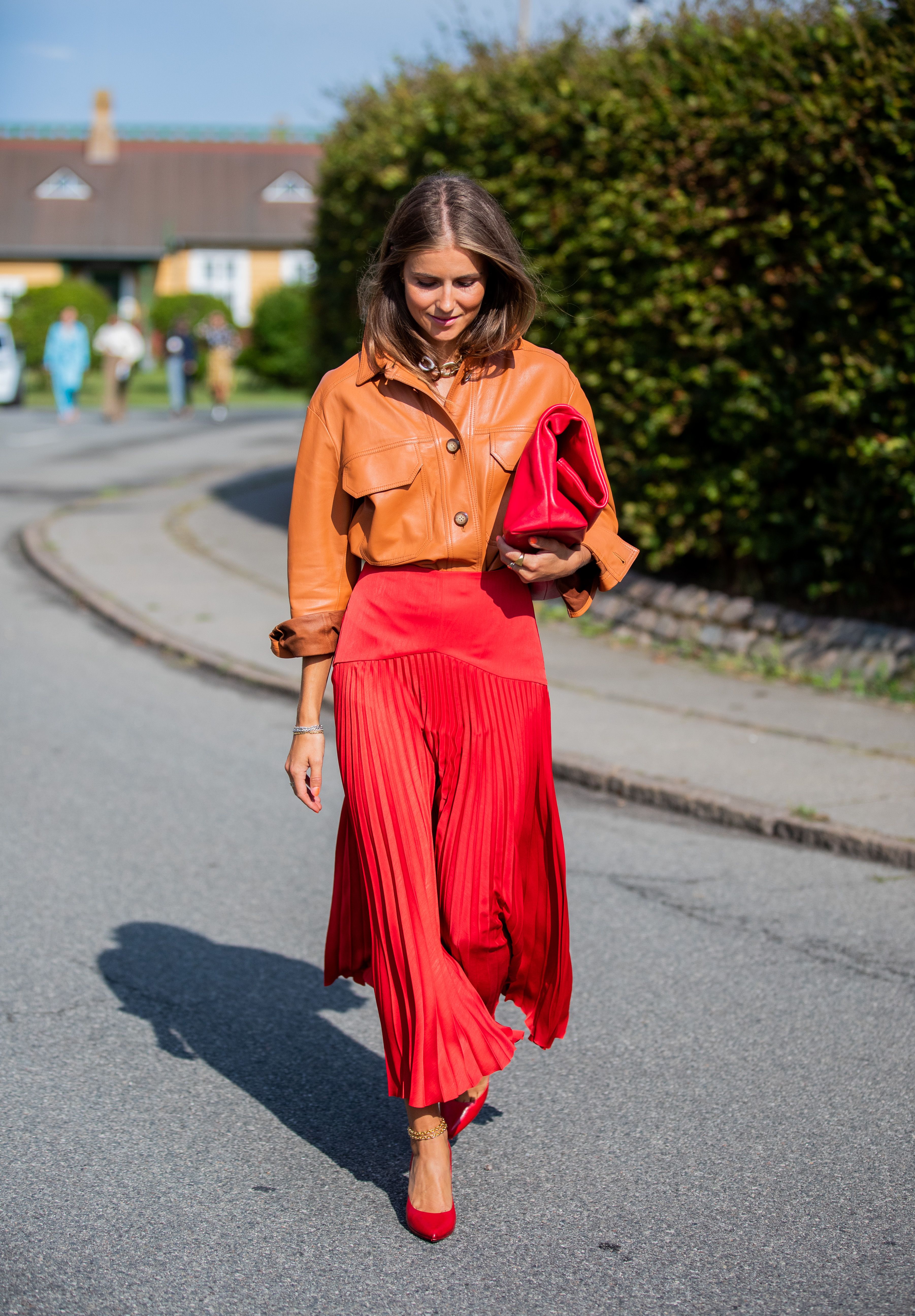 In a striking red, this pleat that begins below the waist is a statement worth making. A surprise color combination can effortlessly sophisticate your look in seconds. The tucked-in jacket lends length to the legs when paired with a higher heel. This is how we'll be styling our pleated skirt for dinner and drinks with friends or a significant other.
I really love a pleated midi skirt! I have two in my closet and it's my go-to item when I don't know what to wear. As I've been helping and suggesting styles for family photos, the pleated midi skirt is one I often suggest. It's feminine, flattering, pairs with so many different tops, and they are so comfortable .
When many women see this skirt, they instantly think of dressing it up or for work attire only. While this skirt is great to dress up, it's also great for casual wear. I'll show you how!
I have had this beautiful navy blue pleated midi skirt in my closet for years. It's a different brand than this one I have linked, but they look identical. The fabric and color of this particular skirt are so unique and rich-looking. I love pairing it with both light and dark colors. It is so versatile.
This style of skirt is very easily dressed up with heels and a simple top as seen here. The most flattering way to wear this style of skirt is to show the waistband, tuck something in!
Looking for a cute casual look to create with this skirt? This is a favorite way to wear this skirt, with a tee-shirt and sneakers. Lunch, brunch or a day of shopping is perfect with this skirt.
A button-down shirt tied or tucked in is also a great way to wear a pleated midi! Perfect for work or casual.
For the perfect going out to dinner, or girls night look, pair the pleated midi with a v-neck top and layer over your favorite leather or moto jacket.
In fall and winter, I love throwing on a chunky sweater and doing a little front tuck for a cozy look. This particular color of the skirt looks great with a camel color. Don't you think? Pair this outfit with some tall boots and you are looking so stylish – fall photos, anyone?!
Here are some of my favorite pleated midi skirts available right now. That camel-colored faux leather is so LOVELY!
Pleated Midi Skirts Picks
What's your favorite look? See how versatile this ONE skirt is? The next time you see this style hanging on the rack, don't be afraid to give it a try! Take the skirt and really make it YOUR own with your personal style.
Shop This Post
As always, thank you so much for reading and make it a great day!
Leave a Comment Cancel reply
This site uses Akismet to reduce spam. Learn how your comment data is processed.
Welcome!
Not Your Plain Sarah Jane is a style and lifestyle blog of me, Sarah. I am a Midwest girl that for as long as I can remember has had a passion for fashion. My name is plain, Sarah Jane, but my style is not!
Hey girl, hey. I am sharing with you today this pleated midi skirt styled 5 different ways. A pleated skirt is a closet staple and can be worn so many different ways! Here are 5 ways to wear a pleated skirt.
It is the best when you find a good clothing item that you can wear year round and with other items you already have in your closet. I have a total of 2 pleated skirts. Shocking right? This year I am planning on adding a black one as well.
*Disclaimer: This page contains affiliate links. I make a commission on purchases from those links. All opinions are my own. Thank you so much for your support of thefashionablemaven.com. You make this blog thrive & I am truly grateful!
This maroon pleated midi skirt is the cutest and its so affordable too! I found it at Target. I love shopping at Target for cute clothes.
It comes in other colors as well, but don't worry, if you are catching this at a later date, I will link some other pleated skirts down below as well.
Have you seen these mini pleated skirts come back in style again? I used to wear these as a teen! These are just a few ways you can wear your pleated skirt.
Winter Inspired Look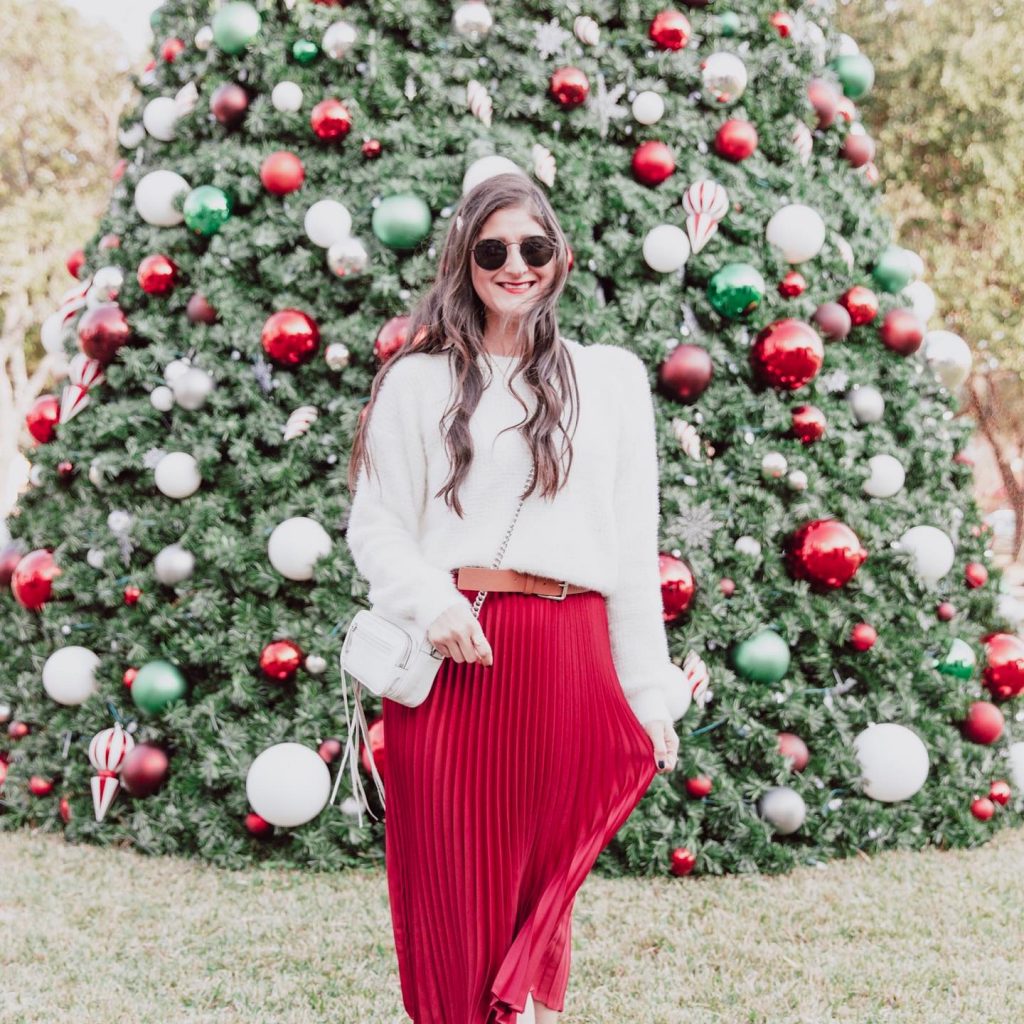 The best thing about pleated skirts is that they can be worn year round. This look is inspired by the winter season. I paired it with a white fuzzy sweater and added a belt.
For the shoes I used heels but knee high boots are another option especially for colder days and nights. You could even pair them with some tights to keep warm.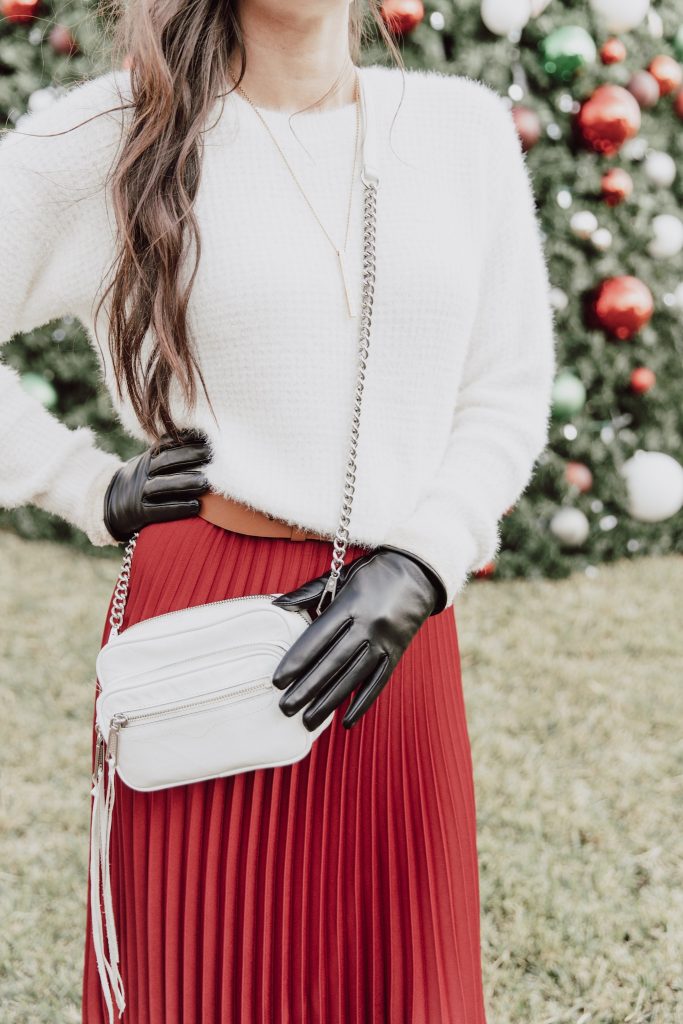 This would be a cute Christmas option. It can be paired with a cute Christmas sweater too.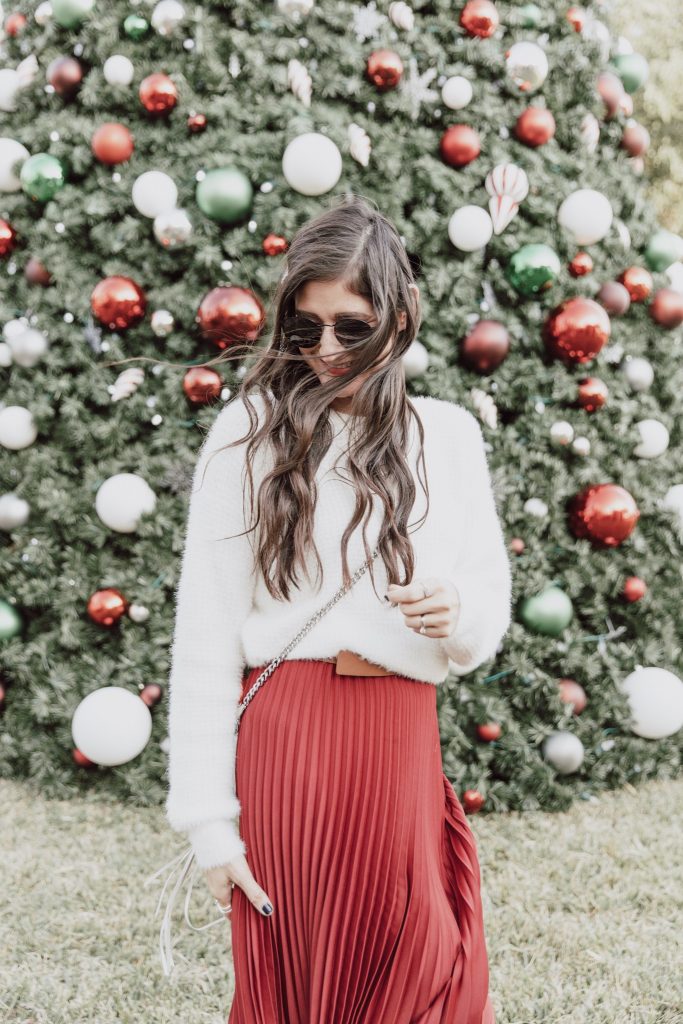 Fall Sweater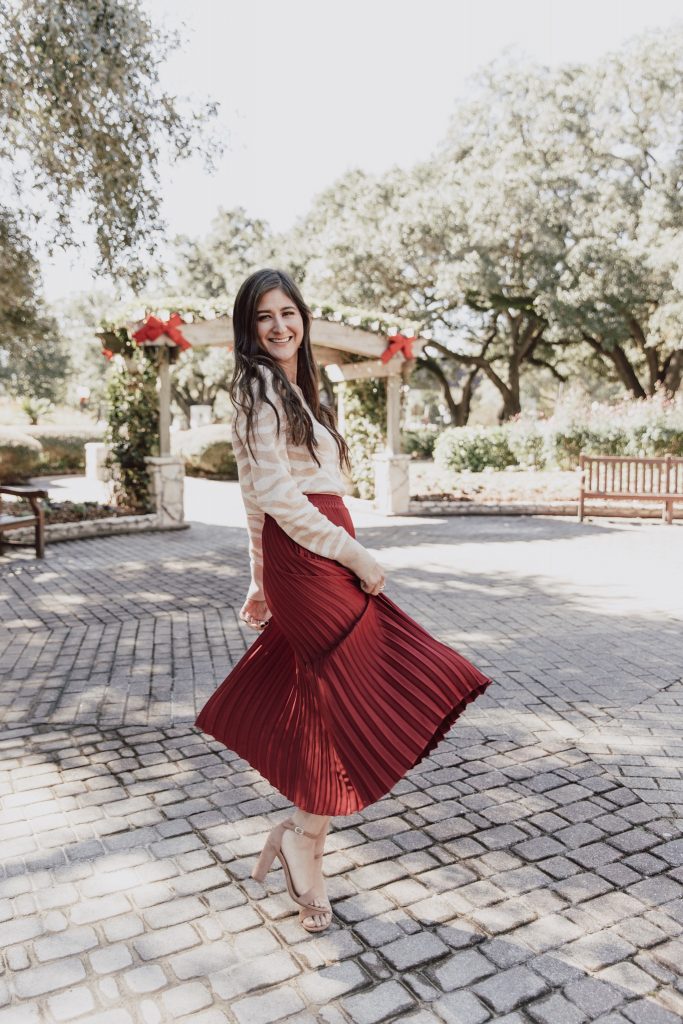 Leopard print is always in season in my opinion, but it seems like more women wear animal prints in the fall. As I have mentioned before in this leopard print post, it seems like everyone and their mom wears leopard in fall. To stand out, try a different animal print.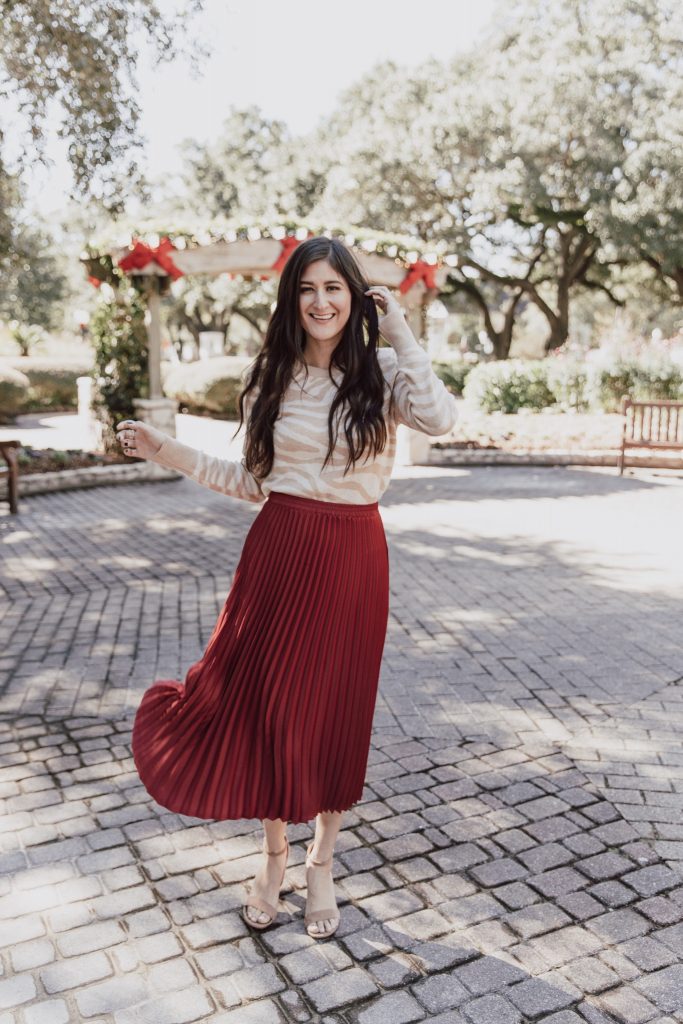 This zebra print sweater is perfect for the fall! Here in Houston, if we are lucky it gets slightly cool enough to wear a thin sweater every 5 days or so.
For this pleated midi skirt look I tucked in the sweater since it was thinner into the skirt, paired it with these nude heels.
This is such an easy outfit to put together. For a more casual option, try swapping out the heels with sneakers. Adding a mid length jacket for even colder nights would be a great option as well.
Try wearing a pleated skirt with a chunky over sized sweater too!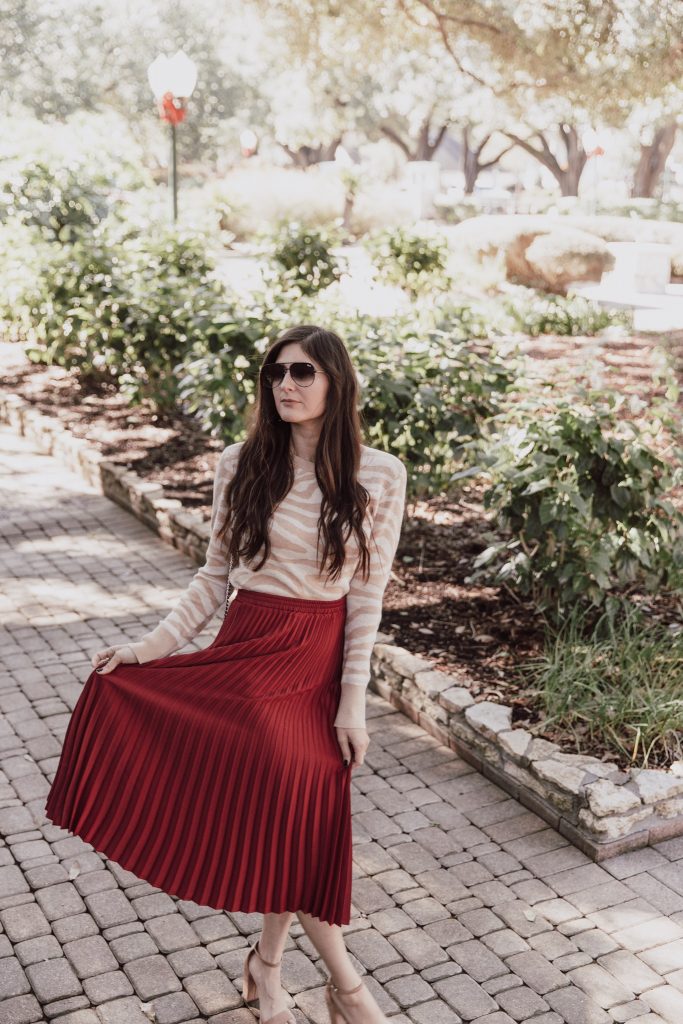 Buttoned Down Shirt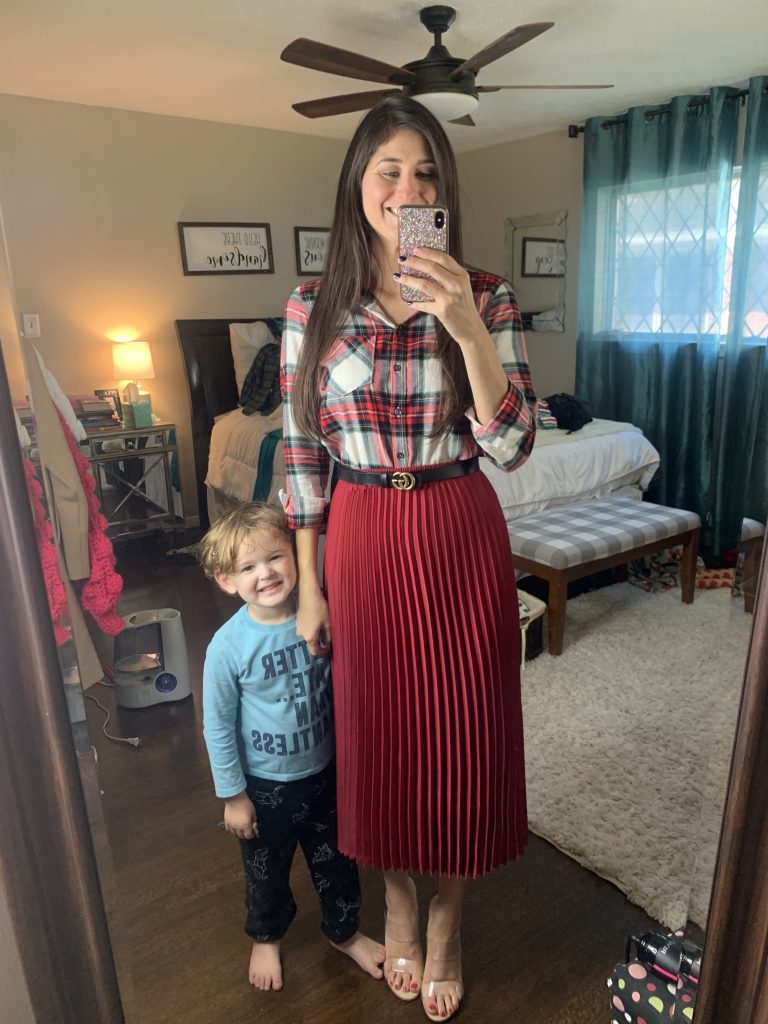 Transform this pleated skirt with a button down shirt. For this look I used a flannel shirt for a more casual style. For a work wear option, try adding a work button down shirt and heels.
The look I am sharing is more of a fall and Christmas look but any coordinating button down shirt would work for this look as well.
This flannel has been a staple for me this season! I will share all the ways I have styled it soon so stay tuned.
Valentine's Day Inspired Look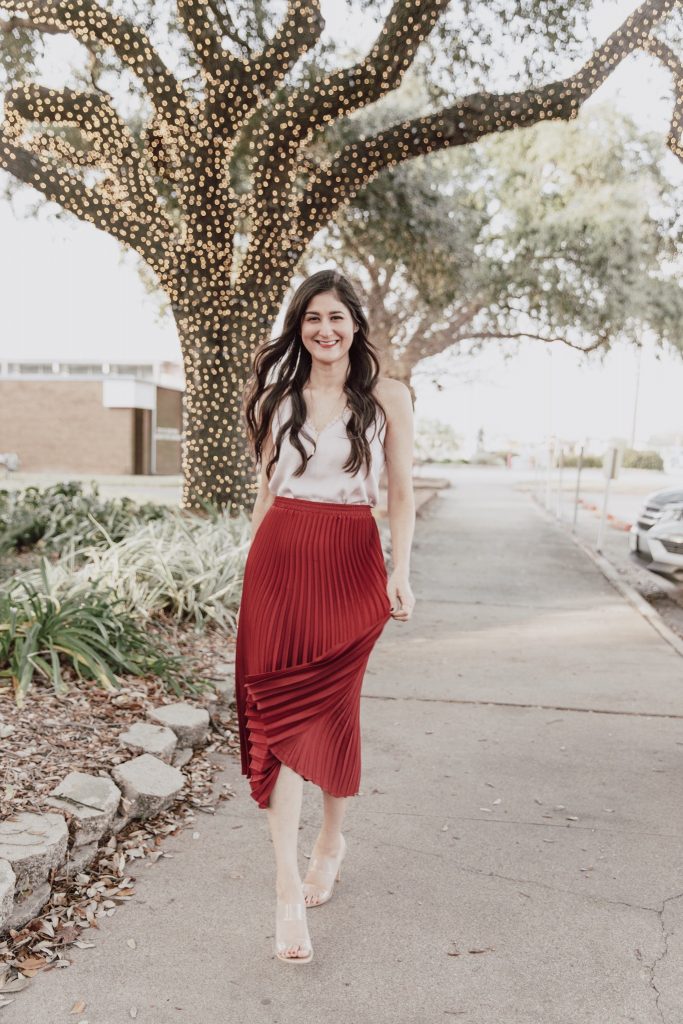 Valentine's Day seems so far away right now but as time flies by, it will be here in no time! For this look, I styled the maxi pleated skirt with a blush pink lace camisole.
This cami comes in so many other colors and will be available to a long time! They occasionally go on sale for nearly half the price, but even the regular price isn't too bad for a closet staple.
Pleated skirt: Casual Style Option
Going for a more casual option? Try adding a graphic tee to this pleated midi skirt. You could even add band tee and a faux leather jacket. I haven't been able to shoot this one yet, but I will try to get it up here soon.
What are you favorite ways to pair a midi pleated skirt? Let me know below! I have linked the exact one below as well as the other tops. If you find one of these outfits inspiring and post it please tag me @jennimetz. I would love to see you rocking your pleated midi skirt style.
I'm so happy that the pleated skirt trend in 2021 is still a thing. You might have seen this picture pop up on my Instagram already, but I love it so much I thought I'd write a blog post about it. As you might have seen on my Youtube channel in my latest H&M haul I'm very much into the neutrals at the moment. I don't know if that's going to continue to make its way into my closet, but let's experience this style change (or not) together. First of all, I want to talk about this outfit and "How to wear the pleated skirt trend 2021?".
The Pleated Skirt Trend in 2021
So the pleated skirt trend is already a couple of years old and I hope it will stay 'in trend'. It's such an easy piece of clothing to style up or make more casual. You might remember the silver midi pleated skirt I styled with my bright pink blazer during London Fashion Week. That picture on my Instagram still gets a lot of likes and comments about the outfit. This particular long emerald green pleated skirt is such a beautiful piece to style. Let me explain to you how I did it.
Emerald Green pleated maxi skirt
The emerald green pleated skirt is something that I find very elegant and chic. If you want to dress up this outfit I'd change the white v neck jumper for a basic white blouse. See, that's how easy you can dress up or make this outfit more casual. This particular green pleated skirt is from Zara, but unfortunately no longer available. Therefore I linked a similar skirt from Monki here, so you can shop that one if you like this style of skirt.
White v neck jumper
To make this outfit look more casual I'd add a white v neck jumper. This could be any type of white jumper actually as long as it's a casual jumper. The one I'm wearing in the picture is a – very – old one from Forever21 and you guessed it no longer available. But you can find similar ones at Asos, Benetton, or Vero Moda. You could also style this pleated skirt with a black turtle neck jumper as I did in the how-to style a black turtle neck jumper post.
Ted baker biker boots
These Ted Baker biker boots really give this outfit a casual vibe. Again if you want to dress up this outfit, try to combine it with heels or heeled boots. I really like these Ted Baker biker boots to make a chic appearing outfit look more casual and this is also totally in trend at the moment. And another bonus these boots are so comfy to walk in.
Mango belt
Another accessory you want to add to really complete this outfit is a belt. I chose to add a Mango belt, but you can add any kind of belt. I like the ones that are not the really tight waist belts with a beautifully decorated buckle. I've linked a similar one right here, which is also from Mango.
Asos black leather biker jacket
And of course what is a pleated skirt trend in 2021 outfit, without a leather jacket. You know I'm obsessed with leather jackets and try to sneak them in almost every outfit post I do. This is an old Asos black leather biker jacket, which you've seen loads here on my blog. Let me know if you are also obsessed with leather jackets!
I hope you loved reading about how to wear the pleated skirt trend in 2021. If you like this and would like more of these how-to-style kinds of posts, let me know in the comments below. Which item would you like to style me next? In the meantime maybe you'd like to read about How to style a MAC.
Let me tell you about the last time I wore a pleated skirt. I was in my mid-twenties, I was a fashion designer and we had sampled a pleated maxi to possibly put in the line. One of the perks of my job was I often got the samples we made for free. This was a real perk for a young girl, new to NYC, and broke. While I may have been young, I was still curvy, a smaller curvy person I am now, but still curvy. I wore the skirt out thinking I would look cool and current and instead, when I looked in the mirror, I looked bottom-heavy and dumpy. I never wore pleated skirts again.
Pleated skirts can be tricky to wear which is why I probably got a comment from a reader asking for me to do a post on them. In theory, pleated skirts shouldn't be hard but I have found that the people who look best in them are the people who have nothing to hide, like long, lanky women with 5% body fat. It got me thinking of some workarounds for those who want to wear pleated skirts in a figure-flattering way. Check out the looks and tips below and shop for more pleated skirts at the end of this post.
FIGURE FLATTERING WAYS TO WEAR PLEATED SKIRTS
Outfit #1
Let's start with the potential issues with a skirt like one from Ted Baker. If you have rounder hips, the pleats at the hip area are going to emphasize the roundness of them, especially with the defined black lines on each pleat. This was one of the problems that happened to me when I wore my pleated skirt. This is definitely more suitable for someone with straighter hips or fewer curves. The second problem is the length. This skirt is a midi and tends to fall right at the widest point of the calves and will make them look larger. Anyone with large calves and ankles knows this is a huge no-no. So if you're narrow with slim ankles and calves, have at it!
I styled the Ted Baker skirt with a blush top and cropped ivory cardigan from L'Agence and finished the look with blush flats from M.M. Lafleur and a shades-of-pink necklace from Anthropologie.
Outfit #2
A way to create a longer, leaner look in a pleated skirt is to create a monochromatic column. This creates less division between your top and bottom half of your body and when the body is cut right across the mid-section it can make you look heavier. This pleated skirt from Theory is also longer so it won't cut you right across the heaviest section of your calves. I styled the Theory skirt with a compact crepe turtleneck, also from Theory to ensure both navy shades are close, a pair of navy flats from Linea Paolo, and stone drop earrings from Anna Beck. One caveat, pleated skirts are difficult enough to hem but even harder when they have a handkerchief hem like this one does. Given the length, this skirt might be tough to wear if you are petite.
Outfit #3
Pleats aren't just for midis and maxis, however, you don't want to look like a schoolgirl in a super short one either. This pleated skirt from Tory Burch hits right below the knee which is that sweet spot for making legs look their finest. Another benefit of this skirt is the higher and sturdier waistband that can help to create a better waist shape. I styled this skirt with a white button-down shirt, tan block heel pumps from Clarks, and tortoise link earrings from Banana Republic.
Outfit #4
This pleated skirt from J.Crew falls mid-calf, so be careful despite the fact that J.Crew calls this a flattering length. What this skirt does have going for it is it has knife pleats vs. accordion pleats, which means the pleats go in one direction. These larger pleats will more likely lie flat than accordion pleats will. Knife pleats are also easier to wear with shirts untucked than accordion pleats are because they lay flat and won't cause bumps when something slim is worn over it.
I styled this skirt with a basic silk t-shirt from Cuyana, a pair of navy strappy sandals and pearlized link necklace from Ann Taylor.
Outfit #5
This last casual pleated skirt look has stitched down pleats over the hips which can be very beneficial. The flare of the skirt from the pleats starts lower and can make a person look less hippy or bottom-heavy. I styled this skirt from Boden with a tie front chambray shirt from Karen Kane, slip-on espadrilles with cute French Bulldogs from Soludos, and charm hoop earrings from LOFT.
Shop for Pleated Skirts
Now that you know what to look for in pleated skirts, check out these additional styles here.

SUBSCRIBE TO BRIDGETTE'S WEEKLY STYLE UPDATES
RECEIVE A FREE WARDROBE CAPSULE BUILDER GUIDE WHEN YOU SUBSCRIBE
It is now officially after Labor Day, which means I am unapologetically diving head-first into fall fashion posts!
One of my favorite things to wear in the fall are skirts, specifically plaid skirts. Pair it with some tights and boots, and boom, you have a perfect outfit in my eyes. I bought the one I am wearing in this post from Mango last year, and I wore it constantly throughout the season. You could argue that maybe it's more of a check pattern than a plaid, but I think it counts.
Wearing pleated tennis-style skirts like this one can be difficult. I really love the preppy "education" feel they have. But if you pick one that's too short or too plaid (like a really in-your-face tartan in a bright color), they can come off as schoolgirl-ish and juvenile. If you are in your mid-twenties like I am, you probably want to head more toward the academia aesthetic and less toward looking like you're trying on an old school uniform.
There are definitely ways to style tennis or pleated mini skirts in a way that comes off as classic while still playing to this super popular trend right now. The first thing you will want to think about is the color or pattern of your skirt. Solid, darker neutral colors (black, navy blue, chocolate brown, even a burgundy or emerald green) will look more sophisticated than brights or pastels will. If you choose a pattern, such as a plaid, pick a smaller pattern in a neutral color just mentioned.
Next, choose your length wisely. A lot of tennis and pleated skirts right now are sooooo short, so it may take some trial and error before you find the perfect one for you. If you buy a tennis skirt that's too short, not only will you feel uncomfortable, but it will make the rest of your outfit look cheaper because it doesn't fit you well.
Don't be afraid to try several skirts until you find pleats that flatter you, as well. My favorite thing about the Mango skirt I am wearing is that it has two different kinds of pleats – thinner accordion pleats at the front and larger, flatter pleats at the back. I think it makes the skirt a little bit more interesting (and also makes it easier to steam lol!). Tennis skirts are at the height of their popularity right now, so there are numerous options to choose from. Don't settle for the first one you try on if you don't love it!
I decided to pair the skirt with a plain black t shirt, the cutest bobble cardigan for texture, some leather loafers and my Tory Burch bag. I absolutely love the way this cardigan fits. It pairs so nicely with the skirt, and I'm excited to wear it with some dresses I have as well.
If you throw on some tights and a coat in the winter with this outfit, and I think you have a very solid, classic look. It's also a pretty easy fashion "formula" if you will – pleated skirt, basic shirt, fitted cardigan or jacket, flat shoes. You can repeat this look a bunch of different ways with whatever items of those you already own. It may be something to store in the back of your mind to remember the next time you aren't sure what to wear! I've included an edit of my favorite "formula" picks below. All are under $200!
Basic Tops + Pleated Tennis Skirts + Cardigans + Loafers
Hi, I'm Bekah!
My name is Bekah, and this is The Bekah Boutique. My goal is to help you build the wardrobe you have always dreamed of. I aim to showcase content and products that inspire you to dive head-first into developing your own personal style. I am a Pittsburgh girl who loves gorgeous dresses, a fantastic sale and helping women feel their most beautiful. Thanks for reading!
We asked. You answered. You want us to show you how to style a pleated skirt for this Friday Fashion Fits. With skirts back in fashion and especially for fall and winter fashion, there couldn't be a better timing. Pleated skirts are actually a lot more diverse that you think. Besides coming in a million colors, they also come in different materials like leather, a lot of patterns, also fits and lengths. With styling you don't have to limit yourself, they can be worn with anything, if you take inspiration on how to style them.
Scroll down to see more pleated skirts outfit ideas.
So, check out how to wear pleated skirts with anything:
How to wear a pleated skirt with belt bags

I asked my colleague what she wanted to see a pleated skirt styled with and she said belt bags, and thank god she did! Who knew this combination would be this amazing. there are two options to wear a belt bag with a pleated skirt; as a belt with you shirt tucked in or over a blazer or jacket.
How to wear a pleated skirt with knee-high boots
Yes, pleated skirt can be short and leather, which is perfect opportunity to wear it with boots. You can also can have your boots hidden under your skirt if you want to wear a longer one, it still looks super chic, especially with a coat. It is preferable that you skirt falls a few centimetres above the ankle.
How to wear a pleated skirt with hoodies
For the lazy, cosy days, a hoodie is a great way to make pleated skirts look more casual and comfortable. This looks great with white sneakers. If you want to amp it up a bit, you can go for a chic fleece hoodie like the one above.
How to wear a pleated skirt with blazers
This is so chic and you can get so creative with the styling and colors. You can see that belts are the perfect accessory for this pairing. If you want your skirt to be the star of the show, you can go for a cropped blazer, instead.
How to wear a pleated skirt with sweaters/jumpers
This is the first thing that came to mind when I thought of pleated skirts for winter. Sweater can be chic and casual and better yet, they can make anything look wearable and they go with practically anything, including skirts. You can dress it down with nice sneakers or up with a leather pleated skirt and leather boots. Oversized sweaters also look great over pleated skirts.
How to wear a pleated skirt with coats
The perfect winter outfit can be many things and I must say, this is one one them. I'm in love with these monochrome looks and it's a fabulous idea to match your coat to your pleated skirt. For colder days, layer with sweaters, blazers and of course boots.
How to wear a pleated skirt with shirts
This is a great look for summer, especially because of how chic oversized shirts look. In fall and winter you can throw on a sweater and leave you shirt hanging from underneath, or you can tuck it in if you want a more formal 'sleek' look.
How to wear a pleated skirt with graphic tees
The graphic tee kind of goes with everything and make everything look cooler, including pleated skirts. In winter you can wear a blazer or coat on top, or you can go for a graphic sweater.
Note: If you're wondering how pleated skirts are you going to keep you warm in winter. well they won't. But, if you wear tights, it will help a lot and we talked before to wear skirts in winter and not freeze your legs off.
If you have a rectangle or apple body shape:
Pleated skirts can be really flattering if you find the right one. Pick a pleated skirt that is tighter at the waist so it can give that really sexy defined waist look. You can also wear a belt around the waist of the skirt to define it even more and bring attention to that area.
Book with us on Ask a Stylist and you'll never wonder what to wear again. You'll be a pro at styling yourself perfectly.
Pleated skirts and how to wear them every day!
So how are you all this week? I hope that you've had a great week – however that may look for you. Whether it's having the children at home, there being less traffic on the road because of half term, or the extra hour in bed, it's good to find joy in the everyday.
It's also good to find joy in our clothes. Some of you, I know, find that joy on a daily basis. For others it's intermittent and for some it's virtually non existent. In an ideal world, I'd love for you to find joy in your clothes (and in your wardrobe) whatever event you're getting dressed for – even the "non-events" of everyday life.
I'm working hard on creating content to help with this, from blog posts, to style videos and my weekly Sunday Love Letter. In my Love Letter I write about topics that impact us on a daily basis, as well as sharing books and podcast episodes that I think you might love, the odd quote, a discount or two and of course, fashion inspiration. You can sign up for it here if you fancy a little Sunday morning light reading.
So this week we're talking about pleated skirts! In fact last week, I talked about pleated skirts in my Style Video, which you can watch below (I must find out how to do proper thumbnails for my videos!) But alongside the video, I thought that it would be helpful for you to have some ideas of where to go, to get the best pleated skirts in town.
Just to give a quick video re-cap, the things to look for when choosing a pleated skirt are the types of pleats (I find accordian pleats the best), the type of fabric, the volume of the skirt and the length of the skirt. Get these four things right and it can make a difference between you and a pleated skirt being the dream team and being a enemies in the changing room. You can get all the low down in the video!
So my favourite pleated skirts this season are as follows:
This animal print pleated midi skirt from Marks & Spencer (£45) is an absolute gem. The pleats are neat, there's not too much volume in the skirt and it is a lovely lightweight silky fabric. The print is great for keeping the eye on the move and it comes in a long length too, so if you find the whole shoe/tights/ issue tricky, try a longer length, which can definitely take some of the guess work out of it. For other M&S pleated skirt gems, take a look here.
I actually don't think that you can go too far wrong with a velvet pleated skirt in the winter and Marks and Spencer have a gorgeous one for £45, which comes in four different colours. My favourite is the silver, which you can see closer here I really love the sporty waistband on this one!
Hush have this metallic pleated gold and black skirt (£65). There's just something lovely about metallic in the run up to Christmas. Which reminds me: this would make a great outfit for our upcoming wedding anniversary trip away.
Whistles have a great selection of pleated skirts in the sale – so have a good look there too. I think that a number of the skirts were from this time last year, so you might grab yourself a real bargain. Reiss also has a good selection of printed and graphic printed skirts here and finally, Warehouse has a super selection which include animal prints, spots, metallics and geo prints. You can see the full range here. This mixed animal pleated skirt from Warehouse (£46) is a favourite. Cool boots too!
Not all pleated skirts are created equal so I would definitely say try before you buy and remember to watch the video and then remember to pay attention to the pleat type, volume, length and fabric when choosing your pleated skirt. Some are definitely easier to wear than others!
Home > Fashion > How To Wear a Pleated Skirt This Spring
The answer from leading designers – ad-lib! As you want. And if you already understand that this is a trendy thing in spring and summer 2020, but do not yet understand how to wear this skirt, then you definitely need an influx of fresh ideas. For example, open Victoria Beckham's Insta profile. She is a real fan of pleated skirts, moreover, she creates very unexpected and bold images with clothes from different colors and textures. And also, take a look at online-stylist.co.uk and find out how ladies pleated skirts can be incorporated into the everyday images of usual girls. And in the meantime, we will give you some more tips on this question.
Pleated Skirt+Eco-Leather Jacket
So, if you are not yet ready for the most daring experiments in the style of Victoria Beckham, then we suggest starting with a relatively classic image. You will need a pleated skirt slightly lower than the knees, a black vest made of eco-leather, a T-shirt with an open neckline in maroon or black, plus ankle boots with medium heels. And it's all. A fashionable look for a romantic date or a walk through the spring city is ready. It will be beautiful, fashionable, elegant and without fashionable extremes.
Pleated Skirt+Knitted Oversized Sweater
This is a bolder idea, which is ideal for very slender girls. The specificity of a pleated skirt is that it visually enlarges the hips, so it definitely should not be worn by those whom nature has awarded with noticeable and rounded shapes. Moreover, together with a knitted oversized sweater, there is a risk of looking even more voluminous. Therefore, this is a bold enough idea for slender girls who can afford to add a few visual centimeters. And in this case, it looks really unusual – especially if you combine this image with slip-ons decorated with eco-fur.
Pleated Skirt+Classical Office Shirt
Are you looking for an office option? Here it is. Choose a pleated midi skirt of modest color – for example, dark burgundy or pink corral (by the way, the latter will be especially relevant this spring) and combine it with almost any classic long-sleeved shirt. Perhaps the only limitation is checkered shirts since the checkered pattern will attract attention from the main element of the image – the skirt. As for shoes, the office option is either light ballet flats or low-heeled shoes.
Pleated Skirt + Classic Turtleneck
This is another idea from Victoria Beckham, which looks very unusual. Victoria suggests combining a pleated maxi length skirt with a translucent base turtleneck. And attention! Do not wear a bra at the same time. Instead, wear demi-season boots with wide heels.
Well, the idea is bold enough. Therefore, in order to turn this image from extravagant to every day one, you just need to wear a bra and choose a more classic color combination. For example, a white skirt will work well with a white or blue turtleneck or sweater. As for shoes, here the choice will also be yours.
Many of us may have been wearing pleated skirts already. They are certainly one clothing item that looks great, feels comfortable and is quite simple to pull off. You can pair a red pleated skirt with boots and sweaters during winter, while in summer – sandals or pumps with t-shirts or button down shirts are viable options as well.
The reason we chose to write about red pleated skirts is because, out of an array of colors, this color can transform your whole appearance to a cheery and lively one. WE understand that red could be a limiting color to work with, but the ideas we have compiled here opens up quite a lot of options for you to play with.
Starting with the basics, black. Black tops are an indispensable part of one's wardrobe. Because it goes with anything and everything, black tops are the first type we recommend. Black shoes or sandals tie up the overall look very neatly. To glam up a bit more, jewelries and purses are two accessories you can experiment with.
As basic and versatile as black is white. White and red is a classic combination that everyone is familiar with. Notice how the leopard printed shoes in the first picture, and the similar printed purse in the next, creates another dimension to the look.
Next we suggest blue tops. Many people might frown upon this combo just by hearing it – but take a look first; they look surprisingly good! The first picture features a navy blue top and the reason it matches well is because the red of the skirt is of a darker hue. Navy blue wouldn't have matched with a lighter shade of red tbh. The wearer completes the look by using brown boots and a similar colored belt.
The next blue is of a much lighter shade, so is the red – and that is why they are in harmony. But instead of brown accessories, the off white purse, belt and the golden cuffs are more sensible in this style, because of the same reason – the red and blue are lighter than the previous style.
For darker red pleated skirts, you can wear light tops as well. It creates a soothing contrast. Take this dusty pink blouse for instance.
Another option would be printed tops or blouse. In the picture below, the wearer chose to keep the reds of the skirt and top similar, which makes sense due the alternating white checkered pattern. She defines the boundary of the torso using a thin, tan belt. And this matches perfectly with the sandals of a similar tone.
Other than these, everyday t-shirts look super cute with red pleated skirts. Pair them up with sneakers and you'll have a very casual summer look.
If you're not in for the casual look, but opting for a work look instead, try button down shirts. We think shirts in shades of blue are perfect for creating such looks, but you can try off-whites, beige, camel also. And if you are confused about what color shoes to wear with blue tops – go for whites, tans or beige – they're the safest.
Winter Styles For Red Pleated Skirts
As stated above, pleated skirts can be worn during the colds just as well as in summer. And one winter staple which almost everyone owns is a denim jacket. Just put on a simple graphic tee with your red pleated skirt and style it up with a denim jacket. Easy.
Cardigans over solid tops can give you more refined look, unlike the casual vibe with denims.
Leather jackets with tees or blouses are also superb for winter. The leather radiates boldness amidst the femininity of the skirt.
Pull over sweaters are another solution to your winter styling of red pleated skirts. Camel, beige, tan or grey sweaters are some we recommend, out of the many colors – because: 1) it's easier to pull off 2) they are very less likely to go wrong 3) the sombre tones balances the perky red during this weather.
But, who says you have to wear those colors only? Sometimes, adding even more cheerful colors to the already energetic red can look amazing!
Bonus: Striped Red Pleated Skirt Ideas
If you are looking to style a striped pleated skirt, it is best to go with solid colored tops instead of prints. Match the color according to the major shade of your skirt. For example, the first picture below has more reds on the skirt, which matches very well with the tee.
For the next look, the skirt has equal parts of reds and pinks. So, in this case, the light pink top looks good because of the overall light sheer from the skirt which counters the depth of the red.
So there you have it! We hope our tips and tricks helped you understand the do's and don'ts for styling a red pleated skirt. Do try them out to nail that perfect look with your pleated beauty.
In case you're looking for more ideas on red, check out our articles on how to Accessorize Red Outfits and styling inspirations for Red Trousers.
Dec 11, 2021 admin
The change of wardrobe from summer to autumn brings back iconic garments such as pleated skirts. These skirts, so characteristic of their ironed and very defined pleats, are very versatile and can be worn in both formal and informal contexts. Therefore, it is a very good choice to create work outfits now that we are gradually changing the home office for the office.
This season, pleated midi skirts with the odd twist will make their way back into many closets. Are you up for it too? If so, we explain how to combine the pleated skirt to get the most out of this feminine garment.
Who does the pleated midi skirt favor?
The pleated skirt is an ideal garment to balance the upper part with the lower part of the body since the pleats add volume. For this reason, this type of skirt suits women with an inverted triangle body very well, that is, they have broad shoulders and are more marked than the hips.
Women with a rectangular body will also do well because the pleats in the pleated skirt will help shape the silhouette.
On the other hand, if you have a triangular silhouette (with the hips wider than the shoulders), better bet on pencil-type skirts, they will adapt better to your figure without adding unnecessary volume.
How to combine the pleated skirt
The pleated skirt is a garment that you can take to its more formal extreme, but that you can also combine informally. It all depends on the clothes you choose to combine them with.
Pleated skirt with wool jersey, pure warmth, and femininity
If you are looking for a comfortable and feminine outfit, get a wool turtleneck and combine it with your pleated skirt. Add some ankle boots and a tote bag, and you will have a trendy and warm look for your day-to-day this fall winter.
Blazer and pleated skirt, a twist on the usual suit
If your blazer has already tired of being accompanied by chinos or jeans, dare to wear it with a pleated skirt. Get a bottle green pleated skirt, one of the tones of the season, and combine it with a black top and kitten heels, you will finish adding sophistication to the ensemble.
Printed pleated skirt and ankle boots, the chicest of the moment
The floral print is autumnal and very feminine. If you like it, a pleated skirt with this type of pattern will be a success. Combine it with a fitted cardigan and choose original burgundy ankle boots to take center stage in the look. An original and much-needed twist to add color to fall. Do you dare?
Many people think that since summer and the warm part of autumn are over, all skirts can be safely hidden on the farthest shelves until next year. Today we will prove that this is not at all the case.
A pleated skirt is a capricious thing. She comes into fashion, then goes out of it. Evelina Khromtchenko, the permanent host of the Fashion Verdict program, sincerely believes that a pleated skirt can create almost any image.
What is this pleated skirt? A distinctive feature of this type of skirt is vertical folds, which are obtained by ironing or by special prints that are applied to the fabric. The length of such skirts may be different, but now skirts of medium length, just below the knee, are especially relevant.
They are the easiest to combine with the rest of the clothes. Wearing a pleated skirt below the knee is always beneficial. She creates a gentle yet understated look that will look great both in the office and on a romantic date.
Bright sweaters and knee-highs
Many celebrities just love this skirt style. For example, for Victoria Beckham, a black pleated skirt has long become an integral part of the everyday look. Victoria loves to combine this skirt with bright tight sweaters. They emphasize her figure well, and in general, the image looks very harmonious.
Bulky sweaters perfectly emphasize the grace of such a skirt. There is something insanely elegant in a combination of a warm comfortable sweater and a delicate skirt.
Blazer
Beige pleated skirts look great with classic blazers. This combination can be completed with stylish stiletto boots or shoes.
T-shirts
Many people think that this style of skirts can only be attributed to a romantic style, but this is not at all the case. A pleated skirt is an excellent basis for various experiments. For example, she looks very good with T-shirts and even T-shirts.
Unusual bright sneakers will complete the look. It is perfect for warm autumn days.
These things seem to be made for each other! A strict coat in beige tones and a pleated skirt look incredibly stylish. Convenience of such an outfit is also not to occupy. Most likely, the whole point is that a heavy, coarse coat creates an excellent contrast to a light airy skirt.
Remember one of the most important rules for creating an image, part of which is a pleated skirt: do not wear a colorful top and bottom at the same time. It is desirable that at least one element be solid. For example, mustard golf and a black pleated skirt with a beautiful print.
Autumn's hard-working wardrobe hero comes in a variety of colours, textures and prints, writes Meadhbh McGrath
Look to Charlize Theron and throw a blazer on top. Photo: Getty Images
Facebook
Twitter
Email
Whatsapp
November 09 2018 02:30 AM
The pleated midi was the must-have skirt of 2015, 2016, 2017, and now it's back again this year. It's become a wardrobe staple, one that looks breezy and stylish with a T-shirt and sandals in summer, and polished with a jumper and boots in winter.
P leats have proven one of the most popular details on the catwalks in recent seasons, particularly at Givenchy, where creative director Clare Waight Keller's pleated evening gowns have become a red carpet hit, spotted on the likes of Cate Blanchett, Rihanna, Emma Stone and Keira Knightley.
For everyday, however, the pleated skirt is a very wearable choice that keeps things interesting while being muted enough to dress up or down depending on the occasion.
Givenchy has been the go-to brand for Meghan Markle since she joined the Royal Family, and the cobalt skirt and jumper she wore on the final day of her Australian tour is easily one of her best looks to date.
It's simple, yet striking and sophisticated – an outfit we're sure will be much copied on the high street over the next few months, albeit for a much smaller budget. Samsoe & Samsoe's version, available at Arnotts, nods to the gradient effect with black and blue stripes.
What makes the pleated skirt so special? Firstly, it flatters all shapes and sizes. The elegant pleats elongate the silhouette, and the waistband adds subtle definition to your narrowest point.
You asked, we're answering! The answer is: Of course you can. You can wear anything you want. But what we really want to know is, "How do I look great and feel confident wearing a pleated skirt when I have a full midsection?"
Let's belly up to the coffee bar and have a chat about this.
Croc-embossed faux leather skirt by Halogen x Atlantic-Pacific
I adore a pleated skirt, don't you? It's one of those 'love at first sight' events when reason and rationality fly out the window and the skirt is mine before I even think how to style it. I'm a size 12 at this time and am definitely sporting a full midsection that I want to minimize.
But, you ask, doesn't a pleated skirt make you look bigger especially with a tummy?
A little. And here's a great thing about growing older. Body acceptance.
Our bodies are what they are at this moment in time and aren't we grateful that we can move? Every day is a body celebration because, by now, I'm sure many of us know what pain and limitation look like. I know I enjoy playing tennis or taking a walk even more these days than before. Are we going to let the fact that we may look a smidge larger from the waist down stop us from wearing something we love? No way. With a bit o' style wizardry, we can look good and feel great whilst traipsing about in our pleats!
Here are 3 Style Wiz Tips to make a belly disappear
Style Wiz Tip #1: Pull attention upwards
We may have 2 eyes but they can't focus on the waist and the face at the same time. Jewelry, a scarf, eyeglasses, and a bright lipstick can all create a focal point riveting the eyes' attention upward.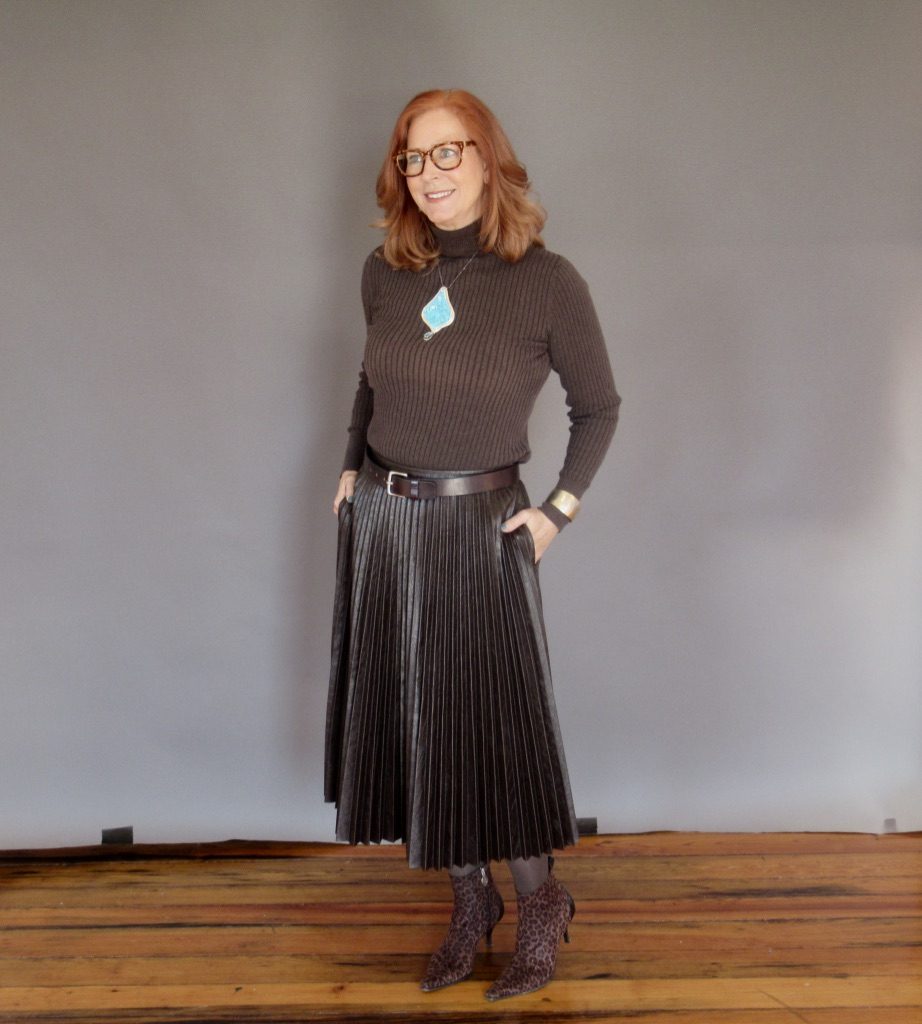 Turquoise necklace by artist Amy Kahn Russell on loan from Rendezvous Gallery, rendezvousstyle.com
A statement necklace like this turquoise beauty garners immediate attention and keeps the eye moving upward to the face. A monochromatic look makes it even easier to highlight a statement piece.
Style Wiz Tip #2: Create a Waist
If we even so much as give a suggestion of a defined waist, the eye will register our figure as having a waist. The idea of 'waist' is incongruent with 'belly' so 'waist' wins out.
Note in the pic above that I chose to tuck in the turtleneck and wear a belt. I find that as my waist thickens, I often prefer to cover it up. Belts aren't usually part of my style repertoire. But here, I wanted to trick the eye a bit by creating a waist with the tuck in and belt. In a quick second, our eye sees the belt, assumes there's a waist and then zooms up to drink in that turquoise necklace.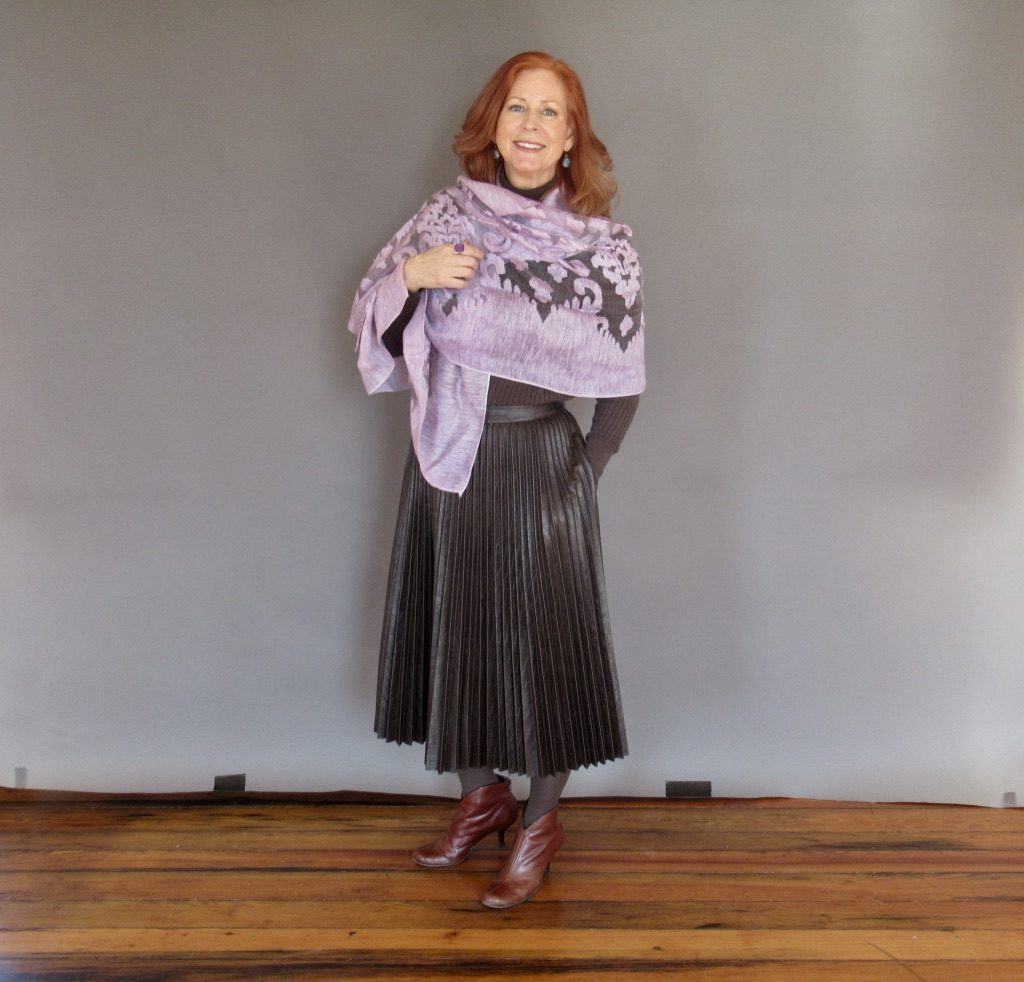 Color from the lavender scarf and the turquoise earrings help bring and keep attention upward. The tucked in turtleneck continues to give the illusion of a waist. I picked up this scarf in Cambodia a few years ago on the way to see Angkor Wat, an impressive cultural site from the 12 th century.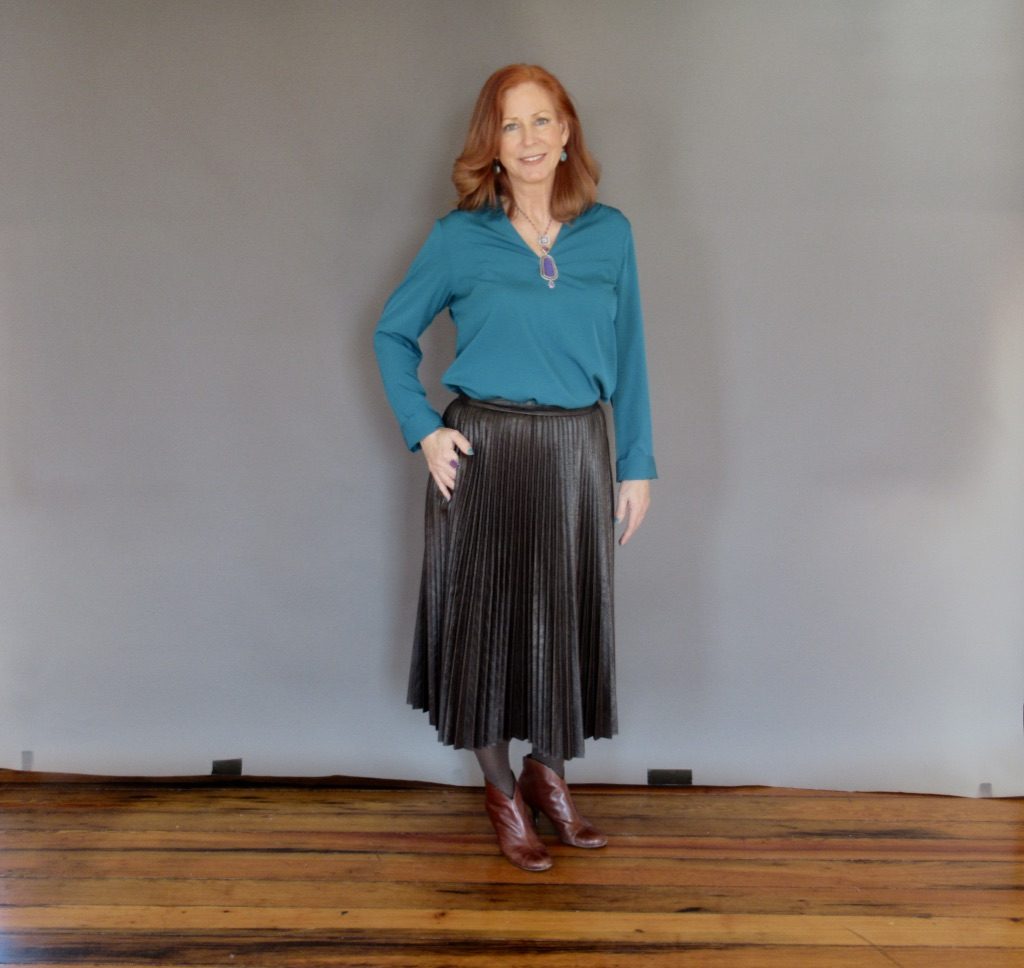 Necklace by artist Amy Kahn Russell on loan from Rendezvous Gallery, rendezvousstyle.com
Another example using bold color and necklace to keep the eye moving up and creating a waist by tucking in the blouse.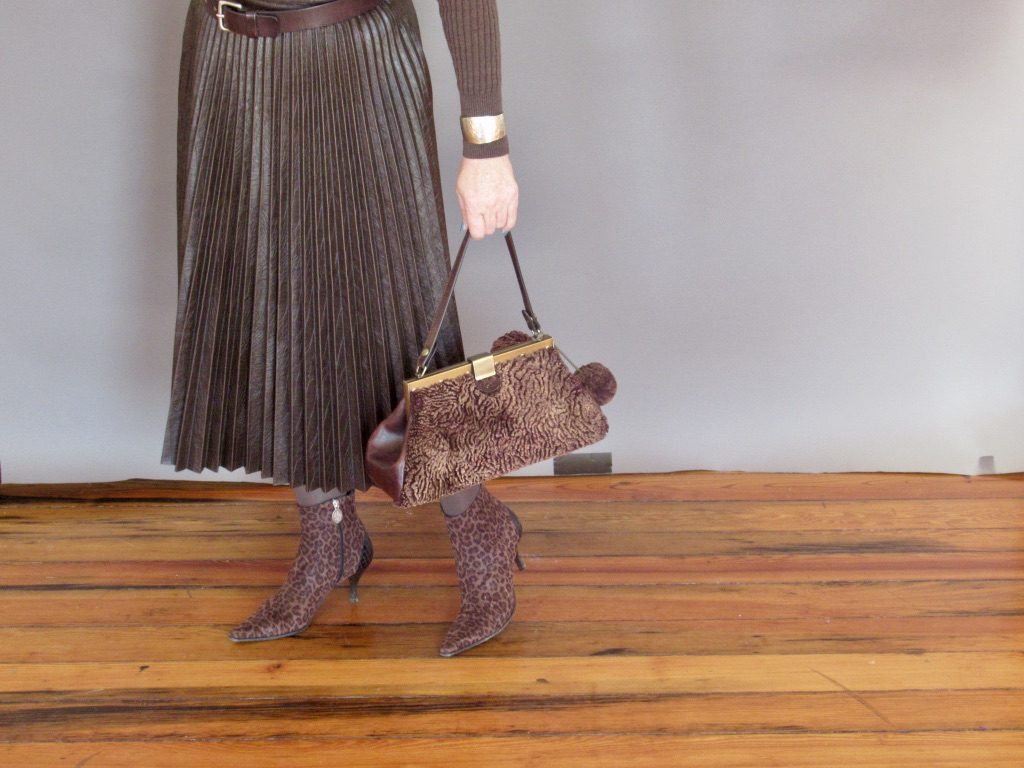 Bag by Patricia Nash. Boots by Donald Pliner.
Accessory fun. The strong lines of the pointed-toe boot and the structural nature of the vintage-like bag work well with the strong lines of the pleats. A gold cuff bracelet adds to the strong statement.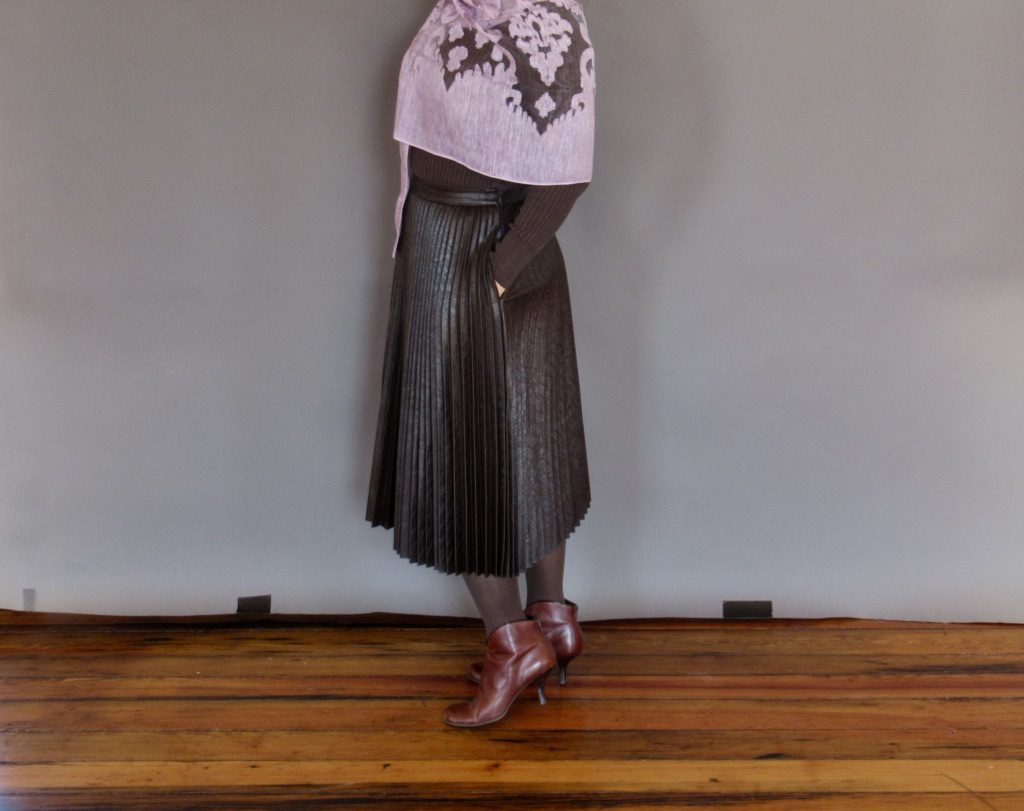 Because I'm dedicated to designing clothes that are flattering for women over 40, I've studied how to minimize a belly. One of the key ways is to make sure our clothing hangs down over the belly without hugging it. We don't want to show the contour of our belly. In this photo, having the skirt not too tight at the waist and hips ensures that the skirt falls straight down, covering the curve of the belly as it comes in to the hips.
Style Wiz Tip #3: Cover up the belly (we all know this one)
This look checks all the boxes. Belly covered, waist created with wrap-jacket ties, and attention is brought up with the tie from the blouse and the statement necklace. Bonus points for the tie creating a slimming vertical line and the silk jacket having some attention-getting shine. There's a lot going on here. Sometimes more is more.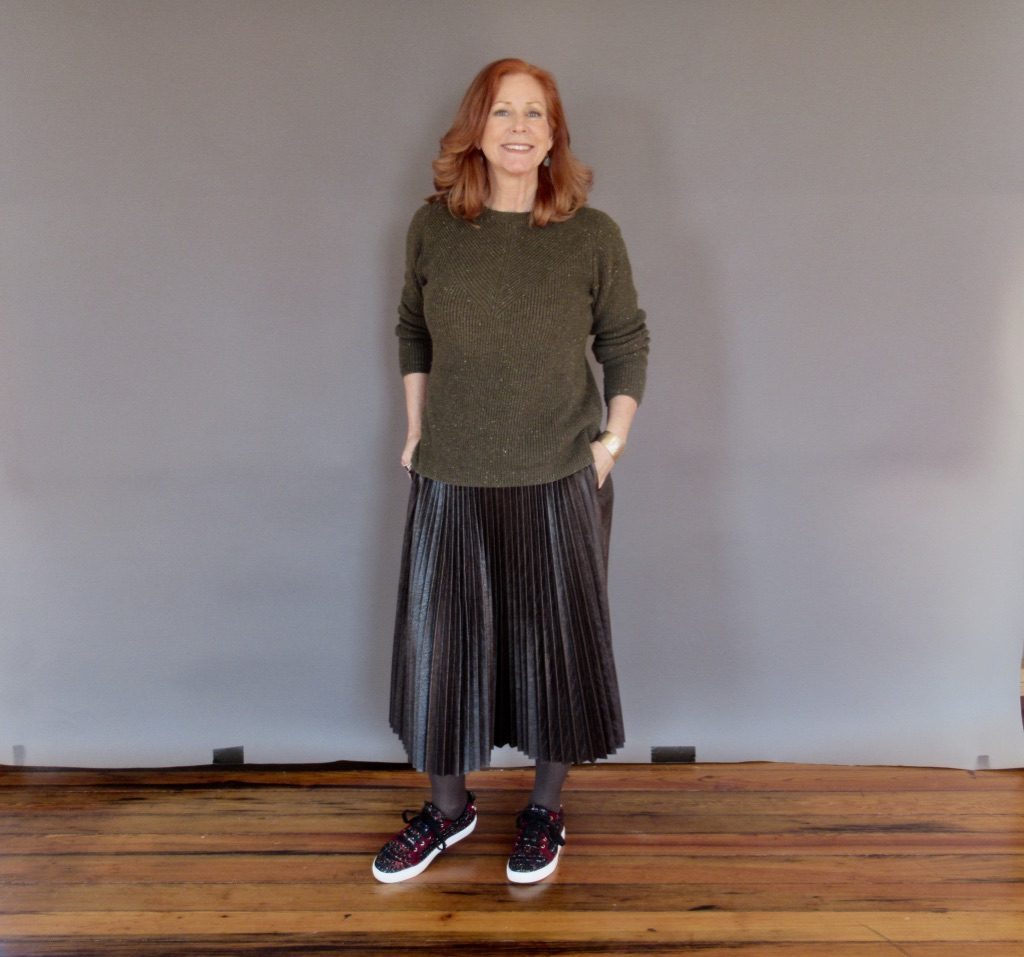 Paring it down for my casual lifestyle, I love a comfy sweater and a pair of sneaks. They easily dress down this croc-embossed faux leather skirt which means I get to wear something I'm crazy about more often.
So can we carry off an accordion pleated skirt in spite of a full midsection? Absolutely. We just call on one or more of the Style Wiz Tips and we'll be sashaying out the door (or into the next room in our new work-from-home environment), pleats swaying, confident and ready to slay the day!
Accordion pleats are my shopping kryptonite, as are shoes and books. What are yours?
In this article, we are going to talk about pleated skirts. You might be living under a rock if you know what it is. As the name suggests, this skirt has pleats in it. There are multiple pleats on a pleated skirt. These kinds of skirts are known because of this. It makes the outfit all together more attractive. All the skirts with pleats are the same. Their size might differ. There is not a vast difference.
Pleated skirts are usually shorter than the other skirts. It is deliberately made short. The average length of it is above the knees. You can style it according to your preferences. Pleated skirts have been in the fashion game for a really long time. As it is not a secret, fashion keeps evolving every day. Pleated skirts are irreplaceable. These skirts can be worn anywhere. It can be styled differently.
You can achieve many looks by wearing a single pleated skirt. All you have to be mindful about it. What can be more amazing than styling yourself? It gives the best results ever. Let everyone adore you. Create your own style statement. We guarantee you will get the best compliments ever. Girls truly take compliments seriously. Here are some ways of making pleated skirts look stylish.
Spaghetti top
Why not flaunt your body? Spaghetti tops will suit the pleated skirt. This look will give you a girly look. You can embrace your body. Spaghetti and a pleated skirt is definitely a right outfit.
Slim fit tops
Slim fit tops are like bodycon. It makes the outfit look more impressive. If you are into street style. This look is definitely for you, and it will make you look beautiful.
Tank tops can be styled with pleated skirts. There are many tops that have arrived. Tank tops were not in the fashion game before. Now, these tops have been stealing the show.
Bralette tops
Bralette tops look really classy. The tops can be styled with pleated skirts. It will give an aesthetic look. You can wear this to your college or parties. Add some jewelry if you want some glamour.
To get a high school look. You can style a pleated skirt with t-shirts. To complete this entire, you can wear sneakers on it.
Lace tops are being celebrated in the fashion world. You can pair any color top with this pleated skirt. Complete this dazzling look with high heels.
Wear an off-shoulder pleated skirt. You can embrace your legs and collarbone. To put extra effort, wear a leather belt. This will make your outfit look amazing.
Sequin tops will go really well with the pleated skirt. This outfit is apt for parties or any other special occasion. Many colors of skirts and tops are available. You can play with colors too. Girls like to play and design colors. As the sequin is too shiny. Go light with the accessories and footwear.
Pleated is irreplaceable
Yes! That is the absolute truth. Their pleated skirts are irreplaceable. There is not a single piece of clothing like this. By using these simple pleated skirts, you can achieve so many looks. What can be better than experiments? You can style your clothes as per your preference. Create your own fashion statement every day. This skirt can also be called a multi-purpose piece of clothing. To the parties, ceremonies and on many other occasions you can wear it. This pleated skirt is your last moment friend. In a hurry, just pick up this pleated skirt and style it. A pleated skirt must be there in every girl's wardrobe. There is not only one kind of pleated skirt. Many of the brands have already made different kinds. The fabric or the material is dissimilar to one another. Well, fabric plays an important part.
If you are looking for one, go for a reputed brand. It doesn't mean you have to pay too much. Some of the brands will burn your pocket. Many online shopping sites offer varieties of clothing items. Customers are treated with many mouth-watering offers. These brands are known for their everlasting quality.
Perfect shape, size, and quality
The beauty of a perfect size pleated skirt is adorable. It makes your body look more attractive. Finding an ideal size in the stores can be quite severe. Some online shopping sites provide clothes for every shape and size. The overall proportions are small, medium, and large. A full paragraph containing full details about the skirt is uploaded. Numerous pictures are also provided to the customers.
You can check them out before placing an order. It is not a secret fashion is subjective. Following this idea, many colors of skirts are made. Always give adequate importance to quality. The life of a pleated skirt depends on its quality. Invest in something efficient. We recommend you to buy this magical skirt from an online clothing store. They have the latest fashion available. What are you waiting for? Go grab your dream, pleated skirt.
Buy it from Yishion
Yishion is one of the most prominent shopping sites. It is considered to be loyal and trustworthy. On this shopping platform, you will get many clothes. These clothes are relevant to the trends that are going on. When it comes to pleated skirts, Yishion has the best collection for all the fashionistas. Along with that, you can sit at your home and place an order. At your doorstep, you will get your pleated skirt. Many options are given to customers. The prices are quite affordable. It will not take a heavy toll on you. Yishion will never disappoint you. We guarantee you it will meet your intentions. The customers are treated with exciting offers, discounts, and cashback too. Let your girl gang get jealous of you. Be the show stealer in every party or occasion. Do not think twice about shopping from Yishion Singapore.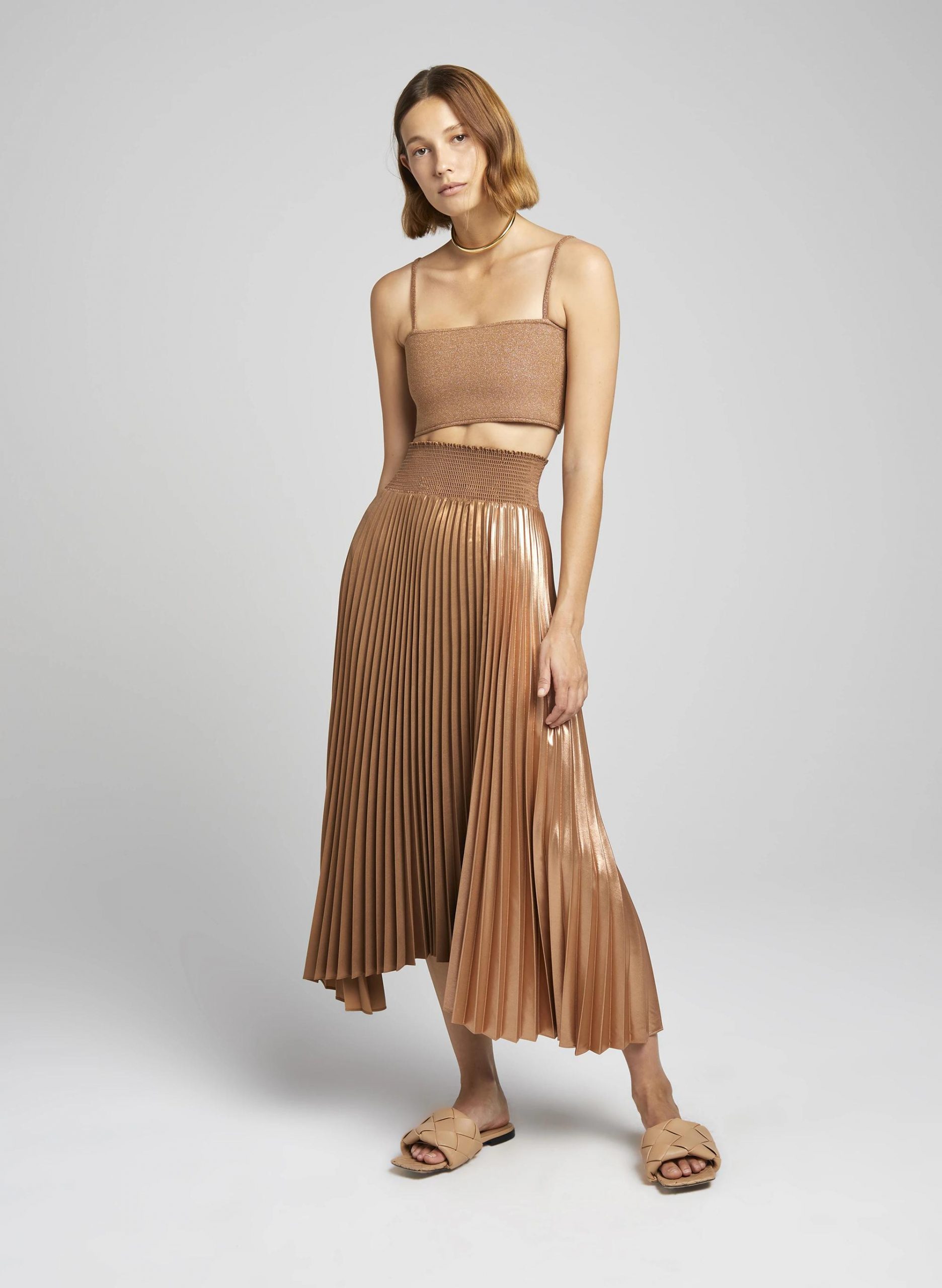 There is a rather mixed opinion in the world regarding the pleated skirt. For some time, it was off the radar and considered dated. It returned, then and exploded out of proportion. It is a natural combination of elegance and street style. You need to know how to deal with it and that is just what we are going to teach you. Let's take a look at the various forms of wearing a pleated skirt. Find that out!
With a black and white pleated skirt, add a little Yin to your Yang. To split the monotone look of this dress, pair it with a top in a bright colour such as red, coral, or yellow. With black pumps, finish it off. With a metallic pleated skirt, flaunt your street smart side and compensate with a trendy white blouse for your book smart side. Put your hair up in a bun, tuck it in and throw on a leather tote and pointed heels to make it look ace.
Get ready to party with embellishments in a pleated peach skirt and sequin crop top. This outfit screams just that without making you look too bland, if you lean towards the minimalist theme. To stand out, give it a spin with a neon colored top and pumps. Combine an edgy red pleated skirt with a top with a black noodle strap. In such dress, wedges, beachy waves, hoops, and a crossbody bag build a beautiful flow.
"The look comes handy on days when you wake up thinking, "Let's go all out or nothing, With the splits, get party-ready and enjoy getting out of the box. In order to complete this theme, tuck a turtleneck T-shirt into a gold pleated skirt, throw on an oversized coat or shrug, purple booties, and wear some red lipstick.
Bored of all the time wearing formal trousers and structured skirts? To break the monotony, box-pleated skirts are here. Box pleats bring definition to your ensemble without making it look too casual. Pair it to rock the office appearance with a crisp white or pastel shirt, nude pumps, and a leather bag.
In the mood for something old school or vintage? The mood is balanced by a floral pleated skirt. To keep the skirt in the spotlight, go for a neutral coloured top (like black). Keep it easy, tuck it in and a snug bun will finish you off. Wear neutral makeup, but to highlight your skin, use a bronzer. The ideal choice of shoes here are kitten heels or ankle strap sandals.
Maxi skirt fan? In summer, they look easy-breezy and feel just as relaxed as they look. With a white tank or crop top, you can keep it basic or add layers, such as a chambray shirt and Converse sneakers. Either way, it's a must to have one of these in your wardrobe.
Can it be more sophisticated, more classy, and more suave than that? A mini pleated skirt with an oversized turtleneck sweater, a big clutch, a low bun, a red lipstick, a neutral make-up, and no accessories over the knee boots. Try this, please!
Related Posts
The one piece clothing has always been a popular choice for women and these days…
Shapewear is meant to help you look better in the attire that you are wearing.…
You got the perfect partner whom you are going to wed. The engagement ring is…
Ever wondered what to wear with a long pleated skirt? This style guide is your answer. I'm going to create multiple outfits from one pleated skirt to show you how you can maximize your wardrobe and style the same piece for different occasions.
The skirt I'm styling for all of these looks is a flowy, pleated beige one. Although this specific skirt is now sold out, I recommend this Lacoste Women's Colorblock Pleated Long Skirt or this Lamba Pleated Printed Georgette Maxi Skirt for a similar vibe.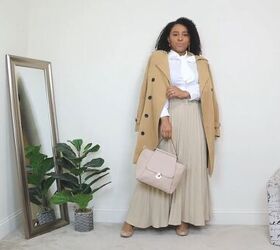 1. Romantic vibes
I'm first styling my long pleated skirt with a white button-down top, which is such a classic look. This top has a nice little twist to it, you can tie a bow around the neckline, making it look very elegant and sophisticated.
On my feet, I went with a pair of classic nude heels; you really can't go wrong with them. They match any outfit, and here they pair so well with this pleated skirt.
I didn't want to over-accessorize this look but rather keep it more clean and classic, so I just added a pair of gold earrings that have a little bit of dangle to them.
Remember that less is more – something dainty and subtle will do the job for a classic look.
For a coat option, I've added a nude pea coat which is a perfect simple outerwear piece. I finished off with a nude tote bag. It is a different nude shade from the skirt, but I think the two tones work together well.
Delicious outfits for the end of summer
If you're already tired of pencil skirts, a-line skirts or any other types of skirts, a pleated skirt can be the perfect addition to your wardrobe.
Its sharp pleats make it a great option for day, when you can dress it down with sneakers and a simple top, but it is also the ideal piece for an evening stylish event.
If you don't know exactly how to style it, here are some suggestions about how to wear apleated skirt.
Because fall is just around the corner, you can choose to wear a pleated skirt in a warm color like mustard yellow, orange, even pink, and pair it with an oversized neutral sweater. Finish the look with a pair of statement shoes, some stylish dark sunglasses and a shoulder bag. This kind of look is cozy and classy all at once.
If you consider this skirt to be a little bit too feminine for you, you can just bring a little toughness into the look by adding a cropped leather jacket. A pair of ankle boots and a bun keep the look casual but cool.
To keep it sexy go for a lace top or a silk shirt and tuck it into a pleated skirt cinched at the waist with a skinny belt. You can choose to wear a vibrant colors that will put you into the limelight.
For a special evening look you can choose to wear your pleated skirt with some sequined accessories or clothing items. Saying no to sequins is never part of the plan! A sparkly top or a clutch will look awfully perfect next to a pleated skirt!
For the perfect look opt for a soft accordion skirt in a metallic color and mix it with a sleek leather jacket, a pair of ankle boots with thick heels and a nice backpack. This one is a match made in fashionable heaven!
You might think that a plaid blouse or jacket is not a great match for a pleated skirt. This is so wrong! This combo is ultra-chic and perfect for the beginning of fall. Go ahead, add a little edge!
I like to keep an ear to the ground for the latest trends, but I don't strictly follow what's "in" or "out." I dress in whatever makes me feel good. Currently, the trend forecast tells me the pleated midi is having its moment, and I am here for it.
I've been wearing pleated skirts in different lengths for years, so it makes me happy to know when I'm on-trend. The midi has a very 70s vibe, which I love, and the conservative length is modest and elegant—double love. Invest in one (or two, or three) and wear it from now until forever—this chic look is destined to trend again and again.
Here, a couple of my favorite ways to style the fashionable midi so that it flatters your figure:
1. The midi is an all-year-rounder and can be worn with sweaters, button-ups, a tee, blazer or even a turtleneck. I've worn mine every which way, but the sleeveless turtleneck paring is my favorite. A bodycon fit will balance the volume of the skirt for a slimming effect in all the right places. It is perfect mid-week lunch attire. (My black ribbed turtleneck is by Tylynn Nguyen.)
2. Find a style to suit your silhouette. I like my skirts to hug my waist to flatter my figure but the high-waisted look isn't everyone's cup of tea. Shorter torso? Look for a something that hangs more at the hips. Remember, the fit is more important than the length, which can always be altered.
3. Wear your midi with tennis shoes, flats, wedges or pumps. Note that heels in neutral nudes will accentuate your legs and make you appear taller. (Mine are by Gianvito Rossi)
4. As with my footwear, if I decide to wear long sleeves, or throw on a blazer or sweater throughout the day, I am sure to roll up my sleeves. Because of the longer skirt length, I like to balance out my look by strategically showing skin that elongates my limbs, adds additional height and doesn't cut me in half.
5. Choose a style that has flowy, romantic movement. It's comfortable, classic and very feminine. (I'm wearing a black, pleated floral skirt by Aritizia and it is everything!)
Remember the floral pleated skirt I got a couple weeks back? Well, I spent much of Sunday afternoon trying it on with every possible option in my closet. I'm going to talk through my thought process, what I did and didn't like, what worked and what didn't and why…and what the final outcome was.
#1 Skirt with cream v-neck cashmere sweater and chestnut flats. I liked the color combination – the cream with the muted browny-rose shades of the floral on the skirt. But I did not like the proportion of the long sweater over the very long skirt. I lived through the 80s and 90s. I wore the "long tunic over flowy midi/maxi skirt" style and enjoyed it. Then. Now I see it as too 80s, 90s. I do like the way the sweater skims over the elastic waist and belly area. But the proportions are just not good.
#2 So I tried tucking the sweater in. More modern, but…I'm not digging it on me. It took me a lonnnggg time to get relatively comfortable with an elastic waist and my big front belly. I'm much better than I was. But I'm still not crazy about the waistband worn super-high like this. Elastic waists will not stay at my actual waist, because the spot just under my bra is smaller, and movement causes the elastic to slide to the smallest area. Like water seeks the lowest point…elastic seeks the smallest point.
#3 I love the concept of the polka dot tee over the floral skirt, and they have the black tying them together, but…I think the white tee is too white with the dark skirt. It has some very small bits of creamy white in it, but, I think it's too stark a contrast. I thought the black cardigan might help the situation, but I don't like the 3-4″ of skirt peeking out from under the cardigan. They're not even peeking. They're screaming WE'RE TOO LONG FOR THIS SWEATER!
#4 The 1980s called. They want their secretary back. It's not that the outfit is that bad. It's just not me. I thought I'd run with the girly feminine look of the skirt and add a ruffled white top with a pink cardigan. Oh boy. I'm not half the woman this outfit is.
#5 I did wear this in my past life. But that was then…and this is now.
#6 Okay, maybe we're getting somewhere. Tying the top up allowed it to end about where a crop top would – just long enough to cover the elastic waist and the big belly pooch right below it…but not so long that it had the long over longer proportion I talked about earlier.
#7 I thought the oversized cardigan might help amp up the casual factor and knock back some of the sweetness of the floral skirt. Like a pinch of salt on a chocolate chip cookie (now I want cookies). I do think it does that, but the cream of the cardigan and the white of the tee are not so good together…plus, this chunky knit sweater would be unbearable in the spring. If I ever get to go OUT into the spring.
#8 DINGDINGDINGDINGDINGDING We have a winner! Casual, check! Blue chambray over floral skirt, check! Longer length over high-waisted skirt, check! Casual sneakers, check check! It's very 90s Elaine Bennis. I loved that look then…and still love it now.
So out of all the looks (and you have to admit, I gave this skirt a good run for its money), I only really liked one. The last one. And I just cannot in good conscience buy a skirt that I will only wear with One Thing. So, it has been returned from whence it came…and I am watching for another skirt that hopefully I will have more luck with.
I liked the skirt. The style, the shape, the colors. And I even could have lived with the high-riding waist (with the right length top over it), but that combined with the very long length…was just not good on me. I'm short. And this skirt just sort of swallowed me up. I did hike it up to around knee length and that was so much better. But right now I just don't want to spend $$ on an alteration and *I* am not attempting to hem a pleated skirt!
But I hope you liked/got something out of watching my process. I even made a 10-minute video where I talk through each look a little more. You can see it on my IGTV at @fashionschlub at 11am! Also, be sure to take a look at Jodie's style session of a pleated skirt at @jtouchofstyle !
Be safe, friends!
This post contains affiliate links, which means that I may receive a small commission if you buy something as a result of clicking that link, at no extra cost to you. I appreciate you shopping through my links.
Fashion for a fraction.
A few months ago, one of my favorite bloggers, Londoner in Sydney started a new hashtag series on instagram called #MetallicsOnMondays. This was the time close to new years and it seemed everyone and their aunites were wearing a metallic skirt. I wasn't keen on getting one at first but somehow as time went by, it slowly grew on me. So much so that when my birthday came round I decided to wear a silver metallic skirt (see the complete post here). However, I still missed a gold skirt and when I got this, I couldn't wait to style it!
Look 1: The Dinner Date
I decided to style three outfits since I think you can totally rock a metallic skirt whether its day or night. The first look is actually the night time look. I've worn this exact same look for a party somewhere in January and you wouldn't believe how simple it was. The skirt literally does all the hard work. All you need to do is take the compliments as they start coming your way! I paired it with my cutout shoulder top that I bought from the H&M sale. While its cosy enough to be worn in winters with a jacket, I think I'll be wearing it to work on its own now that summer's here and we seem to be blasted with polar weather inside the office (thanks ACs on the fritz) and scorching heat outside! This look is great for a work party or actually any event in my opinion. I added my gold necklace and simple black pumps to complete the look.
Look 2: The Glam Brunch
If you're the kind of person who dresses up, no matter what the occasion, then this one's for you. Metallic skirts are the answer to dressing for unplanned weekend brunches where you simply don't have the time of inclination to plan an outfit. This look is perfect for a weekend brunch date with the girls. It's super comfortable and can hide all your binge eating thanks to its forgiving pleats. I added a pair of oversized clear aviators instead of my regular glasses and my trusty white sneakers. This is definitely a way to upstyle a look with a pair of white sneakers.
Look 3: Sports Luxe
The final look is all about being bohemian. I wanted to do a look that's more about dressing the way you feel and making a metallic skirt that's supposedly classy, into something that's very free spirited. For this look, I paired my pleated gold metallic skirt with my denim shirt and a statement necklace in gold. I love that this look is crazy and individualistic. You can ideally make it more formal by tucking in the shirt and buttoning upto the collar instead of the half tuck, tied at the waist theme I went for. Really, anything goes when it comes to pairing a shirt with a skirt!
That's it folks! I think metallic skirts are quite underrated in India inspite of being all the rage in the West. These are still not available in the streets and I'll be sure to keep an eye out for them.
Wondering how to pick the best metallic skirt for you? Here are some tips!
Pick a metal! Yes, its the first step in finding a metallic skirt you'll love to wear. I personally love silver and gold depending on my mood. However, you don't have to be limited to conventional metallic colors. You can even pic jewel tones such as jade, onyx, pink!? Yes, while silver and gold are the bestsellers, there's no dearth of other shades of metallic skirts
Fit is everything! Check the store for fastening details. For instance, my silver metallic is a zipped skirt but the gold one I'm wearing here is an elastic waist. If you aren't sure about the fit, order it in two sizes and return the one that doesn't fit right (be sure to check the returns policy before you order though!)
How tall do you want to look?? The answer to this question will decide on the length of the skirt. If mini skirts are your jam (they make you have legs for days!) then go for that! Personally I'm much more comfortable with midi length skirts and that's exactly what I always order. However, measure the length you want and then make sure that the skirt you're buying falling in that range since a lot of them are difficult to alter thanks to the fabrics used.
Does it spark joy? Finally, for all the tips in the world, if the answer to this question is yes, then go for it! I have learnt that any outfit that sparks joy is an outfit worth wearing! If you think you've found a piece that makes your heart sing, then by all means, go ahead and wear it! Don't let anyone or anything stop you!!
Back in 2010, pleated skirts were one of my wardrobe staples.
Versatile, flattering on any shape and chic, these skirts were everywhere at the time – and while they've been a little off the radar for some time now, trends always come back around.
Pleats also appeared in H&M's Innovation Circular Design Story in the form of elaborate dresses and tops, while the 90s trend of mini skirts with pleats is everywhere.
Of course, those little tennis skirts are almost too small to see – but if you're not up for getting your legs out, longer iterations are in too. Team with knee-high boots for the perfect cold weather combo.
You can still wear them in summer though. On the SS22 catwalk, pleated skirts appeared at Rejina Pyo, COS, Erdem and Sandy Liang, making it a bona fide look for the new season.
So are pleated skirts in for 2022? The answer is a resounding yes. Now, here's where to get one.
Wear Next may receive a small commission if you click a link from one of our articles onto a retail website and make a purchase.
For fashion advice and chit-chat, join our Facebook group What To Wear Next or follow us on Instagram.
Shop the trend
Pleated Mini Skirt, £75, & Other Stories – buy now
Pleated Midi Skirt, £49.99, Mango – buy now
Pleated Skirt, £332, Arshys-Rafael at Lone Design Club – buy now
Lone Design Club stocks an array of independent and sustainable brands, meaning you can shop consciously in one place.
Amongst the designers they sell is Cinta The Label, Girlfriend Collective, Pala Eyewear and many more.
Pleated Midi Skirt, £89, Cos – buy now
Pleated Glittery Skirt, £24.99, H&M – buy now
Pleated Skirt With Diamonds, £125, Uterqüe – buy now
Metallic Pleated Skirt, £49.60, Warehouse – buy now
Plaid Pleated 90s Skirt in size M, £27, Beyond Retro – buy now
Sequin Pleated Skirt, £275, Karl Lagerfeld at Farfetch – buy now
Ivory Calgary Skirt, £180, Reformation – buy now
When you hear " pleated skirt ", you think : school uniform miniskirt, bourgeois lady in its midi version, or gipsy long skirt?
Sweep away the clichés with this trendy garment: make the right associations for a top look, and dare the bohemian chic !
How to wear a pleated skirt ? Here are some advices :
Be ultra stylish in a pleated skirt
The ally of your morphology
You are round, small, or tall ? Bet everything on the pleated skirt ! Adapted to all morphologies, its cut will balance your silhouette
its vertical pleats will refine you;
worn high, it will mark your waist and lengthen your legs
its ample cut will hide your forms, while giving volume to break a long morpho.
The flagship piece of all your styles
Your skirt is the centerpiece of your outfit : length, materials, colors, everything is allowed !
Which length ? The trend is for the midi skirt, below the knees and above the ankle. But mini or maxi, it works too!
Which cut ? Straight for elegance, slit or asymmetrical to destructure.
Which top ? A loose sweater or a t-shirt that you will tuck into the skirt to mark the waist, or even a crop top.
What shoes ? Rangers for a rock touch, high heeled boots, ballerinas or pumps, depending on the style you want to create. White sneakers are still very trendy.
Which tights ? Go for fancy tights or fishnet tights opaque ones will be too strict.
Which material ? Light fabric in summer, thick when it's cool dare the imitation leather ! In winter, the golden, silver or bronze lamé will make its effect.
Go for the boho-chic look !
From boho to boho-chic
Romantic, feminine, and casual, the boho look is timeless. The long skirt is the emblematic piece.
Prefer fluid fabrics, ample cuts, natural or pastel tones, discreet floral prints, or ethnic patterns. The key to this look: comfort!
To avoid a retro hippie look, add a few sophisticated elements to your outfit for a boho-chic look. Without excess, not to border on the disguise, the best is to go by touches. Combine a worked piece with a basic element, for example. Get inspired by our bohemian tops to find the perfect top/pleated skirt combination
Adopt the bohemian style in everyday life
For an everyday gipsy look: wear flat shoes, a loose top or sweater tucked into the skirt, and a short denim jacket.
At the office, the skirt will be long (but not too much !), the blouse or the sober blouse, associated with a perfecto, and boots or pumps.
On vacations, we will bet on the lightness : fluid skirt, vaporous, let go on the prints! Combined with a lace or white crochet top and flat sandals.
The ideal guest for a bohemian chic wedding
You'll be right in the theme with your pleated skirt !
Go for soft or bright natural colors, patterned or plain, your choice !
Wear it with a nice lace top and a perfecto jacket.
For shoes : flat or heeled sandals, spartan, or suede boots according to the season.
Allow yourself some fancy touches (accessories, jewels).
So, want to combine comfort, femininity and elegance ? Adopt the pleated skirt
September 30, 2015 | 2 Comments
Over the past few months I've fallen more and more in love with midi skirts and dresses. I've always been a skirt and dress lover, but now that I have a one-year old to chase around, wearing anything too short is just asking for trouble (and a peek at my derrière.)
The key to wearing a pleated midi length skirt, especially when you're on the shorter side (I'm 5'2, a.k.a., just plain short), is choosing the right balance.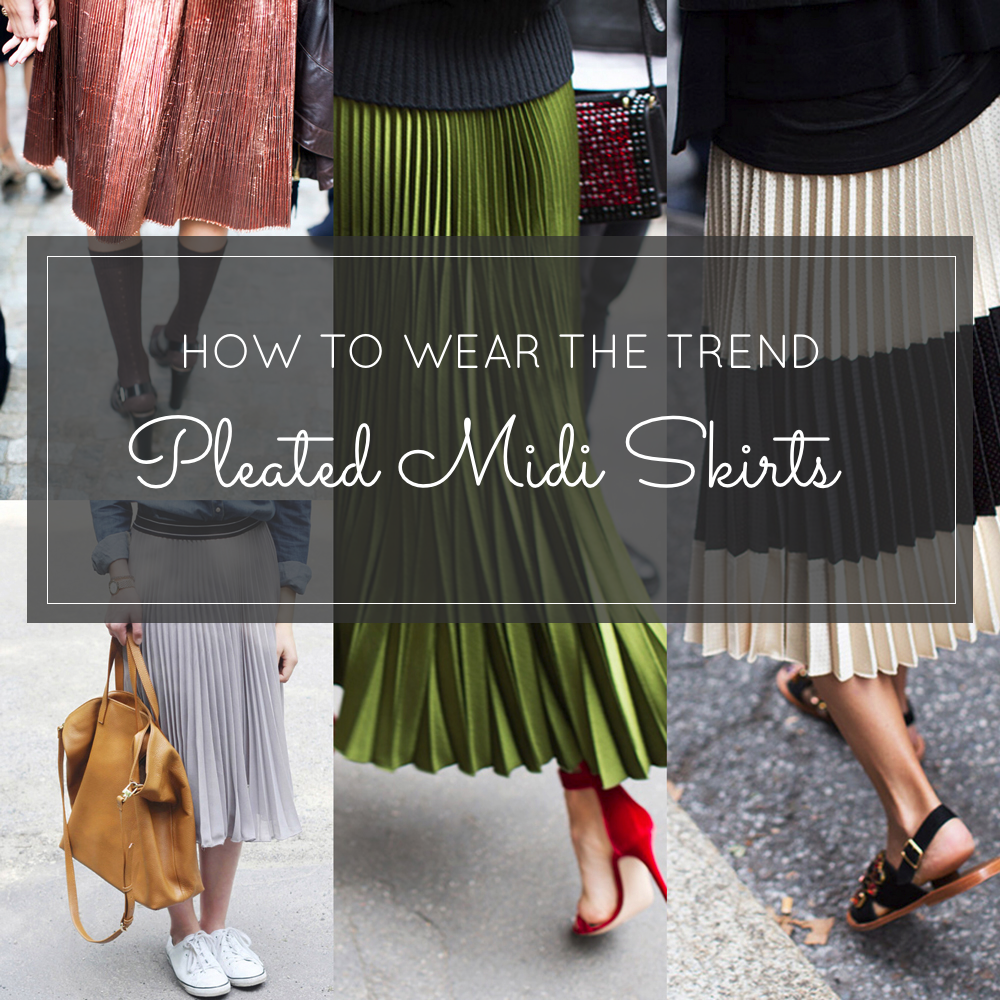 When it comes to wearing midi skirts, balance is key.
I like a midi skirt with a bit of length, nothing that stops too high on the calf or else it cuts off my legs at a weird place and can actually leave me looking shorter. A higher-cut midi is stunning on someone with longer legs, it just doesn't seem to work for me. Though on most people, even a shorter-length midi skirt can be pulled off with a pair of heels. At first, I wore midi skirts and dresses exclusively with heels, but now that I've found the right length for my legs, I pair mine with flats just as often as I do with heels, and I love the results.
The soft pleats of a great pleated midi skirt, paired with a pullover sounds like fall perfection to me. And now without further ado, a bit of midi eye candy for you …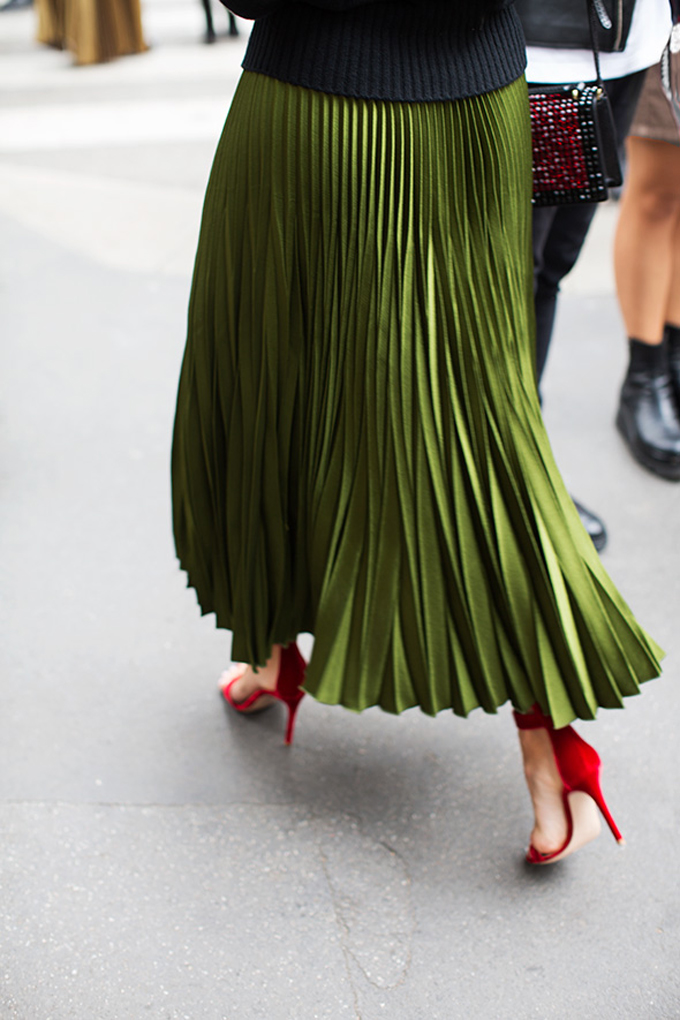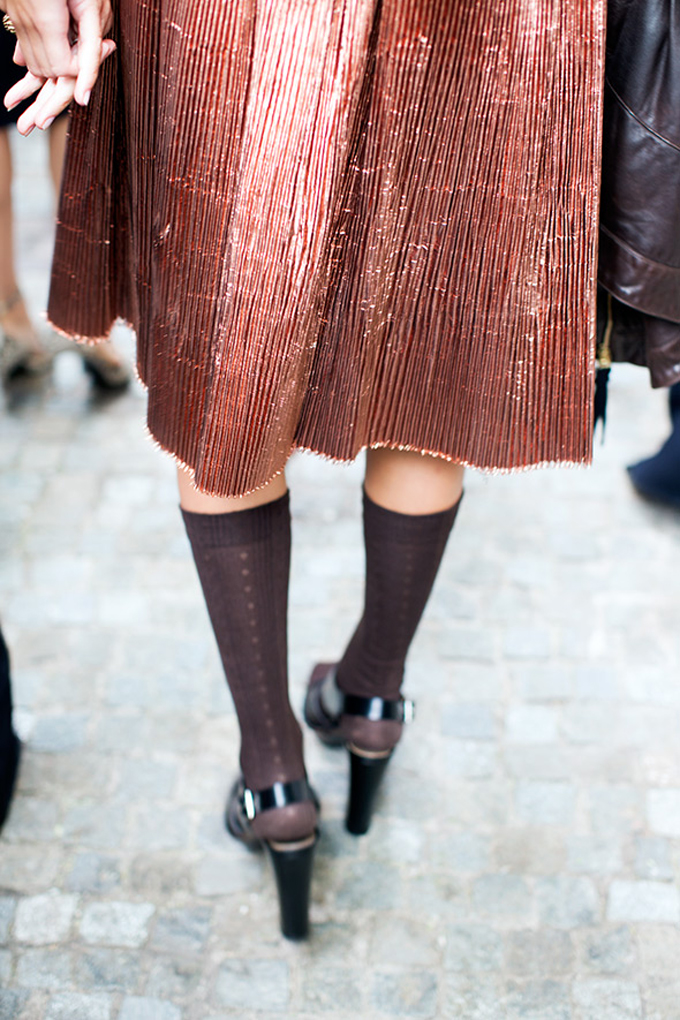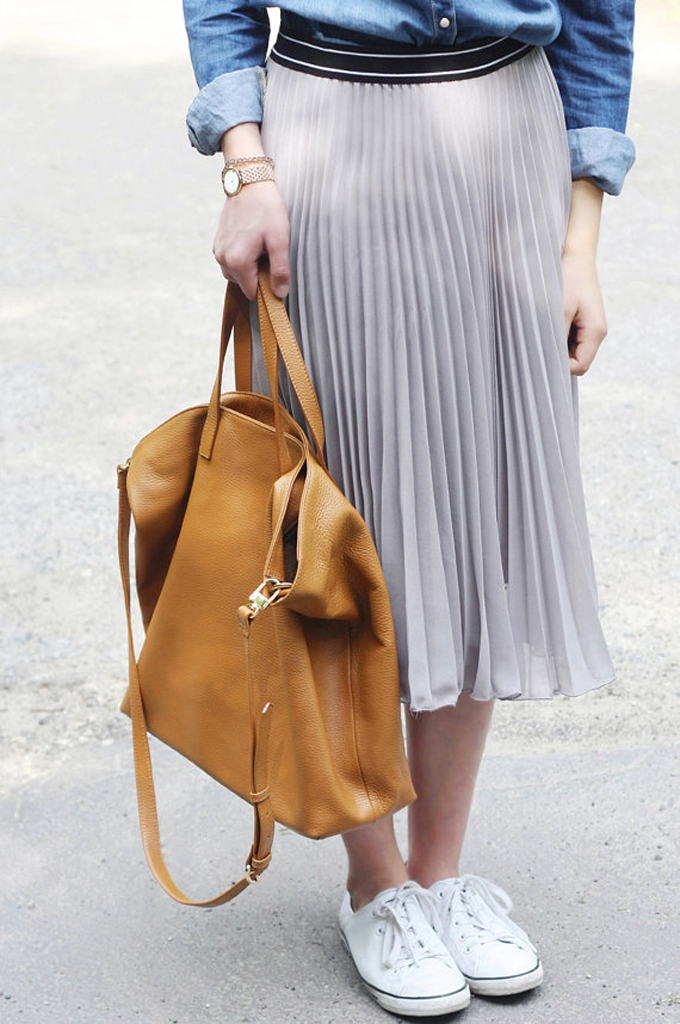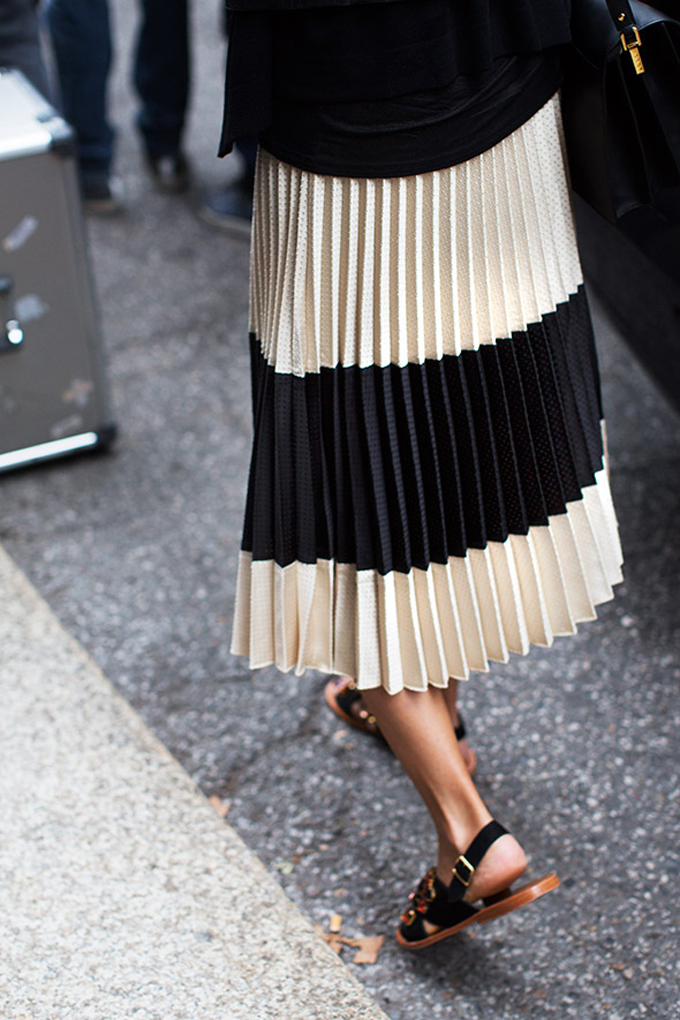 SHOP THE STORY / CLICK LEFT & RIGHT ARROWS TO EXPLORE

I'm particularly smitten with this pleated lace skirt and this simple cotton pleated skirt that looks so great with boots (and is currently on sale!) …. Any favorites?
This post contains affiliate links, which means that if you click on one of the product links, I'll receive a small commission. Thank you so much for clicking through and helping to support this little blog business of mine! Read more about our site, privacy, and disclosure policies here.
Join the List
…don't miss out on real life stories, behind-the-scenes, tips on the best sales, and exclusive content sent straight to your inbox!
Pleats are the hottest thing to hit the fashion world in a long time. Are pleated skirts "in style?" You be the judge. The pleats make it look like there's more fabric than there actually is and help to create an hourglass figure. Layers are an easy way to make any look stand out and add interest. Pleats are no different and they can help a simple skirt become something entirely new.
Pleats can be used to enhance a figure and create a different look. Pleated skirts are great for evening wear and date nights. A nice pair of heels is the perfect pairing for any one of these styles. Pleated skirts can be extremely flirty and stylish.
They can also be horrifyingly unflattering if not worn properly. What you need to look for in a pleated skirt is the shape of the skirt and the quality of the fabric. Do either one or both of these things not make sense, then you should avoid buying that pleated skirt. Here are tips on how to choose the best-pleated skirts for this year:
1) Choose skirts with a full lining underneath them. This is most important. You should always have one of these layers underneath your skirt, otherwise, the pleats will be awkwardly spread out.
2) Choose the ones that have elastic waistbands to make them fit the wearer better and look more flattering.
3) The best kind of pleated skirt will have no gathers or ruffles at all. This looks more feminine.
4) The skirt should end right below your knees. This is the most flattering length. Anything past your knees could make you look like you are wearing a school uniform.
5) When buying a new pleated skirt, try on the skirt with different clothing on to see how you like it. Sometimes one type of top will look good with one type of skirt and another top will look good with another skirt. Or sometimes, you just won't like the way your outfit looks together when combined (even if each piece separately looks fine).
Pleats are great for anyone that loves wearing skirts. Pleats make a skirt more special and unique. But if you want to wear a pleated skirt as an everyday dress, then you will have to be very careful about how you choose what to wear with it. You might want to consider wearing a slip underneath, as this will give you a lot of room in places like the waist and hips and will make it much easier for your body to move around in order for you to feel comfortable. Go for something with a slip that has some kind of stretch material so that it moves easily, but also won't be too loose and add bulk.
Share:
In this week's Styling with Sydne IGTV video I'm showing 8 ways to wear a pleated skirt. I love pleated skirts because you can wear them from work into the weekend. I've worn a ton over the years (I'll link to a few examples at the end of the post in case you want to check them out). I just got this lavender pleated skirt and brought it with me to Paris. So to prep for my trip, I came up with a bunch of outfit ideas on how to wear it.
Also, if you're looking for a good bralette, I ordered this bandeau top to film my videos. It's only $10 and is a great nude color to wear under sheer tops and dresses.
If you haven't already, you can watch the full video on my IGTV channel.
SHOP THE PLEATED SKIRT LOOKS
Skirt: J. Ing
Shirt: Ann Taylor
Sweater blazer: J. Crew
Pumps: Sam Edelman
Bag: Chanel (similar)
Cardigan set: old but similar here
Bandeau bra: Malibu Sugar
Pumps: Sam Edelman
Bag: Chanel (similar)
Camisole: Wayf
Necklace: Amazon
Sandals: Steve Madden (similar)
Clutch: old but similar here
Top: J. Ing
Earrings: BaubleBar (similar)
Bag: Gigi New York
Sandals: Steve Madden (similar)
Cami: J. Crew
Belt: old but similar here
Earrings: Gorjana (similar)
Clutch: Kayu
Sandals: Steve Madden (similar)
Tee: Forever 21 (similar)
Jacket: Old Navy
Bag: Ellen & James (similar)
Sneakers: Steve Madden
Tee: Forever 21 (similar)
Bag: Ellen & James (similar)
Scarf: H&M (similar options)
Espadrilles: Soludos
Top: Ramy Brook (similar)
Earrings: BaubleBar
Clutch: Olga Berg (similar)
Sandals: Steve Madden
The Pleated Skirt //
Following 'a trend' can be tricky, this season it is all about the pleated skirt with designers styling up their cuts, midi, mini or maxi but you you can take your pick. There are wide pleats, knife-pleats, permanent pleats and bright colored styles, as well as this season's major trend – semi transparency. But just how do you pull your look together? Here are our top picks:
1. Highlight your waist, for the most sliming look its fashionable to show the waistband of your skirt, other wise you can appear shapeless. No matter what you are choosing to wear up top, jumper, a simple Tee or low cut blouse, tuck it in.
2. If you are short bodied then pull your skirt higher up your waist line and if you have just the hint of a little tummy then stitched pleats lie flat at the top and will guarantee you a great outline.
3. Graced with luscious curves then go for a wide pleated design and look for light flowy fabrics that won't add bulk to your hips. For those who haven't got quite as much leg to show then a waterfall hem that rises up in the middle will extend your calves.
4. Make every use of the color effect, either pop clashing colors top and bottom or stream line your look by color blocking with this seasons go to shades – white and black and camel.
5. The pleated skirt look is so versatile you can wear it with heels, edgy boots, sandals, pumps, sports luxe
trainers or embellished brogues will look eminently stylish.
Pleated skirts are back in fashion, but that doesn't mean you should wear them like your mother or her mother did. The old things come into fashion again, but they are not copied from the 90s, 80s or 70s, they come back as classics and as a basis for something new.
So the pleated skirt is now worn with boots, sneakers and heels. You have them in both sports and informal versions, but also as sophisticated and elegant. If you've found a beautiful pleated skirt but don't know what to pair it with and how to wear it, follow our tips.
Jeans combination
The jeans shirt goes perfectly with the pleated skirts. Combine a black skirt with a washed jeans shirt and ballerinas. You can also combine skirts in colors as jeans withstand various combinations. Add canvas sneakers and you will get a more casual combination, and if you choose sandals you have a nice combination to go with. You can also wear a jeans vest or jacket.
Cotton T-shirt
Whatever skirt you have, you can combine it with a plain cotton T-shirt. The only problem will be to find the perfect combination. Make the shirt a little longer so you can slip it into the skirt and gently pull it out to cover the hem of the skirt. You can also add some colorful or colored strap to it to raise the combination. Always choose monochrome shirts for ease of appearance.
Statement jewelry
A pleated skirt will perfectly fit some piece of jewelry that stands out, such as an oversized necklace. When wearing statement jewelry, make sure that the garment is in delicate shades or black so that it is a base for the jewelry to be highlighted and not drowned in combination.
Vertical heels
A pleated skirt up to half a sheet is perfect for dizzy high heels. Heels will come to the fore, and you won't look vulgar or inappropriate. You will gain in height and will appear slimmer.
Elegance
Black, white or red are colors that you can't go wrong with if you want to look elegant. A black pleated skirt with a black top, even a cotton one, will act as if you were out of a noir film and as if you were a fatal seducer. The thicker the skirt, the more glamorous you look.
Fashion tolerates a lot, so you can hardly go wrong if you stick to clear lines and avoid overdoing it. If you combine patterns, be careful not to overdo it and look like Alice in Wonderland, unless that is your goal. Go on.
Author: J.S., Photo: Kiselev Andrey Valerevich / Shutterstock
PLEATED SKIRTS: Outfits Ideas + How To Style (June 2022)
As a style blogger I'm often asked by friends and people via my socials, "what's coming, what's trending, what should I buy for this or that event, – although I'm a trend advocate, I apply the "what best suits me" philosophy first. Staples are undoubtedly a safe avenue when it comes to finding your signature style. They're classic and as such they can be worn with a modern take, or infused with a trendy twist if complemented with key garments and accessories. Pleated skirts, as you might have noticed via Instagram, are an important staple in my style repertoire, I wear them whenever, just because and regardless the trends, but since they happen to be quite in vogue lately I thought a bold addition to my pleated skirts collection would be just fine, and that is a gold skirt. With no particular glitz-worthy events around the corner where to show it off, well, I thought I'd dress it down with a black tee on a fun Saturday out, needless to say, it turned heads!
What I'm wearing: ALEXANDRA Skirt and top – Tony Bianco Boots – Valentino Bag
Thanks for your visit!
Looking for your next pleated skirt? Find similar styles below
The pleated skirt, although it may bring back memories of school, is actually a super cool item of clothing, and one that you should definitely have in your wardrobe. You may be wondering how to wear a pleated skirt with sneakers – and you are not alone in this!
However, here we have a list of great things that you can pair with your pleated skirt and your favourite sneakers, to make you look casual yet also as though you are living your best life.
What Is A Pleated Skirt?
A pleated skirt is a normal skirt, which has gathers, or pleats, from the top of the skirt. This is designed to add fullness from the waist and hips, and can really help to allow freedom of movement.
There is very little nicer, lighter and floatier than a pleated skirt! They can come in all different lengths, like most skirts, meaning you can find the length that suits your body shape in the style that you want.
How To Wear A Pleated Skirt With Sneakers?
In general, a midi pleated skirt looks best with sneakers than the other types – a short one is too short and would be better with heels, while a longer one has the potential to hide your lovely trainers!
White sneakers are an ideal pairing with your pleated skirt, as white goes with just about anything – you can equally wear a pale or a dark coloured skirt with these classic beauties.
Because the pleated skirt is usually long and fairly floaty, you can get away with a figure hugging top. We're thinking crop tops, close fitting blouses, vest tops, or small t shirts.
You can also dress up a pleated skirt and sneakers with a fitted blouse – this will make the outfit more suitable for the office, as well as for a formal night out where you just can't say good bye to your favourite trainers!
If you fancy a more casual, cosy vibe, a slouchy top is a great option. This fits in well with the casual look of the skirt, and gives a really nice casual feeling while still looking great.
A nice jacket slung over the whole outfit will give it a whole different vibe – go for leather or denim to give the look a classy, timeless edge.
We're not fibbing when we say that you can wear just about any sort of top with this type of skirt! For a casual, summery look, go for a short sleeved shirt, tucked into the waistband of the skirt.
If you like a more figure hugging look, try a vest top that can be worn under a jacket, or a tight long sleeved top – again, this looks great when tucked into the skirt.
If you're feeling particularly cute, why not go for a gingham shirt? Try knotting it at the hem for the feminine cowgirl look!
A crew neck top which finishes just above the waist is another great pairing with a pleated skirt; the smooth lines of the top offset the look of the skirt.
For those hot summer days, try a crop top with your pleated skirt – the different effects of these two garments is a great contrast. If you're going for the uber-casual look, you can wear a chunky wool knit with your pleated skirt.
This look is soft and feminine, relaxed and cosy – yet still feminine and gorgeous at the same time.
Jackets
What could be a more classic look than the ubiquitous denim jacket paired with your pleated skirt and trainers? The length is perfect, and it can really pull together this feminine outfit.
Leather biker jackets are also a great pairing with this combo – the masculine look of the jacket combined with the floaty, feminine skirt is a really lovely look.
If you like long, floaty lines then go for a long jacket, either in really feminine pastel colours or brighter, more bold colours and fabrics that can offset the look of the skirt.
A faux fur jacket is a great option if you are going for this sort of look; just make sure that it is in a neutral colour – and that it definitely is fake fur!
Accessories
Depending on the occasion, you can accessorise your pleated skirt with just about anything, to give it those final touches.
Bags are always a great accessory; pick one that echoes the colour of your skirt, for best effect.
This being said, if your skirt and the rest of your outift are fairly tame, feel free to add a brightly coloured bag into the mix to jazz things up a bit!
Long necklaces slung on over your top are another great way of accentuating the relaxed, feminine vibe of your outfit.
Small, pearl jewellery such as earrings and bracelets are a perfect finishing touch for your pleated skirt with sneakers look.
Small touches of gold jewellery are also a good bet; keep it classy and understated though!
You can add chunky belts to this outfit and be safe in the knowledge that it will only serve to make the look even better. The chunkiness of the belt will perfectly offset the delicate femininity of the skirt, for an ideal pairing.
A pleated skirt and sneakers is a unique look, so why not make it even more unique with a quirky hat?
Go for a trilby, a cowboy hat, a summery shade hat – you can be sure that each and every one of them will be an asset to this outfit.
Final Words
A pleated skirt is one of "those" pieces that every wardrobe should contain – they are fun, sexy, cool, and you can dress them up or down for nights out on the town, casual days at the office, or for cosy dinner dates with friends. A great item of clothing, and one that you really should embrace!
Pairing a pleated skirt with sneakers is one of the more genius moves of the fashion industry, and one that we're very happy to get on board with.